23 Dec

Celebrating Loy Krathong festival in Thailand

If you are lucky enough to be in Thailand during the Loy Krathong festival, you will experience one of the best times of your life. It is called the 'festival of lights', and the only other festival I can compare it to is Diwali celebrate across the India subcontinent.

Loy Krathong is the second most important festival in Thailand, just behind Songkran. But I would say Loy Krathong lasts longer. The air is filled with festivities weeks ahead of the final day. You can find flashy public fairs in almost every town in the country. There are several dozens in Bangkok itself.

On the final day, there are Mr and Ms Loy Krathong, a Krathong decorating festival, Khon performances, Dance shows, musical events and floating of Krathongs. And then families get together to visit temples and attend ceremonies together. It's just a happy feeling.

The best part is that these are public events. You can just go around and take part in it anywhere in the country. Or you can just be a spectator and appreciate the jubilation.

I will take you through all of it. Here are my suggestions on where to catch the best of it, what to see, the dates, and ceremonies and of course, a detailed history.
What is Loy Krathong?
The word Loy Krathong means 'a Krathong that floats' where 'Loy = floats' and 'Krathong = a decorated basket of banana stem'. People float the basket with several beliefs.
Some do it to make merit, some to pay their respect to the water spirit, especially to the goddess Phra Mae Khongkha (The Hindu goddess Ganga). It also signifies taking away your sins of the past and having a fresh start in life.
Since it is a festival of light, the Krathong also holds a candle while it floats away in the water. People decorate their homes with lanterns and put candles and oil lamps in and around their homes for good luck.
And of course, there is an insane number of events that takes place across the country. People gather around temples and main squares to see dance performances, parades, dinner, singing and plays.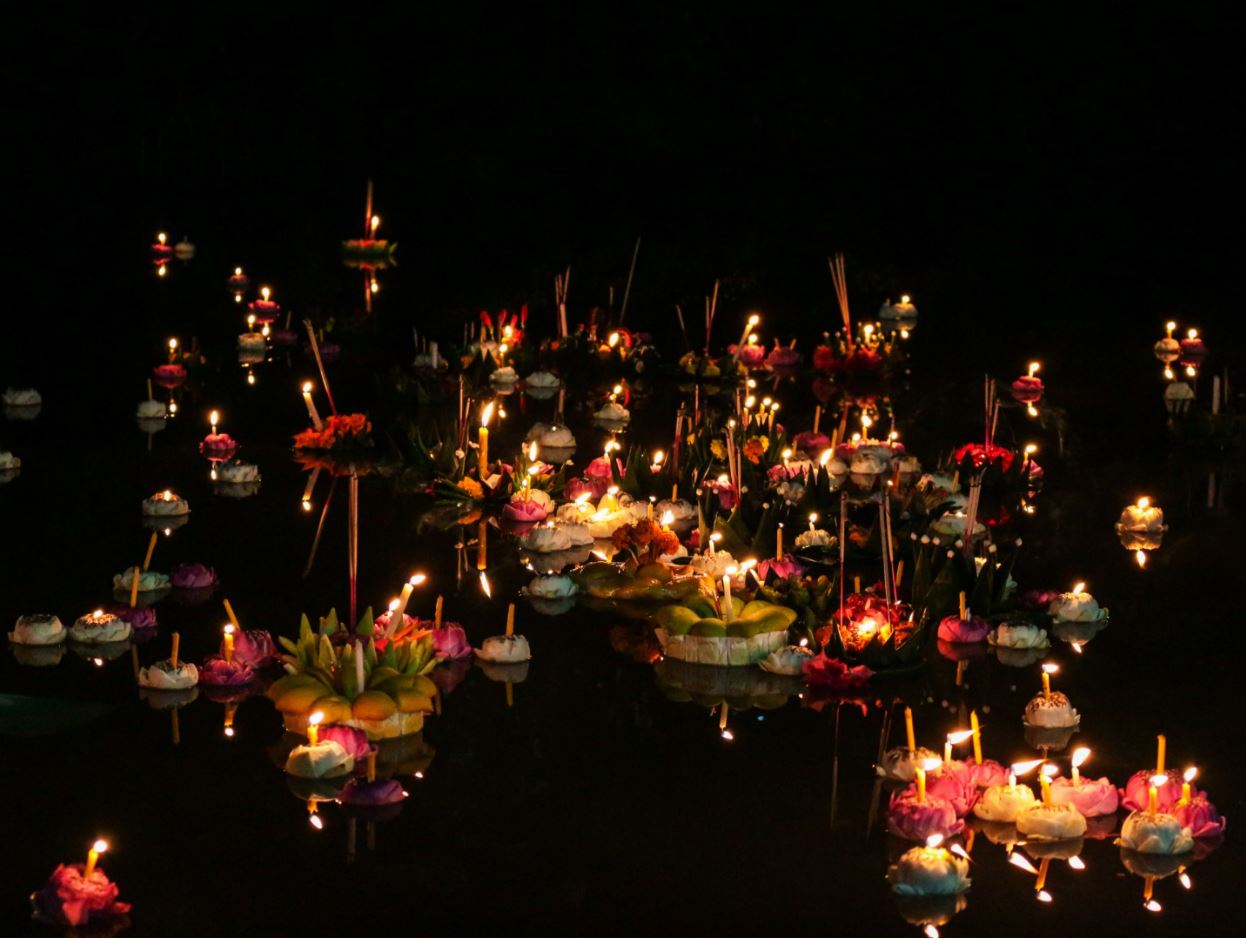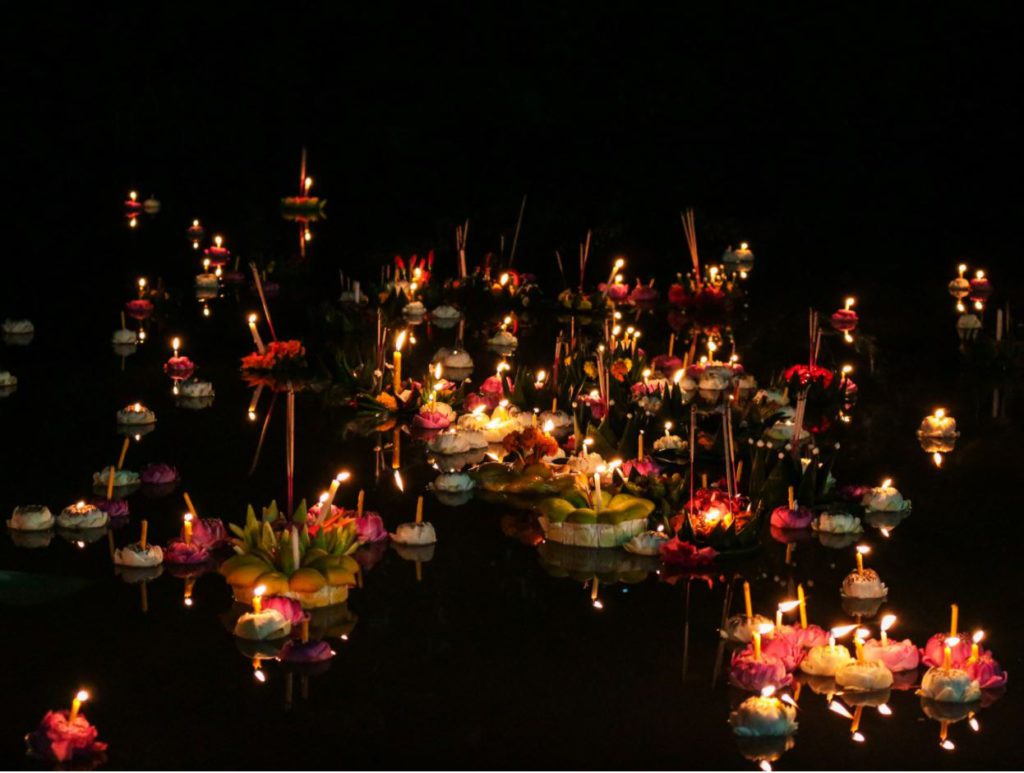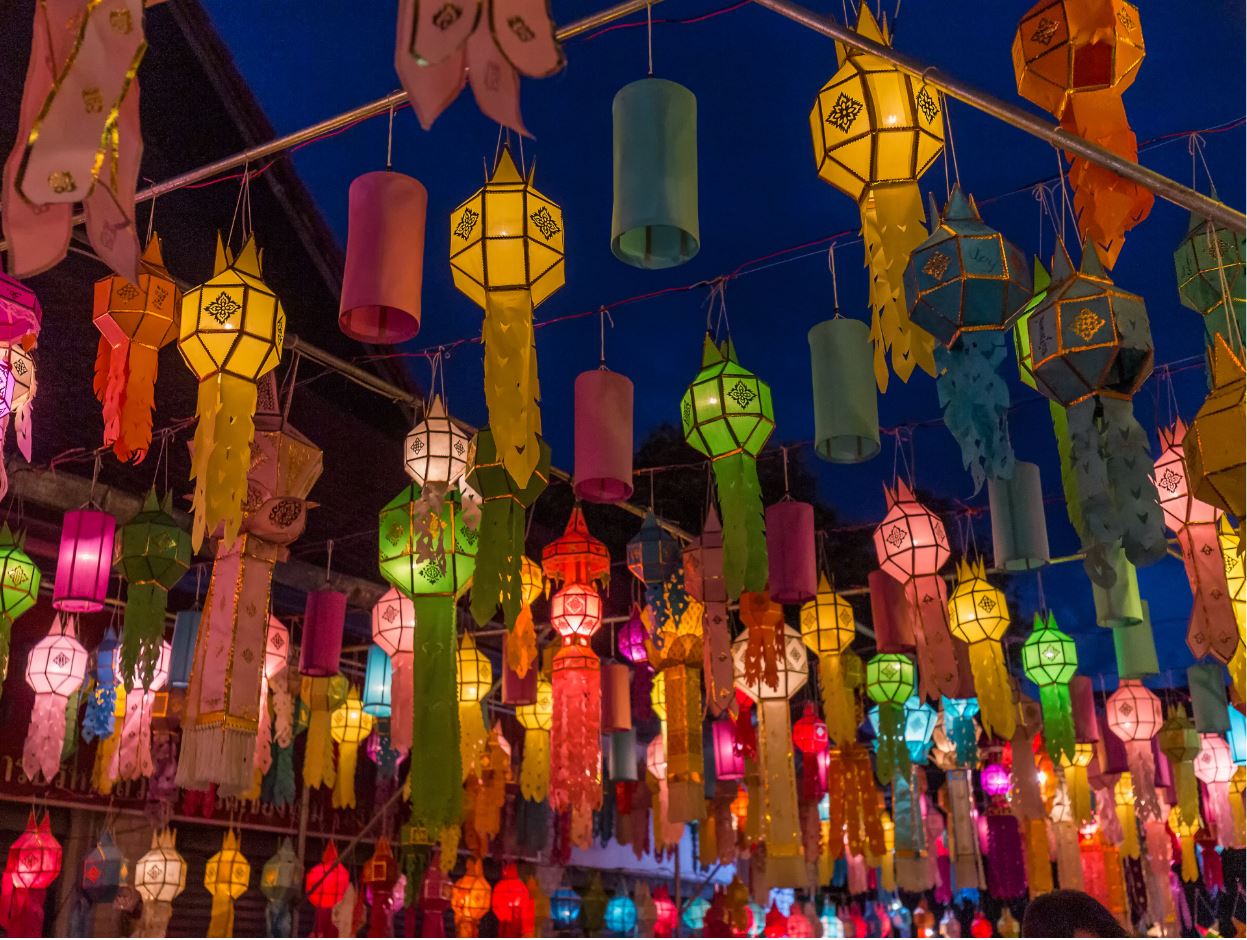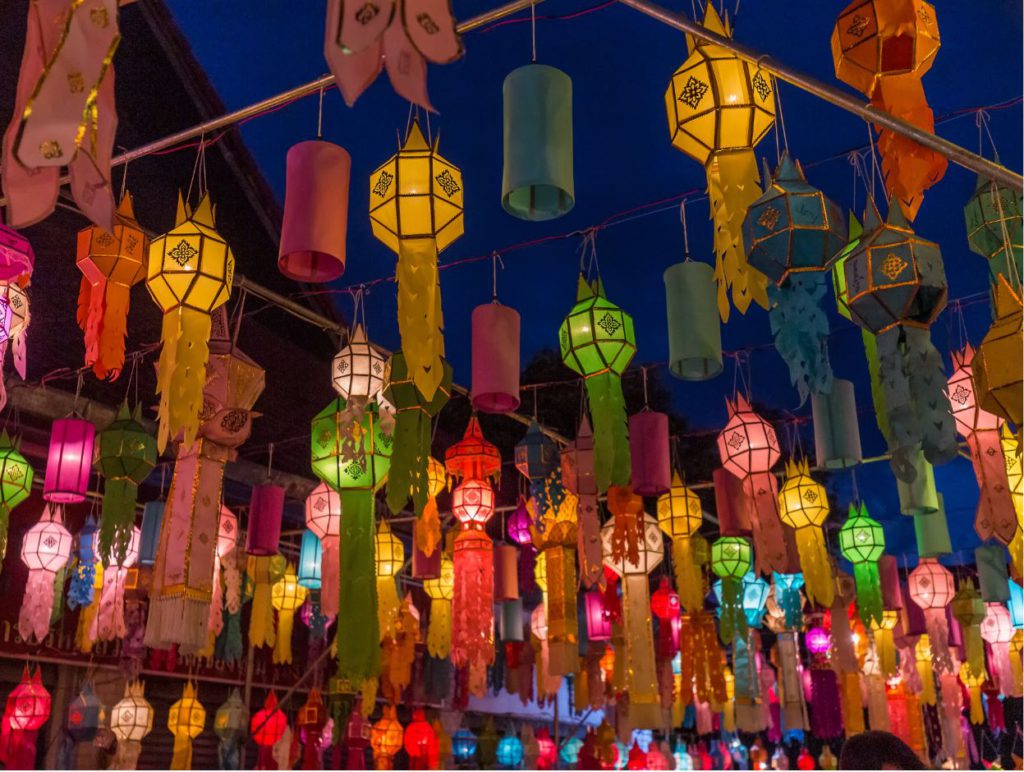 When is Loy Krathong celebrated?
Traditionally Loy Krathong takes place on the full moon of the twelfth month of the lunar calendar. Therefore, the exact dates keep floating. In the western calendar, it usually falls in November or sometimes in the last week of October. You can get the exact dates for the year online.
The festival goes on for 1-5 days depending upon the region and the province. However, the fairs, carnival setup and the markets start from as early as August. So you can soak in the feel much longer.
Yi Peng is another festival celebrated only in Chiang Mai. The people of Chiang Mai float hundreds of floating lanterns in the sky at once. It results in some of the most spectacular views you can ever see. Yi Peng usually coincides with Loy Krathong and is celebrated on exactly the day after Loy Krathong.
Curious about Thai festivals? Here is our list of 20 festivals in Thailand worth seeing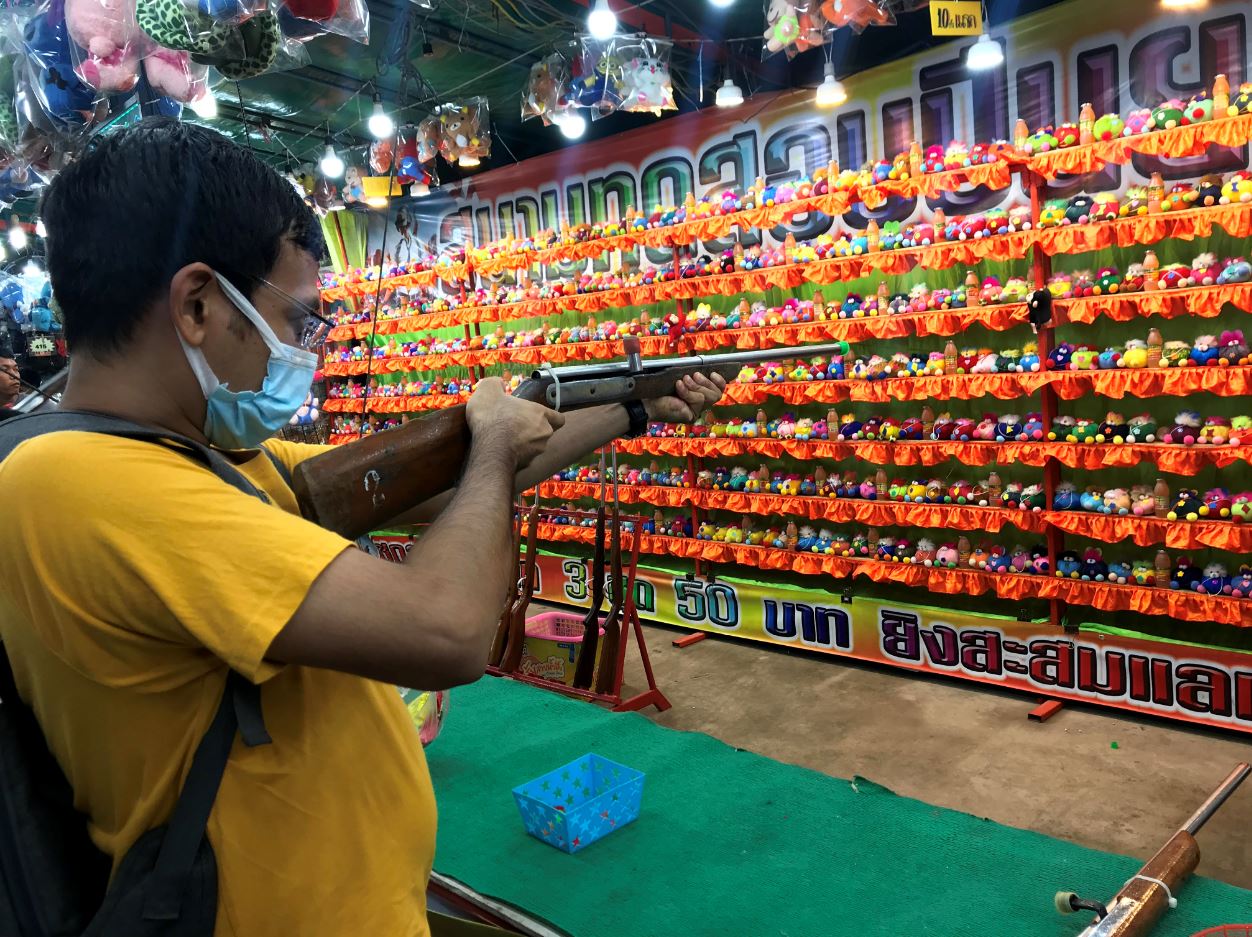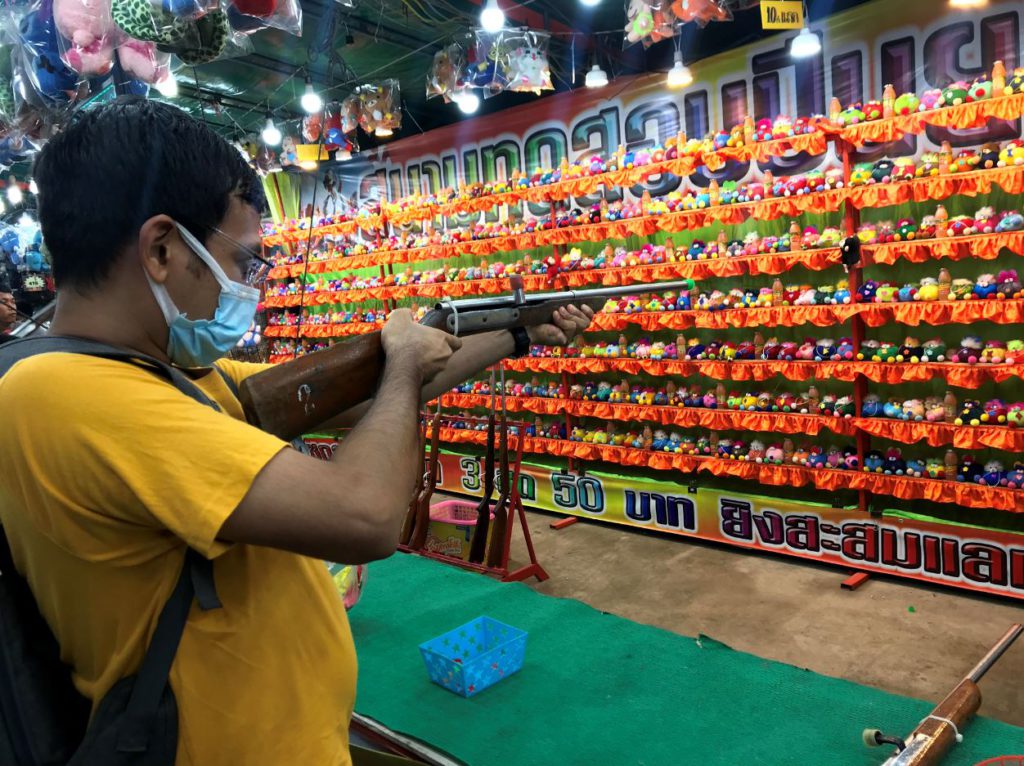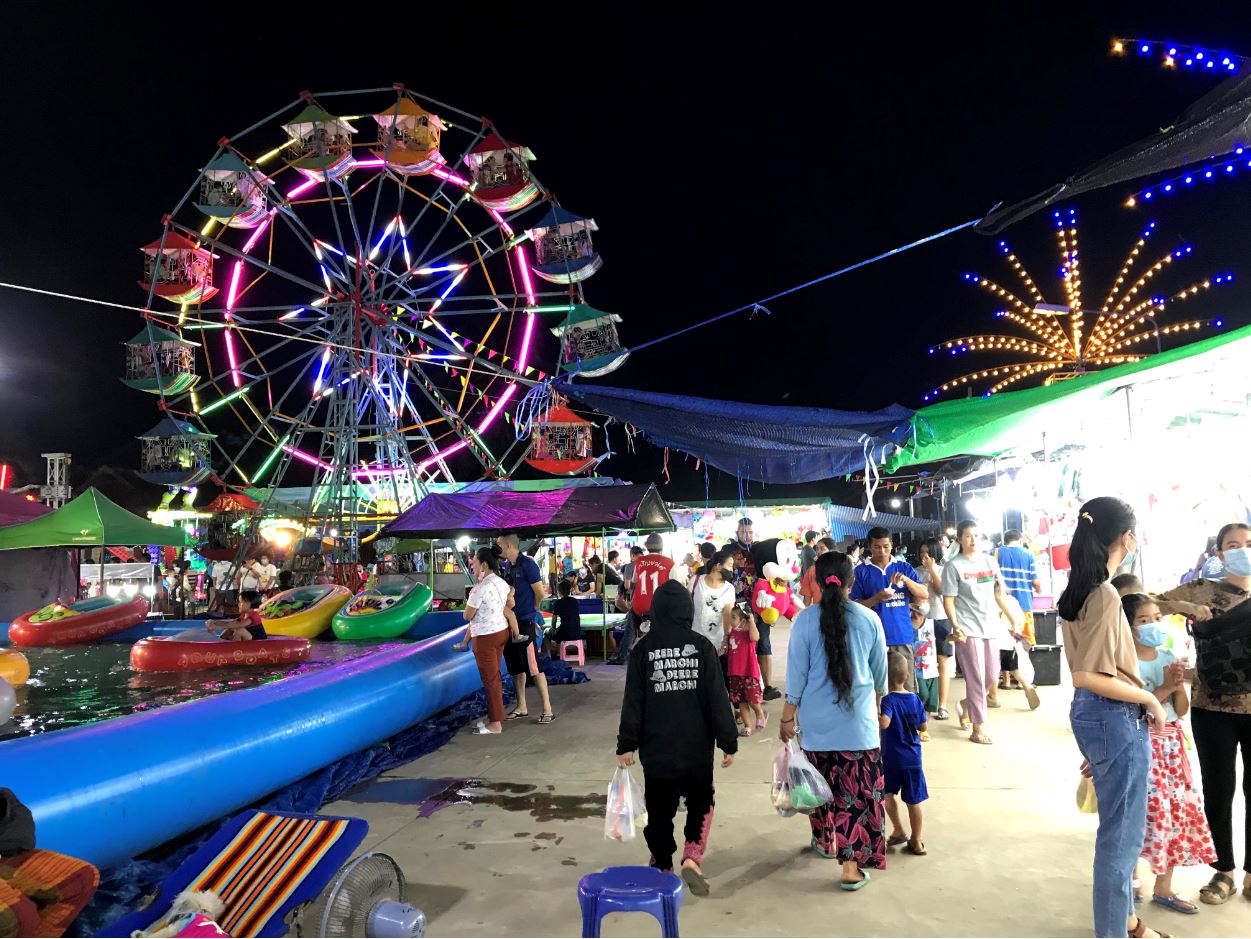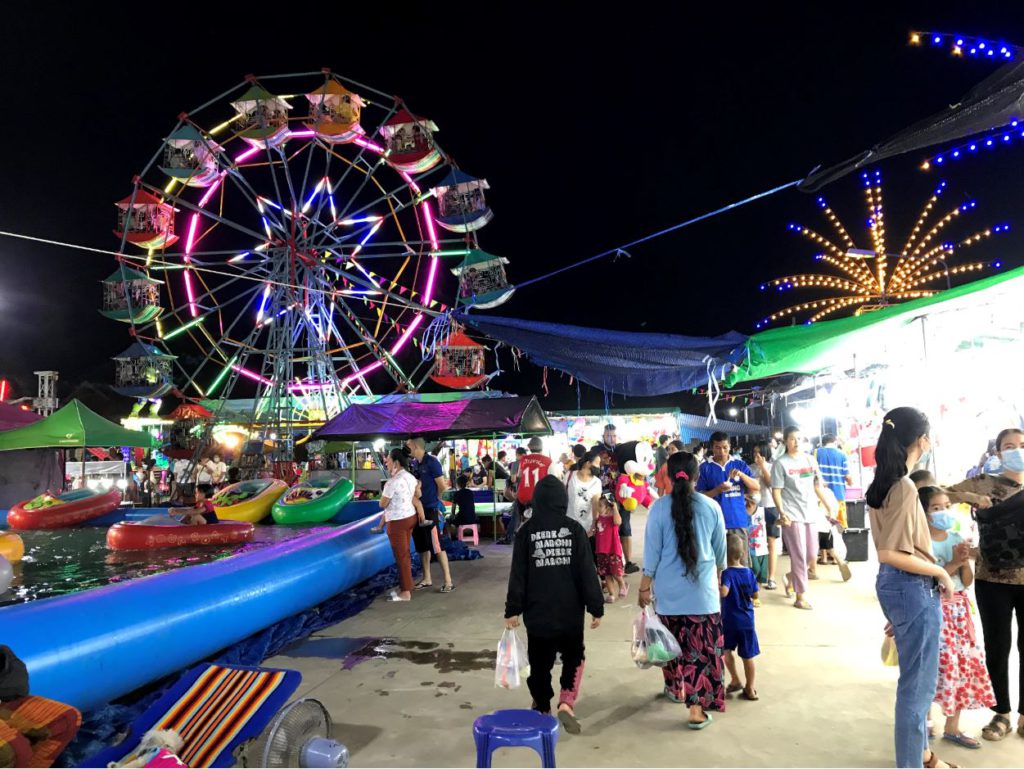 Origin of Loy Krathong
The origin of Loy Krathong is extremely ambiguous. The beliefs and rituals seem to come from a Hindu festival that paid tribute to the Hindu god Vishnu who meditates underwater in the ocean.
A depiction of a similar event could be found on the engravings in Angkor Wat with maidens floating a Krathong-like structure.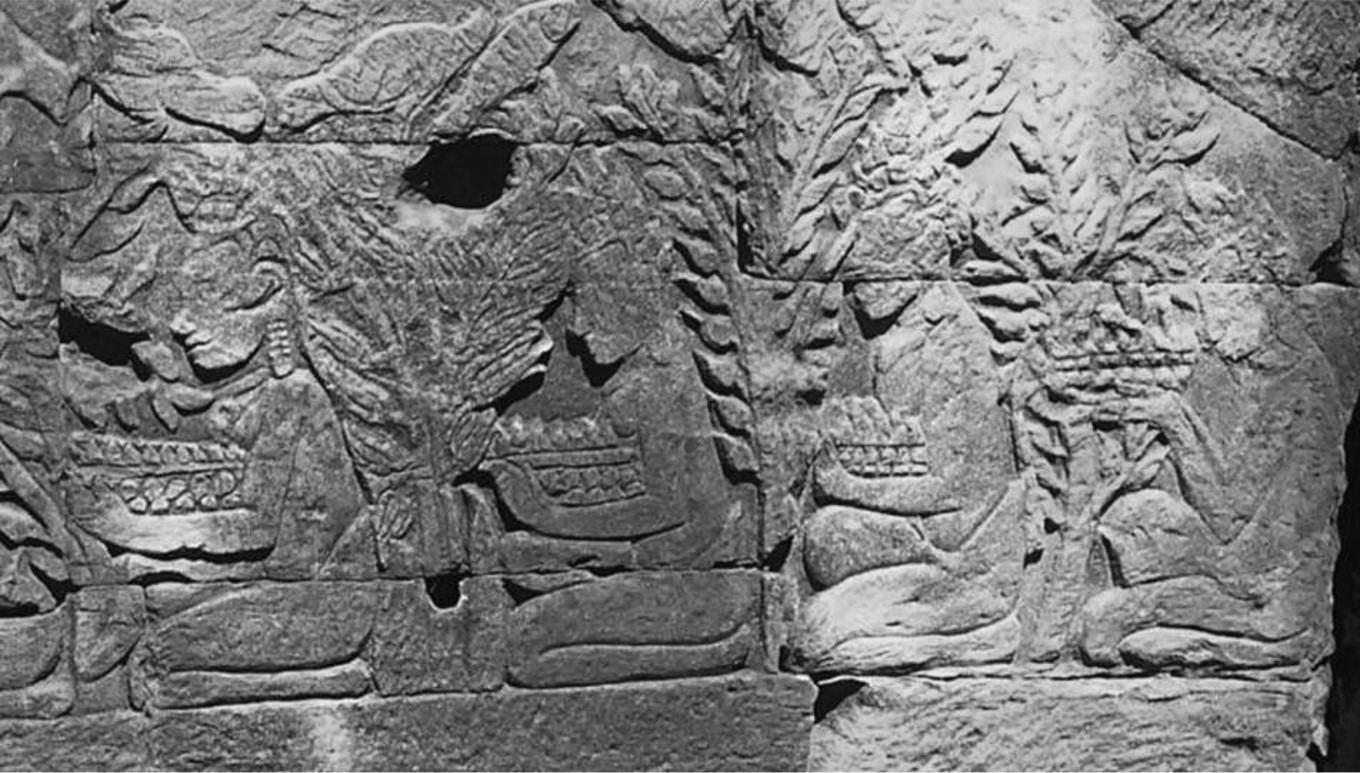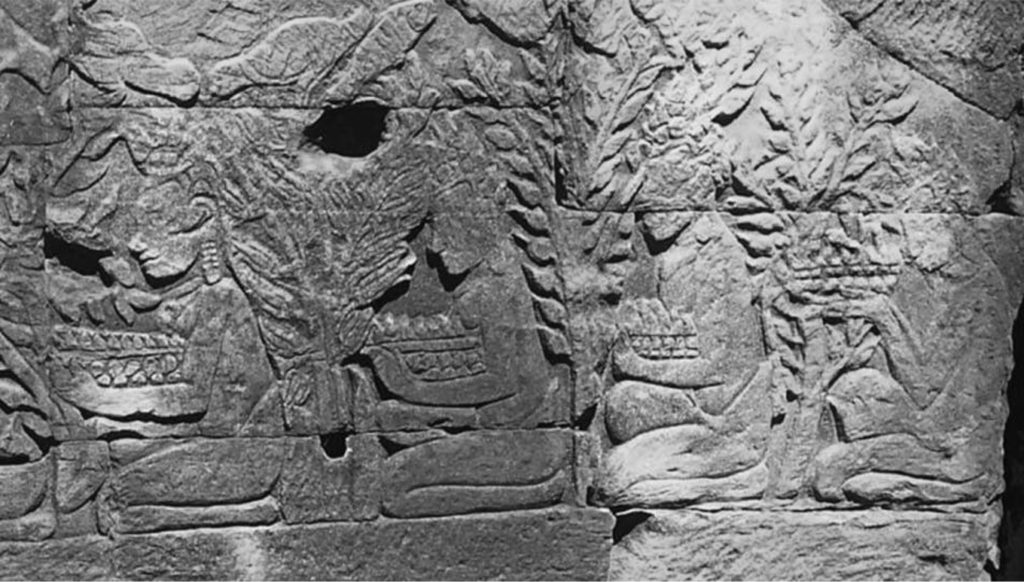 On the other hand, you can find the lotus-shaped floating lanterns in the Chinese lanterns festivals too. It is somewhat a mix of the Bondet Bratib festival of the Khmer Empire, Water Lantern festival of China and Diwali of India. In Myanmar, the same festival is called Tazaungdaing festival and Il Full Moon Poya in Sri Lanka.
Apart from the above fact, the event that reignited the euphoria of Loy Krathong in modern times was the Thai Queen Dara Rasami. The queen was the wife of King Rama V and was a former resident of the Lanna Kingdom (Chiang Mai was the capital of it that later merged with the Siam Empire).
The queen went back to Chiang Mai and floated a Krathong in the Mae Ping River as a goodwill gesture for the nation's future. Ever since every year Thai nationals have embraced this tradition and have made it their own.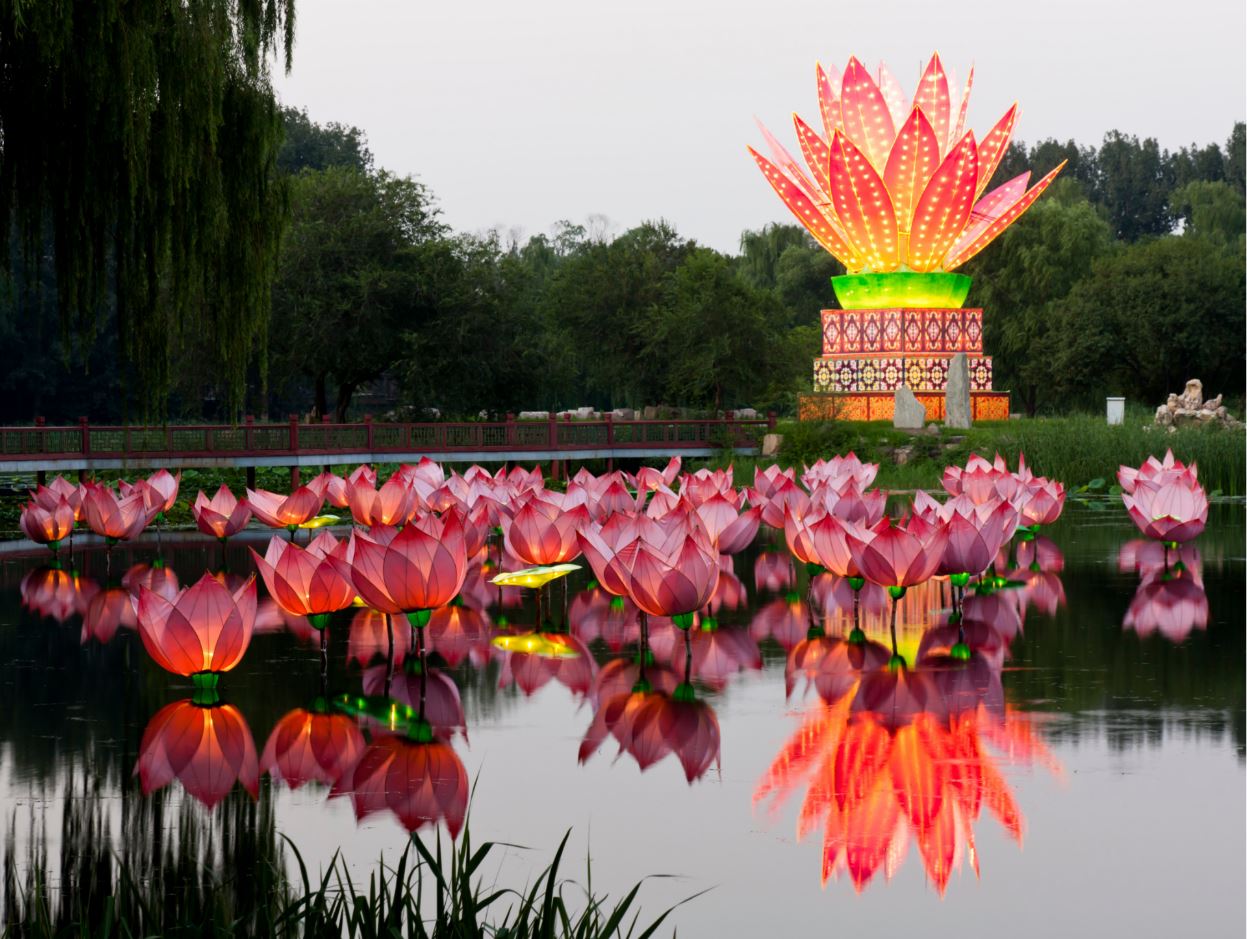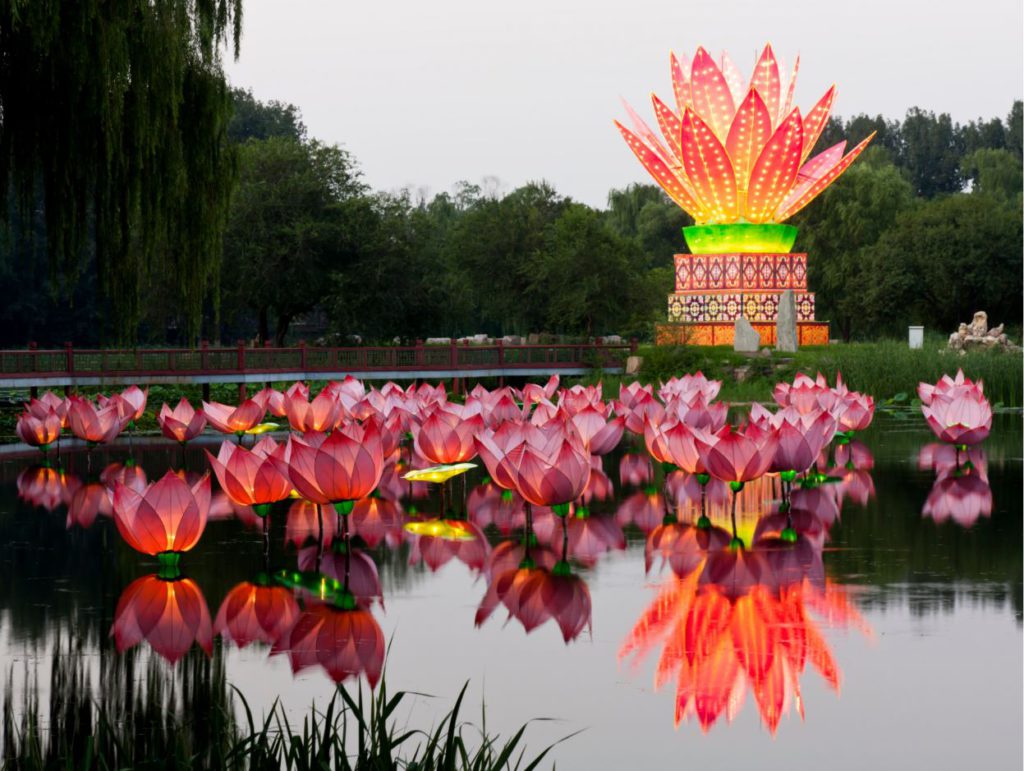 How to make a Krathong
The stuff that you need to make a Krathong is both peculiar and unique. They are easily available in the market but the Krathong itself needs some skill to make. The good news is you don't need to.
Almost everyone buys a Krathong at the market from the vendors that make dozens of them. These are available in different shapes and sizes. But a traditional Krathong will look something of the sort I am about to show you.
To make a Krathong one needs:
1. A horizontally cut Banana stem with a thickness of 2 inches
2. Banana leaf strips cut along the natural leaf folds 3-finger wide.
3. Steel pins or toothpicks
4. Flowers (traditional marigolds, orchids and jasmine are used)
5. Incense stick – 3
6. Candle
STEP 1 -> Place the horizontally cut banana stem cut and cover the top and the side with strips of banana leaf. Use pins to hold them together with the base.
STEP 2 -> Fold a banana leaf strip into half from the middle. Fold from the outer edge of the leaf to form a triangle in the middle to look something like this.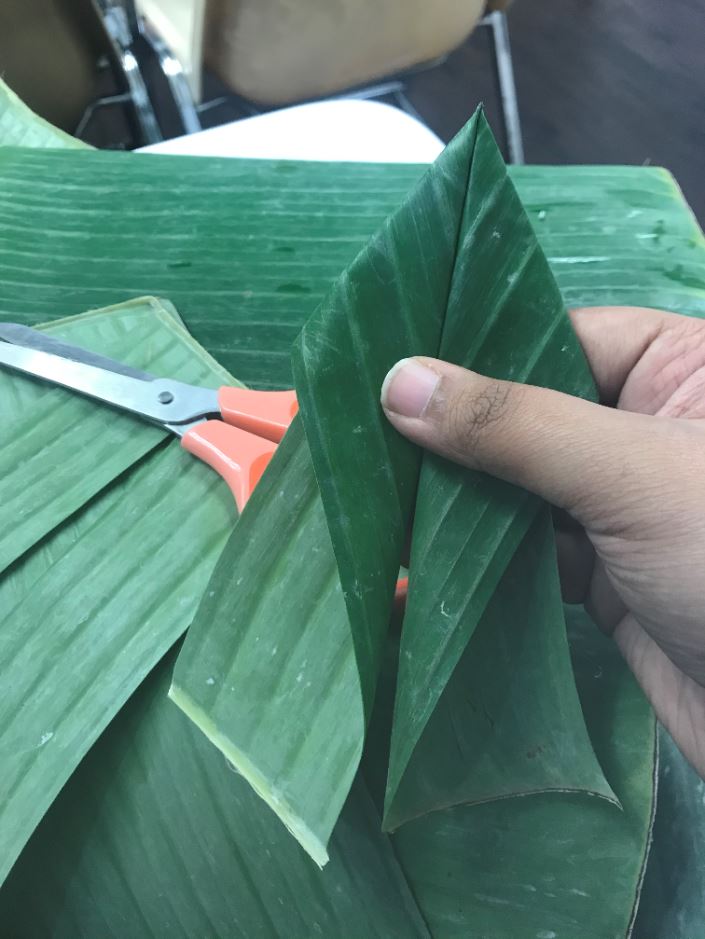 STEP 3 -> Cut the excess at the bottom and fold it to form a chair-like structure. Pin it from the bottom on the base.
STEP 4 -> Add Flowers of your choice and stick incense and candle in the middle.
STEP 5 -> Play a traditional Loy Krathong song and dance the Thai dance.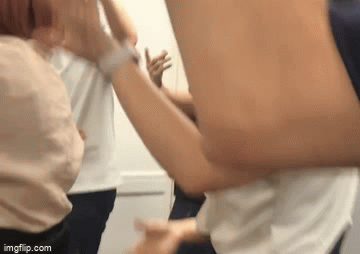 So yeah, that's pretty much it. But of course, people usually don't do it by themselves. Even the locals buy it in the market.
You can find a lot of different types of Krathongs. It can just be the same with more design, or Krathong made out of bread that the fish eat later. Avoid buying the Styrofoam ones since they pollute the river and are non-biodegradable.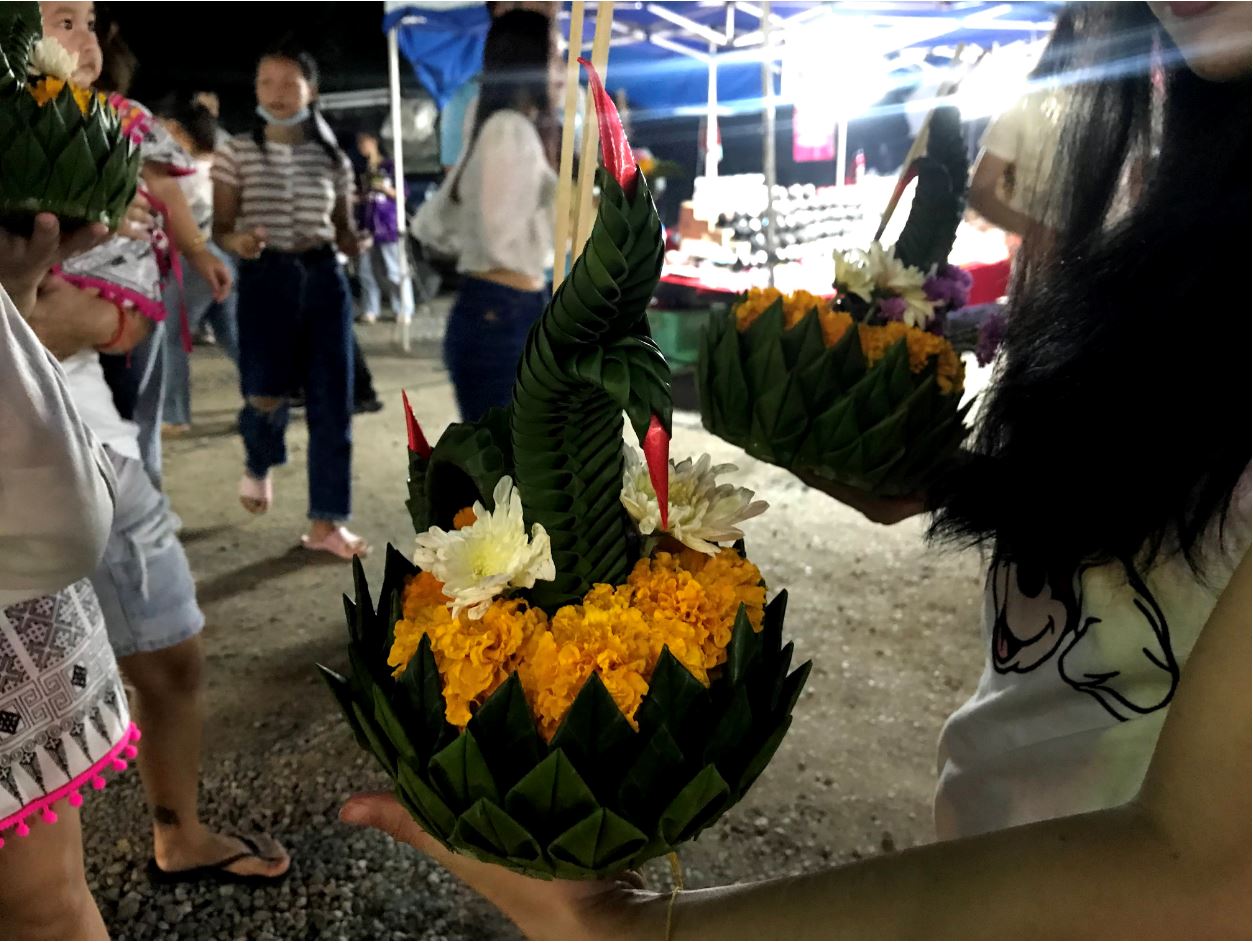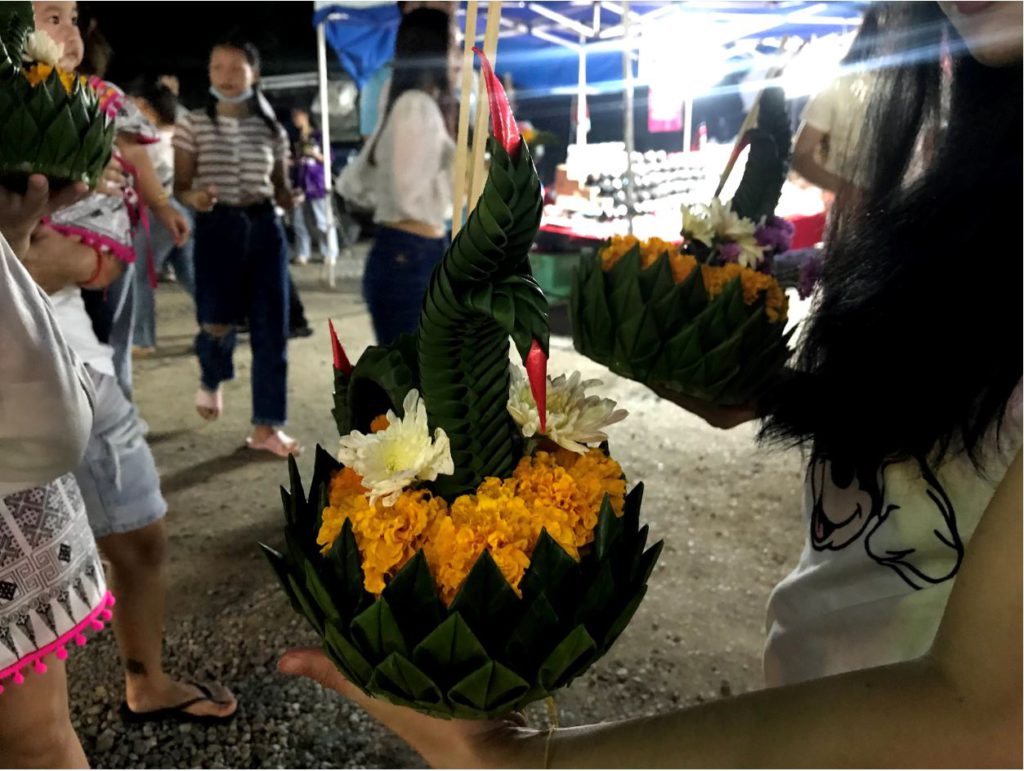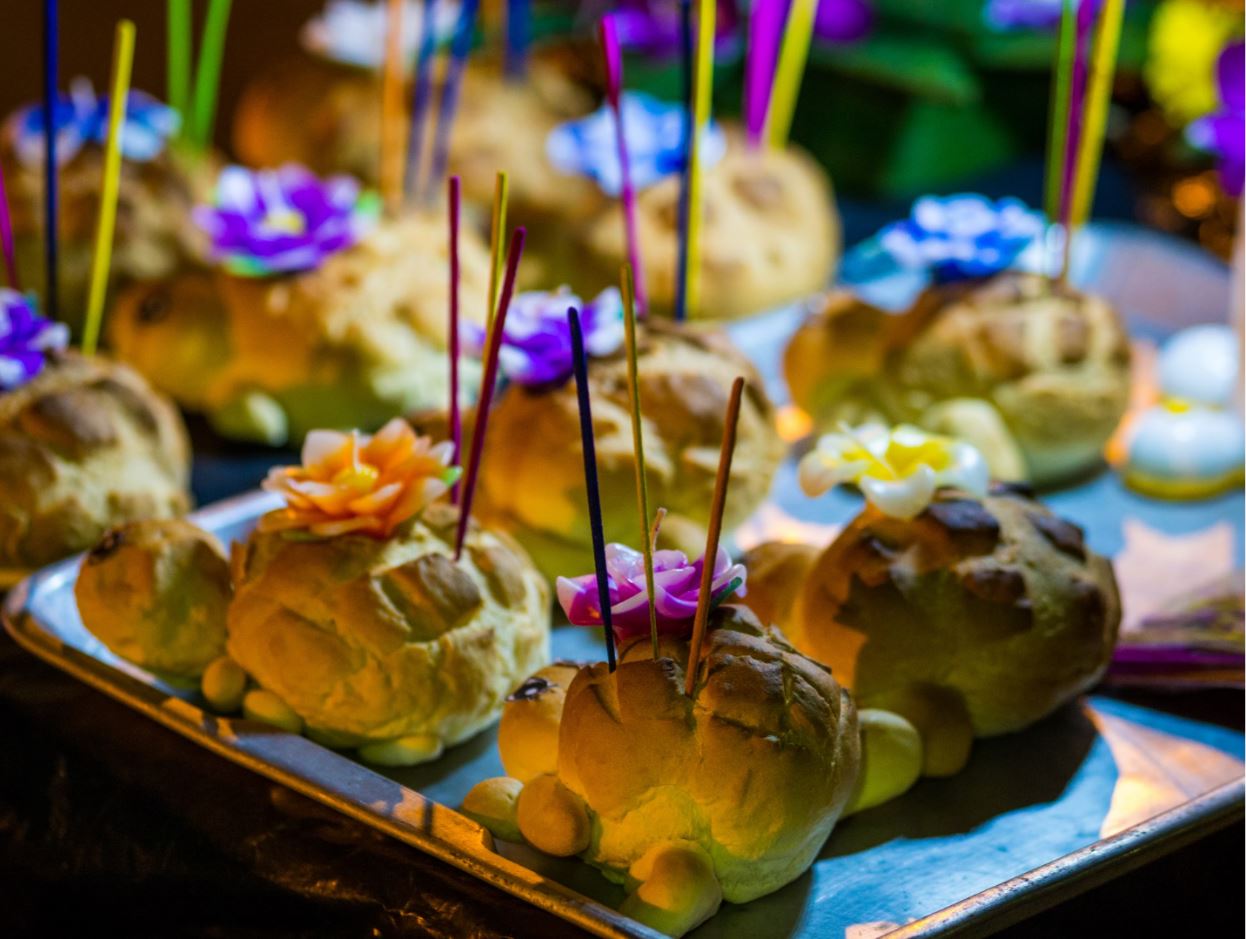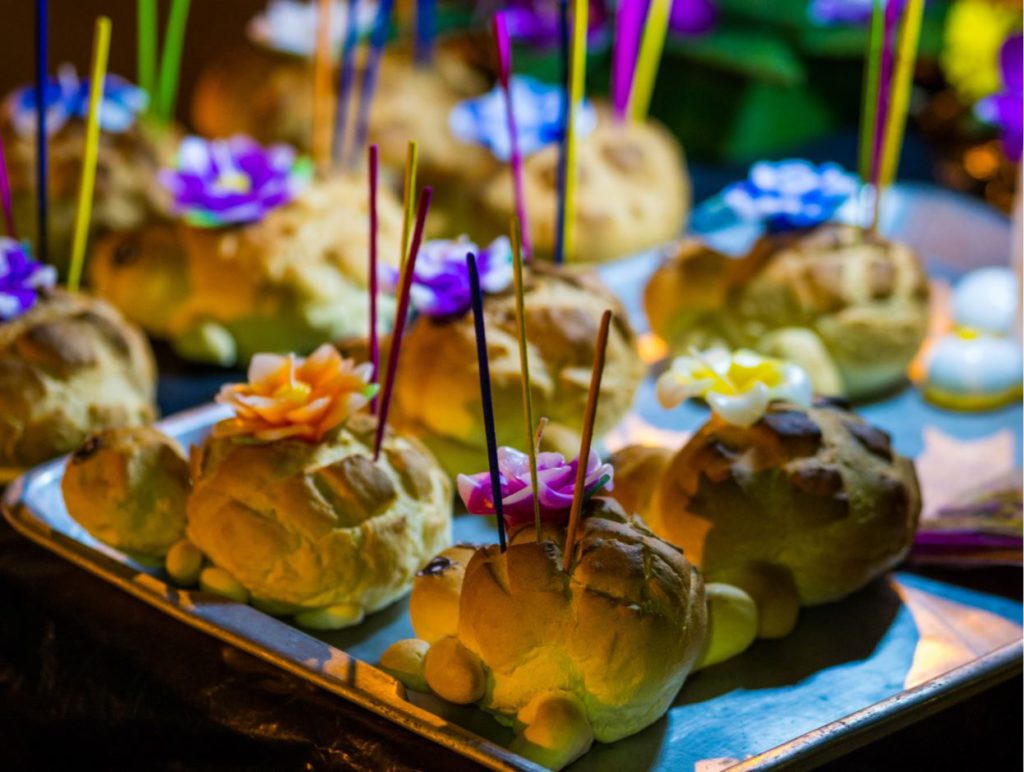 Where to Celebrate Loy Krathong
While Loy Krathong is celebrated all across Thailand and even in the neighbouring countries, the vibe totally depends upon the place. A lot of what you may see in Bangkok is a far different version in the countryside.
The best place to see Loy Krathong is Sukhothai and Chiang Mai and has remained so for years. It is where people believe the festival's origin lie.
Loy Krathong in Sukhothai
As a part of a project to revive the cultural enthusiasm in Sukhothai, it became the centre point of one of the best celebrations of Loy Krathong. Unlike other cities, the celebration in Sukhothai goes on for five days.
Where to celebrate Loy Krathong in Sukhothai: You don't even have to look around too much. Everything happens inside the Sukhothai historical park and the entrance is free for everyone for all five days. Although you still may need to buy tickets for some events (at the spot).
Sukhothai celebrations: These celebrations include markets, decorated temples, local sports, beauty pageants, musical performances, Khon mask performance, Krathong design contests, plays, the re-enactment of religious tales and legends and so much more.
In fact, the event starts at 5.30 am in the morning by giving alms to the monks and goes up till midnight. The day ends with a light and sound show at Wat Sa Si and fireworks display.
If you want a special experience you can join the Khao Kwan fire festival traditions where you can watch the arts and cultural performances dining on traditional Sukhothai culinary items on a mat. The price of the meal is THB 500 per person.
If you plan to visit Sukhothai during this time, make sure you book your hotels far ahead in time.
Loy Krathong in Chiang Mai
Celebrating Loy Krathong in Chiang Mai is equally fantastic. Chiang Mai is one of the most beloved cities of native Thais and foreigners alike. It was the capital of the Lanna Kingdom (that consisted of parts of North Thailand, Laos and Myanmar). It is culturally rich, slow with happy and content people.
When is Loy Krathong in Chiang Mai celebrated: Loy Krathong in Chiang Mai is celebrated for two days. The first day is only Loy Krathong, but on the second day, both Loy Krathong and Yi Peng are celebrated. It overlaps a bit.
On both days, the celebrations start from 6.30 pm in the evening and go pretty much up till midnight.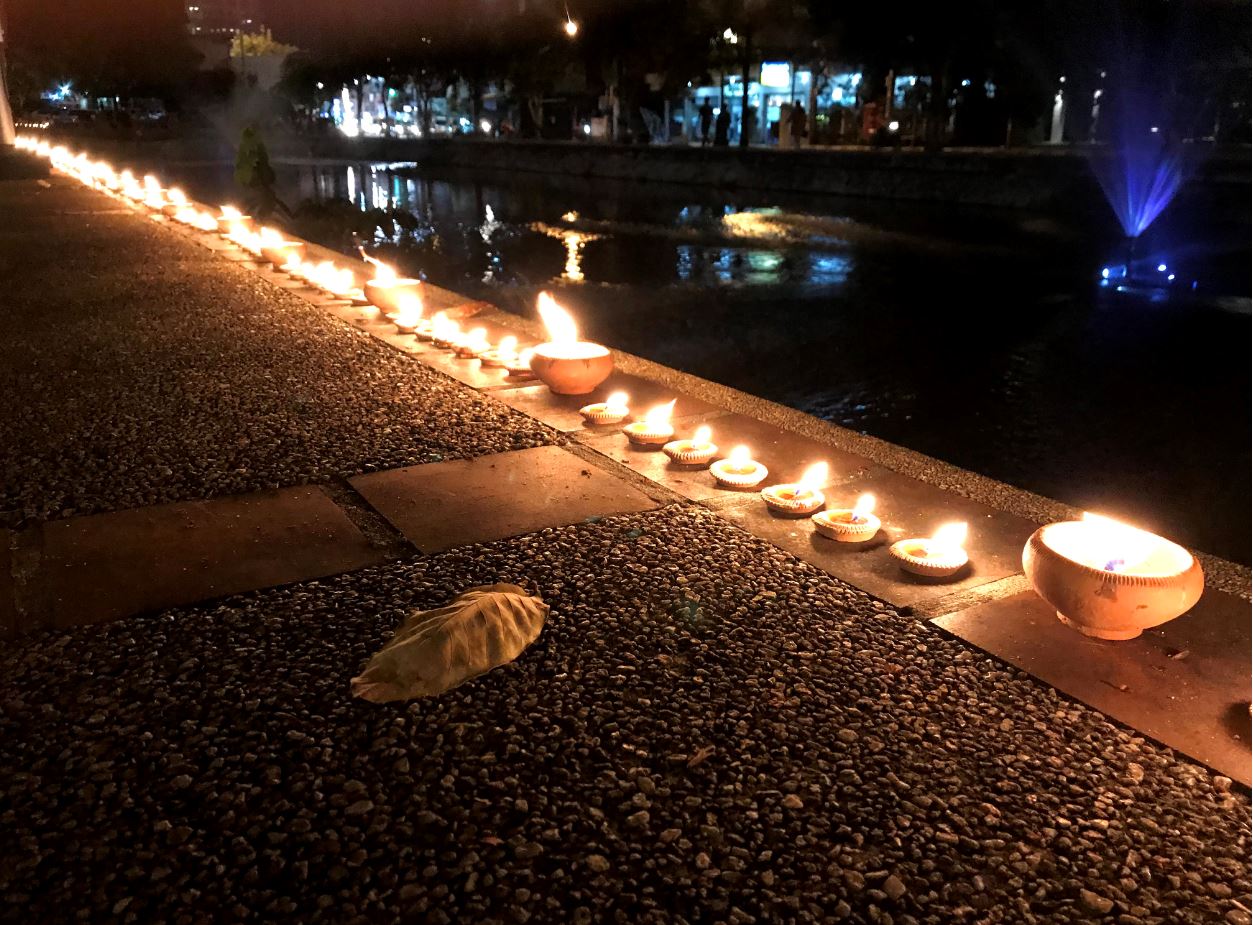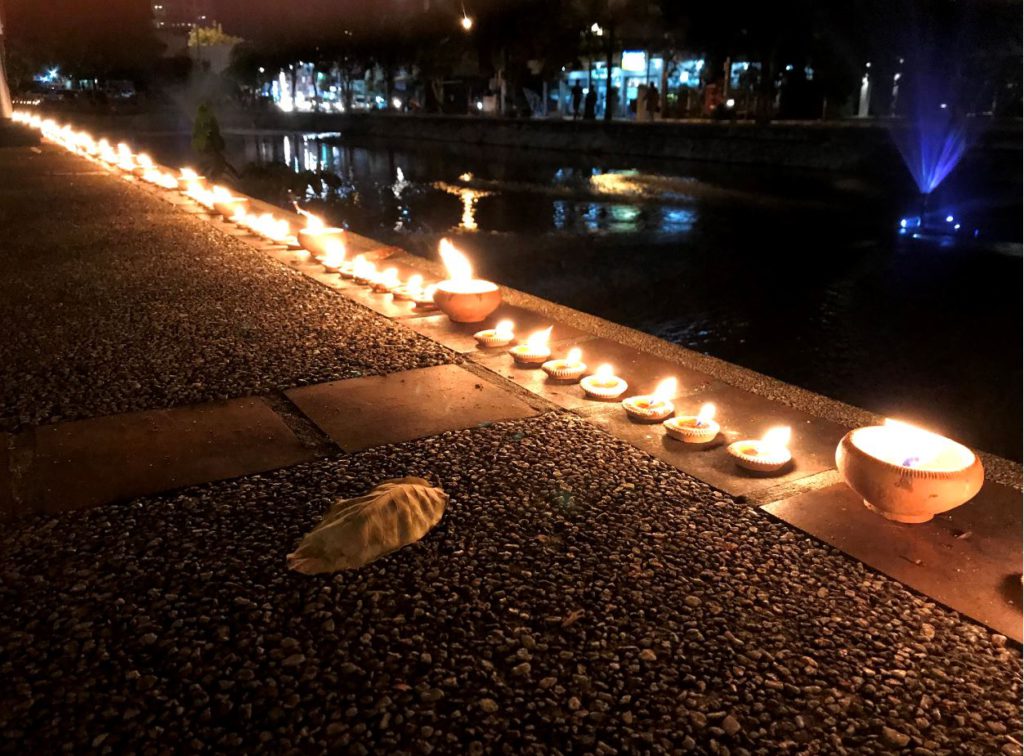 Where to celebrate Loy Krathong in Chiang Mai: To see the best cultural events on Loy Krathong, you should ideally head to these three venues –
1. Tha Phae Gate: This is the venue where the grand parade of Chiang Mai starts. 5-6 grand processions with statues, apsaras (angels), and grand birds sit on huge carts built in intricate designs, lighting with sound effects.
Music and live performances go throughout the evening. There are dozens of Thai girls dressed up in traditional Lanna garments looking so beautiful that it will take your breath away. If you ask nicely, they will take a photo with you too.
The procession then goes around the Chiang Mai town. So if you can check the route, grab a seat at a terrace restaurant and enjoy the view. You should not miss this.
Traveling to Chiang Mai? Read our detailed blog on the best things to do in Chiang Mai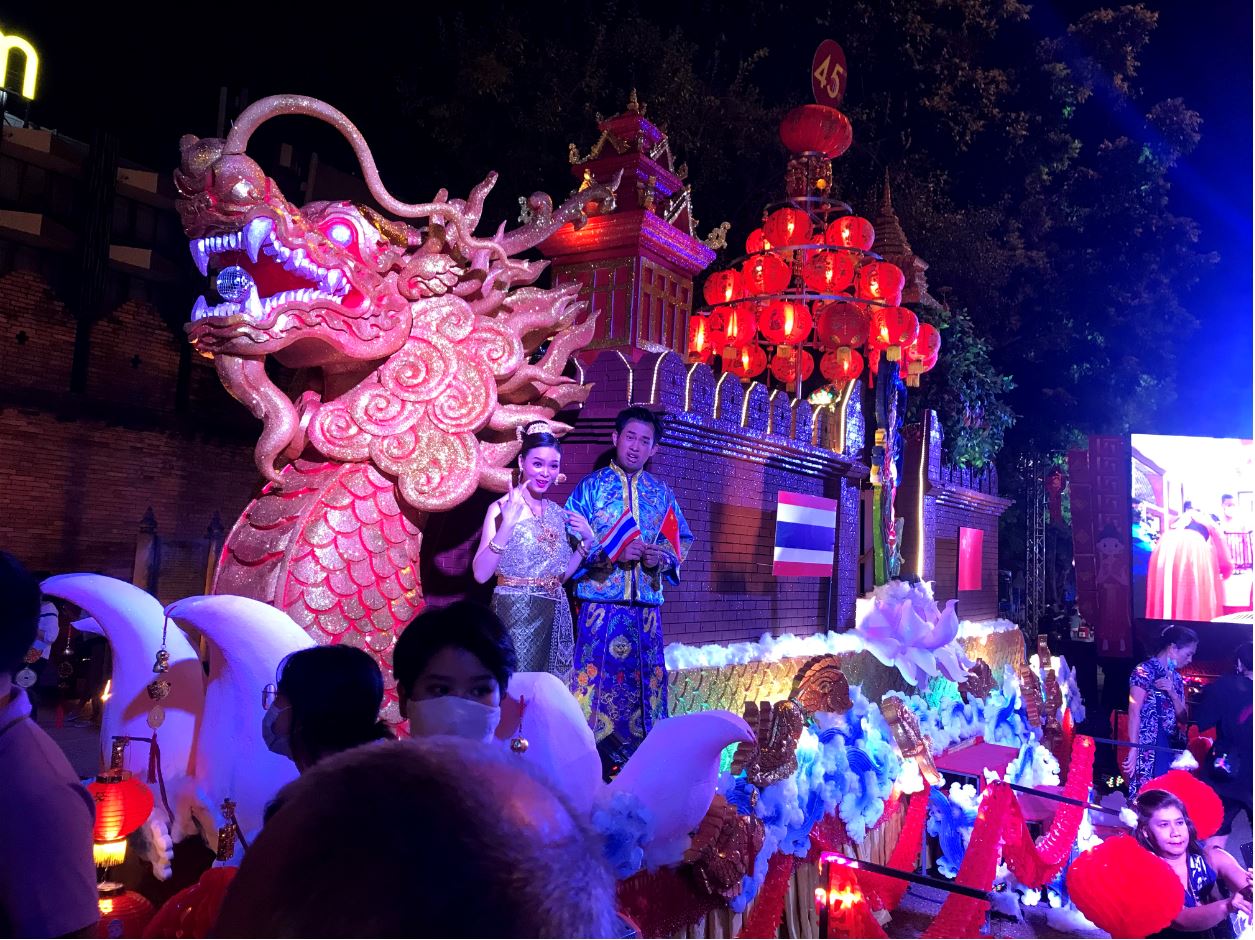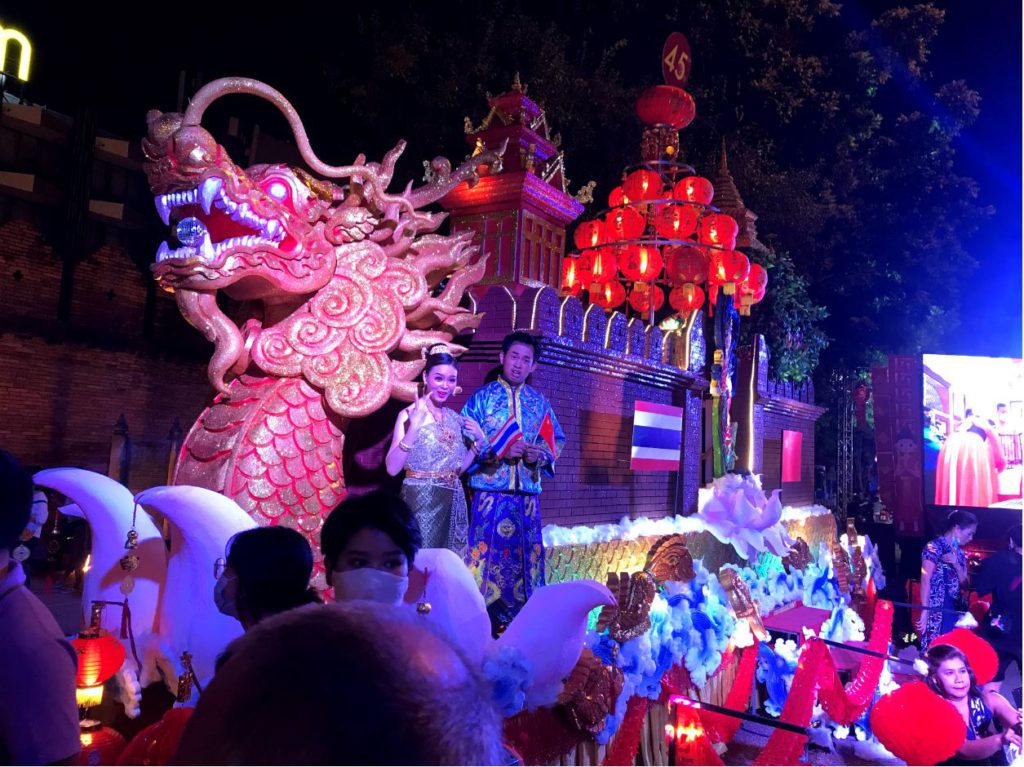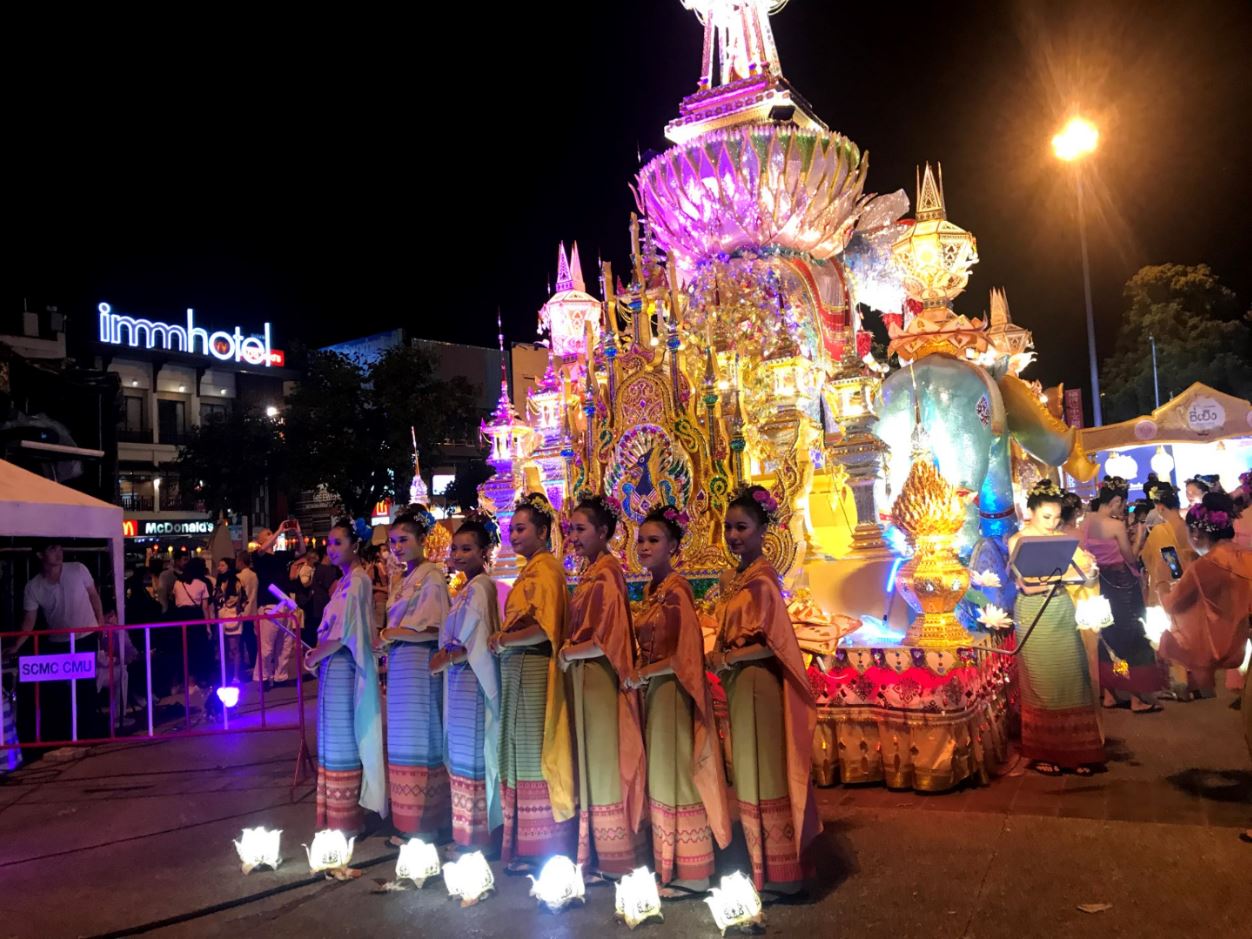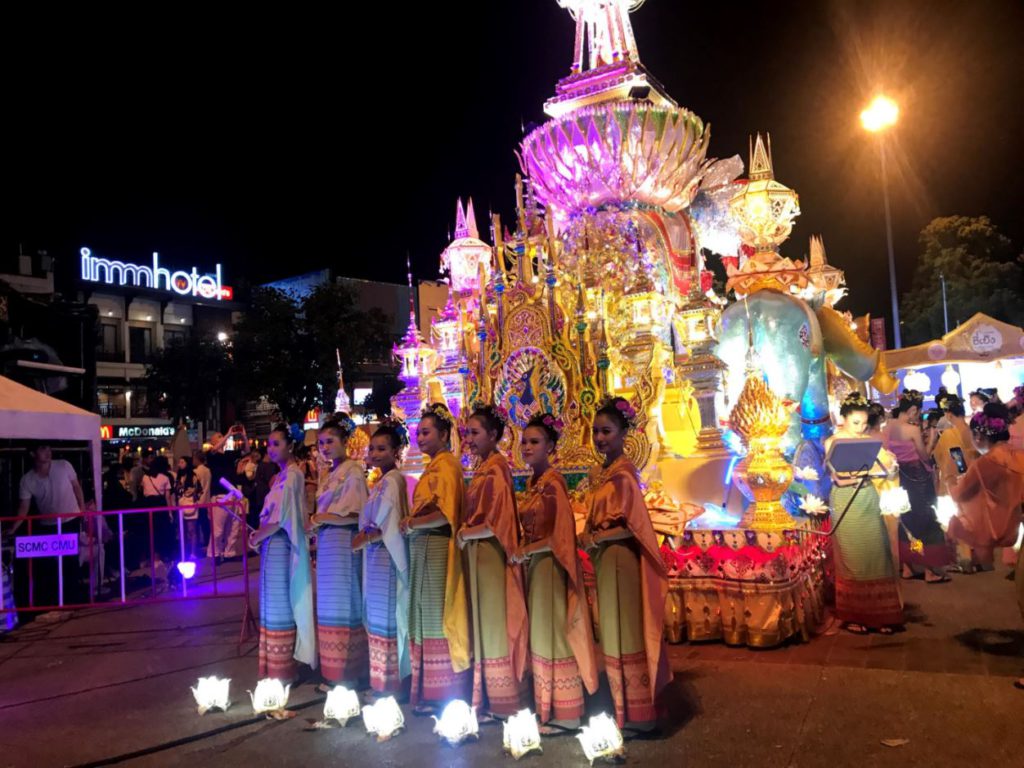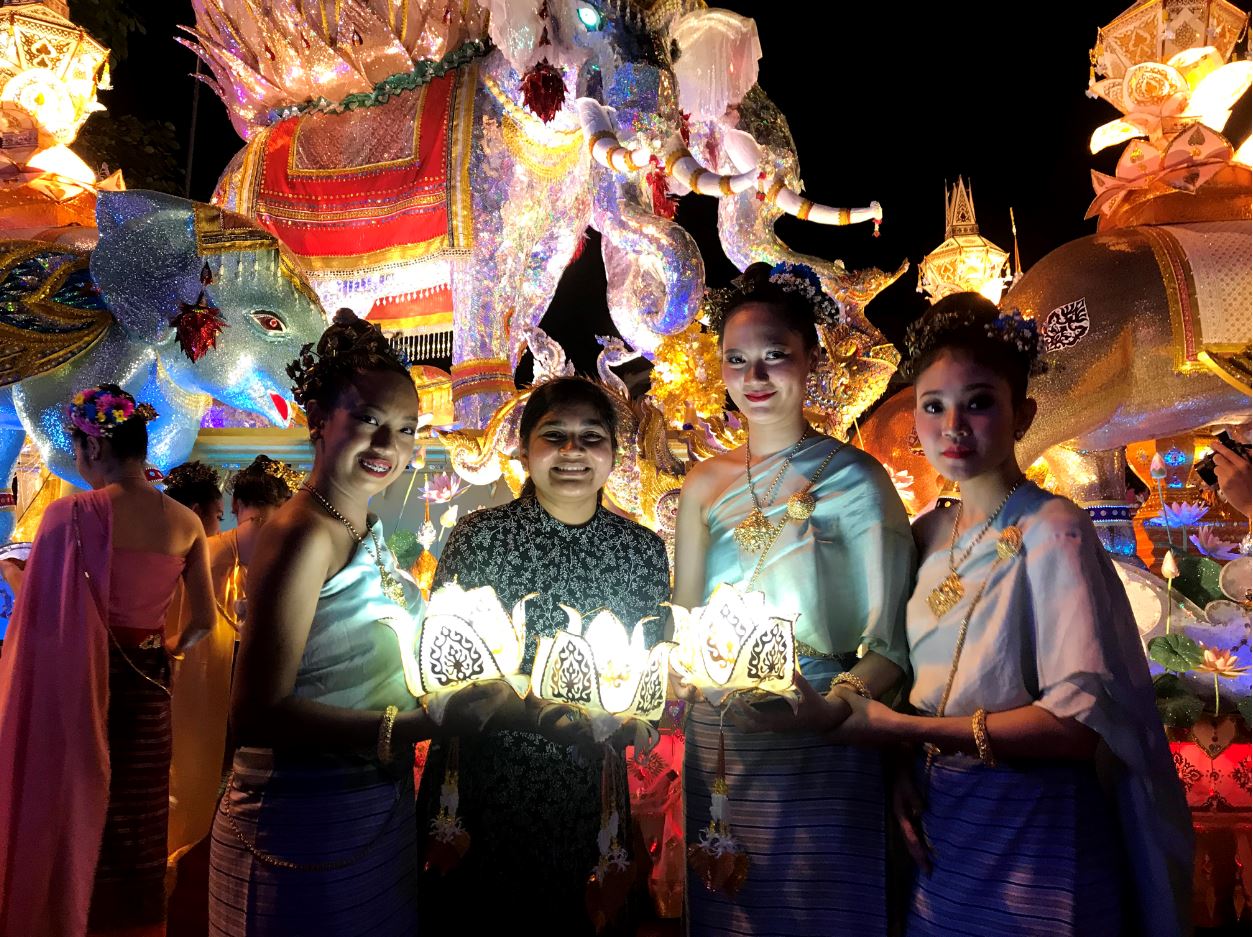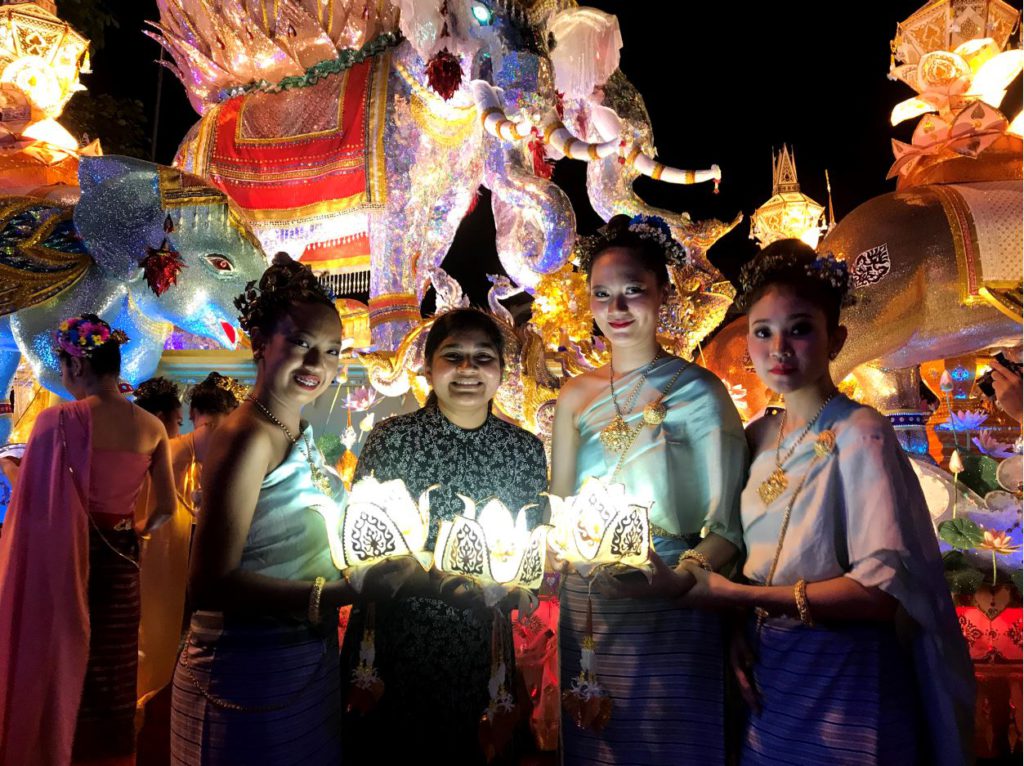 2. Three King's Monument: Just outside the monument is a huge open area where a couple of procession carts are parked. This is where a lot of performances take place. Professionals, school and college students stage these acts. This can go on for hours and each one is different from the other. Grab a good spot for this.
On the other side of the road inside the premise of Lanna Folklife Museum goes on a different set of celebrations. You can find people making Krathongs and traditional lamps from scratch as part of charity and merit-making. Rows of lanterns decorate the area.
Thais believe that it is auspicious to write your name on a lamp and hang it on Loy Krathong. Do it with a lover and write their name on the same lamp and it will bring you closer. So don't you miss on the cheesy stuff!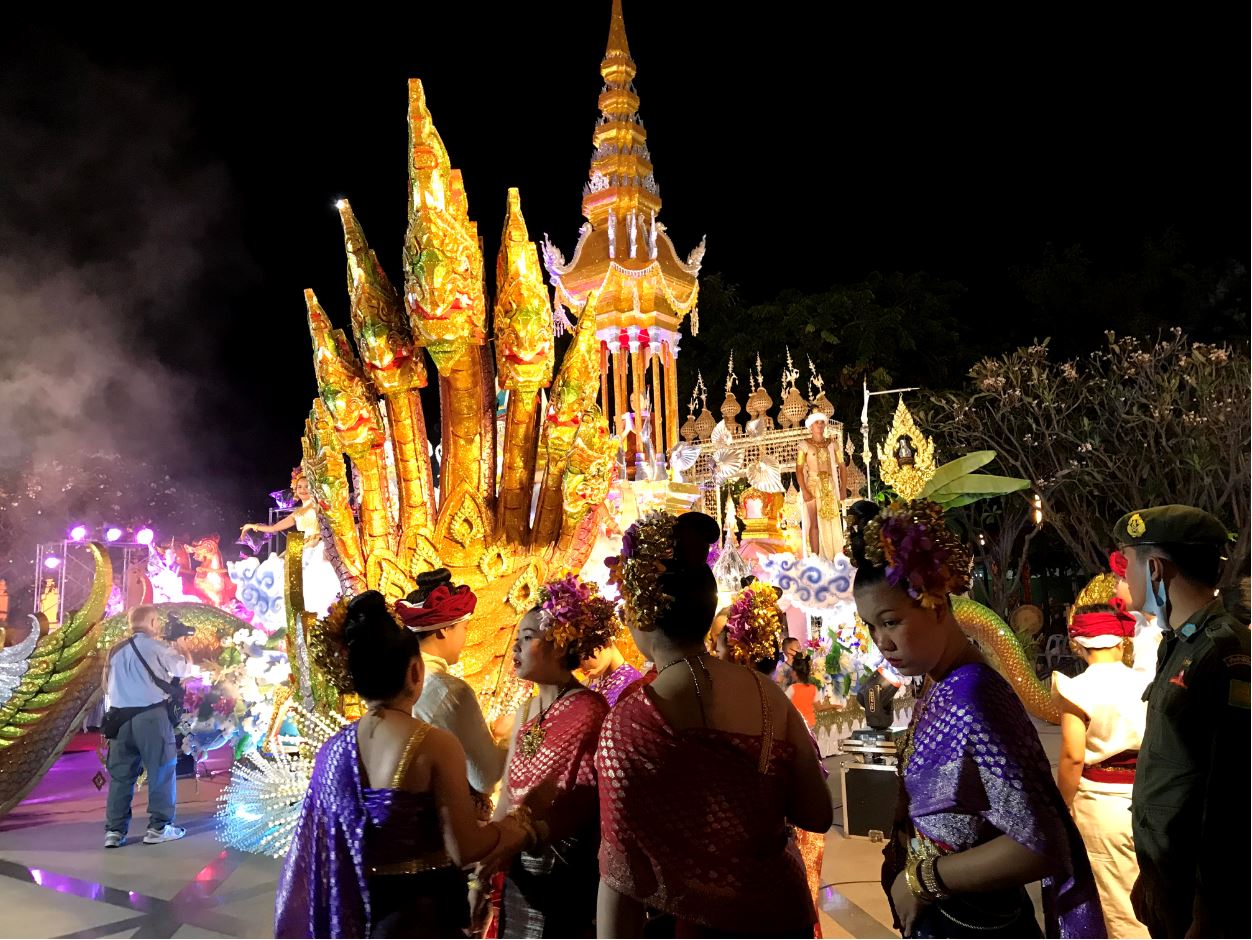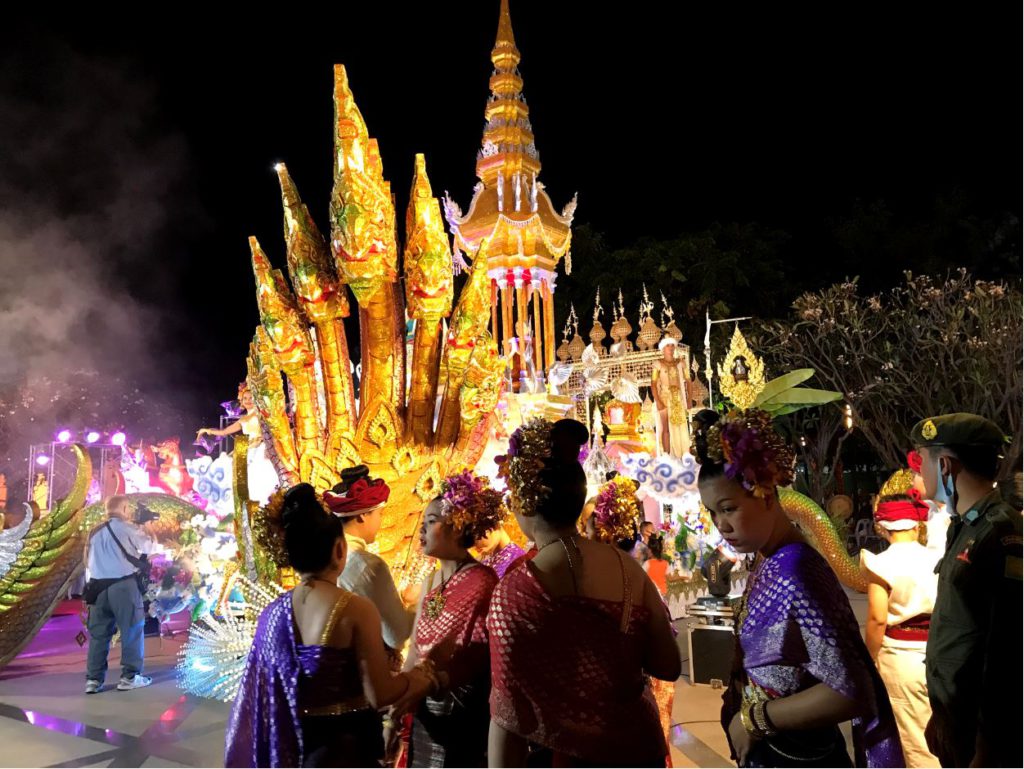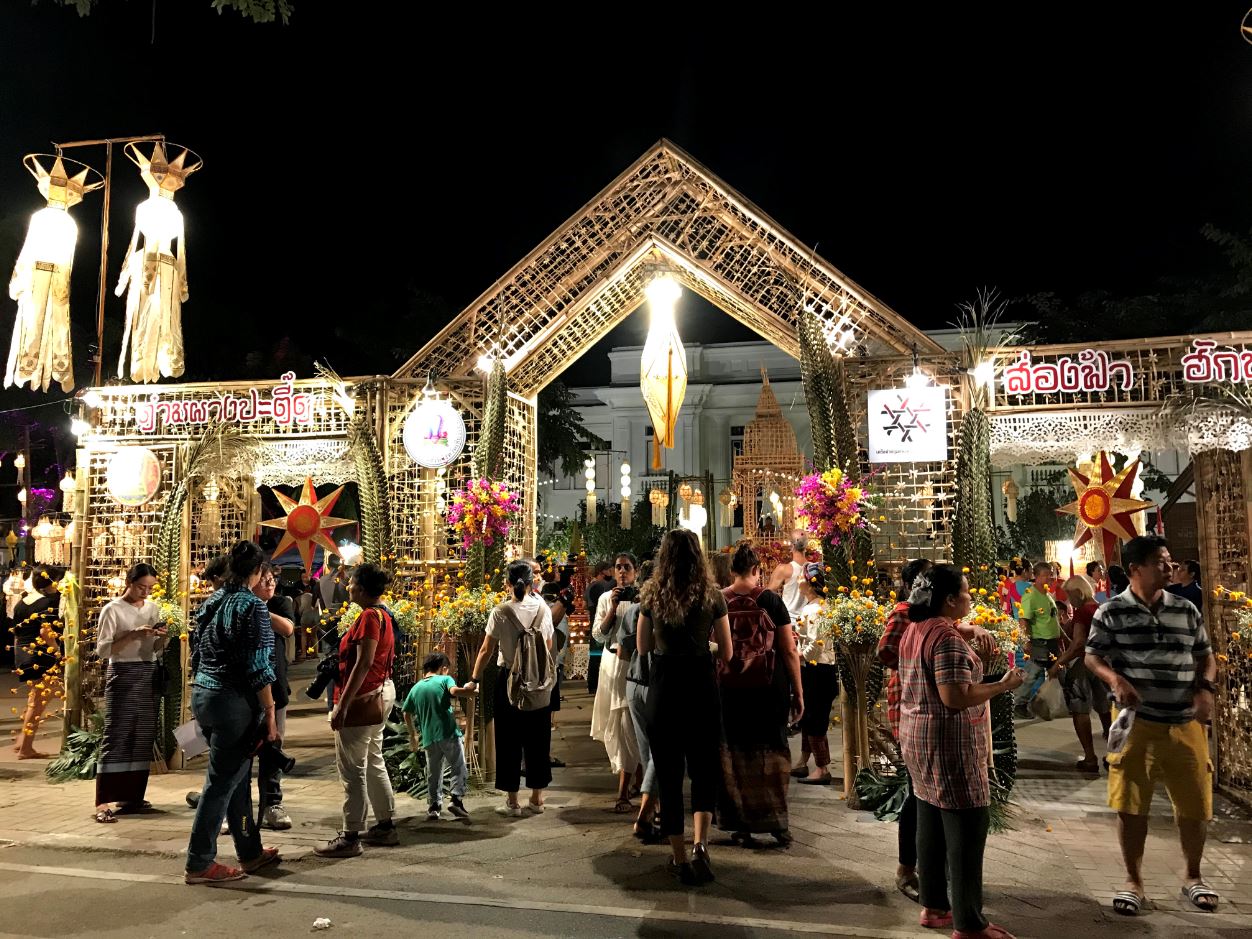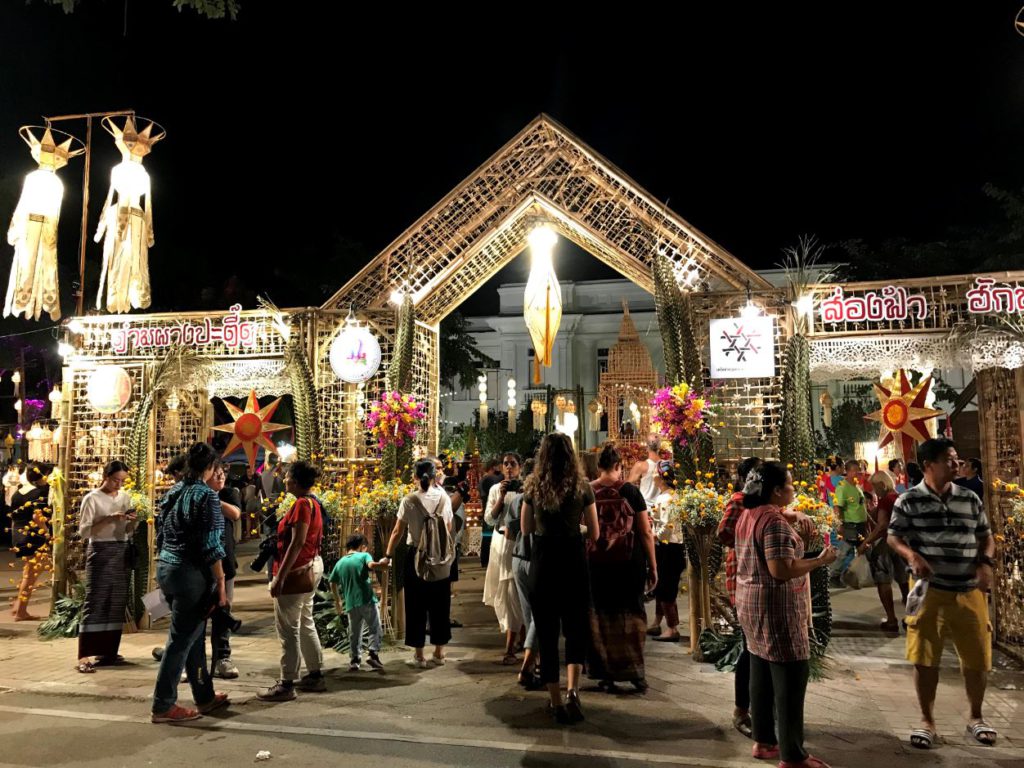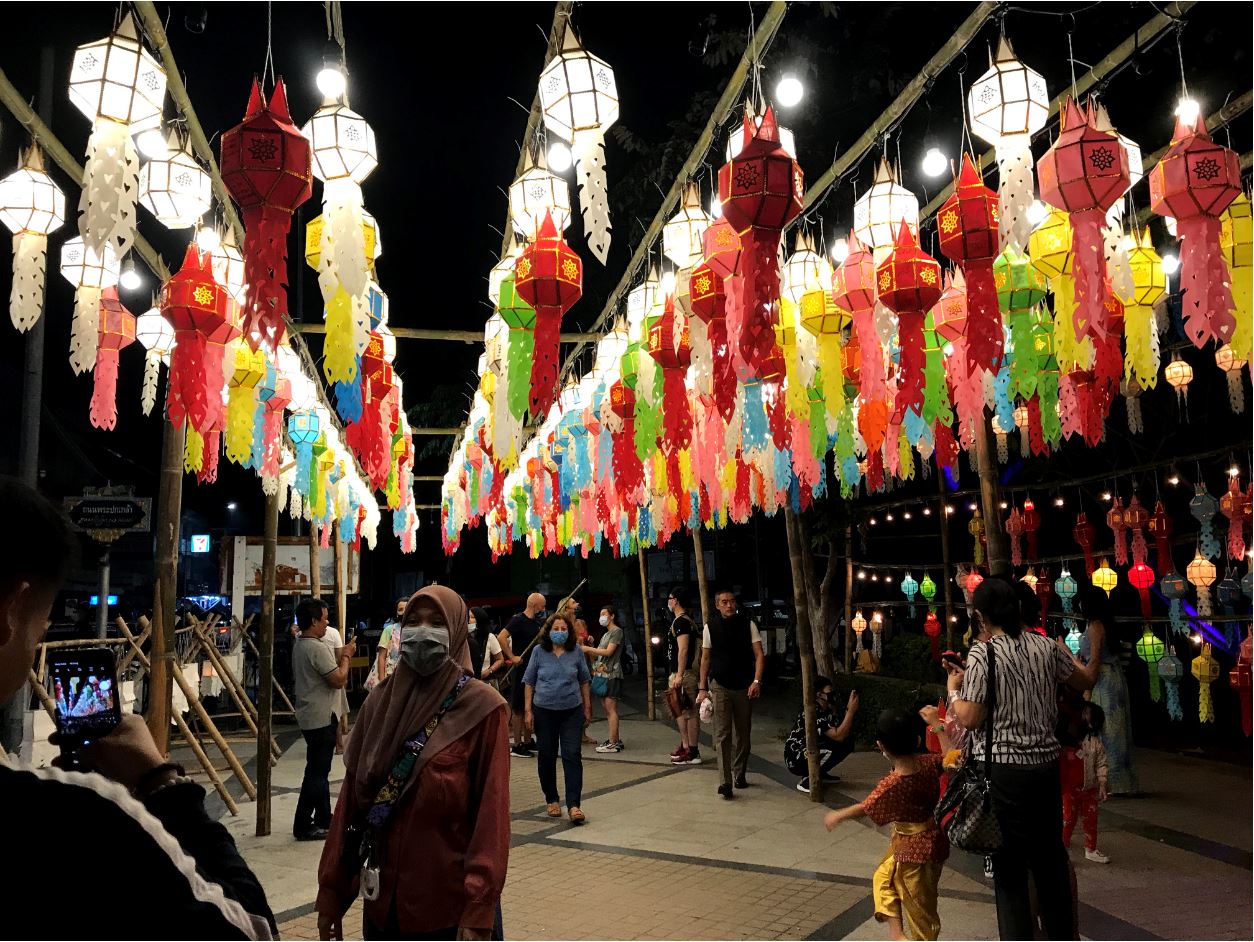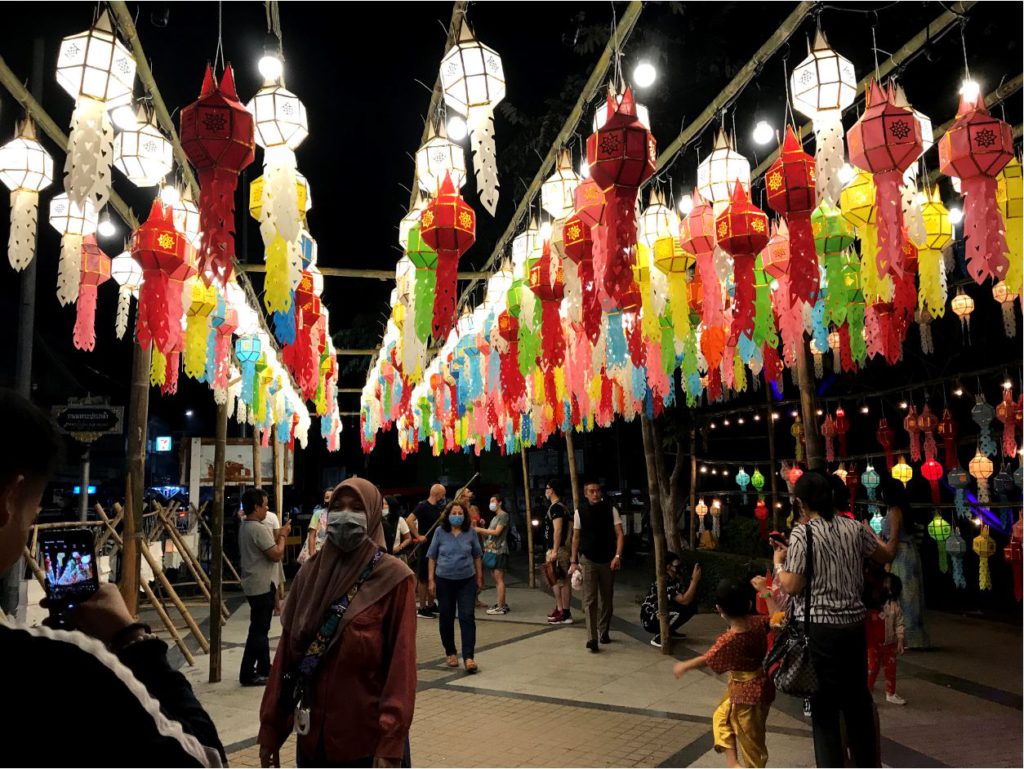 3. Nawarat Bridge: If it's Loy Krathong, there is going to be water. This is where the Mae Ping River comes into play. People swarm the river banks to pay their respects to the water spirits.
You can find one of the entrances to the bank and buy a Krathong from the local shops. Light it, say your prayers (if any) and let your Krathong go. There are also occasional fireworks in the sky.
On one side of the river are stone benches and street food vendors where you can pick up some snack and watch hundreds of Krathongs light up the river and float by. Do not go for a cruise at this time. Some may suggest it, but I will not.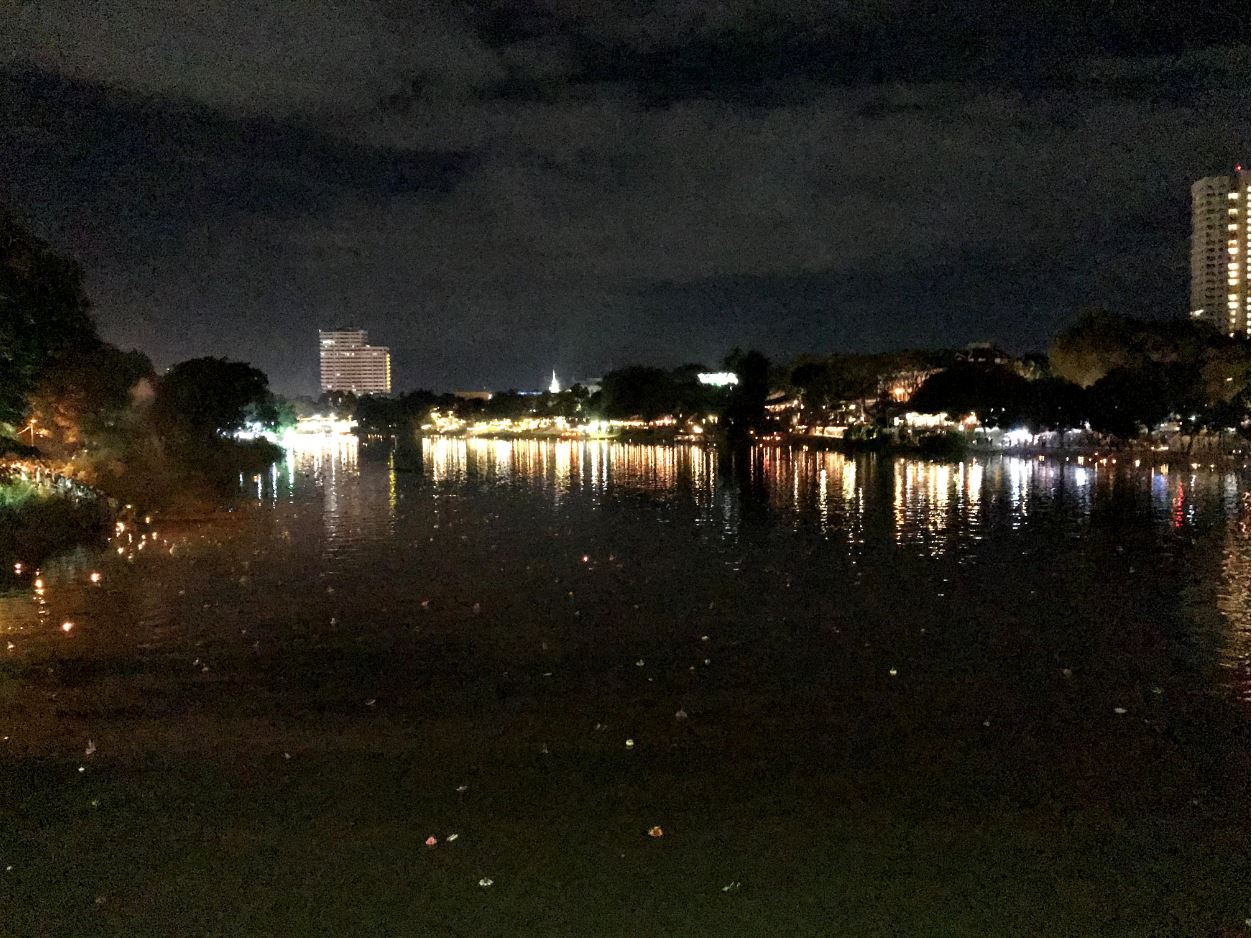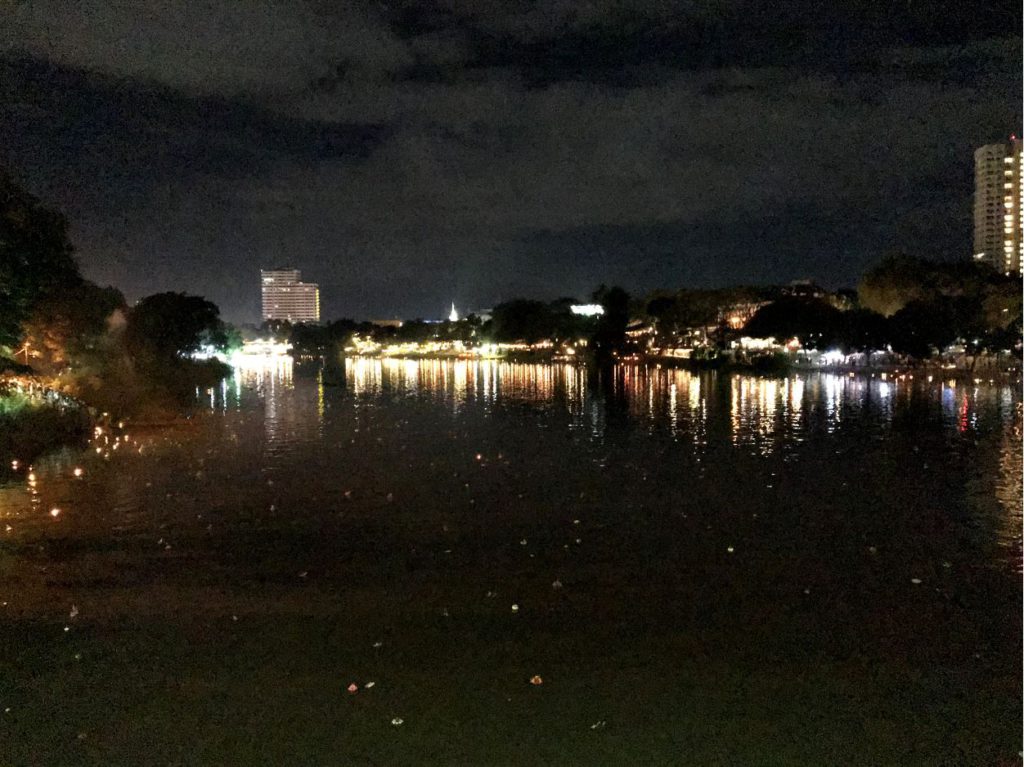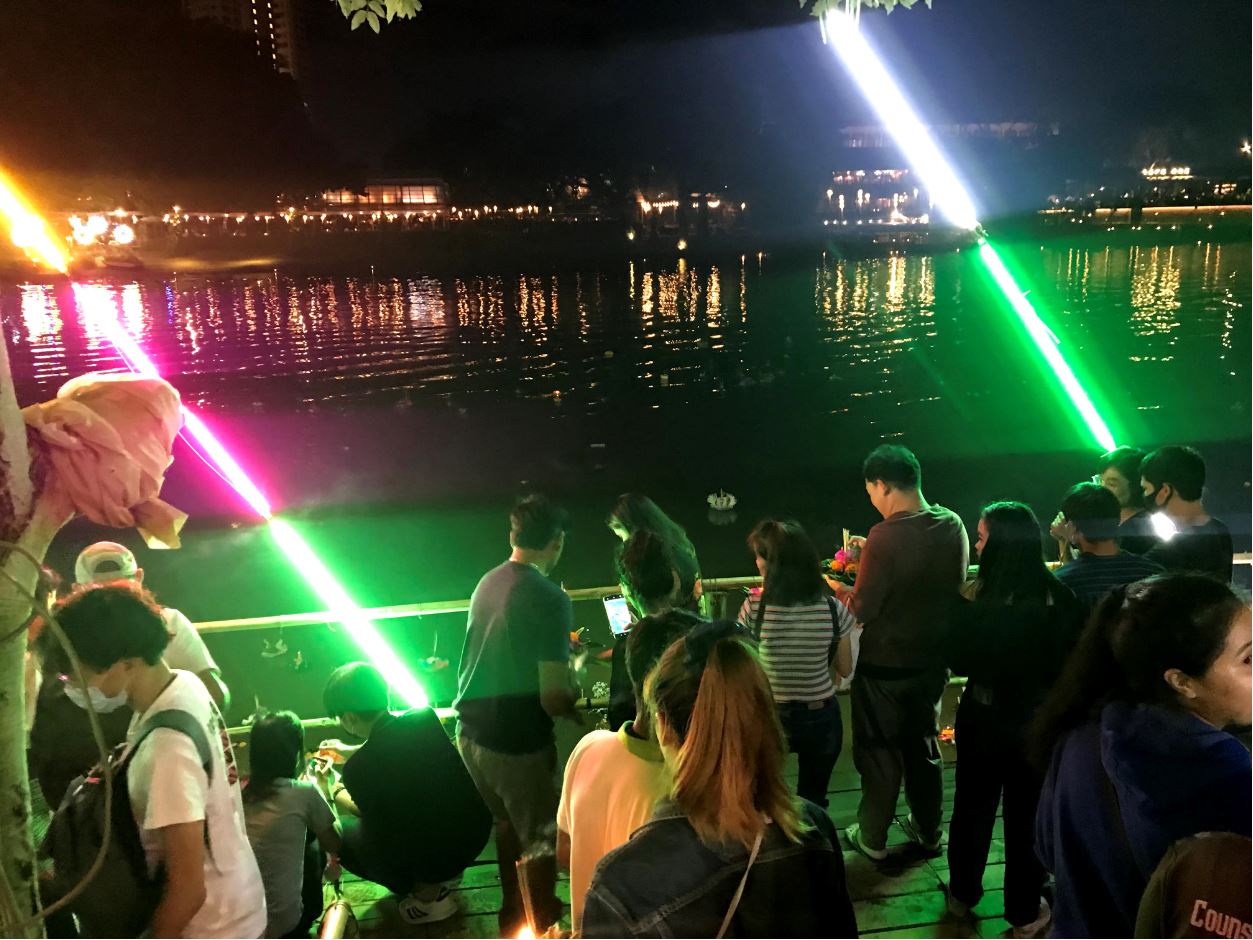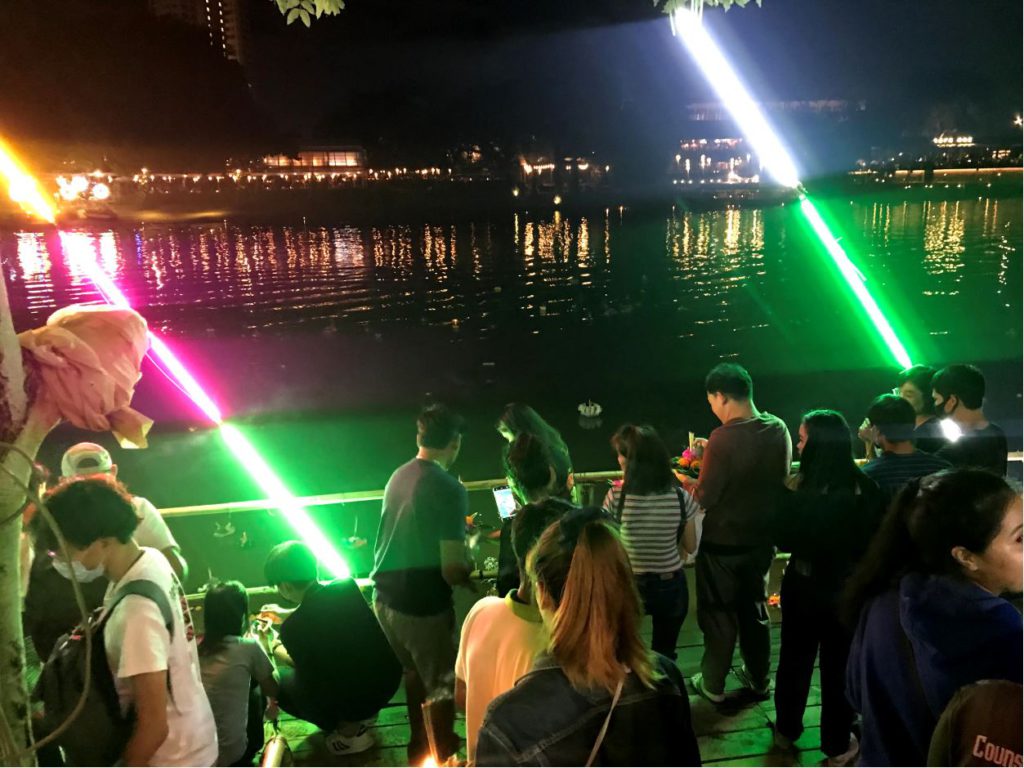 Yi Peng in Chiang Mai
As I said earlier, Chiang Mai is popular for celebrations also because of the Yi Peng festivals. It is when hundreds of people leave floating lanterns into a pitch dark sky. The contrast and the result are unbelievable.
In recent years, this practice is getting a lot of negative attention. The lanterns that are inflated by live candles are the reason for several fire accidents in the past. Since 2019, there has been a tight curb on the festivities.
All large scale celebrations happen outside the city sometimes 30 or 50 km away.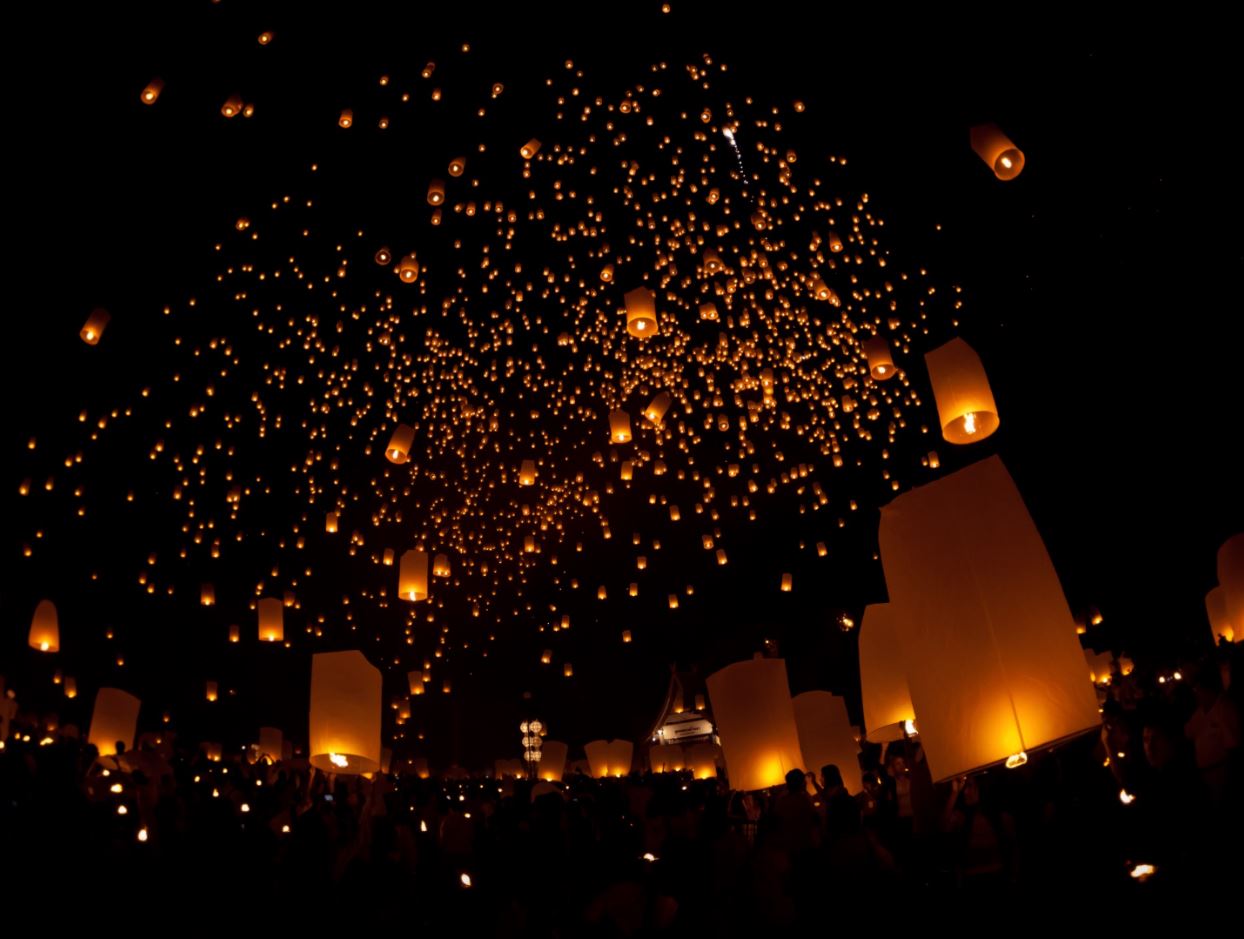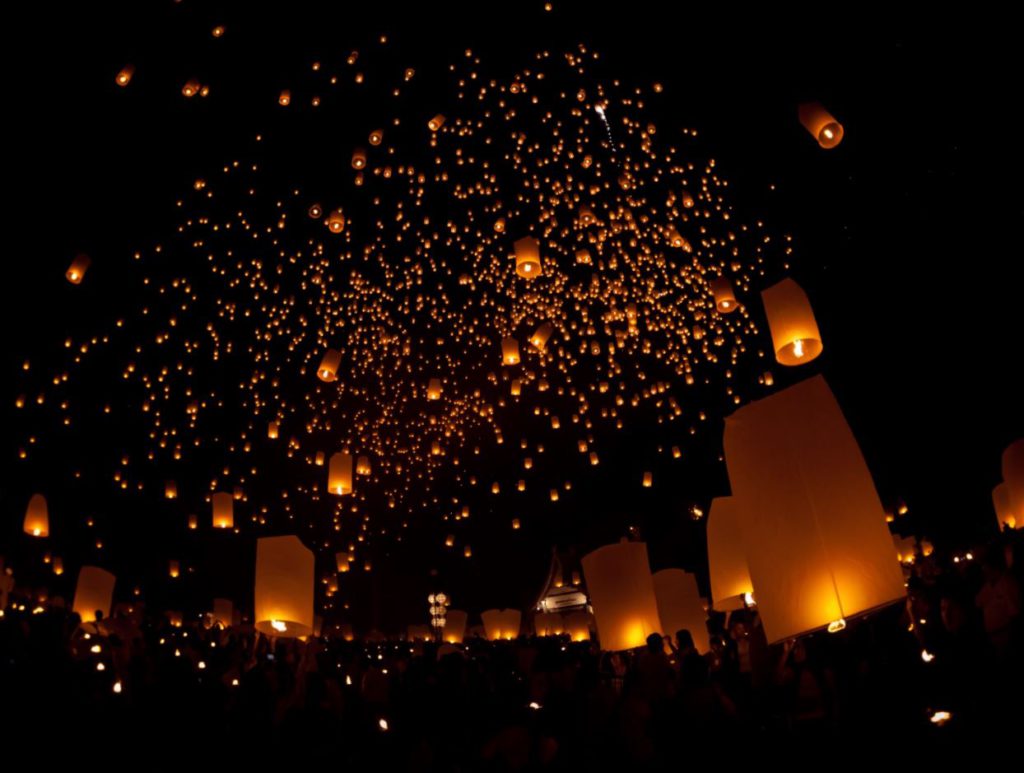 You can head to these places to celebrate the Yi Ping festival:
Mae Ping River: Similar to Loy Krathong, you will find people selling lanterns near the Mae Ping River near the Narawat Bridge. You can buy one yourself (THB 50-100 per lantern) and check with the locals on the time when they plan to launch.
Sometimes people launch around midnight on the night of Loy Krathong. Sometimes it is the next day. A lot of times everyone does it separately. If you haven't lit a floating lantern before, you may need assistance. Don't forget to make a wish before you release your lantern.
Yi Peng Lanna International: This is perhaps the biggest event of Yi Peng in Chiang Mai. Earlier around 4,000 people used to get together to release lanterns in the sky. This result in spectacular view the one you have seen in these photographs.
This place is great for Instagrammers and photographers. Lanna Dhutanka temple hosts this event behind Mae Jo University around 15km north of Chiang Mai old town.
There are dance and musical performances before and monks perform traditional prayers after which everyone gets together to release these lanterns in the sky. If you are doing this on your own, make sure you have a vehicle of your own to come back.
A lot of event organisers sell tickets online beforehand. They offer a package that includes transportation, dinner and free lanterns. But since the lantern release has been so uncertain in recent years, I will not suggest buying a ticket beforehand. I think they do not refund in the case of a cancellation.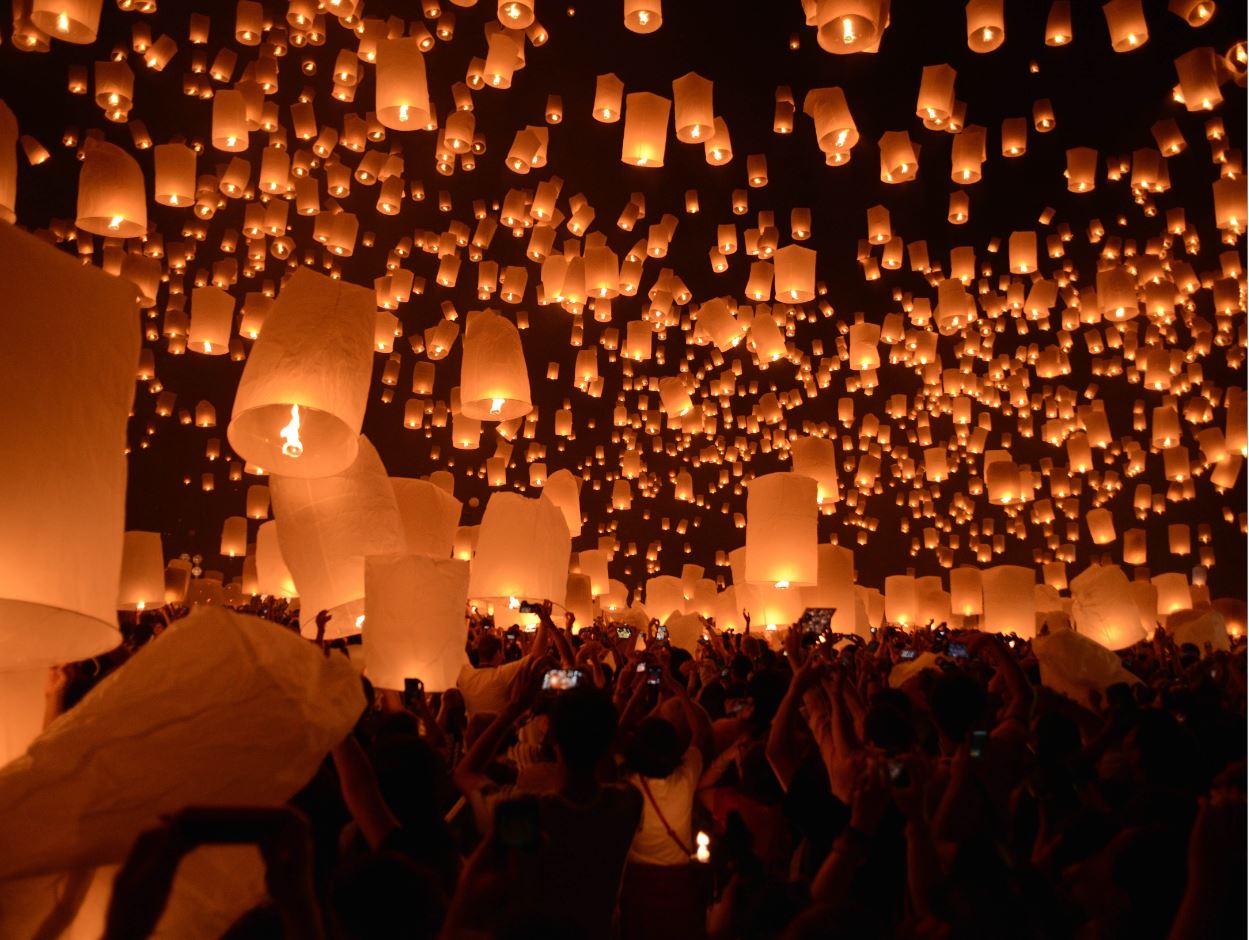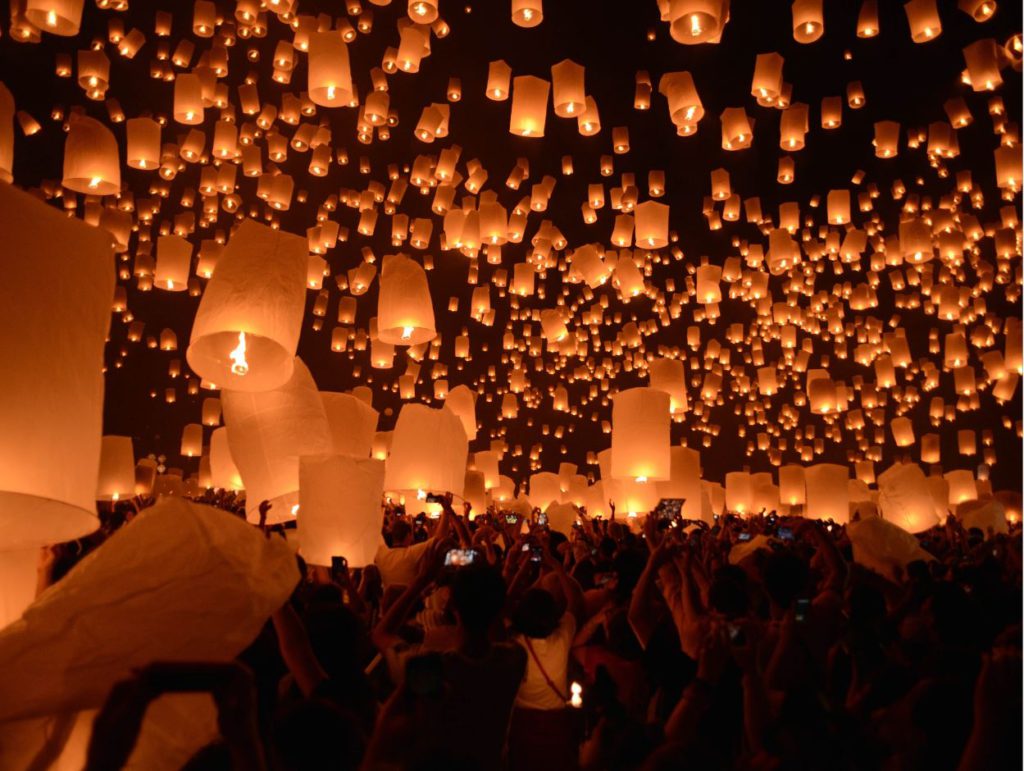 Mae Rim: The scale is similar to that to Yi Peng Lanna festival where around 3000 people attend this celebration. This is celebrated in the Mae Rim district hosted by Cowboy Army Riding Club around 10 km outside the city. The event is called CAD Khomloy Sky Lantern Festival.
The event includes cultural dances, sword dance, Boxing show, Lanna drum dance show along with traditional Lanna style dinner. Of course, you need to buy the ticket for this. If you are buying it online, most dealers also have an option to pick and drop you off at your hotel in Chiang Mai.
You can check out their FB page (CAD khomloy sky lantern) for previous events. Ticket to the festivals is available a few weeks before the festival online on various portals.
Doi Saket: This one is a much smaller and intimate celebration. Doi Saket is around 30 km outside the city. Locals get together with near the Doi Saket Hot Springs and after the prayers, everyone gets together to release lanterns in the sky.
I will personally suggest you check with someone or visit Doi Saket beforehand to confirm if there is going to be a lantern release festival that year so you wouldn't want to spend your evening driving around so far for nothing.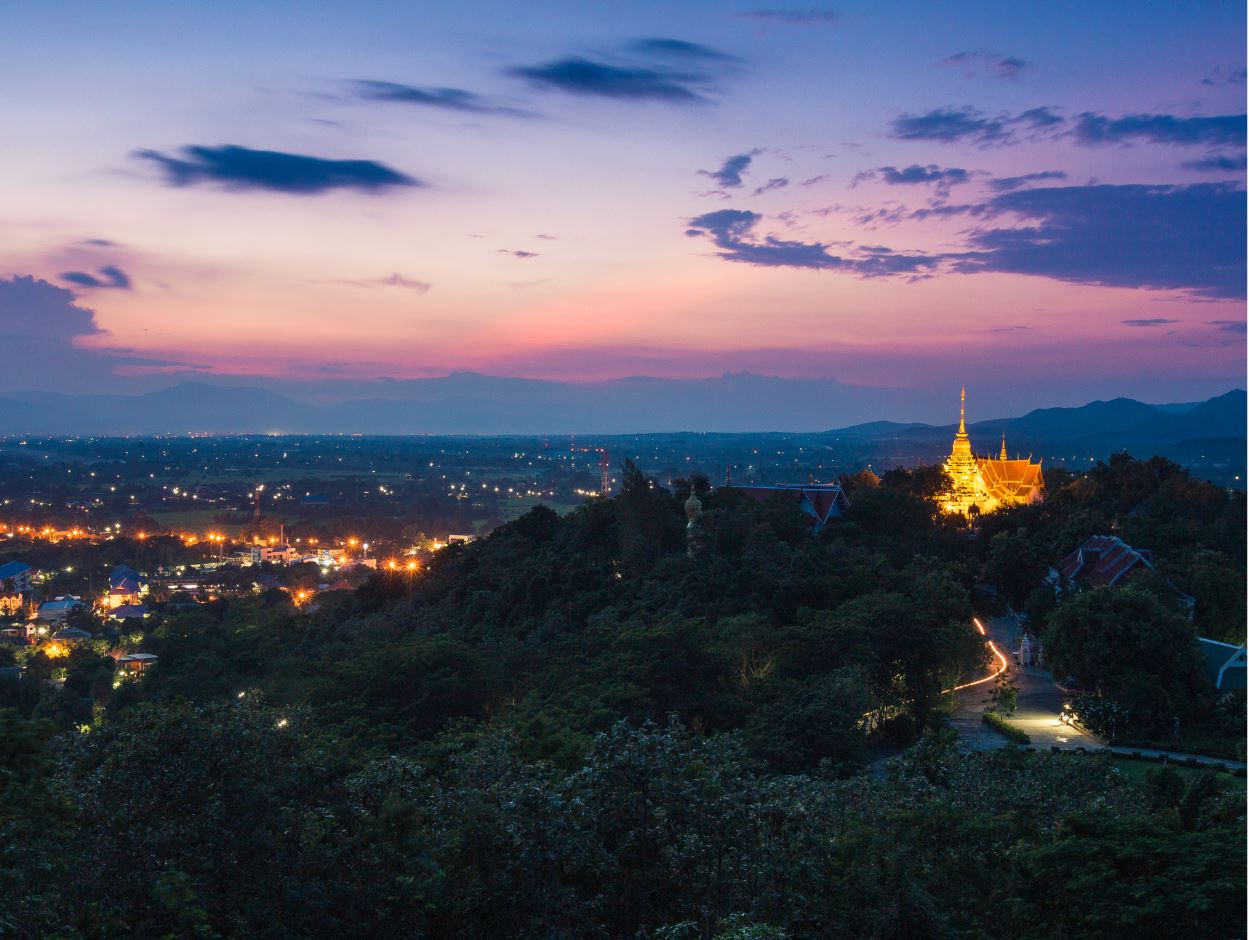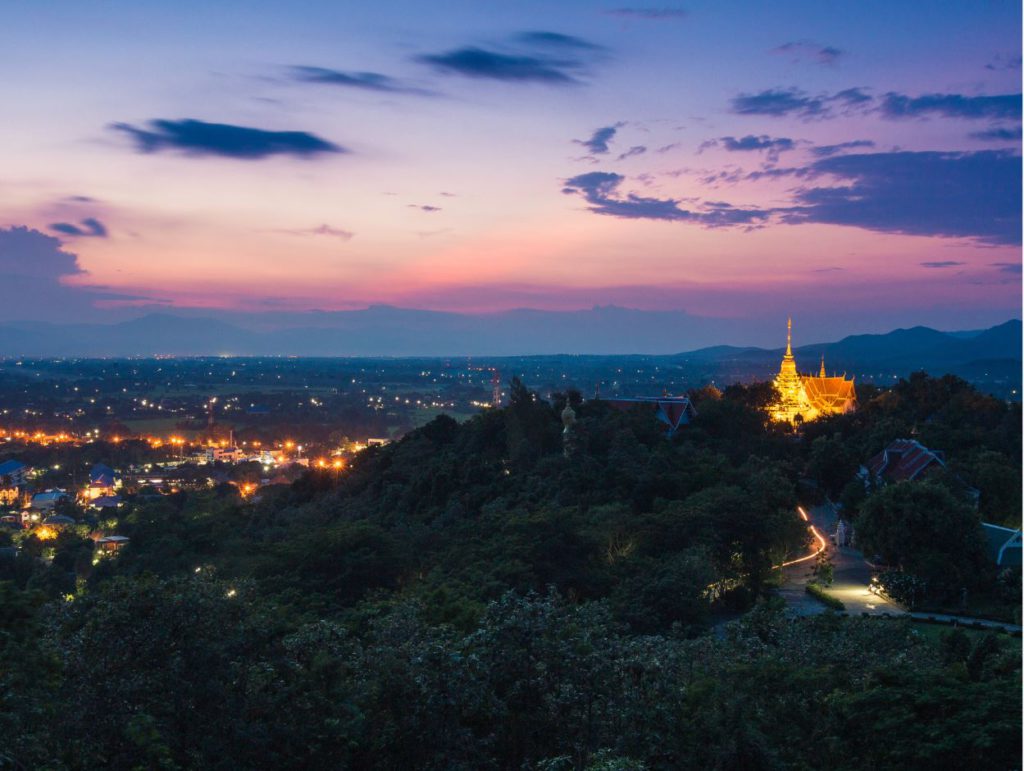 Loy Krathong in Bangkok
Loy Krathong in Bangkok is quite different from other places. The air of festivity is definitely there, and there are a lot of spectacular performances too. Although it may lack a sense of intimacy unless you are with friends and family. Some places can get overcrowded too.
Since you need to float a Krathong on a water body, all the events take place next to Chao Phraya River or a lake.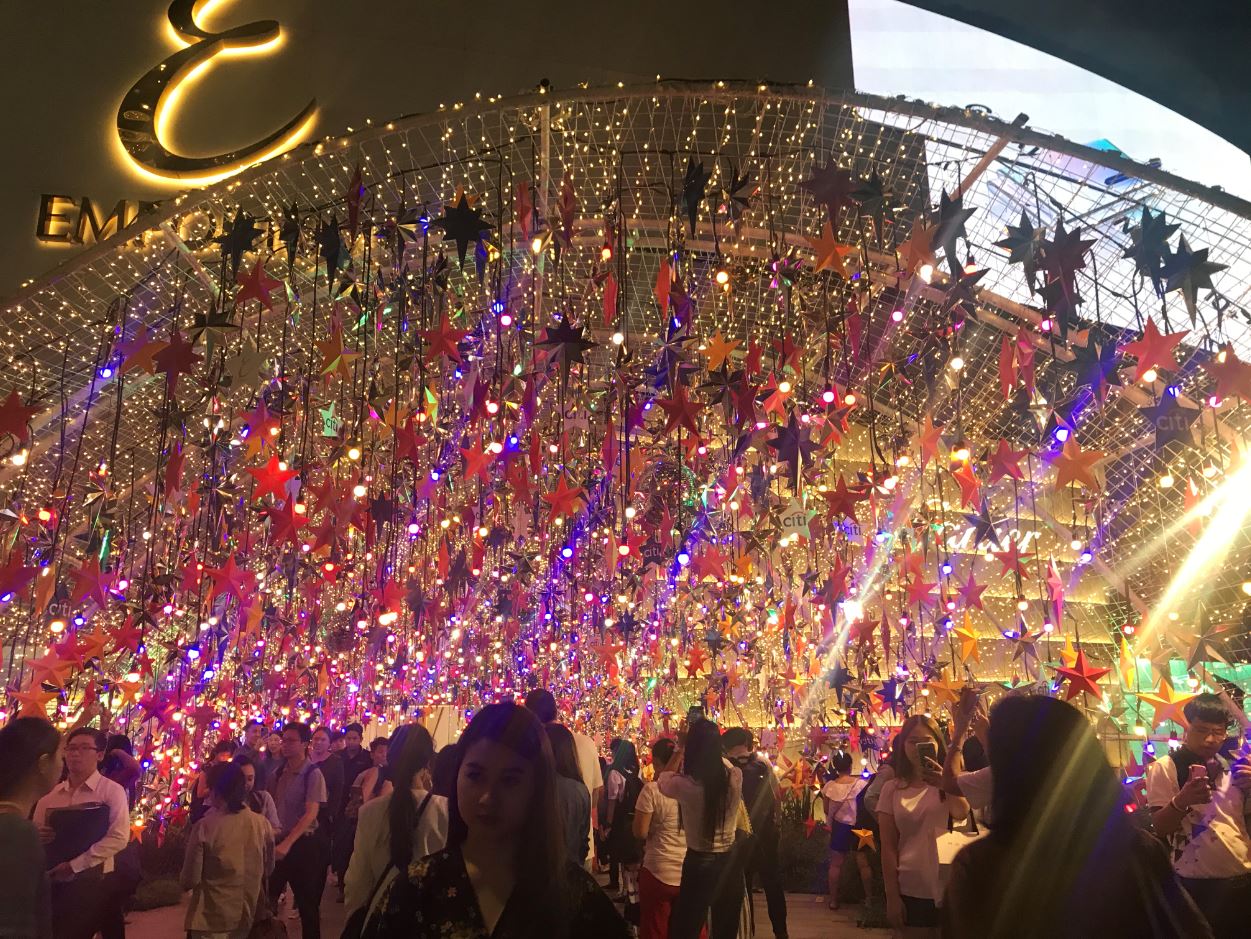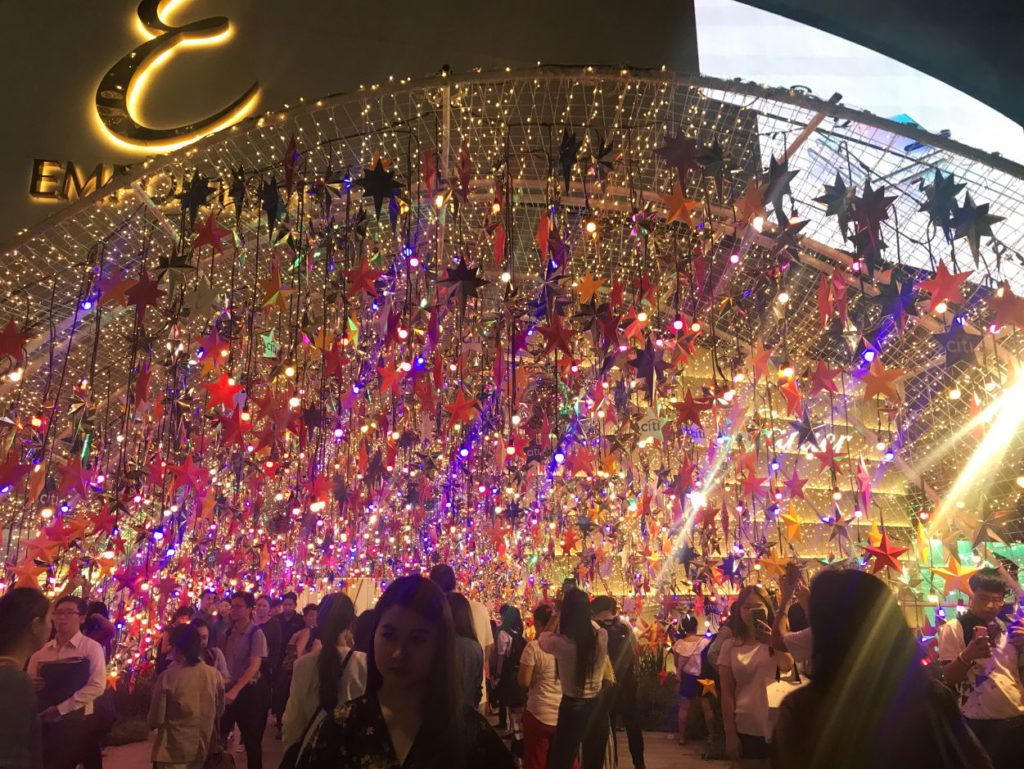 Here are some celebrations that take place on a larger scale right next to Chao Phraya River:
Asiatique: If you aren't already aware, Asiatique is a riverfront open-air mall in Bangkok. The mall is popular for its ferries wheel; open-air stalls something like a night market and a mix of both local and international retail space.
Apart from buying and floating a Krathong in the river, you can also witness some dance performances and musical shows that take place in the evening. Moreover, you will have to take a boat from Saphan Taksin station. So I am sure the brightly lit river will be something to see.
Tha Maharaj: This mall sits on the riverfront between right after the Grand Palace. More locals frequent this mall than foreign tourists and I wouldn't even call the place extraordinary. But they do put together a good show during Loy Krathong.
I think it would be a great place with a young crowd to celebrate Loy Krathong without spending too much that evening.
City Parks: Again, if want to keep this low-key and don't mind the crowd, you can also head to one of the many parks in the city. You can buy a Krathong just outside the park and then find a spot to float your Krathong.
I will say, it's okay. It is a great way to celebrate if you aren't looking to overspend on your budget, and want to do this with family or friends. The crowd is somewhat overwhelming. So you kind of do your stuff and head out to a place to grab some festive dinner or a drink if you want.
You can head out to Lumphini Park (Lumphini MRT), Benjasiri Park, Benchakiti Park (Asoke BTS/Sukhumvit MRT) or King Rama 9 Park (near BTS Bang Na) for the celebrations.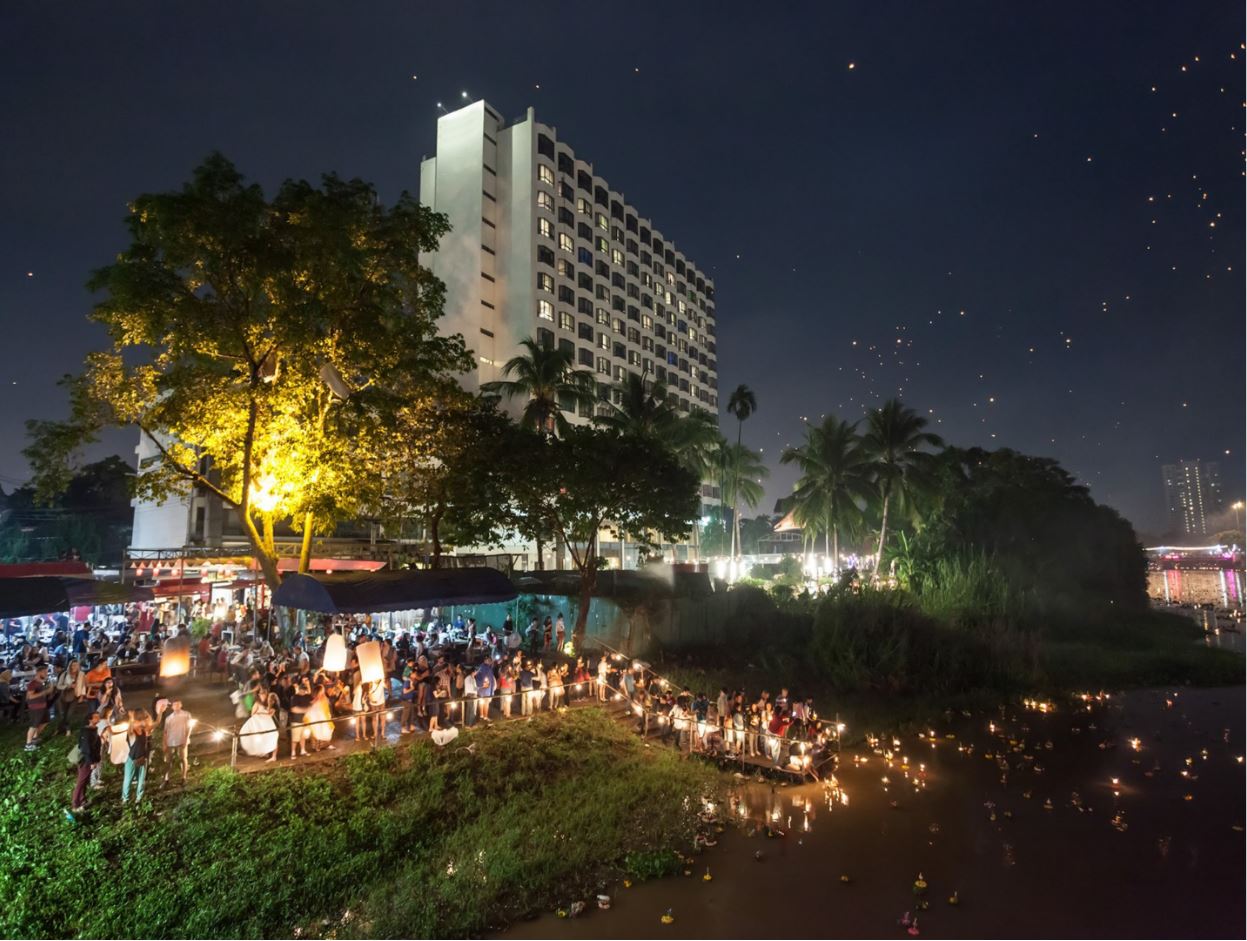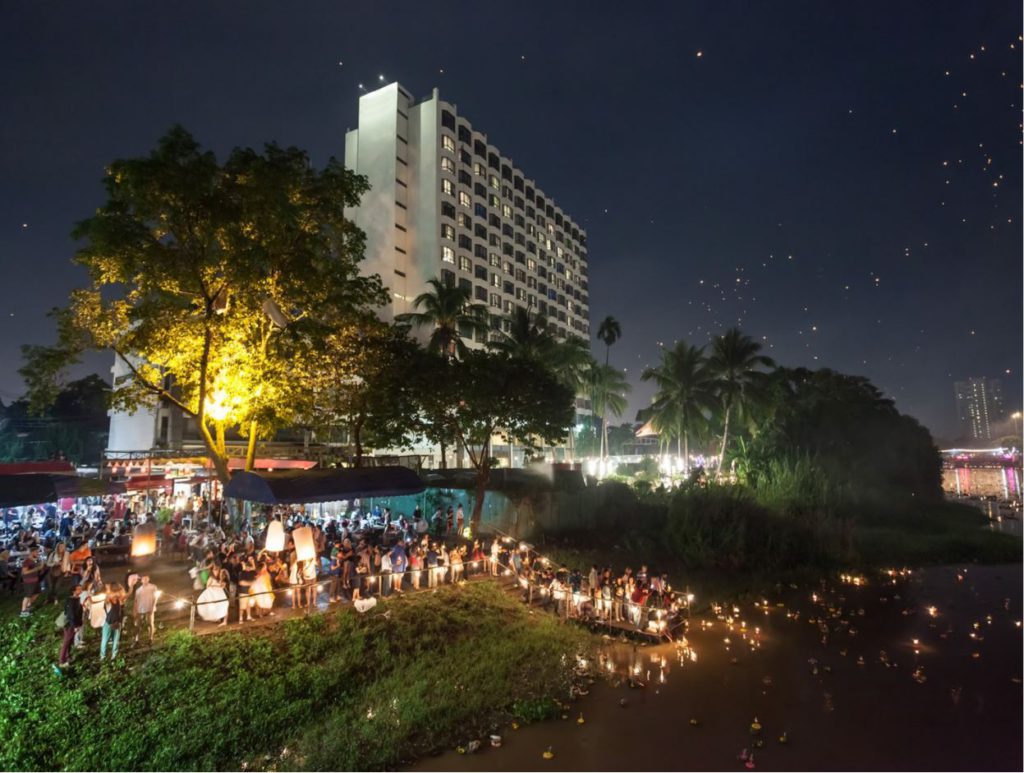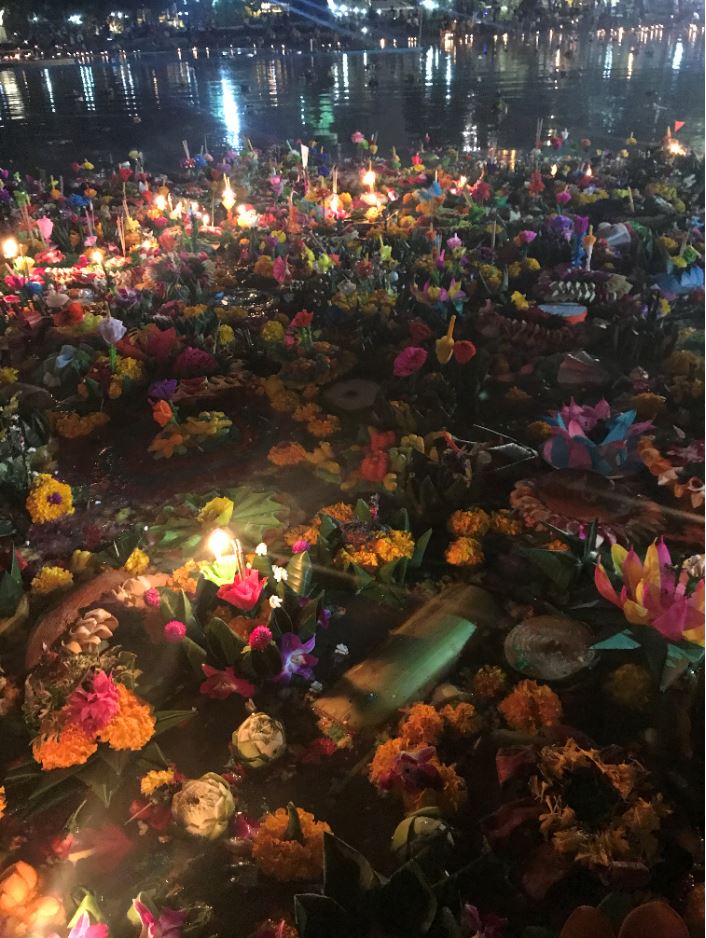 Riverside Hotels: Several luxury hotels along with the river bank host a semi-private event on Loy Krathong. You can call them up and check if they are accepting guests and if there are any extra charges for the event.
If you are ready to spend a bit of money, I think it would be a very classy place to celebrate Loy Krathong without too many people. You can, of course, club a great dinner at their restaurant (if it's already not included).
These hotels (riverside) are Chatrium Hotel near Saphan Taksin, Anantara Riverside in Silom, Mandarin Oriental in Silom, Royal Orchid Sheraton Hotel and Shangri La hotel.
Chao Phraya Dinner Cruise: To take it up a notch you can celebrate Loy Krathong on the water itself. You can look at booking a river cruise on the Chao Phraya River if you want to do something really special.
The cruise operators usually do something special on Loy Krathong. The boats halt on the water for a while when the passengers can float Krathong in the river. They even have a large size Krathong of their own that people float as a group.
There are a traditional Thai style dinner, dance performances and musical shows (or more) depending upon the cruise you choose.
However, these are in very high demand for Loy Krathong. So make sure you book them well ahead in time. You may have to overpay for them as well.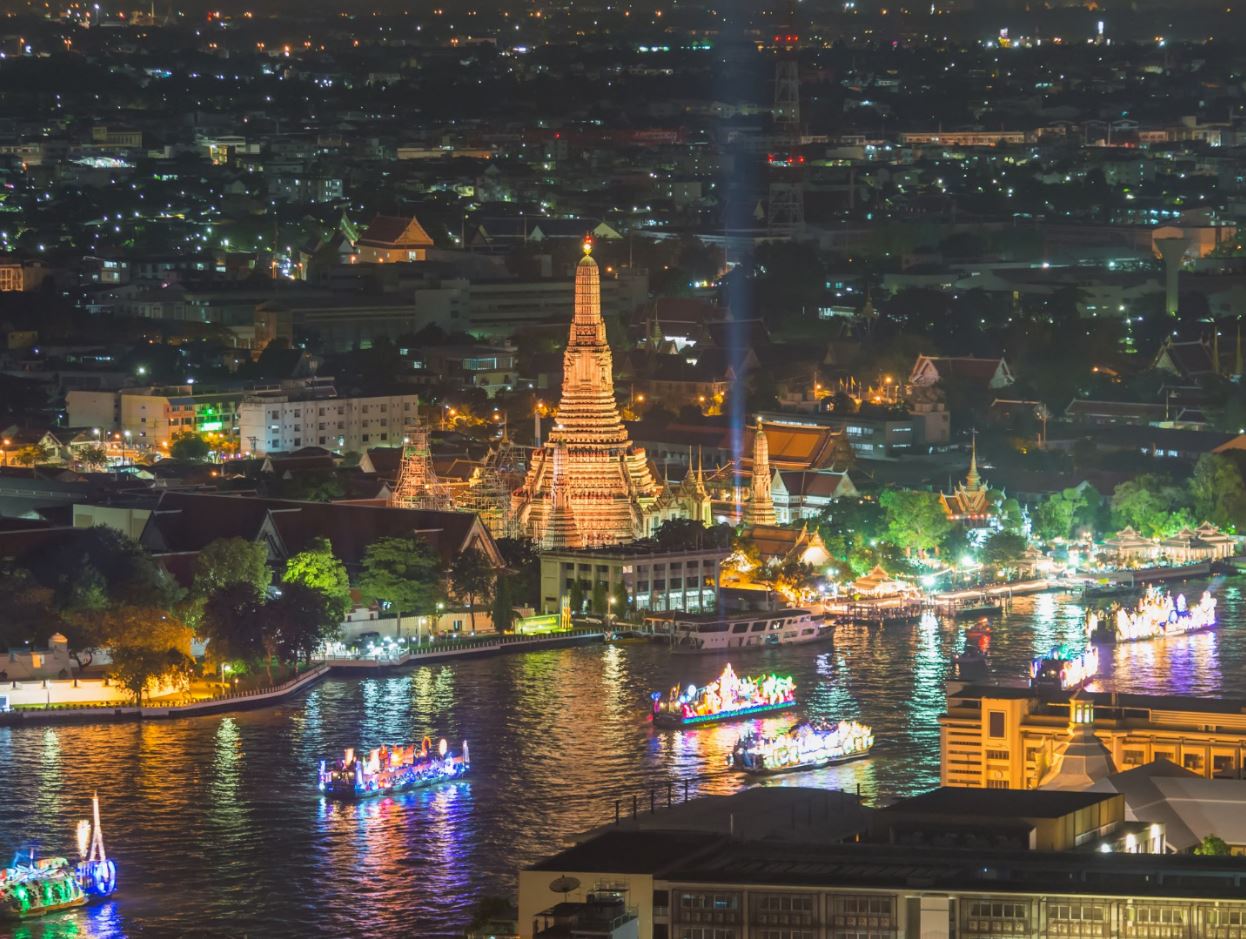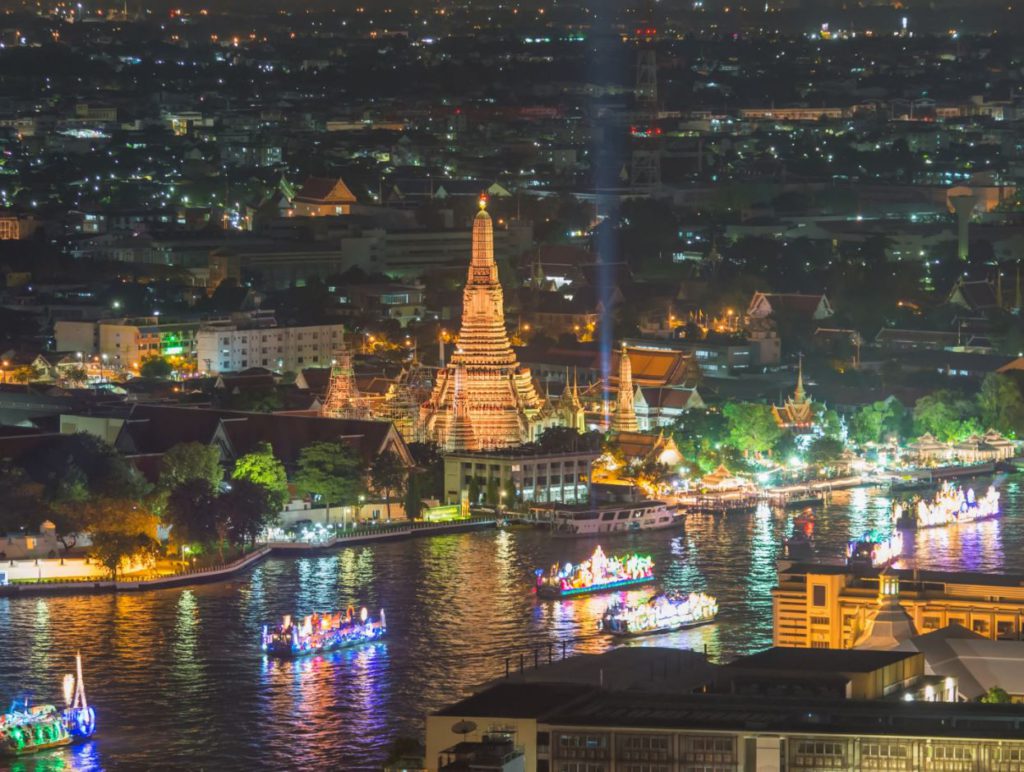 Aftermath of Loy Krathong
Like several other festivals, Loy Krathong also has its challenges and aftereffects. Most of it deals with environmental degradation.
While a traditional Krathong is made of natural elements like plant parts, flowers and banana stem, some modern style Krathong is not. Krathongs made of plastic and styrofoam has also seen some popularity amongst people.
In fact, the day after the festival the state of the water bodies are abysmal. The local authorities do some part in cleaning up the river and lakes. Although but the water animals suffer to a great extent.
The floating lamps floated during the Yi Peng also cause a lot of damage to the traditional Thai homes (made out of wood). Flights are also cancelled for several hours of the day for it.
While I am not discouraging you to celebrate Loy Krathong, I can only urge you to do it mindfully. Do not use non-biodegradable substances and educate a few more if you can.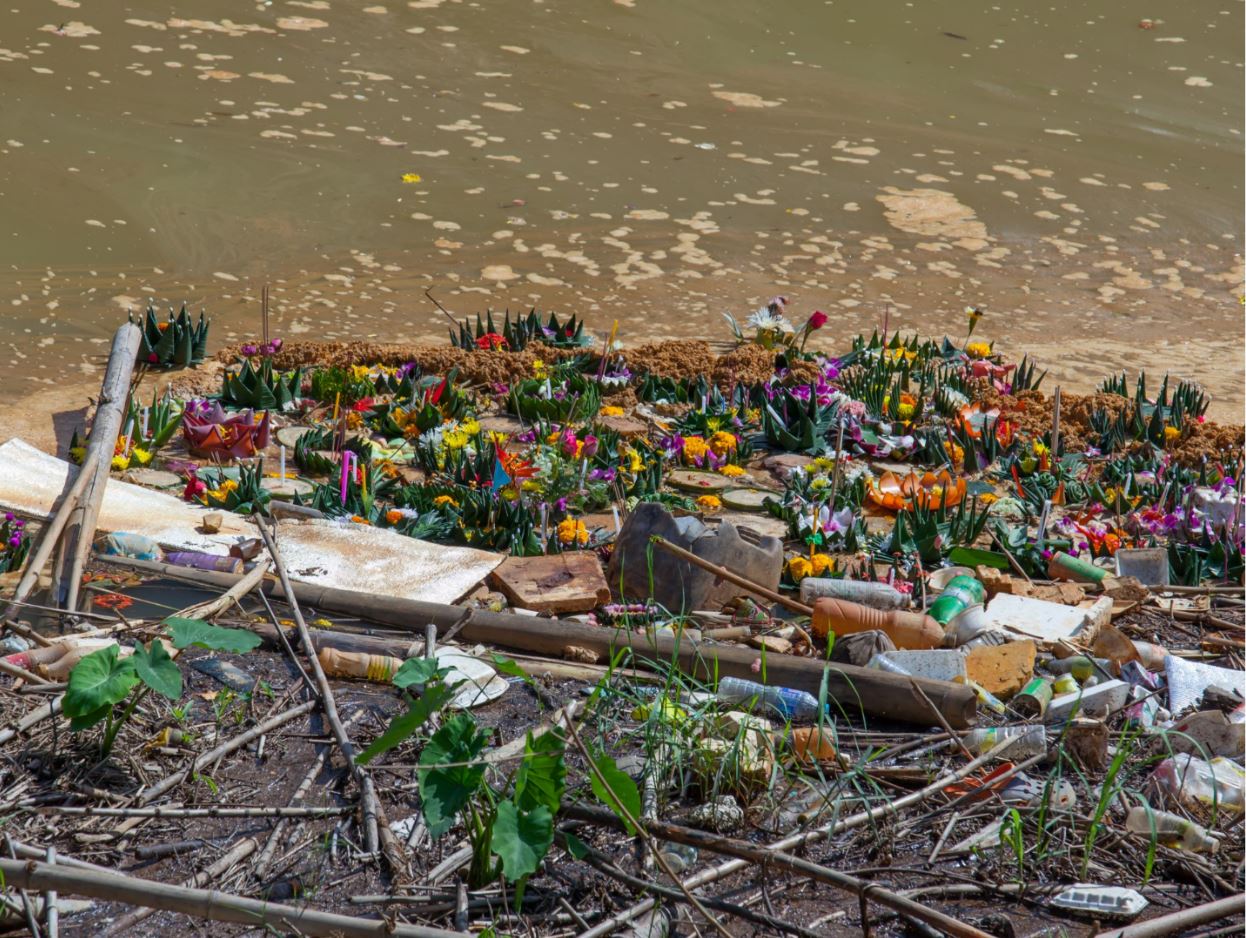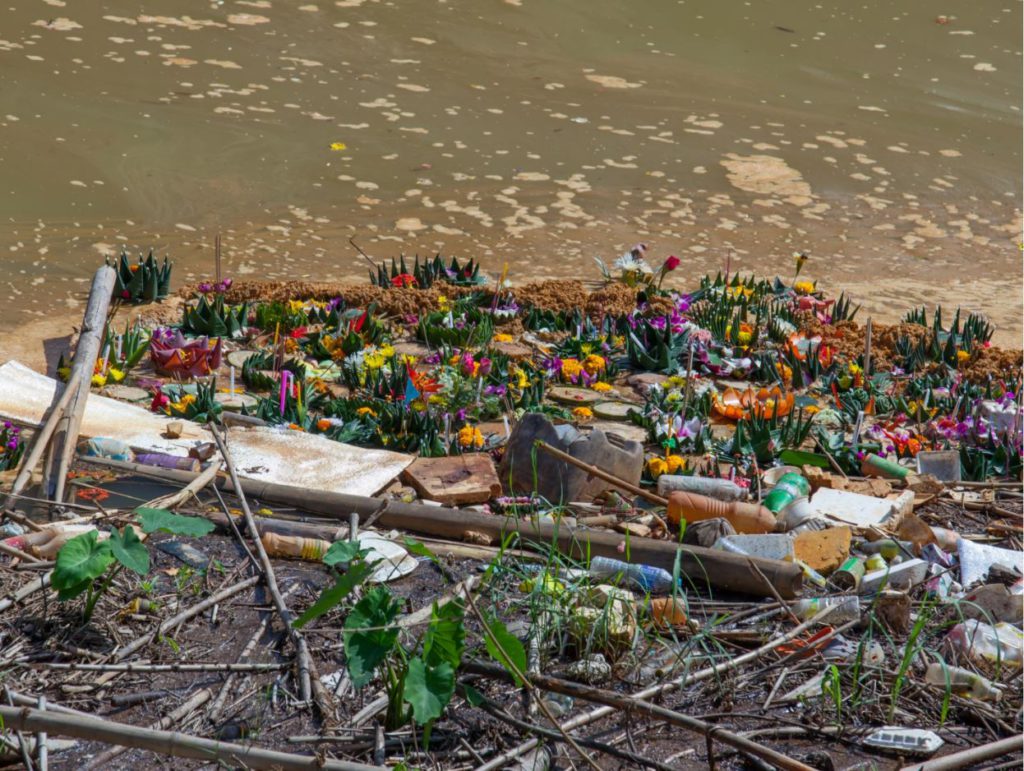 Save On Pinterest


Related Articles