10 Oct

How to get around inside Hong Kong

So you are in Hong Kong and trying to figure out how to go around? To summarize it, it is super duper easy. You buy a card, put money on it, and tap it on every type of transport option you can find. And that's pretty much it. Hong Kong has figured it out! 

As for what kind of transportation you can get? Numerous options are available from trains and subways to buses, ferries, trams, and minibuses. And that just makes for the public transport. You can also get a taxi that is fairly affordable or ride a bicycle to enjoy your time at your own pace. So many options.

Honestly, you wouldn't need a lot of help from me. It is just that easy. But I have everything here for you, just in case.

But first of all, we need to talk about the Octopus card. The one card to rule them all. The card is accepted everywhere, no questions asked.

Planning to visit Hong Kong? Here is our 3-day itinerary to Hong Kong for first-time tourists
Octopus Card
What is an Octopus Card
Octopus card is a smart card in Hong Kong that you can load up with money and use to pay for public transportation, entertainment, tourist attractions, and even shopping. 
You can use an Octopus card to pay for subway transport, buses and ferries. You can use it at convenience stores like 7-Eleven to get essentials. Since It is accepted at several tourist attractions like The Peak Tram, you use it to pay for your tickets. And then there is a lot more. But for the purpose of this article, we will keep it to transportation.
How to buy an Octopus card in Hong Kong
If you are a tourist arriving in Hong Kong by flight, you can get an Octopus card at the airport. You can buy it online beforehand and then you can collect it at the airport. It's best if you are arriving at the airport during the day. The counter may be closed at night. 
If you are buying it using Klook, you can find its counter at the arrival hall after immigration on counter A13. Just show your QR code and collect the card.
Buy an Octopus card online: Hong Kong Tourist Octopus Card
You can, of course, buy it at the MTR subway station. Just walk over to the customer service counter and hand over your passport. You can also buy it at Sun Ferry Customer Service, Octopus Customer Service points or at the Citybus ticketing office.
Tourist Octopus Card & Price
I wasn't aware of this during my trip, but you can also get a tourist Octopus card (Klook has the same). These are especially available for tourists. You can use it and then take it back with you as a souvenir.
The card costs a flat price of HKD 39. There is no security deposit. Neither does it come with any balance amount. So you can top it up with whatever amount you wish for. You can top up your card at the Customer Service counters at MTR, bus stations or convenience stores like 7-Eleven or CircleK.
How to travel inside Hong Kong
Hong Kong is just super convenient to get around. You have so many different types of transport options. They are affordable and most of them accept the Octopus card, so you can just hop in and forget about the hassle with cash. We will start with the most popular one.
Subway or MTR
Most likely, you will take the subway to most of the tourist attractions. It is omnipresent and easy to use. You can use your Octopus card for the payment. Or you can buy a ticket at the counter. The ticket price is affordable and ranges between HKD 5-26 or similar depending upon the length of your travel. You will get a slightly discounted price if you use the Octopus card though.
If you want to find the exact subway fare for your travel, you can use their ticket fare tool to find out. 
You can find a detailed subway map here, but it won't really tell you much. The best way is to find the most suitable subway option on Google Maps. Keep in mind that during interconnecting lines, the platforms are often on the same level in opposite directions facing one another.
Hong Kong's subway is not just used for transportation. They are great places to pick up some food as well. So you especially find great bakeries, cafes on the go and convenience stores for your smaller needs.
Looking for a place to stay? Here are the best neighbourhoods in Hong Kong to stay for tourists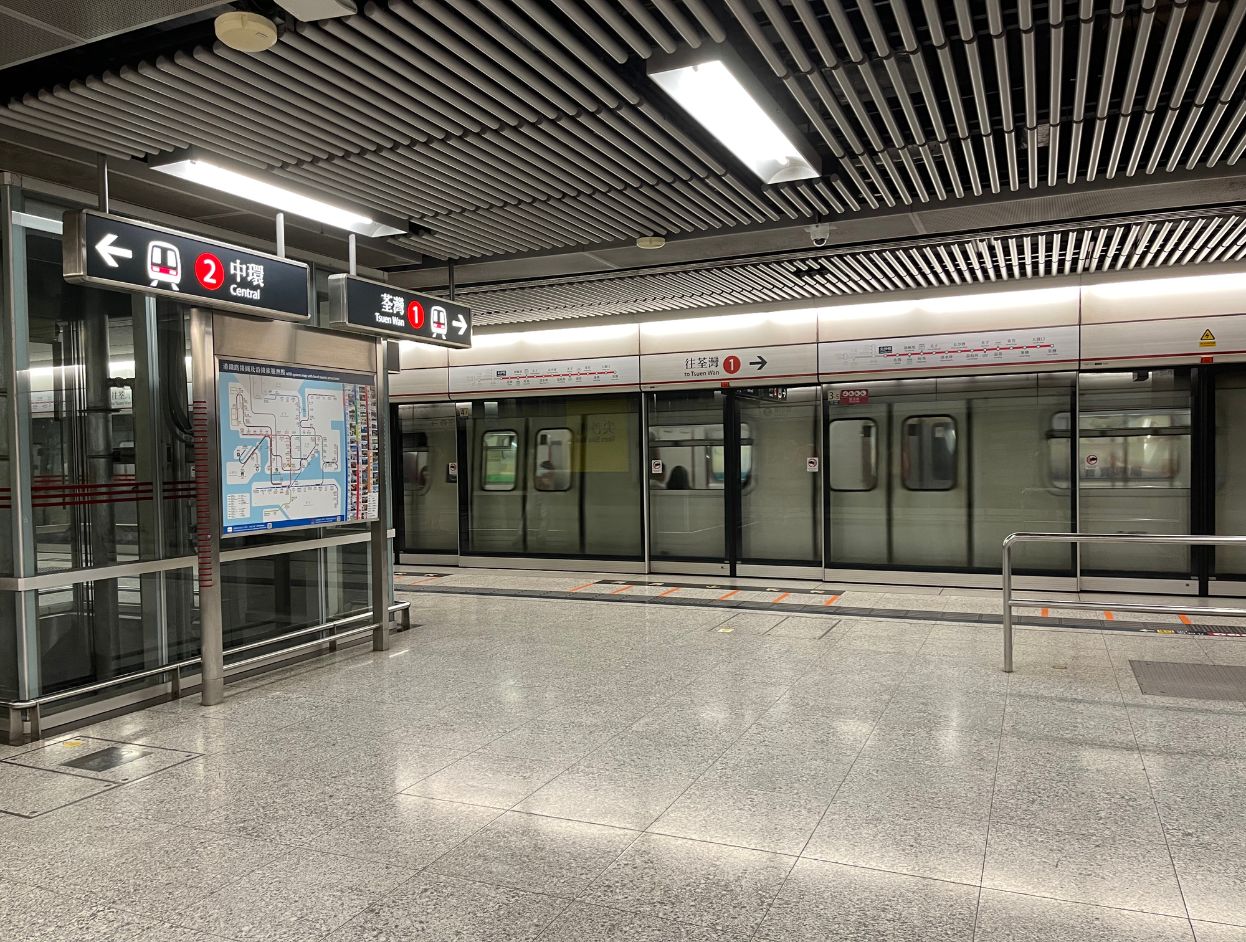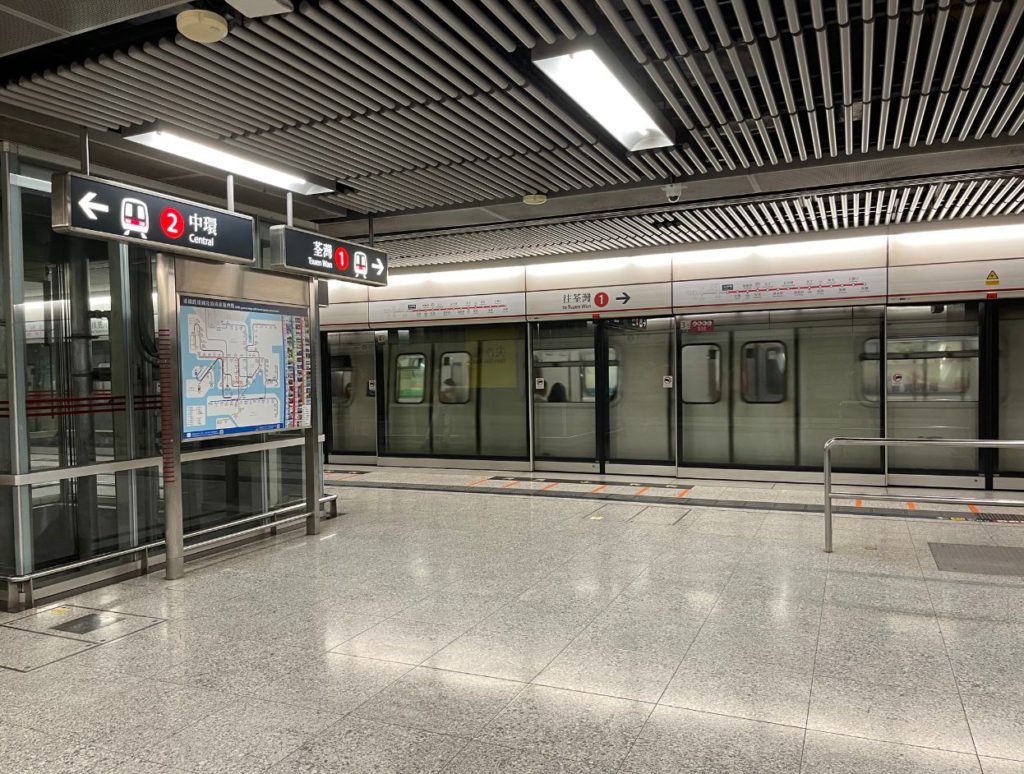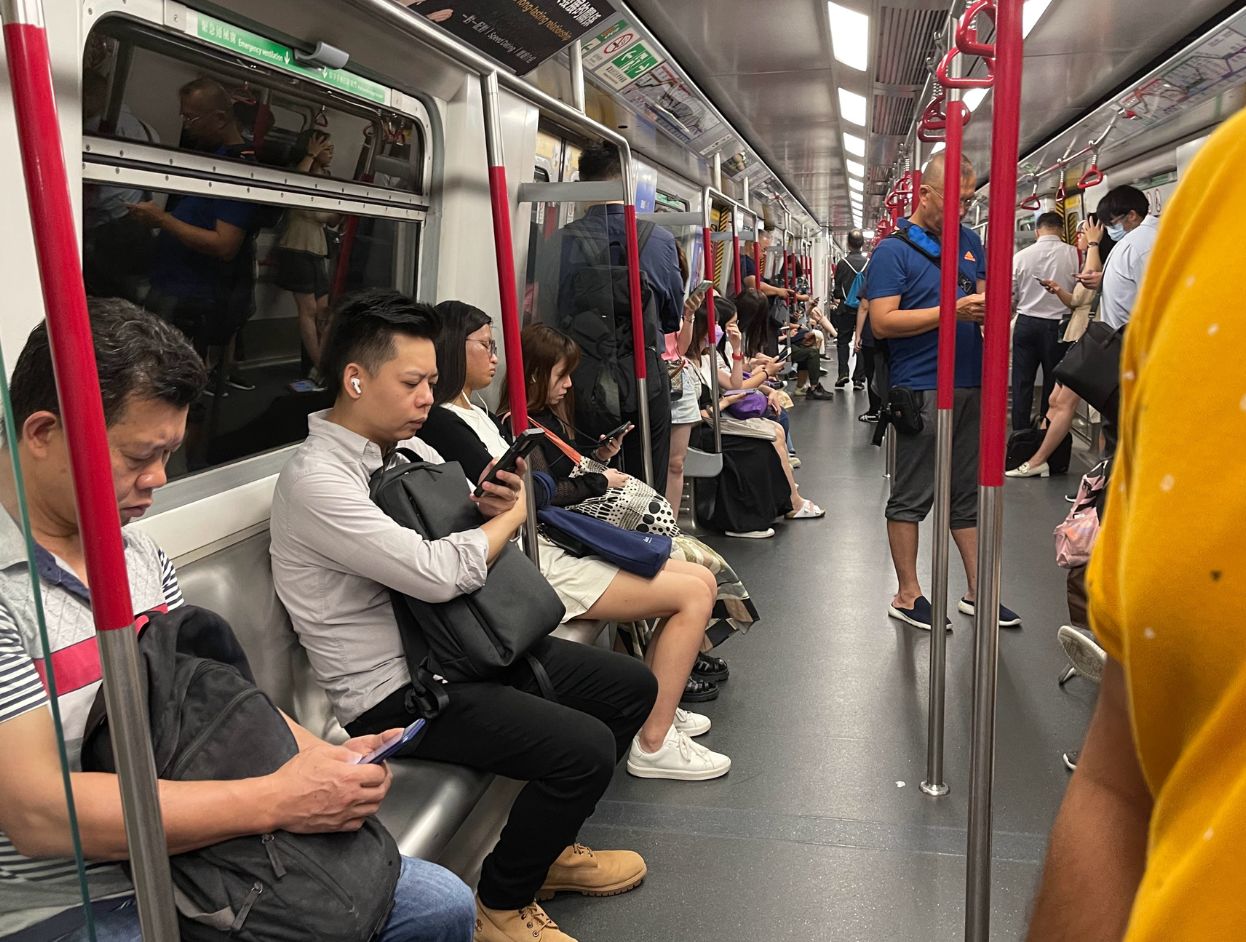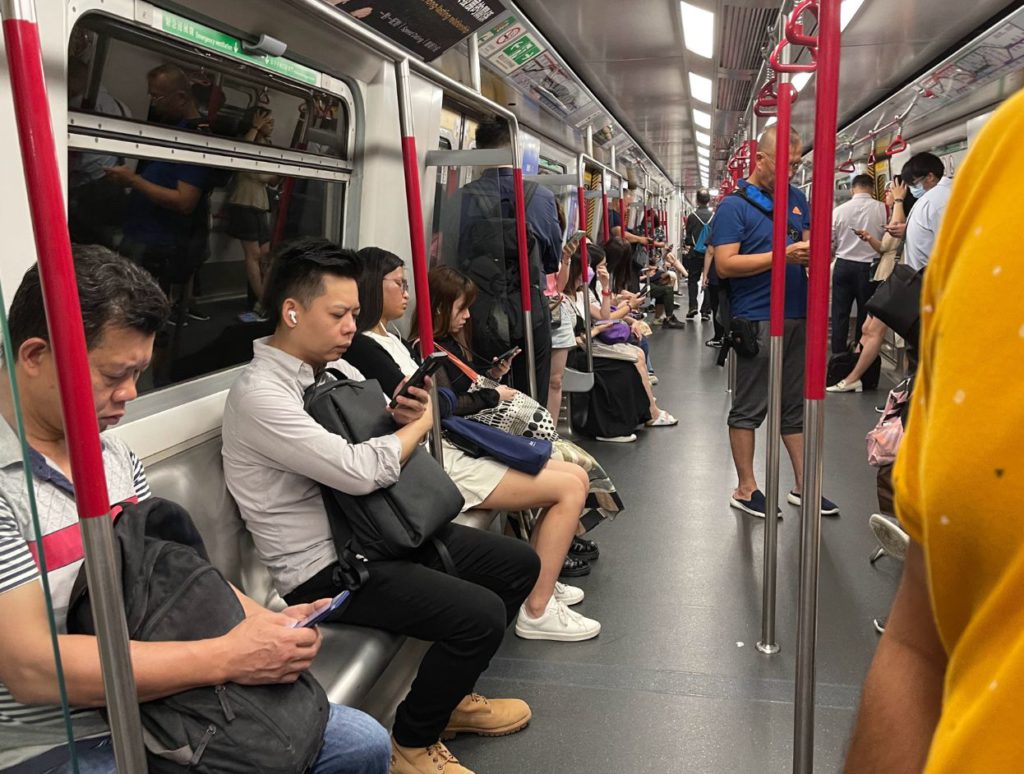 Bus
It is relatively easy to take a bus in Hong Kong. Once you find the bus you wish to board on Google Maps, you head over to the bus station. You will find the list of routes at the bus station, for the sake of confirmation. As the bus arrives, you can see the bus number and final destination on the front top of the bus. 
Hop on the bus using the front door (next to the driver) and tap your Octopus card on the card reader on the left. A standard charge is deducted for that route. You do not need to tap again when you are getting off the bus. If you do not have an Octopus card, you can also give cash to the driver.
For short routes, the ticket prices range from HKD 3-18. But for cross-harbour routes (between Kowloon and Hong Kong Island), the ticket price can go upto HKD 40.
When you are near your stop, press the button near the exit door in the middle of the bus. This will indicate to the driver that you must get off at the next stop. If you don't do this, the driver may not halt at your stop.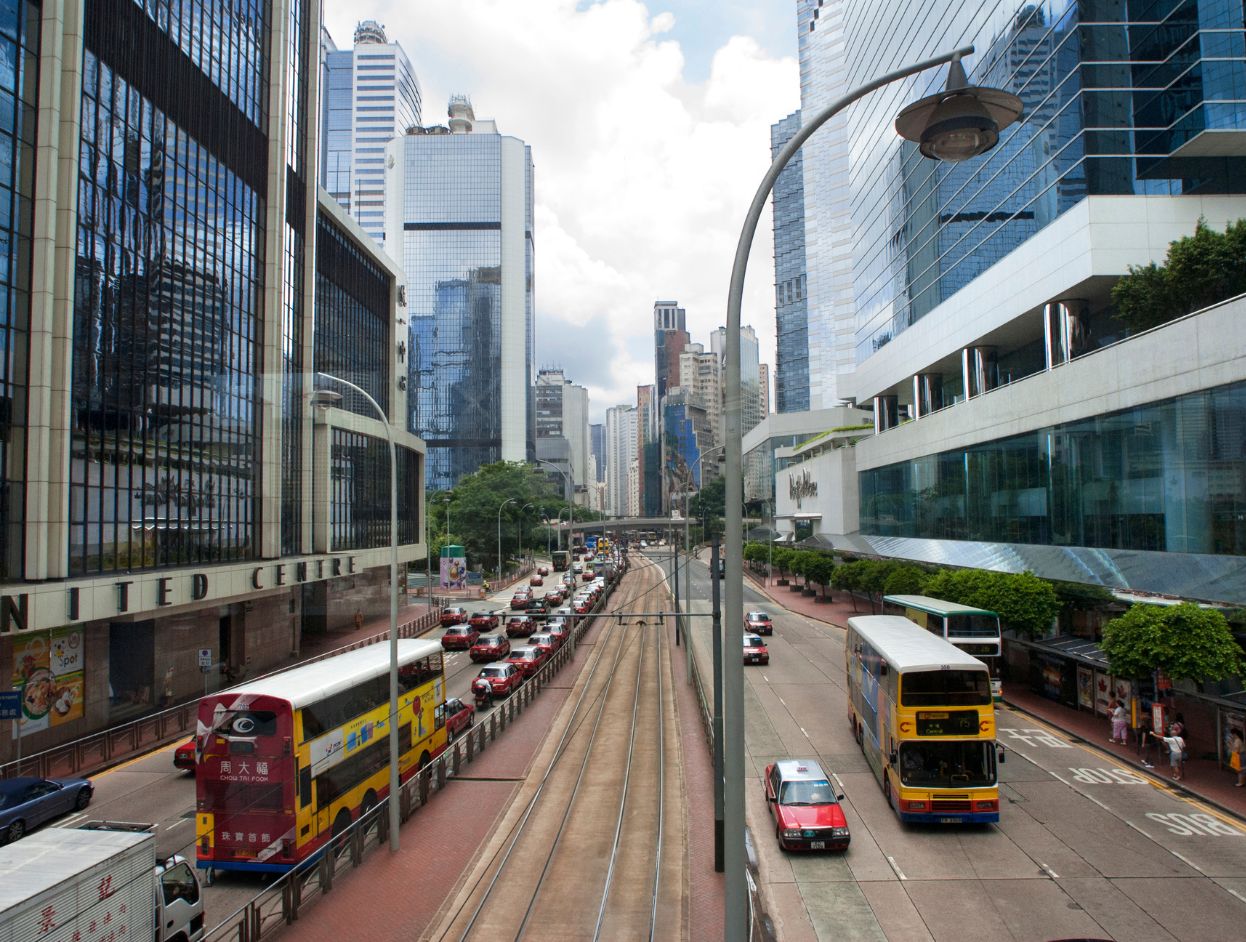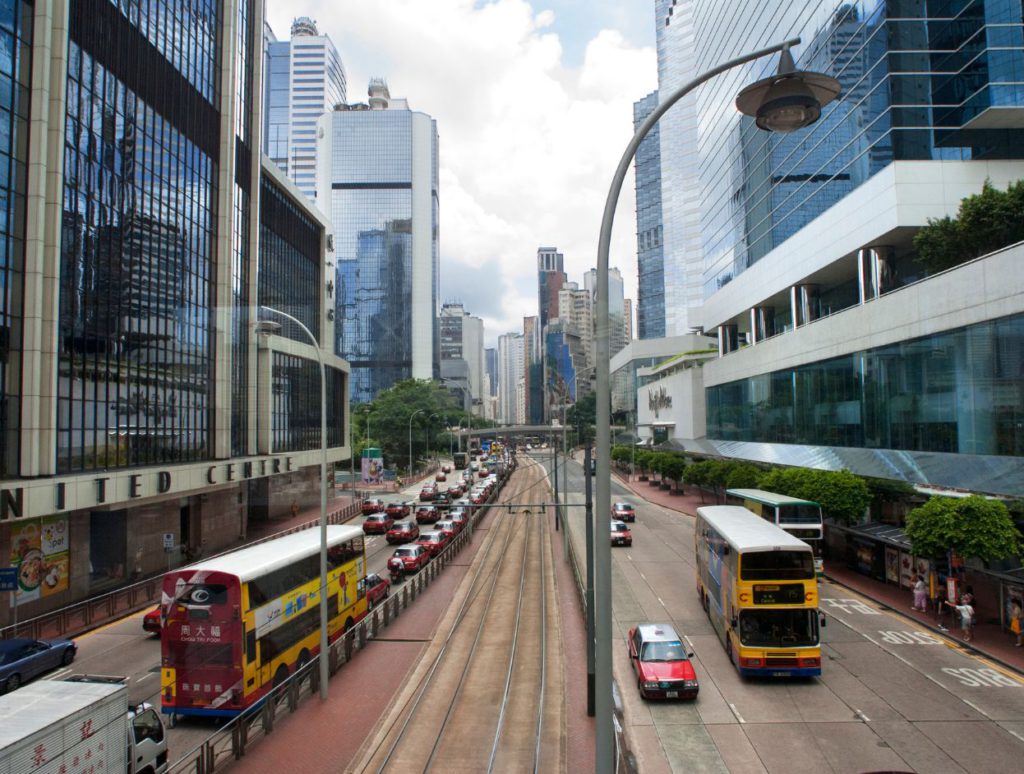 Minibus
Minibuses or Public light buses are a smaller version of buses in Hong Kong often referred to as 'Van Jai'. You may not be able to spot them in the heart of the city, but if you walk out to Mong Kok at night, you will find rows of them standing around chilling out at night. Minibuses are an aid to road transportation in Hong Kong. They are faster and can travel on sections too small or narrow for regular buses.
There are two types of minibuses – green and red. You can spot them by the colour on their front. The green minibus has a fixed route much like a regular bus. Their fares and timings are fixed. But routes for the red ones change as per the demand in the market. So you may find it confusing as a tourist to navigate them. 
You can find the green minibuses on some of the popular routes like between Hong Kong Station and The Peak (also known as Victoria Peak). They appear on Google Maps as well. If you wish to board one, just head to the minibus stop and wave at the minibus with the respective route and number.
The minibuses have a fixed capacity (of around 13 people). You cannot stand and travel. Therefore, they may not stop if they are full. The prices are comparable to buses. Only a few green minibuses accept payment via the Octopus card. So make sure you have some cash and keep them ready. The minibus drivers are not known for their patience.
Looking for some travel hacks? Here are 20 free things to do in Hong Kong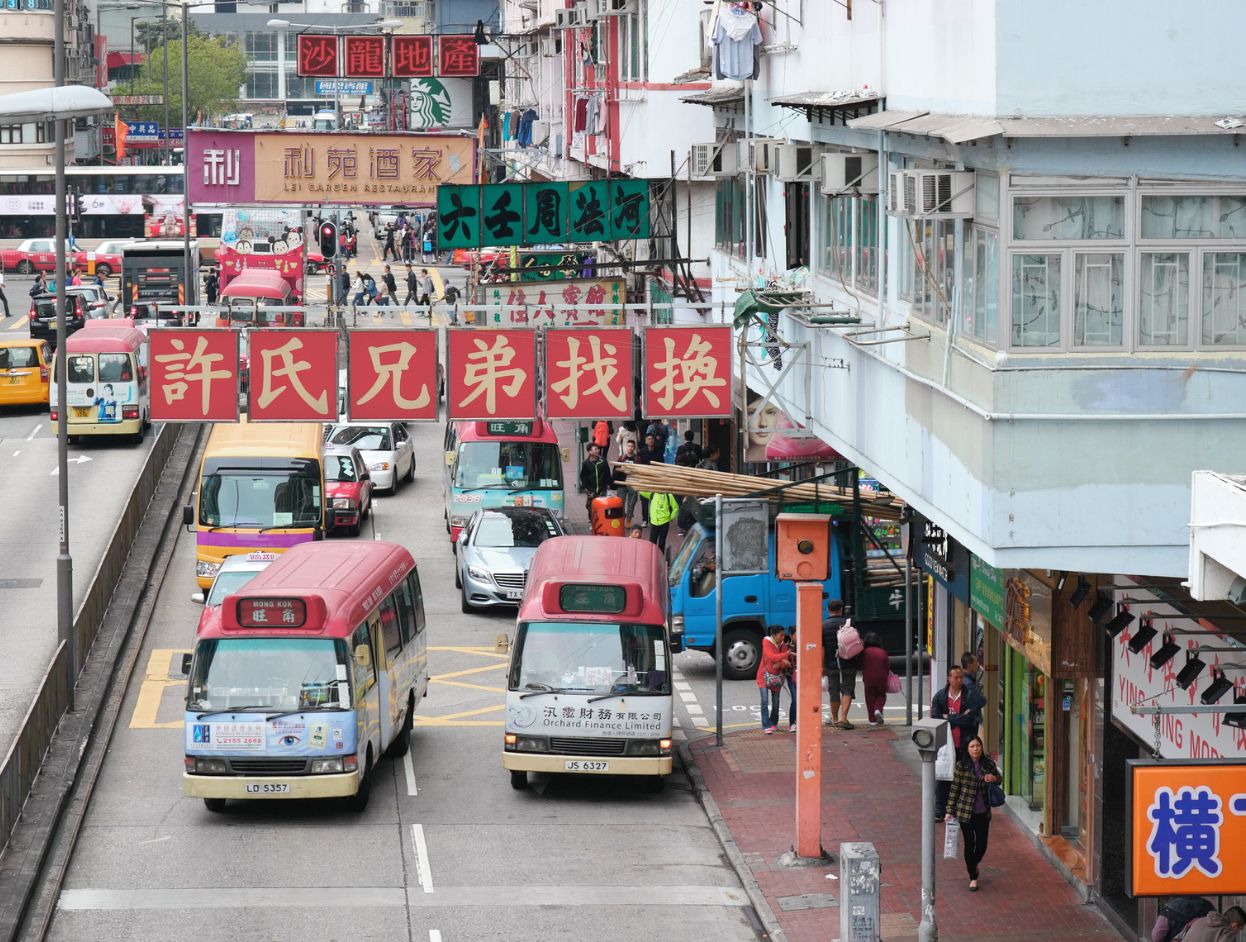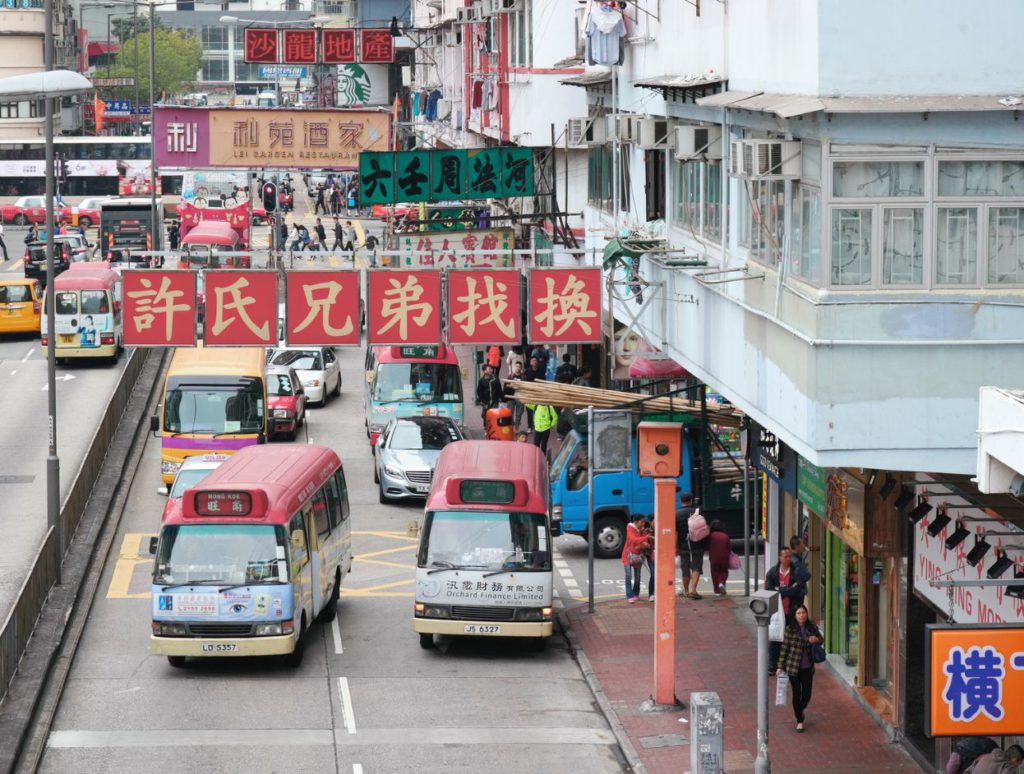 Trams
This is the part that I have been eagerly waiting for. Because I cannot stop thinking about trams! I don't know why I love them so much. Maybe because they were the only glimpse into Hong Kongian history I could find and appreciate.
Trams are still around in Hong Kong but they are only available on Hong Kong Island. They mostly connect the long stretch between the Central area and Causeway Bay. If you are in these areas, it won't be difficult to spot them.
Hopping on a tram is easy and is similar to a bus. You enter a tram from the front gate and tap your Octopus card once. Then you move inside. You can even climb to the first floor for a wonderful view of the moving town. Once you are near your destination just walk down and exit from the back. The fixed fare for adults is HKD 3 which makes it extremely affordable. If you are looking for more information on tram routes, check out their official website.
If you want to experience more of this, you can also look into a tram tour on this route. It is called the TramOramic tour which lasts an hour and takes you through some of the popular historic points of the city. You get to hop on a classic 1920s tram with an open top. The commentary is in 8 different languages that go on as you move.
Book this tram tour: TramOramic Hong Kong Tram Tour
Looking for some cultural experiences? Here are some unique cultural experiences in Hong Kong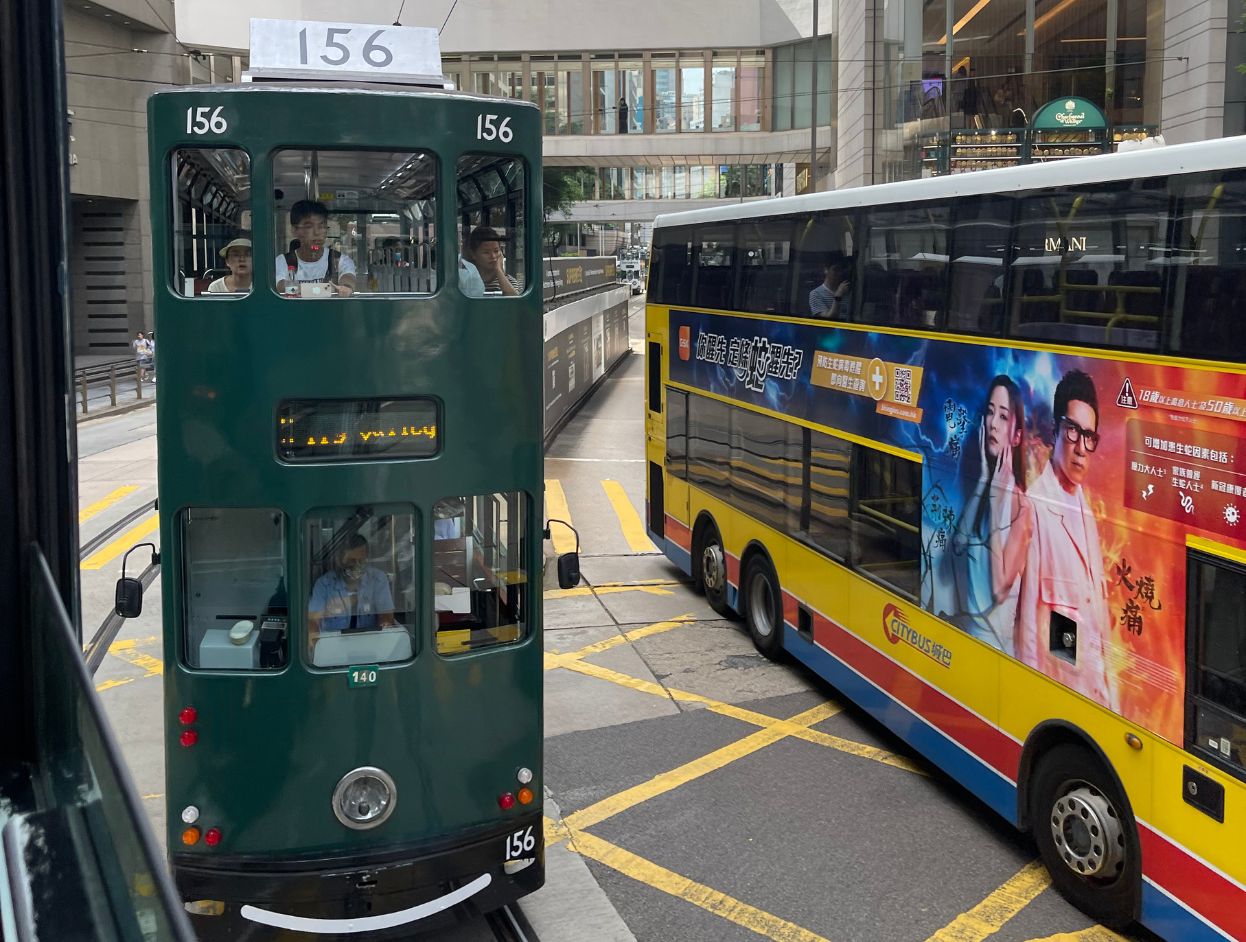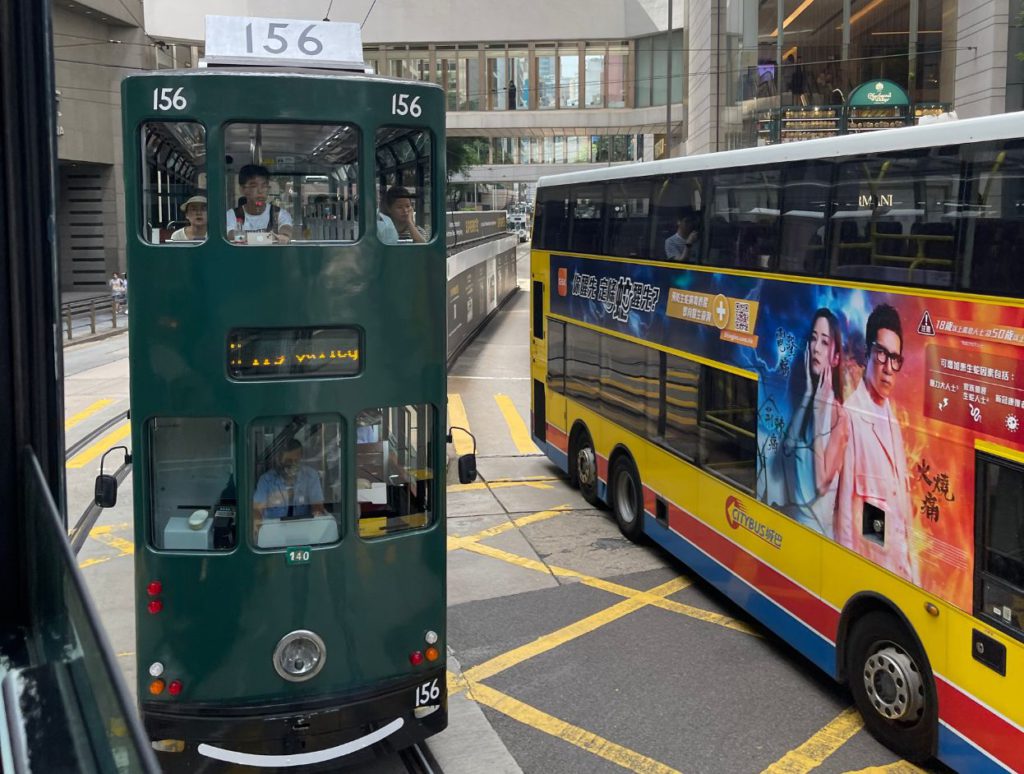 Ferry
The best cities in the world have harnessed the power of their waterways. They are not just efficient, but so beautiful as well. You can travel via ferry on several different routes across Hong Kong.
Ferry routes connect most islands across Hong Kong. So you will find ferries across Kowloon side, Hong Kong Island, Lantau Island, Lamma Island and a lot other smaller ones. If you just want to experience a good time, you can take a ferry on the Victoria Harbour from Central or Wan Chai Pier to Star Ferry Pier in Tsim Sha Tsui.
Central Pier on Hong Kong Island is the most important pier. It has connecting ferries to all islands including Macau. Ferry frequency is every 30 mins on the cross-harbour routes and costs around HKD 5.5 for the tickets. 
But if you are heading to other islands, you may have to wait a while for the next boat. The tickets can vary between HKD 18-40 depending upon your destination. You can check out the timetable for respective islands/routes on their official website.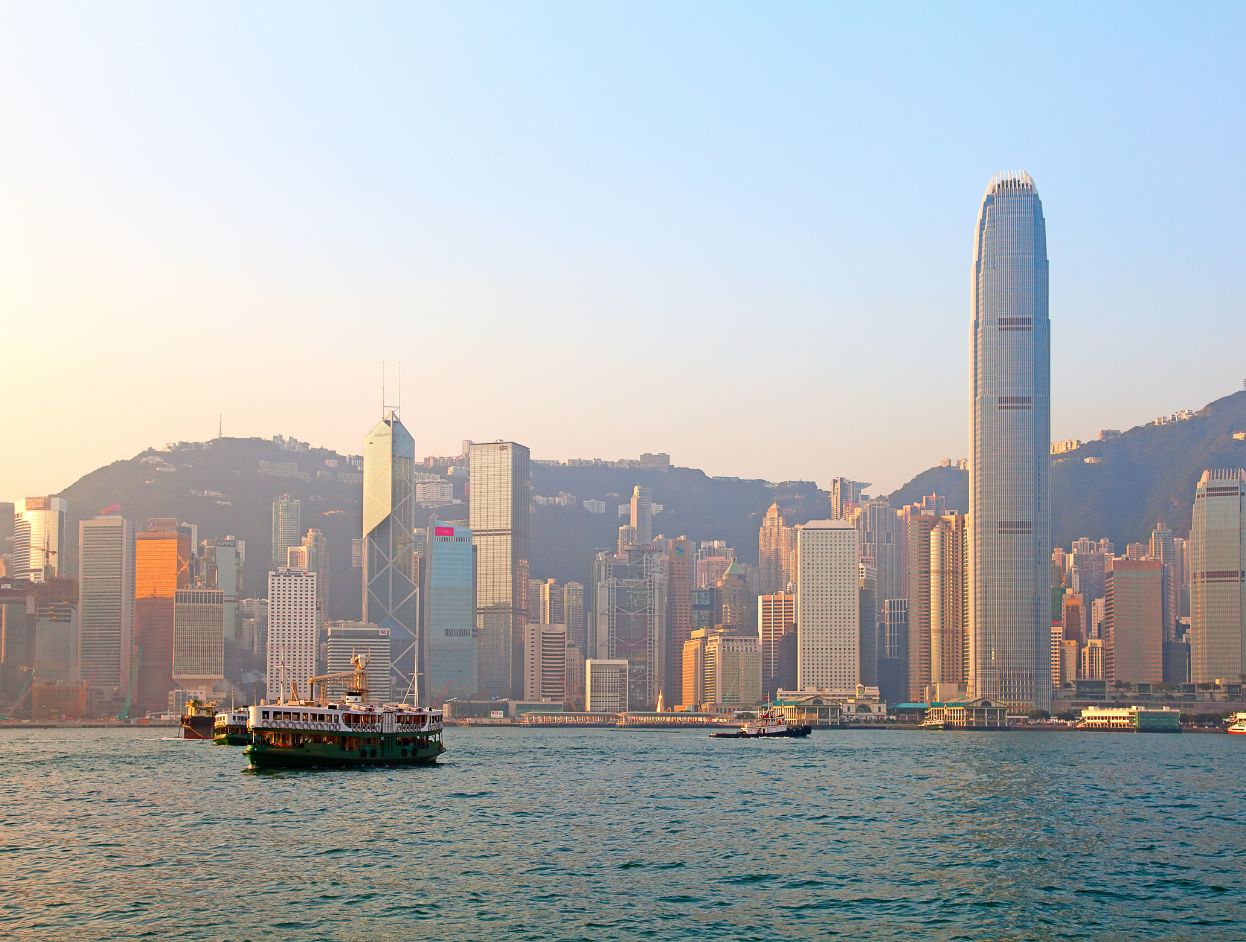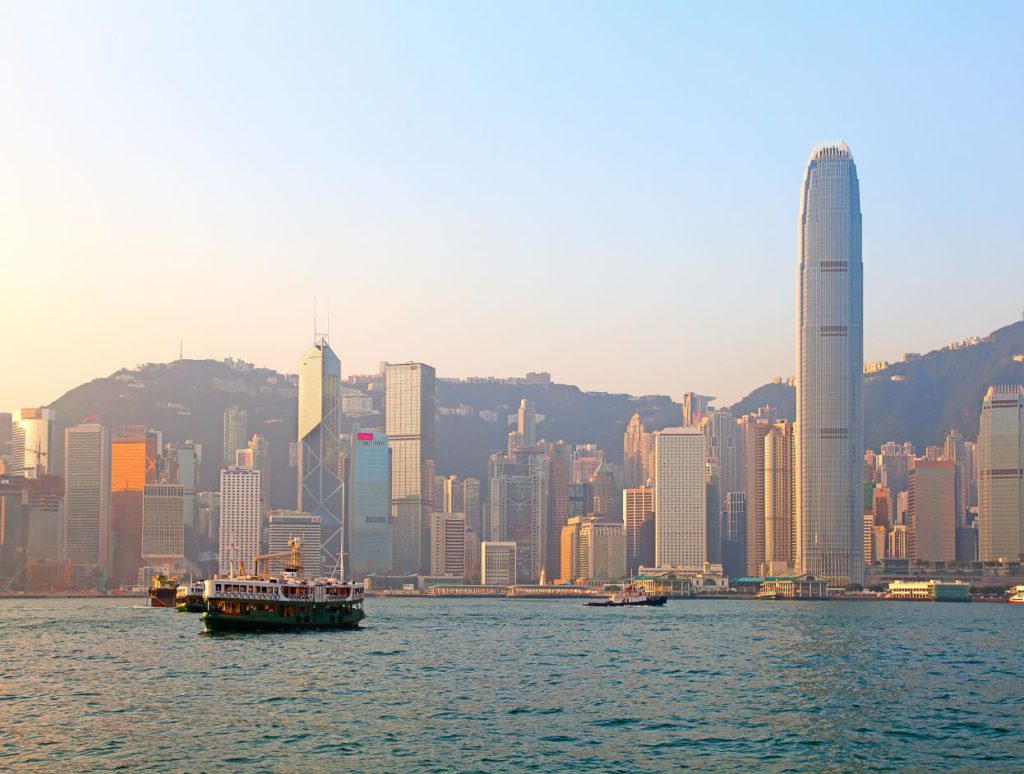 Taxis
If you aren't looking to use public transportation, taxis are an excellent way to get around in Hong Kong. The regulations around taxis are great in Hong Kong and it won't break the bank if you do end up taking one. The best part is that the taxis in Hong Kong still look from the 80s with brightly painted colours and a long sedan back.
There are three types of taxis in Hong Kong that are segregated by colour. Here is why they are different:
1. Red Taxis – Red or Urban taxis run in the downtown area of Hong Kong. You can take these taxis anywhere except in Tung Chung and South Lantau Area. These are also the priciest.
2. Green Taxis – Green or New Territories taxis run in the New Territories area of Hong Kong. You can casually say that these areas are suburbs and range mostly north of the Kowloon side. These are the next most expensive of the lot.
3. Blue Taxis – Blue or Lantau Taxis run only around Lantau Island, the airport and the Hong Kong – Zhuhai – Macao crossing. These are the cheapest of the three.
All taxis can go to the airport and Hong Kong Disneyland. Head to their official website to find detailed rates and a breakup of taxi fares.
To get a taxi, you can wave on the road. You can see on top of the taxi if they are available or not. The taxi drivers will ask you for a general location or the direction you are heading. Just hop in and show them the address. It really does help if you have the Cantonese version of your address since some drivers have difficulty communicating in English. 
You can pay the taxi driver in cash at the end of your trip. The taxis are required to charge you by meter by law and taxi drivers usually follow this system. So you don't have to worry about getting ripped! You can also ask them for a printed receipt.
You can also get a taxi on the app. Book a taxi on Uber or download HKTaxi app on your phone. You can also call a taxi on their 24-hour hotline number +852 8109 2222. It will add another HKD 5 to your bill.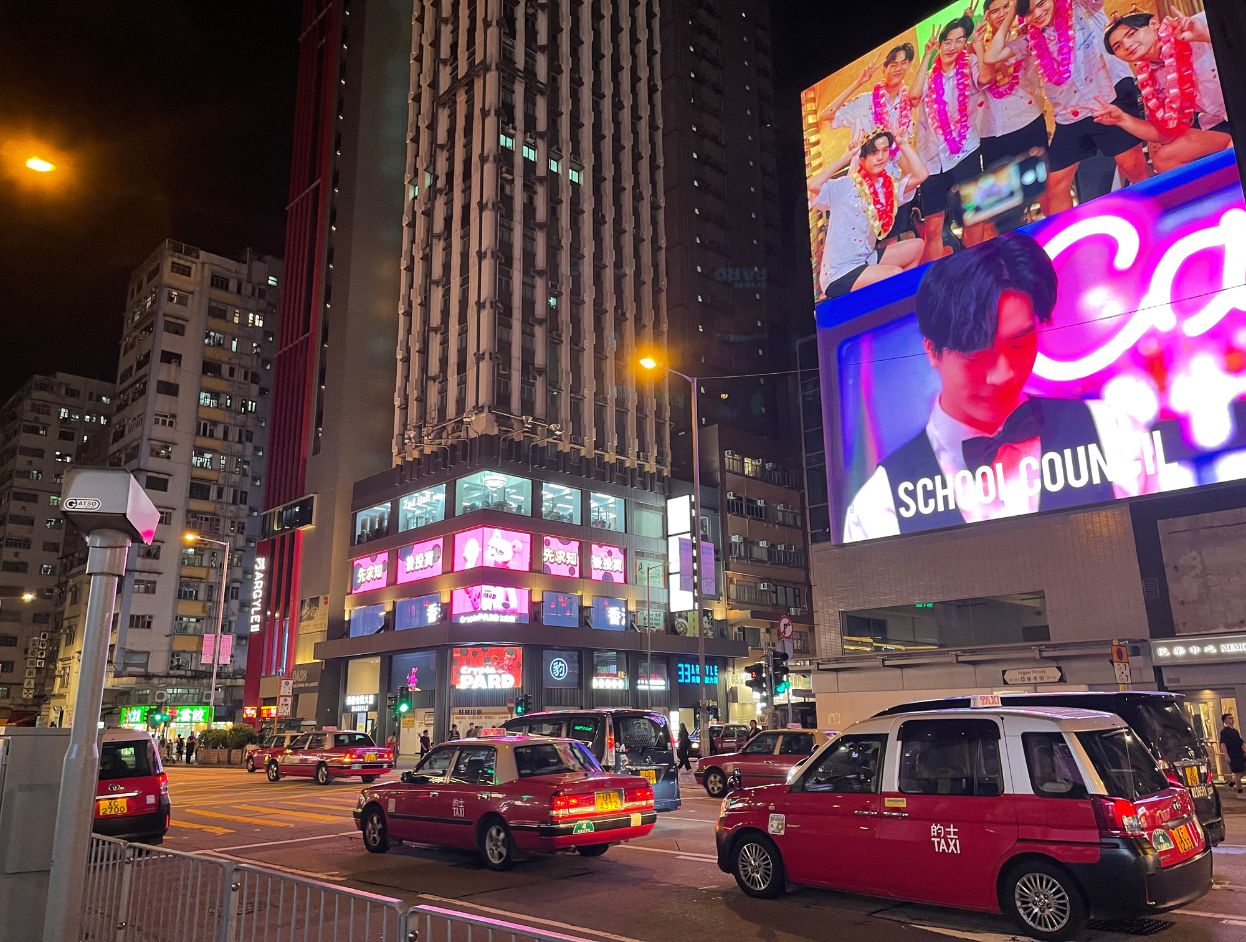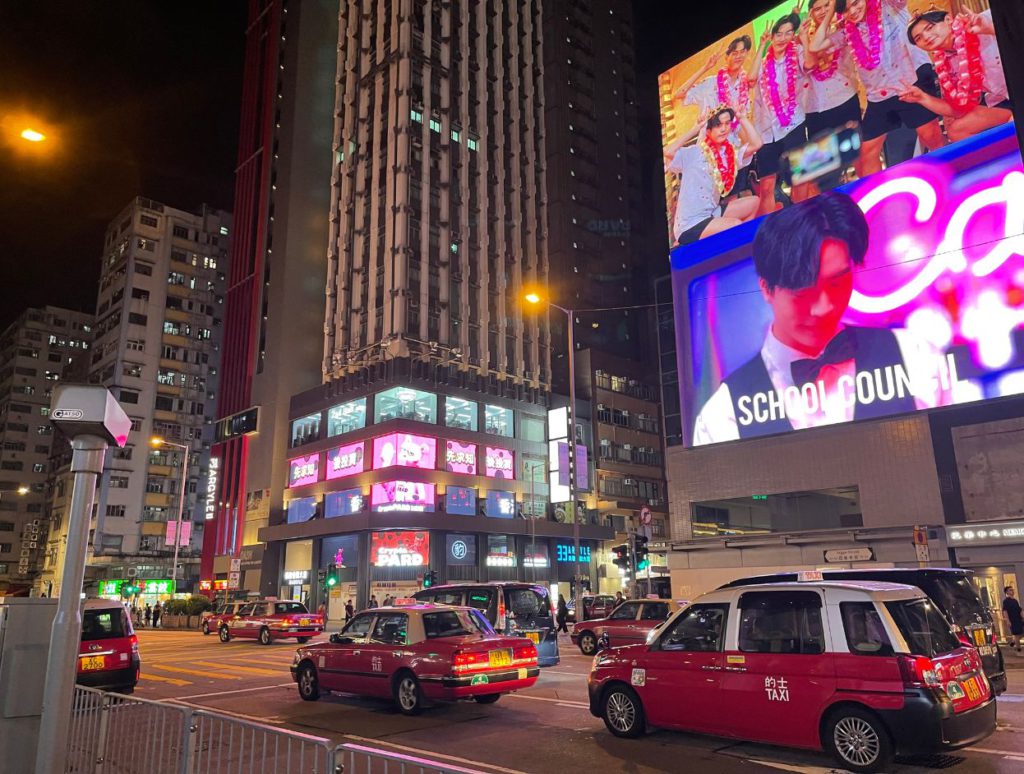 Hop On Hop Off Bus
Hop On Hop Off Buses and routes are also a popular way for tourists to hop around the major attractions in Hong Kong in a short period of time. In Hong Kong, these are operated by Big Bus Hong Kong and look like the icon open-air buses in red colour that scream 'tourist'.
The Hop On Hop Off Bus is available on 2 routes as below:
1. Red Route – Central Star Ferry Pier – Mid Level Escalators – Man Mo Temple, Causeway Bay – Park Lane Hotel – Peak Tram. See route details.
2. Green Route – Central Star Ferry Pier – Peak Tram – Repulse Bay – Stanley – Aberdeen. See route details.
Now that I have put together some basic details, let me give my honest opinion. Honestly, these routes don't make a lot of sense to me. If you are someone like me who is looking to cover the more popular tourist spots, I don't think I will be hopping around any of these routes. Even if you do this on your own, you will probably pay the same and have way more flexibility on your itinerary.
But I will consider doing this if I want to just sightsee Hong Kong without getting on and off the bus a lot. So it will make sense for people who are transiting or visiting Hong Kong very briefly and want to get a feel of the city. The bus also have an audio guide in 10 language which is a lucrative add-on. I will also consider doing a night tour on it since it will just be fun to be driven around enjoying the world-famous nightlife of Hong Kong.
Buy tickets: Hong Kong Big Bus Unlimited Hop-On Hop-Off Sightseeing Tours
How to travel from Hong Kong Airport
In addition to all that information, you may also want to know how to get to the city. And it's very straightforward. Hong Kong International Airport is approximately 34 km from Hong Kong City Center (we'll take Tsim Sha Tsui). So you know it's quite far. 
Another thing to know is you may want to consider taking private transportation after midnight since the public transport options do not operate. Or you can stay the night around the airport and head out the next day. Here are a few ways you can make the journey.
Airport Line
The airport line is probably the best way to reach Hong Kong city. It is convenient and gets you to the city in 25 minutes. The airport line connects 4 stations in Hong Kong apart from the airport. On one side you can travel to the Asia World Expo. On the other side is the Hong Kong city with three stations – Tsing Yi Station, Kowloon Station (near Tsim Sha Tsui) and Hong Kong Station (on the Hong Kong Island).
The first train for the day leaves at 5.54 a.m. and the last train at 0.48 a.m. towards the city. So note that trains do not run in the early morning hours. If you wish to see a detailed timetable, head over to their official website. You can either buy a ticket for the train or use an Octopus card. The fare differs for each stop; you can find a breakdown of costs here. The charges are in Hong Kong Dollars (HKD).
You will find the station to the airport line right ahead of the arrival hall. Just follow the signs. You can easily walk to it, even with luggage.
Buy Ticket for Aiport Express: Hong Kong Airport Express Tickets
Shuttle Bus
Shuttle bus is another great way to reach Hong Kong city from the airport. Compared to the airport line, they are slightly slower. But they are also considerably cheaper (as much as one-fifth of the price). So if your destination has a direct bus route connection available, go for it.
You can check the bus stops and ticket prices on their official website. But a more obvious and easier way to look up this is using your Google Maps. They give a fairly accurate indication of bus routes and timings.
You can pay for the bus fare using your Octopus card. Or you can hand over cash to the driver while boarding the bus. So make sure you have some Hong Kong dollars with you. You will be able to get a bus right after you walk out of the airport crossing the arrival hall. It is easy to spot and you don't need to walk around with a lot of luggage.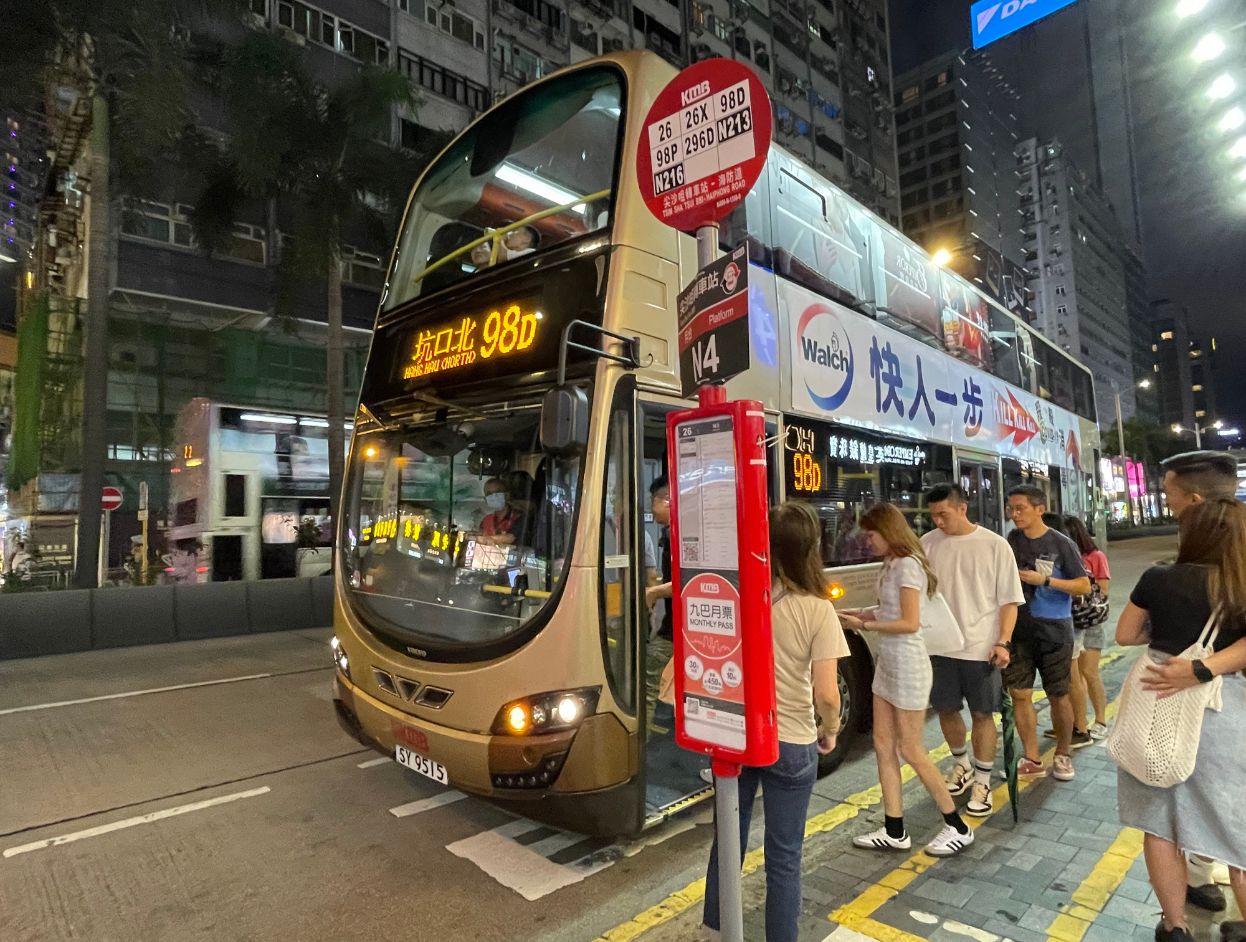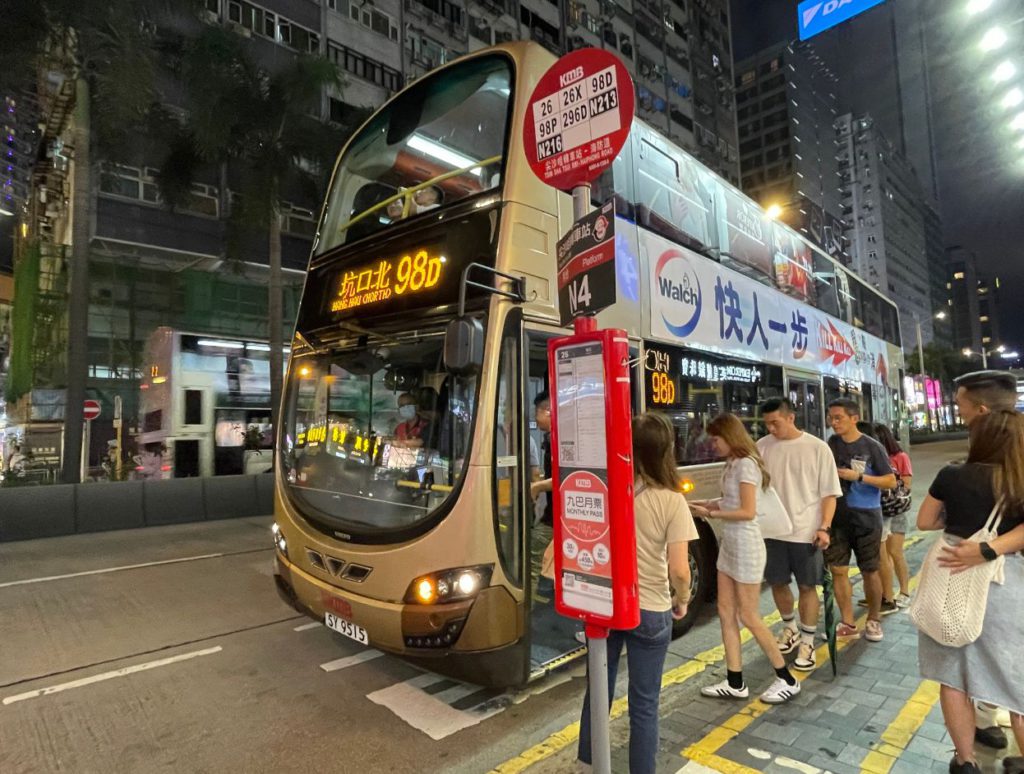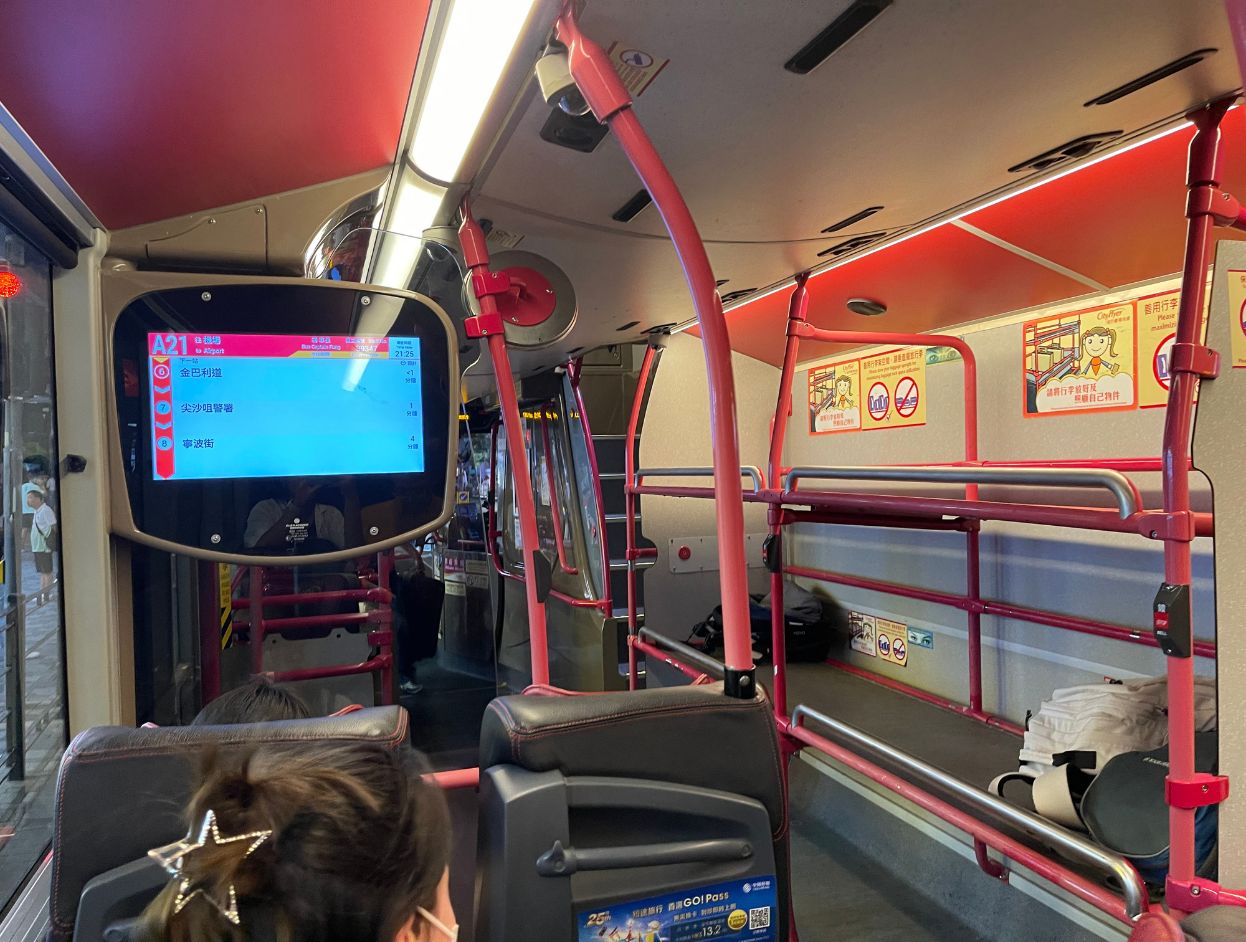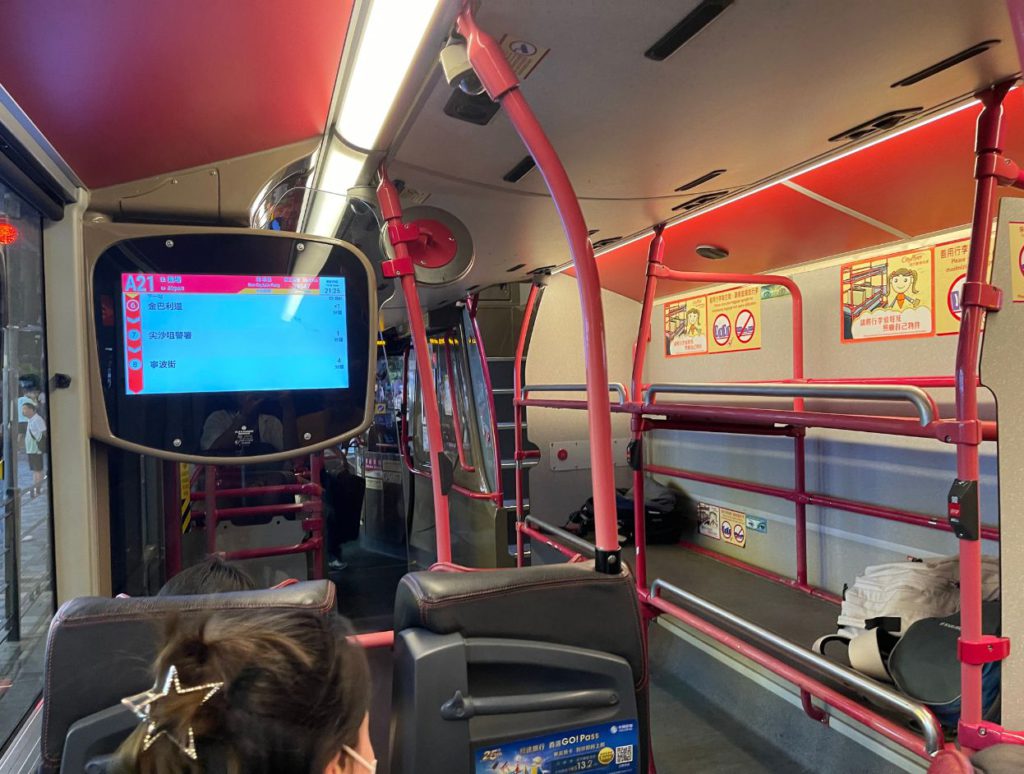 Taxi
It is convenient even if you wish to get a taxi from the Hong Kong airport to the city. I found the taxis to be friendly. It won't even break the bank if you are contemplating the cost. In fact, it can work out better if you are a group of travellers or travelling with family.
You can get a taxi right outside Hong Kong Airport. You can simply follow directions to the taxi stand from the arrival hall. As I mentioned above, there are three types of taxis and there are different taxi stands for each of them. Pick one depending upon your destination. There is usually someone to help you out in case you are lost.
Once you are at the taxi stand, just give them your destination and hop on. You will be charged by the meter. Make sure you have some cash on you before you get a taxi. You can, of course, get an Uber or a taxi using the HKTaxi app as well.
You can find the estimated rates of your journey on the airport's official website depending upon your destination.
Prebook Airport Taxi: Hong Kong International Airport Transfer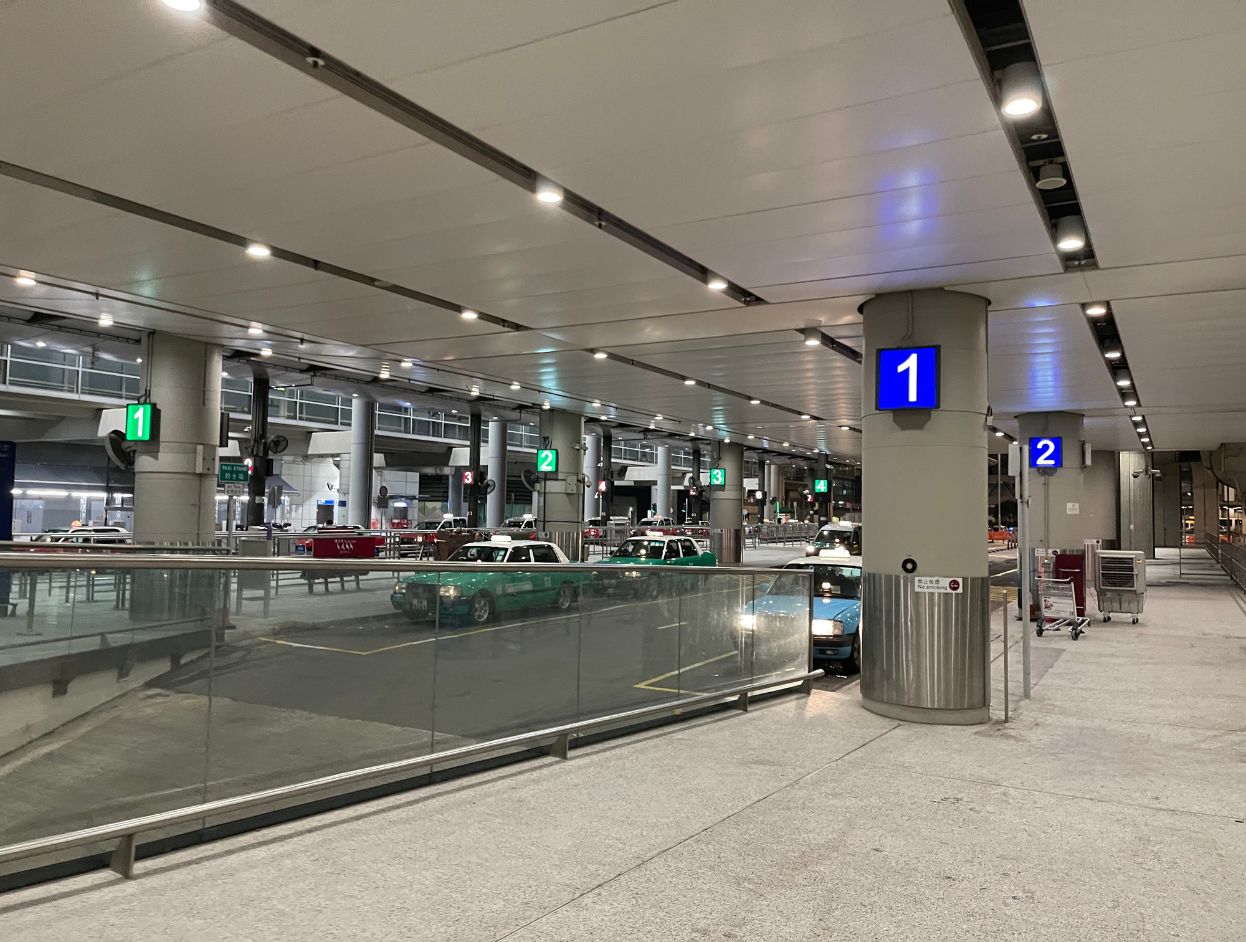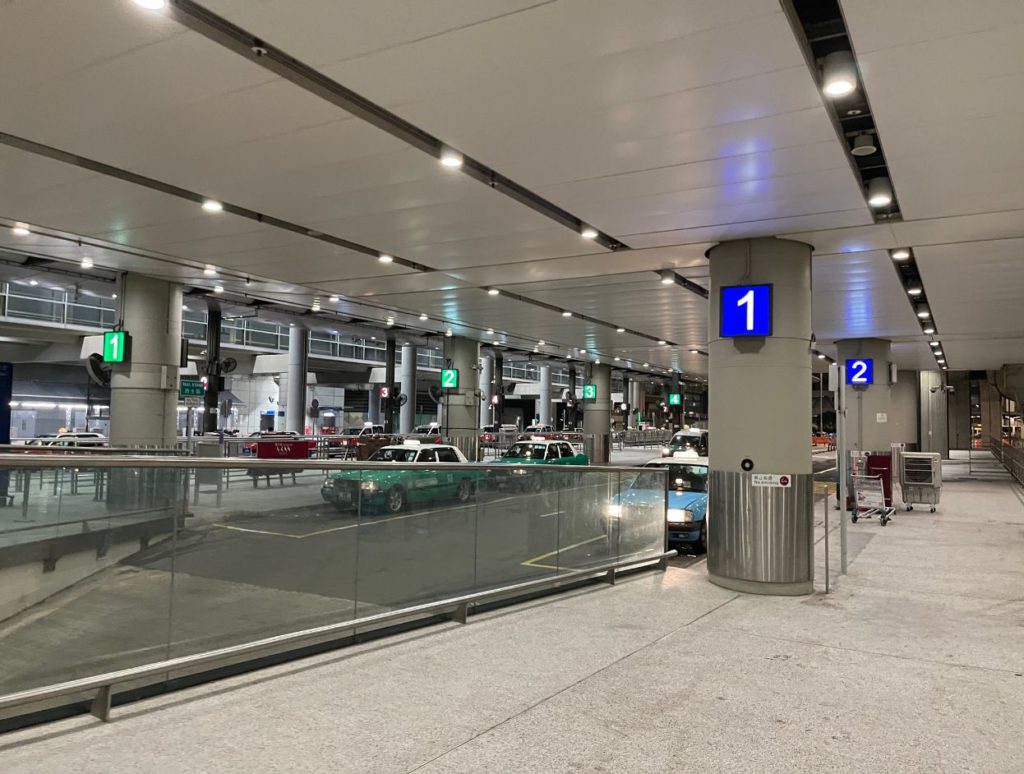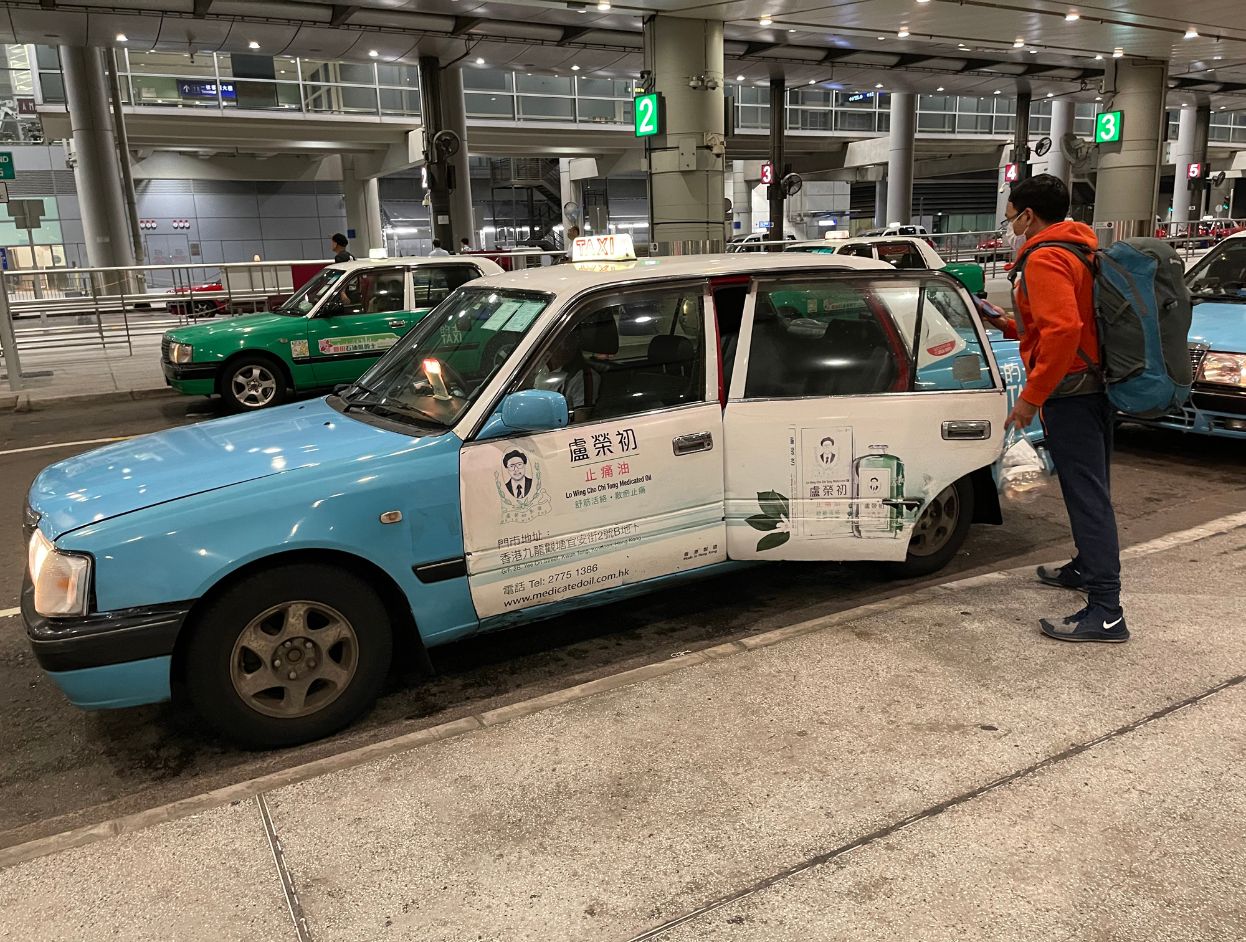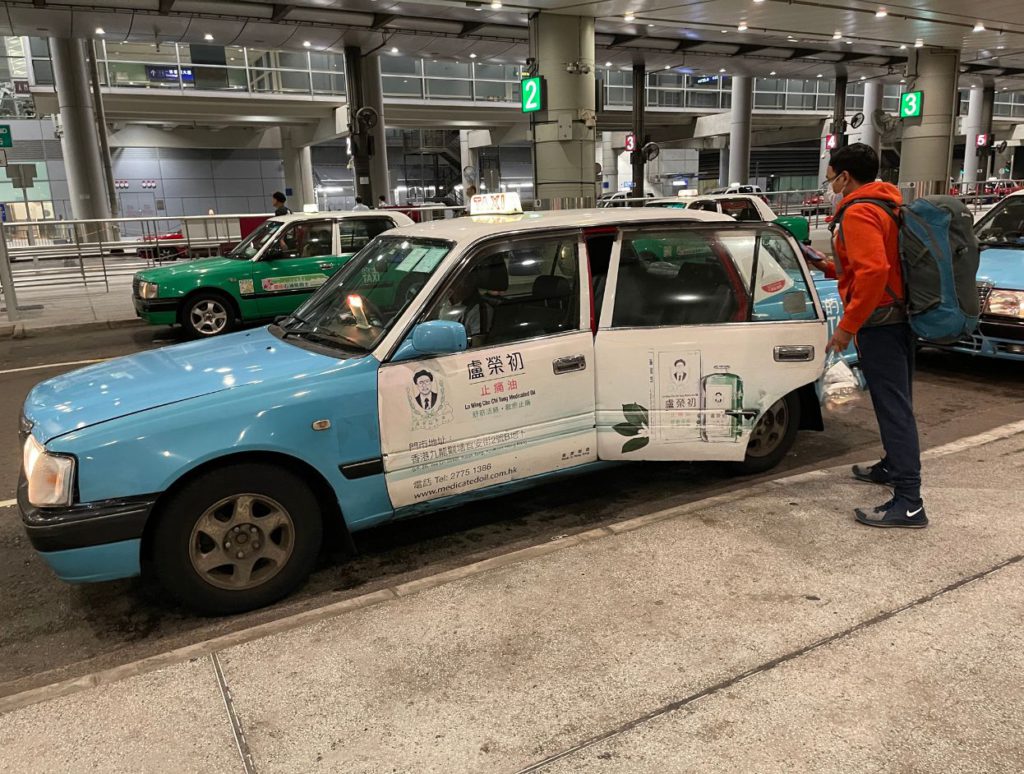 Related Articles