07 Sep

Hong Kong 3-day travel itinerary for first-time travellers

If you are considering whether to spend some time in Hong Kong for a trip or a layover, please do so. The hotels cost a bomb and so does food. On top of that, I hate excessively urbanised cities (I am looking at you Singapore and Dubai). But I was surprised by Hong Kong.

That is probably because you got it all wrong. If you think about Hong Kong, you must think of tall buildings, half-dirty residential complexes with no room to breathe, cramped alleys and aunties selling dumplings. Well, all of that is absolutely right. But what I did not expect was how big Hong Kong is and most of it is forest.

As I estimate only about one-fourth of Hong Kong is city and urbanscape. But what lies around it are beautiful islands, national parks, numerous hiking trails, hidden monasteries on mountains, fishing villages and so many viewpoints that I had no idea about.

For a short trip, 3-4 days in Hong Kong should be enough. But yes, you still won't be able to see a lot of it even if you stay a week. My itinerary consists of the most popular places to visit in Hong Kong. 

Unfortunately, it has no Instagram-famous places like the famous funky apartment buildings. But you can find them on other travel blogs easily. Let's start.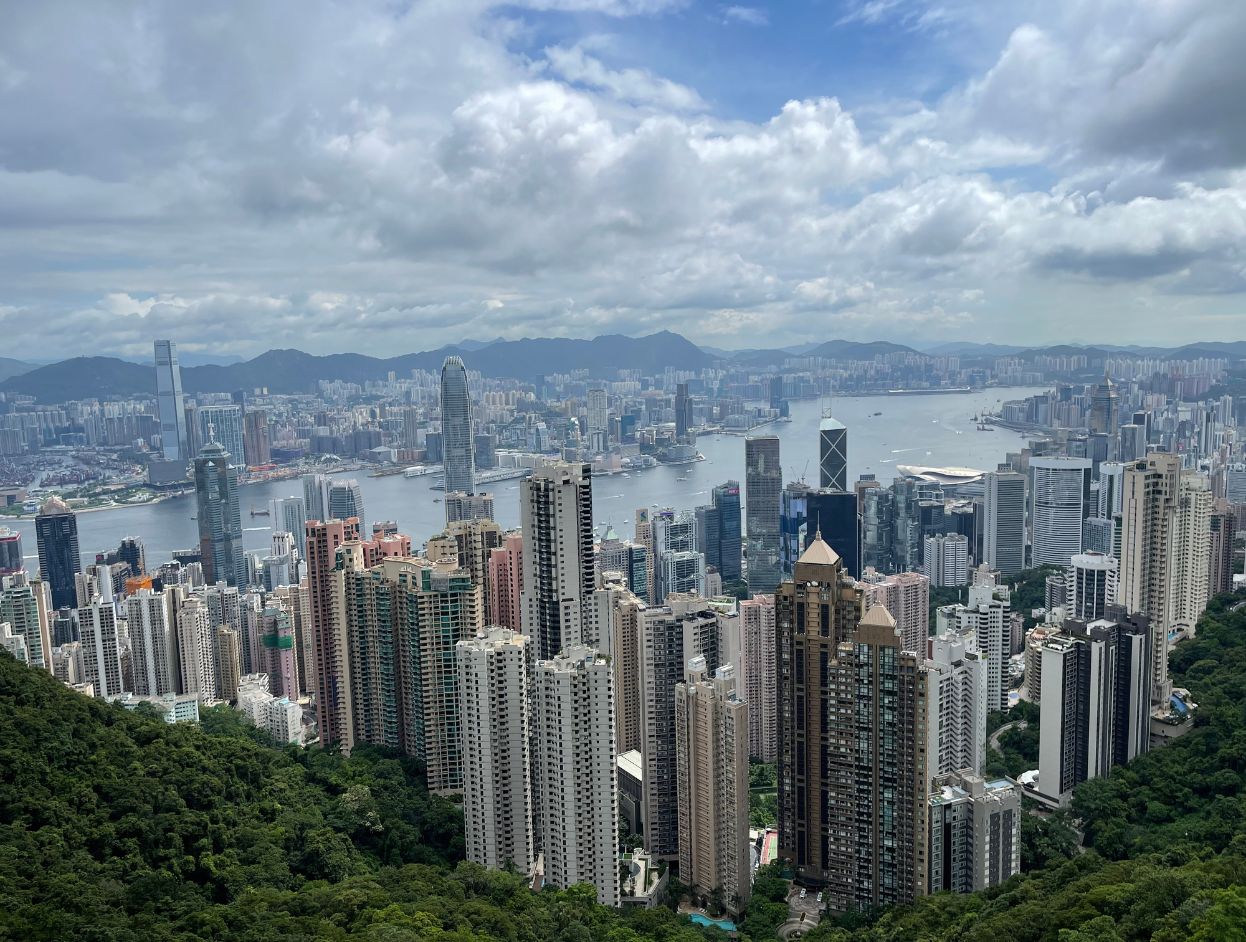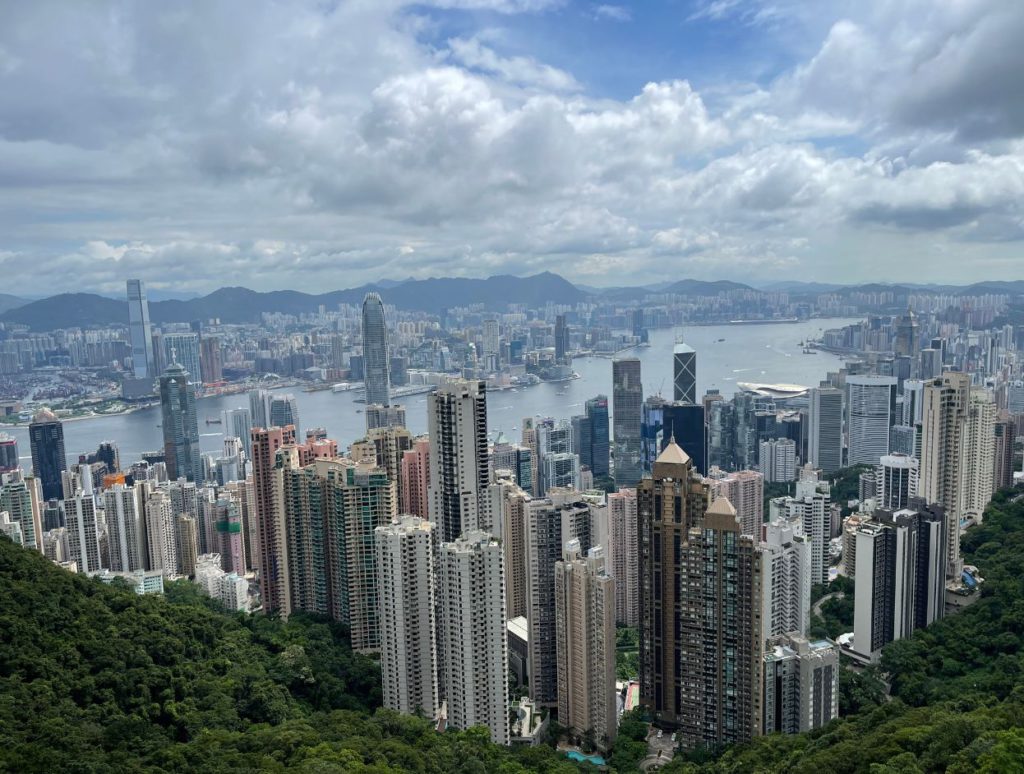 Day 1: Hong Kong Island
We are going to Hong Kong Island on the first day. In my opinion, it is the most fun and exciting part of Hong Kong. If you are looking for a neighbourhood to stay, you should consider staying around this area. The day's highlights are Victoria Peak and the area around Central and Sheung Wan.
1. The Peak Tram
To start the day, we are going to Victoria Peak using The Peak Tram, the oldest mode of transportation in Hong Kong. The Peak Tram is a funicular railway that starts at the base of Victoria Peak and takes about 20 minutes to get to the top on a renovated heritage tram. The ride is sweet and uneventful, but the views keep getting better as you go up.
The Peak Tram is a popular tourist attraction in Hong Kong. There are chances that you may find it crowded around mid-day (although we didn't). So it's better to start your day a little earlier. To reach Victoria peak, there are also other modes of transportation like bus, taxi and even hike. This is just for the experience.
To reach The Peak Tram, you can take the subway to Admiralty Station (it's a station on 4 different lines which is easy to reach). From there you can comfortably walk which is another 15 minutes walk. Since the tram is open from 7.30 am to 11 pm, it works out well if you want to get a night view of Hong Kong city instead.
You will need to buy a ticket for the tram ride. If you plan to visit the observation deck called Sky Terrace 428, you can buy a package ticket. Read below if it's worth it. Either way, you can buy a ticket at the station or via an online aggregator with a small discount.
Buy Ticket: Victoria Peak Tram and Sky Terrace 428 Ticket in Hong Kong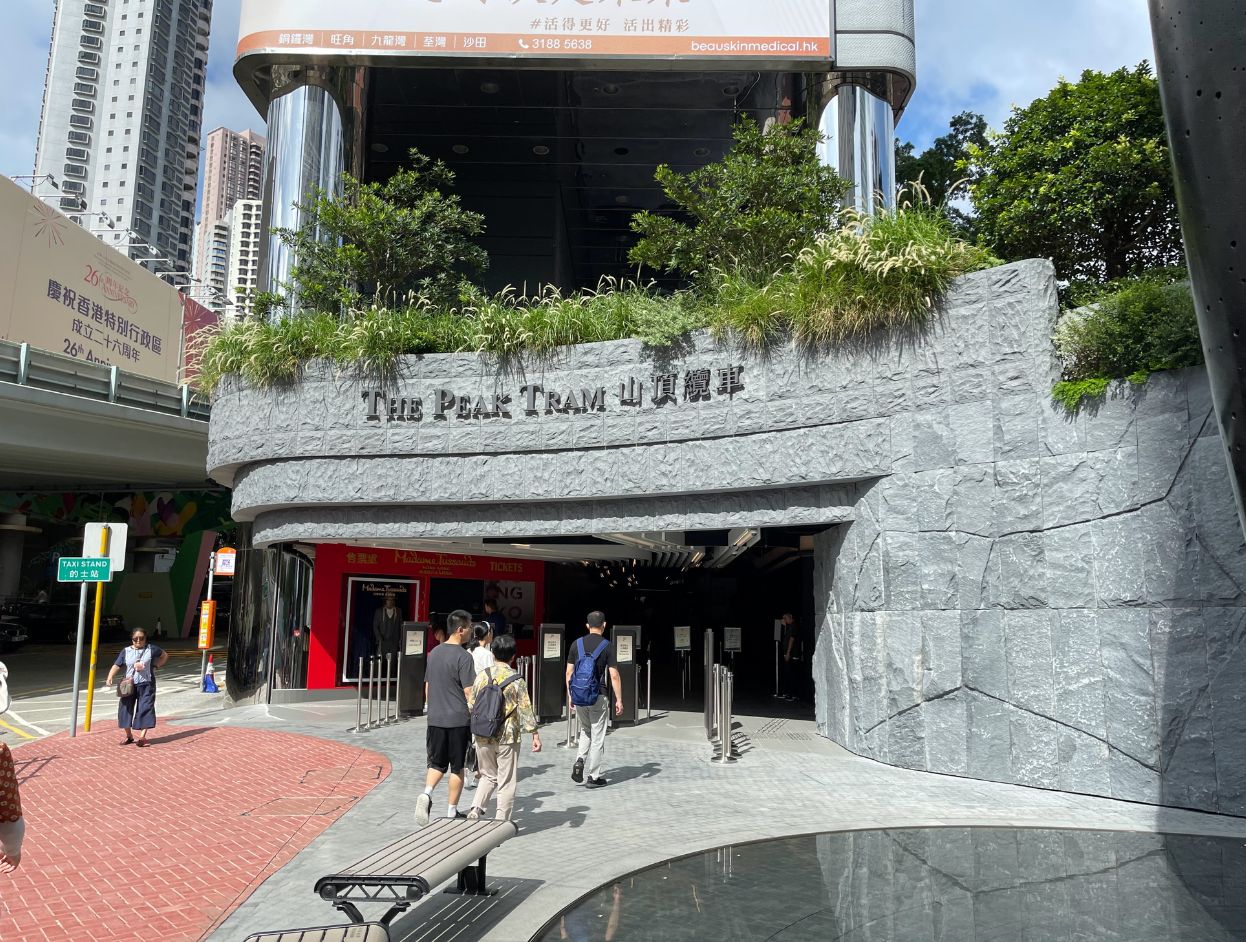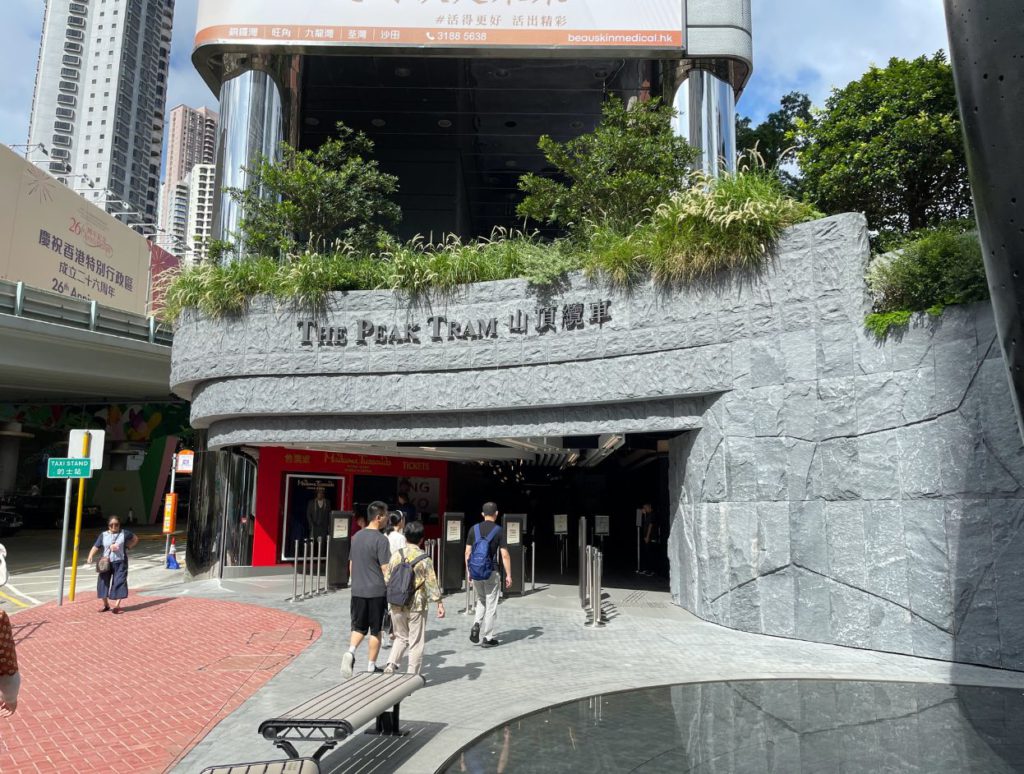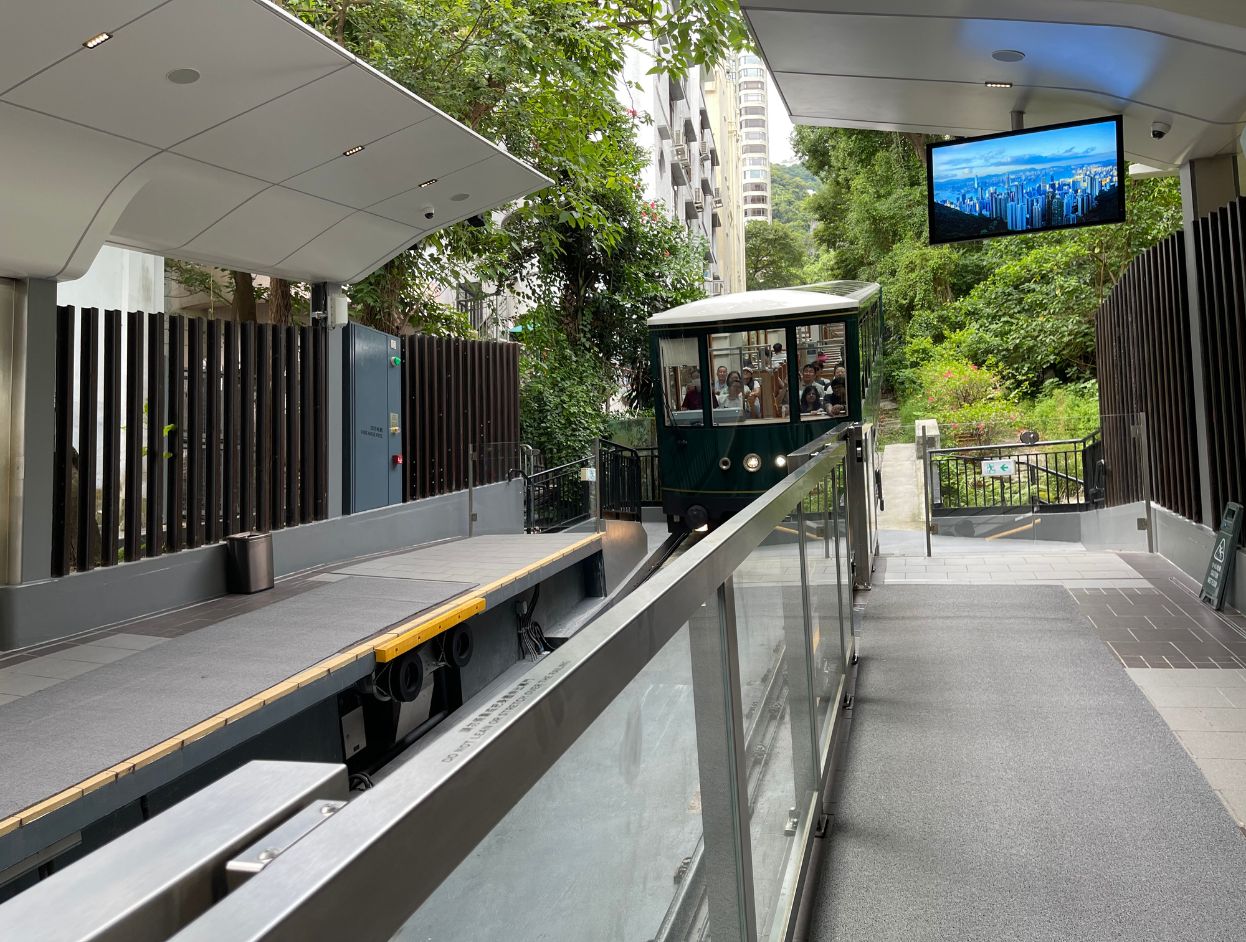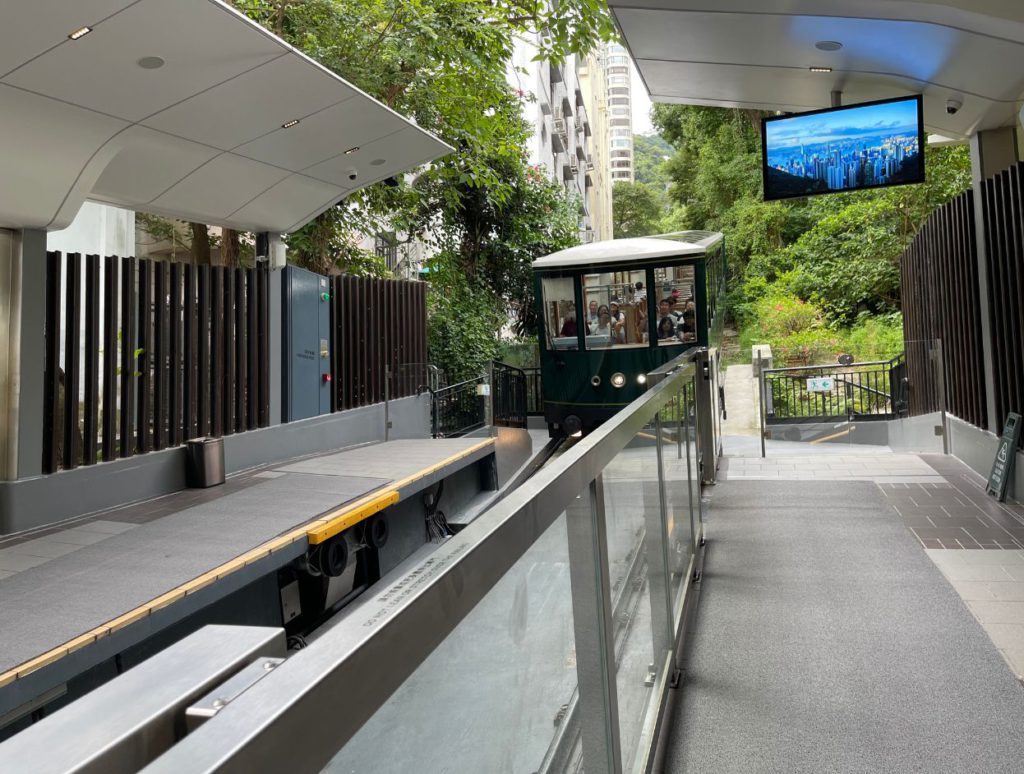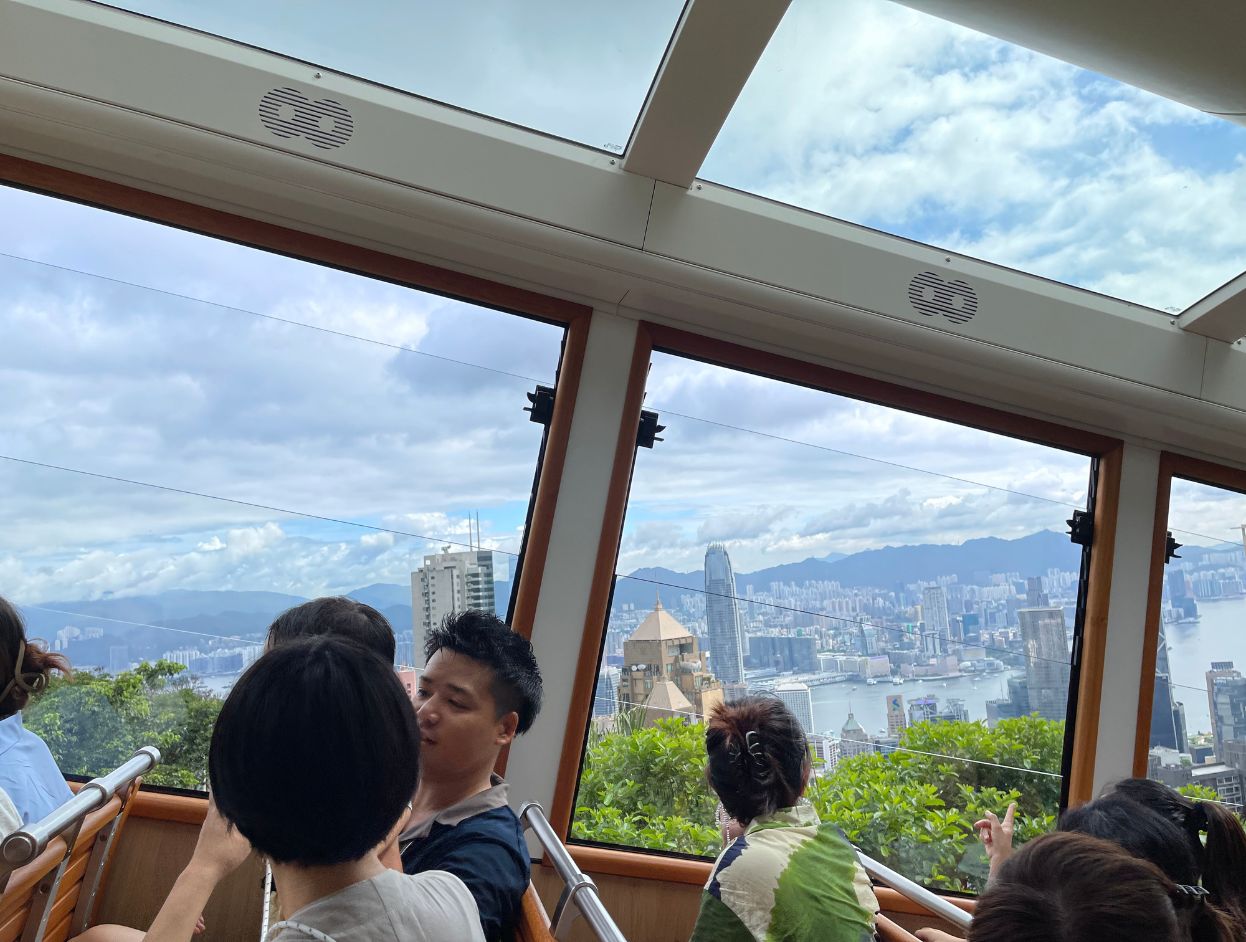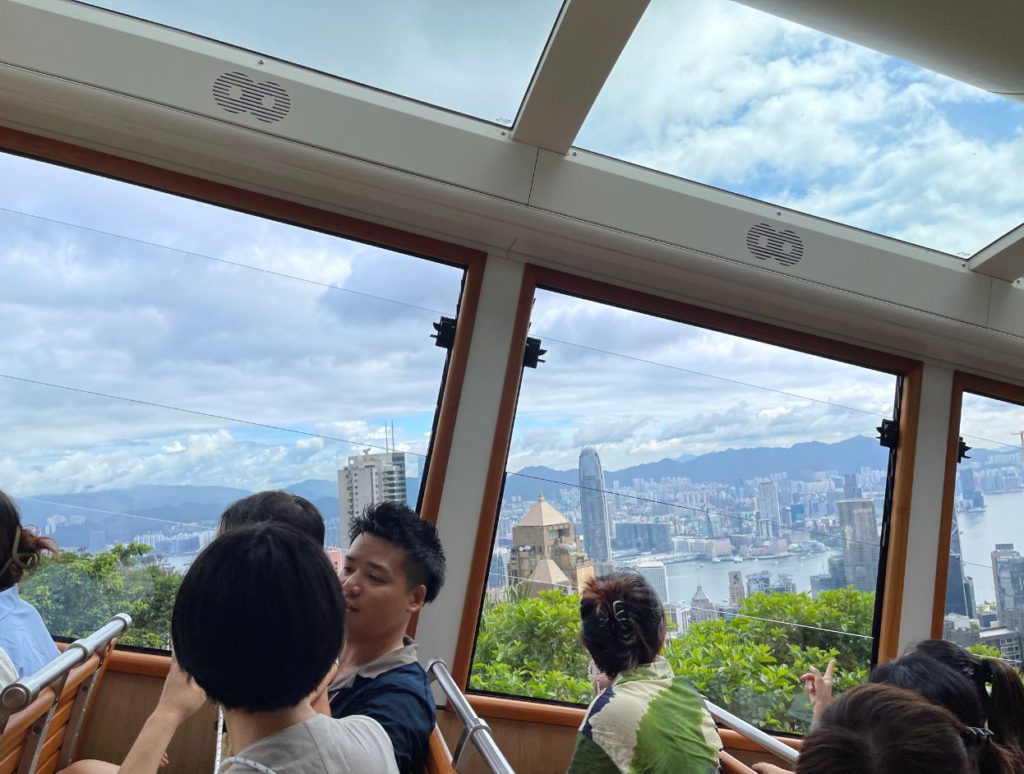 2. Victoria Peak
For tourists, Victoria Peak is a popular tourist spot. In fact, it is one of the first places that tourists head to in Hong Kong. And it's totally worth it. It gives a view of Hong Kong's world-famous skyline with the Victoria Harbour like nowhere else. But there was a lot more going on there.
During British rule, Victoria Peak was an upscale residential area where the governor of Hong Kong had his residence built during the 19th century. In fact, for a long time, local Chinese were banned from owning a house in the locality. People travelled up and down the Peak on sedan chairs till The Peak tram was introduced in 1888. Even today, Victoria Peak is one of the most upscale and expensive residential areas to live in.
There are quite a few things to do on Victoria Peak. The most popular is the Sky Terrace 428 which is on top of The Peak Tower. To simplify, it is an open-air viewpoint on top of a building. Yes, it is nice. But even if you don't plan to buy a ticket, you will still get plenty of options around Victoria Peak to catch aerial views of the city.
Other places worth visiting are The Peak Galleria (a mall with restaurants and retail stores), Madame Tussauds, Lugard Road (for a leisurely walk) and Victoria Peak Garden with a couple of viewpoints. You can easily spend half a day here but since there is a lot of walking and climbing, it's better to wear comfortable shoes.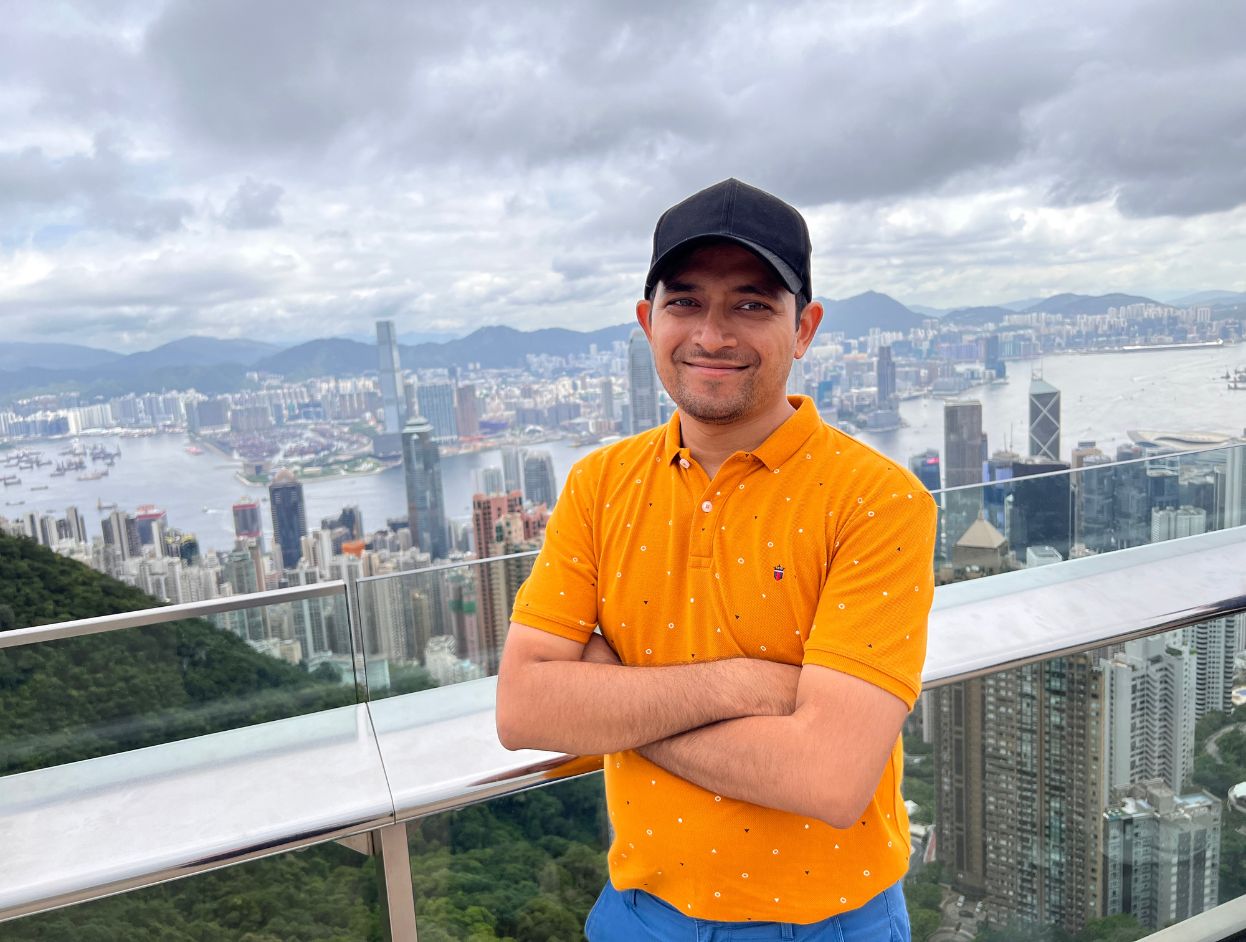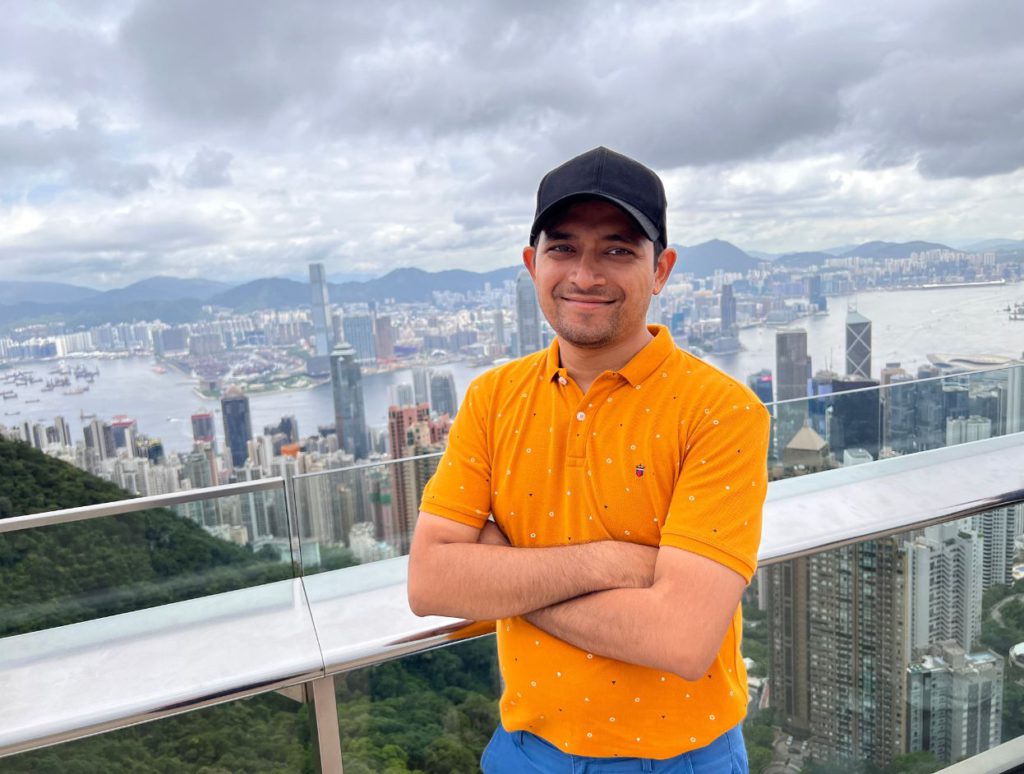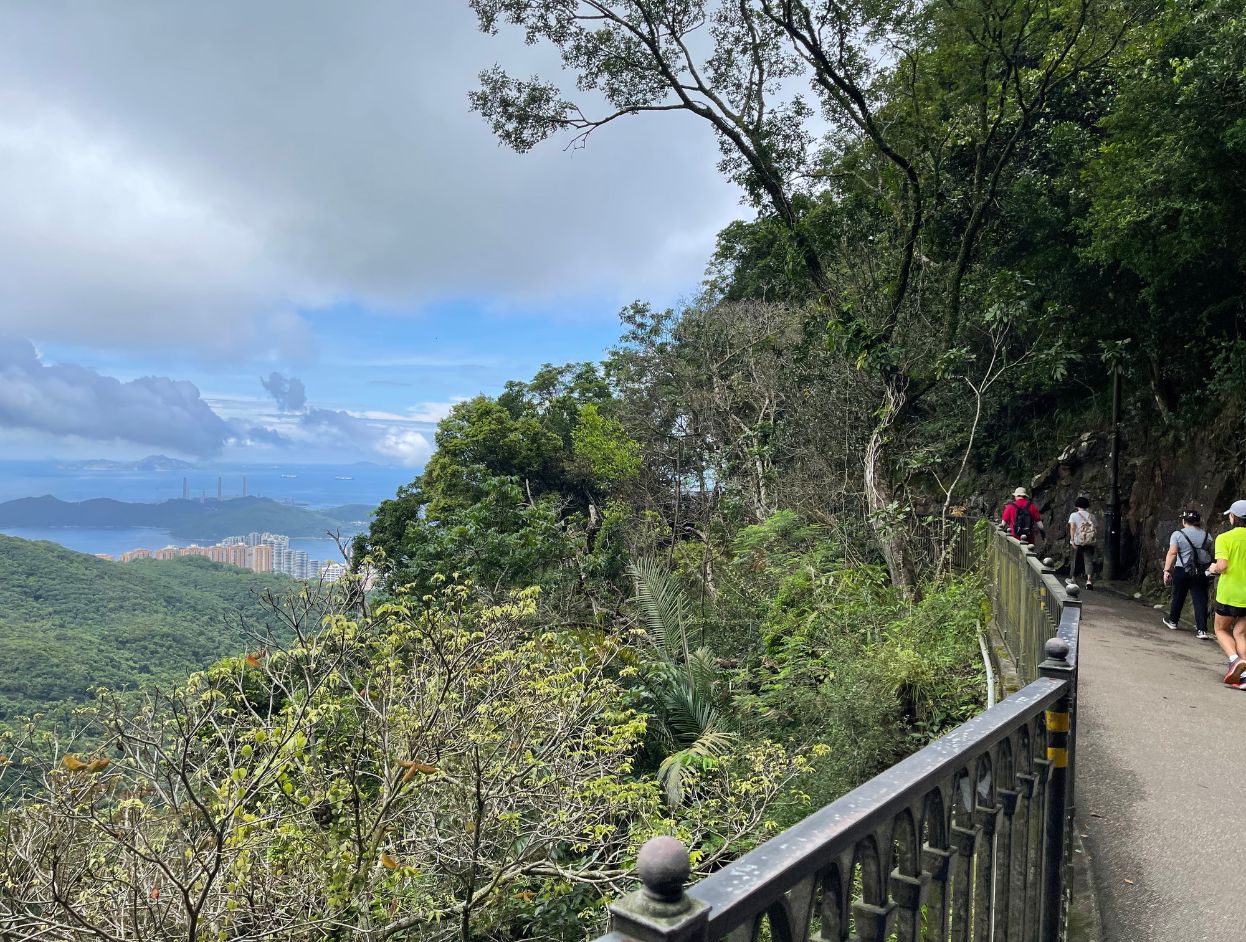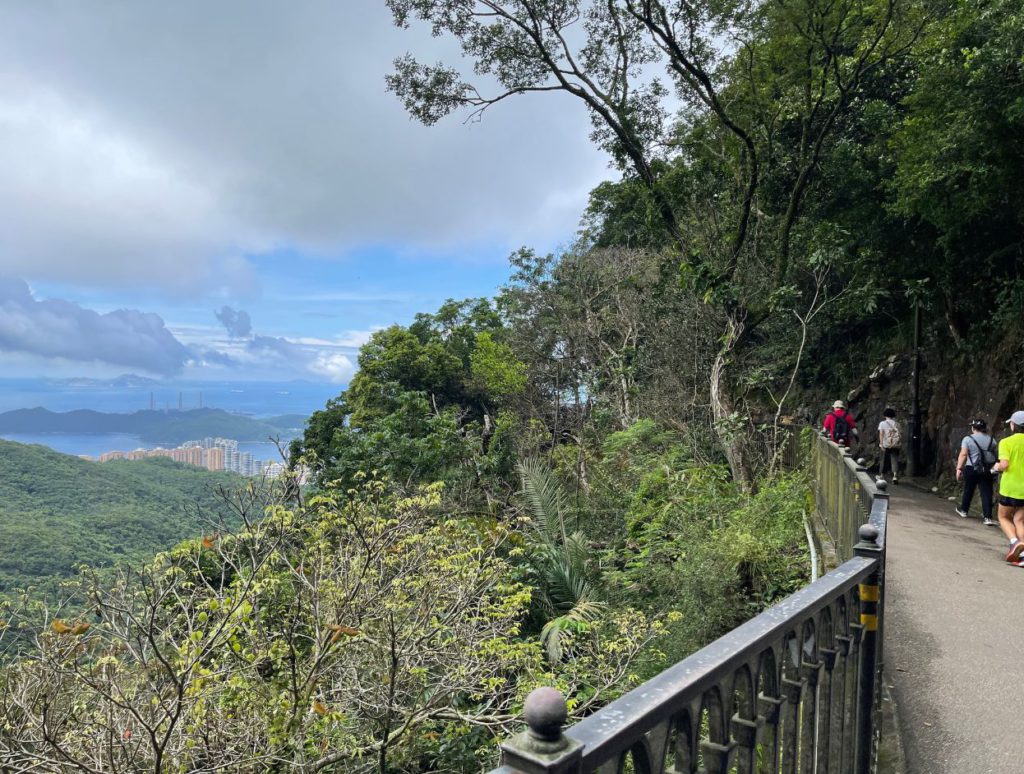 3. Hong Kong Park
While returning back from Victoria Peak, you can head over to Hong Kong Park which is only 10 minutes walk from the Tram station. The park is not enormous but it can still take an hour or so to visit different sections of the park at your own pace.
The park used to be Victoria Garrison. But later, a section of it was renovated into a park by still preserving some of the important buildings from that time. Those were converted into museums and offices inside the park that opened in 1991.
The park has an Aviary (which was closed when I was there). Next to it is a conservatory with plants from three different climates and themes. There is an orchid section, a desert section with dry plants and a rainforest. All of them are indoor glasshouses and beautifully built and free to enter. Don't miss it.
Two smaller stops in the park are the Hong Kong Visual Arts Center and Flagstaff House Museum of Tea Ware. All these places are free to visit. If you are not interested in those, you can really just enjoy the artificial waterfall, and the fountains and relax at one of the benches around.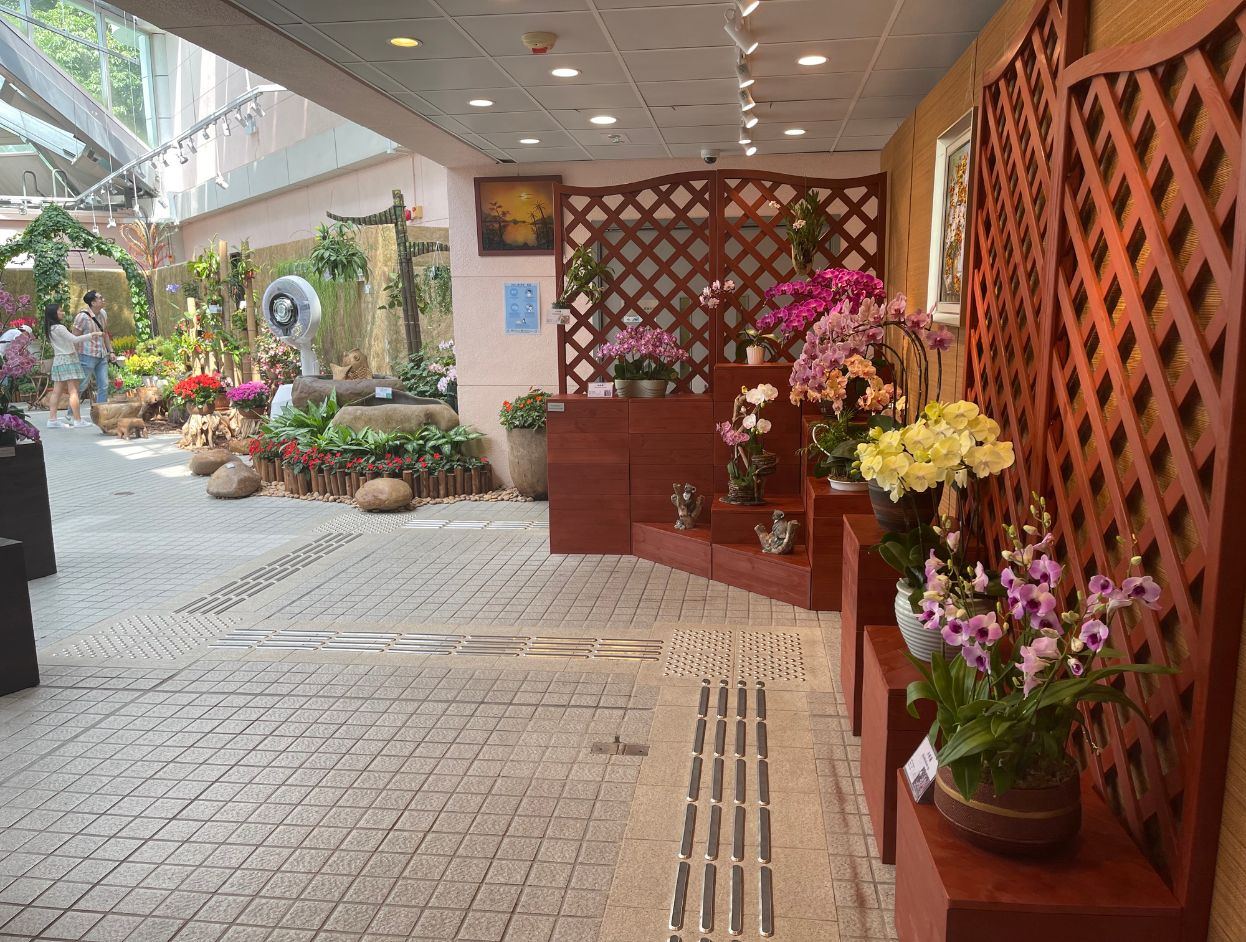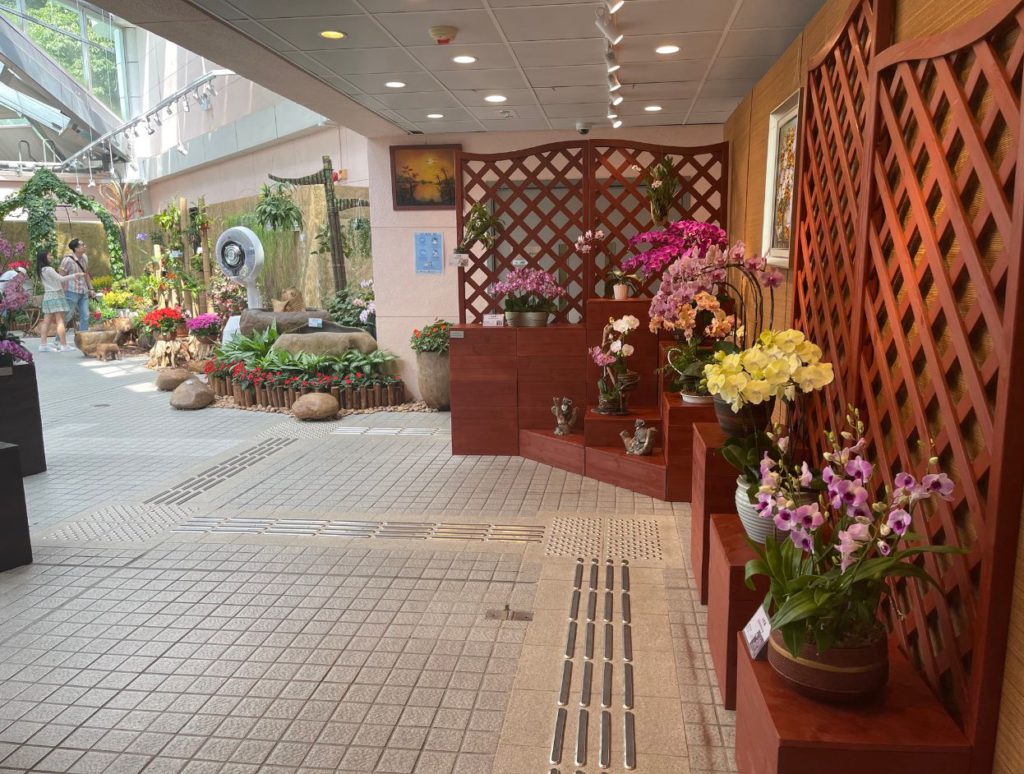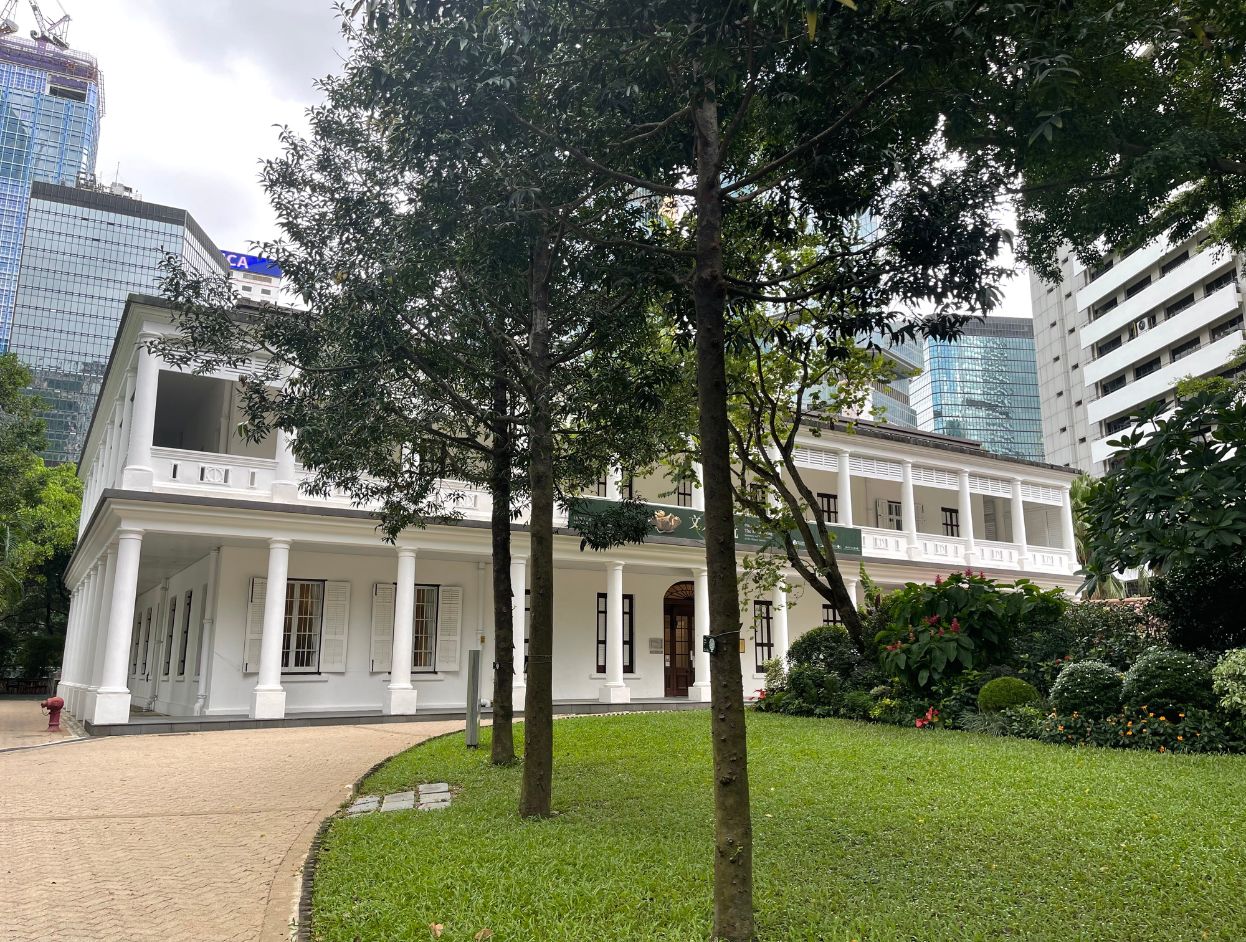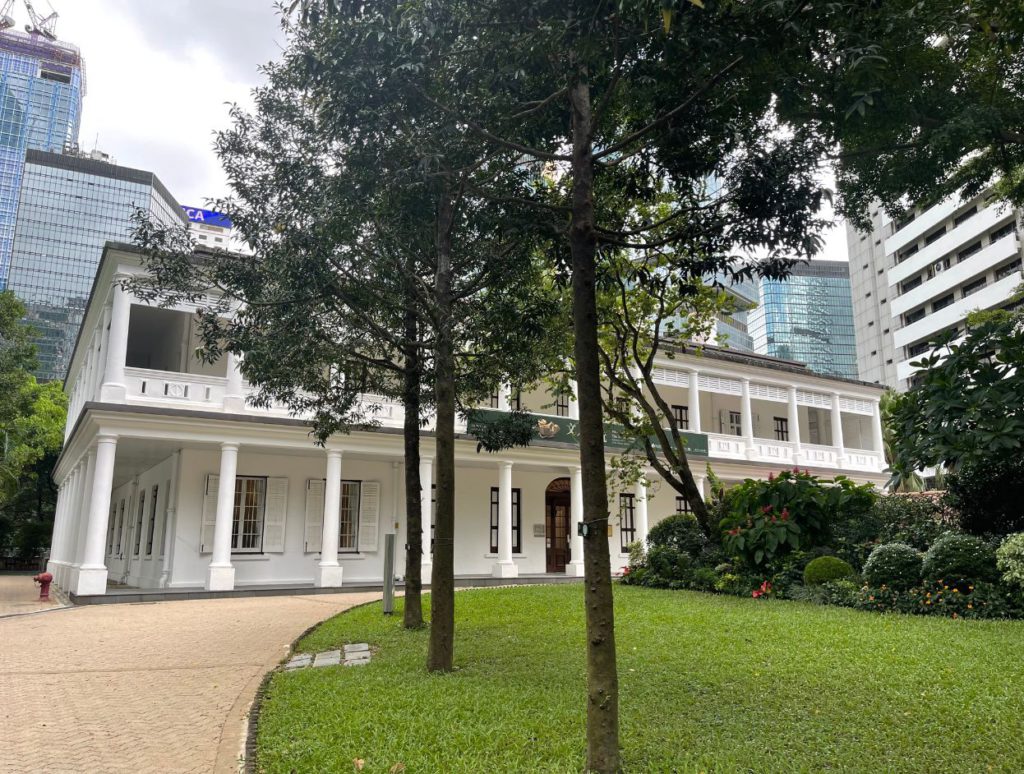 4. Central Market
If you are exhausted and wish to head home now, it is a good time too. You can cover the rest of the places in the evening or some other day as well since these are nighttime activities. But if you wish to continue, you can head over to the Central area. The best and the most fun way to do this is by tram.
One of the most popular places to visit is the Central Market. This place used to be a wet market that was shut down once the area around it started urbanising. It was then renovated into an urban mall marketplace. There are numerous retail shops, a food court, souvenir stalls, coffee shops etc.
On some days, you may also find a special market or an art gallery. But you will always find some exhibition stalls showcasing the shops from the last century like a museum.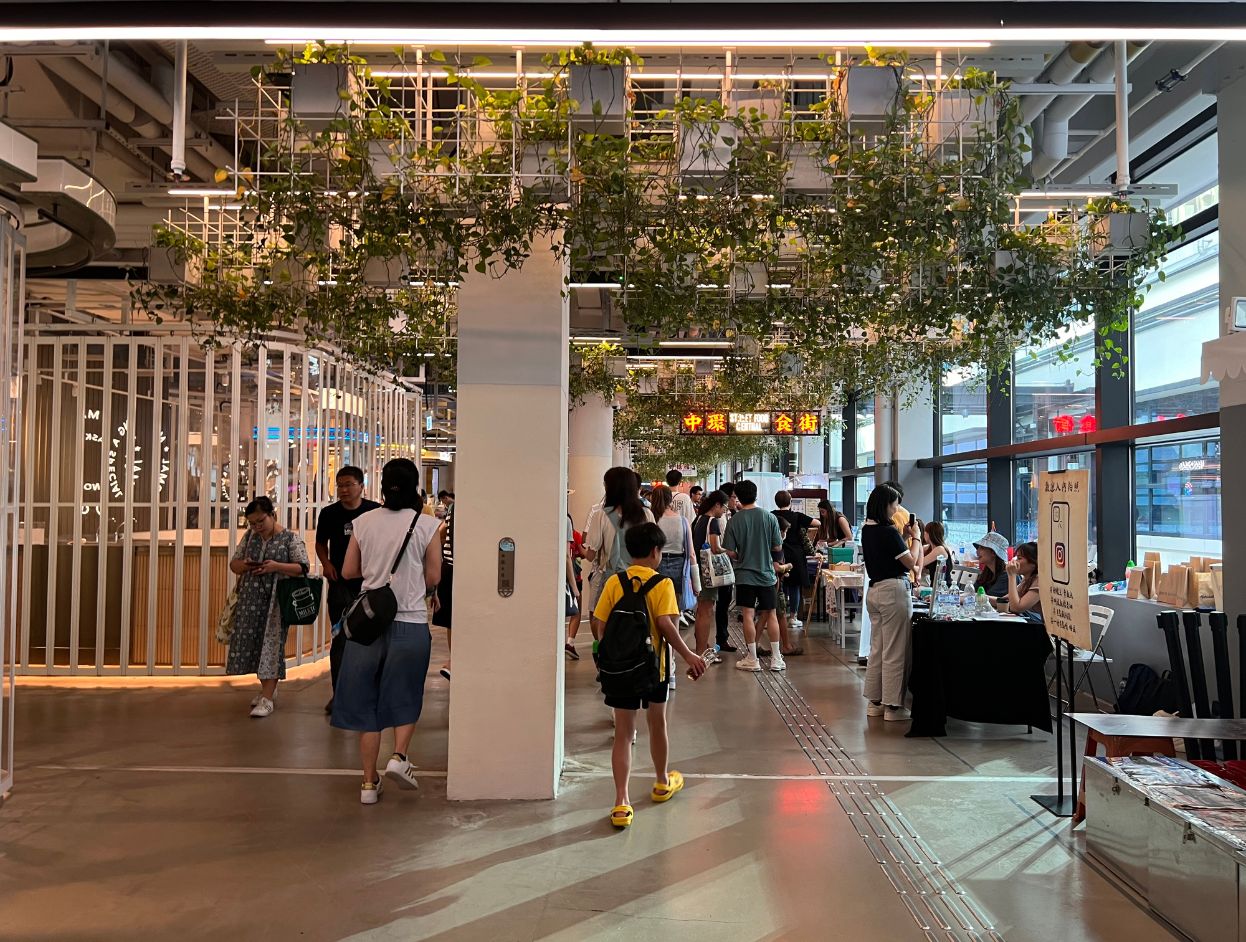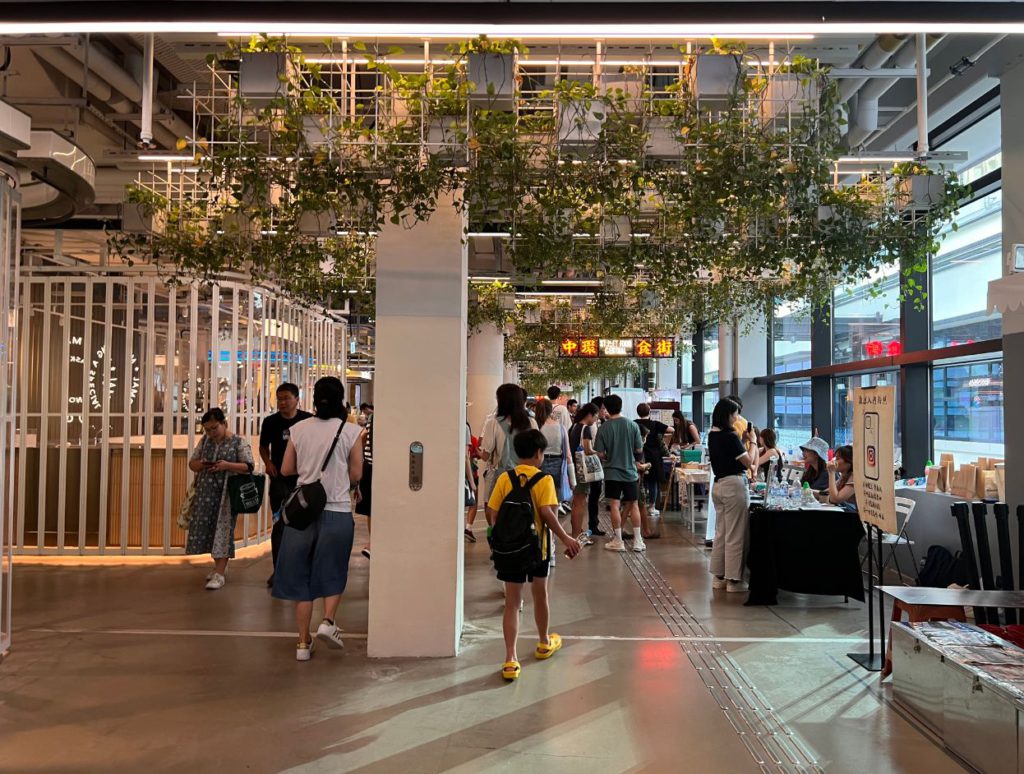 5. Ta Kwun & Soho
Just outside the central market is a walking escalator. We took it because we had nowhere to go. And it took us to some great places. The first stop was Ta Kwun Heritage Center. The name is misleading since this area used to be a barrack and a prison. And you can still find them here. But now it is converted into an upscale fun place for young people to hang out with relaxing bars and restaurants.  
Almost all the heritage buildings in the barracks area were converted into a restaurant, a store, a museum or something else. But they all are perfectly preserved. If you have time, tour the Victoria prison.
Right next to Ta Kwun is Soho, aka South of Hollywood Road. This is another upscale area with buzzing bars, international restaurants, art galleries and retail stores. We are done for the day, so you can end your evening here with a drink and enjoy some nightlife.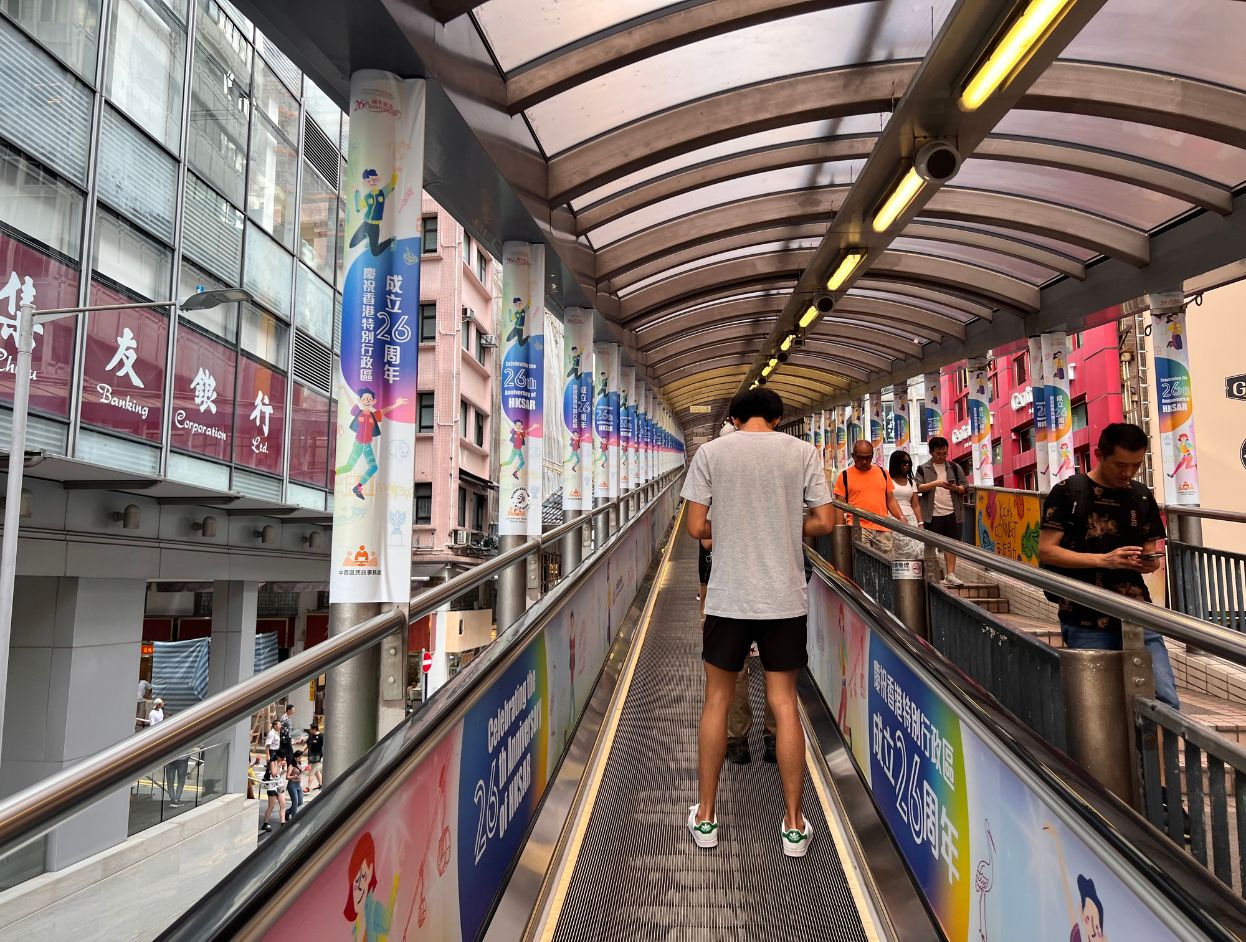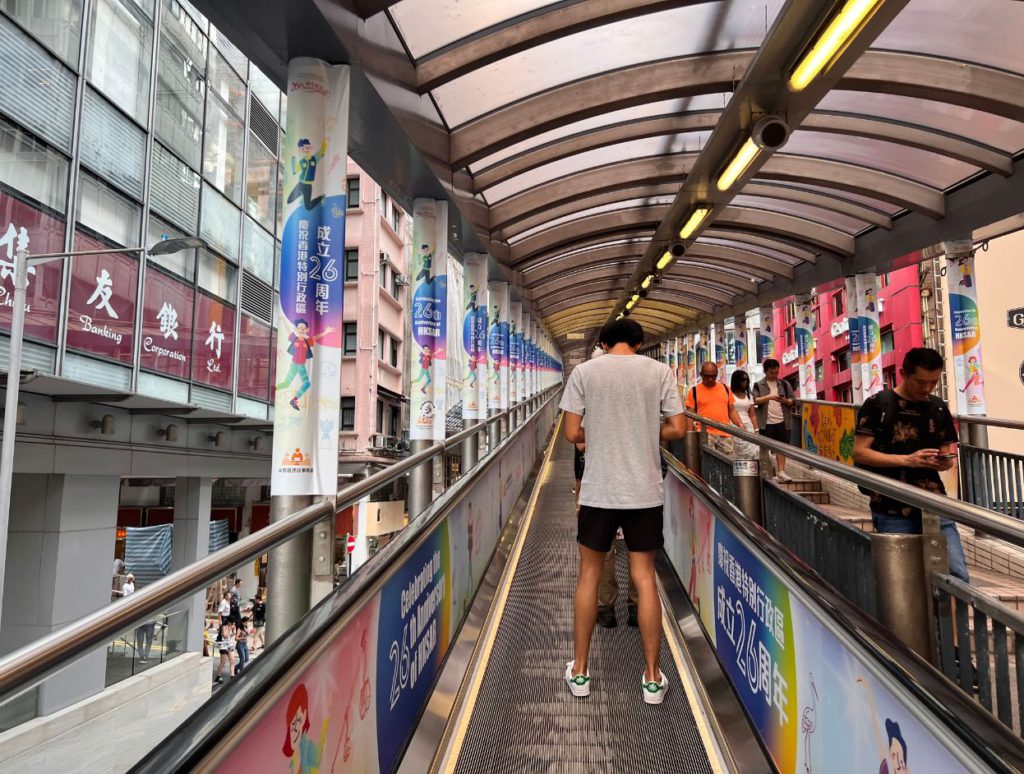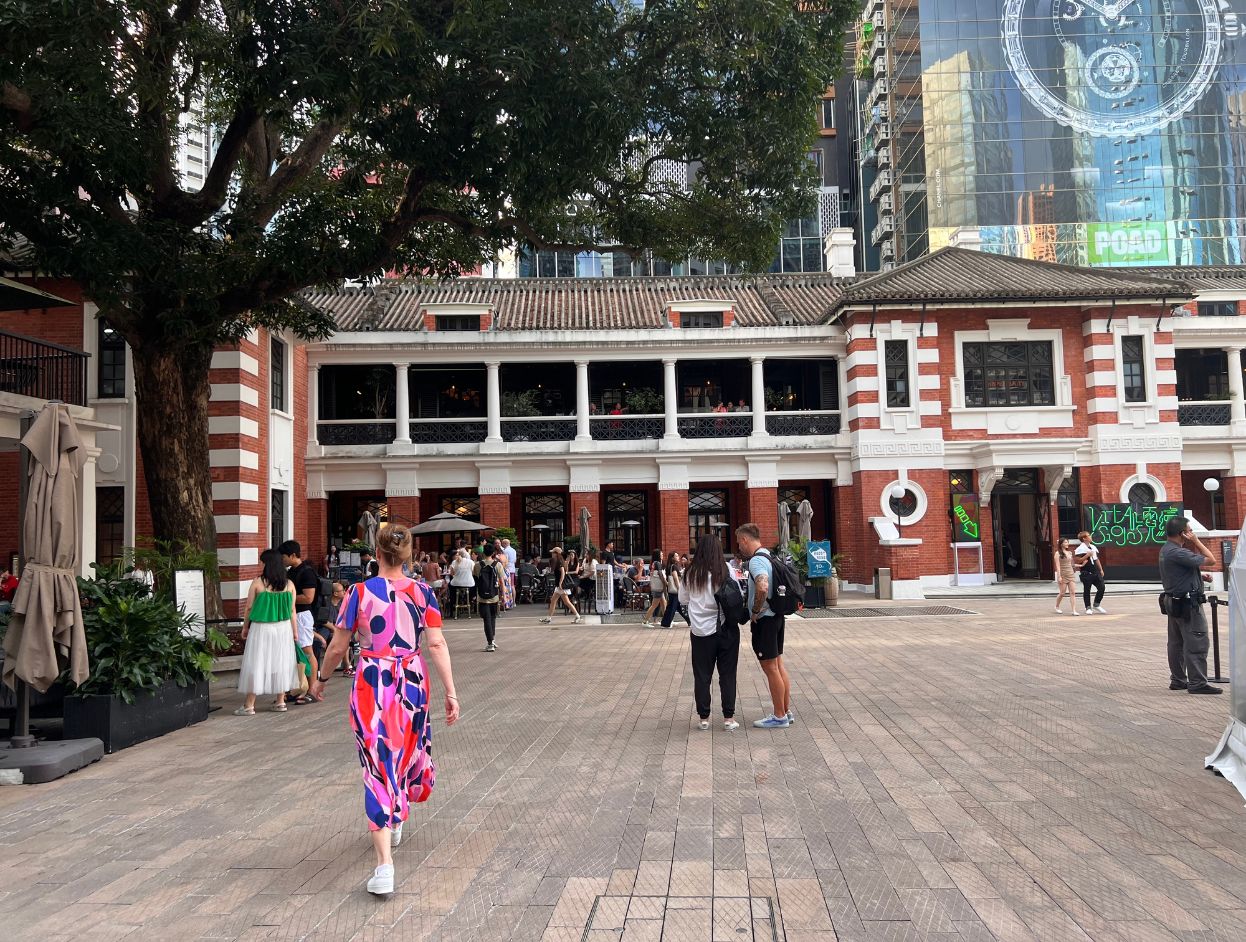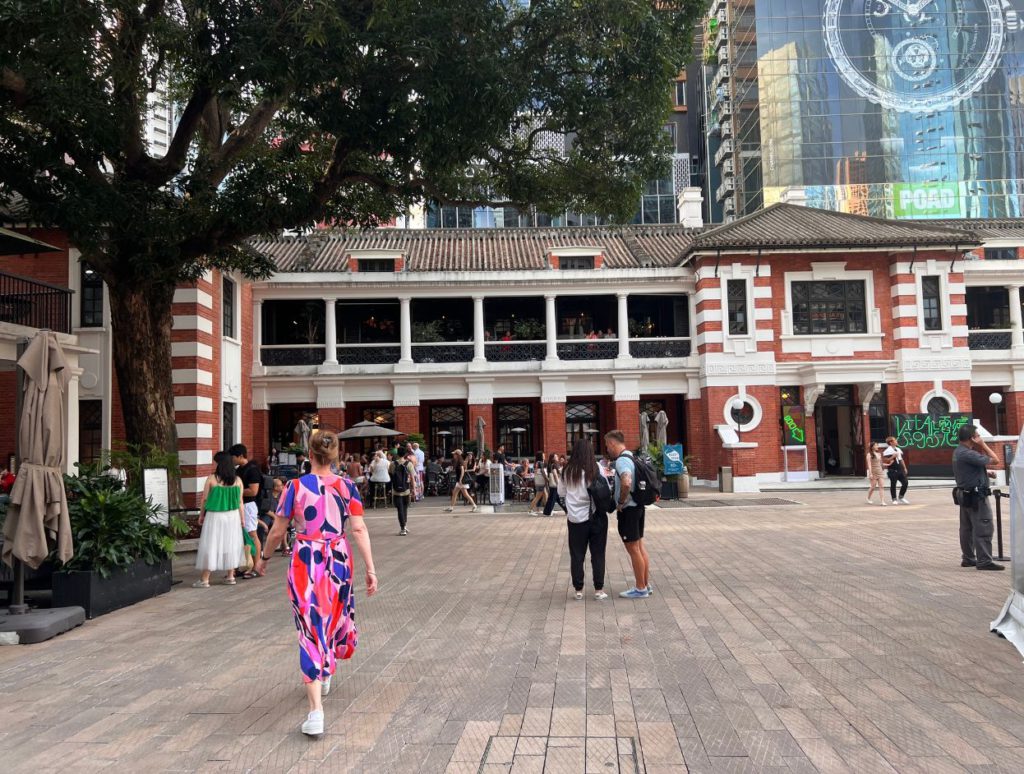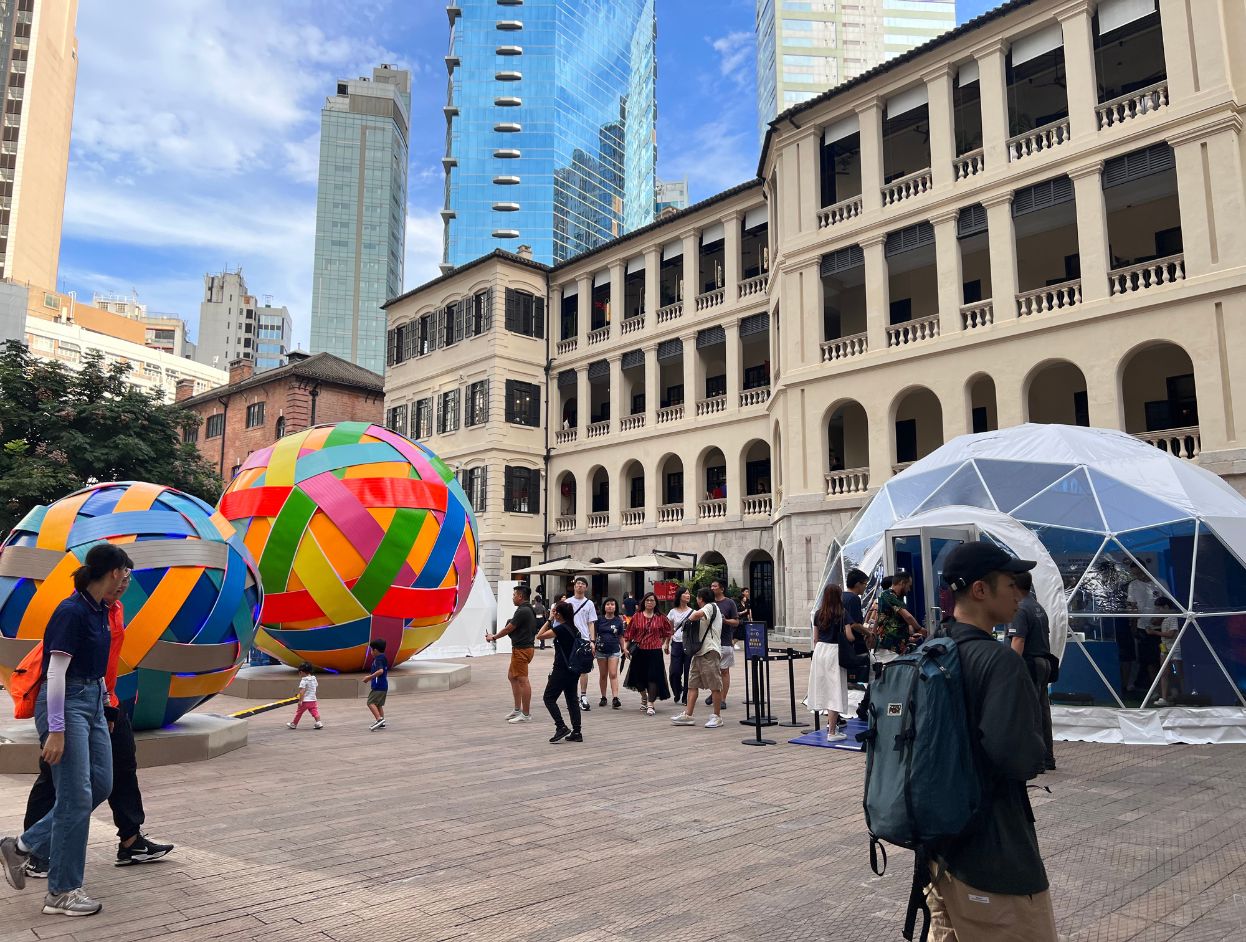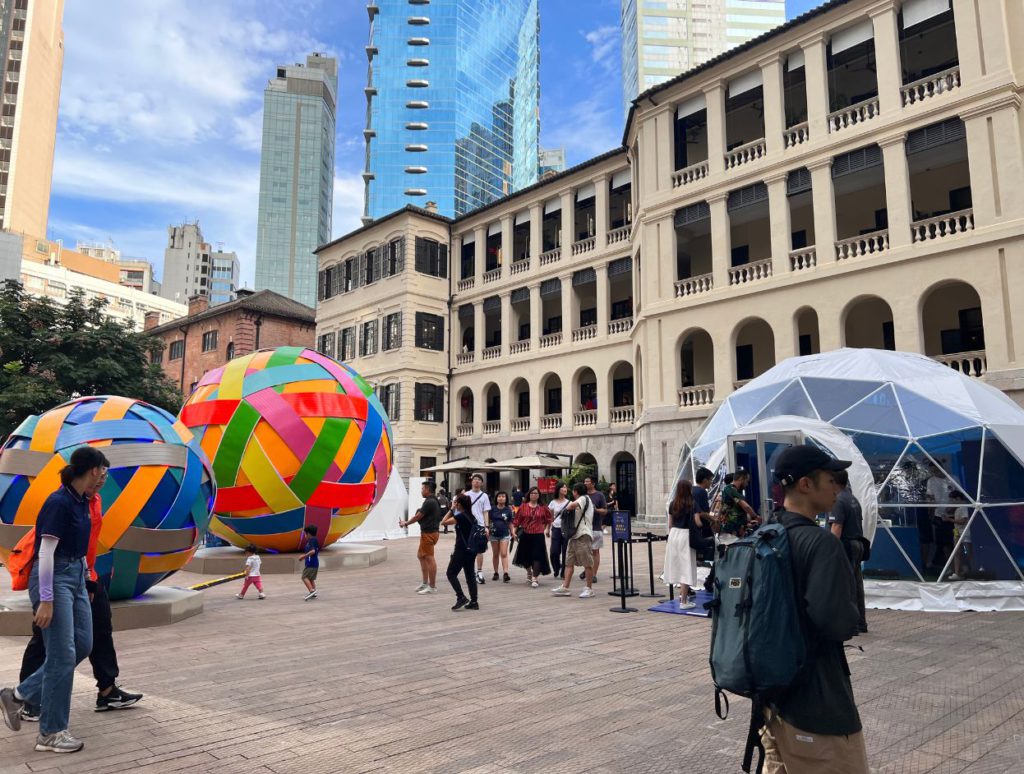 Day 2: Lantau Island & Victoria Harbour
For the second day, we are going to head out of the city all the way to Lantau Island and spend most part of the day there. Lantau is an important island to the west of Hong Kong that is popular for a few tourist attractions as a day trip. For the later part of the day, we will come back to Victoria Harbour to enjoy the nightlife around the area. 
To reach the Lantau Island you can take the Metro to Tung Chung Station on the Tung Chung Line. From here you can take the cable car, the bus or hike the way (this is for seasoned hikers though!) to the top of Lantau Island.
1. Take the cable car
All good vacations have a cable car ride. If you believe this, then add this to your list. Our day starts with reaching the top of Lantau Island because that's where all the good things are. Instead of taking the cable car, you can also take the bus, a taxi or hike. But the cable car is the most convenient and fastest option.
The cable car is called Ngong Ping Cable Car and starts from Tung Chung itself, near the metro station. You can buy the tickets at the counter or book online ahead of time for a discount. You will need to get a physical ticket at the base in all cases but it is pretty easy.
The cable car ride is fun and lasts about 20 minutes in each direction. We bought only a one-way ticket since we took the bus on our return journey from Tai O fishing village. The cable car leaves you at the top station and you are free to roam around at your own pace.
Book your tickets: Ngong Ping 360 Cable Car Ticket in Hong Kong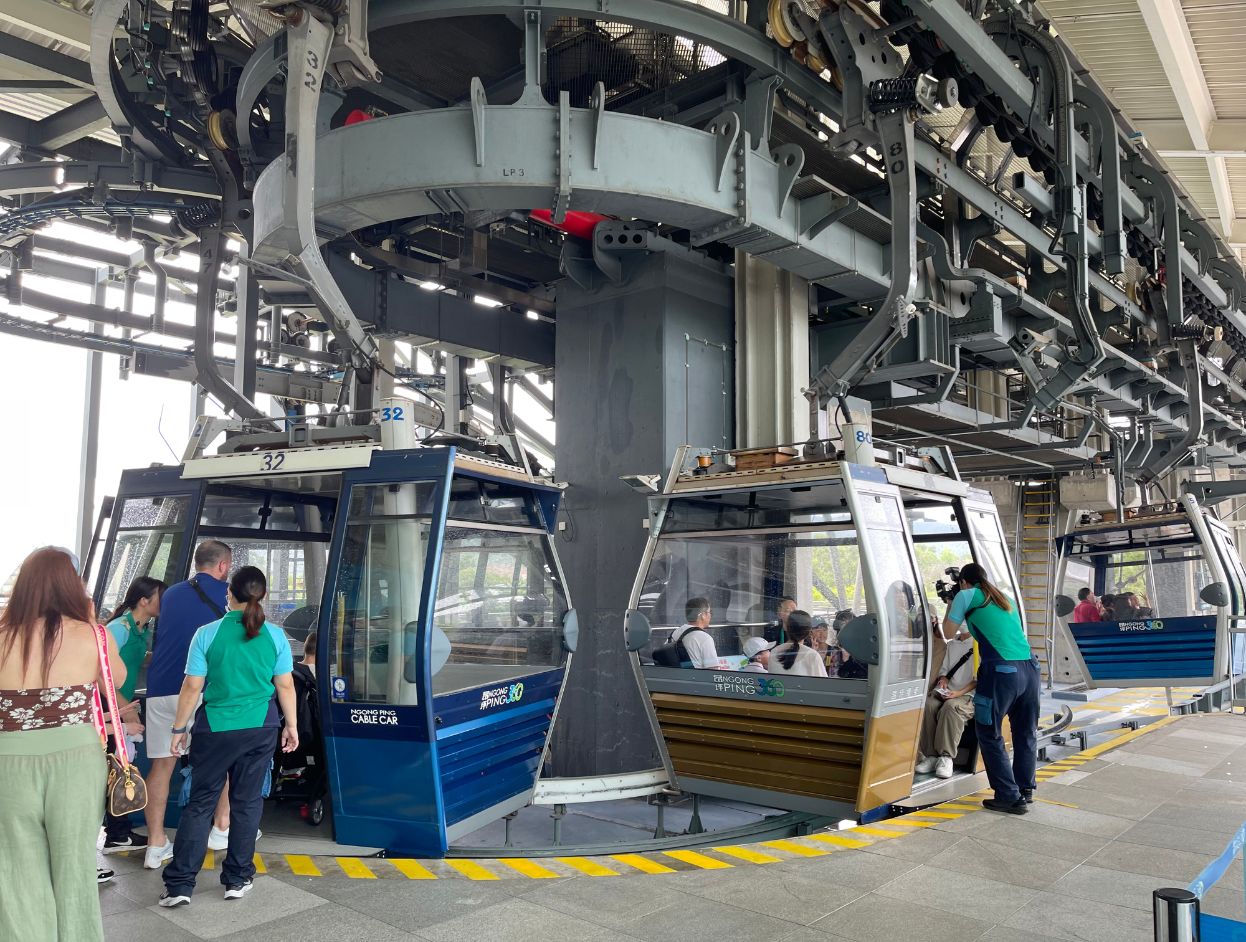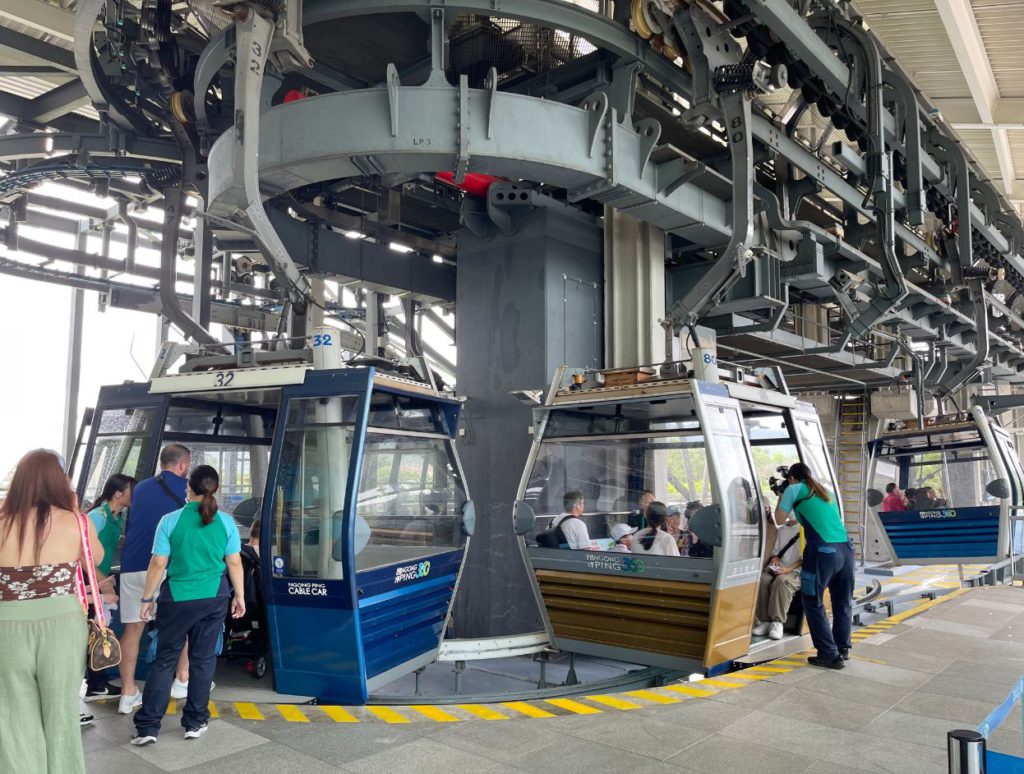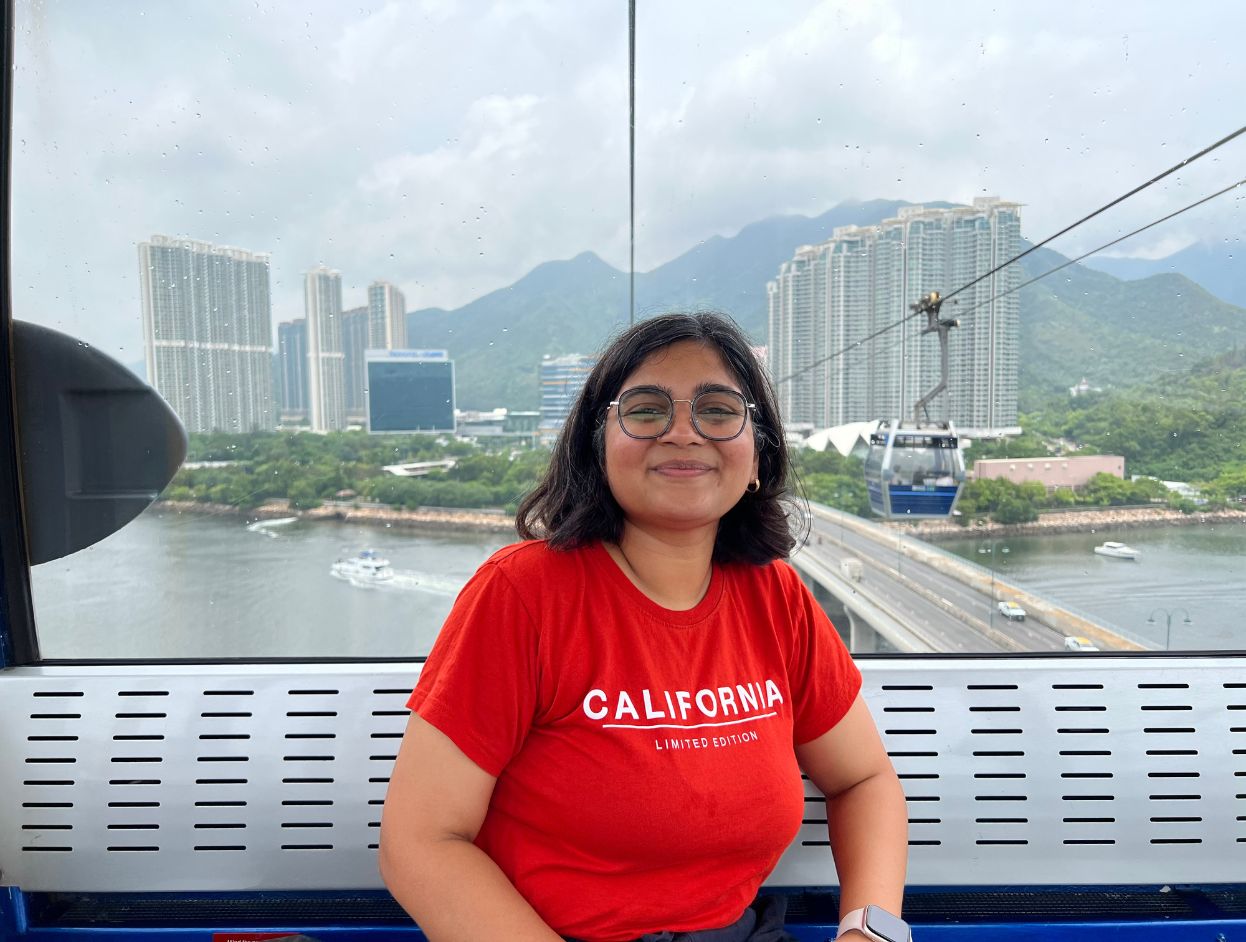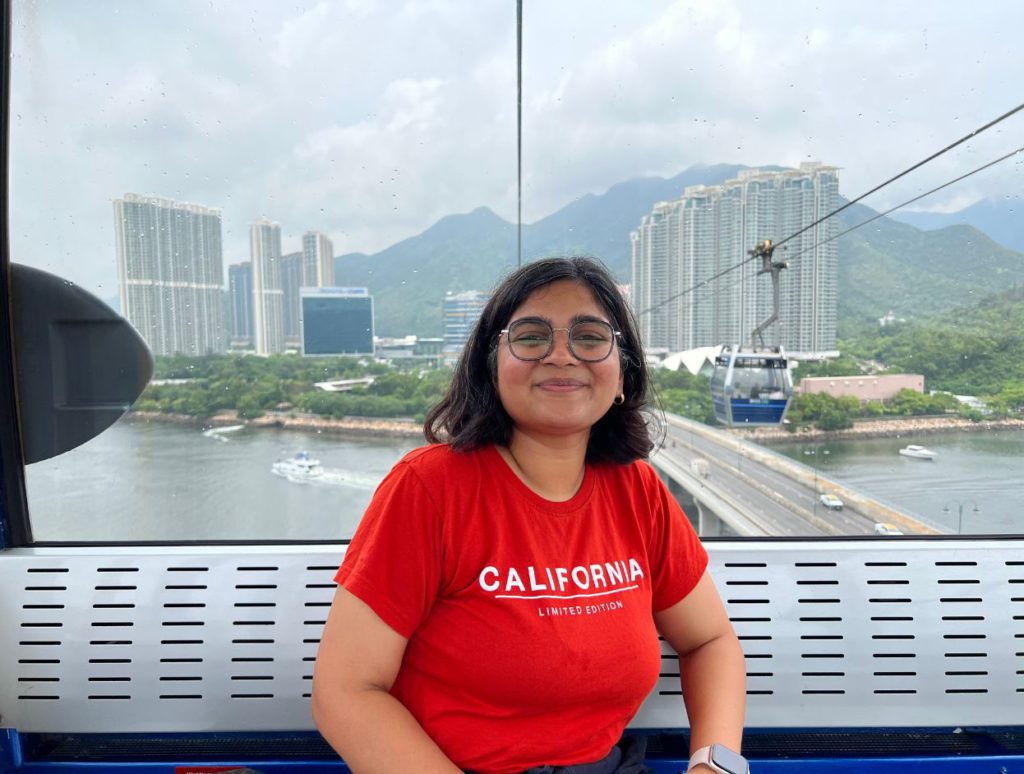 2. Lantau Peak
Now that you are on top of Lantau Peak, it is upto you how much time you would like to spend here. The first place you will visit here is the Ngong Ping Village. It is a bunch of shops and restaurants set up especially for tourists to enjoy their time decorated in oriental style. You can grab a bite here if you wish to.
The Tian Tan Buddha statue is just a little ahead which is the most popular attraction here. You can go up a few stairs and catch an aerial view of the island and pay your respects. A little ahead is the gorgeous Po Lin monastery which I think you must not miss. It has beautiful carvings and a great meditation hall lined with multicoloured orchids that I couldn't get enough of.
Several travellers come to Lantau Peak to hike the summit. But that itself can take a couple of hours one way. If you wish to do it, I suggest coming prepared with shoes, water and some food since you won't find any on the trail. If you are looking to get a taste of a hike but not go as far, you can walk upto the Wisdom Path, a small trail that starts right next to the monastery.
Since there are several places to enjoy, you can choose the ones you prefer. Even then this can take 3-4 hours to finish. Once done, our next stop is Tai O fishing village on the northwest coast of the island. You can take bus 21 from the Nong Ping bus stop directly to Tai O.
Book a Guided Tour: Big Buddha: Walk with Skip-the-Line NP360 Cable Car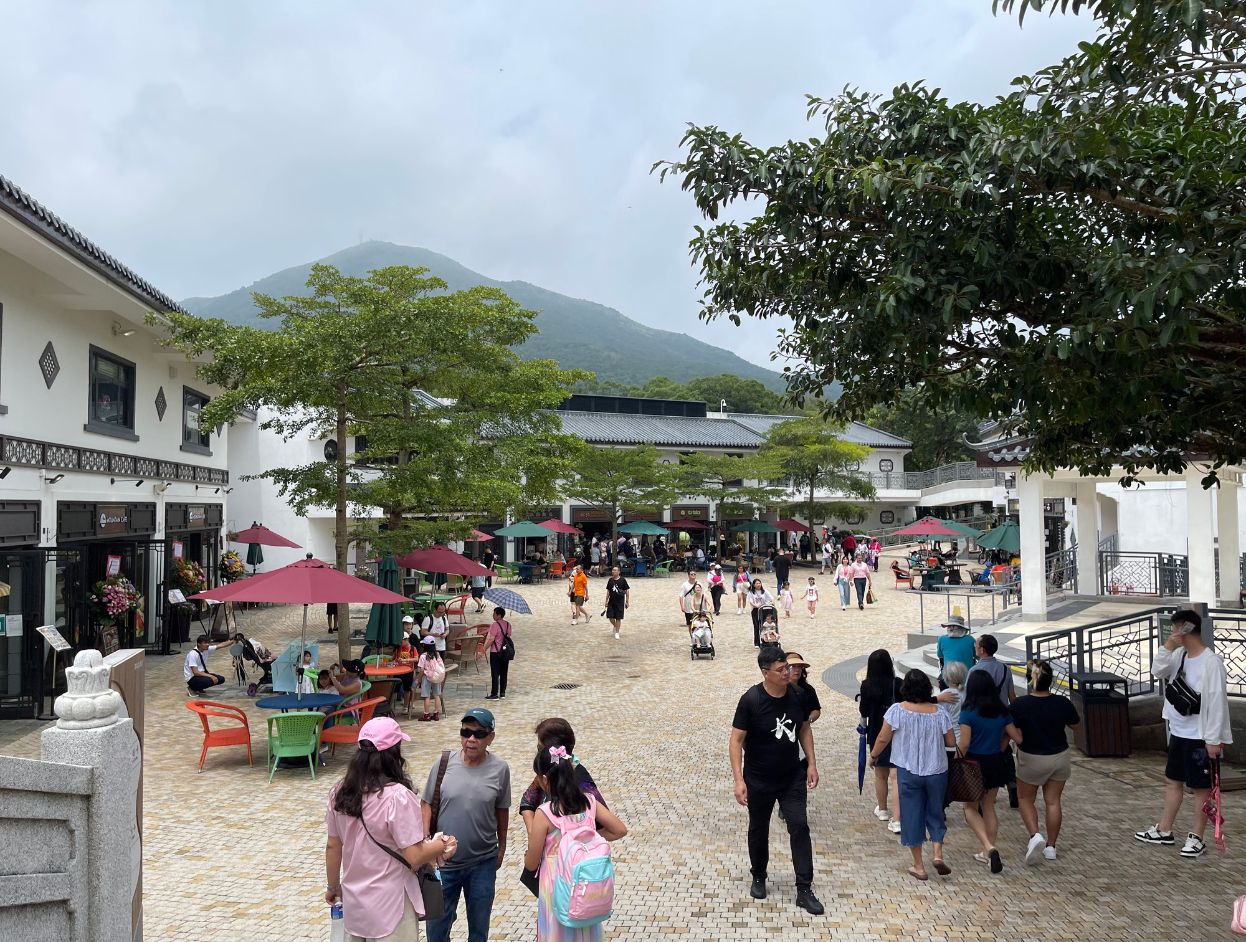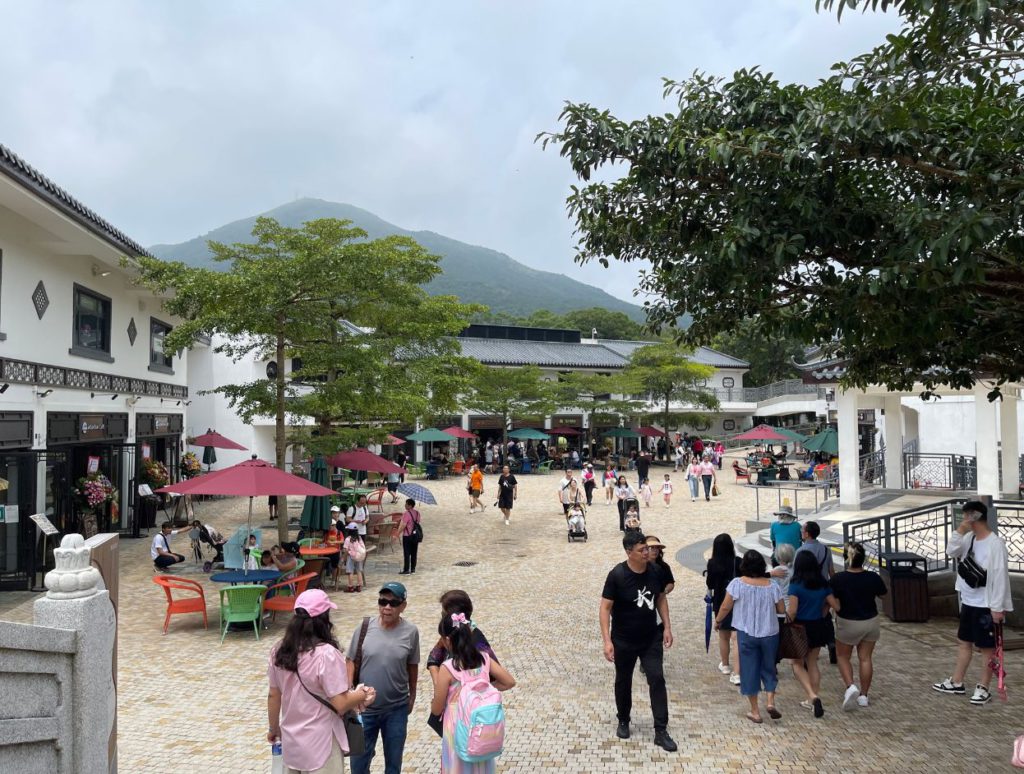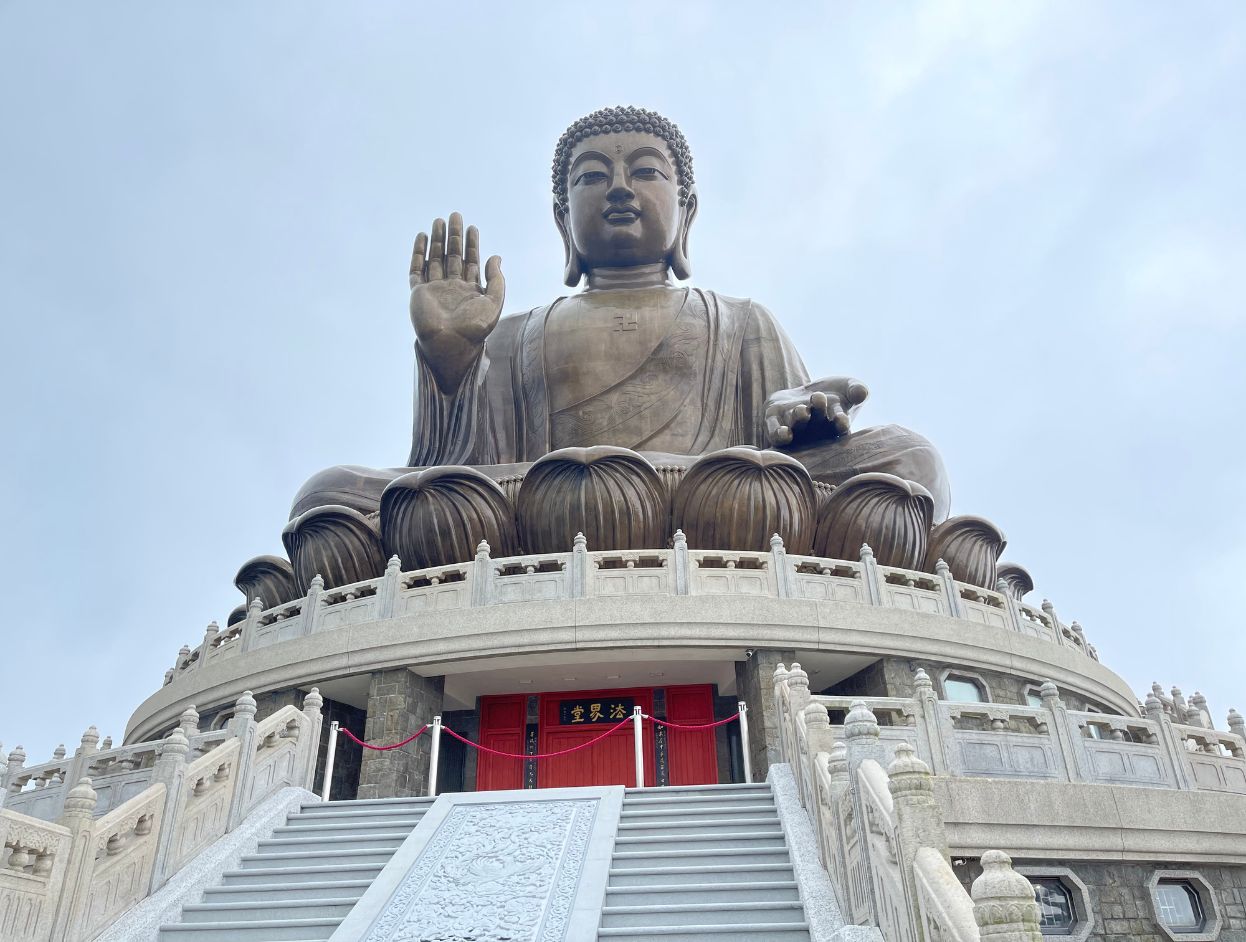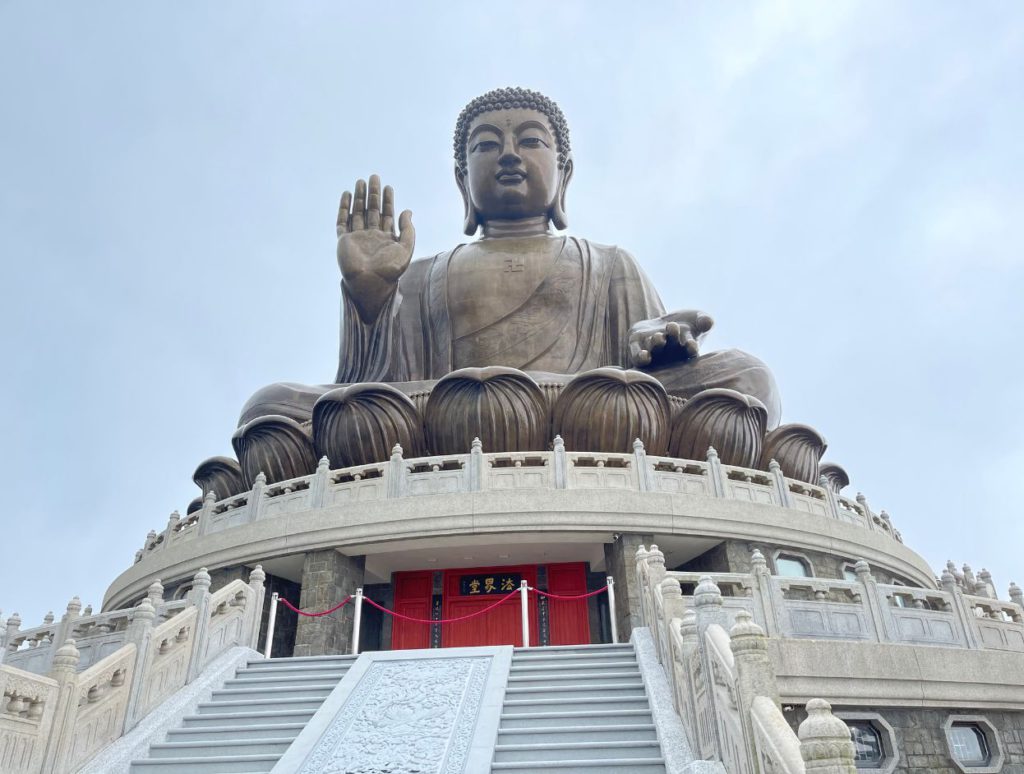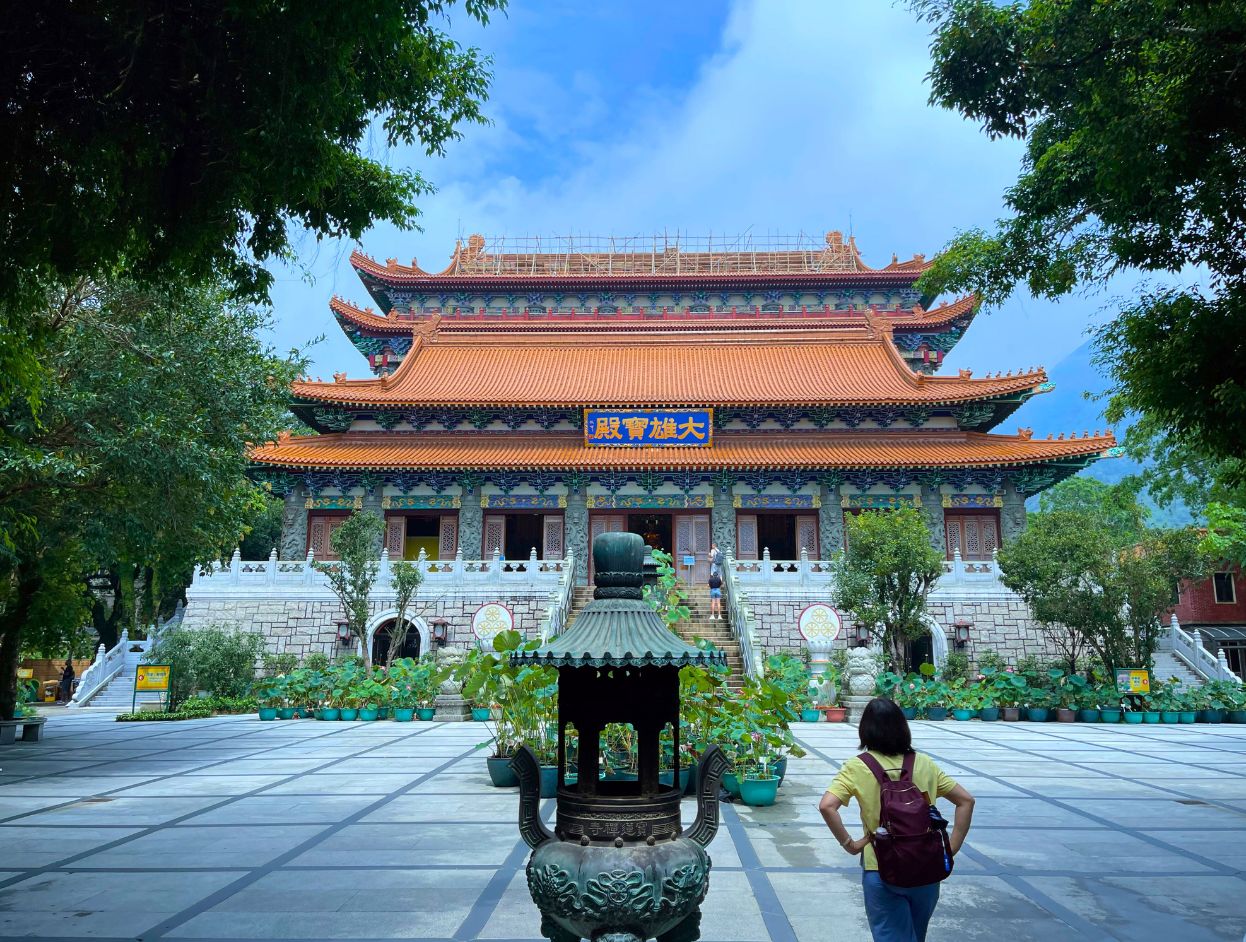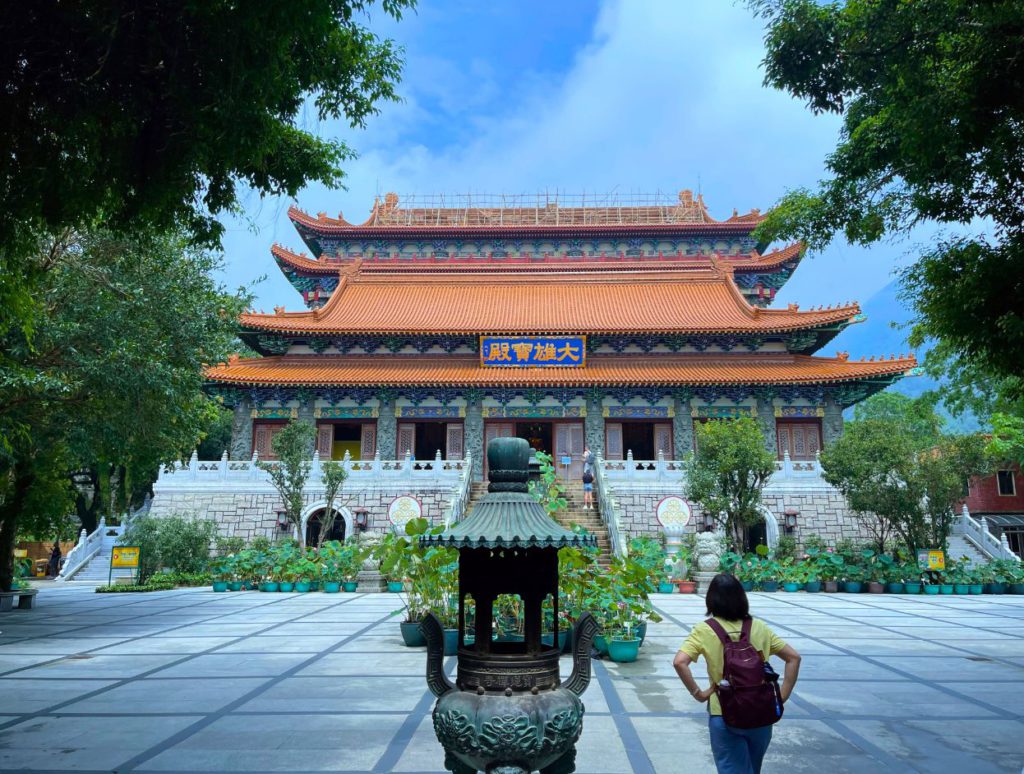 3. Tai O Fishing Village
Tai O is a sleepy laidback Chinese fishing village, the kind that you'd never expect in Hong Kong. I was so surprised to see people chilling out in front of their shops selling dried fish, fruits, noodles and some other food items I did not want to know. It is really just a small village, like many in Hong Kong hundreds of years ago.
You can walk around the village on foot since it is relatively small. We did sell out on a 10-minute boat ride that promises to show you around the village and take you out to the sea to watch dolphins. We saw the village for like 5 minutes, but we dolphins totally ditched us. It is just something to do in the village but you can totally skip it.
We walked around the village to find stilt houses, like many in coastal areas. Most of them were old and crumbling, but some were still interesting. Looked like most kids left for the city, leaving back the old and the retired. Definitely worth checking out. 
From here, you can take the bus number 11 directly to Tung Chung metro station which will take around an hour to reach but will be a comfortable and interesting ride around the island.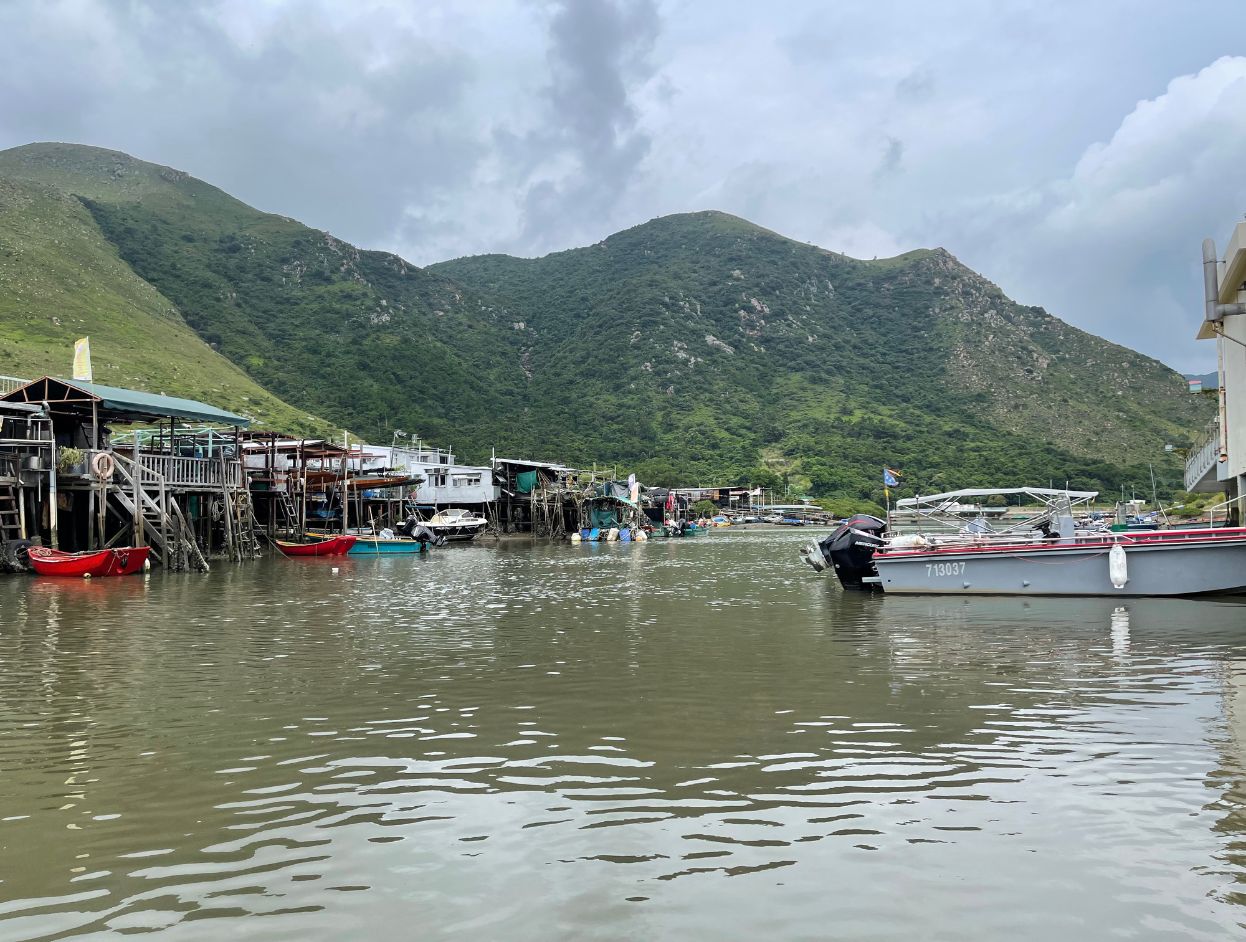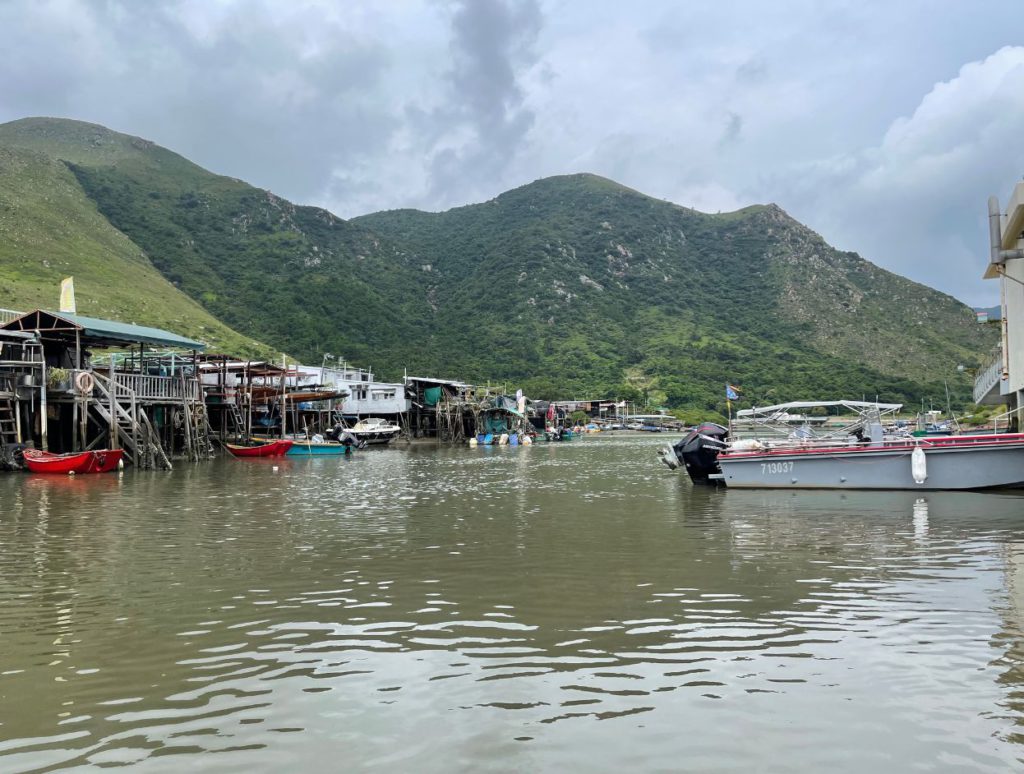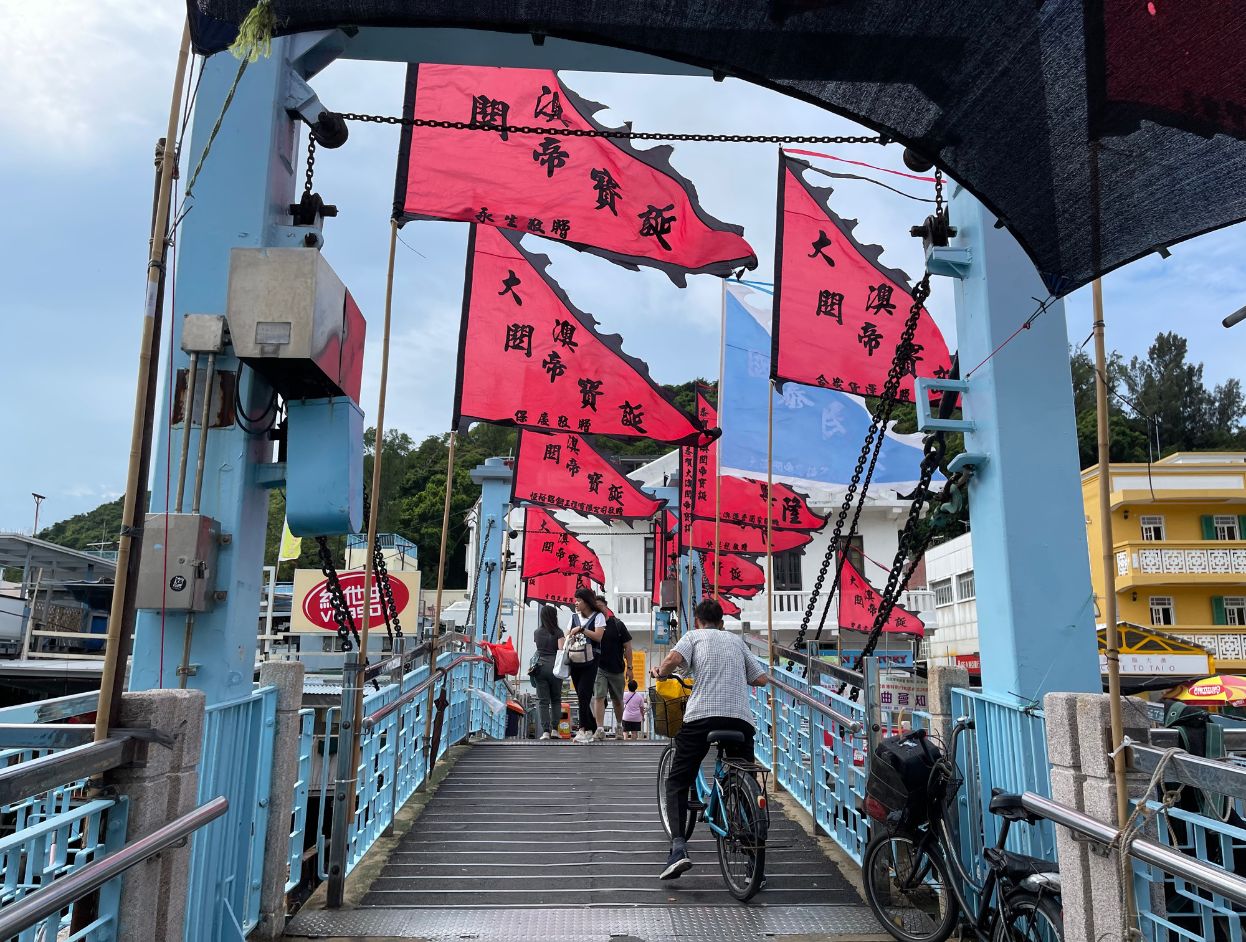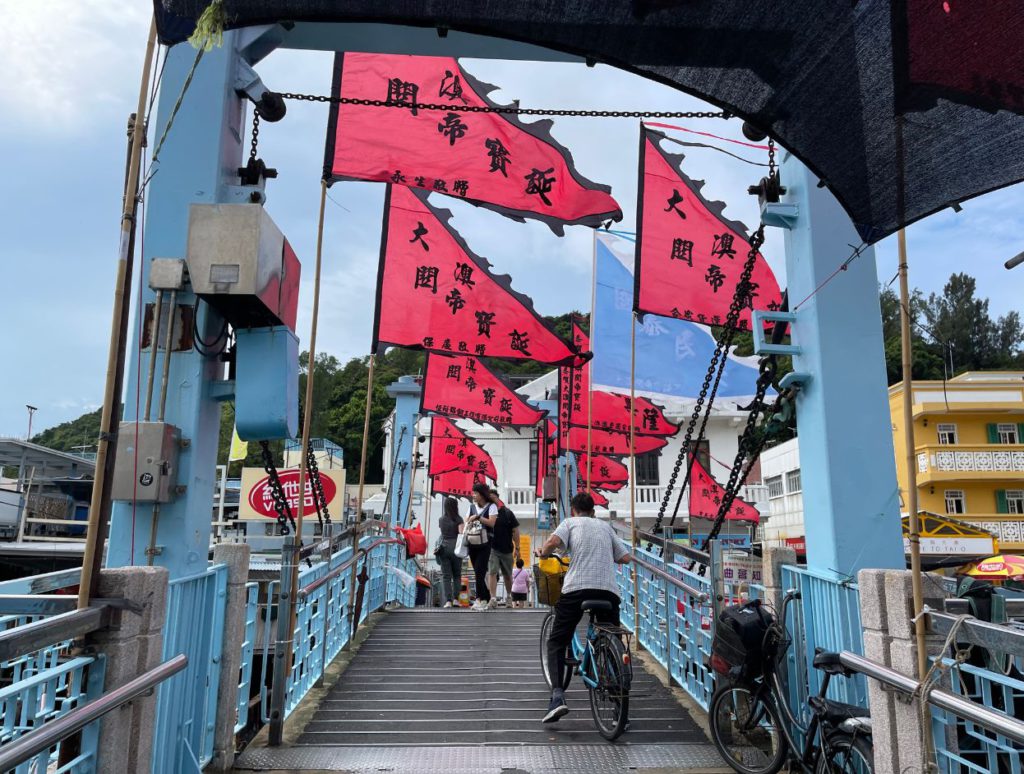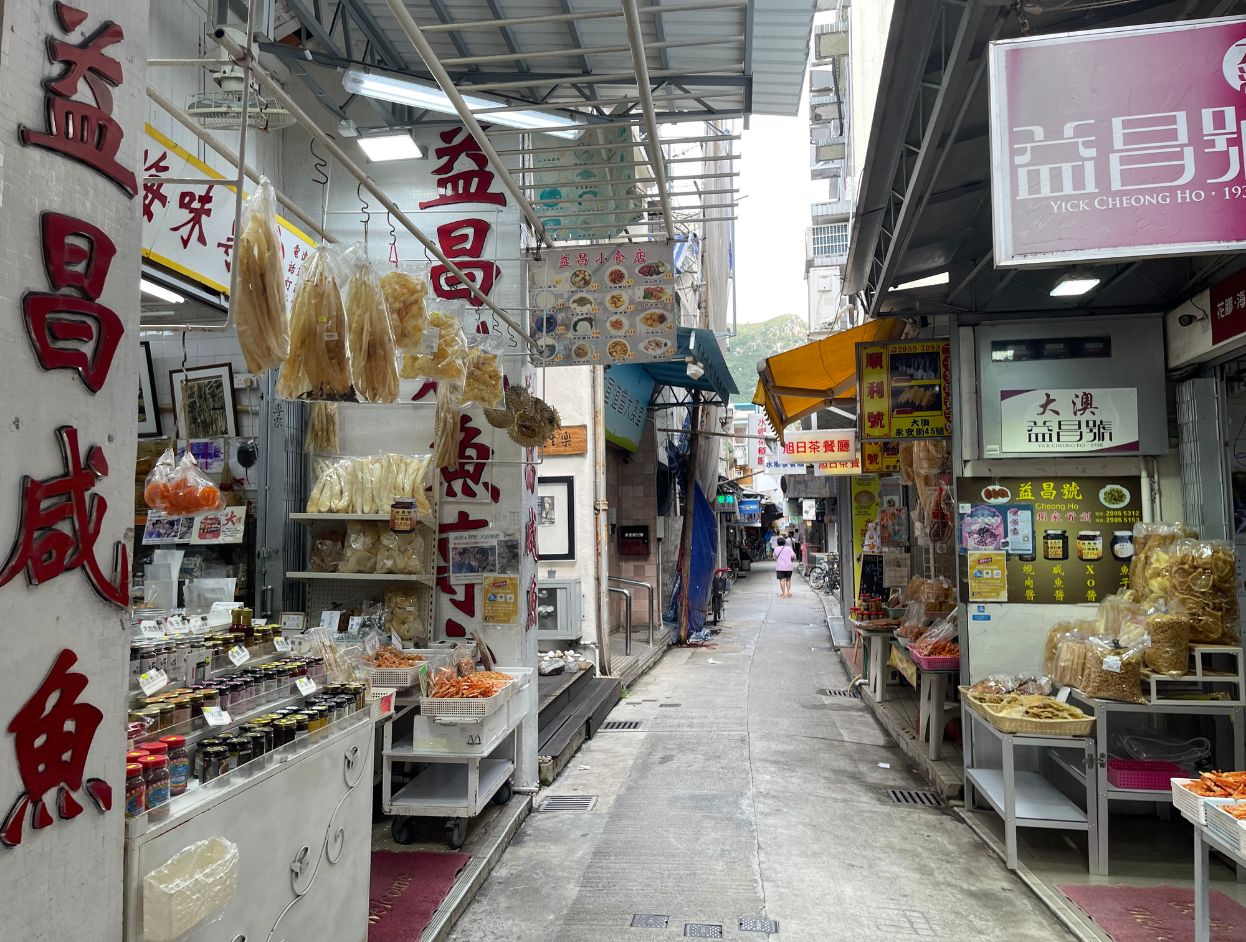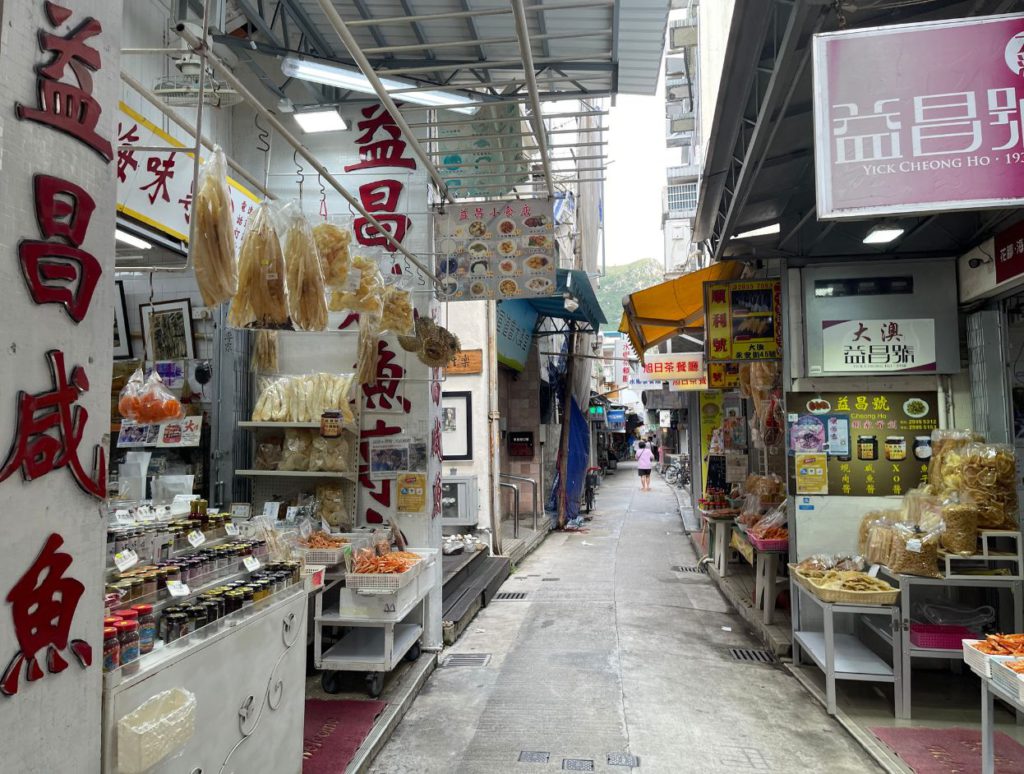 4. Victoria Harbour Promenade
I am sure you would have crossed Victoria Harbour by now regardless of where you are staying. But you still must dedicate a couple of hours to this place. It is the focal point of Hong Kong city and its business district. And you will be able to see the iconic Hong Kongian skyline on both sides. But the best place to spend some time would be Victoria Harbour Promenade.
The promenade is where many Hong Kongians come in the evening to relax, meet their friends and simply hang out. An interesting feature is the avenue of the stars that run across the promenade. It has the statue of the awards trophy given to the stars from the Hong Kong film industry, much like the Oscars. 
As you walk across the promenade, you will find hand imprints of directors and actors prominent in this industry. In the end, you will find the statue of Jackie Chan, the GOAT himself who took these movies to the world. There is a Starbucks here if you wish to get a coffee with a view.
One of the best ways to enjoy this place is to take a boat ride. Now it can be a fancy one like a cruise. Or it can simply be a local boat used for transportation that runs from Tsim Sha Tsui Pier to Central Pier or Wan Chai Pier.
5. Symphony of the Lights show & Cruise
If you are looking up things to do in Hong Kong, this usually pops up quite often. And I was pretty excited about it. It did not live upto my expectations. And as I read online, many others. But it is still popular and you still should not miss it. It will be helpful if you didn't keep your expectations too high. 
The Symphony of Lights show is show orchestrated using laser lights, luminaires on buildings and music behind it. It is a permanent show organised by Hong Kong authorities every day at 8pm (except in rare cases when it is cancelled).  You can watch this show from the Harbour Promenade where hundreds of people gather every day to watch it.
Apart from that, if you wish to make your evening special, you can go on a cruise. If you are not looking for something elaborate, you can just enjoy the evening views without food. Otherwise, check out one with elaborate dinners international cuisine and fresh seafood. That will be an evening to remember.
Most cruises charge more for the one with a symphony of lights shown on board. I am sure it will be an added experience. But don't worry too much about it. The harbour view is pretty great as well. The cruise is even better on a Chinese Junk Boat
Book your cruise:
Aqua Luna Victoria Harbour Cruise (Chinese Junk Boat)
Victoria Harbour Hong Kong Night Cruise (Yatch Cruise)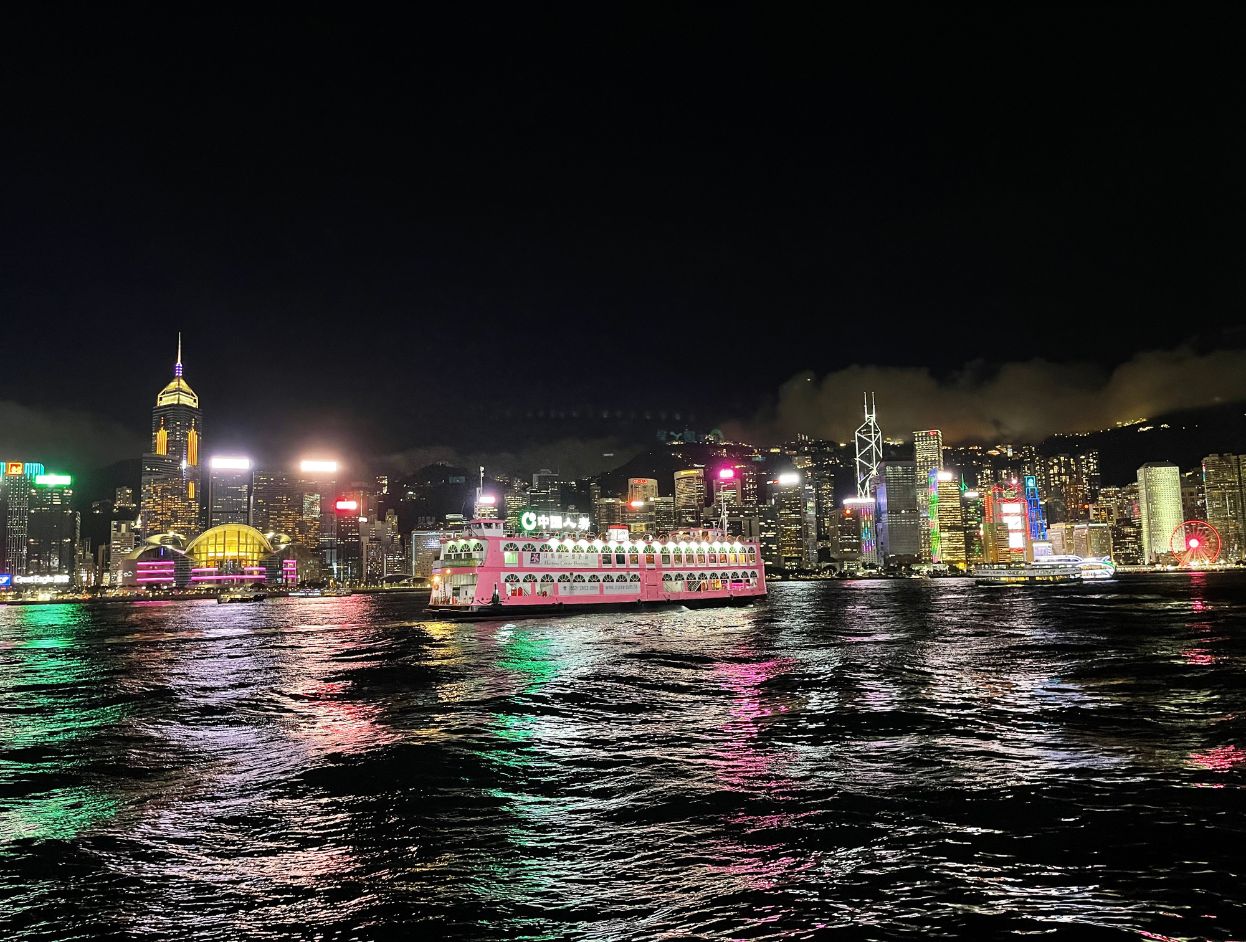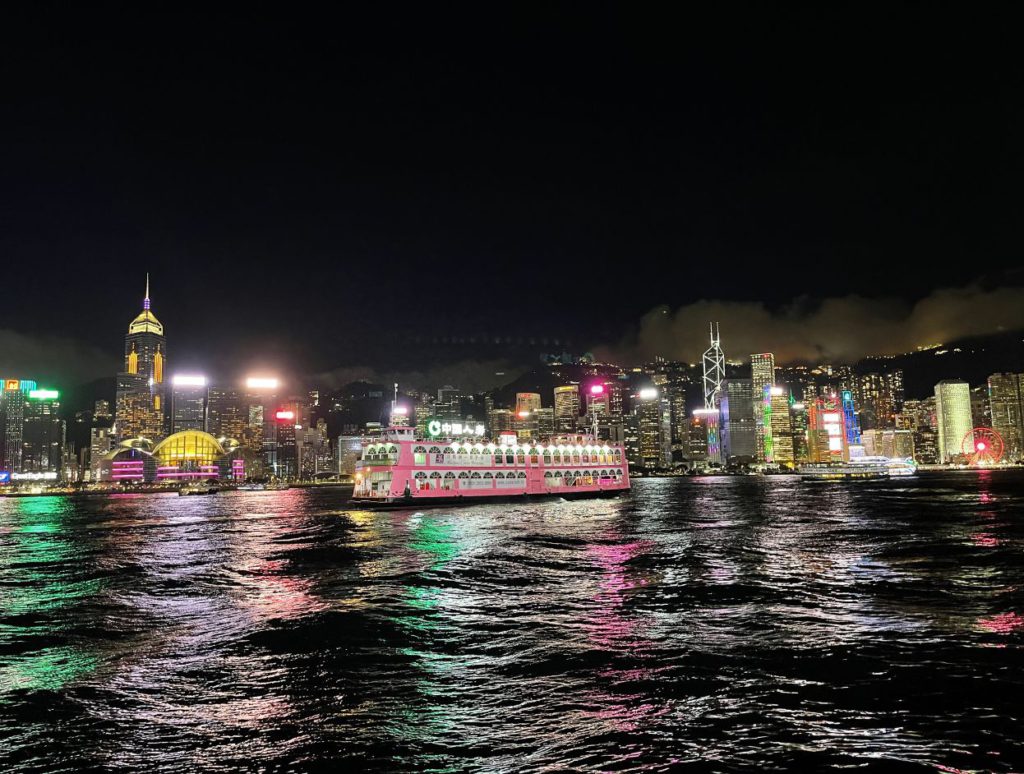 Day 3: Kowloon
For the third day in Hong Kong, it is time to explore some offbeat places on the Kowloon side. Kowloon is the largest area in Hong Kong that extends into the literal wilderness as you go north. We won't wander that far. But we will travel a little outside the city. And I think after two days of popular tourist activities, you may be craving for some offbeat places.
1. Sha Tin Che Kung Temple
The first stop is Sha Tin Che Kung Temple near the Kak Tin Village. This is neither a big nor a popular temple. It's just a beautiful local shrine with many Thai tourists (I don't know why). But I think it is a great addition since we were going to be in the area anyway.
To reach here, you can take the metro to Tai Wai station and walk around 5 mins from there. The temple was constructed in 1890 so its not too old. But it is usually busy with people. The red and black facade with an enormous dark-green tiled roof is lovely. This is a good place to stop and see some Chinese customs followed by people when visiting the temple.
From there walk 10 minutes and cross the road to the other side to reach Hong Kong Heritage Museum.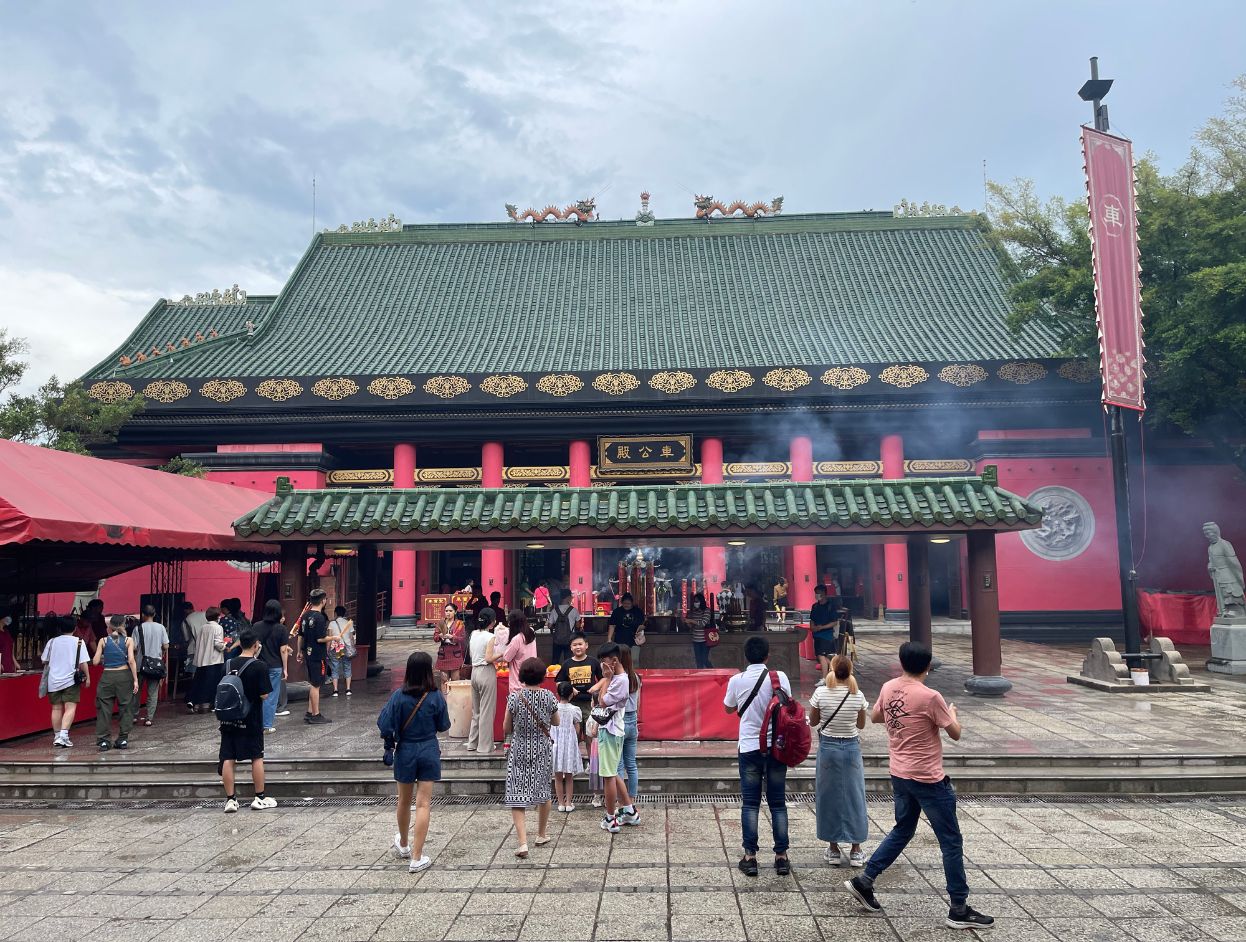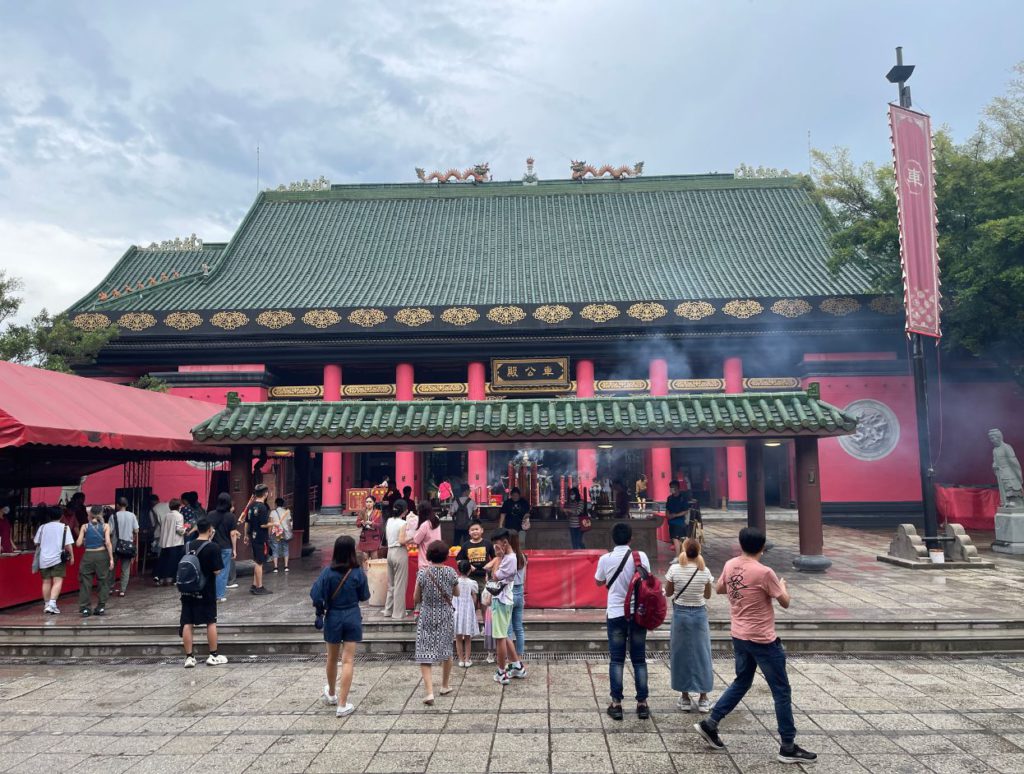 2. Hong Kong Heritage Museum
Usually, my list of places to visit includes a lot of museums. Unfortunately, I was able to squeeze only one. But it was a good one. There is no entry fee to the museum, but there are a couple of galleries that you need to buy a ticket for. Although they are very reasonably priced.
Take your time around the galleries. The themes range a lot around the Hong Kong movie industry and Jackie Chan. But there are also snippets from the heritage of the city, stories from the 60's and the 80's. One of the most iconic galleries showcases the Chinese opera theatre and costumes. Many of these are interactive using technology that you will enjoy. Great place for kids too.
There is also a cafe in the front if you wish to grab some snacks or drinks. From here it is best to take a taxi, a short 5-minute ride to Ten Thousand Buddha Monastery.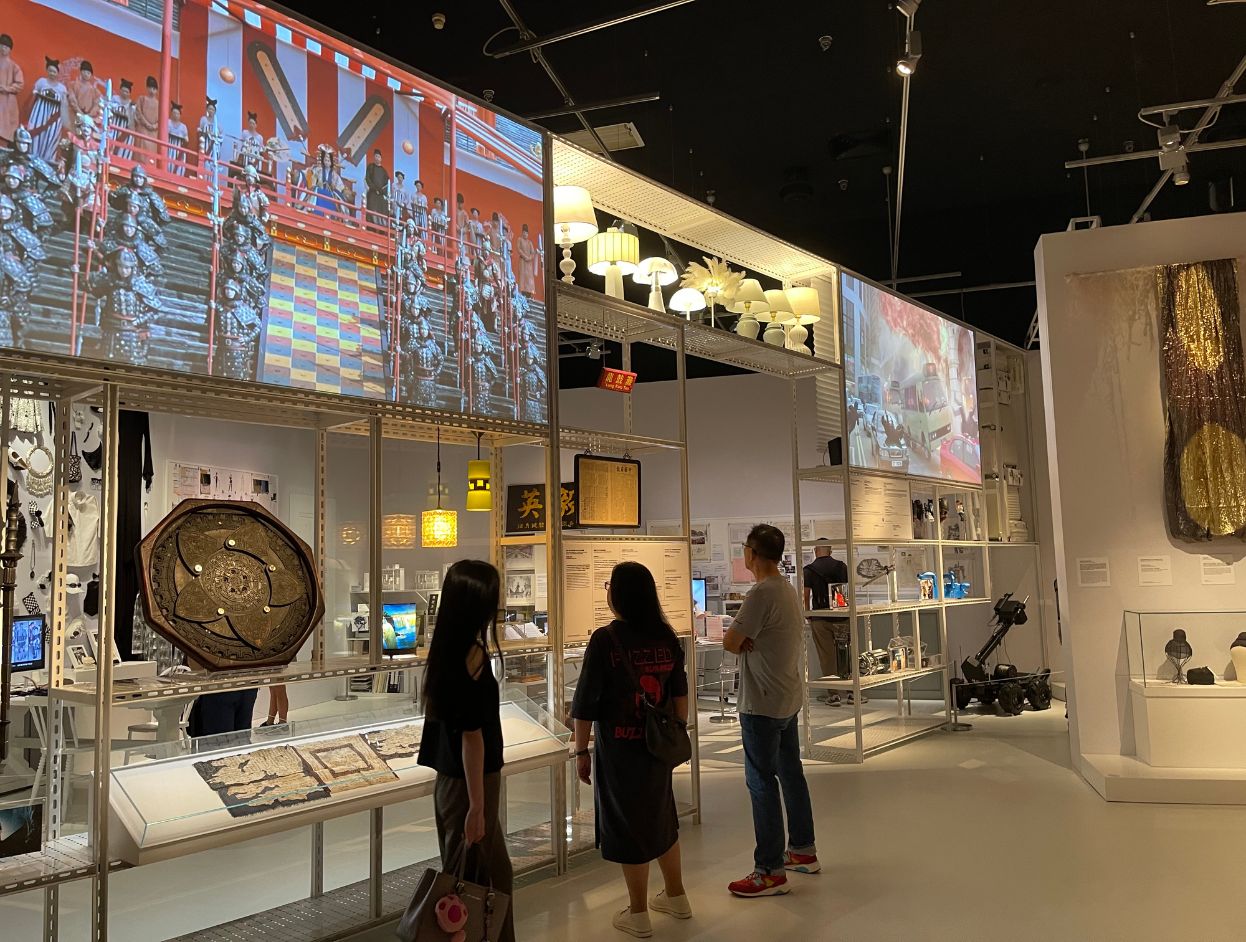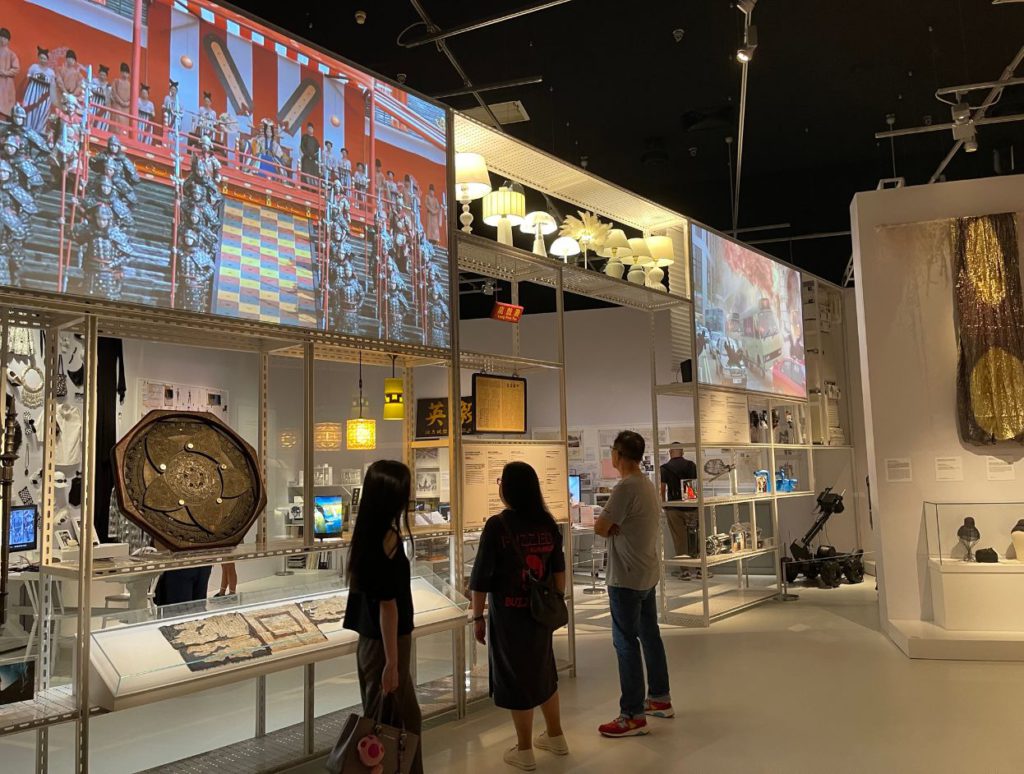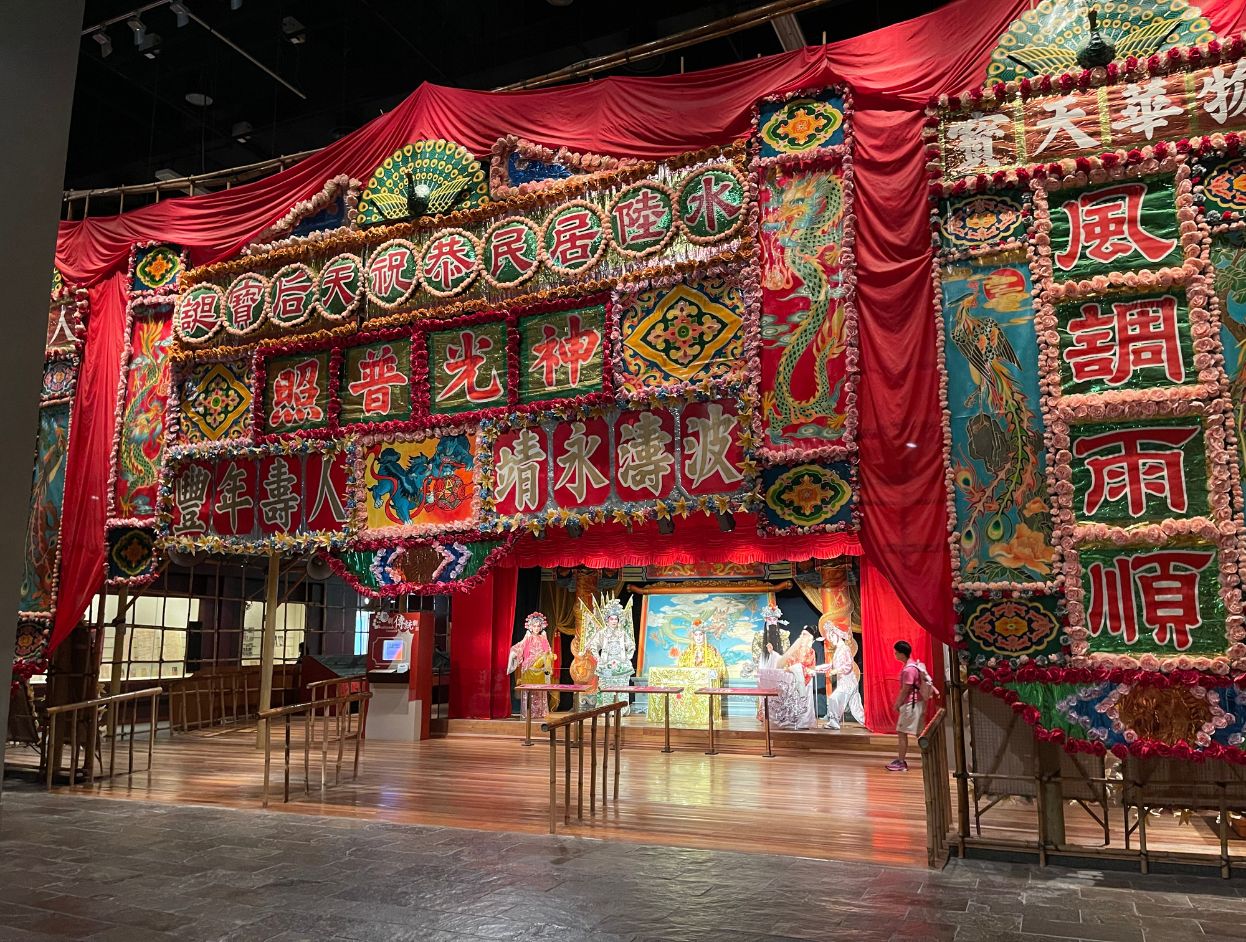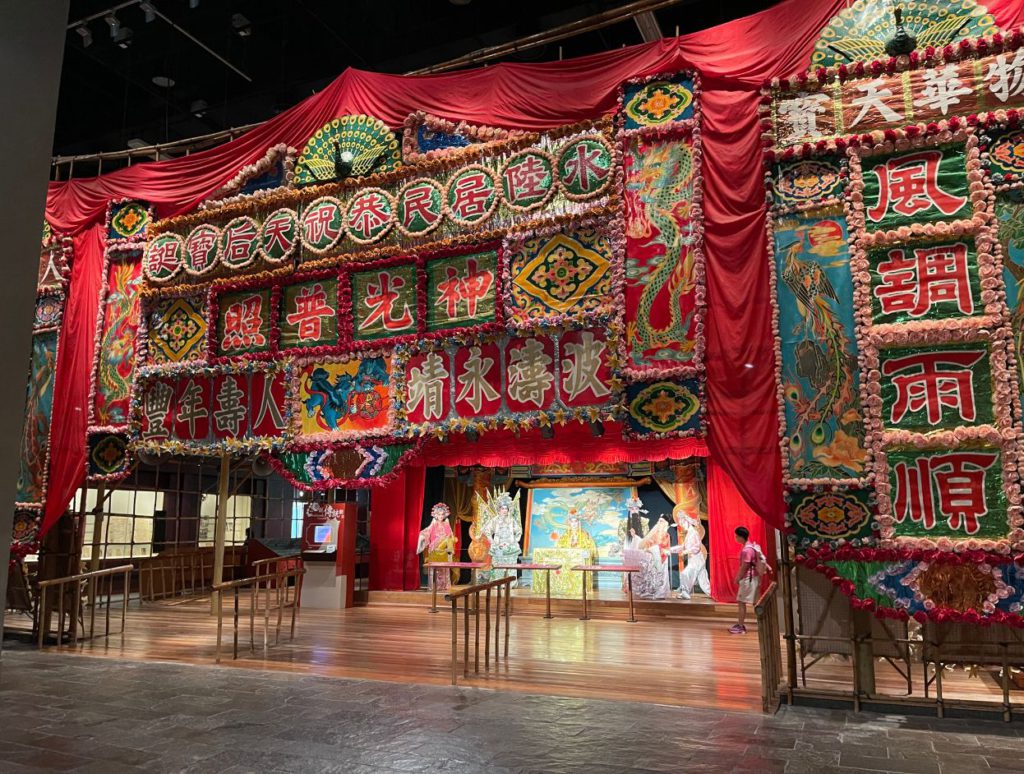 3. Ten Thousand Buddhas Monastery
You will arrive at the base of the monastery. The entry is not obvious so you will need to walk a little bit and find the trail where the monastery starts. Luckily it is easy to find and is marked by a few golden coloured Buddha statues that will run all the way to the top.
It is one of the many monasteries in Hong Kong located on a hilltop in obscurity and with few visitors. This is why I found Hong Kong so wonderful. It takes around 20 minutes to hike to the top. There are several rest spots on the way, so you can take your time. But the view gets better as you climb.
On the top, you will find the main temple with the beautiful hall of ten thousand Buddhas. You may have seen something similar at Po Lin Monastery on Lantau Island. You can spend some time on the premises and grab a drink from the vending machine to cool off before heading down.
Walk back to the Sha Tin subway station to Kowloon Tong. From there change for Wong Tai Shin subway Station.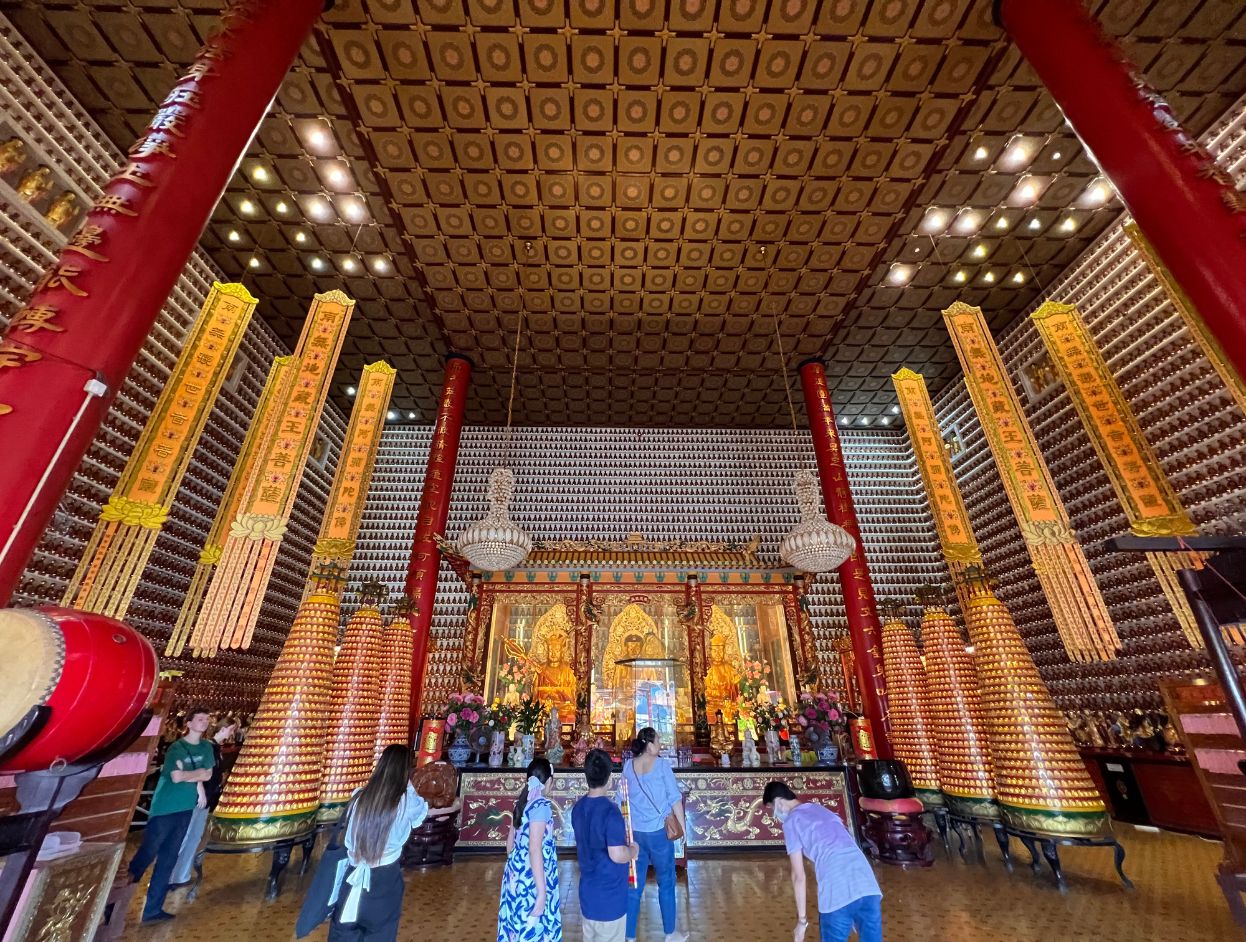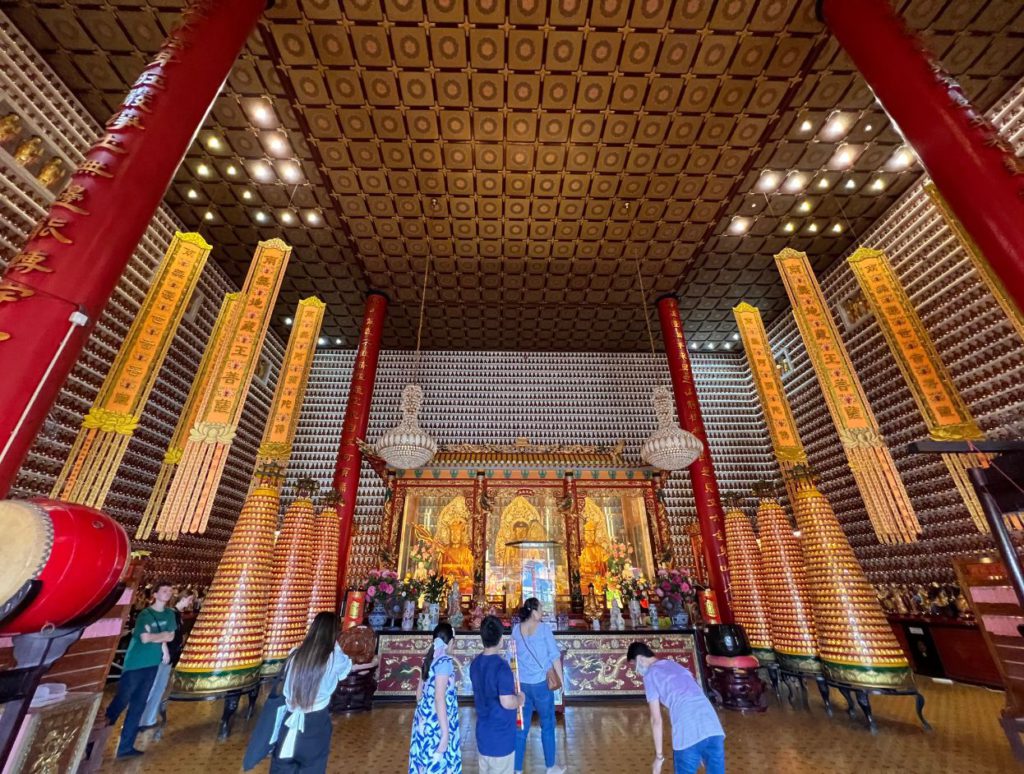 4. Sik Sik Yuen Wong Tai Sin Temple
If you are late by the time you are here, you can directly head to Nan Lian Gardens. But if you arrive before the temple closes, Wong Tai Sin Temple is a great place to visit. It is a famous temple in Hong Kong. It was established by the organisation named Sik Sik Yuen.
The temple is built in bright red and green colours in typical Chinese architecture. While most of the temple is free to visit, you will need to pay HKD 100 to visit Taisui Yuenchen Hall which goes towards the development and maintenance of the temple.
It is the garden that you must not miss to visit. The Good Wish Garden is built as a smaller replica of the Summer Palace in Beijing. It is built in a traditional Chinese architectural garden style with Asian courts connected by bridges. The water birds and lily pads in the background add a lot of beauty. I think it is a fantastic place to take photos.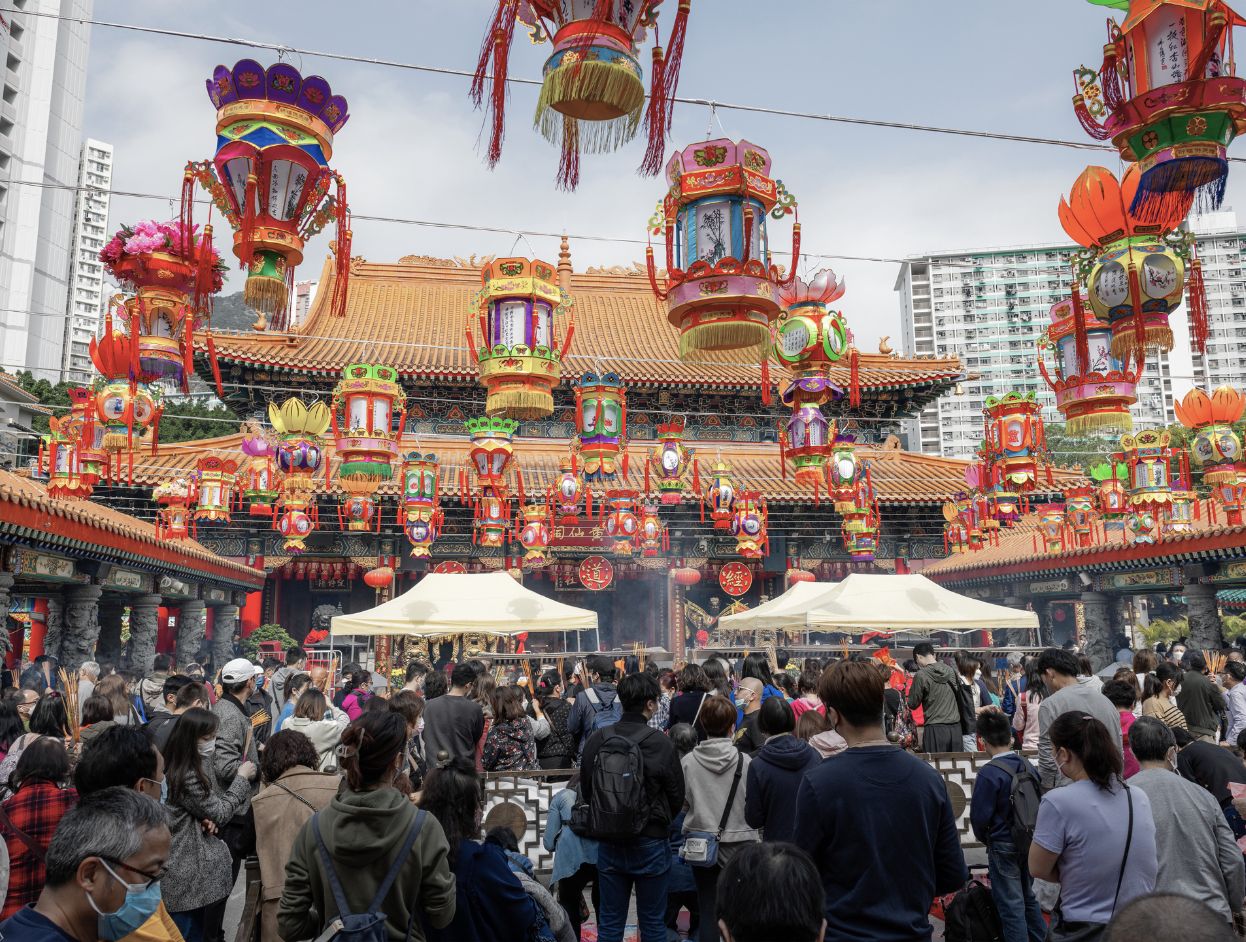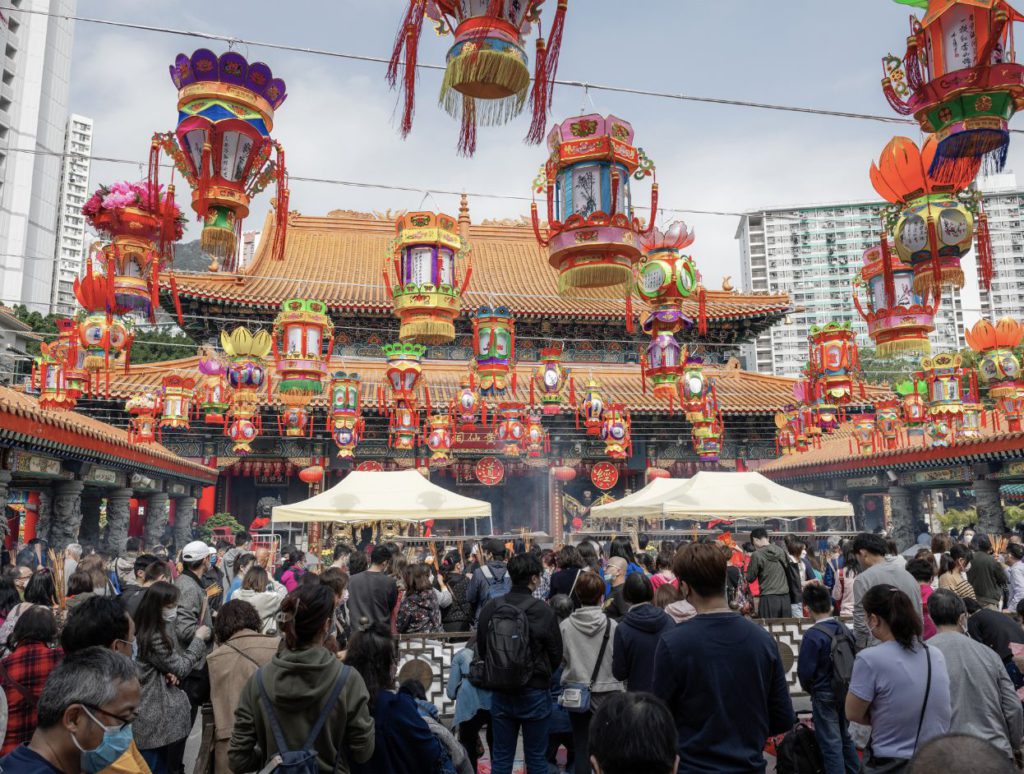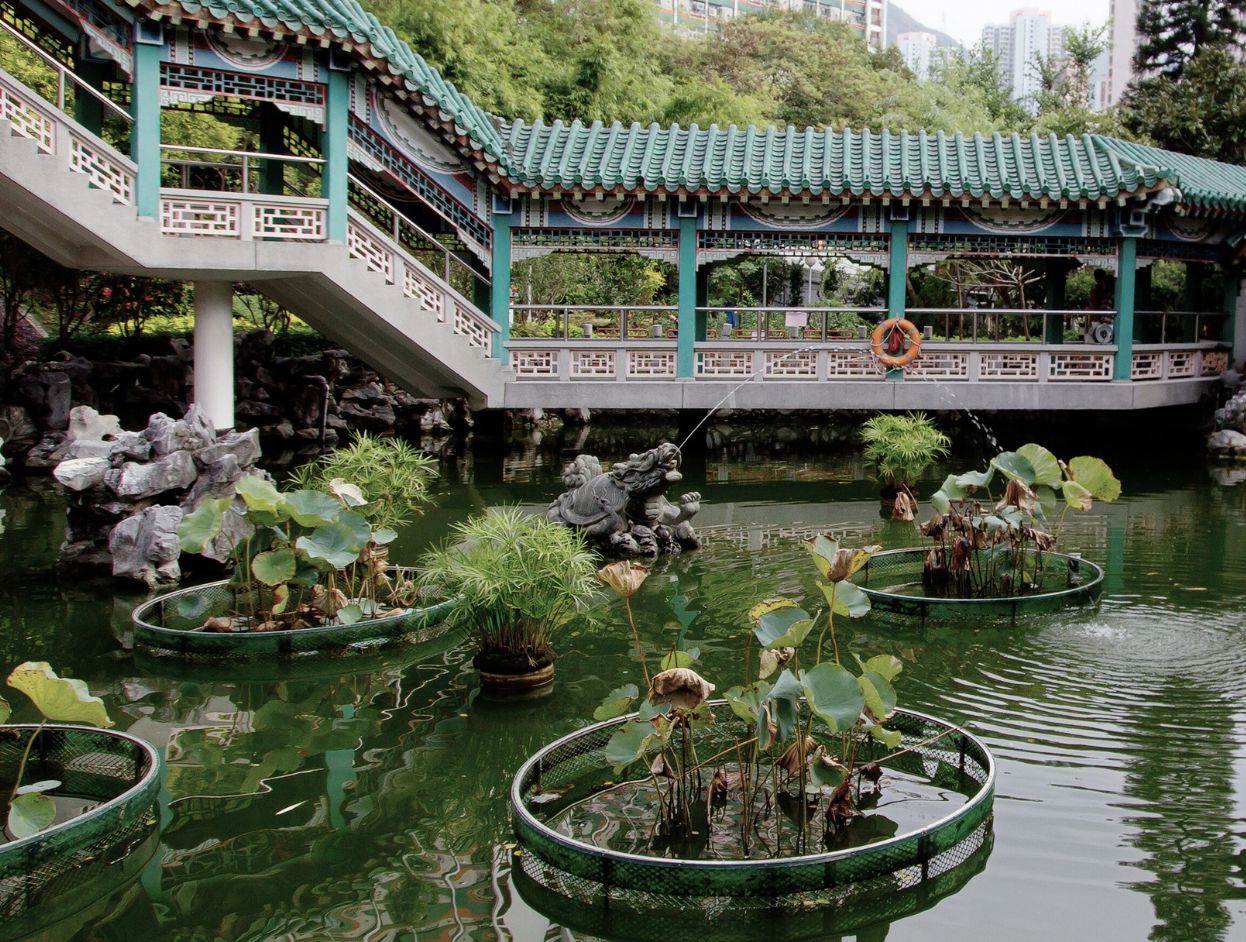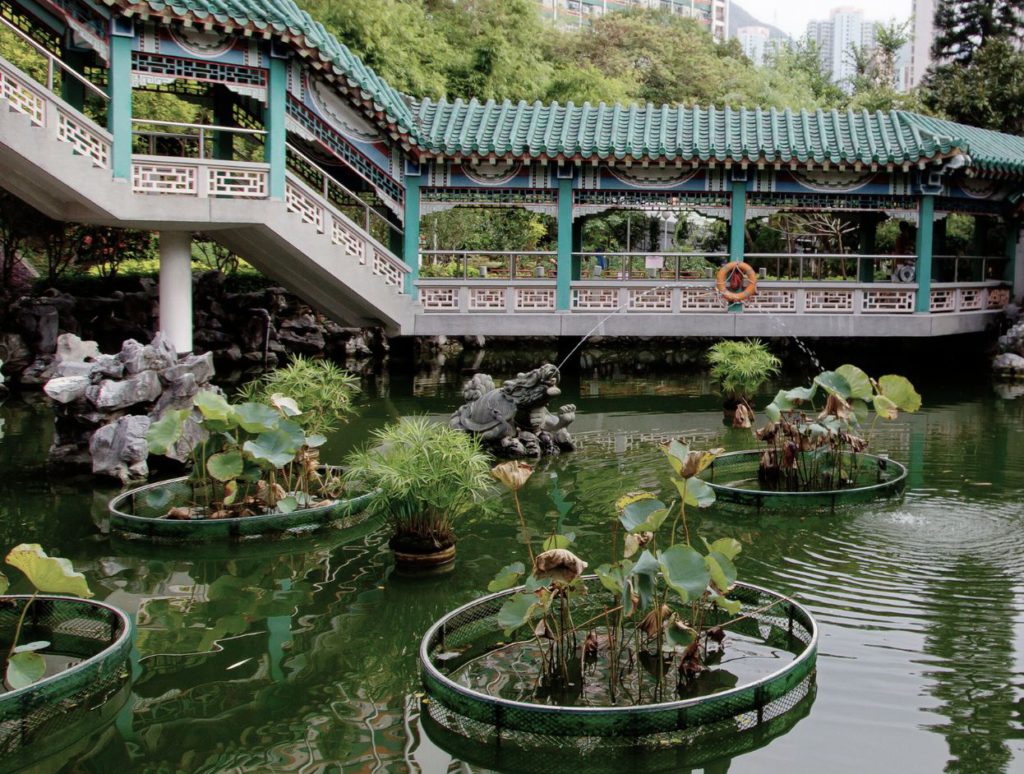 5. Nan Lian Gardens
Nan Lian Gardens are not too far from here but after a full day of walking, you must be tired. You can take the subway to the next station that is Diamond Hill and walk 5 minutes from there. I thought I needed to add this since it is so popular over the internet. And nobody can argue with the beauty of Chinese gardens.
You can simply relax and walk around the gardens. The gardens are open till 9 pm so even if you are late here, you still should be able to enjoy your time. There is Chi Lin Nunnery that is right behind the gardens but it closes by 4.30 pm. For vegetarians, the Chi Lin Vegetarian restaurant is a bonus to grab some dinner right next to the gardens.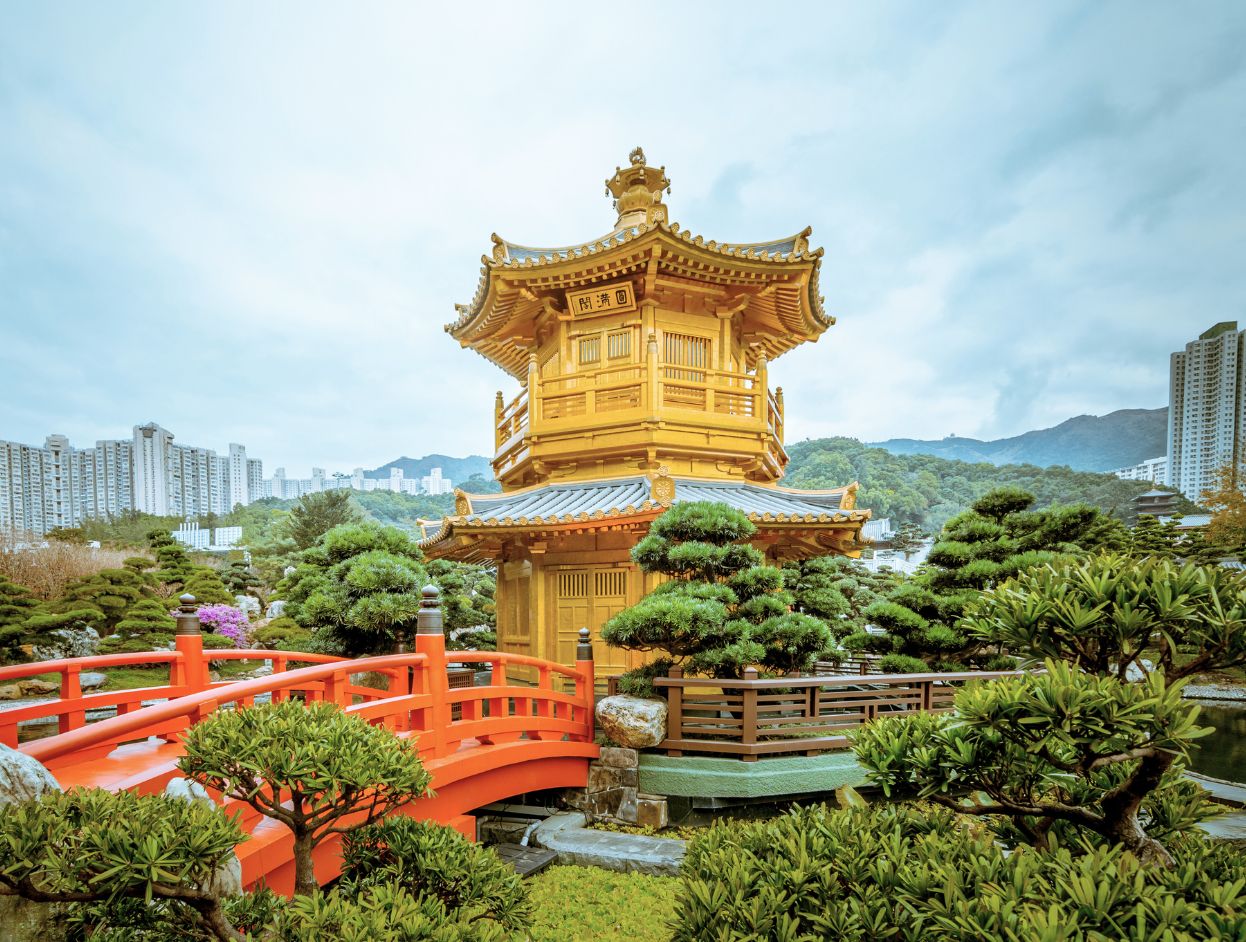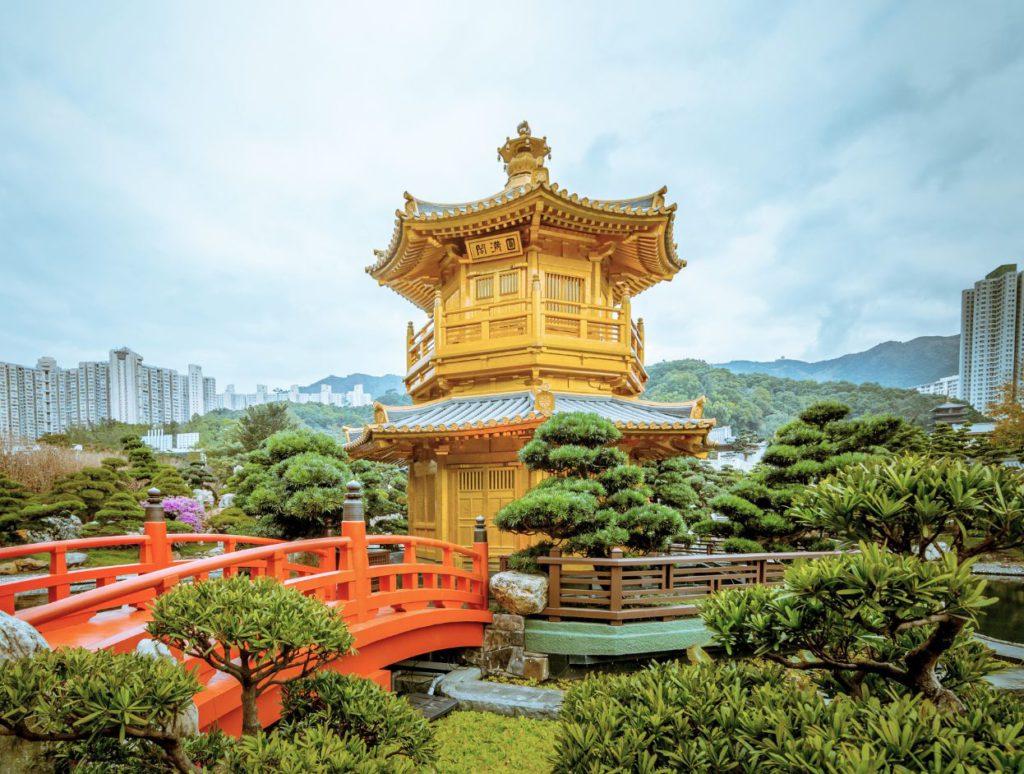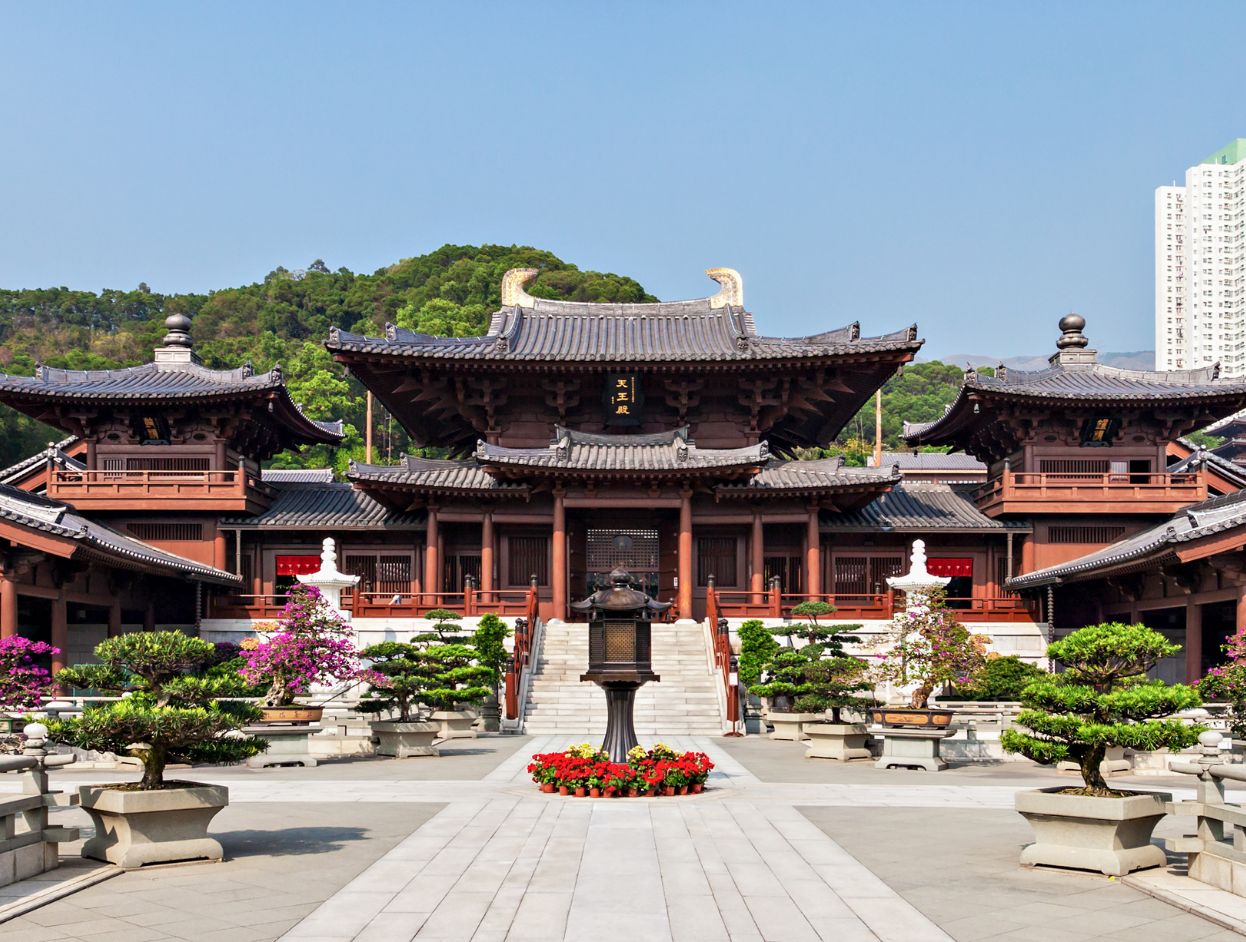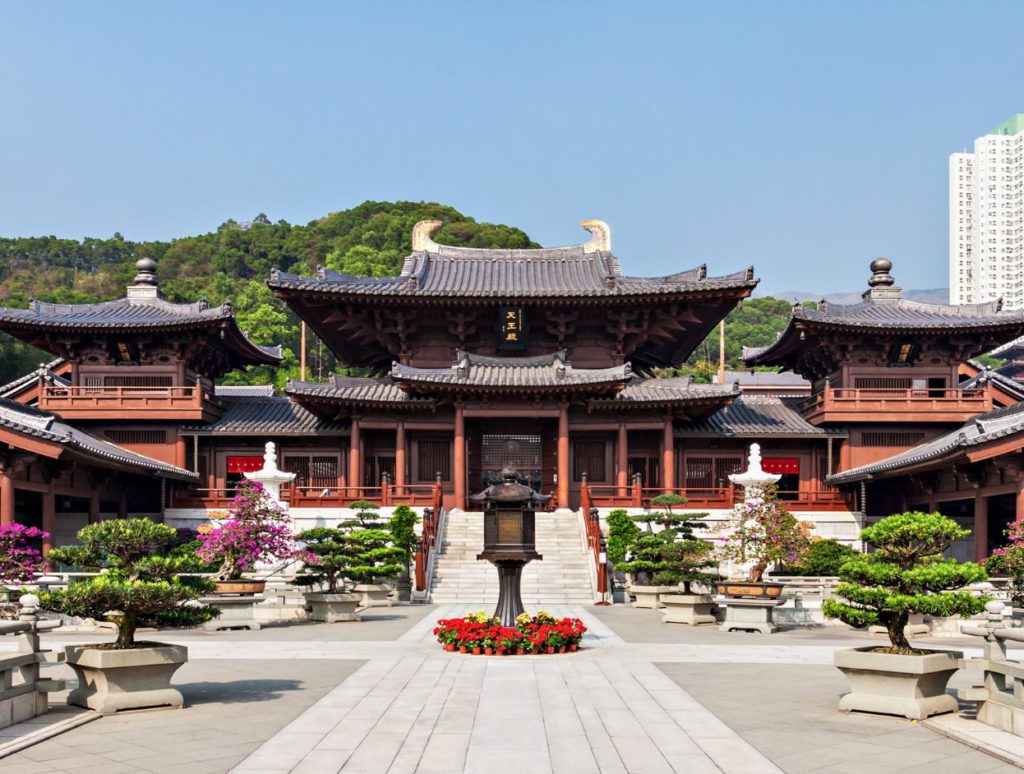 6. Temple Street Market
The last stop in the day (or night) is Temple Street Night Market. This is the more popular of the lot, but there are several night markets between Jordon and Mong Kok areas. You will find them as you walk around.
If you have been to a night market, then you just know what to expect. And that is mostly food. But you will also find Chinese souvenirs, clothes, luggage, dinnerware, porcelain, chopsticks, and paintings as you walk around. This is a great place to pick up gifts for friends and family back home. Don't forget to bargain (a lot).
Other night markets to check out in the area are Ladies Night Market, Fa Yuen Street Market, Nelson Street Wet Market and maybe even Bird Market but it's a little far.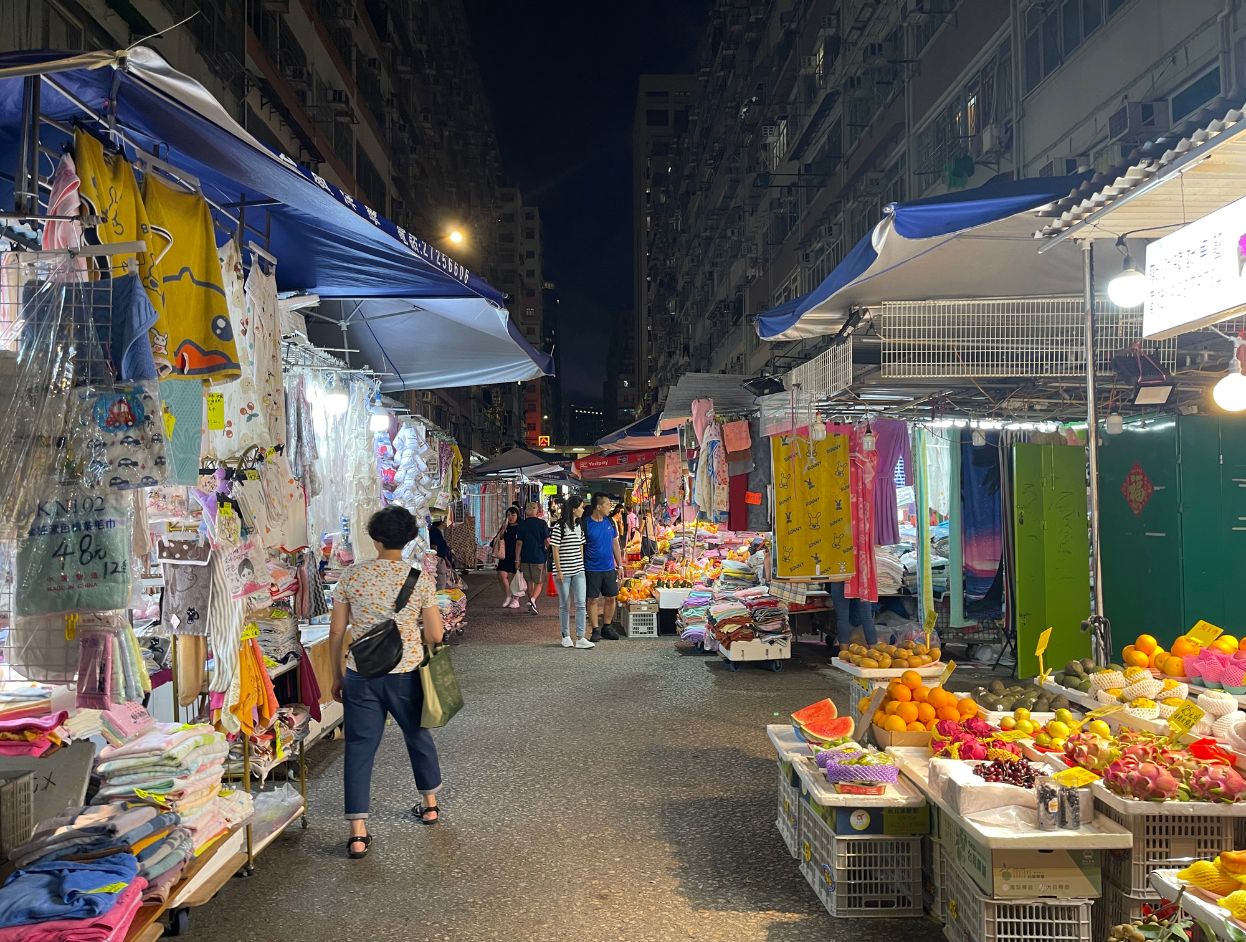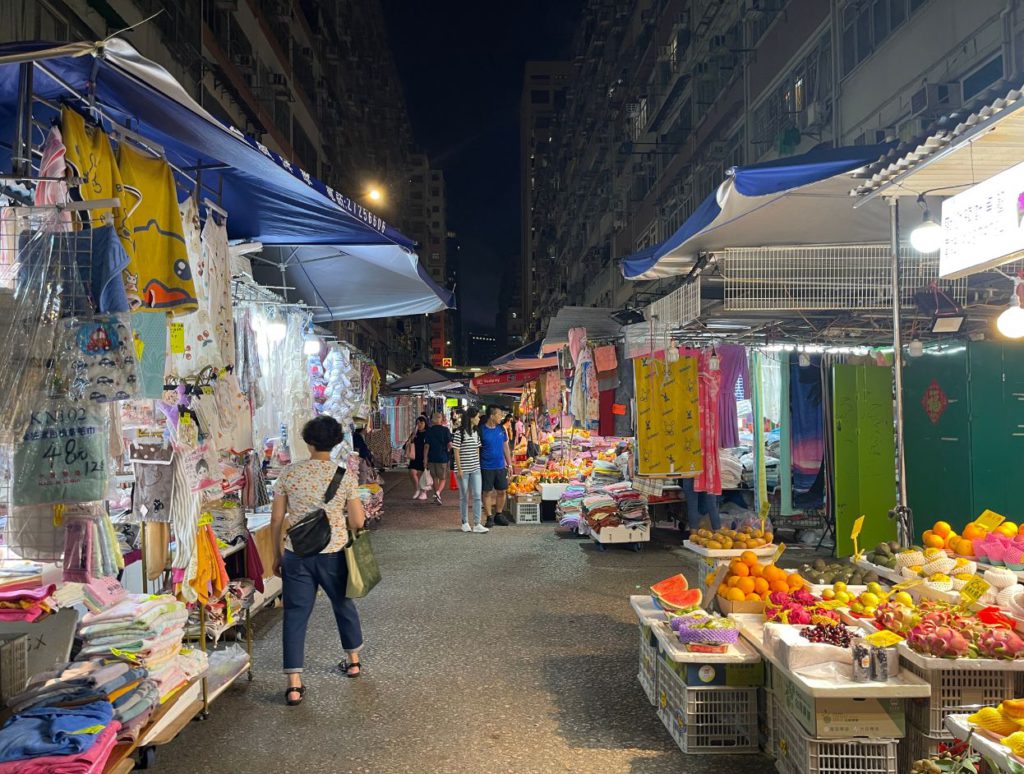 Other places to visit
1. Macau
Macau surprised the hell out of me. I am not sure what I expected. But I got a very European city somehow mixed with Chinese dwellers and communities and a LOT of bakeries. Macau was a former Portuguese colony and expect to find a lot of elements preserved till date including the language. If you have an extra day, don't miss it.
Macau makes a fantastic day trip from Hong Kong but if you wish to enjoy the casinos and the town, make it 2 days. You can take a ferry to and back to Hong Kong that runs frequently. Macau is open to most international visitors and you may not need any visa or documentation to enter. But please check the requirements before online.
Read more about visiting Macau from Hong Kong in our blog post.
Book ferry ticket to Macau (by different operators):
Hong Kong – Macau Ferry by TurboJet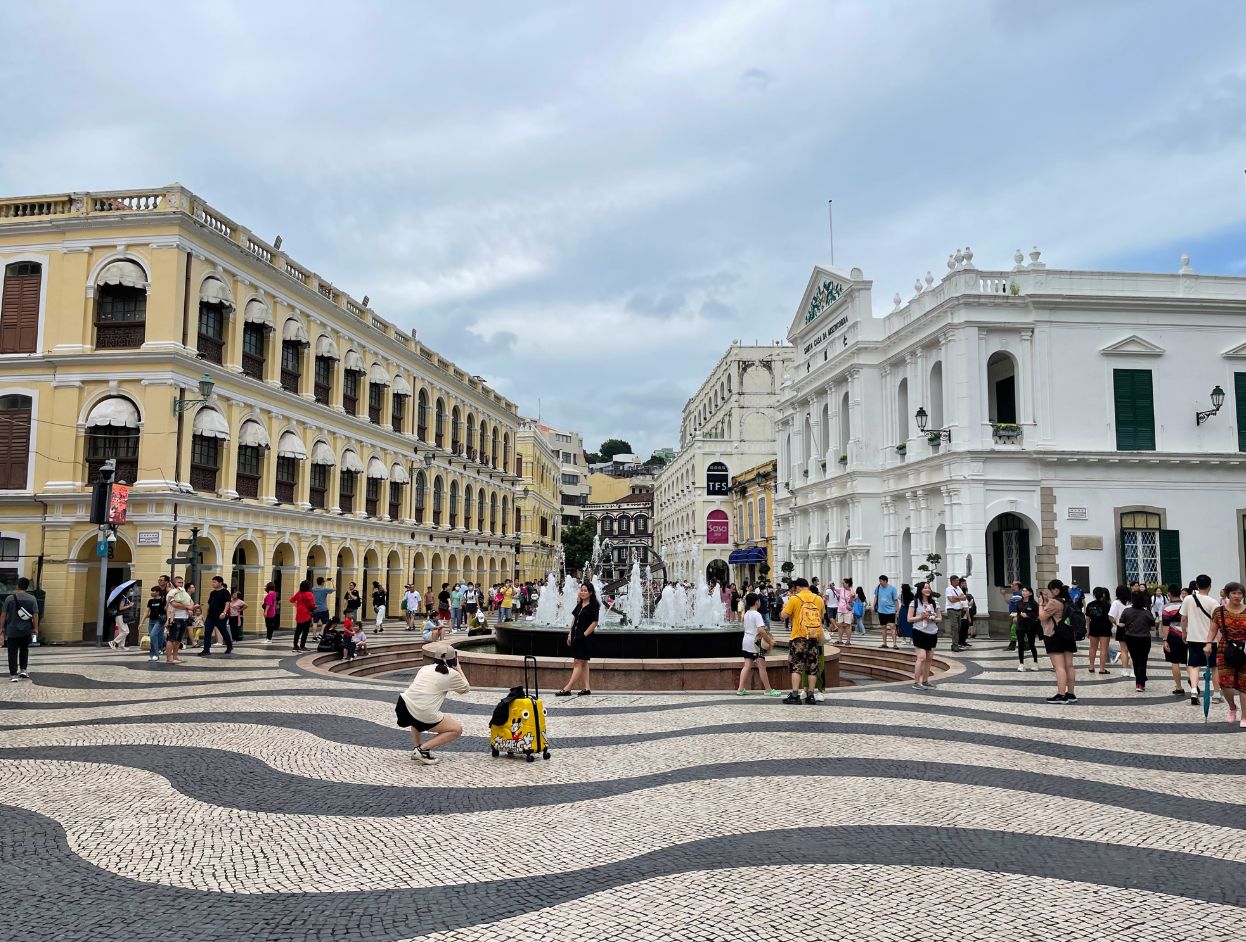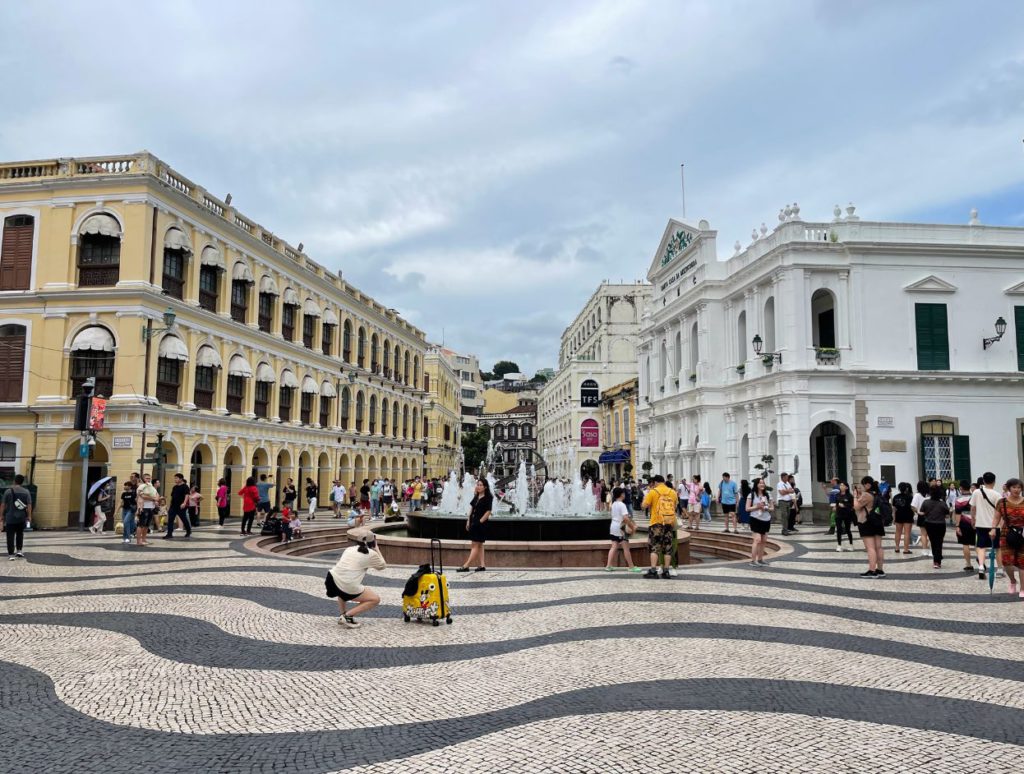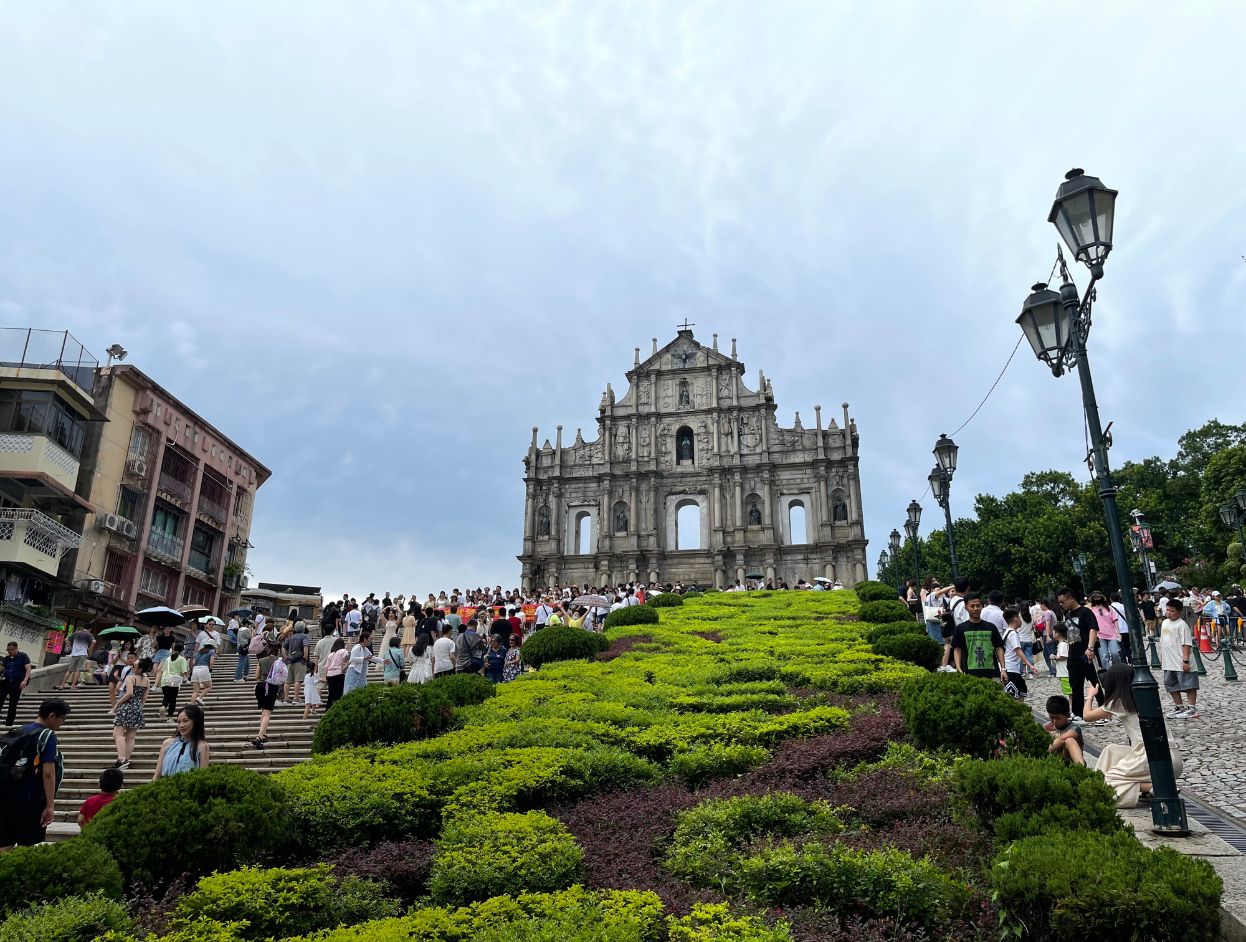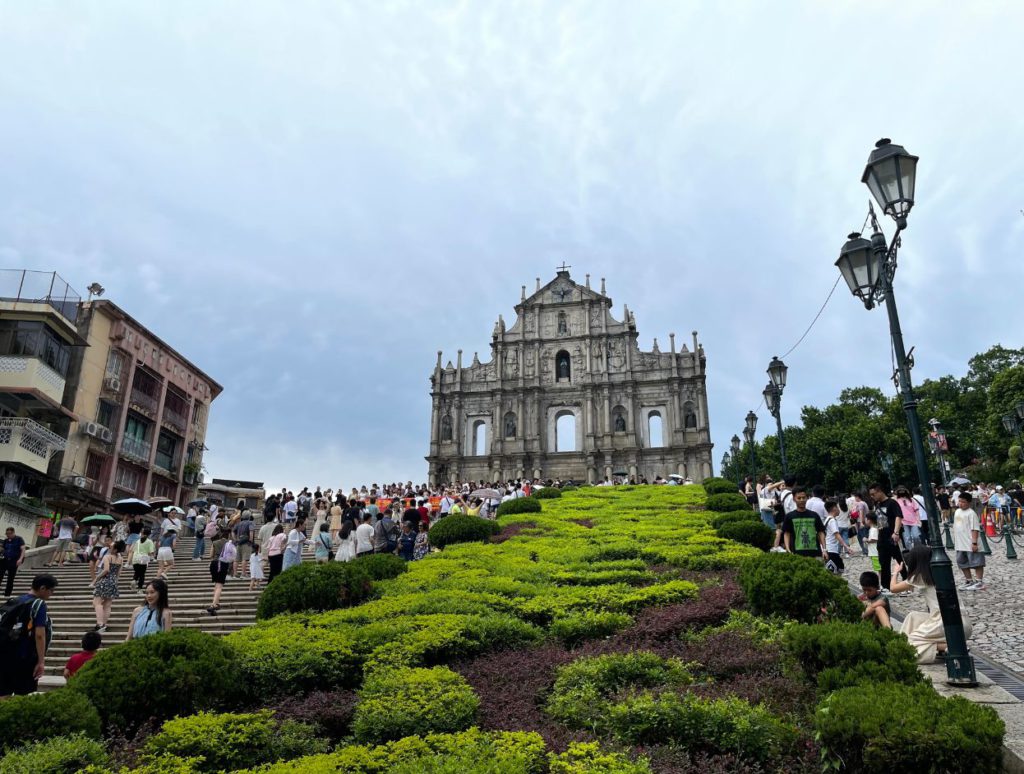 2. Hong Kong Disneyland
Another great way to spend your time in Hong Kong is to visit Hong Kong Disneyland. It is located on the eastern part of Lantau Island and can be easily reached using the subway. I did not visit since I have already been to Tokyo Disneyland recently. But I can tell you from experience that the best days to go are during the weekdays with fewer people and shorter lines. Definitely the place to go with kids.
Book tickets to Hong Kong Disneyland: Hong Kong Disneyland Park Tickets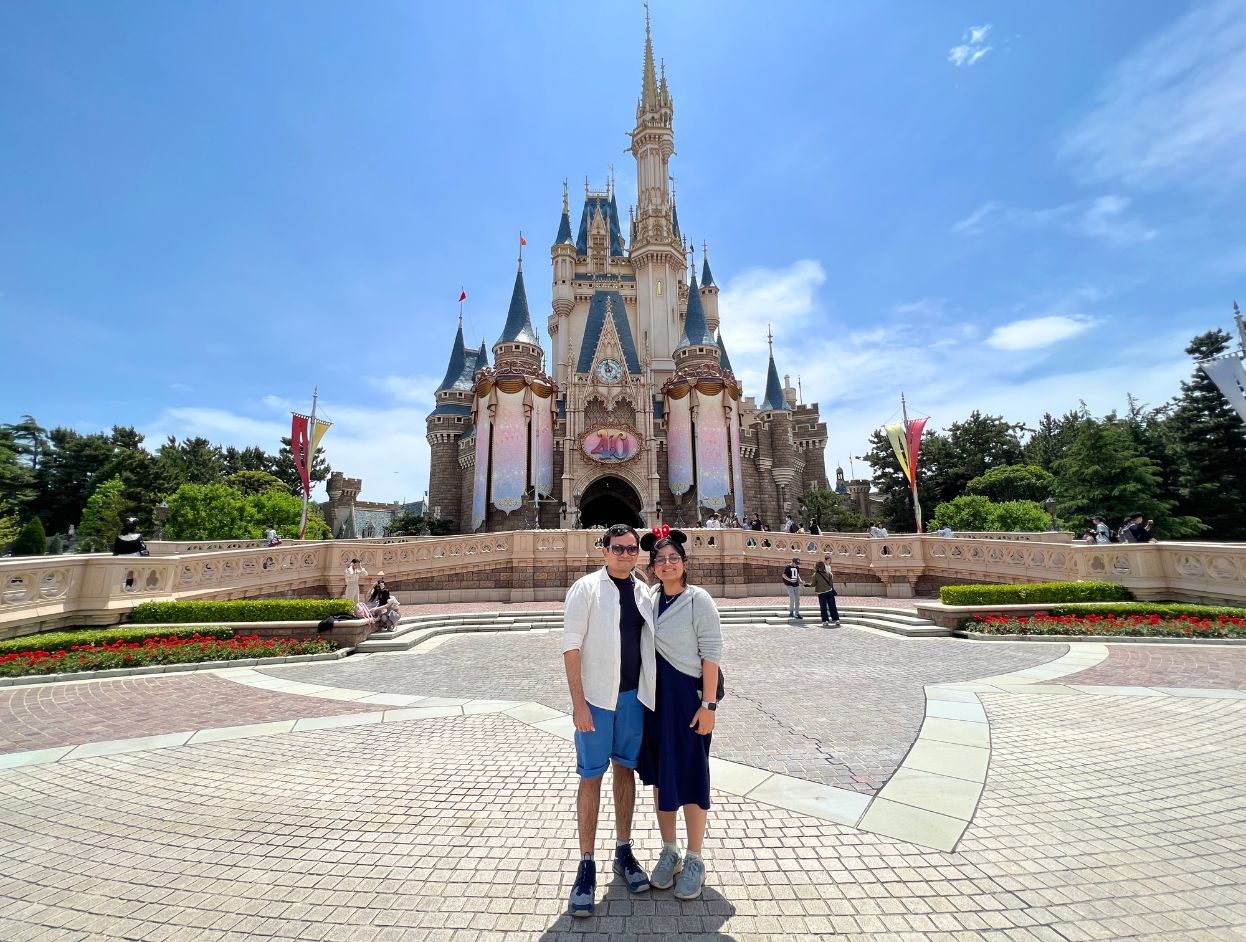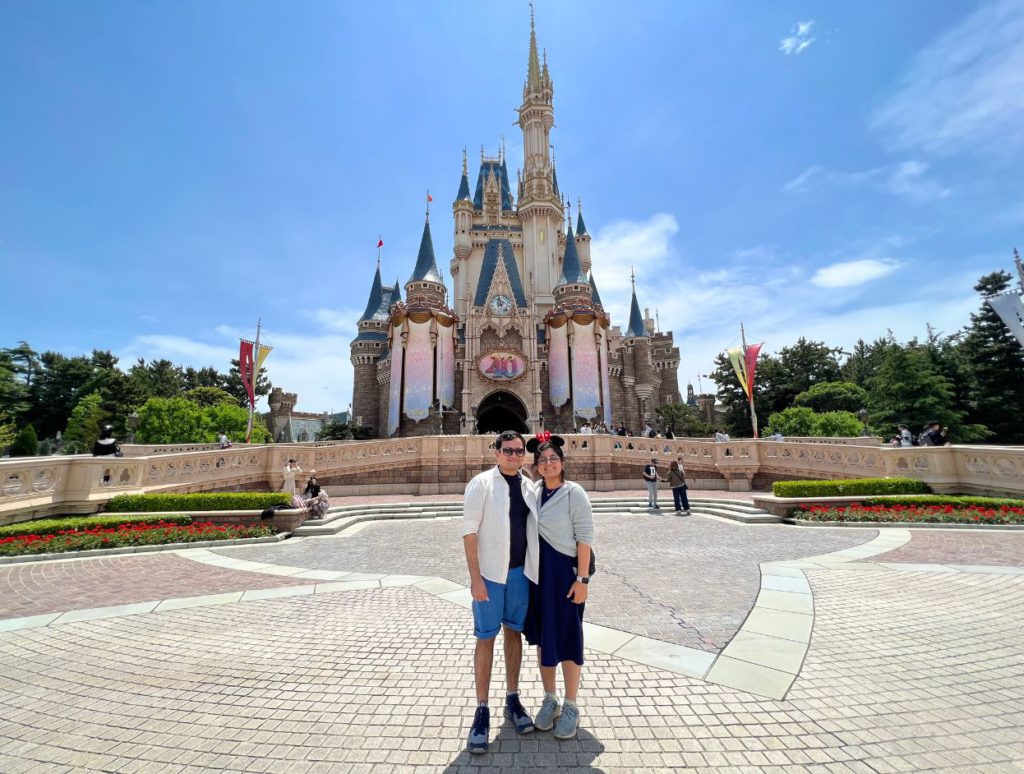 3. Lamma Island
For the people looking for something (very) offbeat in Hong Kong, you can spend a day or a night on Lamma Island. You can reach there by a 30-minute ferry ride from Central Pier but the rides are infrequent. It is a hippy island home to several fishing villages with plenty of fresh seafood restaurants, cafes and bars. No vehicles are allowed on the island so you just walk around or maybe catch a couple of hiking trails.


Related Articles