30 May

3-Day Itinerary to Tokyo for first-time travellers

We are finally talking about Tokyo! Oh, I have wondered when this time will come. And I have tons of information because you will need tons of information. Tokyo is a megacity! Something like you have never seen before. And here I thought Bangkok was quite something. If you are travelling to Tokyo, you may be looking at what to do for your time there.

It isn't like you cannot get a list of a bunch of things to do in Tokyo. Google for the top 20 things to do in Tokyo. Yeah, sure there is that. But it will still take you a lifetime to figure out what goes next and looking at the labyrinth of the Tokyo public transportation, it could take you half a day to cover two spots at different places in the city.

So we will take a different approach. And see which places can you put together visiting one near the other to get the most out of your time out of the city. Usually, a 3-day itinerary works great for a short-term tourist, so we will go with that. Feel free to tweak your itinerary as you see fit.

Let's get started.
Day 1 in Shibuya and Shinjuku
I would suggest you start with the best. And there is no better place to be – both live and visit than Shinjuku and Shibuya. These are the most flashy and happening areas of Tokyo and each street is full of surprises. So really, you can just wander around without an agenda and still find a lot. Here are a few things you can do in a day:
Shinjuku Gyoen National Garden
You can start your day at one of the most iconic parks in Tokyo. This place would be on top of your list during cherry blossom season or around the fall time with gorgeous orange and yellow trees. Although I think all seasons look great in photographs.
The place is especially photogenic with Japanese styles pavilions, gazebos and tall glass buildings as a contrasting background. You can enjoy a botanic garden and a few small exhibitions. Consider getting some food at the local 7-eleven and make a picnic out of it.
Just a little ahead is Meiji Jingu. You can either take the subway to next the station or just walk past Yoyohi station if you are in the mood to walk.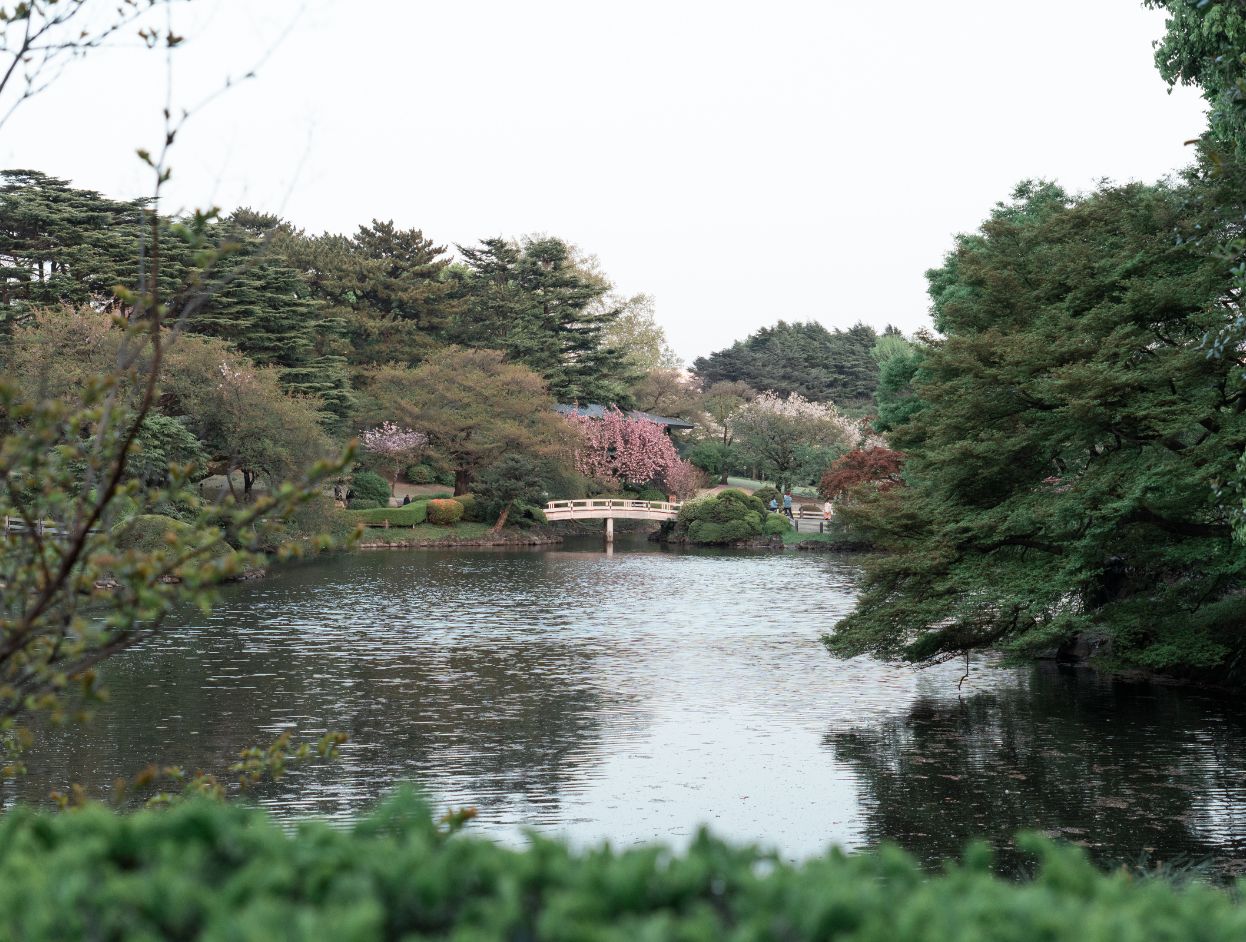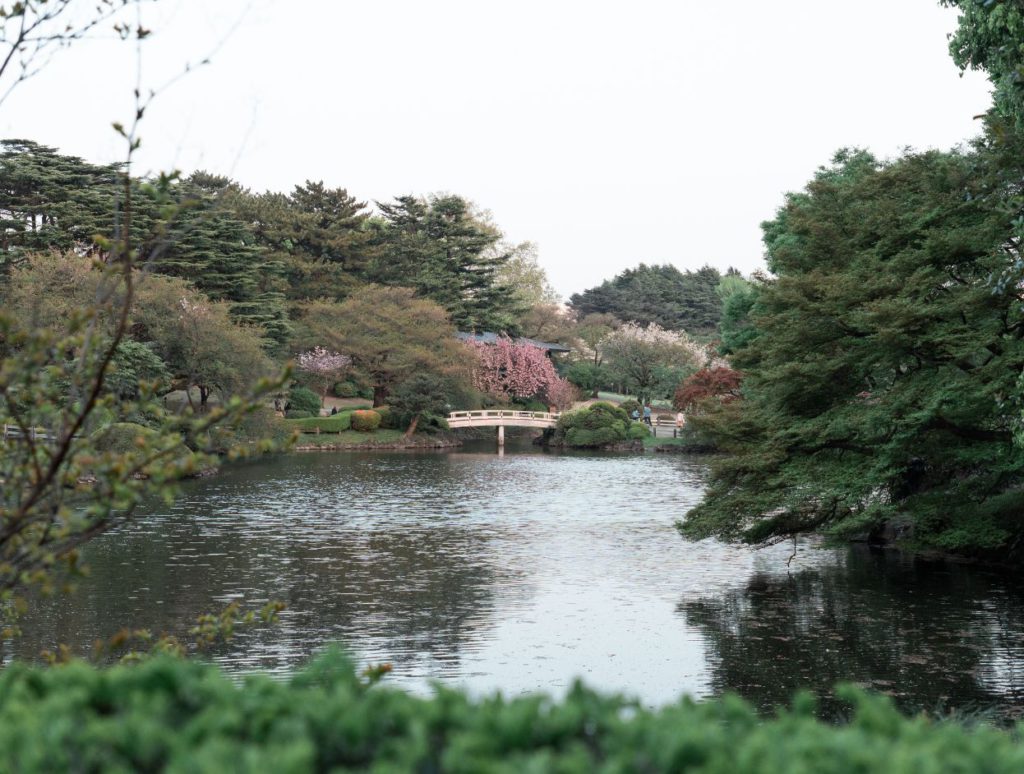 Meiji Jingu Shrine
Meiji Jingu (Jingu refers to a shrine in Japanese) is the shrine of Emperor Meiji, the first emperor of modern Japan and his wife Empress Shoken. The shrine was built in 1920, 8 years after the death of the emperor in his memory. It was destroyed during the second world war and was rebuilt again shortly. 
Today, you will find a beautiful traditional sanctuary in the middle of an urbanscape where people come to pray. If you are lucky you will be able to spot a wedding ceremony taking place at the shrine.
The closest metro station is Harajuku or Yoyogi on the Yamanote Line (JR Pass is valid on this). From here you can go for another long walk to Harajuku.
By the way, if you want to know how to buy a JR pass, check out our article.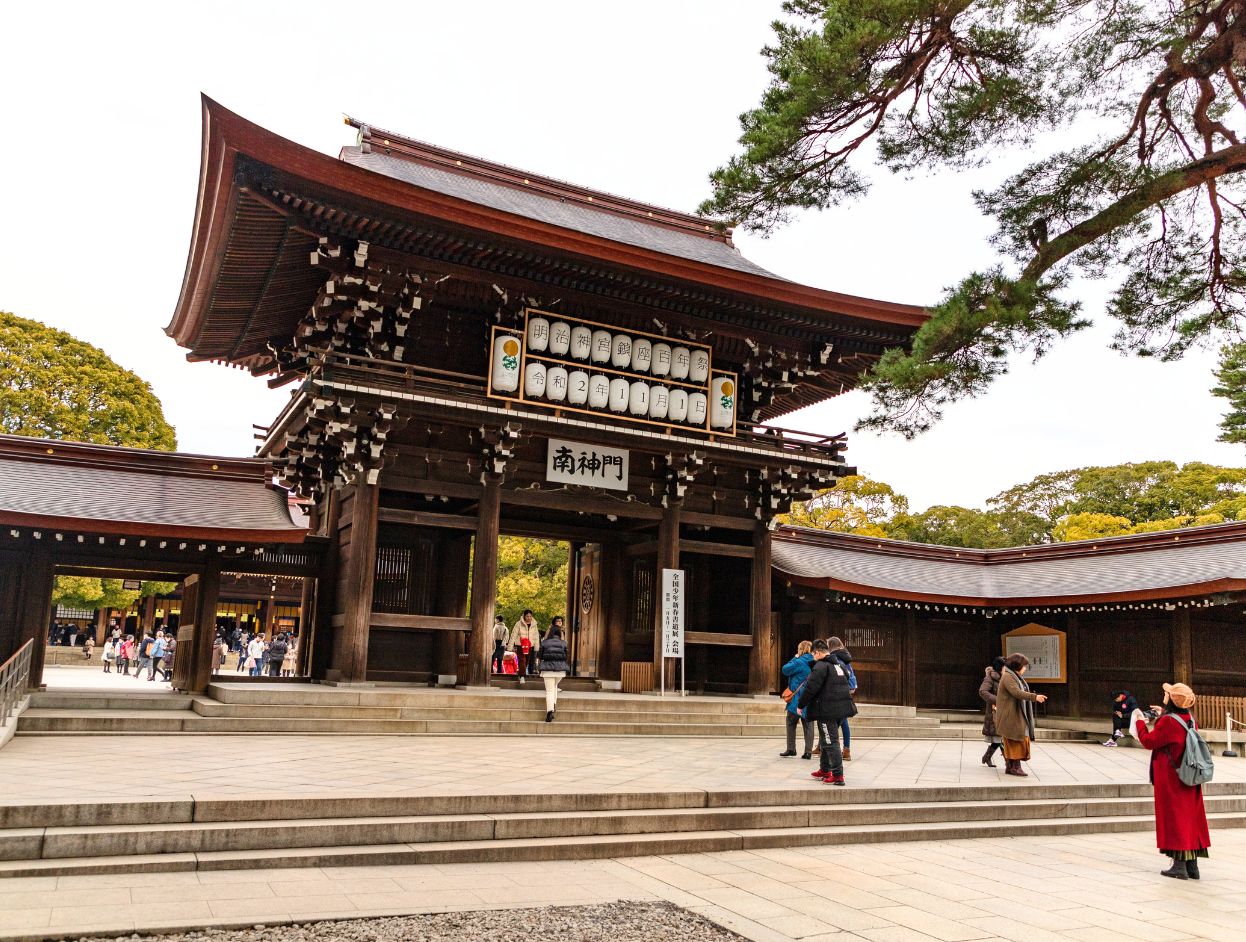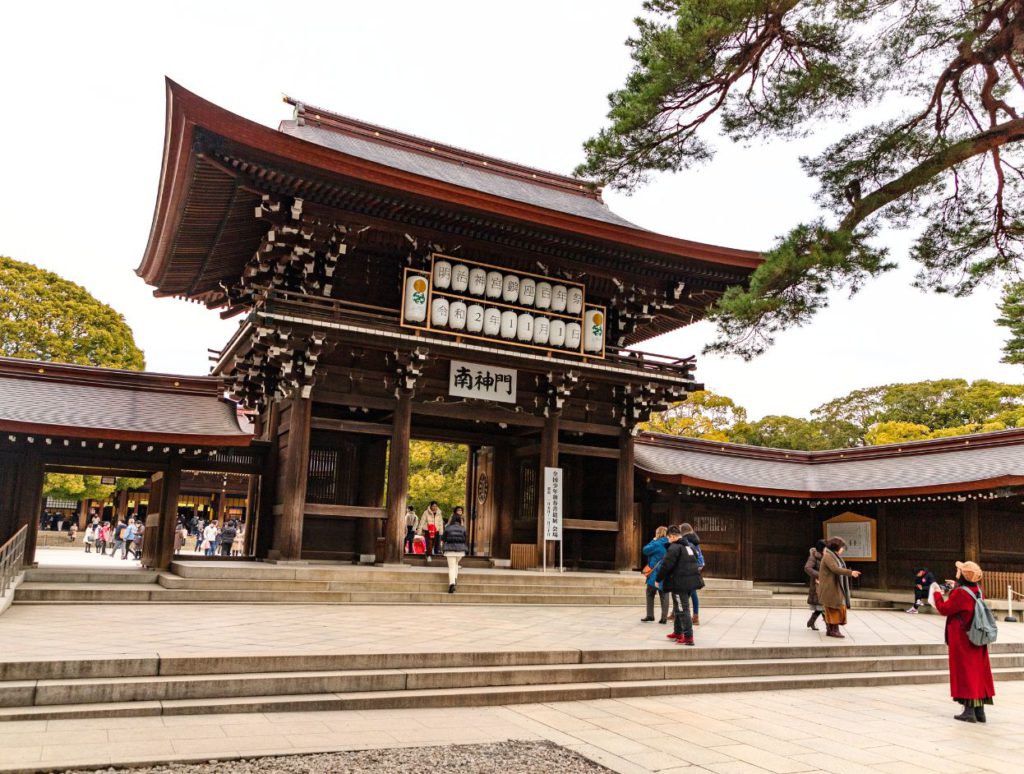 Harajuku
Harajuku is the fashion district of Tokyo. And Tokyo fashion is one the things worth experiencing. Also if you want to shop for some Japanese teen and cosplay fashion, this is the place. Harajuku Street is open during the day, so make sure you are there during the open hours between 10 am and 6 pm.
The focal point of Harajuku is the Takeshita Dori and the alleys next to it where you will find trendy shops, fashion boutiques and used clothes. Most of these shops are local Japanese and you will hardly find any international brands here. You may also want to check out Omotesando, popularly referred to as Tokyo's Champs-Elysees with trees lined on both sides.
This would be good to grab some food or coffee and relax for a while since you would have already covered a lot on foot. The next stop is Shibuya.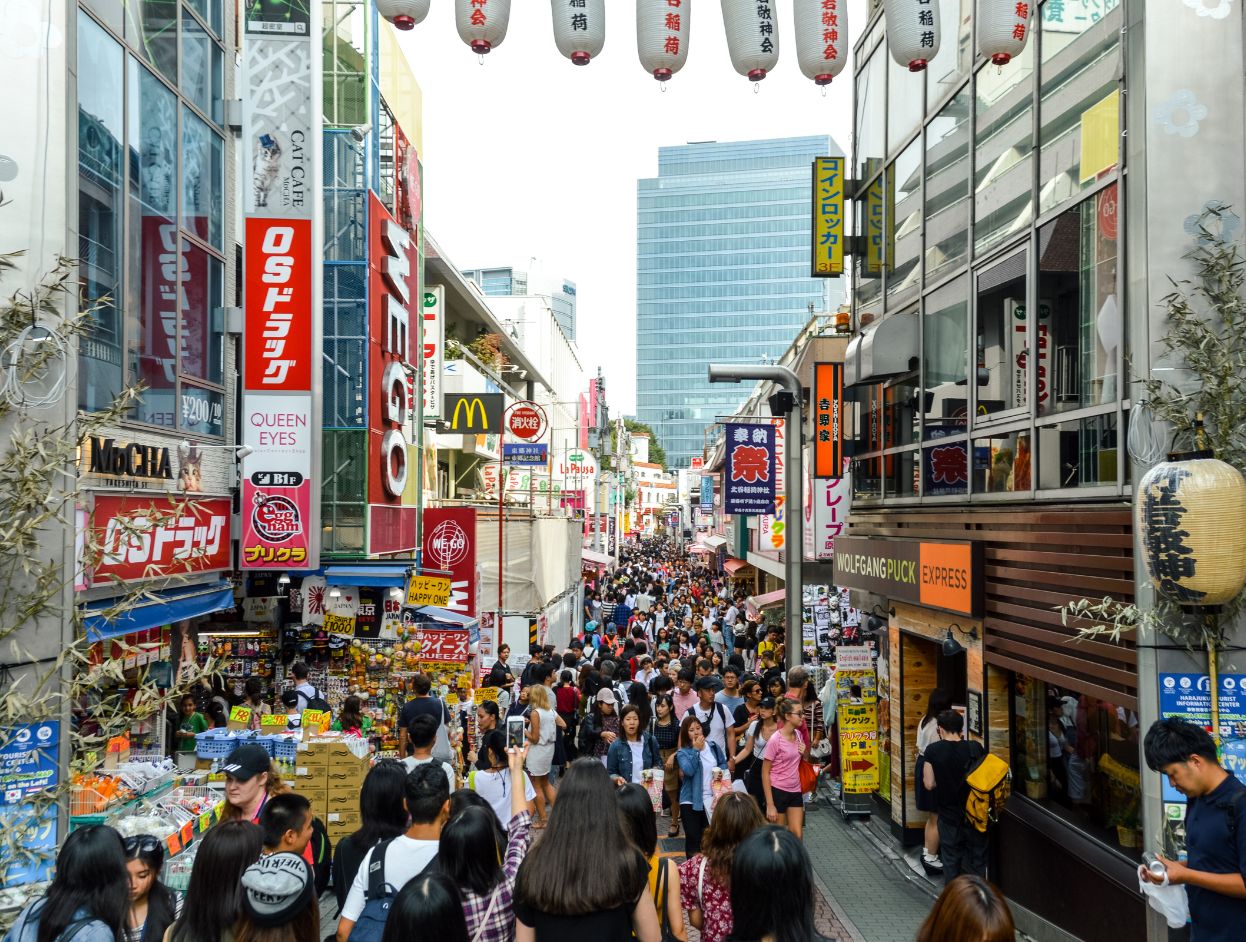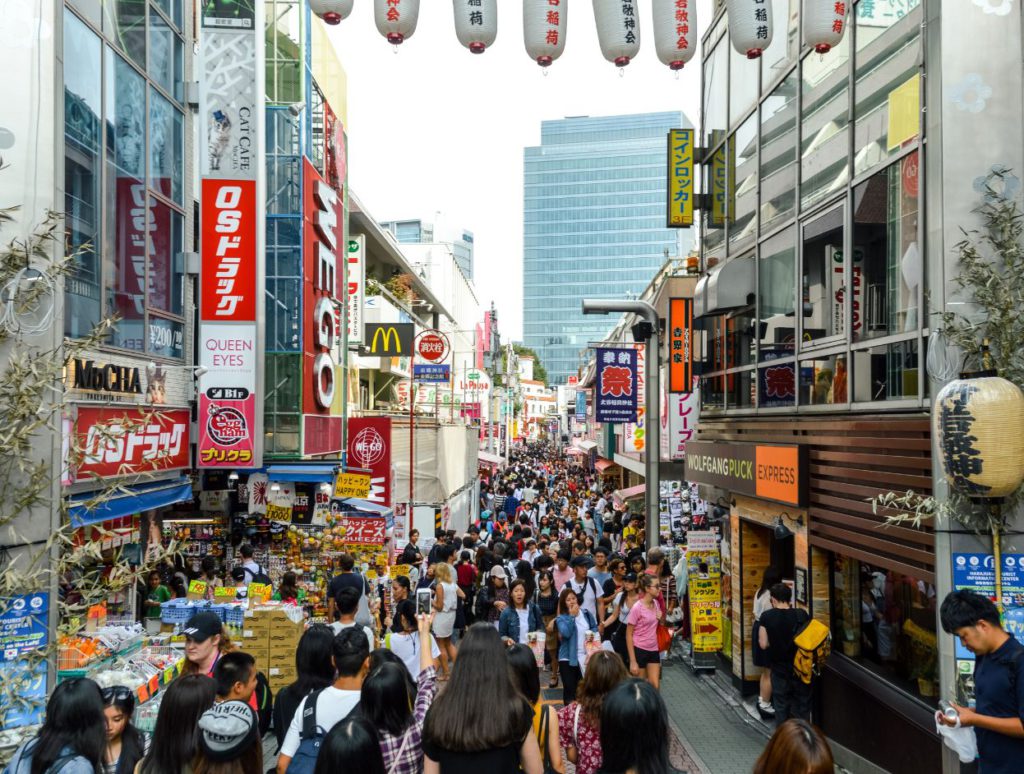 Shibuya crossing
Although you appreciate the size of this crossing during the daytime, there is something about the nightlife here that will bring a lot of jazz to your visit. Or maybe because that is how I saw it in the Tokyo Drift movie (If you haven't seen Fast and Furious 3, please go watch it).
And even if someone says, it is just a crossing, I swear it seems more than that. As soon as the signals go green, hundreds of people start walking in different directions to cross over to a gazillion sides. It is amazing how much coordination this requires. DO NOT MISS IT. 
For great photos, spot the Starbucks on the crossing and climb onto its first floor. You can see this from their first-floor window.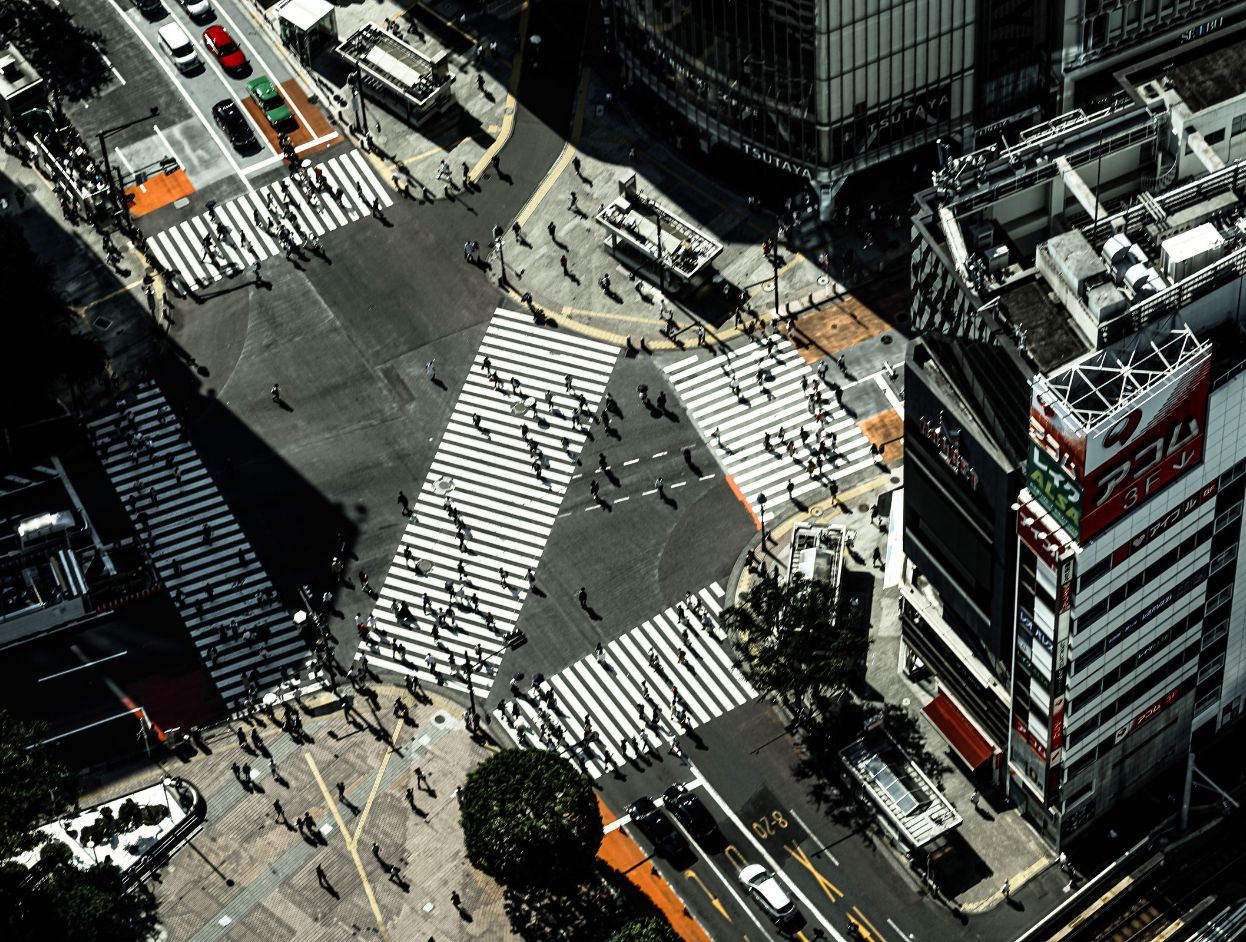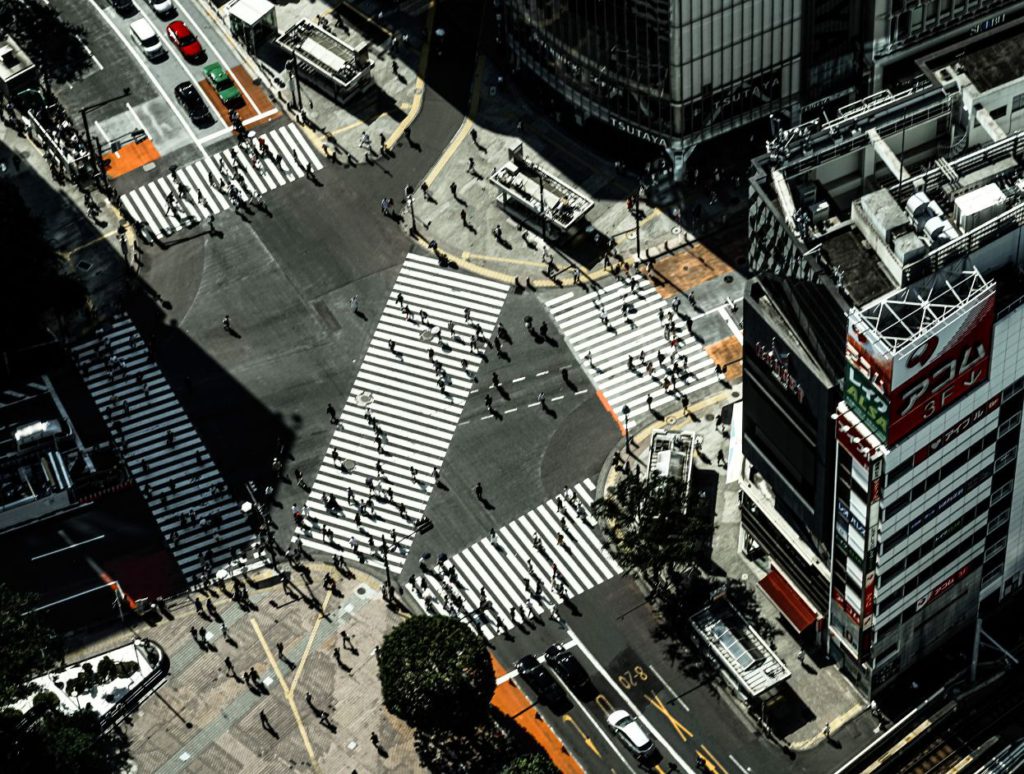 Hachiko Memorial Statue
Hachiko Memorial is dedicated to the sweetest and a loyal dog in the world, Hachiko. Even if you have not seen the movie, most of us have heard about him. So to remember him, people made him a statue. You can find him right next to the Shibuya crossing.
The statue is relatively small and you can find people chilling around, maybe smoking. So it is easy to miss. Put him on your list just to greet him since you are already there.
Shibuya Sky
Shibuya Sky is an observation deck, much like most others in all the big metropolises in the world. You can go up and find a lovely areal view of the massive city of Tokyo. And since it is Tokyo, I am sure it is something. You will need to book your tickets in advance or you will most probably find it sold out.
Book your tickets online: SHIBUYA SKY Observation Deck Ticket in Tokyo
The best time to visit the observation deck is around sunset. But you will need to line up a little before since there are quite a lot of people trying to catch the sunset view. And even with the reserved tickets, you will need to queue up for your turn.
Since I have been to quite a few observation decks, I skipped this activity. But if you enjoy urbanscape, you can keep aside some time for this. Our last stop is Shinjuku for some great nightlife. 
If you want to spend more time in Shibuya exploring some local stops with a tour guide and fellow travellers, you can consider taking a tour.
Check this out: Shibuya Highlights Walking Tour
Shinjuku Nightlife
Once you are back in Shinjuku, you really don't need an activity here, but you can pick and choose what you'd like to do. There are a ton of things that you can do in the area. You would want to wander in the area between Kabukicho Sakura Dori St and Seibu Shinjuku Station Dori St.
To start with, you can grab something to eat at one of the many restaurants. Japanese Izakaya is like a pub cum restaurant that offers a great variety of food and drinks at a reasonable price. And there are several to choose from here. If you have time check out the Tokyu Kabukicho Tower where you can find some restaurants and a floor full of arcade games. 
Another cool place is Tokyo Mystery Circus right next to it which is a micro theme park with games and activities. Most of them are in Japanese, of course, so it may be a bummer. You can always check out a girl bar.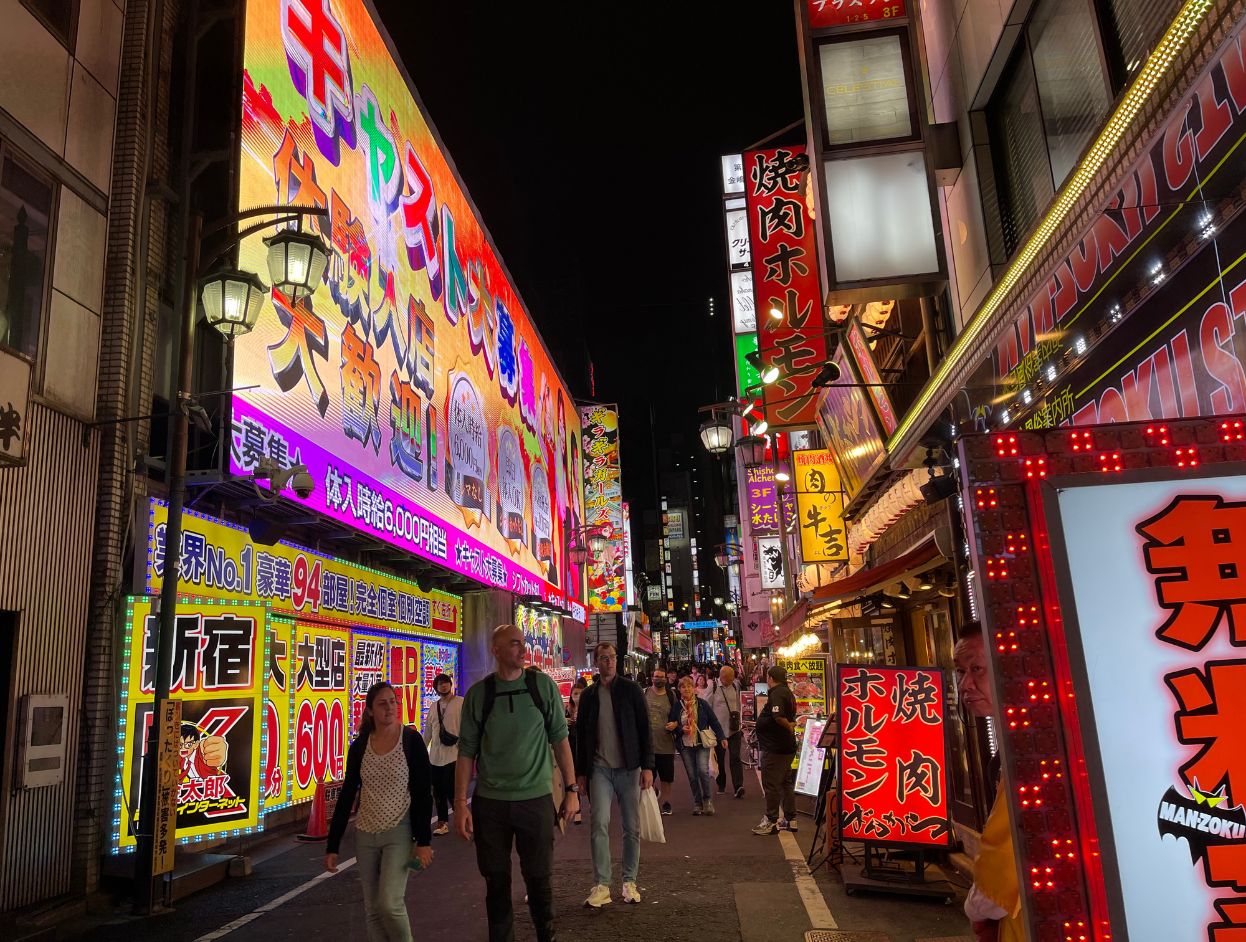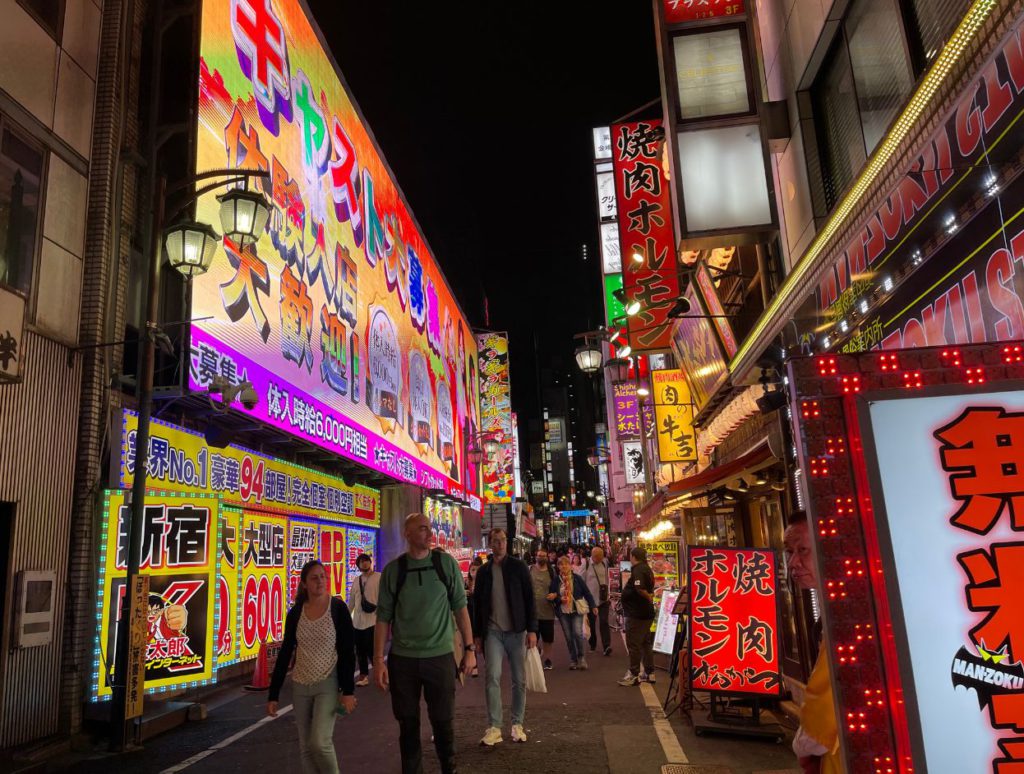 Golden Gai
The last stop for the day is Golden Gai. And I think it is one of the best things I have seen in Tokyo. Golden Gai is a series of streets in the old town of Tokyo that is lined up with hundreds of bars. Now these bars are so small that there is space for only a bartender, the bar itself and around 4-6 seats for customers in front of them.
It is usually crowded, but take some time and do spend some time in any one of the bars here. It is an experience. The local Japanese alcohol is one of my favourites and you can ask for the bartender's favourite.
People just keep popping in and out of the bars and you can always pick a conversation with the next person which is usually the norm. It is the best way to call off your first day in Tokyo. It is always easier if your stay is in the same area so you can travel back to your room with ease.
Check out our article for more details if you are looking for the best areas to stay in Tokyo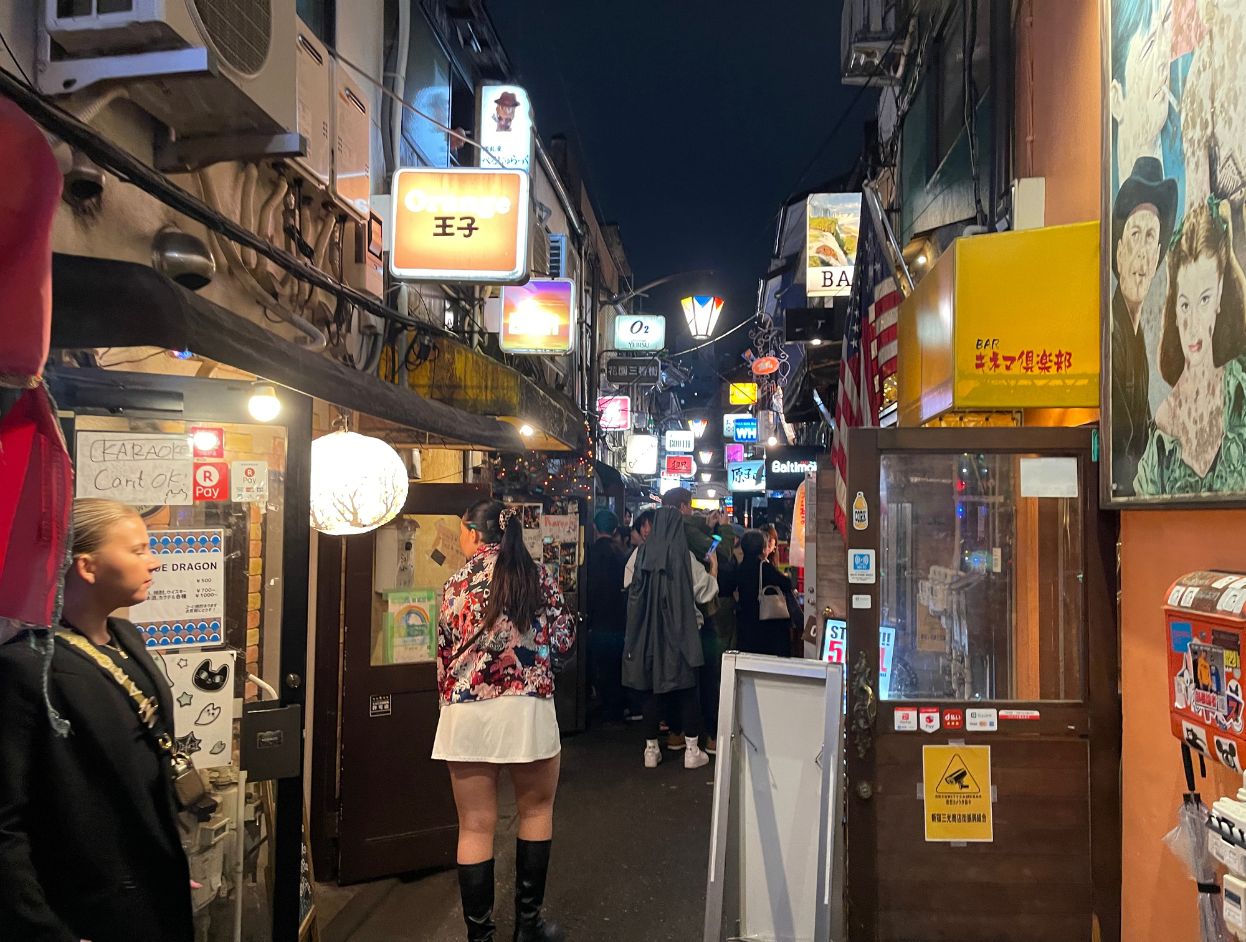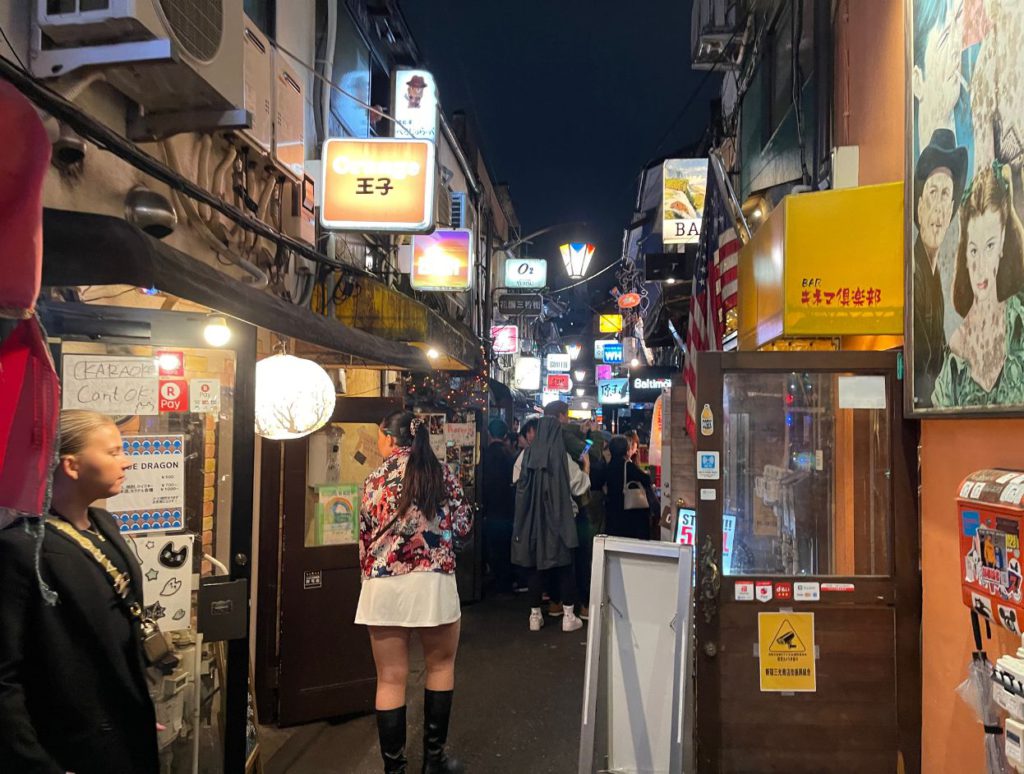 Day 2 in Taito City
I will not blame you if you are tired as a dog after a long Day 1. So maybe you can start the day a little later. The good thing is all the attractions for this day are in and around the Taito area, a little north of central Tokyo. Unless you are staying here, you need to travel long distances just once and then hop around using different modes of transportation.
Kaminarimon Gate and Sensoji
Sensoji is the most popular shrine in Tokyo, and if it is your first time in Japan, it is worth visiting. As many as 30 million people – both pilgrims and tourists visit it every year. The shrine dates back to 628 AD when two brothers found the statue of Kannon, the bodhisattva of compassion. Since then it was enshrined in one of their homes and continued to be worshipped to date.
Kaminarimon or Thunder Gate is a tori gate that was constructed as a gateway to Sensoji. Between Kaminarimon and Sensoji is Nakamise-dori, a long street lined with food and souvenir stalls catering to the horde of people who visit Senso-ji every day. It can take you around 2 hours to enjoy the place in peace.
From here, you can either take the metro with a change or a direct bus to Nippori.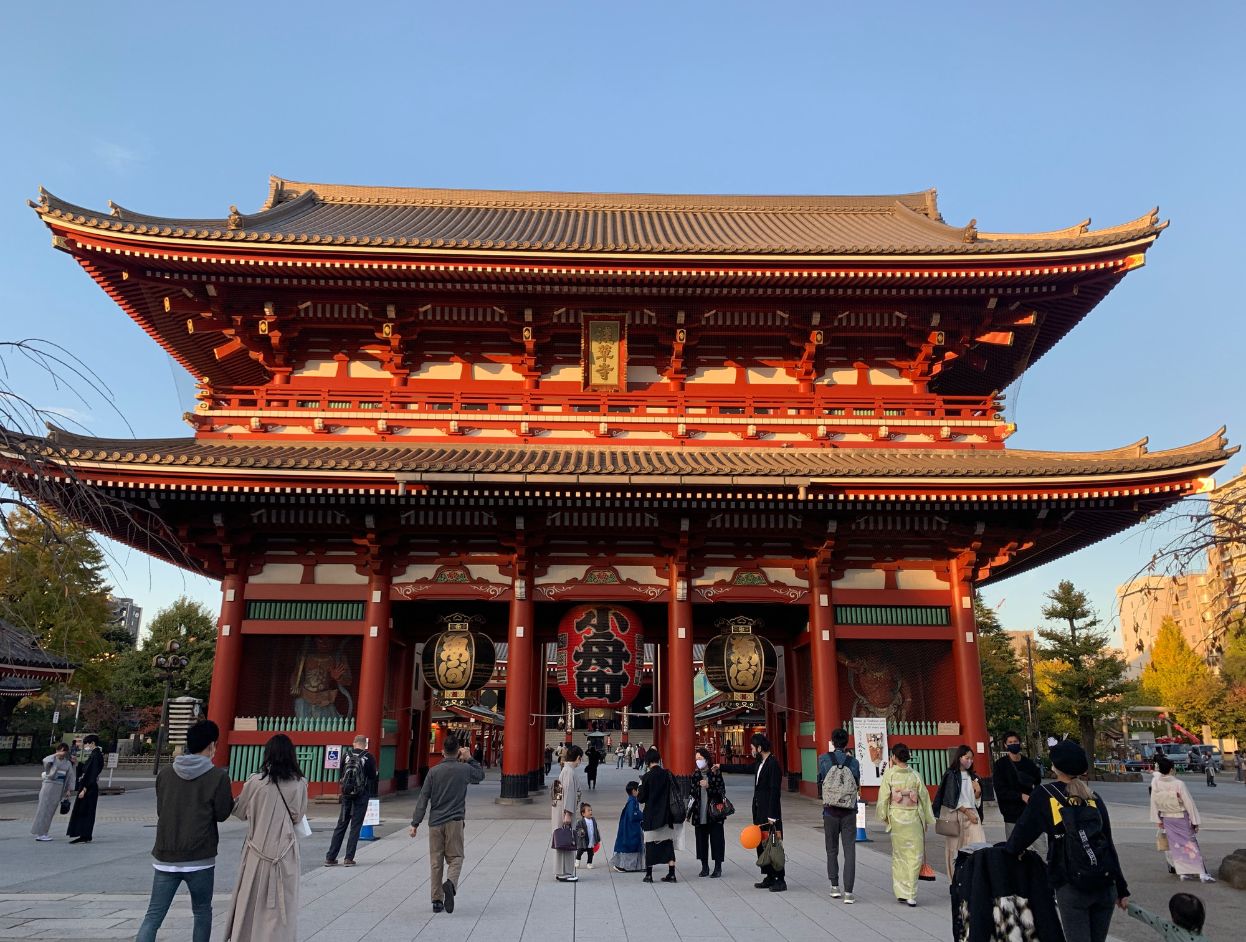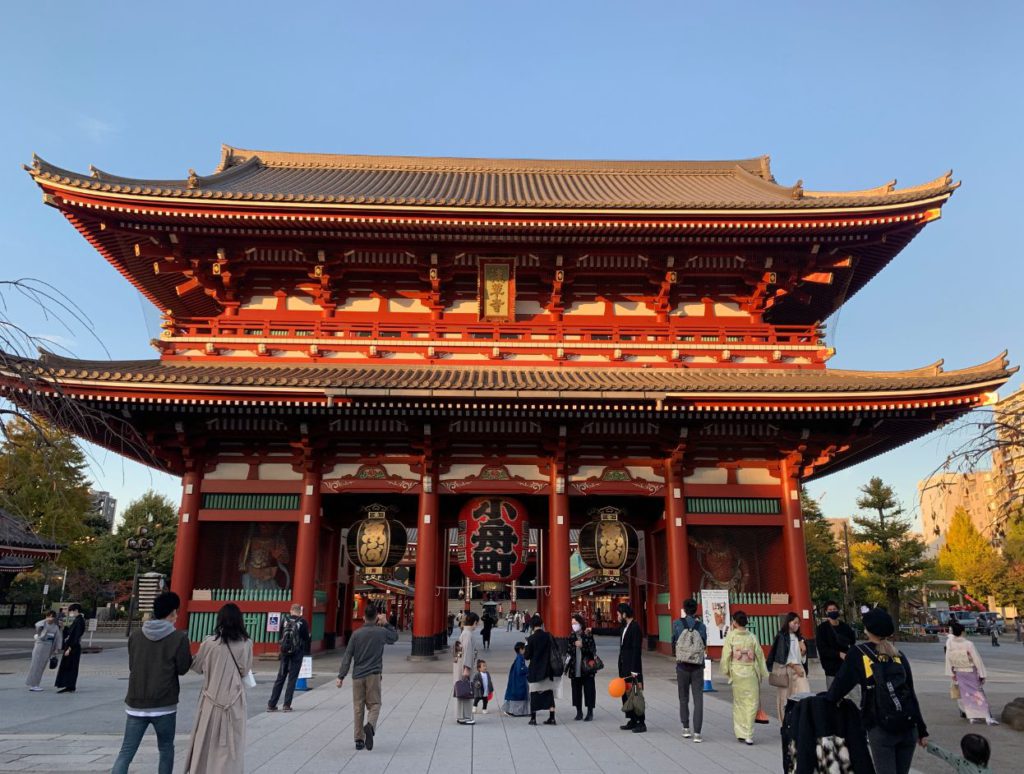 Yanaka Ginza
Yanaka Ginza is no more than a small neighbourhood with a mix of cute cafes, restaurants and souvenir shops in a mix of modern and traditional buildings. You can find several buildings here from the Edo period too. But this isn't the place to look for architectural wonder. 
Take some time to wander around aimlessly. It is a good place to have lunch and buy souvenirs and art from local shops. You will also get a taste of an actual local Japanese neighbourhood.
We are now going to Ueno. You can take any of the JR Lines to Ueno and just walk from there.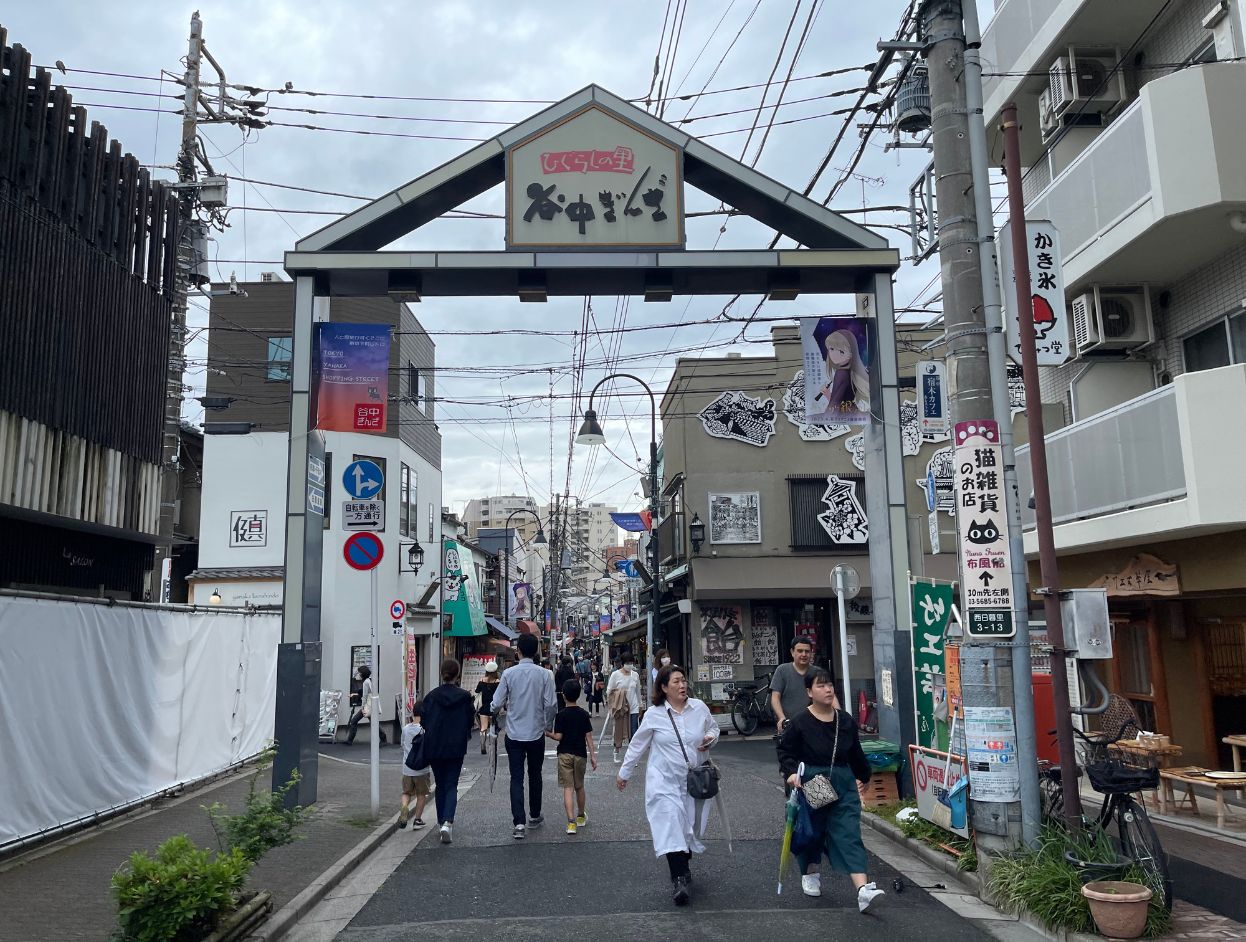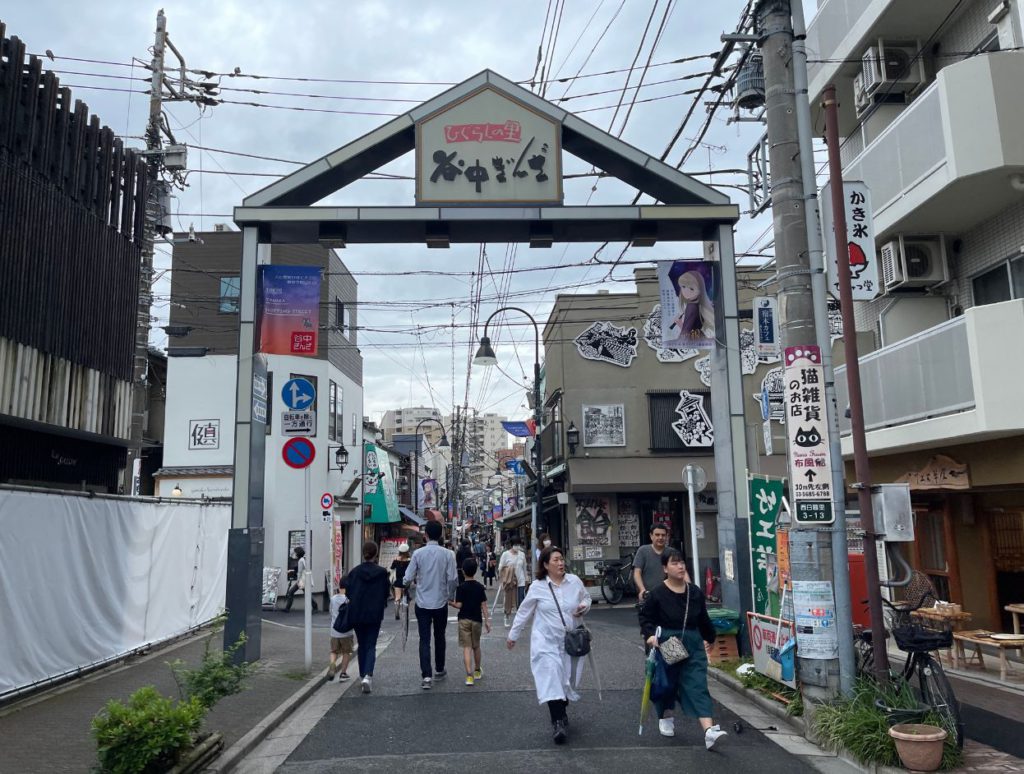 Tokyo National Museum & Nearby Museums
Tokyo National Museum is considered as the oldest museum in Japan and is home to around 120,000 cultural properties. This is not just one museum of a complex of several buildings that showcases one special category of artefacts spanning centuries. And Japanese history is something to look out for! Some of the other museums are:
1. National Institutes for Cultural Heritage
2. Tokyo National Museum Heiseikan
3. National Museum of Nature and Science
4. Tokyo Metropolitan Art Museum
5. National Museum of Western Art
6. The Ueno Royal Museum
The place is so big that you can spend a whole day here. But you can pick and choose some of your top ones to visit and limit it to 2-3 hours. You will want to rest for a while after so much walking. Maybe grab a coffee here.
Ueno Park & Shinobazu no Ike Pond
To end the perfect day, you won't even need to travel much. Right next to the museum complex is the relaxing Ueno Park. You will find locals taking a stroll and enjoying the day (well, that would depend upon the day!). But it is a casual place for a lot of people to hang out.
You can hang around the pond where you can also go boating on one of the swan boats. Or if you want to chill, grab one of the seats around the pond and just people-watch like a creepy tourist.
If you have any strength left, feel free to check out some nightlife. But you will have to travel to one of the happening areas in Tokyo (thinking of Shinjuku again!).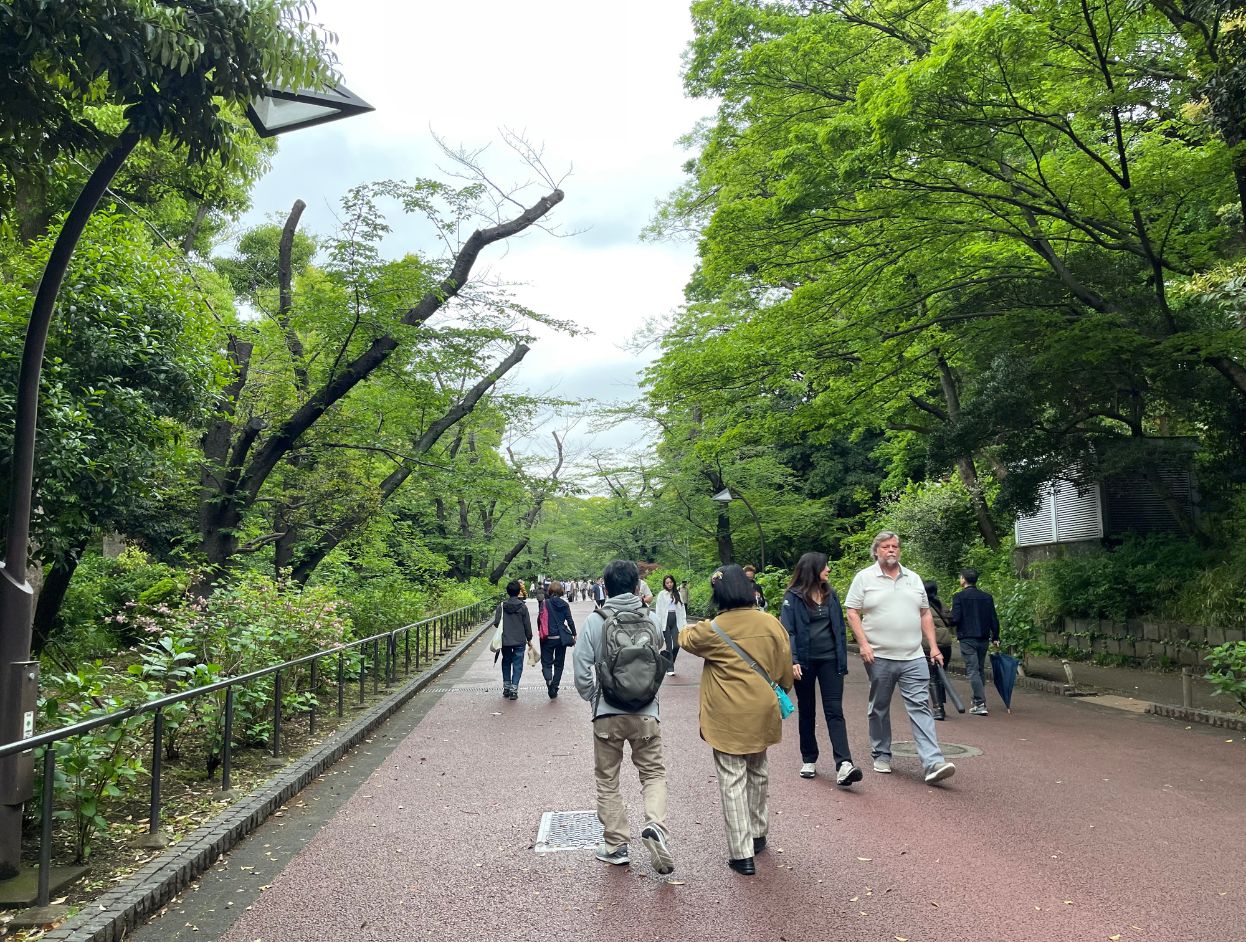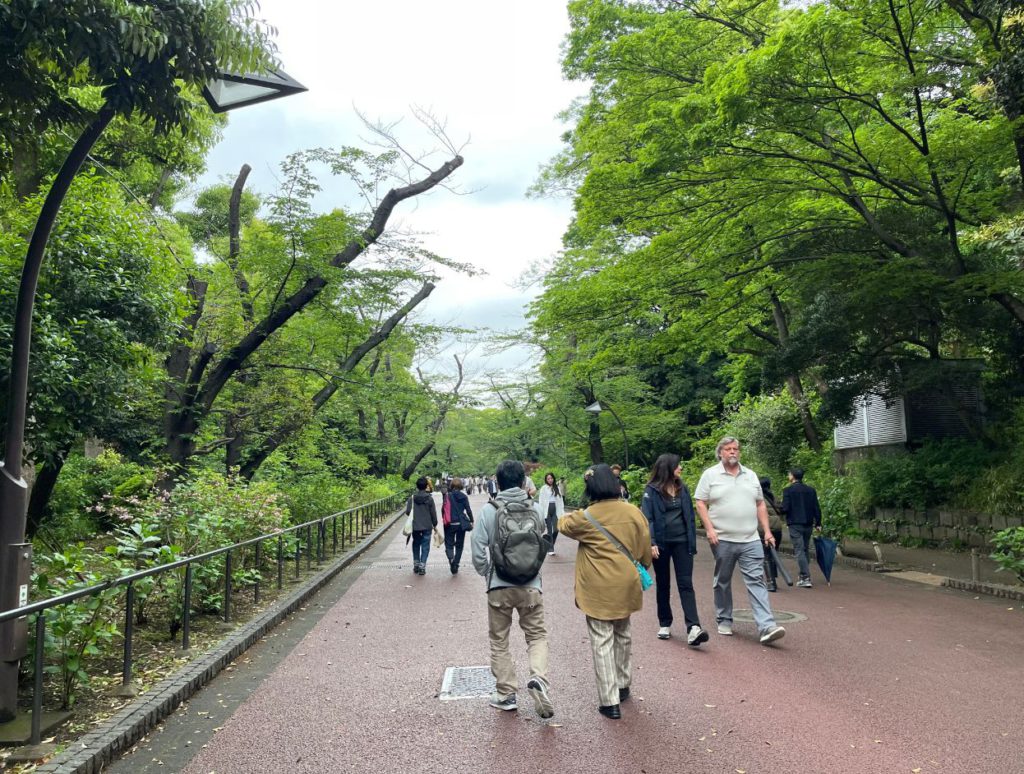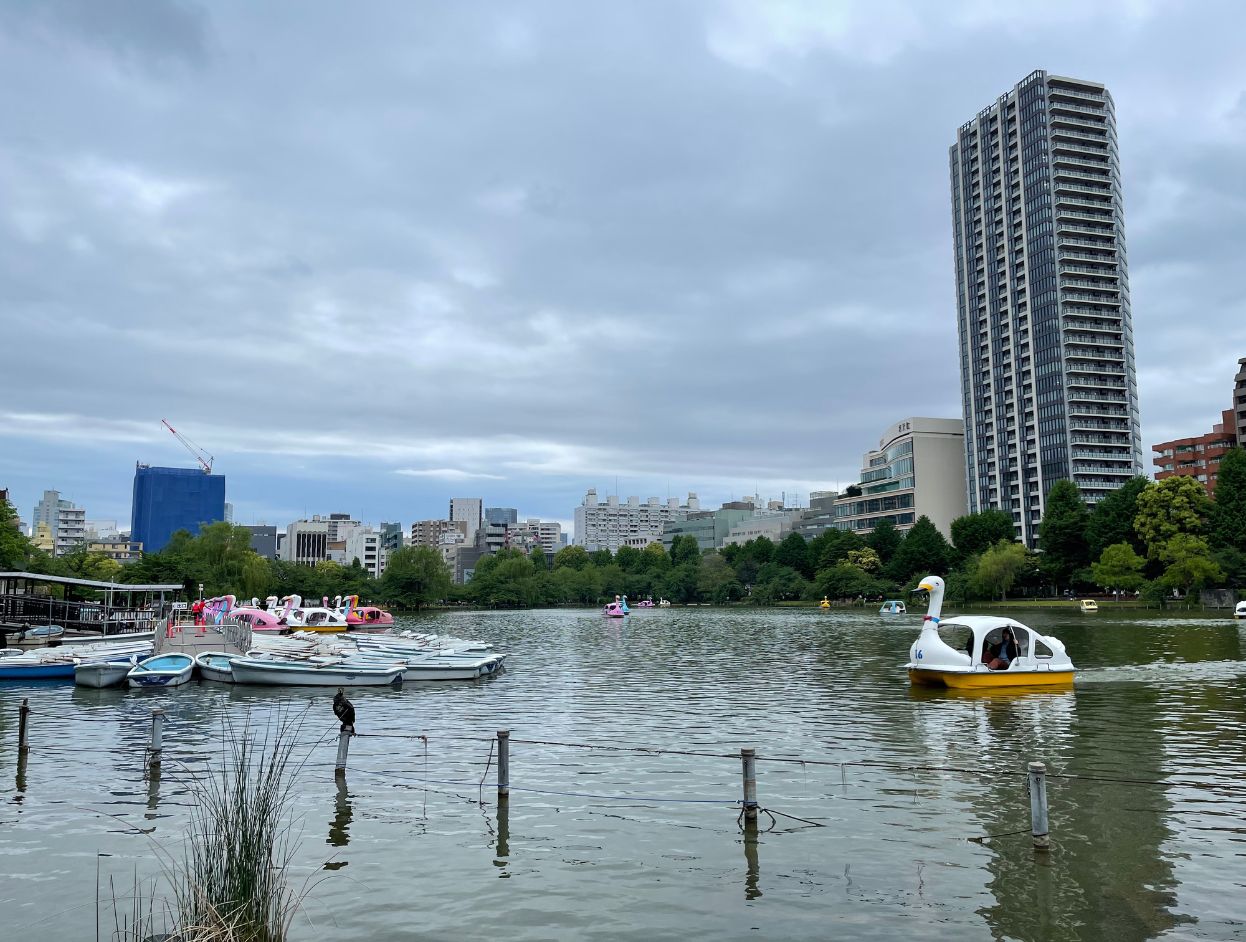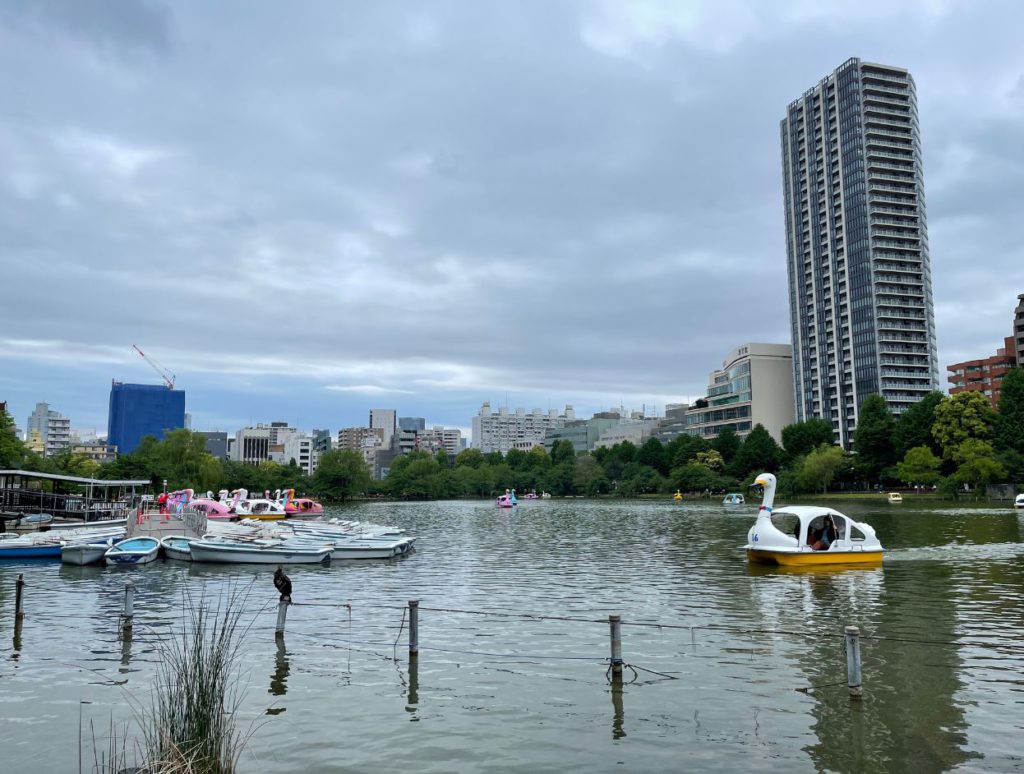 Day 3 - Imperial Palace & Teamlabs Planets
Imperial Palace
You can start your day at the Imperial Palace since the gates of the palace are open from 9 am onwards. The Imperial Palace complex is huge and even if you reach the area, it will take you some time to get inside to find the ticket office and join the tour.
Now, you can visit the Imperial Palace only as a part of a group tour. And each group tour has a capacity of a limited number of people. These are on a first-come-first-serve basis. There are two tours in a day – one in the morning and one in the evening. But these tours are available in 4 languages.
The ticket distribution starts an hour before the tour starts. And the tour spans for another hour. You can get more details on registration here. The tour is free of cost. Make sure you check if the palace is open for a visit on the day you are visiting since it is closed on Sundays, Mondays, public holidays and in the event of a VIP visit.
The tour guide takes you through the palace and tells you about its history and present significance. Of course, you get to see only some parts of the palace only. But it's worth it. Once you are done with the tour, you can take some time to yourself to visit the palace grounds.
From here you can grab some lunch nearby or head to our next attraction.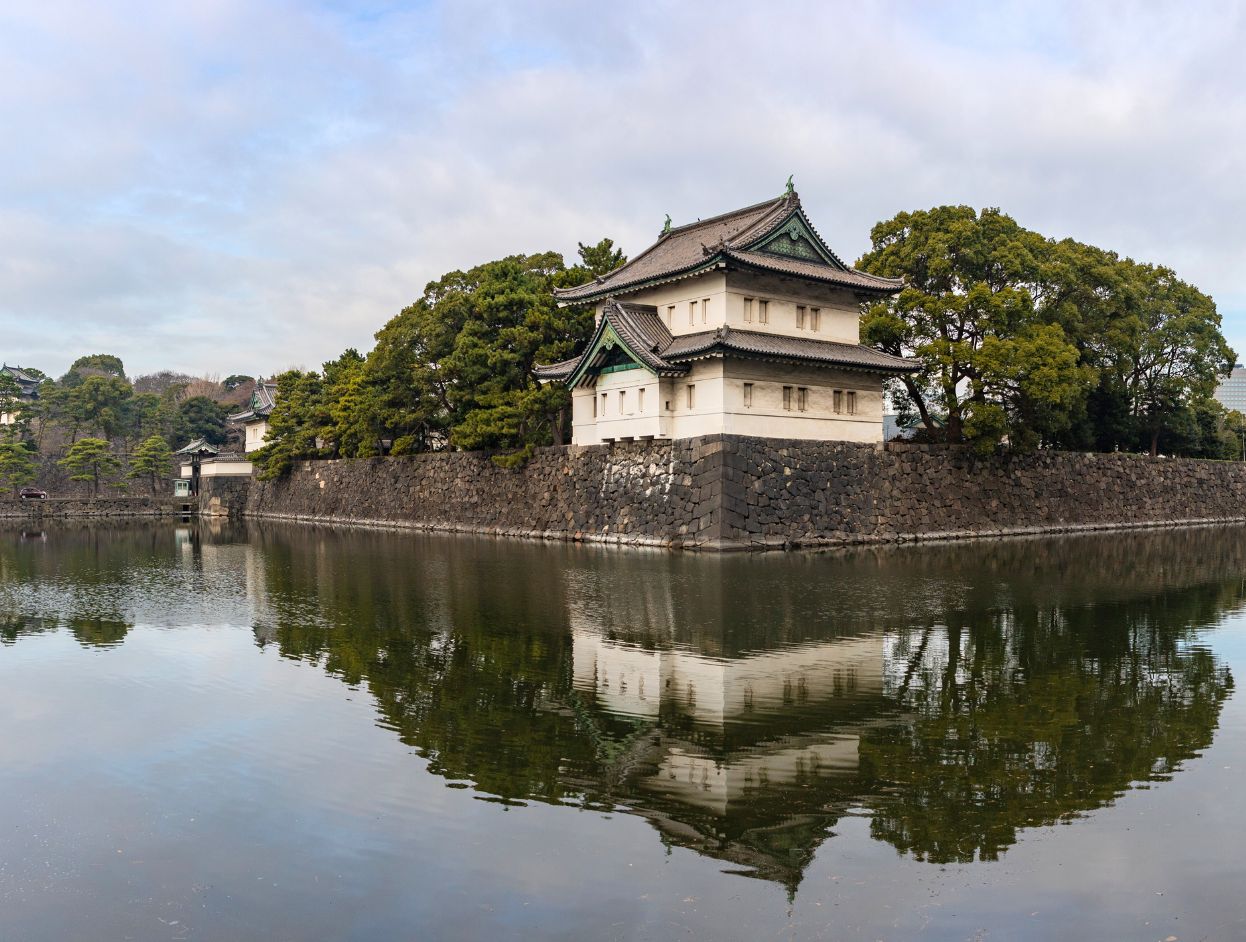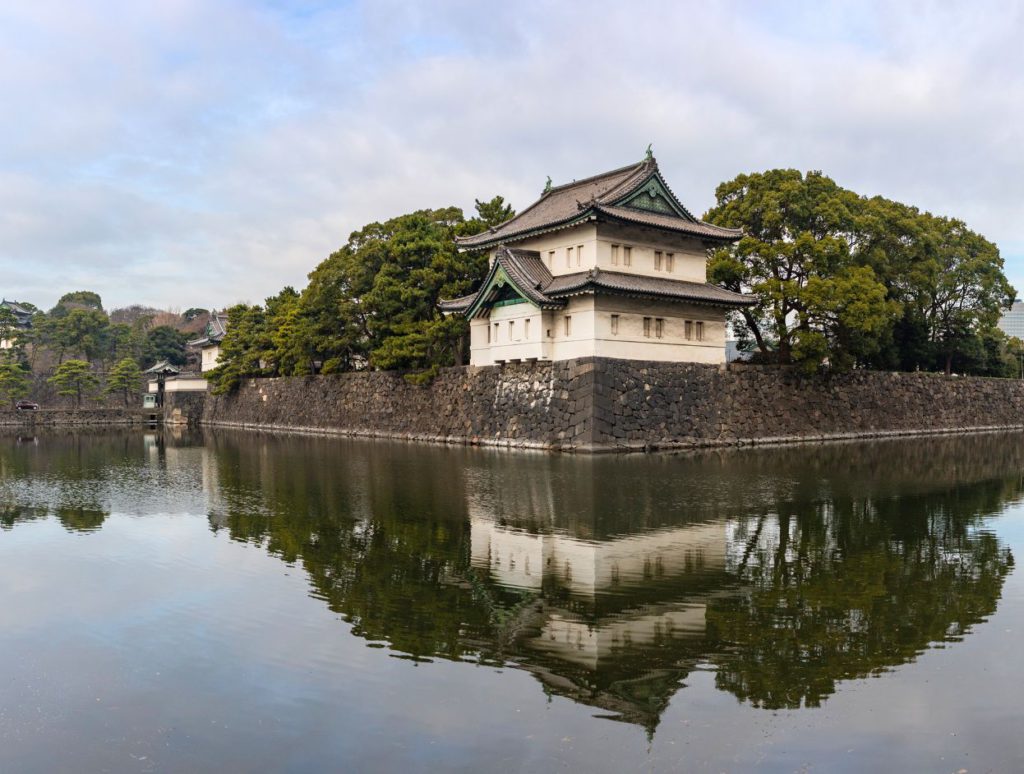 Tsukiji Fish Market
This is one of the oldest markets in Japan. Honestly, it is best to visit this place in the morning when it's less crowded. But if you are here in the afternoon, you will still see the best of it, even if with a lot of people. 
You can find several types of fish and seafood, with a variety of street food ranging from ramen, snacks, desserts and of course, sushi. Again, since it is crowded, it may not be fruitful to spend a lot of time waiting at any food stall or restaurant in particular (unless it is something you really want). Just grab the ones that you like are can get a hold of easily.
You can also check out some food tours that take place in Tsukiji:
Tokyo: Tsukiji Fish Market Seafood and Sightseeing Tour
Tokyo: Tsukiji Market Walking Tour & Rolled Sushi Class
Once your belly is full, it is time to relax with some garden views and a ferry ride. You can simply walk to Hamarikyu Gardens from here.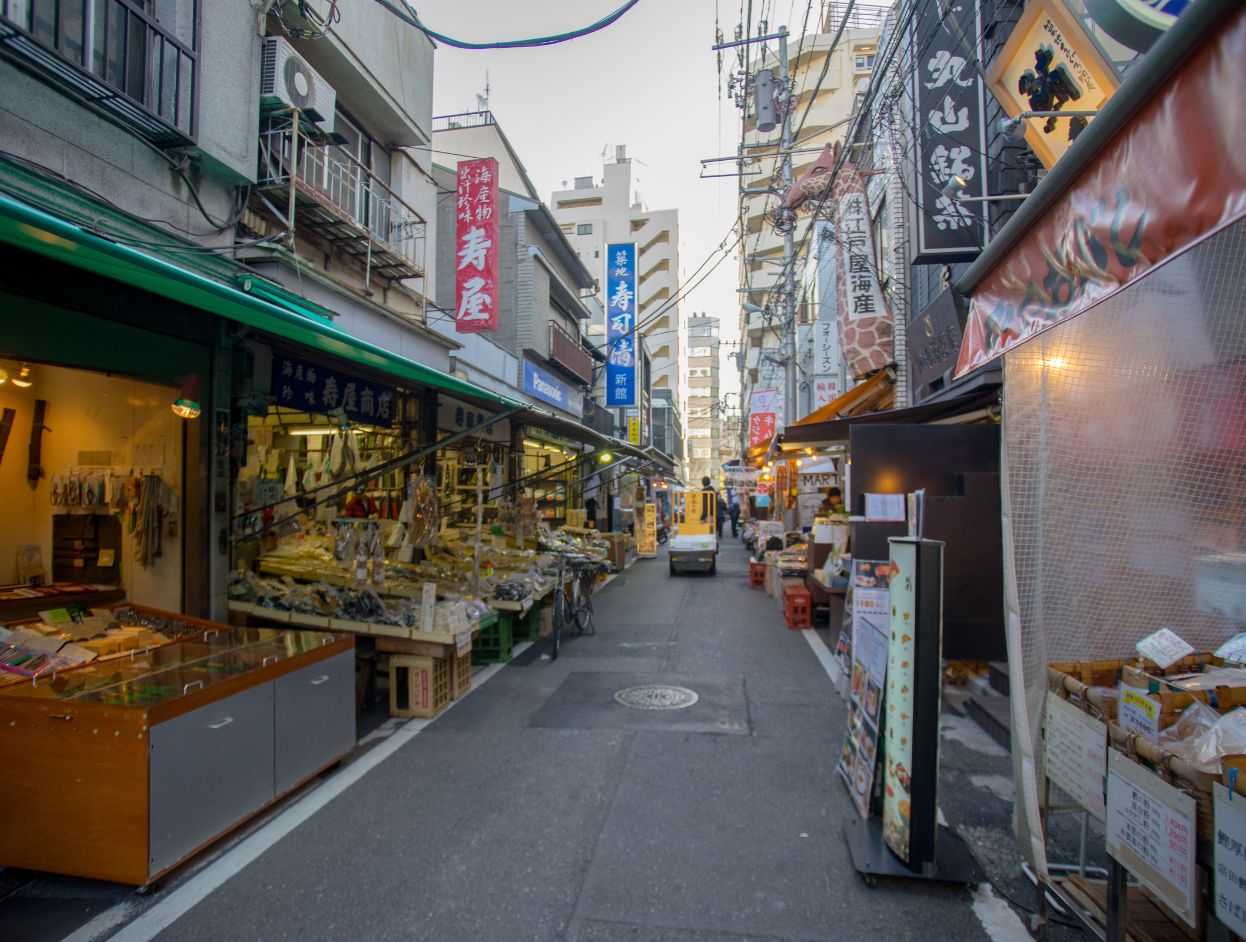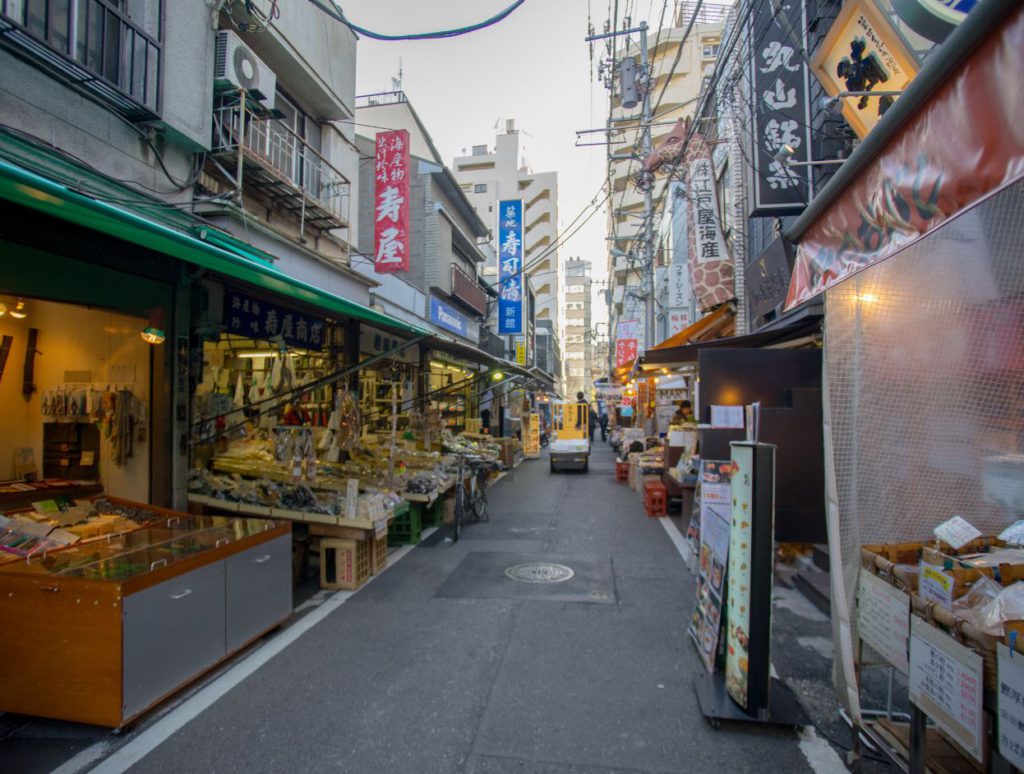 Hamarikyu Gardens and Ferry Ride
Hamarikyu Gardens is a lovely palace to take a stroll in the afternoon if the weather is nice. In fact, is great to take a nap as well, if you are an outdoor nap kind of person. The gardens are especially beautiful during the Sakura season as well as during autumn.
In fact, the place used to belong to the Shogun (the head of the government and military during feudal Japan). So it has its historic importance. The gardens are located right next to the Sumida River which often carries along a coastal breeze.
If you have a good amount of time after this, you can consider taking a ferry ride from here. Just head over to the Hamarikyu Garden Pier and buy a ticket from the machine there. You can take a ferry all the way to Asakusa (north Tokyo) or Odaiba. The ferries are open-air, so a nice day will make this experience much more enjoyable.
Depending upon your decision to take the ferry, your destination and where you are in the end, make your way to Teamlab Planets to end the day.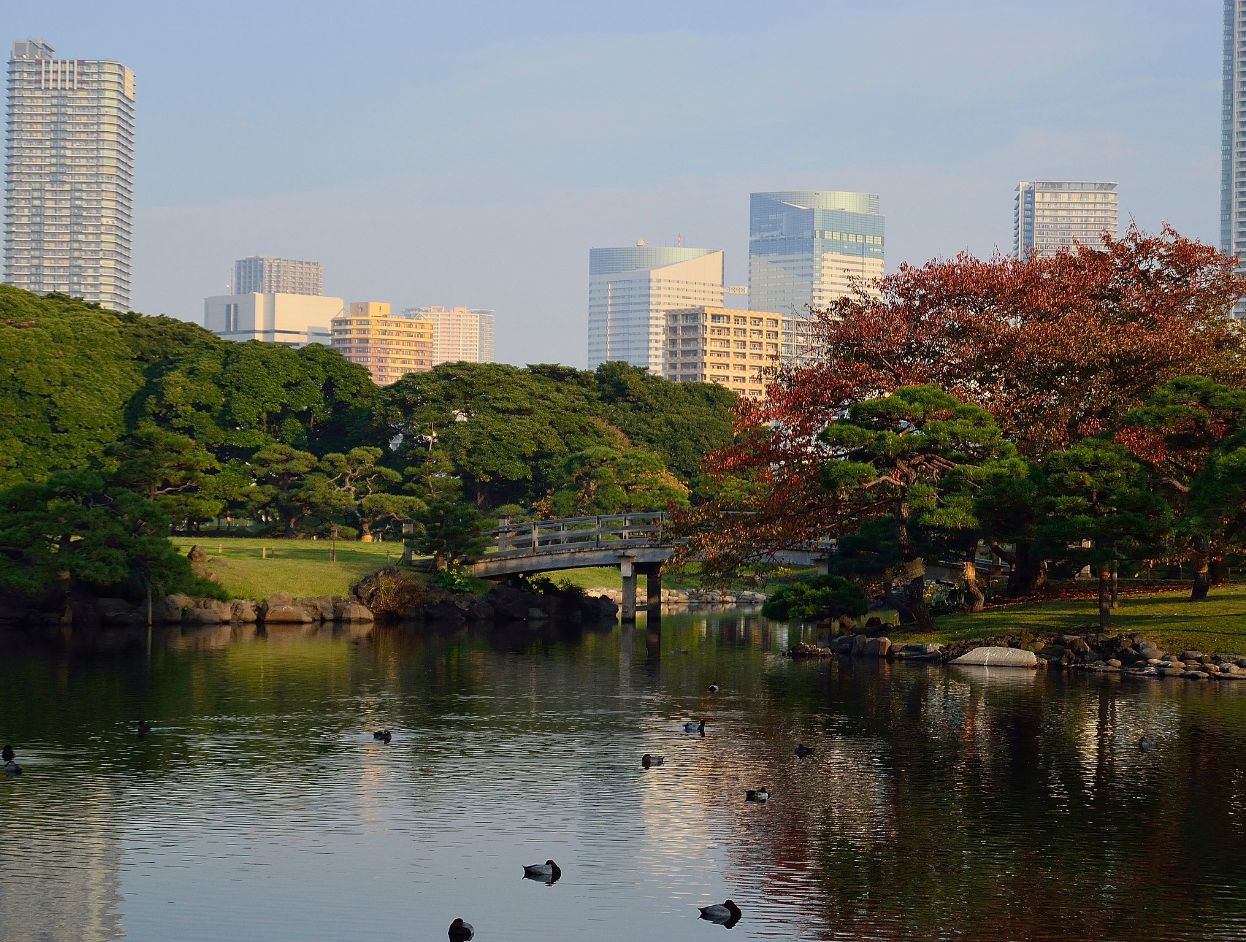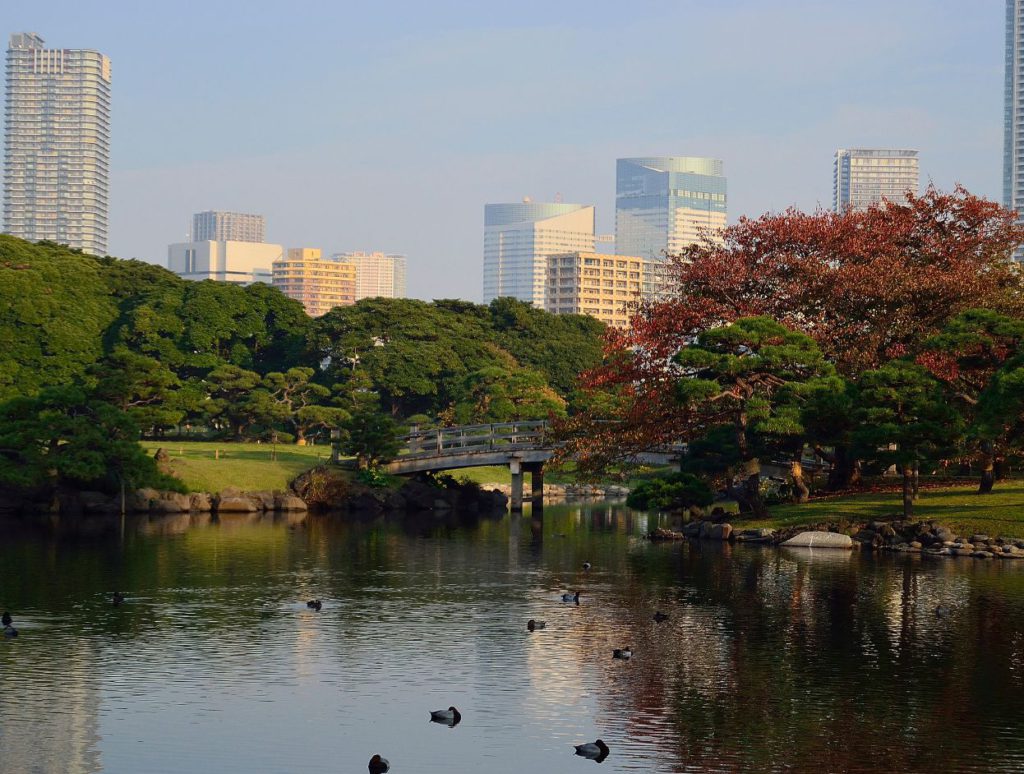 Teamlab Planets Tokyo
Teamlabs Planets is an immersive art museum and exhibition that is home to numerous interactive exhibits that will figuratively blow your mind. You can find so many photos online, but it is a place you must not miss since no photos can justify the sensory experience you will find there physically.
The lines can be a bit long but it is worth waiting for. Make sure you wear shorts or loose pants since you will be wading through water at some of these and you do not want to go around wet.
For women, it is best to avoid skirts since you may be walking on reflecting mirrors that will give away more than you want. It can be easy to get caught up in taking photographs but remember to enjoy the wonder in present as well.
You can buy the tickets at the counter or get them online beforehand to save time. Check out travel aggregators that can get you a slight discount on it.
Other Places to visit in Tokyo
Tokyo Disneyland and DisneySea
What can I say, it is the happiest place on the earth! And Tokyo Disneyland is considered one of the best in the world. But not on a weekend, or any other public holiday because it can be super crowded. 
But if you have a whole day to spare, Disneyland is the only place to go. With amazing rides and loving Disney characters from your childhood, you will enjoy every bit of it. It is child-friendly (obviously!) and then there are thrill rides and roller coasters to get your adrenaline going as well. The tickets are fairly affordable too along with stuff inside the park. But you can always carry a bento box.
If you have been to Disneyland in Tokyo or any other place, choose DisneySea for a different set of rides on a marine theme. The water show in the evening is the highlight of the park.
Book tickets to Disneyland: Tokyo Disneyland 1-Day Passport
Looking for more information? Here is our complete guide to visiting Tokyo Disneyland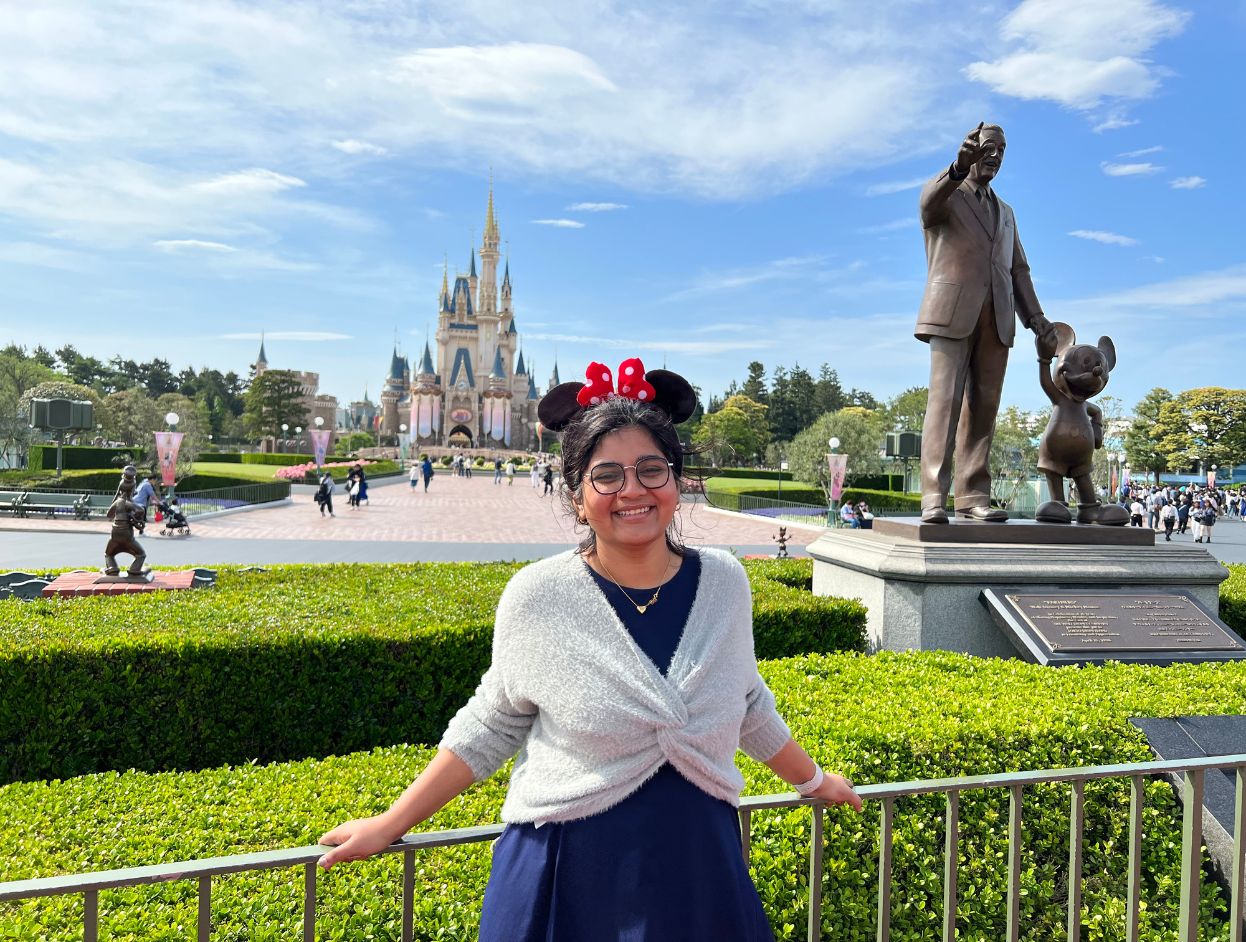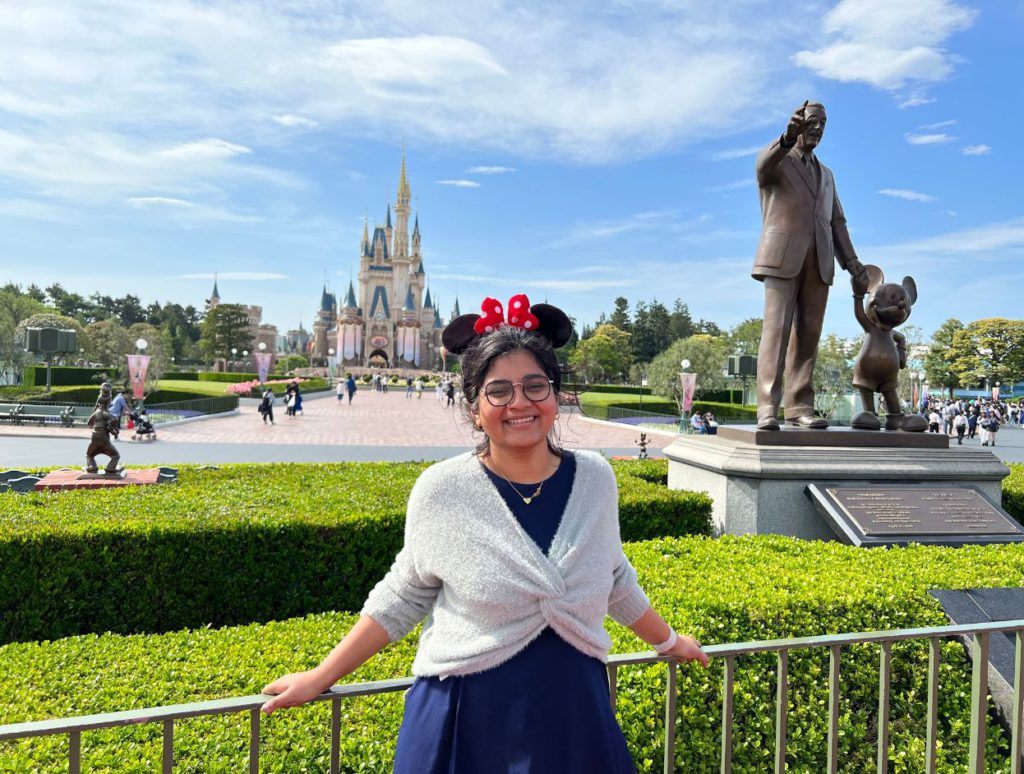 Ghibli Museum
If you are a fan of anime movies from the Ghibli studios, you should check out this place. If you are not, you should probably go and watch these movies. The museum is actually not too big, but it is detailed and well thought out, much like the movies.
Try to catch the exclusive movie that goes is featured and changes frequently. The exhibits and the cafe have snippets from the Ghibli movies with 3D structures and scenes of your favourite characters. You really need to book the tickets ahead of time. These are booked almost a month in advance. Book them on their app but you will need a Japanese number.
The only downside is that it is a little far from the city. But connected with a JR line, you won't find the journey too long if you decide to go.
Experiences in Tokyo
Watch a Sumo Fight
Cruise on the Sumida River
Japanese Cooking Experience
Sightseeing with a Rickshaw
And that's all for Tokyo! I hope you have a fantastic time in this city. Make sure you wear the most comfortable shoes and dress as per the season because the weather can really make a difference to your day.


Related Articles