01 Jun

A Complete Guide to Visiting Disneyland Tokyo

Hello Disneyland! I don't think I need to write any lines selling this place. I have been looking forward to visiting Disneyland (especially the one in Tokyo) for years! Although I was shocked to see my favourite cartoon characters talk in Japanese. But it was worth it. If you have got some time, I think you should put this on your list.

If you have been to Disneyland before, then you won't need a lot of information from me. But if it's your first time, then it's better you browse this article through. It can save you a lot of time and effort figuring things out. So let's get started.
Disneyland or DisneySea?
If it's the first time you are going to Disneyland, you may wonder what to choose between the two. Both theme parks belong to Disney and are located right next to each other. While Disneyland has rides around the regular Disney characters and theme, DisneySea is built around a marine theme, as the name suggests.
There are plenty of rides in both the theme parks but Disneyland has a few more than DisneySea. Although on a regular, you could hardly go on all the rides, so it won't matter a lot.
I would suggest, if you have been to Disneyland once (anywhere in the world), go to DisneySea. You will find new rides. Plus, usually, DisneySea is less crowded than Disneyland. So you may end up going on more rides anyway.
Visiting Tokyo? Check out our 3-day itinerary for visiting Tokyo as first-time tourists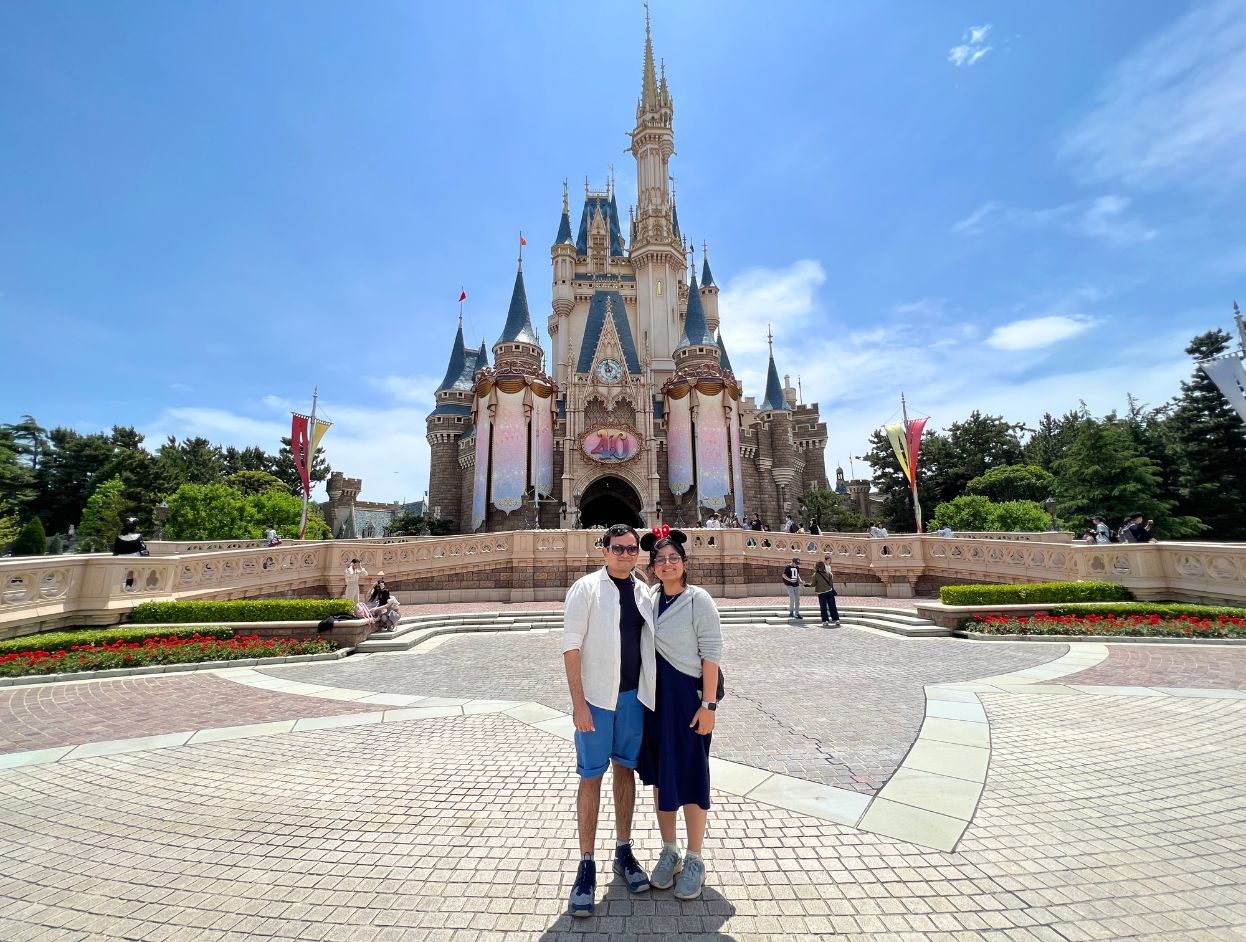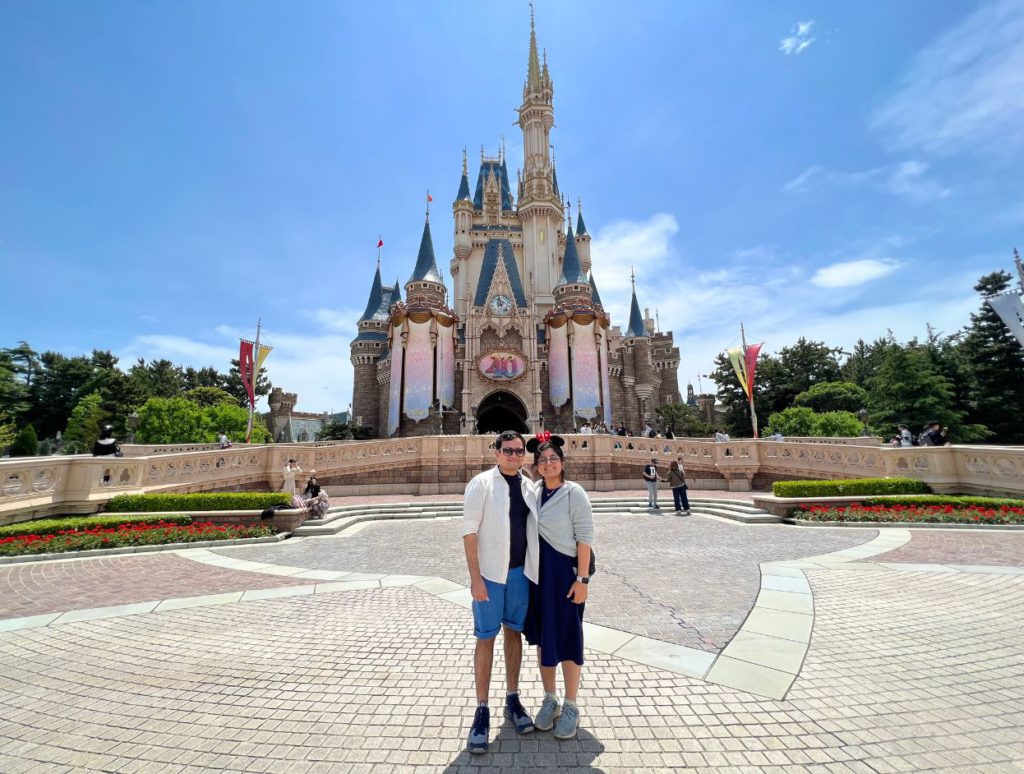 How to buy tickets for Disneyland or DisneySea Tokyo
It doesn't matter what you read online, buy your tickets at least a day before your visit online. It is not that you cannot get a ticket offline, but the park only has limited entries in a day. And it may run out by the time you get it. On top of that, the lines are long and you don't want to wait your precious time and energy standing in yet another line.
Disneyland Ticket prices
Type of Ticket – If you want to visit for a single day, you'd want to buy a 1-day Passport which is the standard kind of ticket. There are also other types of tickets available that you can check on their website.
Ticket Price – ¥7900 – ¥9400 for adults (18+ years), ¥6000 – ¥7800 (12-17 years) for Junior and ¥4700 – ¥5600 for Child (below 12 years)
You can buy the tickets on the official Disney website or on their app –  https://www.tokyodisneyresort.jp/en/tdl/ticket/index.html
I suggest you also check out travel aggregators since they sometimes offer a discount. See below –
Klook: Tokyo Disney Resort Park Ticket
GetyourGuide: Tokyo Disneyland 1-Day Passport
Once you purchase the tickets online, you will receive a confirmation in the result of a PDF on your email address. This PDF will have a QR code on top that you will need as a ticket to get inside the park.
Disney Premier Access
Fortunately or unfortunately, there are no more universal premium or fast-track tickets for Disneyland Tokyo. Like everyone, you will also have to get in line for all rides. This can be particularly painful on a weekend or a holiday.
However, you can still get a fast-track ticket for a few rides (see details) but you will have to pay the price per ride per person. The price is between ¥1500-2500 per person. These are also available for parades for special experiences.
To buy premier access you need to download the Disney Resort app and buy it after you have entered the park.
How to reach Disneyland Tokyo
Tokyo Disneyland is located in the Tokyo Bay area, a little outside the city. But you can access the place easily by travelling to Maihama Subway Station on the Keiyo Line. This is a JR Line, so if you have a JR Pass, you do not need to buy a ticket.
From Maihama metro station, you can walk for 15 minutes towards Tokyo Disneyland. This is the only station in the area so it is best to make way via this line.
There are quite a lot of buses from around Tokyo City that go directly to Disneyland. But I will still suggest you take the metro since the area around Disneyland is prone to traffic congestion and you may unnecessarily lose time on the road. This could also be the case if you take a taxi/private vehicle.
Once you walk from the metro station, you need to get in line for a security check. This may take a while. Try to catch this line by at least an hour before the park opens. Once you clear the security line, it is time to get in the park. You can show the QR code from your ticket directly from your phone to enter. You will not need to show this anytime afterwards.
Also check out: Our detailed guide on getting around inside Tokyo City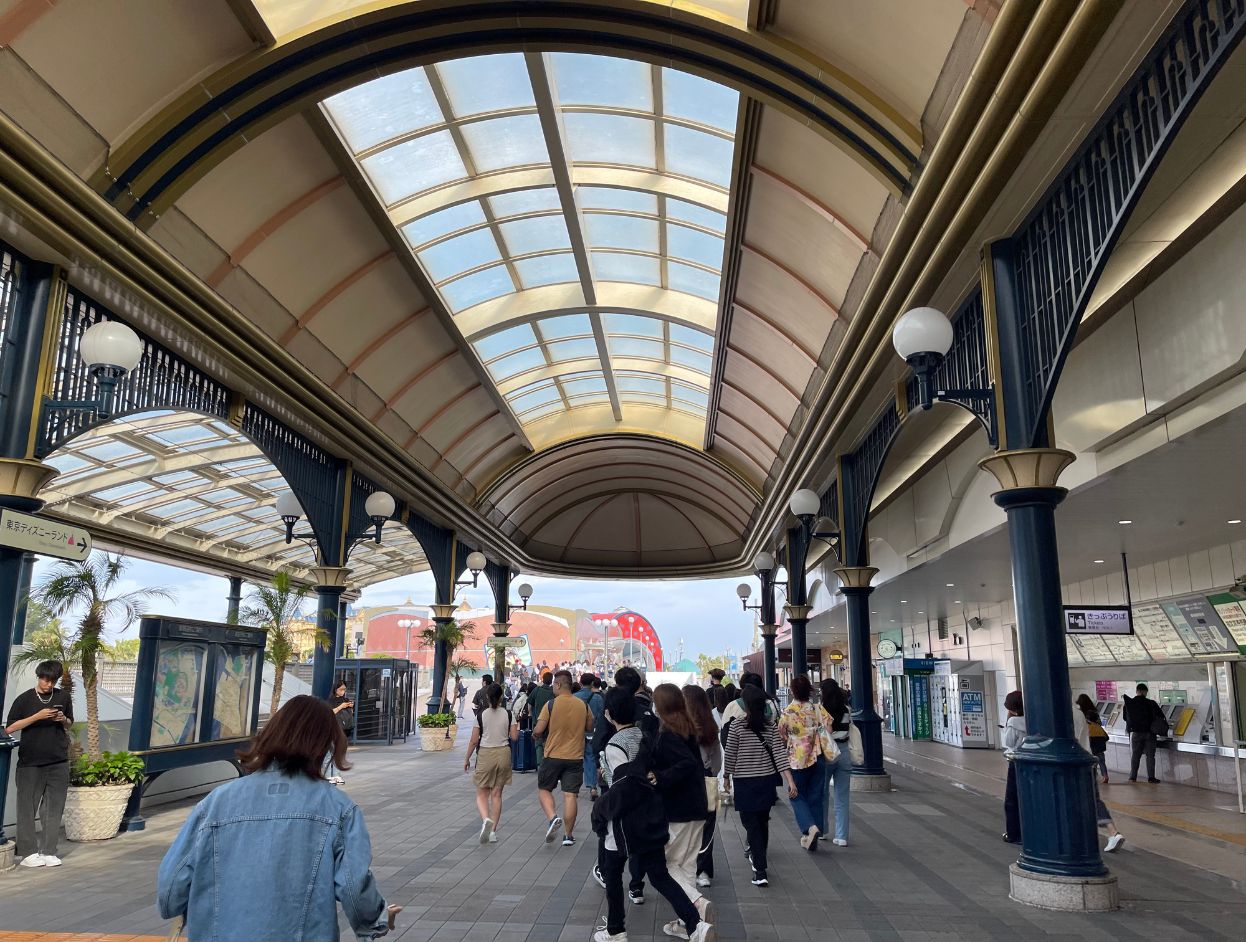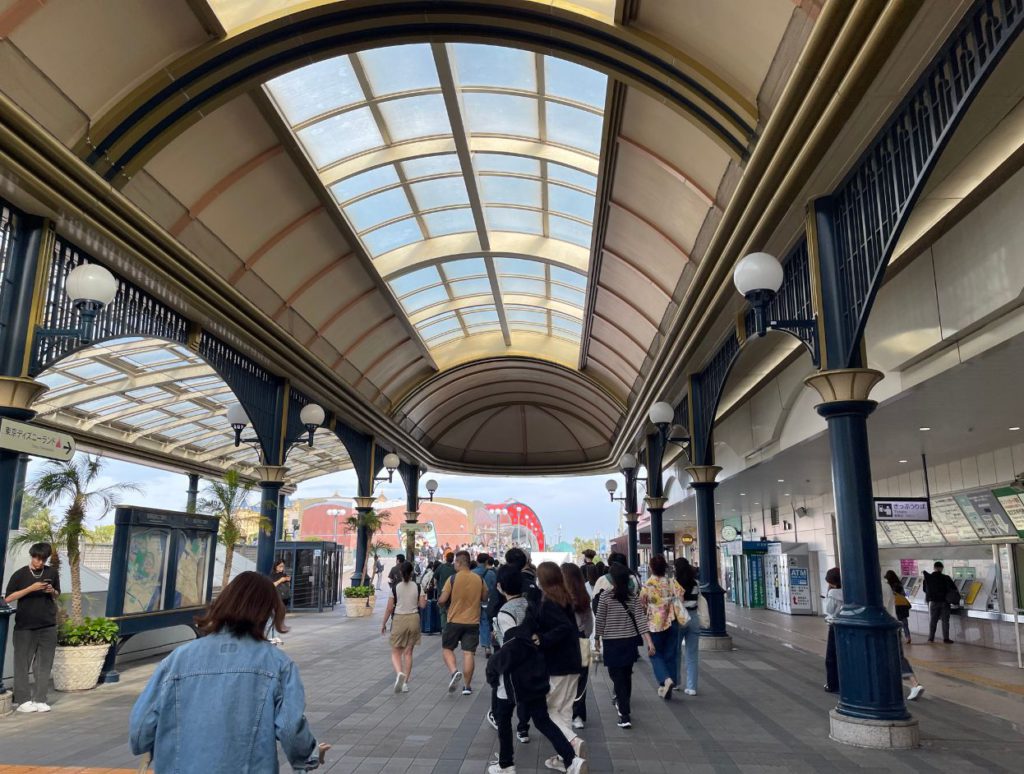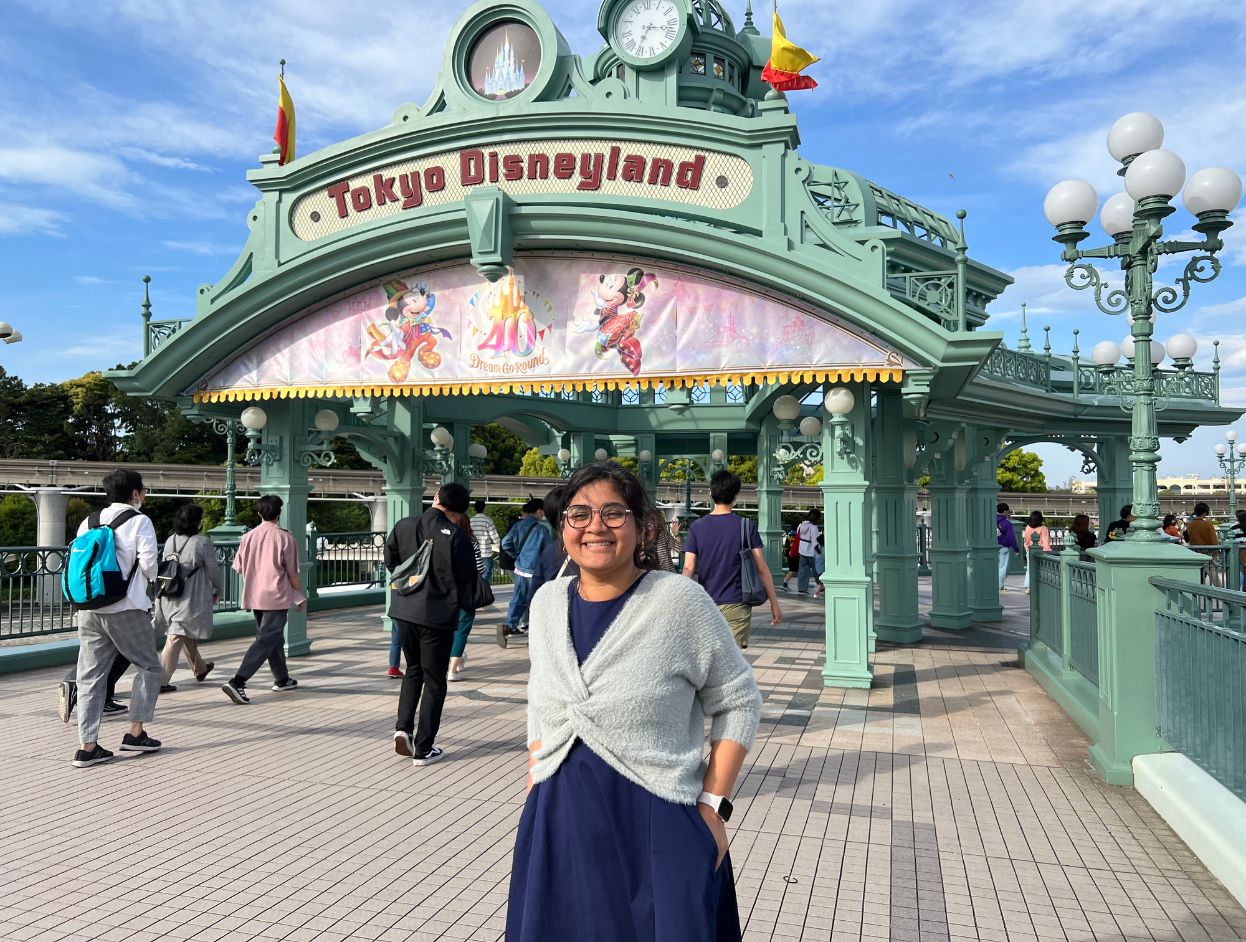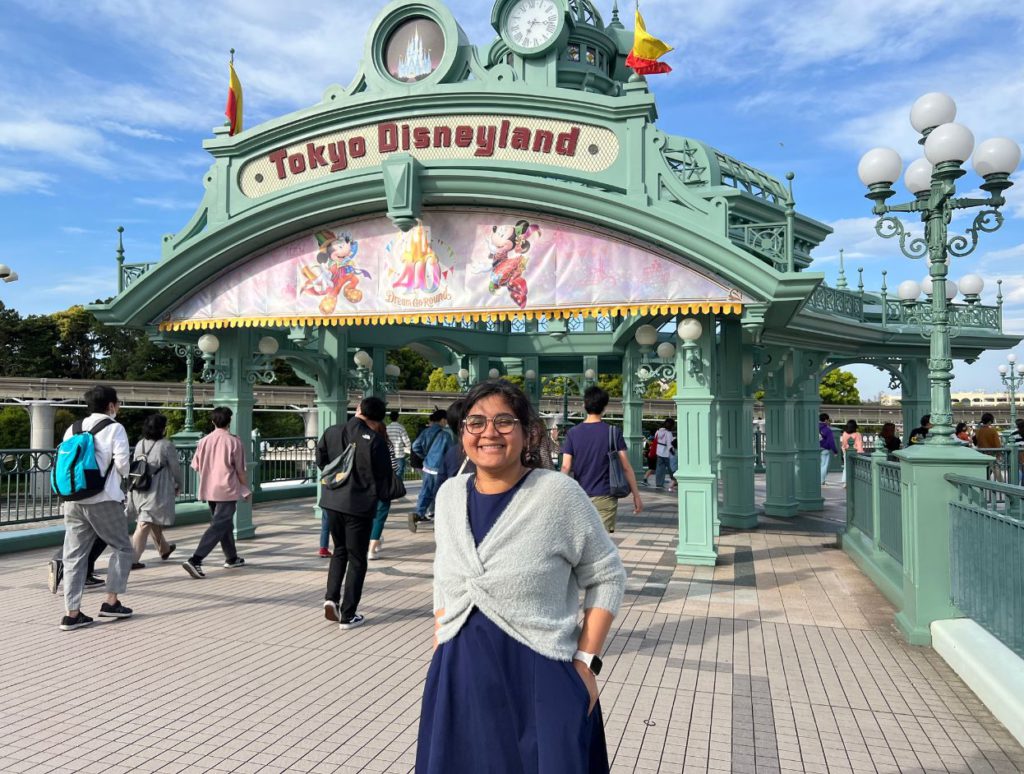 Staying at Tokyo Disneyland
If you do not want to be rushed and experience the amusement park for more time, I will definitely suggest you stay at one of the hotels near Disneyland. It will also make sense if you have kids with you since travelling after a long day can be a pain.
It is also great if you plan to extend your trip to a 2-day visit since you may not be able to cover all the rides in a single day anyway. Or you can visit Disneyland and DisneySea on two separate days.
Honestly, the hotel prices are not very different from what you will pay for in downtown Tokyo. So why not? The only catch is that you need to book them a little ahead of time or they may not be available at the last moment.
Tokyo Disneyland Hotels
Tokyo Disneyland Hotel is Disneyland's iconic hotel that you will spot even before you enter Disneyland. It looks like an Arabic palace and is huge in size. The hotel is also themed, and you will be delighted at several parts of your journey. There are regular rooms and themed rooms. Of course, family rooms are available for big families and are child-friendly. 
There are 5 Disney hotels around Disneyland and Disney Sea. Each has unique experiences to offer from playful rooms to harbour views. They are:
1. Tokyo Disneyland Hotel
2. Disney Ambassador Hotel
3. Tokyo DisneySea Hotel MiraCosta
4. Tokyo Disney Resort Toy Story Hotel
5. Tokyo Disney Celebration Hotel
You can book any of these hotels depending upon their availability on their official website or on Disney resort app.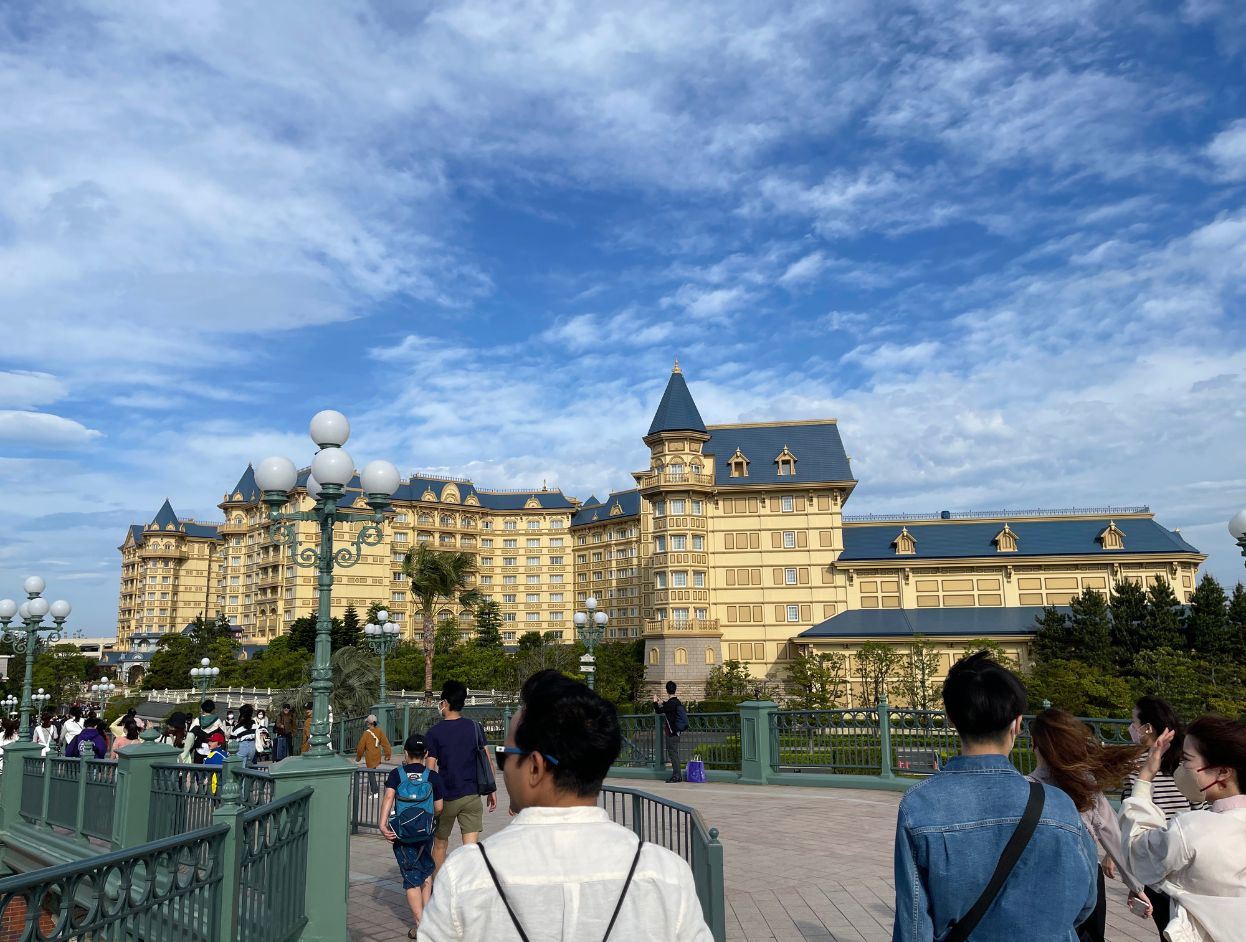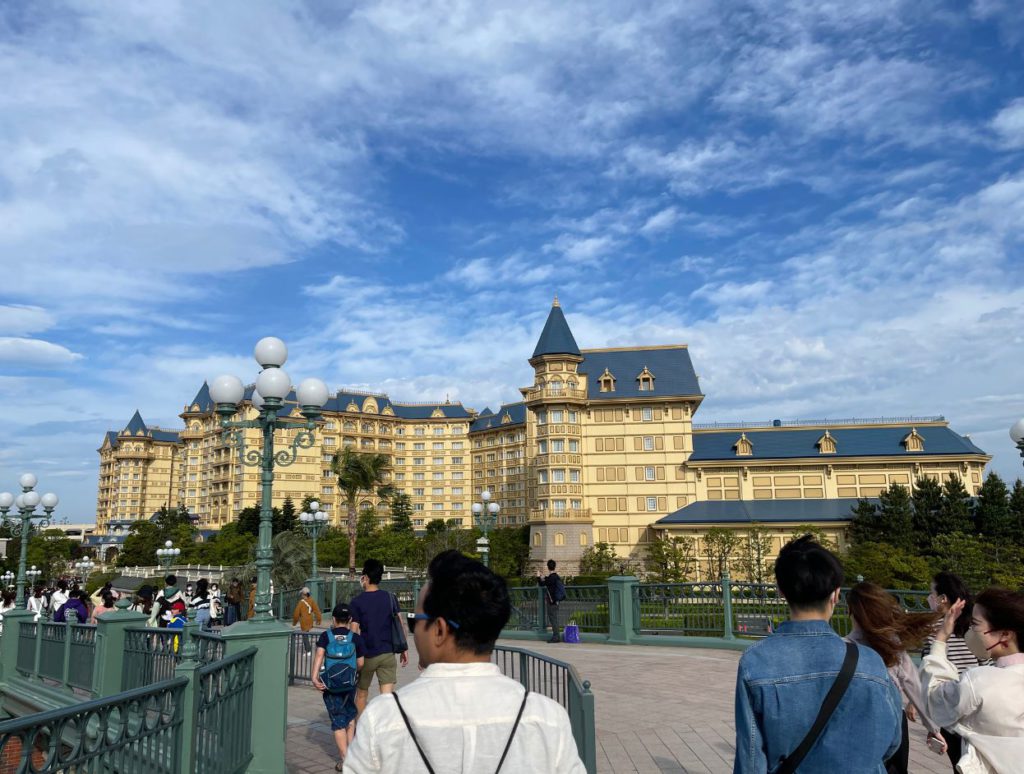 Other Hotels
In case, you are unable to book any of those above or looking for a different experience, there are these other hotels that you can book too.
6. Tokyo Bay Maihama Hotel First Resort
All resorts are connected by walkways and pavements circling the Disneyland and DisneySea parks. But you can also take the Disney Resort Line that connects different parts of resorts along with hotels and the Maihama metro station.
Looking for options to stay in Tokyo? Here are the best neighbourhood areas to stay for tourists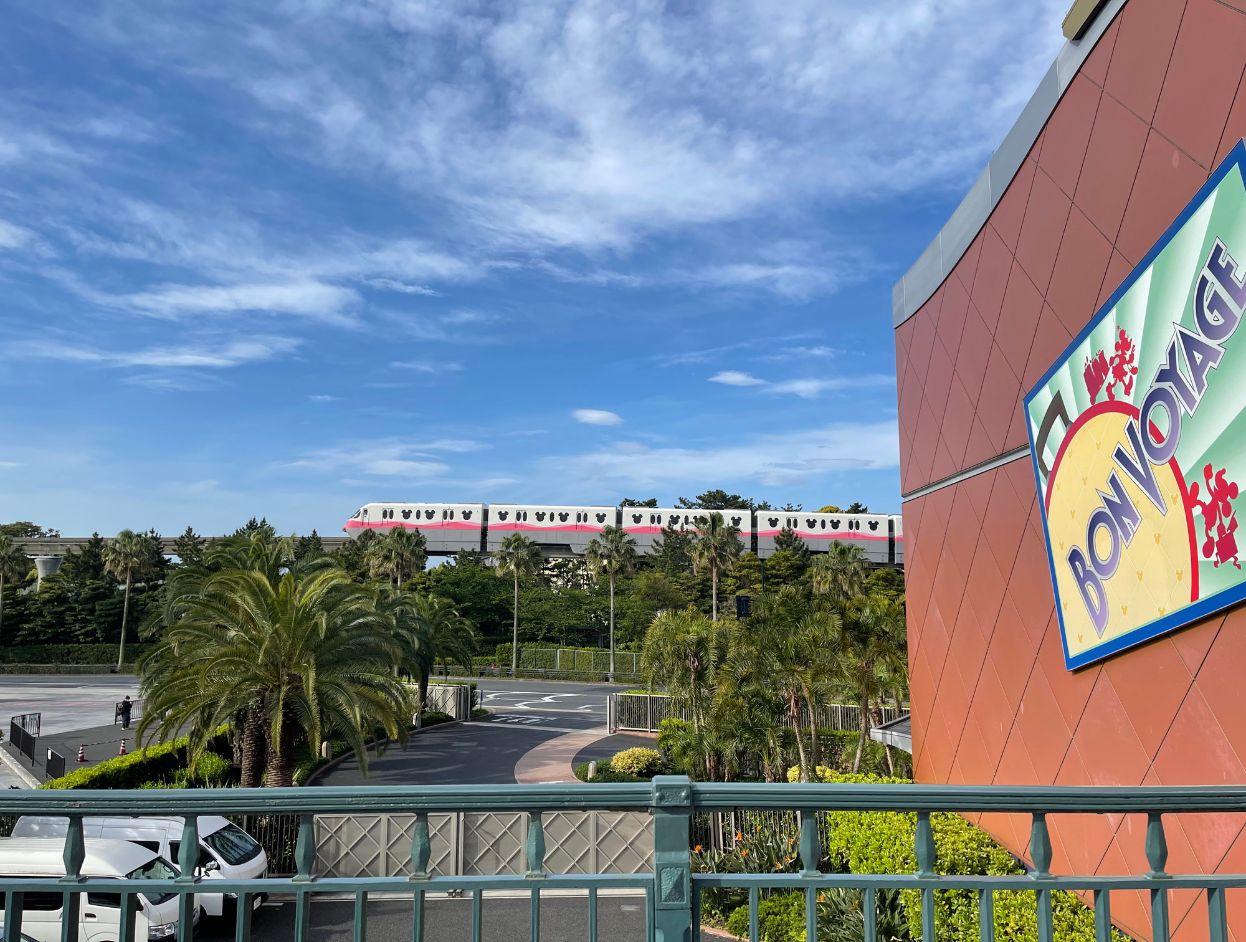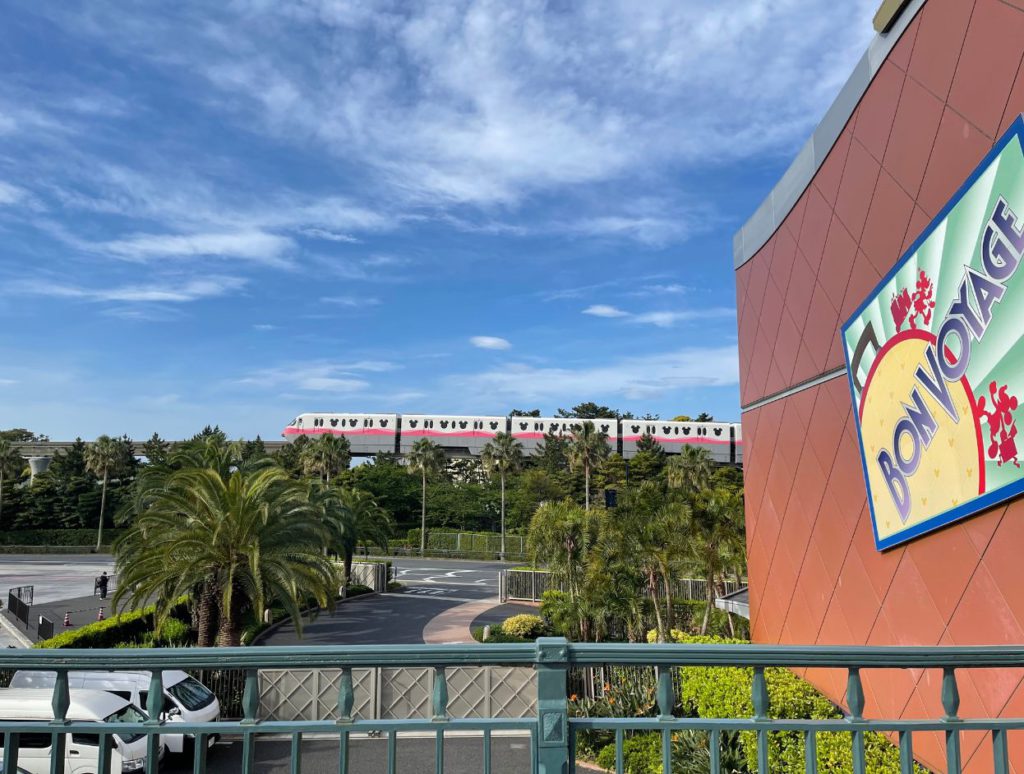 Disney Resort App
Now that our stay and transportation is covered, let's see what happens inside Tokyo Disneyland. The first thing you need to do as soon as you get inside the resort is to download the Disney Resort app. Although you can download the app before the park starts, you can only access the features once you are inside the park (let it access your location to track).
Once you have the app, add yourself and your family members to this app as visitors by scanning the QR code from their tickets. Once you go through the app, you will see the list of rides for which premier access is available. 
You will also find a few events that will need you to register to watch with a bunch of timing options. Register yourself and your group members as soon as you can since these get booked fast. These are free of cost.
Other than that Disney resort app will tell you the waiting time for each ride, bathroom locations, restaurants, updates on shows and parades and any rides that are not working at the moment. Of course, you can use it as a map. This is what you will look up the most when you are inside Disneyland or Disneyworld theme park.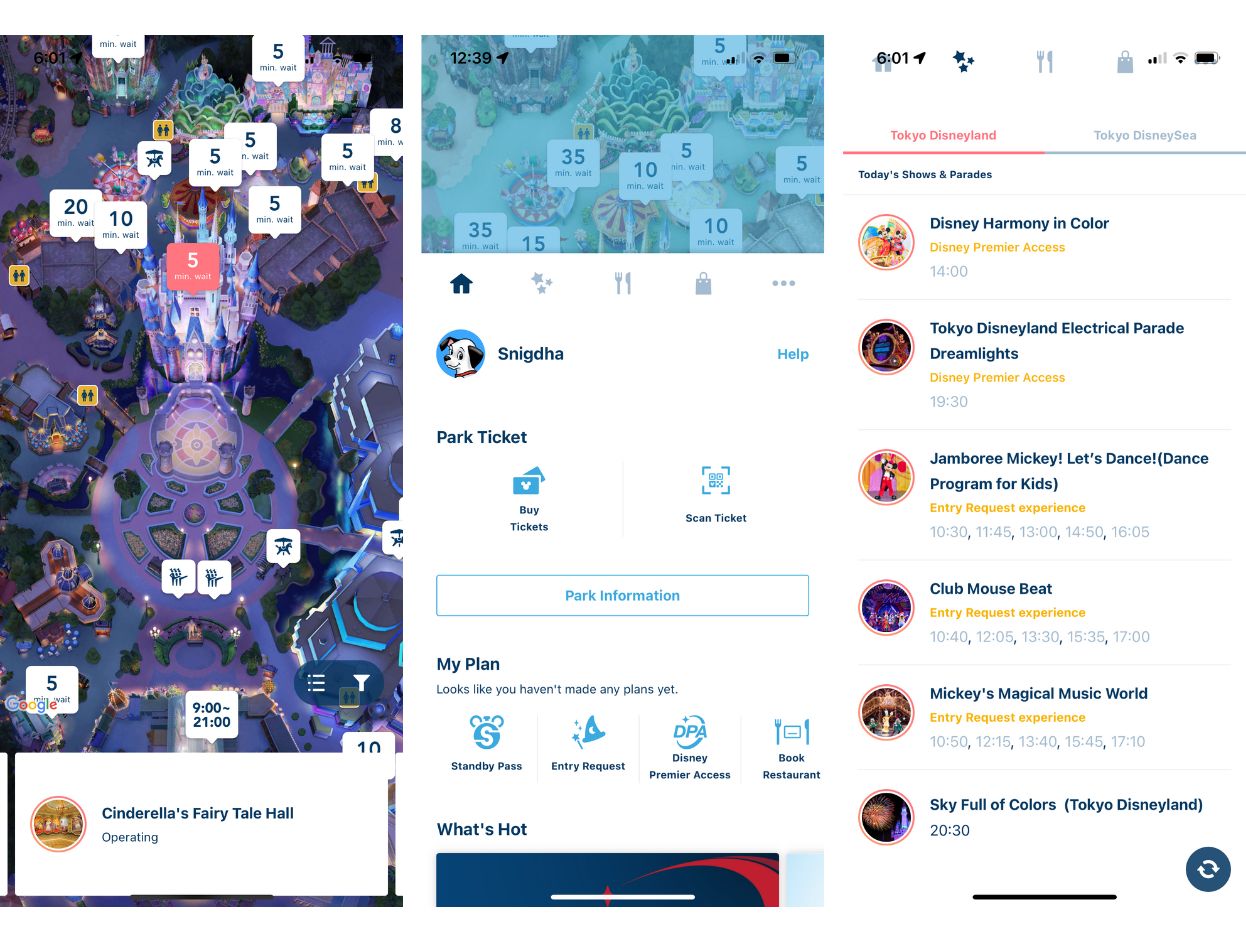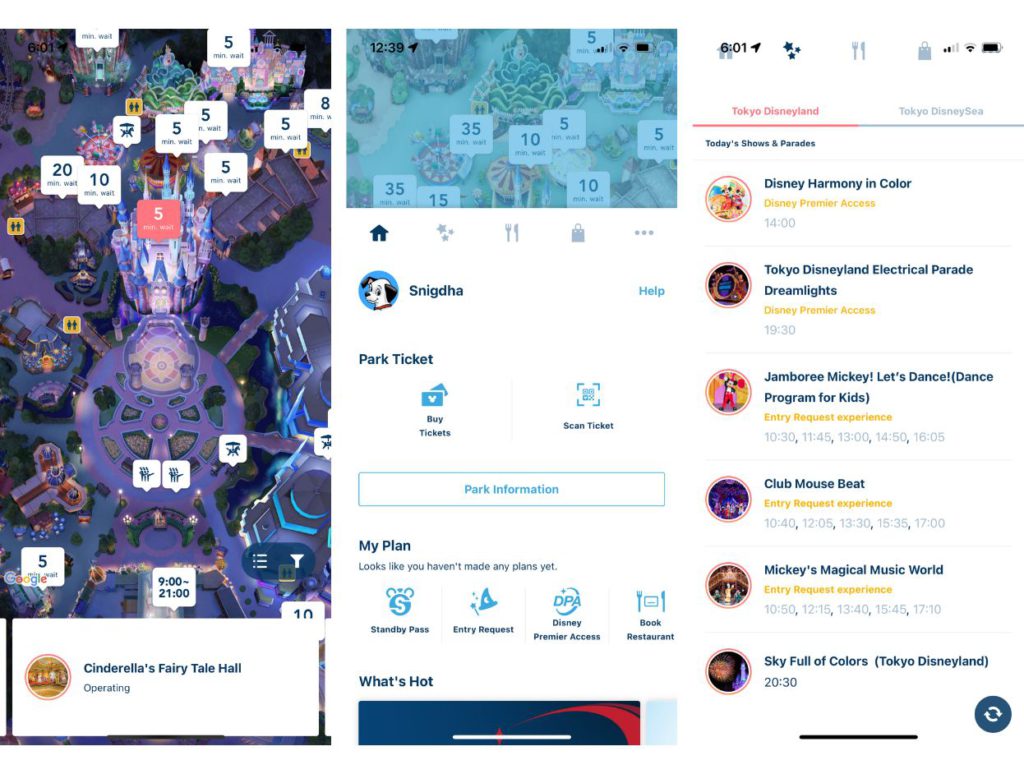 Top Rides at Tokyo Disneyland
I won't go around explaining all about the rides at Tokyo Disneyland. That will kind of ruin the fun, isn't it. But I can tell you which ones are worth going to. But obviously, it will depend what you like and if or not you have kids with you.
Now, depending upon your preference, try to go on these rides as soon as you can. You will just get exhausted as the day will pass and if you want to pass some of these by the end of the day, they should not be the best ones.
Most popular rides in Disneyland Tokyo
1. Enchanted Tale of Beauty and the Beast
2. The Happy Ride with Baymax
3. Big Thunder Mountain
4. Pooh's Honey Hunt
5. Splash Mountain
6. Buzz Lightyear's Astro Blasters
7. Monsters, Inc. Ride & Go Seek! 
8. Pirates of the Caribbean
9. Space Mountain
10. It's a small world
11. Haunted Mansion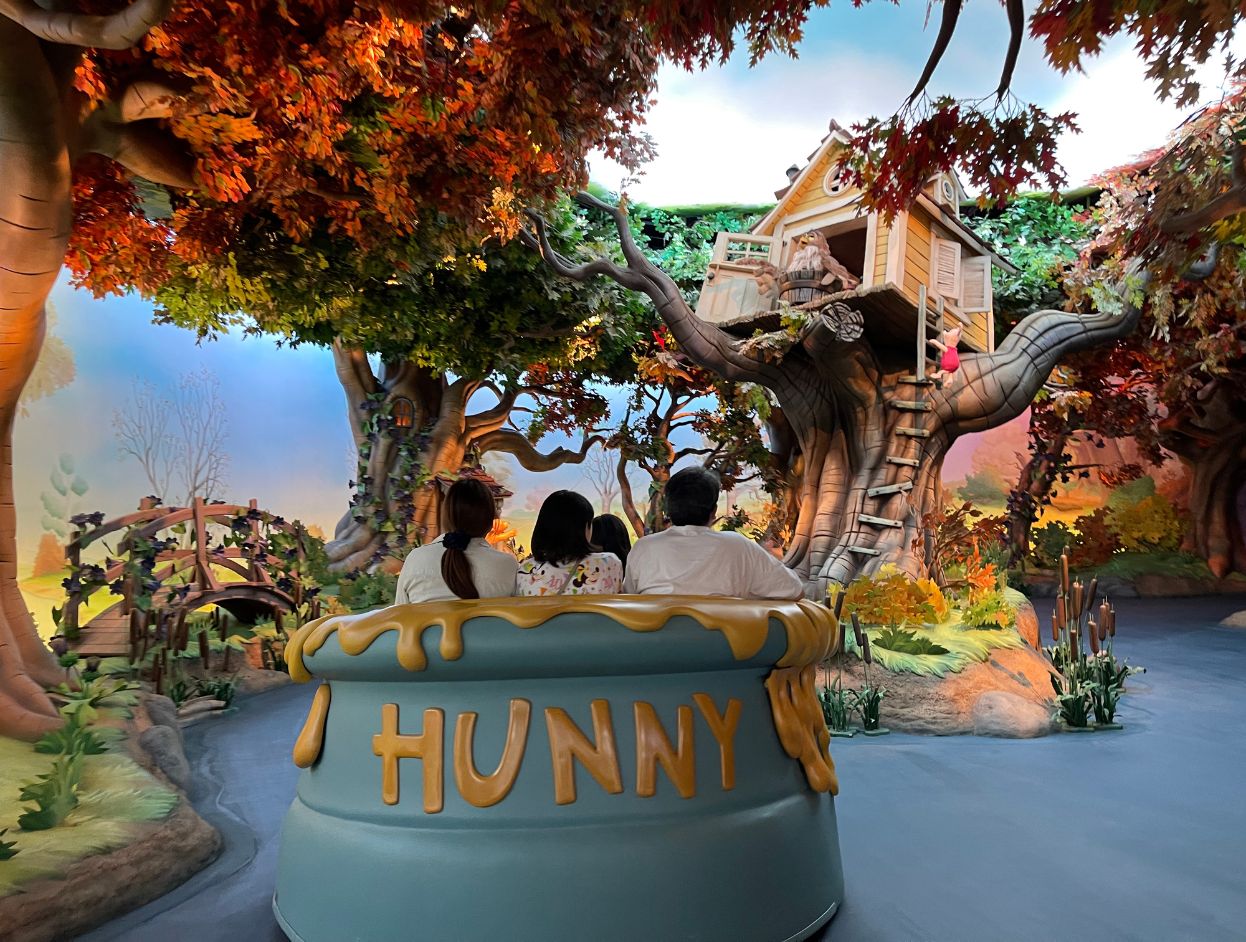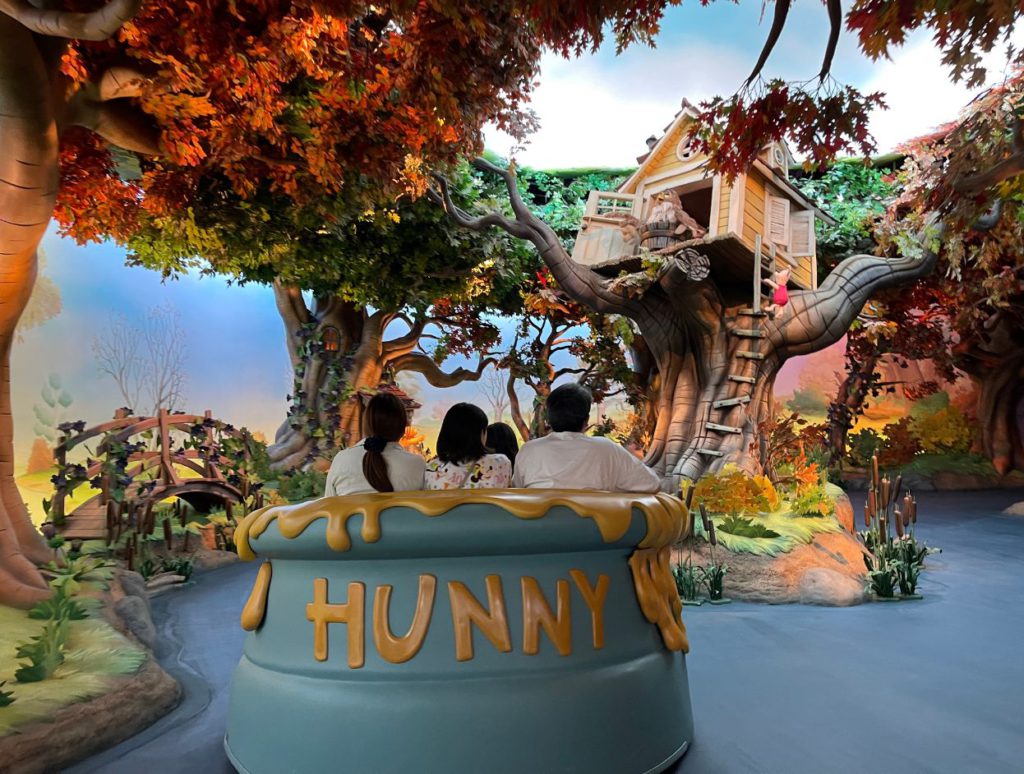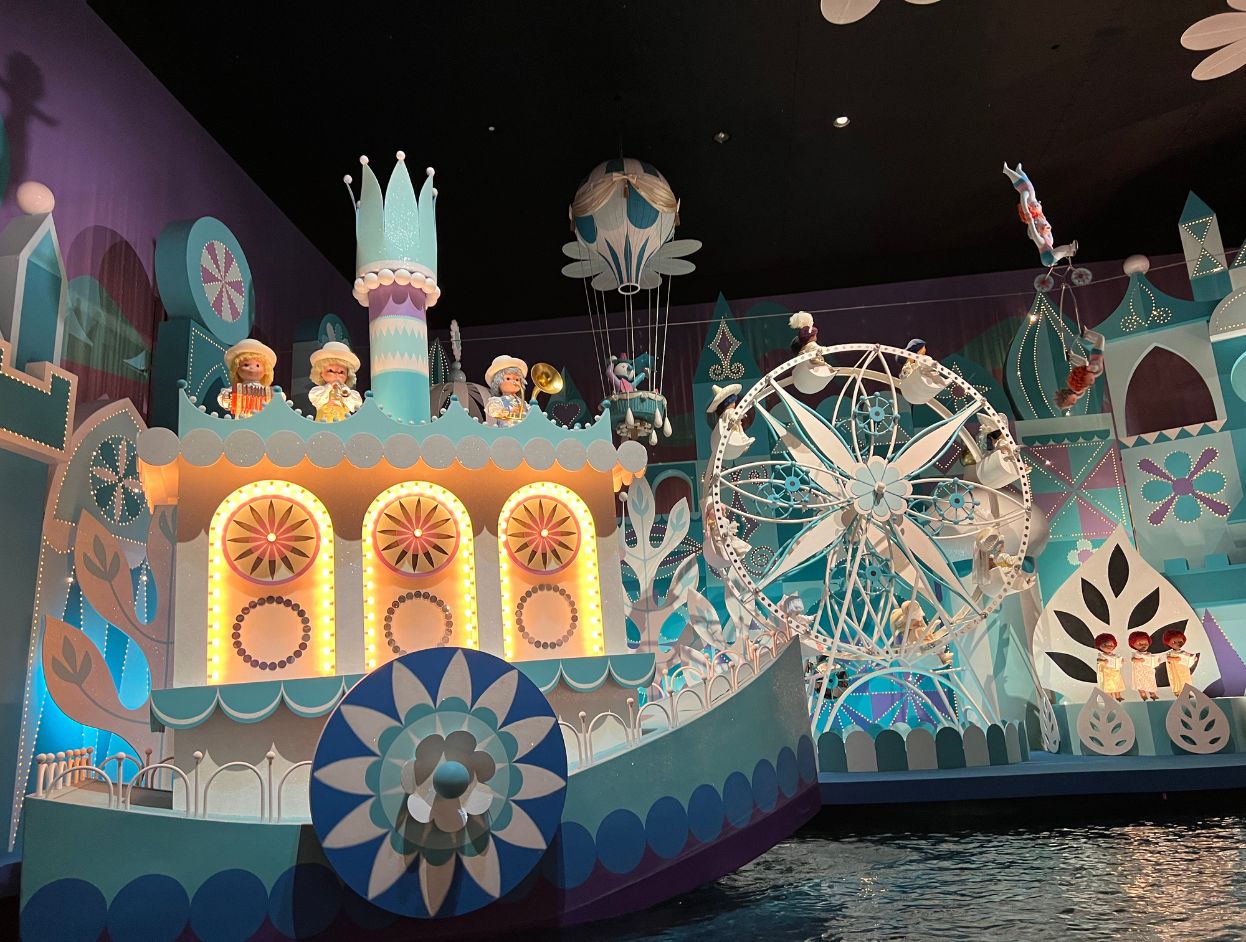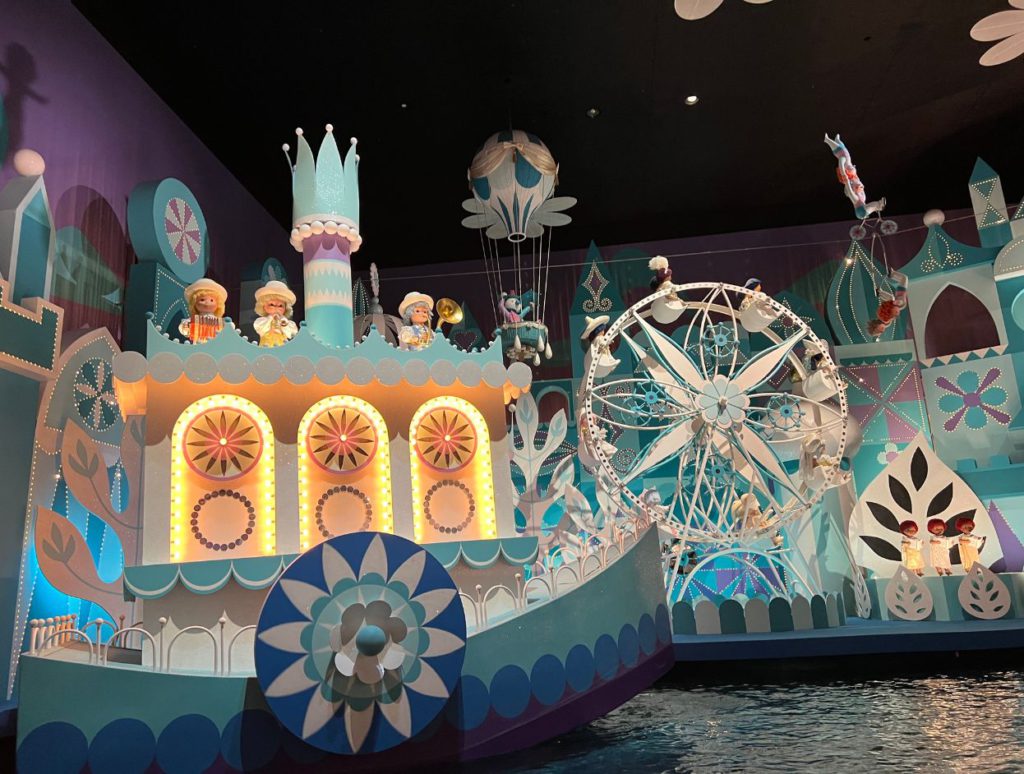 Top Rides for Adventure Seekers
1. The Happy Ride with Baymax
2. Big Thunder Mountain
3. Splash Mountain
4. Space Mountain
5. Pirates of the Caribbean
6. Gadget's Go Coaster
7. Star Tours: The Adventures Continues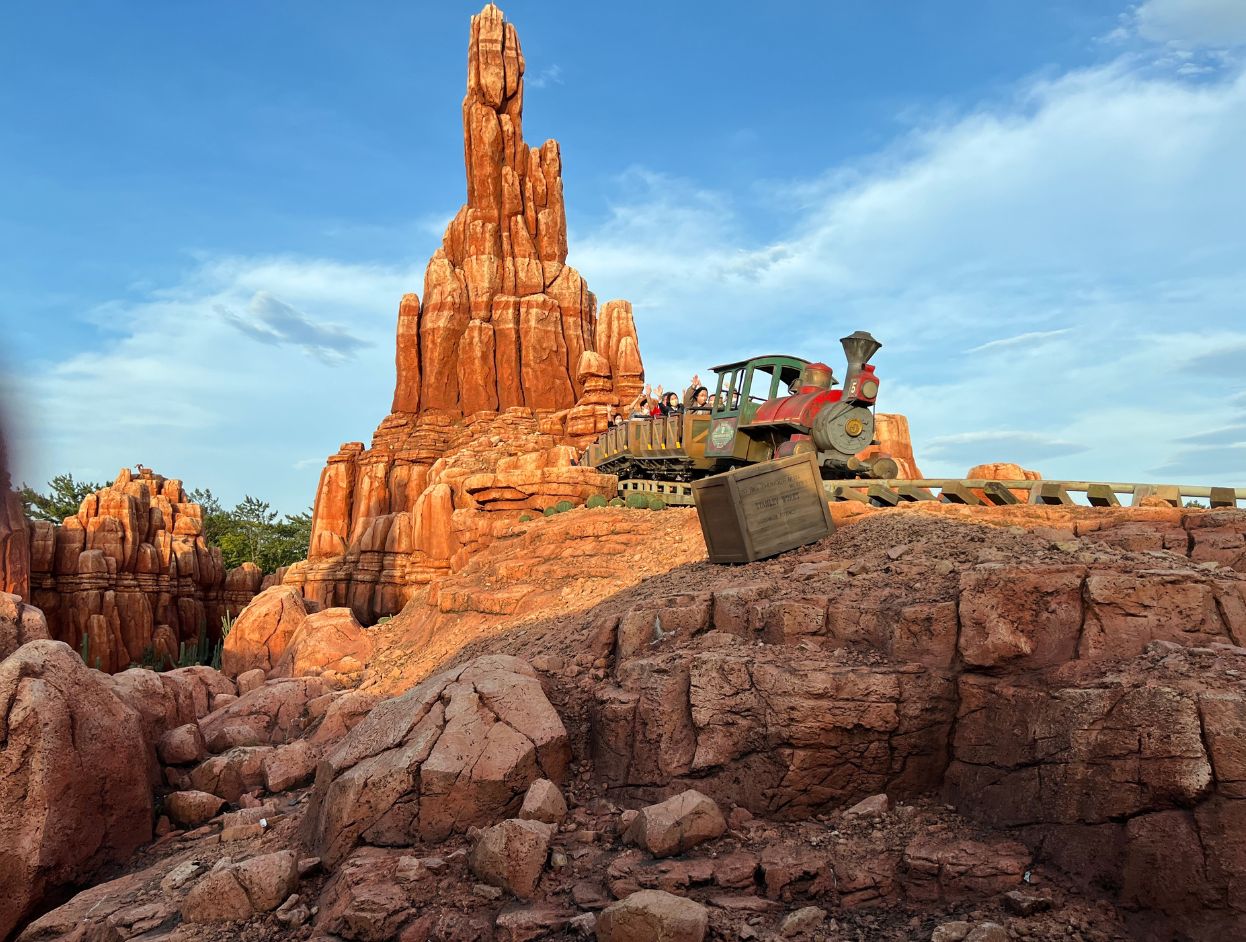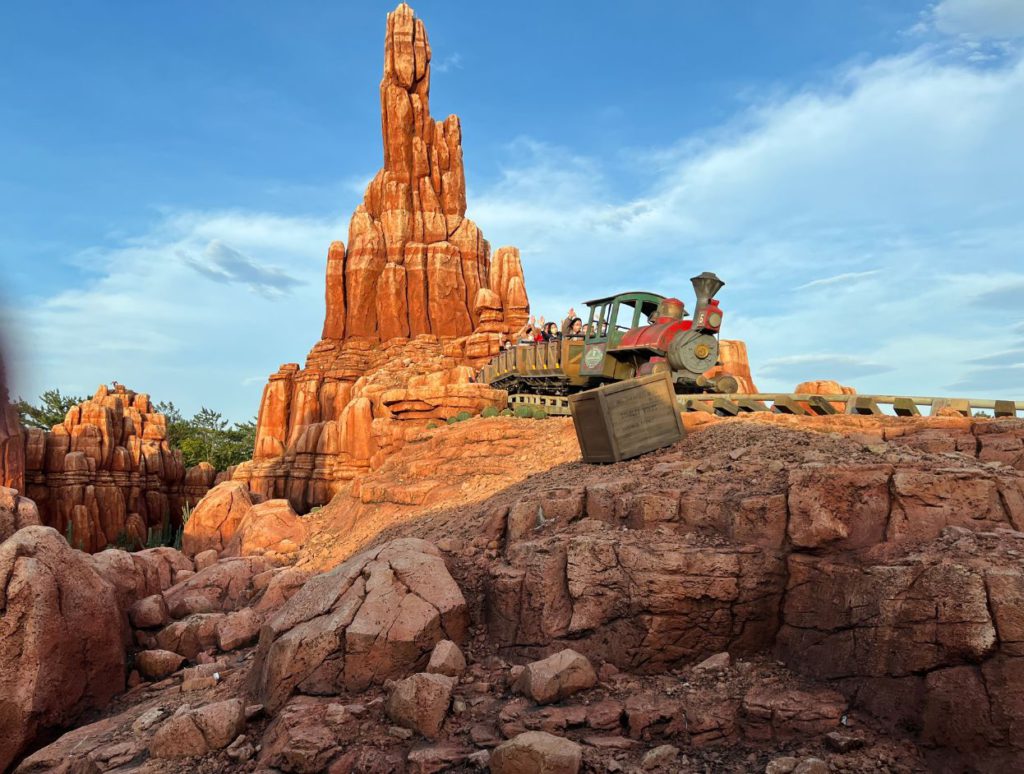 Top Rides in Disneyland Tokyo for kids
1. Western River Railroad
2. Jungle Cruise: Wildlife Expeditions
3. The Enchanted Tiki Room
4. Country Bear Theatre
5. Mark Twain Riverboat
6. Tom Sawyer Island Rafts
7. Alice's Tea Party
8. It's a Small World
9. Mickey's Pilhar Magic
10. Stitch Encounter
11. Buzz Lightyear's Astro Blasters
12. Cinderella's Fairy Tale Hall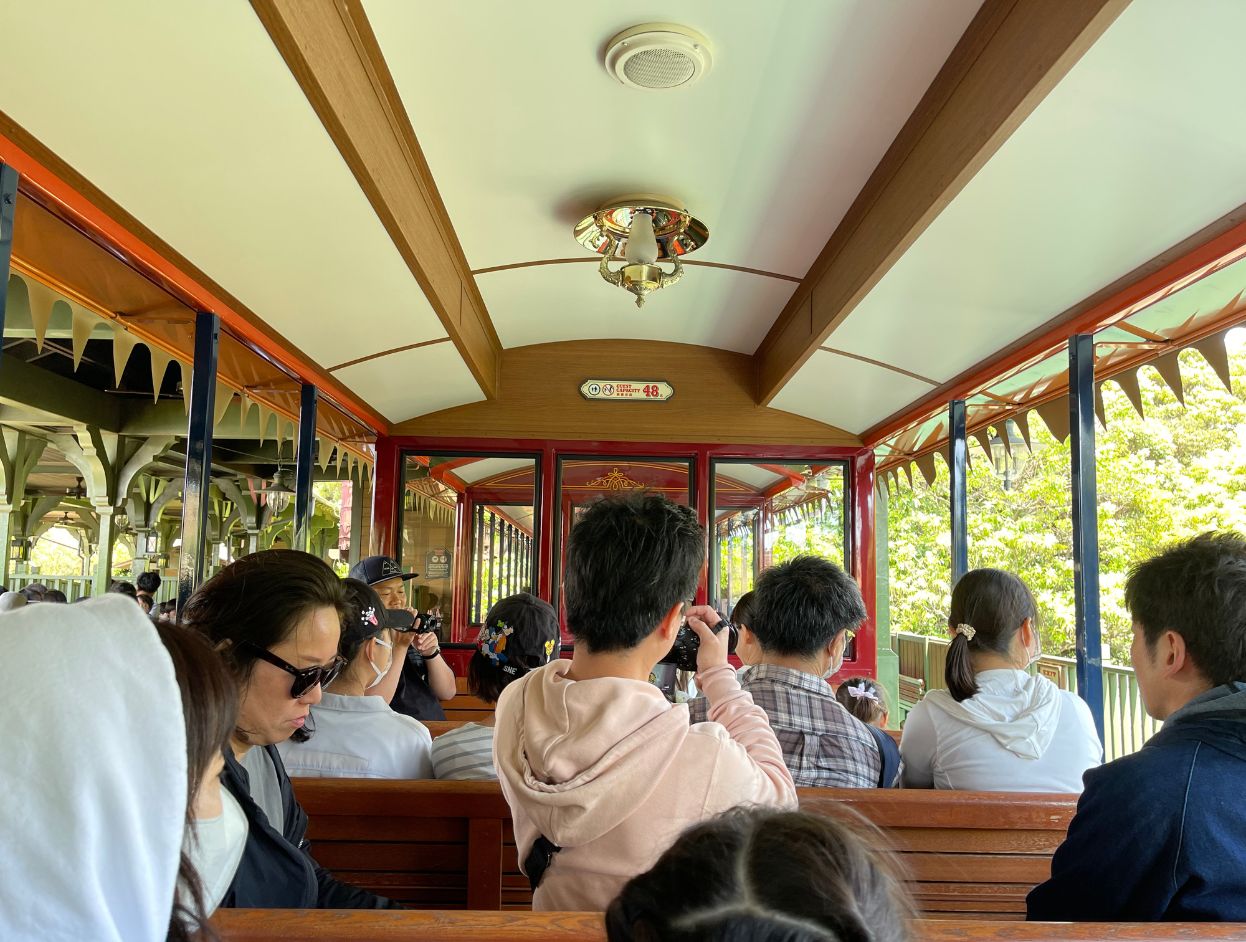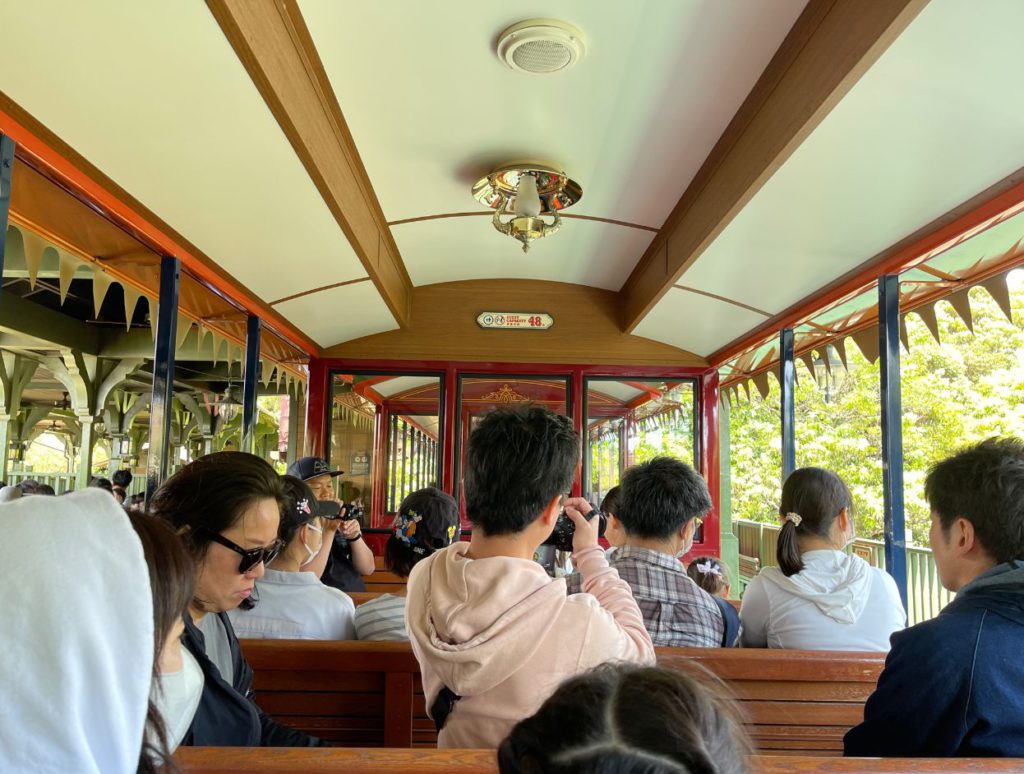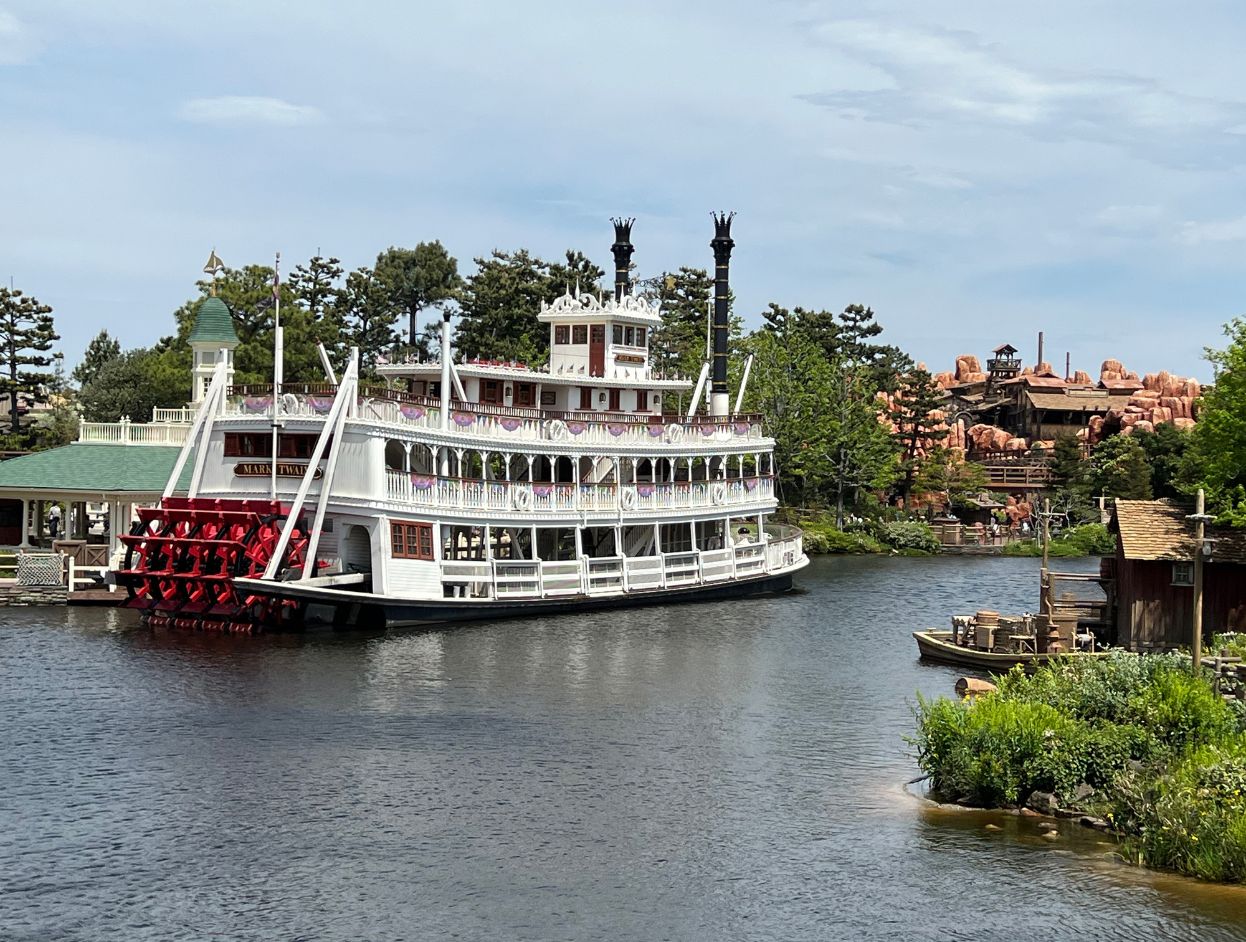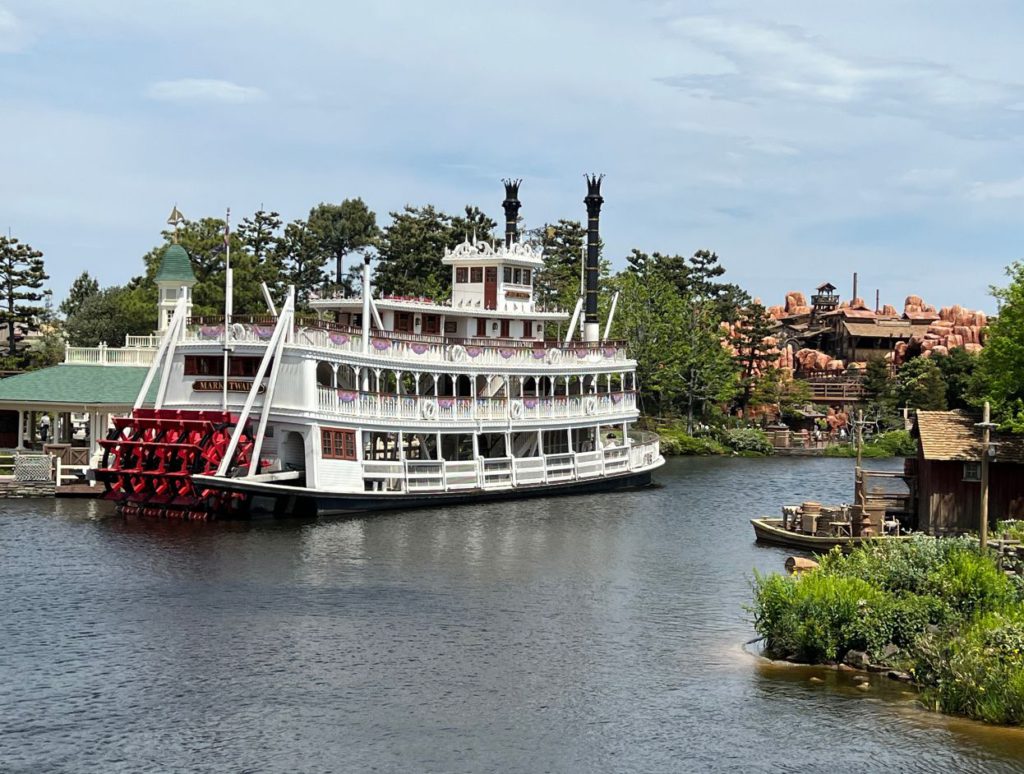 Disney Character Greetings
1. In front of the main entryway (you need to request entry on app for this)
2. Donald Duck at Woodchuck Greeting Trail
3. Daisy Duck at Woodchuck Greeting Trail
4. Mickey Mouse at Mickey's House
5. Minnie Mouse at Minnie's Style Studio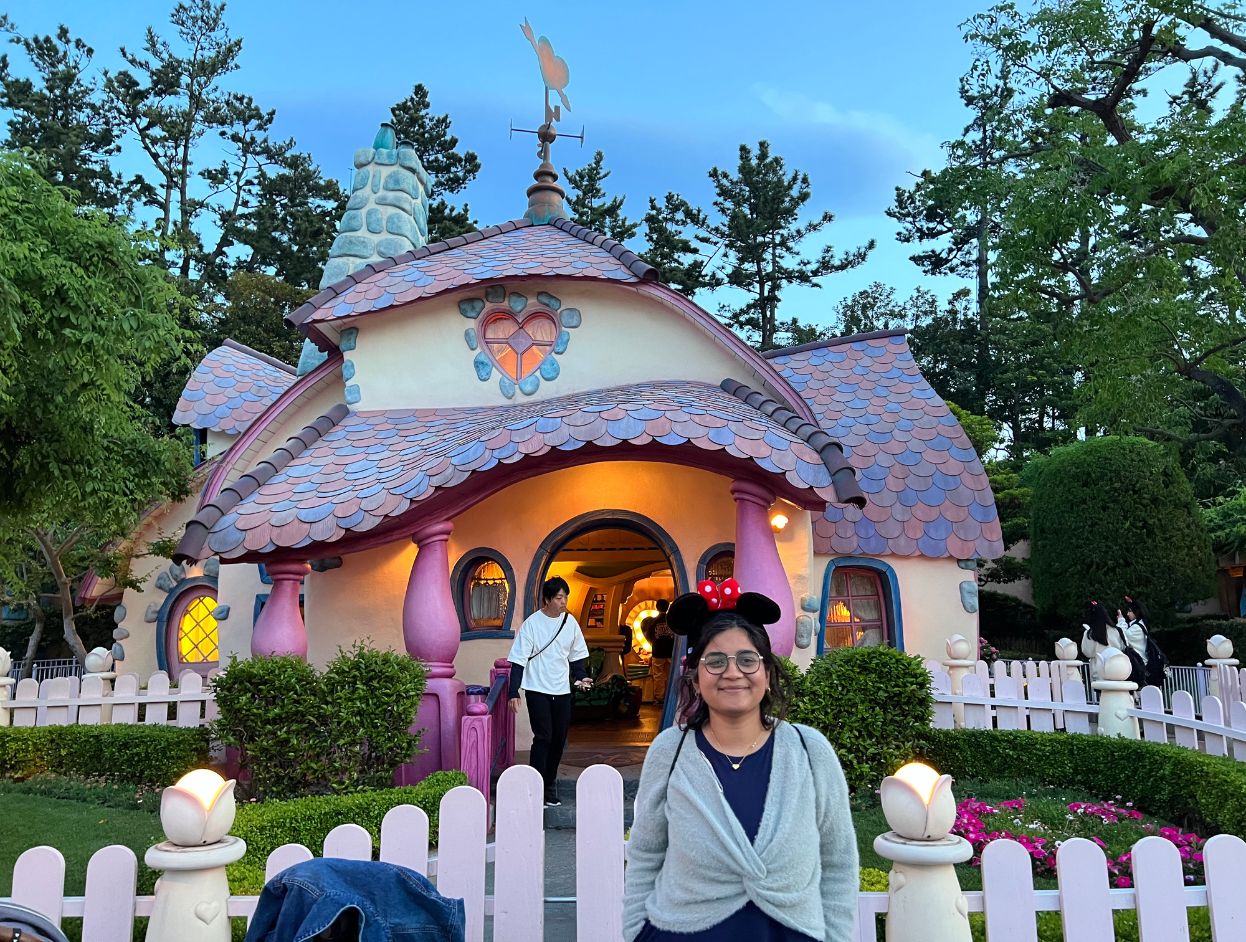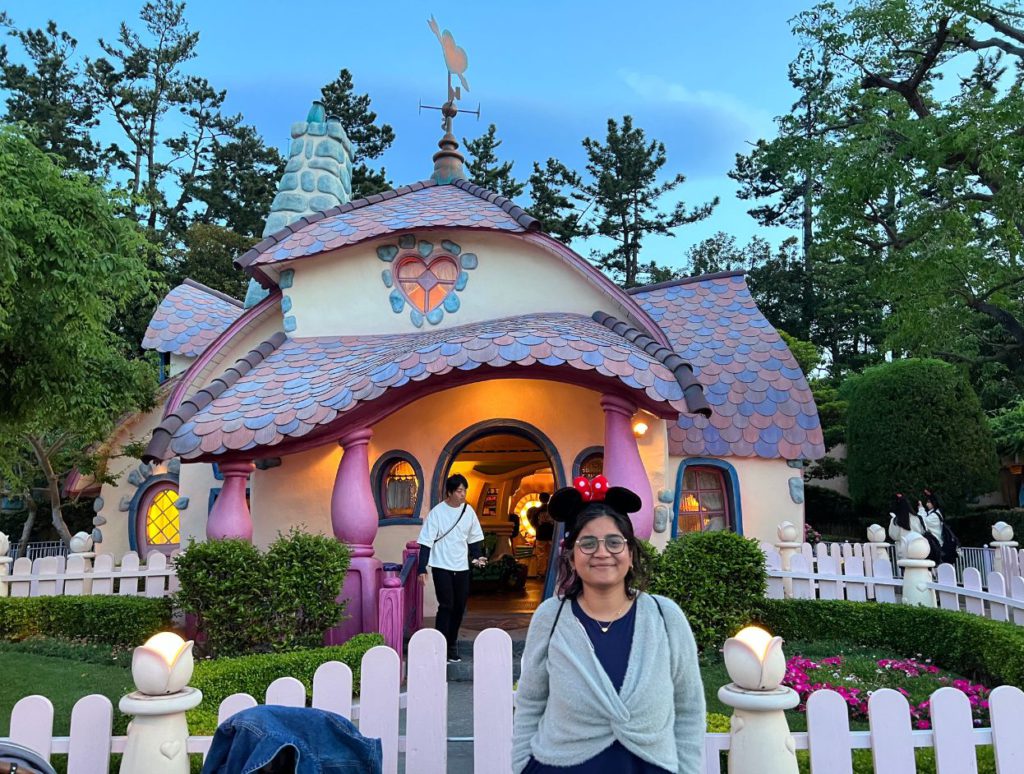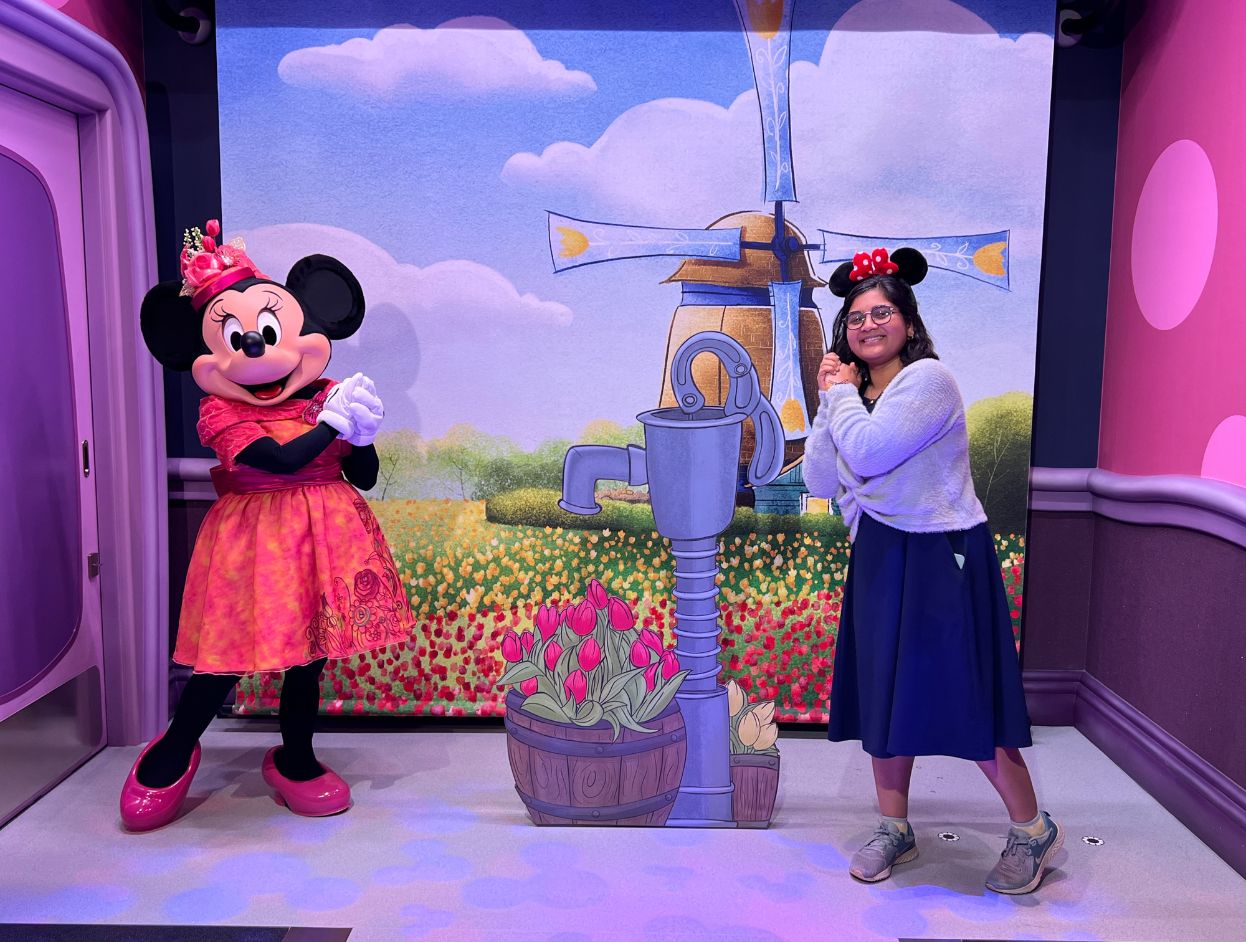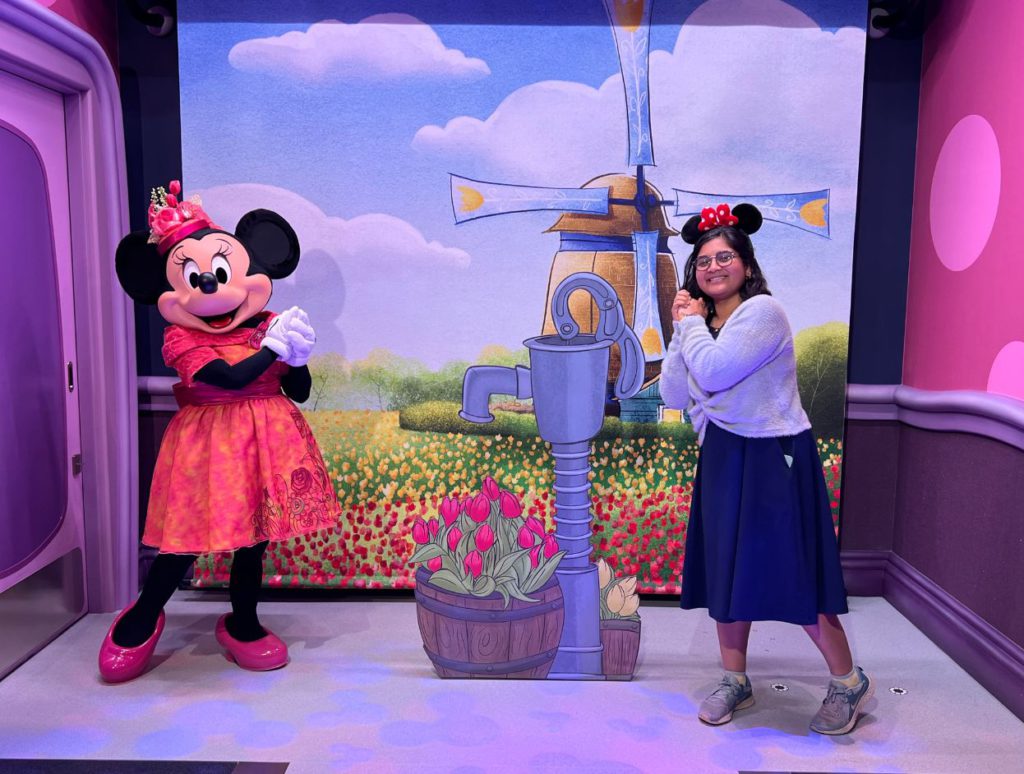 Food inside Tokyo Disneyland
There are plenty of restaurants inside Tokyo Disneyland. And ALL of them are themed. In fact, there are so many places to eat that you will never be out of reach of them at any point in time. Most of them are not open early in the morning and others close later in the evening. 
So the best time to grab a bite is between late morning to late evening. Lunchtime can be really busy and you may not want to spend your time waiting in yet another line for food.
As for the prices, they are on the higher side compared to the local food you will find in Tokyo. But I wouldn't say it would break the bank. Some places are more expensive than others, so take a look around before you choose to sit. You can always get a bento box at the park and there is no limit to outside food.
Drinking water is available everywhere inside the park. In fact, I have seen a water fountain at almost every queue of the rides. So you don't have to go out of your way to fetch water. Just get a reusable bottle.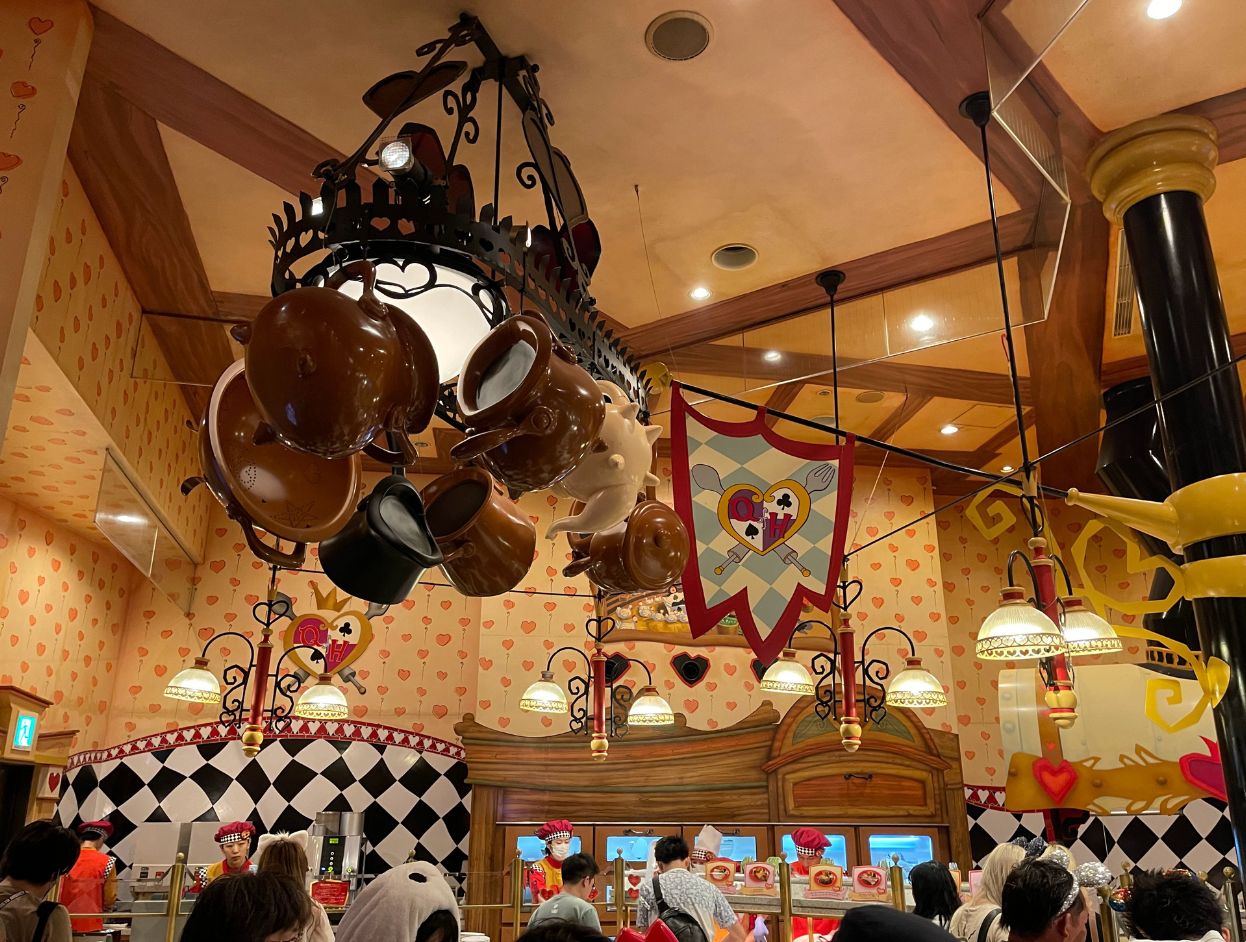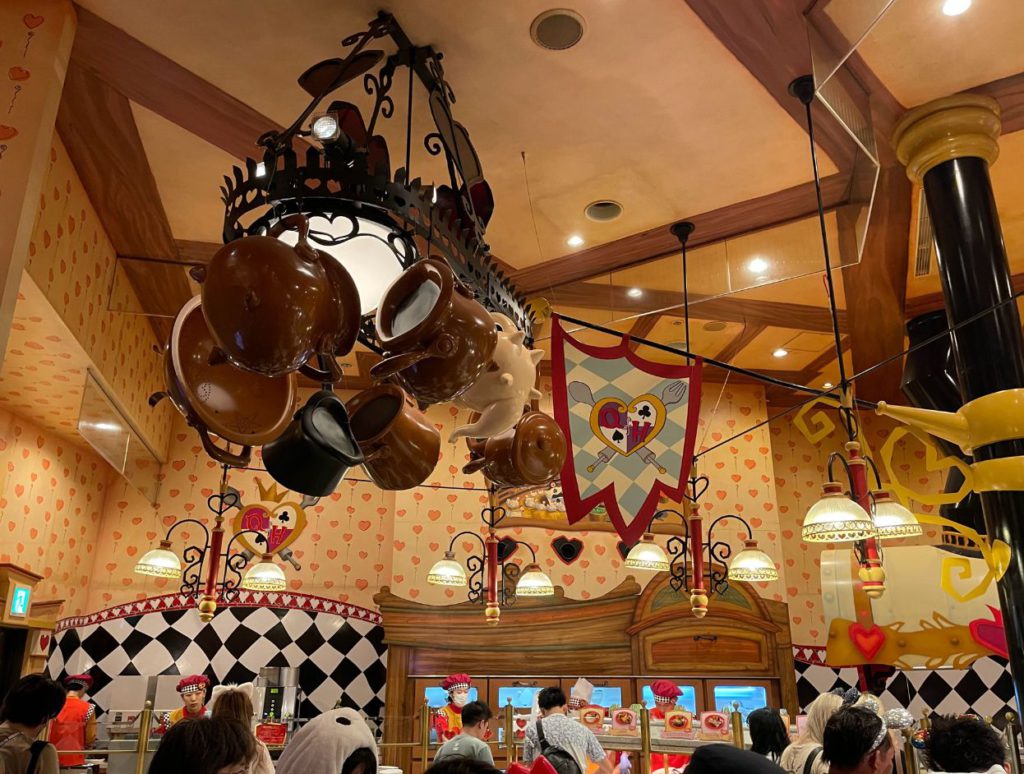 Services Available Inside Disneyland Tokyo
Storage Lockers – Storage lockers are available at 6 places in the park. 2 are located inside the park and 4 outside. You can find out more about them near the ticket counter. The prices range from ¥400 – 800 depending upon the size. Read more about them here.
Mobile Battery Rental Service – Visitors can rent a battery charger for their mobile phones at various centres inside the park. The rental prices range from ¥180-900 depending upon the time for which you need a charger. Read more about them here.
Wheelchair Rental – You can rent different types of wheelchairs as per your requirement at the park where motorized and battery-assisted wheelchairs are also available. The rental price range between ¥500 – 2000 per day depending upon the type of wheelchair. Read more about them here.
Stroller Rental – Strollers are available for rental for children aged 7 months and above (those who can sit unassisted) for a nominal fee. Check out more details on this here.
Baby Center – A baby centre is available for Infants and new mothers and equipped with a lot of special facilities. You can find diaper stations, liquid infant formula, baby food, disposable diapers on sale, hot water, rain cover for strollers and more. Read more details here.
Cash Withdrawal – Banking service is available at World Bazaar inside the park. You can withdraw cash from one of the many ATMs or exchange foreign currency here. Please note that the exchange booth is closed on weekends and holidays. So it is better to carry some cash with you. Read more details here.
Smoking Areas – There are designated smoking areas inside the park. All other areas inside the park are non-smoking zone and smoking is strictly prohibited. Read more details here.
Free Wifi Internet Access – Some areas in the park have free wifi internet connection. Free wifi is not available inside all areas of the park. You can get free wifi for a maximum of 15 minutes, an unlimited number of times in a day. You will need a social media account to access the wifi. Read more details here.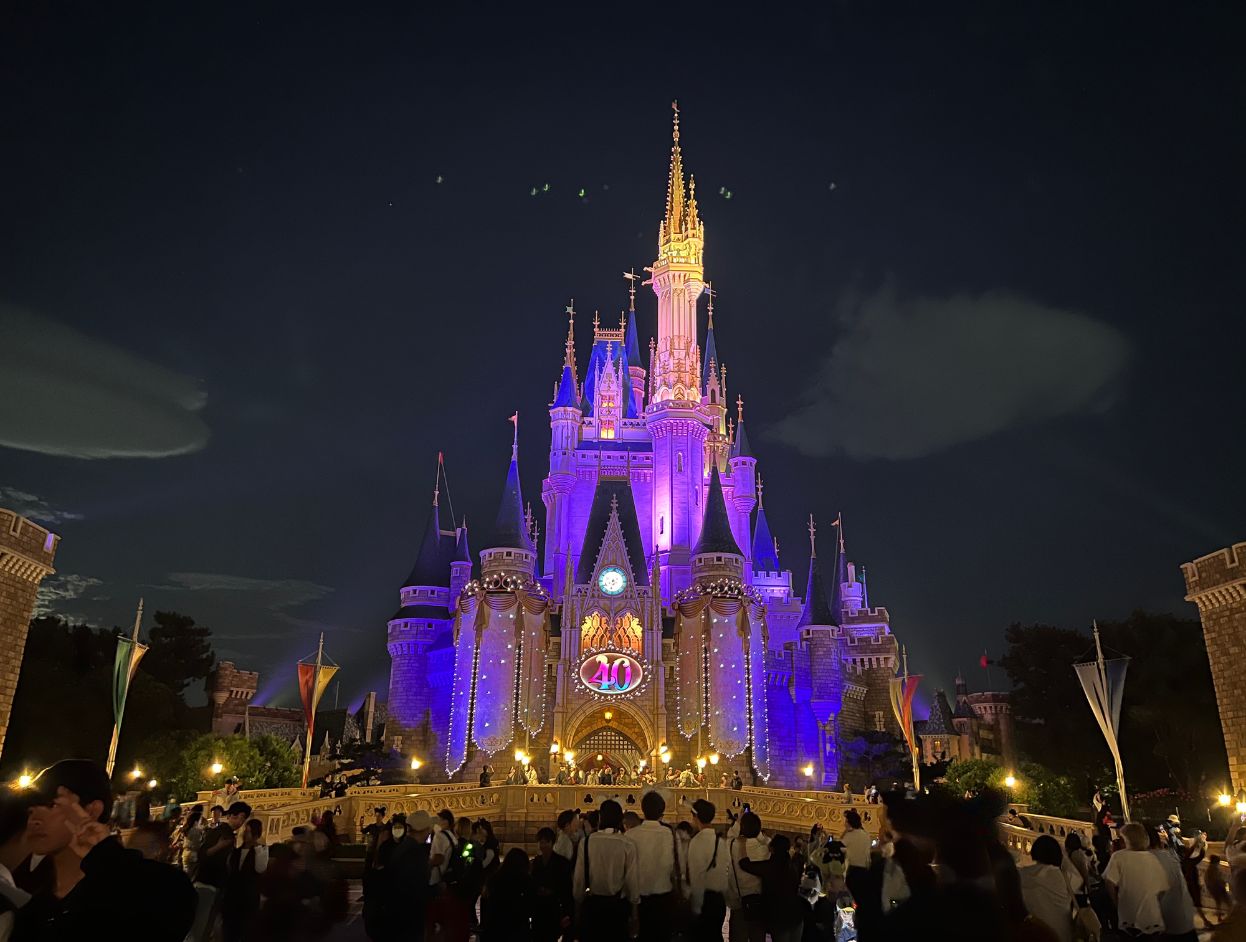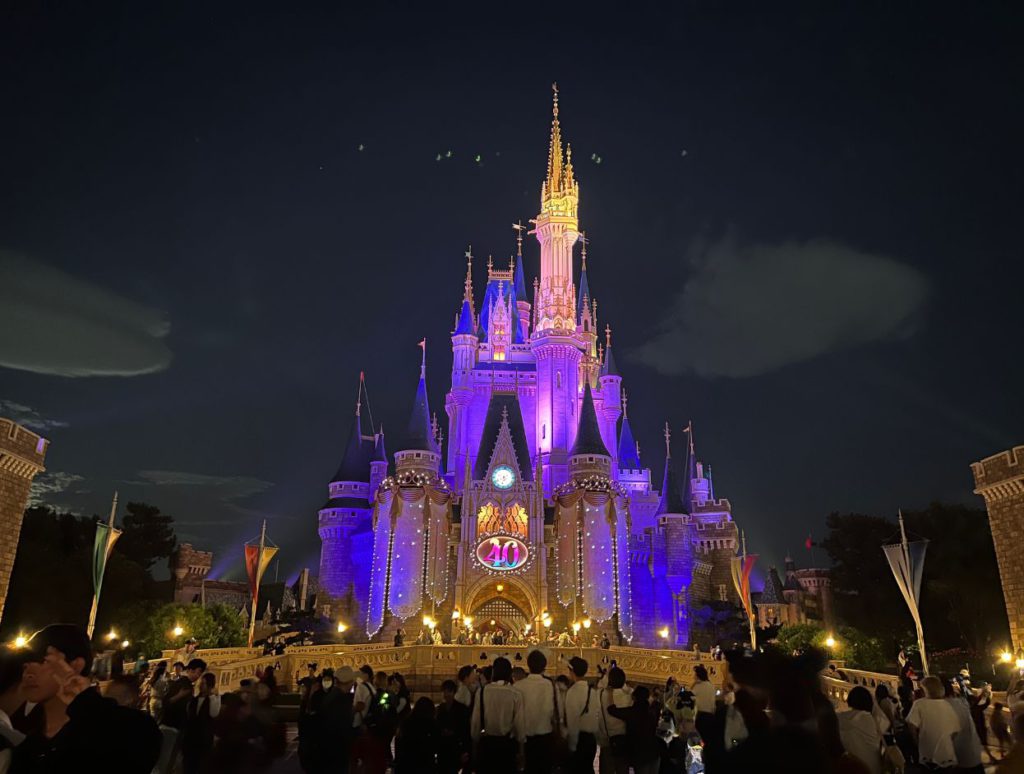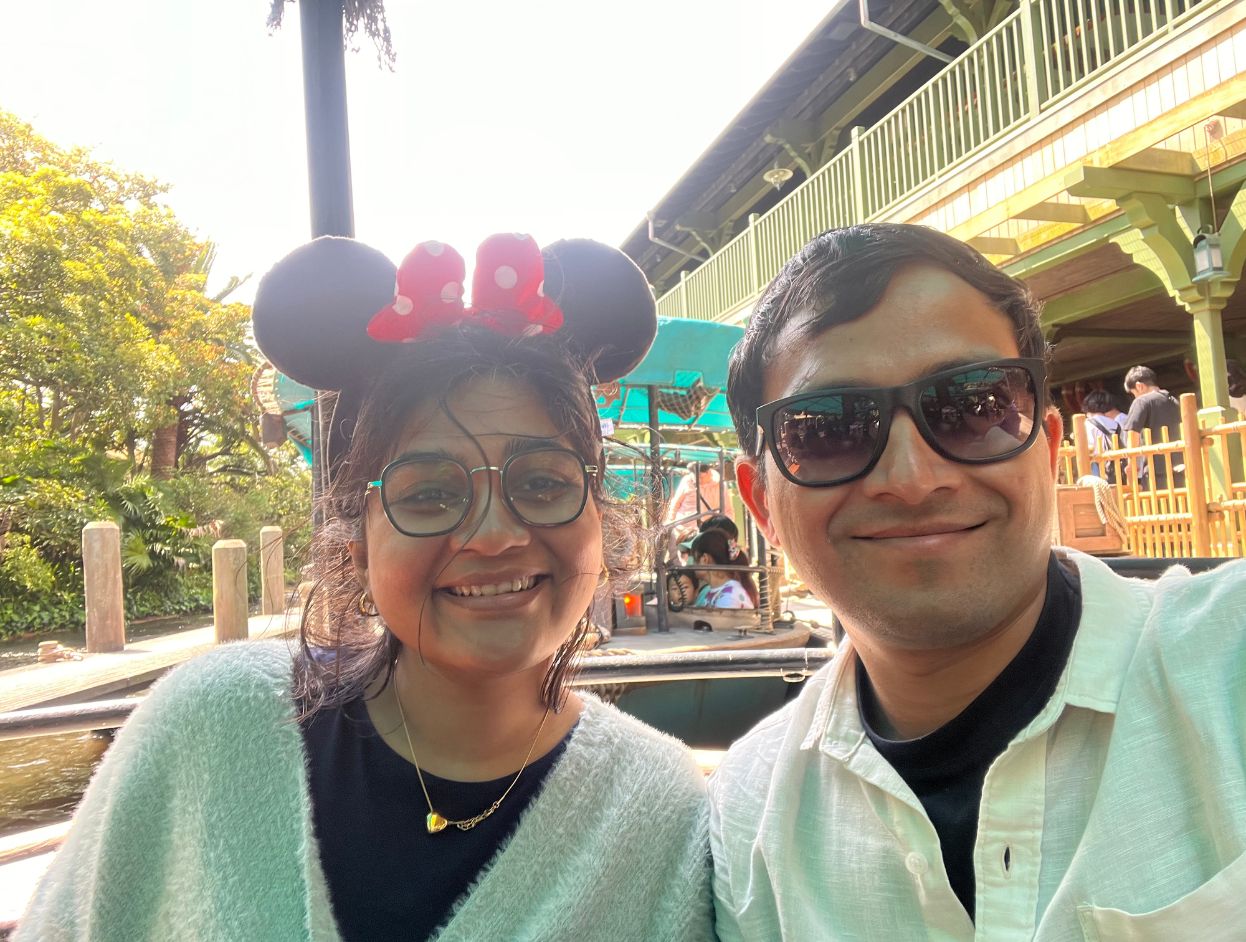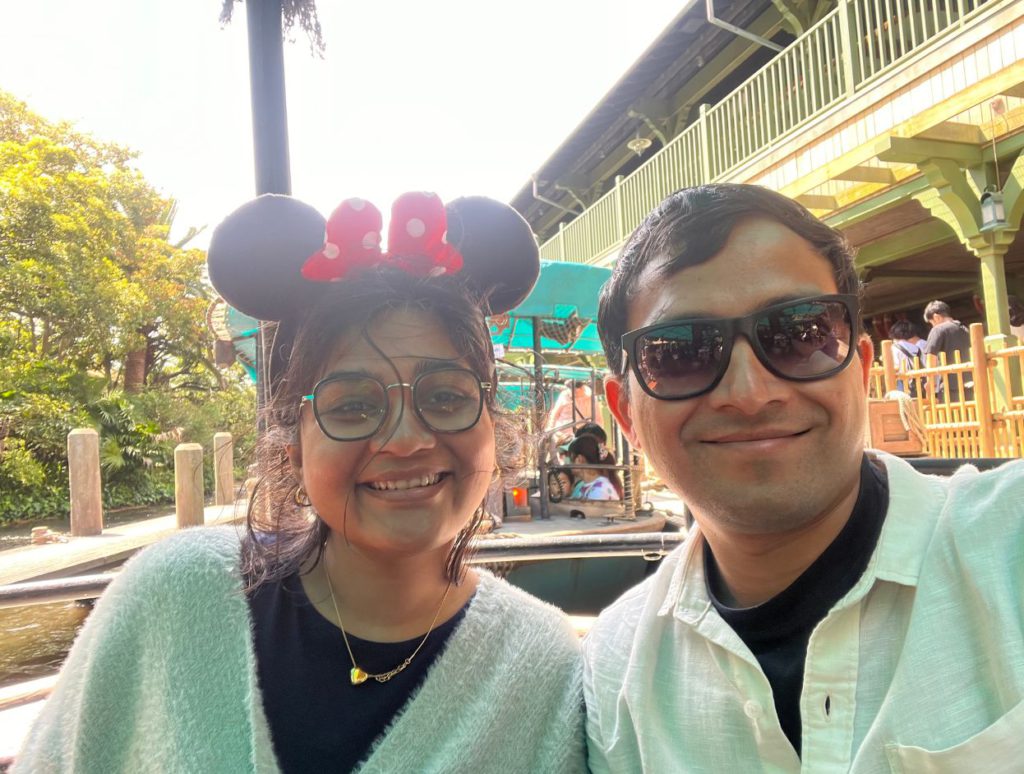 Related Articles