11 Jun

Hakone Day Trip Travel Itinerary from Tokyo

I landed in Tokyo and after a couple of days in this overwhelming megacity, I was very excited to move out to see the Japanese countryside. Hakone is very popular among foreign and local tourists alike because it is so accessible from Tokyo. Not to forget the gorgeous bit.

On top of that, Hakone has been developed as the ultimate tourist experience. So much thought has gone into making this a seamless experience from start to end. You will get to travel to these highlands using trains, a funicular railway, cab cars, a ship and buses in comfort in one single day. And along the way, you will see lush green highlands, hot springs, blooming gardens, open-air museums, Shinto shrines and tori gates, the beautiful Ashi Lake and if you are lucky, Mount Fuji.

To be honest, I was quite nervous about planning the whole thing. Which train to catch, what to see. Worried that I would miss something worthwhile. But you know what, just follow the standard route and you should be okay. Everything is so intuitive that you will find your next ride as soon as you reach your next stop.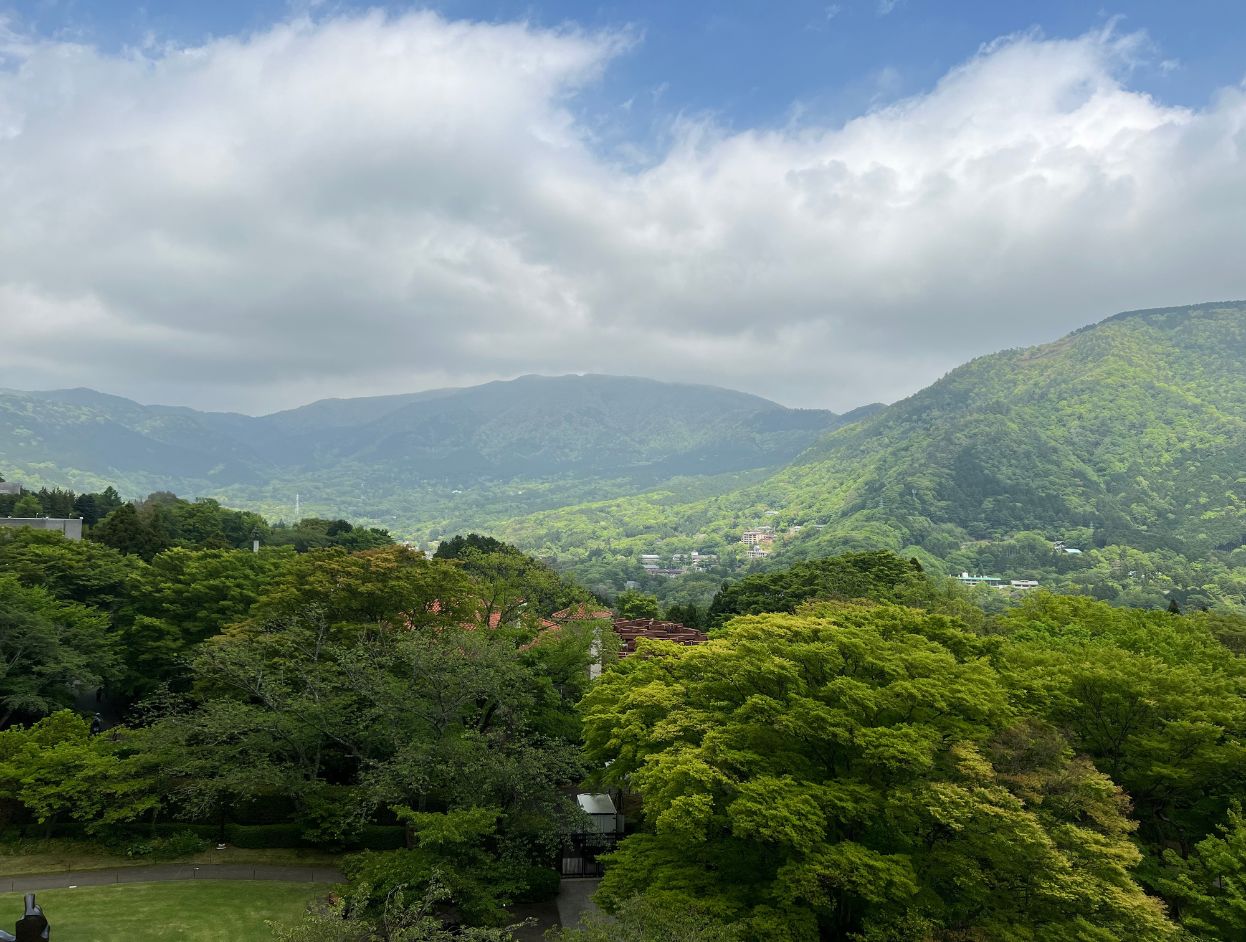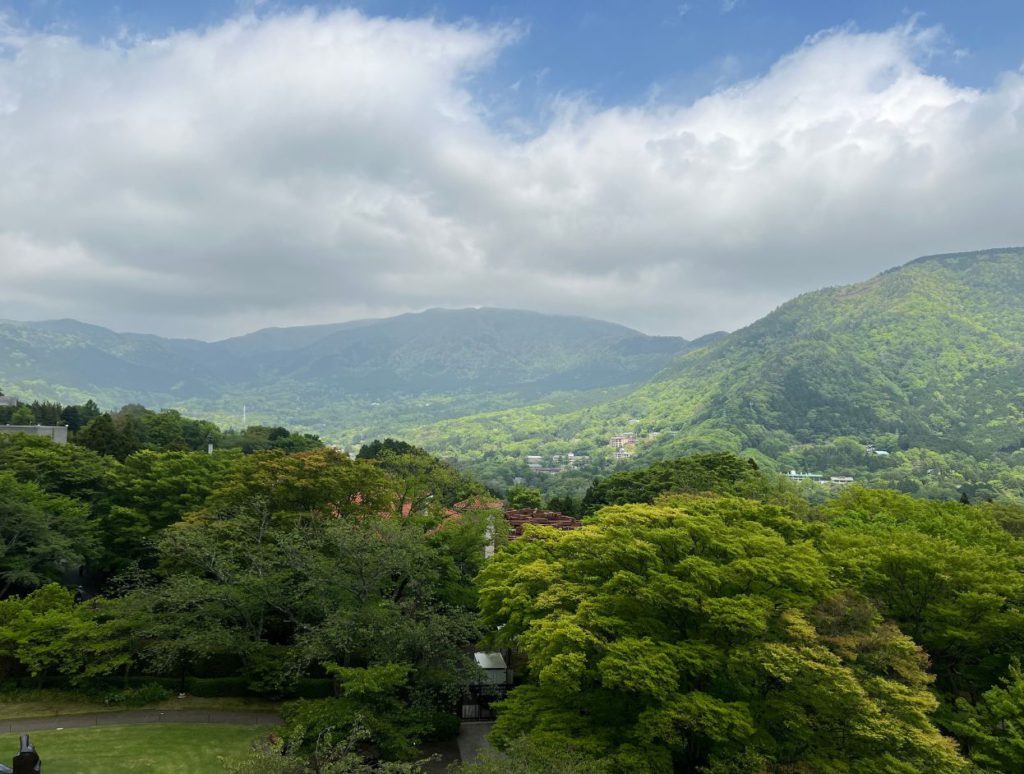 Why travel to Hakone?
With such close proximity to Tokyo and Kyoto, Hakone is a popular weekend tourist spot for a lot of people. But the thing that allures most people is the view of Mount Fuji. But here is the catch. You may not always get a view of Mount Fuji, especially during winter, rainy or foggy days. If that is your only purpose, I suggest you go to Lake Kawaguchiko instead where you are guaranteed a lovely view of Fuji-san. 
However, the Hakone highlands are stunning by themselves dotted with rural communities, holiday homes and luxurious Ryokans. There are also a lot of activities to do on the extensive route. Hakone is a place to relax where you can take a hot bath in an onsen and a few hikes if you have time. Mind you, even if you do miss a view of Mount Fuji, you can definitely get a view on the way to Kyoto.
Planning your vacation to Japan? Here is our Japan travel itinerary from 7 to 21 days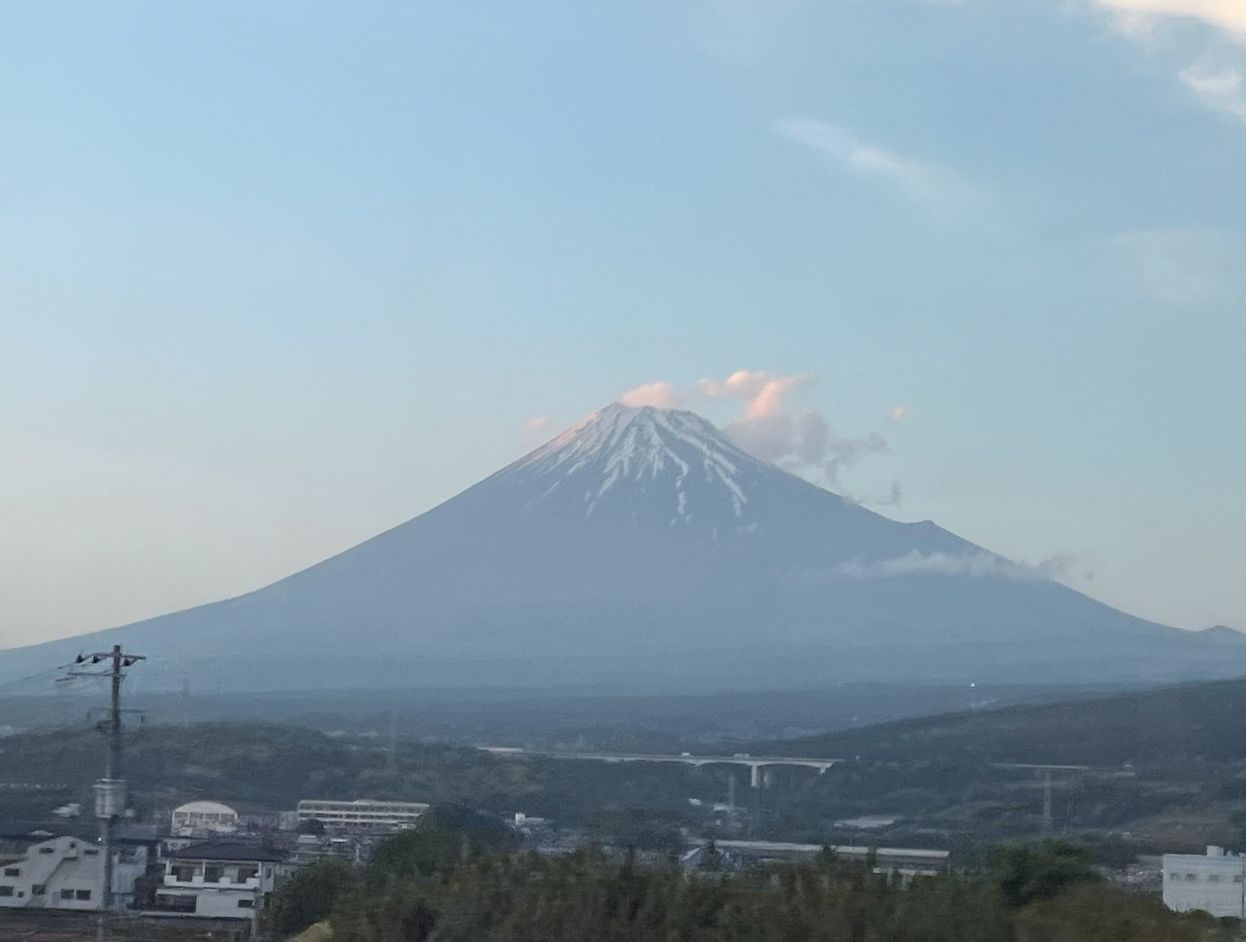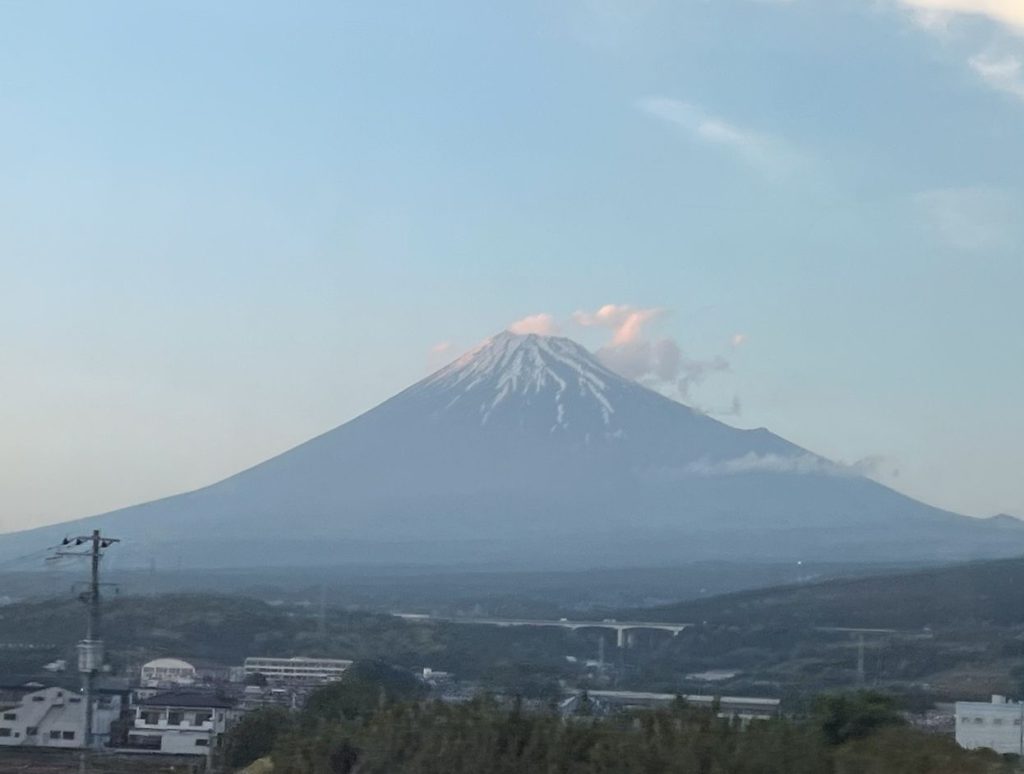 How to travel from Tokyo to Hakone
The answer to this can vary if you are travelling from Tokyo to Hakone and back after a day trip or from Tokyo to Hakone and onwards towards Kyoto or Osaka. Here are all the options you have:
1. Odakyu Local Express train
You can take the Odakyu local express from Shinjuku station to Odawara station (near Hakone).
From the Odawara station and you need to take another free local train to Hakone Yumoto Station to start your journey in Hakone. The full fare on this train is covered in the Hakone Free pass. But if you are buying a voucher online, you must get the physical ticket first at the Odakyu counter in Shinjuku station. 
Since this is a local train, the journey can take upto 2 hours as it stops at several stations in between. You cannot reserve a seat as well, so you may have to stand during your travel on weekends or busy days. A more comfortable solution would be to upgrade your ticket for the Romacecar train by paying ¥1,100.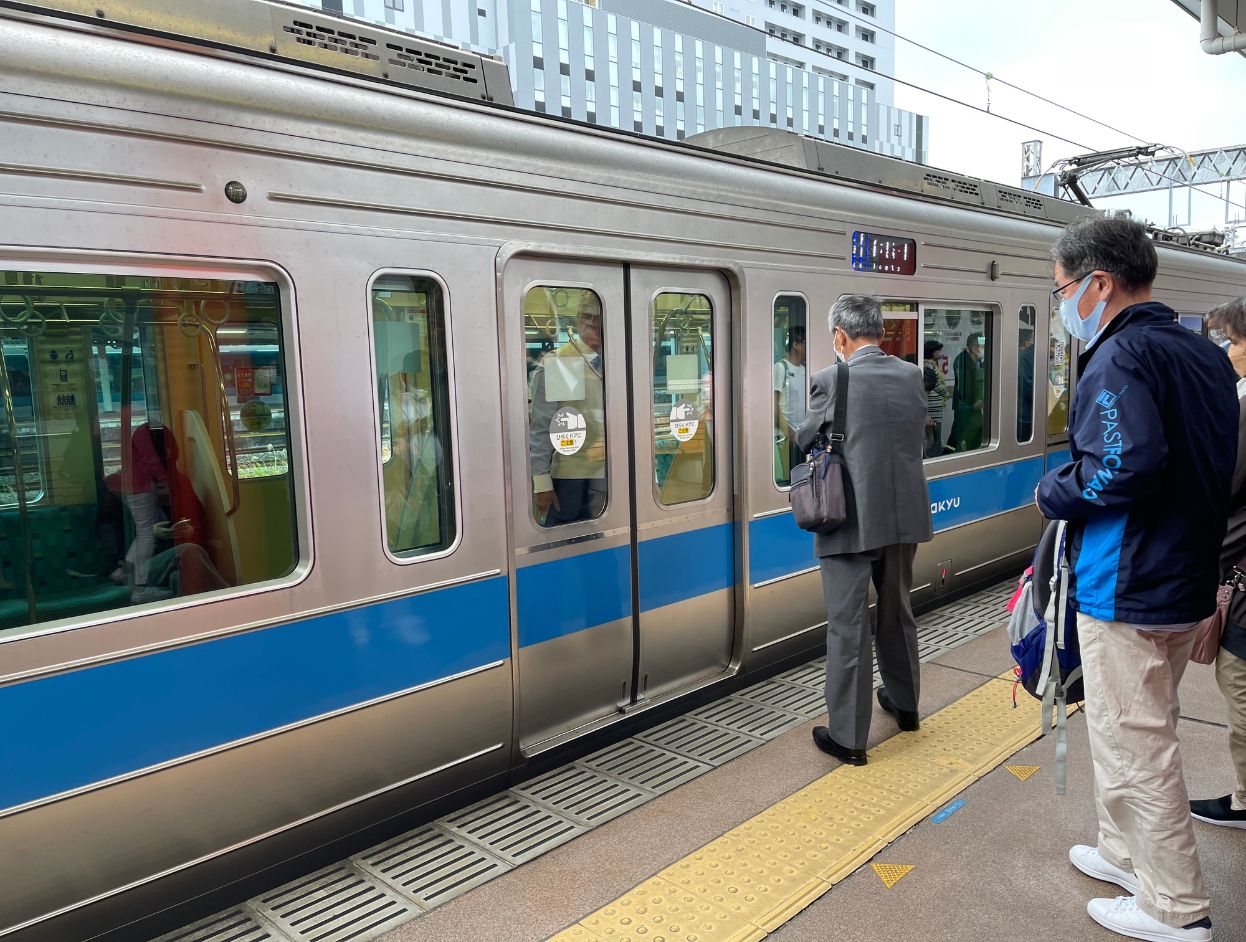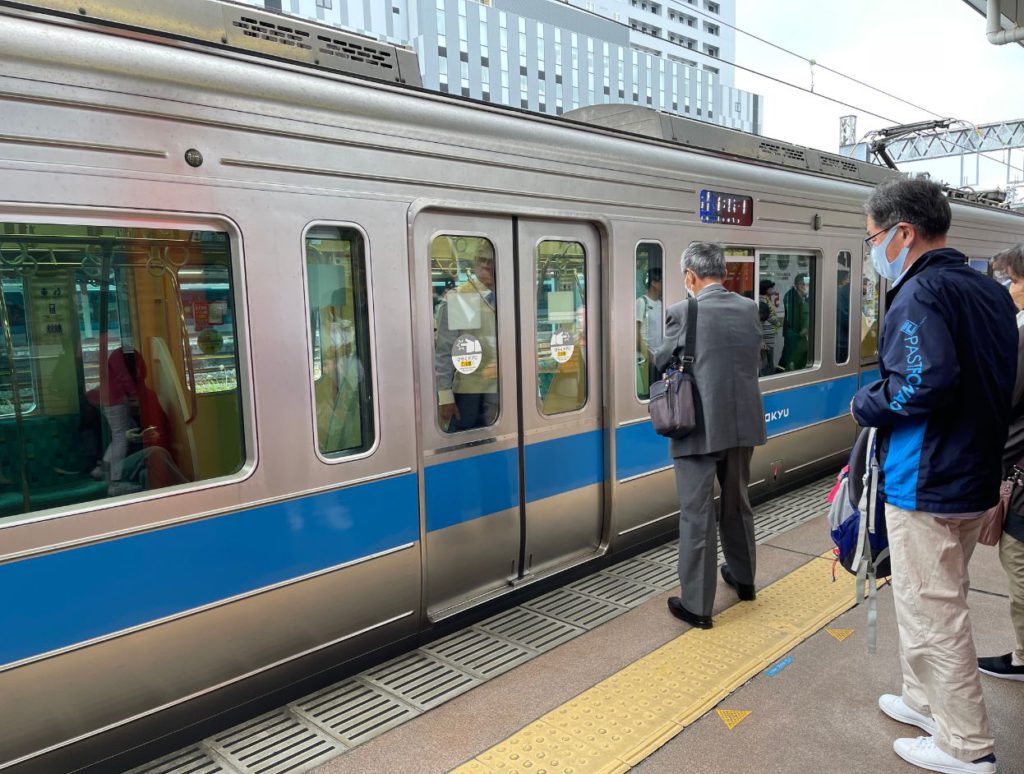 2. The Romancecar
The Romancecar is a limited express train that runs only to some of the most popular holiday spots like Hakone from Tokyo. The train runs from Shinjuku station several times a day starting from 6.40 am towards Hakone Yumoto Station (starting point of Hakone).
The last train from Hakone to Shinjuku starts around 9.30 pm at night. 1-2 trains run every hour on this route. So the timings are ideal for someone to spend a long day in Hakone. Refer to their timetable here. It takes around 1.5 hours for the journey.
While it is not included in your Hakone free pass, you can get a discounted ticket by upgrading your train ticket at the Odakyu counter at Shinjuku station for ¥1,100. You can buy and prebook a ticket beforehand on their official website. Or you can buy the ticket at the counter in Shinjuku Station. 
3. Taking the Shinkansen
Taking the Shinkansen would be ideal if you have a JR Rail Pass and you are planning a journey down south towards Kyoto or Osaka. The Shinkansen (the bullet train) are different from Romancecar. You can take a Shinkansen from Tokyo Station that runs to Odawara Station (the JR Rail station for Hakone). From there you can take a local train to Hakone Yumoto Station.
Shinkansen tickets are not included in the Hakone Free pass, so you will either need to buy a ticket on this route or use your JR Pass. If you are travelling with luggage, you can drop it off in one of the lockers at Odawara station or at the left luggage counter. 2-3 Shinkansen run every hour on this route and the journey takes around 30-40 mins.
Is Kyoto your next stop? Here is our 3-day travel itinerary to Kyoto for first-time tourists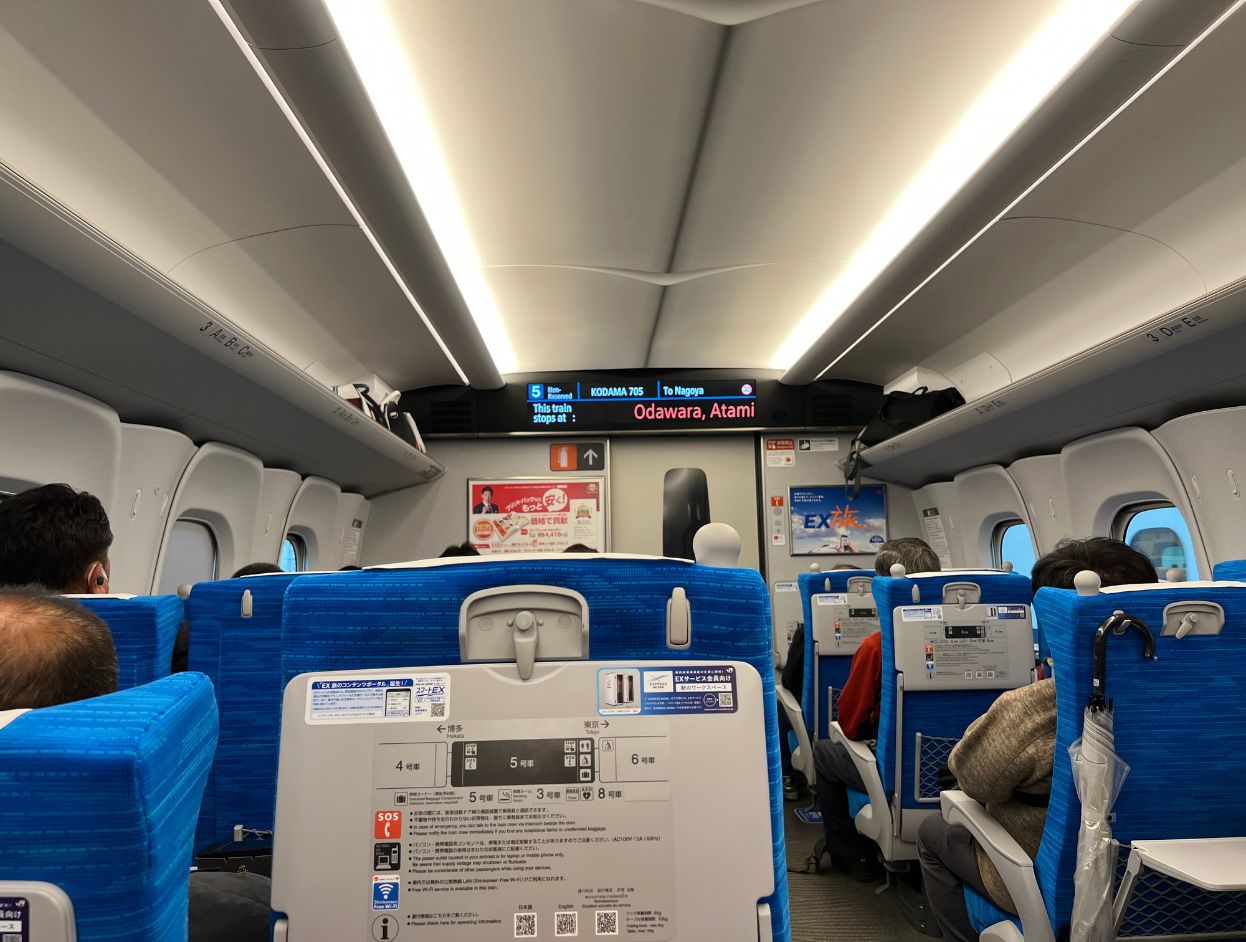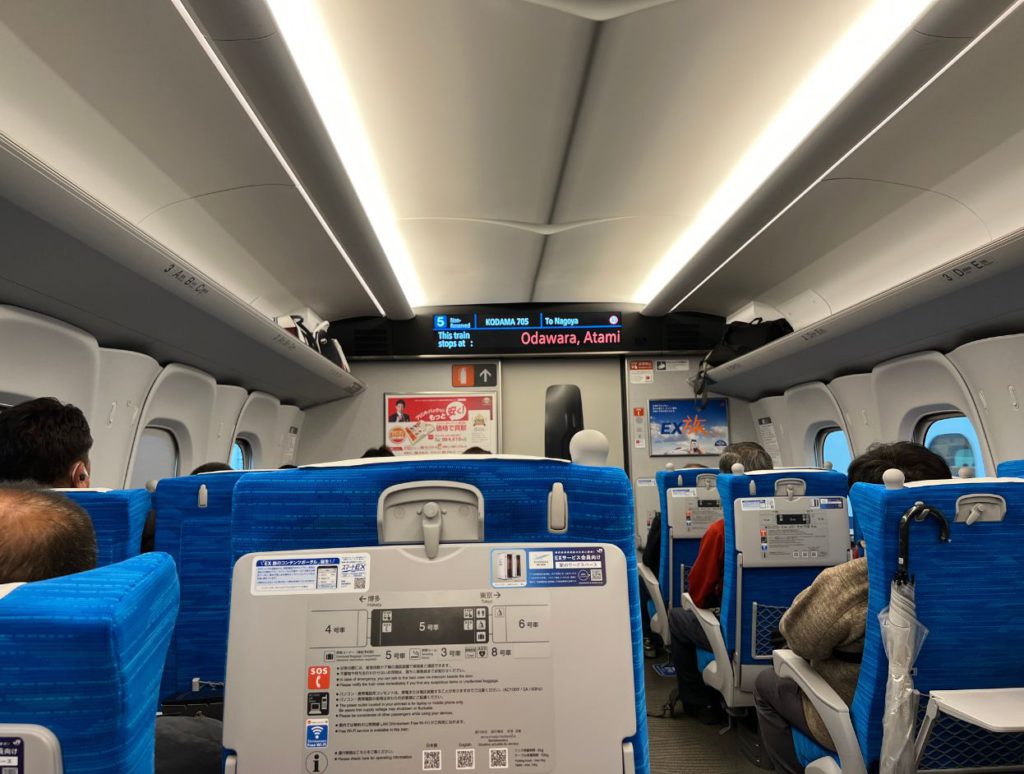 4. Odakyu Hakone Highway Bus
You can also take a bus from the Shinjuku Express Bus terminal in Tokyo to Tongedai, somewhere north of Lake Ashi. It stops at Gotemba in between. This would mean that your itinerary will be slightly different from what we will have here.
Since the bus costs around ¥2,000 and takes around 2 hours for the journey, this is usually the least preferred option by tourists. The only upside is it gives direct access to Gotemba Premium Outlets if that is something you want.
5. Driving to Hakone
Self-driving is also a popular way to travel in Hakone. You can spend as much time at any place as you want. You can also continue your journey to the other lakes nearby and spend a night there somewhere. The roads are lovely and you would definitely want to stop at a few places to take in the views.
You can rent a car at Narita, Haneda or within Tokyo city. You will need an international driver's license to do this. Of course, if you take a car, it will hardly make sense to buy a Hakone day pass since your commute is covered.
6. Guided Tour from Tokyo
If you want to sit back and enjoy the ride without the hassle of catching multiple commutes, you can consider taking a guided tour from Tokyo. This could be great for the elderly or if you are a solo traveller and looking for some company. Although the itinerary will be somewhat different from what we are going to talk about, it is still a great experience. 
Your commute will be using the bus that will take around 2 hours each way from Tokyo, so be prepared for it. You will also have a tour guide here who can assist you and also share some interesting facts about Hakone.
Here are some group day tours you can book. Make sure you read the itinerary before you decide.
Mt. Fuji & Hakone One-Day Trip from Tokyo
Mt Fuji Classic Route Day Tour from Tokyo
Private tour: 10-hour Fuji Area, Hakone, Kamakura Private Car Charter from Tokyo
Hakone Free pass
It is now time to discuss the Hakone free pass which is a really important thing to consider, especially if you are planning to take public transportation. You can get Hakone free pass for 2 days or 3 days. So even if you are going for a day trip, you will need to take the standard 2-day pass.
If you are travelling from Tokyo and back, you can take the Hakone Free pass worth ¥6,100. This includes the ticket on the Odakyu Local Express train from Shinjuku and back. Not to forget, you can always upgrade it to the Romancecar at Shinjuku station.
2-Day Pass
3-Day Pass
Adult
Child (6-11yrs)
Adult
Child (6-11yrs)
From Shinjuku
¥6,100
¥1,100
¥6,500
¥1,350
From Odawara
¥5,000
¥1,000
¥5,400
¥1,250
But if you have the JR pass and are taking the Shinkansen, you can buy the Hakone free pass worth ¥5,000 at the Odawara station. From thereon, all your commute will be included in this including the discounted price for some attractions.
You can also buy the pass online. But you will need to exchange your voucher with a physical ticket at Shinjuku or Odawara station at the Odakyu counter.
Buy Hakone Free Pass online: Hakone Freepass (2 or 3 Days)
There is still the question if it is worth it or not. If you are doing the classic route (as you will see below), the total cost adds up to ¥7,000. So it does make sense to buy the pass. However, if you are planning to do only one or two places in the circuit, then perhaps not.
Love outdoors? Check out our blog on Miyajima Island for some coastal magic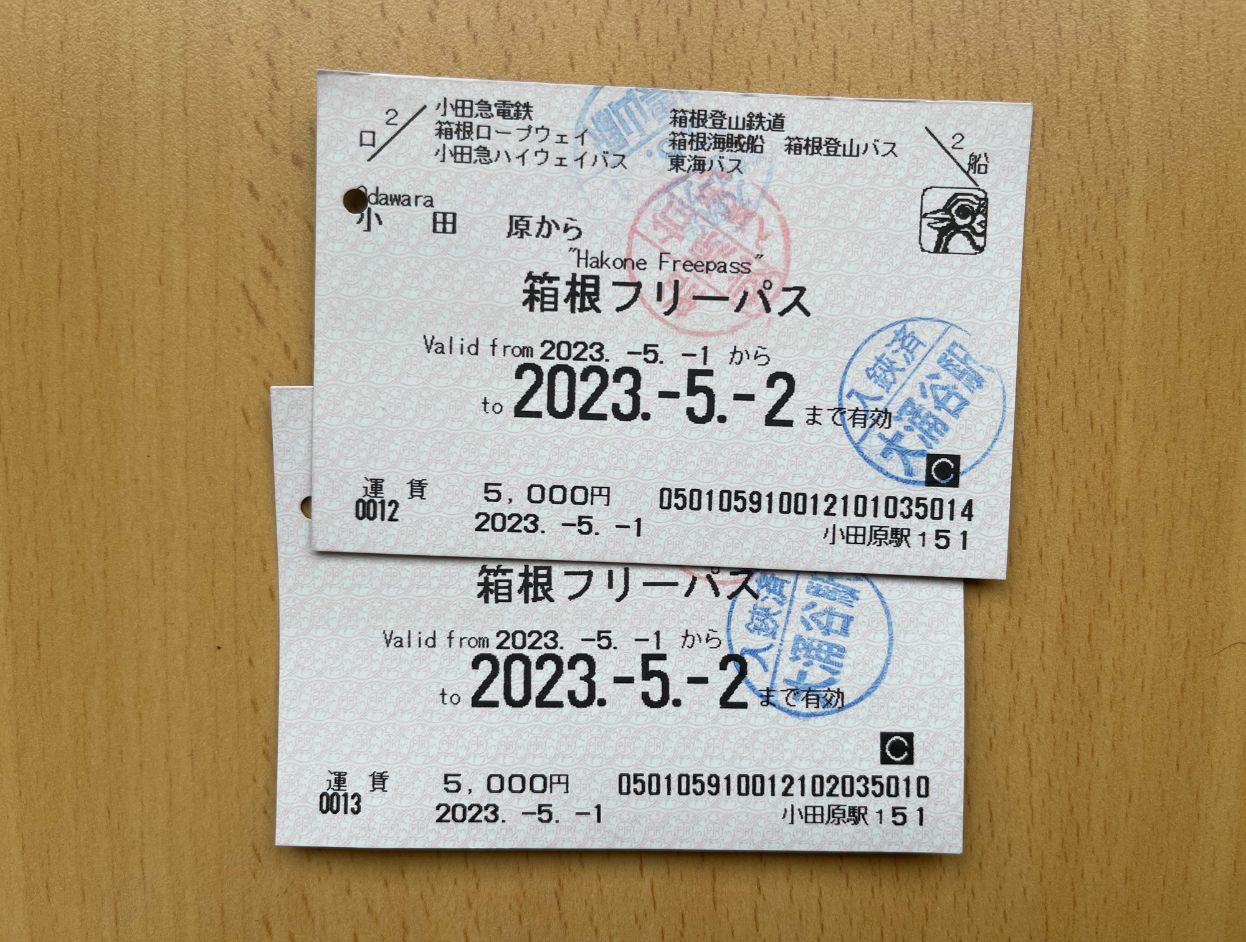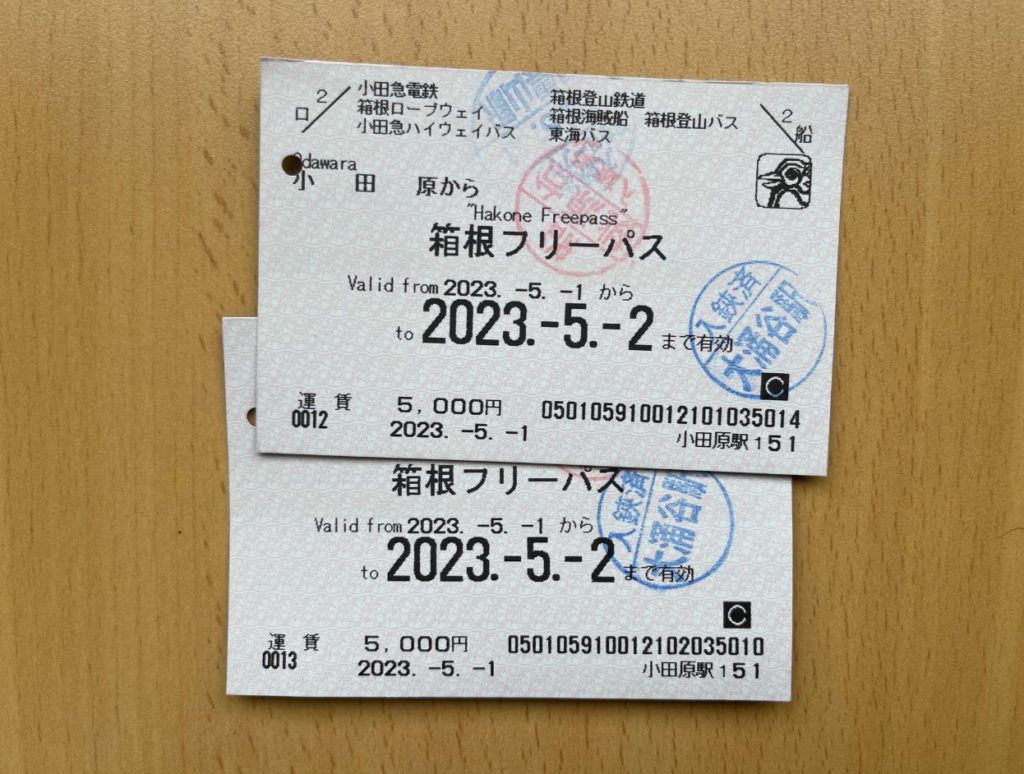 Hakone Itinerary
It is time to look at what a classic itinerary usually looks like. Now it is a very standard route that most tourists take. The beauty of this is that you are free to do this on your own, stopping at the place you like for as long as you want. It is also fairly easy to follow. The route will look something like this:
1. Odawara to Hakone Yumoto Station
If you are taking the Odakyu Local Express train or the Shinkansen, you will start your journey at Odawara station. Once you get out of the JR station, just follow the signs and find the local platform where you will find the local train going to Hakone Yumoto station. You can also ask someone at the station and they will guide you to the platform.
If you need to buy the Hakone Free Pass or keep your luggage, you can do so at the station. Lockers are available that can easily keep a mid-sized suitcase as well.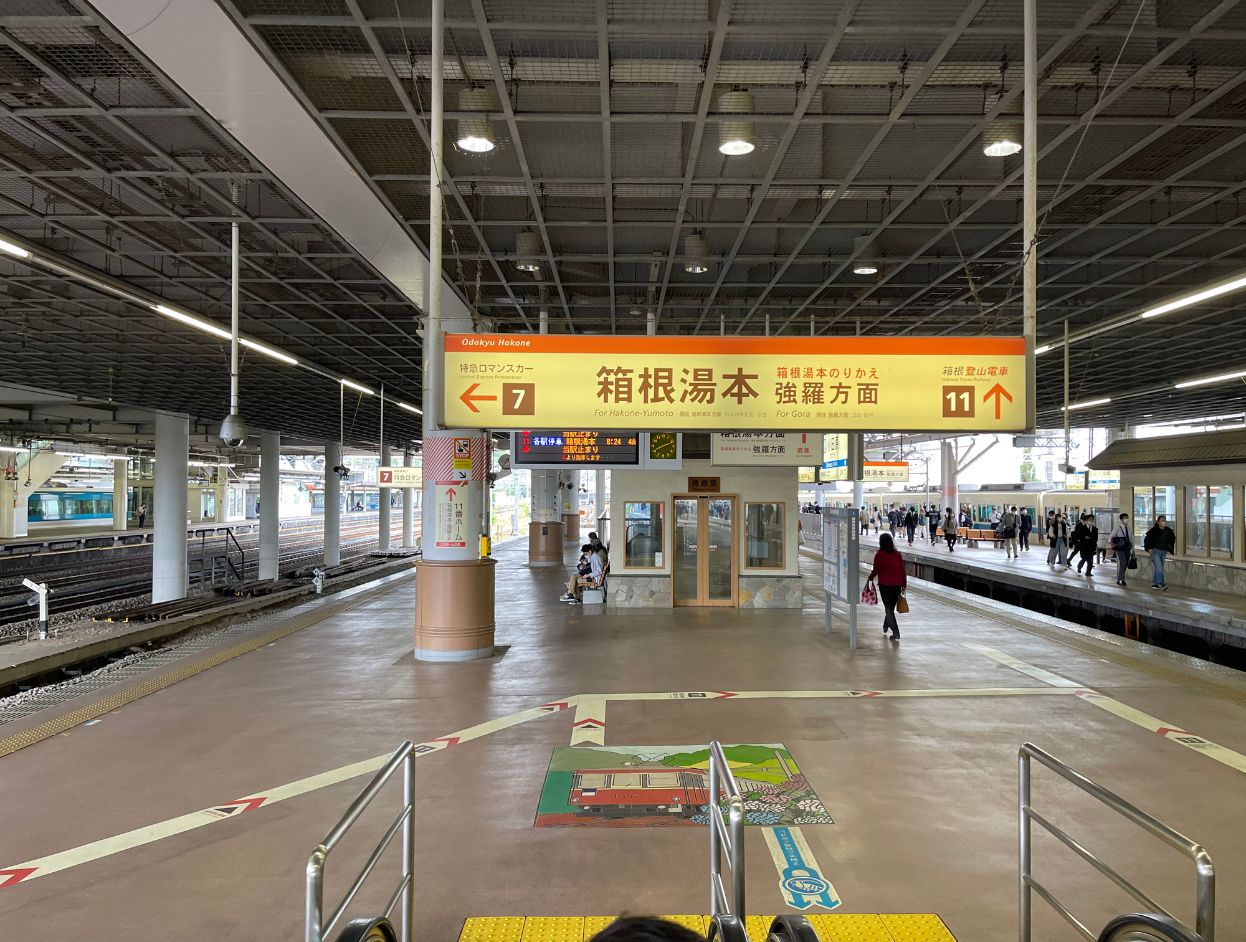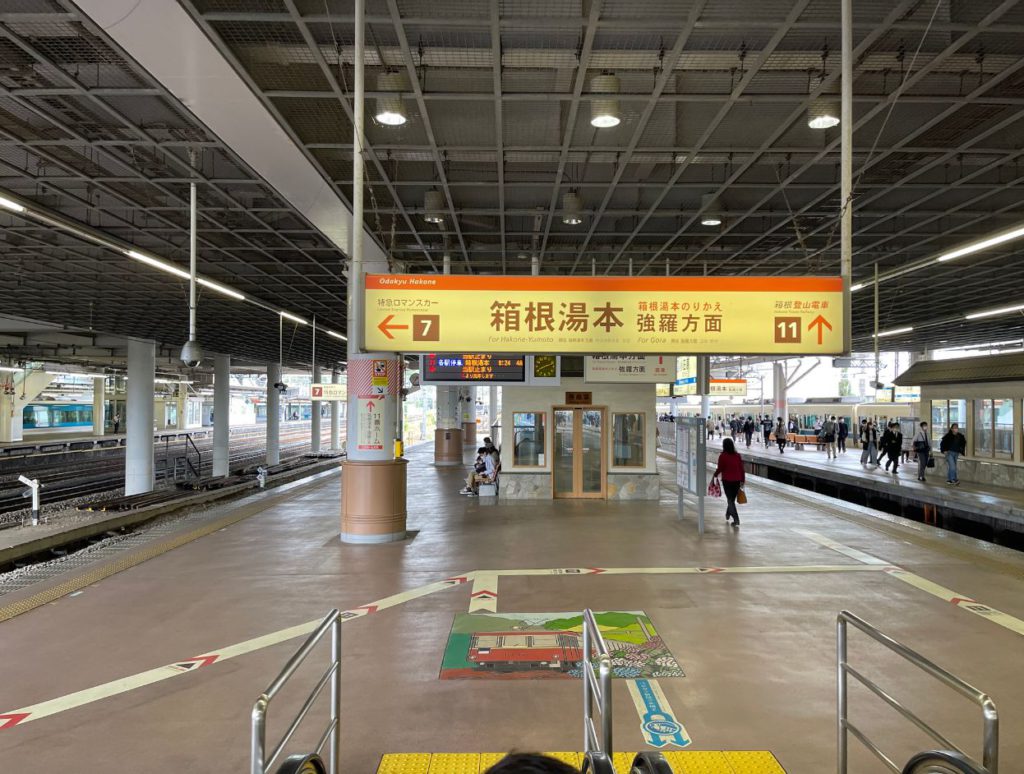 2. Hakone Yumoto Station to Chokukonomori
From Hakone Yumoto Station, you will need to take the next train called the Hakone Tozan Railway train going to Gora. You will find the Tozan train at the nearby platform. All you need to do is look around. Now Gora is the last destination on this route, but you can stop at Chokukonomori which is the station right before Gora.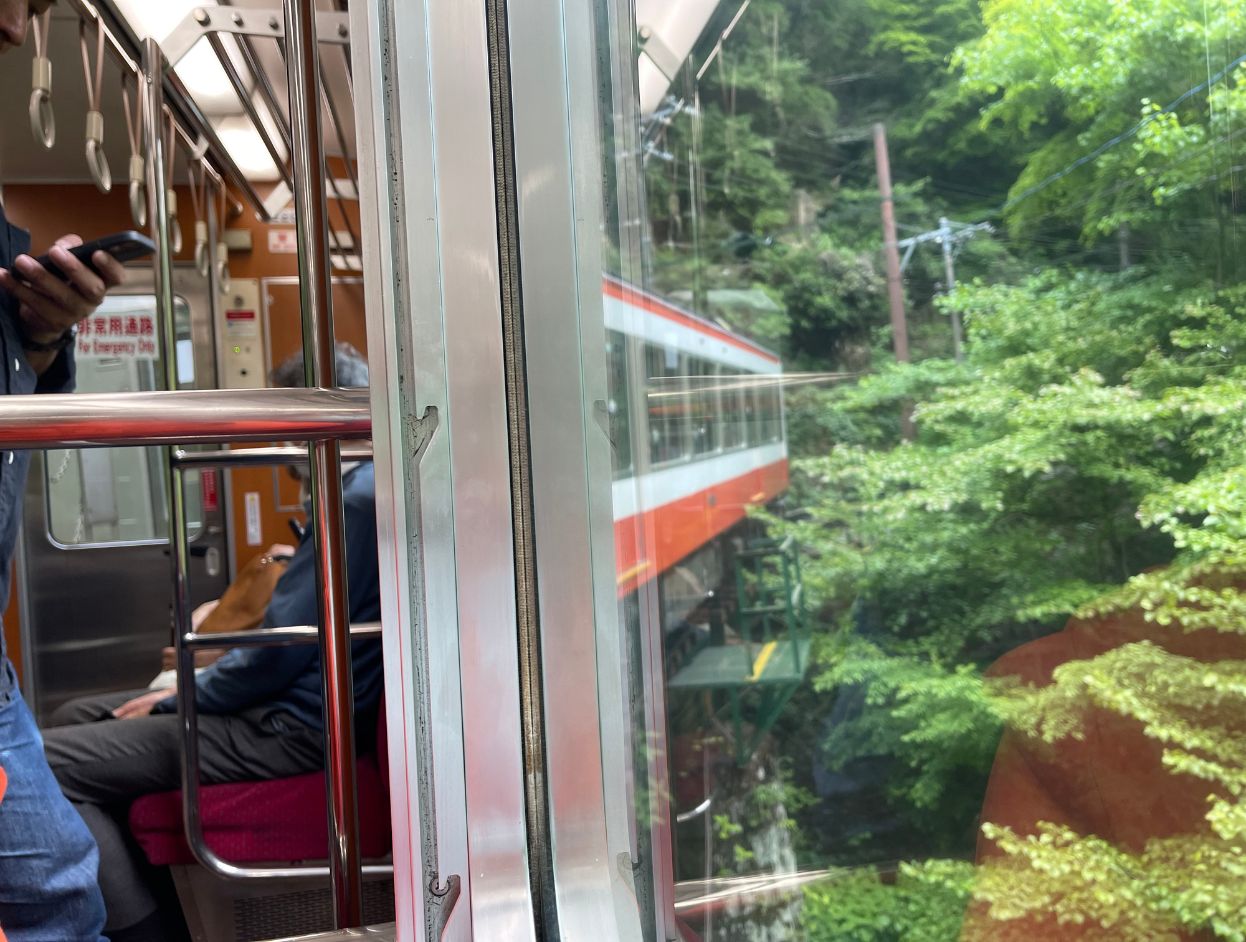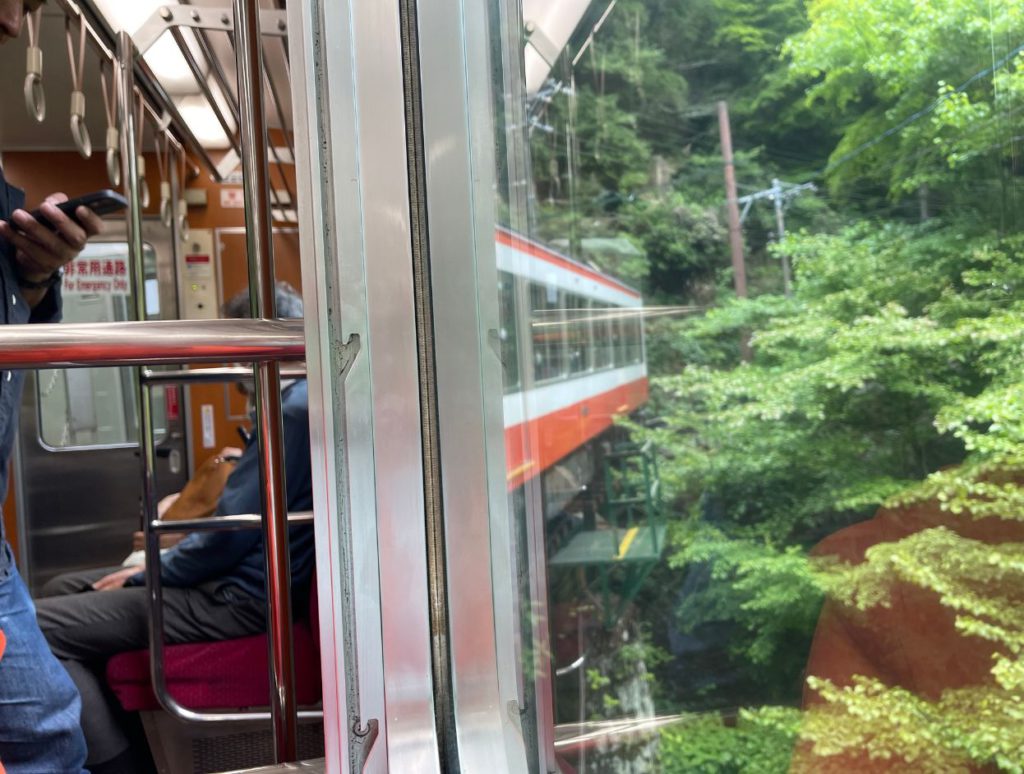 The reason to stop at Chokukonomori is to visit the Hakone open-air museum. From the station, you just need to walk 5 minutes to the museum. You will need to buy the ticket for this, although you can get some discount due to the Hakone Free pass.
The museum is lovely. It is actually a privately-owned art museum built on the valleys of Hakone overlooking the hillsides in the area. You can walk around and enjoy the artwork from some of the most famous artists around the world. Most artworks are in the form of physical spaces with which you can interact.
The highlight of this place is the Picasso Gallery which actually showcases a lot of work from Picasso himself. I couldn't believe my eyes. You can also soak your feet in some hot water from the hot springs nearby since you will have a lot of walking to do on the same day.
Once you are done, make your way back to Chokukonomori station and wait for the next train.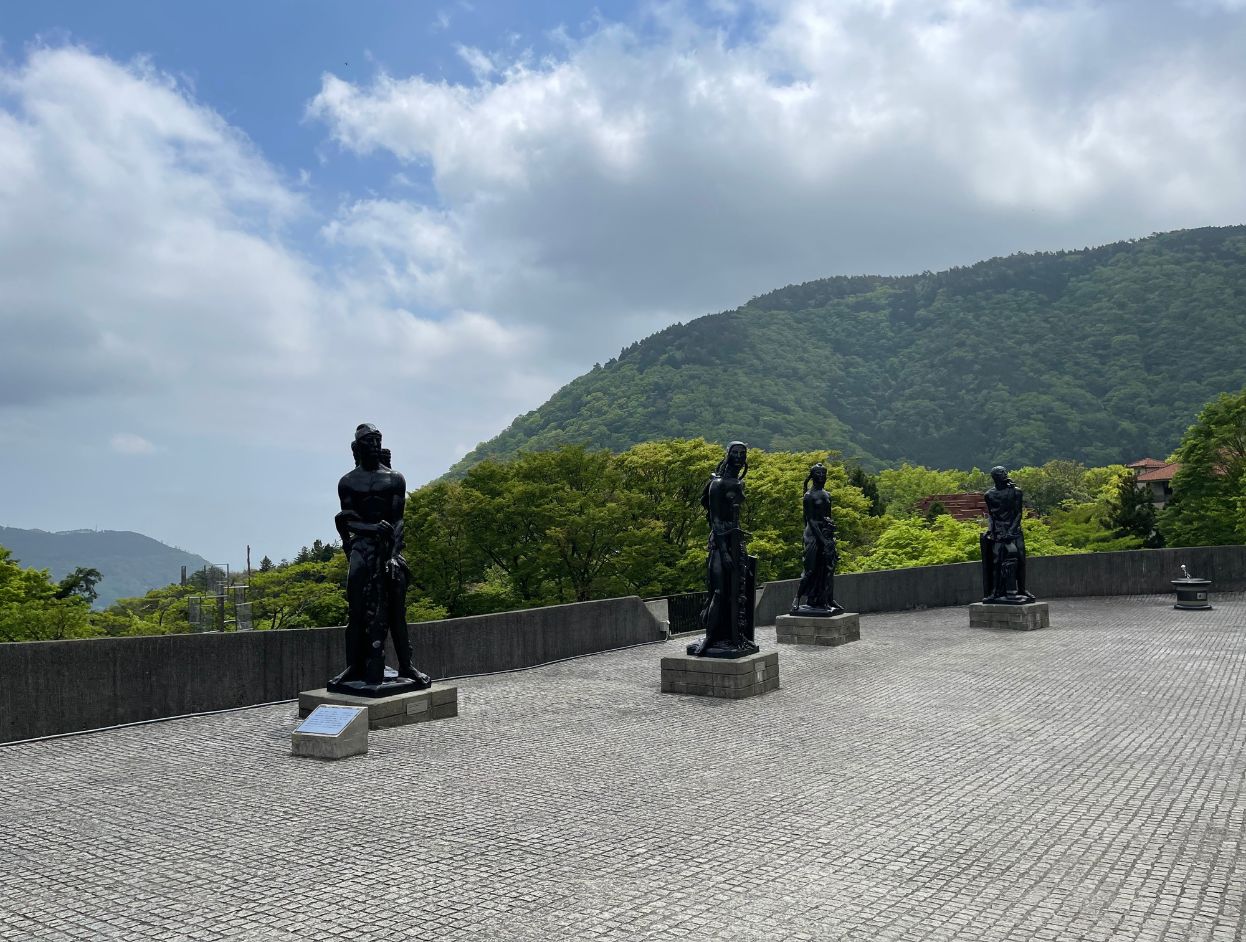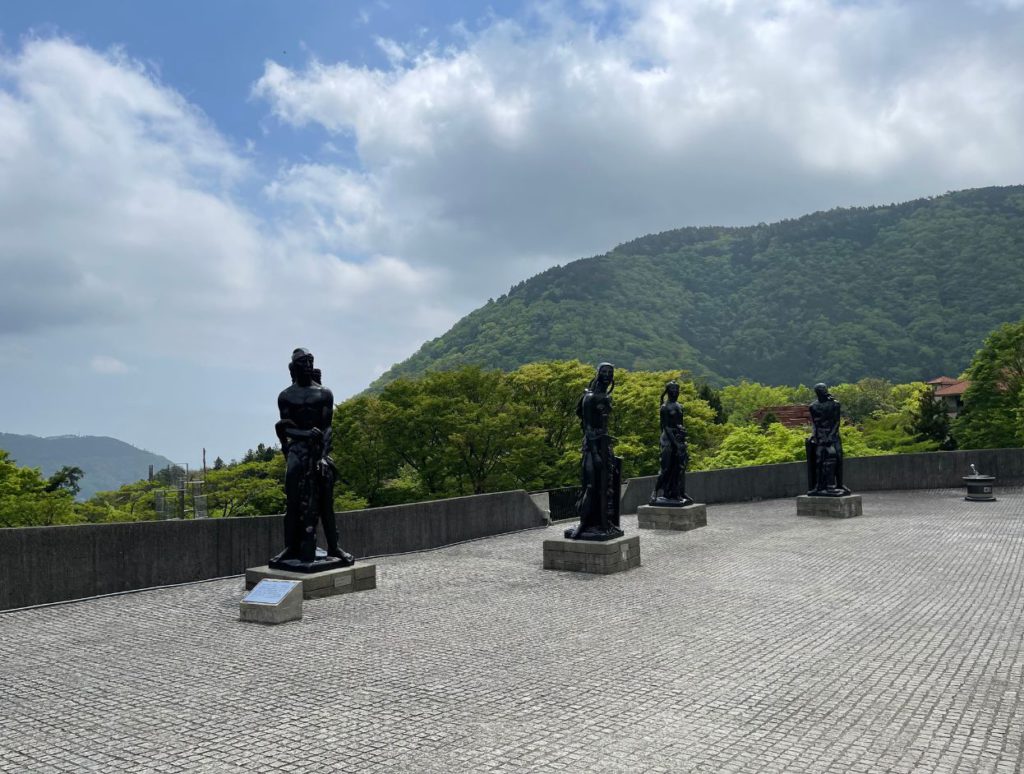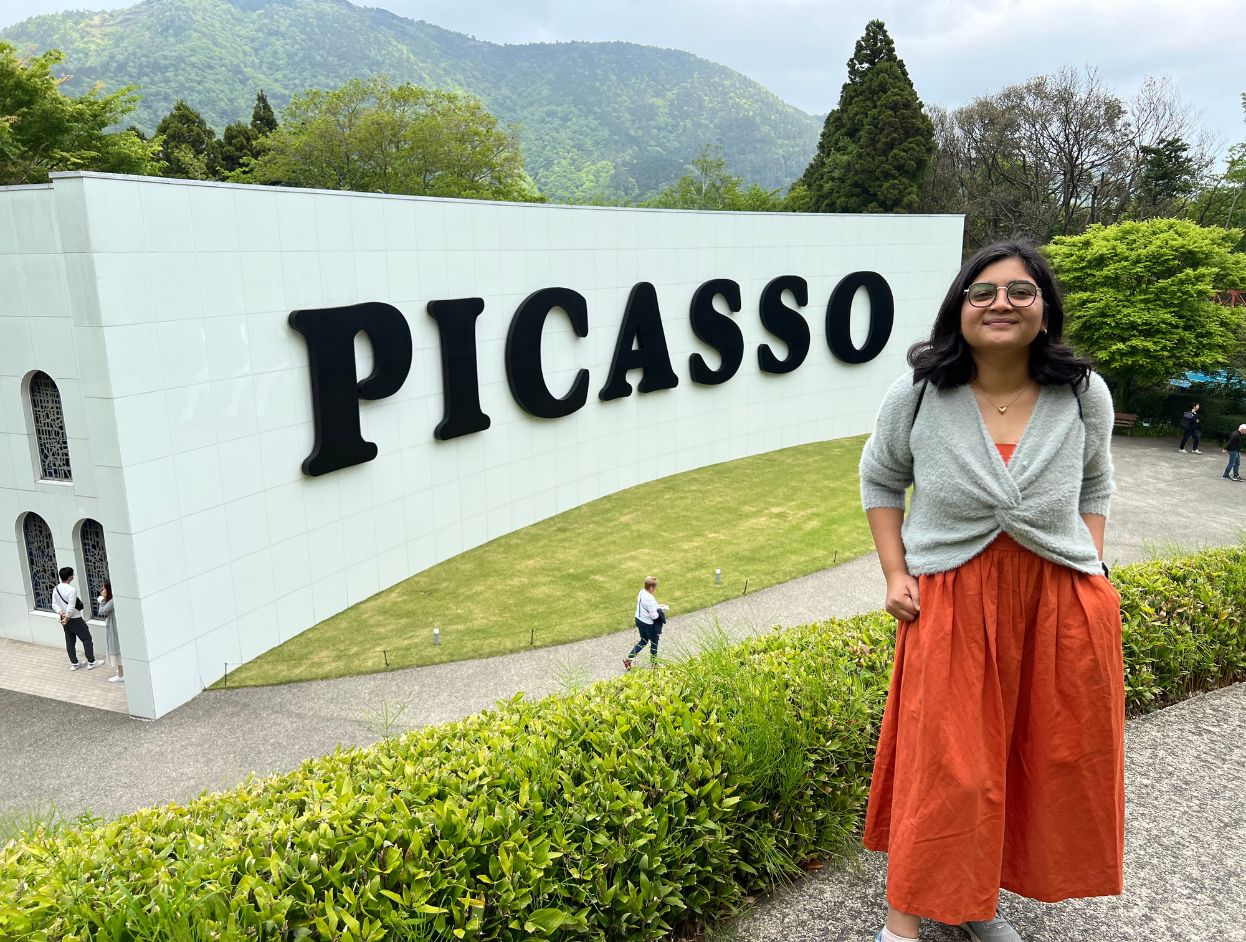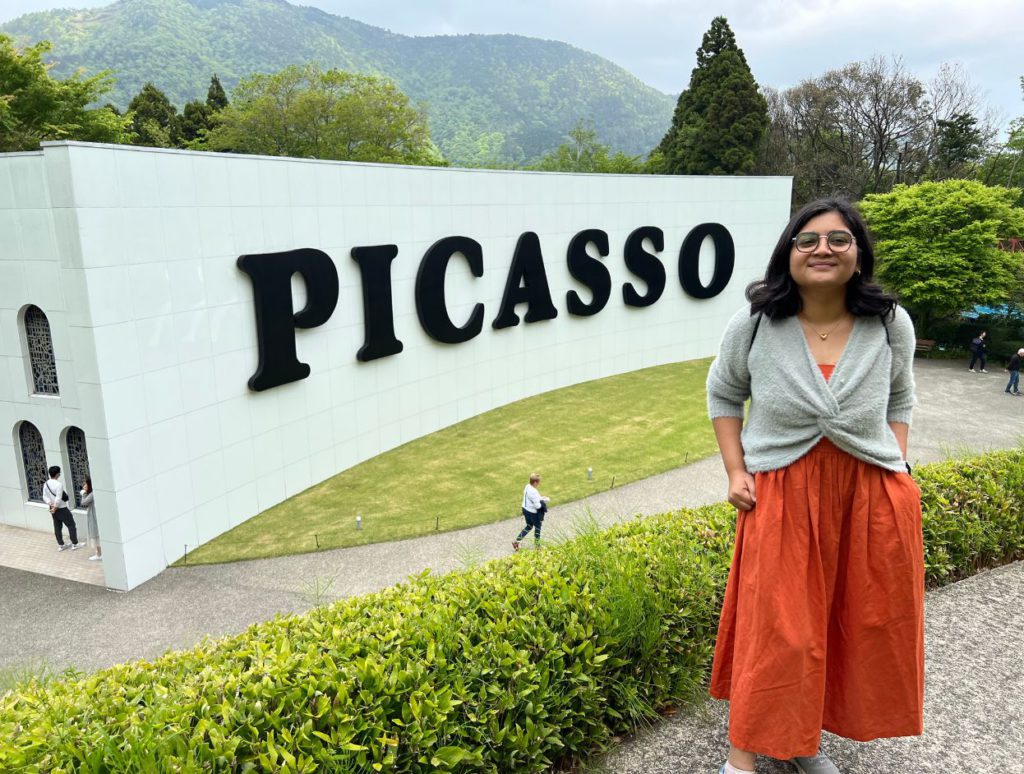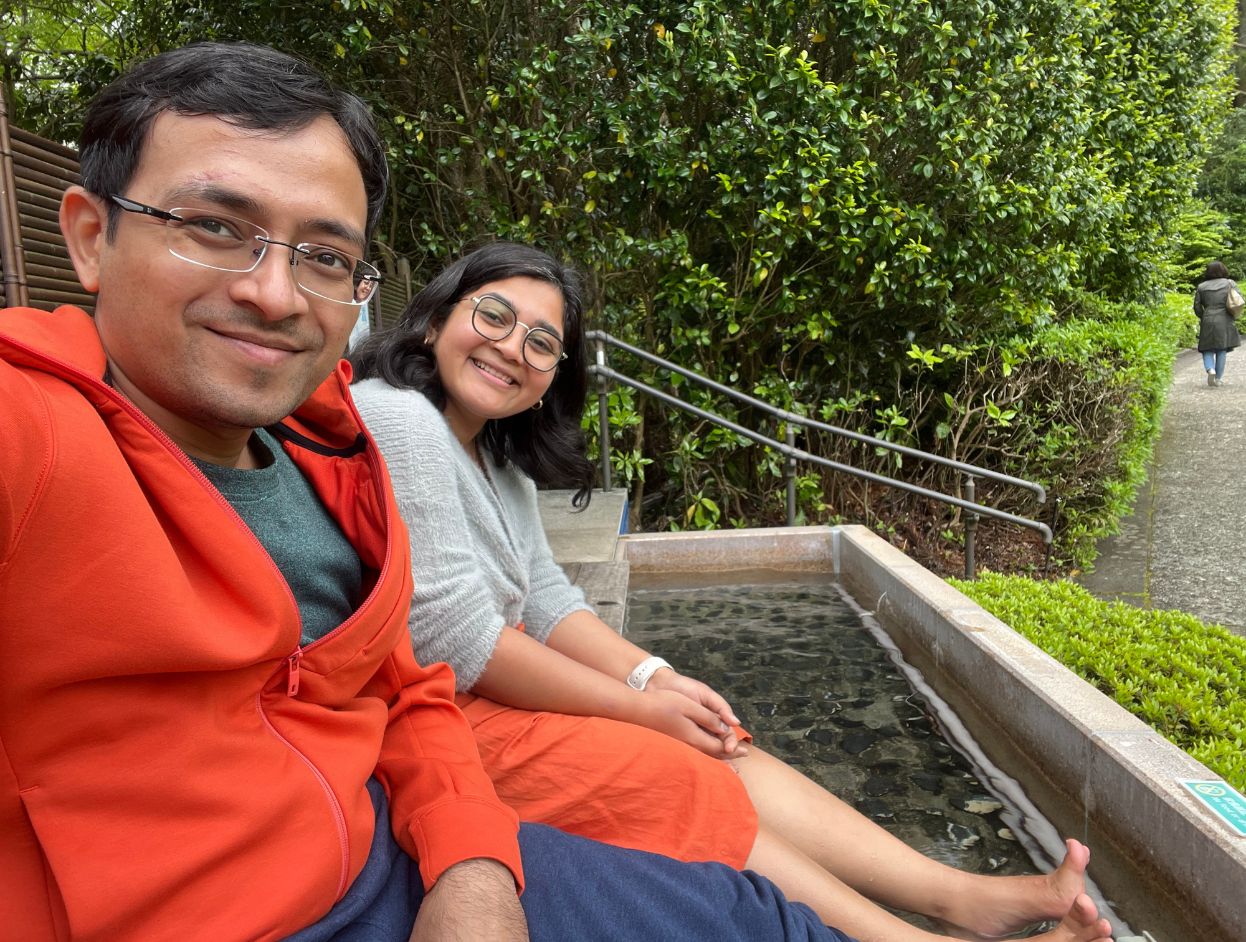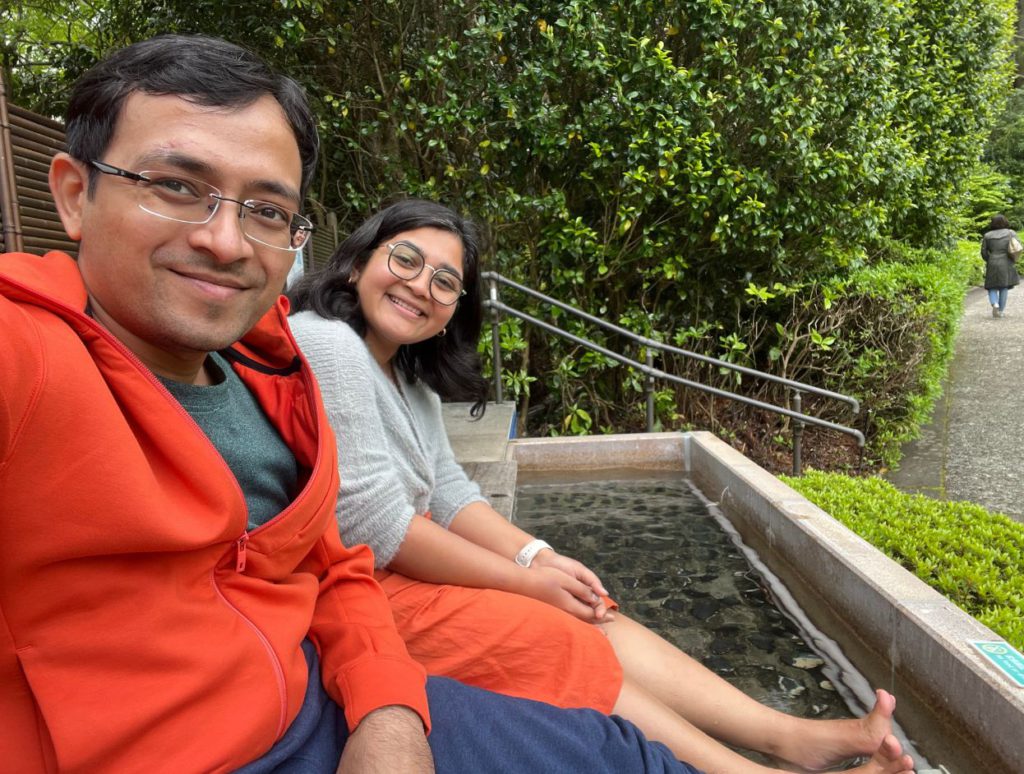 3. Chokukonomori to Gora
In a few minutes, you will reach Gora. Gora is the point where you can take your next commute towards the highlands. But before that, you can check out a couple of places here as well. The best place to visit here is Hakone Gora Park. It is around a 10-minute walk uphill from the Gora station. 
The park has several sections and is really beautiful. It especially comes alive during the cherry blossom and autumn seasons with bright-coloured flowers and several shades of leaves. I found the European-style fountain in the middle especially gorgeous. You can spend around 30 minutes here.
There is also the Hakone Museum of Art behind the park, but it is a small one showcasing ancient Japanese terracotta and pottery. Visit it only if you have some time to spare although its garden is quite lovely. You can make your way back to Gora station and also stop somewhere to eat. We got some noodles at the Ninja Cafe where two ninja chefs made our soups. Super fun meal!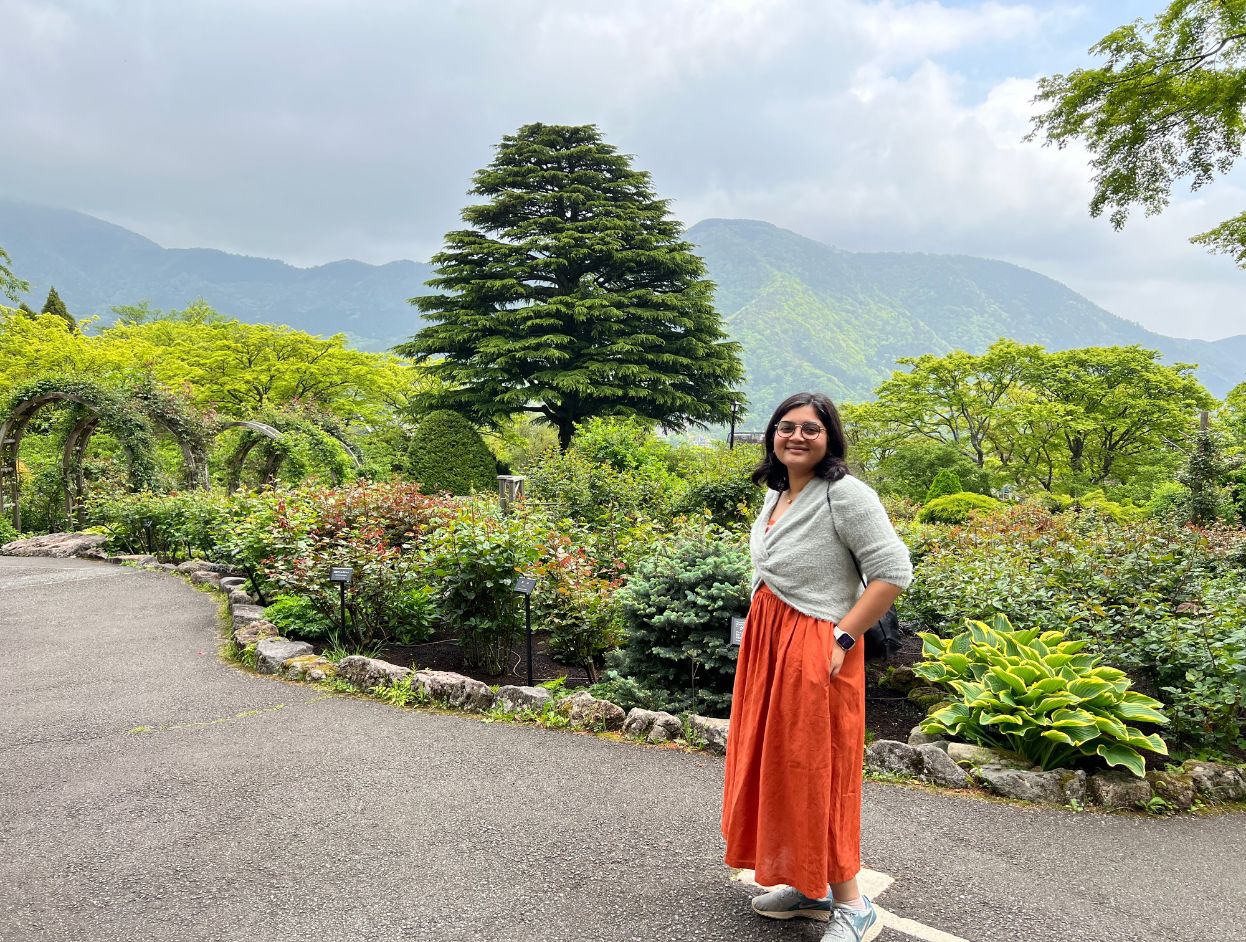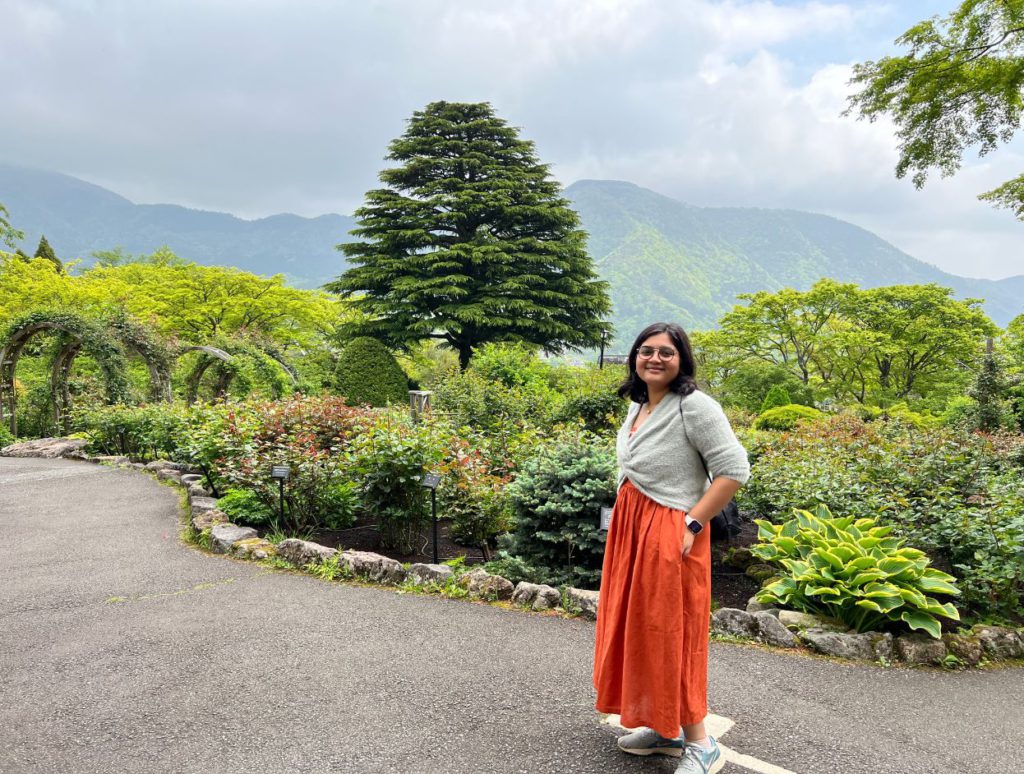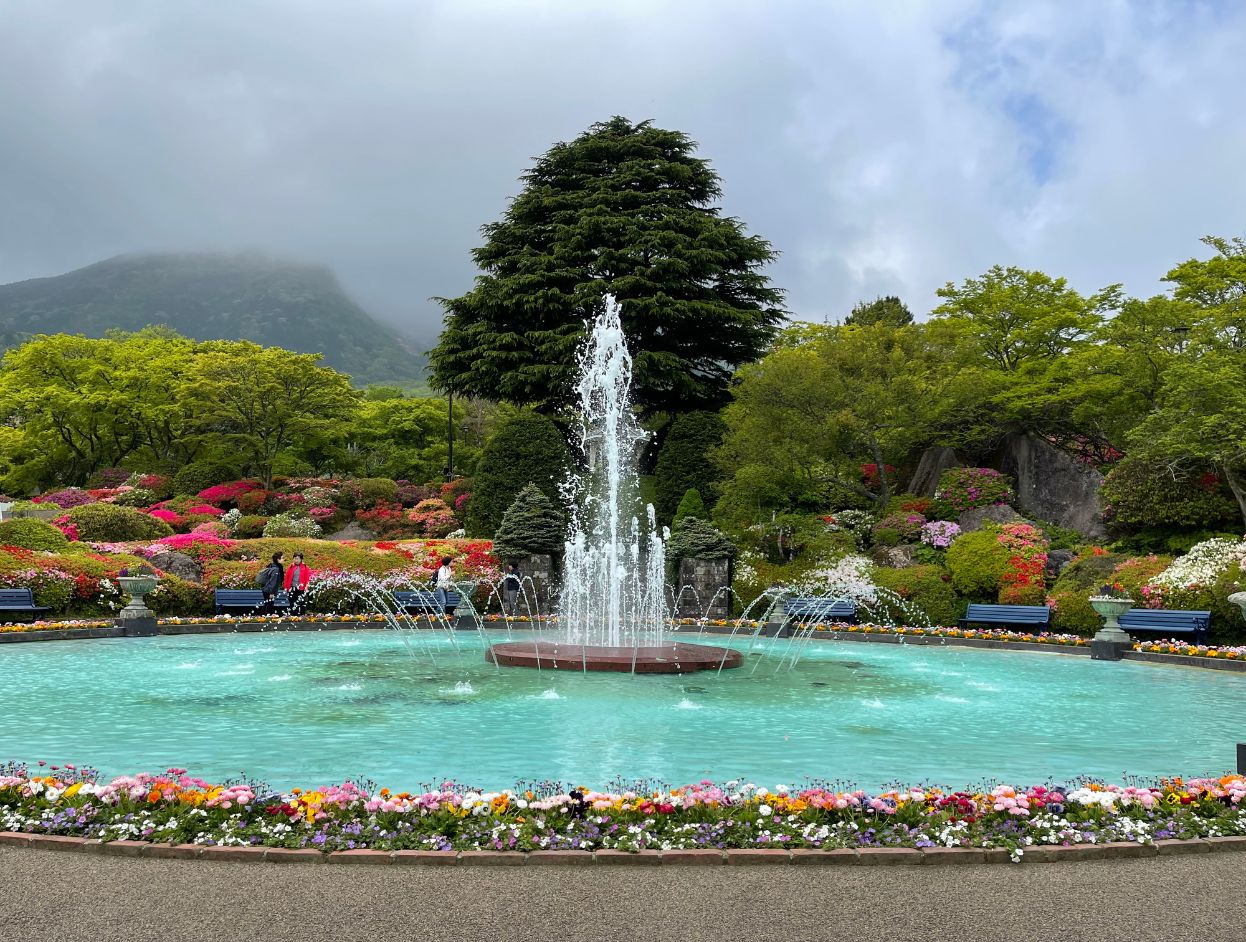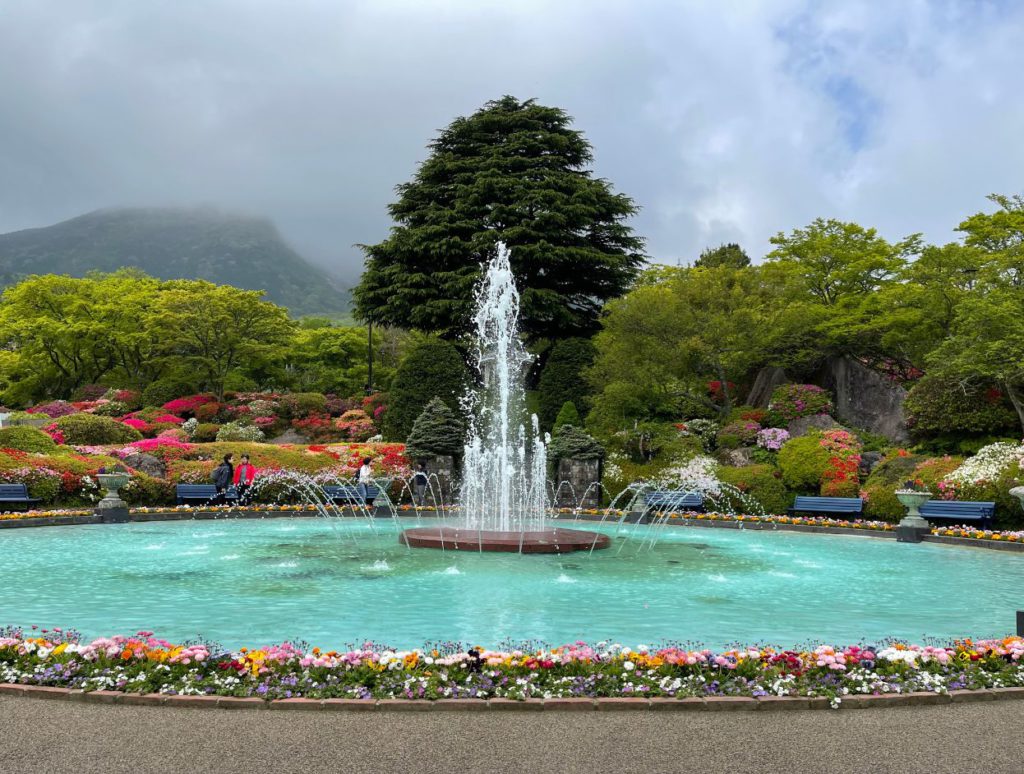 4. Gora to Sounzan
From Gora station, you can take the funicular railway to Sounzan, your next station. If you are taking this around midday, you may have to wait a while. Just hop on it and wait for it to arrive at the Sounzan. 
Sounzan station has some great views of the valley. So unless you are in a hurry to get on the ropeway, take some time and head over to their observation deck to take some photos because you are not coming back this way.
Once you are done, get in line for the cable car to your next stop.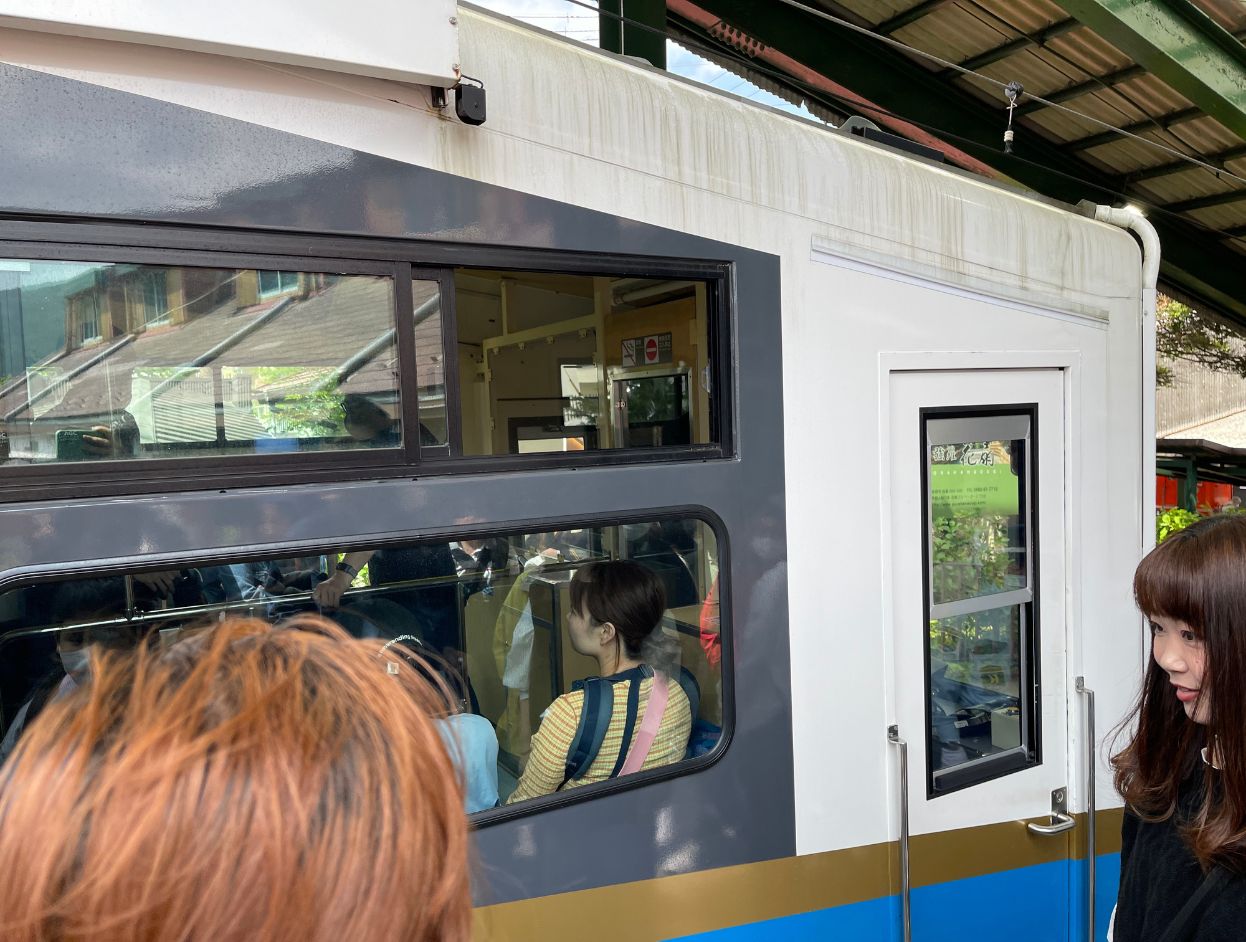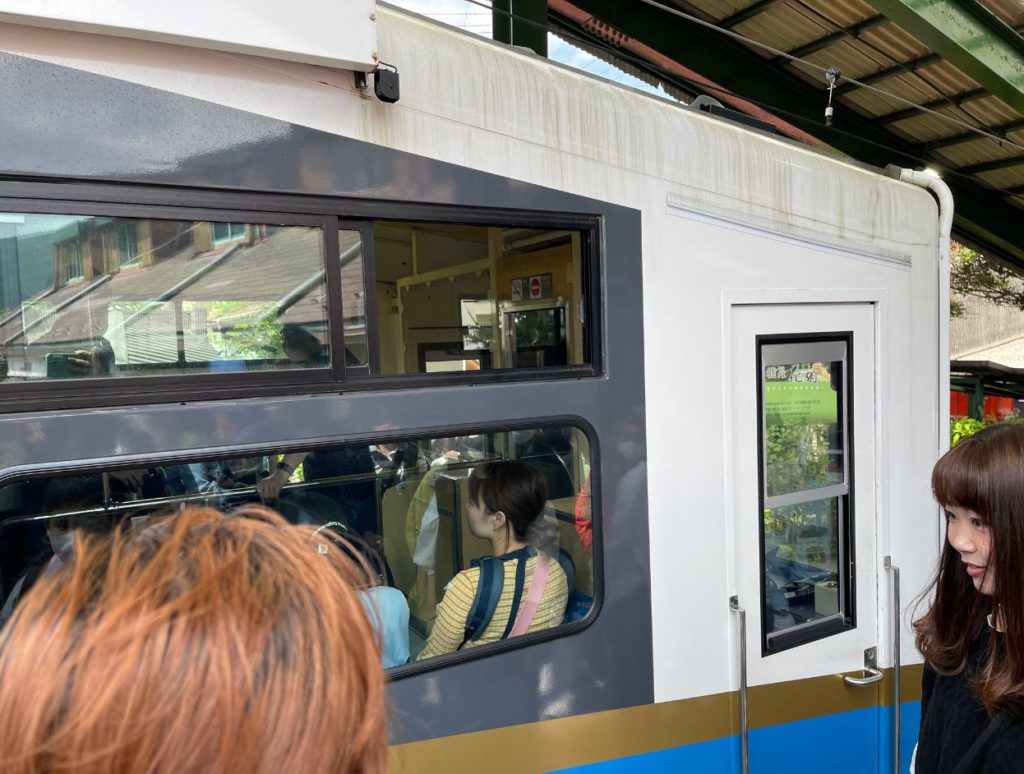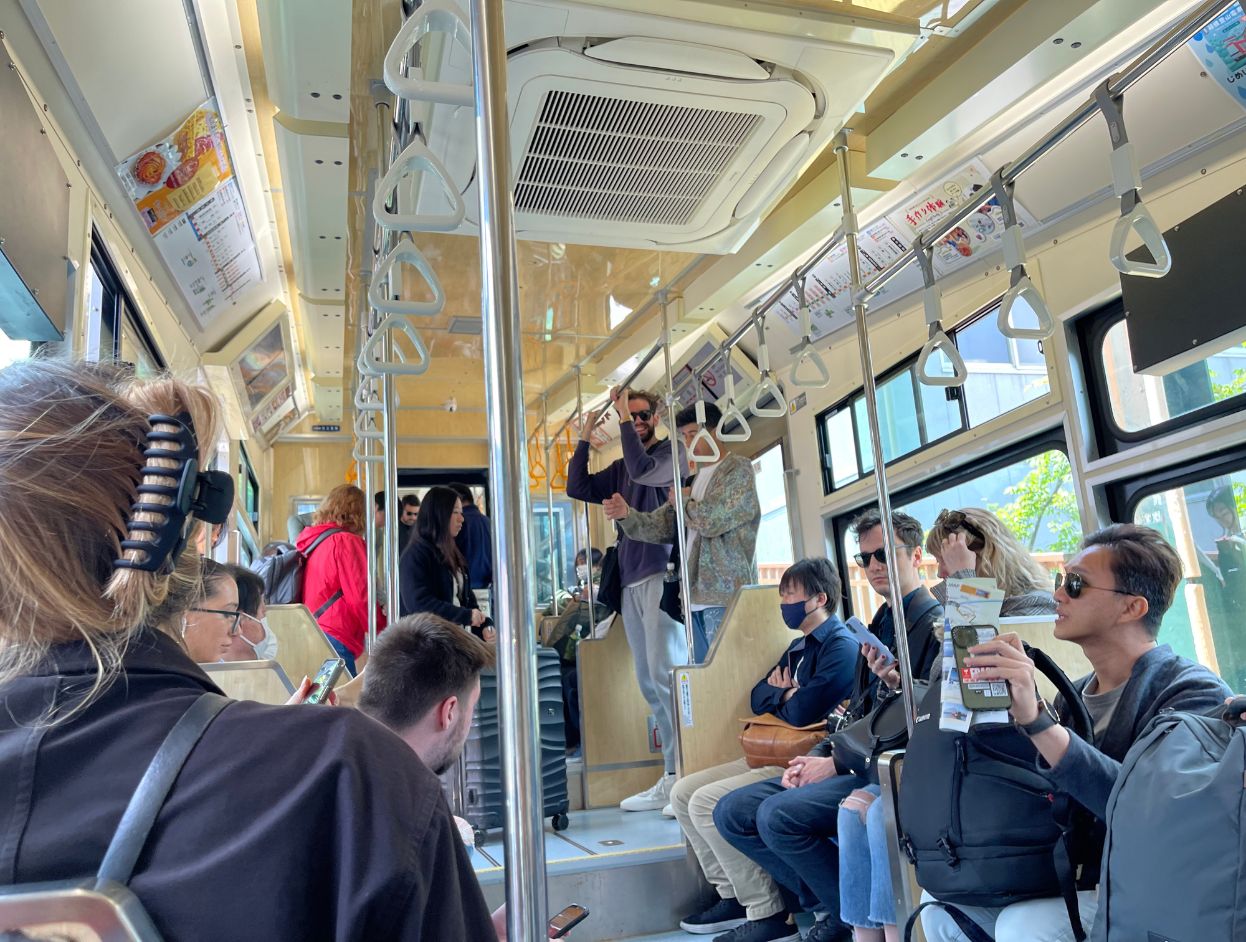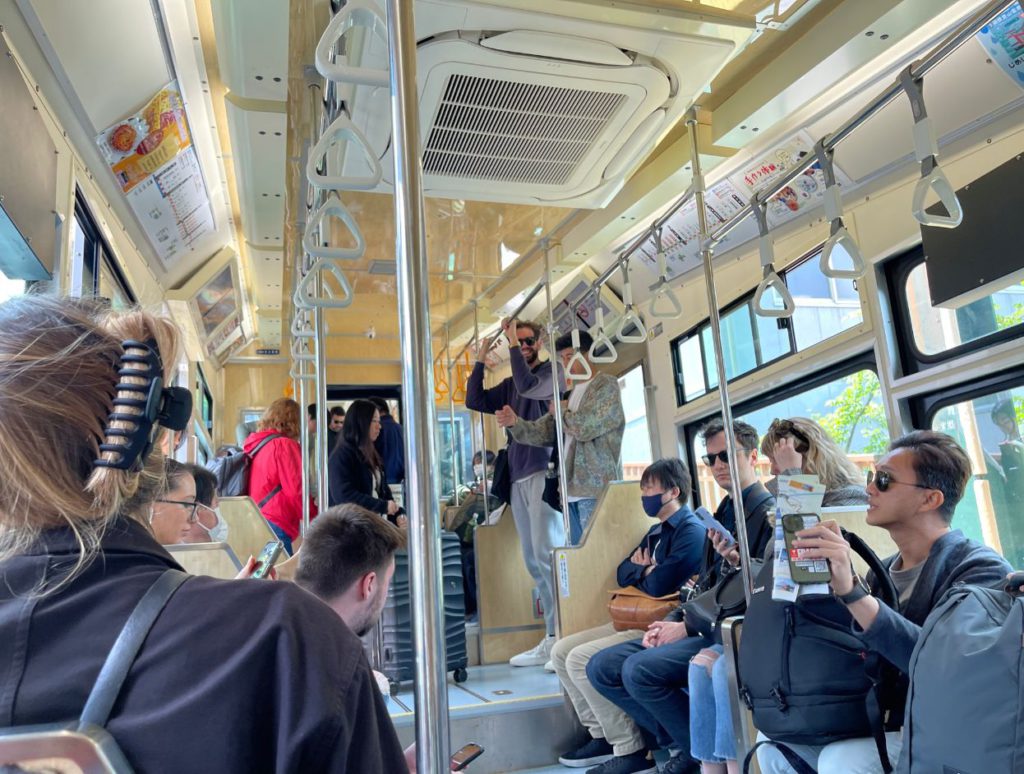 5. Sounzan to Owakudani
The cable car will take you to Owakudani. And you will see some jaw-dropping views on your way. It is not so uncommon to see the lovely views of the surrounding valleys, especially during the autumn season. But you rarely see smoke and smell overpowering you in the middle of the air from sulphur mines around you. It is gorgeous and not so at the same time.
You will be able to see this view even from Owakudani station as well. The station also has a few restaurants and souvenir shops where you can rest and get something basic to eat. A popular souvenir or snack here is sulphur bakes eggs in dark brown or charcoal black colour. They may look weird or even unappetizing, but they are perfectly okay to eat. The egg actually just tastes like a regular egg.
If you are lucky, you can also catch a lovely view of Mount Fuji on the opposite side of the mines. Although it is mostly hidden behind mist and clouds during winter and rainy days. It is not as much of a close-up as you would have expected maybe.
From Owakudani, you can take the next cable car to Tongedai or Lake Ashi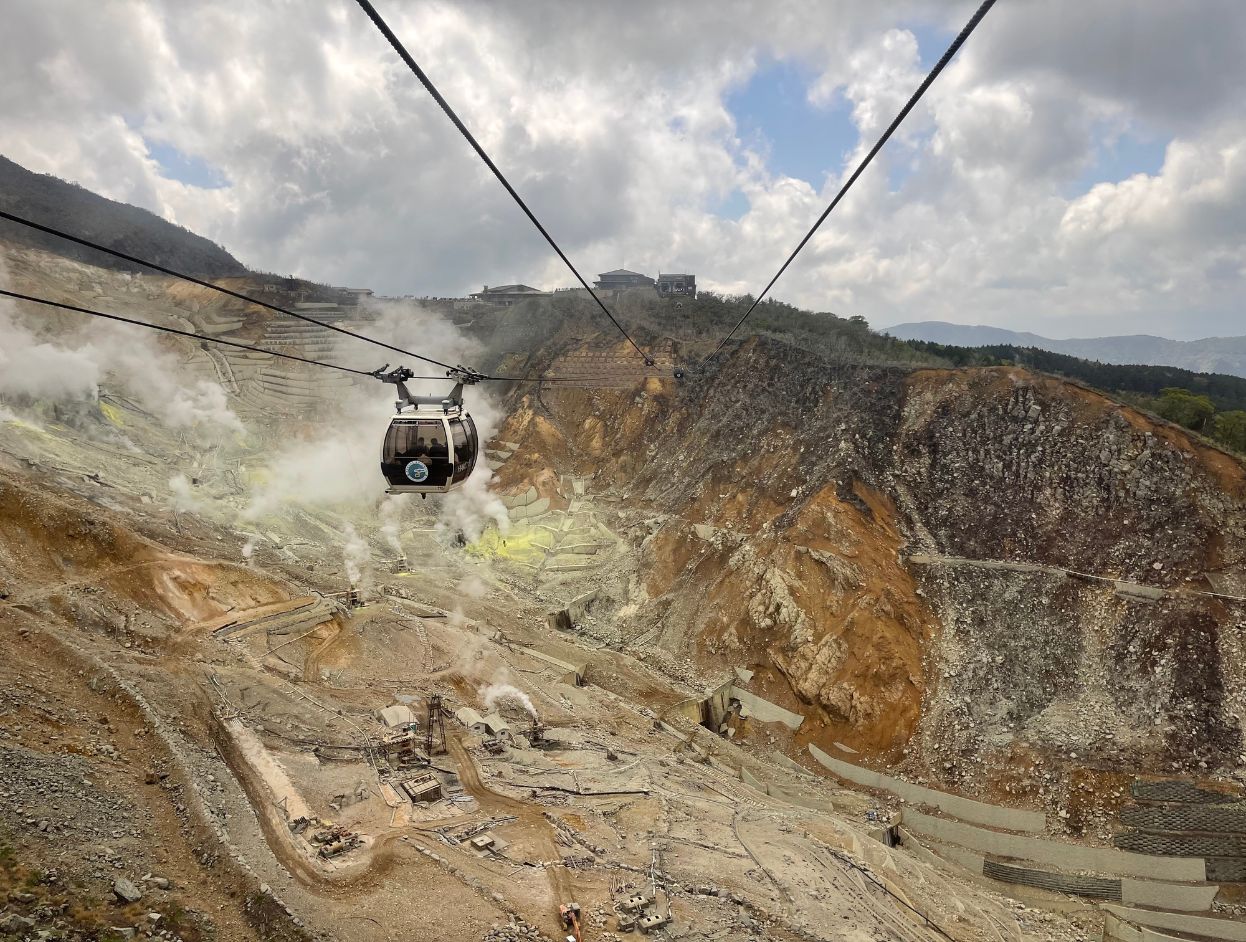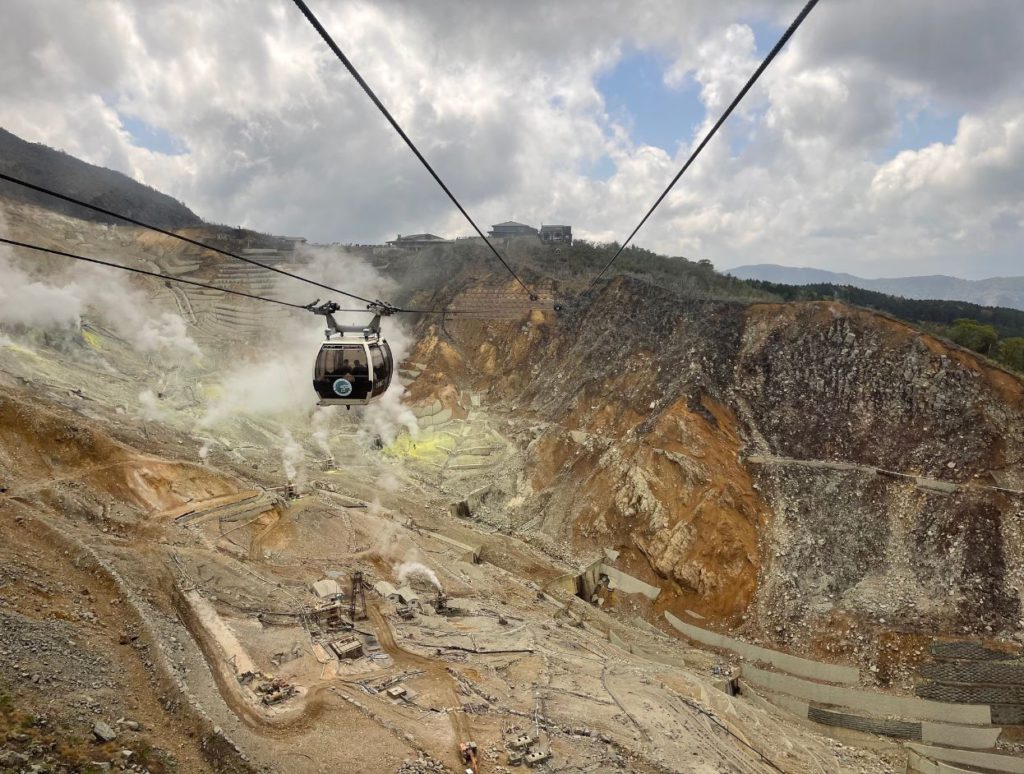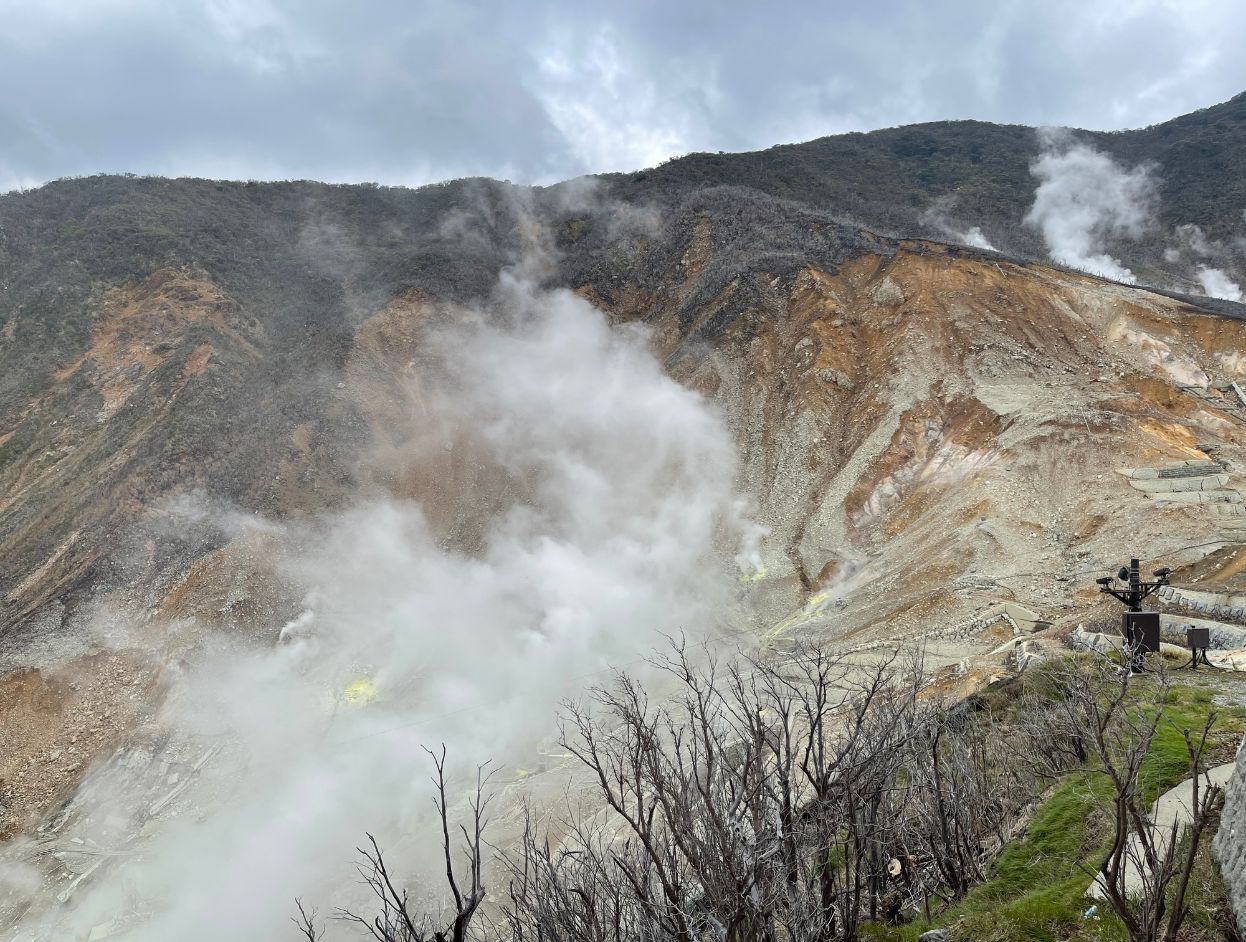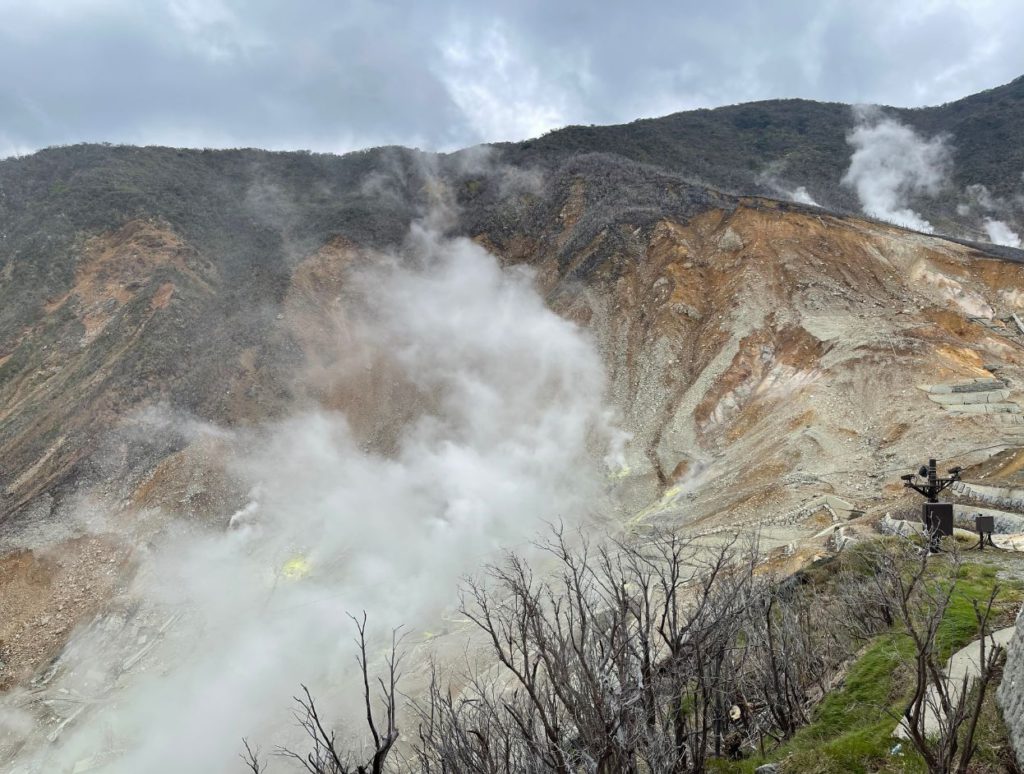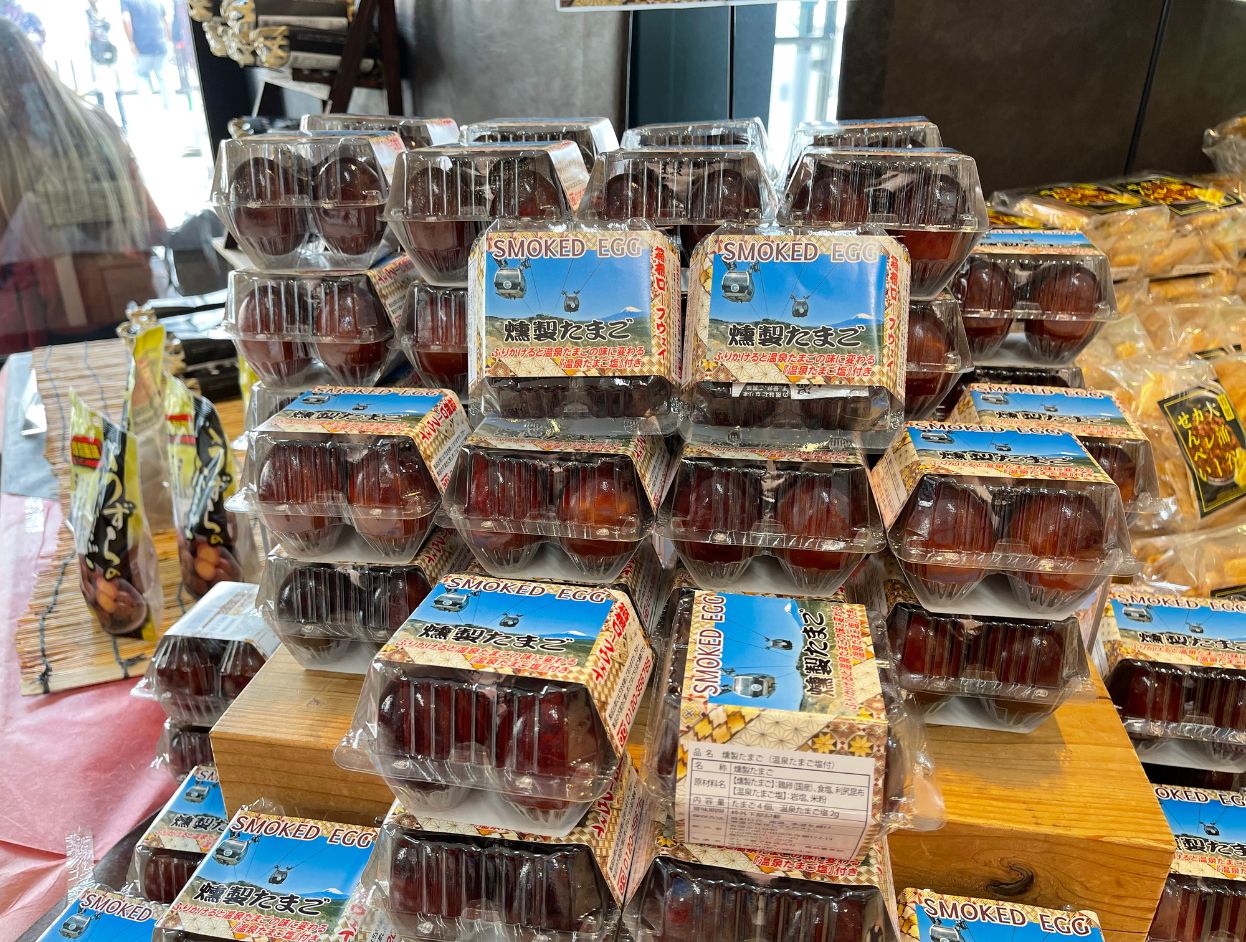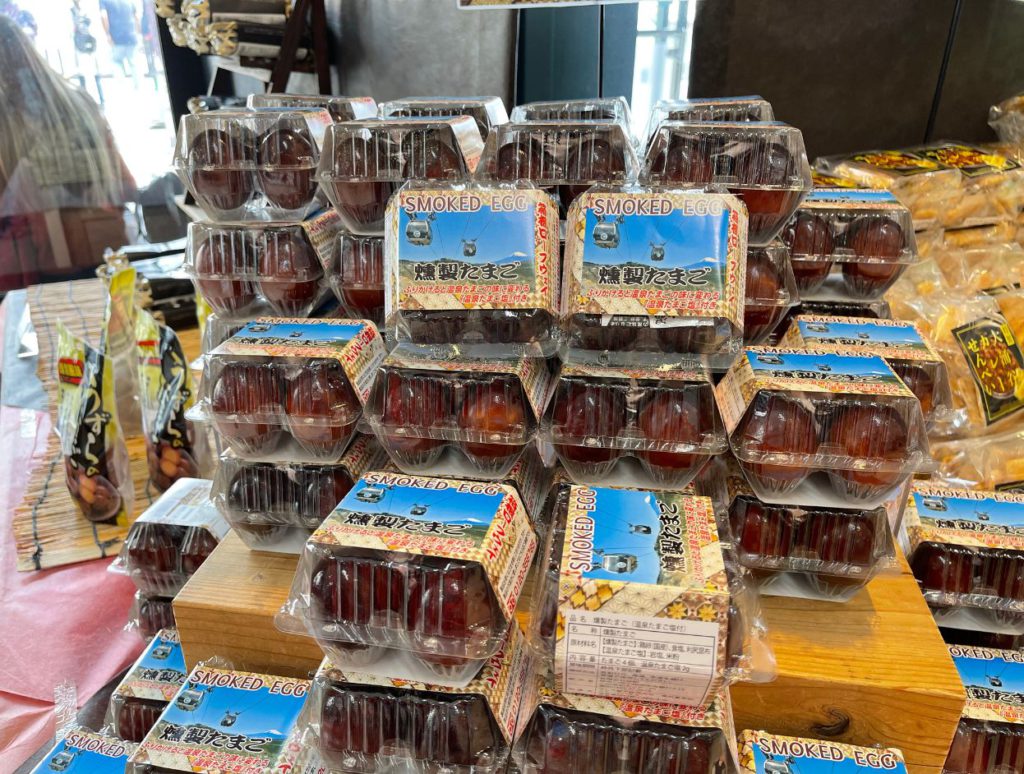 6. Owakudani to Tongedai or Lake Ashi
Just hop on the next cable car and it will drop you off to the last cable car station Tongedai. Tongedai station is located right next to Lake Ashi. It means that you are travelling downhill and will find some lovely views of not just the valley but also of a beautiful lake in the foreground.
The Tongedai cable car station is connected to the Hokone Pirate ship Tongedai Port. And I am not kidding that this was the highlight of my trip.
7. Cruise ship to Hakonemachi-ko on Lake Ashi
Once you are at the Tongedai Port, you will be able to see some majestic pirate ships on the shore. They look so grand sailing lightly on the deep blue water and mountains in the background. On a lucky day, you will be able to see Fuji-san in the background as well. 
The ticket for the cruise is included in the Hakone Free Pass. But you can always get an upgrade on the first class by paying a nominal amount. I will insist that you do this. The first class has so much more space along with a private deck without a lot of people bombing your photos. You can enjoy the views with a deck seat as well. There is no food included. 
The ride lasts around 30 minutes. And by the end of it, you can see two tori gates on the water on your left side. It looked like I had finally arrived in the magical land of Japan. The tour ends at Hakonemachi-ko port on the south side.
By now you must be nearing the end of your day. There is one place left to do still. Read on.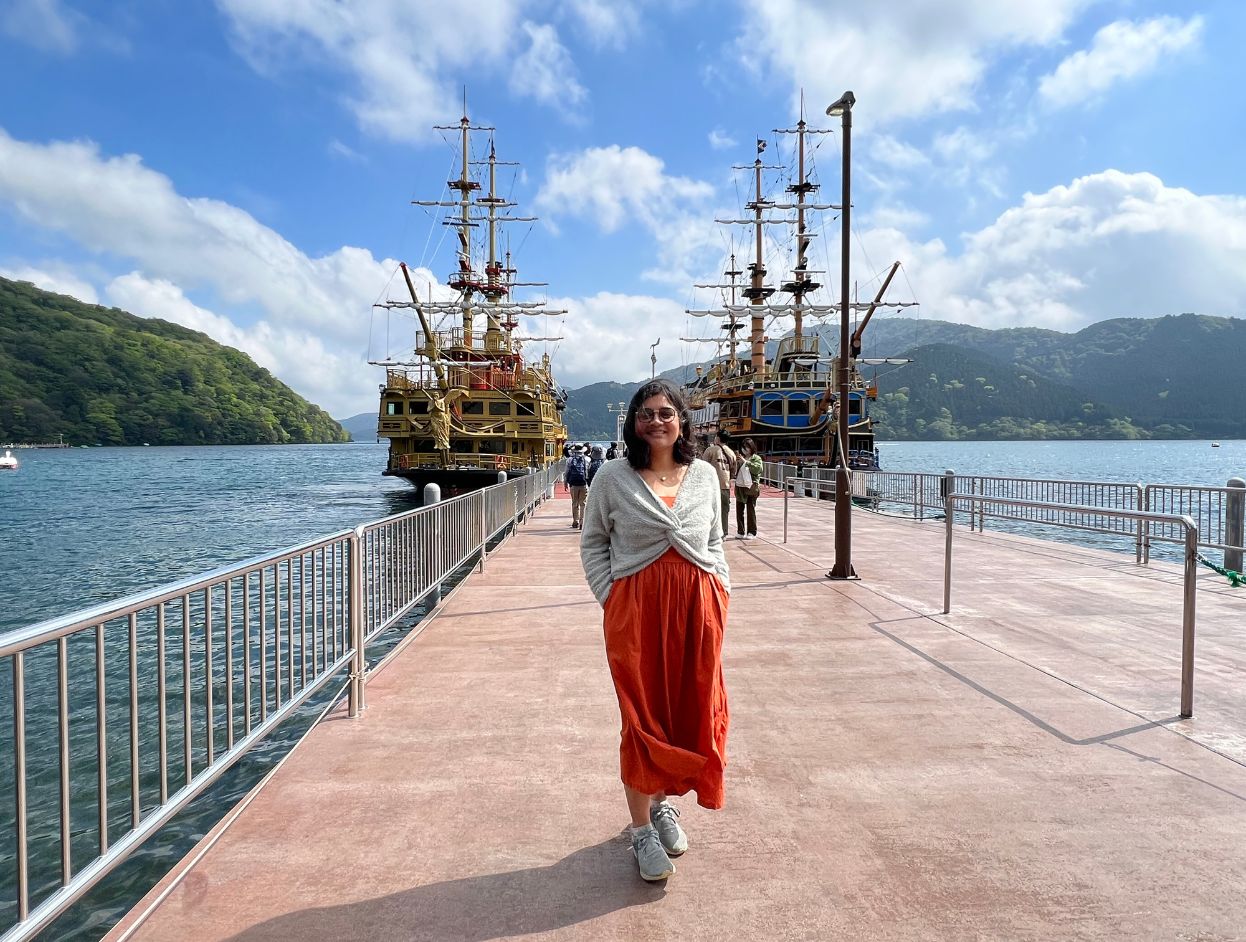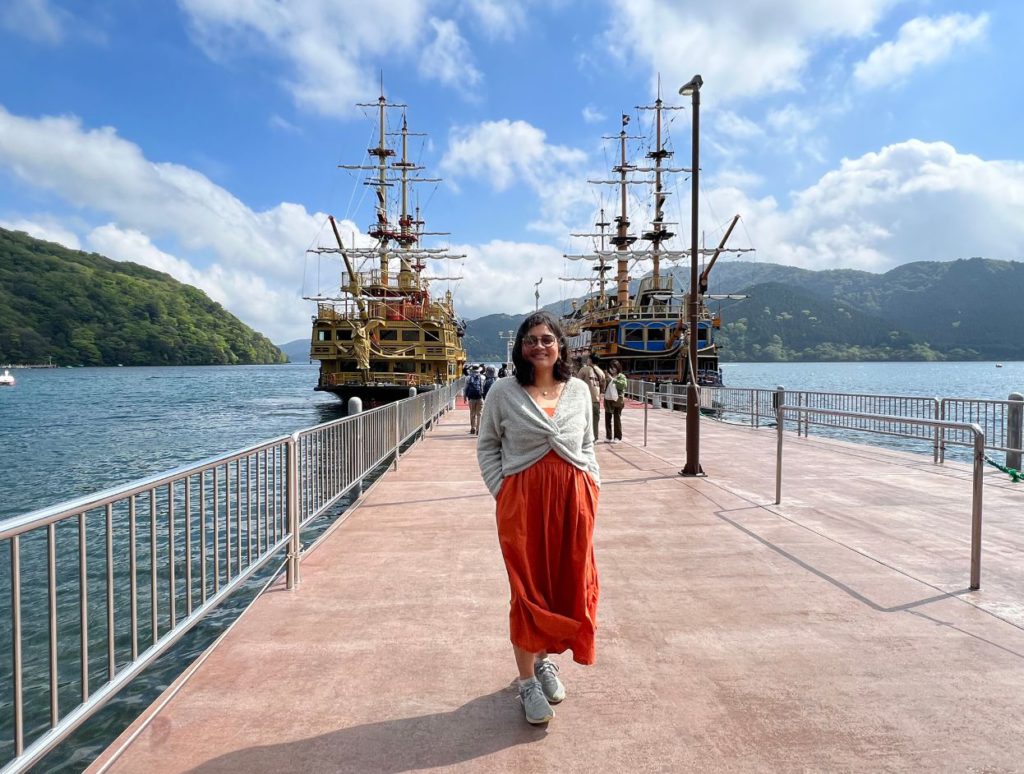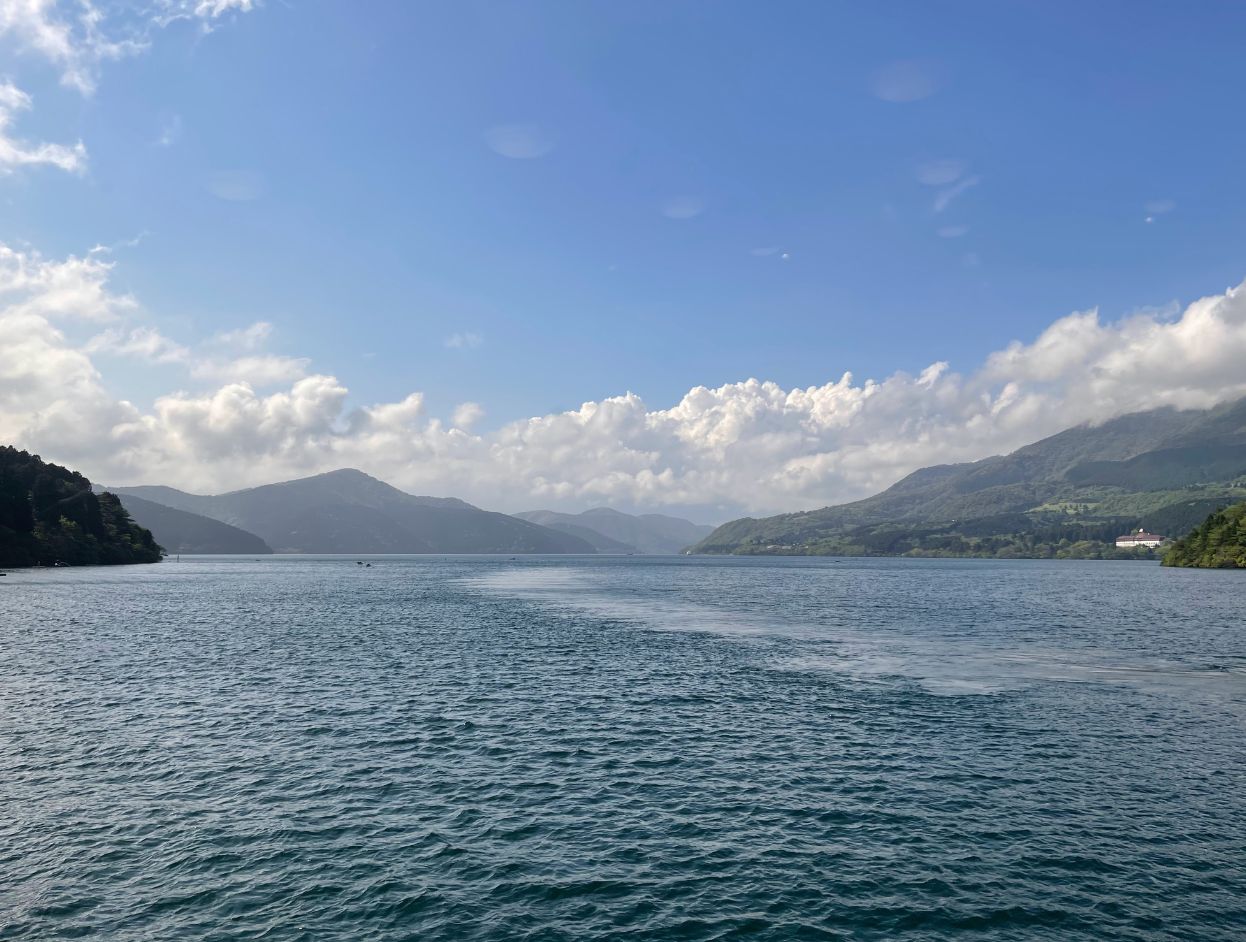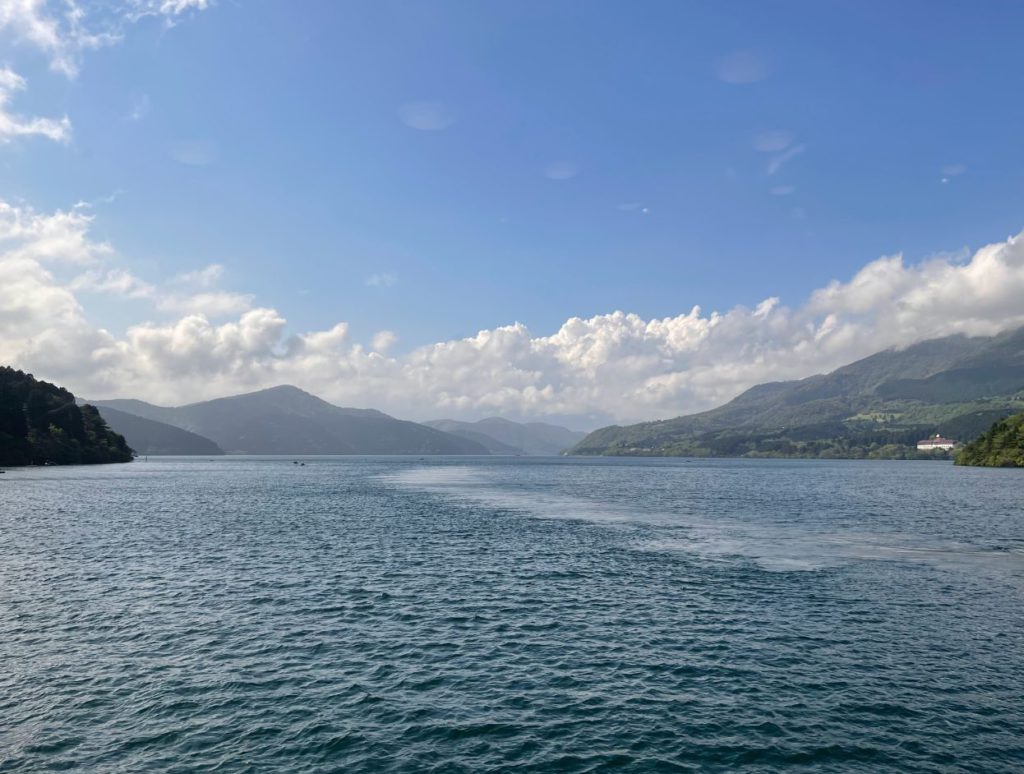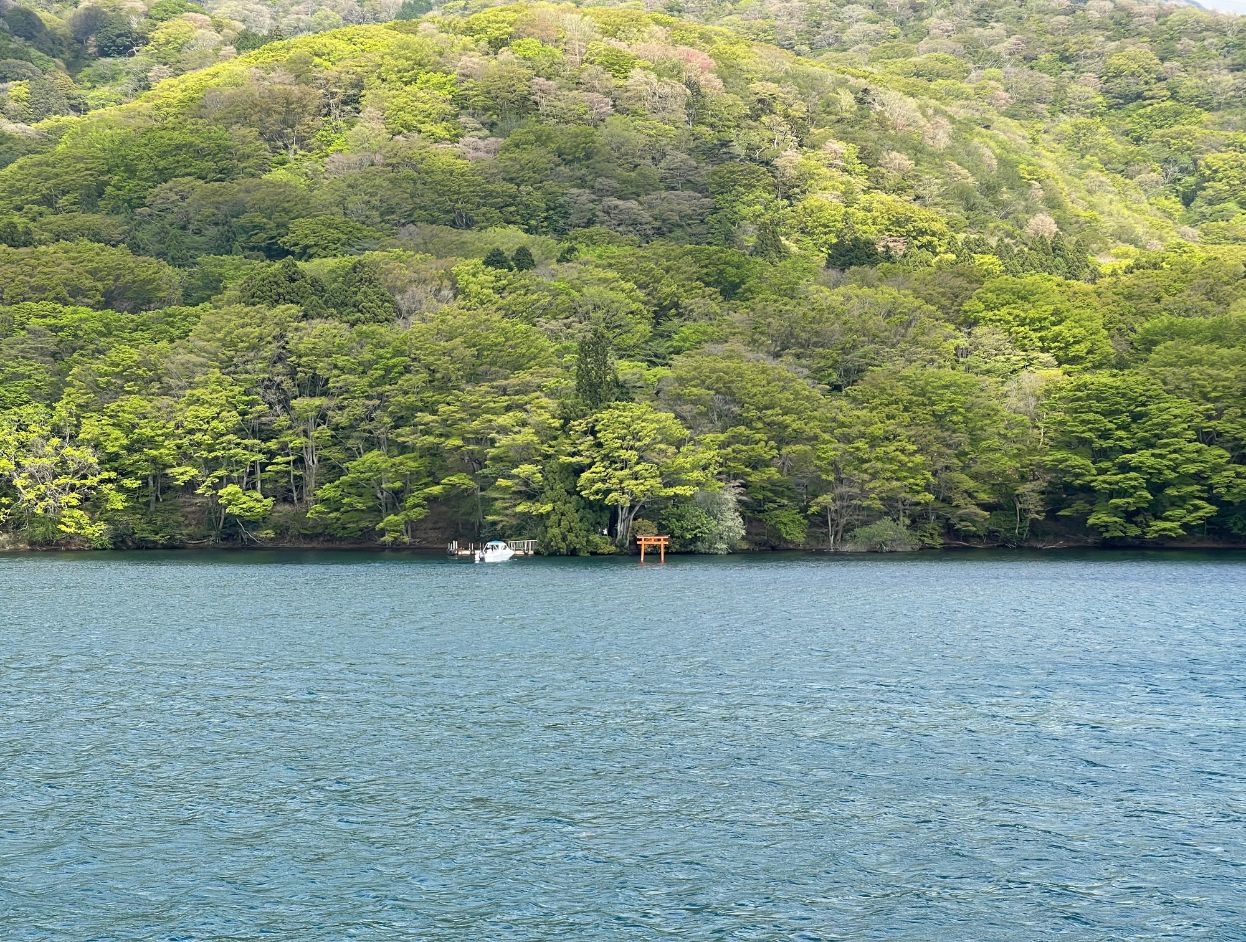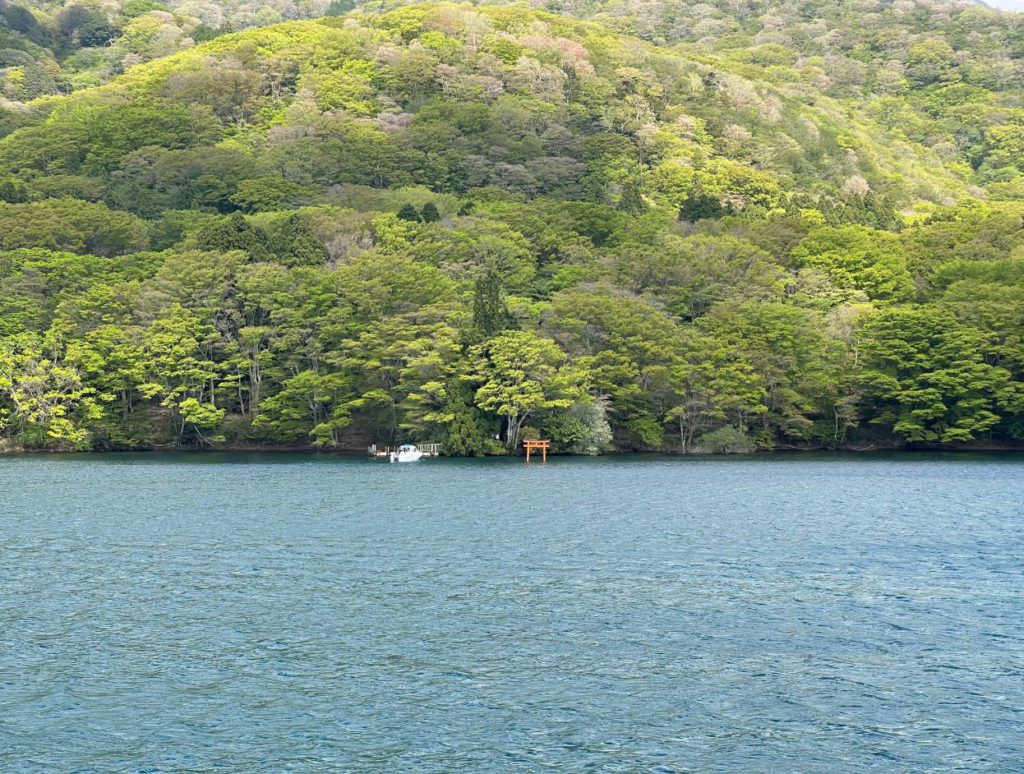 8. Hakonemachi-ko to Motohakone-ko
This is your last leg before you head back to Odawara station. From the Hakonemachi-ko port area, you can take a bus to Motohakone-ko. Now there are several buses going to different places from here. I will suggest you show your Hakone pass and share your destination with someone and they will direct you to the bus you should take.
Once you reach Motohakone-ko, you can also stop at one of the 7-Eleven and pick up something to eat if you are hungry. Pick a place by the lake and enjoy the view.
From here, walk around 15 mins towards the Hakone shrine. It is a beautiful shrine sitting inside the forest. You will need to climb a few steps to reach the top. The main shrine is peaceful and an experience you will love.
Once you are done, you can also check out the Tori gate submerged in the water on the lake's shore. There are quite a lot of people lined up to take photographs at a perfect angle. But if you can do without it, you don't need to spend a lot of time here.
Make your way back to Motohakone-ko and catch your bus to Hakone Yumoto Station. If applicable, catch the local train to Odawara station and onwards.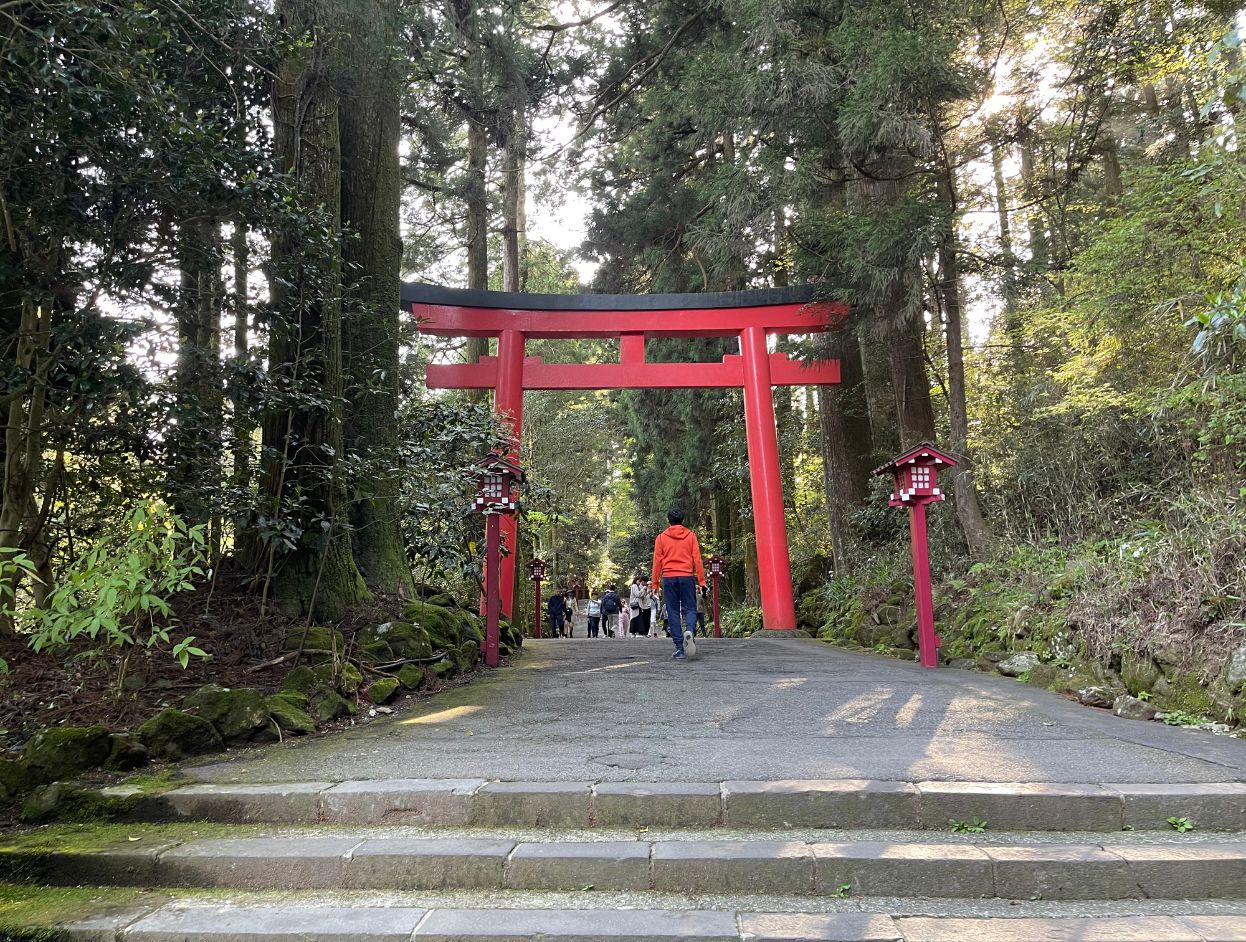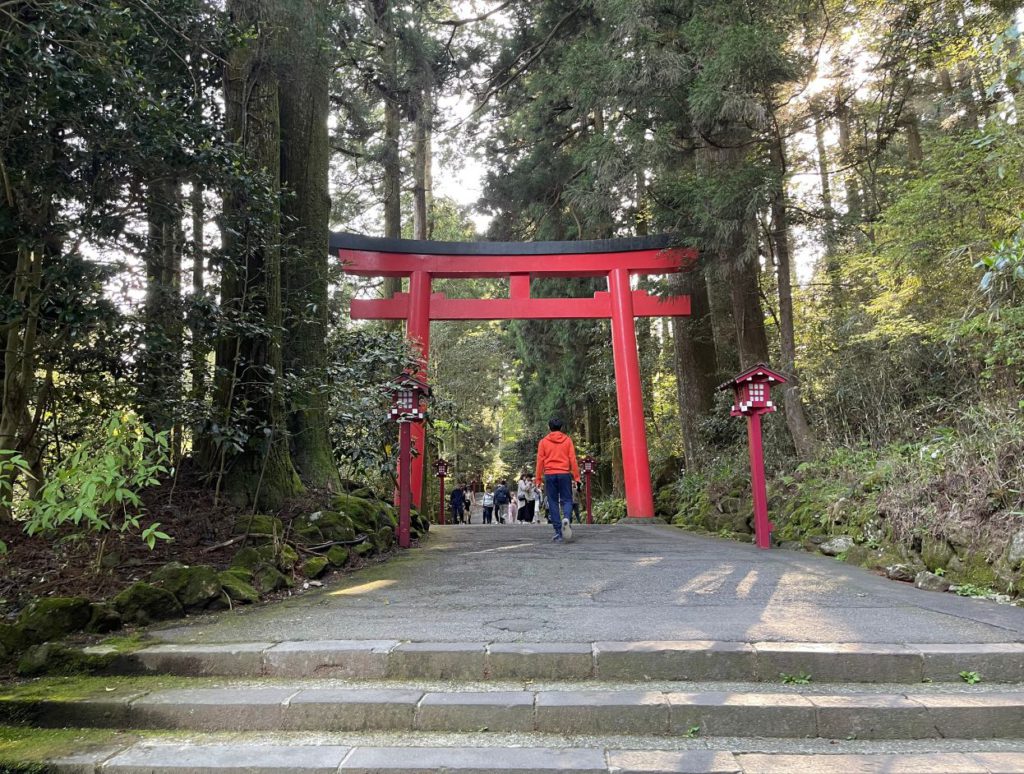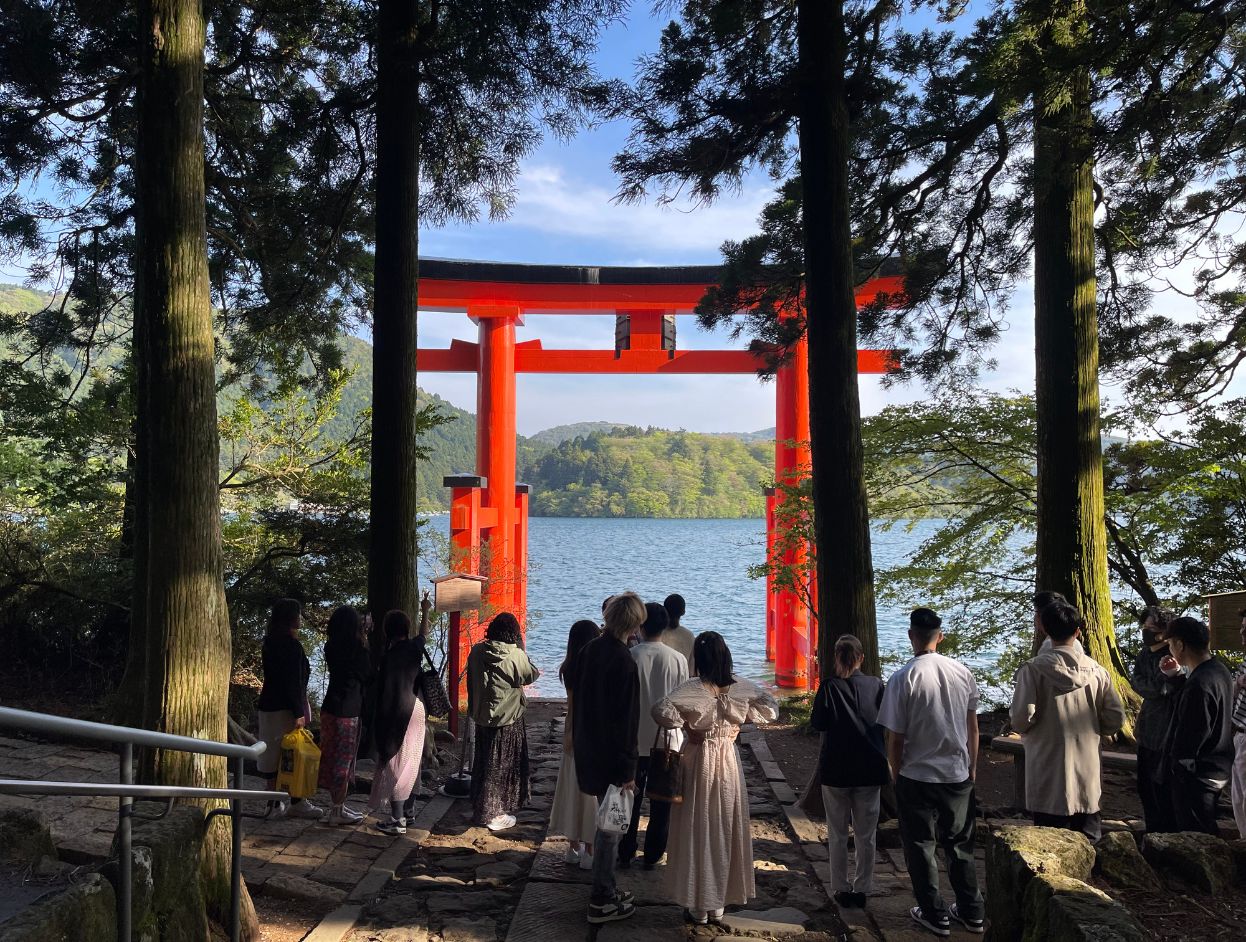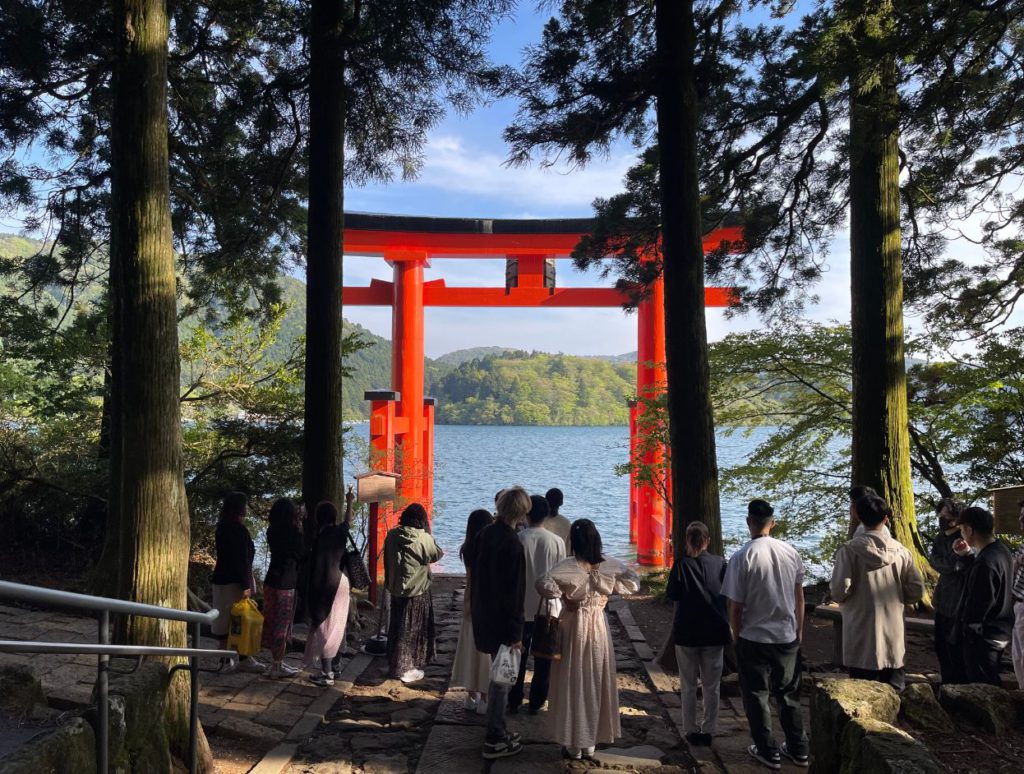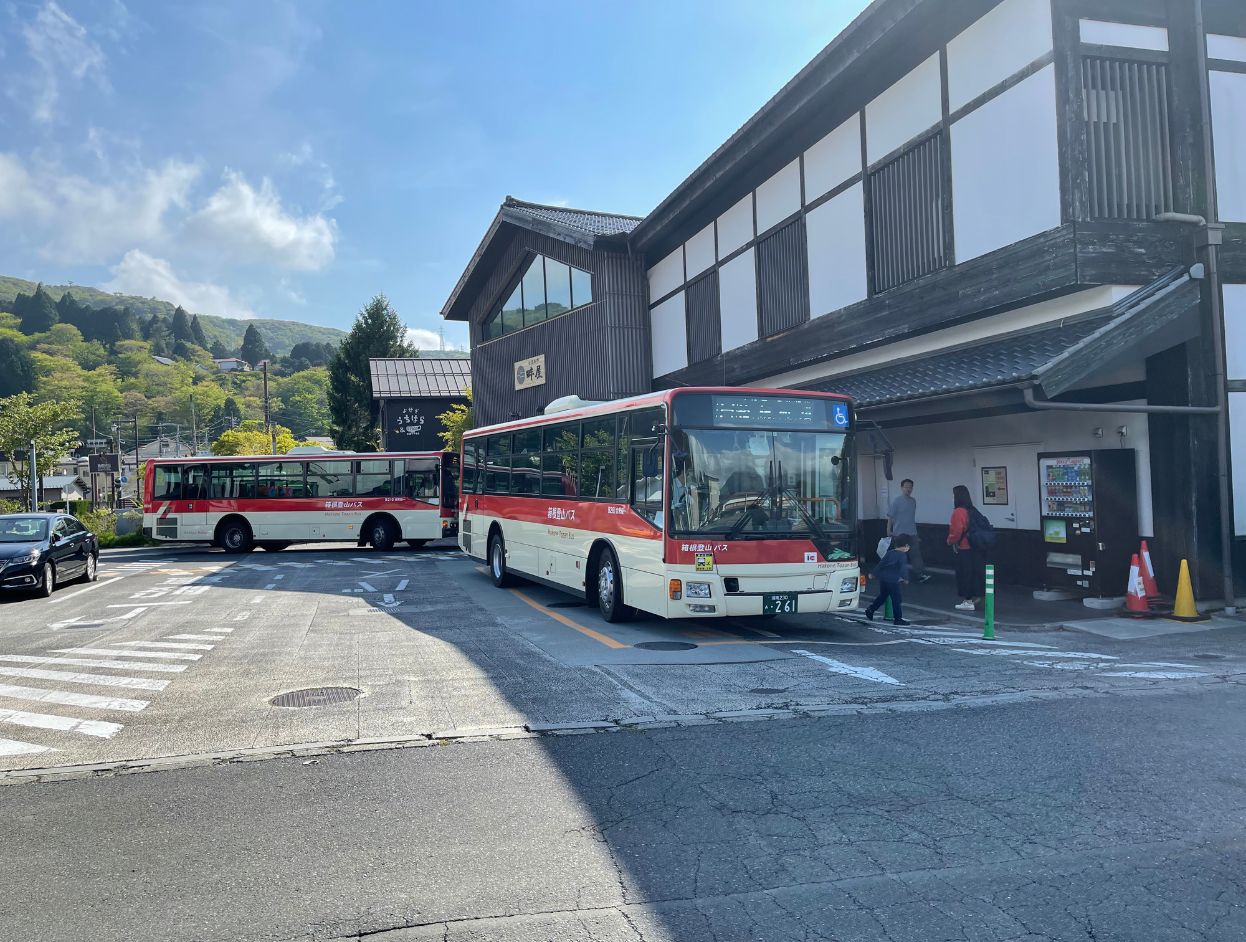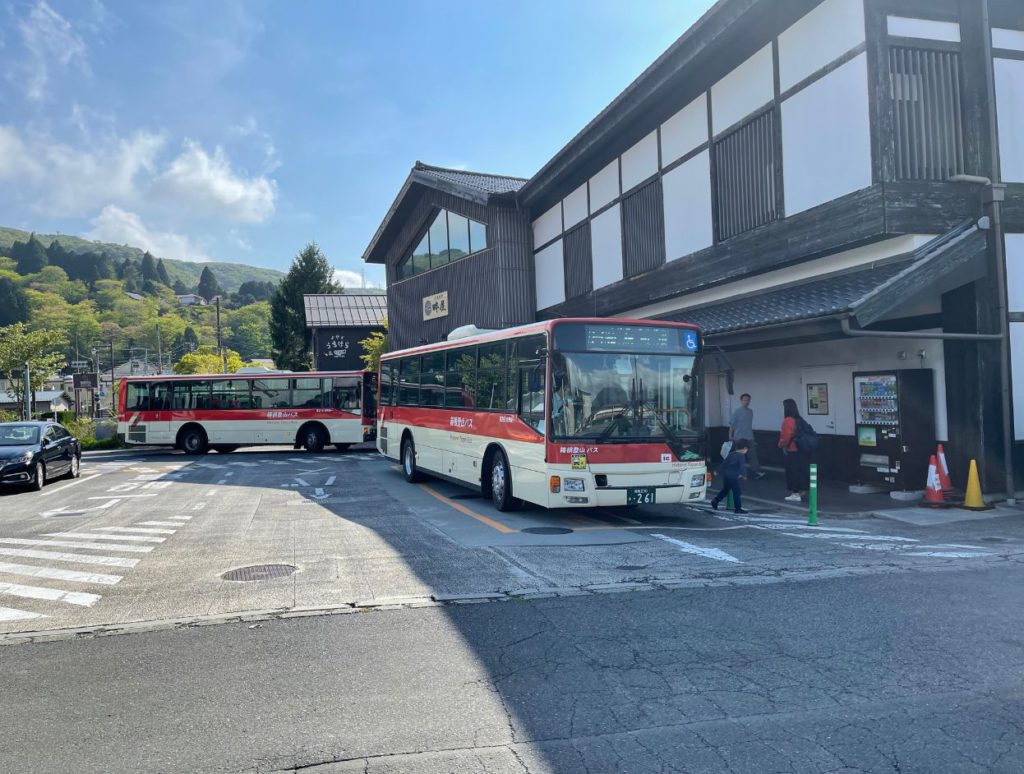 Where to Stay in Hakone
There are so many places where you can stay in Hakone. And if you haven't had the chance to stay in a Ryokan, I suggest you do that here. The most popular areas to stay are near the Hakone Yumoto station, Chokokunomori and Gora station, Tongedai and also near Hakone shrine. If you are planning to take public transportation, these places are the best areas to stay in.
The hotels around Hakone are usually on the expensive side. And by paying a bit more, you will be able to experience a Ryokan with lovely countryside. So that's what I will suggest. Here are some that are on the more affordable side:
Hakone Pax Yoshino, Hatago Kintoen, Tokinoyu Setsugetsuka, Hakone Shirayunoyado Yamadaya Ryokan
Here are also some premium hotel options if you would like a more luxurious experience:
Ryokan Hanagokoro, Natural SPA Auberge gen Hakone Gora, Matsuzakaya Honten, Hakone Gora Byakudan
If you are taking a private vehicle you can also look for options between Gotemba and Gora. The area is lush with forests and also has some wonderful and surprising museums in the middle of nature.


Related Articles