24 Oct

Seoul Travel Itinerary for 7 Days: South Korea Travel Guide

Hello traveller! You are looking at one of my favourite destinations in the world. I love South Korea. Even more than in Japan (although I like the food there better). But South Korea has an amazing vibe. Seoul is so clean and beautiful. I cannot forget the gorgeous trees, yellow and orange in colour during autumn. And then there are couples roaming around holding hands. For the first couple of days, I thought I was inside a K-drama.

The best decision I made was to stay in Korea for long. And that too just in Seoul to give myself more time to explore the city in detail. I stayed in Seoul for 10 days but I did take a couple of day and weekend trips from there. It still gave me ample amount of time to explore Seoul city at my own pace.

While there are a lot of things to do in Seoul, it is important to cluster some places together. Or you will spend way more time travelling from one place to another. I love museums, art and culture so you will find my itinerary rather full of this stuff. Feel free to add things that you would enjoy more. Let's go.
Day 1: National Palace Museum of Korea - Gyeongbokgung Palace - The National Folk Museum of Korea - Bukchon Hanok Village - Hongdae Street
On the first day, we are heading to the grand palace area. There are five major palaces in Seoul. This is the biggest and the most important one. After this, head to a couple of museums located right around the palace grounds area. So it's just easy to visit all of them together. We end the day at Hongdae, the best area in Seoul to enjoy the nightlife.
1. National Palace Museum of Korea
The National Palace Museum of Korea is located inside the palace grounds. If you follow exit number 5 from Gyeongbokgung subway station you will arrive right in front of the museum. The museum is open every day of the week and is free to enter.
The museum showcases history, homeware, artefacts, literature, scriptures and furniture from the royal family of the Joseon dynasty. If you have watched any of the historical K-dramas, you will be able to relate to them even more.
In any case, I found a great deal of information on how they lived, some rituals like weddings, death and coronation, popular food and attires. There are English translations everywhere so it is very easy to navigate and enjoy.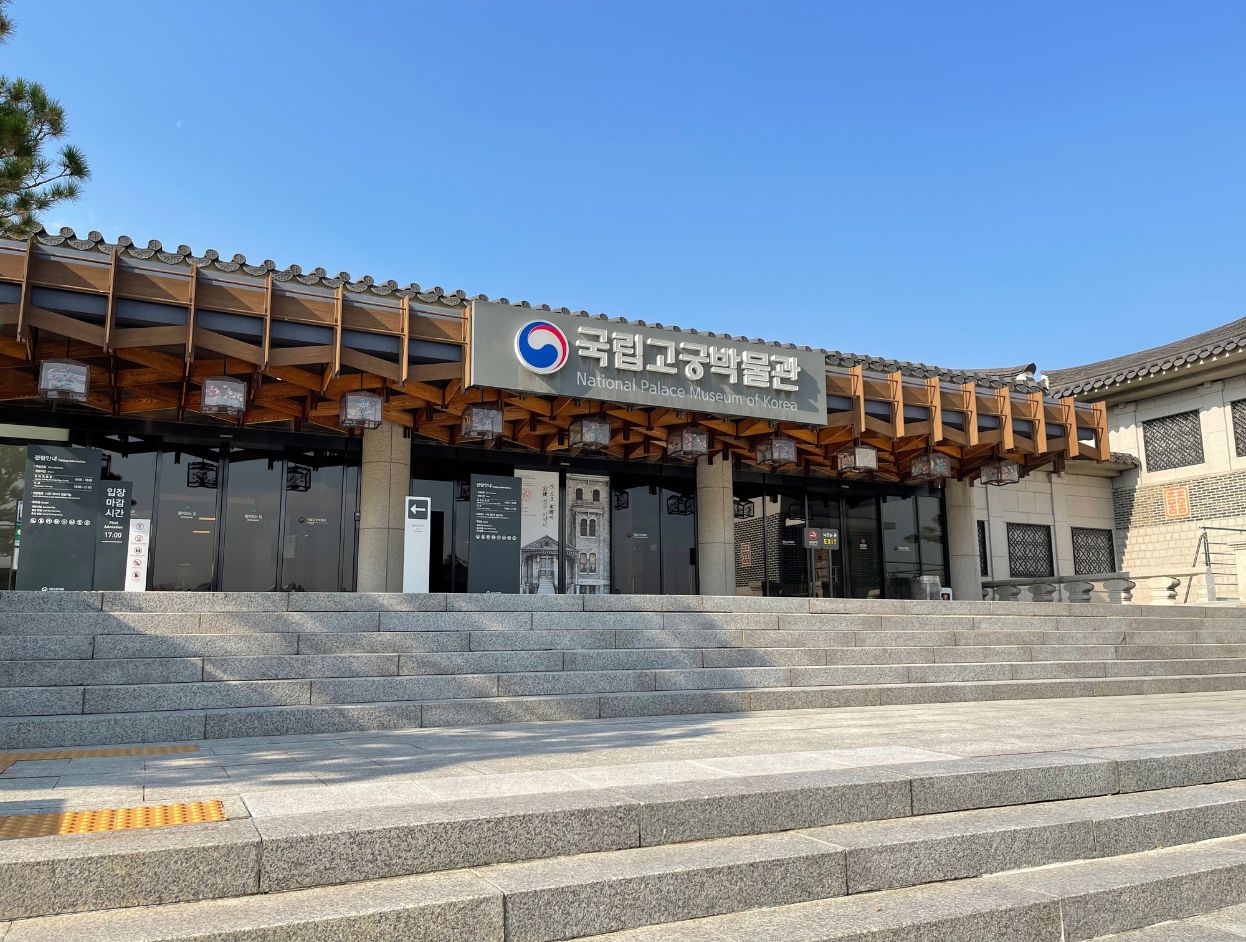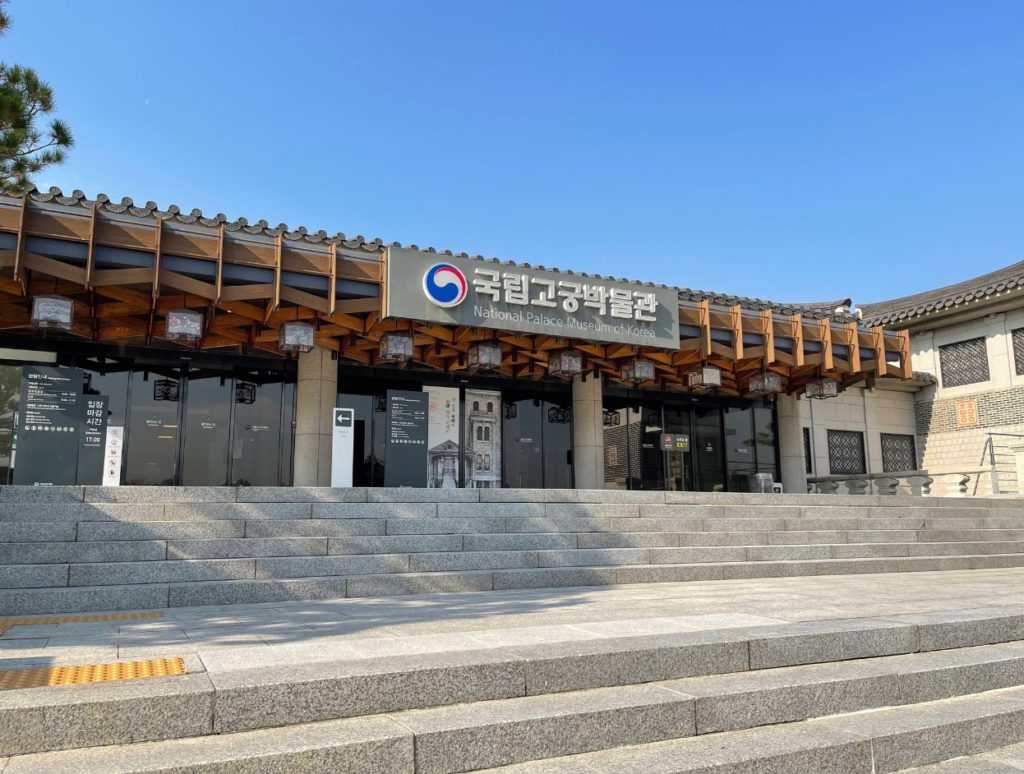 2. Gyeongbokgung Palace
Gyeongbokgung Palace is the largest of all the palaces in Seoul. It is the best place to start exploring the historic side of Korea. I did not know that Korea was so rich in imperial history. The Korean peninsula was ruled by the Joseon dynasty lasting over 500 years. They left a deep cultural legacy that you will find all over Korea. This was their ruling palace amongst many other smaller ones.
In fact, the palace was about four times bigger than what you see today. But most of it was razed to the ground during the Japanese invasion and occupation. Some of this was rebuilt and restored by the Korean government recently using the detailed maps from the archives. In any case, it is a treat to the eyes. The palace is a collection of several buildings and each has its own function and purpose.
I strongly suggest you follow a tour guide. You will find the details of the tour guide online or near the entrance. Several guided tours run in a day in different languages free of cost. You will get to hear so many interesting stories that you would never be able to make out on your own.
When you are here, you shouldn't miss the changing of the guard ceremony at Gwanghwamun Gate. It is a ceremony similar to what you would see at Buckingham palace, but completely Korean, borrowed from their medieval customs. The ceremony takes place at 10 am and 2 pm every day except on Tuesdays when the palace is closed. You can check the palace opening days & timings here. 
The best way to reach the palace is to take the subway to Gyeongbokgung station and walk from there.The entry ticket costs KRW 3,000. You can also buy a ticket for KRW 10,000 that includes all the palaces if you plan to visit them. If you wear a traditional Korean hanbok, your entrance will be free. You can do so by renting one out from a nearby shop or check out these experiences below.
Rent a Hanbok: Seoul: Gyeongbok Palace Entry Ticket and Hanbok Rental
Need more details? Read our detailed article on visiting Gyeongbokgung Palace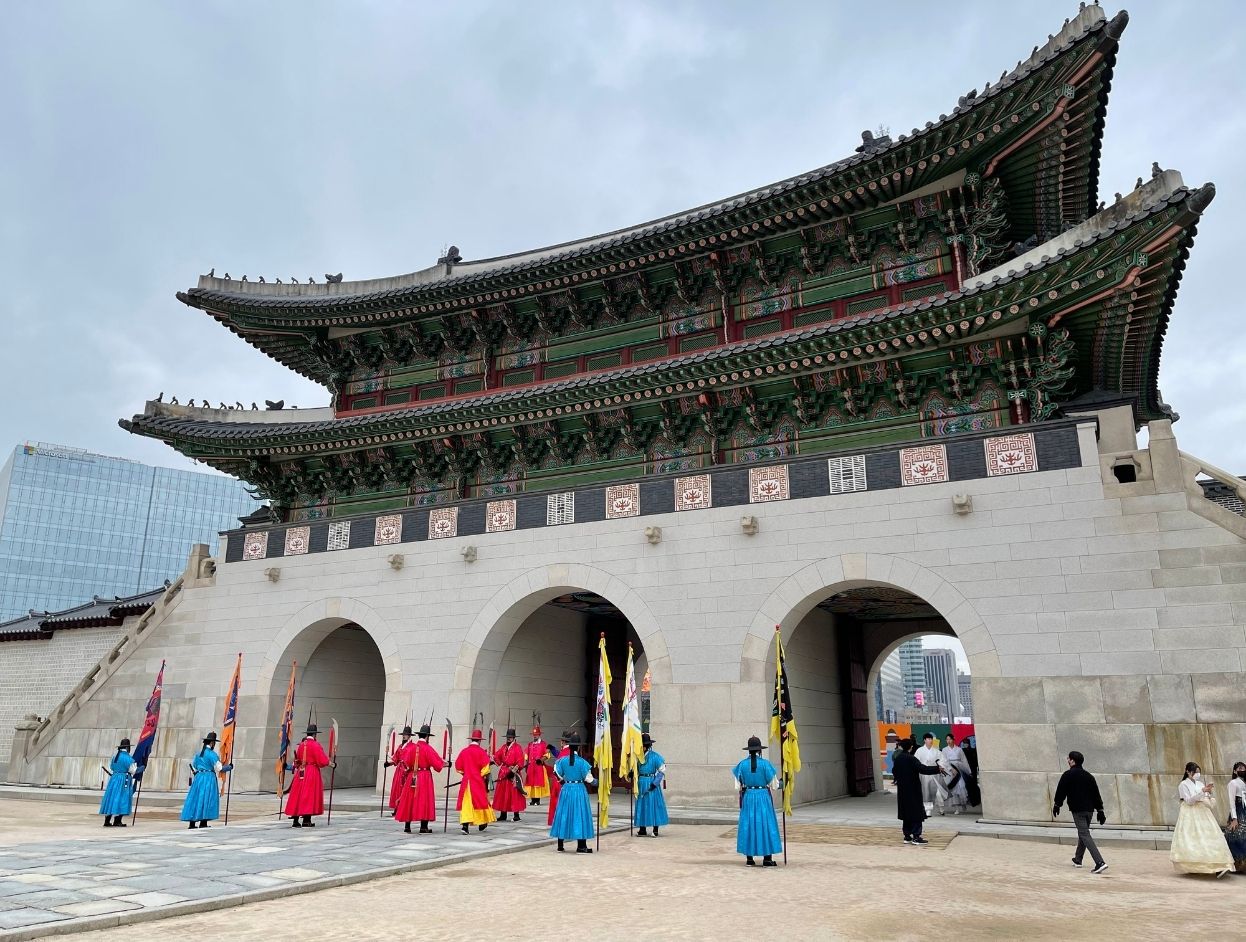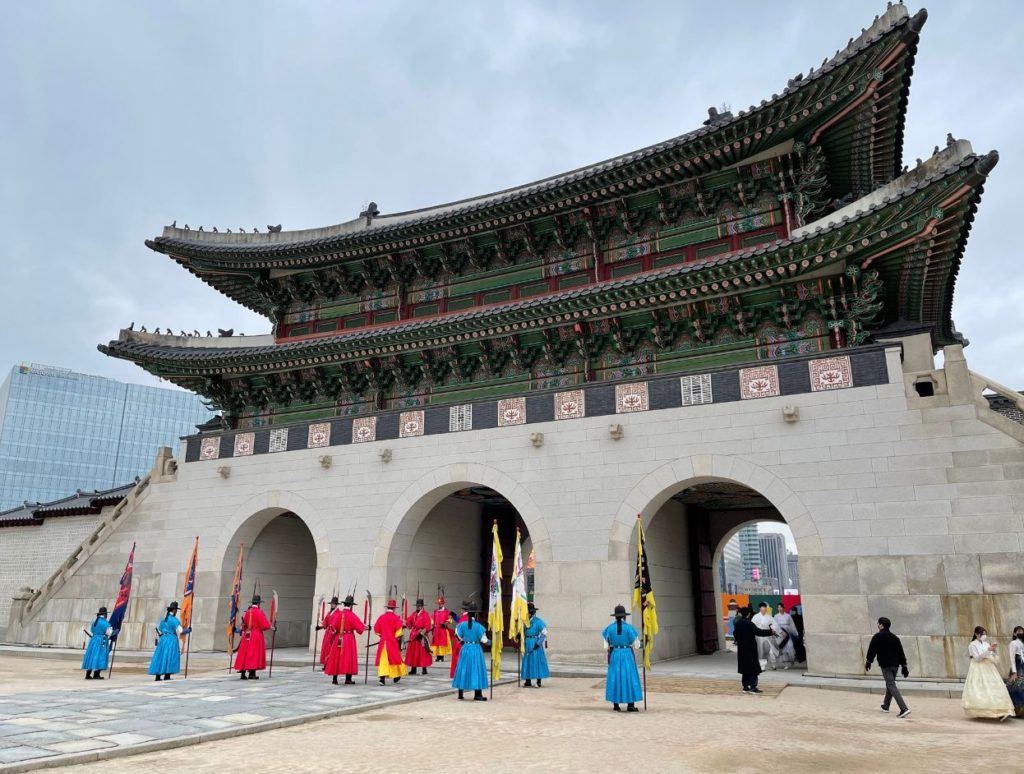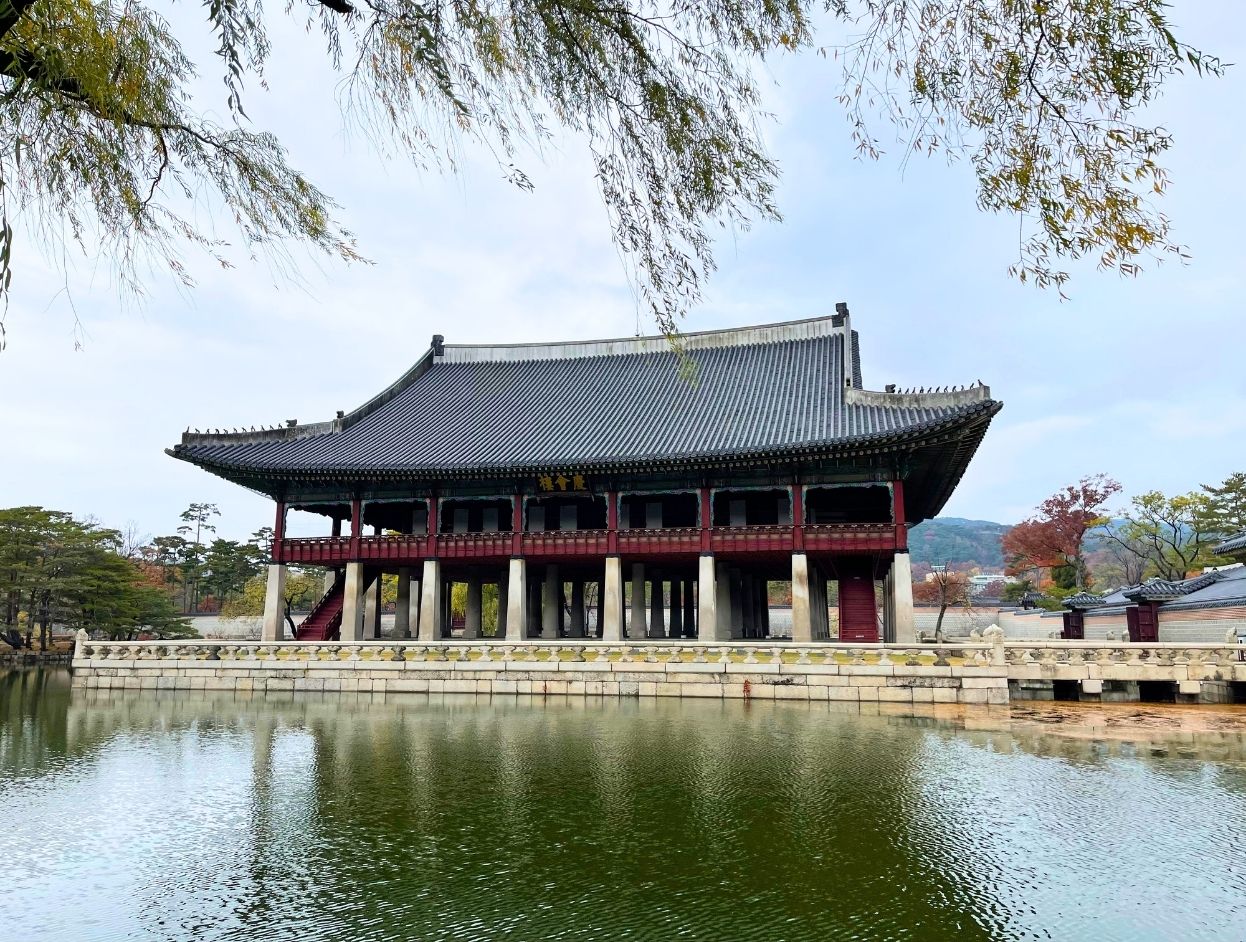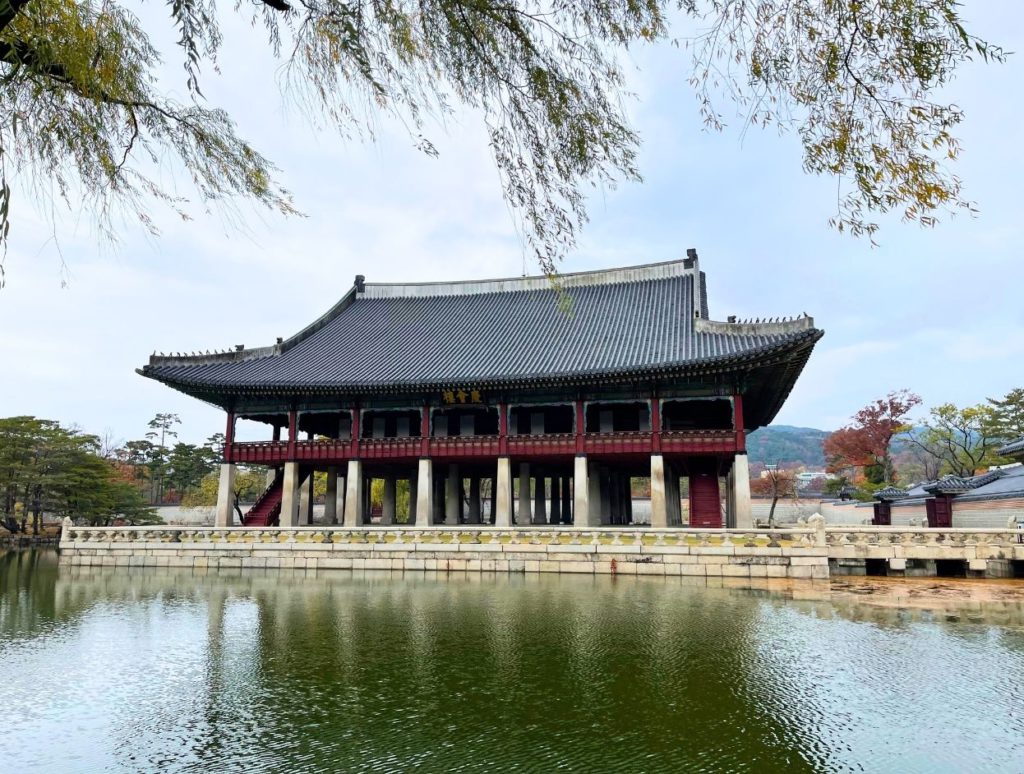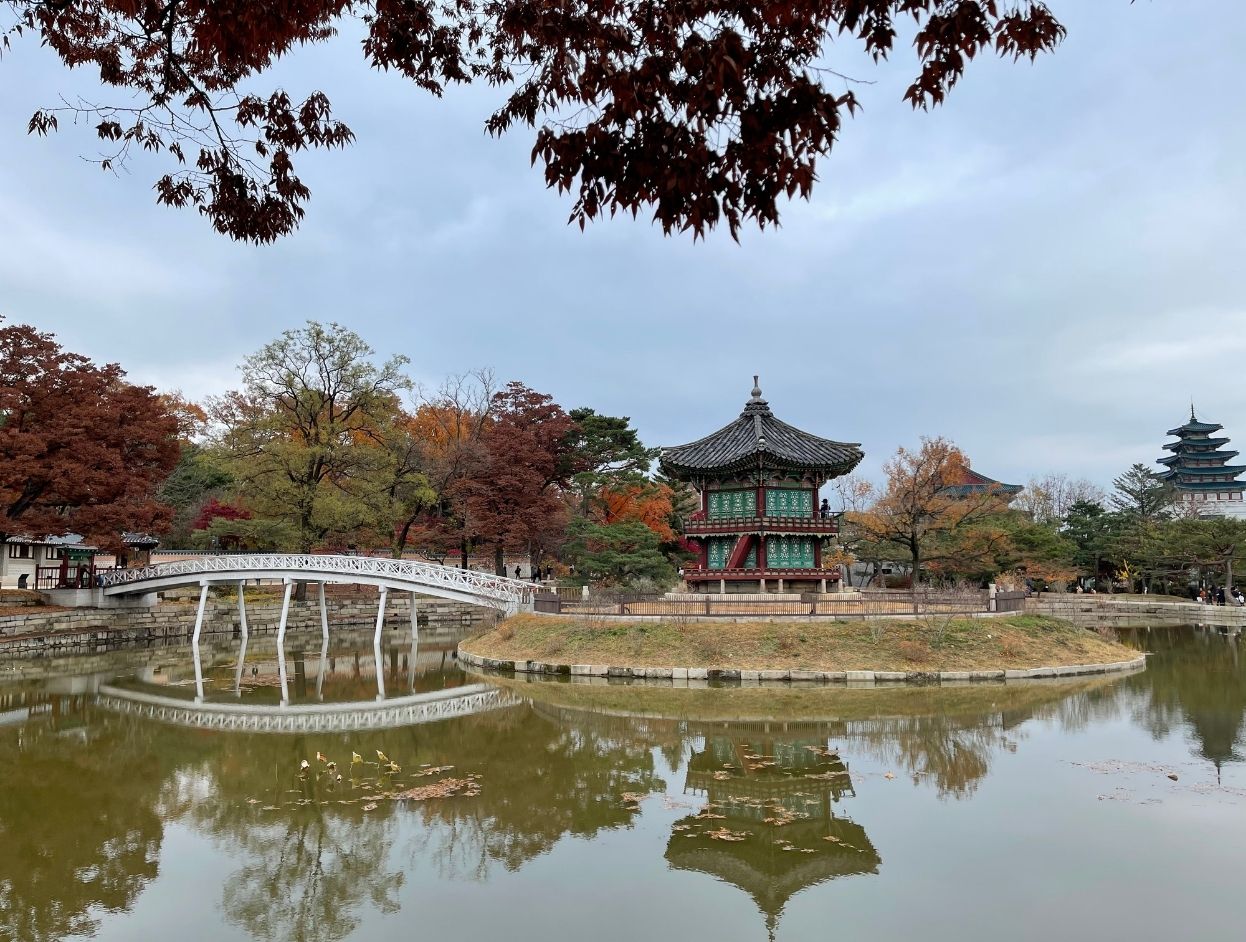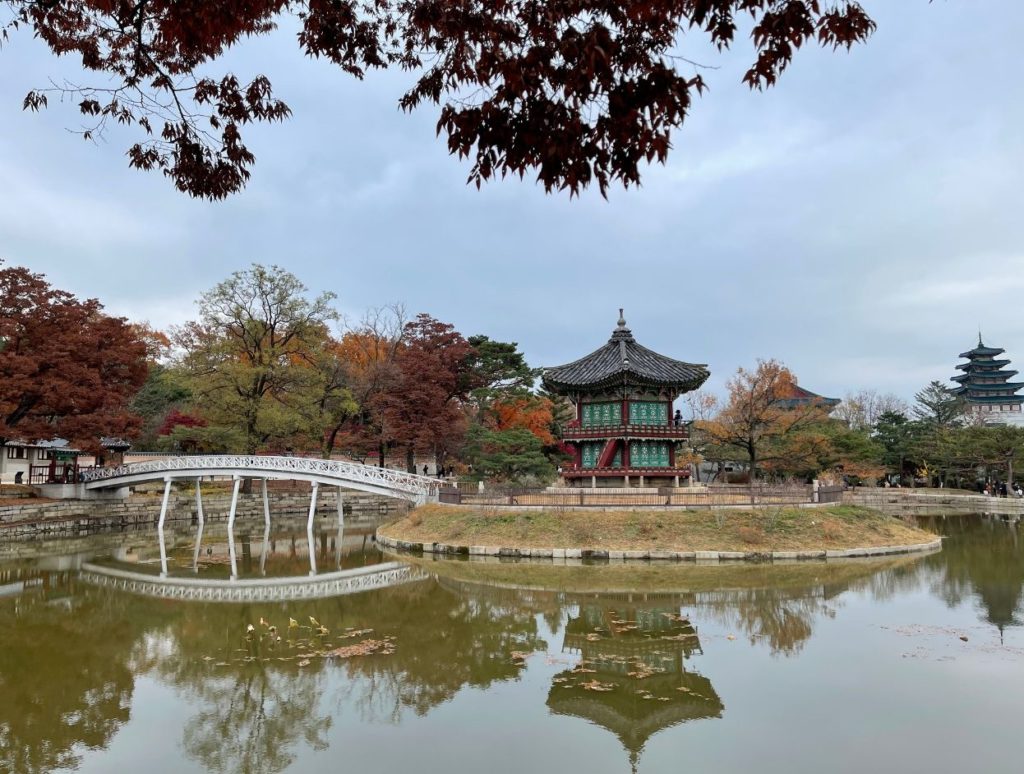 3. The National Folk Museum of Korea
Once you are done with the tour of the palace, you can take the east exit and walk into the National Folk Museum. The museum is free of charge and you can enjoy the place using the palace ticket. The museum showcases history and snippets from the rural and folk life of the people of Korea.
Apart from the main museum, there are several outdoor installations. A few buildings have been preserved that give a peek inside a mud house with an open-air kitchen lined with wooden utensils and bare bedrooms. There is also a children's museum right next to it that has several buildings with insides resembling typical shops from the 80s. You can also follow a free guided tour in English, Korean and Japanese. Check here for more details.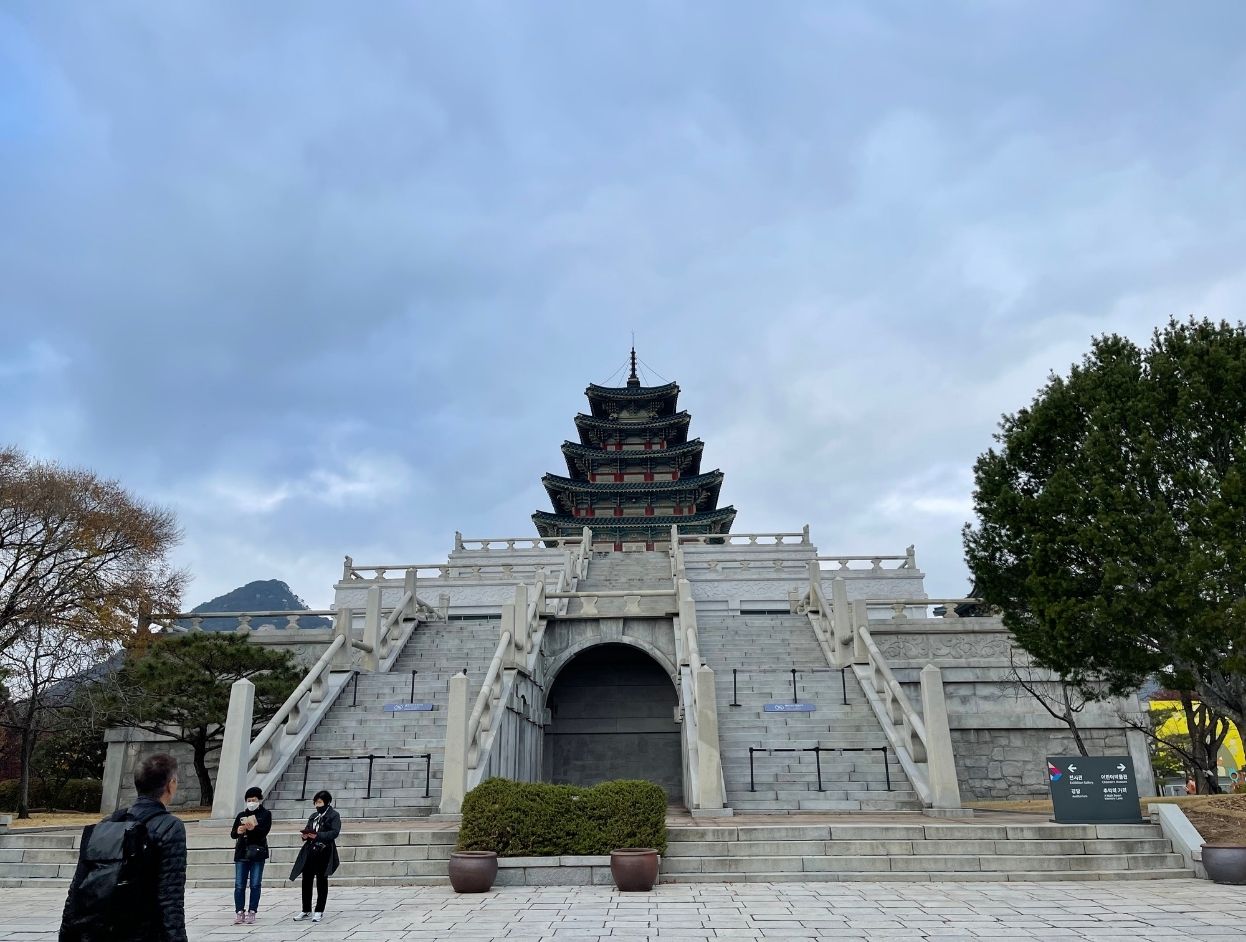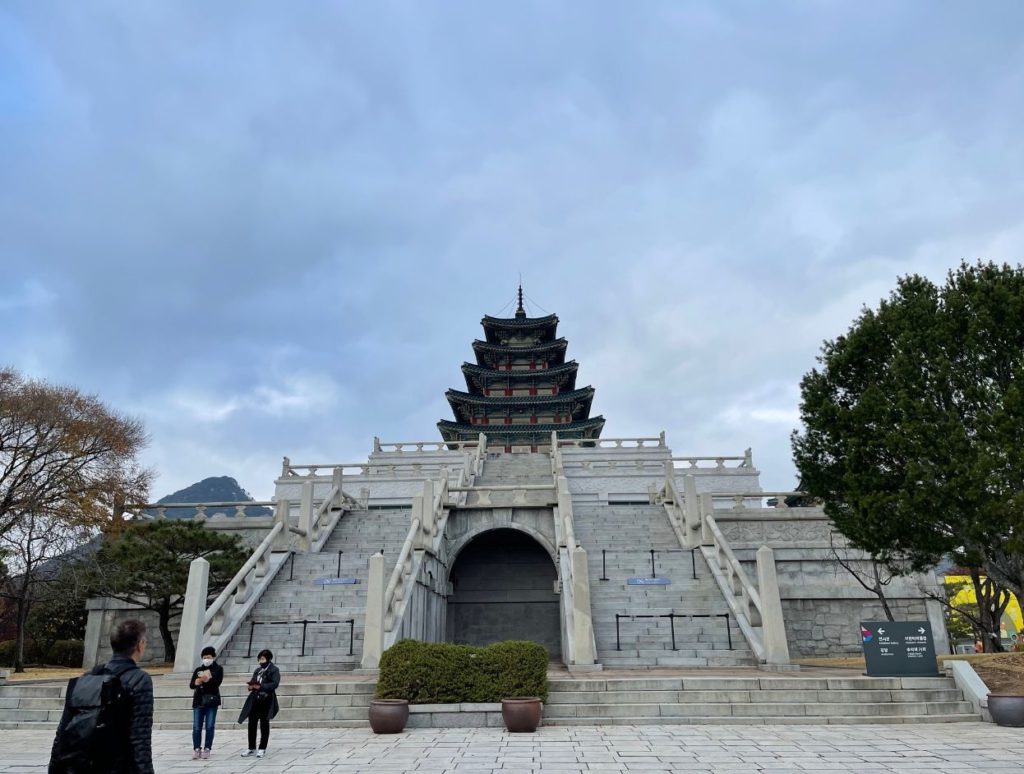 4. Bukchon Hanok Village
Bukchon Hanok Village is lovely a neighbourhood near the Gyeongbokgung Palace area and you can walk the distance. This is where several elite families from the Joseon era used to reside dating back 600 years. Their houses remained well preserved, built in the typical medieval Korean style of architecture. During the 1920s, several housing societies constructed Hanoks that were built with modern and sturdier materials but still preserved the traditional architectural styles.
It is a great place to take some drool-worthy photographs. You can walk around the area enjoying the beauty of the houses and exploring the narrow alleys. It can get busy during the day since the area is super-popular with tourists. A great way to take advantage of this picturesque place is to don a Hanbok (a traditional Korean garment) and take some memorable photographs.
Rent a Hanbok: Bukchon Oneday Hanbok Rental Experience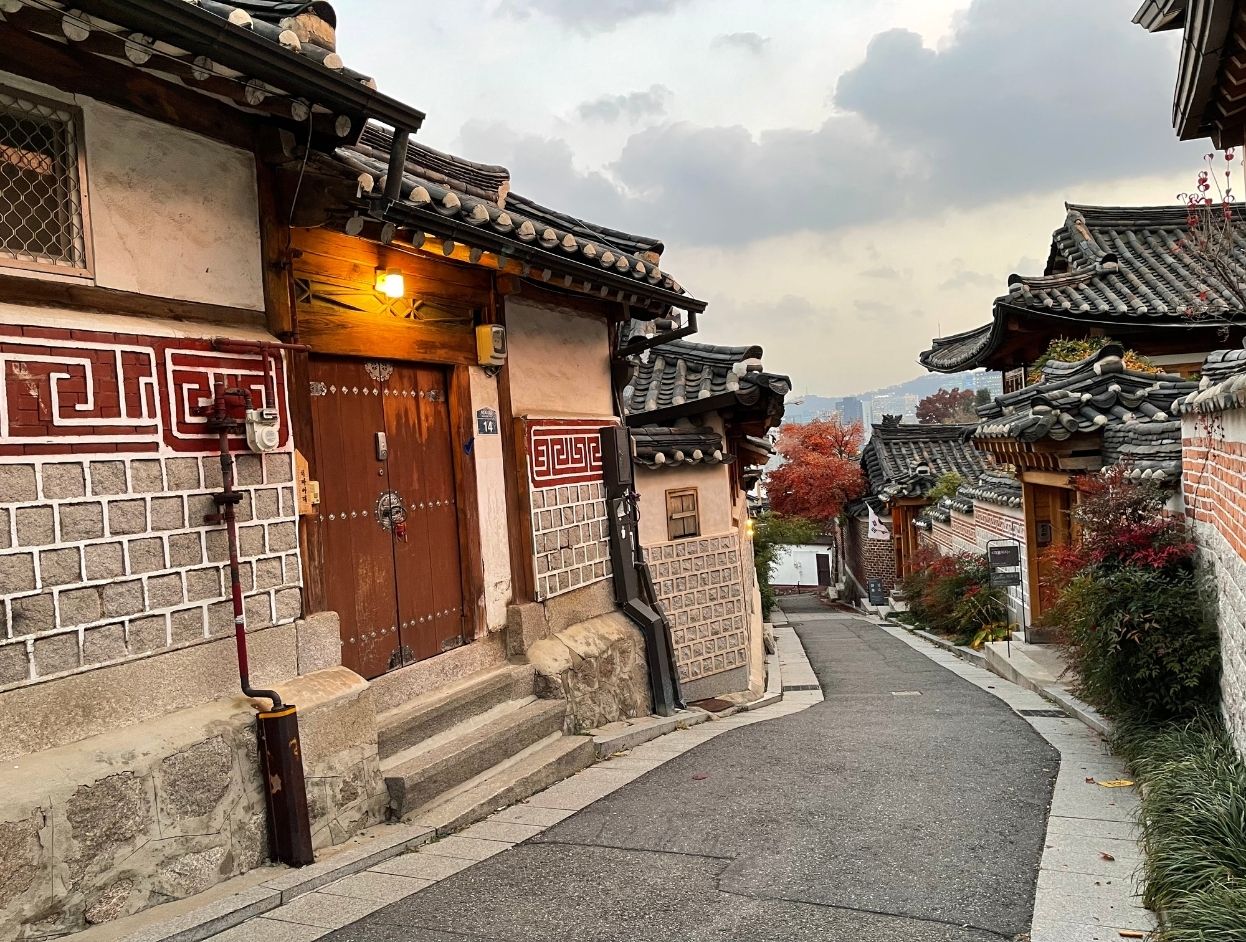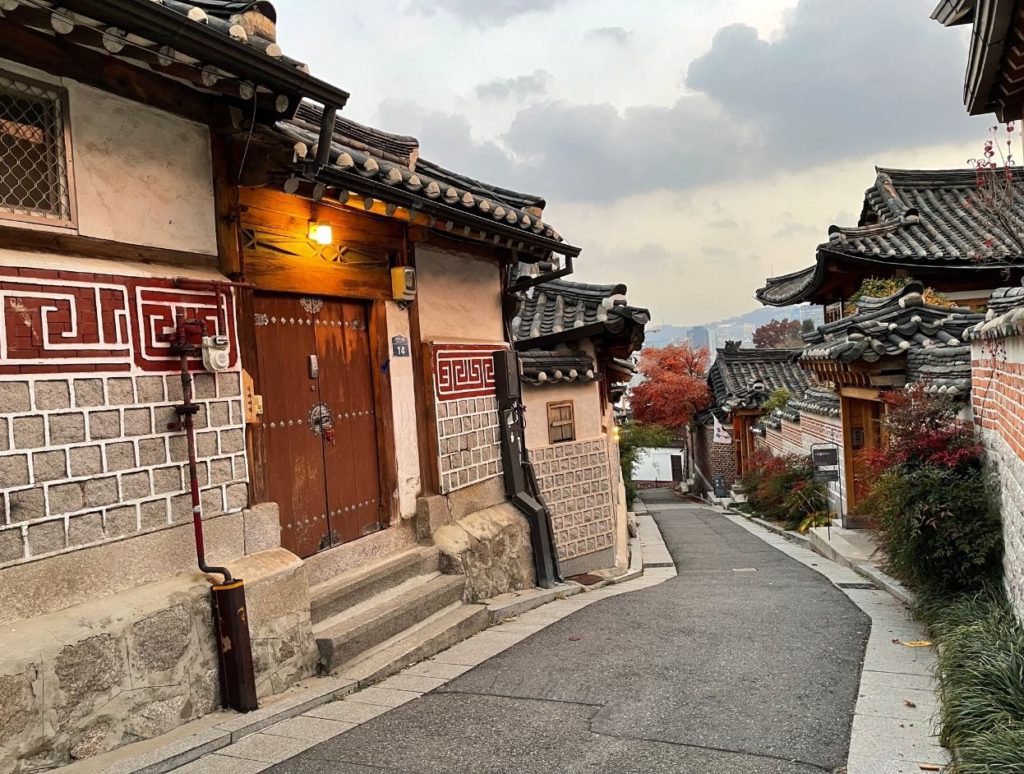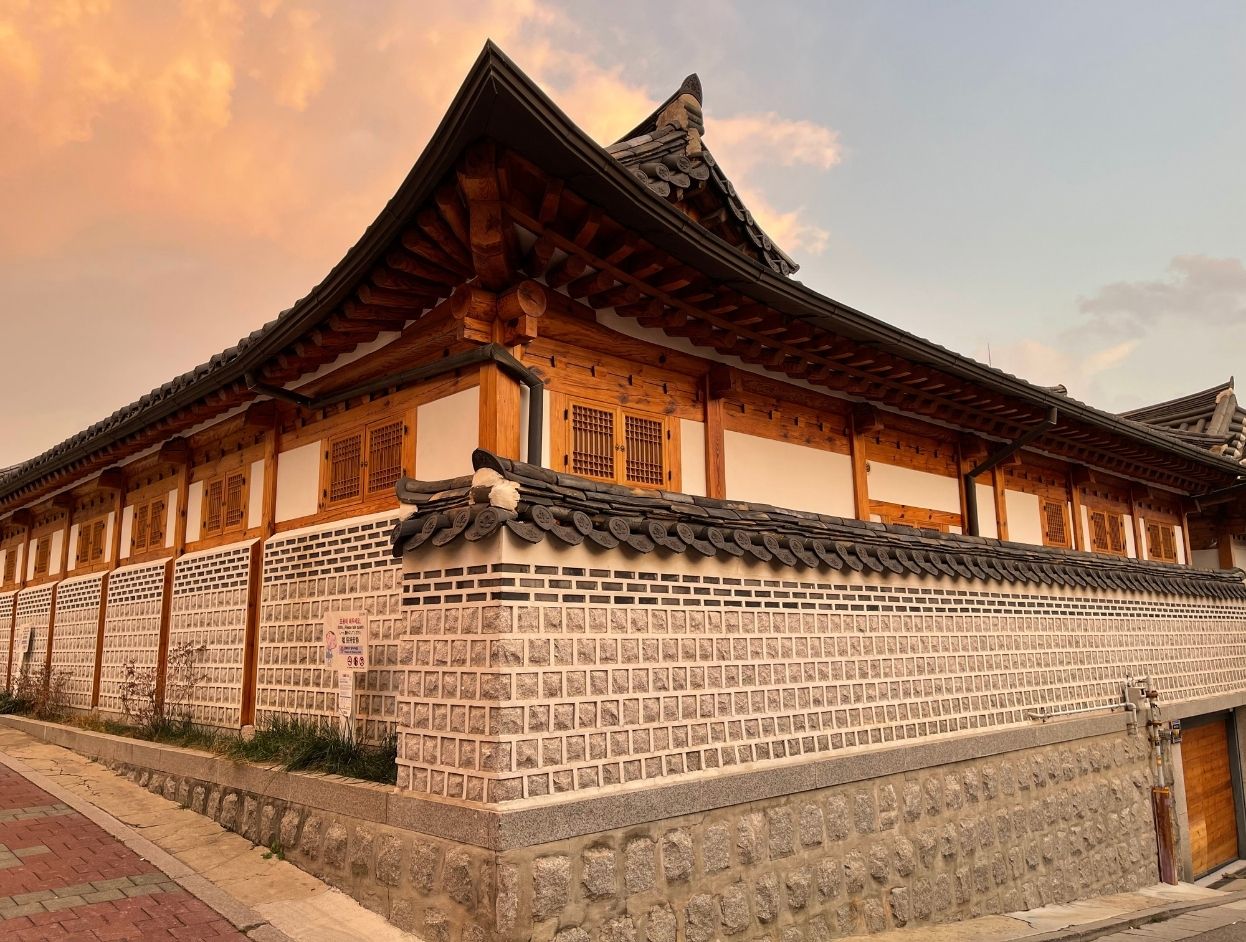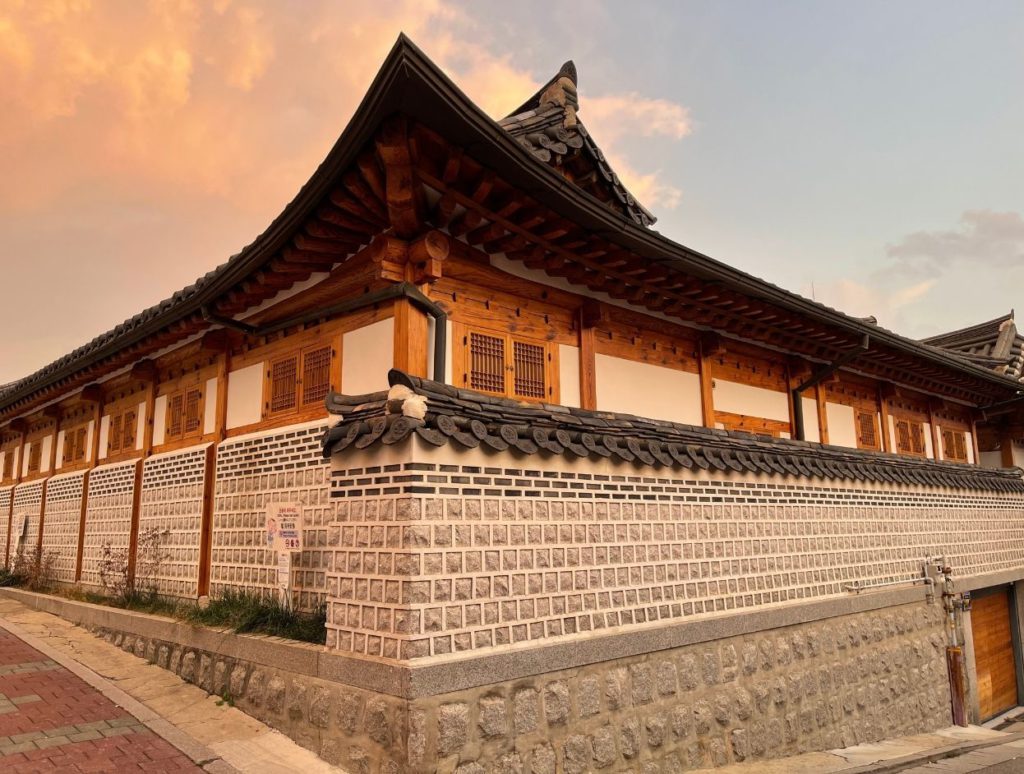 5. Hongdae Street
Hongdae is one of the most popular neighbourhoods in Seoul to enjoy the evening and nightlife. The street is popular with young people mostly because of Hongik University. It is a bit far. So you can either take a connecting bus or take the subway from Anguk Station to Hongik University Station. You can walk from the subway station.
You will find street after street filled with open shops selling fashionable Korean-style clothes, jewellery, souvenirs, accessories, mobile covers and a lot more. The main street has some strange shops that you will enjoy (I couldn't really make out what they offered). You can enjoy taking photos at one of the cute photo studios. Or get it on with some arcade games at one of the gaming arena.
You can also spot musicians, artists and dancers performing on the streets. It is also common to find interesting installations floating around the area. If you like the vibe, get a drink or some barbeque and enjoy the night. And with that, you can end the first and an eventful day in Seoul.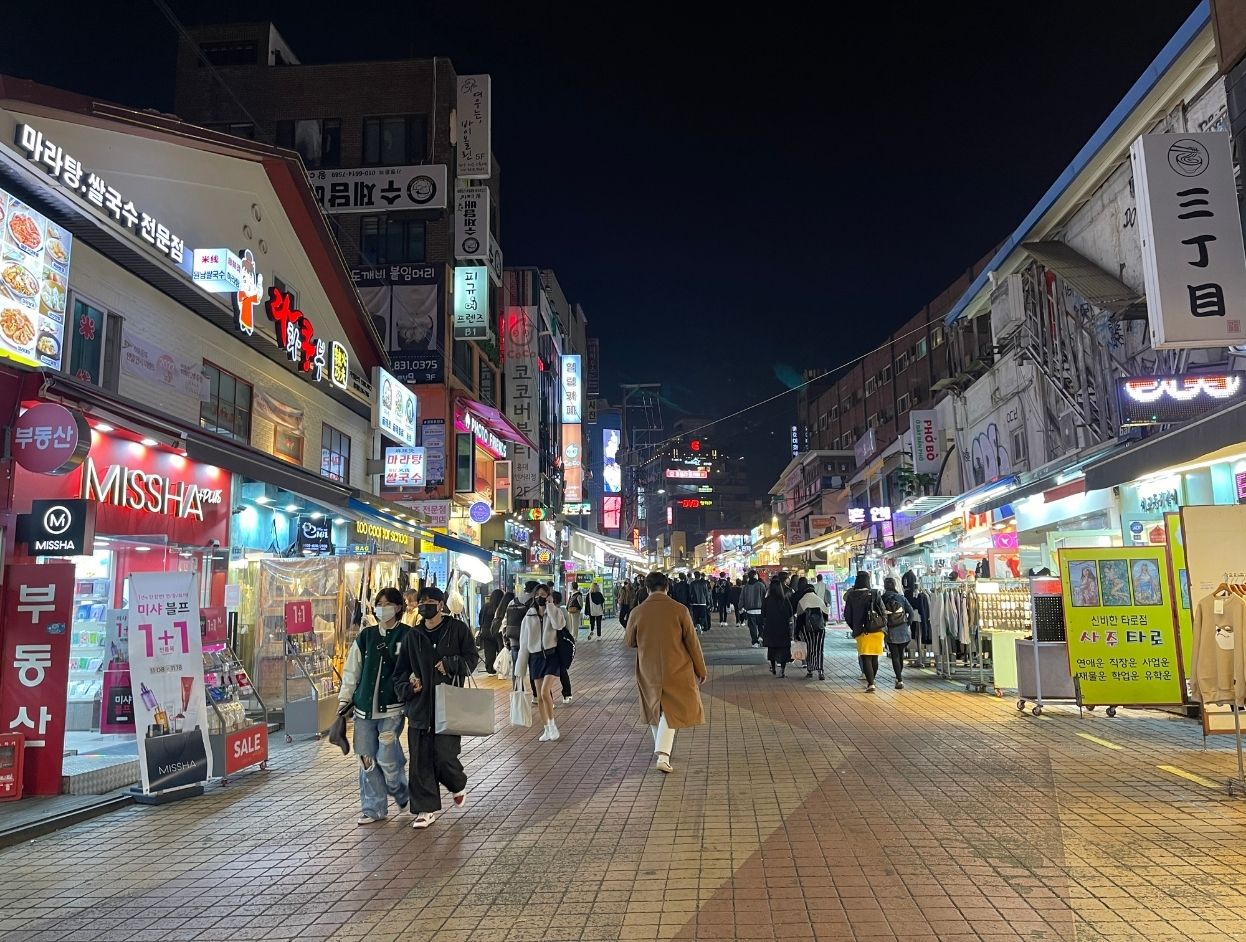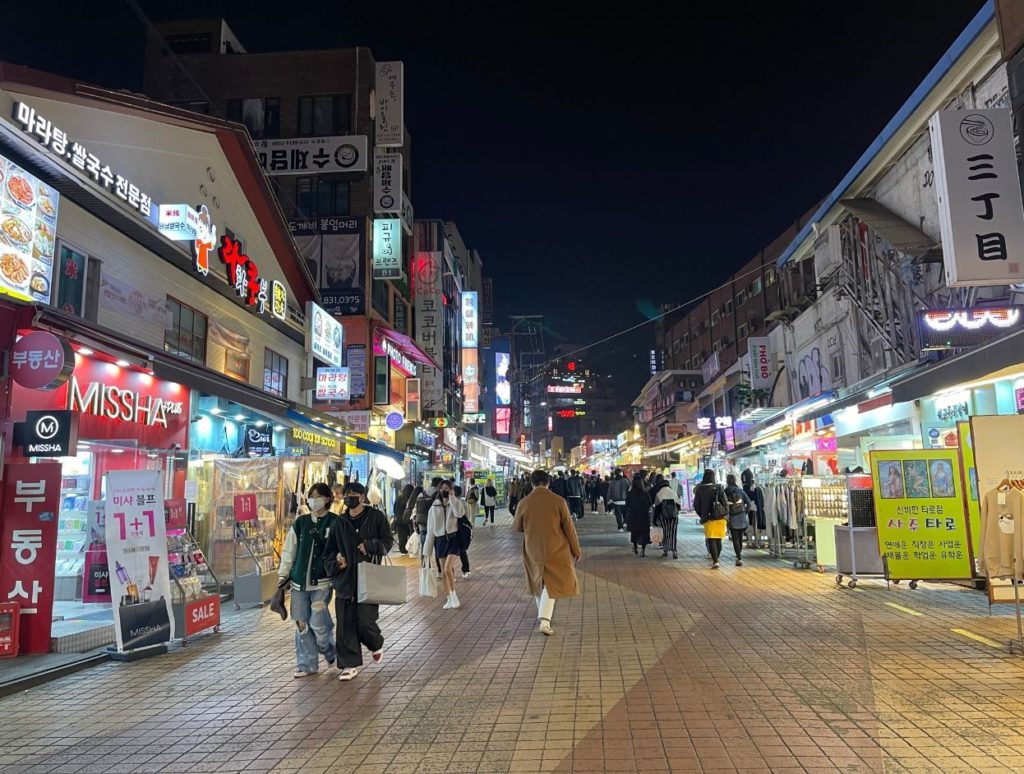 Day 2: Changdeokgung Palace & Gardens - Jongmyo Shrine - Ikseondong Hanok Village - Museum Kimchikan - Gwangjang Market
The second we are heading to another great palace in Seoul. This is actually my favourite place in Seoul because it has a hidden garden. You can spend the afternoon in another Hanok village with some food and tea followed by the Kimchi museum. End the day at Gwangjang market.
1. Changdeokgung Palace & Gardens
While I was heading to a different palace, a wonderful lady on the bus told me to go to Changdeogung Palace instead. It was the second most important palace by rank but a lot happened here for the Joseon empire. The palace consists of several buildings like royal halls, prayer halls, men's and women's living quarters and the home of the last Joseon king as reigning monarch. 
I will insist you take the free guided tour here as well. It is available in several languages throughout the day. The tour guides are amazing and tell you a lot about the palace and old customs in detail. Find the details about the tour on their official website.
The most amazing thing about the Changdeokgung Palace is the hidden garden behind it. You will need to buy a separate ticket for it or a combo ticket for KRW 8,000. But you shouldn't miss it. It was a garden built for the royal princes and princesses. While it was the only escape for the royal females, it was also the place where the future kings would go to cultivate their minds.
The garden is astonishingly beautiful during the autumn months with gold, orange, red and green trees. There is a separate guided tour of the gardens. In fact, you can tour the garden with a guide only. So make sure you plan your day to join both tours.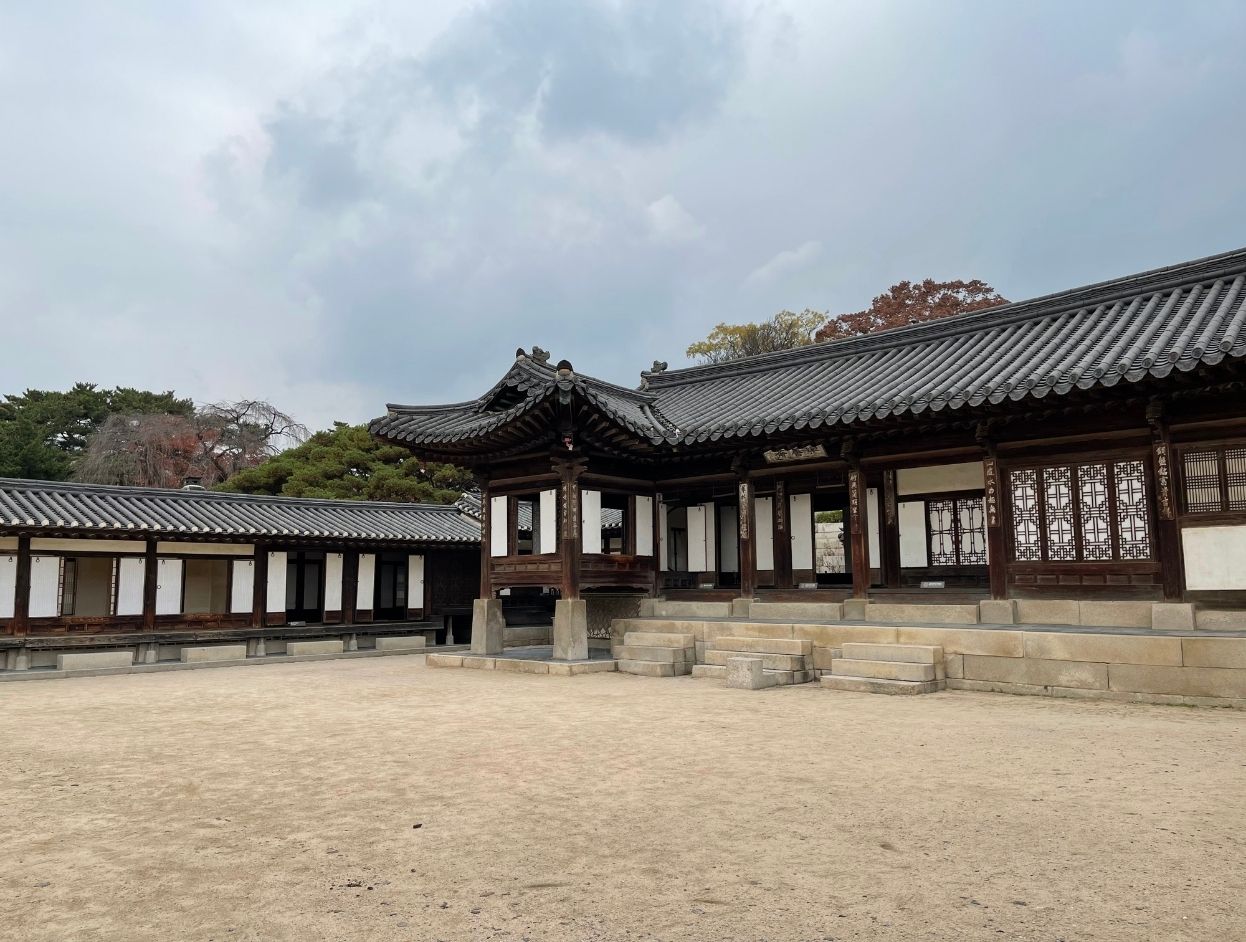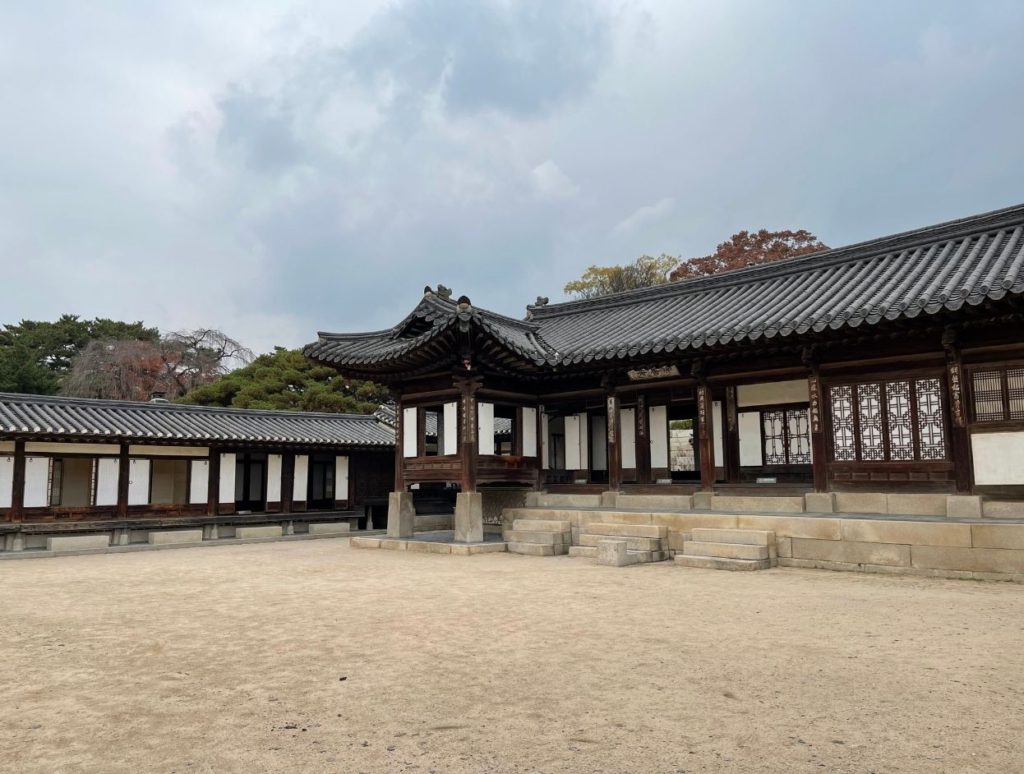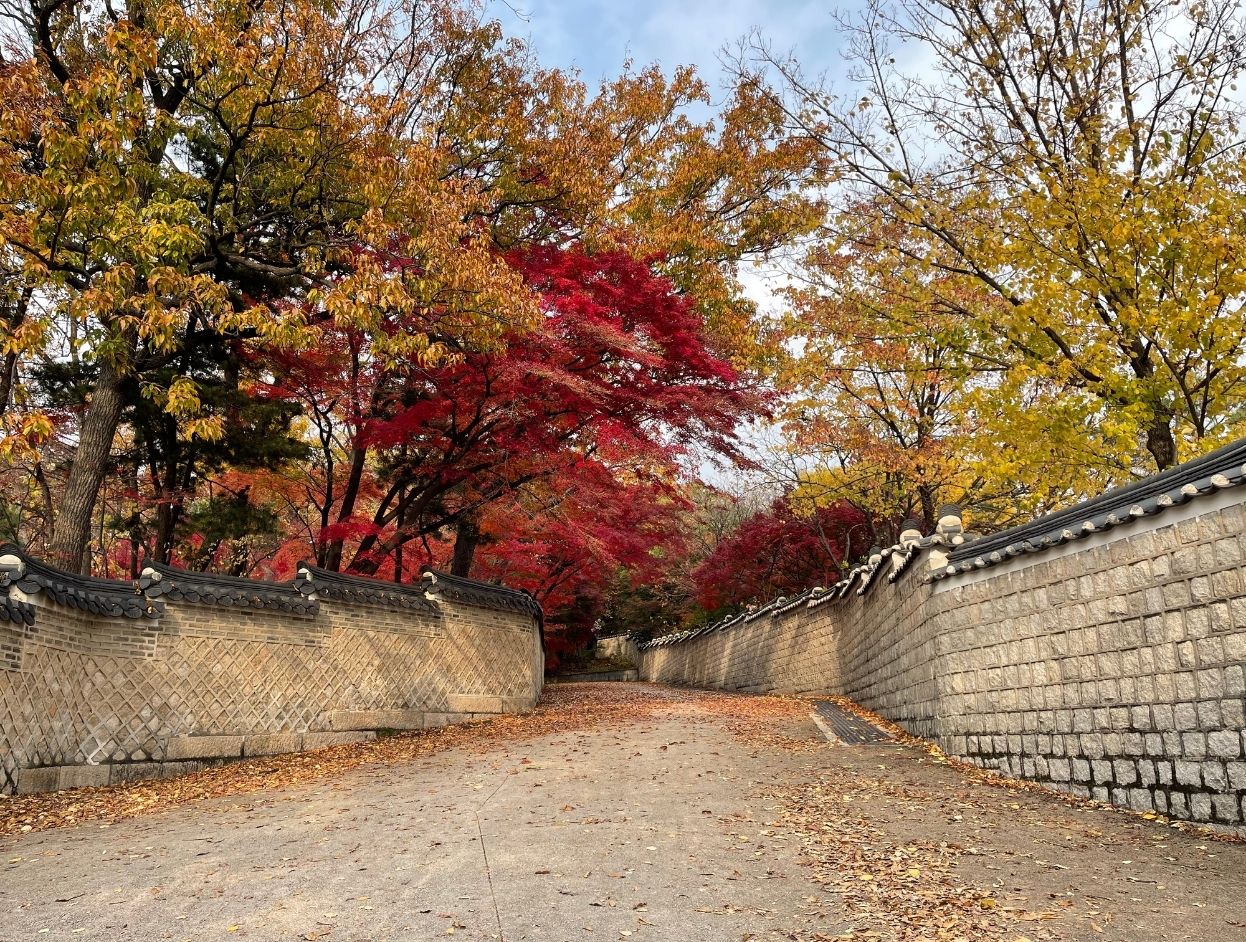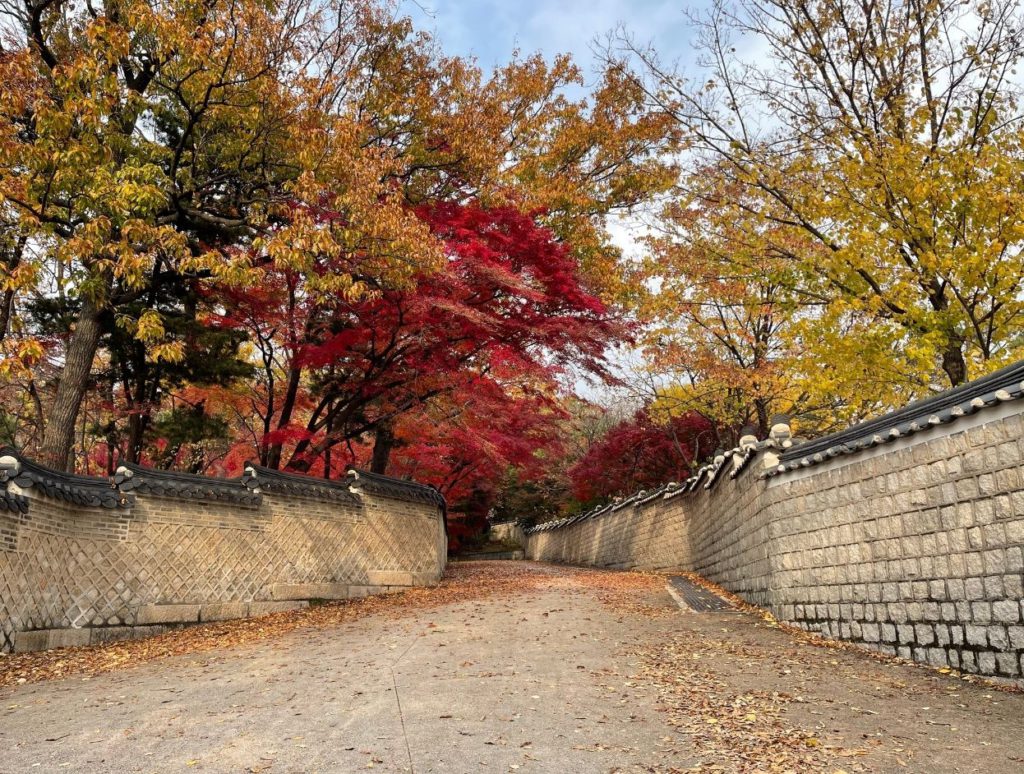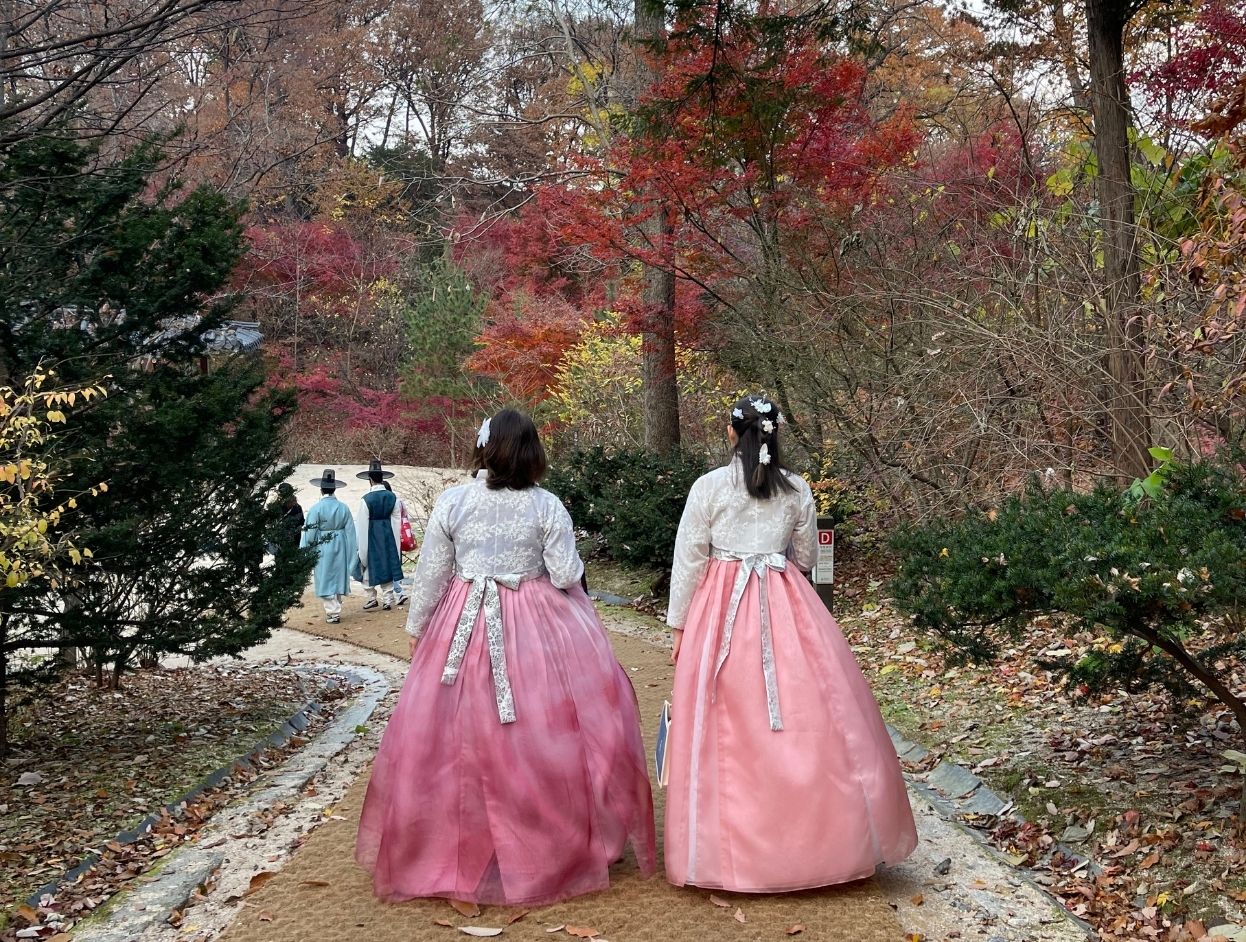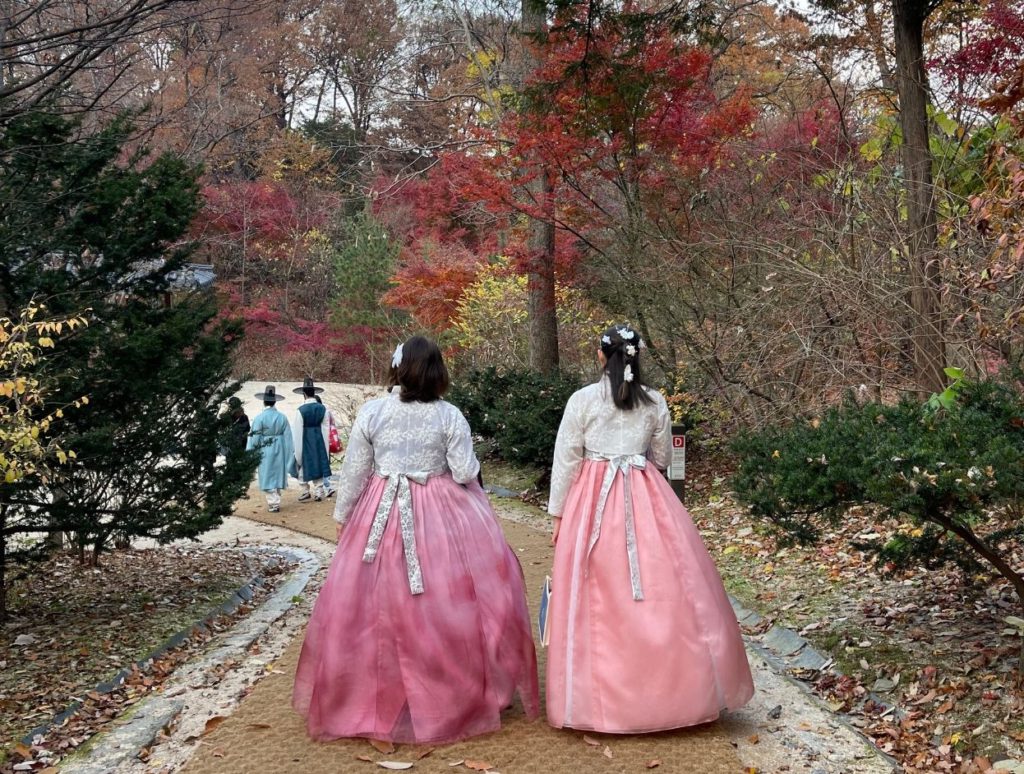 2. Jongmyo Shrine
Jongmyo Shrine is the supreme state shrine from the Joseon dynasty. All their late kings and queens are buried here from the time of the death of the founder of the Joseon dynasty in 1395. It is located in the south of Changdeokgung Palace, so you can simply walk to it. The tombs around the shrine are important but may not interest you as much. However, the park is lovely.
You can visit the shrine only with a guided tour. This may affect your itinerary. You can find the timings of the guided tour on their official website. I would suggest adding the place if you have the time. If not, head directly to the next stop.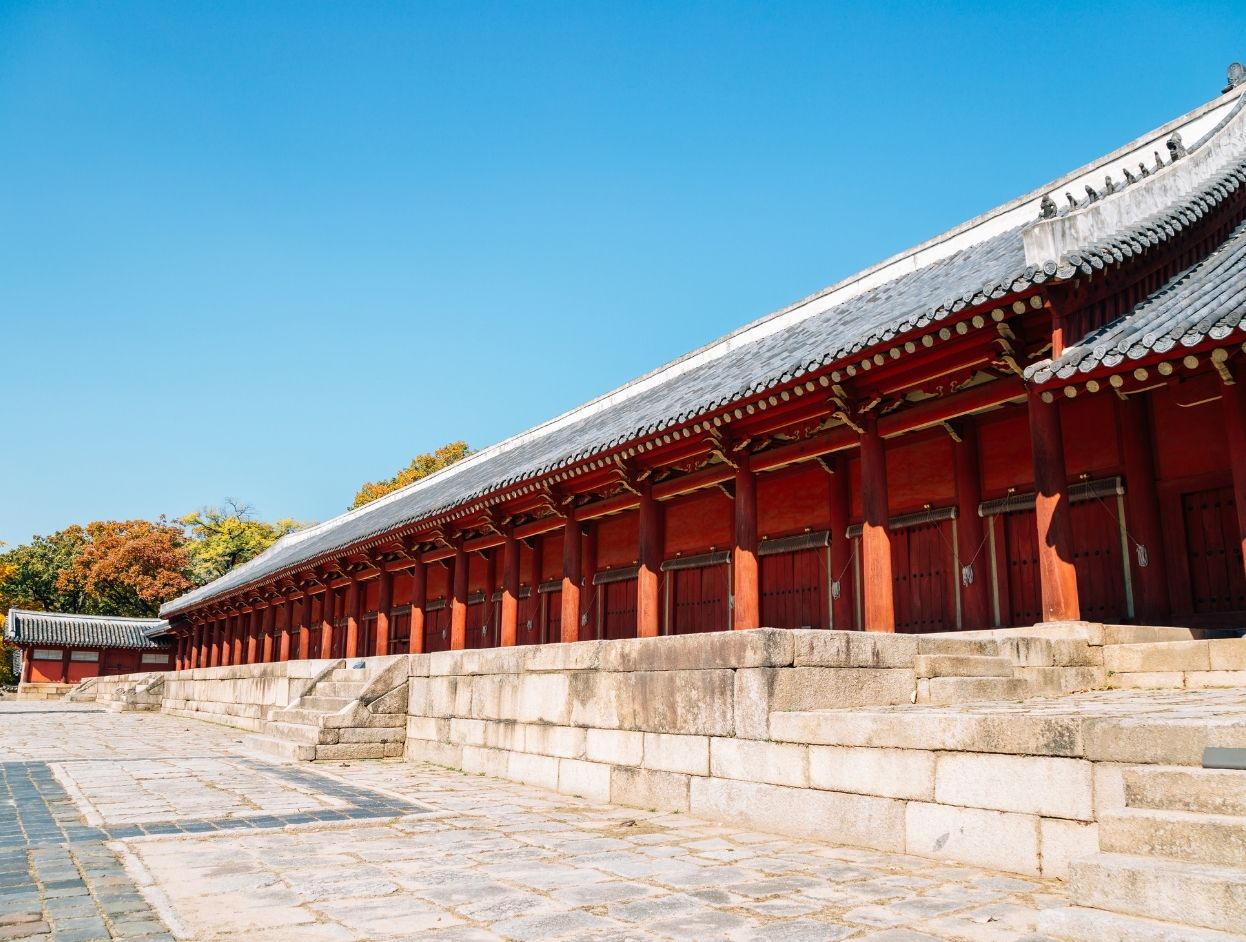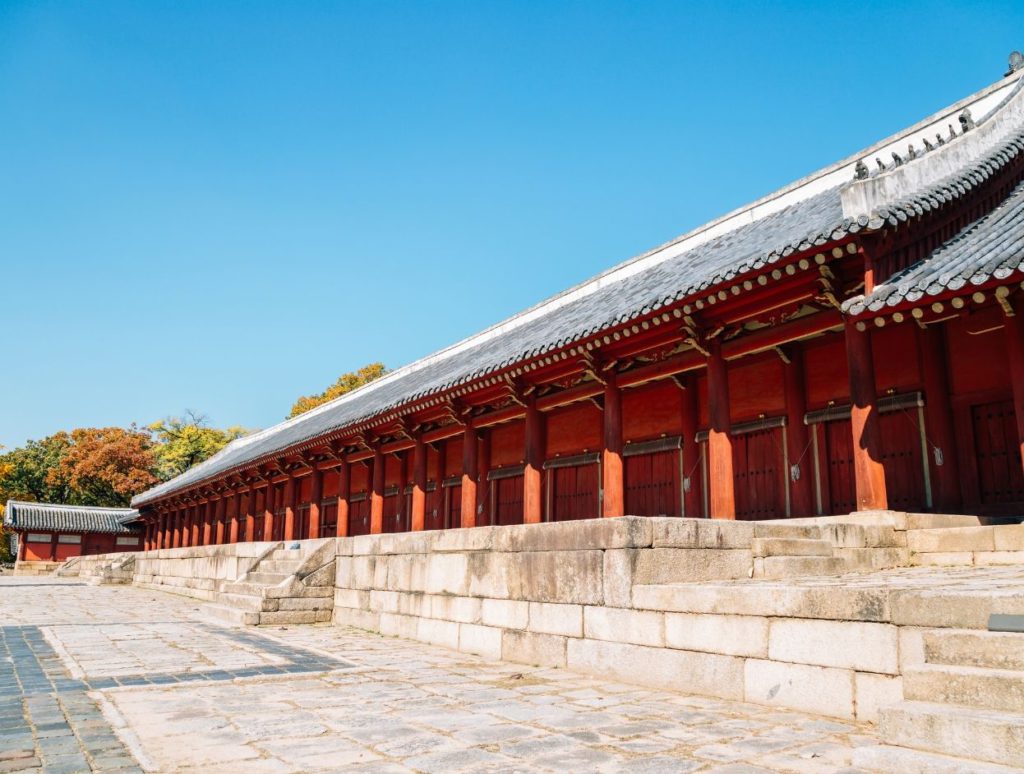 3. Ikseondong Hanok Village
Just like the Bukchon Hanok Village, Ikseondong Hanok Village is also a traditional area in the heart of Seoul. It's a lovely place lined with Hanoks or traditional Korean-style homes dating back to medieval times. However, this place is more touristy as most of these Hanoks have been converted into shops, stalls, restaurants and teahouses.
You can enjoy this place by just wandering around the village and poking your nose inside several souvenir shops. And then you can grab some great food at any of the restaurants in the area, for there are many. The best way to enjoy this place is to grab some tea after lunch at a tea house with some Korean desserts paired with it.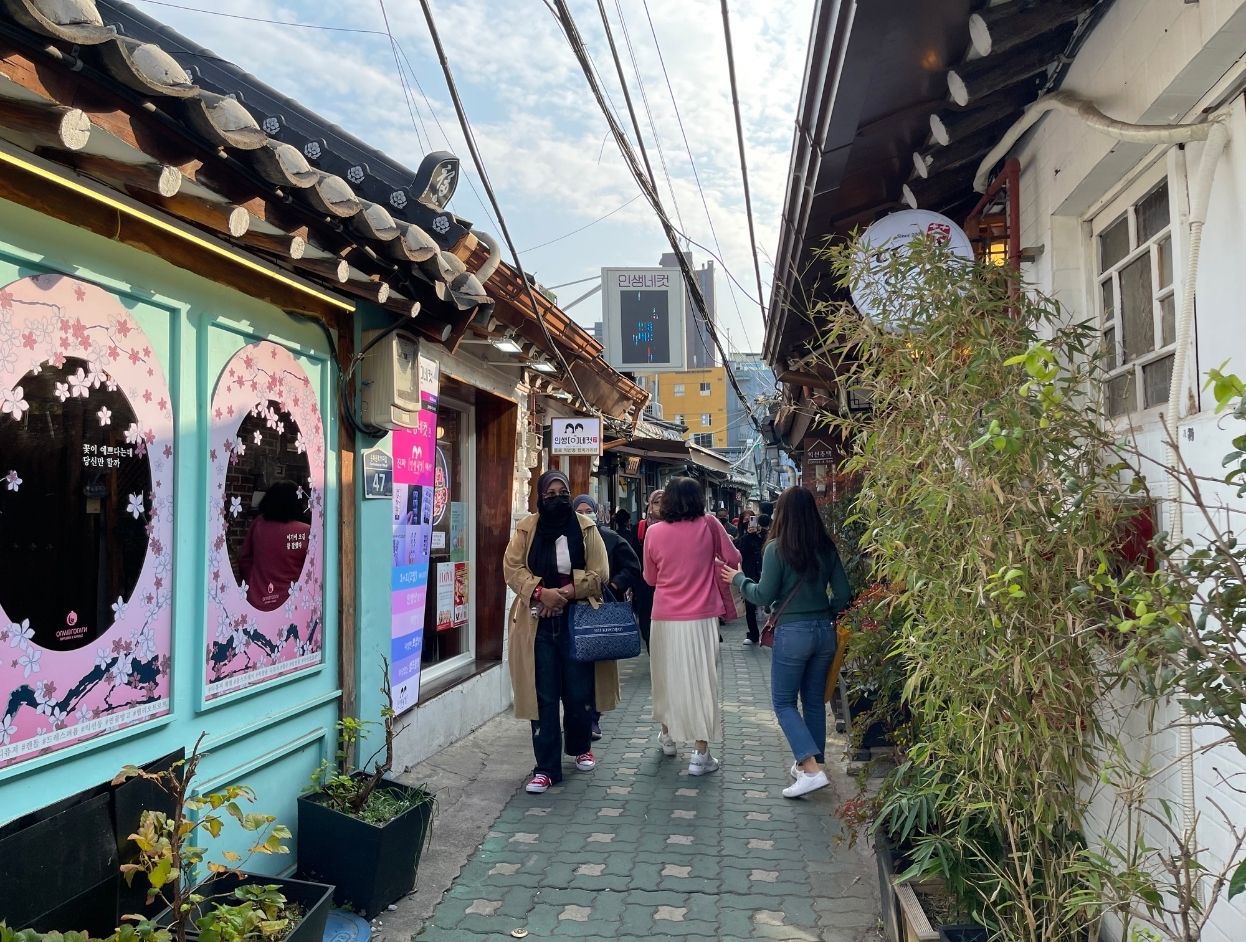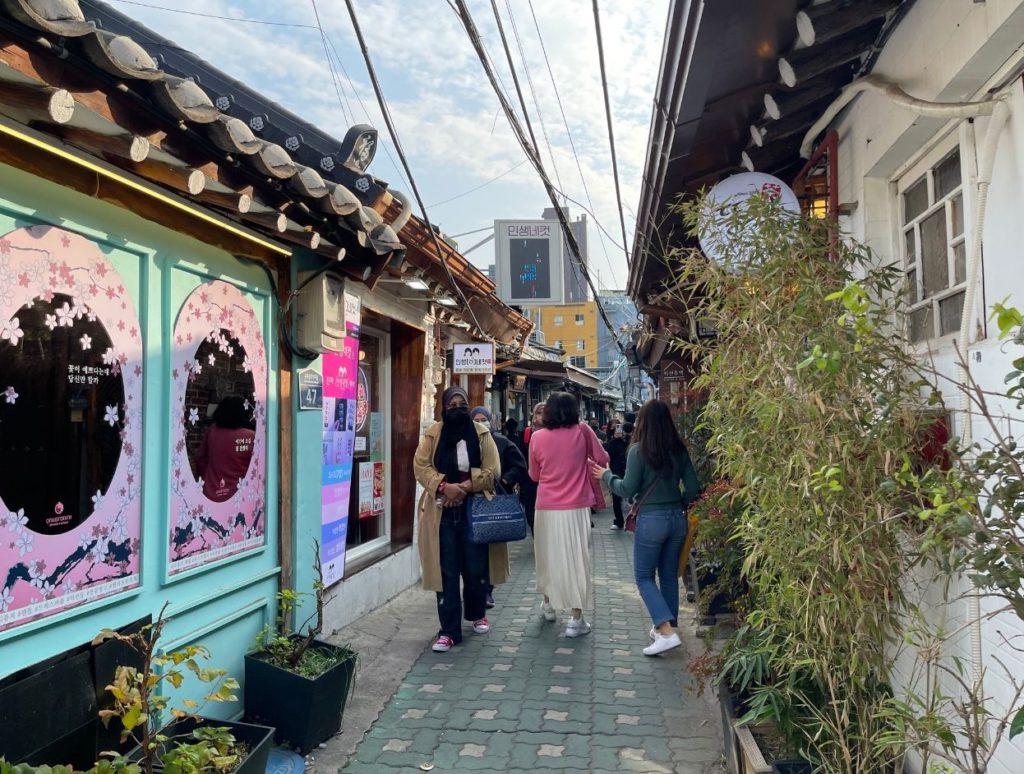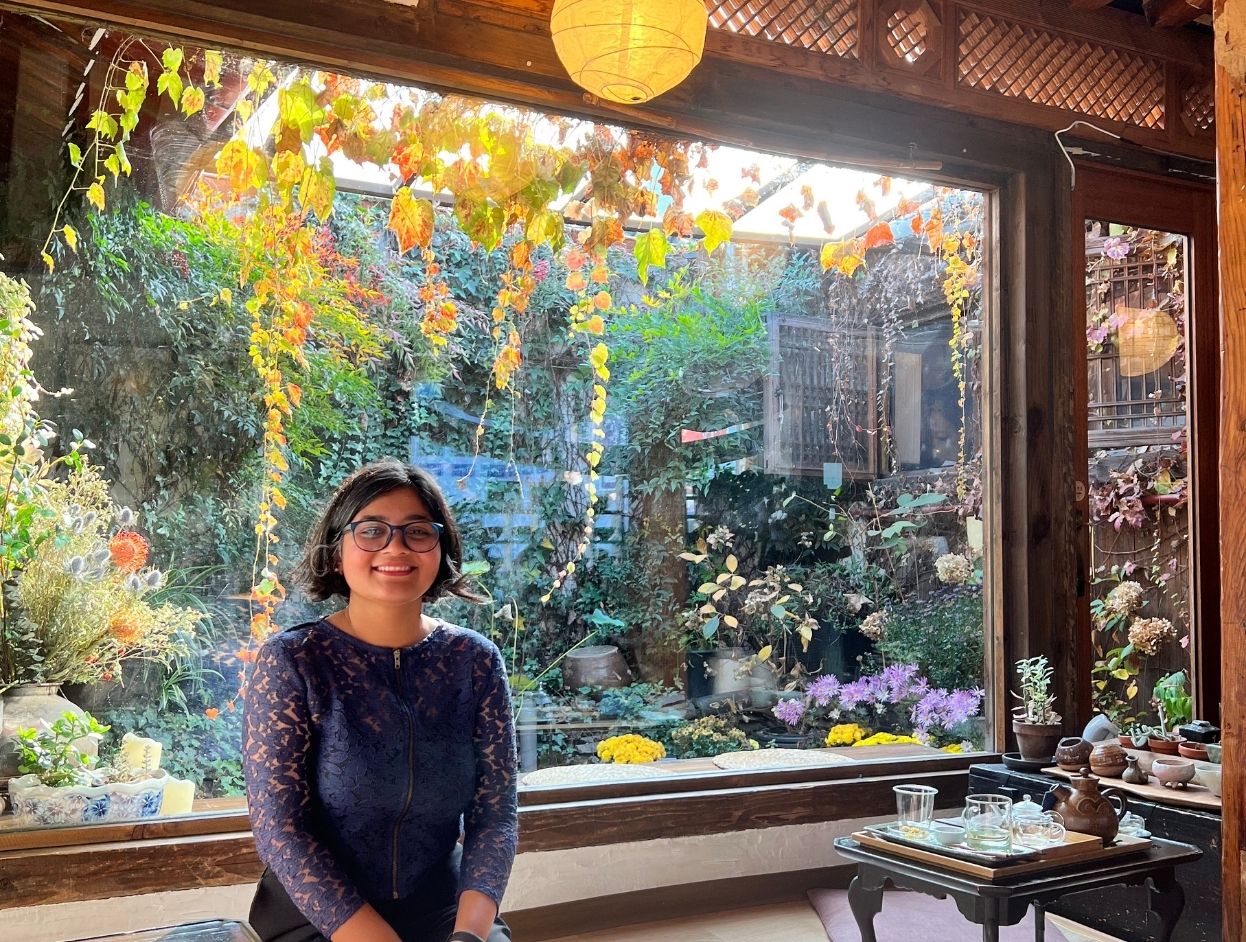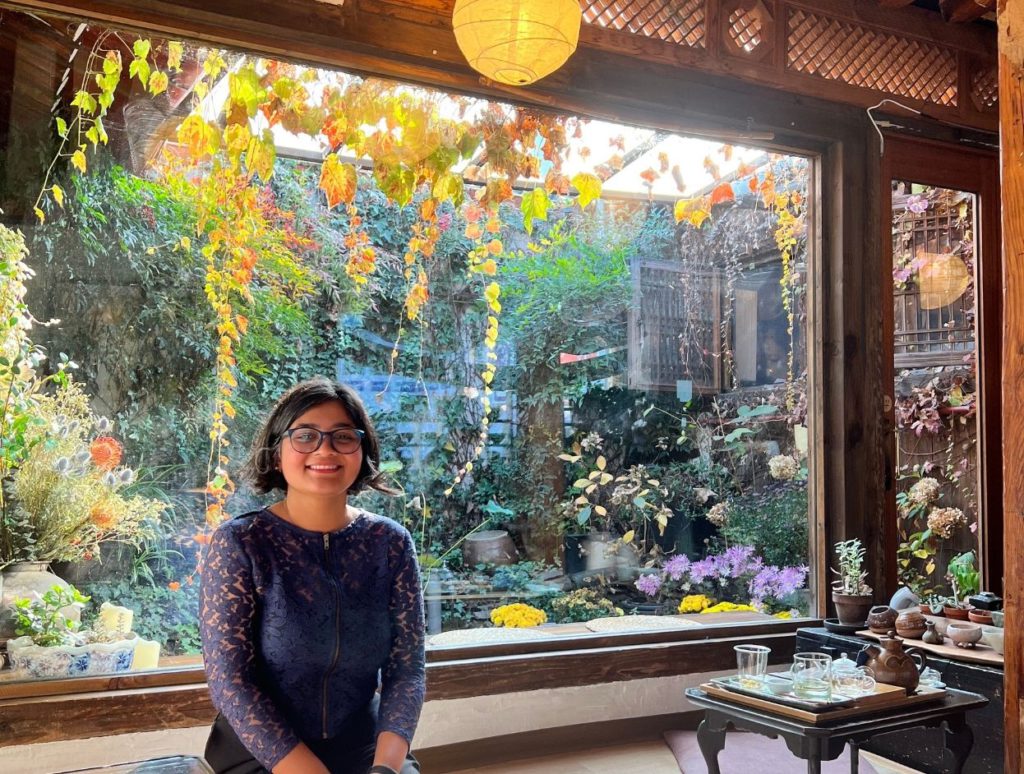 4. Museum Kimchikan
This is a must-visit place. It's a bit hard to find, located inside a building and you will need to walk through a lobby. The museum has everything that you want to know about the world-famous Korean dish, Kimchi. In fact, as I found out kimchi is not a dish but a technique to pickle any seasonal vegetable and there are several ways to do it. 
The museum is fun and interactive. You will find games, samples, history and models of all types of kimchi. There are videos of how this is done and what are the season vegetables popular with kimchi all year round.
There are also regular classes on the top floor of the museum as well on preparing kimchi. If it fits your schedule, go ahead and book a kimchi-making class. I am sure it's super fun, and informative and you will get to take a container of kimchi that you can take back home. Check out their official website to find out about timings and costs.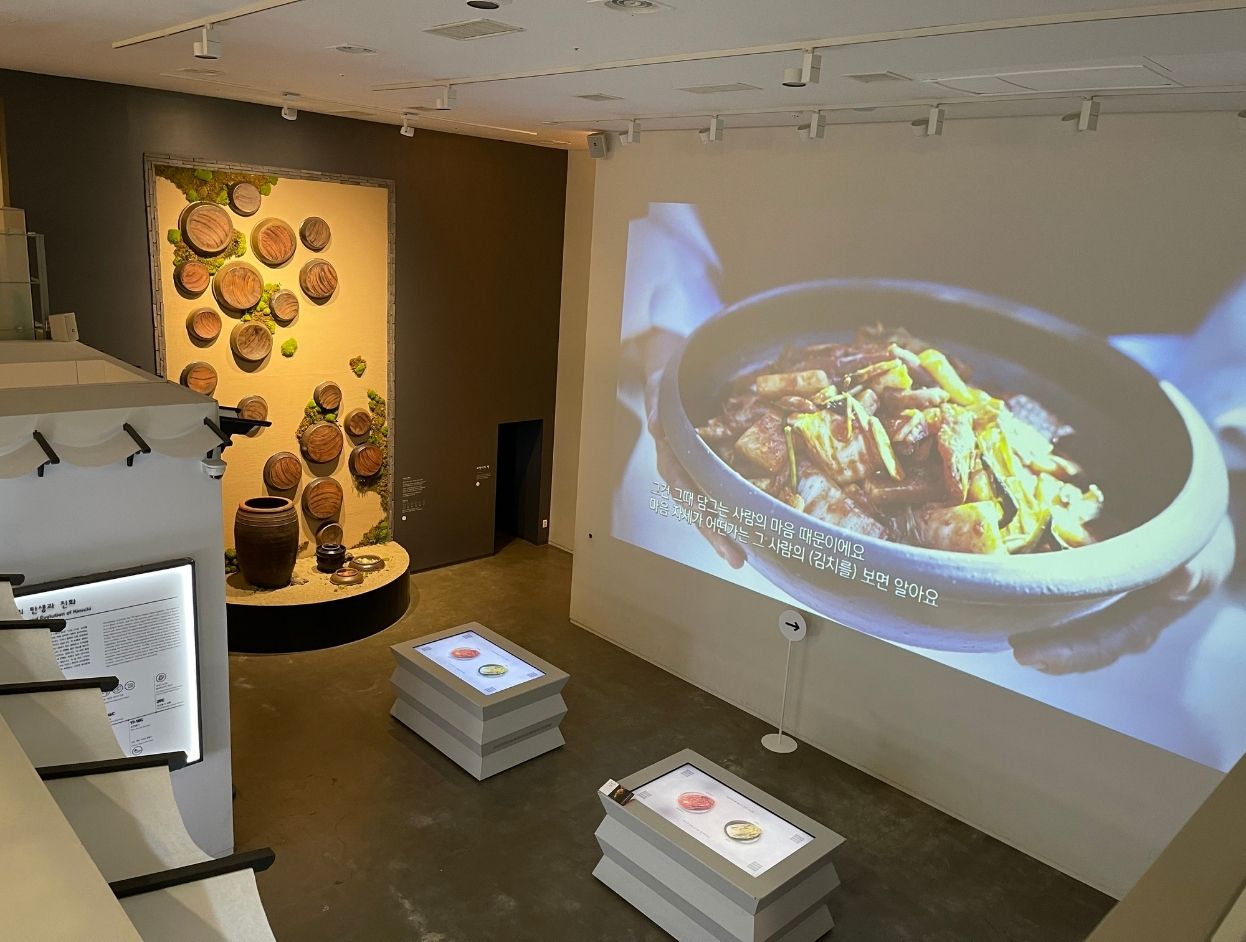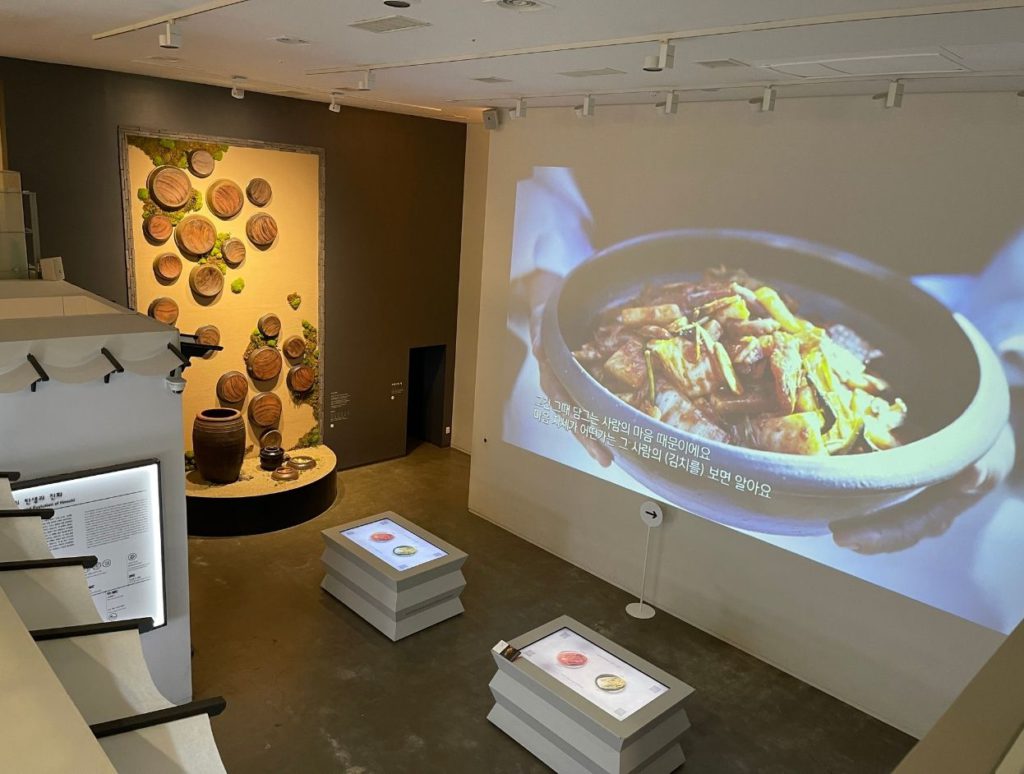 5. Gwangjang Market
Gwangjang Market was the first permanent market in Korea established all the way back in 1905. Earlier it was used by the farmers to trade their fresh produce of grains, vegetables, fruits, meat and fish. But since then it has grown to accommodate a lot more stuff like imported products, upholstery, groceries, souvenirs, traditional Korean craft etc.
But most tourists come here for the food. There are rows of stalls selling freshly prepared Korean food. Most of the food is prepared in front of you, so it's an added visual experience, great for someone who is curious about the ingredients and technique. Some of the popular food items to try here are knife-cut noodles, tteokbokki, cold soba noodles, blood sausages, Korean honey pancakes and dumplings. It's a great place to get some dinner and end your day.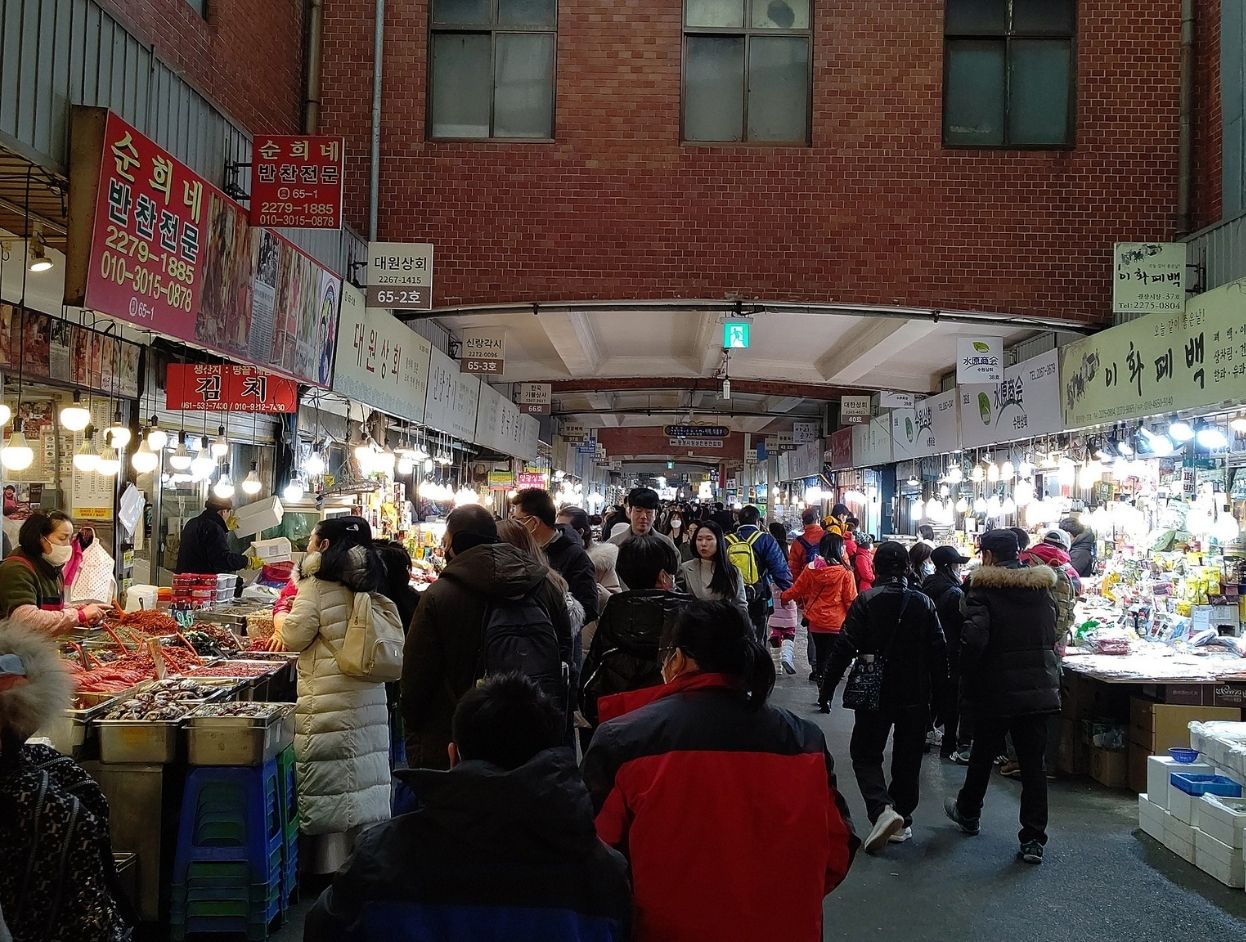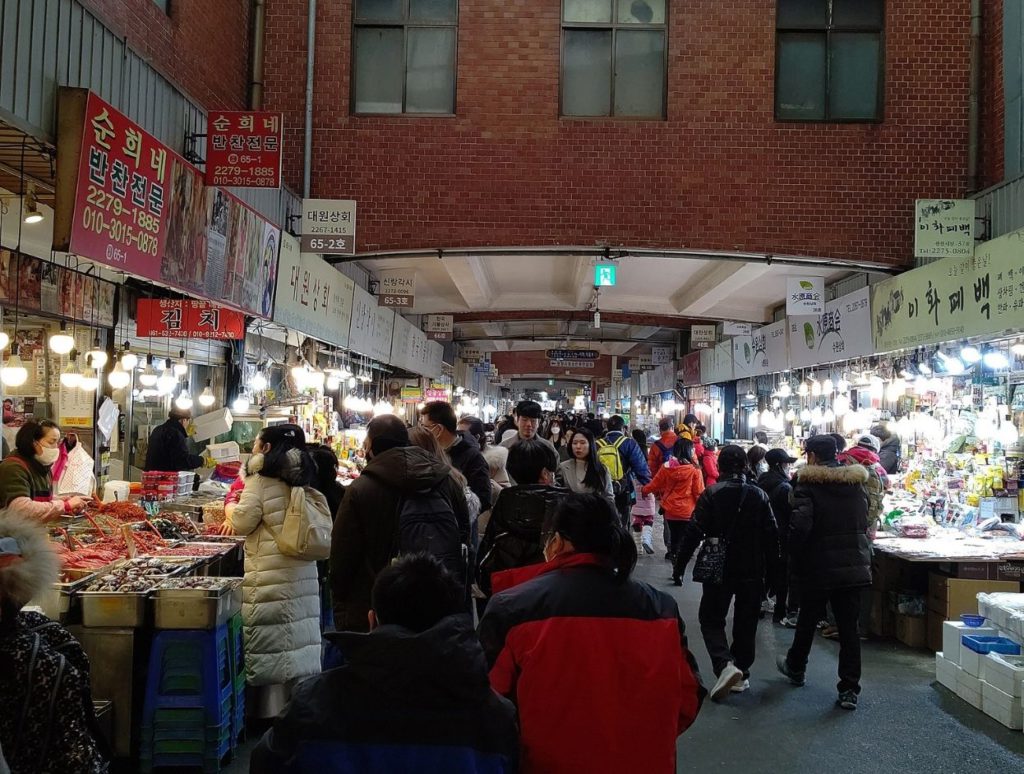 Day 3: Demilitarized Zone (DMZ) Day Trip
When you are in Korea, it is hard to avoid the topic of the Korean War, one that took not so long ago. And while there are no signs of its impact on South Korea today (look at this beautiful country), it is still a very important part of Korean history and probably the future. The best way to explore is to go to the Demilitarized area.
The demilitarised area is the no man's land between North Korea and South Korea. This area is 4km wide and runs all the way for 200km from one side to another across the whole peninsula. It is heavily militarized and quite volatile. But since the last few years, this place has been welcoming tourists to get a peek into this geopolitical situation.
You cannot tour the DMZ by yourself. Everyone needs to get a guided tour to access the DMZ (except for a couple of areas). So book one ahead of time. There are two types of tours – the regular DMZ tour and the ones with the JSA (Joint Security Area) tour. The JSA is further into DMZ where you can even stand in North Korean territory. But the JSA tour is often unavailable for tourists, so it would totally depend upon your luck.
Book tour to DMZ from Seoul
DMZ the 3rd Infiltration Tunnel Guided Tour from Seoul
Book tour to DMZ with JSA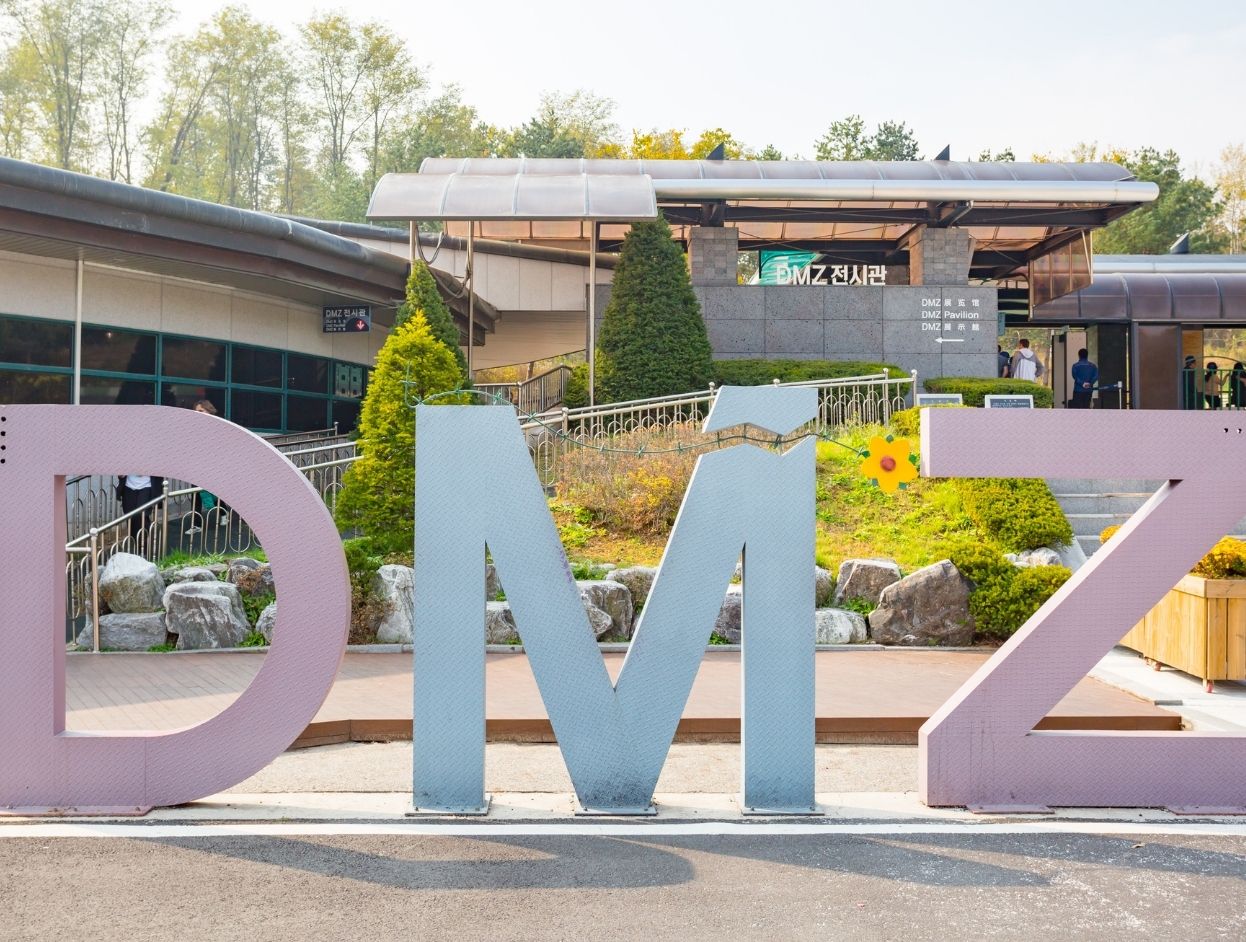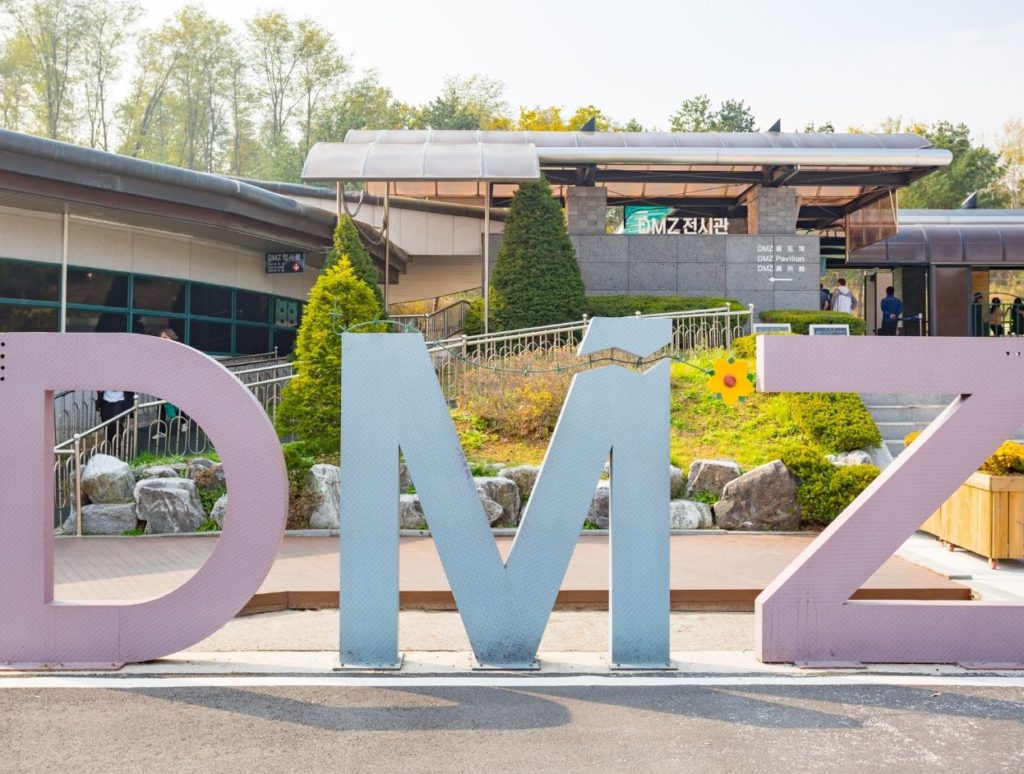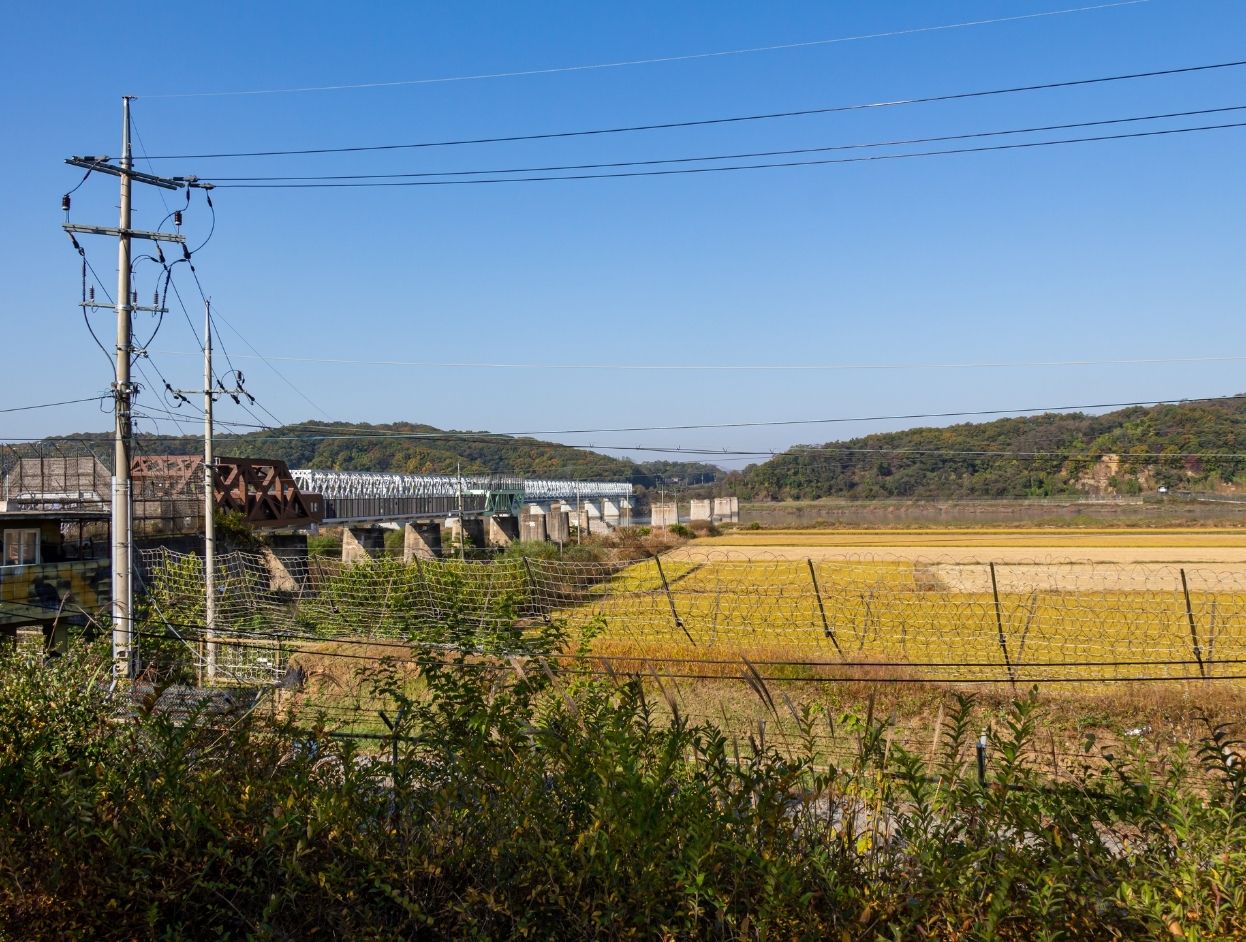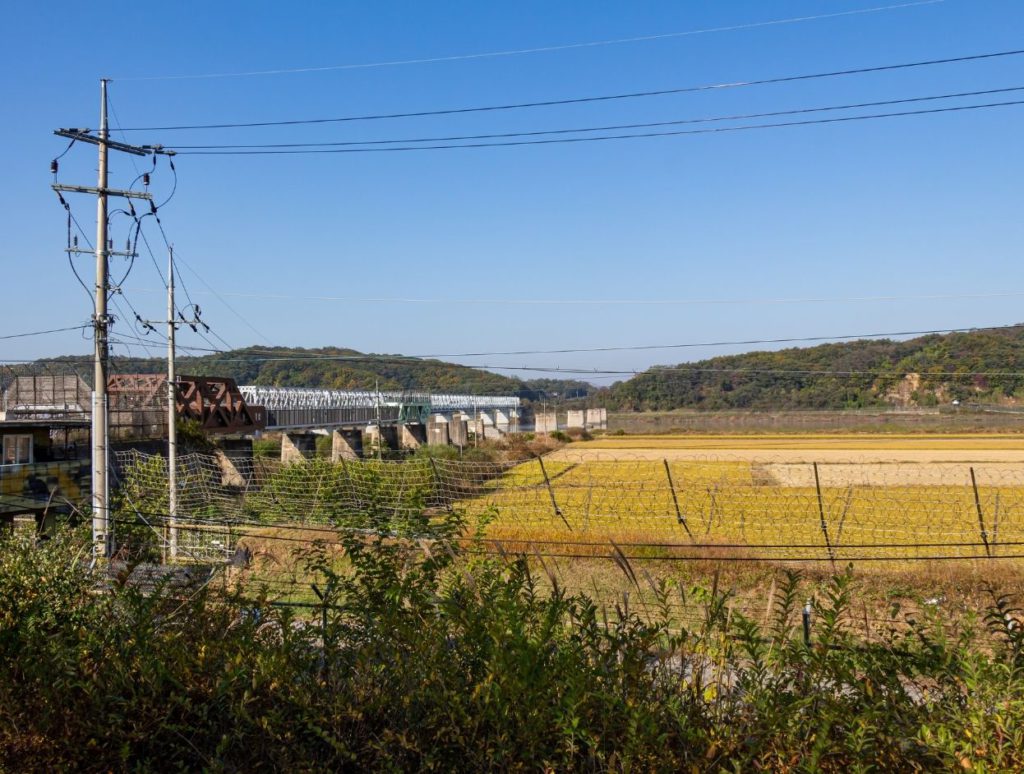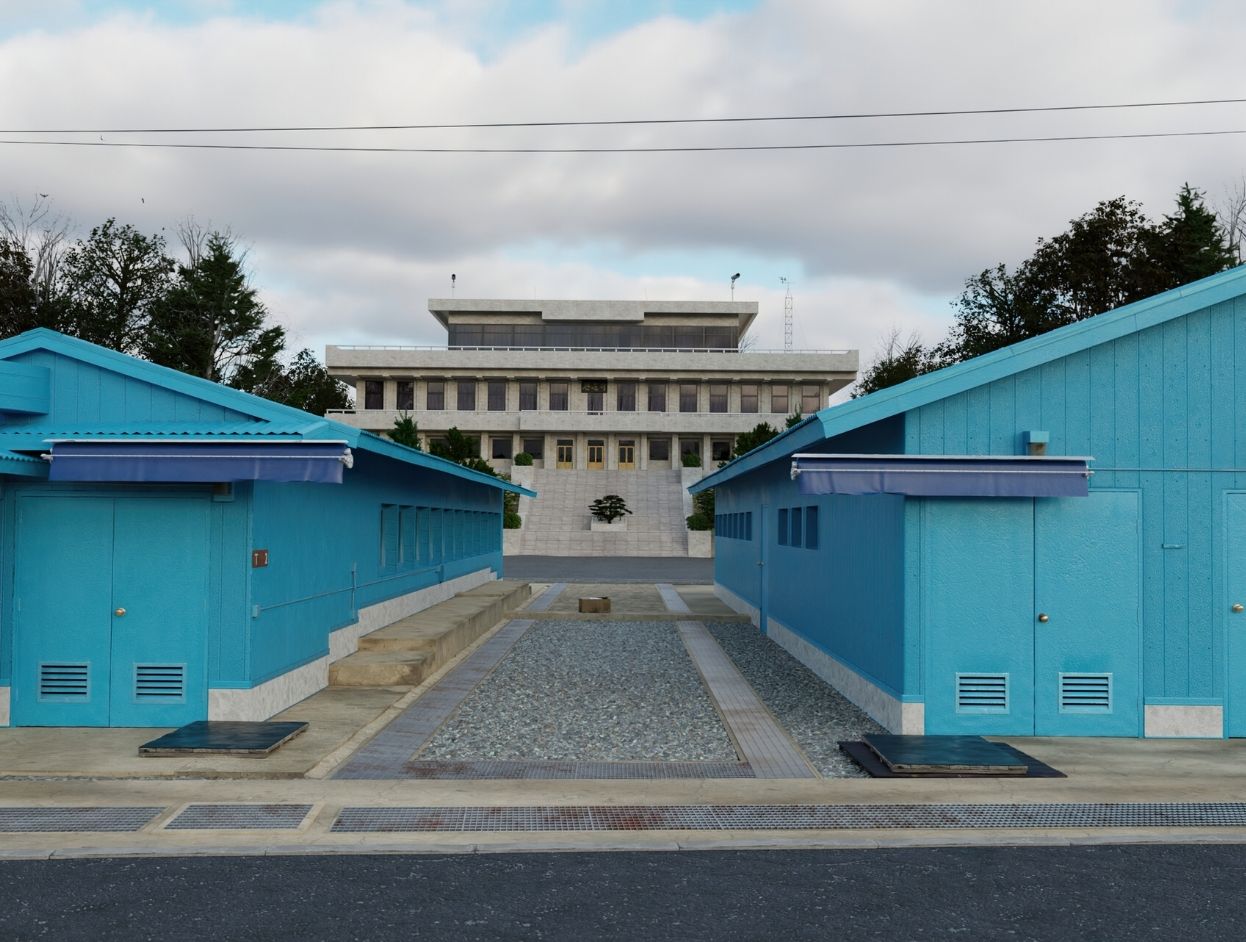 You will need to carry your passport with you during this travel. There is also a set of guidelines like wearing closed-toe shoes, decent clothing, no pointing and funny behaviour inside the DMZ. You will be able to spot some North Korean villages near the border on a clear day. But it also means that the North Korean military will also be able to spot you. So you are required to be on your best behaviour.
Most tour includes the visit to Imjingak Peace Park to discover war artefacts, artillery and military bunkers. The Freedom Bridge next to the park is where 12,733 Korean War prisoners returned home for freedom in 1953. It also has the symbolic significance of a return to freedom. You can also spot an old steel locomotive filled with bullets. This was the last train to cross the border. It was destroyed by US soldiers so that it could not be used by North Korean troops.
Then you move on to the memorial paying respects to the soldiers who died in the Korean war. You will get to explore the 3rd infiltration tunnel that was dug by North Korea to plan a surprise attack on South Korea (heavily denied by them). The tunnel is 44km long and runs under DMZ. There is also an exhibition hall to learn about the Korean War and conflict.
The most awaited place is the Dora observatory where you can use binoculars to see the North Korean village on the other side. However, people believe that these are just for propaganda and nobody lives there. You may not be able to enjoy this view if the day is too foggy or misty.
A few other stops are Unification Village, Gloucester Hill Memorial and Suspension Bridge (Gloucester Heroes Bridge). All of this will depend upon the type of tour you choose. If you choose a half-day tour, you will be looking at fewer spots. But if you are visiting the JSA as well, then expect to spend more time in JSA amidst a more volatile environment. You will also be briefed in detail about things that you can and cannot do inside the JSA area. But if you get the chance, opt for this tour.
Day 4: Namsan Park - N Seoul Tower - Namsangol Hanok Village - Namdaemun Market - Myeong Dong Night Market
For day four, you can head towards the Myeong Dong area starting with Namsan Park and hiking all the way to N Seoul Tower. Then visit the Namdaemun market and enjoy the Myeong Dong night market after sunset.
1. Namsan Park
Namsan Park also goes on the list of my favourite places in Seoul. It is Namsan Park that made me think how wonderful it would be to live in Korea. There are so many reasons that this place is amazing. For starters, the park is humongous and is located in the middle of Seoul. It is so huge that you can access it from many different parts of the city.
The park is also not flat. It is located on hilly terrain, much like the city of Seoul. The highest part of the park is in the middle where the N Seoul Tower is located. However, even without the tower, you will get a lovely aerial view of the city as you climb up. The hike is quite something.
It would take around 30 minutes to reach the top with comfortable breaks. You will find so many people going up and down the trail to get some exercise during the weekend. But you can also take the cable car to the top.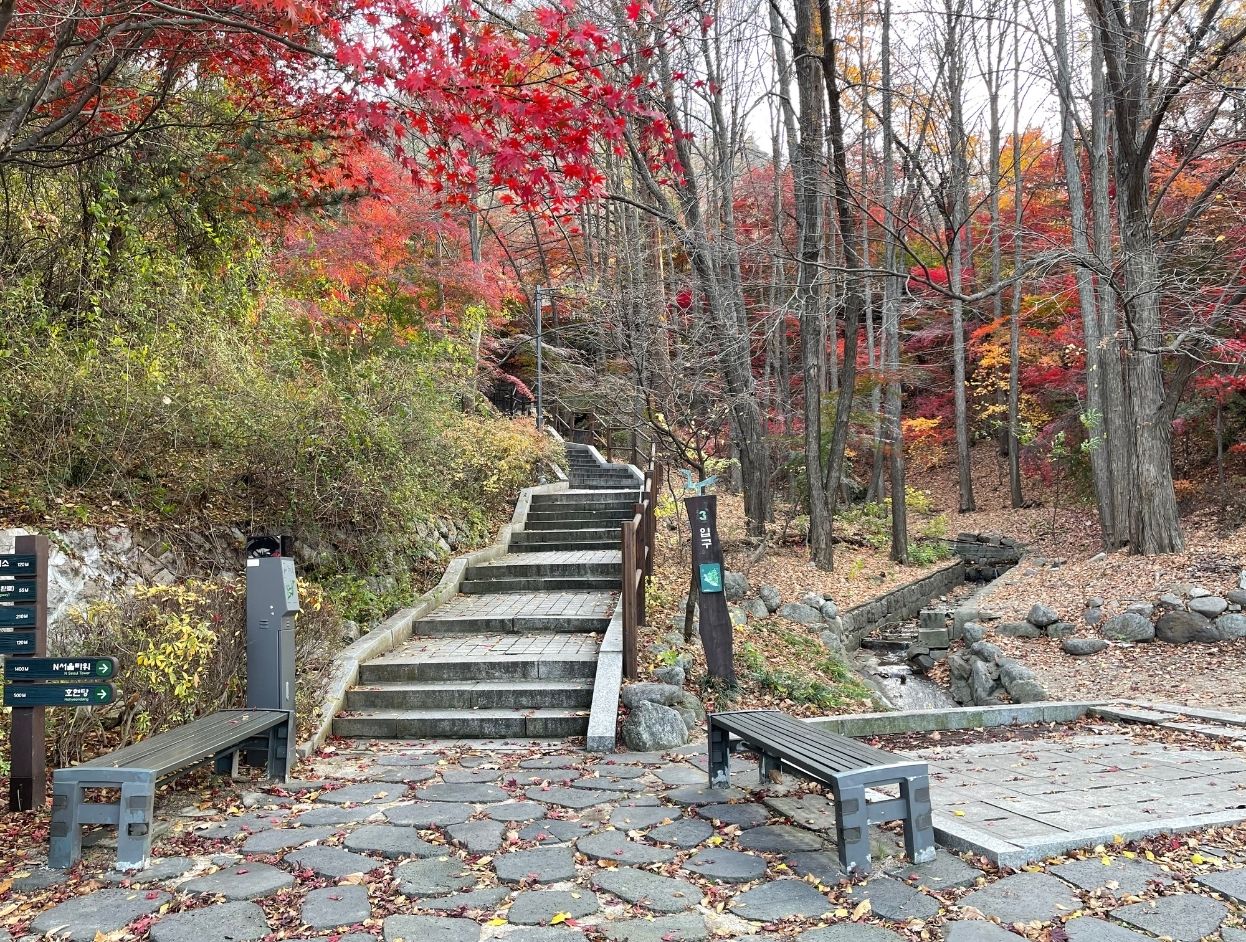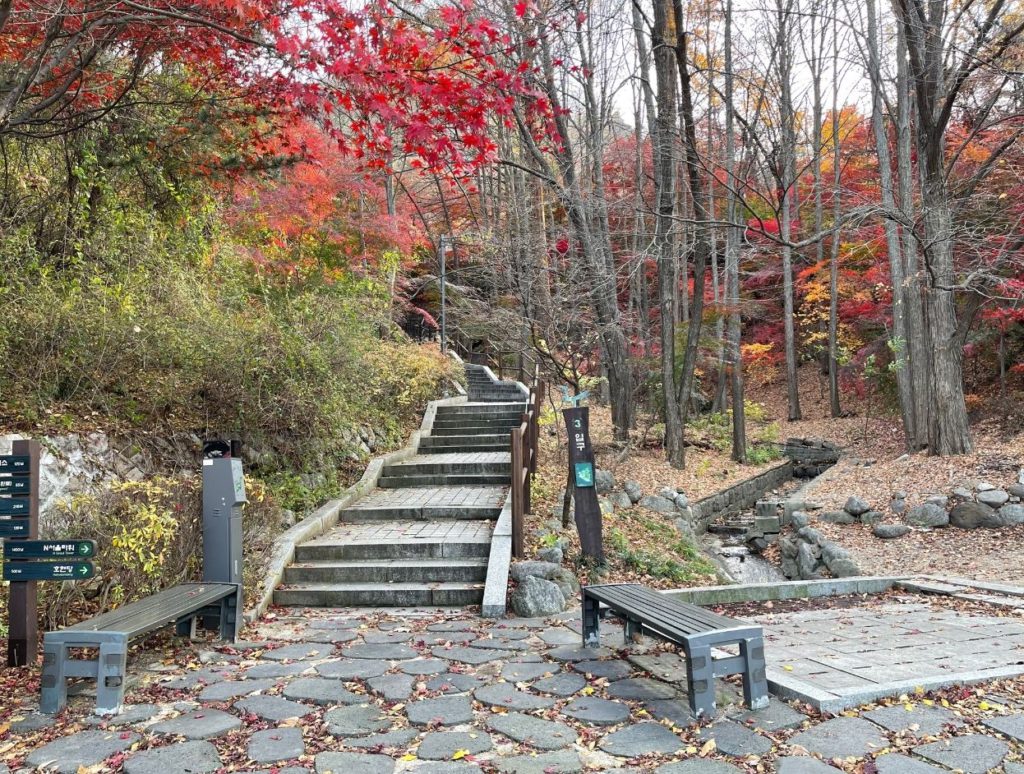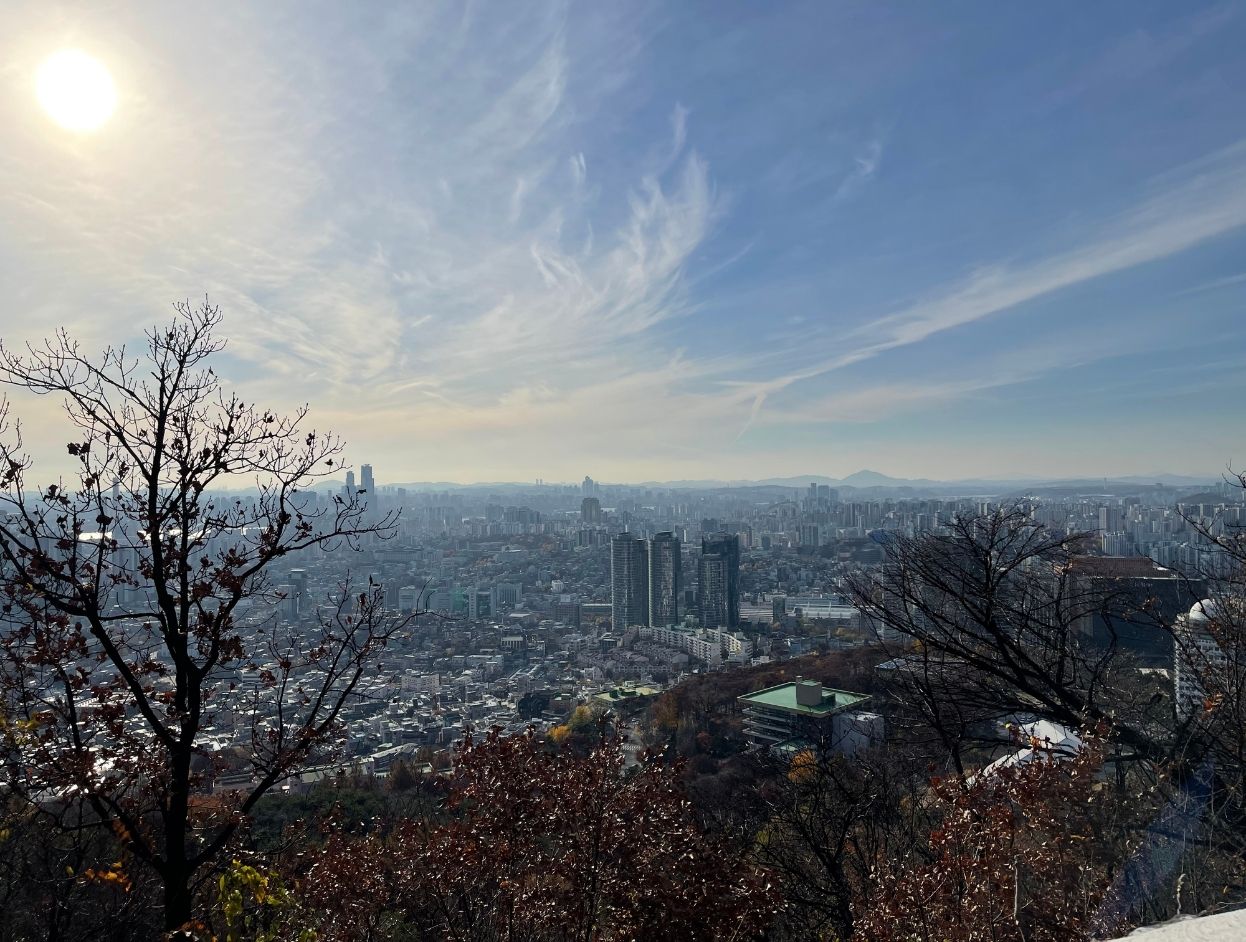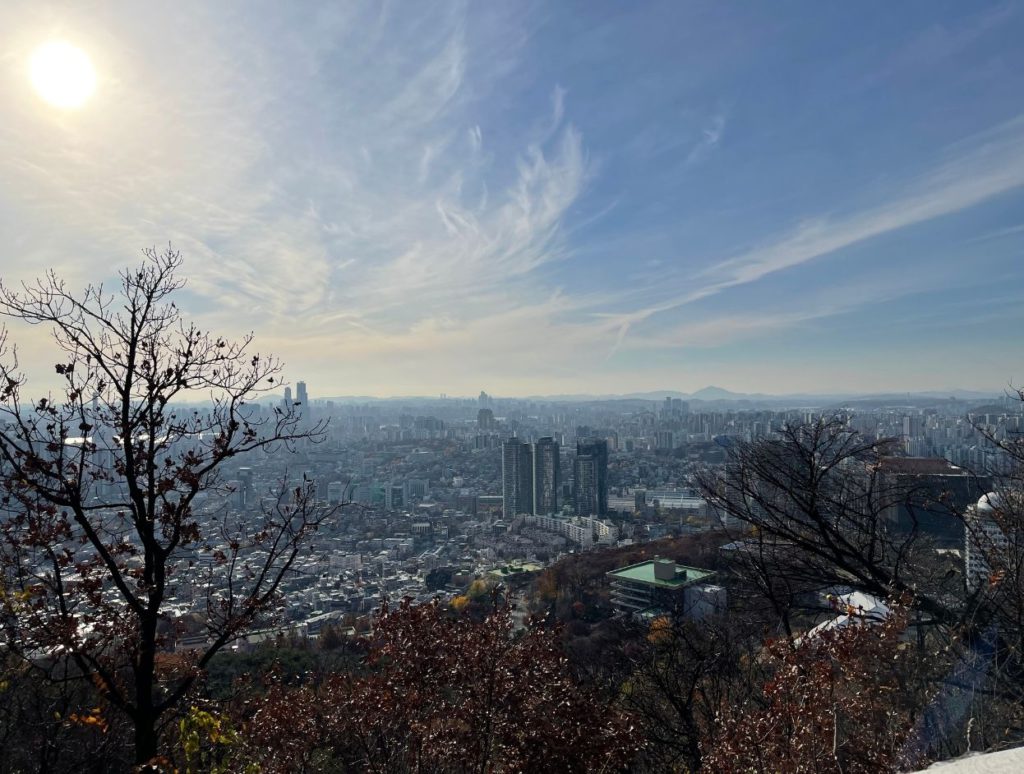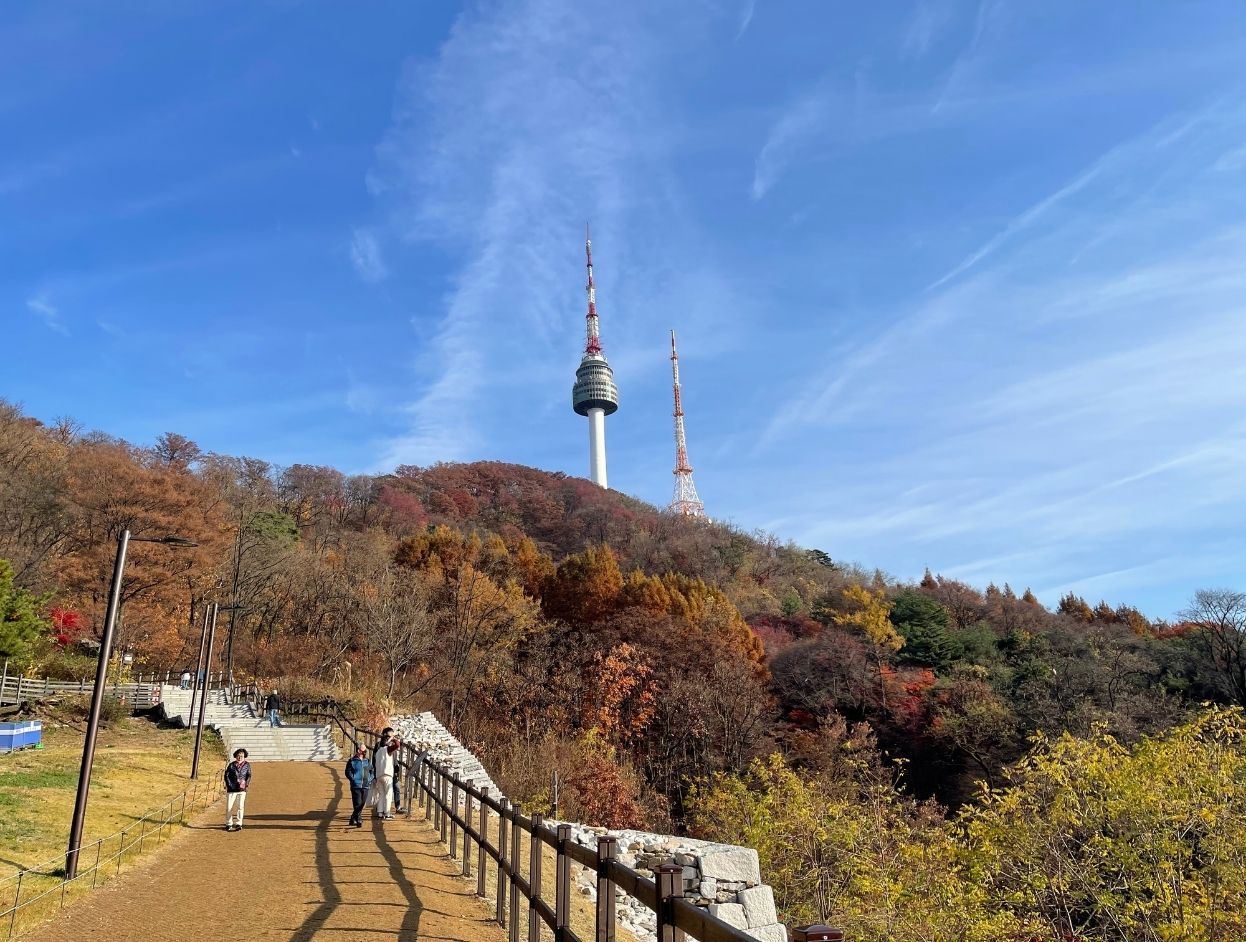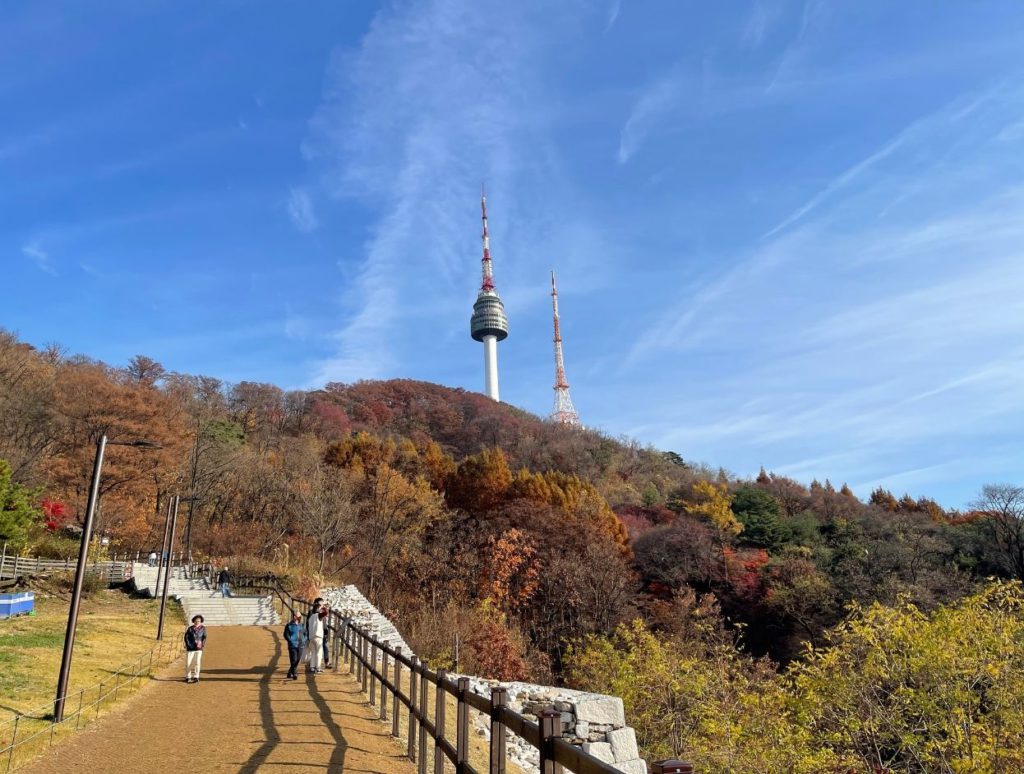 2. N Seoul Tower
N Seoul Tower is the second highest point in Seoul and acts both as a communication and an observation tower. You will find it at the highest point of Namsan Park. Although the city view is still pretty great from the base of the tower, do climb up to the top if you have the chance. There you will find a 360-degree aerial view of Seoul city with Namsan Park at the bottom and the Han River on one side.
You will need to buy a ticket to go up to the observation deck. You can either buy the ticket on the spot or buy one online beforehand to cash in some points and discounts. Tickets are also available in combo with a cab car ride or a couple package with drinks. You can buy drinks or food separately at the tower and enjoy your food with a view.
Buy tickets online: N Seoul Tower Ticket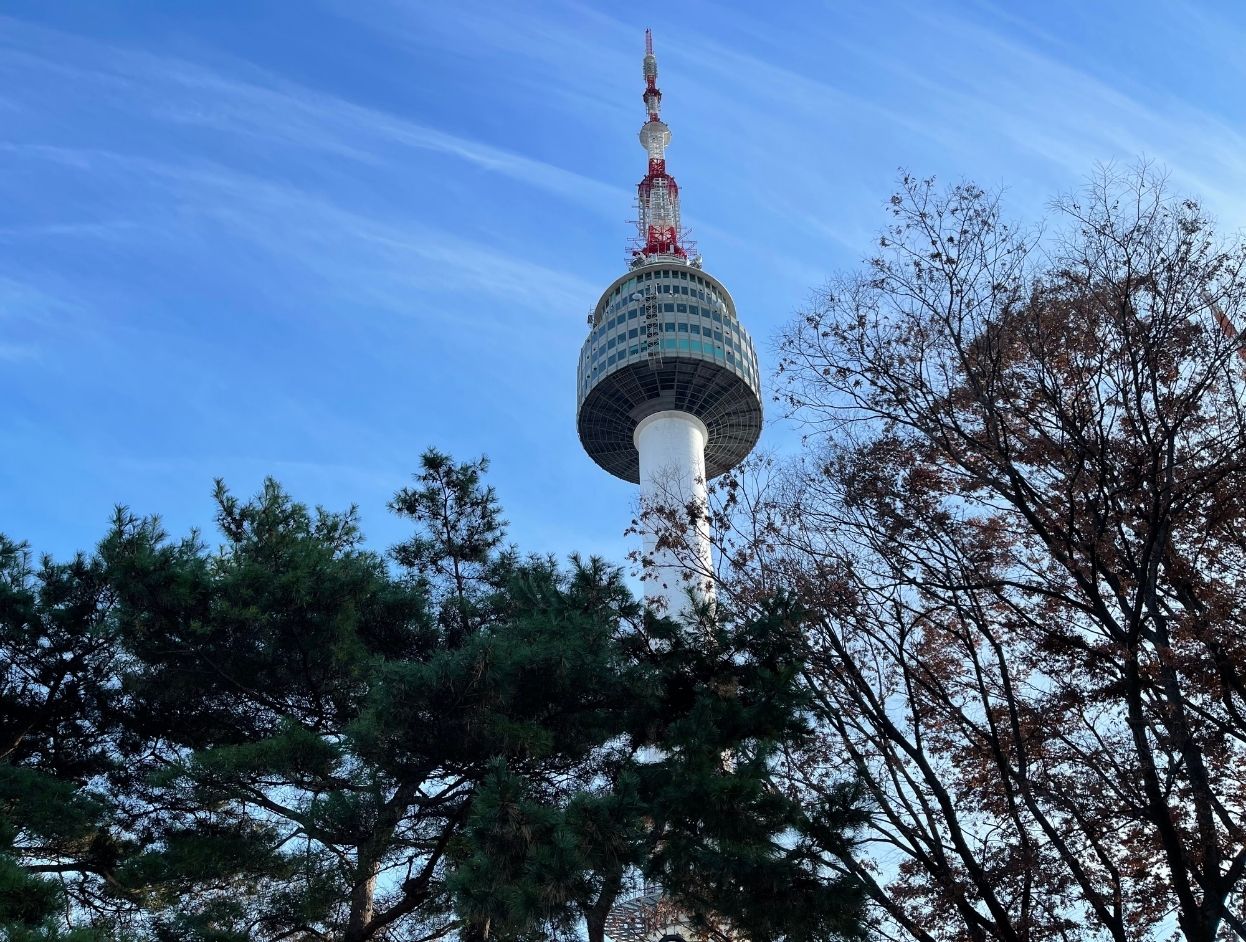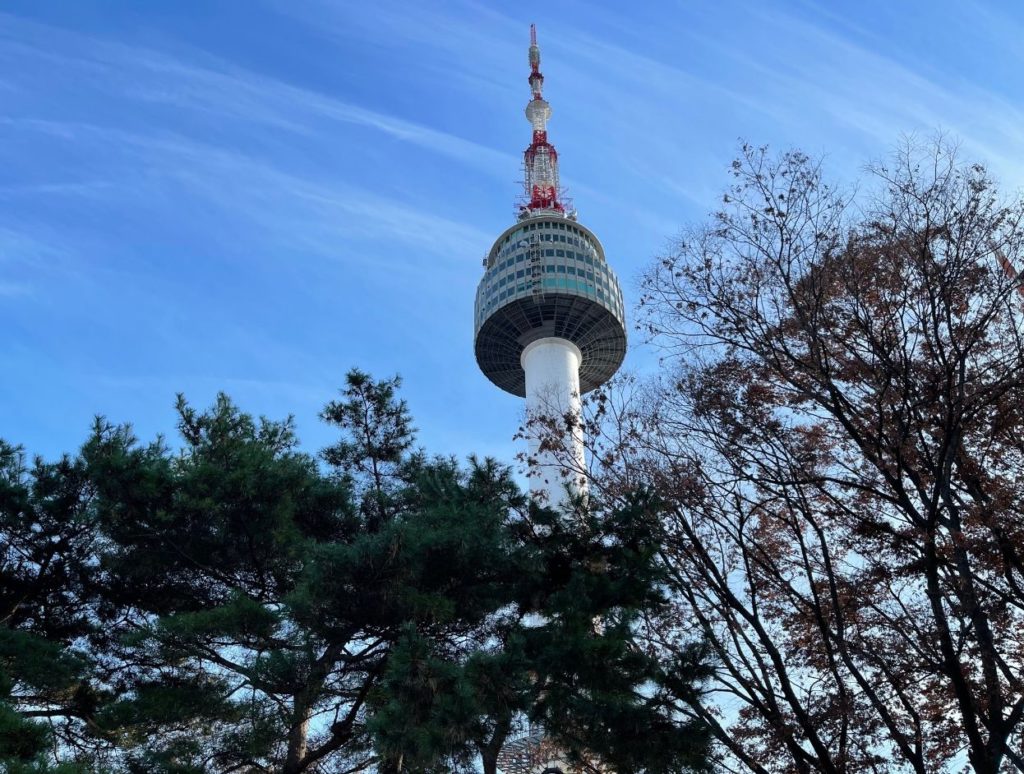 3. Namdaemun Market
You can take bus no.1 from N Seoul Tower directly to Namdaemun Market. Namdaemun is a fantastic street-style market with vendors selling a lot of stuff in bulk. If you haven't had your lunch, this is a great place to pick up a bunch of delicacies and enjoy a variety of food. However, you won't find any benches and will have to eat on the go.
Other than the food, you will find an ample amount of stalls selling clothes, accessories (copies of branded stuff like bags), mobile covers, hair accessories, souvenirs, utensils, chopsticks, electronics, decorations, artificial flowers and a lot more. You can just hang around looking at the stuff. You can buy some souvenirs for friends back home as well.
4. Namsangol Hanok Village
From here the next destination is Namsangol Hanok Village. You can take a bus near the Chungmuro subway station and walk from there. This is a comparatively smaller village and far less touristy than the ones you have visited earlier. But similar to others, the houses used to belong to the elite families from the Joseon period and are characterised as Hanoks.
You can enjoy walking around the village and exploring the houses with open yards. The houses still have furniture from several centuries ago and is intriguing to see. The place is very well maintained great to take some photos, especially in a hanbok (traditional Korean dress).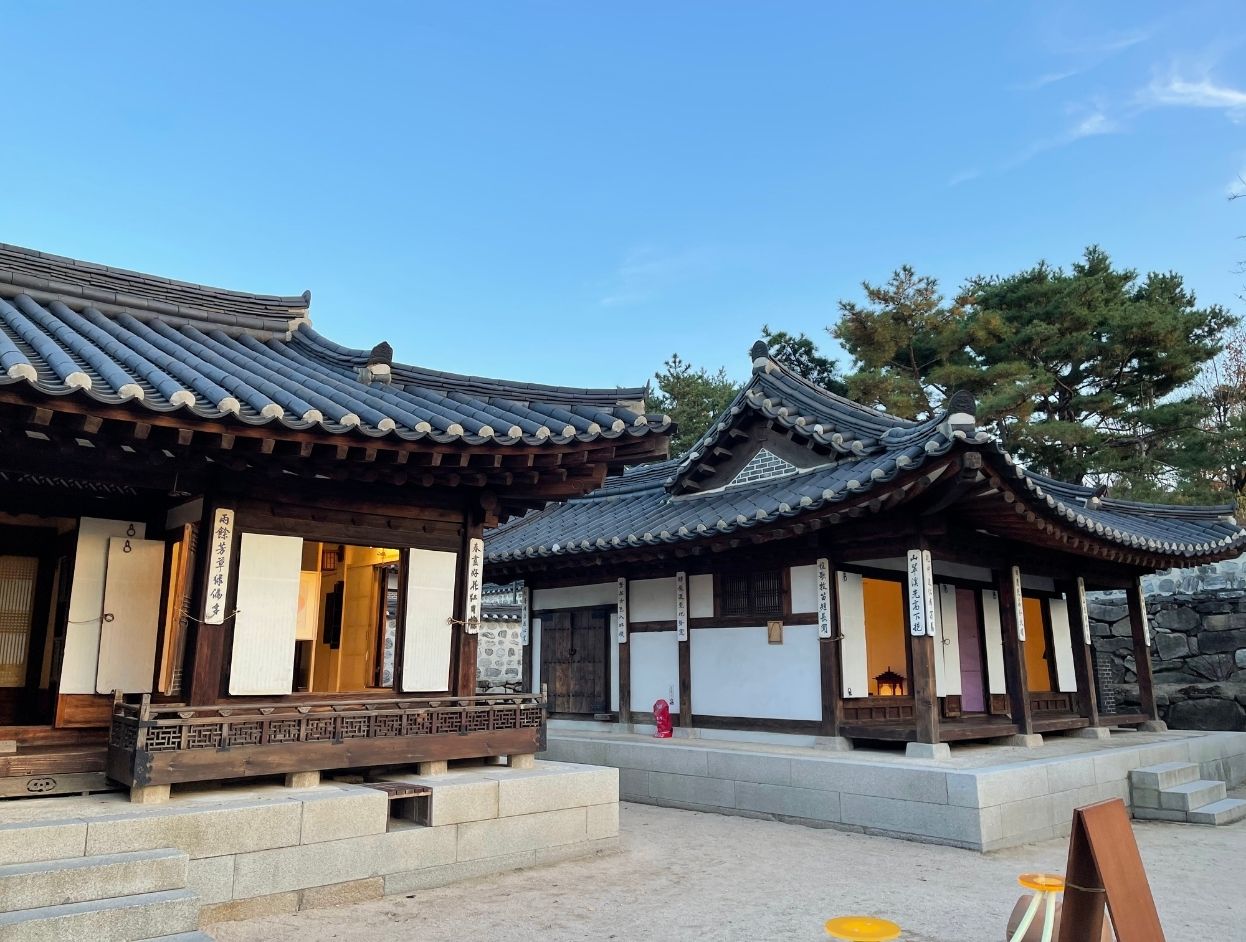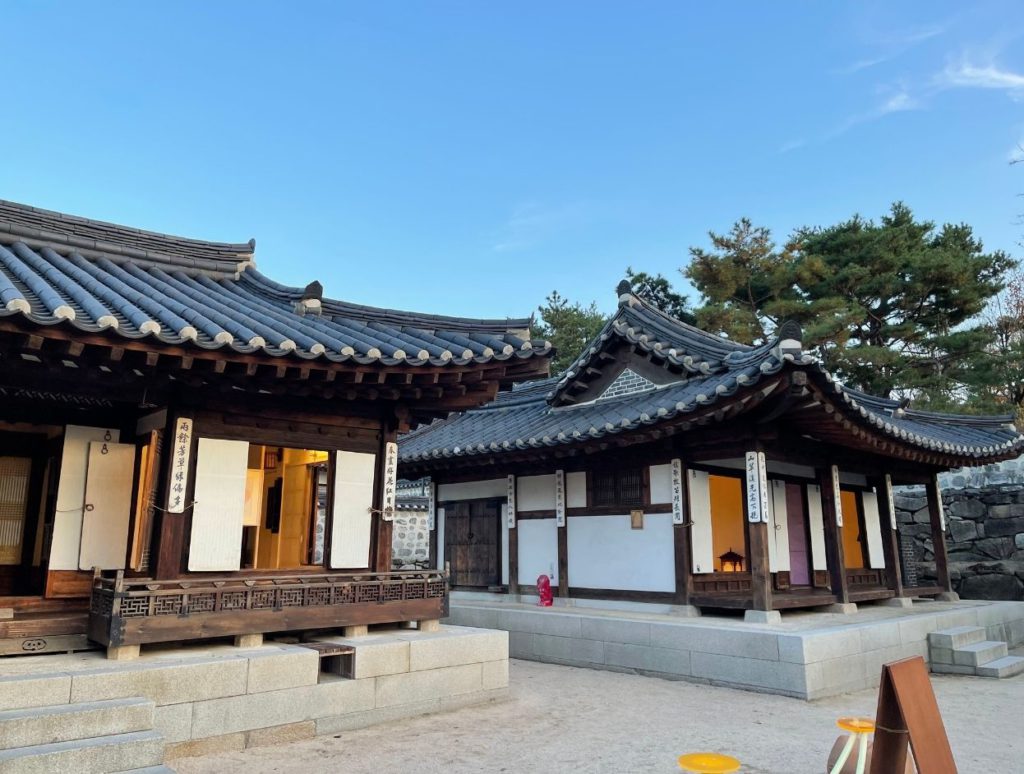 5. Myeong Dong Market
Since I was staying at Myeong Dong, I used to hang out at the Myeong Dong night market every other day. It is a pretty cool place. This area is flashy and full of life. It is also quite upscale with a lot of young crowd. So the vibes are great. There are street food vendors in the middle of the street selling some quirky stuff and these are delicious. And then there are so many restaurants and bars around the area with a mix of both local mom-and-pop places and fancier cafes.
There are several retail outlets on both sides of the street. Some of them are renowned brands, some are local ones. You can find clothes, food, groceries, luggage and accessories at these places. But all of them are overshadowed by the rows of beauty shops selling world-famous Korean beauty products. Even if you don't use a lot of make-up, I am sure you will still be tempted to pick up some stuff here.
I also hung out at Cat Cafe Goyangi Noriteo with some super cute cats. A great way to end the night.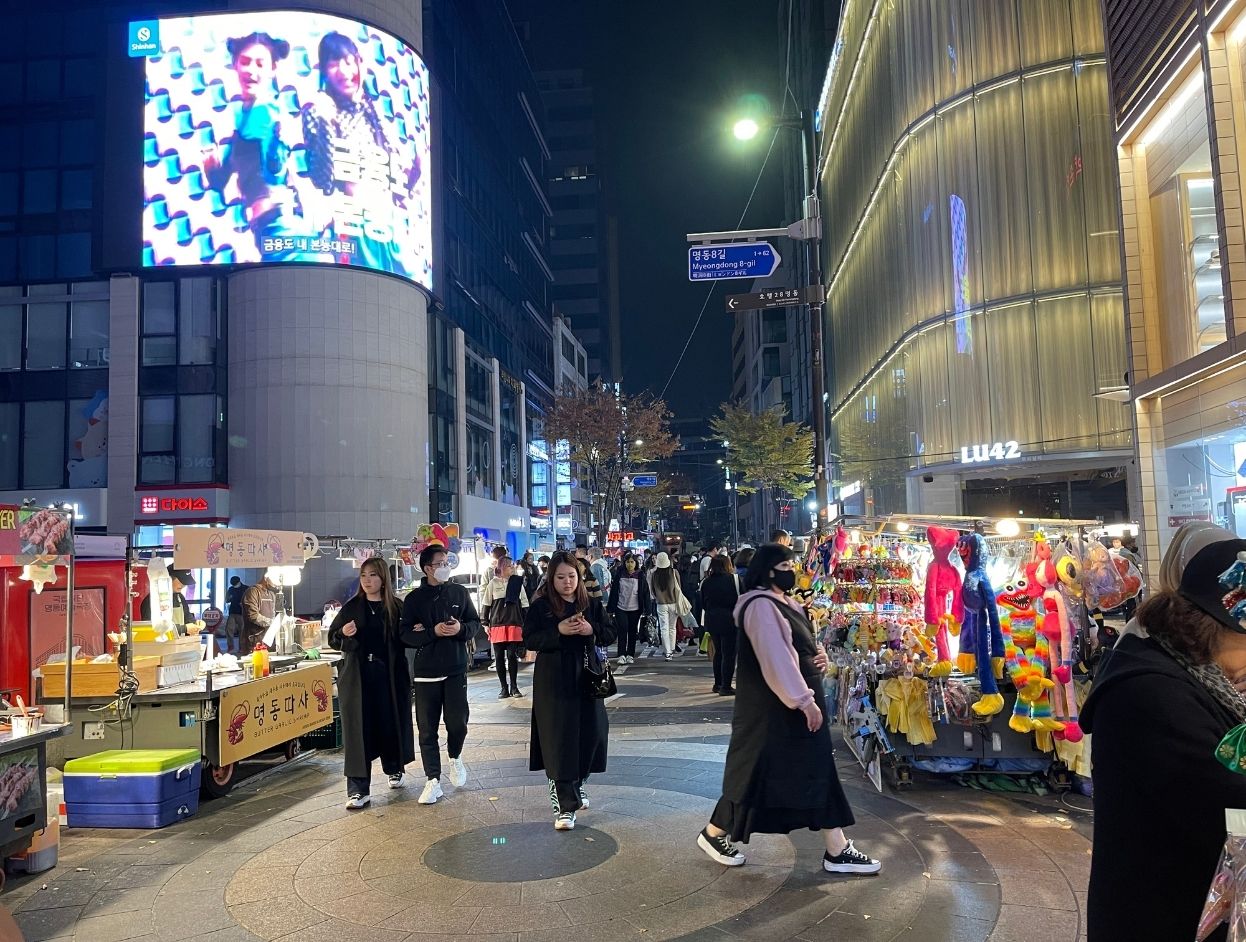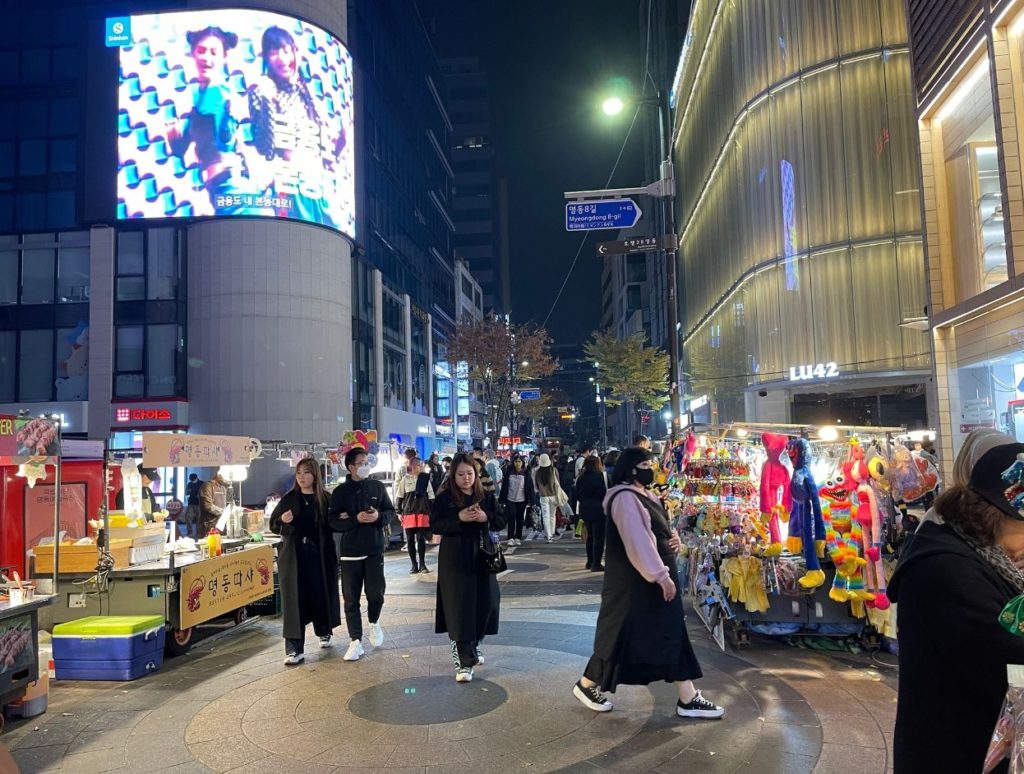 Day 5: Nami Island Day Trip
Nami Island makes a popular day trip from Seoul. Nami Island is actually a river island located on the north Han River that flows in the Han River as it progresses. It is 54km east of Seoul. If you are already acquainted with Korea, you can consider doing this trip by yourself. But if you are not, I will recommend you take a guided tour for this since it will save you a lot of hassle on figuring out the transportation and is quite affordable to do in a group.
Nami Island became famous for tourists after a K-drama Winter Sonata was filmed here in 2002. It is especially popular with Japanese tourists. There is a light trail going across the island. It will take you about an hour to cover and a little bit more if you wish to sit around and take photos at some of the scenic spots. The island is especially beautiful during the cherry blossom blooming time and autumn months.
You need to reach Nami Island Wharf on the west bank and then take a ferry boat to the island. If you are adventurous, you can also zipline to the island on a very tall zipline running over the river. For lunch, consider having a dakgalbi which is a regional-style barbeque served with rice popular in this area.
I took a tour that had several add-ons apart from Nami Island. I think it was totally worth it to visit the Garden of Morning Calm which is a little before Nami Island. The garden is absolutely beautiful and is enjoyable in all seasons. Others include a visit to Petite France, a village built in French style architecture, an Italian village and a rail bike activity that gives some lovely views of the Korean countryside.
Book day tour to Nami Island:
Nami Island / Alpaca / Railbike / Petite France / Morning Calm Tour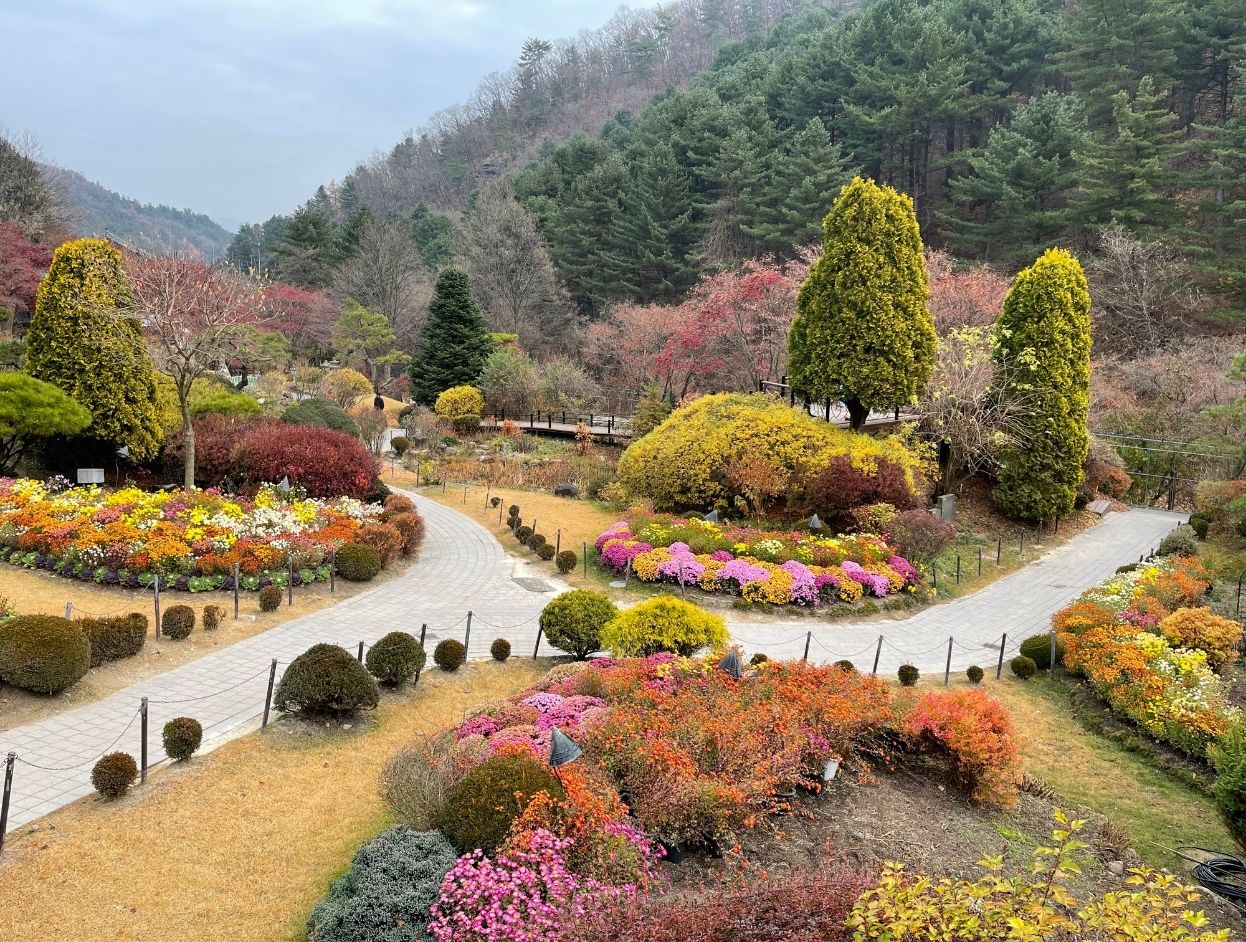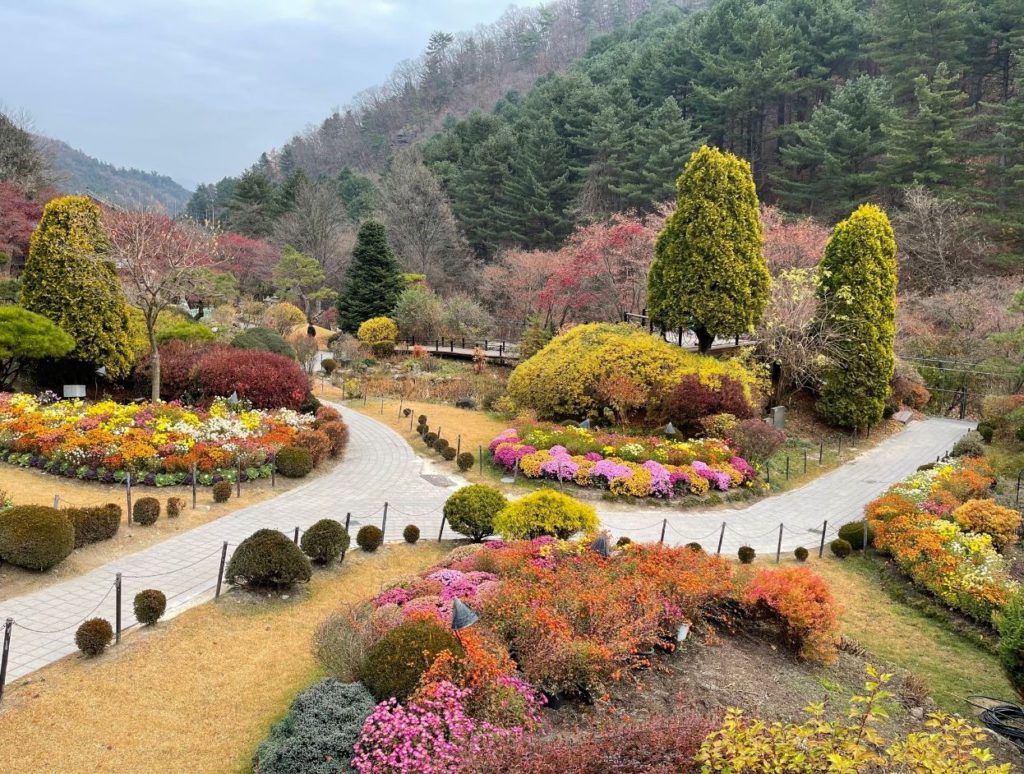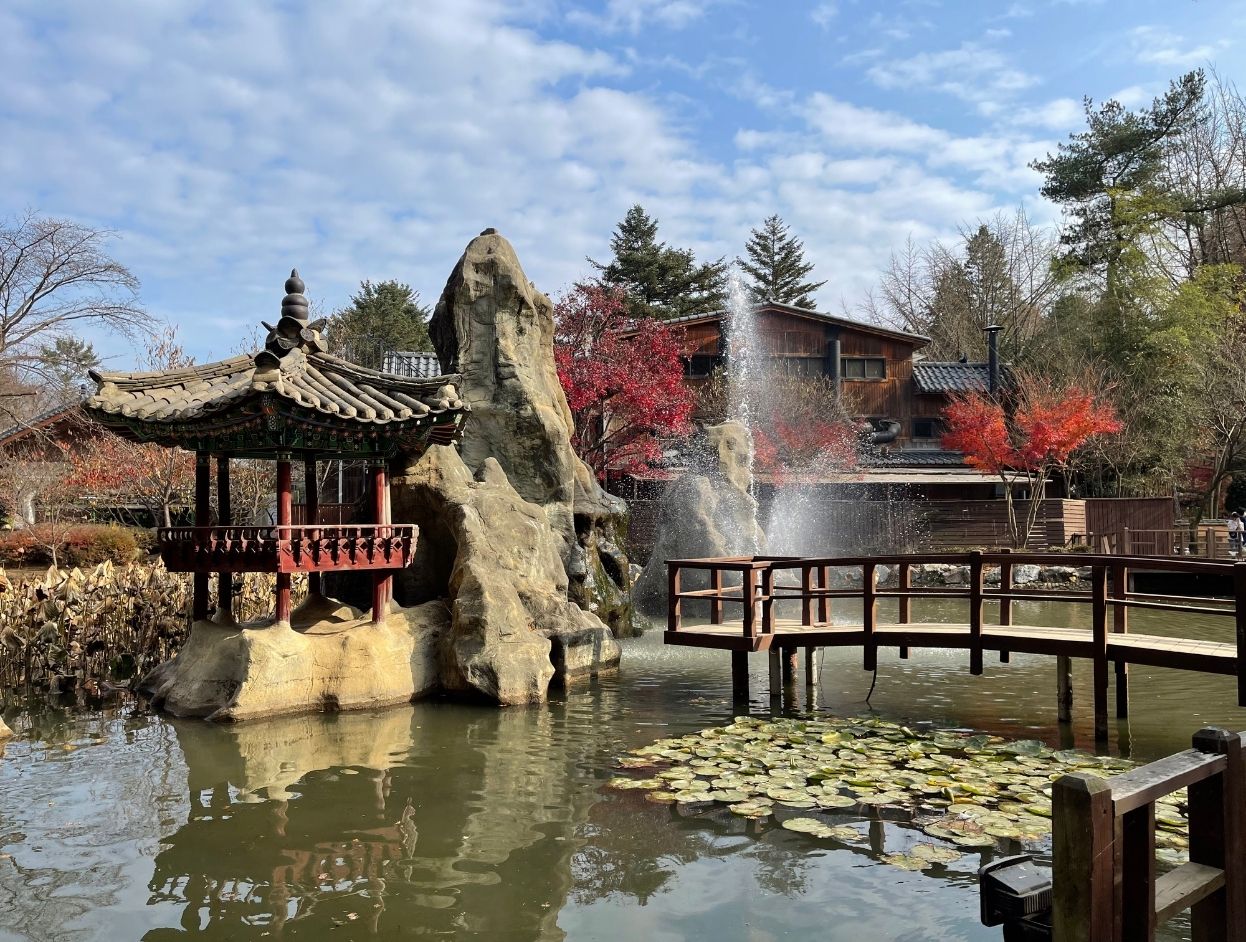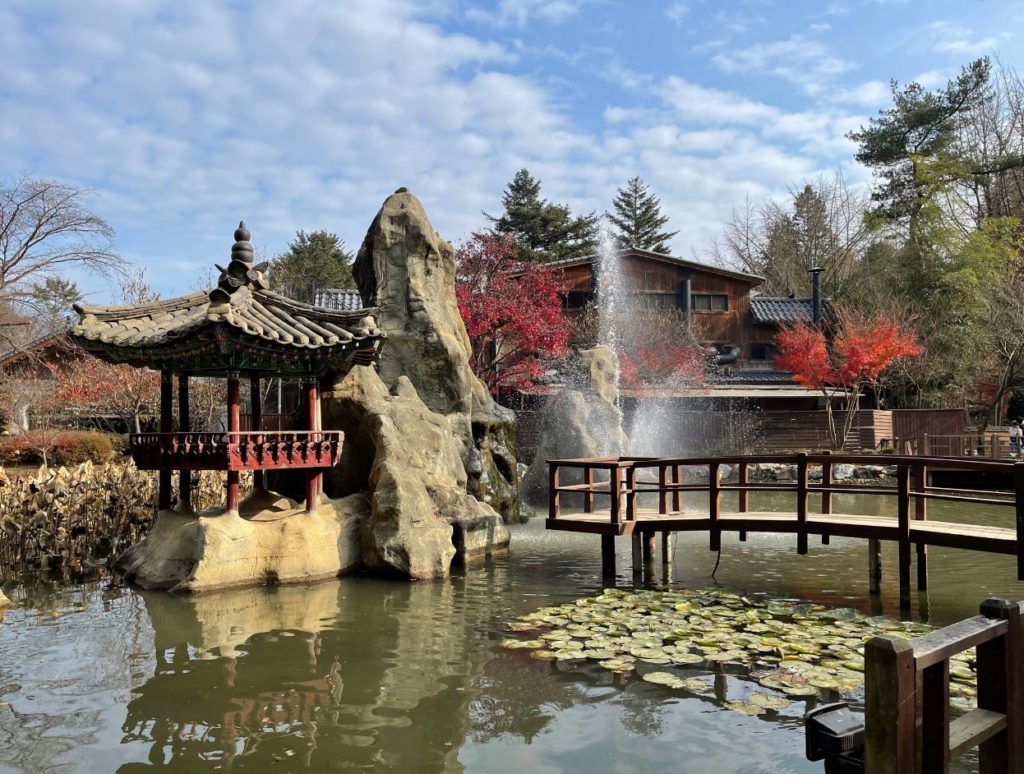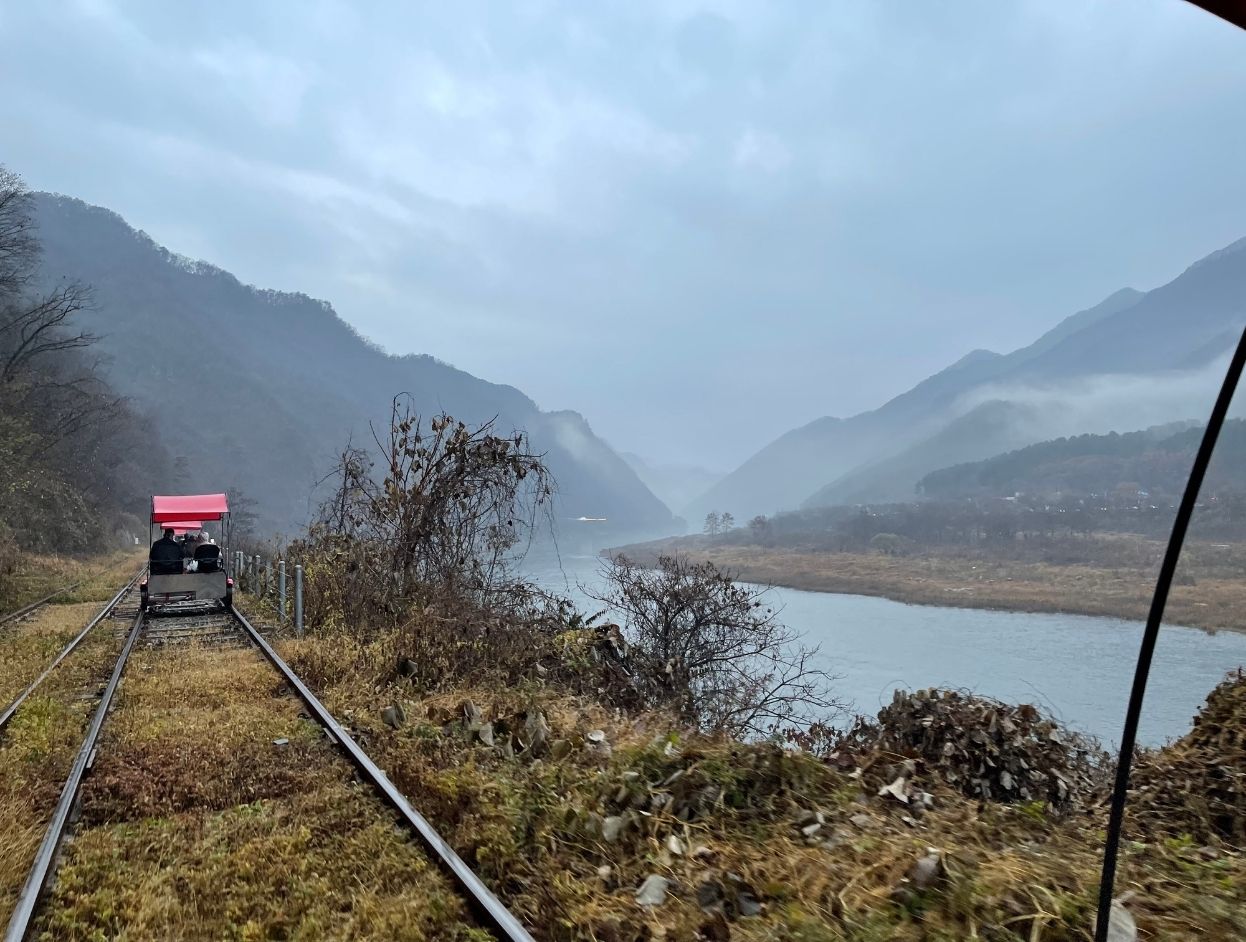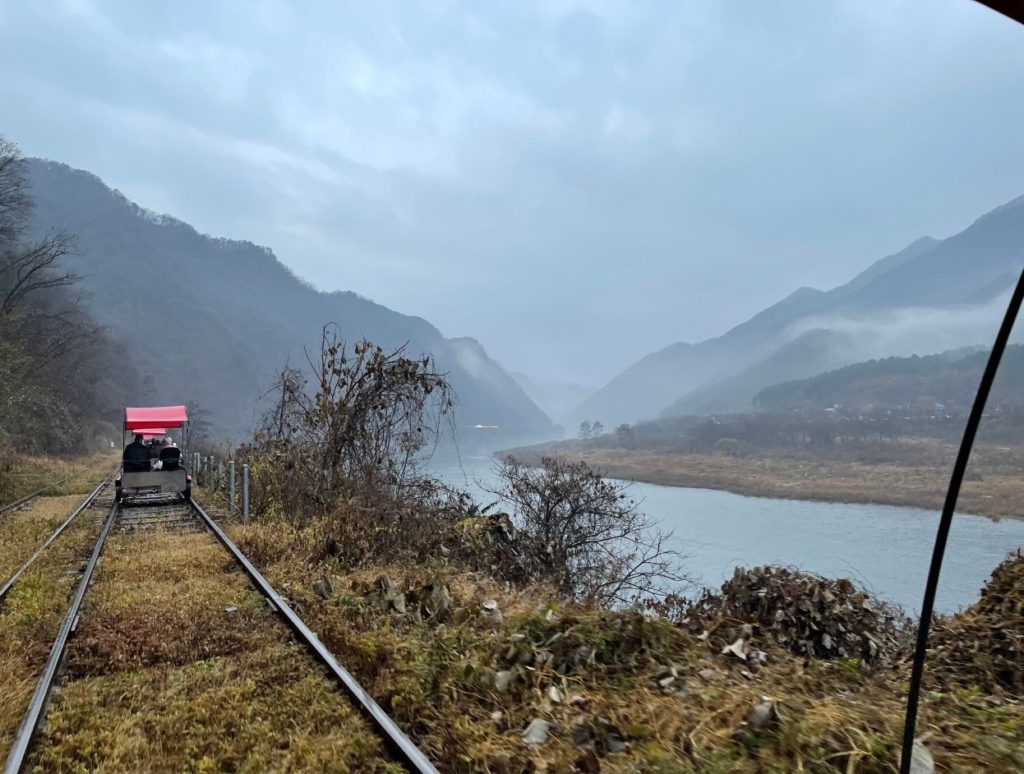 Day 6: Seolleung and Jeongneung - Starfield Library - Statue of Gangnam Style - K-Star Road - Lotte World Tower
If you wish, you can take this day slow after five days of extensive travel. You can choose to visit selected places that interest you and skip the others. But it is definitely worth exploring the Gangnam area, a place made popular by the song 'Gangnam style'.
1. Seolleung and Jeongneung
Seolleung and Jeongneung are Royal Tombs that belonged to the King and his Queen from the Joseon dynasty in the 15th century. You can visit the tombs from a distance. It's an open area in the middle of Gangnam, a densely populated business district.
There is definitely a lot of historical value but the place is also a great place to walk in peace. Since there are a lot of cafes and restaurants around the park, it is a good place to grab some breakfast.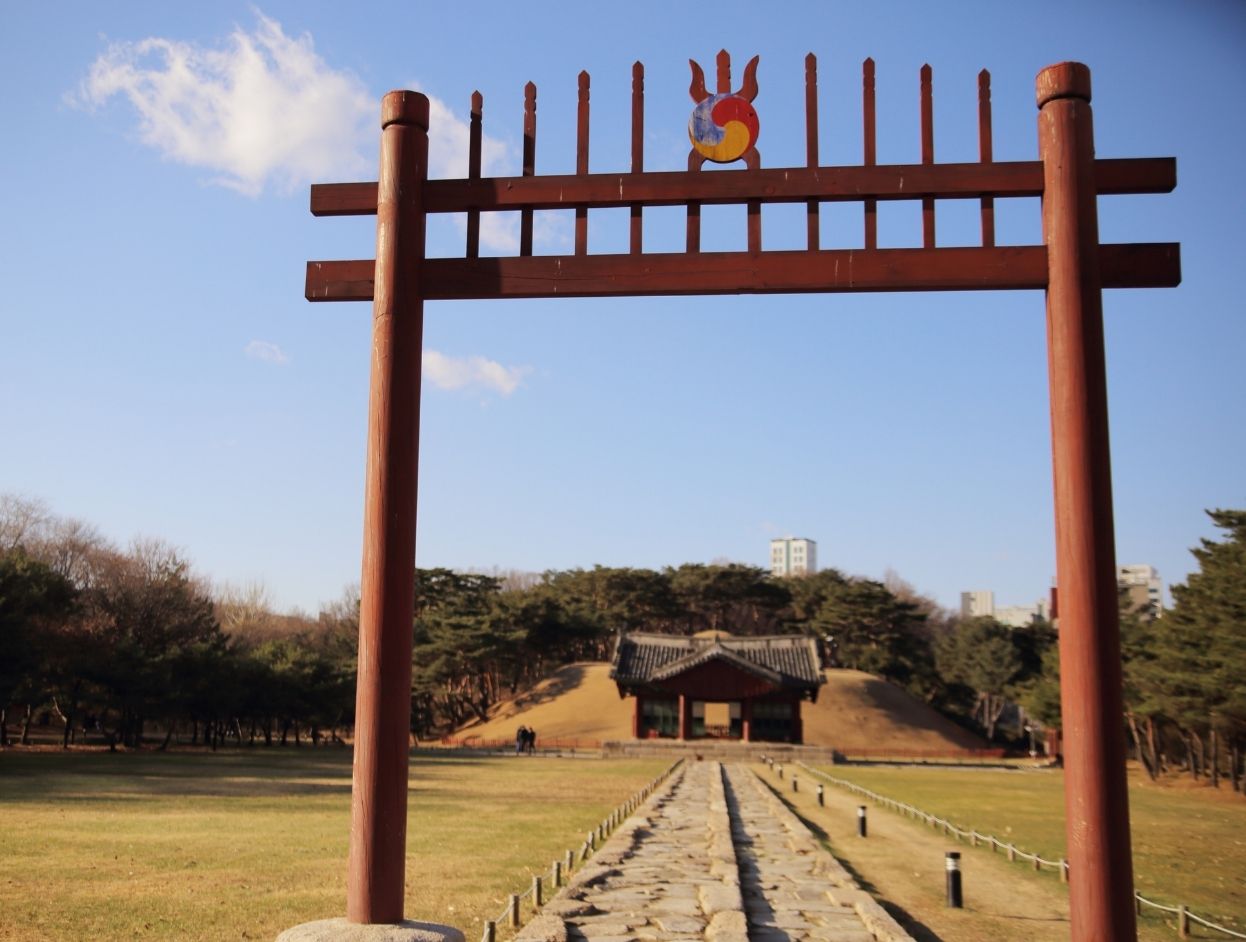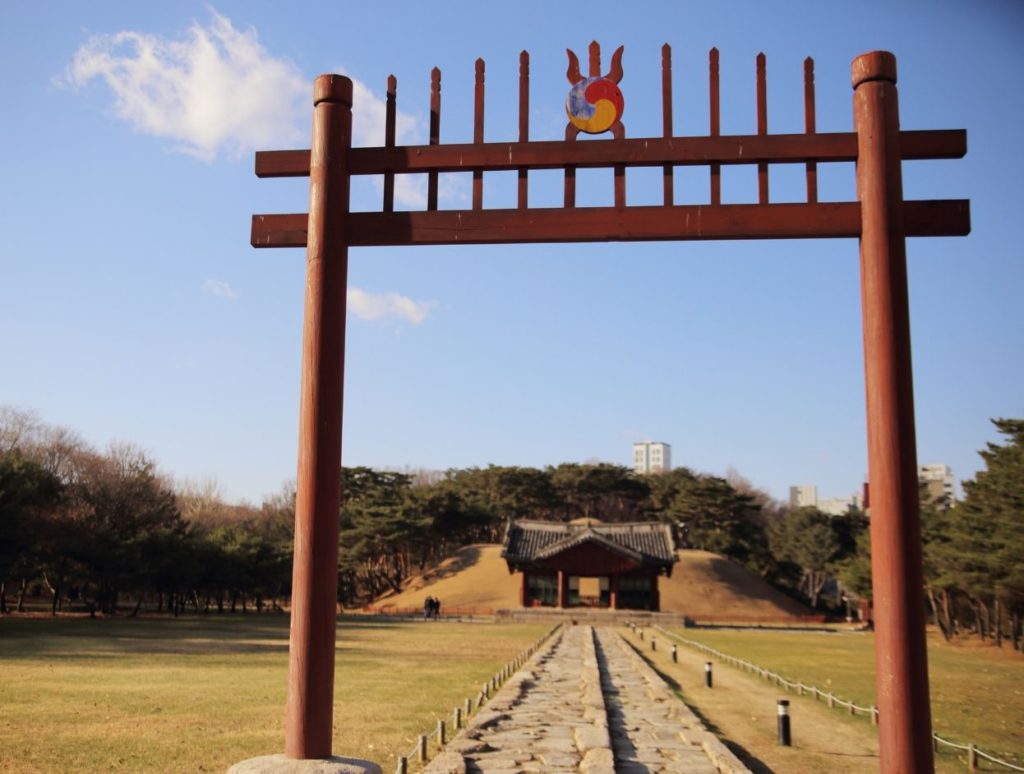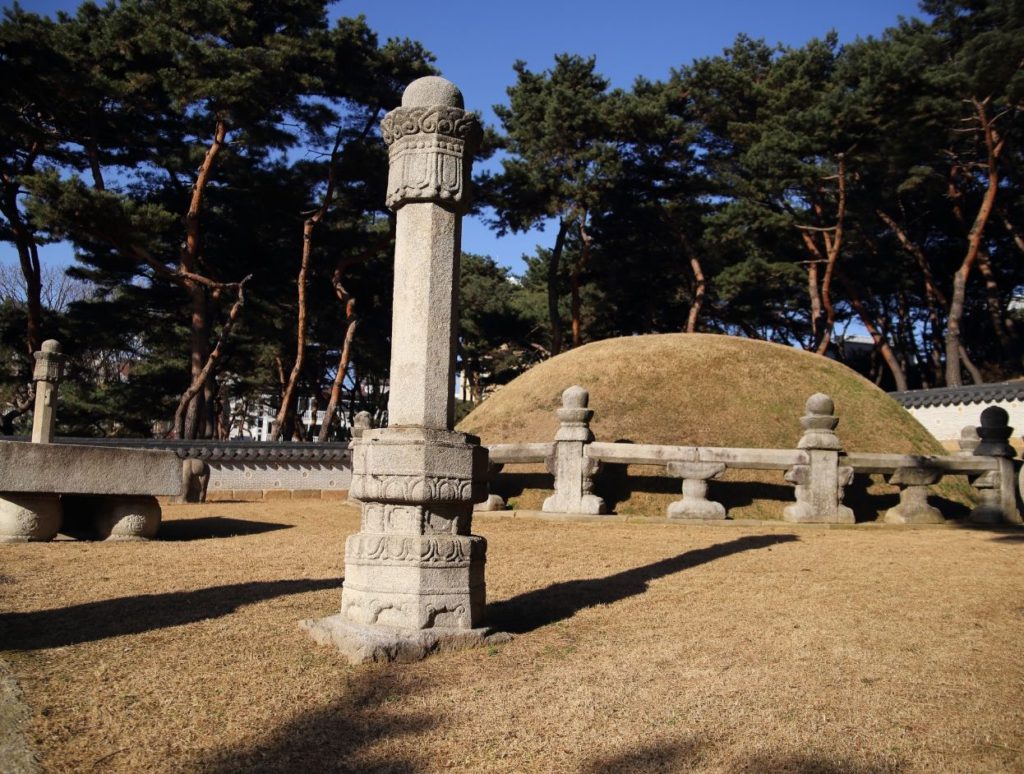 2. Starfield Library
You can walk from the last spot to Starfield Coex Mall in Gangnam. The mall is large and looks great surrounded by several skyscrapers home to headquarters of important international brands. But the main attraction for me was the Starfield library. It is a beautiful huge library three storeys tall that you can walk into. However, unlike I imagined it is not really a quiet place and people keep walking around to several cafes and shops inside the library area.
You can take the escalators to go to the next level to the desks and chairs where anyone can sit, read and work without getting bothered. The mall is also popular for the Coex aquarium. If you haven't been to a glass tunnel aquarium, this will be a great experience.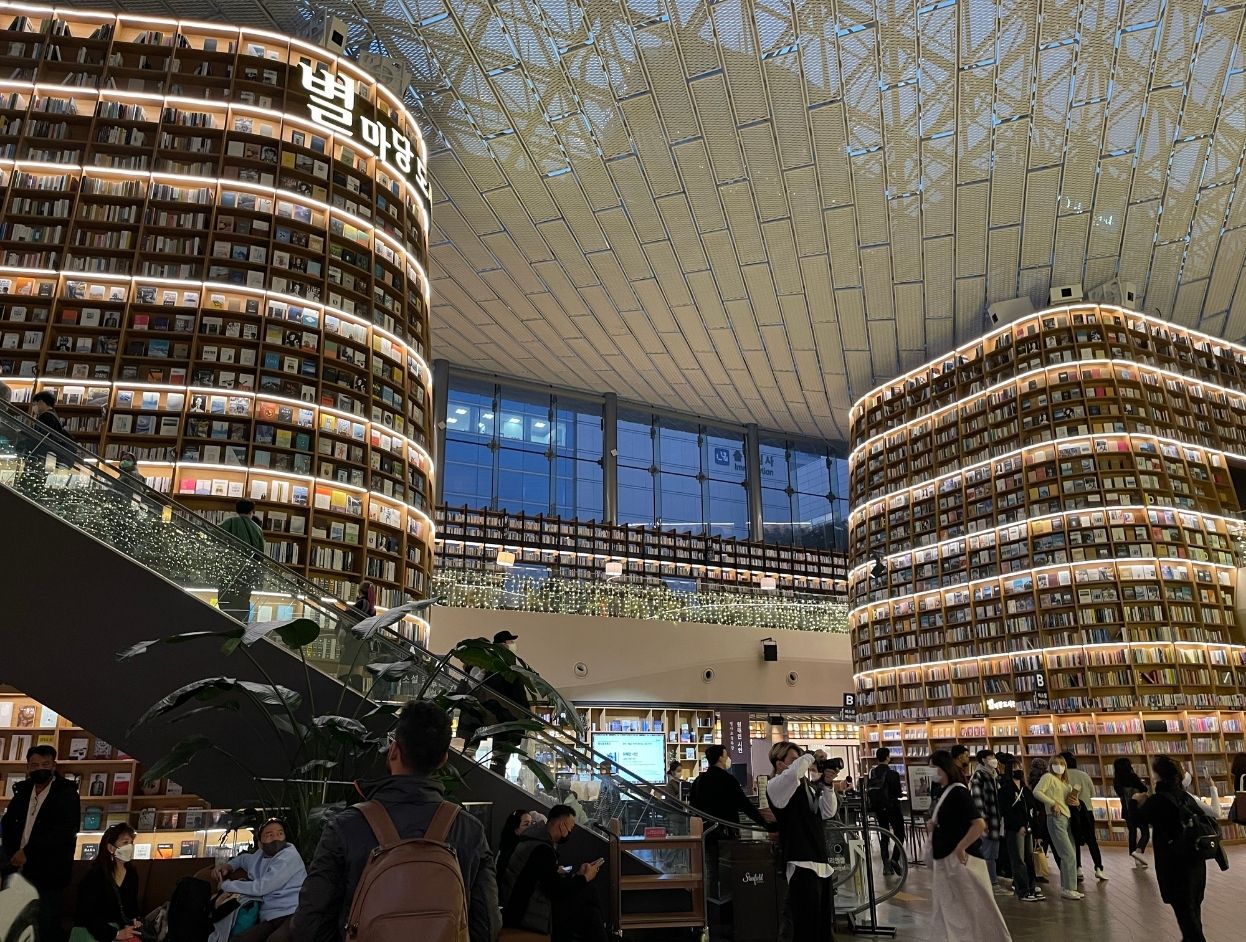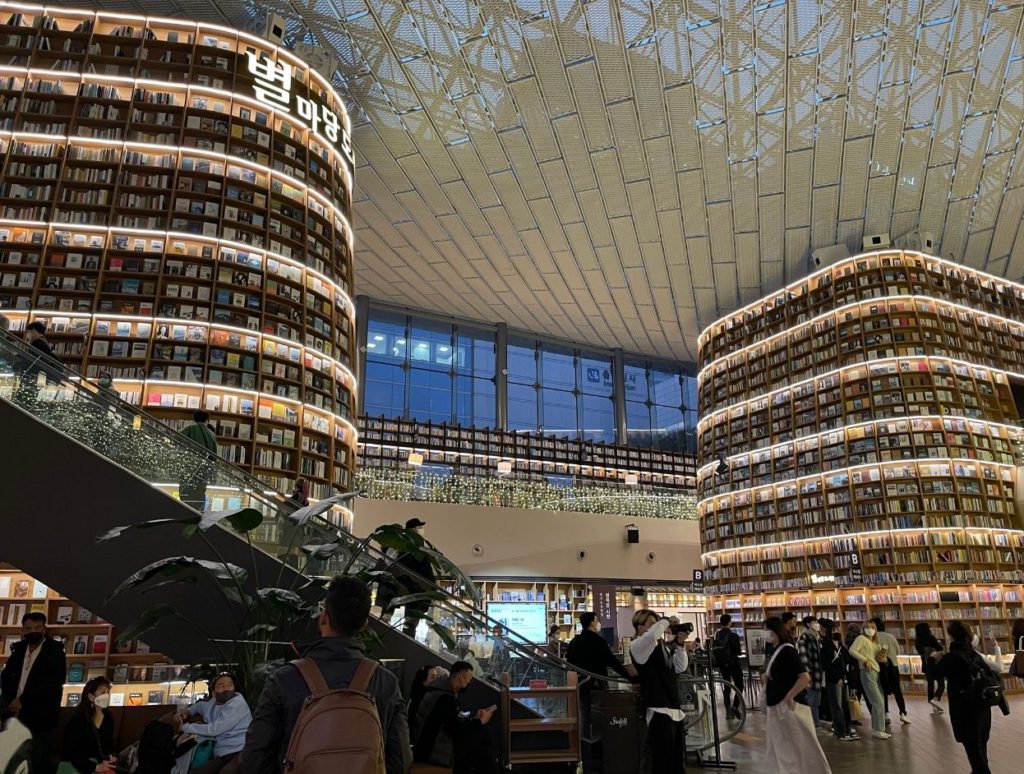 3. Statue of Gangnam Style
Just outside the Starfield Coex Mall is the giant statue of Gangnam style. By statue, I mean two hands posing the same as in the dance performance. Right next to it is a screen with speakers where the music video goes on. You will find a lot of people taking photos and videos dancing to the Gangnam-style song. It's a great stop.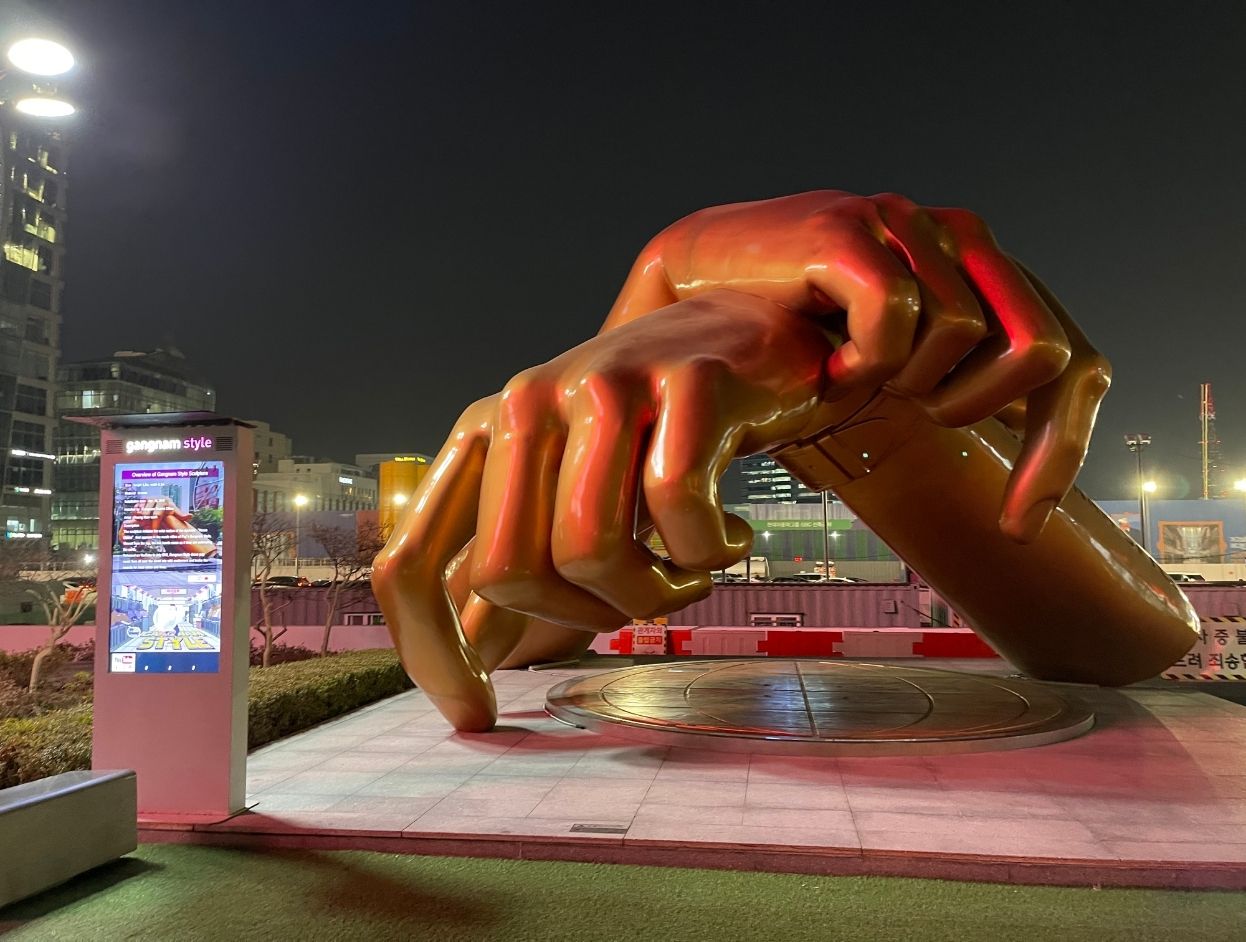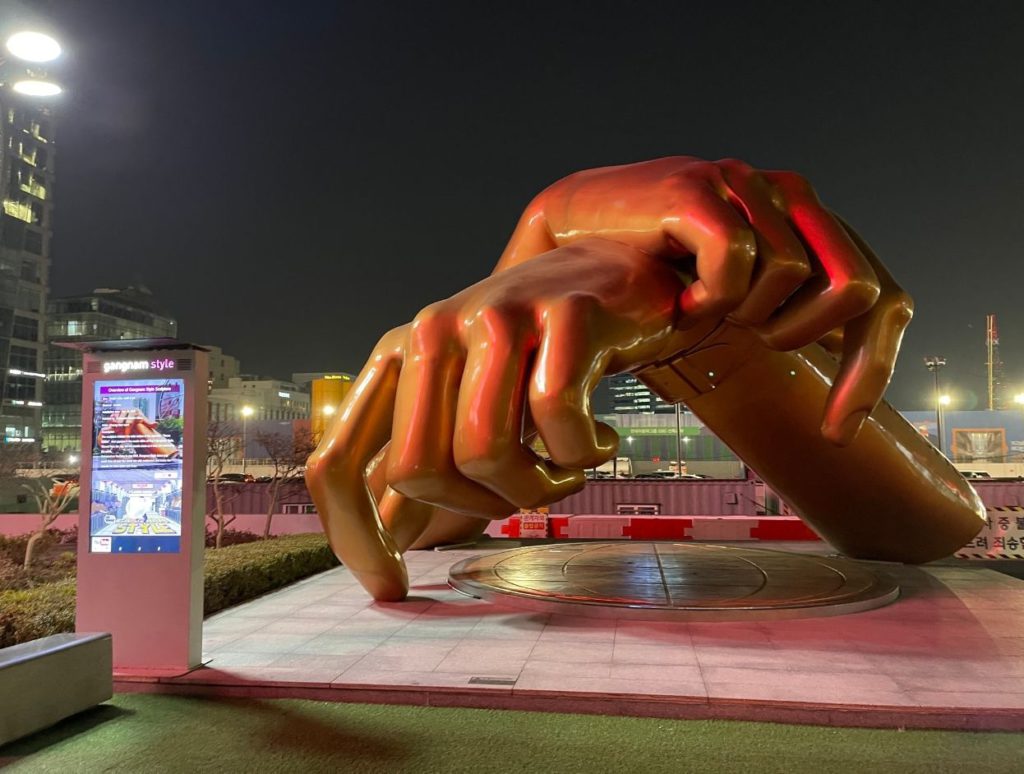 4. K-Star Road
This place is definitely for a K-pop fan. It's a fun street in upscale Gangnam with bears lined on the pavement. There are 17 bear dolls and one giant one for the OG, PSY Gangnamdol (for Gangnam style song) and each one is in a different colour and style representing a K-pop idol or group. These 17 dolls represent the idols 4Minute, Super Junior, 2PM, FT Island, SHINee 6 Miss A, CNBLUE, TVXQ!, Girls' Generation, EXO, AOA, BTS, B1A4, VIXX, INFINITE, KARA and Block B.
If you enjoy looking at these dolls, you can also buy a miniature as a souvenir from the Gangnamdol Haus shop at Apgujeong Rodeo Station Exit 7.
5. Lotte World Tower
The Lotte World Tower is the sixth tallest tower in the world and the highest in Korea. It gives you a wonderful panoramic view of the city, especially the Han River. If you enjoy skyscrapers and the views, go for it. But if you have already been to N Seoul Tower, you can skip this one.
You can buy the ticket online beforehand or on the spot. The lift takes you all the way upto the 117th floor. From there, you can climb upto the 123rd floor to the observation deck. If you plan to end your day here, an evening or sunset view will be lovely.
Buy ticket online: Lotte World Tower Seoul Sky Ticket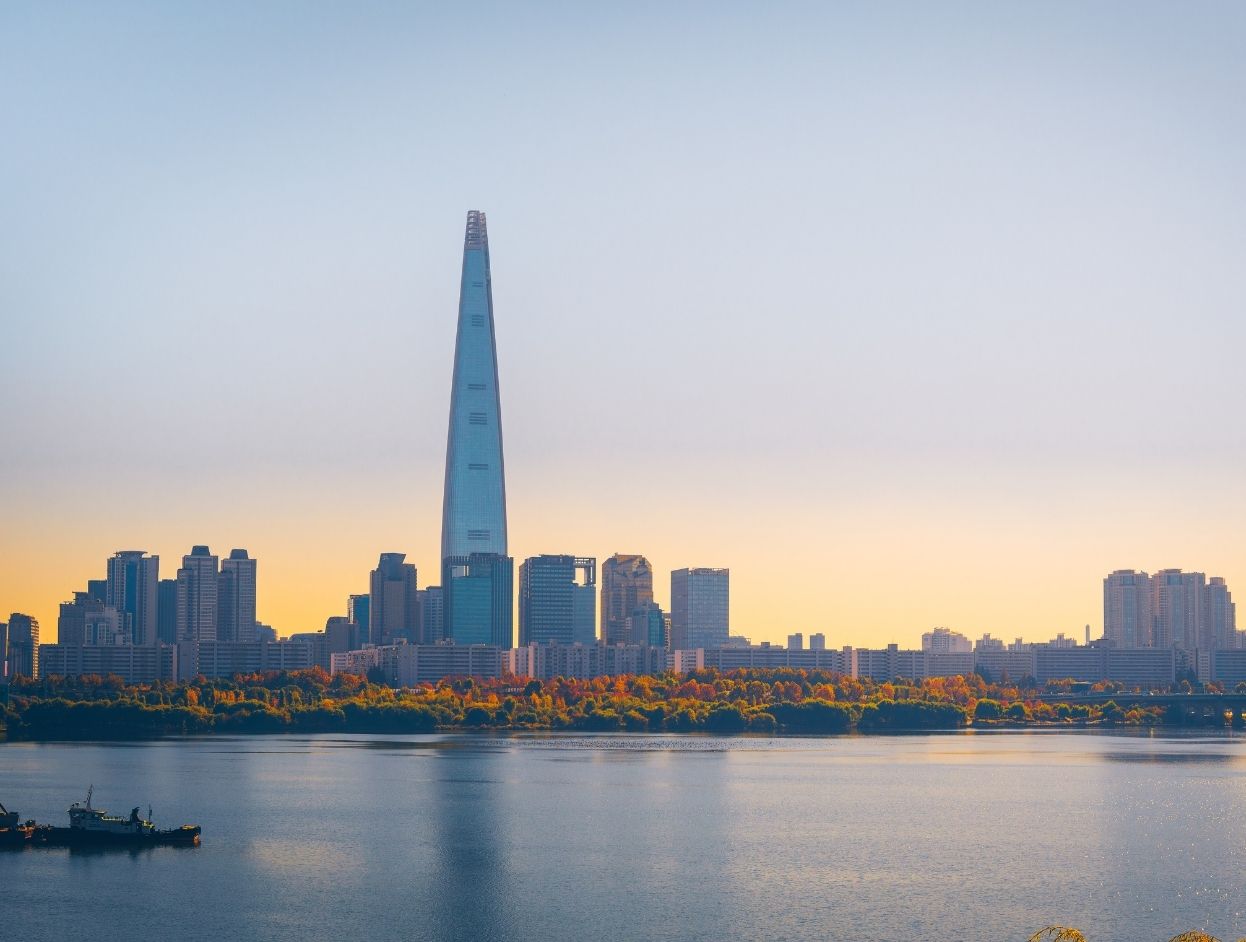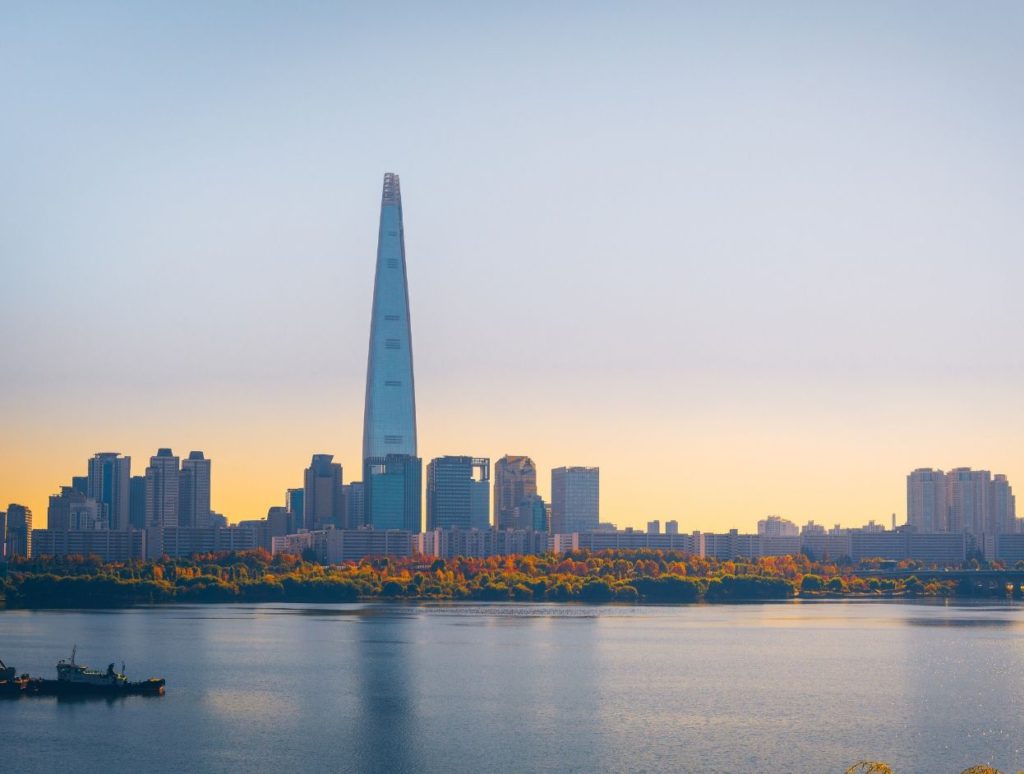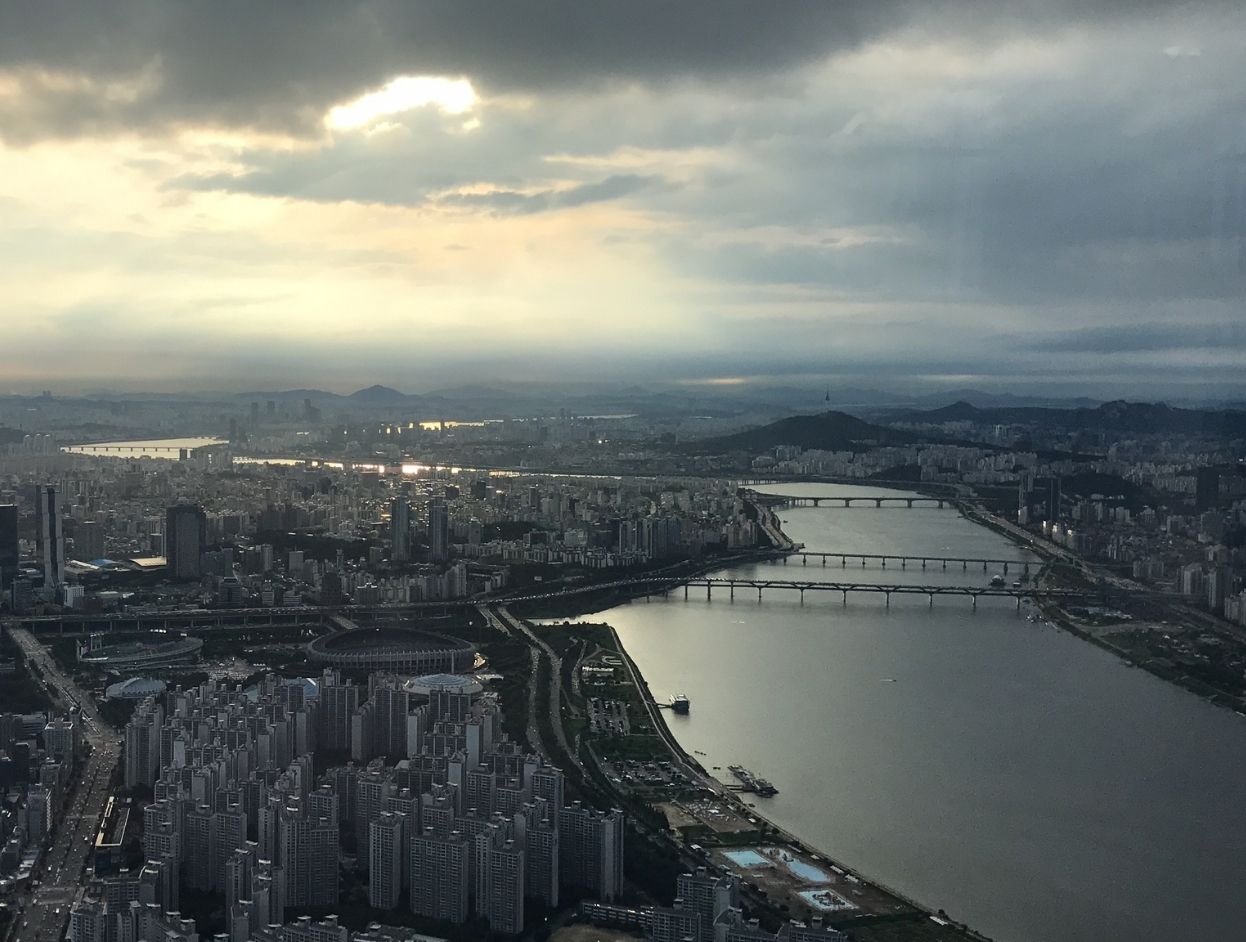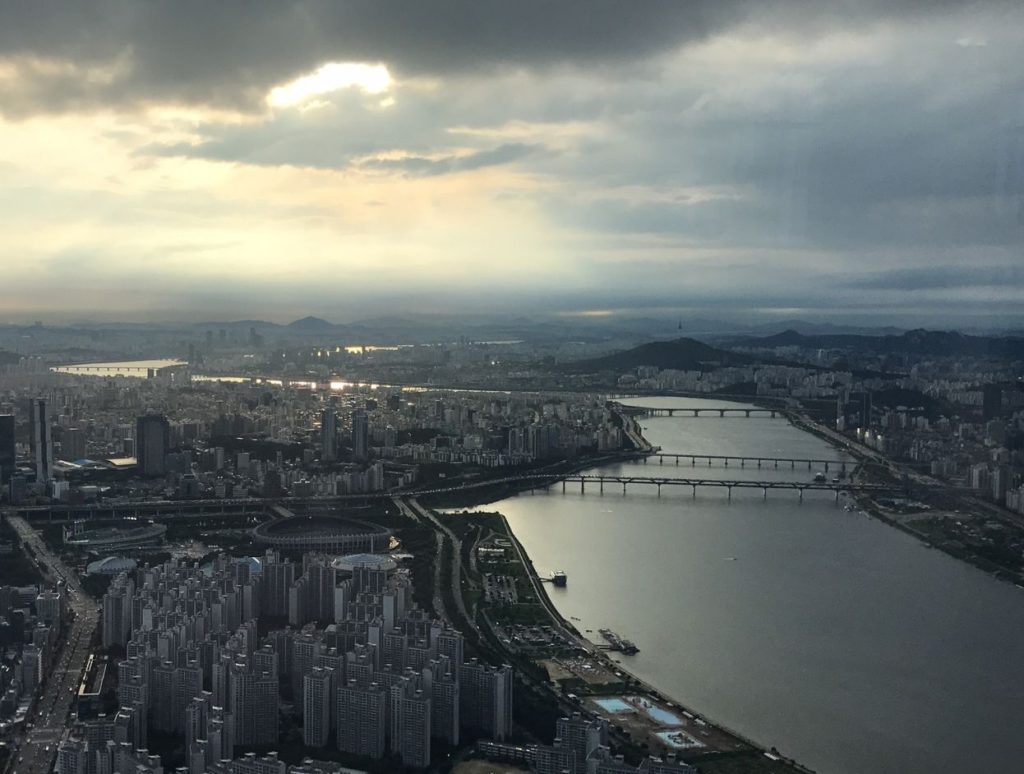 Day 7: Seoul Forest Park - National Museum of Korea - War Memorial of Korea - Itaewon - Banpo Hangang Park
For the last day, we are going to the Han riverside area. Feel free to cover what interests you. Starting the day with Seoul Forest Park and then heading to the National Museum of Korea which can take some time. You can spend the evening at Itaewon, one of the most popular neighbourhoods for young Koreans and then end the night at Banko Hangang Park if you have the time
1. Seoul Forest Park
It says forest, but it's actually a park, a big one at that. Seoul Forest Park is especially popular and crowded during the cherry blossom season. It is the biggest area in Seoul with the most number of cherry blossom trees. But the park is worth visiting in all seasons unless it is too hot outside (then you can skip this). There are numerous viewpoints, and fountains with walking, running and biking spaces.
On the other side, there are micro-gardens like butterfly, insect and honeybee gardens to enjoy. You will also find deer and rabbits in the park. If you are in Seoul during the autumn months, this will make a great place to enjoy the fall colours.
2. National Museum of Korea
This was another of my favourite museums in Seoul and trust me I have been to many. The museum is huge, beautifully constructed and free for tourists. There could be a couple of paid exhibitions but you can choose to visit them or not. There are numerous permanent galleries that showcase themes from Korean history – ancient, medieval, colonial and modern.
You will find something from all aspects of life Korean art, languages, furniture, kings, religion, pottery, houses and architecture, jewellery and more. There are also a lot of interactive installations that are a good break from looking at stuff and reading texts. You can expect to spend between 2-3 hours here. You can also grab some lunch here. 
If you have the time or interest, you can also visit the National Hangeul Museum right next to it and learn more about Hangeul, the Korean script also known as one of the easiest scripts to study in the world.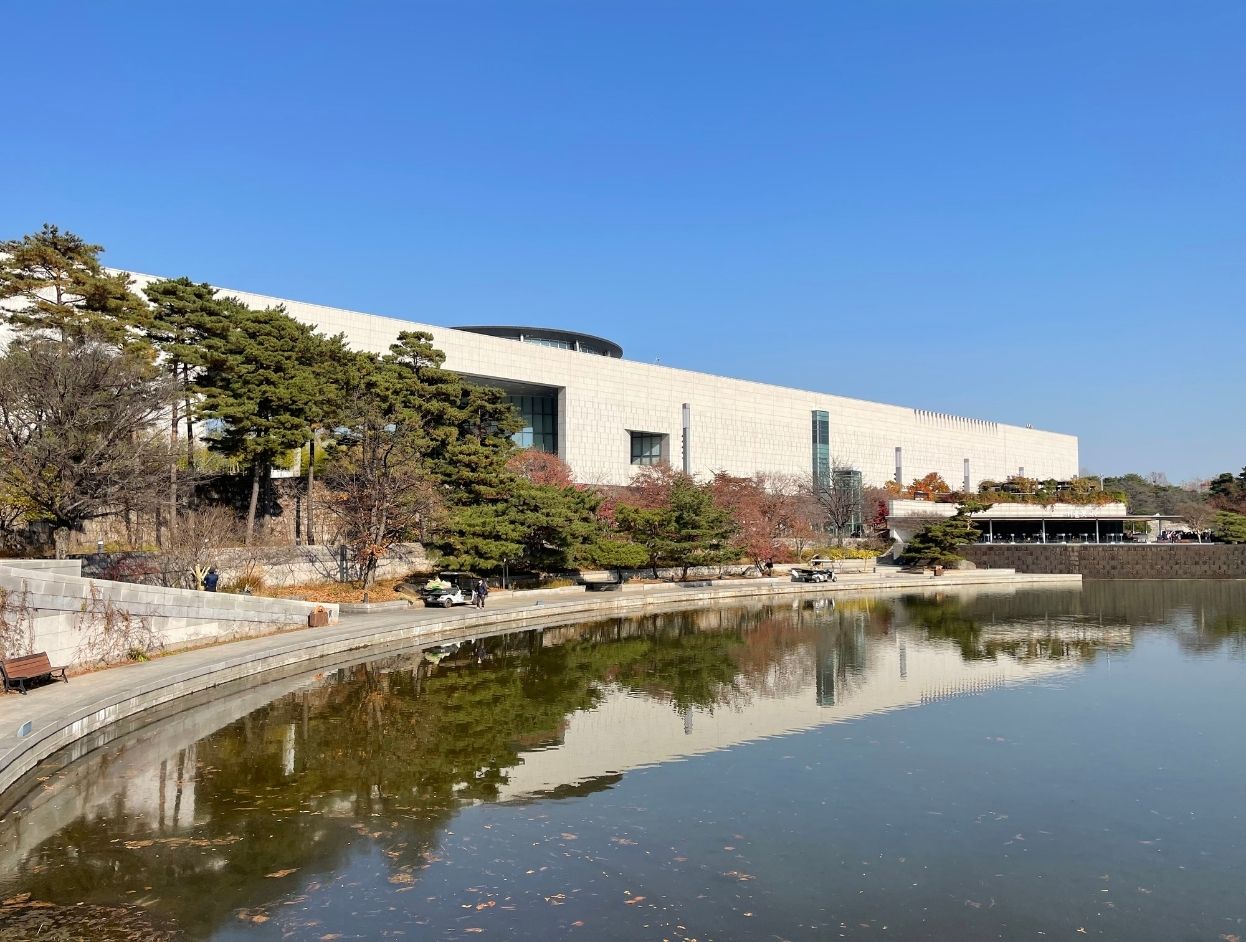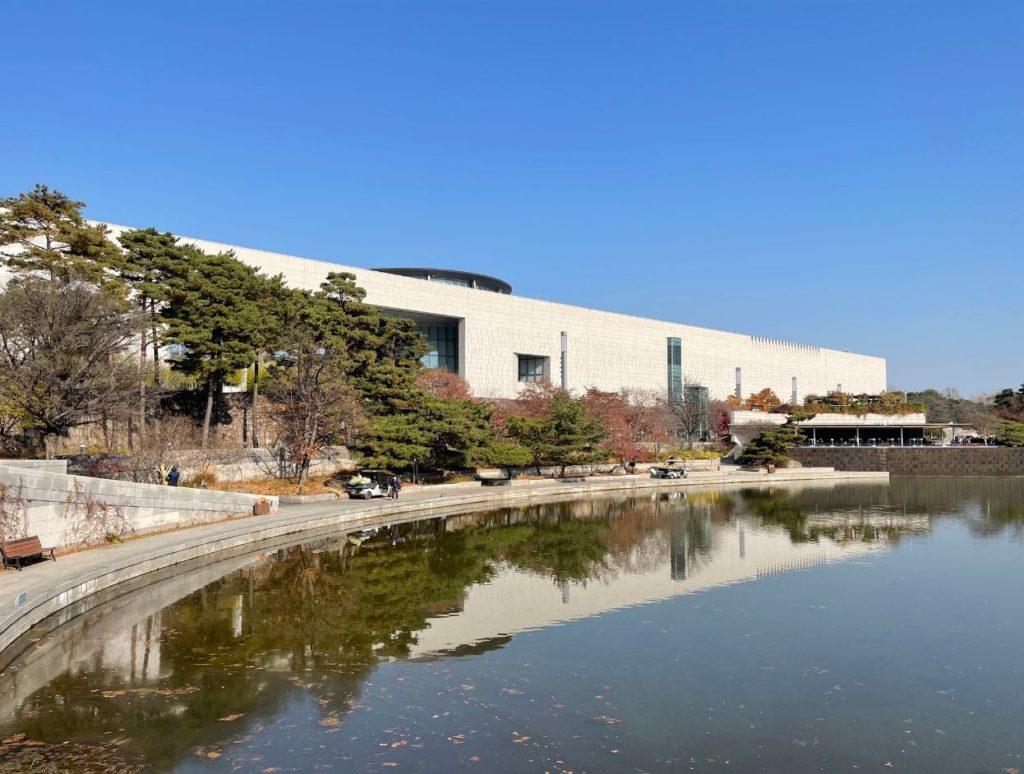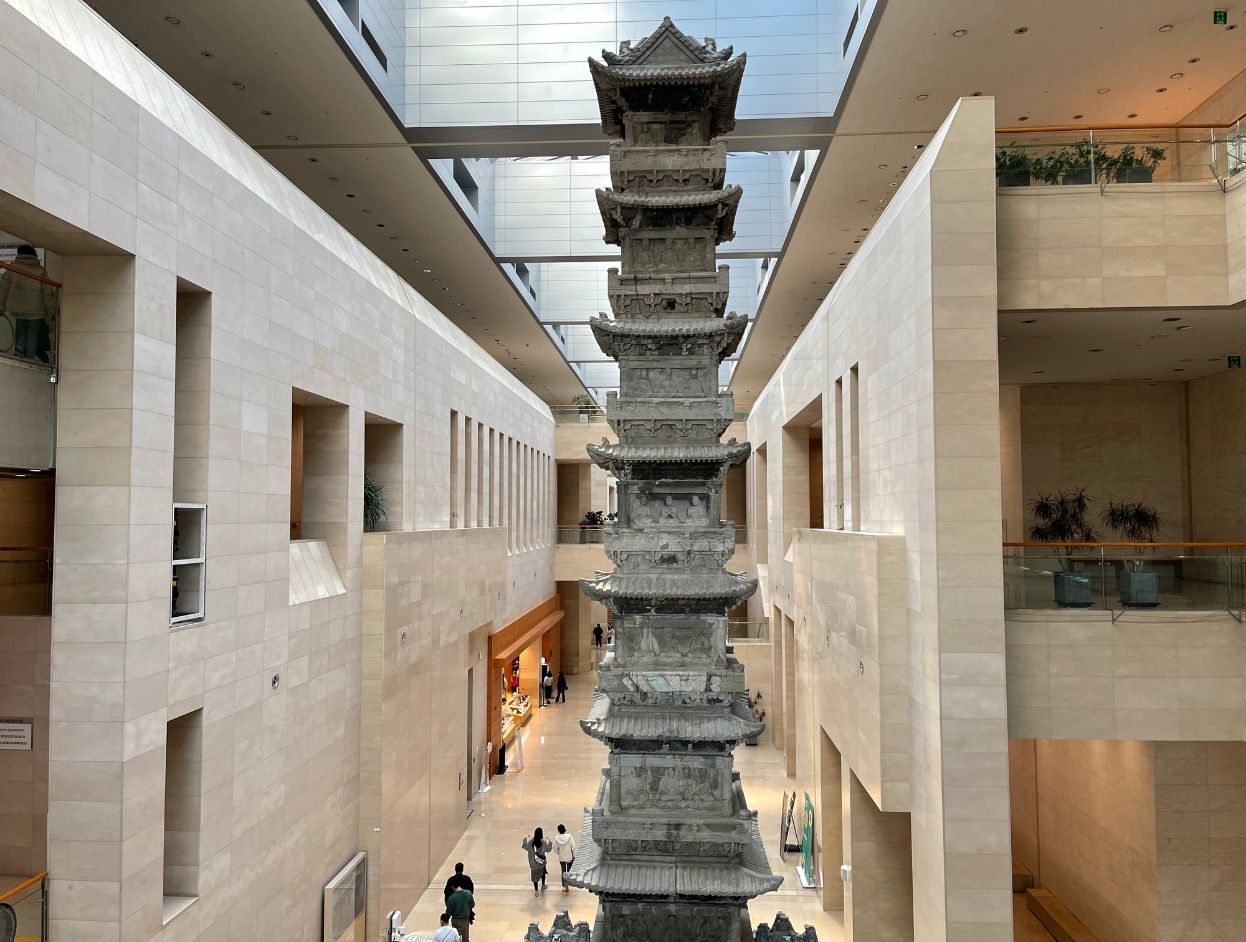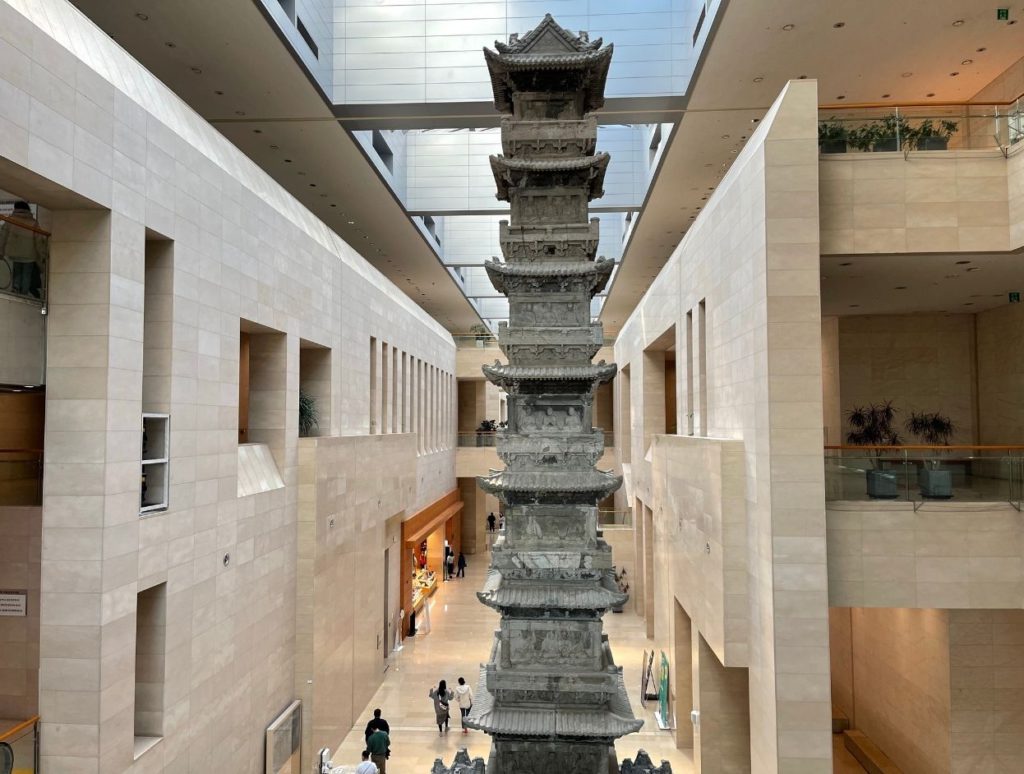 3. War Memorial of Korea
The next stop is the War Memorial of Korea. The place is free to enter. As you could have guessed by its name, the memorial is to commemorate the Korean War and its military history before and thereafter. It has six indoor exhibitions that showcase ships, tanks, fighter planes and weapons from South Korea, China and USA.
There are also outdoor exhibitions displaying real life-size war tanks, large aircraft and ships. When it opened in 1994, it became the largest landmark in the world of its kind. In fact, you can spend the whole day taking in a vast amount of information.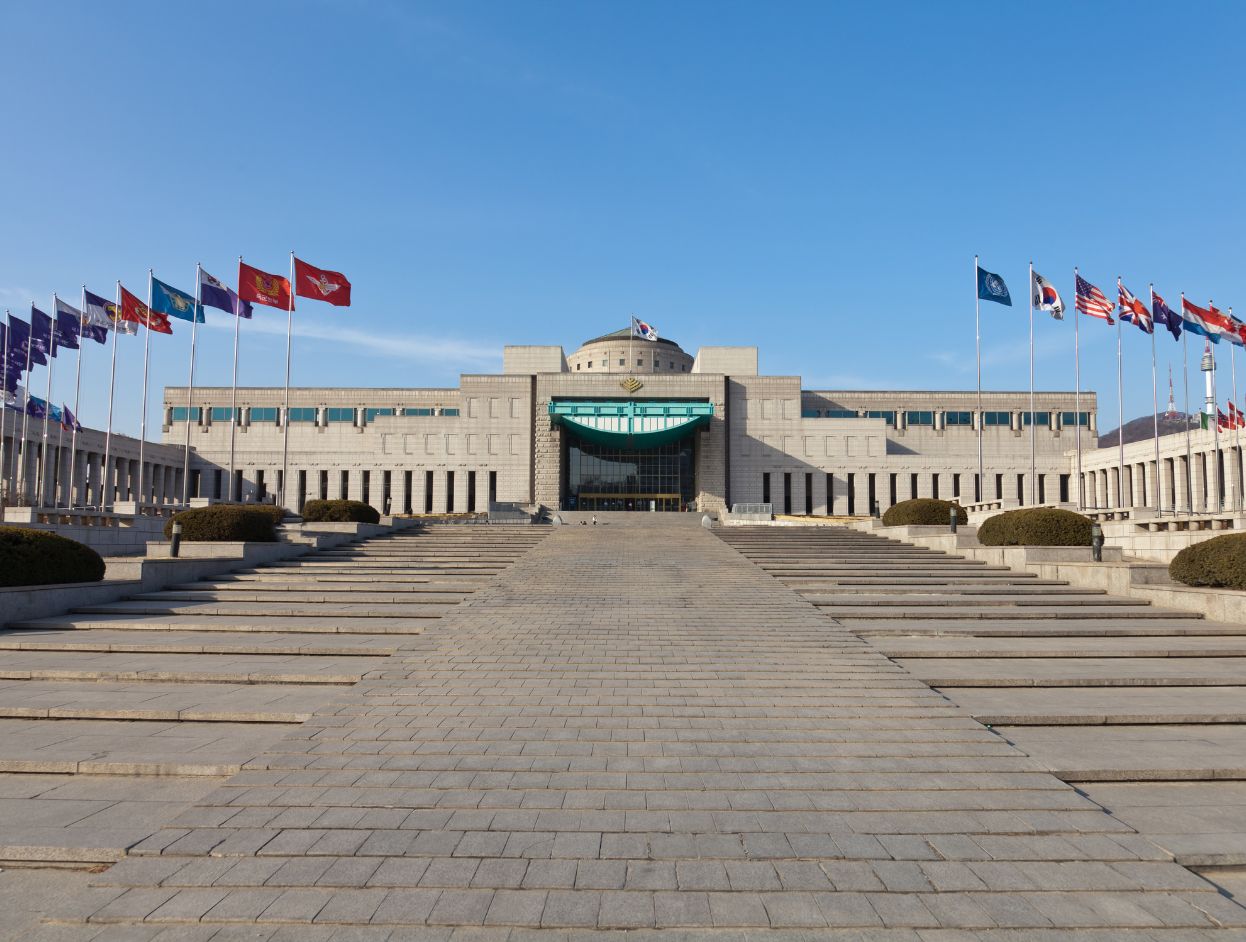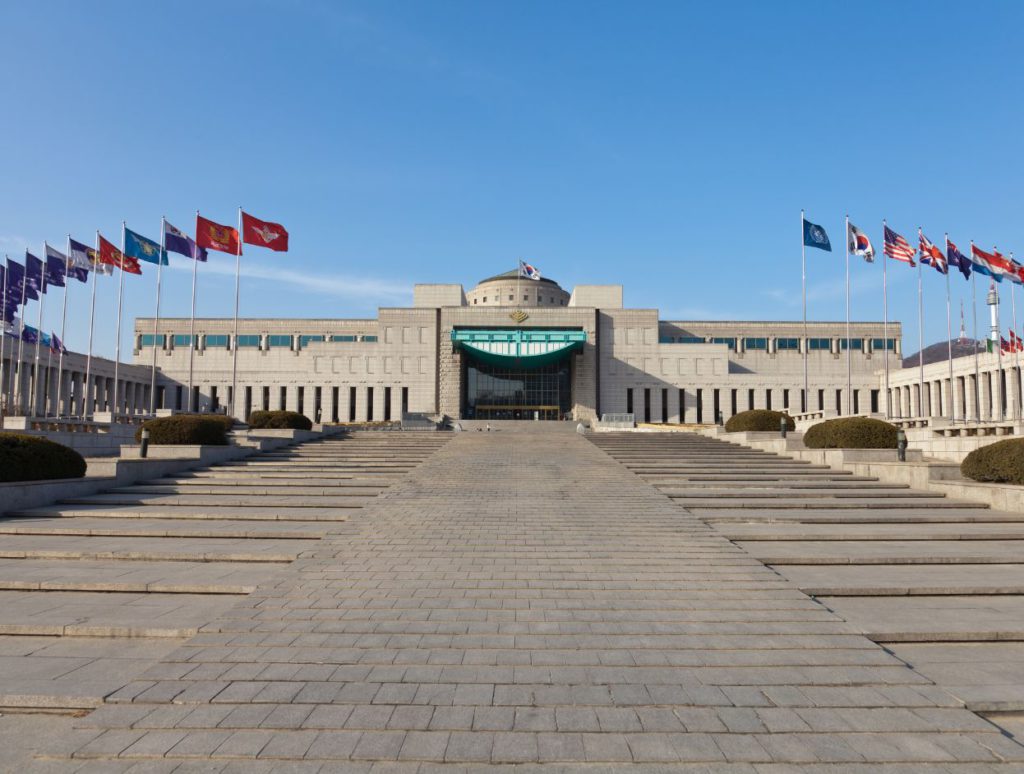 4. Itaewon
Itaewon is probably the most popular neighbourhood for youngsters after the Hongdae area. Itaewon is also popular with tourists, expats and foreigners. It is especially popular due to a variety of restaurants with international cuisines which you won't usually find in Seoul. But other than that, people simply head to Itaewon to have a good time. You can visit bars, pubs and clubs on various themes. 
Some of the popular K-dramas have also been shot here and these places enjoy the fame from them. This is also where the deadly Halloween incident took place in Korea where more than a hundred people died in the stampede in the narrow alley. You will find it if you head out from exit no. 1 of Itaewon subway station to the alley next to Hamilton Hotel. Not to make a tourist attraction out of it but for the curious eyes.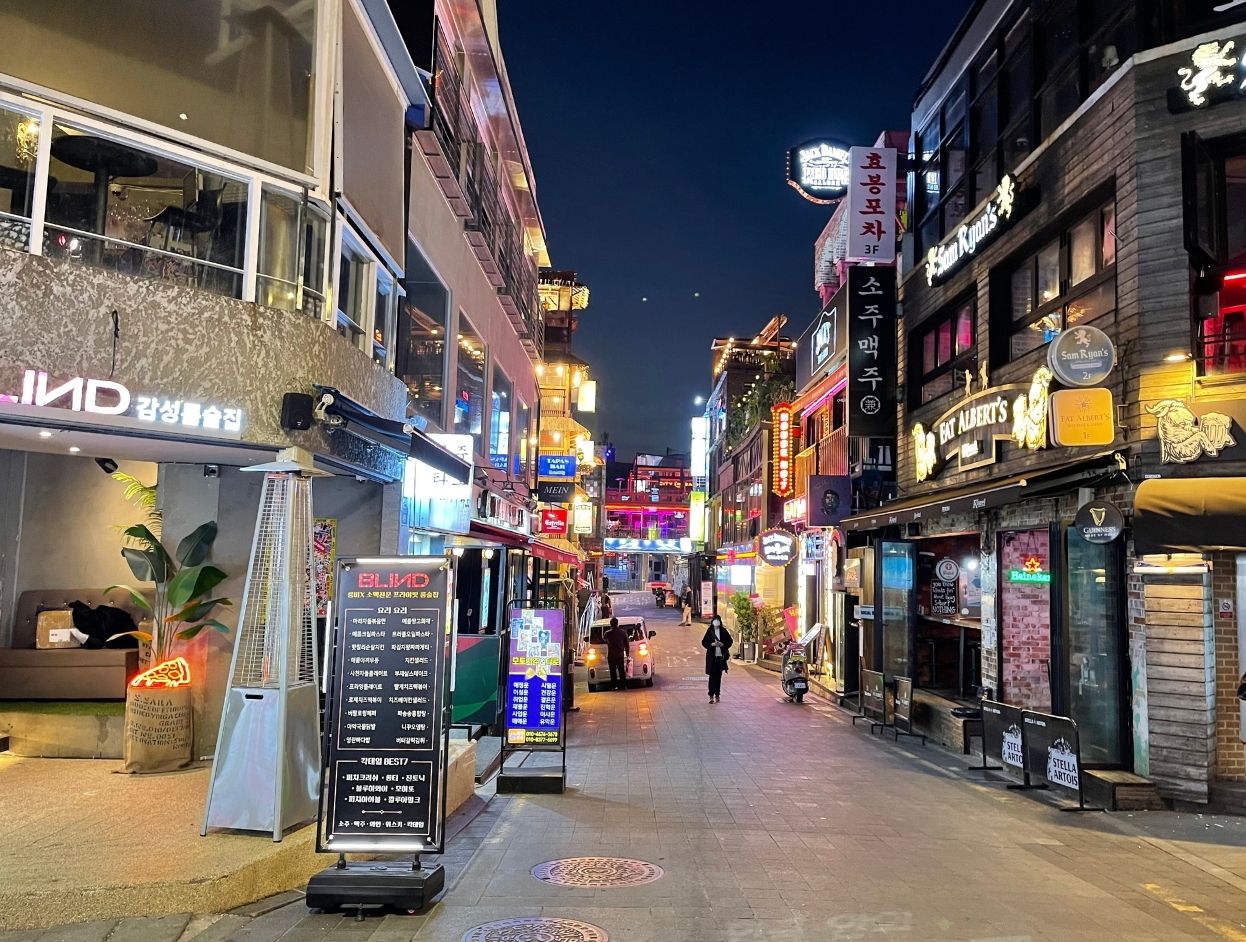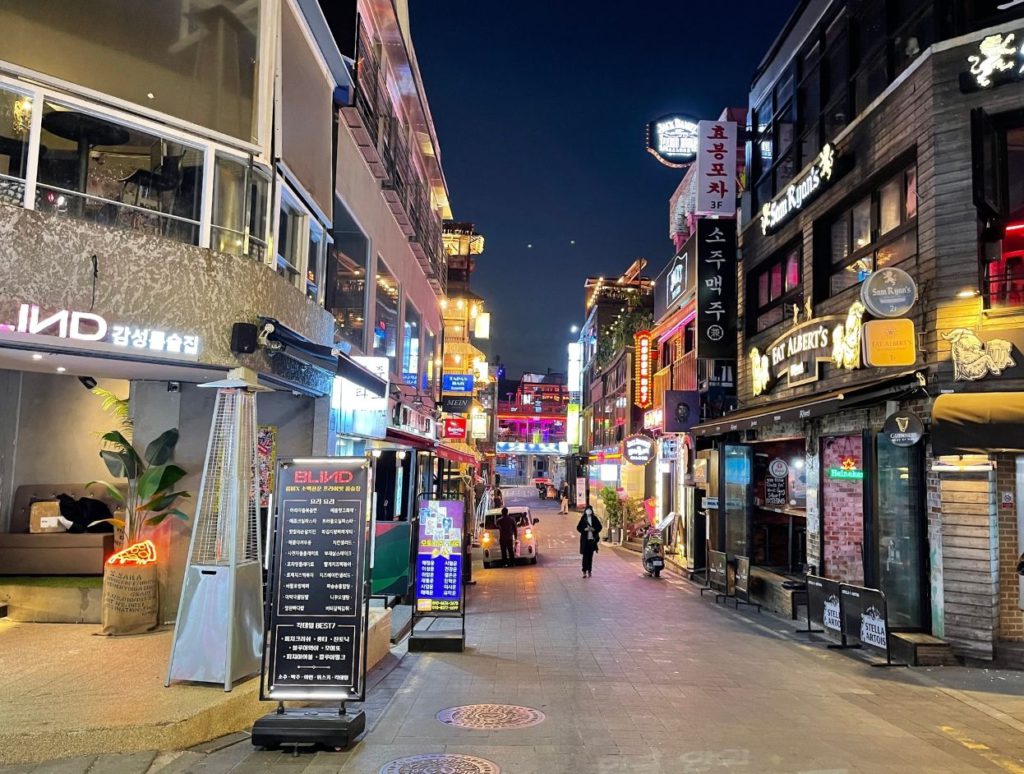 5. Banpo Hangang Park
This is just an optional place to add if you are looking for a late-night stroll in Seoul to enjoy your last day here. Banpo Hangang Park is located on the other side of the Han River. It is a laidback place with only the views of the riverfront. But the floating convention centre and a couple of more buildings add beauty to it.
I had a late-night snack of fried chicken and noodles from the convenience shop here. We sat on the outdoor benches and had a great evening followed by a casual walk in the park. The Banpo Bridge also has a water show with colourful lights 2-3 times at night between 7.30 pm – 9 pm. It is worth seeing if you are in the area anyway.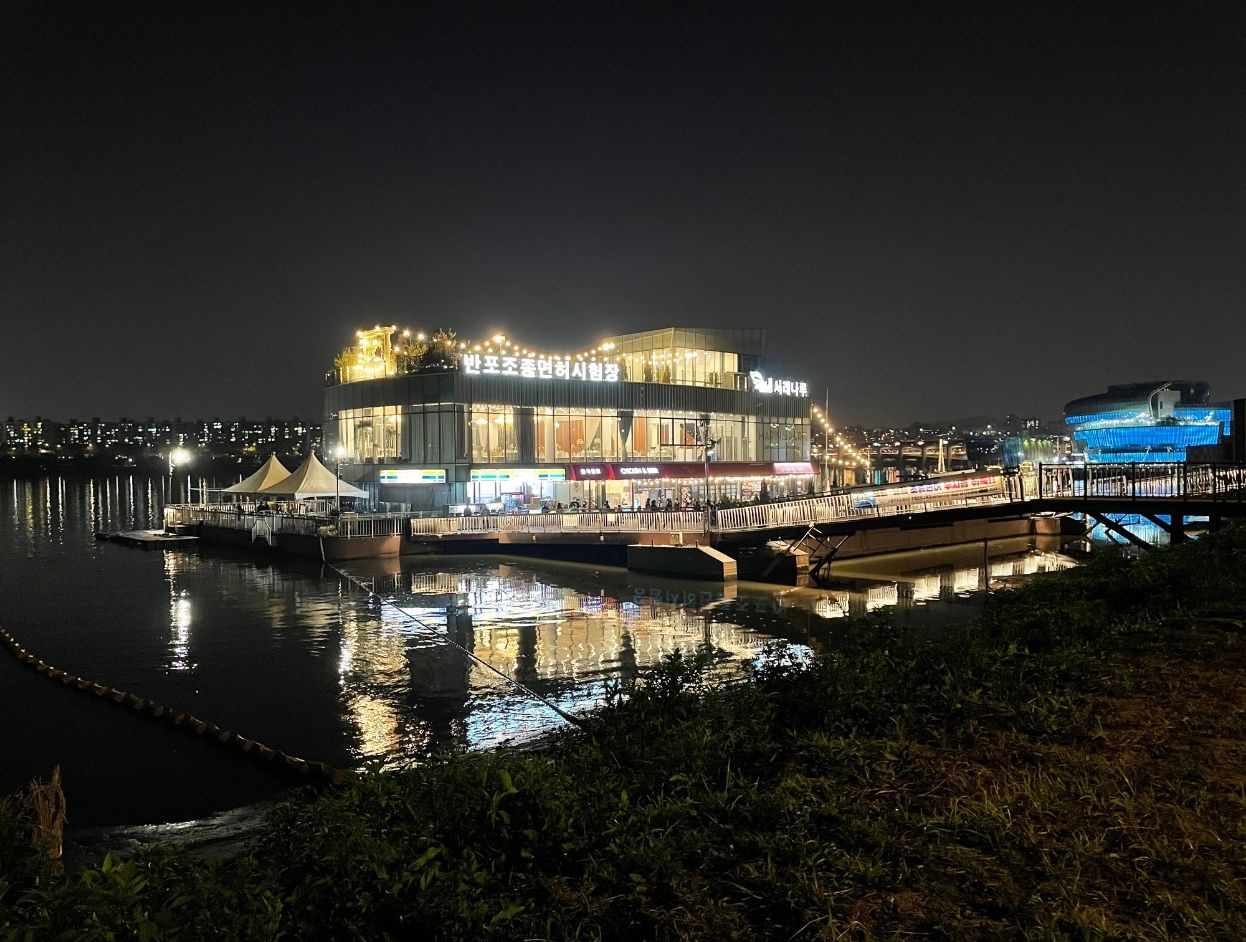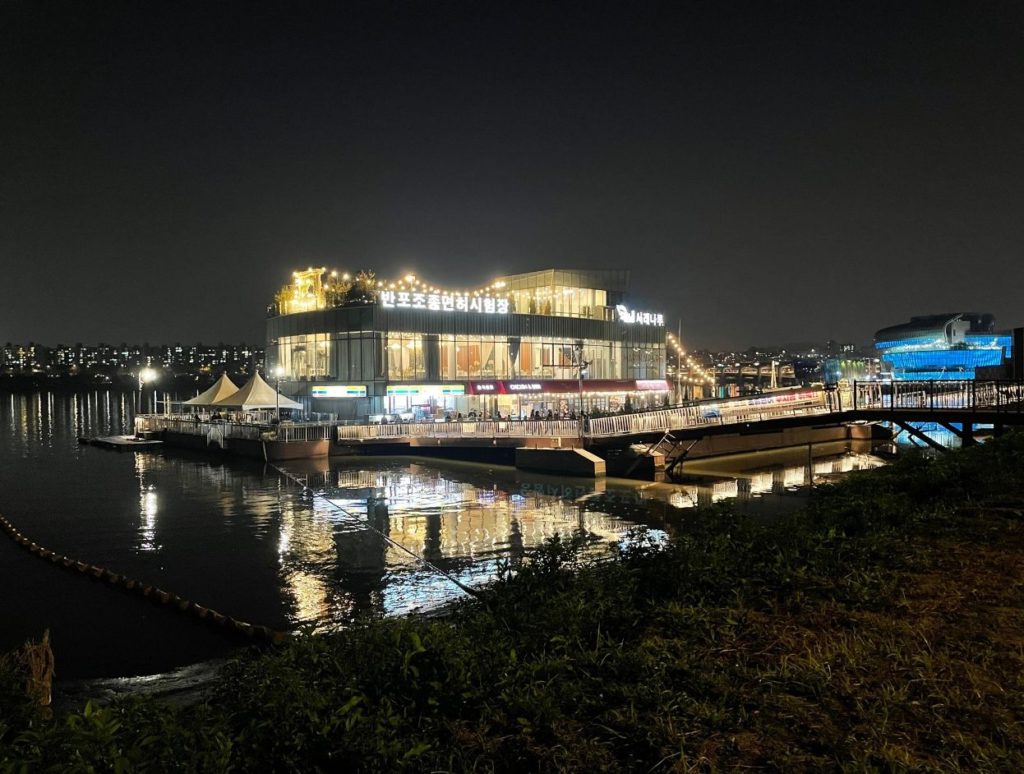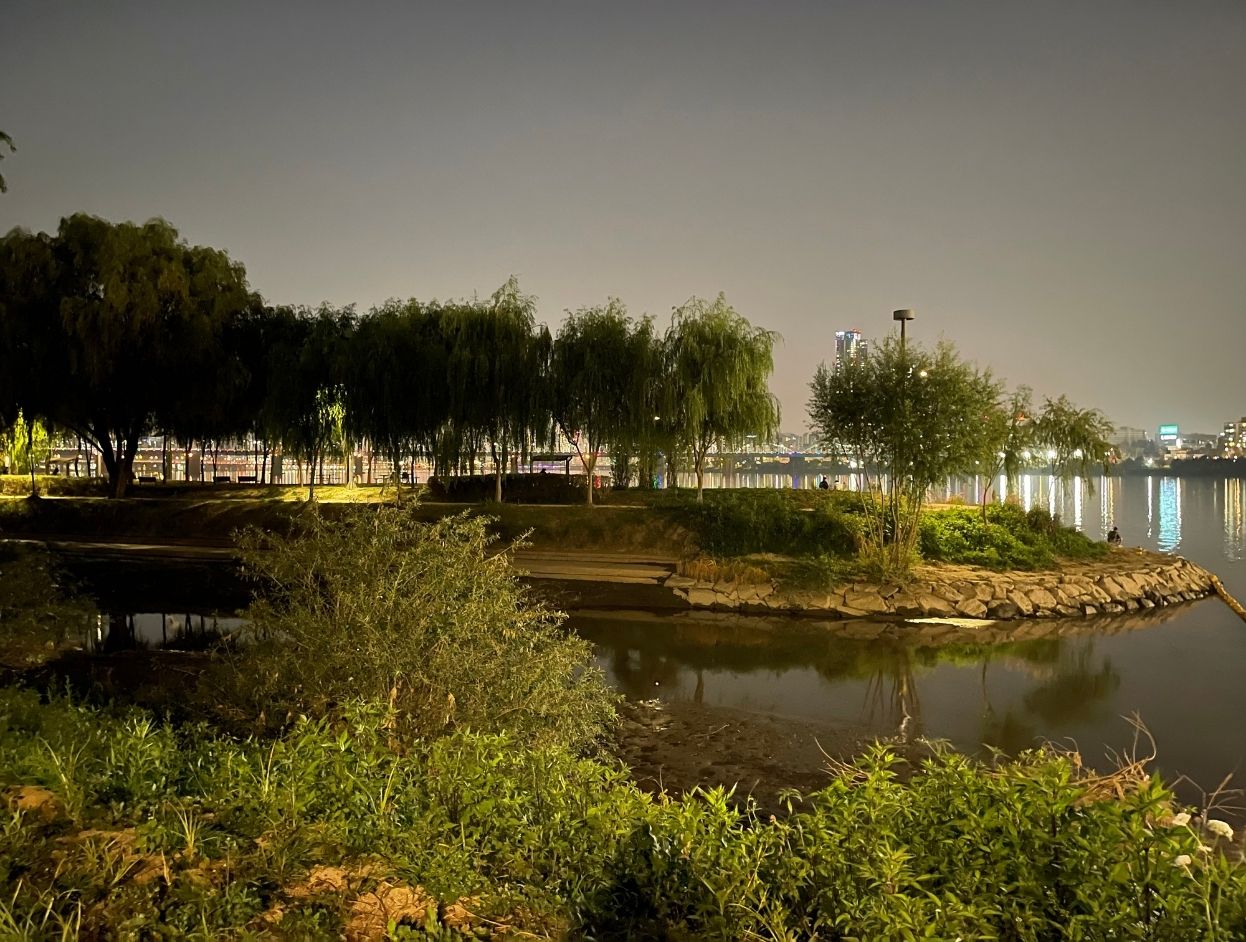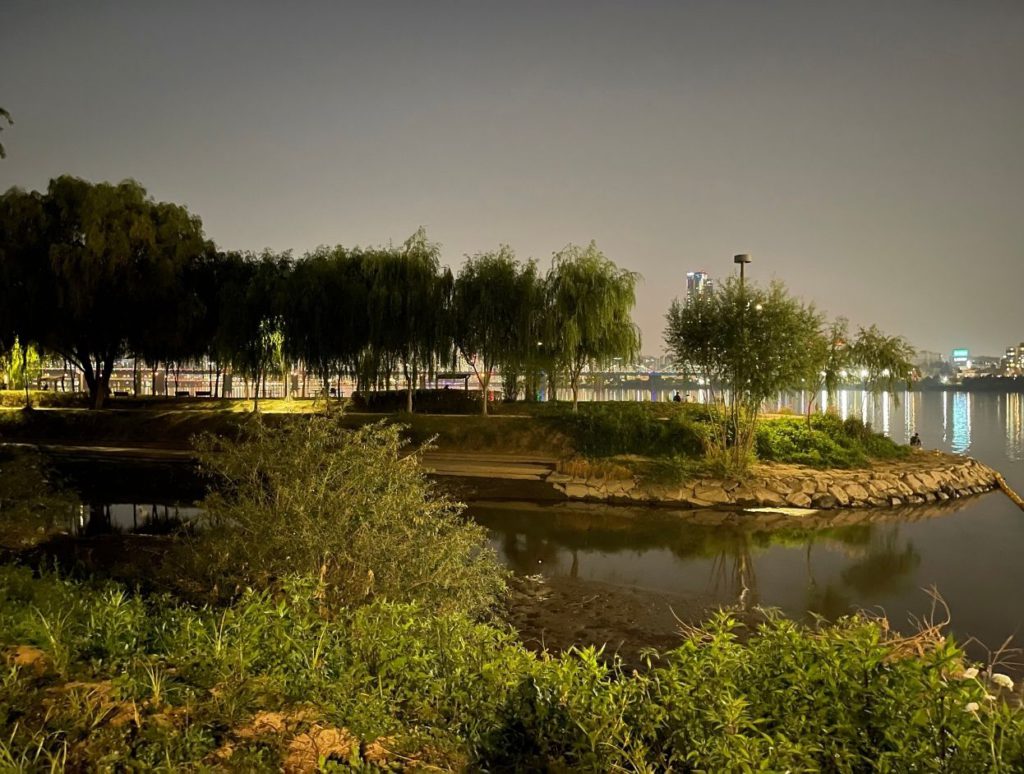 Related Articles