06 Jun

How to travel from Narita & Haneda Airport to Tokyo City

For travellers visiting Tokyo for the first time, you will need help figuring this out. I mean, it usually isn't that big of a question since in most cities, you can take a cab from the airport. Otherwise, you take the only railway line connecting to the city. But this is Tokyo. And the answer on how to travel from Narita and Haneda airport to Tokyo city has so many variations. 

Taking the cab is probably the last of them. Unless you want to blow up all of your trip budget on this. Don't worry, there are several different lines of train and bus services that run from the airports. It is great since there are always so many options. But it can be utterly confusing for someone travelling for the first time.

In all cases, here is what I could find. I hope this will help you make a decision.
Travelling from Narita Airport to Tokyo City
What people don't usually realise is that Narita airport is not just a little outside the city. It is actually in the next province from Tokyo. The distance is around 70 km from Tokyo central station. With transport in Japan being expensive, you need to look at your options.
If you are landing at Narita Aiport, you have all three options of transportation to choose from – train, bus and taxi to reach Tokyo City. The train is considered the fastest mode of transportation. The bus is the cheapest and the taxi is the most comfortable but extremely expensive.
If you mind your budget, I suggest you take the bus or one of the local train lines. If you are short on time, then you should definitely take the Narita Express or the Skyliner to reach the city fast.
| Mode | Train | Bus | Taxi |
| --- | --- | --- | --- |
| Best for | Fastest | Cheapest | Comfortable |
| Average Price | ¥1000 - 3000 | ¥1300 - 3000 | ¥30,000 |
| Average time | 40 - 90 mins | 60 - 90 mins | 60 mins |
Once you have an idea of what mode of transport you want to take, we can move on to how to do it.
Important Note: Terminal 3 is not connected to any train station. You will need to walk 15 minutes to Terminal 2 to take a train. Bus buses and taxis run directly from Terminal 3.
Travelling to Tokyo? Check out our 3-day itinerary to Tokyo for first-time travellers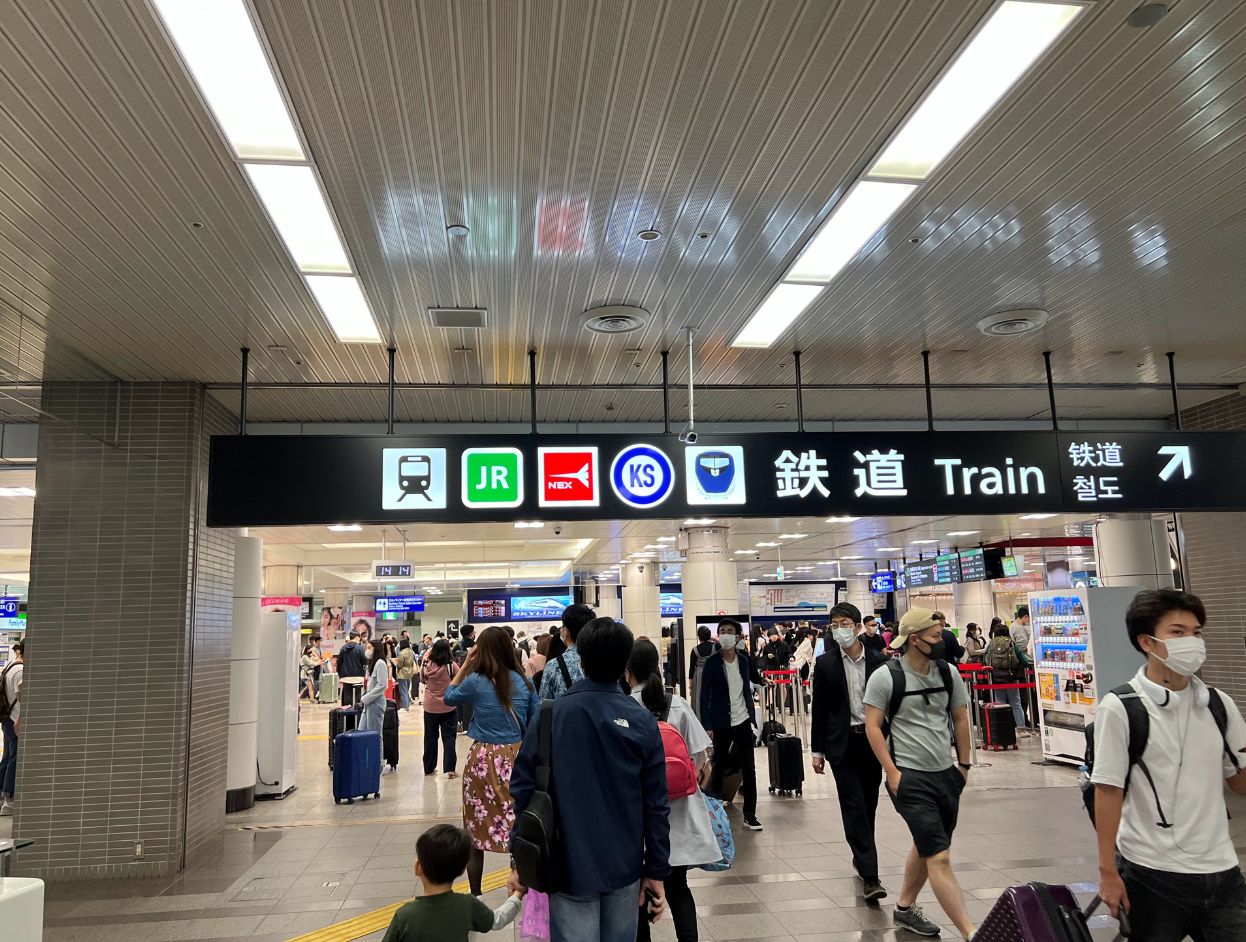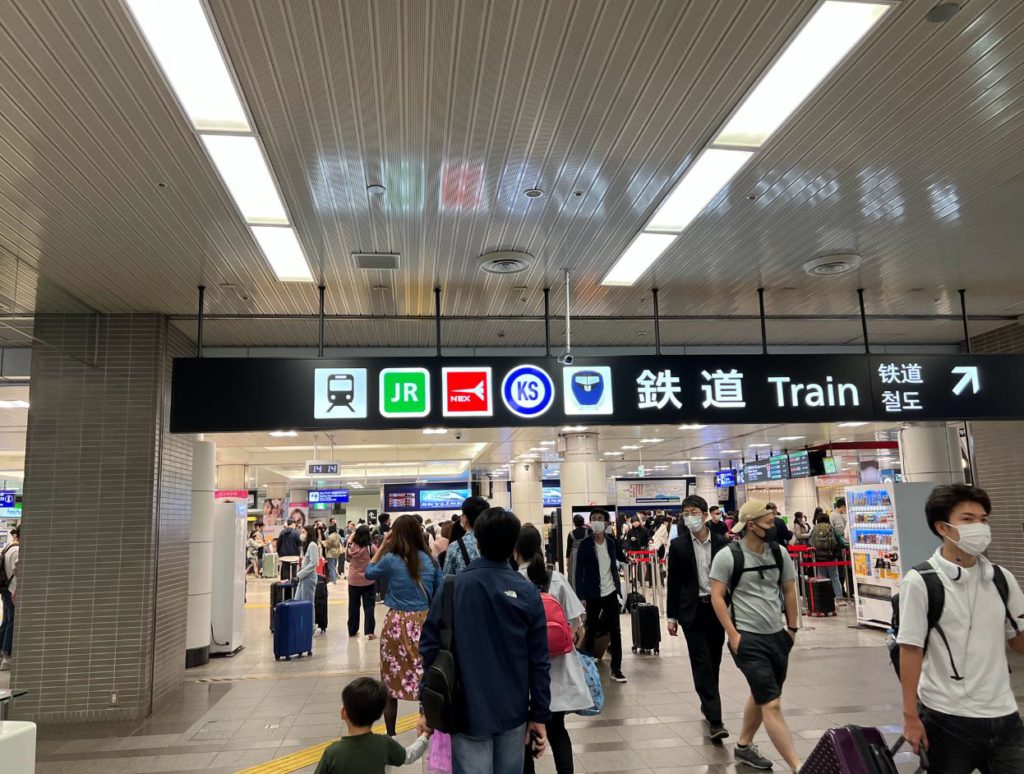 Train from Narita Aiprort
Once you get out of immigration, you will find the options to choose a train line that you want to take to Tokyo. 
If you have a JR Pass and you are activating it right at the time of arrival, you can use it on the Narita Express. So that is what you should take. But if you are not travelling out of Tokyo in the next couple of days, it does not make sense to activate your JR Pass. So you will need to buy a ticket for Narita Express at the airport.
While Narita Express one-way pass is quite pricey, you can still get a great deal with a return pass if you are travelling back to Narita Airport within 14 days. On top of that, you can use this pass on the JR local lines in Tokyo. So not a bad deal.
Need more information on JR Pass? Read our article on how to buy a JR Pass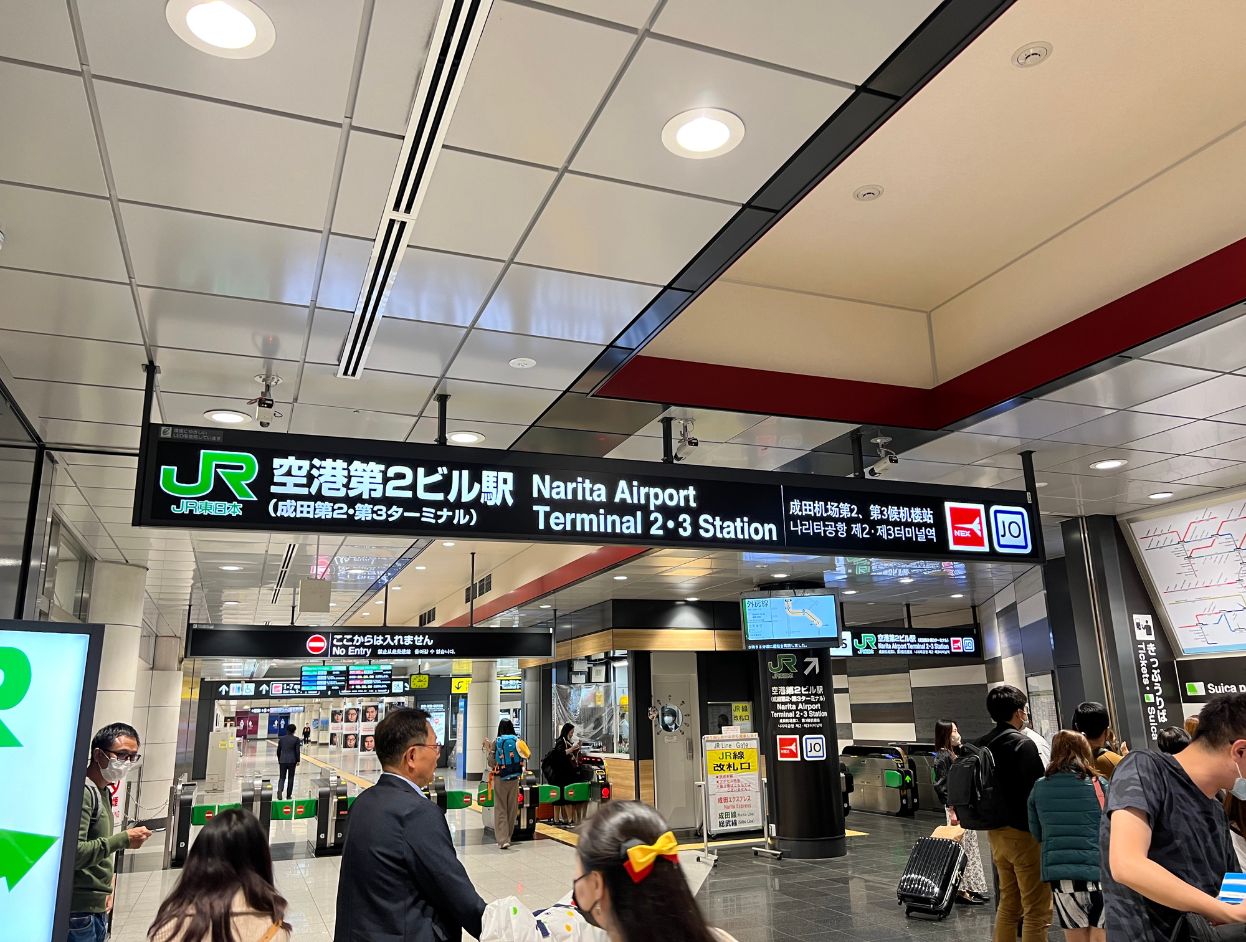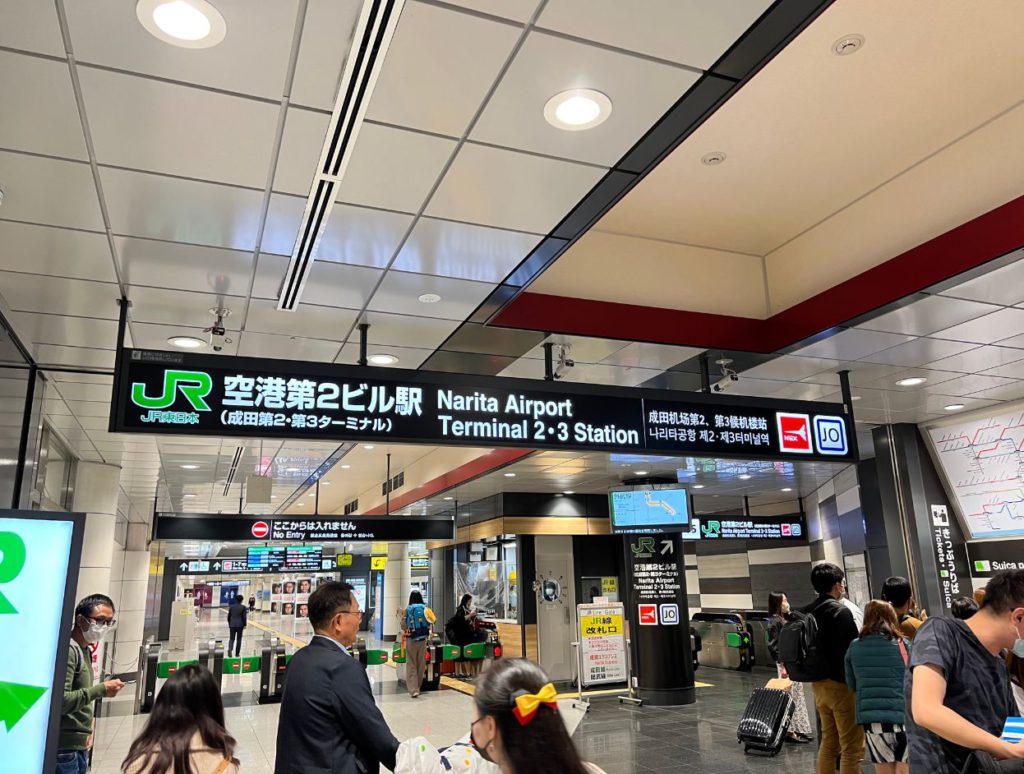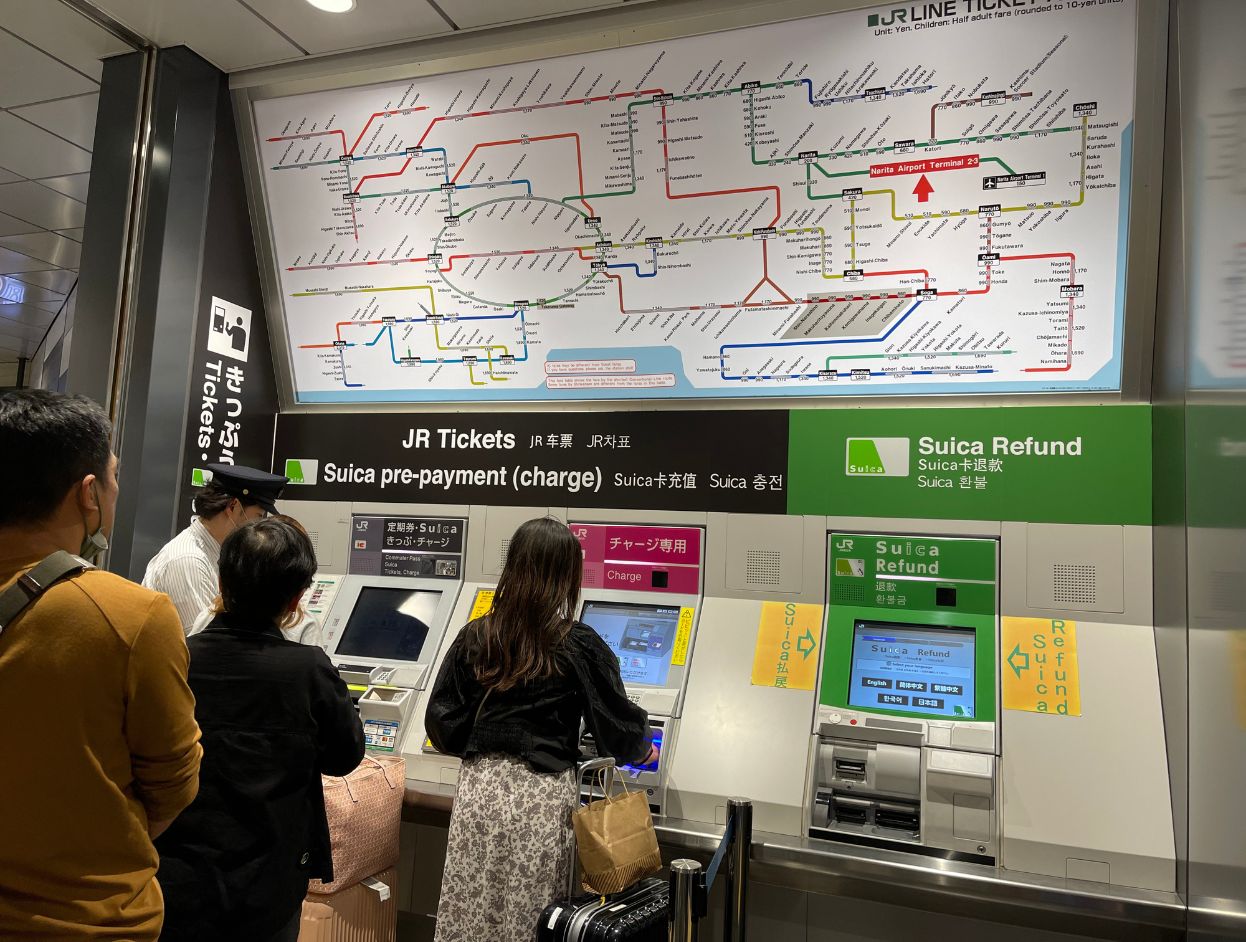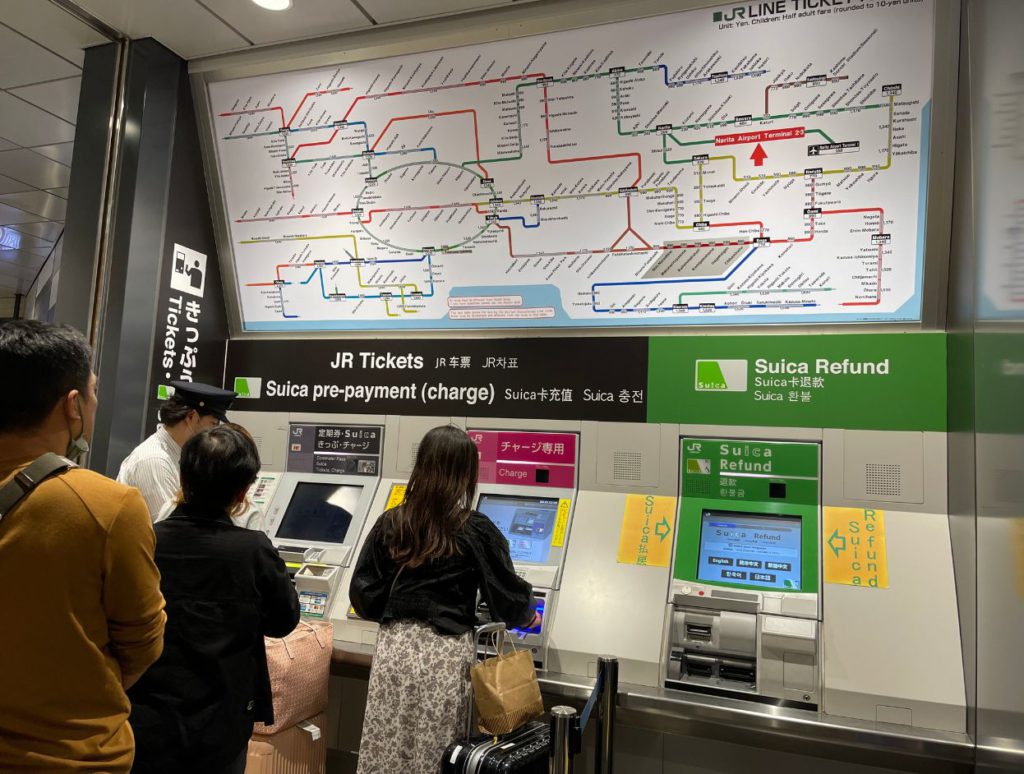 Alternatively, you can choose the Skyliner run by Keisi which is slightly cheaper than Narita Express for a single ticket. But wait, there is an advantage to this. You can also ask for a combo ticket for Skyliner + Tokyo Metro (24 hrs, 48 hrs or 72 hrs) which can save you a bit of money.
Both Skyliner and Narita Express work best for convenience and time. Especially well if you have a good amount of luggage. Narita Express stops at different stations than Skyliner. So googling may be able to help you decide which will work better for your final destination.
However, if you have plenty of time (this can take pretty long) and not a lot of luggage, you can opt for one of the local lines. It takes around 90 minutes for the journey and the ticket prices are very affordable. Although if you travelling during rush hour with a lot of luggage, the experience can be painful.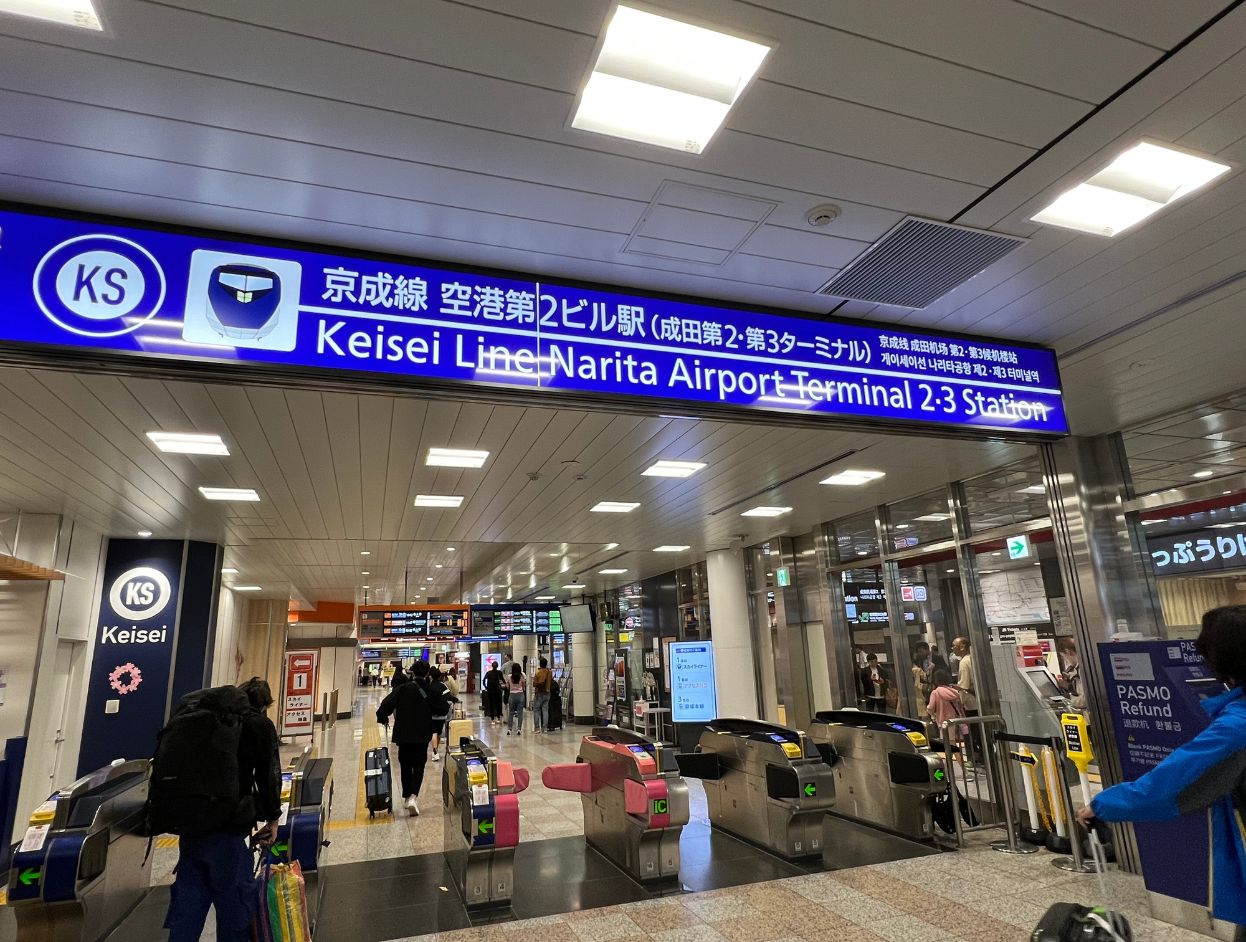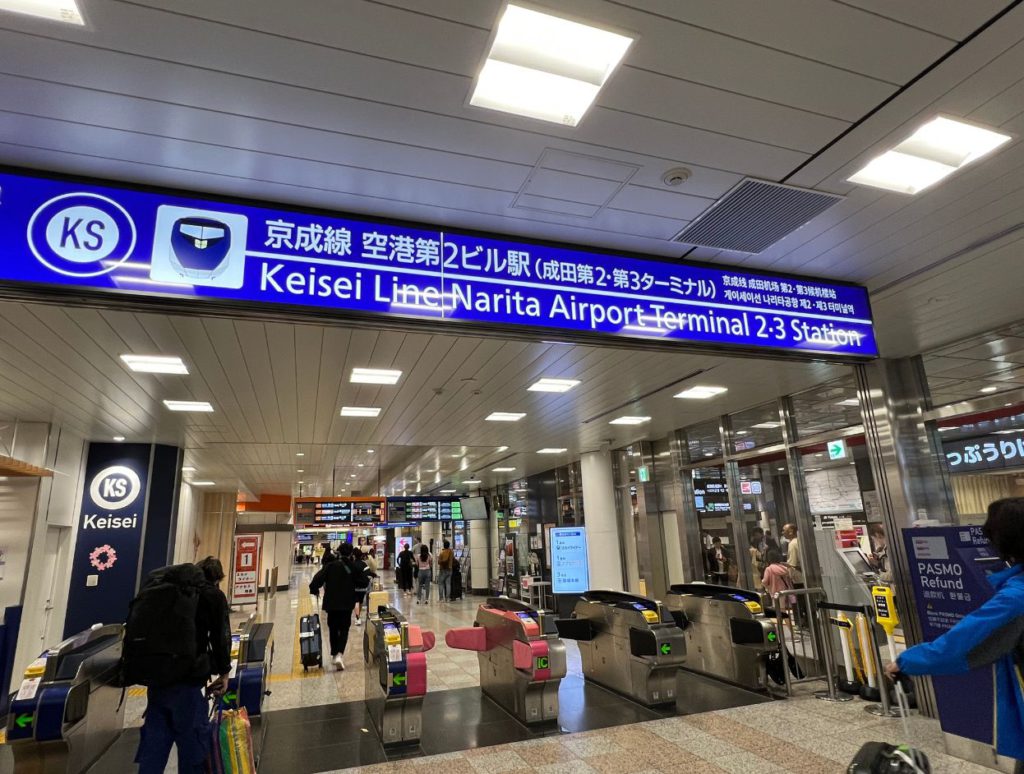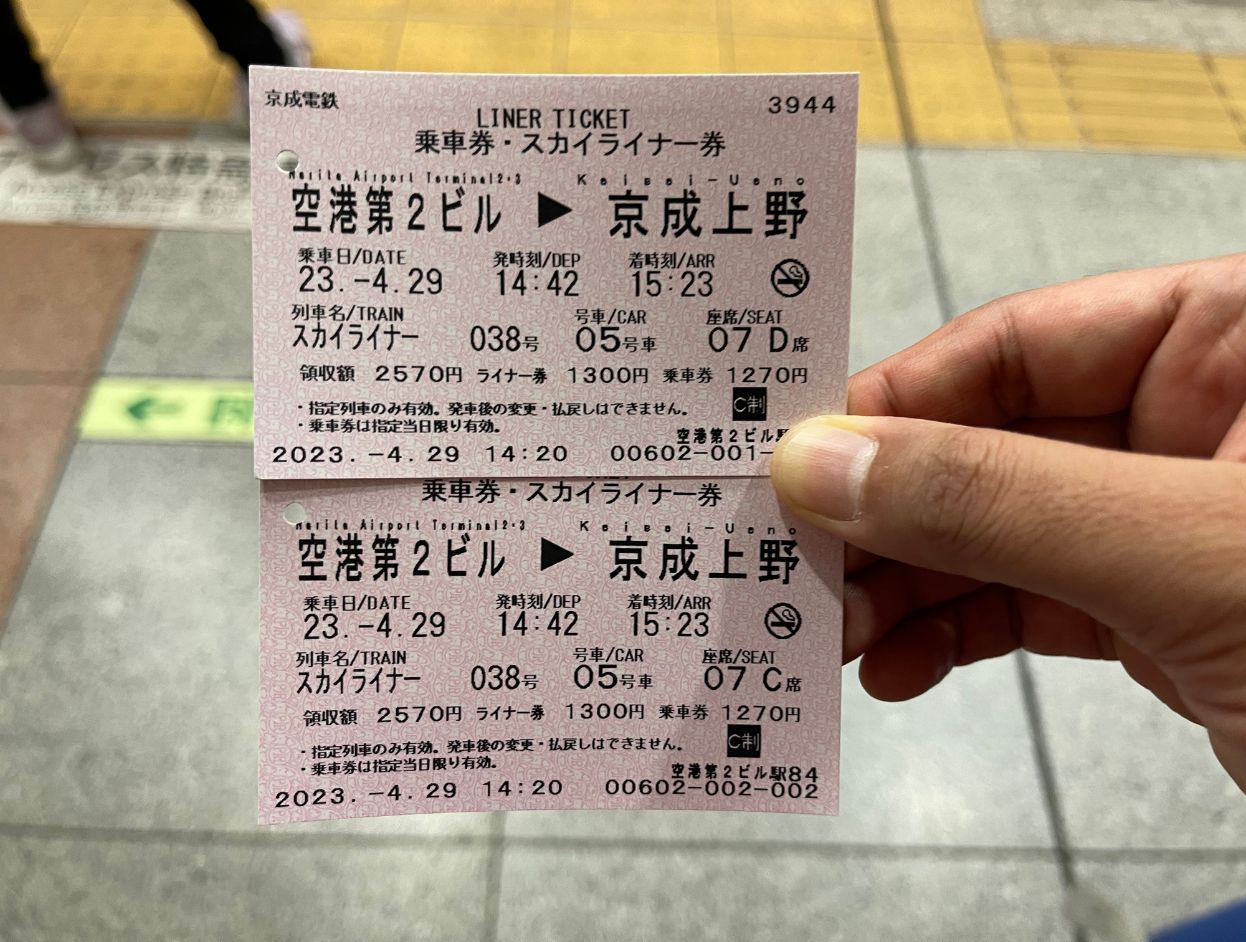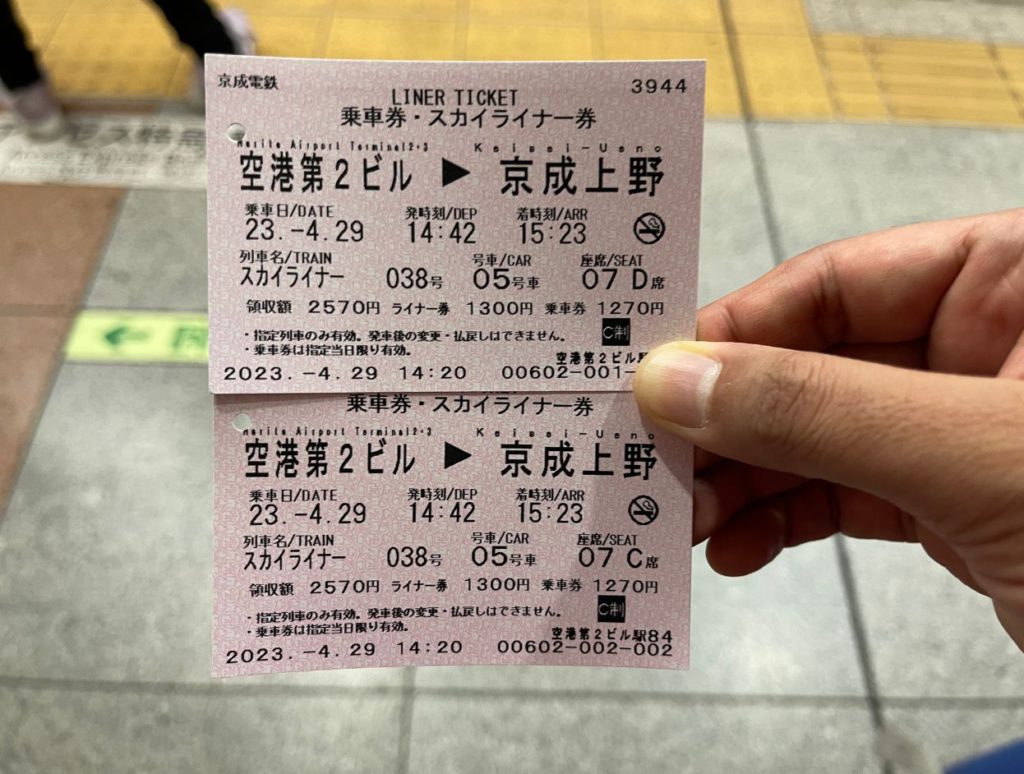 Here is a quick comparison between different lines to Tokyo Station.
| Railway Line | Approximate Cost | Travel Time | Frequency | How to buy a ticket |
| --- | --- | --- | --- | --- |
| JR Narita Express | ¥3,070 for one-way and ¥4,070 for a round trip valid for 14 days ">More Details | Around 60 minutes | At least one every hour between 7.37 to 21.44. Find timetable here | Vending Machine, JR East Service Center or JR Ticket Office at the airport. Included in these passes. |
| Keisi Skyliner | ¥2,570 for one way and ¥5,140 for round trip | Around 45 mins | Between 2-3 per hour between 7.23 and 23.00. Find timetable here | Vending machine, Skyliner counter at the airport or online. Buy discounted ticket here. |
| JR Line | ¥1,340 one-time ticket | Around 90 mins | At least one per hour | Ticket vending machine |
| Keisi Access Express | ¥1,240 to Ueno station | Around 60 mins to Ueno | Around 2-3 per hour | Ticket vending machine |
| Keisi Main Line | ¥1,050 | Between 70-90 mins to Ueno | Around 2-3 per hour | Ticket vending machine |
Bus from Narita Airport
Buses are another affordable and reliable option from Narita airport to the city. Plus they run to and back from several major stations/areas in the city. You can find a bus from all three terminals at Narita Airport. The bus station is located on the 1st Floor (1F) of the airport.
There are several bus operators like the Airport shuttle bus, Keisi Bus Line, JR Bus Line and Limousine. I will suggest that you check out the bus timetables depending upon your arrival terminal, destination and date on their official website. The bus usually takes between 90-120 minutes to reach the city unless there isn't excessive traffic.
You can always buy the ticket via the ticket vending machine. But make sure you have some cash and change to pay. Airport shuttles are the most affordable option followed by JR and Keisi bus lines.
Limousine buses are the priciest and probably the most comfortable. You can also pre-book a shared limousine bus online if you can plan ahead. It can save you a lot of last-minute hassle. Make sure you consider the paperwork since immigration takes long at Narita.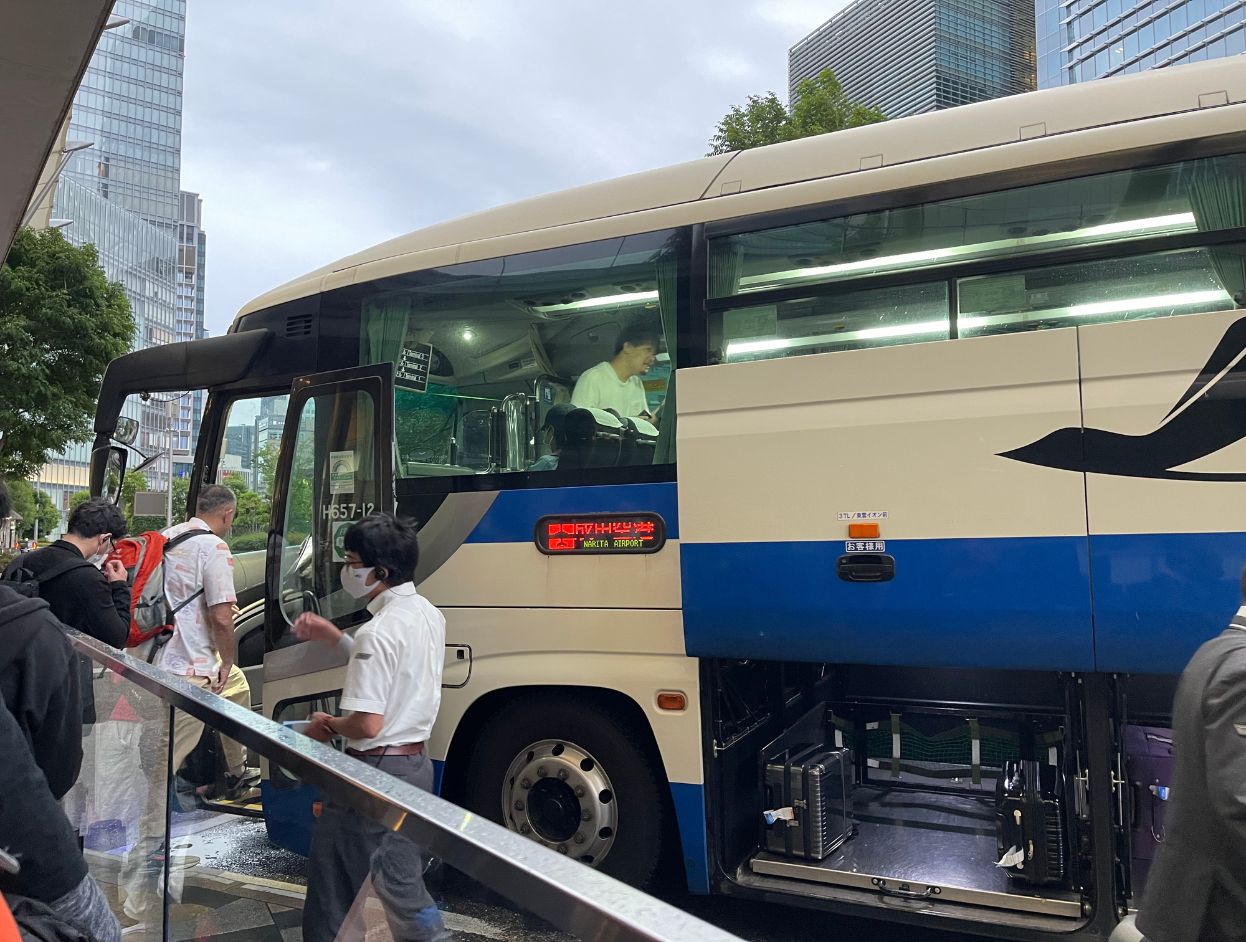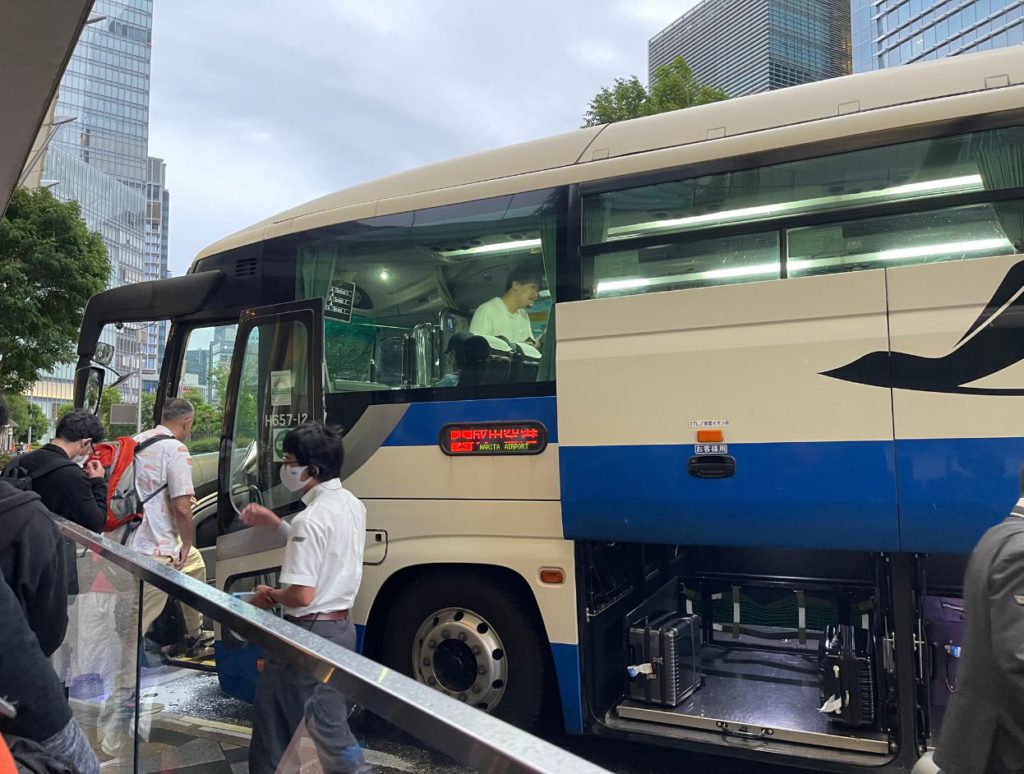 Taxi from Narita Airport
As we have already mentioned several times, a taxi is the least affordable option for this journey. But it is the most convenient since you do not have to transfer in between or carry around your luggage. However, if you are a big group or a family, this may even work out well.
You can always haul a taxi from the airport on a meter. But I will suggest otherwise since charges can climb super-fast on a rainy day or if you are stuck in traffic.
Consider booking a fixed-rate taxi beforehand. You can choose between a 5-seater, 7-seater or a 9-seater. If you are travelling as a couple, you can also consider taking a shared taxi if you do not wish to pay the full price.
Book a private taxi from Narita Airport: Private Narita International Airport Transfers (NRT)
Book a shared taxi from Narita Airport: Shared Tokyo Airport Transfers (NRT/HND) for Central Tokyo
How to travel to and from Narita after midnight
I honestly don't have an answer to this. I needed to take an early morning flight from Narita and I have scourged the internet for information. But unfortunately, I couldn't find an option for this. You can get a train or a bus to and from Narita airport till midnight. You can get one just after 6 am in the morning, but you can hardly get anything that starts at 2 am and gets you in by 3-4 am. 
To me, booking a taxi seemed like the only option. So if you arrive at Narita after midnight or need to reach the airport from the city between 12 – 7 am, consider waiting it out at the airport or booking a hotel nearby. Leave the airport by the first bus in the morning or reach the airport via the last railway line and stay there. 
Narita airport isn't really a very cosy or comfortable place to spend several hours in, but it is better than blowing a lot of unnecessary cash on private transportation. There are a couple of hotels present inside the airport premises and others nearby. You can check with them if they offer late-night drop-off service from the hotel.
Here are some hotel options if you wish to book
Near Terminal 1: Narita Airport Rest House
At Terminal 2: Nine hours Narita Airport Hotel (Capsule Hotel)
Near Terminal 3: Narita Tobu Hotel Airport
Other Hotels nearby: Hotel Nikko Narita, ANA Crowne Plaza Narita
Looking for hotels in Tokyo? Here is our guide to the best neighbourhoods in Tokyo for tourists
Travelling from Haneda Airport to Tokyo City
Haneda is more modern and convenient. And it is also the reason most prefer to board a direct flight to Haneda instead of Narita even if it turns out a little pricier. Haneda airport is just 15 mins away from Tokyo and connected with several affordable modes of transportation.
Here are some of the ways you can do this journey:
| Mode | Train | Monorail | Bus | Taxi |
| --- | --- | --- | --- | --- |
| Best for | Fastest & Cheapest | Fast | Convienient | Comfortable |
| Average Price | ¥300 | ¥500 | ¥1000 - 1300 | ¥5,600 |
| Average Time | 15 mins | 20 mins | 35-40 mins | 40 mins |
As you can see, the train and the monorail are the fastest way to make this journey. They are also the most affordable. However, these may not be super convenient if you are travelling in a group, with family or with a lot of luggage. Nor it will make a lot of sense if you will need to take another bus, cab afterwards or jump multiple trains.
The bus will work better if they connect to your final destination directly from Haneda airport even if you need to pay a bit more. Taxi will work great for families and luggage. Do note that traffic is a problem on the route from the airport to Tokyo city so expect to spend some time on the road.
Confused about travelling inside Tokyo city? Here is all you will need to know
Train or Monorail from Haneda Airport
You can take any of the lines below for a fast and affordable way of travel. Although you may be able to get a good deal on this with some kind of combination.
With the Keikyu line, you have the option to combine it with a 24-hour, 48-hour or 72-hour Tokyo metro pass with a return ticket to Haneda Airport. This can turn out a sweet deal. But you will need to buy a PASMO PASSPORT Card first and buy the combo ticket with that pass. If not too inconvenient, I will suggest you go ahead and do this. You will be using your PASMO Card a lot in Japan anyway. Head to the Keikyu Tourist Information Centre in Terminal 3 for help on this. Read more details on this here.
If you are planning to travel to Tokyo Station, you can take the monorail instead. The monorail ends at Hamamatsu-chō station, 2 stations before Tokyo Station. From here, you can hop on the Yamanote Line going in the same direction. If you arrive at Haneda airport on weekends or public holidays, the destinations on the Yamanote lines are included in this ticket. So you will not need to buy a separate ticket from Hamamatsu-chō to Tokyo station.
| Line | Approximate Cost | Travel Time | Frequency | How to buy a ticket |
| --- | --- | --- | --- | --- |
| Keikyu Line | ¥300 for one way | around 15 mins to Shinagawa station | Once every 3-15 minutes | Vending Machine at the station |
| Tokyo Monorail | ¥500 for one way or ¥800 for return trip | Around 20 mins to Hamamatsu-chō station | Once every 5-15 minutes | Vending Machine at the station |
Taking the Bus from Haneda Airport
Haneda airport has a well-connected limousine bus service to not only several places inside Tokyo but also to surrounding prefectures. So if you need to travel way outside Tokyo and have a limousine bus connecting that area, go for that.
Limousine buses also connect some of the big, important hotels and landmarks inside Tokyo. I would suggest checking if that stop is available on their website. If yes, then taking a limousine bus is as good as taking a taxi. Even with a large group and luggage.
This service is also available to Tokyo Disneyland and nearby prefectures like Chiba, Saitama, Gunma, Tochigi, and Ibaraki. On the other hand, if you have eyes on tourist destinations in the Kanto region like ​​Kamakura, Mt. Fuji/Kawaguchiko and Hakone, consider taking Keikyū Bus's Airport Limousine.
Pre-book a Limousine bus: Shared Haneda (HND) Airport Limousine Bus Transfers for Tokyo
Taxi from Haneda Airport
Taxi from Haneda airport to Tokyo Station costs around ¥7000. But keep in mind that these are metered taxis and the price can increase exponentially if you run into traffic. But it is still affordable if you are travelling in a group or have a lot of luggage. You can hail an airport taxi right outside the airport. You can also consider pre-booking a fixed-rate taxi to avoid any kind of surprises.
Taxis are also your only option if you want to travel to Haneda station after midnight since the trains and bus service cease to run.
Book a taxi from Haneda Airport: Haneda Airport International Transfers
Other Services at Narita & Haneda Airport
Here are some services available at Narita & Haneda airports that can make your journey onward a bit more comfortable:
Luggage Delivery Service
This is a common service offered in Japan. You can ask a delivery service to pick up your luggage. And get it delivered to the next city, hotel or airport. The cost depends upon the speed of delivery and the size of your luggage. You can book this service to and from Narita and Haneda airports:
Luggage Delivery Service between Tokyo Hotels and Airport
Meet and Greet at Narita Airport
I can understand that all this information above and more can be super-confusing. And it can be a serious pain after a long-haul flight to just scramble around the airport trying to absorb so much information. 
Meet and Greet is a new way to make this process smooth. Someone at Narita airport meets you as soon as you land. They will assist you for the next 2 hours to get your JR Pass activated, exchange money, pick up mobile wifi, buy IC cards, luggage forwarding, travel recommendations. And then assist you in boarding your next mode of transportation for your hotel.
Book here: Tokyo: Narita Airport Meet-and-Greet Service
Pocket Wifi
Pocket Wifi is great if you are working during your time here or need to connect a bunch of devices that need a high-internet reliable connection. You can collect one at Narita or Haneda airport and carry it all around Japan paying by the days you use. You will need to return this at the airport before departing. Keep special care of this since the penalty on lost or damaged wifi devices is heavy.
If you only want to use the internet on your phone and also want access to cellular service, go ahead with an eSIM.
Pre-book Wifi: 4G WiFi (Japan Pick Up) for Japan (Unlimited Data) from NINJA WiFi


Related Articles