07 Jun

How to get around in Tokyo by Metro, Bus and Taxi

Tokyo is a big ass city. I admit, I have never seen a city this big and I live in Bangkok. I thought that was a giant. But if you are travelling to Tokyo as a tourist, you will need information on getting around. Google is going to be your best buddy, but there are things that you will not find out online on travelling via metro, bus and taxi.

Tokyo has fantastic connectivity in terms of metro and bus. Although far more people opt to use the metro. It is so widely connected that you will find a metro station at any point in the city. But it is a pain to get tickets or to understand which lines you can use since there are several lines in the city that belongs to different private companies. Let me simplify as much as I can.

Planning your visit to Tokyo? Our 3-day itinerary to Tokyo for first-time travellers will be helpful
Getting around Tokyo Metro
Tokyo metro is one of the best and most extensive metro that I have seen in my life. And oh, the locals use the metro so extensively that hardly anyone takes the cab or owns a car. But I honestly did not find it so easy to use. The most challenging part is to understand the different lines operating in Tokyo and which tickets can you use where.
As you can see this is the map of the Tokyo subway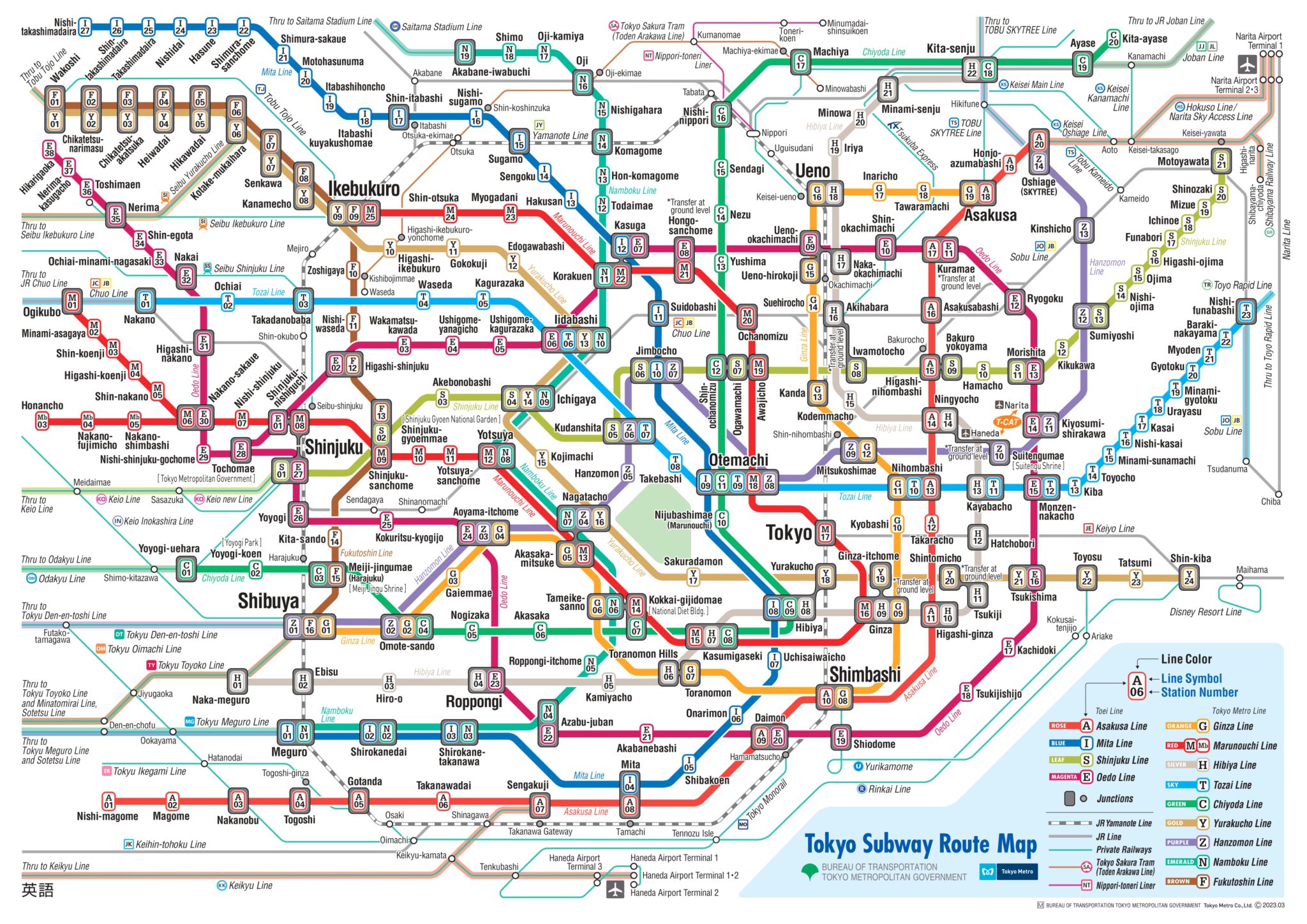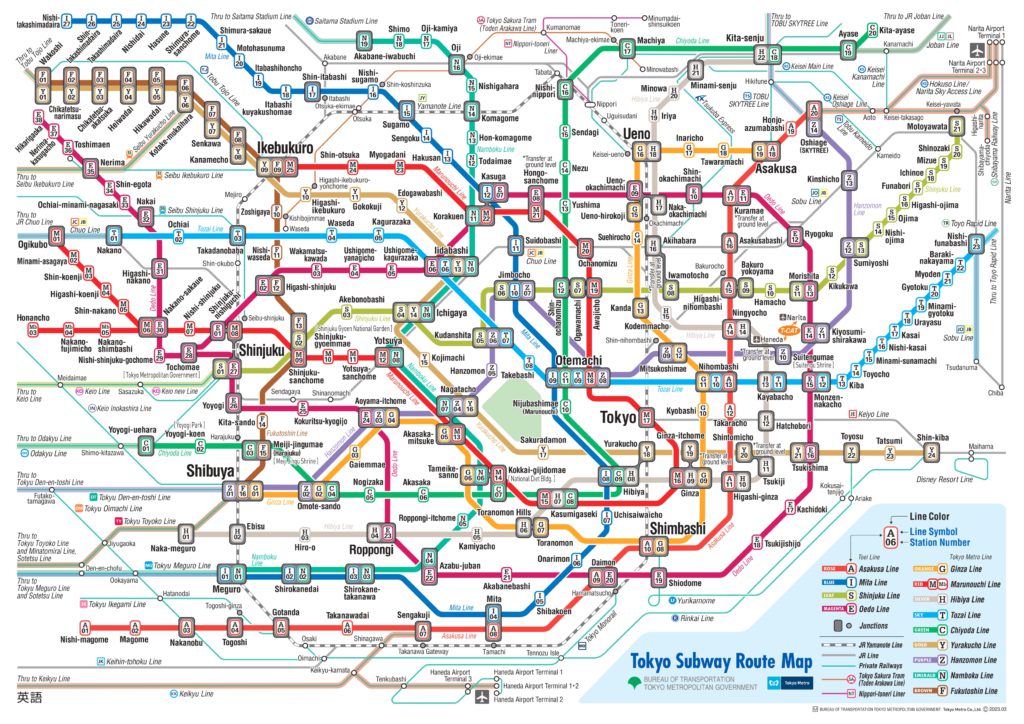 The best way to find directions to your destination is Google Maps which can include bus, ferry and walking transfers too. You can filter your route by fewest transfers, least walking and lowest cost. You can also see the price of the trip next to it.
Subway lines in Tokyo
Tokyo's subway system consists of two major operators: Tokyo Metro and Toei Subway. These operators collectively cover most of the city and offer a comprehensive network of lines. Here are the major subway lines you'll encounter:
Tokyo Metro:
1. Ginza Line (G)
2. Marunouchi Line (M)
3. Hibiya Line (H)
4. Tozai Line (T)
5. Chiyoda Line (C)
6. Yurakucho Line (Y)
7. Hanzomon Line (Z)
8. Namboku Line (N)
9. Fukutoshin Line (F)
Toei Subway:
1. Asakusa Line (A)
2. Mita Line (I)
3. Shinjuku Line (S)
4. Oedo Line (E)
Each line has a colour associated with it and each station has a number attached to it. For example, G08 and A10 both depict Shimbashi Station on the Ginza line and Asakusa line respectively on the map above.
The Tokyo Subway ticket (24-hour, 48-hour and 72-hour) for tourists as well as PASSMO/Suica cards work on all the lines. Regardless of the operator.
Now to question is what type of ticket to buy. This is a tricky one.
How to buy a ticket for Tokyo Metro
Single Journey Ticket
This ticket is used for just one journey. It is fairly easy to buy a ticket at the ticket vending machine at the metro station. The ticket costs fall between ¥170-330 depending upon your destination. The cost differs slightly between the Tokyo metro and Toei lines. Simply type in your destination to get the ticket cost.
In most cases, you will need to pay only in cash. Try to keep some change in hand. And this can be most inconvenient if you need to buy several tickets in a day. The best alternative is to either buy a 24-hour open ticket or Pasmo/Suica IC Card.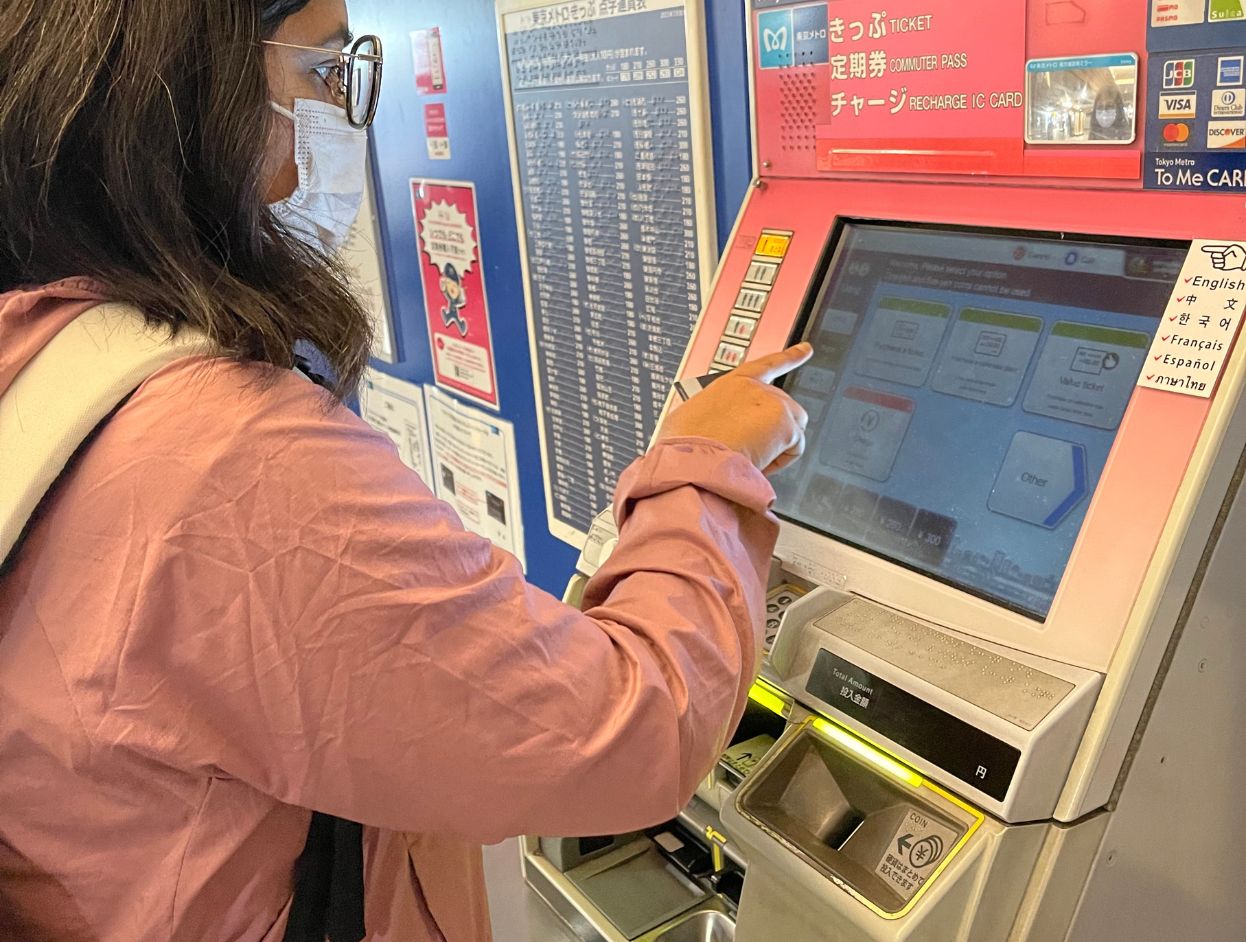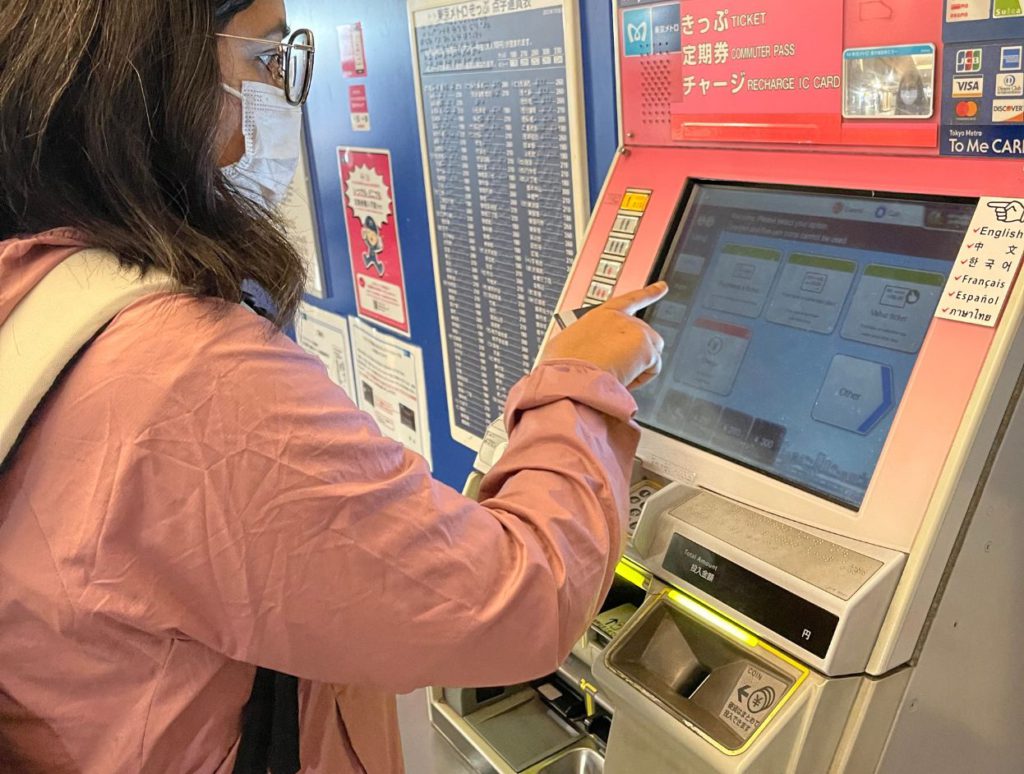 24-hour, 48-hour and 72-hour Subway ticket
These are subway passes available for 24 hours, 48 hours and 72 hours to tourists (only) visiting Tokyo. This is a great deal in terms of both price and convenience. It can be a little hard to get your hands on this.
These tickets cost ¥800 for the 24-hour ticket, ¥1200 for a 48-hour and ¥1500 for a 72-hour ticket. You can buy this ticket at Narita (Keisei Bus Ticket Counter) or Haneda (International Terminal Visitor Information Center) airport.
You can also buy it at Tokyo Metro Pass Office and other important stations like Ueno, Ginza, Shinjuku, Omote-sando and Tokyo at the Tourist Information Center. In fact, some hotels in Tokyo also offer these passes. Find more details here.
You can also buy this pass online here: Tokyo Subway Ticket (24, 48, or 72 Hours)
But once you have the QR Code, you will need to exchange this with a physical ticket at the vending machine or any of these stations.
You cannot use this on the bus or any other mode of transportation.
Looking for airport transport options? How To Travel From Narita & Haneda Airport to Tokyo city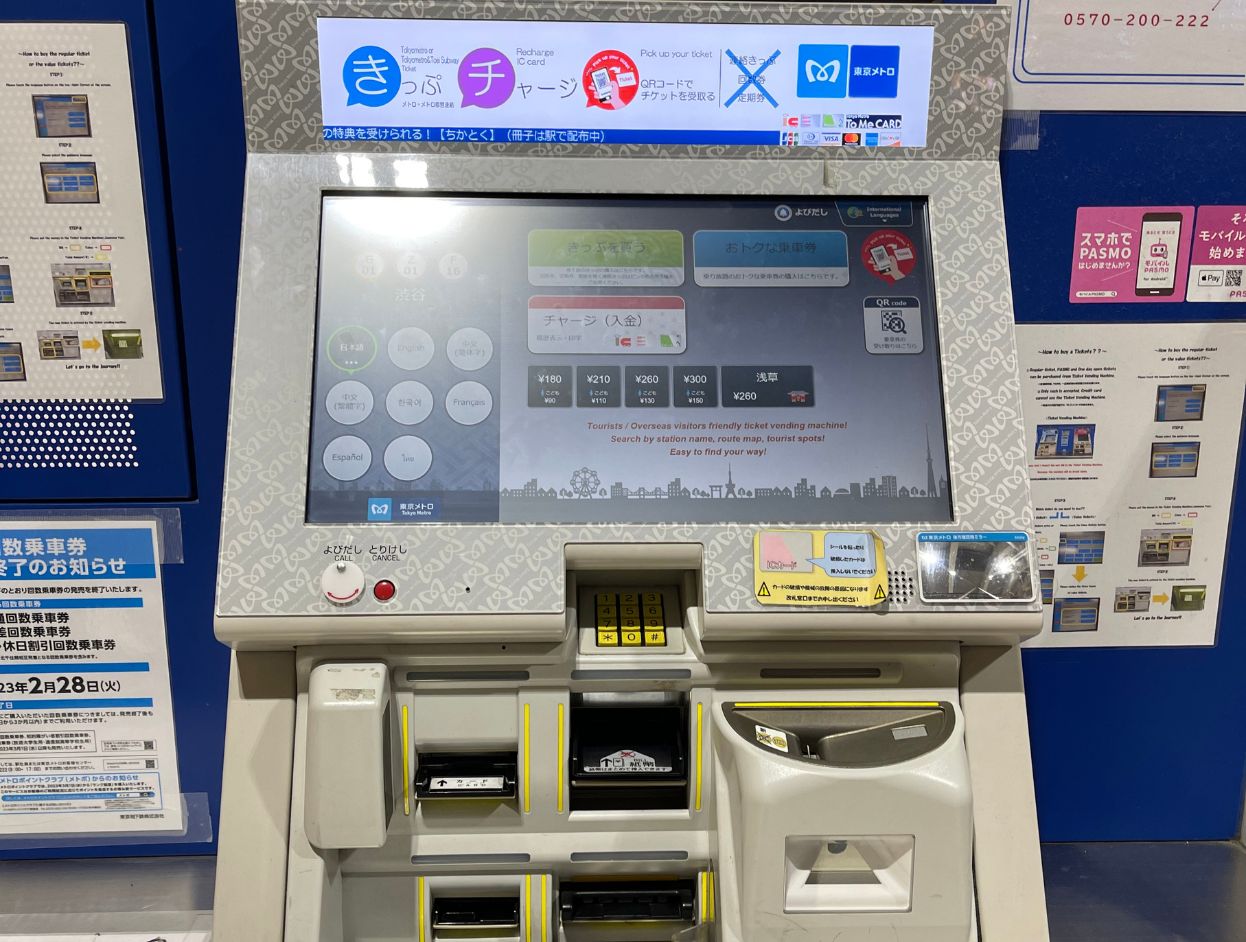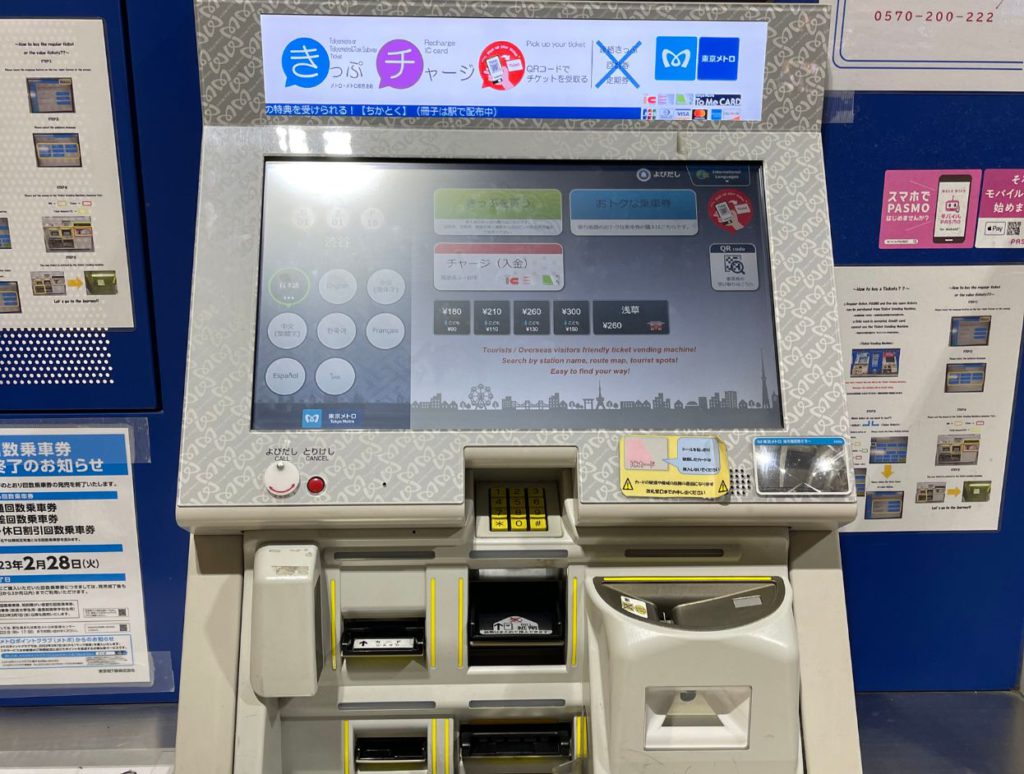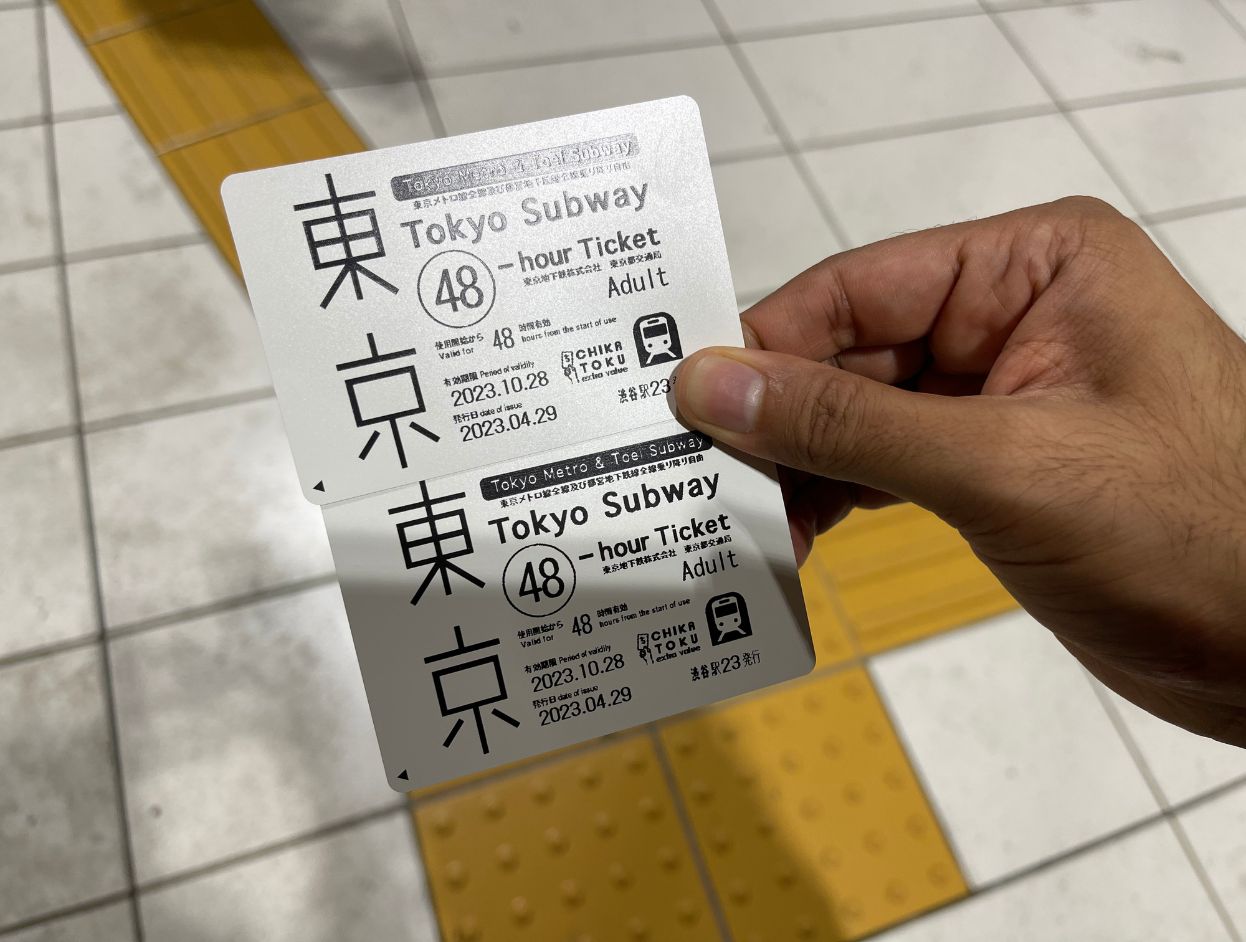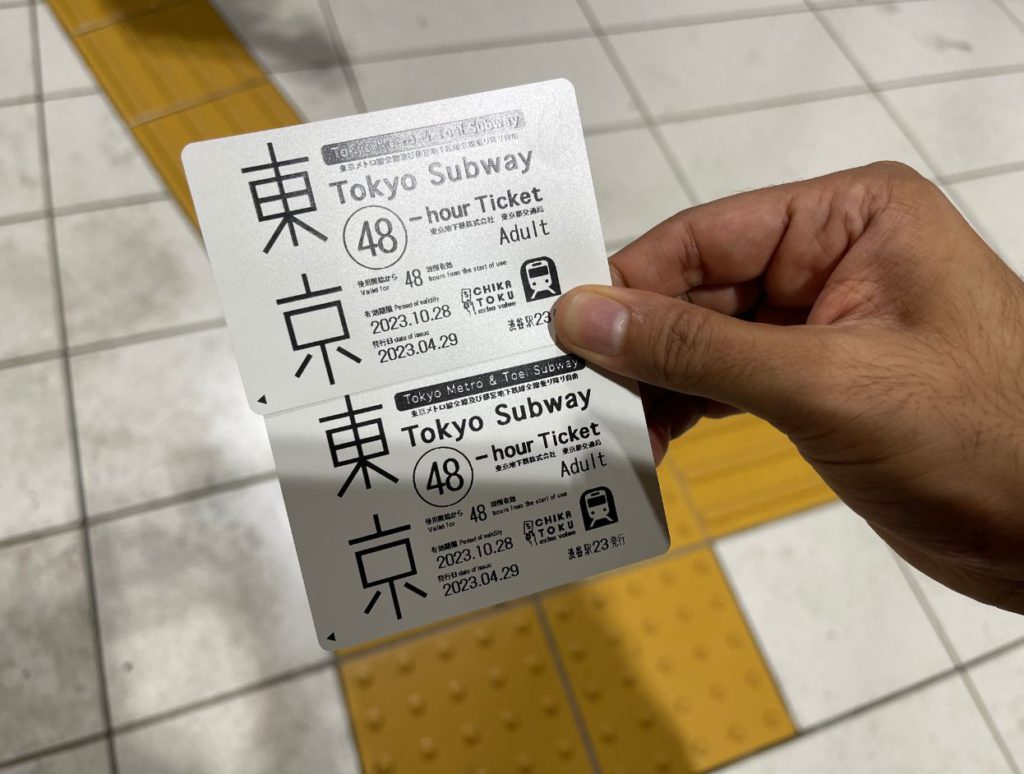 1-day Open ticket
You can buy a 1-day ticket at any of the vending machines at the station. Of course, you should weigh if you will be taking as many trips in the day to make the purchase worth it. But if you are taking 3 or more trips within 24 hours, you should buy this for ¥600.
Unfortunately, you can only use this pass on the 9 Tokyo Metro line (not on Toei lines or Yamanote Line by JR). Neither can you use it on a bus or any other form of transport. This ticket would be best only if you are travelling around the same route for the whole day.
Read more: https://www.tokyometro.jp/en/ticket/regular/index.html
Looking for a JR Pass? Find out if buying a JR pass is worth it and learn how to buy it
PASMO IC Card
PASMO IC card is a fantastic alternative if you are staying for several days in Tokyo or just want convenience. PASMO card is only available for foreign tourists. You can buy the card at one of the 21 spots including the Narita and Haneda airport. To be honest, I will suggest buying this right at the airport instead of wasting time figuring out how to buy this in the city.
The initial amount while buying the card is ¥2000 where ¥1500 is the cash inside the card and ¥500 is the security deposit that you can get back after returning it back at any of the counters. You can recharge this card at any of the vending machines at the subway stations.
One of the best things about the PASMO card is that you can use it both for subway and bus transport. You can also use it at the shops located inside the subway stations.
Read more: https://www.tokyometro.jp/en/ticket/pasmo/index.html
Travelling Inside Tokyo Metro
The only challenge now is to find your way to the metro. The Tokyo metro is a network of so many lines intersecting each other that one station can have 3 or 4 lines in it. While Google Maps can be your best option, a lot of time it is not always right especially on deciding which entry and exit to take. It may take you half a day to get a hang of this.
Travelling inside Tokyo metro is quite comfortable once you reach the station. It just works like any other metro around the world. But you need to be careful that you enter the correct line and travel in the right direction. The metro is usually not very crowded during the day but can get a little stuffy during the commute hours.
There are a few things that you should take note of:
1. People do not eat or drink inside the metro. While it is not prohibited, it is considered very rude.
2. Do not take phone calls inside the metro. Japanese consider it very rude to talk loudly in public places. Also, do not talk loudly inside the metro.
3. The metro stations are hardly equipped with escalators. You can obviously take the lift but it can be hard to find. Get ready to climb a lot of stairs.
4. People like to queue for everything including getting on metros. So follow the etiquette.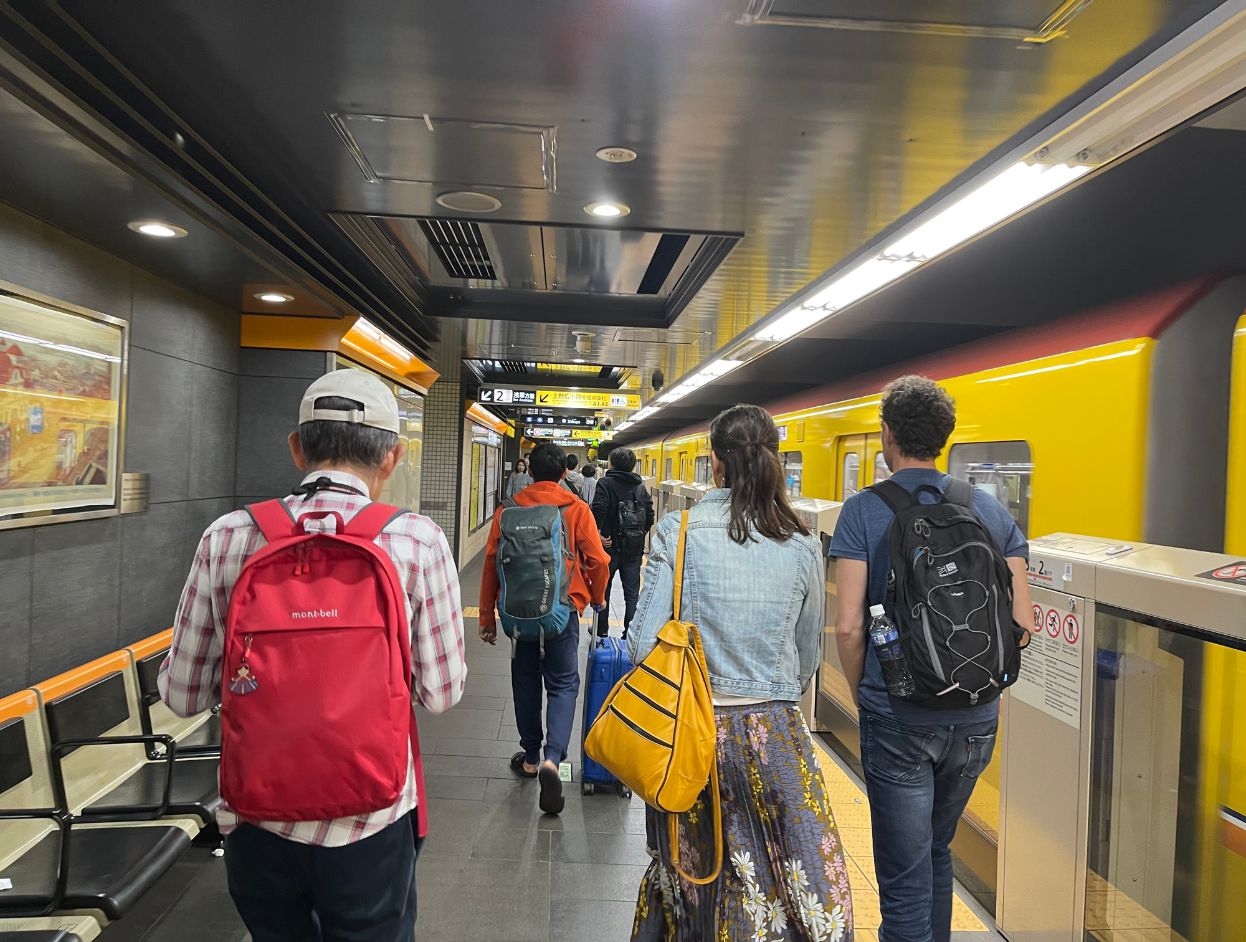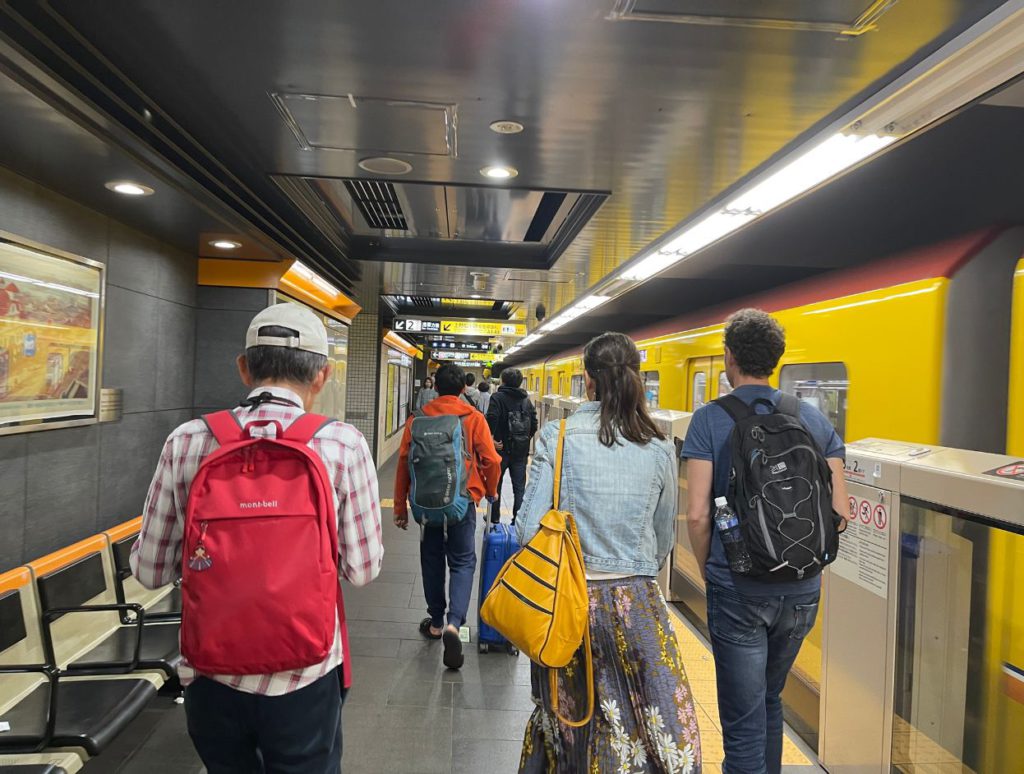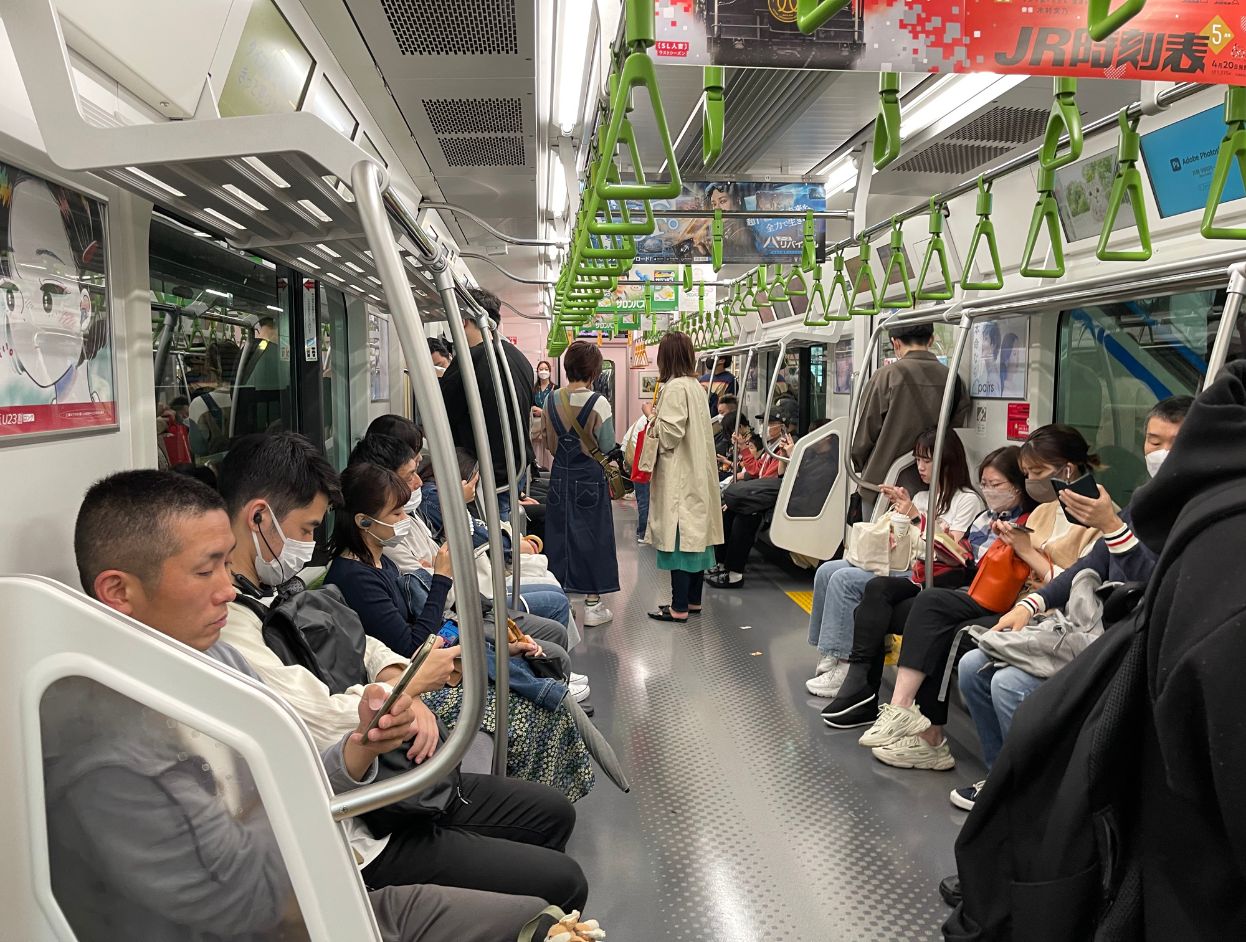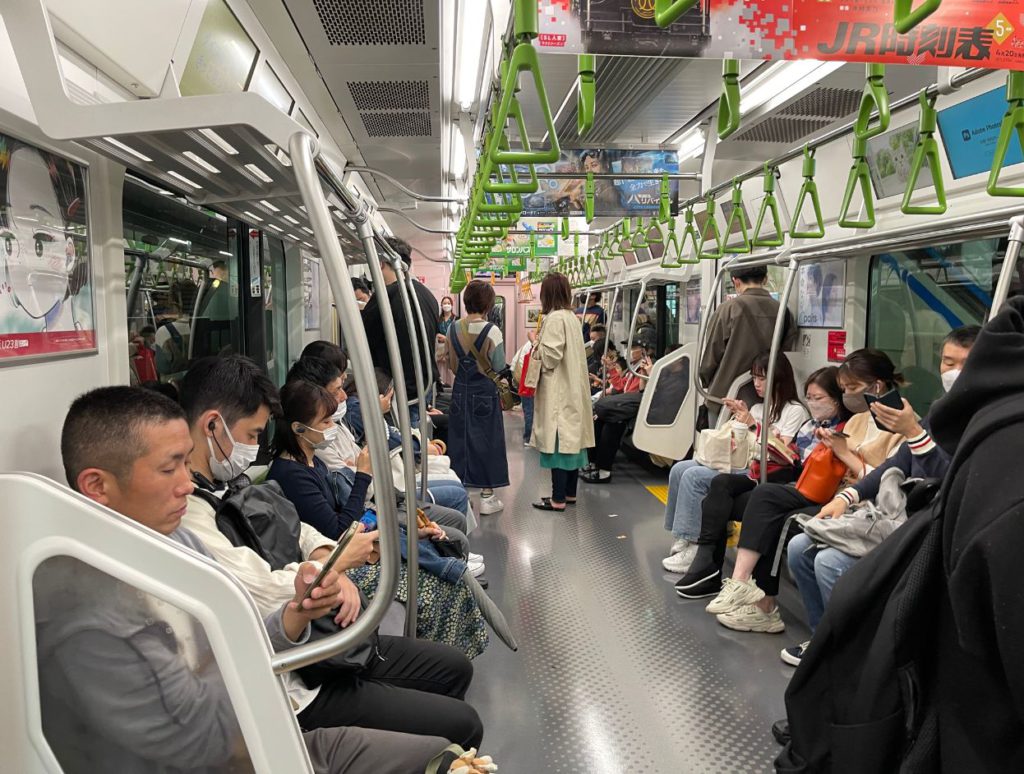 Getting around using Bus in Tokyo
Buses are also a wonderful way to get around in Tokyo. In fact, the sometimes will be more direct to your destination without having to walk as much. And buses run extensively in Tokyo on innumerable routes. I also found them less crowded than the metro.
The best way to find a bus route is by using Google Maps. It will show you where to start and where to get down at. The only thing that you need to carefully think about is that you are boarding the bus in the right direction.
All you need to do is walk up to the bus station and wait for the bus. The bus number is written digitally on top of the bus. Once you board the bus, you can sit down if you find an empty seat. You need not pay while boarding.
You will need to pay when you are leaving. Payment is made at the change station right next to the driver's seat. You can pay cash by putting it inside the machine and accepting cash. In case, you do not have any change, you can get change at a changing machine that is right next to the ticket machine. 
The easiest way to pay is using an IC Card (see PASMO details above) or a Suica card. Just tap on the machine near the driver while leaving. A flat fare will be deducted from the card.
You can check out a full-day bus tour for sightseeing: Tokyo: Full-Day Sightseeing Bus Tour
Looking to book your stay in Tokyo? Here are the best neighbourhoods to stay in Tokyo for tourists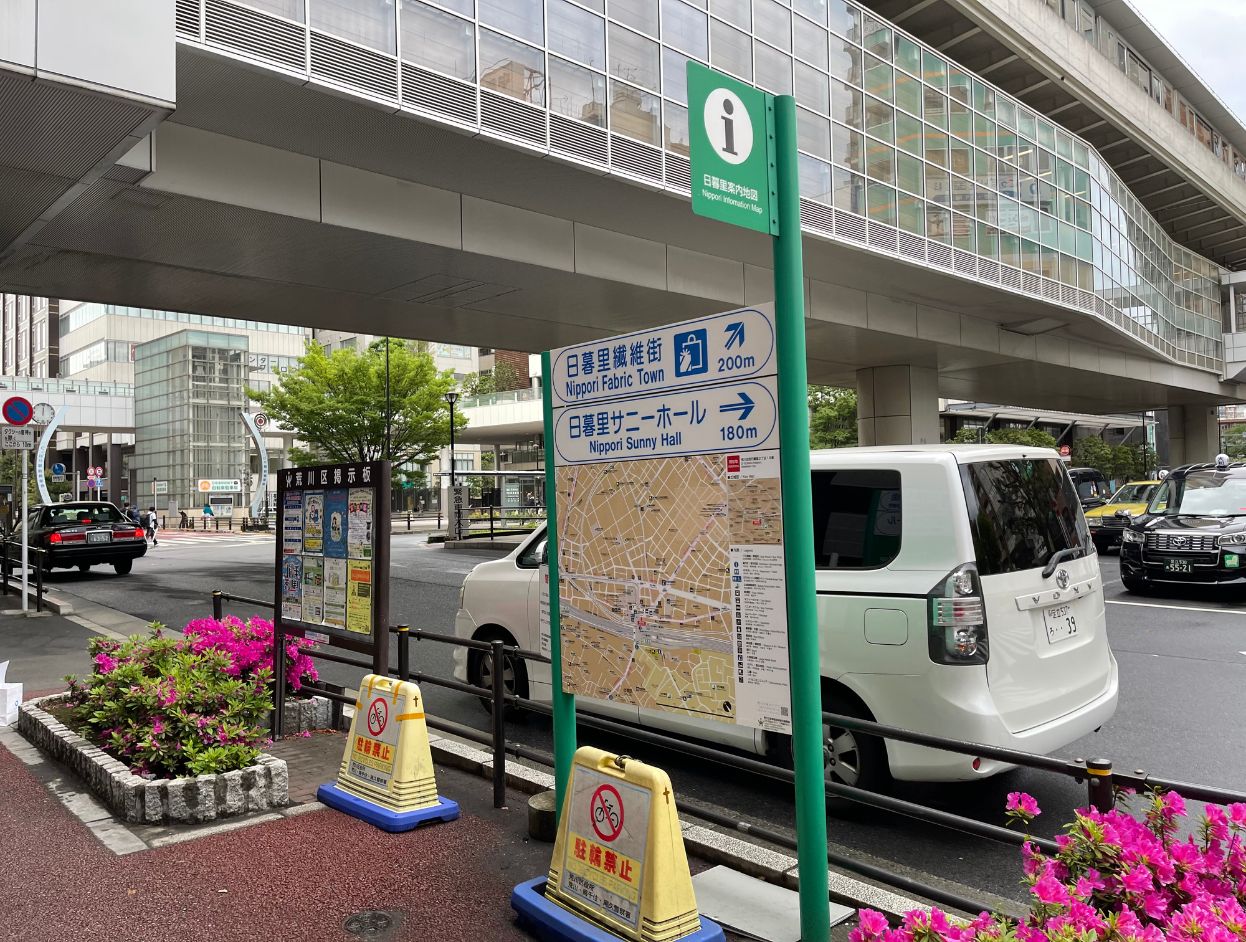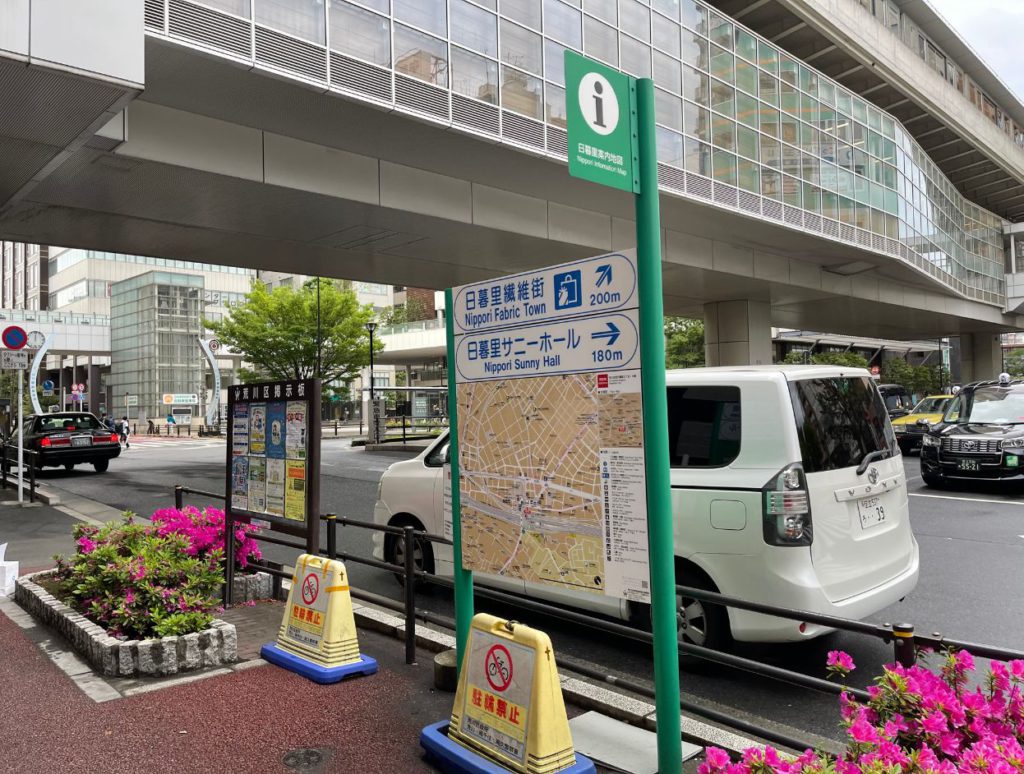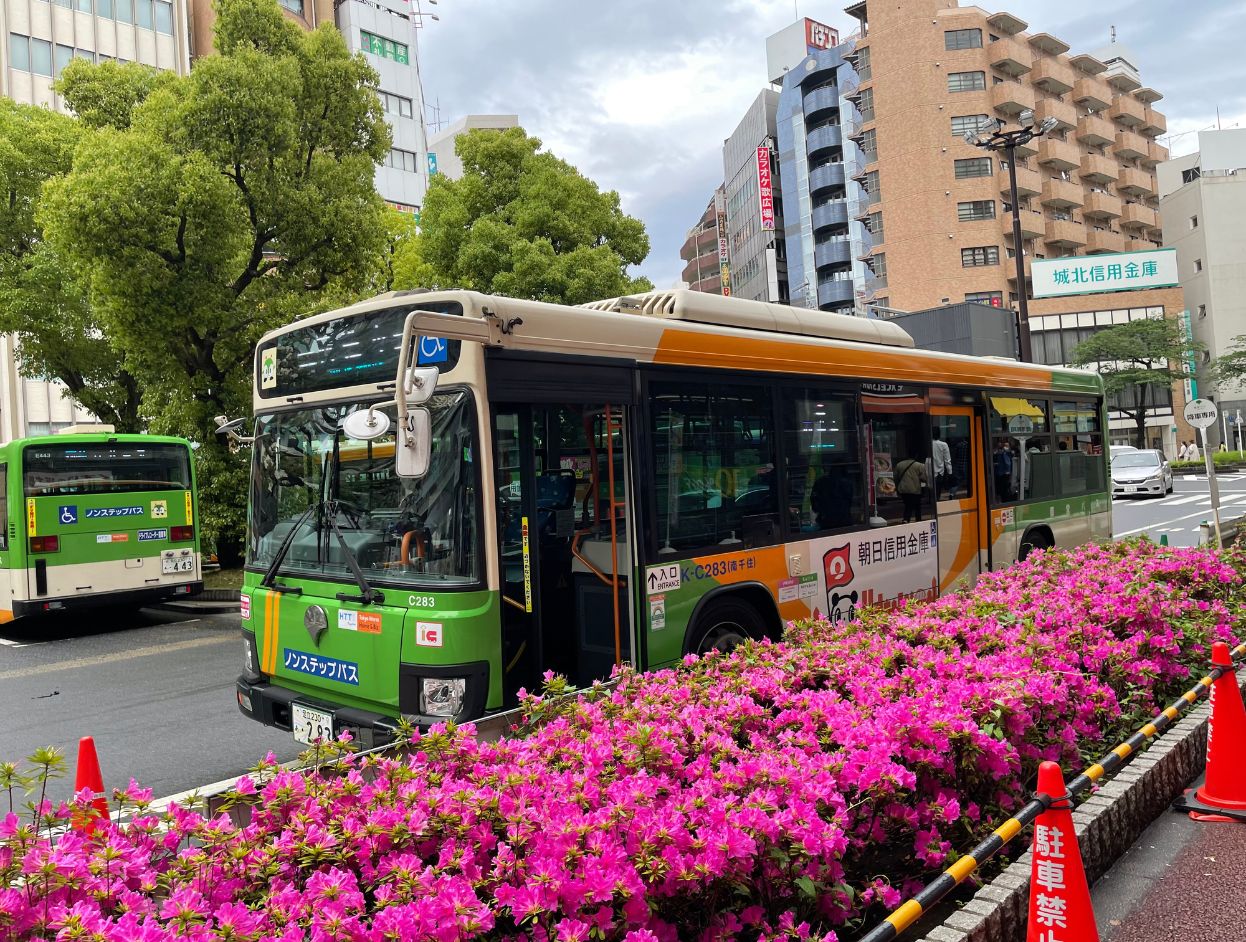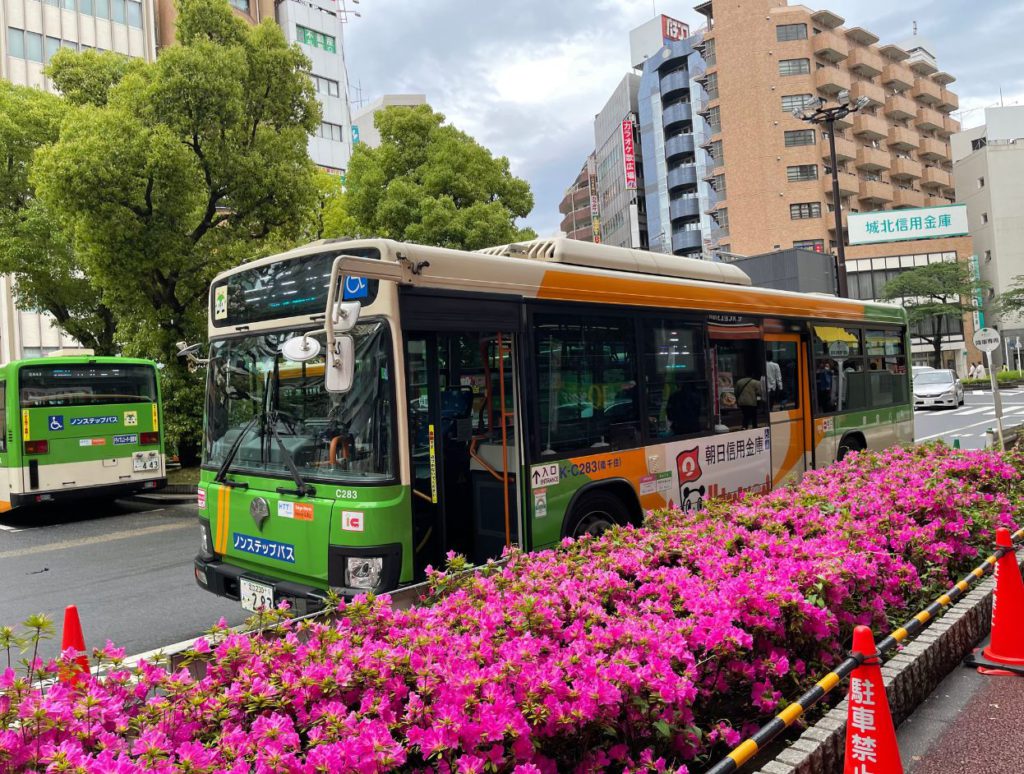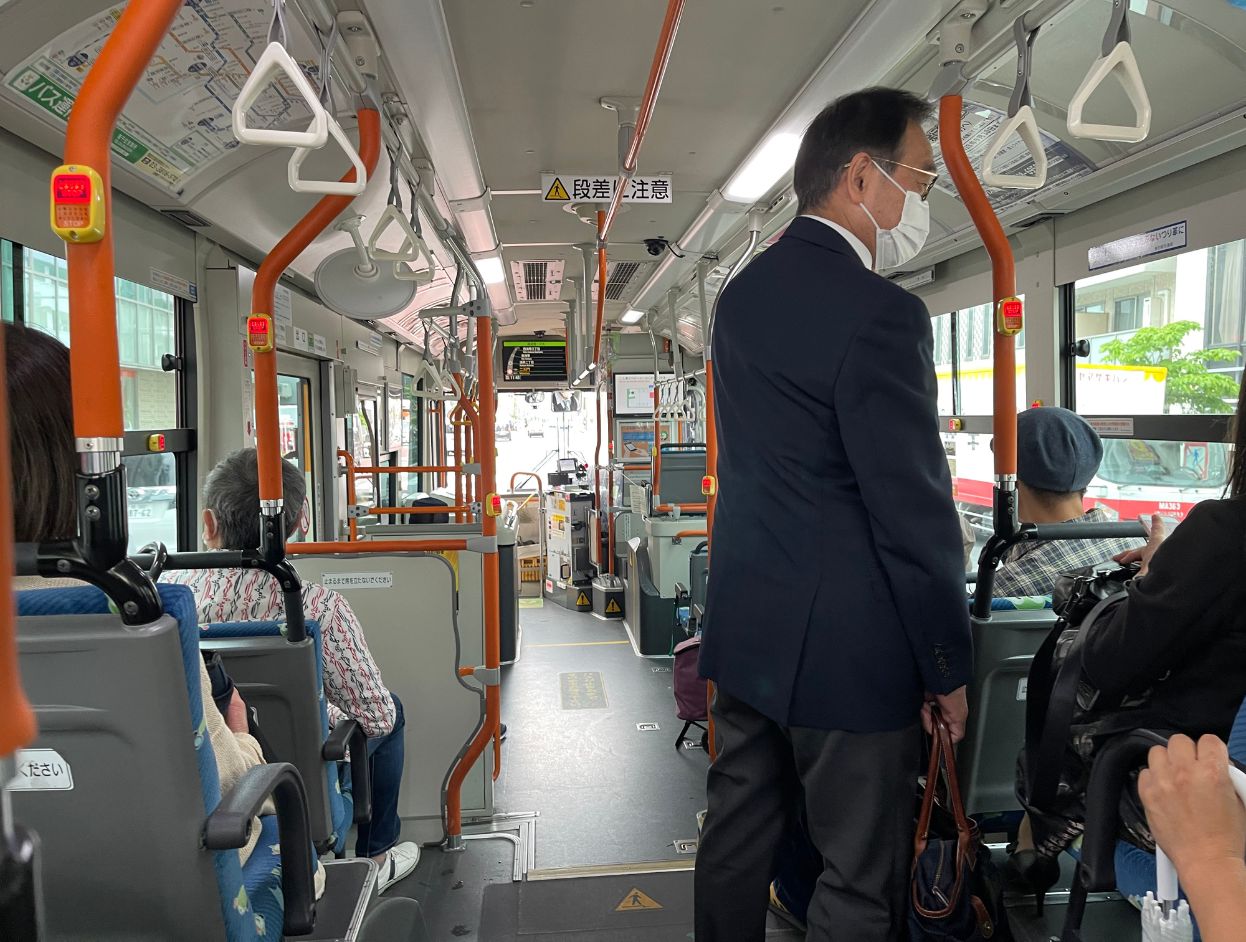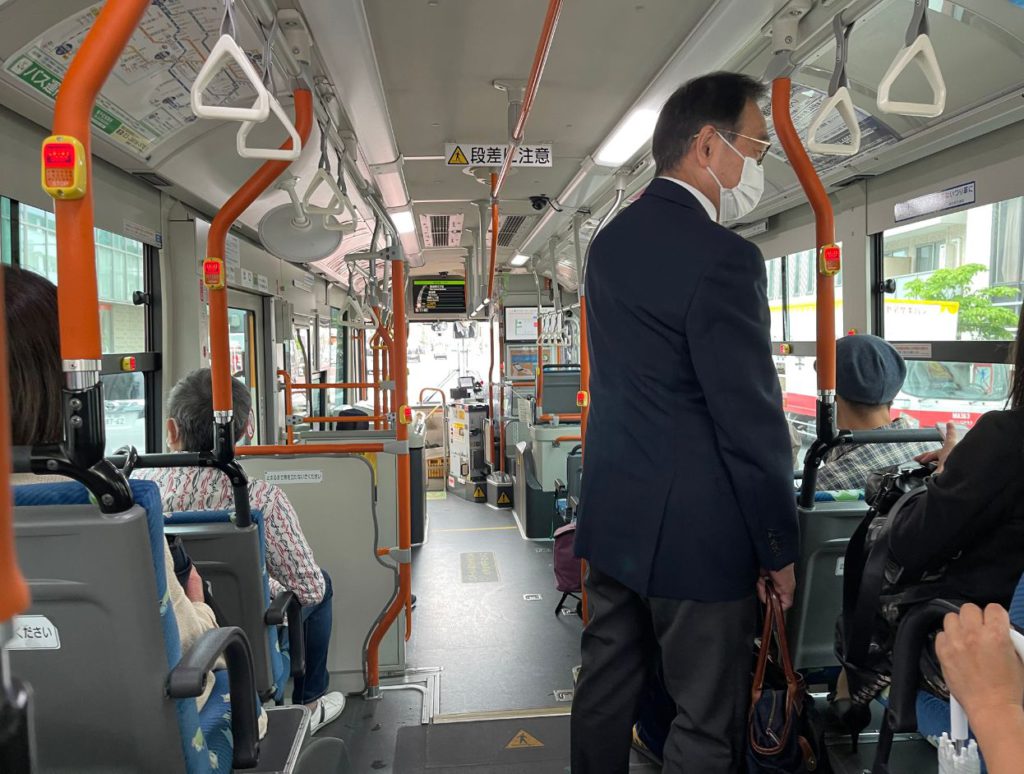 Tokyo Hop-on-hop-off Bus
It is super fun to see Tokyo. Although a lot of it depends upon the weather. And if you are able to catch a super-nice day, you can see so much of Tokyo in a day or two on this. I think just being able to see the neighbourhoods and the city would add so much to the experience.
Buy hop-on-hop-off bus ticket: Tokyo: Hop-On Hop-Off Sightseeing Bus Ticket
The hop-on-hop-off bus runs on three different routes as follows:
Route 1: Tokyo Skytree Course
Marunouchi Mitsubishi Building — Kodemmacho Station — Ryogoku Edo-Tokyo Museum — TOKYO SKYTREE station — Asakusa Hanakawado — Asakusa Tawaramachi — Ueno Matsuzakaya — Akihabara (Suehirocho) — Shin-Nihombashi Station — Marunouchi Mitsubishi Building
Route 2: Tokyo Tower, Tsukiji Ginza Course
Marunouchi Mitsubishi Building — Tokyo Tower — Tokyo Prince Hotel/Zojo-ji Temple — Tokyo Teleport Station — Tsukiji Ginza — Marunouchi Mitsubishi Building
Route 3: Shinjuku Shibuya Course
Marunouchi Mitsubishi Building — Shinjuku Gyoen National Garden — Shinjuku Station South Exit/Hotel Century Southern Tower — Shinjuku Station West Exit/Tokyo Metropolitan Government Building — Shibuya City Hall/Harajuku/Meiji Jingu Shrine — Marunouchi Mitsubishi Building
You will also get an audio guide in Spanish, Chinese, English, French, German, Japanese, and Korean. Simply hop on the bus, enjoy the ride, get down at the next destination, go around and hop on to the next bus at the nearest designated station. You can find a lot more details about it on their official website.
Getting around Tokyo in Taxi
It is fairly easy to get a taxi in Tokyo. You can spot an obvious taxi driving through the streets and wave to stop it. You can tell the taxi your destination and hop on it. Most drivers can speak basic English but if you can get your address in Japanese, it may just be easier.
The driver will start the meter as soon as the ride starts. In any case, you do not need to worry about 'being taken for a ride' or any type of scam in Tokyo. All charges are standard and taxi drivers follow the rules strictly.
But before anything, let me add the disclaimer that taxis are quite expensive in Japan. That's why most people use public transport. The base fare starts at ¥730 for the first 2km and it rises by ¥90 every 280m. You can pay by cash unless the taxi driver accepts a card. You do not need to tip the driver.
Uber is available in Tokyo. Other popular taxi apps are Didi and Go, Didi being slightly cheaper. It will give you an idea of the cost before you decide to hail a taxi. Plus you won't need to give directions in Japanese.
Other ways to travel inside Tokyo
Bicycle
It is usual for locals to use bikes for short-route transportation. Maybe if you are staying at a place 15 minutes from the closest metro station, this can make for a good alternative. Or you can just ride around the city at your own pace.  It is not so common for tourists but you can always explore.
You can check with your hostel or hotel if they can get you bicycles or connect you with an agency that can. There are also several bike-sharing apps in Tokyo like Docomocycle, Hello Cycling, Livelo and Luup that offer bikes for rent on an hourly or daily basis. They also have several bike stations around the city so you don't have to worry about leaving the bike at all.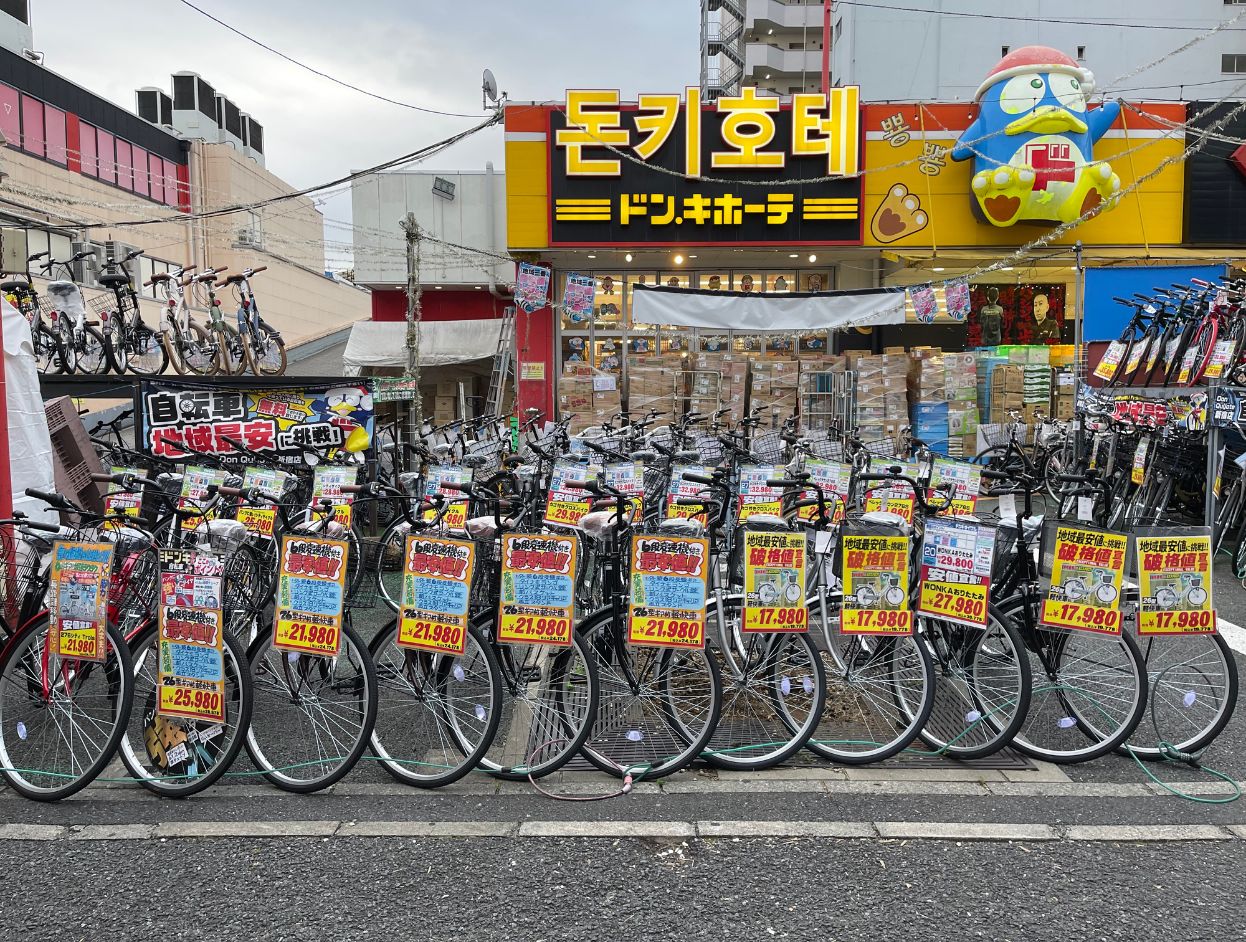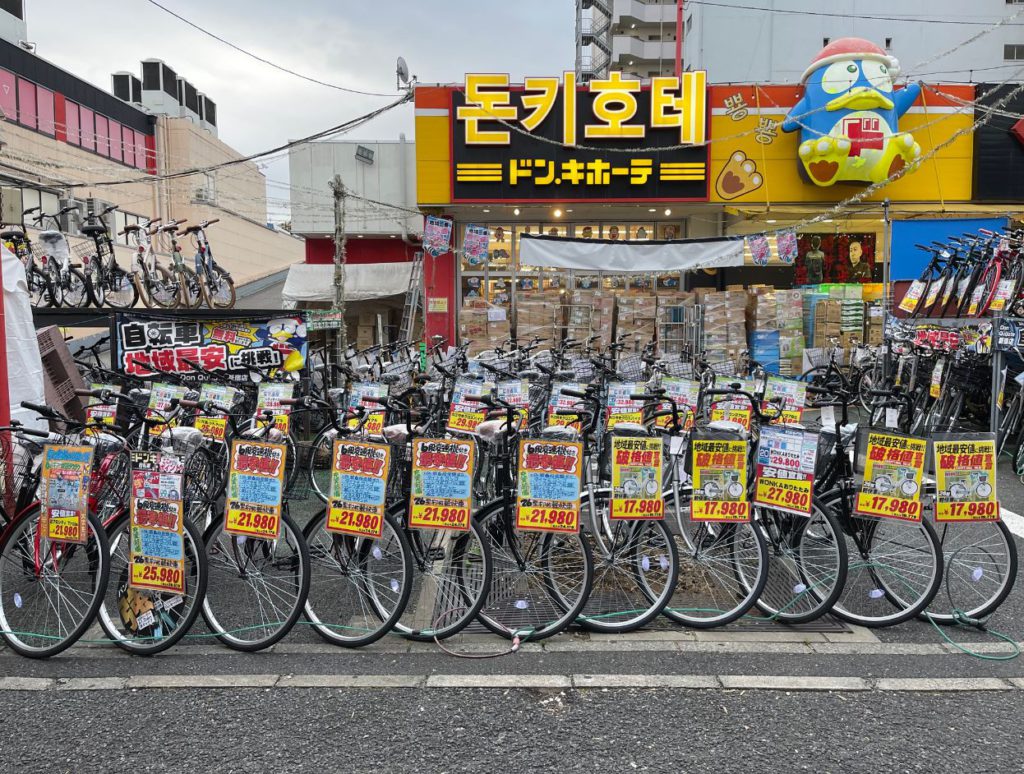 Water Taxis
This is another unique way to see Tokyo. Since the Sumida River passes through the middle of Tokyo, several water taxi routes run on it. Even if you do not need a ride from one point to another, it can make for an evening activity to see the city from another side. 
There is a direct line from Asakusa to Odaiba where you cruise along the Tokyo Skytree, Odaiba Rainbow Bridge, Statue of Liberty, and Fuji TV. It is far cheaper than a dinner cruise (which is also a fantastic experience). But you won't need to break the bank for this.
You can buy a pass at any of the vending machines at the pier by putting in your destination or buy a ticket online.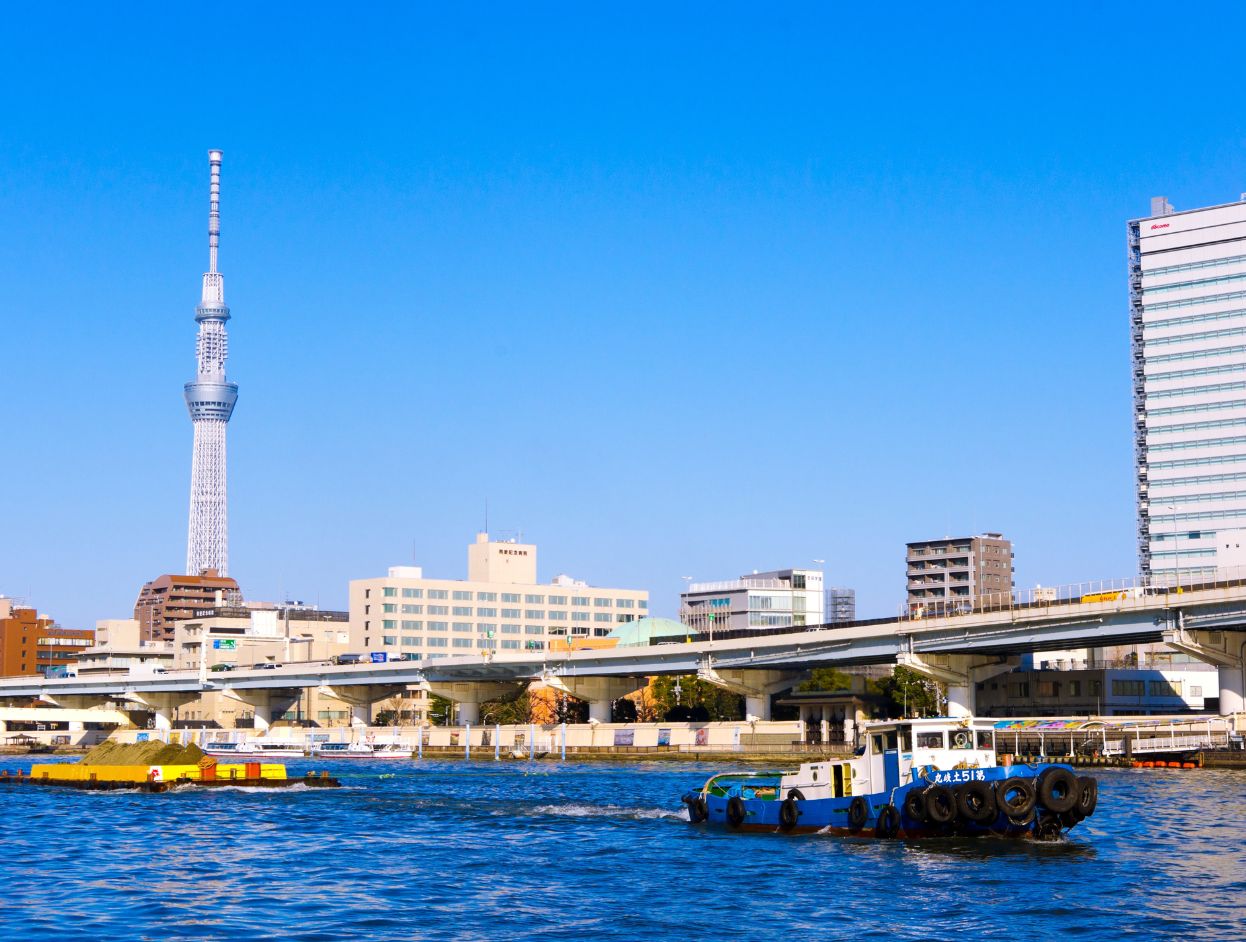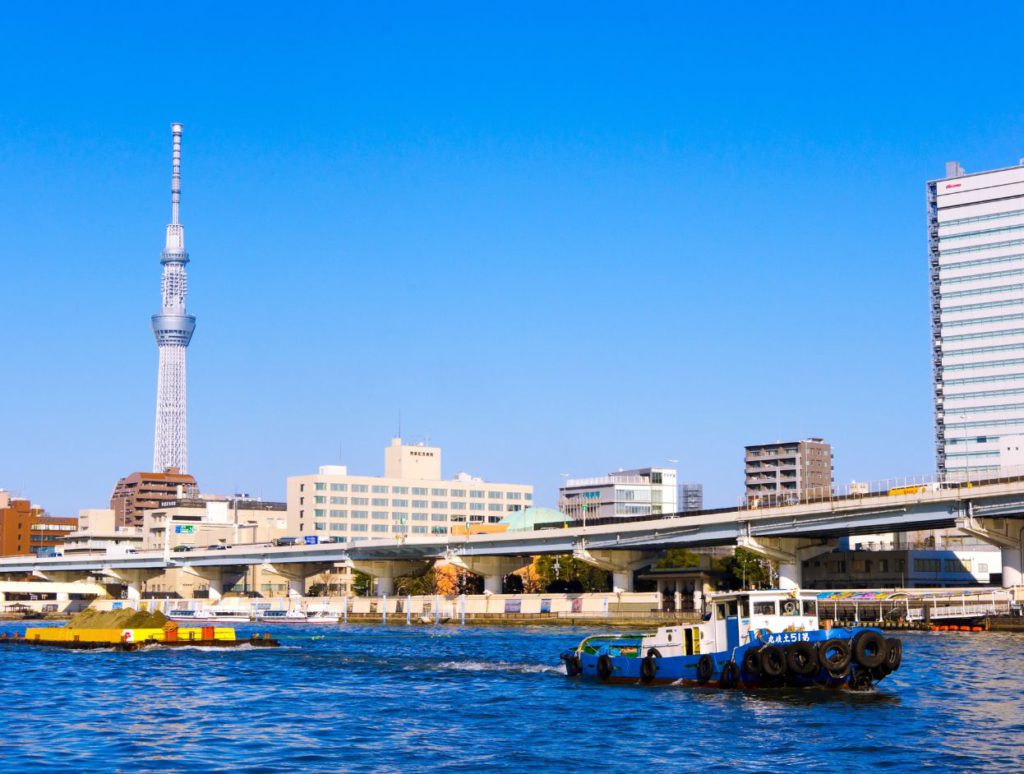 Related Articles