16 Aug

Thailand Travel Itinerary to save you a ton of time

While planning a trip one of the most daunting tasks is to plan an itinerary. Well, that could be tiresome for a few people and enjoyable for others. I love making itineraries. I can do it all day. Actually, I do it all day.

Therefore, I thought I may save you some time by sharing a gist of my research and travel experience in Thailand. So I put together a bunch of Thailand travel itinerary for short-term travel plans starting from a day to little less than a month.
Best Places To See In Thailand
If you are travelling to Thailand for the first time, I will have to say that you need to go to tourist places at least once. Even if you don't like the mainstream tourist attractions. You should see the reason they got so popular. And why do they attract thousands of people from over the world?
Pristine Beaches of South Thailand
Thailand has some of the loveliest beaches on earth. Glittering turquoise water and white sand beaches will make it feel like a movie shot. Pair them with quite liberal Thai culture, great food, and a few tropical-looking long-tail boats.
Mornings are for the view and evenings are for some intense rave parties with fireballs and beer buckets. Phuket, Phi Phi Islands, Krabi, Koh Samui, and Koh Phangan are some of the most fantastic places to go if you want to enjoy the best beaches in Thailand.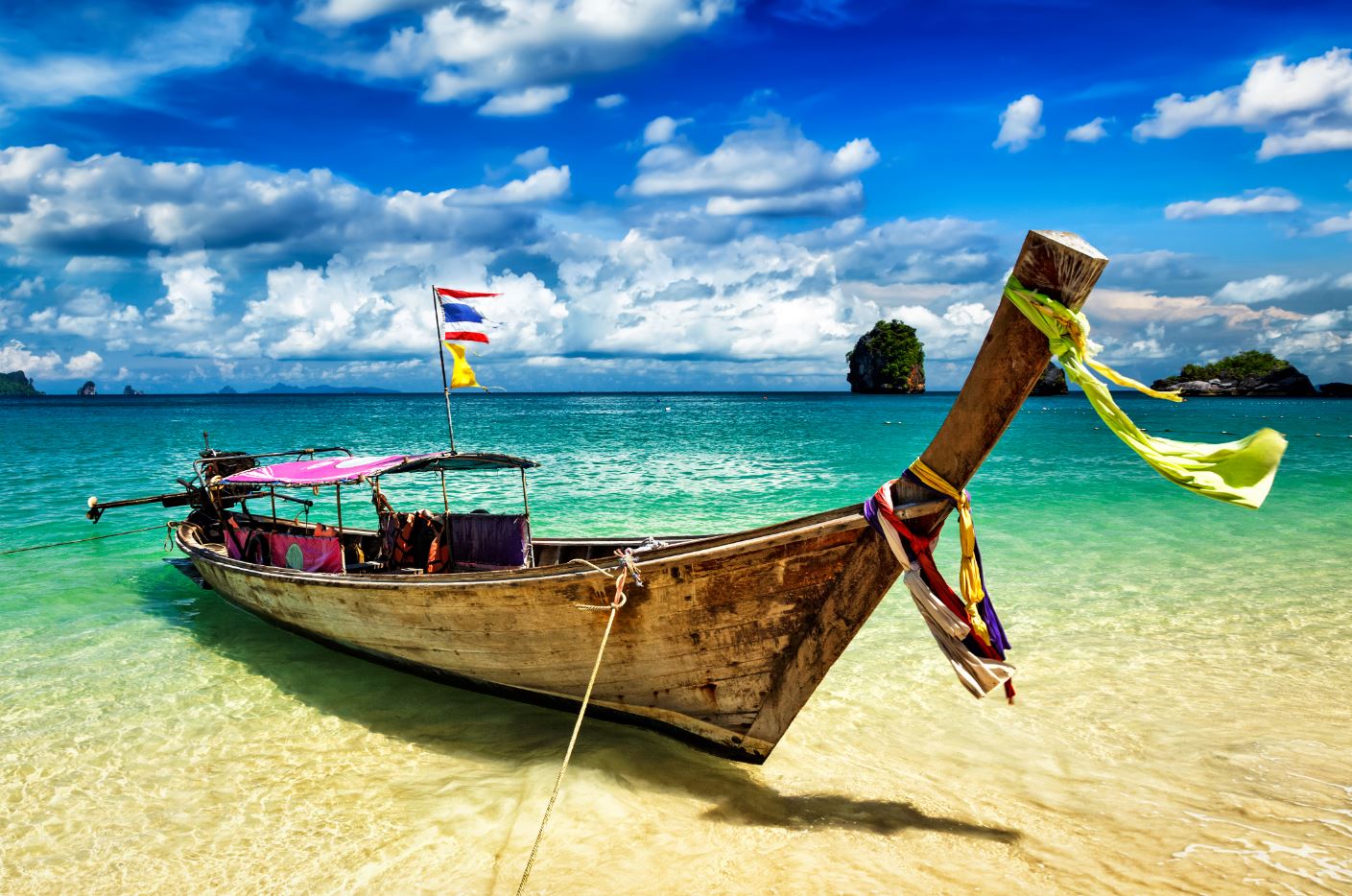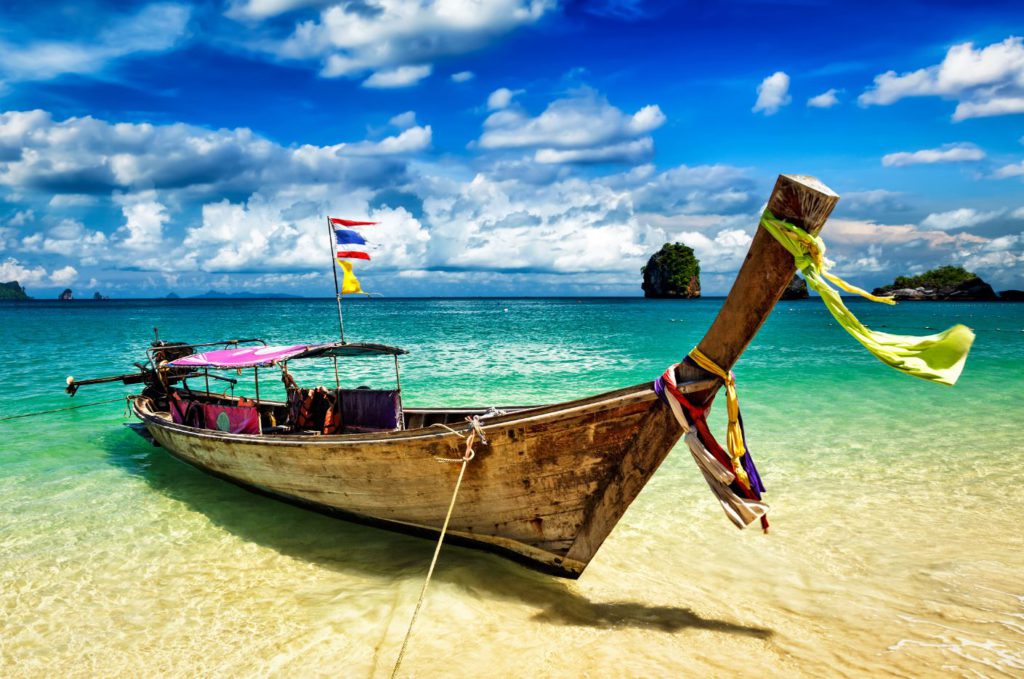 The Urban Bustle of Bangkok and Pattaya
While the South is known for beaches, Bangkok and Pattaya are more urban and have different activities to enjoy. Bangkok is a blingy cosmopolitan city with an insane number of things to do. Bangkok is also home to the King and the Grand Palace along with some lovely traditional Thai temples.
There is a variety of food palettes available to choose from in terms of food from China, Korea, Japan, India, Vietnam and a lot more. You can find exciting night market concepts and lively bars to spend your nights.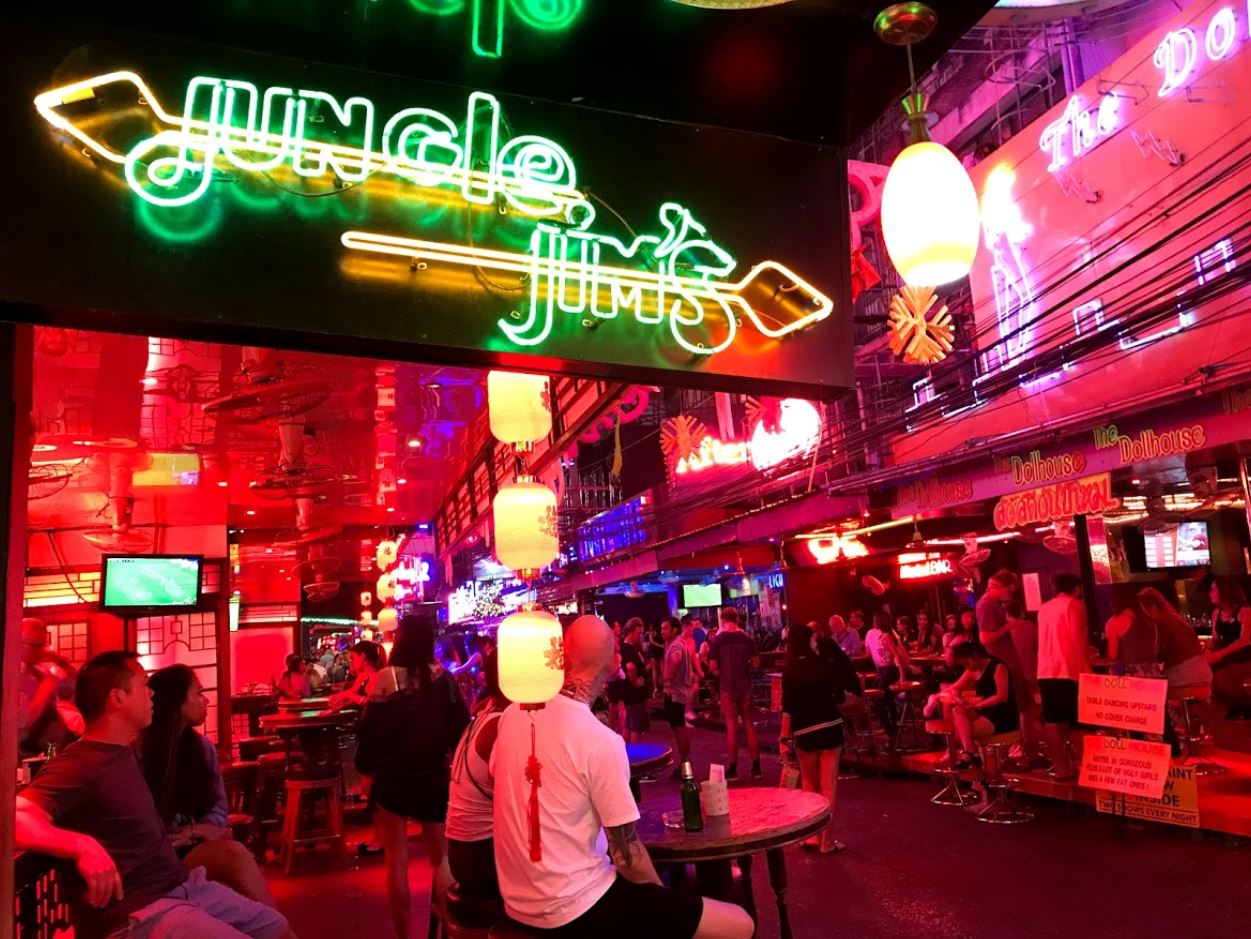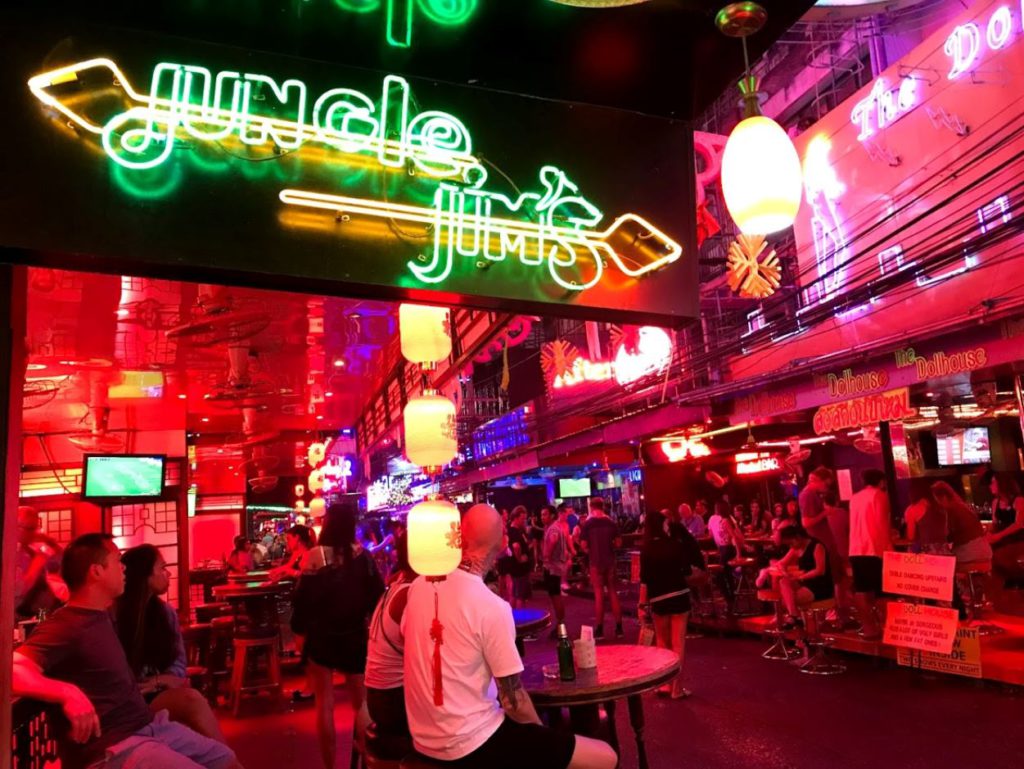 A very different North Thailand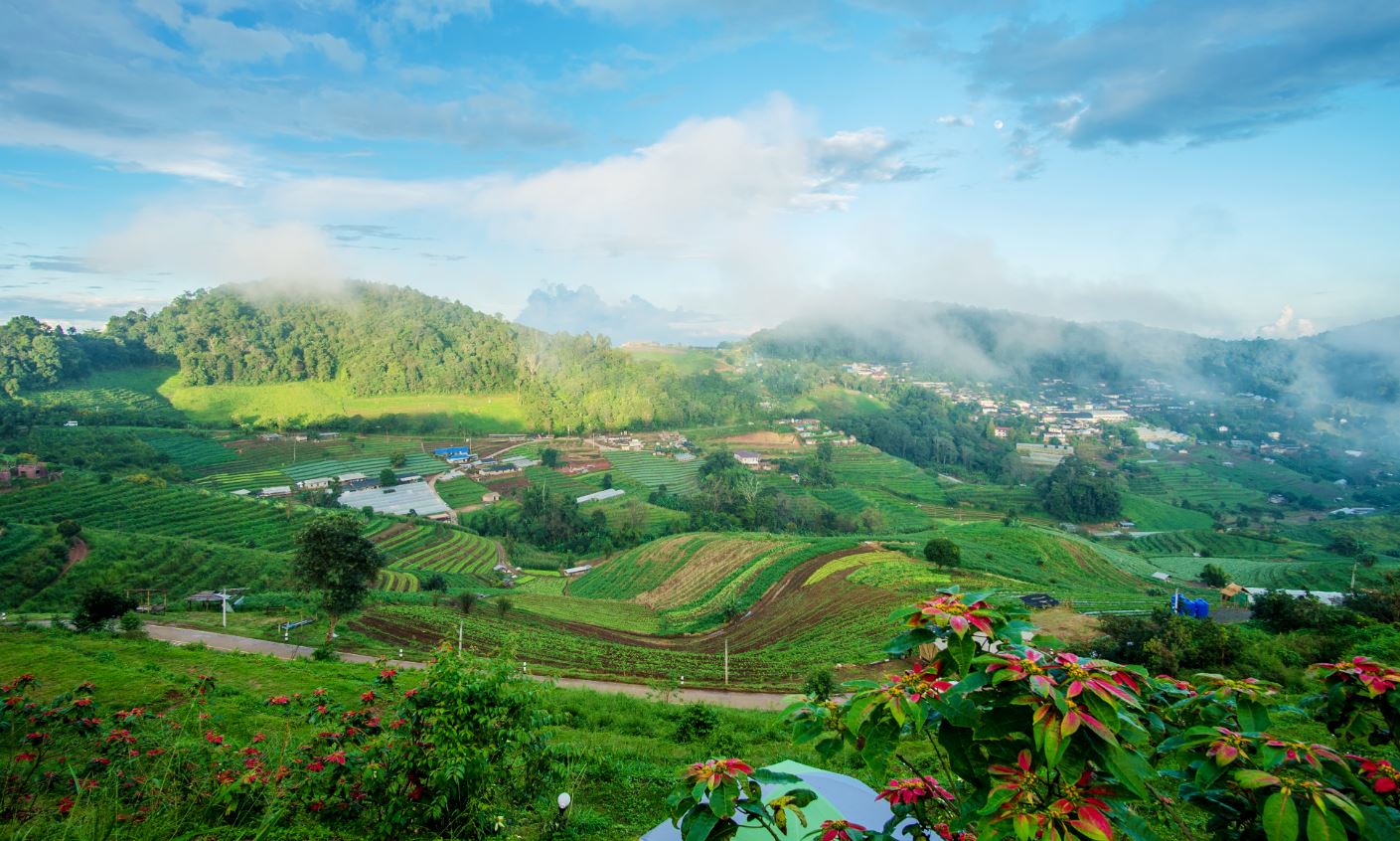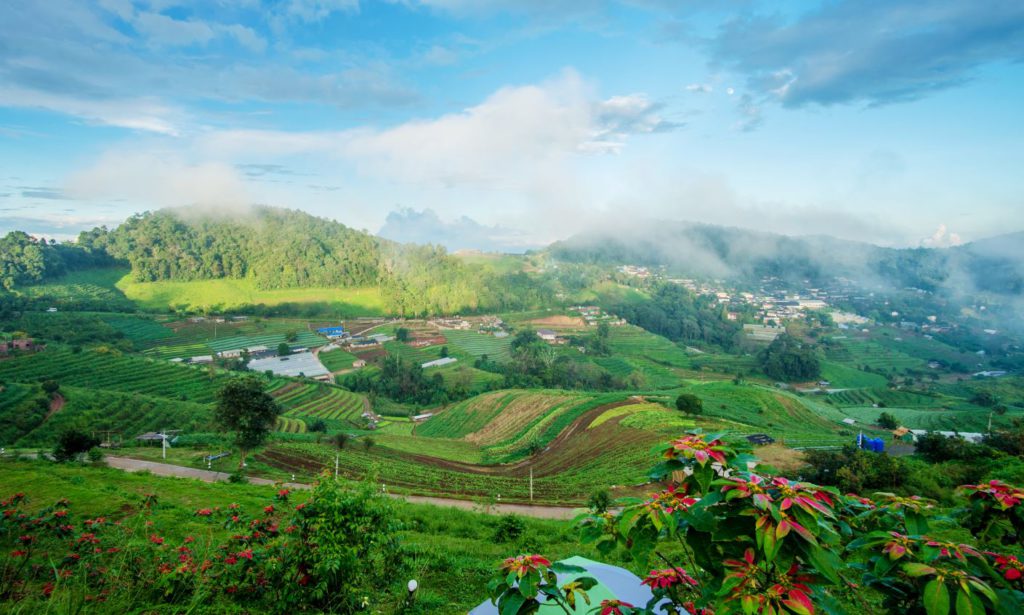 A few off-beat experiences
For the ones who may want to dive even deeper, head to the Sai Yok National Park to enjoy the thick jungles and native biodiversity of Thailand. The national park has some lovely waterfalls such as the Erawan Falls. Ayutthaya, the ancient capital of Thailand and Sukhothai are both famous for ruins of the glorious past from the Siam Empire.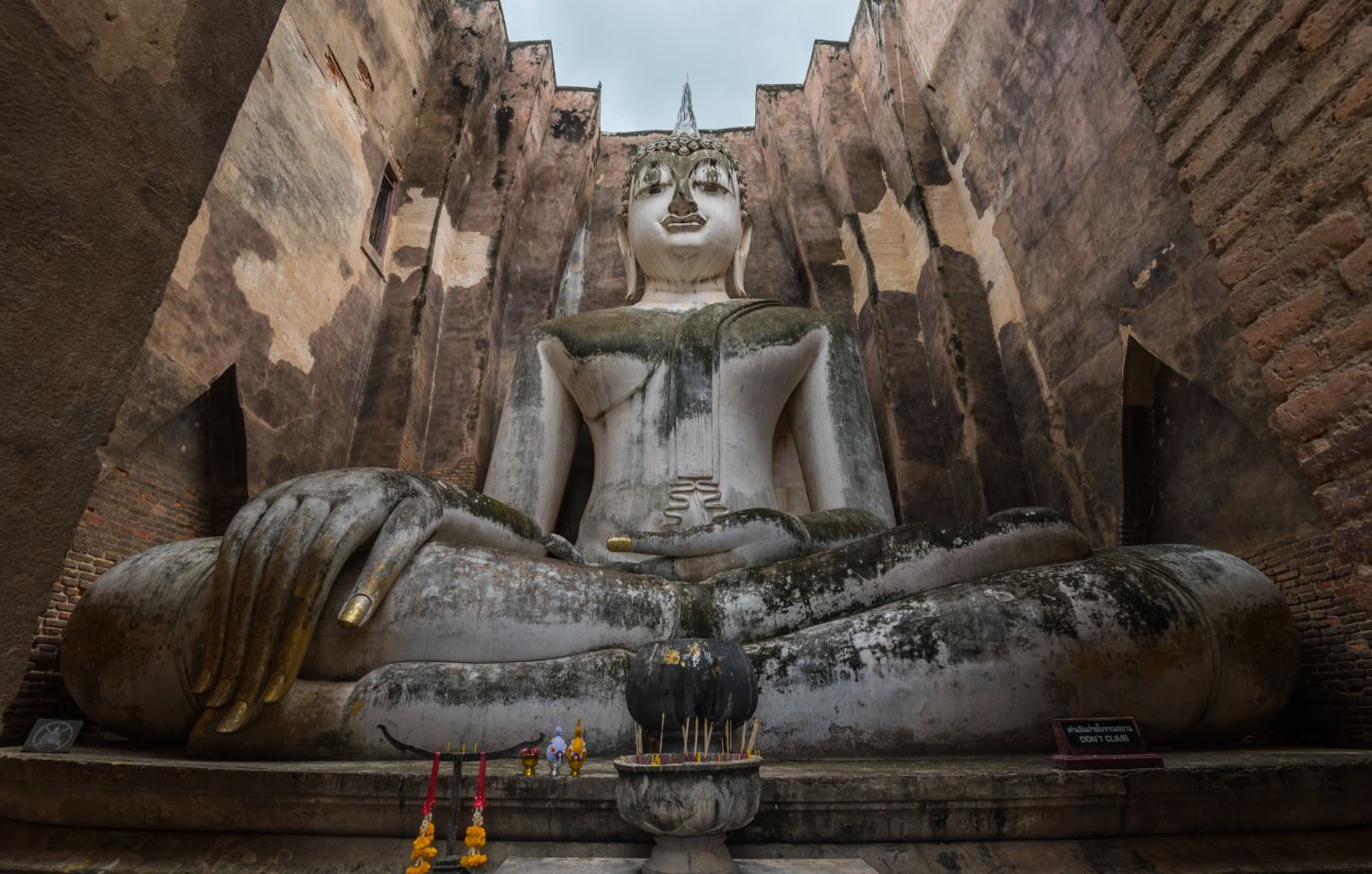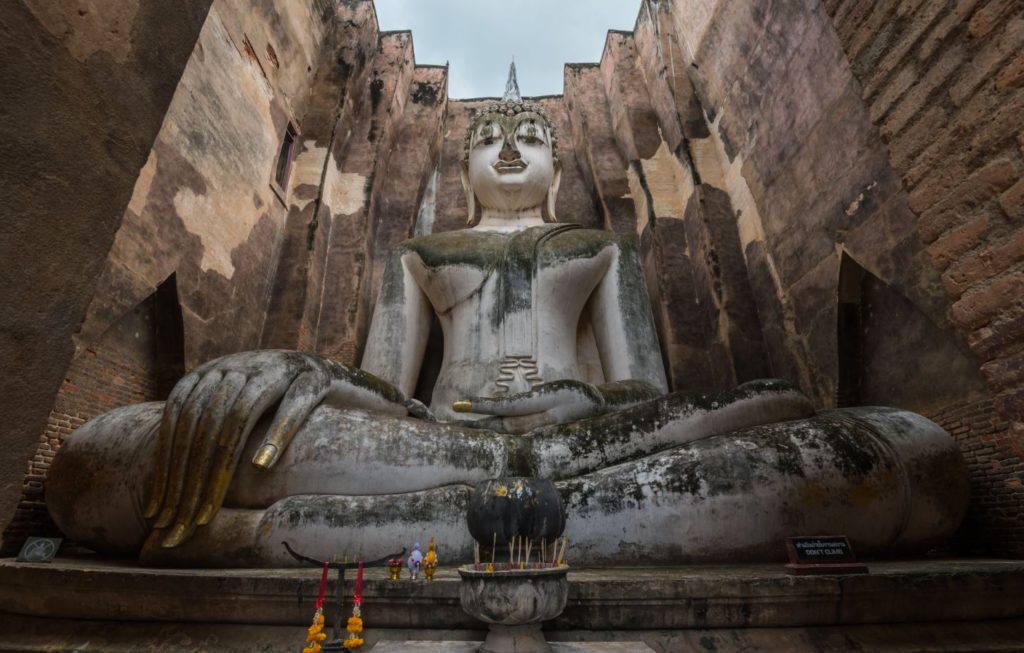 Best Time To Visit Thailand
The best time to see Thailand is during the winter months from October to February. The weather is mild and the skies clear, although it is also the busiest time for tourists. Summers see a phenomenal rise in temperature and humidity at its peak. With the onset of monsoon, many beaches could turn rough. You may not be able to enjoy island hopping in the deep south.
Another great time to visit Thailand is during Songkran, the Thai New Year in the second week of April. It is the grandest festival of the year. Songkran is celebrated by throwing water at strangers with water guns and buckets of ice-cold water.
There is dancing, celebration and people all come to the streets to celebrate the onset of another great year. I think everyone should experience this at least once.
How To Go Around In Thailand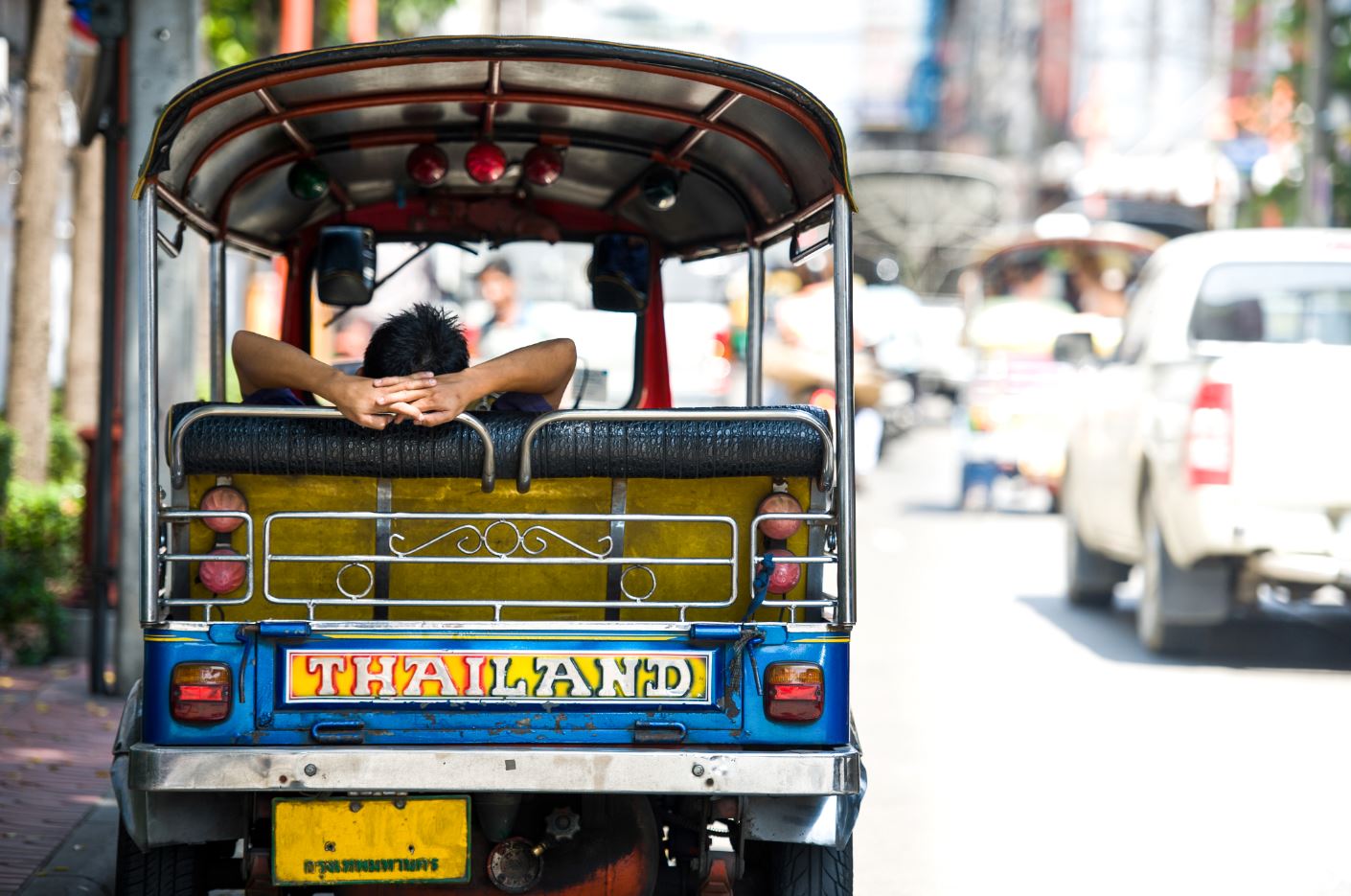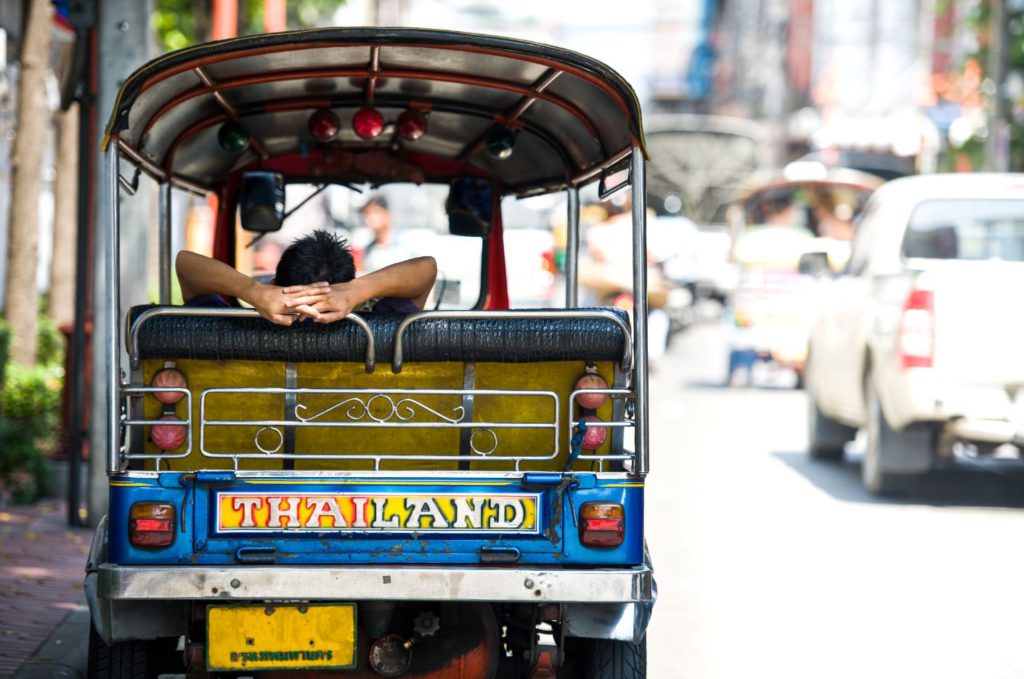 Thailand is quite well connected with flights, buses, trains and ferries to almost all cities and islands. Public transport is usually quite cheap and the services are about average. Do not expect a lot of the price.
There can be slight delays in schedule, and crowded buses with little or no air conditioning. Sometimes you may encounter unclean bathrooms or bed sheets but don't ponder over it for too long. Most of the mainland has excellent roadways and private taxis are available for long-distance rides as well.
Flights
Most of the big and medium-sized cities in Thailand have at least a domestic airport and the flights are frequent and really cheap. If you book in advance, it may even cost you cheaper than a bus or railway. Some of the cities which have an airport include Phuket, Krabi, Surat Thani, Koh Samui, Chiang Mai, and Chiang Rai.
Railways
Train is not the most popular way to travel in Thailand these days but it sure is cheap. Trains do not connect all cities except the major ones. But if you want to take an overnight train to Surat Thani or Chiang Mai, it's a great way to enjoy the Thai landscape along with a great local experience. Book train tickets here.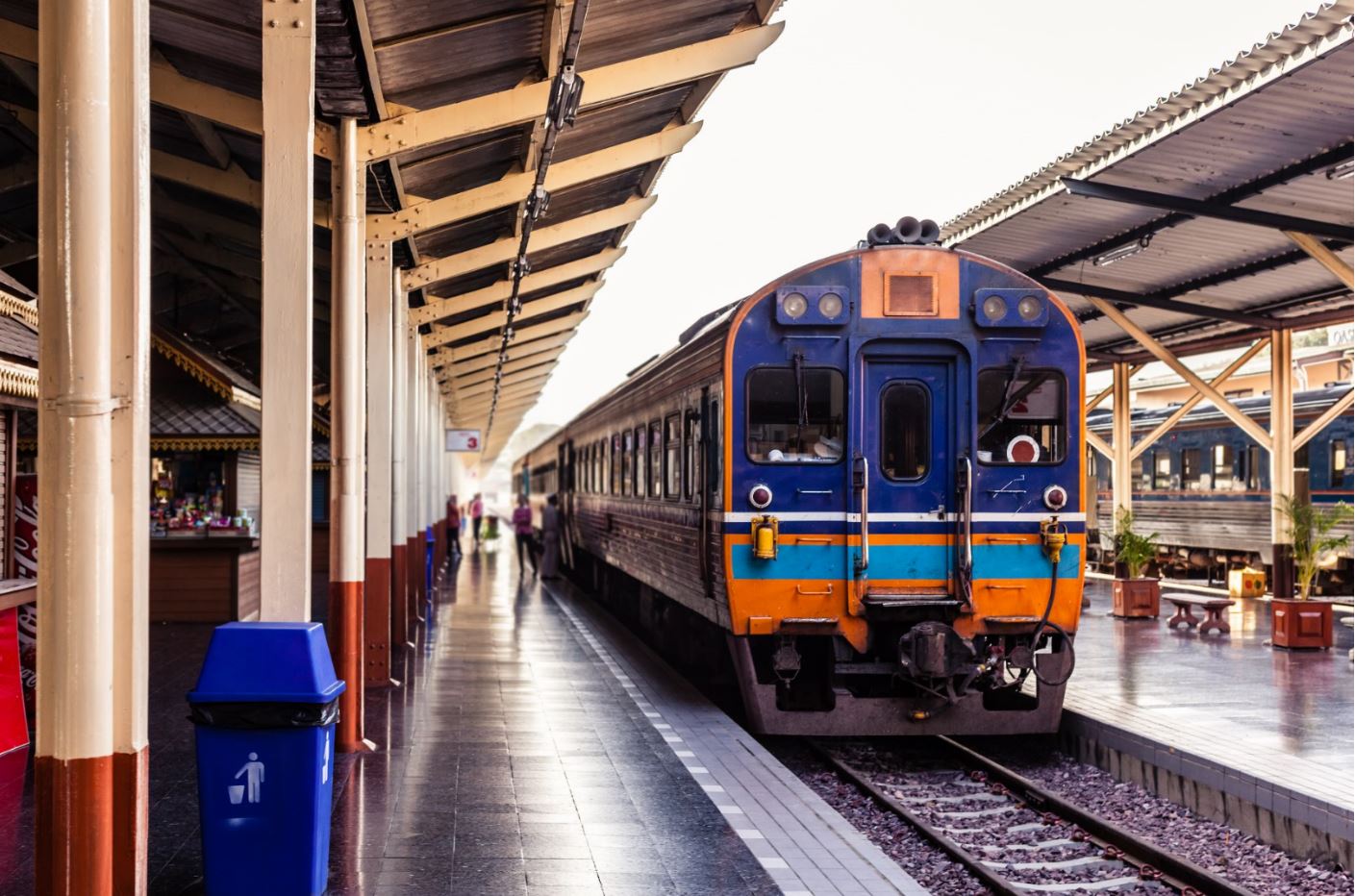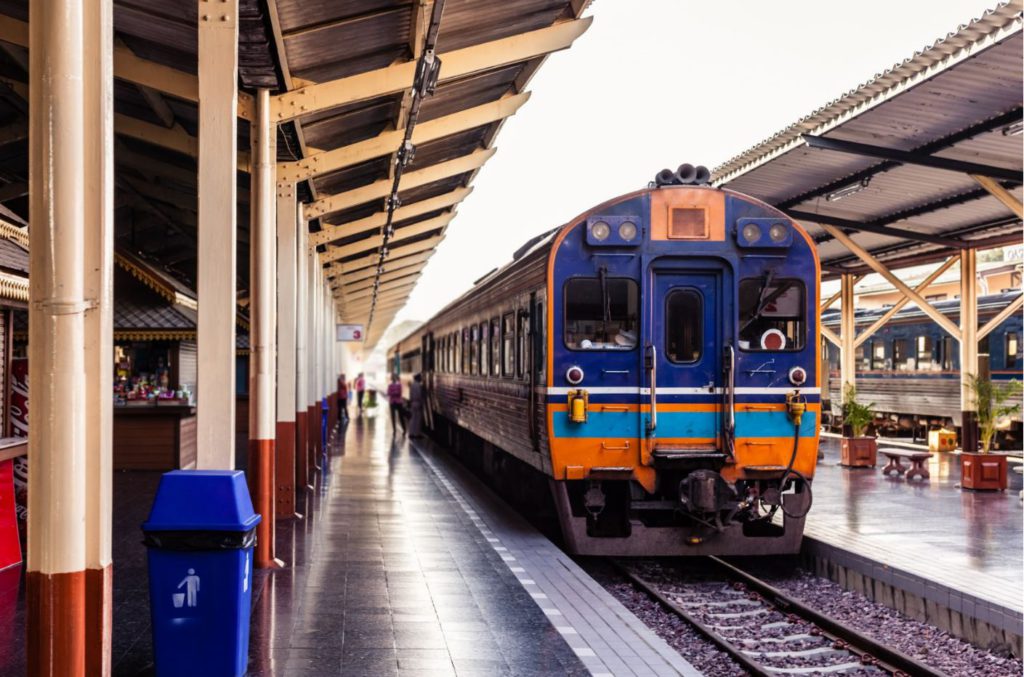 Bus
Apart from Air, Bus is the second most popular mode of transportation. These connect almost every part of Thailand with fantastic highways. Some of the new buses are so equipped that they have toilets, attendants, blankets, a TV, a neck pillow, snacks, and even a simple complimentary dinner. You can book buses in Thailand on Bookaway.com or 12go.asia.com with some additional service fees.
Roadways
Apart from these, there are frequent minibuses available on the short route. These also go to places like national parks that buses cannot access. They connect the most remote of villages and are very convenient for airport transfers and group travel
A great way to travel inside Thailand independently is by renting a car and driving yourself if you are comfortable driving on south-east Asian roads. This gives you a lot of flexibility to stay at places as long as you want and wander to remote corners to enjoy the Thai countryside. Cars on rent are widely available in most Thai cities. If you wish to book online you can head over to discovercars.com
Waterway
Ferries are the backbone that supports all local and tourist activities in the southern region of Thailand. Ferries from the major ports on the mainland to all the popular islands are frequent and well-serviced. Although, if possible buy the ticket beforehand during the peak seasons to avoid uncertainties. Ferries are subject to cancellation if the weather conditions get inadequate. You can book ferry tickets here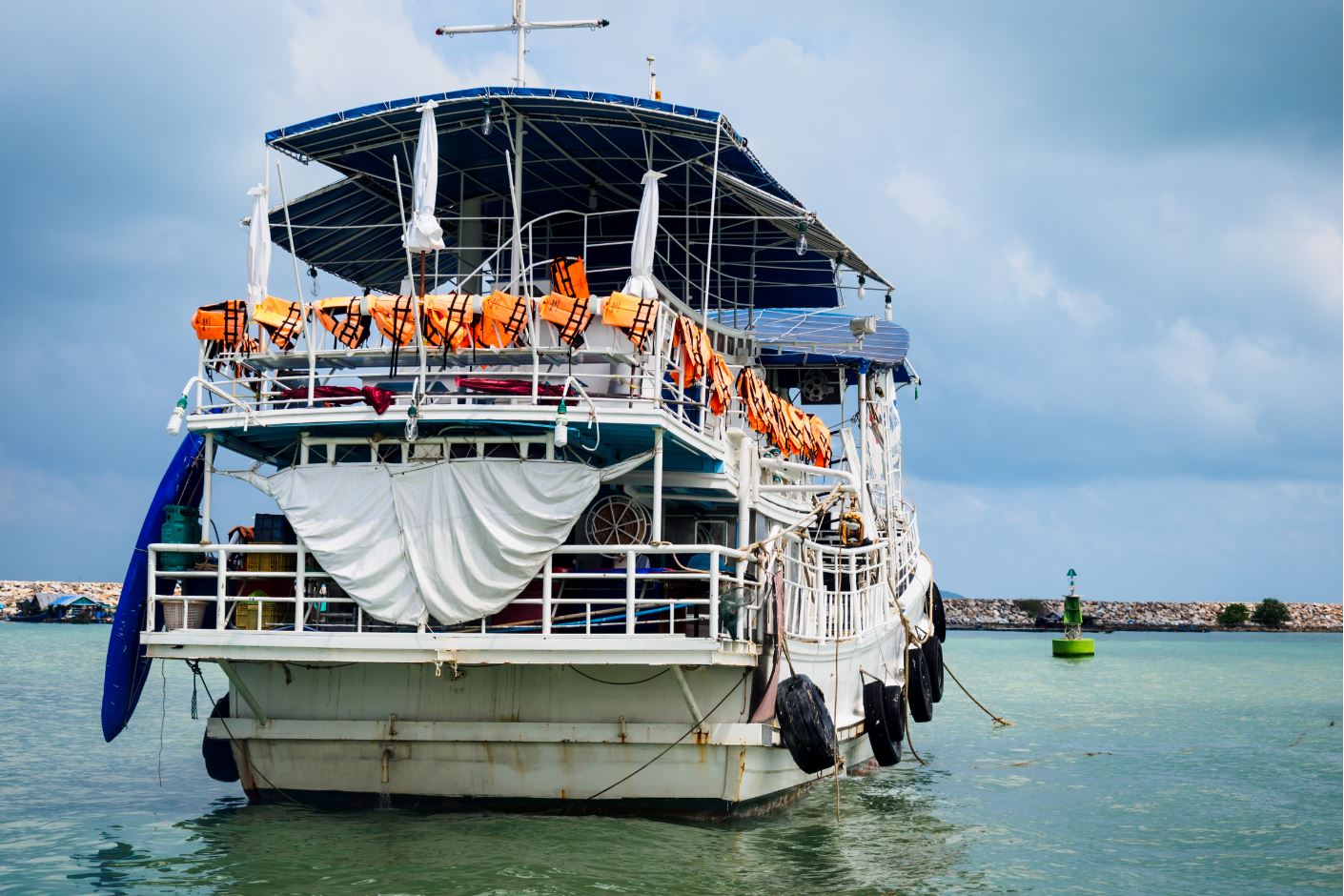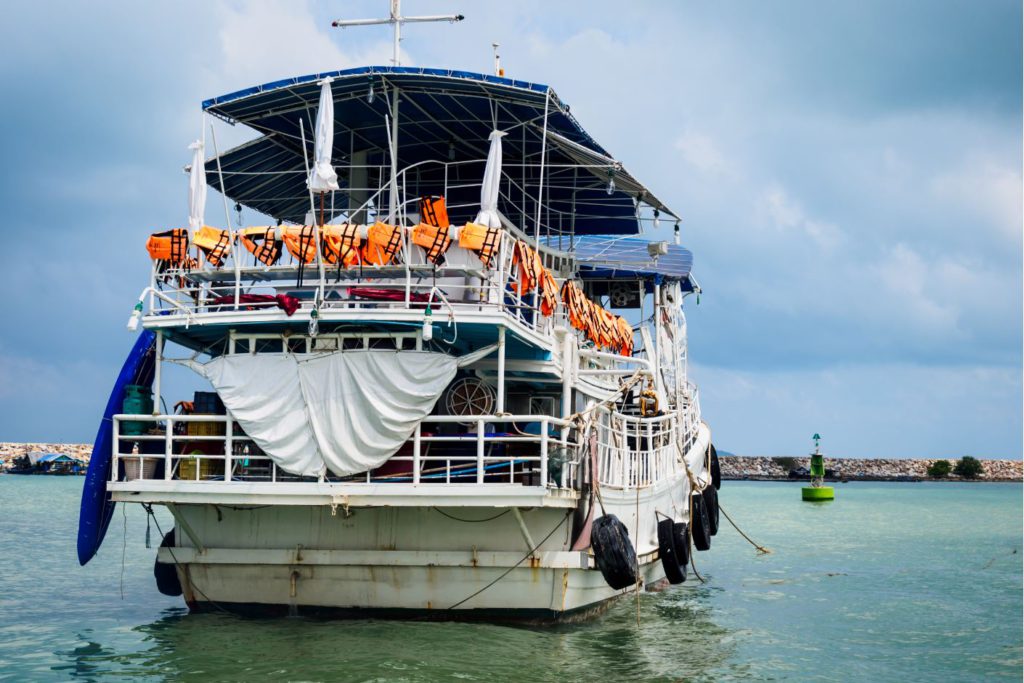 Thailand Travel Itinerary Summary
Here is a summary of Thailand travel itinerary from short term travel to long vacations up to a month's time.
1-3 days: Bangkok -> Pattaya
5-7 days: Phuket -> Phi Phi Islands -> Krabi -> Bangkok -> Pattaya
8-10 days: Phuket -> Phi Phi Islands -> Krabi -> Koh Samui -> Koh Phangan -> Bangkok -> Pattaya
12-15 days: Phuket -> Phi Phi Islands -> Krabi -> Koh Samui -> Koh Phangan -> Bangkok -> Pattaya -> Chinag Mai -> Chiang Rai
20 days: Phuket -> Phi Phi Islands -> Krabi -> Koh Samui -> Koh Phangan -> Bangkok -> Pattaya -> Ayutthaya -> Khao Yai National Park -> Sukhothai -> Chiang Mai -> Chiang Rai
Thailand Travel Itinerary For 1-3 Days
If you are traveling to Thailand for only a short period of time or have an extended work benefit, you can look at exploring Bangkok and if time permits, Pattaya.
Bangkok has a lot to explore depending upon what would you like to do. The city gets seriously happening on weekends and the nightlife upgrades. Culturally rich places will include the heart of Bangkok with most of the temples, Chinatown, and bustling night markets. Other than that there are also a few places right nearby Bangkok like the floating market, the ancient city and Wat Samphran.
Similarly, Pattaya has a loud and enticing nightlife with a walking street filled with wild GoGo bars organizing ping-pong shows and strip clubs. Although it may sound exotic, it is not always that charming to see. Pattaya also has one of the best floating markets in Thailand.
A trip to Koh Larn, Koh Samet and Koh Kham, islands which are close are great to see some white sand beaches without going all the way to south Thailand. You can take a bus or a train to Pattaya for less than 200 Bhat. A cab will cost you 800 Baht if you can negotiate well.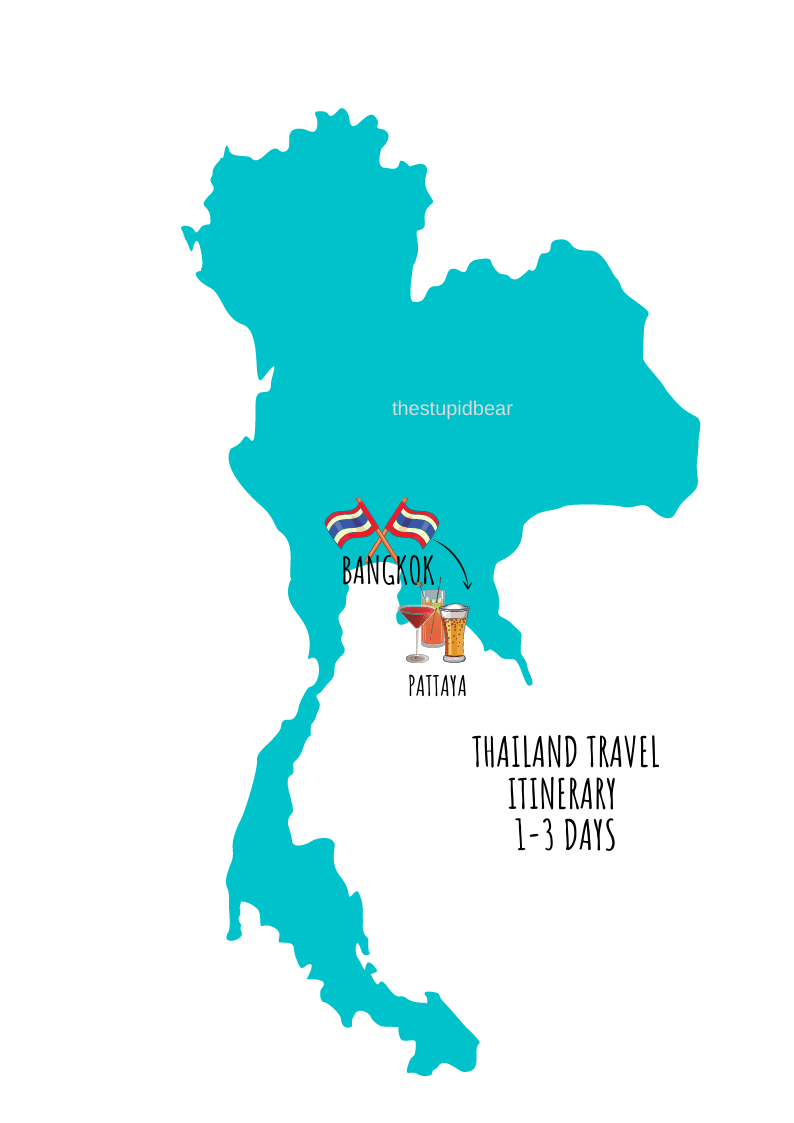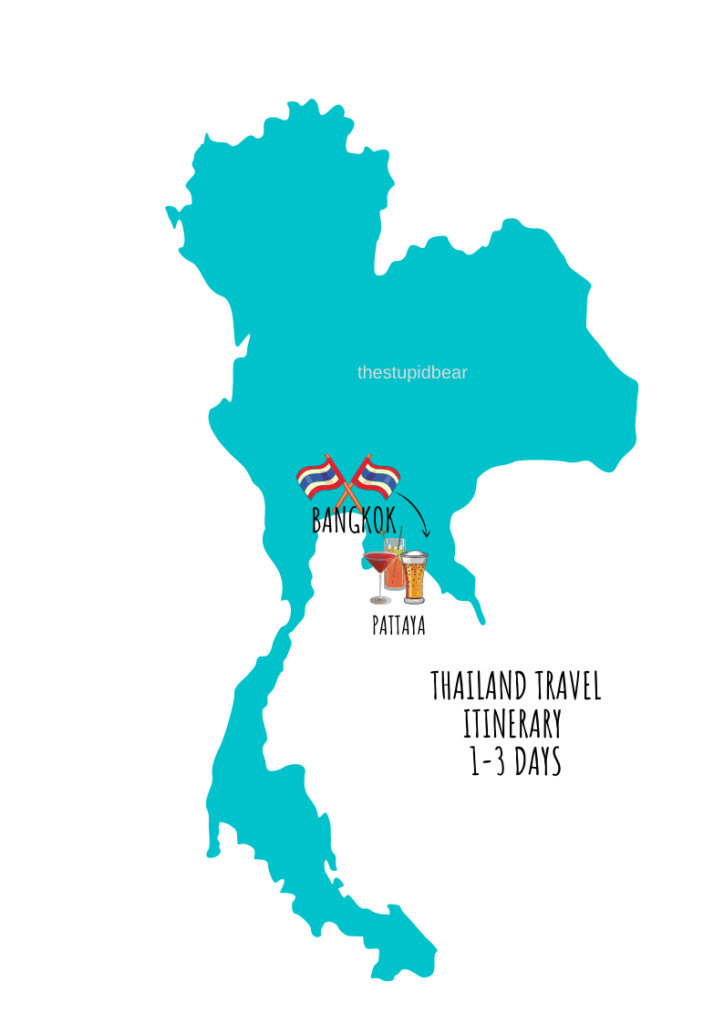 Thailand Itinerary: 5-7 Days
If you are planning around 5-7 days you should head south. The pristine and famous beaches are an integral part of Thailand travel itinerary. In this case, start your journey from Phuket if you can get a direct flight to it. If not, you can get a domestic flight from Bangkok. A more elaborate way is to take a train to Surat Thani. Thereafter take a local bus or a minivan to Phuket
From Phuket head to Phi Phi islands for a day and spend at least one night on the island. A popular destination Maya bay is a must-see if you are here. However it was closed off recently for tourists because of loss of biodiversity.
You can take a ferry from Phuket to Phi Phi Islands. Another way is to head to Krabi from Phuket by road or by ferry and then do a day trip to Phi Phi islands. If you are staying in Krabi, take a four-island day tour which will take you around the best places in Krabi and throw in some snorkelling as well. Head back to Bangkok to sum it up.
Love Beaches? 3 Days at Krabi with an Unbeatable Itinerary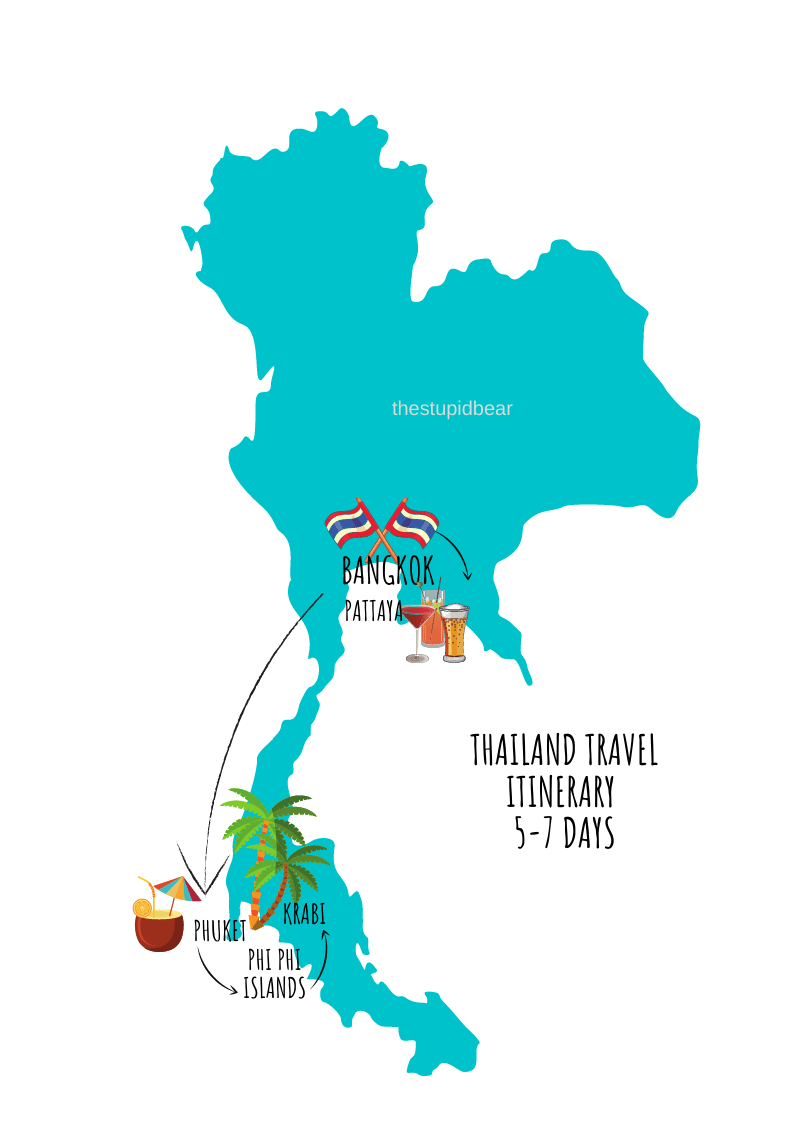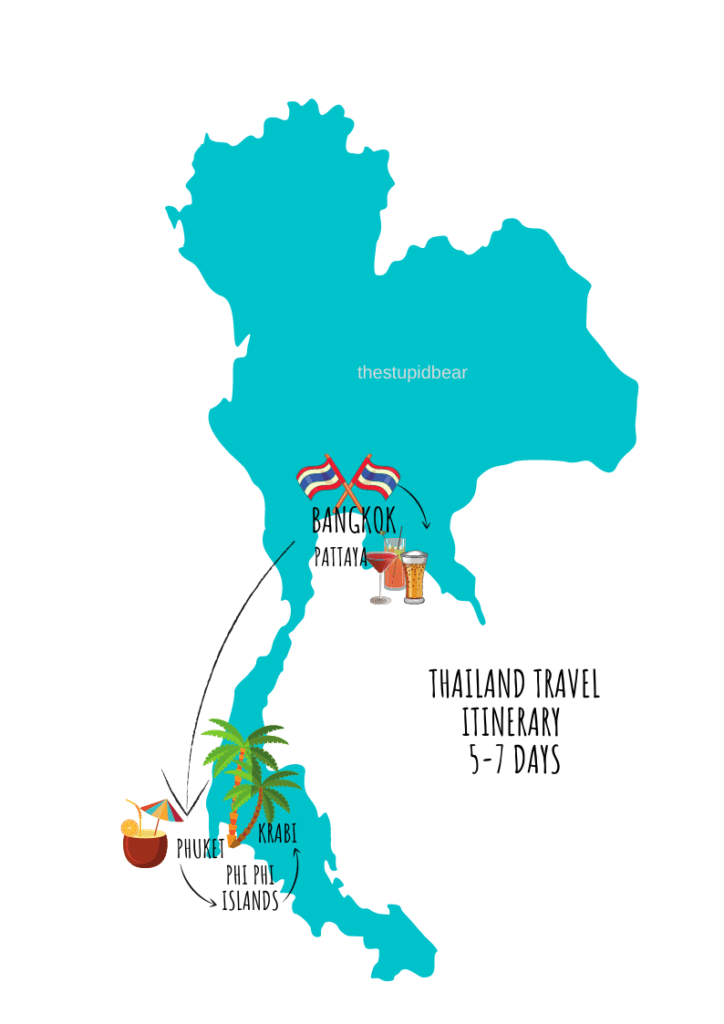 Thailand Itinerary: 8-10 Days
A standard week-long vacation will give you more time in this lovely country. But you can either opt to throw in more places in your trip. Or you can choose to spend a longer time in the existing Thailand travel itinerary.
In case you want to explore a wild side, you can hop on to the other side of Thai islands to Koh Samui and Koh Phangan. While the beaches remain similar to that of the west coast, there is something here which Thailand has become infamous for – 'Full moon parties'.
Full moon parties are held in the island of Koh Phangan at least once a month. Of course, there are other smaller parties which are equally loud, crowded and wild. This is more liked by backpackers and younger crowd and may not suit everyone's taste. Be prepared to be up for a sleepless night.
You can reach Koh Samui by going to the nearest pier from Surat Thani and take a ferry. There is also an airport on the island of Koh Samui. Ferries are frequent from Koh Samui to Koh Phangan and often increase in frequency during full moon parties. Ferries from Koh Samui and Koh Phangan to Bangkok are also available if you don't get seasick. But its quite a bit of travel.
Related article: Full Moon Party at Koh Phangan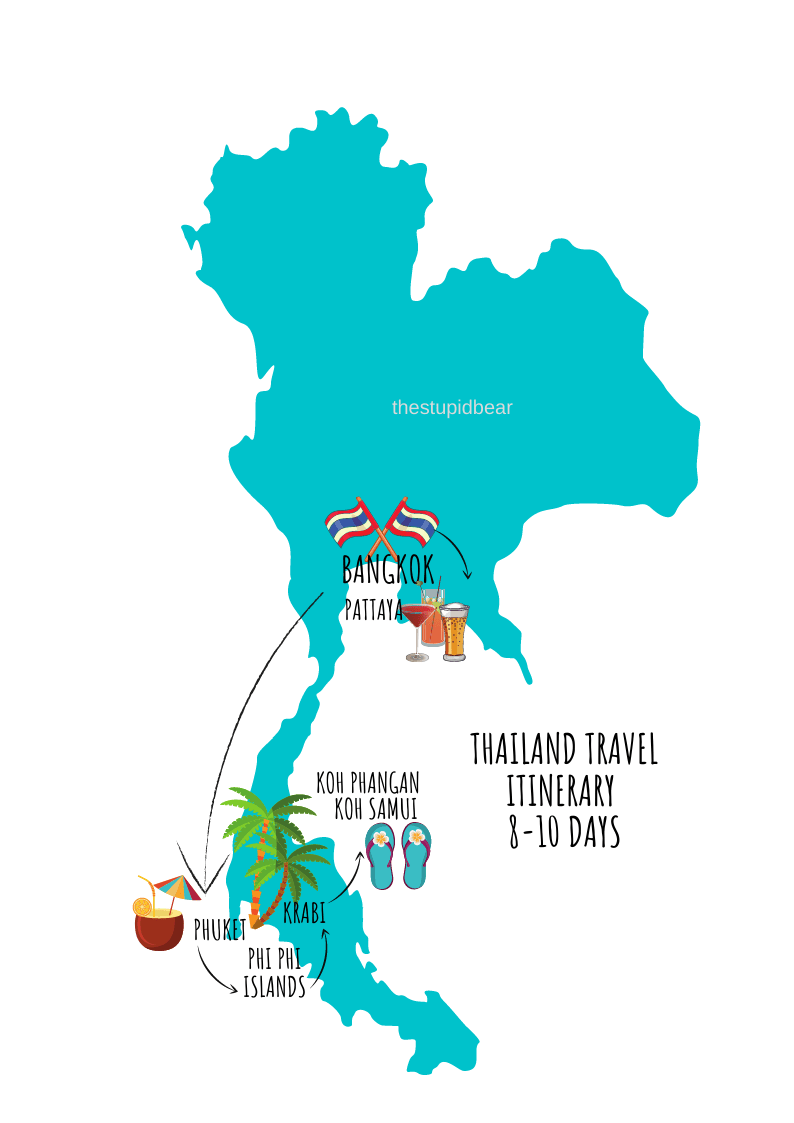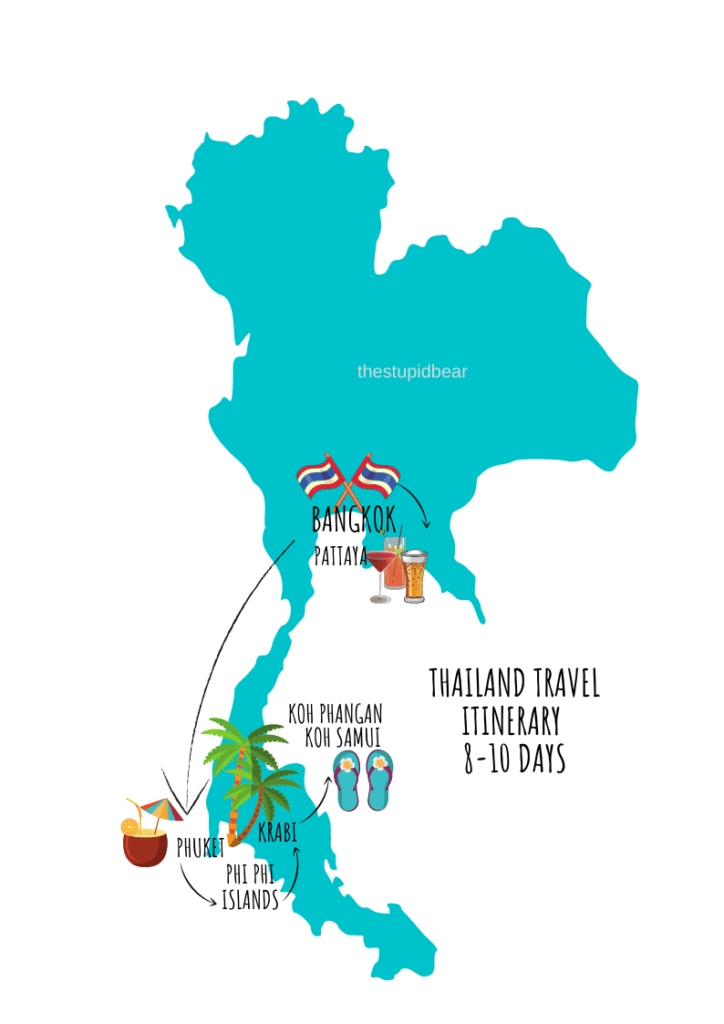 Thailand Itinerary: 12-15 Days
If you are looking for a Thailand travel itinerary for two weeks and you are done with the beaches and Bangkok, you can head north to experience a very different Thailand. Chiang Mai and Chiang Rai are two major cities in north Thailand. They both have very different typography and culture as opposed to what you have seen till now.
While Chiang Mai is a town located in the hillside with green mountains and picturesque views. Chiang Mai has various trails around the area, just outside the town for trekking and hiking. One can also camp on the mountains for an even better outdoor experience.
Chiang Mai is especially famous for its lantern festival of Yi Peng and Loi Krathong full of lights. It attracts a lot of tourists and photographers from all around the world for it
Chiang Rai, on the other hand, is located in the plains but near the border. In fact, a short drive from Chiang Rai will take you to the intersection of Thailand, Myanmar, and Laos known as the golden triangle. Chiang Rai is a cultural hub for some of the most famous Thai artists in the country.
Curious of Thai Festivals? Here are 20 Festivals In Thailand From Astonishing To Bizarre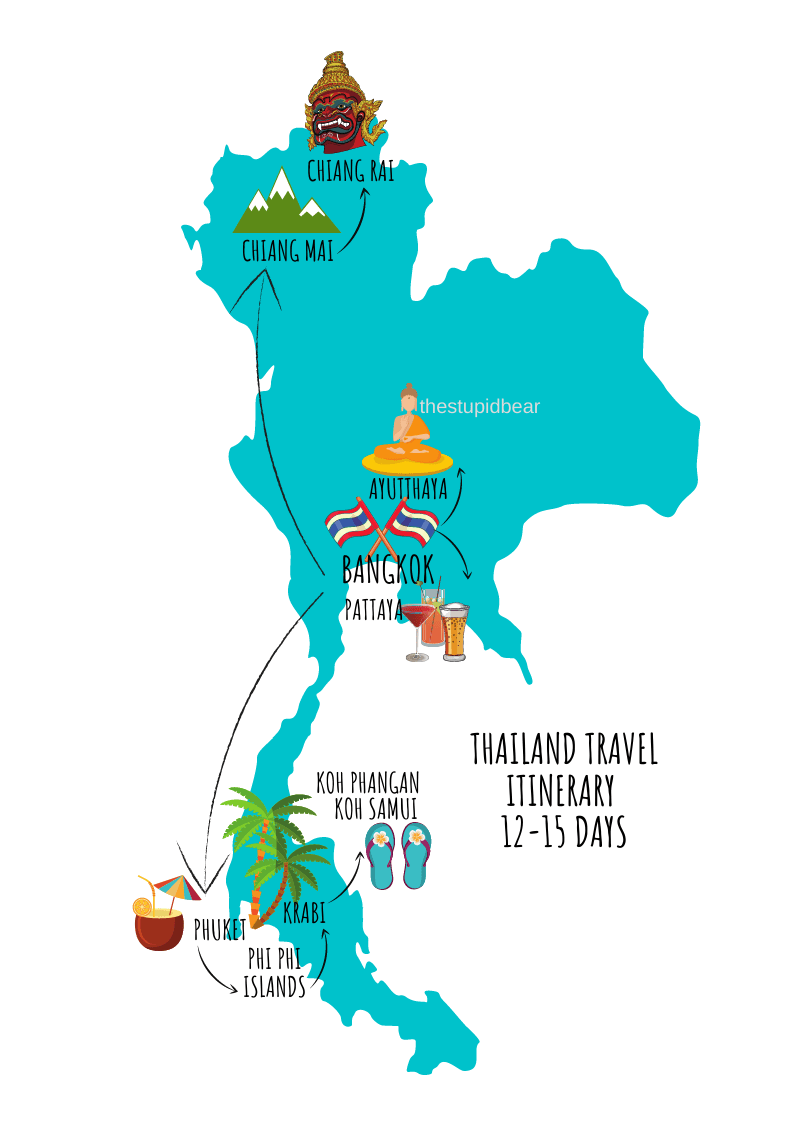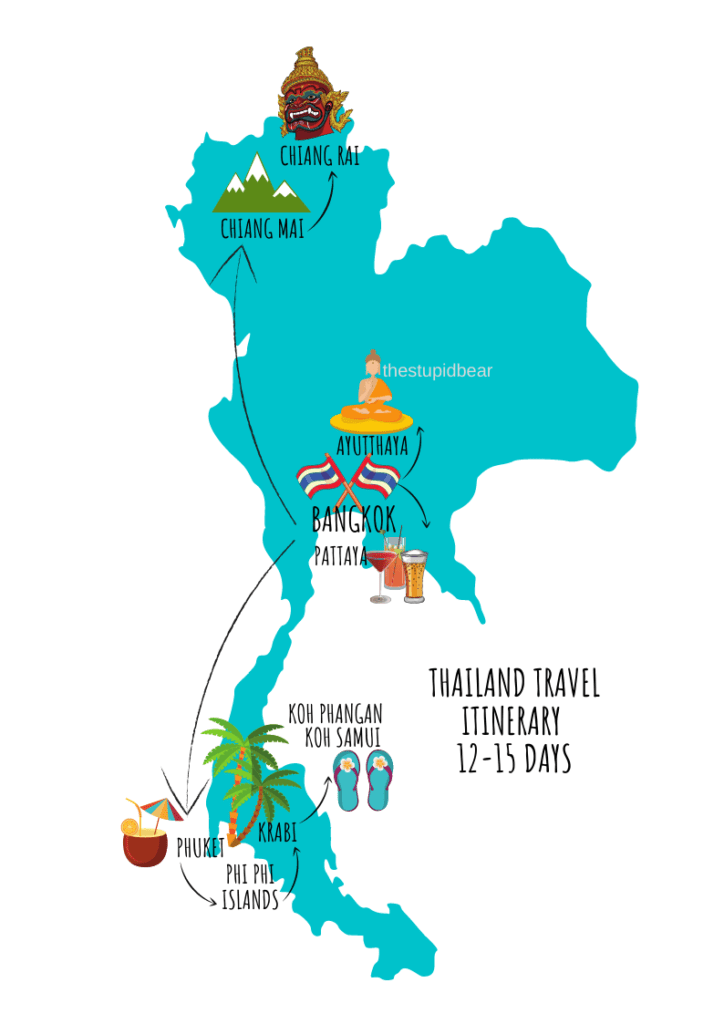 Thailand Itinerary: 20 Days
If you are planning to stay back for an unusually long time there are few more places usually missed by backpackers and tourists on a short term vacation. Apart from beaches, Thailand is also rich in forest reserves and biodiversity which could be experienced at Khao Yai National Park.
A short trip to Bangkok will also take to Erawan waterfalls, a seven-level waterfall with azure blue water to be enjoyed with some camping.
Ayutthaya and Sukhothai are old capital cities and historical sites with ruins from the Siam empire. In case, history fascinates you, you should give it a visit. Where Ayutthaya is just a day trip away from Bangkok, you will need more time to visit Sukhothai since it will take half a day to reach there from Bangkok.
Koh Tao is a small island near Koh Phangan known for cheap scuba diving classes and certification courses with hostels and food available on the island. This is often popular with long term backpackers.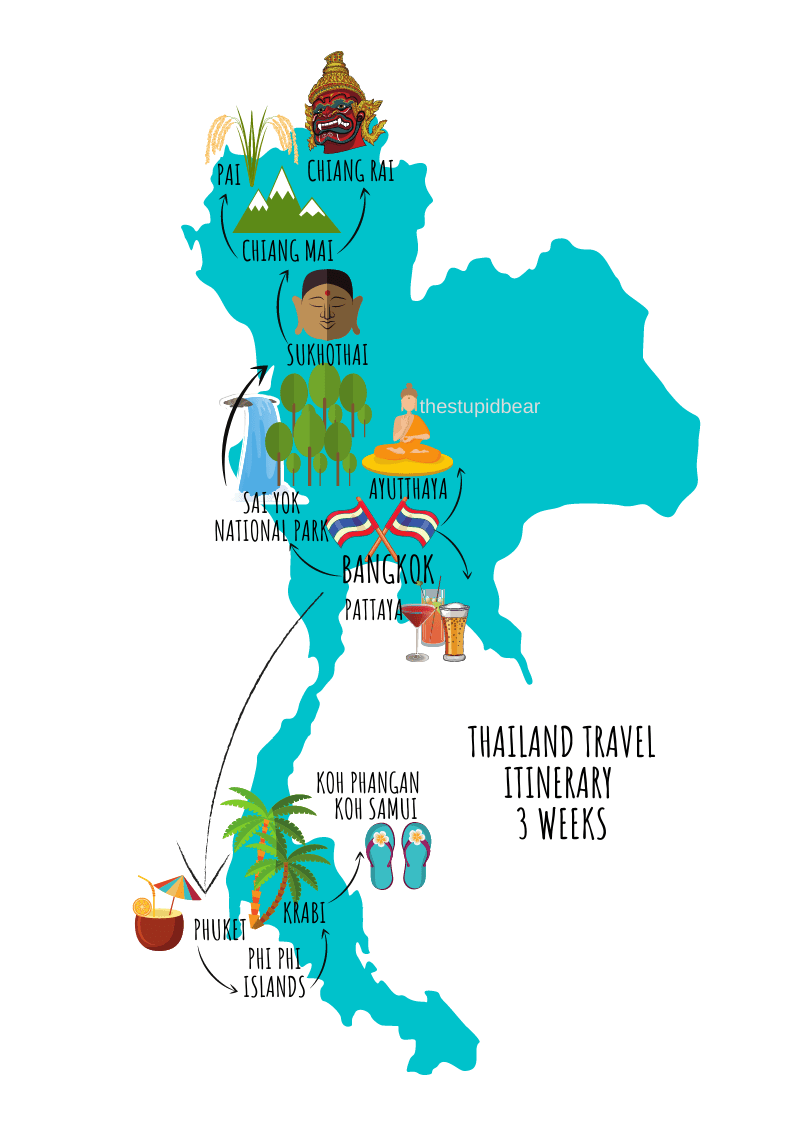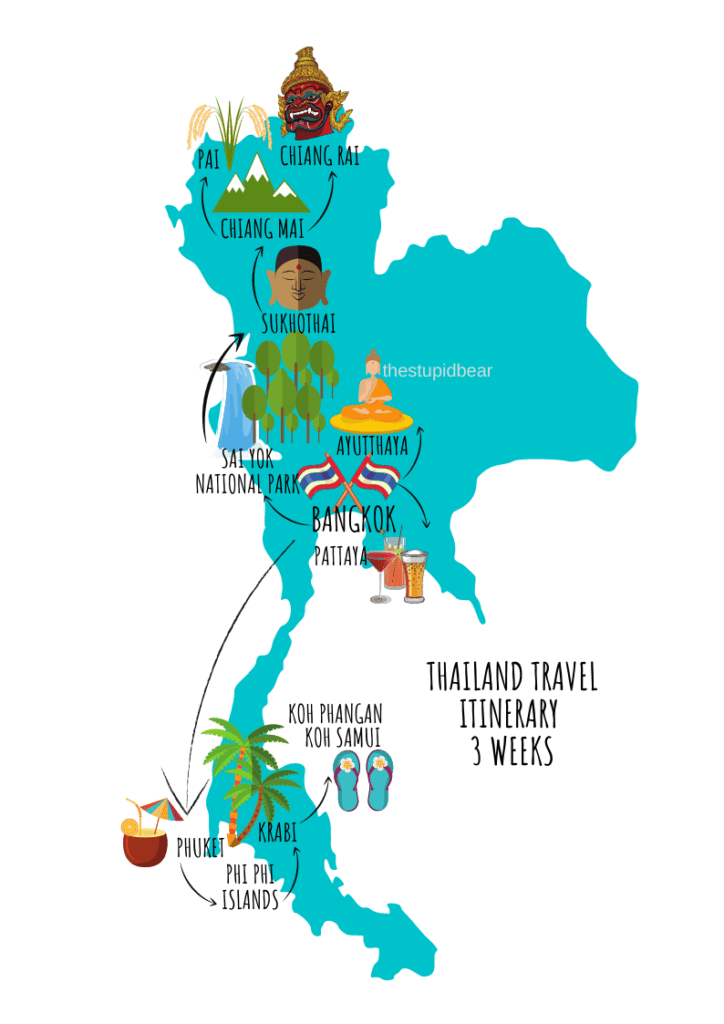 Apart from the above Thailand travel itineraries, this country still has many unexplored places but is usually not traveled to due to a lack of tourism infrastructure of language barriers. I think even if you do most of this, it will give you quite a good sense of Thailand. And why do so many people come to love it immensely.

Save on Pinterest


Related Articles