14 Jun

8 places in Chiang Rai you must not miss

When looking for an itinerary for Thailand, the most popular places you will check out will be Bangkok & Pattaya for amazing nightlife. Phuket & Krabi are fantastic for great beaches, and Koh Phi Phi and Koh Samui for pristine islands and full moon parties. But rarely do short-term backpackers come north of Thailand, to a place like Chiang Rai.

Thailand is diverse. Not only does it have turquoise blue crystal clear beaches but also thick forests with rich wildlife. Even a few mountains up in the northern country. Although to break the bad news first, you will not find mountains in Chiang Rai. They lie on the plains between the northern ranges. You need to travel a little farther from the town to get some lovely views like this.

Travelling to North Thailand? You may like our guide to Chiang Mai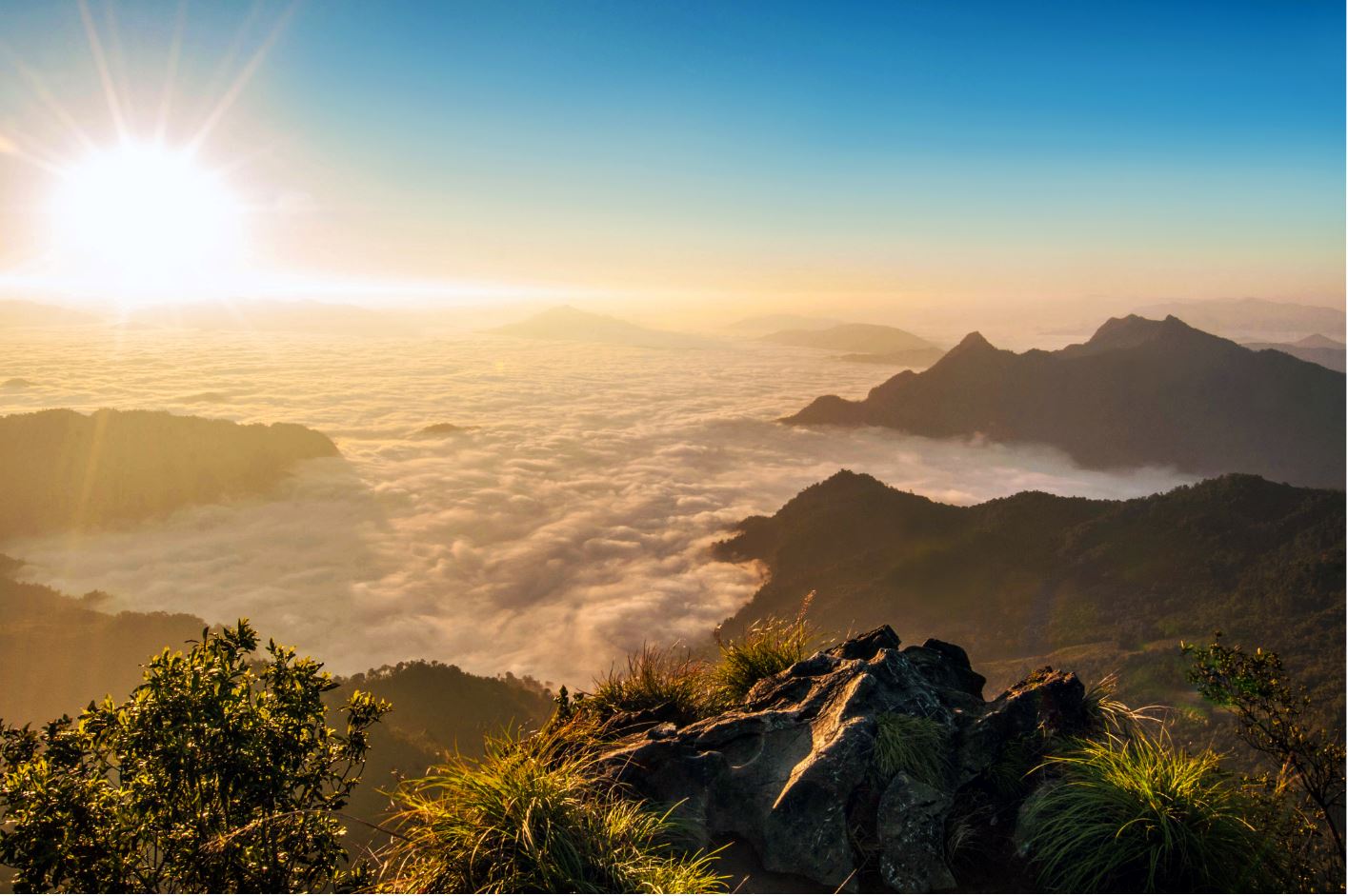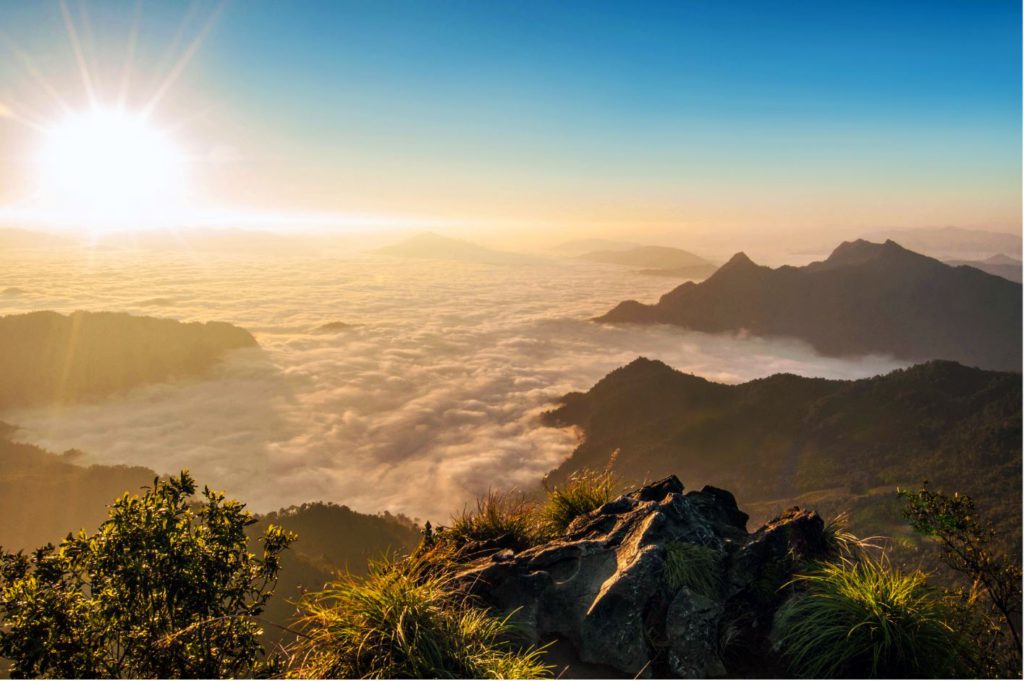 Why Should You Go To Chiang Rai?
I wouldn't say Chiang Rai is a must-visit destination. However, it is unique in its own way, unlike all other cities in Thailand.
I found that there is a special emphasis on artistic expression in Chiang Rai. Several popular artists have showcased their work around the cities by means of paintings, sculptures or architecture.
Although Chiang Rai is located on the plains, you will find some fantastic landscapes as you move outside Chiang Rai towards the surrounding hills. I think if you are in North Thailand and if you have the time, you should make the trip to Chiang Rai. It is totally worth it.
When To Visit Chiang Rai?
Here is the best time to visit Chiang Rai (in order from best to worst)
Winter  (October to February): Winter months are the best time to visit Chiang Rai. The weather is pleasant and the temperature would hover between 27-30°C. It can drop a bit further during the December end. But overall it remains pleasant. The surrounding hills are comparatively cooler and Chiang Mai experiences much cooler weather.  The skies are clear and great for outdoor activities. I suggest you bring a sweatshirt along.
Monsoon (July – September): I like monsoons. So I find it as good as any other time. However, the weather is usually hot with a temperature of over 32°C. Rainfall adds to the humidity much that can get unbearable on some days. Rainfall is heavy on some days. But most days it just rains for a few hours leaving the rest of the day open to explore. Make sure you have some solid rain gear.
Summer (March – June): Summer months are shitty to travel to Chiang Mai. Like seriously! Apart from extreme heat, you can expect heatwaves. I wouldn't suggest you travel at this time. But if you do, stay at home during mid-day and move out only after it cools off. If you are planning outdoor activities, check with the locals for any news of forest fires which are common during this time.

How To Reach Chiang Rai?
You can reach Chiang Rai by air or by road. There are no trains that run to Chiang Rai. Here is more information on it:
Air: Frequent flights run from all major cities inside Thailand. Most of them are domestic only. If you book a ticket in advance, you can get one for as less as 700 THB per person. The airport (Mae Fah Luang Airport) is simple but has basic facilities. The airport is 8 km outside Chiang Rai city. You can just hail a cab from the parking lot that will not cost you more than 150THB.
Bus: Chiang Rai is well connected with Bangkok and nearby cities. You can board an overnight bus from Bangkok's Mo Chit bus terminal. We took a VIP bus which was quite comfortable. It had reclining seats, a toilet, a neck pillow, a blanket, snacks and a TV (bring your own headphones).
There is also a simple but free dinner at a stop. You can buy your tickets at 12go.asia.com or Bookaway.com. Similar buses run from Chiang Mai (4 hour's journey) and Nan.
Minivan: Minivans run on shorter routes in Thailand. Frequent minivans run from the nearby provinces and towns around Chaing Rai like Chiang Mai, Lampang and Nan. Minivans can be stuffier but usually are a lot quicker than the bus.
If you are staying around the city centre, they can drop you off directly at your hotel. You can get a ticket at the bus station or via tour operators or at your hotel reception.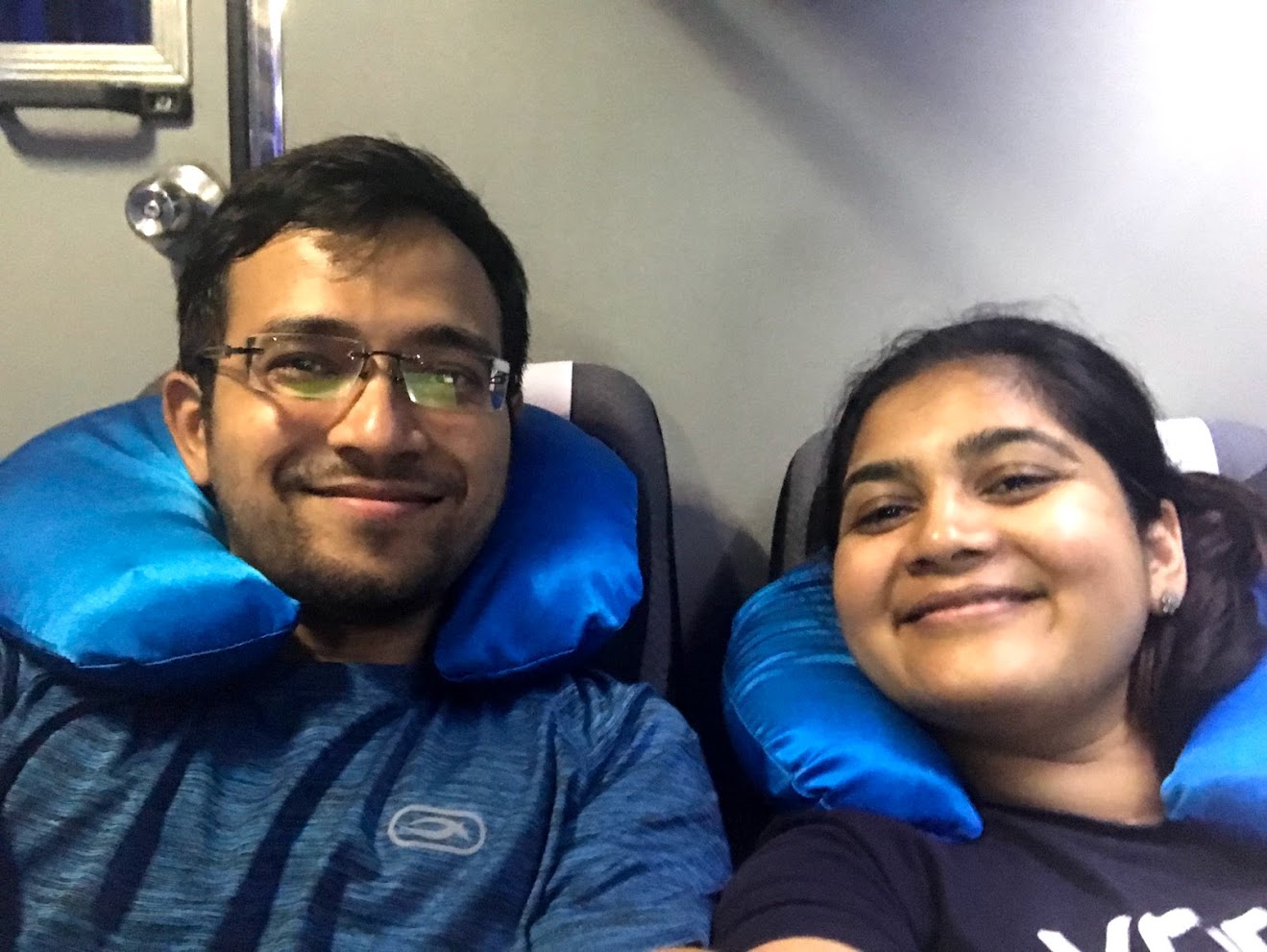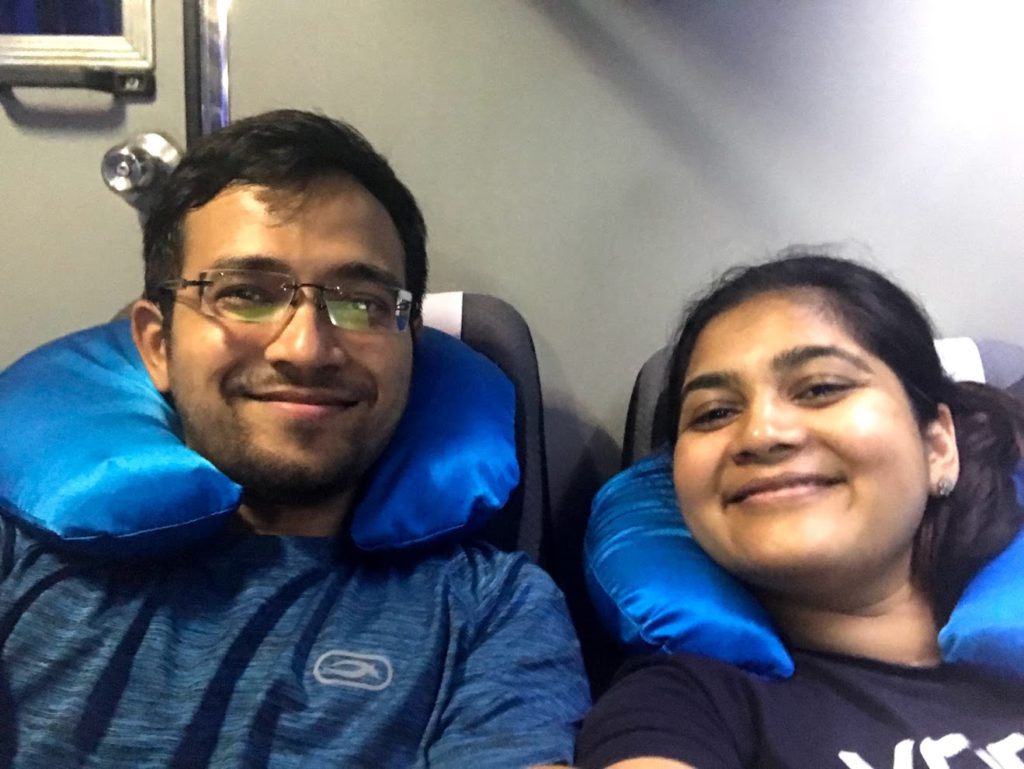 How To Go Around In Chiang Rai?
You can get a taxi in the Chiang Rai city or book a cab by Grab (app). Uber isn't available in Chiang Rai as of now. You can also hire a taxi for a day for sightseeing if you are with family or prefer comfort. There are only buses available for public transport. There is not subway system in the city.
For a cheaper, more affordable option you can rent a two-wheeler from any of the shops near the clock tower. It costs around 250 THB for day excluding fuel.
If you are traveling solo and want to cover most of Chiang Rai in a day you can also check out a day tour with guide
What To See In Chiang Rai?
I personally feel that Chiang Rai has great personal art expression. All the places, temples, museums and even the clock tower is made in a lot of detail. And most of the places have either very minimal entry fee or none at all. The only thing is you must spend some time around these places and are located a little outside the city. By the time enjoy the paddy fields.
I have compiled a list of must see places if you are in Chiang Rai for 2-3 days. But if you are planning to stay longer or are living there, check this out as well from the lost passports.
1. White Temple Or Wat Rong Khun
It's called the White temple for obvious reasons. But it's more of a contemporary, unconventional museum than a temple. It is also privately owned by the popular Thai artist Chalermchai Kositpipat who also designed it. Now, how he got rich and famous is another story. The temple premises is only halfway done and expected to finish in 2070.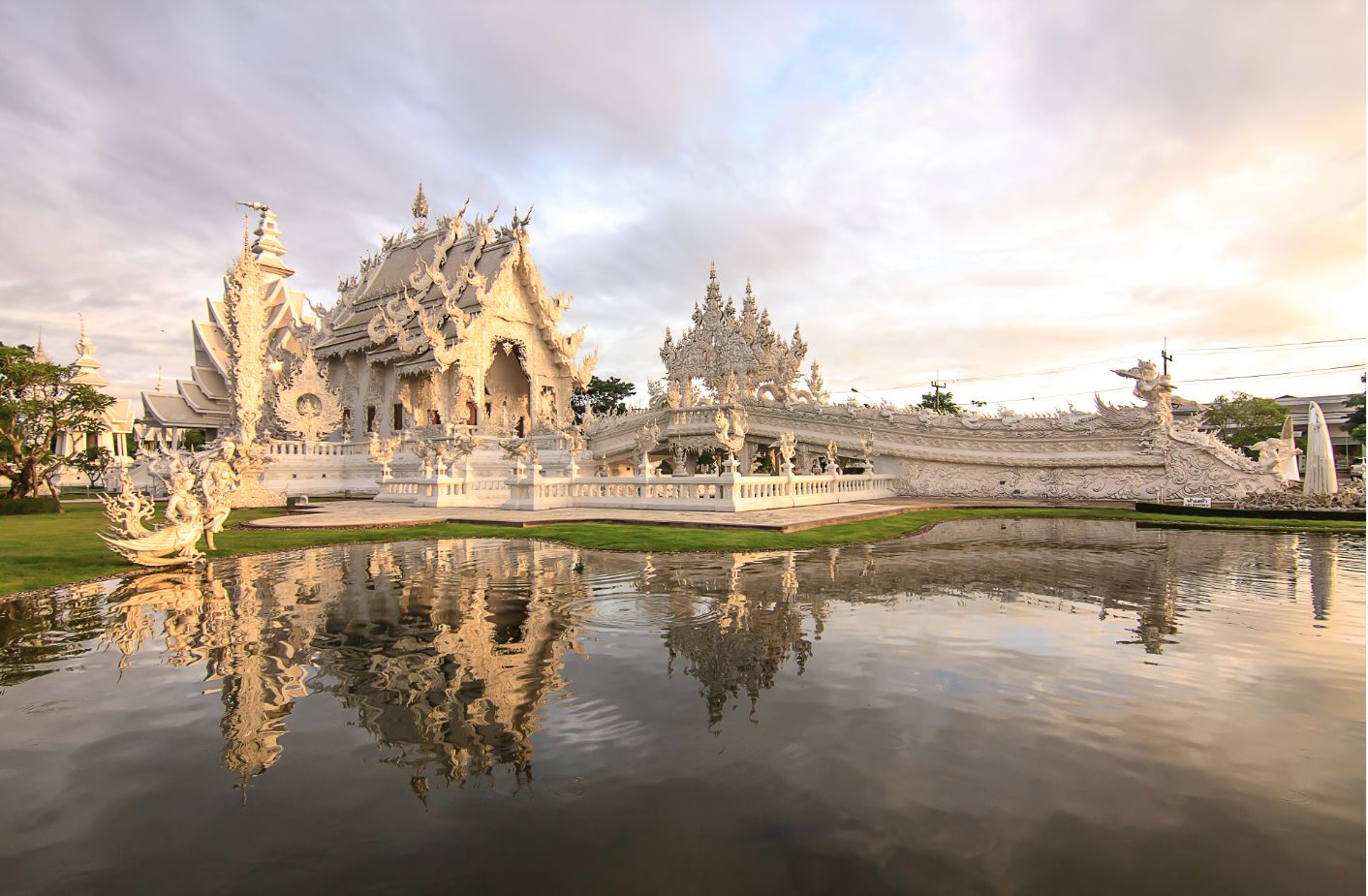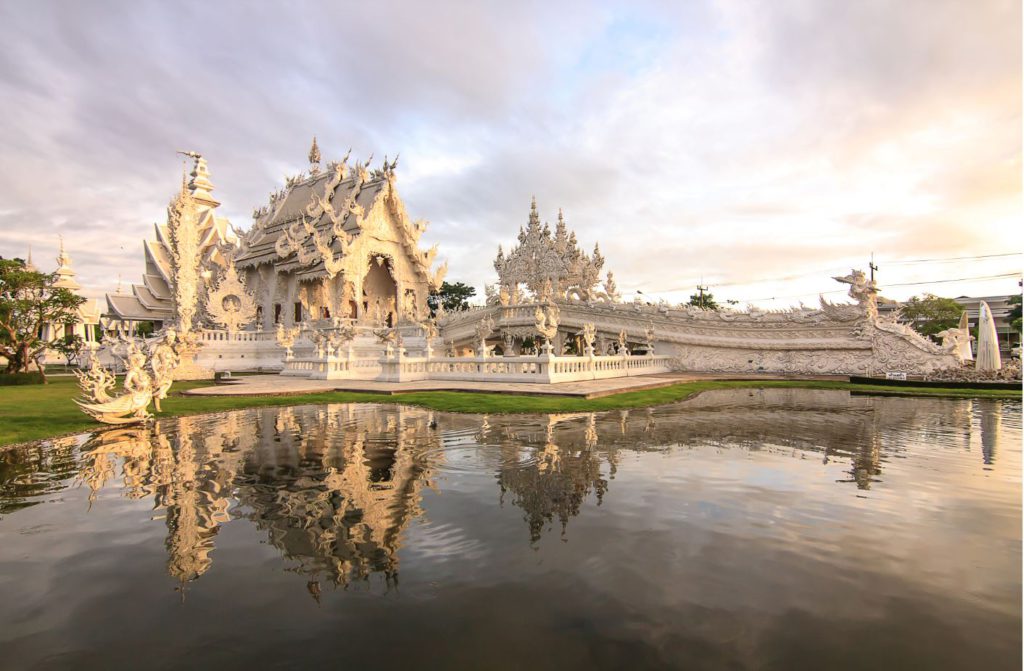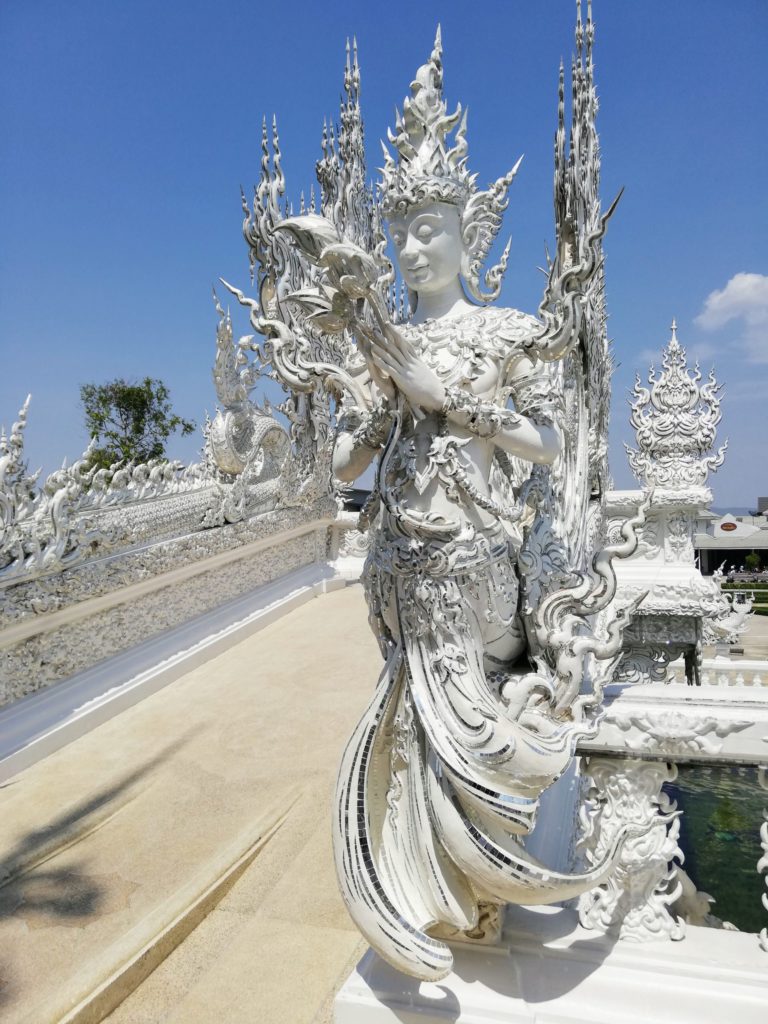 Nevertheless, made famous by the internet you can visit the temple to see some obscure forms of art. The kind of expressions that will make your head spin if you are looking to make sense of it. But believe me, it's beautiful and the time, energy and devotion that has gone to make this is very evident.
Apart from the temple, there are many other art pieces on the premises. There are waterfalls, a photo booth, eccentric statues, temples and a gallery with lovely thai traditional paintings which you must check out.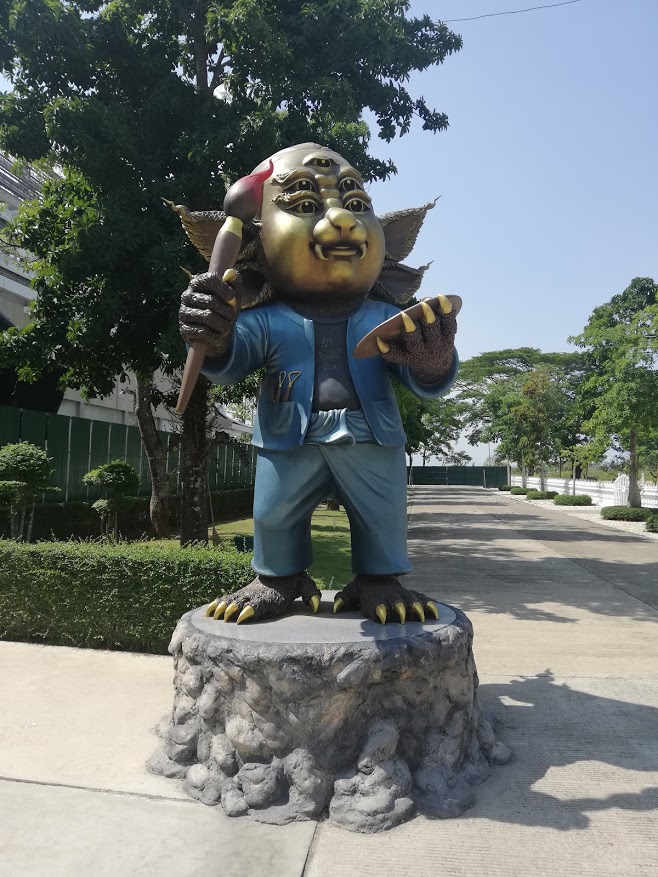 A great experience will be to ride to the temple on a bi-cycle and visit tea plantations and Big Buddha statue while coming back. But only if your fitness level agrees because it sure is a long ride.
Entry Free: Free for Thai nationals, 50 THB for tourists.
Timings: 8 am to 5 pm. The temple closes for an hour in the afternoon
Read more on a great the experience of visiting White temple by misstourist
2. Baan Dam Or The Black House
Baan Dam is another masterpiece of art or rather dark art by a popular Thai artist named Thawan Duchanee. This eclectic place is a set of 40 buildings which are museum, prayer house, bedrooms, living room, private quarters, animal shed, workshop, eatery and a lot more.
It's hard to explain the theme of the place since there isn't a guideline of what the artist wanted to do. The tourists are left to make sense of their own. But it is said that the place depicts the darkness of human beings or perhaps the dark side of Buddha's journey where he felt all the unhappiness and suffering of the creatures around him.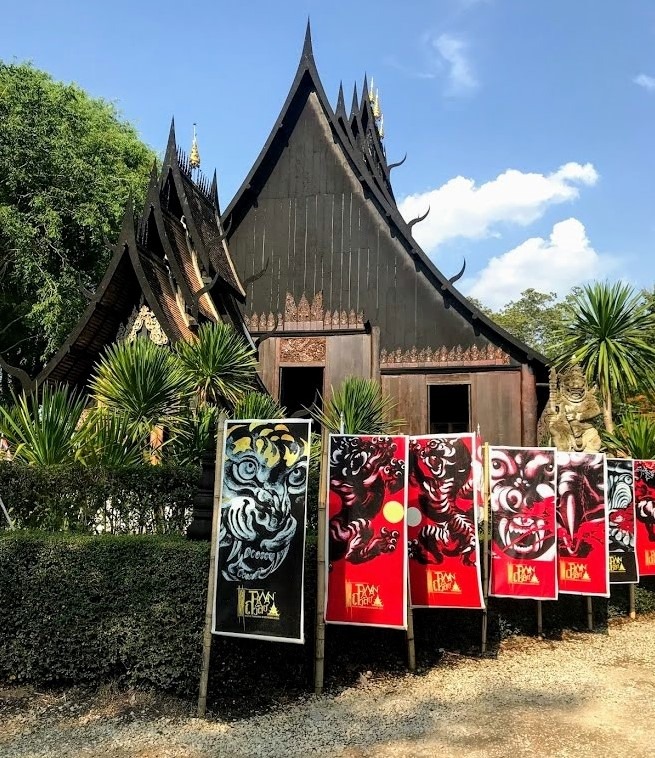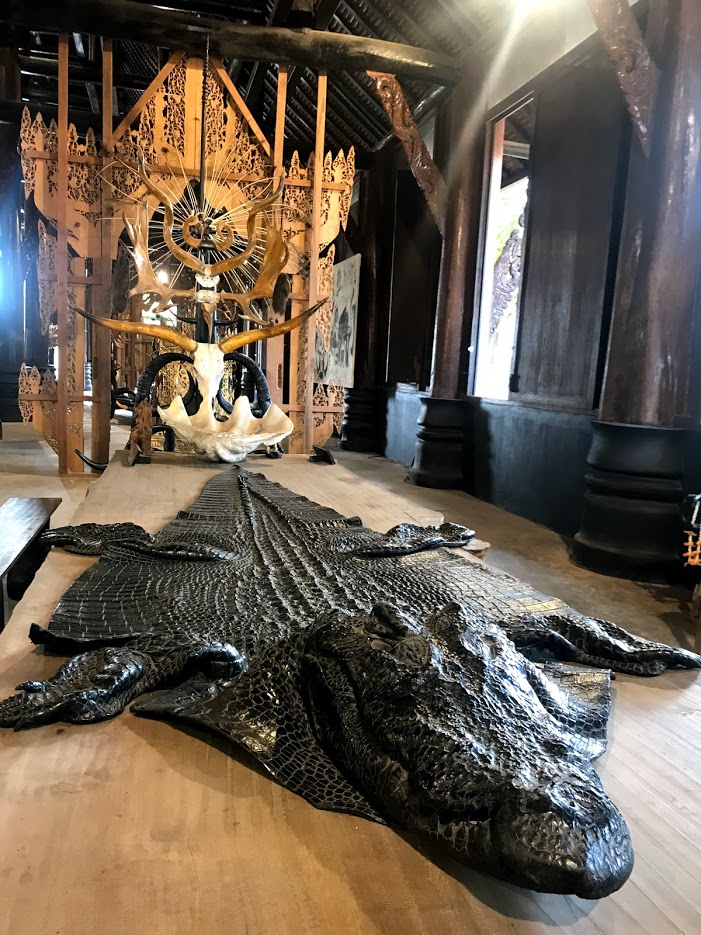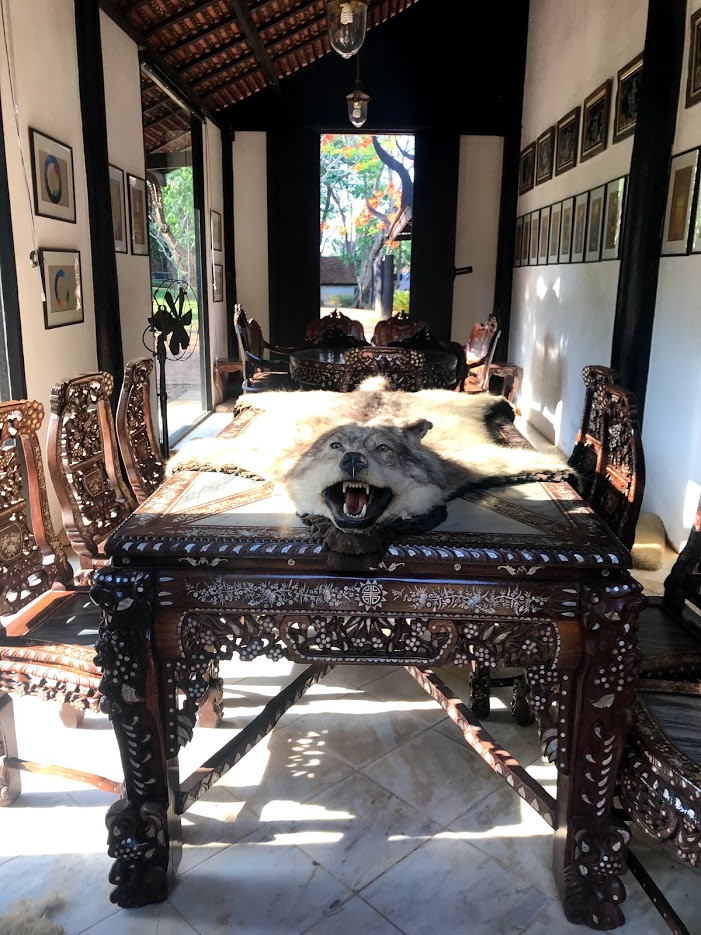 The main building gives you an idea of what you are going to see. It is a huge room with various pieces of furniture in dark wood and abstract forms. You will also find real animal skulls, crocodile carcasses, snakeskin and other body parts for ornamentation. Needless to say, it is spine-chilling.
Most of the bones were collected from animal graves. But the crocodile skins were a gift from the king of Brunei. It gives a sense of mixed feeling between the awe-inspiring art form and a strong feeling of sinister things done there.
Once you move ahead of the main building, there are many smaller buildings to see. Each has a form of dark art expression and some look like rooms of a house. There is a bedroom, living room, dining room, prayer room and more.
Although they are open from all sides and would make it really difficult to get any privacy here. There is also a workshop where you may find a few artists working on a current project.
Apart from that, there is ridiculous (and funny) imagery of an oversized phallus (penis). It is interpreted as the darker desires of the Buddha in his journey towards enlightenment. Really, please leave your kids at home.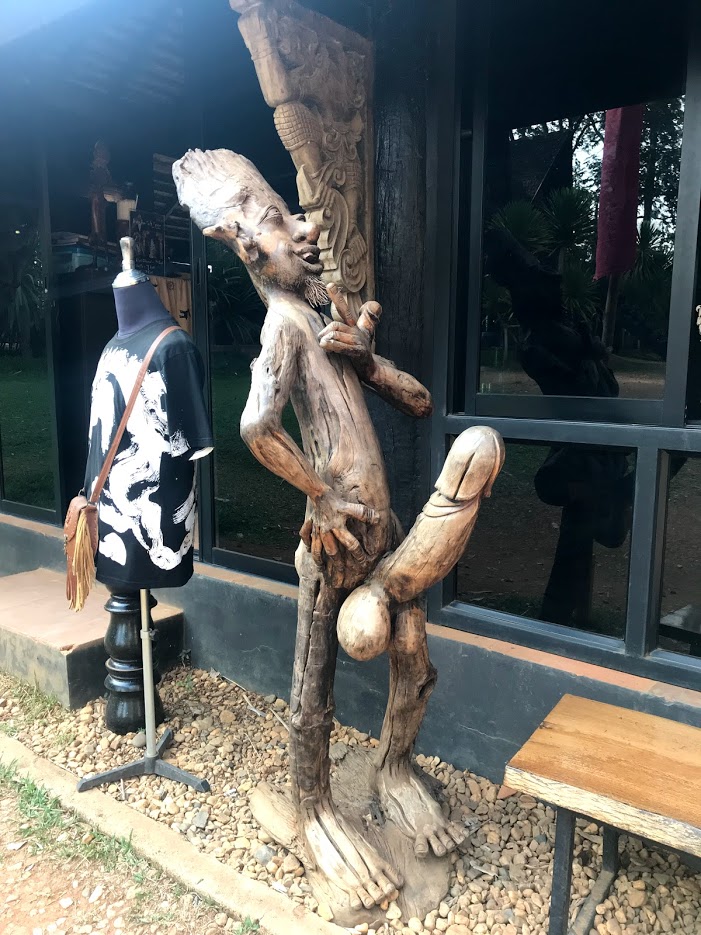 The-not-so-innocent-abroad have done a more detailed version of this place and you can check out the article here.
Entry Fee: 80 THB
Timings: 9 am to 5 pm, on all days
3. Wat Rong Seur Ten Or Blue Temple
A blue temple is a rare sight to come across, especially in Thailand where you expect to see white temples with flaming red and golden colours used for ornamentation on the ceilings and pillars. But maybe that's the approach that the artist took.
Again, like many others, this temple in Chiang Rai has also been done by an artist. Many believe him to be a student of Chalermchai Kositpipat, the artist who made the white temple.
Everything at the blue temple has been elaborately thought of. The inside of the temple is just bright blue and with ornamentation in red, golden and white. In the middle is the Buddha's statue sitting on a pedestal of lotus and a throne adorned with what looks like angel-gods.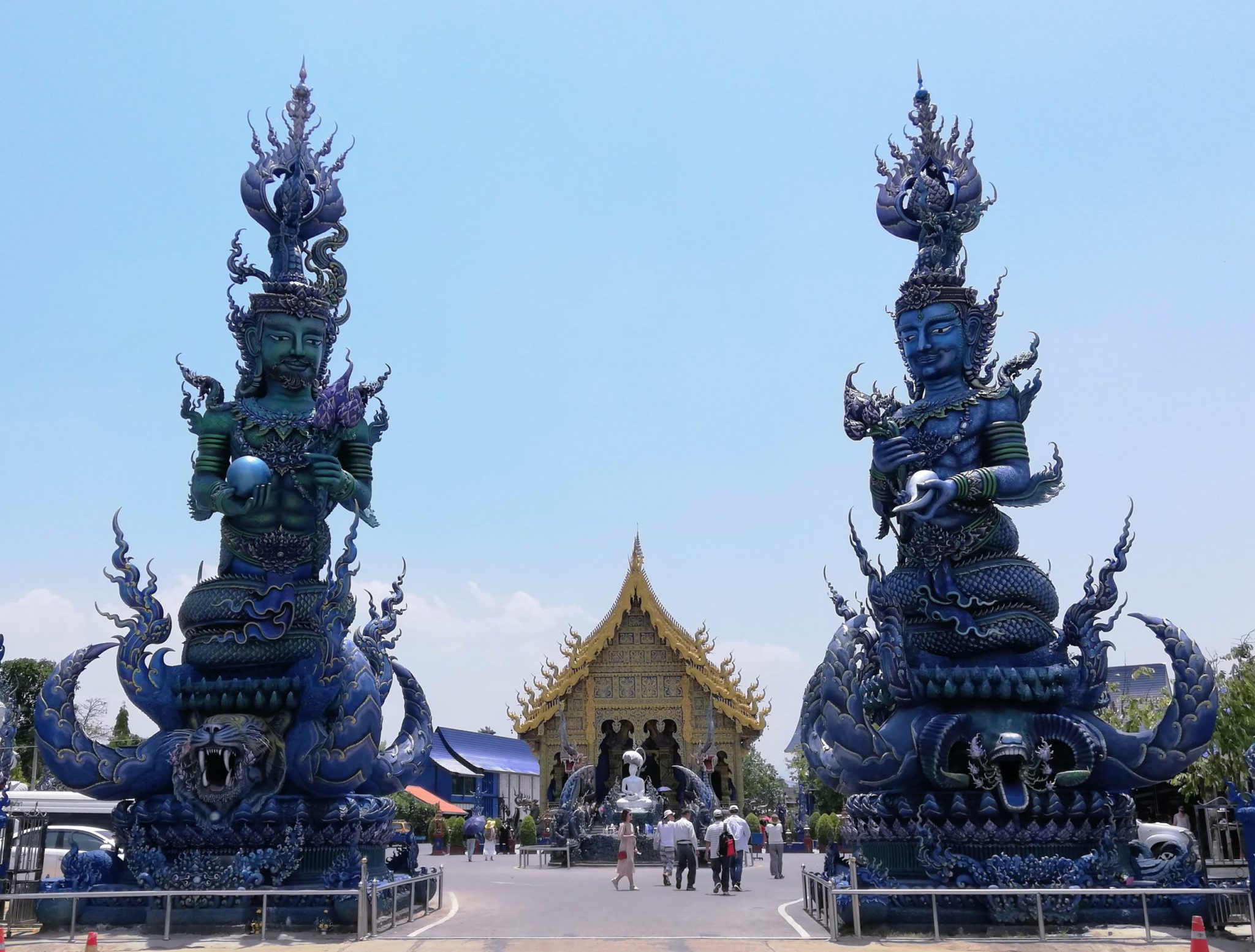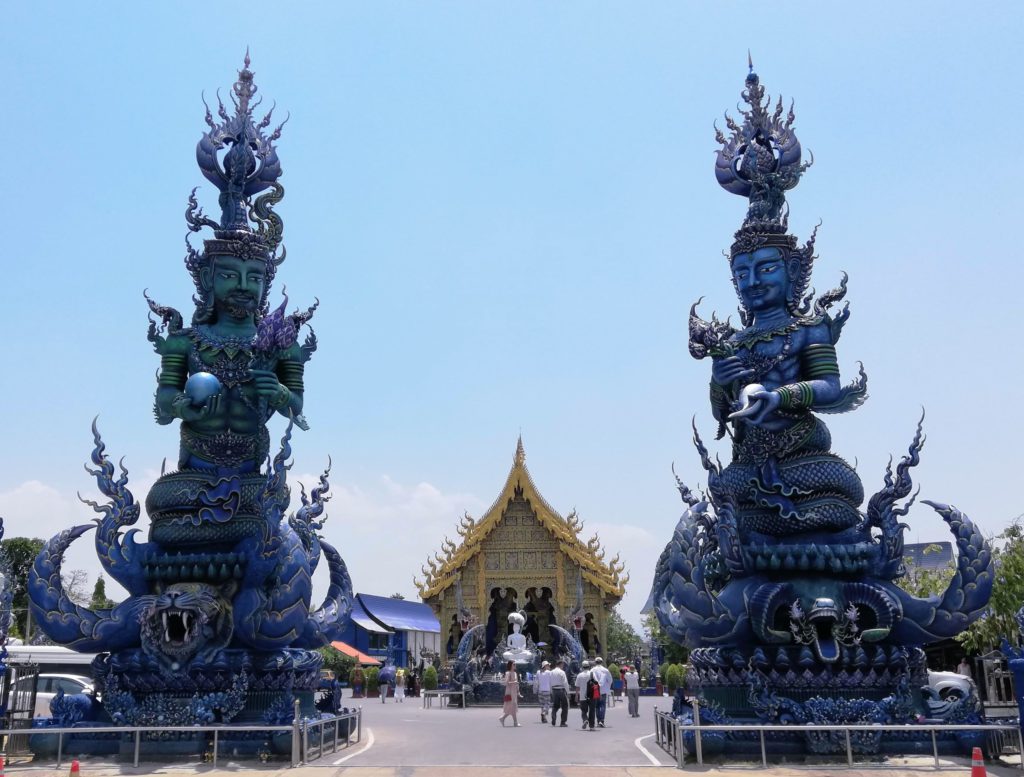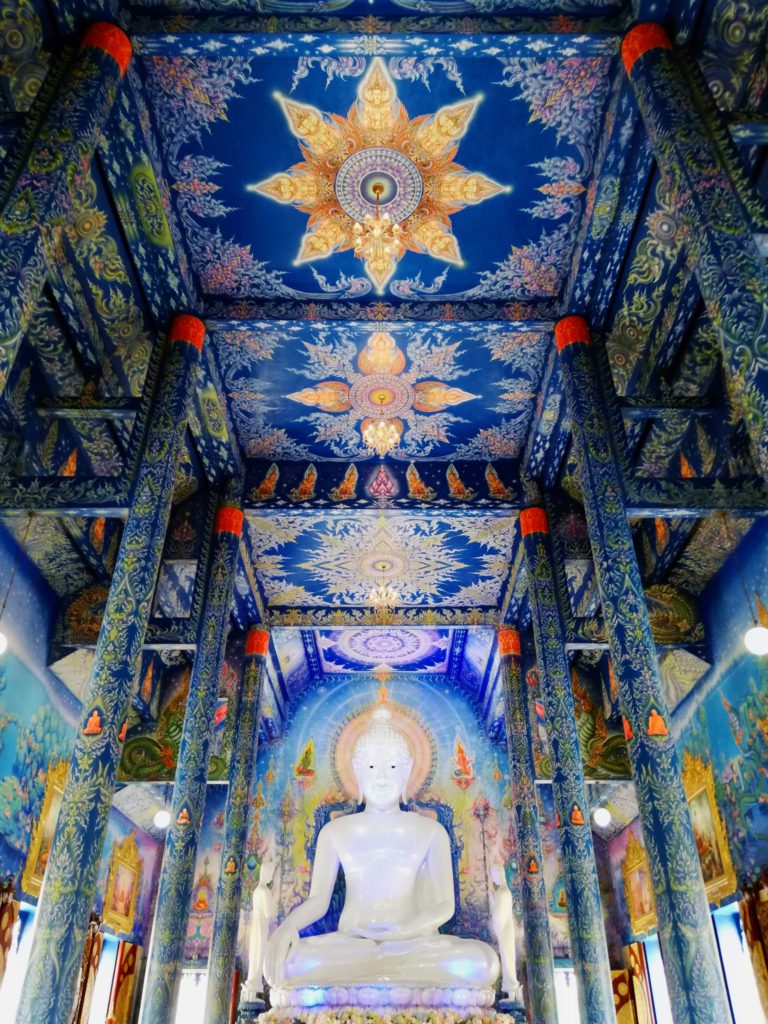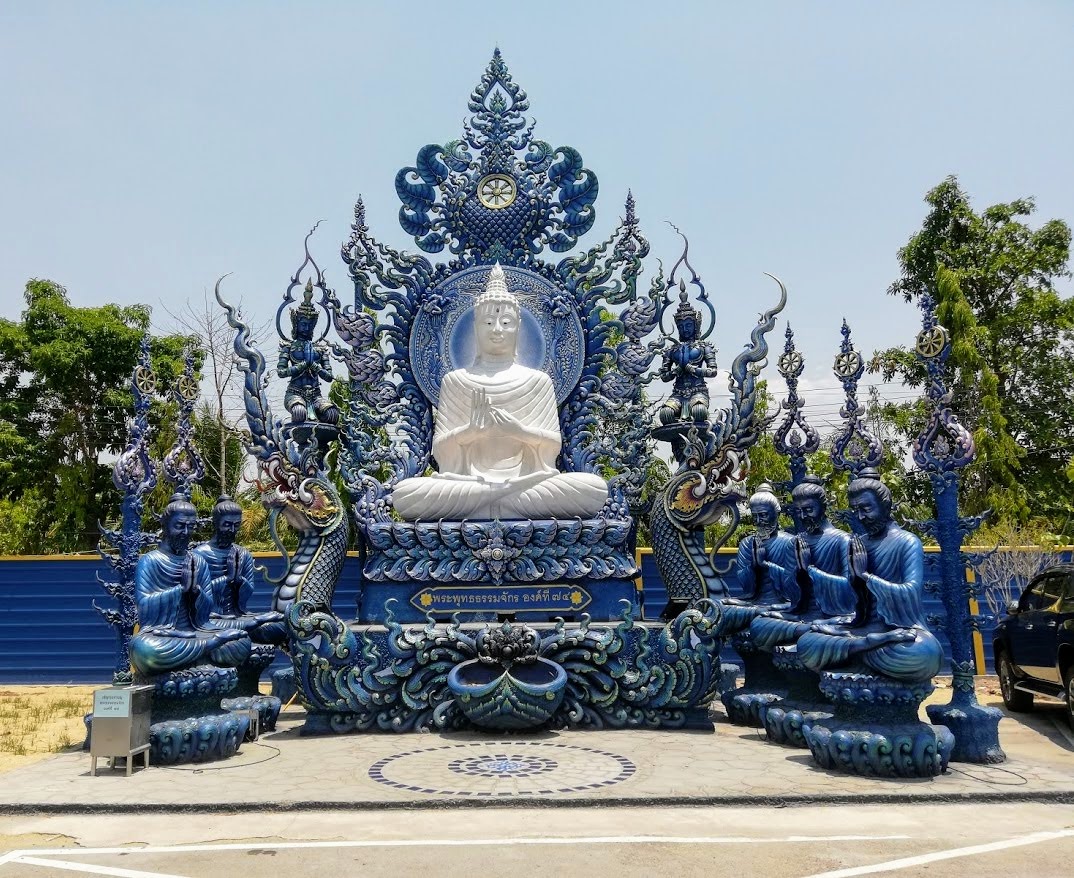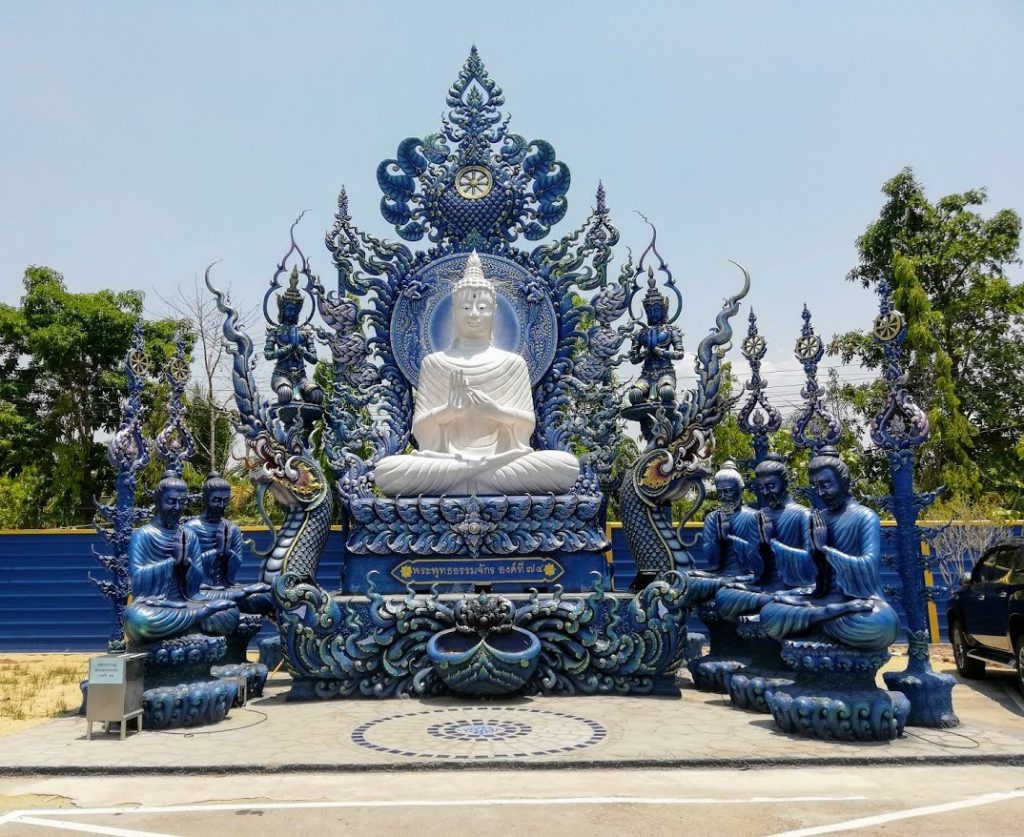 The interiors are very peaceful and it is a lovely place to spend a long time. You must dress decently though. Your shorts must not be over your knees and you must cover your shoulders.
Check out lolapan's travel page for more stunning photos
Entry Fee: Free
Timings: 8 am to 8 pm
4. Singha Park
It may look very usual or even lame park from outside as it seemed to me just like a park with a lion statue. But take half a day for this and go inside. There is a lot to do.
The park is owned by Singha Corporation co. ltd. but is open for the tourists to visit. It is so big that you may even have to rent a bike inside to cover the whole of it. There is a small zoo with animals like giraffe, ox and zebras.
You will come across a beautiful lake filled with swans to enjoy. There are rows of flower fields and you can help to pluck vegetables from the farms. An extremely inclusive and fun place to spend an afternoon along with being a great place for kids.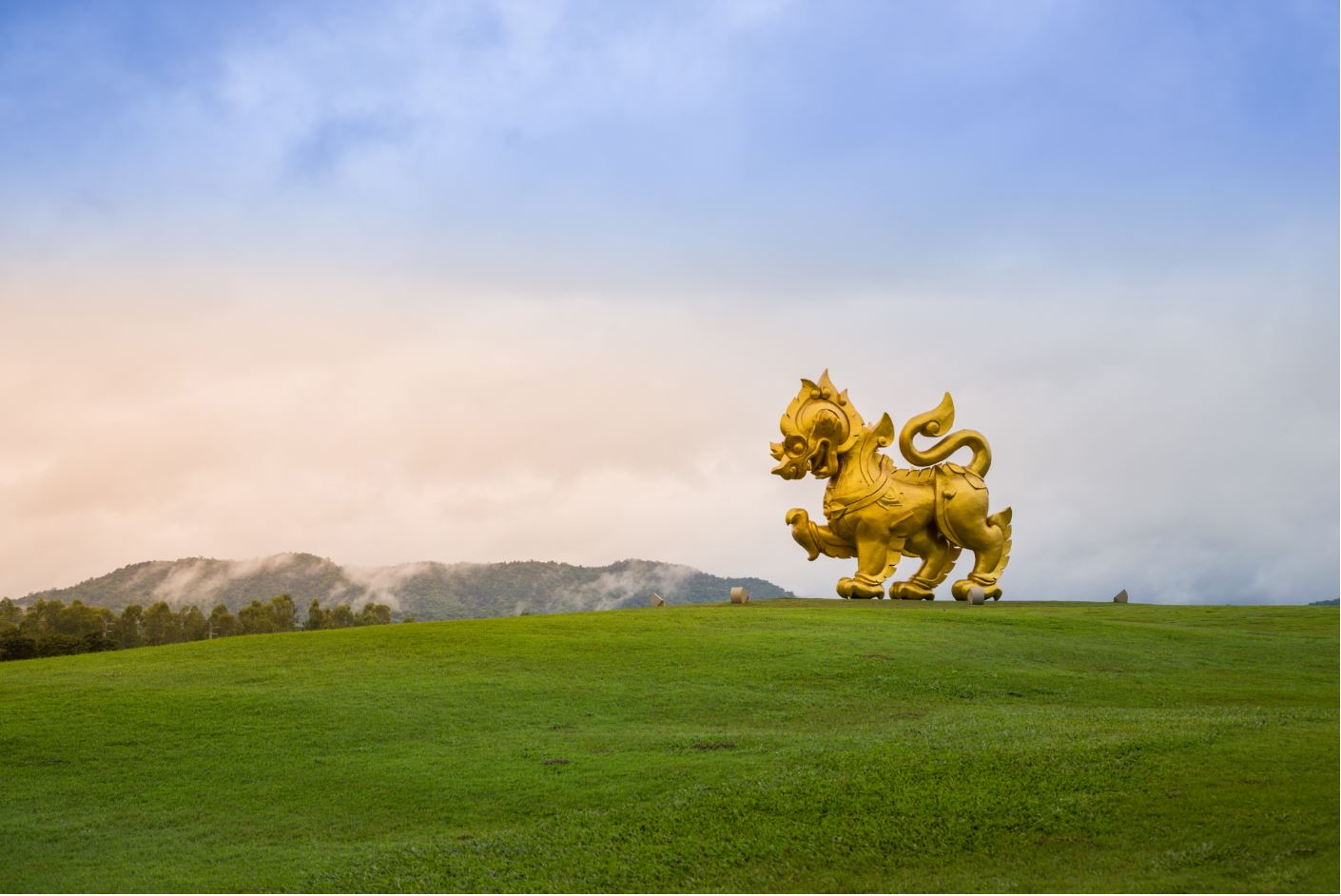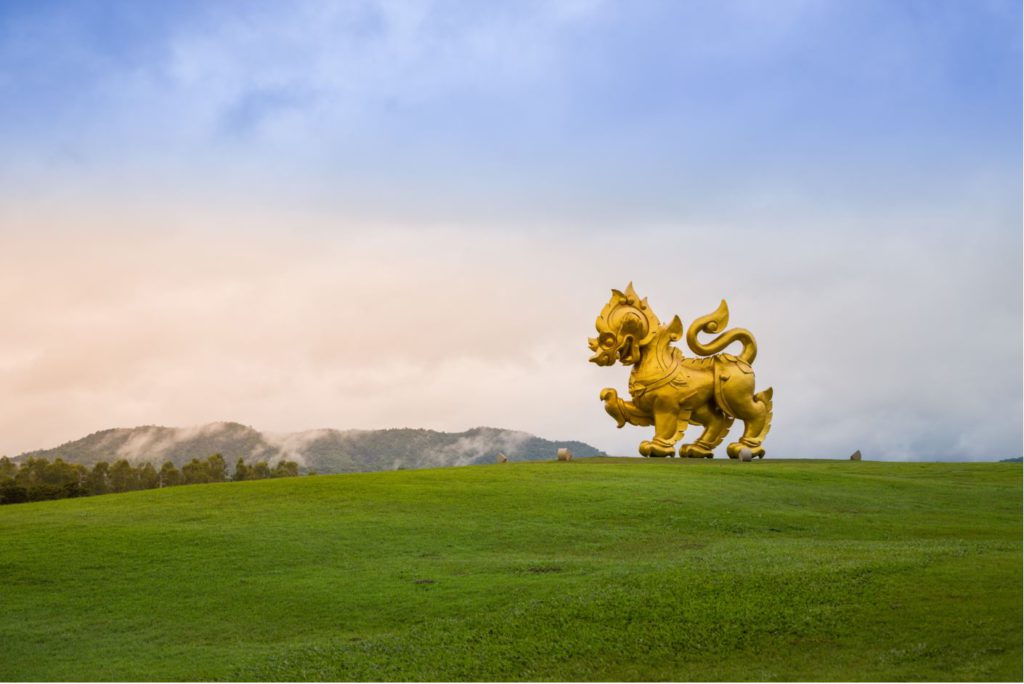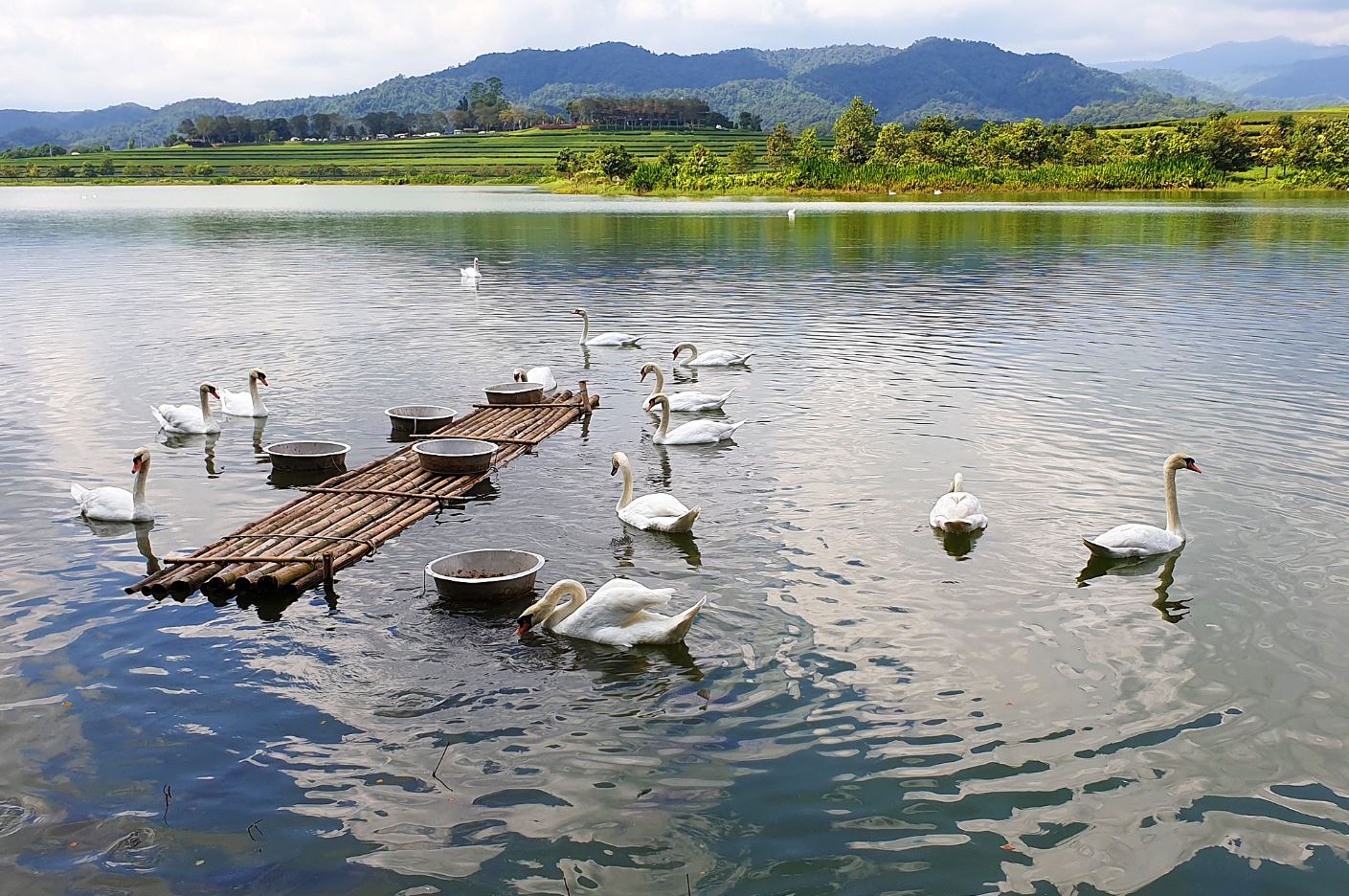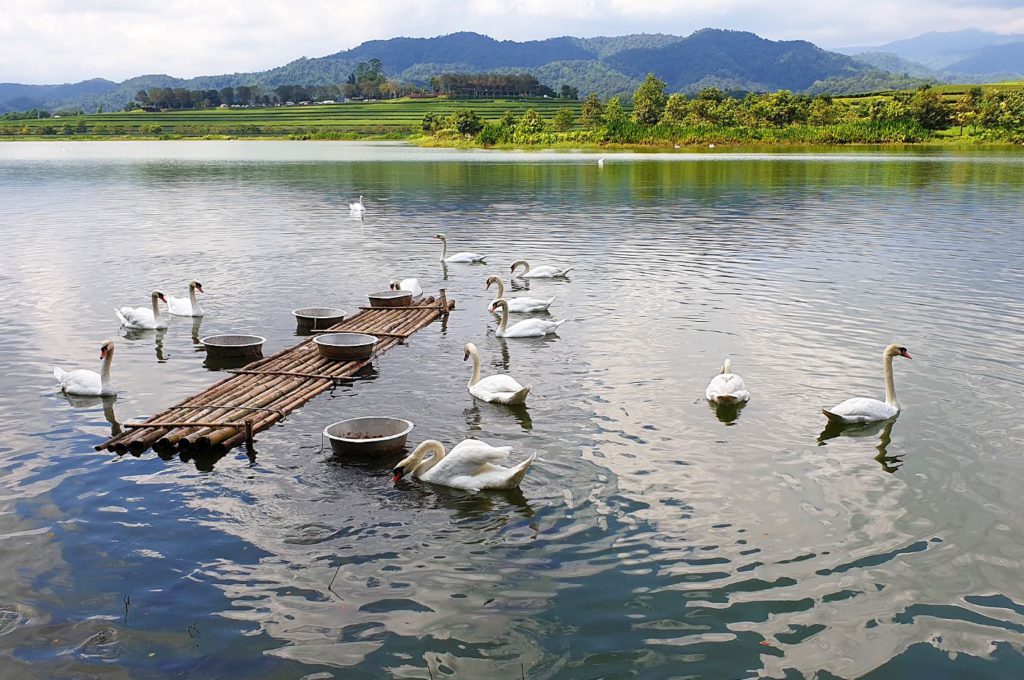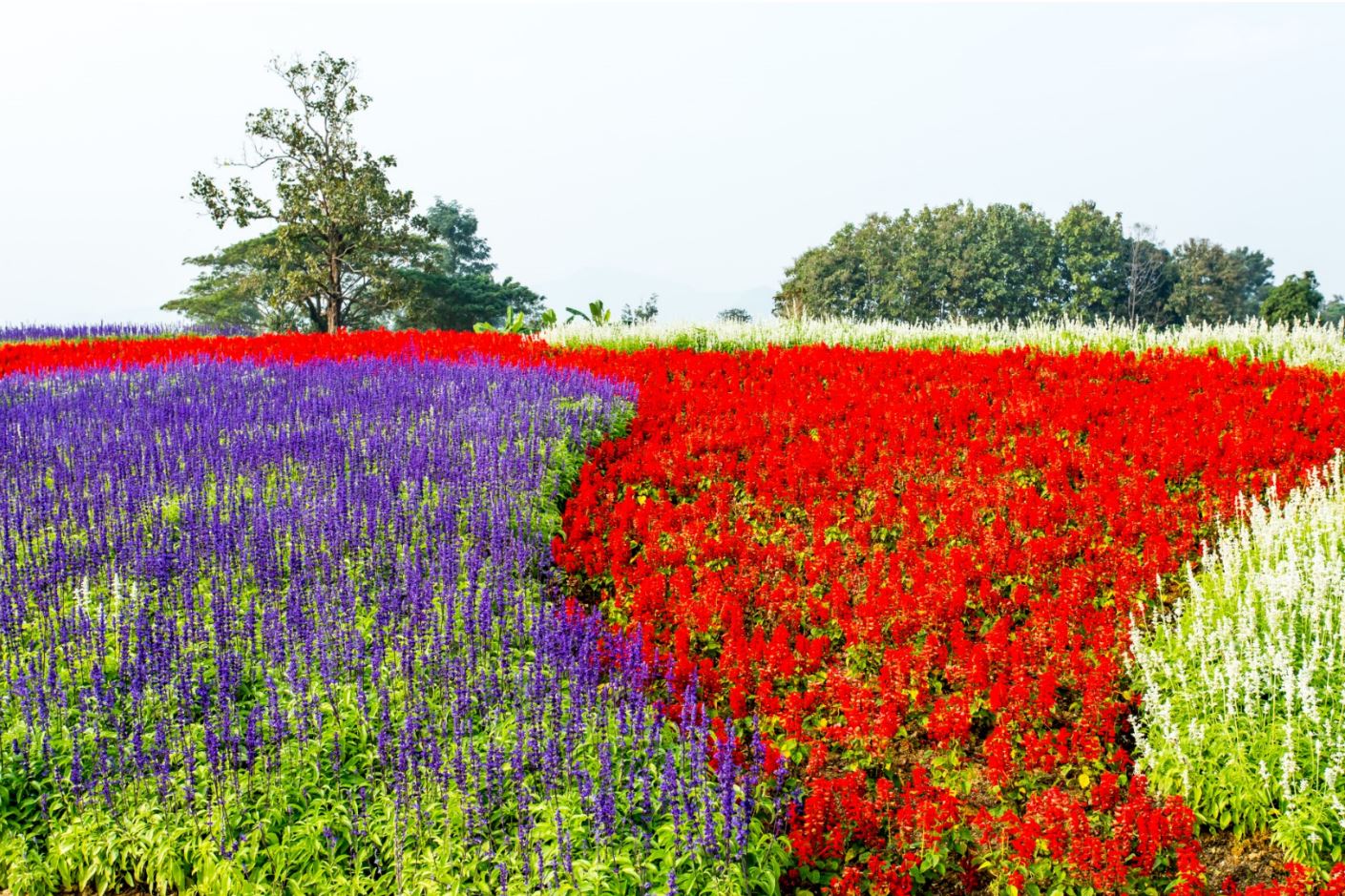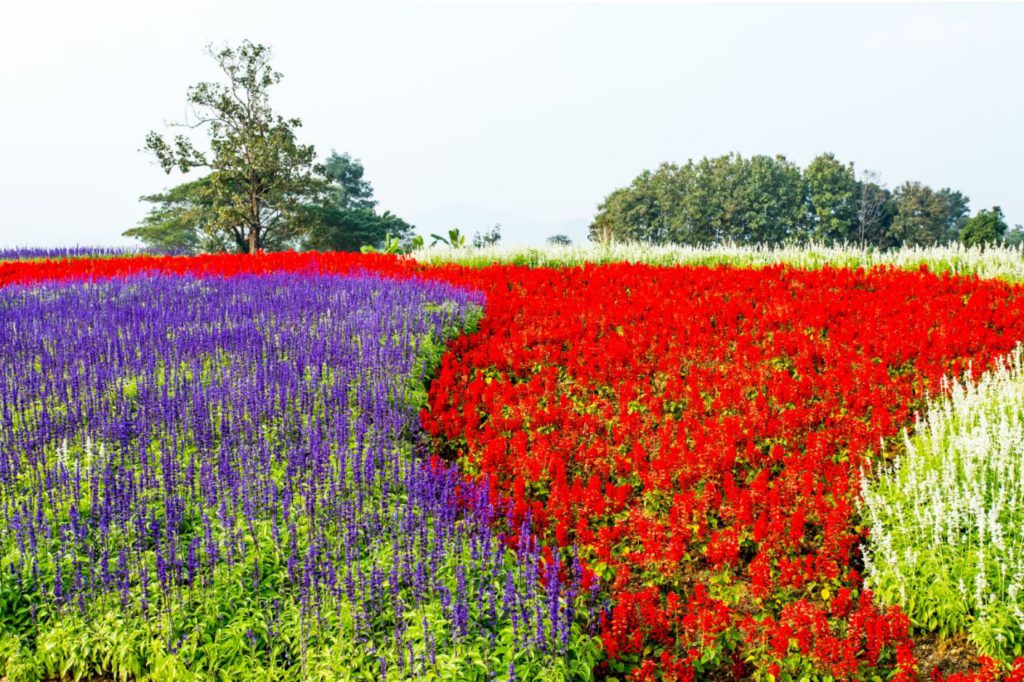 Make sure that you visit at a time when its not too hot or it will get extremely difficult for you to enjoy all the outdoor activities offered here. There is also a Singapore farm festival which takes place during the month of November and you can have a go at the hot air balloons for an exclusive ride.
Check out this fun blog with killer photos if you plan to visit the park.
Entry Fee: 50 THB
Timings: 9am to 5pm
5. Wat Huai Pla Klang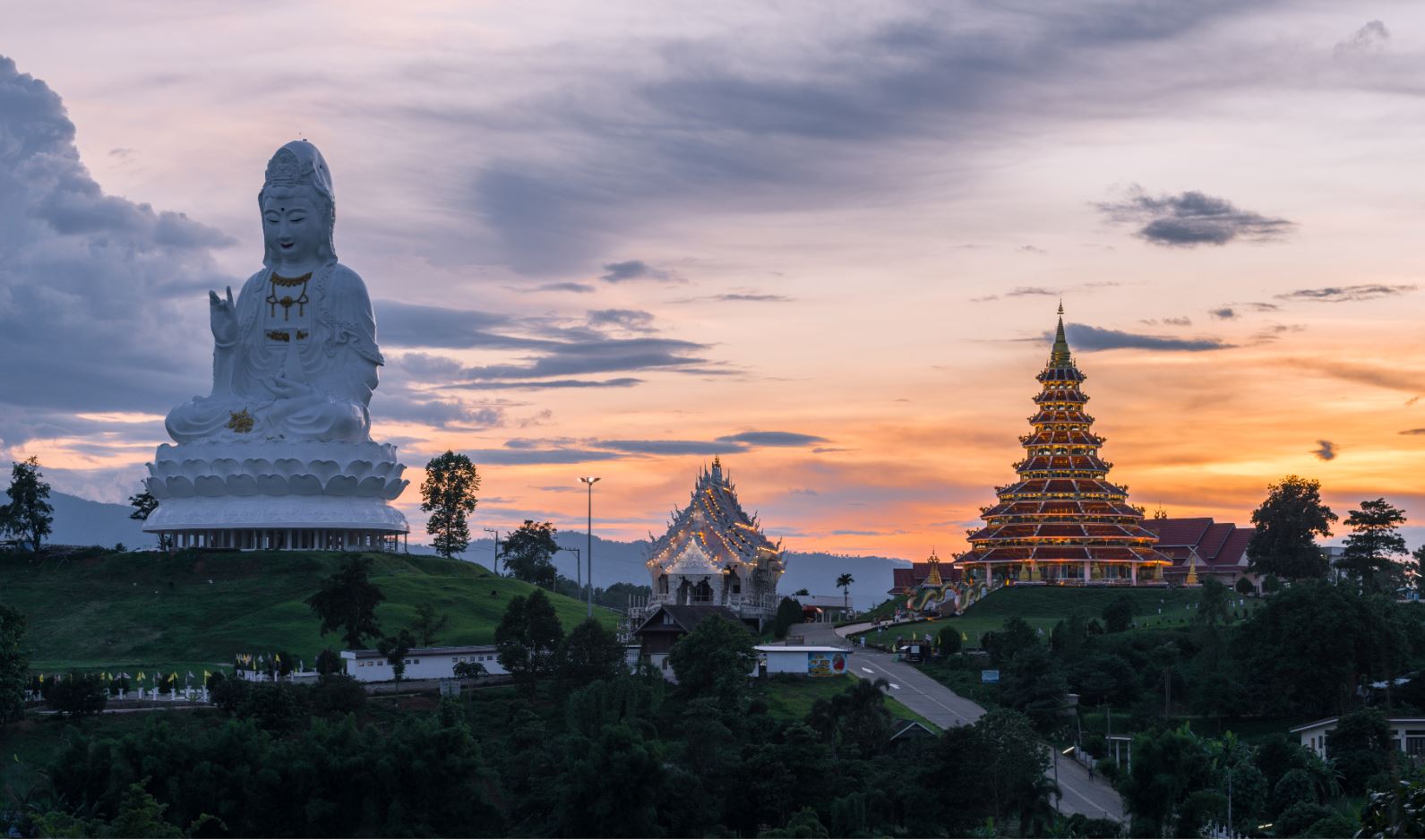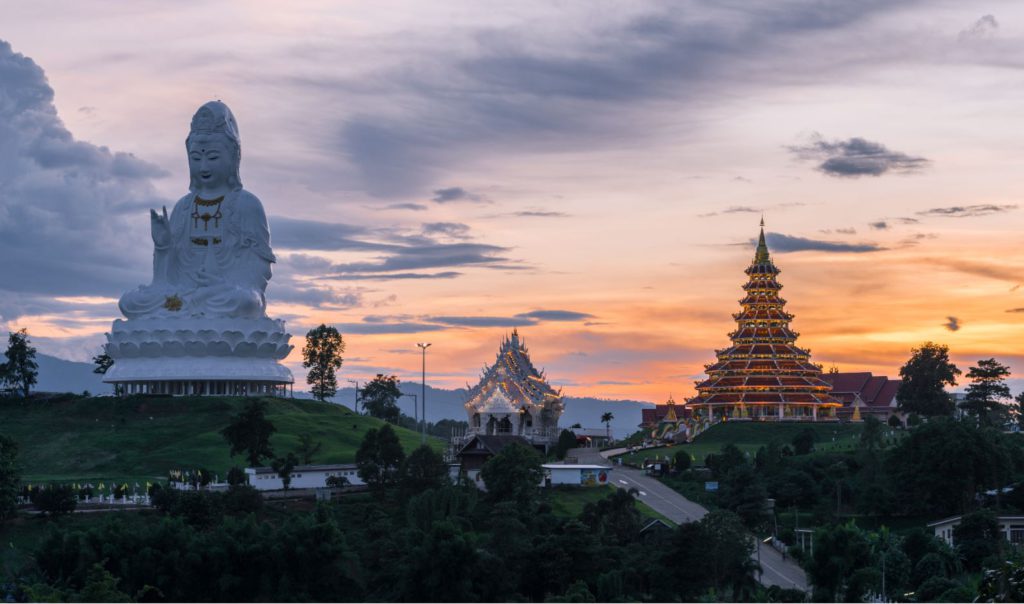 You can add this one if you really like temples. It comprises of three parts. The 9 story pagoda, the big Buddha (it is actually a female version), and a new white temple.
The pagoda is located on top of a hill which makes the view quite impressive. Additionally, it is a blend of the local and Chinese style of architecture where the colors red, golden, and dragons play a major role. You can see lovely dragons on both sides of the rail while you enter.
The inside is spacious and very peaceful. The local communities come a lot to pray and pay their respects. Once you are done you can go visit the big Buddha statue outside which is actually goddess GuanYin. This is perhaps not as impressive as the other temples we have seen before but more of a place to pray rather than an expression of art.
Read more about the place in a lot of details by templeseeker
Entry Fee: 50 THB
Timings: All day
6. Chiang Rai River Beach
I first came across a beach in Chiang Rai on the internet and thought if I read something wrong. Apparently it is a nice riverside beach located next to the Kok River. Unfortunately, like all other rivers in the tropical regions, this river also flourishes after rainfall and in winters while summers are really dry and eat up more than half of the river.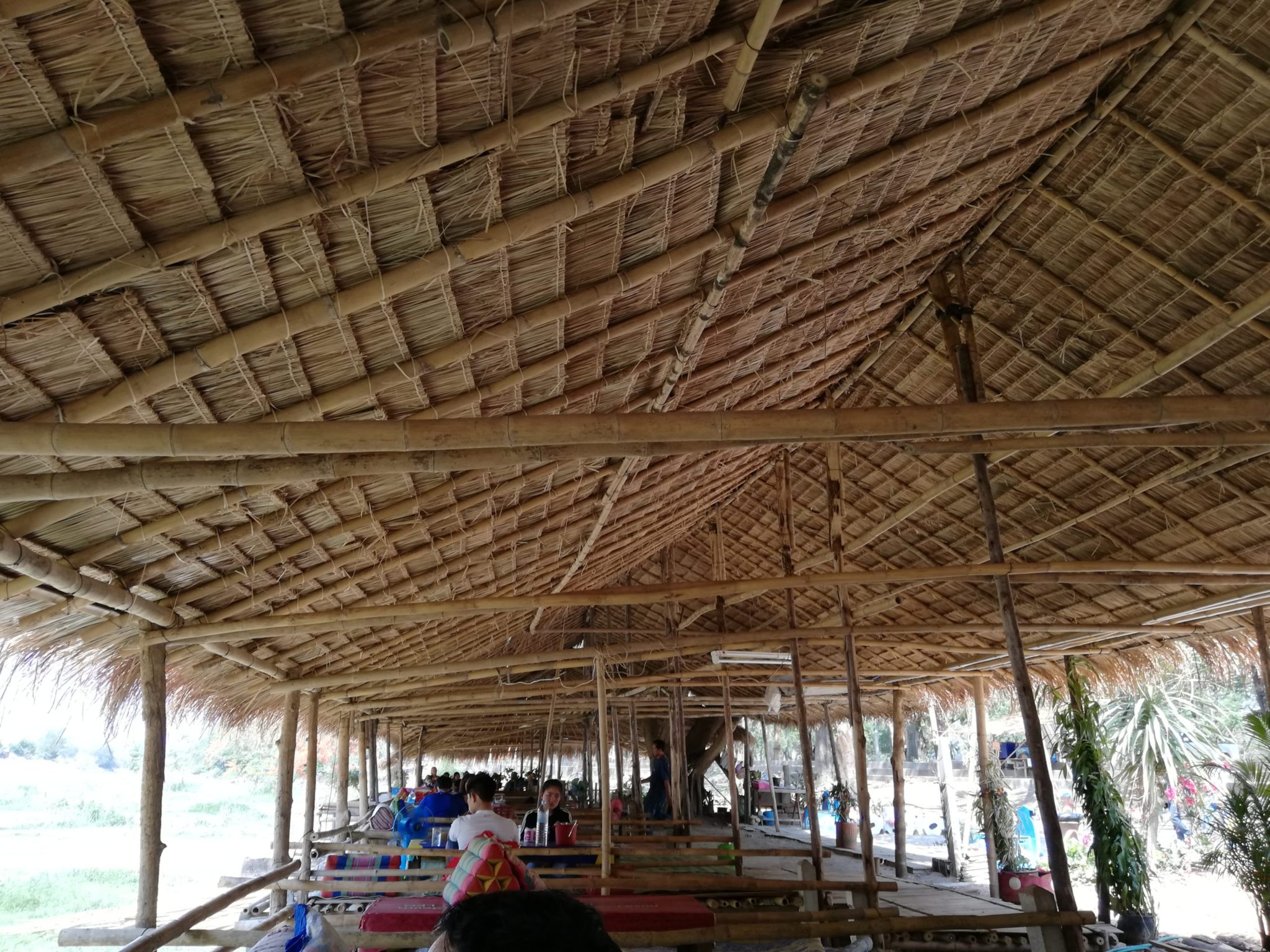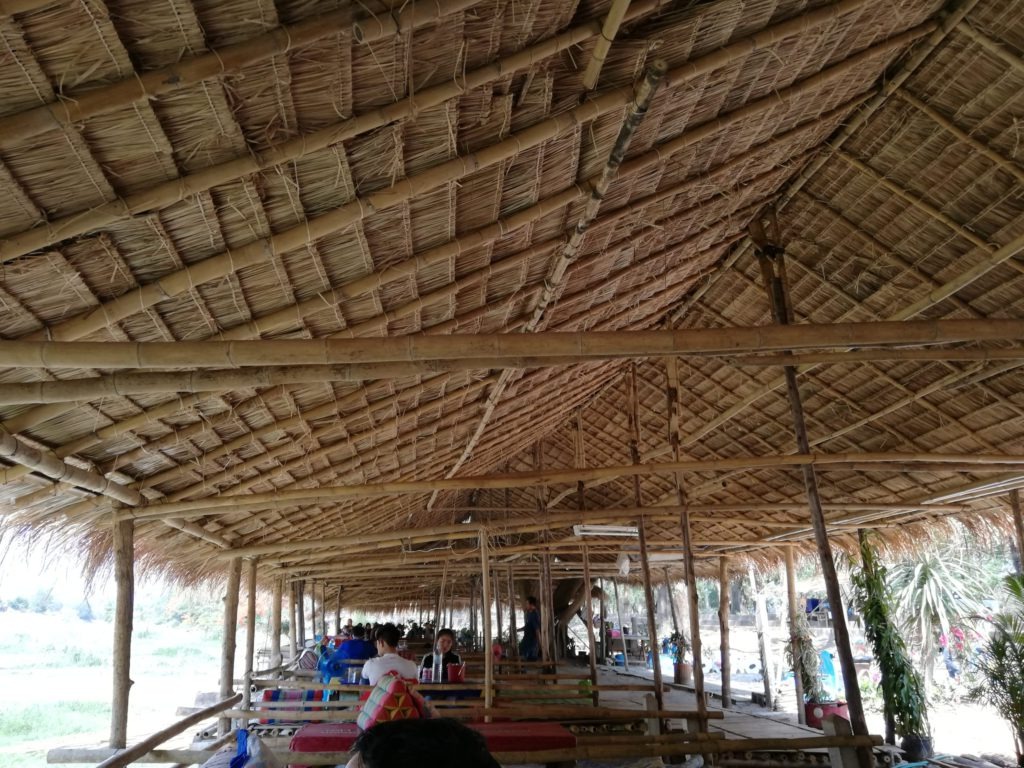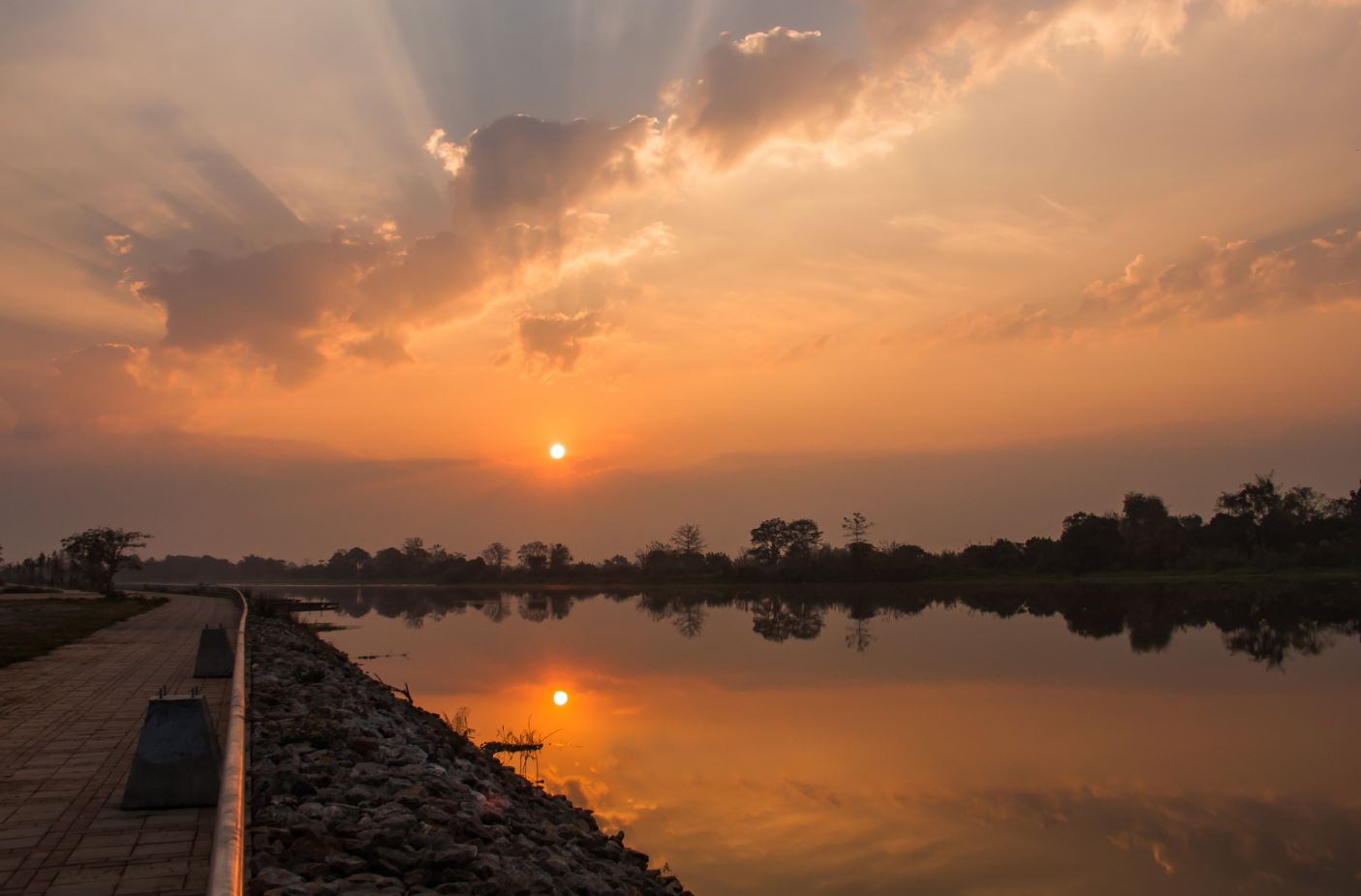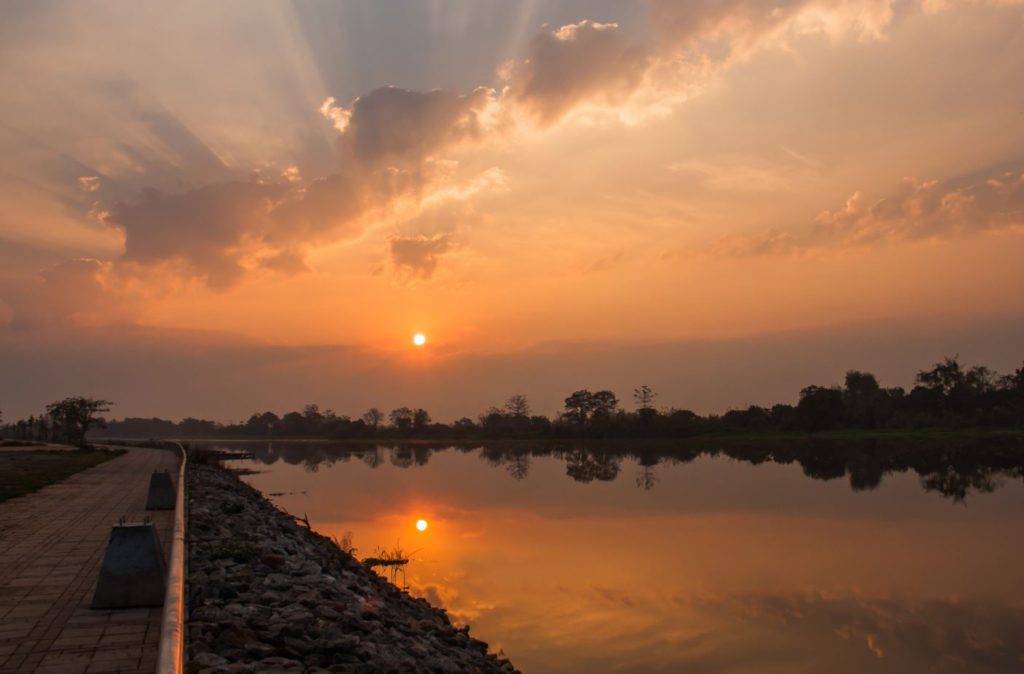 Otherwise, the ambience is really good. There are bamboo huts located next to the river and some restaurants nearby cater to the food and drinks. You only get local Thai food though, and it may not even be great.
The place is also very basic with mats and pillows. Even the food is not cheap. But I liked the setting. It was a good place for respite from the heat and you can also take a nap if you are a little shameless.
Here is an account of Lani at the beach during Songkran
7. Chiang Rai Night Bazaar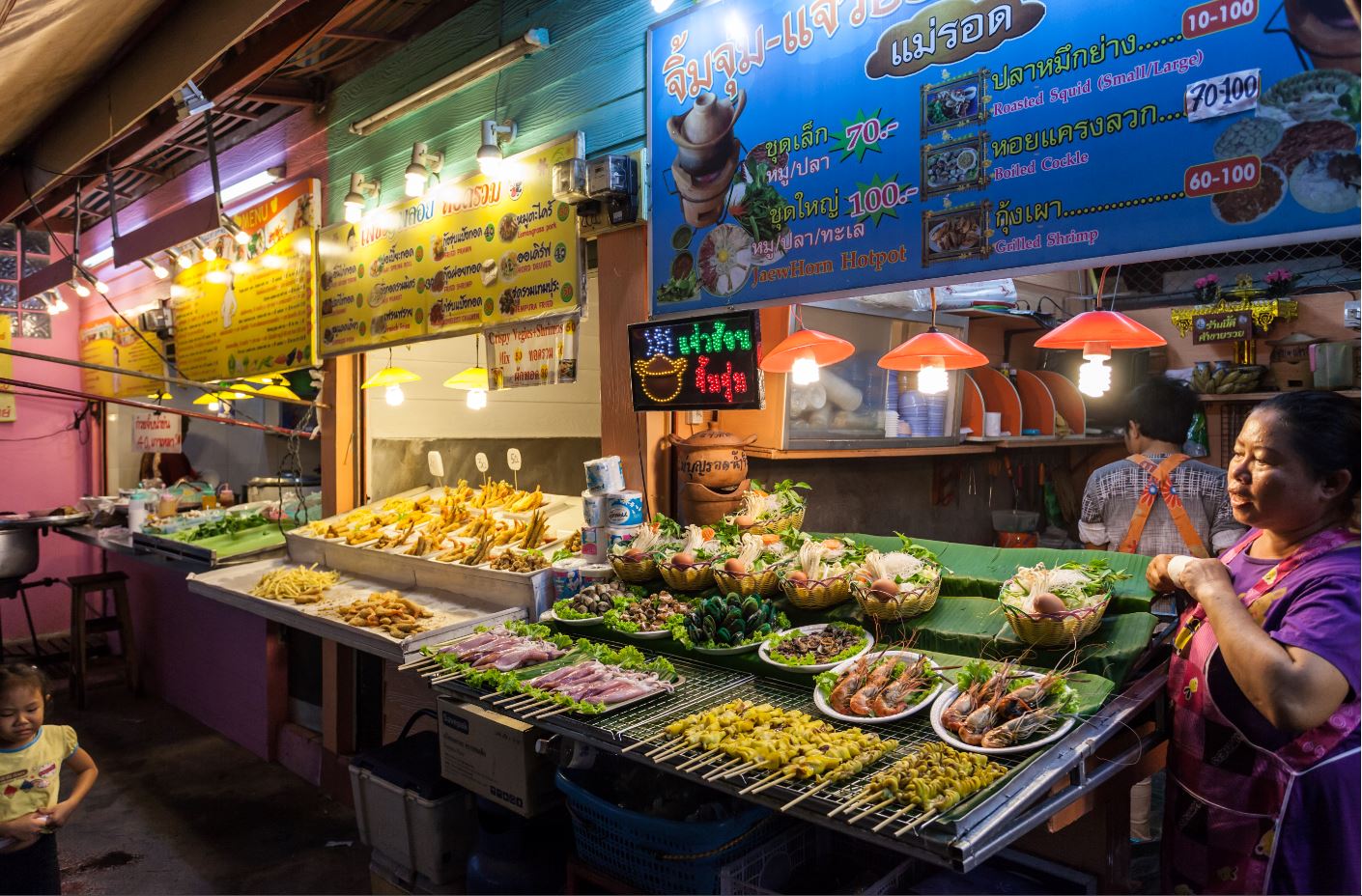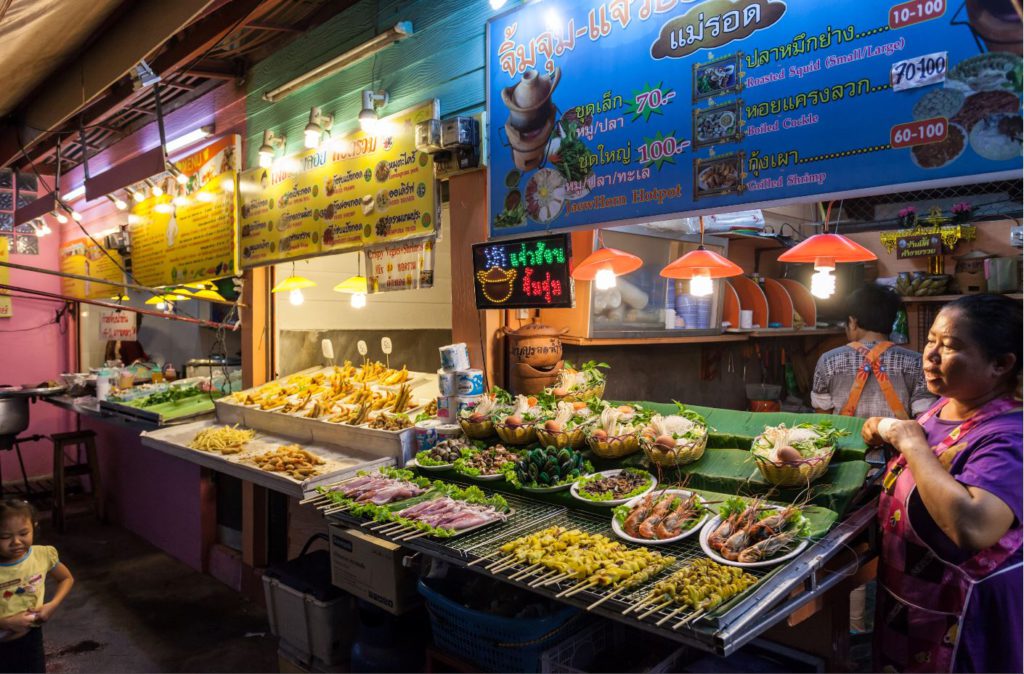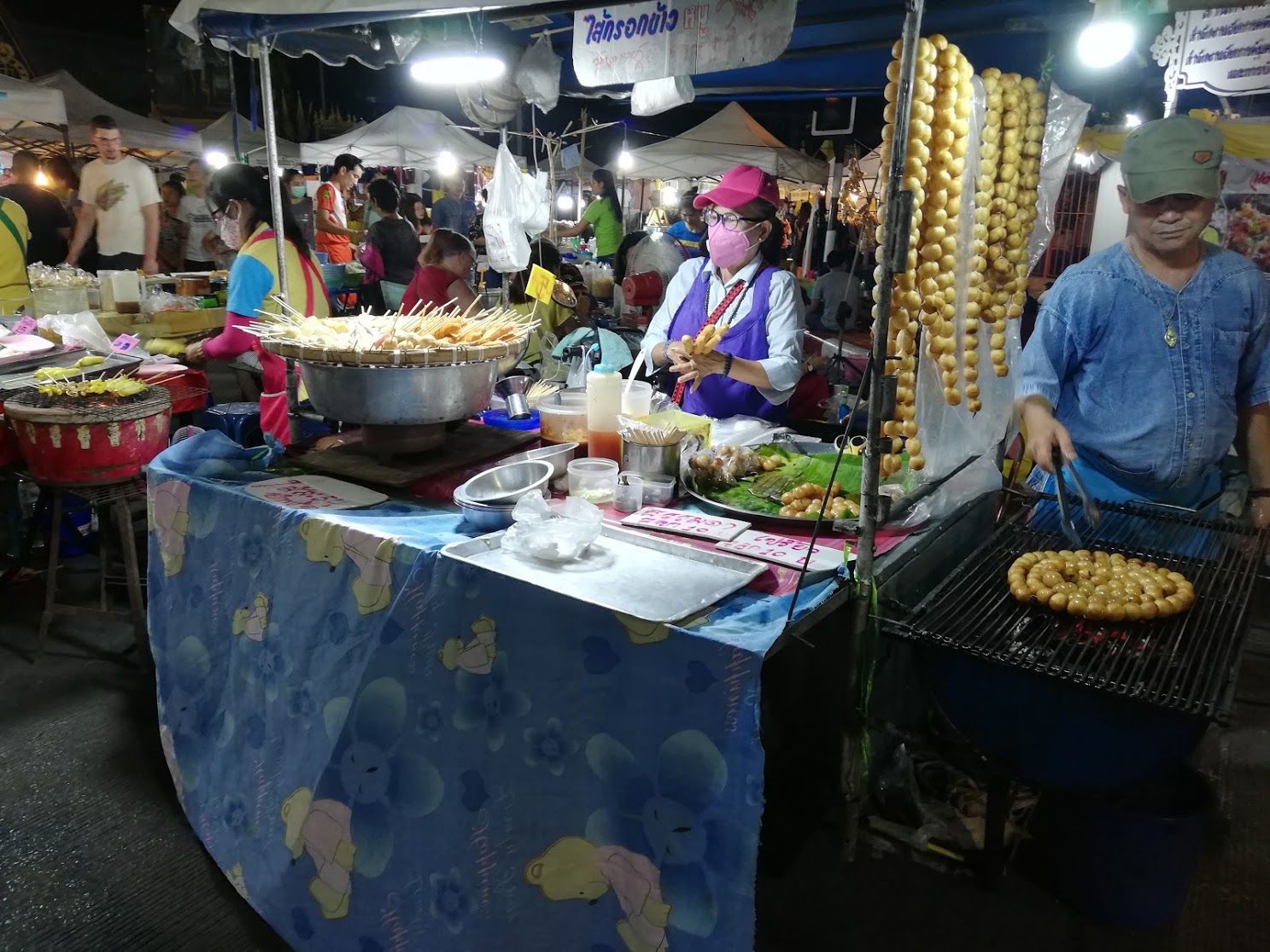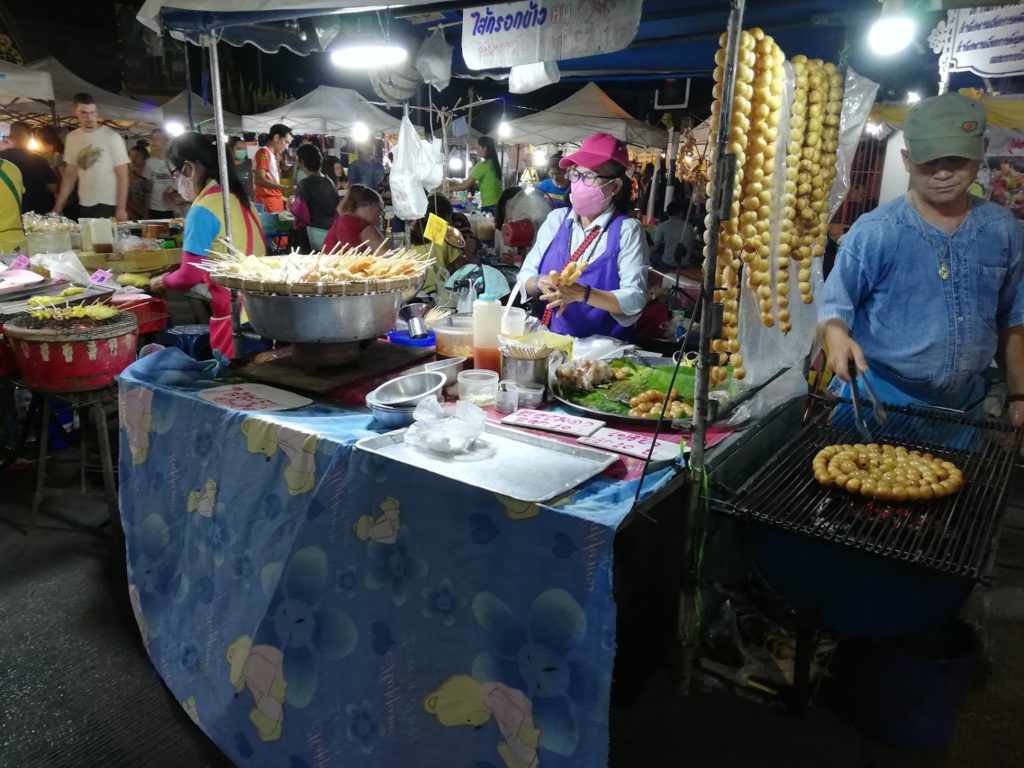 Like all other Thai cities, Chiang Rai also has a walking street. It gets busy at night there and looks like half of the town flocks to the place to enjoy a fun evening after work.
There is a lot of food, household things that you can buy and see – clothes, cosmetics from fake eyelashes to colourful contact lenses, dancing families that run on your contribution, food trucks, artisans, and a lot more.
There is also an open space somewhere in the middle where the locals sit and enjoy stage performances and even dance on the songs sung by one of them. Everyone is invited; it is a really happy place.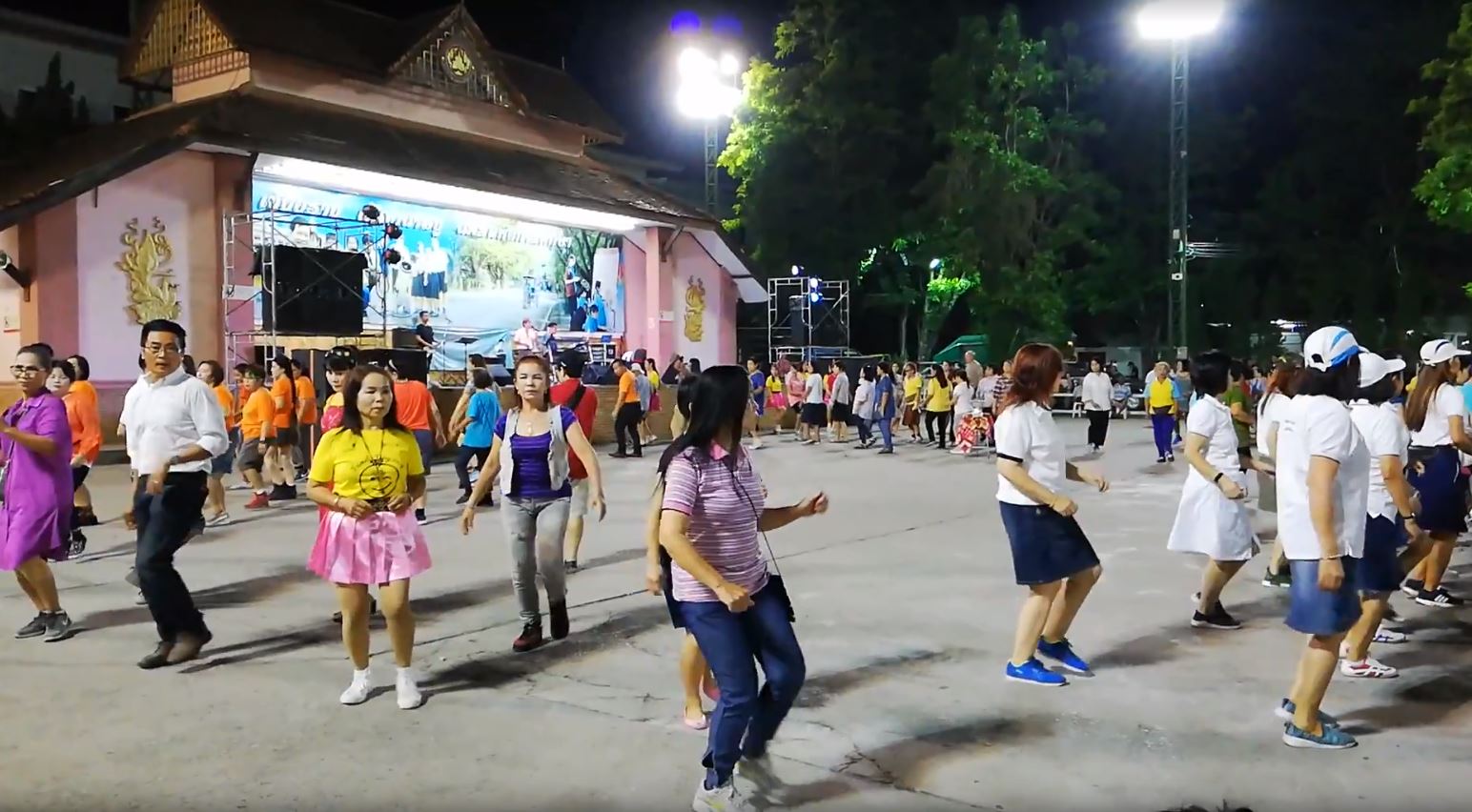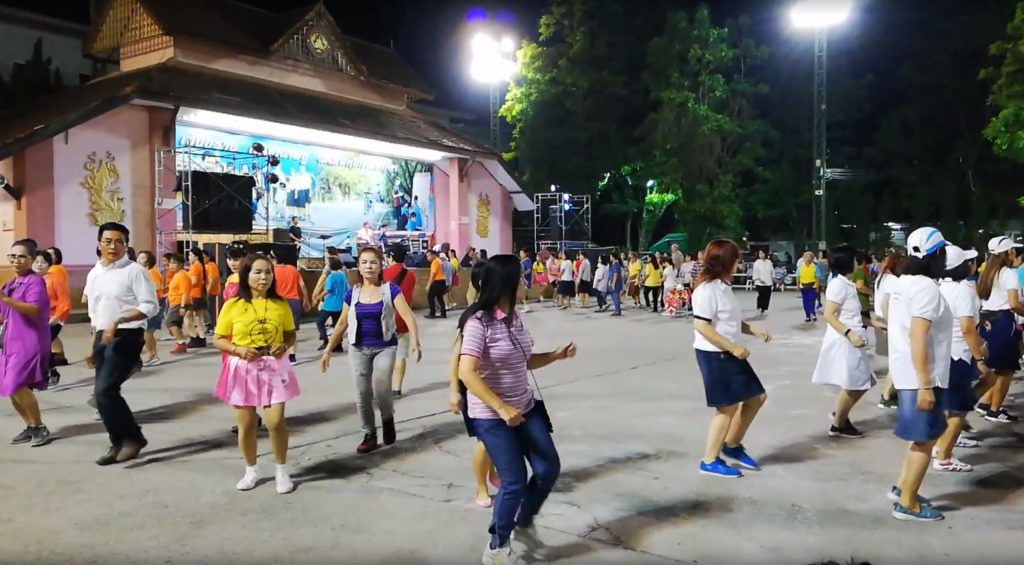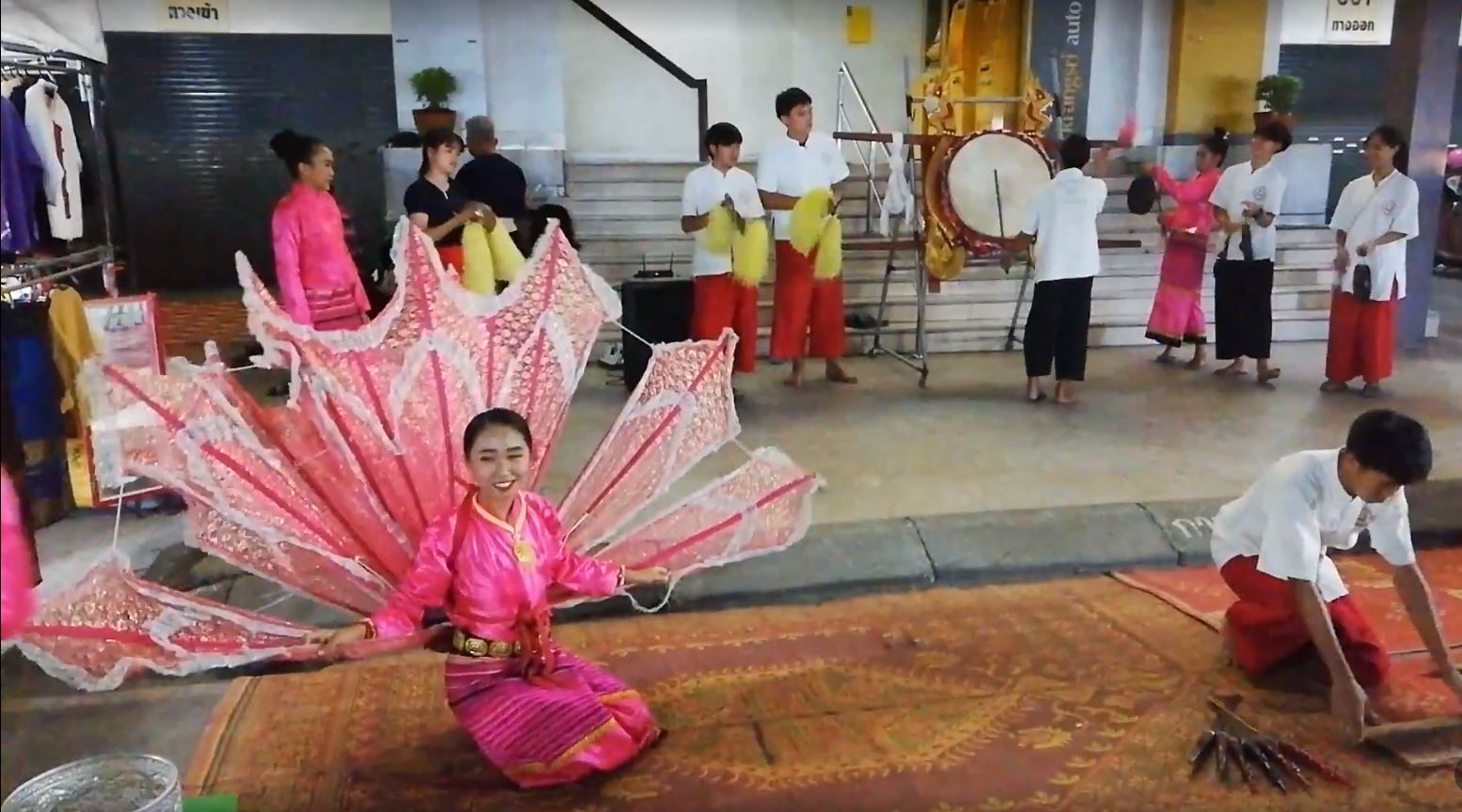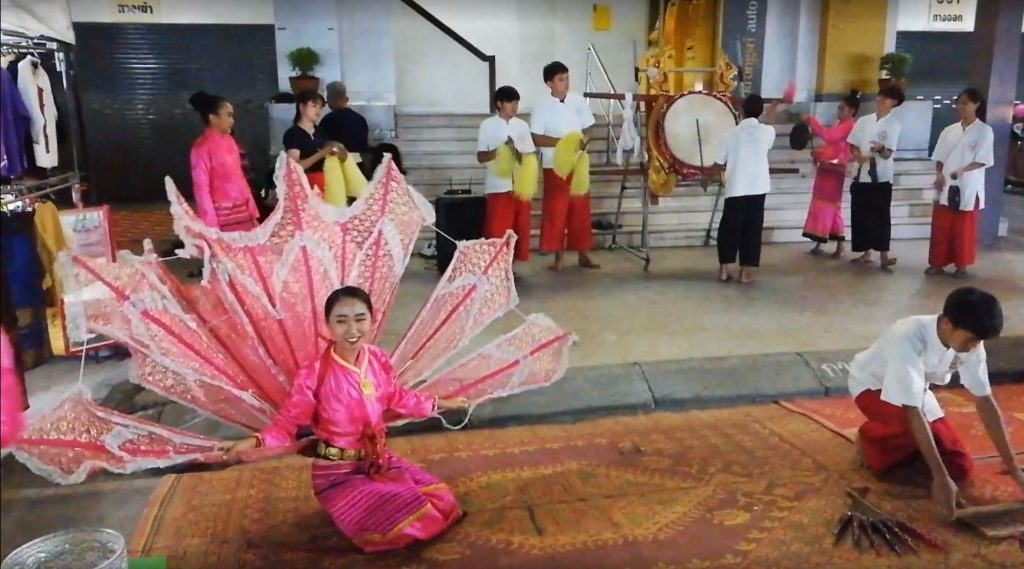 Read more on the night markets of Chiang Rai by Sharon Loh, a food and travel blogger from Indonesia
Time: 6 pm to 11 pm every day of the week
8. Golden Triangle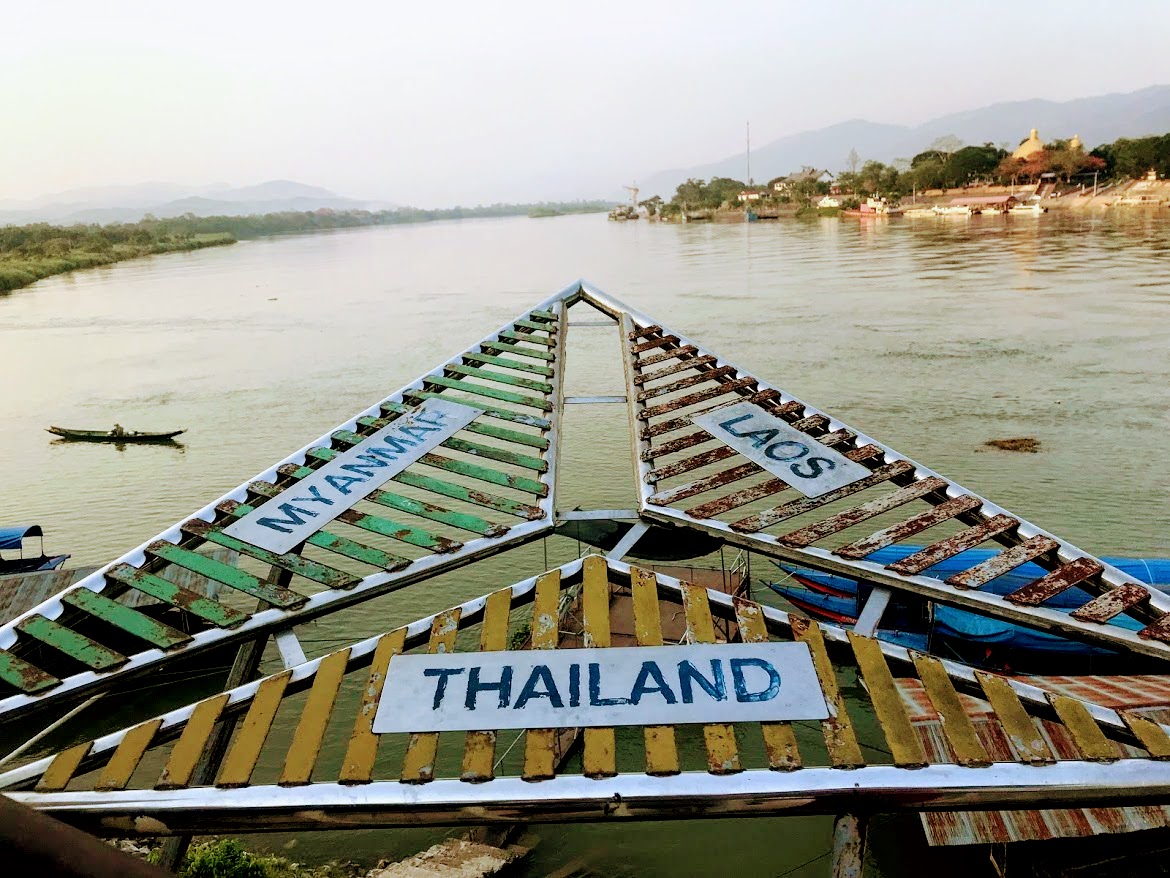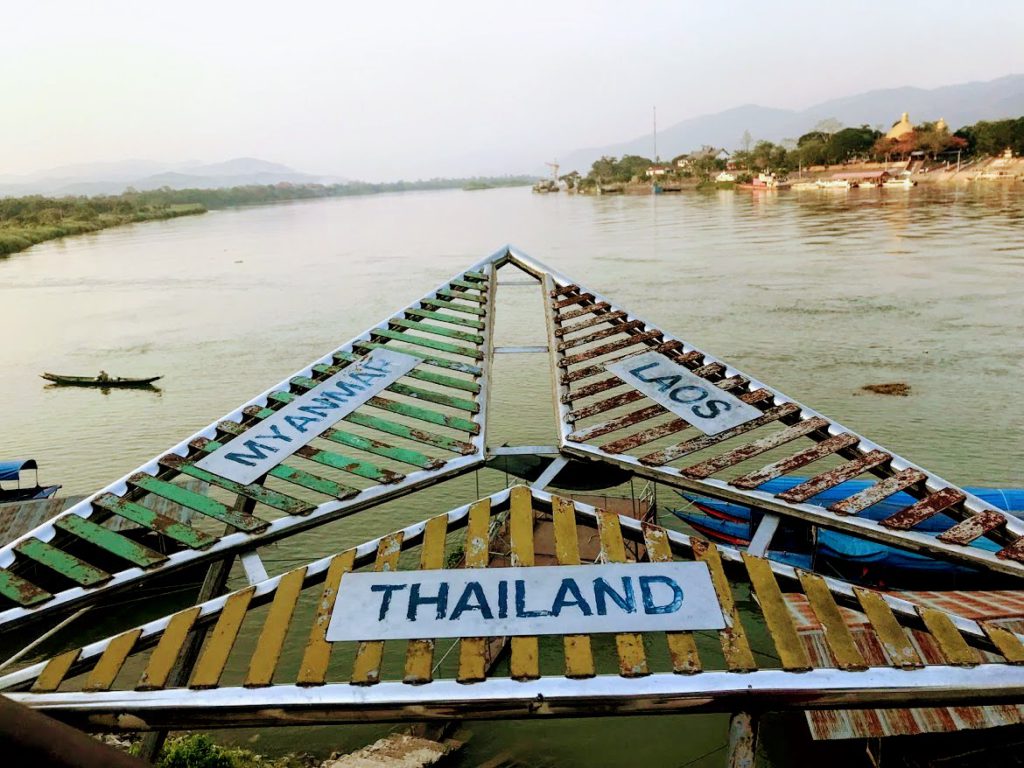 This one is not in Chiang Rai town. You will have to drive for a couple of hours to reach the Golden Triangle. Golden triangle is the point on Thailand's border where Thailand, Laos and Myanmar intersect. The borders are identified by river stream on all three sides in the shape 'Y'.
You will have to reach this place by road only and if you opt to go by two-wheeler, make sure you are back before night because a major part of the highway is not lit.
The border is intriguing and you can see the vast difference in the geography with even a glance. While Thailand's land was populated as a tourist spot with shops and eateries around, Laos had more multi-level buildings since most of its urban population is concentrated towards the Laos border.
Myanmar is just a sprawling land of rich jungles with a pagoda far in sight which gave that place an eerie but spiritual feel. You must go, if not for the view go for the ride. If you reach the spot before 5 pm you can also go for a boat ride.
Looking for offbeat things to do in Thailand? Here are 101 things to do in Thailand from my bucket list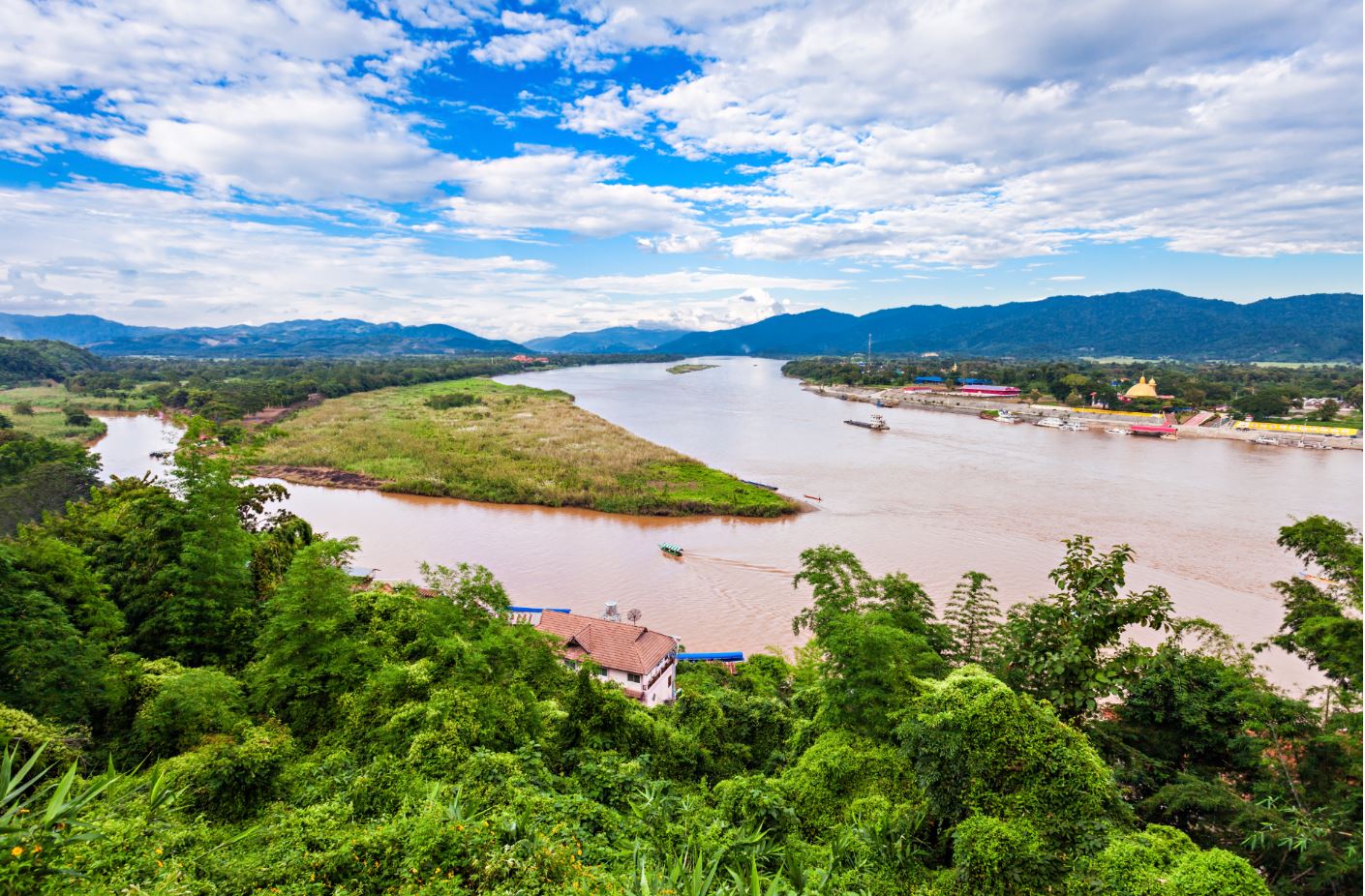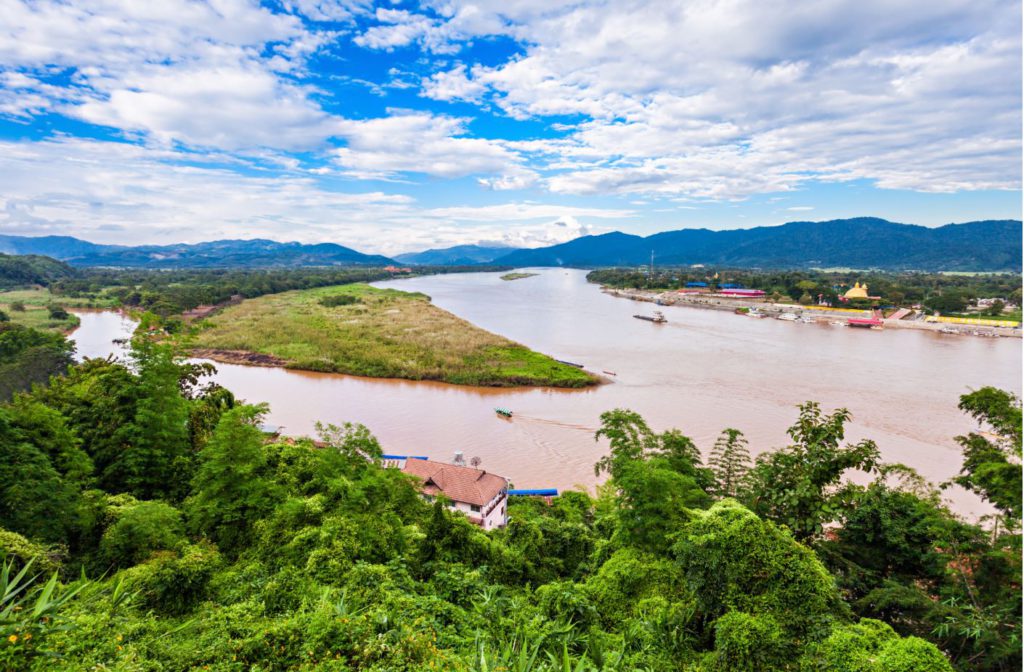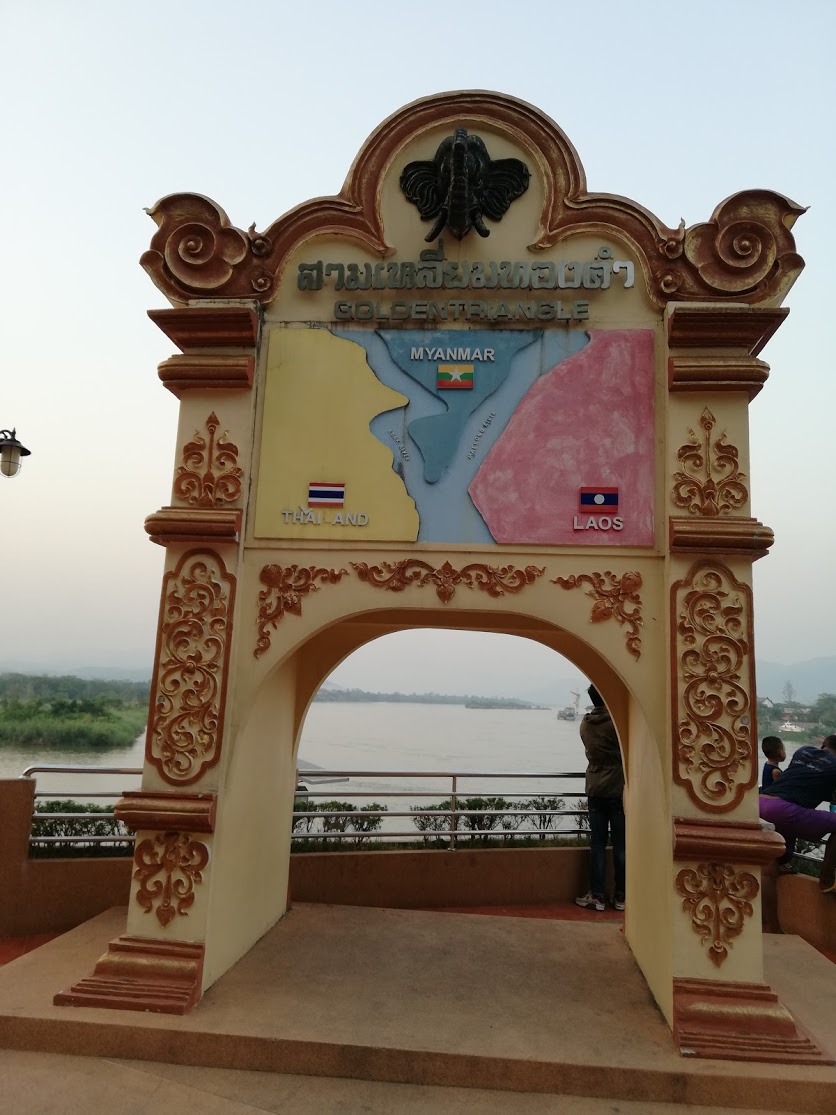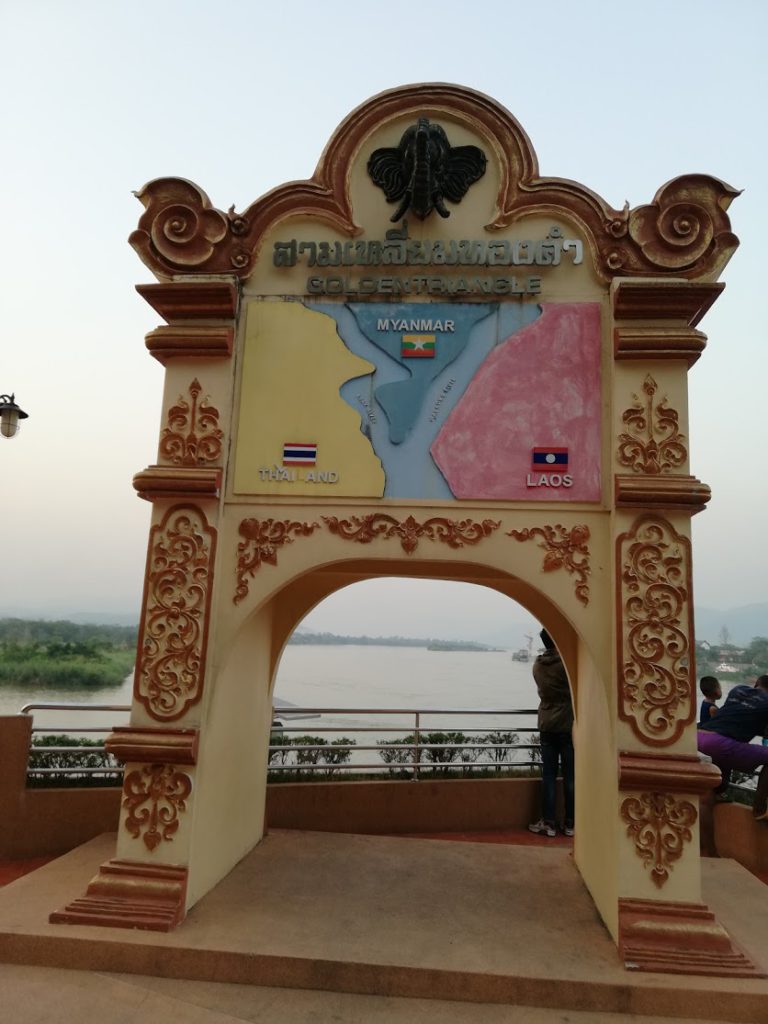 What Else To Do?
In case you are planning to stay in Chaing rai for a long time, go ahead and explore the natural beauty of the place. There are numerous waterfalls at a drive of an hour or two and a little hiking.
You can visit the long neck tribes inside Doi Inthanon, Thailand's highest peak. In case you are keen on gastronomy, take a Thai cooking class to learn the local dishes. I took a cooking class in Bangkok and enjoyed it thoroughly.
Related Article: How To Visit Doi Inthanon National Park, Chiang Mai
There is also a mall in Chiang Rai called central plaza to cater to all your retail-related needs. There is also a Big C right opposite to it.
While there is so much more to do in Chiang Rai, these were the ones that topped my list on what you can practically see in 2-3 days. You can explore a nearby region called nan known for its green and scenic hills. But while you are there, relax and enjoy the place since it is still not that crowded and yet to get mainstream.
Where To Stay In Chiang Rai?
If you are a backpacker and looking to put up in a hostel, then find one in the centre of the city near the clock tower of Chiang Rai. In fact, there are some really fantastic ones in the main city. You can find most of them listed on hostelworld.com.
If you are taking up a hotel or an Airbnb and you can choose to stay around the city, you will need a vehicle to get around.
Another option is taking up a place far into the villages in the countryside. While it may be a great option to enjoy your vacation in peace and in the middle of nature with local villagers, finish your day tours by sunset because even the highways don't have street lights the farther you go out of Chiang Rai, the less reliable google maps get.
Check out this place to stay away from the countryside. Or Check out some of these options equipped with wifi and air conditioning inside the city.
If you are looking to book a hotel in Chiang Rai, agoda.com offers the best discounts on hotels not just in Thailand but across Southeast Asia. Look up homestays. We lived in one of the rooms in an Airbnb and it was a great experience for the price with breakfast. The people in Chiang Rai are sweet as sugar.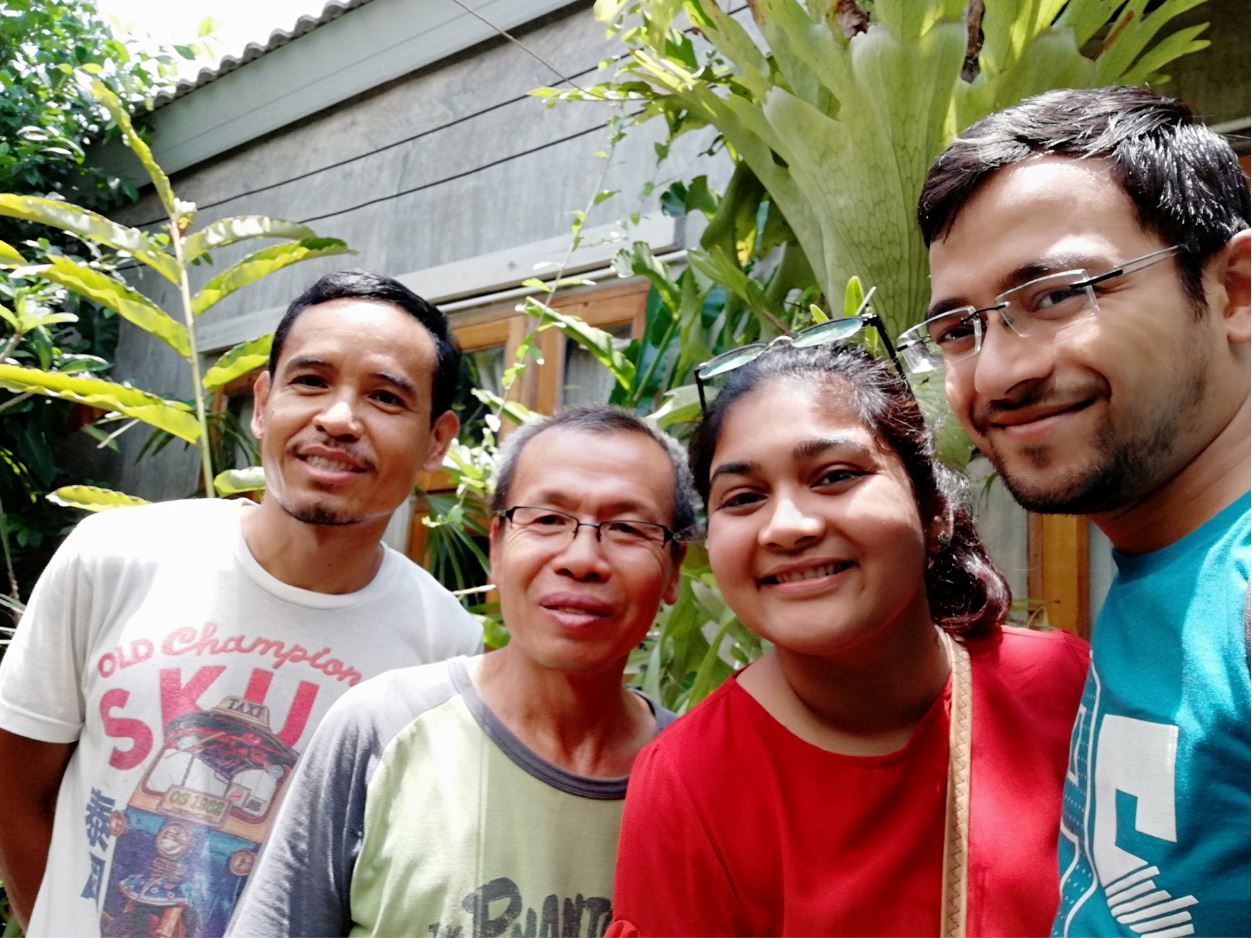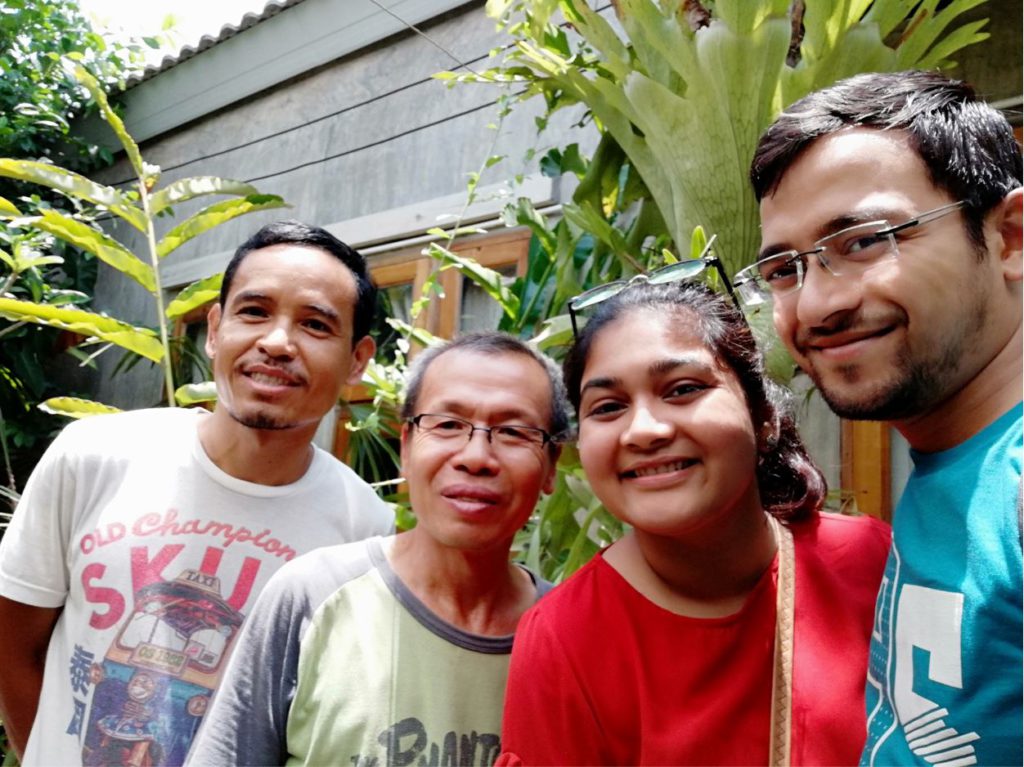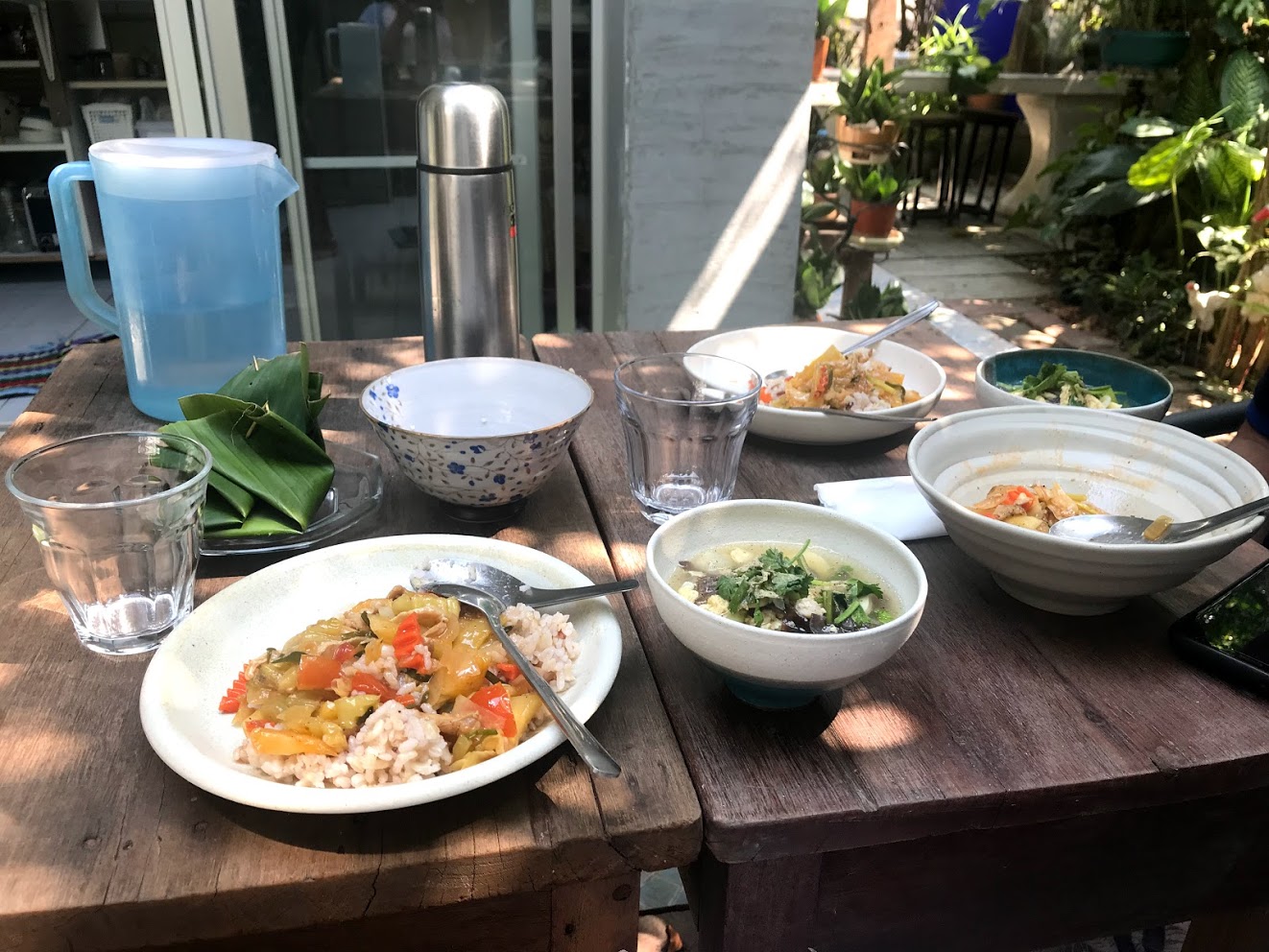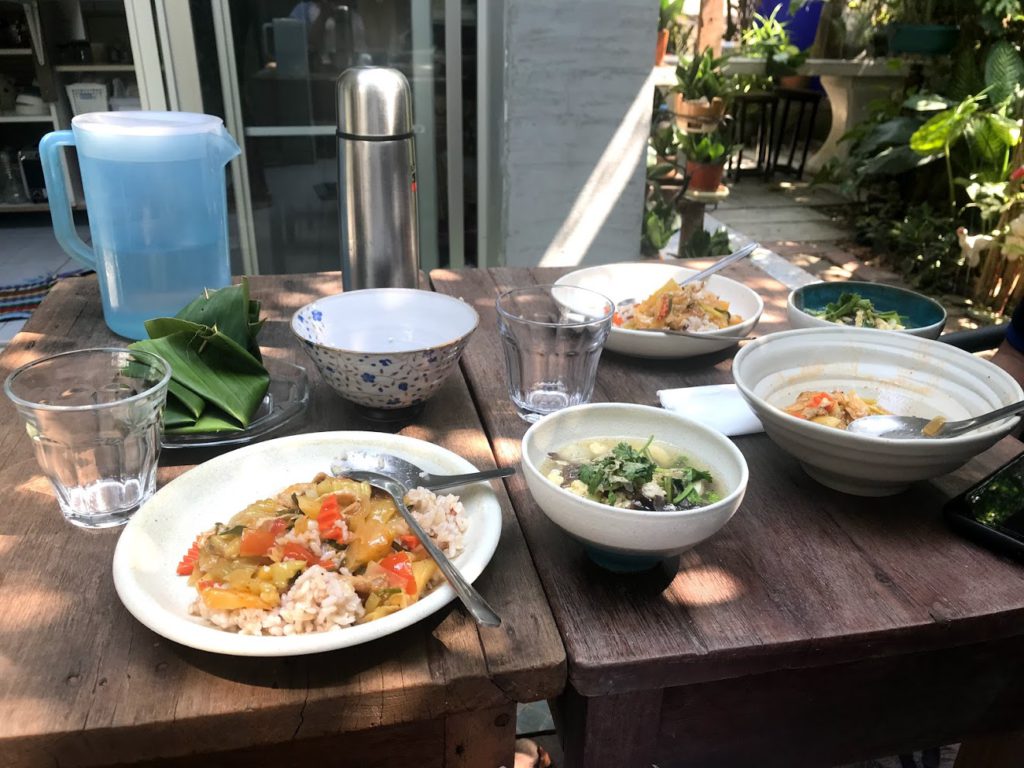 Save on Pinterest


Related Articles