28 Oct

The best things to do in Nan, Thailand

After exhausting most of the mainstream destinations in Thailand, I started to look towards places less frequented. At least by foreign travellers. And while it opened a whole new world of opportunities, travelling off-the-beaten-track in Thailand can be tricky as well.

Nan was on my radar for quite some time. I had honestly never heard of it. Even on the travel blogs online. But I saw a direction board at Chiang Mai to Nan on my way to Pai and that got me interested.

With what I found on the internet, I was pleasantly surprised. Nan has one of the best landscapes in Thailand. While most travellers know Thailand for its white-sand beaches and clear azure water, Nan is not what you would expect.

I will suggest you put this place on your list if you have exhausted the list of popular landmarks. Here is everything you need to know about visiting Nan in Thailand.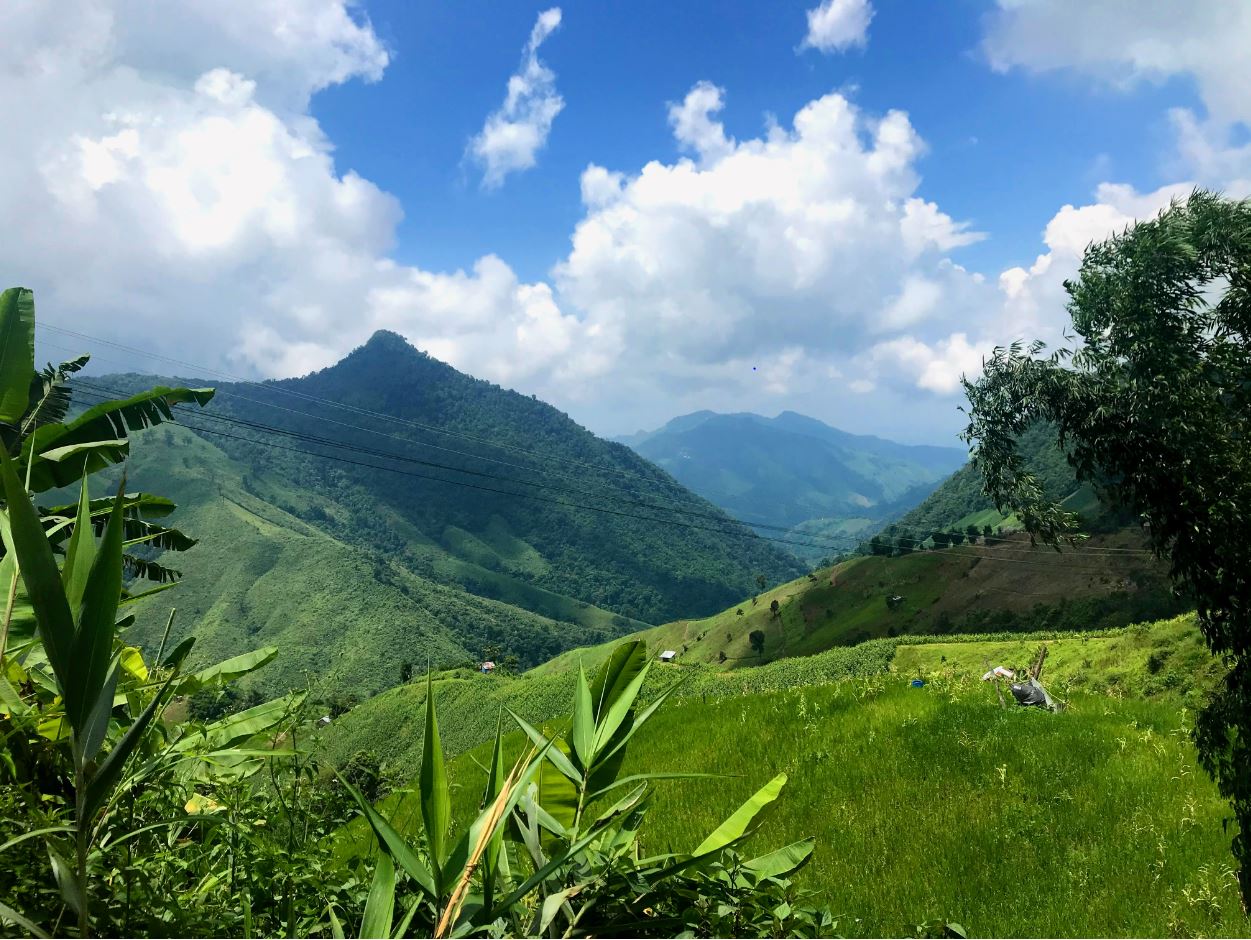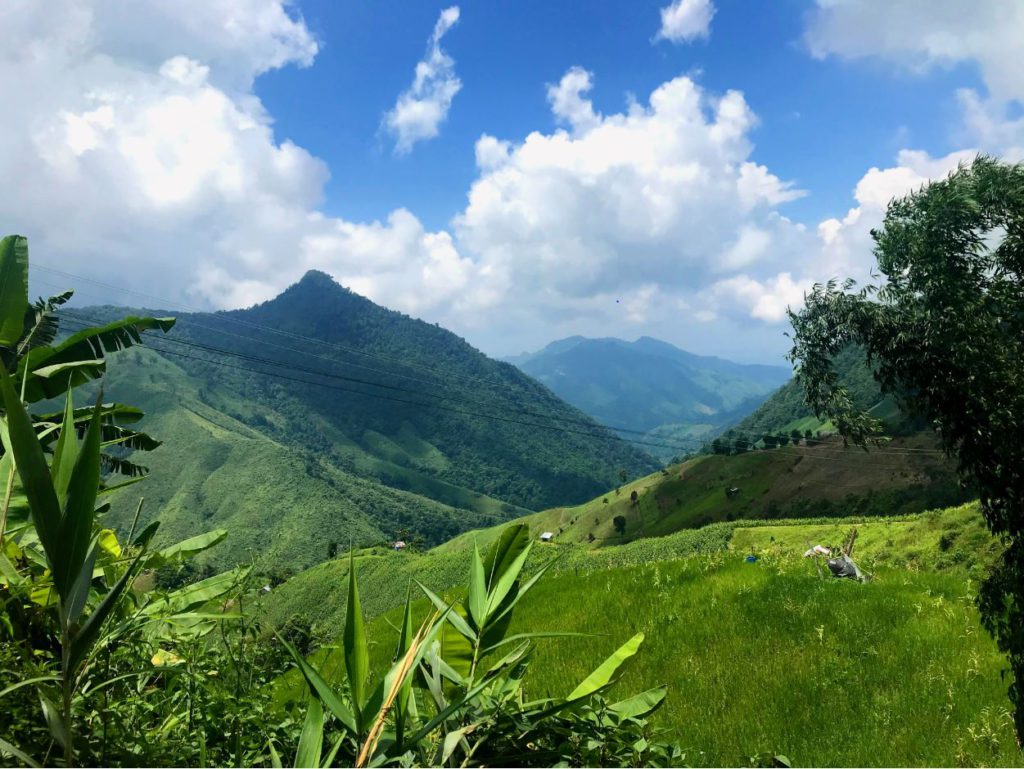 Why to visit Nan
The province of Nan is what you can call as a typical countryside in Thailand. The area is full of dense forests that come alive especially during the monsoons. As you move out of small towns, large fields of paddy with wooden hutments, bamboo bridges span the countryside.
Apart from the main town of Nan, the province has some of the most beautiful National Parks in Thailand with landscapes of mountainous terrain covered in thick green forests. Nan is especially great for trekking and camping.
Visit Nan if you are looking for something way out of the regular trail or want to experience authentic Thai countryside. I especially fell in love with the wooden Lanna style homes, lime-green paddy fields and people chilling out on their front porch in the Thai 'Sabaai' (relax) style.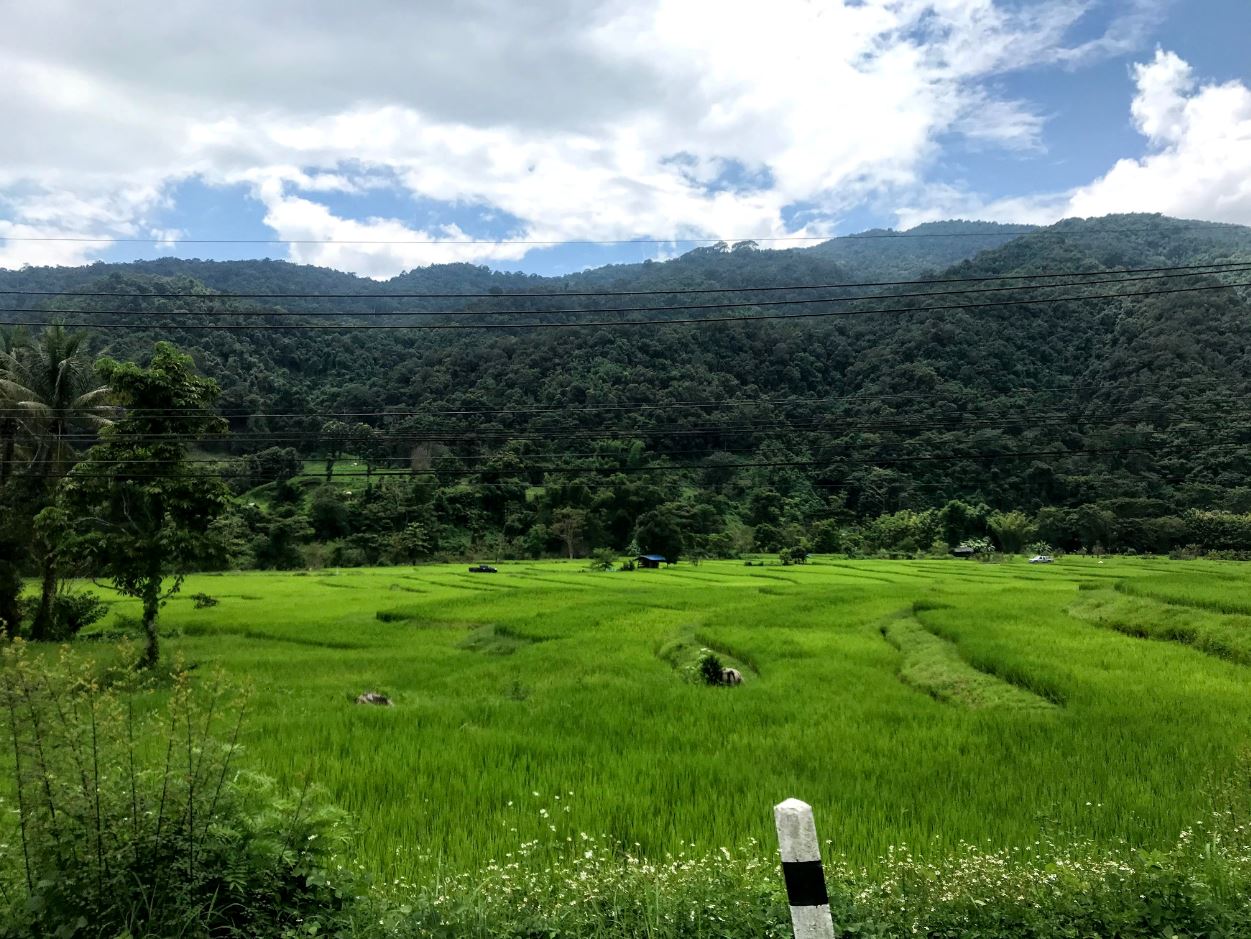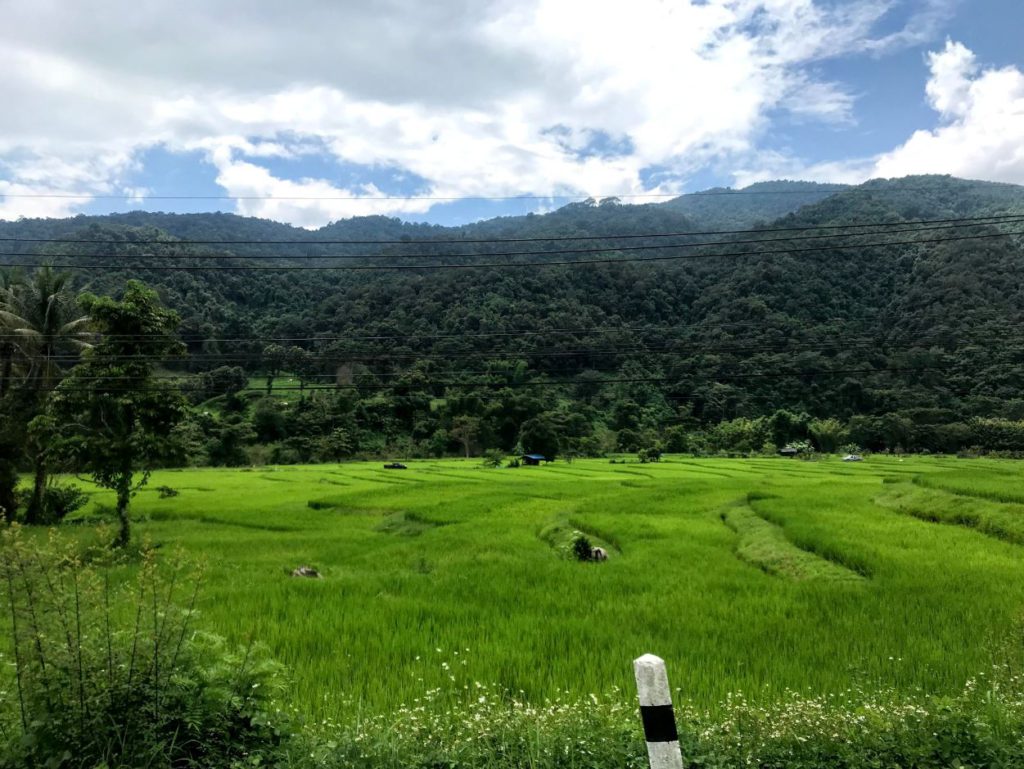 Where is Nan?
Nan is located in the northernmost part of Thailand towards the east side, opposite to Chiang Mai. The province shares its northern border with Laos. While the area is surrounded by hills, the altitude of Nan town is only 211m off the sea level.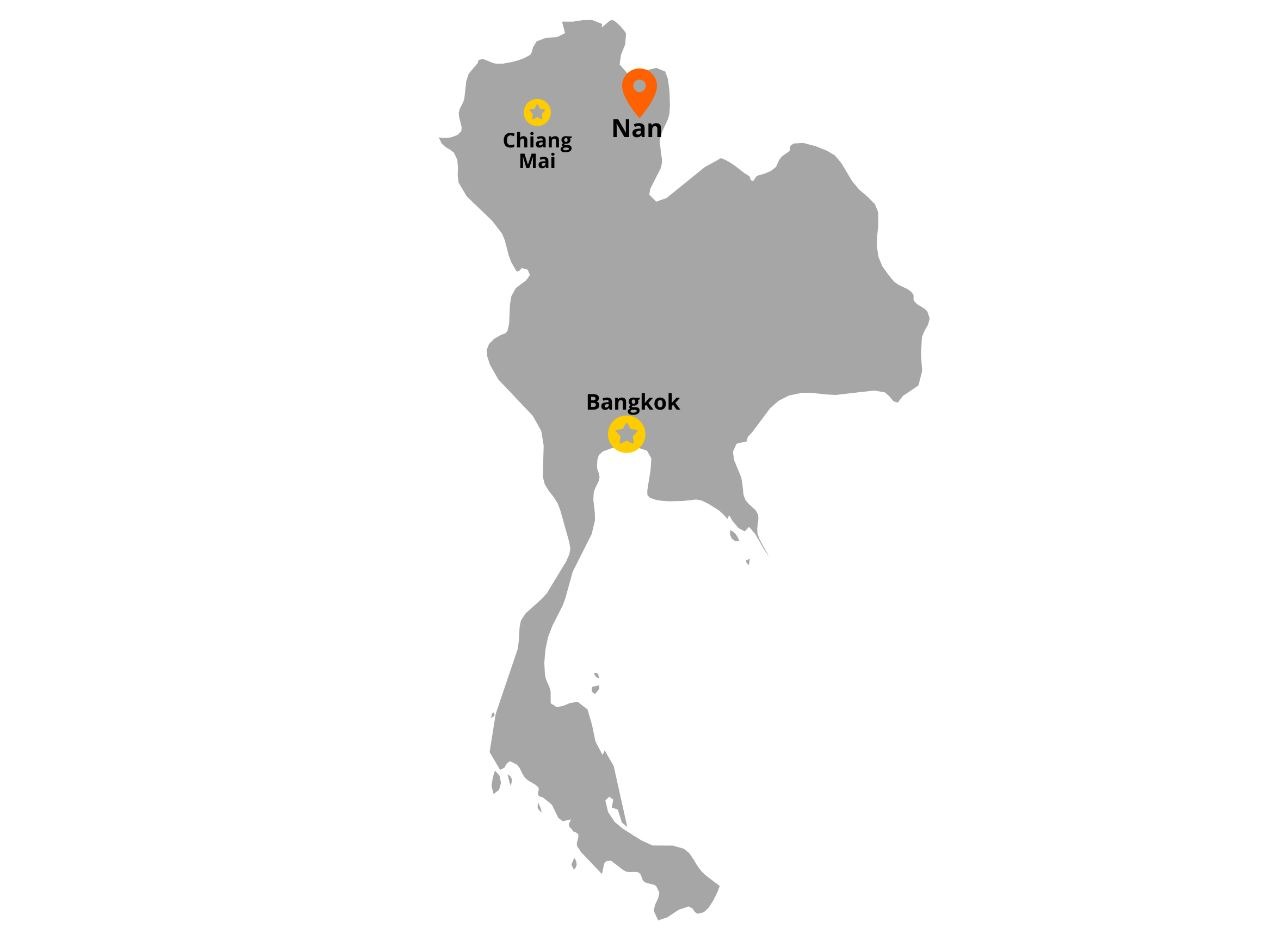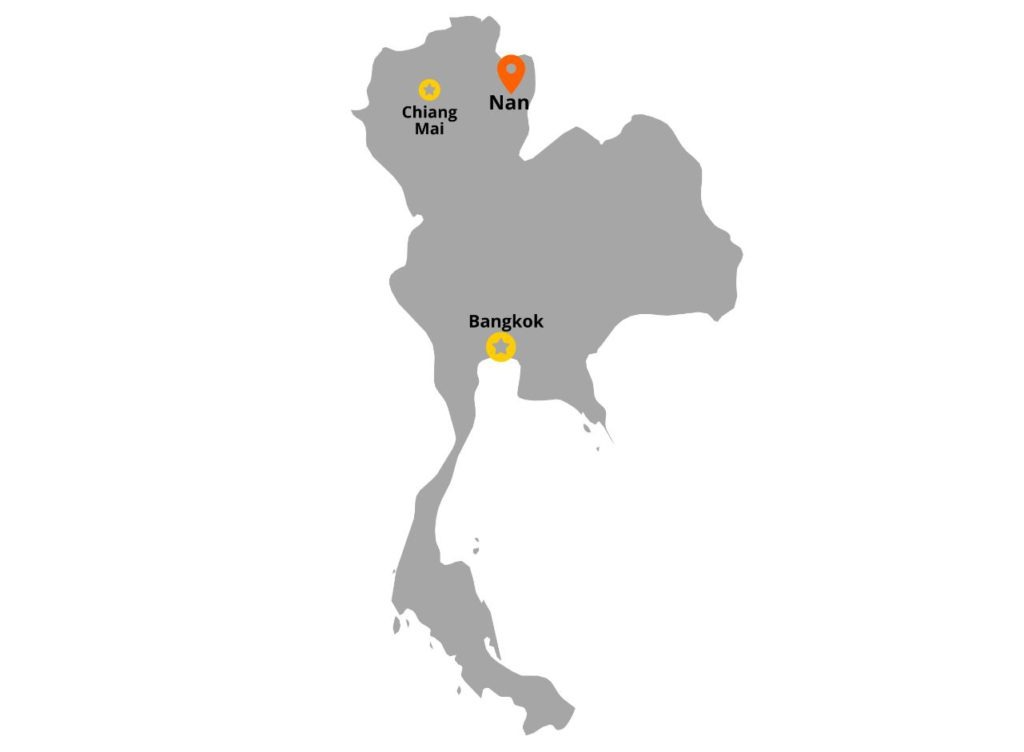 Best time to visit Nan
Winters (November – February): This is the best time to visit Nan province and even most of Northern Thailand. The temperature hovers around 20°C during the day. On some nights, it even drops to around 12°C. The sky is usually clear and rainfall will not obstruct your daily activities. Humidity is low. Make sure you pack warm for this time.
Monsoons (July – October): Despite its low popularity, I personally love the monsoons. Especially for Nan, the surrounding tropical forests come to life after a shower and turn bright green. Lack of tourists makes it even more beautiful. But you can expect rainfall almost every day. So that may dampen your outdoor plans.
If you plan to go for long drives try not to drive on wet roads. Some areas are prone to landslides as well. August is a perilous time to visit since Nan River is prone to floods during this time.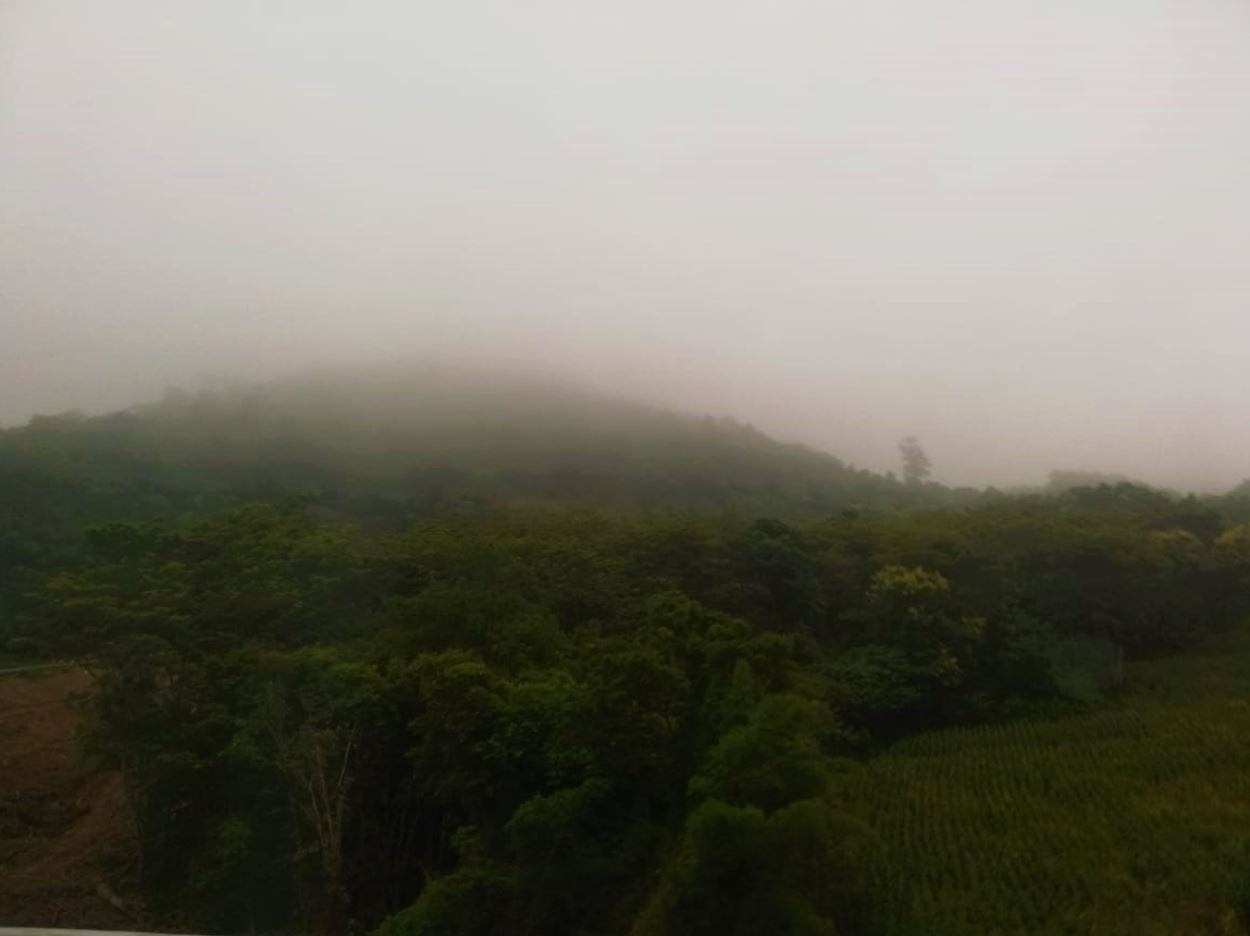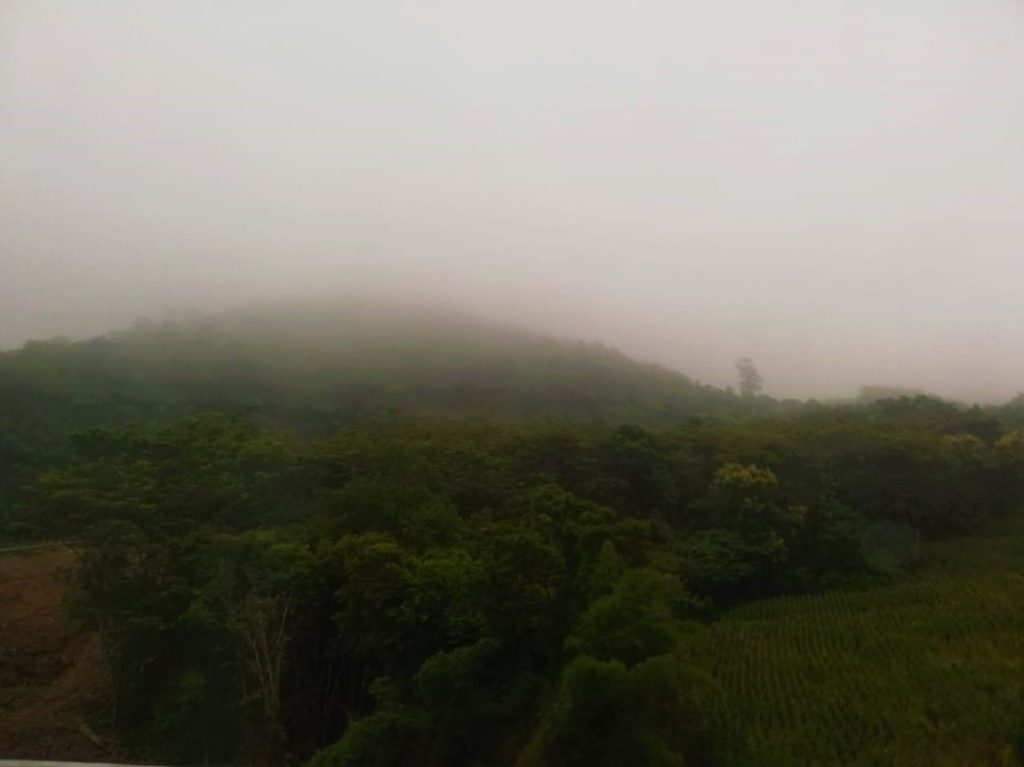 Summers (March – June): I will simply go ahead and say that avoid this time to visit. Summers are extremely hot in Thailand. And so is Nan. In fact, the forest around this area is also prone to frequent forest fires. Even locals like to keep inside for the most part.
If you are in Nan during this time, relax at home and come out only in the evening. Do not cover a long distance on road on bikes as you can easily get a heat stroke.
How to reach Nan
You can reach Nan using a flight or a bus. There are no trains to Nan.
Flight: You can take a flight from Bangkok directly to Nan. Nan has a small airport and flights usually run at least once a day and is fairly affordable. However, there aren't many direct flights from other parts of Thailand. There are no international flights connecting to or from Nan airport either.
Nan airport is just 4km outside the main city. You can take a taxi from the airport for the 15-minute ride that will not cost you more than 100THB.
Bus: Direct bus run from Bangkok to Nan a few times every day. There are buses also available from other parts of Thailand. In fact, there are routes connecting Nan to cities in Myanmar or Laos as well (but check if they are open). It is an overnight journey from Bangkok and a VIP bus is decently comfortable with reclining seats. There is also a simple and free dinner on the way.
You can book your bus tickets on bookaway.com, 12go.asia or busonlineticket.co.th. The bus for Nan starts at Mo Chit Bus terminal in Bangkok.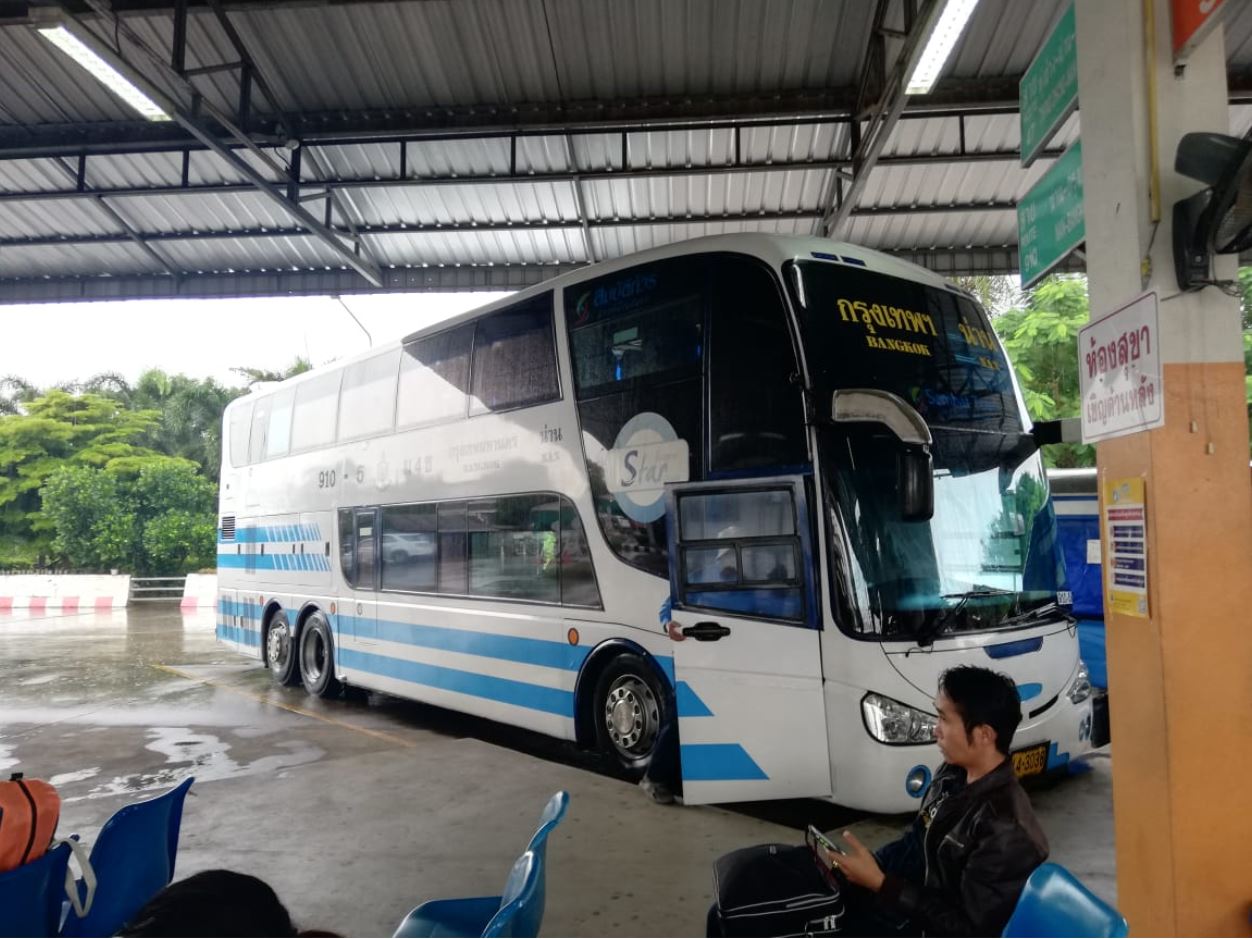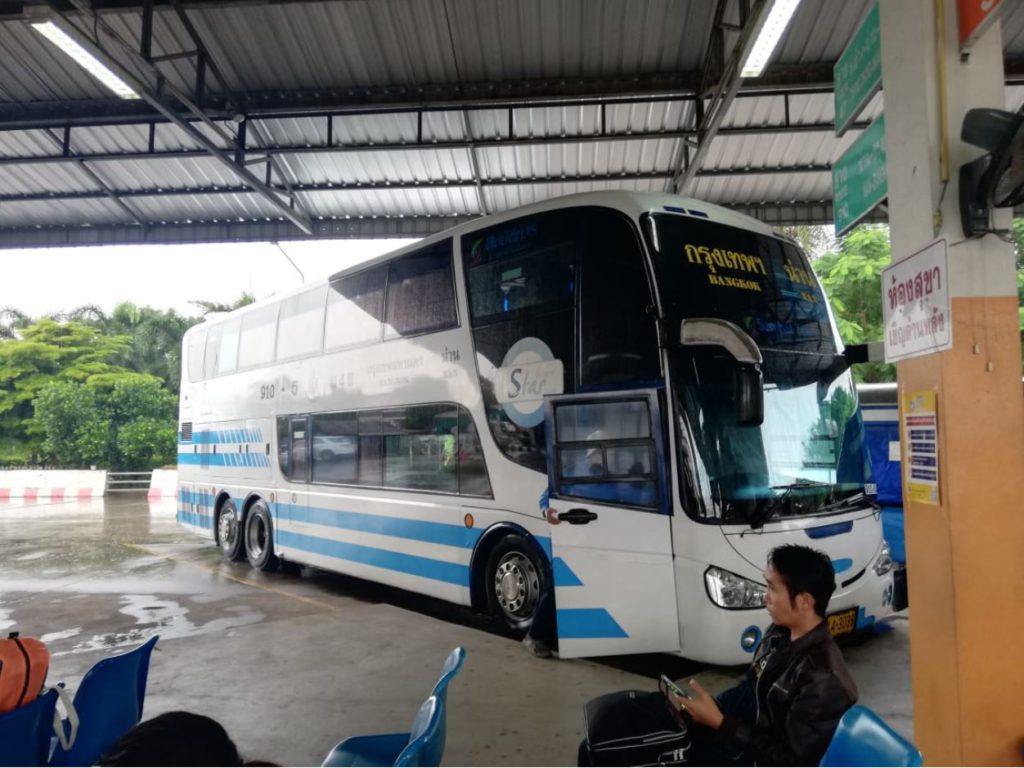 How to go around in Nan
Tour Guide: If you are travelling to Nan with a group, family or you are looking for a comfortable experience, I will suggest you take a group tour. While Nan is a mid-sized town, it is hard to get information on its limited public transport. Tour guides will make it far easier for you to get around and you can even customize your itinerary. Add a few adventure activities to your day itinerary.
Check out this day tour in Nan online. You can also ask around the local tour companies for more options. Or if you want to customize it completely you can check out this tour option that can cover several other parts of northern Thailand too.
Bicycle: Bicycles are easily available around the town and you can rent them at the hostel or guesthouse you are staying at. If they don't have it, they will direct you to a place or a friend who does. Although you can use bicycles only to go around Nan town.
If you get your hands on some good quality bicycles, maybe you can head out for long rides as well. But make sure you know the distance and are fit for the challenge. I will not suggest biking to more than 20km outside the town since you will not be able to find any backup or repair shops in case of a mishap.
Motorbike: Nan is a biker's paradise. In fact, you can frequently find biker's zooming past the highways all the way from Chiang Mai and Chiang Rai to Nan. The bad part is it is really difficult to find a bike on rent in Nan. There are almost no shops that rent bikes to tourists here. The easiest way to get a bike is to talk to your hotel owner and hope that he can fix you up with something.
You can also plan to start your bike ride in other towns and ride to Nan on your journey. You may find a bike on rent at Tono Car Rent or at Yamaha dealer (they sometimes rent out their second-hand bikes) near Nan bus station if you are lucky. A day's rent is 250 THB for 125cc bike or equivalent depending upon the bike.
If you love to ride and are looking for a longer road trip, you can also check out the Mae hong song loop in north-west Thailand. The circuit starts from Chiang Mai to Pai and goes to Mae Hong Son, Mae Sariang returning via Doi Inthanon. It is probably one of the best ways to see this part of Thailand. Check out our complete guide on travelling the Mae Hong Son Loop.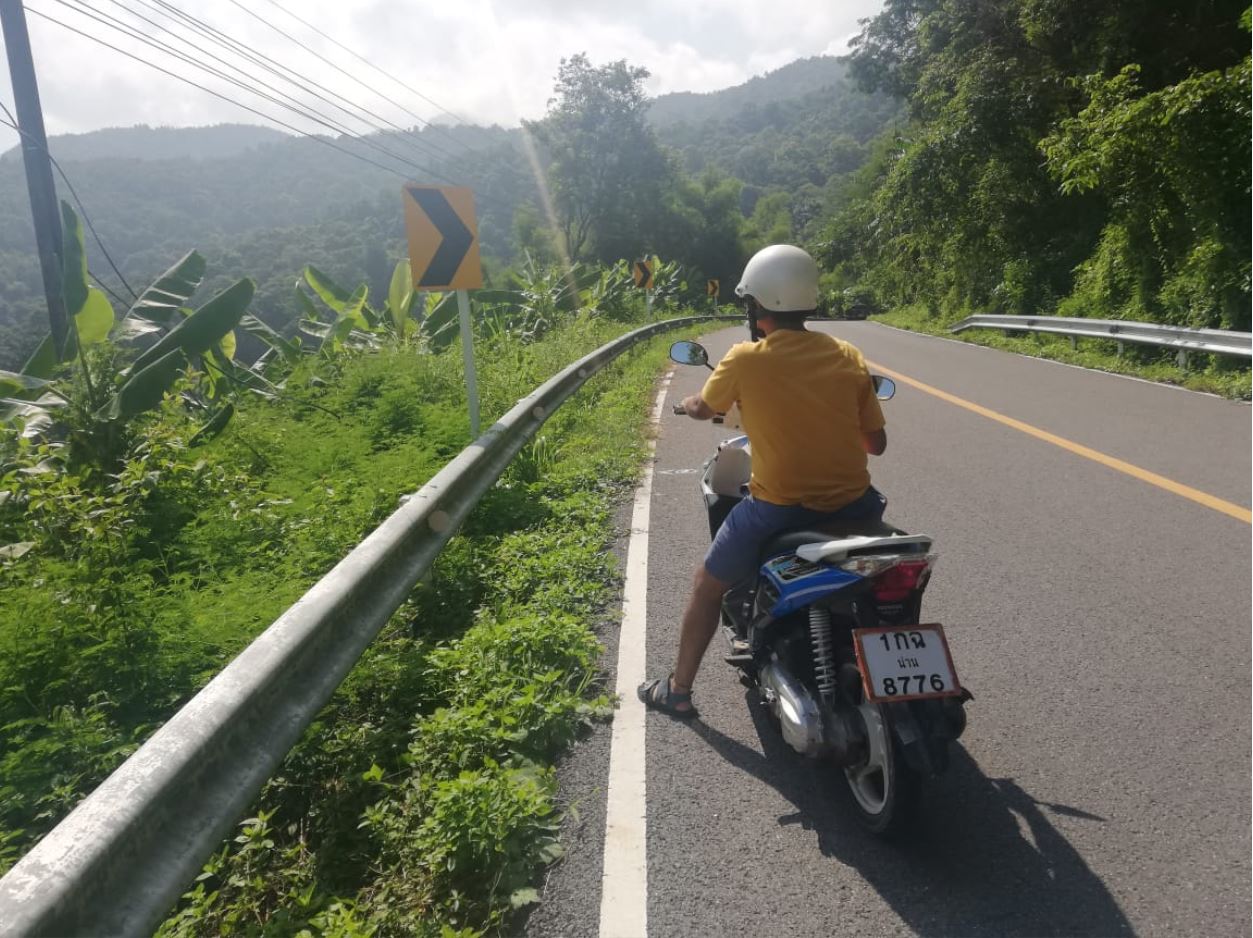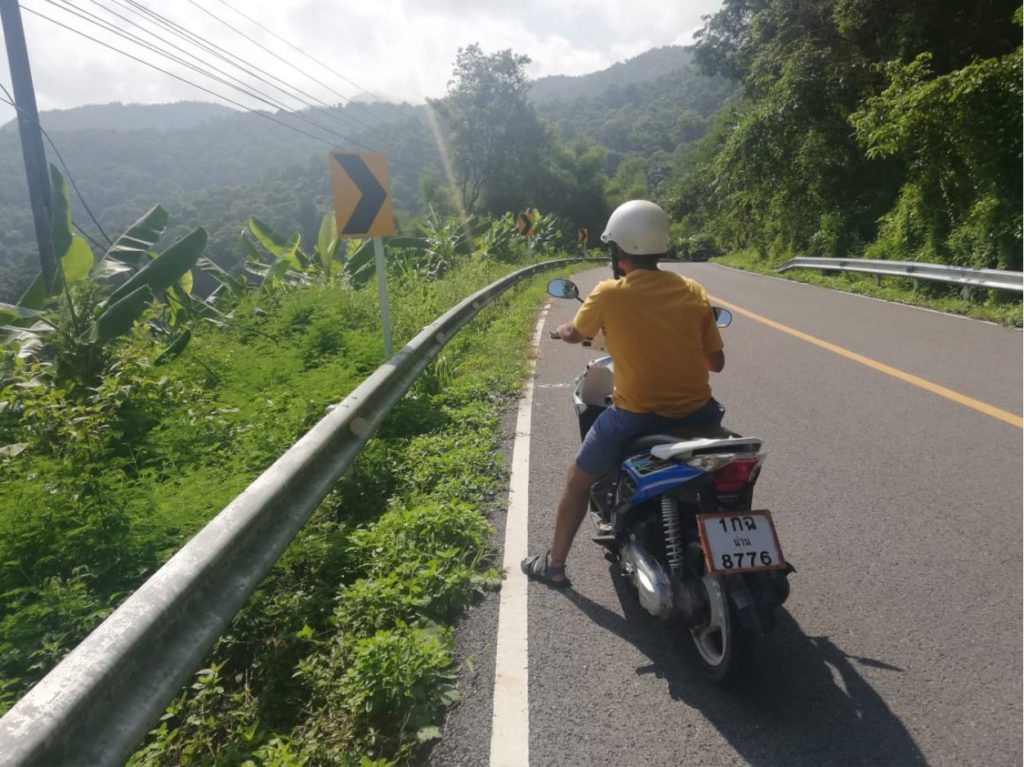 Rental Car: Luckily renting a car is far easier in Nan that a motorbike. You can easily rent a car from Nan airport. If you are travelling to other cities, you can drop it off there if you are booking a rental car online. Parking is easy to find. Renting a car is especially beneficial during the monsoons and summer season.
You can book a car online at vipcars.com or at jetcost.co.th. You can also ask around shop owners in Nan town or your hotel owner for leads. A day's rent starts from around 1,000 THB and onwards depending upon the type of car.

Where to Stay in Nan
Nan is not a mainstream tourist destination. But there are plenty of mid-range, luxury and boutique hotels available in the area. The best area to live in is within 2 km of Nan city centre. It is closer to the bus station and you can find a vehicle to rent. 7-Eleven and night markets are within walking distance. The best place to book a hotel in Nan is agoda.com.
If you are planning to choose a traditional wooden style home, make sure it has air conditioning (which they usually don't have) if it's not the winter months.
Here are some suggestions with the best ratings, locations and amenities.
Budget Hotels: Nan Guesthouse (personally recommended), Banban Nannan Library and Guesthome, Dhevaraj Hotel
Mid-Budget: NanNakara Boutique Hotel, Nanlamoon Hotel, Emmaline Hotel
Luxury / Boutique: Wevari Heritage, Pim Pool Villa Nan, NirvaNAN House
Countryside: NantraKiri, Ban Suan Nai Fun Home
Things to do in Nan
Temples of Nan
If you have been in Thailand for some time, I am sure you must have been to an insane number of temples. They do kind of make the most popular tourist destinations in Thai cities.
But surprisingly, I found that temples in Nan have very distinct features, each different from others. Even if you don't want to go all the way inside (except Wat Phumin) try to stop by to look at the architecture. Most of them are located at a walking distance from one another. Here are some of the best temples in Nan town.
Wat Phumin: Do not miss Wat Phumin. You may wander into in any way since this is where people gather at night for dinner next to the night market. On some days, you can even catch local performances. Apart from being almost the town's hotspot, the temple is famous for its murals on the inside.
You must visit Wat Phumin to locate 'The Whisper of Love'. This is a mural inside Wat Phumin that has become the face of Nan province. You will find it everywhere from T-shirts, collaterals, souvenirs, menu cards and pamphlets.
The painting depicts a man whispering a love poem in the ears of a woman that draws a smile on her face. It is a common way of flirting among Thai younglings.
Another fact about the temple is that Wat Phumin is home to the first-ever human figurine (much like Madame Tussauds) made out of fibreglass in Thailand. It is the statue of a monk seated below the main statue. After this, the artist went on to make several other figurines that are displayed in the Thai Human Imagery Museum near Bangkok.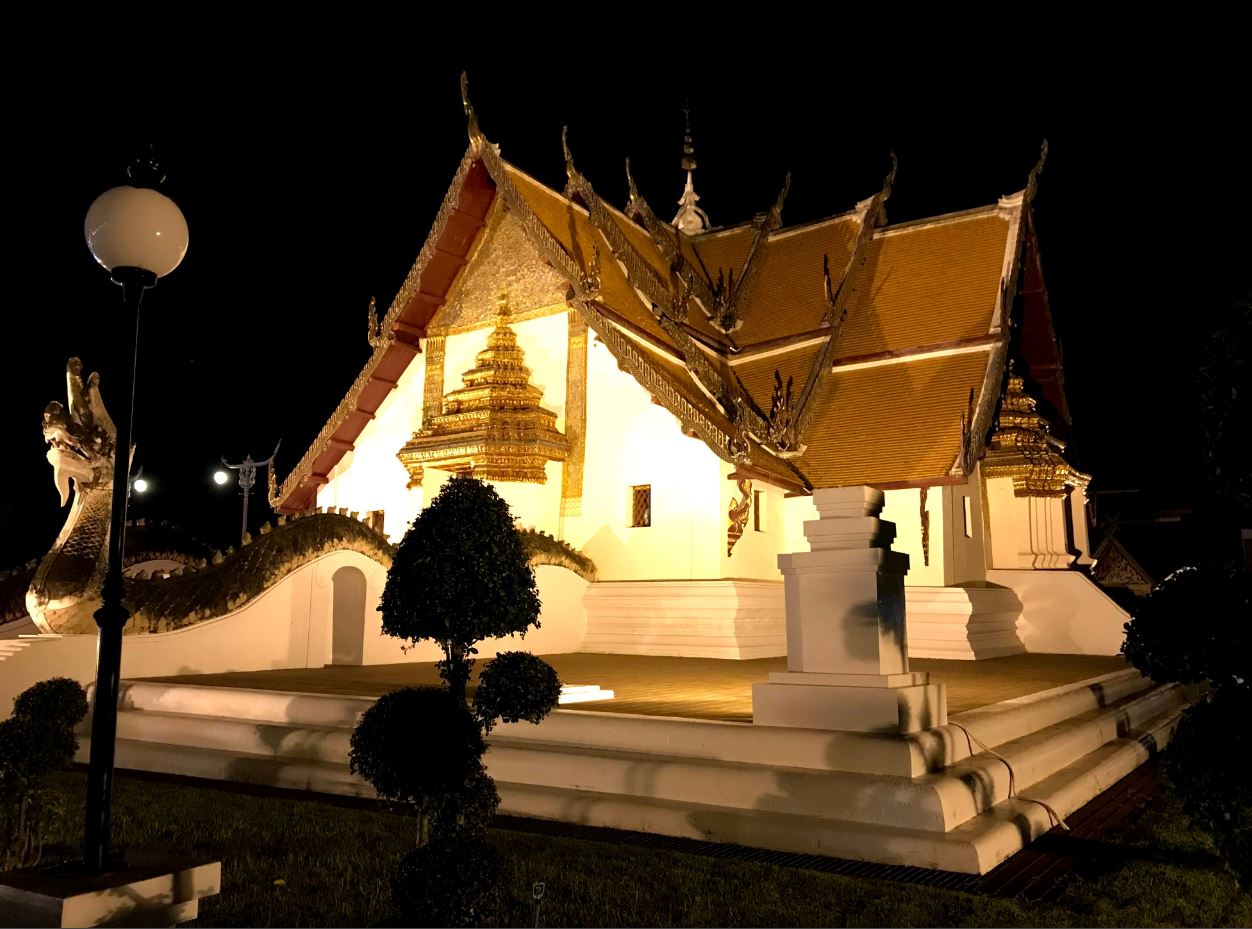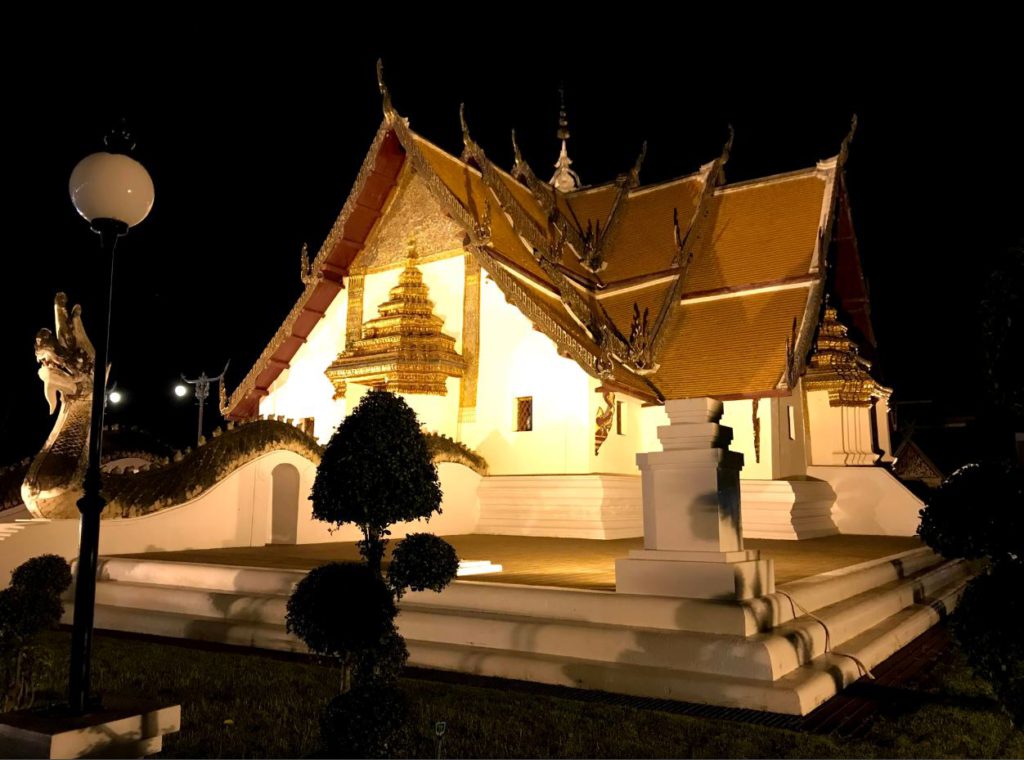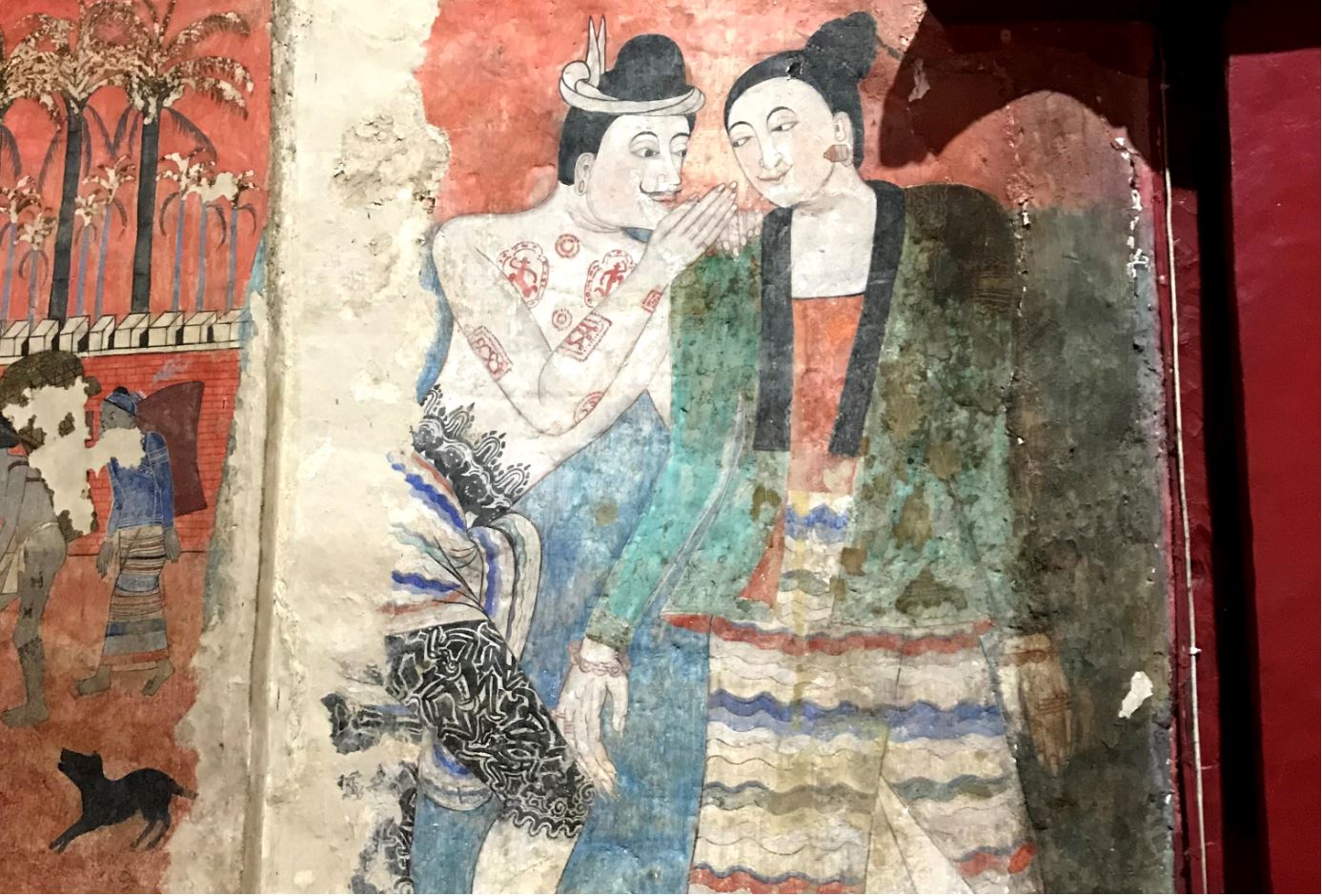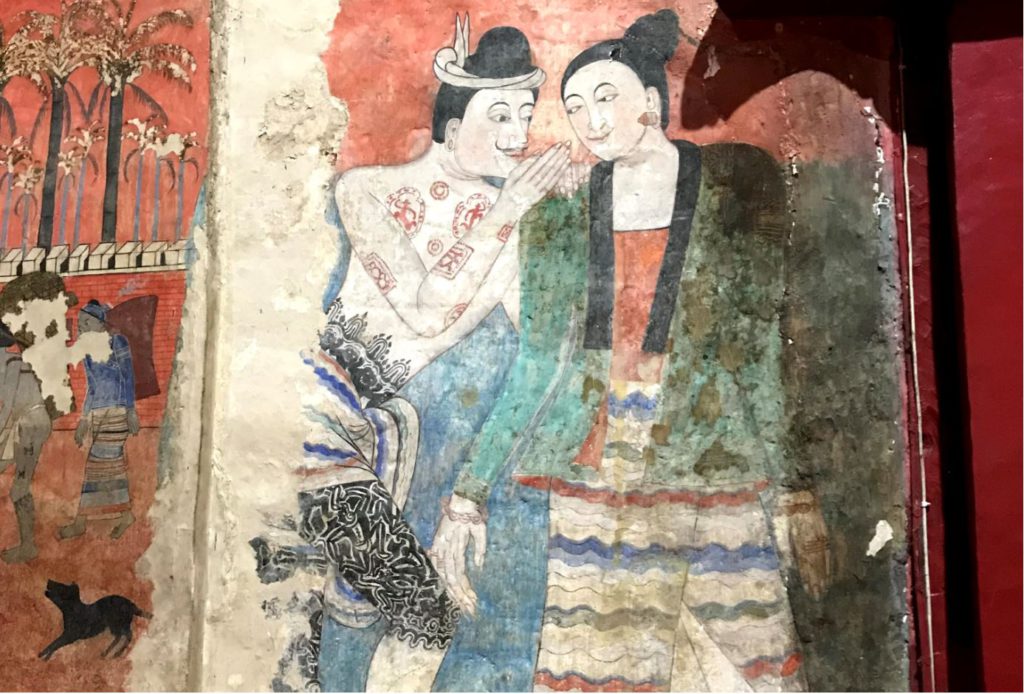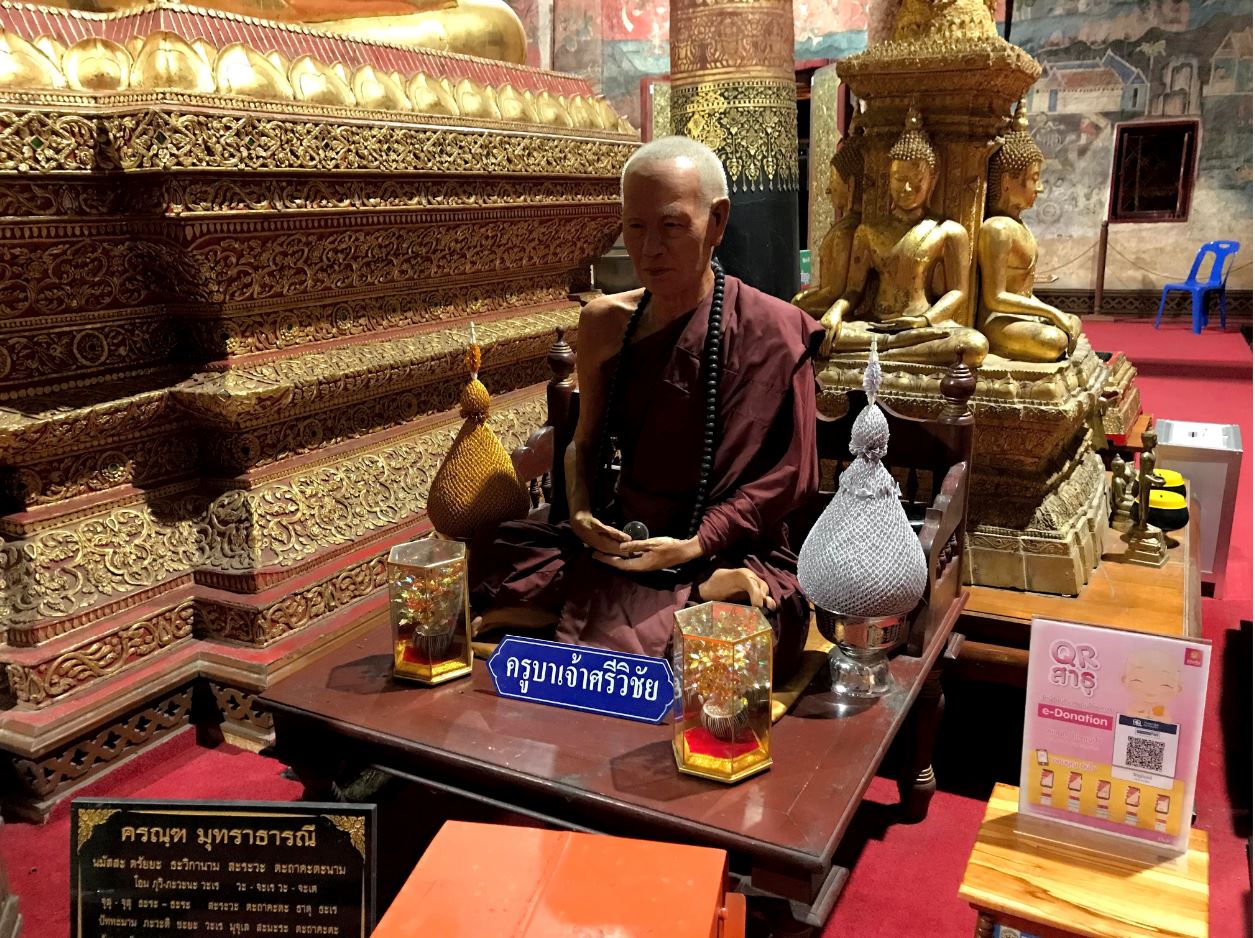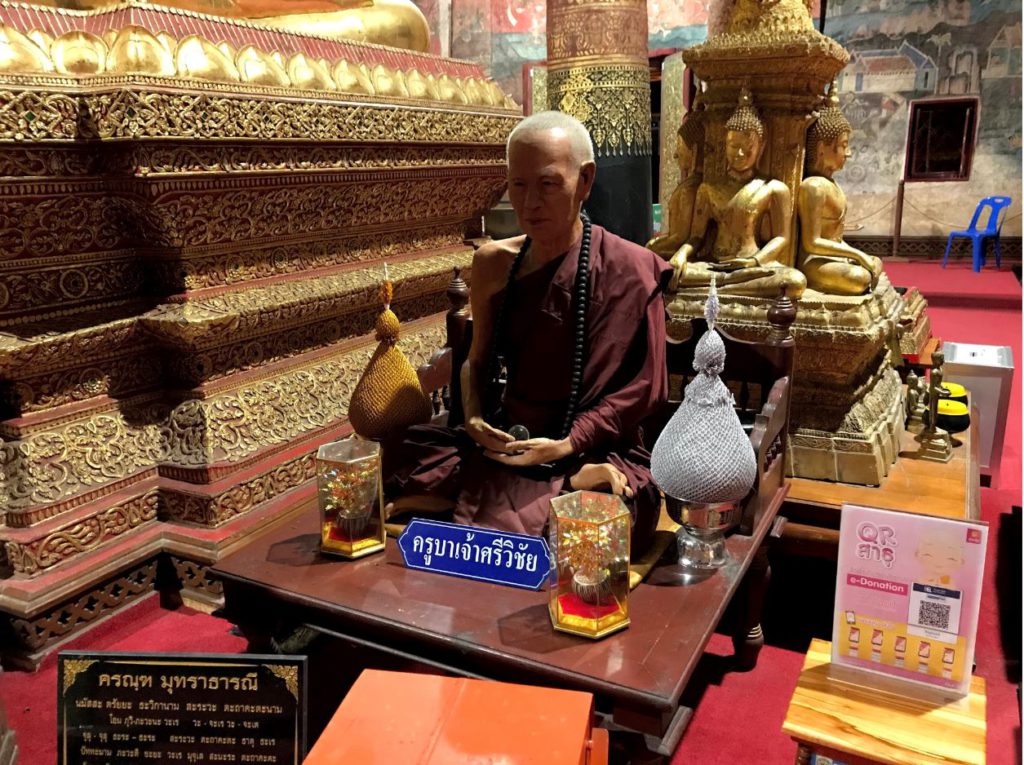 Wat Sri Panthon: This is a temple just a little ahead of the bus stand that you can even spot from a distance. The whole building is a shiny golden colour. In fact, it can be intimidating. But if you go around the temple, you can discover some astounding intricacies with five-headed snakes and angels carved into the structure.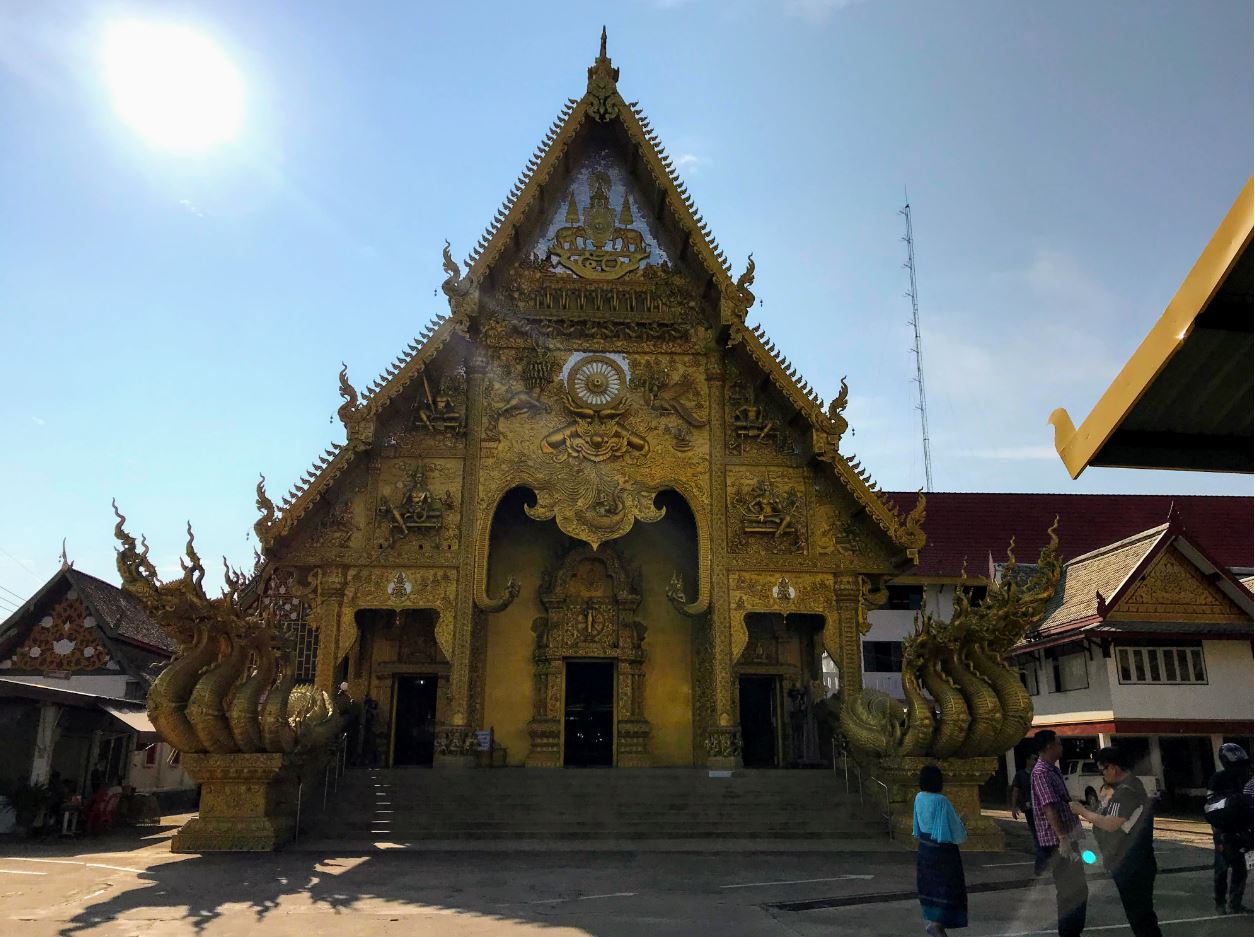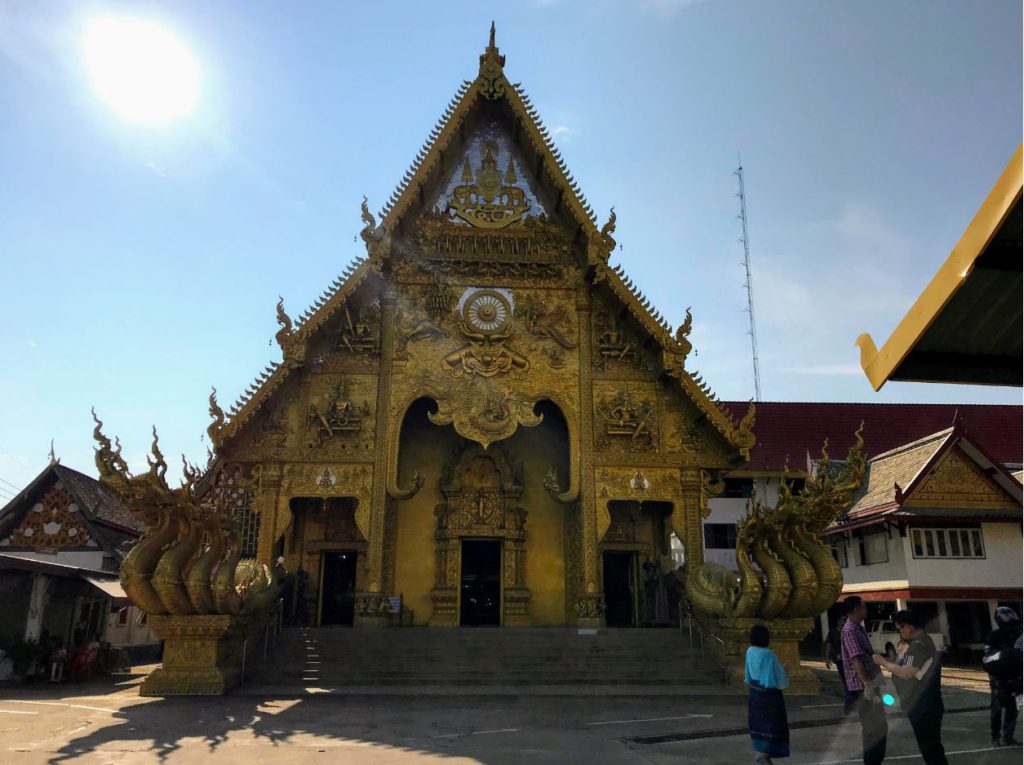 Wat Ming Muang: You just need to walk straight from Wat Sri Panthon and you will know when you are here. On your right side is a pearl white building that on the first glance looks like marble. It reminded me of the White temple in Chiang Rai.
If you wait around till sunset, you can see the building reflecting of shades of orange and pink in the evening. This one is gorgeous.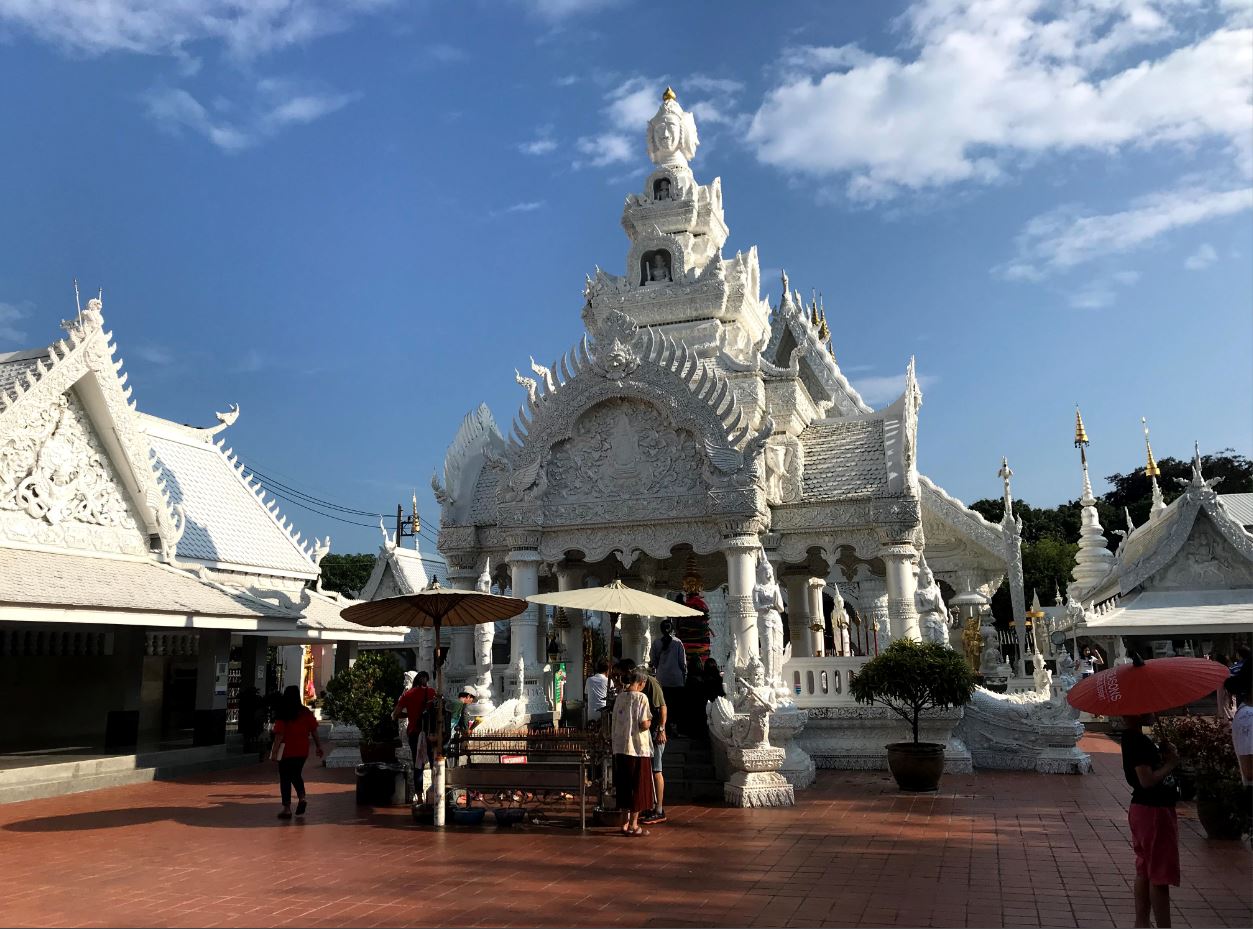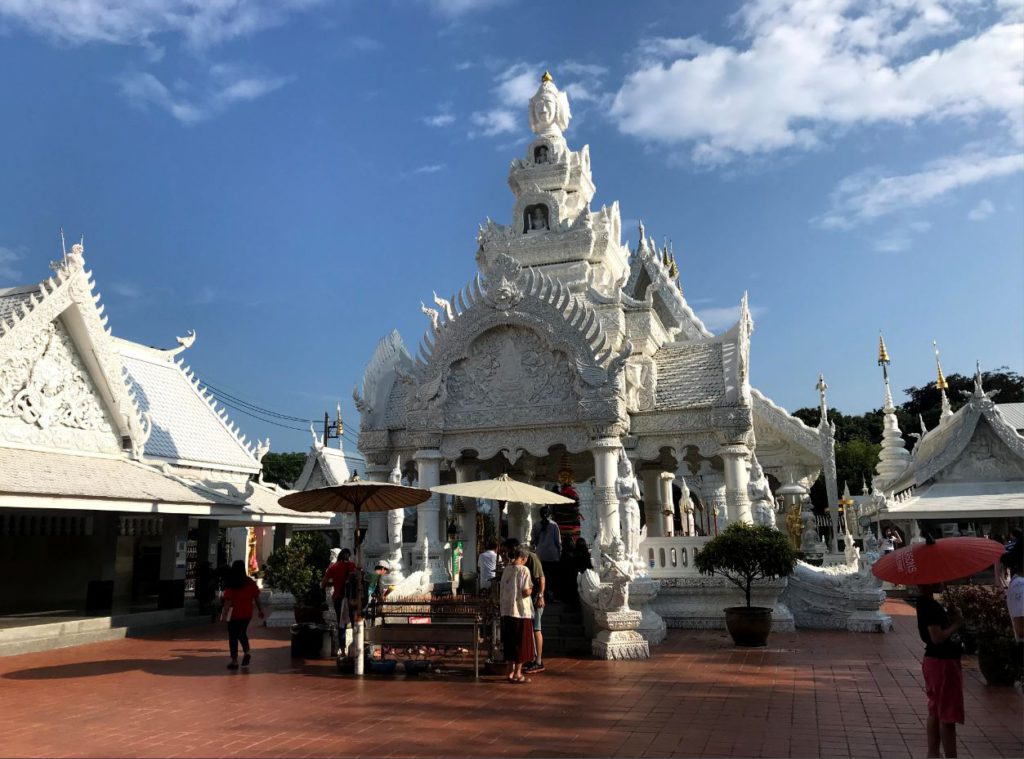 Wat Suan Tan: I like this one because of its red and golden façade. I have been to several Thai temples but you rarely ever see block shades of bright red on the façade. It makes a striking feature. It was worth a stop for me. But you can skip this if you aren't much into temples.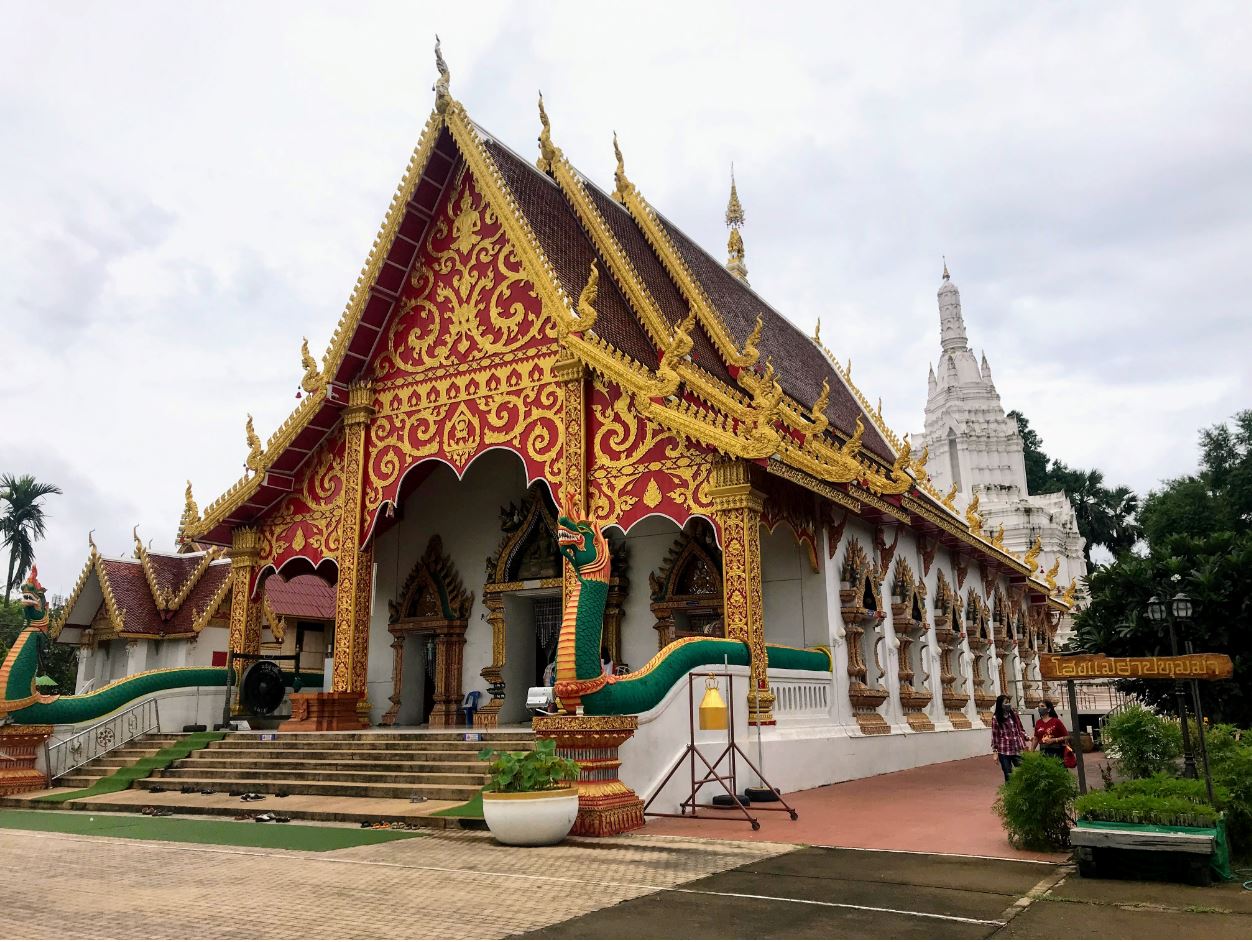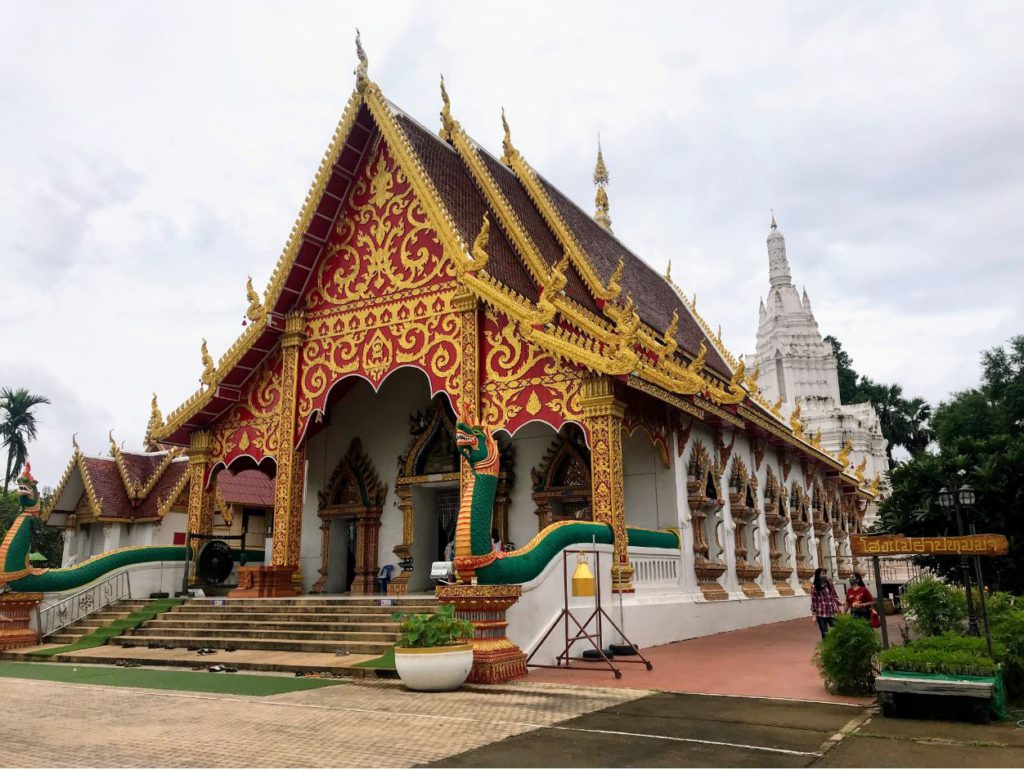 Wat Phra That Khao Noi
Another Wat? Now now, hear me out! Wat Phra That Khao Noi is not just a temple. People flock to this place for the view. However, the temple is most famous for a 9-meter tall statue of gold-coloured Buddha overlooking the valley and Nan town. It was installed in 1999 in the honour of the late king.
You need to ride for like 10 minutes out of Nan town and towards a neighbouring hill to reach the temple. In return, you will encounter some gorgeous view of the valley. The temple shares cultural similarities with Burmese architecture.
Opening Hours: 6 am to 6 pm. The best time to visit the place is around sunset.
If you want you can also take a morning tour of Wat Phra That Khao Noi to see the sunrise with a tour. The tour company clubs it with a morning visit to the local farmer's market and also get a glimpse of the morning ritual of monks collecting alms. Check out this tour here.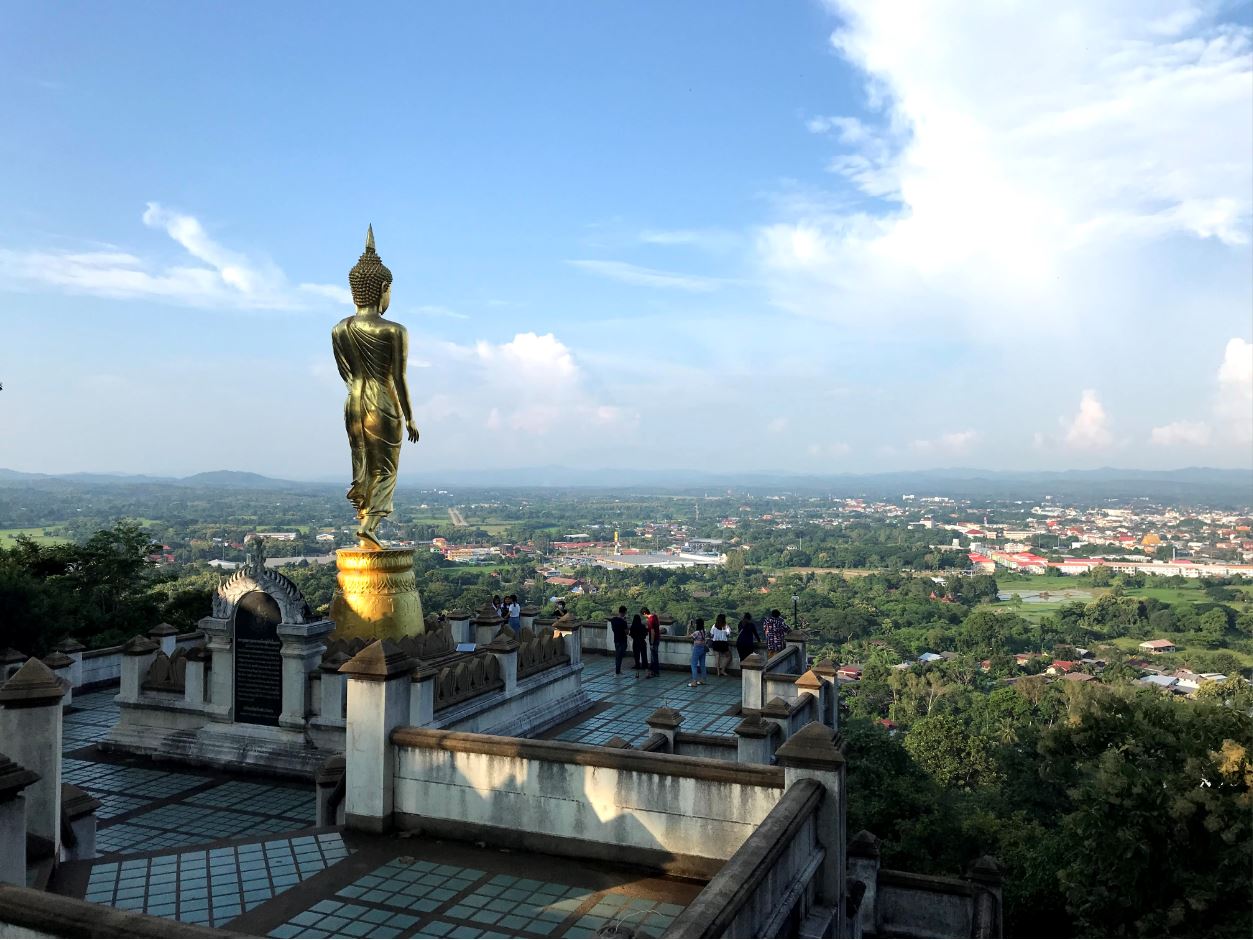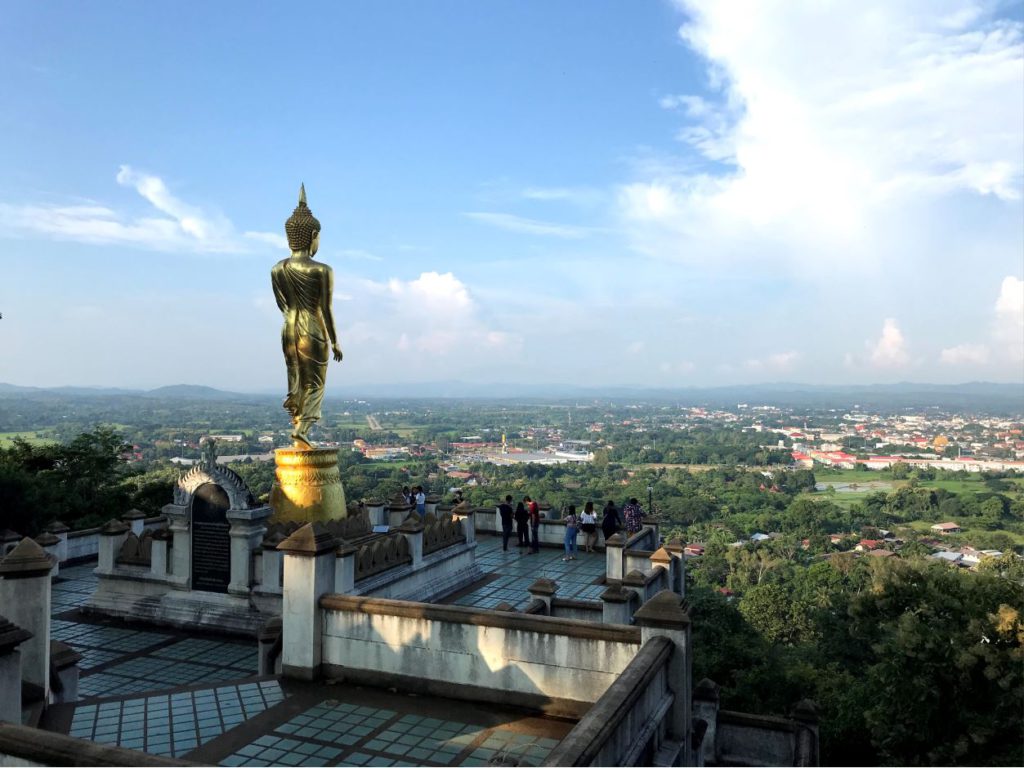 Nan National Museum
Nan National Museum is the pride of the town. It was initially the home of the last two lords of Nan since 1903. Nan was initially part of the Lanna kingdom (consisting of parts of North Thailand like Chiang Mai, Chiang Rai, Myanmar and Laos). A large part of it got merged with the Siam Empire in its later years.
In 1931, the last lord of Nan handed his home over to the government that was consequently converted into a museum. While I wouldn't say it is exceptional, it is still worth a visit. The museum has a large collection of Buddha statues from central Thailand, Lanna Empire and even Burma that gives an insight into the artistic difference between all three.
There are also a valuable collection of artefacts from the Lanna Empire. Sadly, most of the information is in the Thai language so foreigners can only enjoy the visual display. The museum is located in the centre of the city and is super easy to reach.
Nan National Museum timings: Open from 9 am to 4 pm from Wednesday to Sunday. Closed on Monday and Tuesday.
Nan National Museum ticket prices: THB 100 for foreign tourists, THB 20 for Thai residents.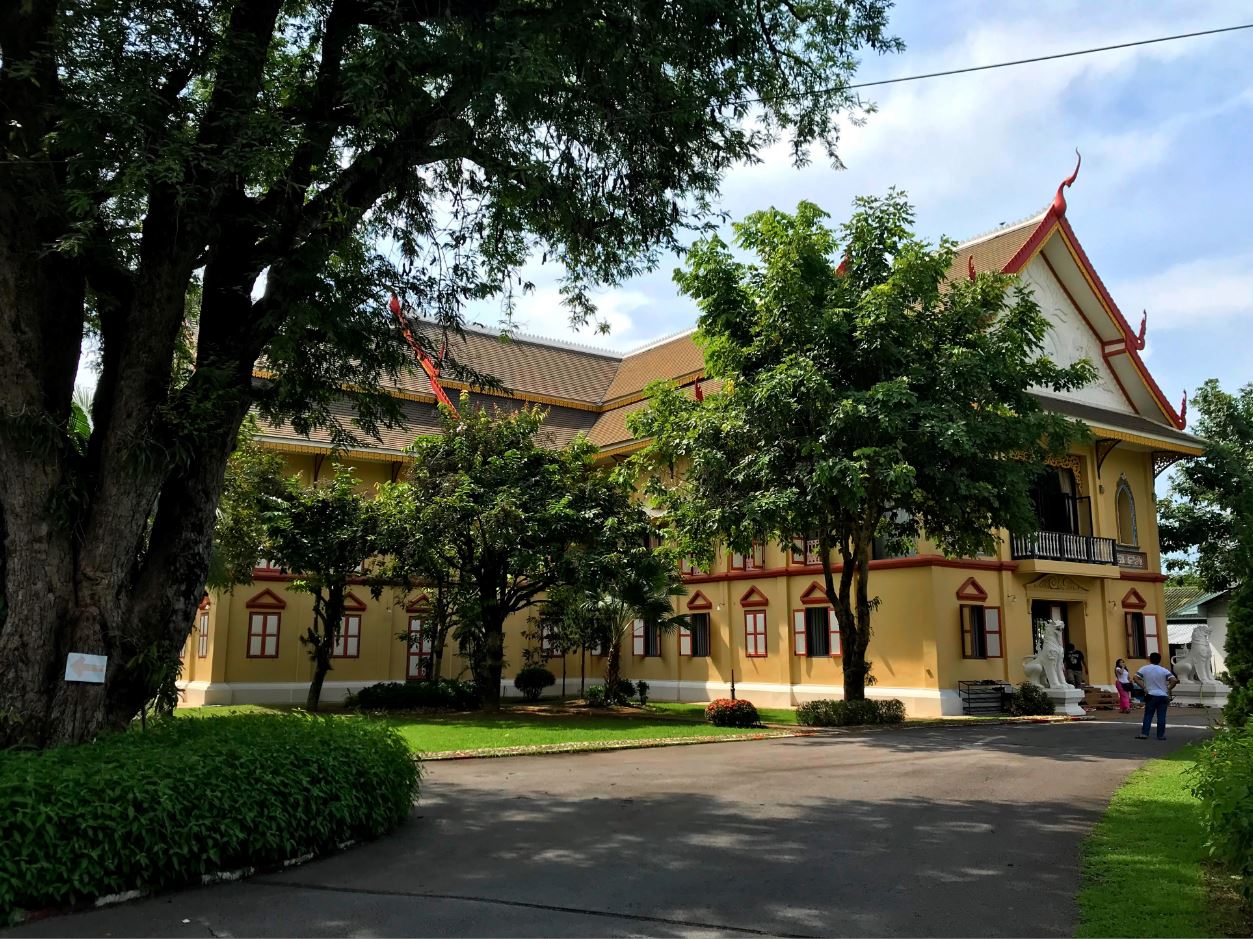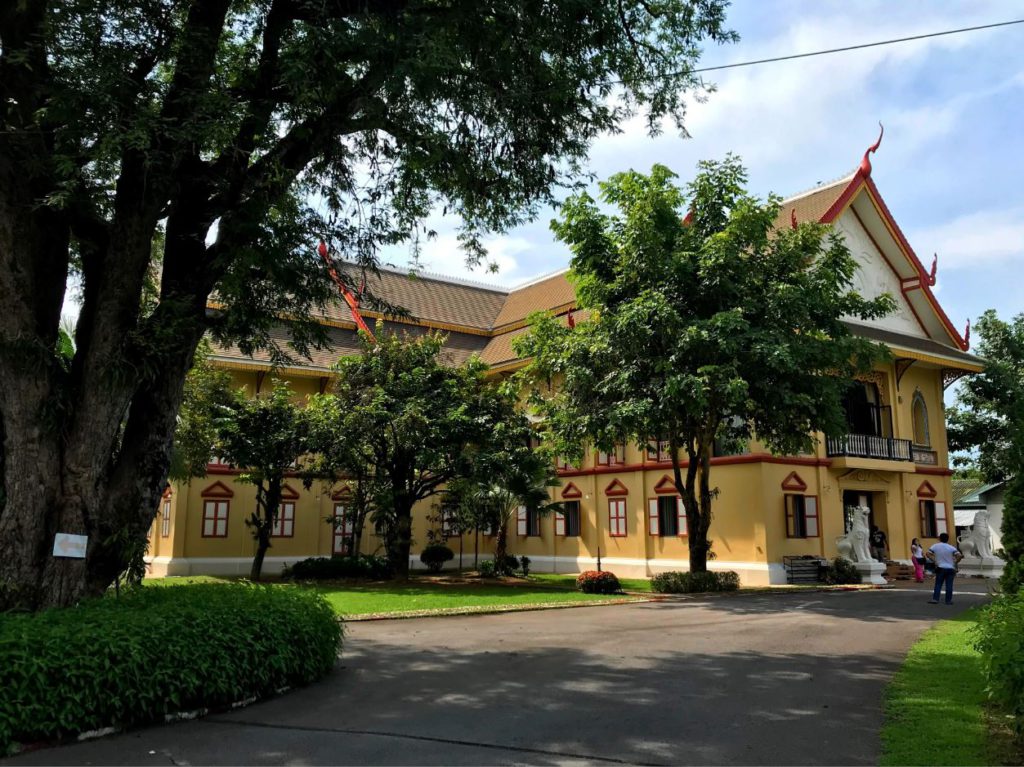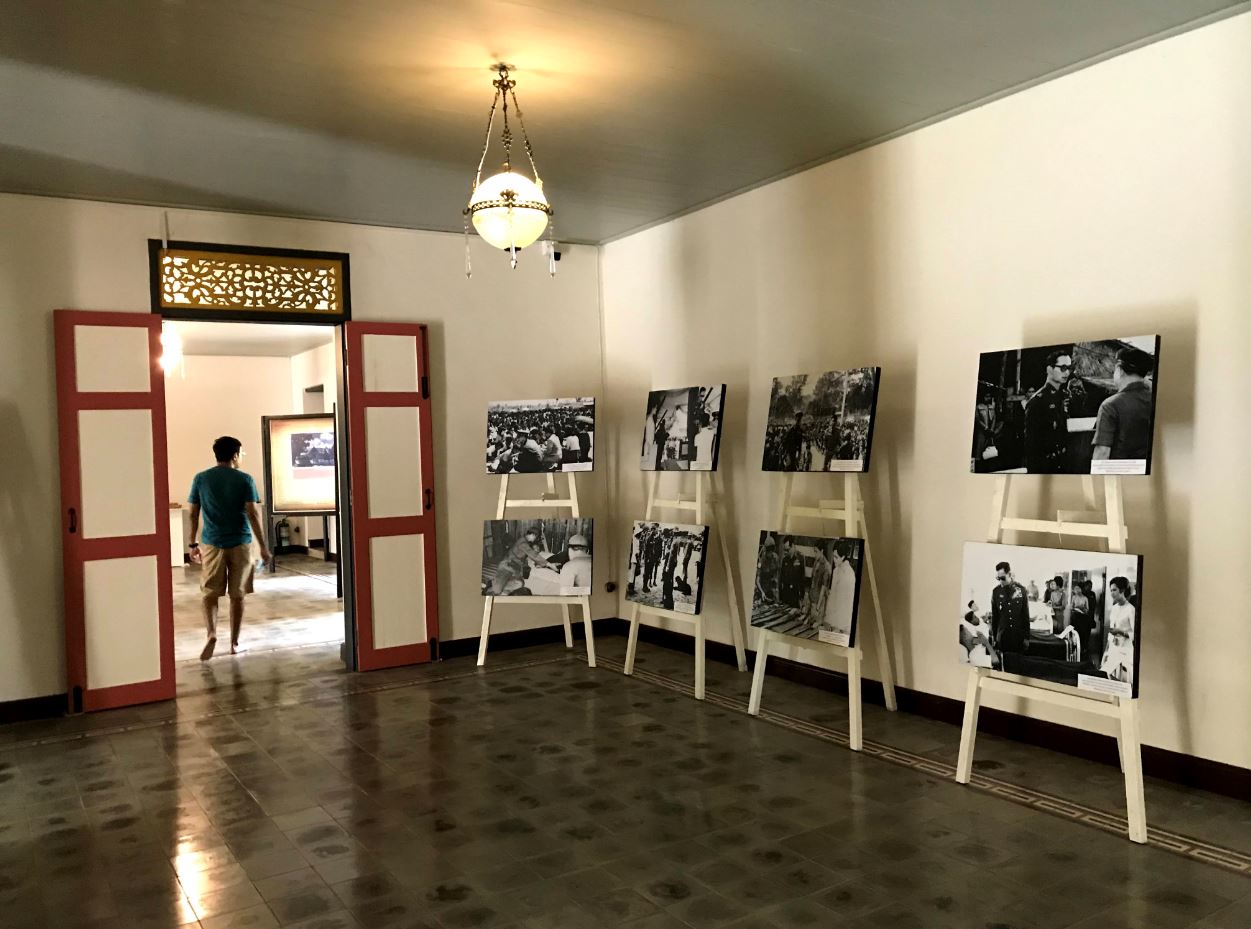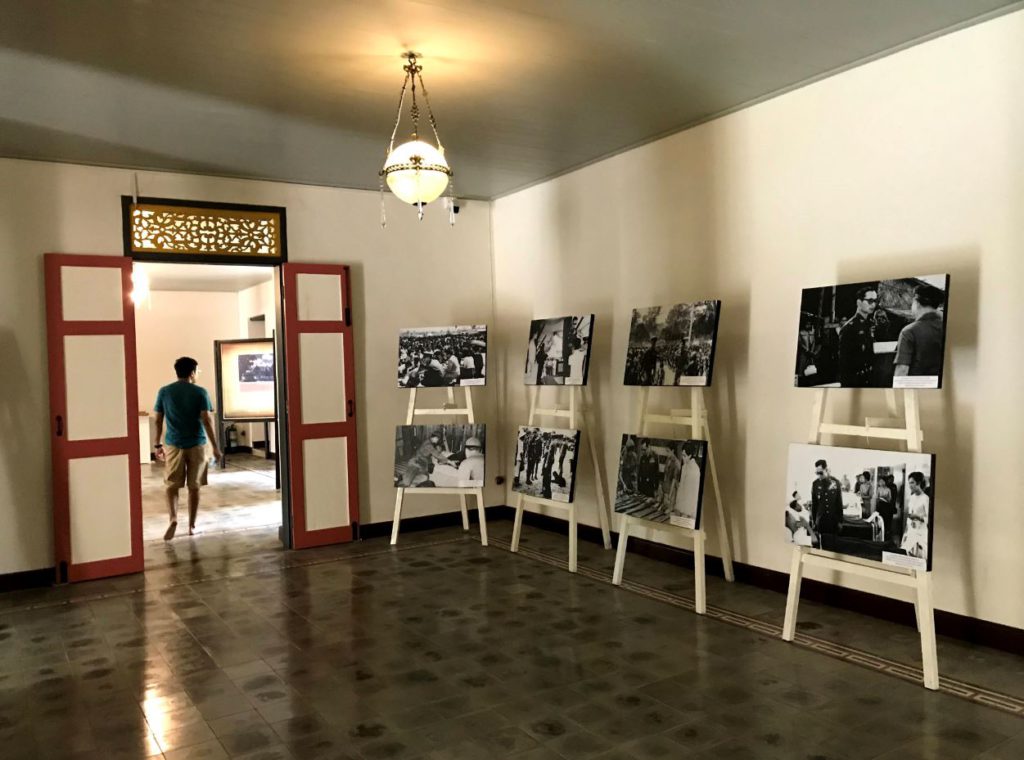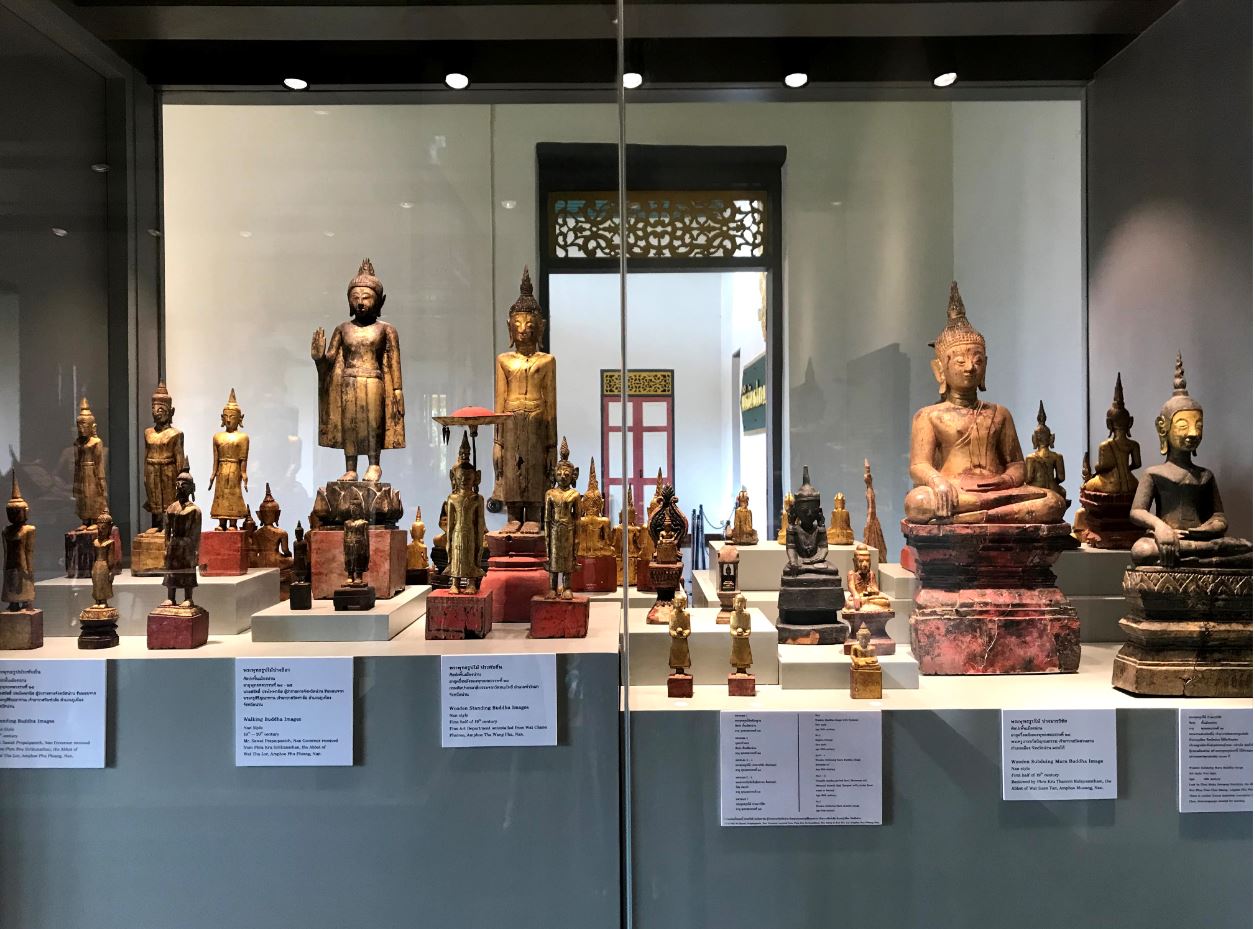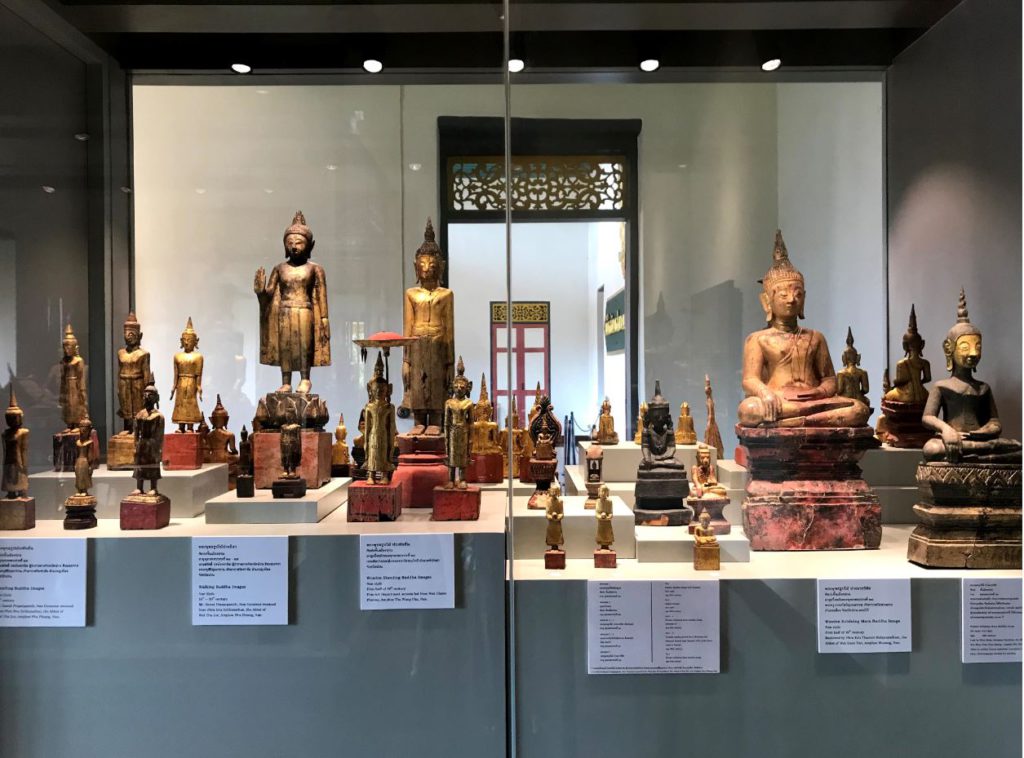 The Noble House
The Noble House is obvious by its name. It was the residence of a family member of the royal family who also happened to be the head weaver of the royal court.
The house is an assembly of three small houses built in traditional Lanna style of architecture in teak wood over two floors and is over a hundred years old.
The rooms are intact with the furniture of the time and if you can believe it for a minute, you can feel yourself transported. The kitchen still has clay pots and the furniture seem to be locally procured.
The house has been converted into a museum and a special preference was given to display the local weaving craft. There are weaving machines on the ground floor and a lady sings country songs for the visitors. Very charming! A small shop at the end also sells handmade Lanna style garments if you want to dress like a local.
Noble House timings: Open from 9 am to 5 pm from Wednesday to Sunday. Closed on Monday and Tuesday.
Noble House ticket prices: THB 20 per person.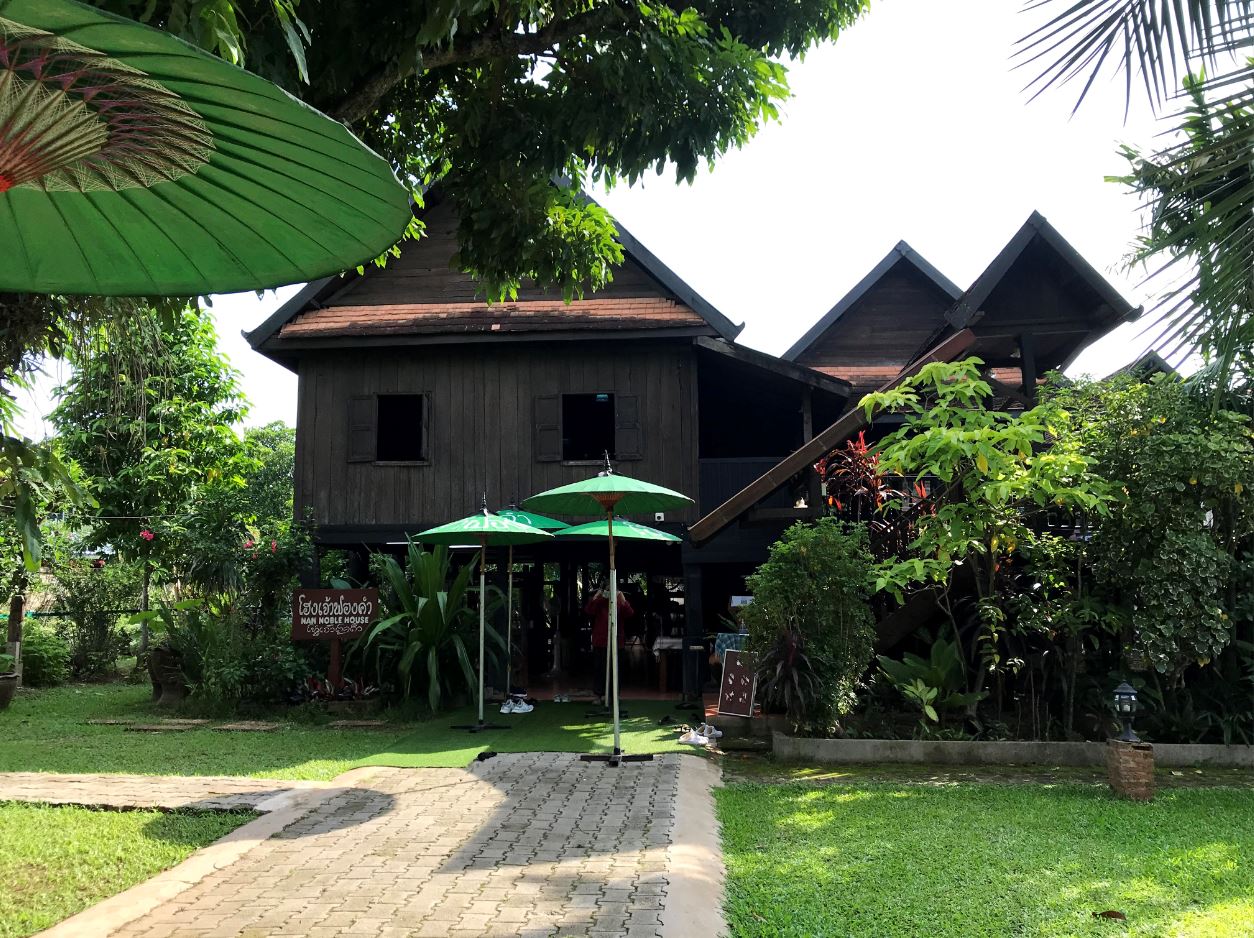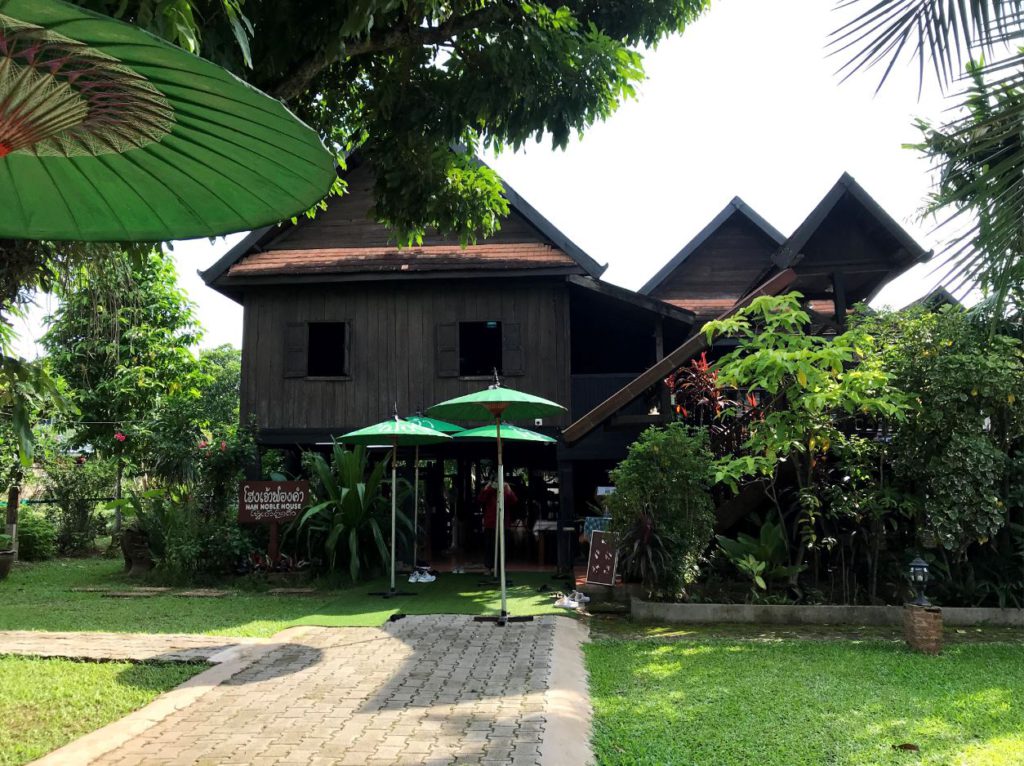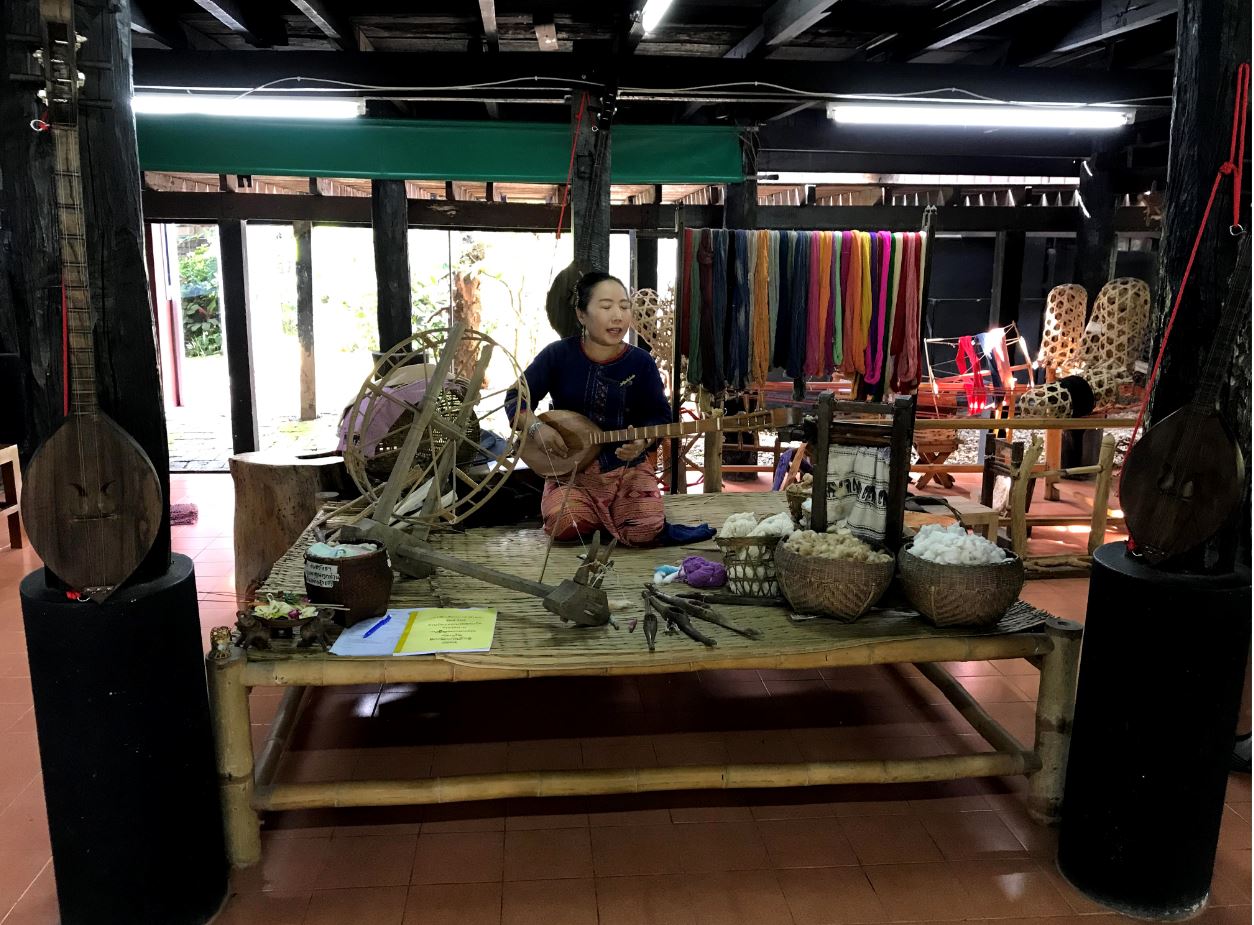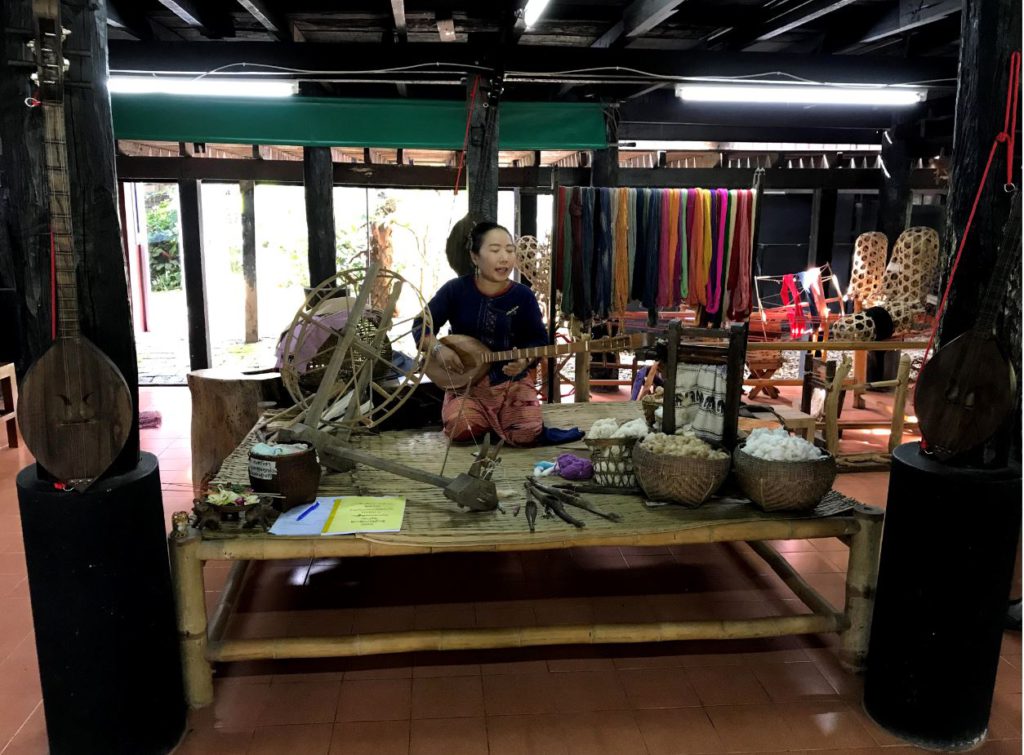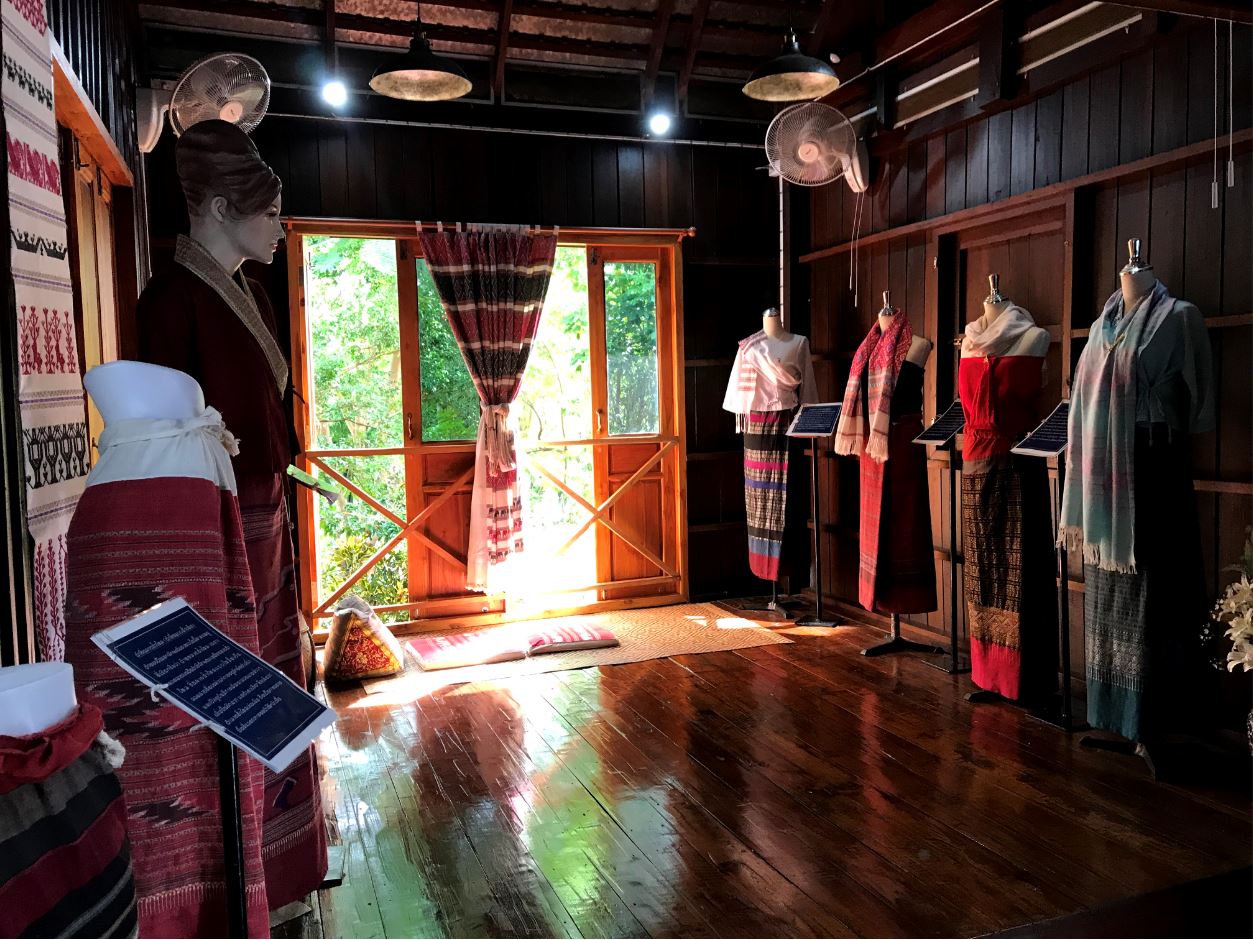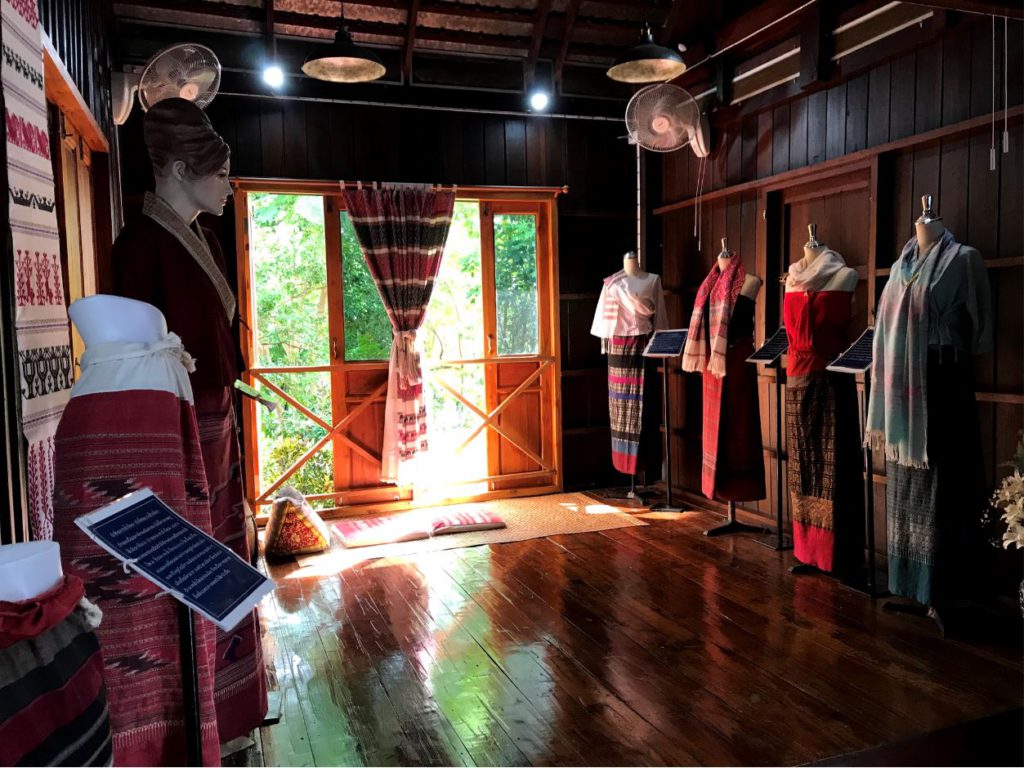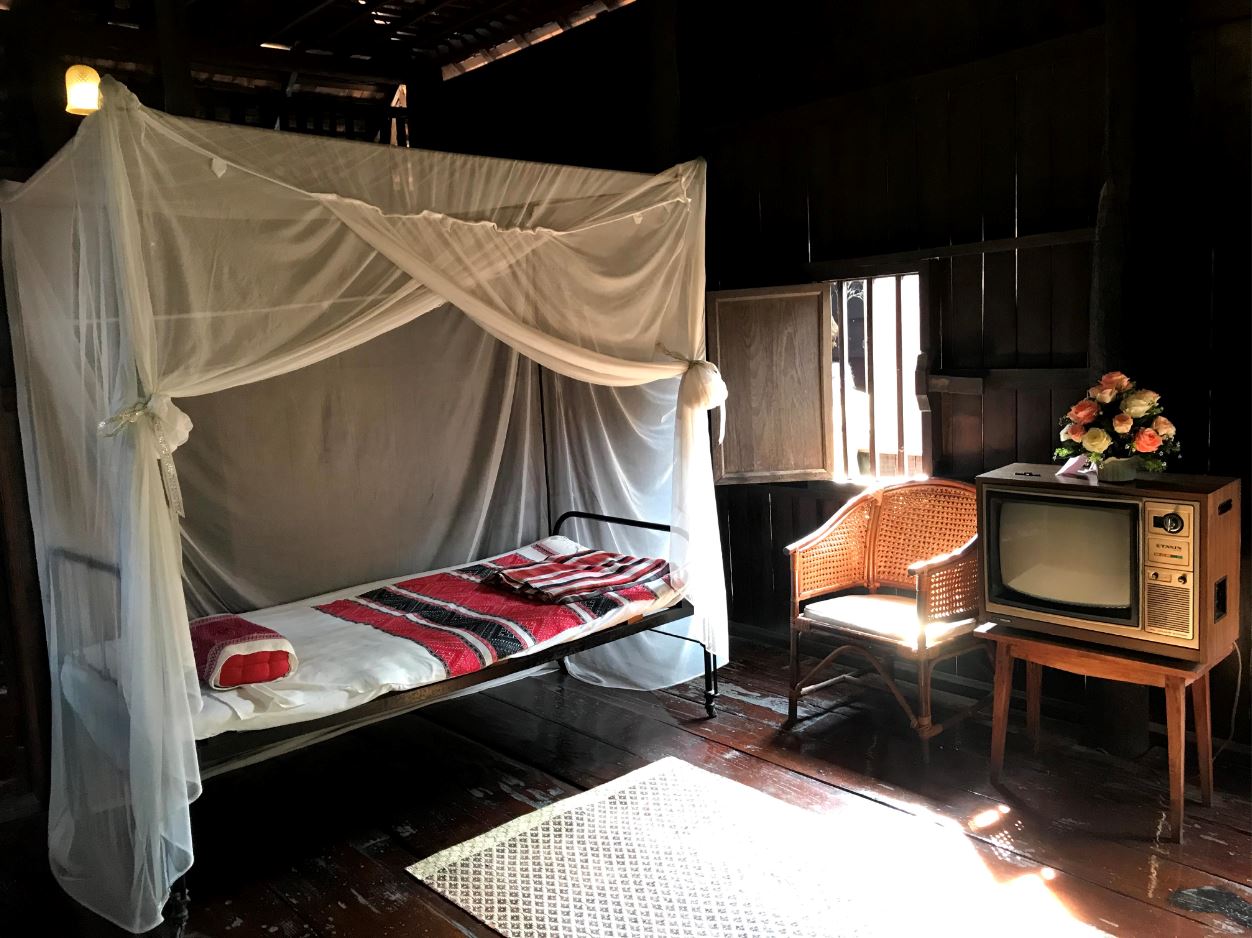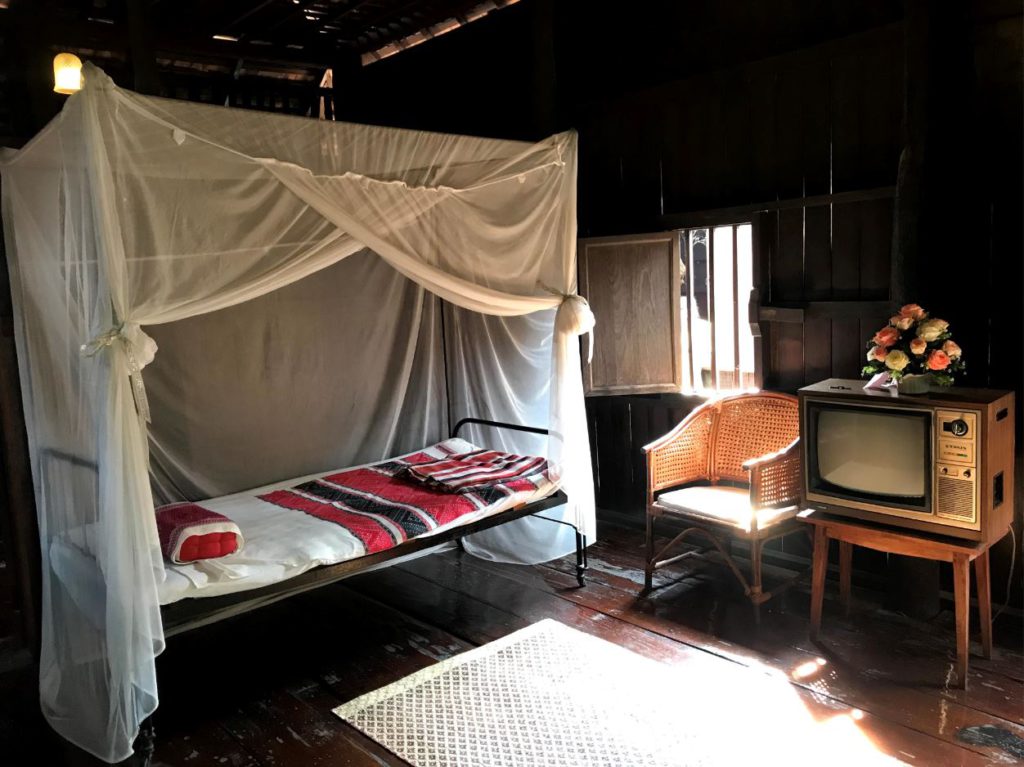 Doi Pu Kha National Park
While there are quite a few national parks near Nan, this is one inside Nan province near Laos border. Doi Pu Kha is the highest point in Nan province. The place is also of important religious significance as the residence of a local deity.
On top of that, it is the only place that is home to the critically endangered Chompoo Pukha Tree, the last remaining trees of this species in the whole world. Doi Pu Kha offers some of the best views of surrounding landscapes of Nan mostly with hilly terrain. And it's not just from the top.
The drive to the National Park is exhilarating. You will cross the countryside with bountiful paddy fields, open grasslands and grazing farm animals. And as you start the ascend to the top, you get the aerial view of the surrounding valleys.
If you can, stay the night at the national park and go for a trek on a popular nature trail early in the morning. Read more about visiting Doi Pu Kha National Park here.
Doi Pu Kha National Park ticket price: THB 200/100 for foreign Adults/Children. THB 40/20 for Thai Adults/Children.
How to reach Doi Pu Kha National Park: There is no public transport that goes directly to the National Park. You will need a private vehicle to reach. The drive is especially popular with bikers.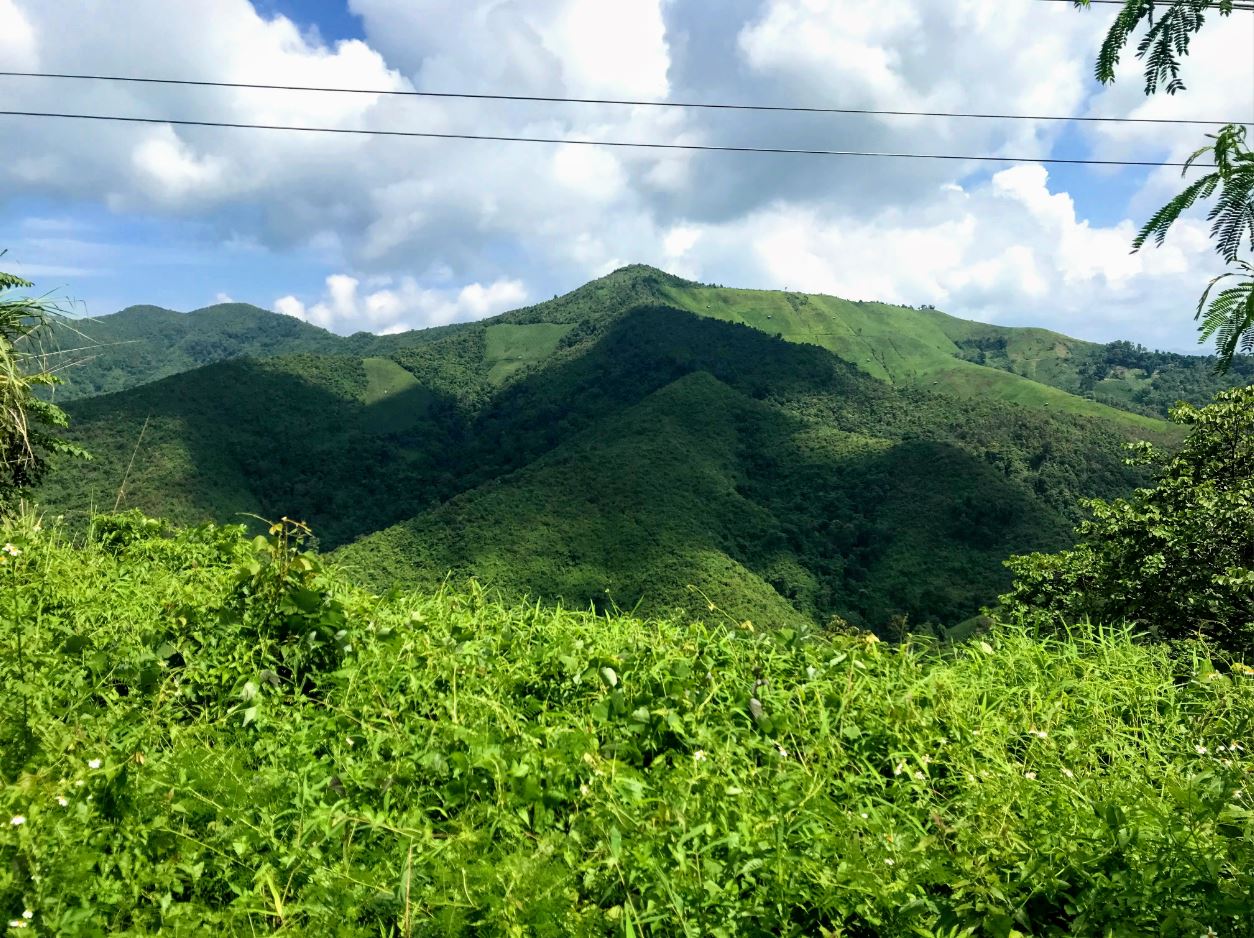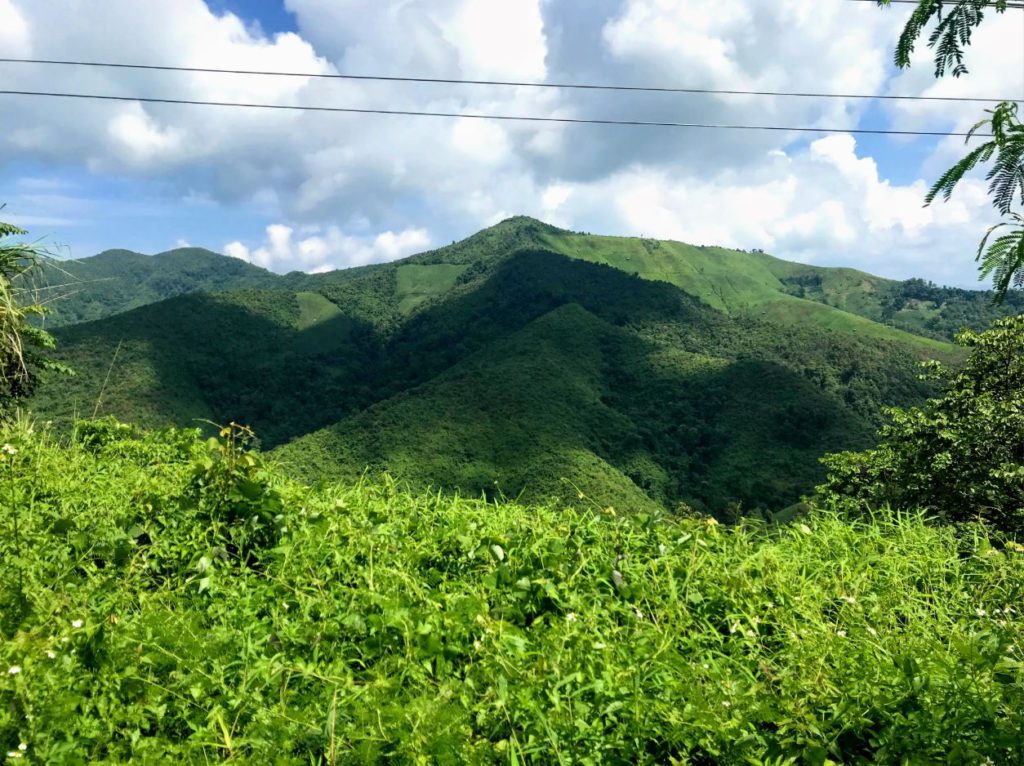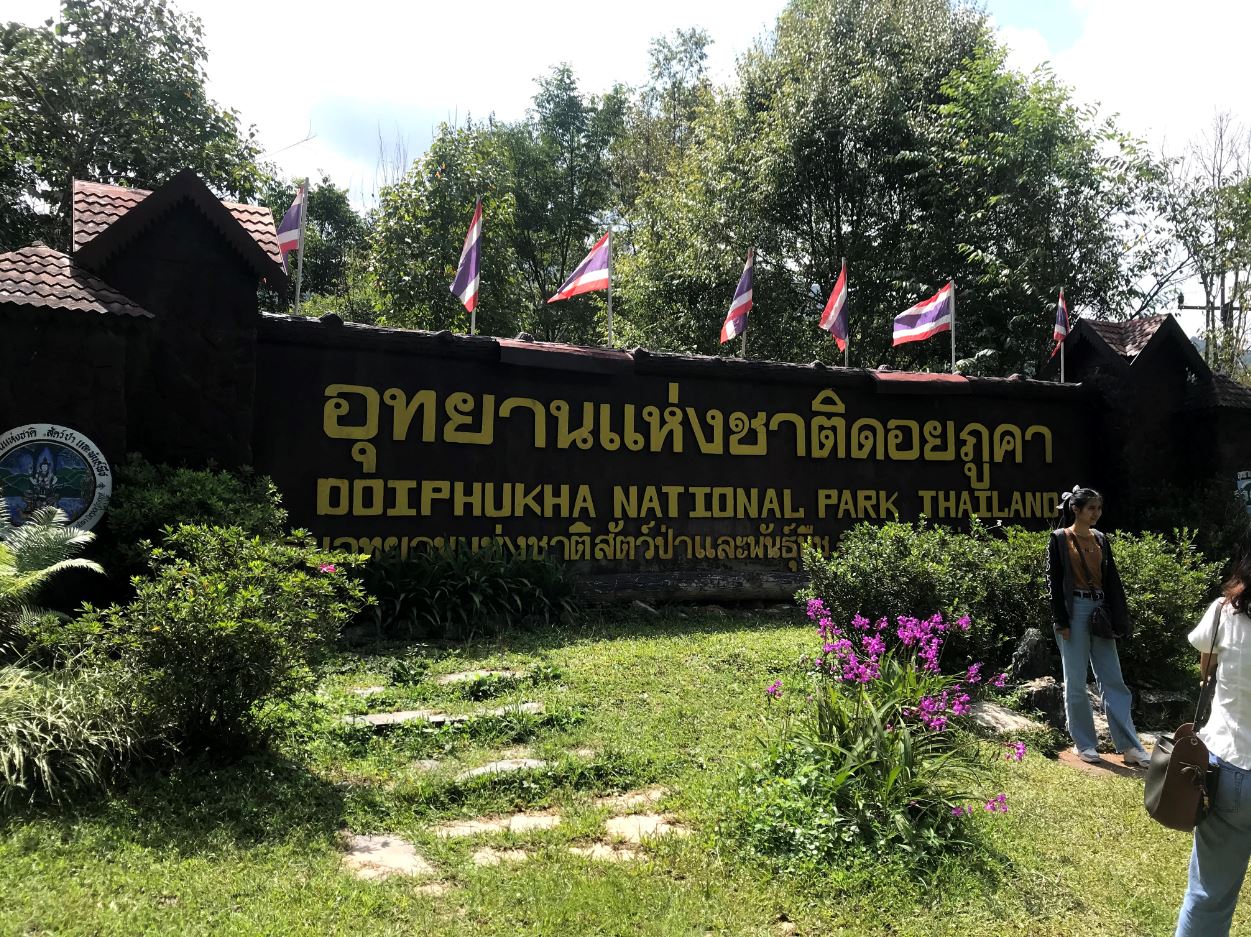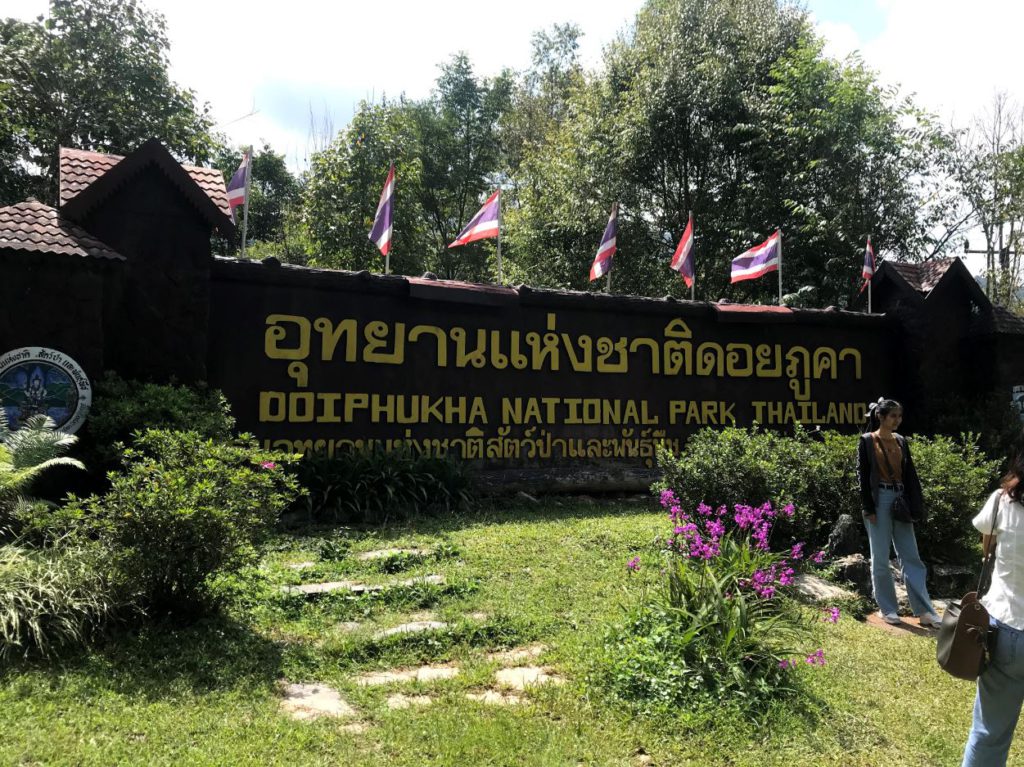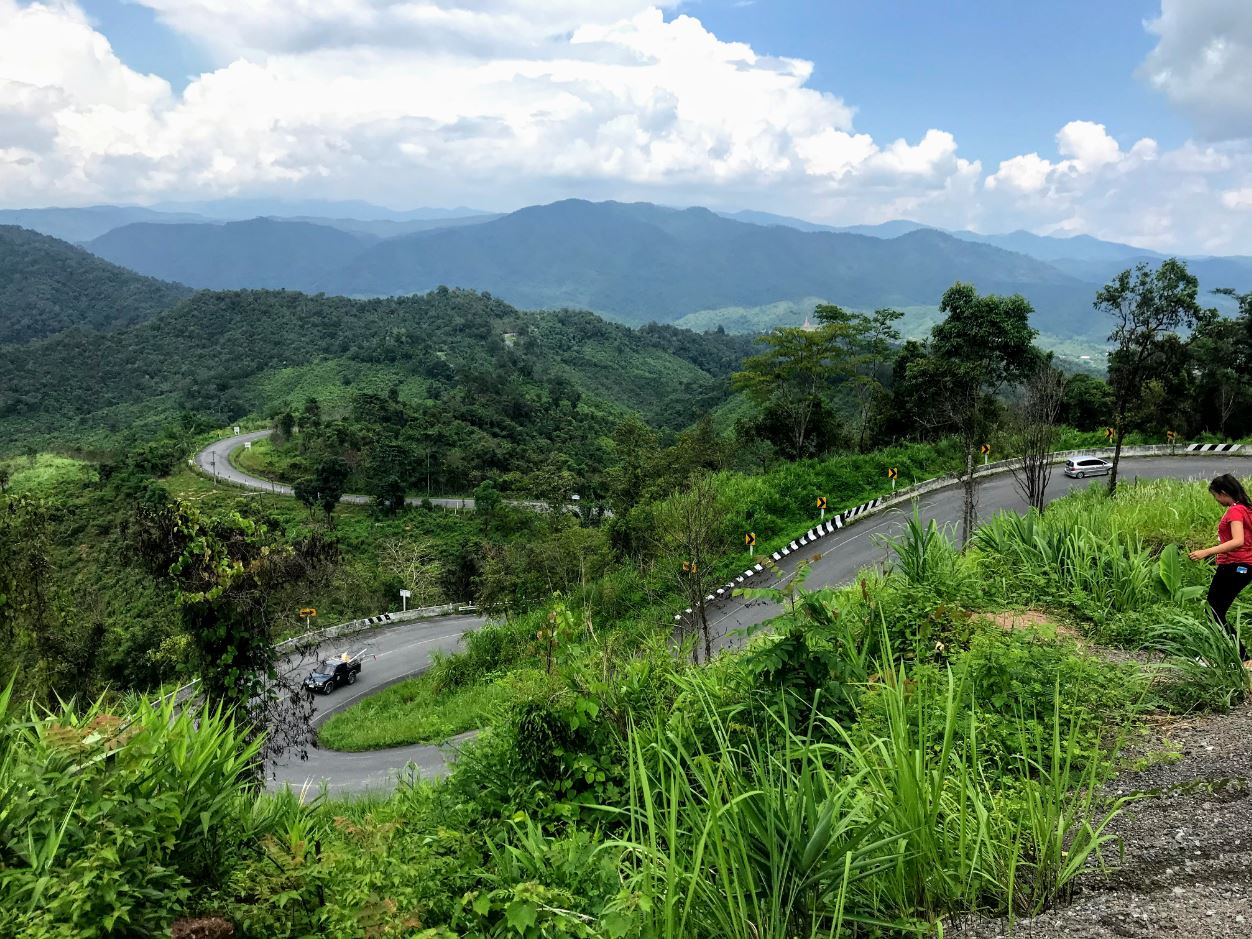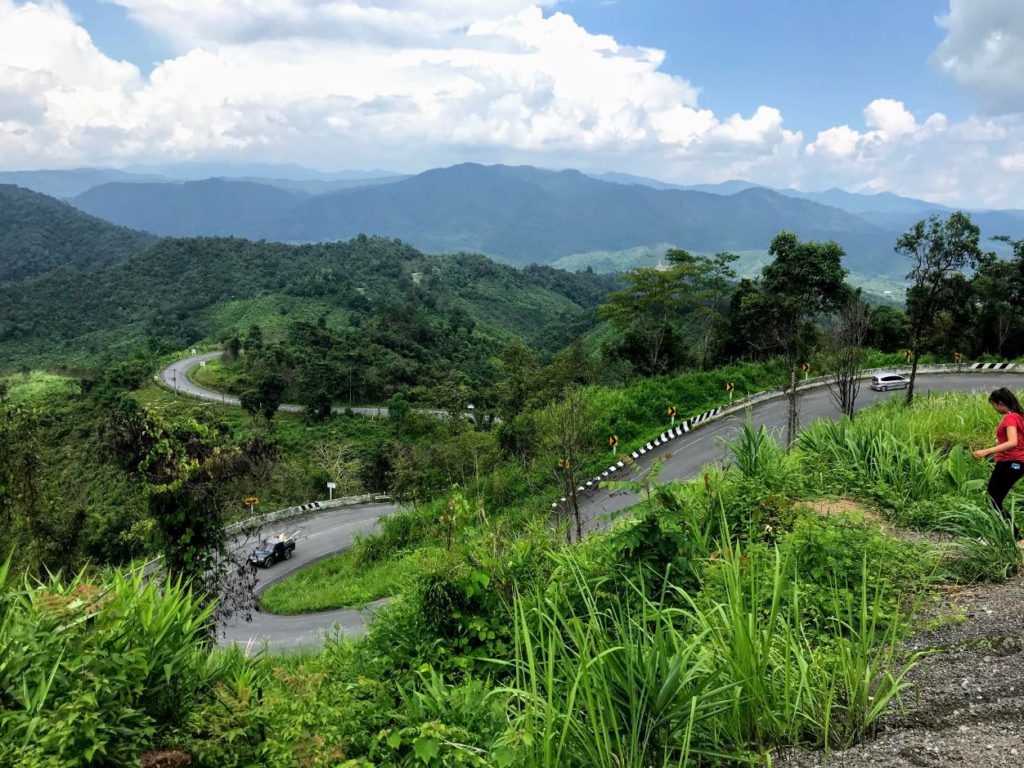 Nan Night Market
It is customary to visit a night market when in a new town in Thailand. At least for us. So as the evening approaches, we head to the most popular night market. In the case of Nan, I found the night market quite big. Although the variety of food is mostly native Thai and the souvenirs are limited to garments and accessories.
The market is set up right in front of the lane of Wat Phumin and connects to the temple grounds. Large mats are spread on the floor with traditional Thai bamboo tables where people can eat in groups. On the other side is a park where you can also get a foot massage in the open.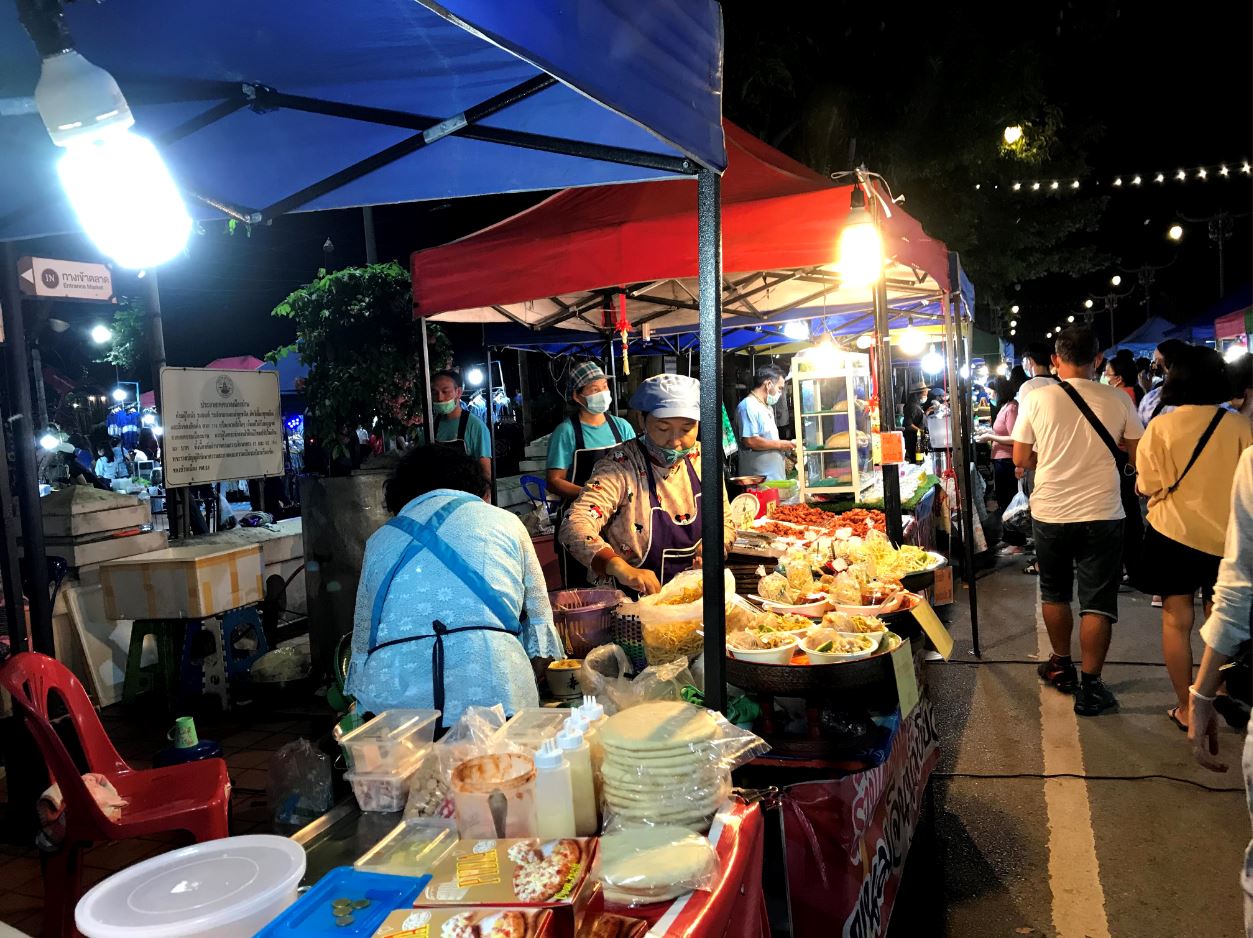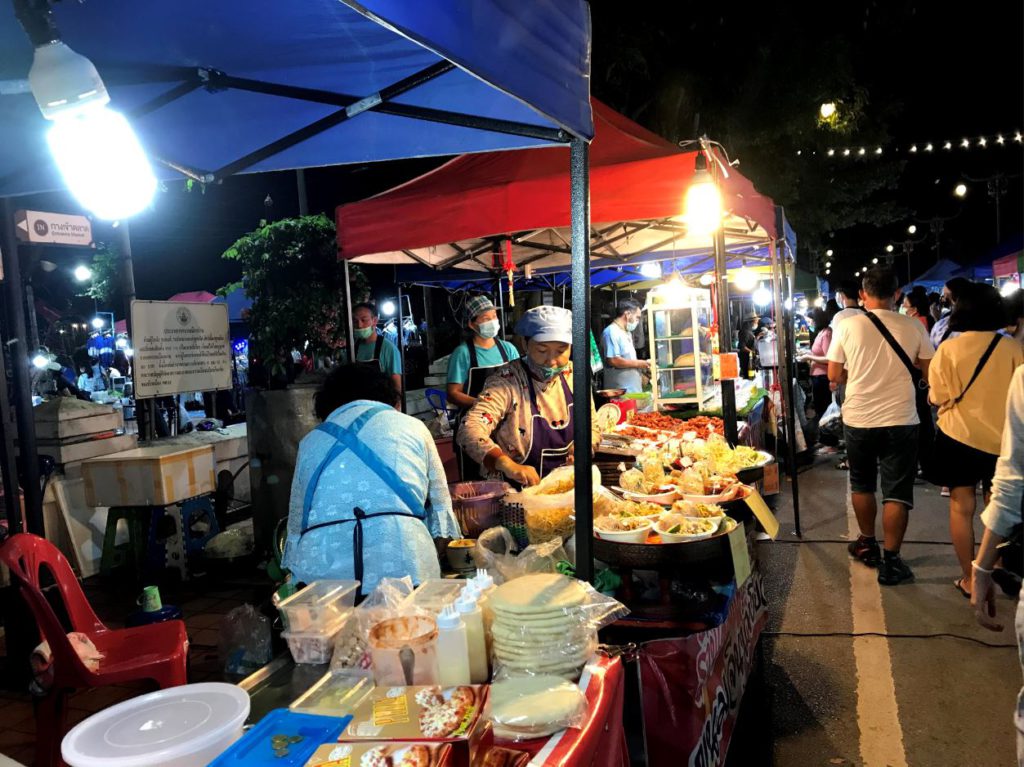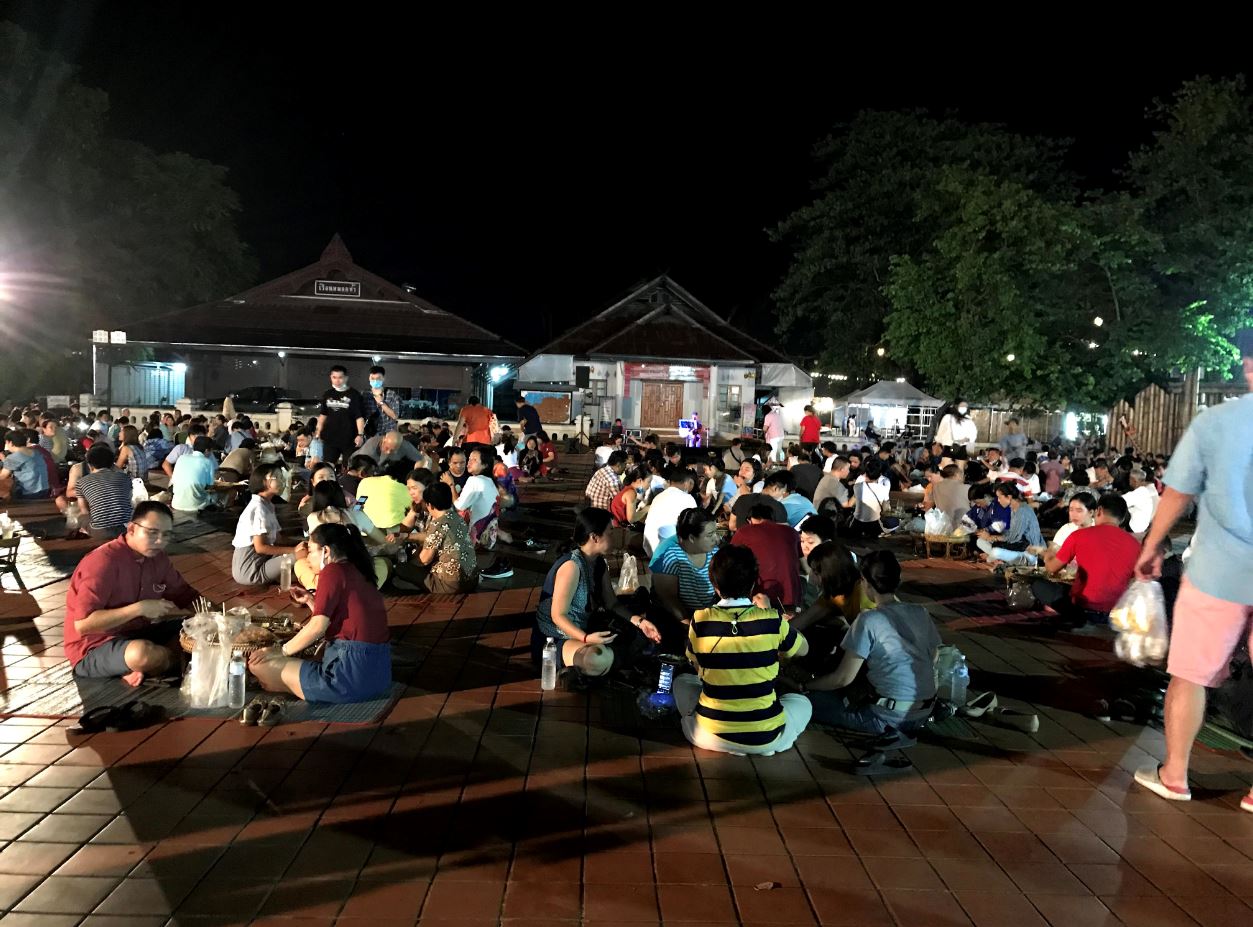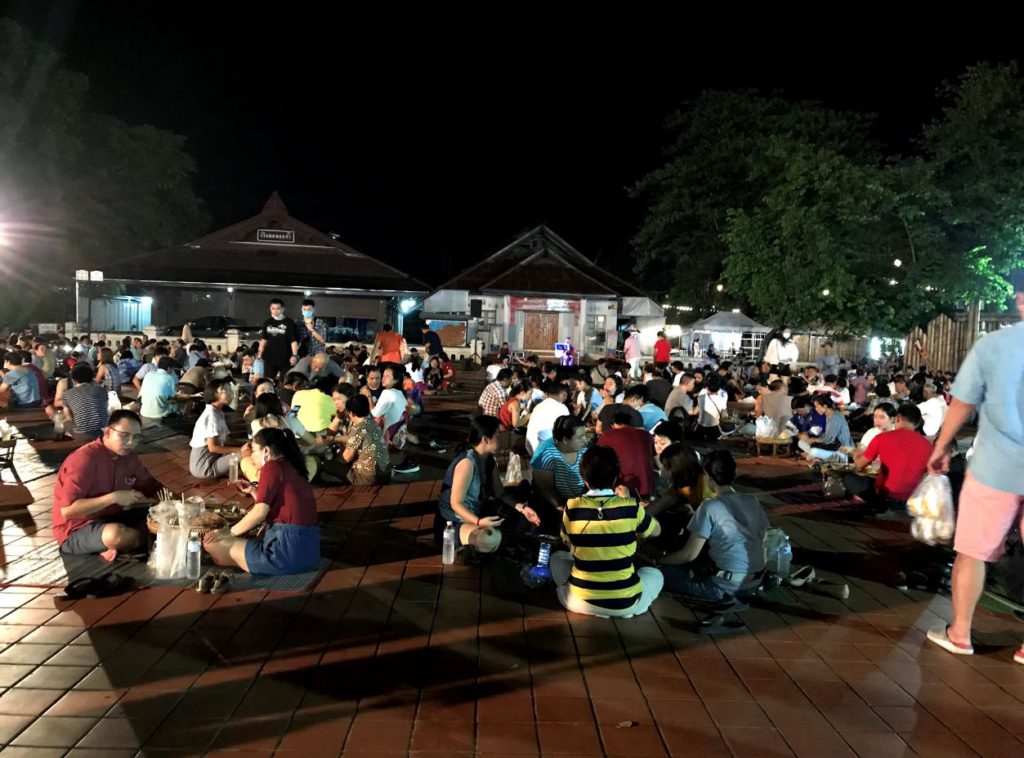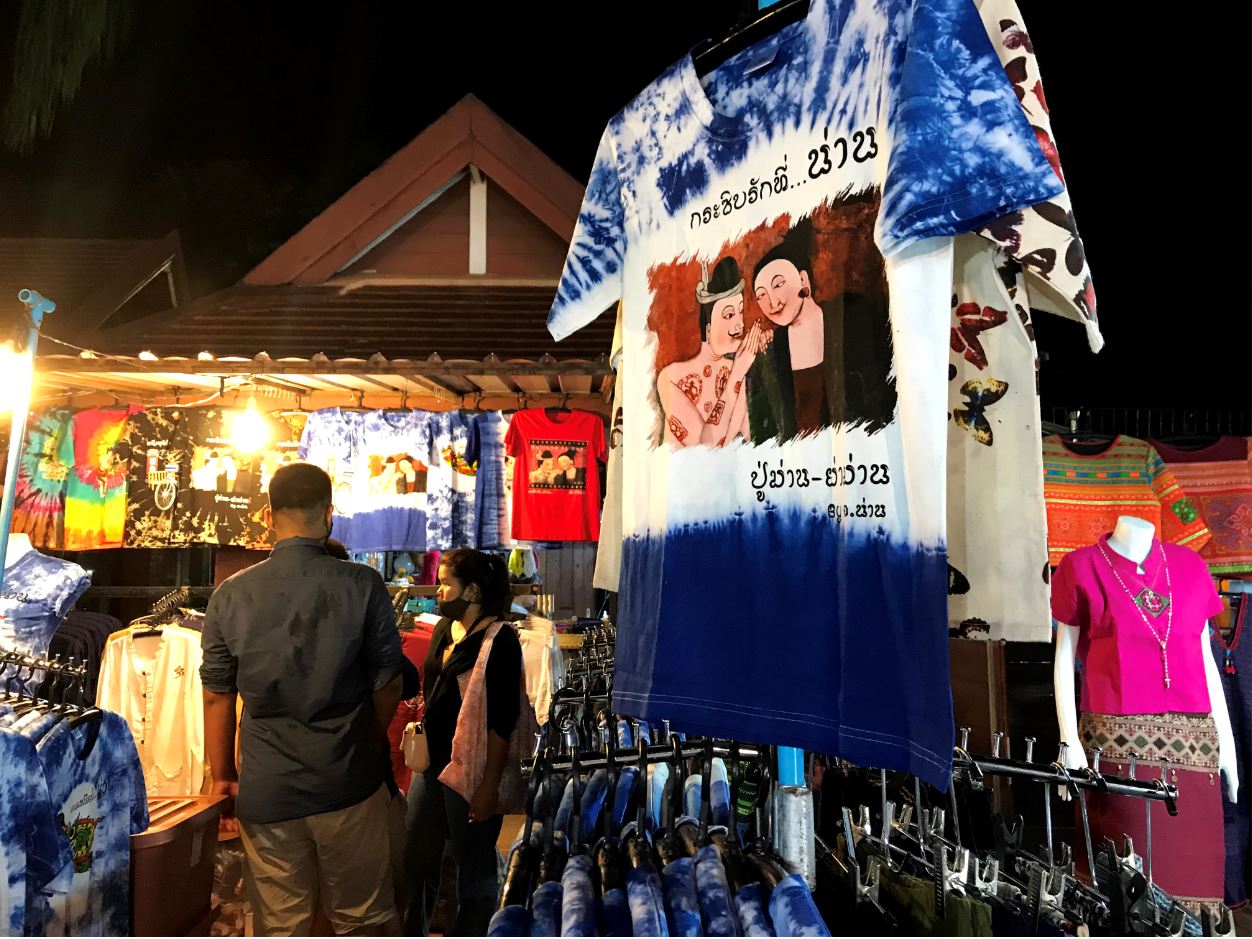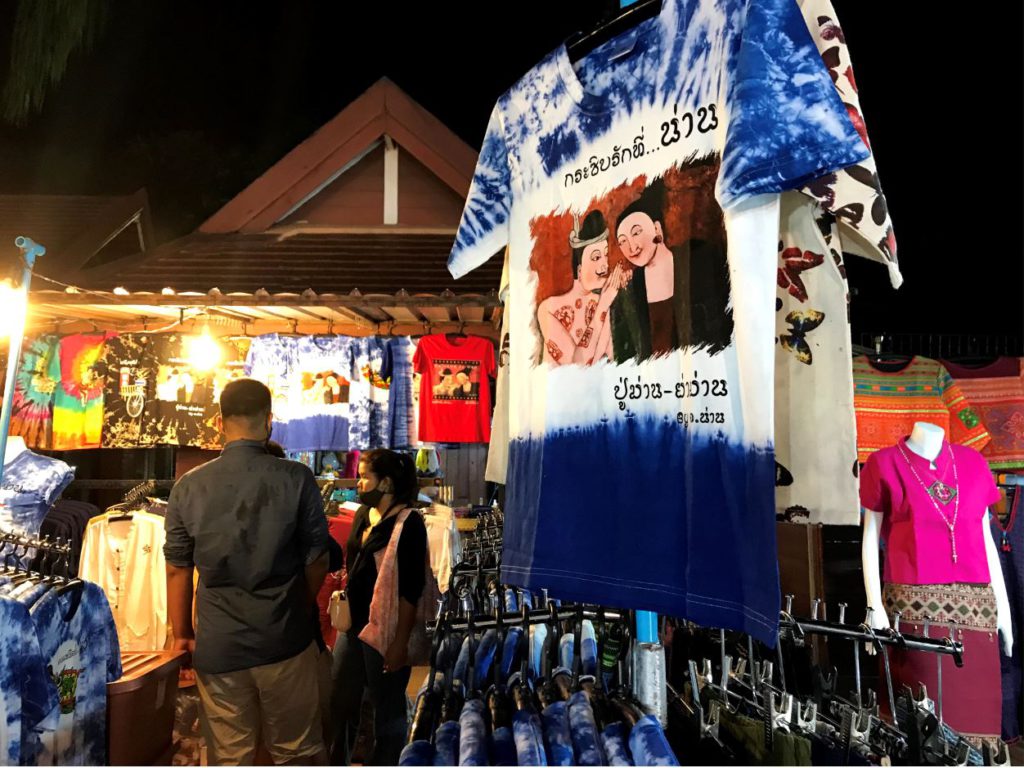 Since we were in Nan around Loi Krathong, we visited a sort of local fair at the riverfront. You can go on cheap rides and play shooting (the balloon) sort of games. The whole place is lit up in neon lights. This is a common sight in most town across Thailand. So if you are here around Loi Krathong, make sure you don't miss one.
Nan Night Market timings: 6 pm to 10 pm every day of the week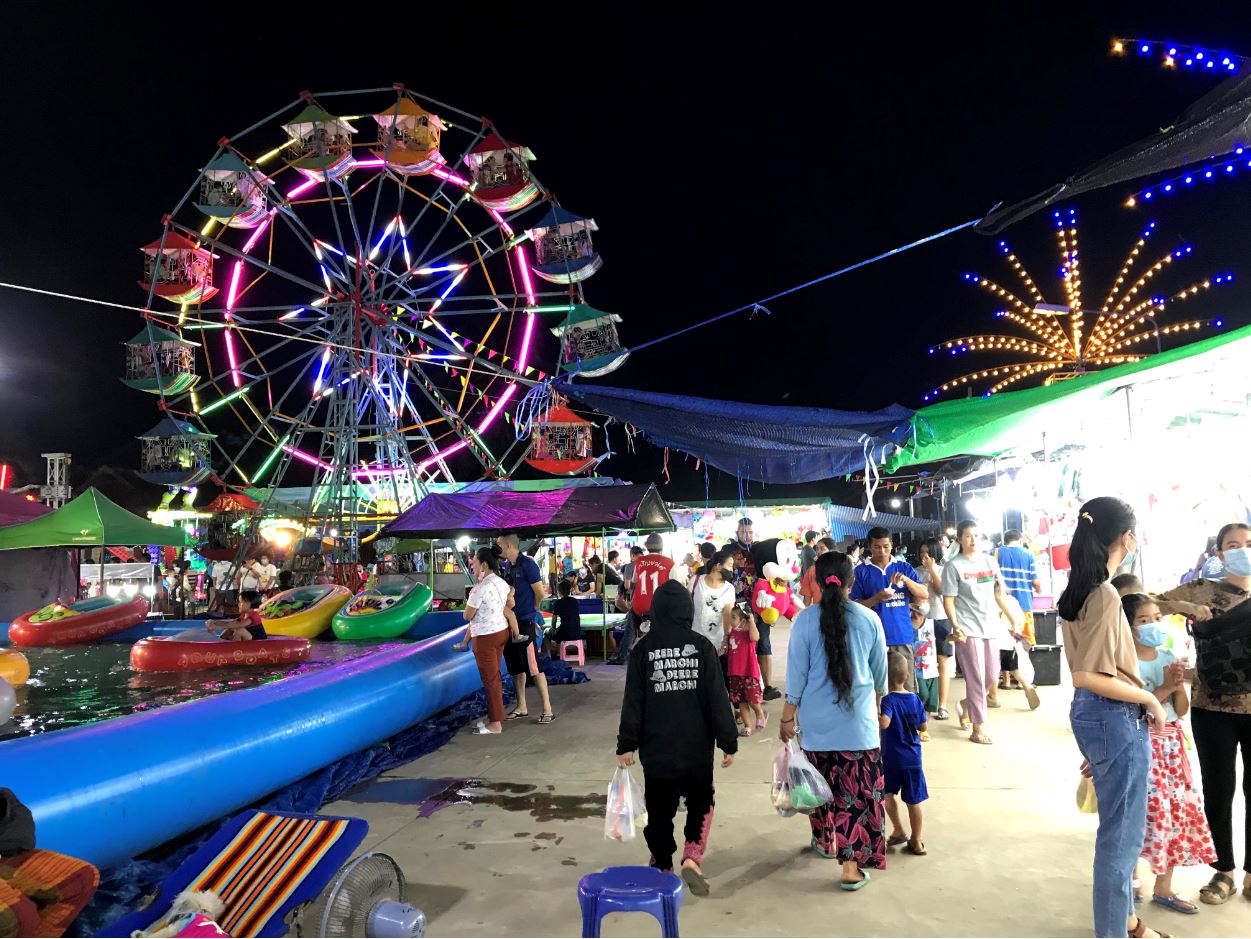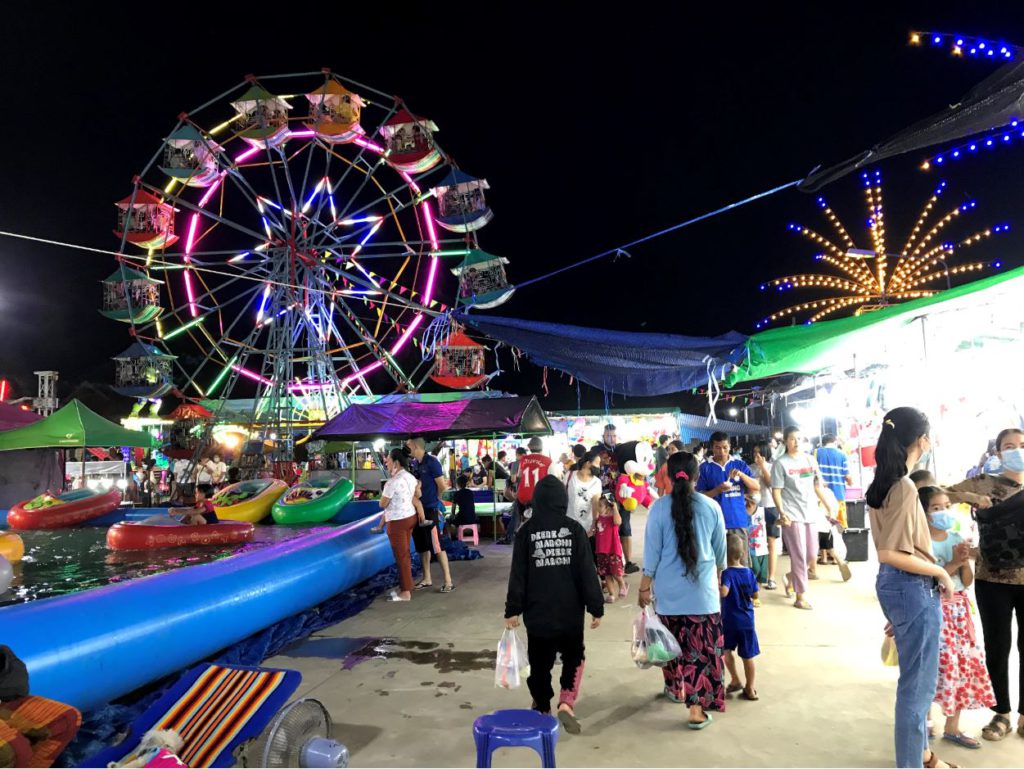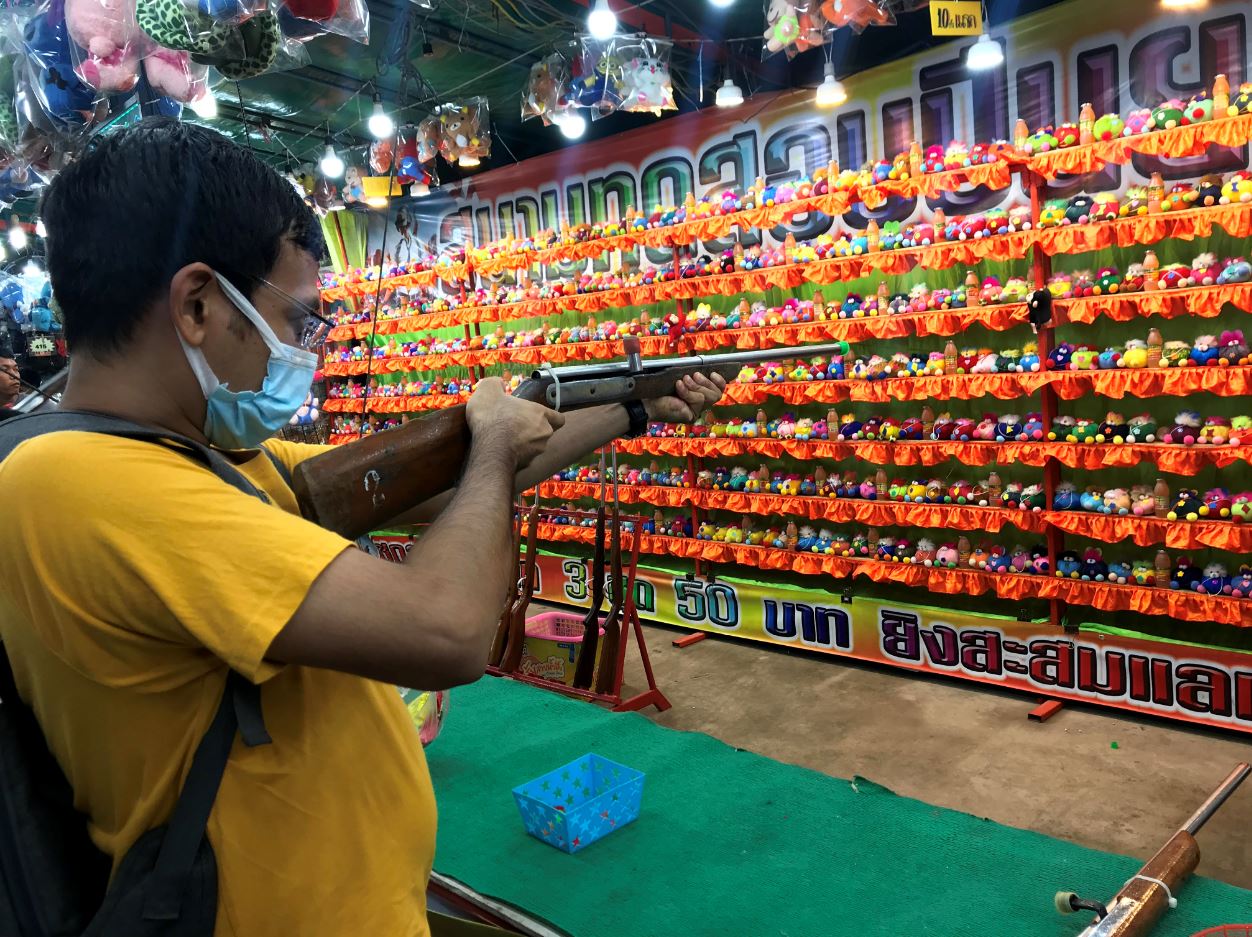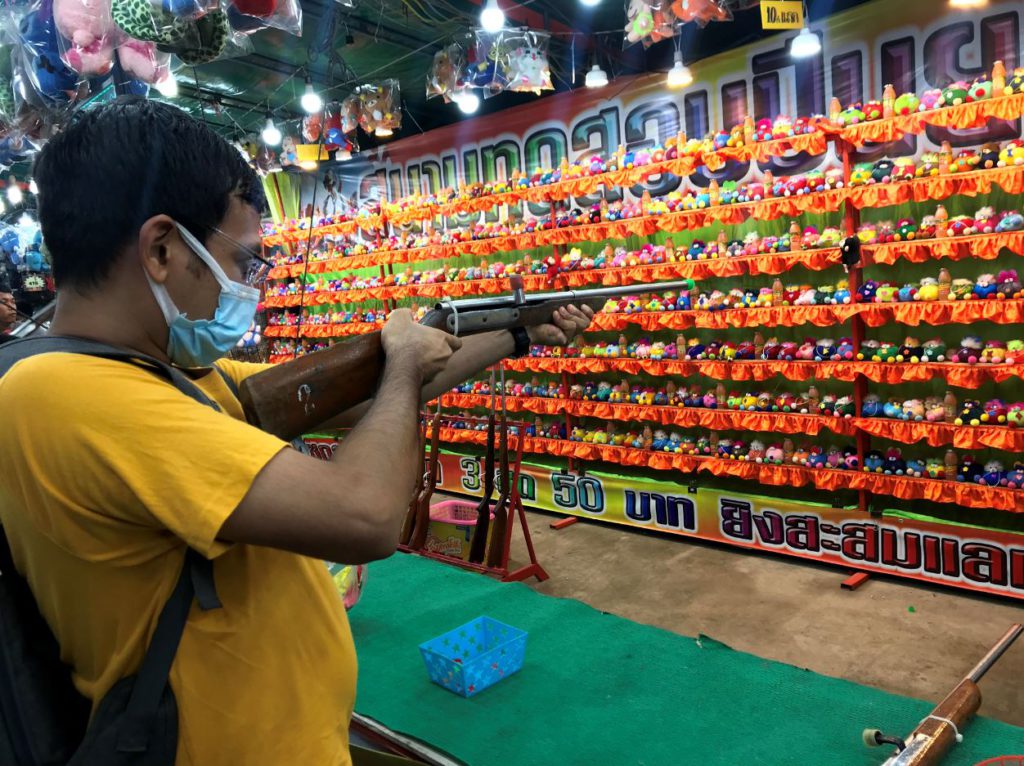 Nan Riverside
The town of Nan sits beside the small river of Nan. If you have a spare evening I will suggest taking a stroll at the riverfront. We found some locals practising rowing and other watersports there. I suppose they were practising for a bigger tournament.
The river subsides considerably during the summers but really flourishes in monsoons. In fact, it floods occasionally around August. There are some cool cafes right opposite to the river that has great food and even better view. I suggest you check both Cafe' Soodgongdee and Gusto X out.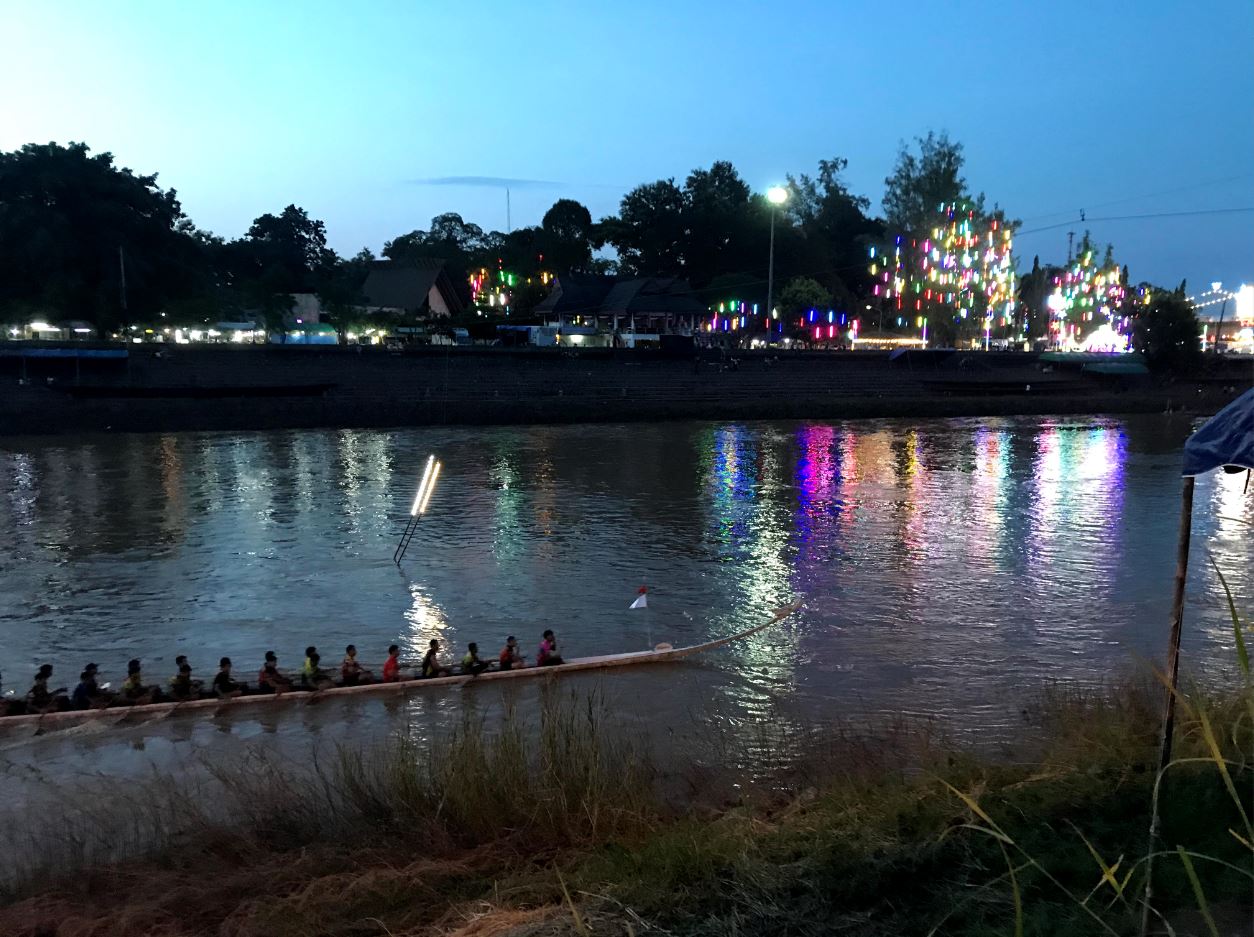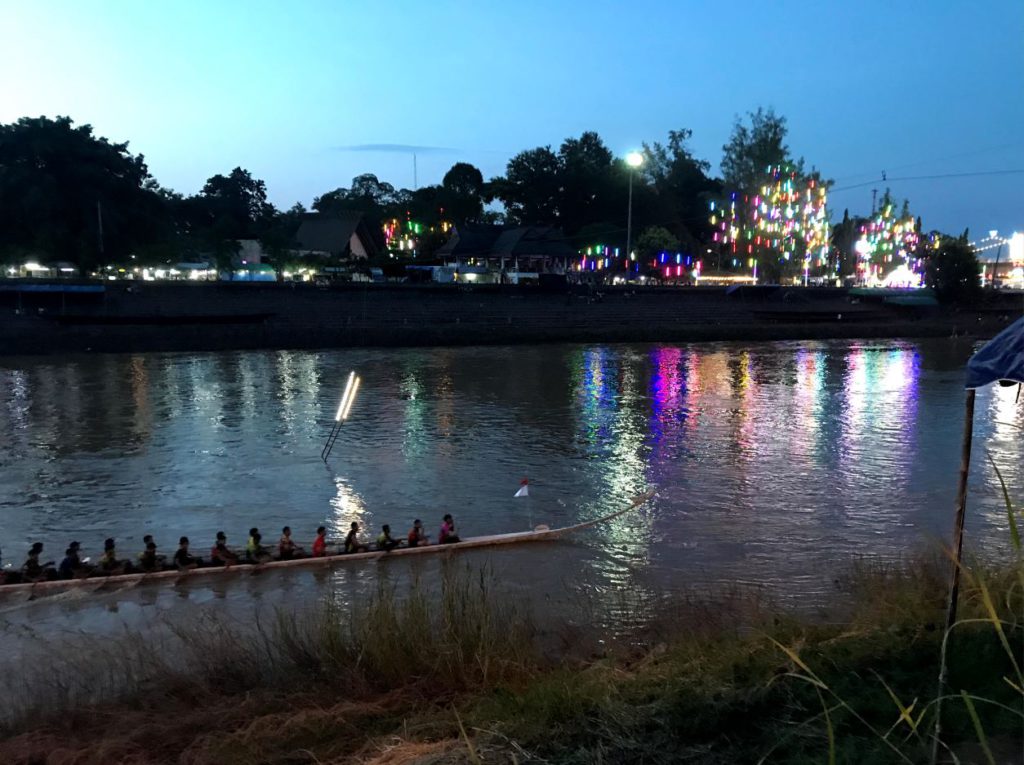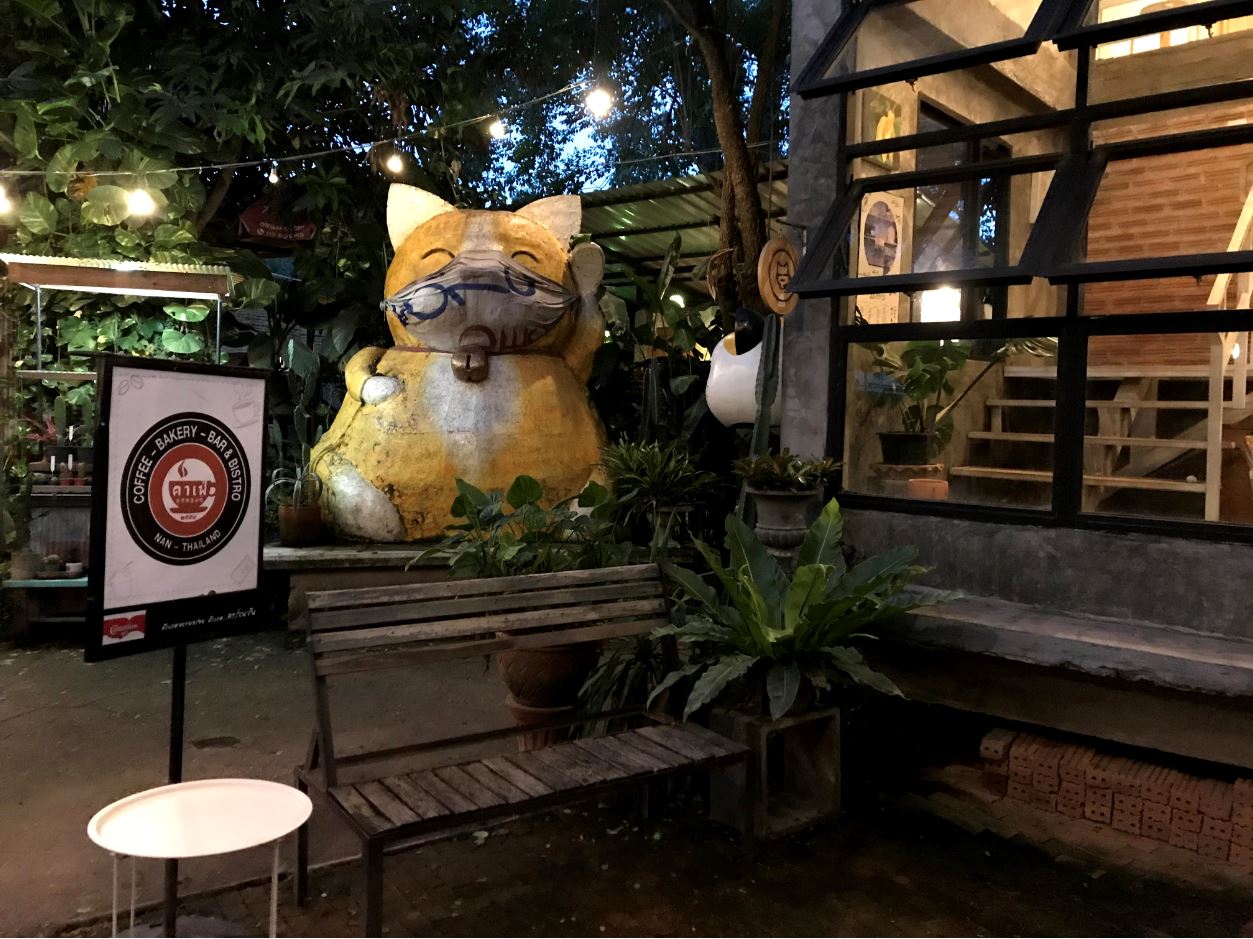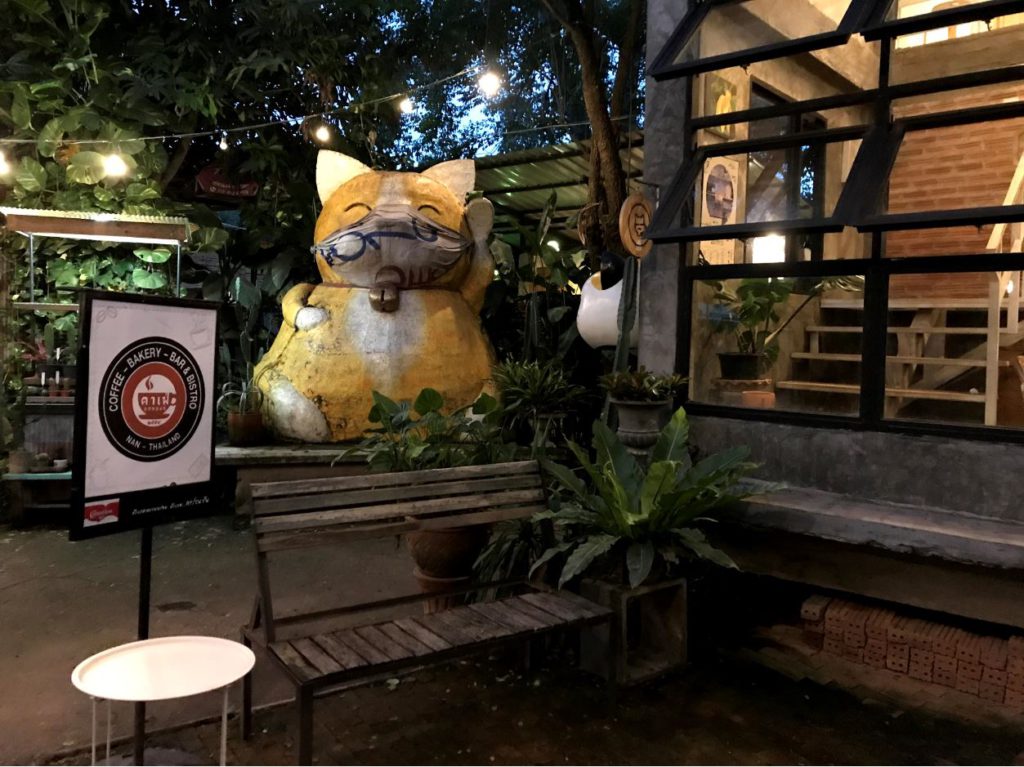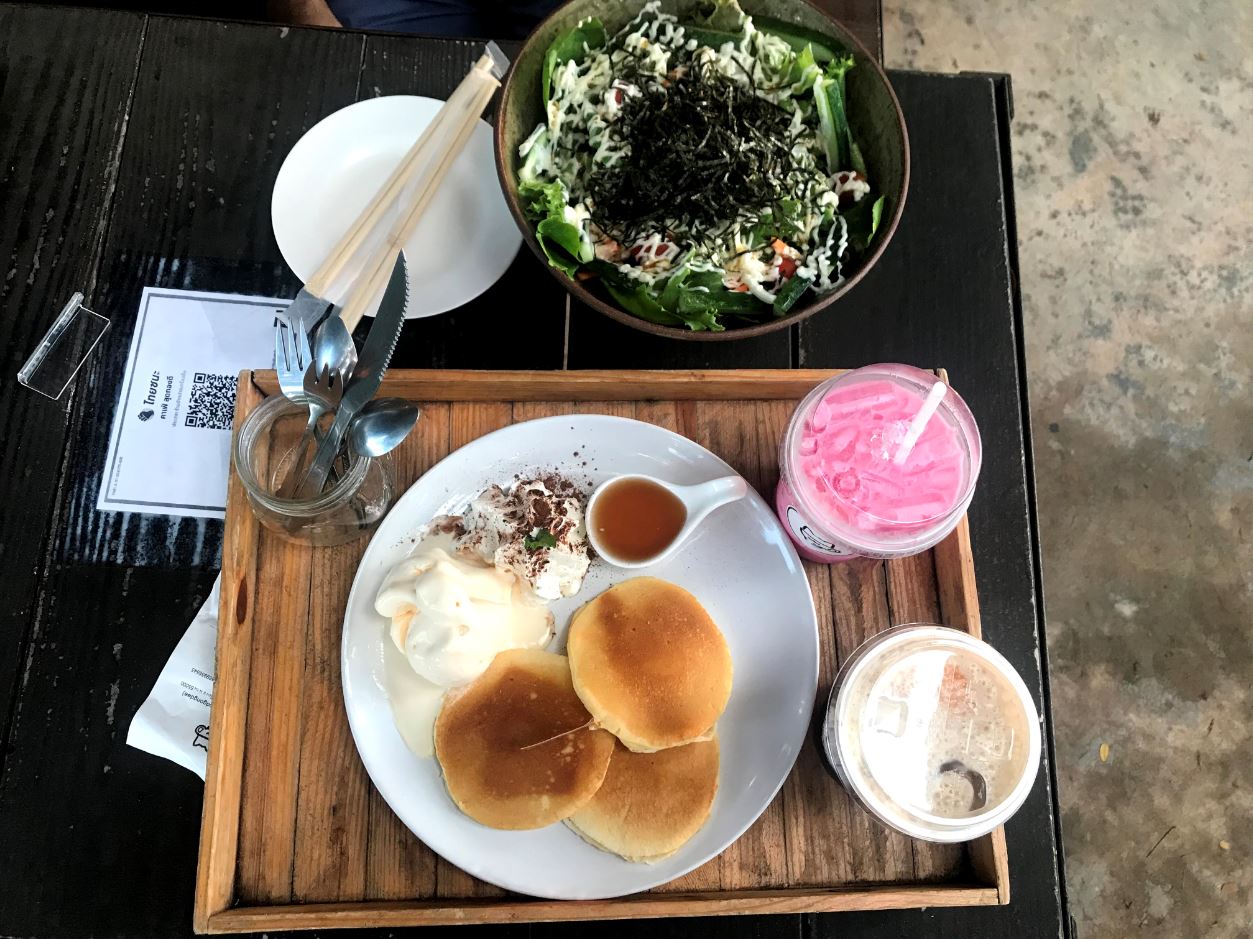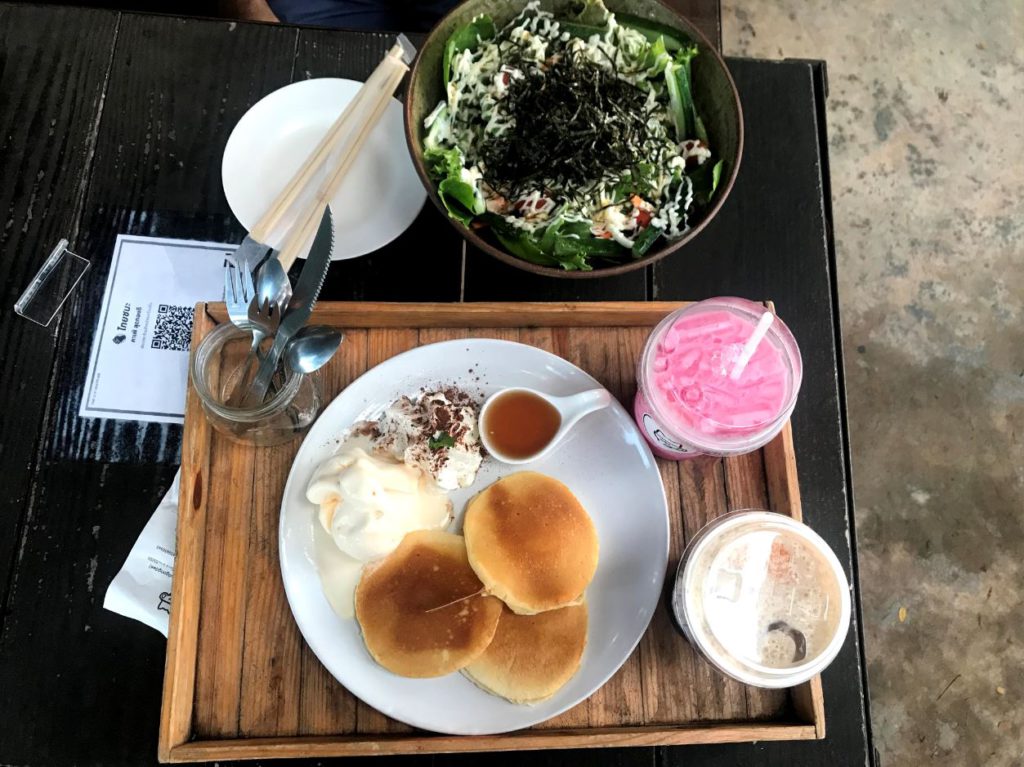 Doi Samer Dao
If you are looking for some outdoor time, you can plan to see the sunrise from a popular mountain peak, Doi Samer Dao. It is around an hour and a half's drive from Nan town towards the south-east.
Doi Samer Dao is located inside Si Nan National Park. And if you are acquainted with Thailand's national parks, they are comfortably equipped with camping gear, a few basic rooms, shared bathrooms and a local restaurant. So you are mostly covered up.
However, you need to arrange your own vehicle. No public transport runs to the National Park. The sunrise will be worth it though. Do not drive here after dark. You can also take a tour of the place to avoid the hassle.
Book a tour: Doi Samer Dao Day Tour in Nan
Si Nan National Park entry fee: THB 100/50 for foreign Adults/Children. THB 20/10 for Thai Adults/Children.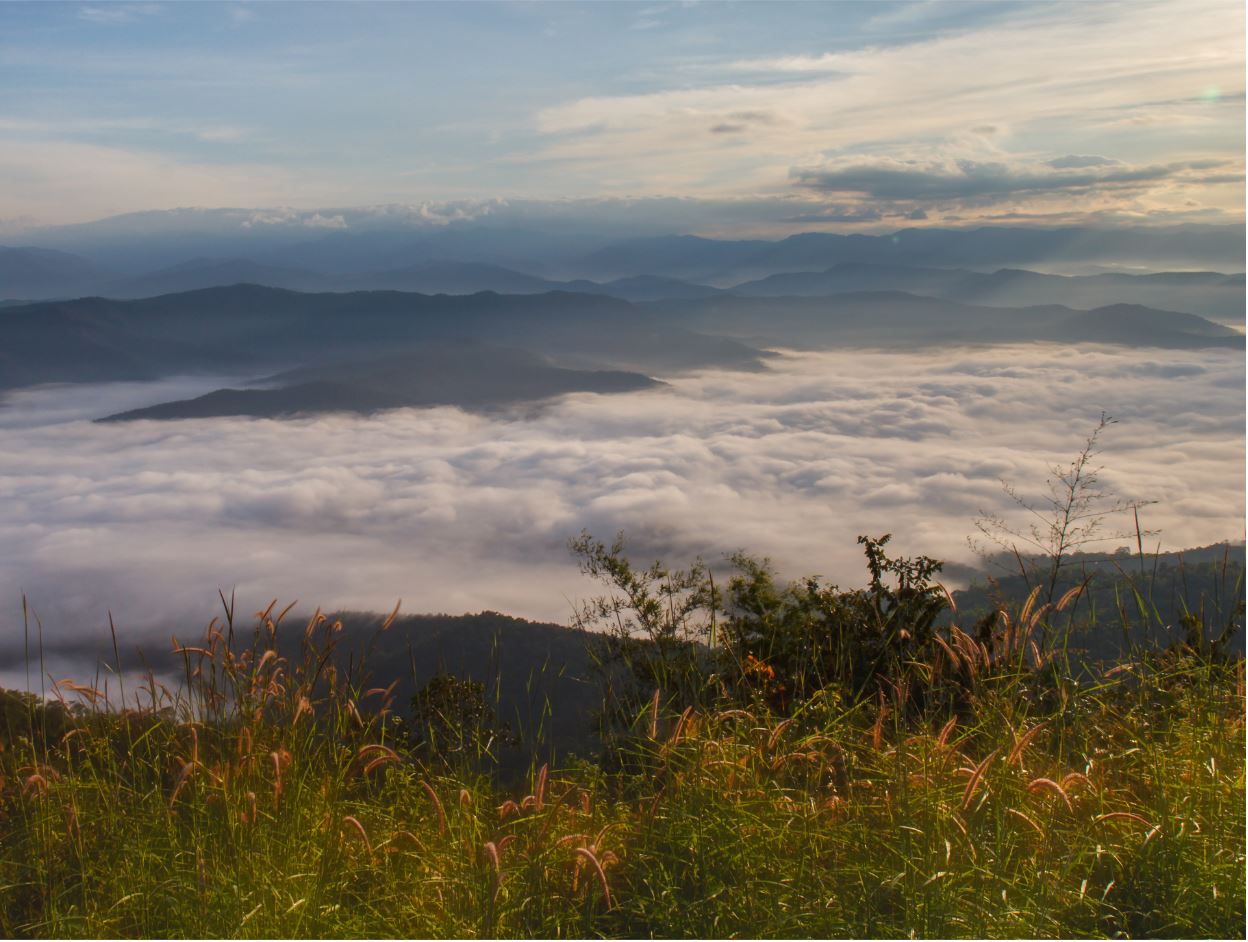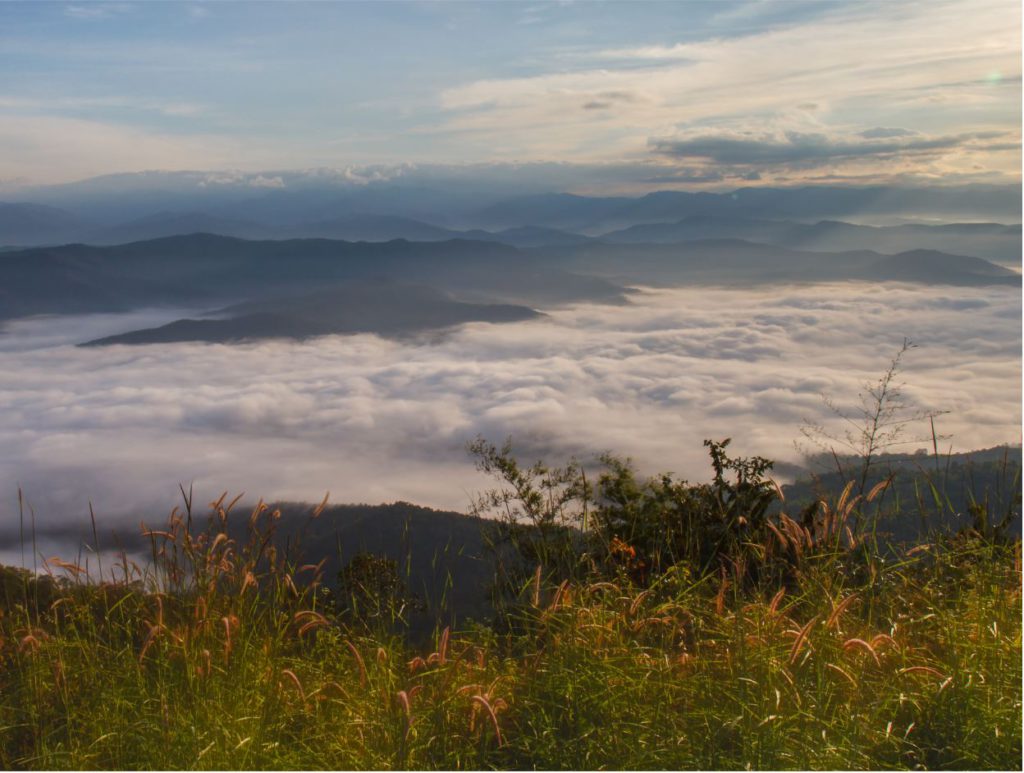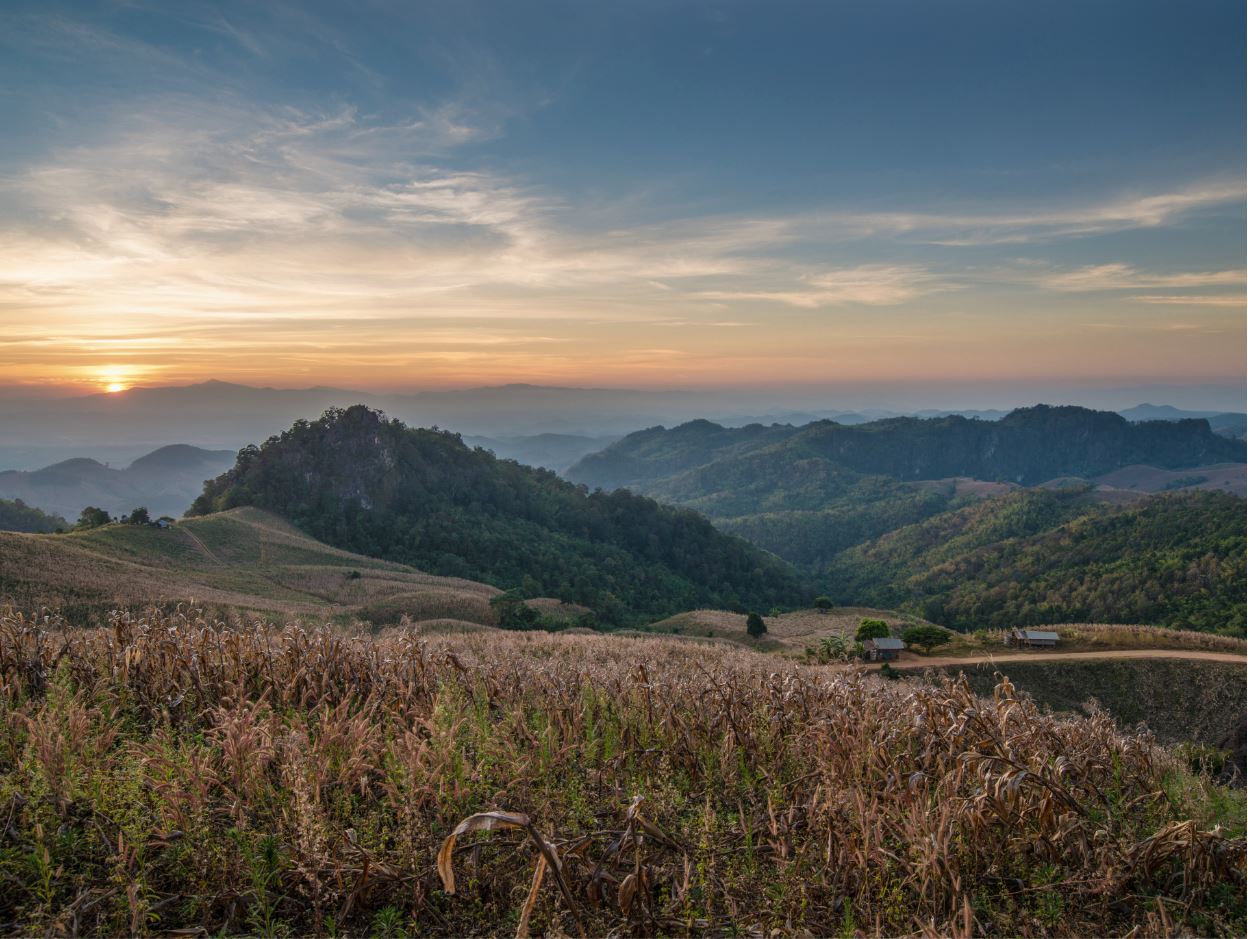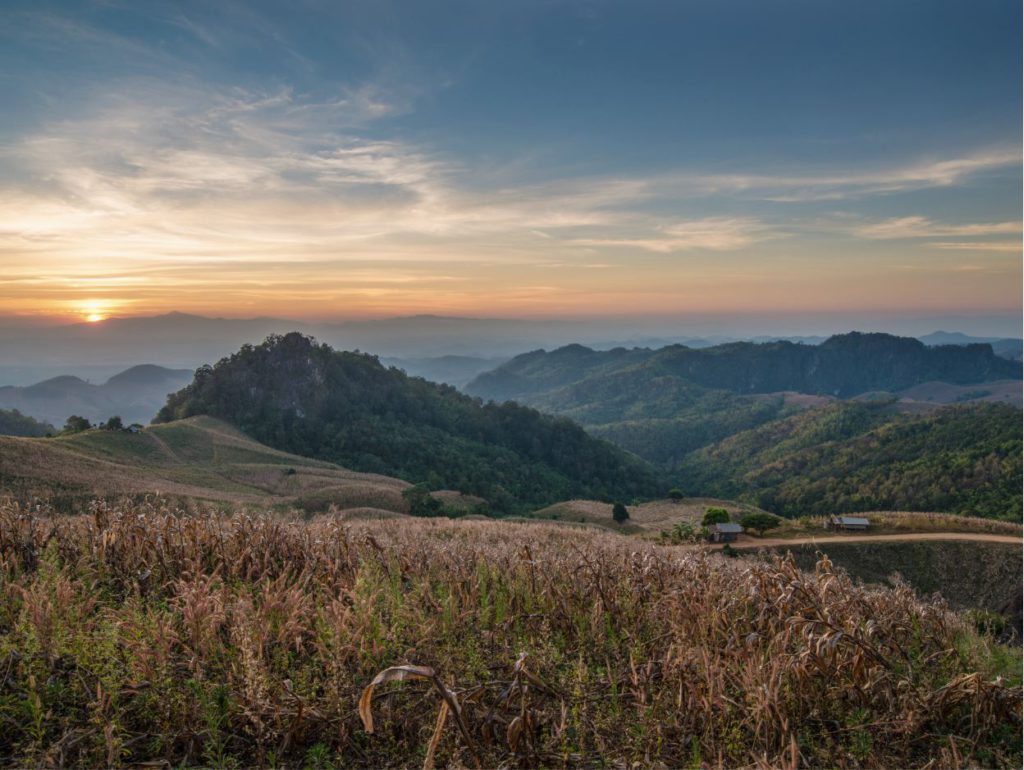 Doi Phu Nang National Park
Another one in the series of National Parks, Doi Phu Nang is located on the west side of Nan at around 2 hours' drive. The national park is again full of landscapes packed with thick forests of different varieties.
The National Park is especially popular for Kaeng Luang Dinosaur Park that has real dinosaur fossils. Especially great for kids. There are also two waterfalls that you can relax in. Although if you are here in winters, the water can get a bit chilly.
You can put it on your list if you are staying in Nan for a long time. Two camping grounds are available along with basic rooms if you want to stay.
Bamboo Rafting
Unlike the adrenaline-filled white river rafting, bamboo rafting is far milder, more like the Thai way. Several bamboo shoots are tied together using jute ropes and then you float slowly on the Nan River. It is perfect for those (like me) who like to take things slow.
Bamboo rafting along with an elephant ride (which I don't support) was a customary inclusion of the Thai trekking experience but lost its charm over time. But if you can, try it. It is hard to find rafting camps in the area. You can check out Hardpakhon Bamboo River Rafting a little north of Nan but you need to drive there yourself.
Sadly the river surged and rafting was closed at the time we reached (it was monsoon season). But if you are at a good time (winters), you can catch a great experience.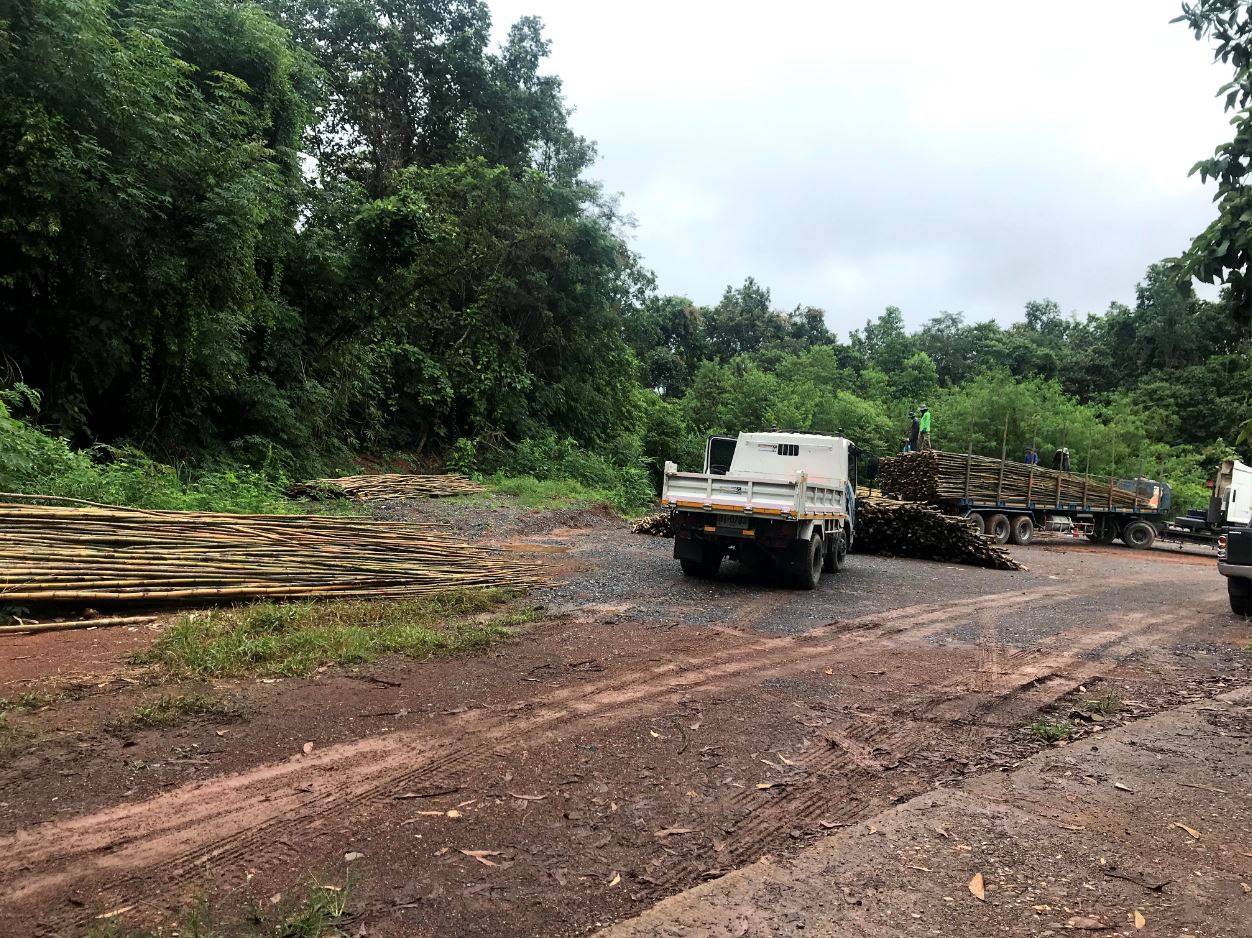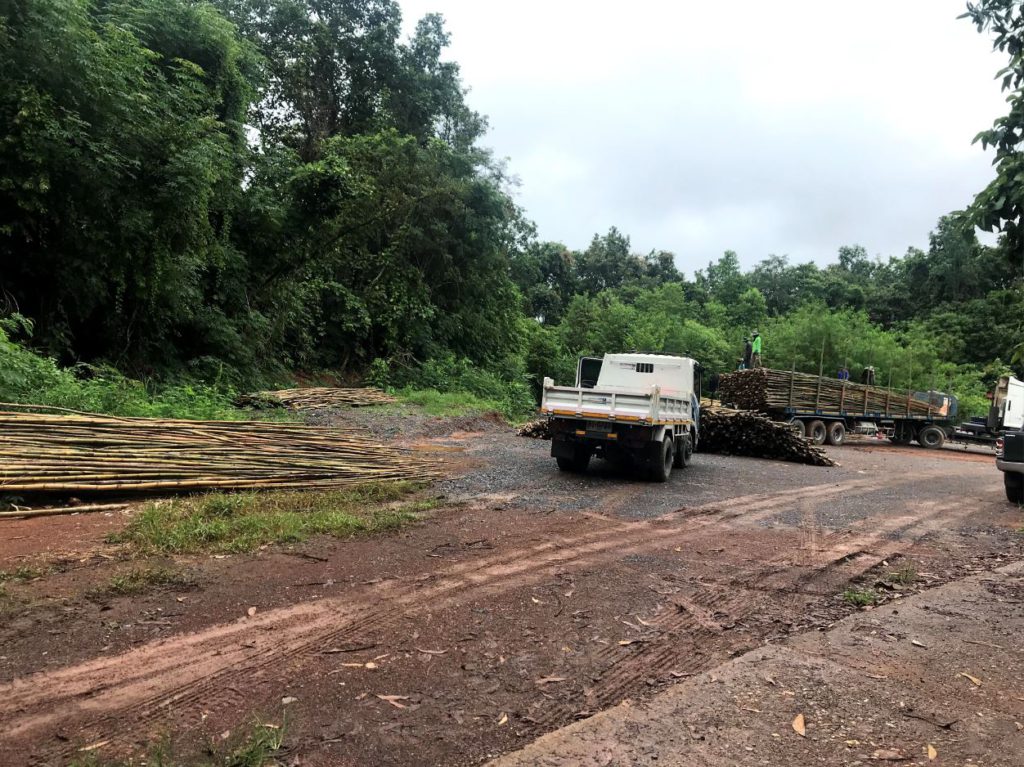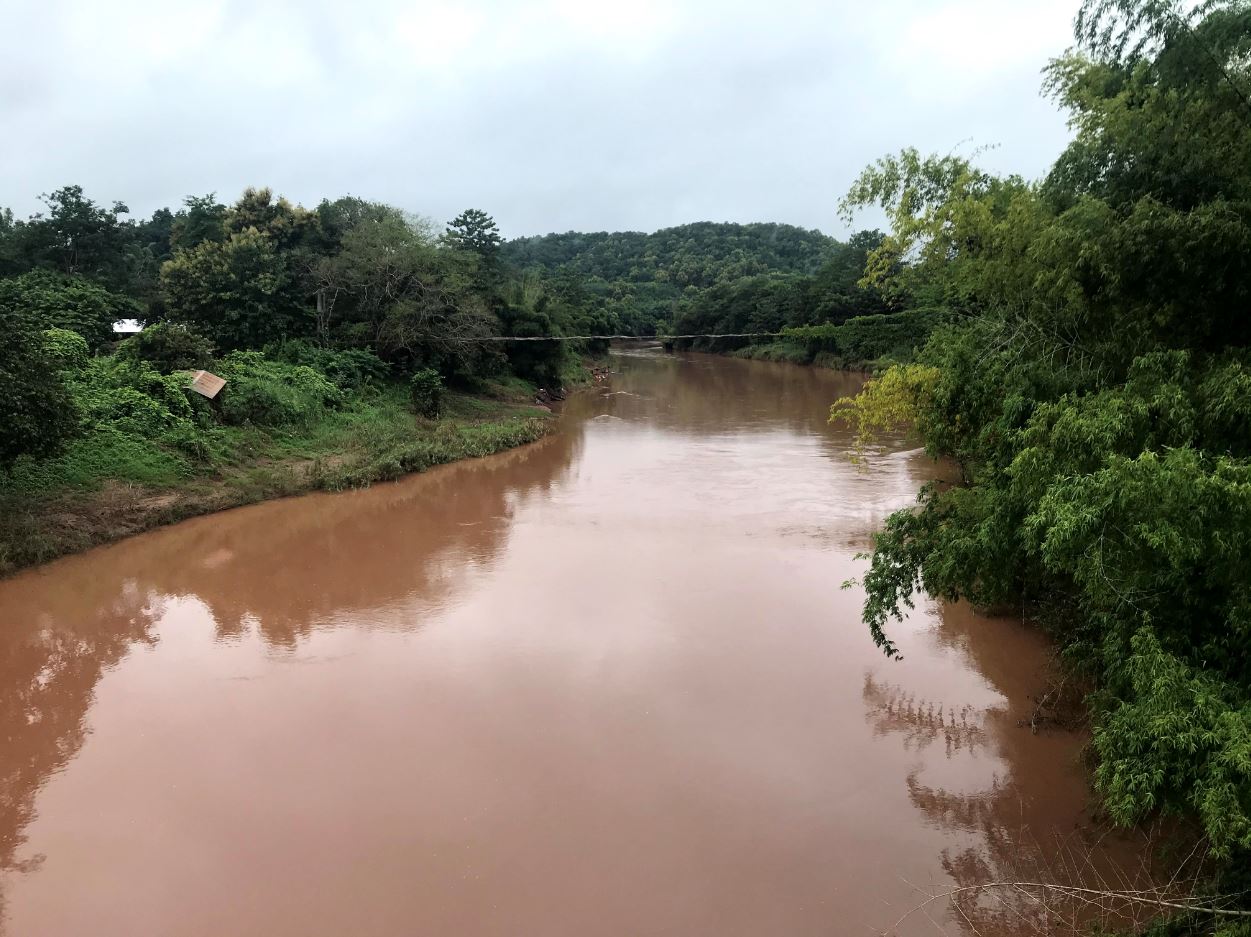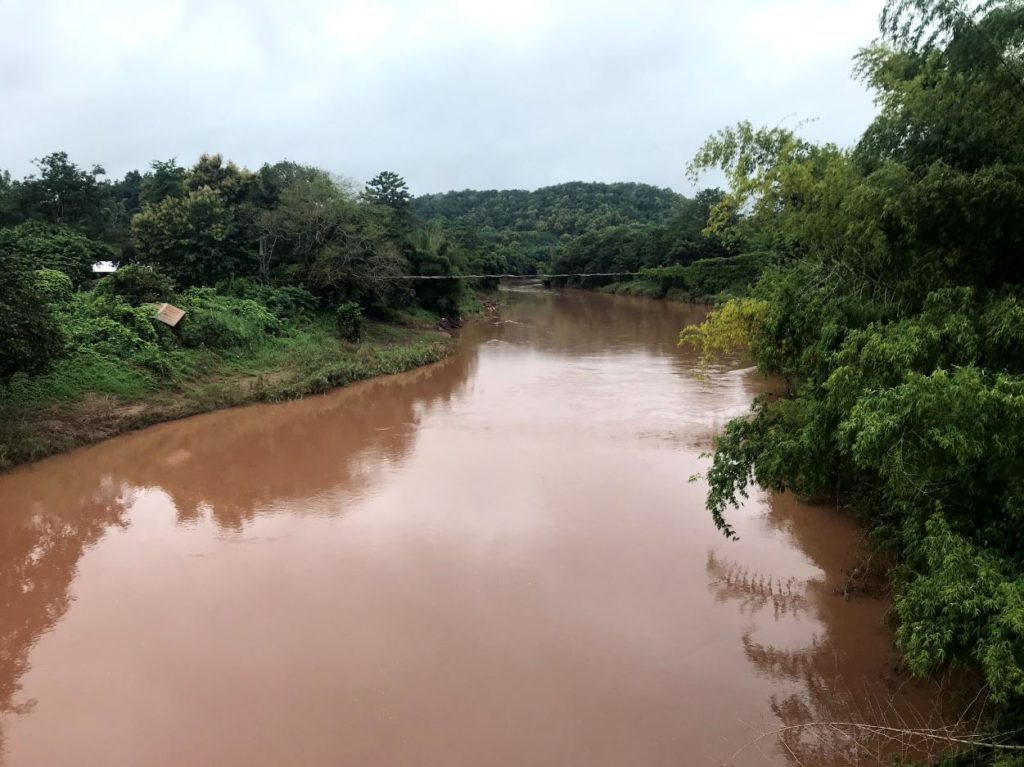 Nan Riverside Art Gallery
Nan riverside art gallery is a private gallery owned by a renowned local artist. It is located on the banks of river Nan around 20km north of Nan town. The gallery showcases both permanent and temporary exhibitions.
A noted exhibition is dedicated to the famous artist who painted the murals inside Wat Phumin. Temporary exhibitions aim at encouraging artworks of the local artists. Apart from the gallery, there is also a souvenir shop and a restaurant. You can also find it on the way to Doi Pu Kha National Park.
Nan riverside art gallery opening hours: 9 am to 5 pm from Thursday to Tuesday. Closed on Wednesday.
Nan riverside art gallery ticket price: THB 20 per person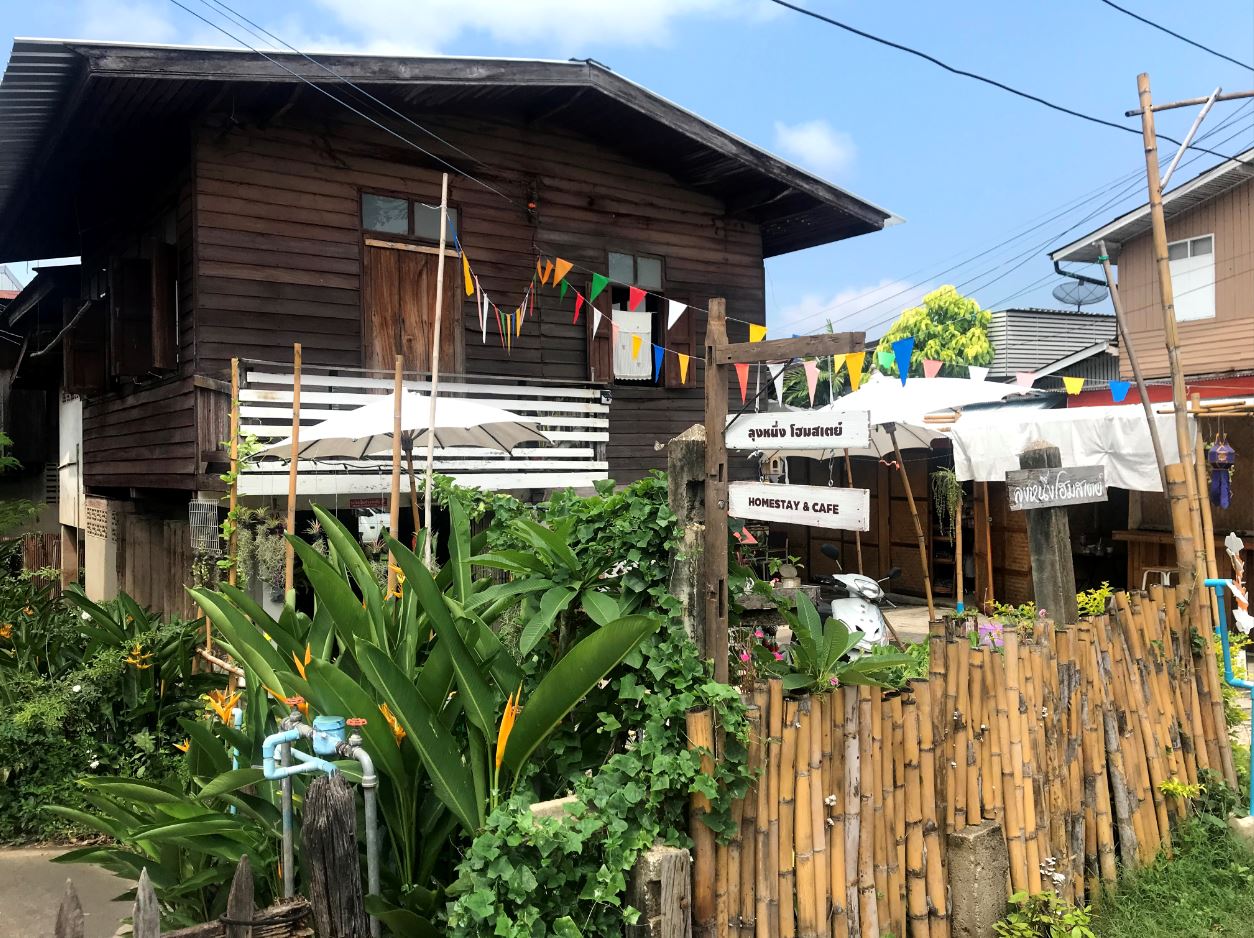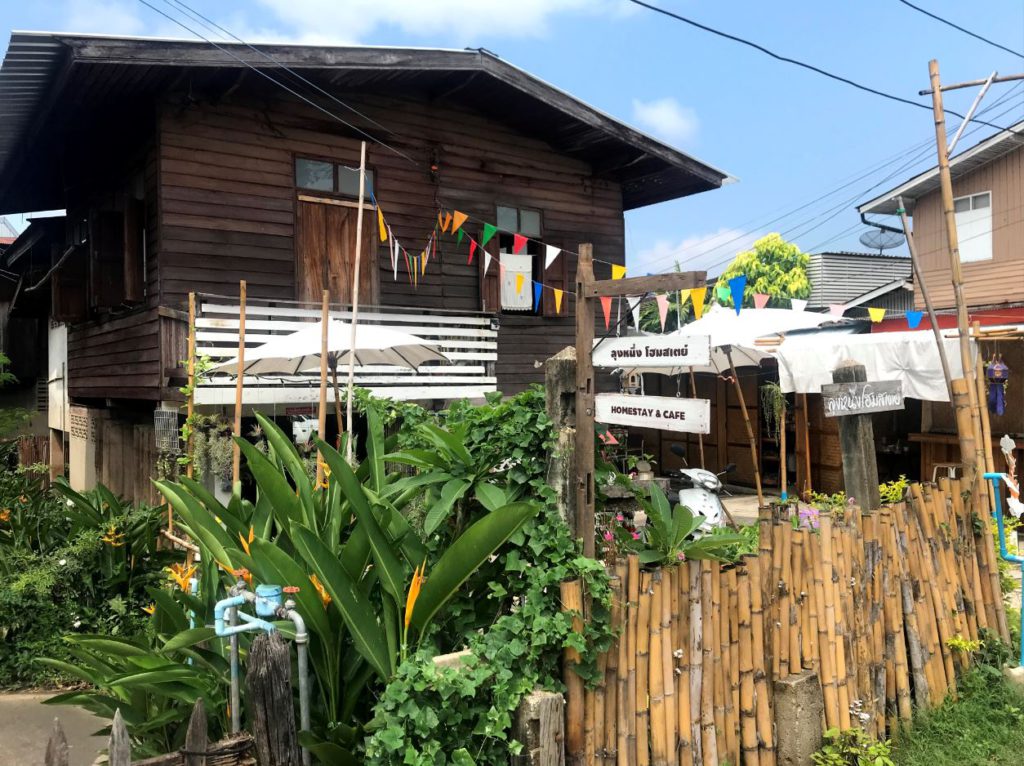 Save On Pinterest


Related Articles