24 Aug

Thai Human Imagery Museum, Thailand

Thailand has its own version of Madame Tussauds. It's called Thai Human Imagery Museum.

And it is as good, if not better.

Sadly it isn't that accessible.

Which also makes it less popular, even amongst the locals.

I wouldn't go that far only to visit this place though.

However, if you are in the area, maybe you can stop by and check out this interesting place.

Here is everything you need to know about visiting Thai Human Imagery Museum from Bangkok.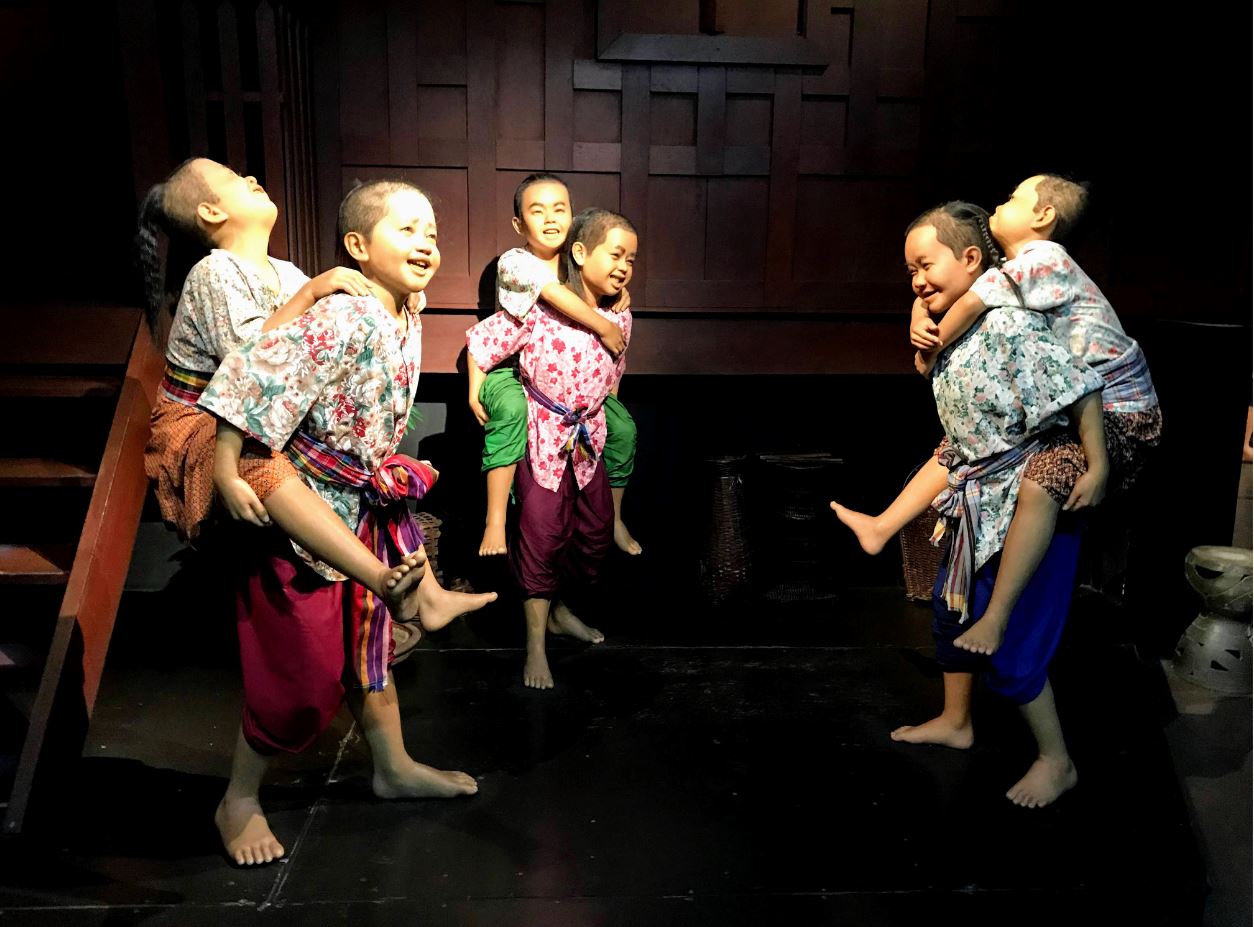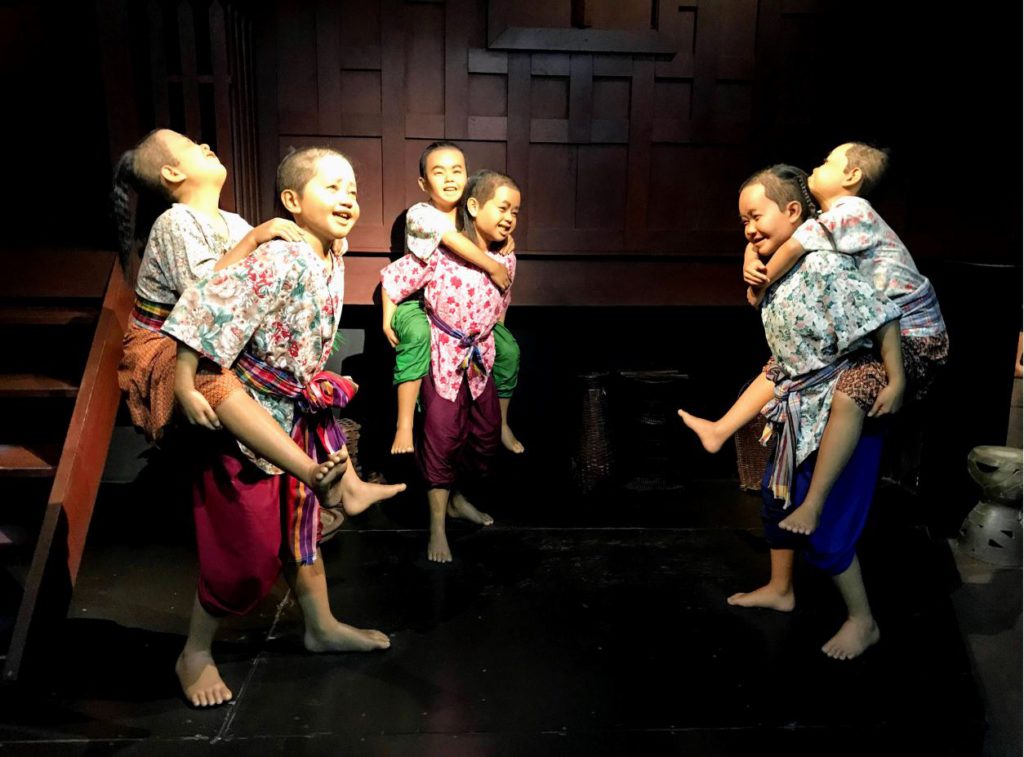 About Thai Human Imagery Museum
Master Duangkaew Phityakornsilp, a Thai sculptor had spent 10 years studying the craft of wax sculptures and its substitutes. Since wax as a material isn't suitable or long-lasting for Thailand's hot and humid weather, the search for a substitute made sense. After much research Master Duangkaew came across fibreglass.
Fibreglass displays similar property when moulded into wax figures with a softer and more realistic look. It is also far more durable with solid, clean quality. He created the first near-human sculpture of Prarachsangwara (Luang Pu Toh Intasuwano) at Pradochimplee Temple in Bangkok. It took him 3 years to complete.
After that, he and his team help set up the first Thai indigenous museum containing 125 wax sculptures this is Thai Human Imagery Museum that opened in 1989.
Thai Human Imagery Museum Location
The museum is located in Nakhon Chai Si district in Nakhon Pathorn province that is approximately 40 km west of Bangkok city. The museum premises also has a shopping area, a small lake meant for boating, restaurants and souvenir shops where people can relax for a whole afternoon.
Address: 43/2 Moo 1 Borommaratchachonnani Road (Pinklao-Nakhon Chai Si) Kilometer 31 Khun Kaeo Nakhon Chai Si Nakhon Pathom 73120
How to reach Thai Human Imagery Museum
If you are already in the area, you can take a taxi to this place. If you are travelling directly from Bangkok you can take one of the following modes of transportation.
Taxi: You can always take a taxi from Bangkok. A one-way trip will cost you between 300-400THB depending upon your location. You can also find a taxi just outside the museum for a return ride or to your next destination but you may have to wait for some time. Free Parking is available at the premises.
If you are at Wat Samphran or Central Salaya, the taxi trip will cost you around 80THB. You may have to tell the driver museum's local name that is พิพิธภัณฑ์หุ่นขี้ผึ้งไทย (pronounced phi-phi-tha-phan Hun-ki Phueng-Thai). Grab is not available in the area.
Bus: There is no direct bus that runs to the museum. You can either take the bus no. 556 starting from Democracy Monument to Tangmo Factory Intersection (google location) or Bus 515/84ก from Victory Monument to Central Salaya and take a taxi from there.
If you are visiting Wat Samphran or nearby places, you will need to take a taxi in most cases since the bus connectivity in the area is poor. You can check the bus routes on the Moovit app or (moovitapp.com) for best options from your location.
Minivan: There are minivans too on this route. Two van routes pass near the location and you can ask them to drop you directly to the museum. Vans on route Bangkok-Nakhon Pathom leave from the van terminal located next to Lotus PinkLao. Vans on route Bangkok-Nakhon Chai Si leave from the van terminal in front of Central Pinklao.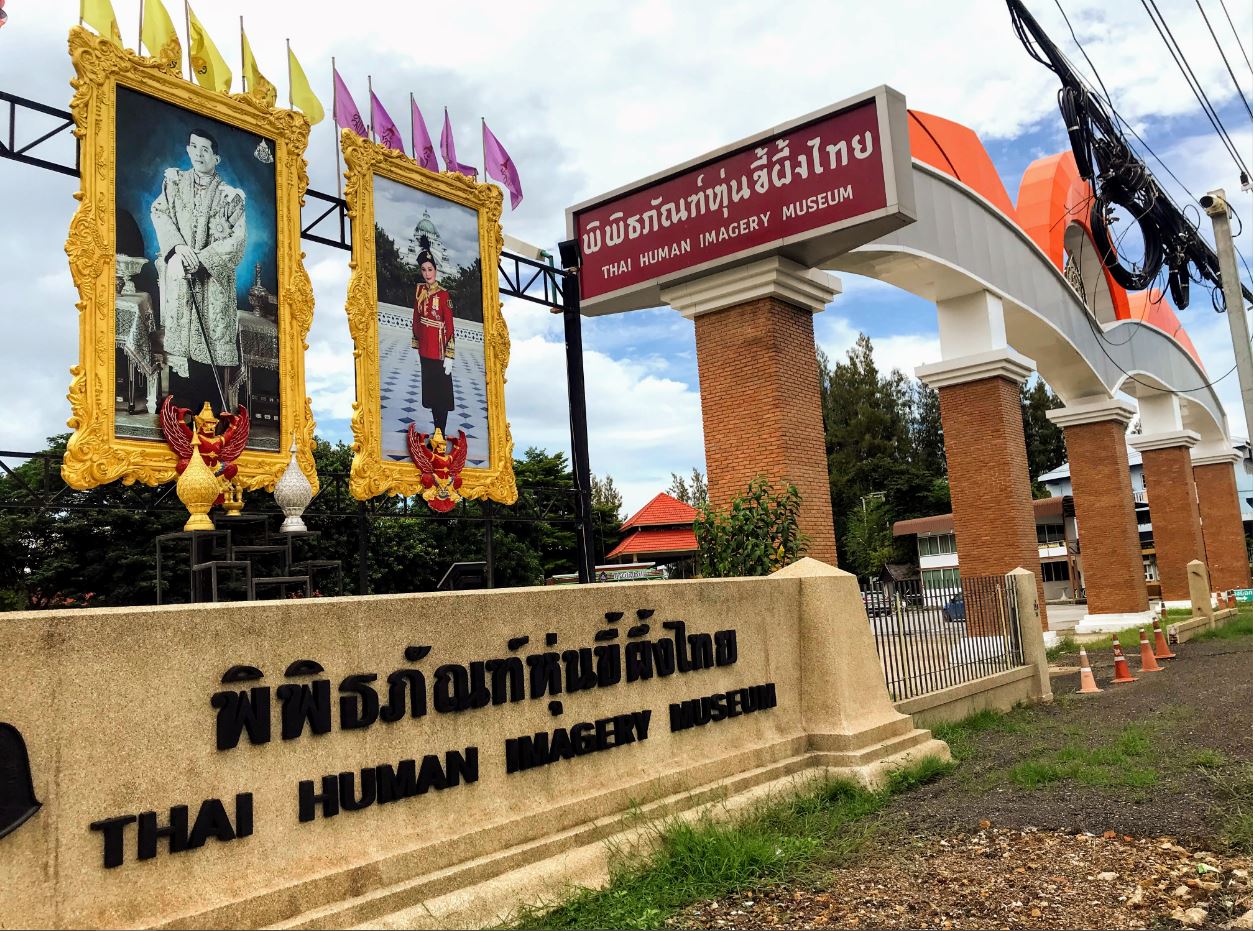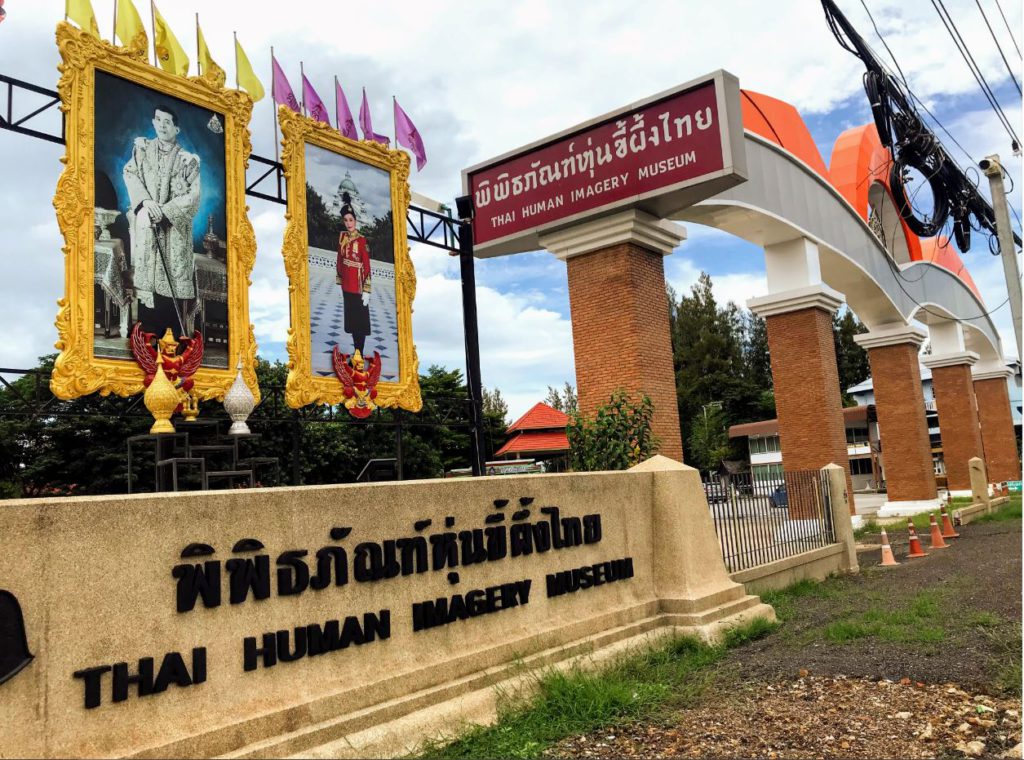 Thai Human Imagery Museum Opening Hours
The museum is open from 9.00 am to 5.30 pm on Monday – Friday. On Saturday – Sunday the museum is open from 8.30 am to 6.00 pm.
There is no best time to visit the museum since the place is usually empty and receive few visitors. Additionally, there are a small lake and picnic tables a little outside the museum. So you can enjoy a meal if you are there around lunchtime.
Thai Human Imagery Museum Entry Fee
Entry fee for Foreign Visitors is 300/150 THB for Adults/Children (under 130cm). Entry fee for Thai Nationals is 70/30THB for Adults/Children.
Entry fee for special Thai Nationals are as below
Monks/Mothers: 40 THB
Novices: 30 THB
Students in Uniform: 30-40THB (depending upon the age)
You can also buy the tickets to the museum online using Klook.com or Ticket2Attraction.com. Online websites usually give discounts that can range from 15-25% especially for foreign nationals. Make sure you buy the tickets at least 30 minutes before you arrive.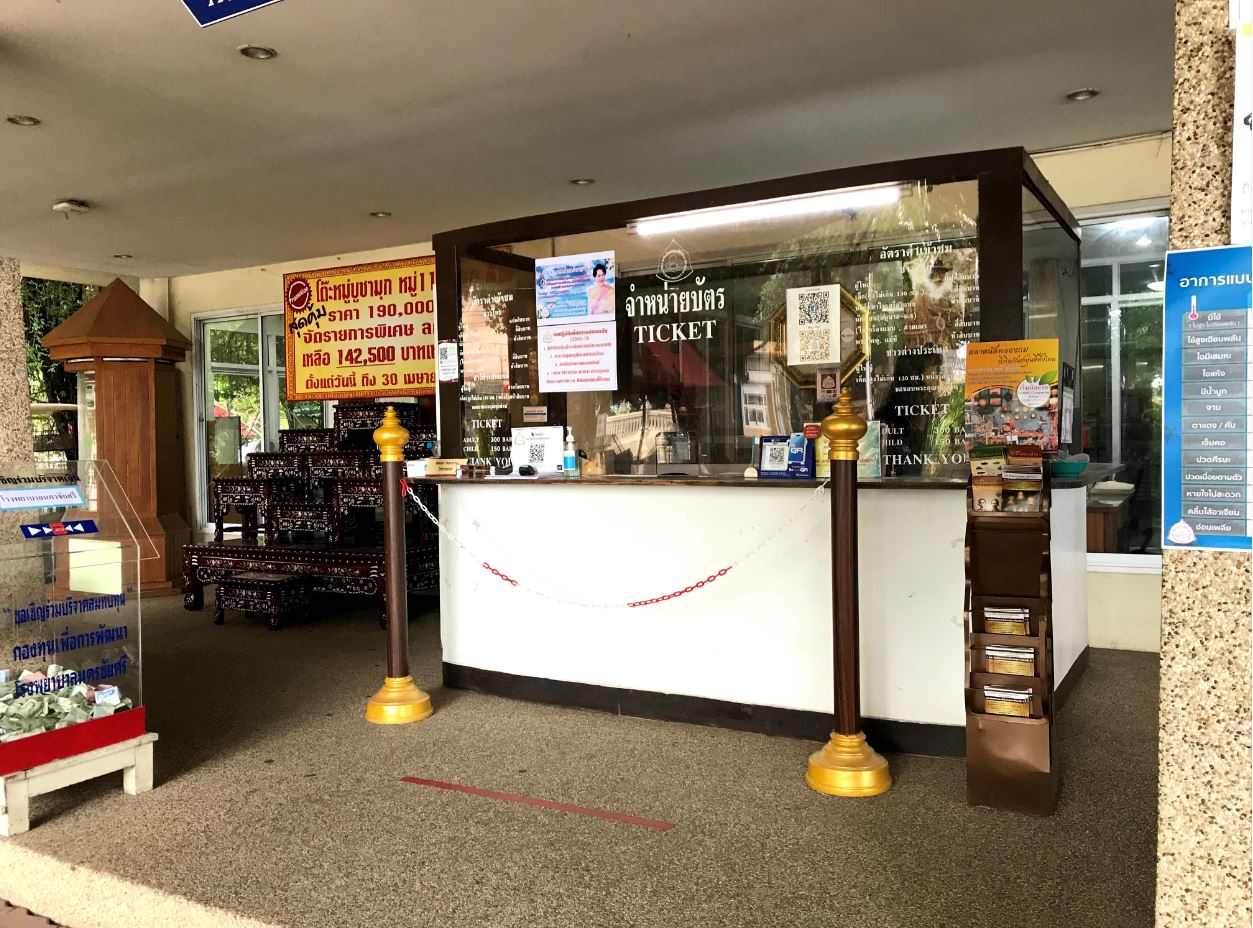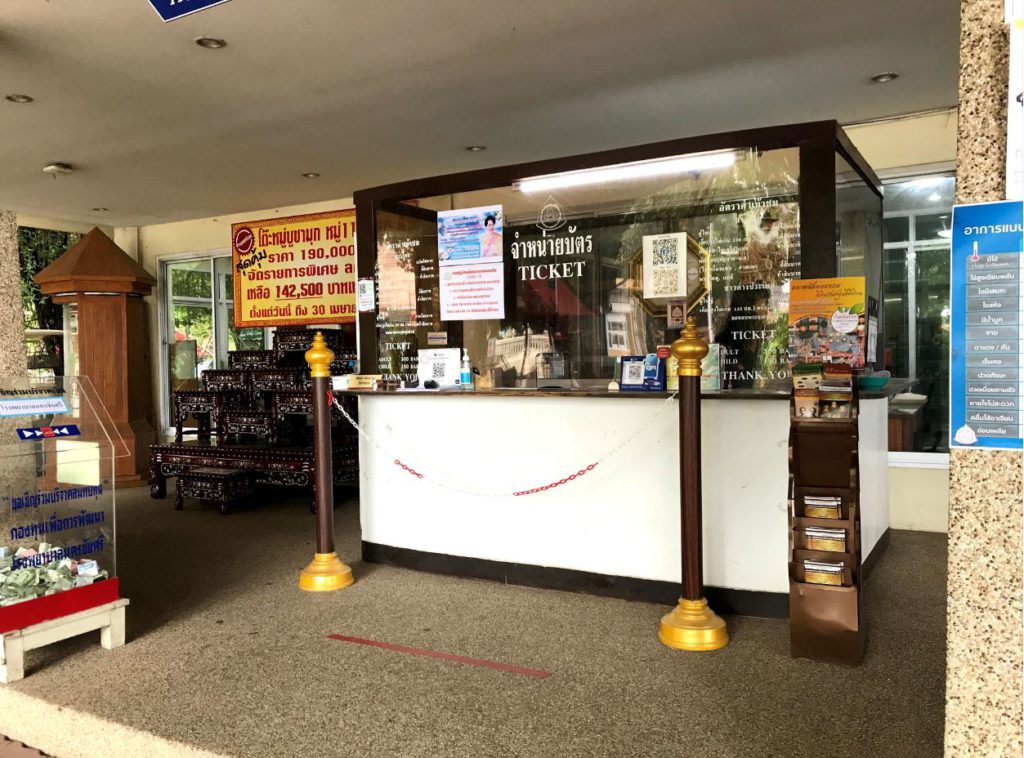 Visiting the Museum
Once you enter the premises of Thai Human Imagery Museum, head over to the ticket counter. If you haven't purchased your ticket, you will need to do that here. If you have purchased them online, you will need to validate and get a physical ticket. There are always people to help you out in the area.
The main building of the museum consists of two floors. You will spot it once you cross a small bridge over a running stream in the garden area. The museum is divided into several halls and compartments, each displaying figures or a setup from a particular theme.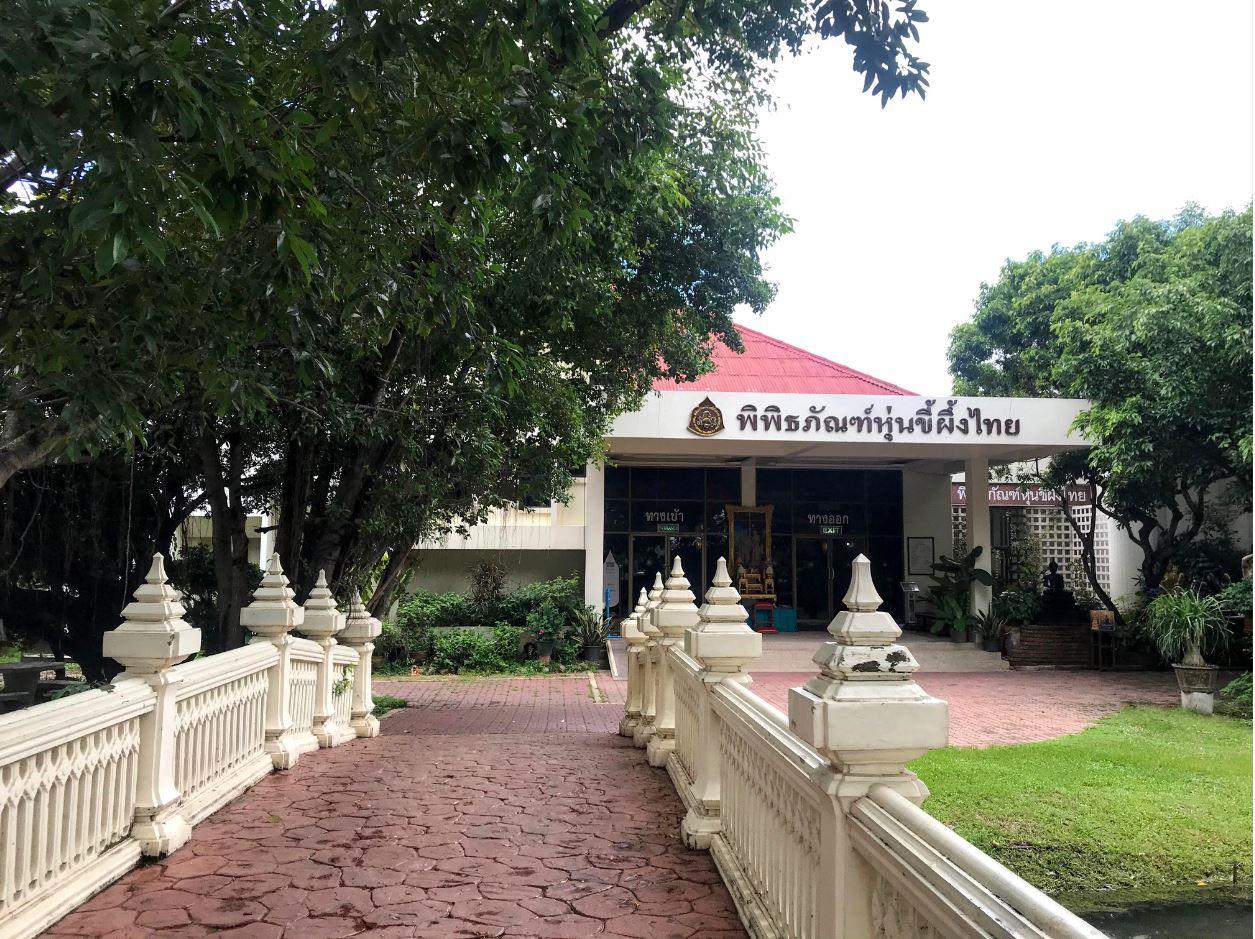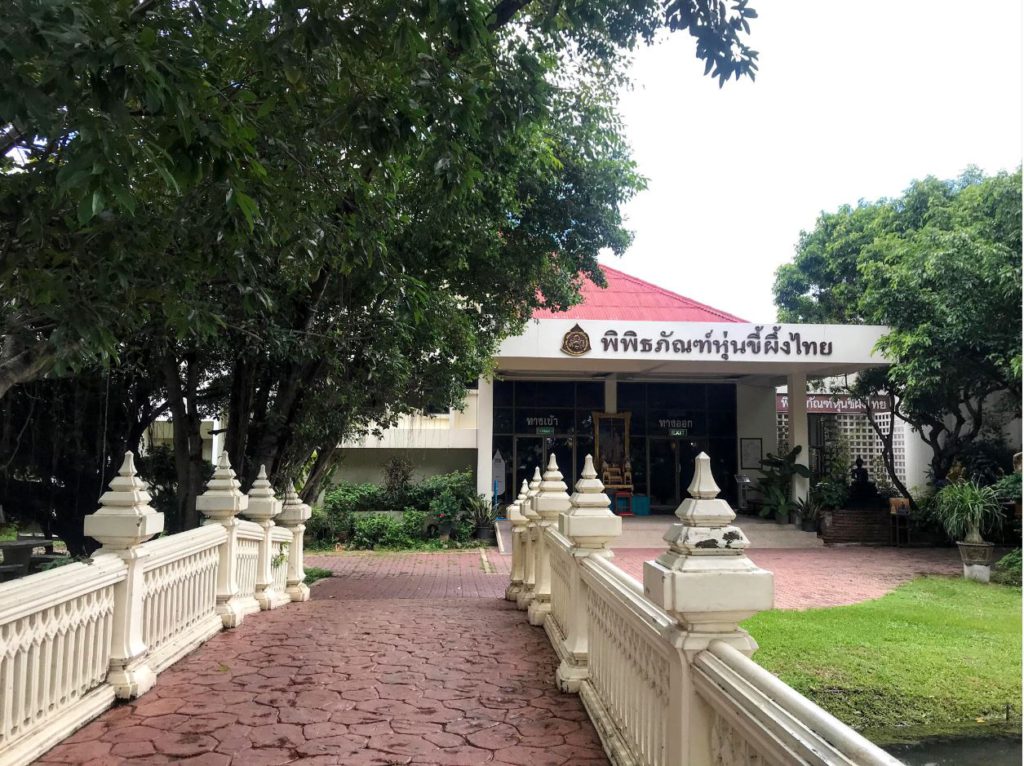 As you start with the museum on your left, you will see numerous figures dedicated to the most revered monks of Thailand. These are the most respected people of the country kept in very high regard. The detailing of the sculptures is astounding and looks extremely real.
Moreover, the lighting is in such a way that highlights the intricacies of the figures. Every freckle, strand of hair and wrinkle is visible. Sometimes I felt like they will just start speaking as I ran my gaze over them.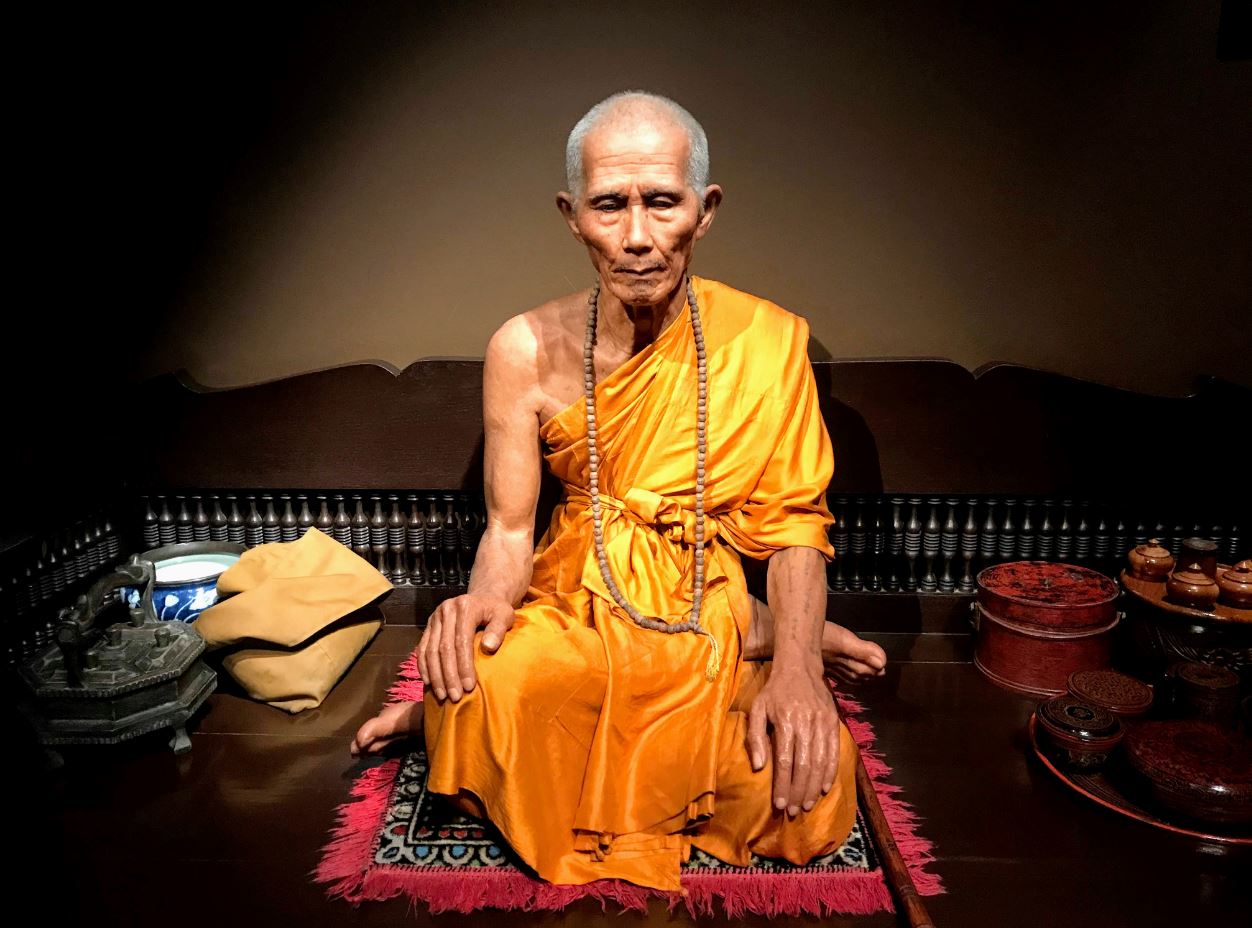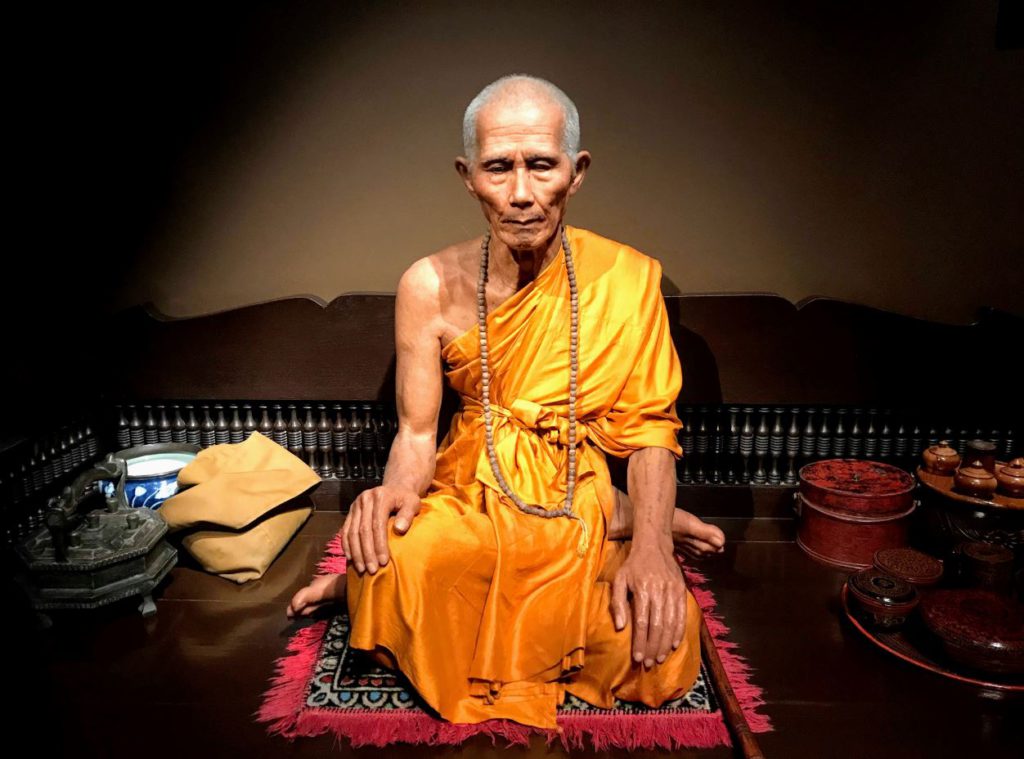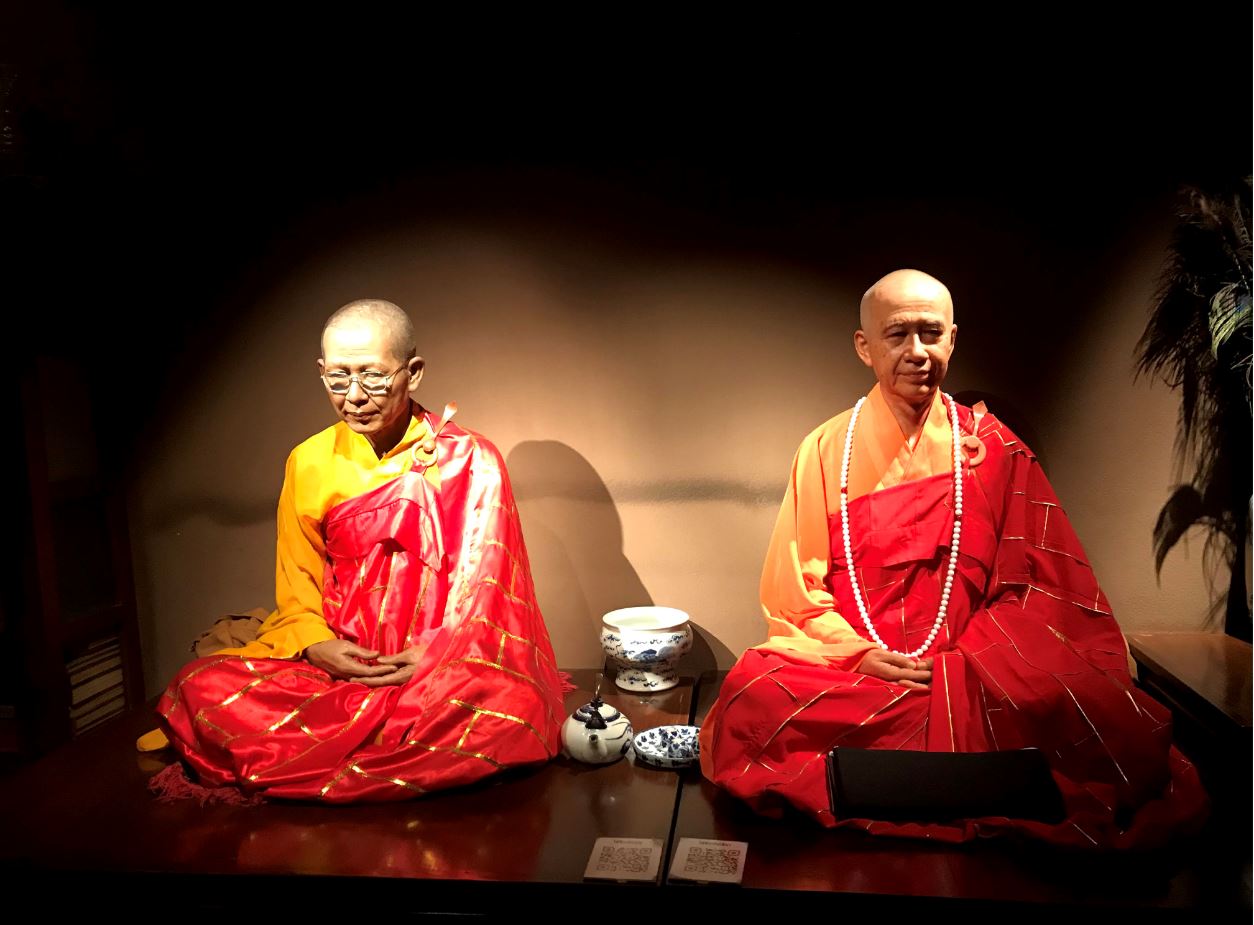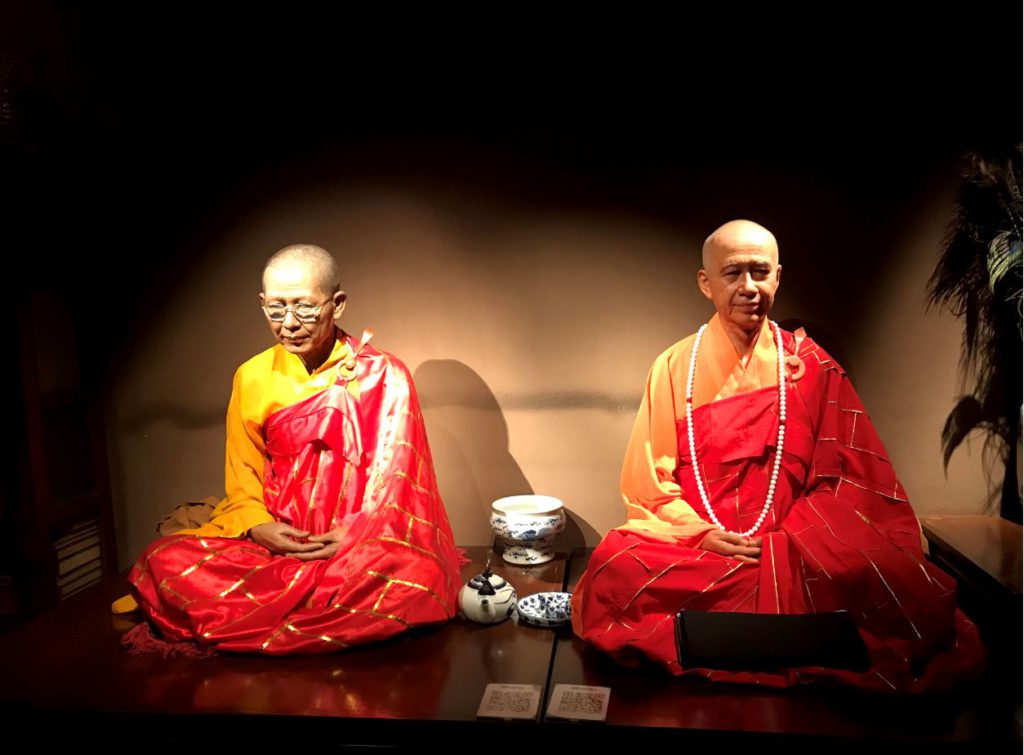 Other rooms on the ground floor have statues of the members of the Royal family of Thailand. The centre of attraction in the room with the 9 rulers of the Chakri dynasty (the family that rules Thailand till day). The room behind it has the Princess with the Princess mother in a loving pose.
Sadly, you cannot take photographs in these rooms. Instead, you will have pay 150THB for each photograph clicked by the photographer at the premises that you can take back as a souvenir. Another downside of the place is there is no audio or tour guide.
There are posters that explain the setting in writing, but most of them are written in Thai, so for foreign visitors, it is limited to the sightseeing.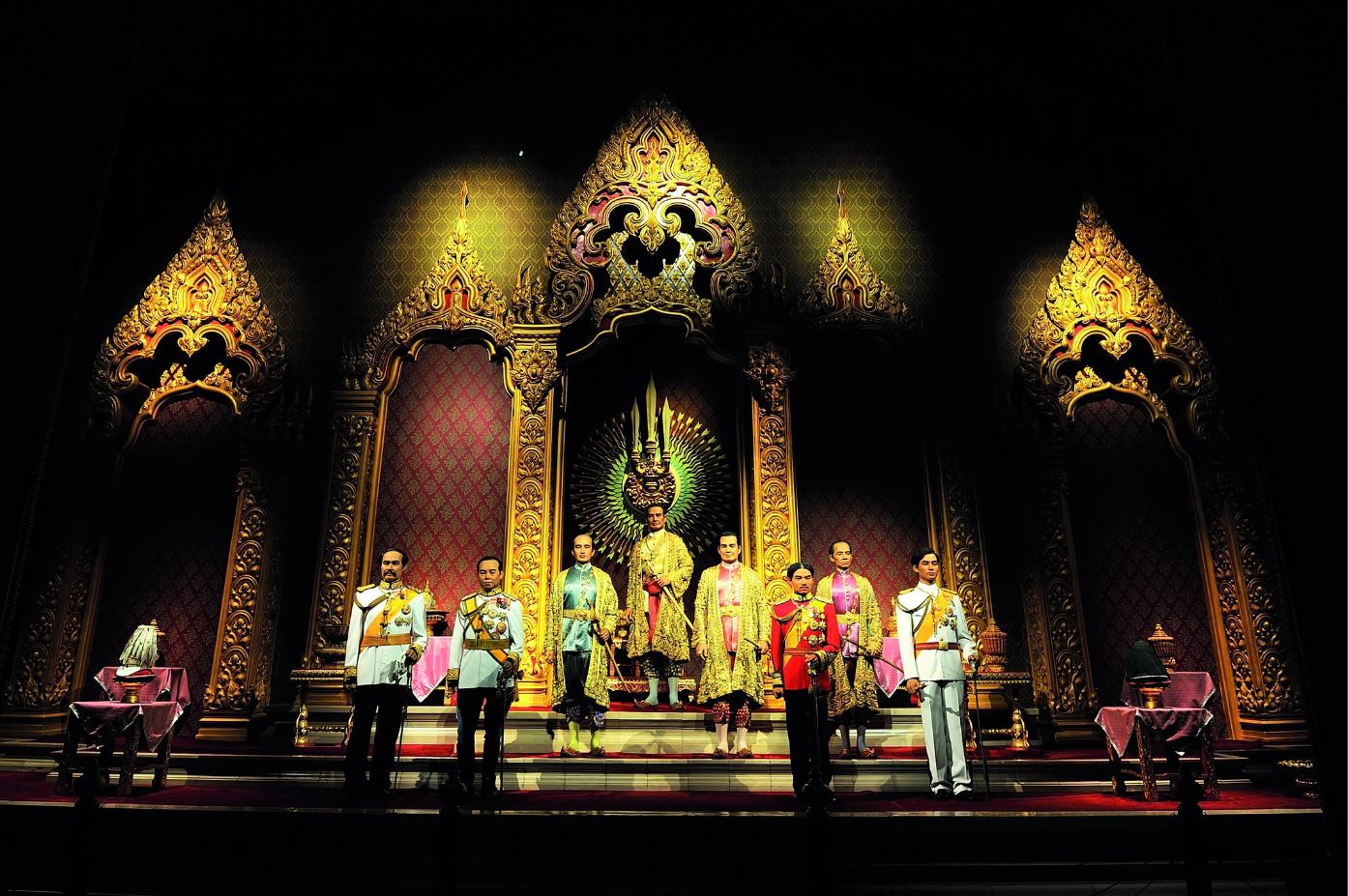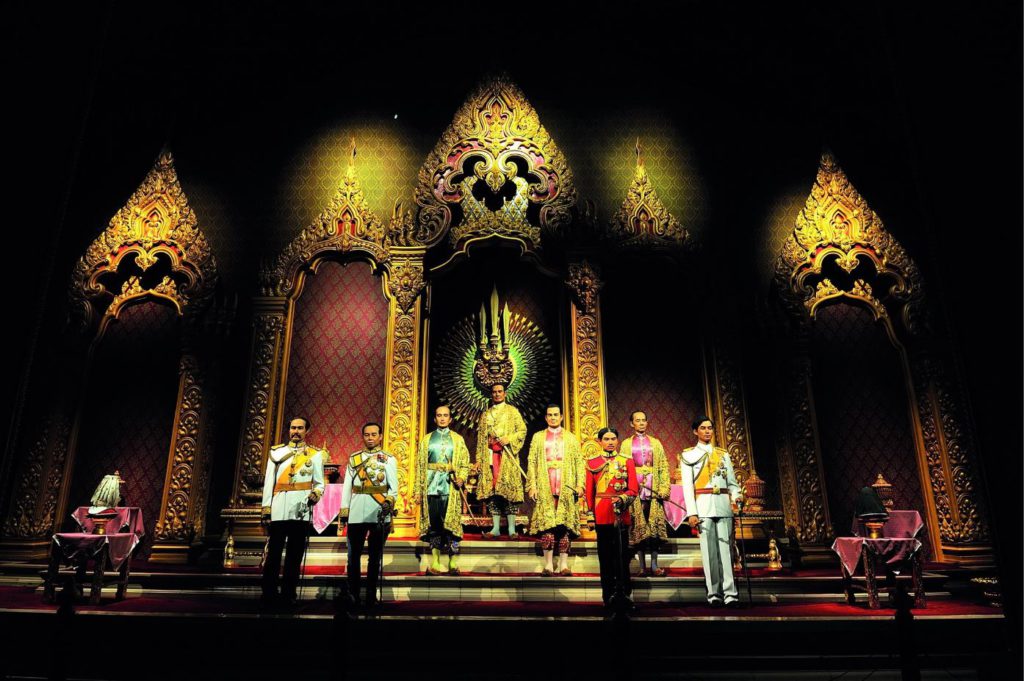 A section on the ground floor also has snippets from the daily lives of Thai people today. You can see people relaxed and sleeping on a bench with the typical 'sabaai' attitude in the air. On the opposite side, it looks like retired people playing a board game in someone's living room.
Just outside the area is Gautama Buddha with a serene face seated in a jungle with his disciples around him.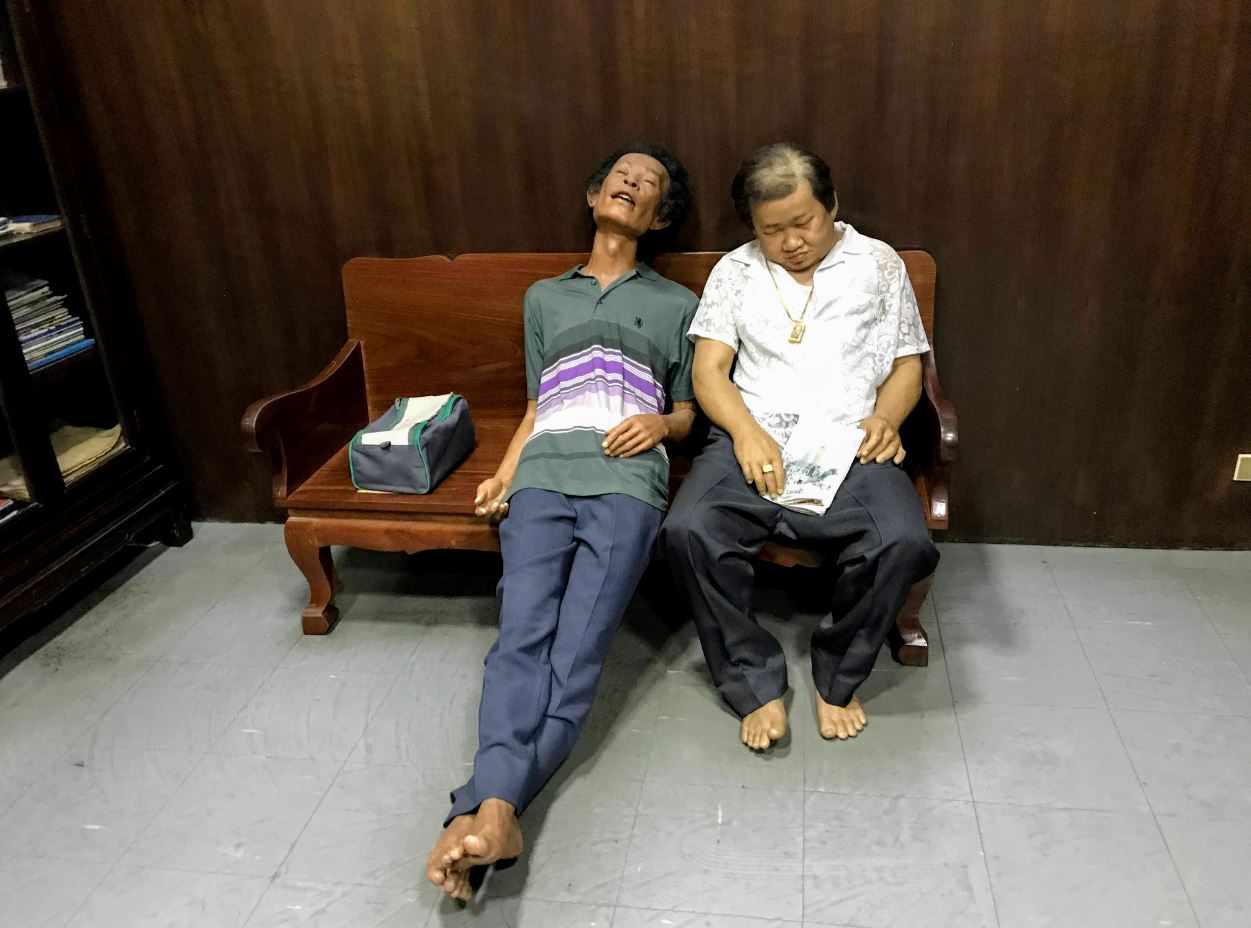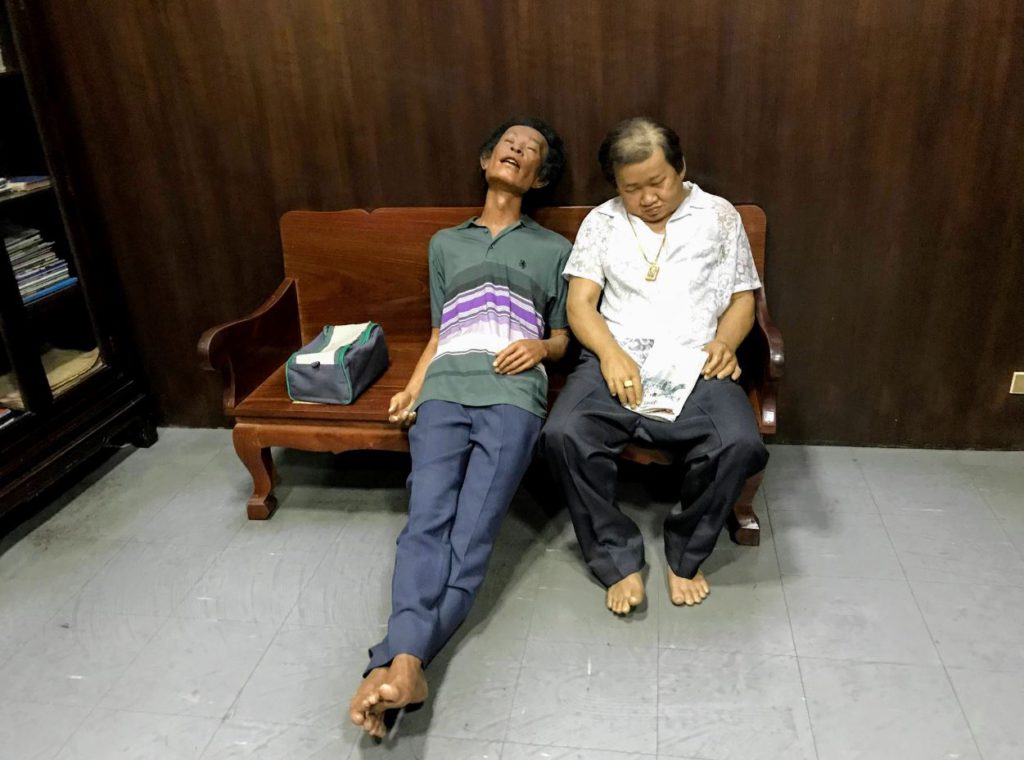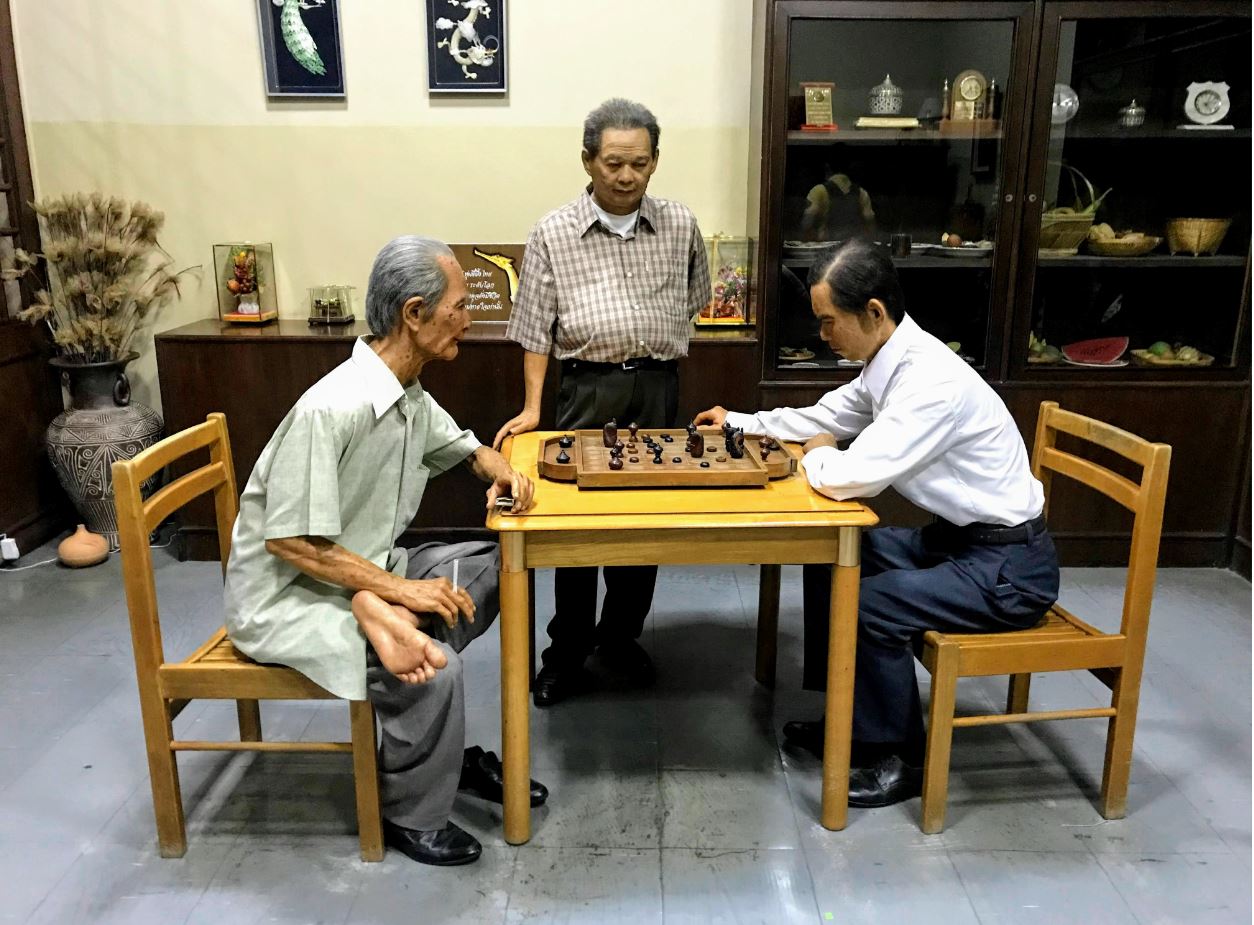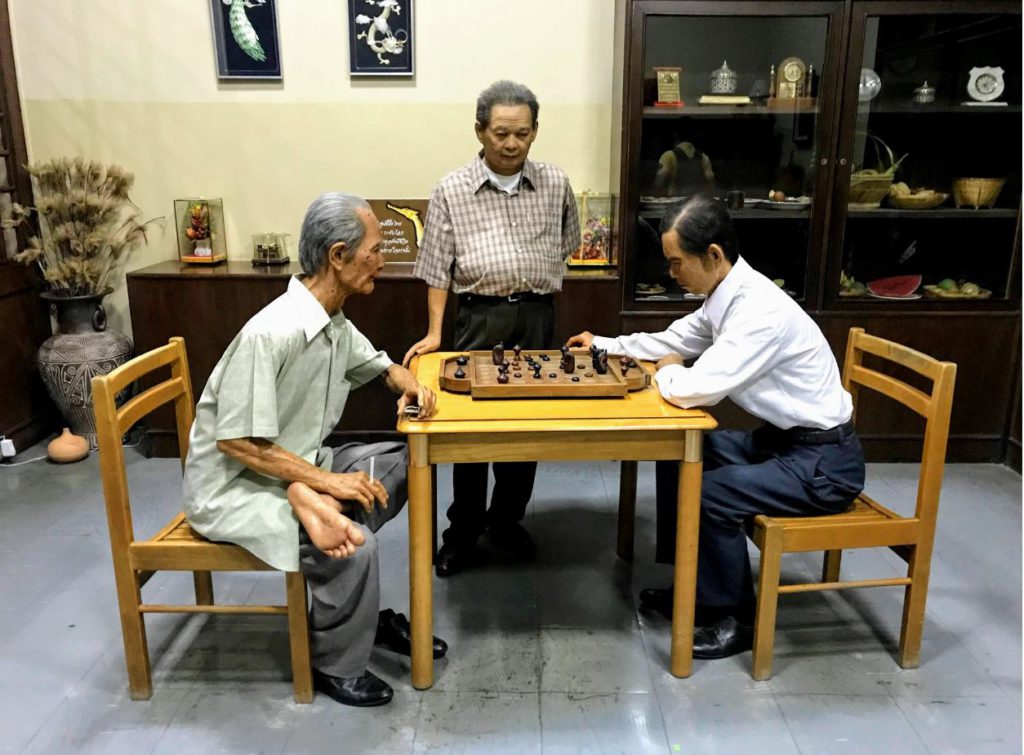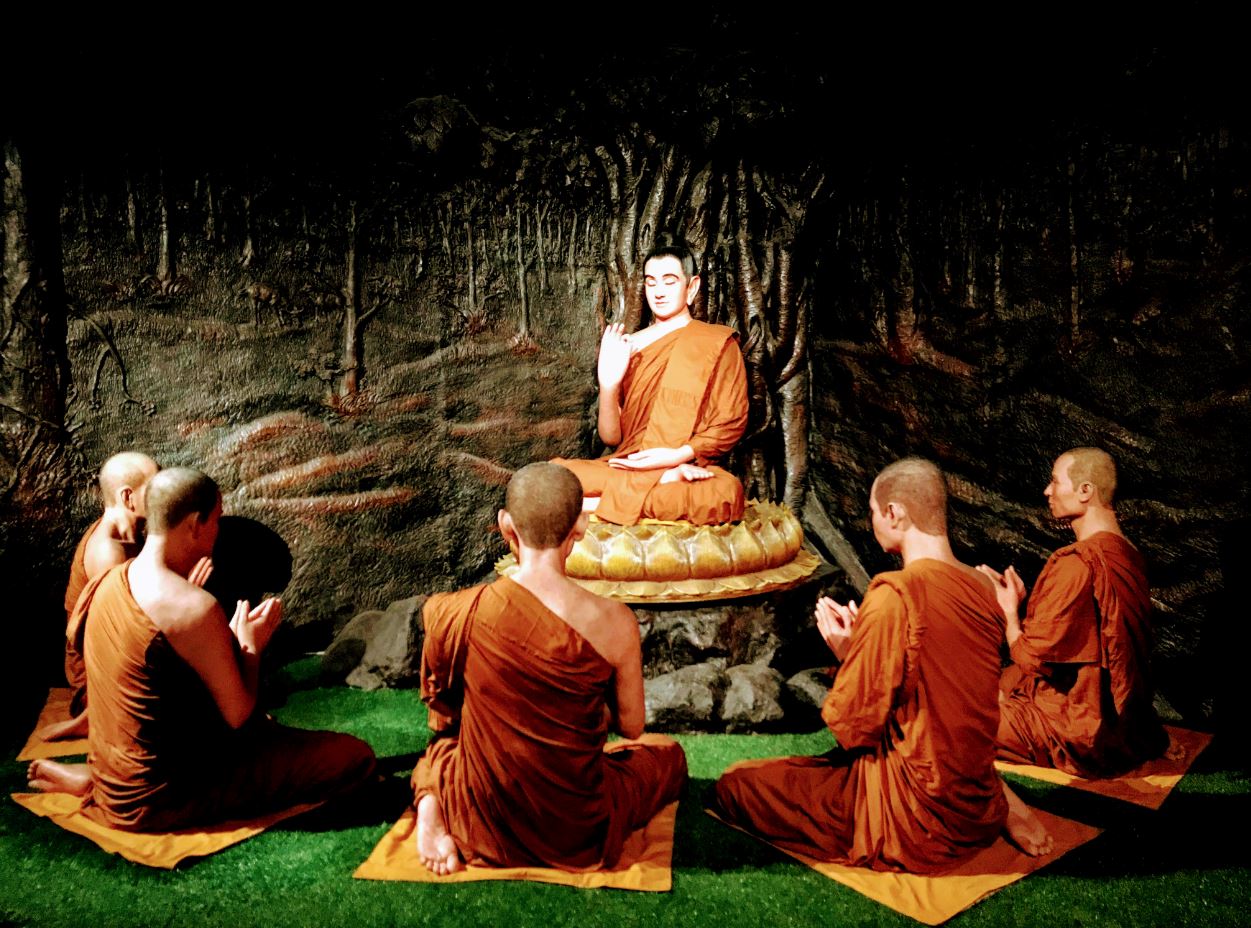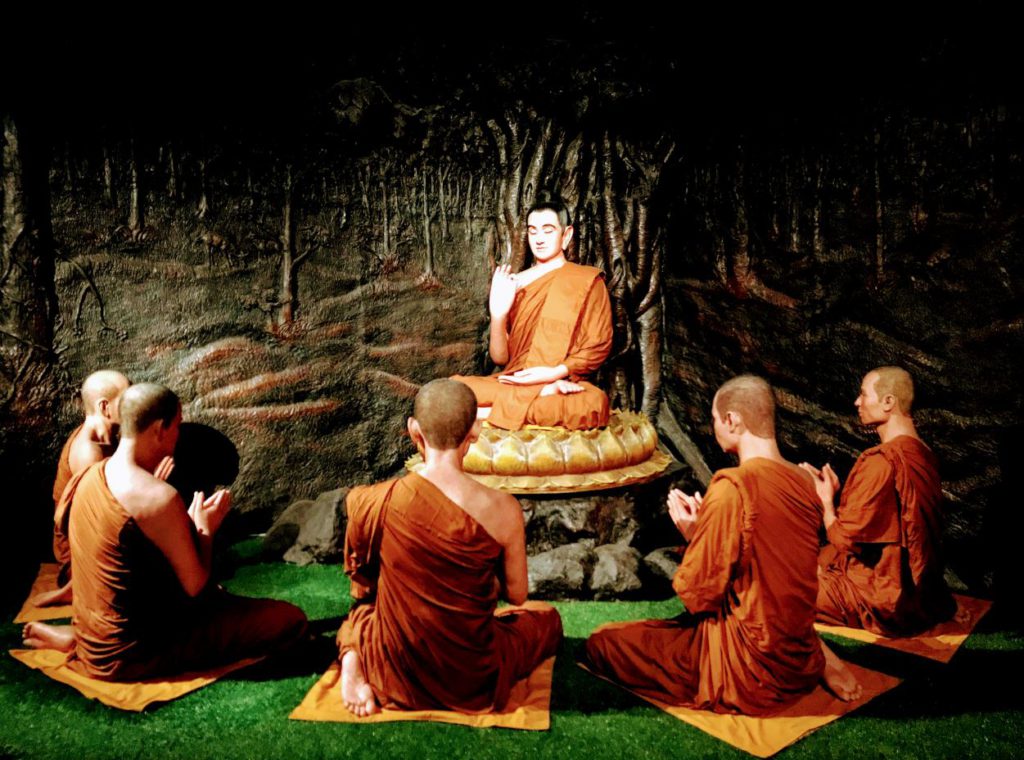 As you enter the first floor, on the left-hand side are sculptures of some famous Thai musicians. Of course, most foreign tourists won't recognise them.
As you move forward, you will find sculptures of famous world figures like Mahatma Gandhi, Abraham Lincoln and Winston Churchill.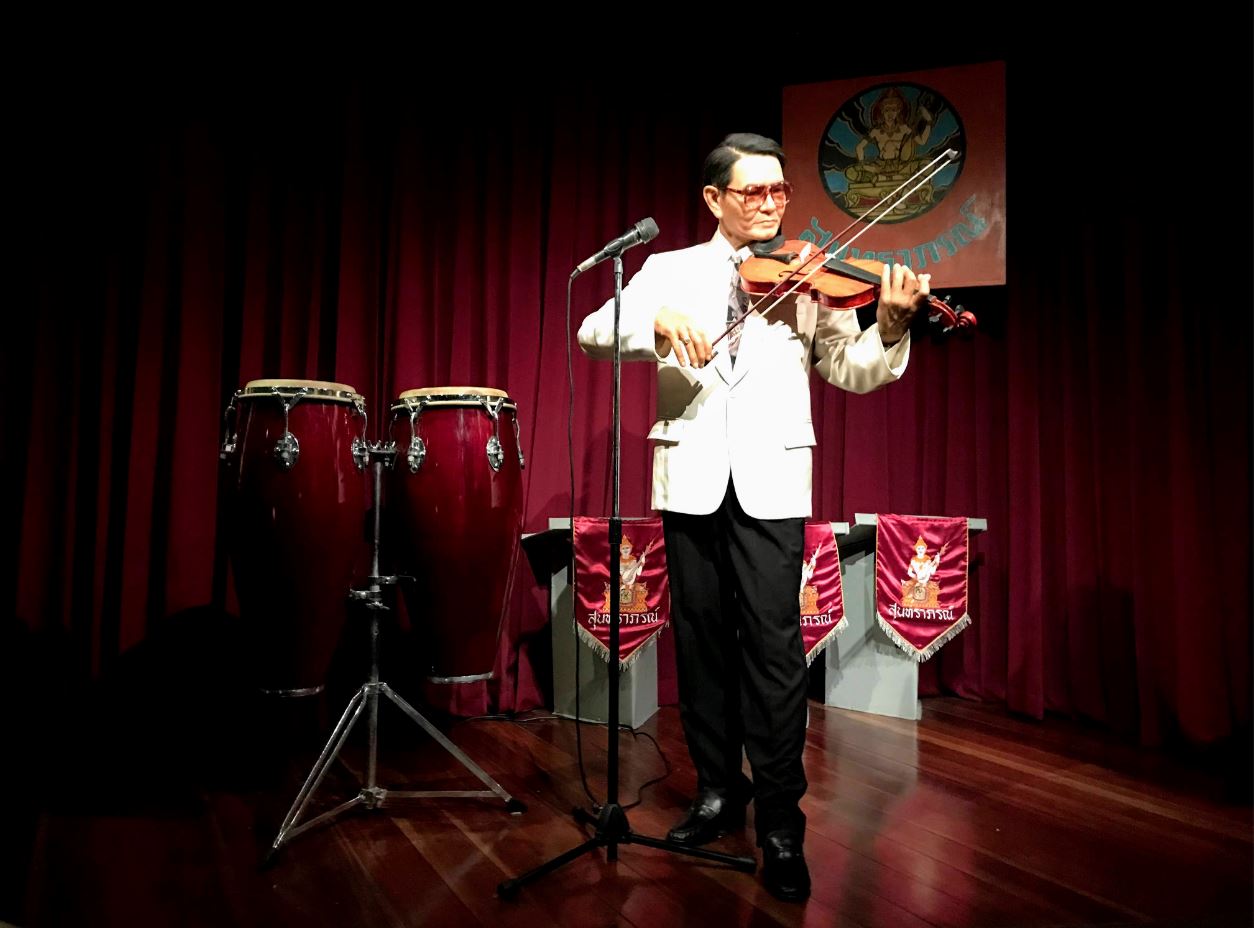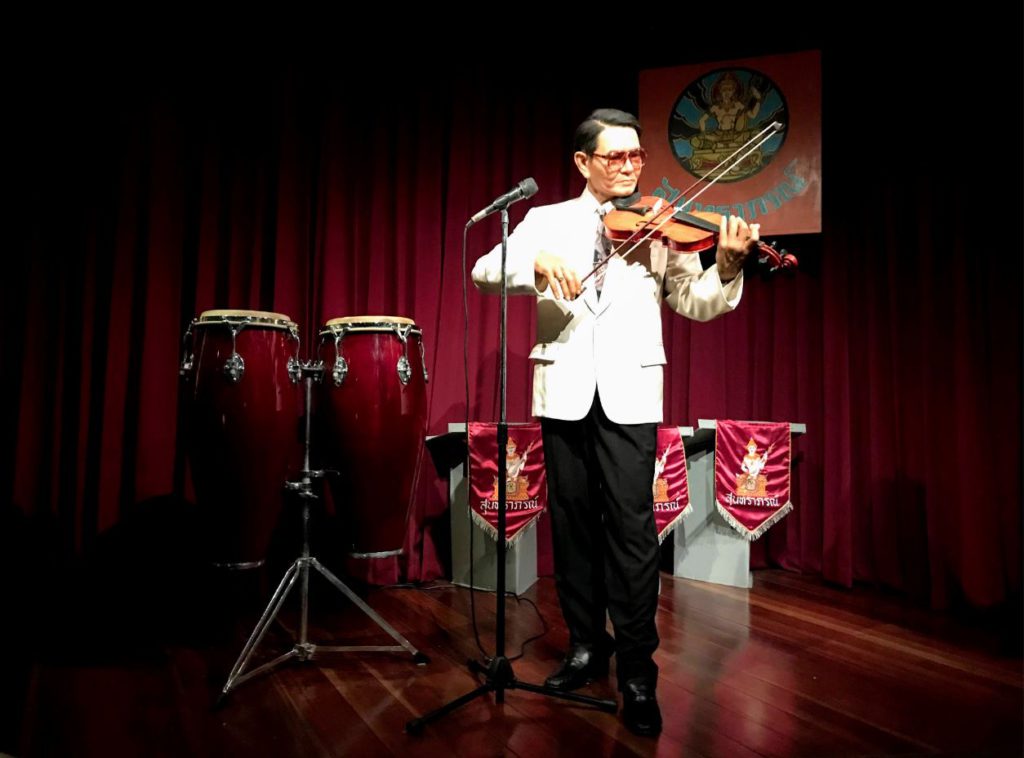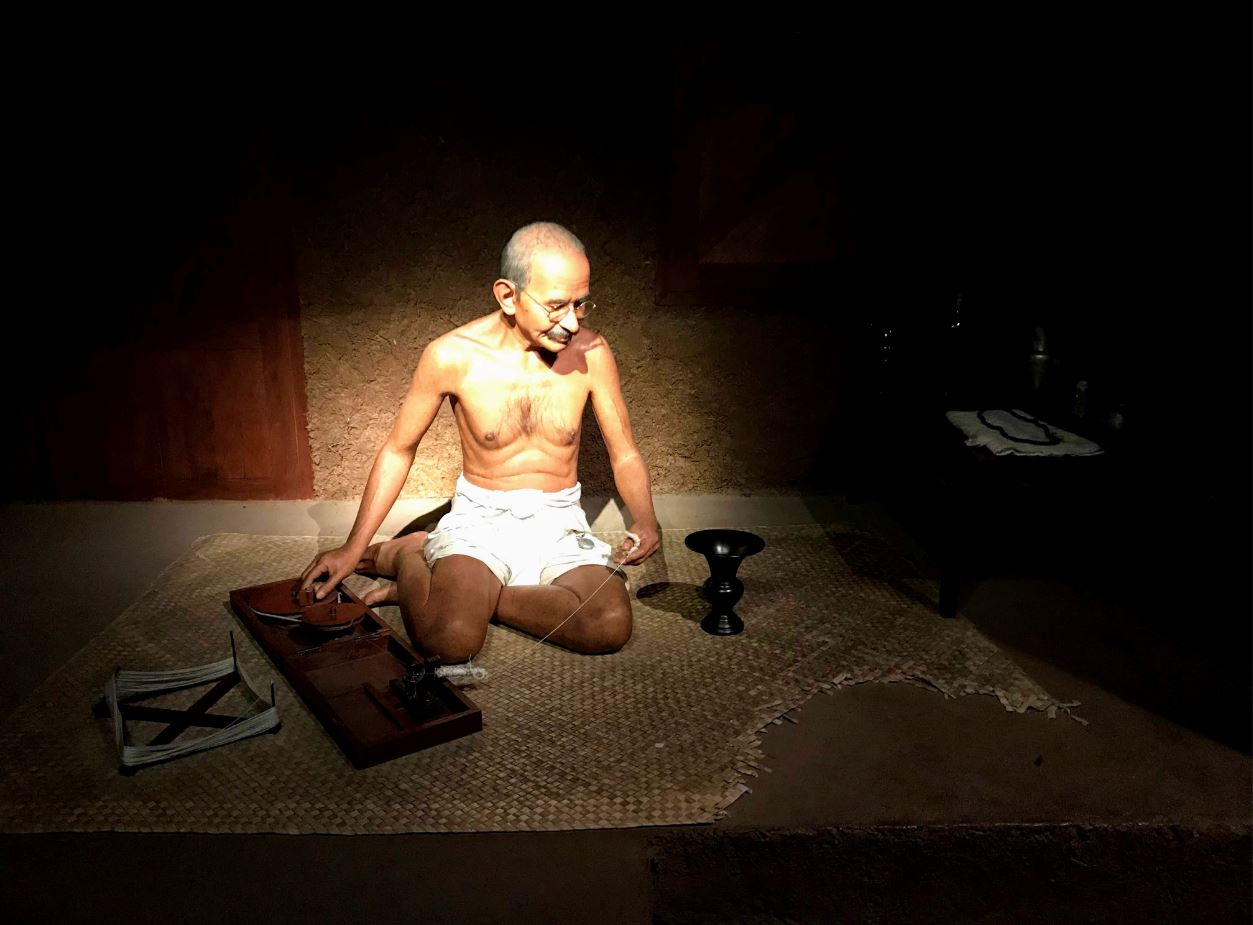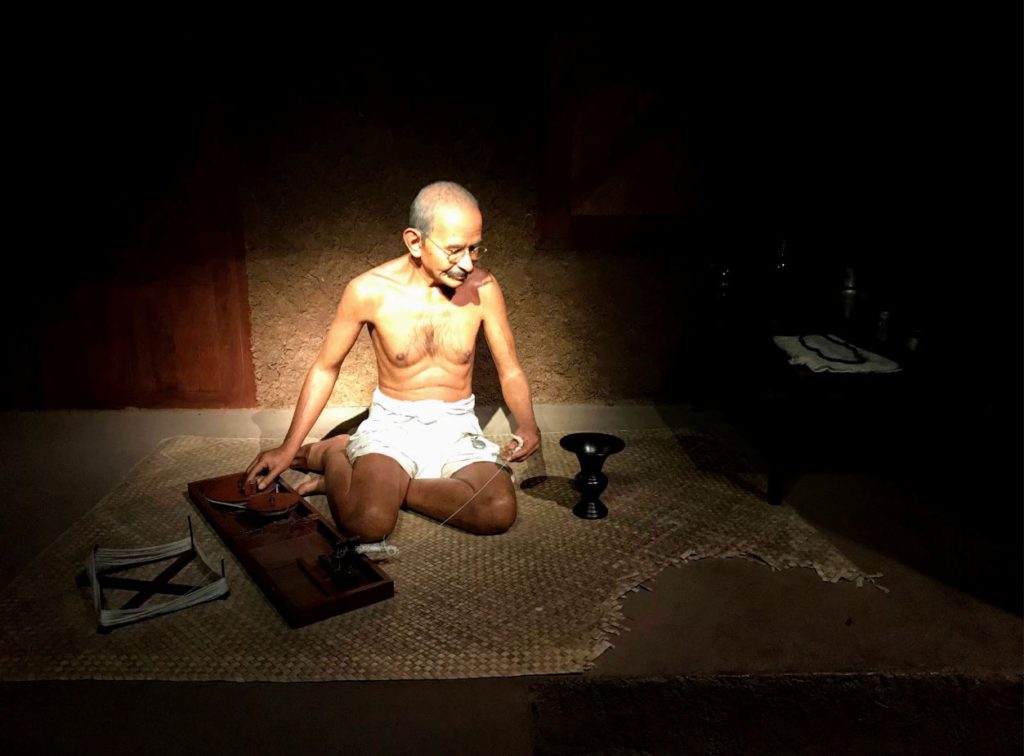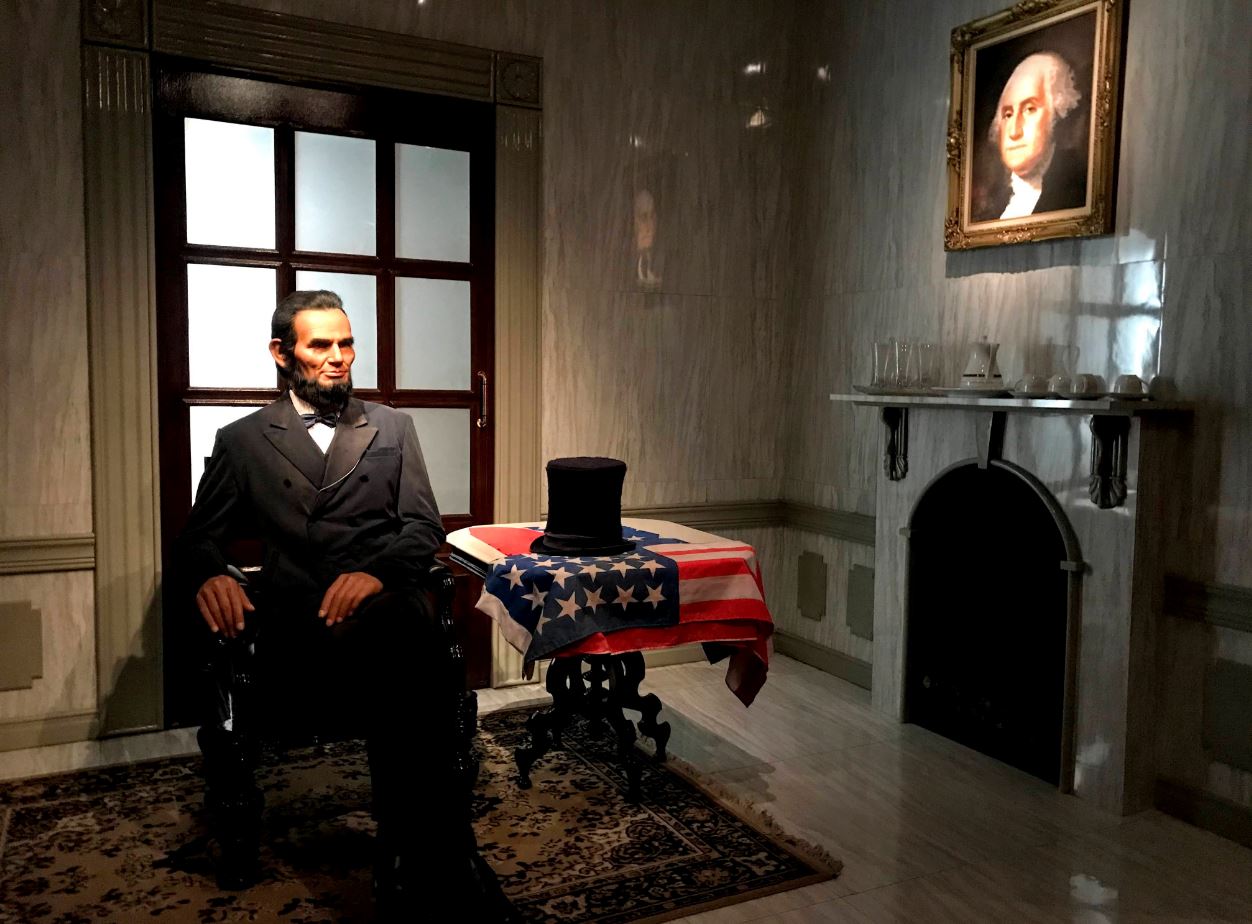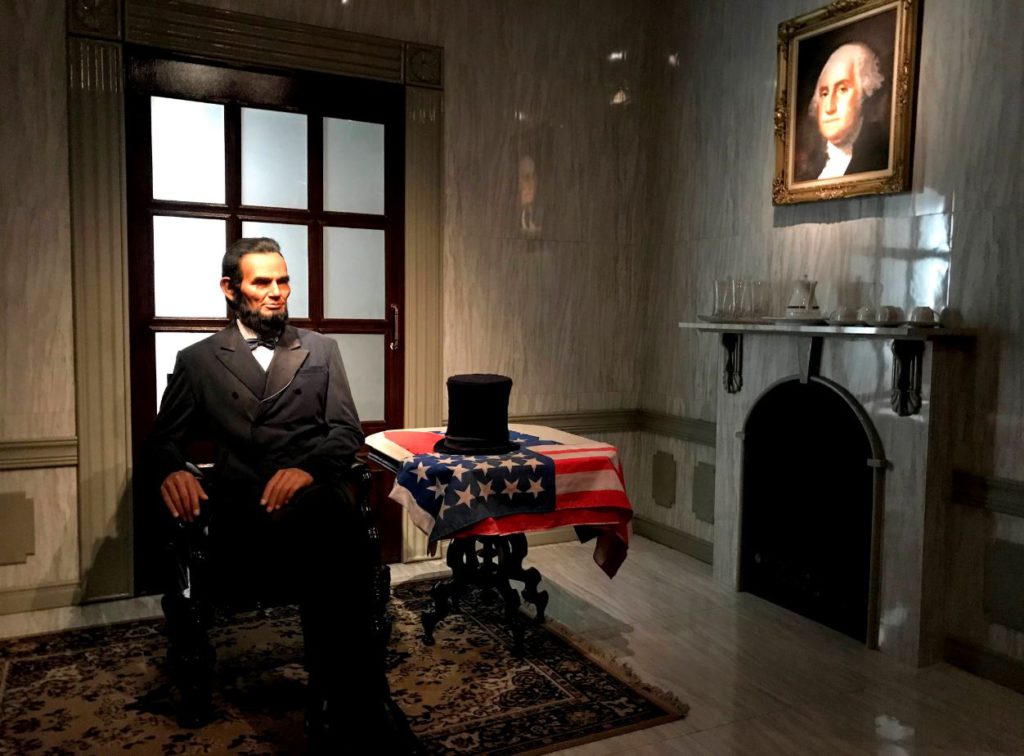 One of the most interesting areas is where you can see children and even adults from the countryside playing games. The expressions on their face are of pure joy and innocence.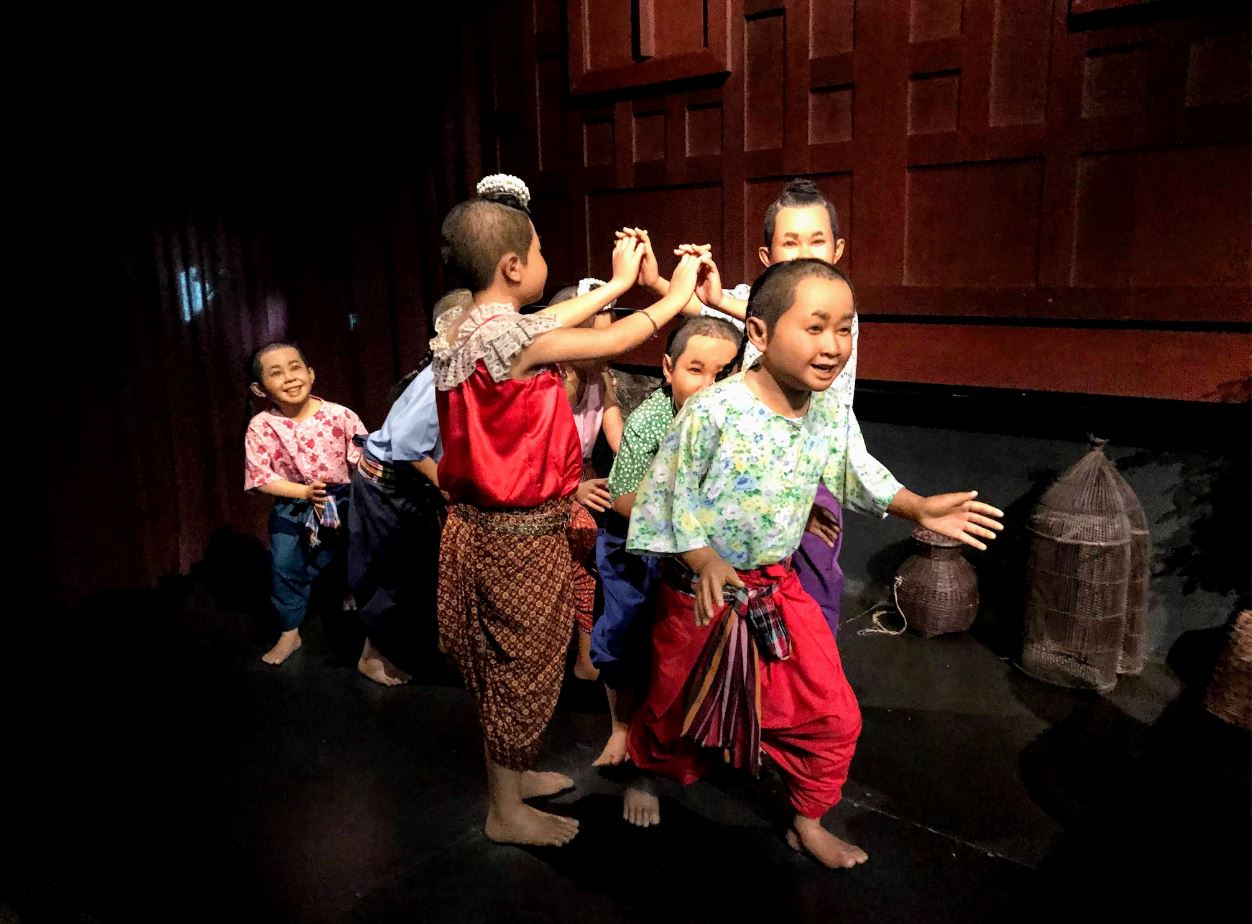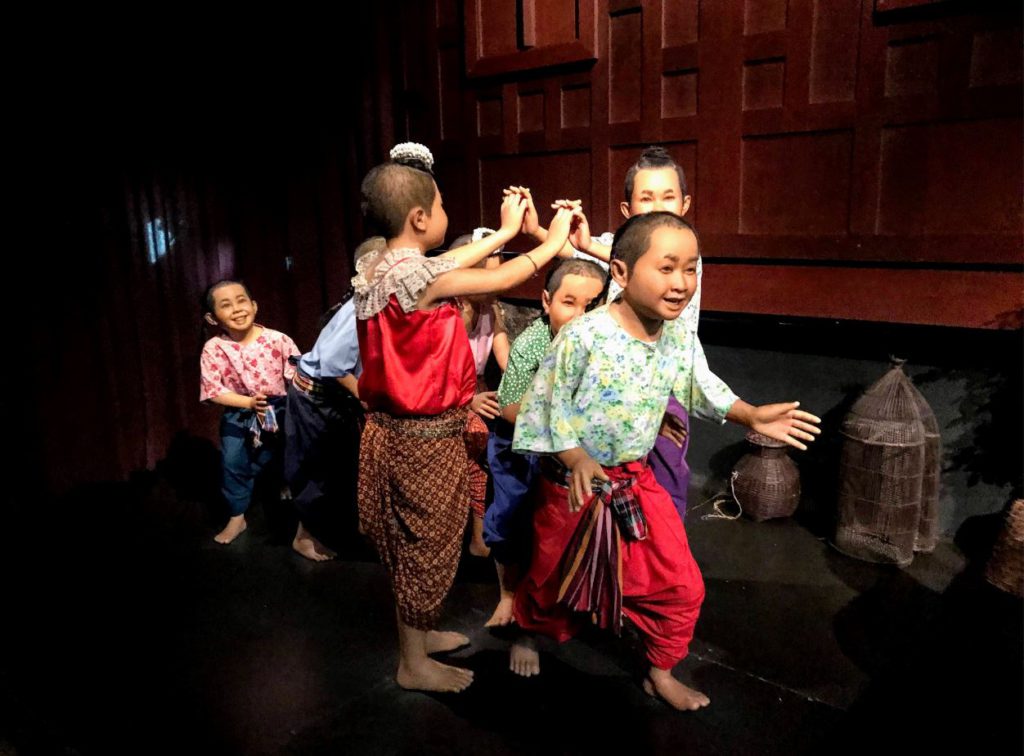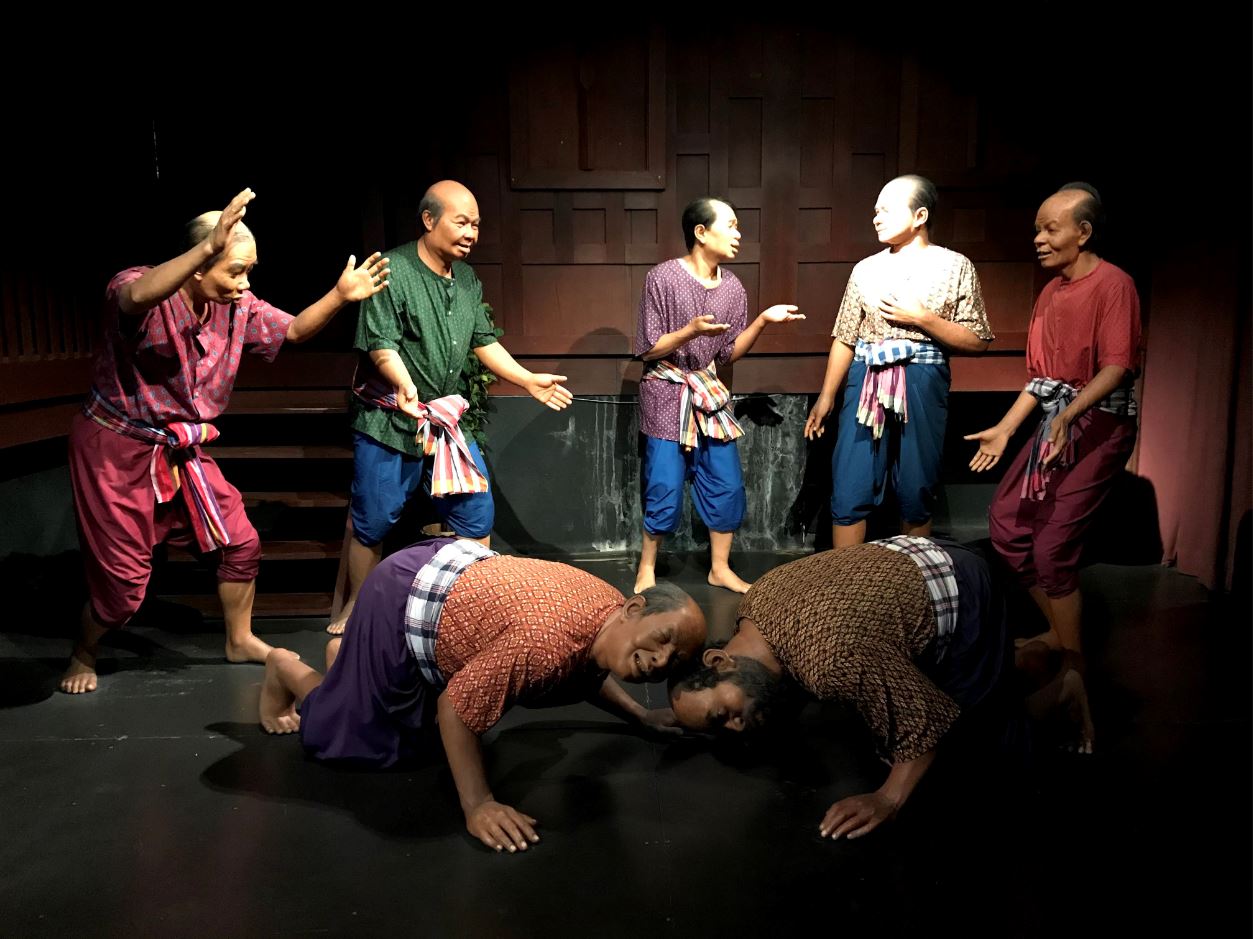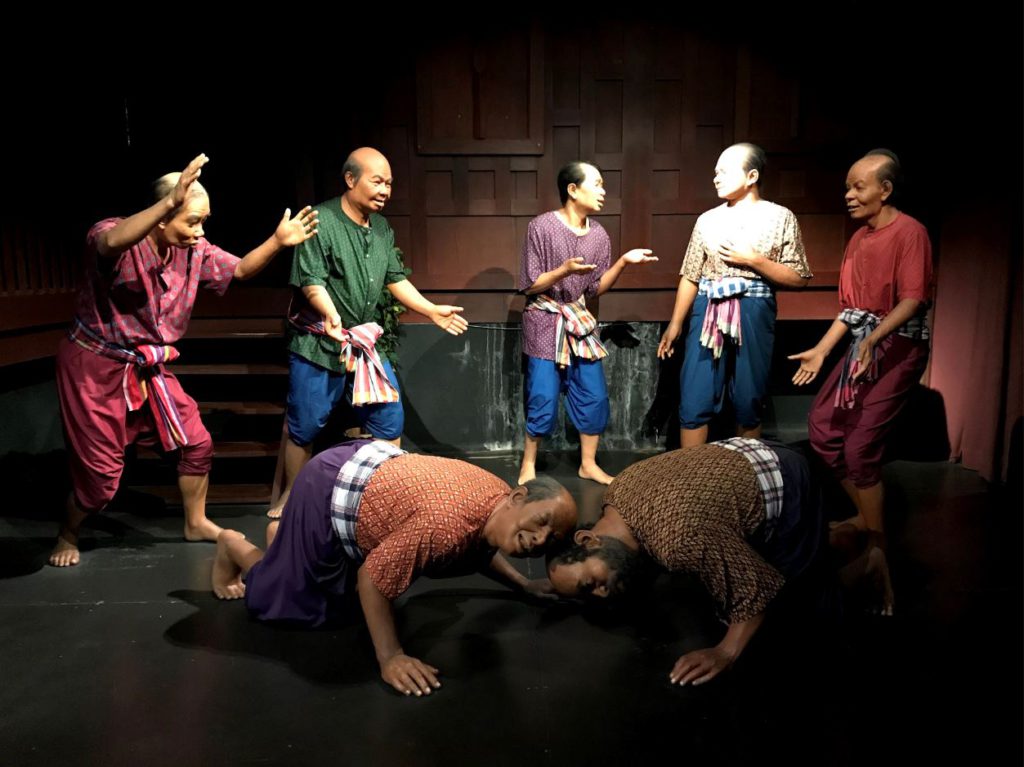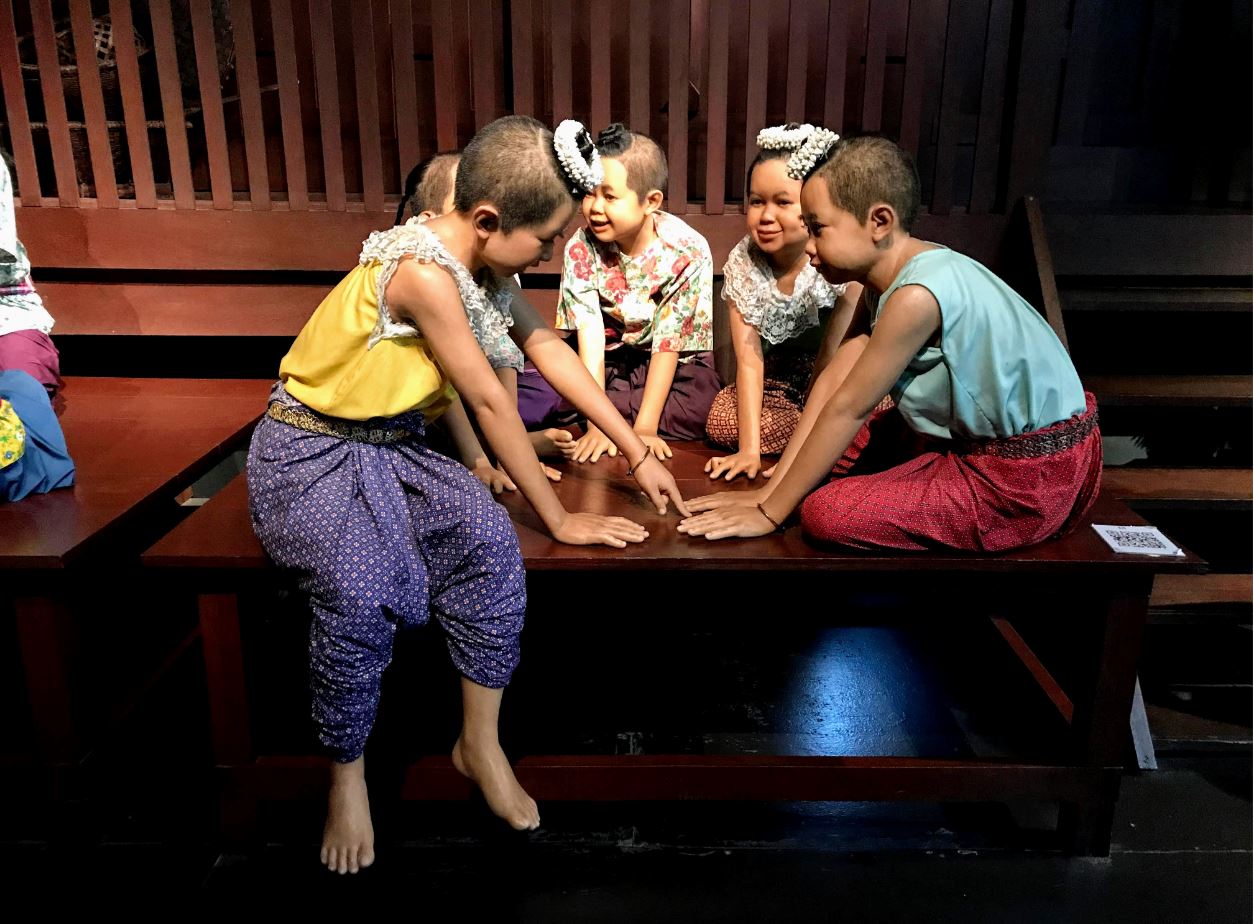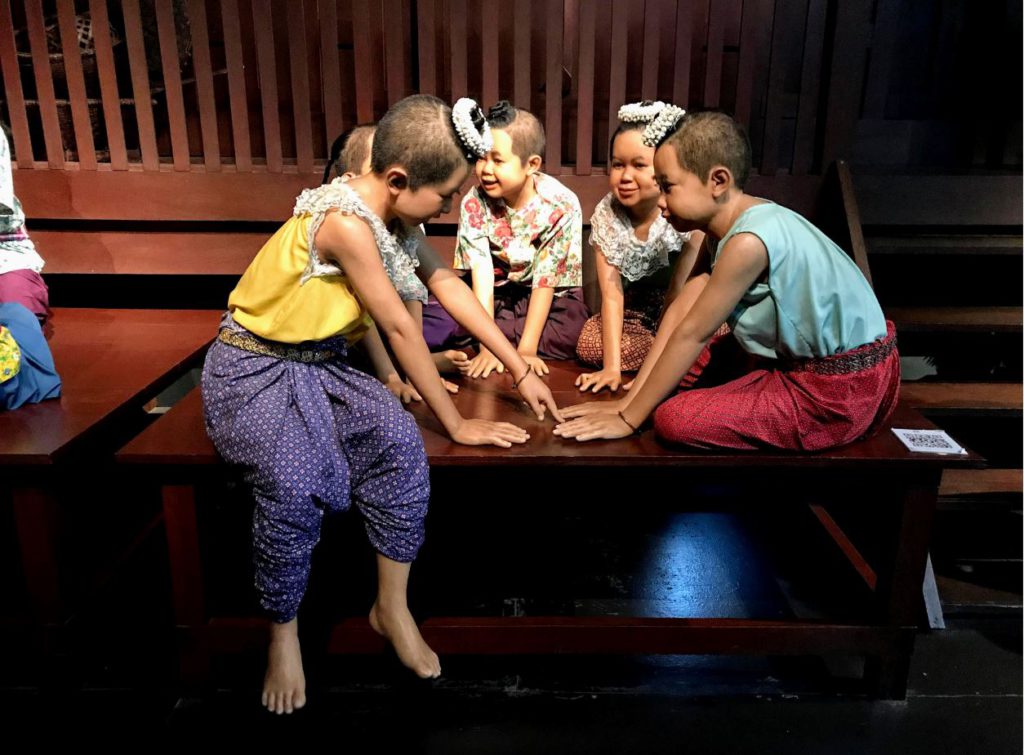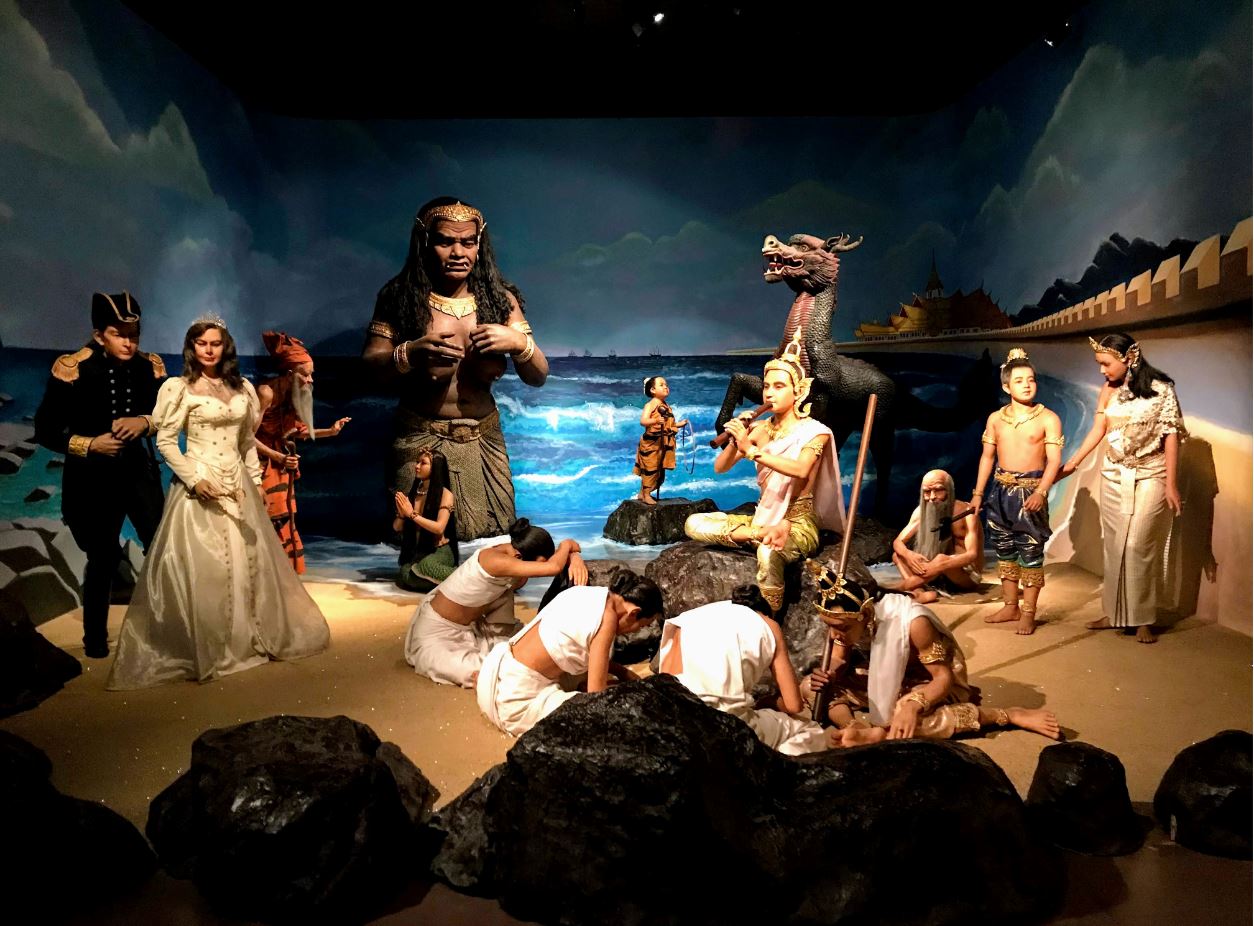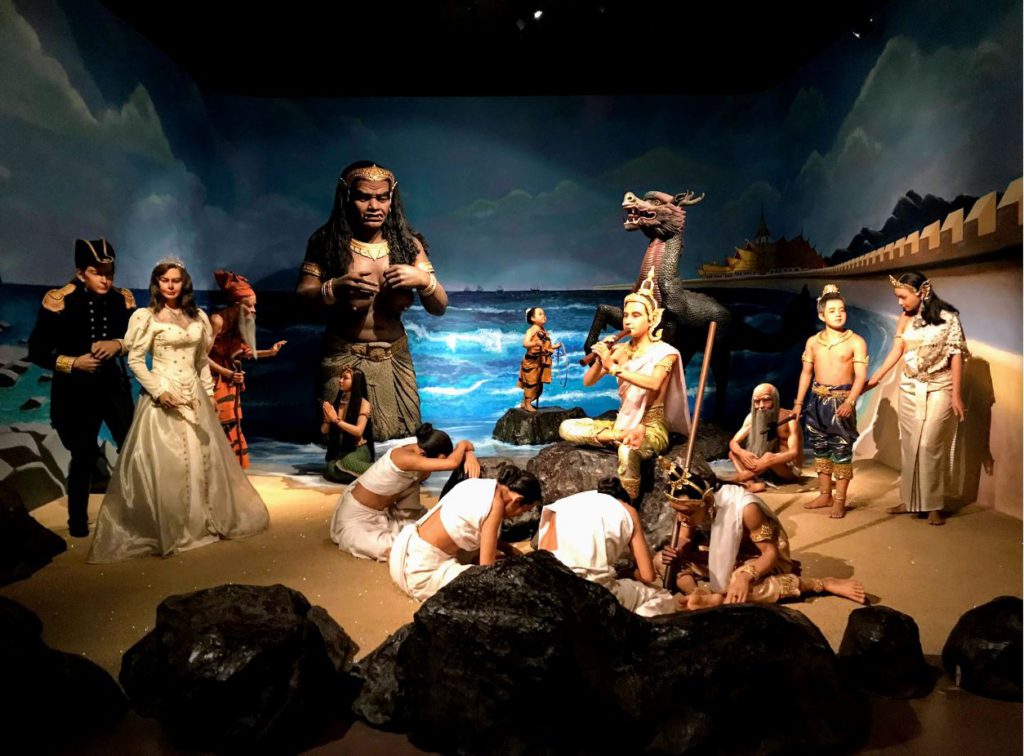 Another portion talks about the history of slavery in Thailand and how it was abolished by King Rama V. The pain on the sculpture's face and the horrors of the act are quite moving.
I would have like to read more about it. However, there is limited text in English. There are even sculptures of slaves being chained and brought from the continent of Africa.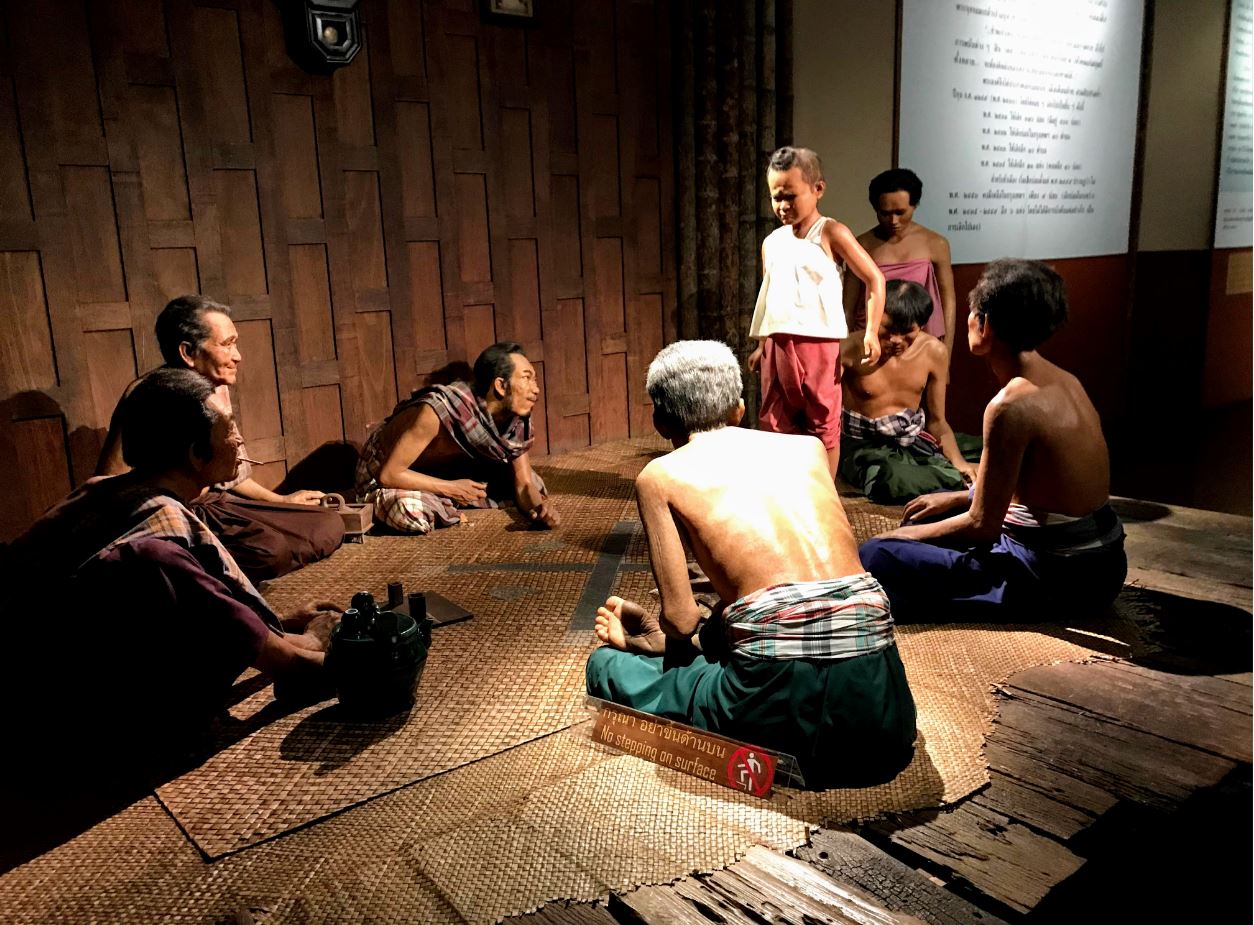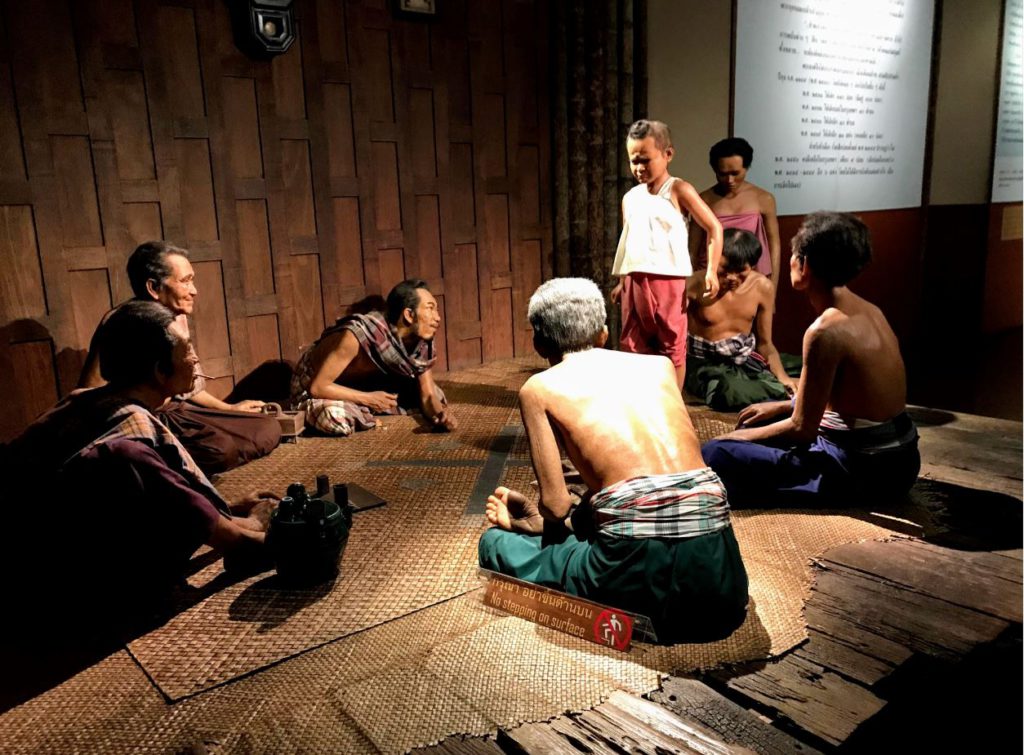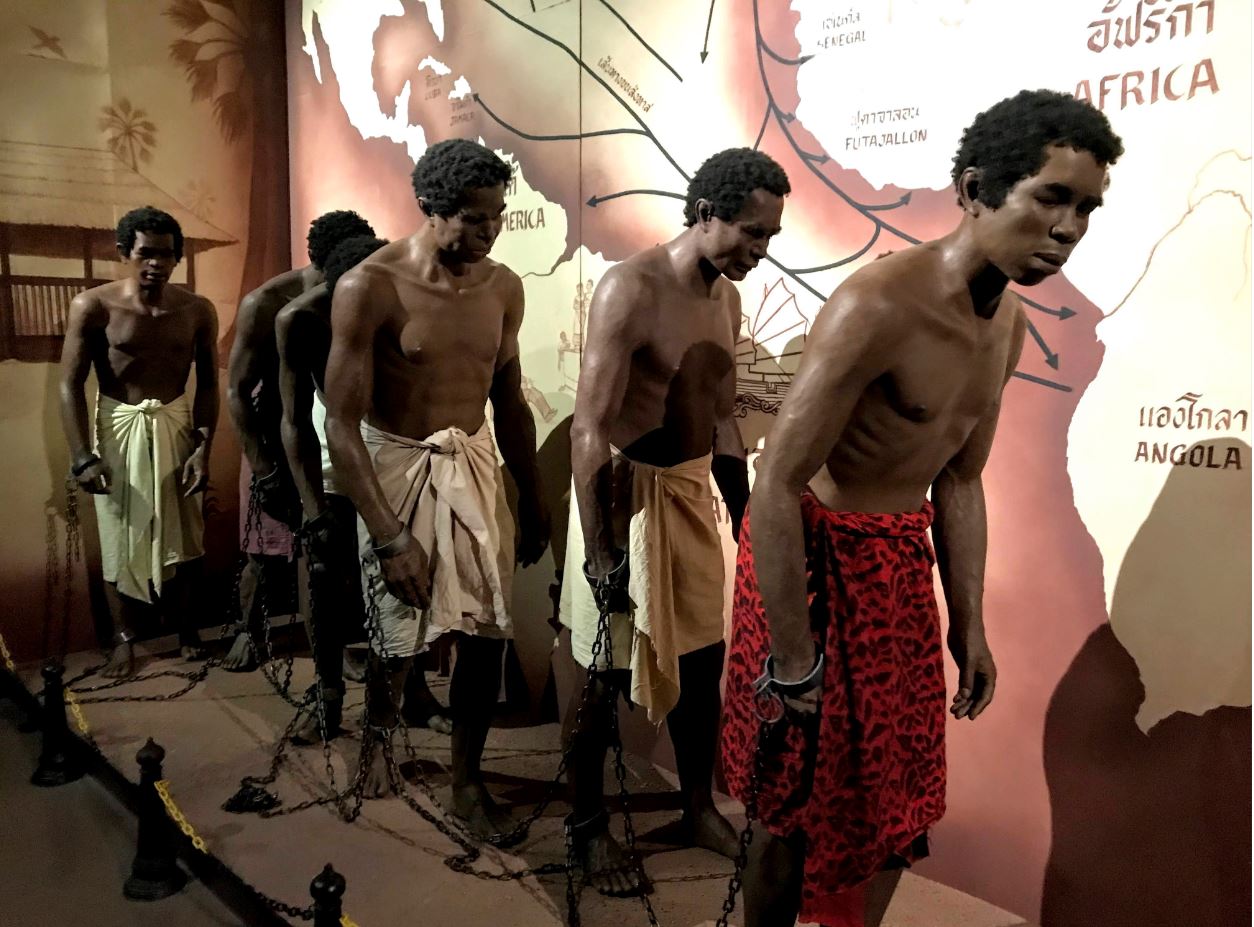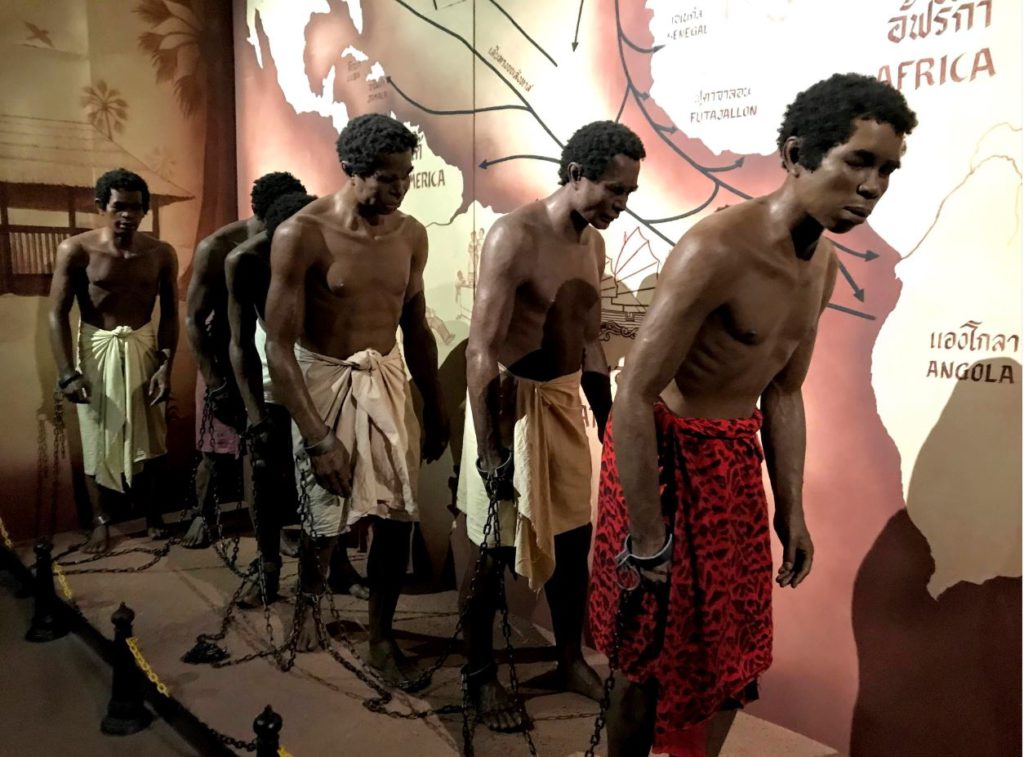 Once you are done visiting the indoors, you can head out and relax in the open area right next to it. There are paddle boats available for people who would like to go boating in the lake. Shops selling food and souvenirs surround the area. A great place to fill up your stomach before you head out to your next destination.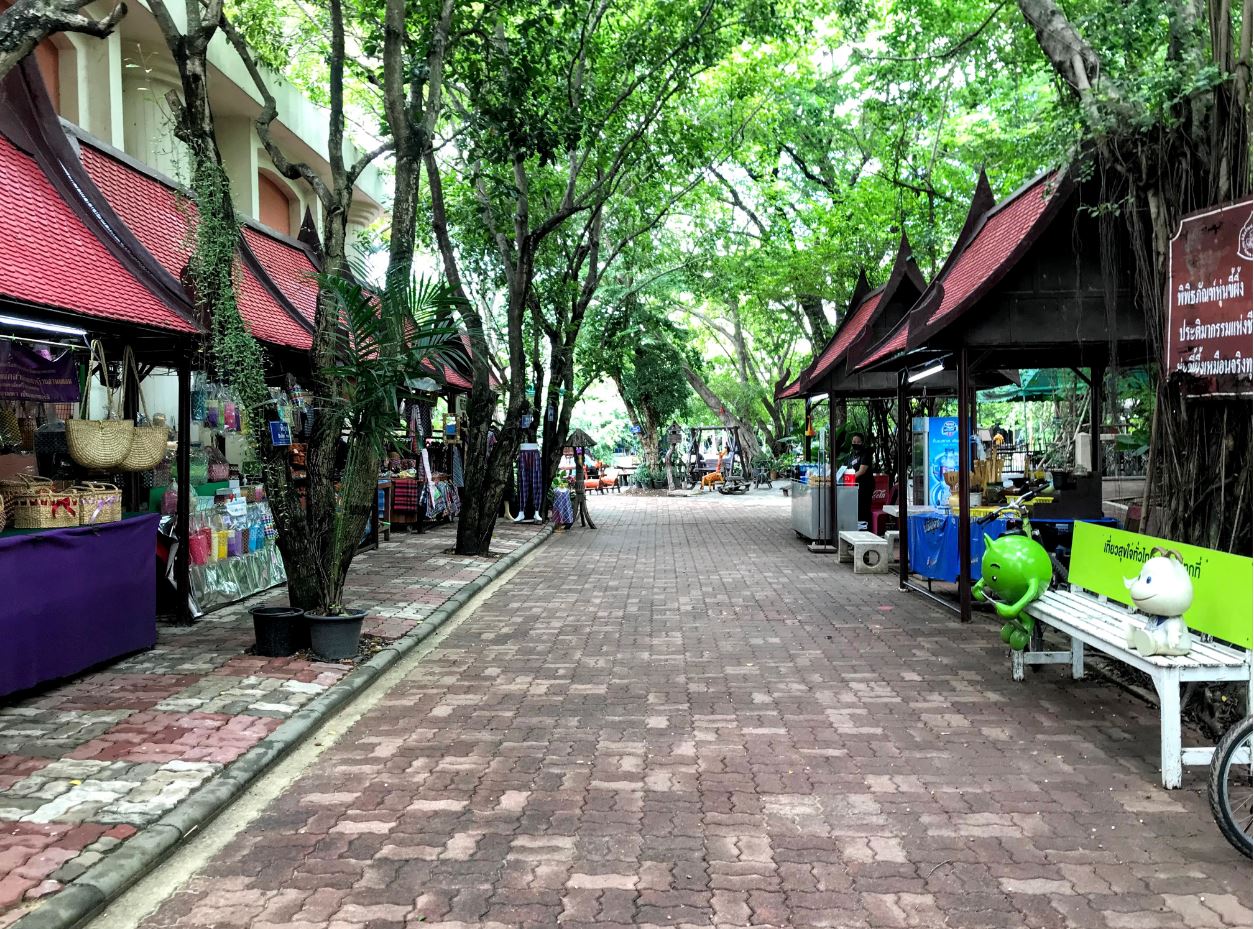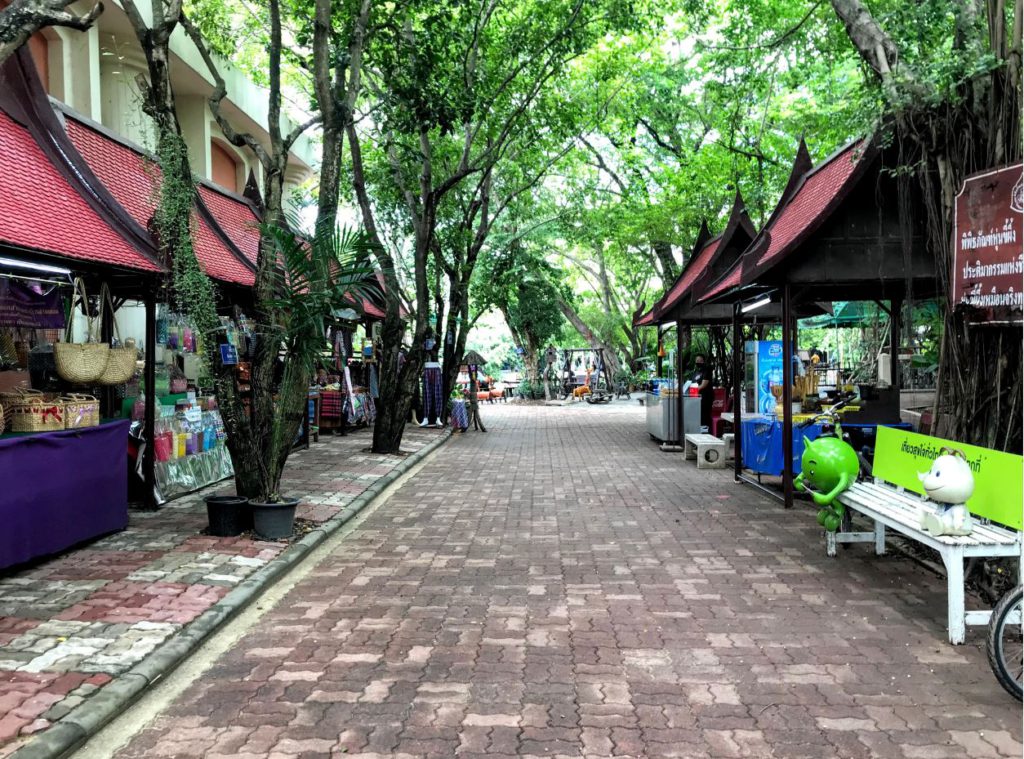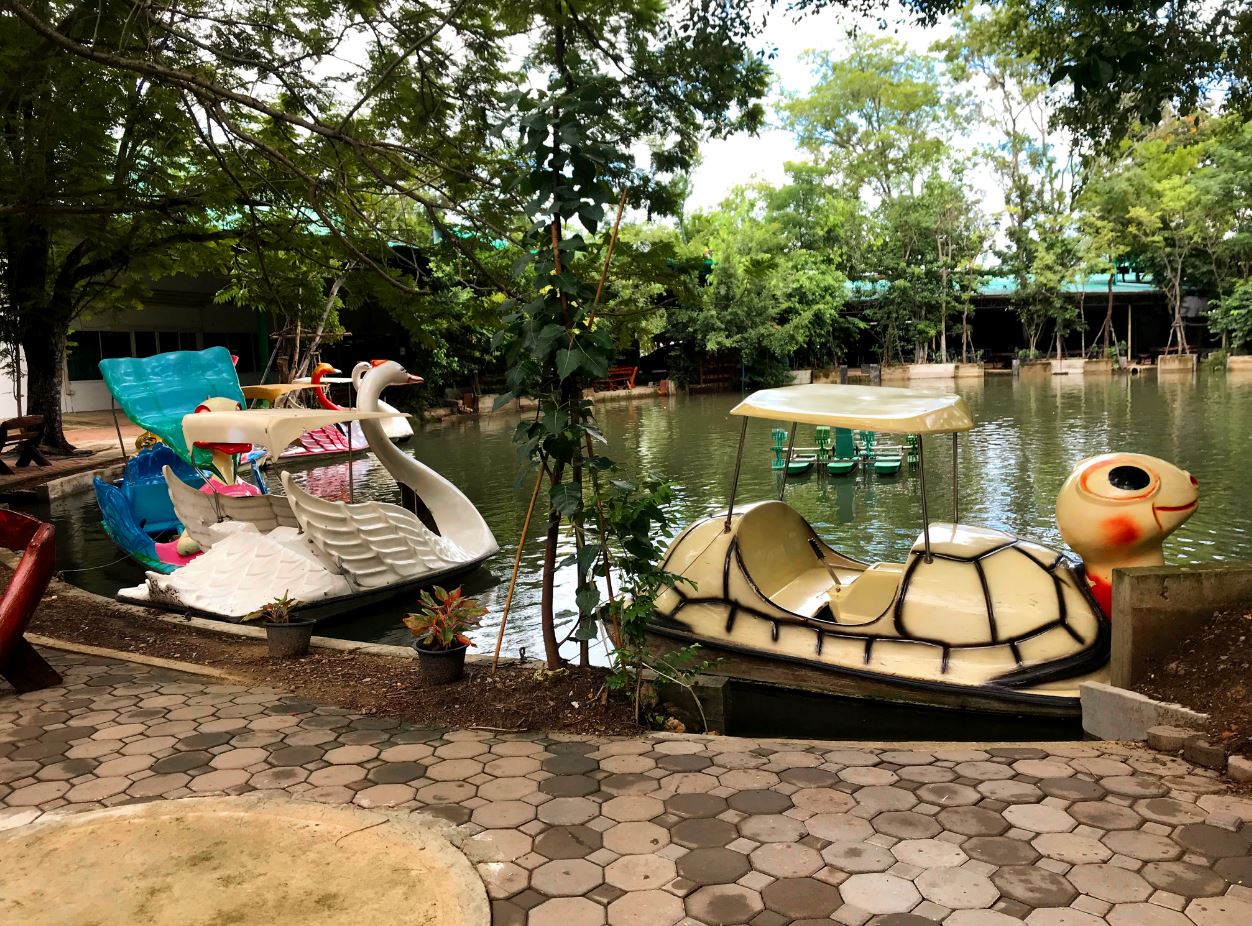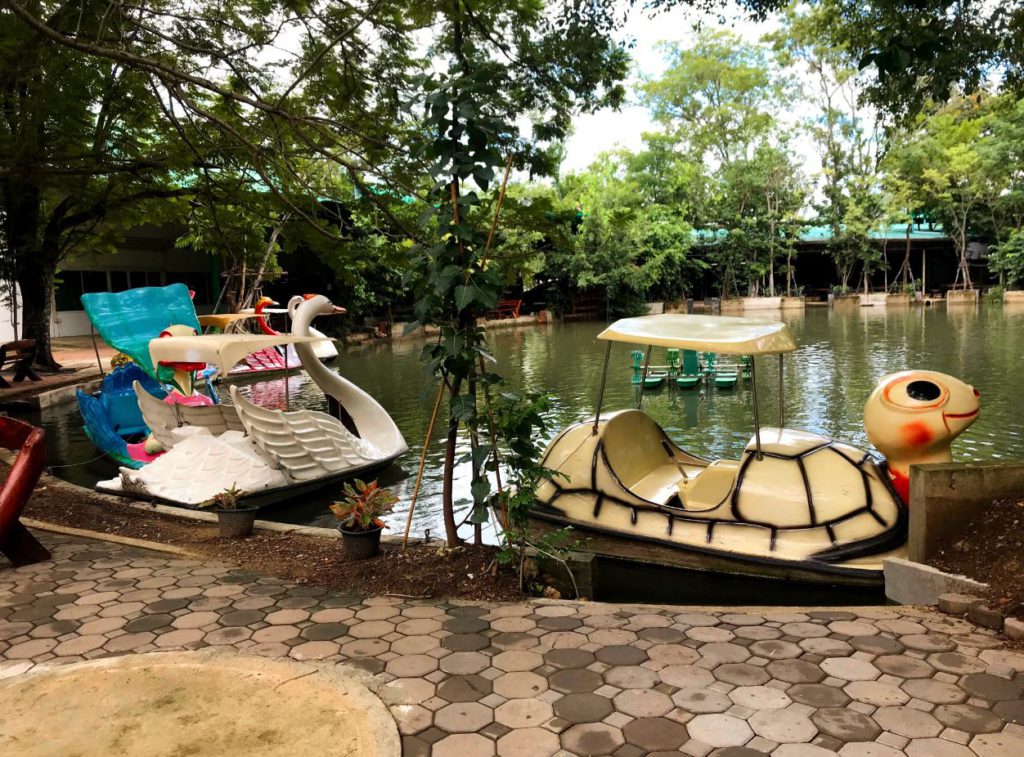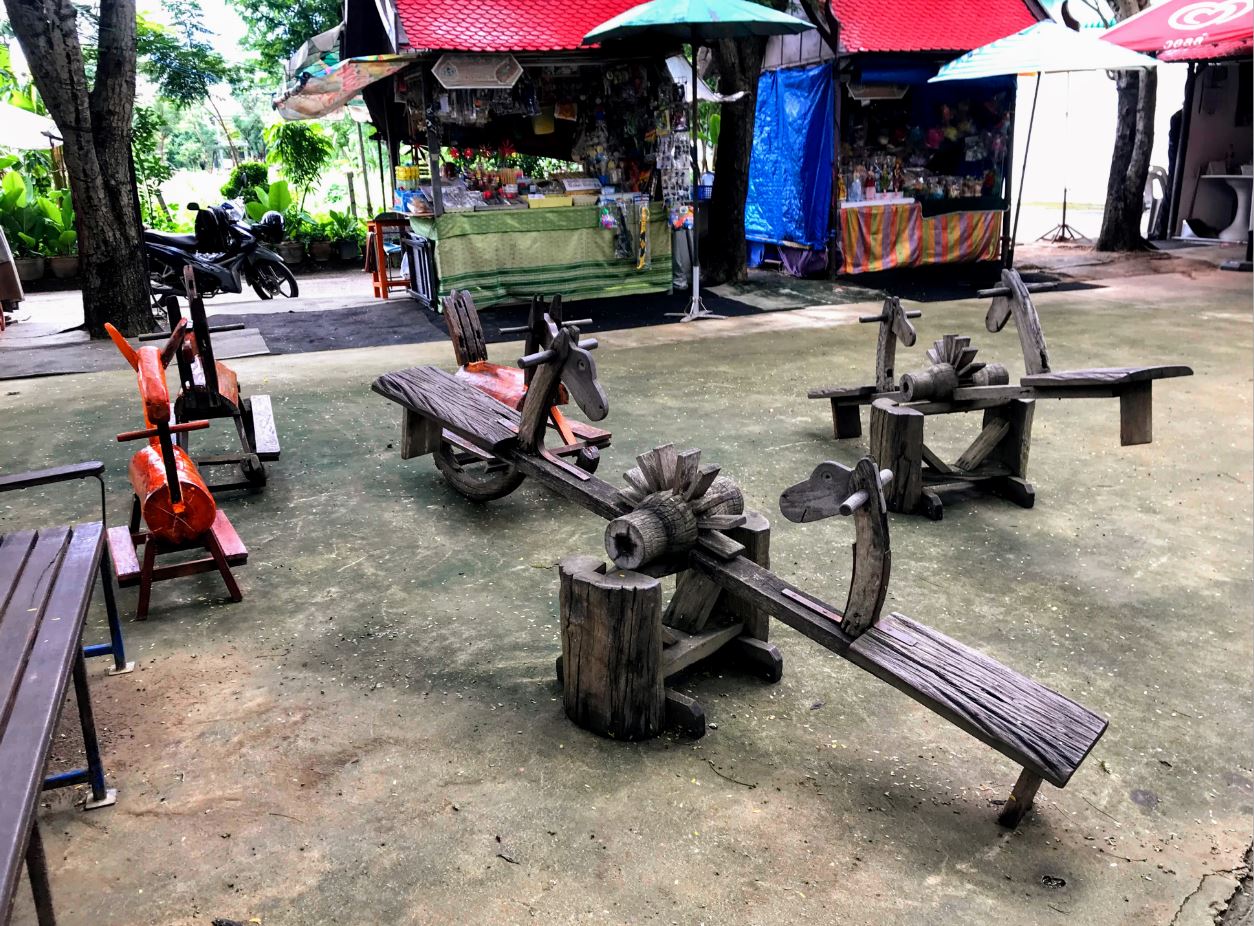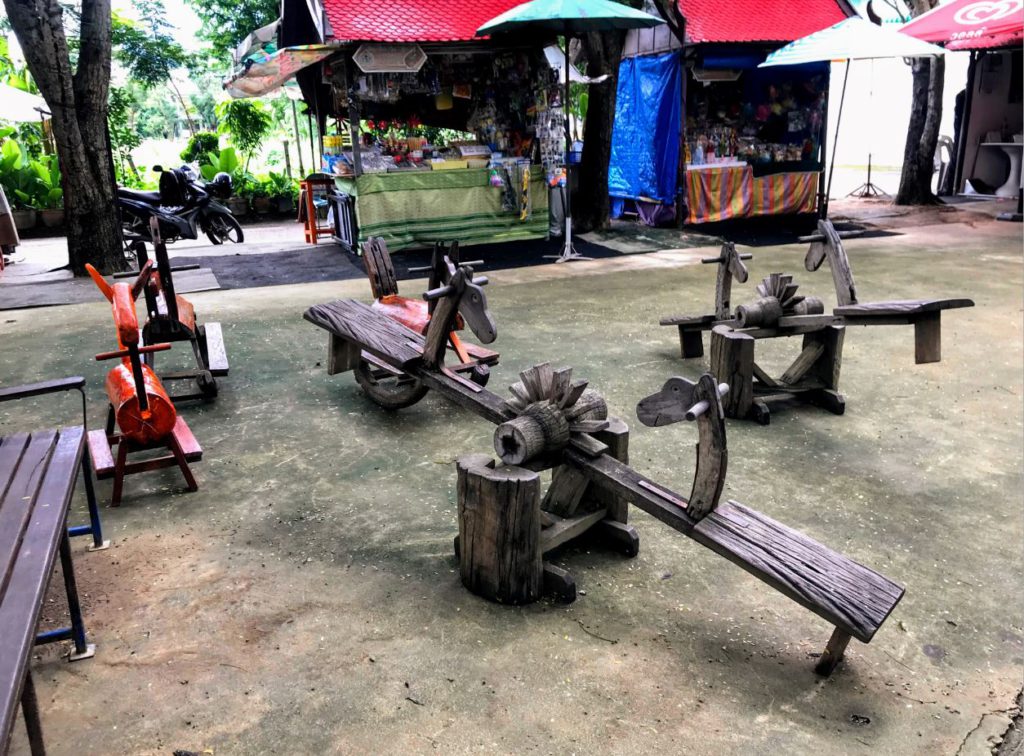 Is it worth it?
If you are travelling this far only to visit the museum, then it's probably not worth it. You can always club this place with a few other places in the area (see below) for a day trip.
Also if you are a foreign national, I think the entrance fee is too steep. On top of that, there are no audio or personal guides. The explanations and details of the museums are mostly in the Thai language. I will suggest you buy a discounted ticket online if you do decide to visit.
Places to see around the museum
Here are some places you can visit while you are in the area.
Wat Samphran – A famous temple with a cylindrical pink building and a dragon that surrounds and sits on it. You can take a taxi for a distance of 12km. (Location)
Jesada Technik Museum – A private museum and collection of cars, motorbikes and eccentric automobiles from across the world. You can take a taxi for a distance of 6km. (Location)
Central Salaya – A shopping mall and complex with popular fashion brands, food court, movie theatre and even an outdoor market. You can take a taxi for a distance of 8km. (Location)
Don Wai Floating Market – This one is a large park with a great Buddha statue and flower gardens, ideal for relaxing with kids and a picnic. You can take a taxi for a distance of 16km or stop by on your way back. (Location)
Thai Film Museum – A museum showcasing items and studios from the Thai Film Industry spanning several decades. You can take a taxi for a distance of 14km or stop by on your way back. (Location)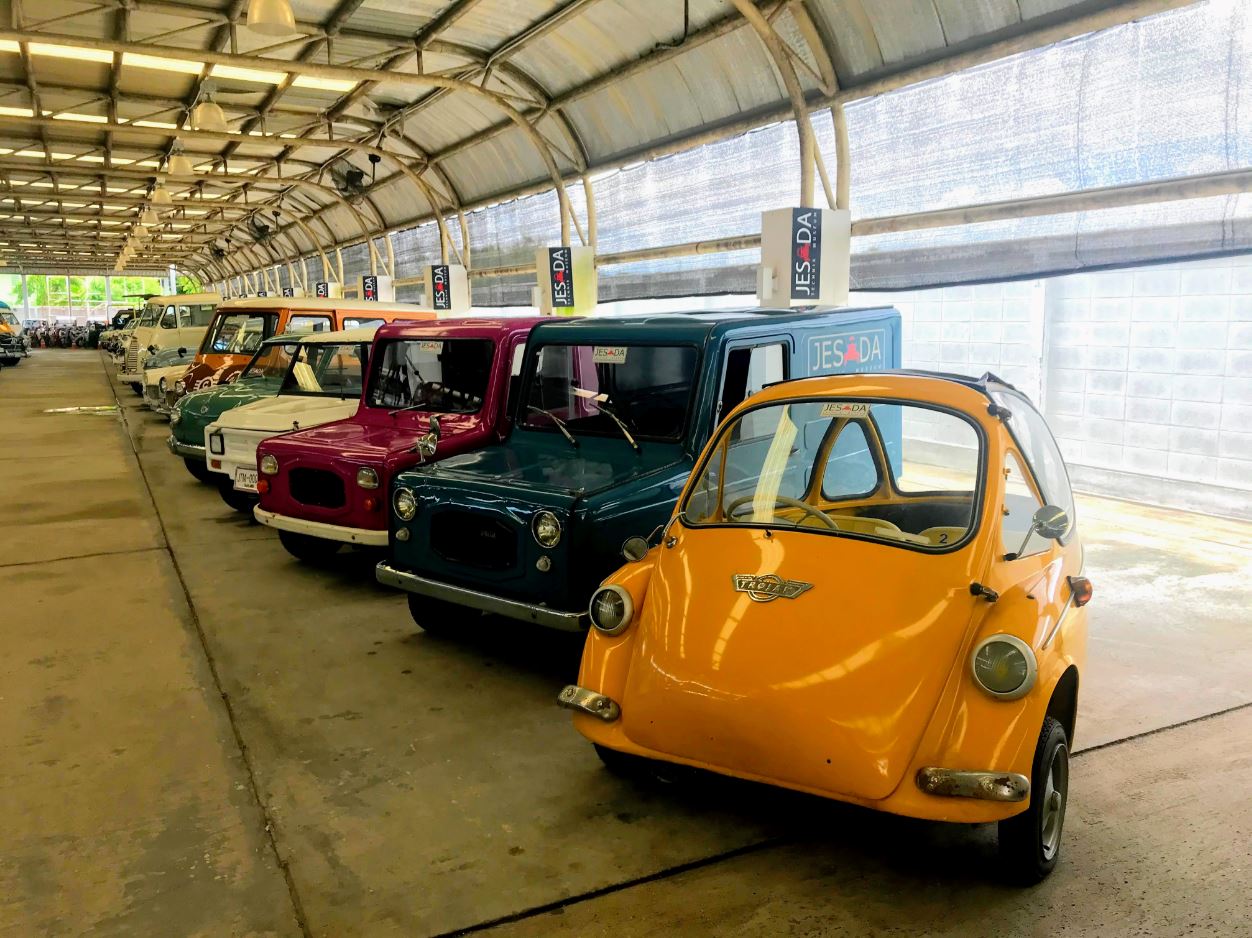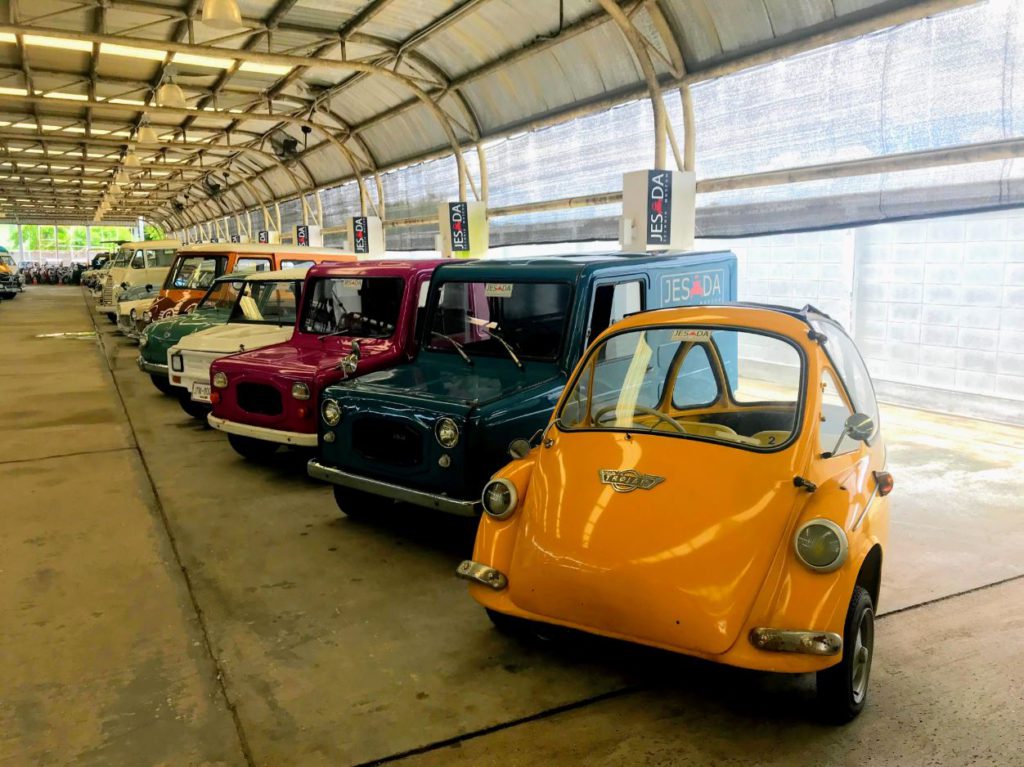 Save On Pinterest


Related Articles