18 Feb

Visiting Sai Yok National Park, Thailand

I am pretty fond of National Parks in Thailand, mostly to get away from the heat and the concrete that encompasses Bangkok. Some popular destinations like Khao Yai and Erawan National Parks top the list when it comes to a weekend trip from Bangkok.  I will also suggest you add Sai Yok National Park to your list. It is one of the lesser-known National Parks in Thailand despite being so close to Bangkok. You can also spend a full weekend in the jungles.

The main feature of this place is these lovely floating hotels on river Kwai, some of which are completely cut off from the world. The other important attraction is the death railway built by Thai prisoners of war during WW2. In any case, I think it's a great place for a weekend getaway if you want to wander deep in nature without having to travel a lot from Bangkok.

If you decide to visit, here is all the information you need for your trip.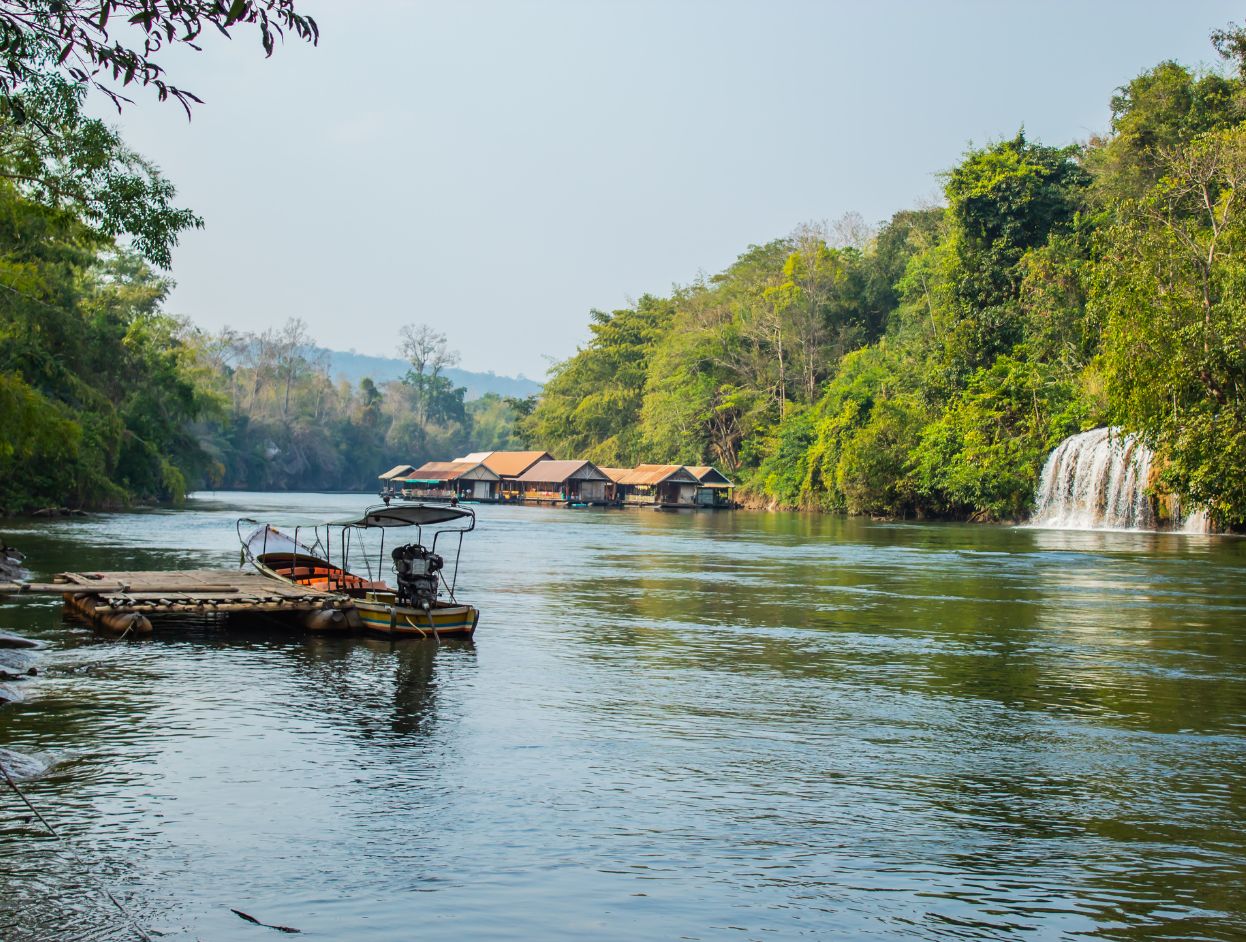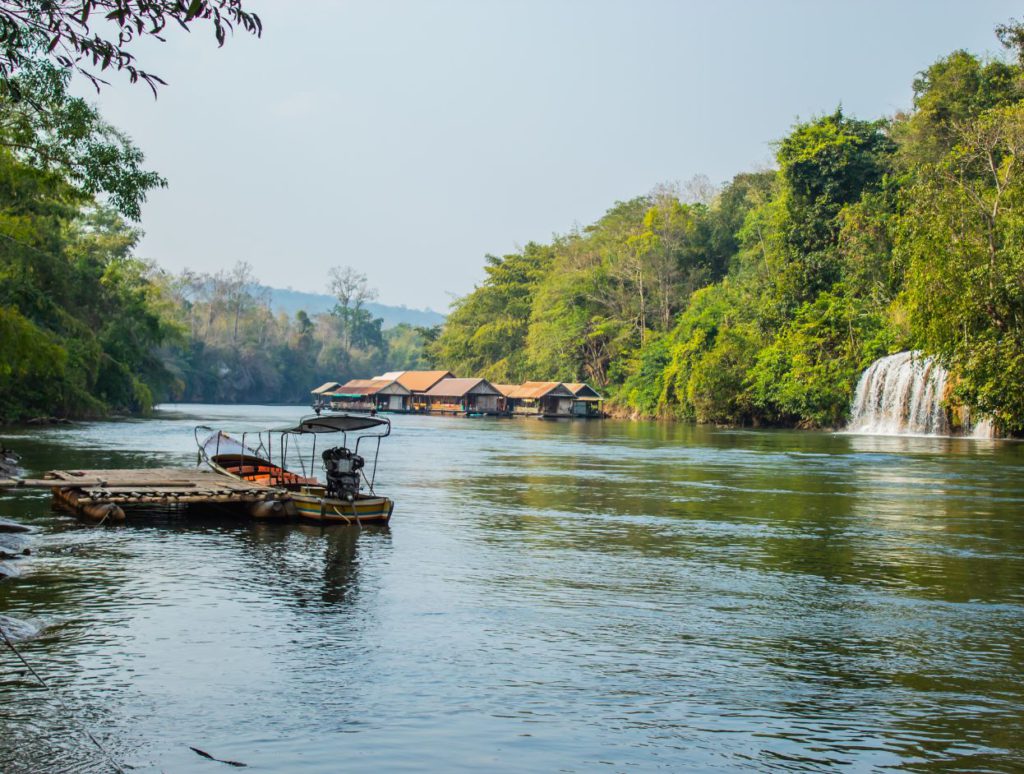 Where is Sai Yok National Park
While it may seem that this is a part of Kanchanaburi and you can do the trip together, Sai Yok is actually quite far. To reach the heart of the national park you need to travel around 100km from Kanchanaburi by road. The national park runs parallel to River Kwai Noi (a tributary of River Kwai).
Sai Yok National Park is a little ahead of Erawan National Park and waterfalls adjacent to the eastern border of Myanmar. In fact, most natives in the area are from smaller tribes in Myanmar like the Mon tribe.
How to reach Sai Yok National Park
There are several ways that you can reach Sai Yok National Park from Bangkok. But if you are in any other nearby province, these could still be applicable. You can always travel to Kanchanaburi first and then travel to Sai Yok National Park from there.
By Train
You can either choose to travel to Kanchanaburi (in case you want to stop there) and then take another train further. Or you can take a train directly from Thonburi Railway Station all the way to Nam Tok railway station in Sai Yok National Park.
There are two trains on the route that runs in the morning and afternoon. The morning train starts at 7.50 am from Thonburi and reaches Nam Tok at 12.35 pm. The afternoon train starts at 01.55 pm and reaches at 06.30 pm. Both also stop at Kanchanaburi on the way approx 1 hour before reaching Nam Tok.
Similarly, for the return journey train runs twice a day. The morning train starts at 5.20 am from Nam Tok and reaches Thonburi at 10.35 am. The afternoon train starts at 12.55 pm and reaches Bangkok at 05.40 pm. To reach Thonburi Railway Station, you can take the MRT to Bang Khun Non station on the blue line and walk 10 minutes to the railway station.
The train on this route does not have a first and second-class coach. You can buy the ticket for the third class for THB 100.
Once you reach Nam Tok Railway Station, you can take a songthaew that stands right outside the station to your destination. The charges per person start from THB 150 for a shared transfer and THB 600-700 for a private transfer.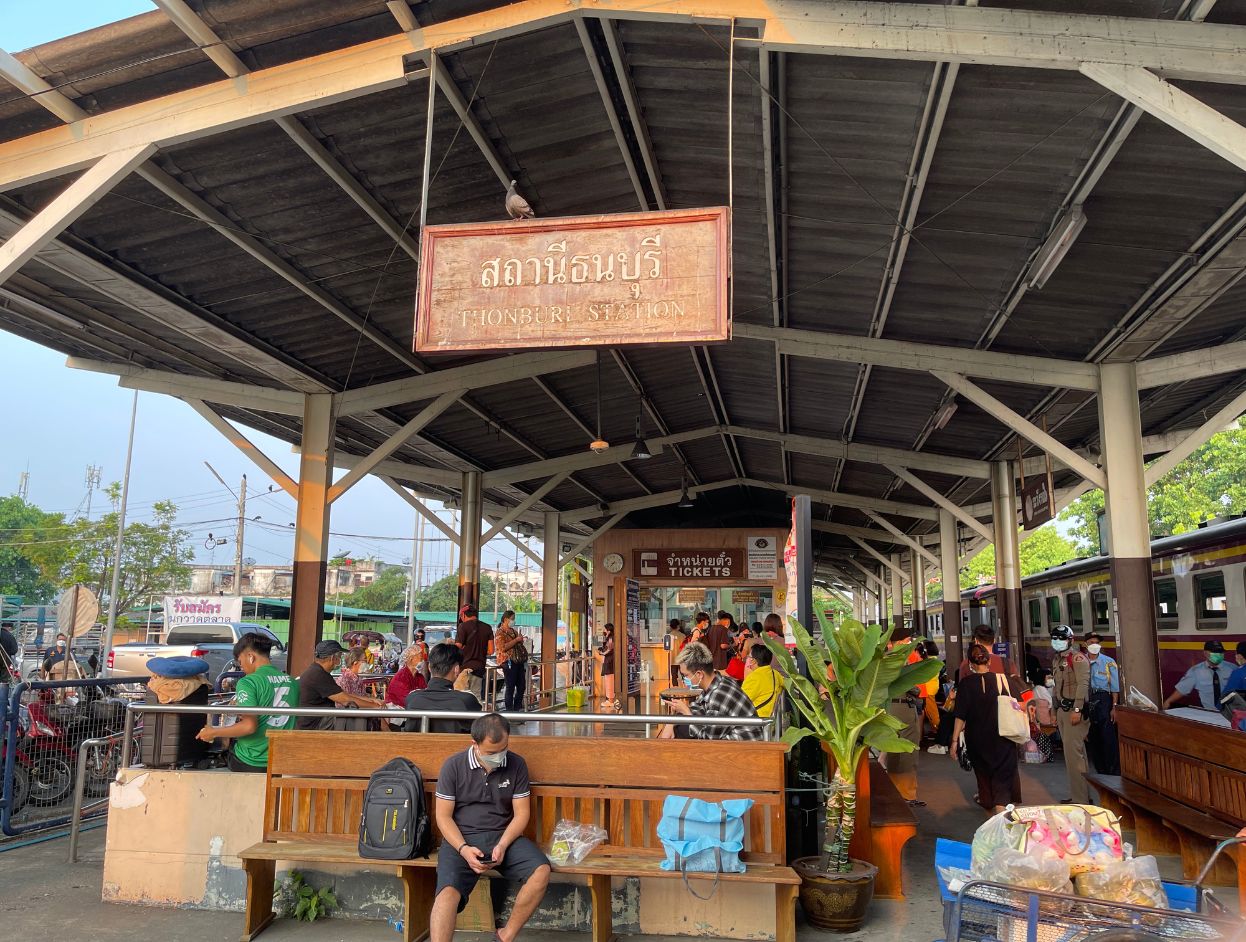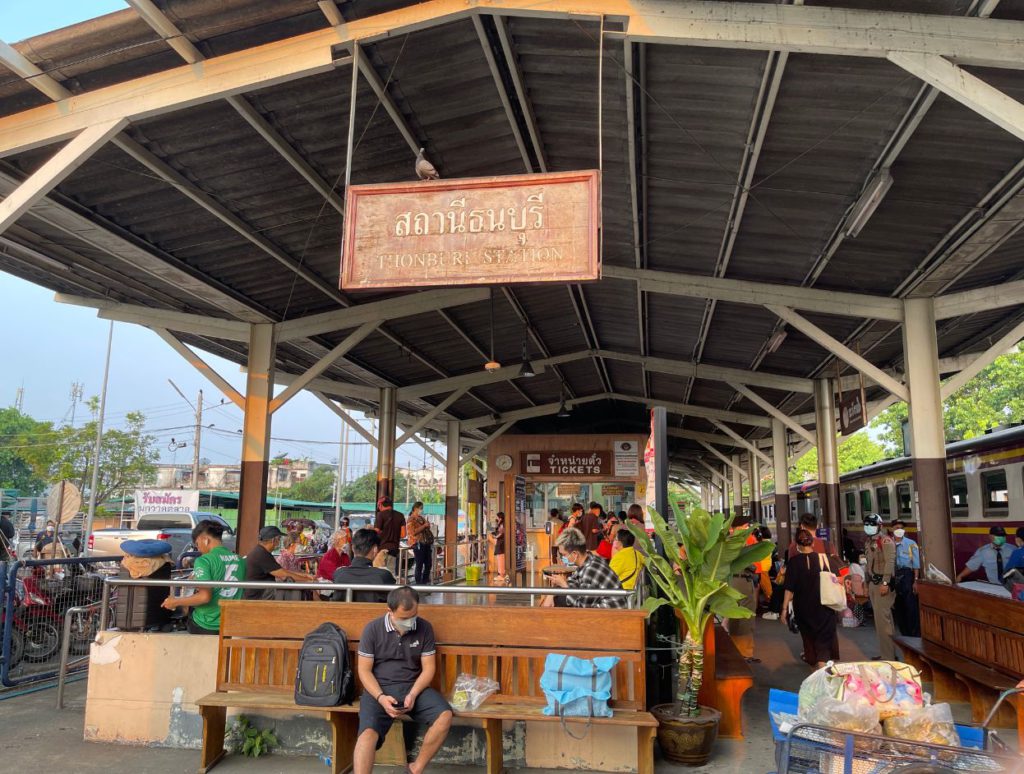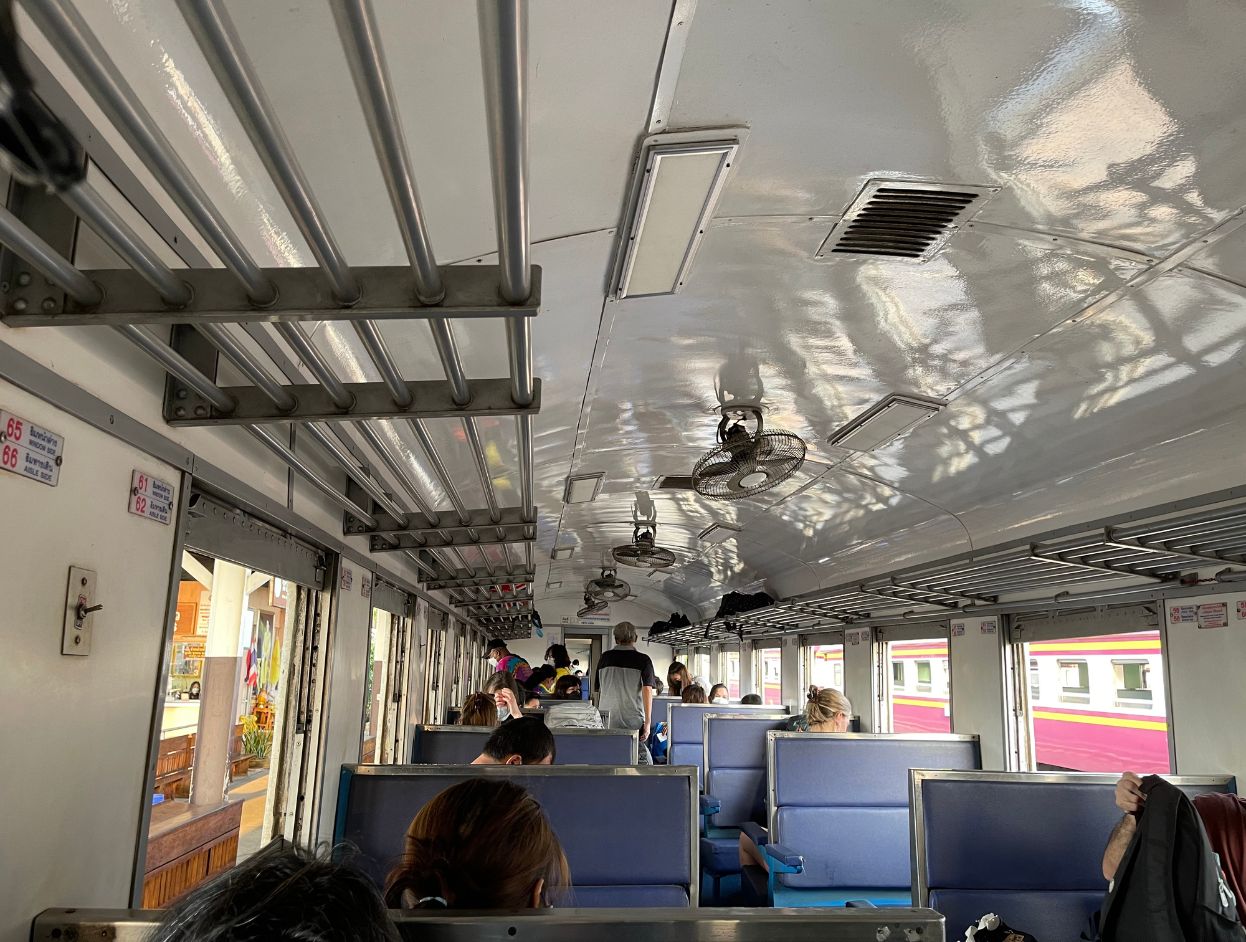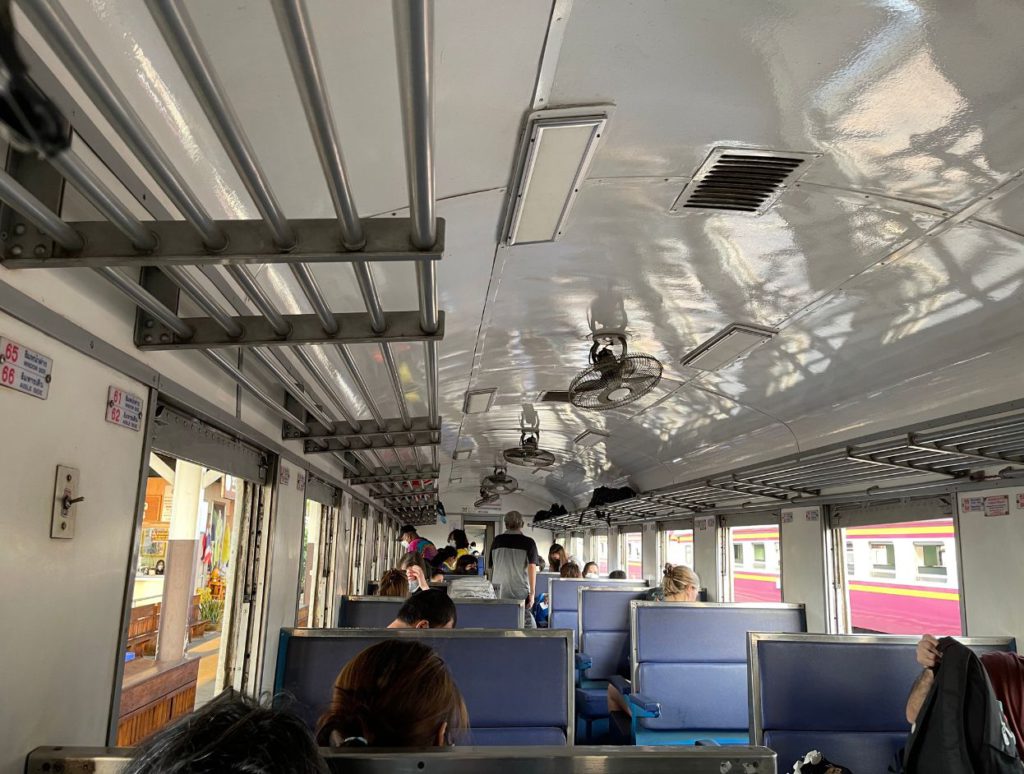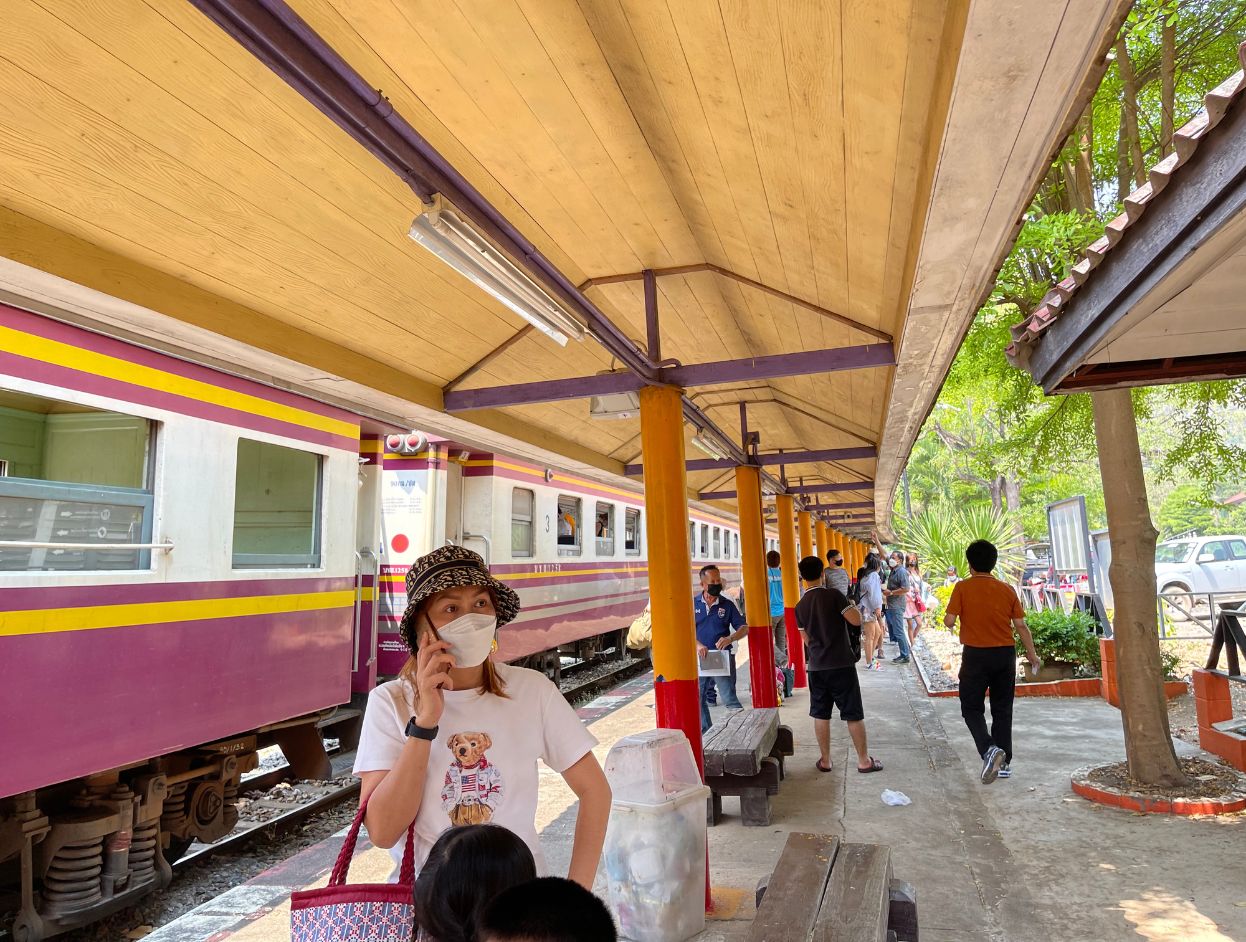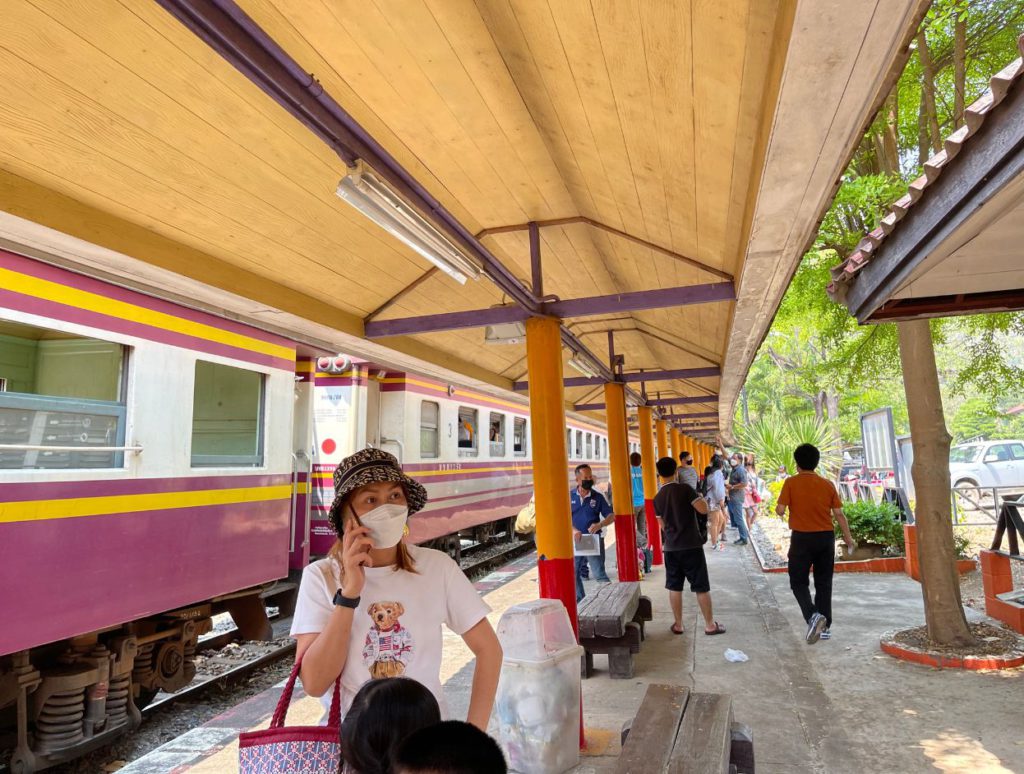 By Bus/Minivan
There is no direct bus/minivan to Sai Yok National Park. However, there are regular buses/minivans that run between Bangkok and Kanchanaburi. You can board one from Mo Chit Bus station or Mo Chit Van station. 
The journey takes around 3 hours although minivans tend to be faster. The ticket prices range between THB 150 – 320 depending upon the type of bus.
If you wish to continue by bus, you can board another bus from the Kanchanaburi bus stop to Sangklaburi and get down at the Sai Yok National Park Bus stop. The buses run every 30 mins from 6 am to 5 pm. From the bus stop, you can take a motorcycle taxi for a 3km ride to Sai Yok National Park's visitor centre. The park's staff will assist you in getting a motorcycle taxi while returning.
You can also choose to take a private vehicle/taxi from Kanchanaburi all the way to Sai Yok National Park. If it's a one-way drop, the taxi will cost between THB 900-1500 depending upon the passengers and your negotiations. Although if you are trying to book it for the whole day of the tour, the taxi should cost between THB 2800-3000.
Another option is to take the same train (as above) from Kanchanaburi to Nam Tok but takes note of the timings. No other local trains run on this route.
Looking for a weekend getaway? Check out our blog on visiting Koh Samet
With Daytours
You can choose to do a day tour of Sai Yok National Park as well but I won't recommend it. Staying overnight at a floating hotel is a fantastic experience. 
However, if you wish to do it, I suggest you do it from Kanchanaburi which is just an hour away. The travelling time from Bangkok is 4 hours one-way which is a lot of travelling for a day. Or you can plan it for the whole weekend.
Most tours will also include attractions like the Thailand-Burma Railway, War Cemetery, River Kwai Bridge, Hellfire Pass Memorial and more from Kanchanaburi. 
Book weekend tour to Sai Yok National Park
How to go around in Sai Yok National Park
There aren't a lot of options for public transportation when you are inside the national park area. Here are some options that could be useful.
Motorbike/Car rental
If you breaking your journey in Kanchanaburi, you can always rent a car/motorbike in Kanchanaburi and travel to Sai Yok National Park with it. Not only it will be economical, but it will also give you more flexibility to see a lot more around.
You can find several motorbike/car rental shops in Kanchanaburi. Roads to Sai Yok national park are straight and in good condition. You can halt at a lot of places to take pictures as well. Make sure that you only rent a motorbike when it's not too hot outside. Also, choose good quality helmets from the renting place. 
A day's rent for a motorbike starts from THB 250 per day and that for a car starts at THB 900 per day. The renting place will ask to keep your passport as security (or a security deposit). You will need an international driver's license to rent a car.
Longtail Boat
Since the river, Kwai Noi goes through most of Sai Yok National Park, you can access a few places using the boats on the river as well. If you are staying at a floating hotel, your boat ride to the hotel and back will be complimentary. 
But if you wish to explore a few more spots you can book a private ride and ask your guide to take you to some famous tourist spots on the riverside. You can hop on your scheduled boat or enquire about a private ride on Phutakien Pier. You can take a songthaew or drive to the pier and leave your ride there.
The cost of a private boat rental starts from THB 400-500 for a half-hour and THB 1200 for a couple of hours. You can always ask for a price for your customized itinerary. Or you can also rent a boat at your respective floating hotel.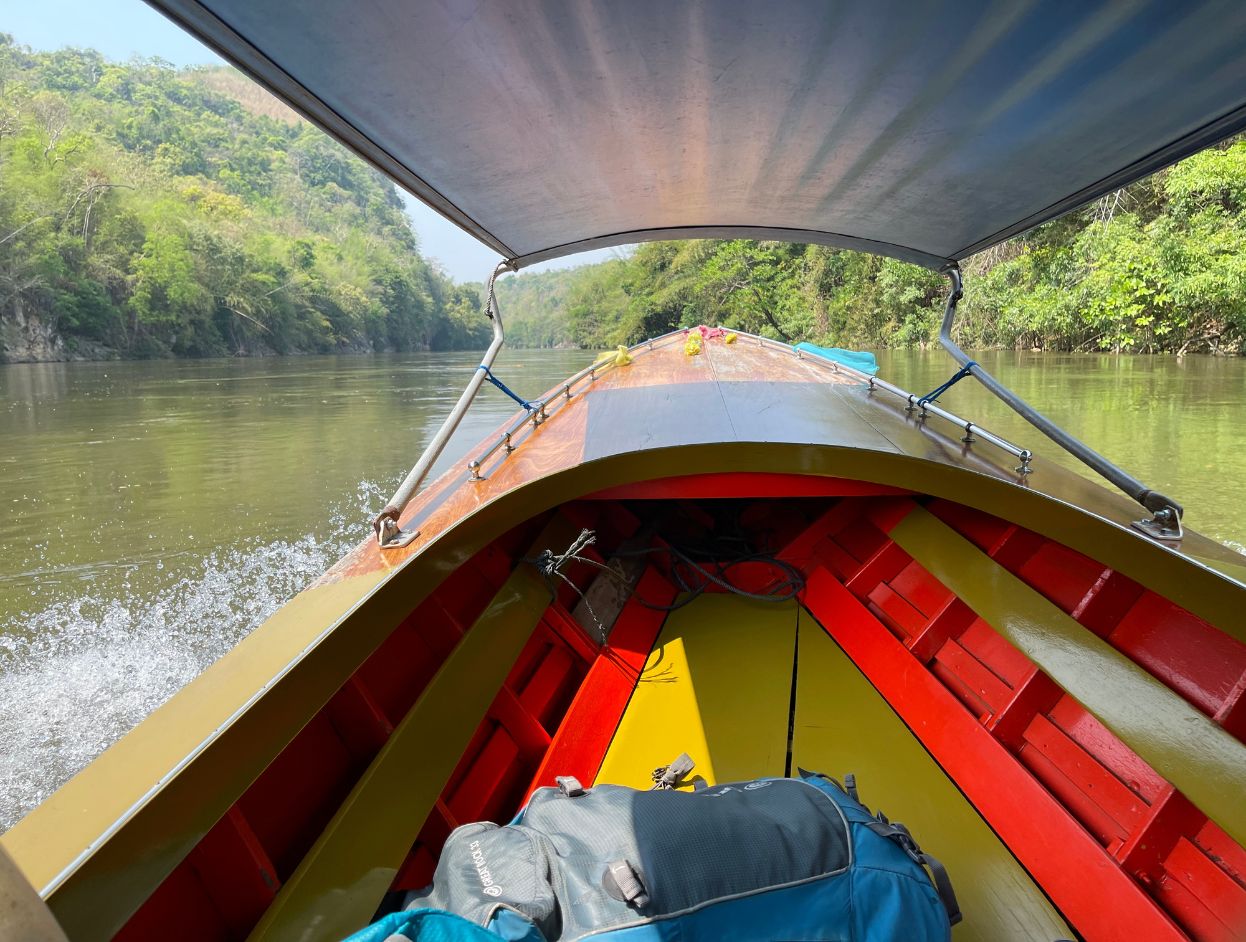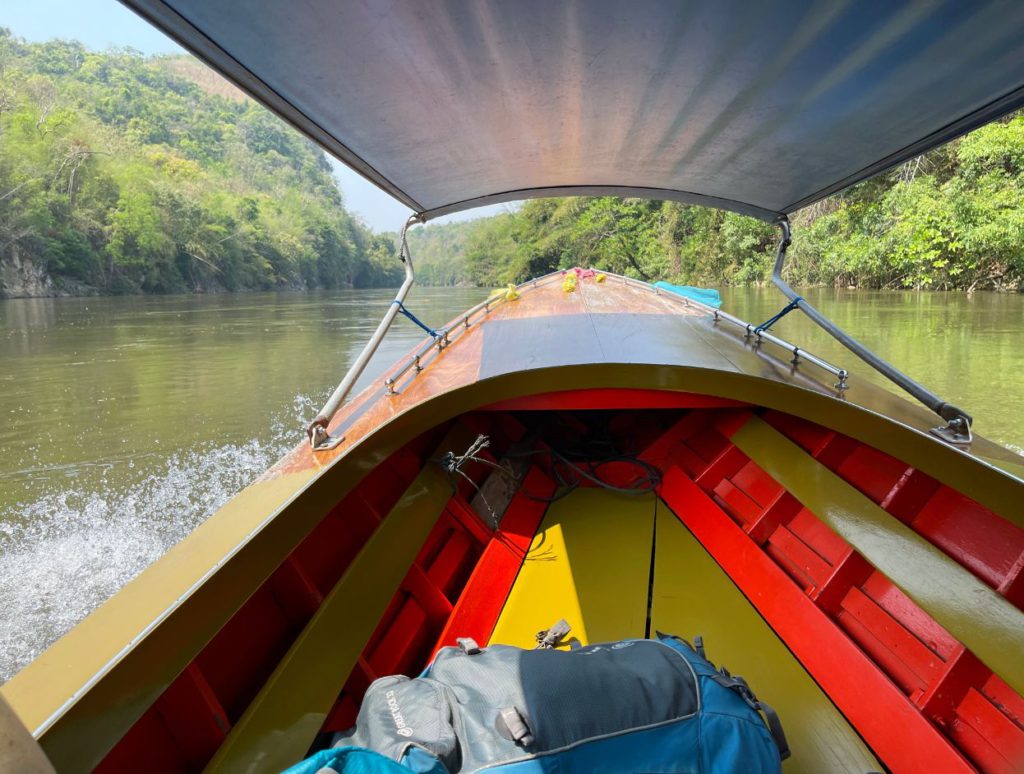 Songthaew
You should be able to catch a few songthaews on the highway around Sai Yok National Park. Just wave at one and they will stop. Give them your location and they probably won't say no unless they are going in a different direction. 
You can definitely get one at Nam Tok railway station. Take your driver's number and save it in case you need a ride later. You can also contact our driver (details below) and tell them your location. He should be happy to help.
A songthaew ride to most places in the national park costs THB 150 for a shared ride to your destination. But you can also book them for longer for a higher cost.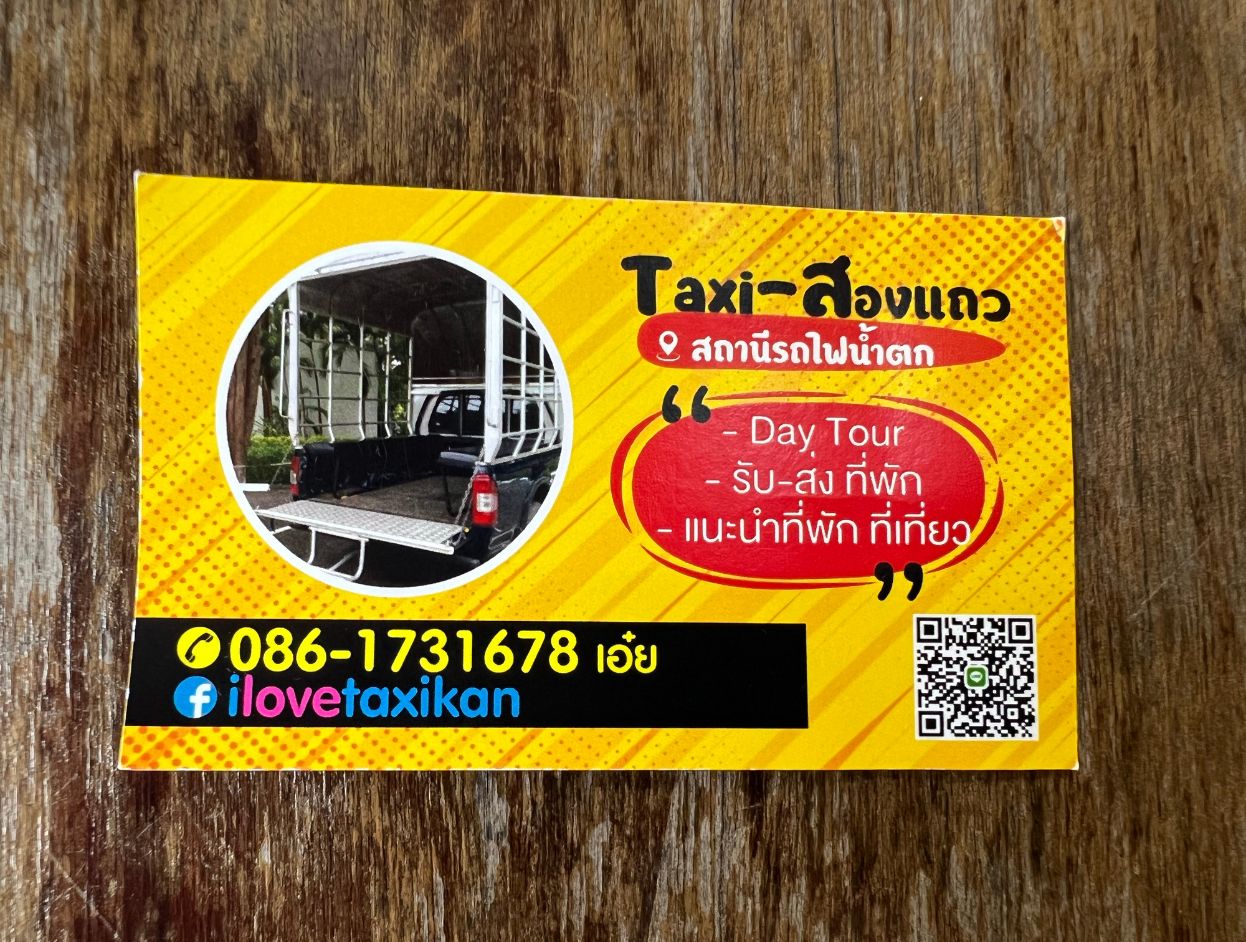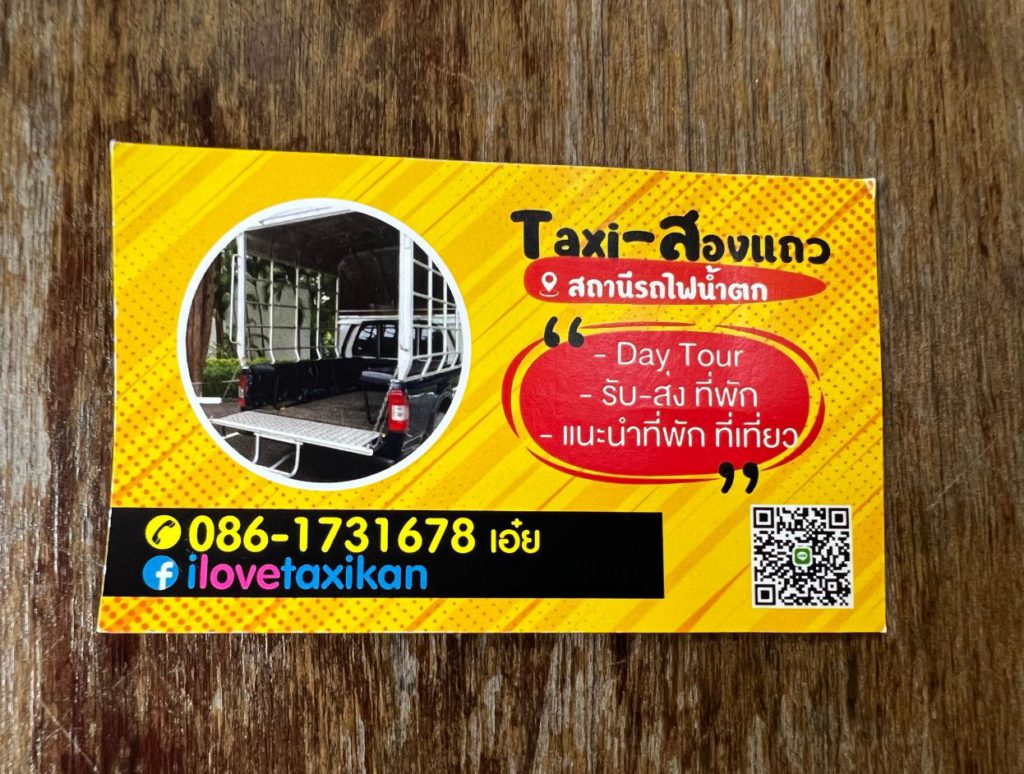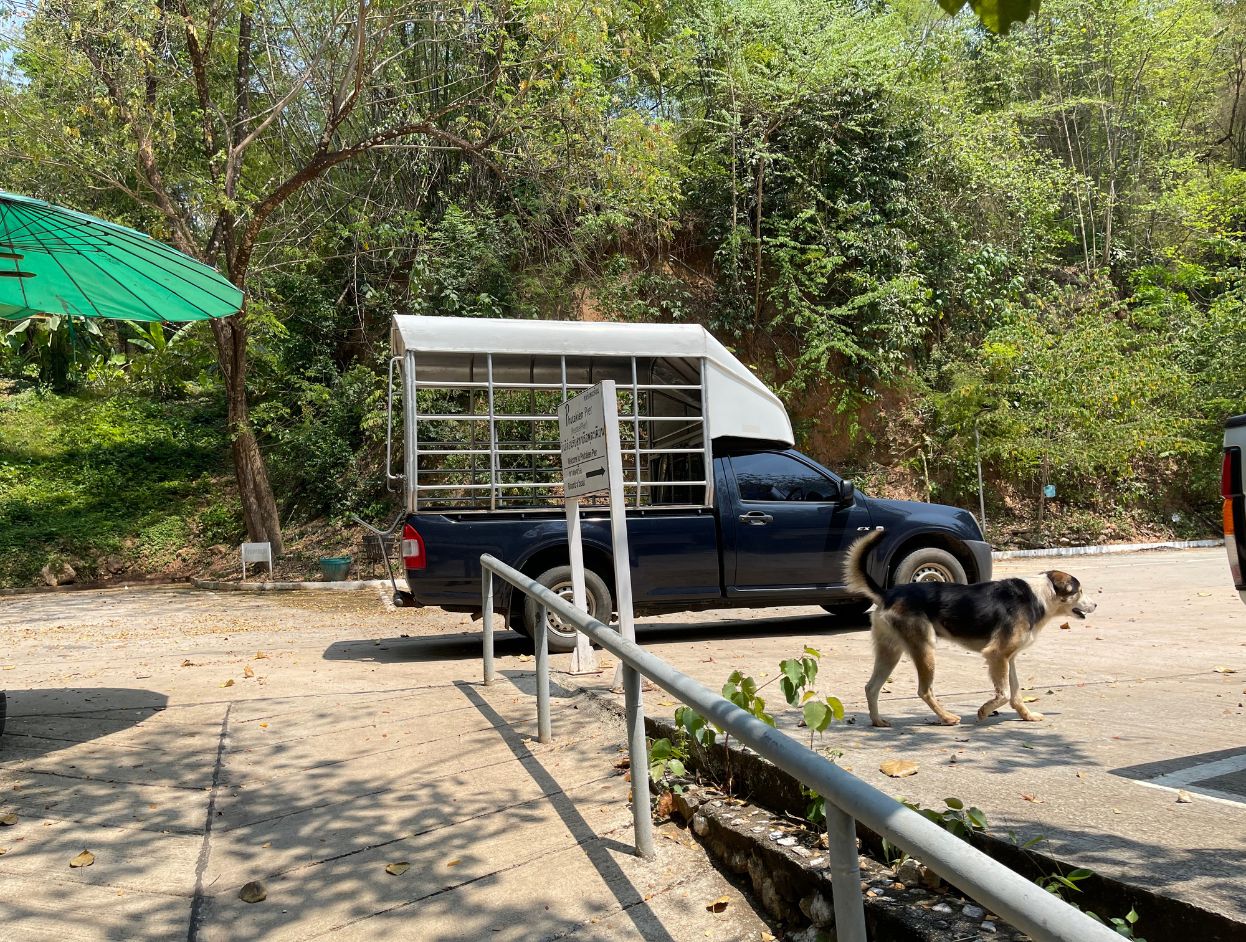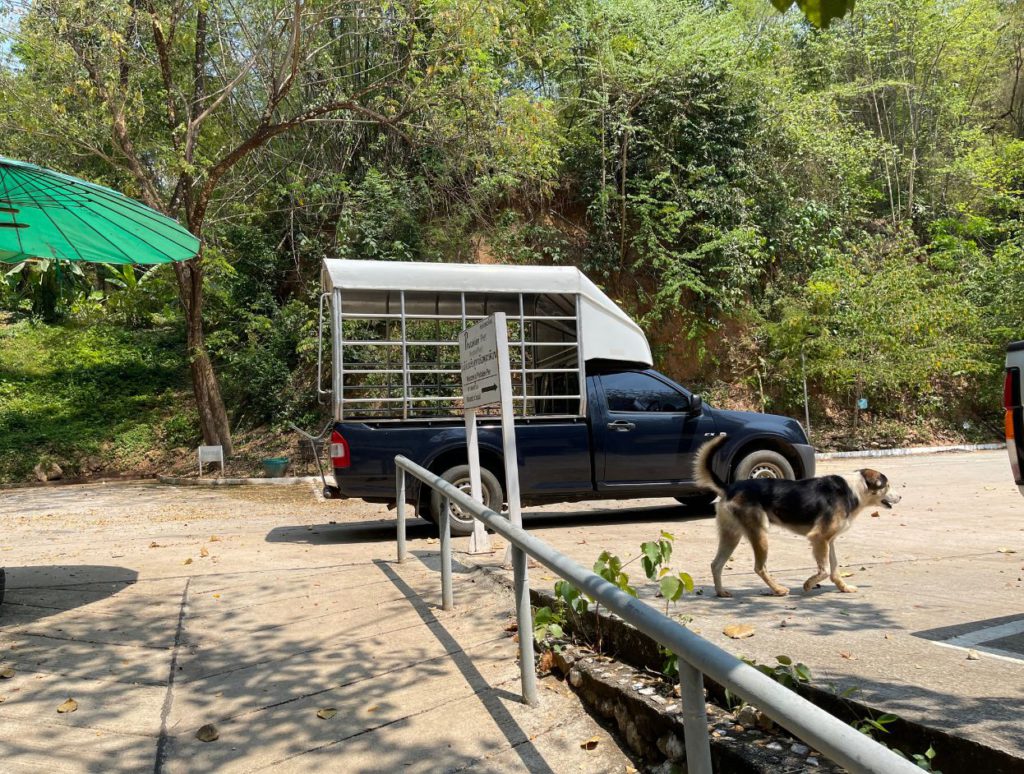 Motorcycle taxi
Motorcycle taxis are also available at some of the popular stops on the highway inside the national park. They are great to travel short distances and are pretty affordable as well. 
Again, you can ask them for their number and give them a call if you think you need to be picked up later. Works great for solo travellers. You can also ask around people to find you a motorcycle taxi if you aren't able to locate one yourself.
Best time to visit Sai Yok National Park
Winters / November - January (Best time)
Winters are definitely the best time to visit Sai Yok National Park. The sky is clear and devoid of any rainfall and the average temperature hovers around 25°C. The stretch right next to river Kwai Noi experiences mist in the early morning, and the temperature drops further in that area.
The months of September and October are not bad either. However, some days can still be overwhelmingly hot or there could be showers. So keep an eye on the weather forecast.
Monsoons / May-August
I love monsoons and I think that monsoons are a great time to visit the Thai National Parks. That being said, I do not know if you wish to enter deep into the jungles on a floating raft when it's pouring cats and dogs outside. I think if you decide to visit during this time, you should probably book a mainstream hotel or do a day trip from Kanchanaburi.
The river level can rise during monsoons and the current is strong. So avoid river activities. You can still visit the waterfalls that are bursting with water, the museums and the death railway. Make sure you are equipped with raincoats and waterproof shoes.
Summers / February - April (Not a great time)
Unfortunately, this is when I visited. And I will not recommend this time. The temperature is high and the heat can become a severe pain. I will definitely not recommend you to travel using public transport either. Try and book a private car with AC if you are visiting.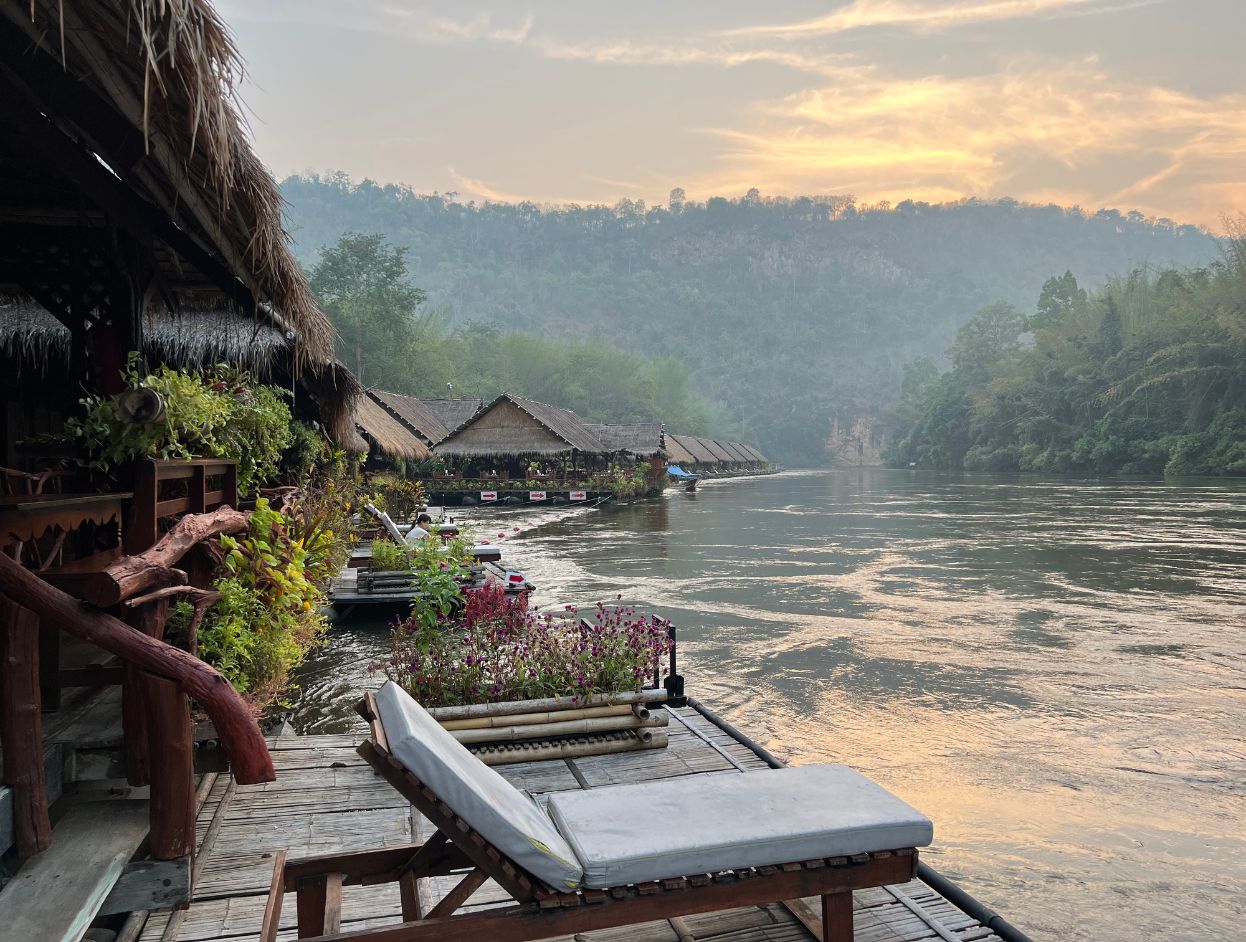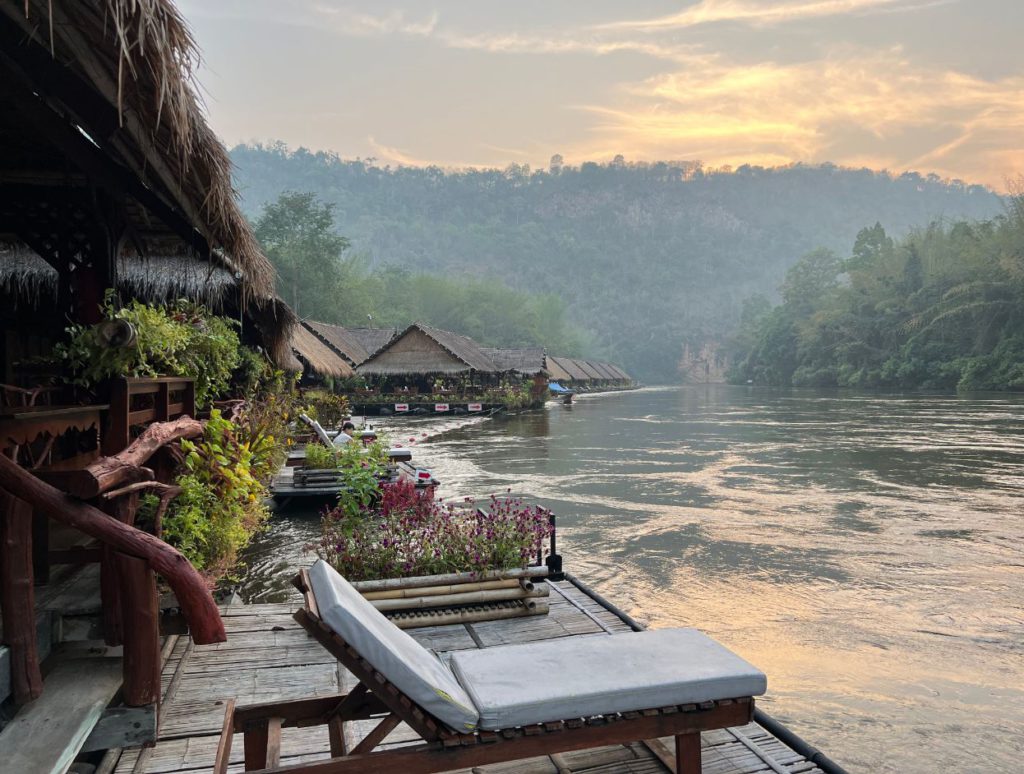 Where to Stay inside Sai Yok National Park
Park Accommodations
There are a few accommodation rooms inside the national park that can comfortably accommodate between 4 to 7 people. For this, you will need to travel and enter the national park's visitor area's premises. If you do not have a private vehicle, choose the accommodation option at a walkable distance from the visitor's centre.
The accommodation types available are below:
800 Baht for 2 bedrooms (4 people)
1,500 Baht for 2 bedrooms (4 people)
1,800 Baht for 3 bedrooms (6 people)
2,100 Baht for 3 bedrooms (7 people)
You can book these by using the official DNP website in advance. The rooms get booked rather quickly during the weekends. If you book between Mon-Thu, you will a discount of 20%. The payment can be done from Thai banks only or you can pay using the link provided at any 7-Eleven within 2 days of booking.
Camping
There is a large and comfortable campsite in the national park. You can choose to bring your own tent and gear  (pay THB 30 / day to use the campsite) or you can rent from the visitor centre. The cost of renting a tent is THB 225 / day whereas a sleeping set (includes a sleeping bag, mat and pillow) costs THB 60 / day.
Food is available in the area at several basic restaurants. The choices are restricted to Thai food though. Do check the closing time with them.
Floating Hotels
Floating hotels are the main attraction of Sai Yok National Park. But they can be pricey. Although the ones near Kanchanaburi tend to be more affordable. But if you are looking to disconnect deep into nature, then choose the ones in Sai Yok.
We stayed at River Kwai Jungle Raft resort and check out a couple more on the way. These floating hotels totally float on the river and can be accessed using a boat only (complimentary by the hotel).
Here are some of the floating hotels that you can book:
The Float House (luxurious)
If you just wish to stay next to the River Kwai Noi, you can check out these options in the same stretch:
I lived at River Kwai Jungle Raft Resort. There is hardly any electricity in the hotel but they do have running water. So oil lamps light up the whole property which ends up giving it a divine exquisite feel. Dinner and breakfast are complimentary at the hotel and you can add lunch to it as well since there are no other places to eat in the area.
The hotels have a lot of activities available inside like elephant feeding, Mon tribe dance at night, Thai traditional massage, raft tour etc. You can also jump into the river using their life jackets, or canoe or visit the Mon tribe village nearby.
It definitely makes a memorable experience. Although I will suggest that you plan to stay here during the cooler months for a more comfortable experience.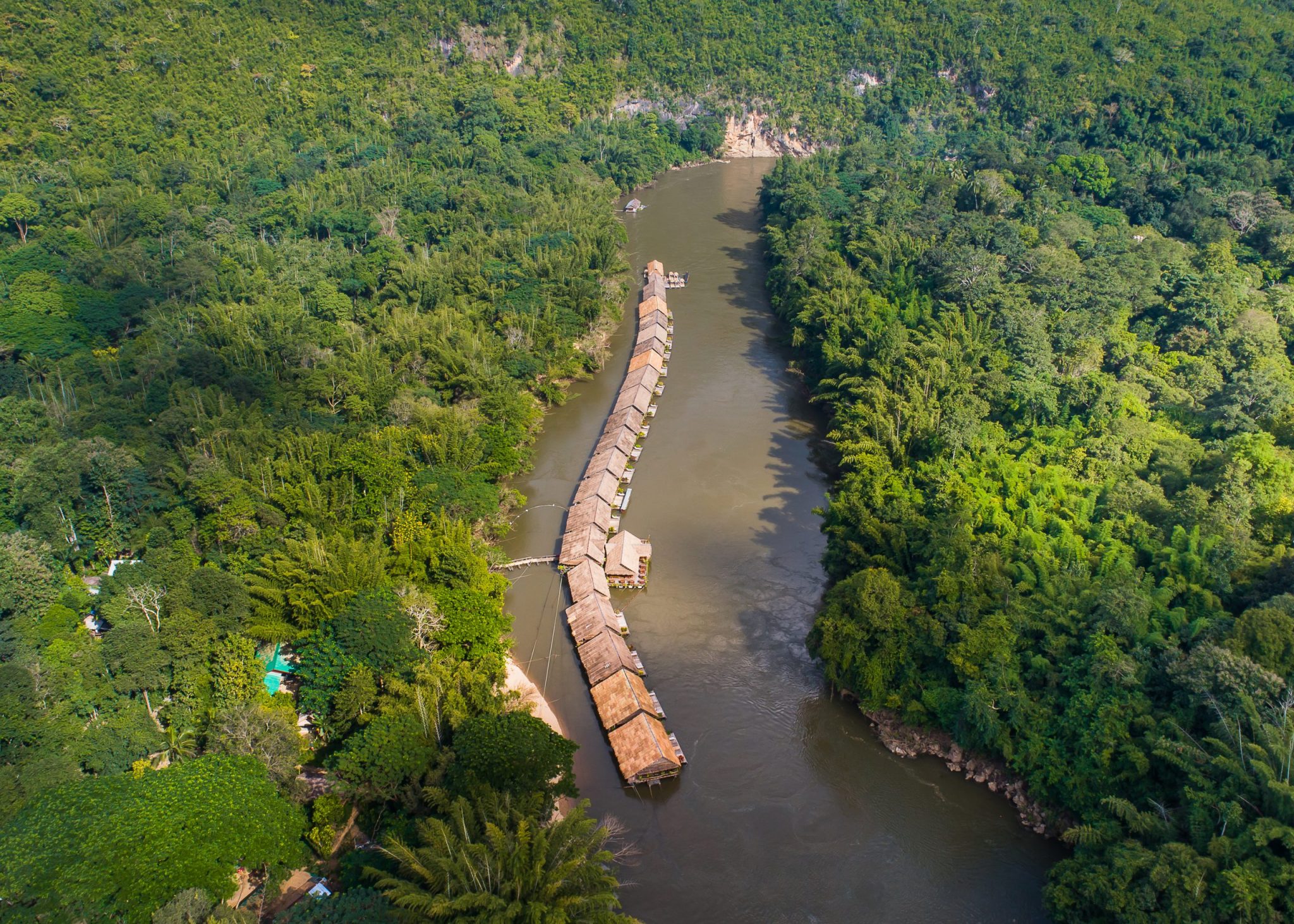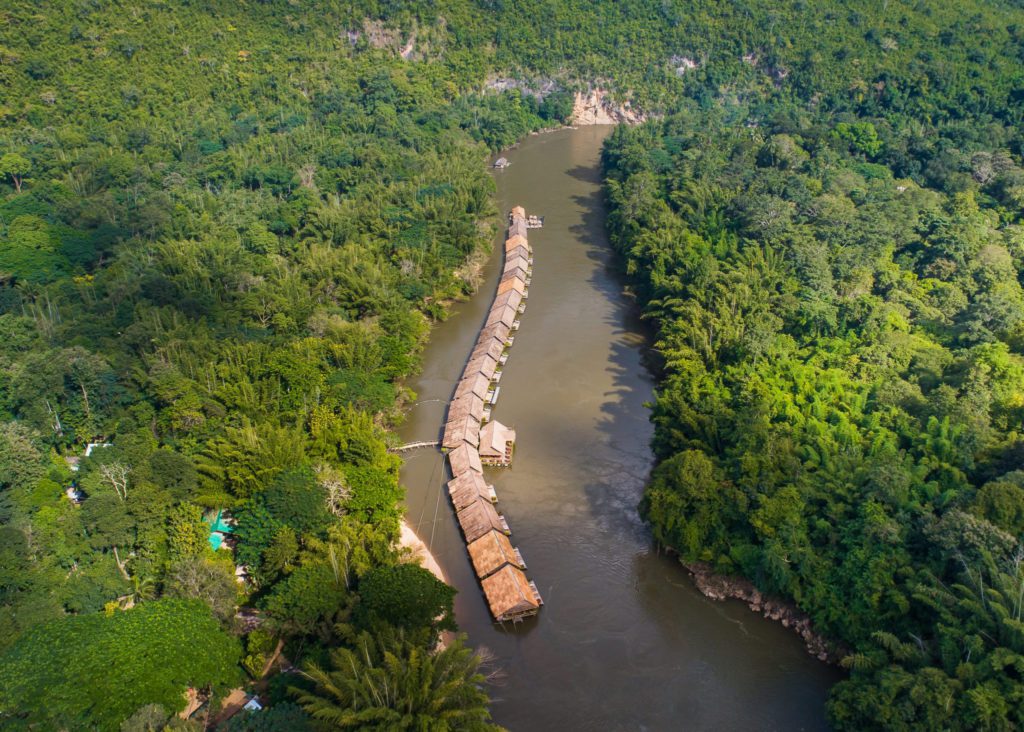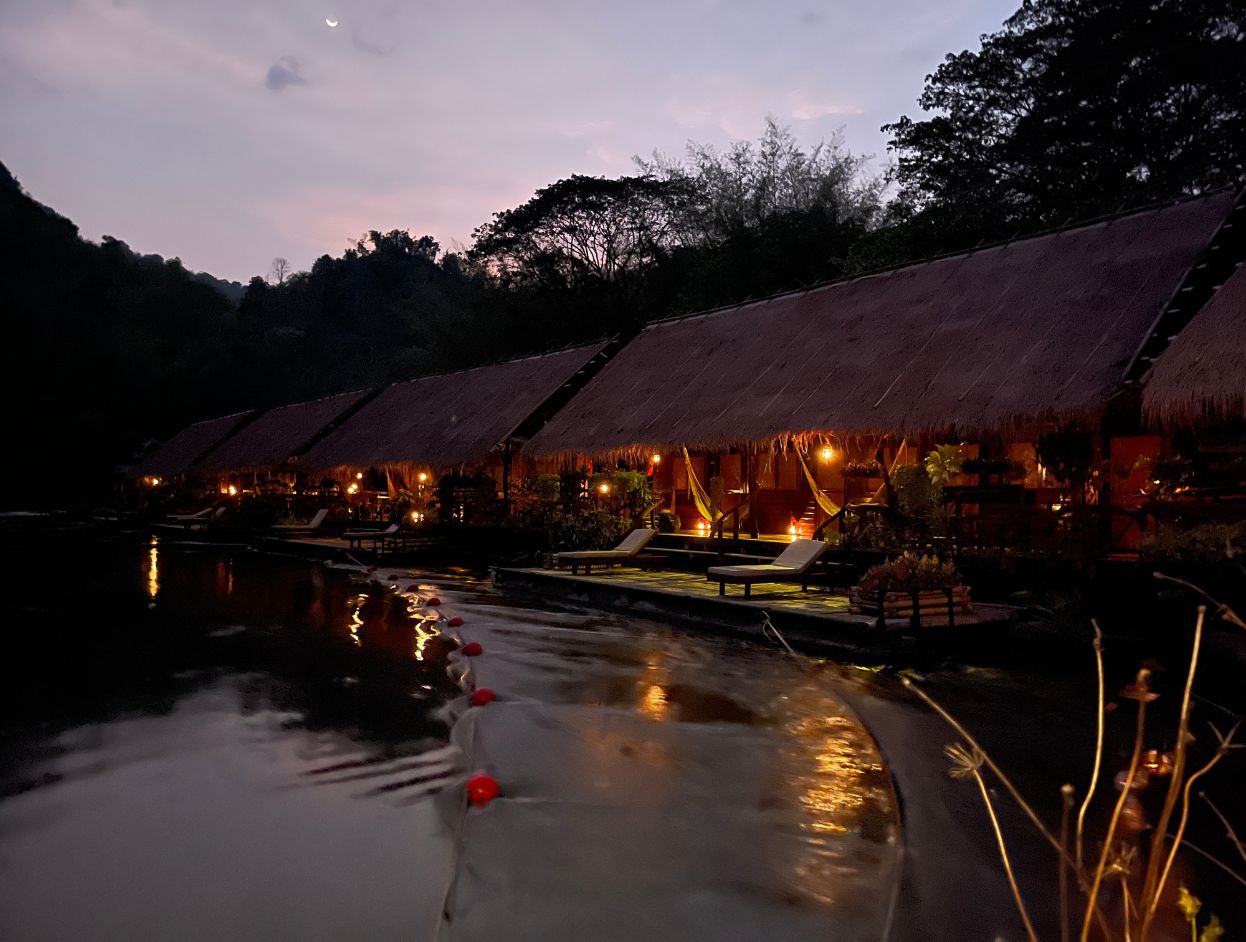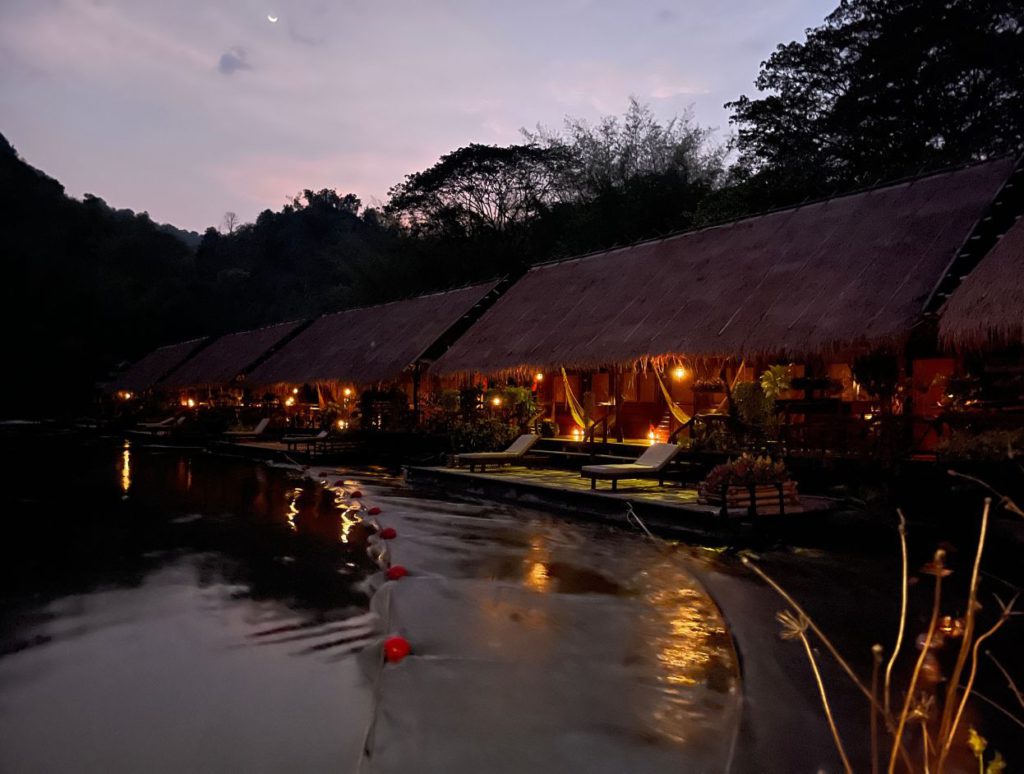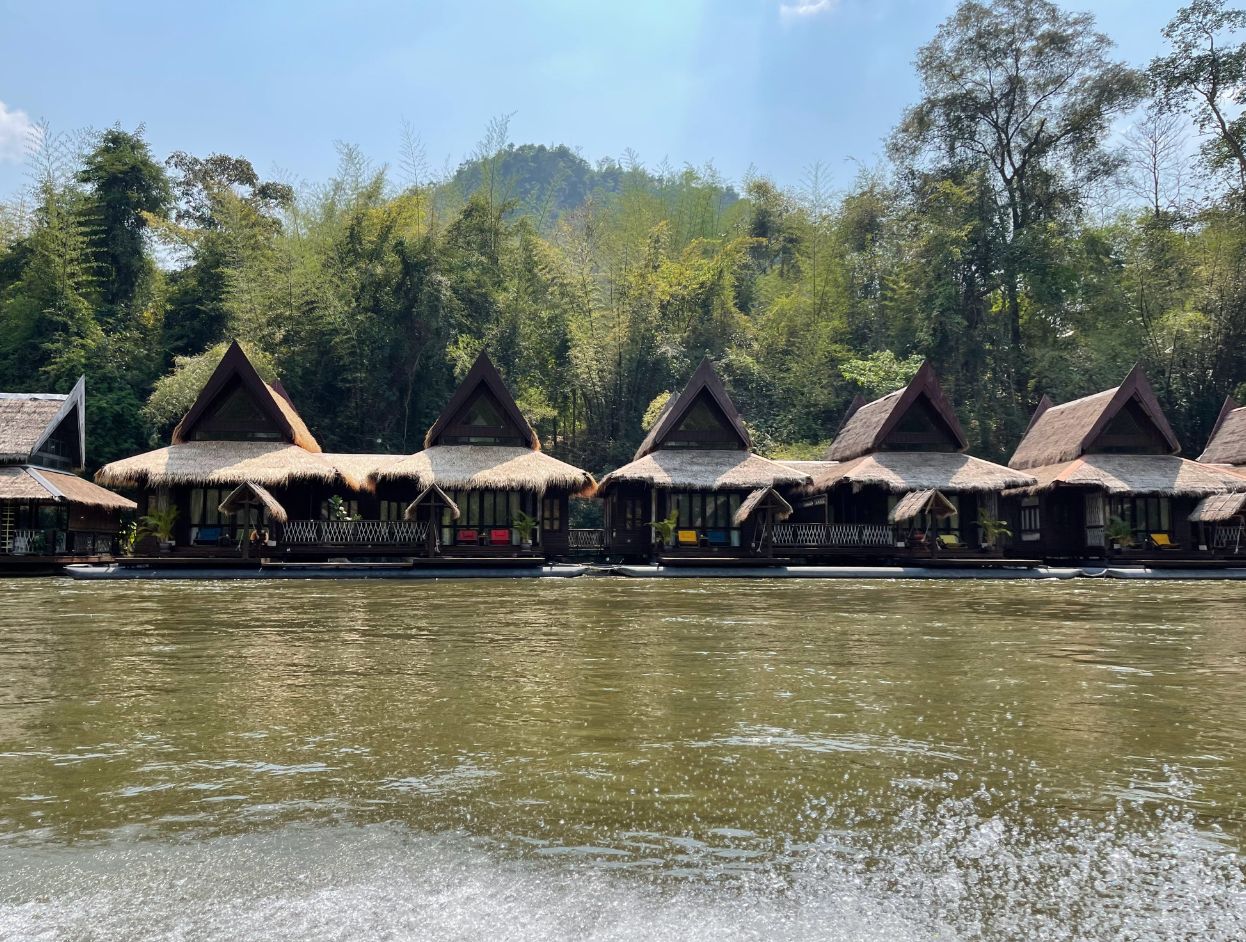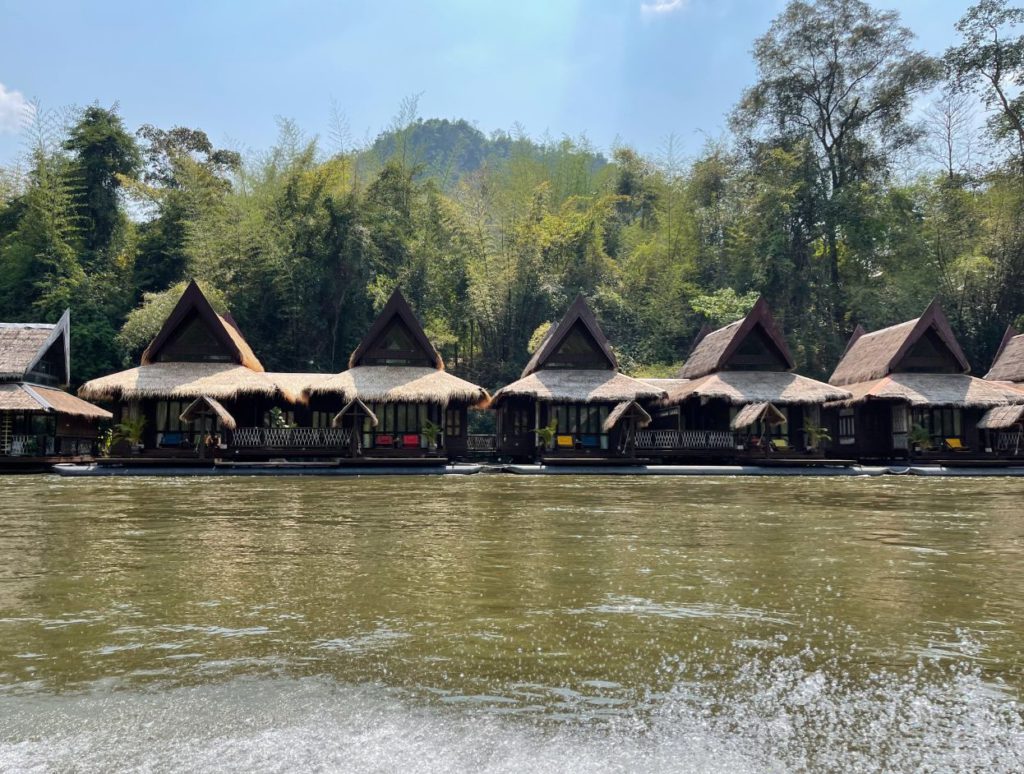 Sai Yok National Park Timings and Ticket Price
Sai Yok National Park Timings
Sai Yok National Park is an open area where you can enter and move around in your own time. 
However, if you are visiting and staying around the visitor centre, then you need to look and adhere to the timings. The visitor centre is open from 8 am – 4.30 pm and is open on all days of the week.
Sai Yok National Park Ticket Price
You do not need to pay for the ticket price if you are passing through, staying at a private hotel or even visiting the Death railway. But if you are visiting the visitor's centre and other tourist attractions, you will need to pay the ticket price. 
Ticket price for foreign tourists: THB 300 for adults and THB 150 for children
Ticket price for Thai nationals: THB 60 for adults and THB 30 for children
Things to do in Sai Yok National Park
1. Enjoy water activity on River Kwai Noi
Regardless of where you are in Sai Yok National Park, you must spend time enjoying the lazy river as it passes through thick jungles and rocky mountains.
If want to keep it light book a long tail boat ride that zooms pasts floating hotels, mon villages and sparse mangroves. Several hotels also have the facility to book a raft for a romantic ride for couples or for the whole family.
Activities like canoeing and Stand up paddling are common and easily available. In most places, you don't even need to pay and comes as a part of the stay experience.
If you are keen to go all the way, put on a good life jacket and jump into the river. Talk to the locals about how safe it is in that particular stretch and they will guide you. If you cannot swim, I will suggest against it. Also, avoid it during the monsoons since the river current gets too strong.
Or you can just relax at the river shore in the cool water. Occasionally you can find some pet elephants wandering who have come for a bath in the river during a hot summer afternoon.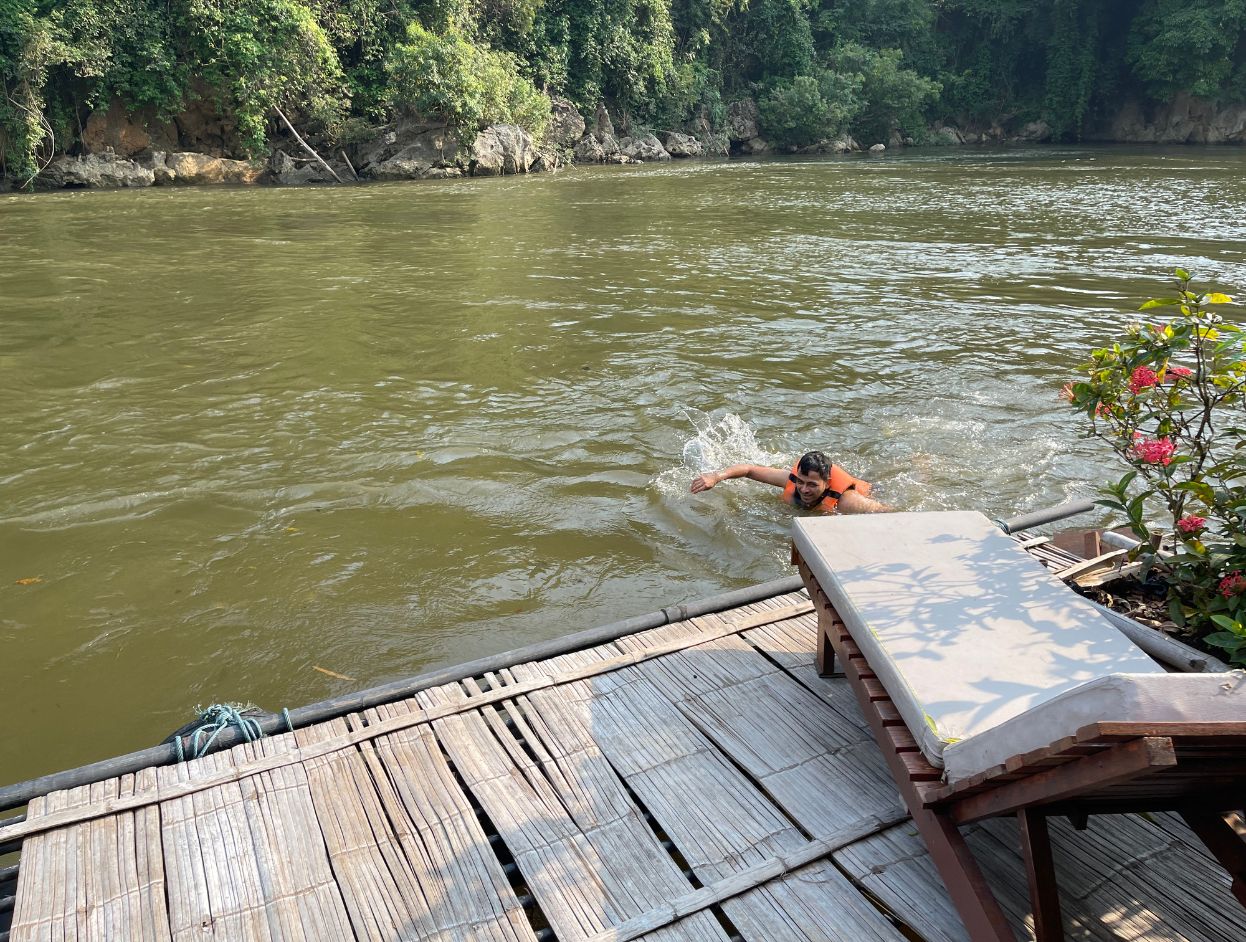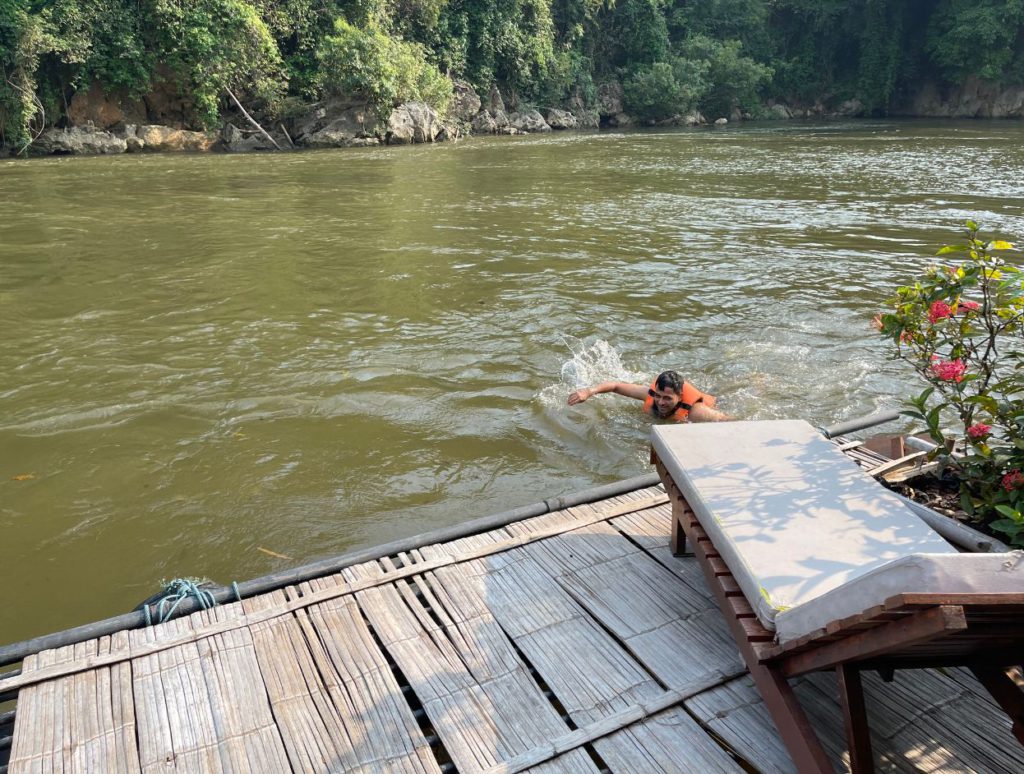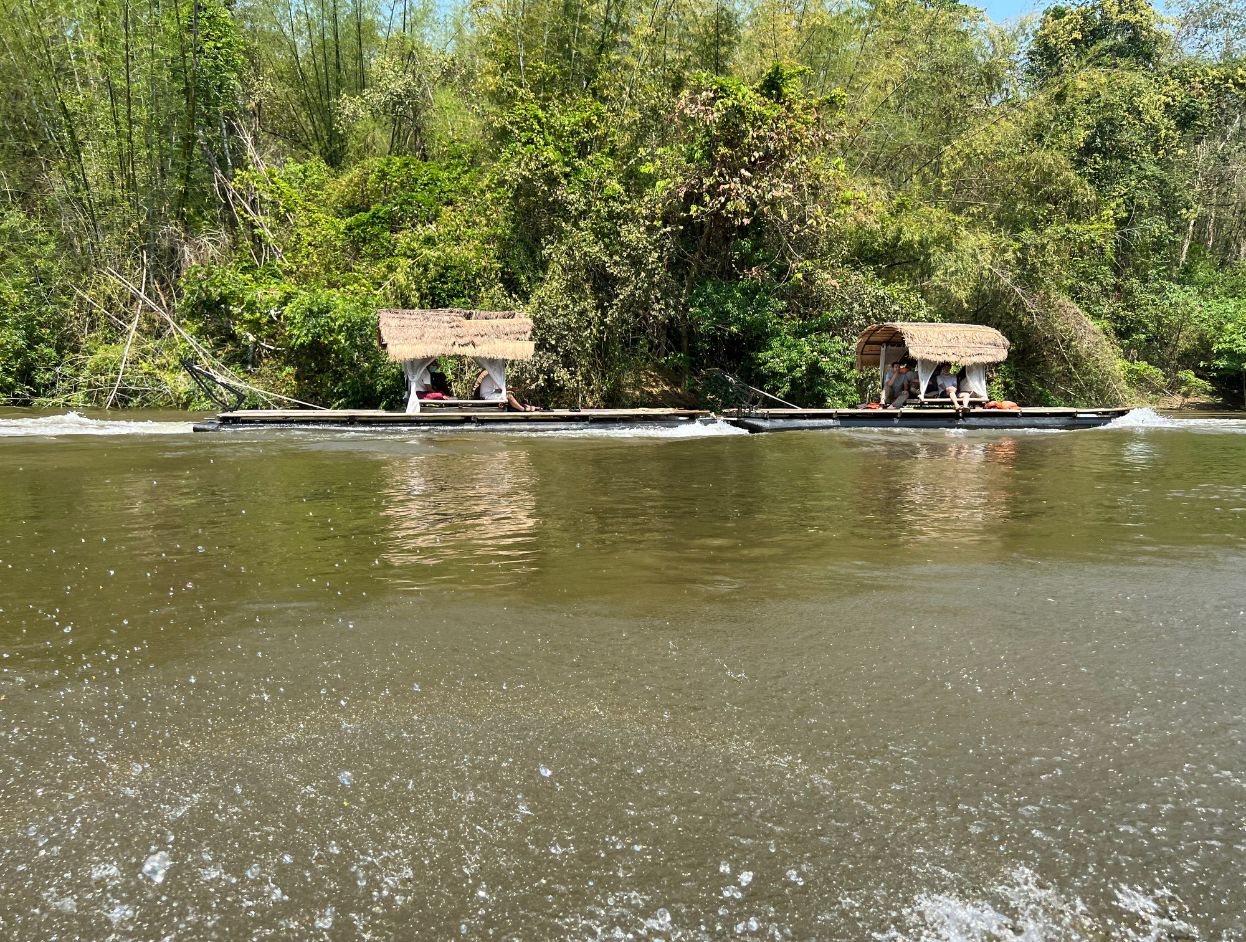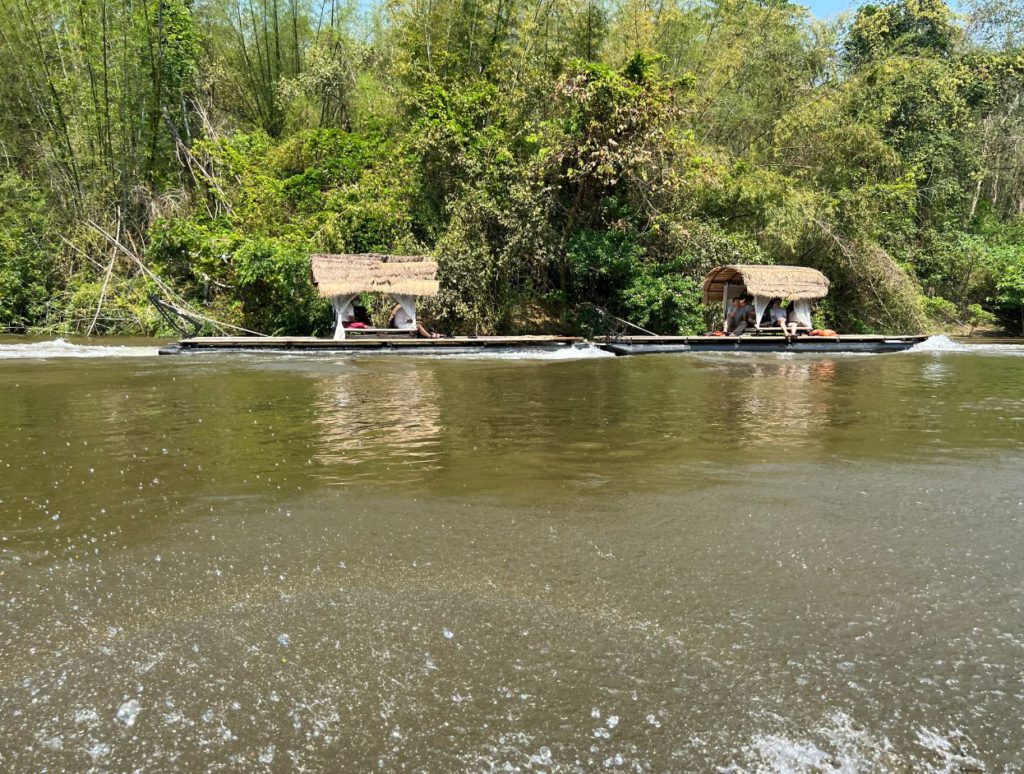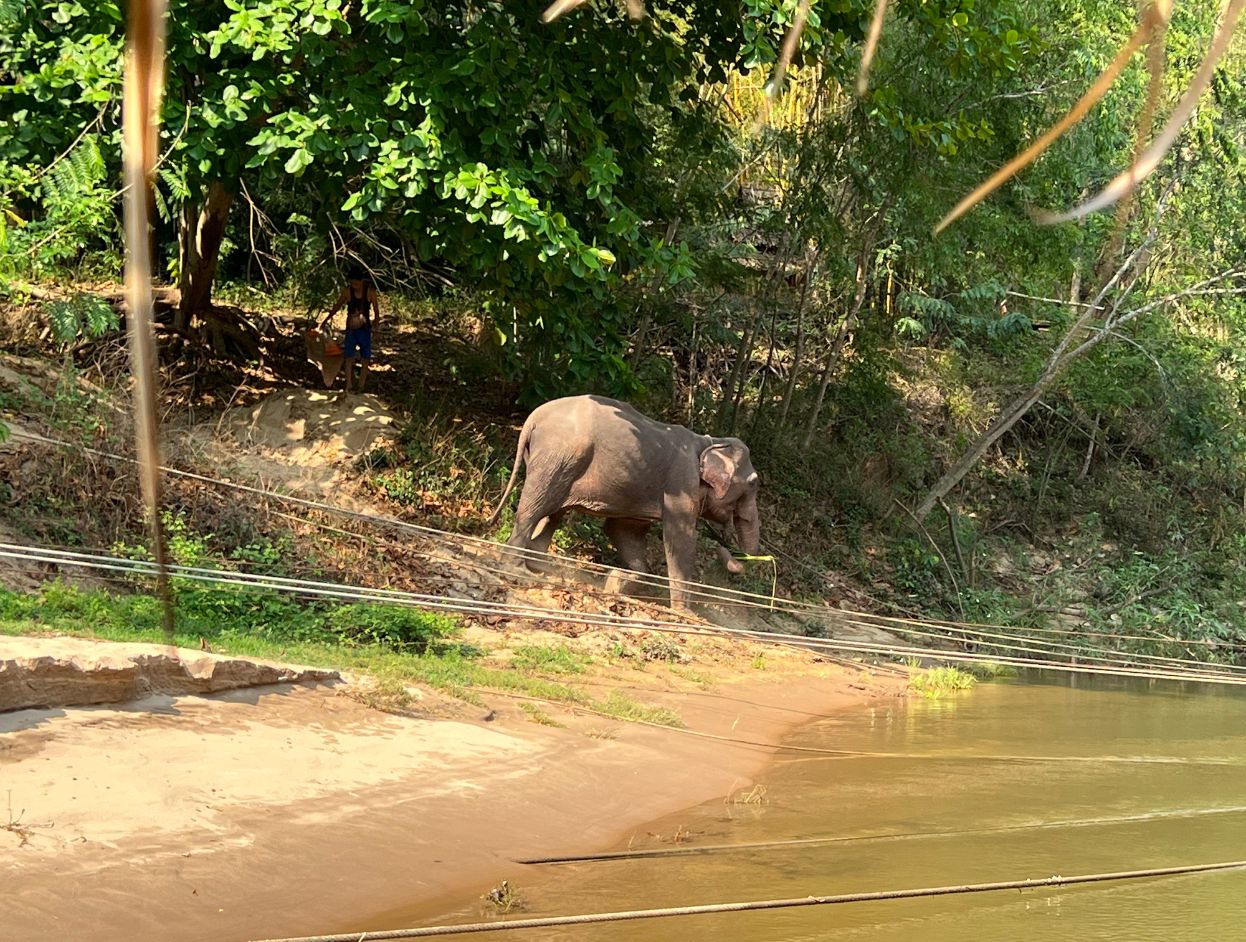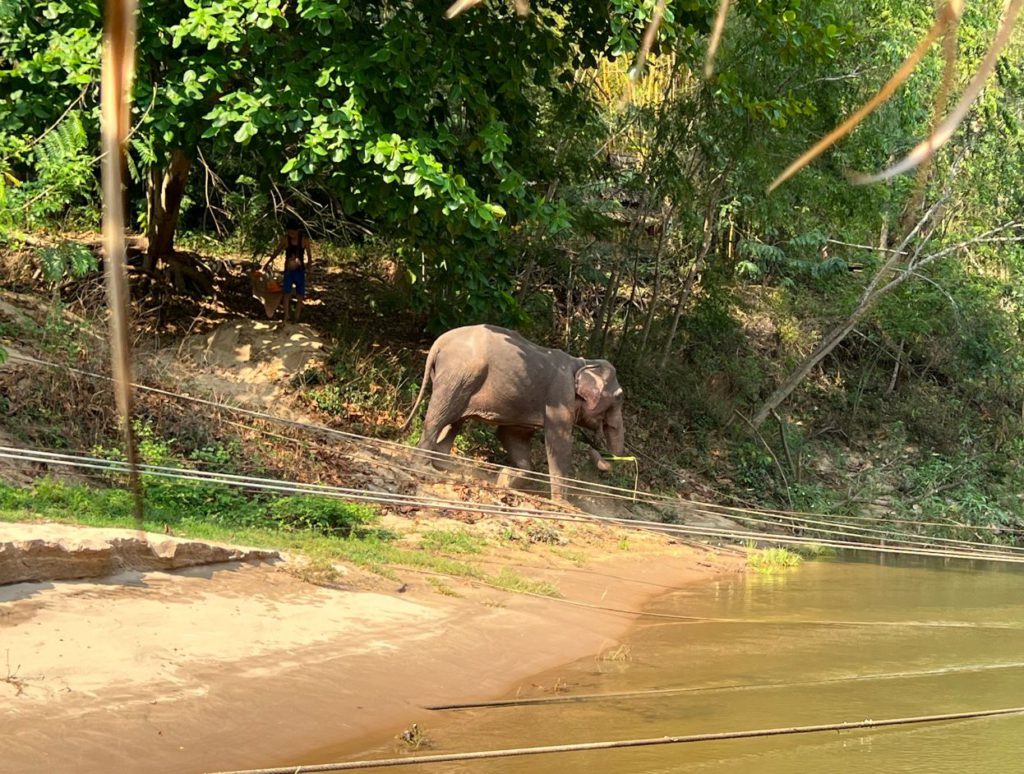 2. Visit Sai Yok Yai and Sai Yok Noi Waterfall
I cannot compare the beauty of these with Erawan waterfalls (which are gorgeous btw) but you can still stop to at least enjoy it when you are here. 
The Sai Yok Yai waterfall is right next to the visitor centre after you cross the suspension bridge. There is another waterfall just 300m ahead called Sai Yok Lek waterfall. Both of them are charming, especially after the rainy season. The view during the summer can leave you disappointed. Both of them are accessible on foot on a short walk.
Sai Yok Noi waterfall is located near Nam Tok railway station just a couple of kilometres away. Maybe the waterfall gave the station its name (Nam Tok means waterfall in Thai). 
It is technically a part of Erawan National Park but its name stuck since it's part of the area. The waterfall is actually bigger than Sai Yok Yai but the water flow is much less. In any case, if you have to choose to visit one of the two, you can prefer this one over the other.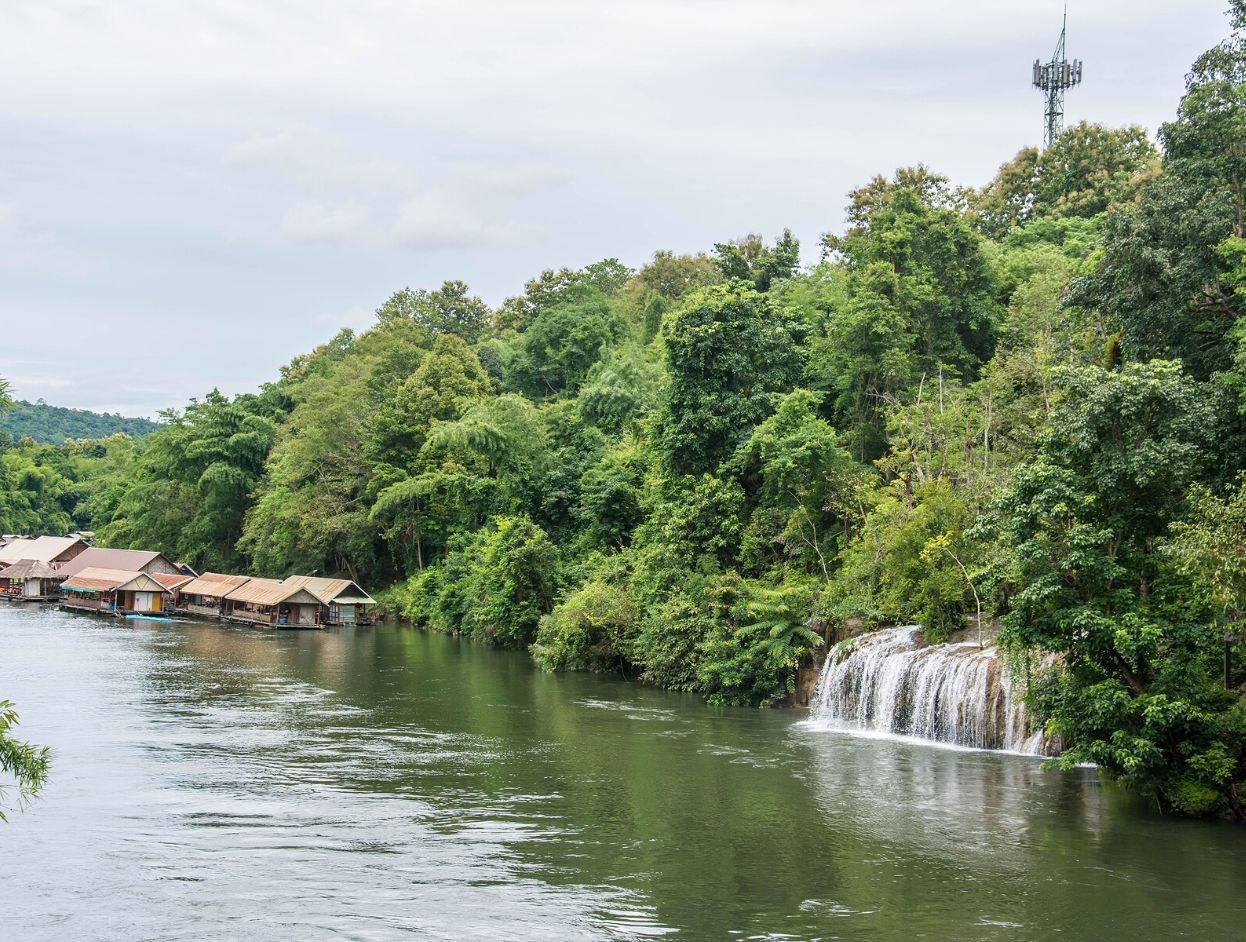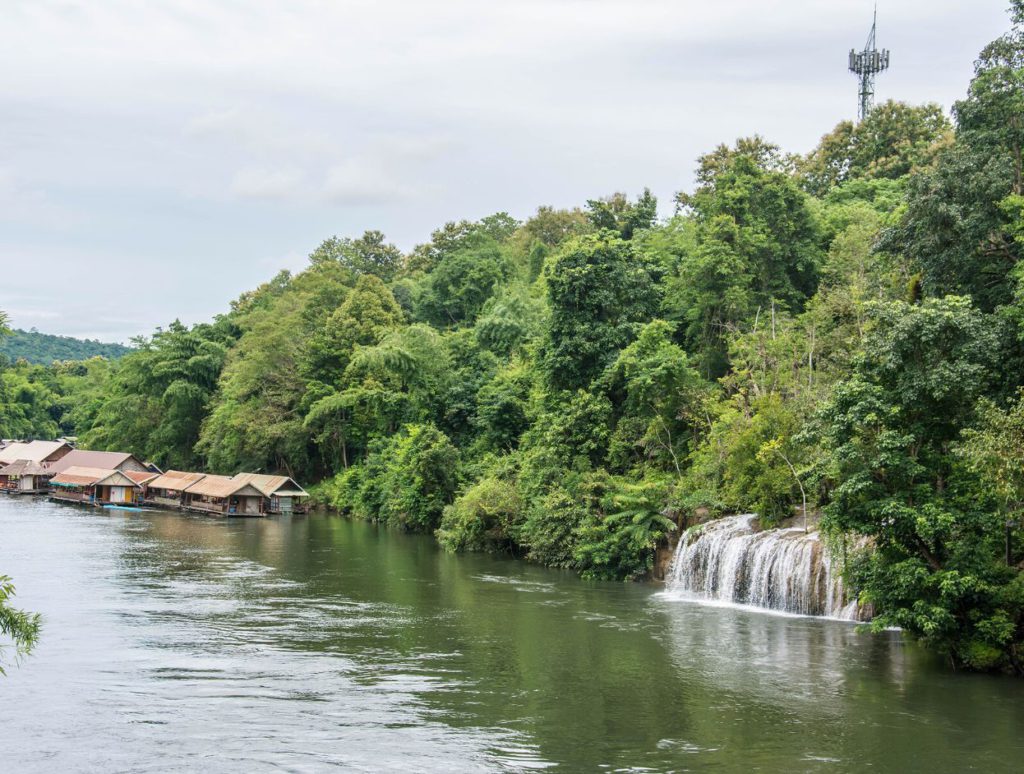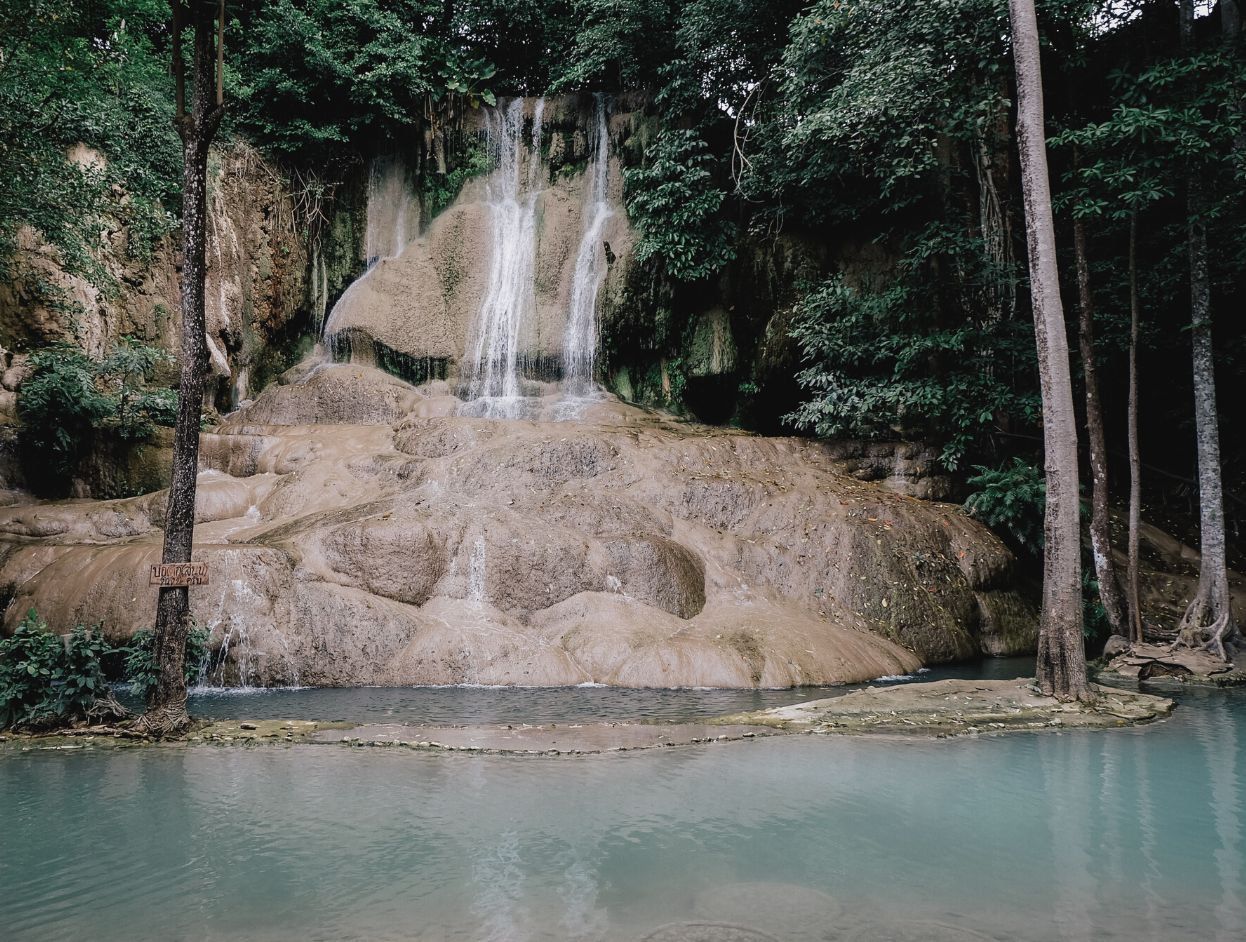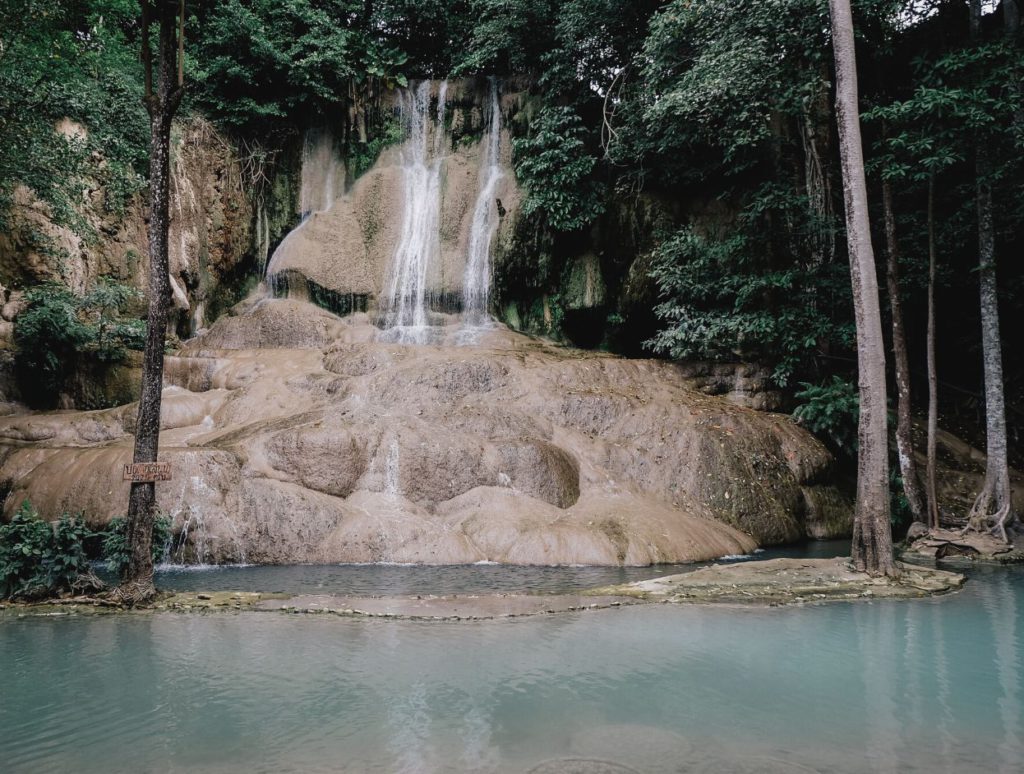 3. Visit Limestone Caves
There are three important caves in Sai Yok National Park that you can plan to visit. The caves are usually closed off during the rainy season since they are flooded with water. So don't try to explore them by yourself too.
Khang Khao Cave: This cave is around 2 km from the visitor centre and you can walk the distance on a stroll. The cave is famous for the rare Kitti's hog-nosed bat or Bumblebee bat. It is the smallest species of bat (weighs 2 grams), completely harmless and only found around Sai Yok and some parts of southern Myanmar. The caves are also close to Death Railway's foundations. 
Dao Wadung Caves: These are located on the west shore of the river that you can reach by crossing the Daowadung Bridge by road or take a longtail boat and walk from there. The cave is 240m long and has 8 chambers with rock, stalagmite and stalactite formations.
Lawa Caves: This one is probably the most popular of the three. The caves are 500m deep with a small entrance but huge chambers. Again you can look around at the huge limestone formations. 
You can reach lawa caves by walking if you are in the nearby raft house, or you can reach it by using longtail boats. To reach by road you will have to cross a bridge near Somnuk Elephant camp around 20 km south and navigate from there.
The entrance fee for Lawa caves is THB 300 for foreigners and THB 60 for Thai nationals. You do not need to pay this if you have already paid for Sai Yok National Park but the ticket is valid for the same day (check this with the local rangers). You do not want to pay twice for this.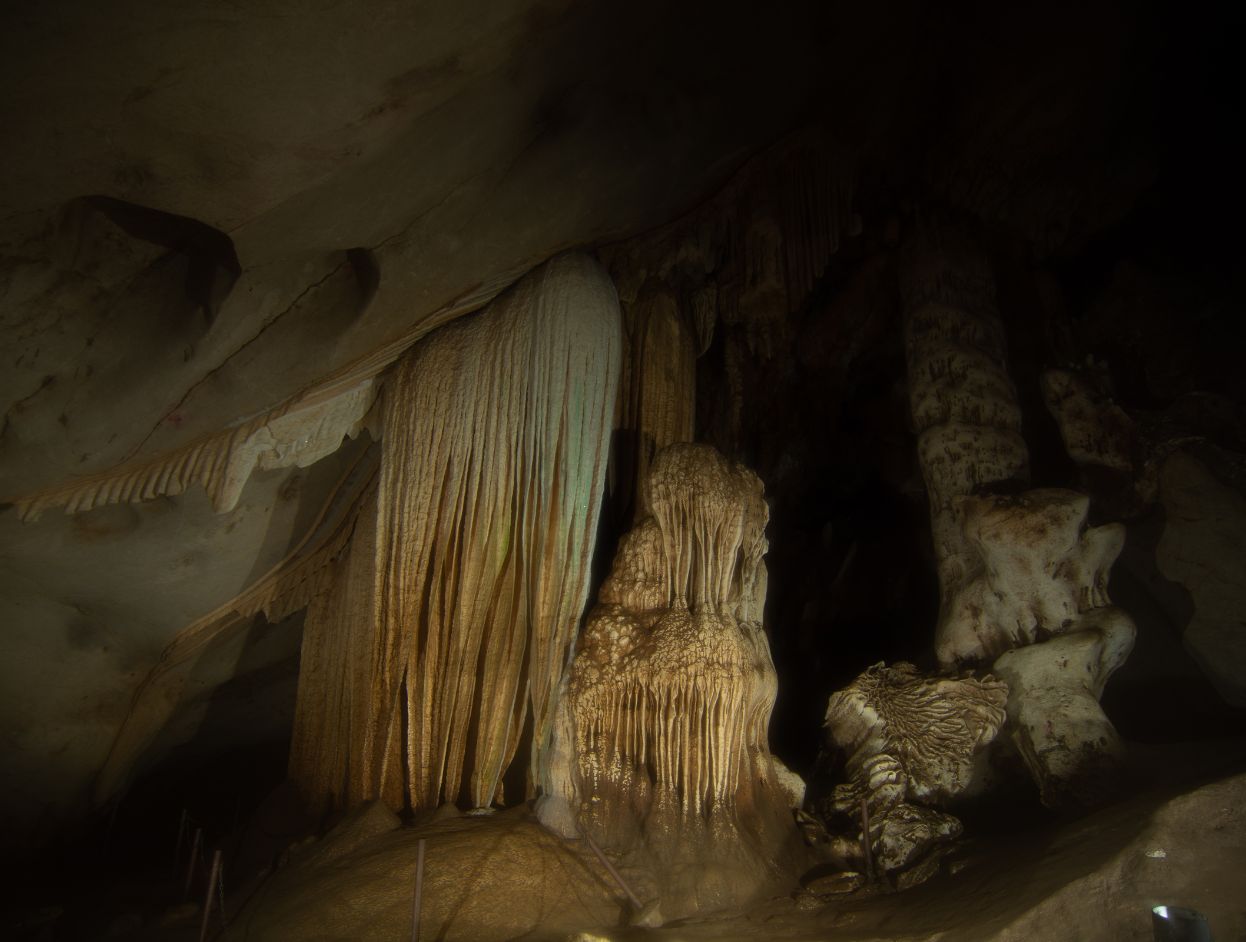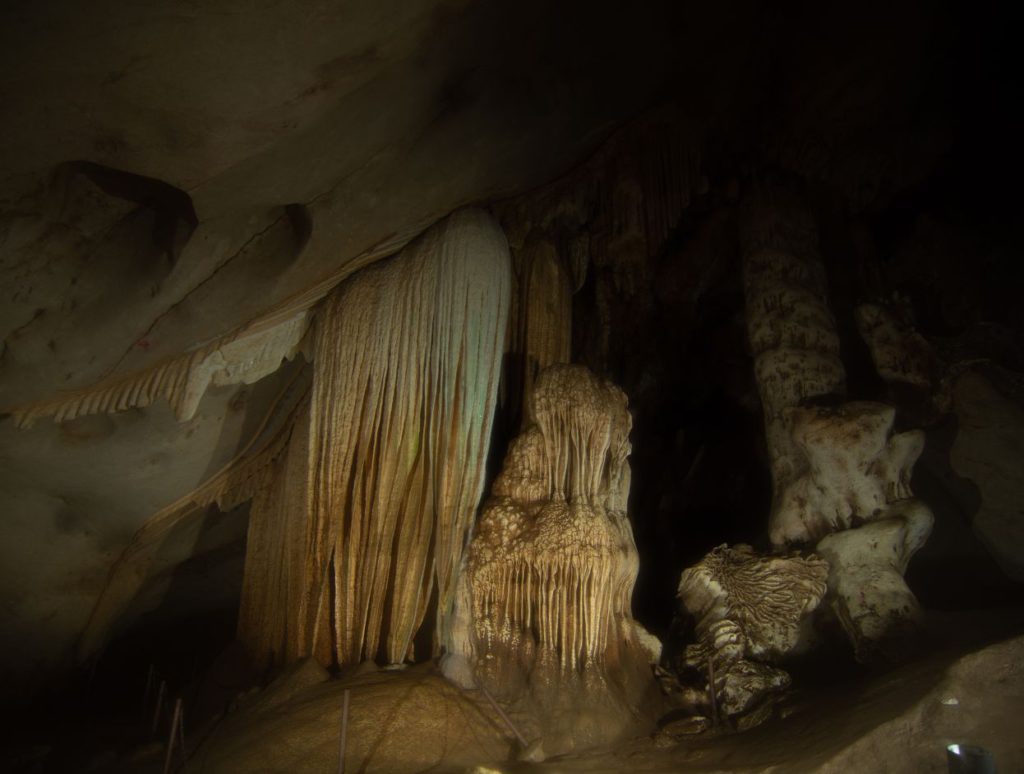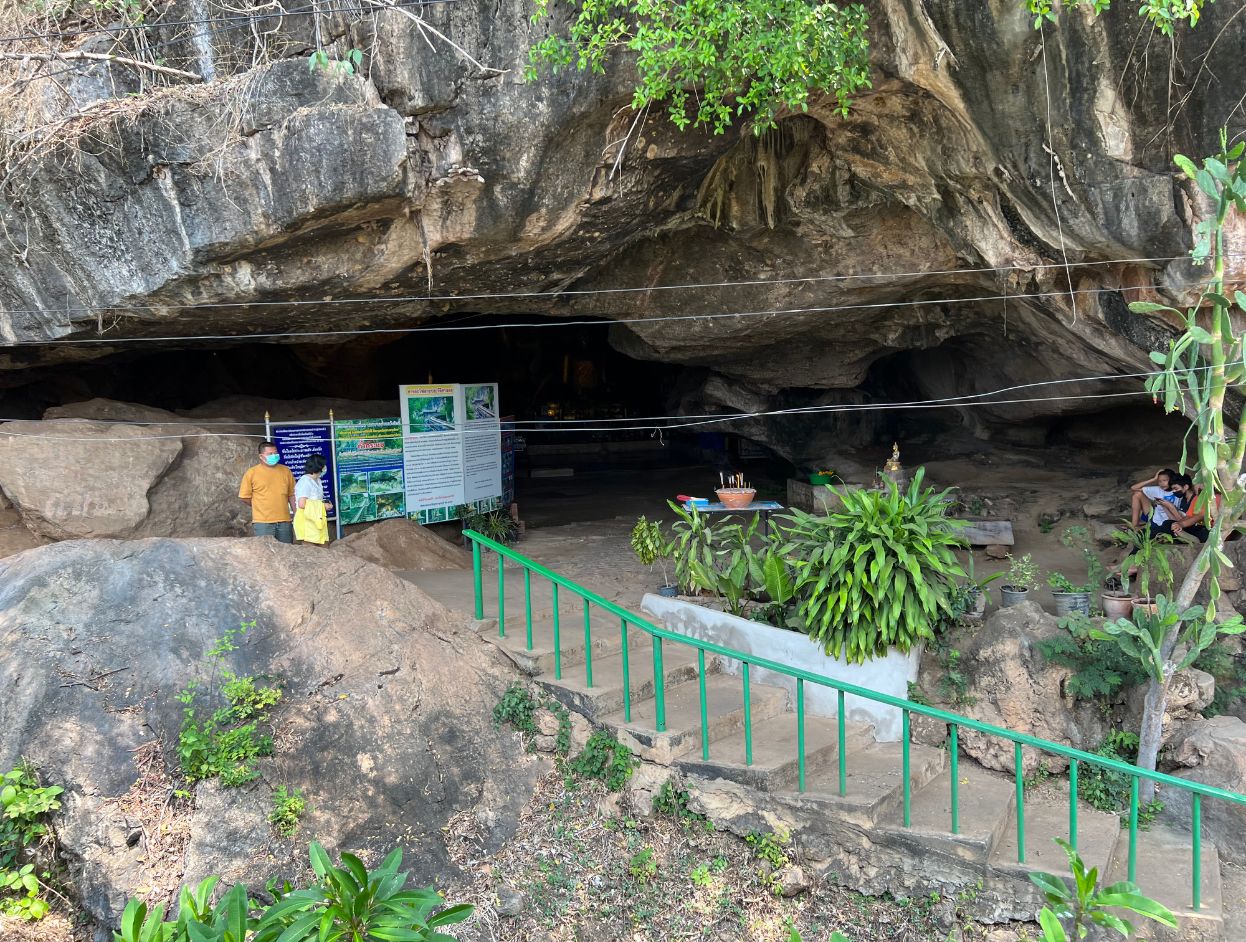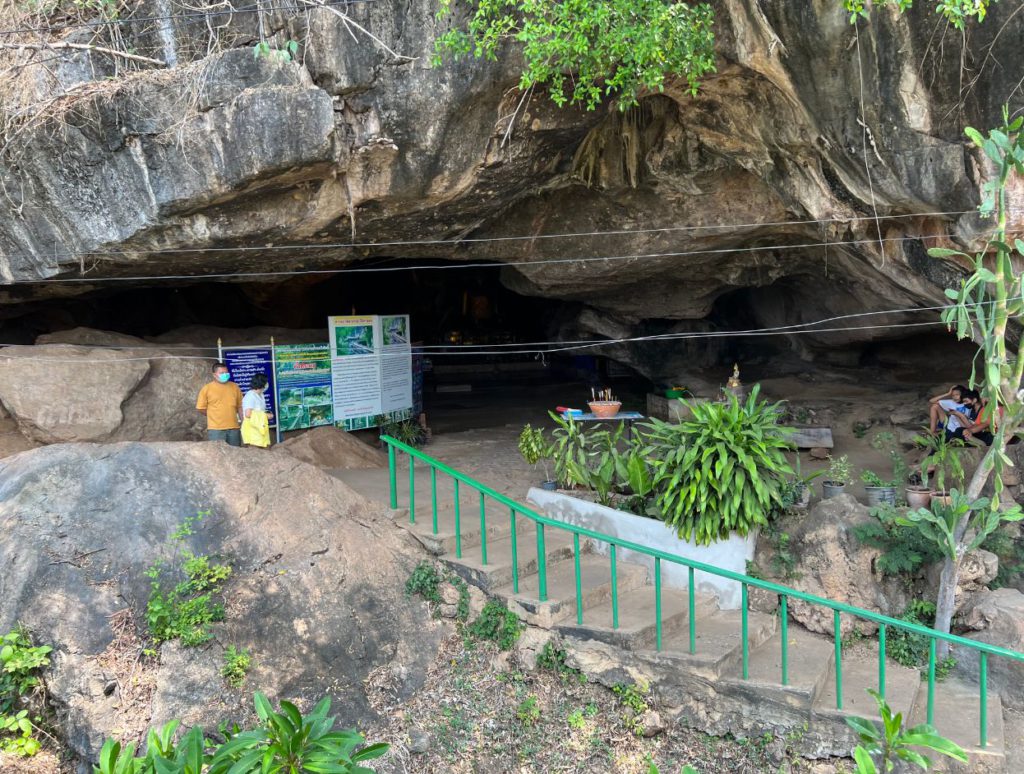 4. Check out the Death Railway
The building of the death railway is a rather tragic event now more popular for war tourism in and around Kanchanaburi. The death railway is just another name for Siam-Burma Railway, a railway route that was built between Bangkok (Thailand) and Yangoon (Myanmar).
The railway route was commissioned by the Japanese during the second world war. It was built by prisoners of war and forced labour from Thailand who was starved and mostly worked till death. Around 90,000 forced labour died building this along with 12,000 allied prisoners of war. 
If you want to know more you can watch the movie – 'The Bridge on River Kwai' and even visit it in Kanchanaburi with a guide.
The rail route was even operational till 1946 when it was decided that the route will end at Nam Tok railway station after inspecting the degrading condition of the tracks. The Myanmar side of the railway closed long back as the infrastructure perished with time.
It is pretty cool to travel by train. You will see the River Kwai Bridge, and war memorials and can even get glimpses of the railway track as the train turns. However, if you are not travelling by train, you can still check out the railway track on this route.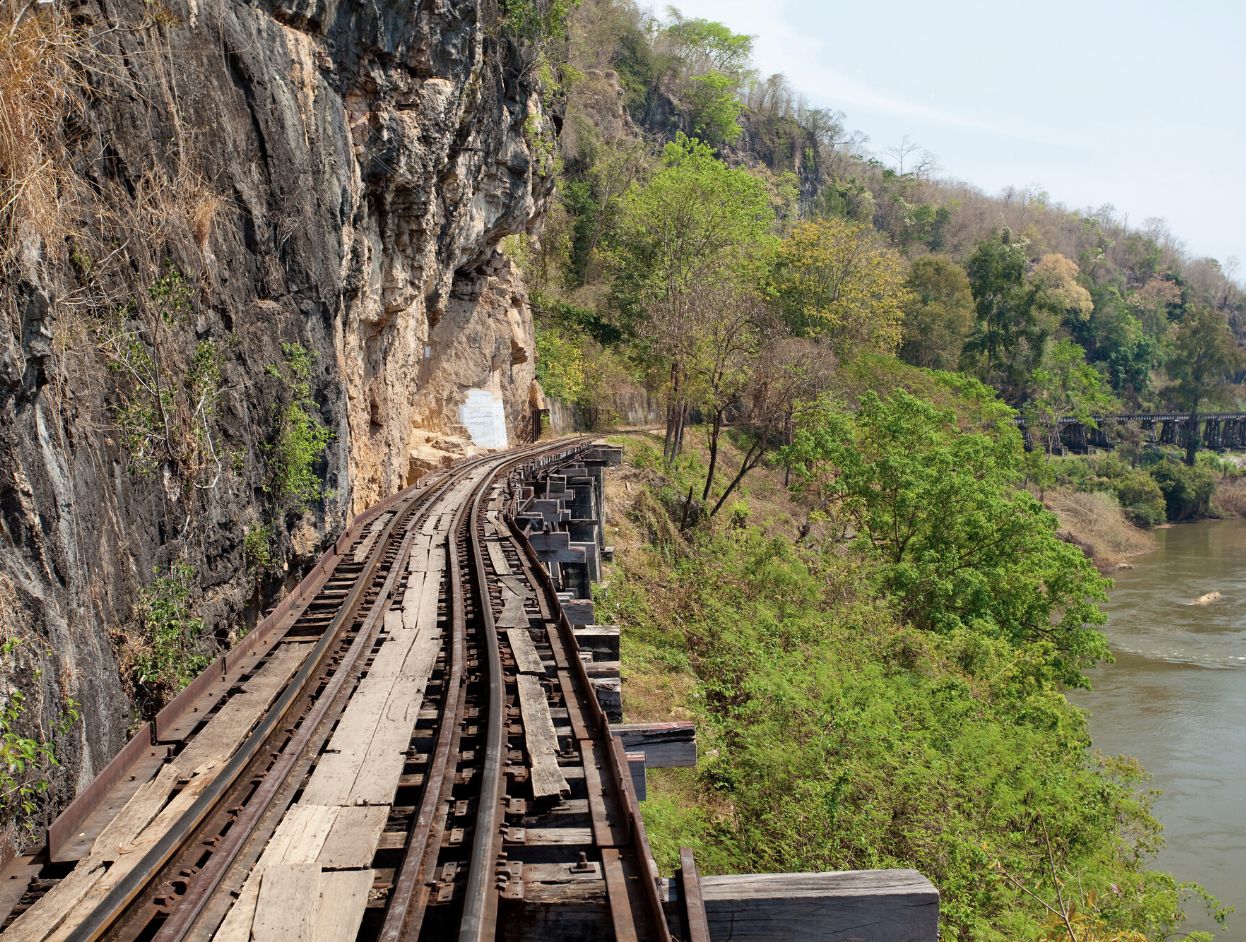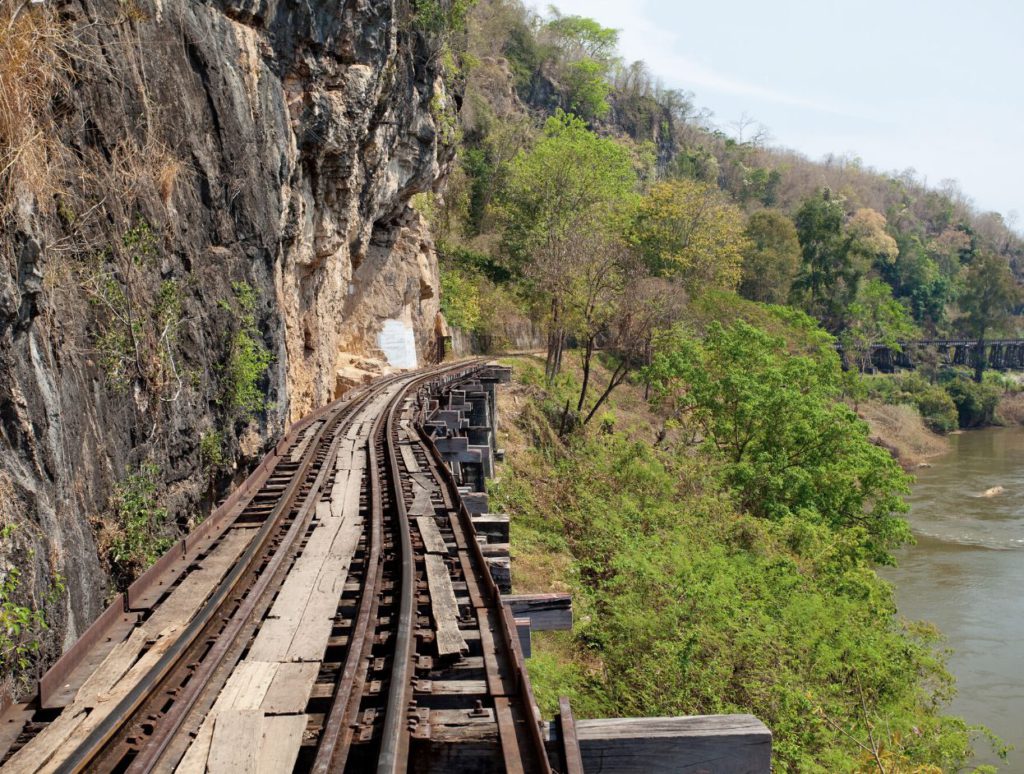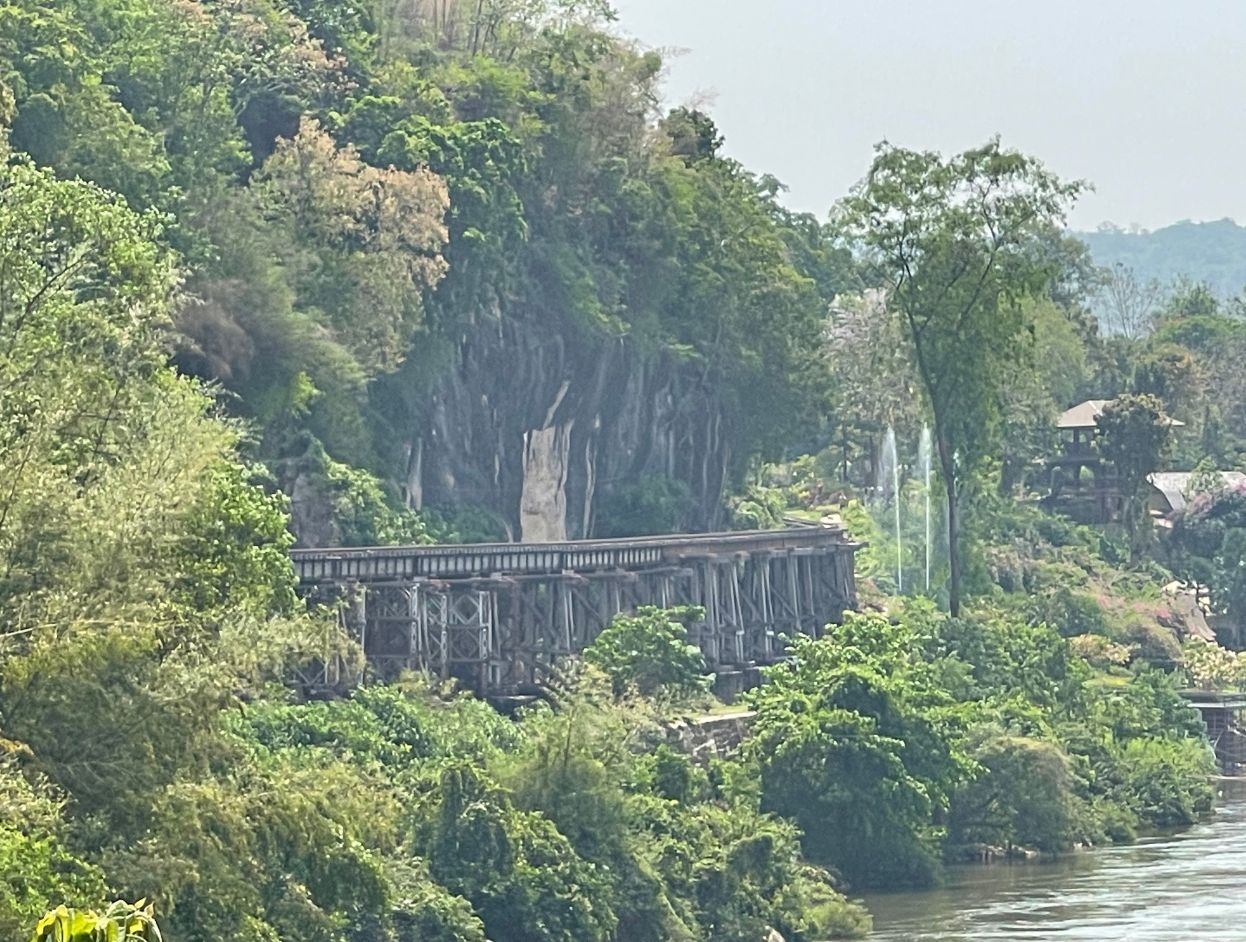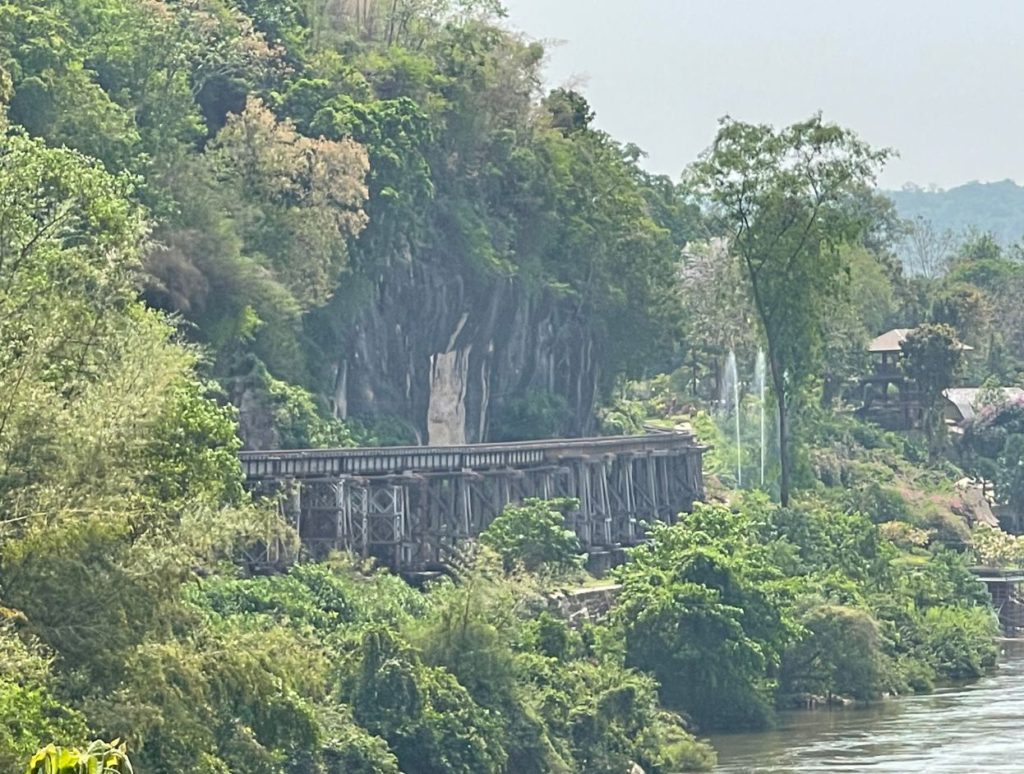 5. Visit Hellfire Pass and Interpretive Center
The hellfire pass and Hellfire Interpretive Center are a little before Sai Yok National Park's visitor centre if you are travelling from Kanchanaburi. The hellfire pass is a section of the same Siam-Burma Railway but with a very bloody history.
This section of the railway was made by cutting hard-rock mountains. All of it was done by manual labour, mostly by prisoners of war. The Japanese worked them 18 hours a day without food or medical aid in harsh conditions.
The scene of people working in bright torchlight could only compare to a scene from hell, hence the name. Thousands of people perished building this part of the railway. 
The interpretive centre gives a lot more information on this along with a 10-minute video. The entrance to the place along with an audio guide is free for everyone. After that, you have to trek a little bit to go further and visit the actual hellfire pass. 
Only look for the Hellfire Interpretive Center since the location for the Hellfire pass is misleading on the GPS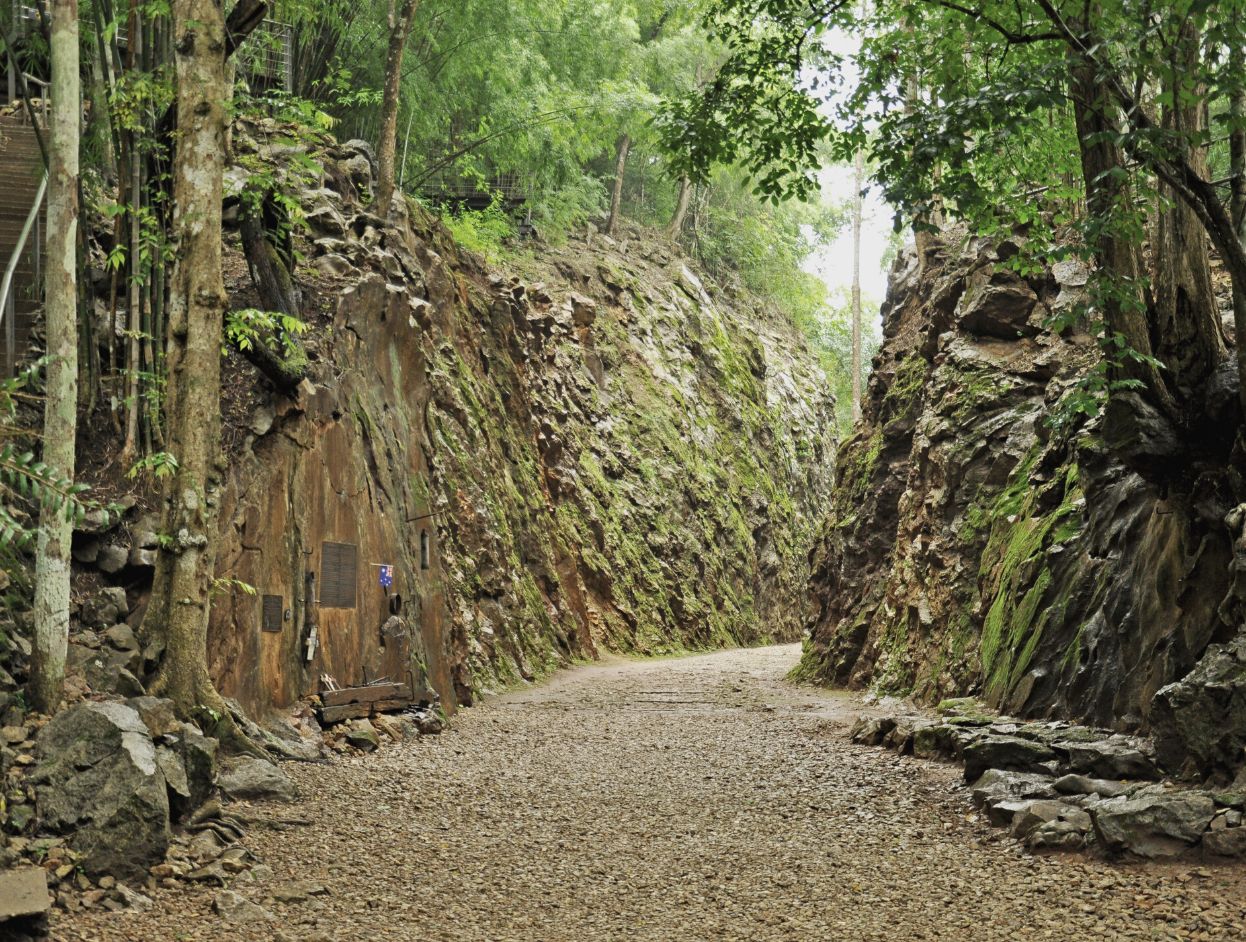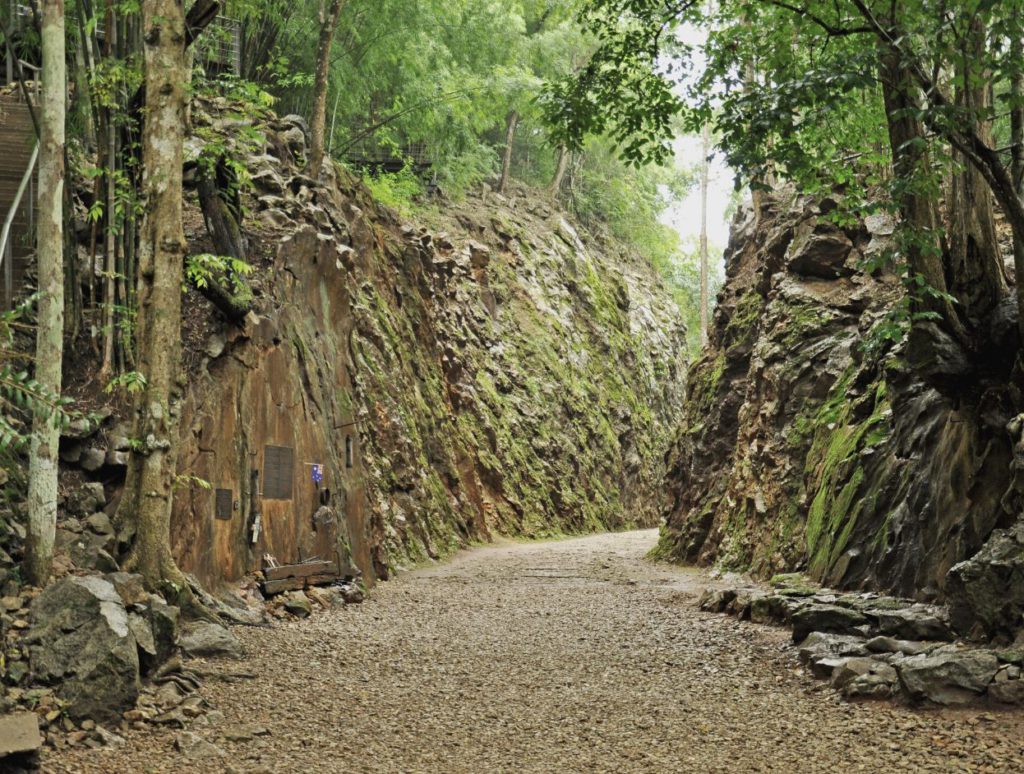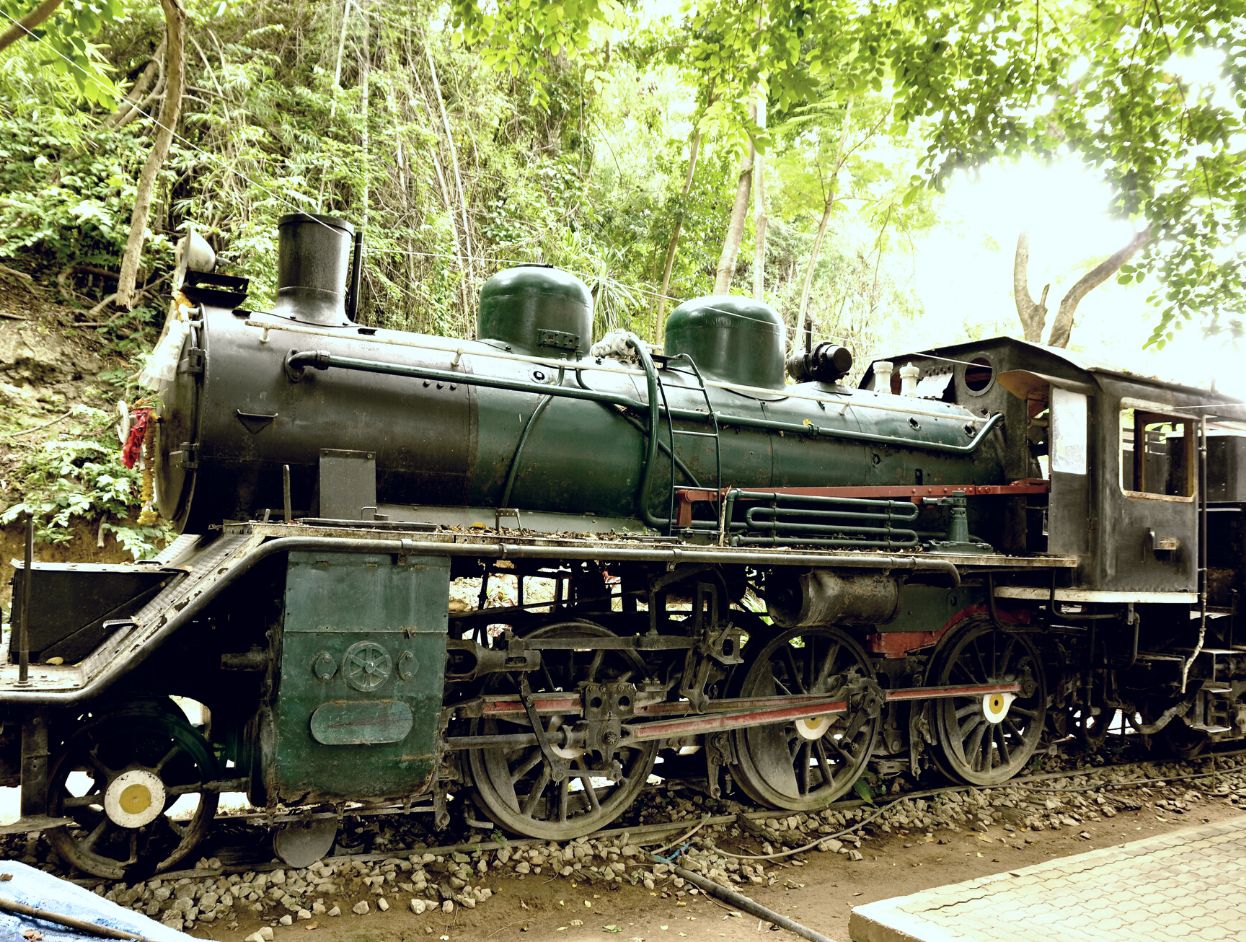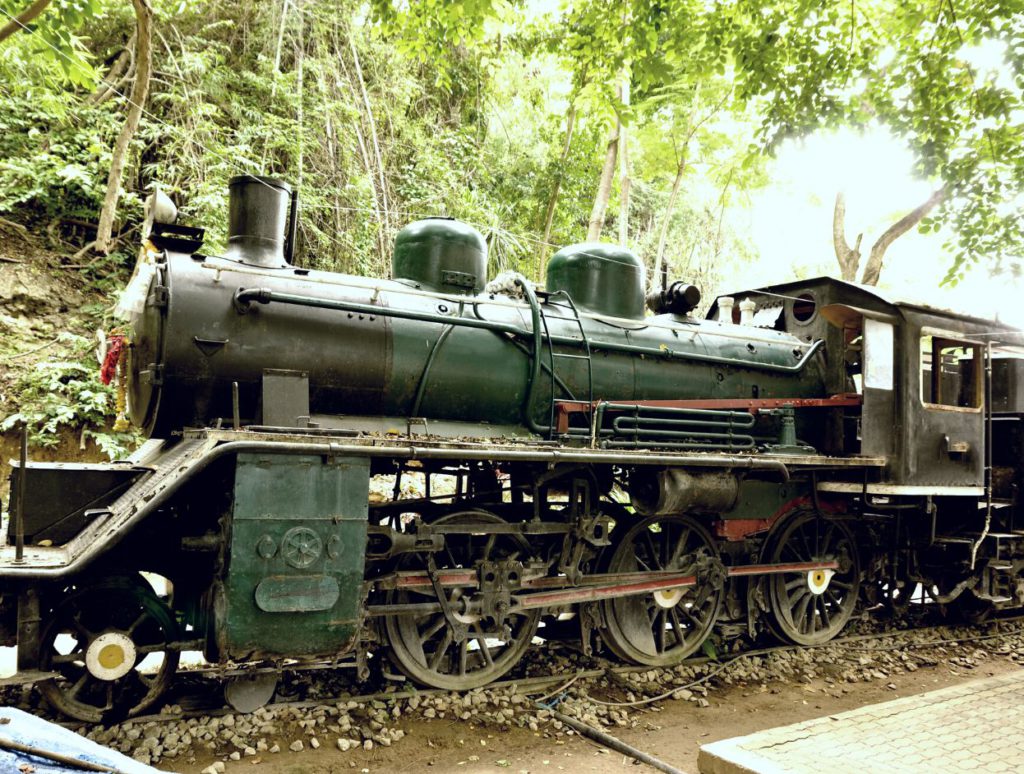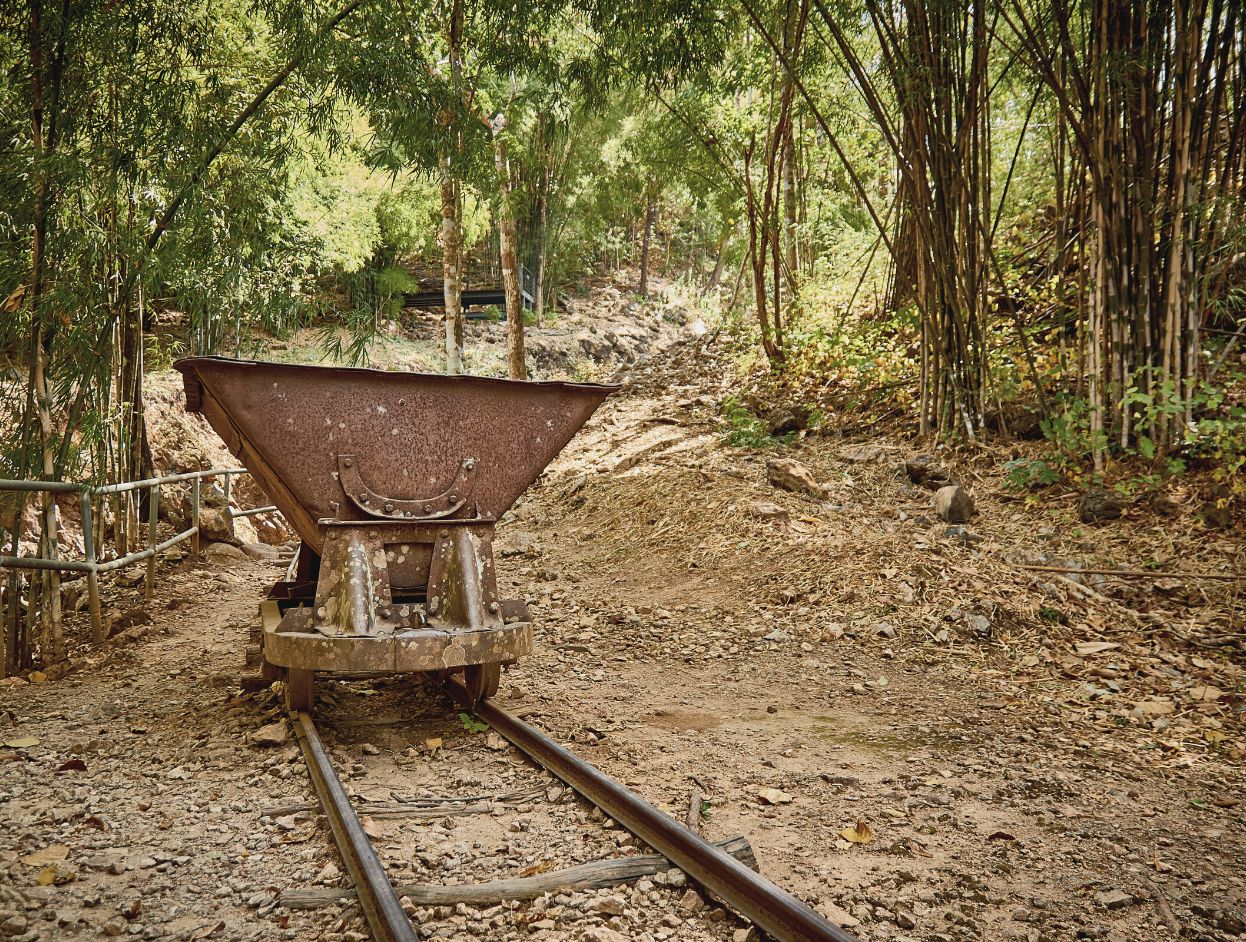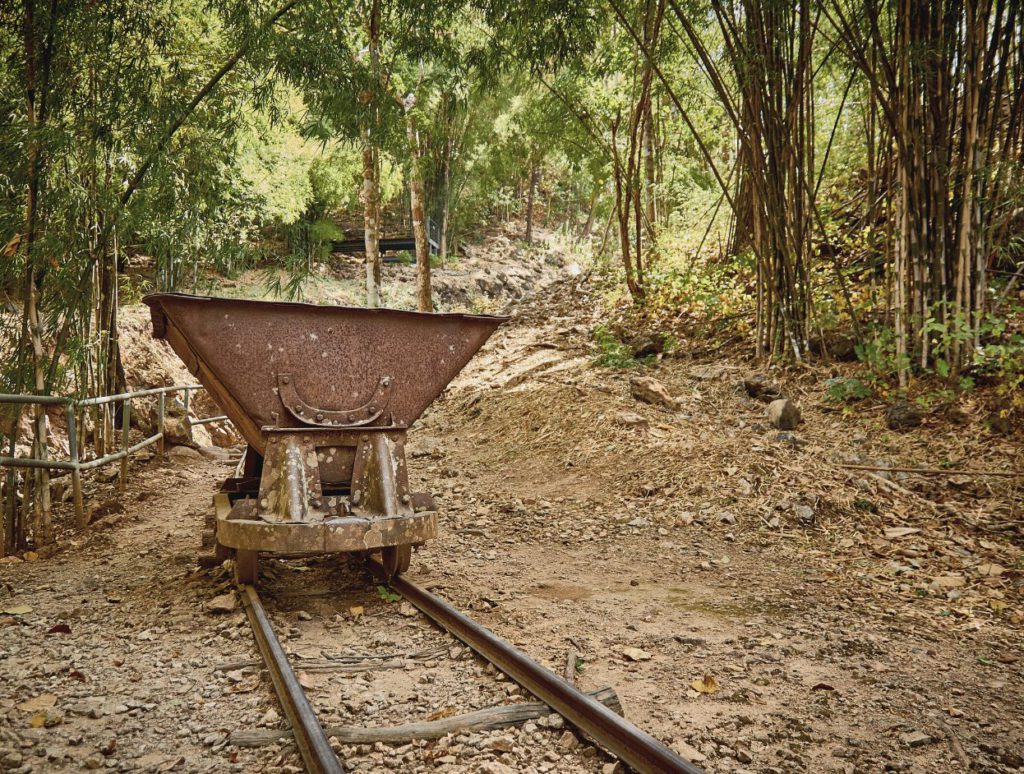 6. Meet the Mon Tribe People
The area deep into the Sai Yok National Park is inhabited by the Mon people. The people from the Mon tribe initially came from the southern part of Burma and reside as far as northeast India.
The people from the Mon tribe have their own values, cultural beliefs, dance, customs and festivals. If you are staying at a floating raft, your hosts are probably the Mon people. I loved the way they dressed and were always polite and had a smile on their face.
Our hotel also had a dance/music performance at night performed by the Mon people in their local dance form. You can also visit a Mon village in the area and maybe interact with a few people.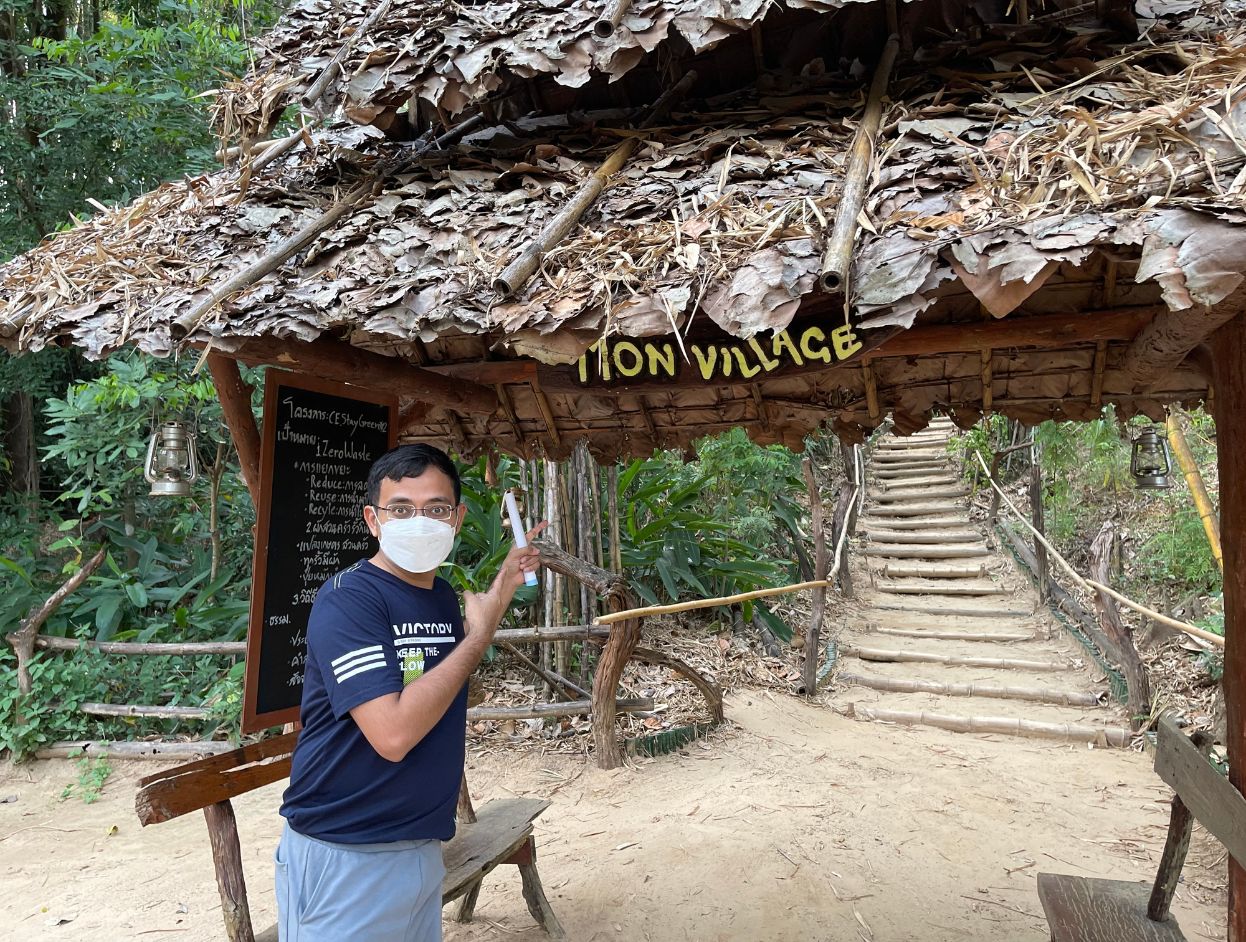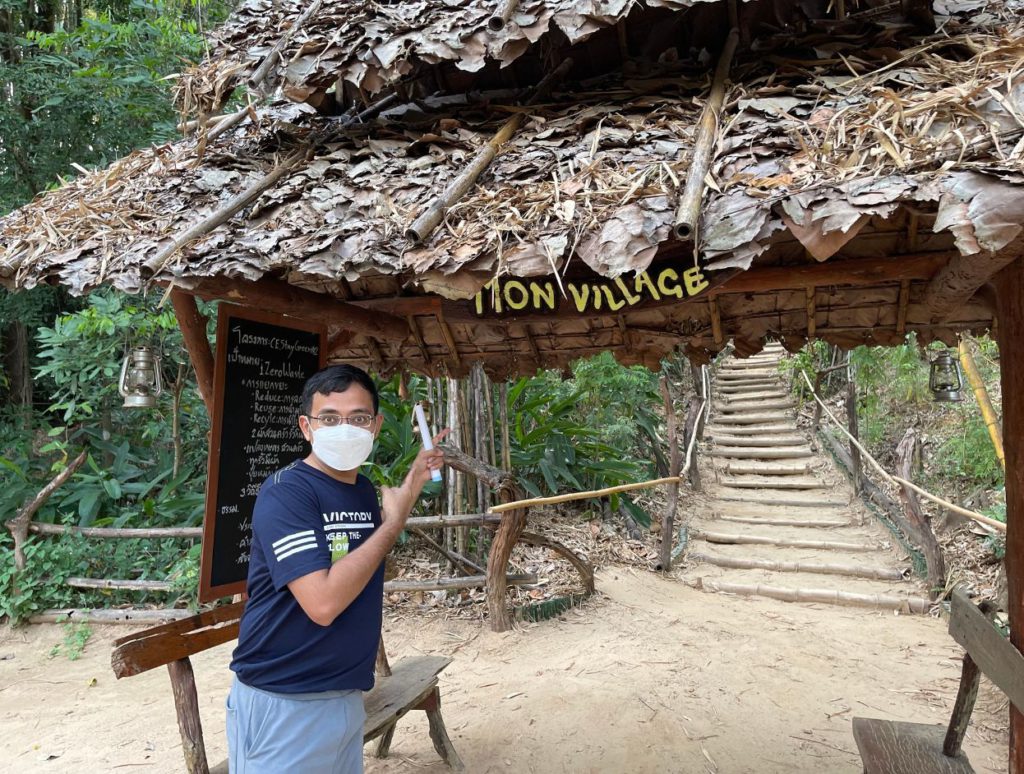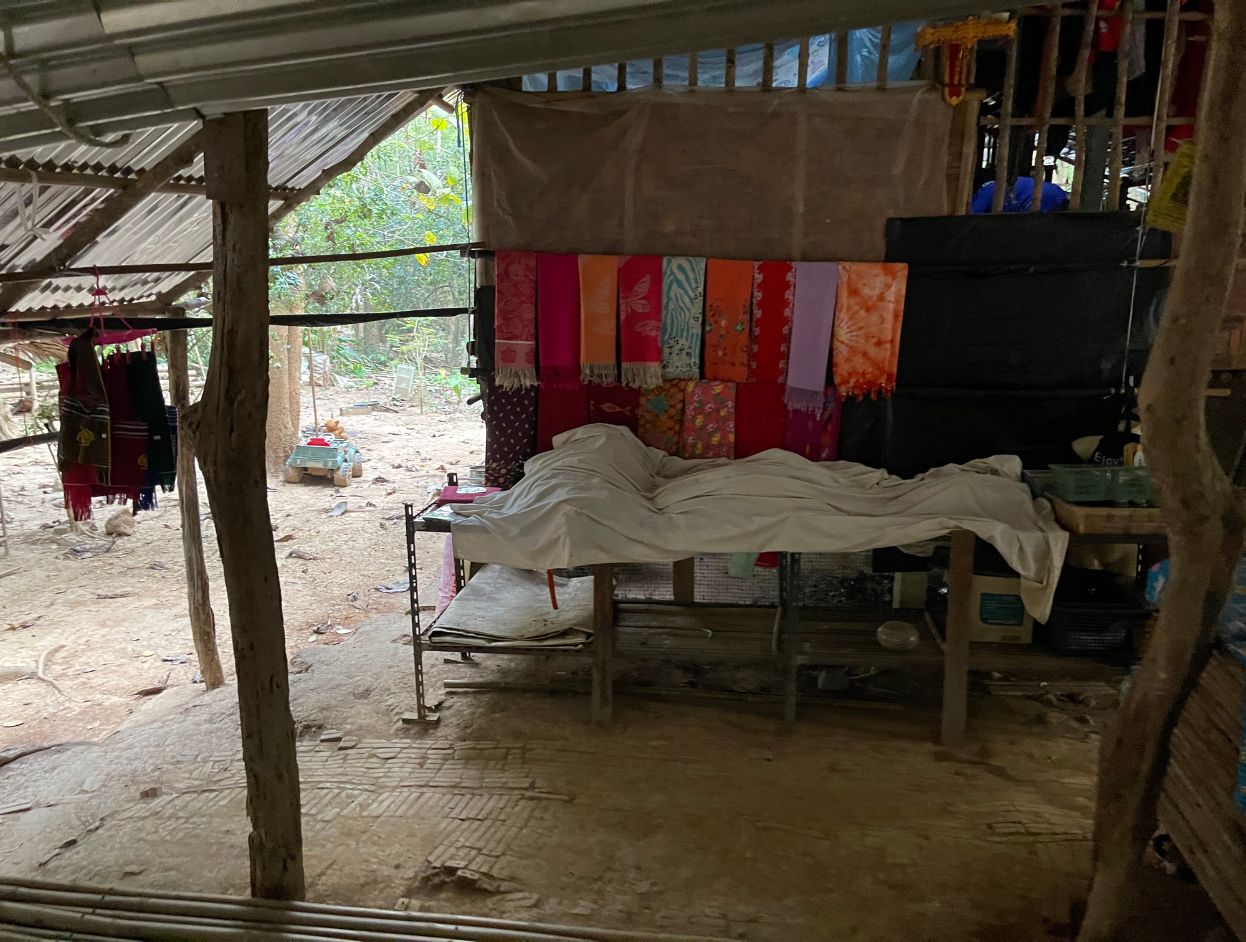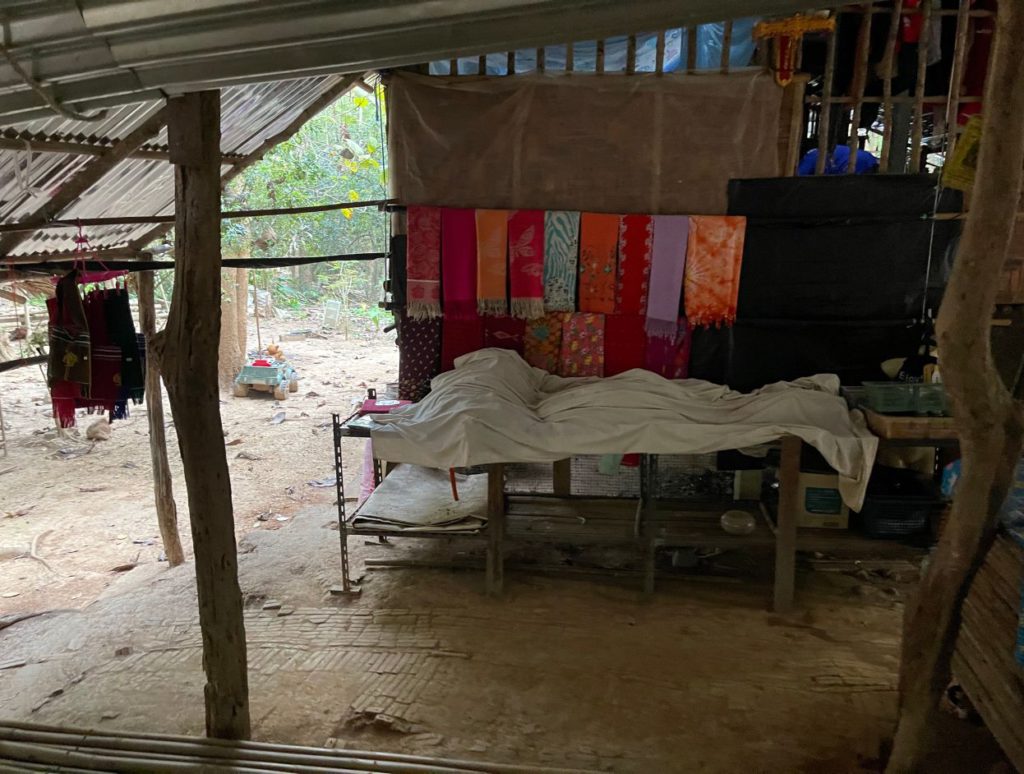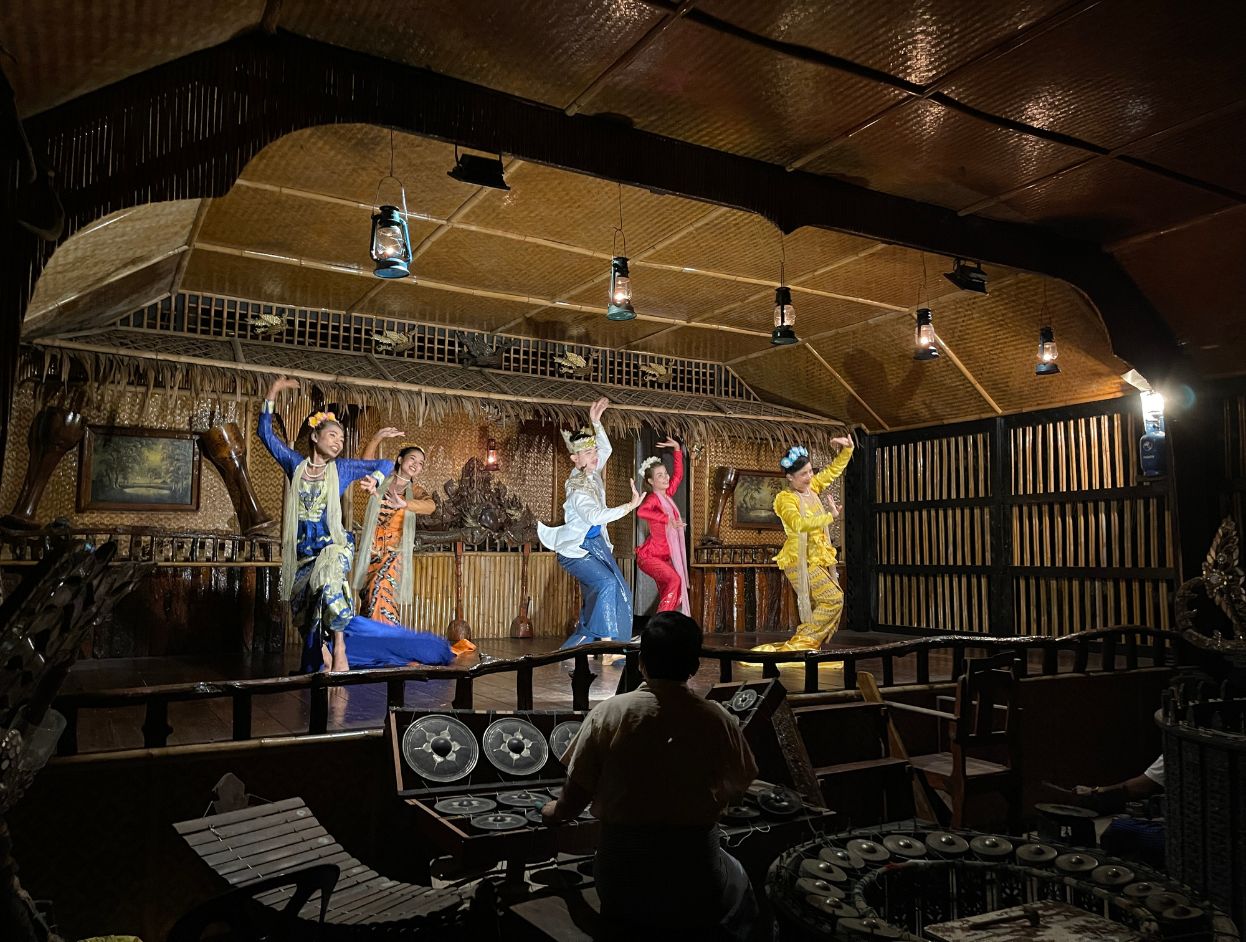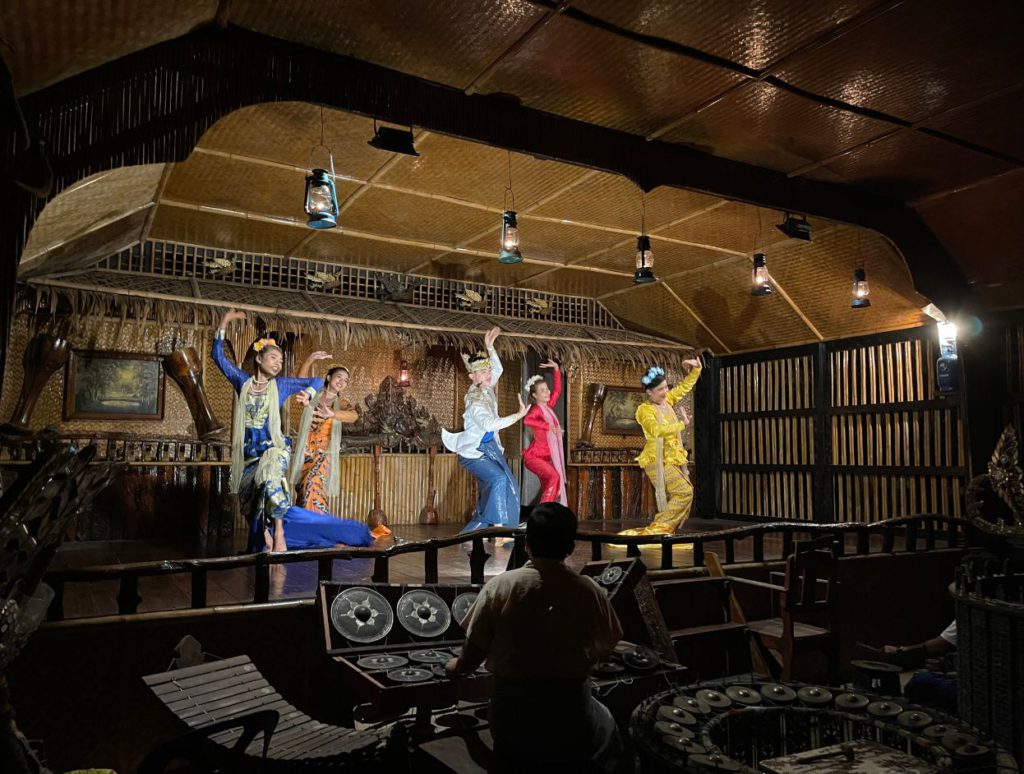 Related Articles