18 Feb

The Best things to do in Ayutthaya, Thailand

While I love history, I know that most people don't. Hours after hours of looking at temple ruins, ummm… there are far better things to do in Thailand you'd say. But bear with me as I take you through the best things to do in Ayutthaya and I promise to make it as interesting as possible.

I myself have procrastinated going to Ayutthaya for over a year. I would rather go to the national parks in Thailand. But as I finished my weekend trip to Ayutthaya, I think it wasn't bad. It is quiet and a laidback city that has travelled all the way through the history of Siam Empire.

To be honest, I think it was somewhat a mix of the Angkor Wat in Cambodia and Anuradhapura in Sri Lanka.

If you are planning to travel by yourself, here is everything you need to know about visit Ayutthaya.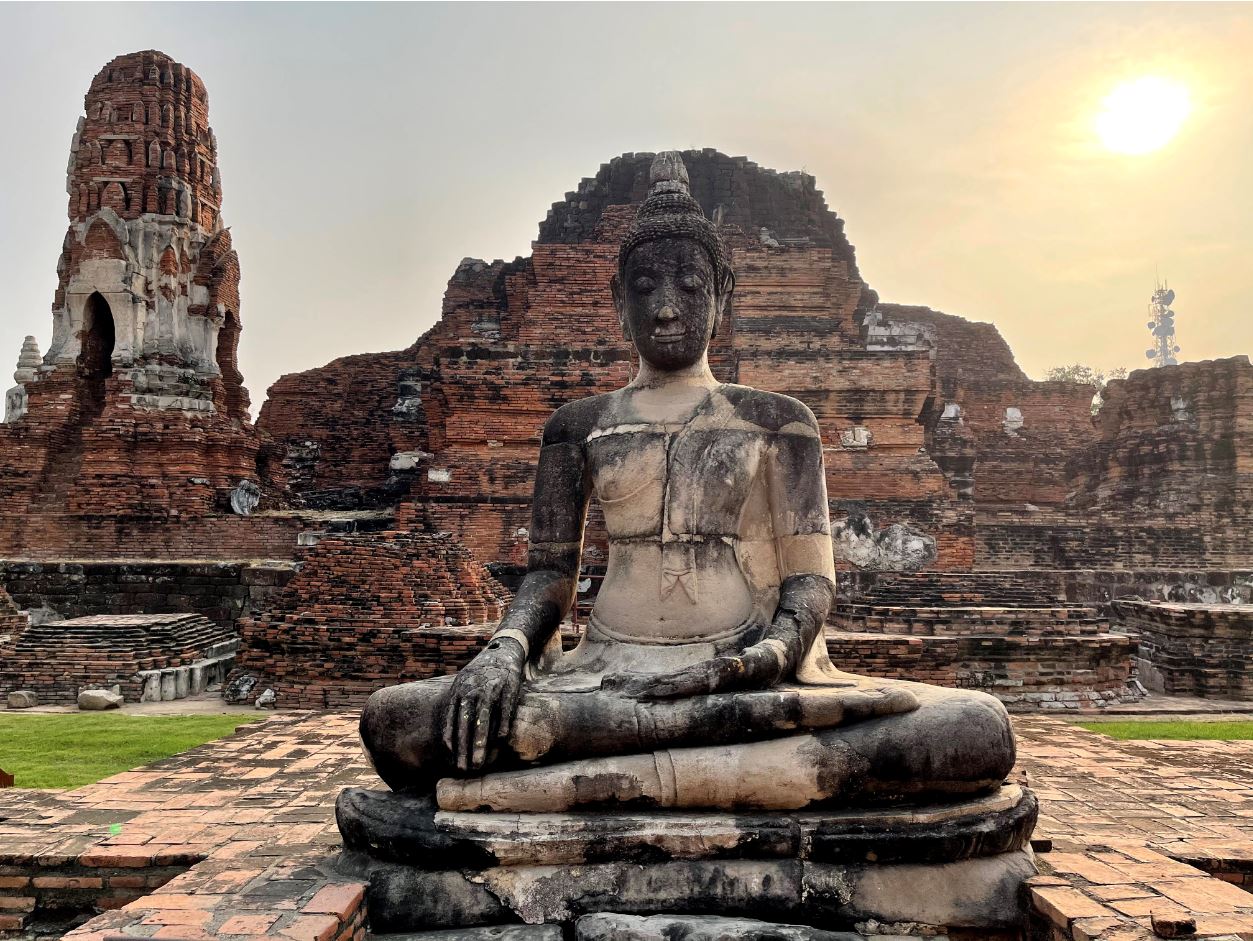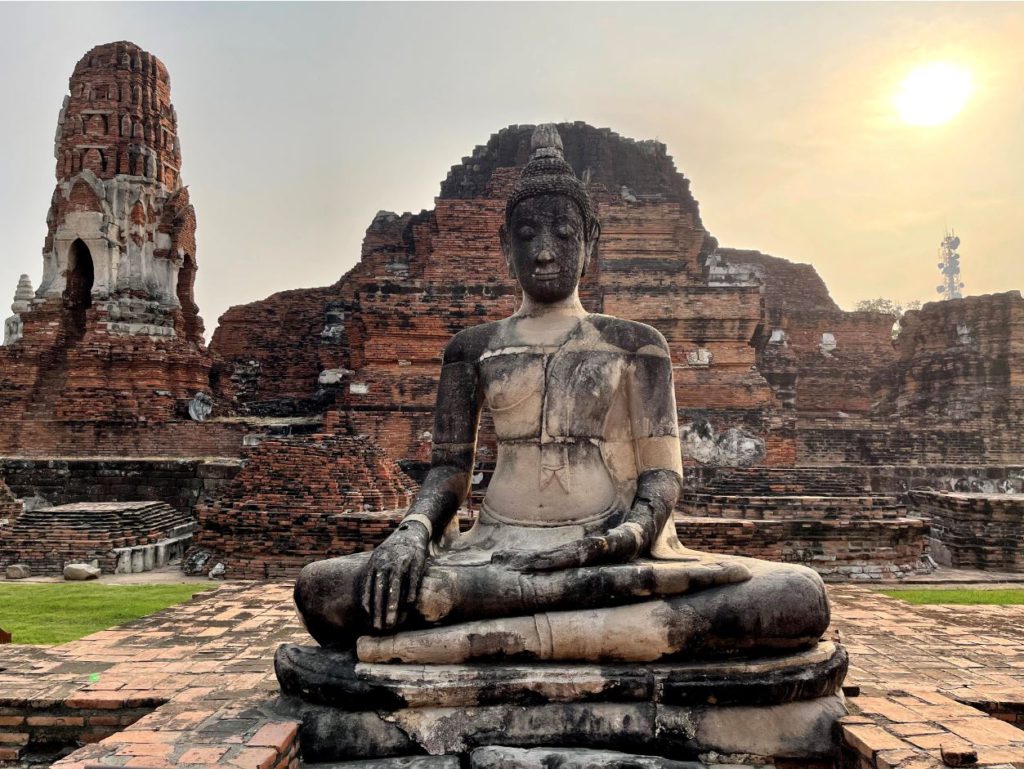 Why is Ayutthaya important
Ayutthaya, named after the holy Hindu city of 'Ayodhya', is extremely important to Thailand as the former capital before Bangkok. Technically, it was Thonburi before Bangkok but now it is a pretty much a part of the city right across the Chao Phraya River.
The city of Ayutthaya was in existence from the 14th to the 18th century and lasted for 417 years. The kingdom spanned around central Thailand excluding the present-day Chiang Mai area (that was under the Lanna Kingdom) to the Malay peninsula in the south. During the 17th century, its riches and prosperity were at peak with trading routes with the French, Japanese, Holland and China.
Ayutthaya fell into a civil war with the Burmese empire. It was the Burmese who invaded the city, burned and looted it leaving only the skeletons of a glorious empire.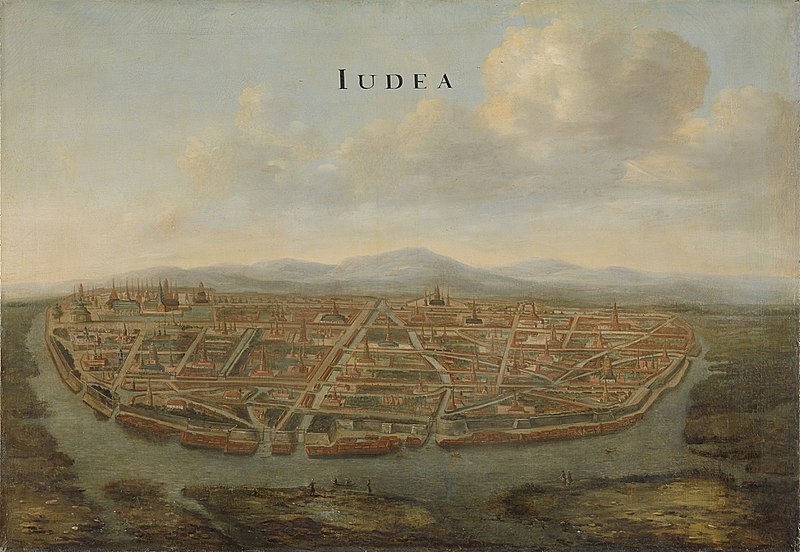 Where is Ayutthaya located?
Ayutthaya is 82 km north of Bangkok city and takes about an hour and a half to reach by road. The ancient city of  Ayutthaya or the 'Ayutthaya Historical Park' lies in the centre surrounded on all sides by Chao Phraya River and its tributaries making it somewhat of an island.
A large part of the modern city is on the east of the Ancient city with several restaurants, bars, hotels and markets.
How to reach Ayutthaya
If you are travelling from Bangkok, you can easily take a guided day-tour to Ayutthaya that is both affordable and convenient. They pick up to take you around and drop you usually with an English speaking guide. If you want something more personal, take a taxi that costs around THB 2,500 for a round trip.
If you want to travel cheaply and at your own pace, you can take a train from Bang Sue railway station to Ayutthaya. Or you can also take a bus or a minivan from Mo Chit Bus terminal.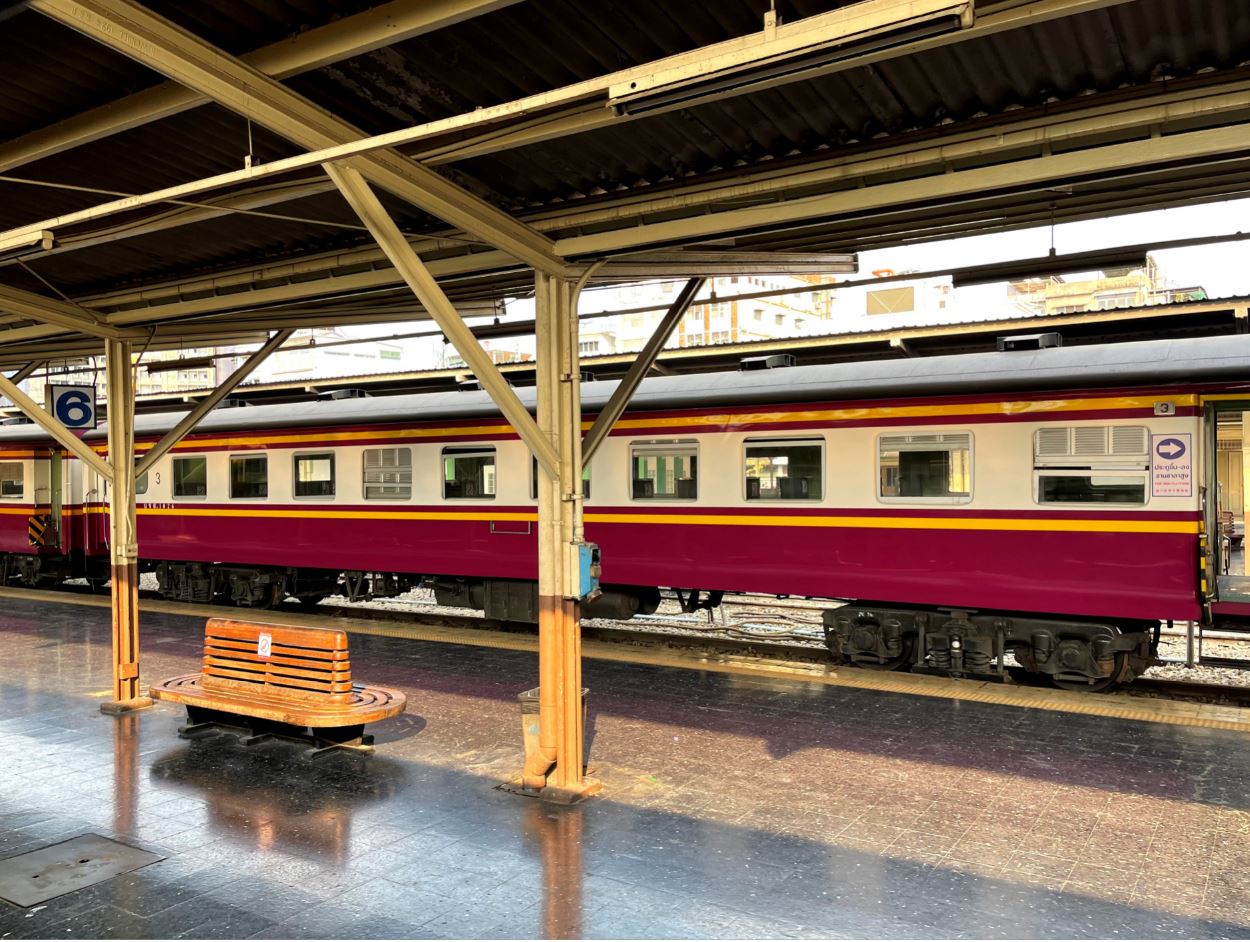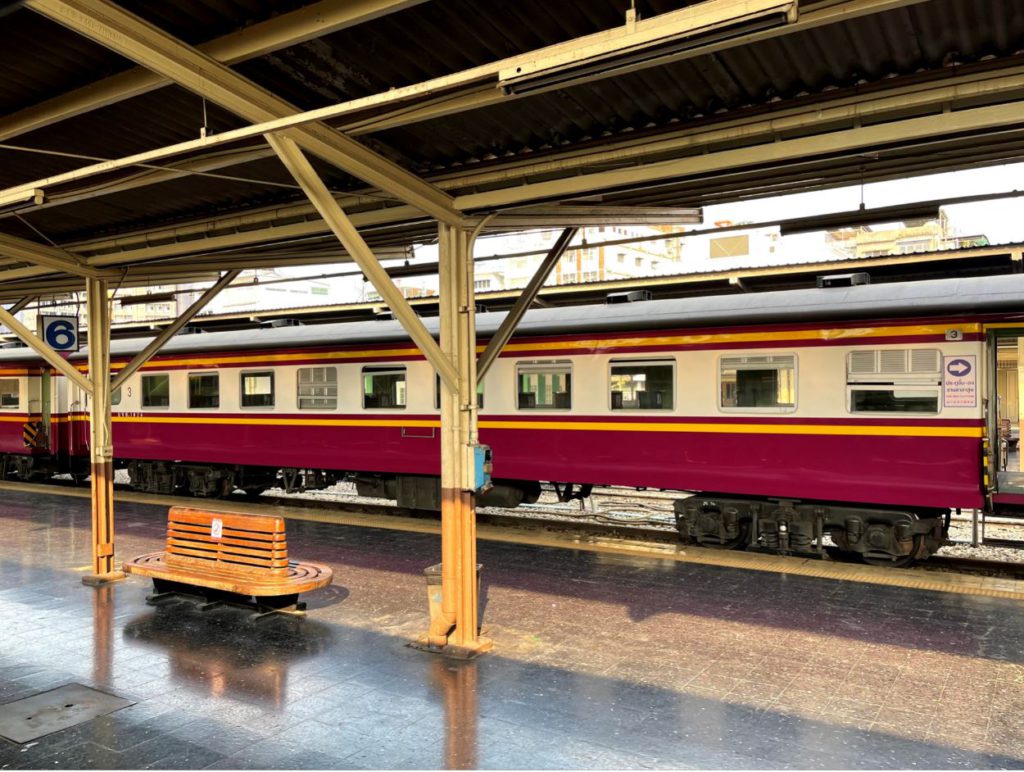 How to go around Ayutthaya
If you aren't taking a guided tour or a taxi you can rent a two-wheeler right opposite the railway station that costs between THB 200-300 per day. You can also rent bicycles in the city from any shop or your hotel since the city is extremely bicycle-friendly.
Tuk-tuks also run across the city and you just hail a moving one on the road or outside the train and bus station. Gab taxi are available too but are pretty sparse.
Check out our detailed blog if you want to read more on how to reach Ayutthaya and how to go around.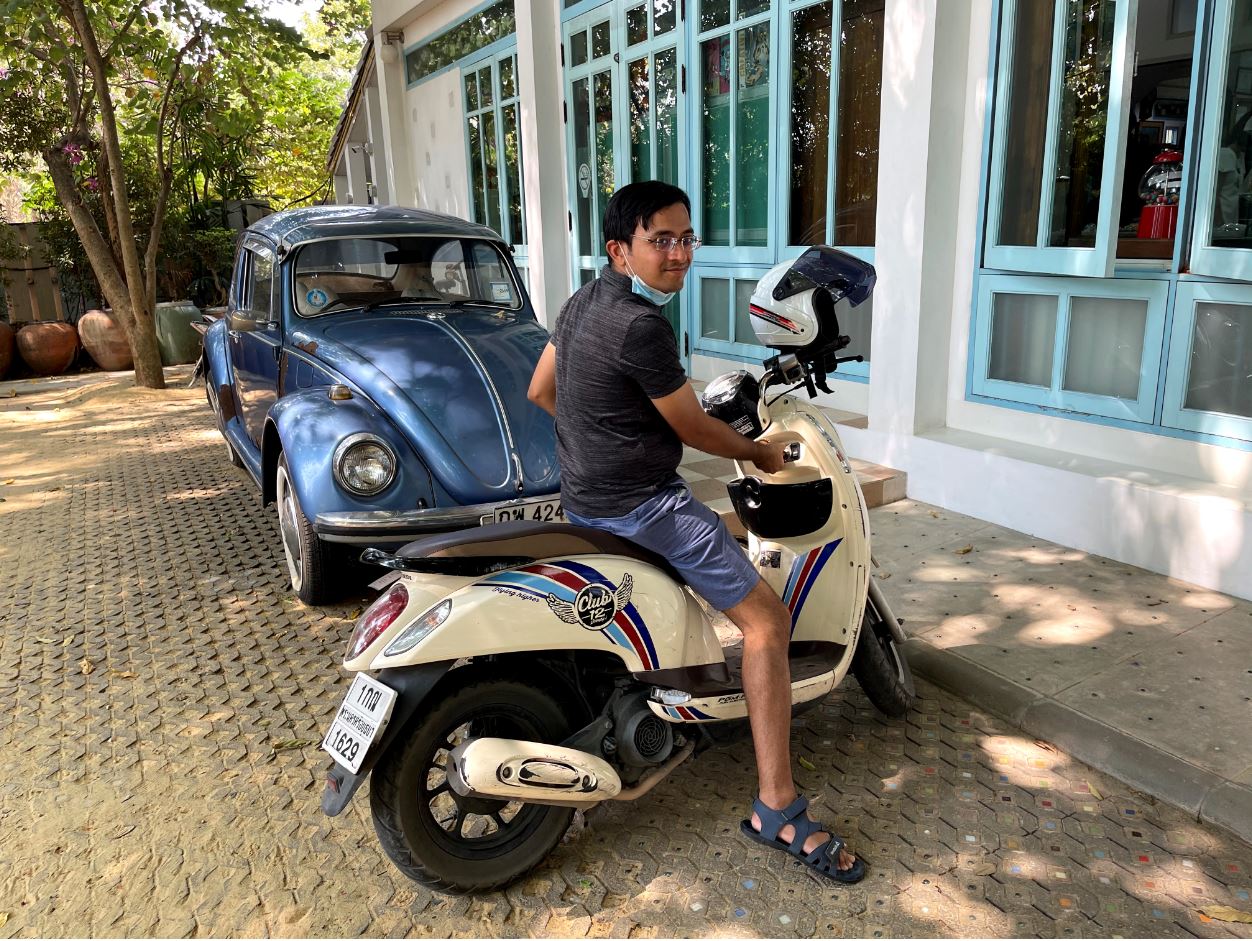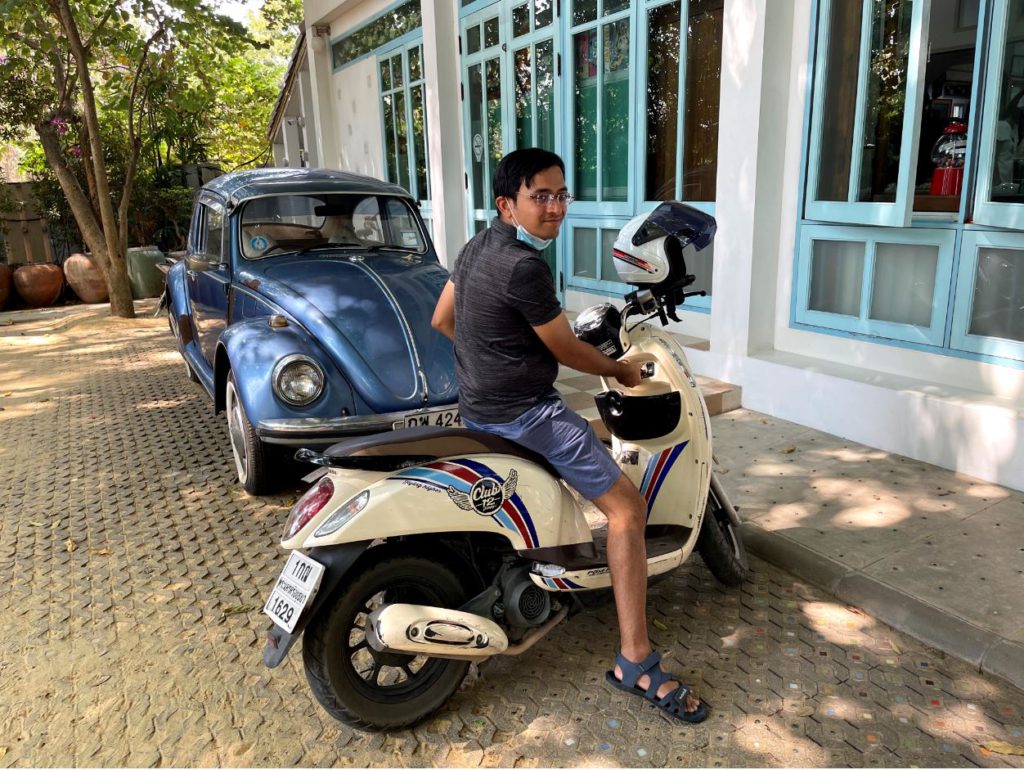 Best Places to see in Ayutthaya
Inside Ayutthaya Historical Park
The Ayutthaya Historical Park is the centre of the town with the most important sites concentrated in an area. There are four temples inside the historical park and several other outside the island town. But unless you are a history buff, I suggest you check out just these and I think that will suffice your curiosity.
There are separate entry charges for each temple and you can buy a ticket right at the counter. The price is usually fixed at THB 10 for Thai nationals and THB 50 for foreigners. However, you can also buy a single ticket for THB 220 from these counters that are valid for 6 locations. Works well if you are planning to visit all the temple ruins.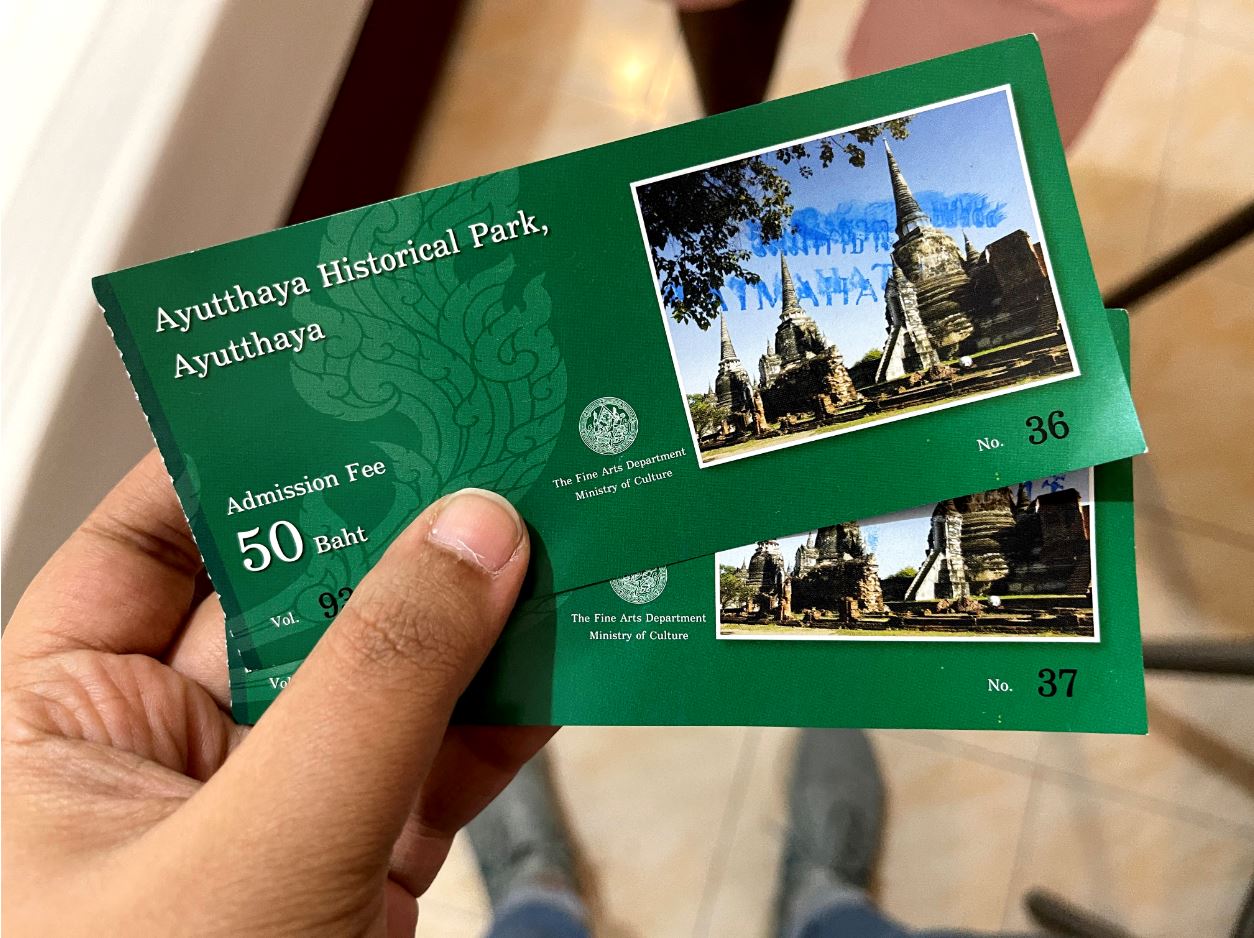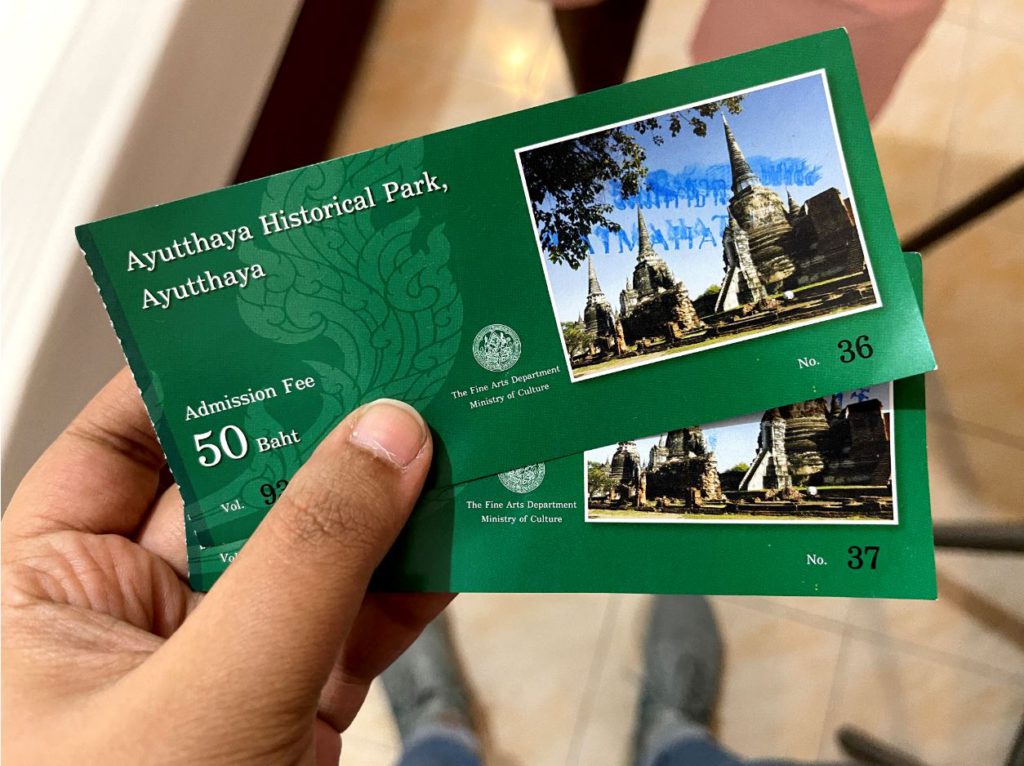 Wat Phra Si Sanphet
This is one of the two important temple areas (other being Wat Maha That) and you should definitely not miss it. As you reach the premise you will find a bustling market outside where you can sit for a meal, snacks or buy some traditional souvenirs.
Wat Phra Si Sanphet was a palace before. But it was converted into a holy site and a temple of the highest order. A new palace was built right next to it called Muang Boran. While the Burmese burned the to the ground, you can see a detailed life-sized replica at the Ancient City in Samut Prakan.
Today, only the brick and stone structure of the grand temple remains. There is a miniature of the temple that predicts how the whole structure would look like. You can use an app called AR smart heritage that tries to do a 3D (pretty inaccurate) rendering of the ruins using VR.
Do make a stop at Wihan Phra Mongkhon Bophit right before the entrance. It is home to a very large Buddha statue recovered and reconstructed from the ruins.
Wat Phra Si Sanphet ticket prices: THB 10 for Thai nationals and THB 50 for foreigners
Wat Phra Si Sanphet timings: Open from 8 am to 4.30 pm every day of the week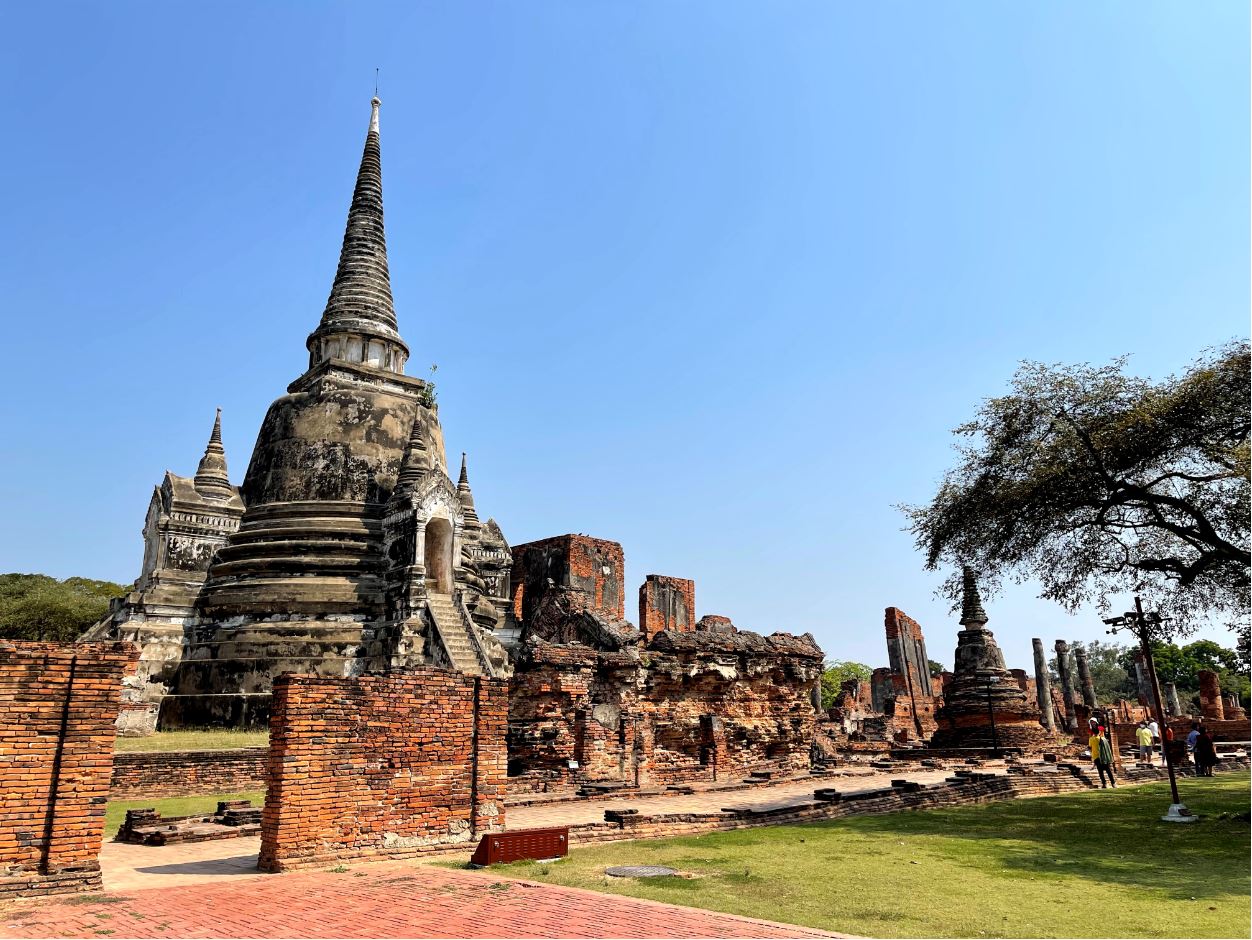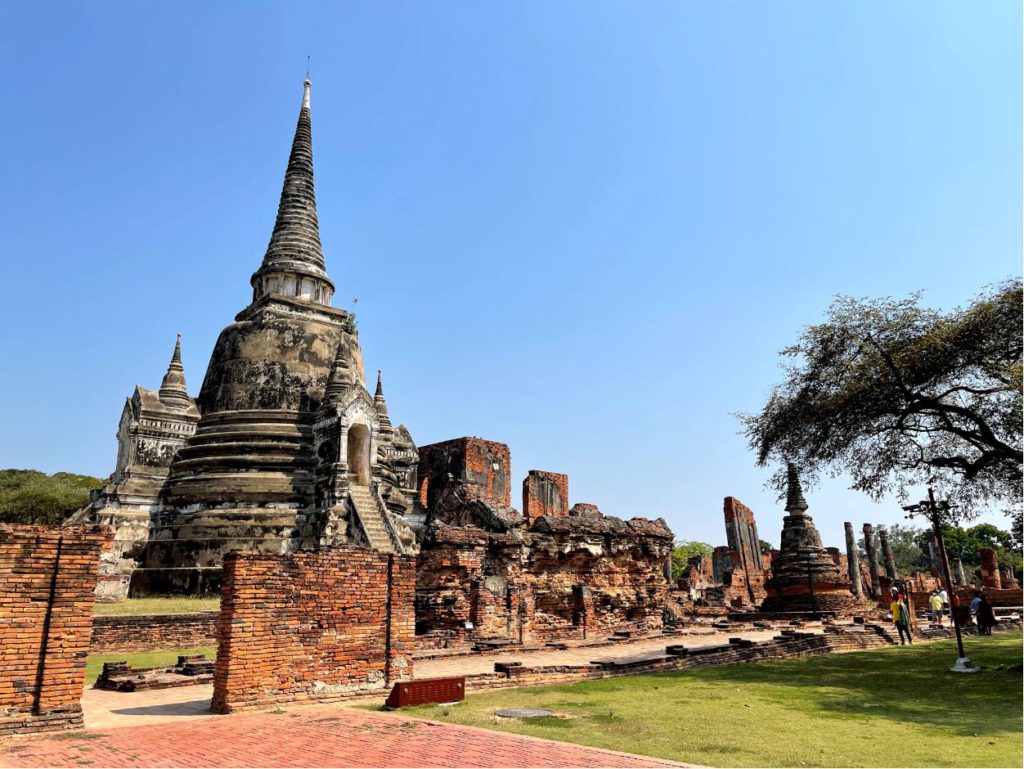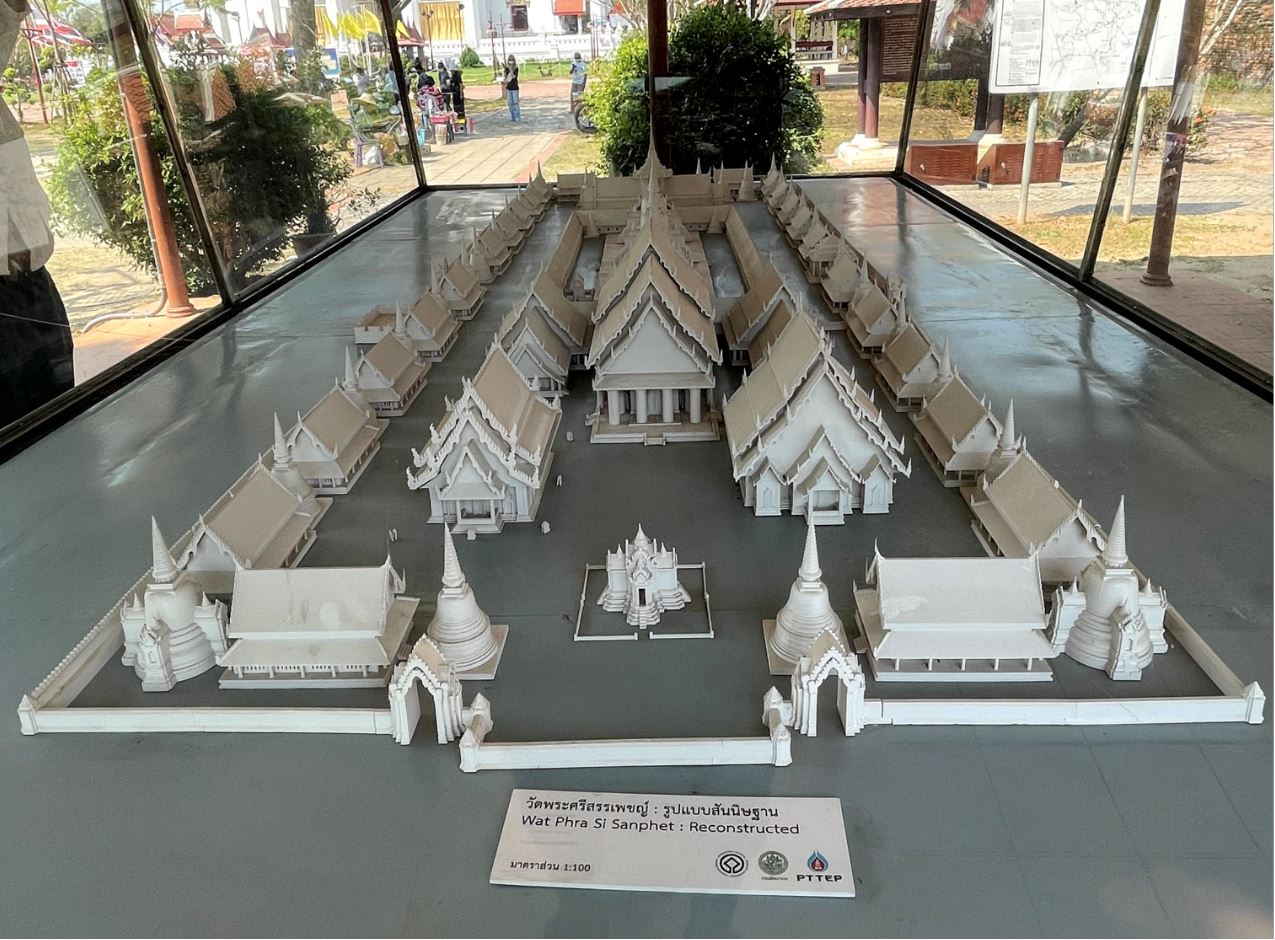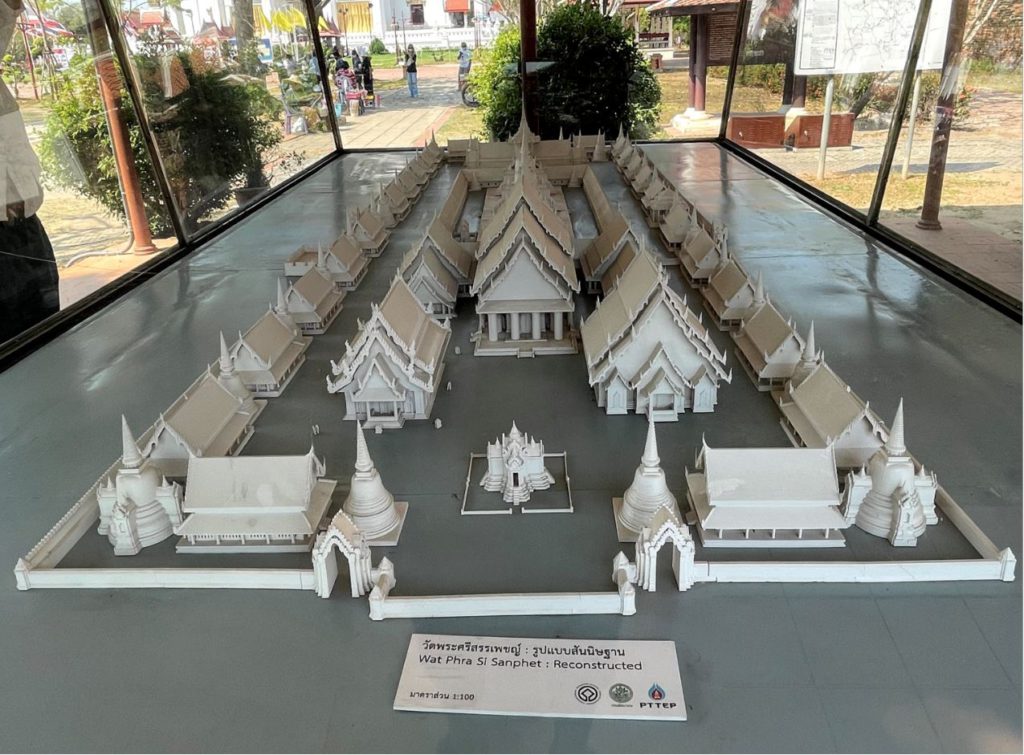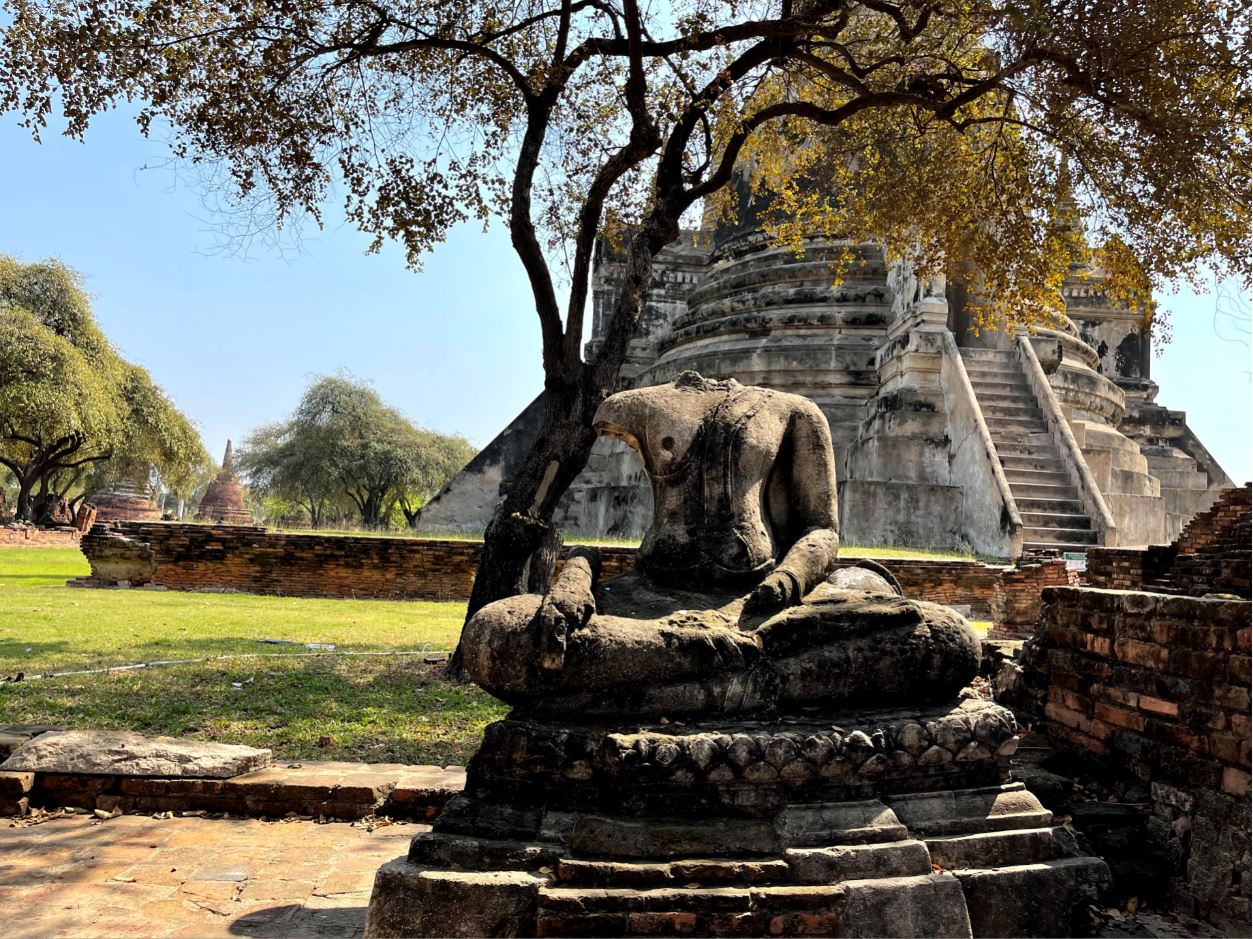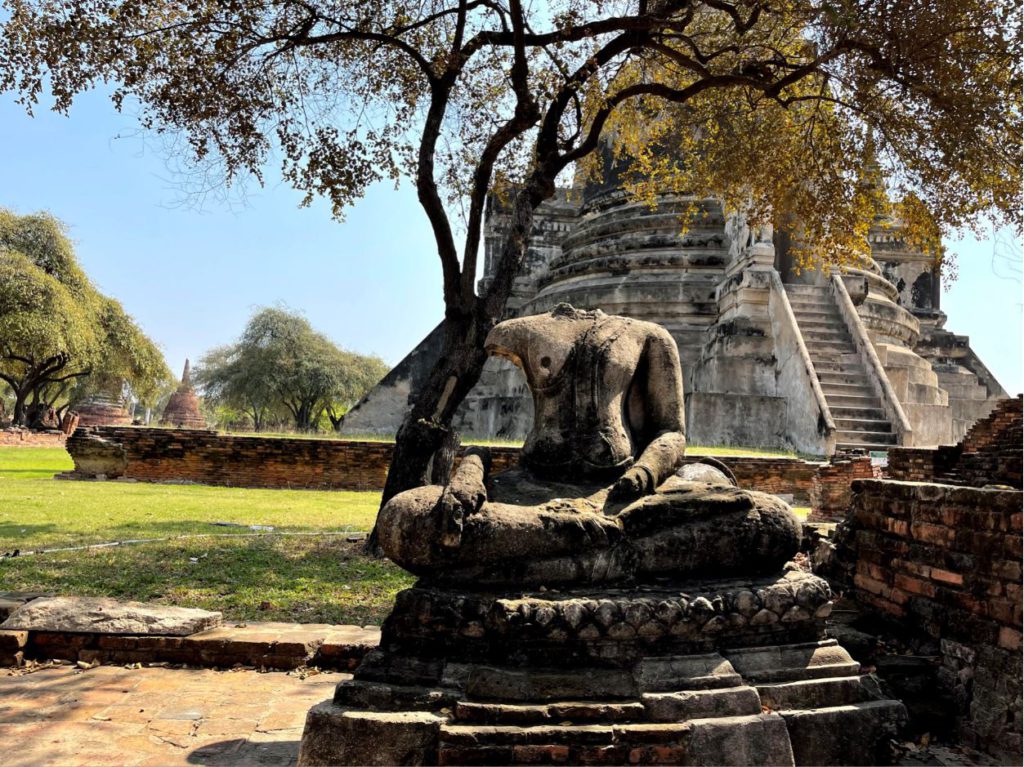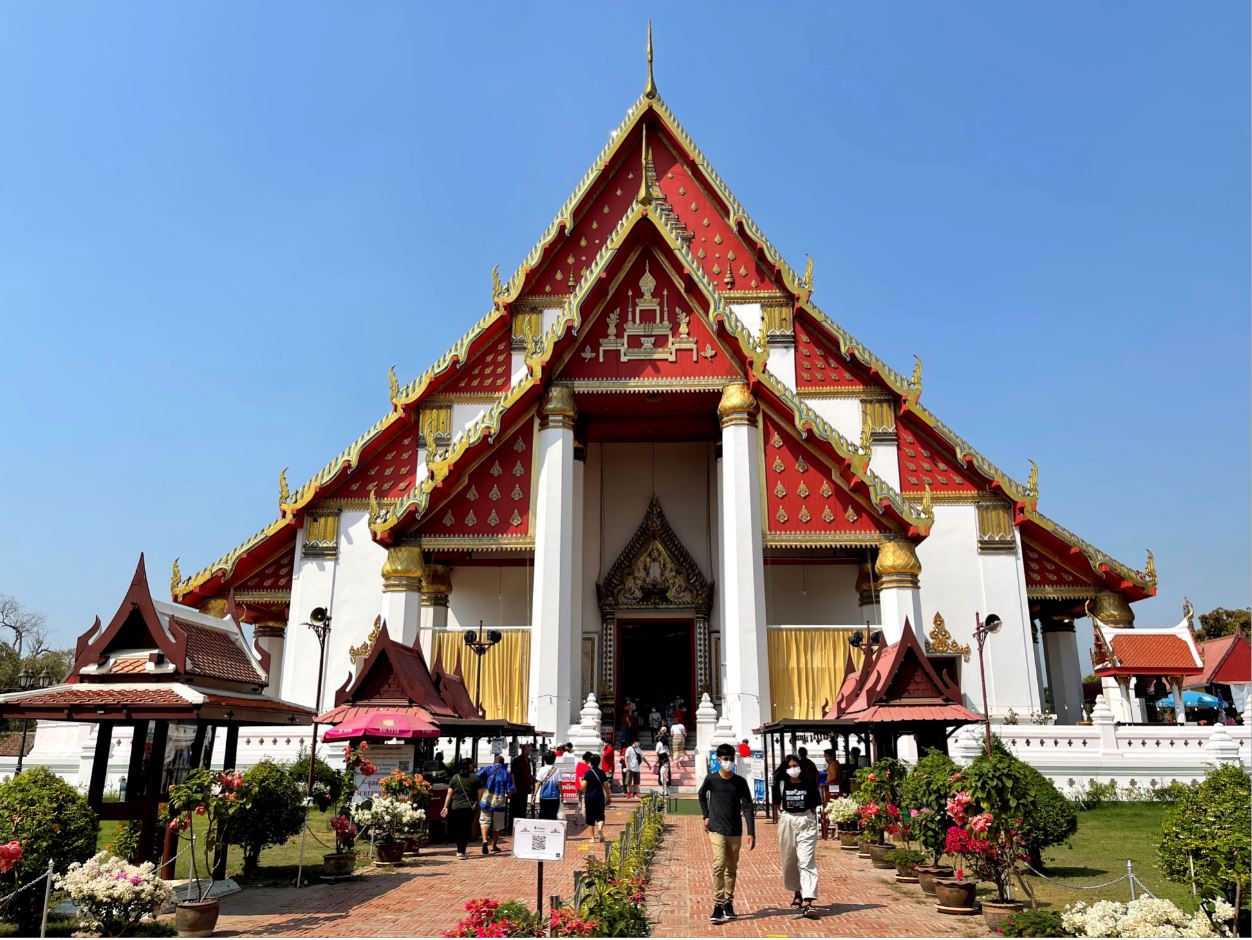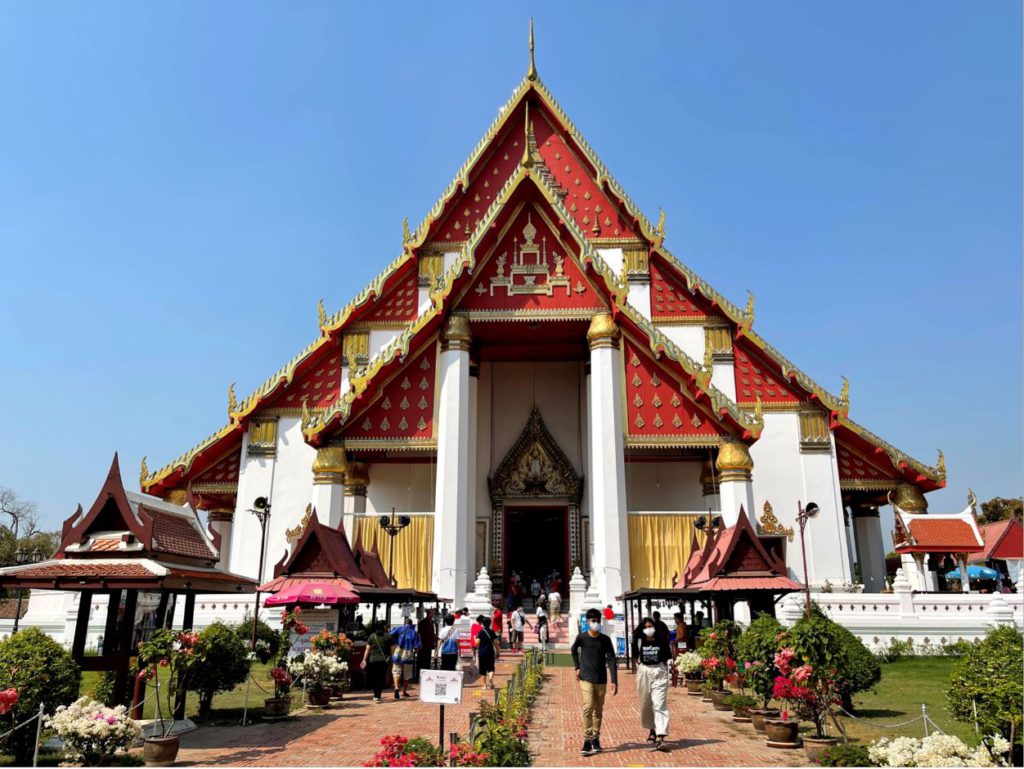 Wat Phra Ram
Rather small in compared to Wat Phra Si Sanphet, Wat Phra Ram is striking due to its tall prang (the conical structure in the middle). Such prang is a common feature in several Indian and Cambodian (Khmer) temples of a similar or earlier time.
The temple is a very near to Wat Phra Si Sanphet and if the gate between the two is open you can even walk to it. This was the burial ground for one of the kings of the Ayutthaya period.
A small lake behind the temple ruins provides a view and a bit of respite from the heat. It has been converted into a park and you can see locals walking around in the evenings with their dogs.
Wat Phra Ram ticket price: THB 10 for Thai nationals and THB 50 for foreigners
Wat Phra Ram timings: Open from 8 am to 4.30 pm every day of the week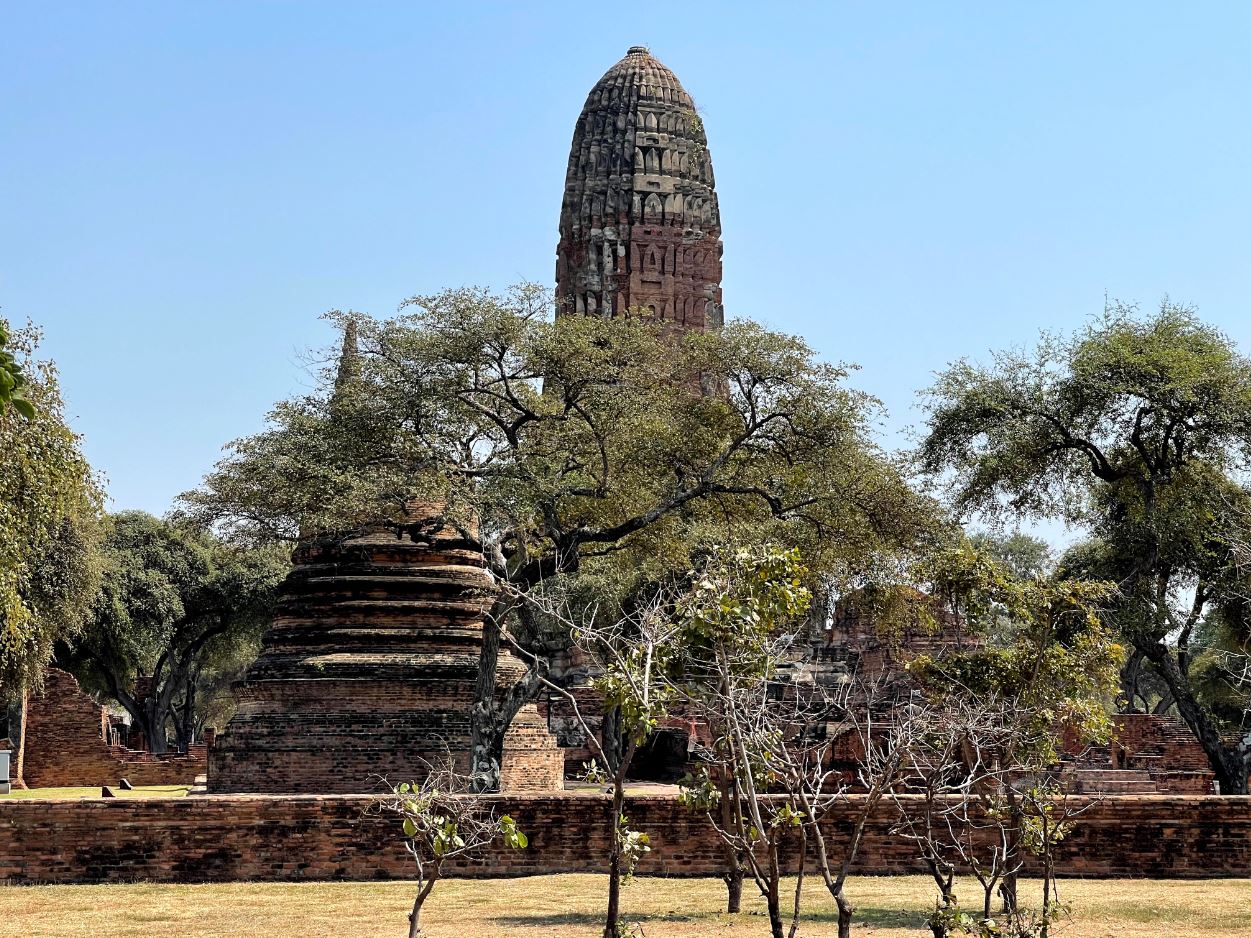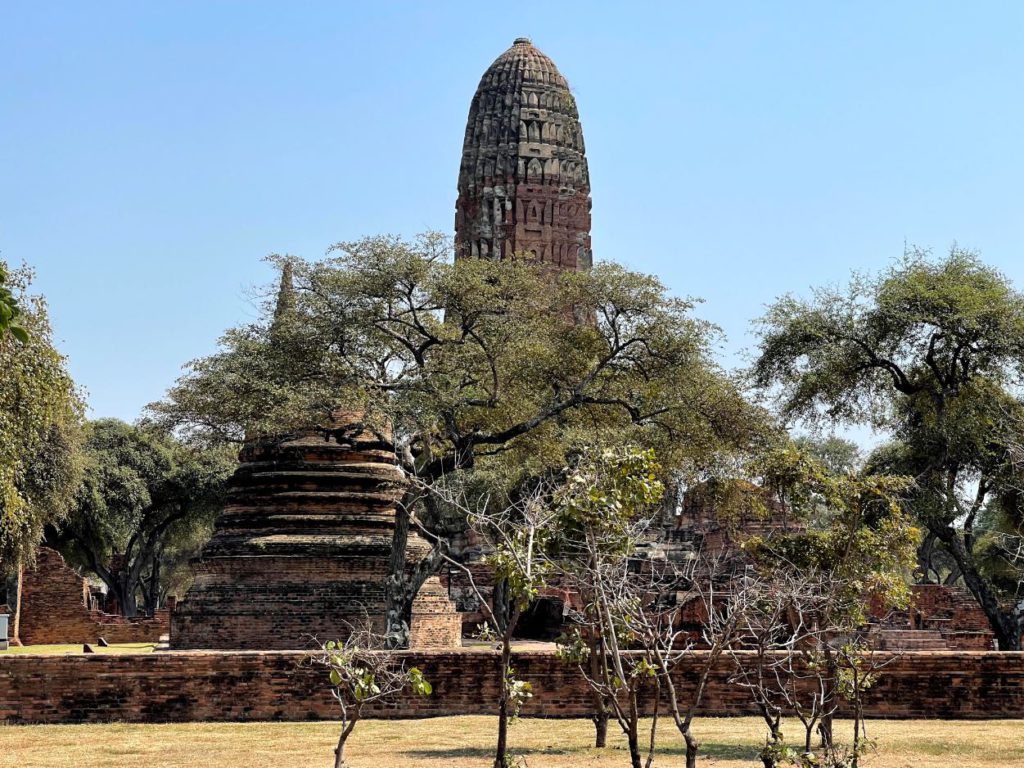 Wat Maha That
The premise of Wat Maha That is as grand as Wat Phra Si Sanphet with the remnants of a huge structure. A lot of it still remains. A miniature at the entrance shows how it would have looked like. It is also ground zero for Ayutthaya and once held the remains of Buddha.
Wat Maha That is most popular for a stone Buddha encapsulated by the thick roots of a tree. Although, the stone face of the Buddha looks comparatively paler than the surrounding ruins. To take a photo with it, you should kneel down on the pedestal in front of it.
Wat Maha That also has the burnt remnants of a series of Buddha statues in a square outer lobby with a prang in the middle. You can see a very similar structure at Wat Chai Watthanaram (read below).
Wat Maha That ticket price: THB 10 for Thai nationals and THB 50 for foreigners
Wat Maha That timings: Open from 8 am to 4.30 pm every day of the week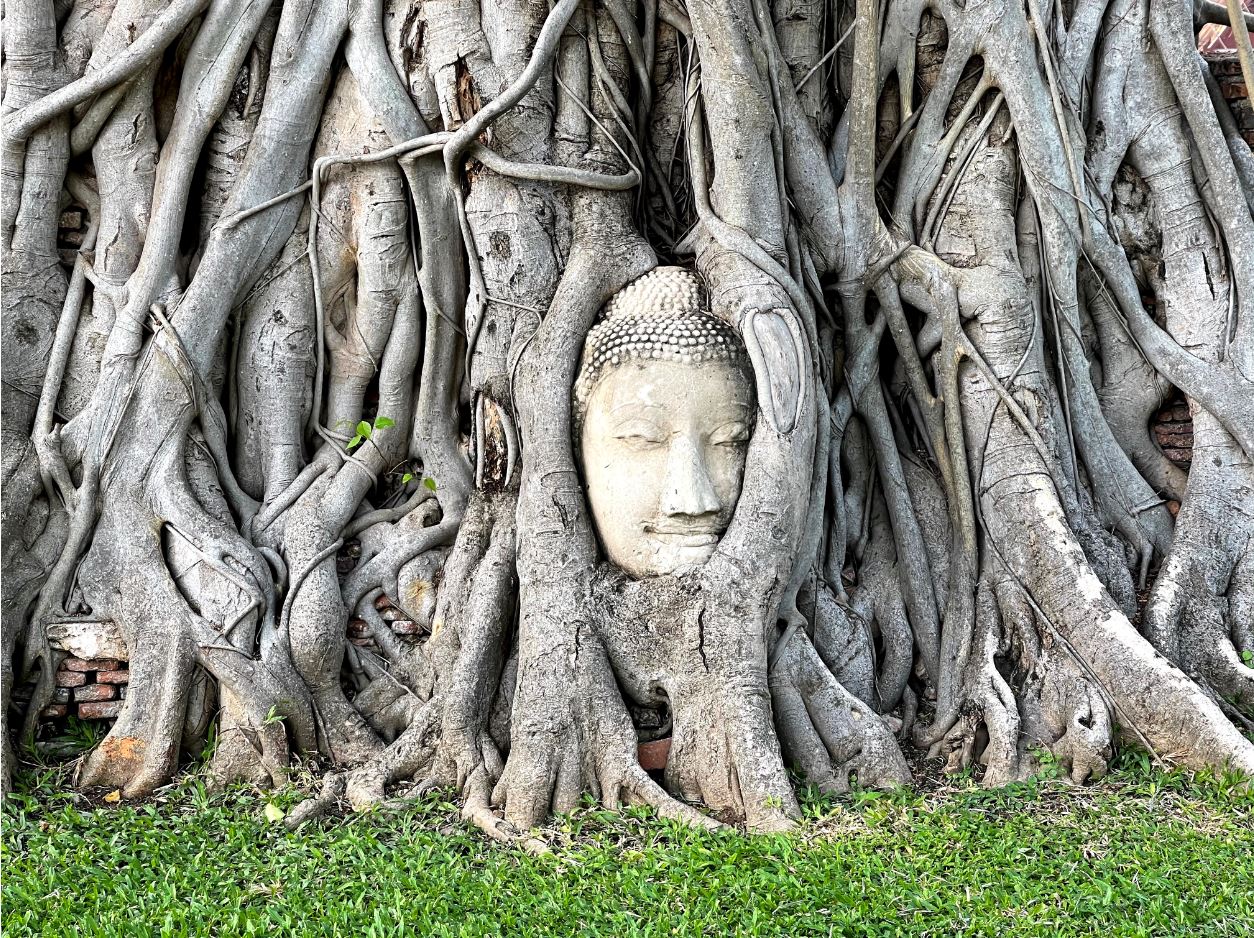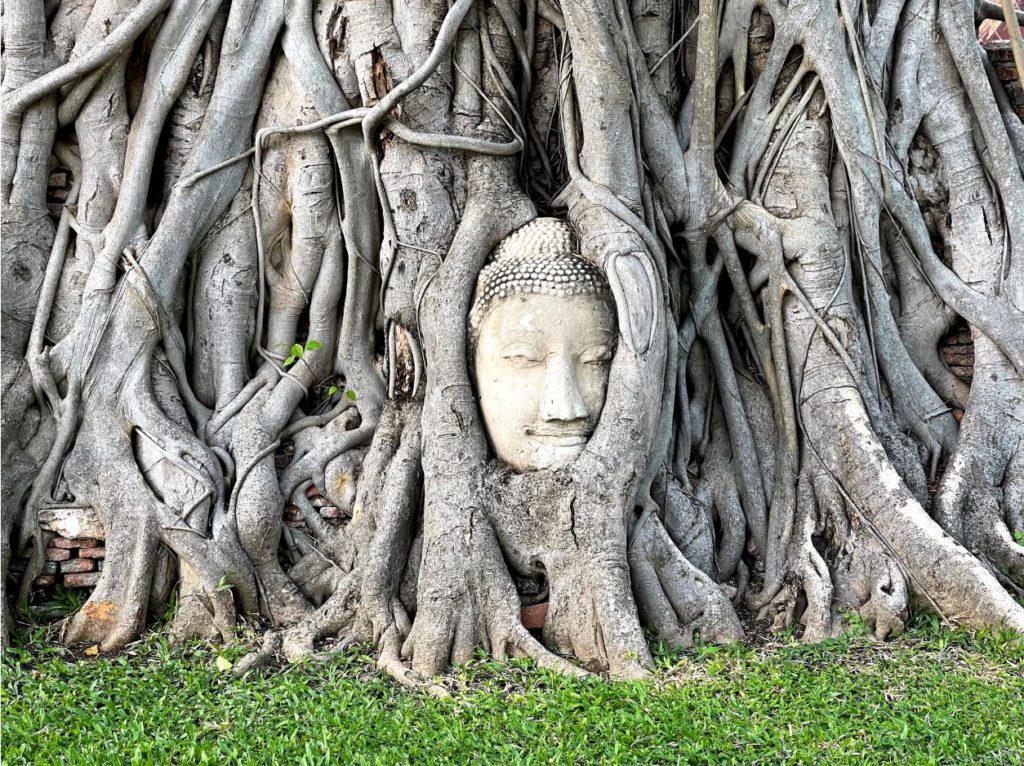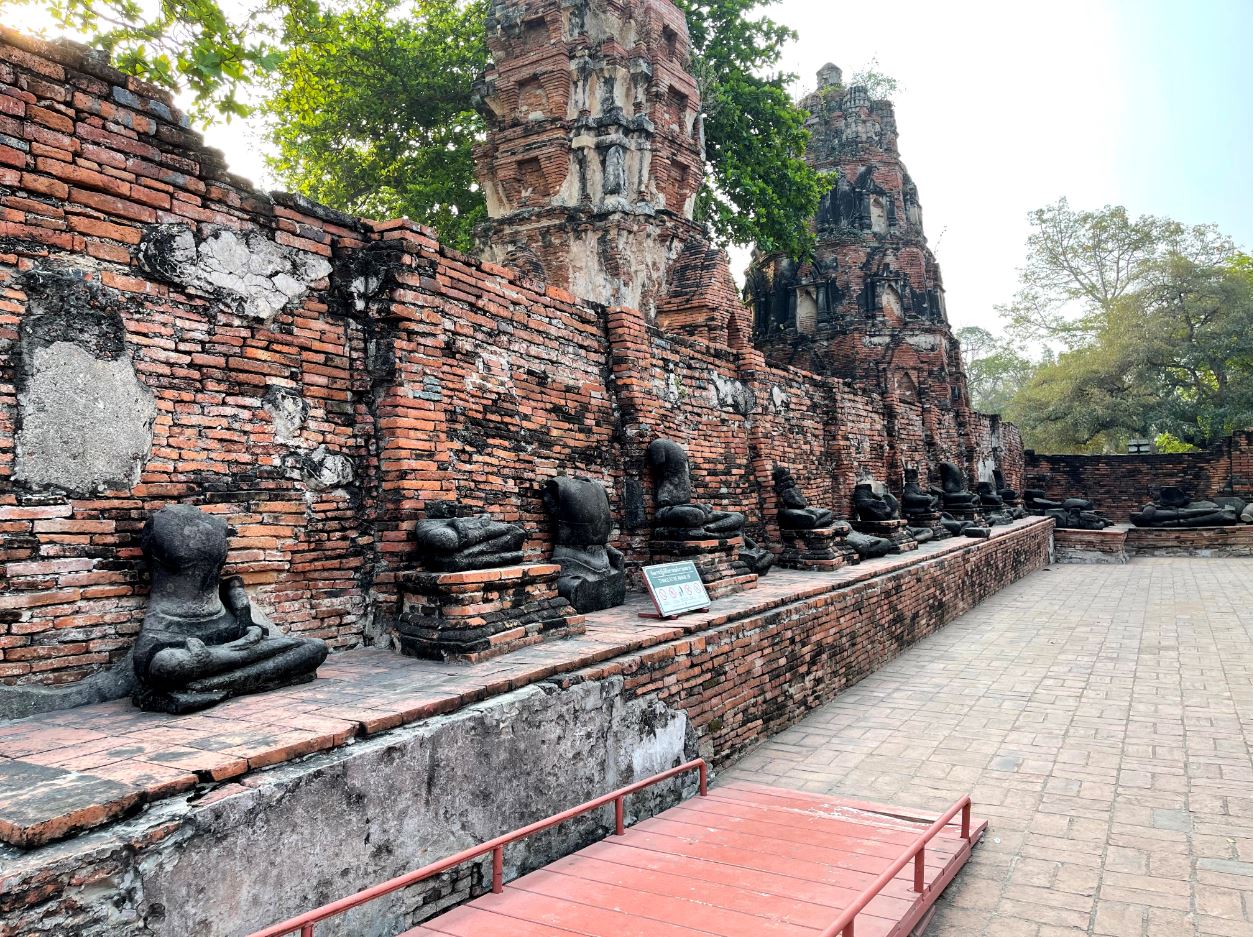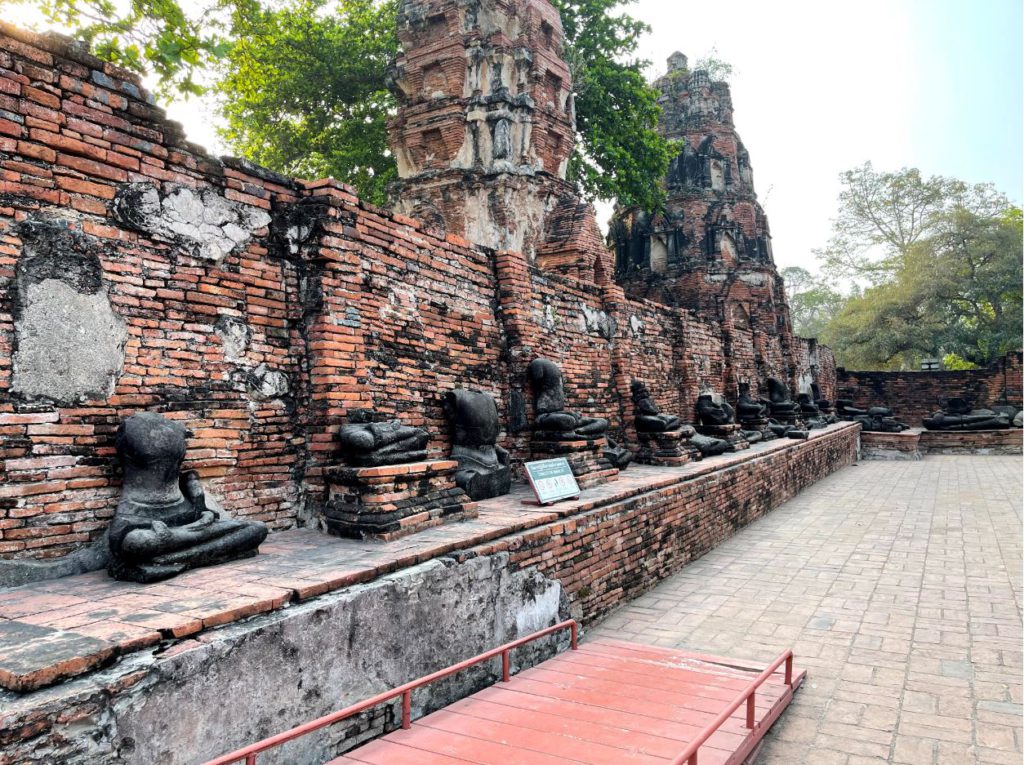 Wat Lokayasutharam
It is not usually on the top list of temples to see in Ayutthaya but I will put it here. It is because of this huge statue of reclining Buddha place right next to a passing road as if it was just so natural.
There is no premises here. There used to be a temple behind the statue and you can still see some ruins. But it is the statue of the Buddha that is worth a stop.
You do not need a ticket to enter. Just park your vehicle and take it all in. On special occasions, the statue is covered in yellow garb that looks especially stunning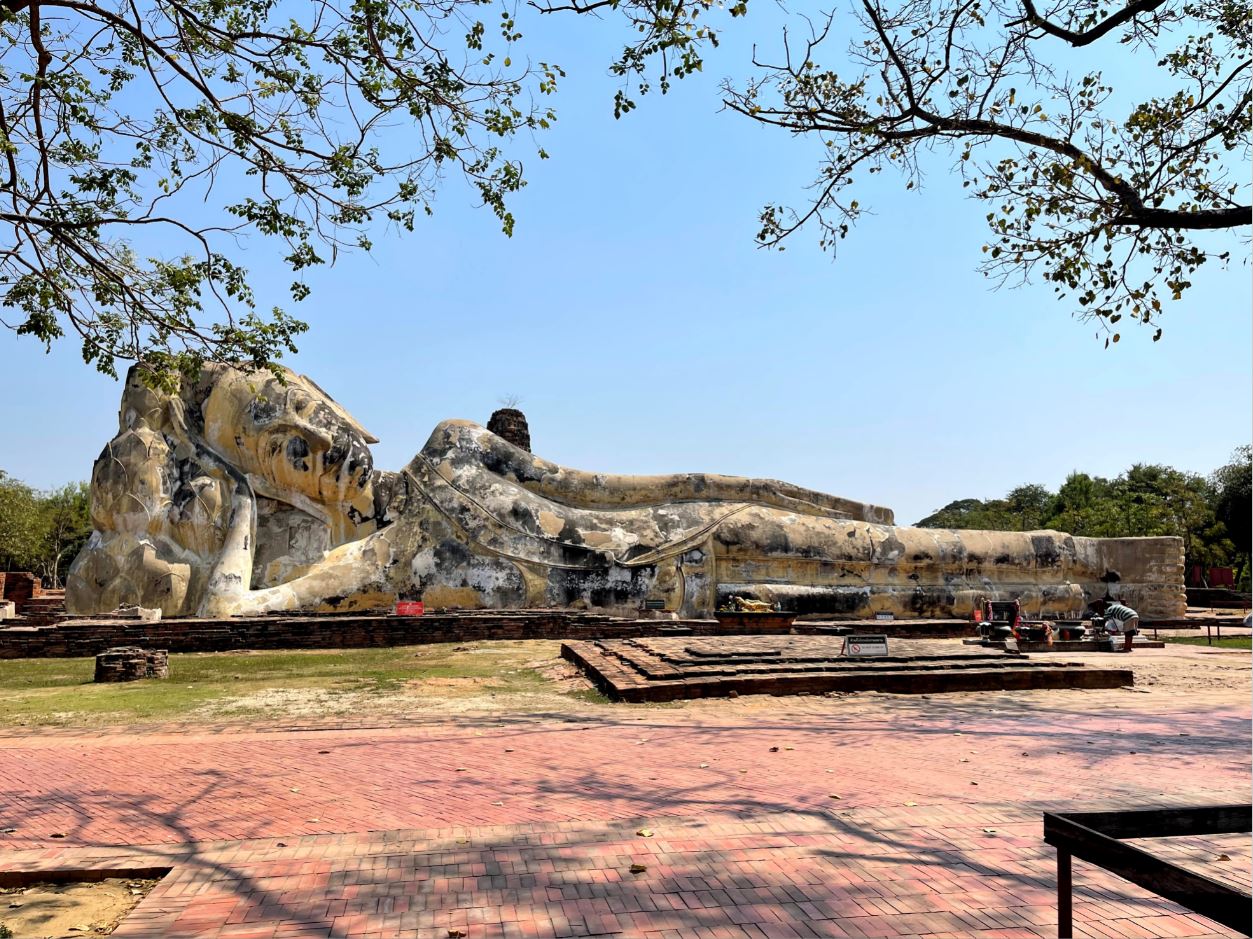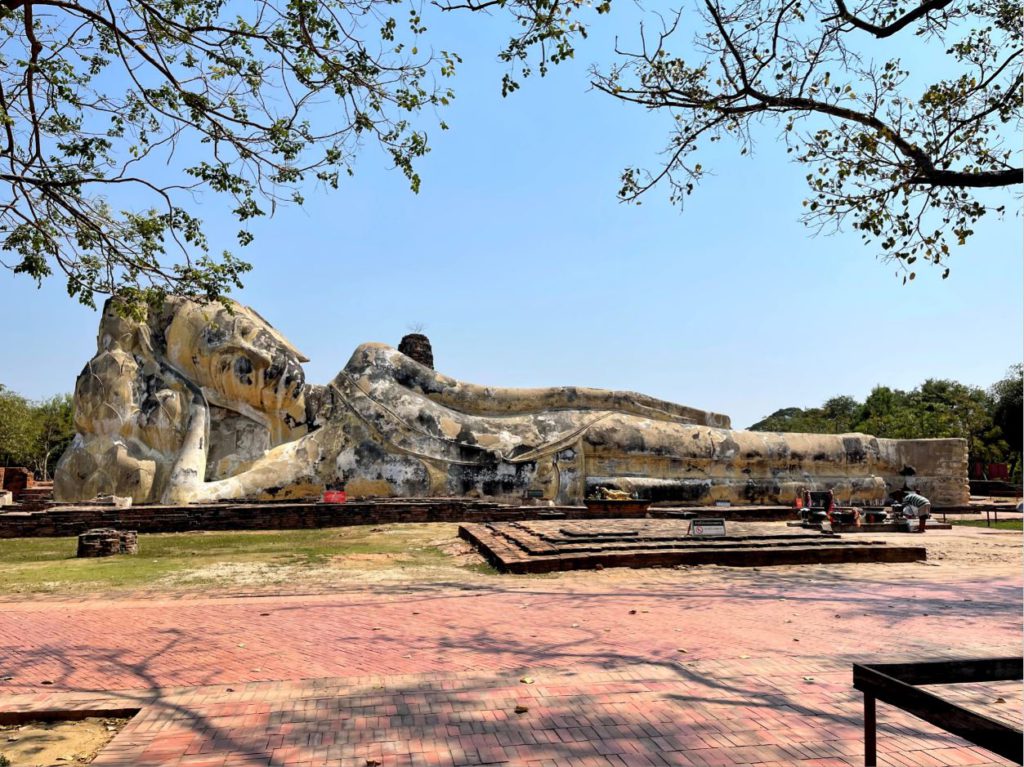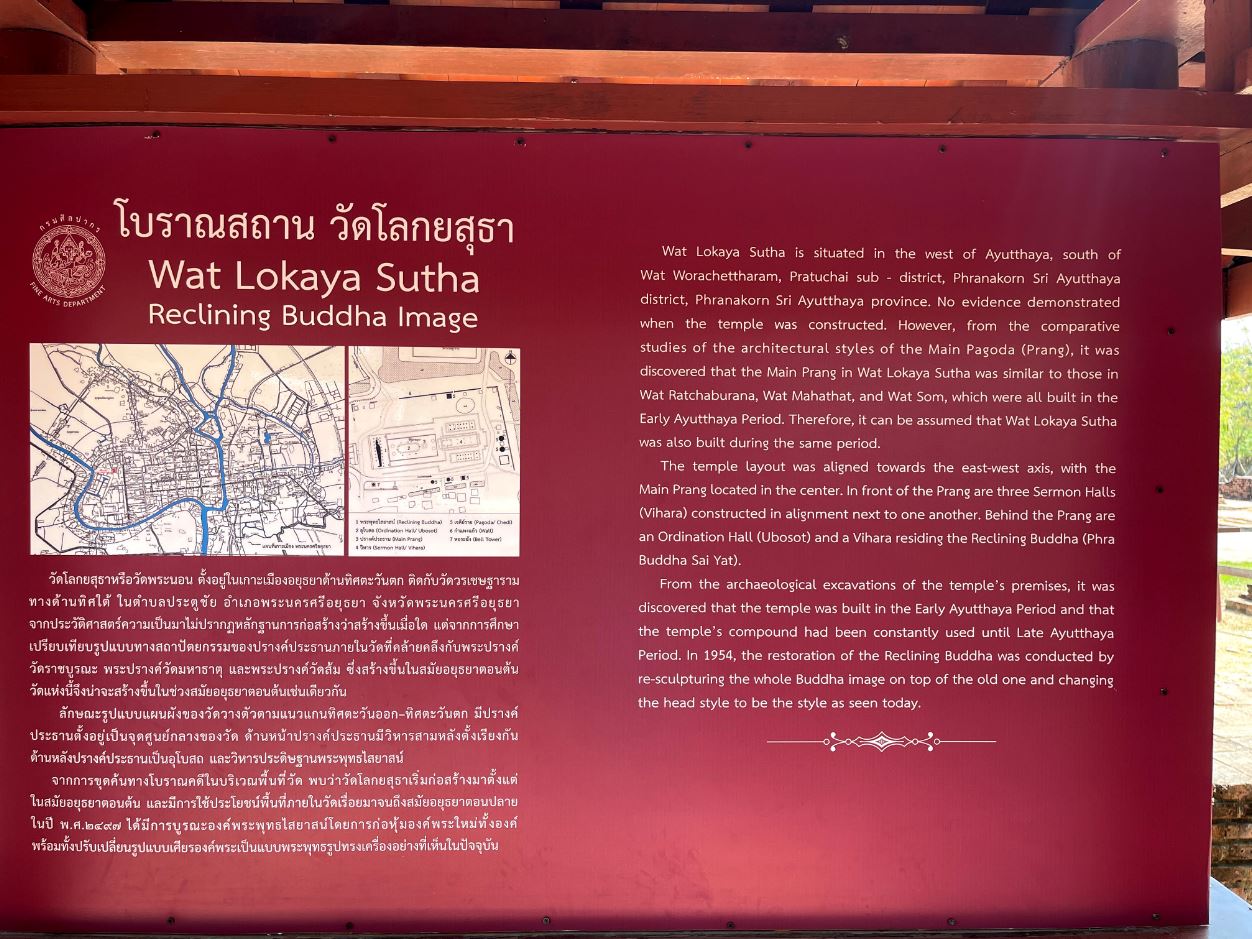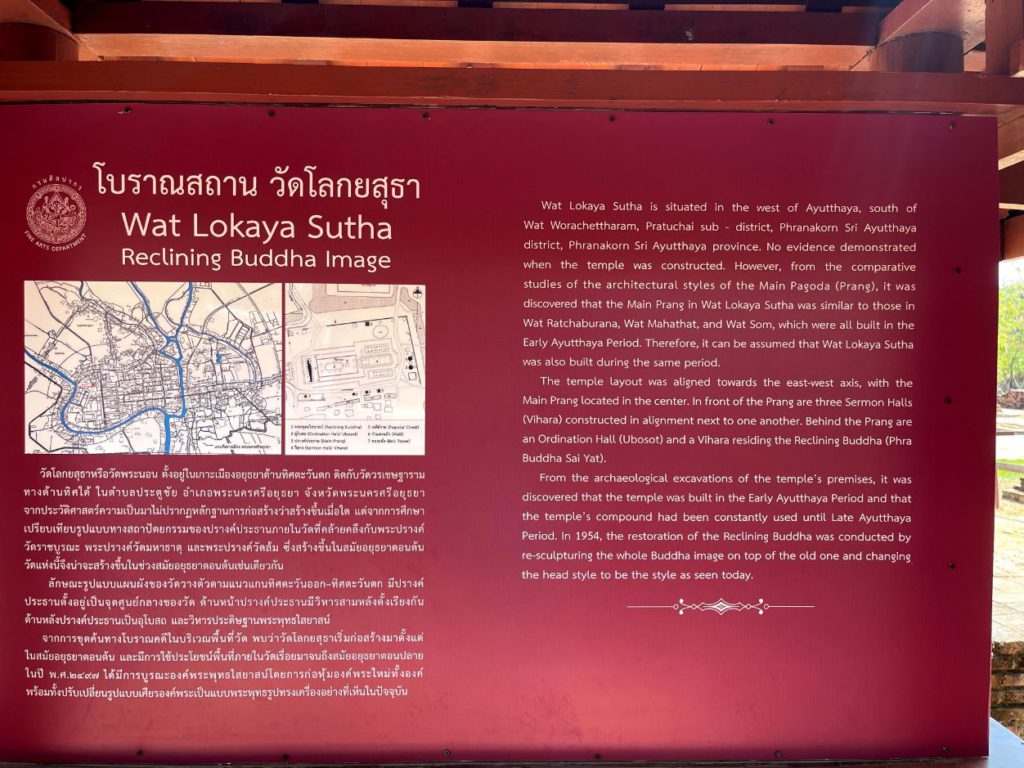 Chao Sam Phraya National Museum
This museum was established by the Late King Bhumibol in 1961. His concern was to preserve the artefacts found in the ruins that were sometimes looted by local thieves.
So here you will find a collection of some of the most important every day and special items found from the rich history of the Ayutthaya period. I really recommend you to visit this place if you enjoy history. It will make your visit to the temple ruins even more meaningful.
Chao Sam Phraya National Museum ticket price: THB 30 for Thai nationals and THB 150 for foreigners
Chao Sam Phraya National Museum timings: Open from 9 am to 4.00 pm from Tuesday to Sunday. Closed on Monday.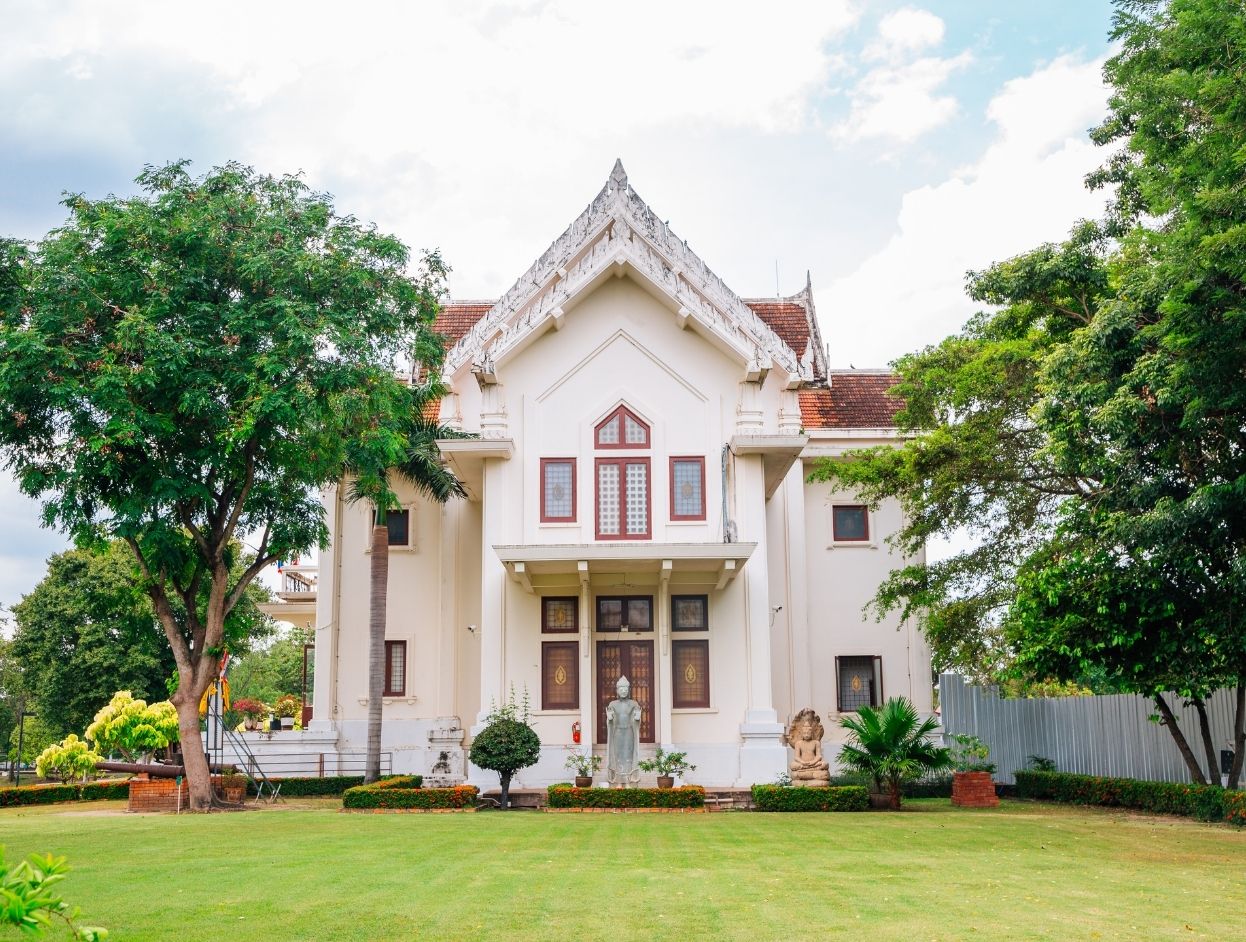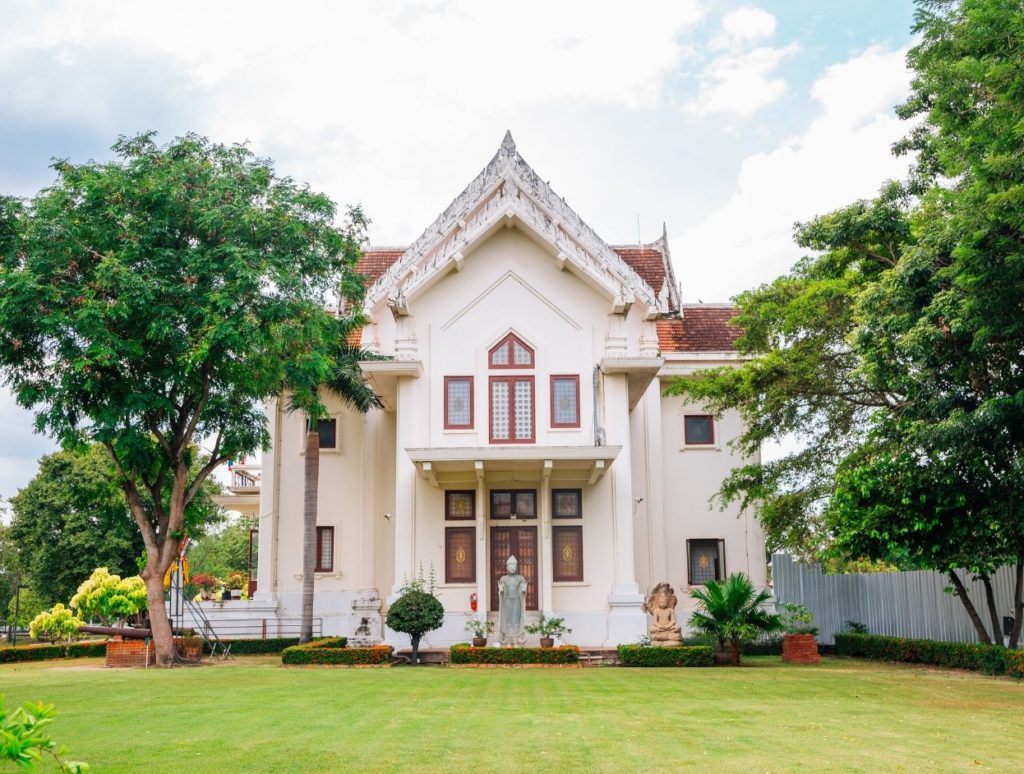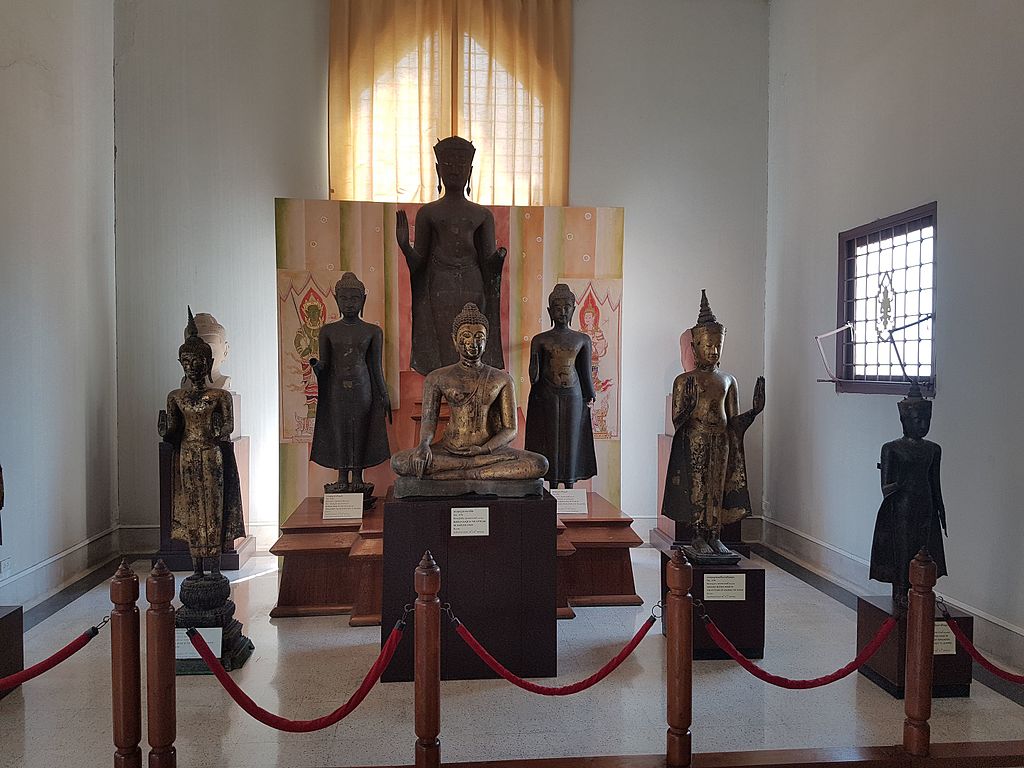 Other important temples in Ayutthaya
Wat Yai Chaimongkol
You simply cannot miss this temple due to its importance and also because it is the only temple mostly intact in its original form. The temple's first construction goes back to 1357 AD. You can somewhat visualize the construction style of other ruins after visiting this temple, especially of Wat Maha That.
The main chedi is a large pagoda with two huge Buddha statues seated on either side. It is one of the very few pagodas where you can go inside. There chamber inside the pagoda that contains an important relic is open for the public to see.
There are rows of stone Buddha surrounding the pagoda. You can buy yellow cloth at a stall nearby to offer them for merit-making. This is probably where all those photos of Ayutthaya come from. If you walk behind the pagoda, there is a large pedestal with a statue of Buddha and his followers in white colour depicting a story.
On the premises is also a large statue of reclining Buddha and an active shrine where you will find continuous chanting and local Thais stopping by to pay their respects. There is no entrance fee to this place.
Wat Yai Chaimongkol timings: Open from 8 am to 5 pm every day of the week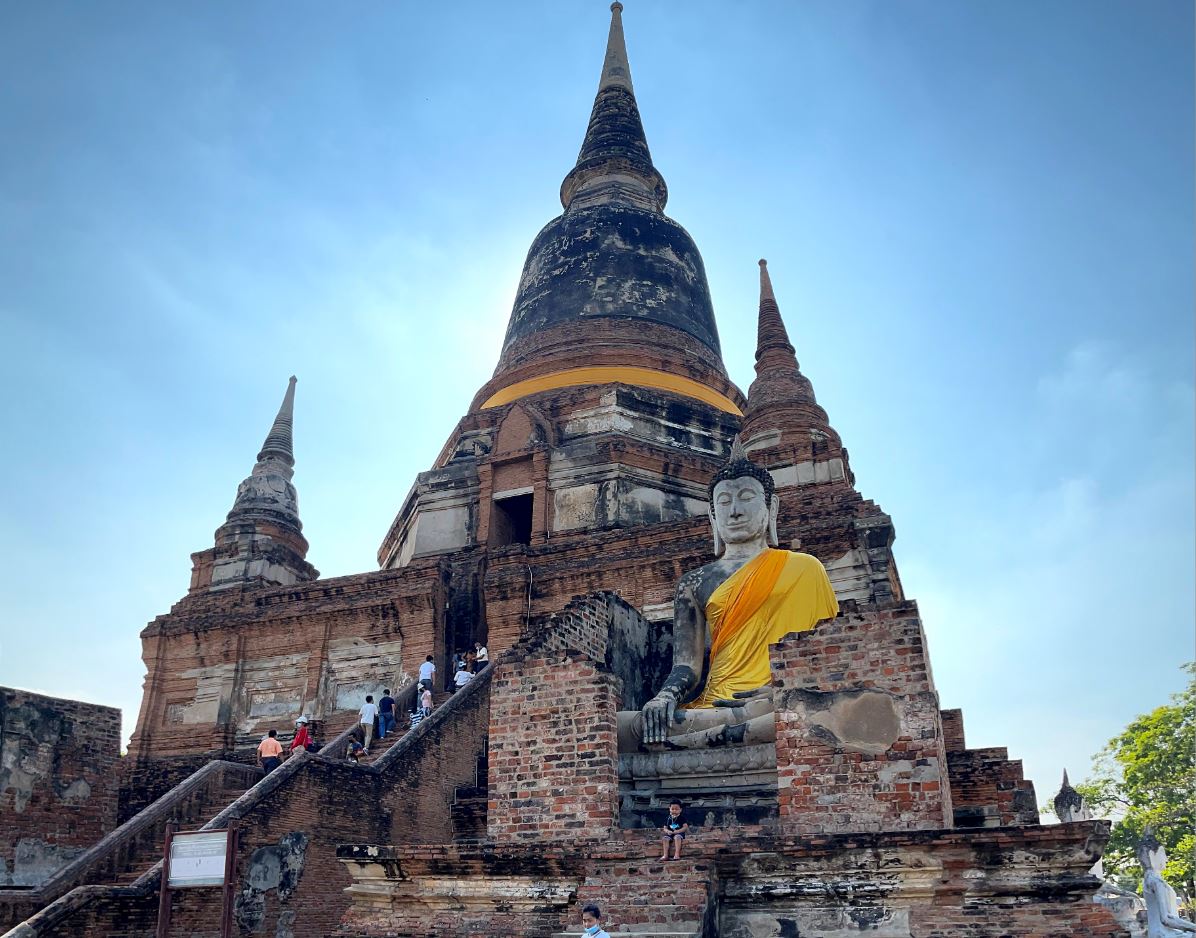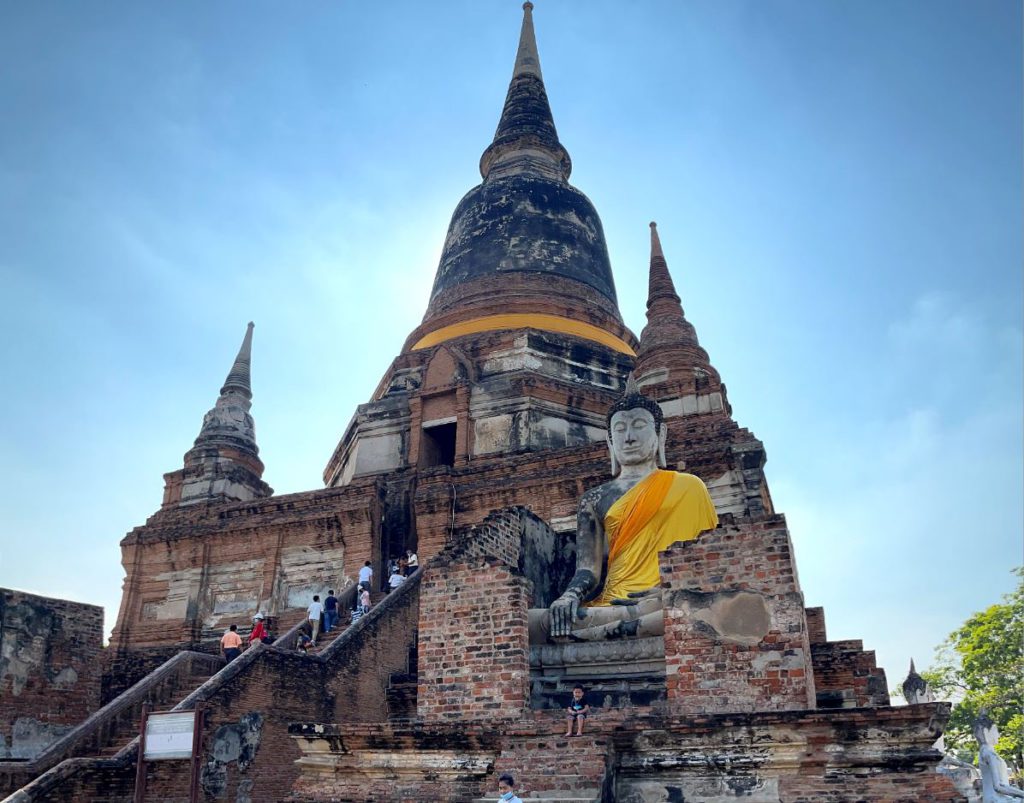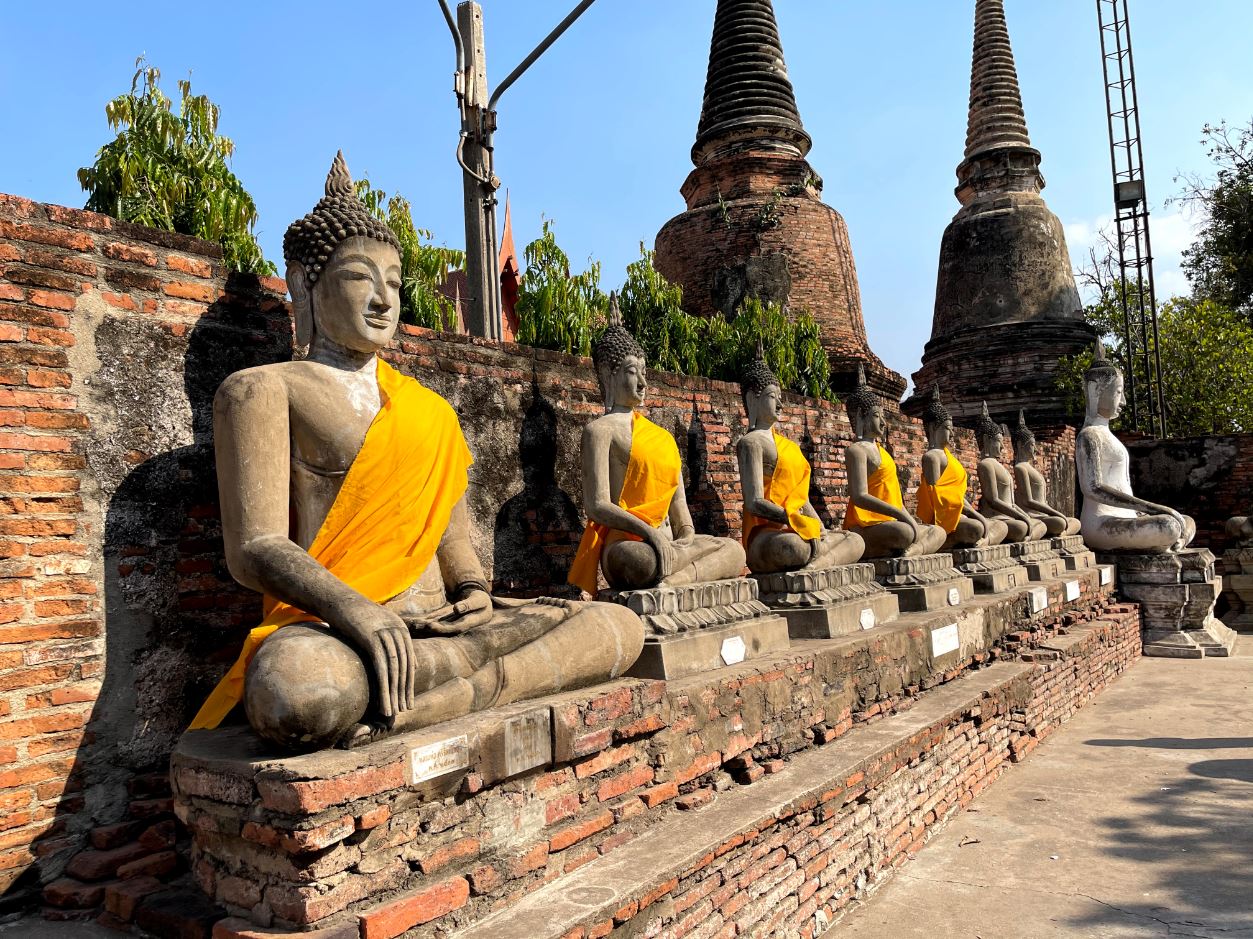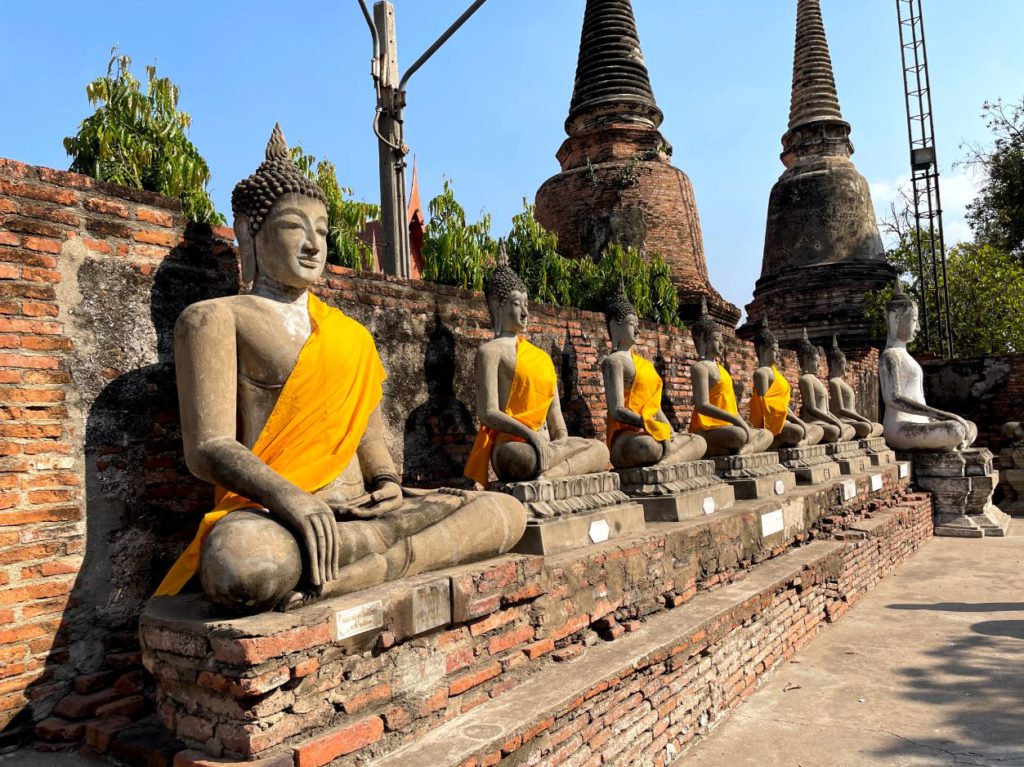 Wat Chai Watthanaram
Wat Chai Watthanaram is a temple similar to Wat Phra Ram with similar features of a Khmer style prang in the middle and several chedis surrounding it. The temple is located outside the island town on the west bank of Chao Phraya river and will give you a chance to go around Ayutthaya town as well.
People believe that the temple was built in 1630 in memory of the then king's mother. It was also symbolic of Ayutthaya's victory over the city of Logvek, Cambodia's then capital.
The main feature of this place is that there are several shops just outside the temple premises where you can change into a traditional Thai costume available in all shapes, colours and sizes. You can then take a photo with these ruins and get a memory of being transported to another time. Both souvenir and memory of value.
Wat Chai Watthanaram timings: Open from 8 am to 4.30 pm every day of the week
Wat Chai Watthanaram ticket price: THB 10 for Thai nationals and THB 50 for foreigners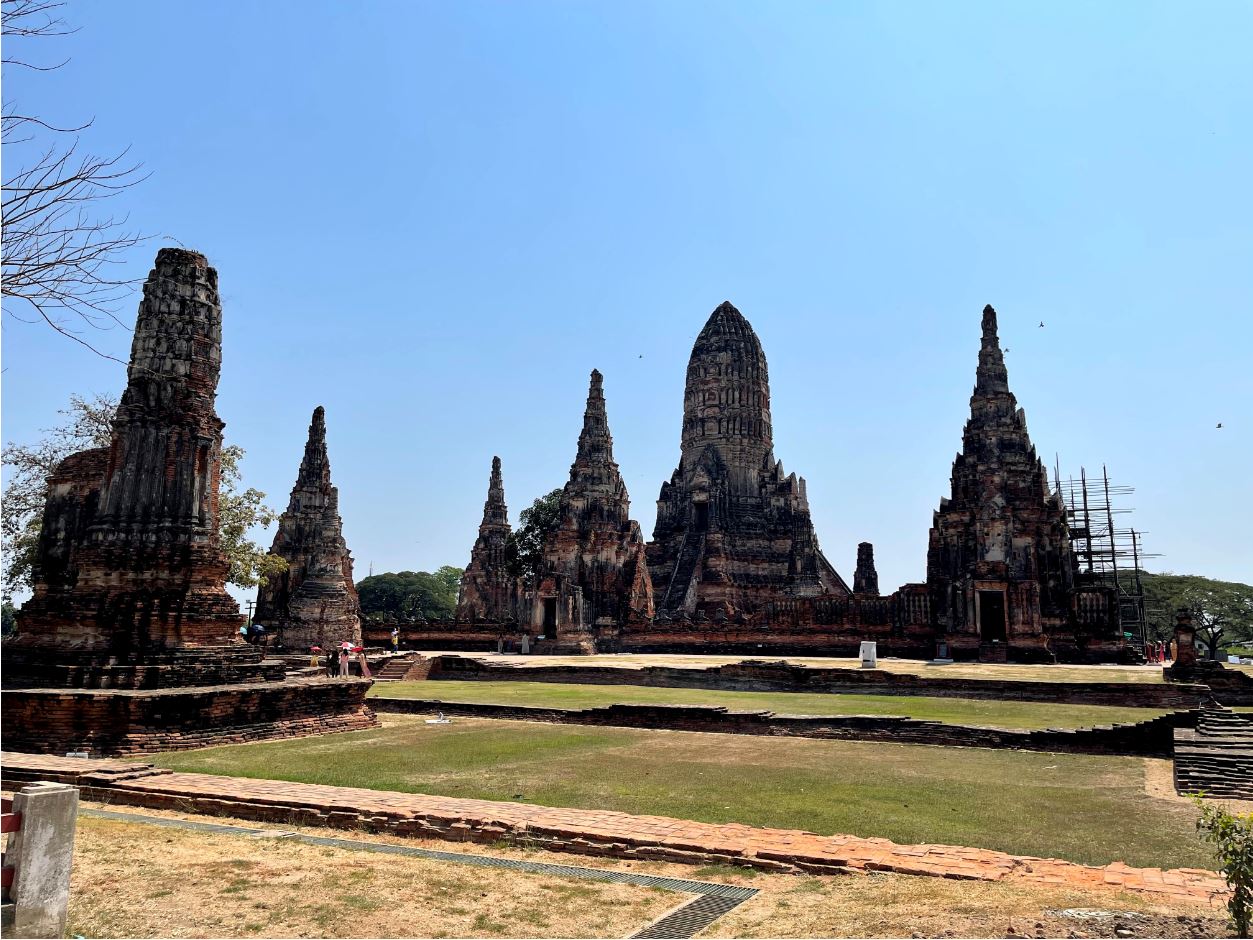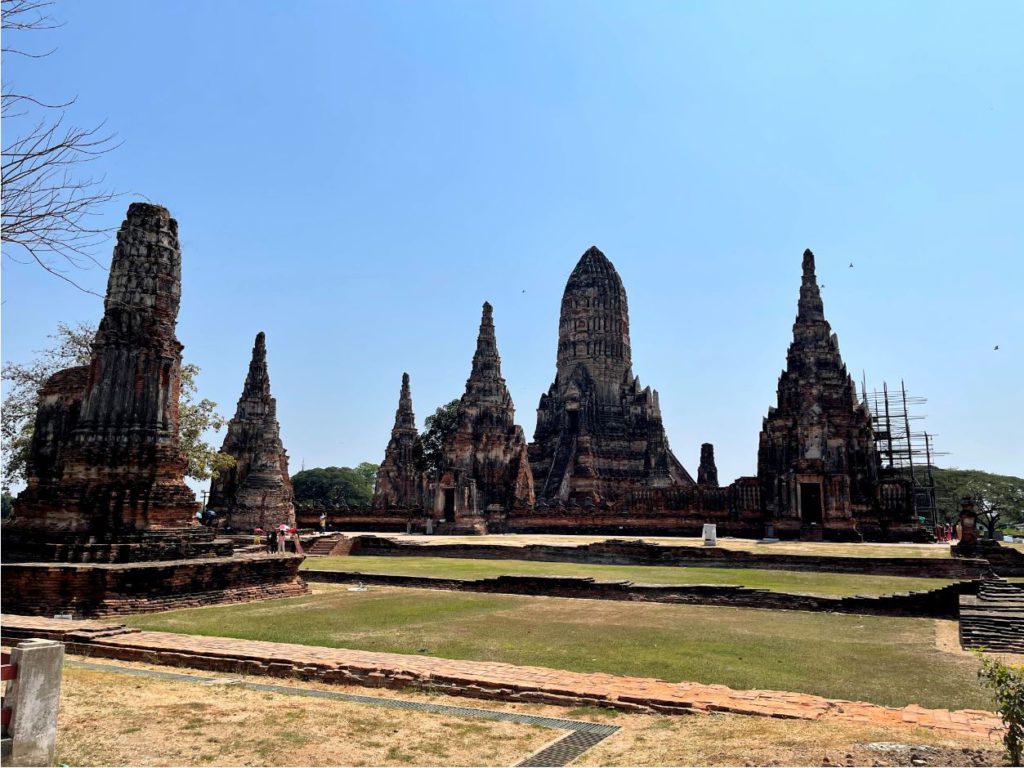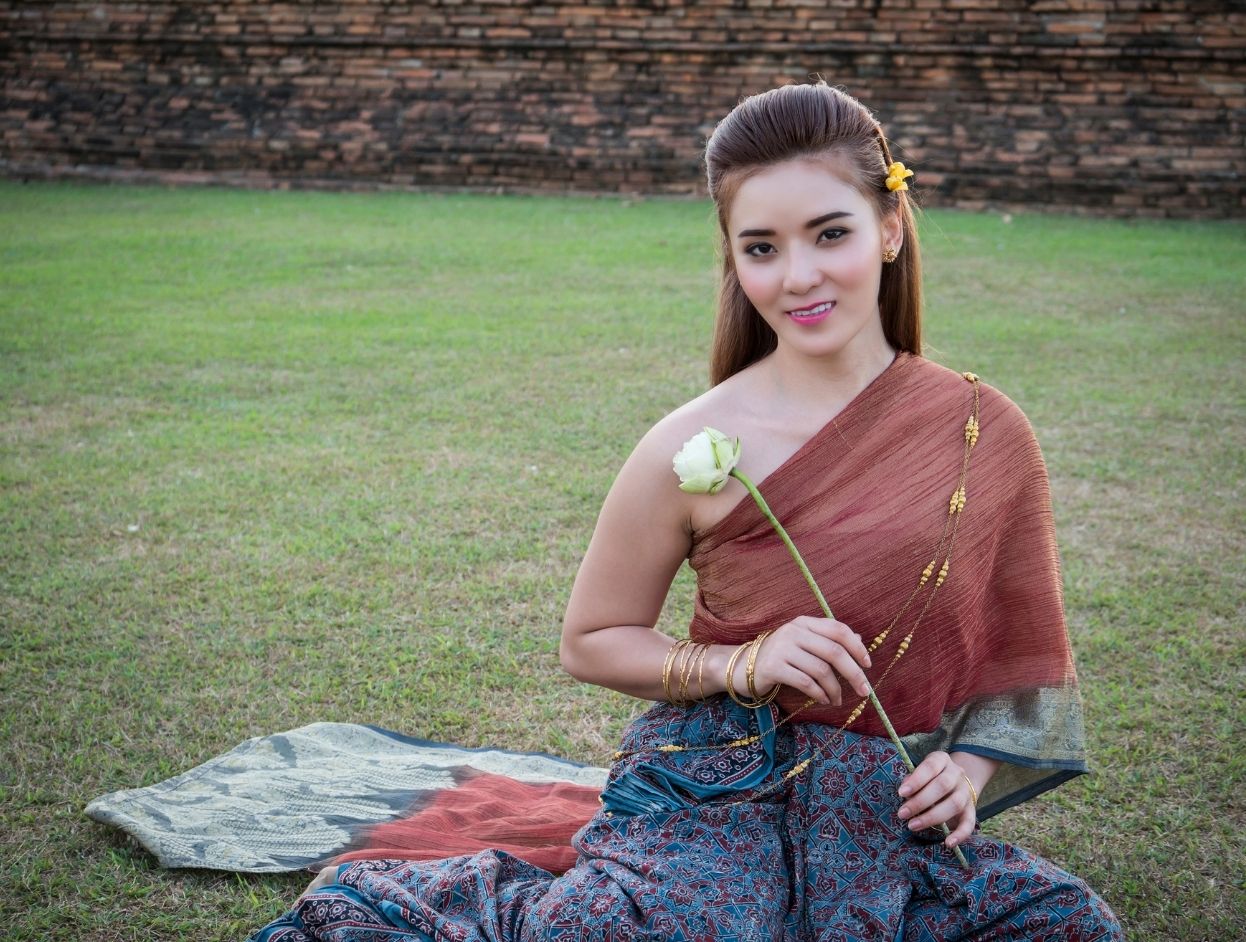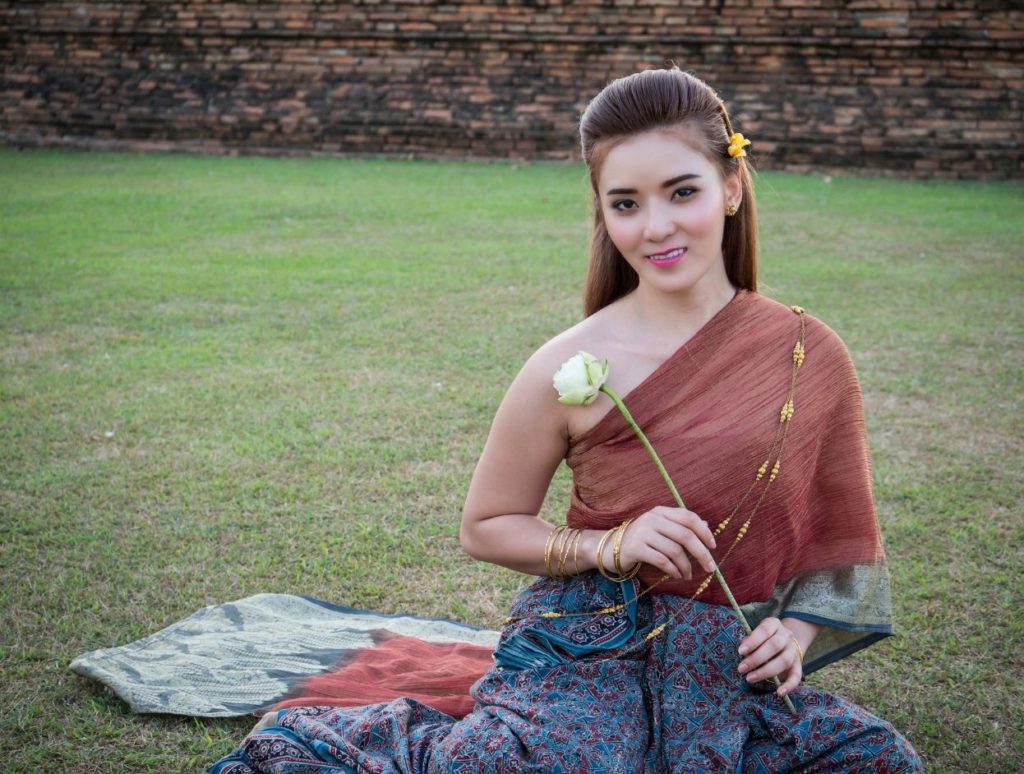 Wat Phanan Choeng Worawihan
This is the last and another very important temple in Ayutthaya on my list. It looks like any other modern temple in Thailand but was originally founded in 1324 even before the founding of Ayuttaya. Although it has been restored several times since then.
The temple is busy with locals heading over for evening prayers. You go through a large lobby to the main hall that is gorgeous. A large golden Buddha sits in the middle of a hall decorated in bright rich colours and golden oriental print.
There is another hall right next to it with a darker wallpaper and there seem to be stories of Buddha's life drawn in caricature but rich prints. It looks like the place was left of the destruction caused by the conquest.
Do not miss a considerable-sized Chinese shrine outside the temple although I couldn't understand much of what it represents. It looks lovely. Moreover, there is a barricade opposite that gives a full view of the Chao Phraya River, a great place to chill out on a hot day. The place is free to enter for everyone.
Wat Yai Chaimongkol timings: Open from 8 am to 6 pm every day of the week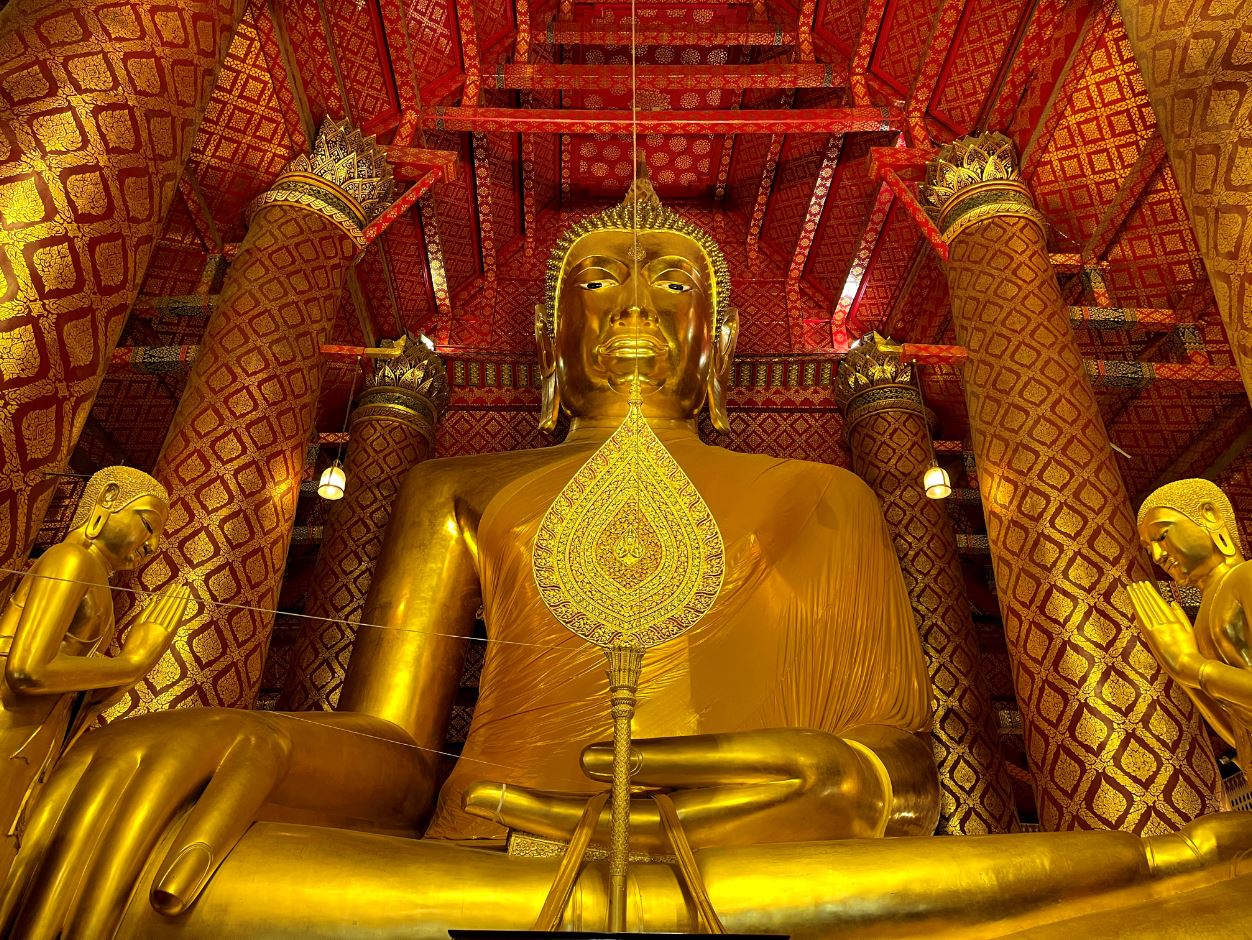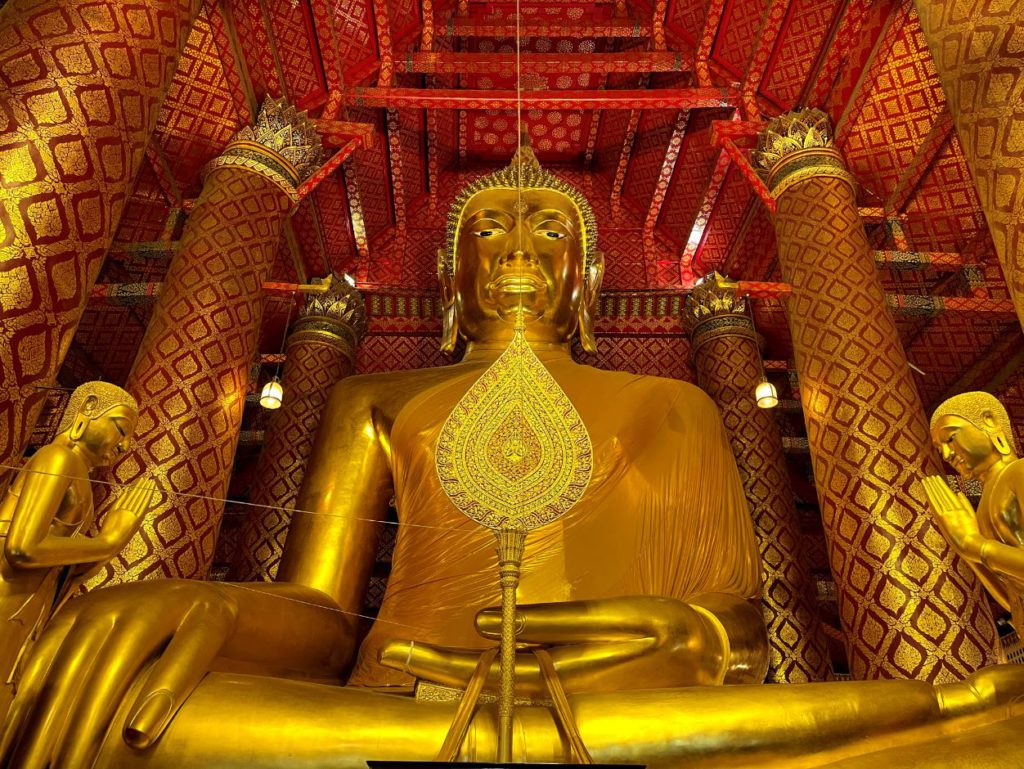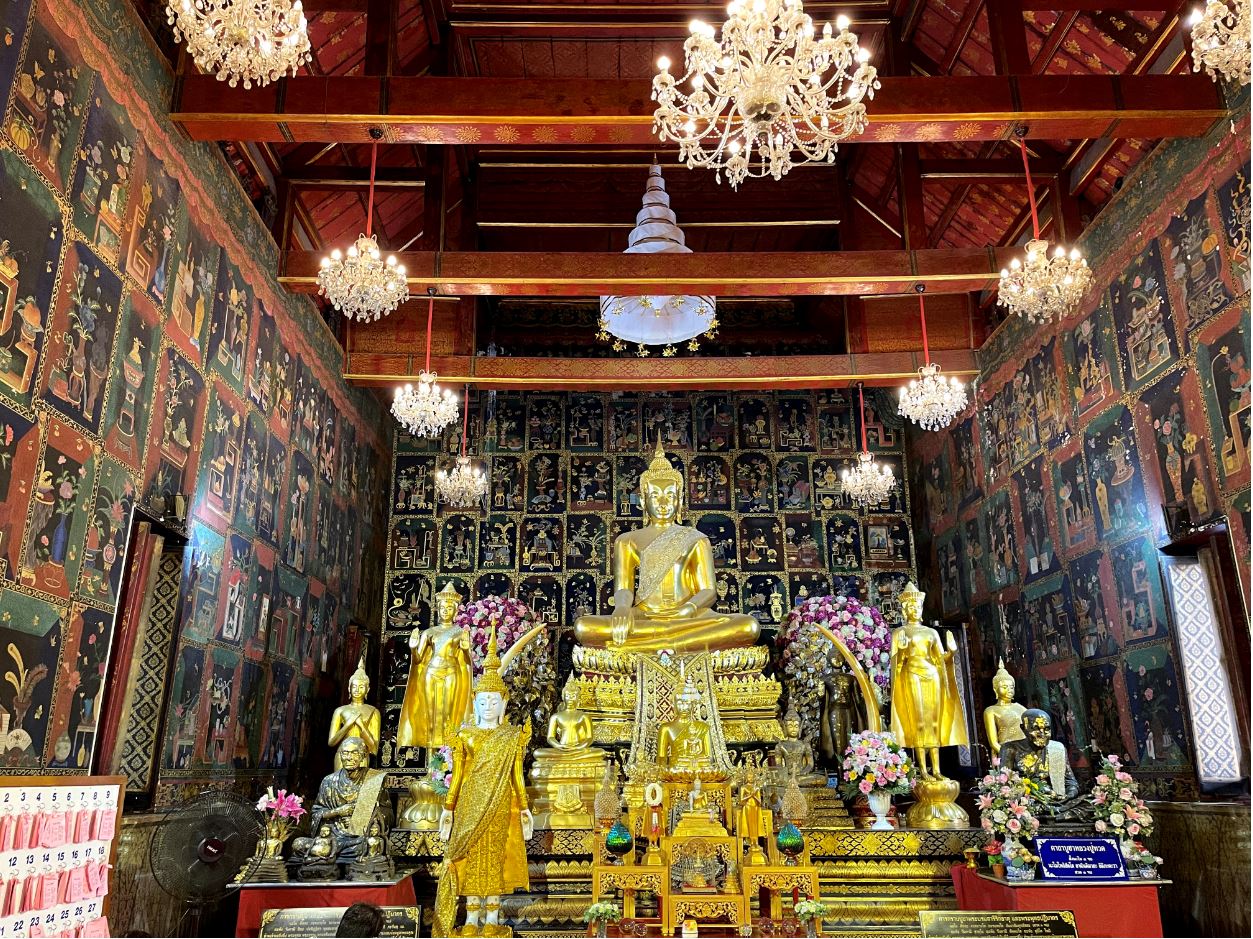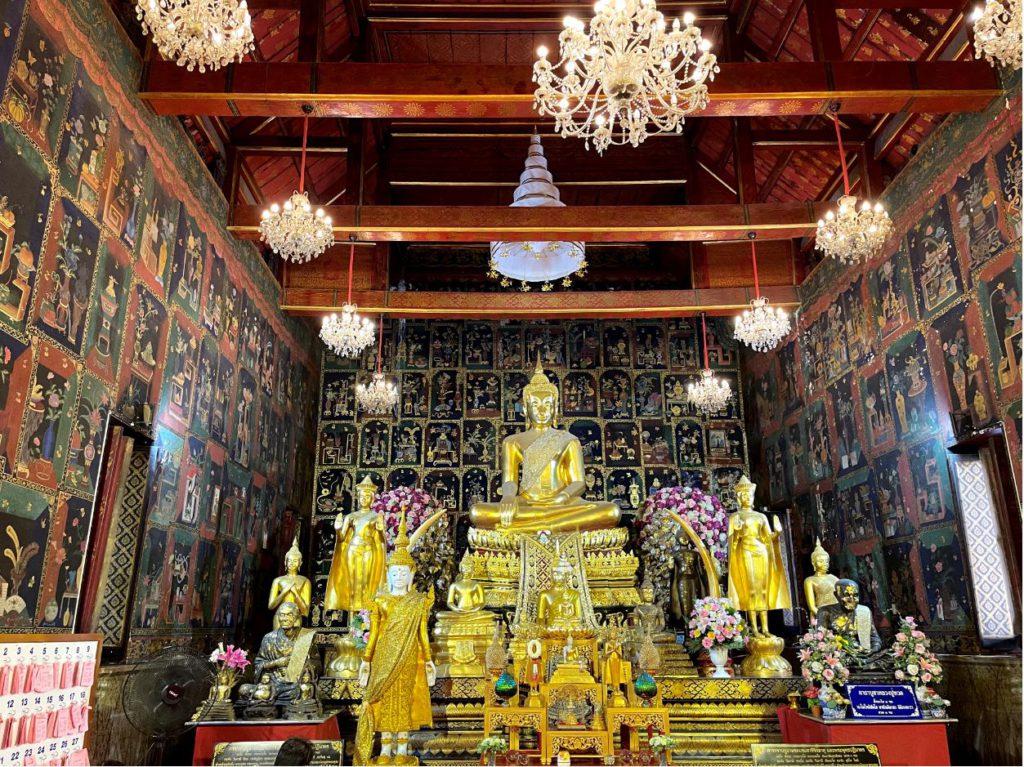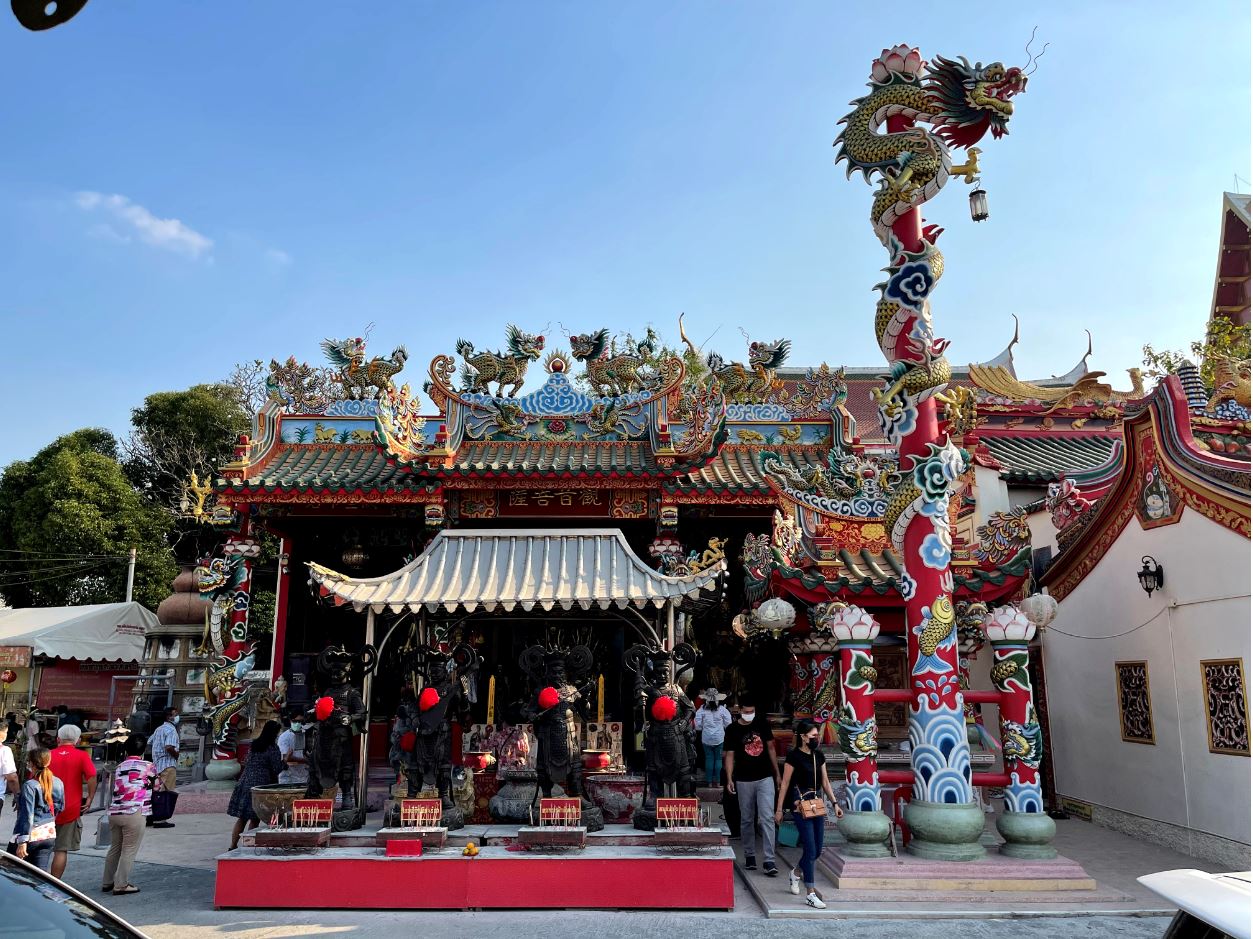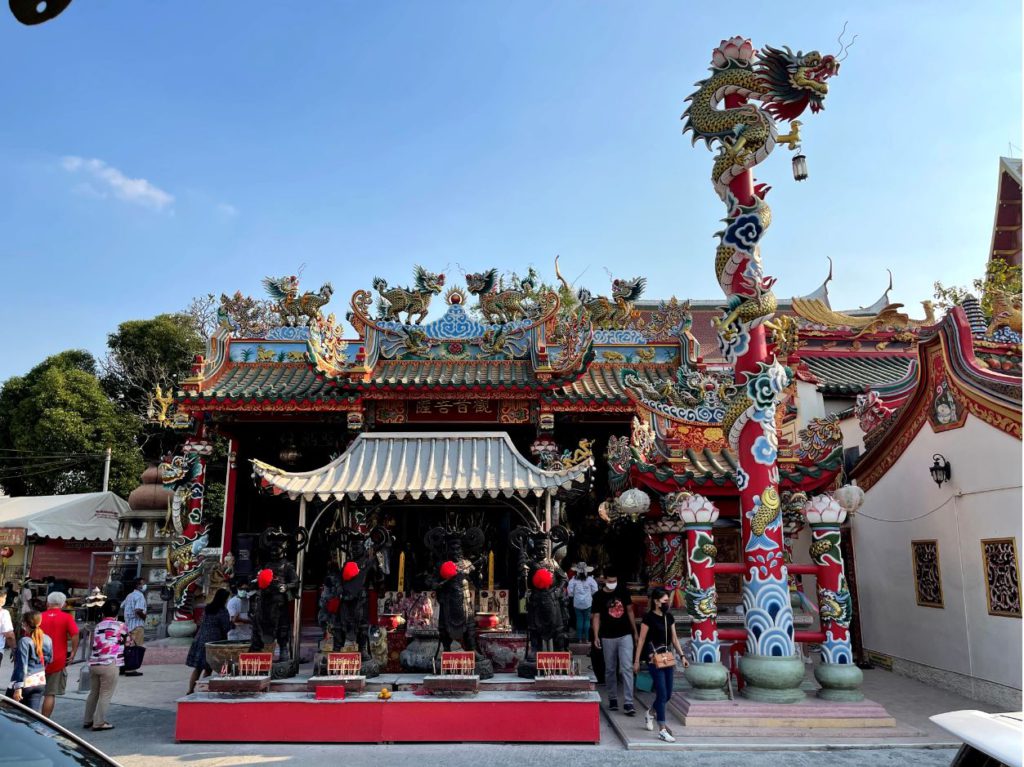 Other Places to see around Ayutthaya
Bang Pa-In Summer Palace
Bang Pa-In is not inside Ayutthaya. If you are travelling from Bangkok it will fall around 15 minutes before Ayutthaya. But here is one of the most beautiful palaces that you have ever see. The palace was spared the destruction at the hands of Burmese. The Royal family uses it as their summer palace.
Strange to Thailand, the palace is built completely in European style. The place is mostly flat with several buildings of different purpose spread out in a large area. A large pond makes an important part of the collage. Most interiors are out of bounds for tourists but you still should not miss visiting.
Since the area is huge, you can also rent a golf cart to go around. The palace is located right next to the Chao Phraya River. On the other side of the river is a large premise of a Buddhist monastery again, strangely done in European style like a small village with a church. It is a fantastic place to relax and you won't find a lot of tourist on weekdays.
How to reach Bang Pa-In Summer Palace: If you are not on a guided tour, you can take a train from Bangkok or Ayutthaya and get down at Bang Pa-In railway station. Take a songthaew from outside the station till the palace that will cost you around THB 60.
You can also book a cruise from any hotel on Chao Phraya River in Bangkok. Special boats also run on Sunday from Tha Pra Chan pier to the palace and back.
Bang Pa-In Summer Palace timings: Open from 8.30 am to 4.30 pm every day of the week. The ticket office closes at 3.30 pm. The palace could be closed for special occasions or if the royal family is visiting. You will not find it updated on google though.
Bang Pa-In Summer Palace ticket price: THB 30 for Thai nationals and THB 100 for foreigners. The price for the golf cart starts at THB 400 for the first hour and THB 100 for every hour onwards.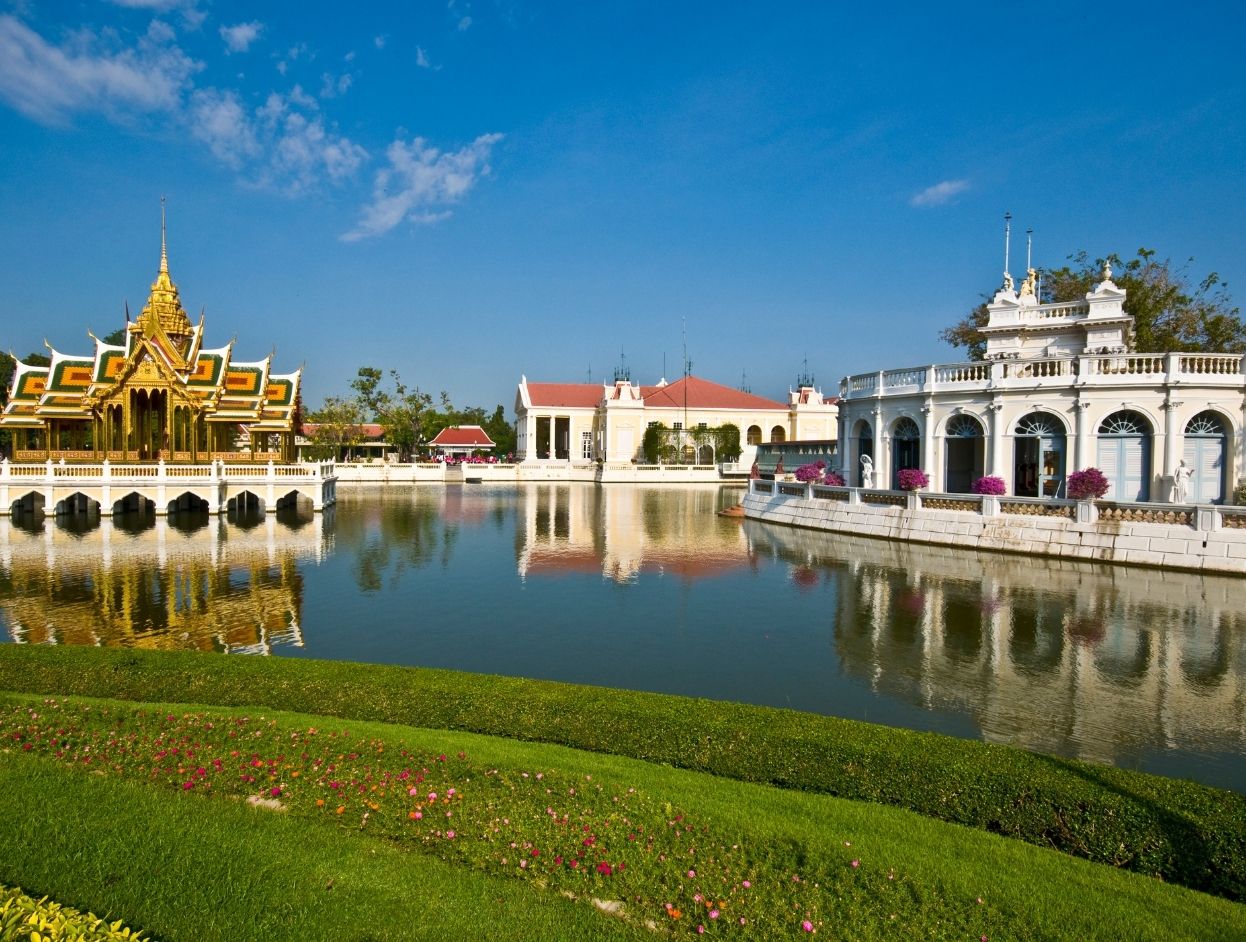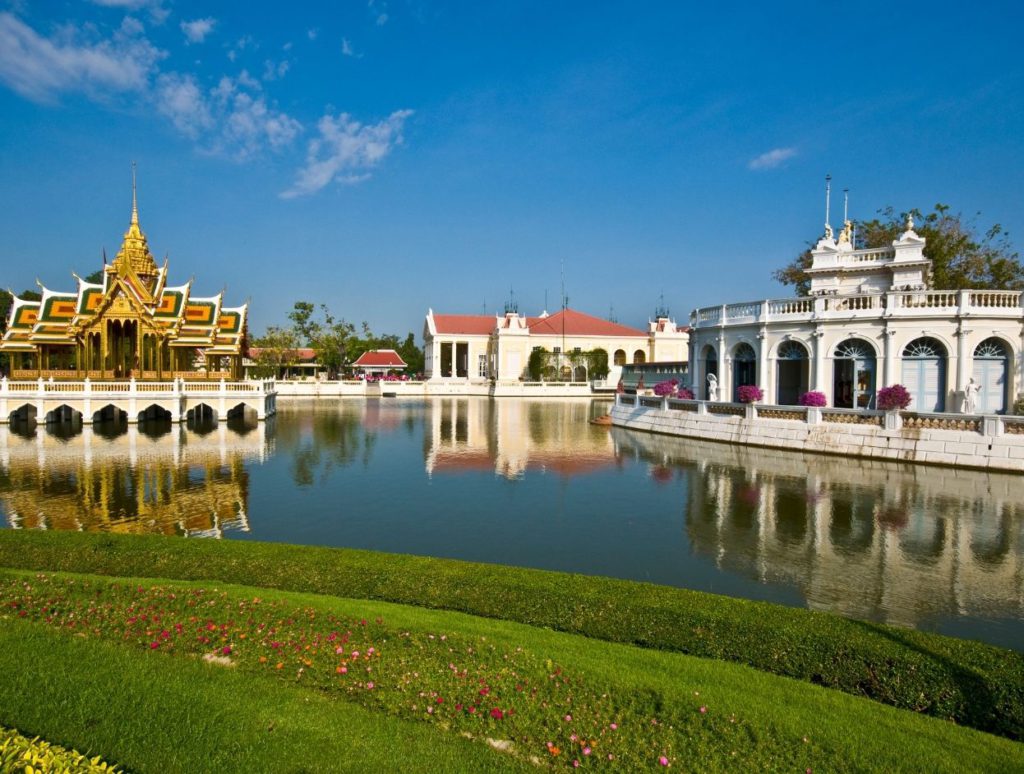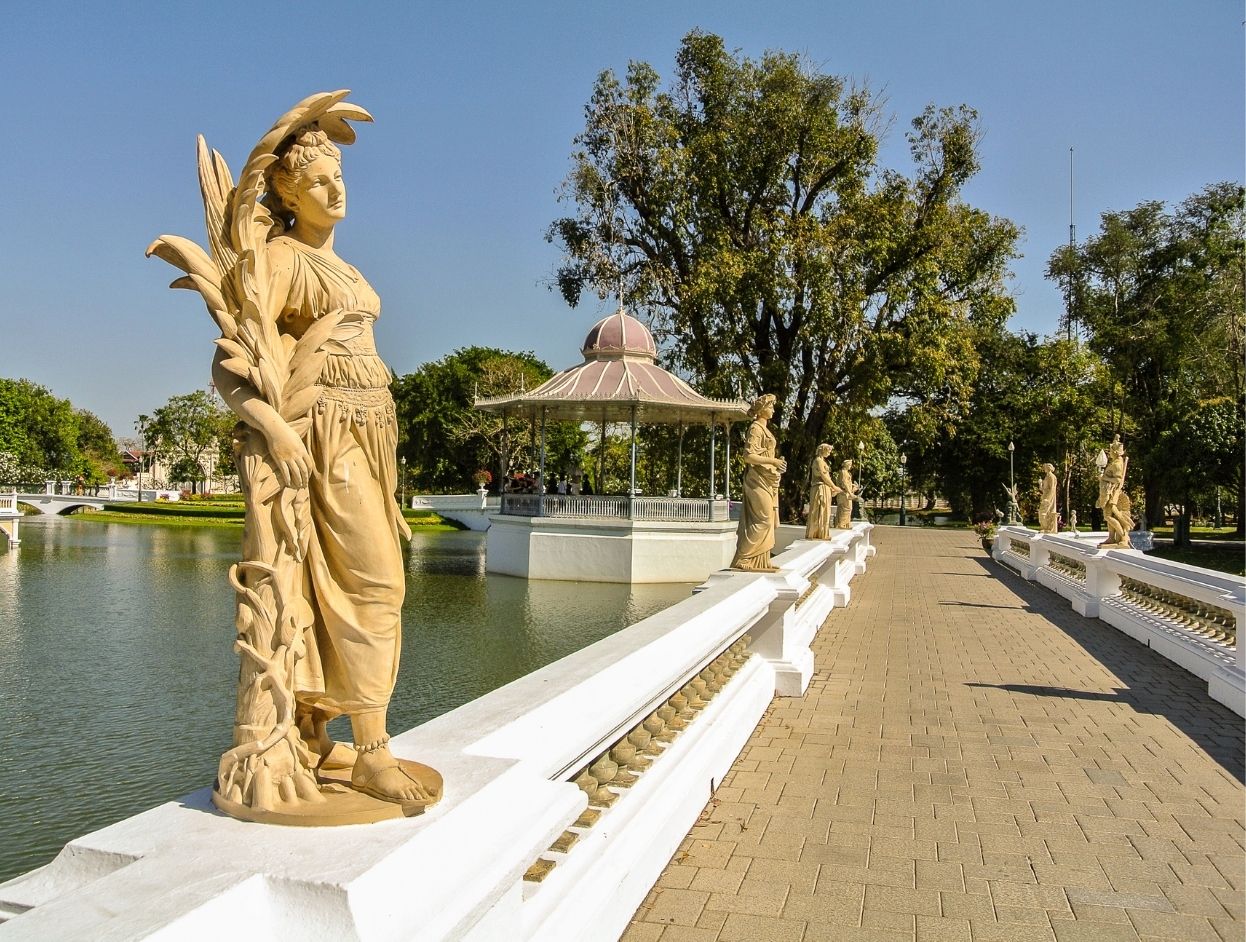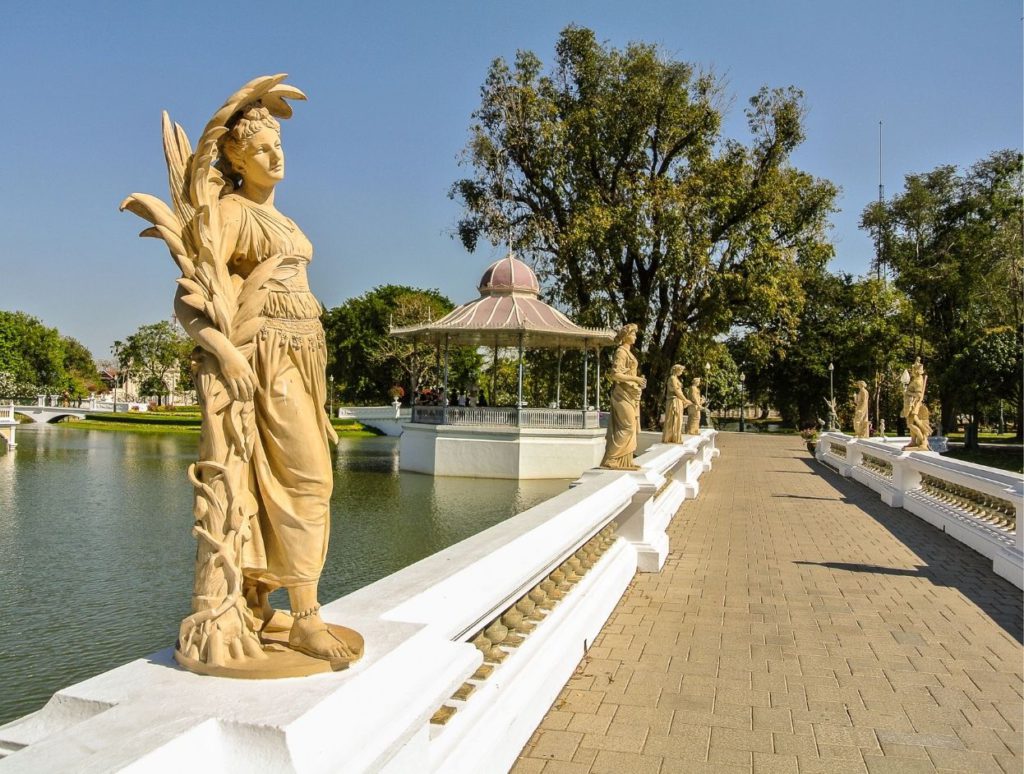 Ayothaya Floating Market
If you haven't been to a lot of floating markets, you can definitely make a stop here. It looks pretty much a tourist floating market (not a natural one like Damnoen Saduak) close to Pattaya floating market. But it is great to stop for lunch and brings a respite from the heat.
There are numerous food and souvenir shops. Surprisingly, all shopkeepers dress in traditional Thai clothes to give the market a more authentic loo. The ticket includes a free boat ride across the floating market and performance depicting the history of Ayutthaya by the local artists. Make the trip if the ticket price looks worth the experience to you.
Ayothaya Floating Market timings: Open from 9.00 am to 6.00 pm every day of the week.
Ayothaya Floating Market ticket prices: THB 30 for Thai nationals and THB 200 for foreigners.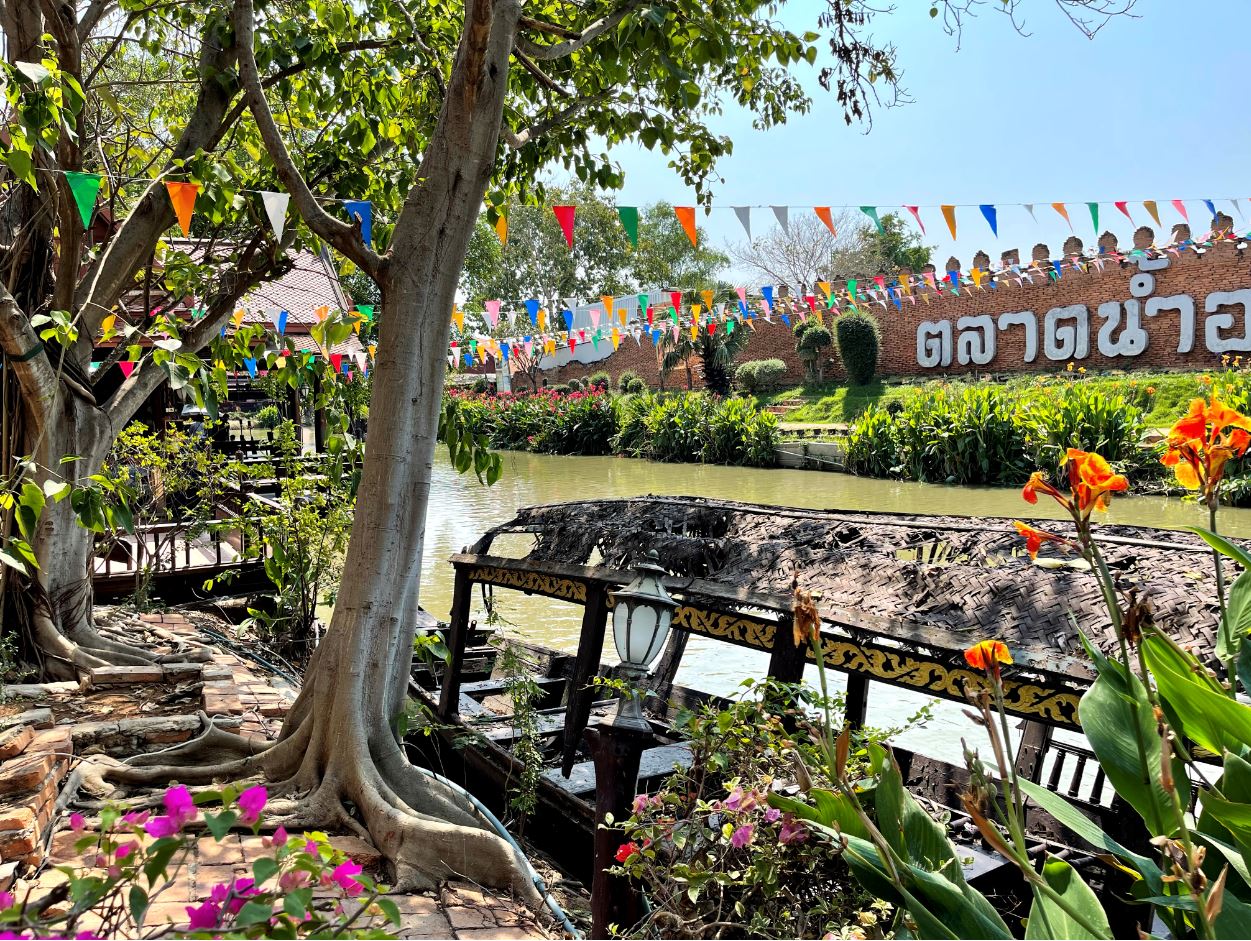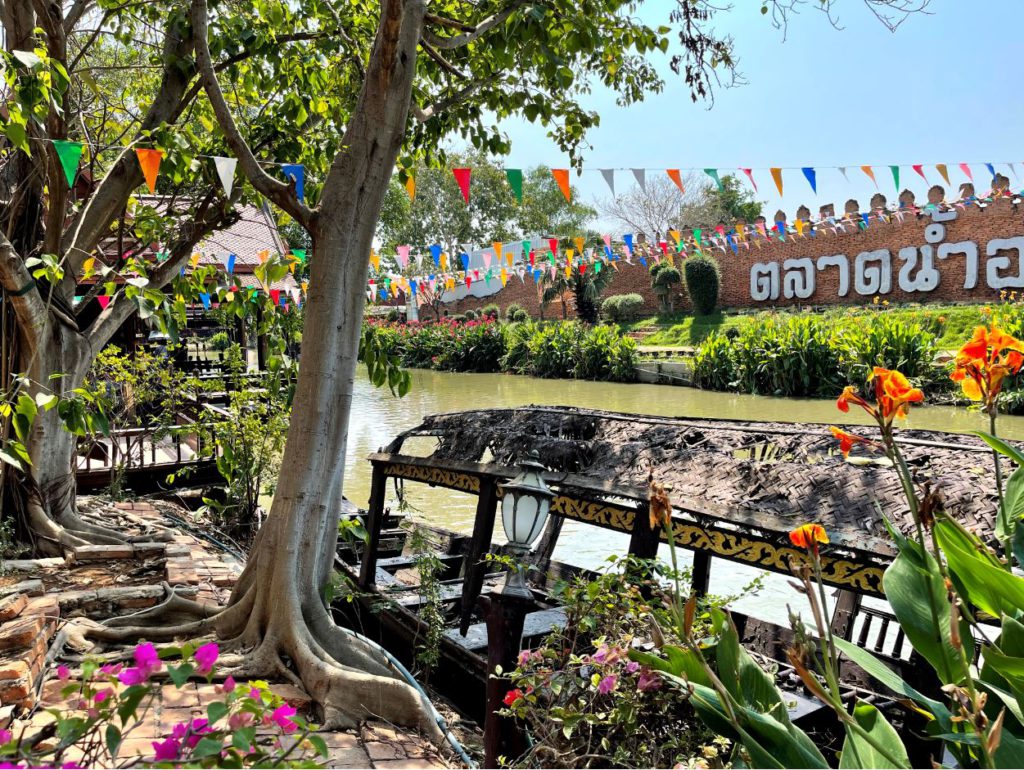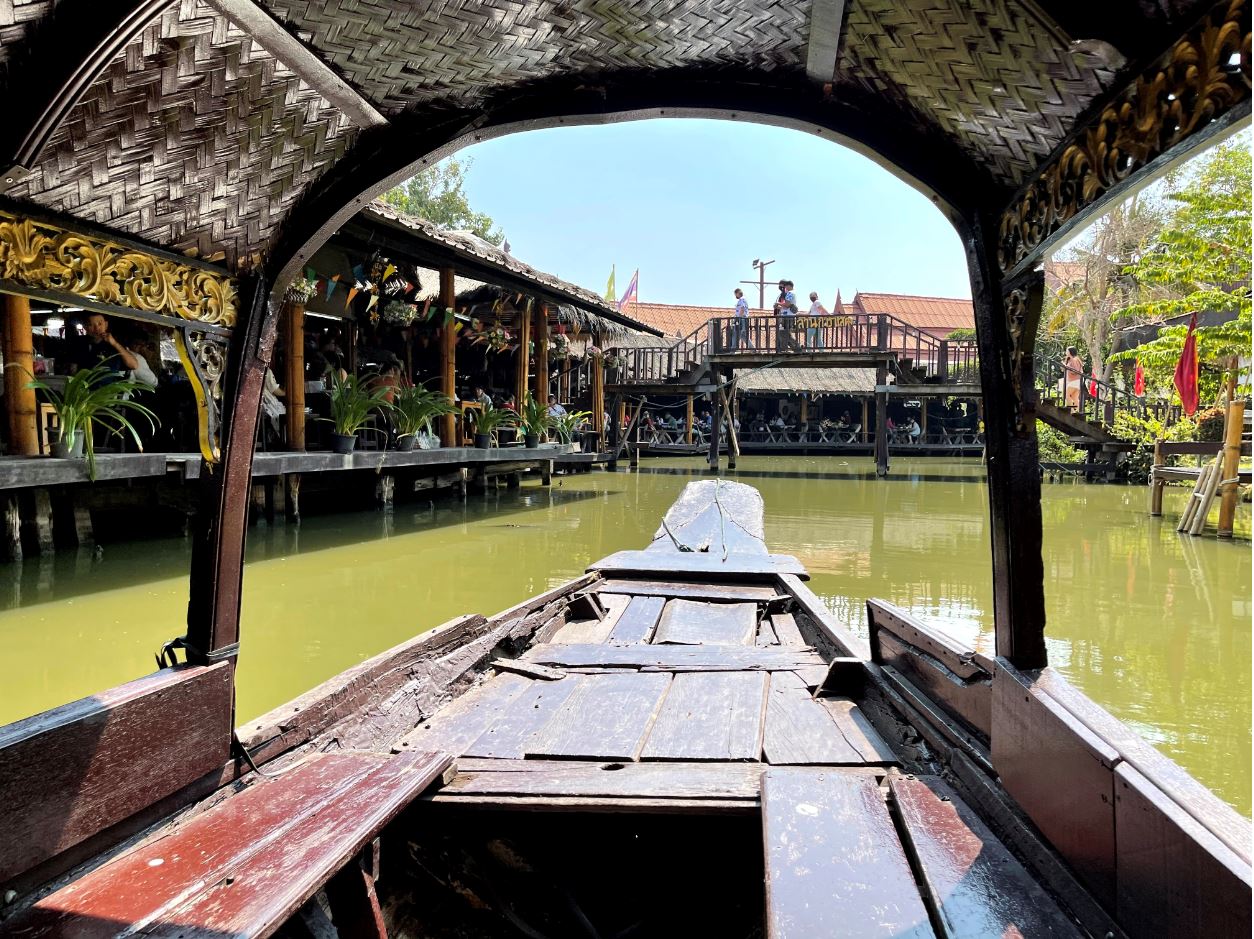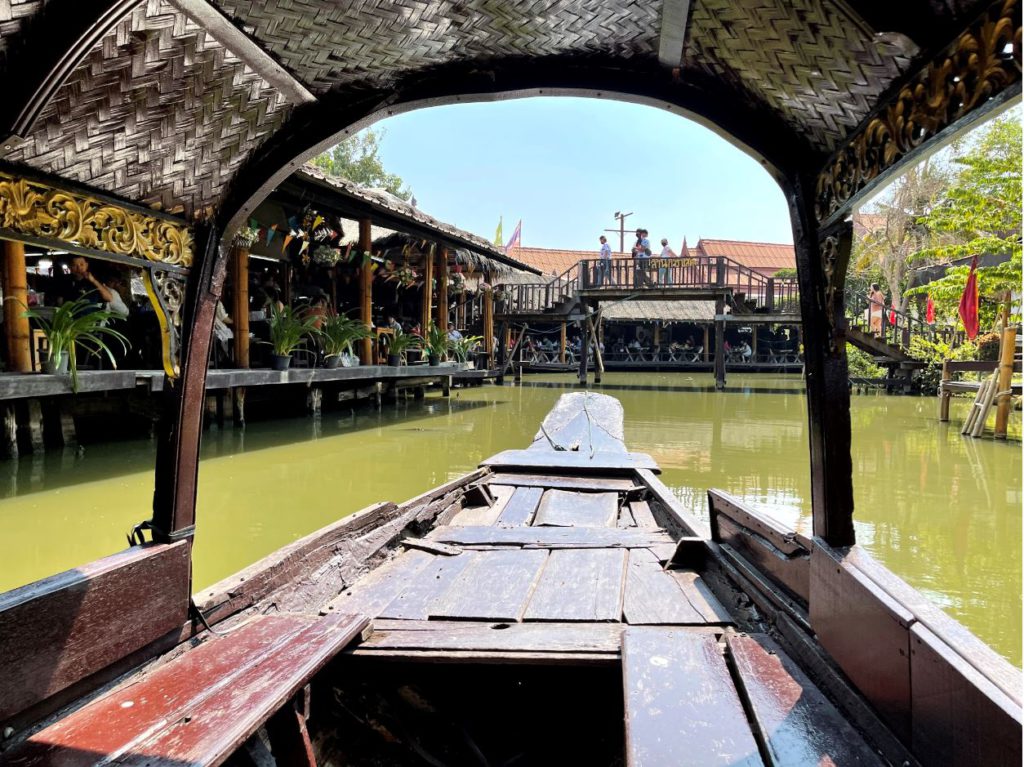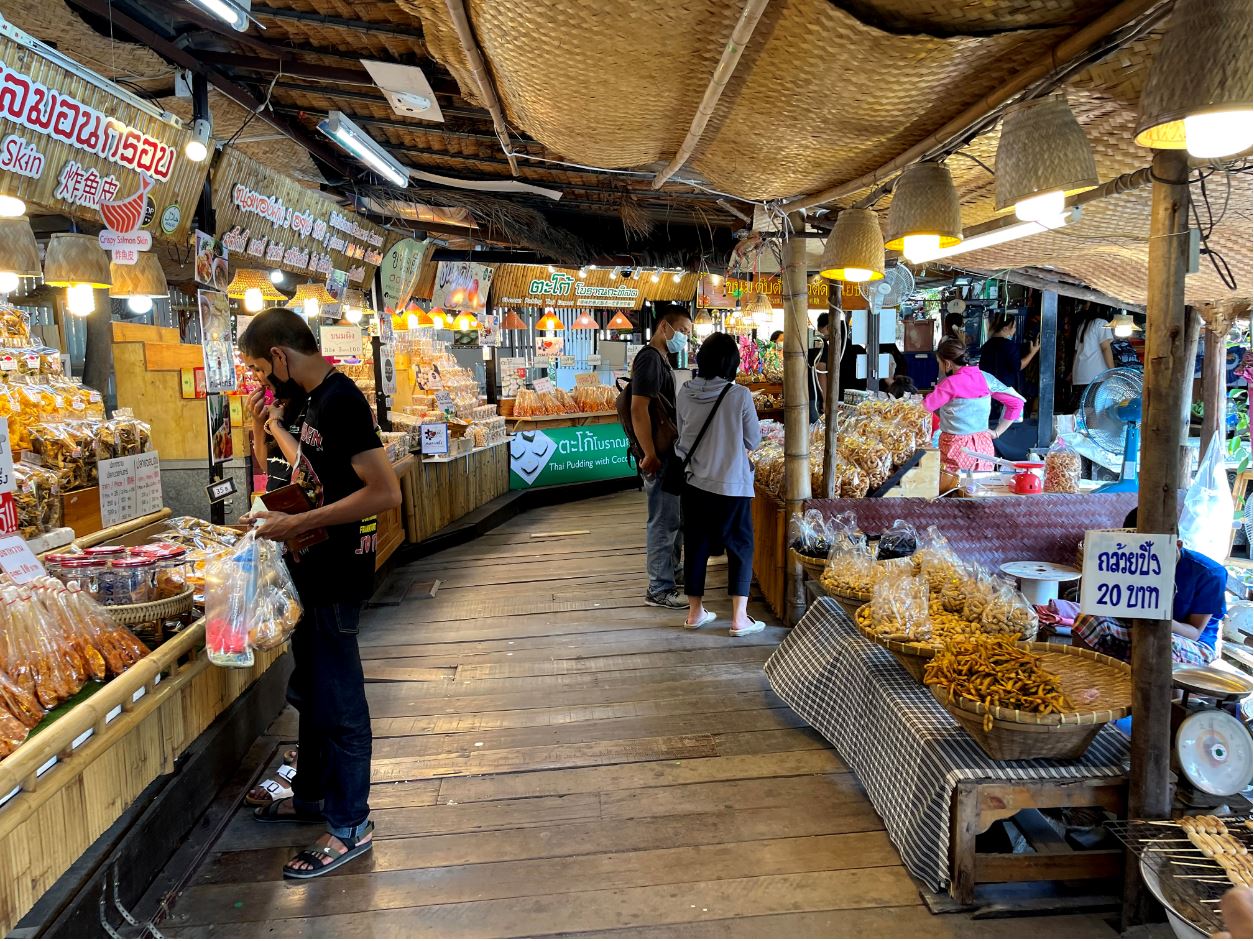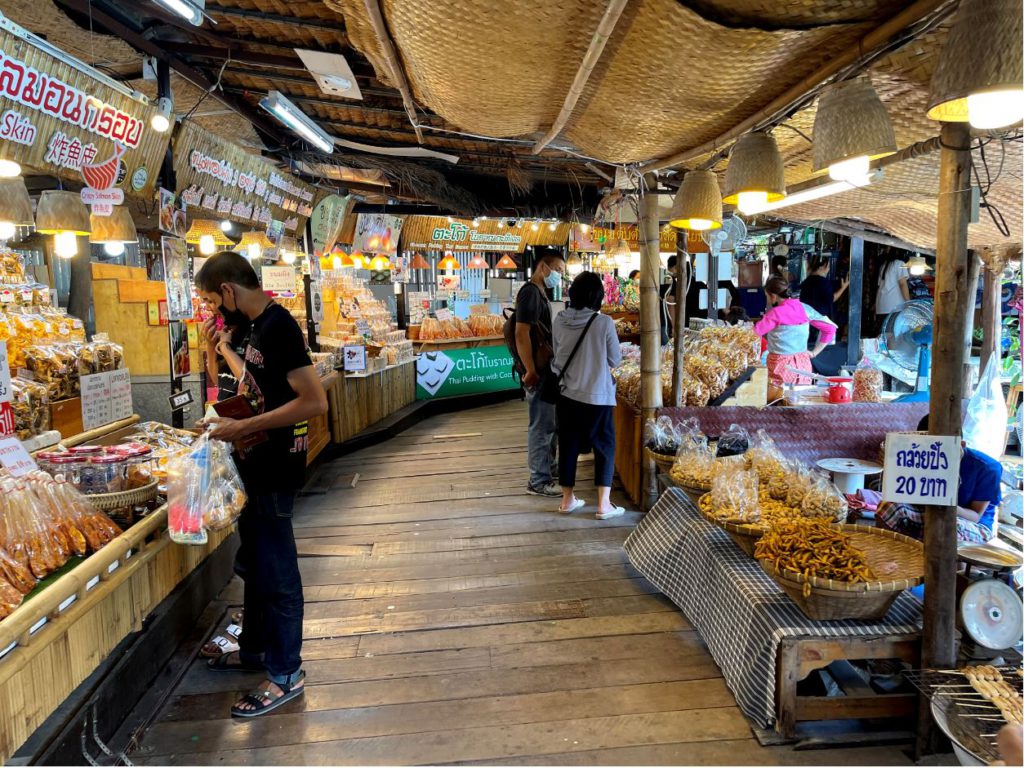 Million Toy Museum
I recommend you really take this nice break from your day of temple sightseeing. It is a large traditional Thai house converted into a museum with gazillion toys. It was built by an academic and a children book illustrator and got the idea while he was visiting Japan.
Upon returning he bought this area and started collecting toys. It took him around two decades to amass all the stuff that you see. While it is not too fancy, it is still an eye-popping range of collection of unique stuff. A lot of them are duplicates as well put right next to each other.
A small restaurant and a souvenir shop allow you to sit and relax and maybe collect something for yourself.
Million toy museum ticket price: THB 50 for all adults and THB 20 for children.
Million toy museum timings: Open from 9.00 am to 4.00 pm from Tuesday to Sunday. Closed on Monday.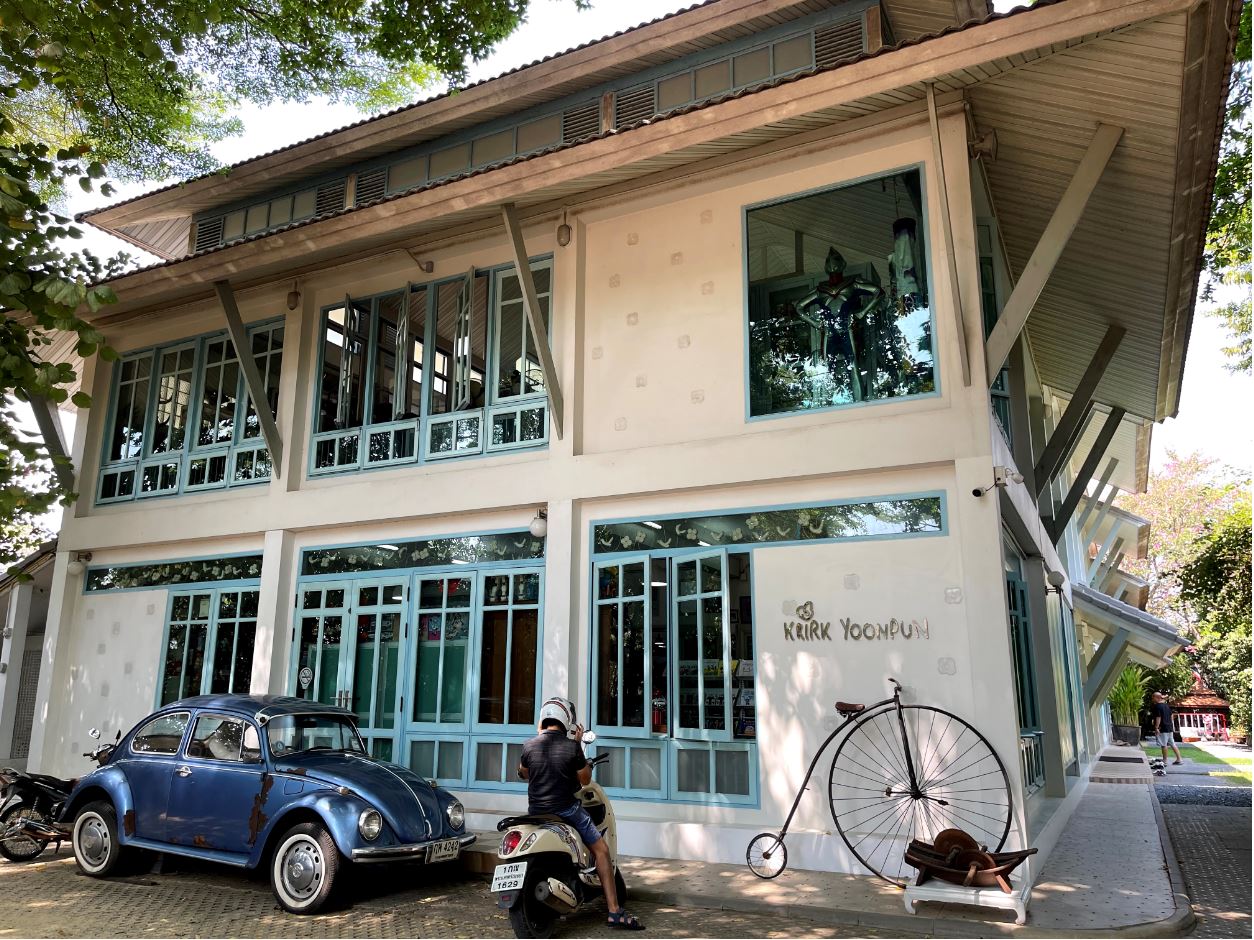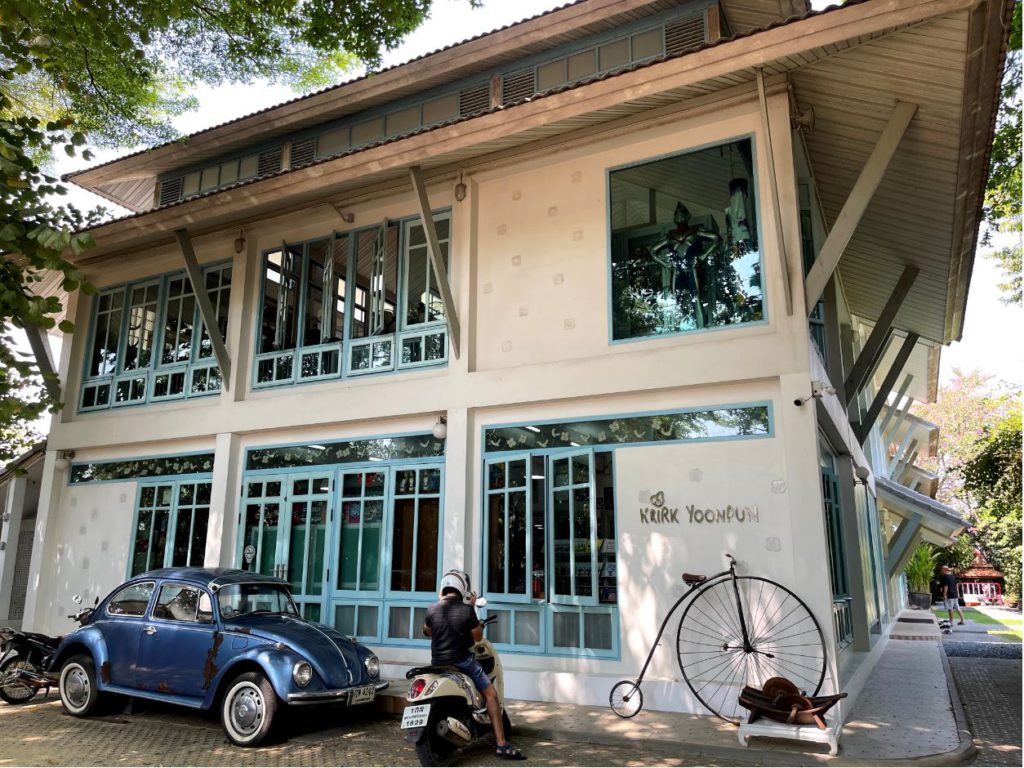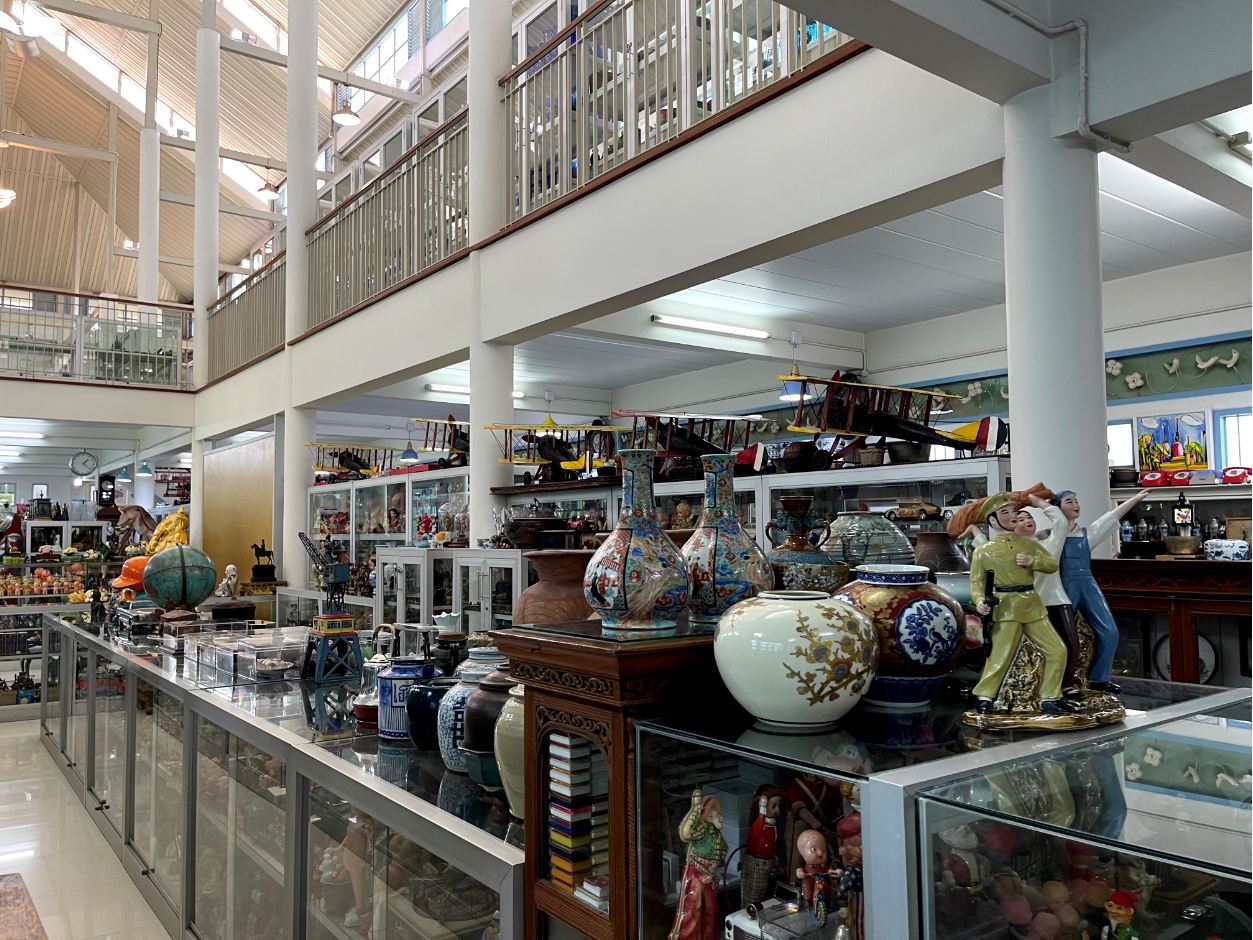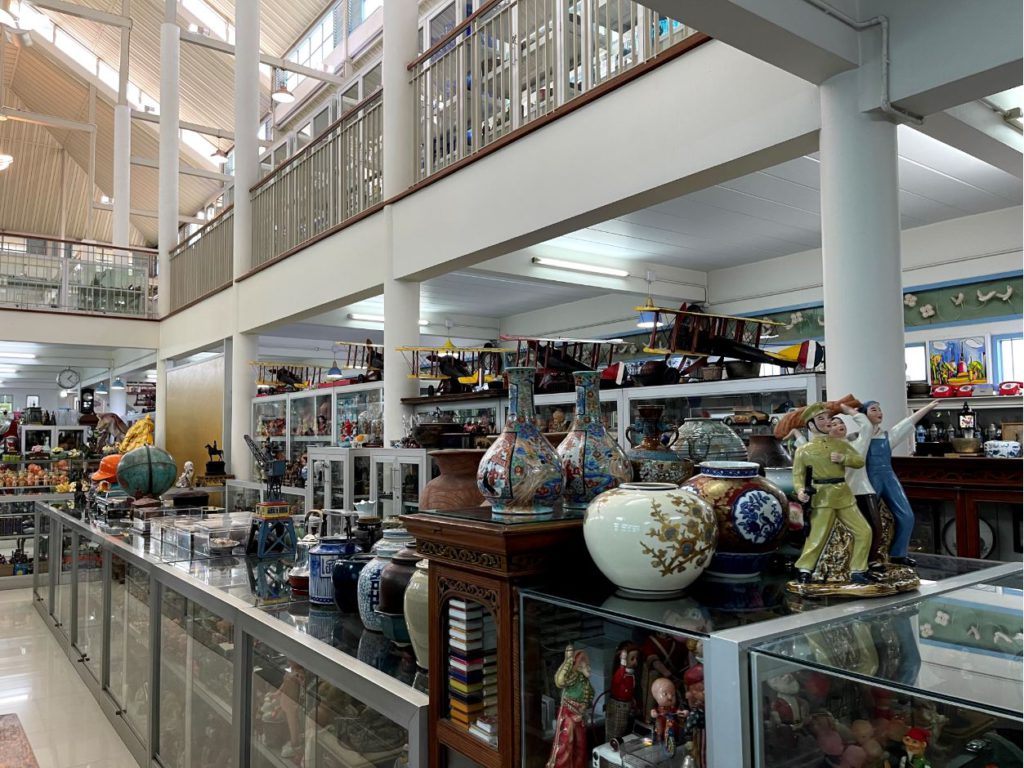 Baan Hollanda, Japanese & Portuguese Village
These are three museums or something like a small village just south of Ayutthaya. These were initially a trading post with Holland (present-day Netherlands), Japan and Portugal with the Ayutthaya kings established 400 years ago.
Before the colonial expansion started people from different countries looked to establish small areas to trade exclusive commodities like silk, spices and even firearms with the Siamese kings. Around 30-40 people even resided in the area for trading purpose.
Today, the place has been converted into a museum with artefacts found in the village from that time. Baan Hollanda is probably the best maintained followed by the Japanese village. The Portuguese village has been largely neglected after the recent floods.
It is a nice way to get out of town. You can get a coffee at a nearby restaurant. But the collection is small.
Ticket price for Baan Hollanda and Japanese village: The ticket price is THB 50 for foreign tourist.
Baan Hollanda timings: Open from 9.00 am to 4 pm from Wednesday to Sunday. Closed on Monday and Tuesday.
Japanese village timings: Open from 9.30 am to 5 pm every day of the week.
Where to Stay in Ayutthaya
If you are planning to stay the night in Ayutthaya, the best place to stay is near Wat Maha That that is also the cultural centre. The area on its east has several hostels, hotels, 7-eleven, restaurants, café and the night market.
If you are keen on experiencing the nightlife, the area east of the island town is where the Ayutthaya modern town resides. Look a place anywhere near the central market that has quite a few pubs, restaurants and a vibrant nightlife.
Budget hotels/Hostels: Stockhome Hostel Ayutthaya, Baan Bussara, The Park Ayutthaya Resort and Spa, Niwas Ayutthaya
Mid-range hotels: Baan Khon Suan, Baan Kong Homestay, Home romyen
Luxury hotels: One Dhatu, Mahadhatu temple view​, Woraburi Ayutthaya Resort & Spa.
Best time to visit Ayutthaya
Winter (November – January): This is the best time to visit Ayutthaya but all of Thailand. The temperature during the winter months hovers in the early twenties in this region. The skies are clear and there is usually very less rainfall. Humidity is also low. If you are planning to ride a bicycle, this time will suit you best.
The city of Ayutthaya hosts a cultural festival every year during the winter months that showcases several performances at night inside the historic sites. These present a snippet of the heritage and the battles between the army. Apart from the use of animals, I think it is pretty great stuff to see. Check out this video (that I found on youtube) for a glimpse.
Monsoon (June – September): I personally like monsoon as they do offset the rising temperature. But if the skies are clear after a couple of days of rainfall, the humidity is really high and you will sweat through your pants. But if it is a cloudy day, I think it will also make a great day to visit Ayutthaya. Boat rides are sometimes affected. Wear sandals and carry good raingear though.
Summer (February – May): This is a bad time to be outdoors in Ayutthaya. The temperature is well above 35°C on some days and easily touches 30°C even in early February. The sky is also clear that no chance of rain providing any respite. Heatwaves are also common. If you are planning a trip, take a taxi instead, keep indoors during the noon and stay hydrated.
What to wear in Ayutthaya
Covering yourself is an important matter in Ayutthaya since most places are either temples or an equally holy shrine. While there is no bar to what kind of clothes you wear, you must cover your shoulder and wear clothes till your knees. This goes both for men and women.
You can opt to get a scarf or a sarong that you can use to cover yourself while entering. For women, make sure your clothes are not too body-hugging or show too much cleave. A sandal is a good option as foot wear since you may have to remove it repeatedly to go inside the temple shrines.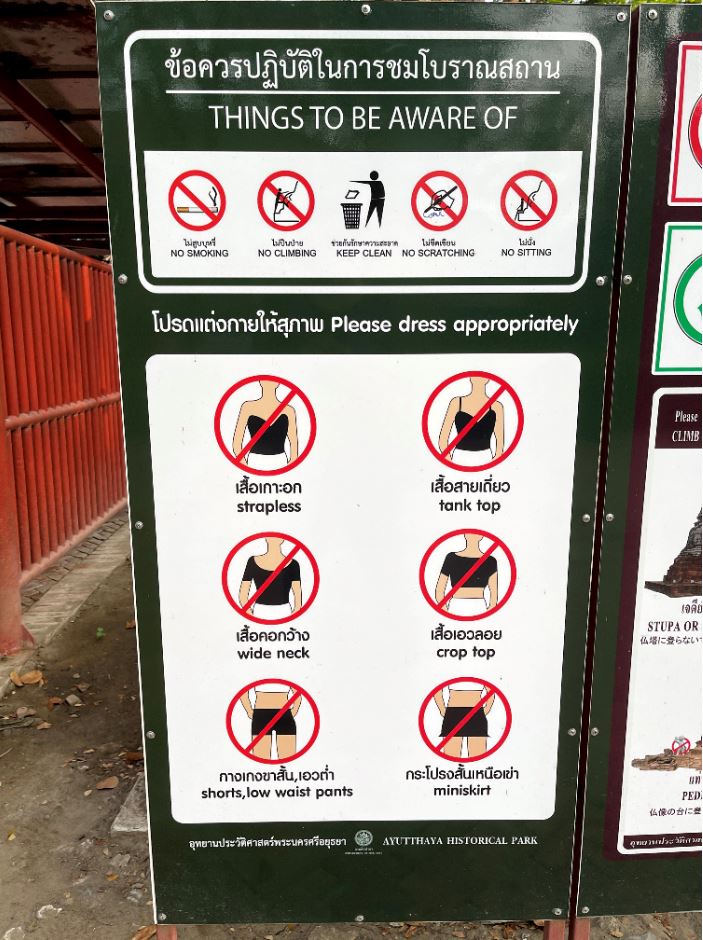 What not to do in Ayutthaya
Animal tourism is a common sight in Ayutthaya. And there is no regulation against it. In fact, it is openly promoted. You will see places after places with an elephant stable providing rides to tourist. Even with a single look, you can figure out the abysmal state of the animals.
I can only urge my reader to refrain from taking part in any entertainment activity related to the exploitation of animals. Some places do claim that they try to keep it ethical but, in the end, the process of capturing and taming a wild animal out of its habitat is extremely brutal and unnatural. Please do not fund it and if more people do it, the industry will move on to alternate methods.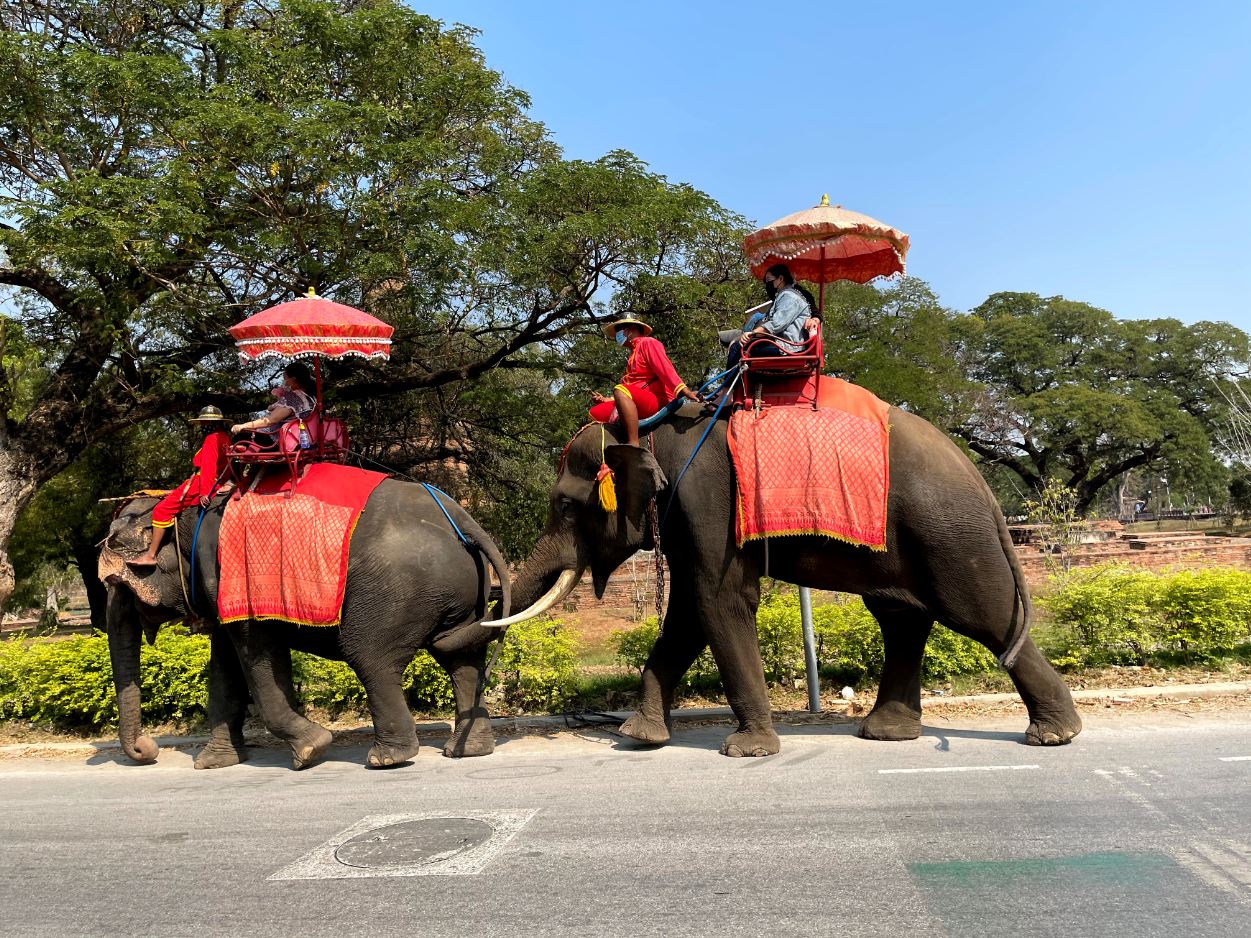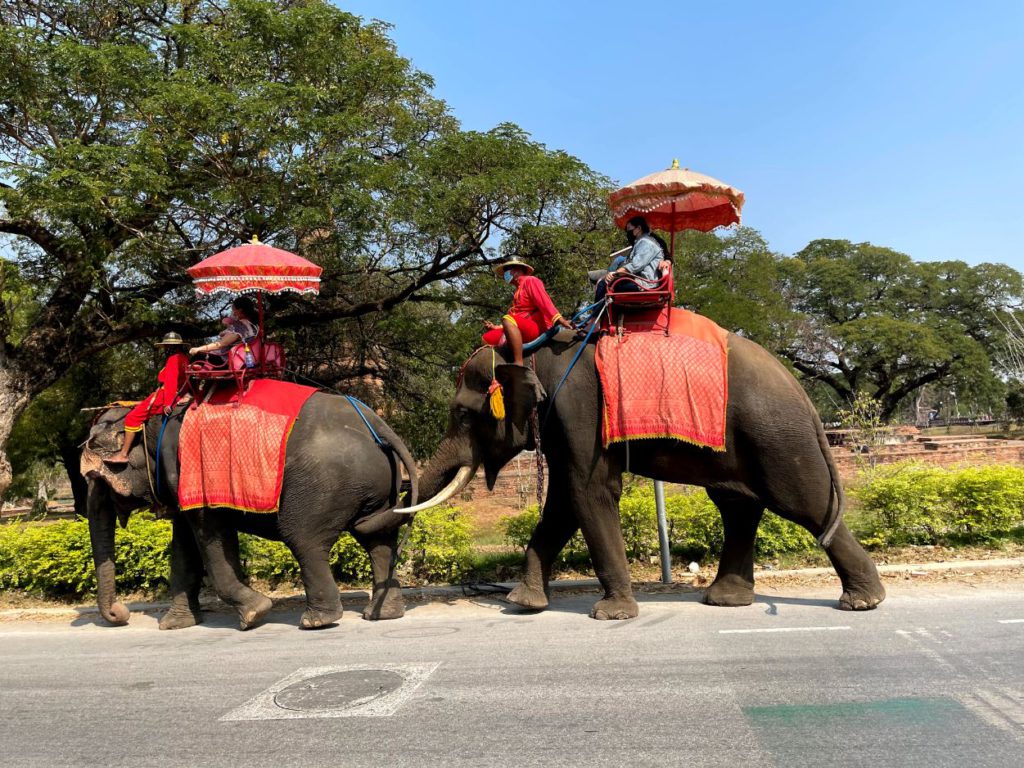 Save On Pinterest


Related Articles