18 Feb

How to reach Ayutthaya from Bangkok in Thailand

There are several ways to reach Ayutthaya from Bangkok depending upon the time you have, budget and comfort you are at. Here are some options.

Also, if you are travelling to Ayutthaya, check out our blog for the best things to do in Ayutthaya, Thailand.
How to reach Ayutthaya, Thailand
Day tours to Ayutthaya
If you aren't a history buff and want a comfortable day visiting a few temples and a very glamorous palace, I think day tours are a great option. Now there are too many historical sites in Ayutthaya and most people are okay with doing just a couple of them to get a feel of it.
These tours mostly run from Bangkok. They pick up from one of the main areas like Sukhumvit and Khao San Road, take you to Ayutthaya and drop you back. Most of the times, tickets are included as well. Make you you have the summer palace of Bang Pa-In included in your itinerary.
Some day tours also have a boat ride back from Ayutthaya to Bangkok with lunch. However, you will not be able to find any independent operator running such ferry ride. So if you want to experience this, go on the tour.
Here are some guided tours from Bangkok that you may like:
Travel Back by Boat: Ayutthaya Day Tour by Bus & Boat
For History lovers: 5 UNESCO Temples Small Group Tour
Visit a Floating Market: Ayutthaya & Ayothaya Floating Market Day Trip
Train to Ayutthaya
The train is by far the cheapest way to travel to Ayutthaya. You can board a train from Bangkok to Ayutthaya at Bang Sue railway station (Hua Lamphong closed on March 2021) right next to Bang Sue MRT station.
There are trains every two hours from Bangkok to Ayutthaya travelling towards and from Chiang Mai, Udon Thani or Ubon Ratchathani. No direct trains run from Pattaya.
While you can check the train schedule here, some trains are cancelled occasionally due to unforeseen reason. A regular train ticket fare was 15 THB for a 3rd class compartment with no AC. I will suggest you take the AC ticket for 2nd or 1st class during summers since it can get really hot. There are no toilets in the 3rd class compartment as well.
The price for a 2nd class would be THB 60 and upward. You can buy the ticket at the counter only since it is usually not that crowded. It takes around 1.5 hours to reach Ayutthaya.
Ayutthaya train station is 3 km outside the historical city centre. During the day you can take a tuk-tuk to the city. Grab (app) taxis are also available although they are rather sparse. If you are looking to rent a two-wheeler, you can do that right opposite the railway station (read below).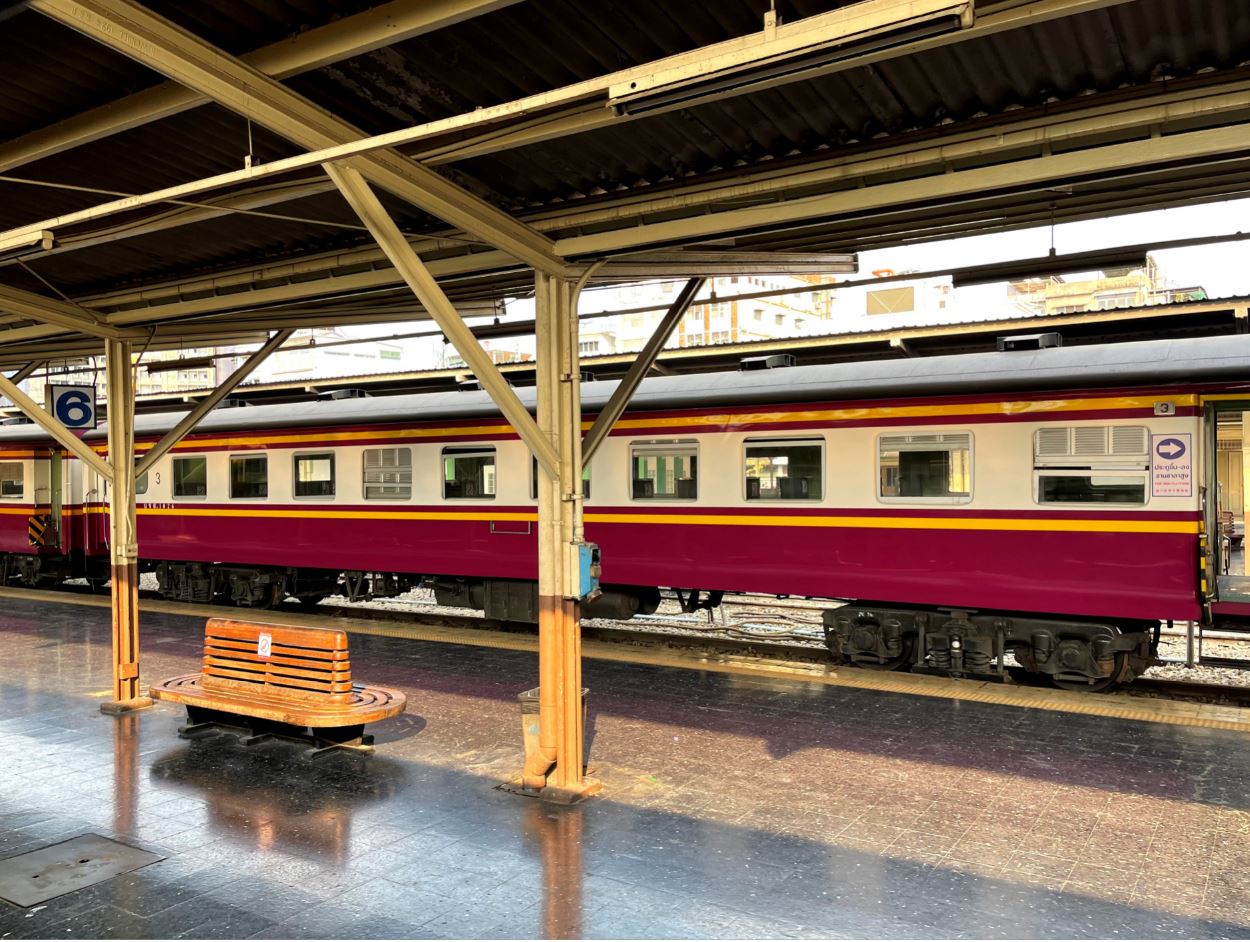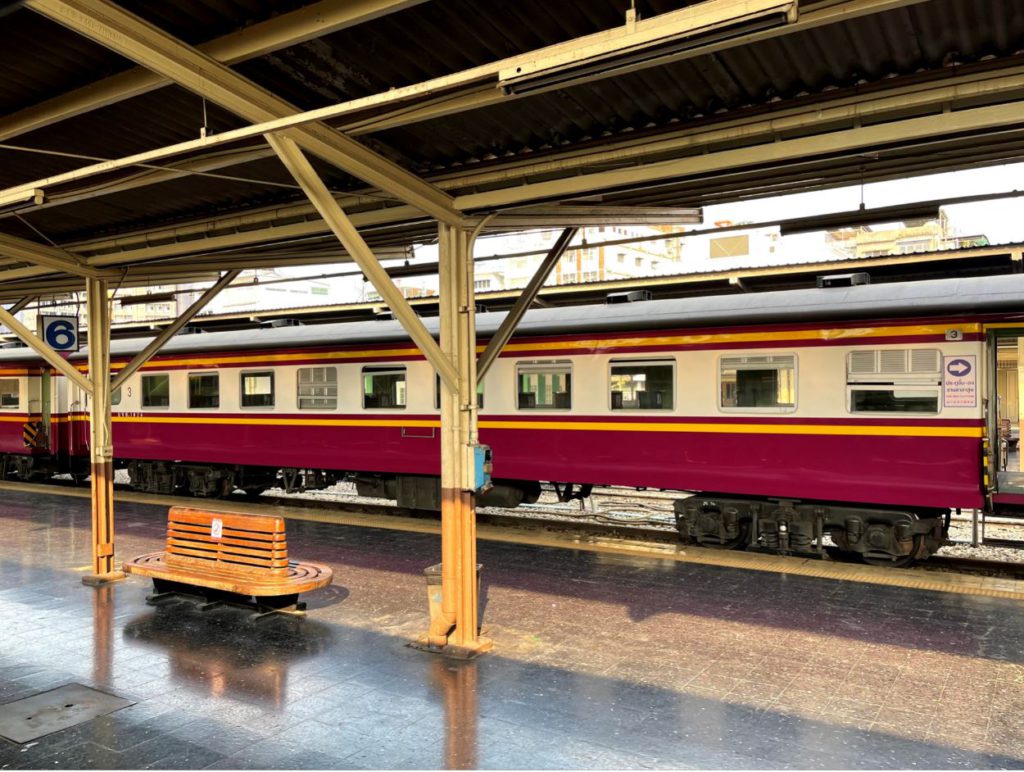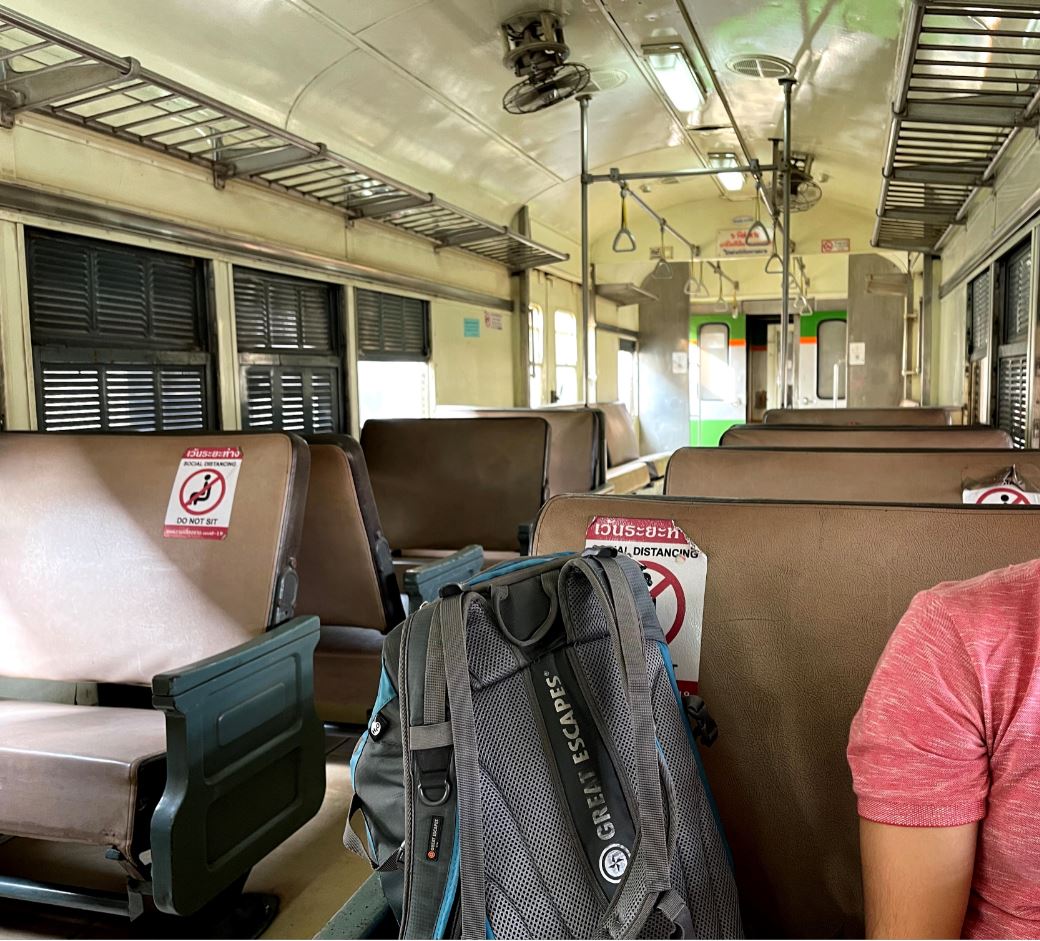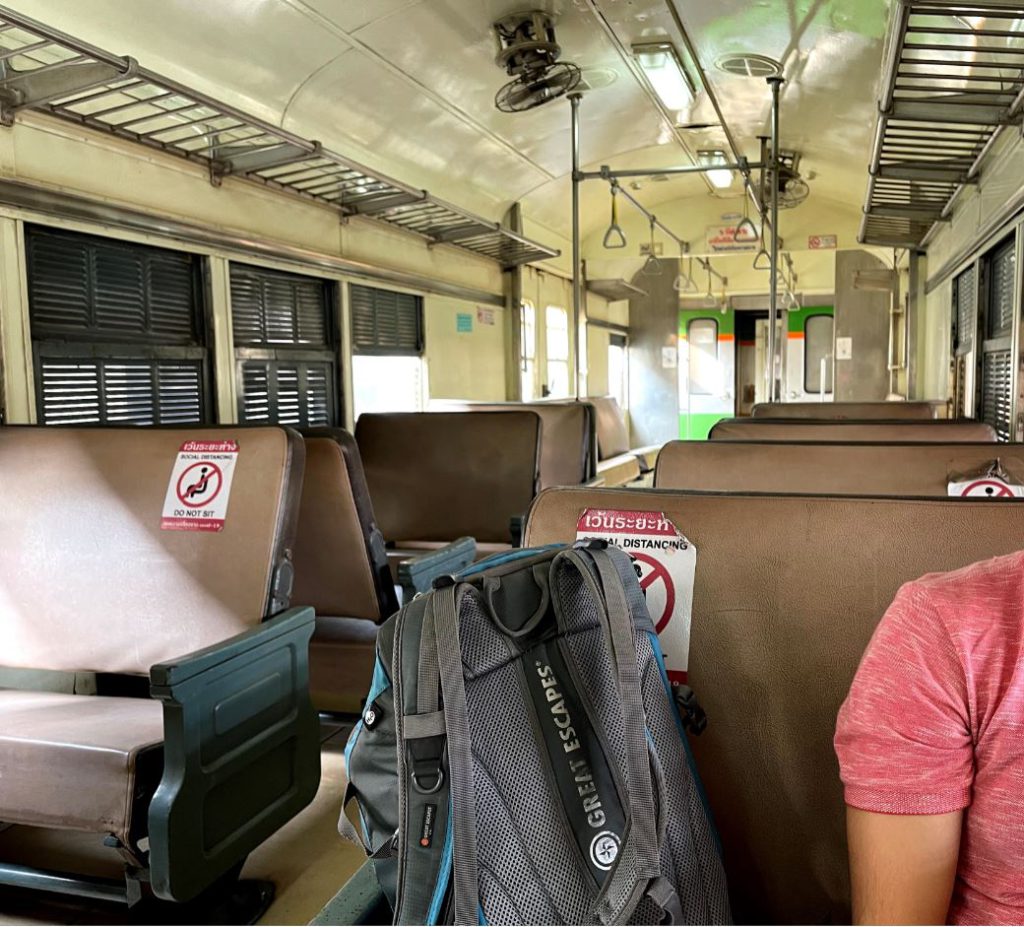 Bus/Minivan to Ayutthaya
You can take a bus or a minivan from the Mo Chit Bus Terminal (near Chatuchak MRT or Mo Chit BTS station) in Bangkok. A bus or a minivan runs every half hour to Ayutthaya. The buses are air-conditioned and comfortable.
It takes approximately 90 minutes to cover the distance by bus and 75 minutes by minivan. A ticket costs THB 60 and upwards (THB 100 for a minivan) and you can buy a ticket at the counter. You can also book yours online at 12go.asia or bookaway.com.
If you are staying in or around Khaosan you can head to one of the many local agents who run daily tours to Ayutthaya and ask around for a minivan ticket. The minivan will pick you up directly from your hotel (or around Khao San Road).
There are no minivans available from Victory monument now. All minivans have been moved to Mo Chit,  southern or eastern terminal depending upon their destination.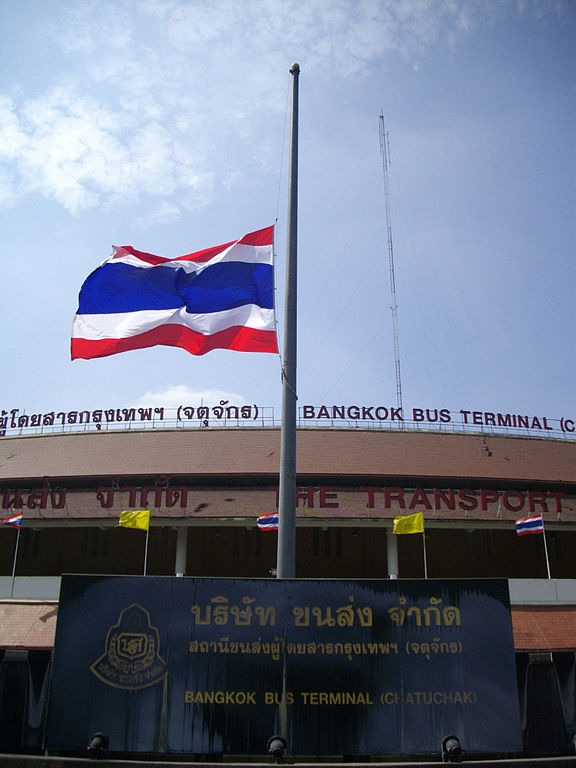 Taxi to Ayutthaya
If you are travelling in a group, a taxi is a very convenient way to go around. A one-way taxi from Bangkok to Ayutthaya will cost THB 1200 to start with and may go up to THB 2500 for a full day trip with sightseeing the ancient ruins. You need to pay the toll additionally.
While you can book a taxi on online portals, the rates are on the higher side. You can check out one of the many tour operators in the touristy areas of Bangkok or speak to a taxi driver when you hail a cab in Bangkok with your requirement. They usually quote a better price.
Online cab services:
How to go around in Ayutthaya
All the important historical sites inside the Ayutthaya historical centre are not close enough to walk. Maybe you could walk to a couple of them but you will definitely need a vehicle to cover others. Here are some options. Taxis are available on Grab (app) but they are still pretty sparse.
Two-wheeler inside Ayutthaya
It is not that easy to get a two-wheeler near the historical area of Ayutthaya. You can always ask your hotel owner but if it is a small hotel, they may not be able to help either.
The best place to rent a two-wheeler is a lane directly opposite the railway station. You can find a cluster of shops with big boards for renting motorbikes. A day's rent is THB 200 if you rent in the morning and return by evening 6 pm. If you want to keep it with you overnight, or for several days, that costs THB 300 per day.
You need to hand over your passport or some kind of important document as a guarantee. A fuel station is nearby right before the bridge (location). You need to fill up the tank before you return the vehicle.
They also gave us a map of the important points in Ayutthaya historical city to visit that was quite helpful.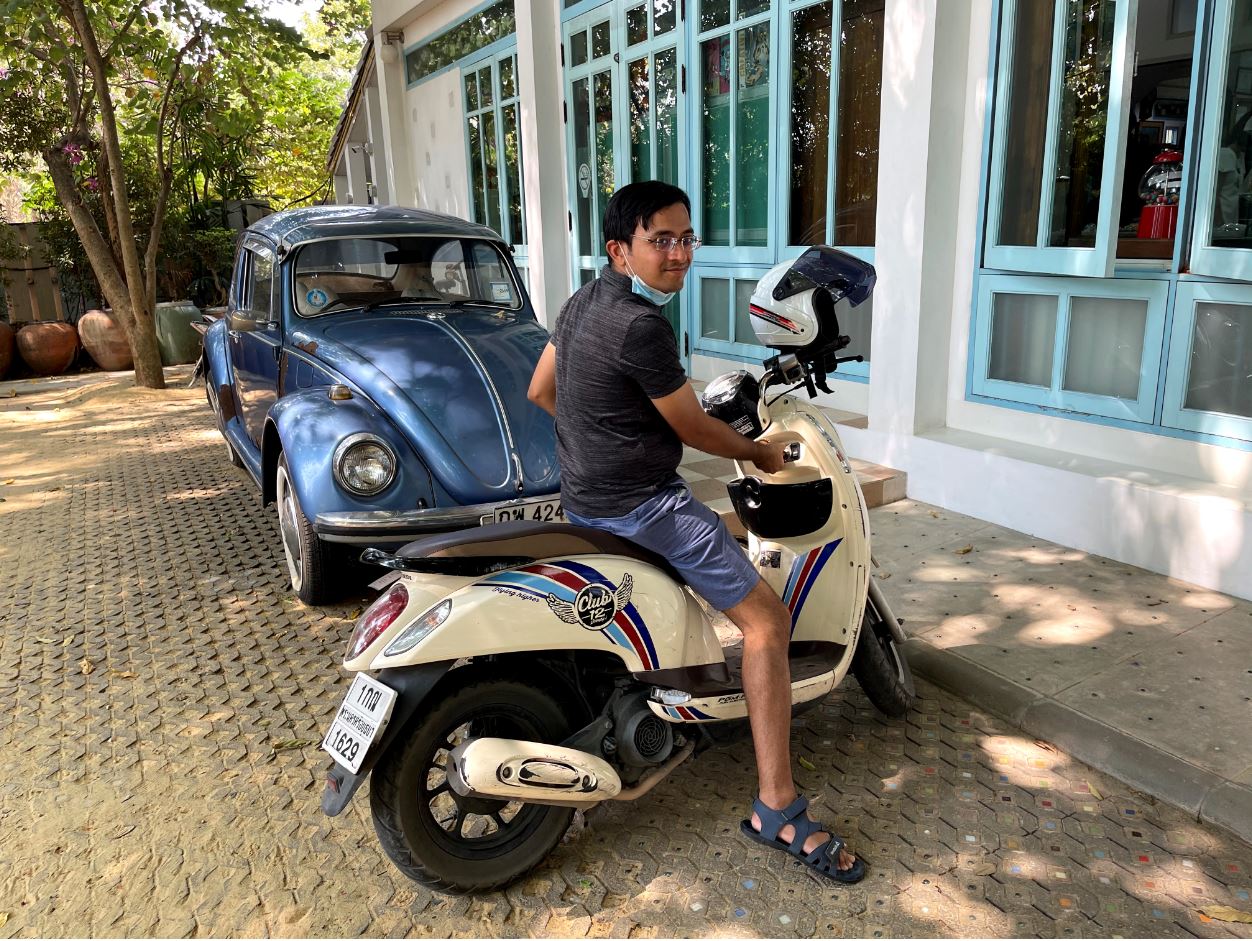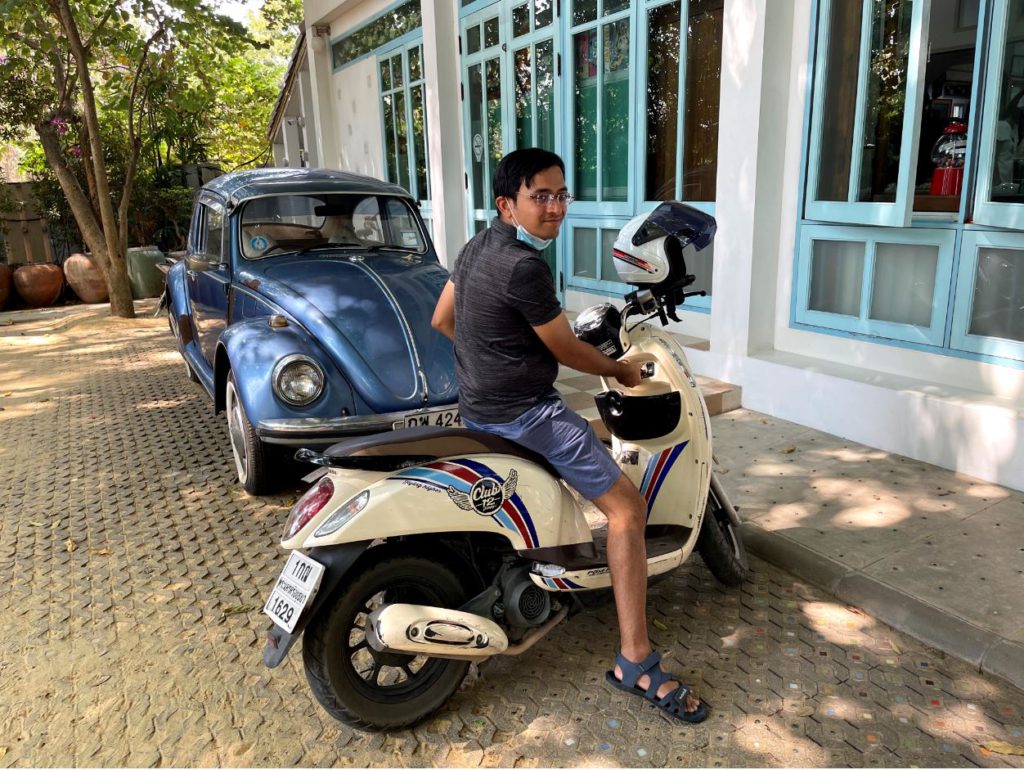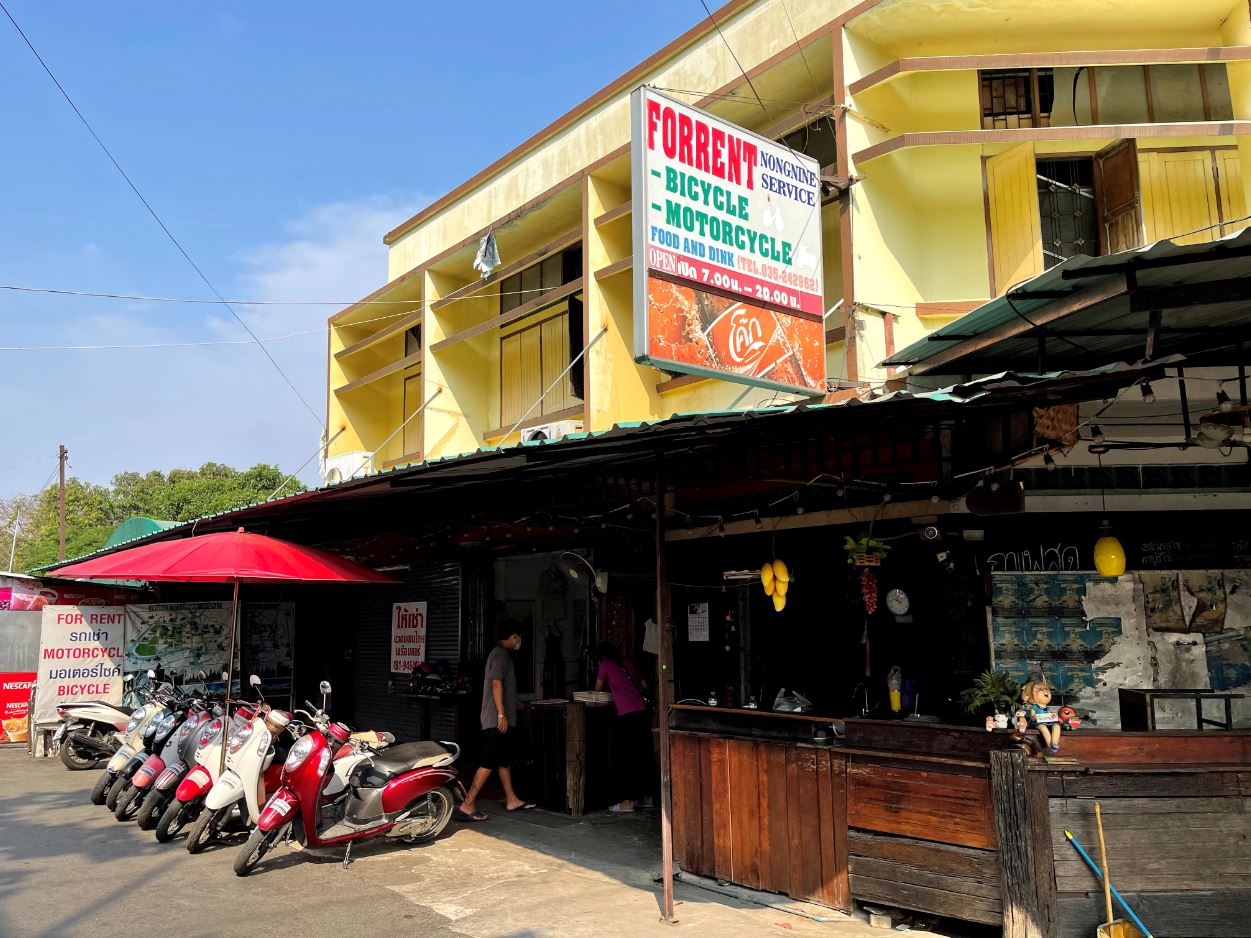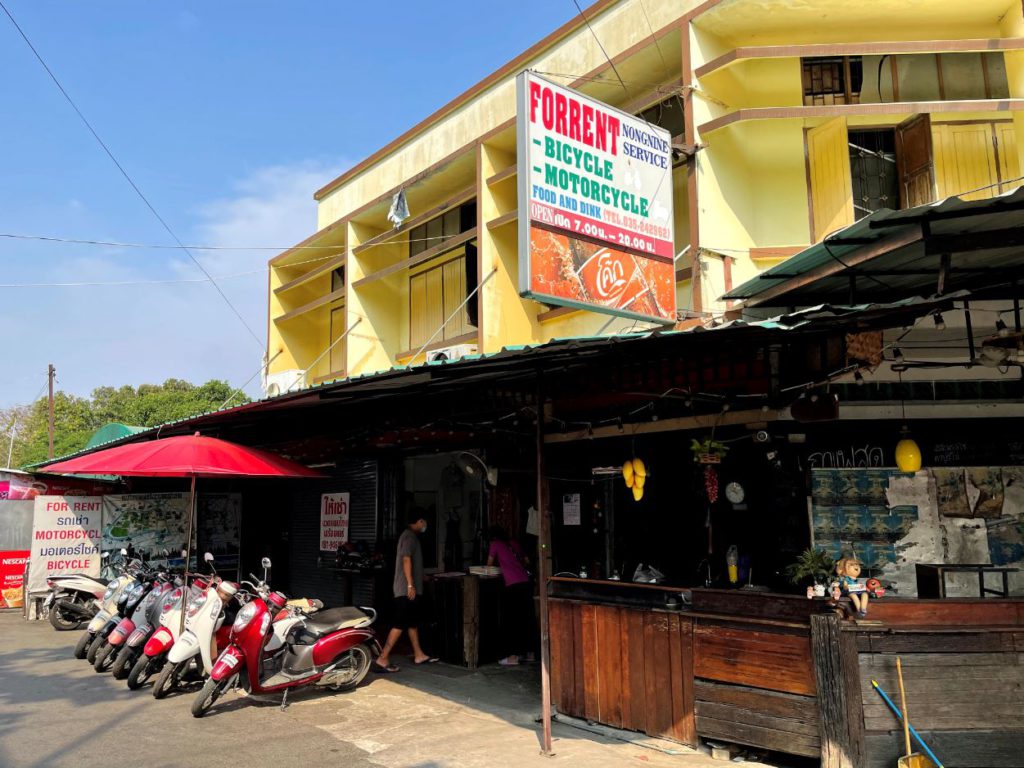 Bicycle inside Ayutthaya
A bicycle is a popular way to go around Ayutthaya town. The town area is made cycle-friendly with designated cycle parking areas and a cycle lane. But let me tell, even with a cycle it is a LOT to cover. And you can cycle only around the main historical area. If you want to go to the floating market or the other side of the river, you will have to take another vehicle.
Bicycles are available at almost all hotels. Plus there are several rental shops that rent cycles for THB 50-100 a day. If your fitness level is above average and you enjoy cycling, definitely go for it. But make sure you have plenty of water with you. Also avoid the hot hours of the day and make an early start in the morning since the heat in the area isn't kind.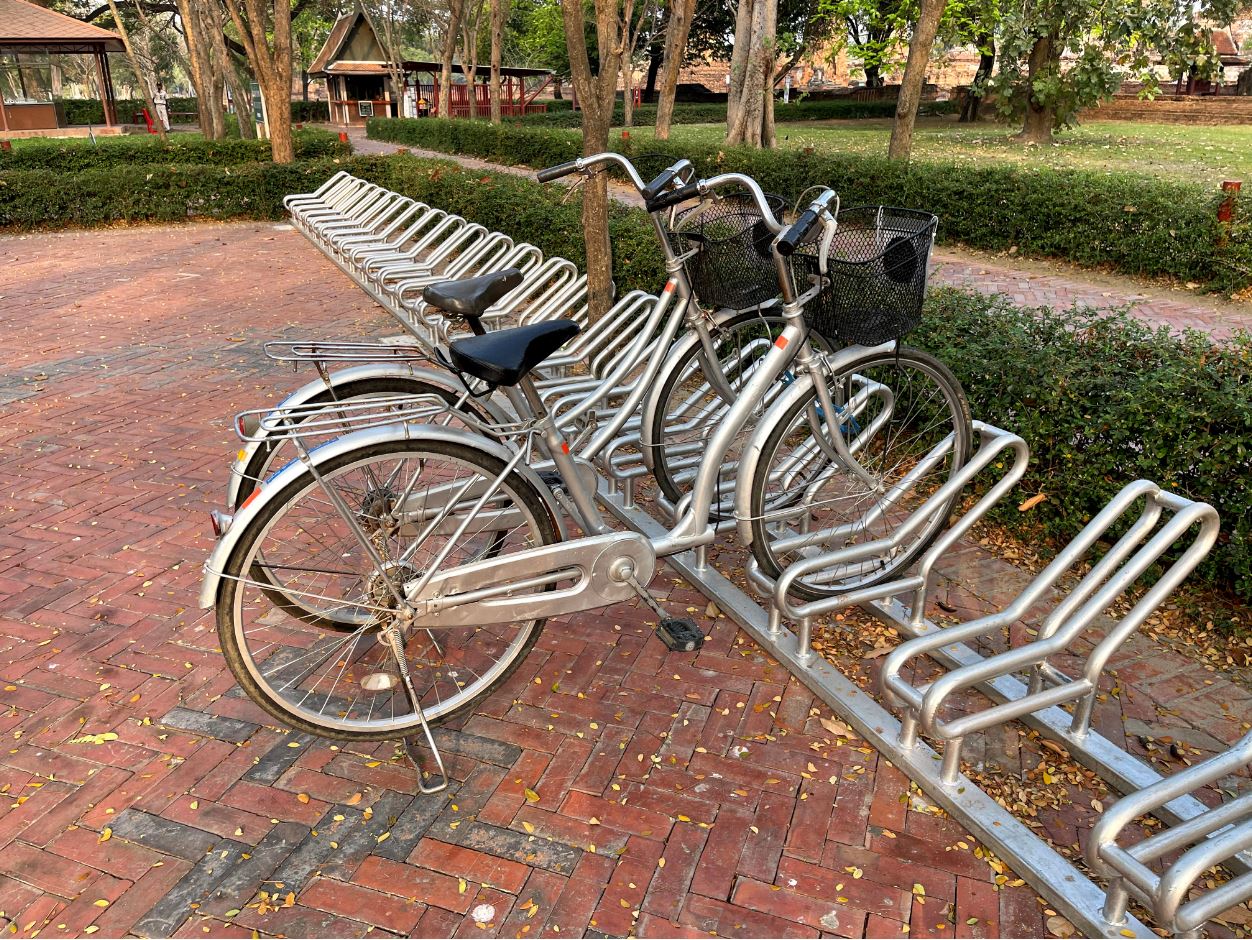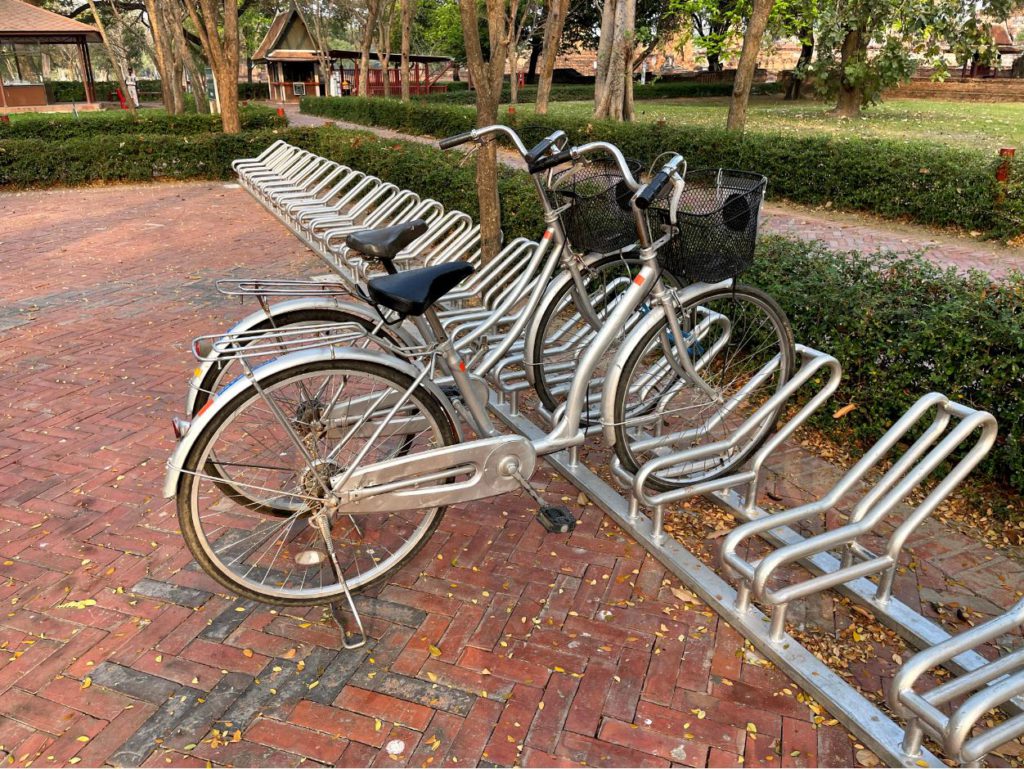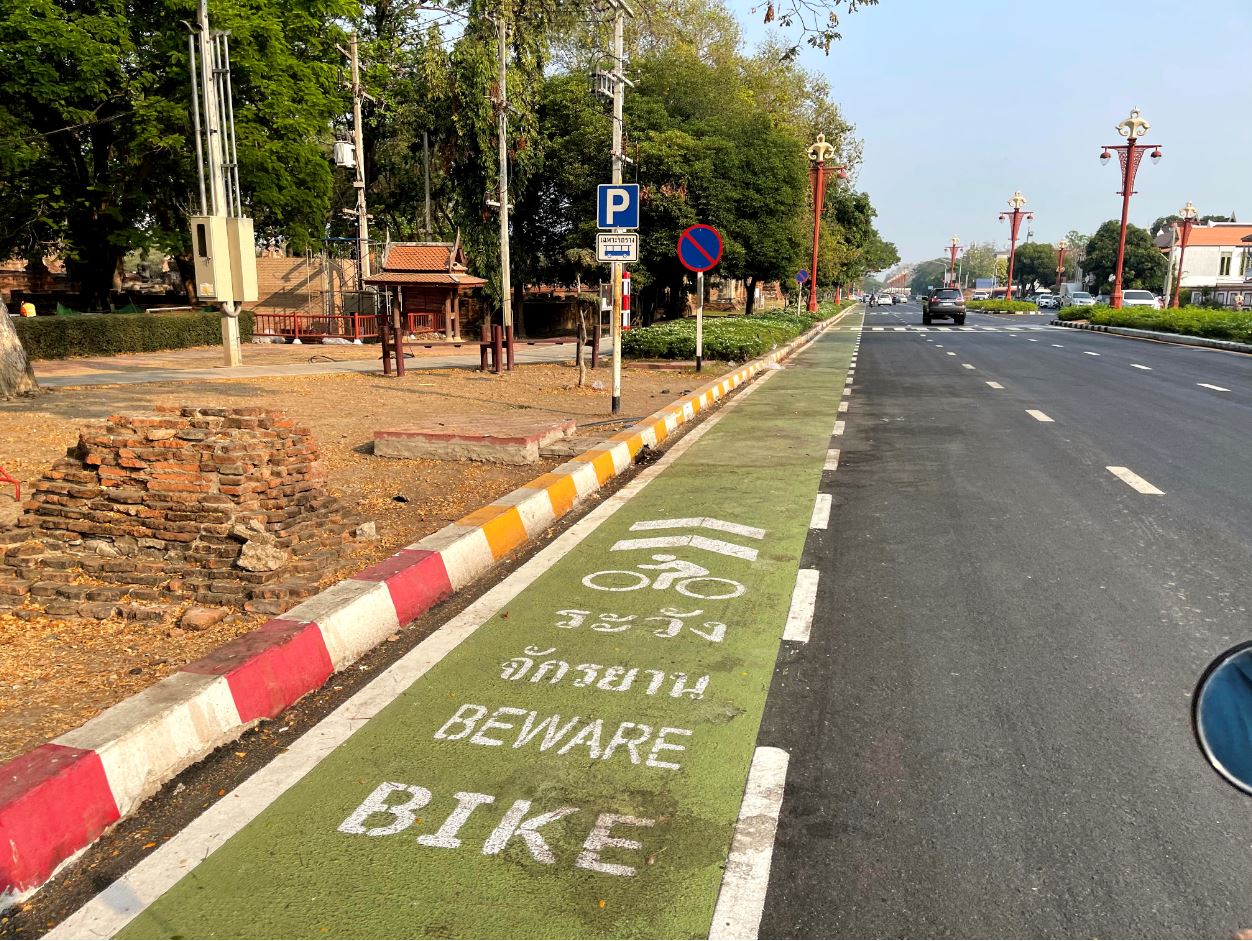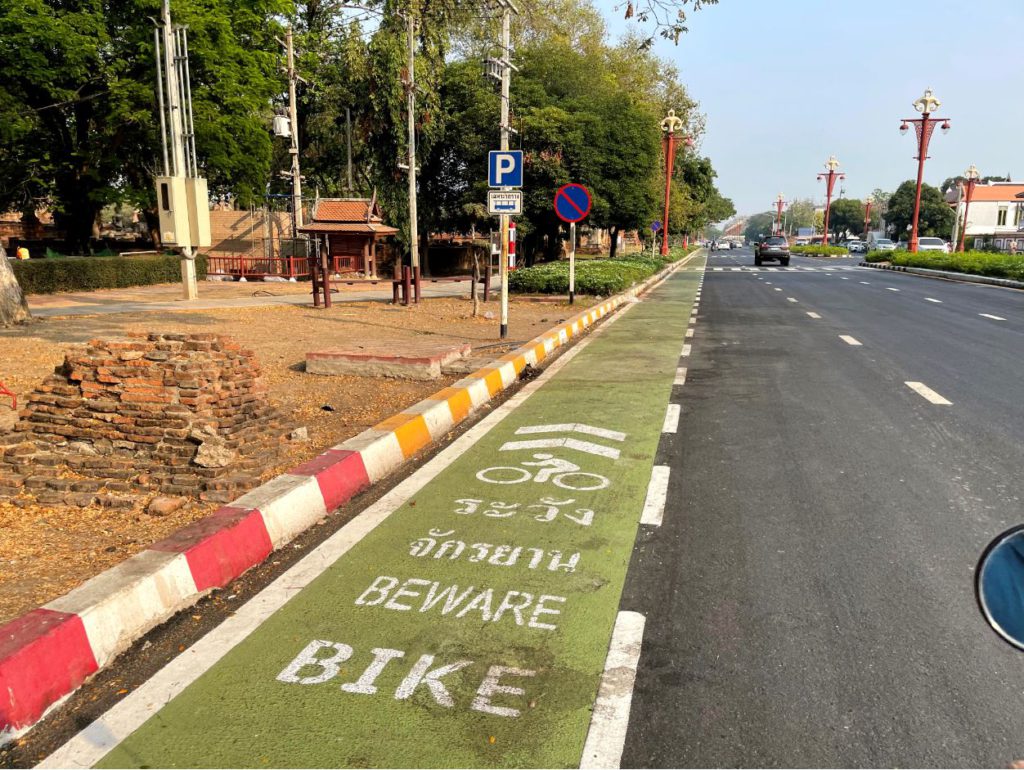 Tuk-tuk inside Ayutthaya
You can find these tuk-tuks inside Ayutthaya which is a bit different from the other parts of Thailand. On a busy day, you can find one on the road and wave to embark. On weekdays, you may need a bit of effort to find one but you can always spot one outside a temple or a tourist attraction.
You can use these tuk-tuks for a one-time ride. The fare starts at like THB 50-60 for a destination inside the town. Or you can rent them for the whole day. A private day tour with 5-6 sites and waiting time will cost you around THB 500-600. Let them know the places you want to see beforehand.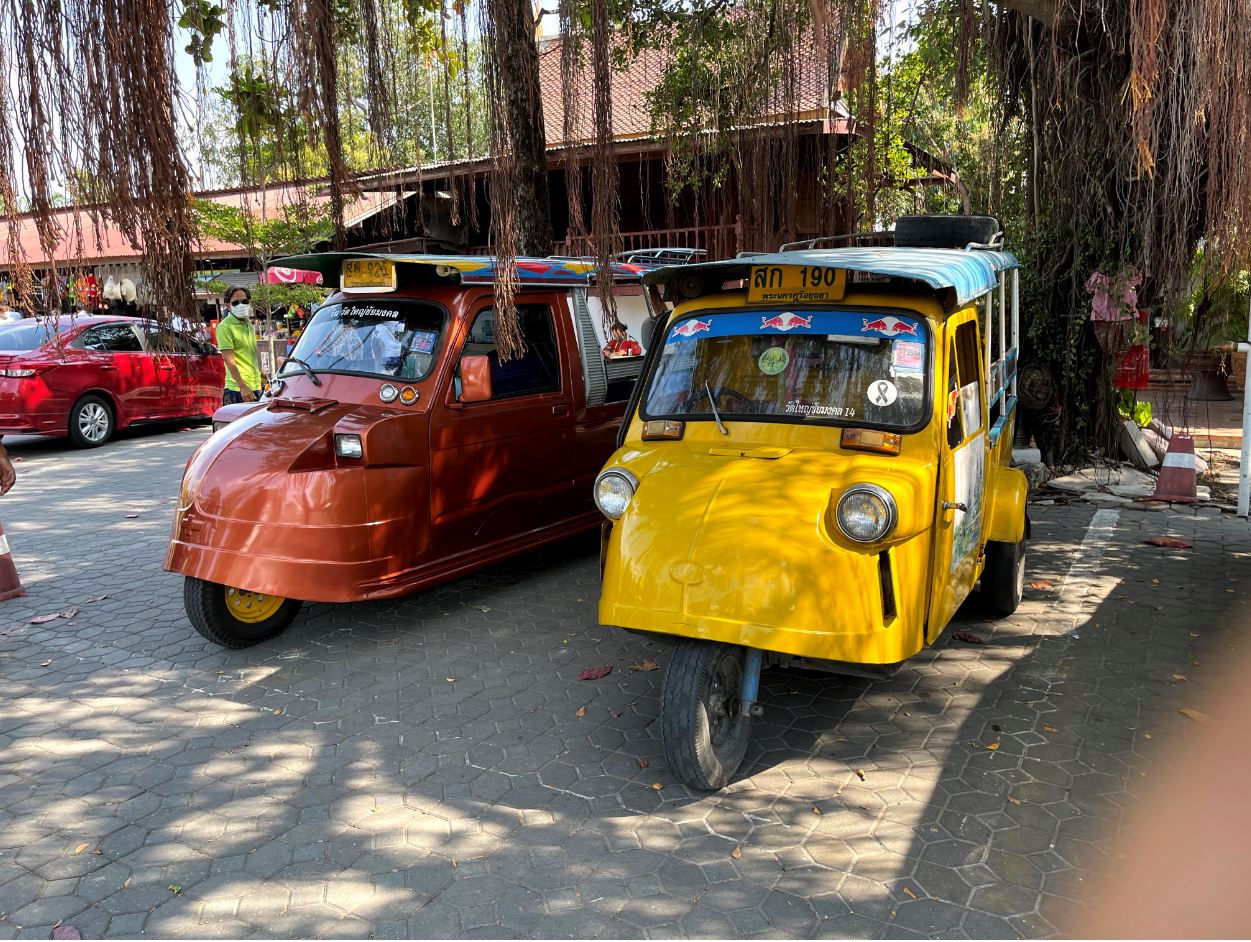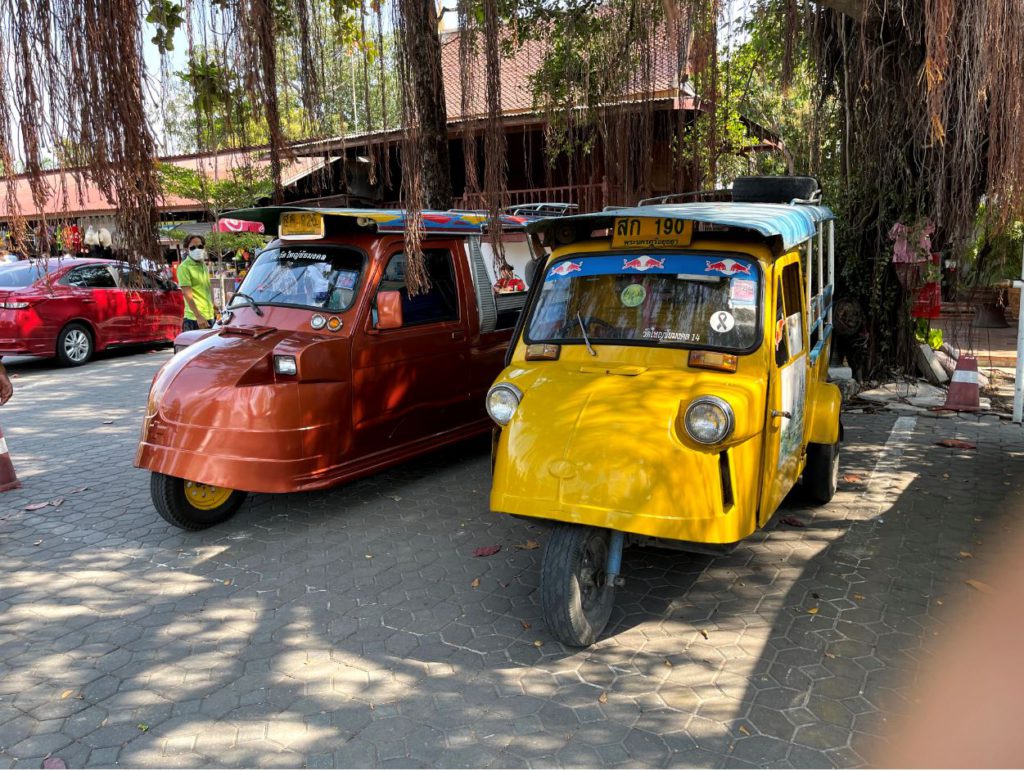 Related Articles