21 Aug

Visiting Wat Samphran, The Dragon Temple, Thailand

How extraordinary is this place?

I have had many people ask me about 'the pink temple with a dragon around it'. This one is actually Wat Samphran that has gathered some popularity in the recent past.

But it is still not mainstream. And it's hard to reach.

So you may find it all to yourself.

But is the pain worth it?

I would say it is. How many times do you see such a large dragon even if it is fake? It is probably closest to seeing 'Smaug, the great' with your own eyes without the fear of burning alive.

Anyway, if you do plan to take the trip, here is everything that you need to know Wat Samphran, the Dragon Temple.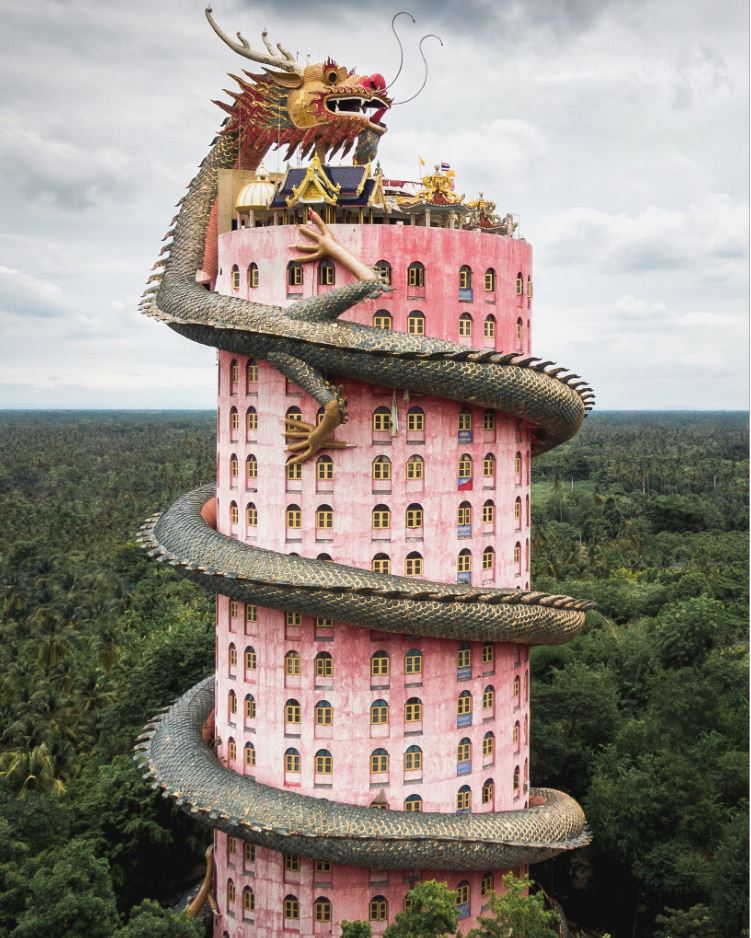 Wat Samphran History
To be honest not much is known about its history. But as the locals tell, the place was founded by Bhavana Buddho sect and was officially registered in 1985 in documentation. It took only 5 years to build.
Wat Samphran is not just the main pink building as you see, but a complete complex with temples, meditation area, living quarters and food stalls. The temple is a blend of Chinese beliefs that the Mangkorn (Dragon) boldly represents with the Thai culture and beliefs brought in by the local monks.
The temple clergy were found involved in a sexual misconduct scandal in 2004 for which they served long imprisonment. Since then, the place has rather been neglected only popularized by recent international tourists.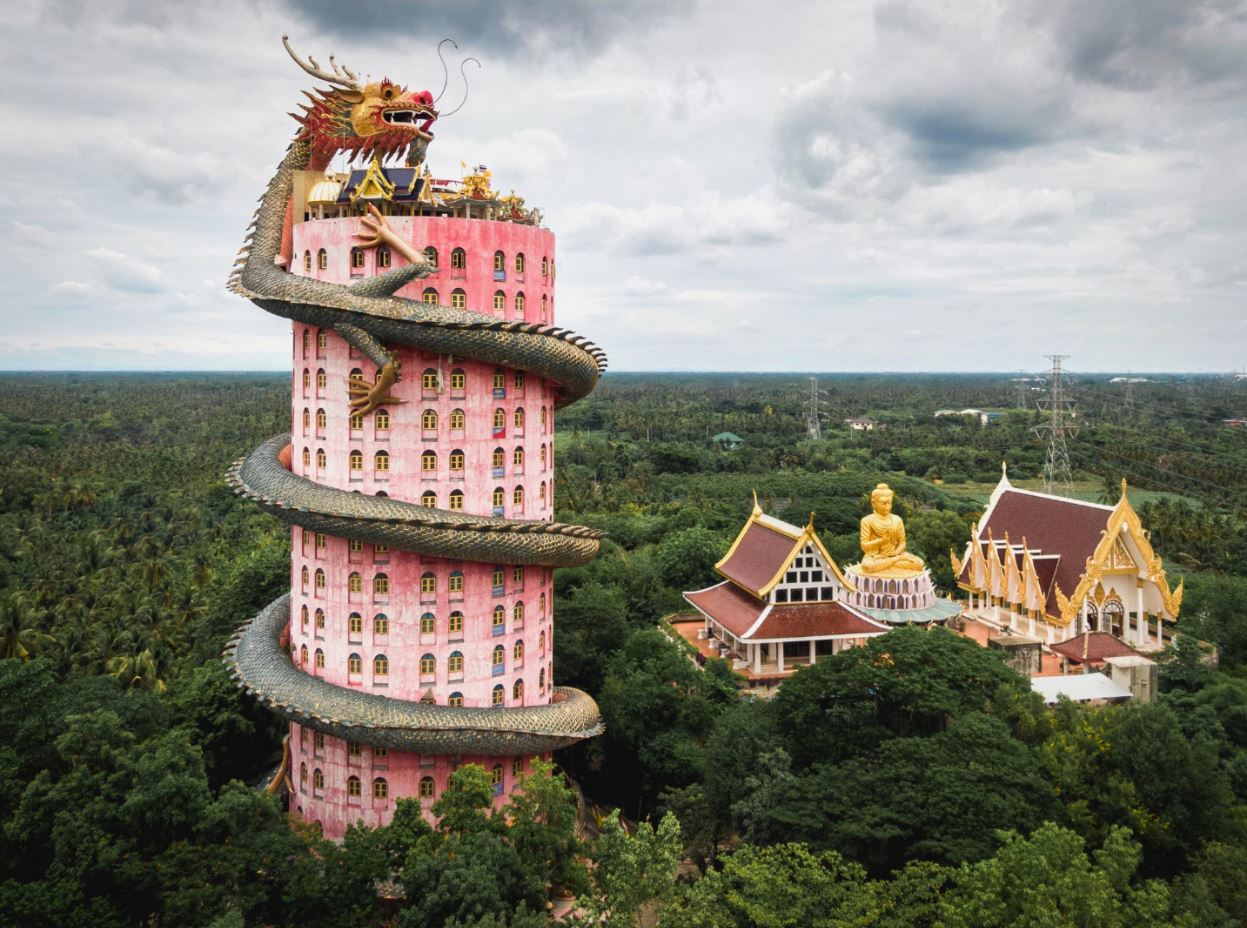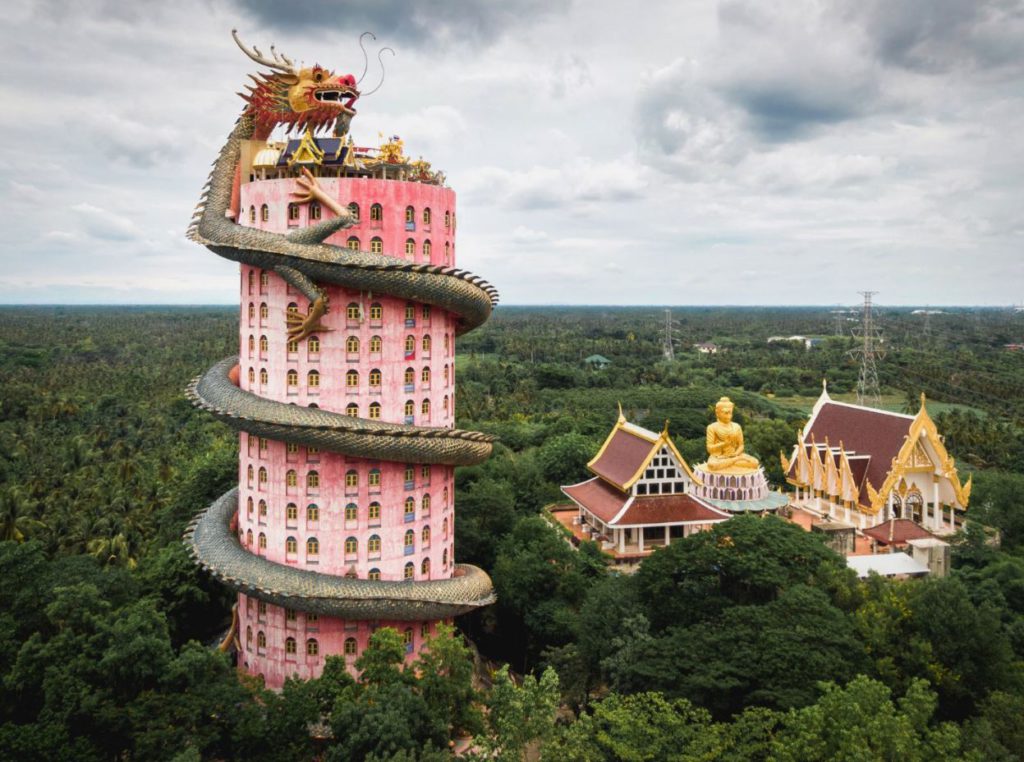 Where is Wat Samphran Located?
Wat Samphran is located in Amphoe Sam Phran in Nakhon Pathom Province. It is 40 km west of Bangkok centre by road. The temple premises are 1km inside the highway that connects Bangkok to this province.
Civilization around this area is sparse and it is the only high-rise building for miles around. Therefore you can spot it from a great distance.
Address: หมู่ที่ 7 92/8 Sam Phran, Sam Phran District, Nakhon Pathom 73110
How to reach Wat Samphran
Taxi: If you are not on a shoestring budget or with a large group, the most comfortable way is to take a taxi. A taxi will cost somewhere between 300-400THB from Bangkok city to Wat Samphran one way.
A round trip will cost between 600-800THB for half a day depending upon your negotiation skills and location in the city. Parking is available and free at the temple.
Taxis are also available as you step outside the temple premises, but may not be as frequent. If you plan to take a return taxi from there, there shouldn't be much problem.
Taxis are also the fastest way to reach and a one-way journey will take around 30 minutes to complete. There is no Grab or Uber available in the area.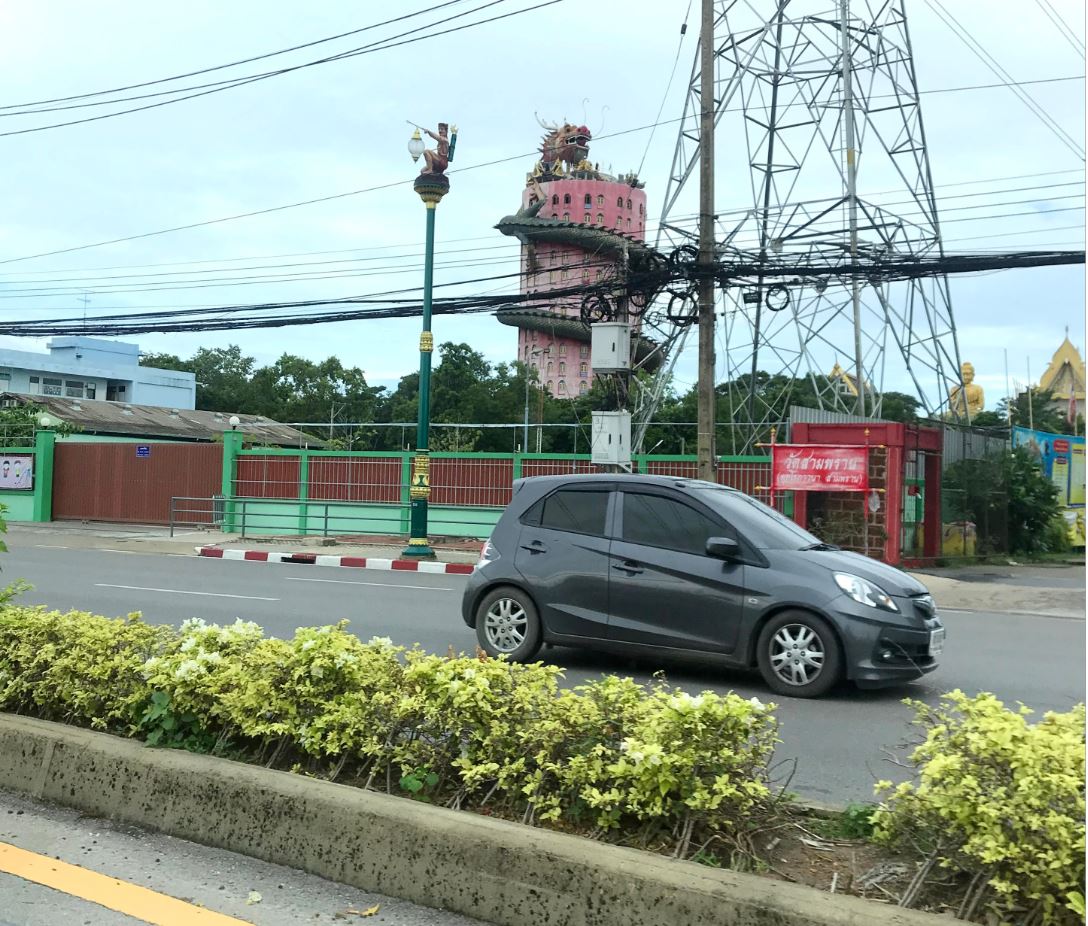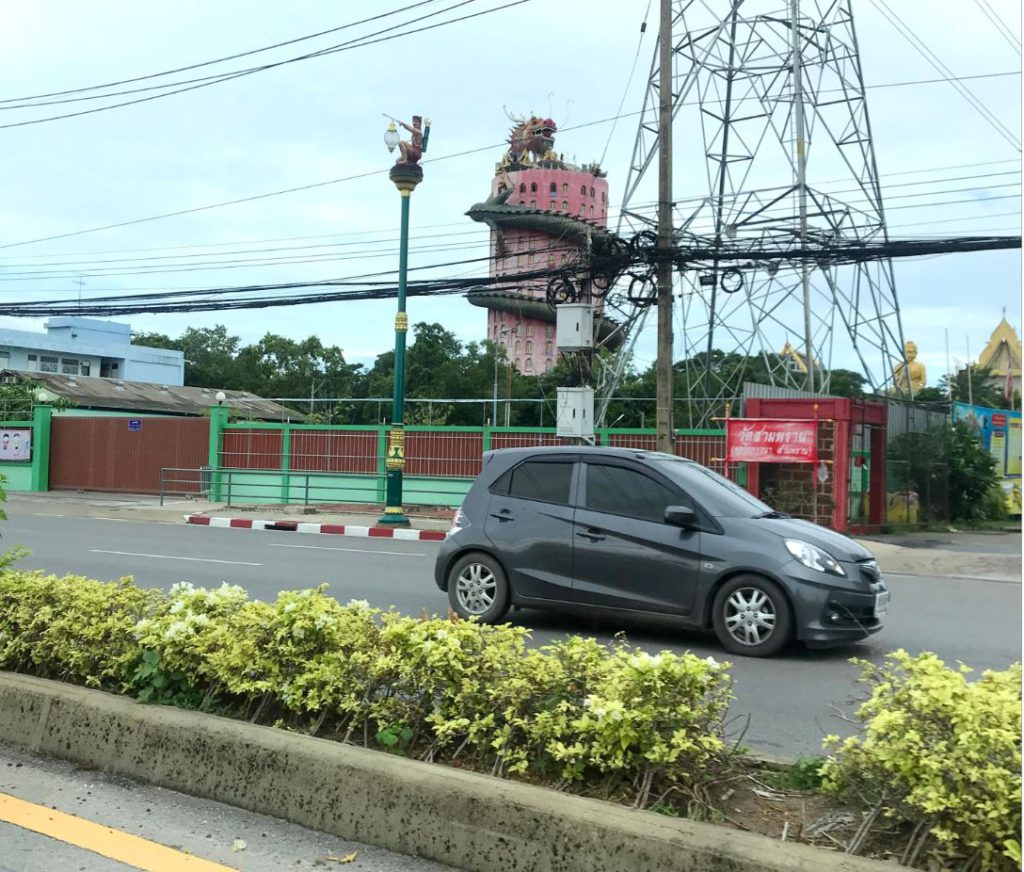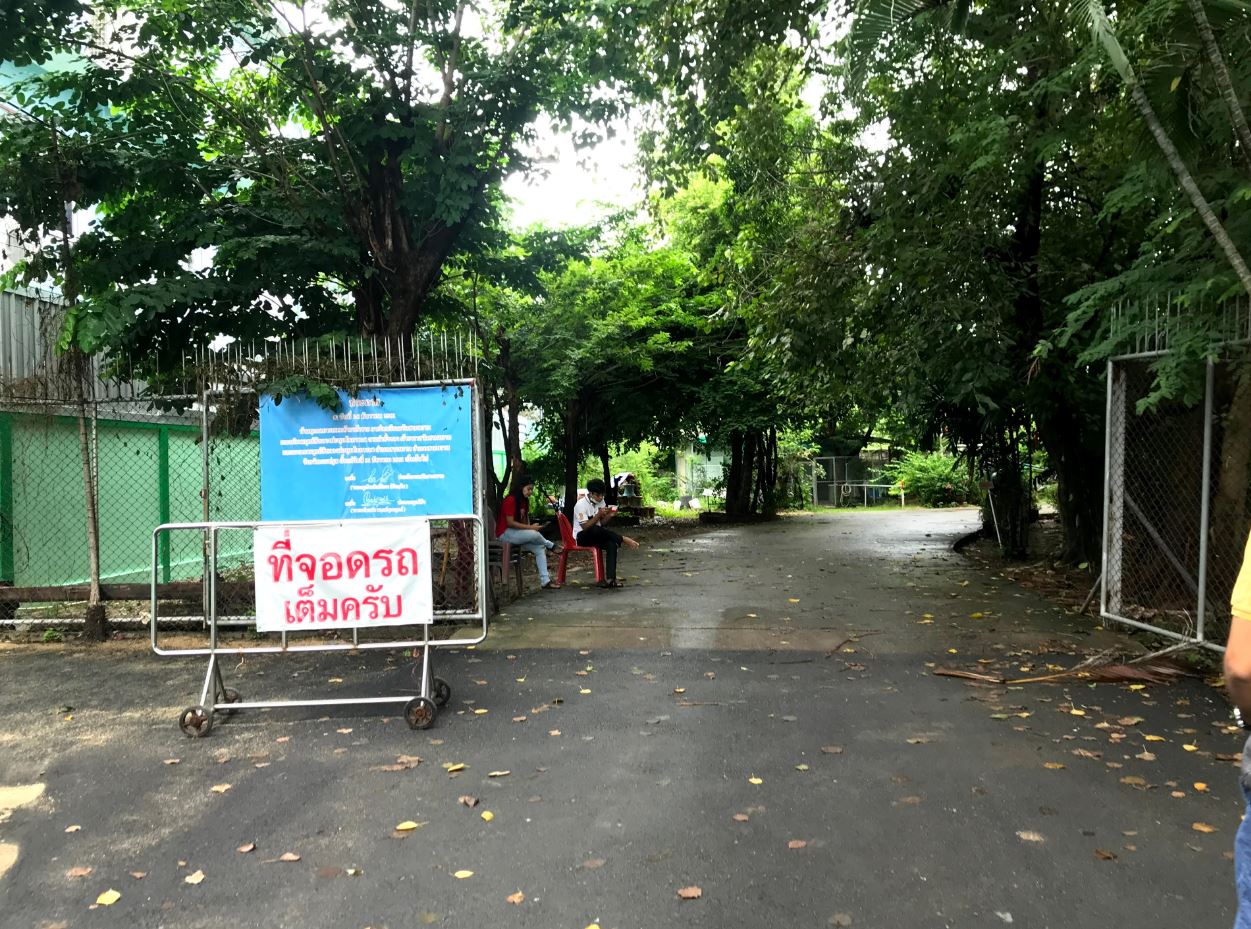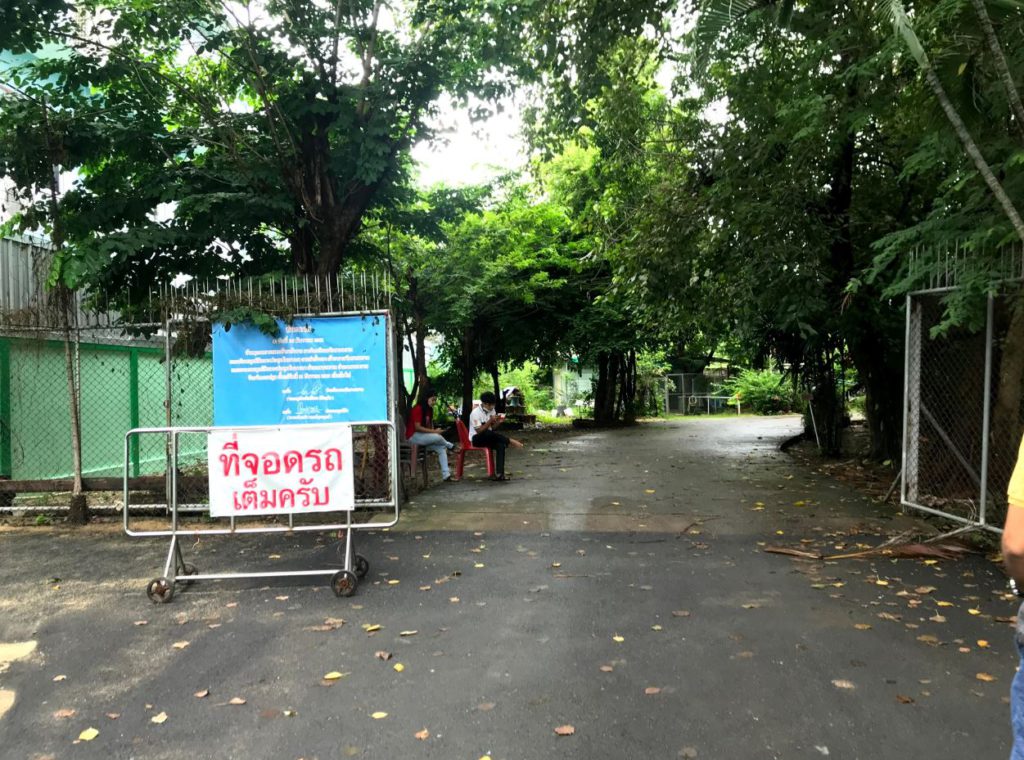 Bus: There is no direct bus to Wat Samphran. But there are buses on that route that will drop you pretty close to the temple. You will need to take a short ride using a taxi from the drop-off point. The whole journey one way may take up to 2 hours of time.
If you are travelling from Bangkok, you can get down at Lak Song MRT Station (on the blue line) or Bang Wa BTS Station (on the dark green line) and take the Bus no. 84 (AC) to Wat Samphran that costs 25THB per person.
The bus will drop you around 4km before the temple. You can easily hail a moving cab (50THB) or a minivan from there to the temple.
Another way is to take bus number 515 from Victory Monument to Central Salaya Mall. From the opposite side of the mall, take a taxi to Wat Samphran for next 12 km.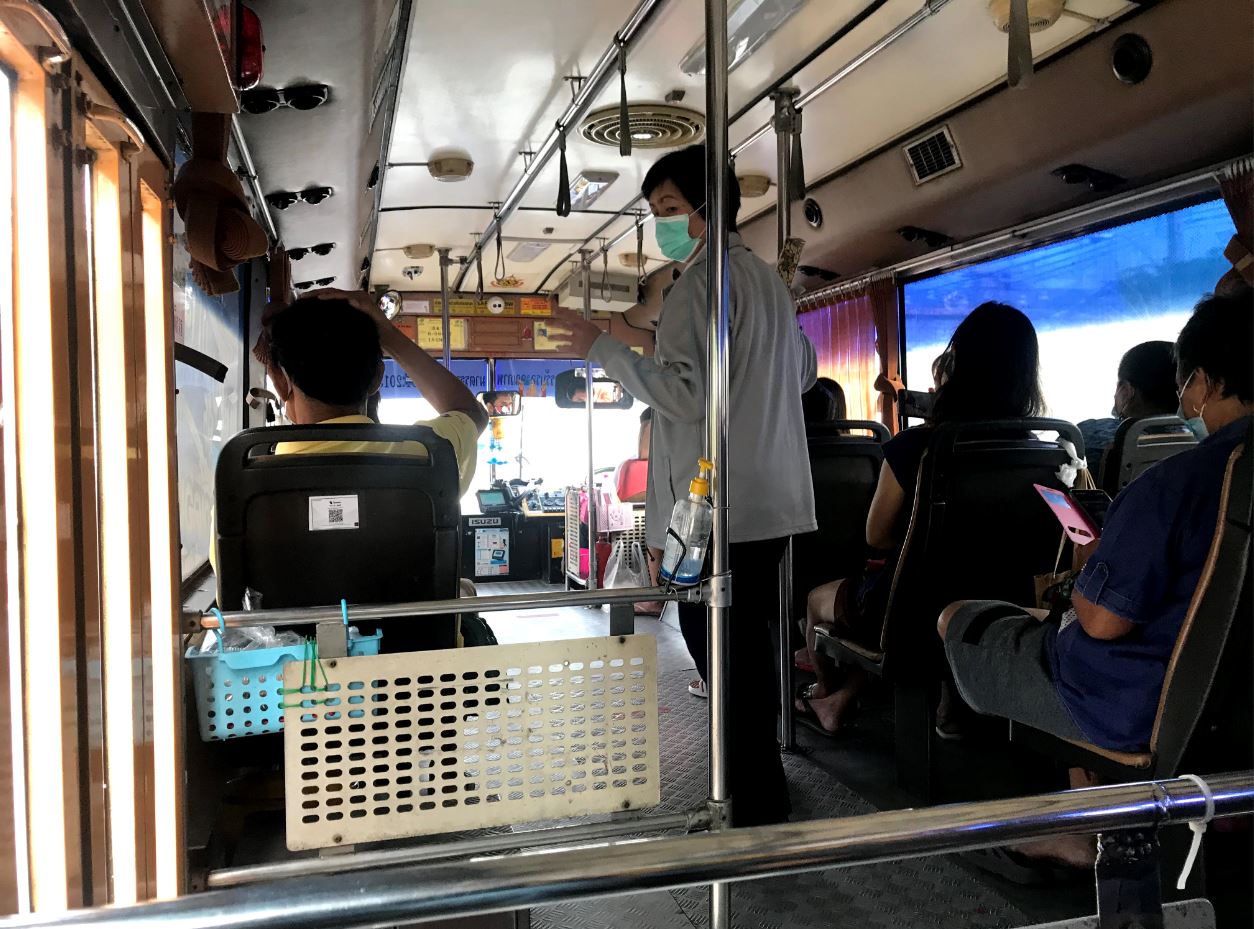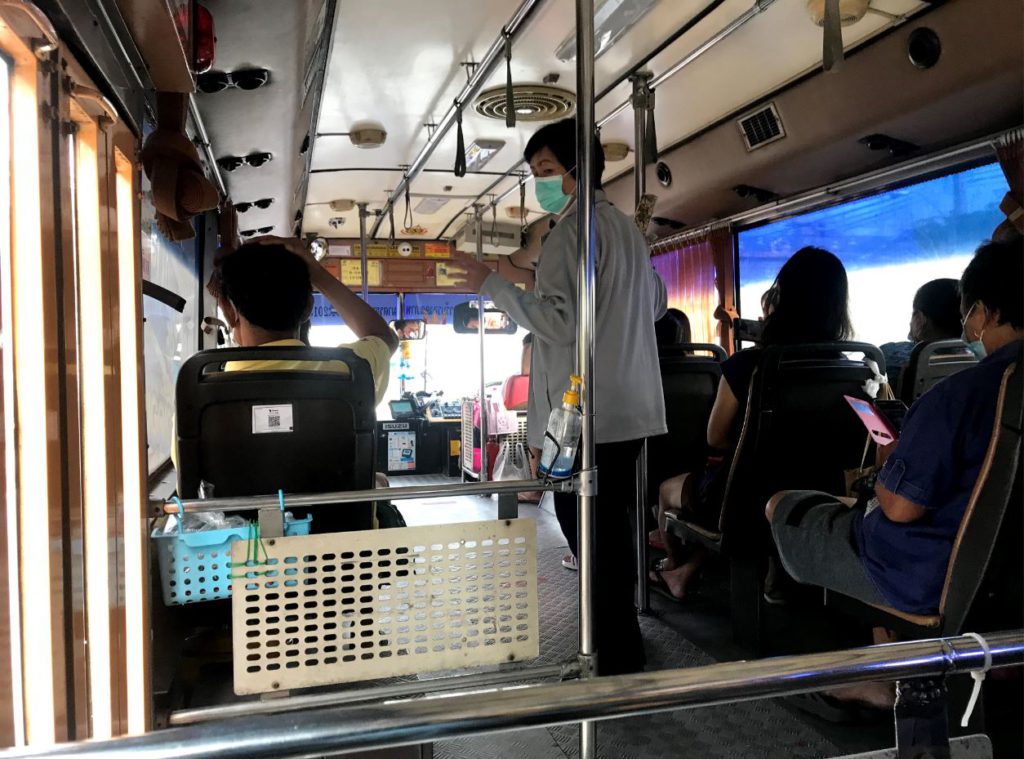 Minivan: To take a minivan that passes closest to Wat Samphran, head to Bangkok Southern Bus Terminal (Sai Tai Mai). If you are at Khaosan Road, you can take bus 556, 511 and 79 from Ratchadamnoen Klang Road. Otherwise use the app ViaBus or moovit (moovitapp.com) to find the best bus routes from your place.
From the bus terminal, you can take minibus on route 88 (or enquire for other options). The minivan will drop you off at Phetkasen Road, opposite to Sam Phran Hospital on the main road. Walk the rest 1 km on foot to reach the temple premises. Minivans are faster than the bus and will take around 40 minutes from the bus terminal.

Wat Samphran opening hours and entrance fee
Wat Samphran is open from 6 am to 6 pm every day of the week for tourists and visitors.
There are very few tourists in the area, so no matter when you go, you will find the place pretty much to yourself (or maybe a couple of more people if you are lucky).
There is no entrance fee to enter Wat Samphran. However voluntary donation is always appreciated that goes towards the upkeep of the place and monks.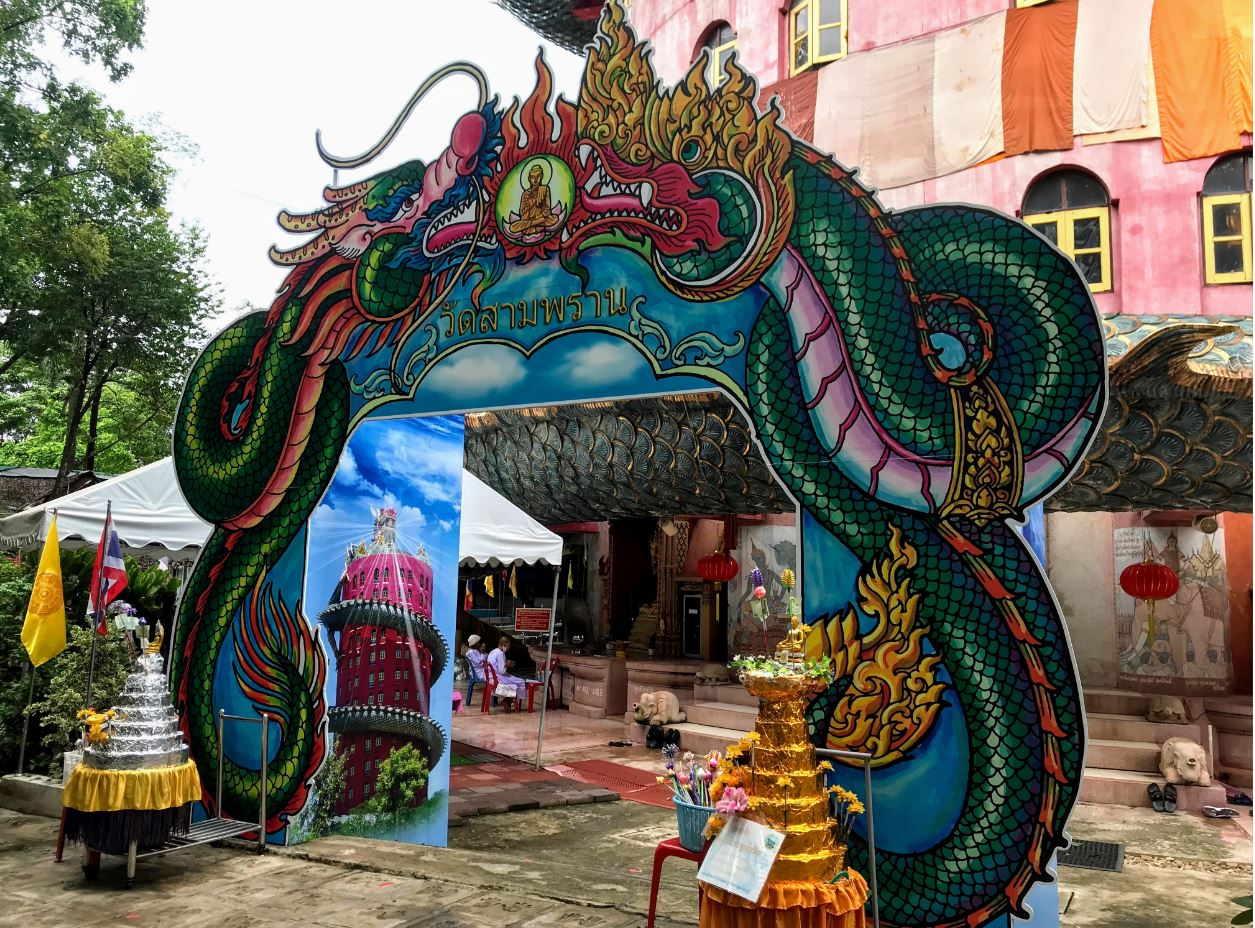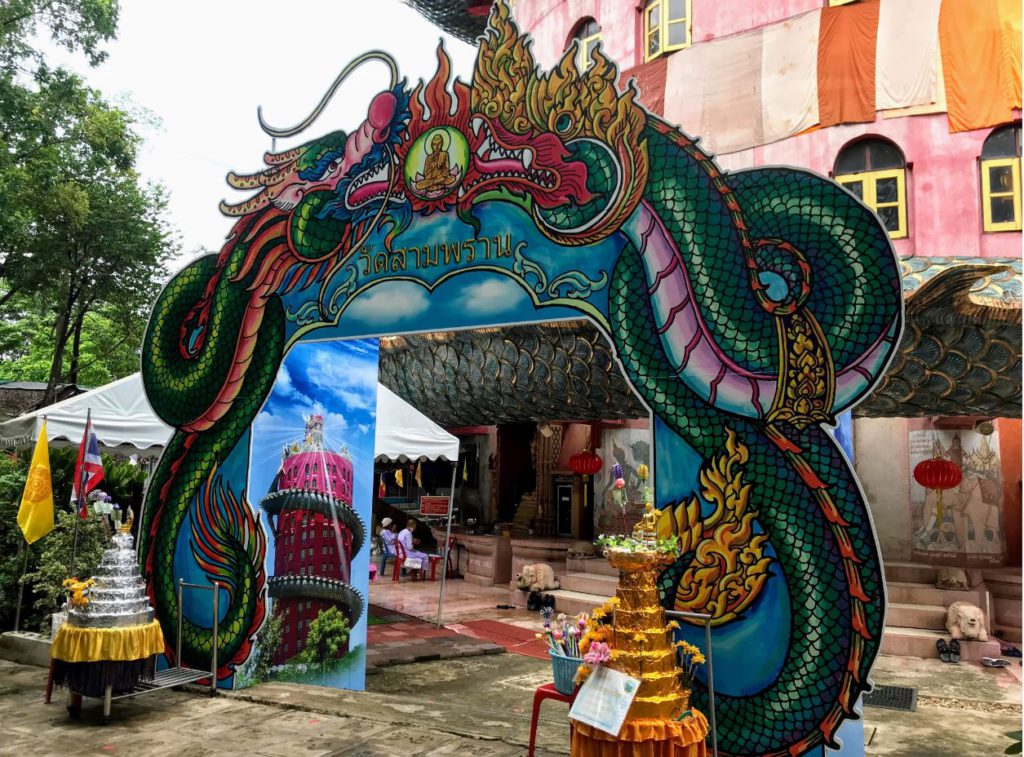 Visiting Wat Samphran
As you reach Wat Samphran, the first thing that you may notice is how deserted it is. The empty parking lot speaks for itself. As you enter on the left side, you will encounter the looming dragon on the large building that shrouds almost all surrounding landscape.
The architecture of Wat Samphran and its premises has deep interpretation across several components in both Chinese and Thai mythology and beliefs.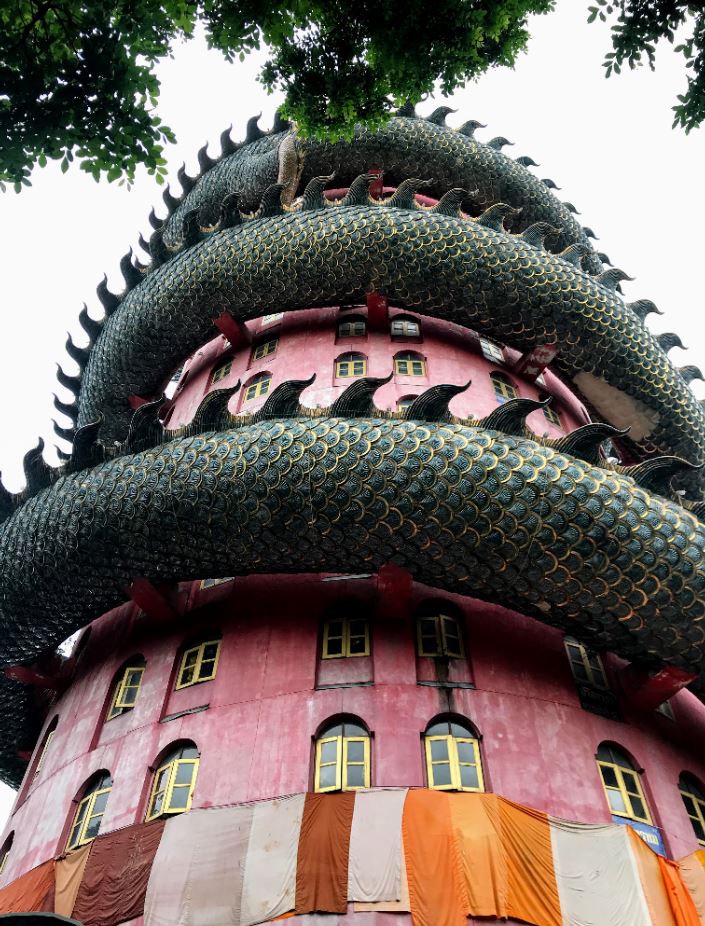 The Dragon building
The highlight is the pink building with a large dragon that envelops it. The structure is 80m in height in total, corresponding to the Buddha's final age. The 17 floors signify heavenly Brahma's realms that one reaches in the afterlife basing on monastic achievement and karma accumulation.
The dragon that surrounds the building from bottom to the top symbolises a human's journey from suffering to happiness symbolically circling the hell and the heavens.
According to a local tale, the dragon depicts a strong, mighty, characters alike ancient-Chinese that is also a symbol of Hong Teh or the emperor.
But according to the Thai story, a serpent-like (Phaya Nag) creature asked Buddha for competence (or spiritual power) but the Buddha declined. He then went on and possessed a human and asked for his ordinance again.
This time the Buddha permitted him to be a monk but only allowed him to wear white (not yellow like the monks of the highest order do). Even today, a person is called 'nag' before he attains his monkhood.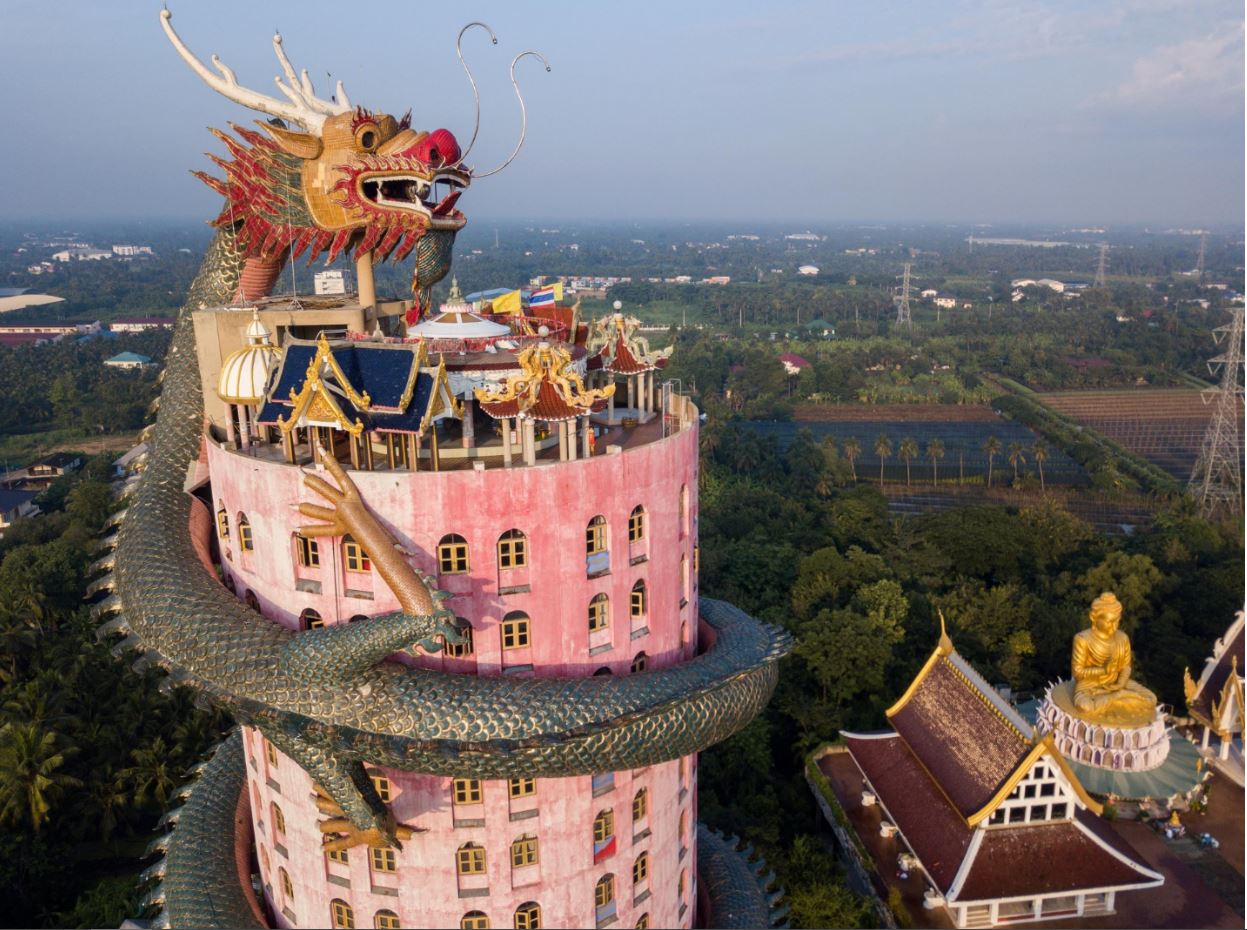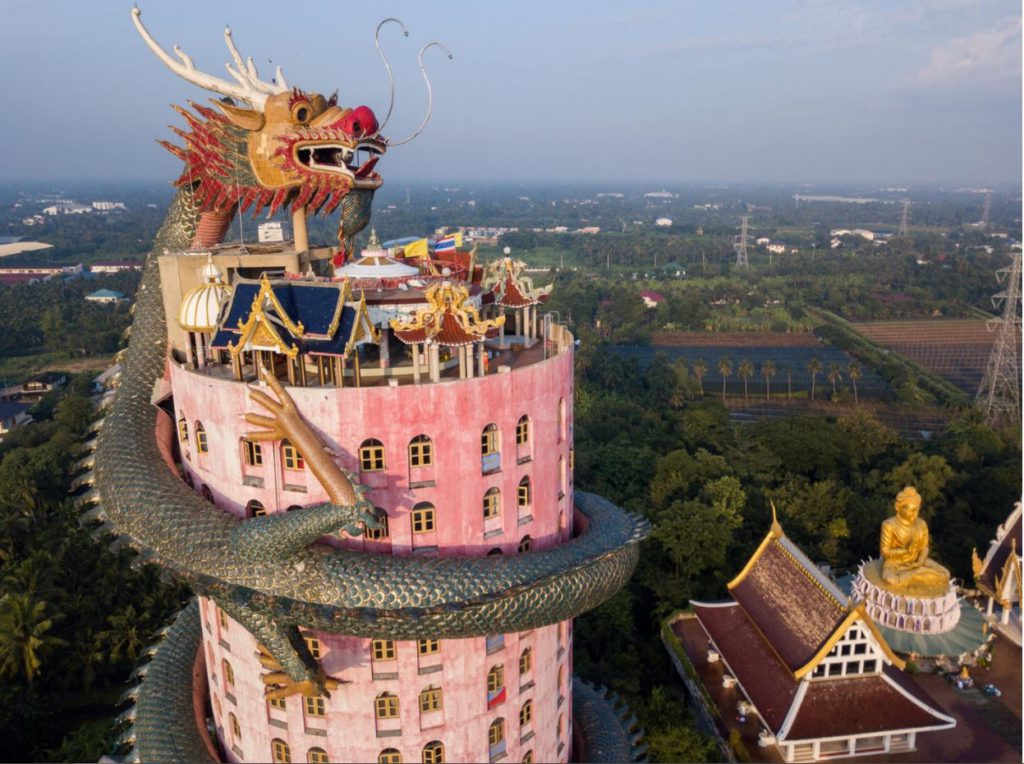 At the footsteps of the main buildings are seven small shrines. While we were strolling around, a nun told some visitors that each shrine is worshipped on a particular day of the week. So you pay your respects (with flowers and donations) to that particular one. You need to leave your shoes outside.
The hall inside has many Buddha statues displayed against the perimeter of the hall. Then there is a main one in the middle. The building is usually empty.
You can also make out that the maintenance of the place is far below the standards of Thailand's other temples and tourist destinations. Just next to the staircase you can find a signpost that says that you must make a wish before you climb upwards.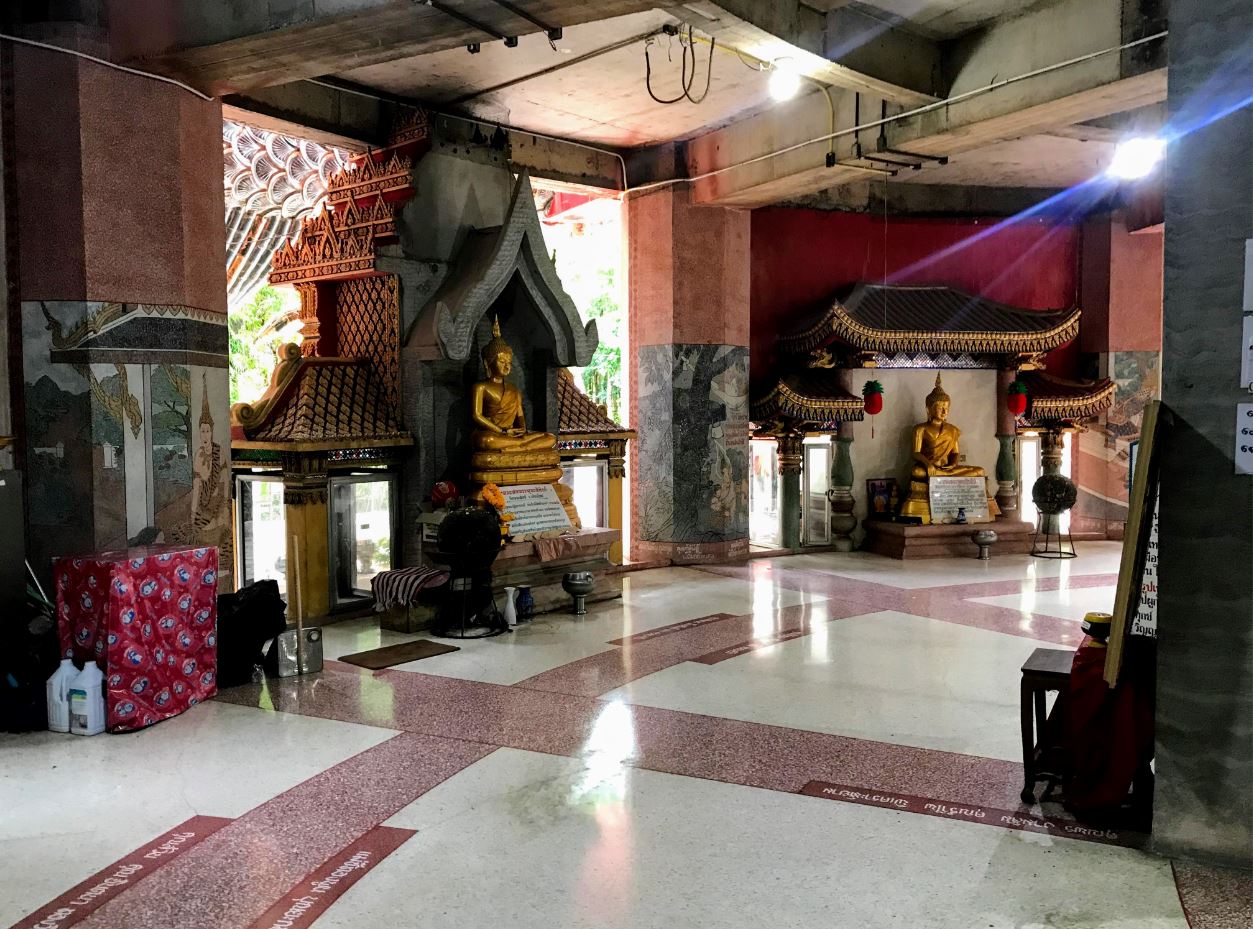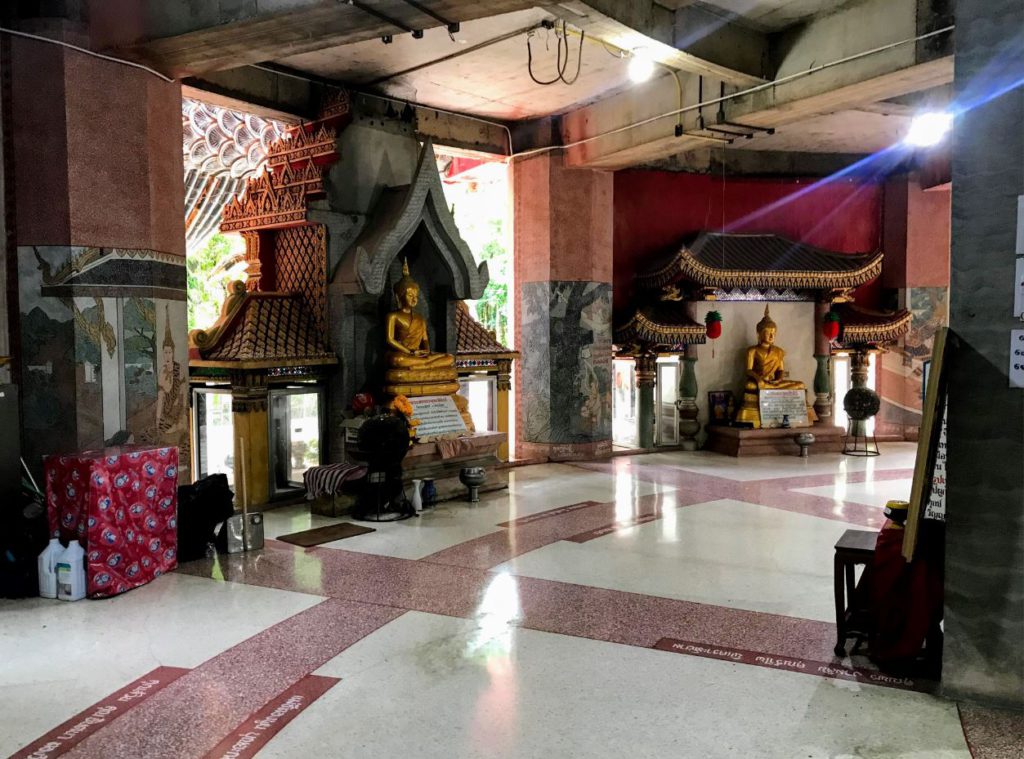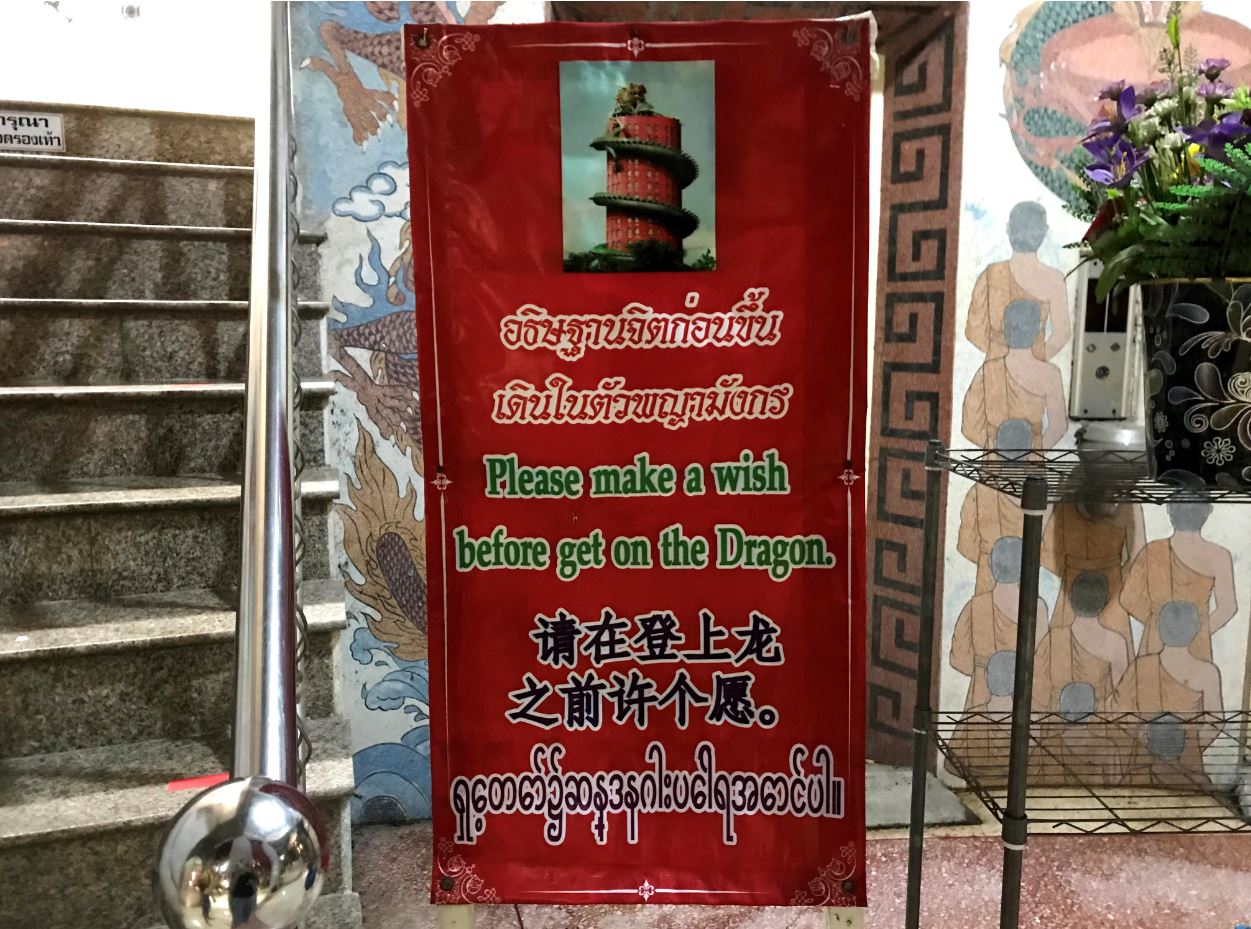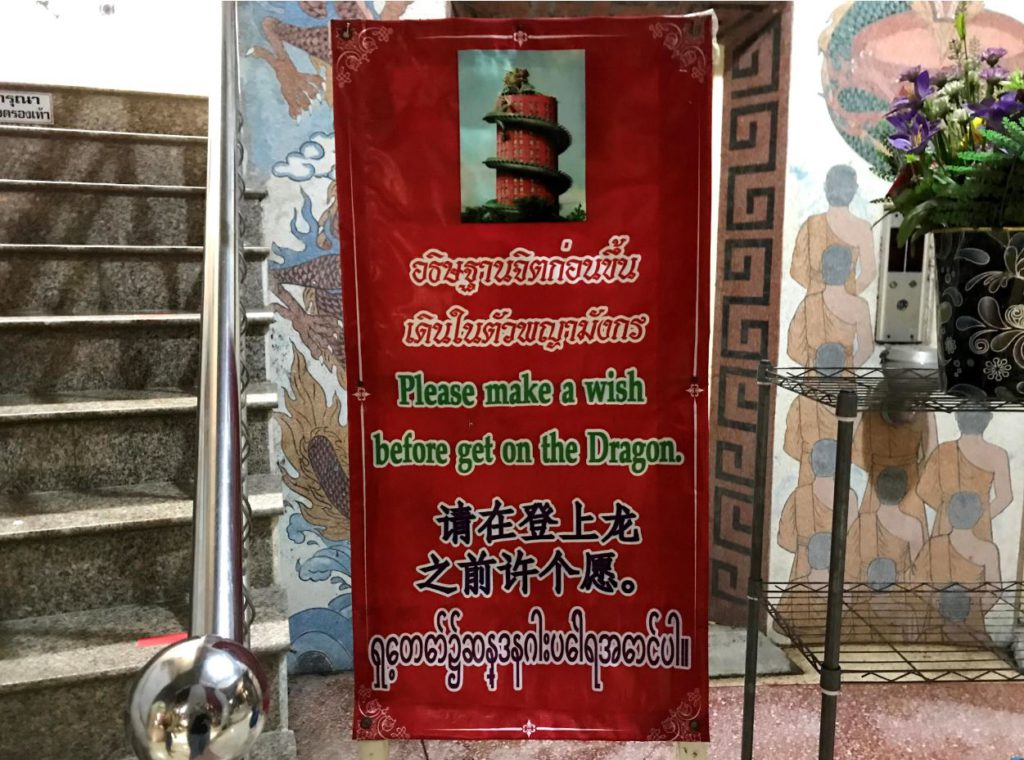 Just after a floor of climbing, you will come across the entrance to the dragon tunnel. It means that you can climb up using the belly of the dragon. I have to admit; the tunnel is a little claustrophobic and smells really bad at times. You can also take the elevator if it's working.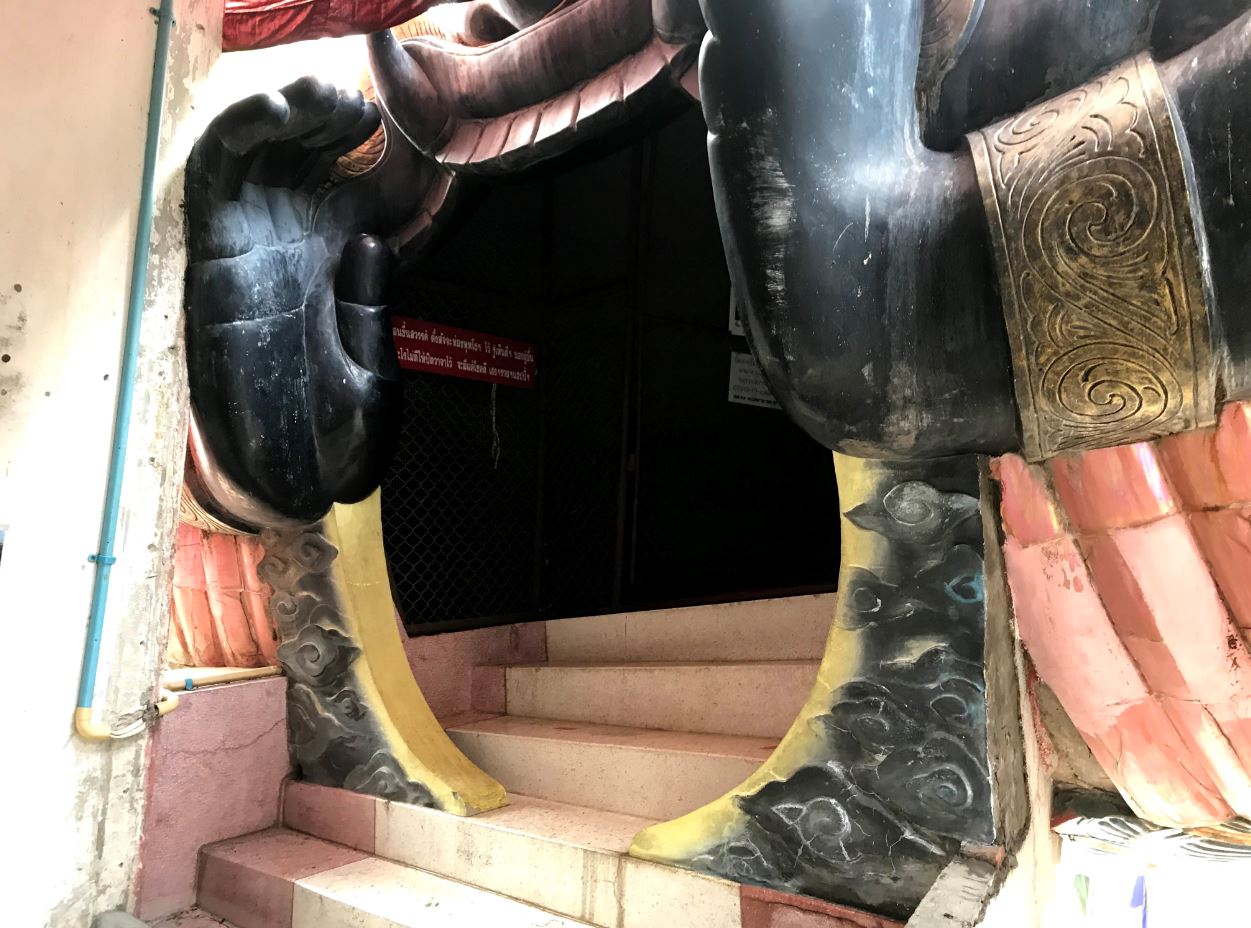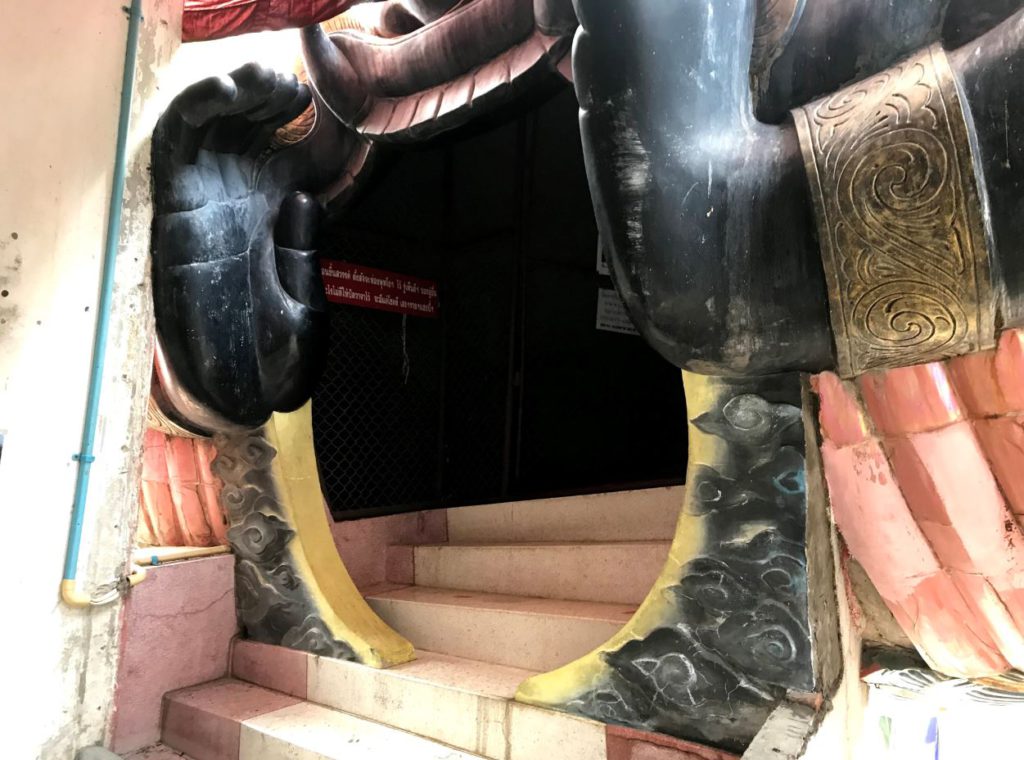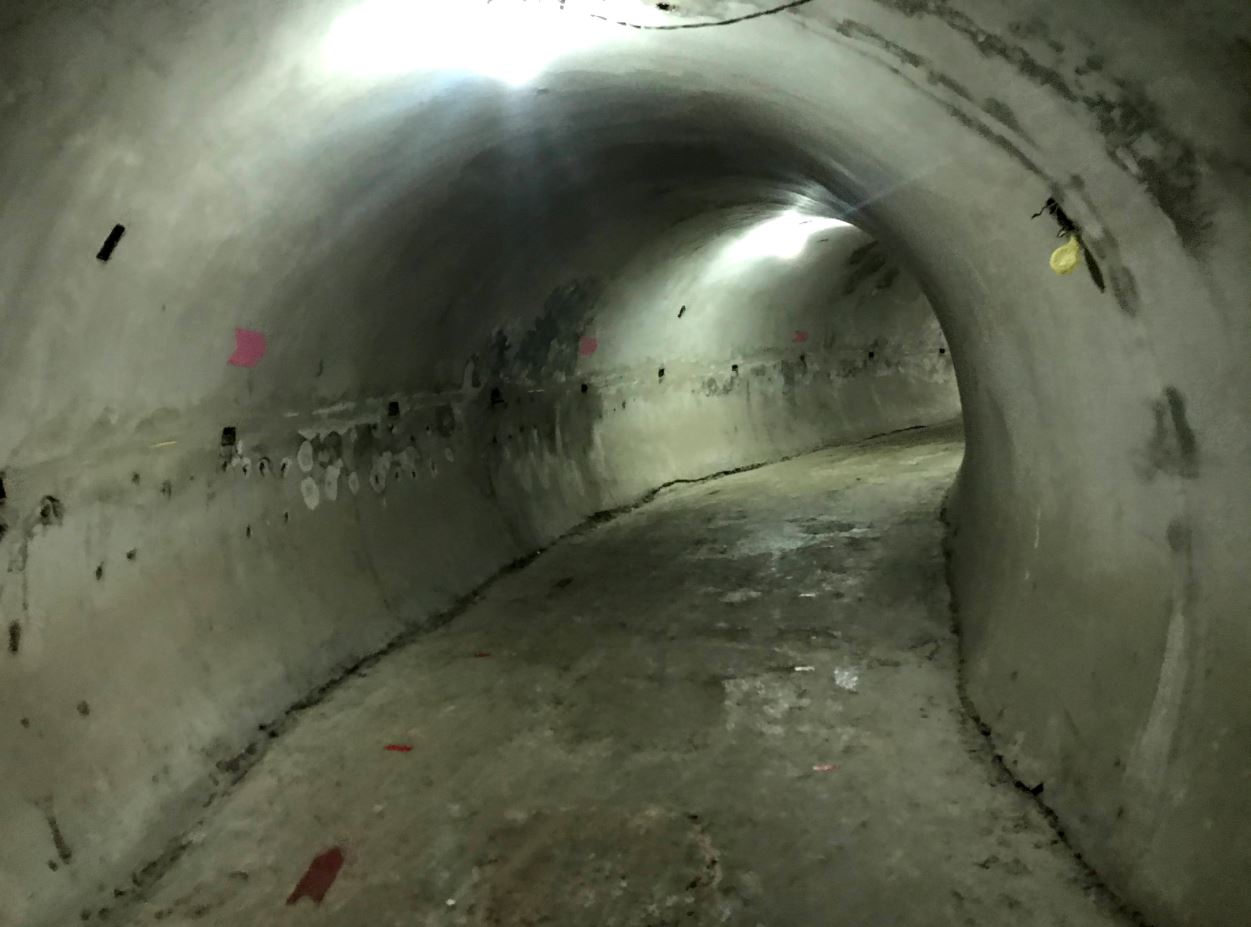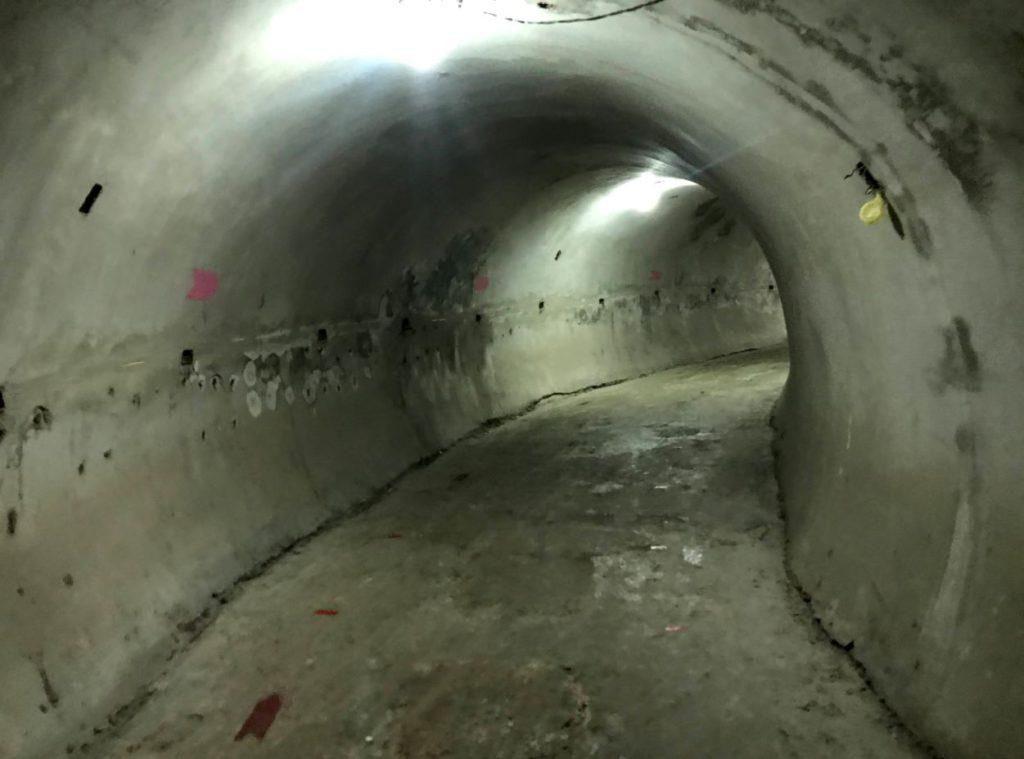 At the top, there are two floors. You can actually touch the beard of the dragon that people believe brings in good luck. There is even a photo booth. The view from the top is lovely. You can see the flat landscape around for miles. On the right side is a hazy outline of Bangkok's skyline.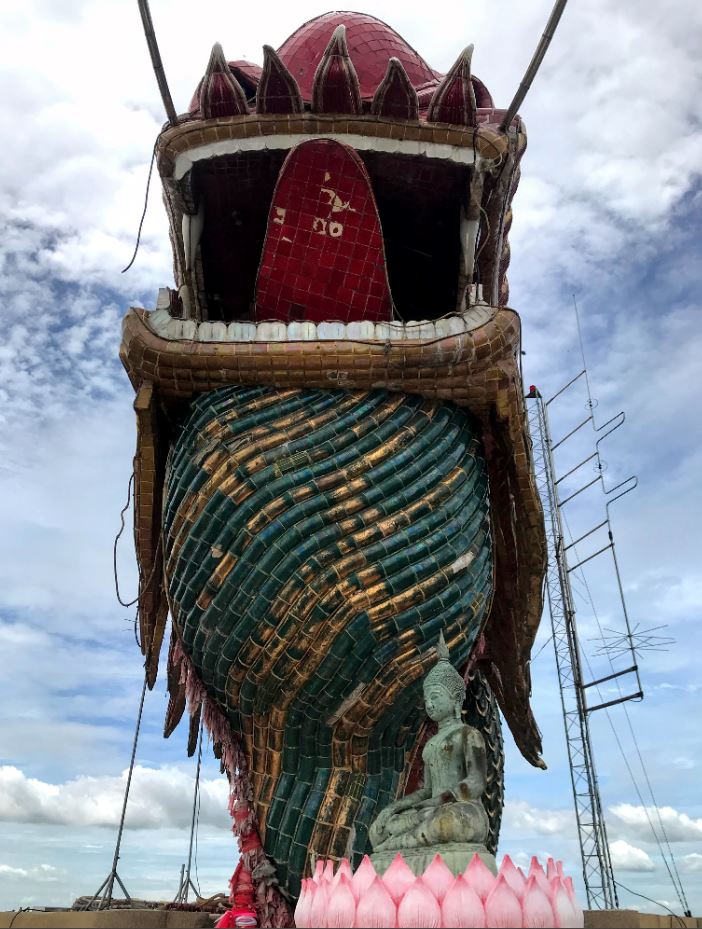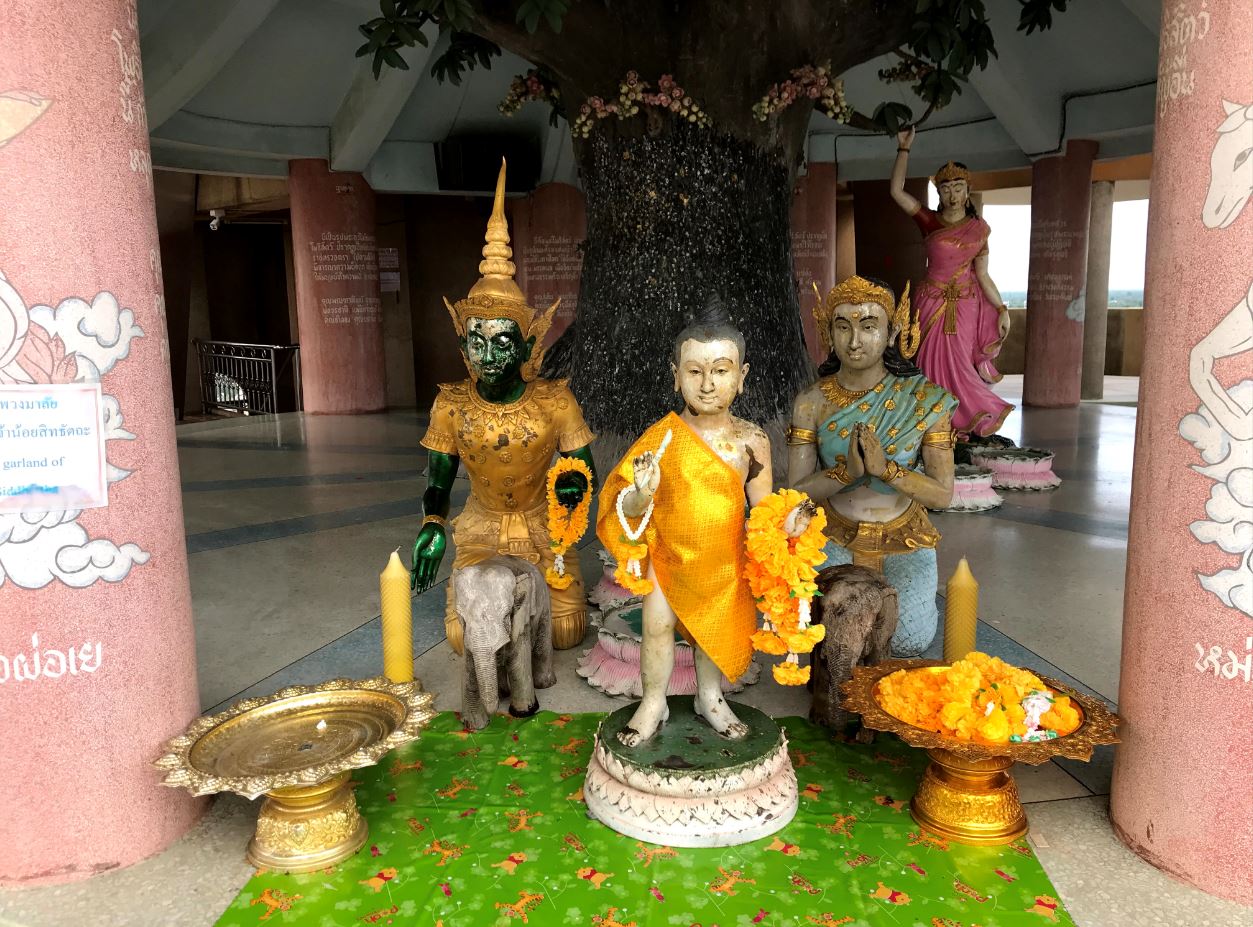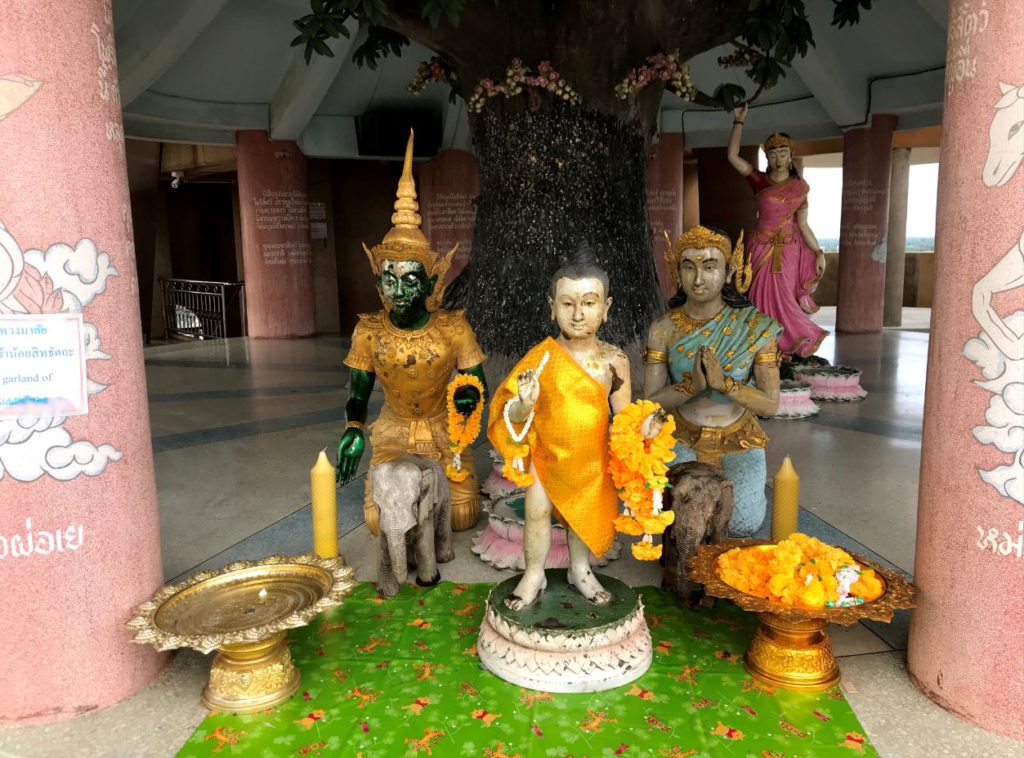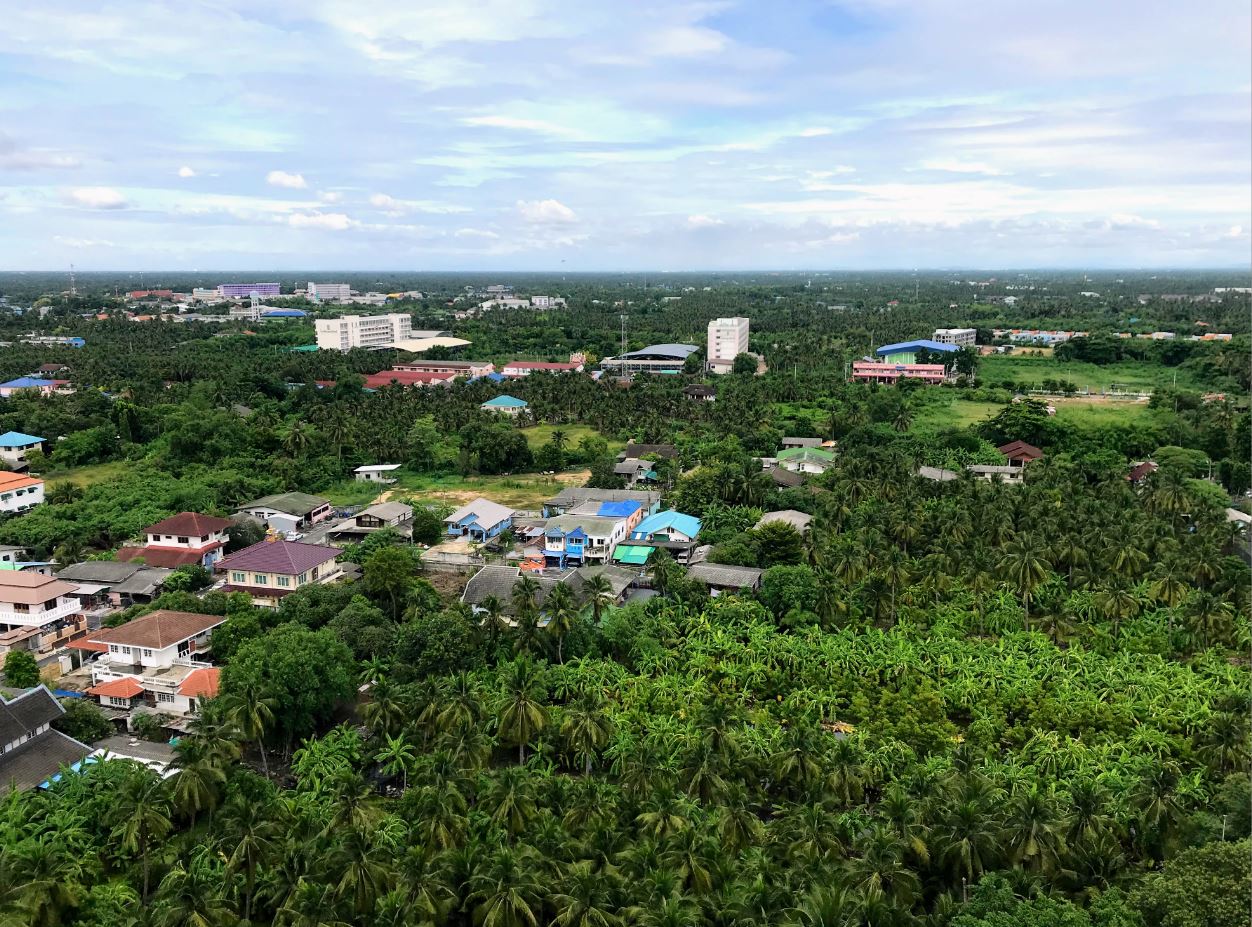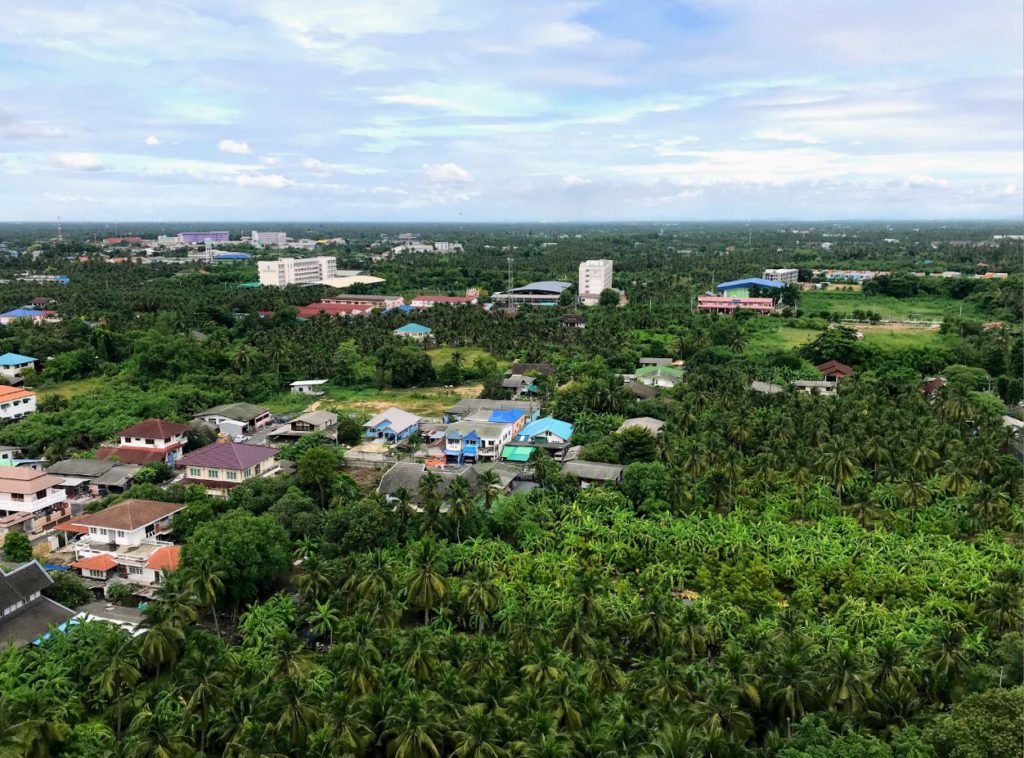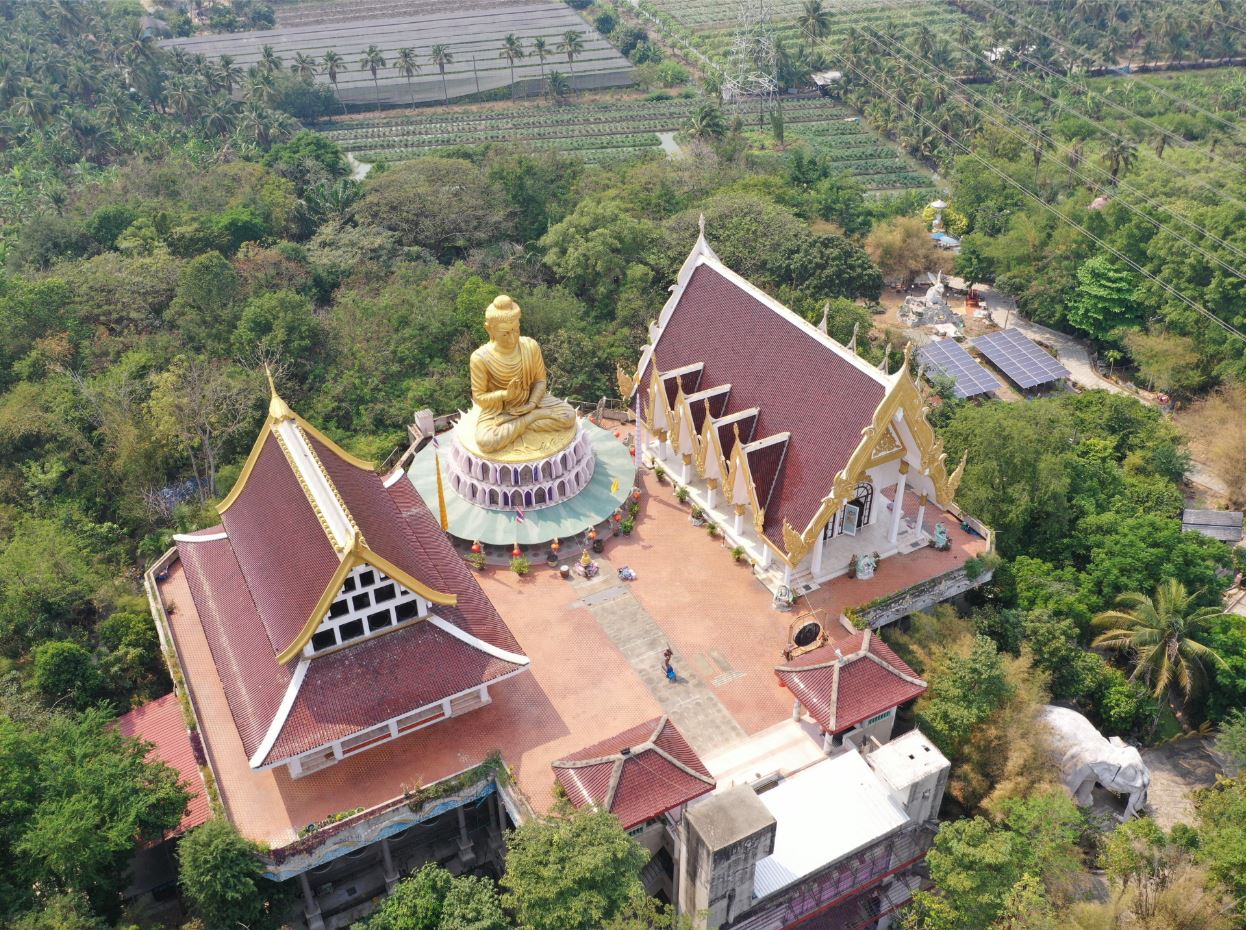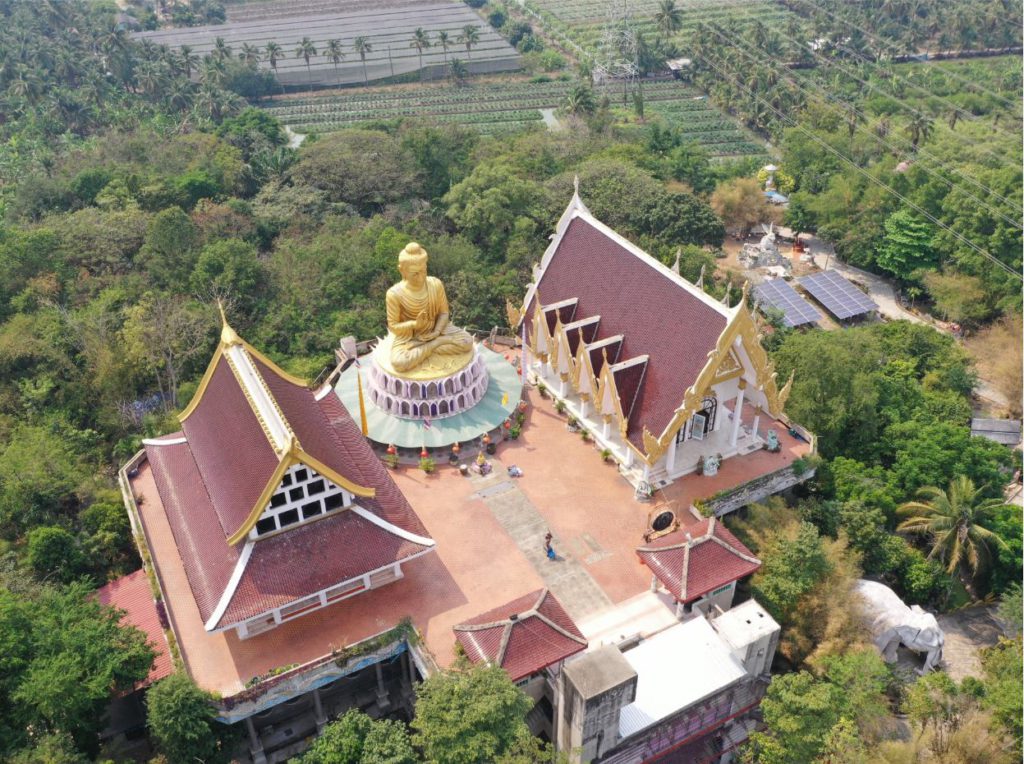 Wat Samphran Premises
There are a few shops at its footsteps. Some sell snacks and food, others sell flowers if you want to pay your respects. In the area is an interesting structure of a set of jars guarded by several small dragons.
You can throw coins inside the structure, but the spirits will bless you differently depending upon where your coin lands. It may range from 'A treasure from the family' to 'A lot of fame' in fancy lord-of-the-rings kind of language.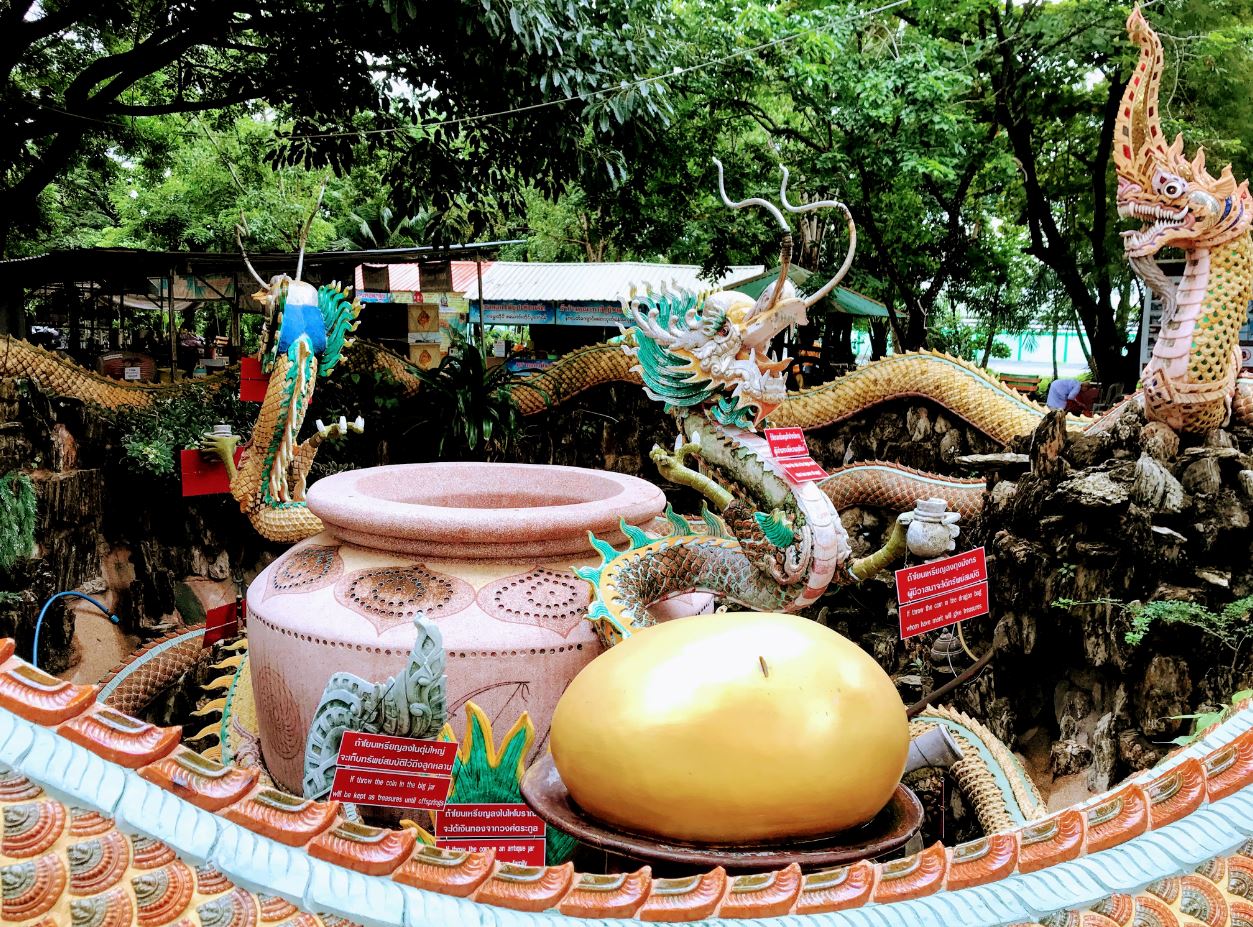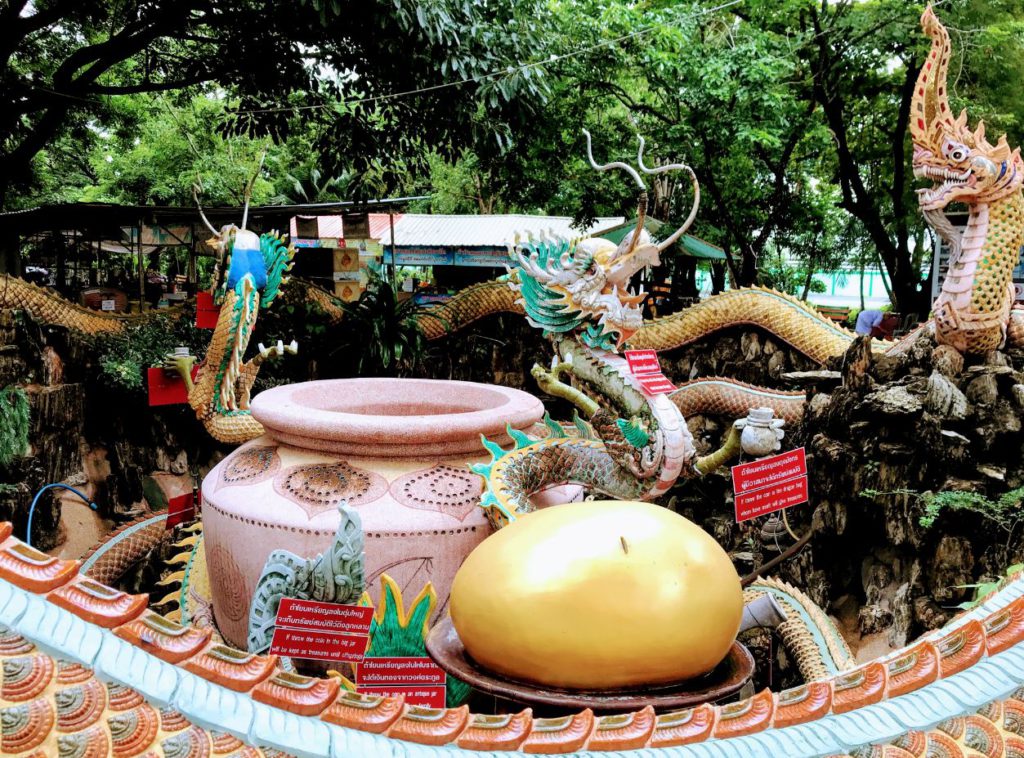 Just opposite to it are nine units of entwined dragons with a crystal ball (metaphoric) in between their mouth.
Now the crystal is representative of wellness and happiness whereas the nine numbers correspond to a family relation like grandfather, mother, wife, children etc. (each relation is written in Thai hanging from the dragon's neck).
A large Buddha statue in golden colour is a little ahead of the main building. The area around the statue is open and looks like a meditation area.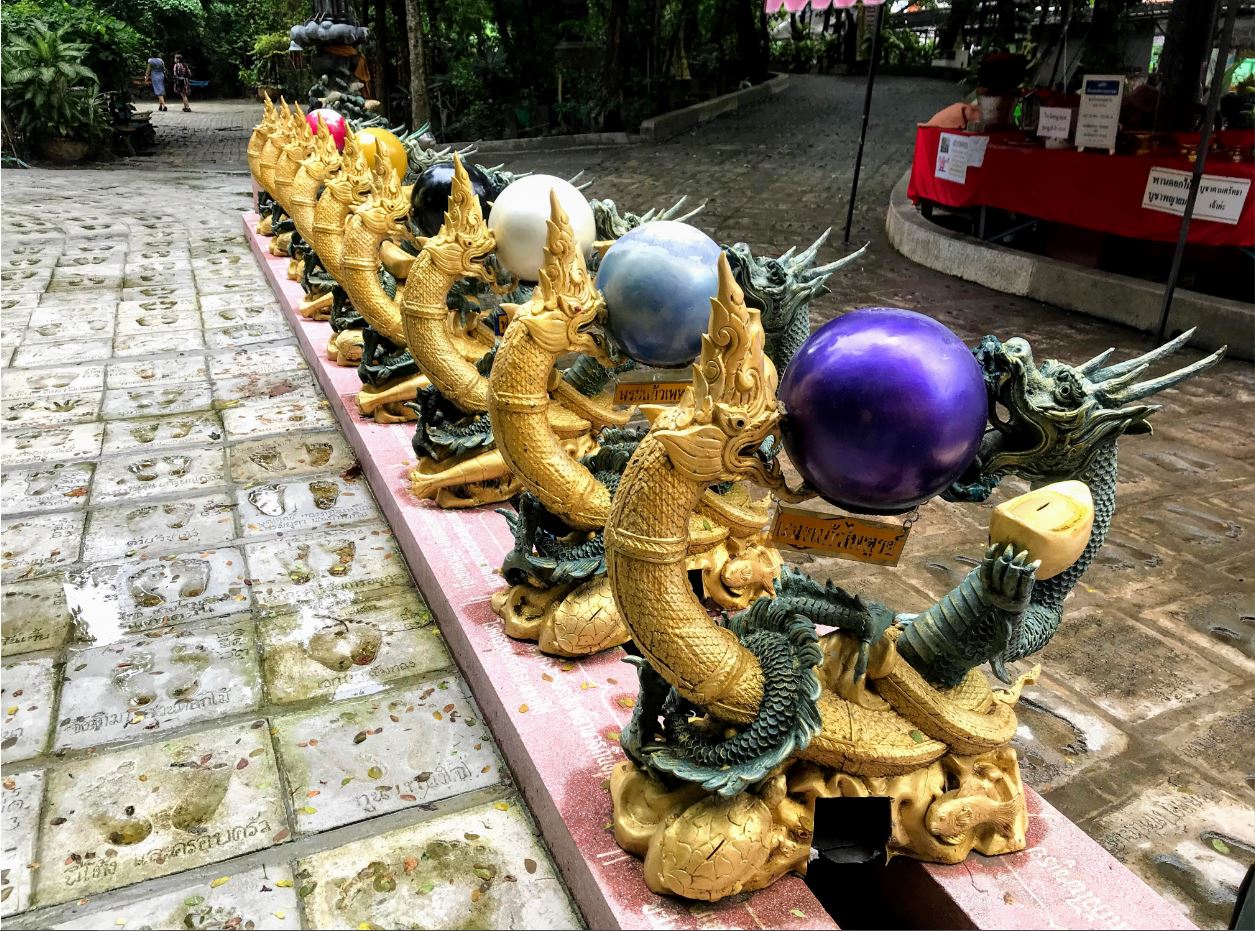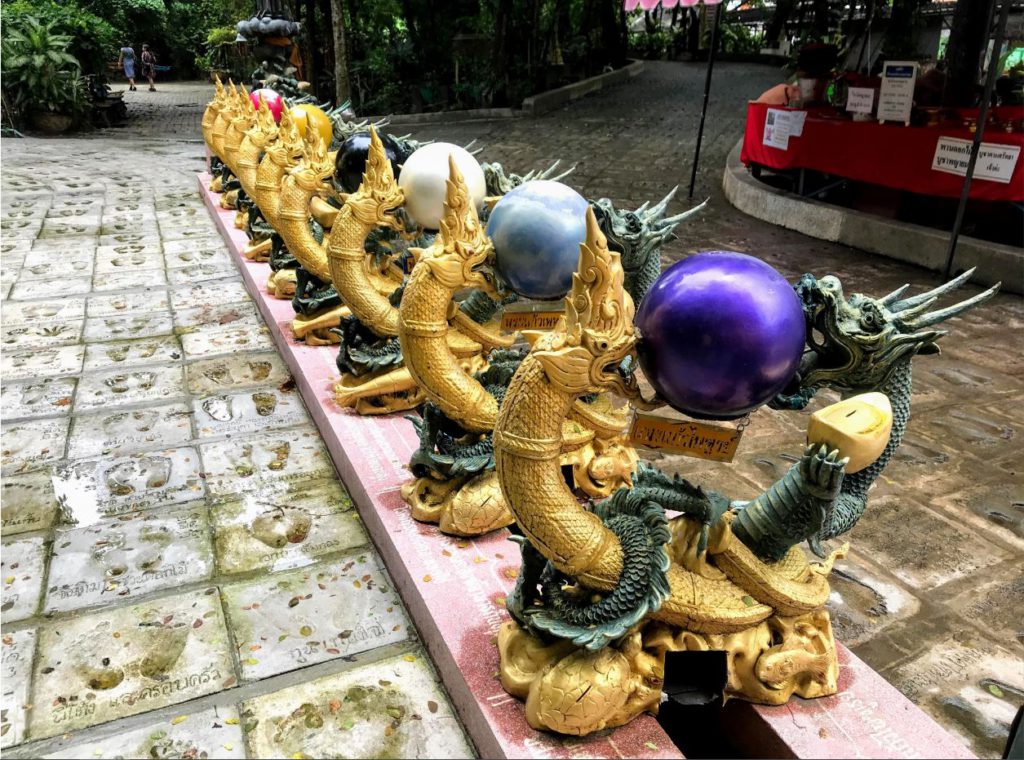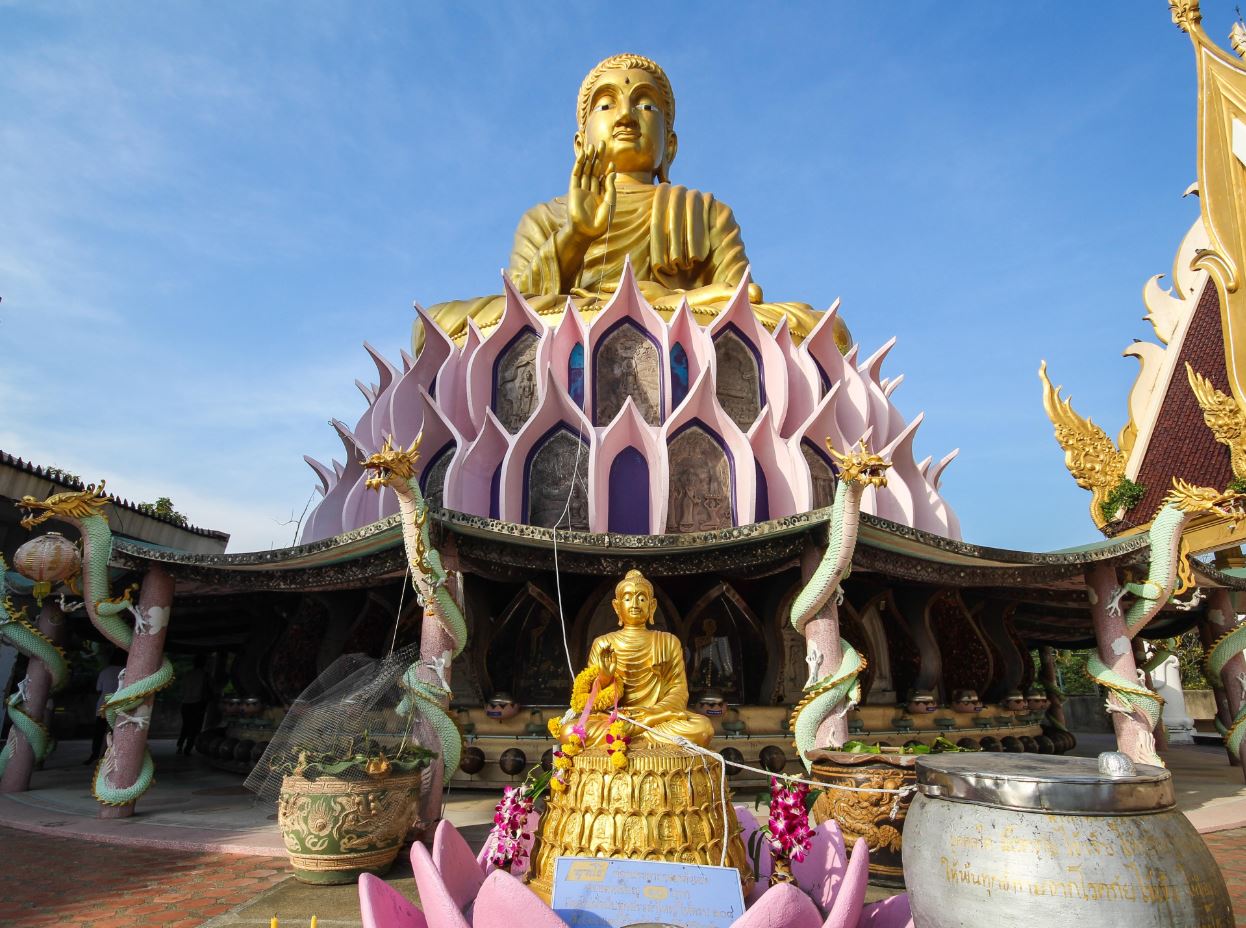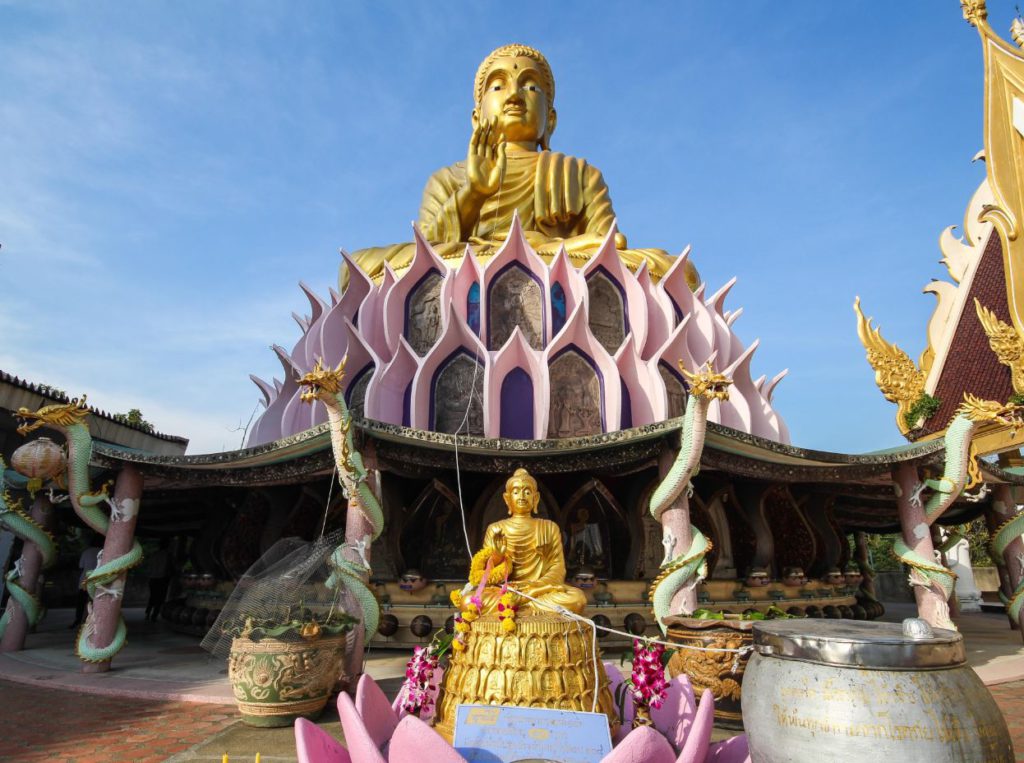 As you walk around the premises, you will realise how many animal statues are hidden around. There is a large while elephant, a peacock, a white rabbit and a pod of dolphins. A small bridge has a group of people signifying the importance of monks as they lead the wheel of the nation.
Don't forget to check out the large turtle statue whose mouth opens up to a cave. As you walk to its basement, you will come across a small shrine and then it will continue by the tunnel opening outside. A large statue of Guan Yin stands outside near the parking area.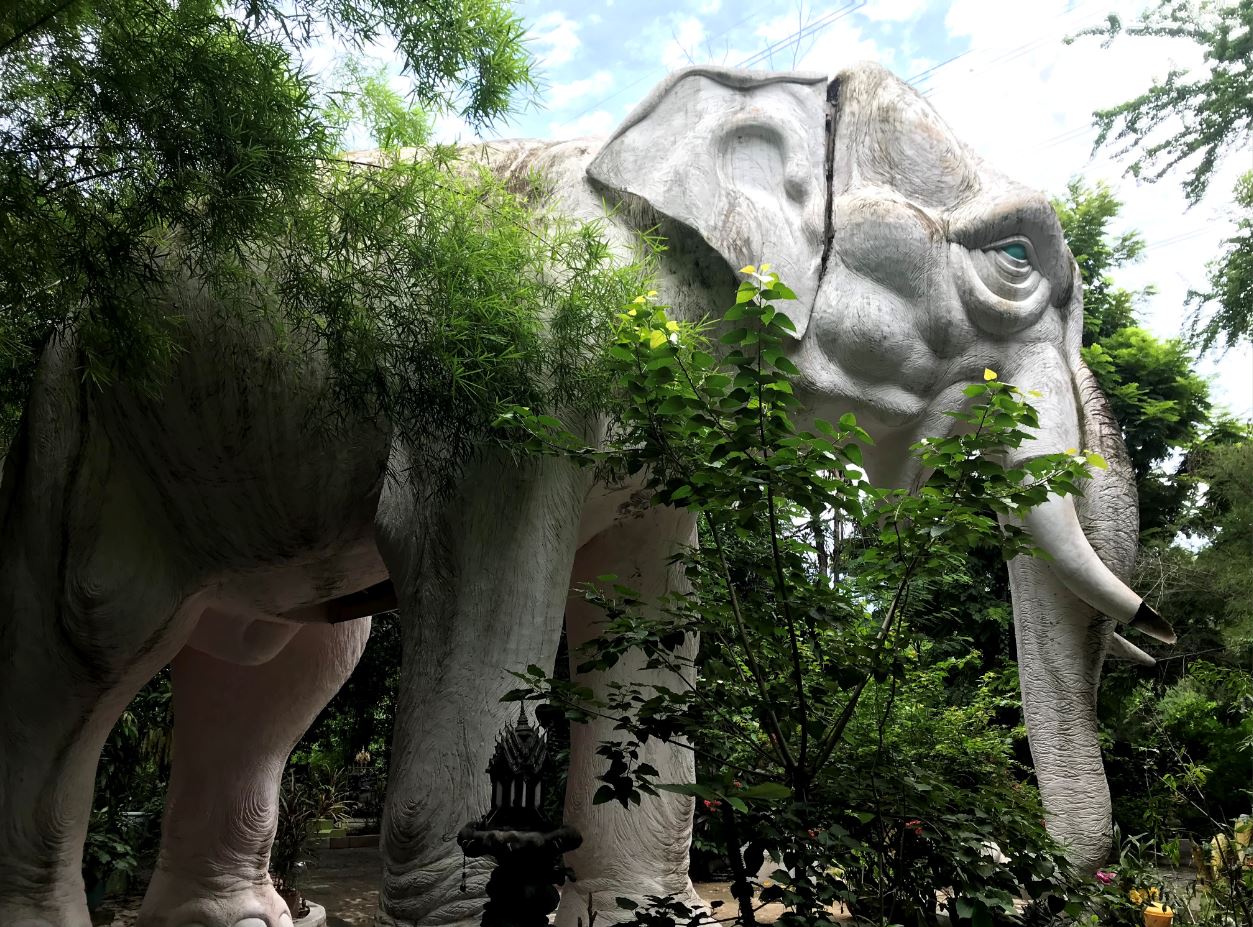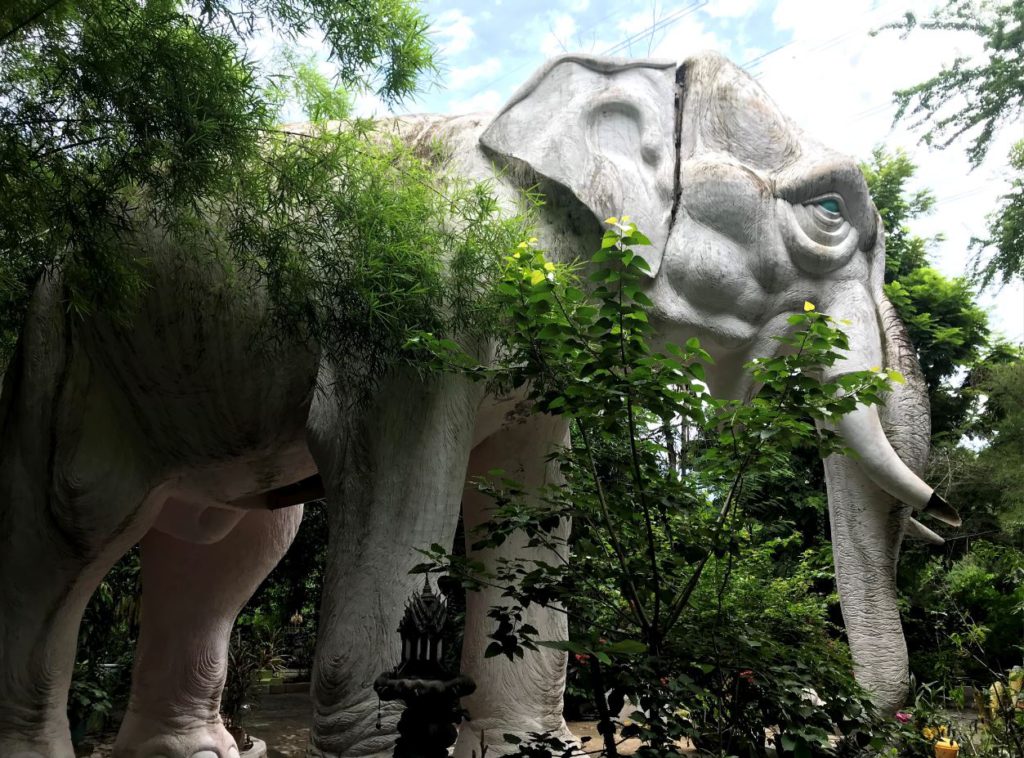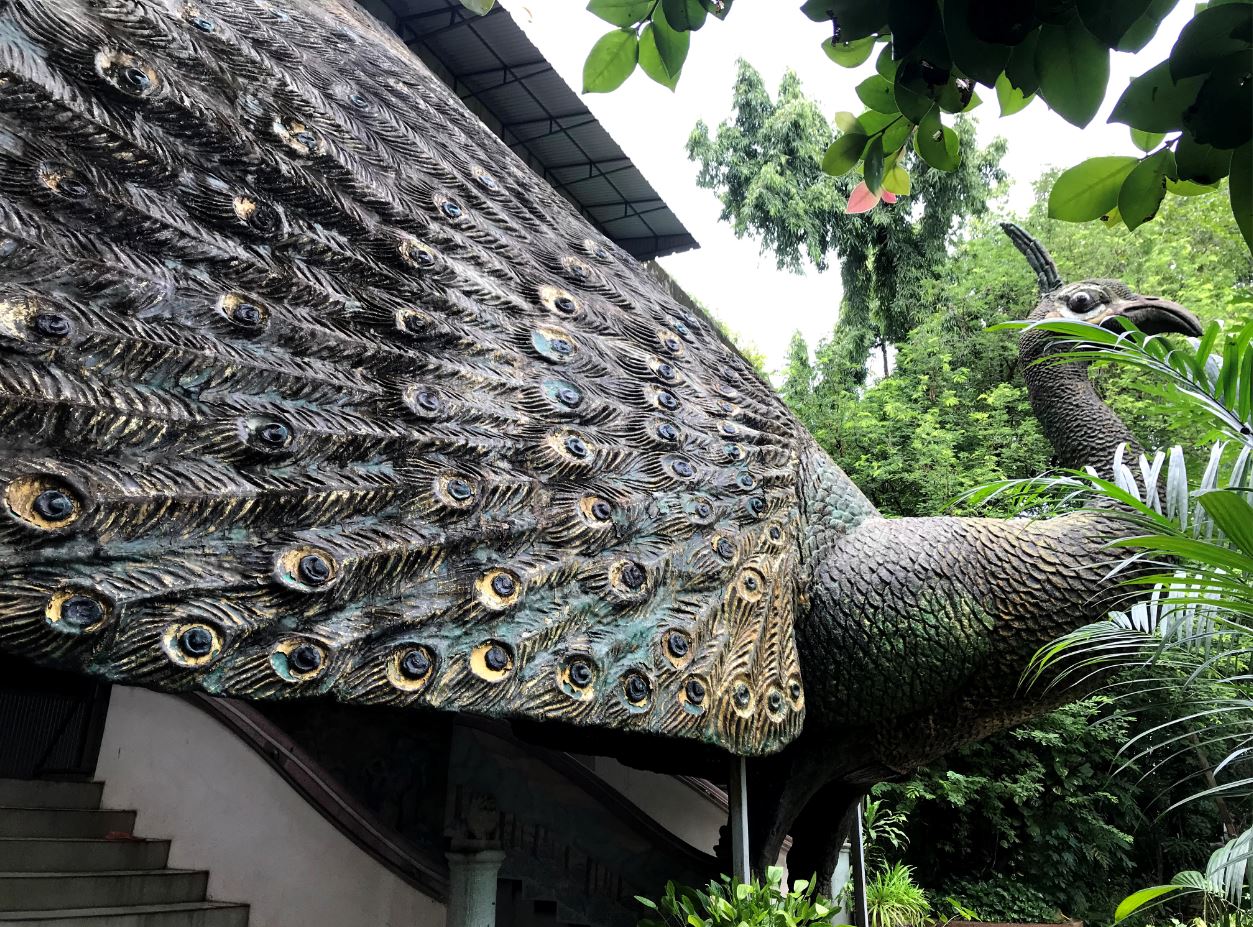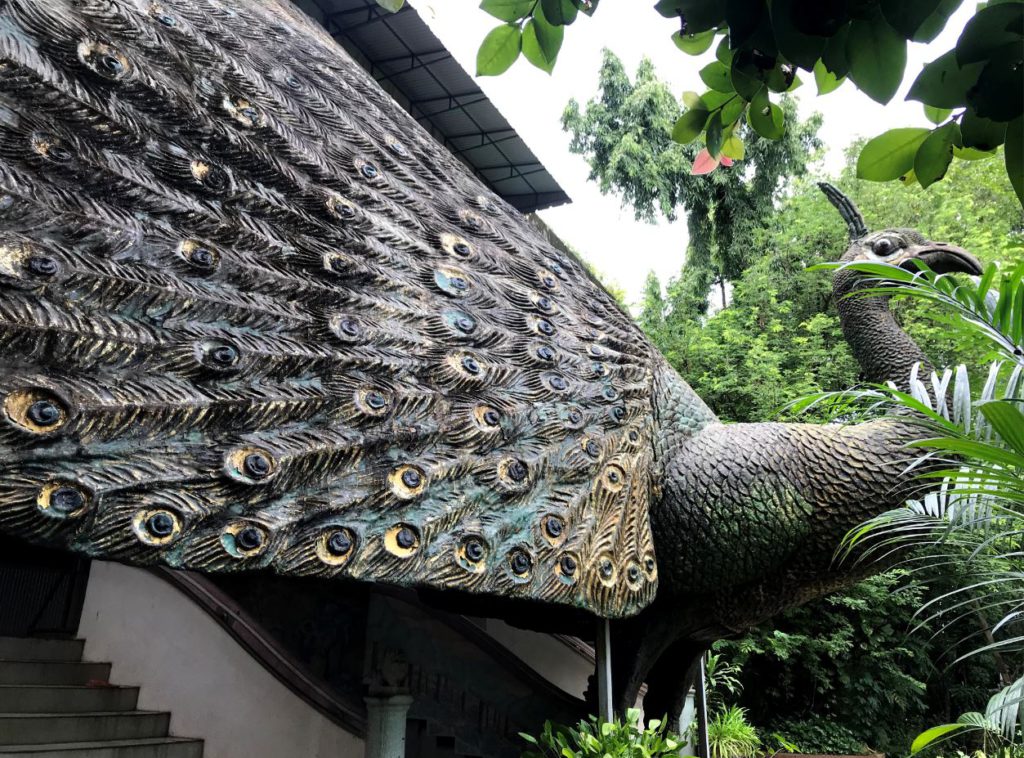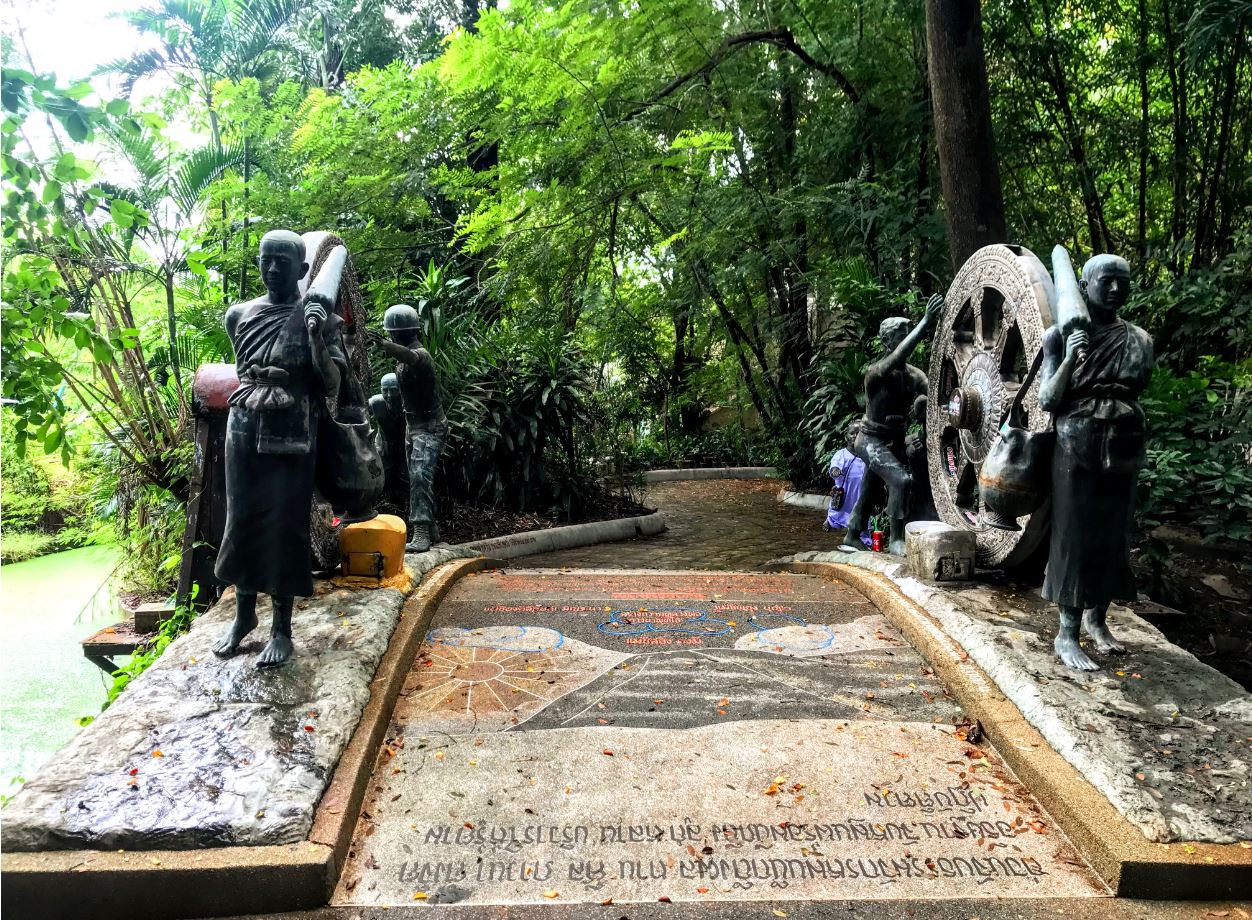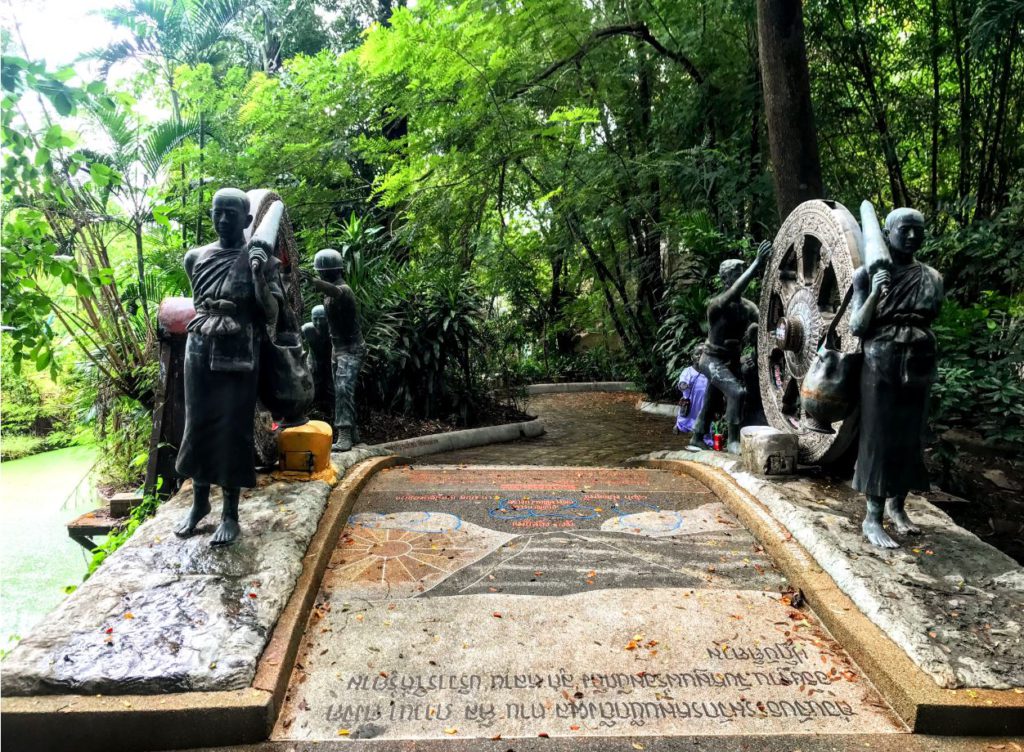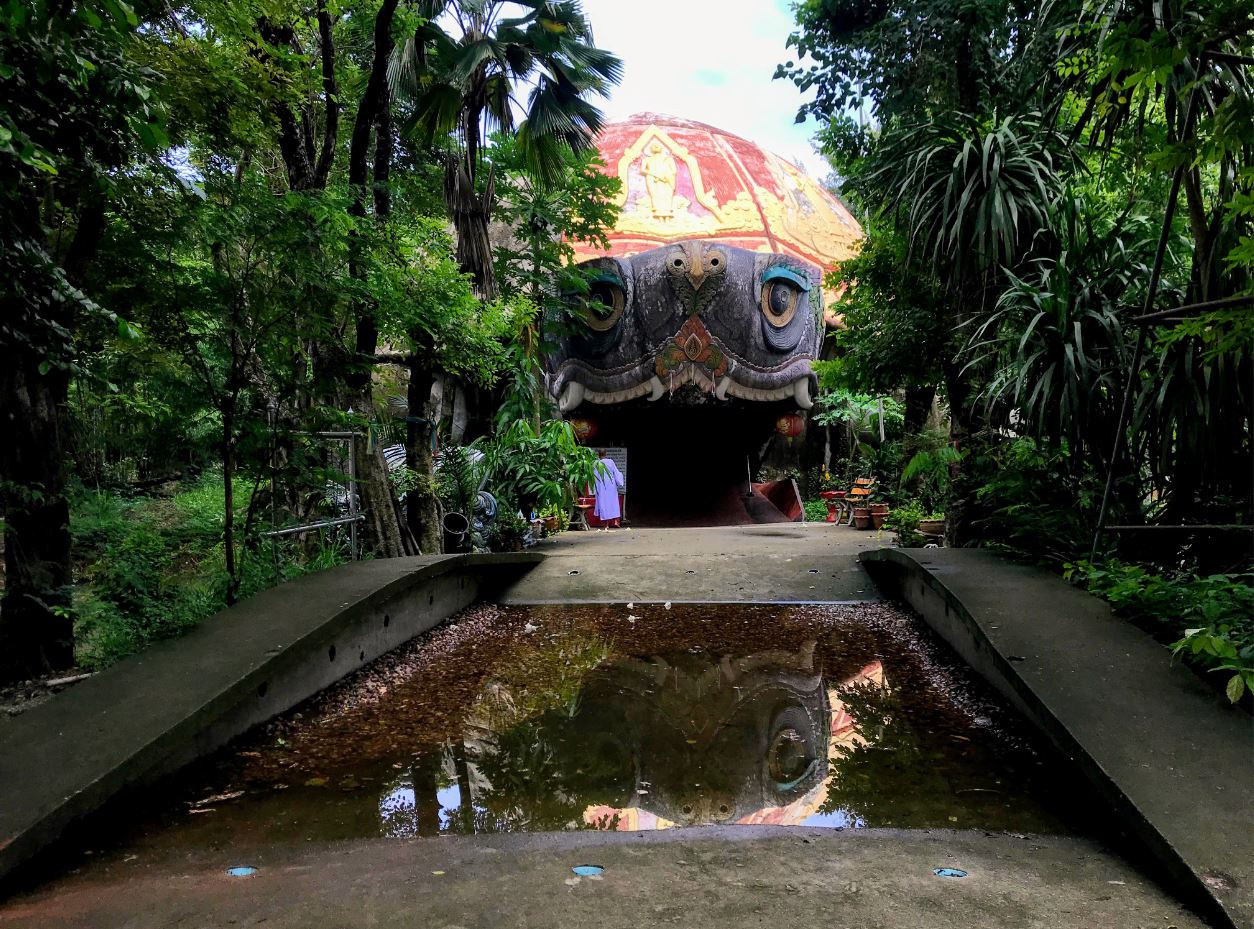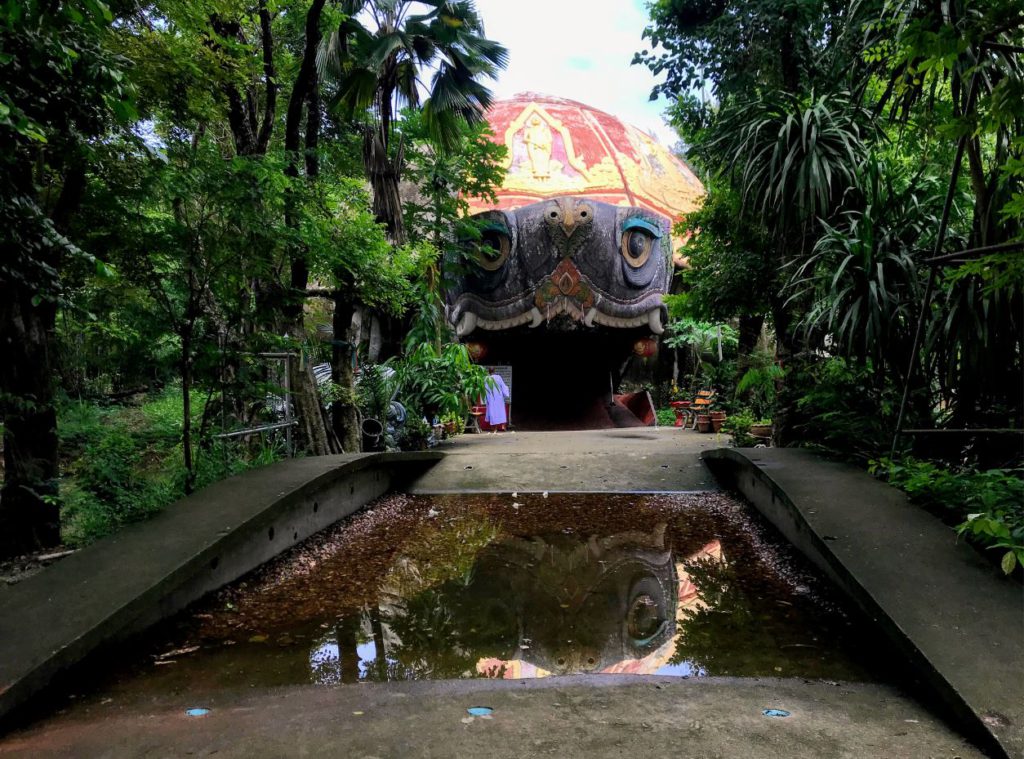 Food at Wat Samphran
There are a few shops just opposite to the entrance of the main pink buildings. The locals and nuns run the shops by selling basic food like Pad Thai, Fried Rice, soft drinks and snacks. Other shops also sell some readymade Thai snacks if you are familiar with them.
There is also a 7-Eleven nearby that can head to for some quick bites if you are hungry. Other than that, there aren't a lot of restaurants around. So make sure you carry something for hunger pangs.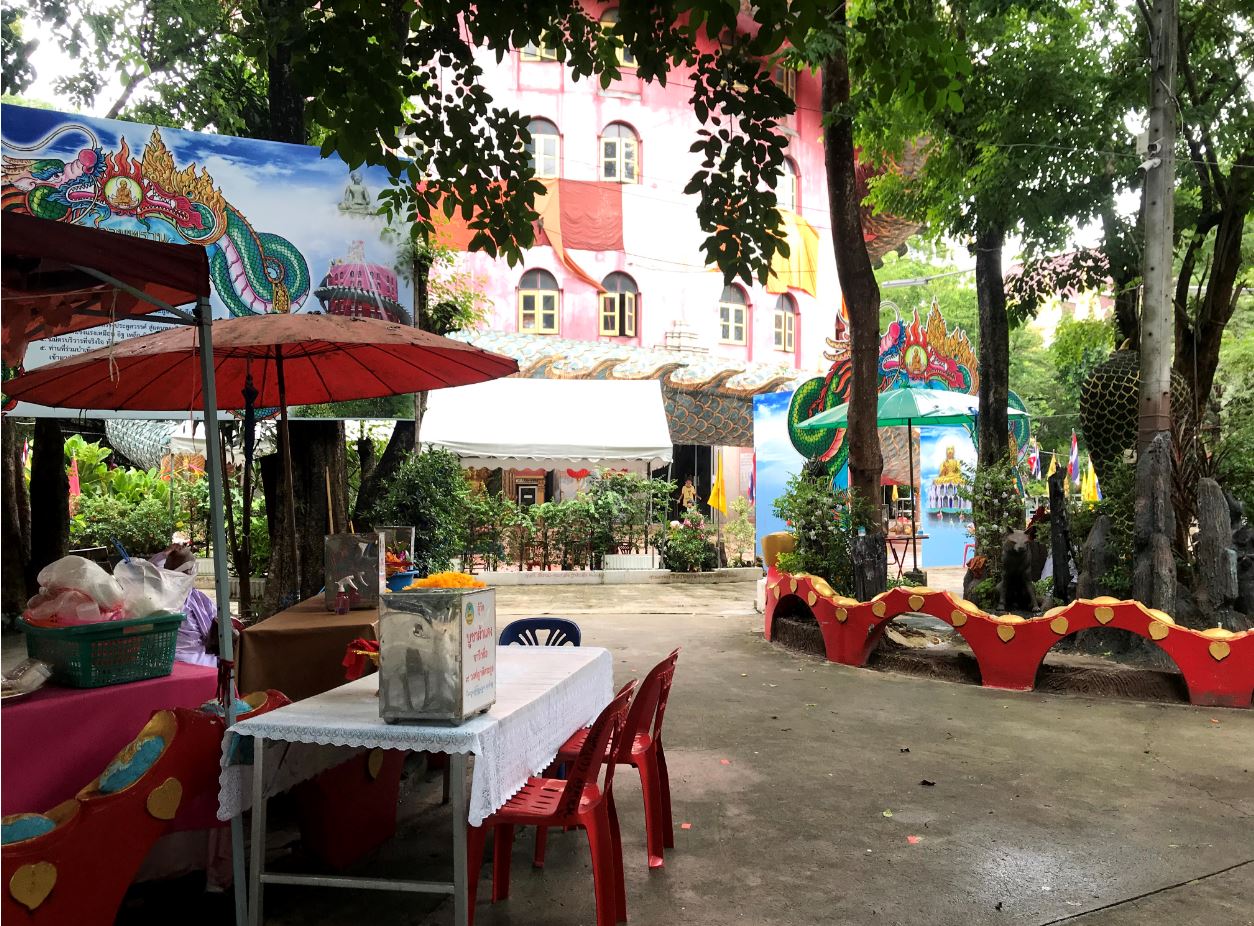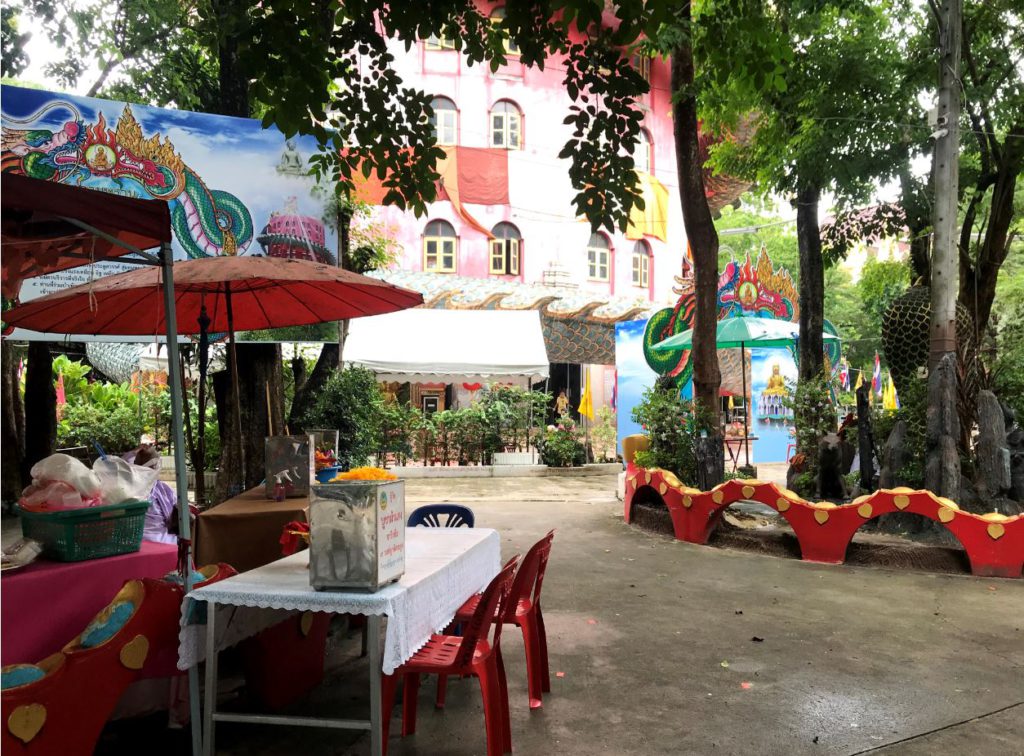 What to wear to Wat Samphran
Wat Samphran is in the end, a temple. And like other Thai temples, you need to make sure that you are dressed properly while here. Unlike temples in Bangkok, Wat Samphran is located in the part-rural area, so the crowd is also different. Plus the monk's quarters are nearby inside the premises.
Make sure your shoulders and knees are covered when visiting. Do not wear extremely body-hugging, see-through, over-ripped or revealing clothes. Use a scarf or a sarong to cover up if you are planning to wear a skirt or sleeveless blouse.
What else to see around Wat Samphran
If you are travelling this far, it will be a good idea to add a few more places to the trip. Here are some options:
Thai Human Imagery Museum – A museum showcasing fibreglass sculpture depicting scenes out of lives of local Thai people. You can take a taxi for a distance of 10km. (Location)
Jesada Technik Museum – A private museum and collection of cars, motorbikes and eccentric automobiles from across the world. You can take a taxi for a distance of 12km. (Location)
Don Wai Floating Market – One of the most popular floating markets around Bangkok City. You can take a taxi for a distance of 12km. (Location)
Thai Film Museum – A museum showcasing items and studios from the Thai Film Industry spanning several decades. You can take a taxi for a distance of 20km or stop by on your way back. (Location)
Putthamonthon – This one is a large park with a great Buddha statue and flower gardens, ideal for relaxing with kids and a picnic. You can take a taxi for a distance of 24km or stop by on your way back. (Location)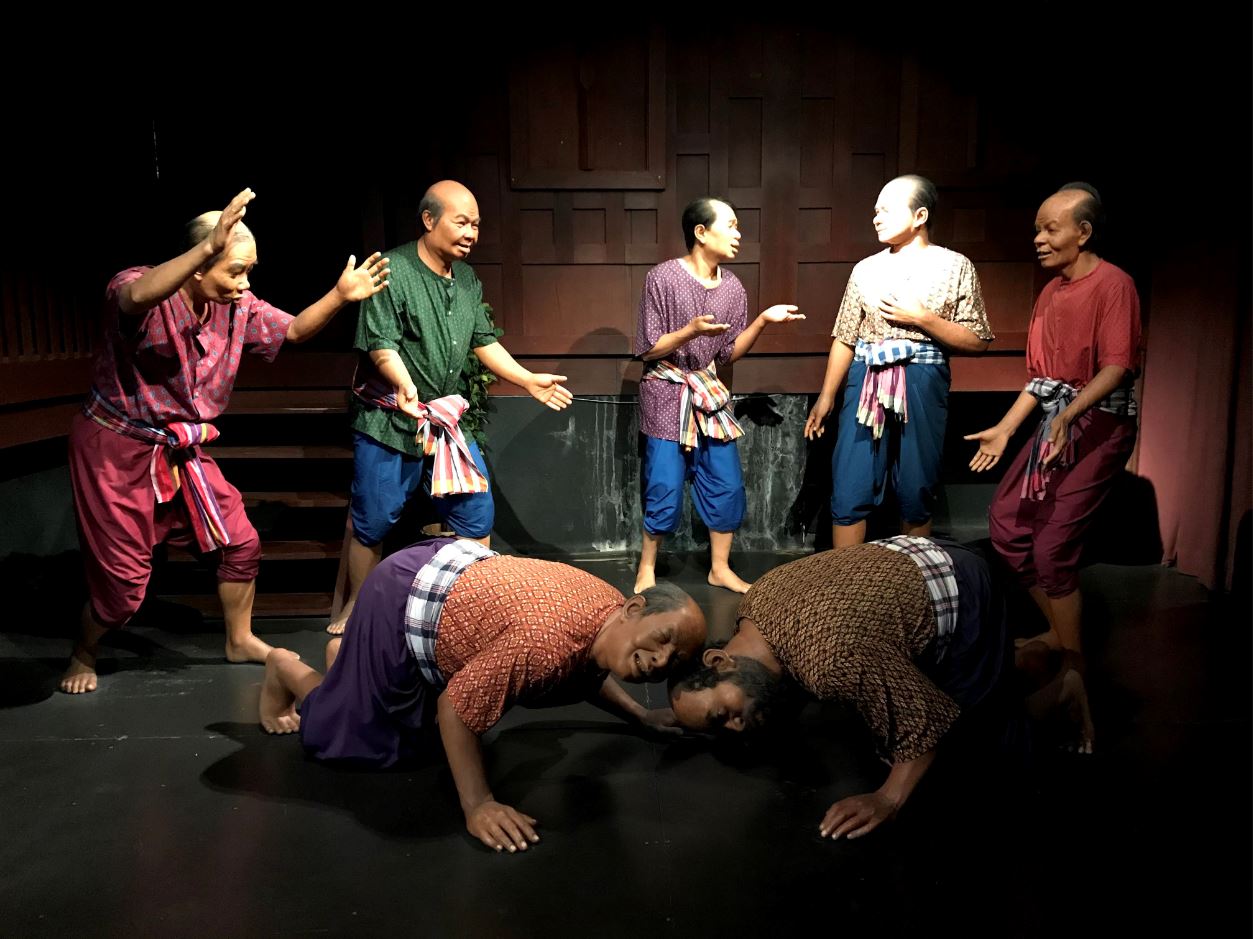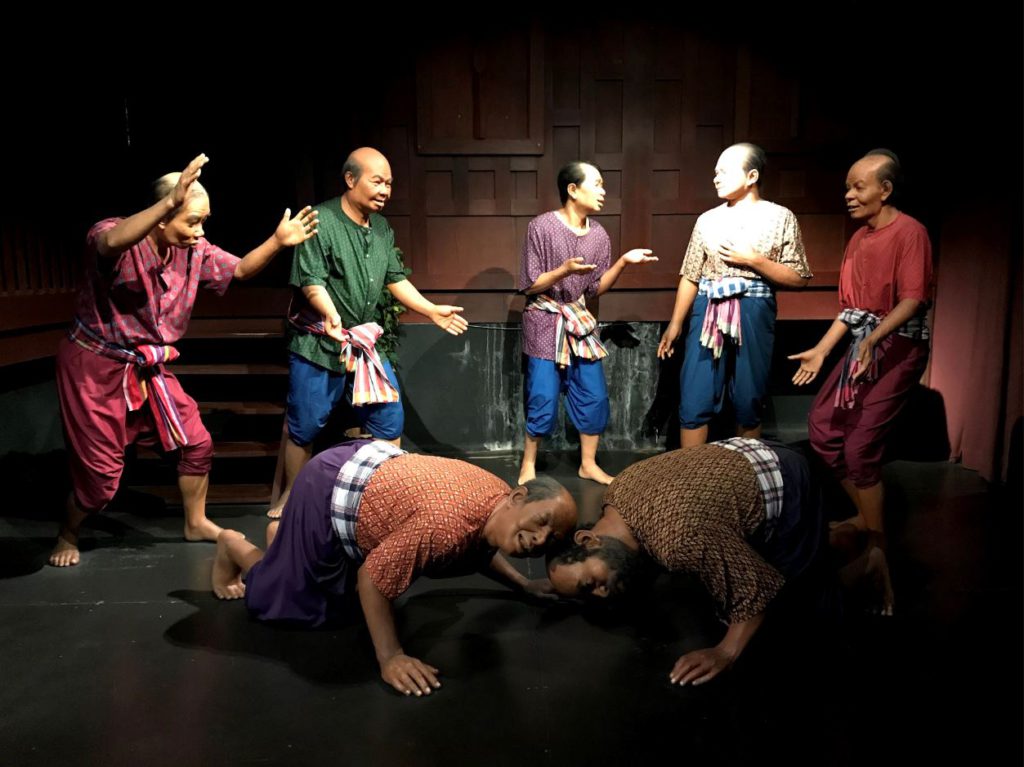 Save On Pinterest


Related Articles