19 Aug

Exploring Lhong 1919, Bangkok Review Blog

Lhong 1919 is one of the few places that haven't caught fire amongst international tourists. While I will not say it is a must-visit, it still is a charming place in a new concept. Moreover mostly young locals visit the place .

In recent times, several empty warehouses and crumbling mansions have been converted into tourist attractions. It has been done to tastefully blend the old traditional surroundings with a quirky modern mix. You can think of Hip cafes in distressed backgrounds with open ceiling and rusted pillars.

Or in this case Chinese mansion into gorgeous art galleries.

You can say Lhong 1919 is a part of the experiment. It looks like it went well. Very well.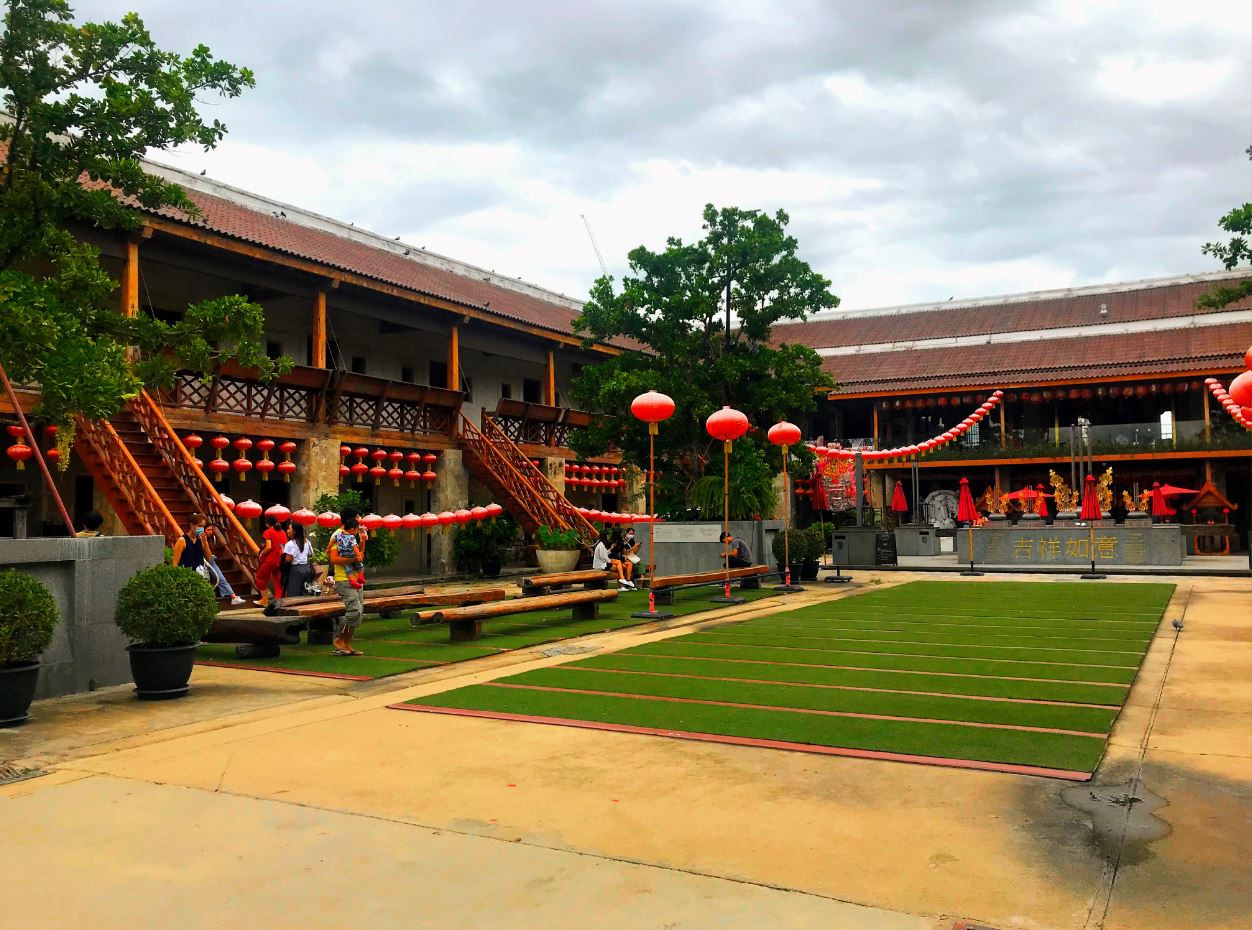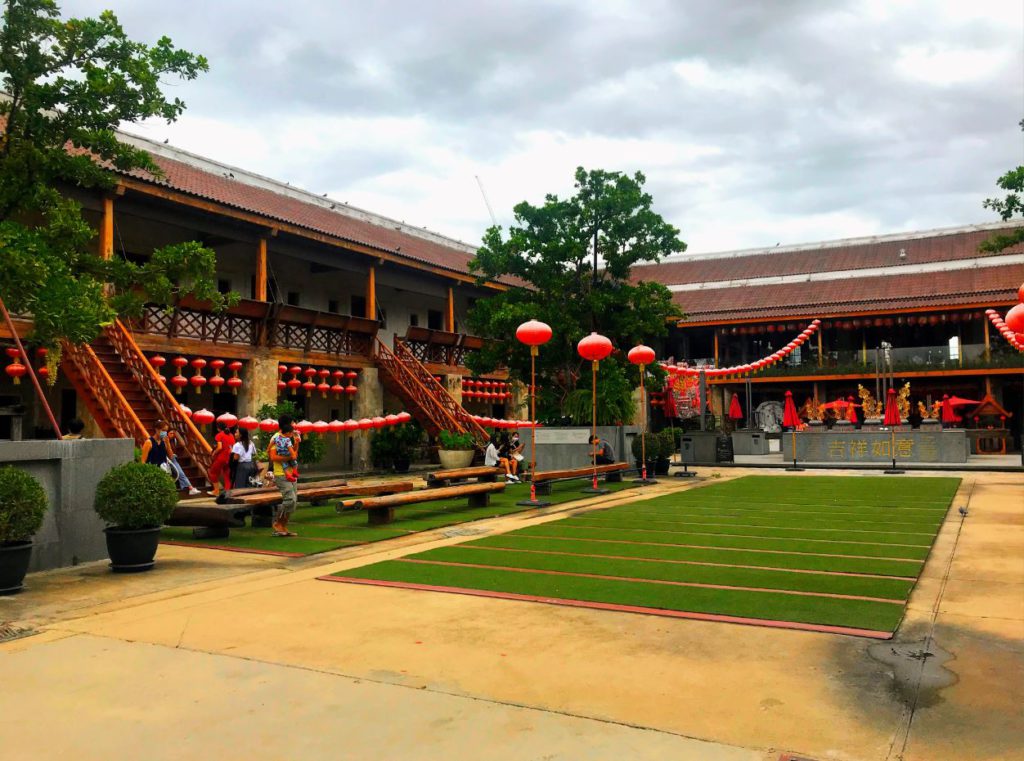 Lhong 1919 History
Lhong was a historic port and a warehouse built traditional Chinese architectural style in 1850. It was built by a wealthy Chinese businessman in the middle of a thriving Chinese community. He built it to aid his trading with the British Malay, Mainland China and Hong Kong.
The Wanglee family, another wealthy family of Chinese descendant bought it in 1919, hence the name. In 2016, the owners converted the place into a tourist destination. The area is developed with a few cafes, renovated warehouses into art galleries, craft shops, co-working space and a Thai-Chinese historic centre.
Quite a few famous celebrities attended the opening ceremonies. Since then it has been a somewhat chic place to hang out for the young Thai crowd.
Where is Lhong 1919
Lhong 1919 is located on the banks of Chao Phraya River on the Thonburi (or Wat Arun) side of the city. It is at the end of Chiang Mai road in the Khlong San District. The place has its own pier which is directly opposite to Sawasdee Pier in Chinatown area.
How to reach Lhong 1919
Metro + Taxi: This is Quite a comfortable way to reach. Get down at Sam Yot MRT Station (on Blue line) and take a taxi from there for a little more than 3 km. You will be crossing the Chao Phraya River via a bridge. The taxi will leave your right at the gate and the ride will span just 10 minutes.
Many taxi drivers may not know about the place. So you can either show them a photo or book a taxi using Grab (app).
Metro + Ferry: A cheaper way to reach is by using the ferry service. You can get down at Wat Mangkon MRT Station (on Blue line) and walk to the Swasdee Pier in China town for 850m for 10 minutes. From the pier, you can take the ferry that drops you directly at Lhong 1919 pier across the river for only 5 THB.
If you are at Icon Siam, regular free ferry shuttle goes from Icon Siam to Lhong 1919 between 9.30 am and 10.30 pm. Just enquire at the pier.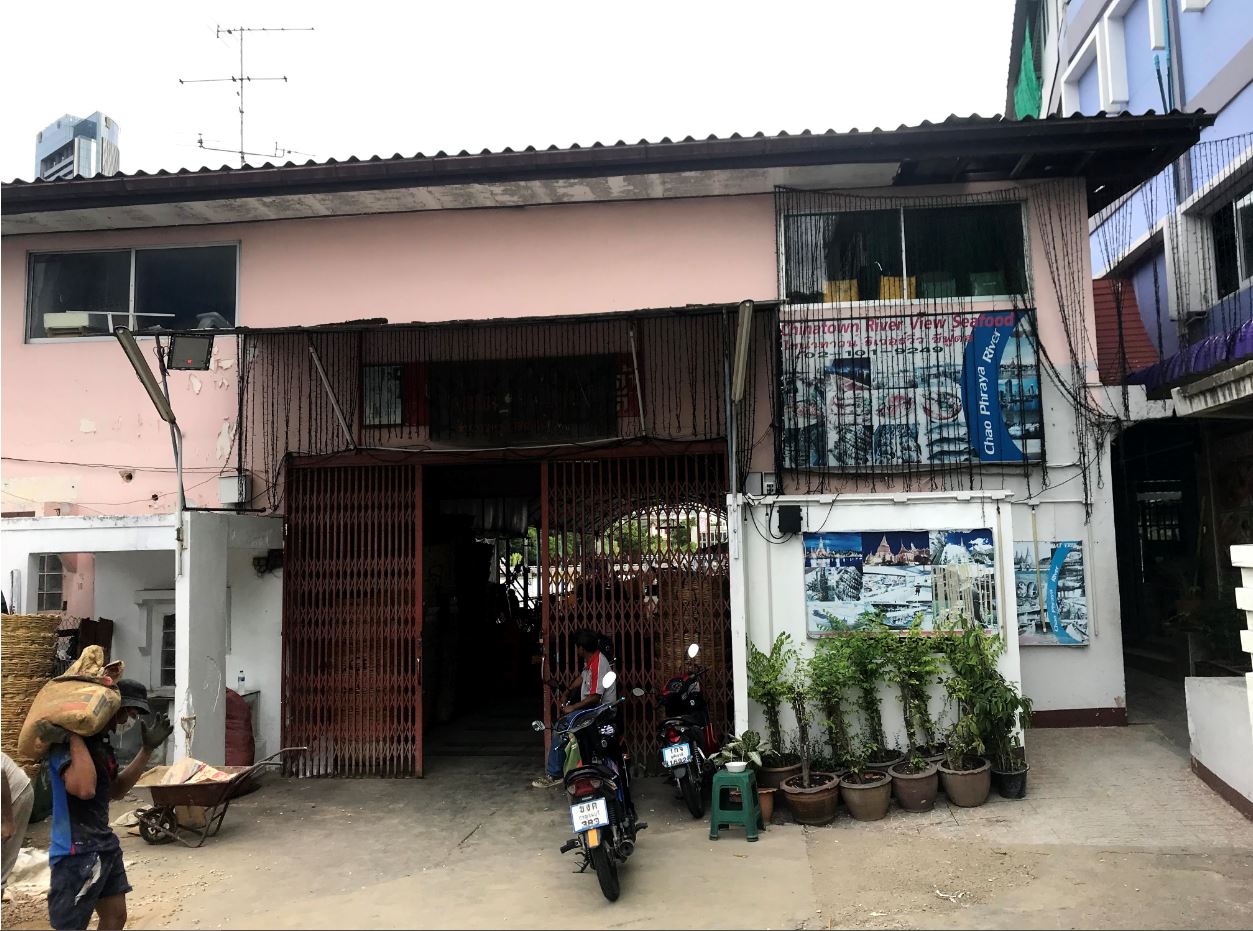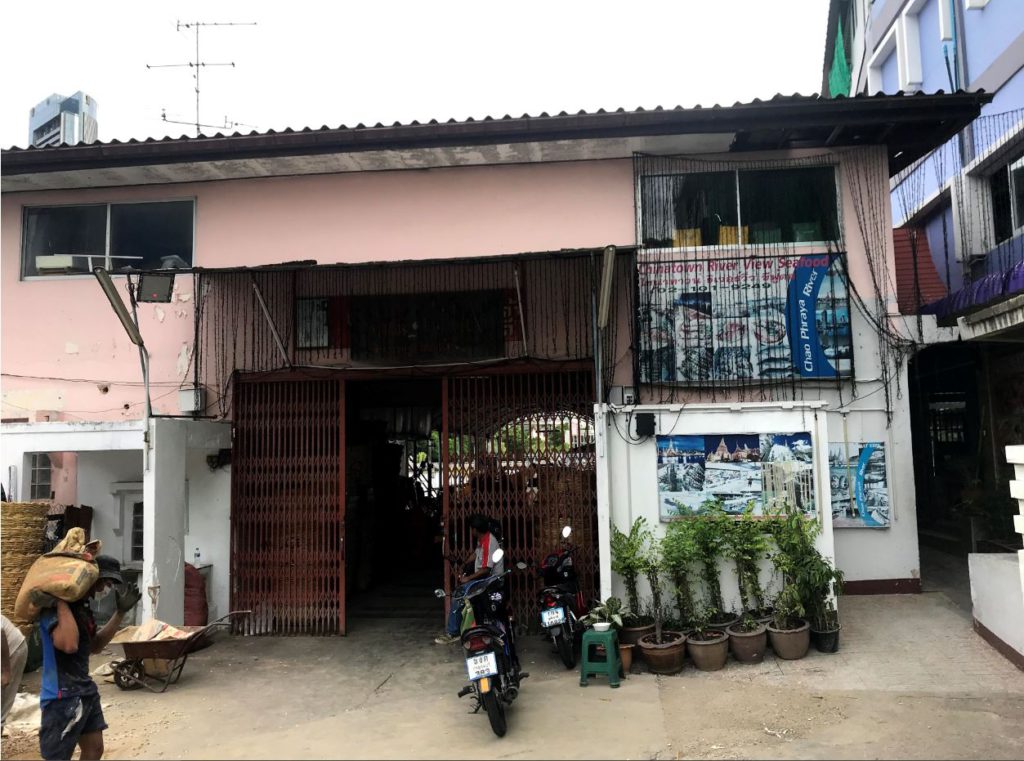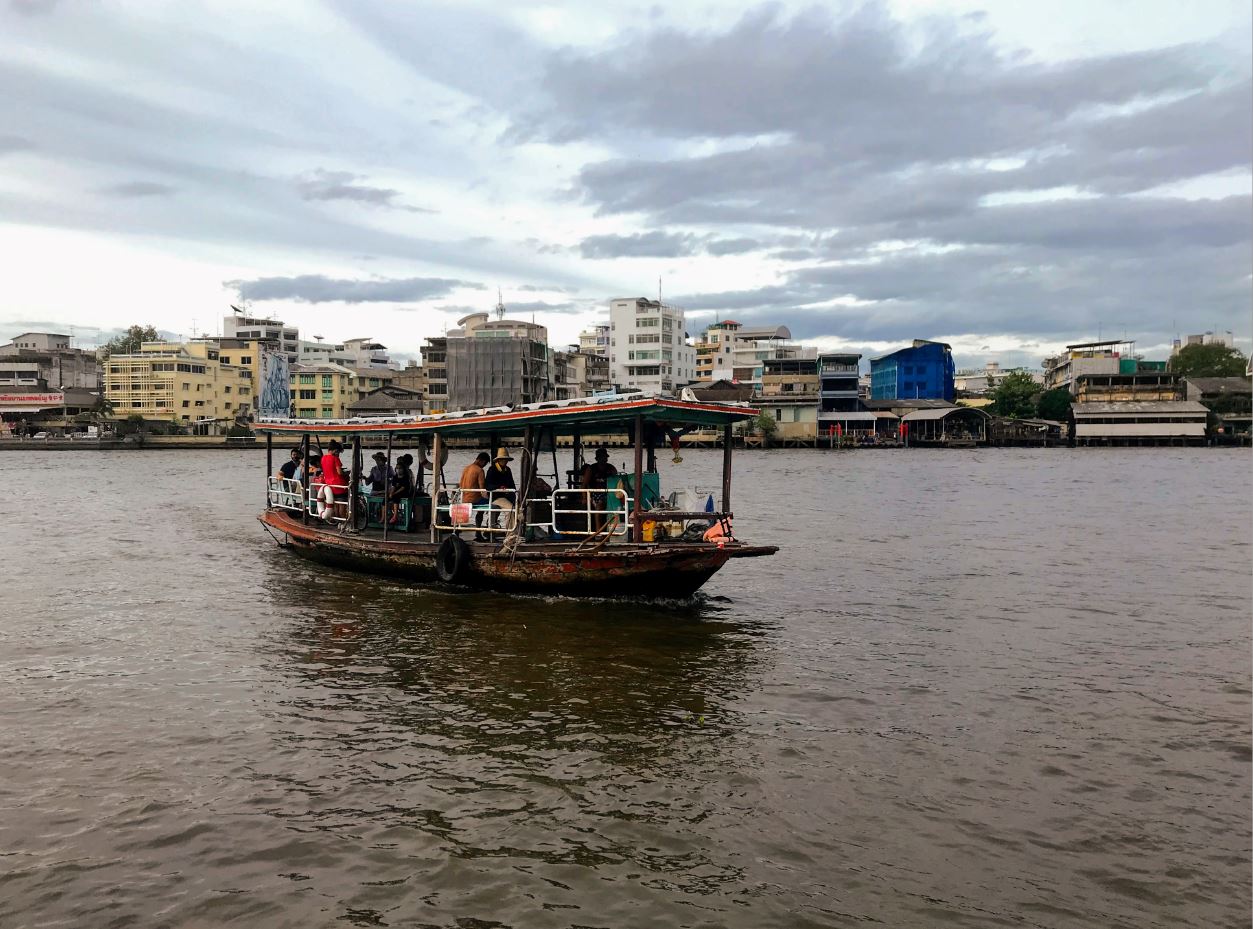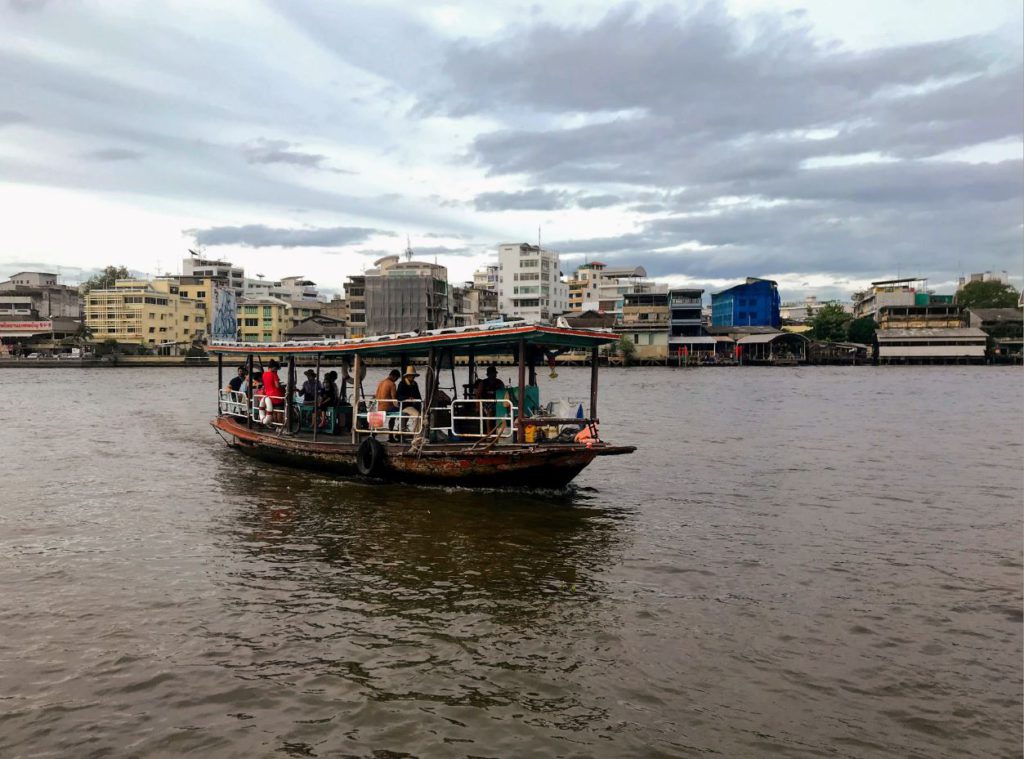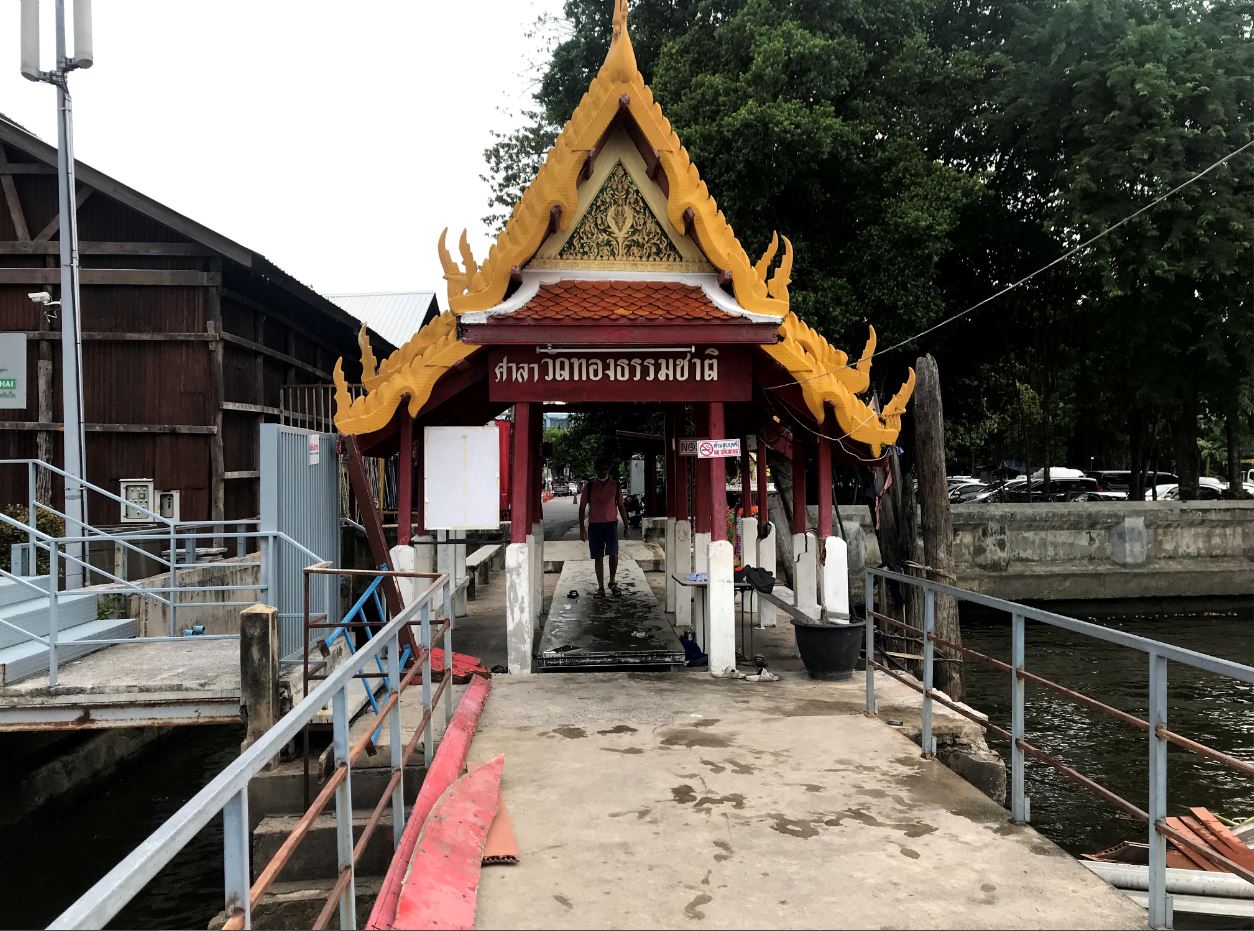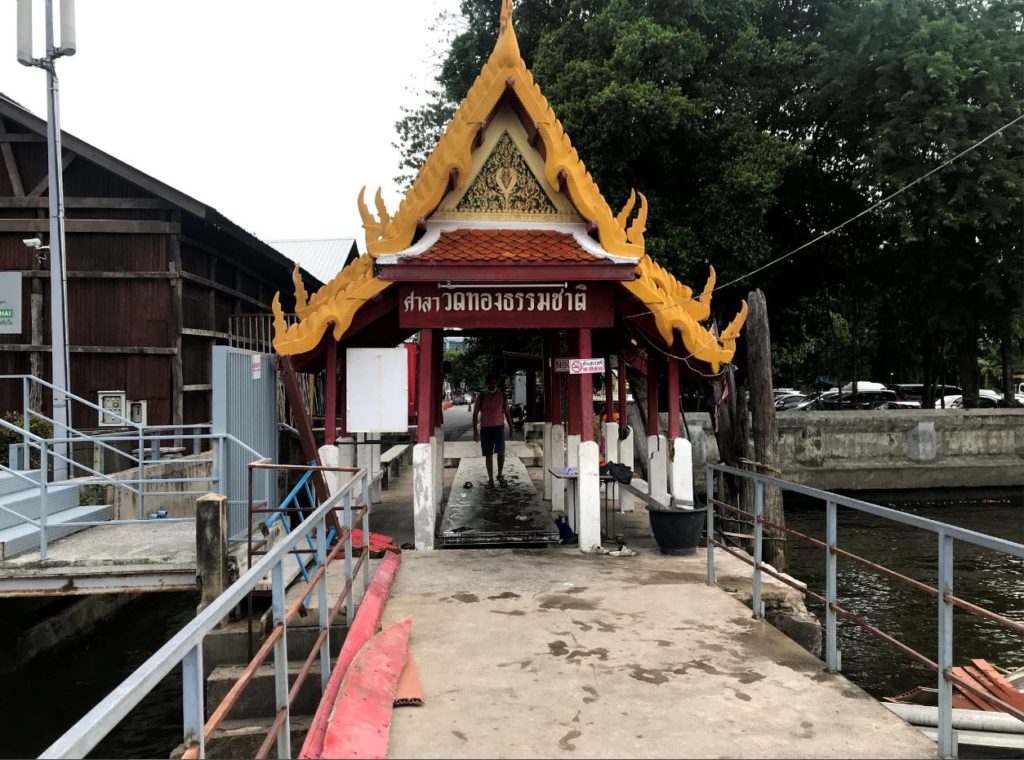 Hop-on-Hop-off-ferry: A great way to see some popular landmarks of Bangkok is by Hop-on-hop-off ferry (you may be expecting a bus). Lhong 1919 along with Grand Palace, Wat Pho, Wat Arun, National Museum of Royal Barges, Icon Siam and a few more are included in the stops.
You can spend as much time in these places as you want. Afterwards, catch the next one for the next stop.
Buy a hop-on-hop-off ferry ticket: Chao Phraya River: Hop-On Hop-Off Boat Pass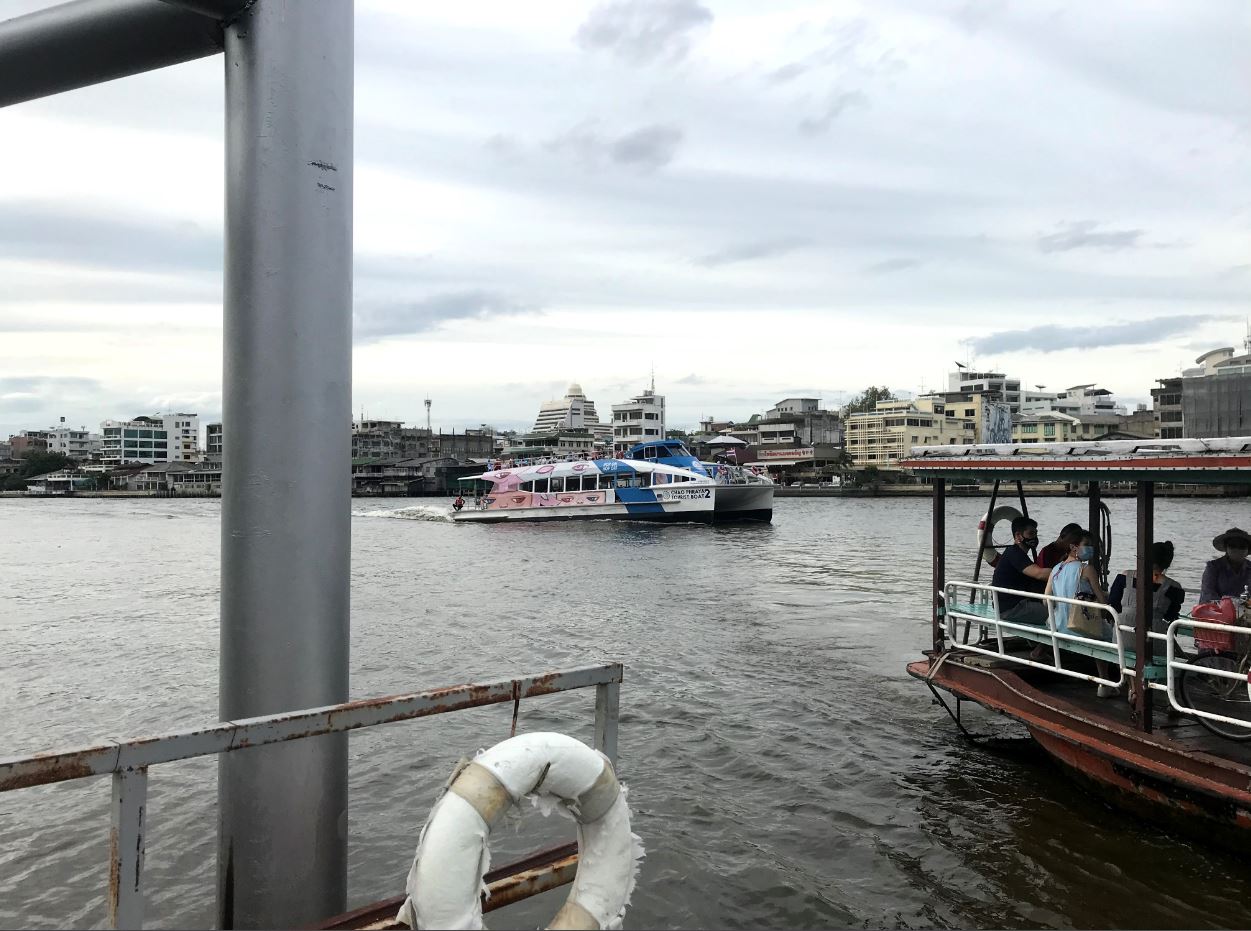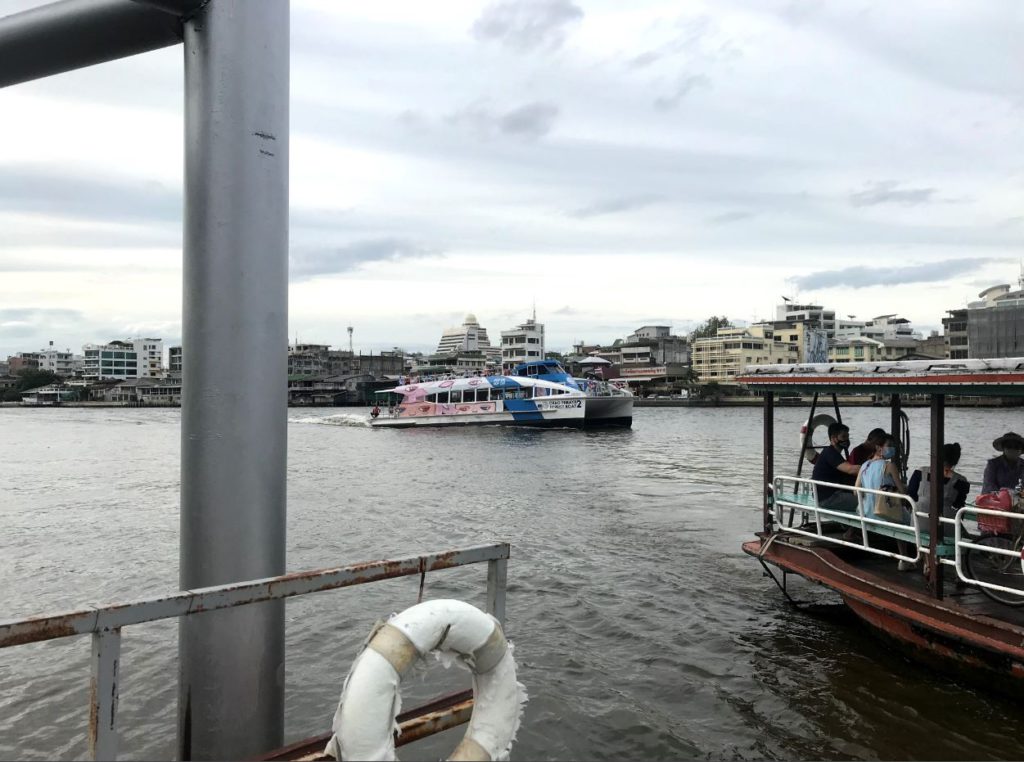 Bus: There are a few buses that pass near Lhong 1919. The bus routes are 105, 43, 57, 88 and 89. You can check the bus route from your place on Viabus app or moovit app (moovitapp.com).
Self-drive: If you decide to drive here by yourself then, on a busy day you may struggle to park. There is a parking space but it is limited. Parking is free for 1st hour and then is 50 THB for every additional hour. If you buy a product equal for more than 500THB, you can get 3 hours of parking free.
Lhong 1919 Information
Lhong 1919 Opening timings: Lhong 1919 is open on all days of the week from 8 am to 8 pm.
Lhong 1919 Entrance fee: The place is free to enter for everyone (and all nationalities).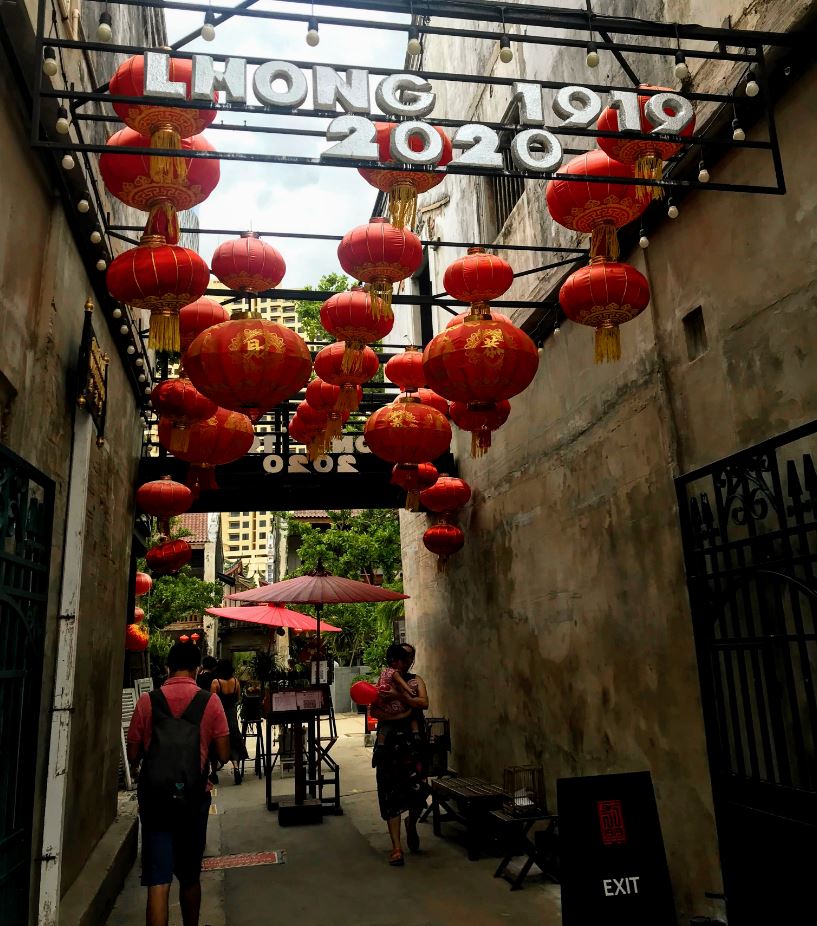 What to do in Lhong 1919
Just so that you know, I visited the place post-pandemic. So I found far less crowd than usual. You can easily walk around the whole place in 30 minutes. And if you happen to check out every nook and corner of the place then it may take you up to two hours.
The centre point of the Chinese mansion is the shrine of Mazu. Mazu is the Chinese sea goddess who looks over fishermen and seafarers. The main shrine is inside the centre room on the right side as you enter. There are three wooden figures of Mazu in three stages of manifestation. These were brought here from China over two hundred years ago. You can pay your respects if you want, but either way, be respectful and quiet around the shrine.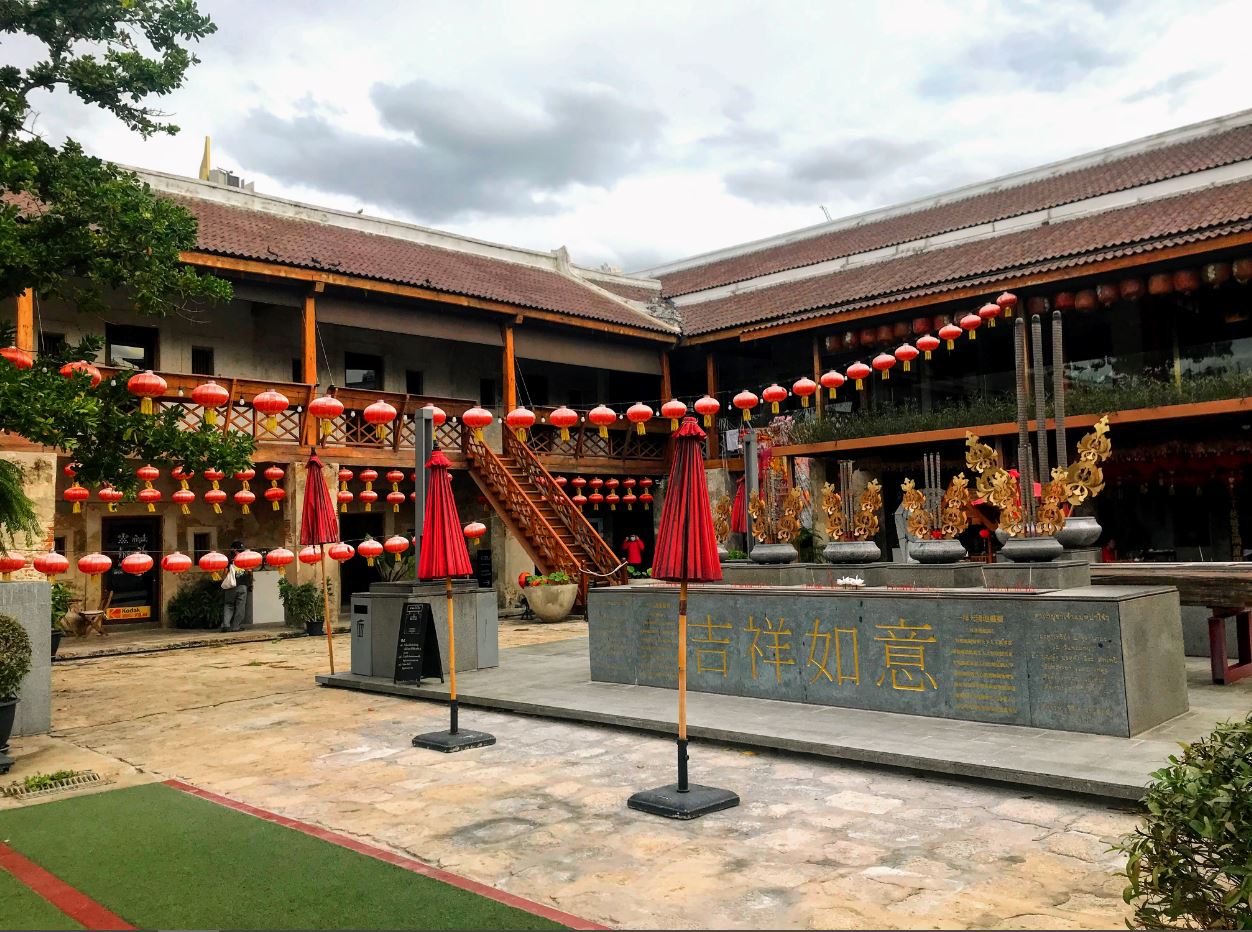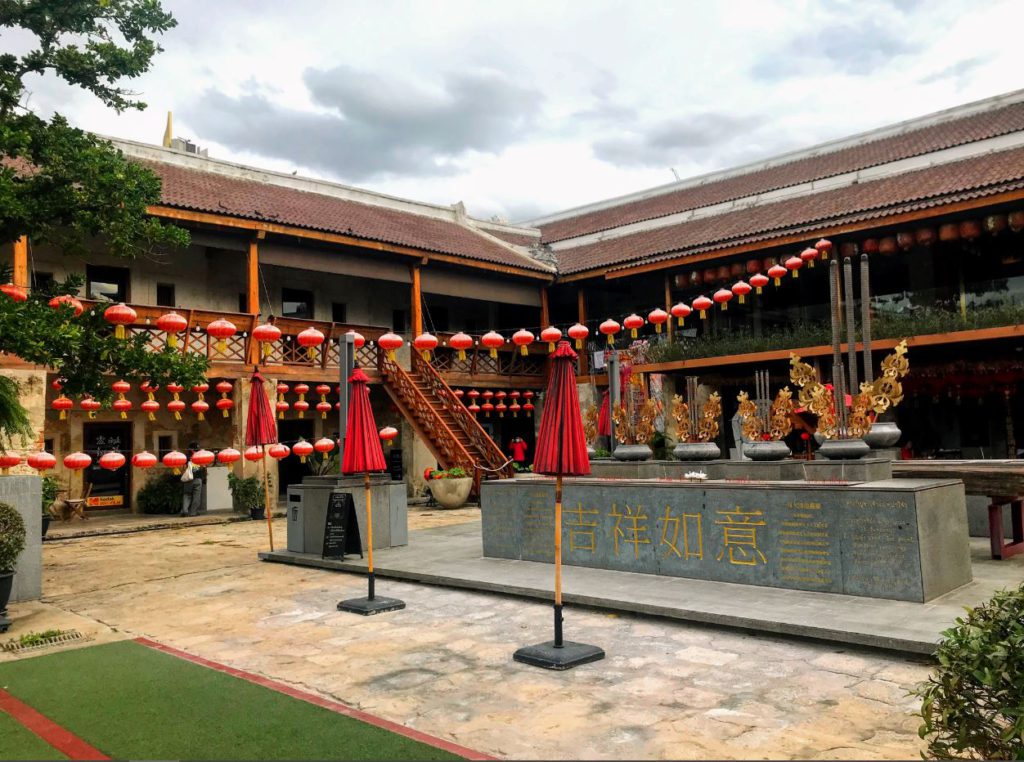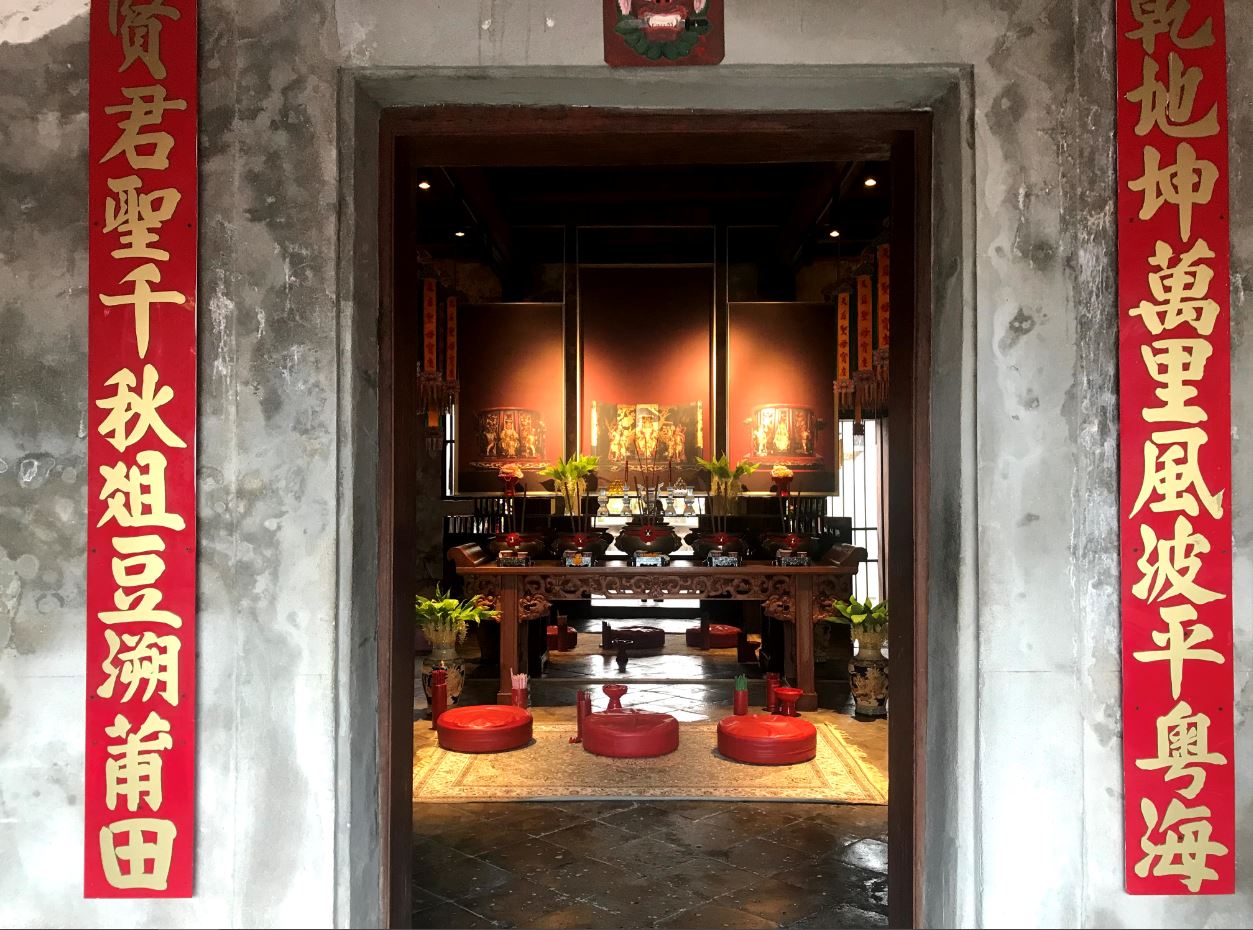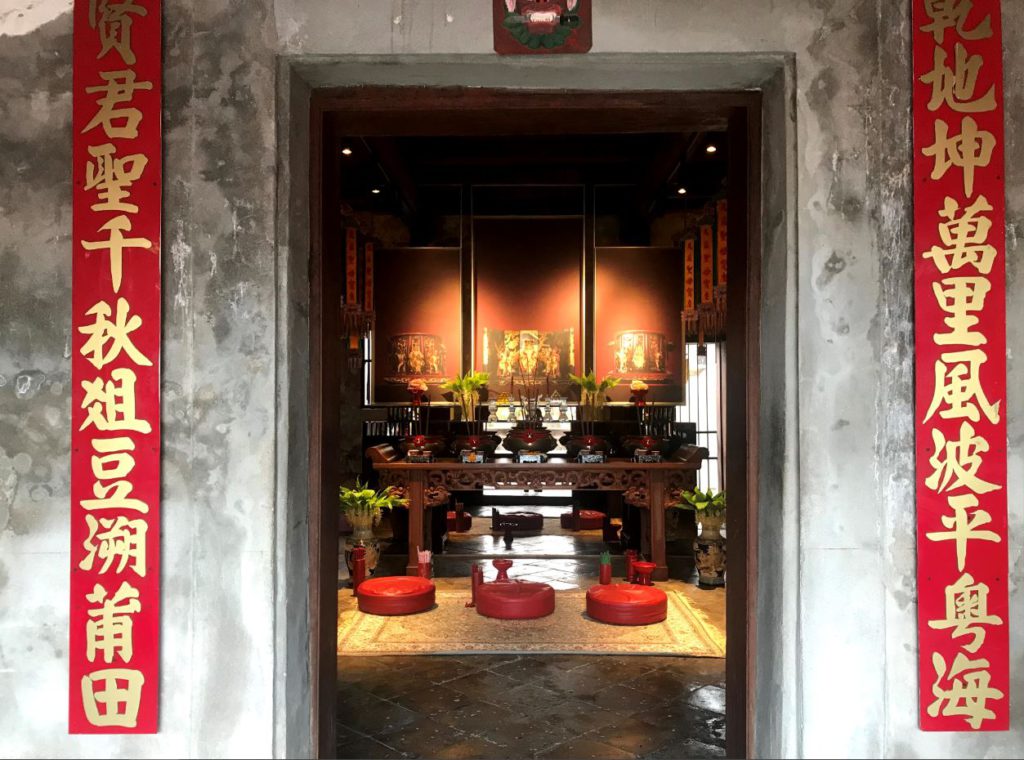 You can then check out other rooms that surround the courtyard in the middle. The rooms line up in U-shape according to the Chinese architectural style of "Sān Hé Yuàn".  The architecture is according to Feng Shui that maintains the connection between the heavens and the earth (according to Chinese mythology).
The contents of the room can range from a small art gallery to a café. Another version is a souvenir shop or an eclectic mix of all. In some of the rooms, they took off the first floor to create high ceilings that look absolutely gorgeous from inside.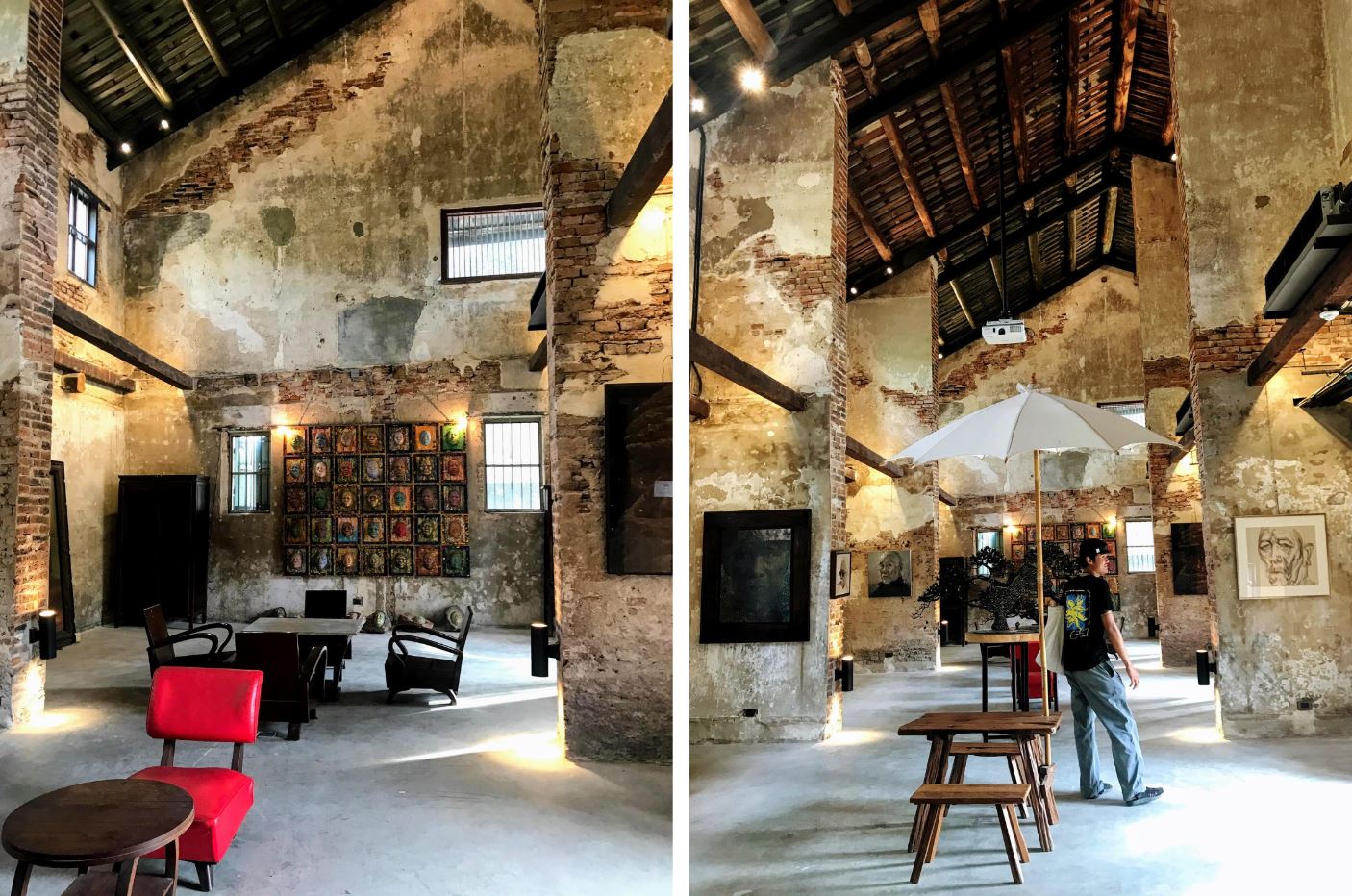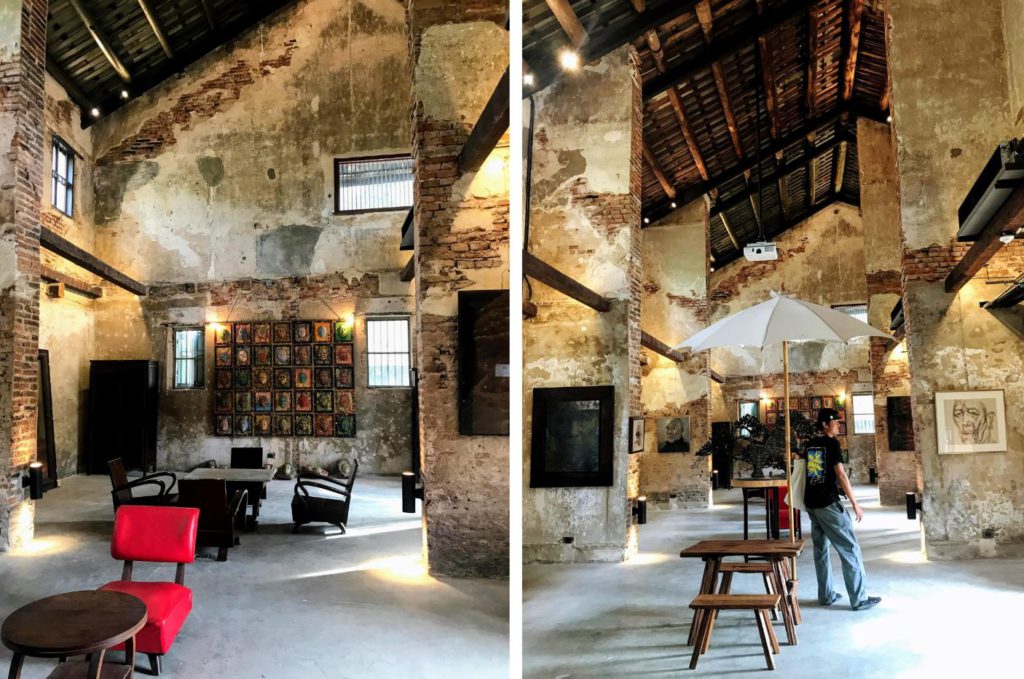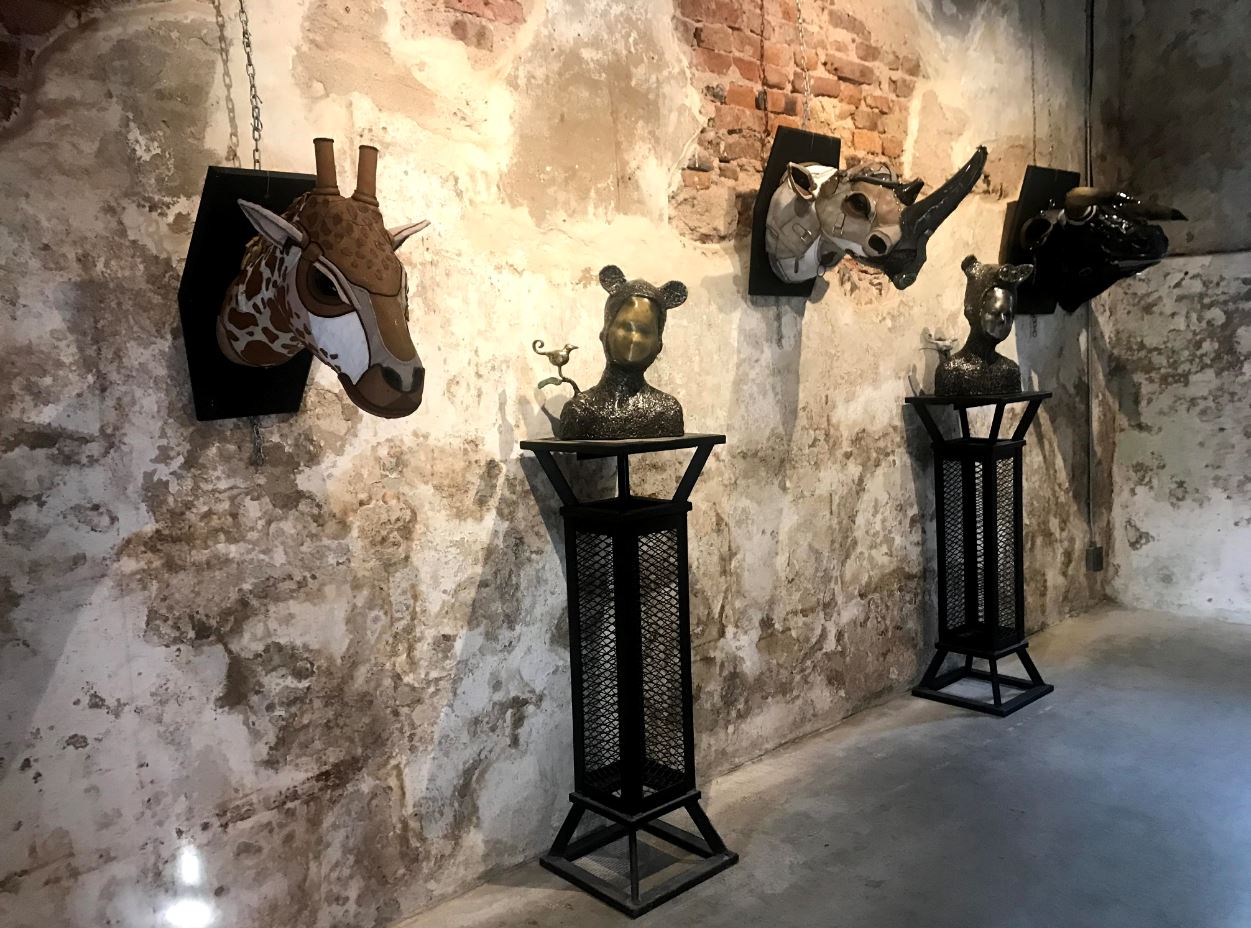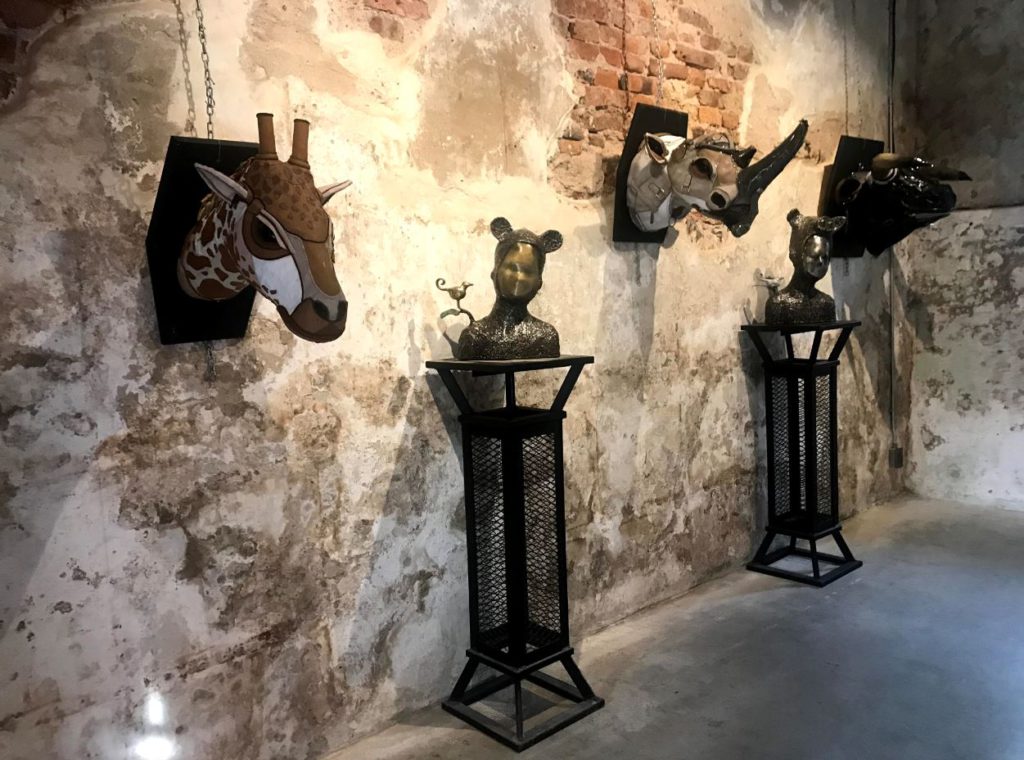 You can also use the stairs on the outside to go upstairs. On busy days there are artworks on top of all doors with details about them next to them in writing. There are seats too from where you get an aerial view of the place. Sit around and relax for a some time. Nice place to sit and talk.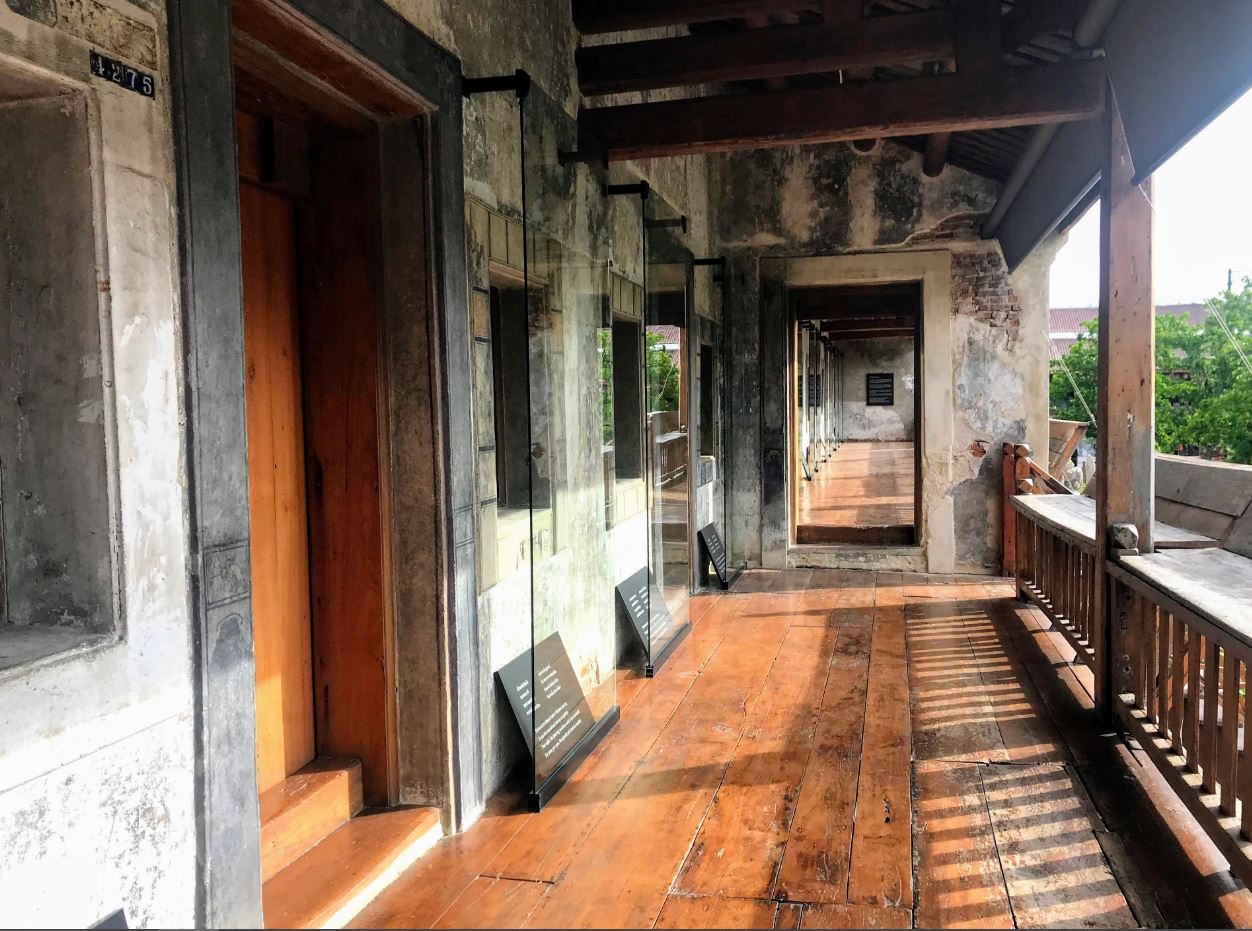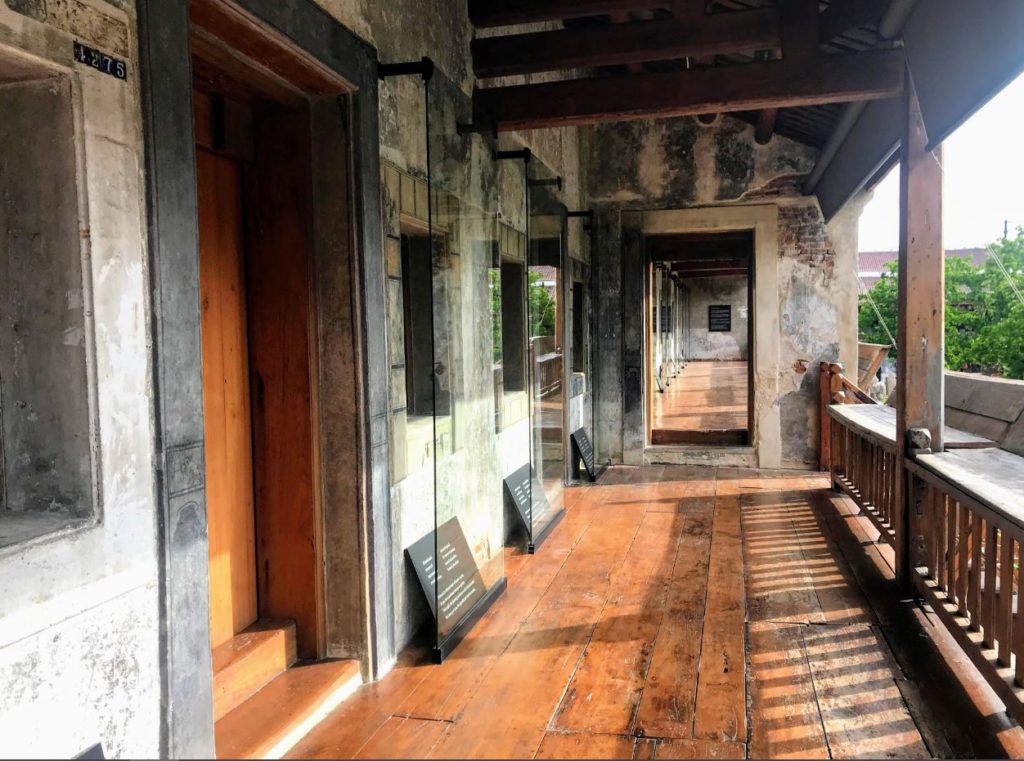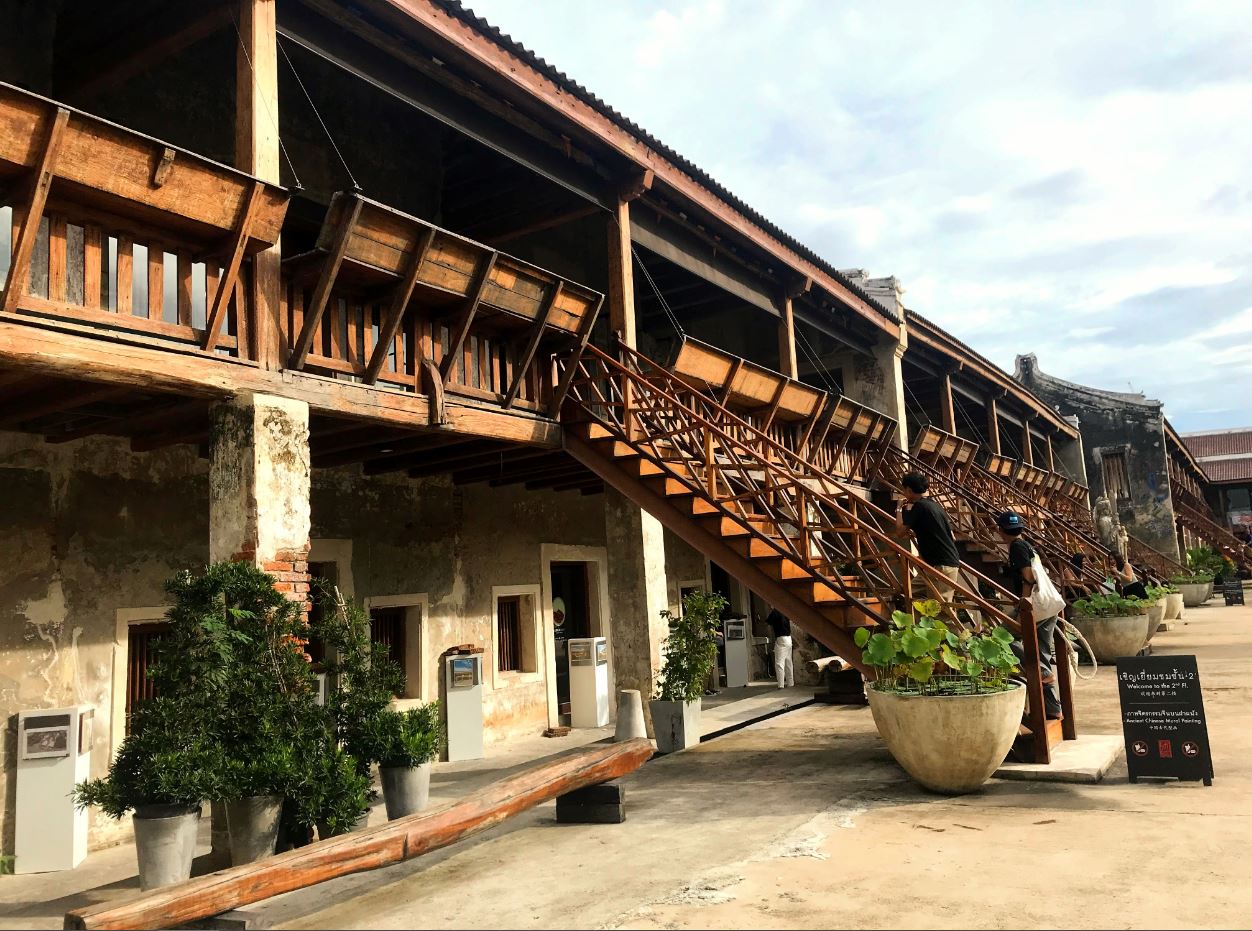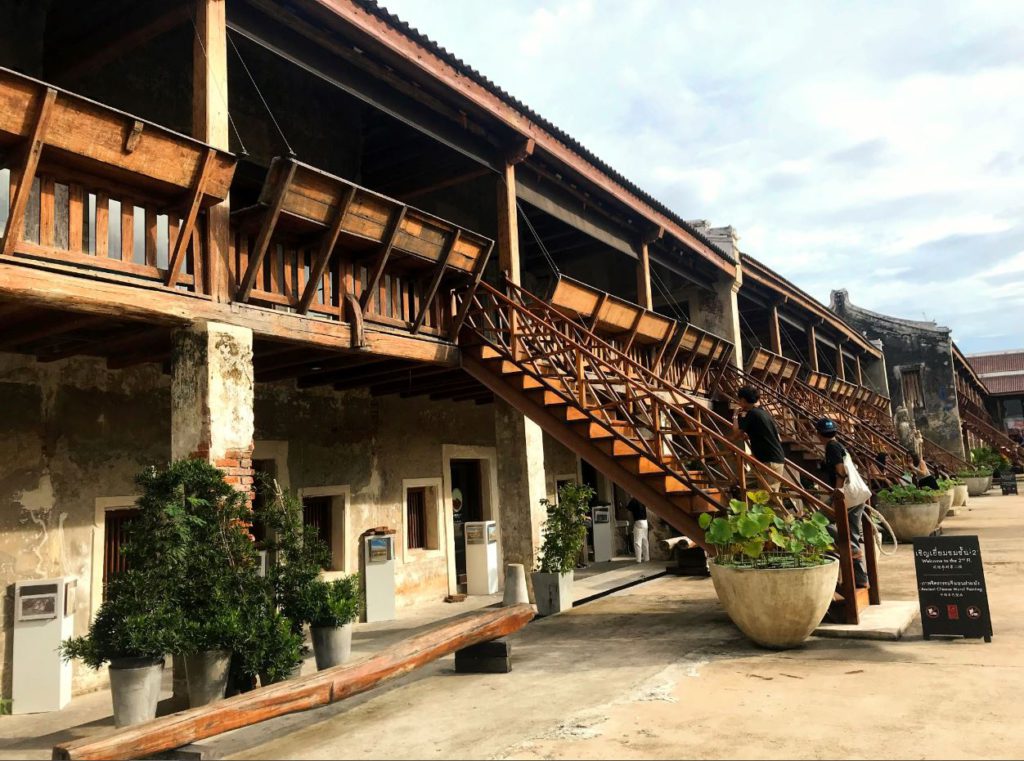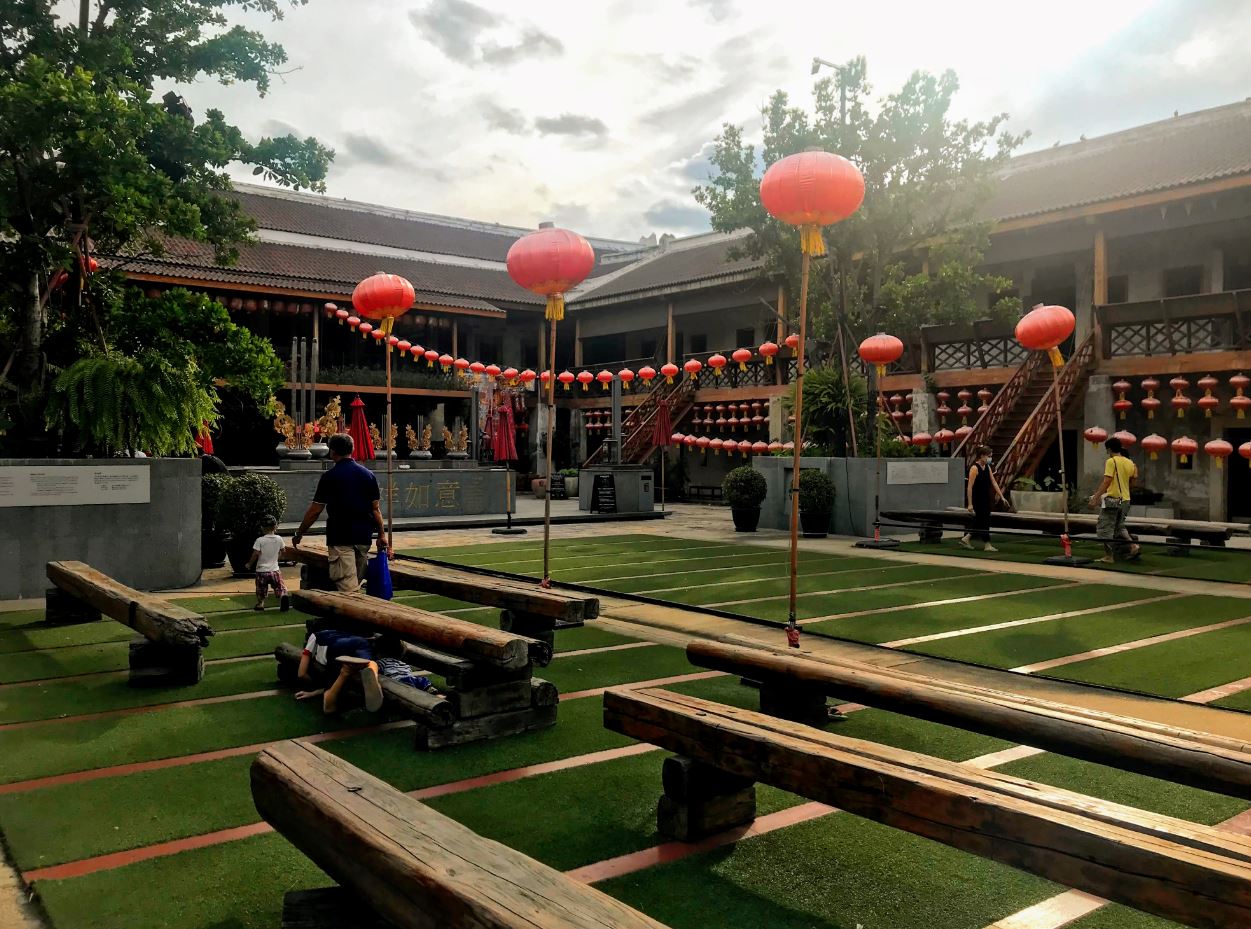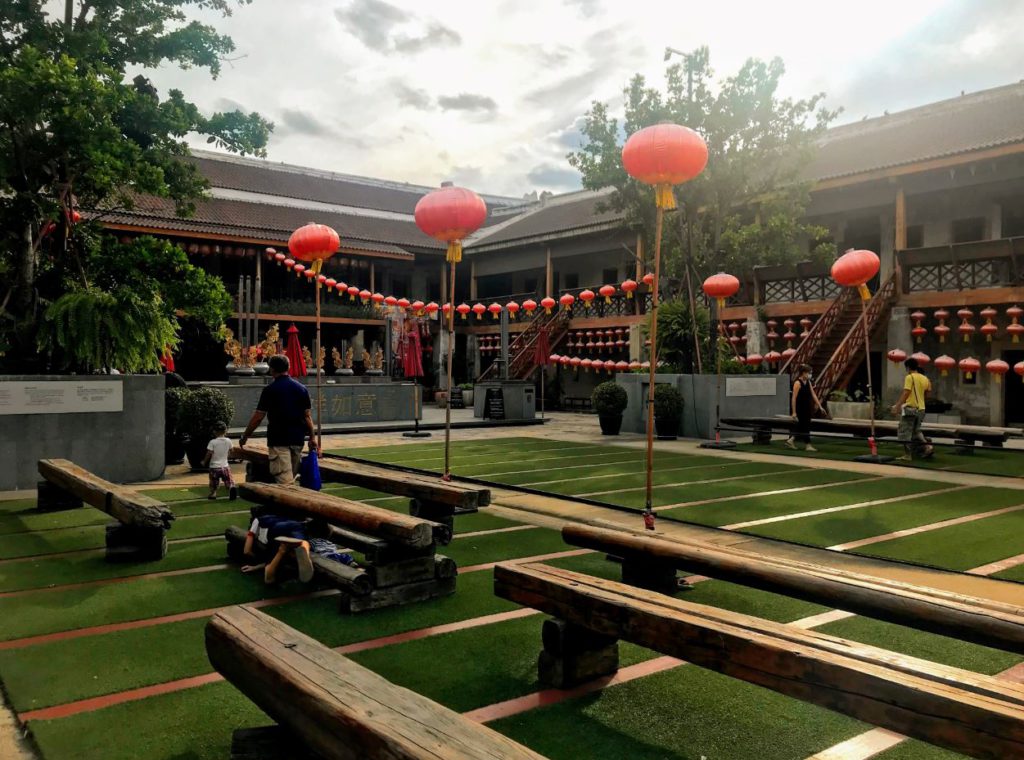 An entrance beside the mansion opens up to a small courtyard. You can find some intriguing wall murals the likes of which reminded me of those in Georgetown in Penang, Malaysia. This one is quite popular with the teens and Instagrammers.
The courtyard in the middle has a unique structure of a half-Chinese-half-Thai icon, with characters from the popular folklore. The structure was put here as a sign of the bond between the two community in the area.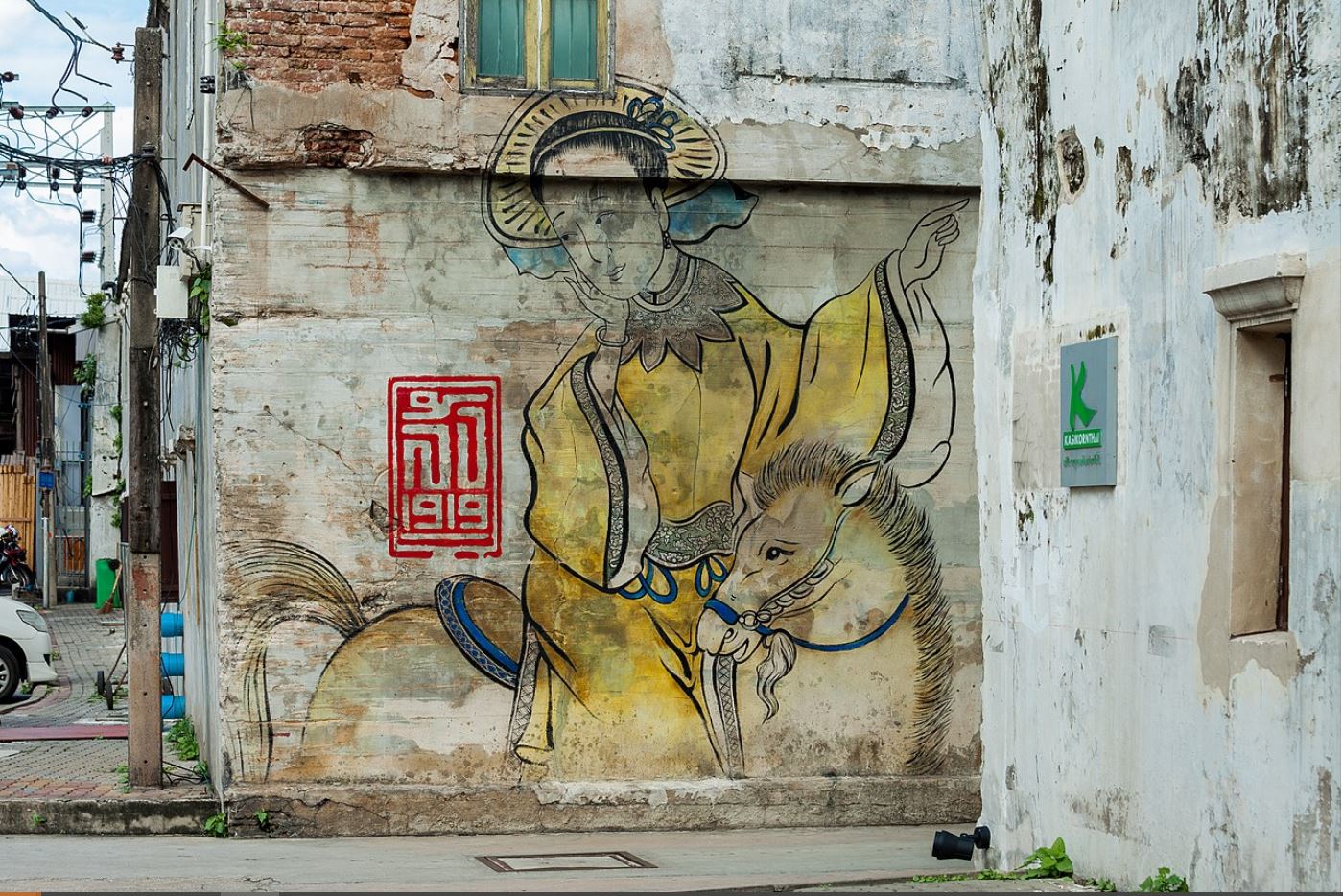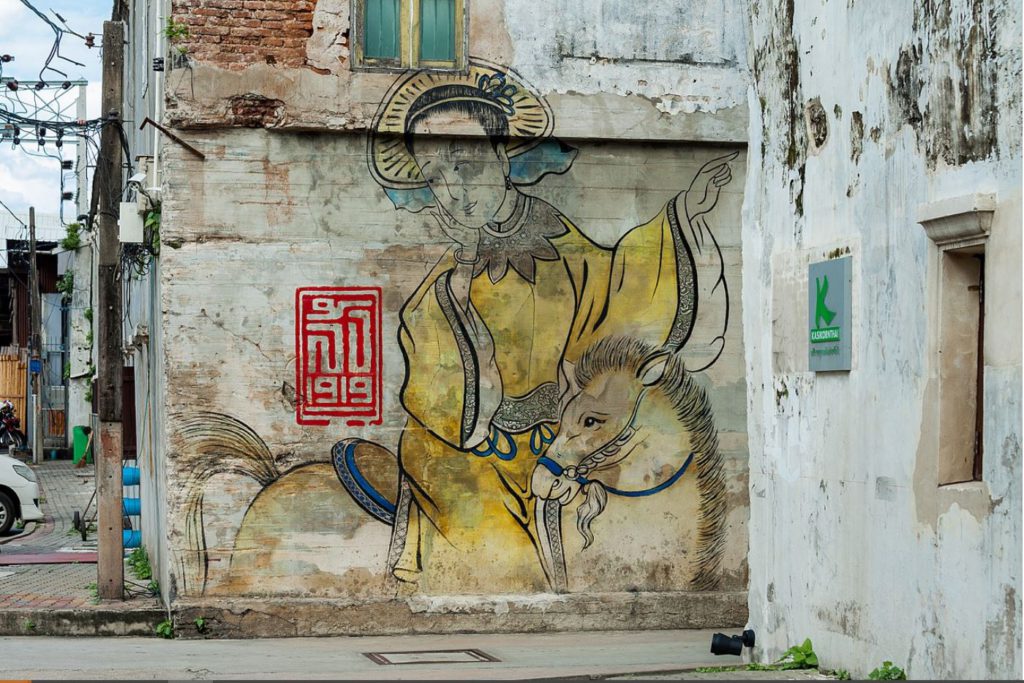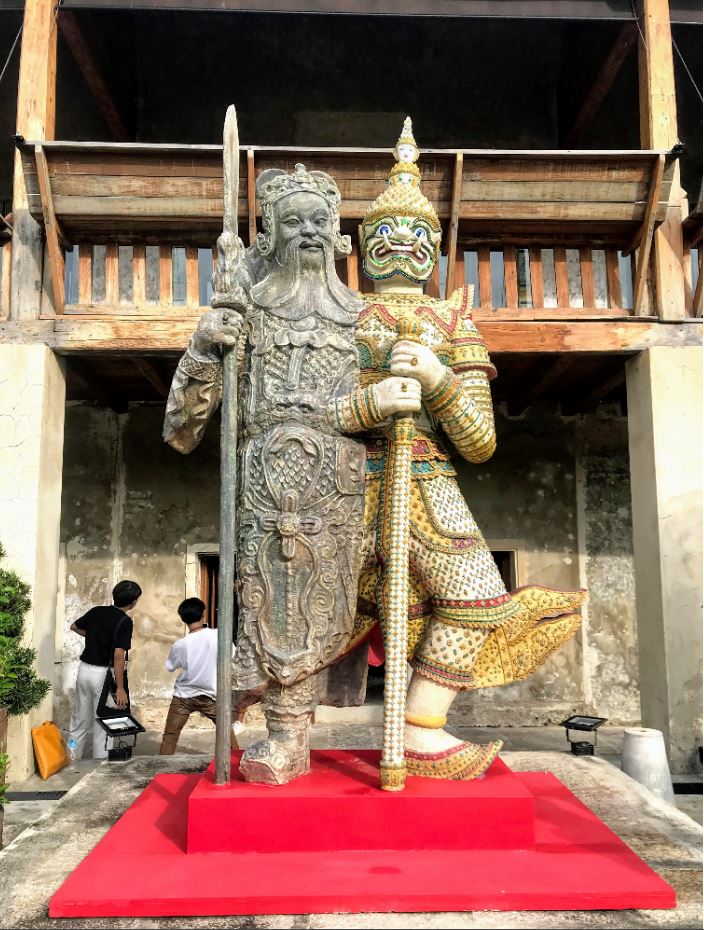 Once you have explored the mansion you can head towards the river bank. I have to say, it looks extra lovely around sunset and is probably the best time to visit too. Cannot imagine hanging around the place in scorching sunlight.
The large building on the right is now an art gallery that showcases artworks from local artists. You can even buy from here. Some of the works are mind-blowing. Other's…well…quite weird. I spent a long time looking around and sorting through the unusual stuff and I enjoyed it.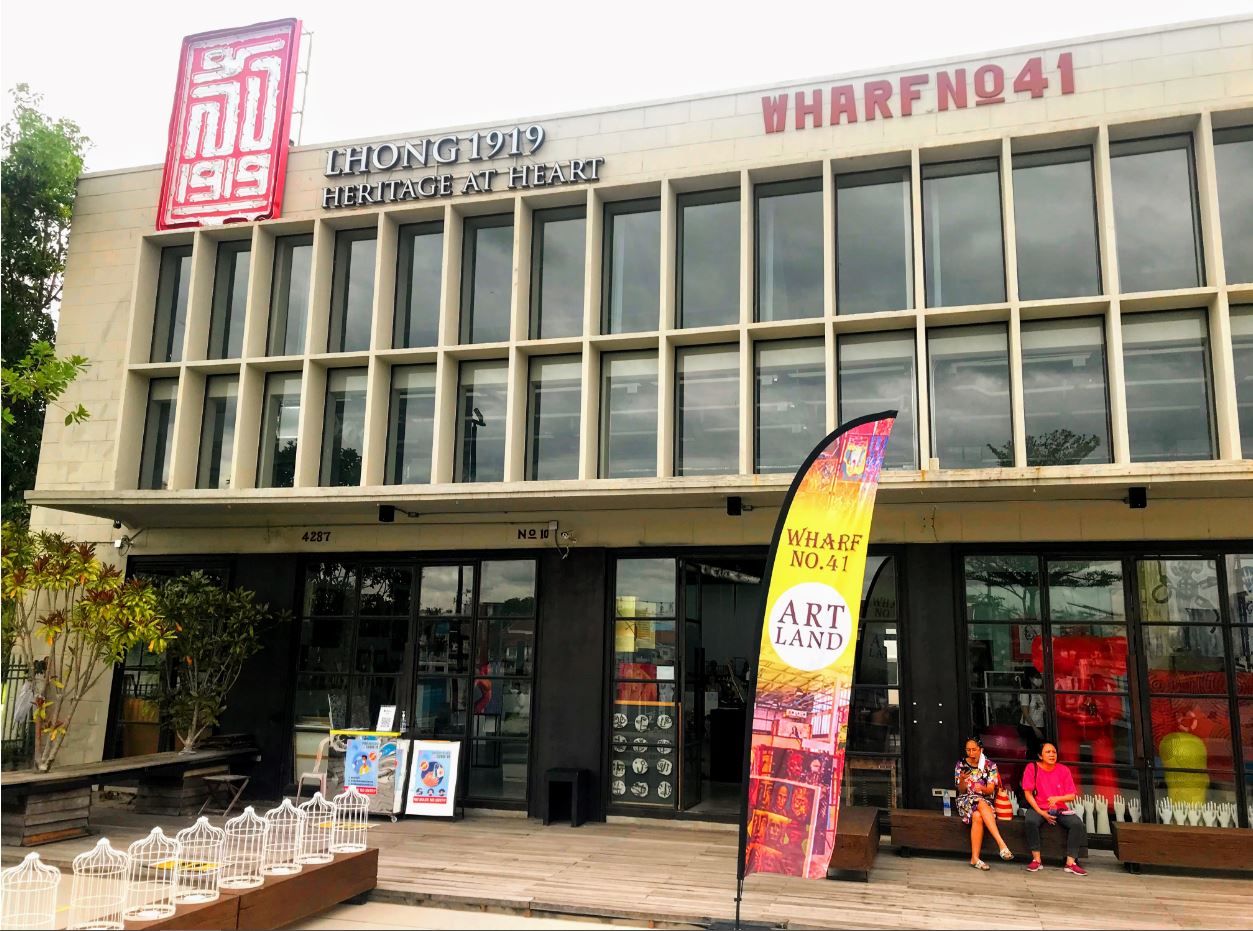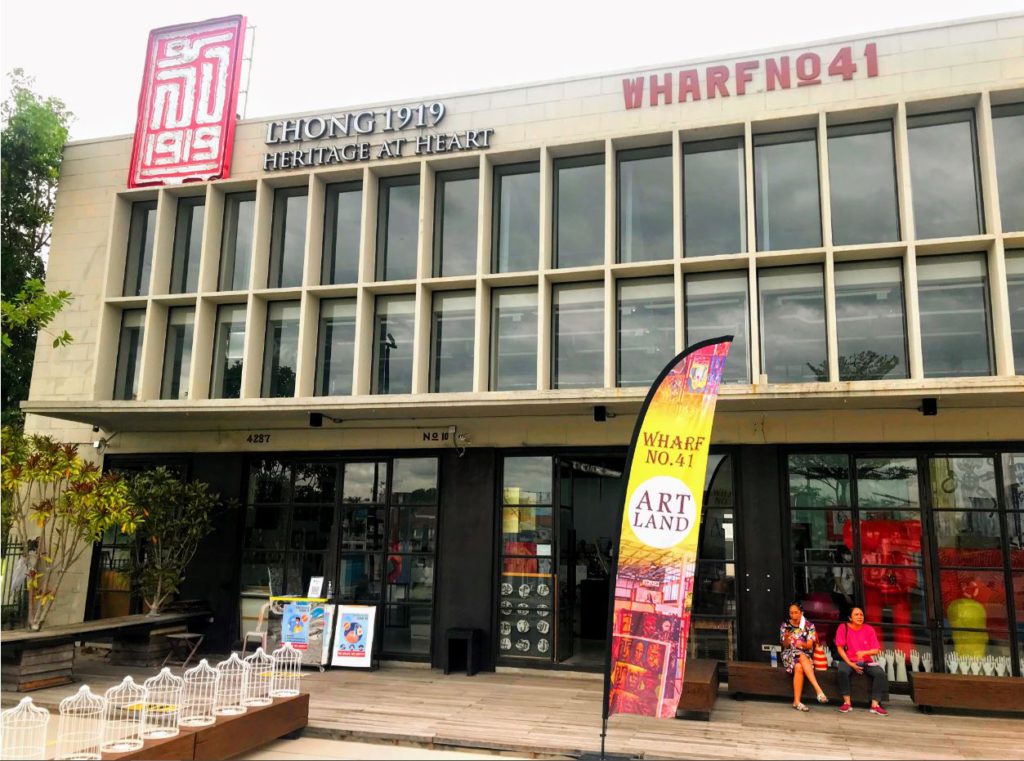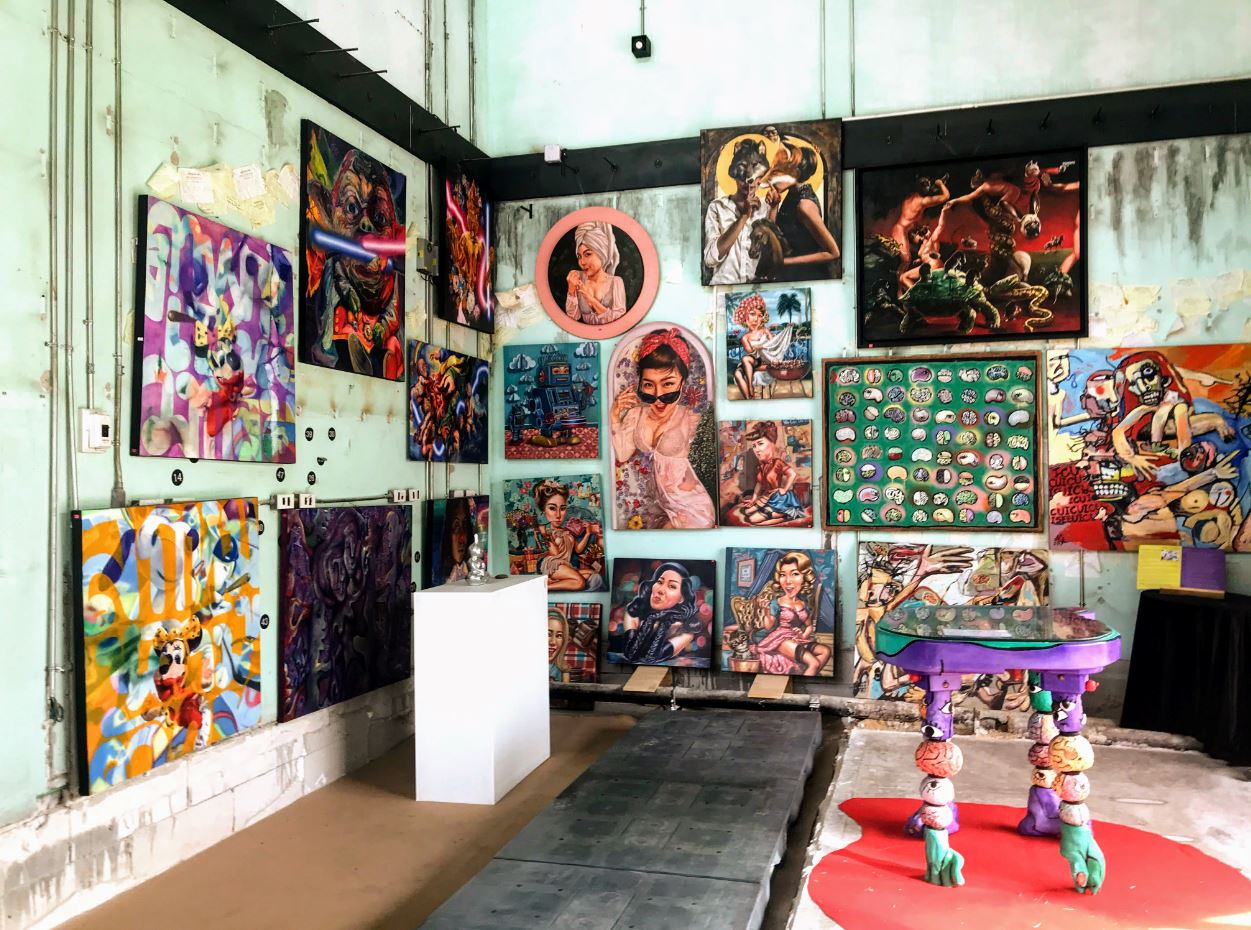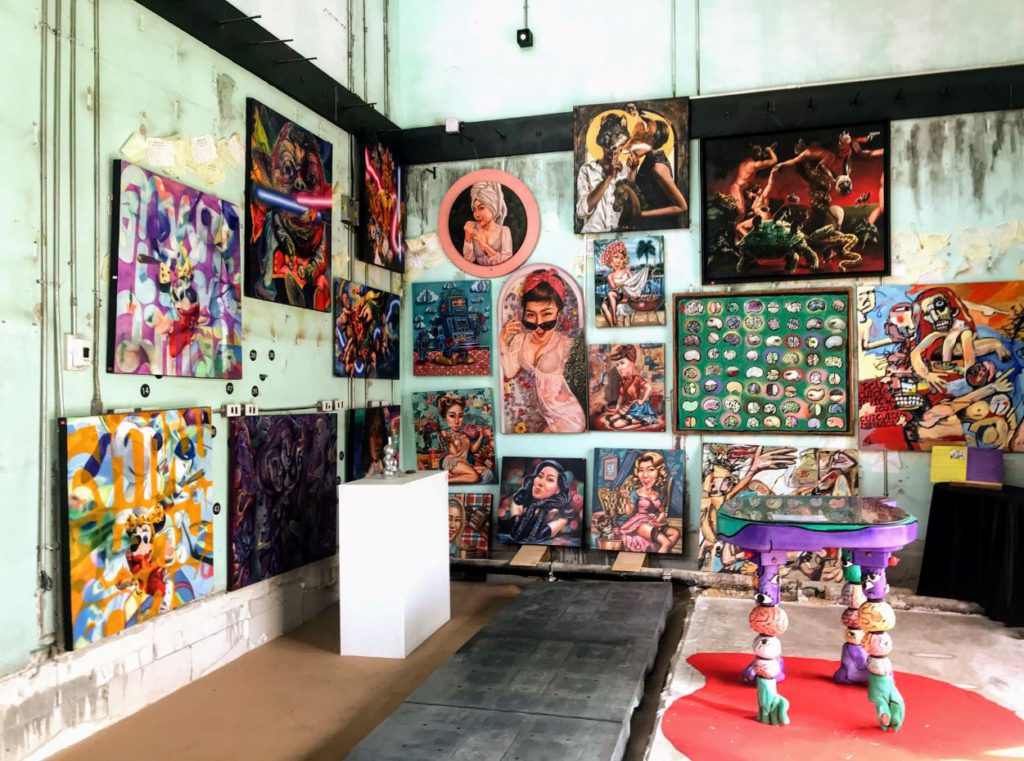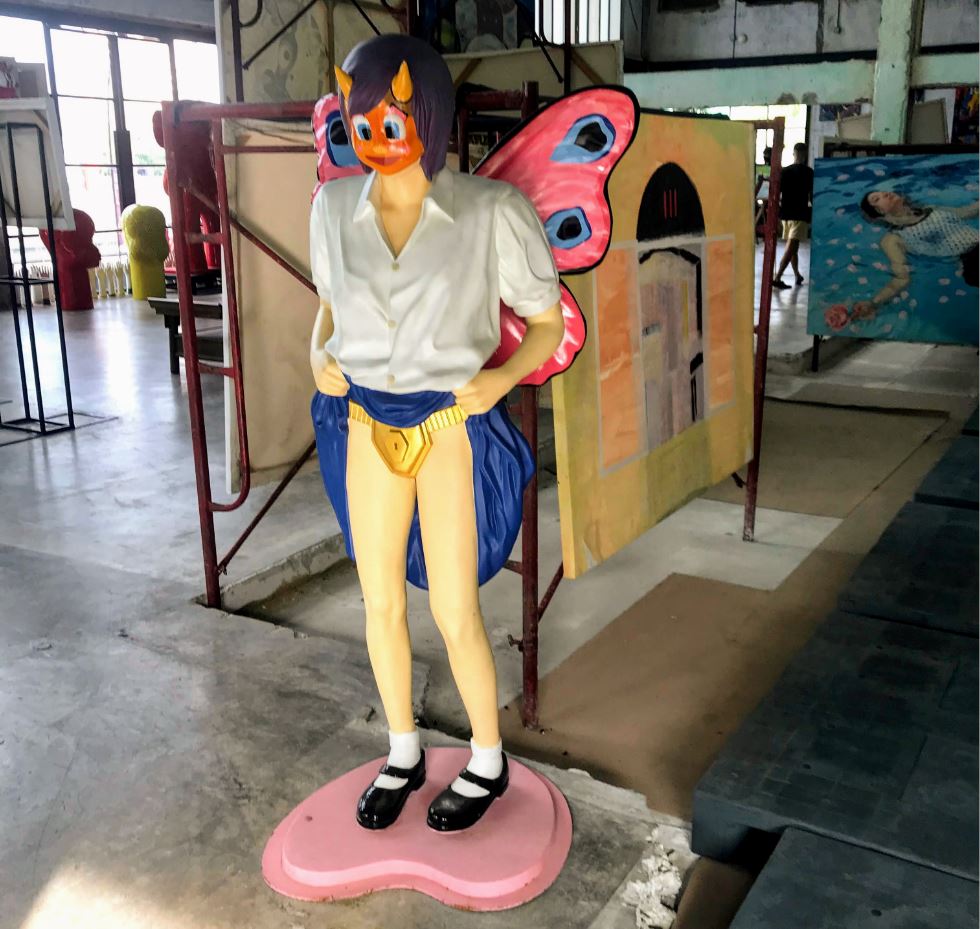 There are usually tables and chairs on the deck and a restaurant on the side serve food and drinks. But like most of the other things on that day, eateries were not open either. There are a few stalls in the courtyard though. You can buy Thai street food like noodles, coconut ice-cream and drinks on the go if you like.
The shops in Lhong 1919 focus on Chinese-themed products. You can find furniture, charms, souvenirs, scarfs, ceramics, paintings, lanterns, semi-precious stones, terra cotta and decorative items of traditional Chinese designs. Even Chinese opera is performed in the courtyard during the weekends along with a grand Chinese New Year.
Various halls of Lhong 1919 are also available for events like wedding, party and conferences. You can book one even a year in advance. Check out more on their Facebook page.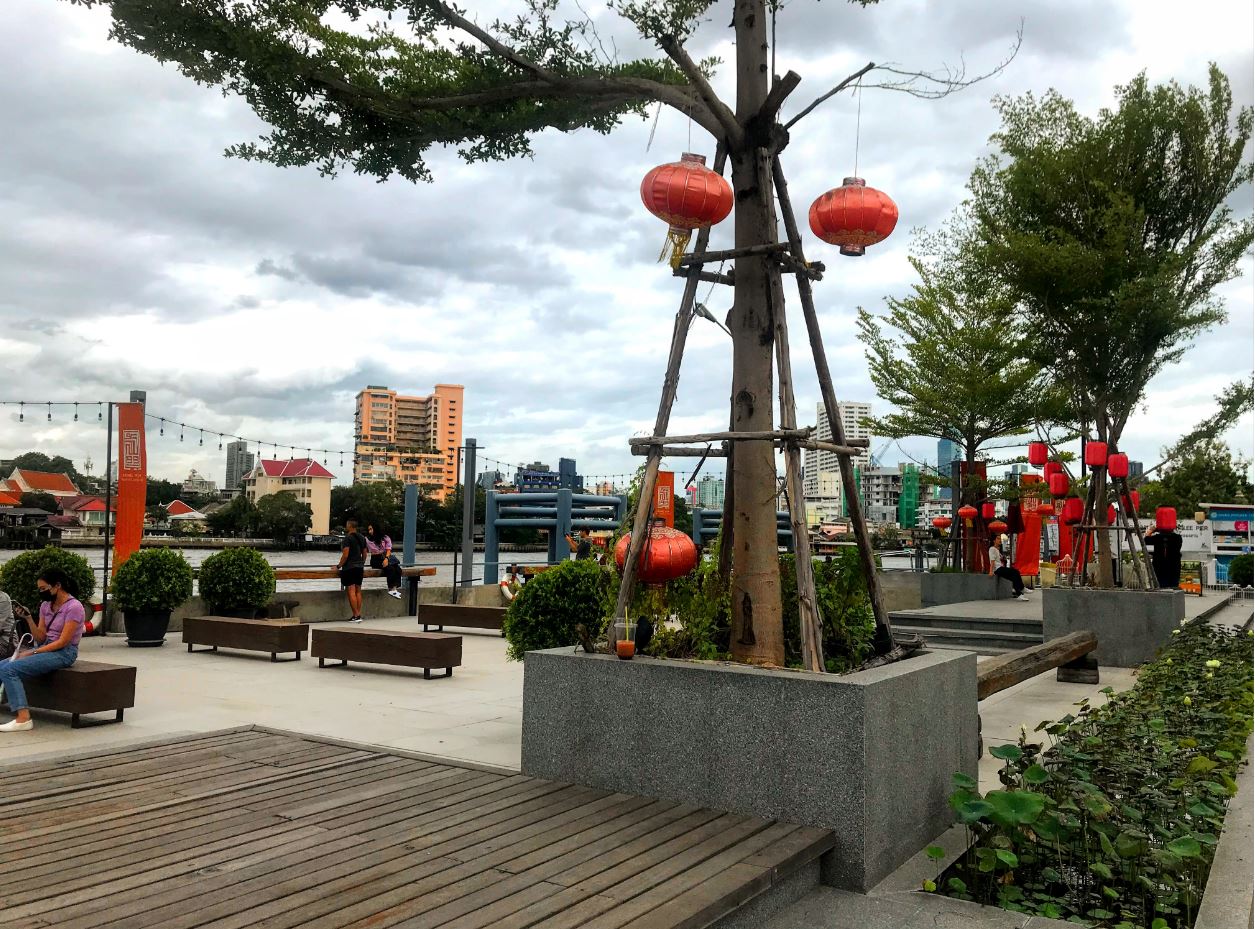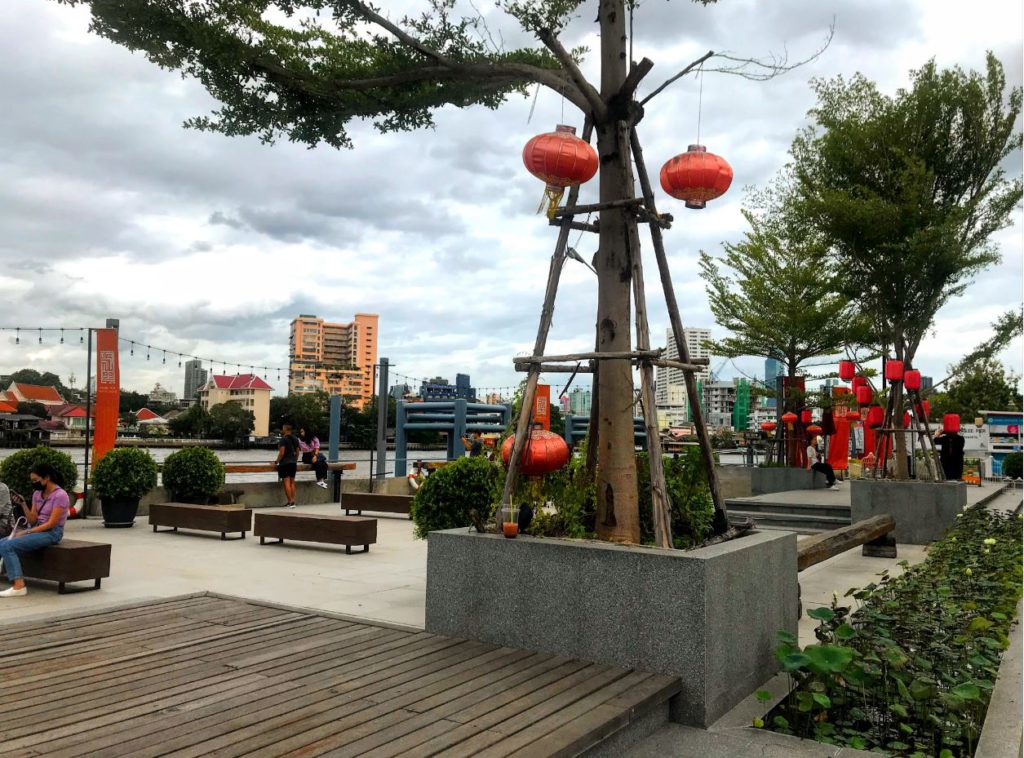 Places to see nearby
If you are here, then there are several more places that you can club with it. Some of them are
Icon Siam – A free ferry ride of 10 minutes (Location)
Chinatown – A ferry across the river (Location)
The So Heng Tai Museum – A Chinese heritage museum in Chinatown (Location)
The Jam factory – A restaurant in a renovated warehouse. You can reach Jam factory by a ferry ride to the Jam factory pier. (Location)
Warehouse 30 – An art gallery in a renovated warehouse. To reach take a ferry to Si Phraya Express Boat Pier and walk 5 minutes from there. (Location)
Save On Pinterest


Related Articles