22 Nov

How to travel inside Bangkok, Thailand

Bangkok has received the largest number of tourists in the world for four consecutive years starting in 2017. At least, until the pandemic struck! And it will probably keep the title for being 'the most visited city' in the future too. There is simply so much to do here.

Bangkok has everything you want for a vacation. They range from gorgeous palaces to raving nightlife, cheap street food to vibrant cabaret shows. Really, everything you can think of! Btw, if you are a first-time traveller to Bangkok, check out our list of 20 must-visit places for first-time travellers to Bangkok.

But the traffic really sucks! Like you cannot believe it with your own eyes at times. So you would want to know all the tricks on getting around in Bangkok. Luckily, I have done numerous personal experiments on that front during the years I have lived here.

Let me share everything I know on Bangkok's transportation systems. Here is how to travel inside Bangkok.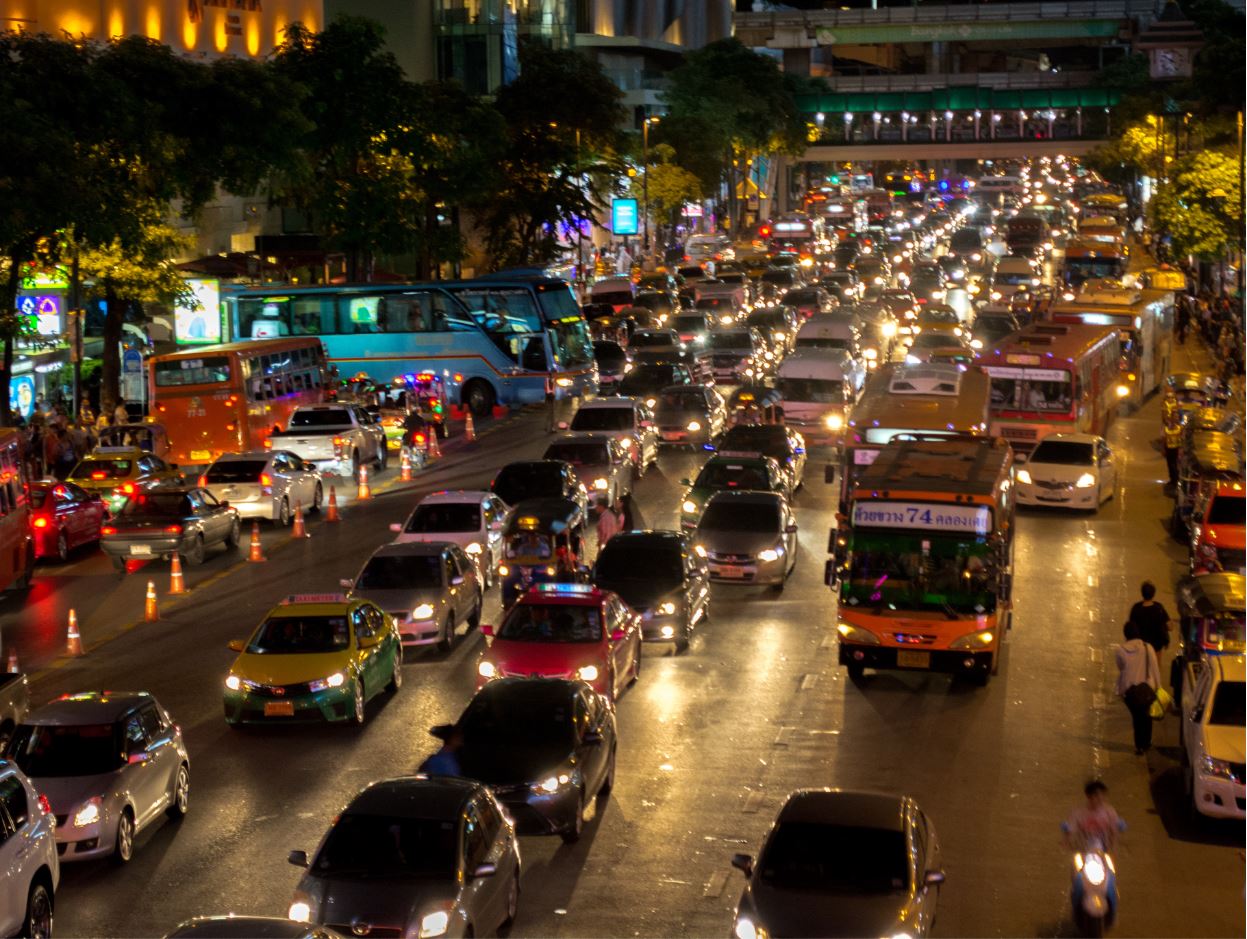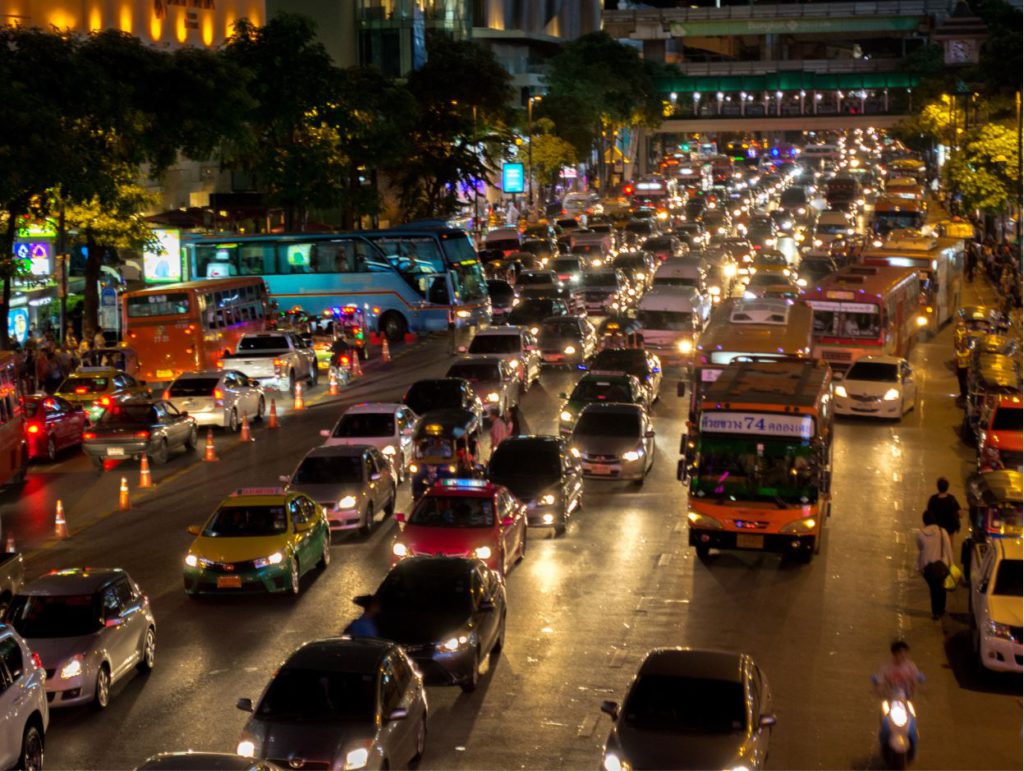 Metro
The metro system is the BEST way to travel inside Bangkok. Unless there is no route to your destination. It is fast and extremely affordable. If you are in Bangkok for a few days, getting a card will make your trips even smoother.
But terms like BTS and MRT may confuse you. BTS and MRT are two metro systems owned by different companies. BTS mostly run above the ground and MRT is mostly underground (except some stations).
There are a few stations where they coincide. However, both MRT and BTS stations are always separate (even if right next to each other). So you will have to walk a bit to get into the other system.
The airport line is a separate entity altogether.
To start with here is the map of the Rapid Public Transport System inside Bangkok.
BTS Skytrain
As of now (2020), the BTS Skytrain system has two lines. They are called light green and dark green lines corresponding to the colour on the map.
You need a single card or token for both lines that you can get at the counter with a minimum THB 200 top-up that includes THB 100 credit for the rides. You can also use this rabbit card at several other vendors inside Bangkok like food courts at malls and even for shopping. Check out the list on their official website. You will get the balance and deposit amount back when you hand back over the card.
Otherwise, you can just get a token for a single ride. You can get these both at the counter and well as from the electronic machines at all stations. The instructions are available in Thai and English language.
BTS Bangkok Fare: The fare will range between THB 16-59 depending upon your destination.
BTS Bangkok timings: The trains run from 6 am in the morning till midnight at 12.00 a.m every day of the week.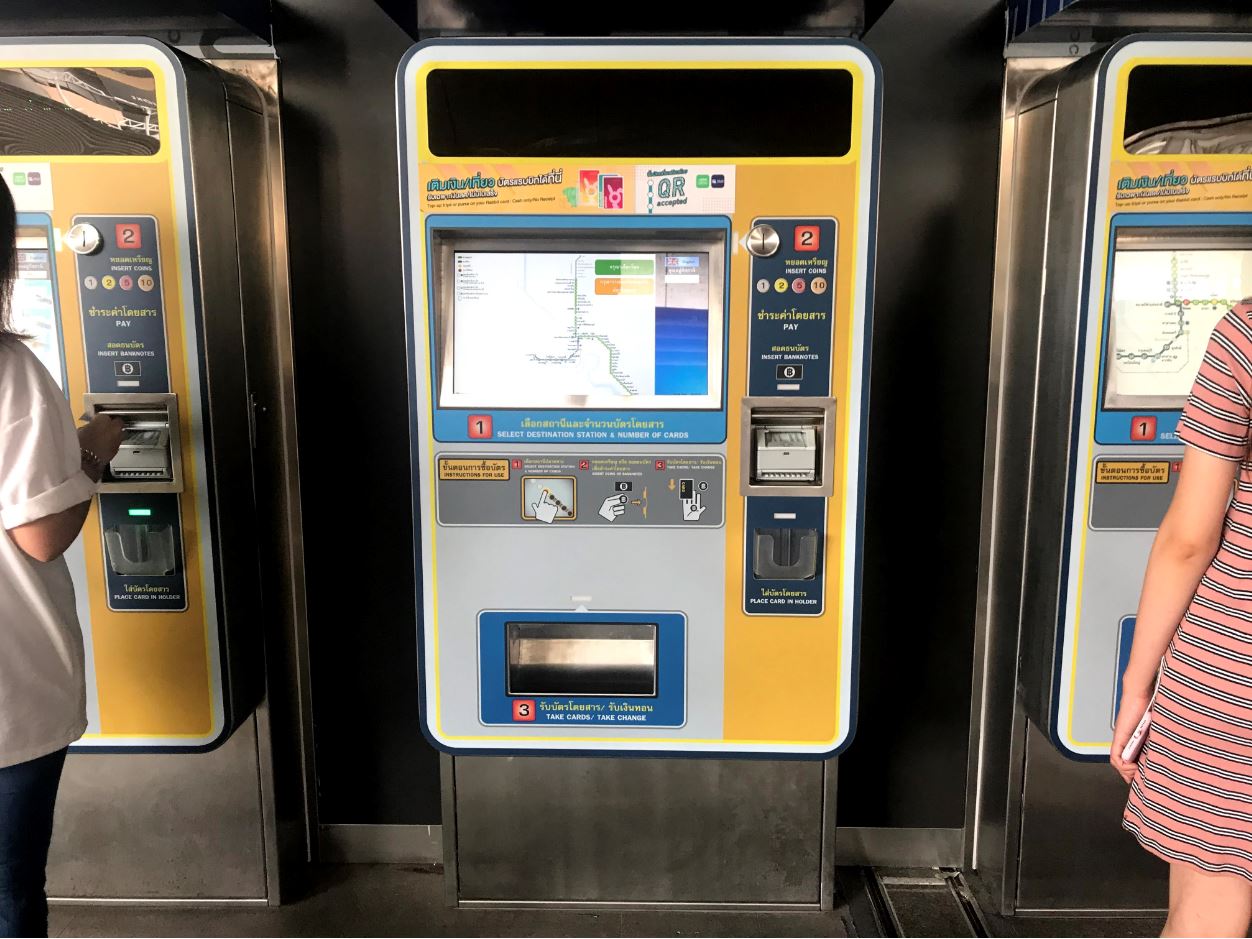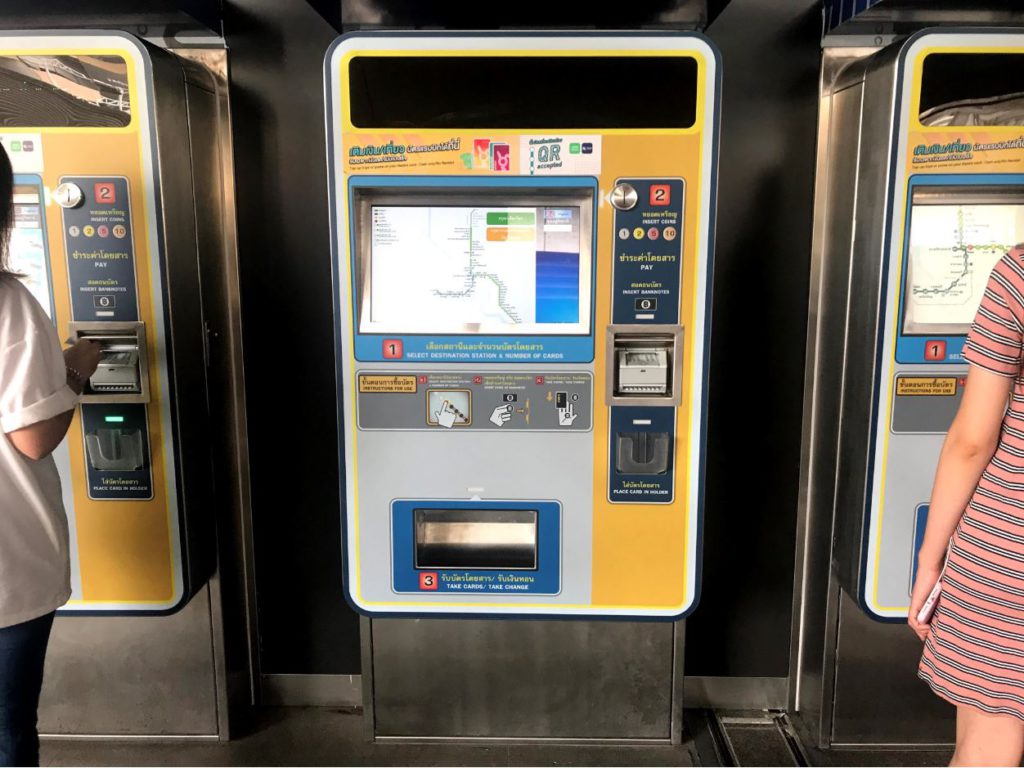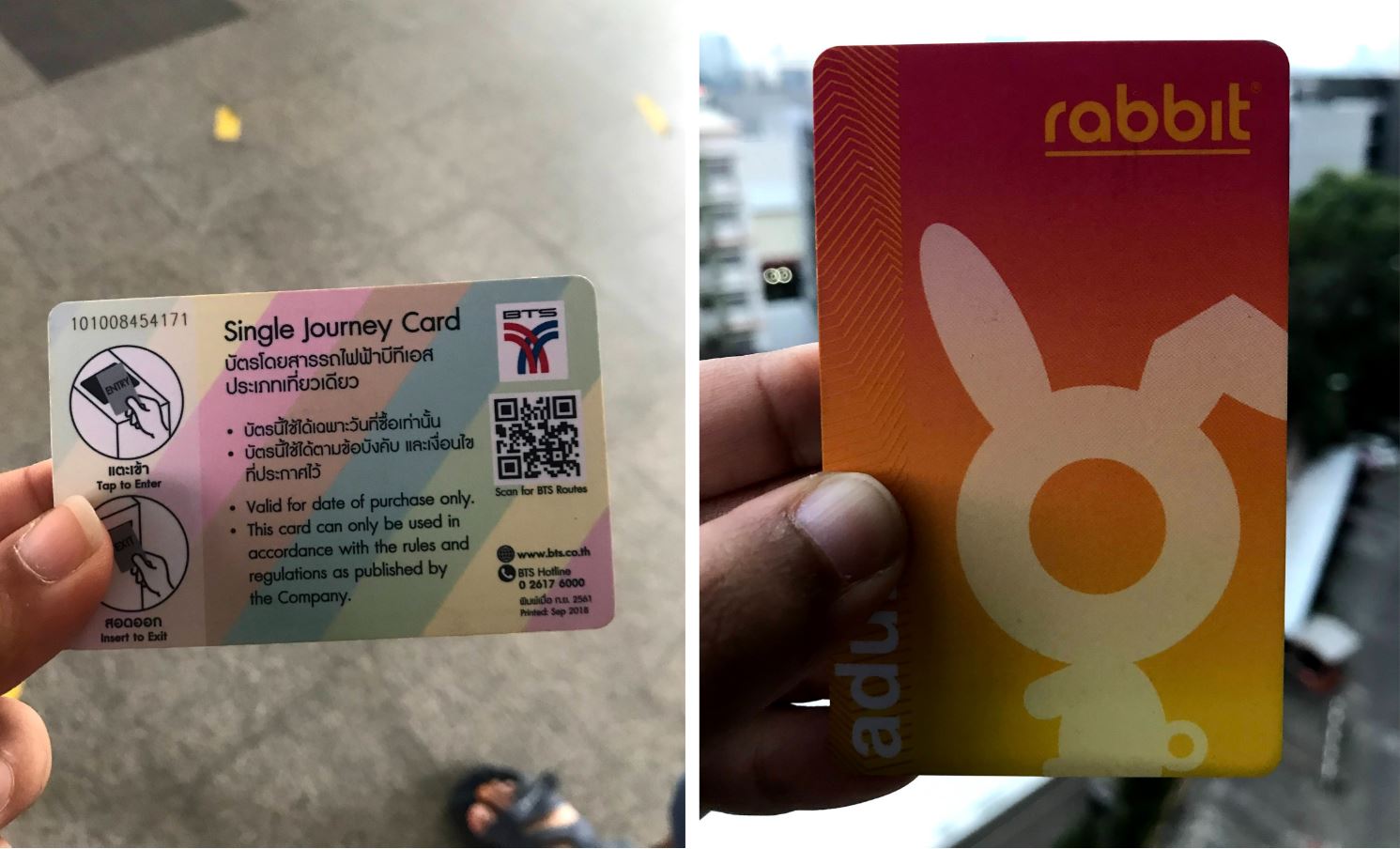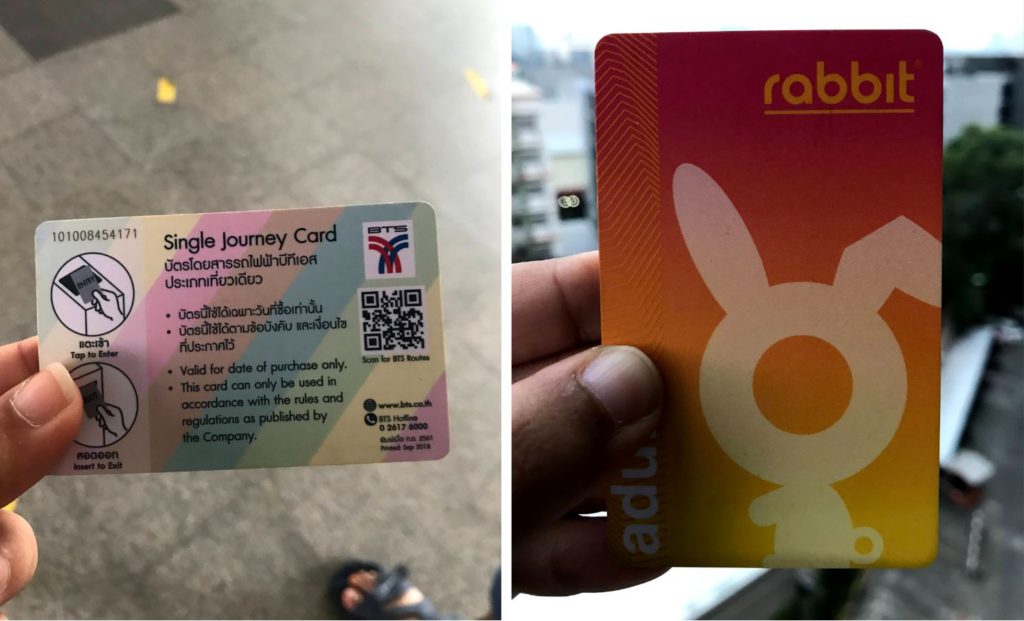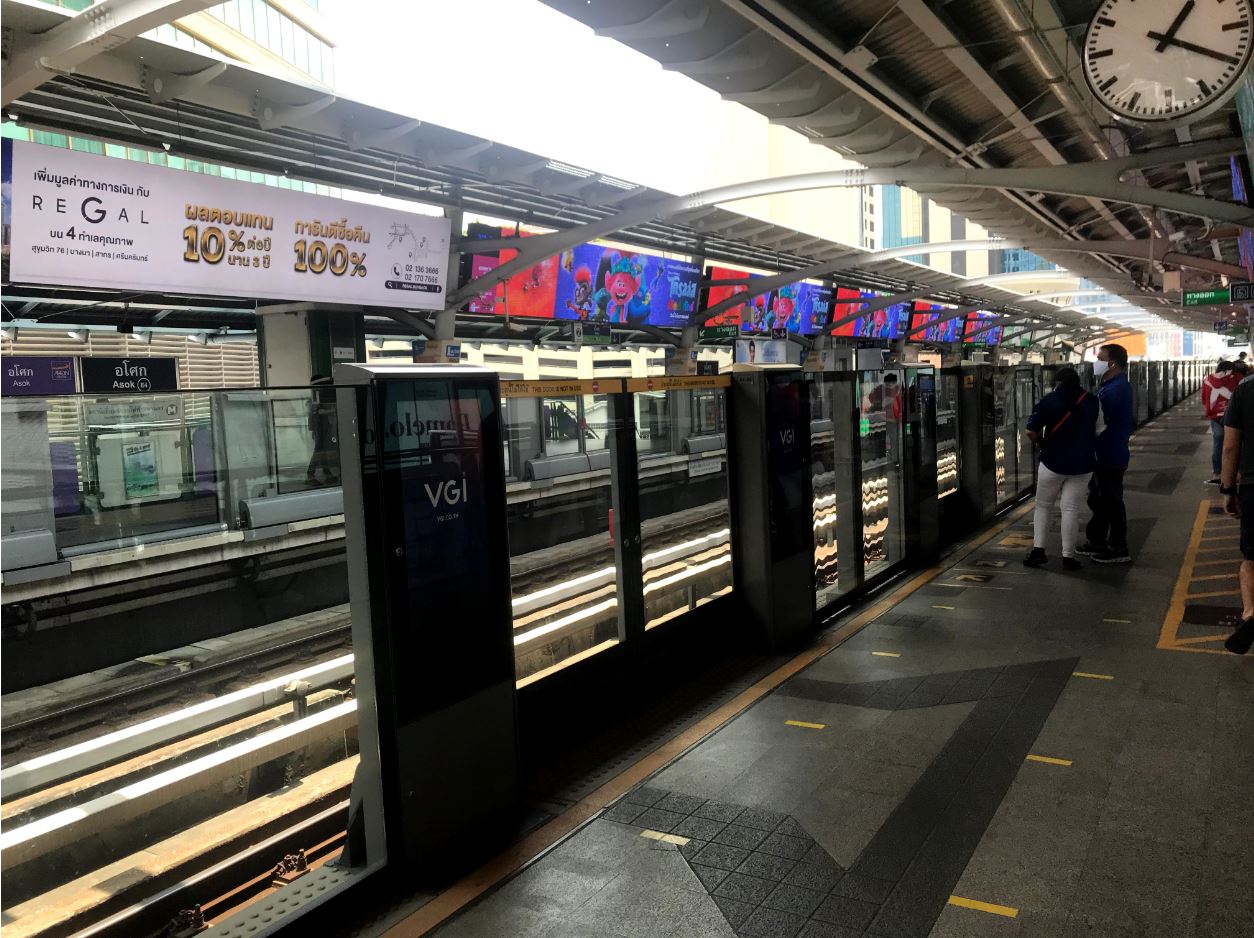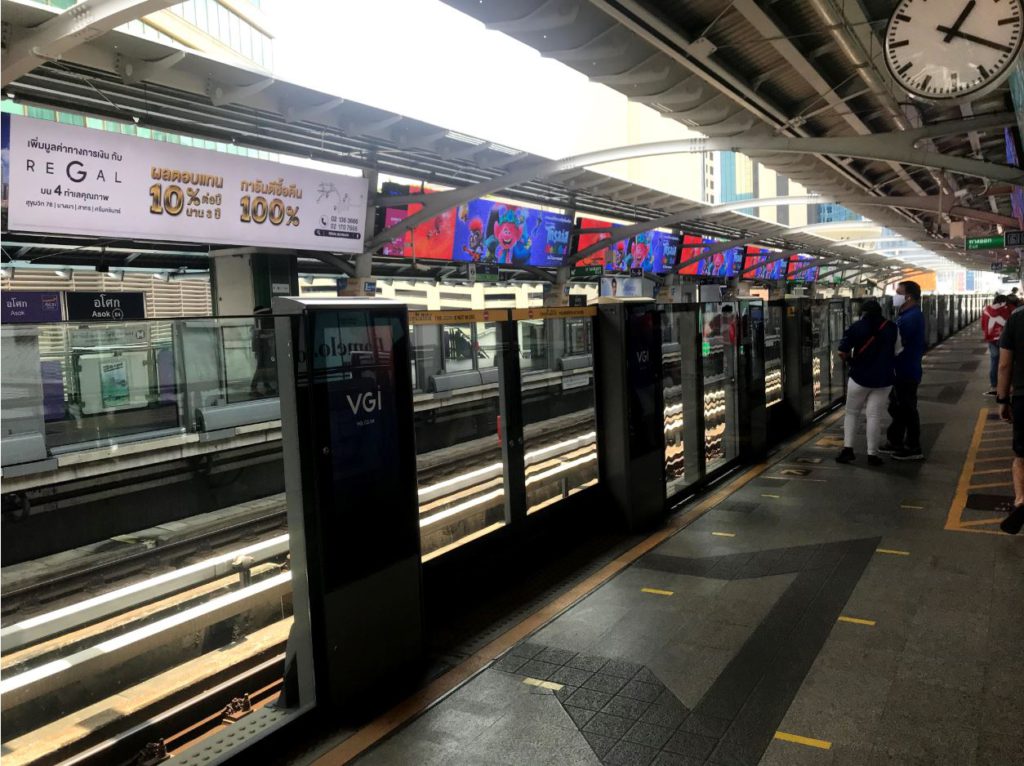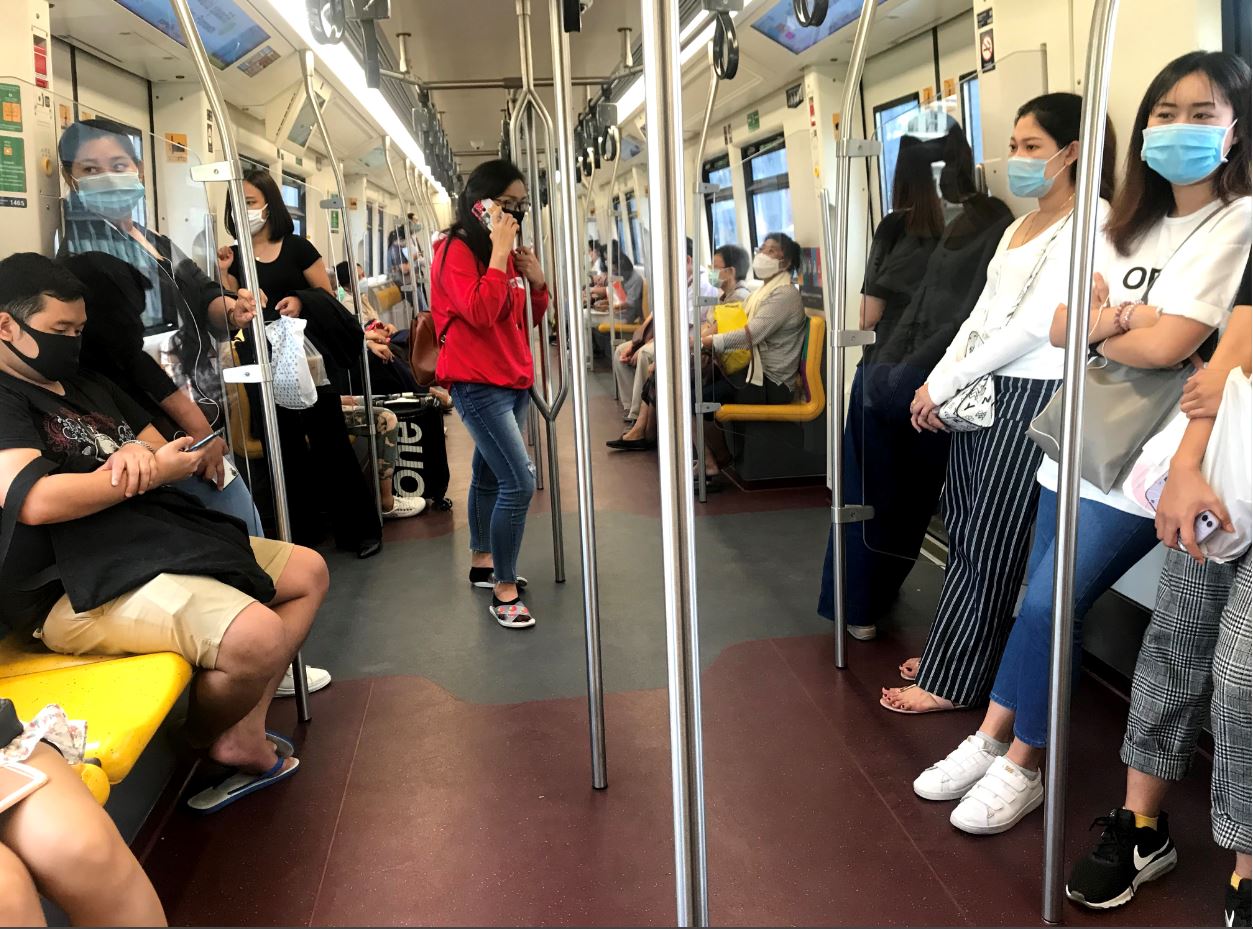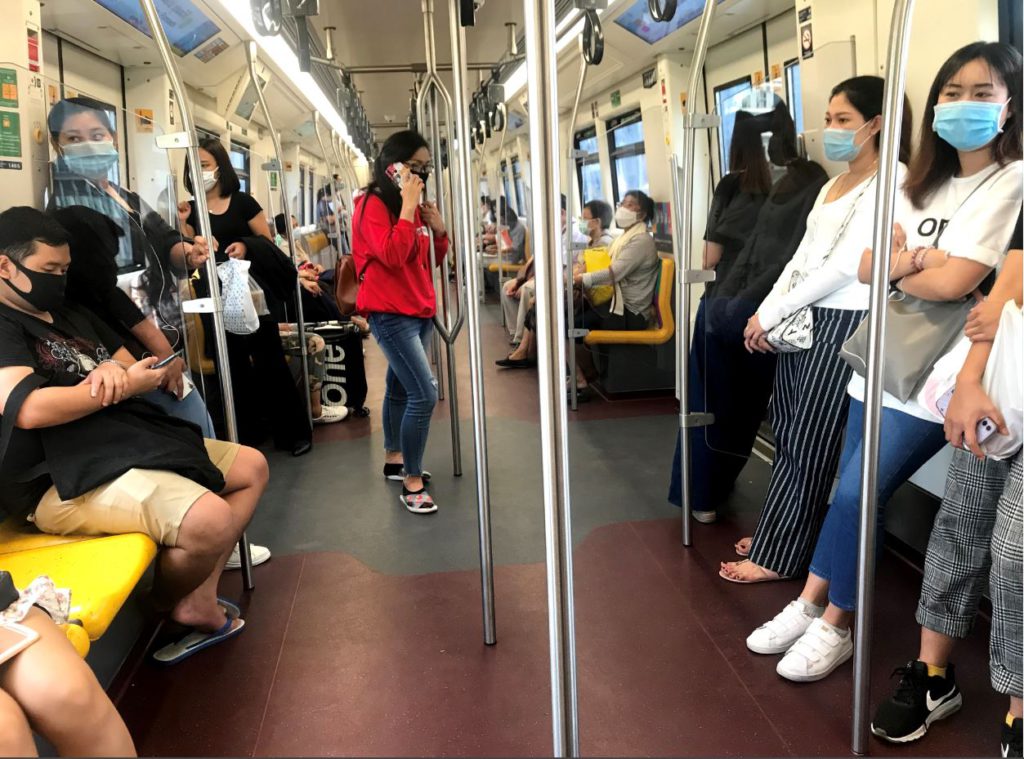 MRT
As of now (2020) MRT has two lines – The blue line and the purple line. The blue line is a critical route that covers the inner circuit of Bangkok city. The Blue line is also fairly close to most of the tourist destinations. Therefore it would be great you are staying at a place closer to this line.
You can use a single MRT card for both of these lines. You cannot use BTS or MRT cards interchangeably. Just like BTS, you can buy a card for THB 200 with preloaded credits for THB 100 for the rides. However, unlike the BTS card, you cannot use this card outside the MRT system. You will get the balance and card deposit when you return the card.
Other than that, you can buy a token at any electronic counter. Just follow the instructions that are available both in Thai and English.
MRT Bangkok Fare: The fare range from THB 14 to THB 70 depending upon your destination.
MRT Bangkok Timings: The trains run from 6 am in the morning till midnight at 12.00 a.m every day of the week.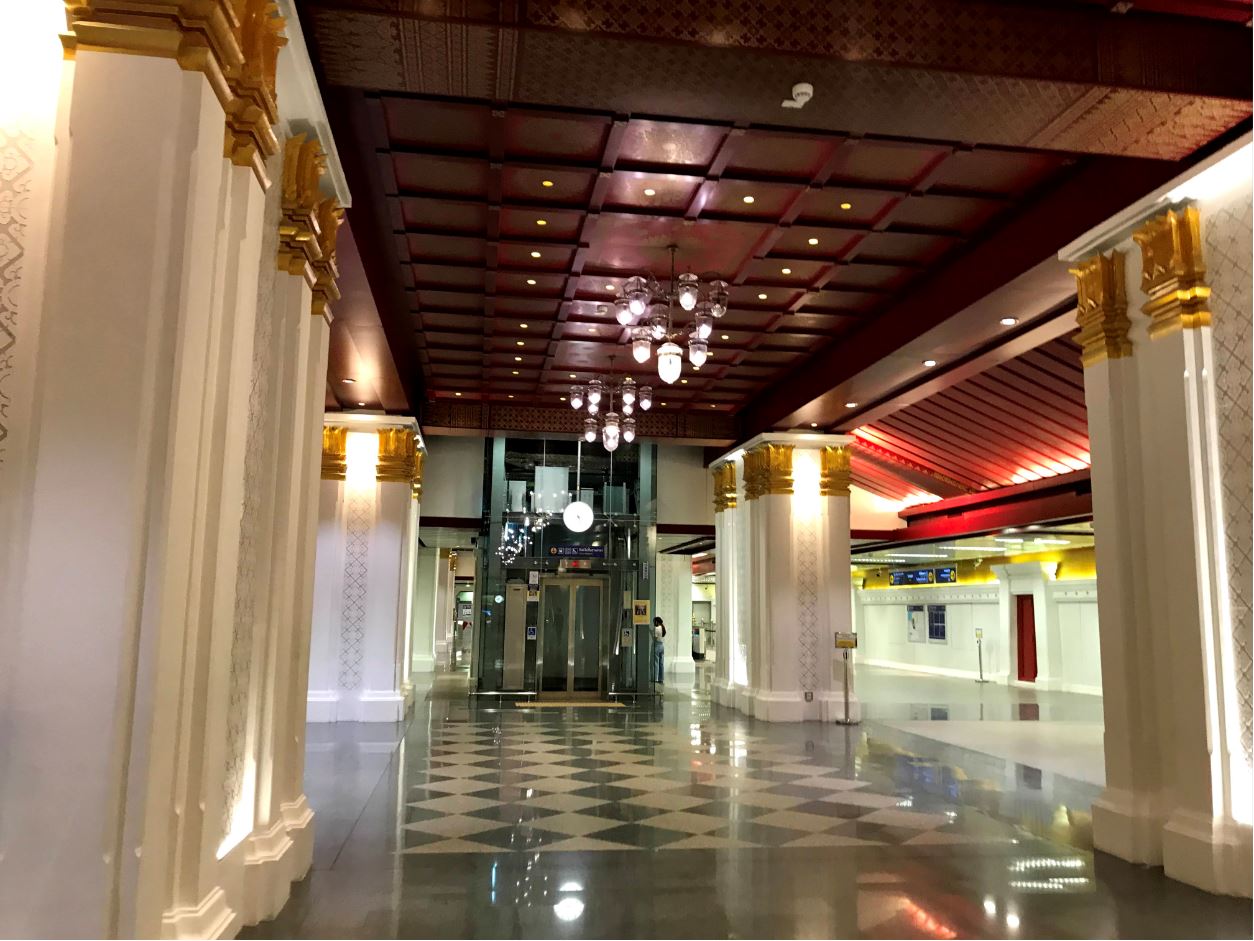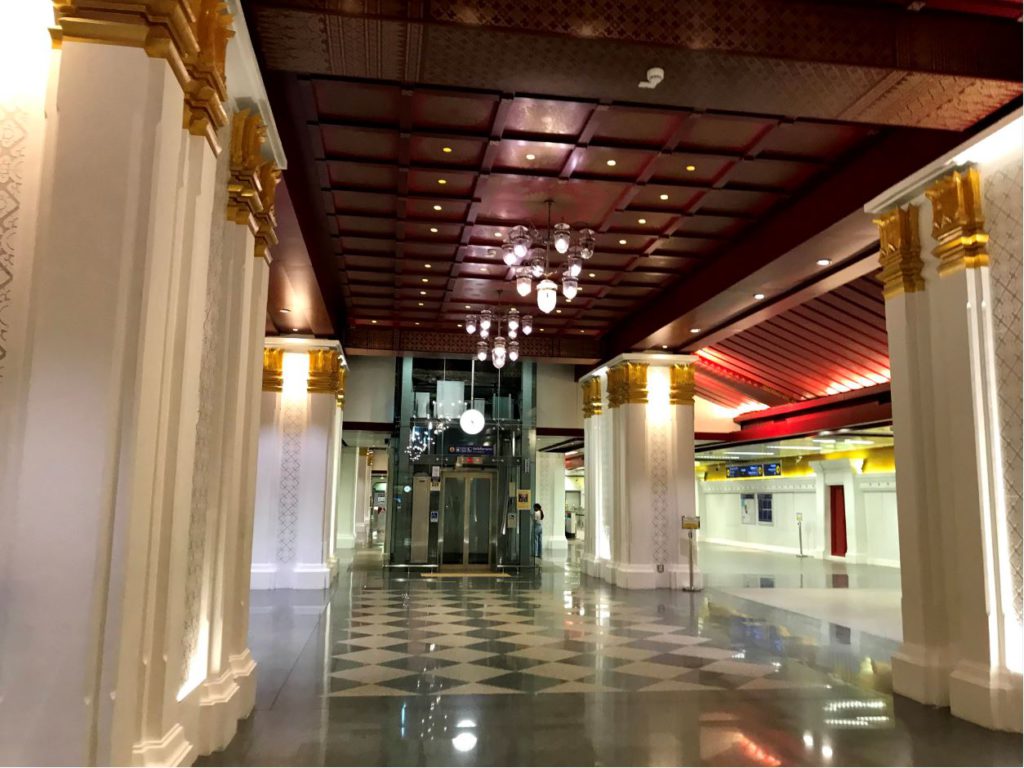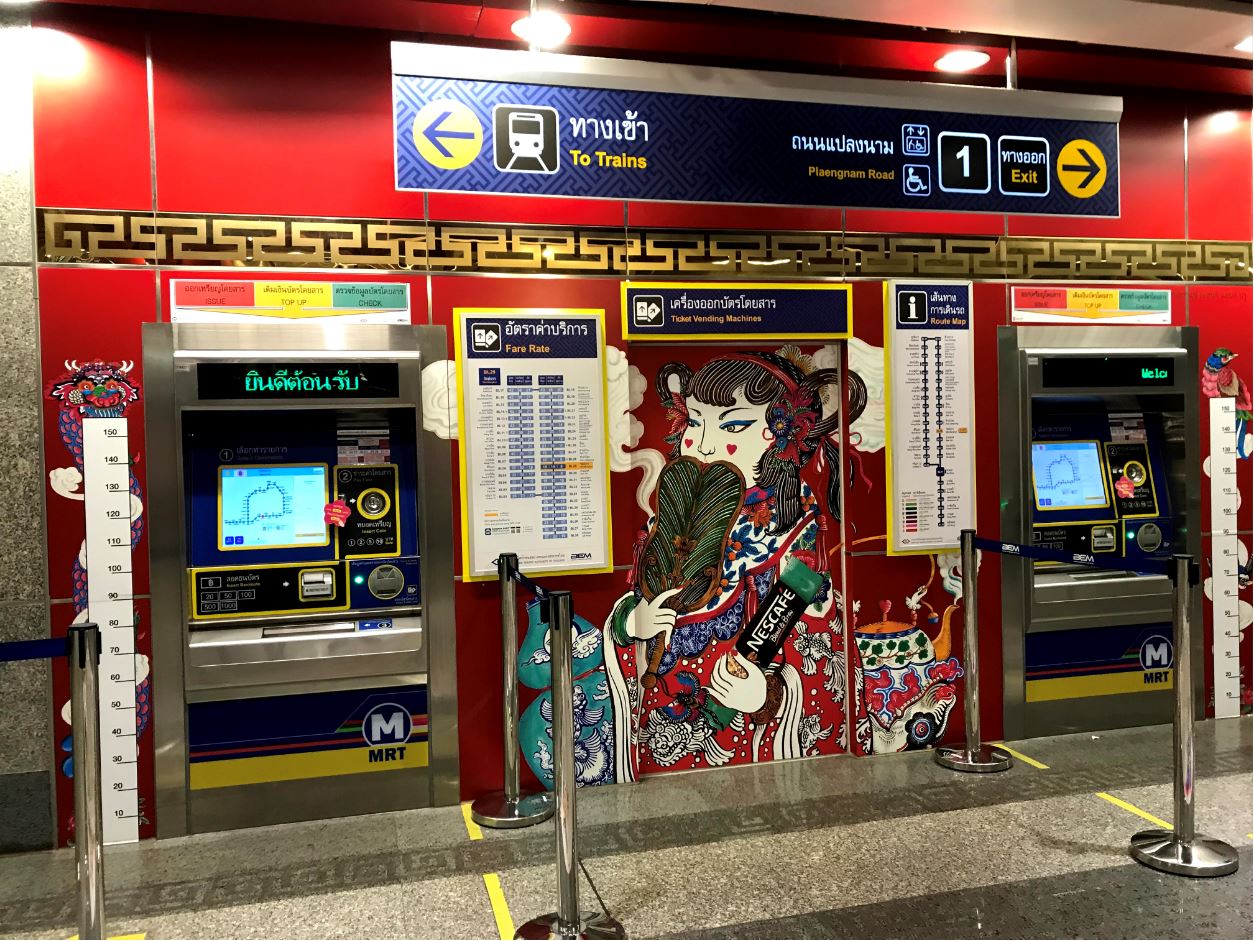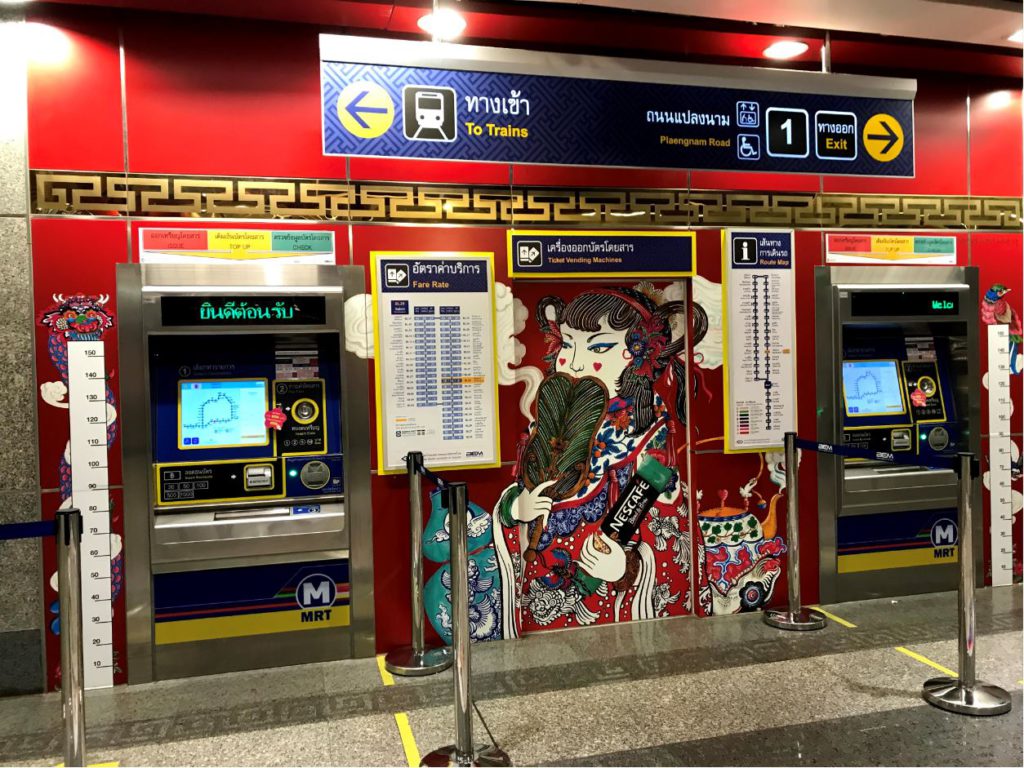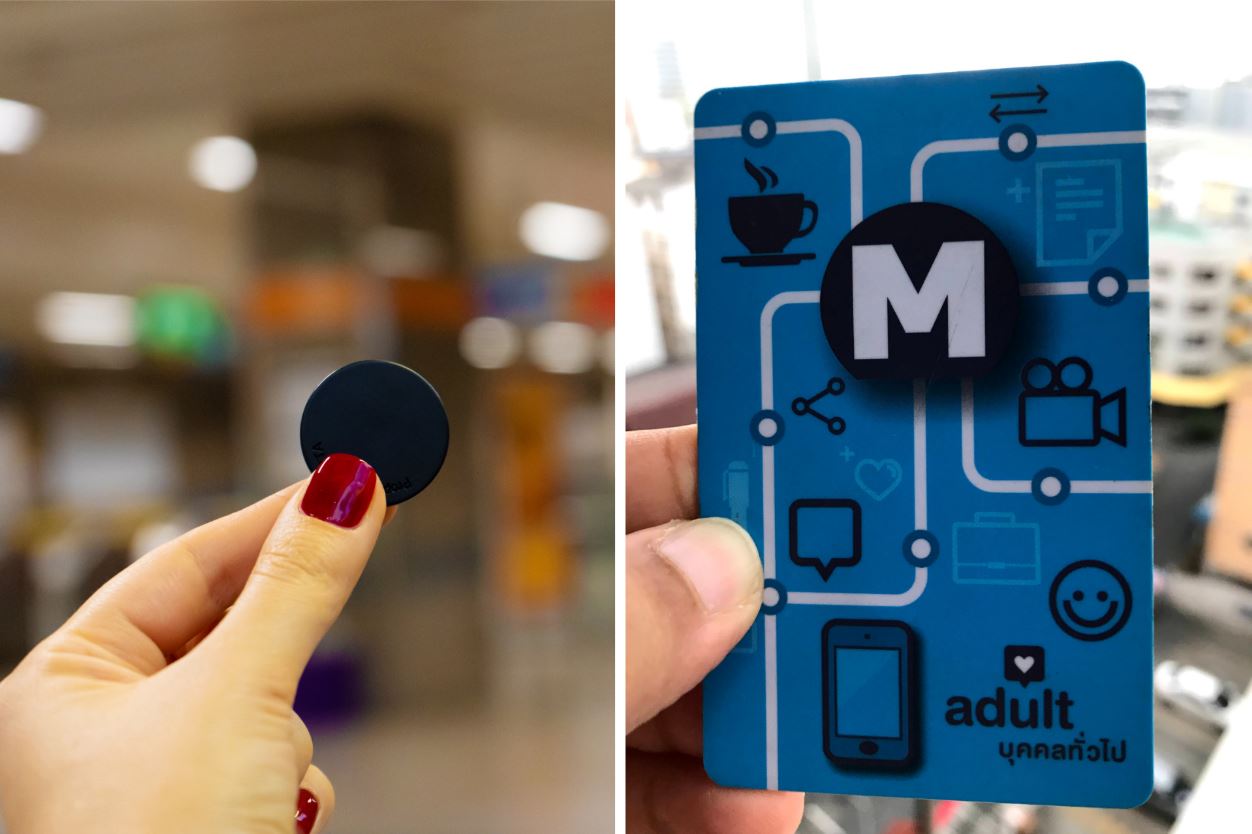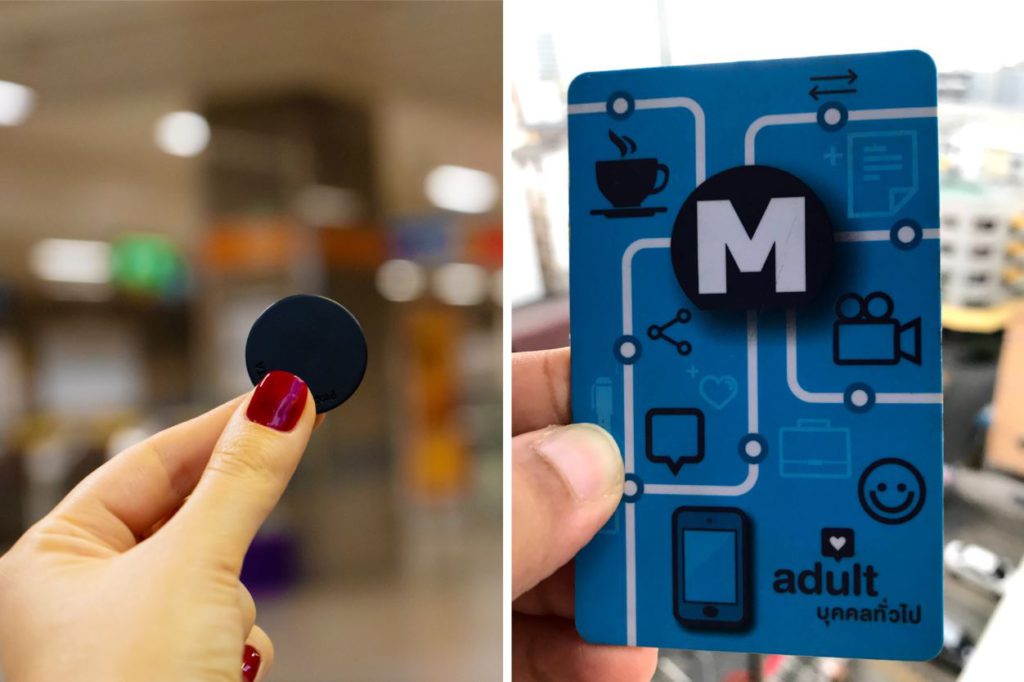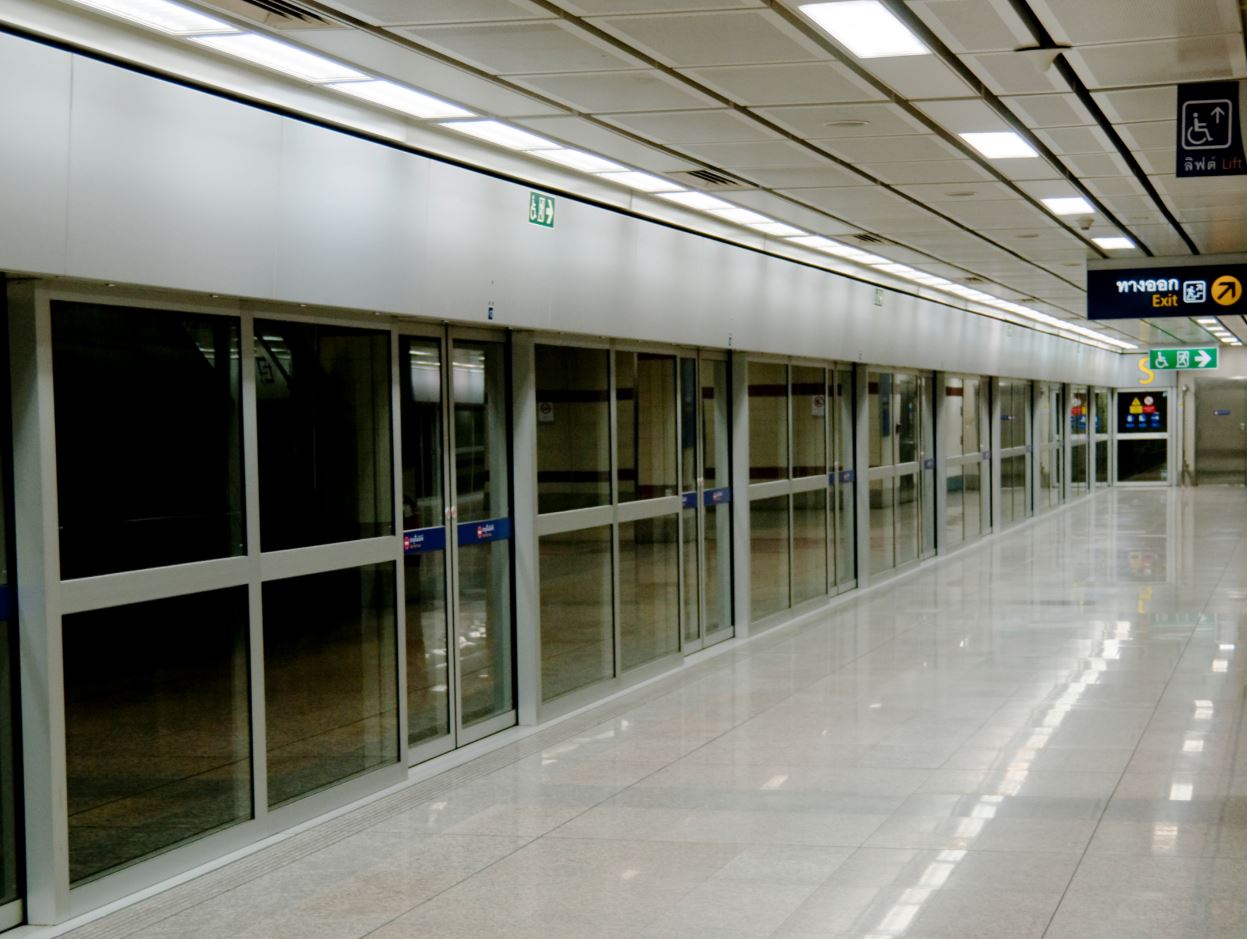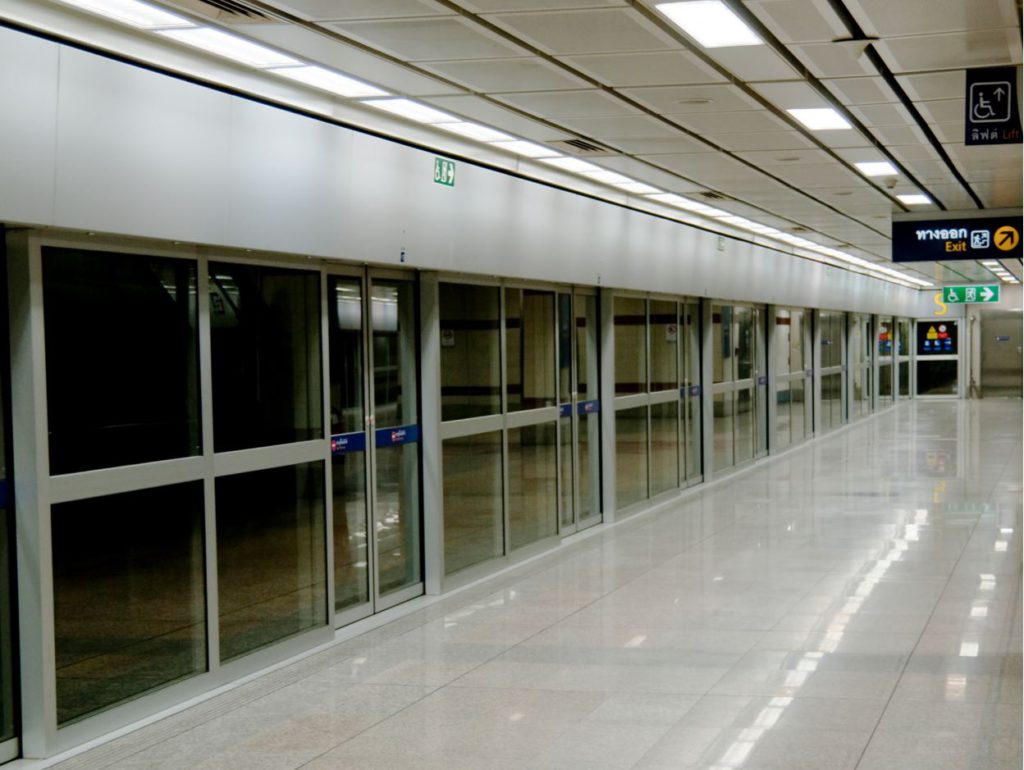 Airport link
A direct line runs from Suvarnabhumi Airport to the centre of the city. You just need to follow the directions to the first floor of the airport. Travel to Makkasan station to change at Phetchaburi for MRT line and to Phayathai Station for BTS line.
This is probably the most affordable (for less than 3 people) and the fastest way to reach the city centre from the airport. Both single trip tokens and smart passes are available for multiple trips. But if you are a tourist, stick to the single tokens.
You can buy them at the counter or at electronic token machines. The smart passes cannot be used in BTS or MRT systems. If you have just arrived from another country, I will suggest you exchange a bit of cash or use an ATM for some local currency since you will need them for the tickets.
Airport link Fare: A single ticket will cost you THB 35 till Makkasan and THB 45 till Phayathai.
Airport link timings: The trains run from 6 am in the morning till midnight at 12.00 a.m every day of the week. Total travel time one way is 26 minutes.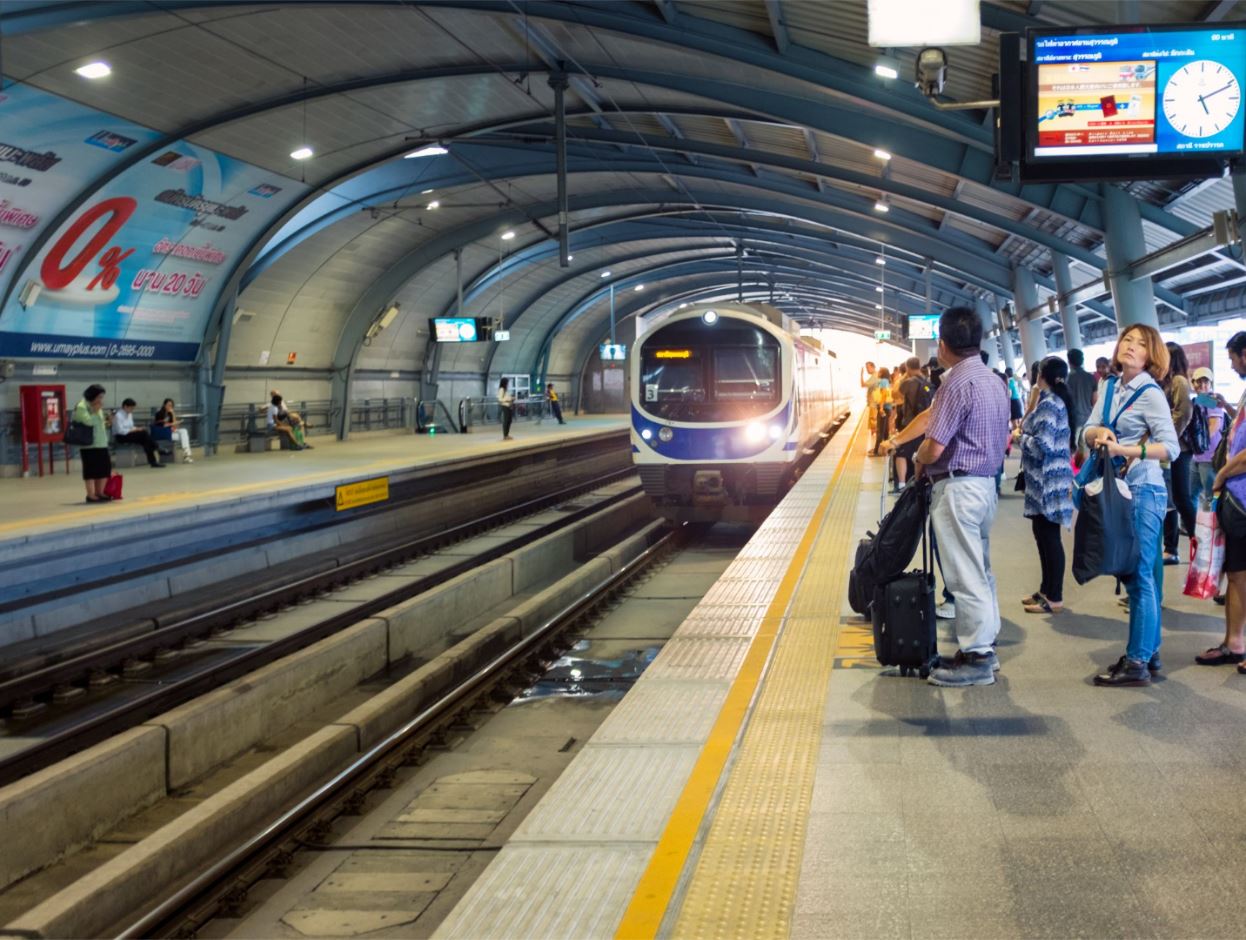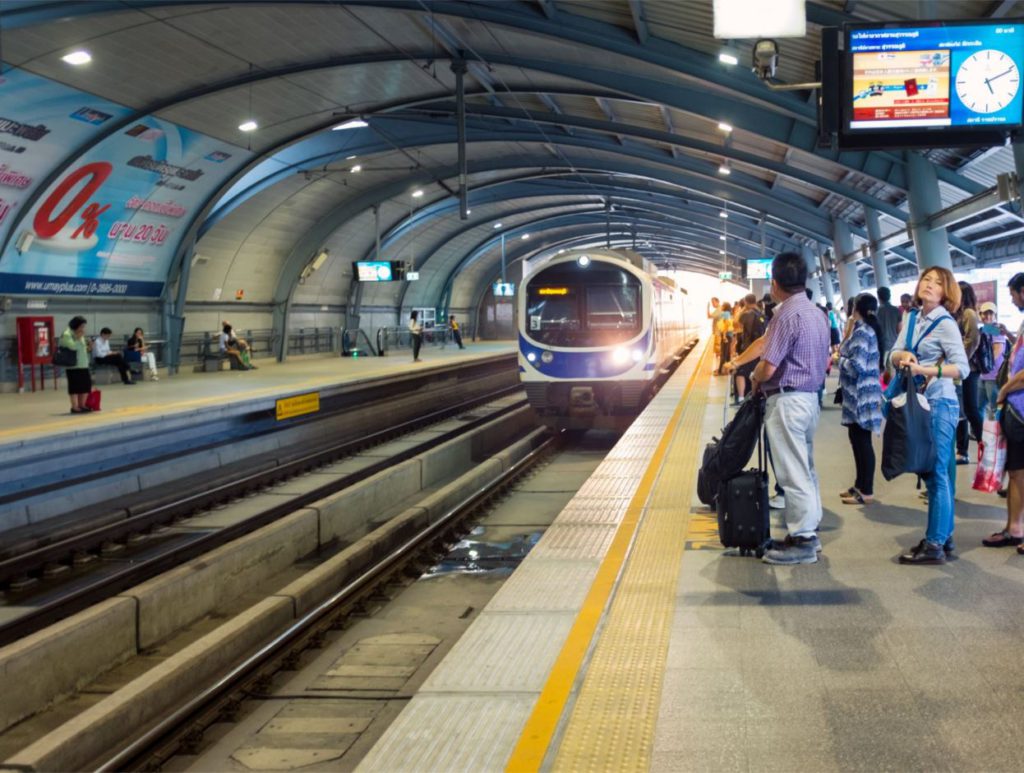 Things to know about Bangkok Metro
– Eating and drinking inside the metro systems is forbidden and is frowned upon.
– Thai people are usually quiet and they do not appreciate talking loudly along with boisterous behaviour. The annoyance on their face will tell you so.
– Take care of your luggage. If you are wearing a backpack, I will advise you to keep it in front of you. Although it is rare, you don't want to lose precious belongings over ignorance. There is no extra charge for luggage.
– Pets are not allowed.
– You are charged the same amount on the card and the token for your journey.
– You may need to show your passport while procuring a new card.
– Make sure you give up your seat for elderly, pregnant women and monks. If you are a lady, do not sit right next to a monk since it may disrespect their holy vows.
– Stand in the queue while waiting for your train. Bangkokians really hate it if you break lines (unless they do it!).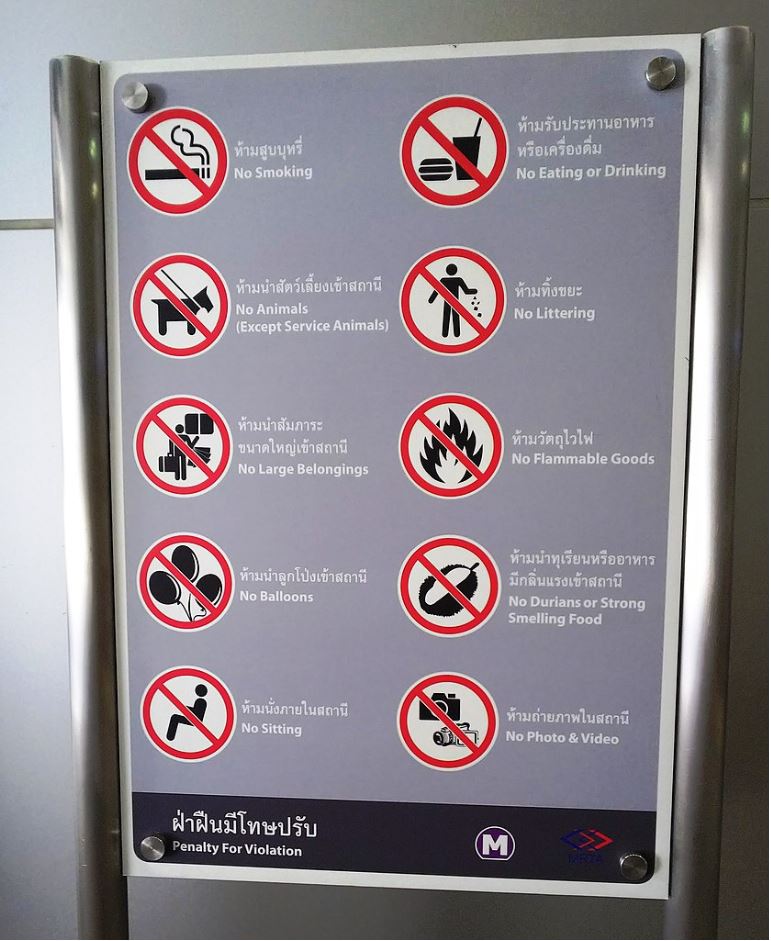 Bus
If you are bold enough to take a bus, you will need some solid instructions. Bangkok buses are known for its cranky drivers, indifferent conductors, inter-bus racing, sweaty co-passengers, little respect for traffic rules and a memorable ride. Also, most of them do not fashion an air conditioner either.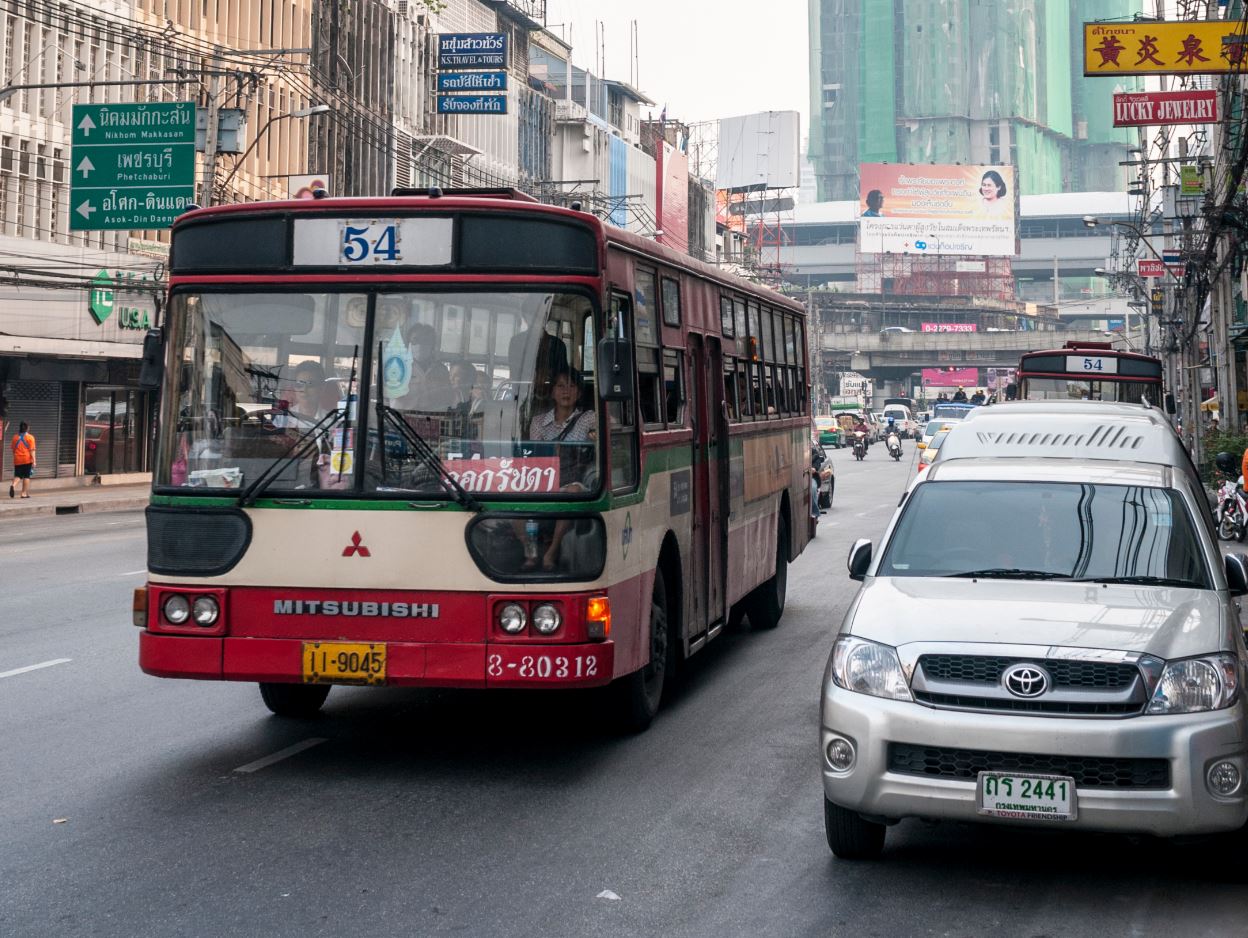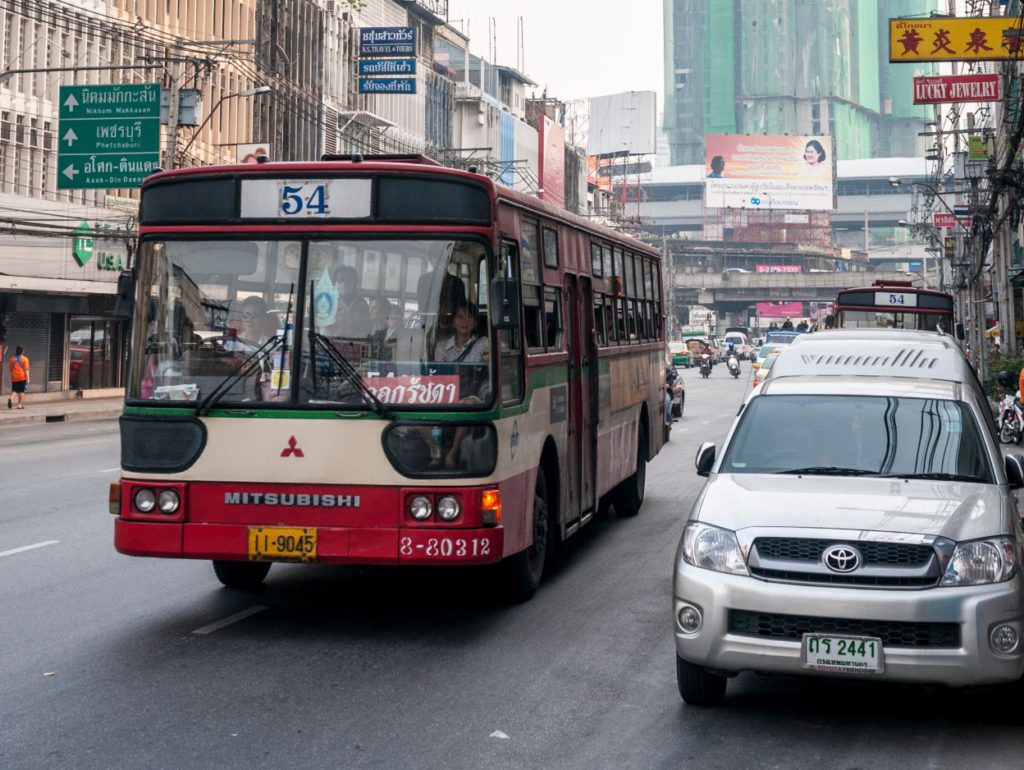 Public Buses
There are over 100 routes with more than 3,000 buses inside the city. Like most other cities, there are fixed routes across the city. But it's not as easy to read it off a map like a subway system.
You can get a map at any major bus junction. But the easiest way to find a route to your destination is to use an app. Google maps and rometorio.com can give you a decent solution to the bus route to your destination. But in my experience, moovitapp.com or the moovit app gives you the best results for this.
Another local app is ViaBus. Apart from giving you route suggestion, it also tracks bus locations. But I find the GPS part quite unreliable.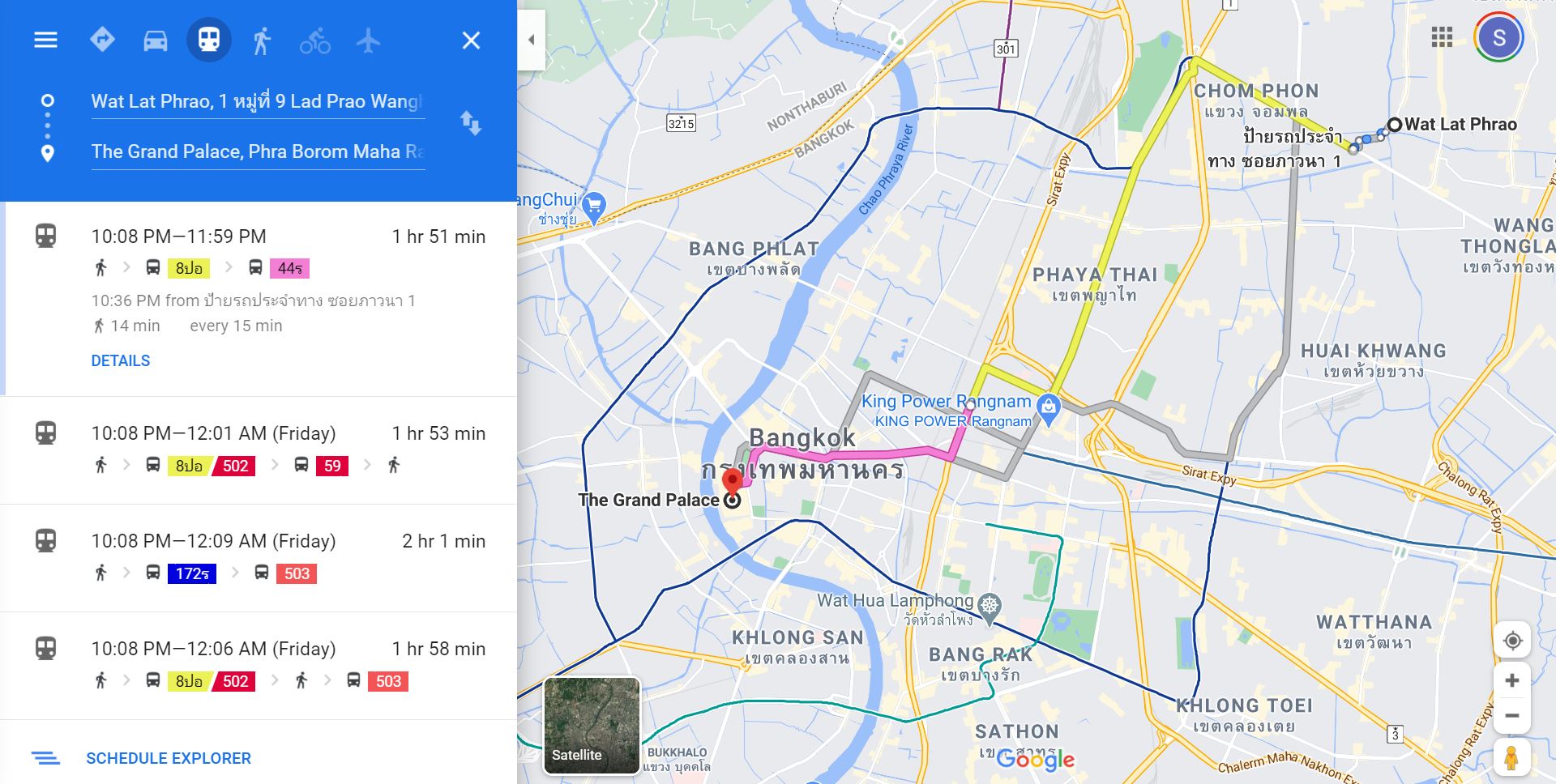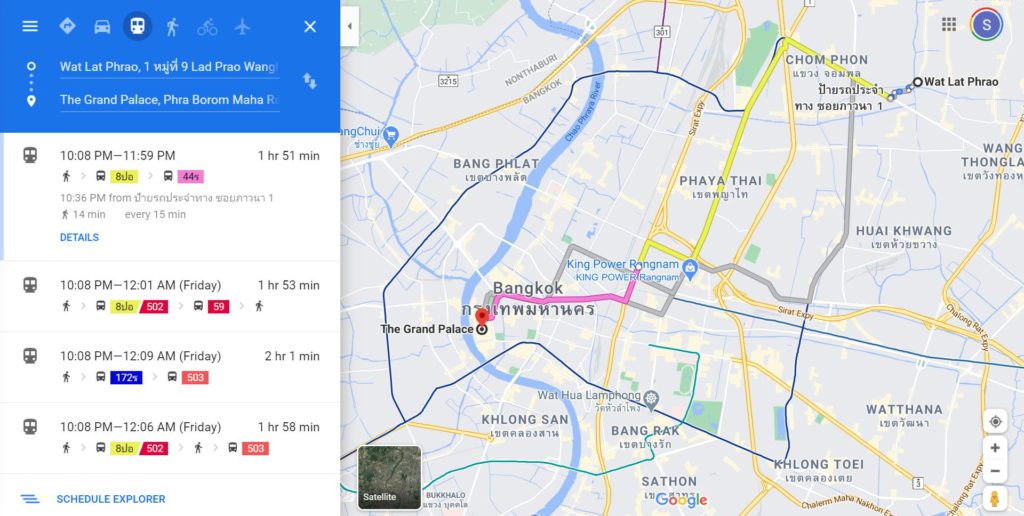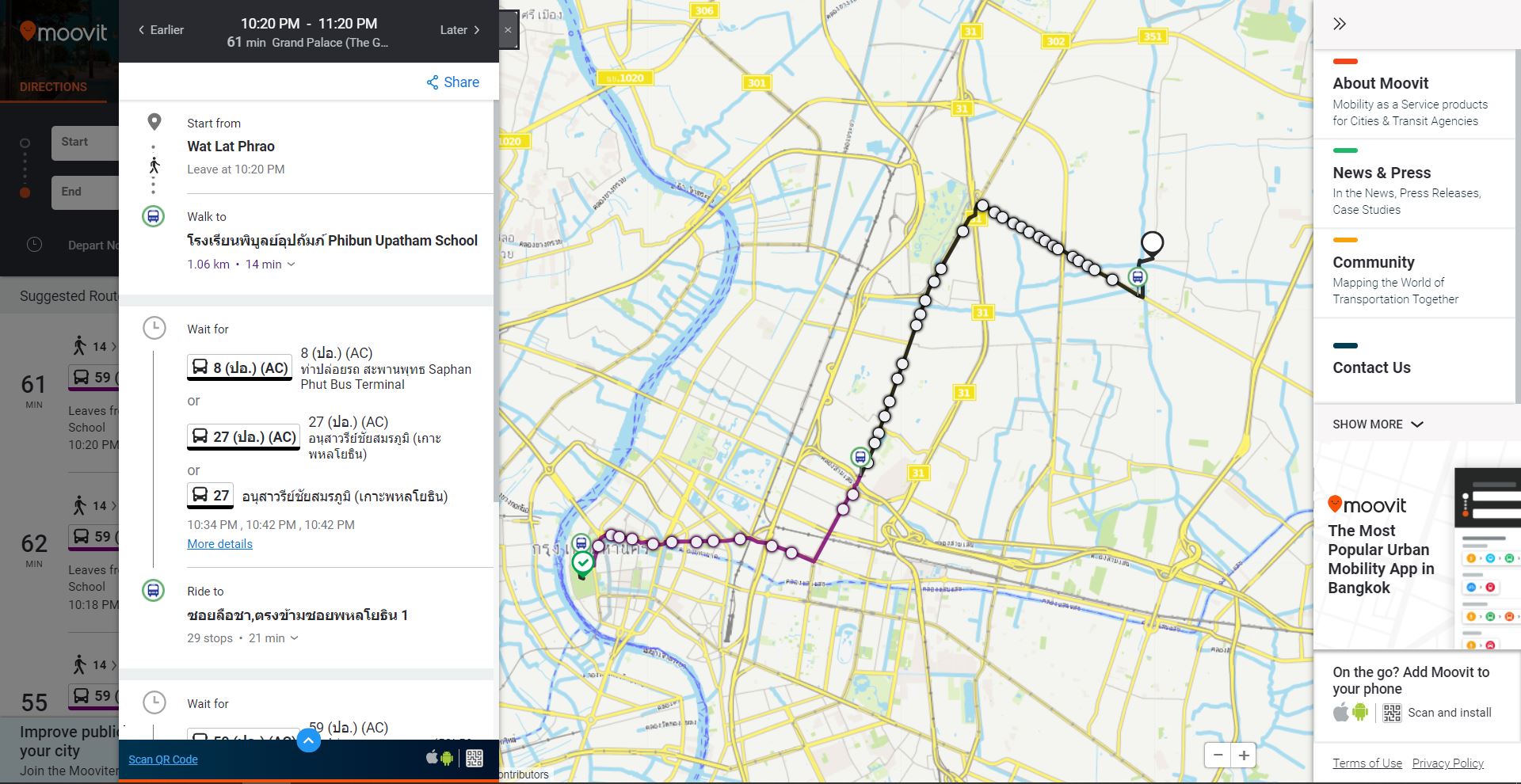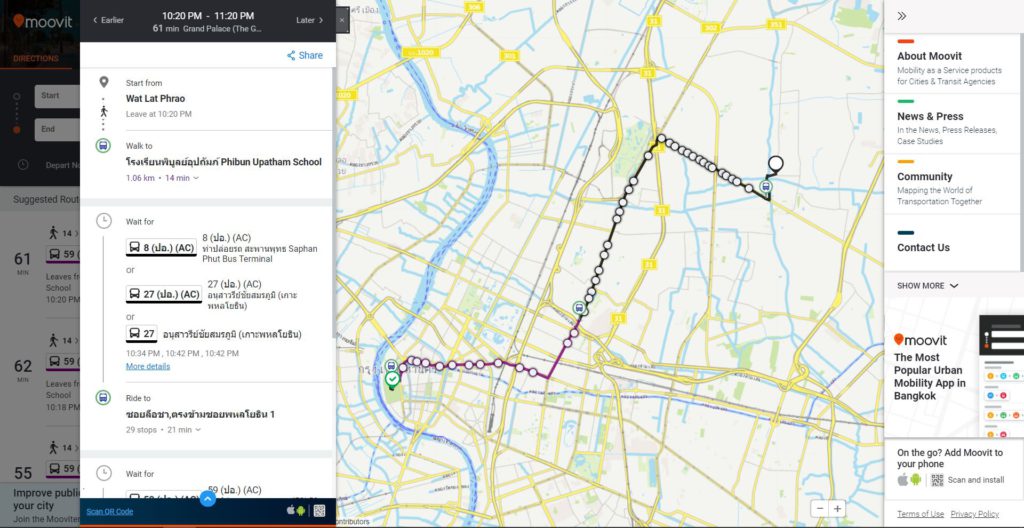 Most bus stations also have a board that mentions the bus numbers that pass through it. Once you board your bus, grab a seat and wait for the conductor. You tell them your destination and they hand you a ticket. The best way to keep a track of your location is by using a GPS. Do not rely on someone to tell you to get off. They may do it but you may not understand it due to the accent.
Bus timings in Bangkok: Most buses run from 5 am to 11 pm every day of the week. All night buses (of cream-red colour) run 24 hours.
Bus tickets: Bus ticket range from THB 8 – 25 depending upon the type of bus and distance travelled. It is probably the cheapest mode of transportation inside Thailand.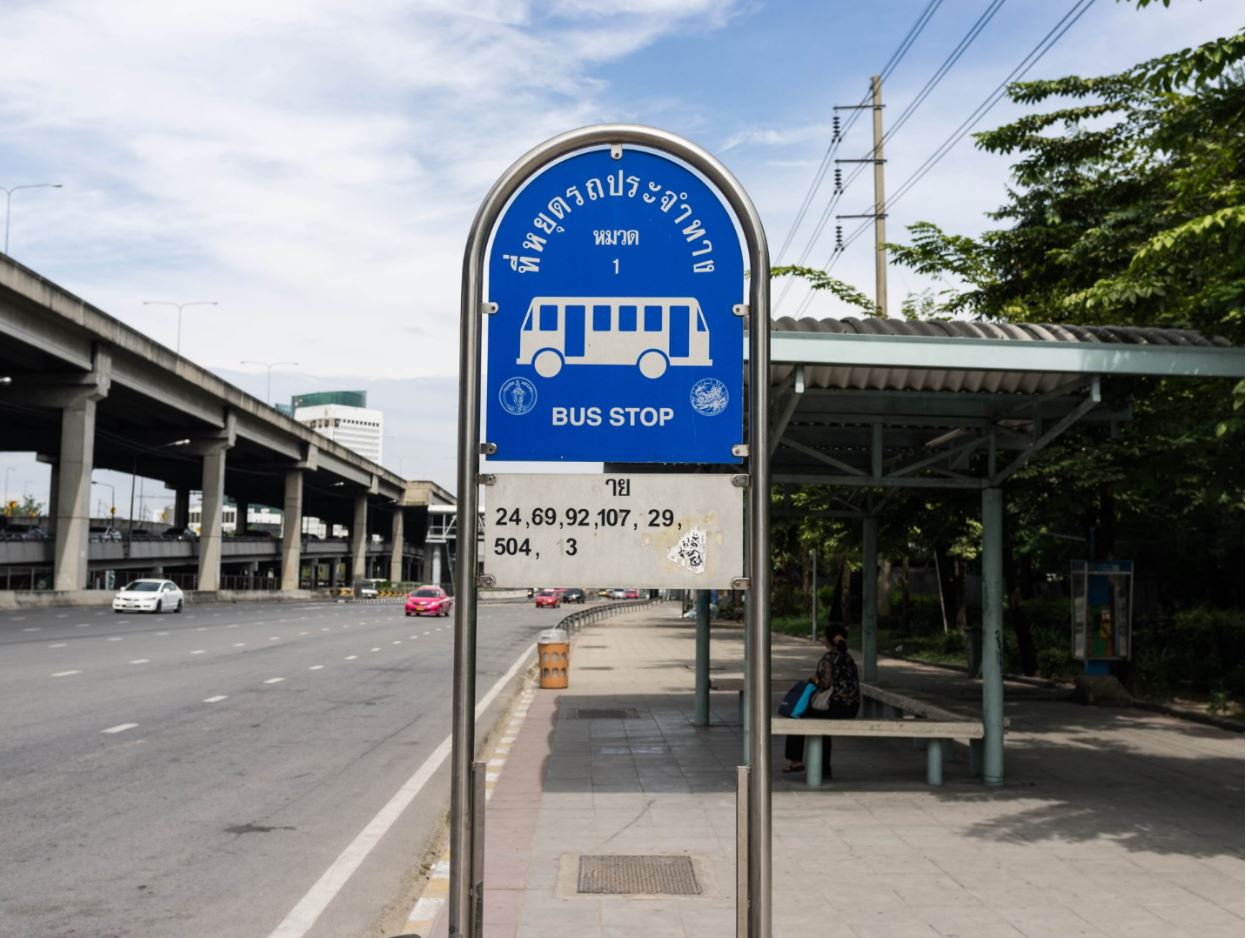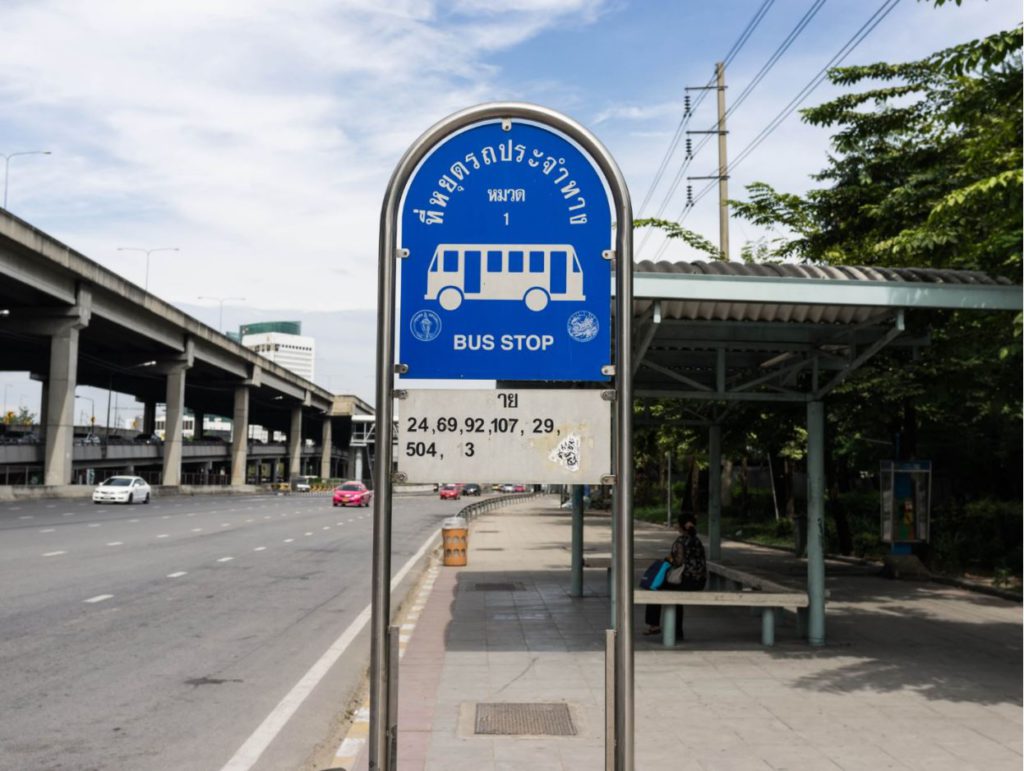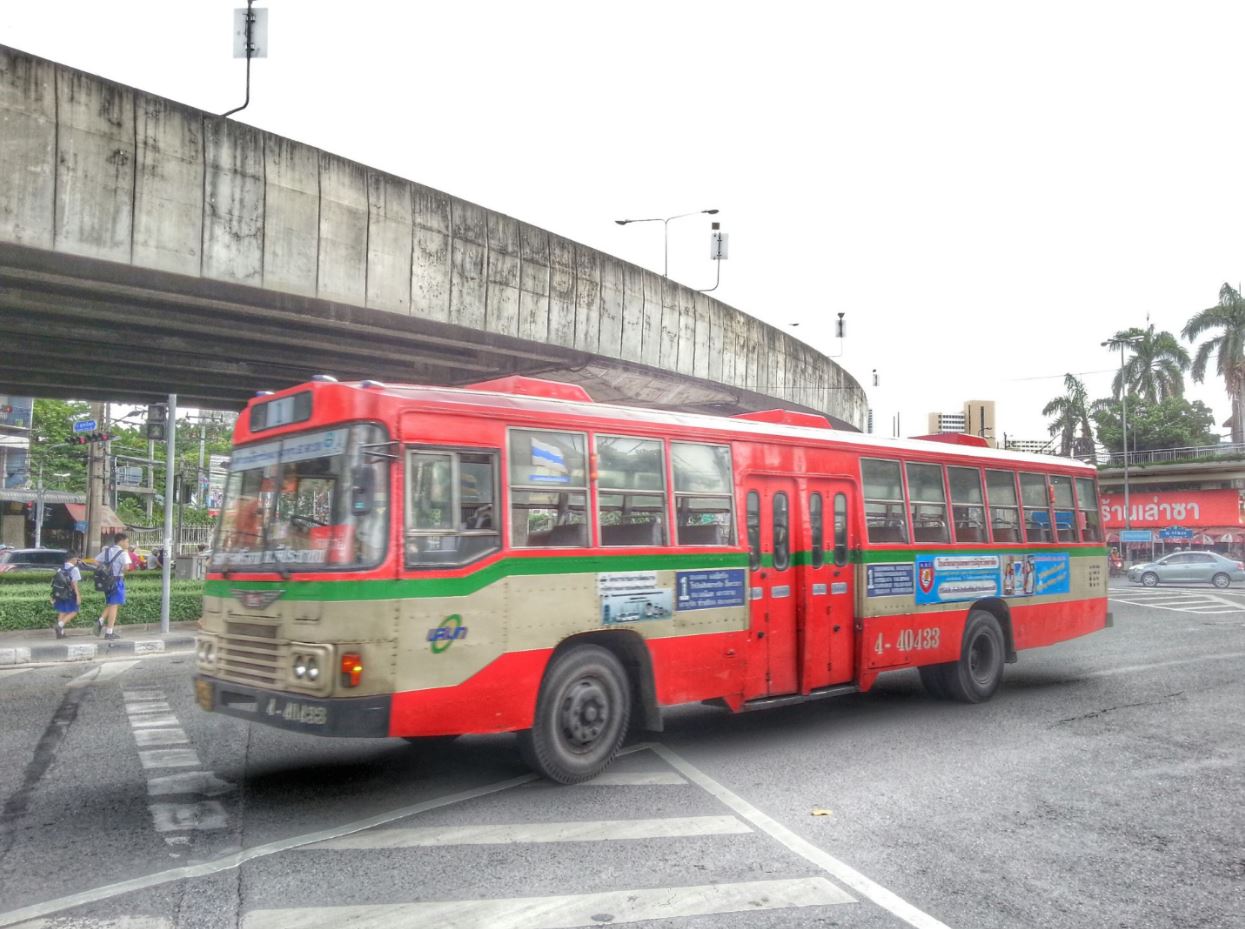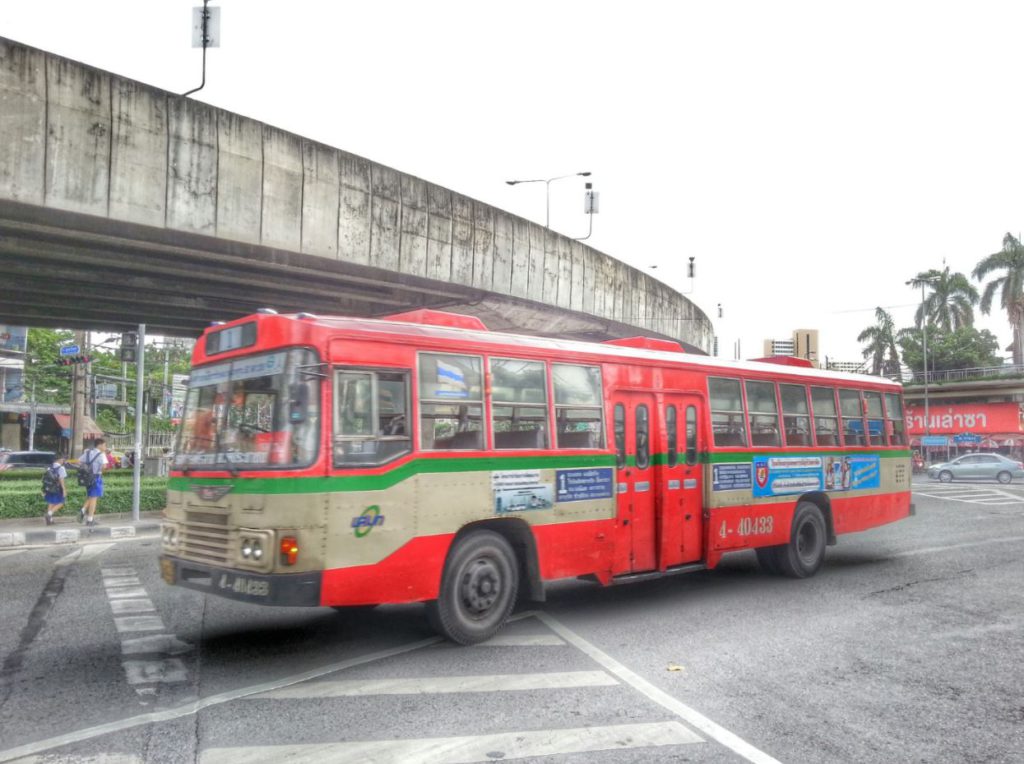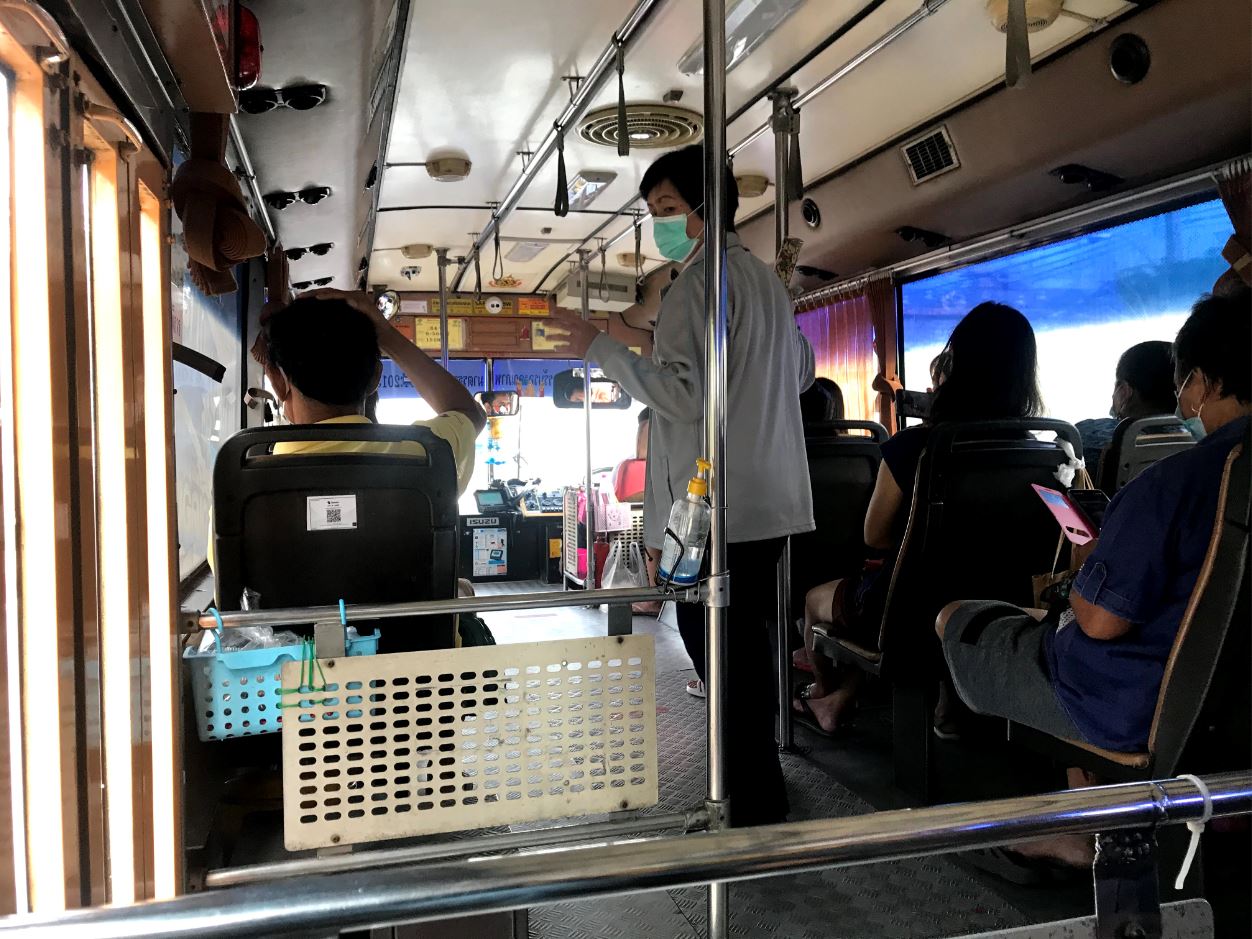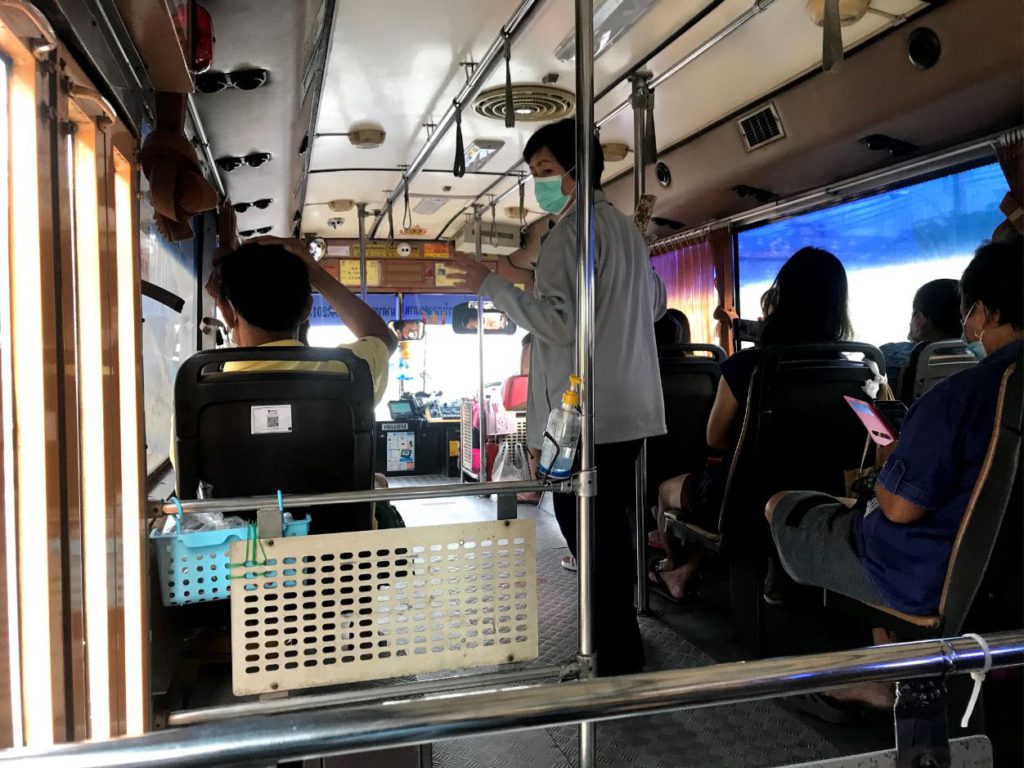 BRT
These are special buses as a part of the rapid transport system in Bangkok. You can see them depicted in yellow colour in the metro map above.
These buses are special because they have their own special lane on the road and do not encounter any traffic. These touch 12 stops in an area where the metro is unavailable. You can expect to pay a flat rate of THB 15 to any destination.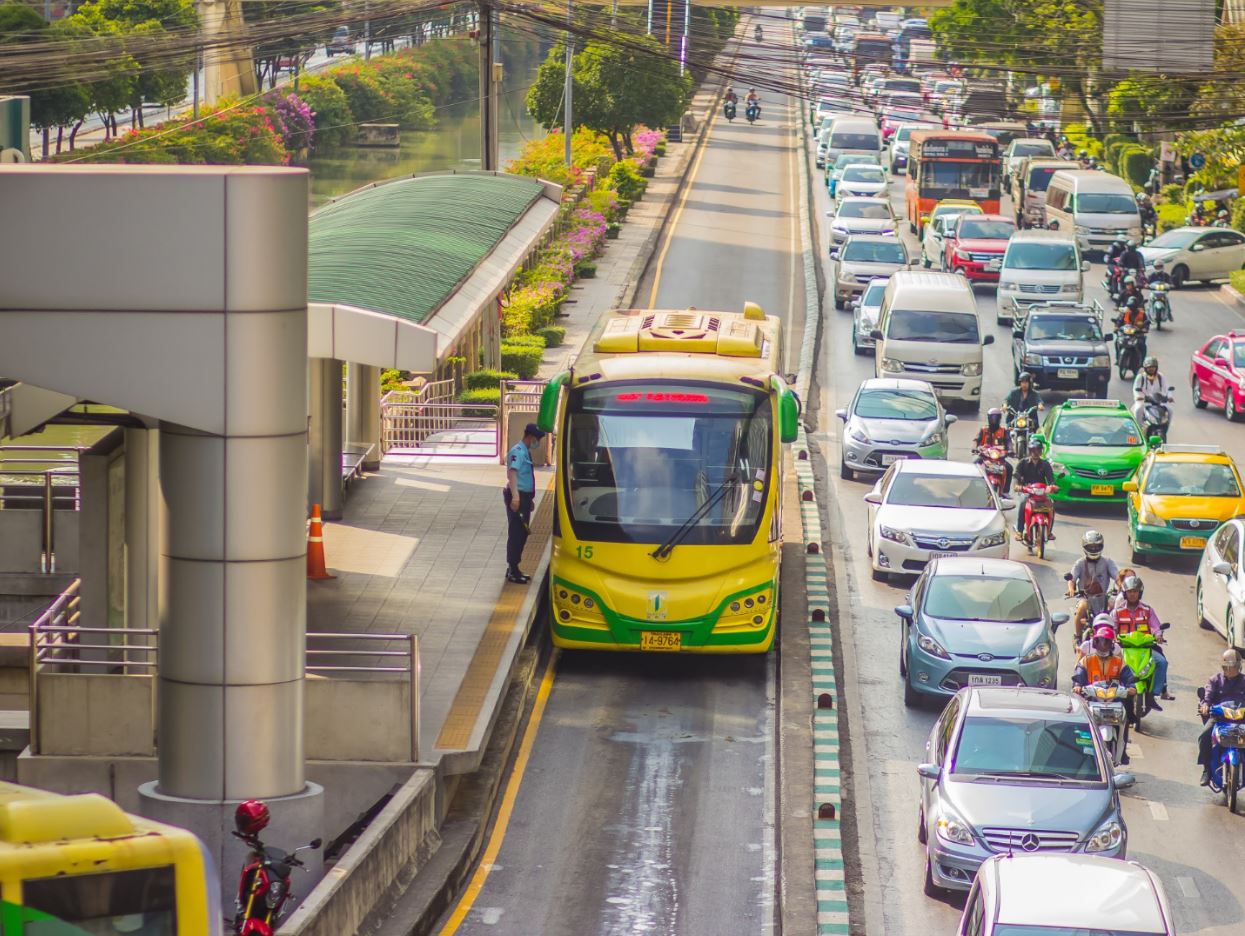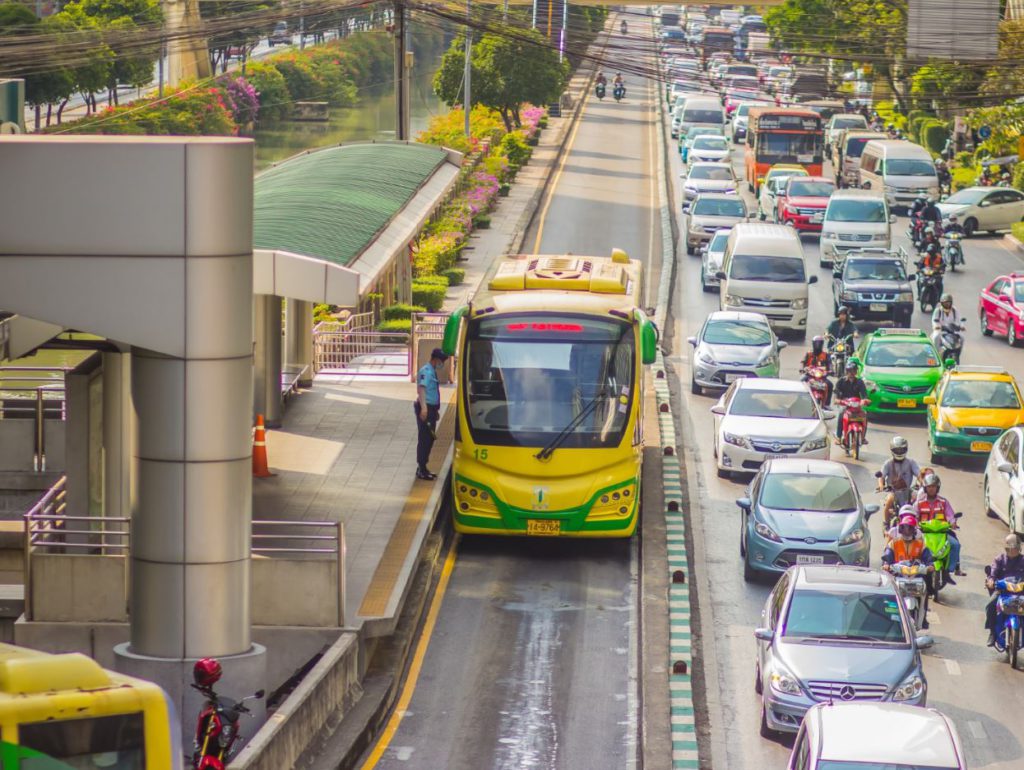 Hop on Hop off buses
I think a hop on hop off bus is a great way to see a lot of Bangkok squeezed in one or two days. You don't have to worry about the maps and changing several vehicles. Plus, to be honest you may spend its equivalent doing it by yourself anyway.
The buses come with maps, free Wifi and headphones that plug into audio recording in English, Mandarin, Thai, Korean, Spanish, German and French. These recordings play alongside narrating stories and history corresponding to the places you pass by.
The bus stops at 16 points in Bangkok that covers all important destinations including the cultural centre containing The Grand Palace, Wat Pho, Chinatown, night markets, Khaosan Road and the best malls in the city.
Hop on Hop off Bus timings: The buses run from 9 am in the morning to 4.20 pm.
Hop on Hop off Bus ticket price: One-day ticket costs THB 800, two-day ticket costs THB 1,200 and a three-day ticket costs THB 1,500 per person.
Book ticket Online: Bangkok: Hop-On Hop-Off Bus with 24, 48 or 72-Hour Validity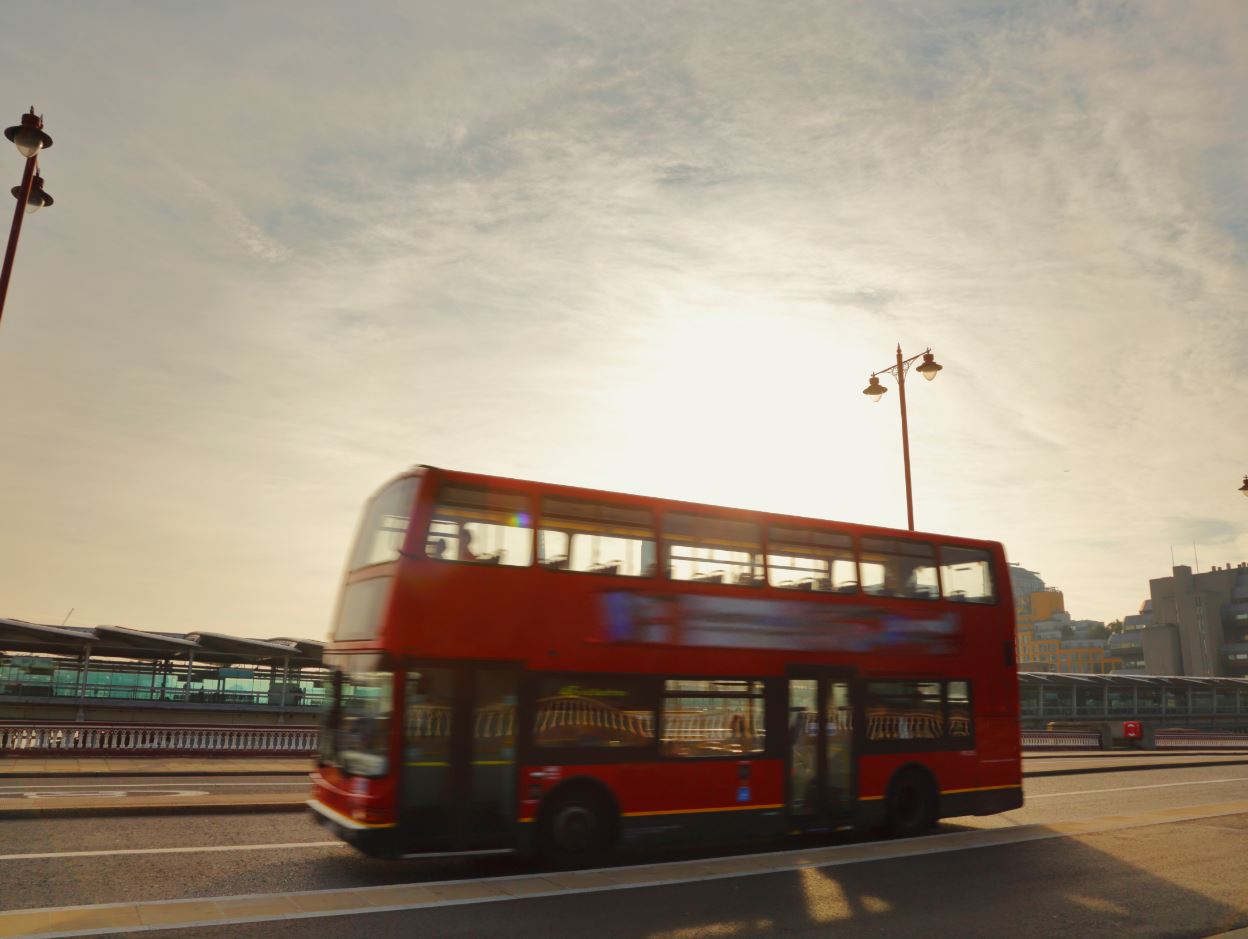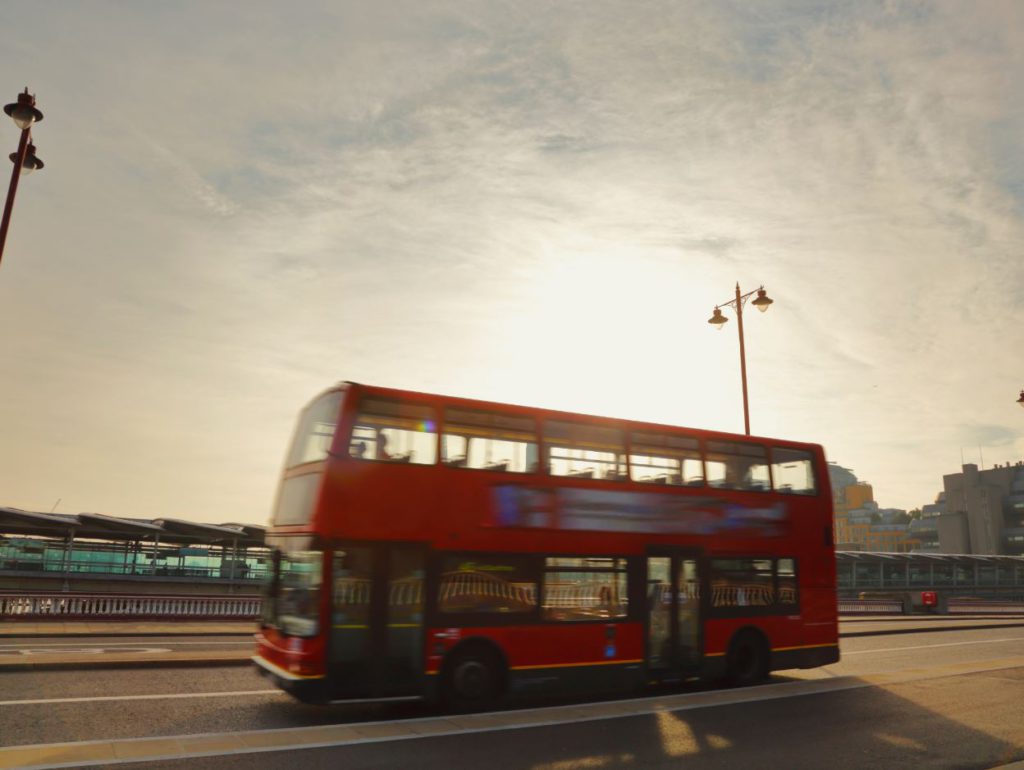 Things to know about Bangkok Bus System
– Learn Thai names for the destination you want to go. The conductor may or may not recognise the English name. Use Google maps or translate.
– Keep your luggage close and never leave it unattended.
– Keep change for your ticket and keep it ready. Don't give a 100 THB note and expect a change. You will get a frown instead.
– Reach to the door a couple of minutes before you reach your destination. Press a red buzzer on top of the door that signals the driver to stop. He will stop in the next 30 seconds or so.
Taxi
Taxi is also a great way to go around Bangkok. Taxis in Thailand are really quite affordable and easy to find. They are also the most comfortable way and may even cost you less than public transport if you are travelling in a group.
Cabs
All the above is true but the traffic can take all that glitter away. The traffic is at its worst for two hours both in the morning and evening as most people commute to work. It is insane during and after a rainfall. So unless you have a lot of time and patience, just avoid taking a taxi during this time.
You can hail a cab just by waving at one on the road. Once it stops, tell the driver your destination. A good practice is to check if he will use the meter or not. If they don't simply don't board or get out immediately. Or there will be a chance that you will pay an exorbitant amount for your fare. There is a slight surge in prices after 11 pm at night.
Uber isn't available in Bangkok anymore. Instead, there is Grab (app) which is the most popular way to book a taxi in Bangkok. The rates are usually fair but take some time and understand it first.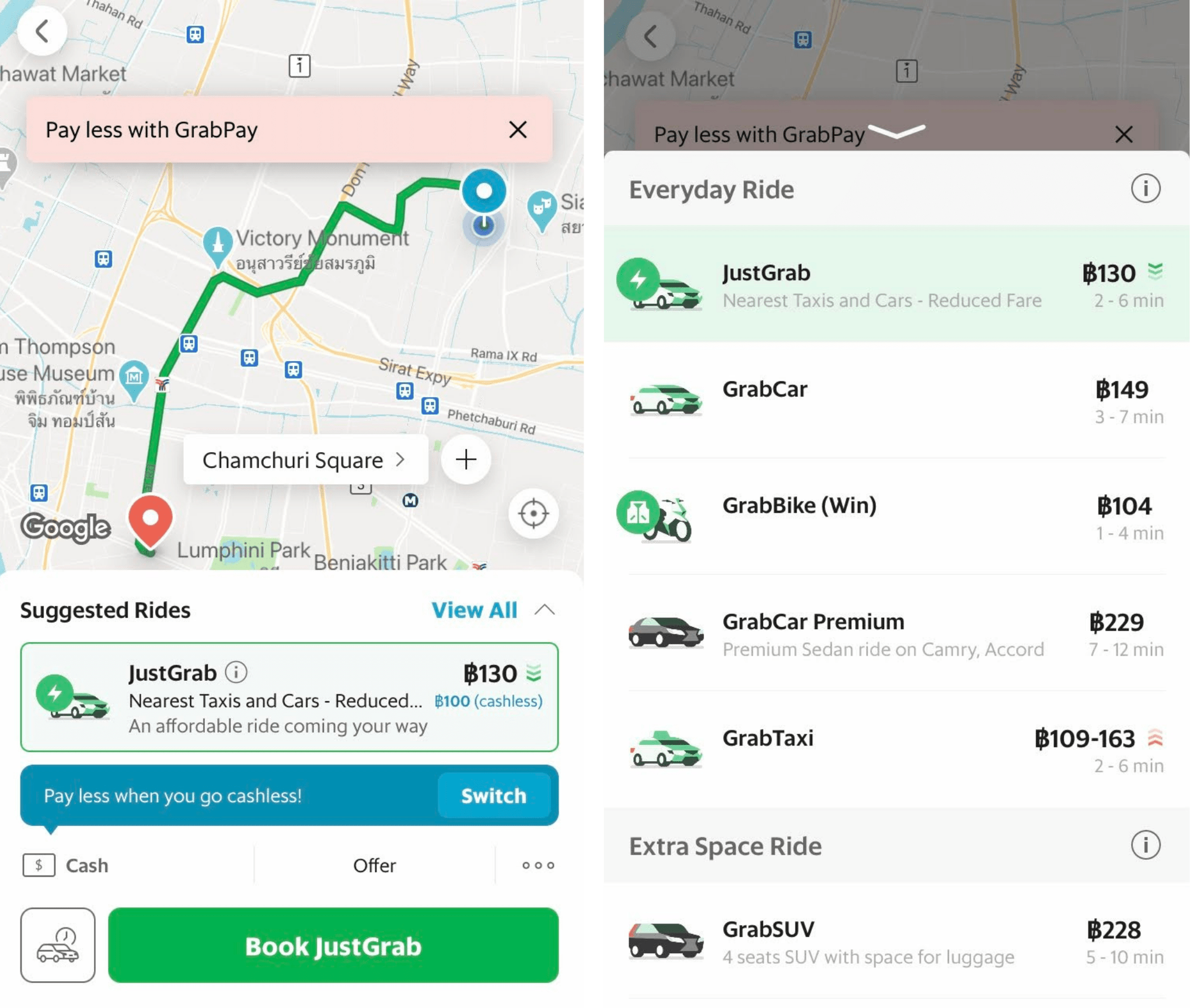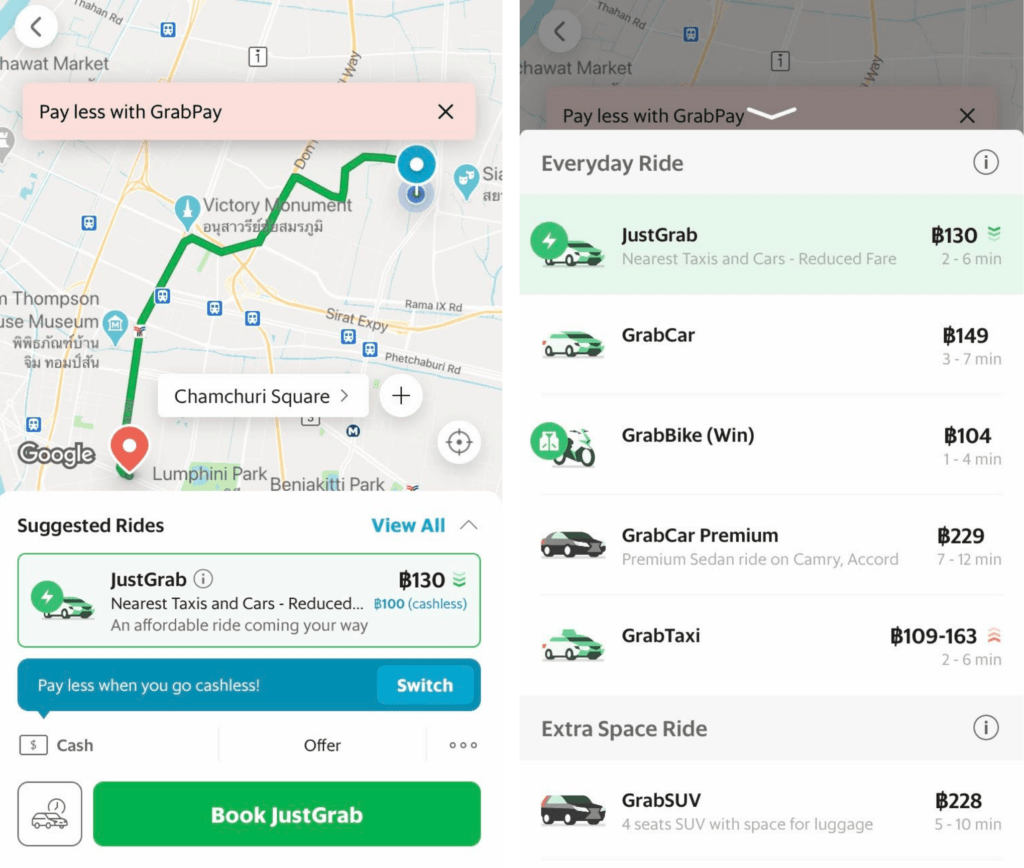 Cab prices: The minimum fare is THB 35 that stays flat for the first two kilometres. Then it adds up at THB 5 per kilometre. The tariff for waiting time including traffic halts is THB 1.5 per minute. You will have to bear the toll charges. A tip isn't required but you can just round off your fare.
A cab from either airport (Suvarnabhumi or Don Muang) is between THB 200 – 300 in normal circumstances.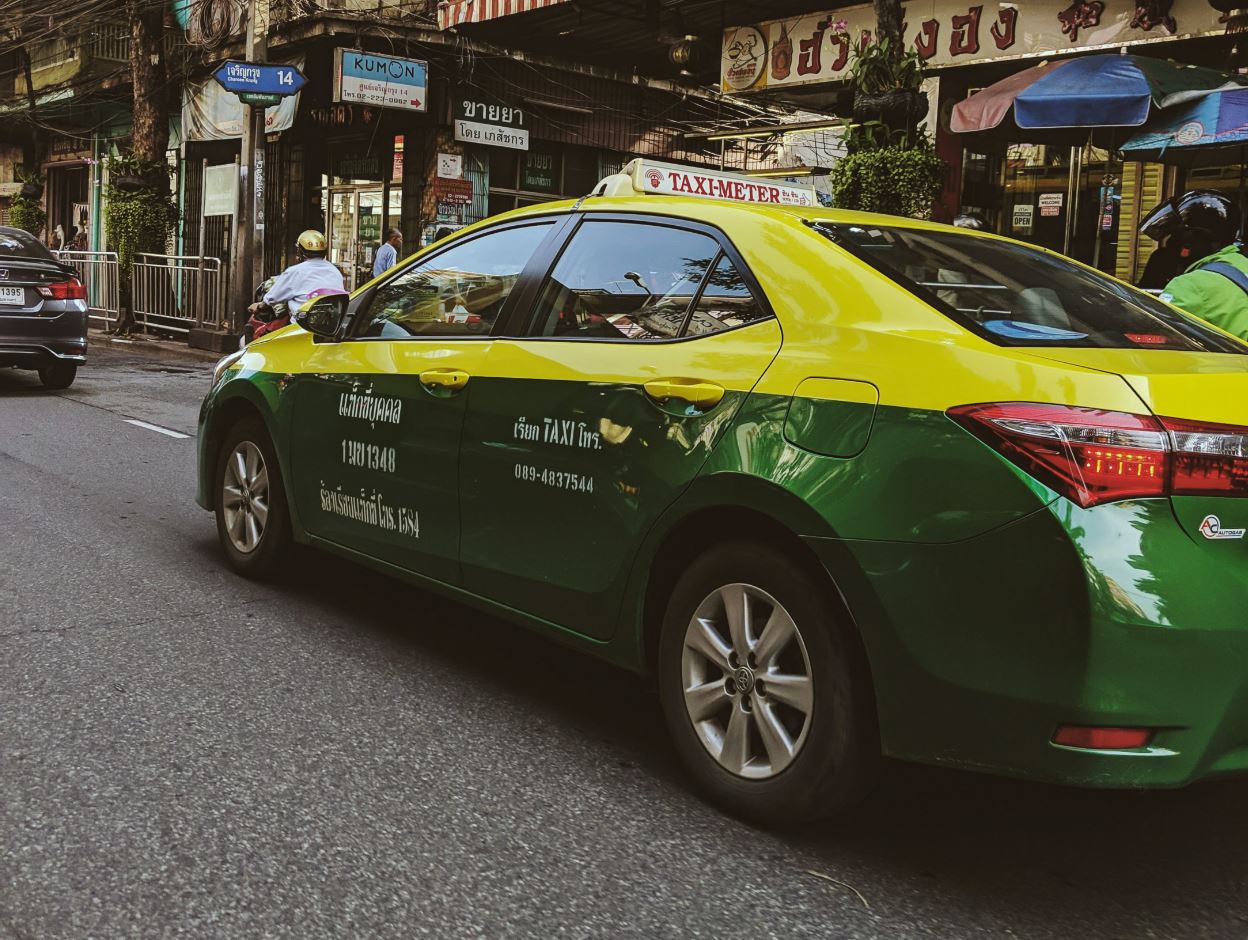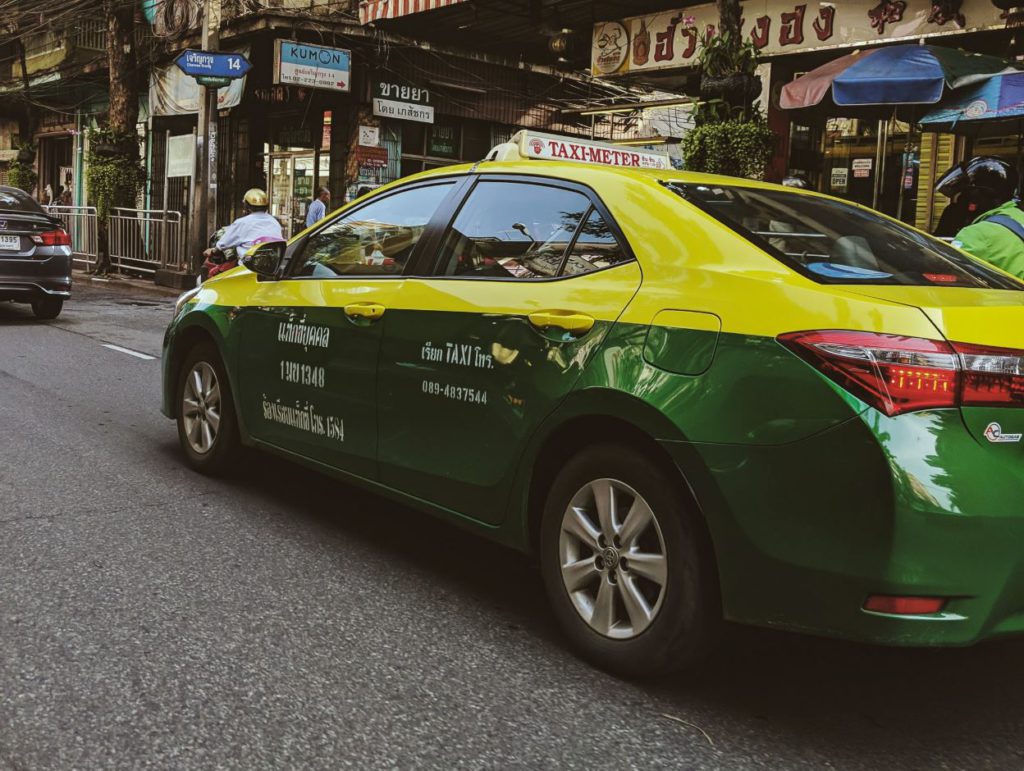 Motorcycle taxi
Getting on a motorcycle taxi calls for a painful dilemma and even perhaps desperation. On one hand, it is one of the fastest ways to reach your destination. On the other hand, you are literally praying for your life in your head.
Use a motorcycle taxi if your destination is within 5km and you don't have any other means of transportation to reach there fast enough. Another reason could be an extreme traffic jam. The motorbikes zoom past the narrow gaps between vehicles sometimes at a speed that will make you clench your teeth.
On top of that, the helmet is just for the sake of decoration if there is one. So unless you are not looking or fit for adventure sports maybe you can skip this. You can find motorcycle taxis at every corner of the street. Just tell them your destination and hop on. Make sure your tuck in your phone and belongings safely.
Motorcycle taxi prices: The minimum fare is THB 25 for the first two kilometres. After that adds up at THB 5 per kilometre. Sometimes they may ask for the price that may seem a little too much. My advice is as a foreign tourist; don't get into an argument over it if it's not worth it.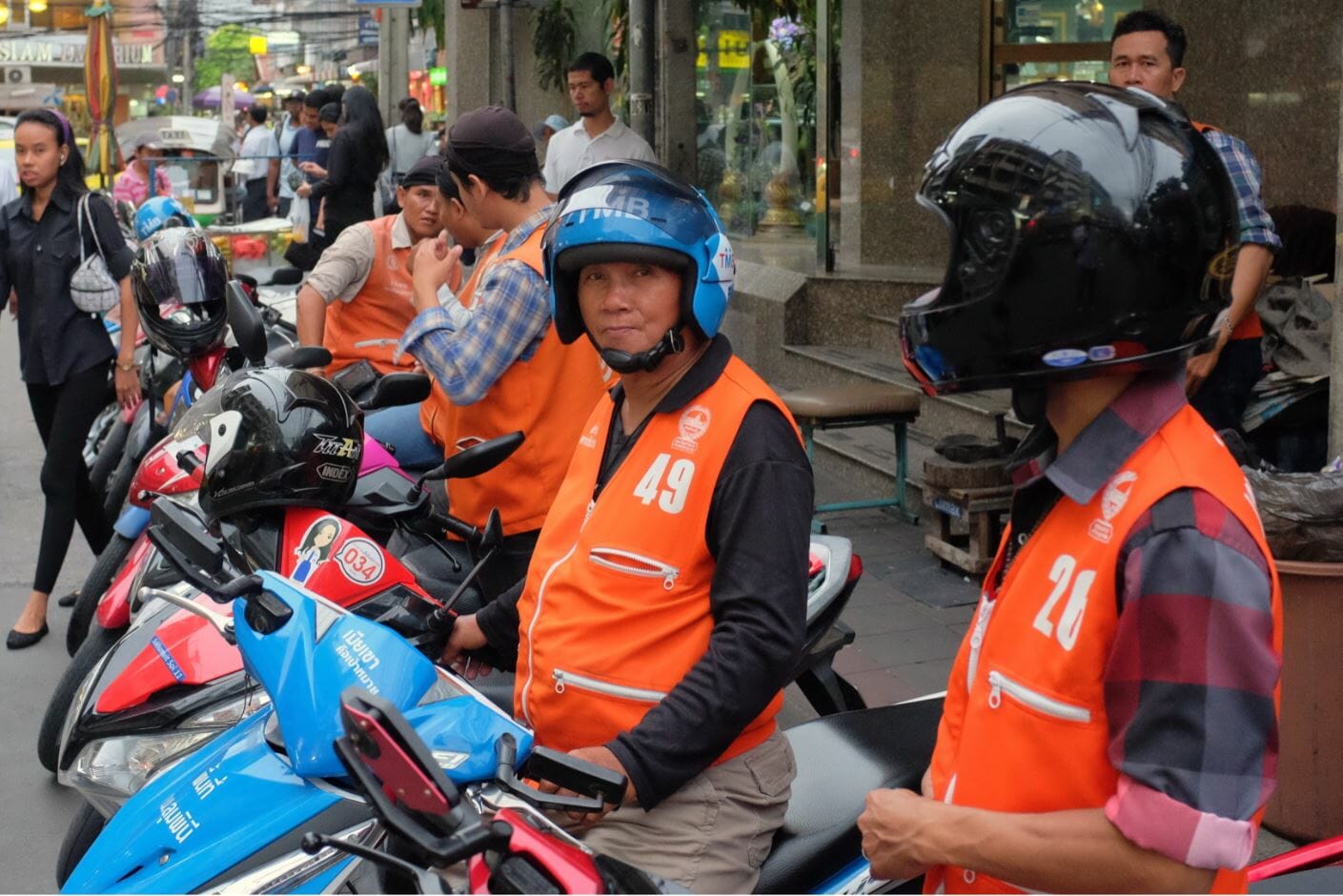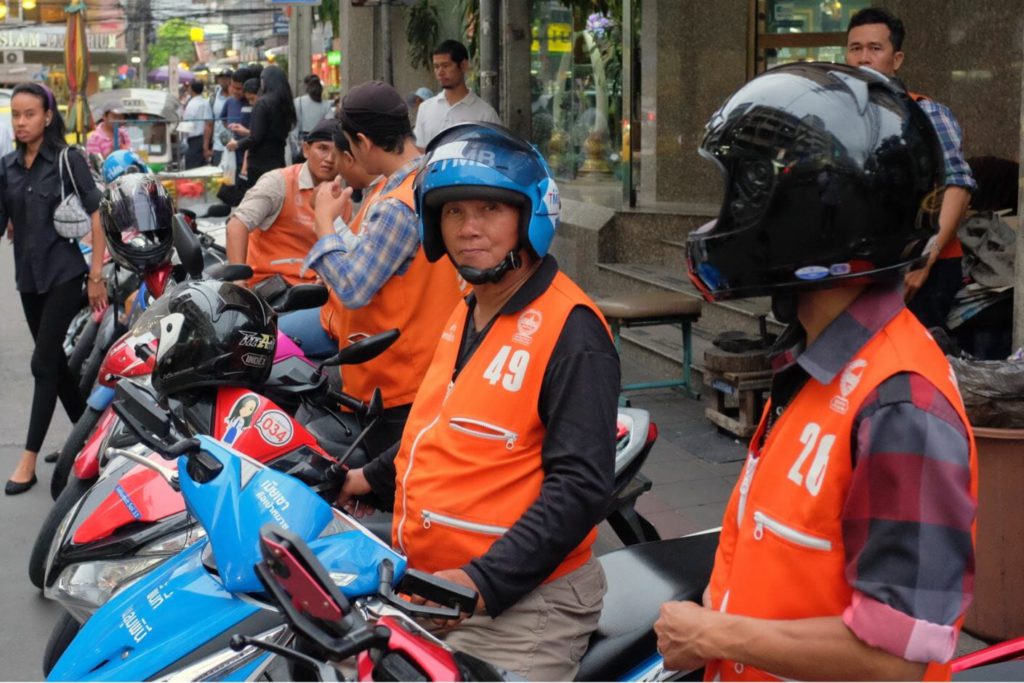 Tuk Tuk
You haven't done Thailand right if you did not take a tuk-tuk ride. If you are lucky you can even come across a flashy one with neon lights and plastic flowers. Quite a few tuk-tuk drivers can speak basic English, so they are often chatty and act as a tour guide too.
The most important thing about hiring a tuk-tuk is negotiating a price beforehand. If you leave it up to them you may be handing over a fortune later. The fare can cost somewhere between THB 30 and 200 for an average ride.
If you really want to take it up a notch, you can also opt for hop on hop off tuk-tuk tour. This is especially great at night. This is usually available near the cultural centre. There are tours available for tourist destinations (The Grand Palace, Wat Pho, Wat Arun etc.), food tours or maybe a mix of both.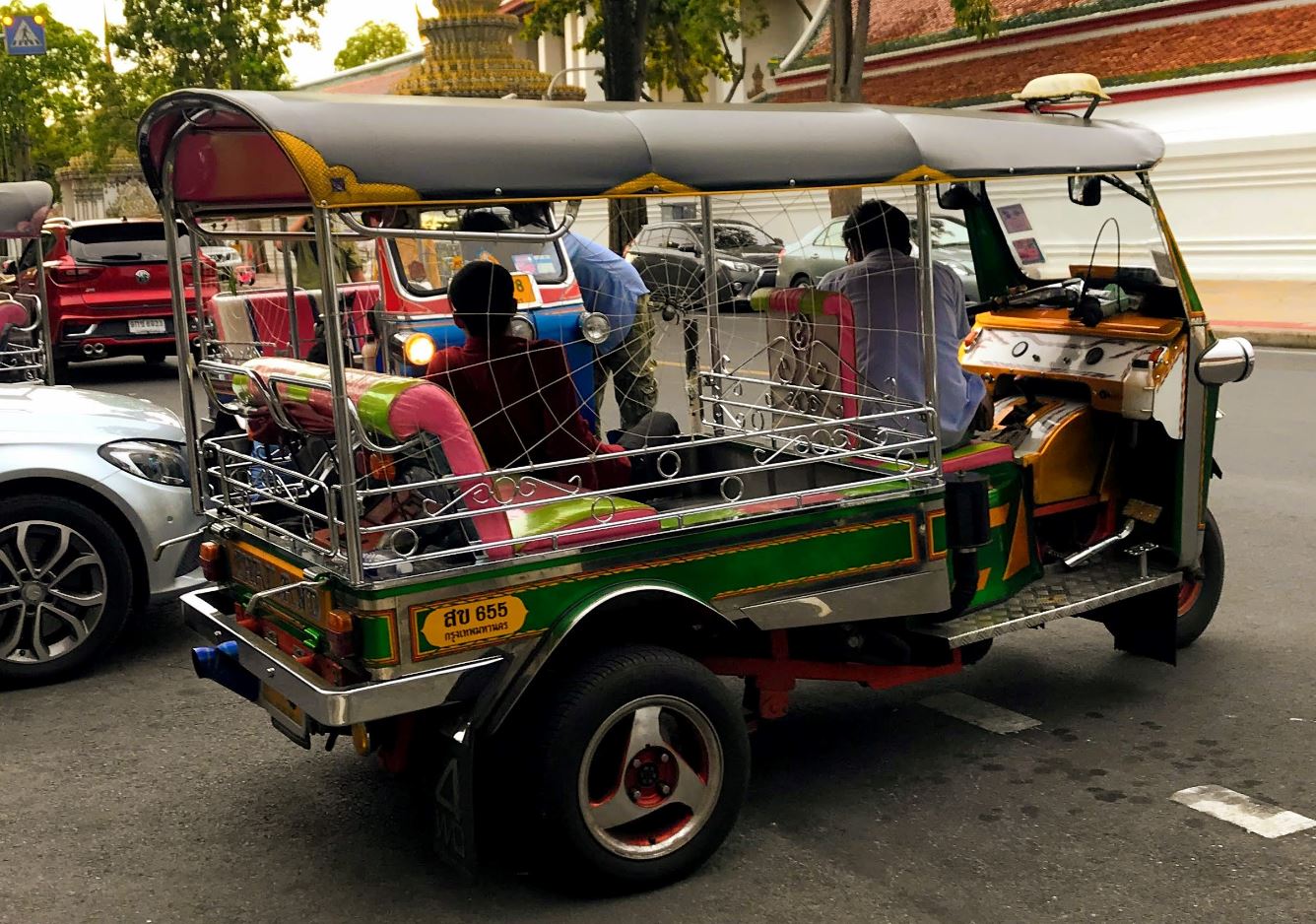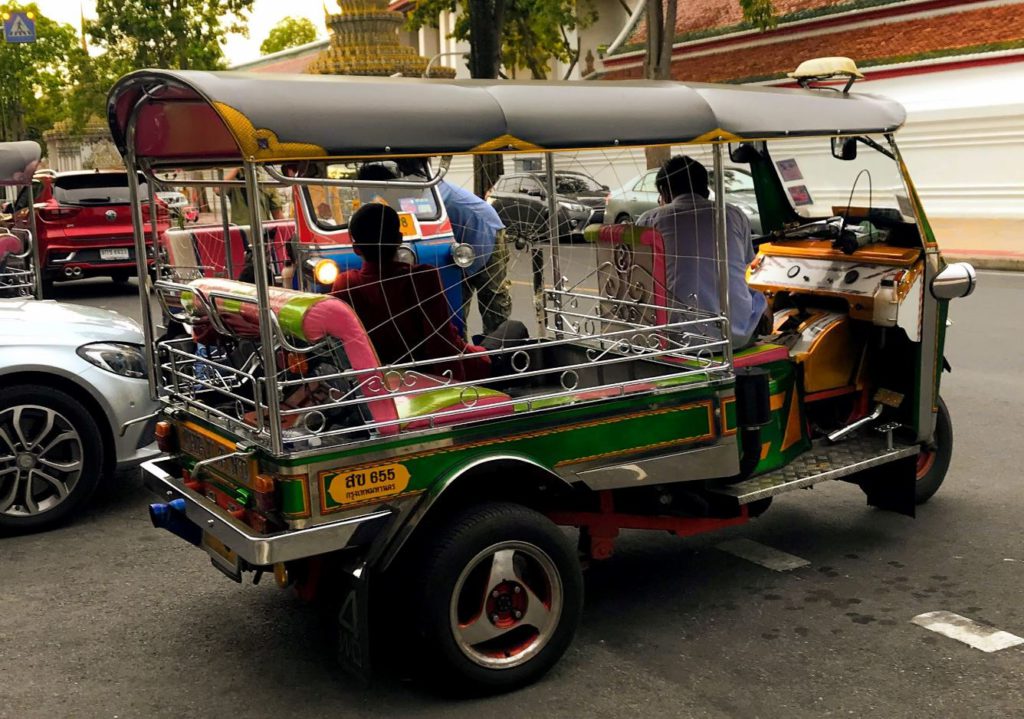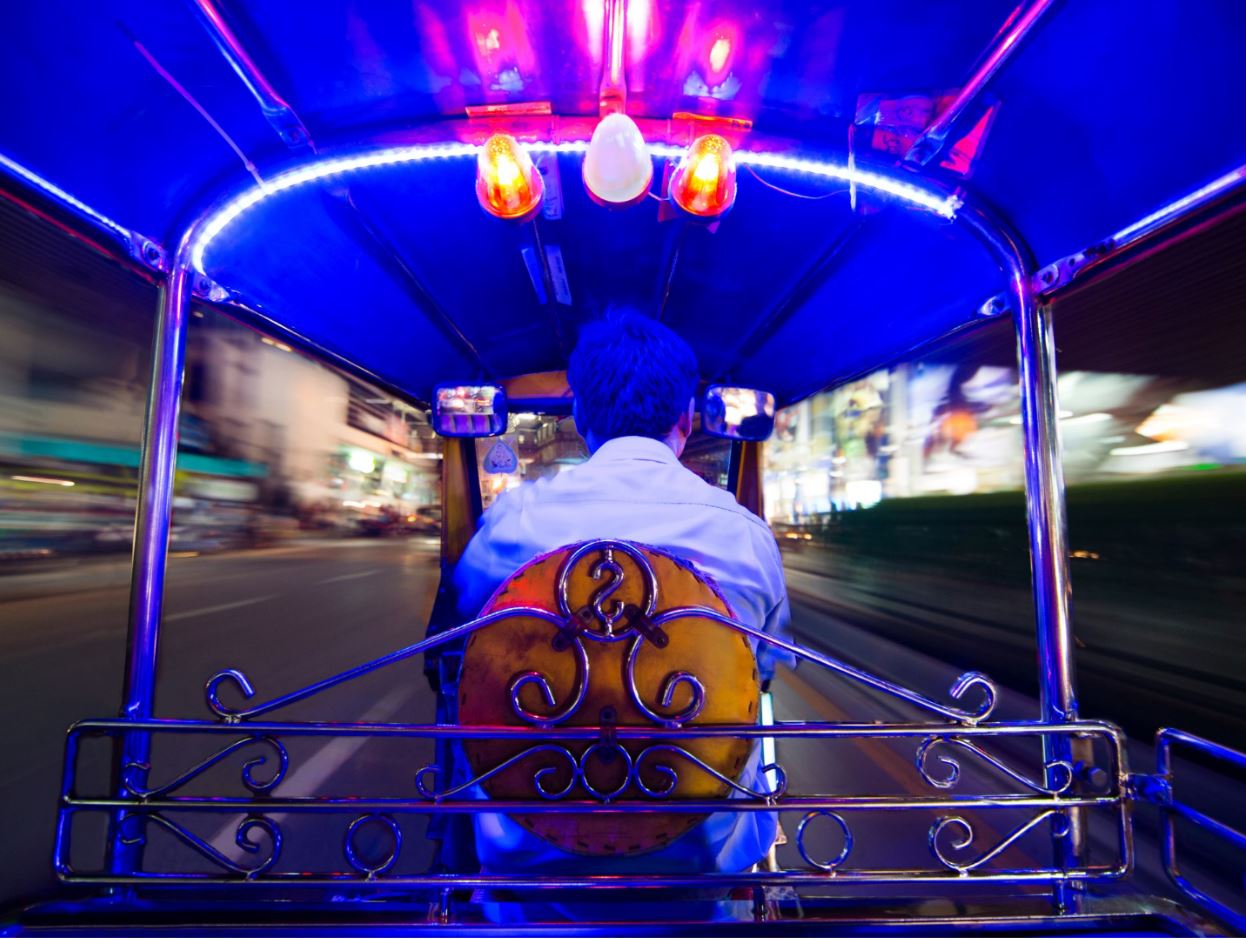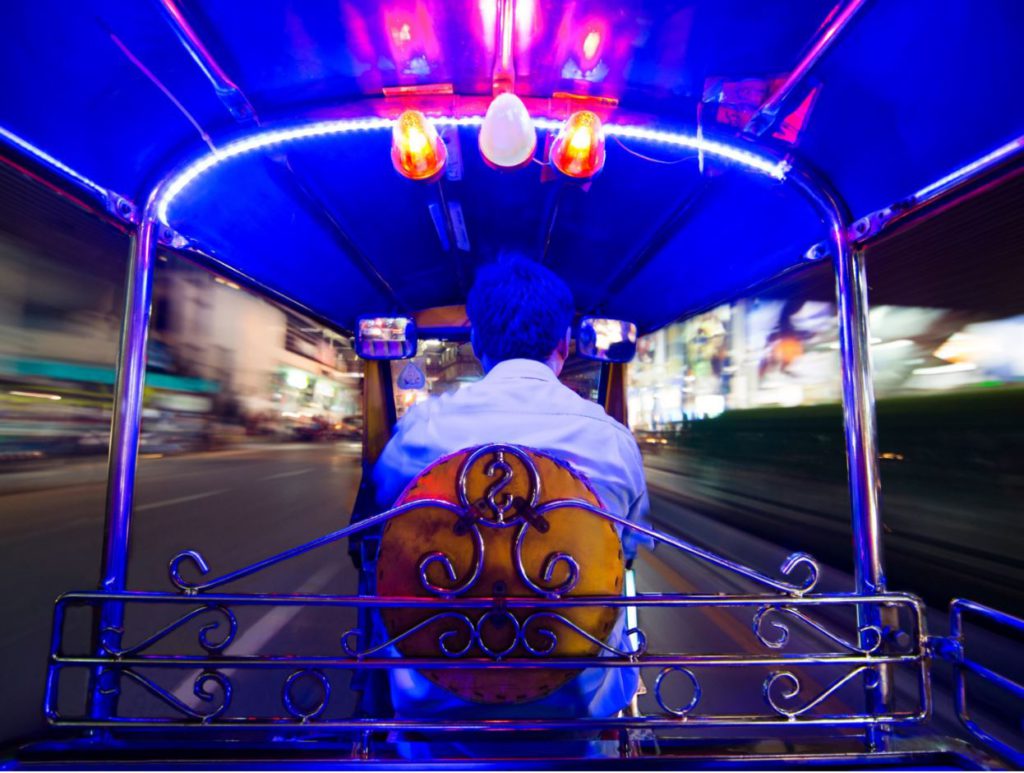 Waterways
Bangkok is located next to a giant river called the Chao Phraya. But what people don't know is that Bangkok is often called 'Venice of the East'. It is because of an extensive network of canals that go around the city. Most of them are man-made and were regularly used for transportation in the last century. But as better infrastructure came along, the use of canals almost vanished.
But I will suggest that you take at least one tour on a boat. It is so unique and so affordable.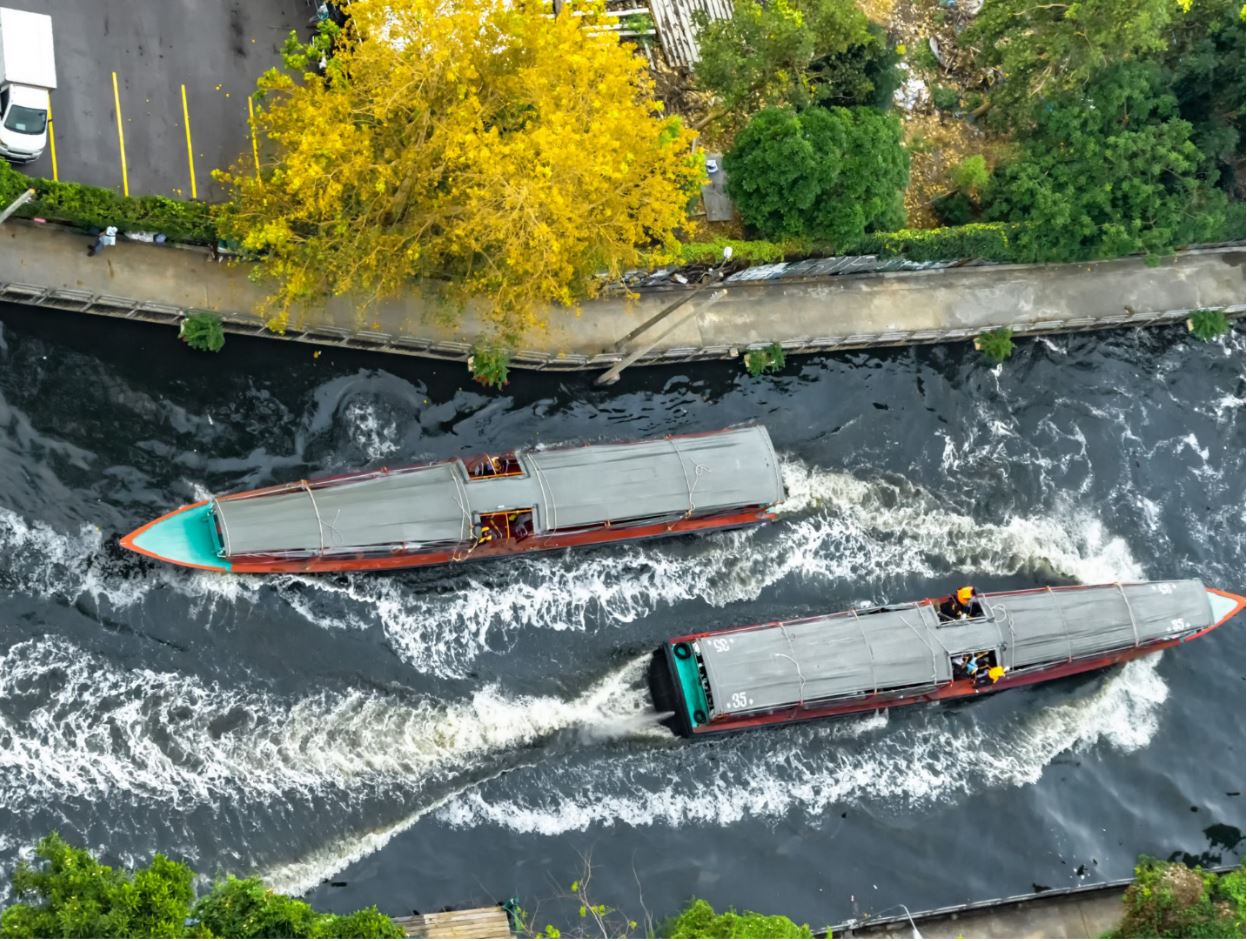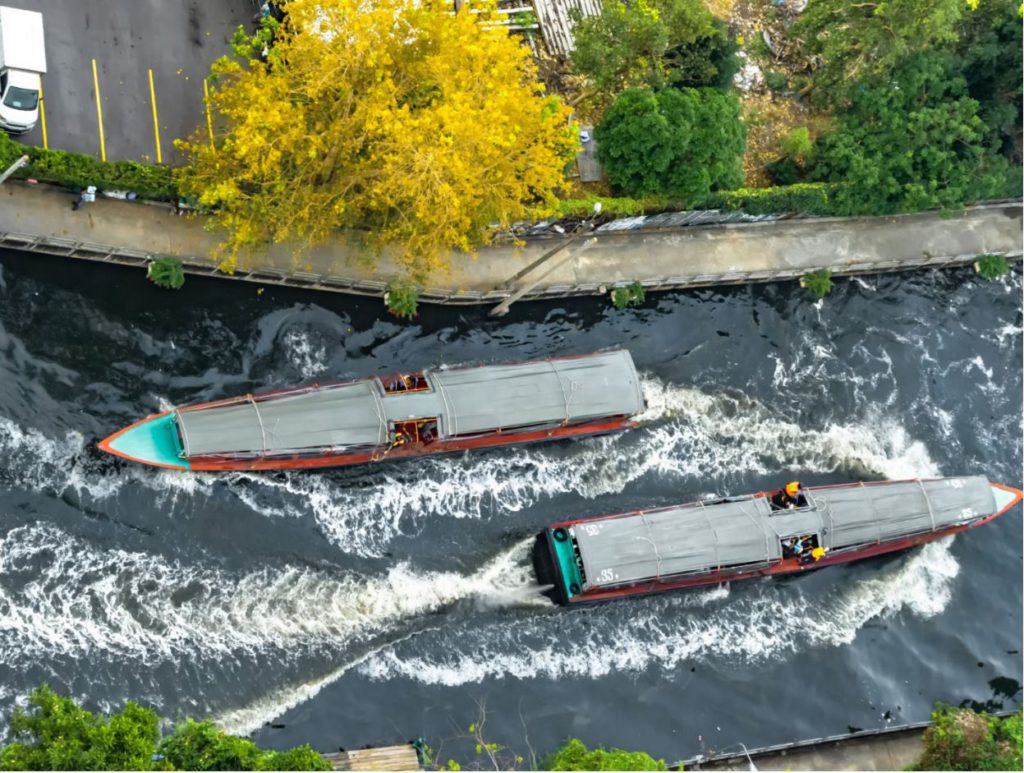 Chao Phraya routes
Most of the historical attractions lie at the banks of Chao Phraya River and the old Bangkok area. Therefore, the boat routes on the Chao Phraya River are perfect for travelling to many of these destinations.
The boat routes are named on colours and are usually referred to as flag boats (like Orange flag boats, Yellow blag boats etc). Green, Yellow and Local (or no flag) boats run from Monday to Friday from around 6 am to 8 pm. The fare can cost between THB 10 – 32 depending upon the boat and your destination.
Orange flag boats run every day of the week from 6 am to 7 pm. The fare is THB 15. Cross river ferries also run at several points that only take passengers across the river to the directly opposite points. The fare range from THB 2 – 4. You can find these marked on Google maps as well.
To board these, just reach the pier and tell you destination at the counter to buy a ticket. Sometimes you will need to do that on the boat itself, exactly like a bus. Here are the Boat routes on Chao Phraya River.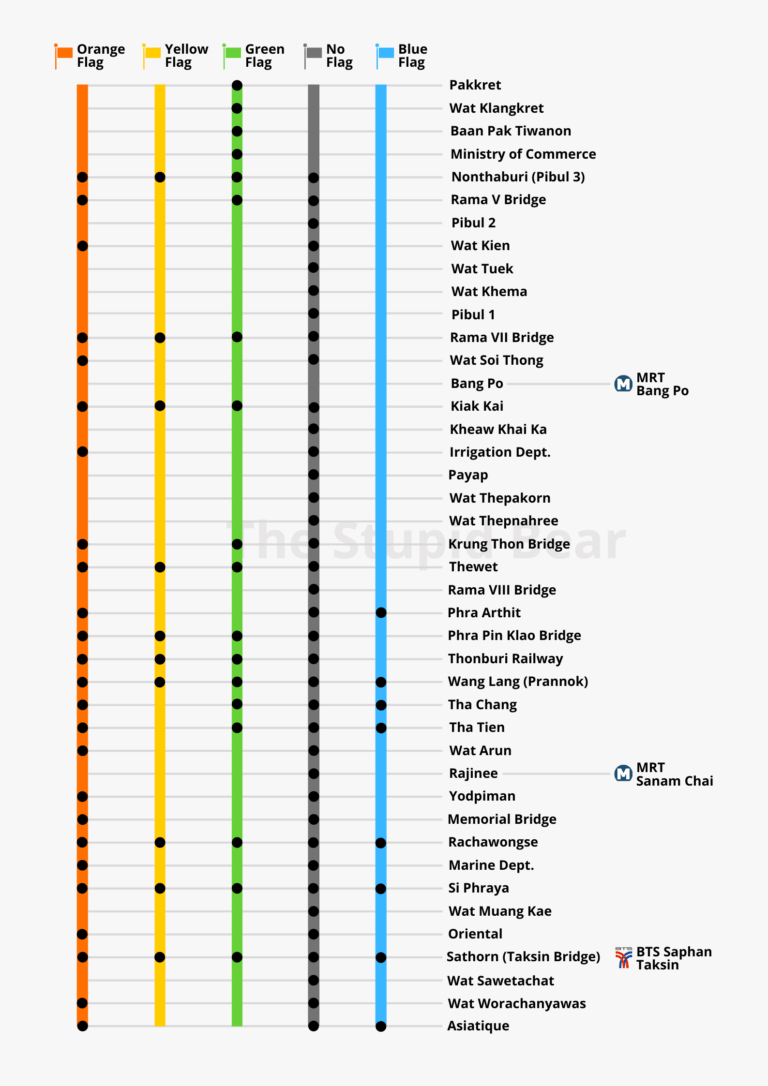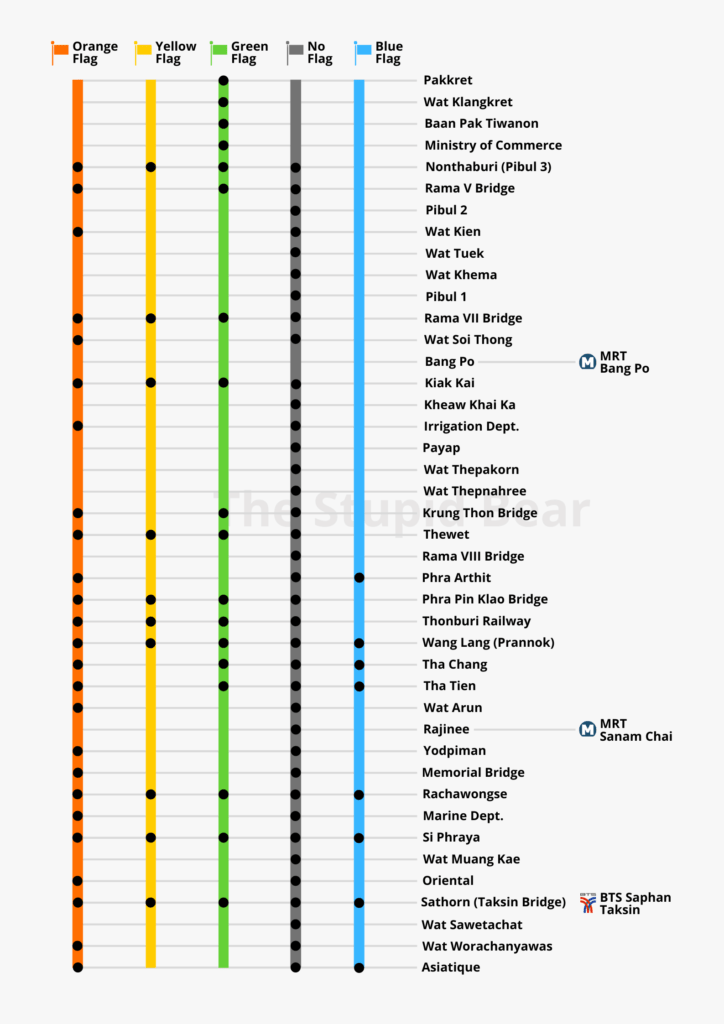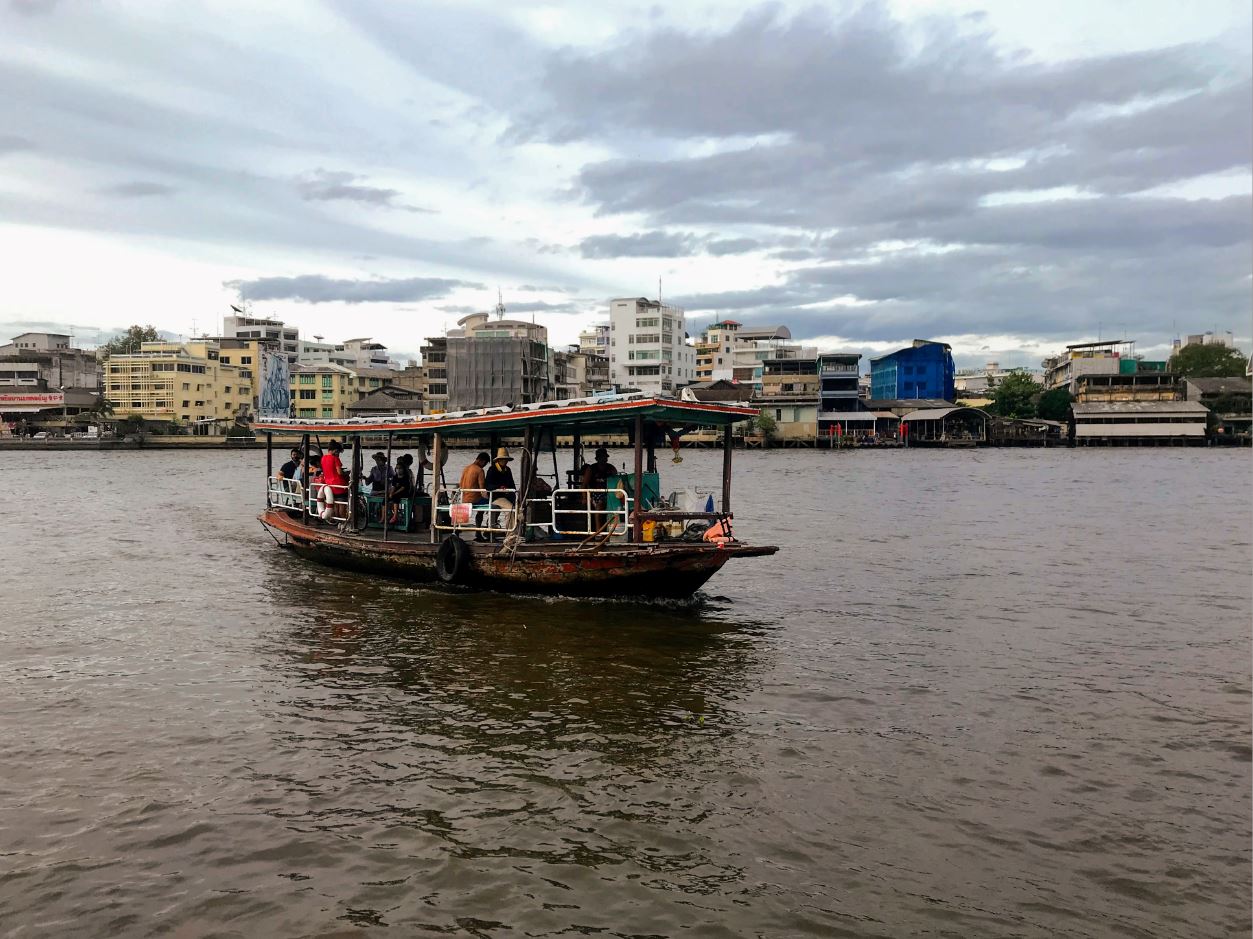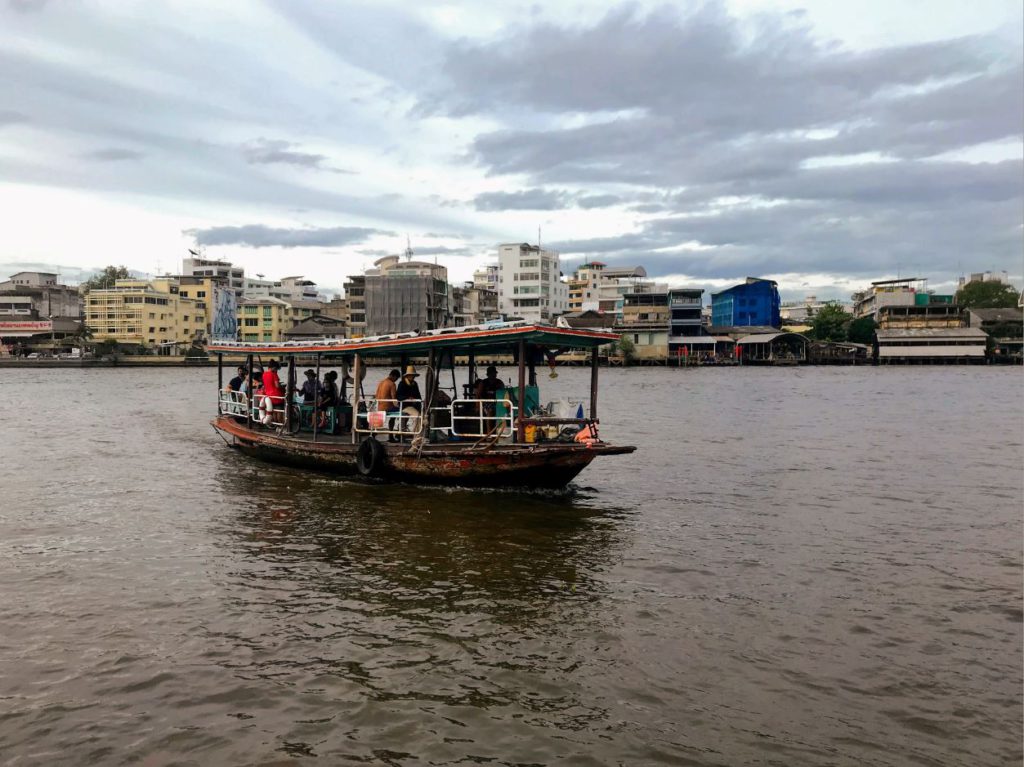 Hop On Hop off / Boat tours
If you are a tourist, this will suit you better. The Blue flag boats or Chao Phraya tourist boats are cultivated especially for tourists. The boat stops at 12 important points in the city. You take a day pass and hop on the ferries exactly the same way you do for a hop on hop off bus. I'd say this is something of a very unique experience.
The boats stops at places like The Grand Palace, Wat Pho, Wat Arun, IconSiam, Asiatique, Flower Market, Museums, Chinatown, Lhong 1919 and a lot more. It will enable you to cover a lot in a day if you love to ride on a boat (like I do). A day full day pass is for THB 180.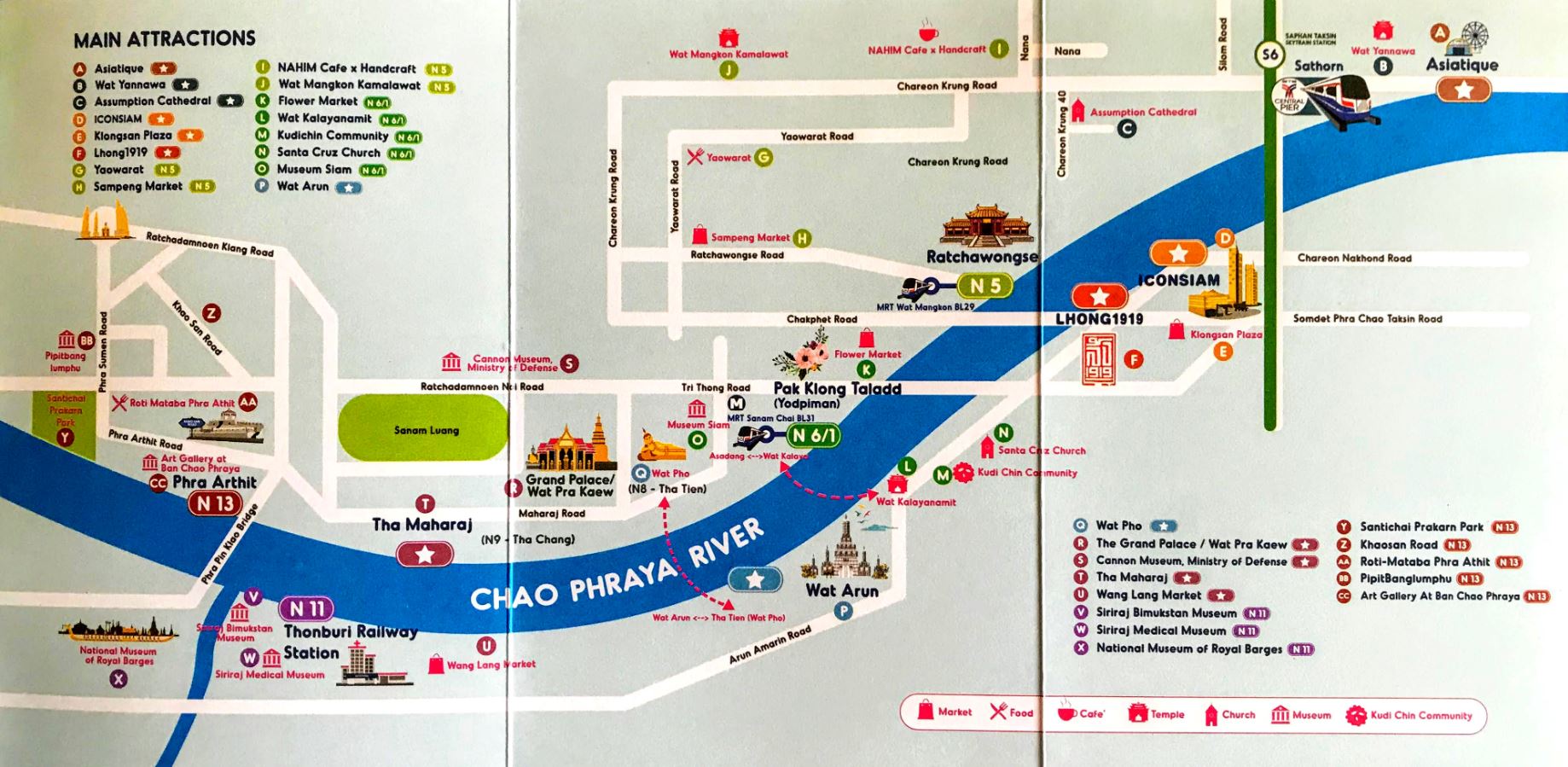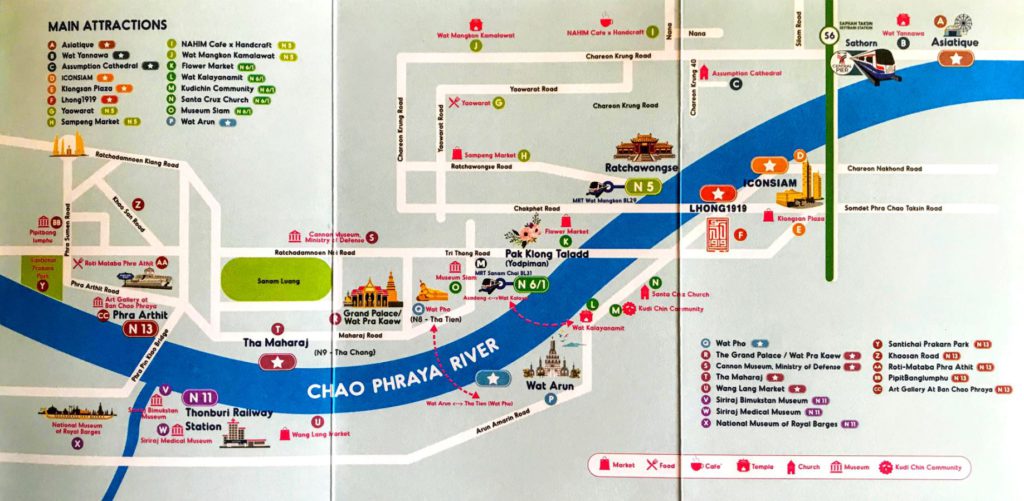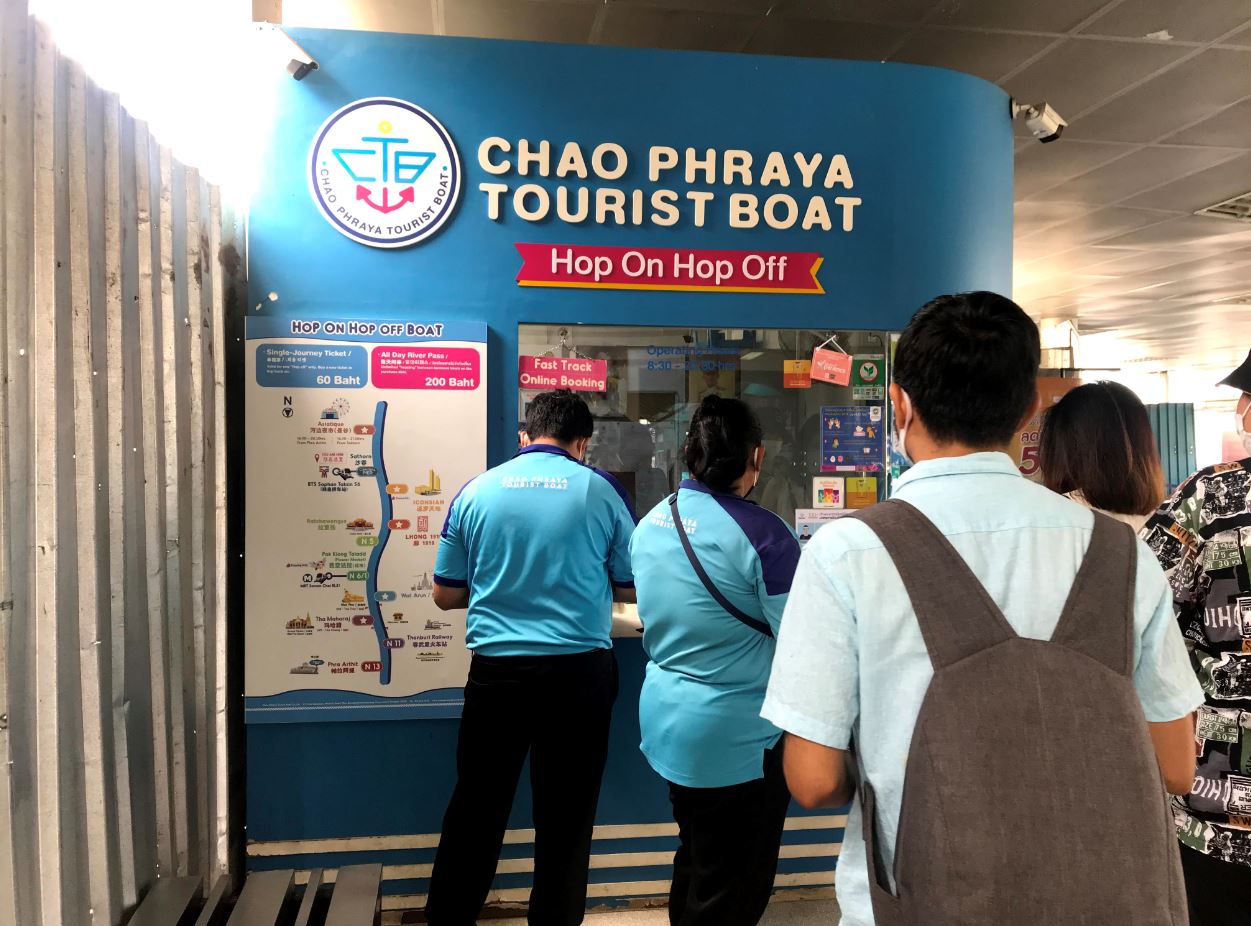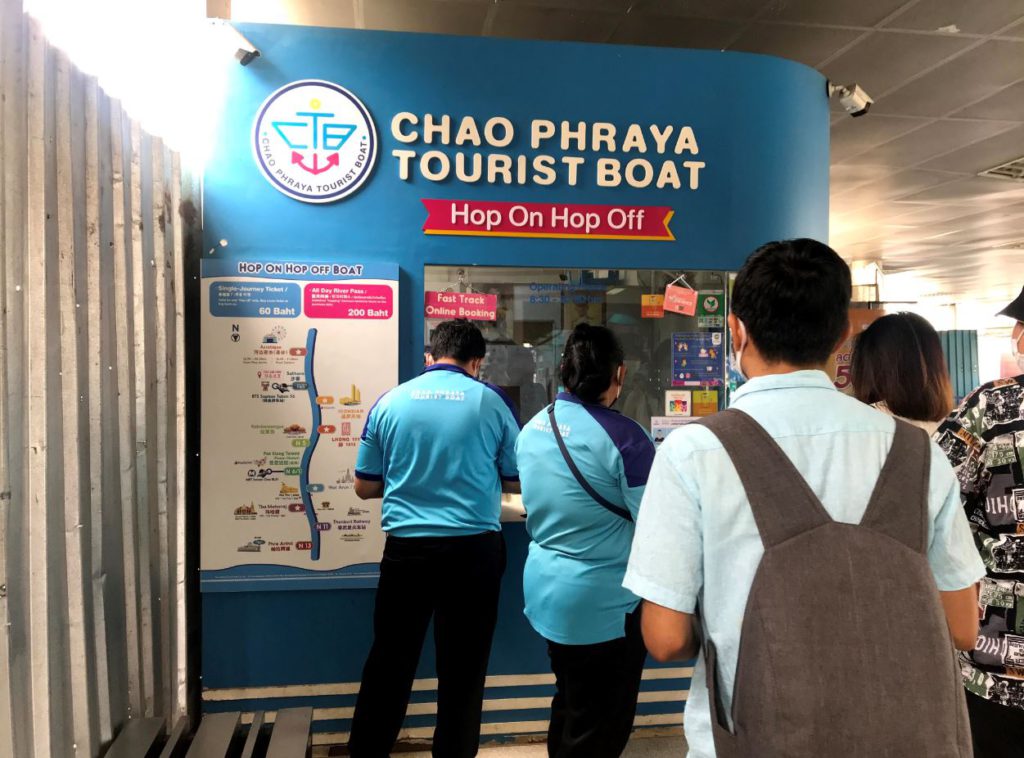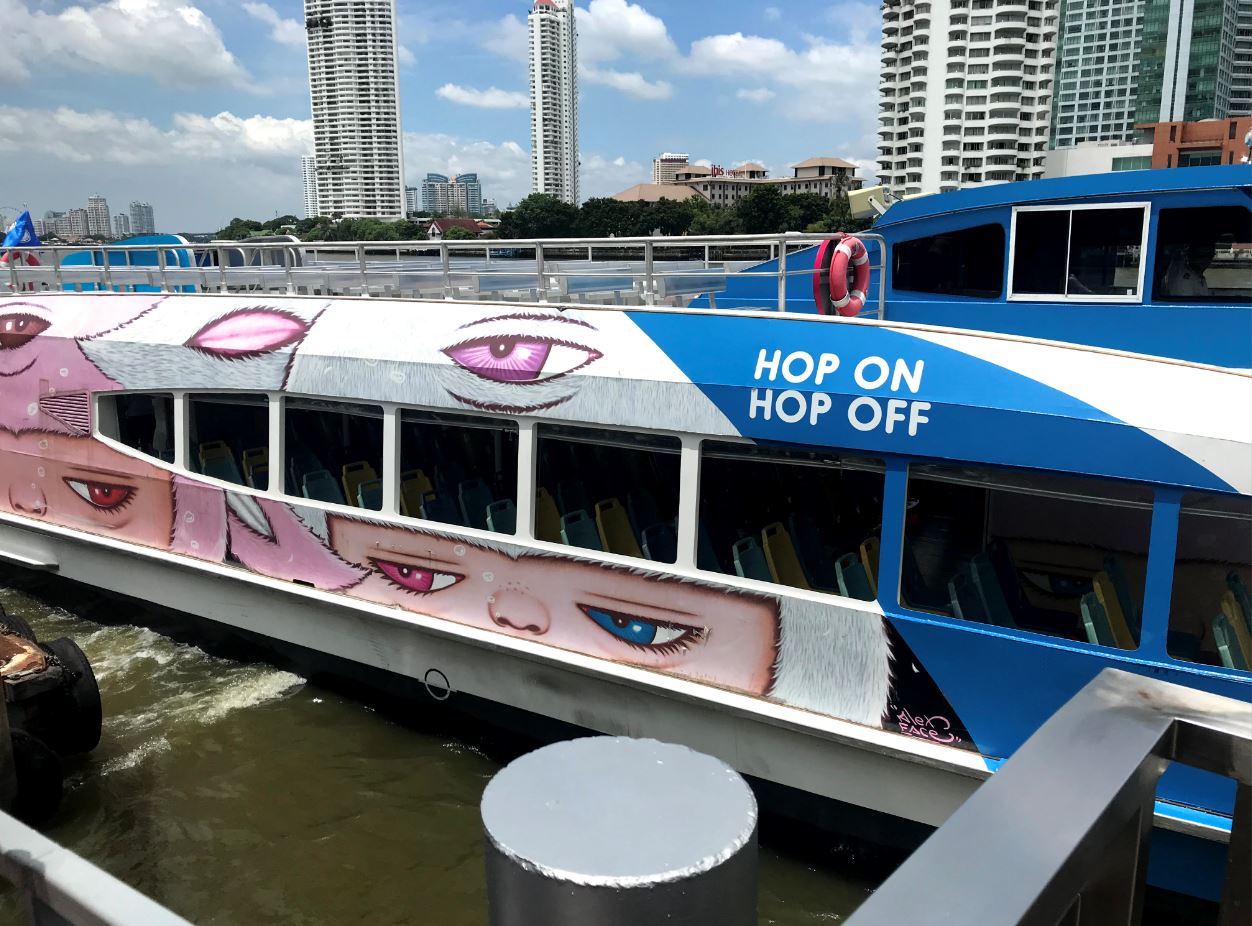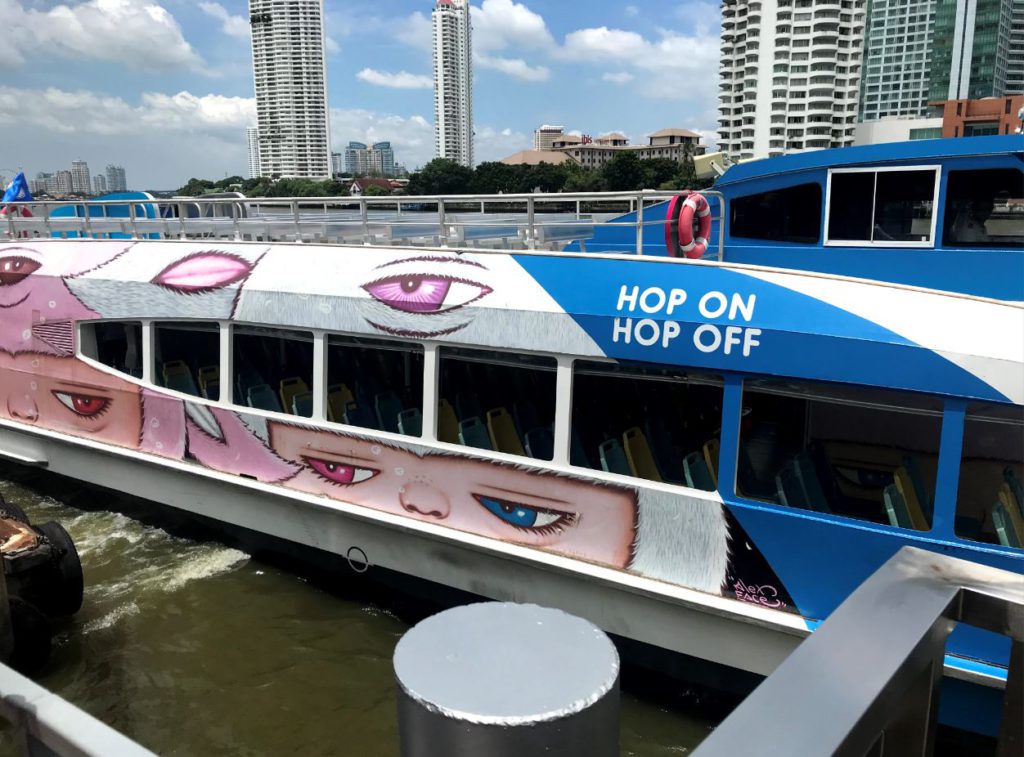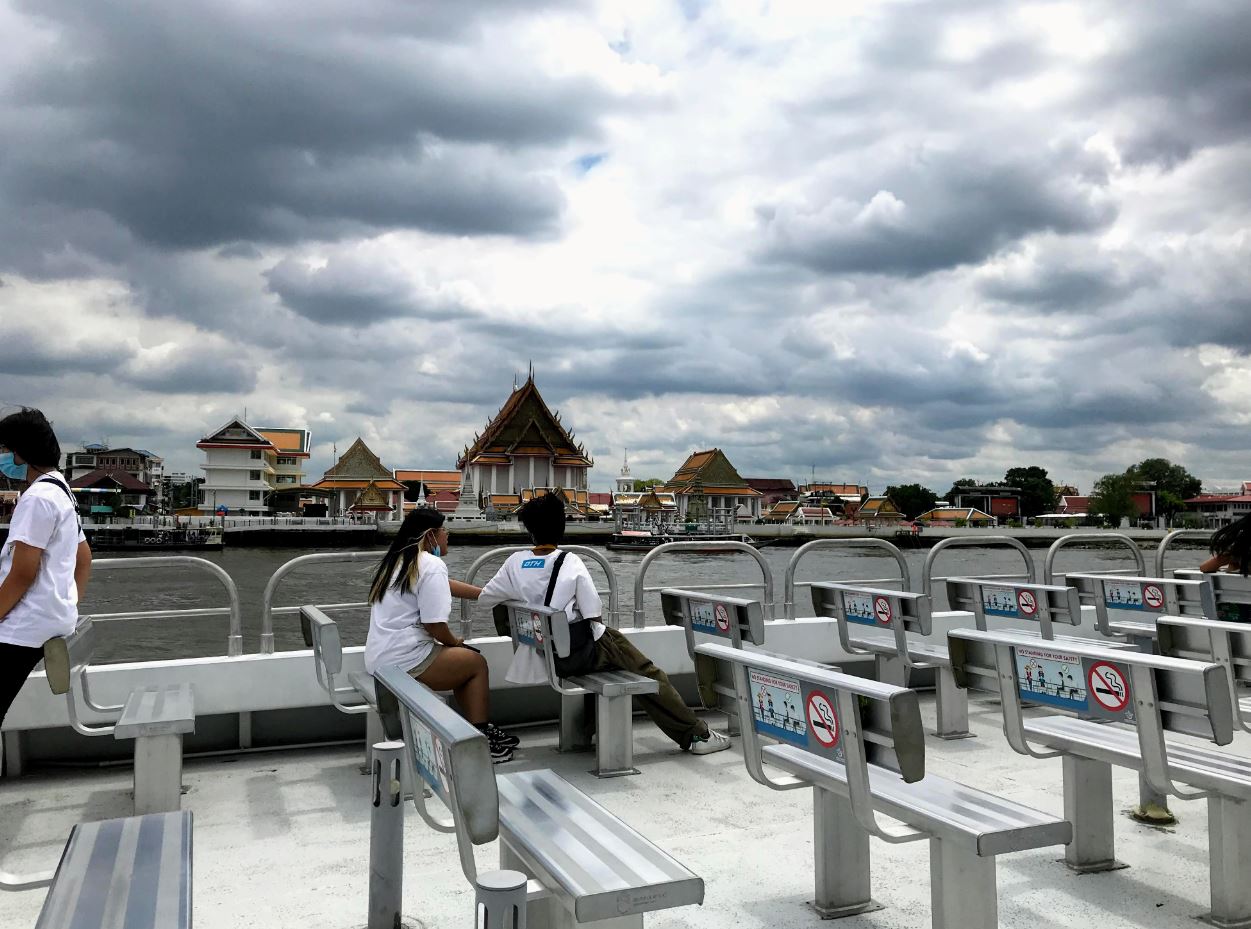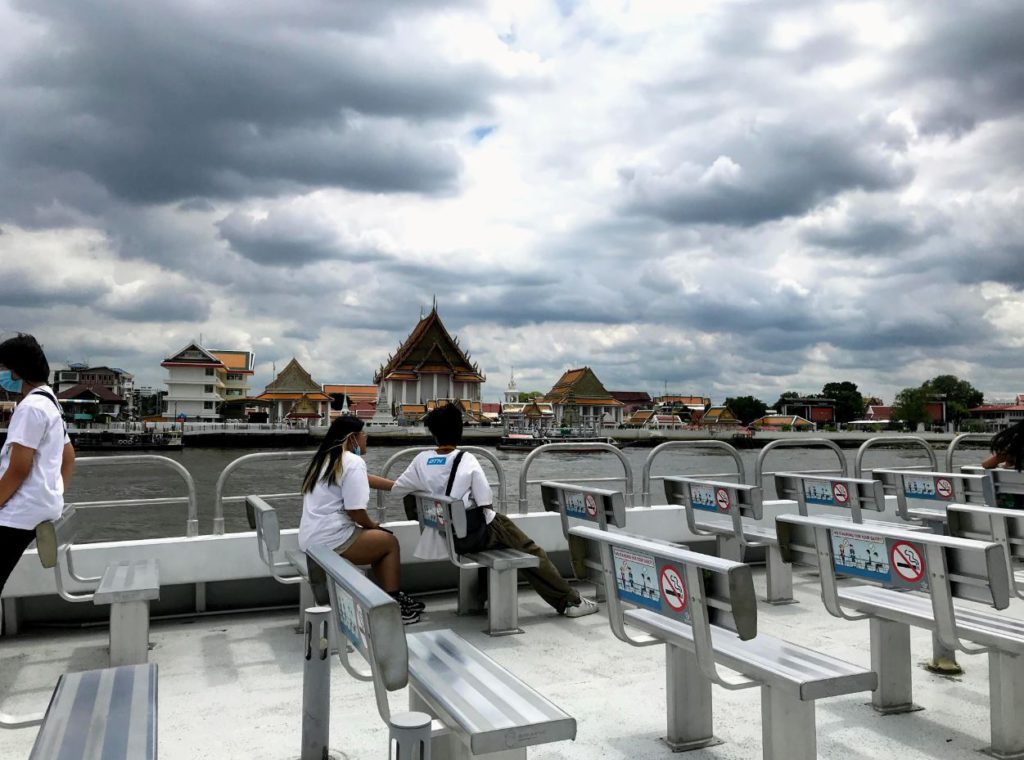 Canals
Recently, the local authorities are trying to revive the canals by starting boat service on some routes. This is both a unique way of travelling as well as an alternate to avoiding heavy traffic on some routes. There are only two routes operational right now.
It works pretty much the same way as a bus does. You reach a boat station, wait for a boat, hop on, buy the ticket on the boat and then get out at your destination. Here are the two routes operational. You can also find them marked on Google maps.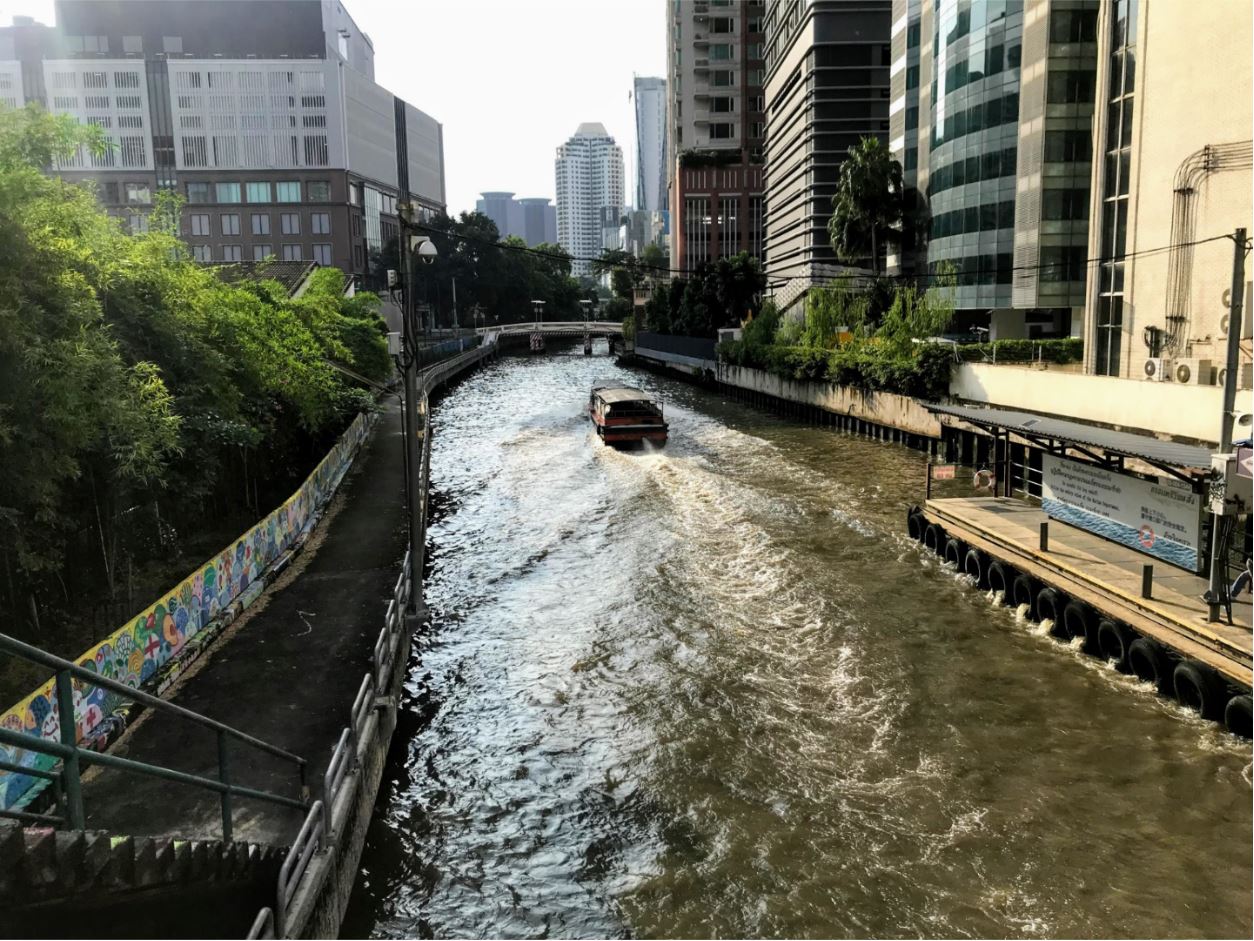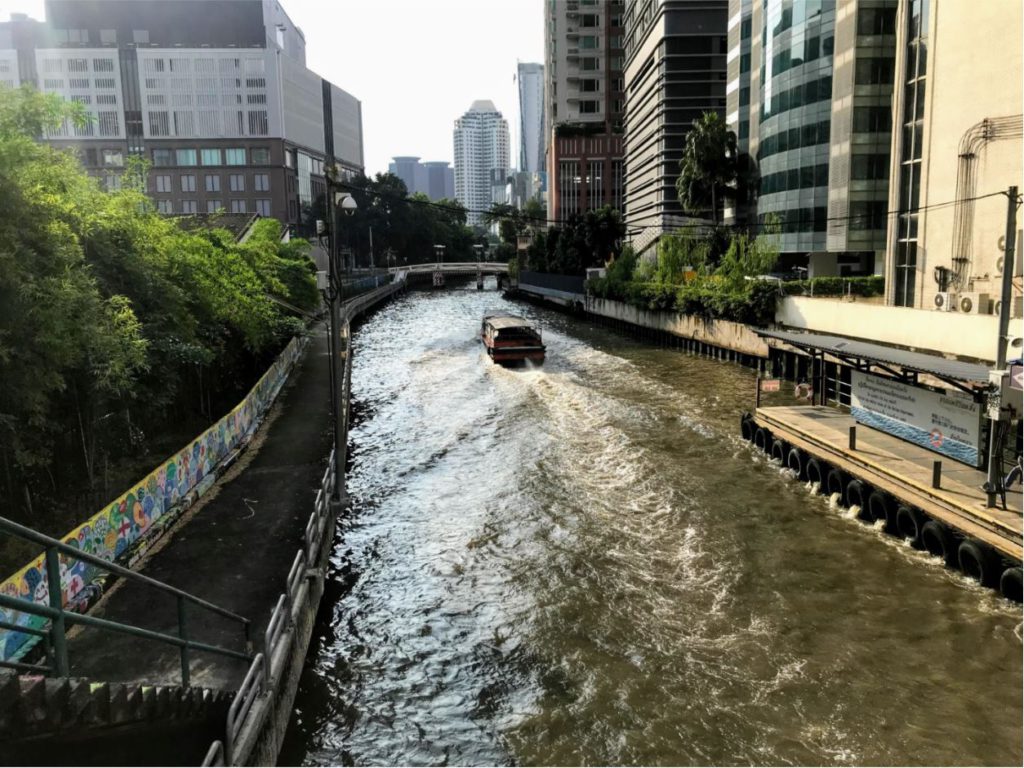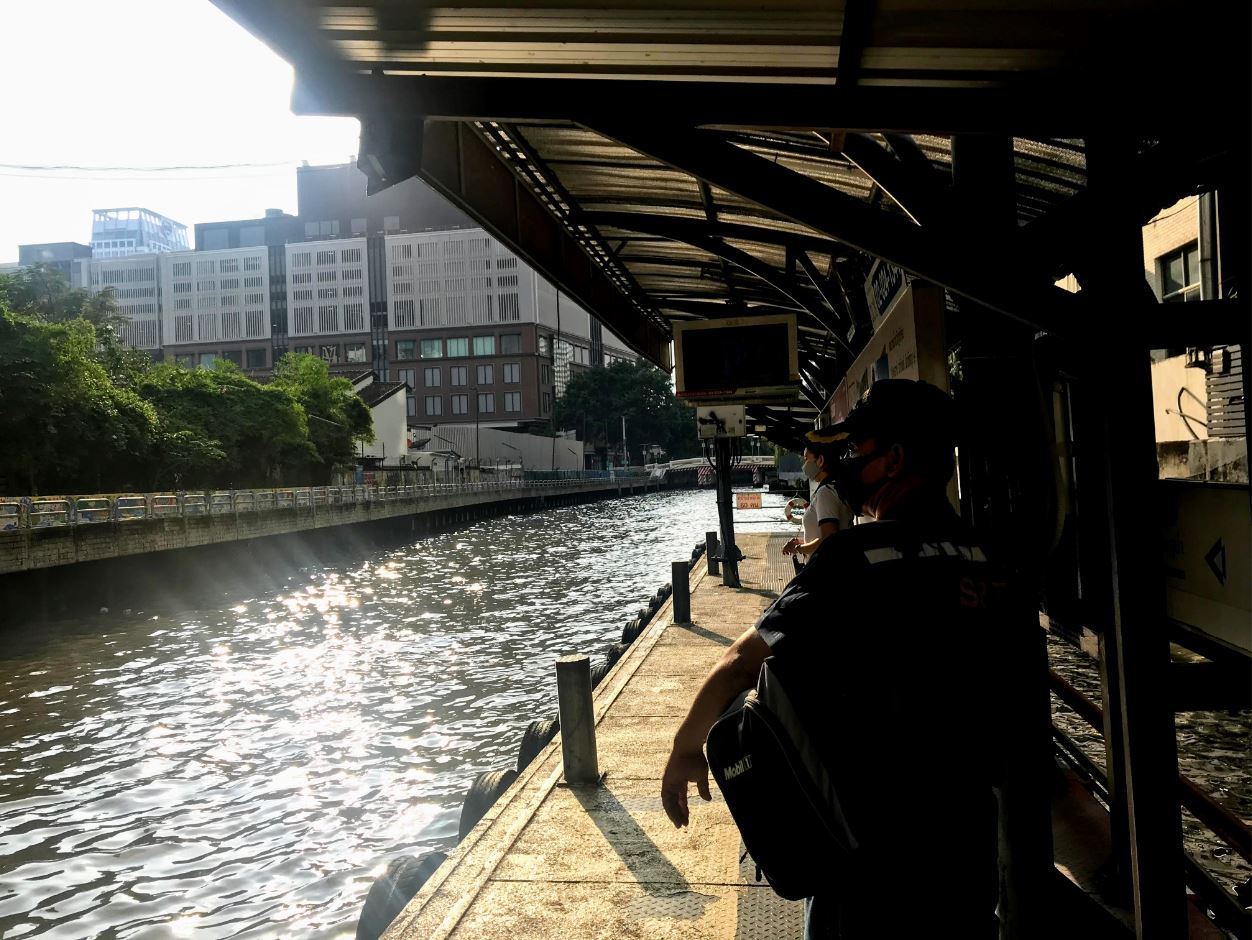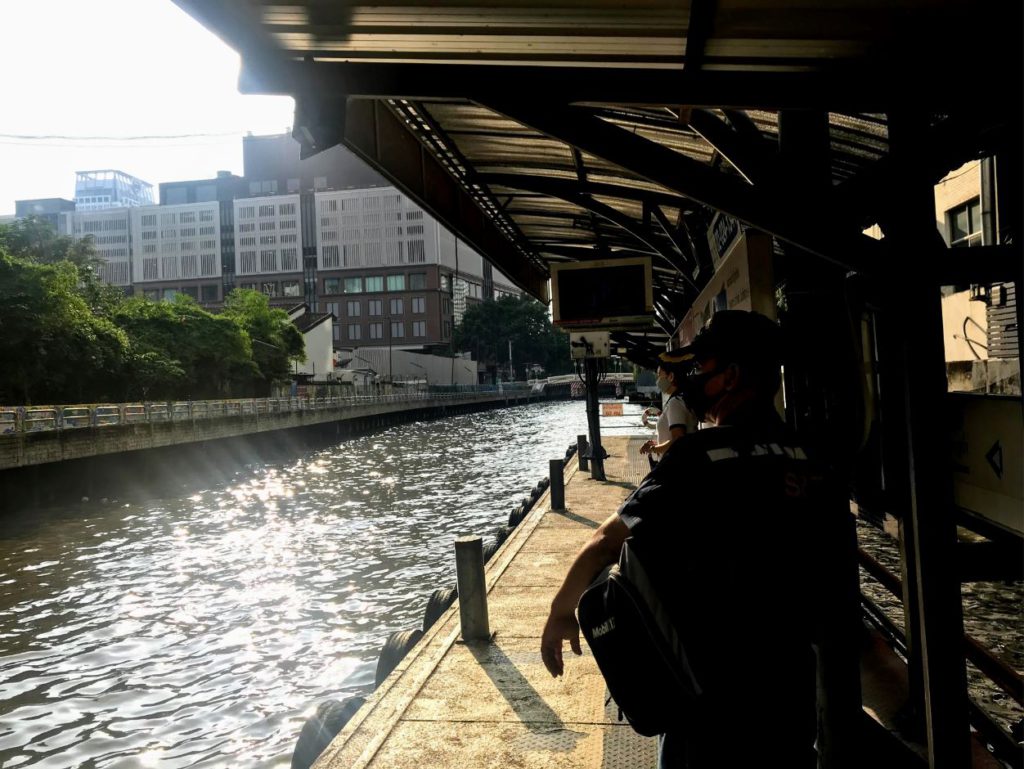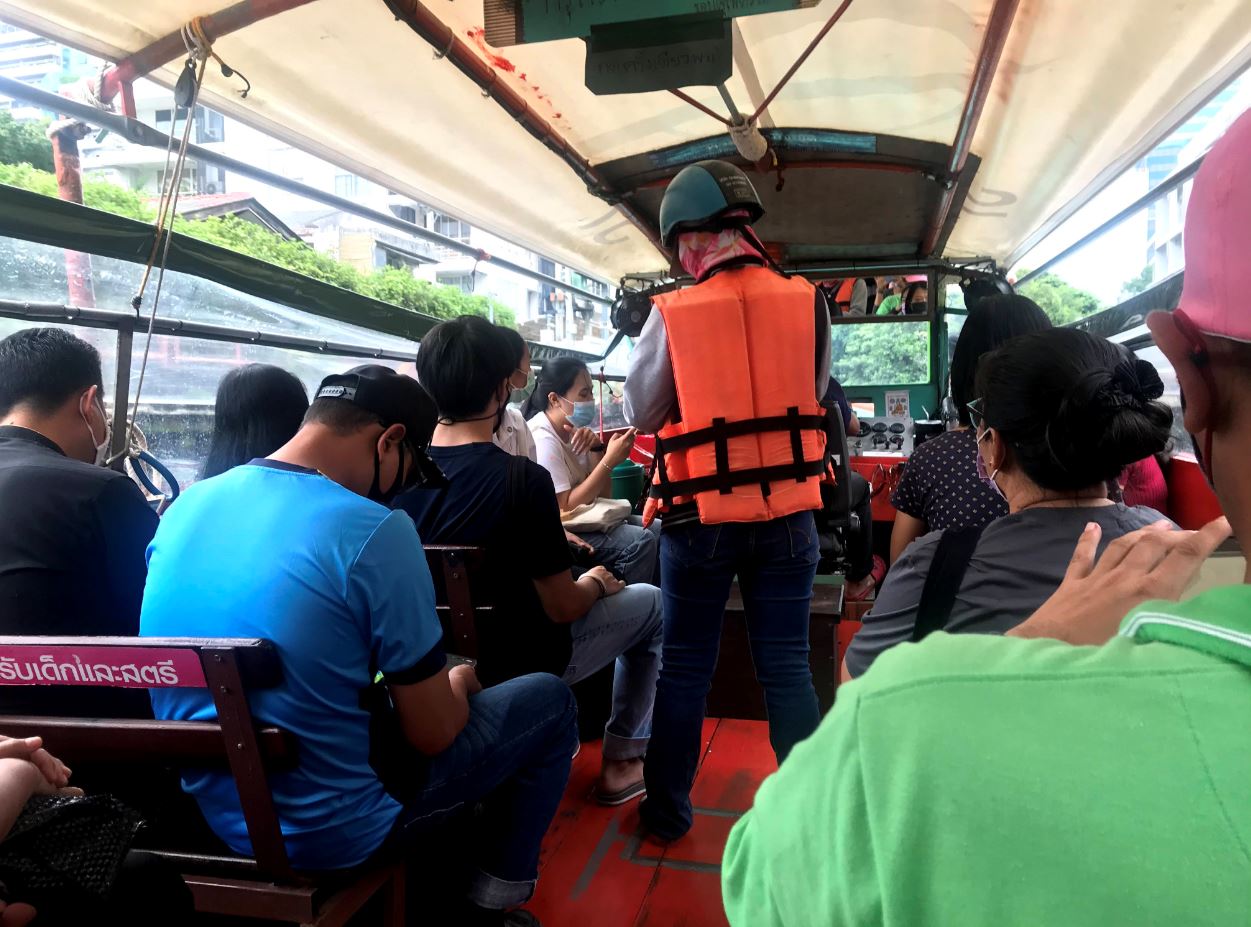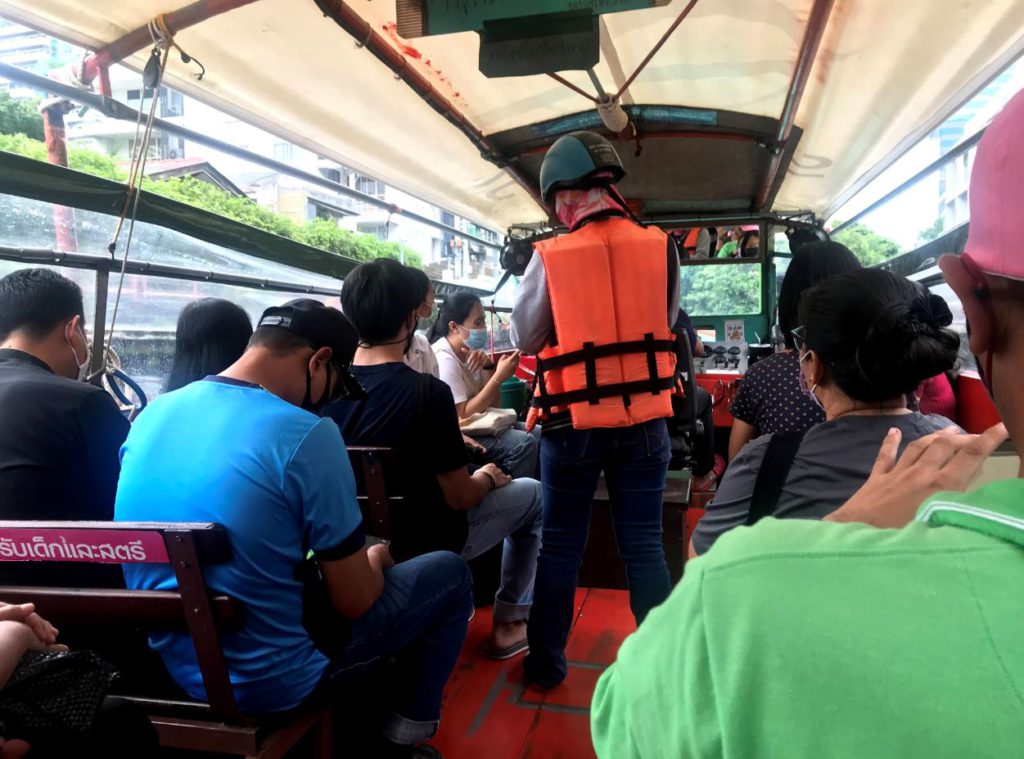 Others
Walking
This doesn't work for long-distance of course, but luckily a lot of the popular attractions are located near to each other. So you can walk the tour out if you are fit for it.
You can try out some walking tours that go around the Old town, Chinatown, Khaosan road, food tours in the old city and few other places for nightlife like Siam, Sukhumvit and Thong Lor.
Here are some walking tours you may like:
Bangkok: Wat Arun and Wat Pho Historical Evening Tour
Bangkok: Full-Day Hop-On Hop-Off Walking Tour
Make sure you wear comfortable shoes though. A pair of sneakers or sandals is best to go around Bangkok. Heels are a definite no-no.
Cycling
I will go ahead and be blunt to say that Bangkok is not a cycle-friendly city. To ride a cycle inside the city is equivalent to risking your life in several areas. So just don't go without some practice. Or at least until you are aware of the areas with decent cycling lanes.
There are a few cycling tracks outside the city that cyclists often frequent. You can also find some cycling tours online if you are interested. Historical parks like in Ayutthaya or Ancient City have bikes to enable tourists to explore the area in more sustainable ways.
Here are some tours you may enjoy.
Bangkok Riverside Bicycle Day Tour by Bangkok Bike Adventure
If you are living in Bangkok and want to do this more, you can look at joining some Meetup groups that can give you more details or join organised trips.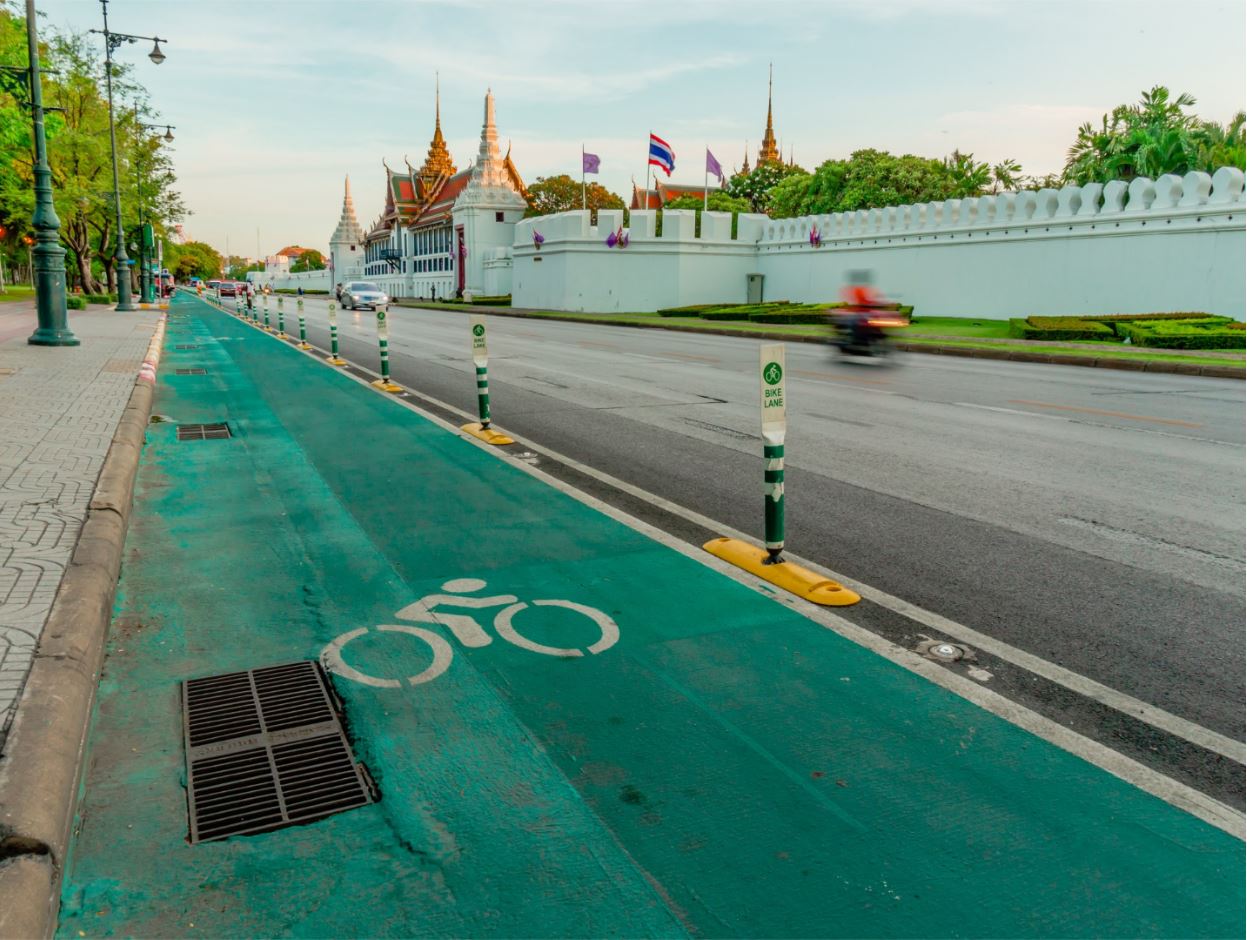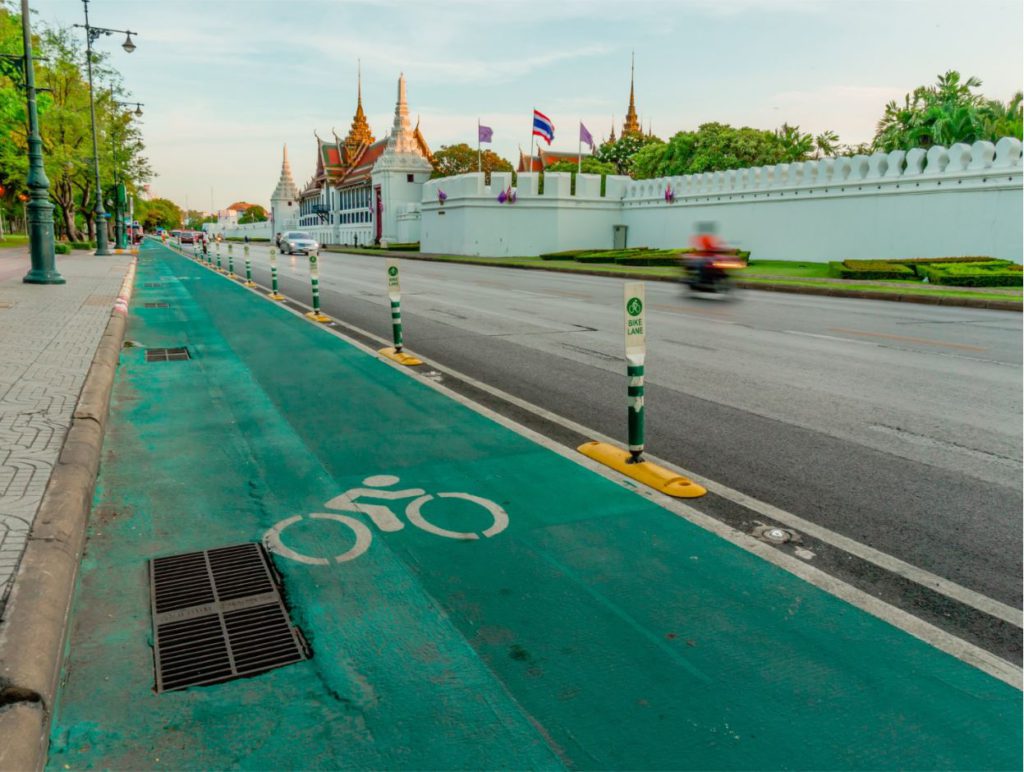 E-scooters
E scooters are fairly new in Bangkok. I have seen a few people using an e-scooter in the city. It is not that difficult, to be honest, but it does take some time and energy to get used to. Especially since the city does not have the infrastructure for it.
Your biggest hurdle, in this case, are the 'not-so-great pavements that may chip off as you step on them. Rains make it even worse.
But if you want to try something new, you can look at taking some tours with rented e scooters around a set track.
Check out this tour: Go Bangkok e-Scooter Tour
If you like what you experience you can go ahead and rent escooters at Scoota.asia.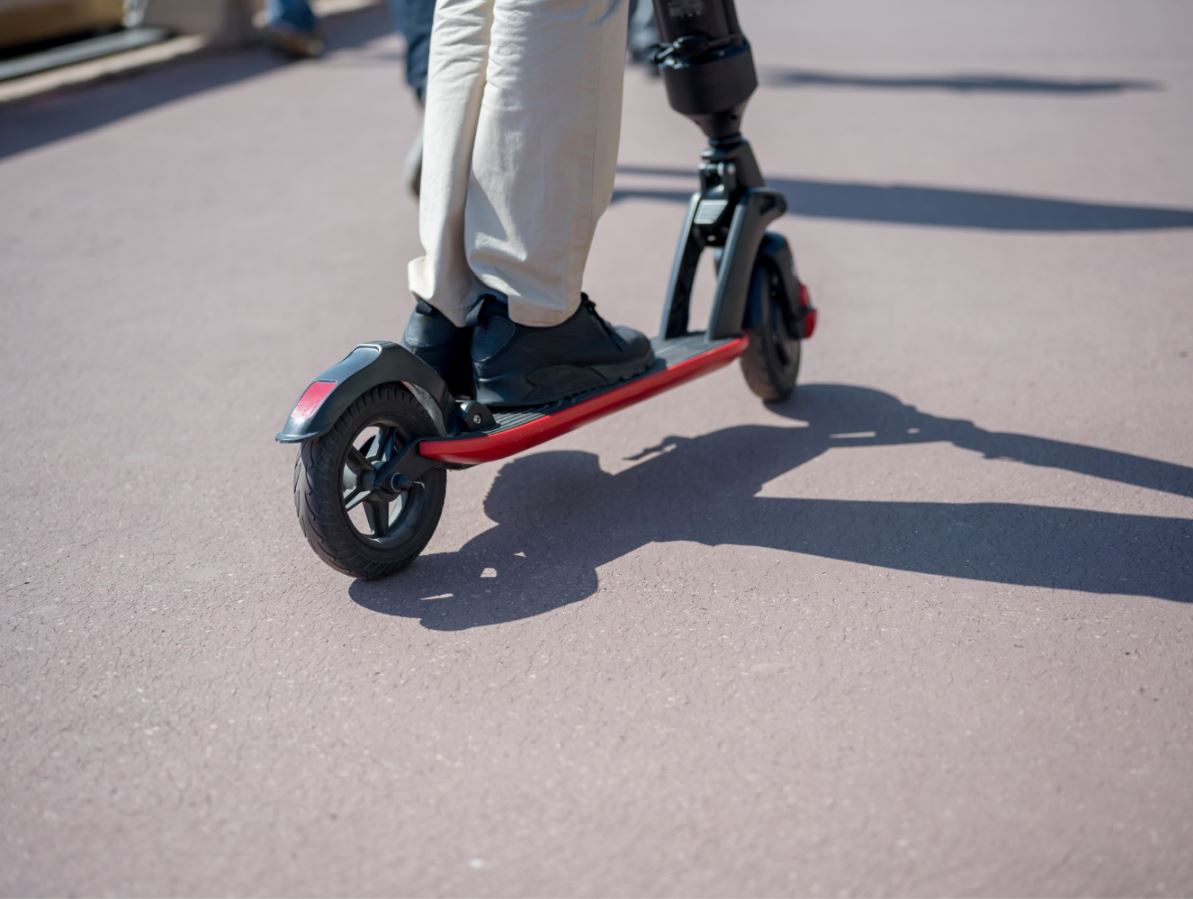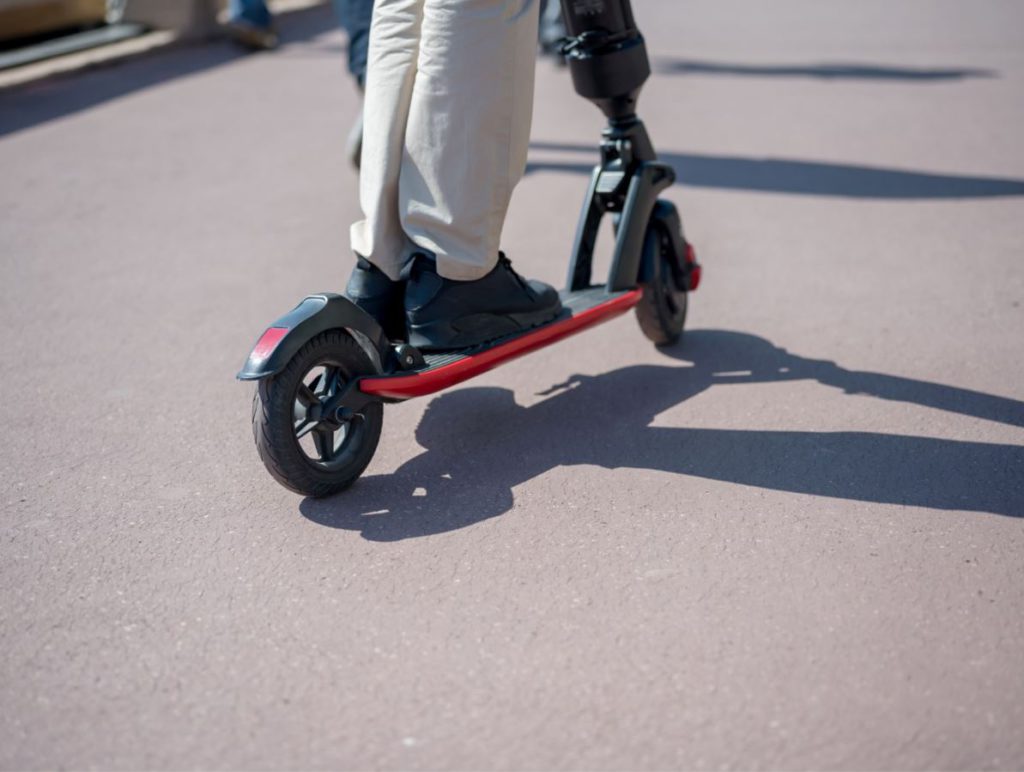 Save On Pinterest


Related Articles