30 Jun

A Travel Guide to Visiting Wat Arun, Bangkok

Visiting Wat Arun in Bangkok will come up again and again in the list of top tourist attractions in the Thai capital city.

It is not just a tourist destination but an important religious site for the locals.

It is almost like a must-visit. But you may not register its beauty until you have seen it at night.

And while I have been in the area many times and even visited Wat Arun during the day before, I had to go back to look at the much-talked-about gleaming tower in gold at night.

Now there are many ways to do it.

And here is everything you need to know about visiting Wat Arun in Bangkok.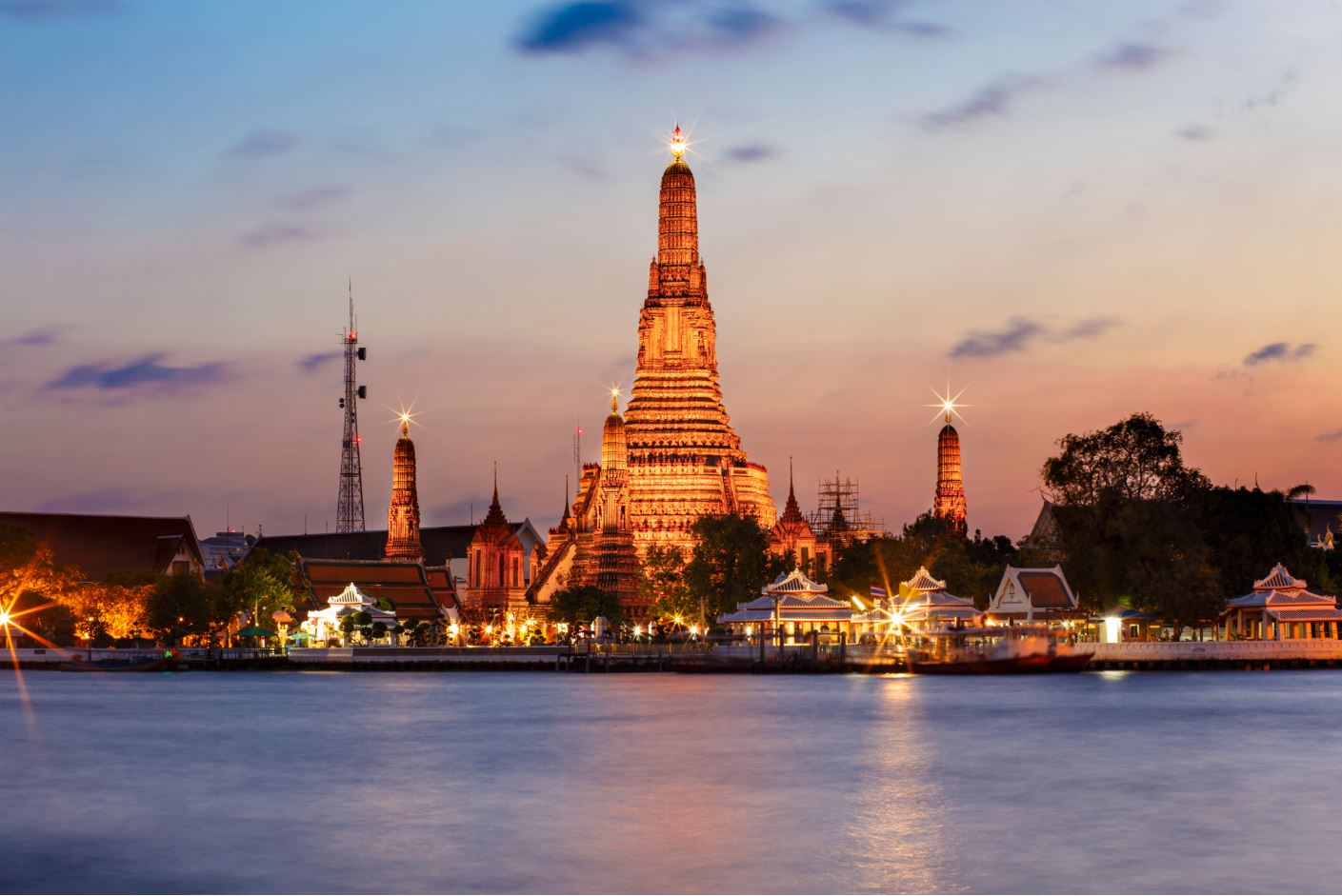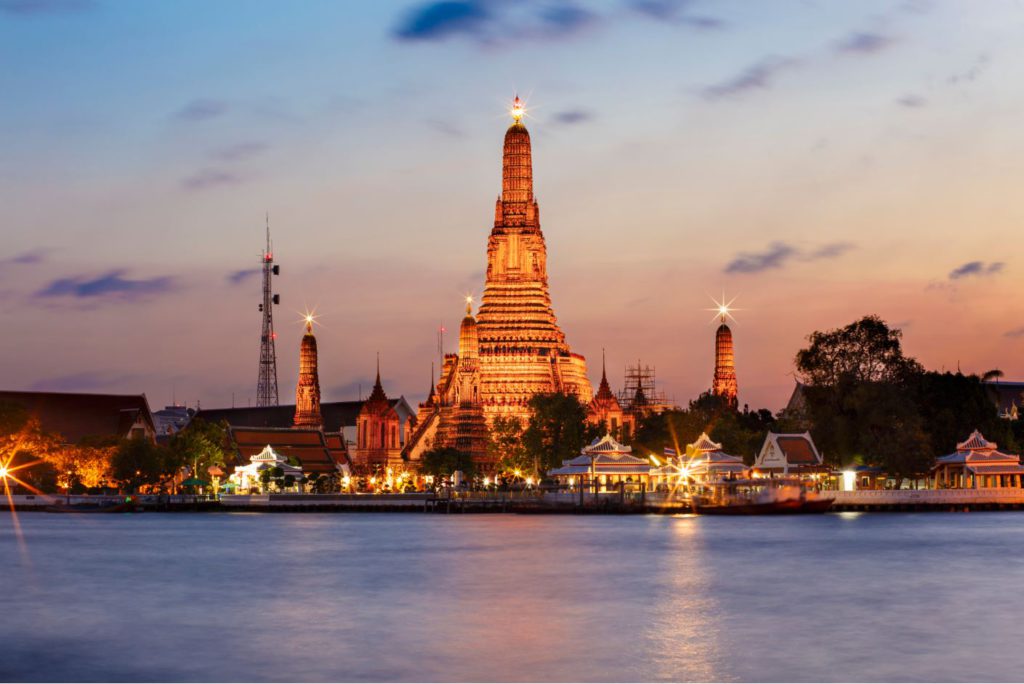 Wat Arun History
The visualization of Wat Arun came to the then-king of Thailand, Taksin in 1768. The legend says that the king arrived at a small shrine at the break of dawn after escaping from the Burmese invaders who destroyed the capital city of Ayutthaya.
Later, King Taksin moved his new capital city to this area, Thonburi. In fact, the temple (now Wat Arun) was once inside the premises of the old Royal Palace.
Wat Arun was once also home to the Emerald Buddha statue, one of the most important idols in Thailand. His son, King Rama I moved both, the palace and the statue to the other side of Chao Phraya River.
Taksin's successor's King Rama I, II and III built and rebuilt Wat Arun increasing the height of its spire manifolds. However, a substantial restoration took place between 2013-17 that brings Wat Arun to its present form.
Where is Wat Arun Located?
Wat Arun in located on the opposite side of Chao Phraya River from Bangkok City. It is directly opposite to Wat Pho which is next to the Grand Palace of Thailand. Thonburi Grand Palace (Old Royal Palace) is next to Wat Arun.
How to reach Wat Arun
Here are a few ways you can reach Wat Arun:
MRT + Ferry: The shortest and the most fun way is to travel by a combination of Metro and a ferry. Get down at Sanam Chai MRT Station and walk 850m to Tha Tien Express Boat Pier. Take a ferry that crosses the Chao Phraya River to the other side for THB 4 per person. Get down and walk to the temple grounds on the left.
It is possible to miss the entrance to Tha Tien Pier. The place also has shops and restaurants so you may take it as a market complex. Below is the photo to the entrance.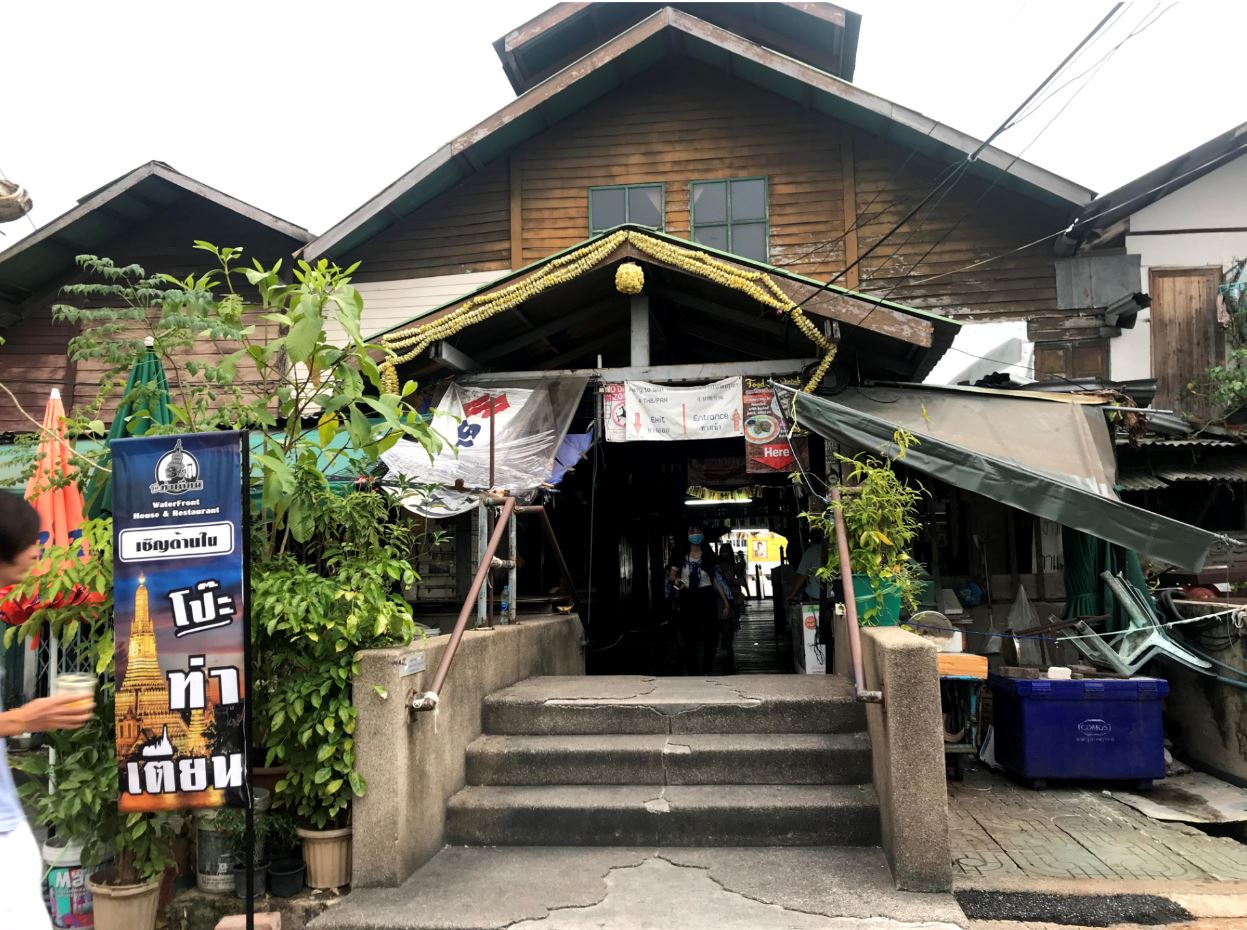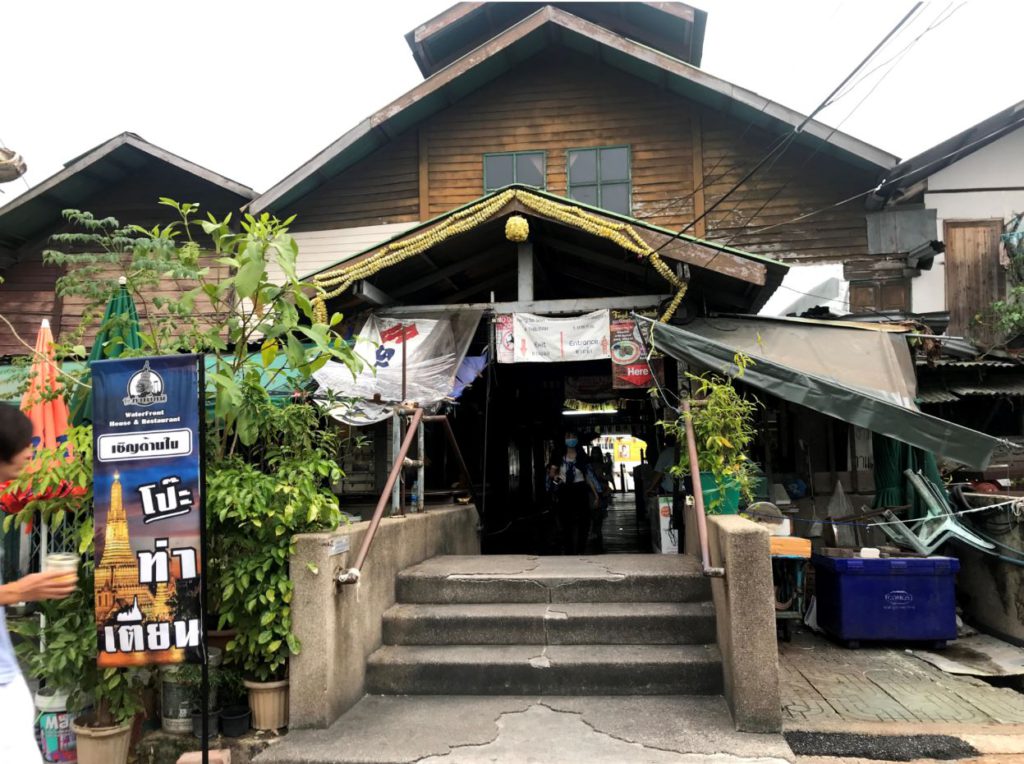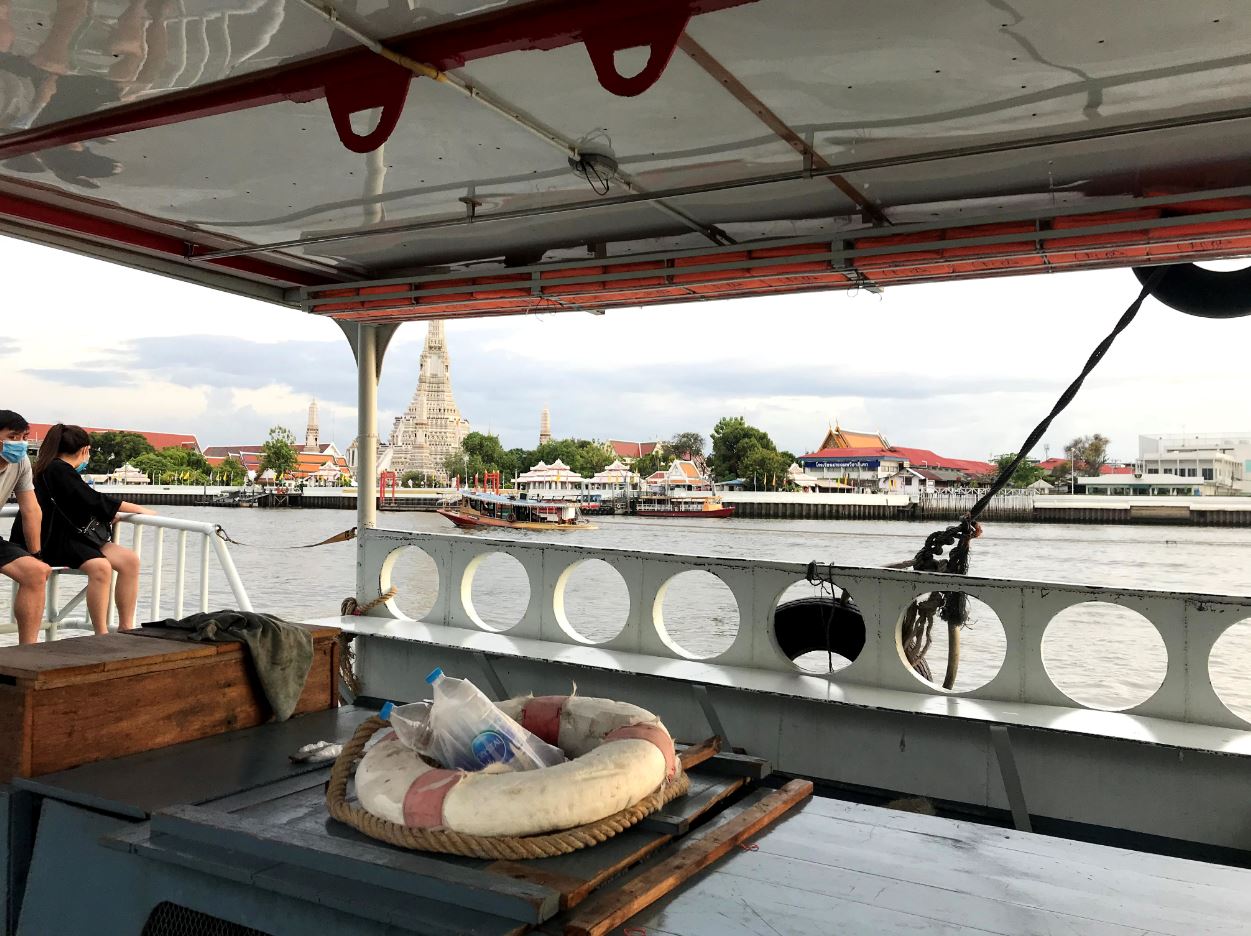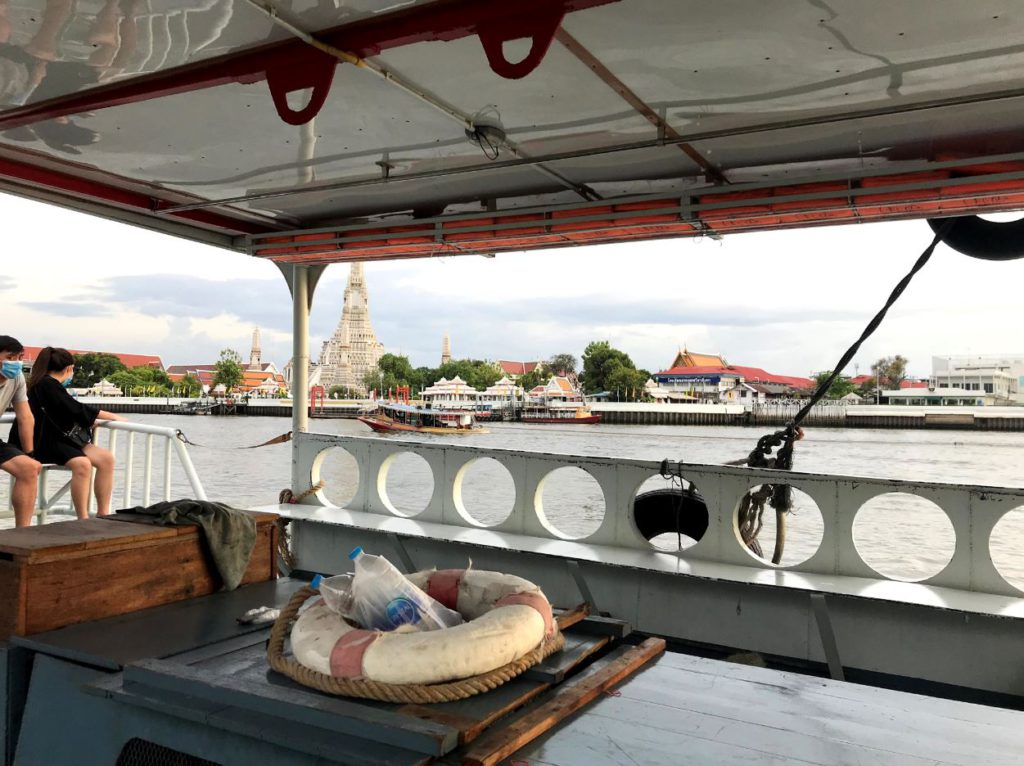 Wat Arun Timings
Wat Arun opening hours are from 8 am to 6 pm every day of the week. The last ticket is sold around 5.30 pm. You can remain on the premises for a while even after 6 pm.
The best time to visit Wat Arun is in the evening. You can reach the place by 5 pm and enter the premises. Spend an hour or more there and then cross over to the other side of the river. You get to witness Wat Arun in golden halogen lights after the sunset. It gets better as the sky gets darker.

Wat Arun Entrance Fees
Wat Arun tickets for Foreigners: THB 50 per person
Wat Arun tickets for Local Thais: Admission is free
Visiting Wat Arun
As you step inside the garden area after getting down from the pier, you will encounter many traditional Thai buildings with scarlet conical roofs. The one on the right has two mythical demons guarding the entrance.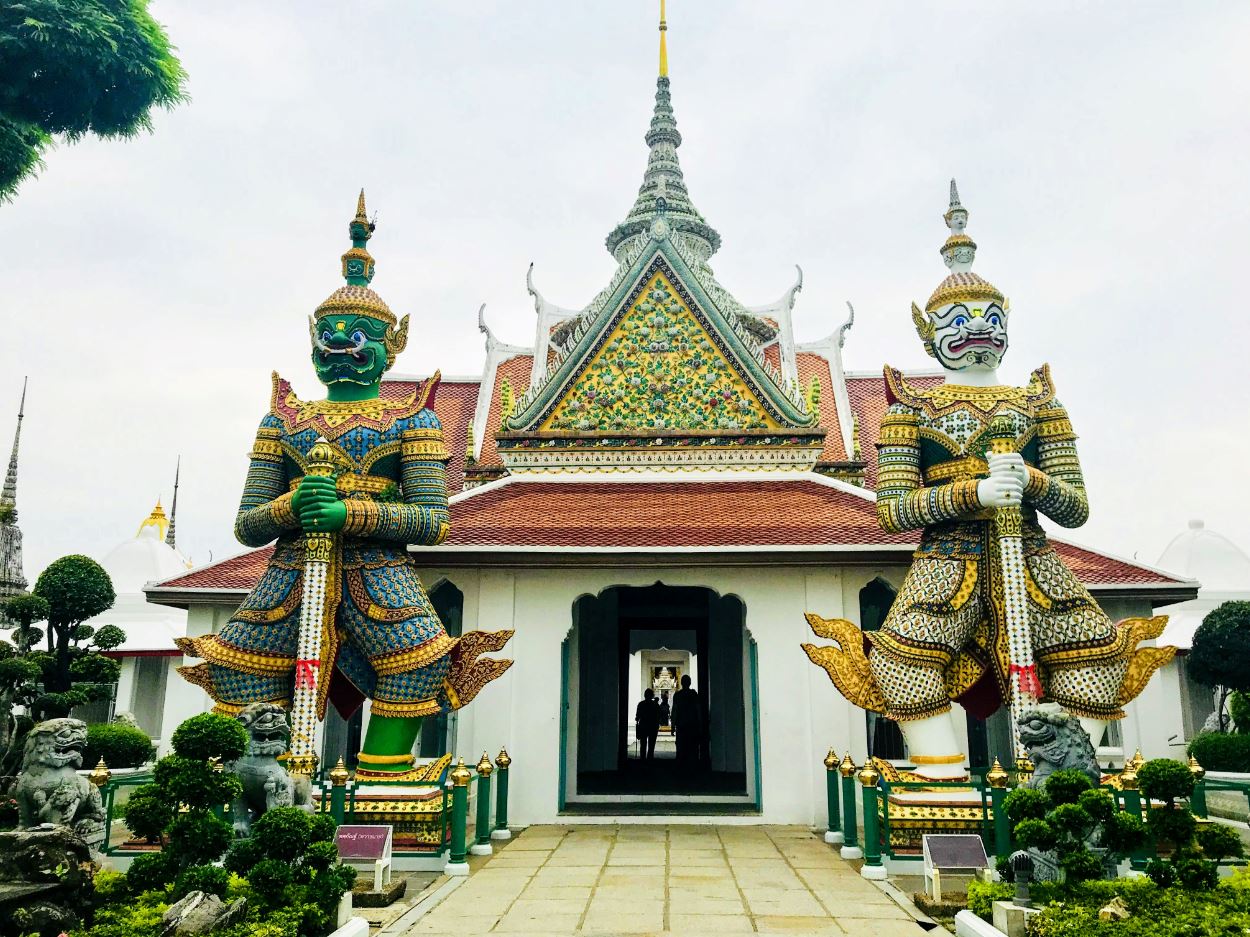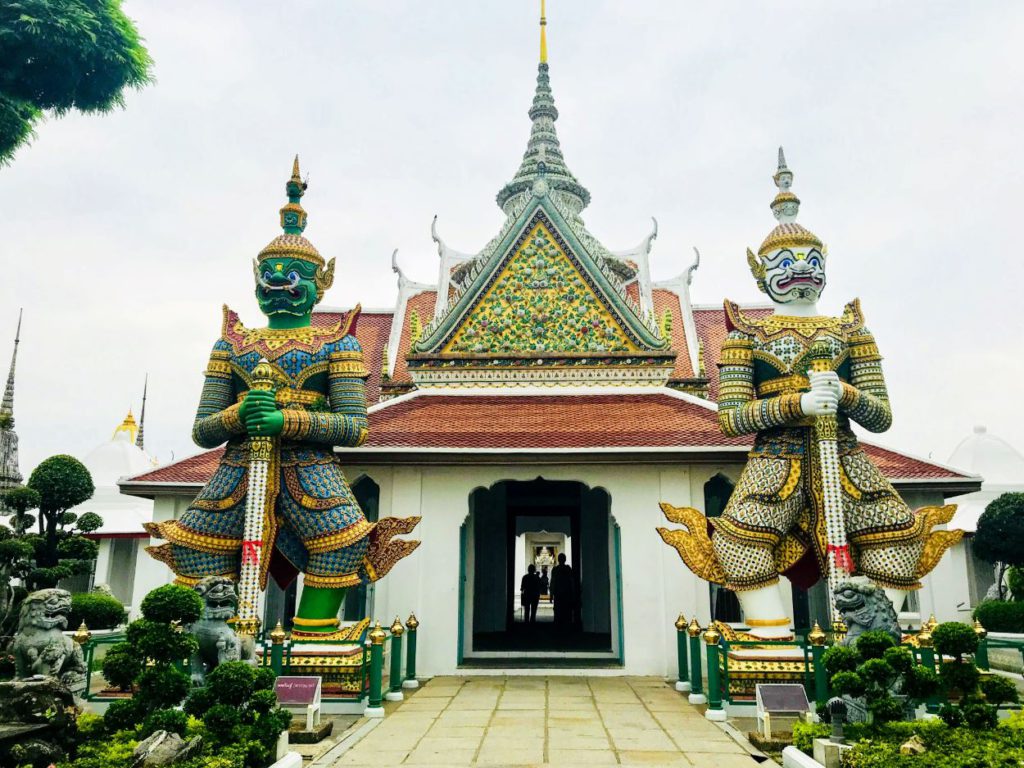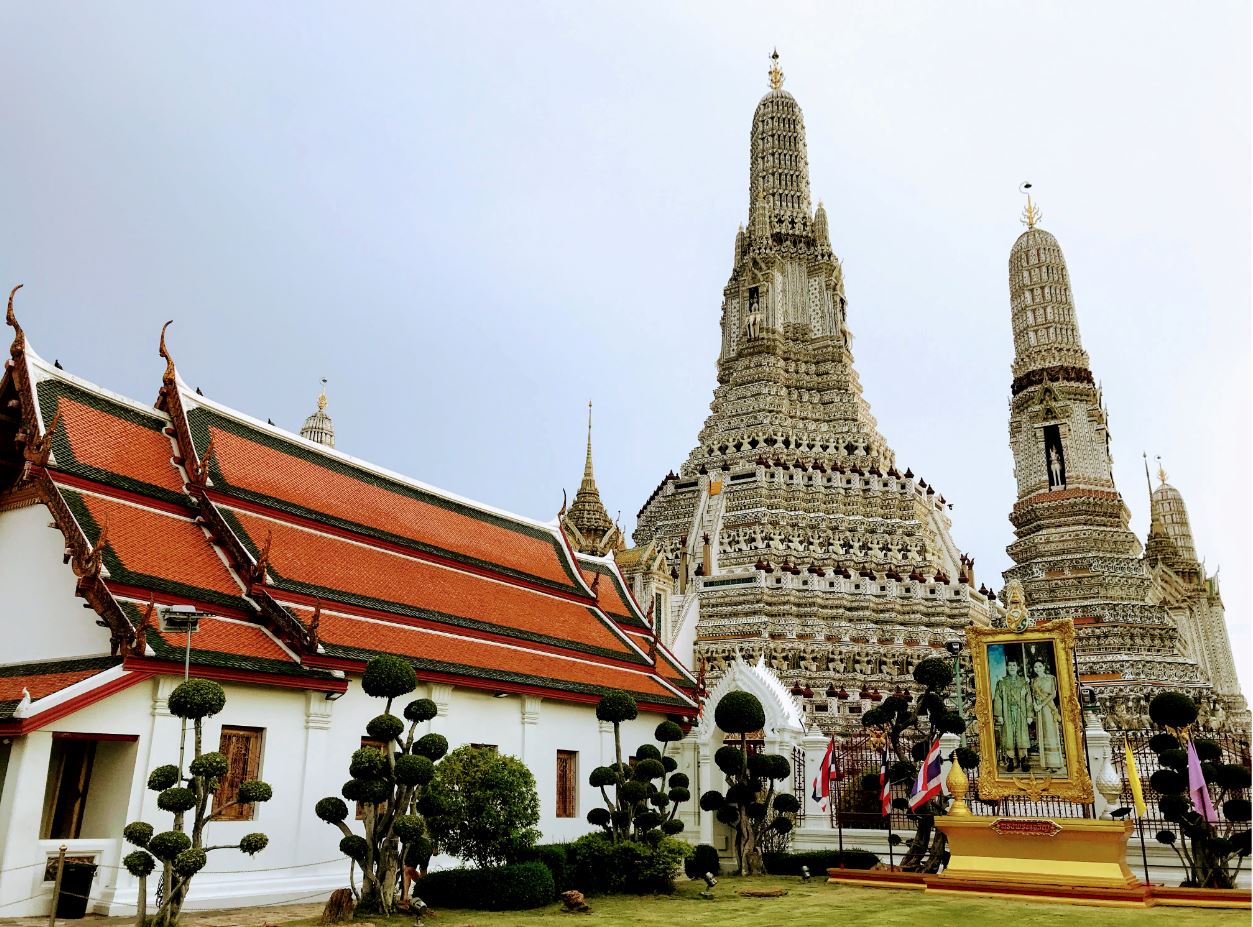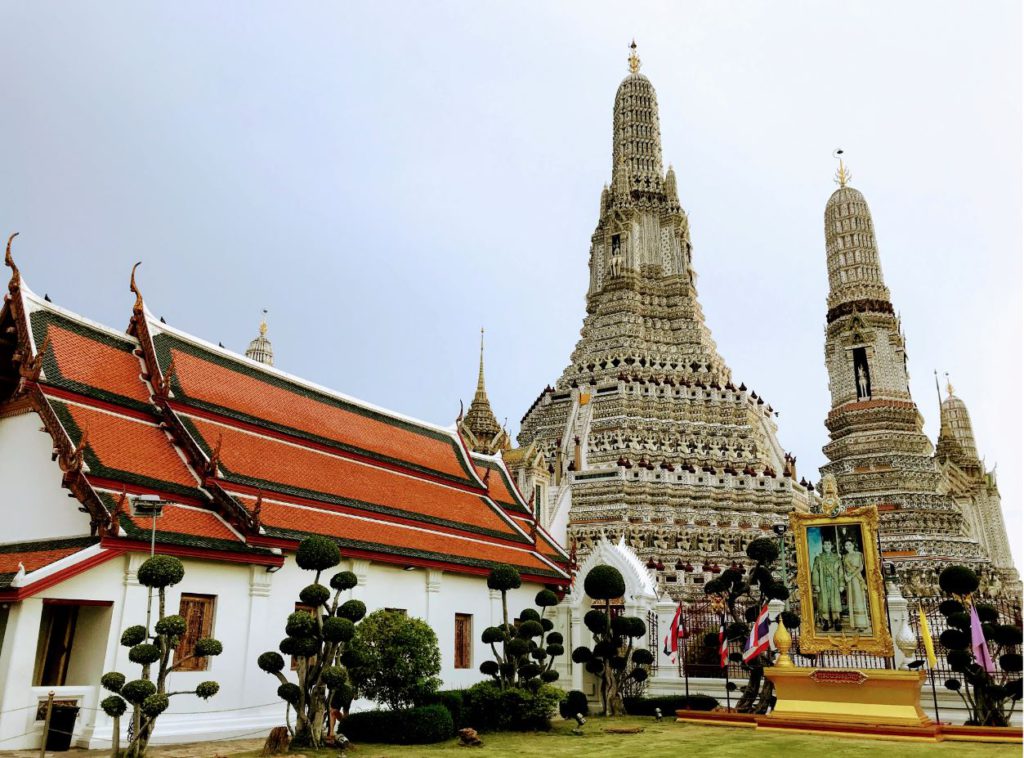 The garden itself has numerous bonsai and topiaries. Several statues of Chinese soldiers and mythical (and sacred animals) hold important points around the main spire.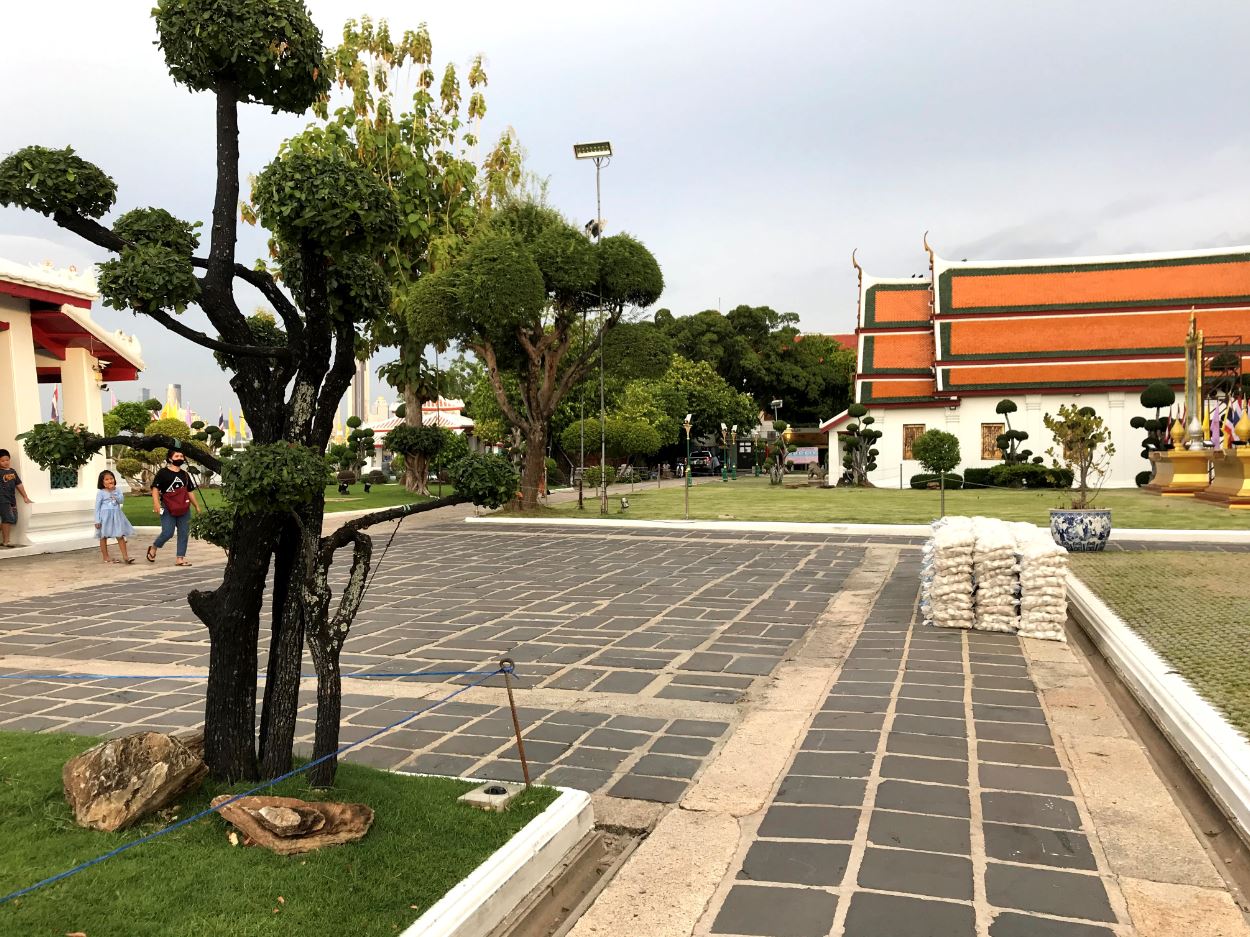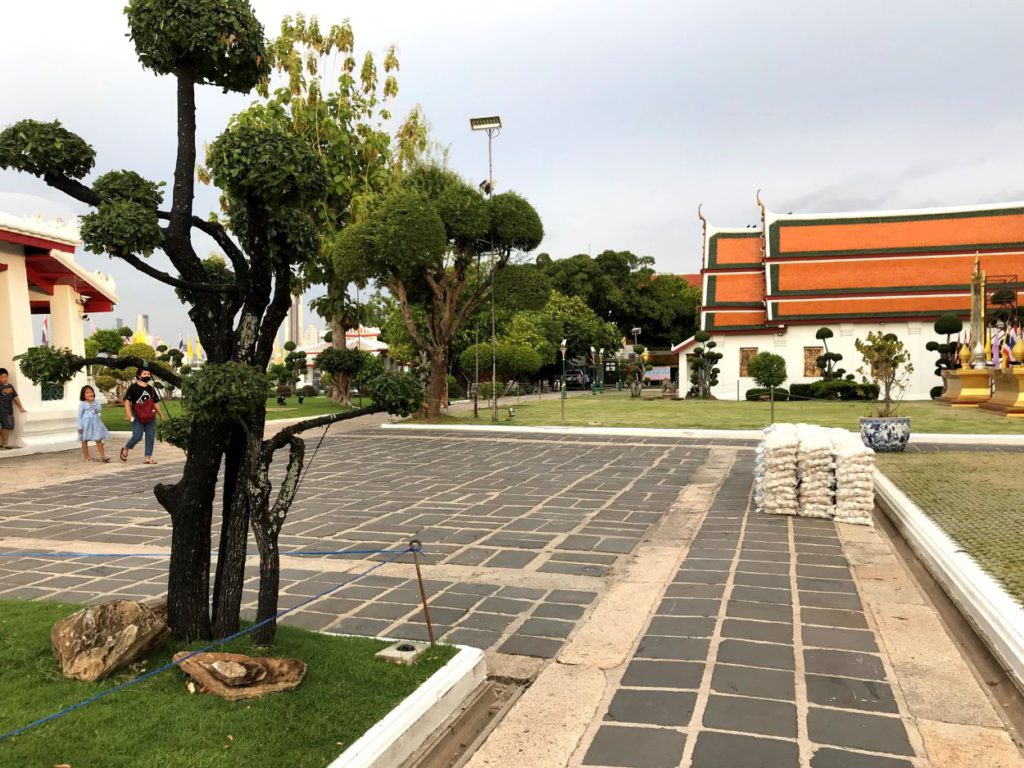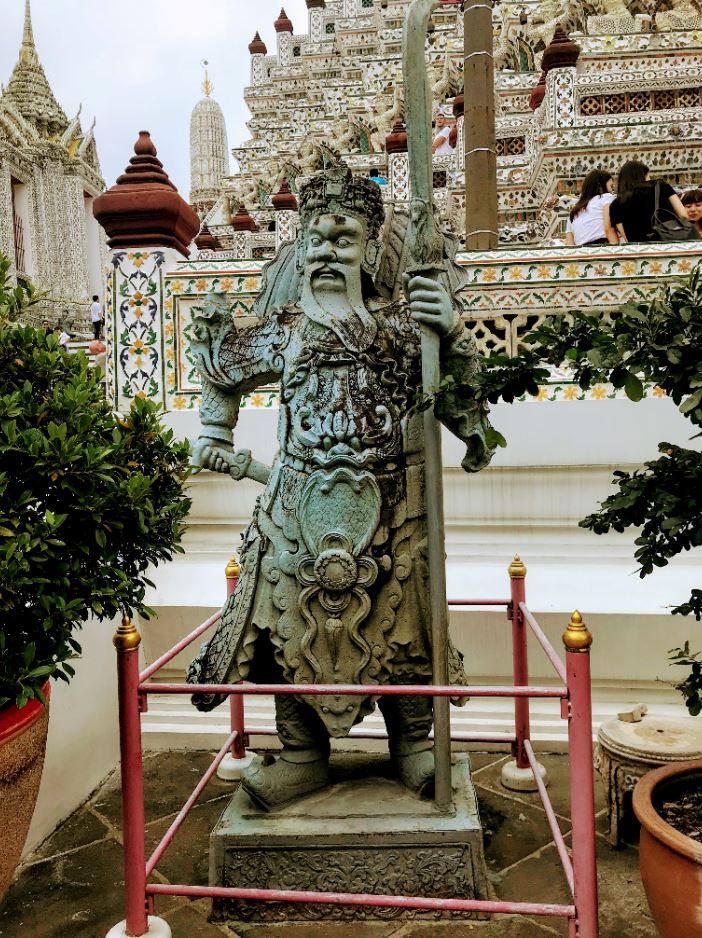 The architecture of Wat Arun has been inspired by various cultures. The main and central spire called a 'prang' has been taken from the Khmer temples. Additional to the central spire there are four smaller spires on four corners.
The main spire is covered in thousands of colorful ceramic tiles and seashells. The patterns are so intricate that they took several years to complete. And until 2018 it was all covered in scaffolding, so the beauty that you look upon is fairly recent.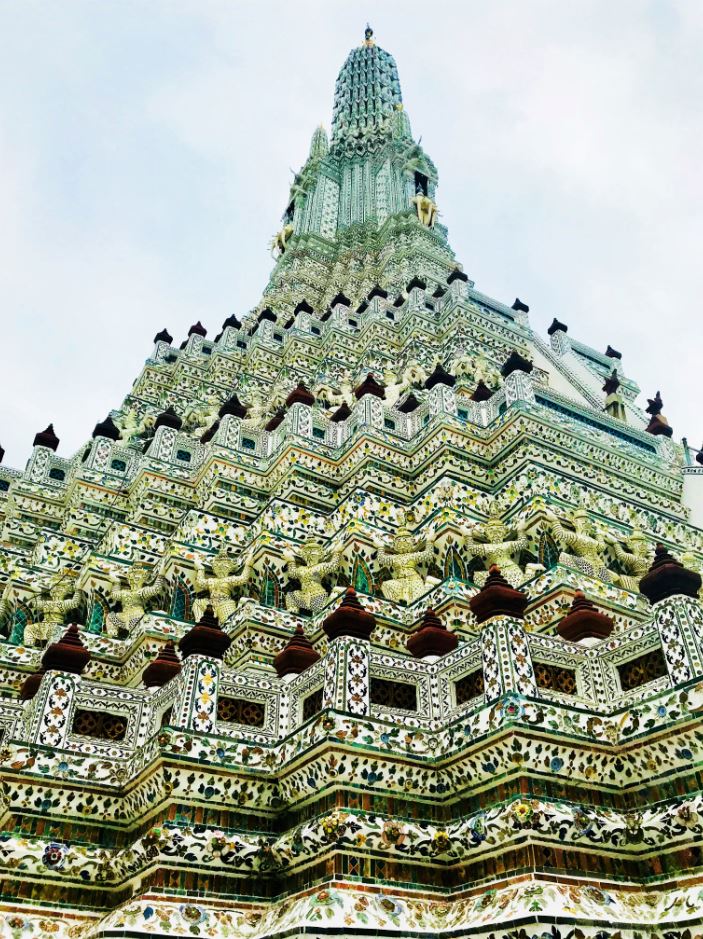 There are steps that go up around one-third of the structure. The steps are somewhat treacherous, so make sure you climb down carefully. From the top of the stairs, you will be able to catch a view of the Chao Phraya River and even parts of The Grand Palace and Wat Pho on the other side.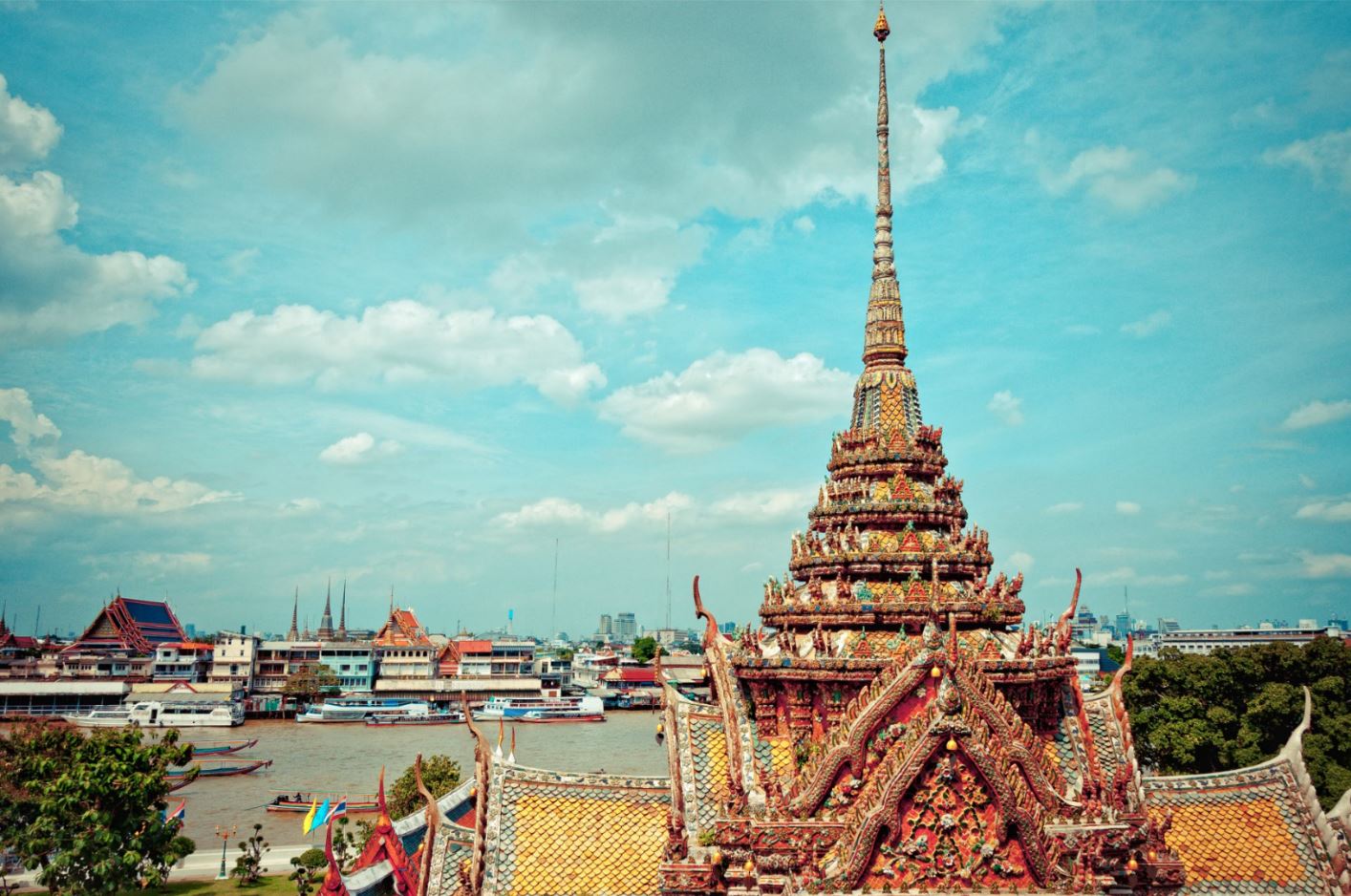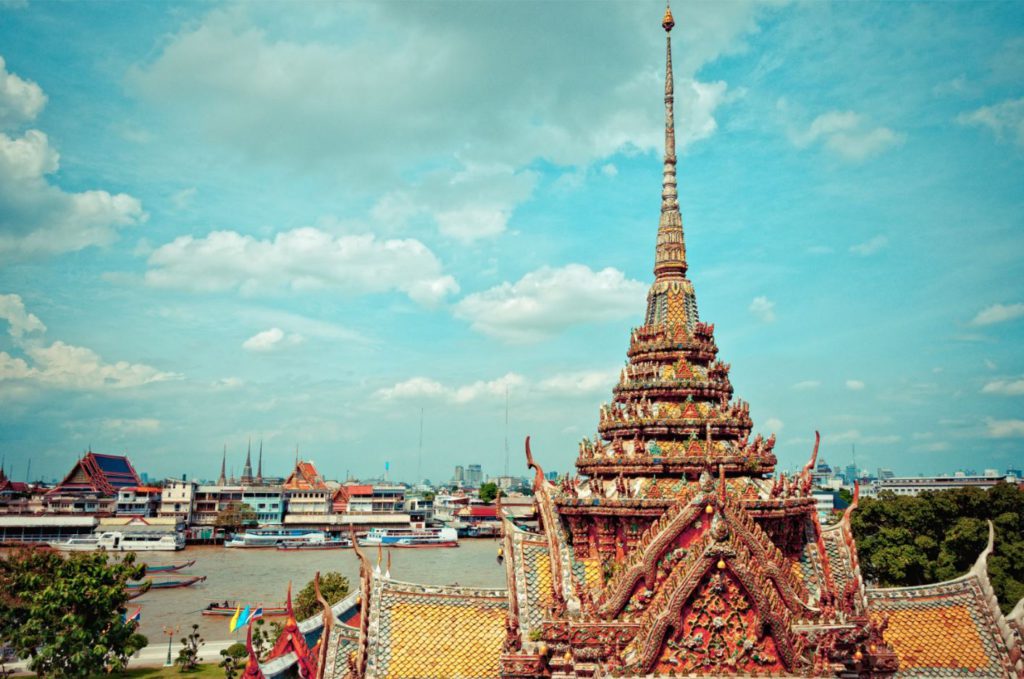 The surrounding gardens have restaurants that serve fresh local Thai food and beverages. We found some super-cute sculptures decorated at the edge. We also spotted like a dozen jet-black colored cats lazily enjoying the visitors.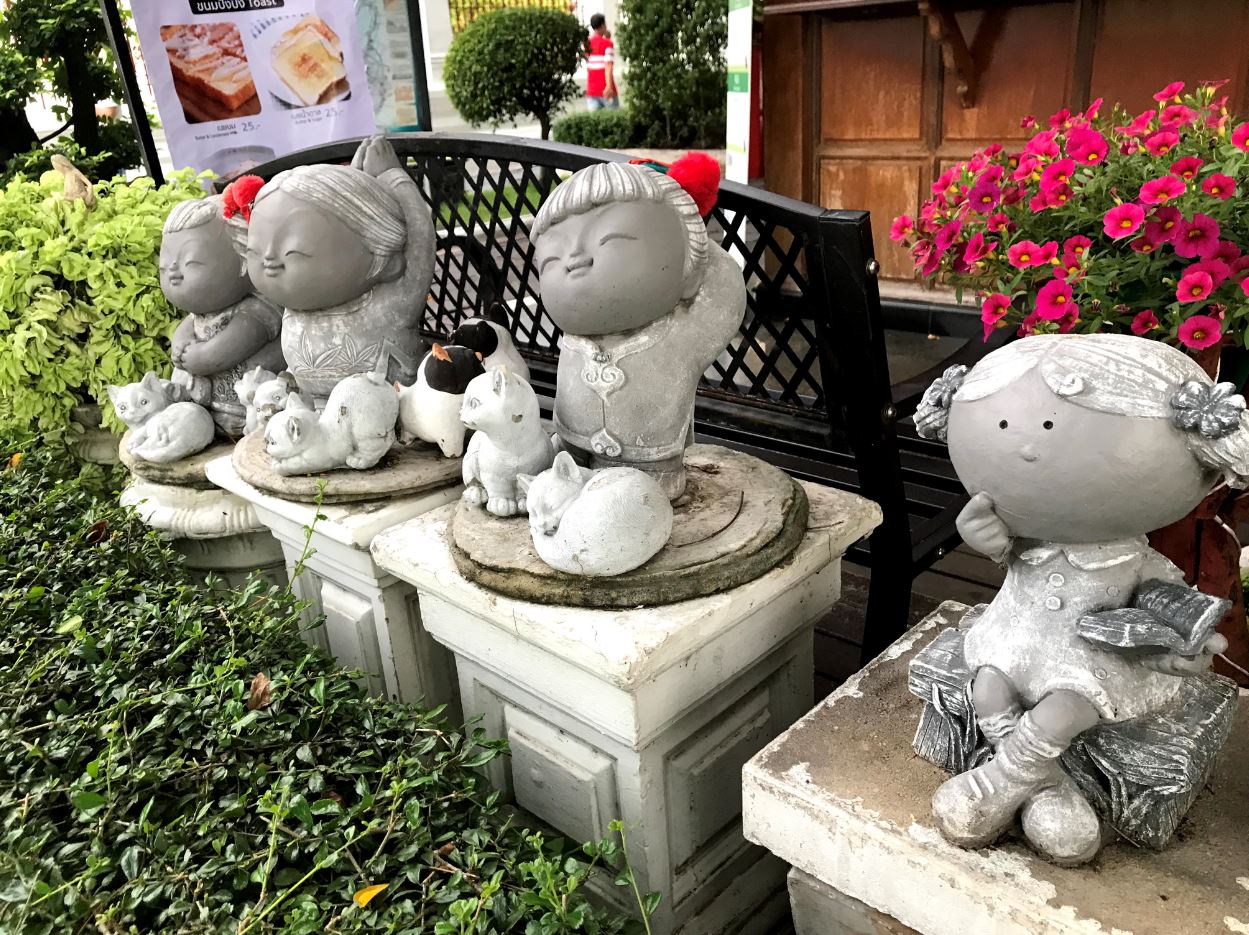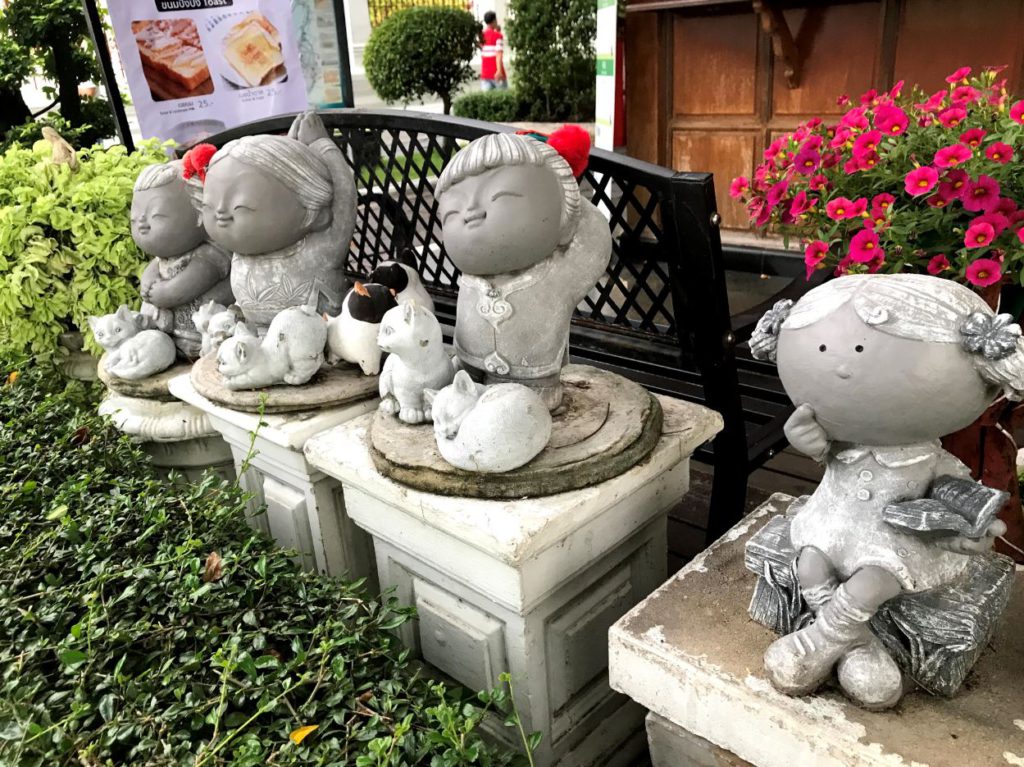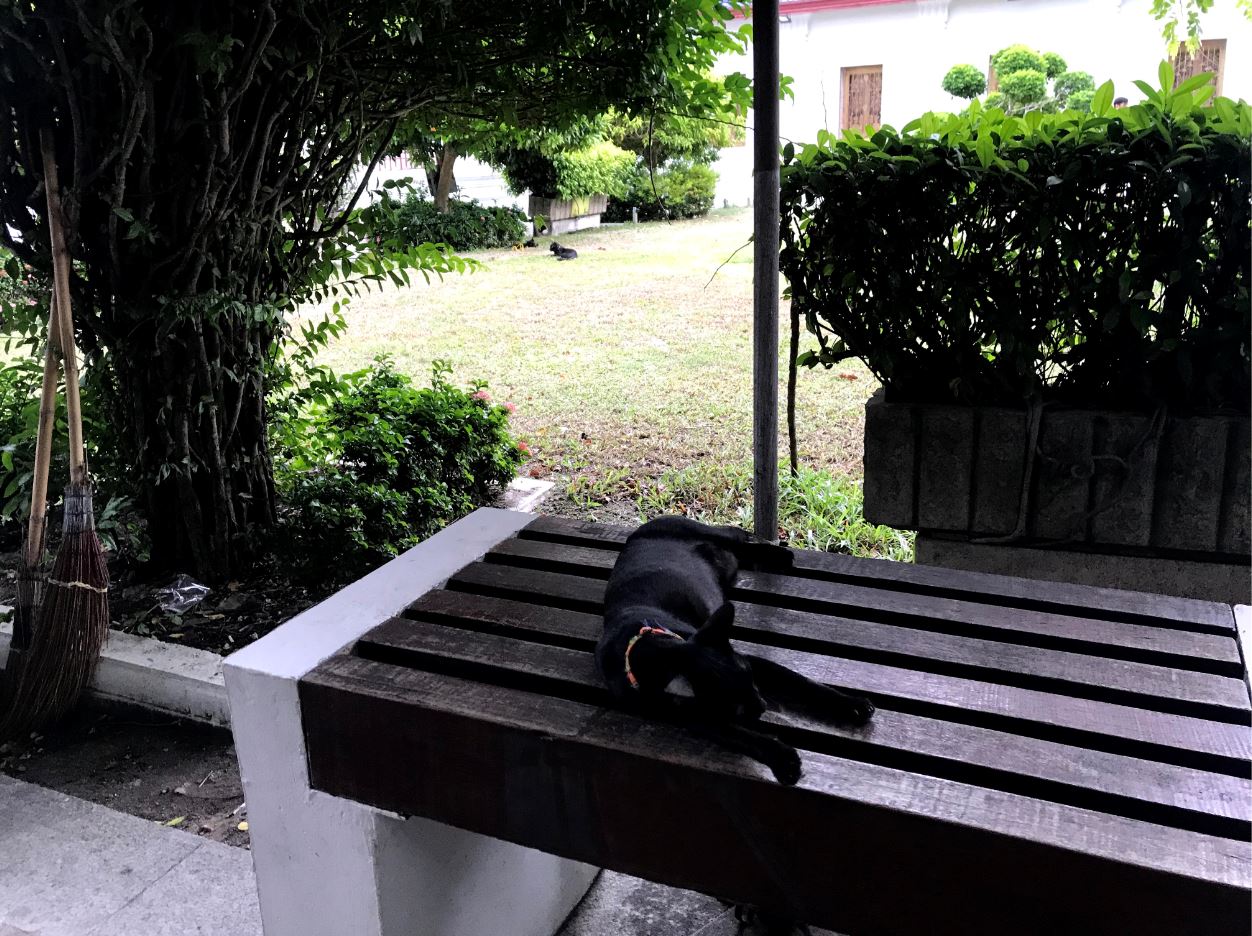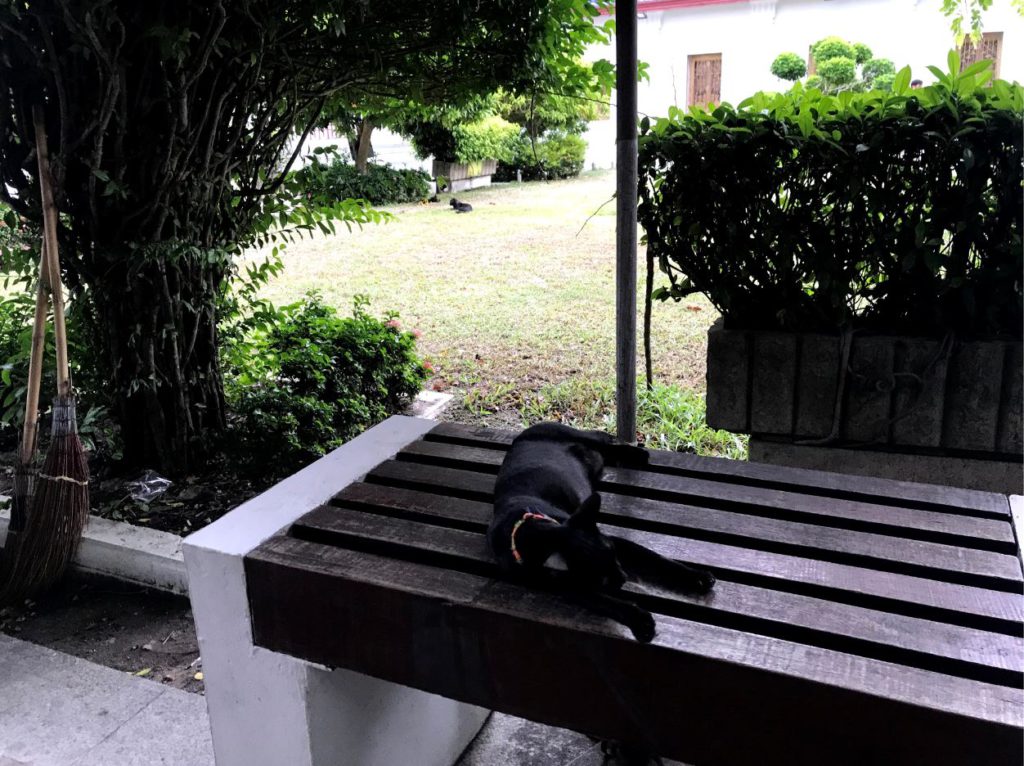 Wat Arun view restaurants
If you want to gaze at Wat Arun, all gold and glittery in color you need to find a seat at a restaurant opposite Chao Phraya River. Vivi, the coffee place is an outdoor, comfortable, and inexpensive cafe with a good view of Wat Arun. The food is however not that great.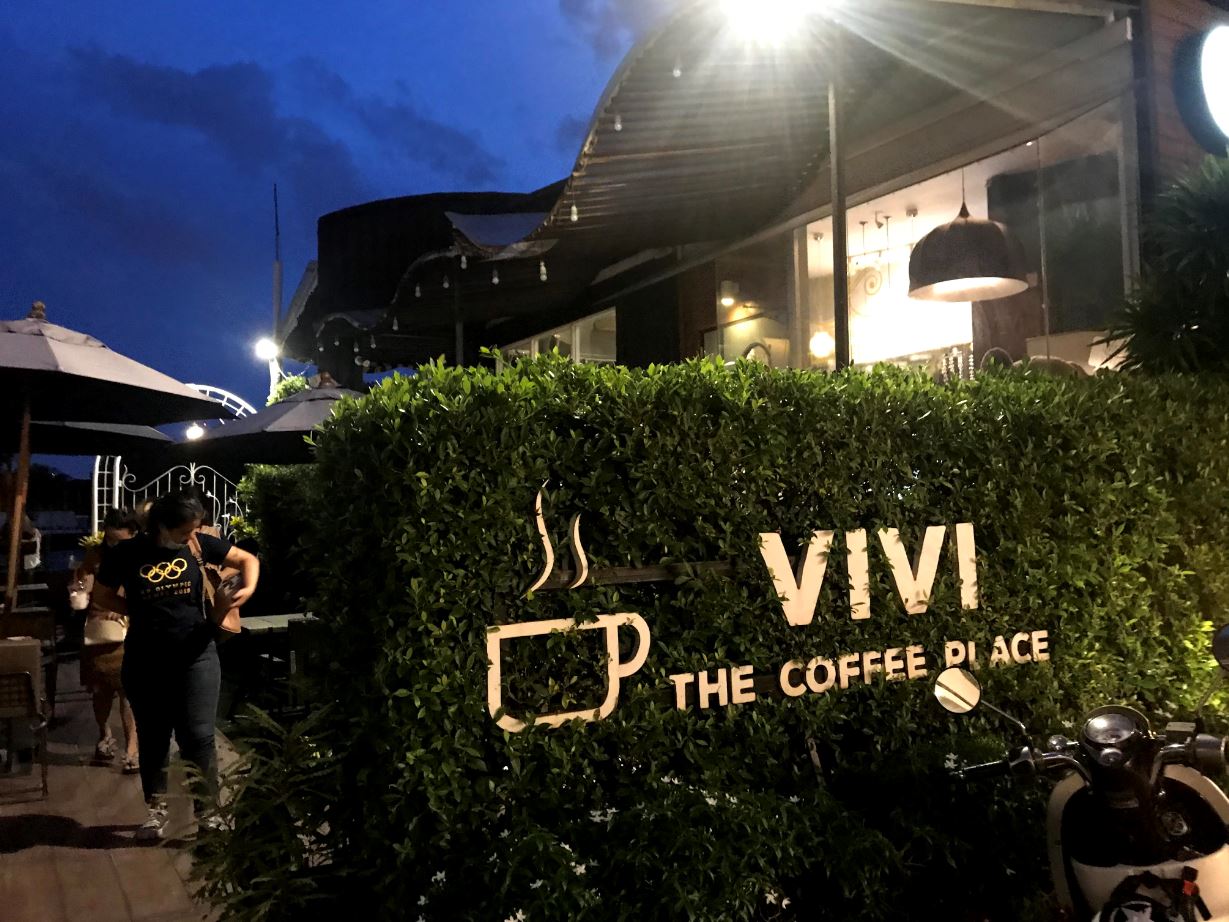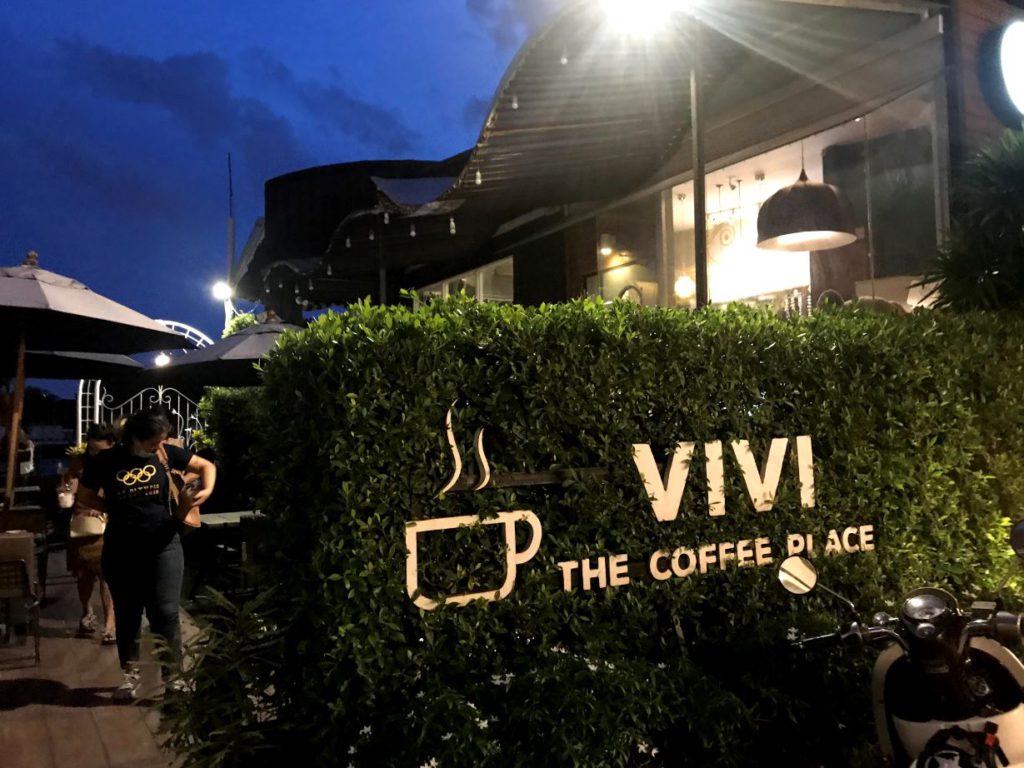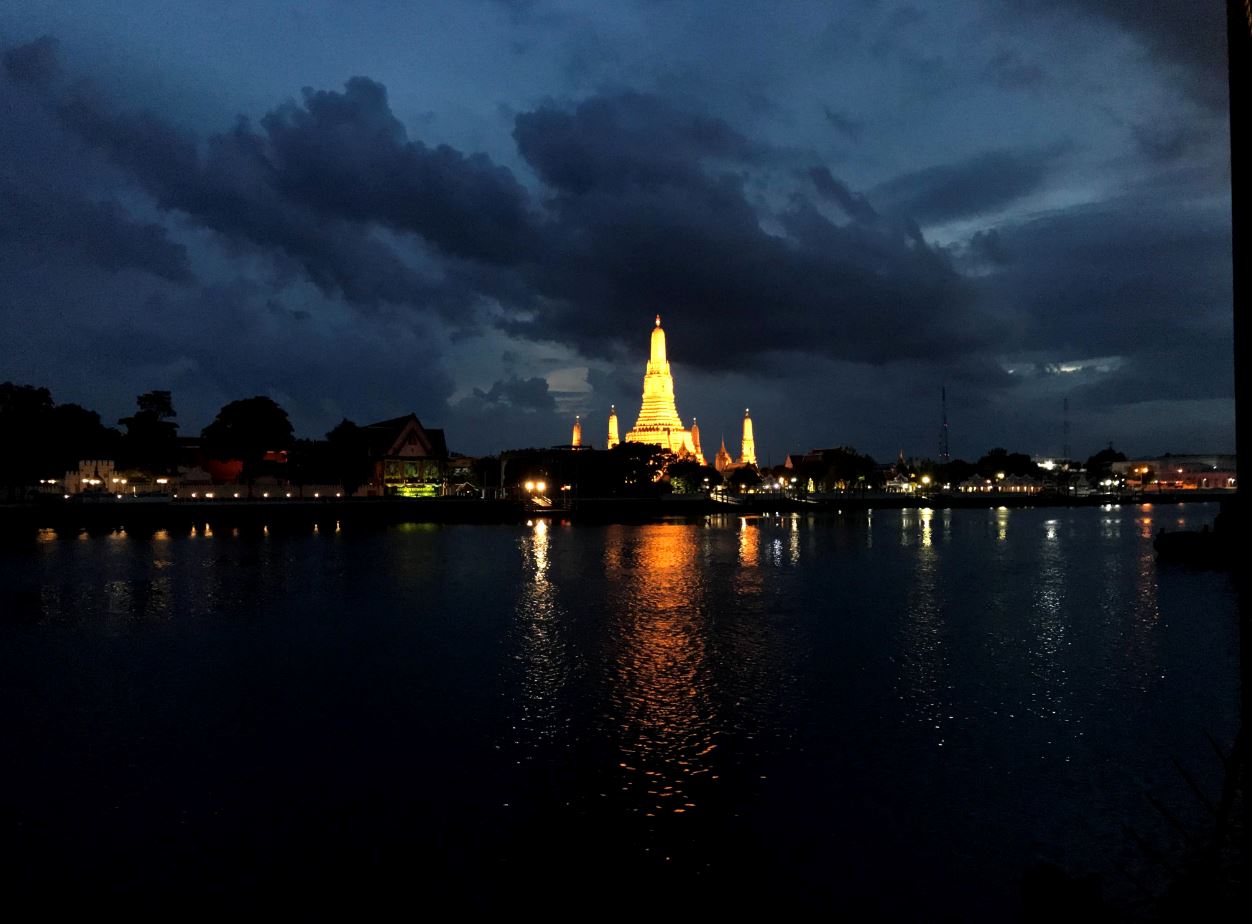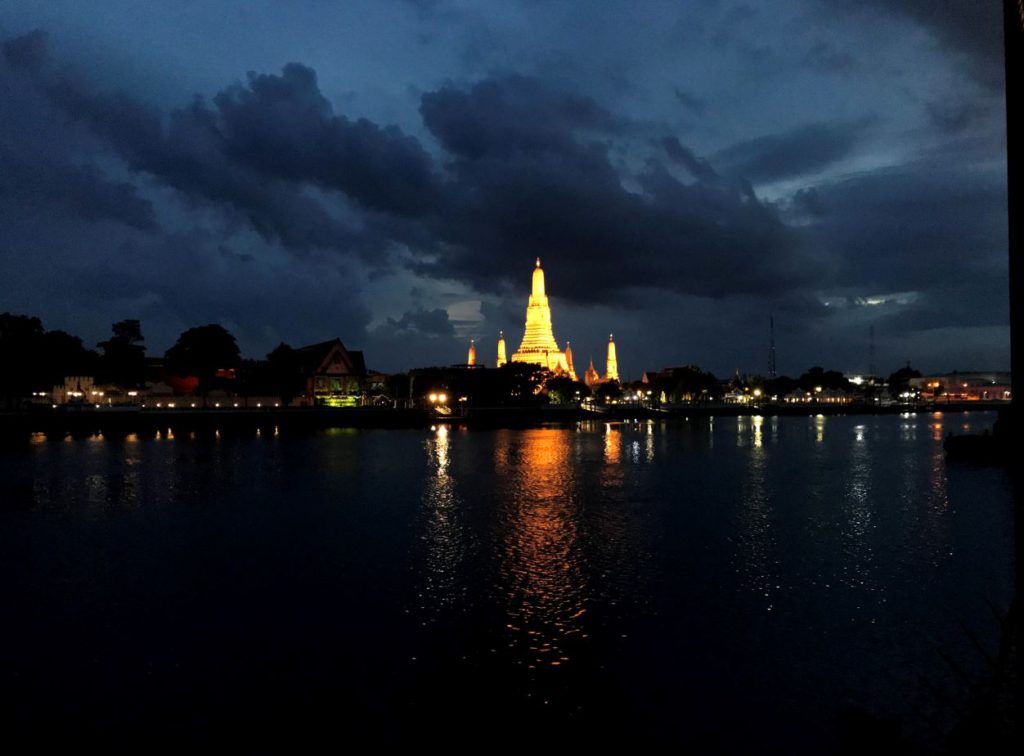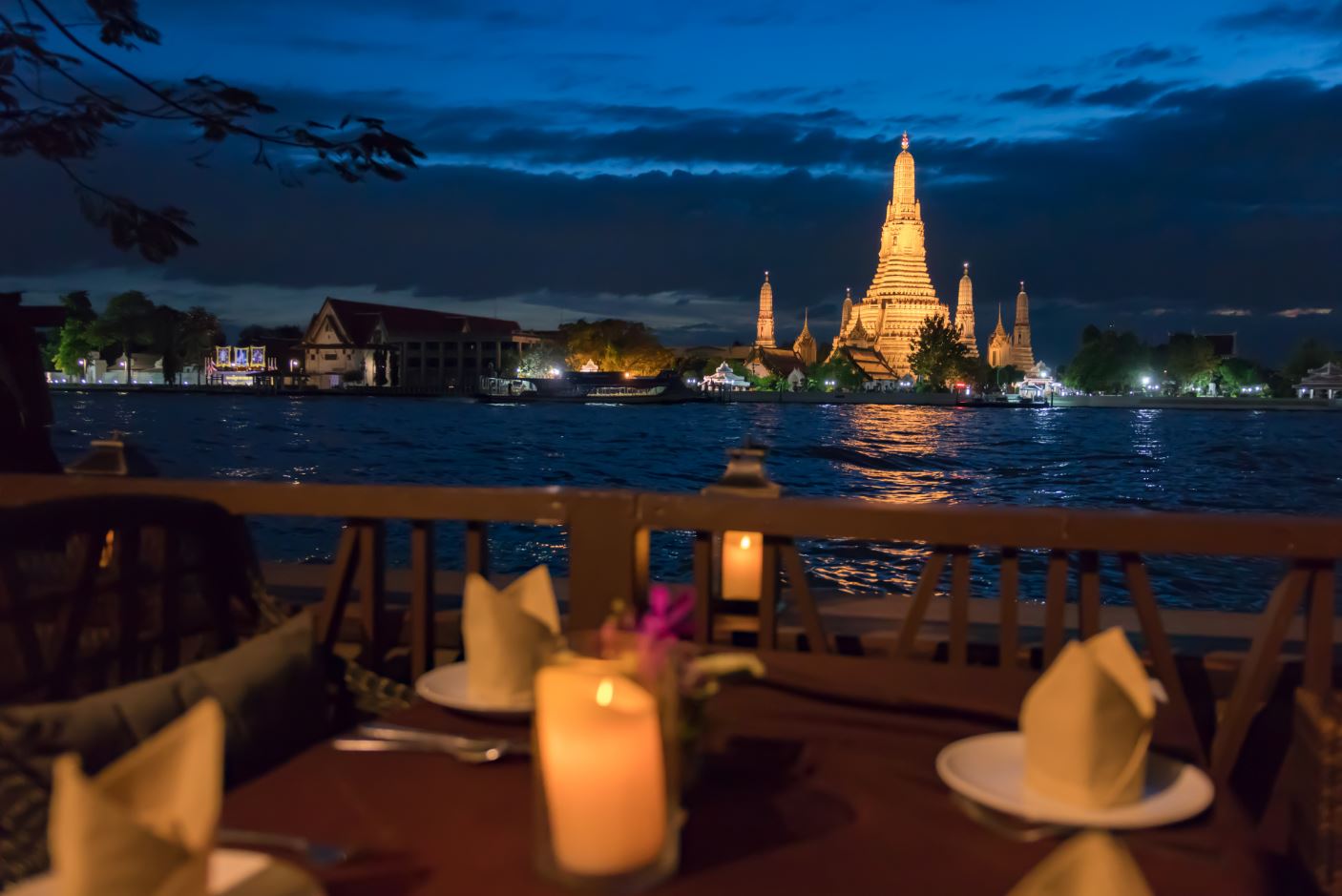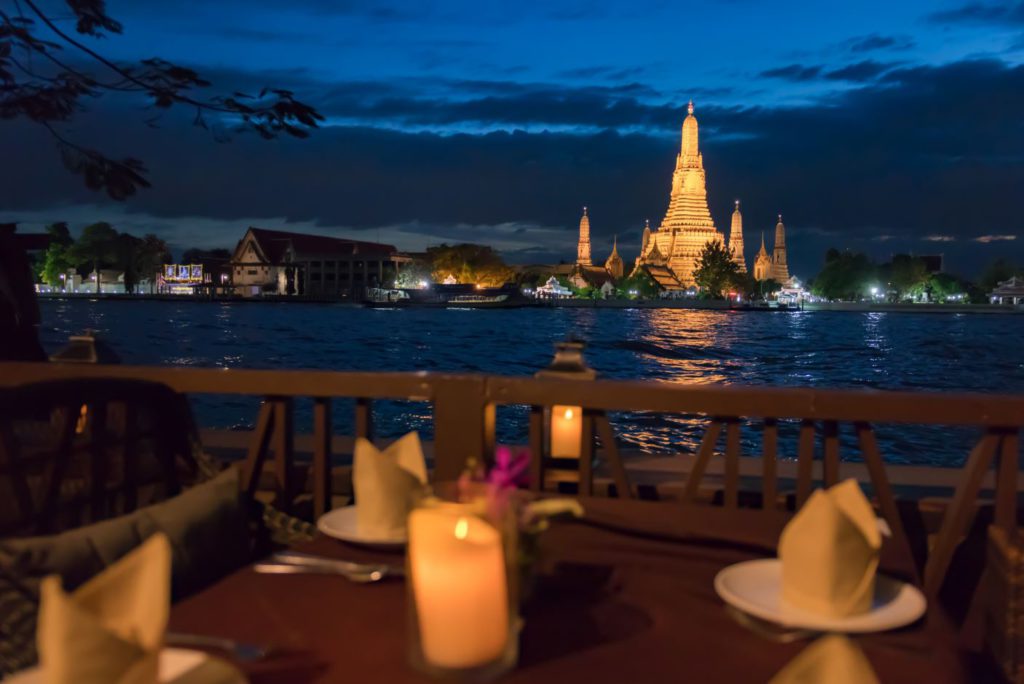 What to wear to Wat Arun
You know by now that Wat Arun is of more religious importance than just a tourist attraction. Therefore, you will need to dress conservatively on your visit. If you are wearing shorts or dresses make sure that you are covered till knees. You also need to cover your shoulders.
You can carry an additional scarf or sarong that you can use to do so at the moment.
There are many monks in the area too. If you want to take photos, you must politely ask them. Act respectfully and do not treat them like friends. Women must keep distance since monks are not allowed to touch women bound by their vows.
Places to see around Wat Arun
Save On Pinterest


Related Articles