19 Aug

Wat Pho, Bangkok – the Temple of the Reclining Buddha

Wat Pho or Wat Phra Chetuphon is another iconic landmark of Bangkok, Thailand. Mainly due to the large golden statue of the reclining Buddha. Often clubbed with a visit to the Grand Palace, a visit to Wat Pho along with Wat Arun will probably somewhat satiate up your cultural appetite about the Siam Empire.

While everyone knows it as a mere temple, Wat Pho was also one of the earliest universities in Thailand. One can also find several literary scriptures in stone inside the premises. It became a school of Thai medicine. It is also the birthplace of traditional Thai massage, a skill that has gathered international popularity.

Here is everything you need to know about visiting Wat Pho.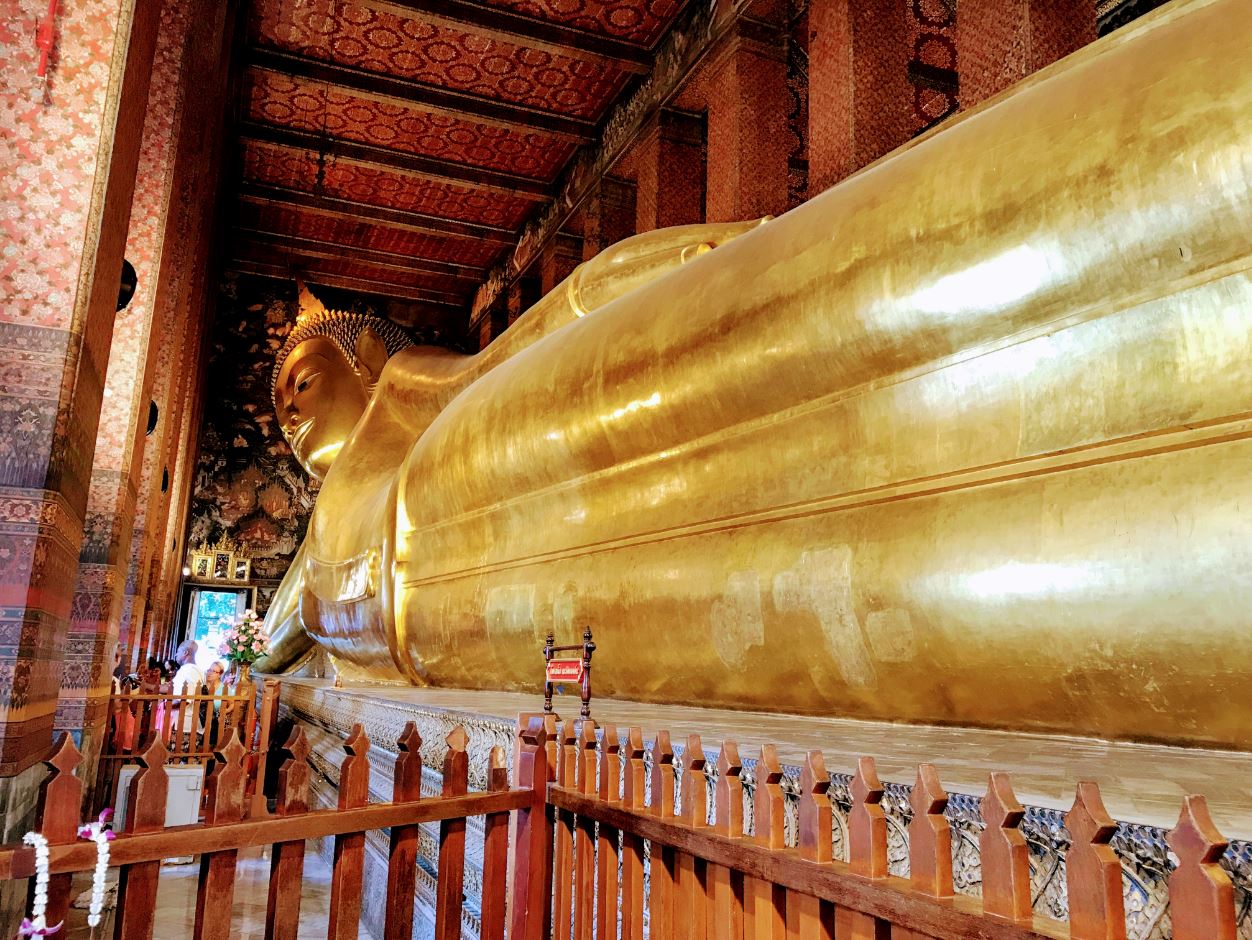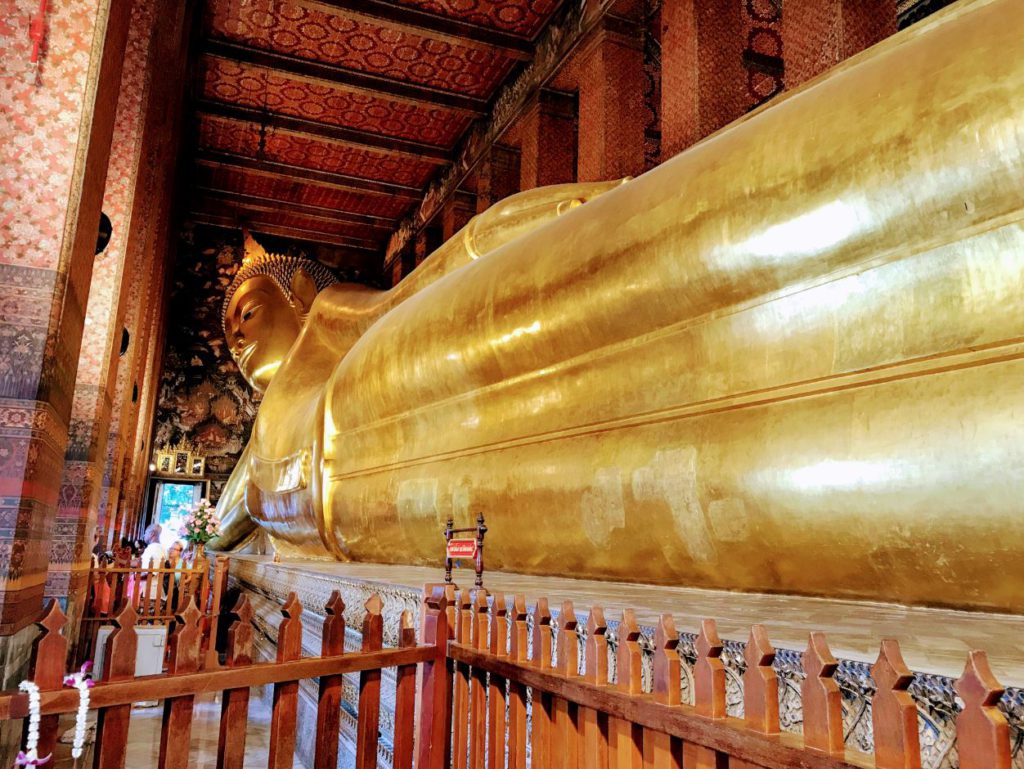 About Wat Pho
The initial structure of Wat Pho has been around before Bangkok was claimed as the new capital. When King Rama I moved the royal palace from Thonburi to the other side of the river, he ordered the renovation of the crumbling structure.
In the following days, the king ordered the removal of Buddha statues from all empty temples in Sukhothai and Ayutthaya. The men brought back more than a thousand statues to Wat Pho to reinstate them there. During the reign of Rama II and Rama III, the temple premises expanded. They refurbished the temple further to cover over 22 acres of land.
In 2008, the illustrations and inscriptures inside the temple were registered with Memory of the World Programme by UNESCO to promote the wisdom of the place. It was also a teaching Centre of traditional Thai medicine in the 19th century before the introduction of modern medicine. Today, Wat Pho is one of the six highest grades of first-class royal temples.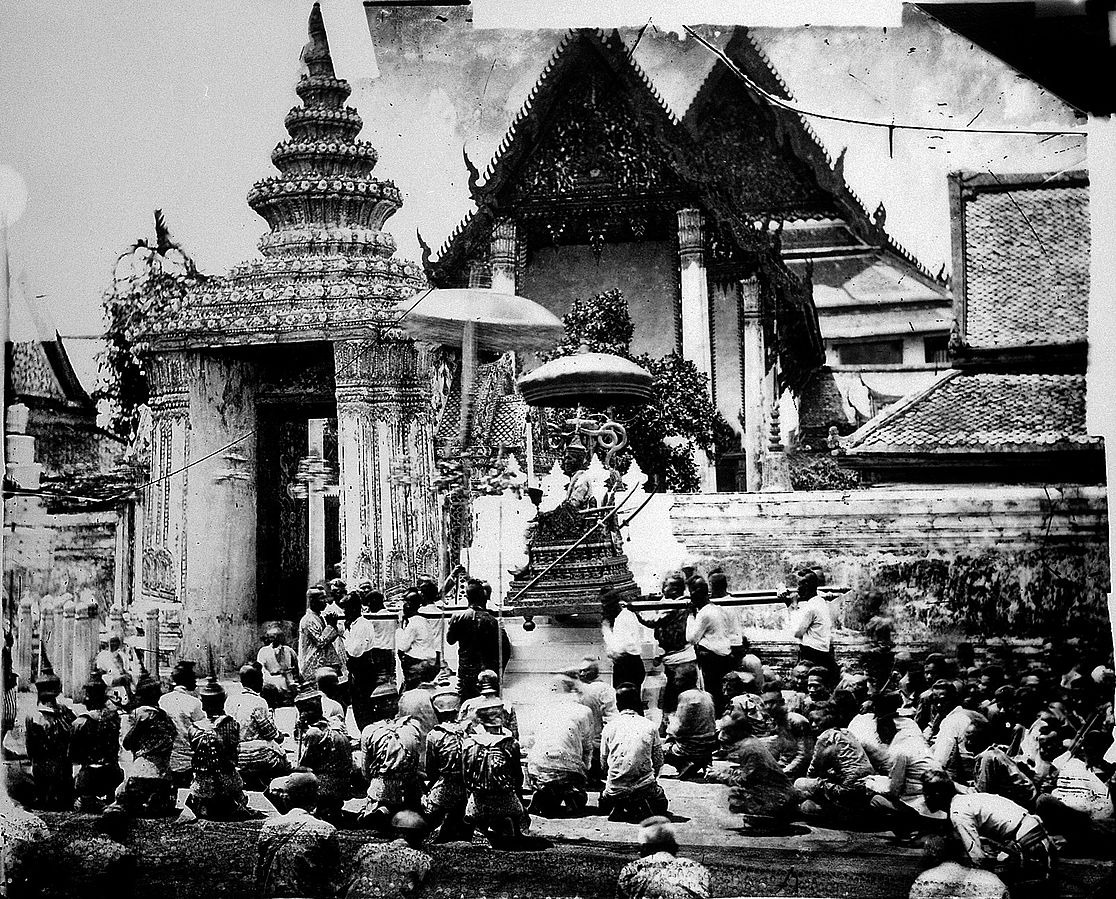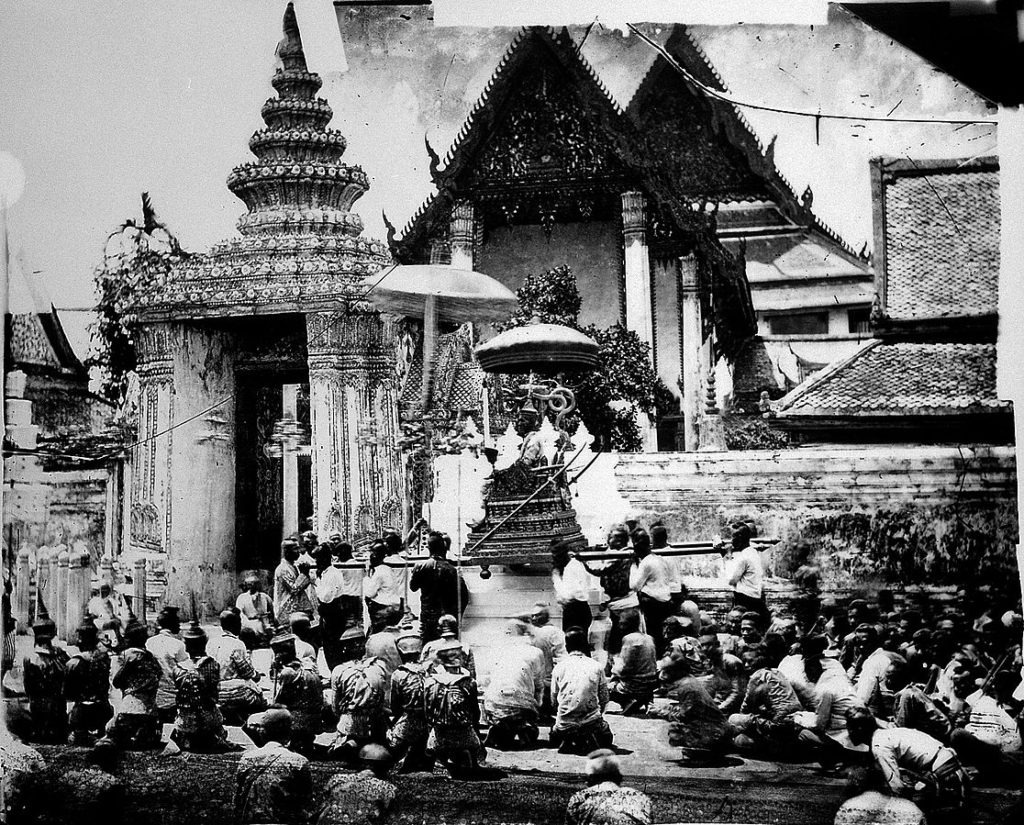 Where is Wat Pho Located?
Wat Pho is located just south of The Grand Palace which is the heart of Bangkok city. It is on the east bank of Chao Phraya River directly across Wat Arun and a popular historical point in the city.
How to reach Wat Pho
Metro: One of the easiest ways to reach Wat Pho is by MRT system. Get down at Sanam Chai MRT station (on the blue line) and take the exit towards Museum Siam. Walk for just 5 minutes for 450m to the entrance of Wat Pho.
Another way is to get down at Saphan Taksin BTS Station (dark green line). Move out of Exit 2 to Sathorn Pier, take a ferry to Tha Tian Pier and walk 350m from there.
Bus: Bus no. 1, 3, 25, 44, 48,60, 91, 503, 508 and 512 pass near Wat Pho. Bus no. 25 also passes through Sukhumvit and Hua Lamphong Station. You can check the most suitable bus route from your place on ViaBus app, moovit app (or moovitapp.com).
If you want to club other popular destinations with Wat Pho, you can opt for a hop-on-hop-off bus that runs on most of the major routes. The buses are open-air with an audio narrative in a number of languages as you pass by the popular landmarks. You can buy passes for 1,2 or 3 days.
Book a hop-on-hop-off bus ticket: Bangkok Hop-On Hop-Off Bus Tour by ElephantGoGo
Ferry: If you haven't explored Bangkok yet, try doing it using their famous waterways. You can take a ferry to Tha Tian Pier and walk for 350m from there to Wat Pho.
If you are looking to spend the whole day sightseeing, you can also opt for the hop-on-hop-off ferry (most cities do a bus!) along the Chao Phraya River. You can hop out at any destination; spend as much time as you want and then take another boat to the next point.
The ferry halts at several places along the Chao Phraya River like Icon Siam, Lhong 1919, The Grand Palace, Wat Arun, National Museum of Royal Barges and a lot more that you can cover using the pass. Read more about the tour here.
Book a hop-on-hop-off ferry: Chao Phraya River: Hop-On Hop-Off Boat Pass
Day tour: I do enjoy day tours and often sign-up for them, especially if I am touring cultural heritage point. There is so much background story that you would miss otherwise. You can always take a guided tour of different kinds. There are walking tour, night-tour, a cycling tour or the regular one with a local guide. Here are some best ones in my opinion:
Flexi Walking Temple Tour: Grand Palace, Wat Pho, Wat Arun (Group tour)
Flexi Private Temple Tour: Grand Palace, Wat Pho & Wat Arun (Private tour)

Wat Pho Opening Hours
Wat Pho is open on all days of the week from 8 am to 6.30 pm. The temple closes from noon to 1 pm during lunchtime.
The best time to visit Wat Pho will be early in the morning as close as possible to the opening time if you want the place to yourself. The second best time is in the evening around 5. Since you will have to take out your shoes and walk, it is best to avoid hot scorching afternoon time.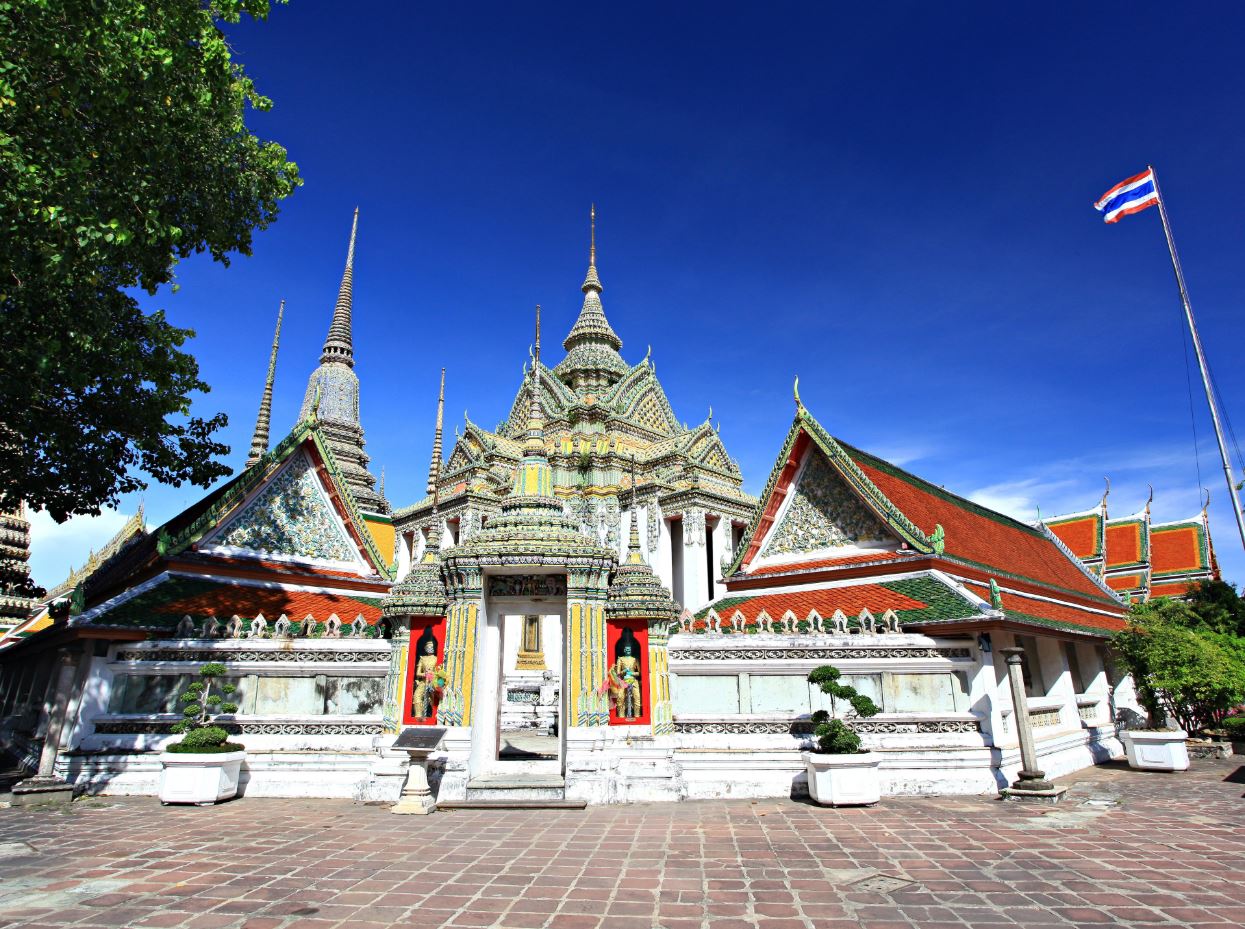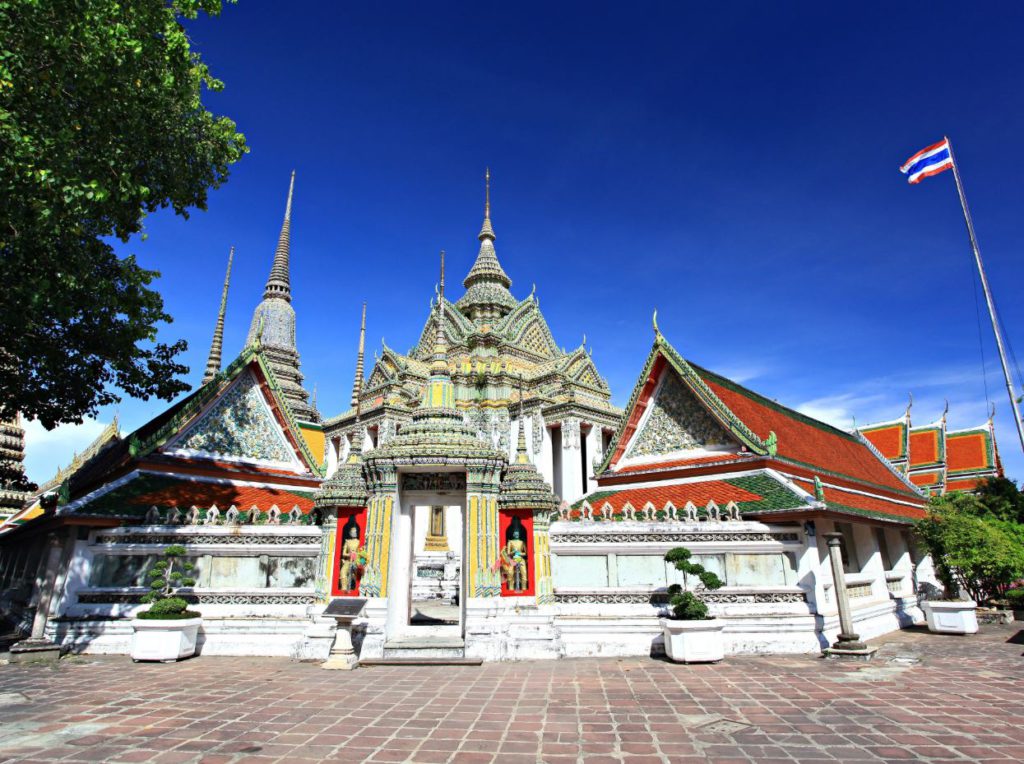 Wat Pho Entrance Fee
The entrance fee for foreigners is 200THB per person. Entrance is free for children below 120cm of height. It is free for Thai nationals to enter.
A bottle of water is free with the ticket that you can collect as soon as you move inside. You may find a few locals near the entrance gate who tell you that the temple is closed. And then take you on a ride (a literal tuk-tuk ride) across the town to rip you off. Don't listen to them.
You can also buy 108 bronze coins (a quarter of a baht) near the entrance. You will use this to put one inside each of 108 buckets that are hung across the walls inside Wat Pho. The locals practice this to earn merits and the money goes to the monks and the needy.
If you aren't already with a tour guide, you can hire one near the gate. I will recommend it, especially if history interests you or you are with kids. A guide can cost you between 200 to 400 THB depending upon your negotiating skills. Some local culture enthusiasts also offer free walking tours in Bangkok.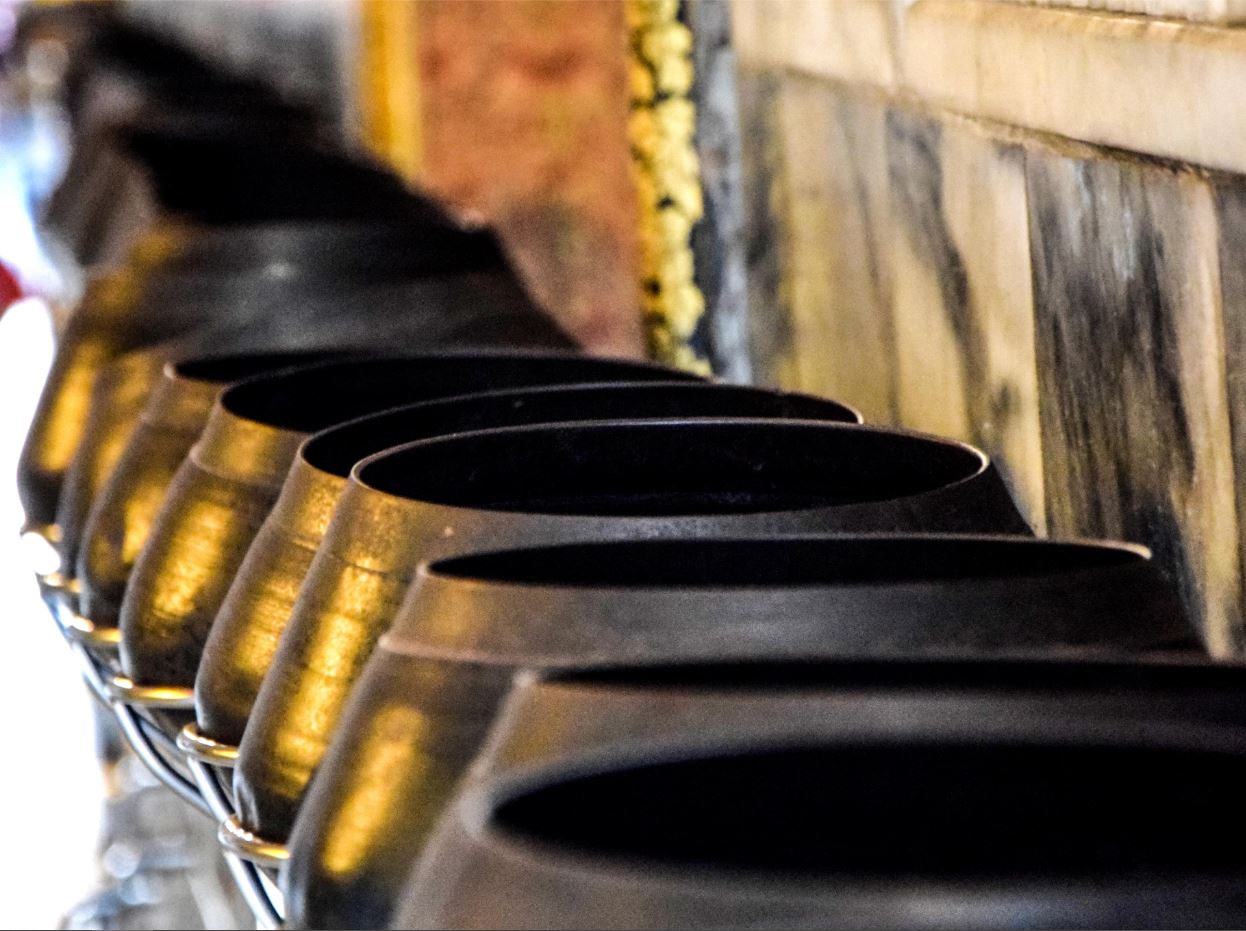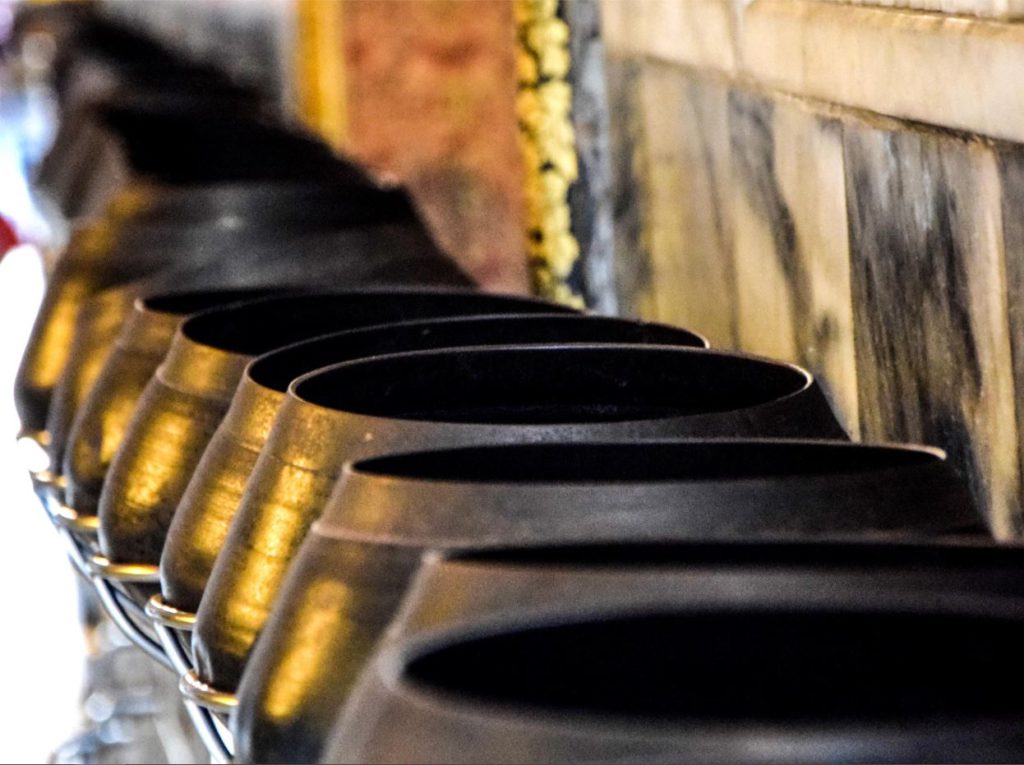 Wat Pho Map
Visiting Wat Pho
As you enter the premises of Wat Pho, things may get confusing at first. There is a main building with a courtyard that surrounds it on all sides and pillars on all corners. And then there are a few more structures that won't make sense to foreign tourists. It can get overwhelming so start with one building at a time.
The centre of all attention is the Chapel of the reclining Buddha which is located at one corner of the complex. The statue which is 15m high and 46m long is one of the largest Buddha statues in Thailand. A reclining Buddha depicts the time of Buddha's last illness and about to enter parinirvana or death.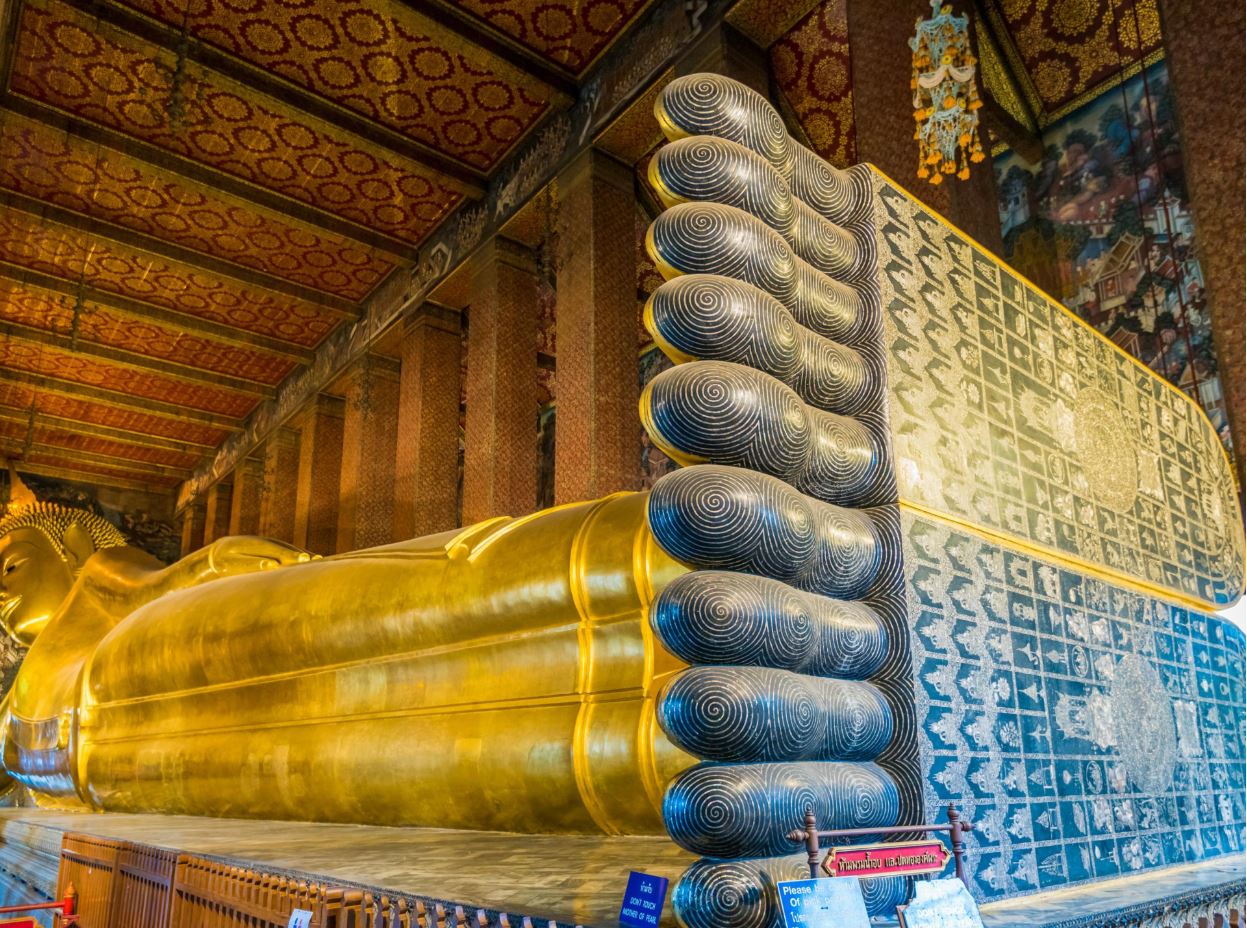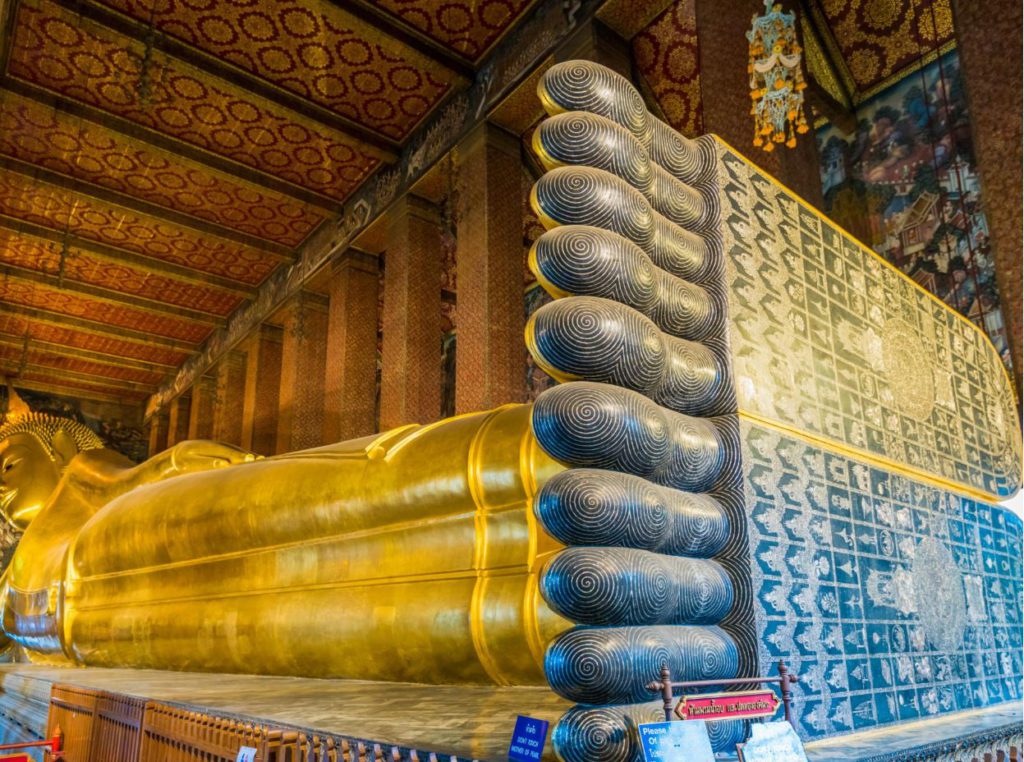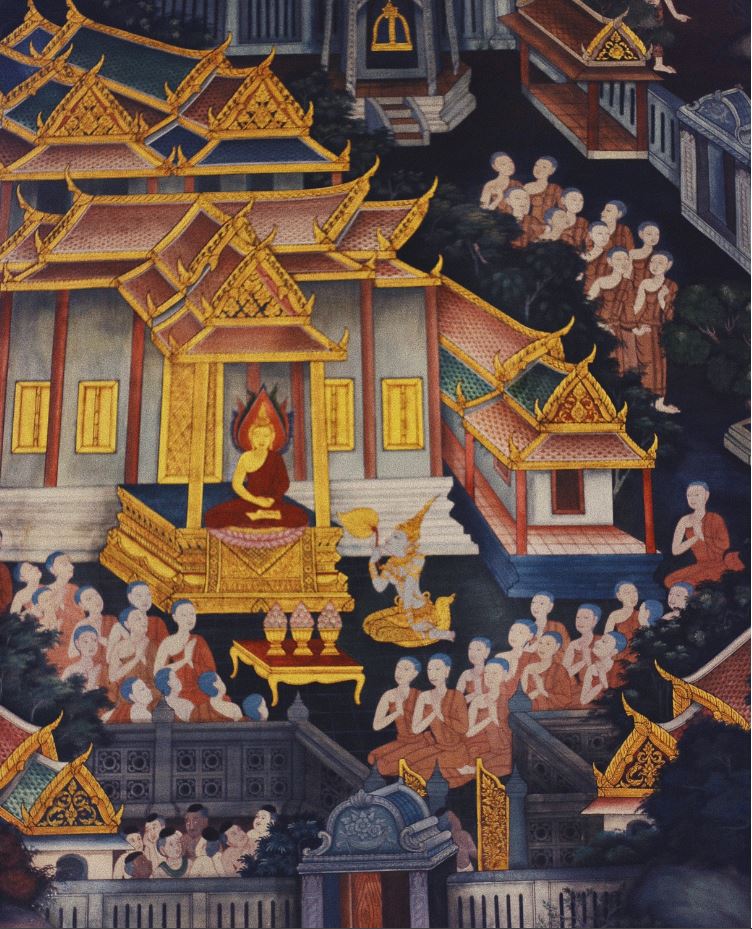 The halls are decorated in red and golden colour in traditional Thai motifs. The Buddha's feet are huge and are covered with inscriptures about his life and teachings. The statue of the reclining Buddha is covered in gold leaf and mother-of-pearl inlays. This room also has the 108 buckets we spoke about for donating coins.
Once you are done, you head over to another area. There is a large building in the middle called the Phra Ubosot. Phra Ubosot or ordination hall is the most important building in the complex. The hall has a three-tiered pedestal in the centre with a gilded Buddha on the top. Above it hovers the nine-tiered umbrella representing the authority of the king.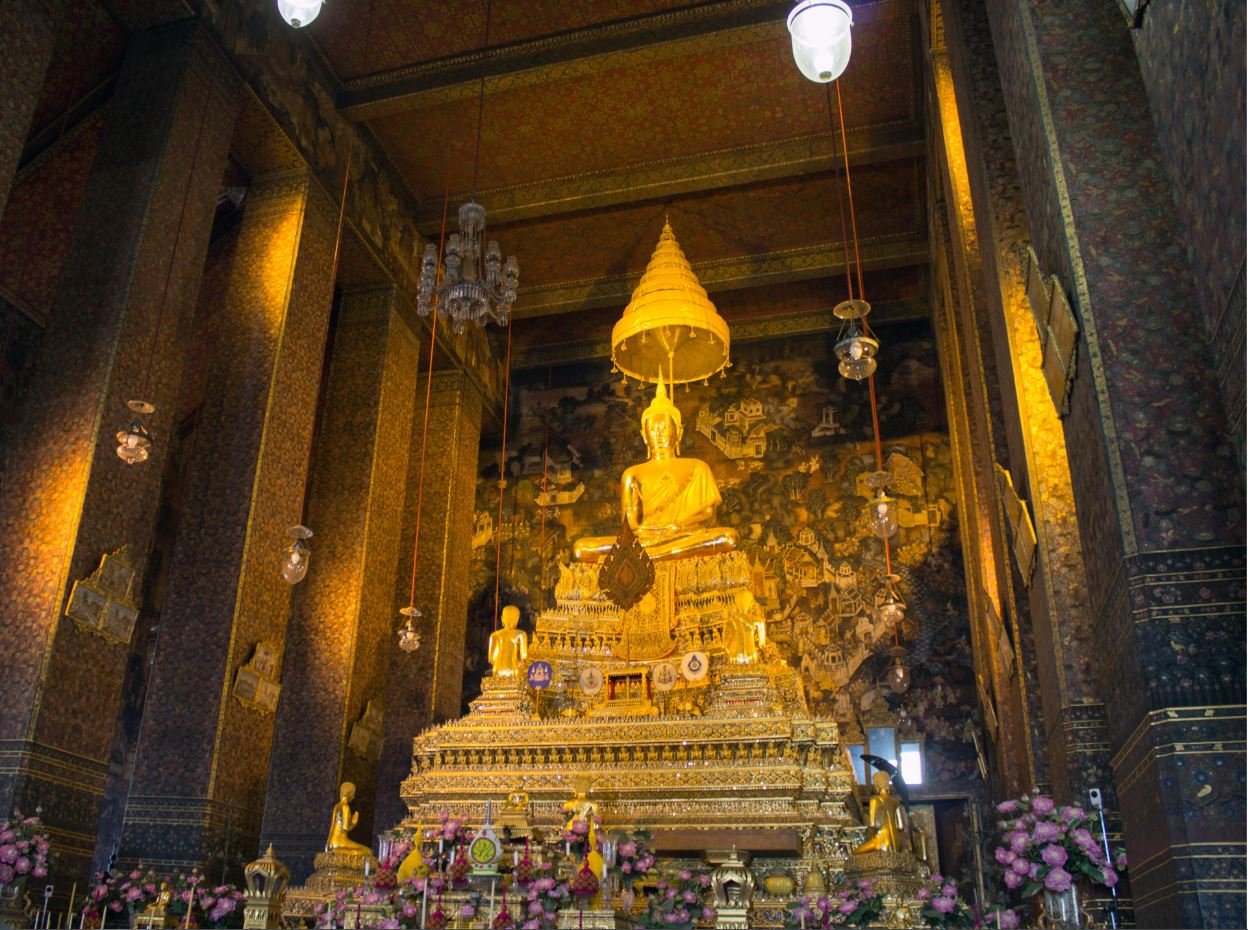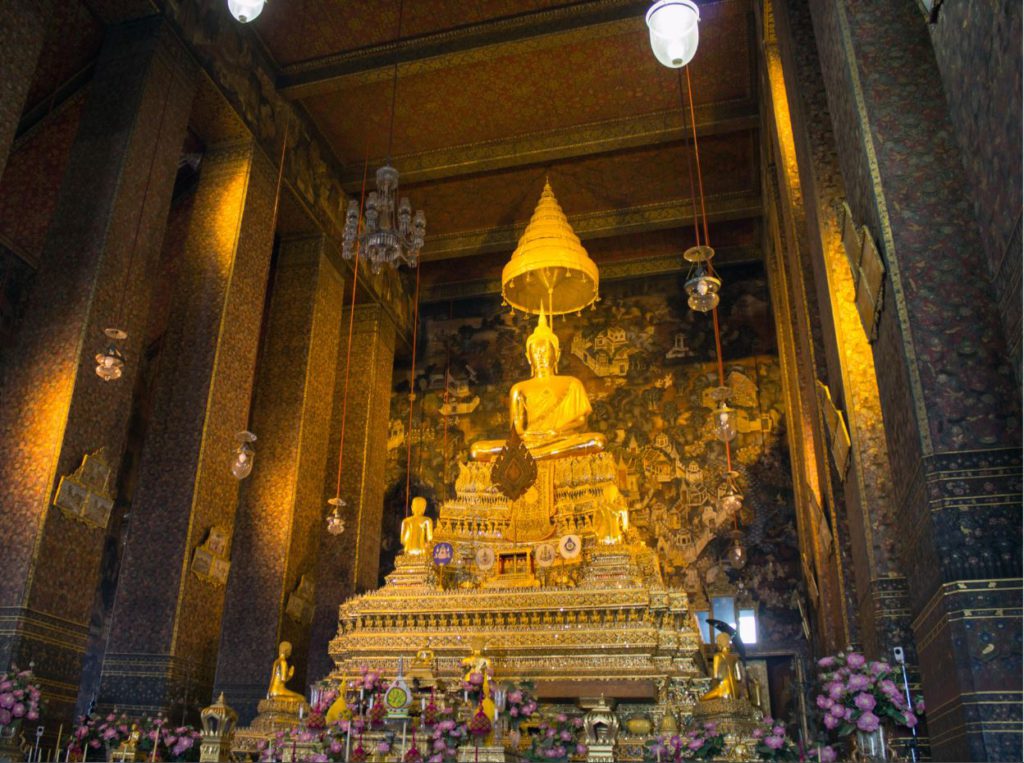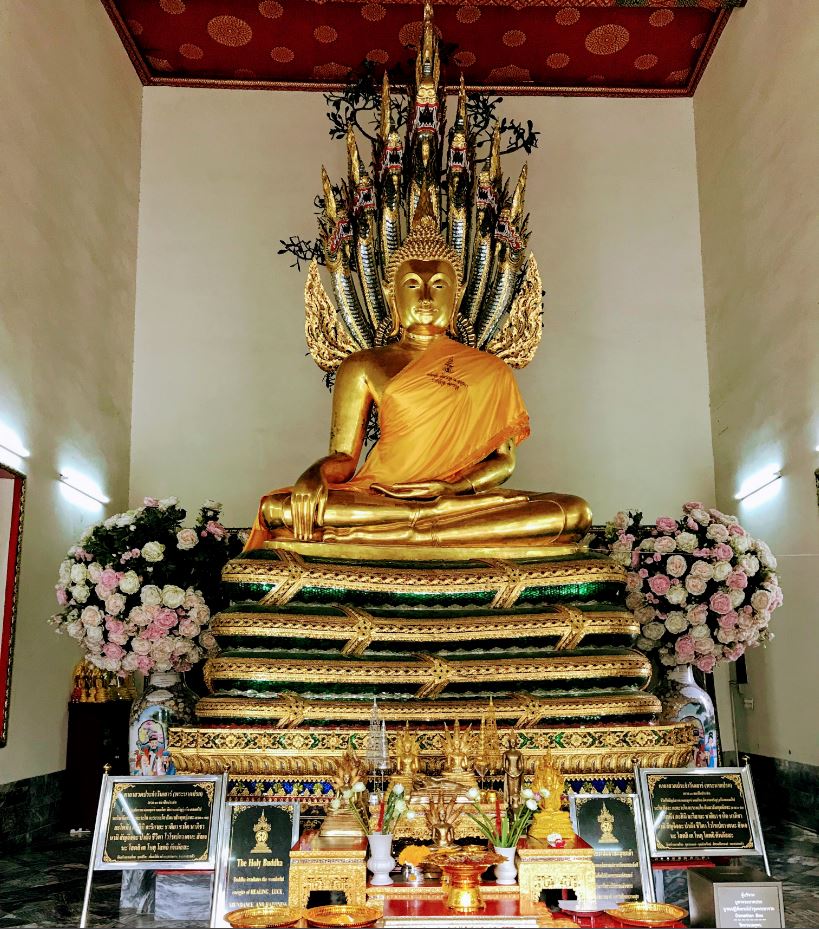 Around the building are clusters of Buddha statues. Most of these statues were brought back from the ruins of Ayutthaya (which was annexed by the Burmese army) and Sukhothai (Capital city before Ayutthaya). Gold leaf covers all the statues on the outside so they all look similar.
There are also some peculiar statues of Chinese soldiers in the courtyard. These were once used as ballasts on ships.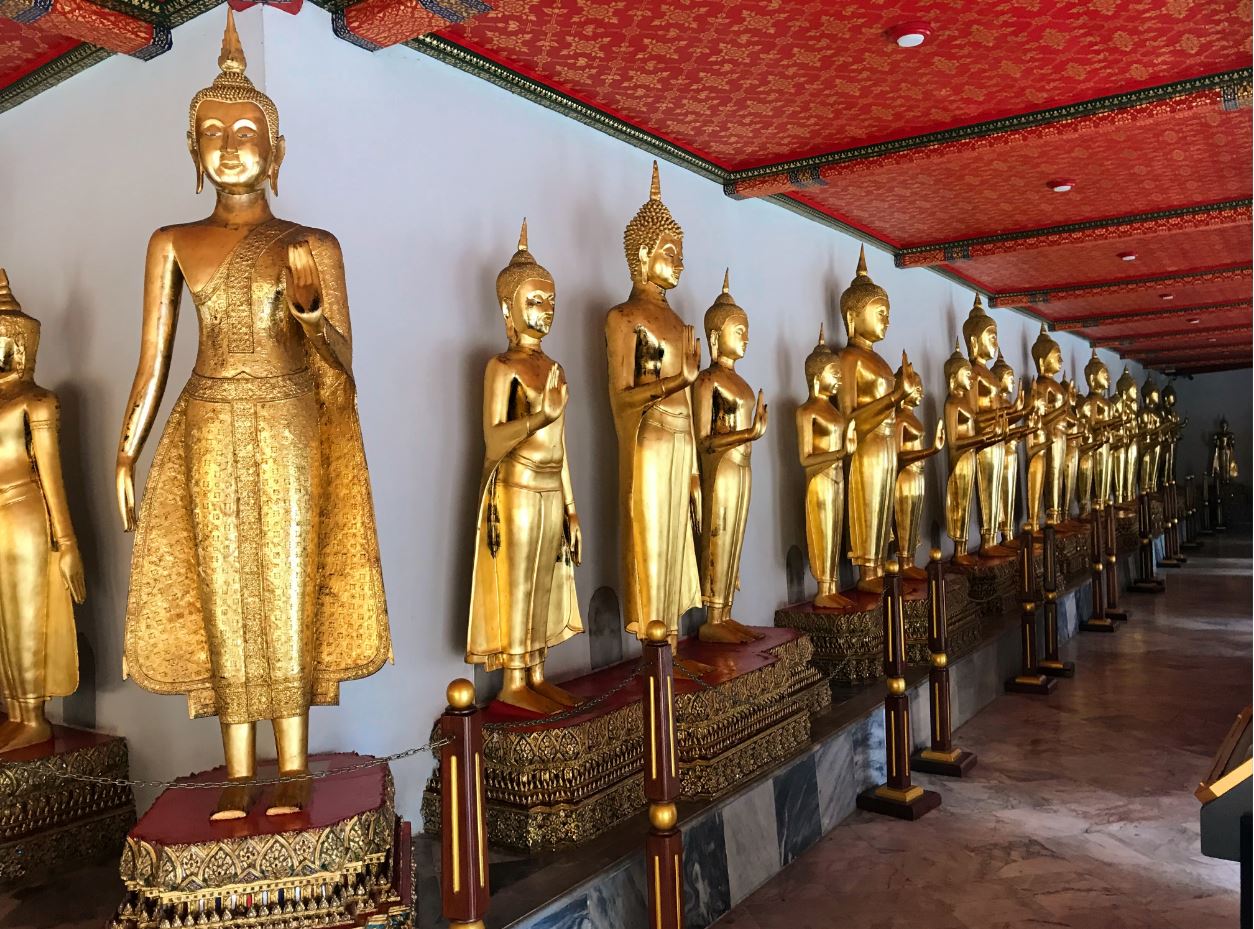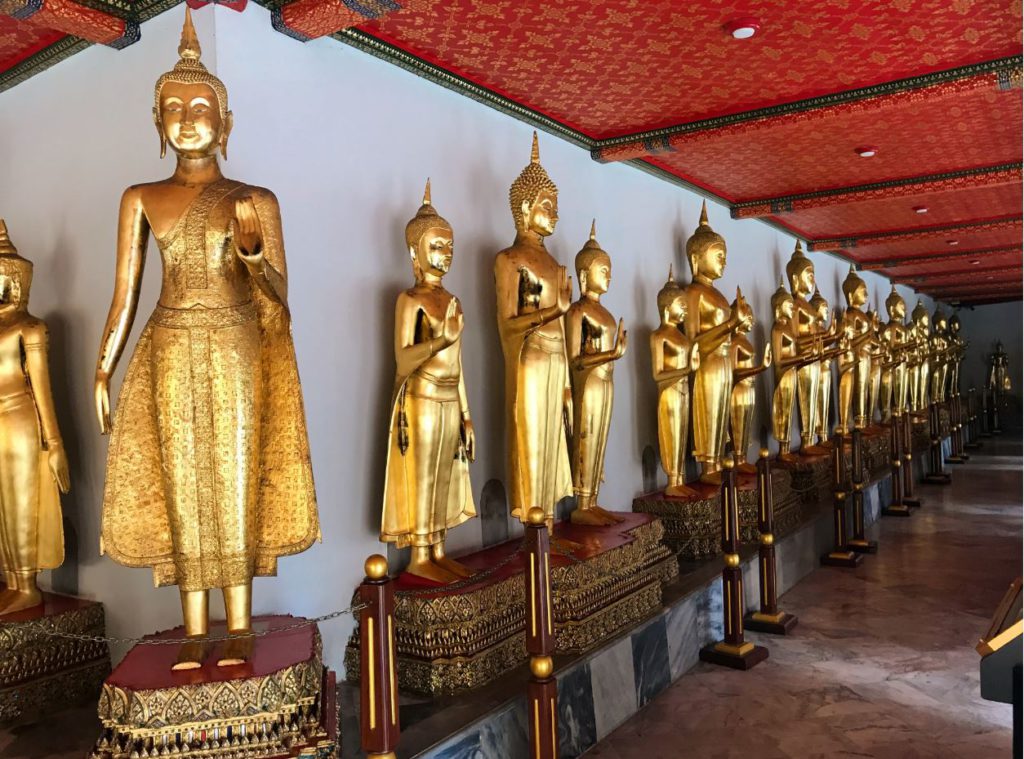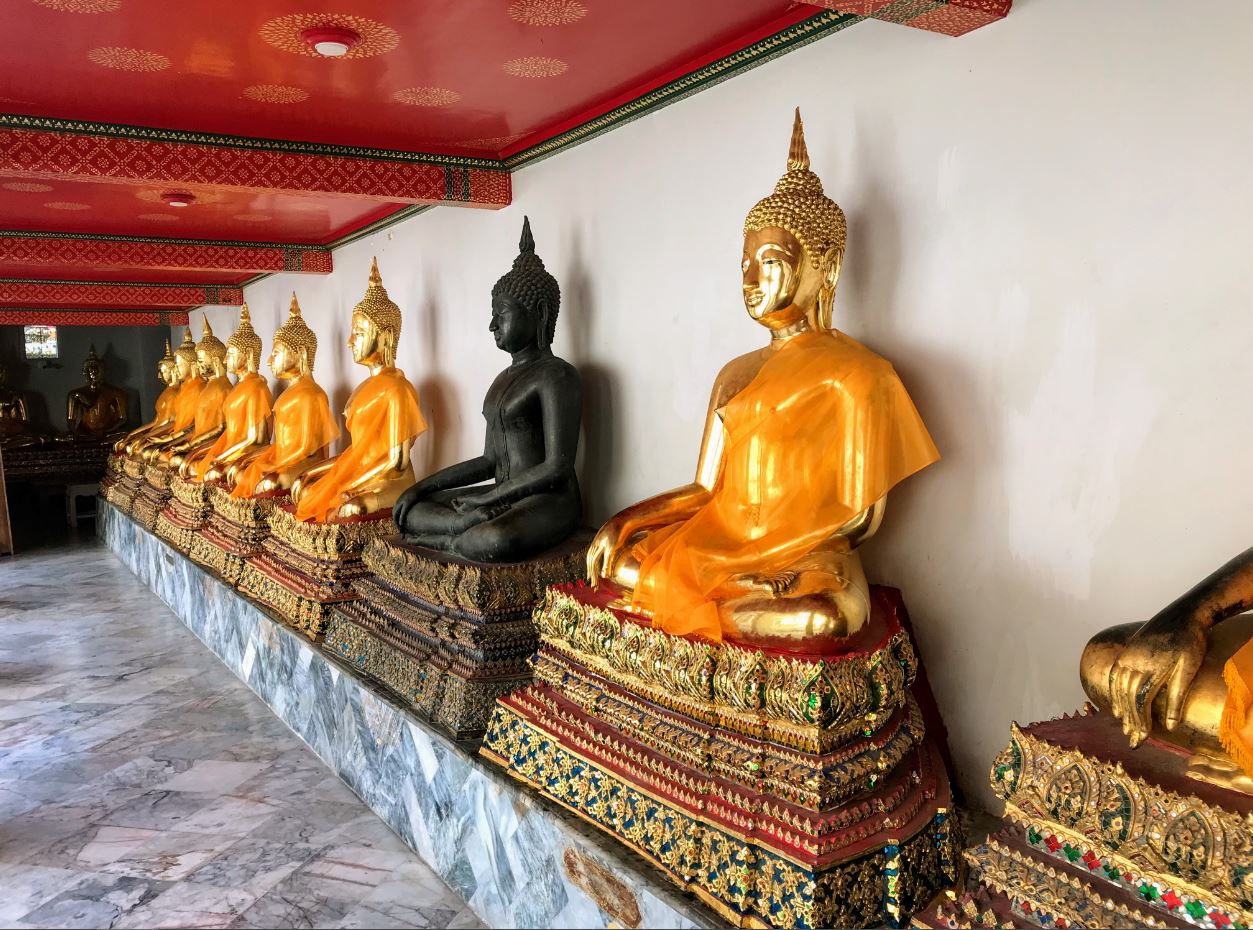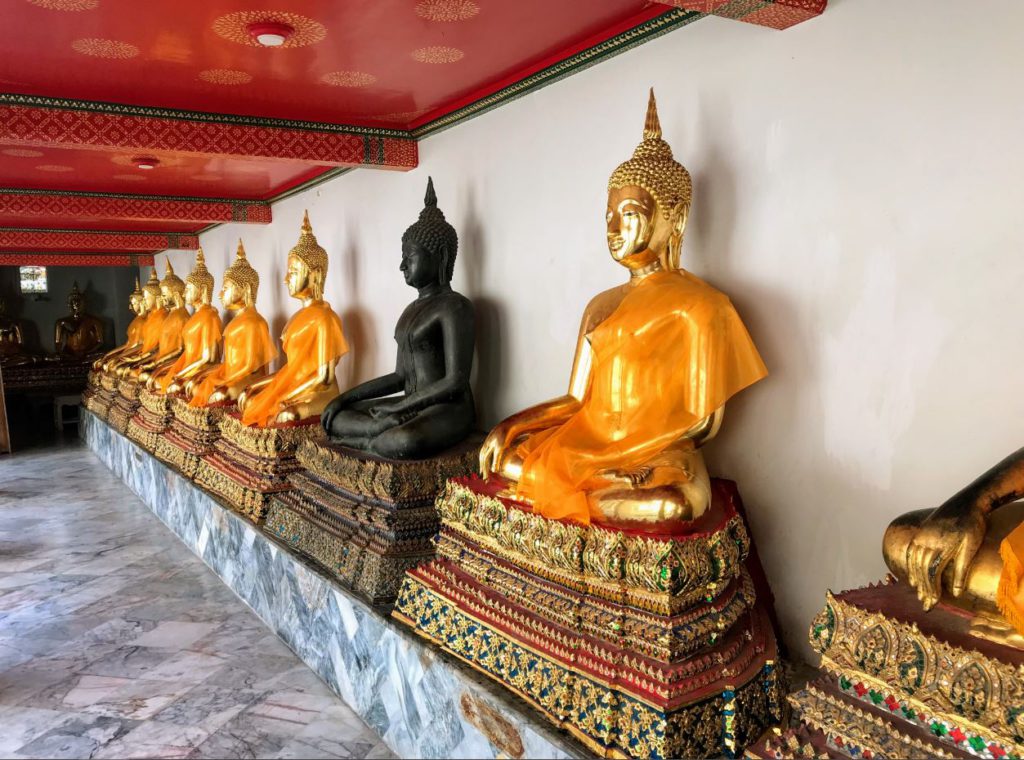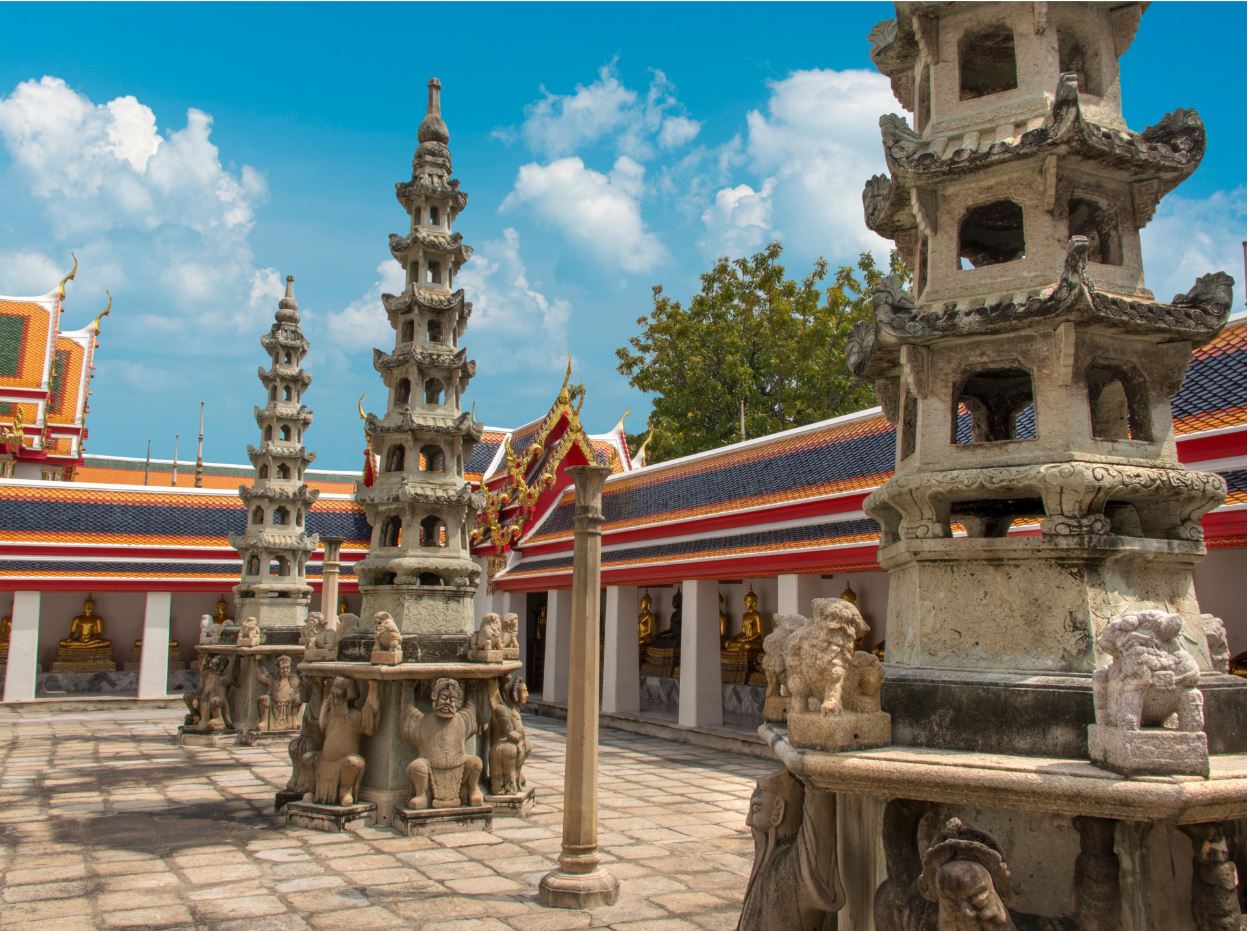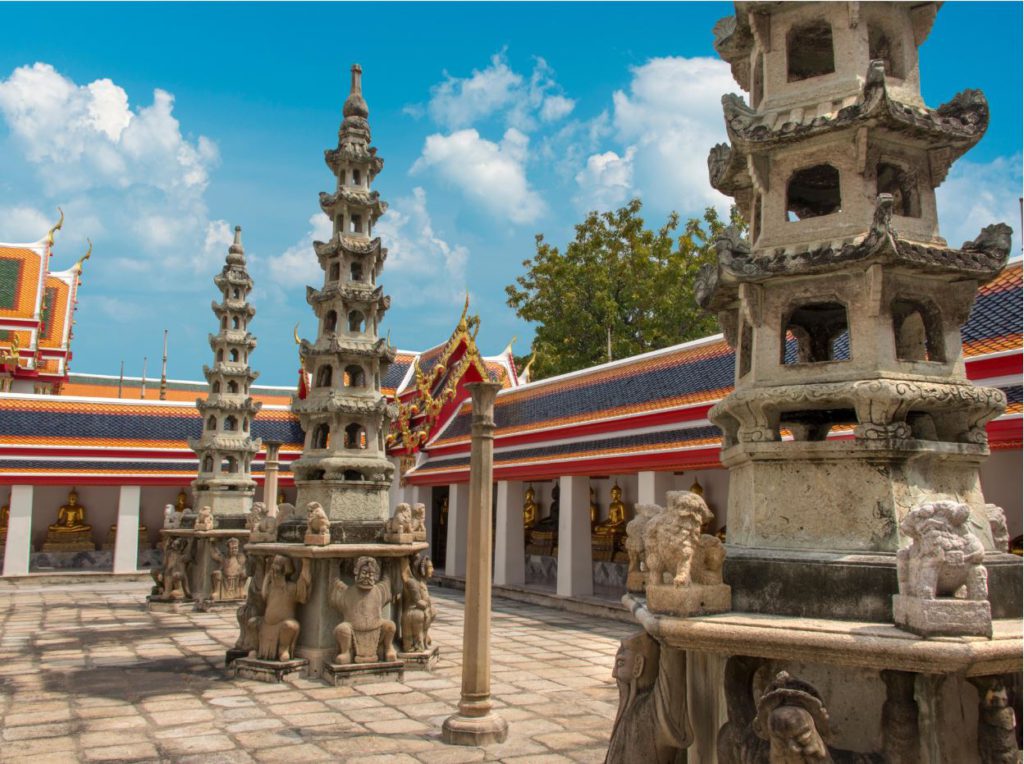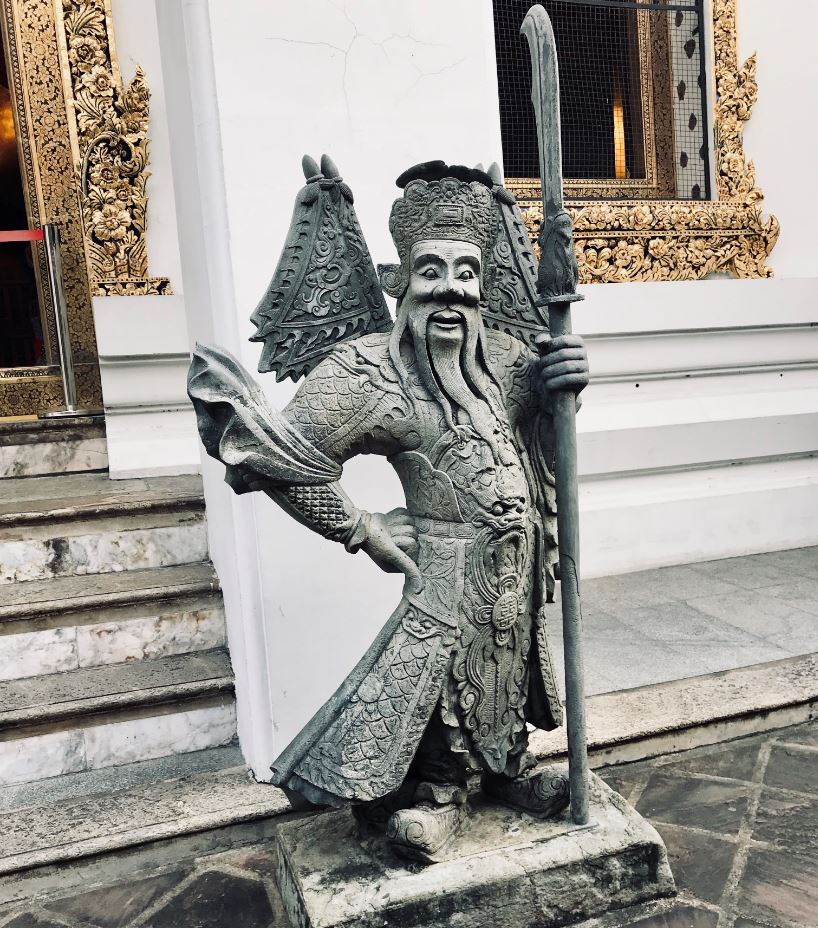 Another interesting place inside the complex is Phra Chedi Rai. It is a cluster of small chedis (a conical pillar with a wide circular base getting narrow at top). The chedis ranging in numerous colours and sizes have inlays in colourful mosaics with intricate designs, especially a winged Garuda. This is a popular spot for some great photos.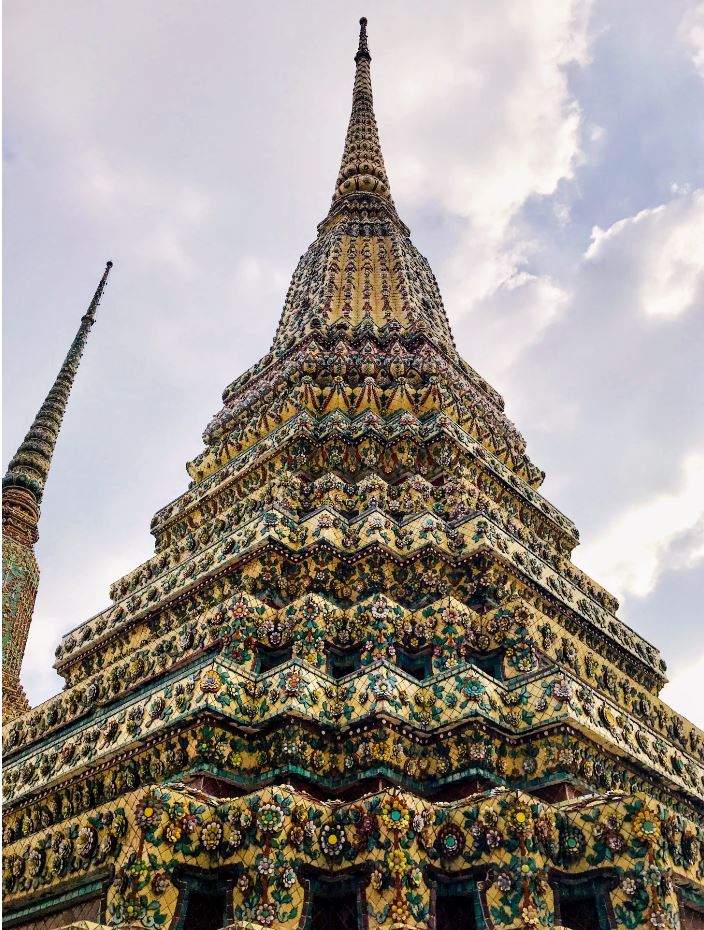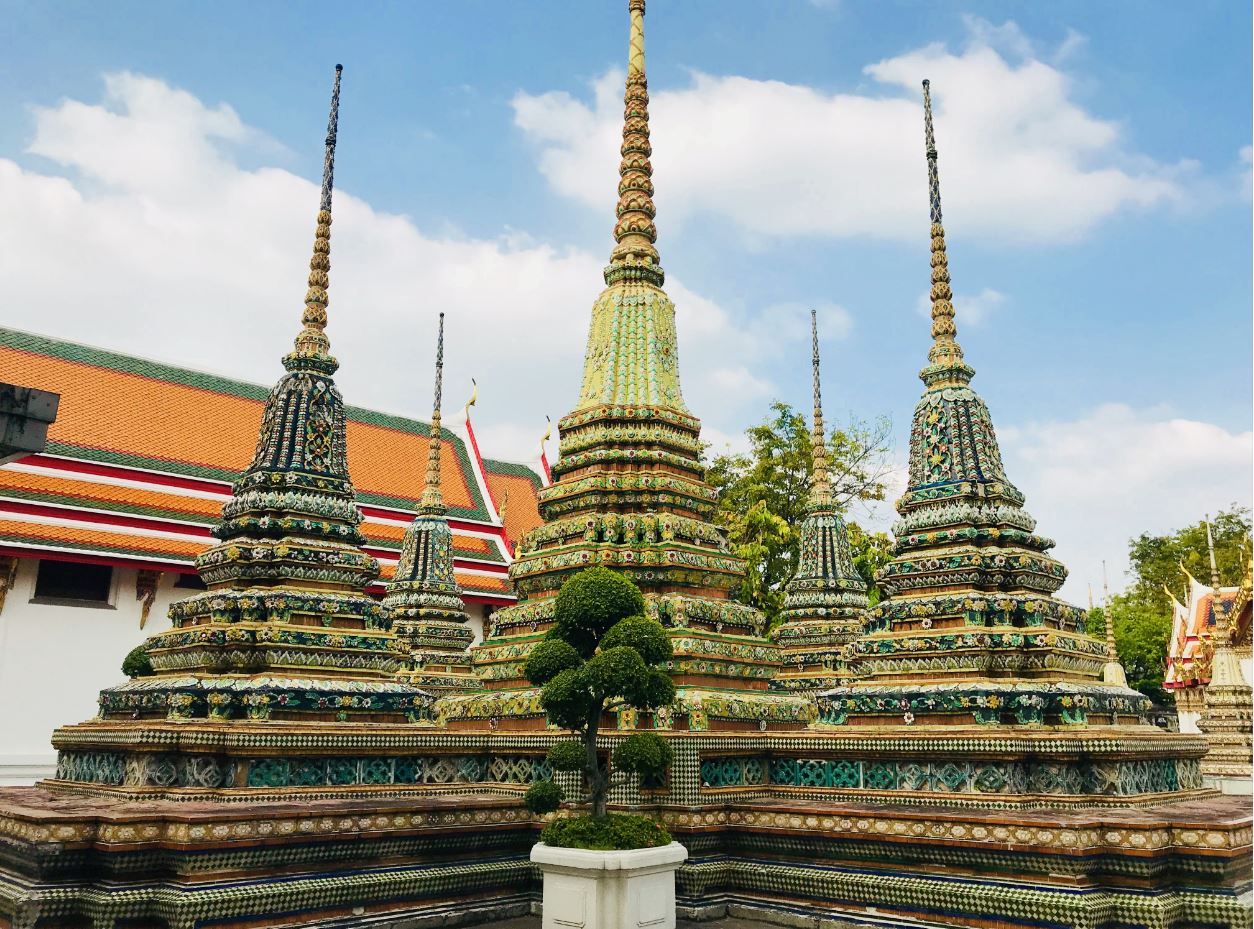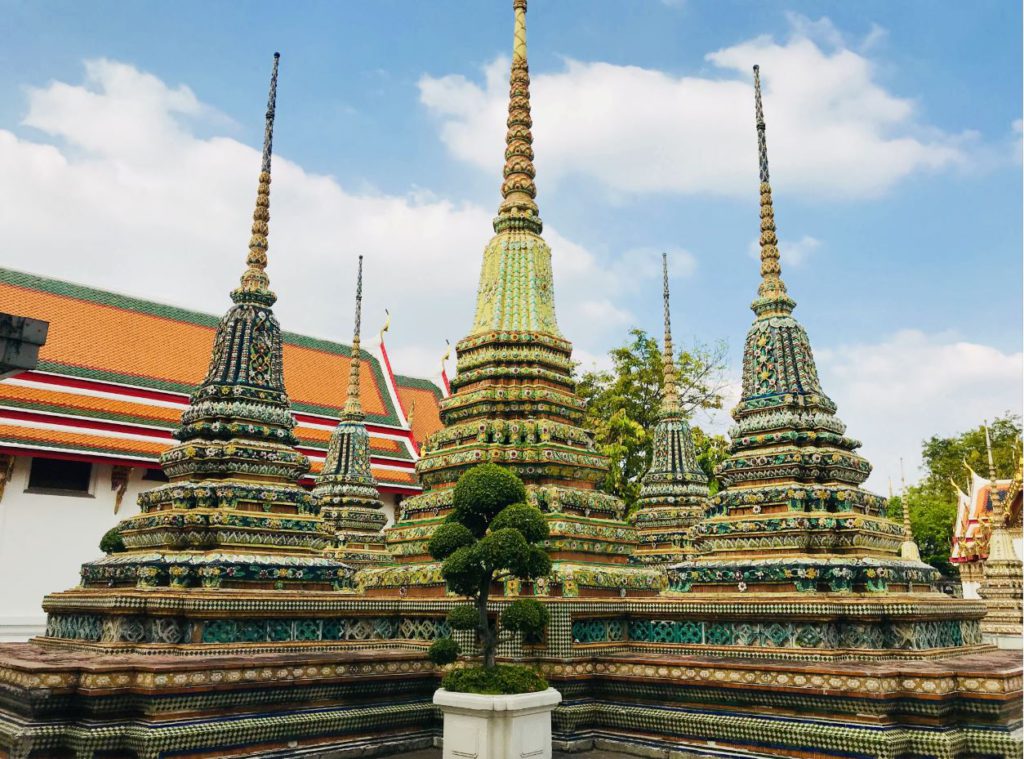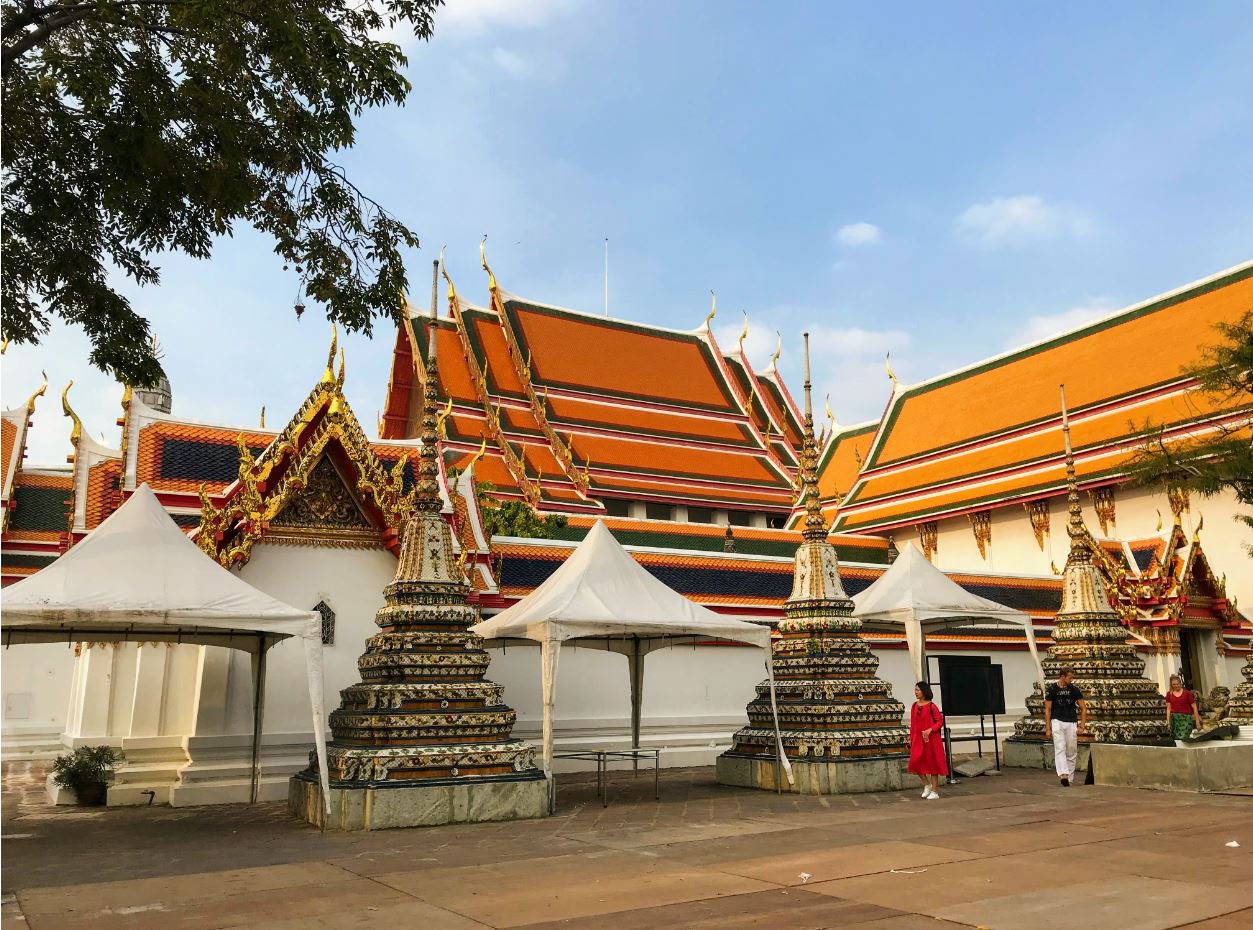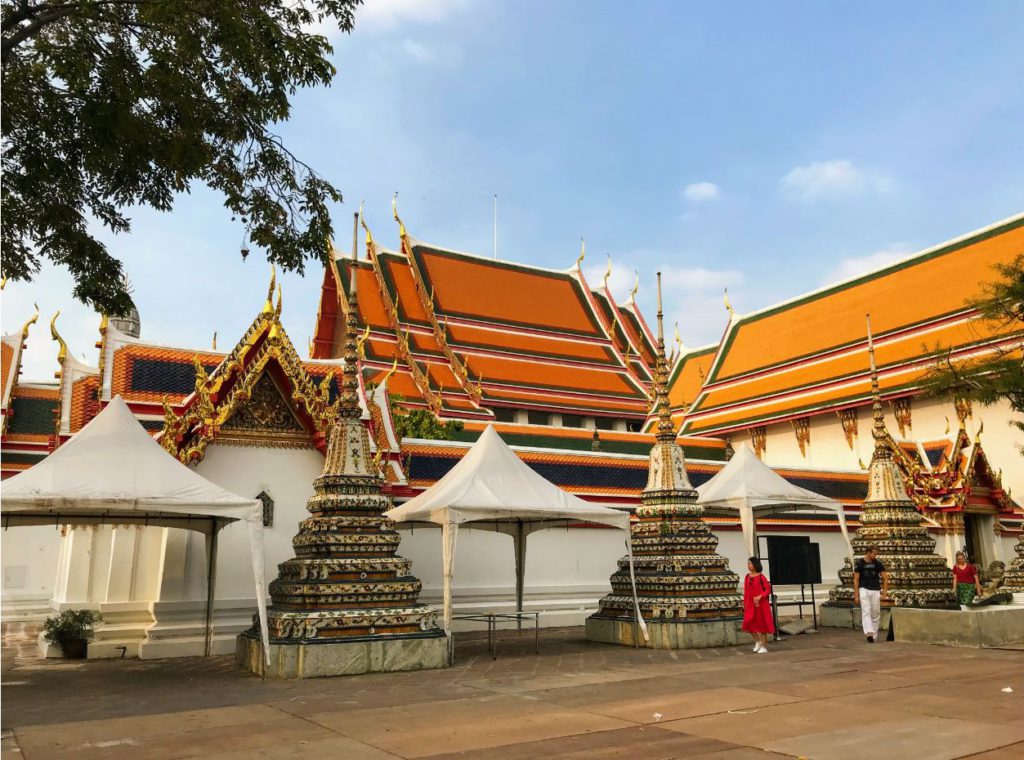 Wat Pho Massage
Although subjects like religion, science, literature and arts were taught in the premises of the temple, it became renowned for Thai traditional medicine. A school for Thai medicine and massage was established in 1955. There are four courses available in Thai pharmacy, Thai medical practice, Thai midwifery and Thai massage.
You can even enjoy a session of traditional Thai massage here for 500THB. Of course, it's cheaper outside, but this one is the original Thai. The technique uses the understanding of energy pathways and therapeutic points, something similar to Chinese acupuncture.
You may find a long line for the massage. A good way to get a spot is to book as soon as you enter and then take a tour of the complex so that you won't have to wait too much when you return.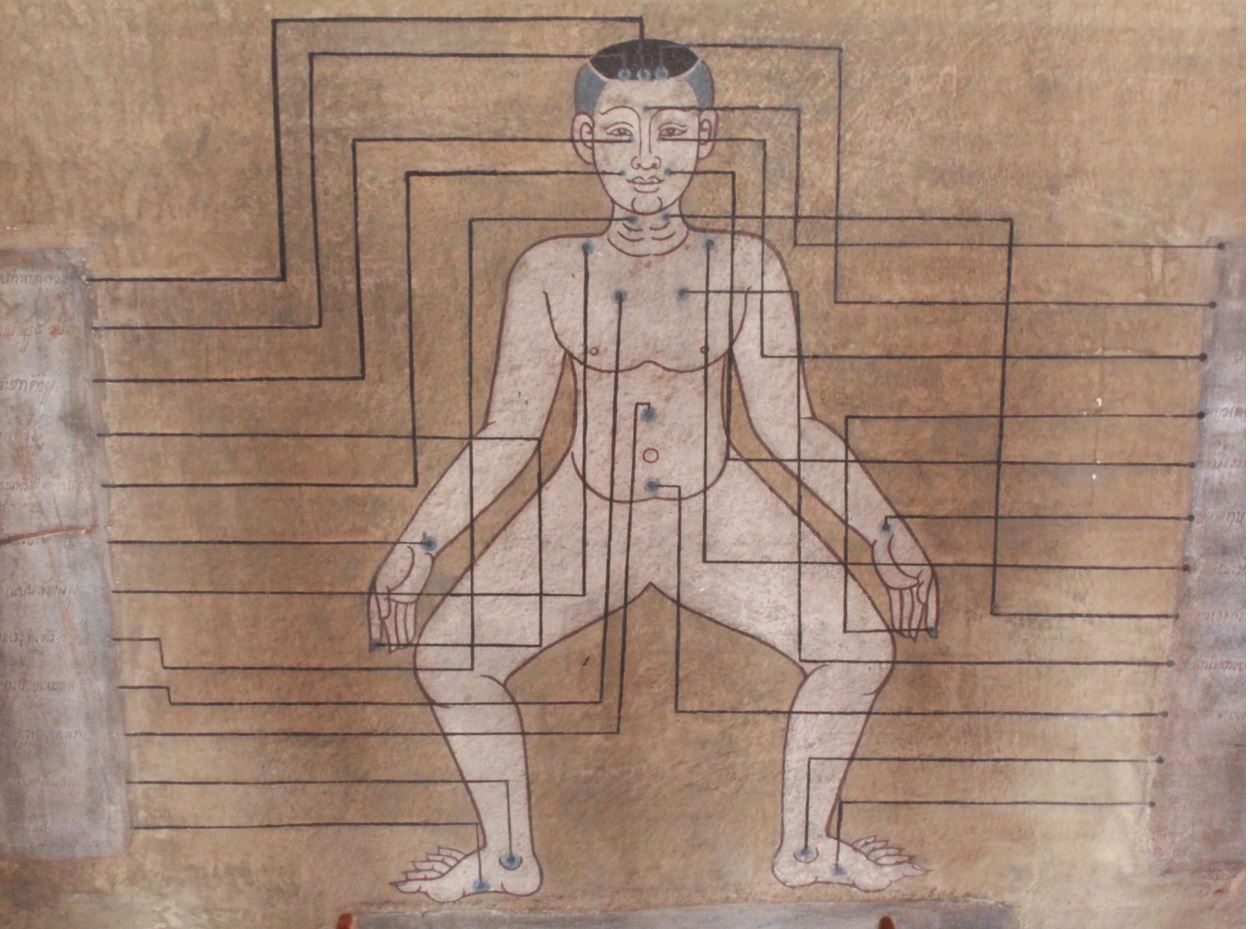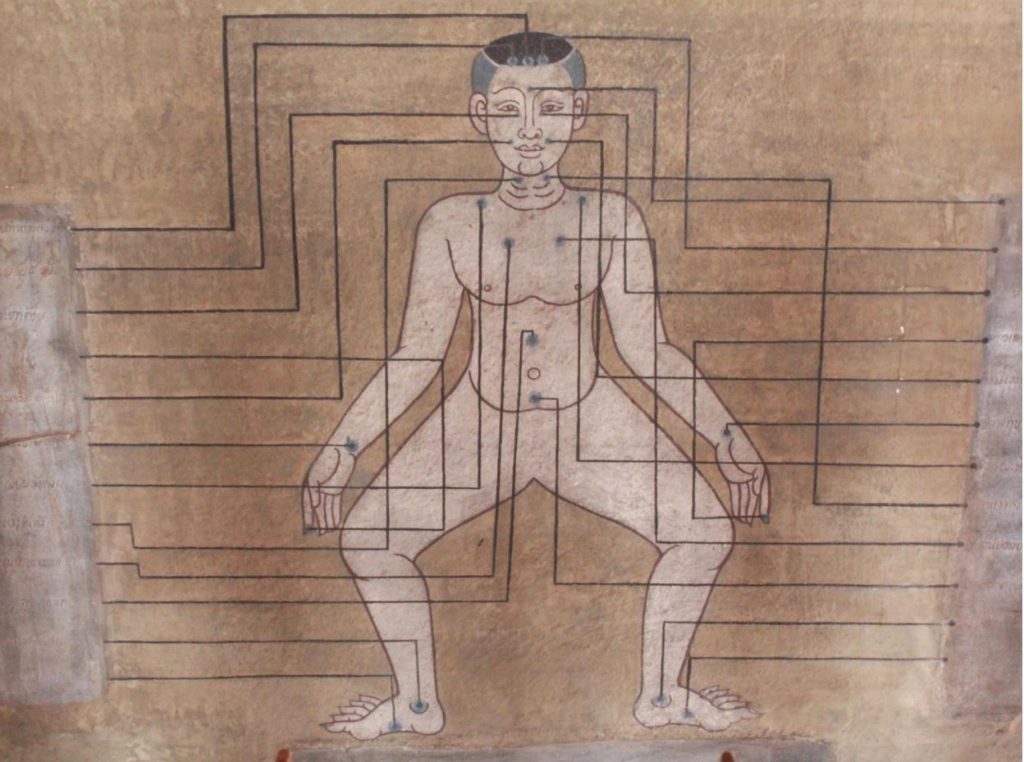 Wat Pho Dress Code
Dressing up is a delicate affair when visiting Wat Pho. Like all other temples, you strictly need to cover your shoulders and knees when you visit. This applies both to men and women. If you are planning to club your visit to Grand Palace you need to take additional care by not wearing too skimpy or torn clothes. You cannot wear body-hugging or gym-like clothes either.
You can always use a multi-purpose sarong or scarf to cover yourself on occasion. There are often shops outside the temples that offer cheap alternatives with prints corresponding to Thai street-fashion in case of an emergency.
Places to see around Wat Pho
If you are in the area, you can cover some of the following places that are within a walking distance or with a short ride.
The Grand Palace – 15-minute walk at a distance of 1.1km (Location)
Wat Arun – 5-minute walk at a distance of 300m to Tha Tian Pier and a 10 min ferry ride across the Chao Phraya River. (Location)
Museum Siam – 5-minute walk at a distance of 400m. (Location)
National Museum – 5-minute drive at a distance of 2km. (Location)
Chinatown – 10-minute drive at a distance of 4km. (Location)
Yodipman Flower Market – 10-minute walk at a distance of 750m. (Location)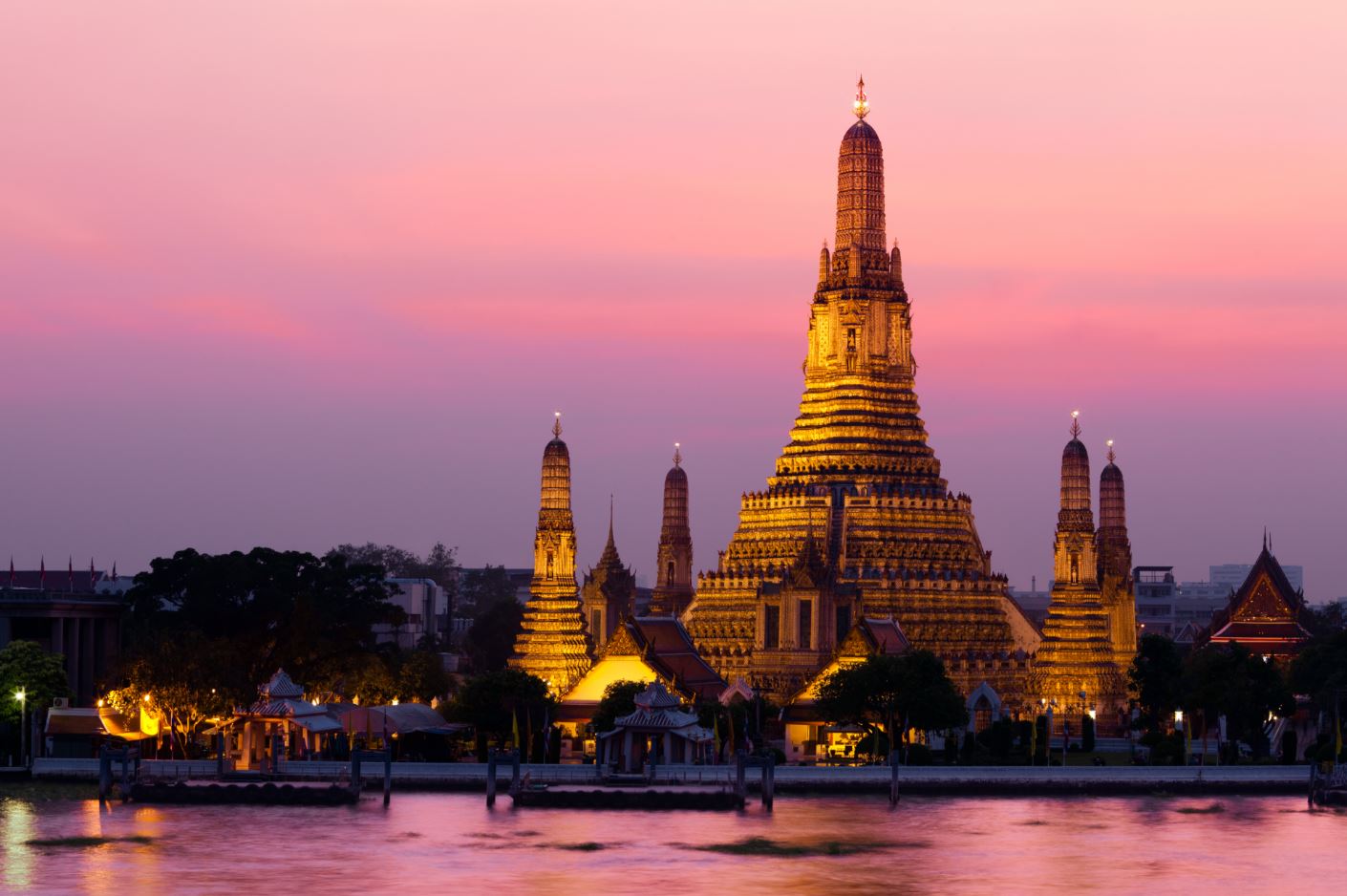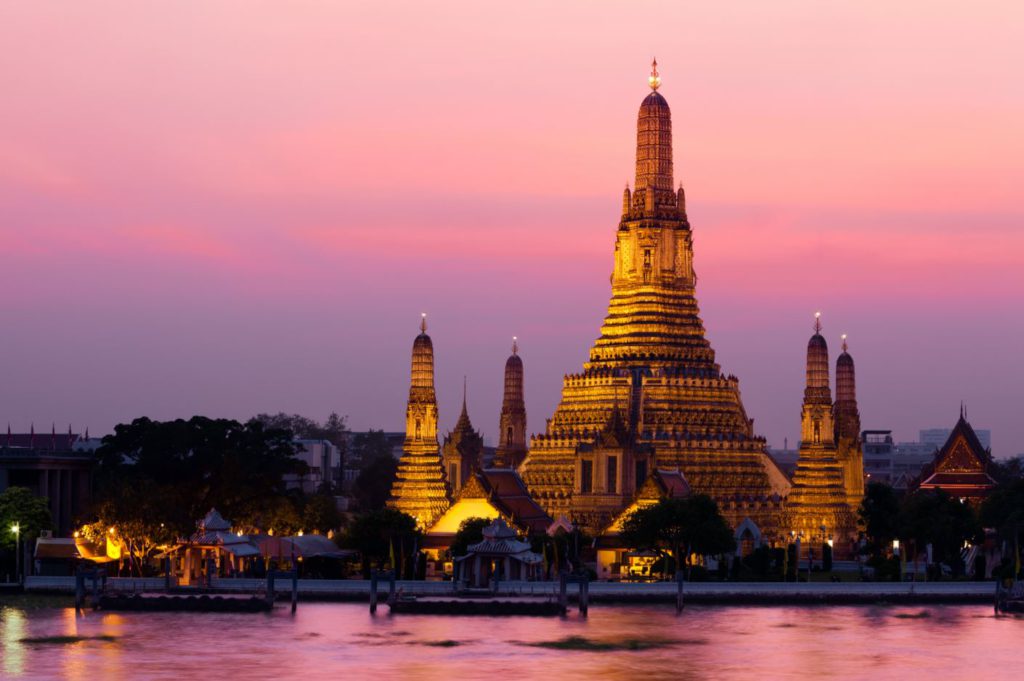 Save On Pinterest


Related Articles