08 May

All about visiting Muang Boran or Ancient City, Bangkok

I have to say, not a lot of people visit Muang Boran or Ancient city in Bangkok. It could be since it is not all that well known. Or because it is far from the city. Or maybe because it is never really that advertised by travelers or even the locals.

I know so many of my local friends, here in Bangkok who haven't been to Muang Boran yet.

I decided to go after I saw this photo online.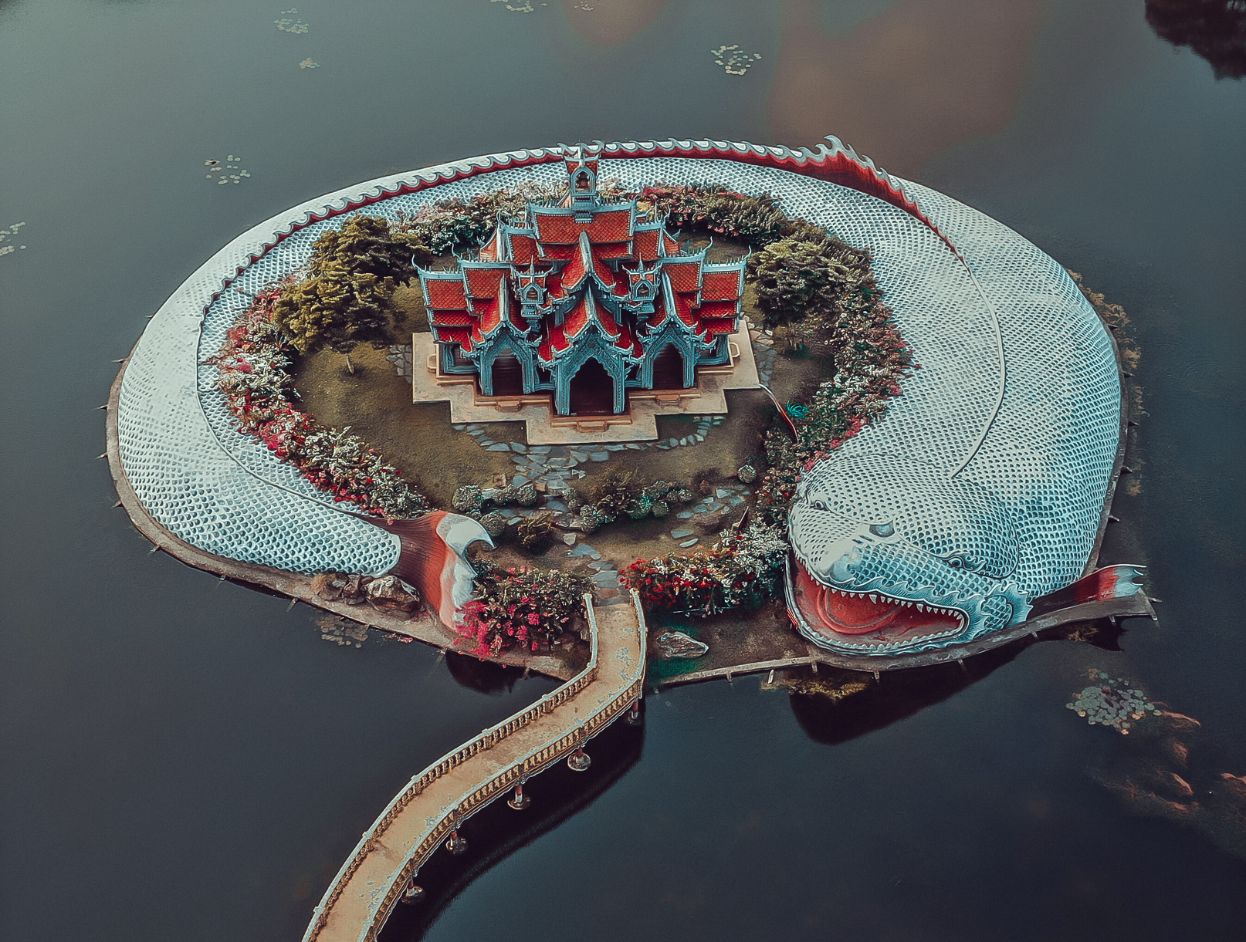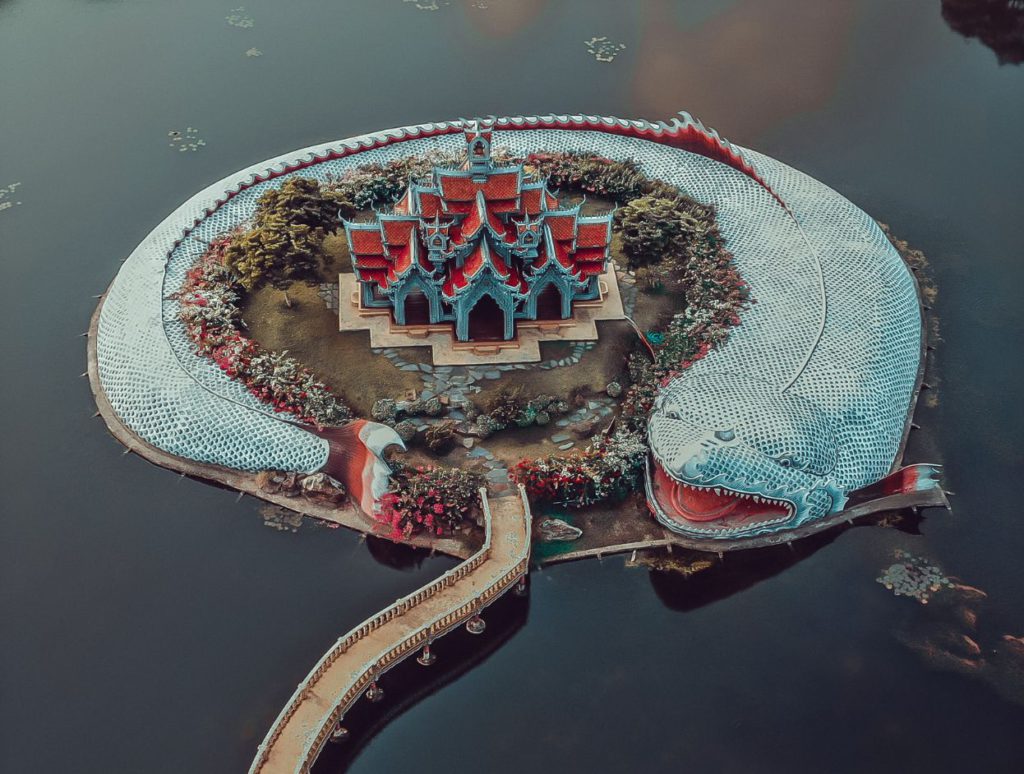 Isn't it amazing?
Need to admit, I have never seen anything like it.
Although it does not look that cool from the human eye view. But still, it blew my mind.
But I believe, there were still quite a lot of places in the ancient city that I think is so unique and mindblowing. The first of it is the park's sheer size.
Enjoy Museums? Check out Museums In Bangkok That You Never Thought Existed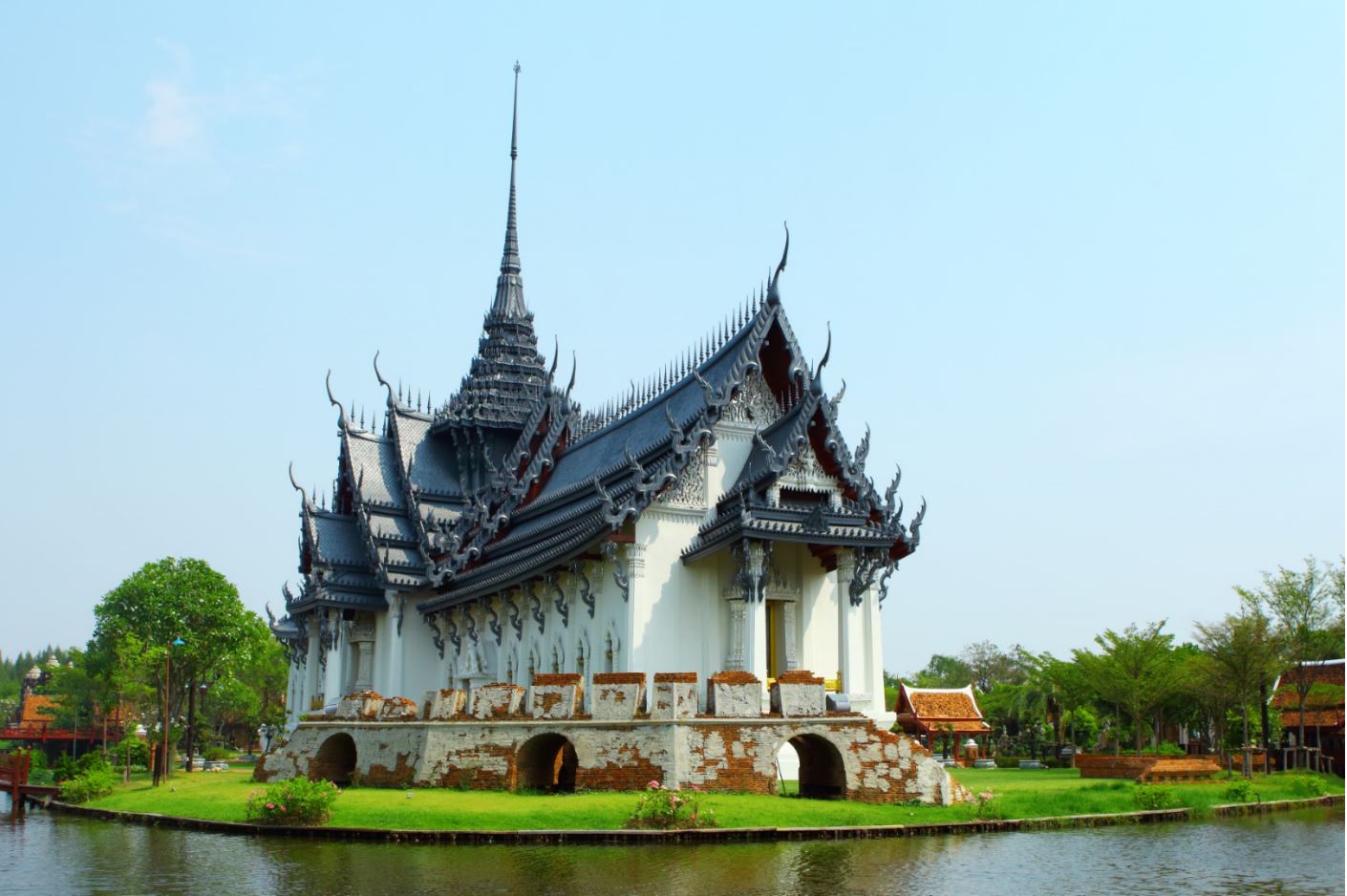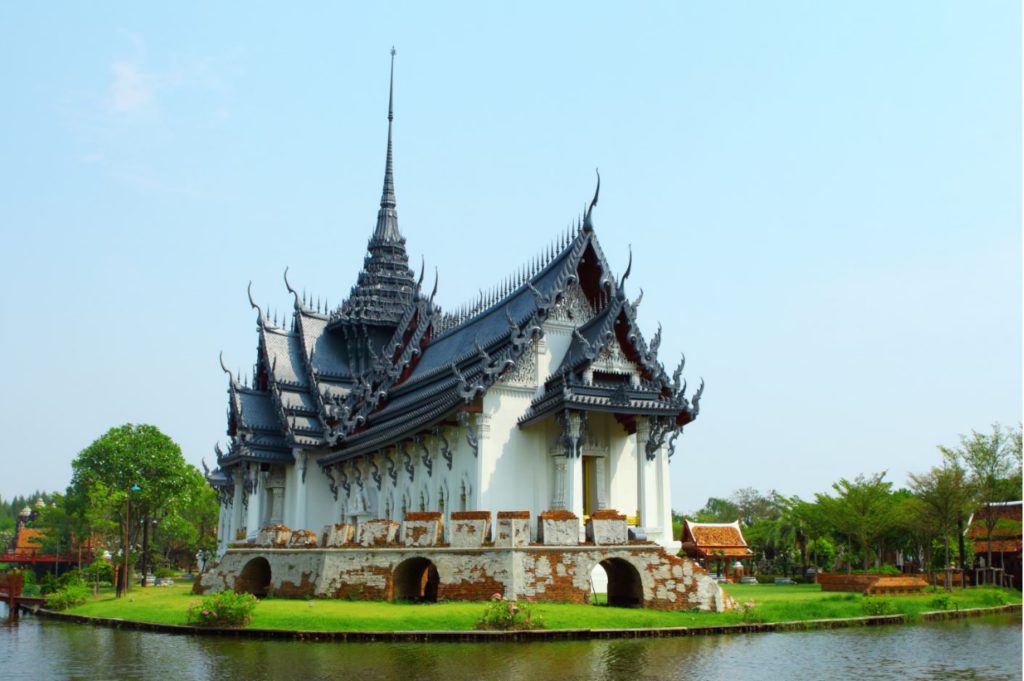 What is Muang Boran?
Muan Boran is just the Thai name of 'Ancient City'. It is an extraordinarily 'Thailand-shaped' large park that focusses on displaying the best of Thai architecture. The park has a miniature version of most of the famous buildings from across Thailand.
I guess the conceptualizer wanted the visitor to experience the authentic feel of Thailand in its old time. The park encompasses a different era of Thai history. Each division has buildings reflecting the corresponding time. You don't have to understand it all if you are not that interested in history.
Plus there are also buildings that have been conceptualized from scratch, the likes of which you will not see anywhere else.
In Bangkok? 20 Best Bangkok Tourist Attractions For First Time Travelers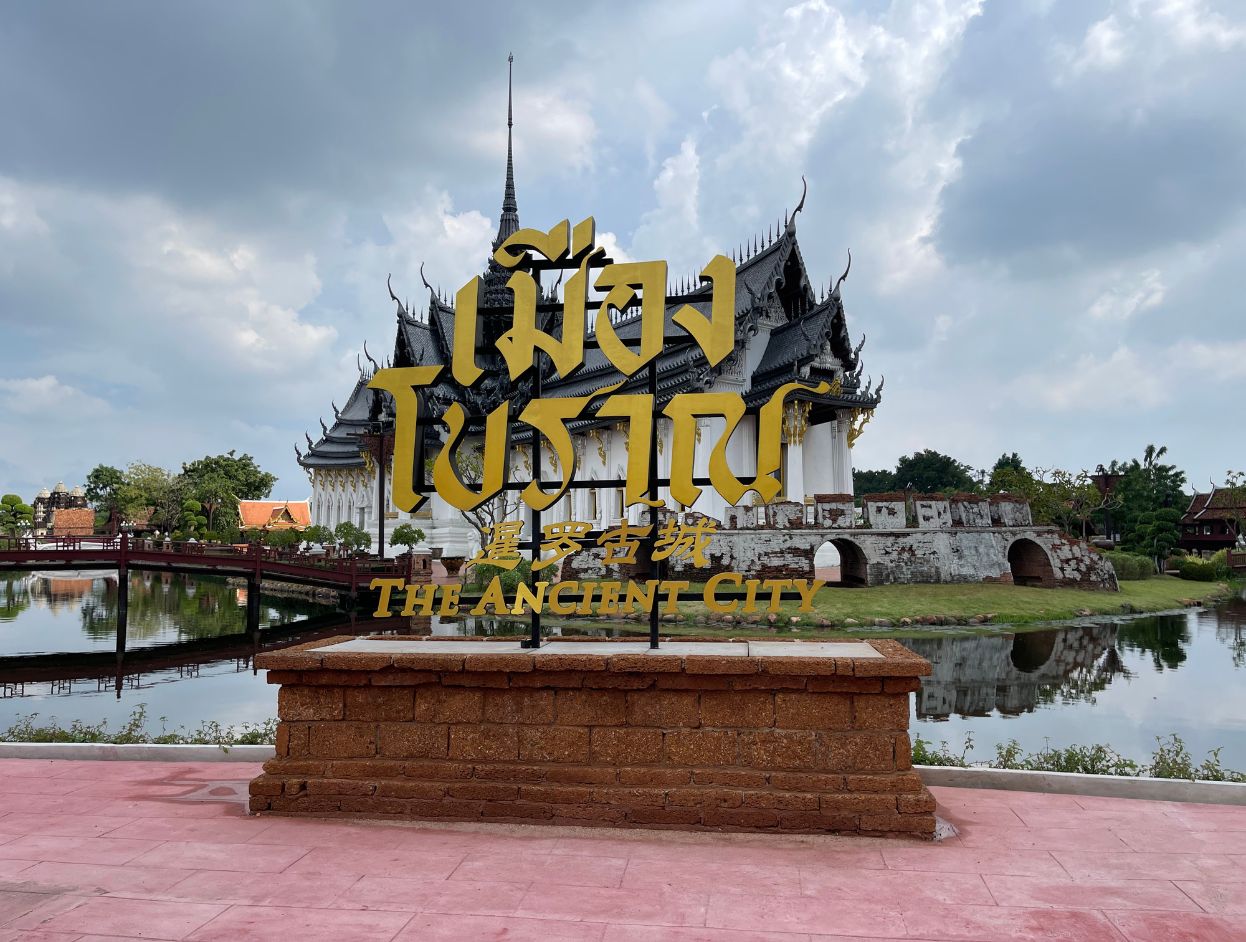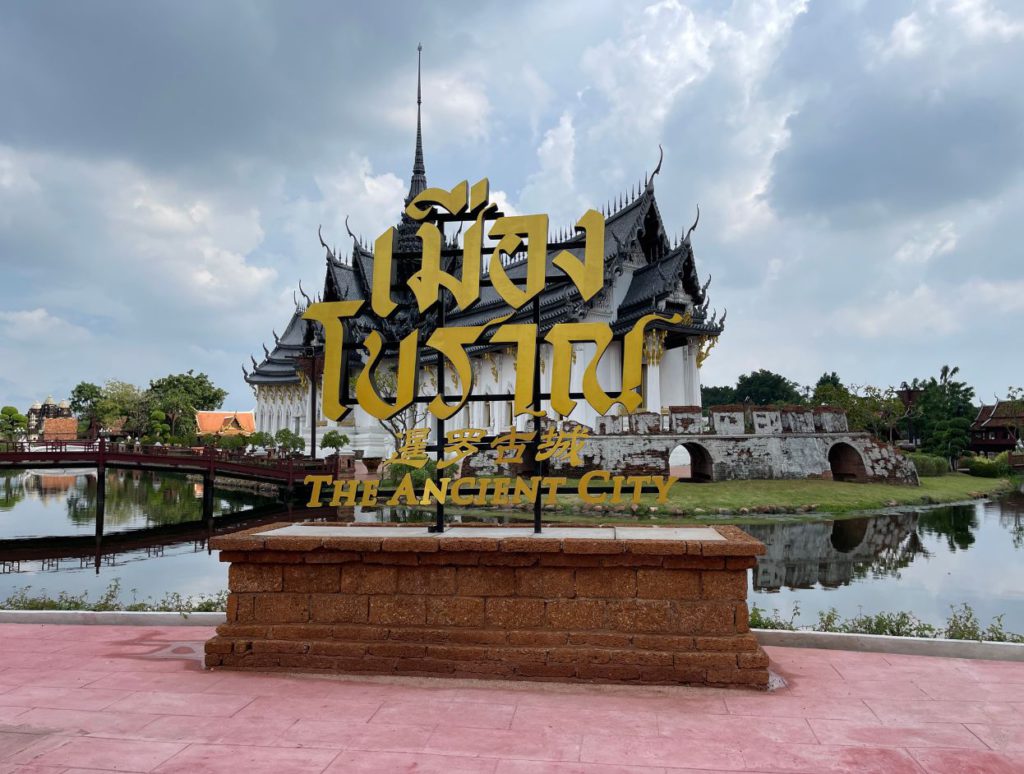 History of Muang Boran
The ancient city was established by the Thai millionaire Lek Viriyaphant. The businessman was interested in art and culture since his childhood. He even commissioned the construction of other popular landmarks like Sanctuary of Truth in Pattaya and Erawan Museum in Samut Prakan in Bangkok.
He initially conceptualized a large golf-course in the shape of Thailand country with miniatures of famous monuments. But as he charted out the details he planned to make this into an educational park for people to come, enjoy and take pride in their cultural heritage.
He worked on the designs until his death in 2000. Some parts of the park are still in construction and will probably go on for several more years to come.

Ancient City Location
Ancient City or Muang Boran is located 30 km outside the center of Bangkok city in the Samut Prakan district. You can enter the premises through its south gate.
How to reach The Ancient City
You can reach the Ancient city in the following ways:
Self-Drive: If you have a private vehicle, you can simply drive up to the Ancient city. The drive can be chaotic inside Bangkok city. But as you move out of the city, the traffic decreases and the surrounding gets more pleasant.
However, parking is expensive in the parking area inside the Ancient City (details below).
Taxi: A taxi from the centre of Bangkok city directly to the Ancient city will cost you around 350-400THB. You can hail one on the road by waving at it. Or you can book one online through the Grab app. You will be able to get a return taxi outside the Ancient city the same way.
MRT & Songthaew: This is the most convenient and affordable way to travel. Take the MRT on the light green line (BTS Skytrain) to the last station at Kheha. Get down at Exit No.1 or 3.
From there hail the songthaew number 36. Tell them your destination (Ancient city or Muang Boran in Thai) and hop on. To get down press the button inside the songthaew and the driver will stop it. Get down and pay the driver. It costs around 10THB for the ride.
Check this video out if you want to know how. Use the same route to go back. Cross over to the other side by using the foot-over bridge near the entrance gate.
Bus: Similar to MRT, Bus number 511 runs from the centre of the city to Pai Na Fam Chon Khe which is 6 km before Ancient City. The bus starts from the Democracy monument if you are staying in the old town and passes the Sukhumvit area.
From there you can take a taxi or take a songthaew if you get down on the main road.
You can check out all the possible routes from your exact location on Google maps or Moovit App.
Ancient City Details
Ancient City timings
Open from 9 am to 7 pm every day of the week.
Ancient City Ticket Prices
For Foreign tourists
9:00-16:00 – 700THB for Adults and 350THB for Children
16:00-19:00 – 350THB
For Thai Nationals
9:00-16:00 – 350THB for Adults and 175THB for Children
16:00-19:00 – 175THB for Adults and 80THB for Children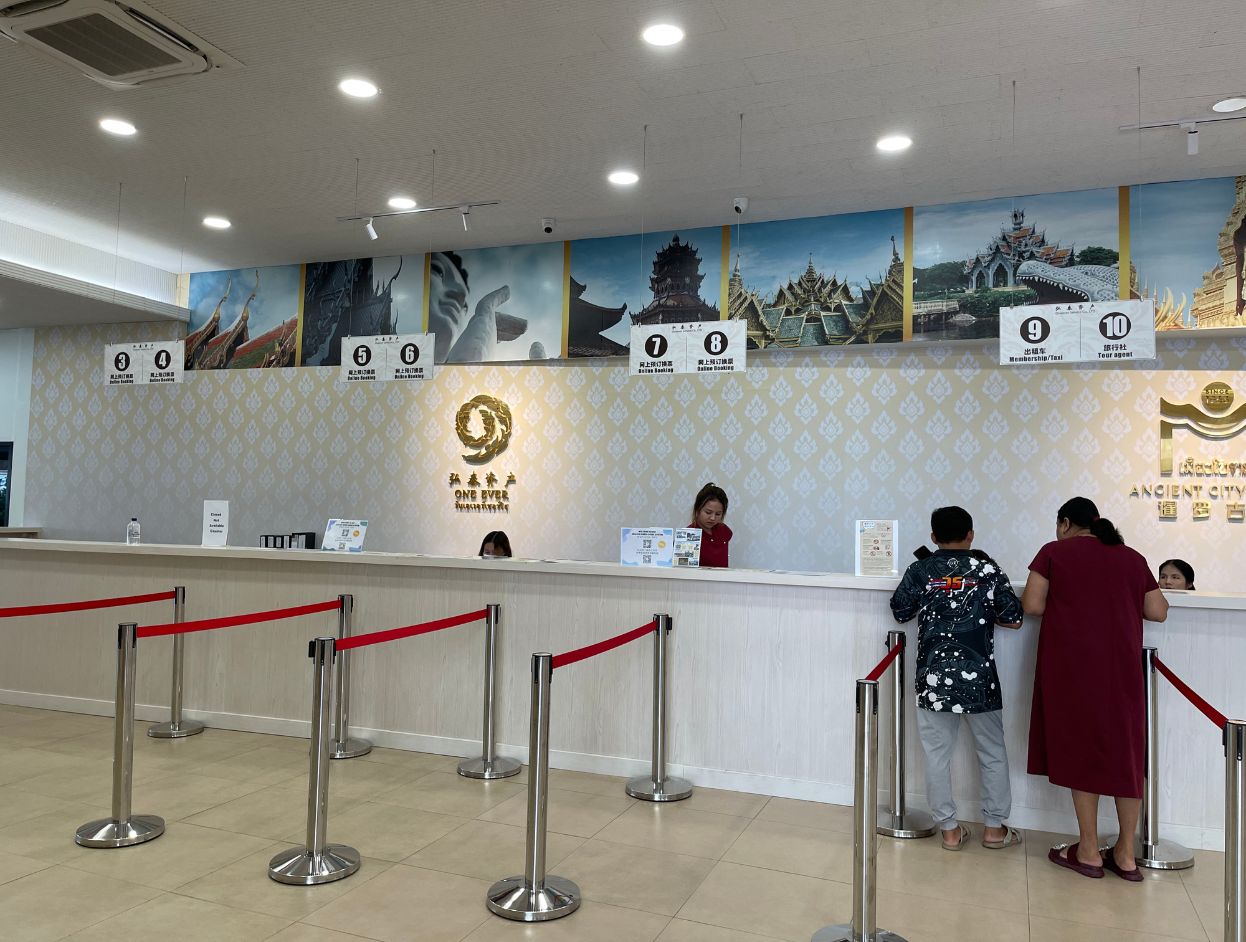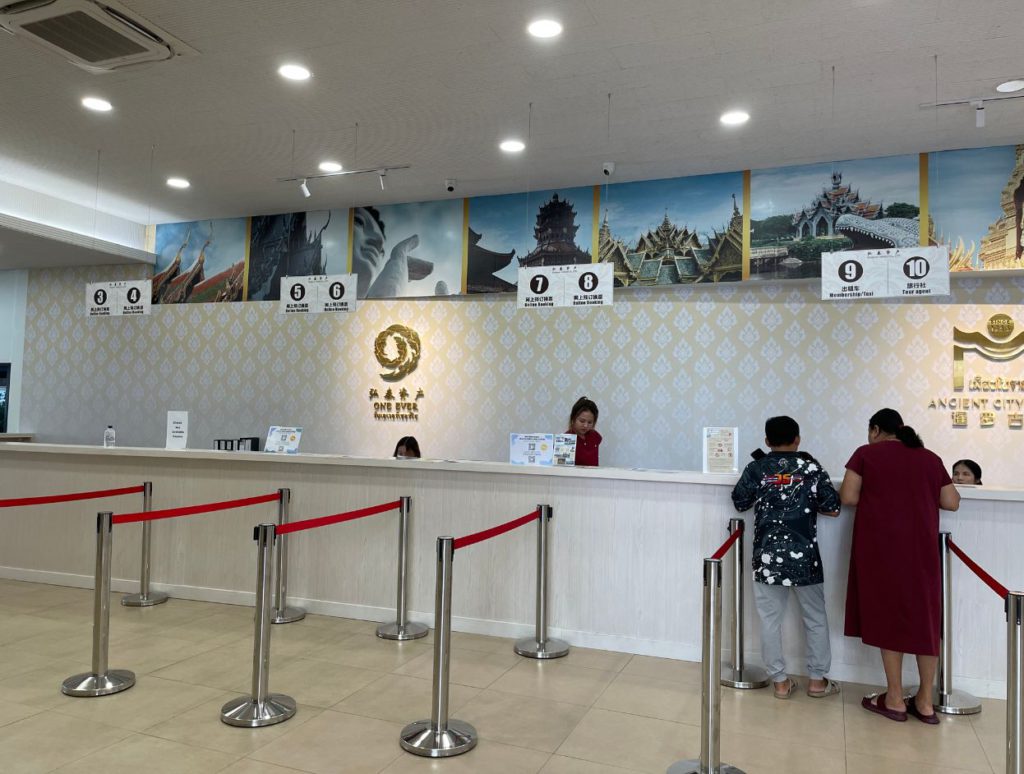 Car or Van Parking
9:00-16:00 – 400THB
16:00-19:00 – 200THB
NOTE: Although this is the official ticket price, they revoked the offer when we reached Ancient city after 4 pm. We paid the full price for the ticket.
The tickets include a rent-free bicycle (if you prefer this) and an audio guide. You will have to keep some form of identity proof like passport as a guarantee till the time you return these. Keep the tickets with you at all times. You will need to show them at various spots.
I found that the prices on aggregator websites are far cheaper and give a great discount offer up to 50%. I will definitely suggest that you buy the ticket online but do that at least 30 minutes before you have to avail of it.
You can also book a ticket to the Erawan Museum with Ancient City together. On a hot day, you can enjoy the indoor museum in the afternoon and visit the Ancient city when it has cooled down a bit.
Buy tickets to Ancient City
How to go around inside Ancient City
Before sharing the options, let me tell you that Ancient city is just too large to walk on foot. You will need some kind of vehicle to travel. You cannot take your own vehicle inside so here is what you can rent.
Bicycle: You can a rent-free bicycle with your ticket. If you know how to ride a bicycle, it is the loveliest way to spend a day. And you get a bit of exercise. The bicycles are pretty basic, but it worked well. Smaller ones are available for kids also. Only pick this option if the weather is cool enough or you are riding late afternoon.
Tram: As a complimentary service, the premises run a set of trams four times a day. It is great if you don't want to sweat. It is also best suitable for kids and the elderly. These are free to use.
But it is best if you mention at the counter that you want to avail of the service. The timings of the tram tour are 10am-noon, 1pm-3pm, 3pm-5pm, 5pm-7pm.
The downside is the trams stop at a limited number of points and run for 2 hours at a time. It will be a shame to spend so little time here. Club this with another option and try to spend more time at the park.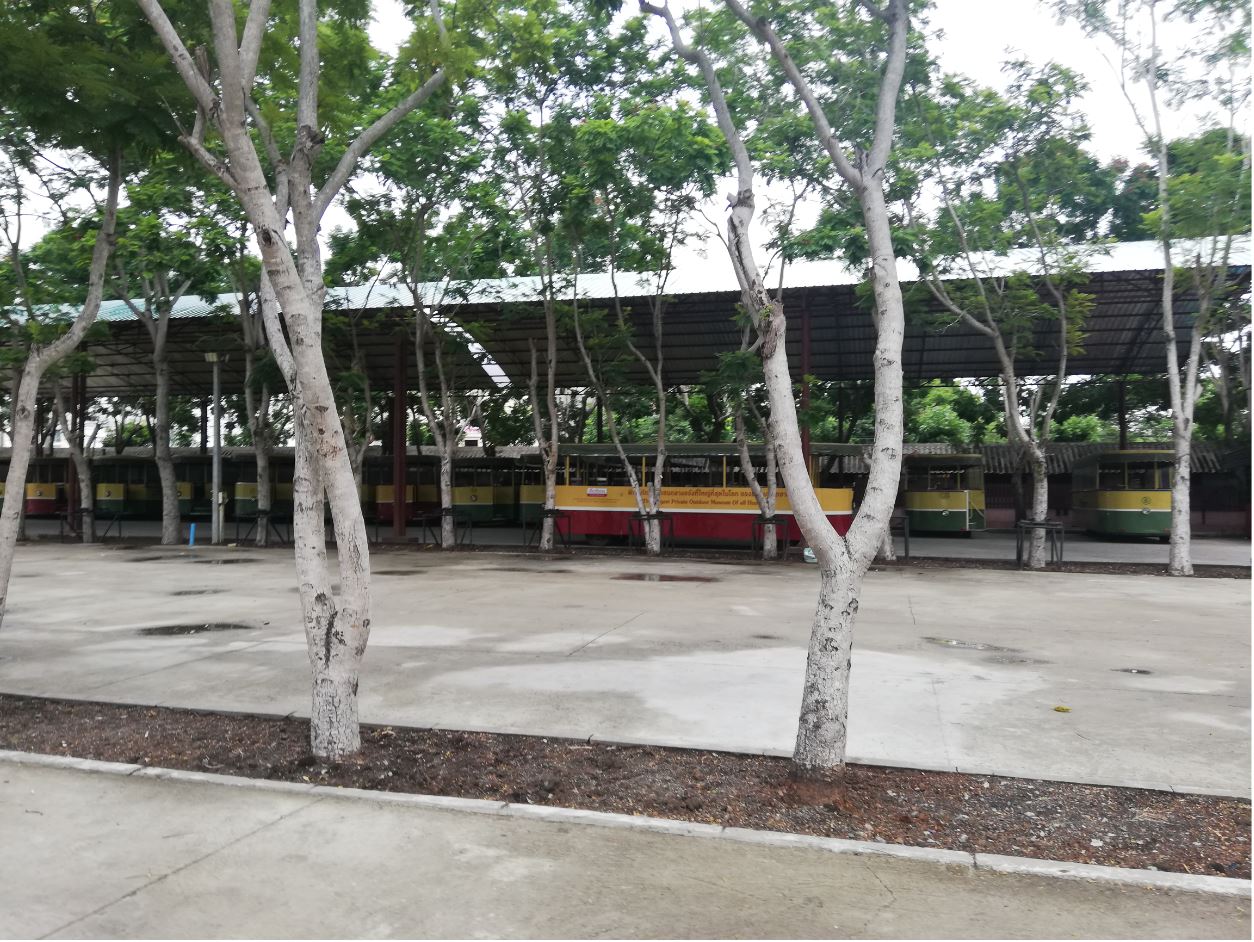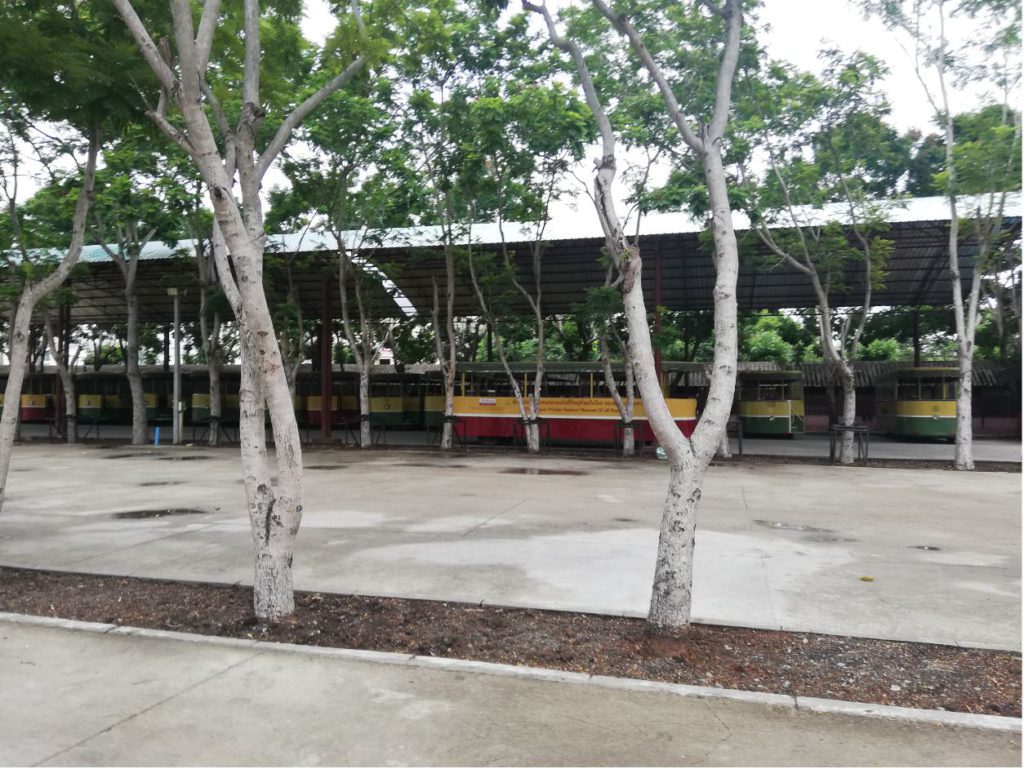 Golf Cart: You can also rent a golf cart for a tour around the park but you will have to drive it yourself. In this case, you will need to have a driving license. Here are the prices:
4-Seater – 350THB for the first hour, 200THB for each additional hour
6-Seater – 500THB for the first hour, 300THB for each additional hour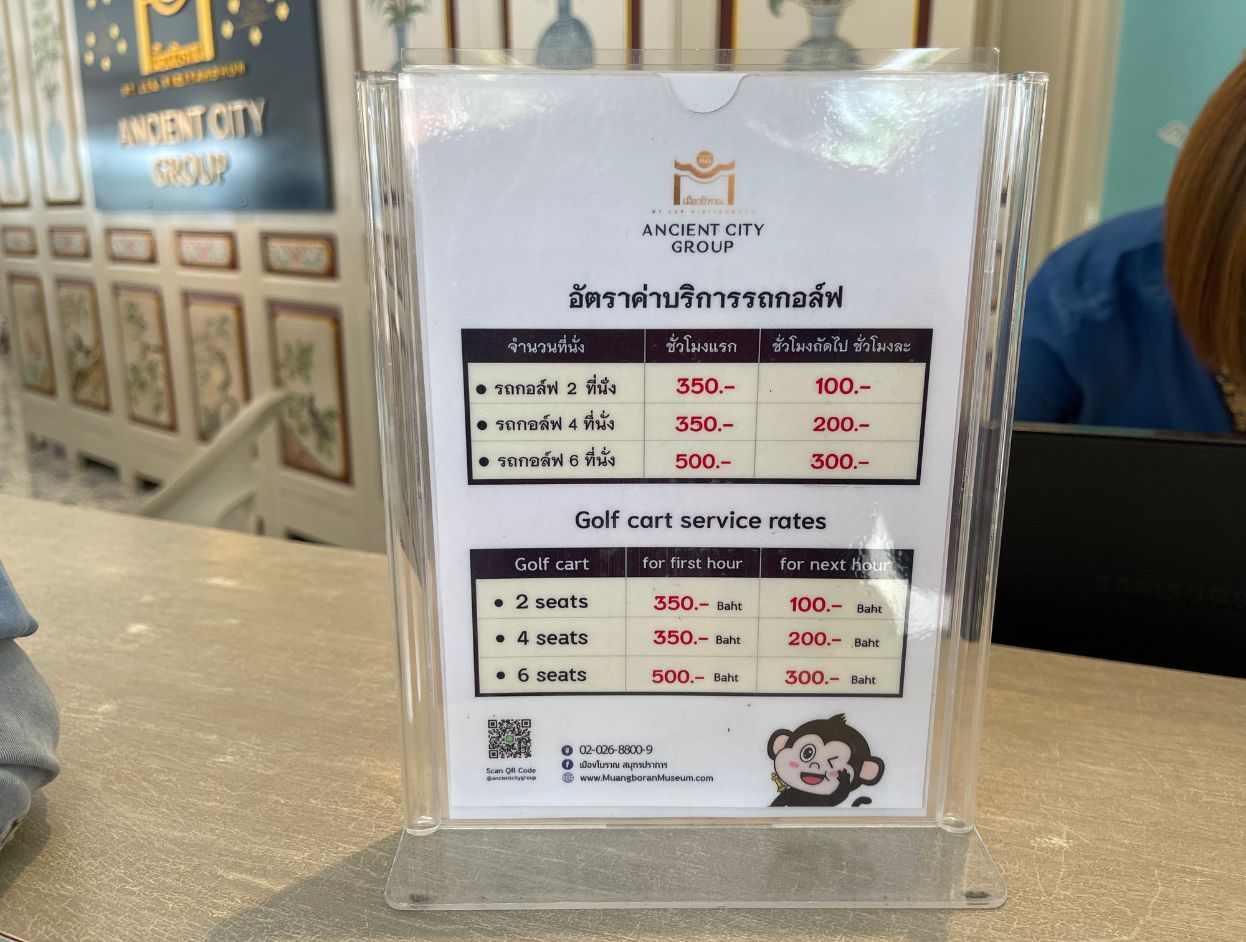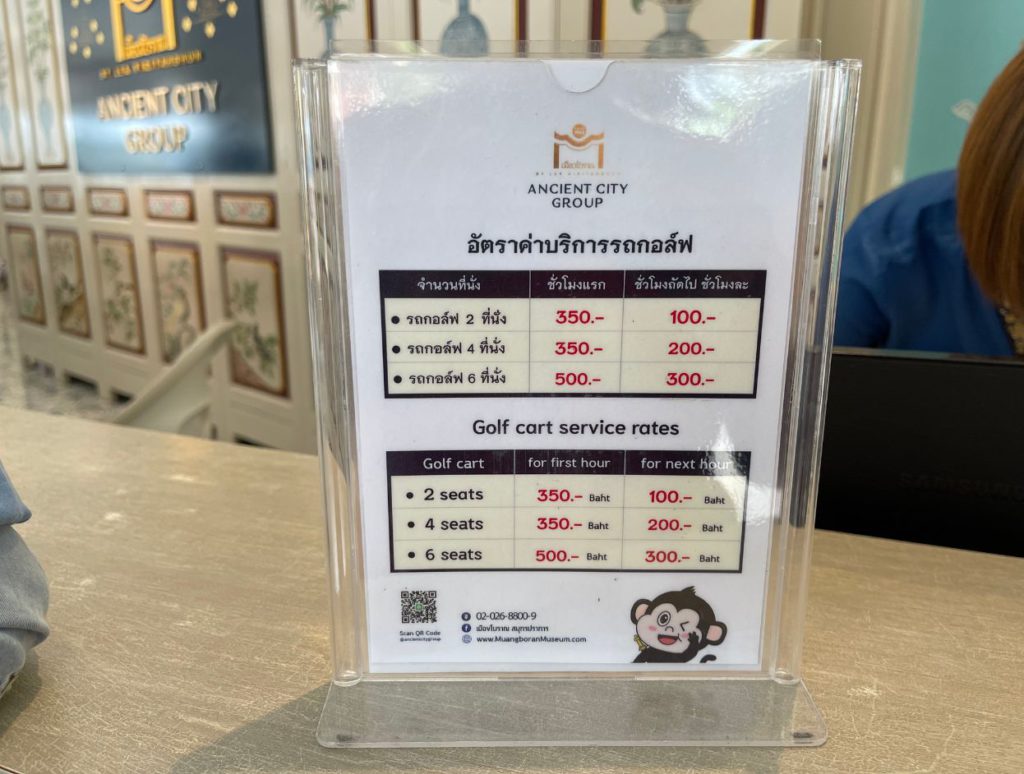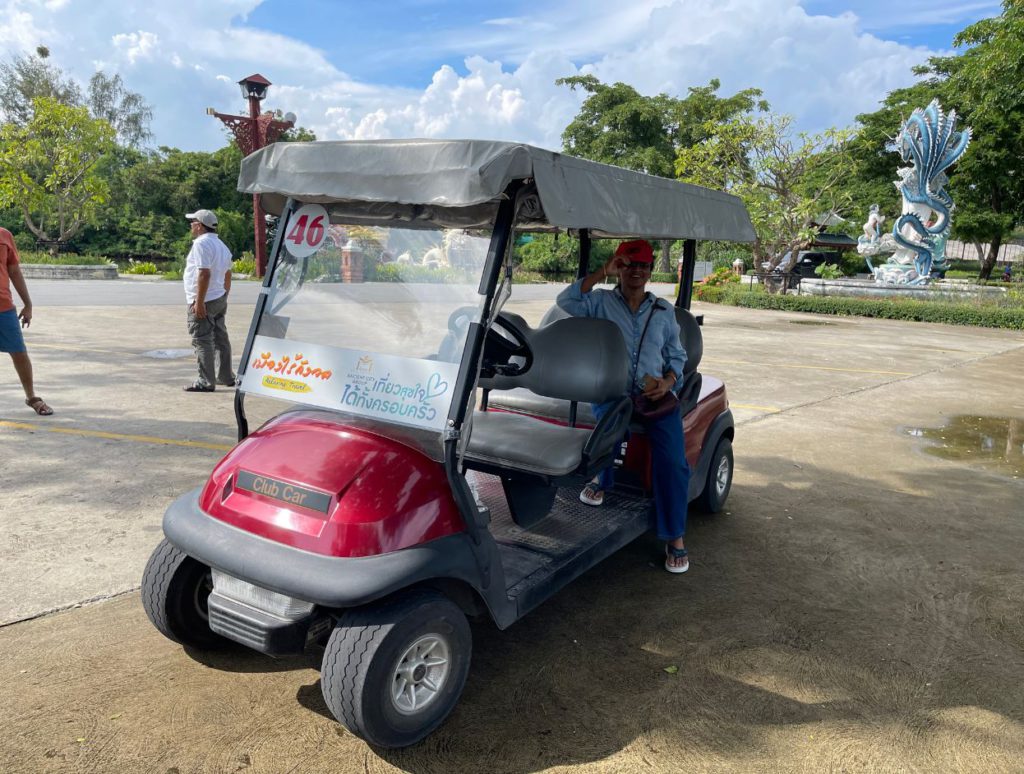 Ancient City Map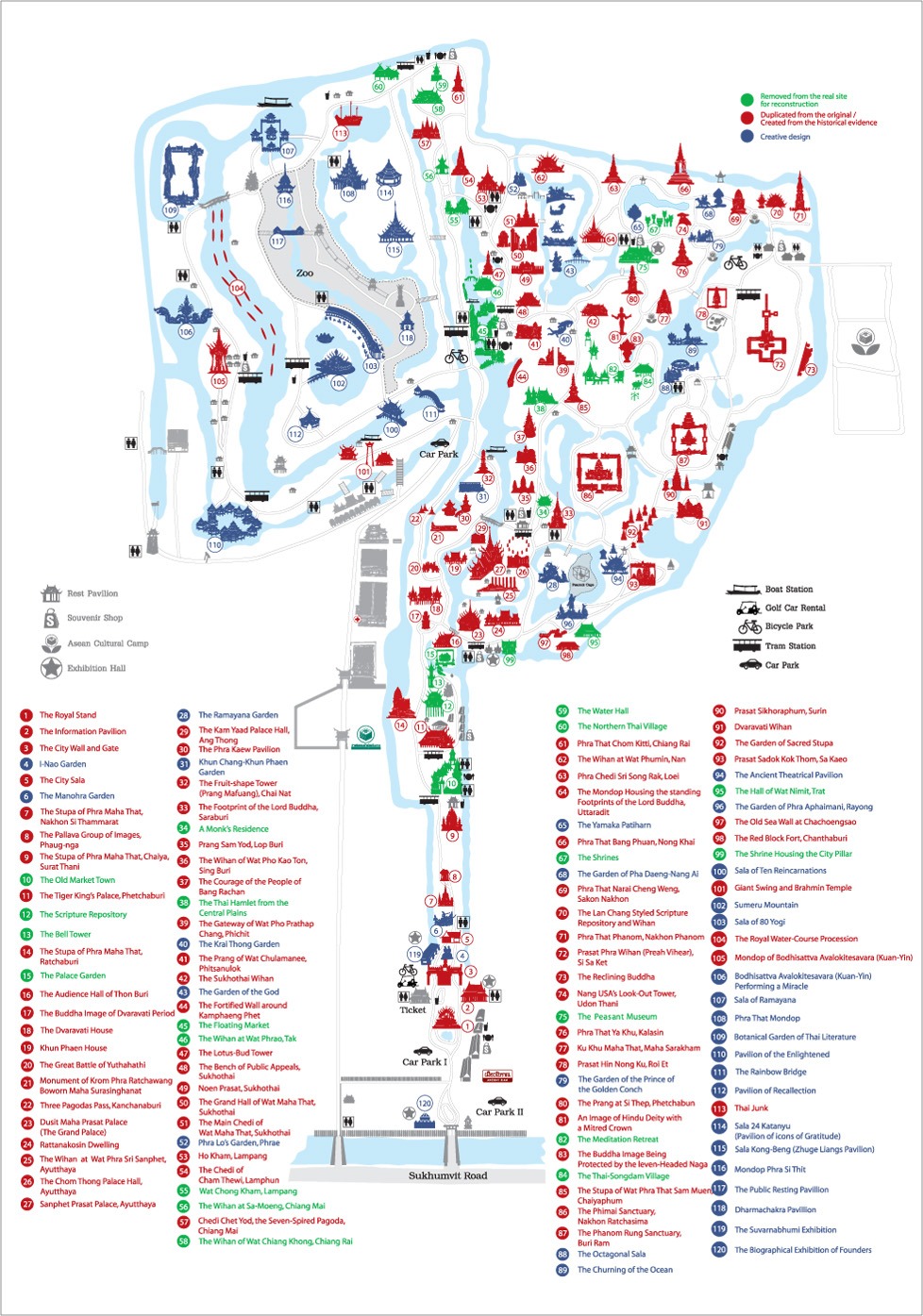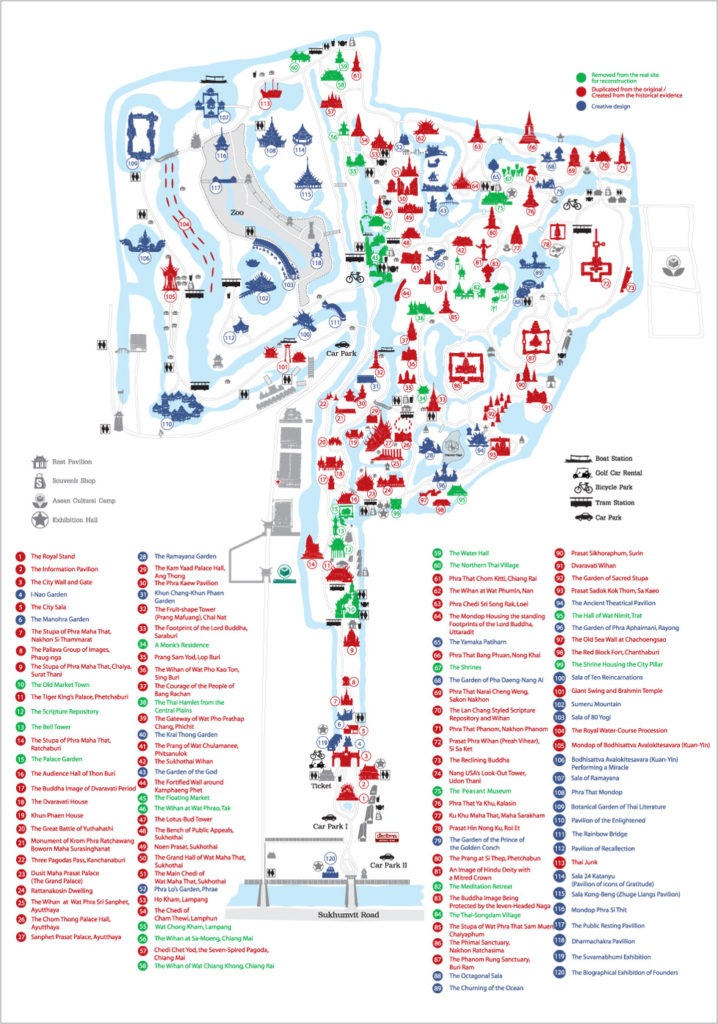 What to see in Ancient City
If you check out the map, it shows that there are three types of structure inside the Ancient city.
The first one is the absolute replica of the original buildings.
The second ones are designed and conceptualized from scratch.
And there are a few that the park bought out since they were set to be demolished.
In total, there are around 116 buildings from all around Thailand and a little of Laos, Myanmar, and Cambodia.
They have classified the buildings by past eras. The most notable historic era in Thailand is Sukhothai and Ayutthaya. While the original ones are still preserved in these Thai cities, you will find the replicas here.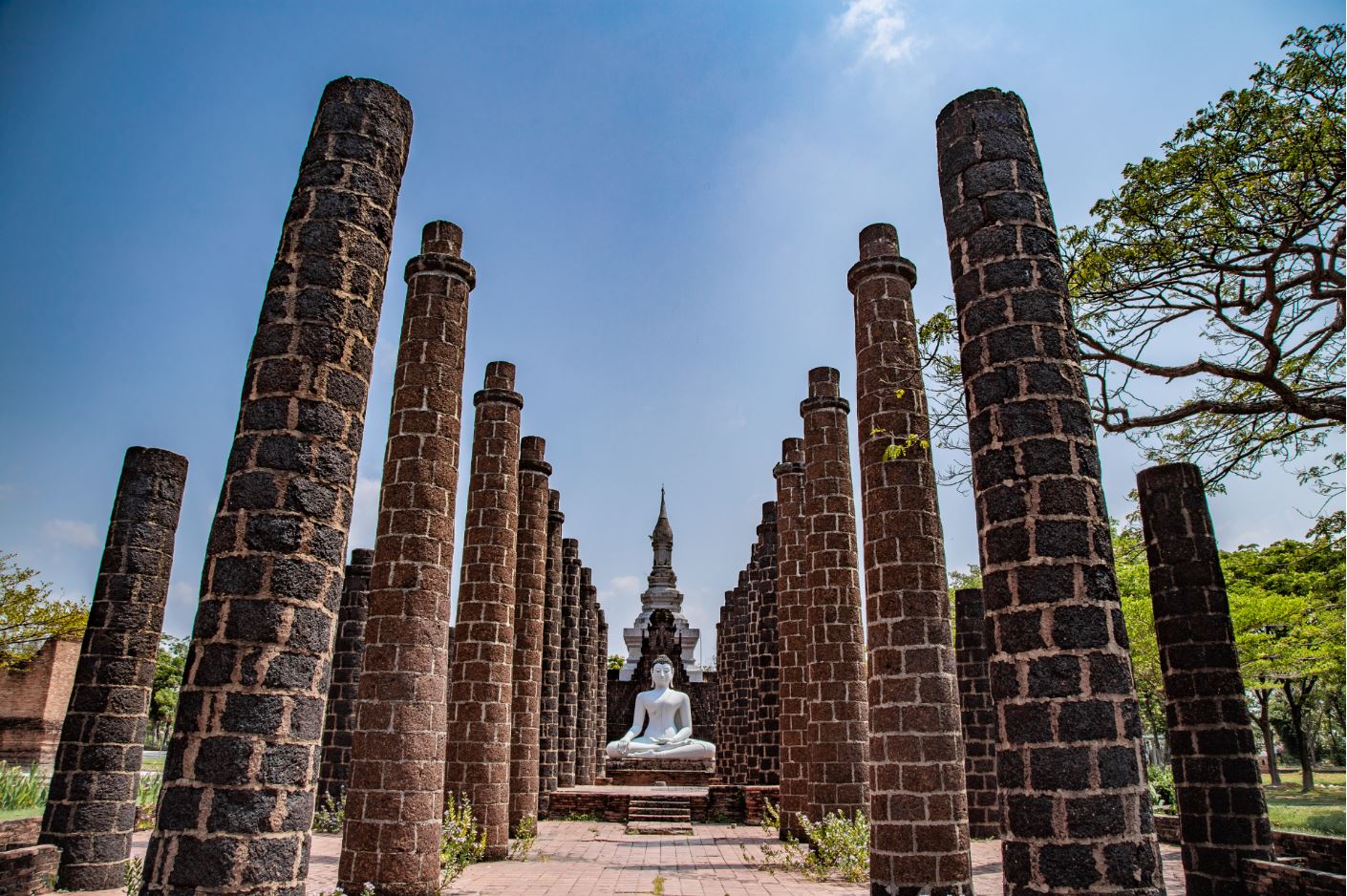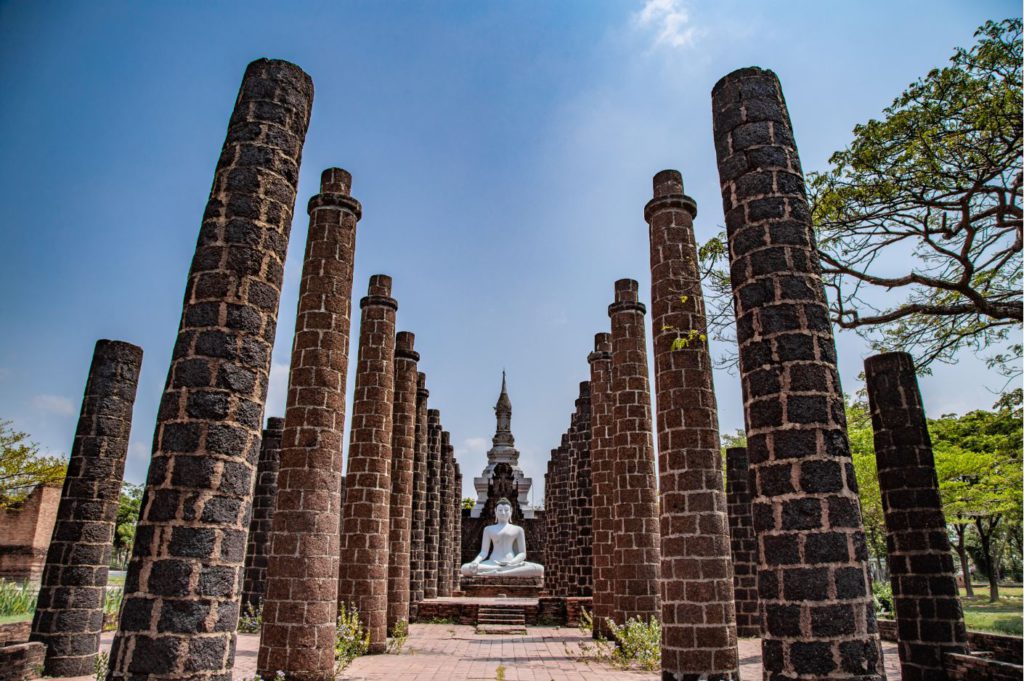 The Grand Palace of Ayutthaya is probably one of the best reproduction here and very appreciated. It was originally destroyed in 1767. Similarly, many other buildings are recreated here, which now stand destroyed.
You can broadly say that the park divides itself into five regions of Thailand. Those are East, South, Central, North, and Northeast. Each region has a cluster of buildings, fountains, gardens, and even markets. They represent the culture of the corresponding region.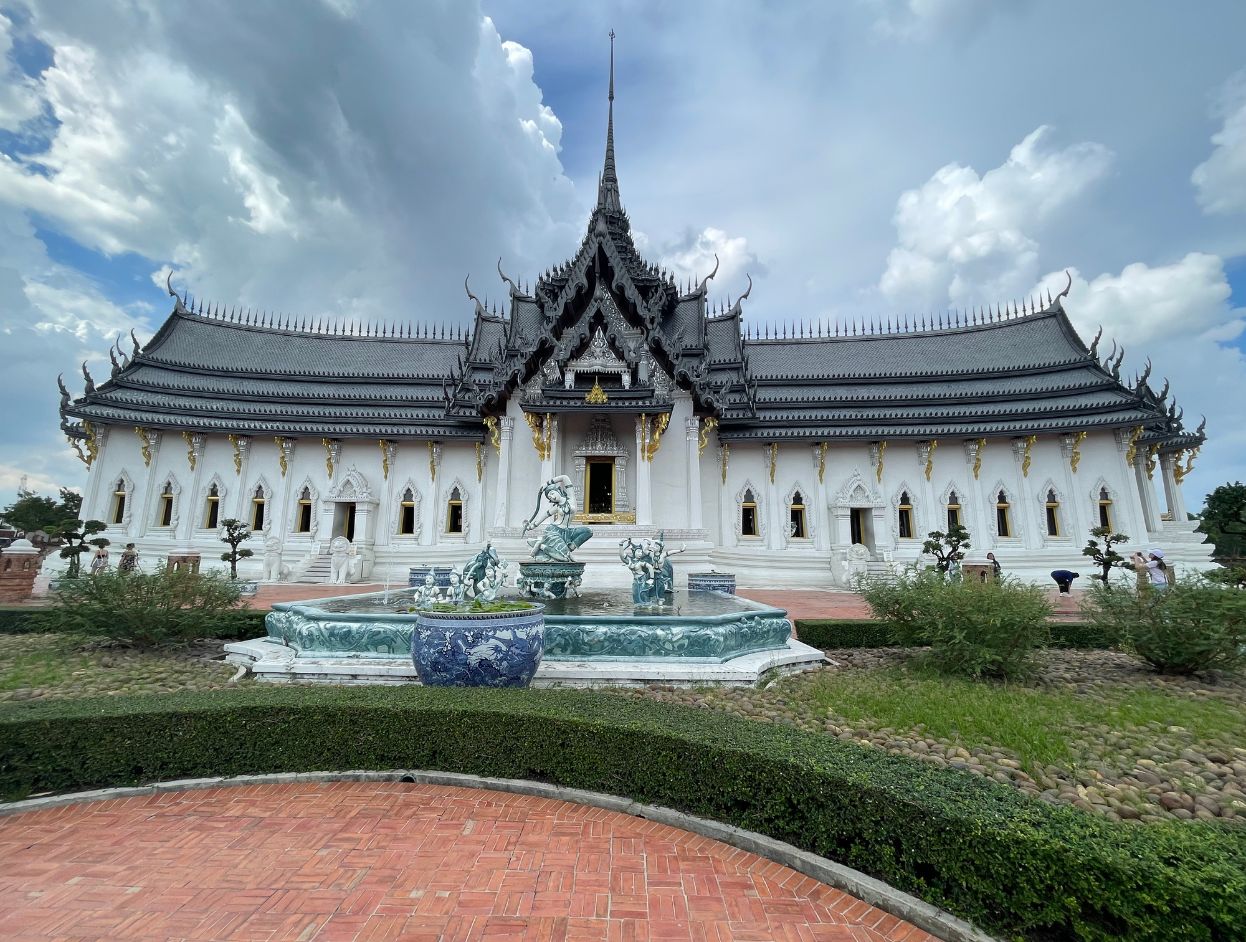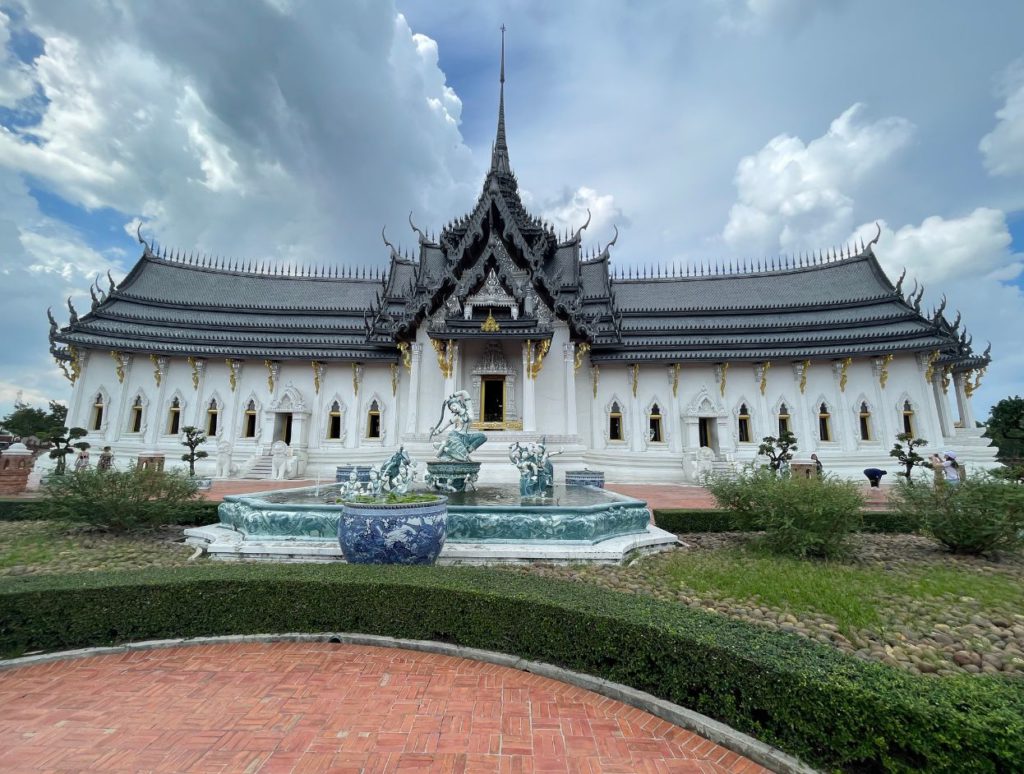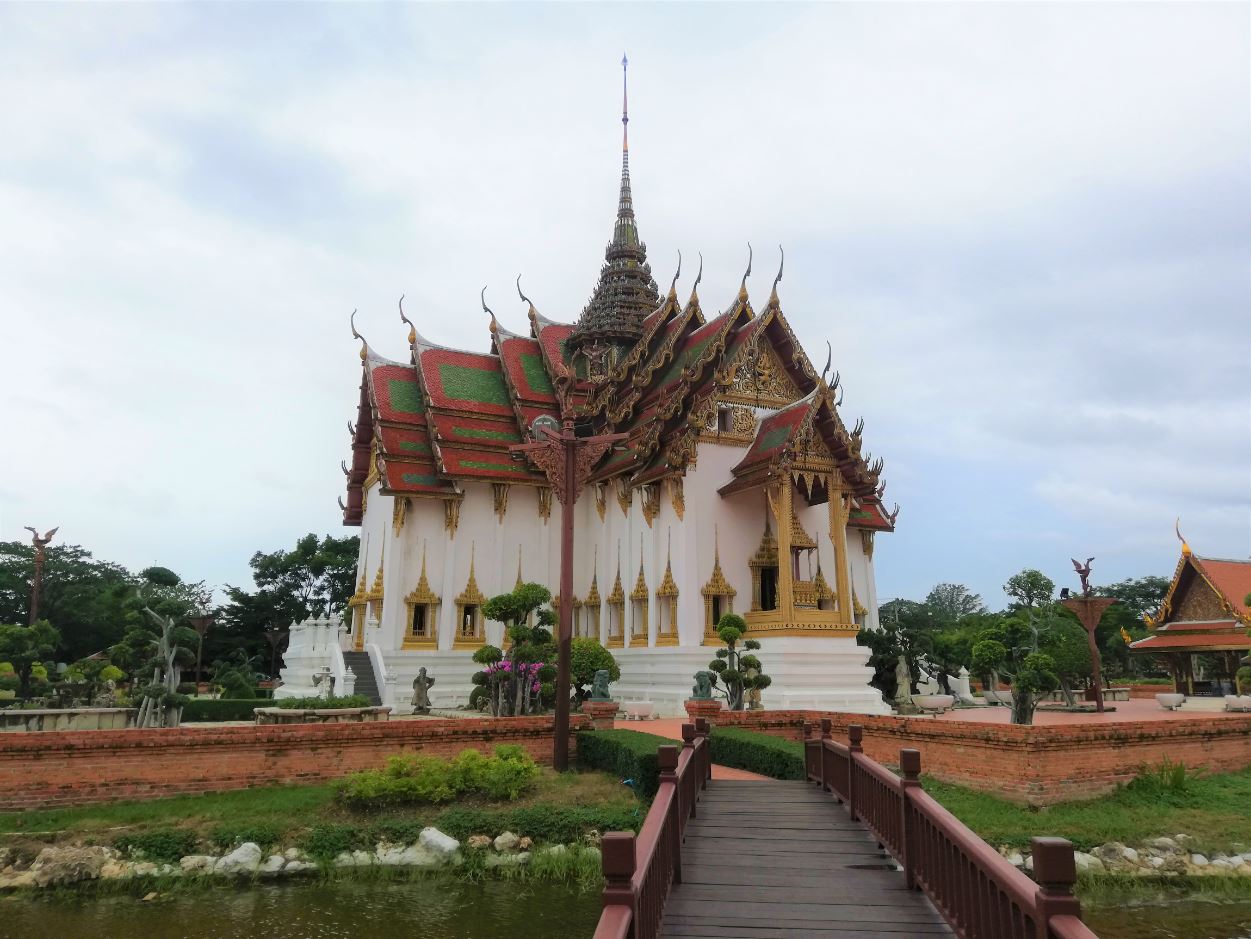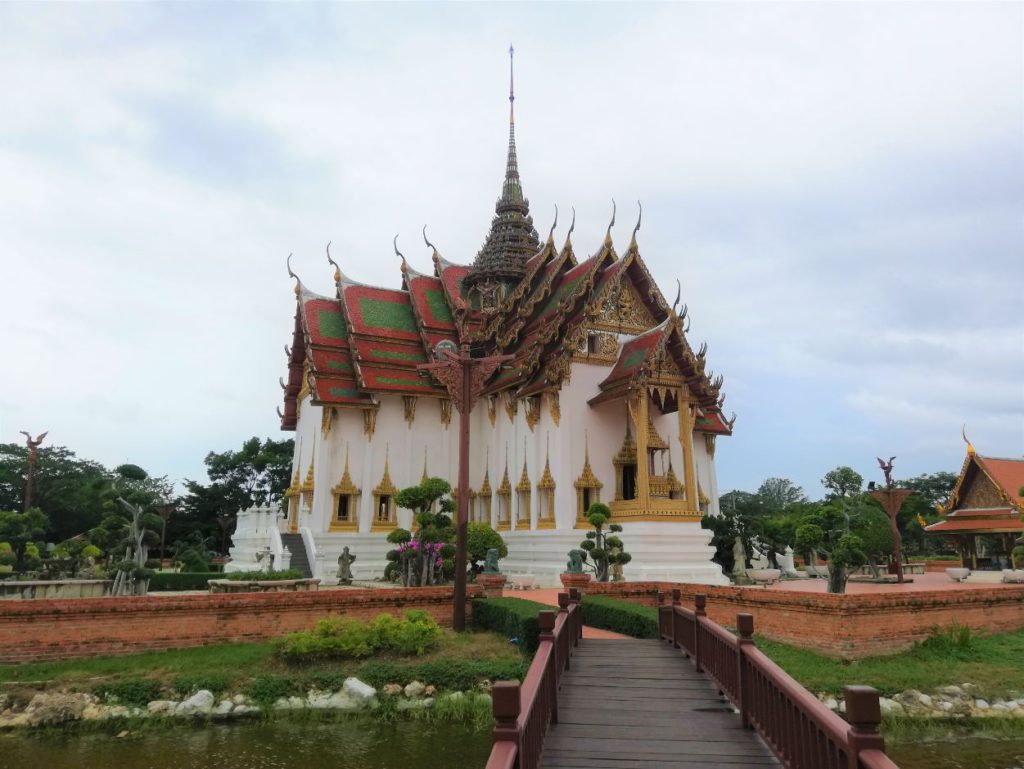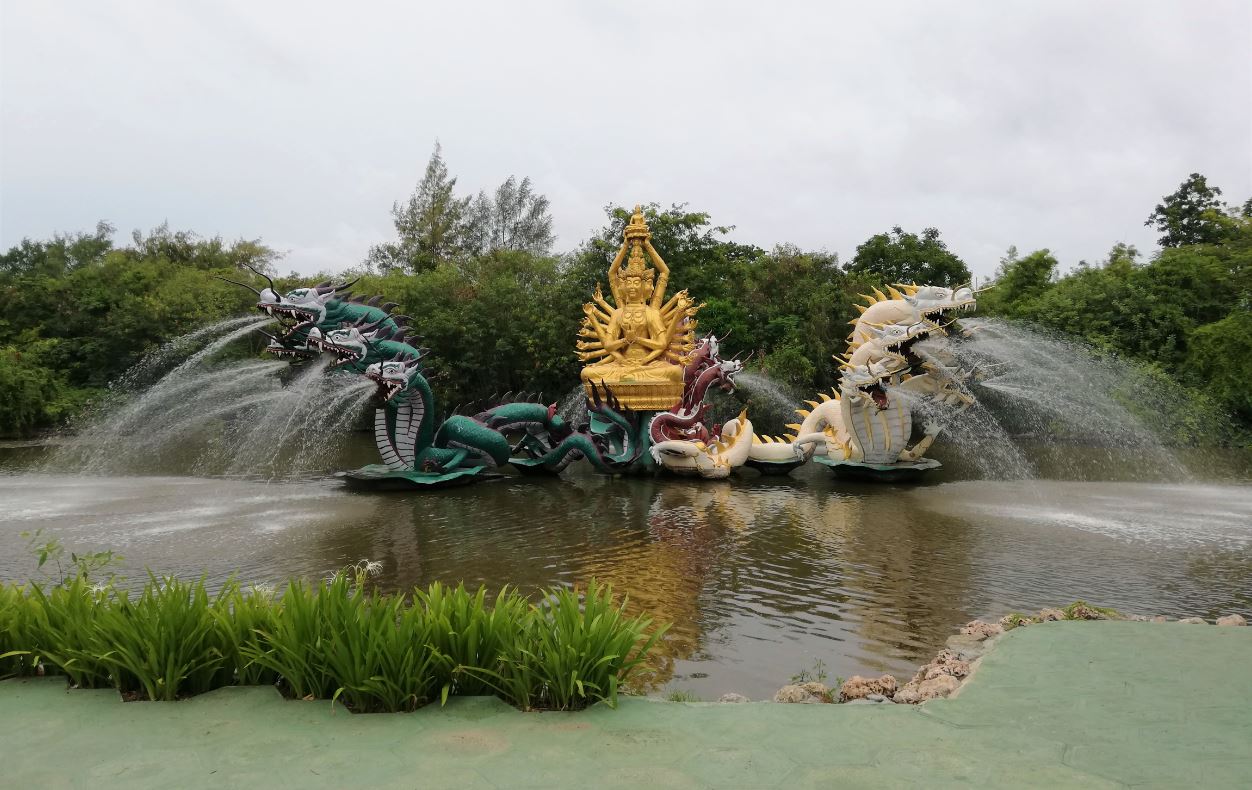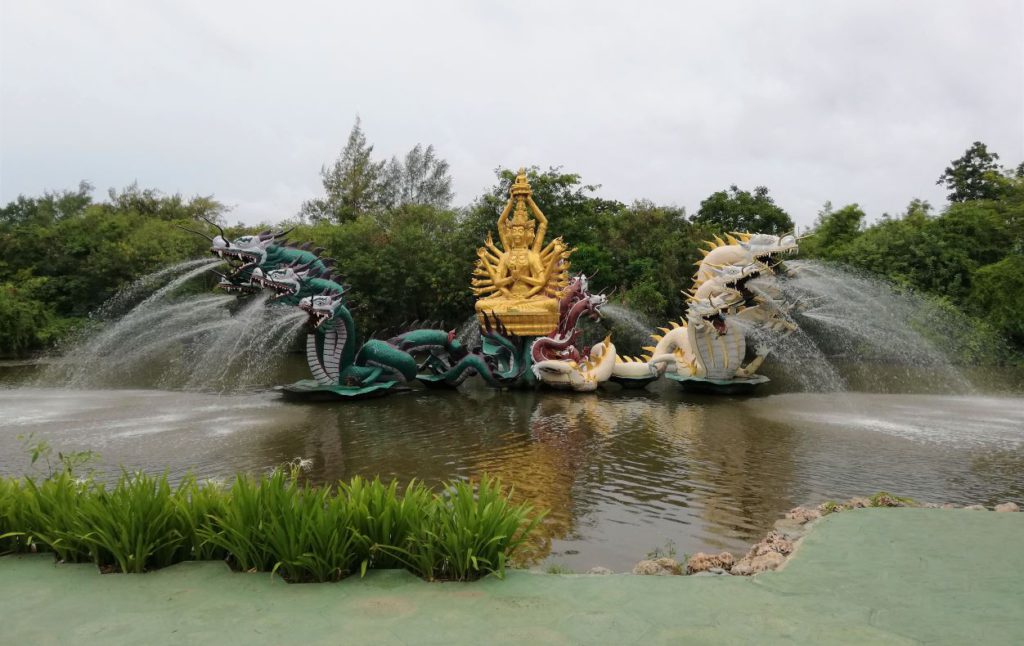 A section of buildings is a replica of east and northeast Thailand. They closely resemble the architecture of Angkor Wat and many Khmer buildings. Having seen those in person I can vouch that the artisans have put so much effort to get the look and feel as close as the original structures.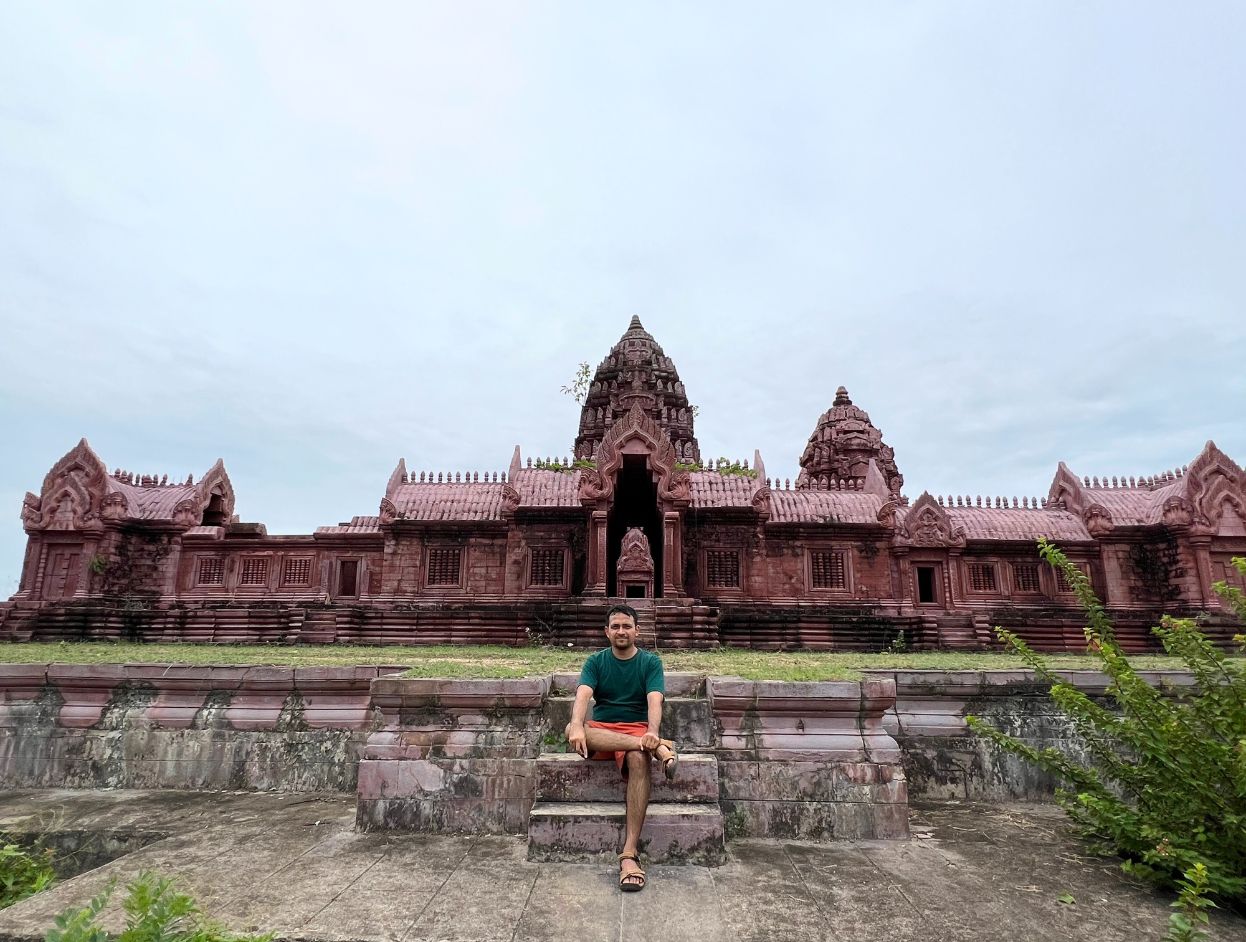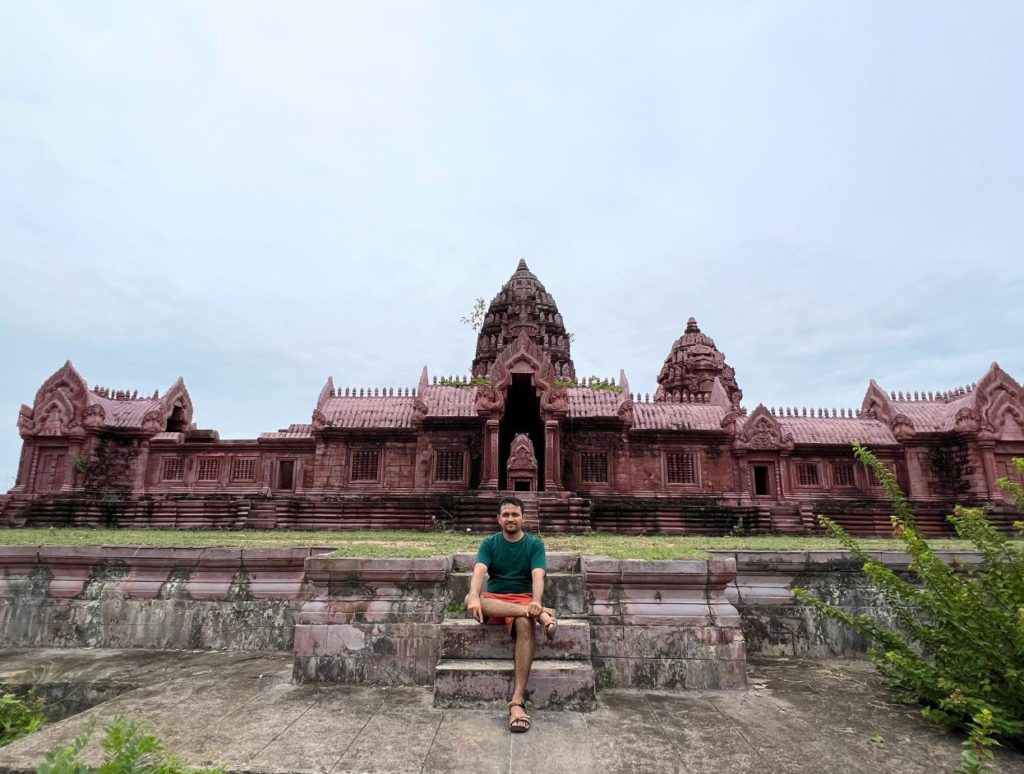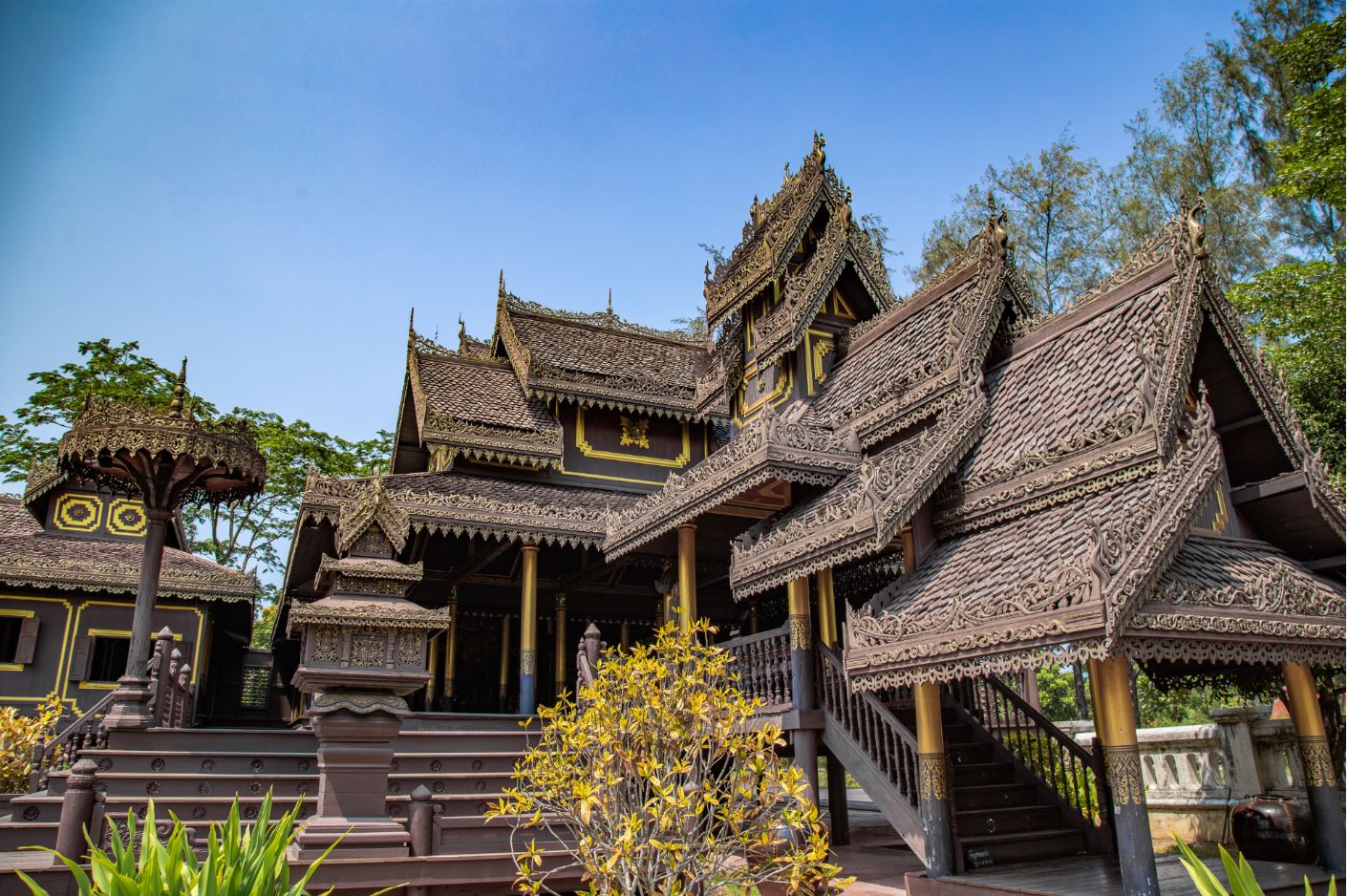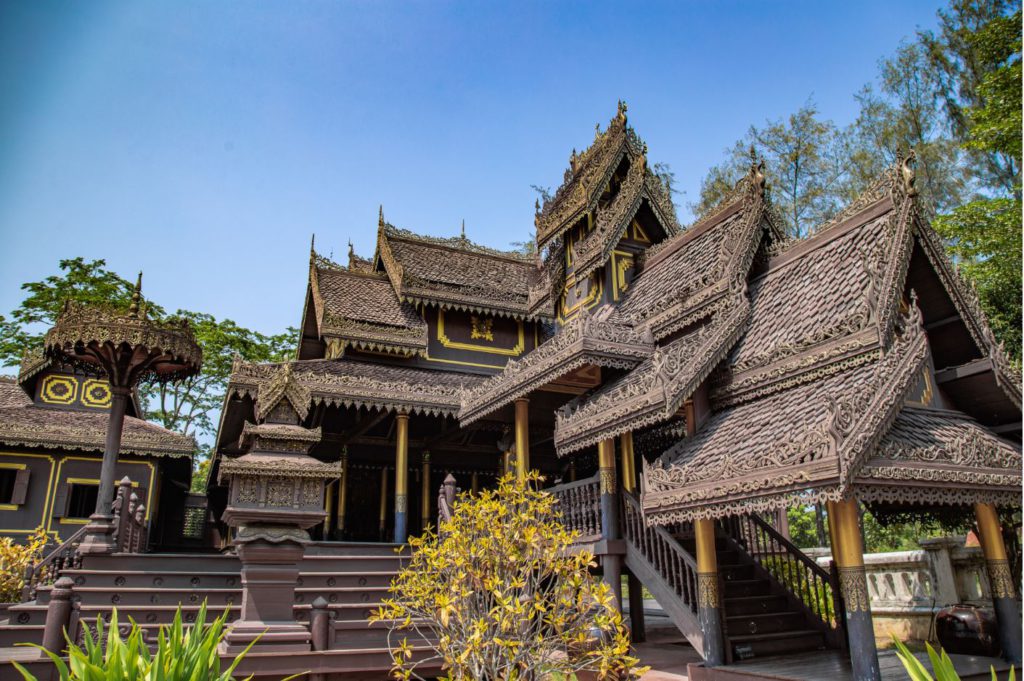 There are many floating buildings made over large pool of water. I loved these the most. And then there is a procession of the royal barges. Huge royal boats floating over a river of water, all created artificially just blew my mind away. And of course, there is the mysterious fish temple in the middle of the pond.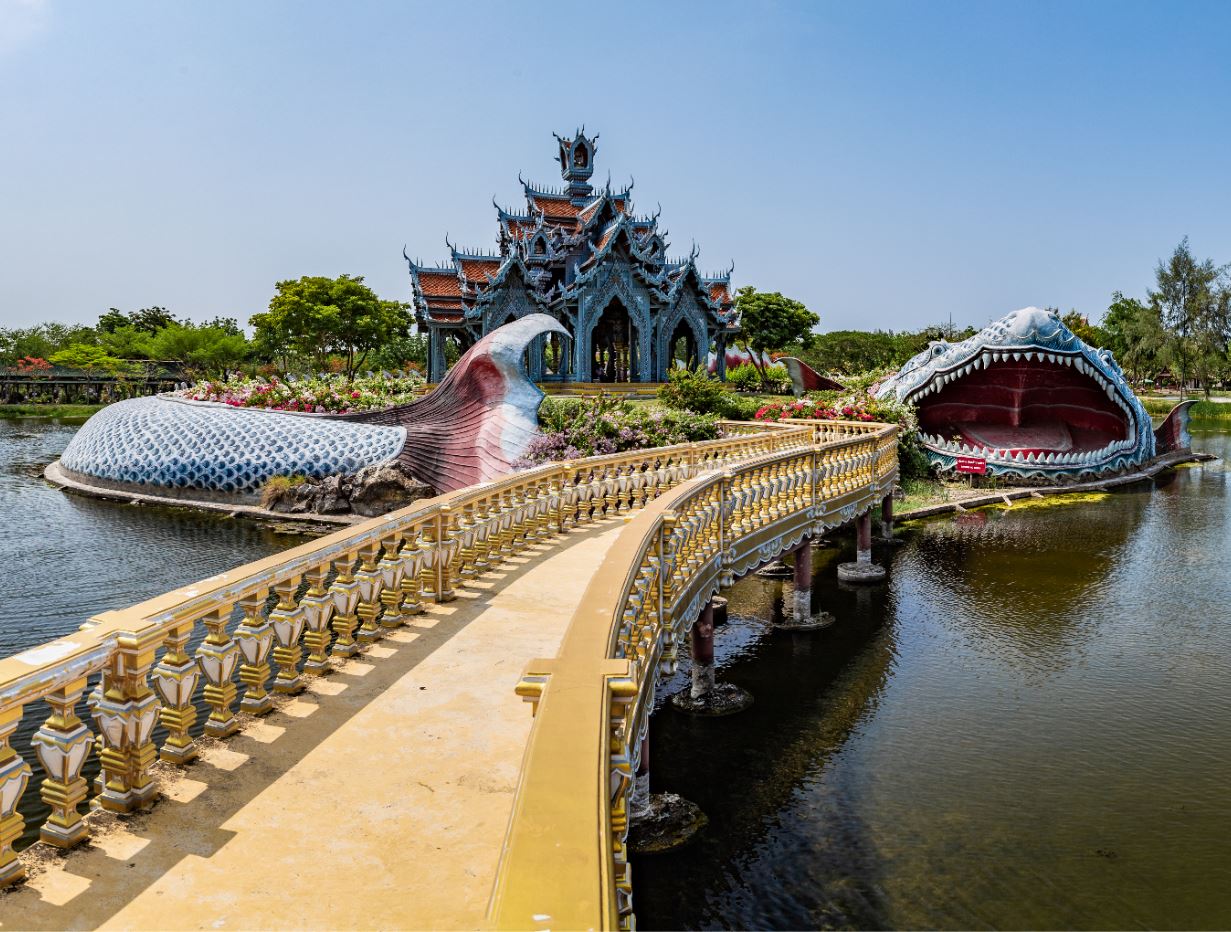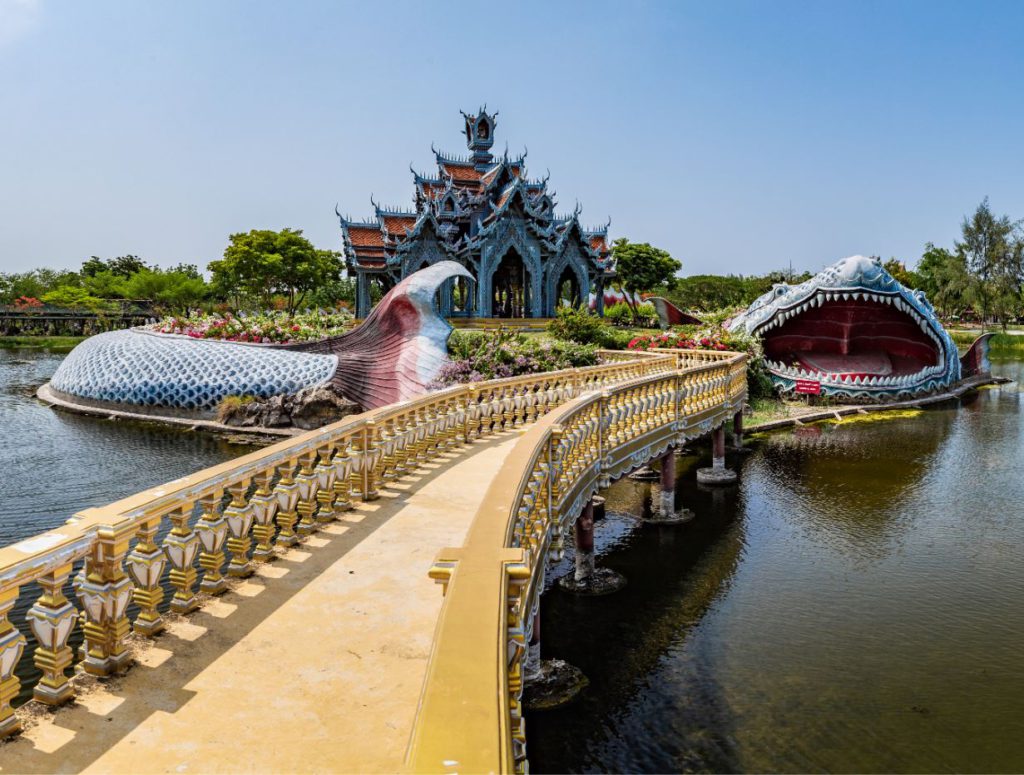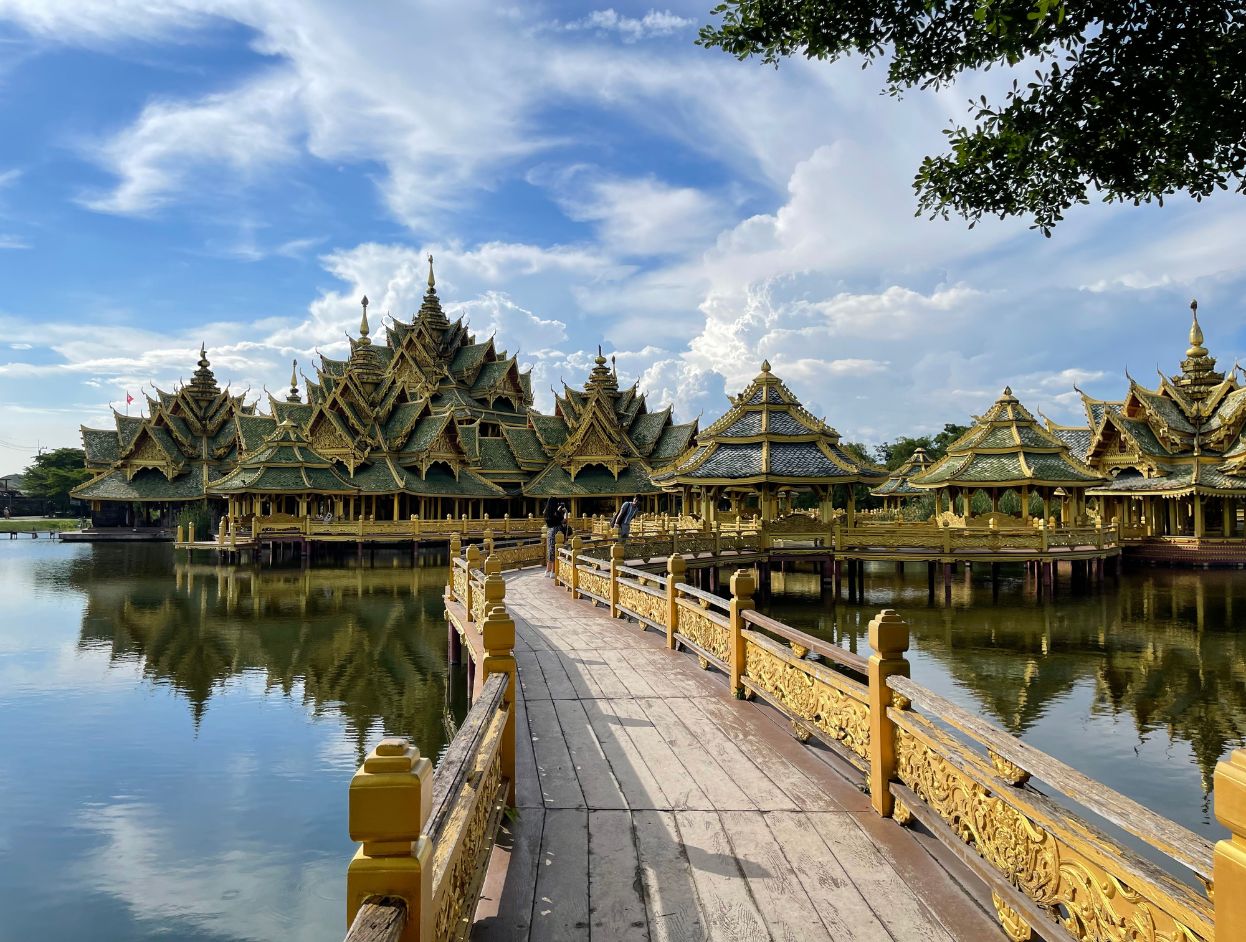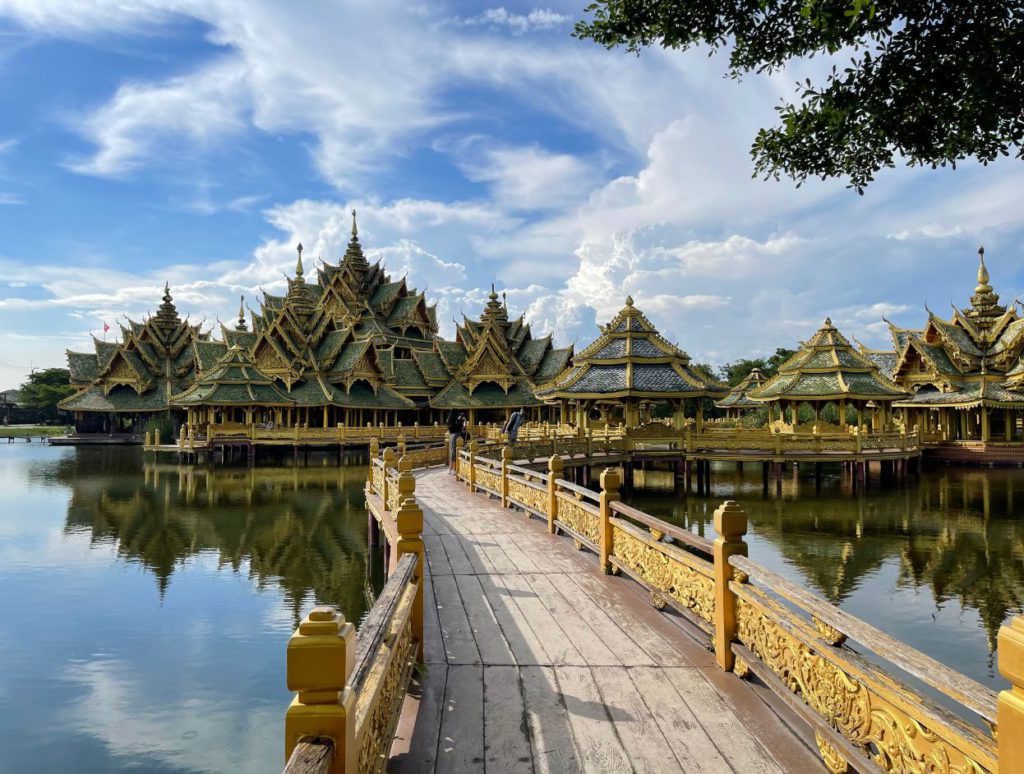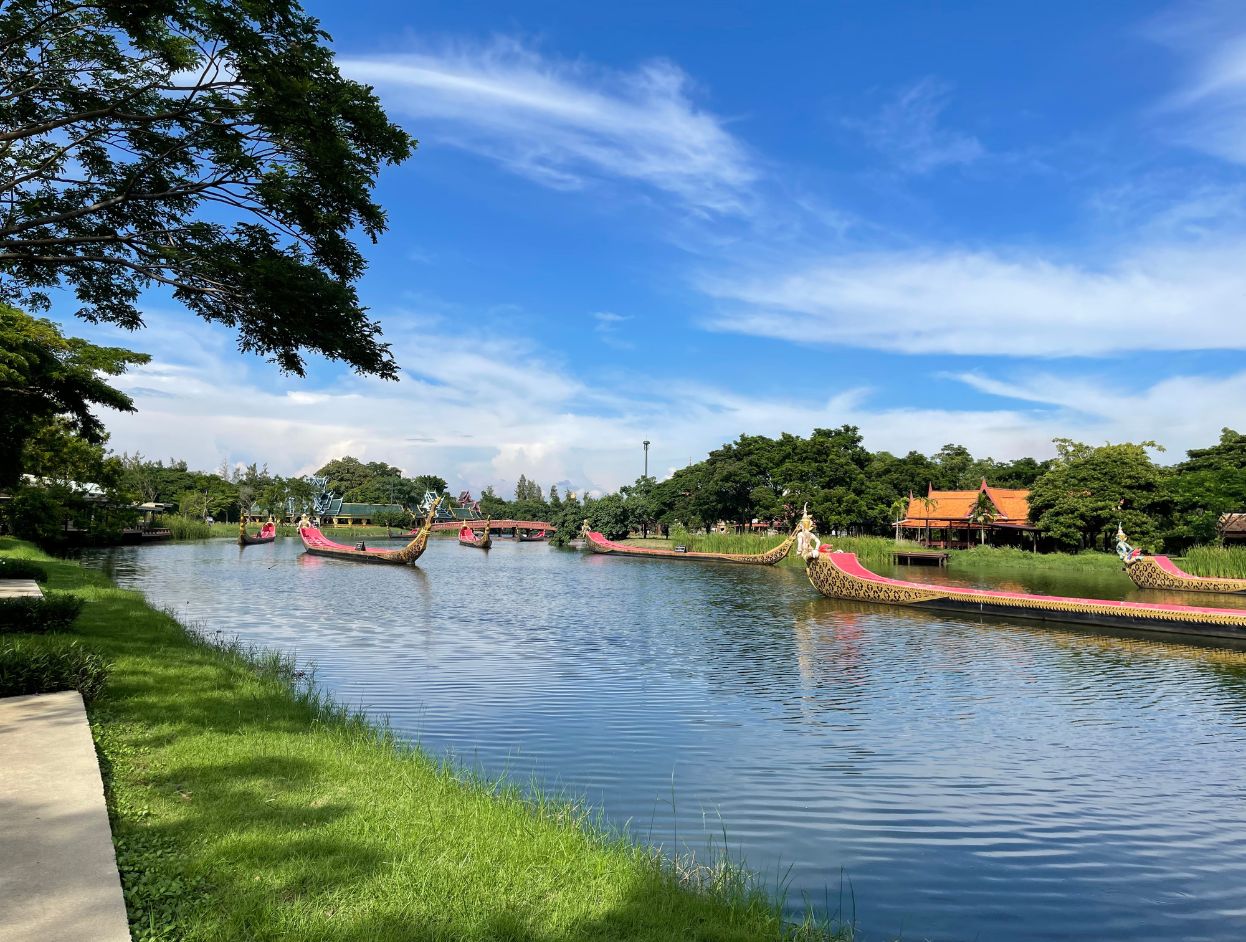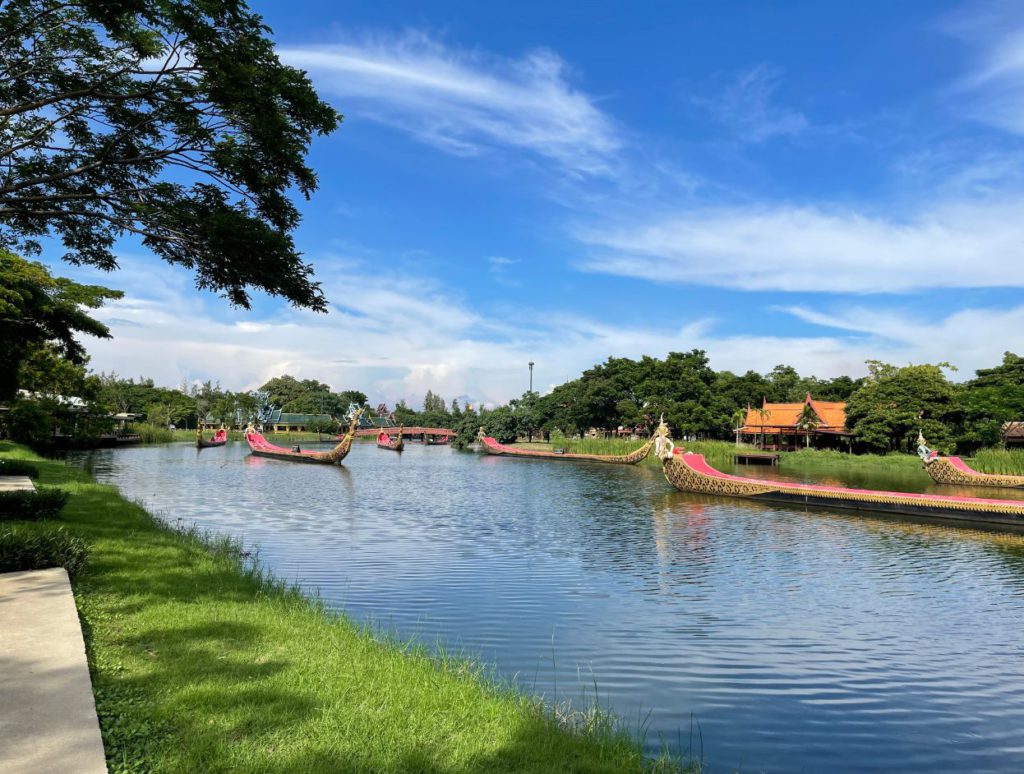 There is even a replica of the floating market (although the real one is much better) and the old age villages. The focus is to create a feeling of being transported to another time and experience the authentic Siam.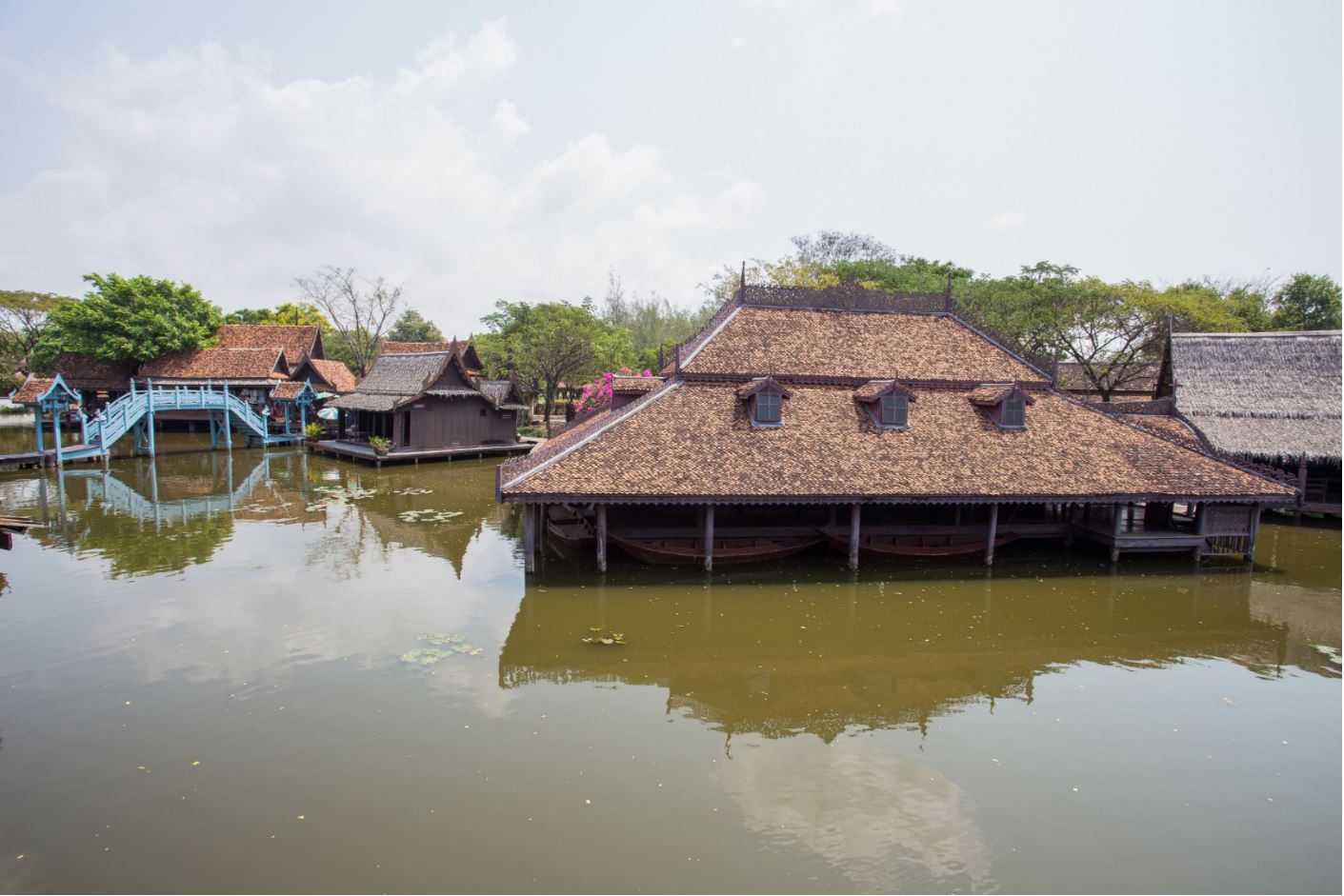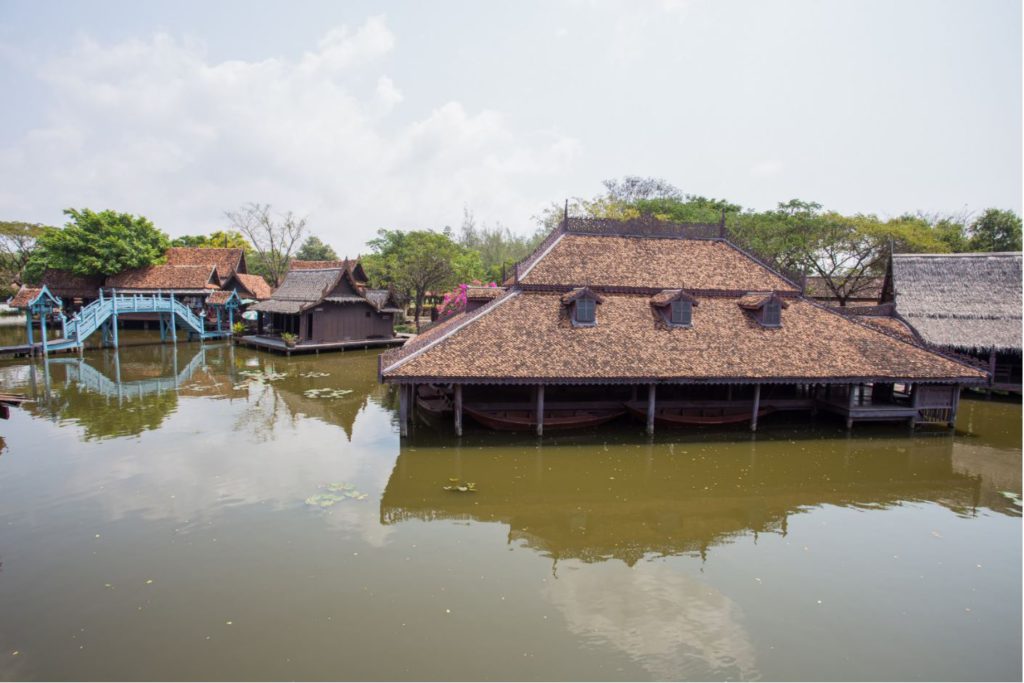 While all of this is great, I think the best part is there are very few people. I know it is mean to say that but fewer people mean so much better experience. Sometimes, we had whole buildings to ourselves. And you can take as many photos as you like without being interrupted by tourist crowds.
Best time to visit Ancient City
The winter months (November – February) are undoubtedly the best months to visit Bangkok and Thailand. So try to pick a favorable time to visit the ancient city.
Bangkok, being a tropical city gets extremely hot during mid-day. The best time to visit Ancient city in the day would be after late afternoon.
If you plan to take a bicycle for the tour, take it when it's cooler. An open-air ride in the tropical humid heat of Thailand can get overwhelming.
It is best to avoid the place on a rainy day. Although, I personally love rain. I think it will restrict your movement and you will not be able to enjoy the place as much as you can otherwise.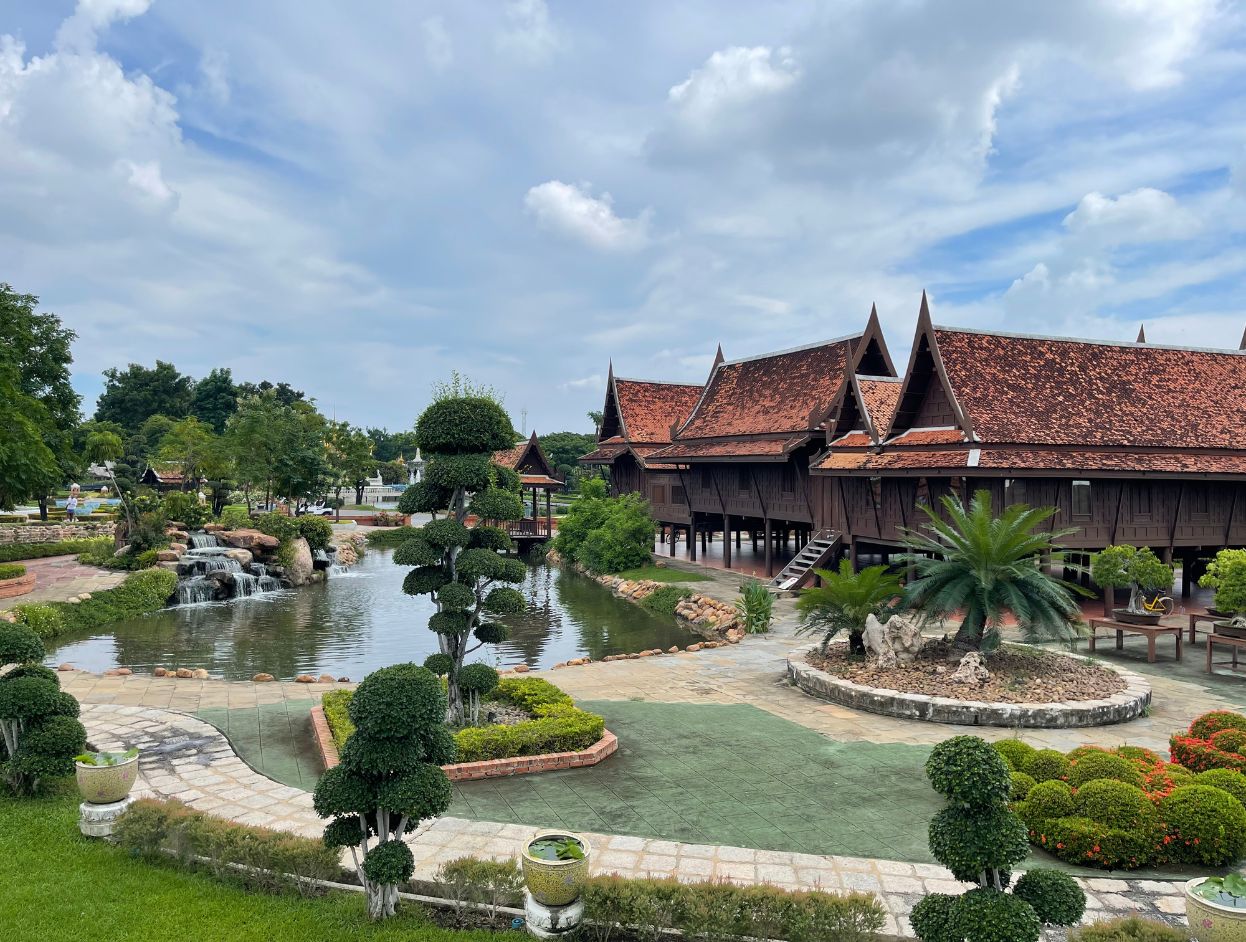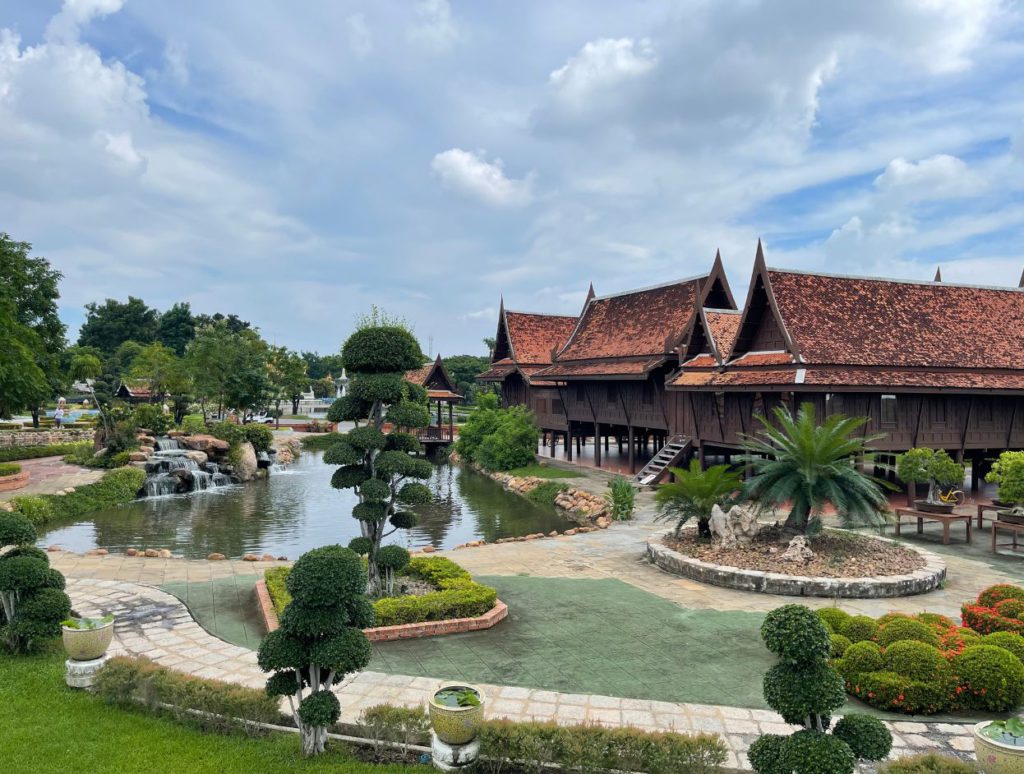 Food inside Ancient City
There are a few places that serve food inside the Ancient city. It is best if you keep some with yourself for little bites. There are small shops near all important attractions where you can get a drink like tea, coffee or some snacks. Do keep a bottle with you or buy one there. I did not see a refilling tap anywhere.
A restaurant area around a canal serves traditional Thai meals. You can take a buffet and enjoy everything Thai. You get to choose from Pad Thai, Tom Yum, Coconut soup, fresh curries, mango sticky rice, and more.
So I think it would be a treat. In the evening hours, there is also a traditional Thai dance to complement the meal.
Other than that you can probably get some snacks at the Thai market near the entrance. The lady at the counter can direct you to the Thai restaurants inside the premise and you can spot some cafes on your way as well.
I guess more restaurants will sprout up if more tourists come. But as of now, it is pretty limited.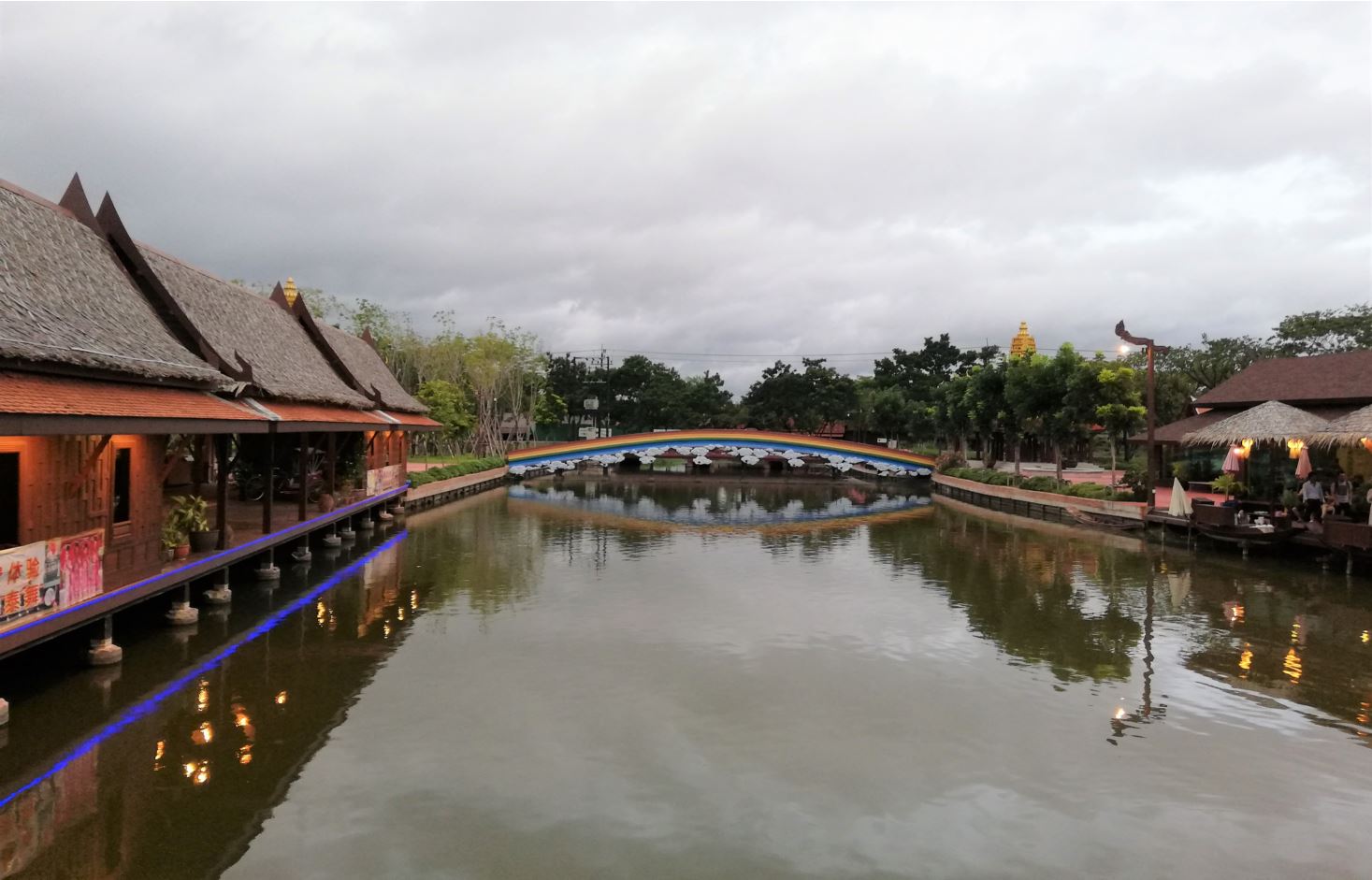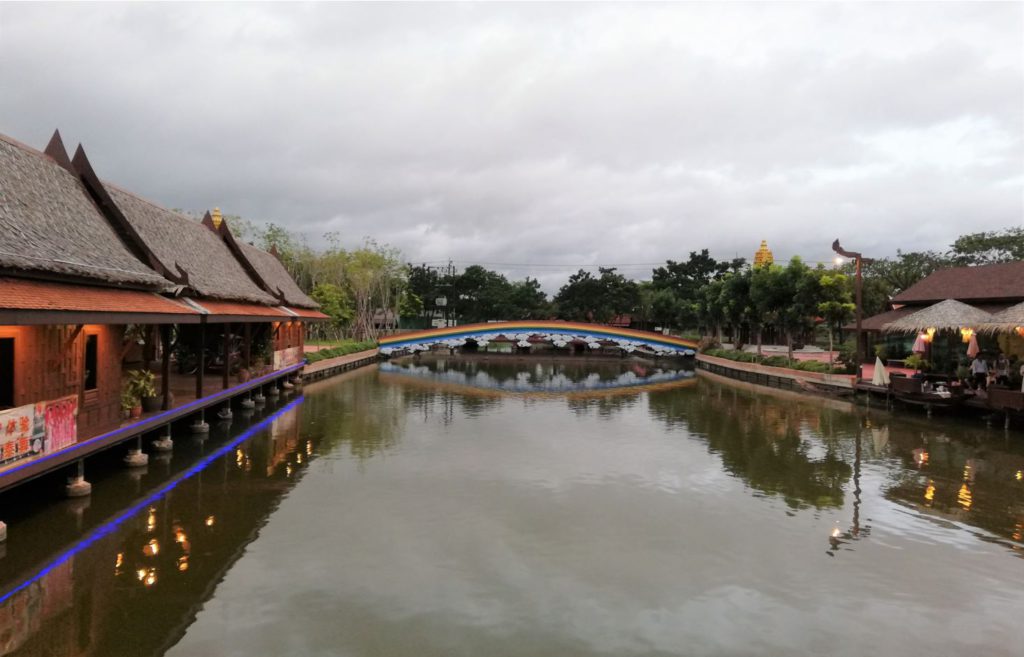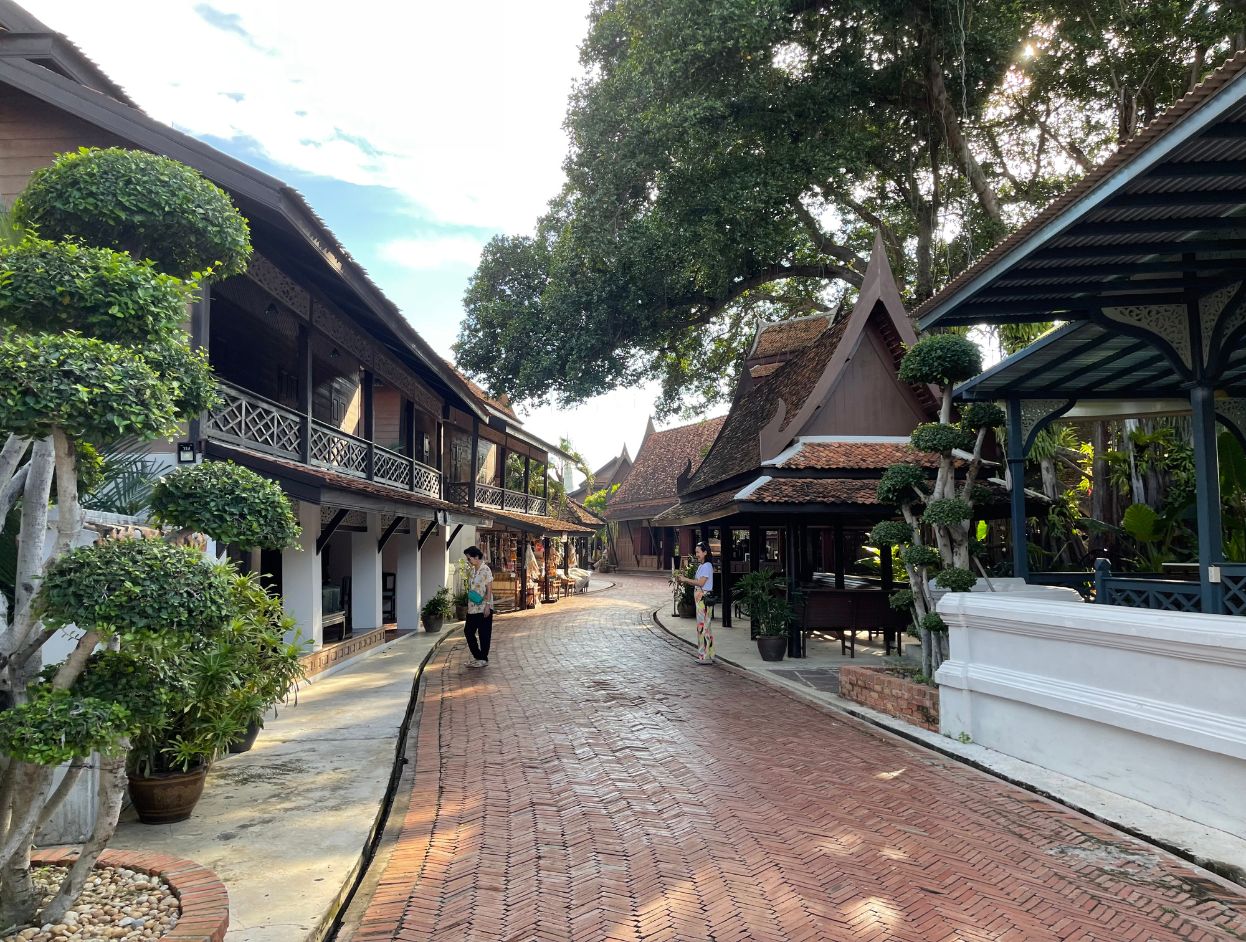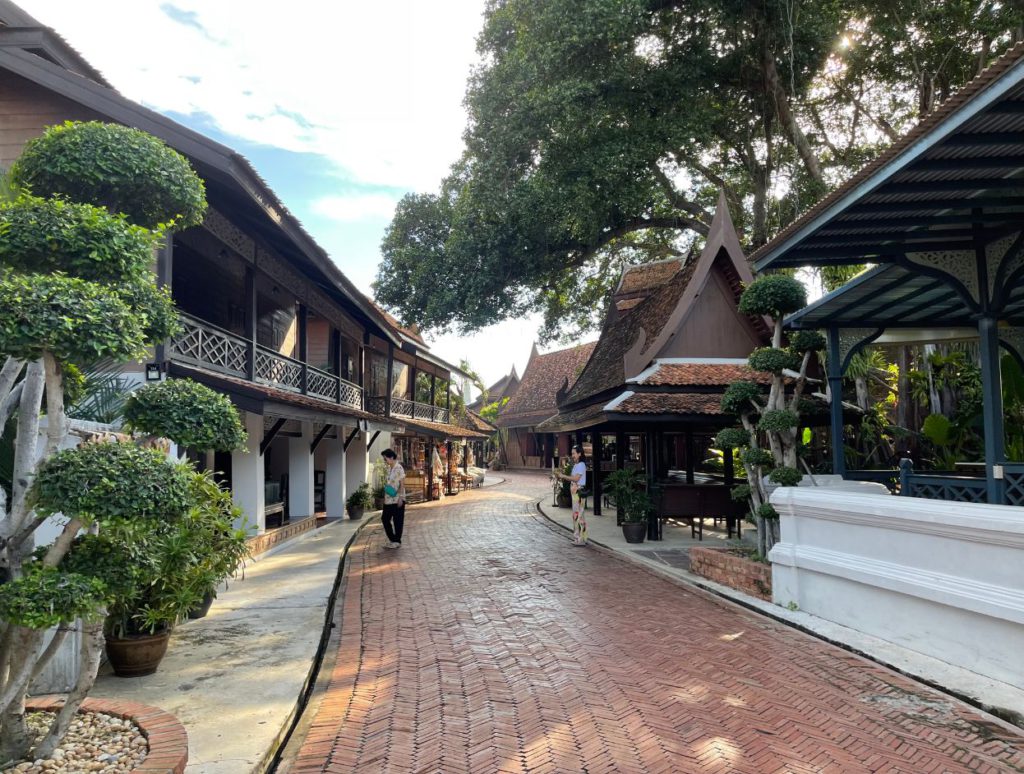 What to carry to Ancient City
As I have mentioned already, take some food and a good amount of water with you.
Wear comfortable clothing. If you plan to ride the bicycle, pants are far more comfortable (for women).
I will definitely suggest carrying a hat and sunscreen. A shade above your head can make a lot of difference in comfort.
If you are a foreign tourist, you will need to carry your passport and a driving license if you plan to rent the golf cart.
After you buy your ticket, keep it with you at all times since you will need to show at a few checkpoints inside the park.
Traveling in South-East Asia? Read more on What Do You Need To Pack For South East Asia

Save On Pinterest


Related Articles