05 May

Visiting Erawan Waterfalls and National Park

We are now moving to the places less travelled in Thailand. It is not that these are not popular. But it takes some time and effort to reach there. Moreover, very few backpackers are acquainted with the abundance of lovely National Parks in Thailand. The locals specifically love them for the opportunity to camp. And Erawan National Park is no different.

If you are staying in Bangkok for a long duration, it is fantastic for a weekend getaway. But check the weather before you leave.

Planning a trip to Thailand? Thailand Travel Itinerary to Save You A Ton Of Time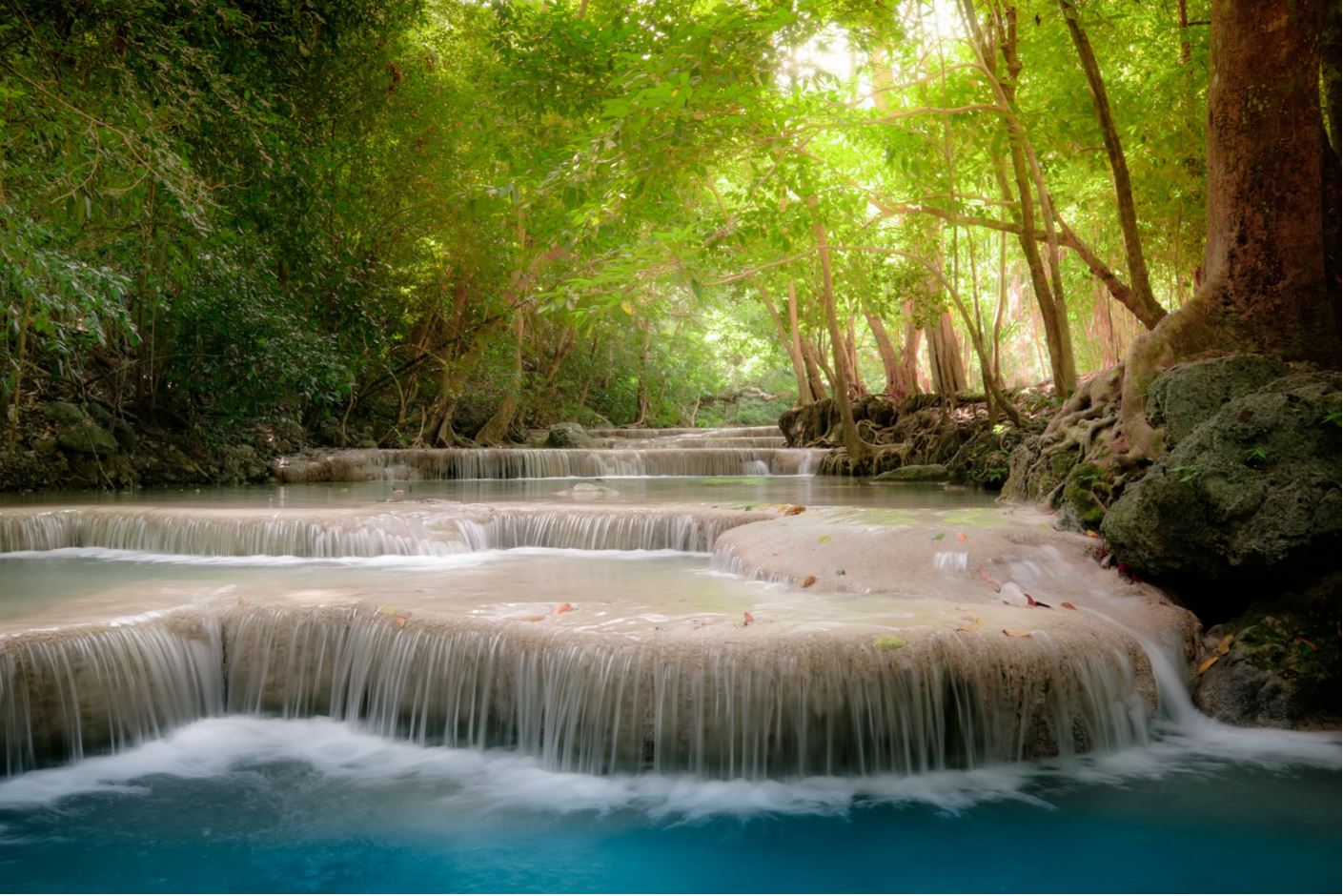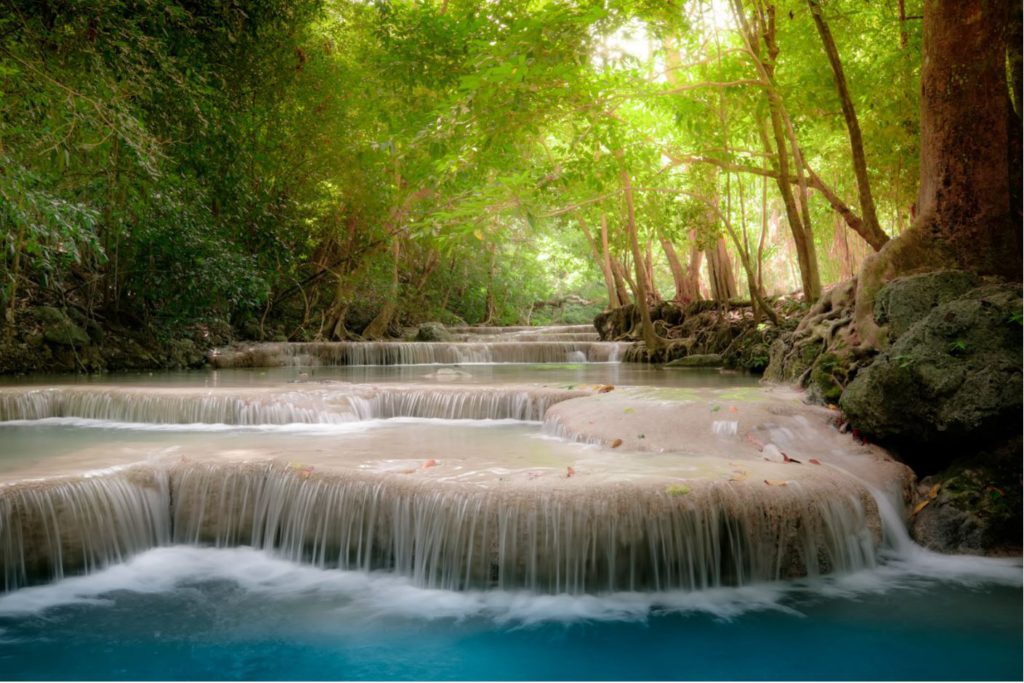 Why to visit Erawan National Park
Erawan National Park is popular for the Erawan Waterfalls. These are, by no doubt, one of the most beautiful waterfalls that I have ever seen. First of all, these are deep inside the woods that give them an air of mystery. Plus these are not just a single drop wonder. The waterfall actually is an expanse of seven drops with hundreds of rapids or clear azure water. You can even see fish on the clear riverbed.
Apart from the waterfall, it is a gorgeous place to enjoy a couple of days in the woods. One can stay the night in the jungle with tents and carry camping goods. If you like more comfort, you can also get a bungalow. But it sure is far from civilization, deep inside the jungles. And a classic way for urban detoxification.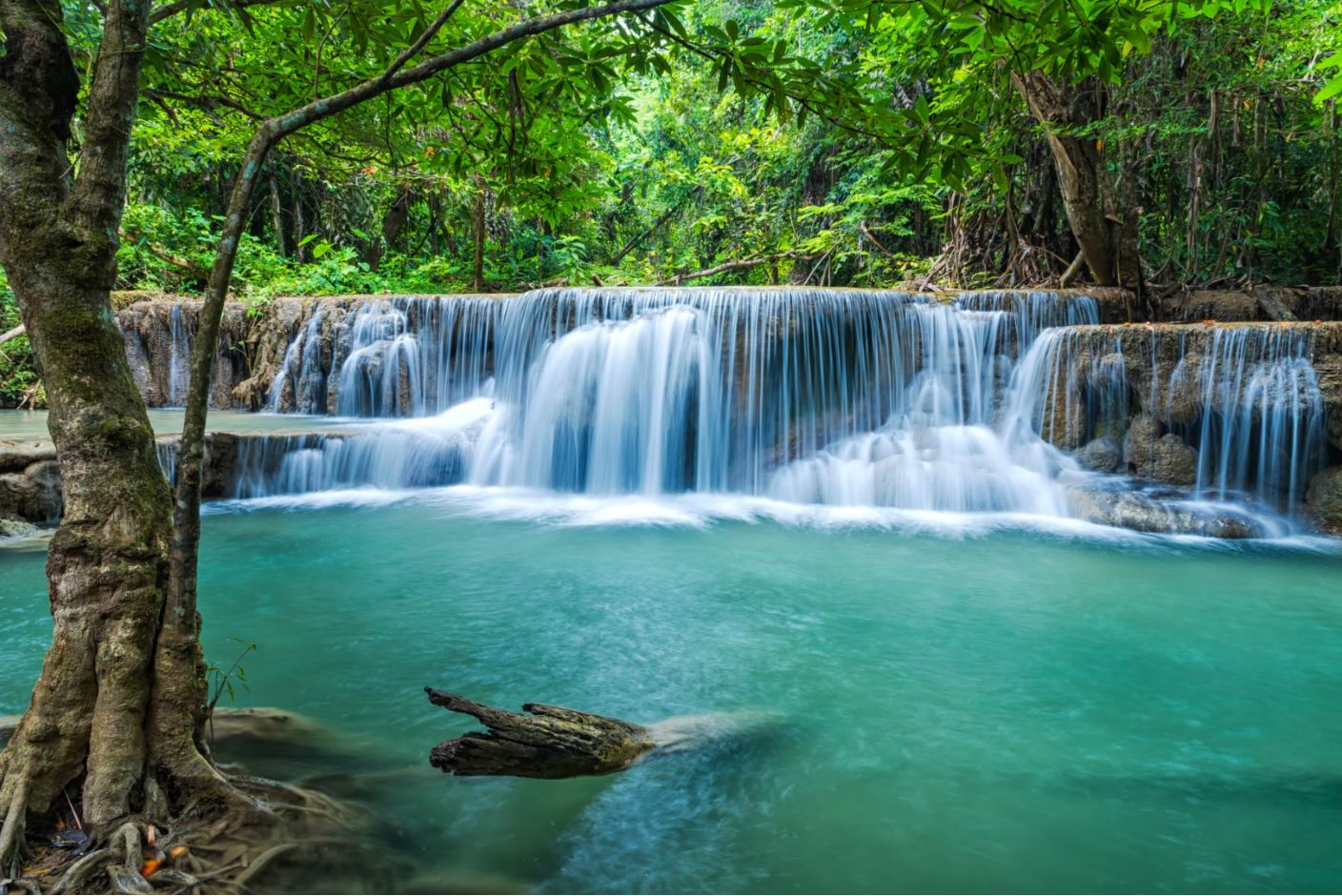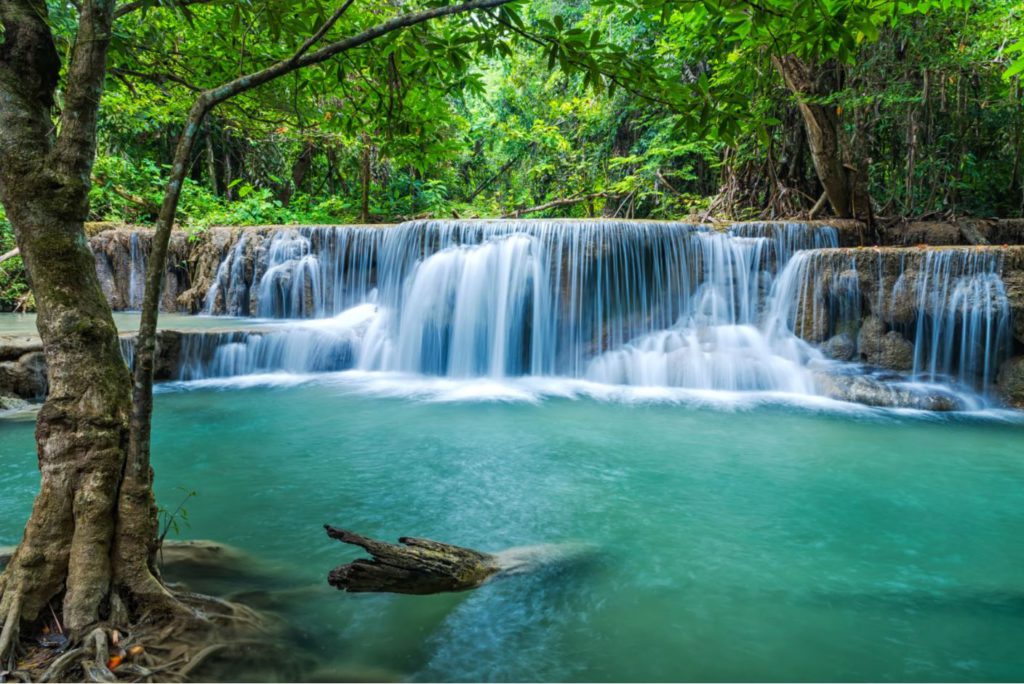 Where is Erawan National Park?
Erawan National Park is 165 km from Bangkok to its North West and 190 km by road. It is just east to Sai Yok National Park. Erawan Waterfalls lies inside the Erawan National Park and runs right next to Khwae Yai River. To travel from Bangkok to Erawan you must halt and cross Kanchanaburi Province.
Visiting Bangkok? 20 Best Bangkok Tourist Attractions for First Time Travellers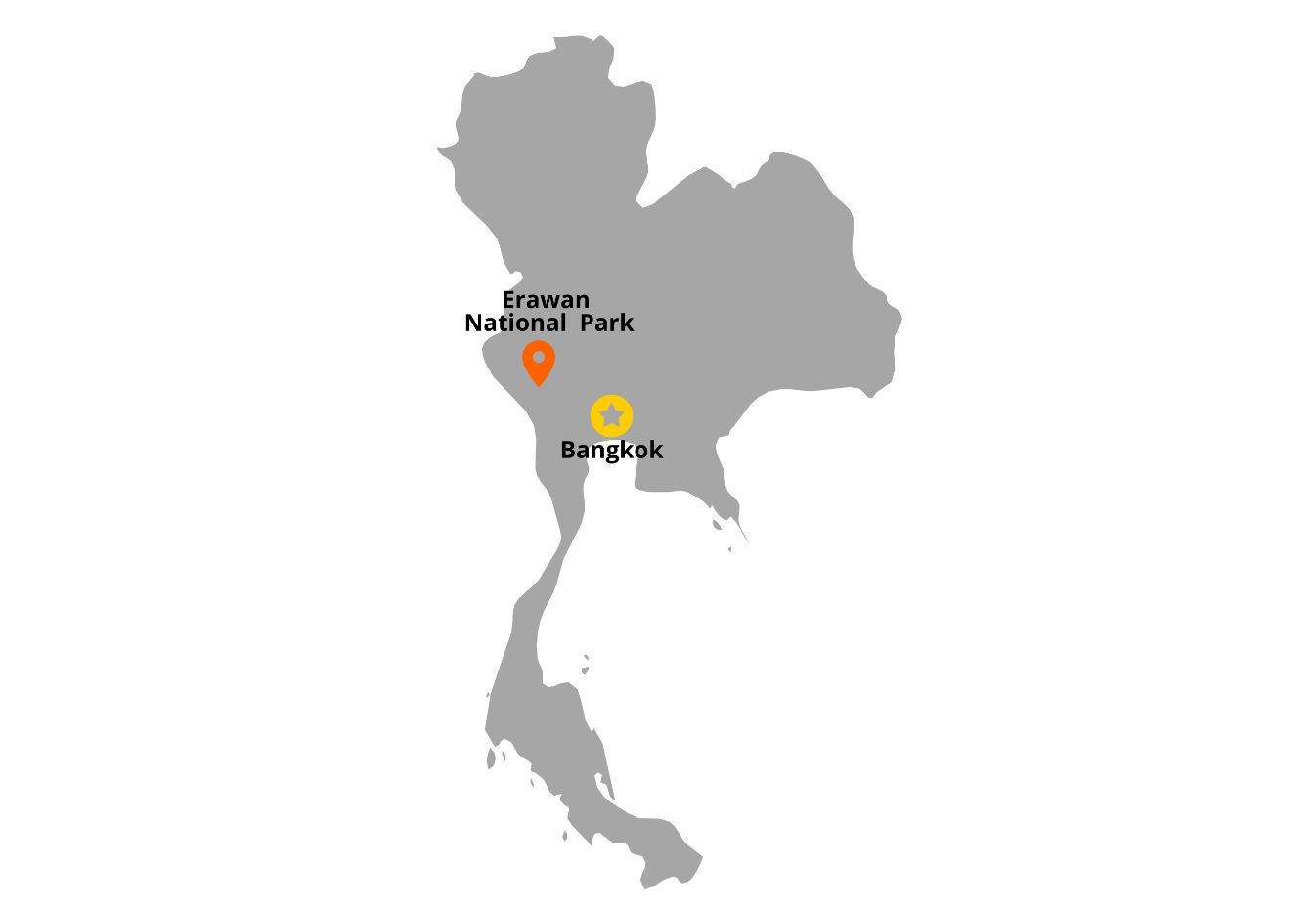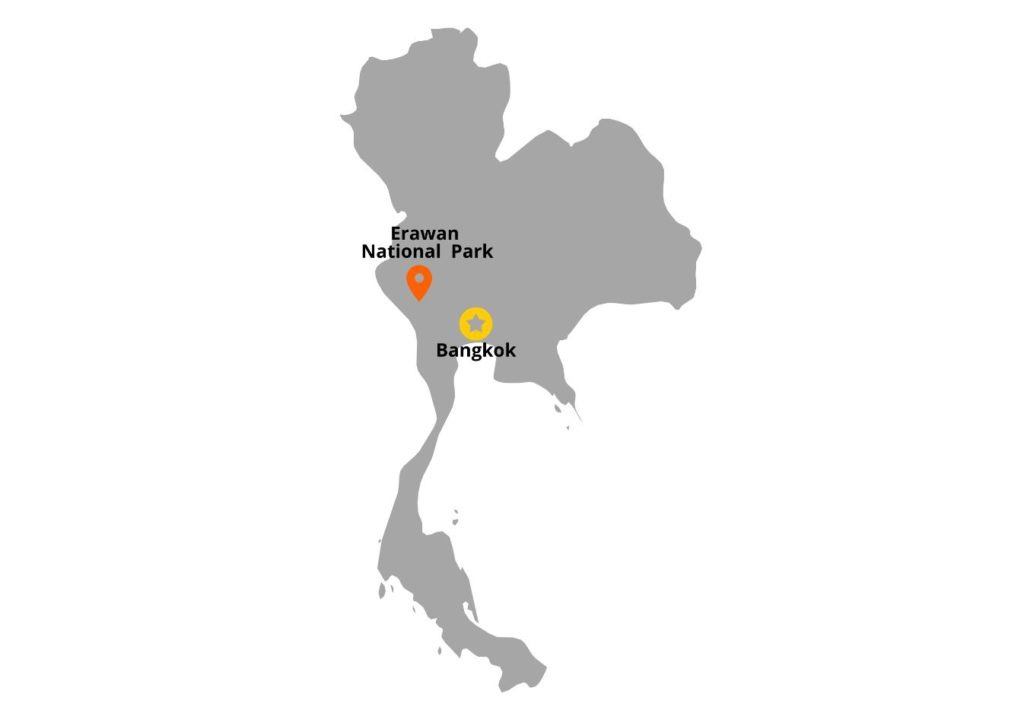 Best time to visit Erawan National Park
Best time: September – December: It is when the rains have subsided and there are fewer chances of showers interrupting your trekking plans. The waterfalls are full of water and are their best. Even the forests are fresher; the temperature is low which makes the weather very comfortable for outdoor activities. If you staying the night during this time make sure you keep some warm clothes with you.
Summers: January – May: These are dry months in central Thailand and you will see almost no rainfall. The temperature starts to rise after mid-February. March and April witness unbearable heat during the day. Plus the water levels will drop to its lowest which may result in some disappointment. The national park is especially busy during the Songkran week (Thai holiday season) hosting local tourists. But you can always take part in the water fight.
Rainy Season: June – August: These are probably the best months to see the waterfalls in their full force. The falls are gurgling with water and the forest comes alive with activities. But again you cannot trek if it is pouring that day. To trek in wet days can be dangerous and many tourists have been injured in the past. Some parts of the park, like the top tiers of waterfalls, could be closed for extended periods of time. The camping grounds are also closed on rainy days.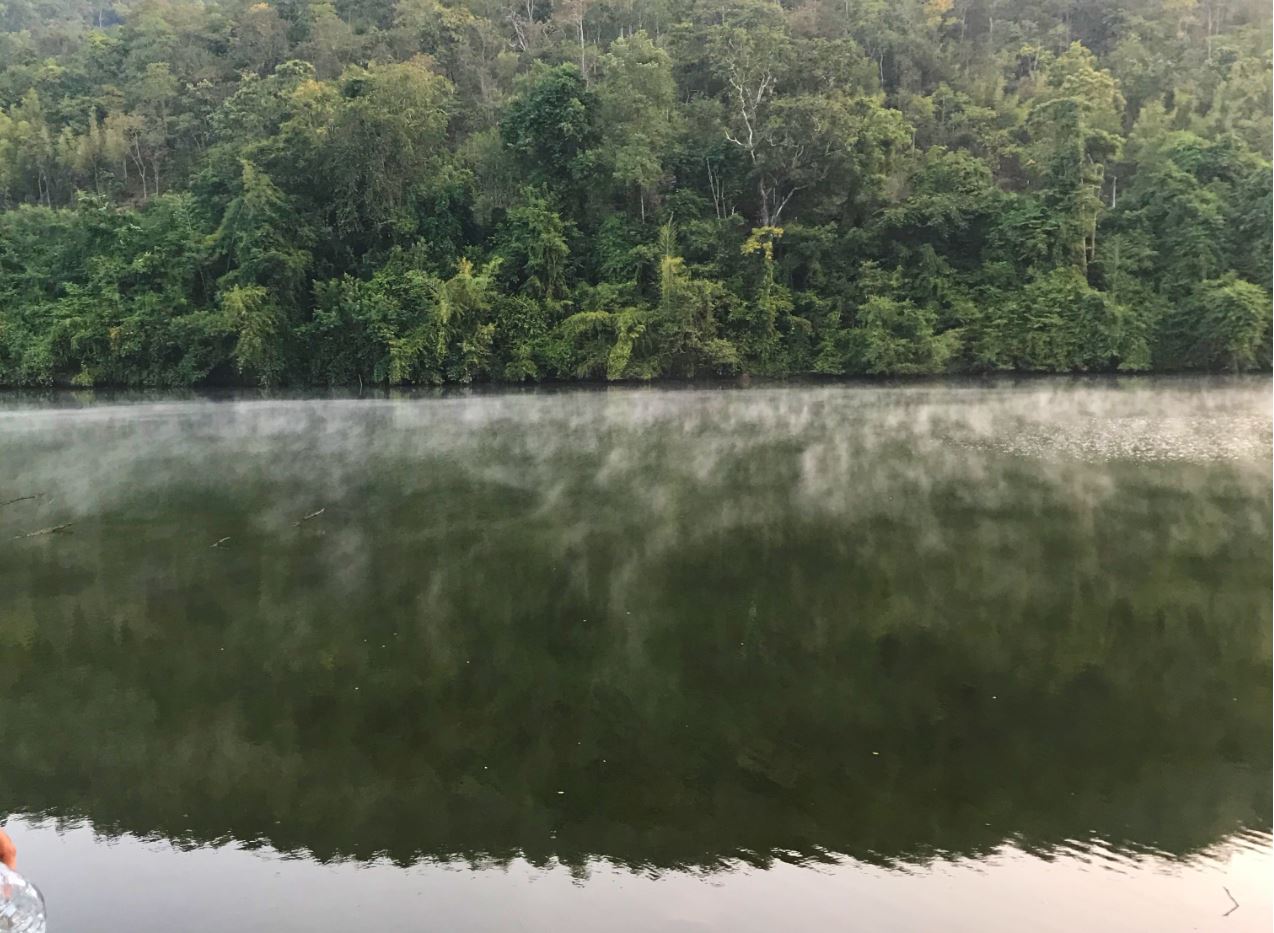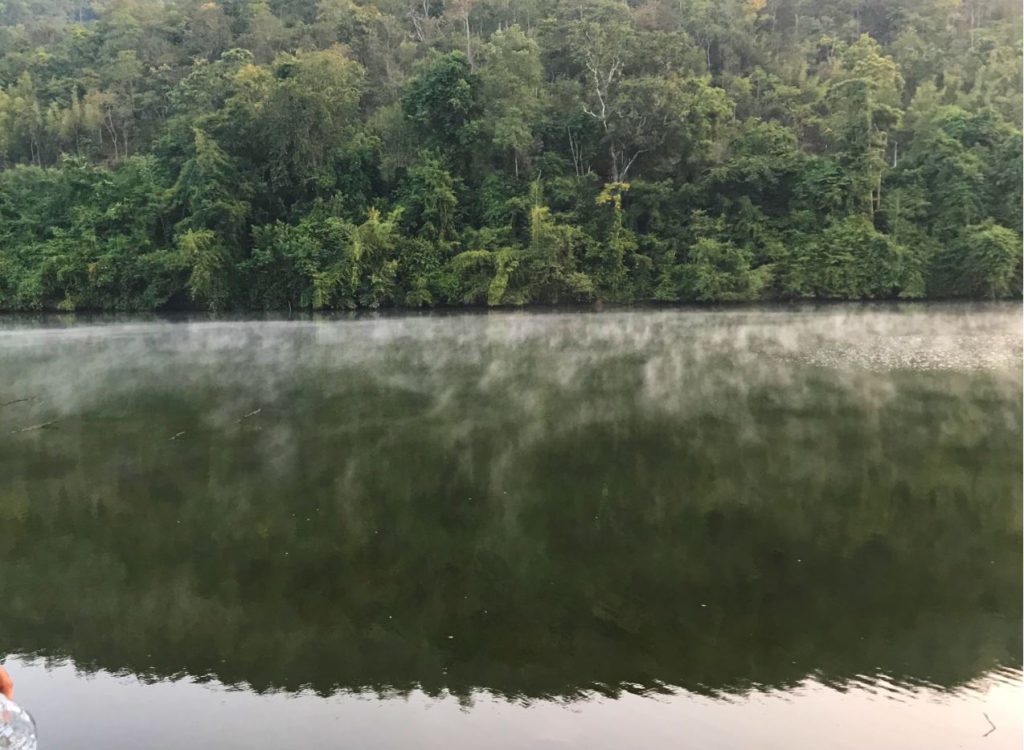 How to reach Erawan Waterfall and National Park
You can reach Erawan National in the following ways:
Bus: To reach Erawan, you need to reach Kanchanaburi first. If you are travelling from Bangkok you can take a bus from either Southern Bus Terminal (Sai Tai Mai) or Mo Chit Bus Terminal. Buses leave every 30 minutes from 5 am in the morning to 10 pm at night. Buy a ticket at the bus counter itself.
The journey takes approximately 3 hours and stops at Kanchanaburi Bus stop. The fare prices start from 150THB onwards. If you are travelling from any other city, it is best to reach Kanchanaburi first.
From Kanchanaburi Bus station, take bus number 8170 and get down at the very last stop. Tell the driver you want to go to Erawan Waterfalls. You will need to pay for the ticket at the National Park entrance. The journey takes about 2 hours as the roads move deep in the jungle. The bus is very basic with no AC, so bear with it on the hot days. The last bus leaves at 4 pm. It costs 50 THB for a single trip.
To return back, you will have to take a bus from the same area. The bus starts every hour and a half till 5 pm. So make sure you note the time for the departure of the bus at the visitor's centre to catch your bus on time for the return journey.
Occasionally, a songthaew is also present, but they will only move once full of passengers. It costs 1000THB for a one-way ride from Kanchanaburi to park and back, usually split between 10 people.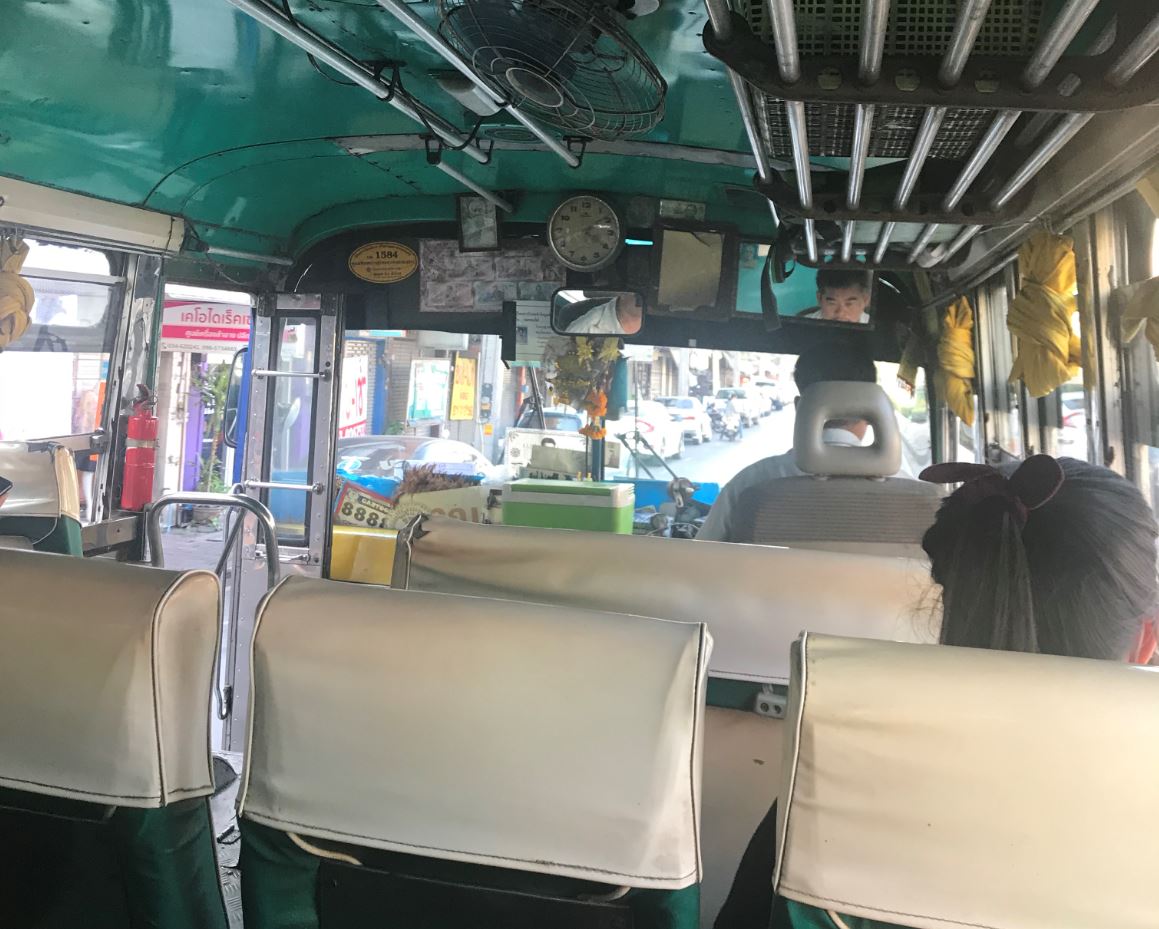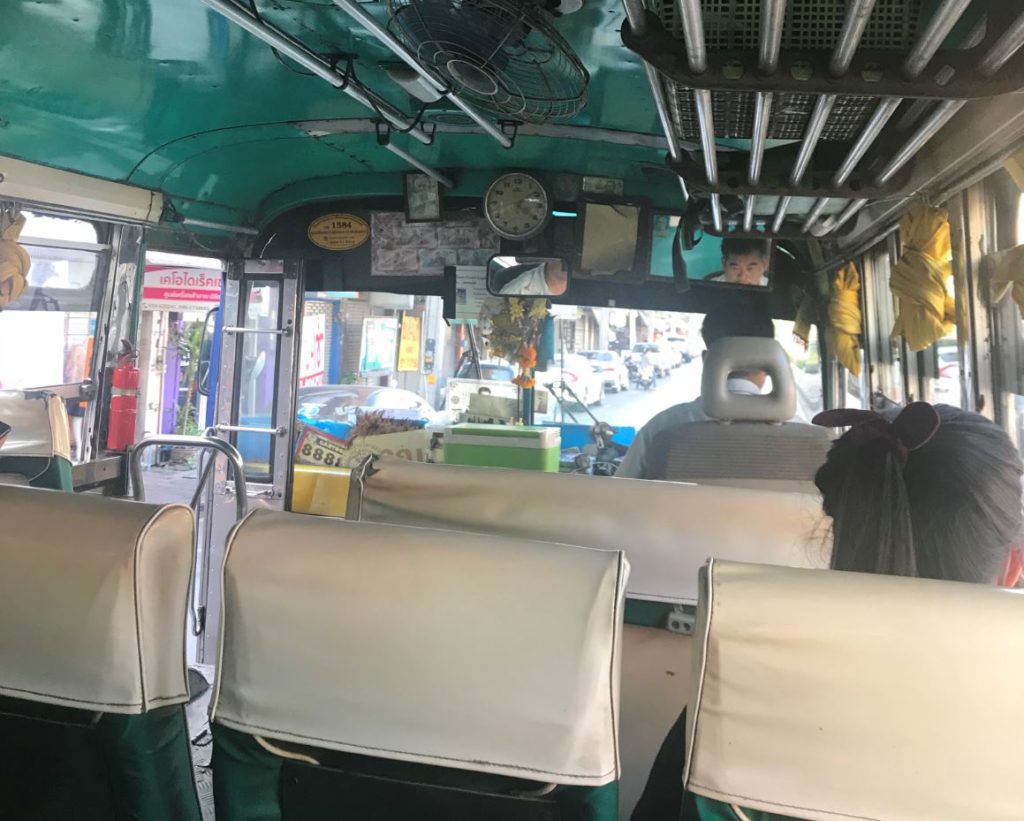 Train: There is no direct train to Erawan Falls. But you can take a train to Kanchanaburi if it suits you. Trains in Bangkok run from Thonburi to Kanchanaburi railway station twice a day at 7.50 and 13.55 and takes around 4.5 hours to reach. A single ticket costs 100THB. Take the morning train to be able to catch the afternoon bus to Erawan Falls from Kanchanaburi bus station.
This is a great way if you want to spend a day in Kanchanaburi. You can explore the stories from WWII and get a glimpse of the famous 'The Bridge on the River Kwai'.
Check out this tour at Kanchanaburi: From Bangkok – Kanchanaburi Tour, Railway & Floating Markets
Taxi: If you are looking for more comfort or only a day's trip to Erawan Falls, you can also book a taxi. A one-way taxi to Erawan falls will be around 2600THB and Kanchanaburi will cost 1000THB. A full day trip to Erawan Falls and back (the same day) will cost around 3600THB. With little effort early in the day, you can also find an independent return taxi from the parking lot at the National Park.
Day tour: If you want to take a day tour, you can also book a group tour with an agency. It works very well if you don't want to face language issues and jump several vehicles. But it can be crowded at times and the tour reaches the park at peak time in the day.
There will also be other day tourists who can add to the crowd even more. It is still an affordable and convenient way to make the day trip but try not to book the tour on a weekend.
Day tour to Erawan Waterfalls: Erawan Waterfall & Kanchanaburi Highlights Tour from Bangkok
You can also opt for a budget-friendly offer by booking a day tour from their official website.

Erawan National Park Details
Erawan National Park timings: The official timings of the National Park are 8 am to 4.30 pm. Some parts are open as long as 5 pm unofficially. However, you will not be able to access the higher levels of the waterfalls after 3 pm.
Erawan National Park ticket price: 300/200THB for foreign Adults/Children; 100/50THB for Adults/Children of Thai nationality.
Erawan National Park ticket for vehicles: 20THB for a motorbike and 30THB for a car
Things to do in Erawan National Park
Erawan Waterfalls Levels
Before we proceed, understand that Erawan Waterfalls in total consist of 7 levels of waterfalls. Each waterfall has many rapids in it. These waterfalls are spread well over a distance of 3 kilometres by walk. There is some climbing through stairs and trails and a lot of walking between each drop. It is suitable for light hiking.
The first two levels of the waterfalls are easily accessible to all tourists. There is a paved road that connects the waterfalls. You can even ride up to this part with bicycles. It also means that these are the most crowded ones.
A lot of elderly and children limit them to this point and is a good place to swim. There is a small restaurant that serves fresh Thai food with picnic spots. Food and water bottles are strictly not allowed in the park after this point.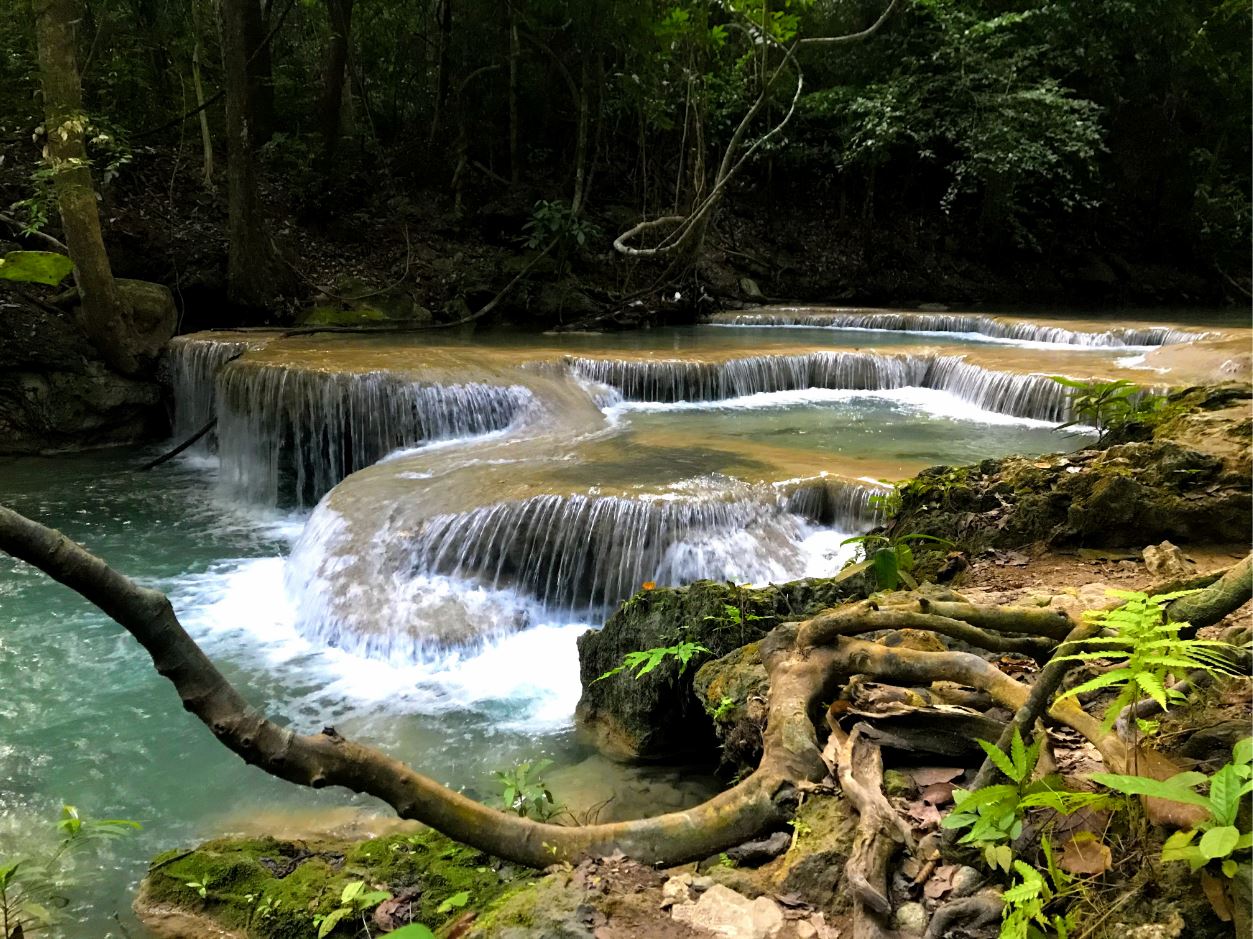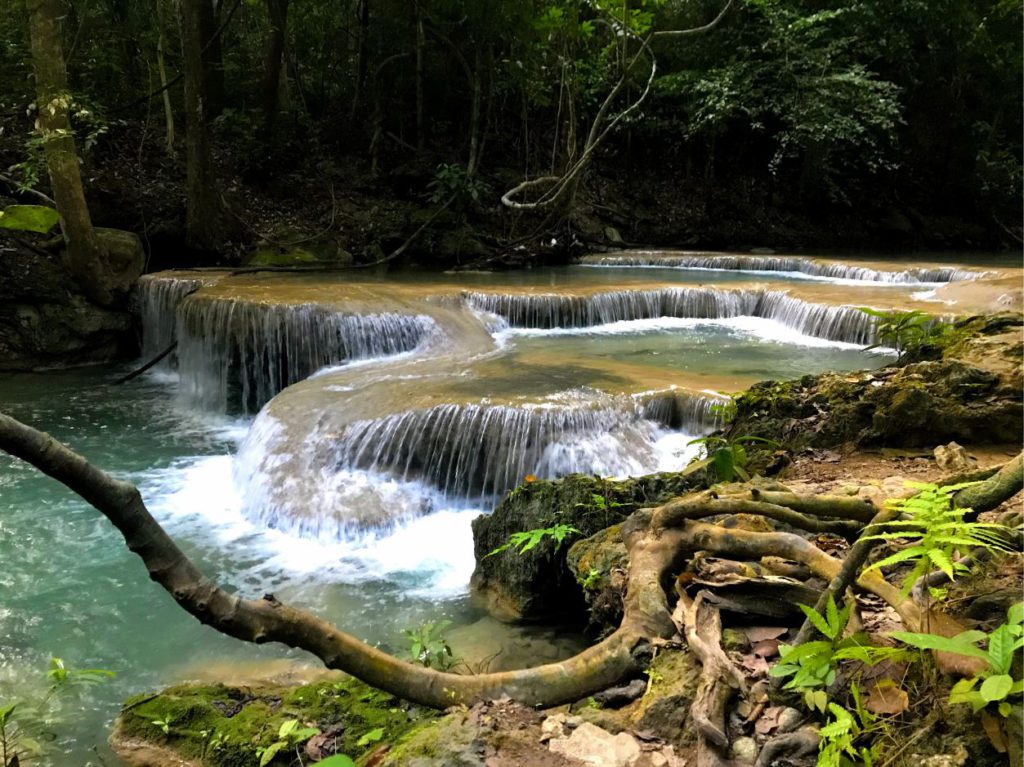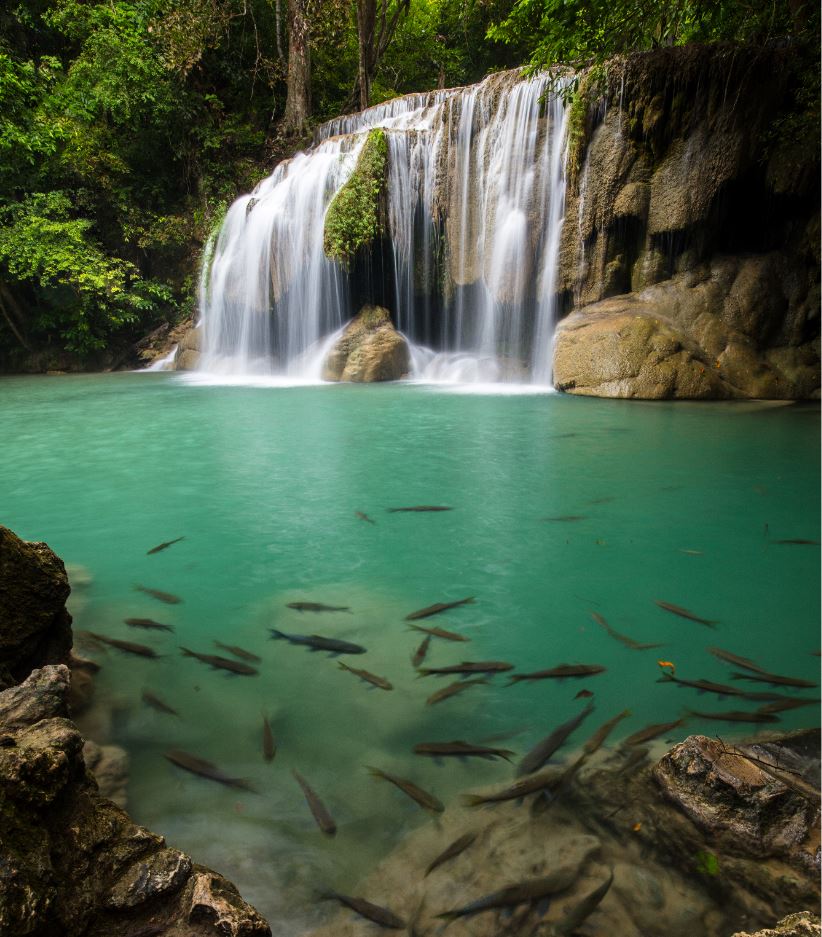 The levels from 3rd to 5th see a decreasing crowd. I found the waterfalls at level 5th the most beautiful of all. To reach these, you just have to follow the directions of the trails. Most of the way is easy to follow, but you still need to be aware of the slippery terrain. The forest is full of deciduous trees and thick mossy trunks that reminded me of the jungles of Meghalaya back in India.
The waterfall at level 6th and 7th are the most difficult to reach. At times, there is no clear path to them. You will even have to climb through a makeshift wooden staircase and walk inside the streams to crossover to the other side. A better way would be to just follow other people on the same path. Although, very few people climb so far.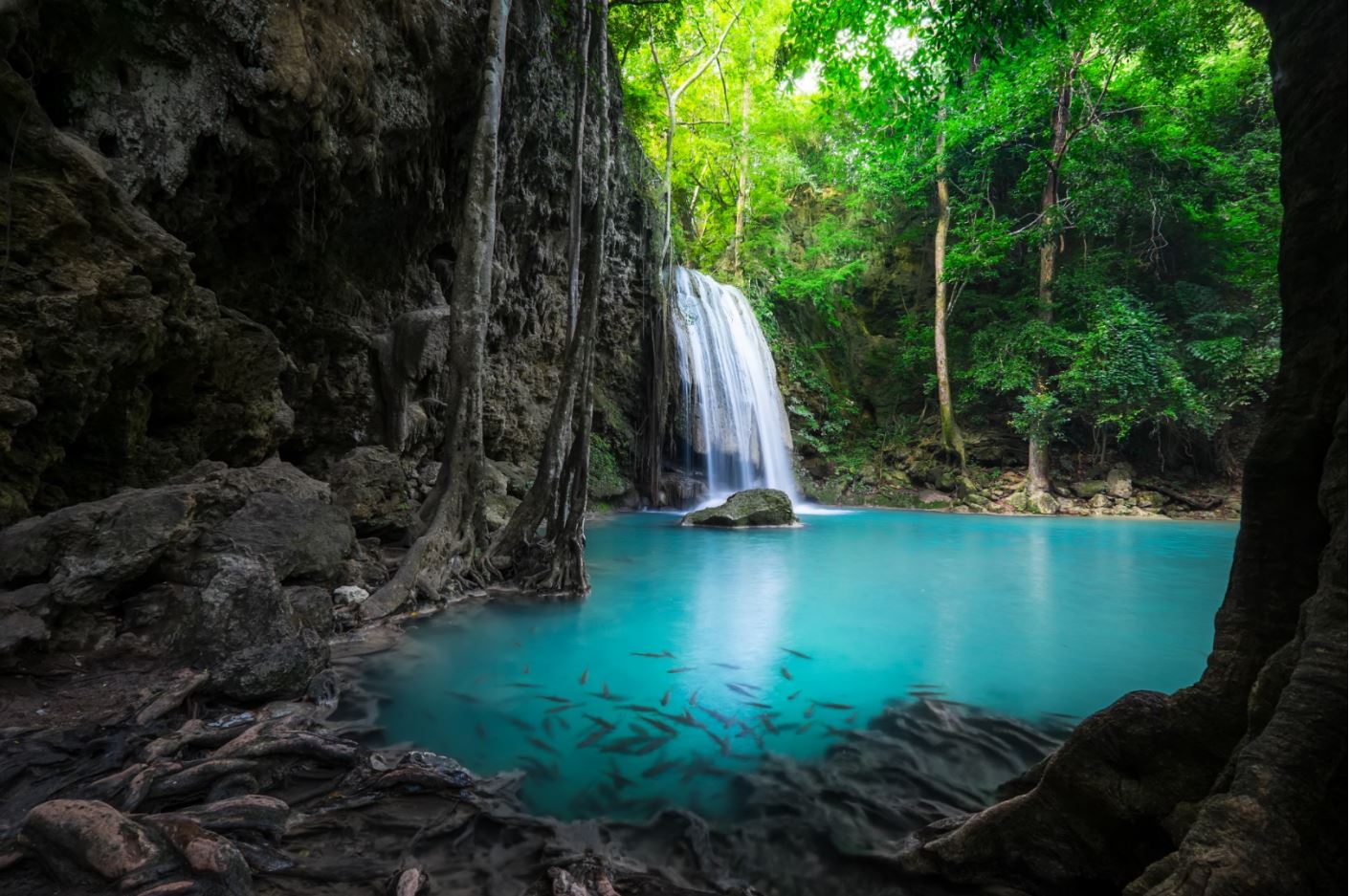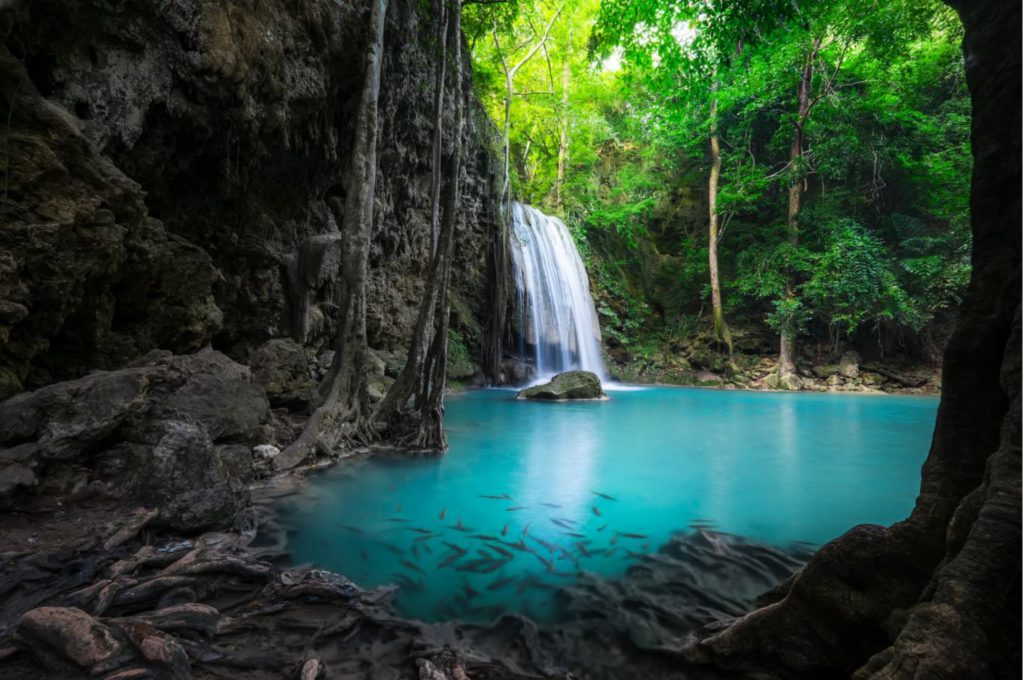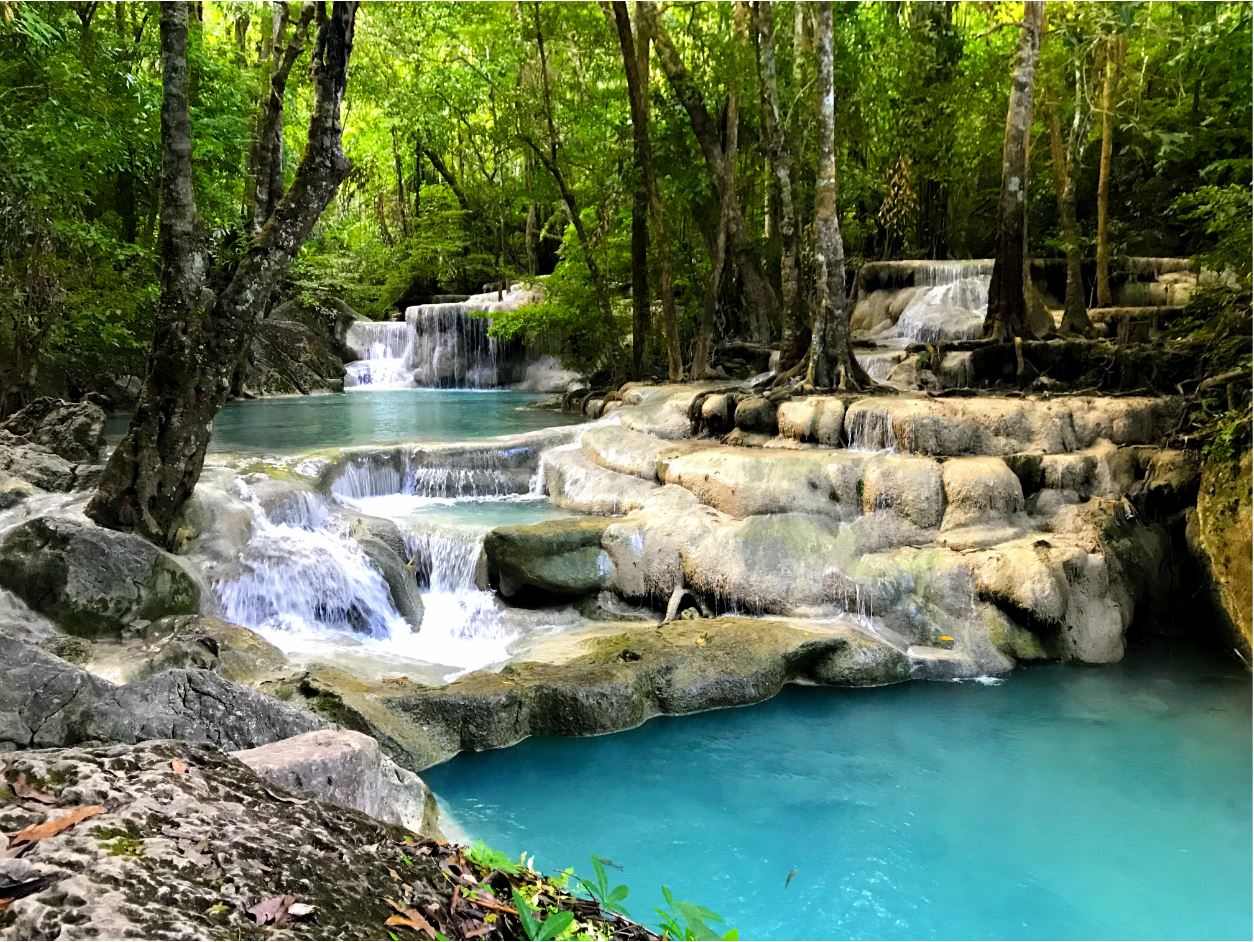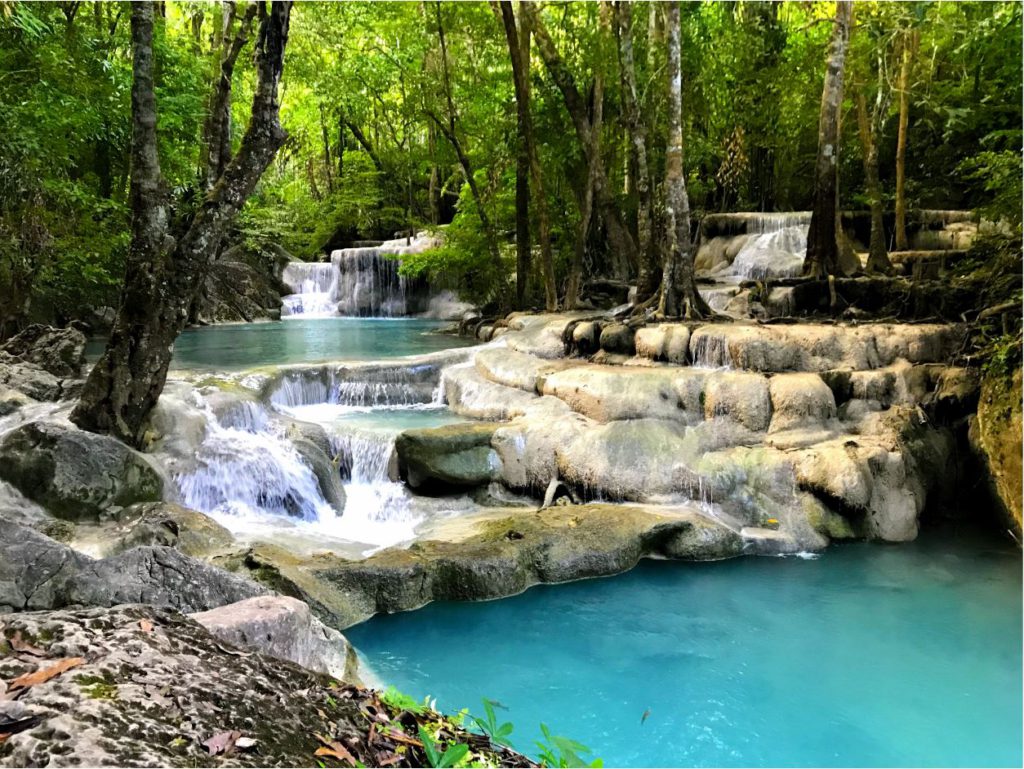 The 7th level of the waterfall is one with the steepest fall. We decided to take a shower. And although it was a bit cold for, I think it was the best part of the trip. There is a pond right next to where you will find loads of fish. If they don't tickle you much, you can soak your legs in the water and enjoy a natural fish spa. Start your hike back to the bottom once finished.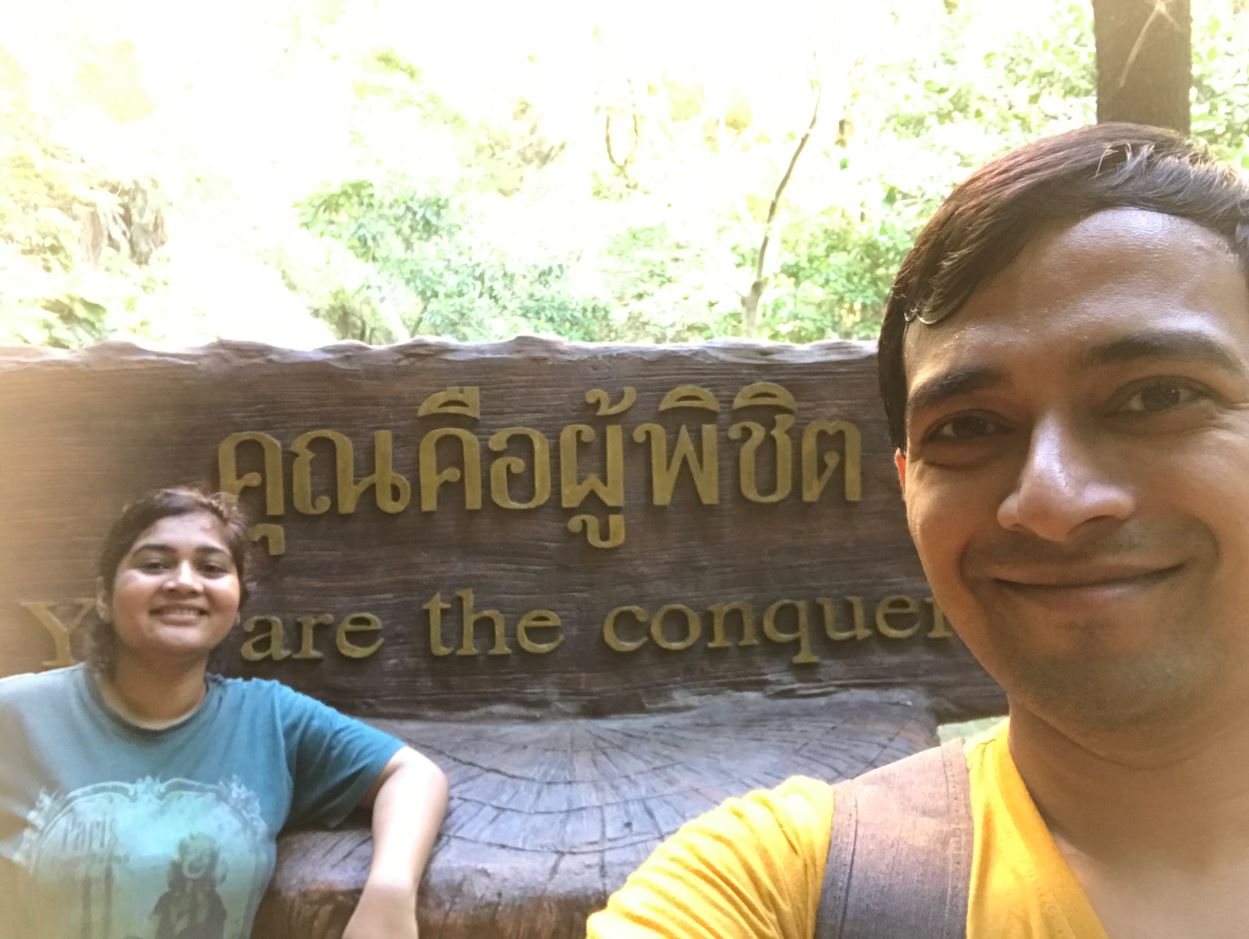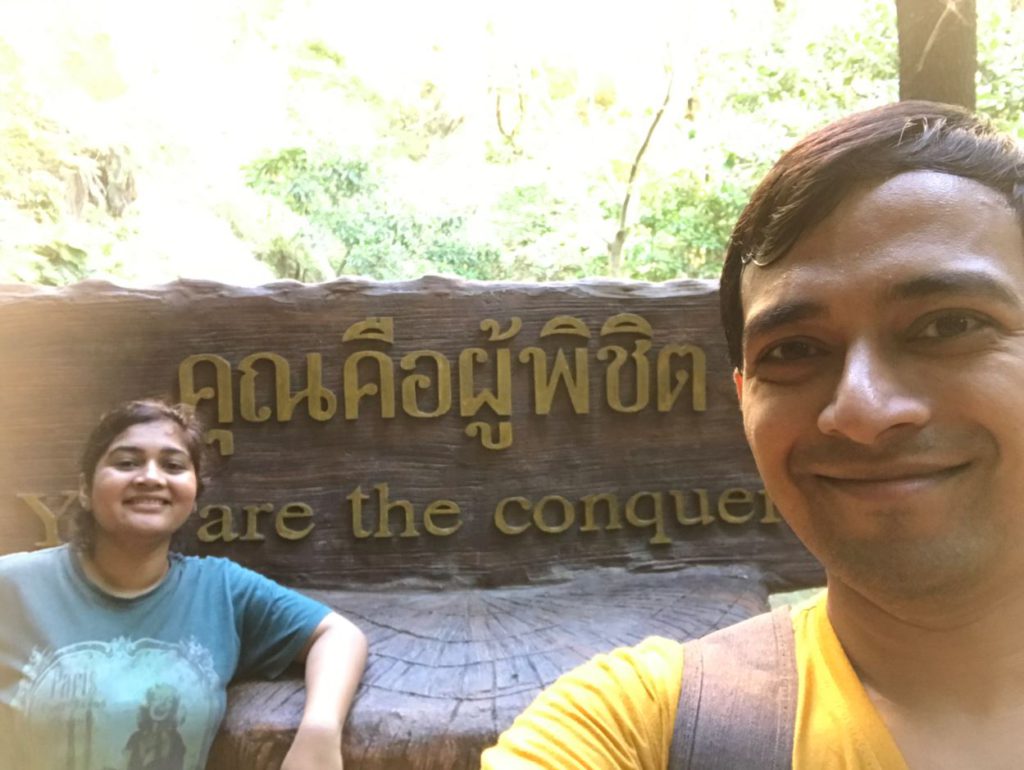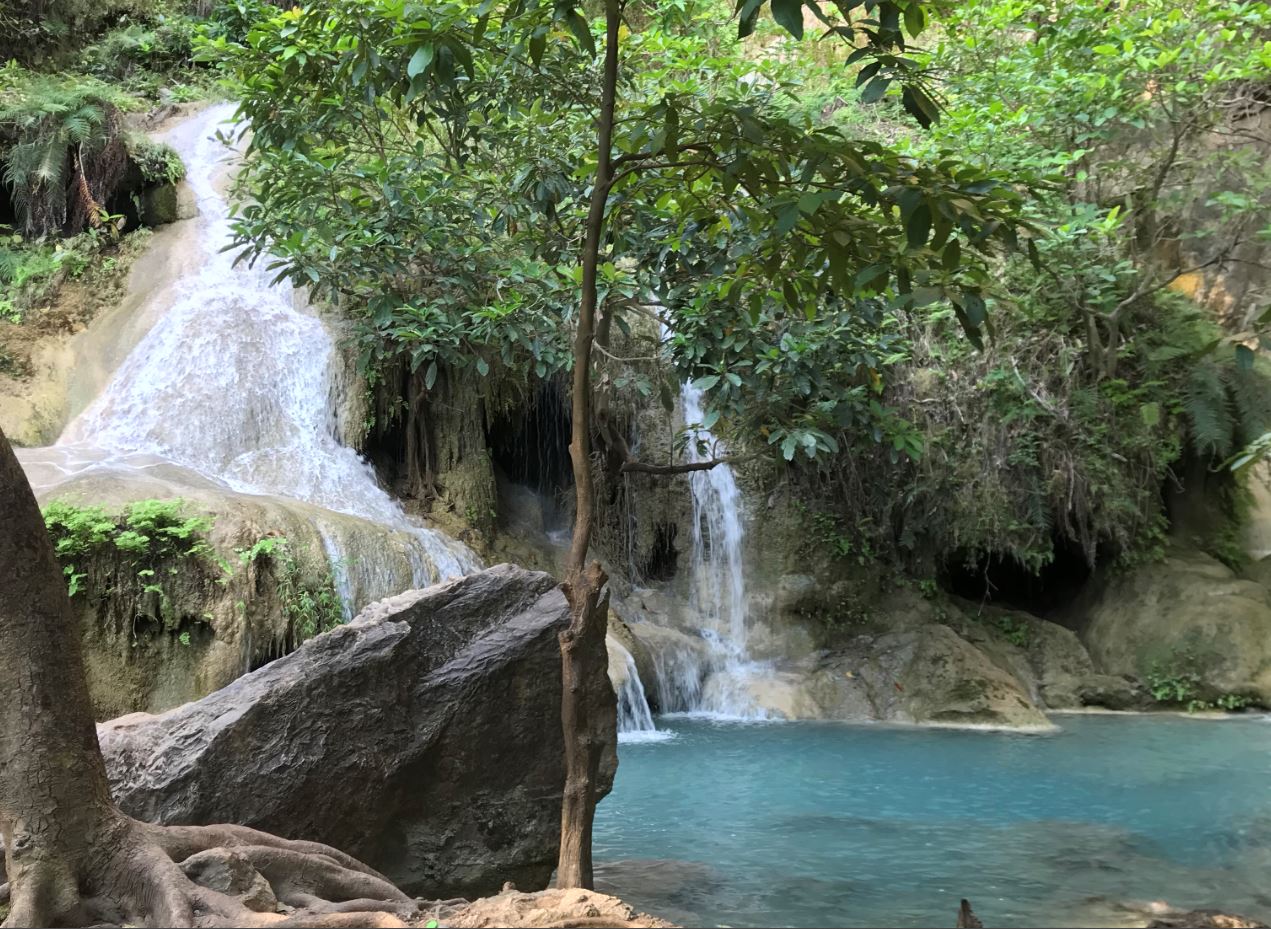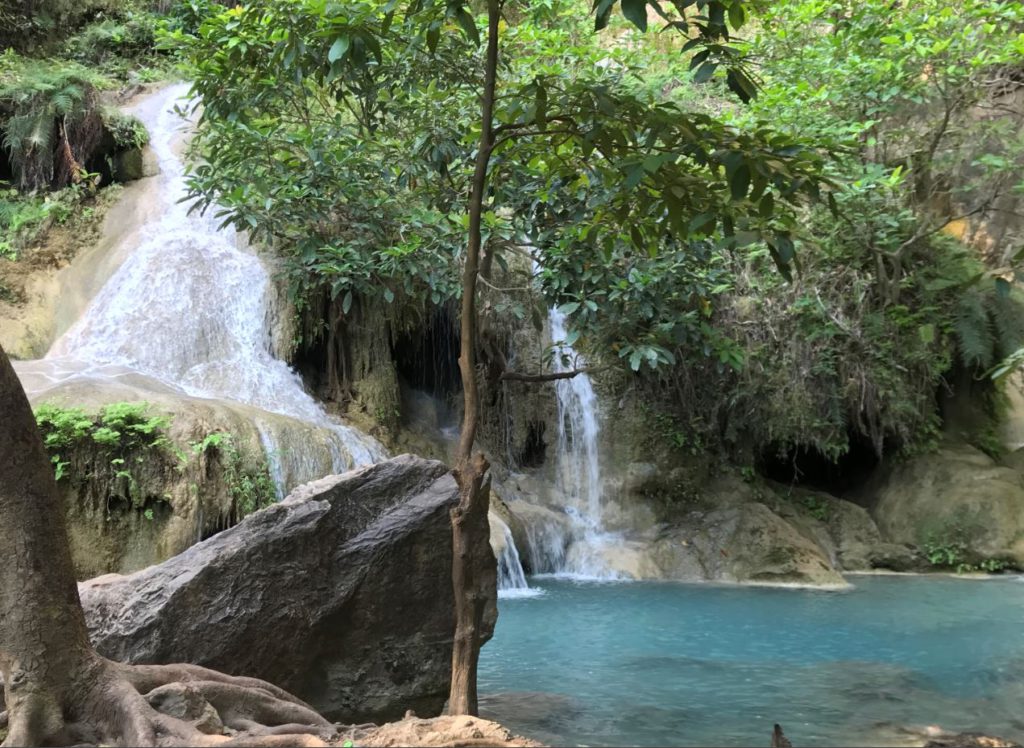 Caves inside Erawan National Park
There are five caves inside Erawan National Park. These caves are Ta Duang Cave, Mi Cave, Phra That Caves, Wang Badan Caves, and Rua Caves. You can access all the caves from inside the park. These have stalactites and stalagmites formations along with burial grounds of an ancient civilization.
There are no additional charges to visit the caves. But you will need to take a forest ranger to visit them as the trails are largely unknown to tourists. You can hire a ranger at the visitor's centre before 3 pm.
Best time to Hike
If you are already staying inside the park, the best time to hike the waterfalls is early morning. Start your day at 7.30 am and you will find the park almost empty of visitors till the top. It also means that you are alone and there are no rangers around for help.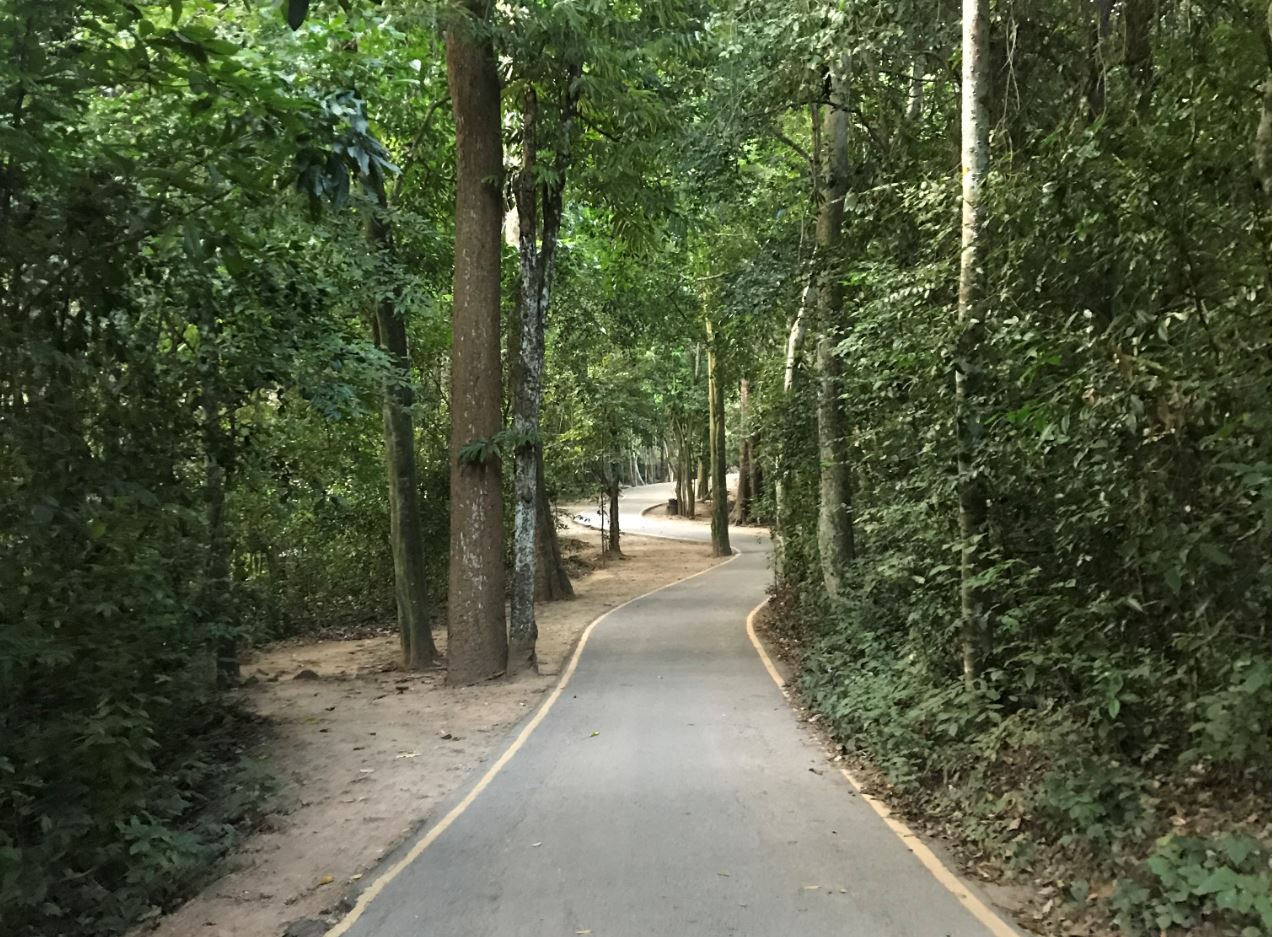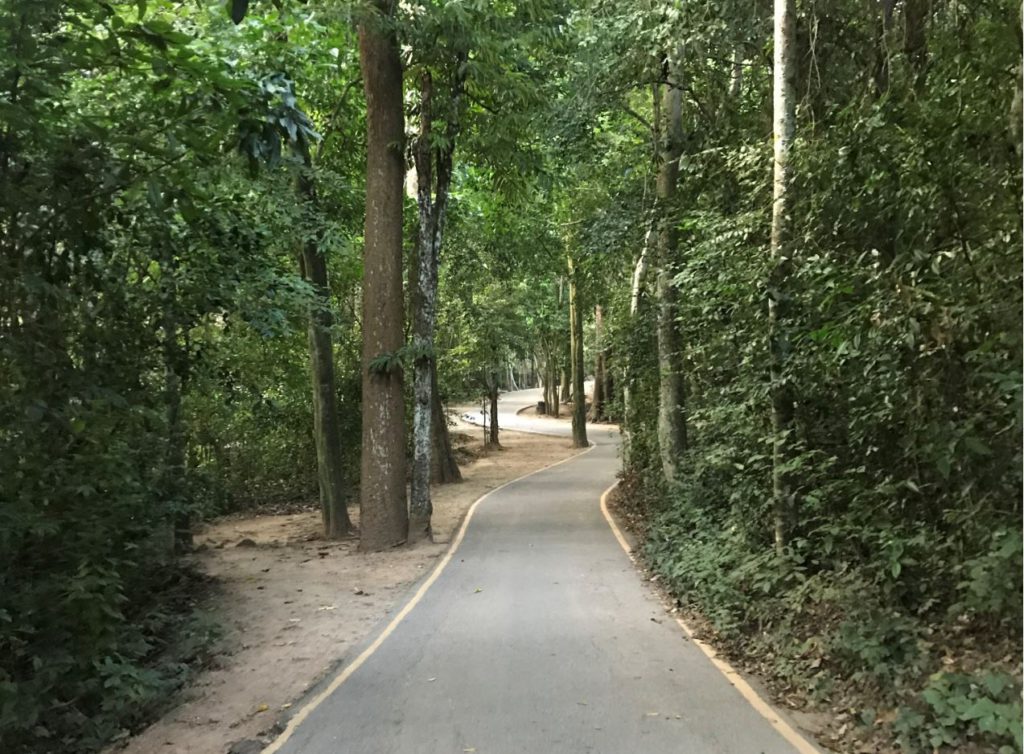 Erawan National Park Accommodation
If you plan to spend the night inside the national park, you can either choose to camp or rent a bungalow which is far more comfortable.
Camping
If you are an outdoor enthusiast, camping is something to remember in Erawan. The camping grounds are right next to the river inside the park. We witnessed light mist over the river early in the morning that looked mystical.
If you have your own camping gear, you can carry them inside the park on your back. Or if you plan to camp out of a car, there are also large spots where you can park your vehicle and live out of it. It is especially nice to camp during the winter months.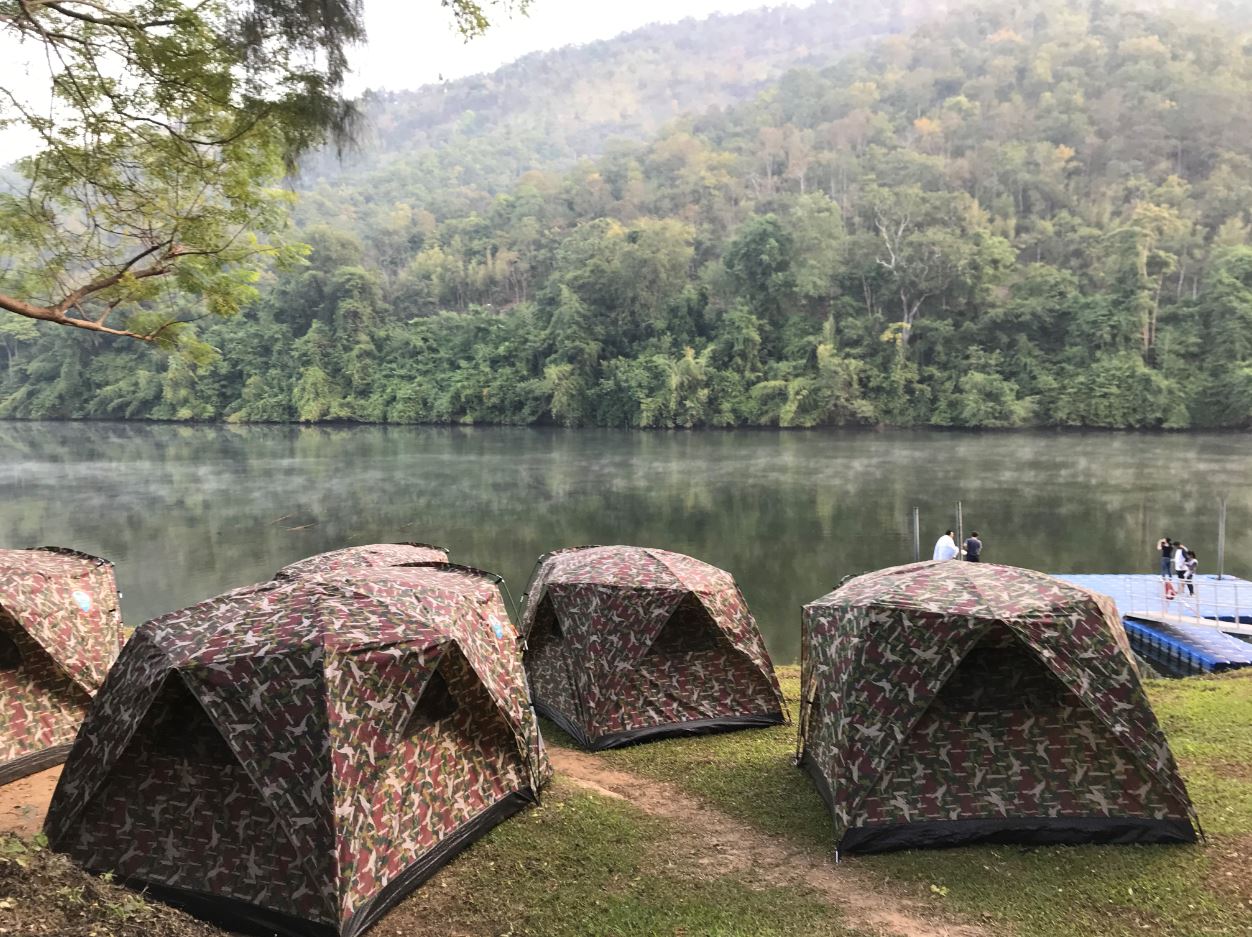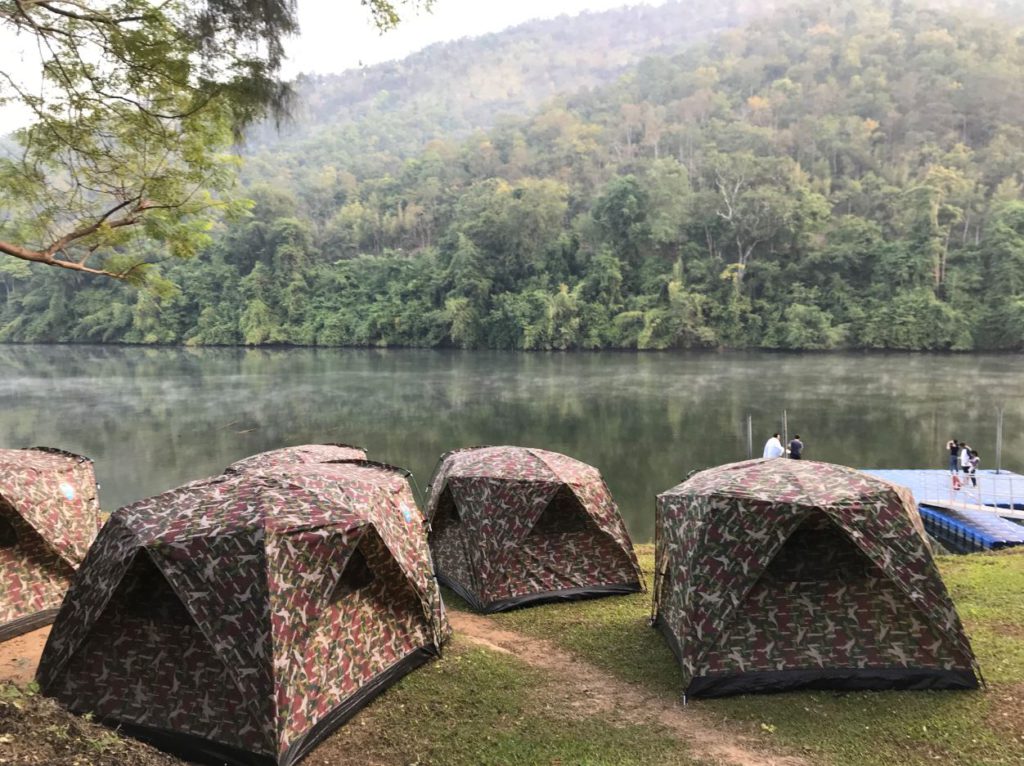 Rent Camping Gear
You can also rent camping gear inside the National park itself. To get those, you will have to reach the visitor's centre. You can spot it using the signposts inside the park. There will a rate card on the equipments that you can hire for the day with the rental cost.
A 2-person tent costs 150THB, 3-person tents costs 250THB for one day. You don't need to assemble this yourself. They are already put up, just go to the camping grounds and choose the one you want. Try not to choose one near the lights since they attract the most mosquitoes during the night.
A sleeping bag costs 25THB, a pillow 10THB and a mat 20THB for a day. If you don't have any equipment of your own, take one of each for a comfortable night. If you are visiting during the winter months, make sure you have extra layer of warm cloth or blanket since it get really cold at night.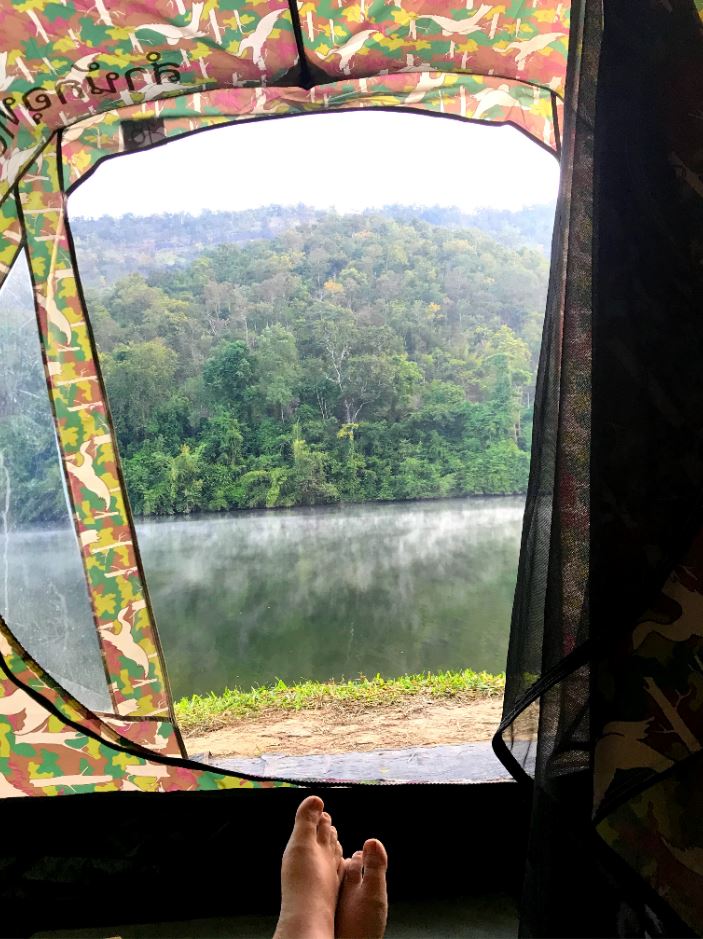 Amenities
There are common amenities that you can use inside the park. These include:
Mobile charging stations
Toilets
Bathrooms
Bicycles on rent (20THB/day)
Maps of National Park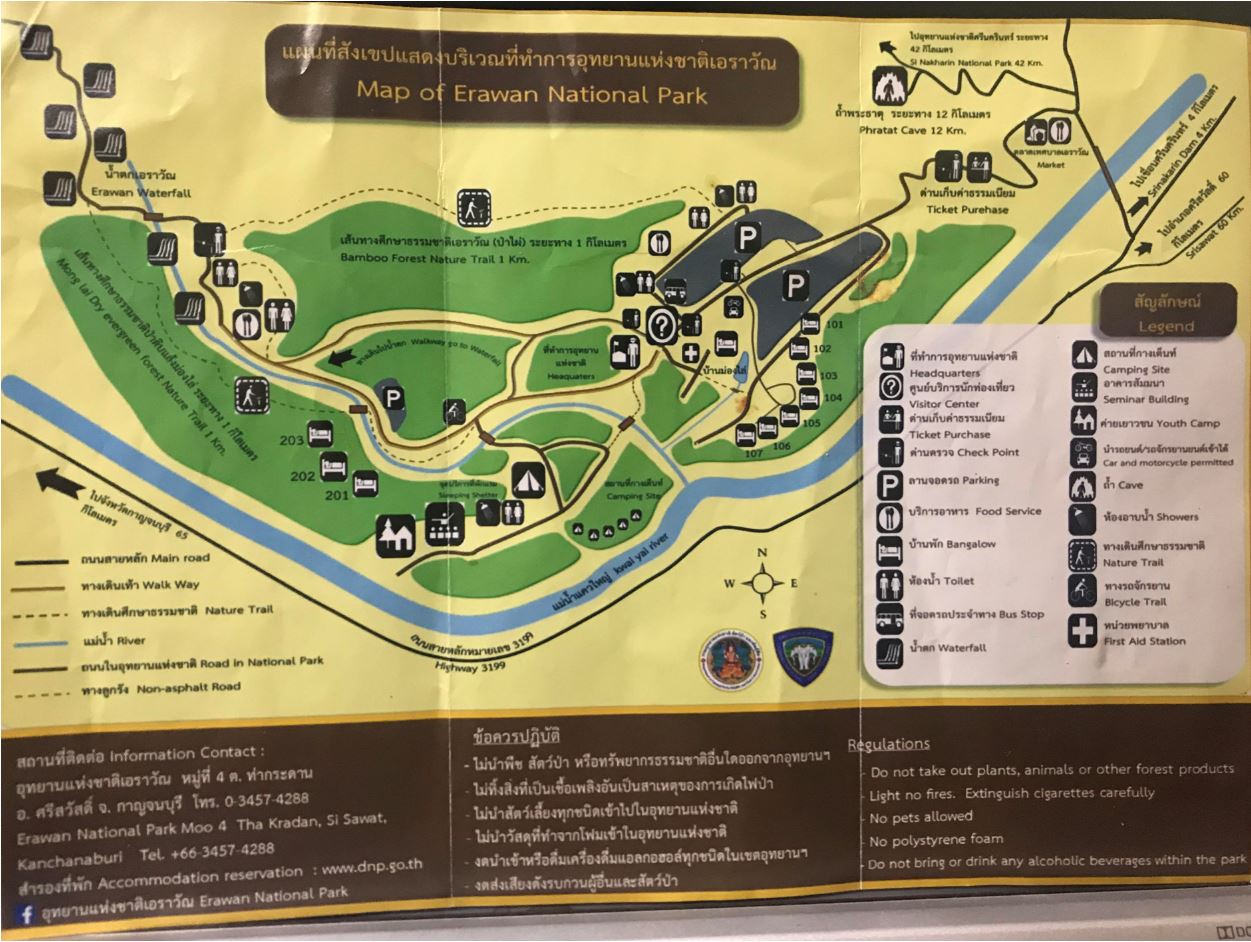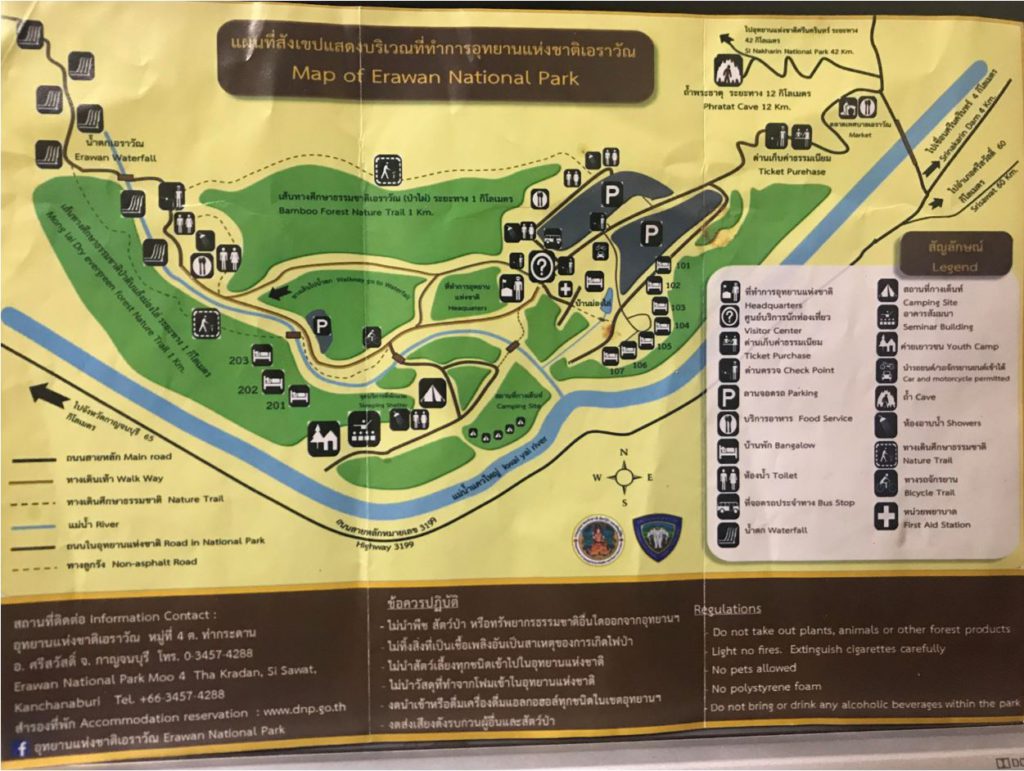 Bungalows
There are 9 bungalows and 2 dormitories inside the park. They range from 1 bedroom with an attached bathroom (for2 people) to 3 bedrooms and 3 bathrooms (for 6 people). The prices range from 800THB to 5000THB per night depending upon the bungalow. All bungalows are equipped with bedding, furniture, fans, charging point, and running water.
You can book a bungalow on the spot as soon as you reach the park. The occupancy is usually never full unless it is a rainy season. You can also book one online, but they only allow bank transfers which may be a problem if you are a foreign visitor.
Another way is to book in advance via one of the travel agents in Thailand as soon as you are in the country. You can have a glimpse of the bungalows at trekthailand.net
Hotels
Where to eat
While there are restaurants inside the park, you cannot count of getting food on the go. All the restaurants are limited to parking lot at the entrance before the visitor's centre. You will get very nice freshly prepared Thai meals, snacks and beverages including water bottles. The prices are reasonable.
There is also a food counter near the 2nd tier of waterfall but has limited food options. It is best to keep some food with you but make sure you throw them in proper dustbins and don't litter the park.
What not to do in Erawan National Park
Do Not Litter: While I have already mentioned this, it is not just about ethical behavior. You could also be fined if you are caught littering the area. If you are carrying food with you in plastic or other unnatural containers, keep it with you until you find a dustbin. There are many litter bins inside the park so you cannot complain. Read more about traveling sustainably here.
Do not climb waterfall: While you can swim in the ponds and pool formations, you cannot climb on top of waterfalls and can be fined. There are a lot of signposts calling out this. I will suggest that you restrict yourself to enjoying a bath at the bottom pools and don't climb the waterfalls upstream.
What to carry to Erawan National Park
Sandals: These are the most important part of your attire. I have already mentioned in the packing list for South-East Asia that sandals are your best friends in the region. If you got hiking ones, that's even better. They are open on both sides which will ease out the sweating.
And since they are open, you can wear them and go inside the pool. Hiking shoes are also good, especially if they let the water out. Do not wear heels (of any kind), daily slippers, or converse shoes for the trek.
Mosquito repellent: Do not forget this since your night depends upon it. The forests are deep and mosquitoes are plenty. You can buy one in the drug section of a 7-Eleven (The last one will be in Kanchanaburi on your way). A local one can be more effective than one that you buy overseas.
Towels: If you plan to bathe (which I will recommend), get a towel as well as a change of clothes for your trip. There are public bathrooms that are sufficiently equipped. You cannot find any of this stuff inside the park.

Save On Pinterest


Related Articles