20 Mar

The Best places to see in Meghalaya, India

Have you ever been to Meghalaya?

Have you heard about it?

And if you have, did you ever think about going there?

I never really did until I saw this picture and the whole story is about the quest to reaching this.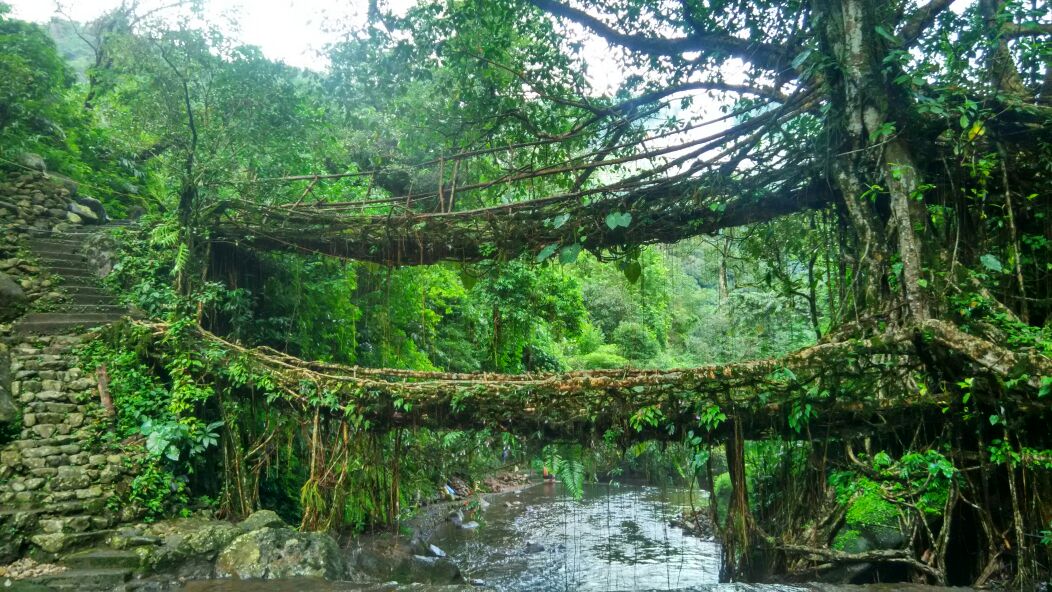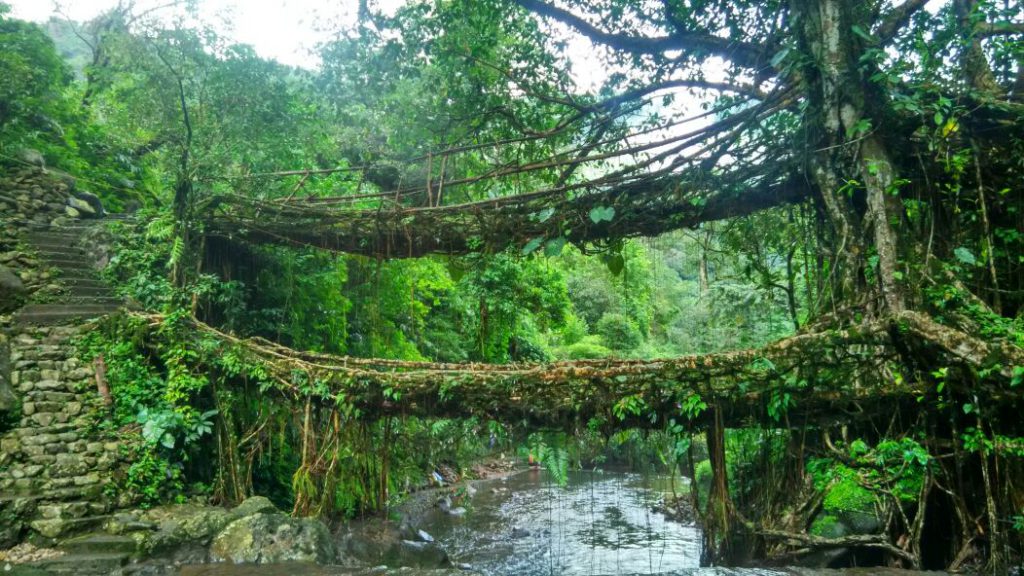 But let's start at the beginning. I was 24 years old, living in Bangalore and working there as a designer. After 3 years of working at an outdoor brand, I got this taste of nature and travel, a desire which has been spreading like wildfire amongst millennials. And I took a few days off before starting work again to travel to north-east India, a place which was as exotic to me as any other country would be.
Now I think about it, I feel it takes some serious balls and a little bit of foolishness to execute that. I am not sure if I could do that again. But Meghalaya is worth it. If you get a company, it's fantastic and if you don't, there is not a better place to go by yourself. I think I lost my mind a little
Let me tell you a little about Meghalaya if you don't know this already. Meghalaya is one of the 'seven sisters' states in the North-east part of India. Its literal meaning is 'abode of the clouds' (Megh = Clouds, Alay = Home) and metaphorically it looks like the woods from 'Lord of the Rings'.
Meghalaya is also famous for the place 'Mawsynram' which is the place that receives the most rainfall in the country. And yes, it rains like cats and dogs in July. Add icing to the cake, to make the trip in the rainy season. You will cry before you dry!
Apart from rains, water, mud, and leeches, there are quite a lot of other things to do in Meghalaya as well. Let's start with Shillong. Shillong is the capital of Meghalaya and there is absolutely no way to reach Shillong directly. You will have to take a flight to Guwahati first and then a cab to Shillong.
I did not stop at Guwahati. As soon as you get out of the airport you can take a sharing cab to Shillong which will charge you less than INR 500/- per person to drop you to the heart of the city in Shillong.
This is one of the most stunning road trips you can take in India. Do you know what they say about roads in India? Then this is not India. The roads are smooth as butter and the people are jolly. I shared my cab with a tourist, a soldier posted in Shillong base and a merchant. It was good 3 hours.
Oh btw, if you looking to explore Shillong, here is my complete guide on it.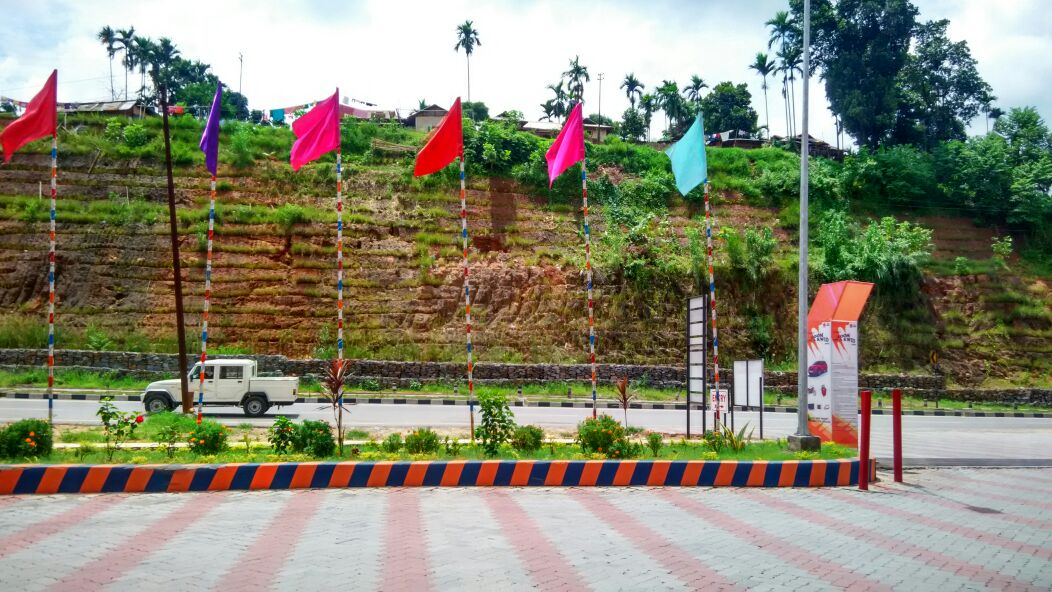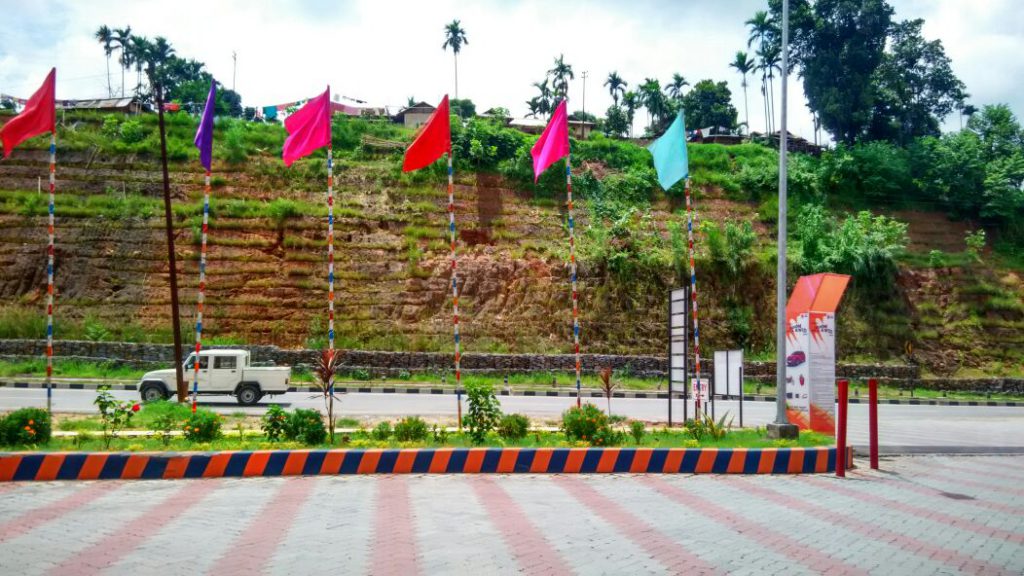 Let me give you a heads up on transport for there are no buses or trains that runs intercity after Guwahati in Meghalaya. You can only take a private taxi or a shared taxi which accommodates 4 people. You can also get a sumo which seats around 8-10 people and is even cheaper.
Meghalaya is lush green, psychedelic green, even neon green and there are pineapples and beetle nuts everywhere. These pineapples are as sweet as desserts. And later I also bumped into a pineapple farm! So cool, but let's not get distracted.
The best part of the road trip is the Umiam lake. You will find it somewhere in the middle and you will know if the driver is good enough to tell you. You will also figure it out because it is so gigantic and you will find a lot of those 'spots' or 'viewpoints' with bustling tourists. Again, you cannot even imagine in scale how big it is. Can you see that small teeny tiny boat? That's how big!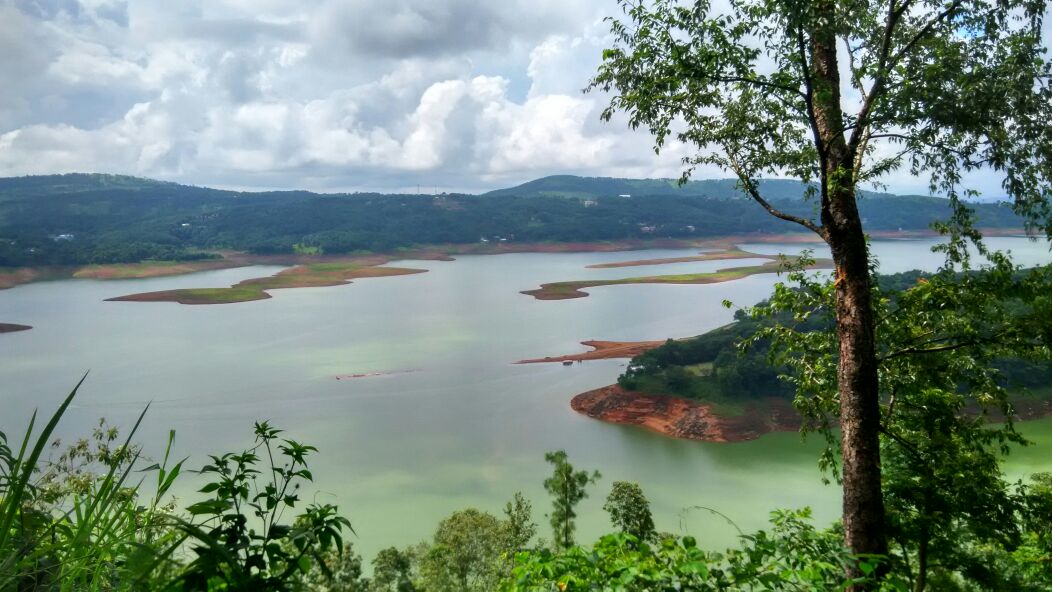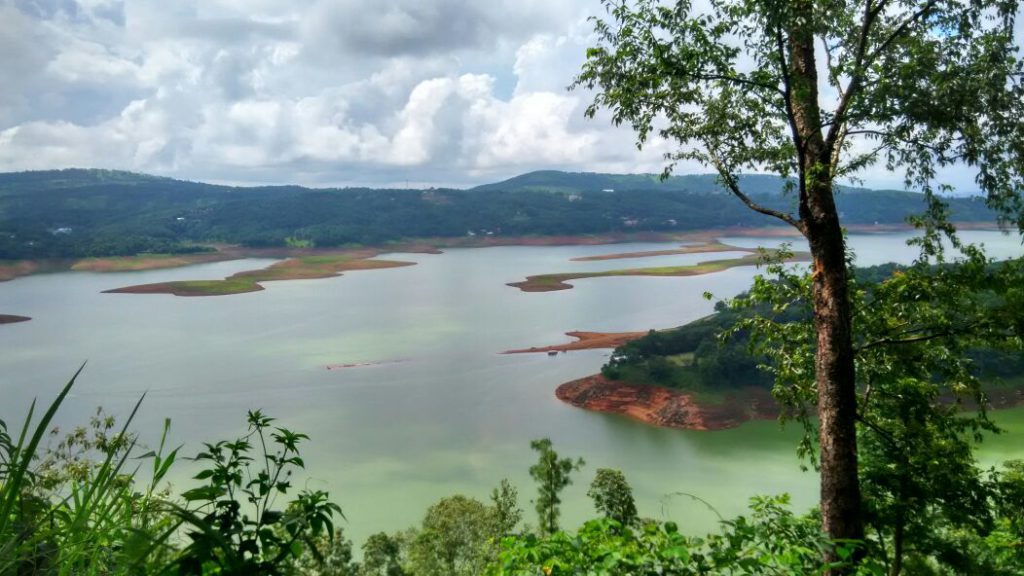 Now the cab will drop you off somewhere around the police bazaar which is the primary market. If you have lodging booked, you can ask your driver to drop you there. I had mine in the primary market and I had half a day to myself. Police Bazaar and Bara Bazaar are the two most famous markets in Shillong.
Now there aren't too many good hotels in Shillong. And in fact, very few budget hotels. You can check out Hotel Barbareek or La Serene near Police Bazaar for budget options. Hotel Alpine Continental and The Loft Executive Inn are more comfortable if you are willing to spend more. But if you are looking for places with a view and some luxury, you should look at The Golf Retreat or The Heritage Club.
Shillong is the only urban trade centre in Meghalaya. Naturally, it is also the centre of all tribal merchants who come to sell their products in the bustling markets. If you want to buy souvenirs, buy it from here rather than the shops next to the tourist points.
I then enjoyed a traditional Khasi meal at a nearby restaurant. The food is very simple in Meghalaya. You would have a curry usually chicken, pork or beef. You can ask for vegetarian specifically, but if you consume pork, they have speciality dishes on it.
Pair it with steamed rice, boiled stir-fried vegetables, lentils with spinach and salad. They serve an omelette with most of the meals on the side. A meal on an average will cost you around 200/-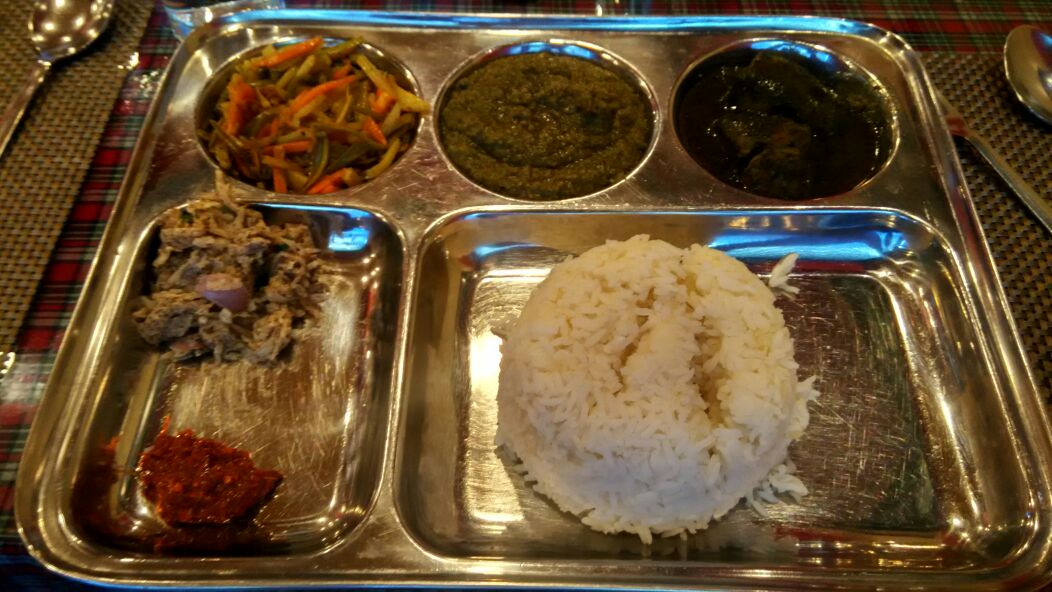 Make sure that during your whole trip you finish your sightseeing by daylight. The whole of north-east goes ghostly after 7 pm. I would also suggest you buy some snacks or anything else you need for later and sleep early. Hotels start from 800/- per room per day and go up. Choose according to your budget. Some hostels cost as low as 300/- per night but I avoided them for they were very basic.
My hotel guy was kind enough to check with me if was looking for sightseeing the city the next day which I was. He offered me a shared cab with another tourist which made my pocket smile at around INR 1000/- per person for the whole day.
The day tour in Shillong took me to all the popular places like Elephant falls which is, of course, a waterfall, Shillong peak which is the highest point from where the whole of Shillong city is visible.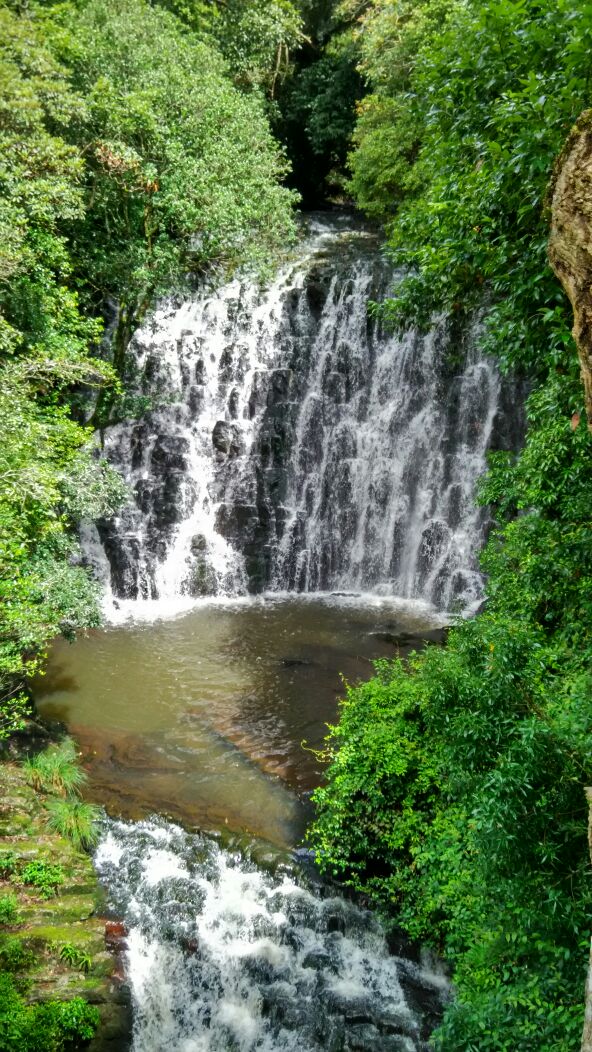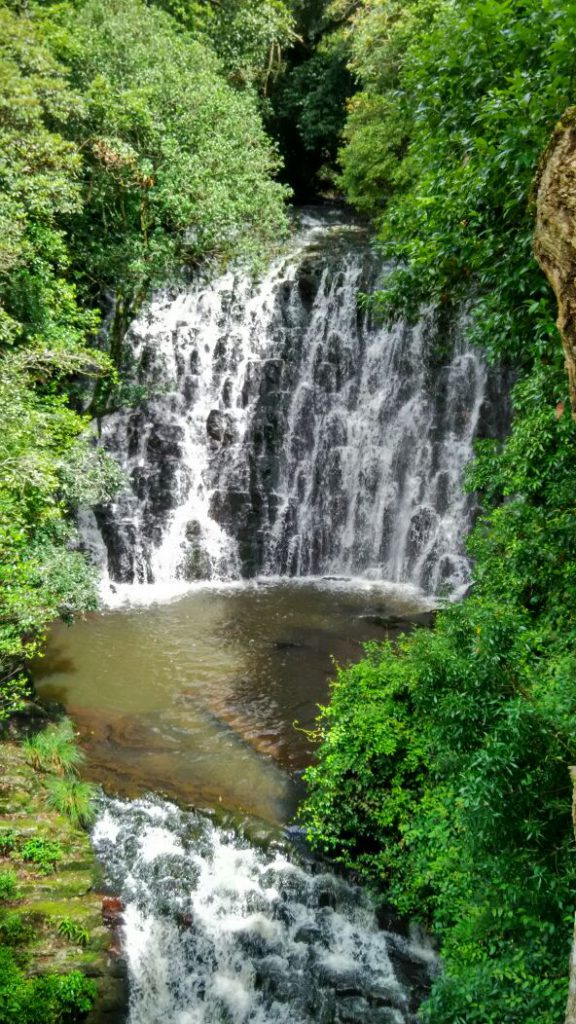 Next stop was Laitlum Canyons which is something you should not miss. This is a viewpoint from the cliff of layers of mountains till the horizon from bright green to teal to blue and then there is a river flowing and vanishes somewhere far ahead.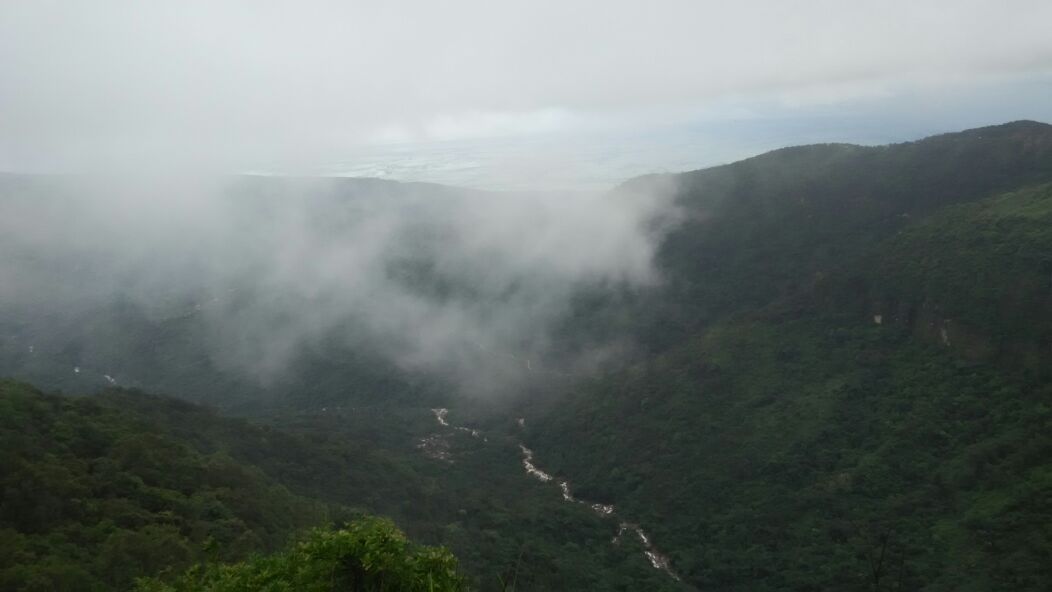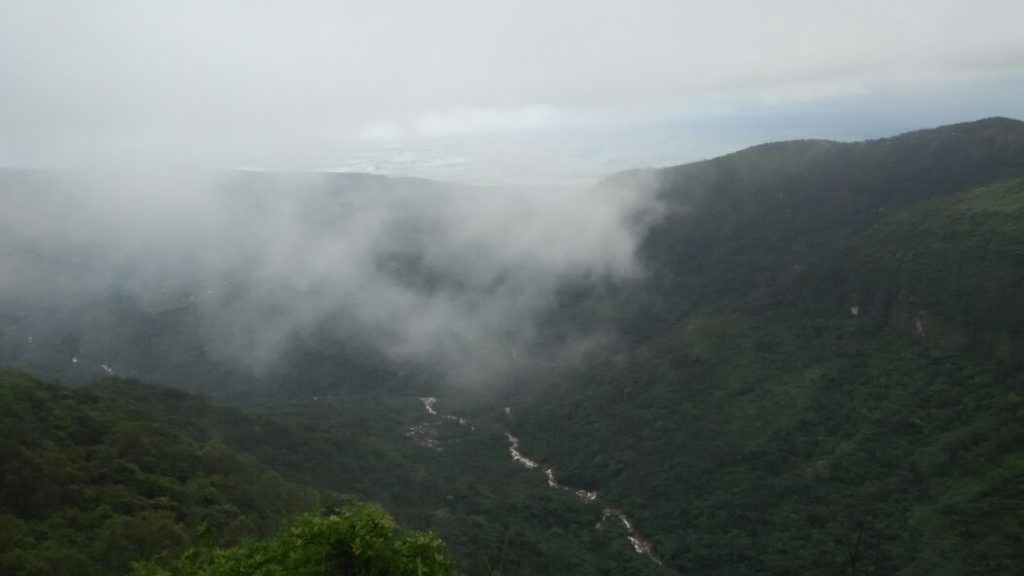 More tourist places will include Mary Help for Cristian cathedral, Ward's Lake, Don Bosco Museum and Air force museum. Another spot that you should not miss is Lady Hydari Park. It's a lovely park with a small zoo inside it. I think all the owls from Harry Potter have been transported here, there were so many! Swans too! This really does make a very eventful day, but you can easily cover all of it if you start early.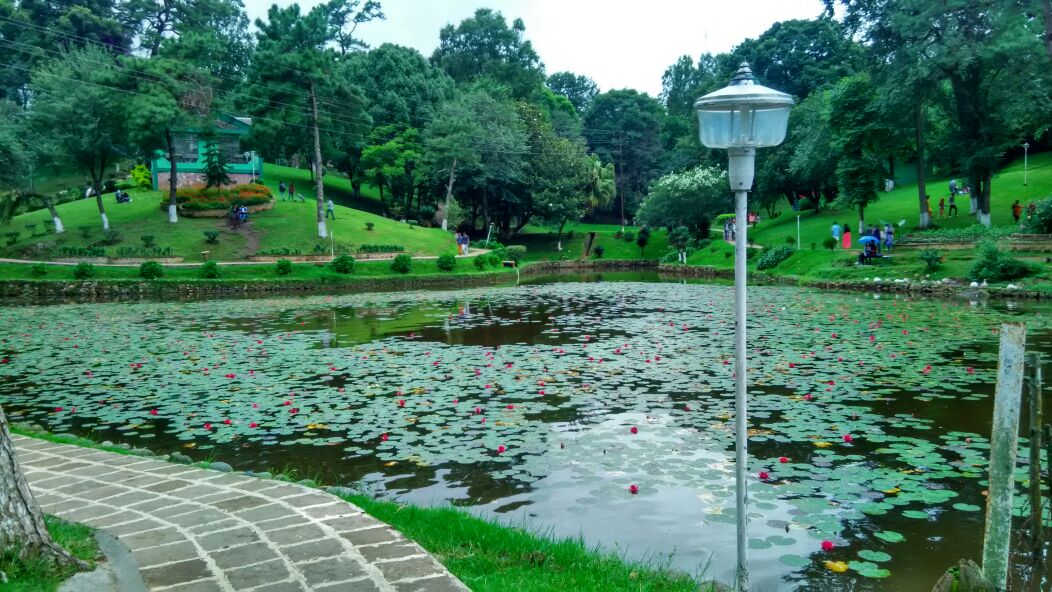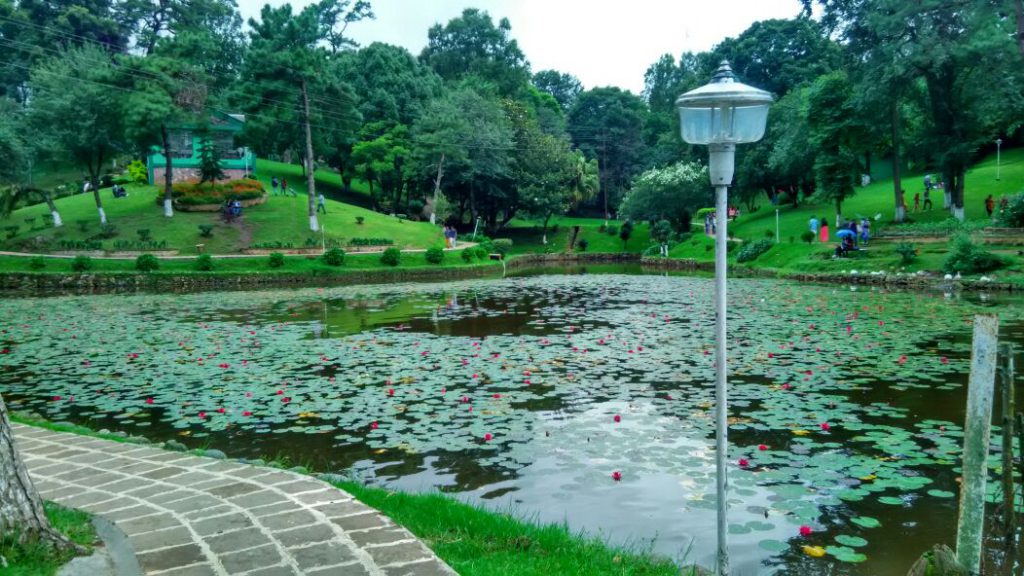 The next day is when we move out of Shillong for sightseeing. This stretch runs to Cherrapunji but I am not reaching my final destination so soon and so easily. What I saw instead was Nohkalikai Falls which is the tallest plunge waterfall in India (How so little do we know). My biggest facepalm moment was standing in front and it and not able to see it.
Talk about bad luck. That's because, during the rainy season, all you see are clouds and mist and fog. It may take a while to get the clouds out of the way. I will say that you must visit Shillong twice, once during the rains and once in winter.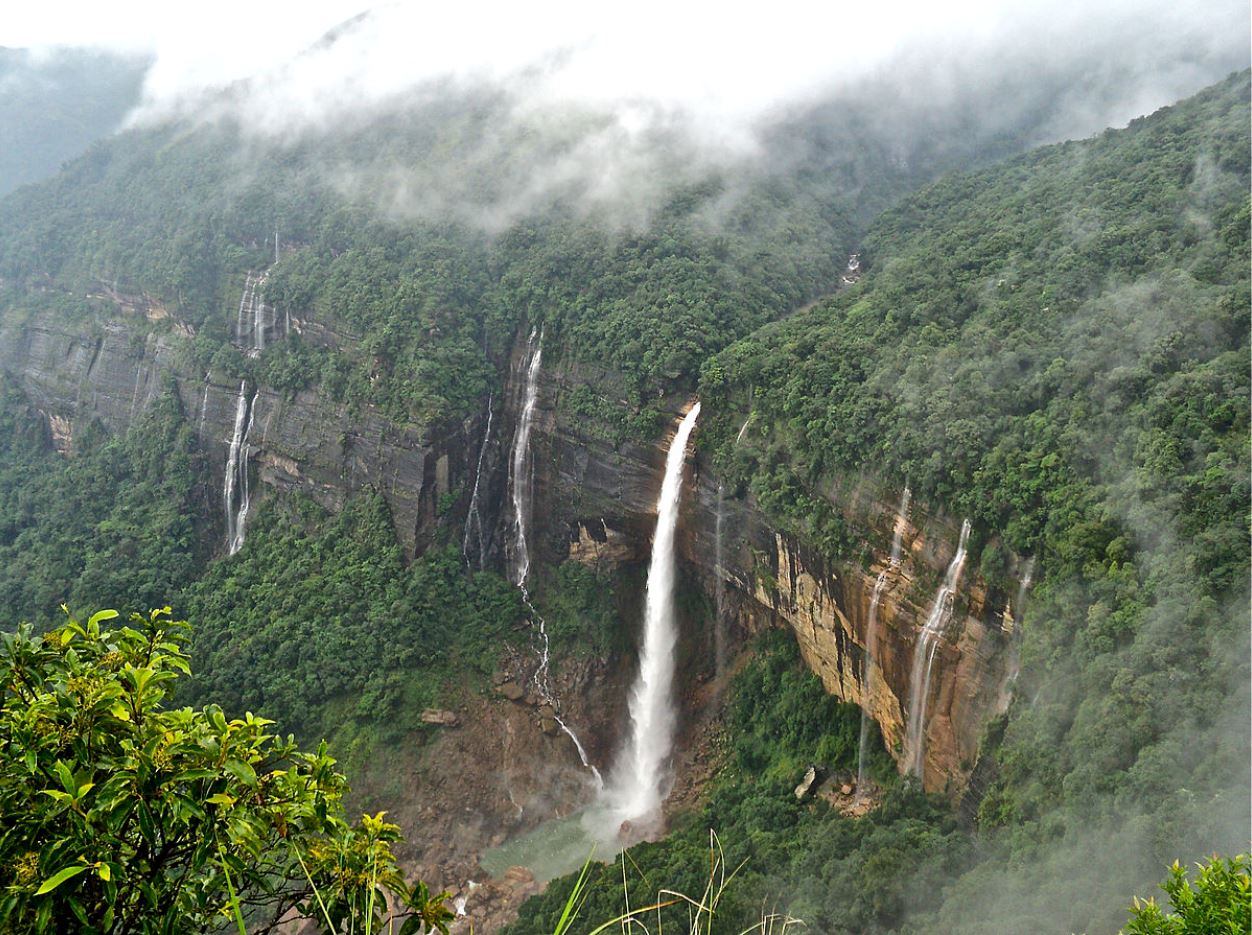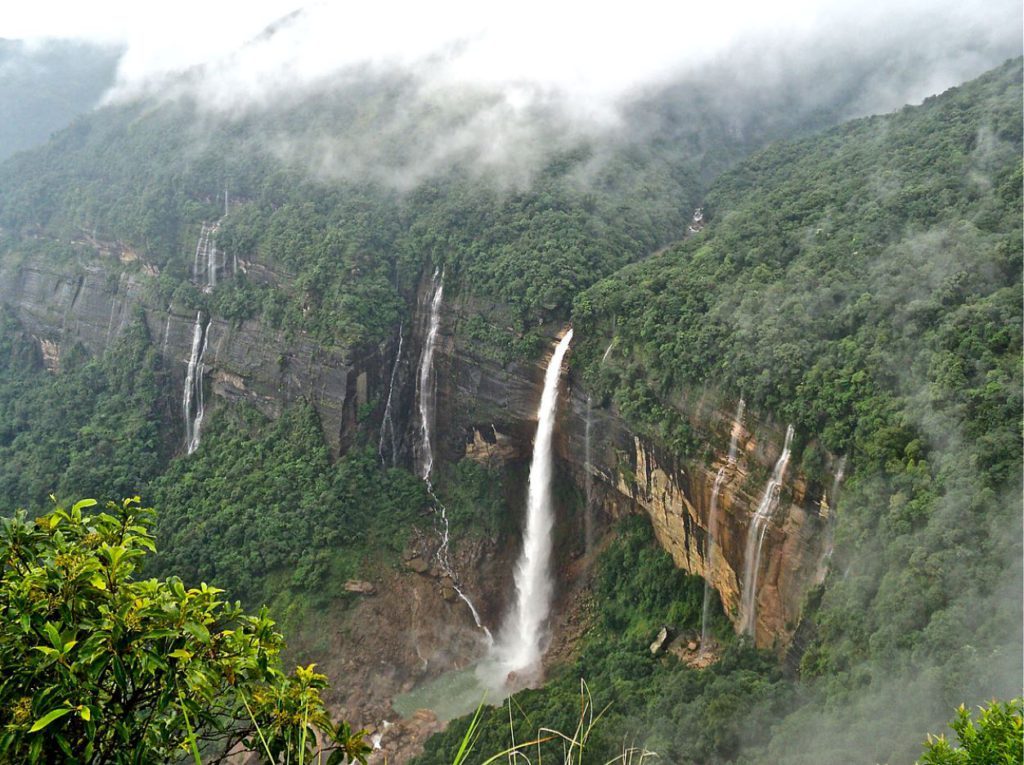 Another one that you see on this route is Nohsngithiang or Seven Sister's waterfall. Luckily the cloud god took some pity and let me have a peek at these. Head towards Mawsmai Nongthymmai Eco Park next. The origin of its name is unknown but 'Eco-park' does have some impressive scenery.
You will have to walk a stretch of grassland to reach at the highlight point which is the cliff at the end that opens to the view of miles of mountains and then crosses over to Bangladesh. A lot of families come over for picnics for there is a lot of space for kids to run around and enjoy. Spend some time here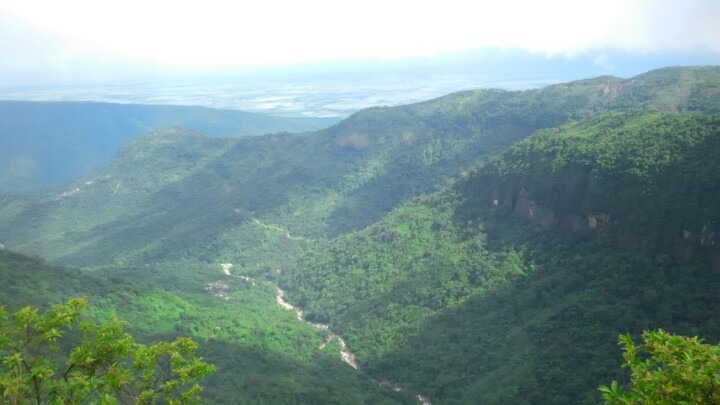 The last stop in the stretch is Mawsmai Cave. Meghalaya is popular for caves as nine out of ten India's longest limestone caves resides here. They can look scary and during the rainy season they were flooded with knee-deep water and the journey from starting to end is not so easy.
If you are claustrophobic, you may want to chuck it. Otherwise, it's an experience to witness something so raw and natural. With this, I finished my second day at Shillong simply exhausted for there was so much to do.
The next day I decided to check out and wander even farther from Shillong. My two stops for the day were Mawlynnong and Dawki and then to Nongriat, my final destination. While Mawlynnong holds the title of the 'cleanest village in Asia's, one should visit Dawki for its crystal-clear water at the border to Bangladesh.
Mawlynnong is a popular tourist spot in Meghalaya and at the entrance of the village, you will see hordes of vehicles filled with tourists at the parking lot. While the village was renowned for its cleanliness, it is now marketed for it as well. The government funds the village additionally to maintain its position.
You will see almost every other person cleaning the place. Hell, they even pick up the fallen leaves! The number of houses in the village are fixed and cannot increase to preserve the essence of the place. You can easily spend half a day here. There are options of spending the night at the village as well starting from INR 1800/-.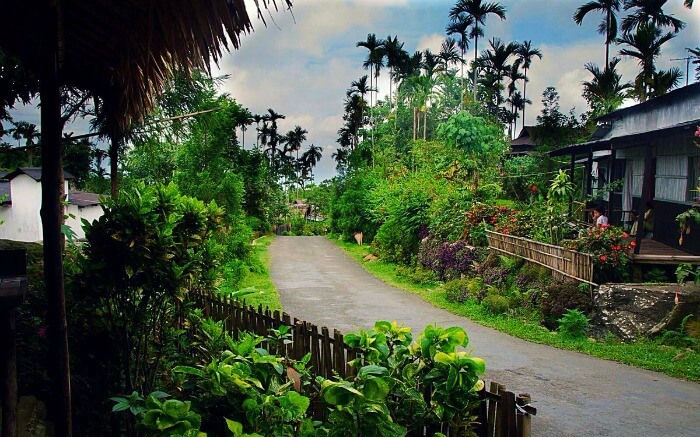 The second destination was Dawki but in this case, the journey was more beautiful than the destination. Again, remember in June all water channels in Meghalaya are water fed which results in loads of beautiful waterfalls that accompanied us on the road trip. I also passed through pineapple farms on the way which I had never seen before.
Visit Dawki for its crystal clear water which gives you visibility to the river bed. It is located at the Indo-Bangladesh border and once can wander a little into Bangladesh as well, till the point it is allowed. The sad part is you cannot enjoy its uniqueness during the rainy season since the water is unrestrained, gushing and muddy.
It is almost scary to see the river in full force. To enjoy the beauty you must go during December-January when the water is calm and the place is open for boating.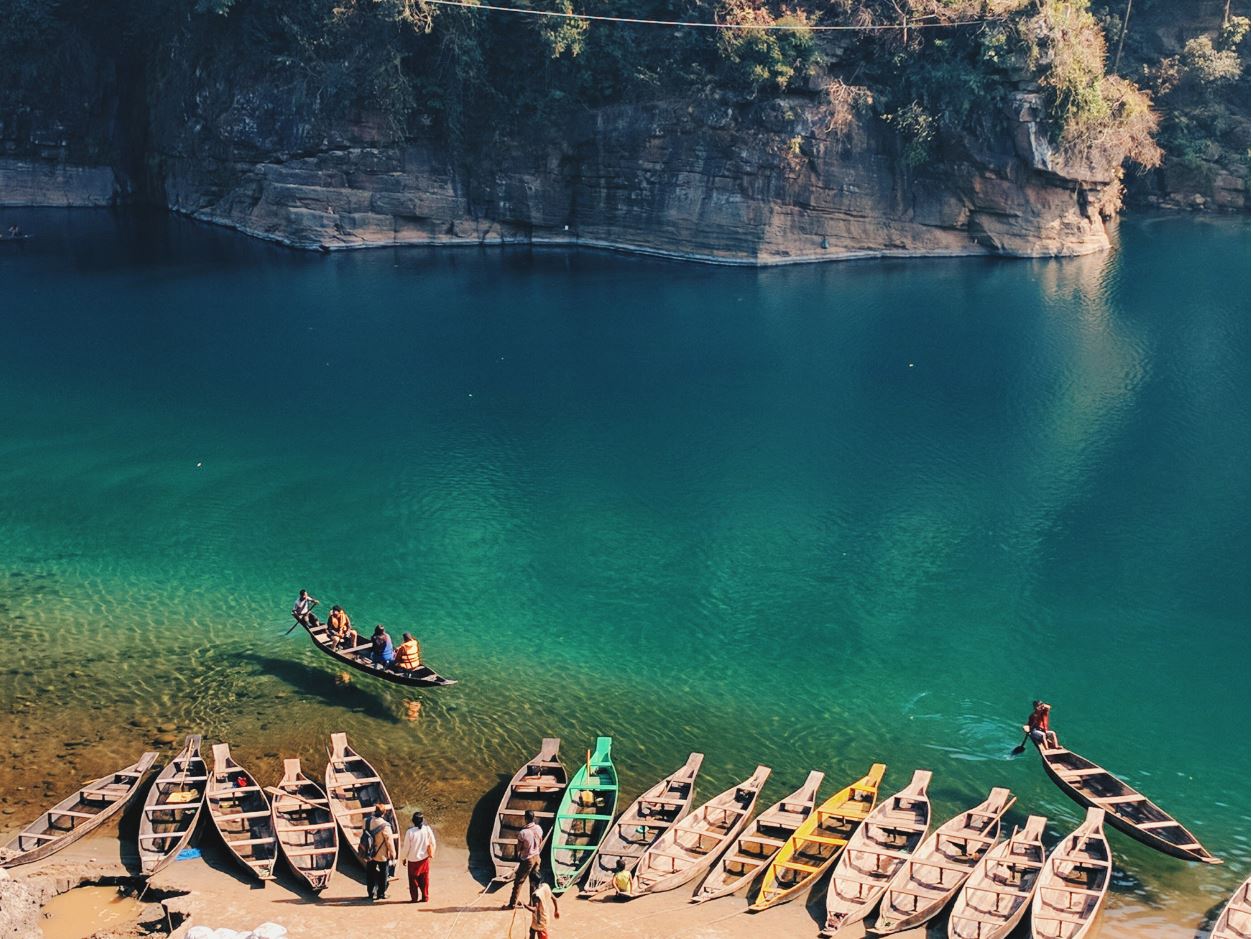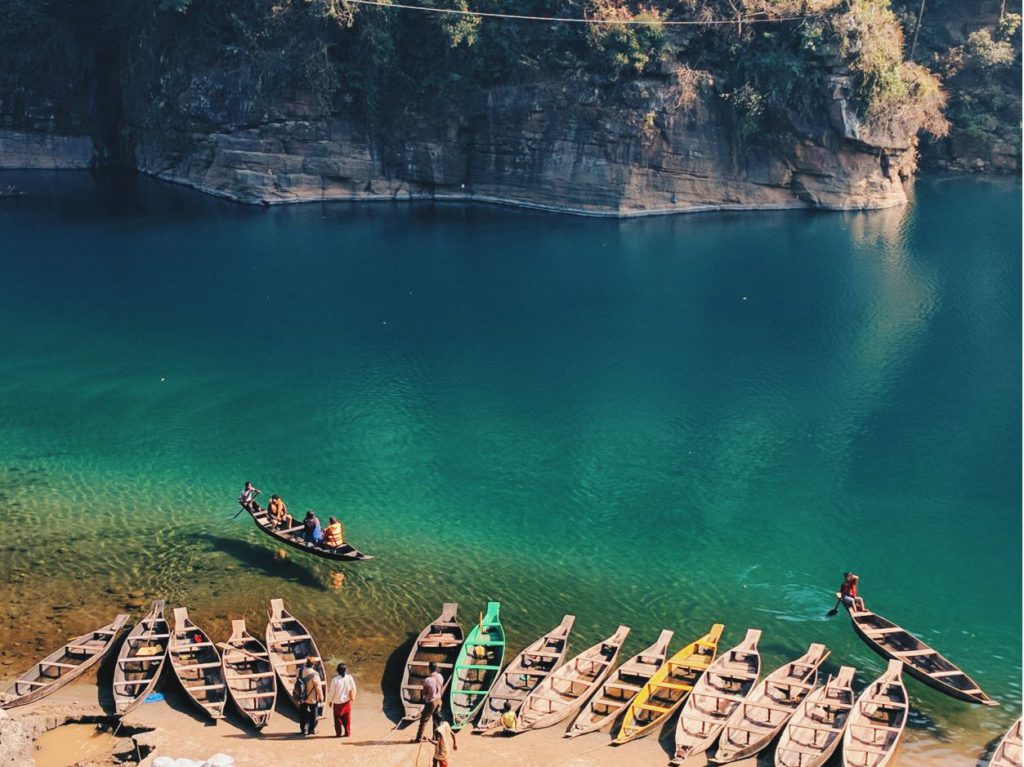 And after all this, do you think it could get better? But yes, it does. To reach the double-decker root bridges, the place of my dreams I travelled to a small village called Nongriat. This is near to Cherrapunji and almost 2 hours from Shillong.
You can take a shared cab from a town called Sohra to reach here as well. The last place where the vehicle could reach gives you a bird's eye view of the valley and it cannot be described in words.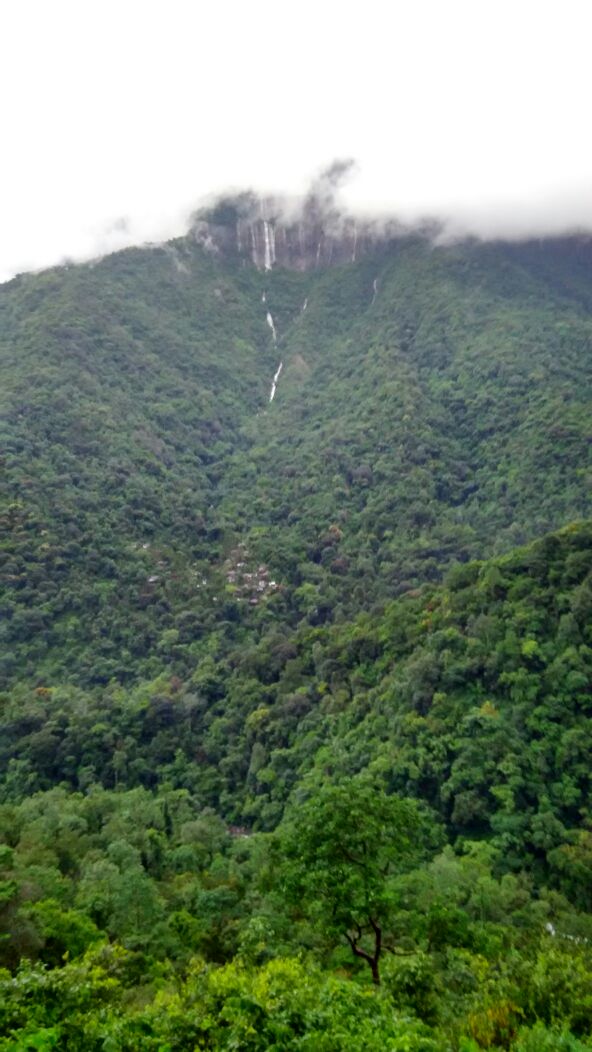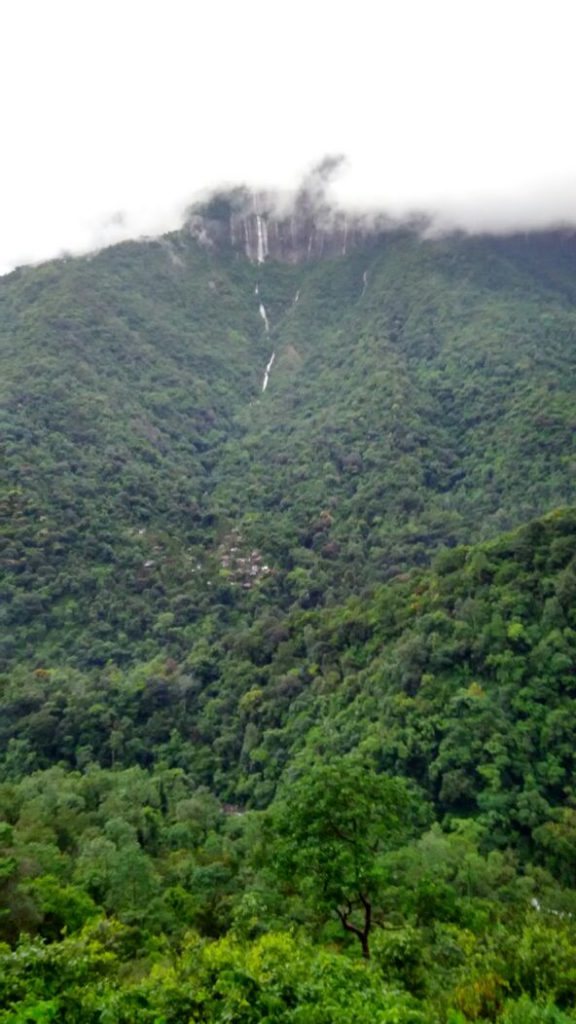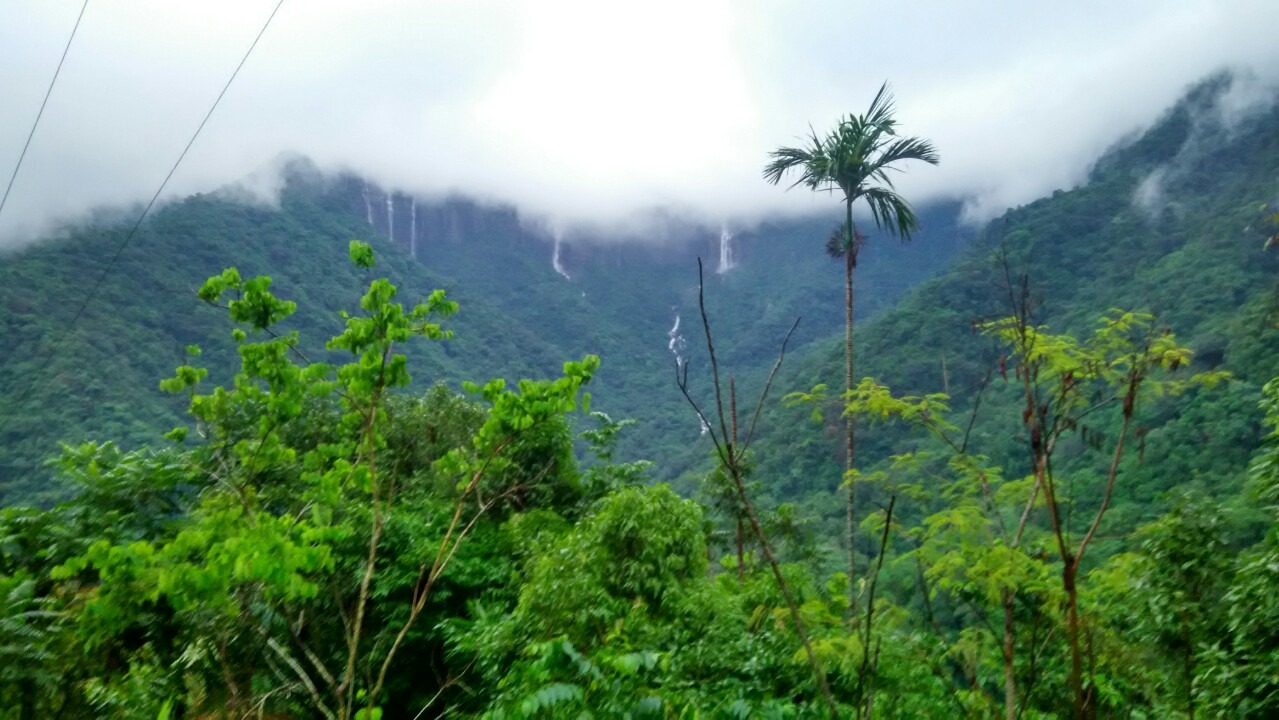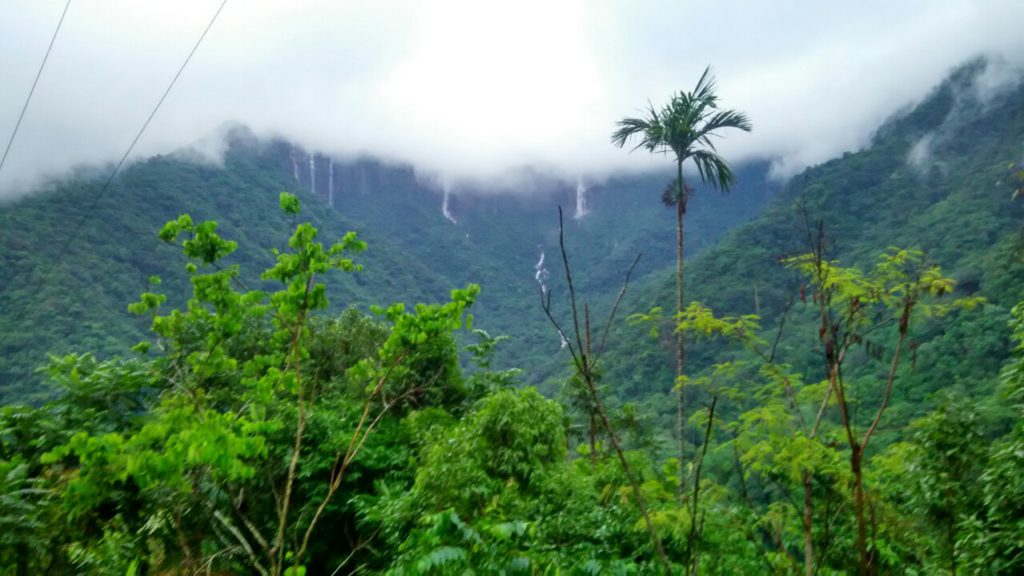 You can see forest-covered mountains on all sides and from those mountains, you will see waterfalls dropping. Not one, not two, but so many of them. Clouds cover the top of the mountains is covered in clouds. It looks from that movie 'Avatar'.
I also felt like a 'wood elf' myself at that point of time, just fatter and shorter. From there I had to climb down 3,000 steps in 3 hours and cross 3 rivers on iron cables to reach that village and I did not know how.
Luckily, I got a guide named 'Raju' who I offered money in exchange for taking me around the place. He also carried my luggage. Honestly, for the people living in urban landscapes and not used to this, just don't try to climb down with a lot of luggage yourself. Get some help. The place is wet and the steps steep, you will end up hurting yourself.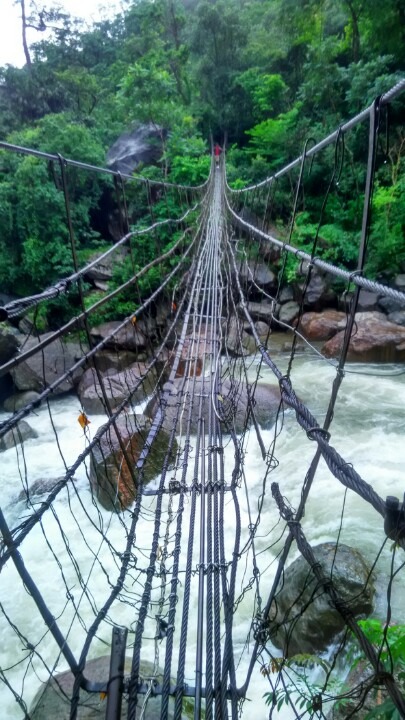 Raju guided me and took me to one of the only two accommodations in Nongriat. It's a small house right next to the living root bridges and consists of four rooms. The tariff for a night was Rs.200/- (I am not sure if its the same now). The owner also offered to prepare all three meals for me for Rs.50/- each. You can even book it on Airbnb now. There is just one another place called Greenland Homestay inside the village.
Well, you really don't have a choice since there are no people around for about 20 mins walk. I decided to stay for the next three days there. And there is honestly nothing to do, except enjoy the forests. I slept next to gurgling water for there was a river next to the place and excited to see the root bridges at the day time.
I jumped out of the bed the next day to see what I came to see finally. The root bridges are something beyond my imagination. The people of Khasi and Jaintia tribes built this bridge over centuries. It is an art mastered over generations and a deep connection with nature to understand these trees and the roots to form these bridges. You will not believe your eyes. I spent a good whole hour playing around.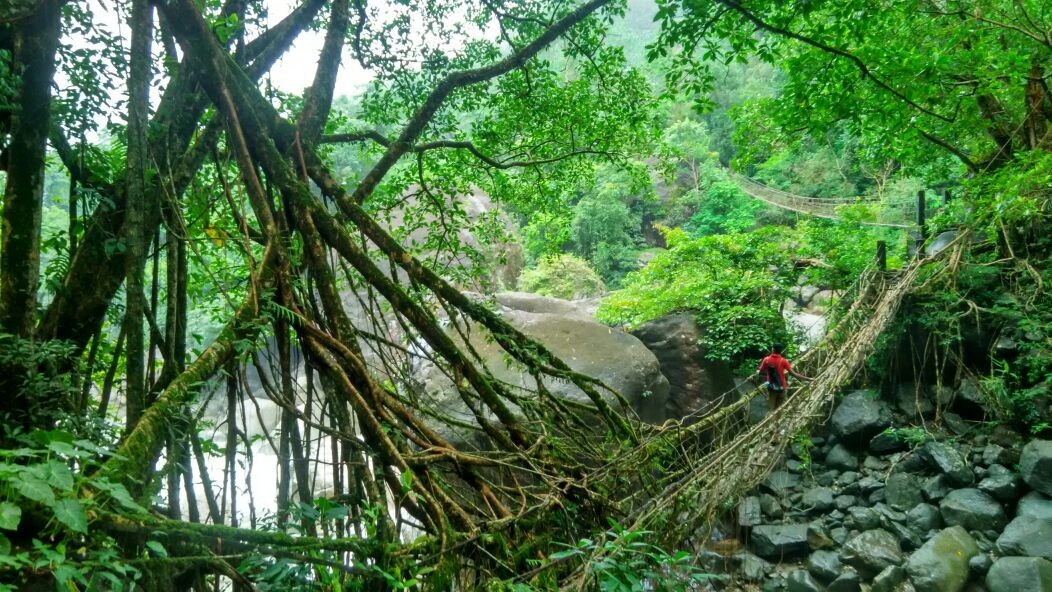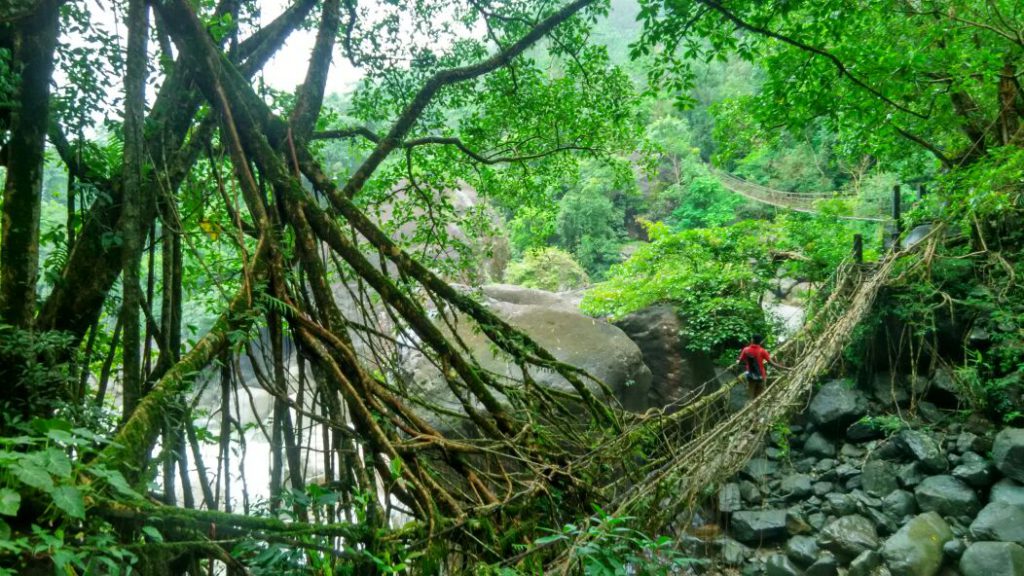 My guide, who was a local appeared and offered to take me around to the famous Rainbow Falls. But first I had to take a bath with icy cold water pumped freshly out of the river. The water is stored in the tank outside and one must carry it inside with a bucket since there are no pipelines. Although I did have a private bath.
Once that was done, I left for our day's trek which was two hours away and deep into the woods. I saw so many butterflies in vivid colours and unnaturally big size, caterpillars, snails, insects but nothing threatening.  You will need to cross several streams and climb uncountable steps on your way. My guide packed an apple and biscuits for the journey. It was a lovely afternoon.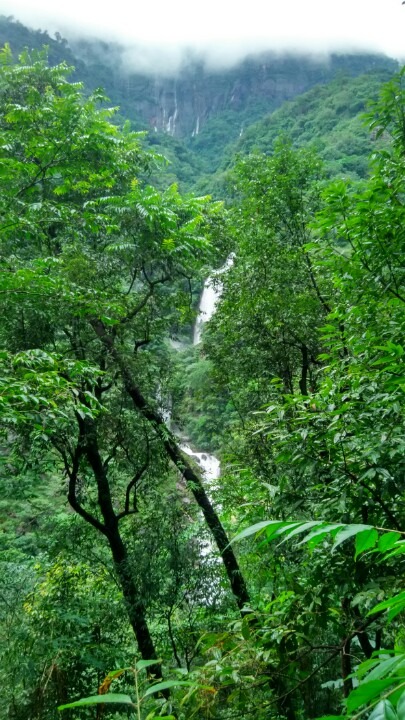 Back at the hostel awaited company. There came three people from Mumbai a solo traveller from Chennai (Balaji and I are still friends) and it was a great time talking. Later at night, we had a small party at the verandah where you could see nothing but an occasional firefly in the dark.
The dinner was delicious and so simple of steamed rice, boiled vegetables, lentils, and an omelette. I still miss that. The next was full of 'Anna Karenina' and walks around the bridges. Found some hens to coo at and bought a 'coca-cola' in a shop I found at a distance. What a day!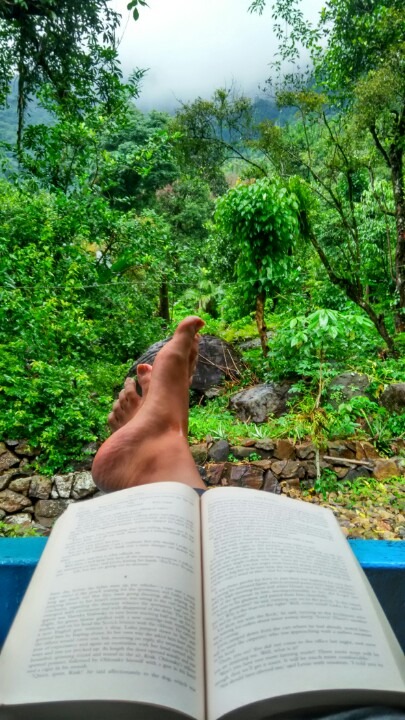 The last day I decided to leave early since I had to travel all the way to Guwahati. I got up at 5 am and left at 5.30 to reach the top by 10 am. Remember, when am I feeling like a wood elf? Now I was feeling like the hobbit who desperately wants to go home.
The climb uphill is arduous but my guide was so nice and sweet to carry my luggage and a lot of patience. Good thing it was raining or he would have seen me sobbing under the hood for losing so much fat so soon.
Once at the top, I took a shared cab to Sohra. Took another cab to Shillong. Took a third cab to Guwahati and by the way, I was still not dry. Finally crashed on a super sweet bed to chill for rest of the day for I was flying back to my home and I was equally glad for it as much as I was for those beautiful alien bridges.
Save to Pinterest


Related Articles