23 Sep

Best places to visit in and around Munnar, India

I can fairly say that I have visited most of the hill-stations in South India while living in Bangalore for 10 years. And with all my conviction, I will say I loved Munnar the best. You ask why?

Probably because both the time, I visited Munnar during the monsoon and in the second half of the year. And during this time, Munnar is cold and bright green. As for the tourist, the best part is that almost all the places to visit in Munnar are outdoors, affordable and very close to nature.

I still remember a sight looking at miles of hills covered in a carpet of green tea plantations. The sun was peeking through a few crevices in the clouds. It resulted in patches of shades from lime yellow to dark green on the whole valley.

Right after the monsoon, waterfall sprout all over the place and will be as common as the tea stalls.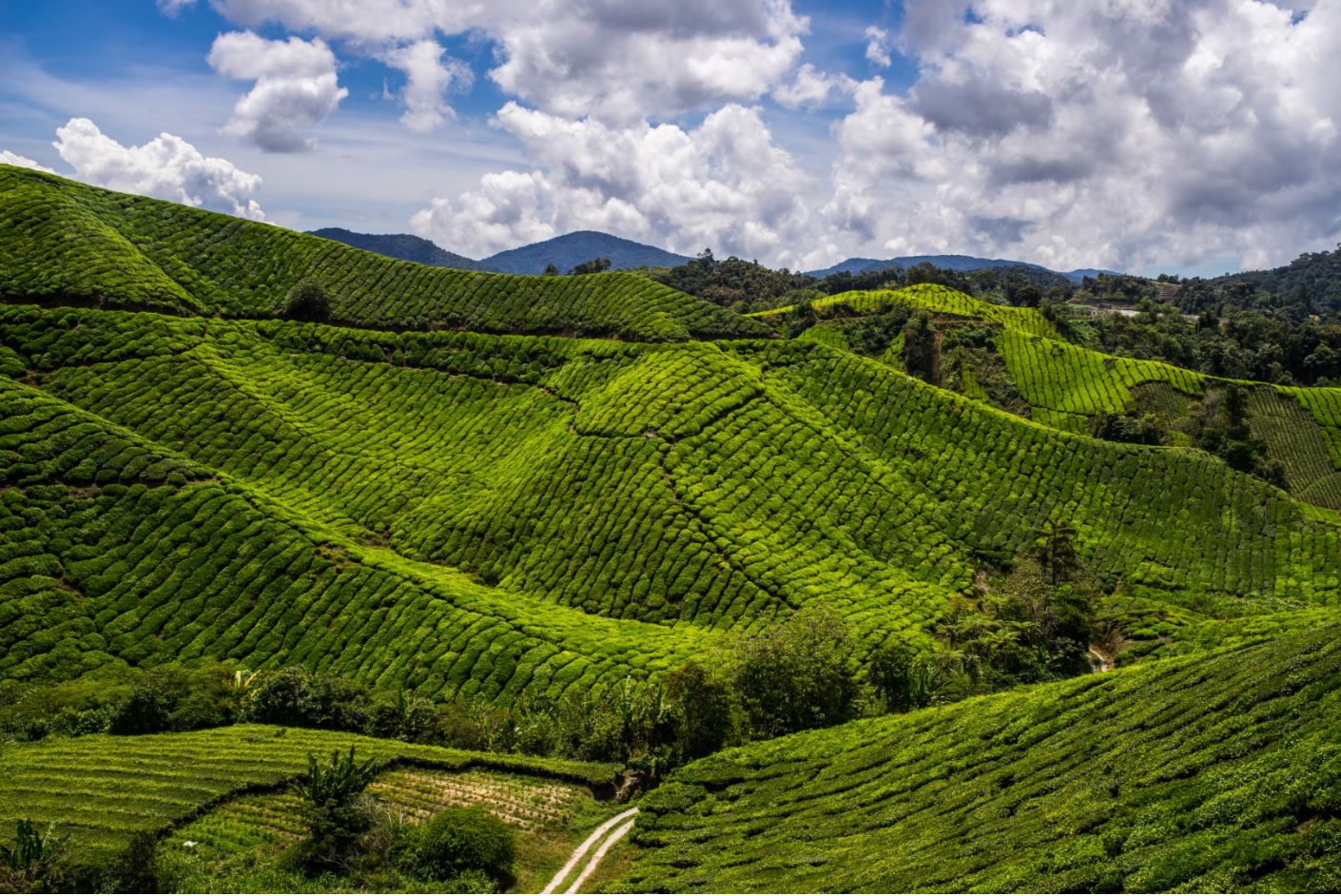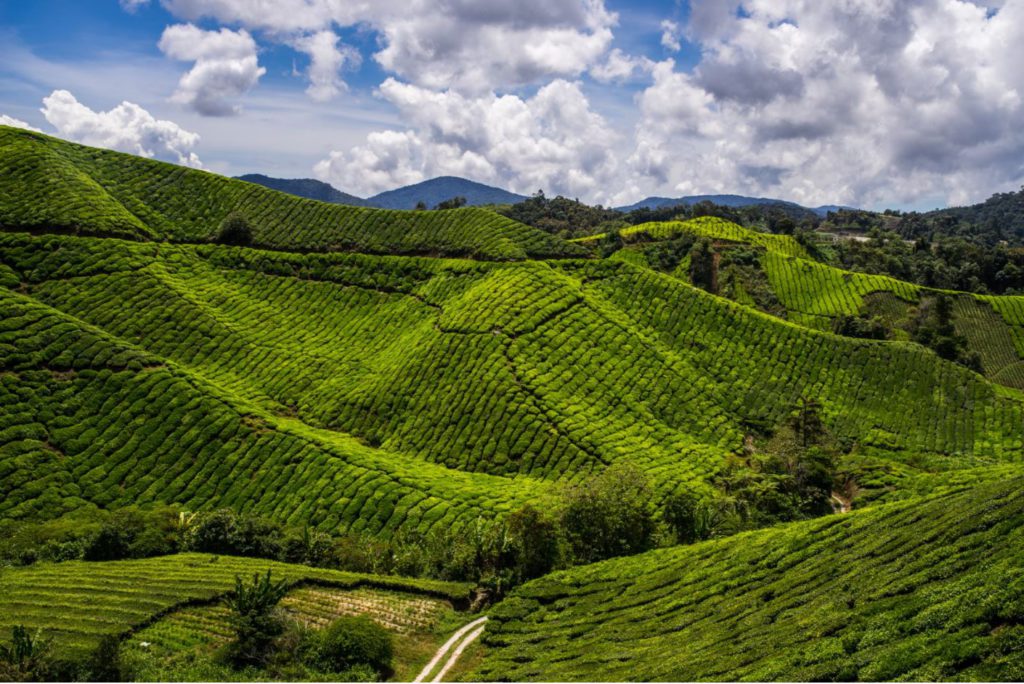 But, for those in the one-sided love with chai, Munnar can also be a lovely honeymoon destination. Even if you are traveling SOLO. The smell of tea hung in the air all the time. It then seduced its way around to me as many as five times a day and also comes in many favors. Let's move on before it gets dirty.
About Munnar
Munnar, like many other hill stations in India, has been an early settlement of Englishmen. Miles of land was developed to grow and process a large amount of tea to be sold in international trade.
As for its origin, Munnar was originally pronounced as "Moon-aar" or "Moonu-aar" which translates into "3 rivers". The three rivers Madupetti, Nallathanni, and Periavaru flow through the town and converge into a little distance.
Munnar is located at an altitude of 8,842 ft. It is higher than most of the hills stations in north India as well.
Munnar and the acres of land around it is also an important bio-reserve. The land is native to many endangered species of animals like Nilgiri Tahr. One can find animals like gaur, langur, lion-tailed macaque and elephants in abundance.
In fact, you will most certainly pass through these bio-reserves while on your way to Munnar. You can identify it with guarded entrances and officers from the forest department.
Travelling to South India? Also read more on the 'Princess of Hill Stations' Kodaikanal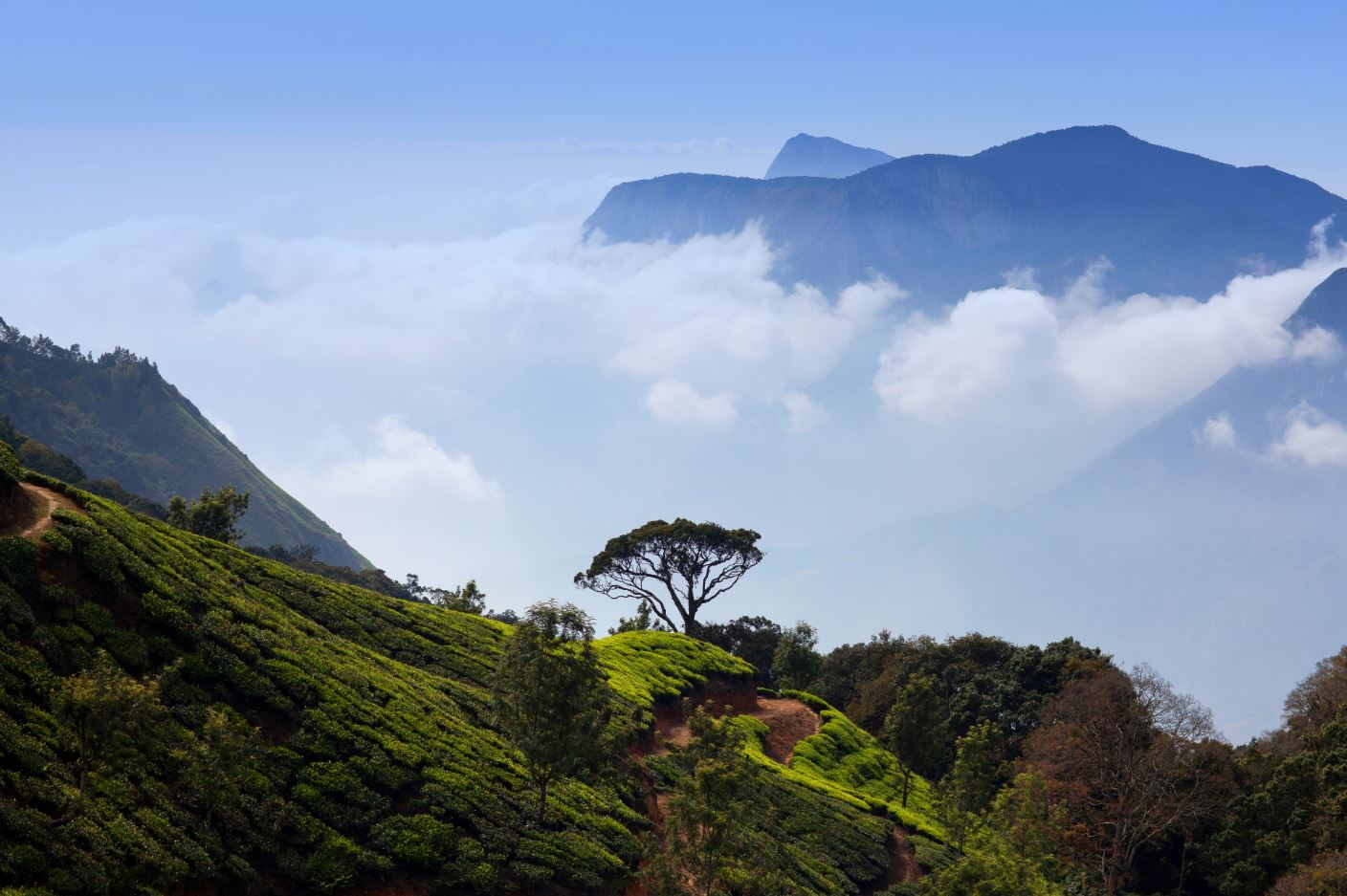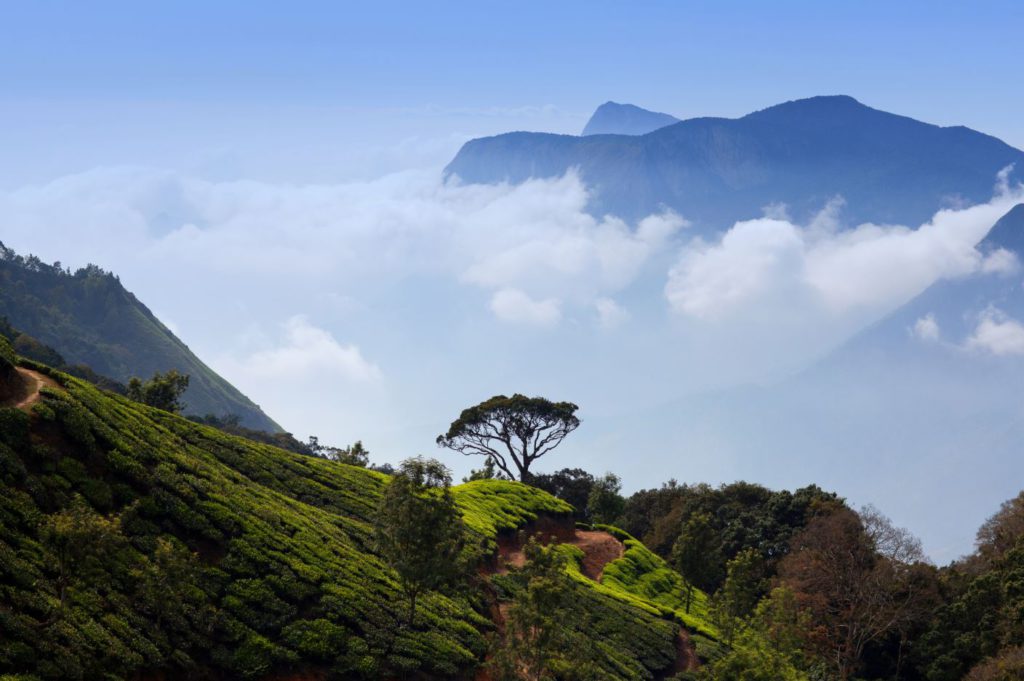 How To Reach Munnar
Munnar can only be reached by road and trust me, it's a lovely journey. The nearest airport is in Cochin which is around 125 km away. The closest railway station is also in Kochi or Ernakulum. From there you can either take a bus which runs regularly to Munnar, or a private vehicle or a taxi.
You will start seeing tea plantations around 22km before the main town and is a ride to enjoy. Other routes to Munnar are from Aluva, Madurai, Coimbatore, and Kodaikanal and all of them are scenic.
Regular overnight sleeper buses run from Bangalore and Chennai and are probably the most comfortable mode of transportation. I will suggest booking via redbus website. Book at least a week before your travel for fair booking prices and good seating options.

Best Time To Visit Munnar
Munnar weather makes it a great place to visit at all times of the year. However, you may encounter different feel at different seasons. The best time to visit Munnar is in September-November and from January-March.
Winters are not extreme but slightly cold compared to surrounding cities where the temperature can drop till 10⁰C. If you are fond of cold, visit during Decembers. However, it almost never snows here.
Summers from April to June is one of the most popular time to visit since Munnar. The place experiences pleasant weather compared to other neighboring hill stations which can get much warmer. It can also get a little overrun by tourists, so book your accommodation before you come.
Lastly, monsoons in July-August are wet where it rains almost every other day. On one hand, it can get crazy beautiful psychedelic green and fresh. On the other, constant pouring can get your outdoor plans in trouble along with occasional landslides.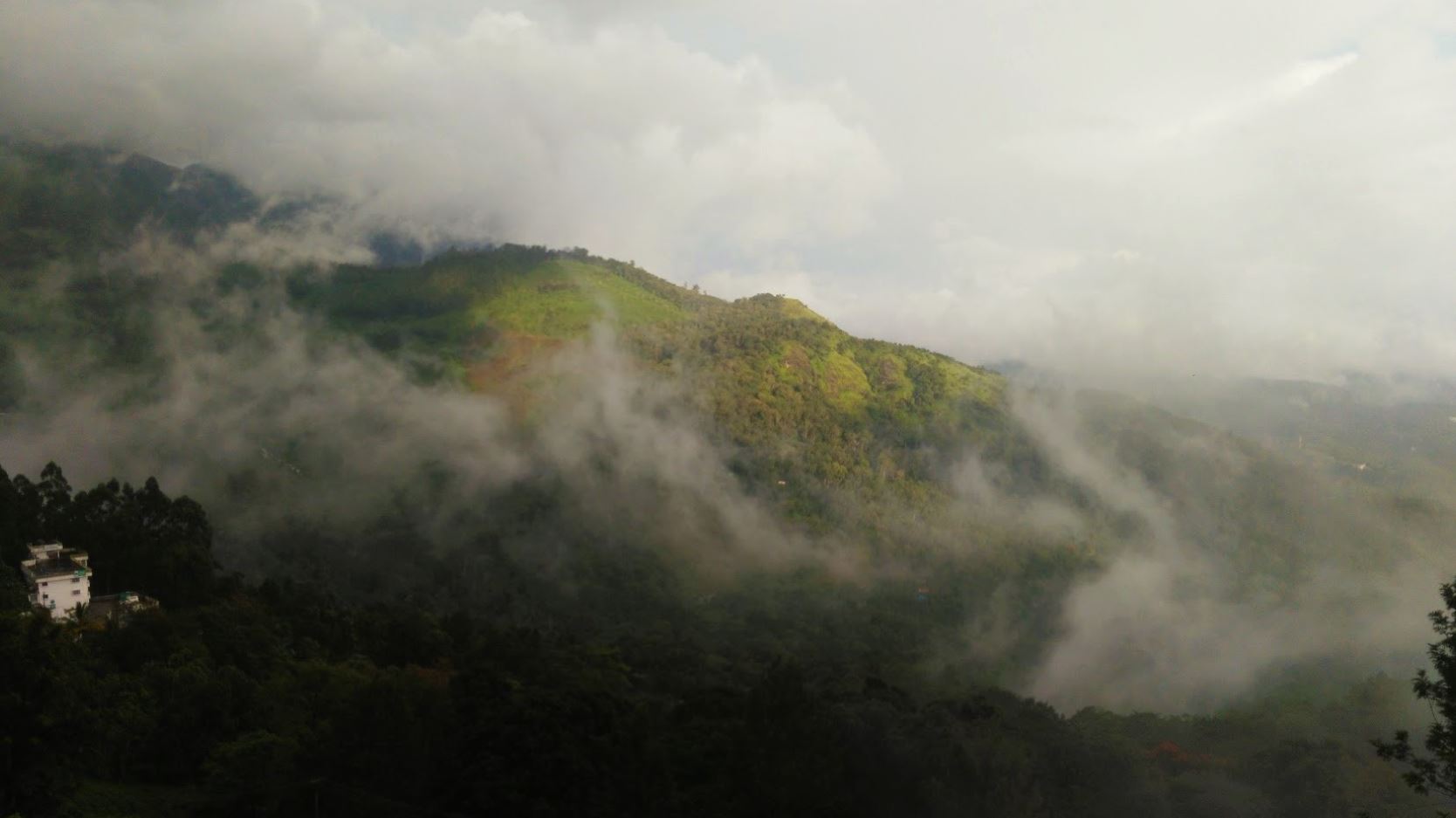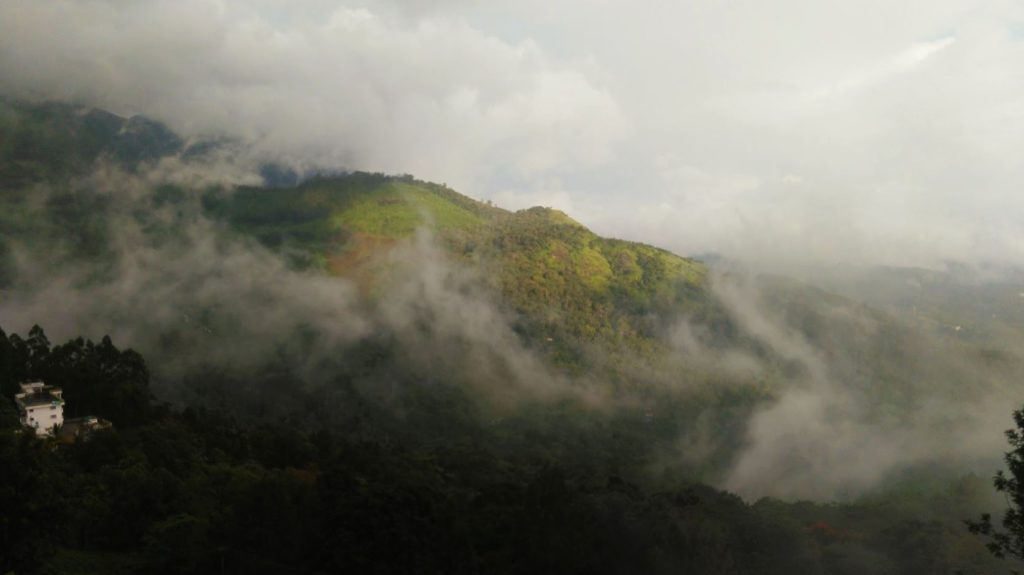 The Mysterious Phenomenon Of Blooming Of Neelakurinjini
Unknown to most people, Munnar is the home to a very special phenomenon which is unique to this place. The Neelakurinjini, a blue-colored flower cover the whole valley of Munnar. It makes it one of the rarest and magnificent sight to behold.
The reason it is rare is due to the fact that the flower bloom only once in 12 years. What you will see is a vast carpet of homogenous flowers, a magical sight to witness. The flowers bloomed last in July – October 2018.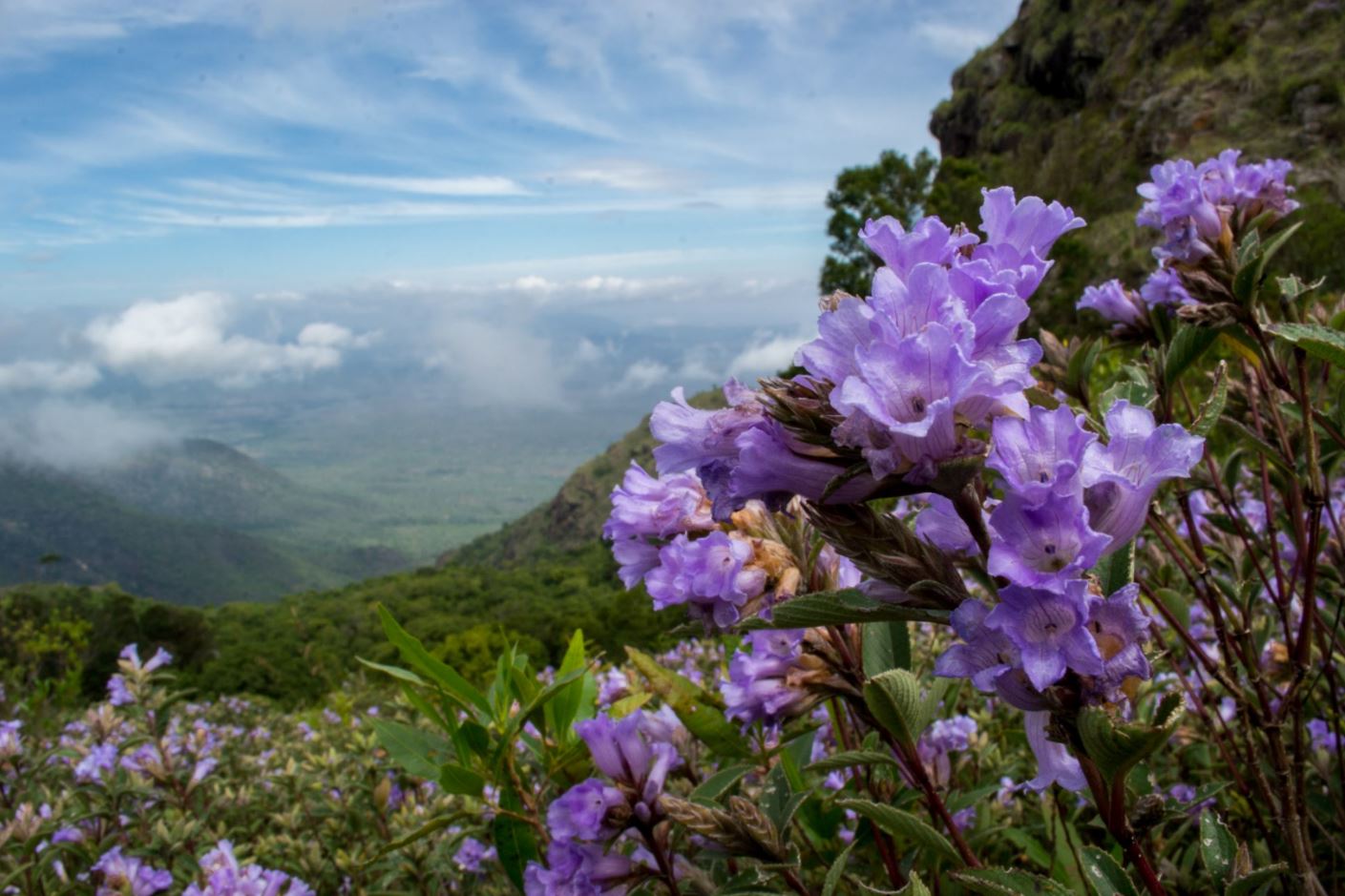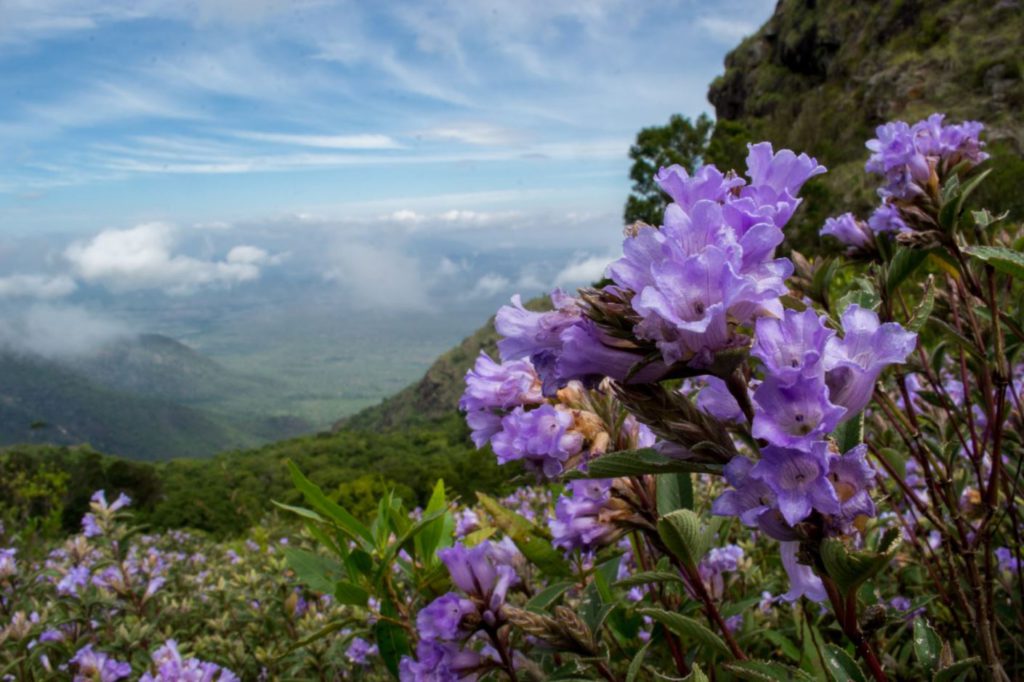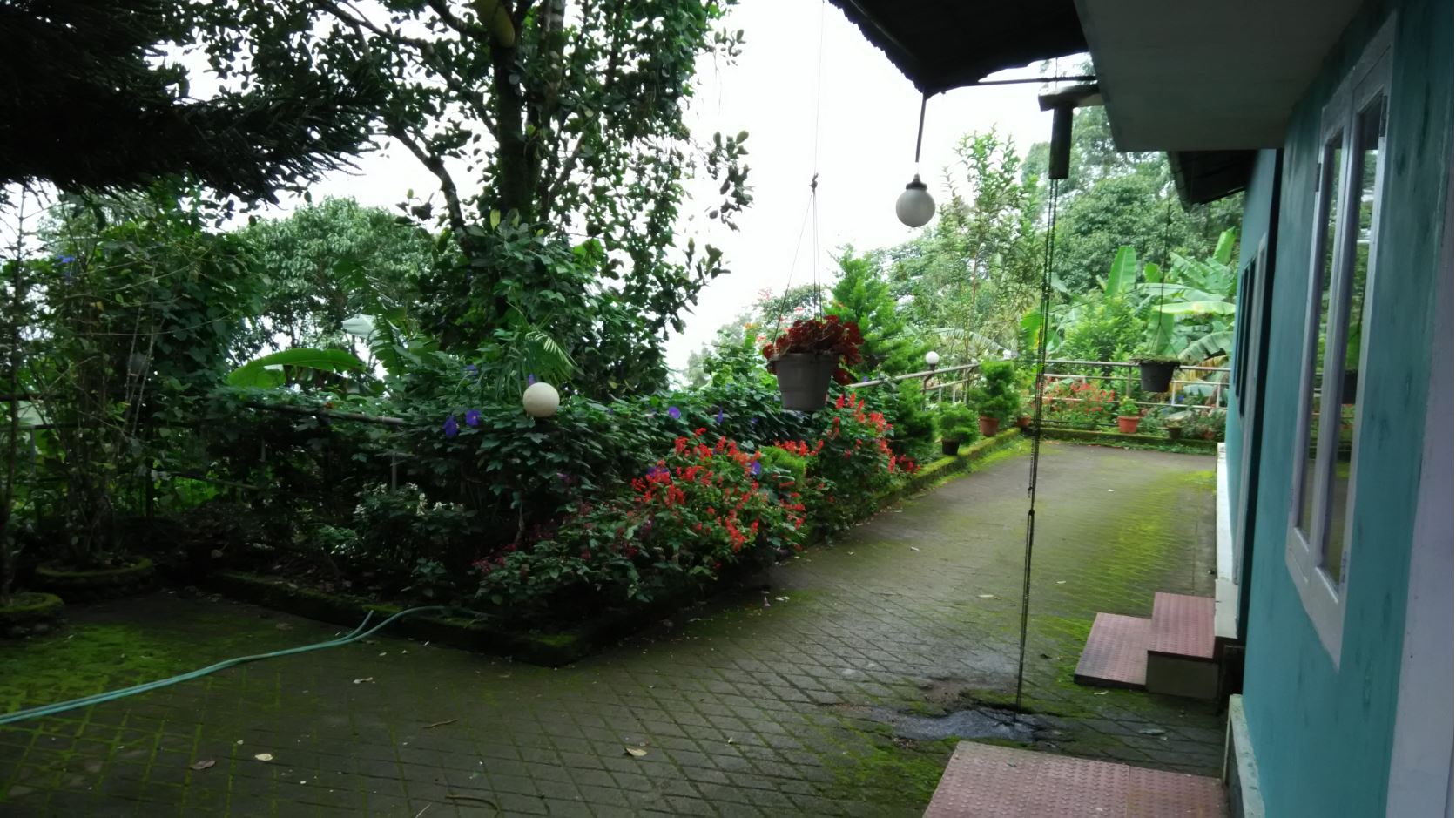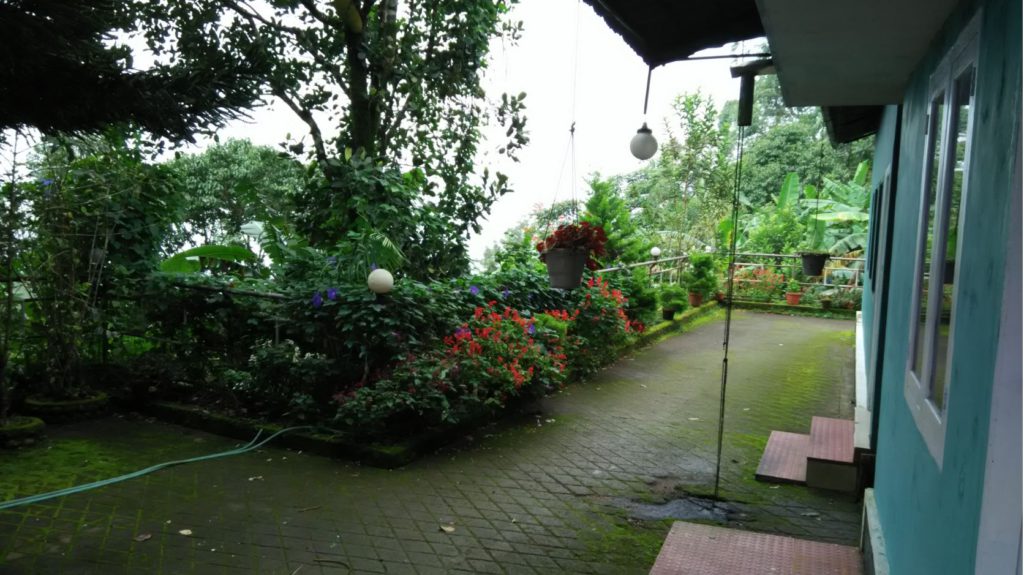 How To Go Around In Munnar
The easiest way to cover most of the places to visit in Munnar is by private vehicles, local cabs and, auto-rickshaw. If you are staying at a hotel, check the prices and the packages available with them.
If they have their own vehicles for sightseeing and compare with the offering outside. You can get cabs in the town and can hire them either a one-time trip. You can also book them for either whole or half a day.
For small distances, auto-rickshaws are also available in remote areas. They can be used for a quick hop of destinations. Make sure that you negotiate the charges clearly before getting on any of them to avoid common haggling later. UBER or OLA is not available in Munnar as of now.
What to do in Munnar
To be honest, I will suggest you take in light when it comes to places to visit Munnar if you short on time and see only what you are really interested in. However, if you have a good amount of time there are quite a lot of fantastic places to visit in Munnar. Munnar is filled with viewpoints where you will suddenly find your cab halted and you being asked to get out of the car to enjoy the view of the lovely valleys sometimes completely blinded by mist. May even get funny at times, but go with the flow.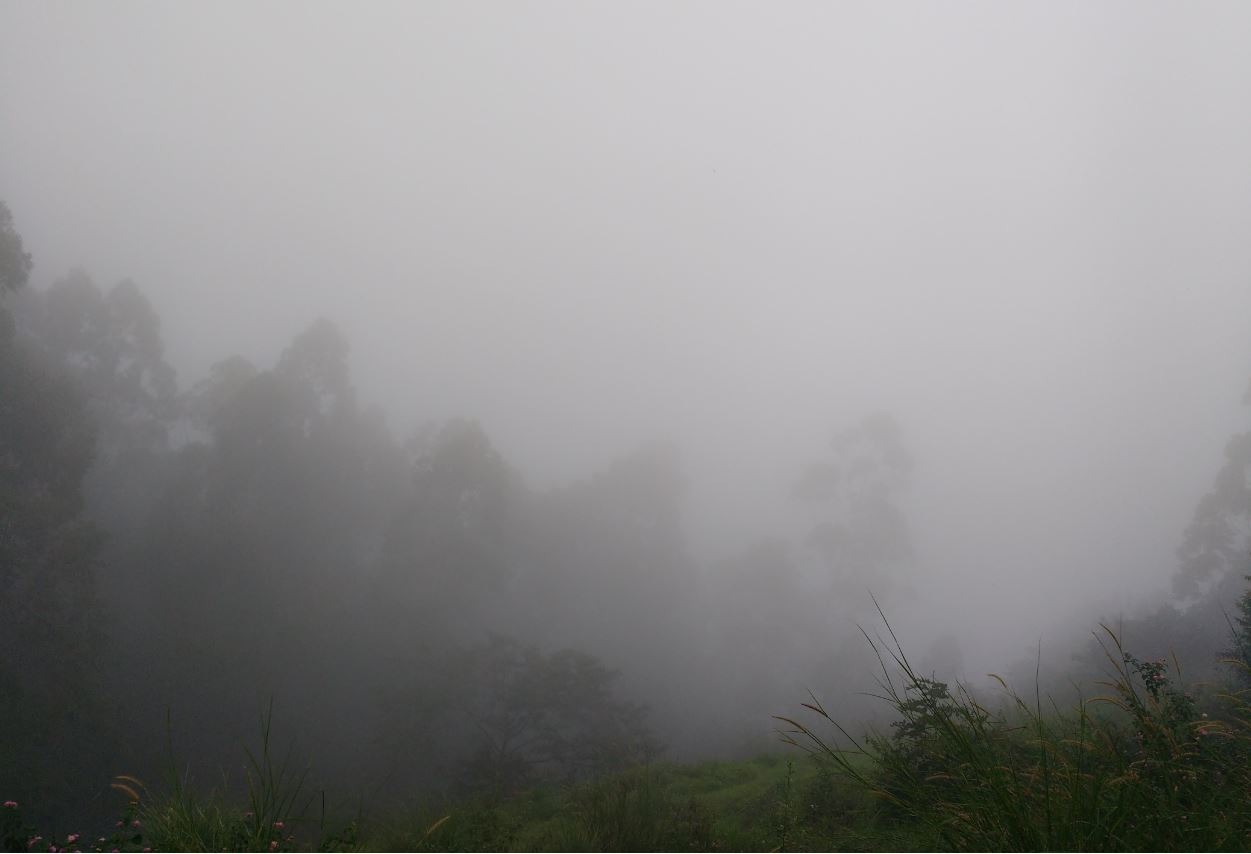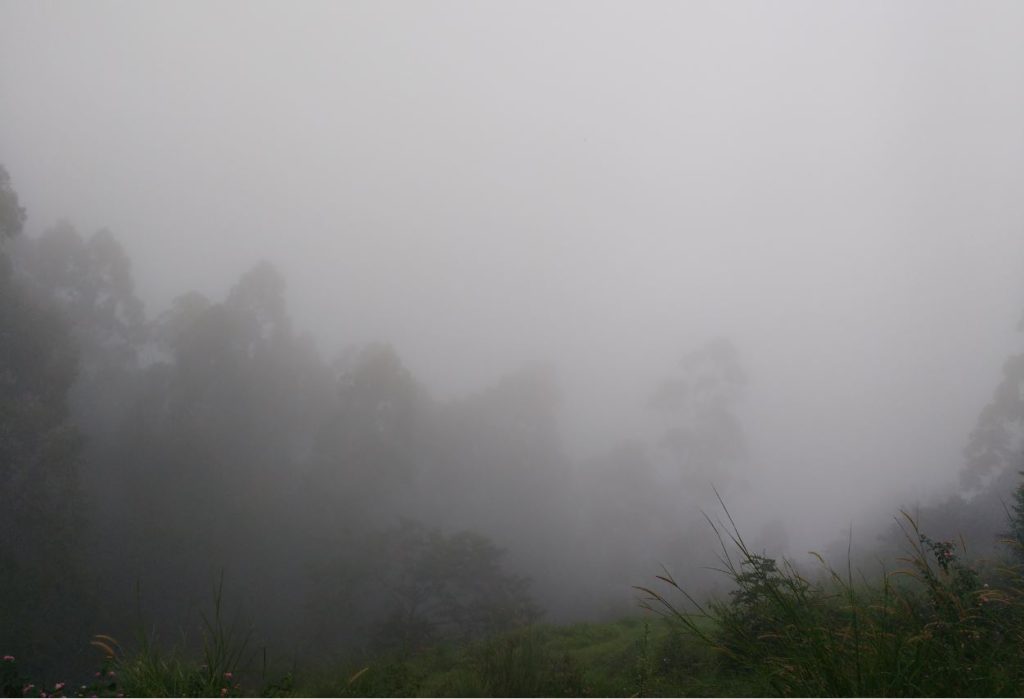 The cache is most of the places to visit in Munnar are located much outside the town in three different directions – Mattupetty, Thekkady, and Coimbatore apart from the ones in the main town.
You will only be able to cover tourist attractions of one direction in a day. My personal order of suggestion would be Mattuppetty side, Coimbatore side and then Thekkady side if you still have time in your hand. Here is a gist of the tourist attractions in each direction:
Places to visit in Munnar near town
Attukad Falls – Blossom Park – Chithirapuram – Pothamedu View Point
Places to visit in Munnar in Mattuppetty direction
Horticulture Centre – Photo Point  – Mattupetti Dam – Mattupetti Indo Swiss Farm – Munnar Echo Point – Kundala Lake –  Top Station
Places to visit in Munnar in Thekkady direction
Signal Point – Idli hill view – Devikulam Temple – Lockhart Tea Museum – Chokramudi Trekking – National Park View Point – Chinnakanel WaterFalls – Periyakanal Tea Factory – Anayirangal Dam
Places to visit in Munnar in Coimbatore direction
Tata Tea Museum – Kannan Devan Tea Factory – Eravikulam National Park – Nayamakad Waterfall – Anamudi Peak – Lakkam Waterfalls – Marayoor – Thoovanam Waterfalls – Chinnar Wildlife Sanctuary
Best Places To Visit In Munnar
Out of the above, here is a list of the best places to visit in Munnar if you plan to go out for sightseeing.
1. Tea Gardens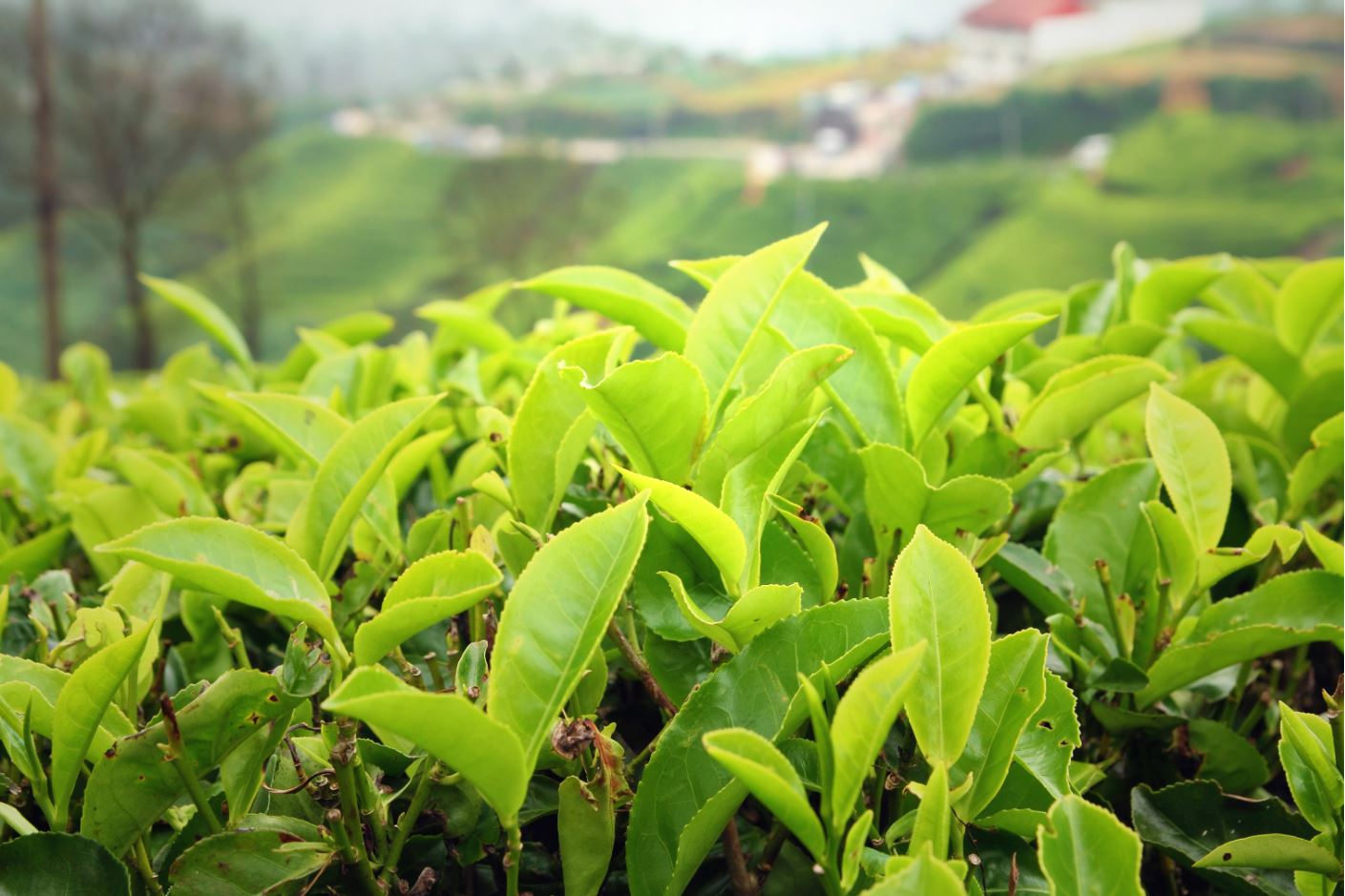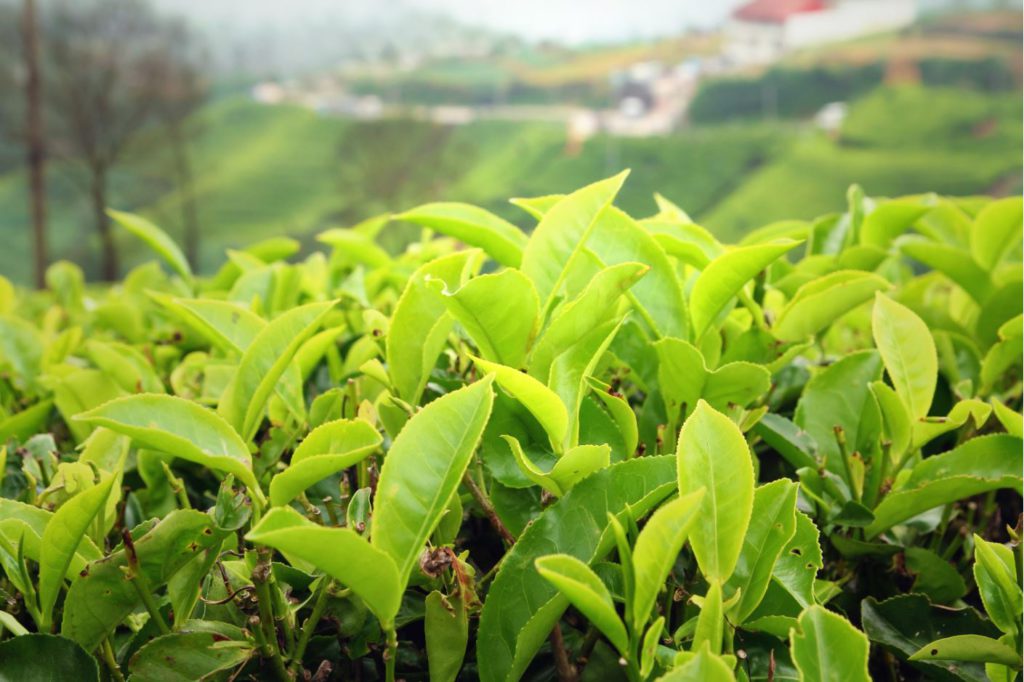 This is something that I need not even mention when you are in Munnar. Munnar is famous for tea and you will be constantly surrounded by lush green tea gardens from miles afar as you enter the town. In fact, try to stay in a tea estate if possible.
Even if not, get out and take a long long walk around the town and a little outside it while you enjoy the countryside. Get lost inside the tea gardens for most of them are open and have hidden stairs in between them which connects many roads on two levels. Just don't pluck the leaves by yourself or throw garbage around.
2. Kanan Devan Tea Factory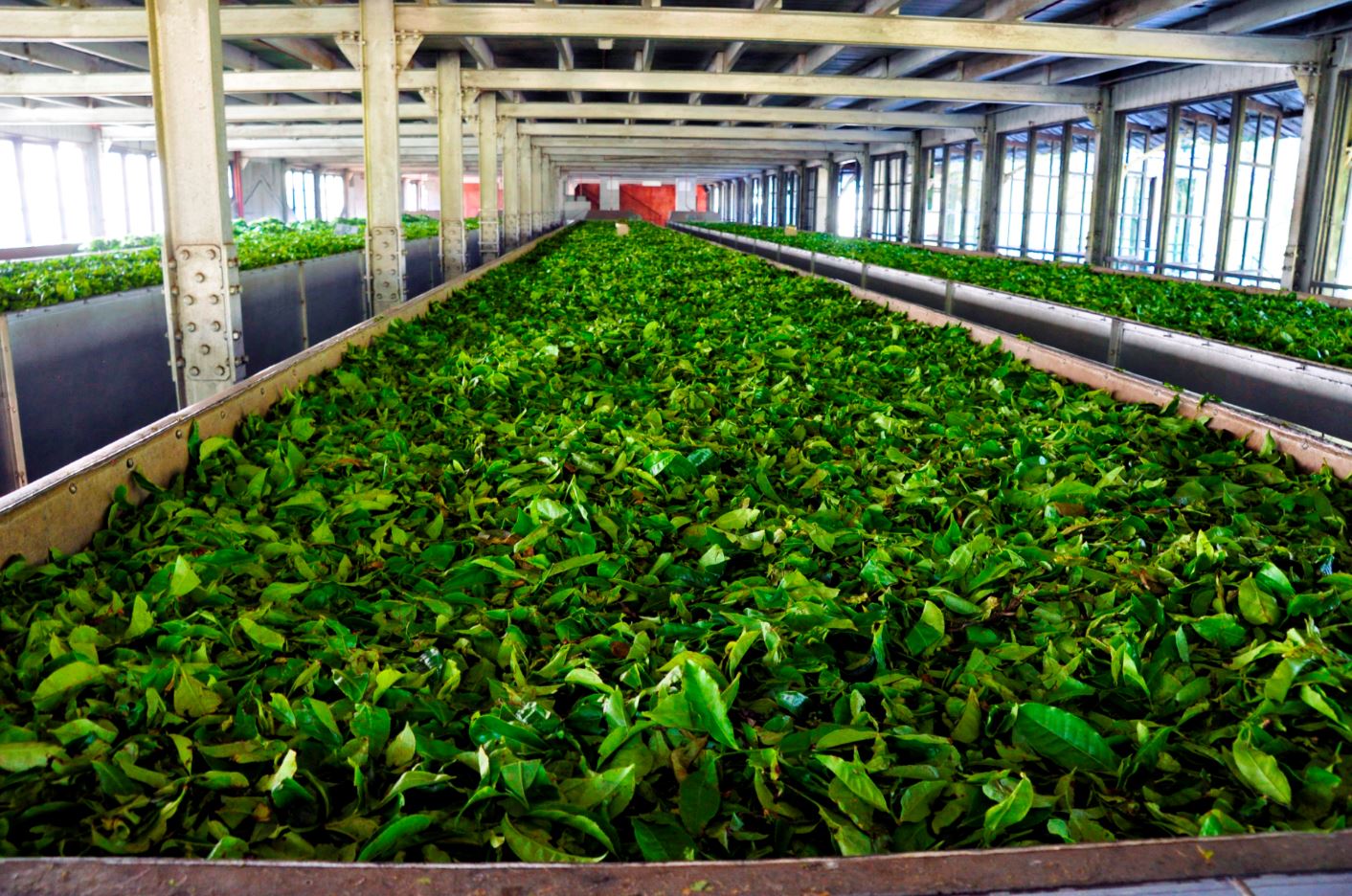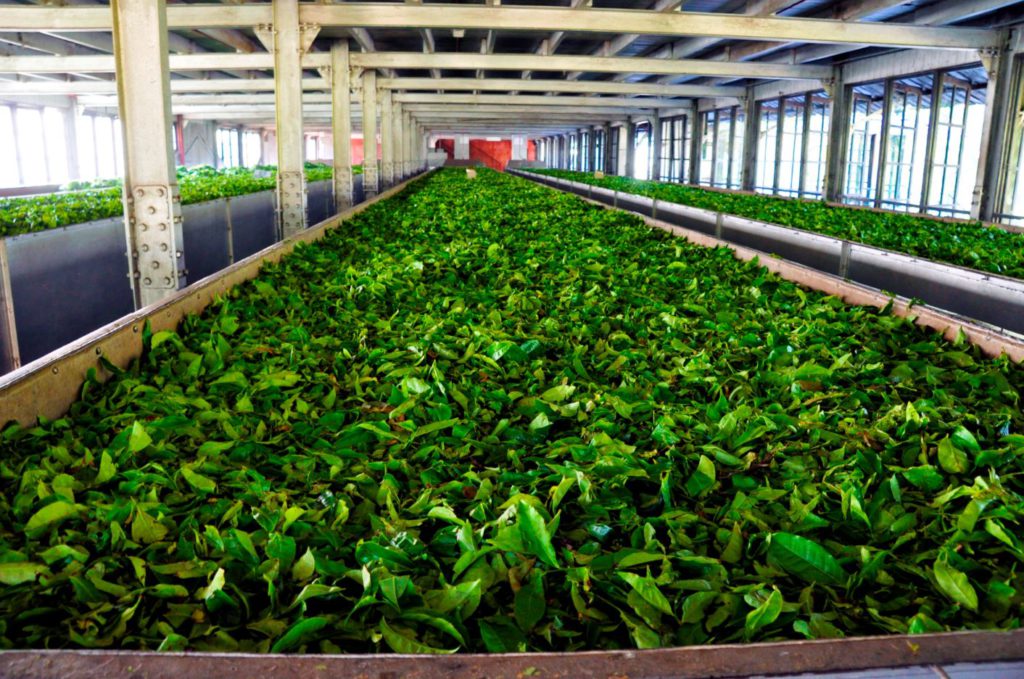 Once you have seen how the tea grows, I will urge you to know more about it. The Kanan Devan tea factory will take you through all the process of what happens after the tea is harvested by the workers.
The factory conducts regular guided tours which will tell you how the tea leaves are segregated as per the required tea quality, dried in bulk so that it loses all its moisture before it moves on to the next step. Then they are roasted, dried again, segregated and sometimes flavours are added like that of cardamom, clove or flowers.
Lastly, they are packed and shipped out. There are samples available at the factory to try and even a factory outlet where you can buy tea at a discounted price. A paradise for tea lovers!
Timings: 9.00 am to 5.00 pm from Tuesday to Sunday. Closed on Monday.
Ticket fee: ₹75/35 for Adults/Children. Additional ₹20 for cameras.
3. Tata Tea Museum
If that isn't already too much for you on tea, take this one last stop. The Museum established by Tata Tea in 2005 will give you a detailed understanding of how Munnar and tea became one. The museum tells you a detailed history of how Munnar was established, the working system of plantations and about the ecosystem that has been developed to support the local families.
There are archaic pieces of equipment like tea rollers displayed which were used to make tea before the modern facilities came into being.
Timings: 10.00 am to 5.00 pm from Tuesday to Sunday. Closed on Monday.
Ticket fee: ₹75/35 for Adults/Children. Additional ₹20 for cameras and ₹100 for tea tasting.
4. Attukal Falls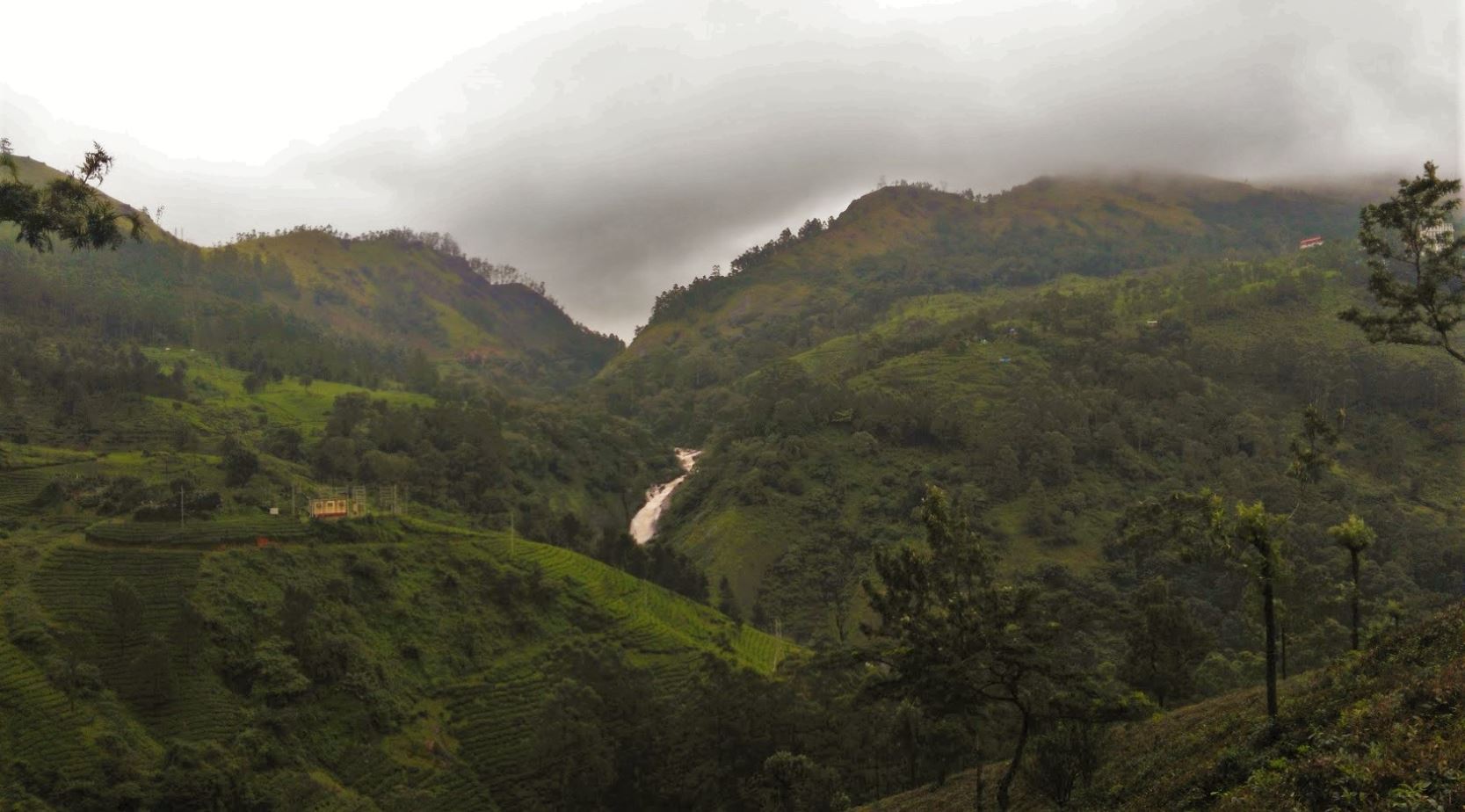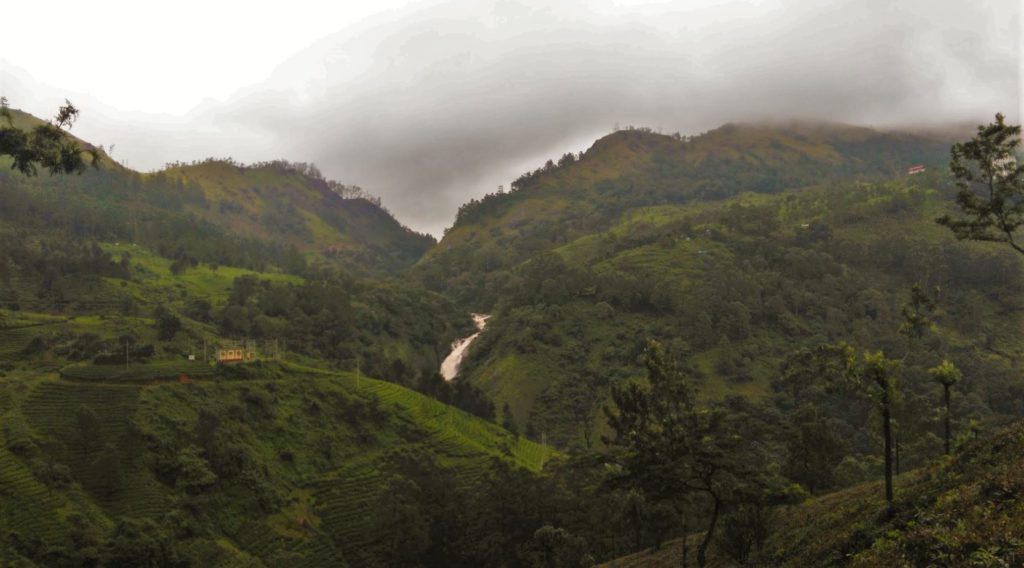 A must-visit waterfall almost inside the Munnar town is the Attukal Falls. During and after the monsoon, the falls receive a heavy amount of water and the gurgling sound of the water falling can be heard from more than a kilometre.
In fact, if it's not too far from your accommodation, take a hike to Attukal falls. In the process, walk through the tea gardens, and get a distant view of the falls from various angles. It is a lovely sight. There is also a small tea house next to the falls, where you can enjoy the local tea with a grand view.
5. Kundala Lake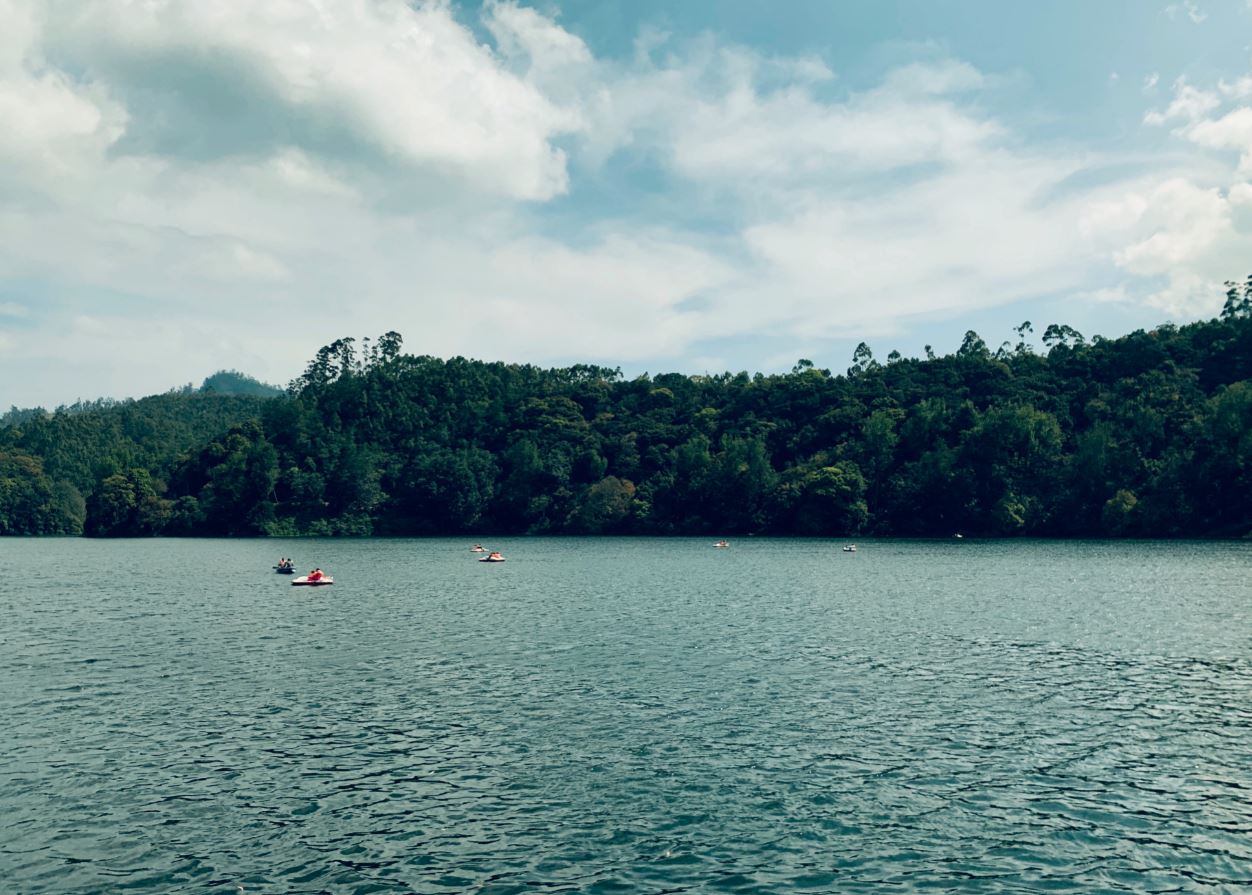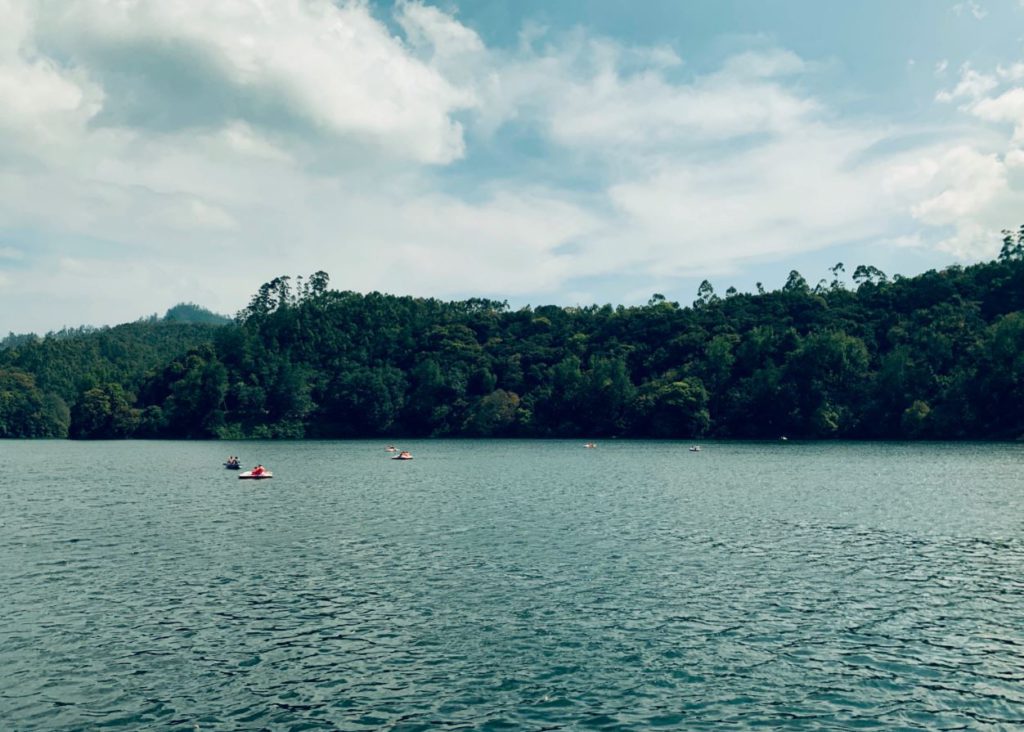 One of the most beautiful spots around Munnar is Kundala Lake which is where the green hills of Munnar and a scenic water body coincide. The lake is surrounded by jungles and during the off-season can be eerily quiet.
It is a great place for families for a picnic and you can even find some horses grazing nearby. Take a pedal boat if you want to explore the lake by yourself or hire a boat with a guide and take a tour of it for a relaxing day with some fantastic views. No ticket is required to enter.
Timings: 9.00 am to 5.00 pm, open all days
Boating Charges: ₹200 for Shikara Boat for 2 people. ₹150 for rowboat for 3 people. ₹100 for a pedal boat for 4 people. Additional ₹200 for a video camera.
6. Mattupetti Dam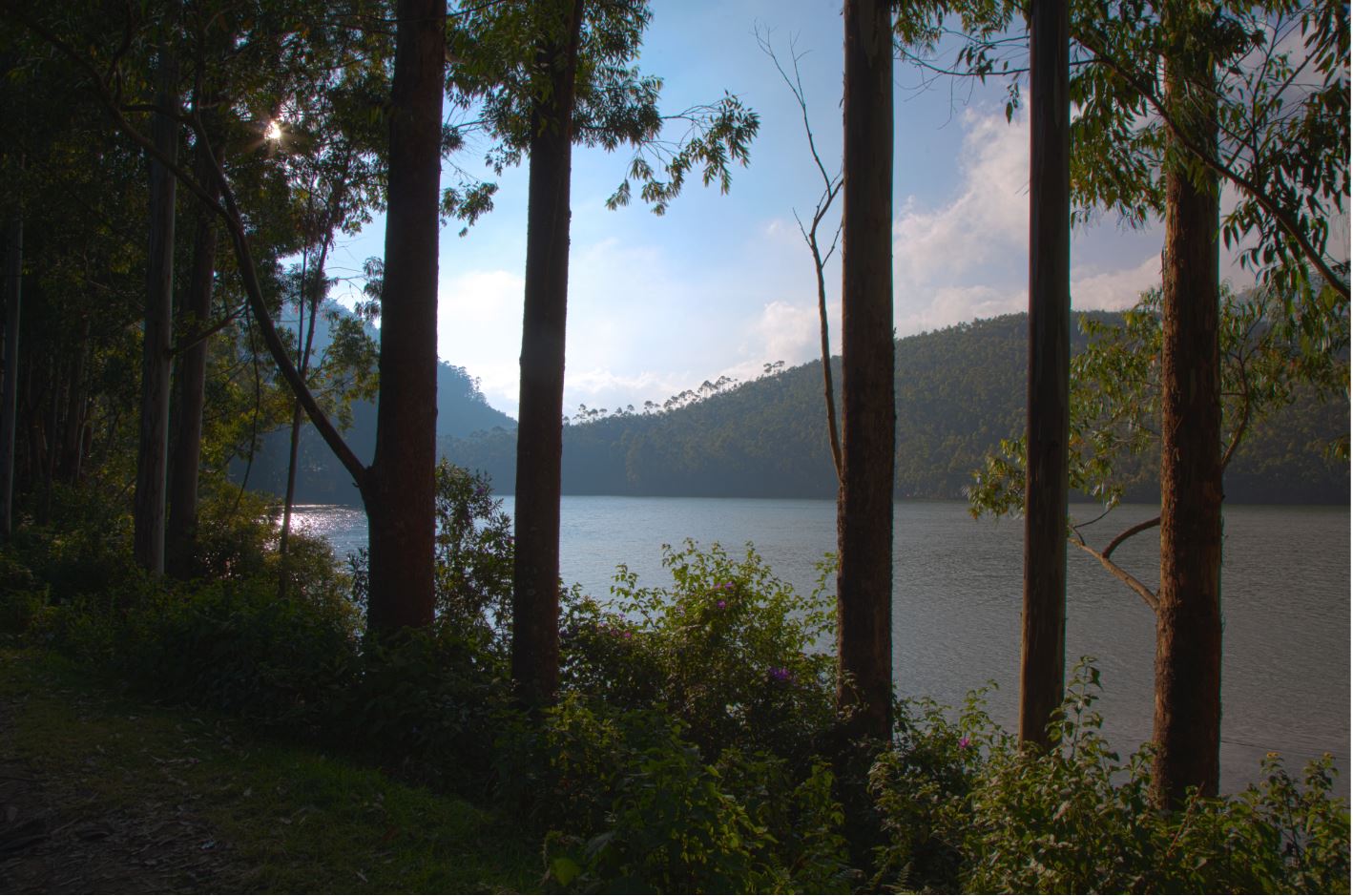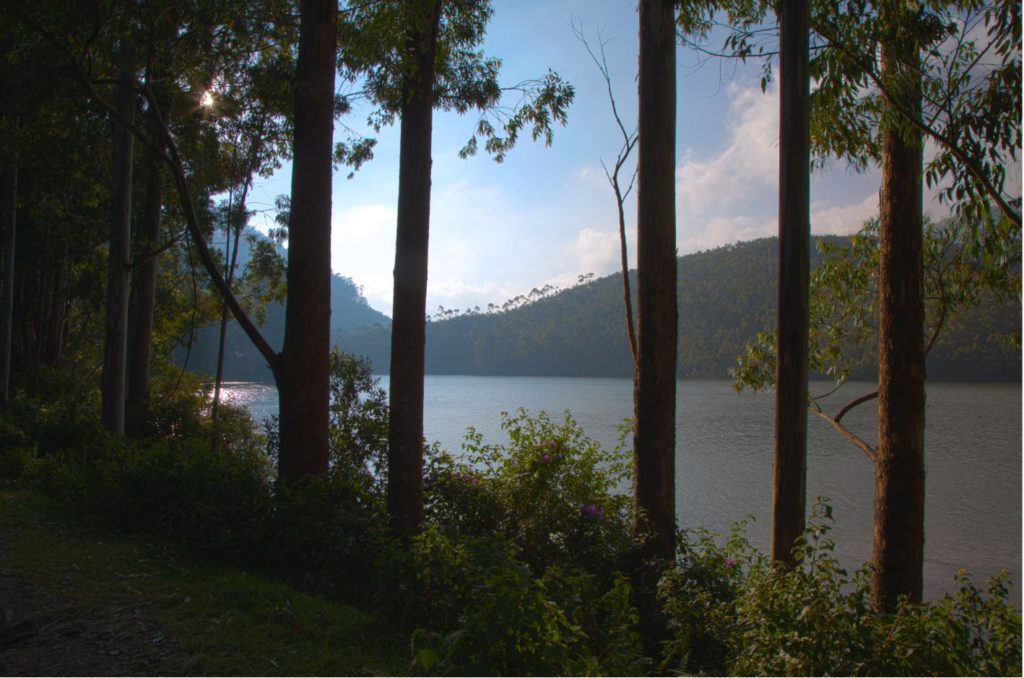 Out of 3 major water bodies in Munnar, this is the second and one and equally beautiful. The dam is a hydroelectric power project of the state of Kerela and is also a source of revenue for the government.
Apart from that, it has helped revive the biodiversity around the region and is known to be the visiting grounds for the elephant in the region. There are also a few restaurants in the area serving traditional Kerela food.
Mattupetti is also known for the Indo-Swiss livestock project where they breed many high yielding cows over an astonishing area of 191 acres. You can take a tour of it as well.
However, even if you only pass by it you will be surprised by its resemblance with similar photos of Switzerland where you may find cows grazing over fresh grass surrounded by the lovely green valley.
Timings: 9.30 am to 5.00 pm open on all days.
Ticket price: ₹10 per person.
Boating Price: ₹300 for 1-5 people for ordinary boating. ₹500 for 1-5 people for speed boating. Time duration is 15 minutes.
7. Echo Point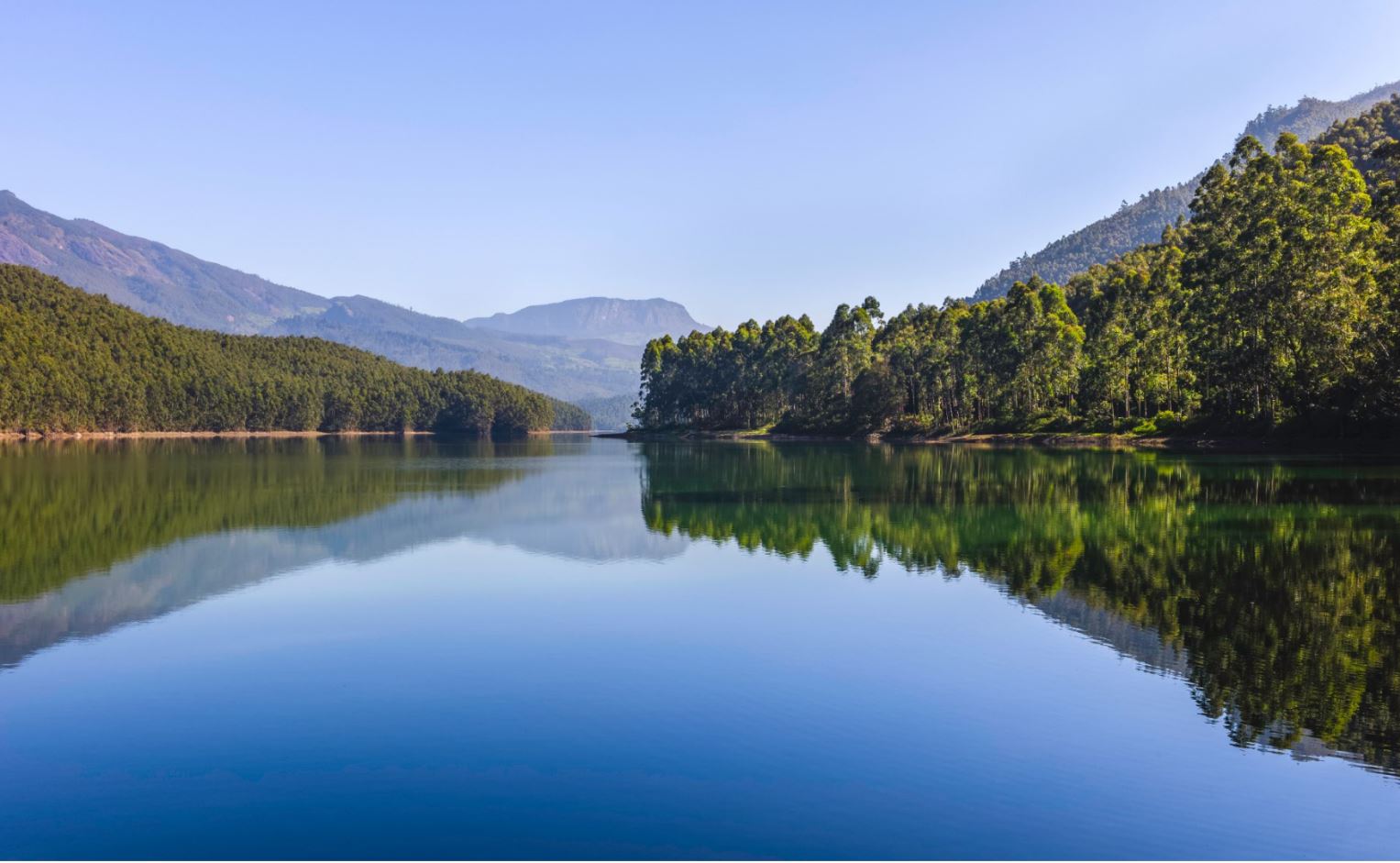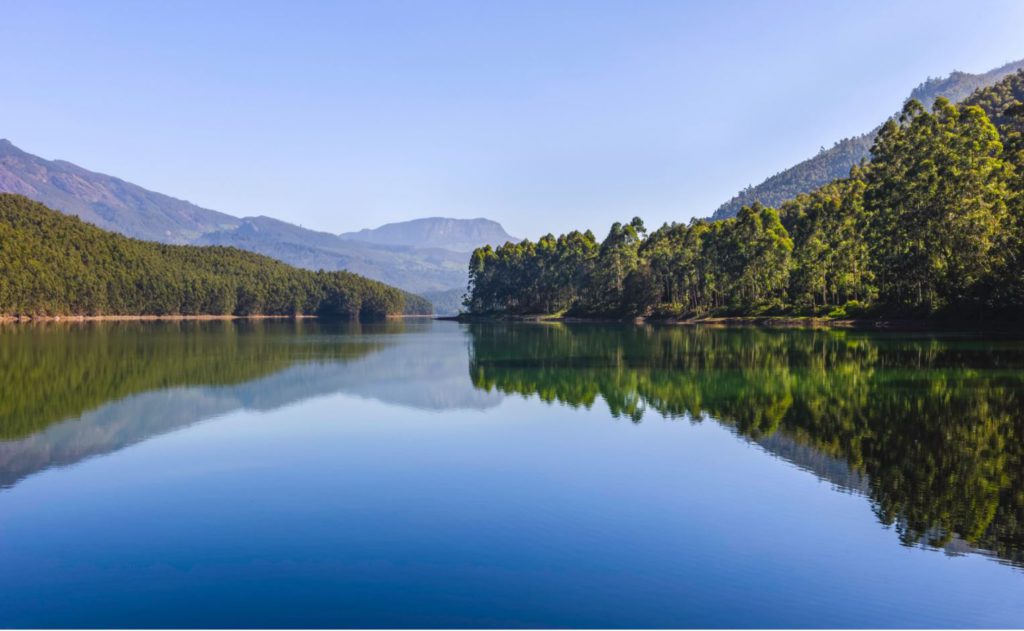 Eco point is the third lake and important waterbody as a tourist attraction in Munnar. The lake is again, very scenic and many tourists flock here to experience its unique characteristic – the echo. As the name suggests, you will be able to hear the echo of your voice if you scream it loud enough.
Therefore, you may find yourself hearing many love notes, funny sounds and callings of the tourists who find themselves drawn in a childlike mode while exploiting the chance. During the rare months, you can also come here to get a mesmerizing view of the valley filled with Neelakurinji flowers.
There is no entry fee to Echo Point.
Timings: 6.00 am to 7.30 pm open on all days.
8. Eravikulam National Park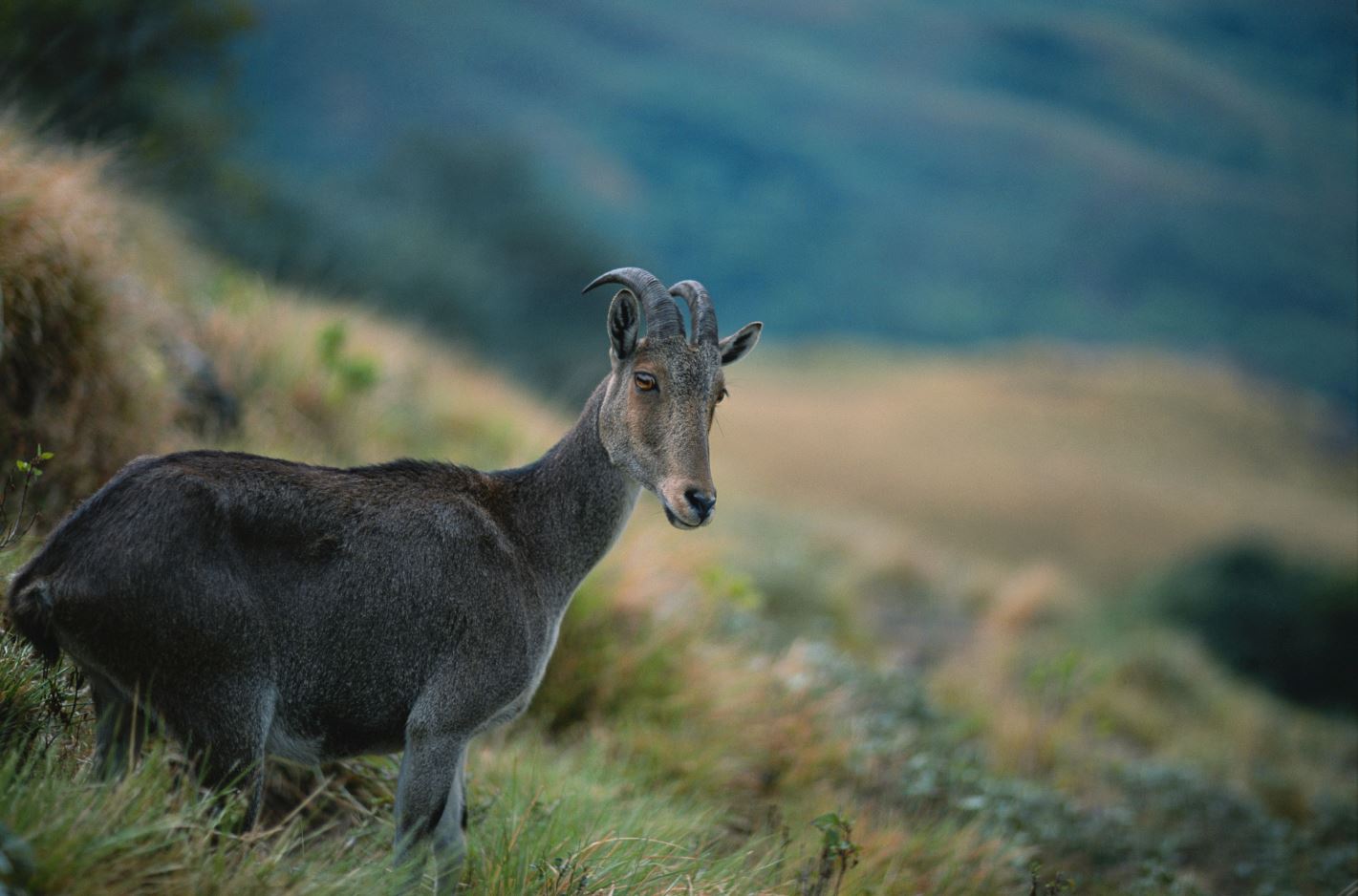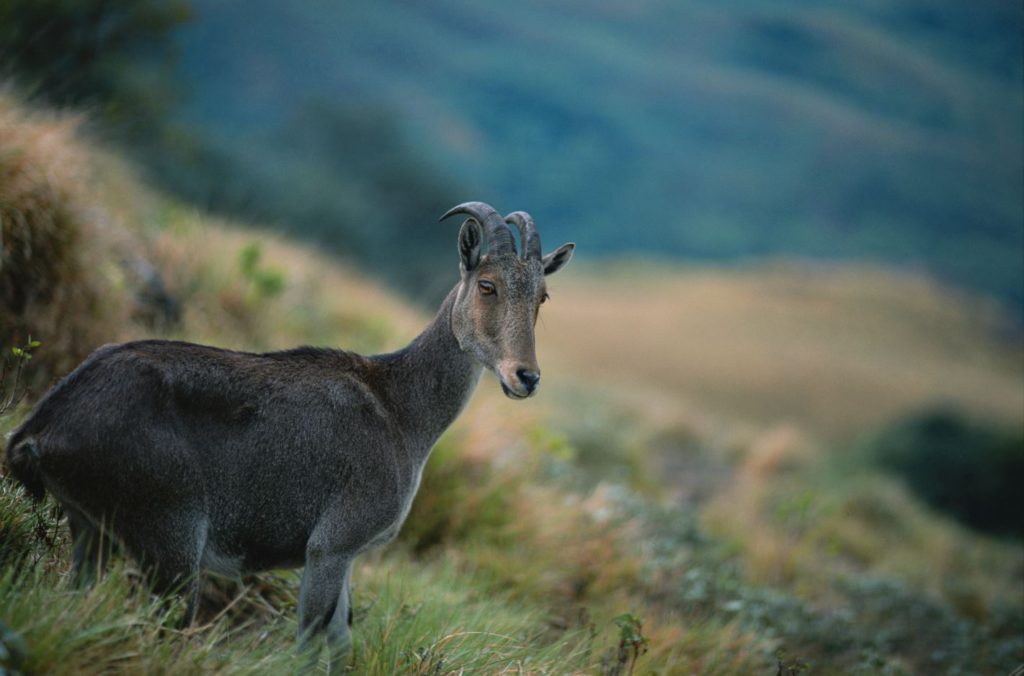 Eravikulam National Park is well outside Munnar and was the first National park opened in Kerela. The park has a concrete trail which goes to the top of the area which gives a great view of the valley.
The view is especially breath-taking during the bloom of Neelakurinjini flowers. Although, the major attraction is the species it holds where the star is the Nilgiri Tahr. It is the largest collection of the endangered species which are unique to the area. Have a leisurely day walking around the grasslands, hills accompanied by small streams of water.
Enjoy a light day around the area.
Timings: 7.00 am to 4.00 pm open on all days. Closed from February – March
Ticket price: ₹125/₹95 per person for Indian Adults/Children, ₹420/- for foreign nationals. Additional ₹45 for an ordinary camera, ₹335 for a video camera.
9. Anamudi Peak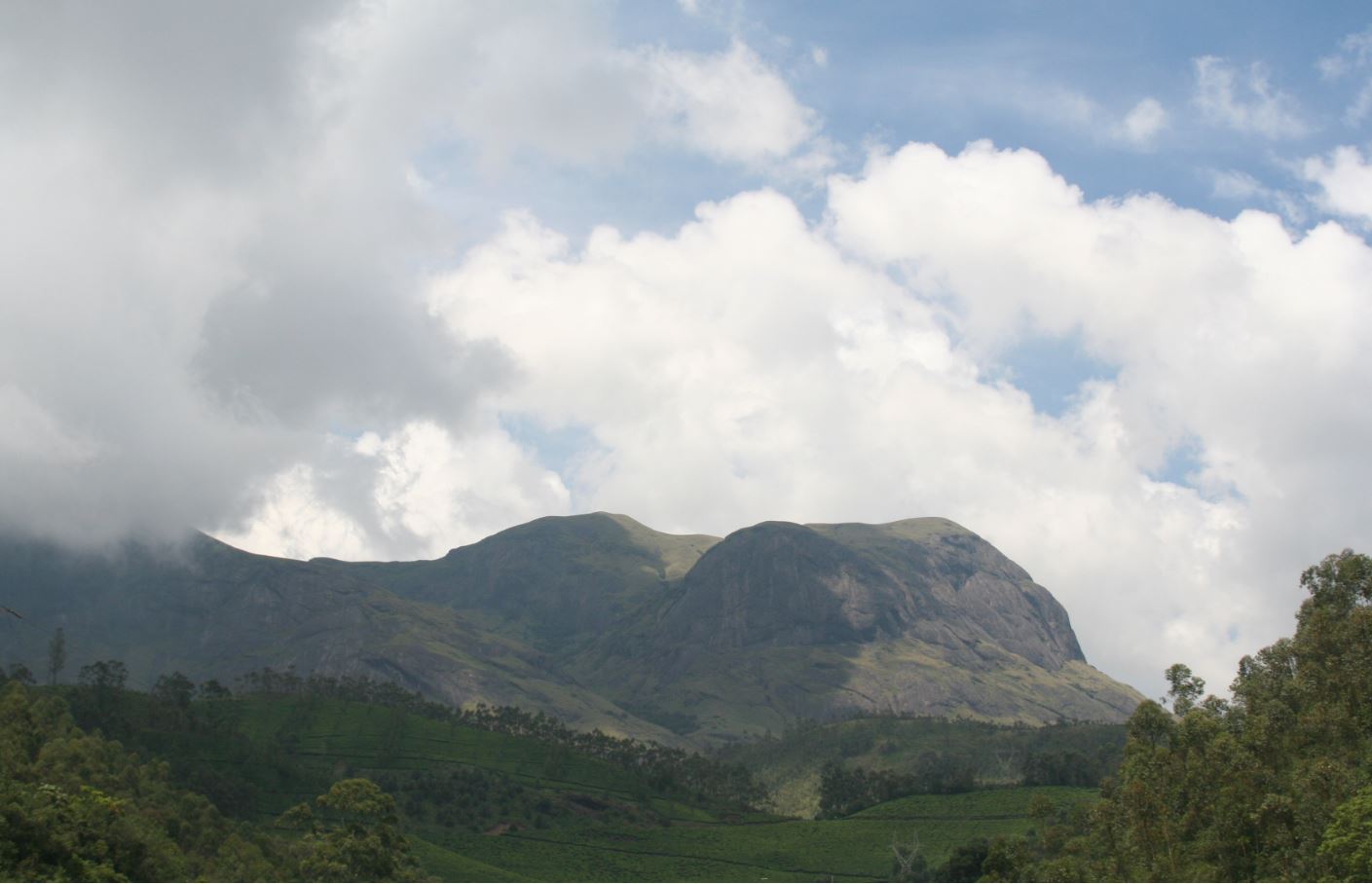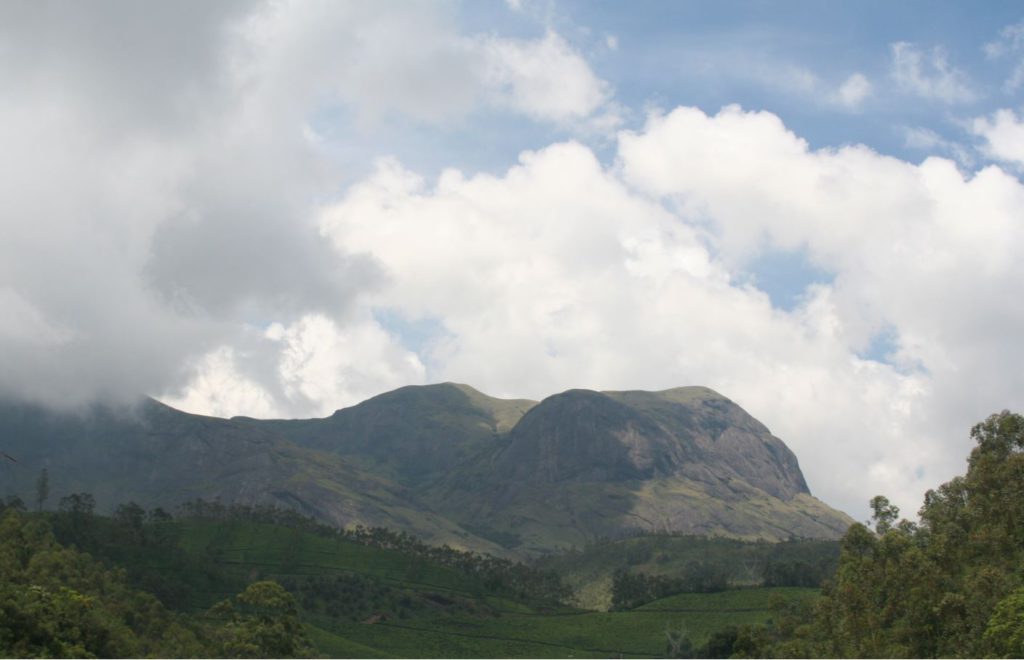 Anamudi peak is the highest peak in South India at an altitude of 8,842 ft. In fact, it is even higher than hill stations like Shimla and Srinagar. Trekking to Anamudi Peak will be at least a half-day activity and it takes around 4-5 hours to trek till the point allowed after you enter Eravikulam National Park.
It is well above the clouds and the view of the valley is extremely gorgeous. Unfortunately, you cannot trek to the top point since the security forces prohibit it. To go here, you will need to take special permission from the forest department for it.
The surrounding hills are also home to some unique flora and fauna such as the Nilgiri Langur, the lion-tailed macaque, and a few leopards and tigers. There is no separate ticket or timing to the peak.
10. Chinnar Wildlife Sanctuary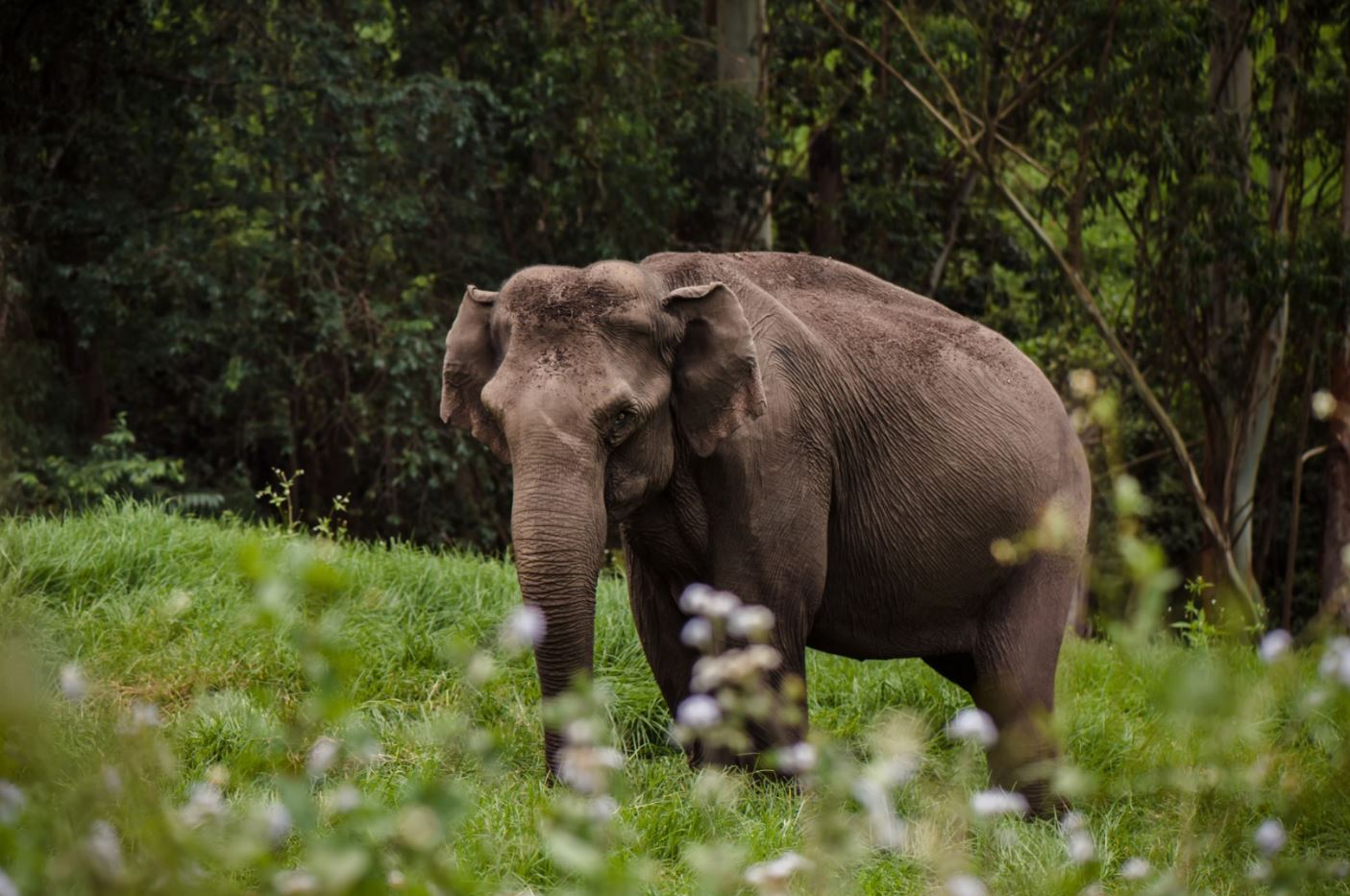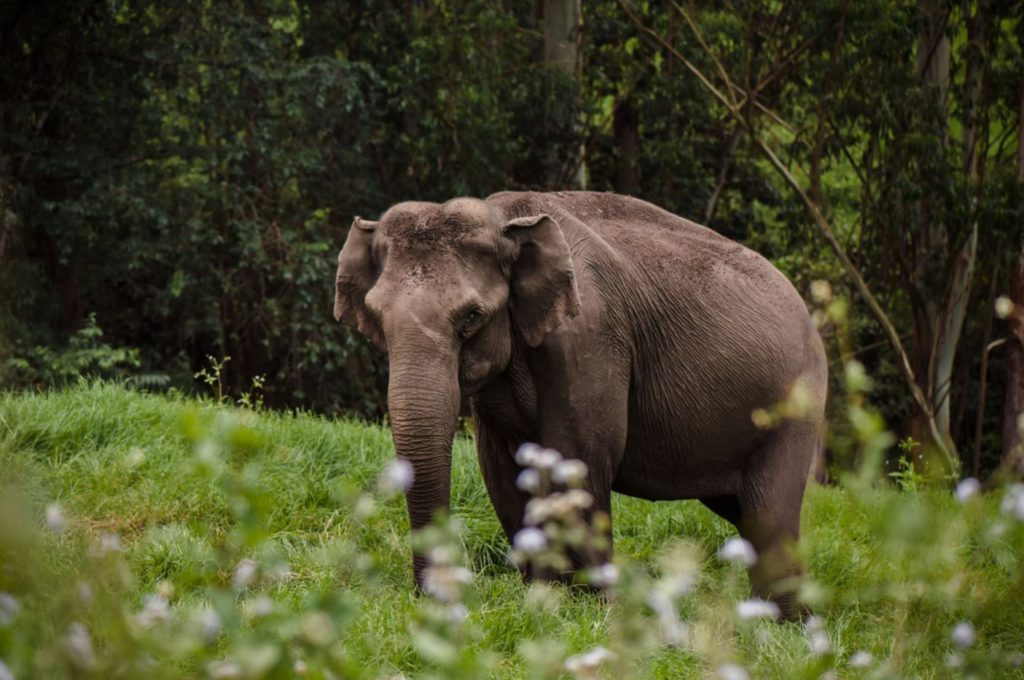 Chinnar wildlife sanctuary has a lot of ecological and conservational significance. It is one of the 12 areas in Kerela under the protection and is home to diverse wildlife which thrives here.
You can find Elephant, Tiger, Leopard, Gaur, Sambhar, Spotted Deer, Nilgiri Tahr and the endangered species of Giant Grizzled Squirrel here. You can enjoy the eco-tourism activities of the sanctuary with the help of the forest department and the local tribes.
Activities like trekking, hiking on many simple trails, a visit to Thoovanam falls, a tour of medicinal garden and camping at Vasyappara can be enjoyed here. Also, visit the sandalwood forest around the area.
Ticket price: ₹10/₹5 per person for Indian Adults/Children, ₹100/- for foreign nationals. Additional ₹25 for an ordinary camera, ₹150 for a video camera.
With all of the above, don't get quite hassled with what to do when there. Instead, focus on having a great time, enjoy the scenic valleys and take long walks to make the most of it.
Where To Stay In Munnar
Munnar has a wide range of hotels to choose from when it comes to accommodation. Sadly, there isn't much in terms of hostel since the place isn't quite popular as a backpacker haven.
However, there are many affordable bed and breakfasts starting from ₹800 for budget tourists. If you are someone who is interested in a tour of the places to visit in Munnar and need more connectivity with local transport, stay inside or near the town.
On the other hand, if you are travelling in a group, have a private vehicle for commuting or would like to enjoy the deep jungles or gorgeous tea plantations stay outside the town. Many Homestays, Airbnbs, resorts, and camps are available in the neighbouring areas. There, you can relax your brains out and completely enjoy the hilly countryside.
There are a few hostels available in Munnar that you can book via hostelworld.com. For budget hotels in Munnar, check agoda.com for good discounts on properties across south and southeast Asia.
Here are some options you like:
Homestays: Mangalappillil Homestay, Lizmerrycasa Homestay, Planters Villa
Room with a view: Amber Dale Luxury Hotel and Spa, Kites Resort Munnar, Shola Crown Resort
Luxury Stays: Parakkat Nature Resort, Spicetree Munnar, Fragrant Nature Munnar, Windermere Estate
Save on Pinterest


Related Articles