13 Mar

The Best Places to visit in Tezpur, Assam

Tezpur is not really known for tourism. Although it has its roots deep in Assamese history, but very few people choose to stop at this place to visit. However, it is still the fifth largest as well as the oldest city in Assam. As per records, its earliest ruins run back to the 4th century AD. But that's that.

We visited Tezpur twice on our way on the Tawang route and then back while travelling towards Kaziranga National Park. Luckily, our driver and tour guide hailed from Tezpur, so he was able to take us through some of the more popular places in the city. I think this place is worth a stop, even if only for a few hours.

I was quite surprised by the remnants of history from here. It is a shame that we don't know much about the early ages in and around northeast India. Let me show you some of the best places that you can visit when you are in or passing by Tezpur.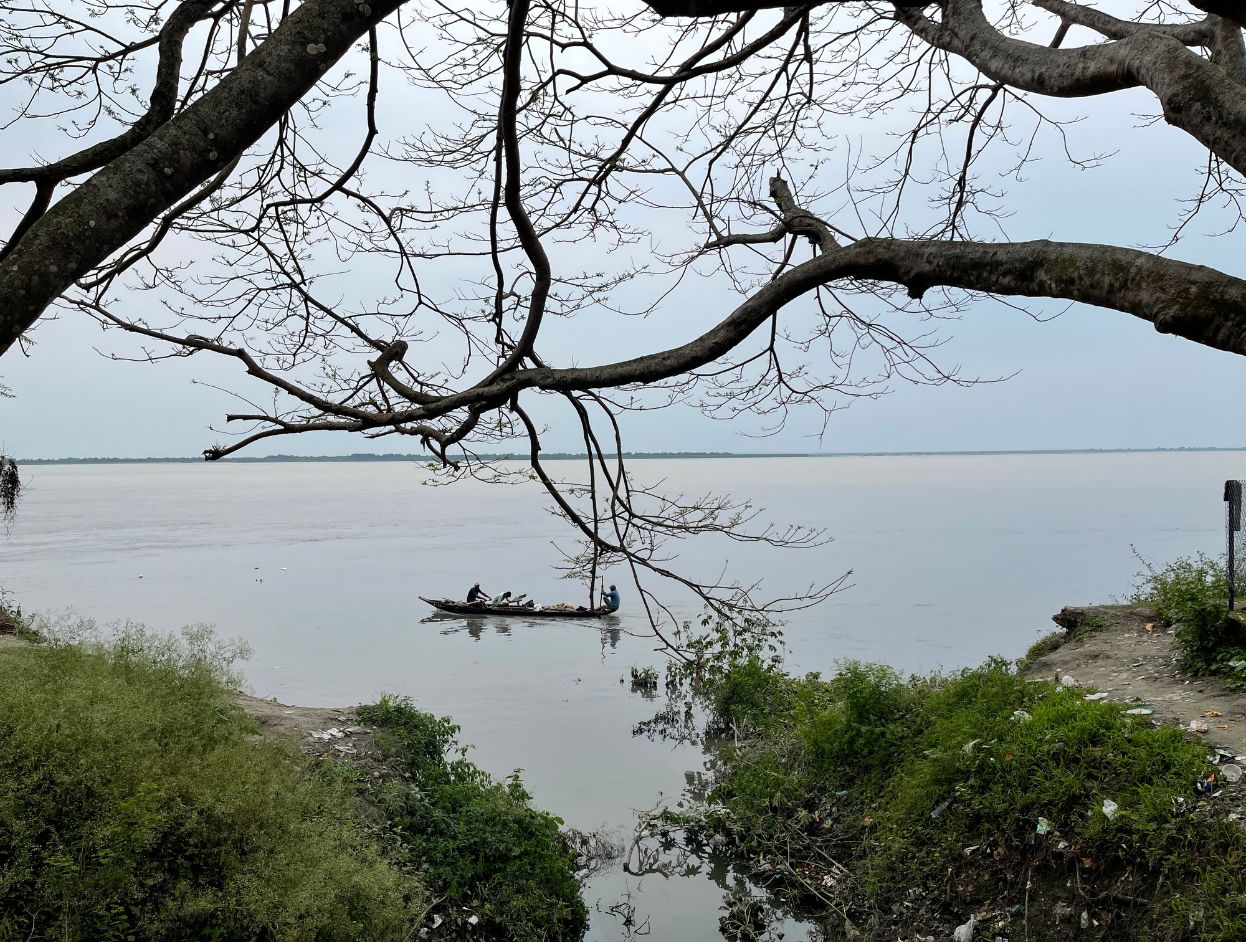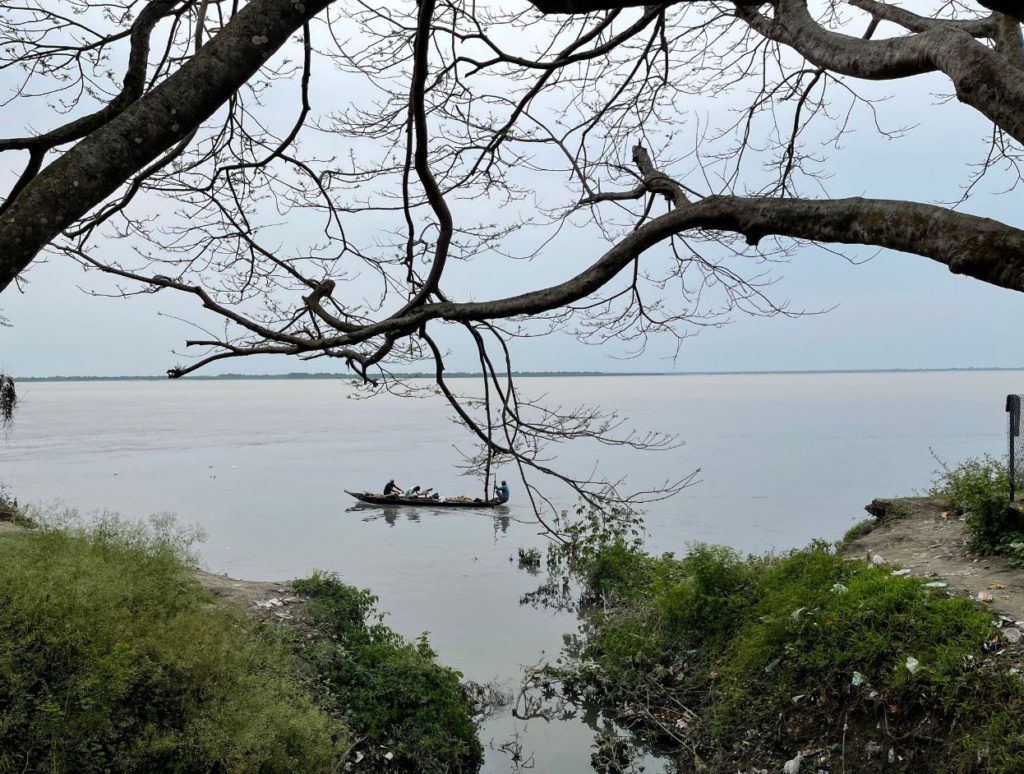 Where is Tezpur?
Tezpur is around 177km northeast of Guwahati and it takes around 4 hours to reach by road. It is also a popular stop on the way to Bhalukpong in Arunachal Pradesh and also for those travelling east of Assam.
It is right at the spot where the Kameng river coming from Arunachal meets the Brahmaputra river. As it merges, they create a massive river body that is very prone to flooding during the monsoons.
You can also stop in Tezpur if you are travelling to Itanagar or Majauli with a little detour.
How to reach Tezpur
Being a major city in the area it is decently connected to other important cities in northeast India. Although, I would say it lacks frequency. You can easily get several transportation options from Guwahati. However, if you are travelling from any of the other cities in northeast India, you will have to cover this distance by the road itself.
By Flight: There is a really small regional airport in Tezpur but the flight frequency to it is very less at the moment (we are talking 2022). As of now, only one passenger flight serves the airport that starts onwards from Kolkata. So you can probably get a connecting flight. It may get cancelled also if there aren't many passengers. So I wouldn't say you bet on it.
Tezpur airport is around 12km from the main city and you can only find taxis from the airport in the parking area.
By Train: If you wish to take a train to or from Tezpur, you can head to Dekargaon railway station for a train to Guwahati. A couple of trains run every day from Guwahati as well. One of them is Guwahati Intercity and another is Murkongselek Express. The trains are convenient, decent and very affordable. You can get the tickets online on the official website or buy one at the counter.
The railway station is around 8 km north of the city and you can take a rickshaw or an auto from the city to reach it.
By Bus: You can find private buses from the major cities in Assam online. Head over to redbus.in or abhibus.com to find a bus of your preference. You can also find several buses from Guwahati from the ISBT bus stand that drop at the ASTC bus stand in Tezpur. You can take one back or further from here.
The bus station and services can get pretty crowded during peak hours. Services can also be unreliable and are not that great. So you can choose this if you are not too rigid about the timings.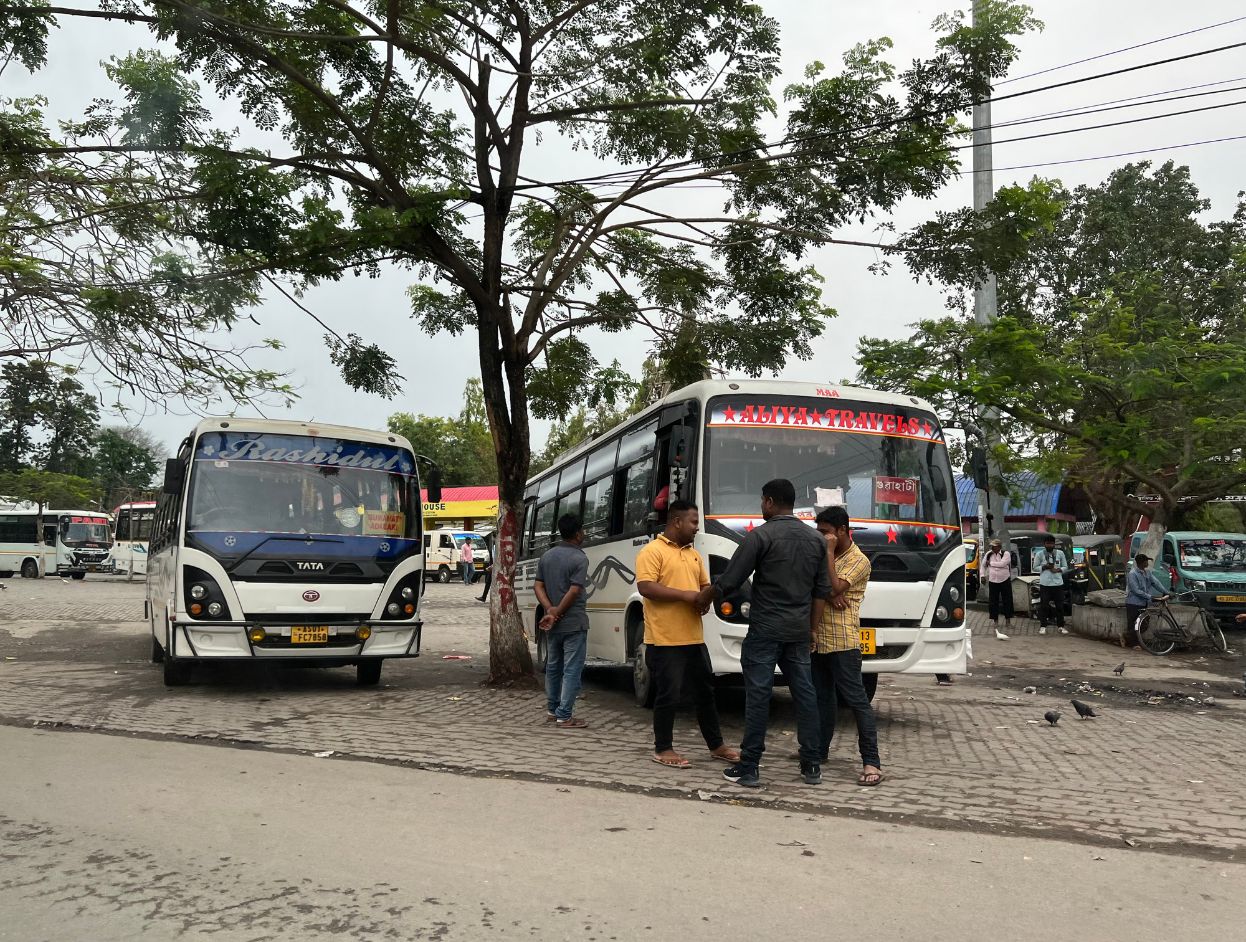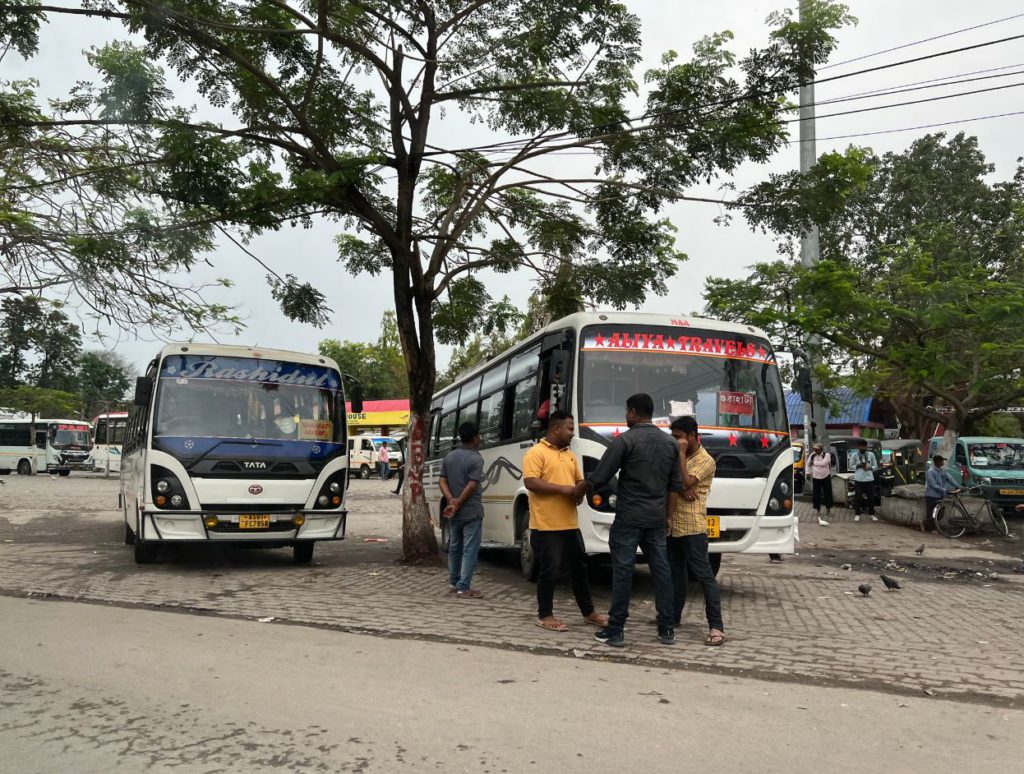 Shared Sumo: Shared sumos are a very common way to travel inside Assam and northeast India. You can get shared sumo from Paltan bazaar in Guwahati running to Tezpur several times a day. 
You cannot book your seats online but you may buy a ticket beforehand. They are also usually faster than the buses but can get crowded. If you are travelling from other cities, check out the sumo stand in that city for one to Tezpur.
A Brief History of Tezpur
Tezpur is home to some important historic remnants in the area that dates back to the 8th century. However, the first settlement here dates back to the 4th century. The ruins at the Bamuni Hills are mostly from between the 10-12th century. Very little is known about the history of that period in this area.
But the most important tale of the town revolves around King Banasura (of the Asura Dynasty), Usha, his daughter and Chitralekha, her friend. Sonitpur (near Tezpur) was the capital of the Asura dynasty then. It is here where Usha, the king's daughter dreamt of a handsome prince and fell in love with him. 
Her friend, Chitralekha, a talented artist, painted a portrait of the prince as described by Usha. Chitralekha recognised him to be Aniruddha, the grandson of Lord Krishna and the ruler of Dwarka. Using her magical powers she transported Aniruddha to Usha's bechambers where they united.
Once Banasura got to know about this, his wrath knew no bounds and imprisoned Aniruddha. This resulted in the arrival of Lord Krishna to rescue his grandson and led to a fierce battle between the two. Many people lost their lives and the streets ran red with their blood. It also gave the town its name which directly translates to 'city of blood'. Banasura was defeated and the two lovers united thereafter.
Places to visit in Tezpur
1. Agnigarh
If you have not read the history of Tezpur (right above), please go and read it. Agnigarh is the most popular tourist and heritage spot of the city. It is where King Banasura incarcerated his own daughter above a hillock and set the surroundings on fire so that she cannot meet prince Aniruddha anymore. It gave the place its name meaning 'residence of fire'.
Today it is a hill-garden and tourist spot decorated with murals and sculptures depicting some of the stories from the legend. You can hike up a spiral staircase to reach the top which gives an elevated view of the Brahmaputra river on the other side.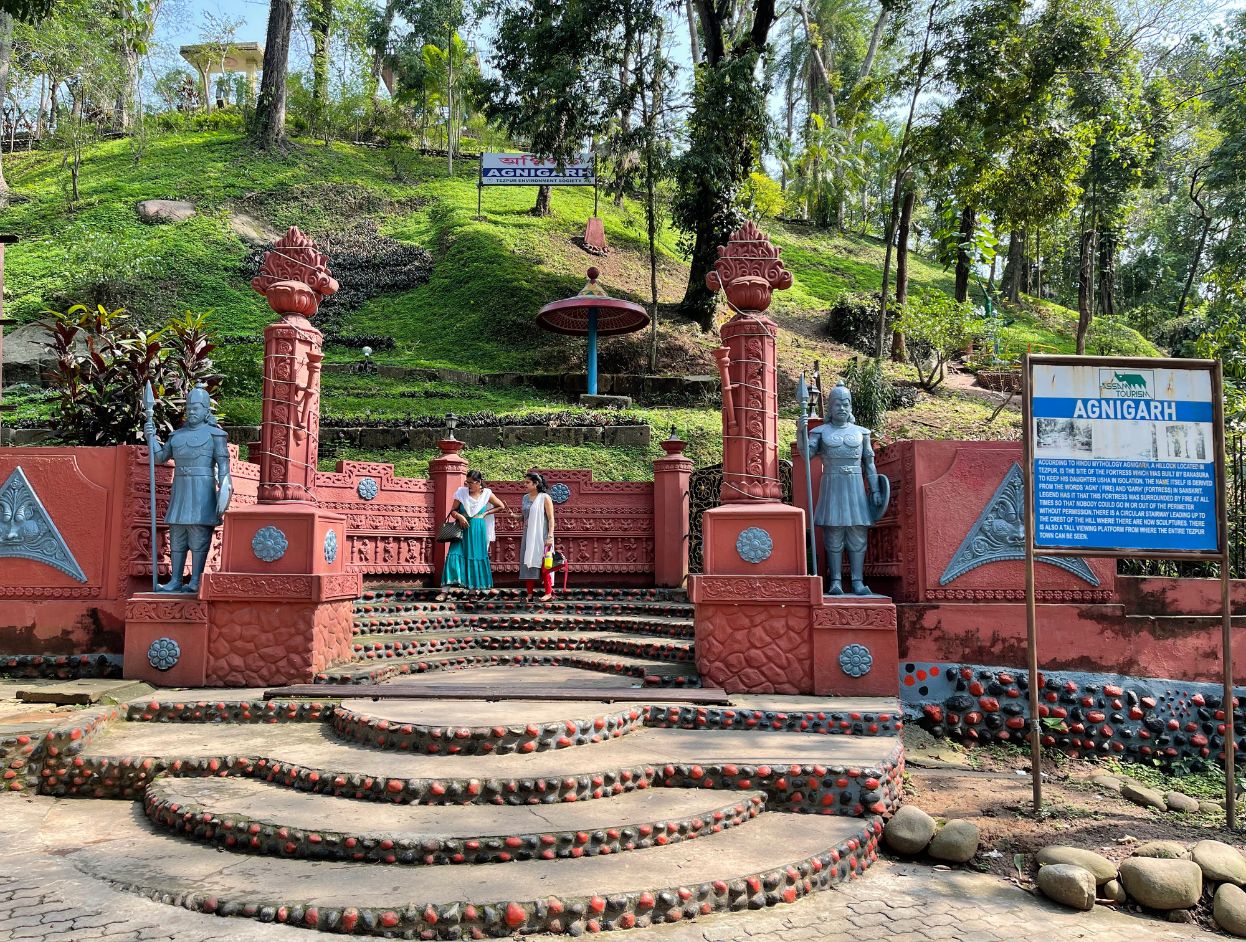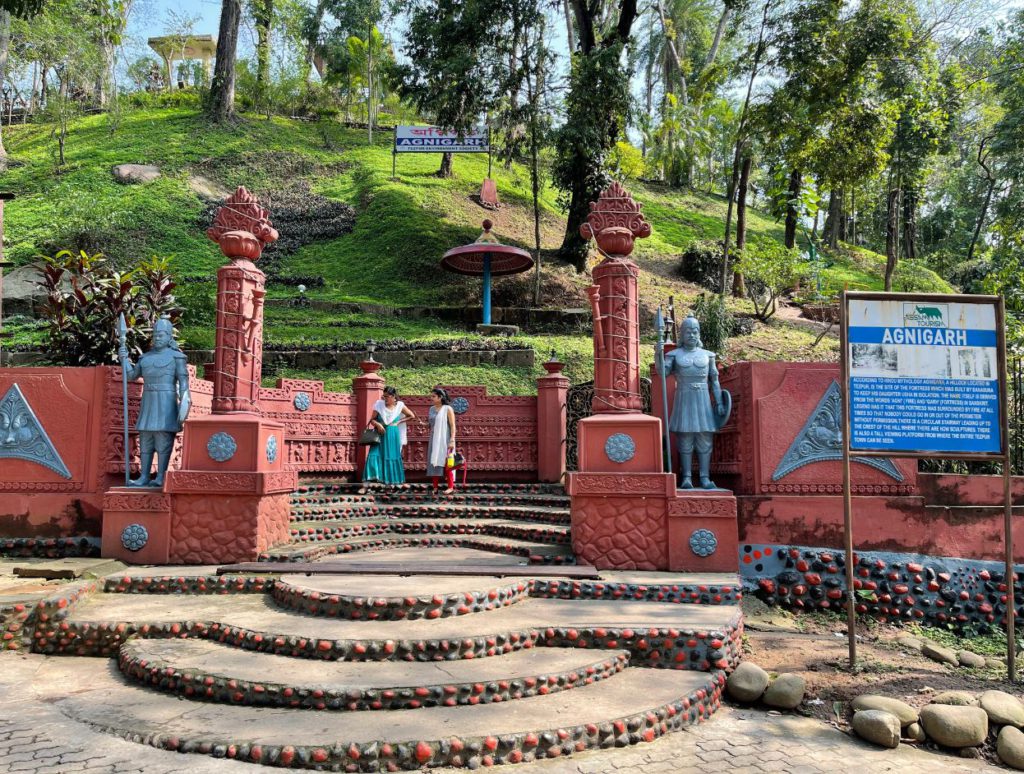 2. Bamuni Hills
Bamuni Hills is an archaeological site on the banks of the Brahmaputra river near the point where the Kamaeng river flows into it. It's a 10 min drive from Agnigarh. The place showcases some of the historic ruins from the 9th and the 10th century. People speculate that they are from the Gupta period since the style of architecture is similar to what is found in the northern part of India during that time.
Many of them seem to be pillars and carvings from holy temples that were built here. According to the floor plan, there was a big major temple dedicated to Vishnu in the middle. It was surrounded by four temples dedicated to shiva on four sides.
The ruins seem to be lying around and I cannot hide my disappointment in the negligence of cultural heritage as you can see here.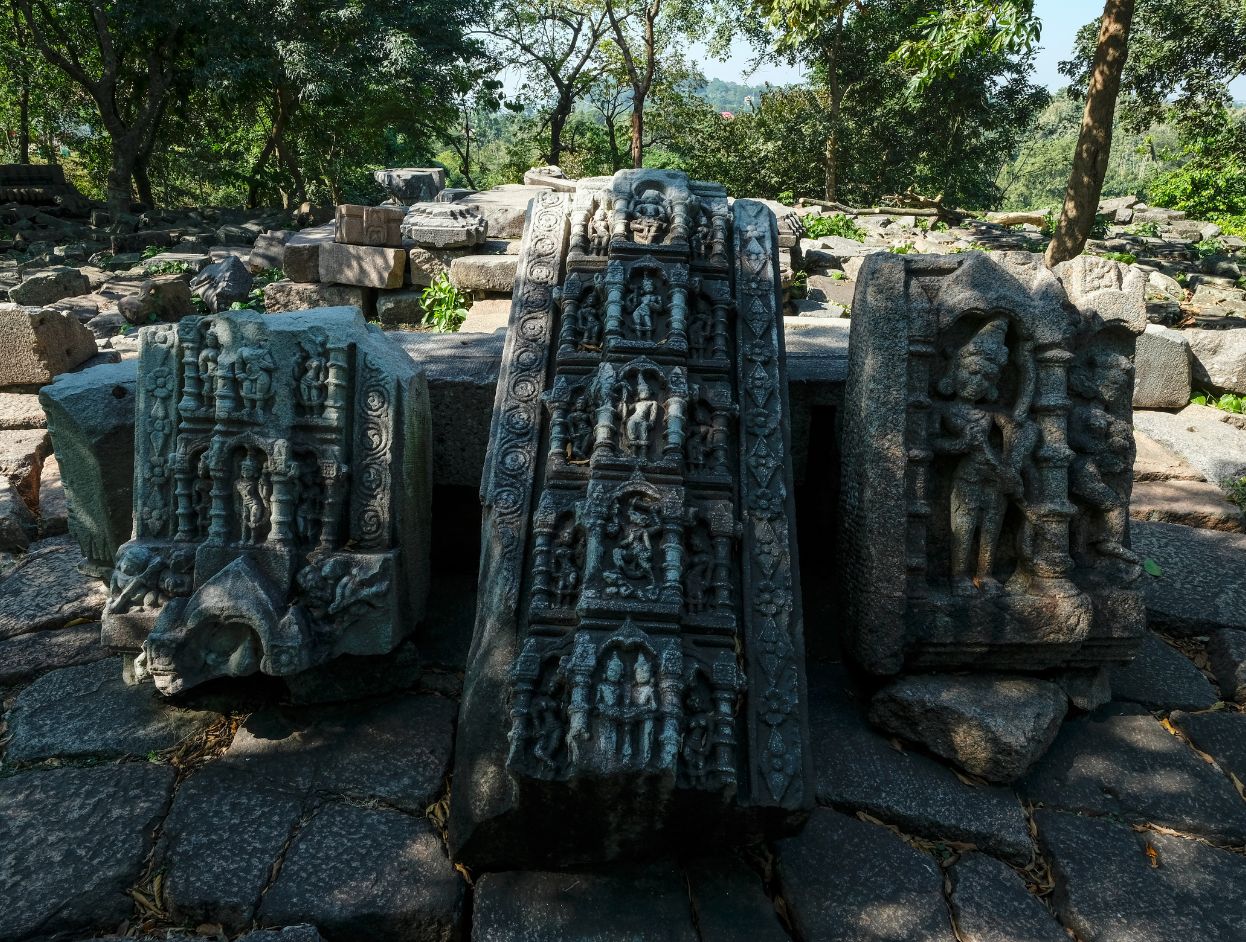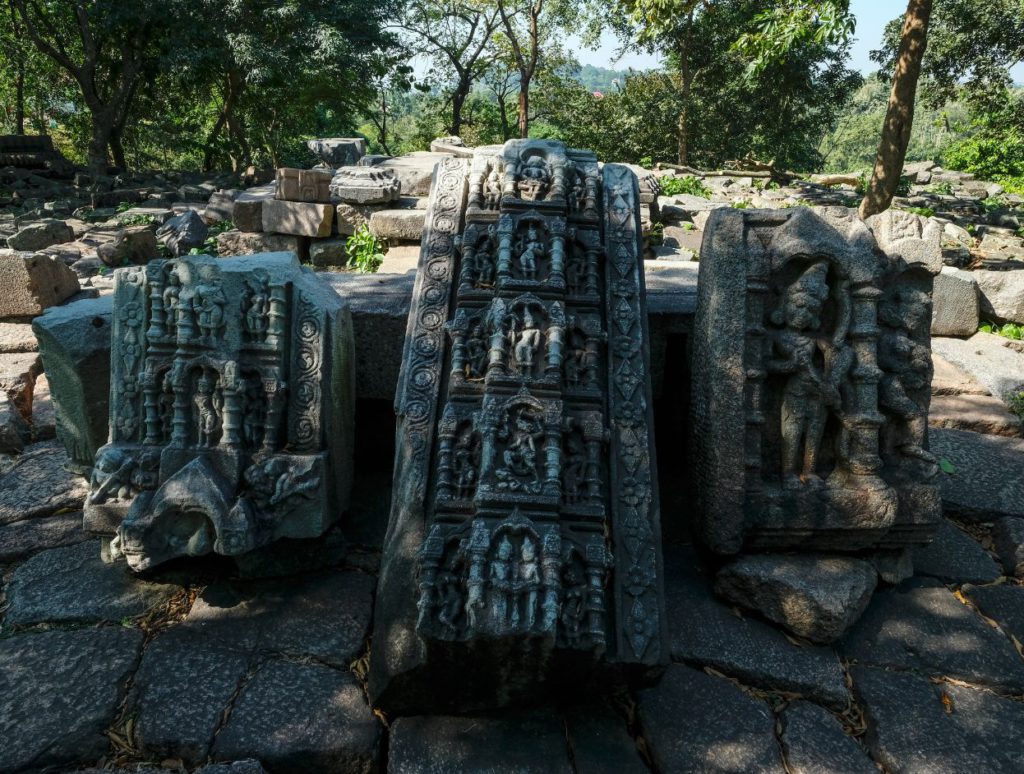 3. Mahabhairab Temple
If you can guess by the name, the mahabhairab temple is dedicated to Shiva. It has one of the largest Shiva linga presents and some say that it is live and grows a little each year. The temple dates back to the legend of Banasura and people believe that as a devotee of Shiva, it was his place of worship. However, the structure around it has been renovated several times in the recent centuries.
The premise is small. You can walk up a few steps to the main area. The priest presides inside the main chamber where the Shiva Linga is kept. A great time to visit this place would be Shivaratri. The place is decorated and attracts a lot of devotees from the area around the town.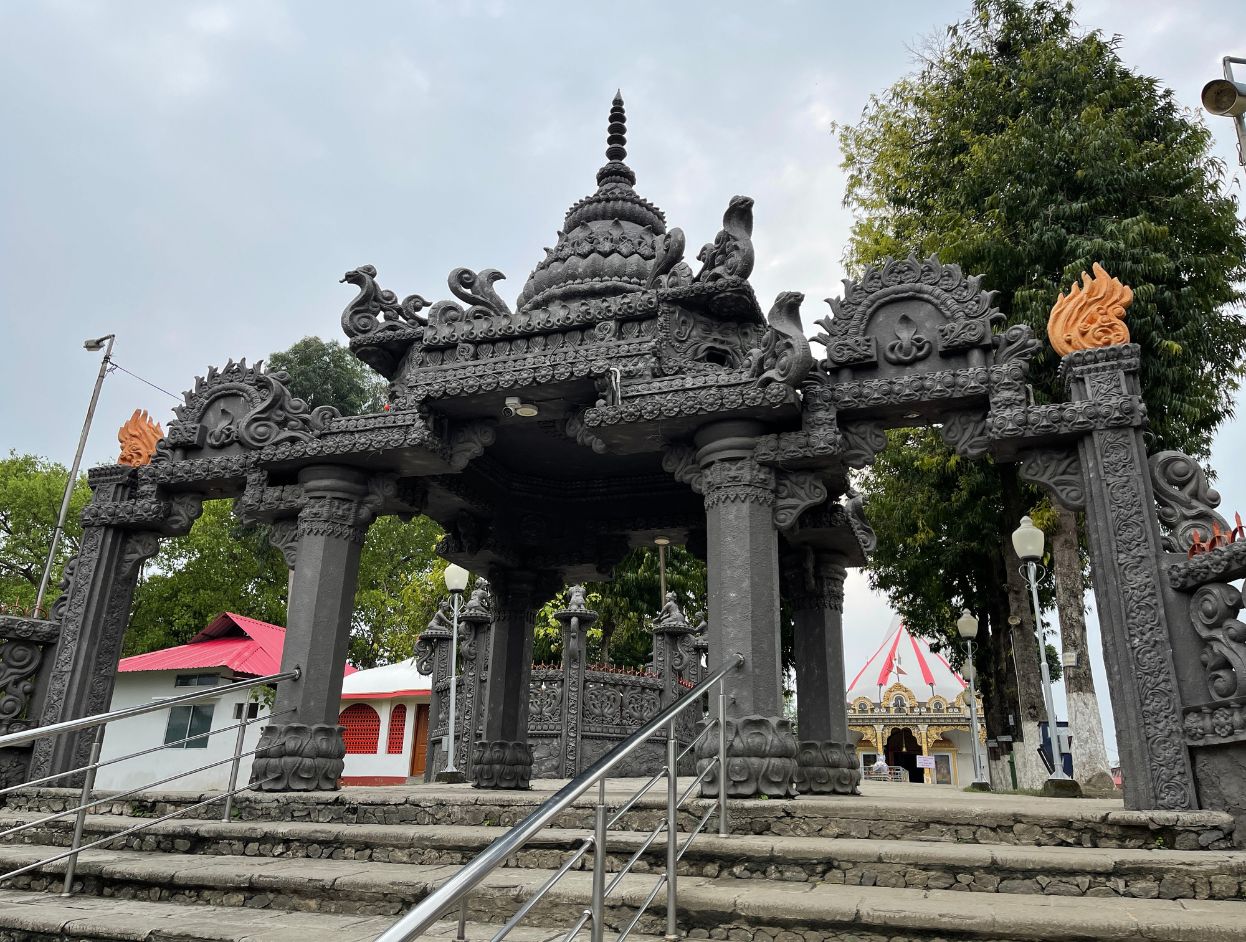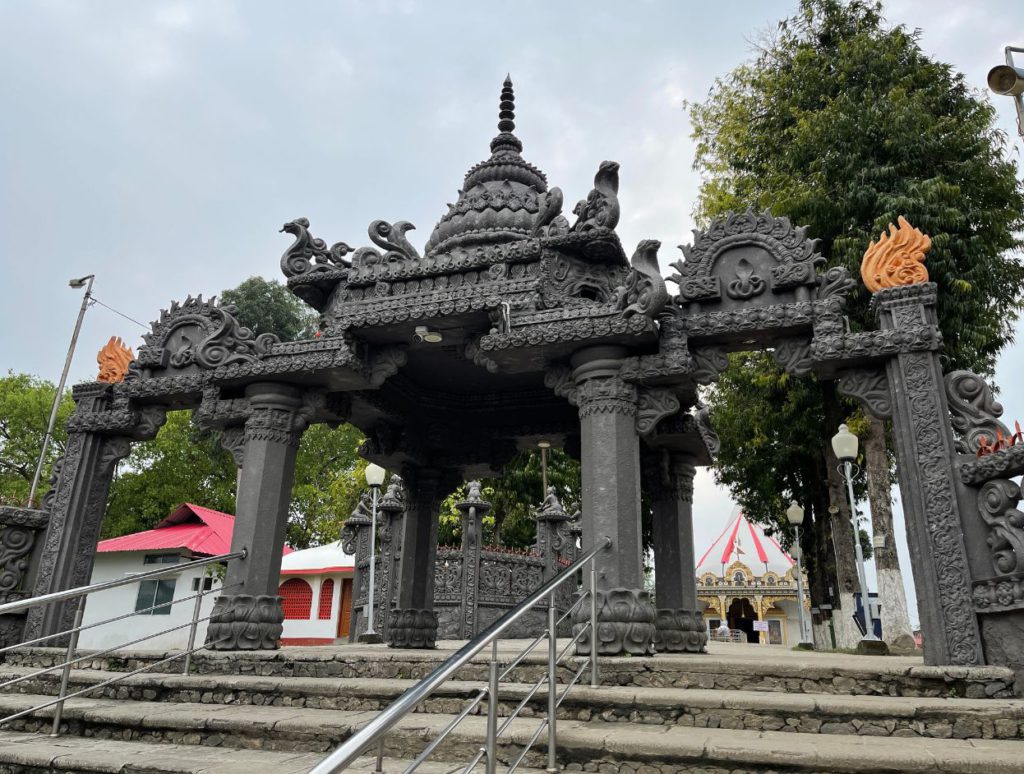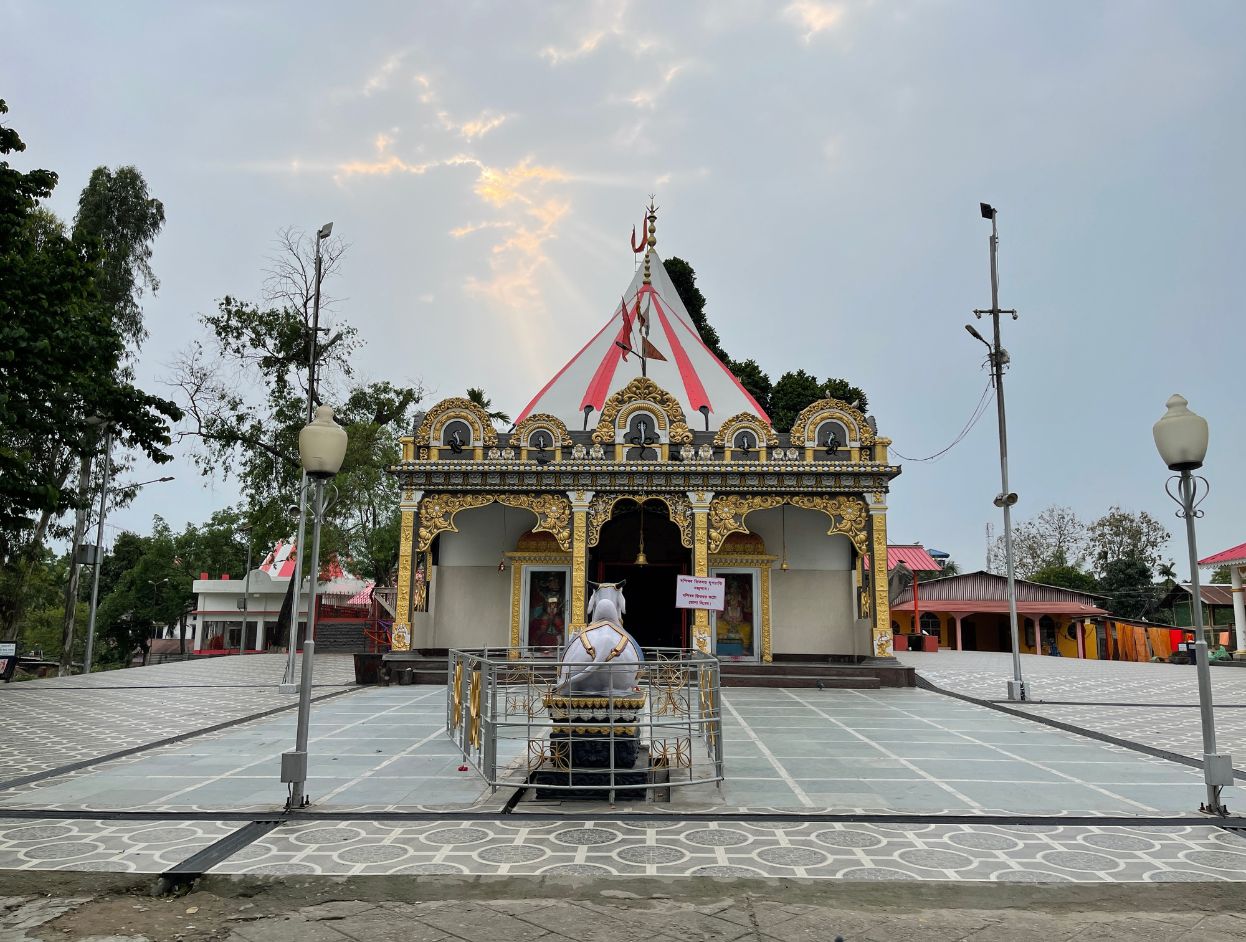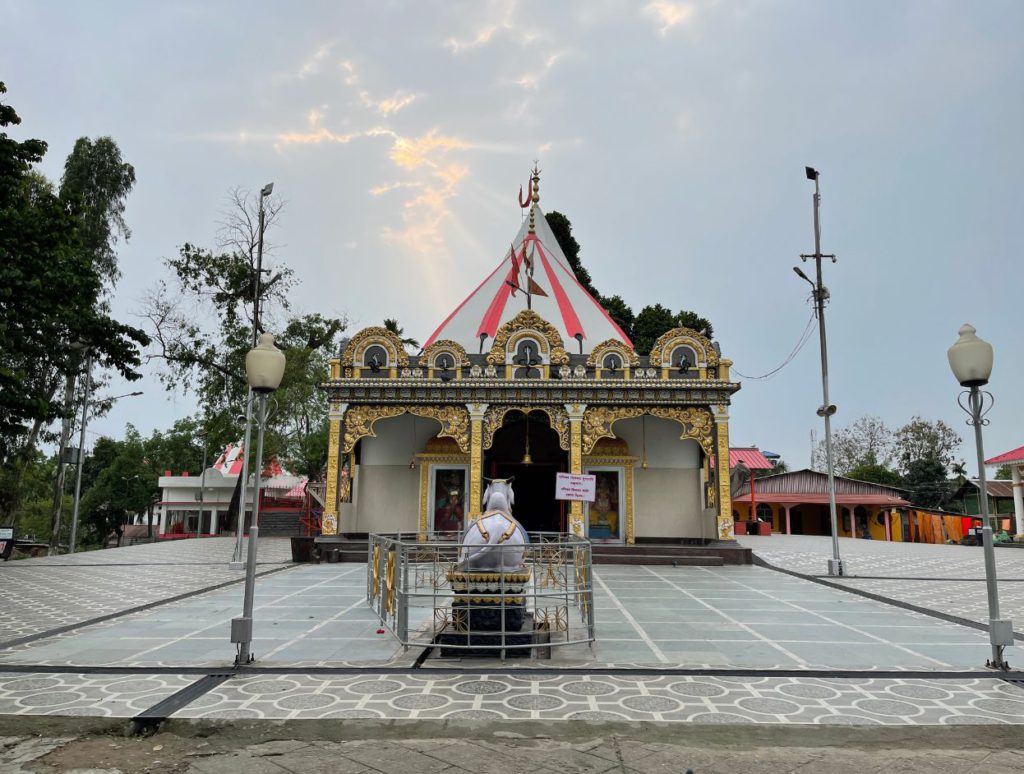 4. Dah Parbatia temple
Dah Parbatia is a small village a few kilometres west of Tezpur. It is popular as the home to some significant architectural remnants of an ancient temple from the 6th century.
As per history, the Kamrup region was the easternmost territory of the Gupta Empire. The Dah Parbatia ruins are from a later phase of their ruling between 300-550 AD. The ruins suggest a door-kind of structure with the goddesses 'Ganga' and 'Jamuna' on either side, elegantly standing with garlands in their hands. Other parts of the door are adorned with carvings of flowers and foliage.
Again, it may come as a disappointment since there hasn't been much development around to make it a thriving tourist spot. The information about the ruins and place is also not communicated to the ones who come to visit.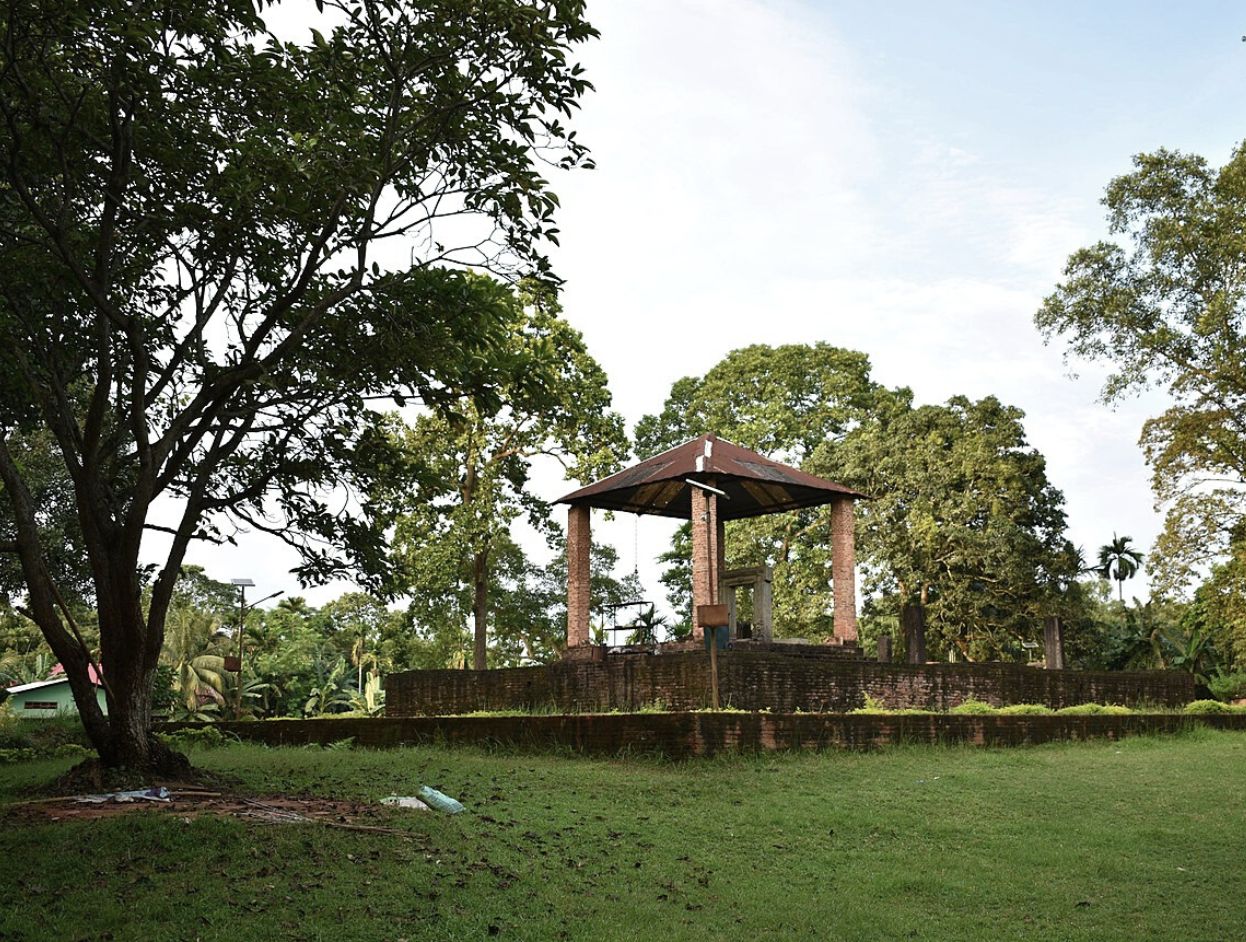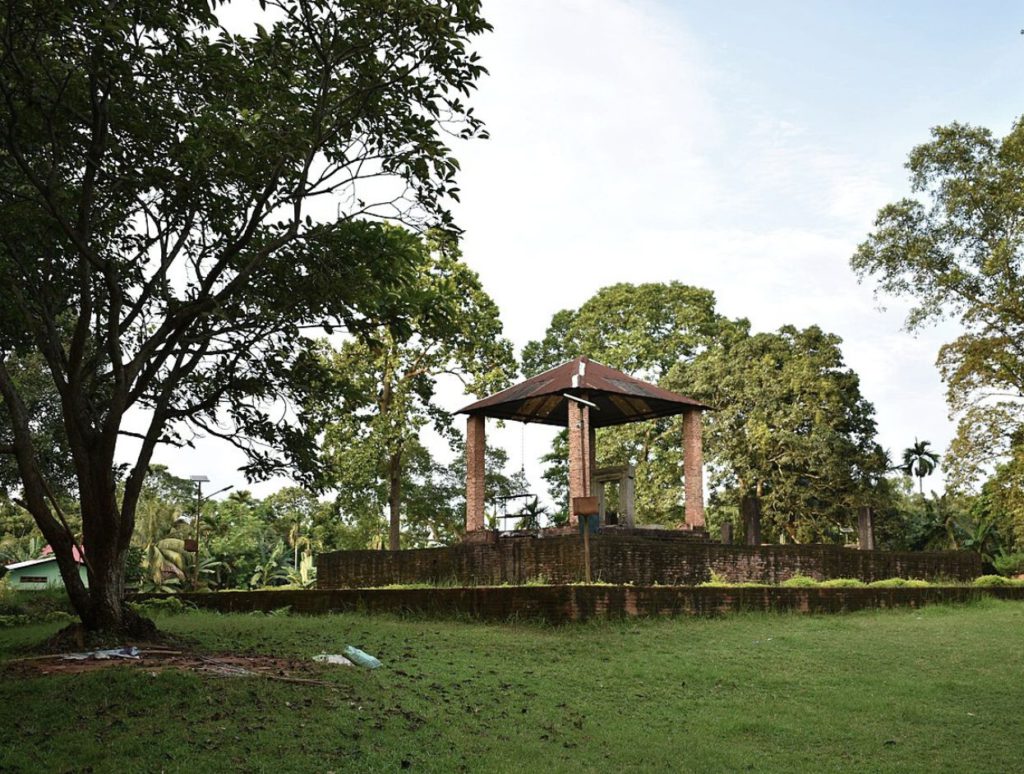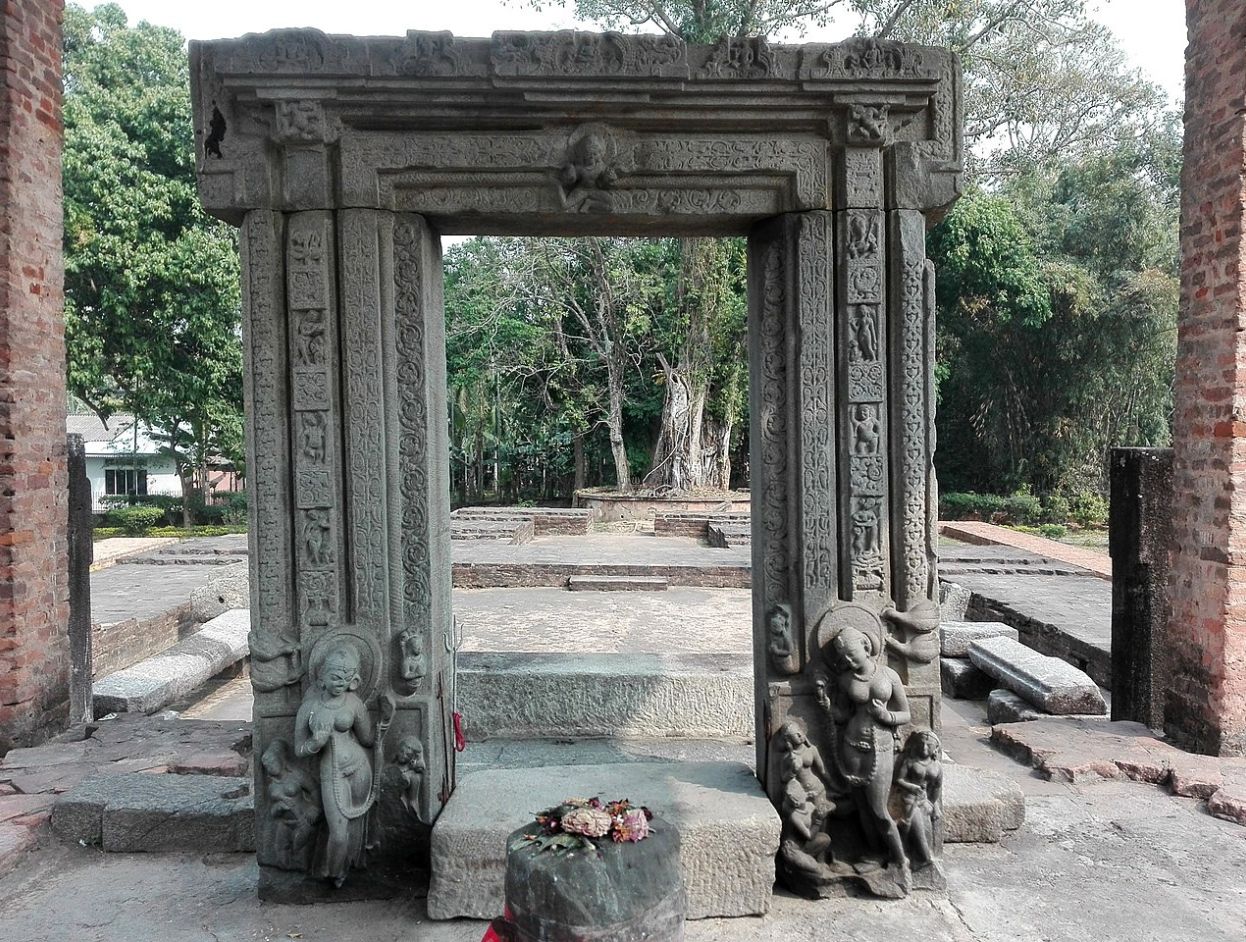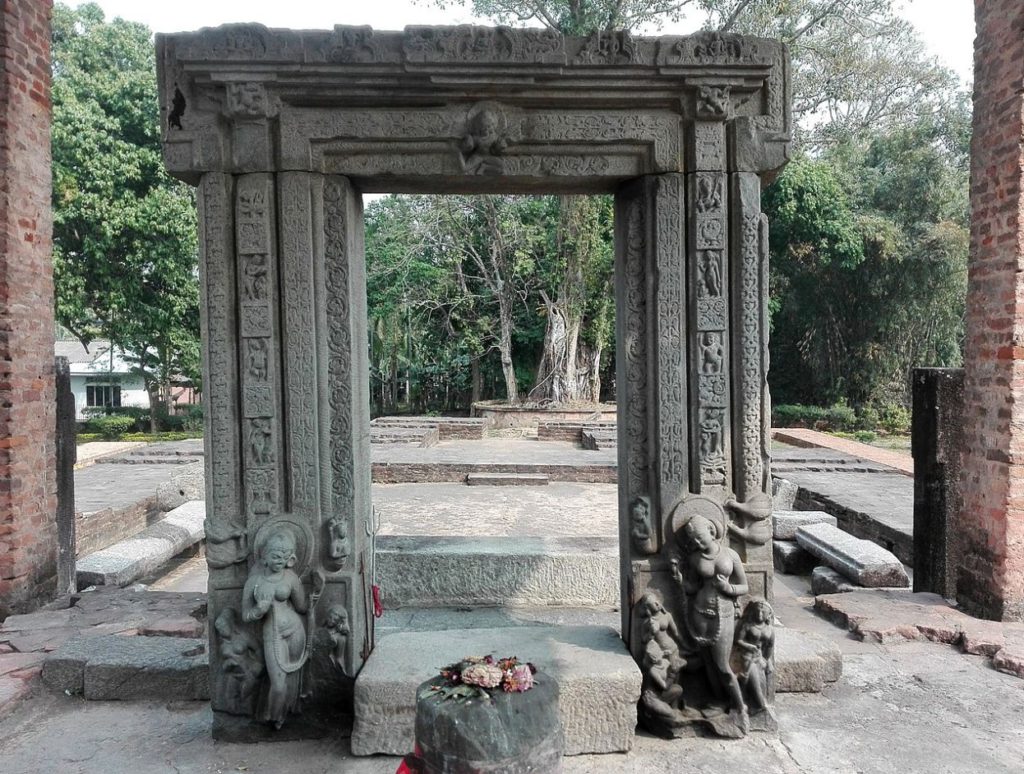 5. Kolia Bohomora Setu
The Kaliabohomora bridge, like all bridges over the river Brahmaputra, is massive owing to the size of the river itself. Otherwise, it is just a bridge, 3km long that was built in 1987 and dedicated to Rajiv Gandhi. You cannot stop on the bridge for security reasons, but the view of the river on either side is pretty great.
Instead what you can do is stop your vehicle on the Tezpur side right before getting on the bridge and walk up to a hidden viewpoint on the left side. You can see an elevated view of the massive river for a long way on either side.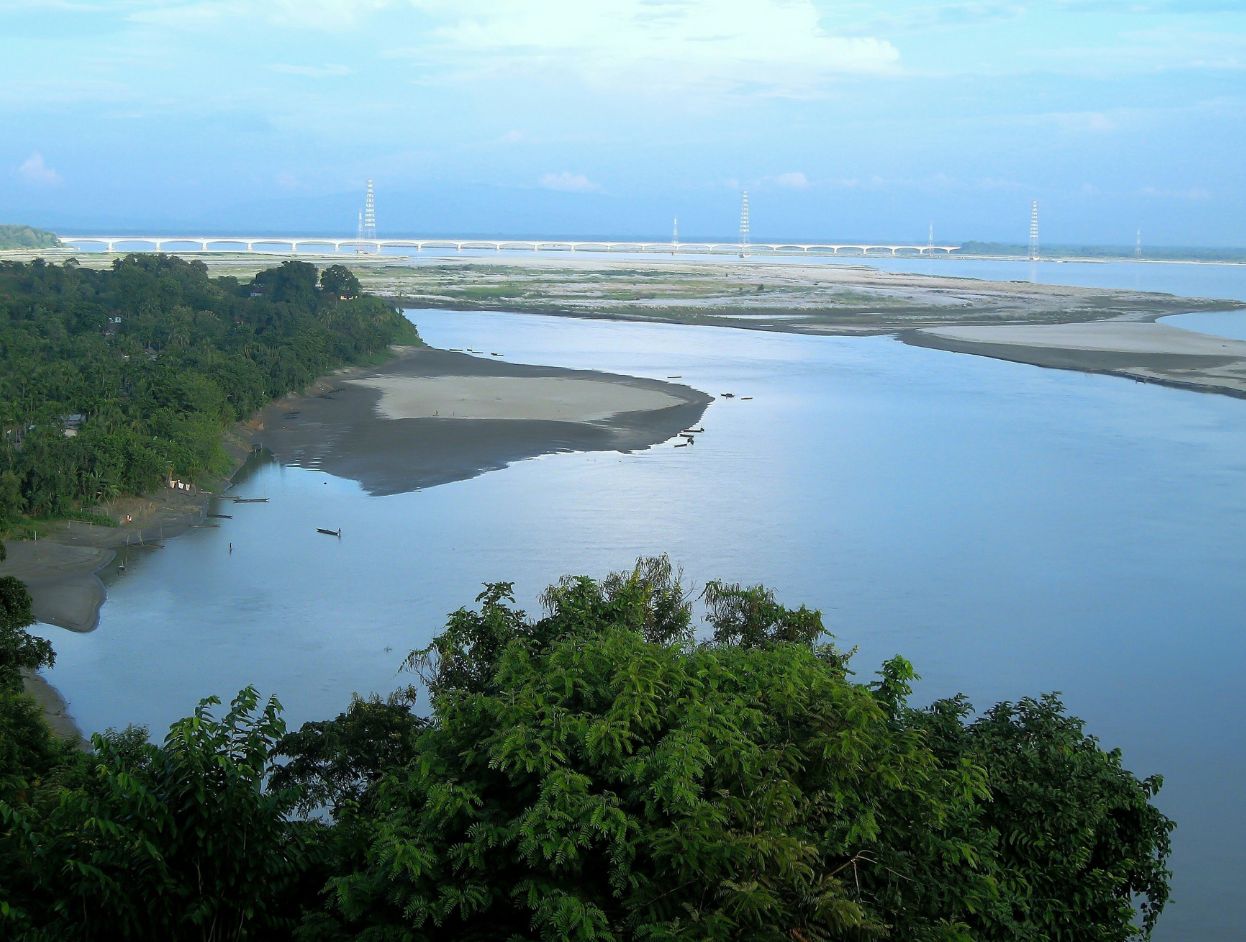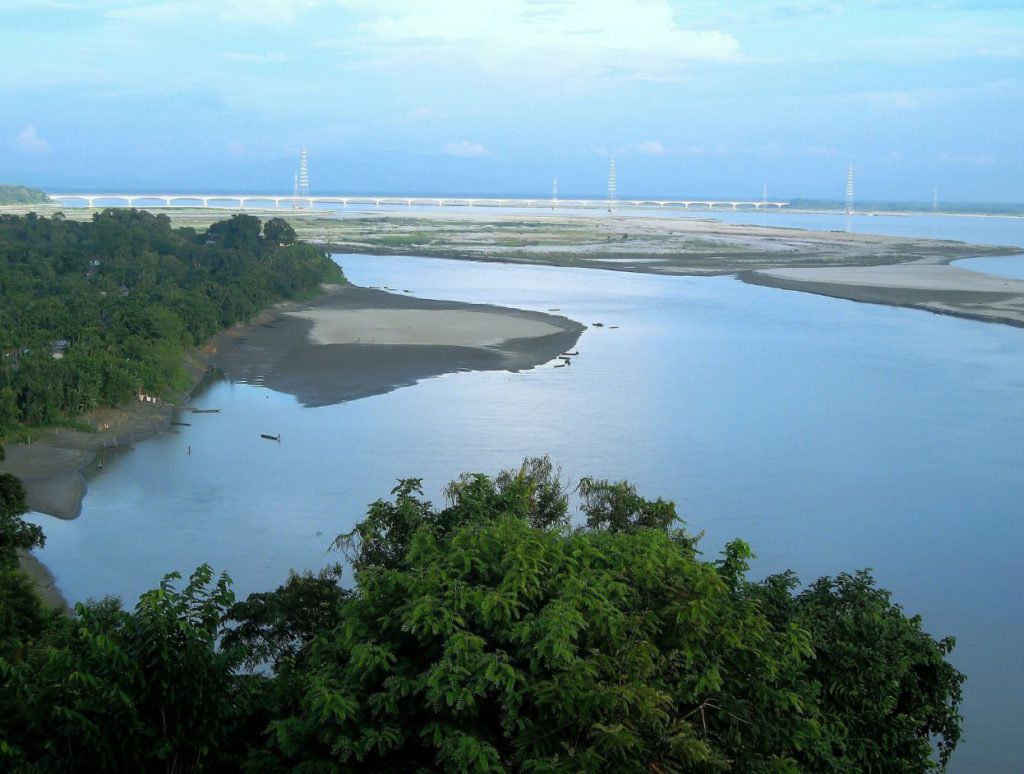 6. Ganesh Ghat Temple
On a regular day, it is a nice holy temple on the banks of the Brahmaputra river, right next to it. Some say that it is around since the time of Banasura. But I think it is worth visiting not only for the religious visit but also for the view that you can get off the massive river.
We were lucky to reach here on the 8th day of Navaratri. It meant that the place was decorated with a massive fair setup. It seemed like the whole city was here. You can find people selling a lot of stuff like toys, local snacks and drinks, idols of gods, prasad and souvenirs. Quite a time to go.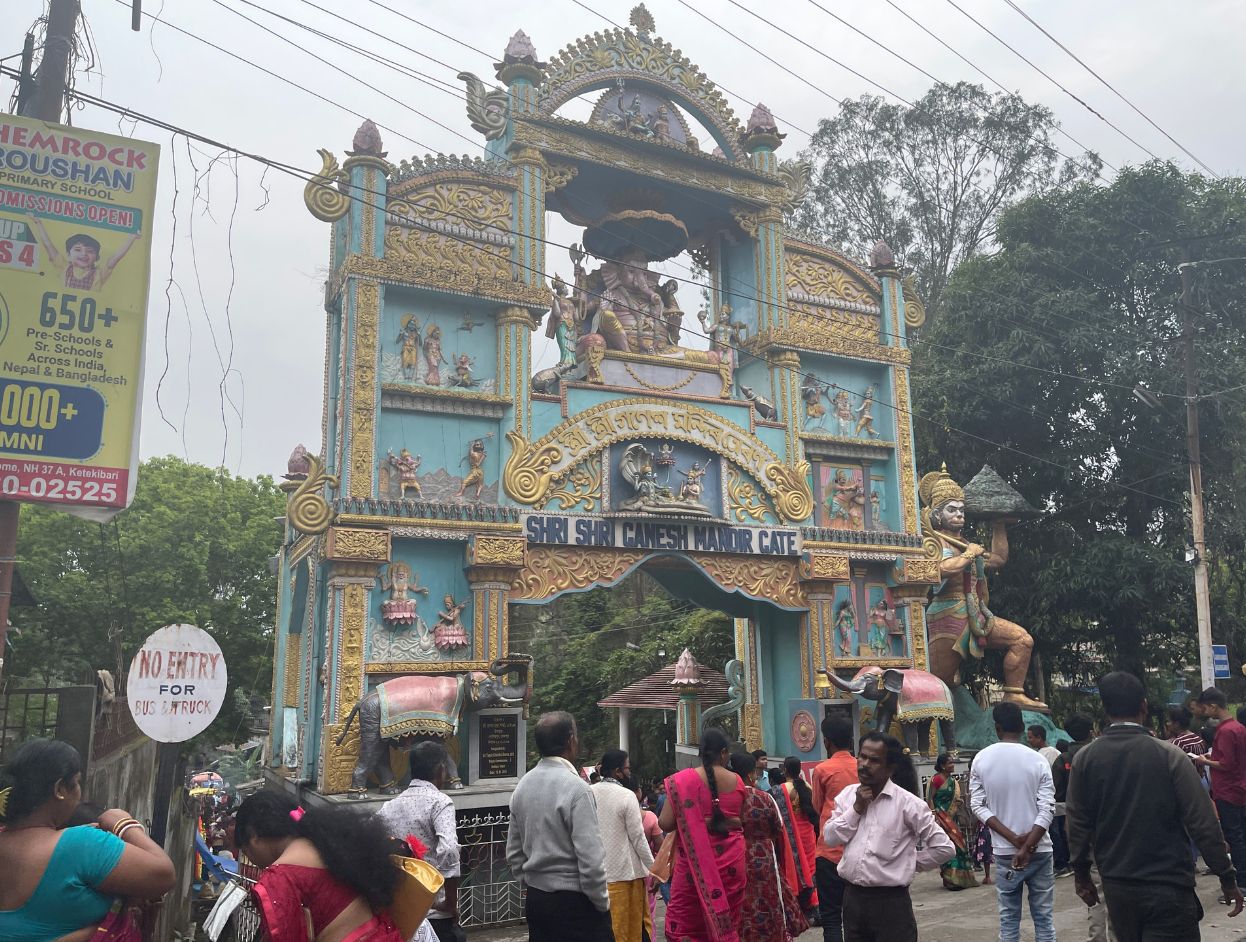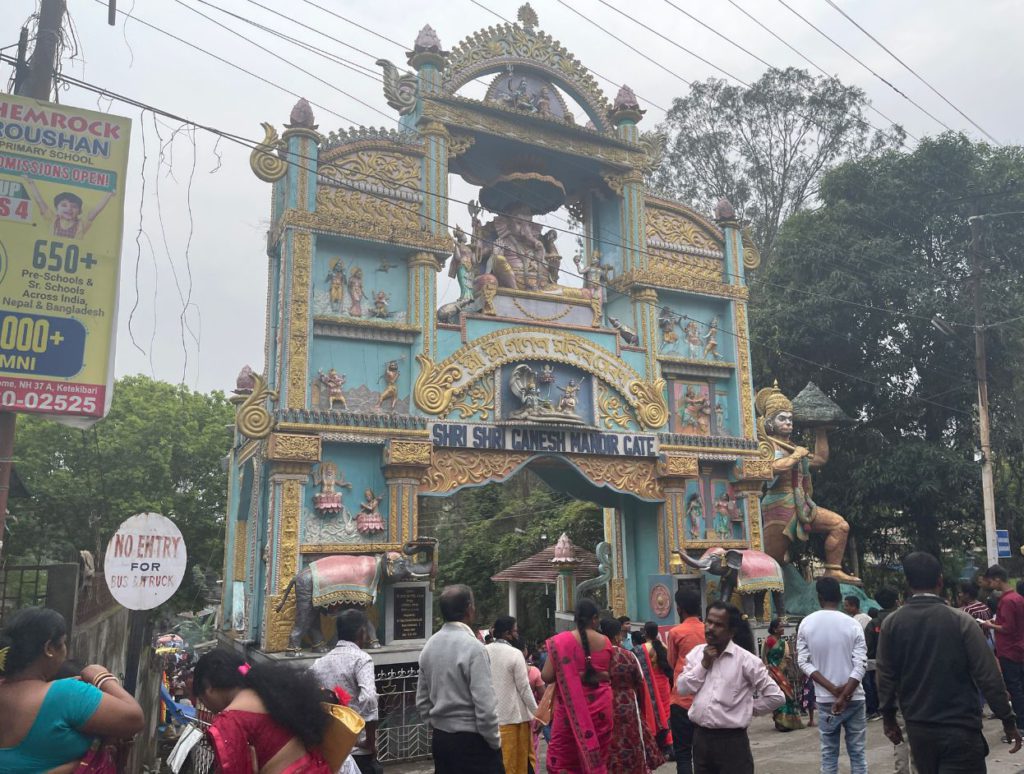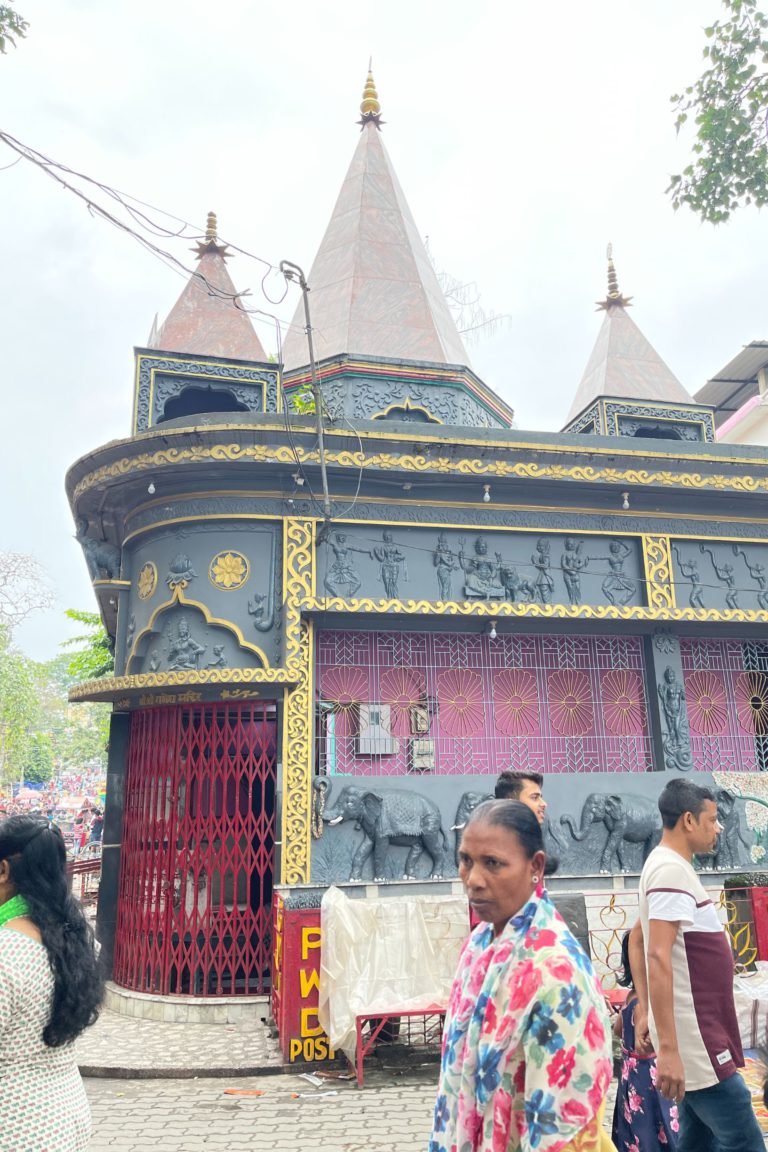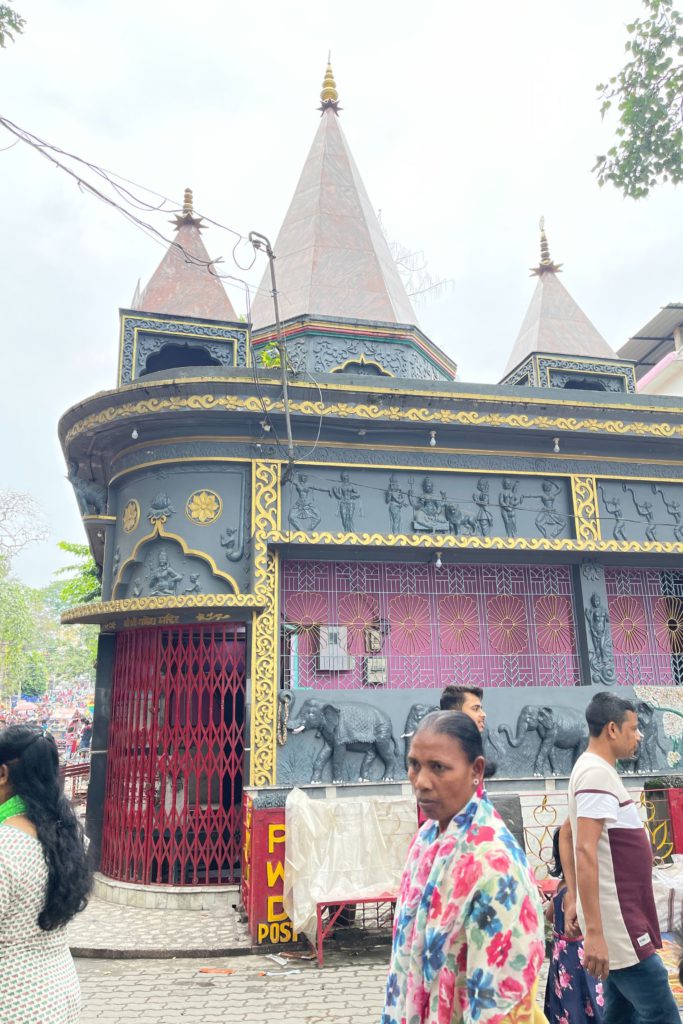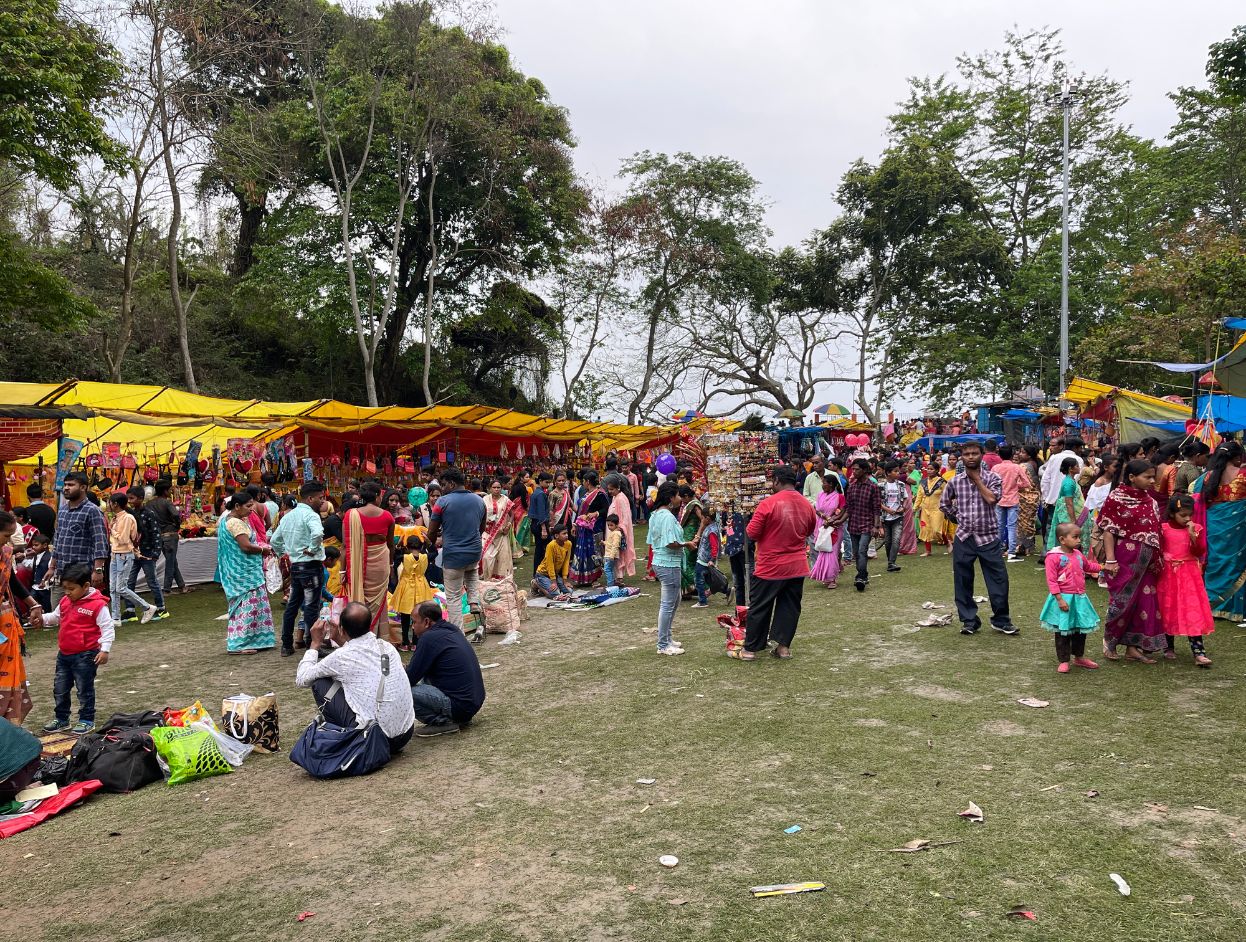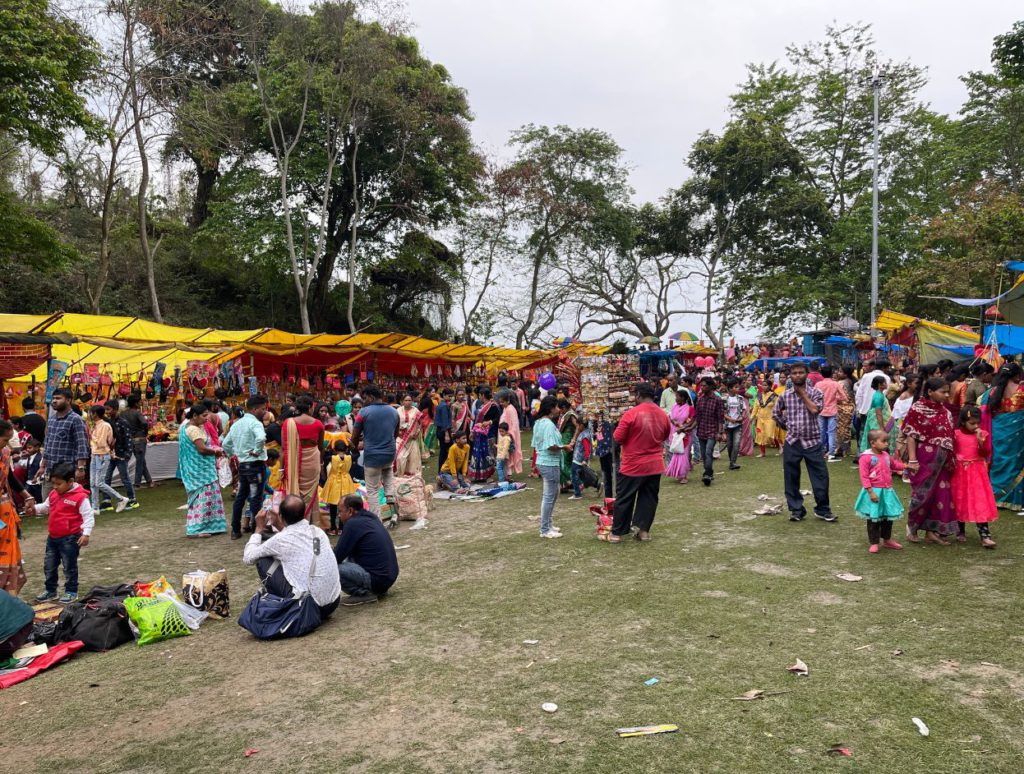 7. Chitralekha Udhyan
Chitralekha Udhyan along with Trimurthi Udhyan and Padum Pukhuri are these open parks and outdoor spaces built in the middle of the city. They are pretty great ecological spaces for residents who can enjoy a nice family time out in the evening.
Chitralekha Udhyan's name is inspired by Banasura's daughter's friend's name. And while they were building the space, they also places some old ruins in the park to give it a more historic character. 
On the other hand, Padum Pukhuri is an old lake in the middle of the city that has a small island inside it connected by an iron bridge. Kids have toy trains to play with. Or you can just enjoy an evening with ducks and some snacks.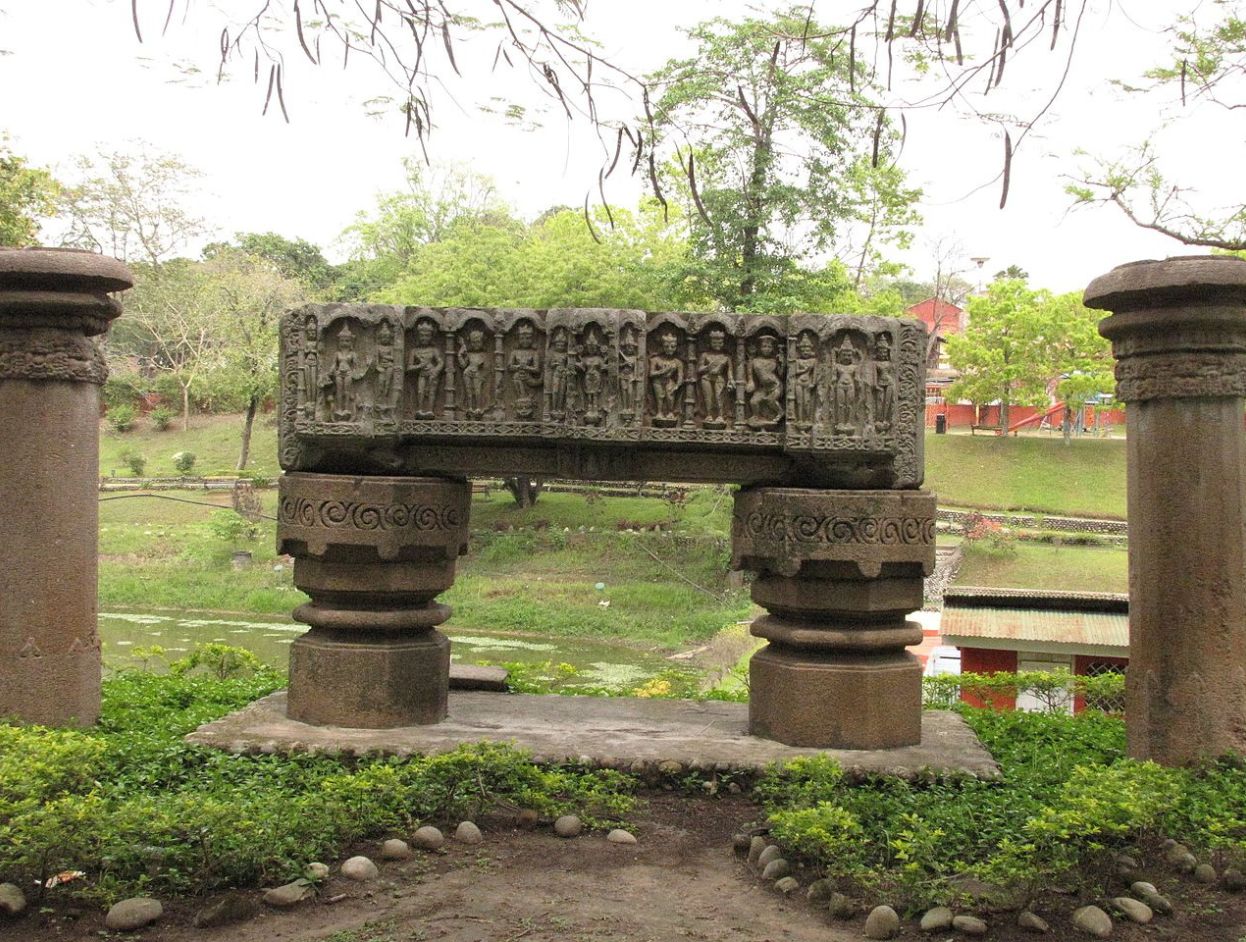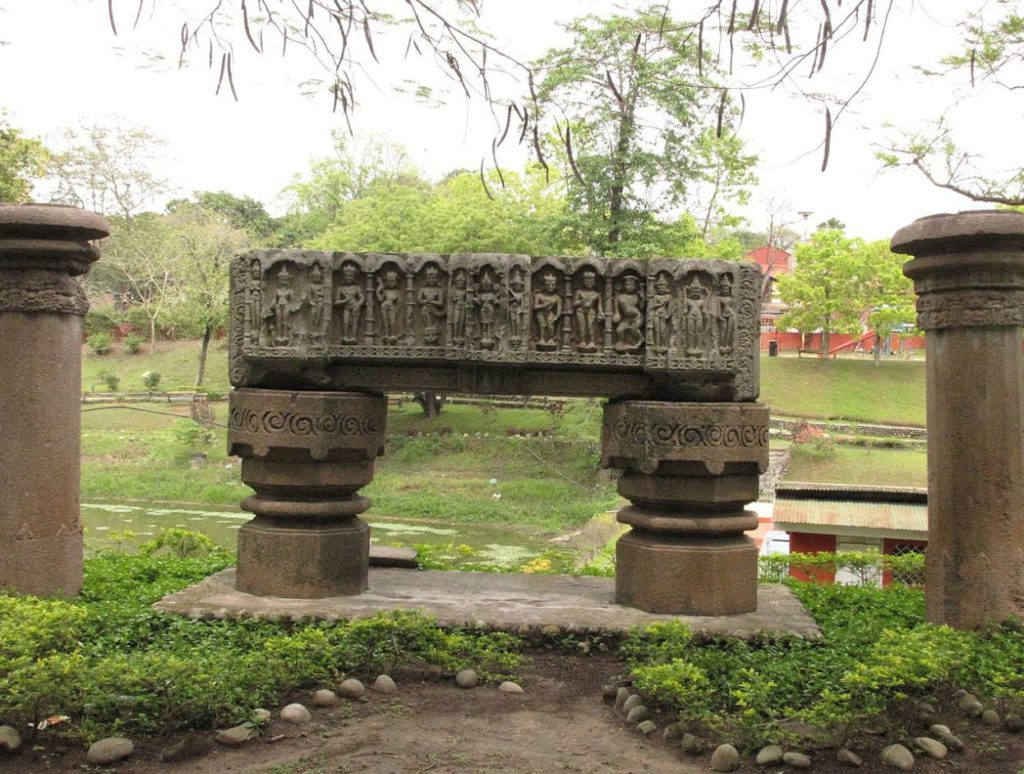 8. Jyoti Bharti Museum or Poki
Jyoti Bharti Museum was the home of Jyoti Bharti, a revered lyricist, writer and freedom fighter. This house was built by his grandfather who moved from Rajasthan with his family to Tezpur and decided to stay here and assimilated with the culture. The house was the first 'puka' house i.e. first house made of concrete, hence the locals named it poki.
The place is also popular for hosting meetings for freedom fighters. Mahatma Gandhi also stayed here between 1921 and 1934. It was also the place where the planning and production of an Assamese talkie took place. Jyoti Bharti also wrote the script of the first Assamese film here. The place is now converted into a museum with documents and artefacts from that time.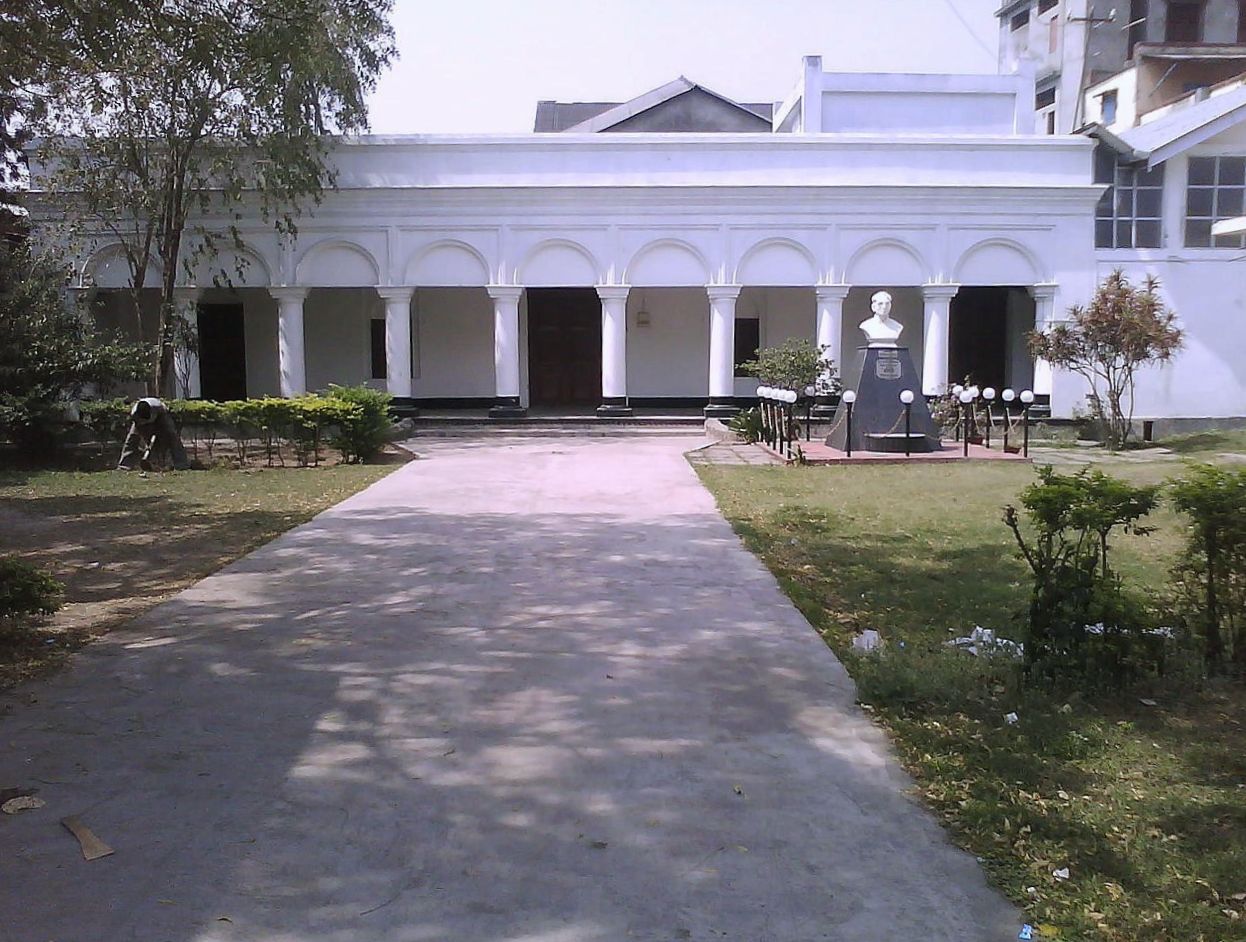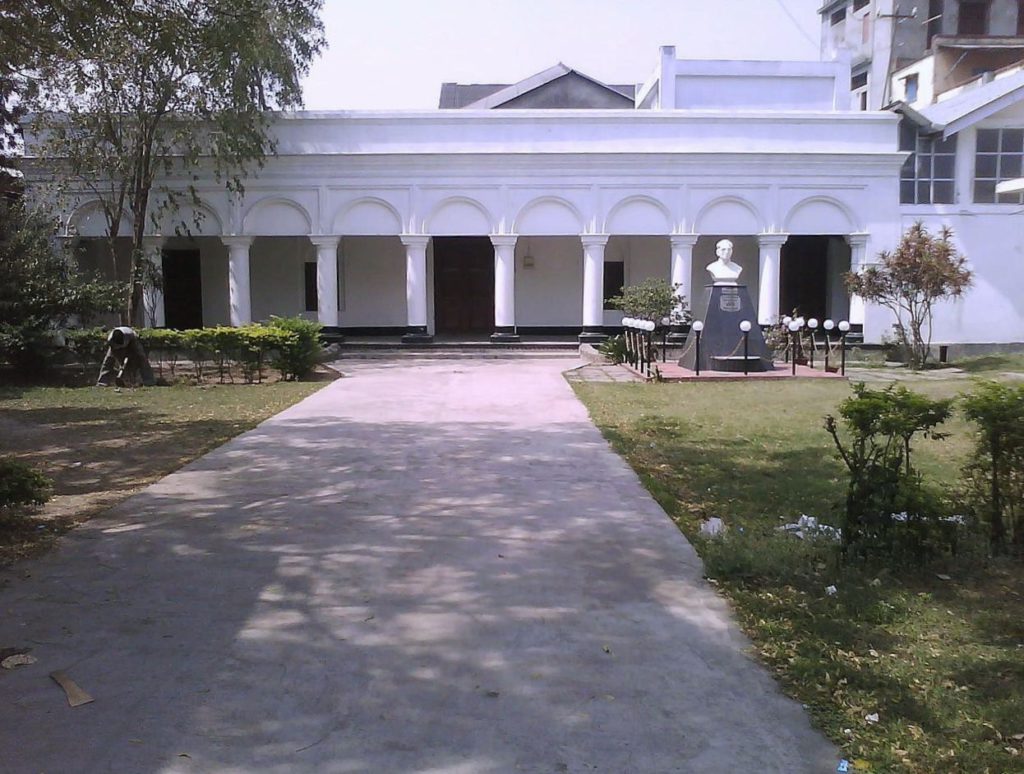 Places to visit near Tezpur
1. Nameri National Park
Nameri National Park lies 37 km north of Tezpur, right at the border between Assam and Arunachal Pradesh. A lesser popular National Park, Nameri is known for elephants, tigers, leopards, bears, deer and some rare birds watching. But it is more important since it was the second declared tiger reserve in the area after Manas Tiger Reserve.
You can enjoy activities like jungle safari, trekking and bird watching with a forest ranger on the other side of the Kameng river. You can also try river rafting on this stretch which is relatively calmer than the one in the Himalayas.
2. Kaziranga National Park
Kaziranga National Park is the jewel of Assam and an extremely important conservation area for India. Declared a UNESCO World Heritage Site, Kaziranga is a protected area for almost two-thirds of the world's one-horned rhino population.
These animals live and thrive in their natural habitat along with others like wild water buffalo, deer, a few big cats and several rare species of birds. The infrastructure for tourism is also great and you can stay in the area and enjoy one or more jungle safaris on a jeep or go trekking on one of their trails. If you are in the area, don't miss visiting this.
To read more, check out our blog on visiting Kaziranga National Park, Assam.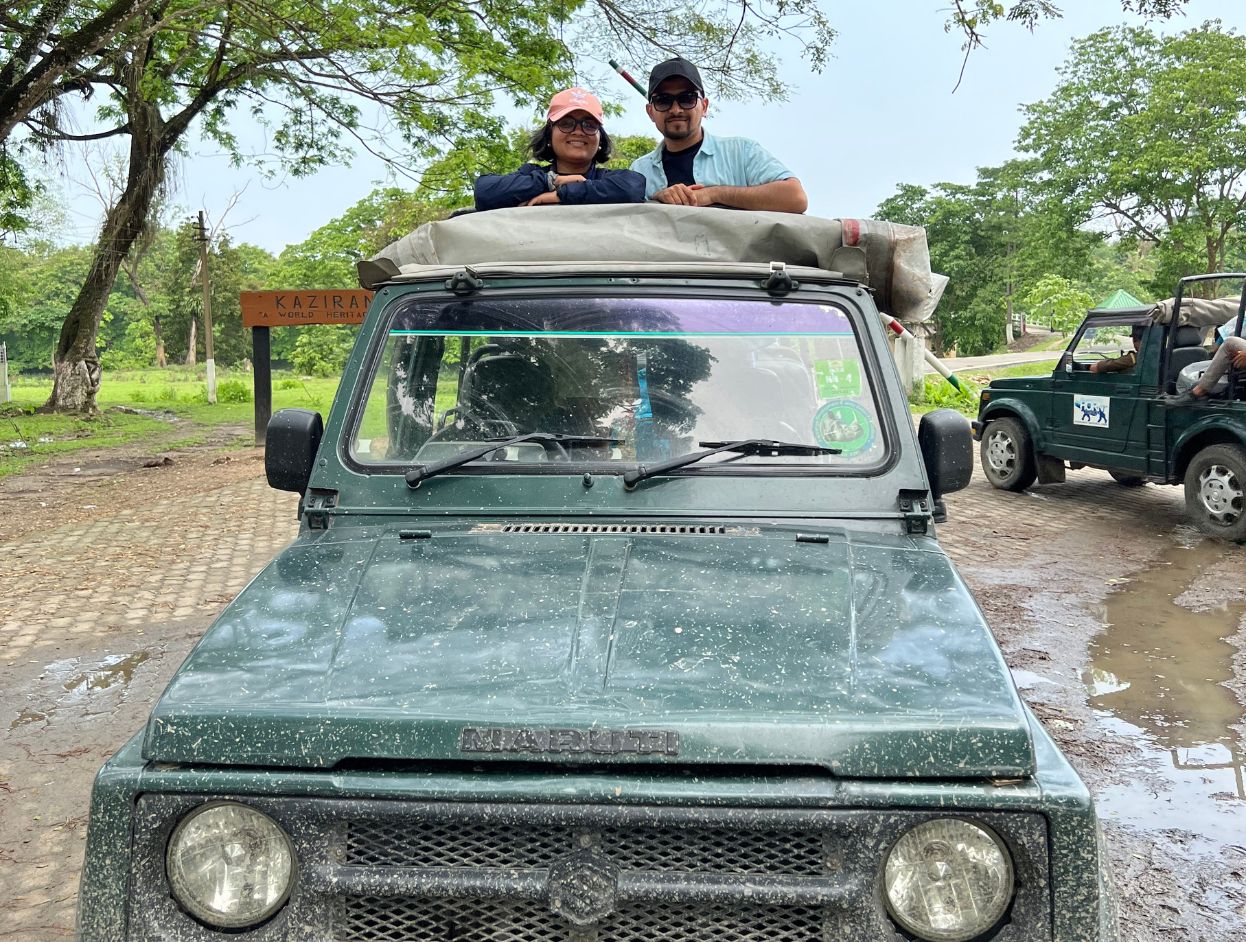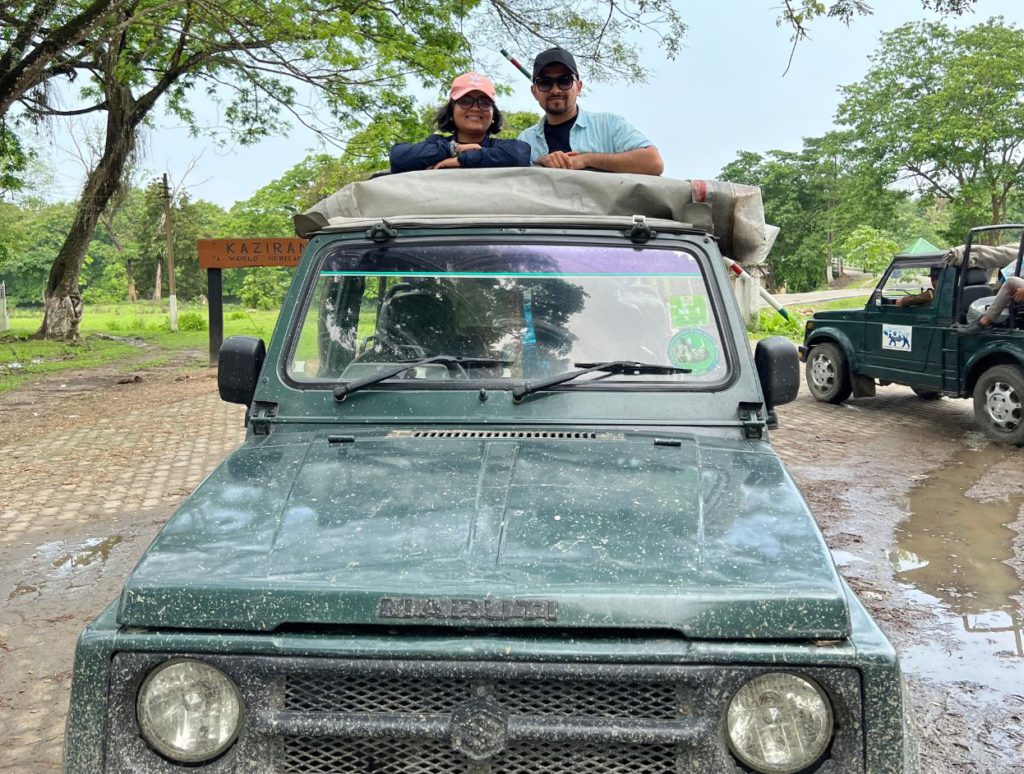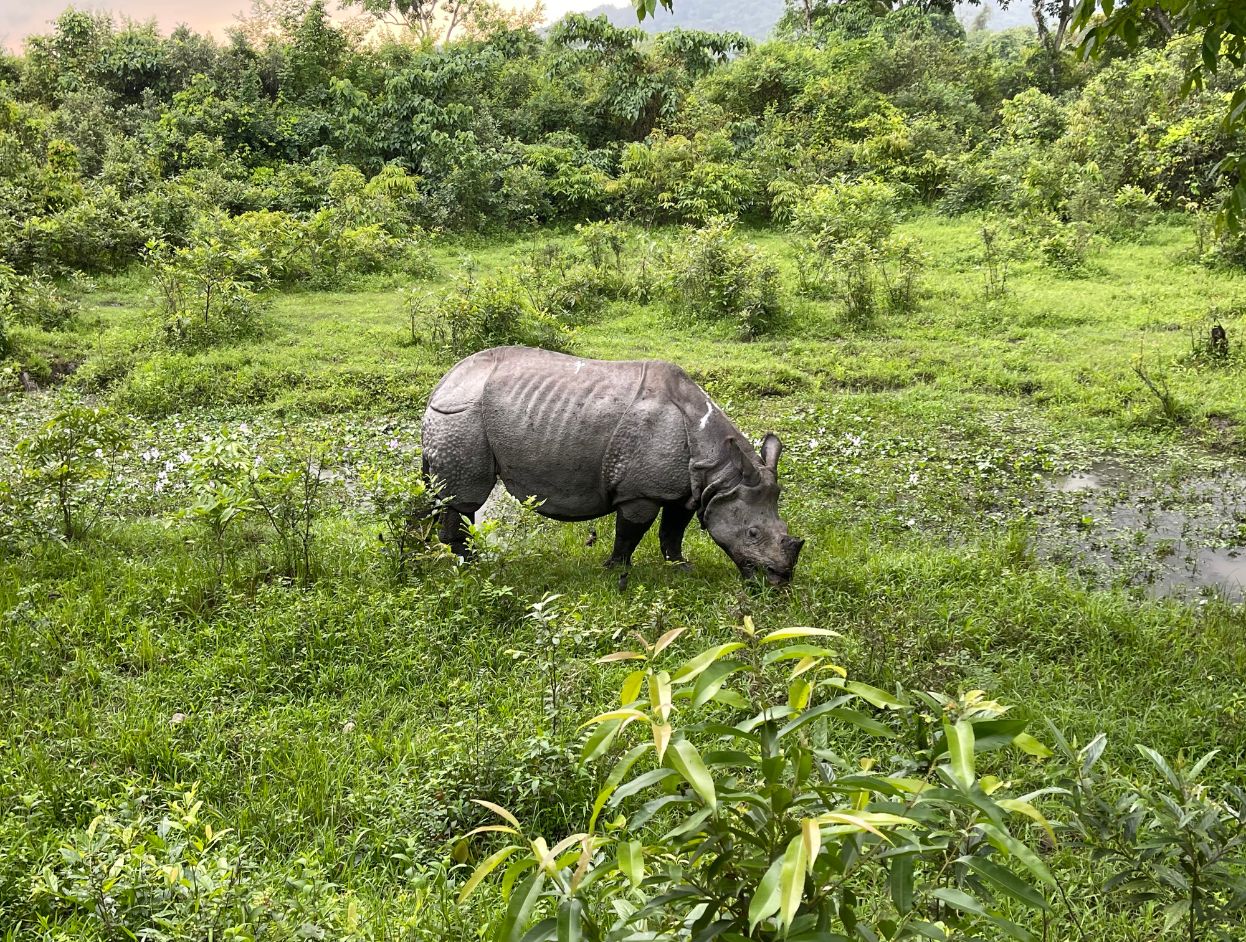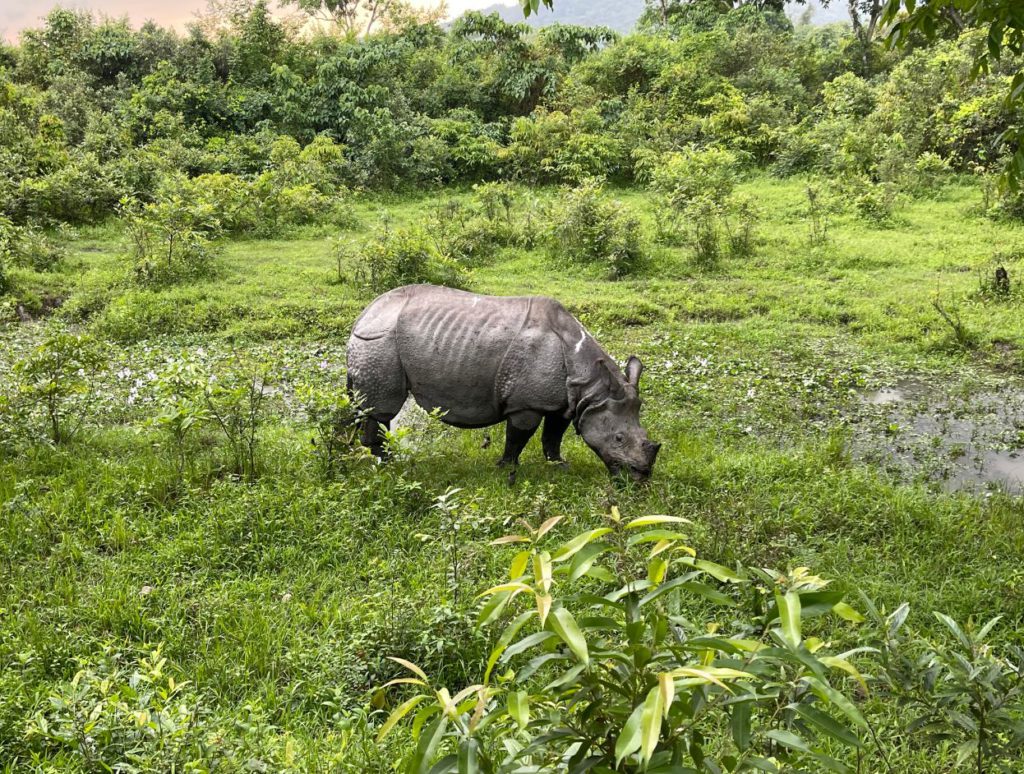 3. Orang National Park
Similar to Kaziranga, but smaller in size, Orang National Park is the only stronghold for the conservation of one-horned rhinos north of the Brahmaputra river. Orang has been declared the 4th national reserve for Bengal tigers and 49th in the country. It makes the place rich in bio-diversity and attracts quite a few tourists although the facilities aren't as developed as Kaziranga National park.


Related Articles