15 Mar

A Travel Guide to Kaziranga National Park, Assam

The first time I ever laid eyes on one of these giant statues of rhinoceros that are all over the place was in Guwahati. But I was speeding my way into Shillong and then to deeper parts of Meghalaya. But I quickly realised that Assam is very protective and extremely proud of these rare creatures. They appear everywhere, on hoardings, photographs, logos, branding and especially souvenirs.

I made a mental note to visit the Kaziranga National Park someday, and with another long trip to Tawang, it was time to make a stop at this place on my way back. I, like most Indians, had only read about this place in GK books and I was very excited to see how this looks in real life.

To be honest, I wasn't expecting it to be this good. But fortunately, our timing was fantastic. It was a day after the start of Bihu festivals and their gardens were blooming with orchards. Probably the best you could ever find.

So here are all the details I could gather to help you plan your travel to Kaziranga National Park in Assam.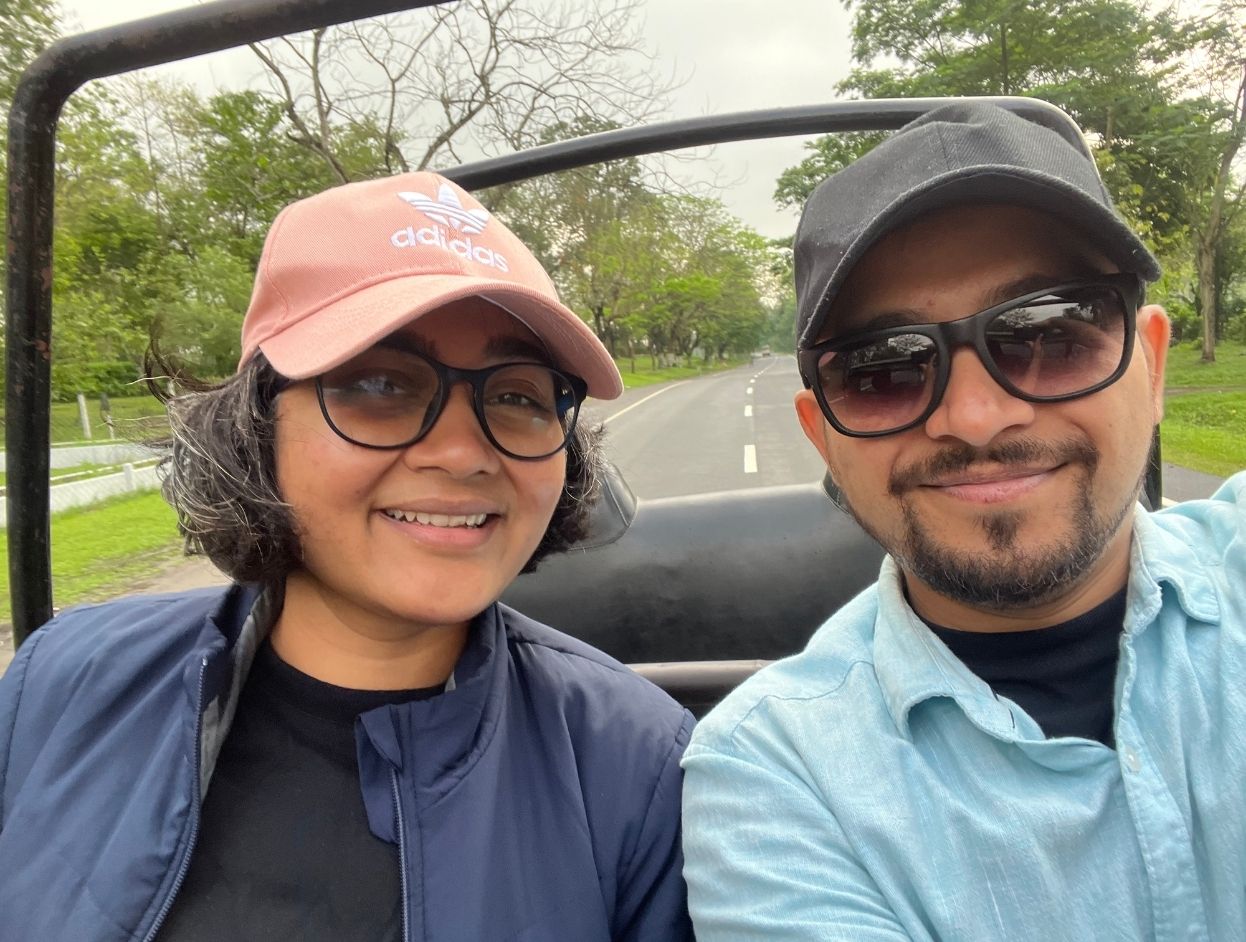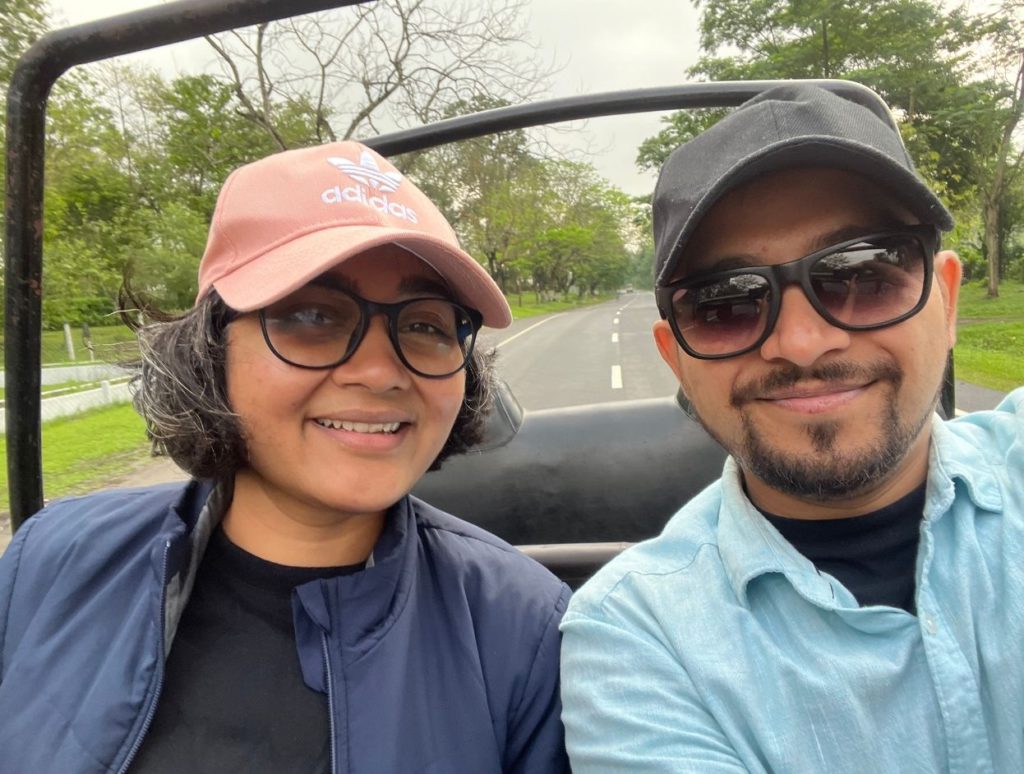 The Importance of Kaziranga National Park
Kaziranga is home to two-thirds of the world's great one-horned rhinoceros. Let that sink in. Unquestionably, it is a world heritage site. According to the census in 2022, the population of rhinos stands at 2,613 which is a steep increase of 200 rhinos over a period of 4 years in spite of deaths due to poaching and severe floods.
The park sprawls a whooping 430 sq km in size and is also home to a wide variety of animals like elephants, wild deer and water buffaloes. You will spot them too when you go out looking for rhinos. Kaziranga is home to a wide variety of birds and makes a great place for bird watching as well.
The park celebrated its 100th birthday in 2005. It was established by the then Viceroy of India, Lord Curzon when his wife persuaded him to protect the dwindling numbers of this species. It was also declared a tiger reserve in 2006 and a UNESCO World Heritage Site in 1985 for its unique environment.
Travelling in the area? You may want to check out our Itinerary to Tawang Route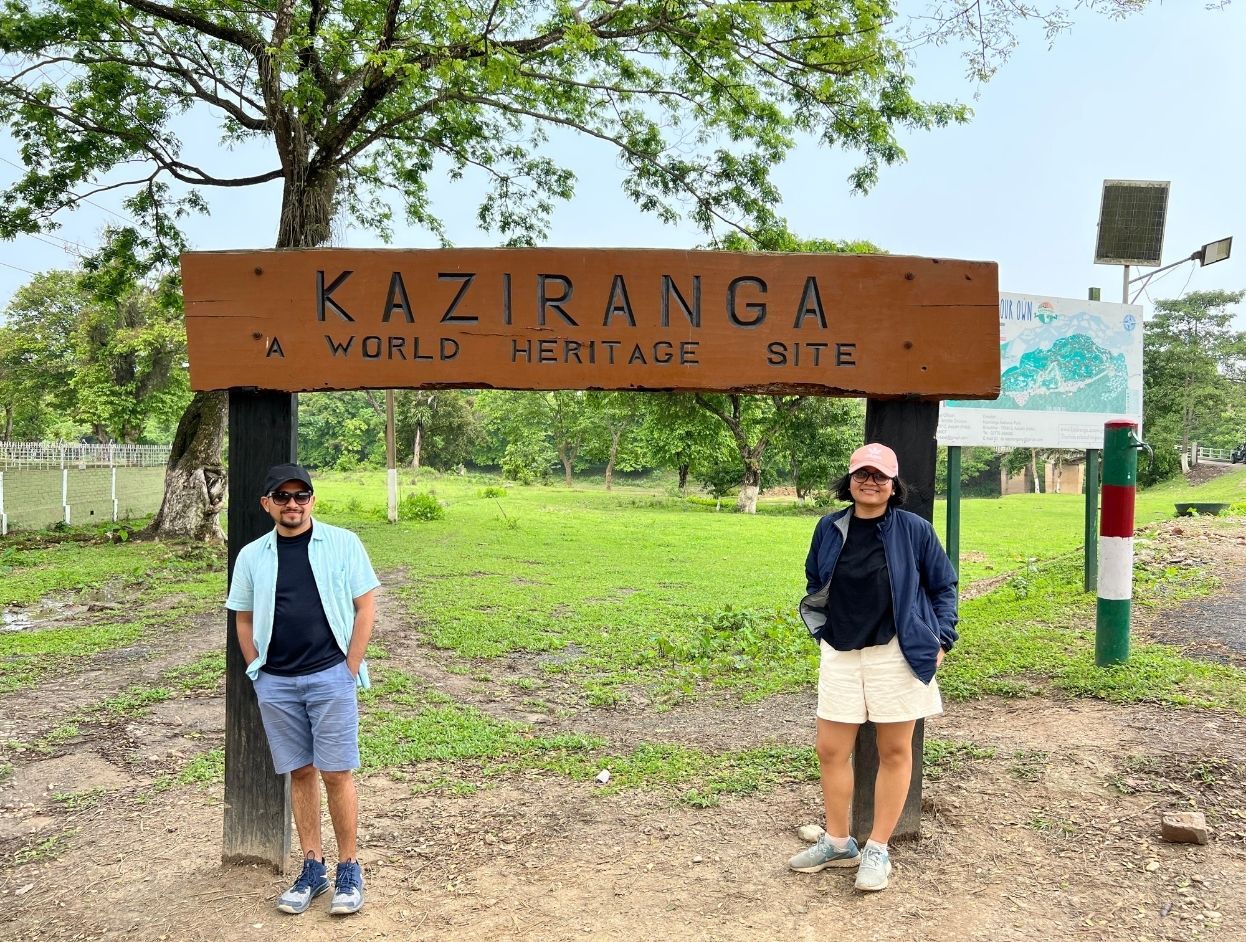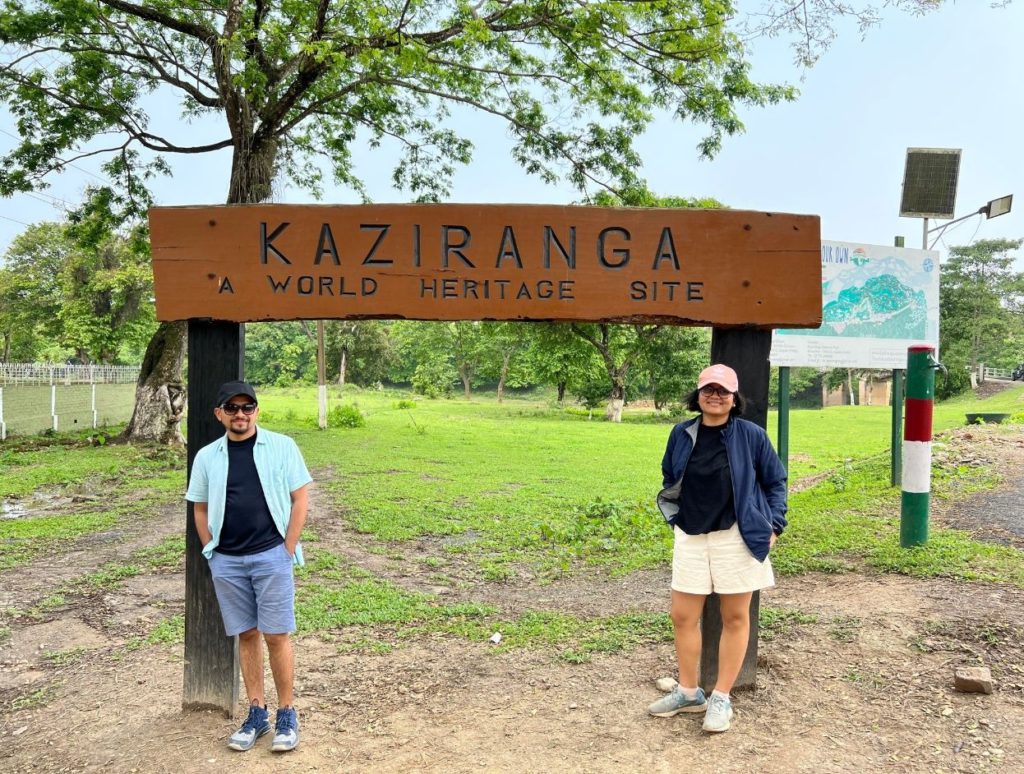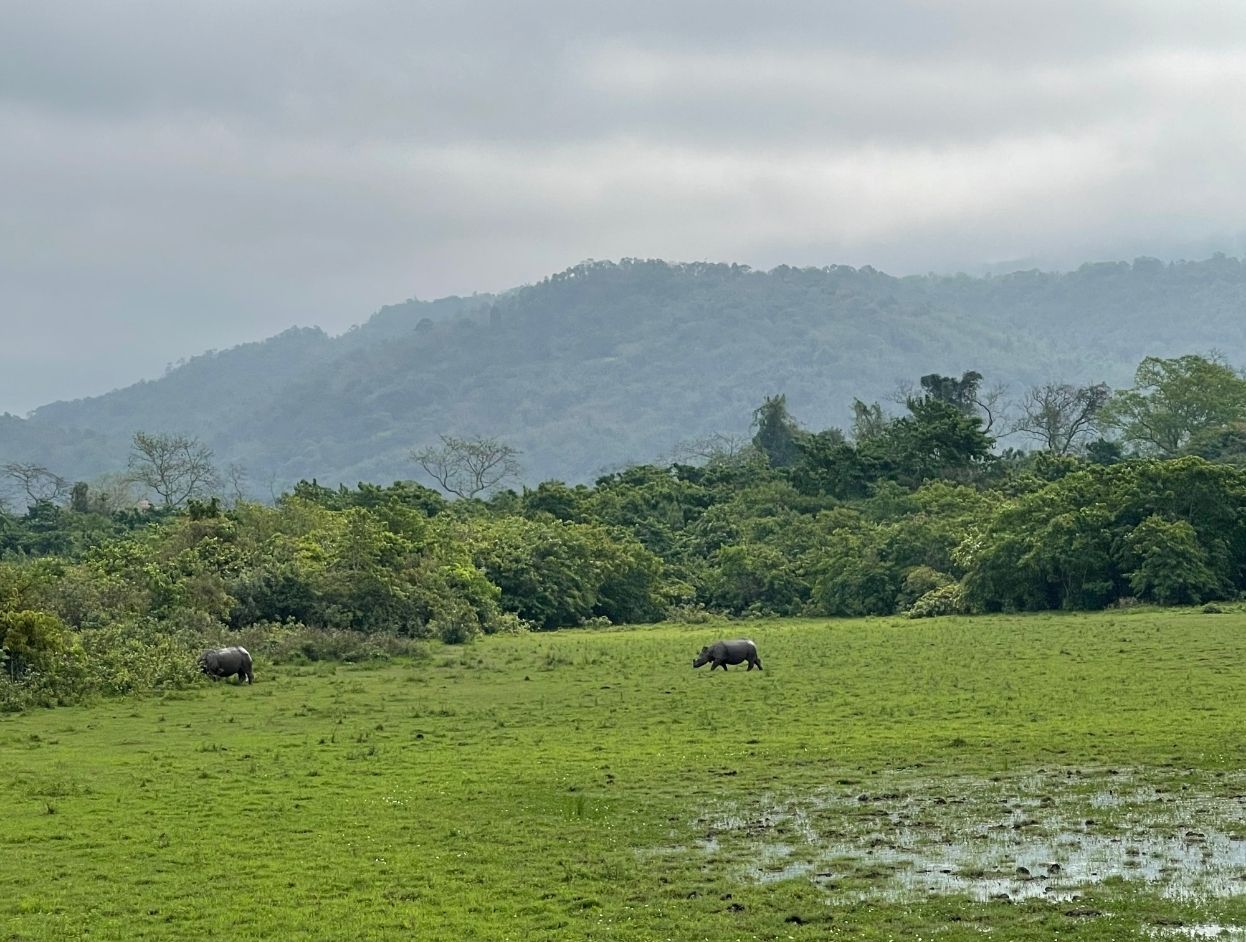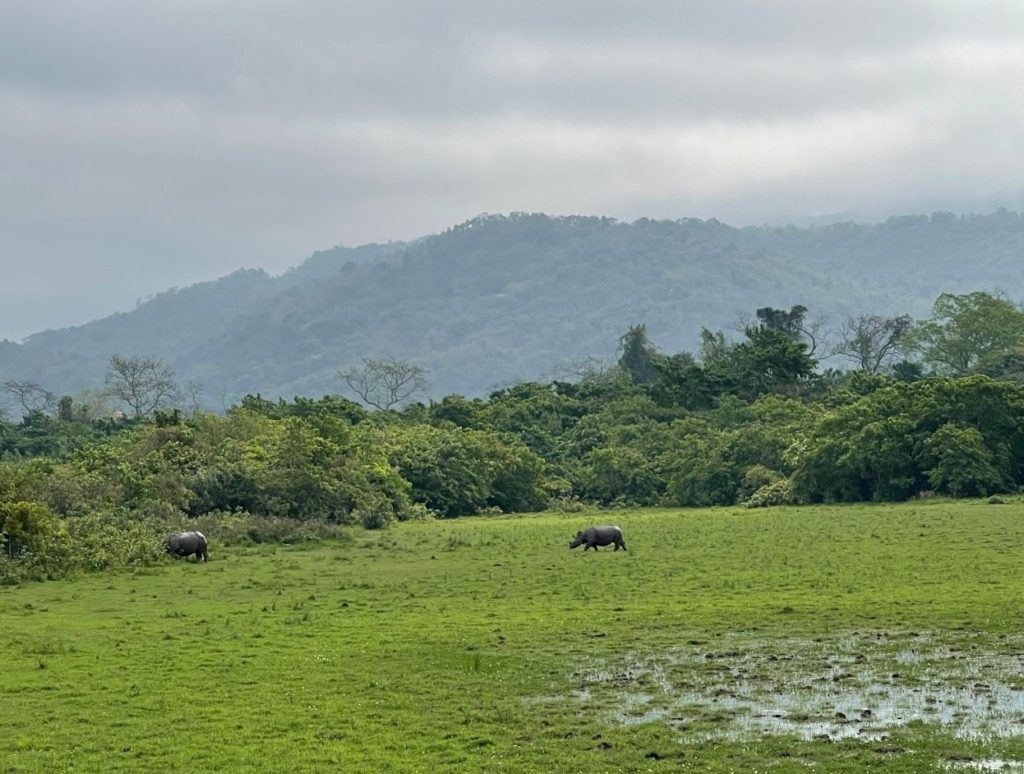 Where is Kaziranga National Park Located
Owing to its huge area, Kaziranga National Park is not bound by boundaries. In fact, you can travel in and out of the national park using National Highways. It is also home to several small villages with people living in harmony with nature.
The National Park is located 192km northeast of Guwahati and just 50 km from Tezpur. Kohora and Bohorijuri are popular villages inside the national park that has a number of hotels and accommodations for tourists. The national park sits right next to the mighty Brahmaputra river and you will probably follow the trail along its banks most of the time.
How to visit Kaziranga National Park
You can only reach Kaziranga National Park via roadways since there is no airport or railway line in the region. The closes airports to Kaziranga are Guwahati (192km) and Jorhat (112km). The best railway station option near Kaziranga is in Guwahati as well. Here is how you can reach Kaziranga using roadways from there:
Private Car/Taxi: You can take your own private vehicle by renting a taxi all the way to Kohora village inside the National Park. Since the National Park is not gated, you can drive through easily. It is also very convenient since you can stop at some of the viewpoints, tea gardens and other tourist attractions on the way.
The rates of a private taxi from Guwahati to Kaziranga differ depending on who you book with. Rates available online usually start from ₹5500-6000 per day. However, the rates offered by local tour operators inside Assam can offer prices as cheap as ₹4000 per day. This definitely differs as per the vehicle of your choice.
Check out Karizanga National Park's official website for current price enquiries.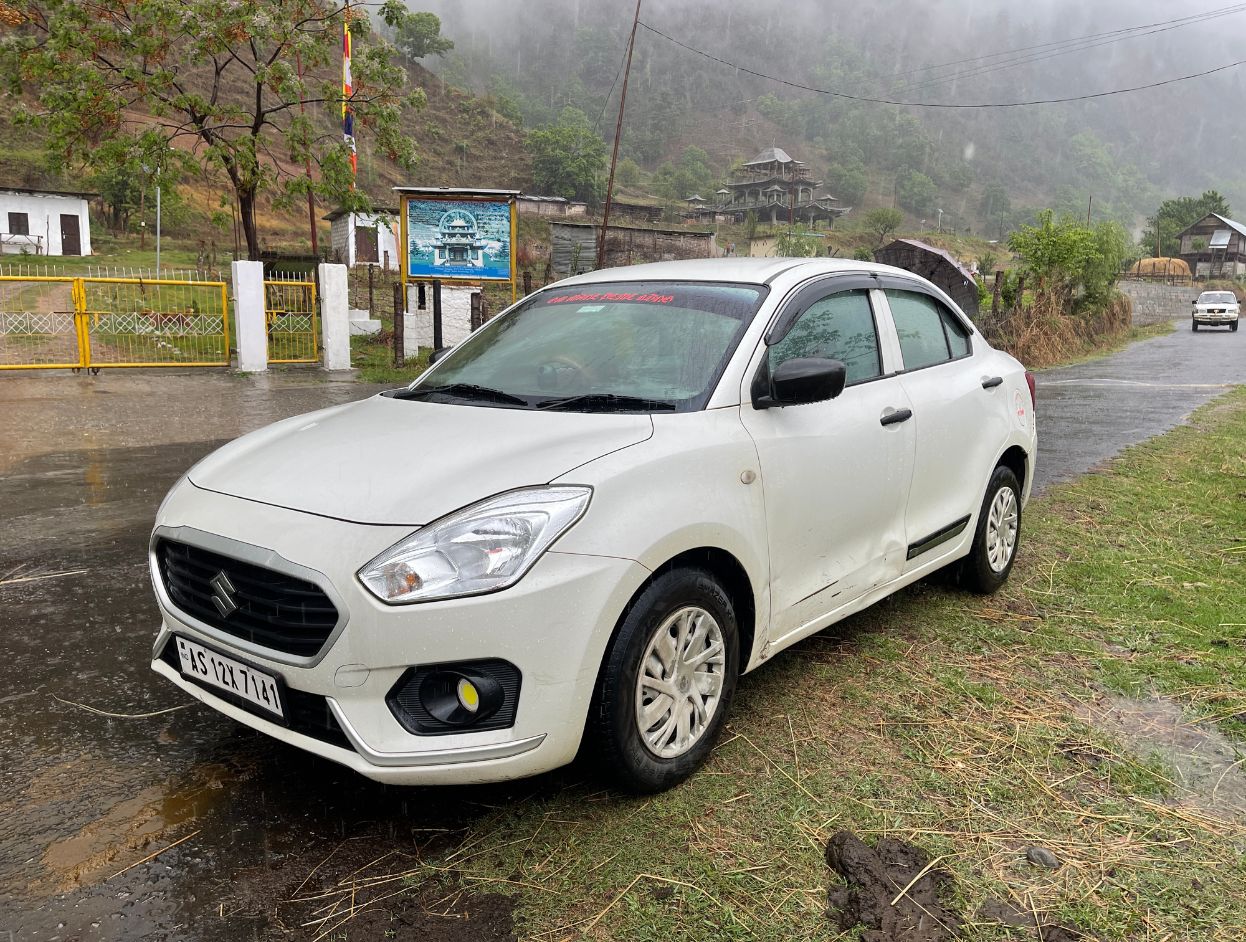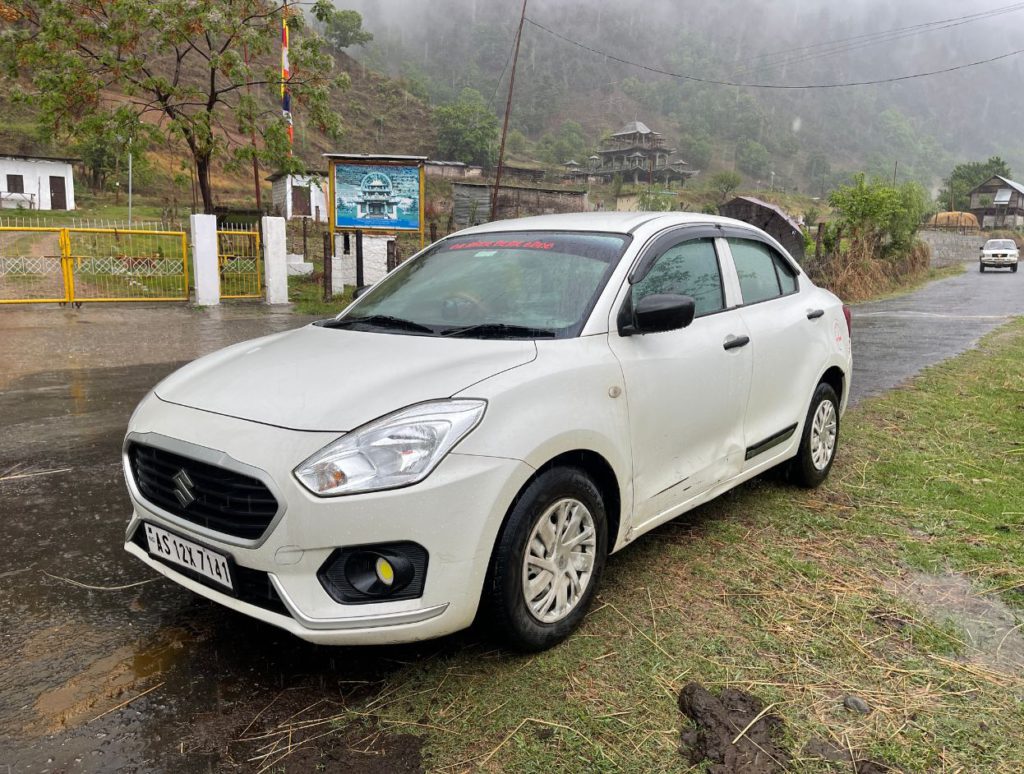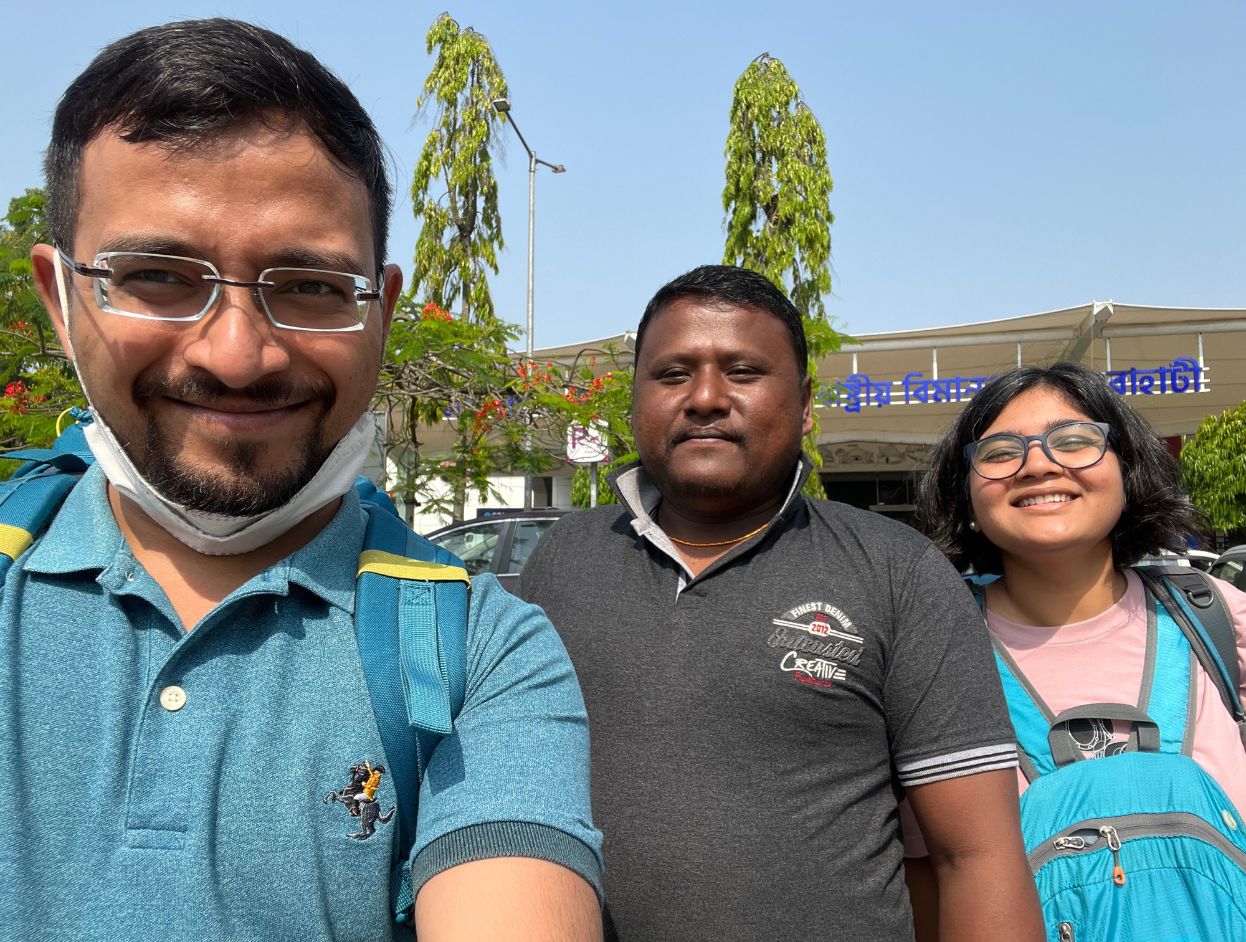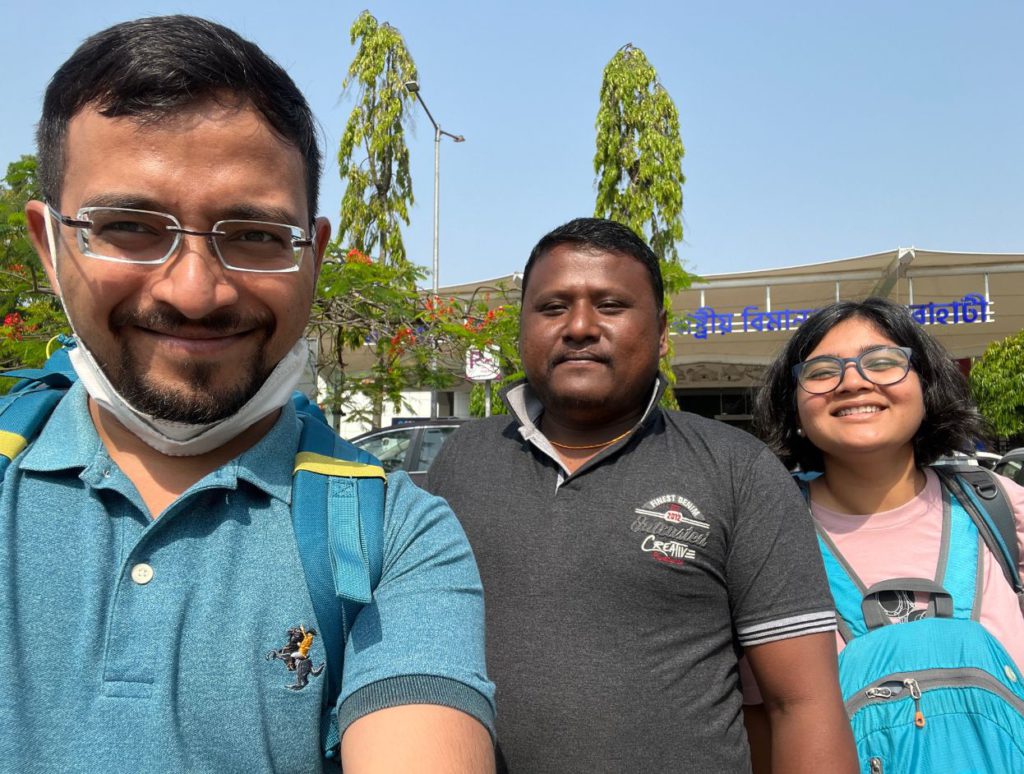 Bus: Regular Buses are also available on this route mainly from Guwahati to Kaziranga. You can directly reach the ISBT bus stand in Guwahati and take a bus to Kaziranga. While you may have to wait for the next bus, several buses depart every day from there. For other cities in Assam, you can always go to ASTC Bus stop and check the availability and the schedule.
You can also book one online on redbus.in, in.via.com or abhibus.com. The travel time ranges between 4.5 – 6 hours and the ticket cost is between ₹500-750 depending upon the type of bus. Starting point of the bus can differ in Guwahati.
You can take the same route back by taking a bus from Kohora to Guwahati. Enquire around the town for more information.
On the way to Kaziranga? Here are the top things to do in Tezpur if you wish to stop over on your way
Best time to visit Kaziranga National Park
Kaziranga National Park is only open from November to April every year. Therefore, you cannot visit the park from May – October even if you wish to. This is because of recurring flooding in the region during the monsoons.
The weather is wonderful, especially during the winter months between November – January. The rainfall is low and you can enjoy a full day outdoors with clear skies and great weather. It is advisable to carry some warm clothes with you during this time.
It can get a little hot and humid from February onwards. Rainfall can also be frequent. But overall it is still okay. The Jungle safari and rides are still open in case of rainfall but with covered jeeps. You don't have to carry warm clothes with you but it would be better to be prepared for the rain.
April is a fantastic time to visit Kaziranga, especially with the start of Bohag Bihu. We were able to experience the festivities with children dancing and people singing till midnight. It is also the time in Spring with the orchids are in full bloom. So you will be able to see a wide variety of orchid displays at their arboretum.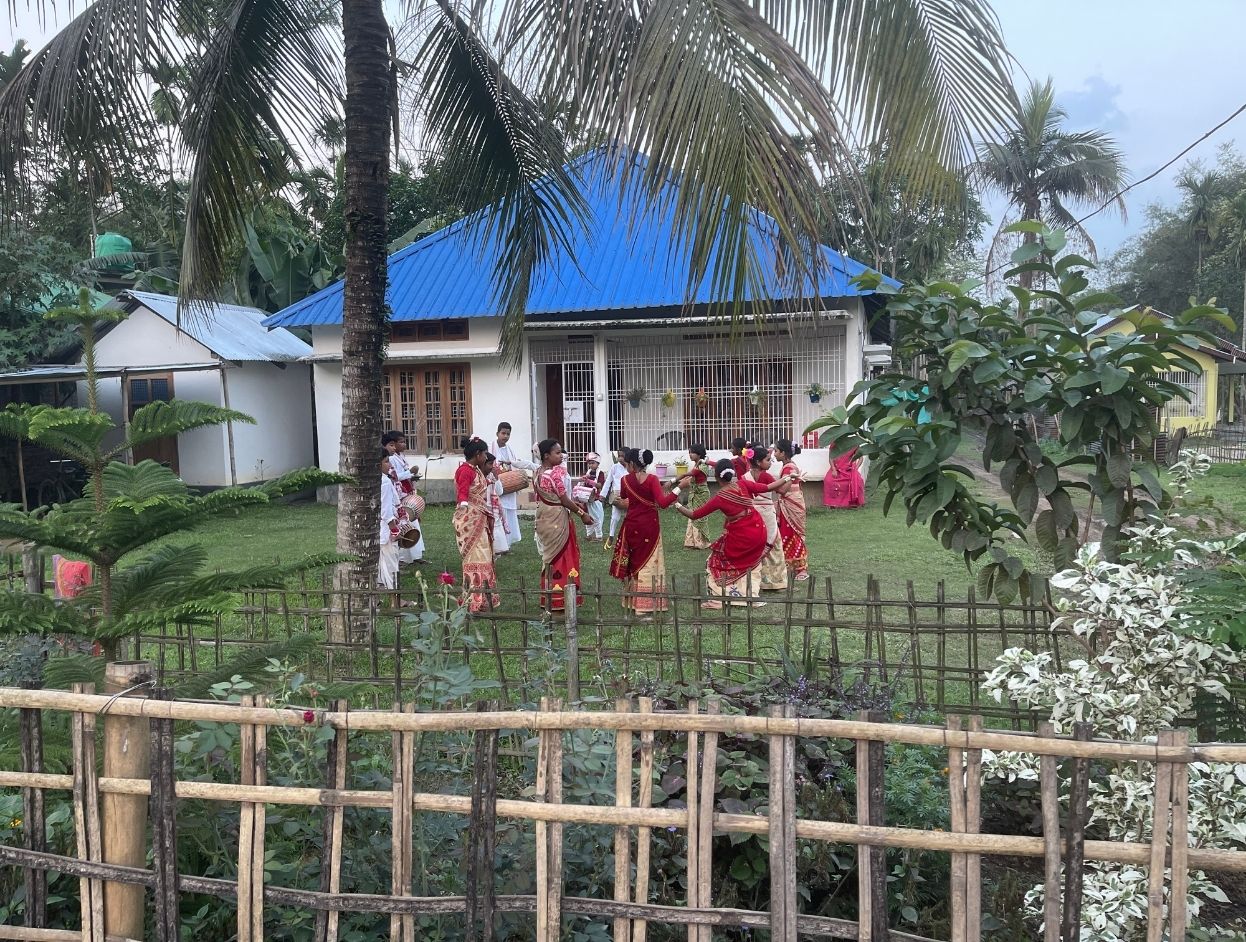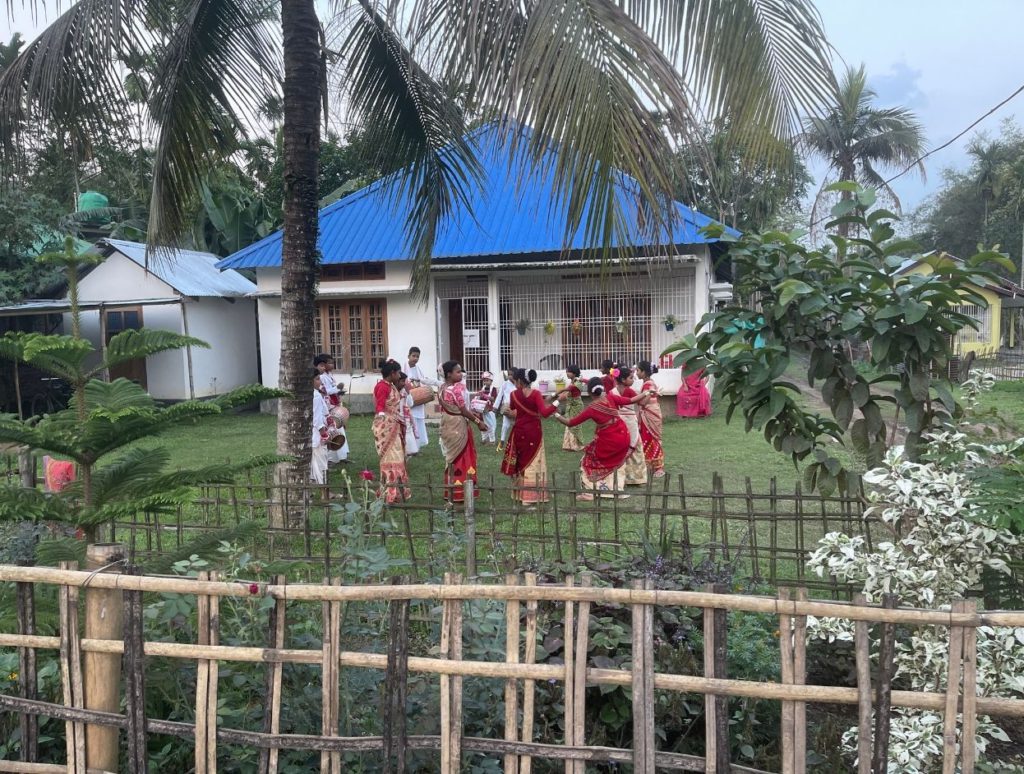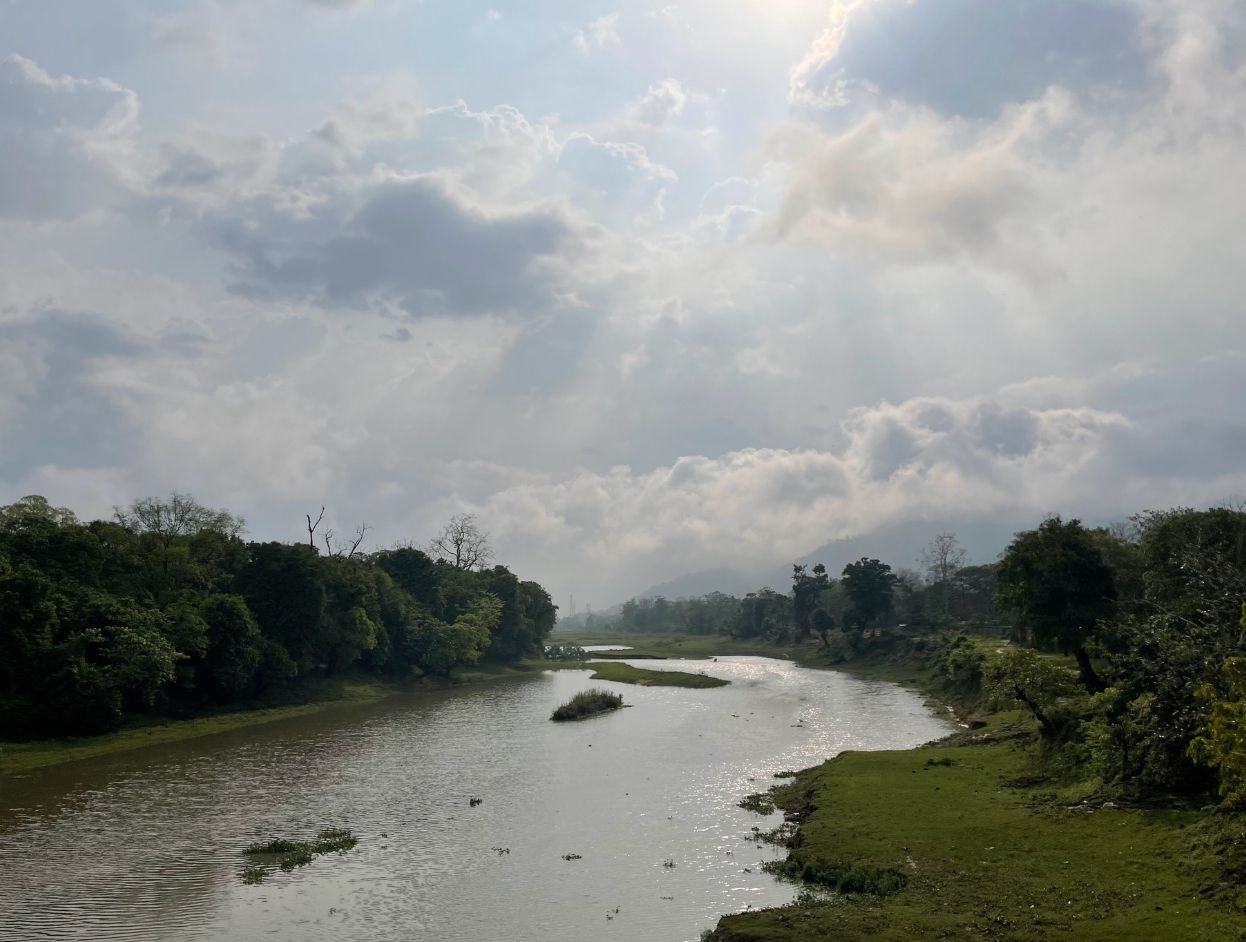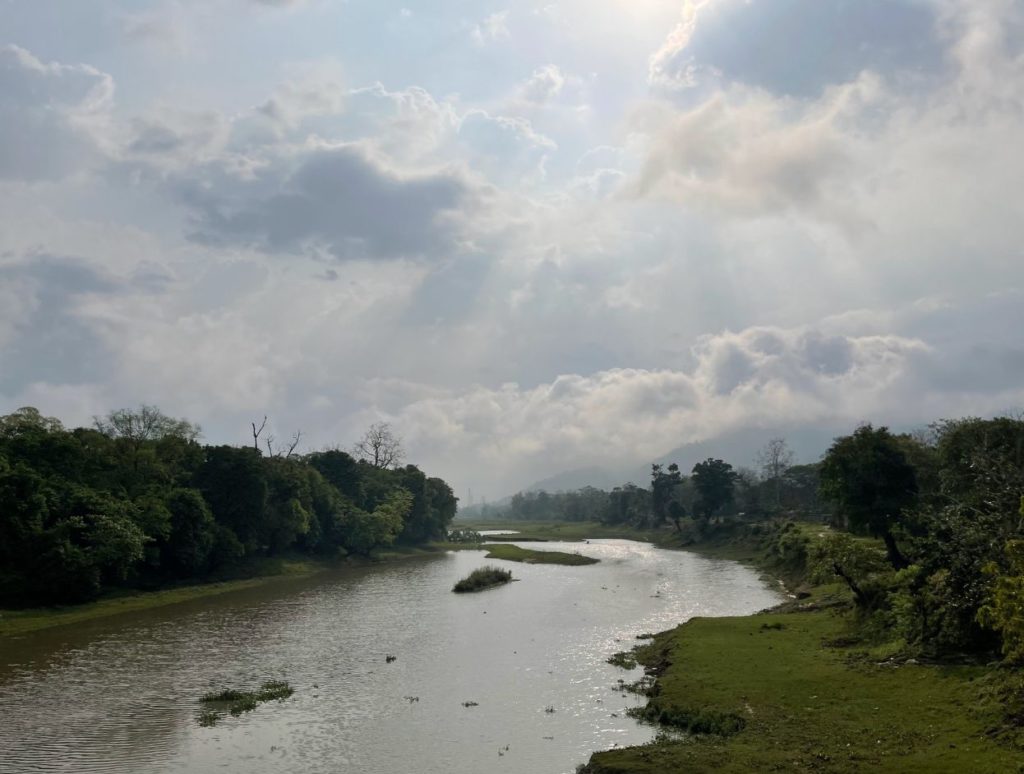 Stay inside Kaziranga National Park
To stay inside Kaziranga National Park, you can book one of the many hotels inside the National Park premises. Most of these are located in the Kohora region. Additionally, you can also find a few restaurants in the area. 
Once there, your jeep will pick you up for the jungle safari. If you need to travel distances on either side, you will need a private vehicle. Although you can also find some jeeps available for hire on the main road.
We stayed at Bonhabi Resort and I think it was pretty decent. The food was particularly great at the resort. Here are some other resorts you may like:
You can book government properties, private hotels and resorts and homestays hosted by locals in the area. This official website has a complete list of places where you can stay inside the National Park along with their contact details.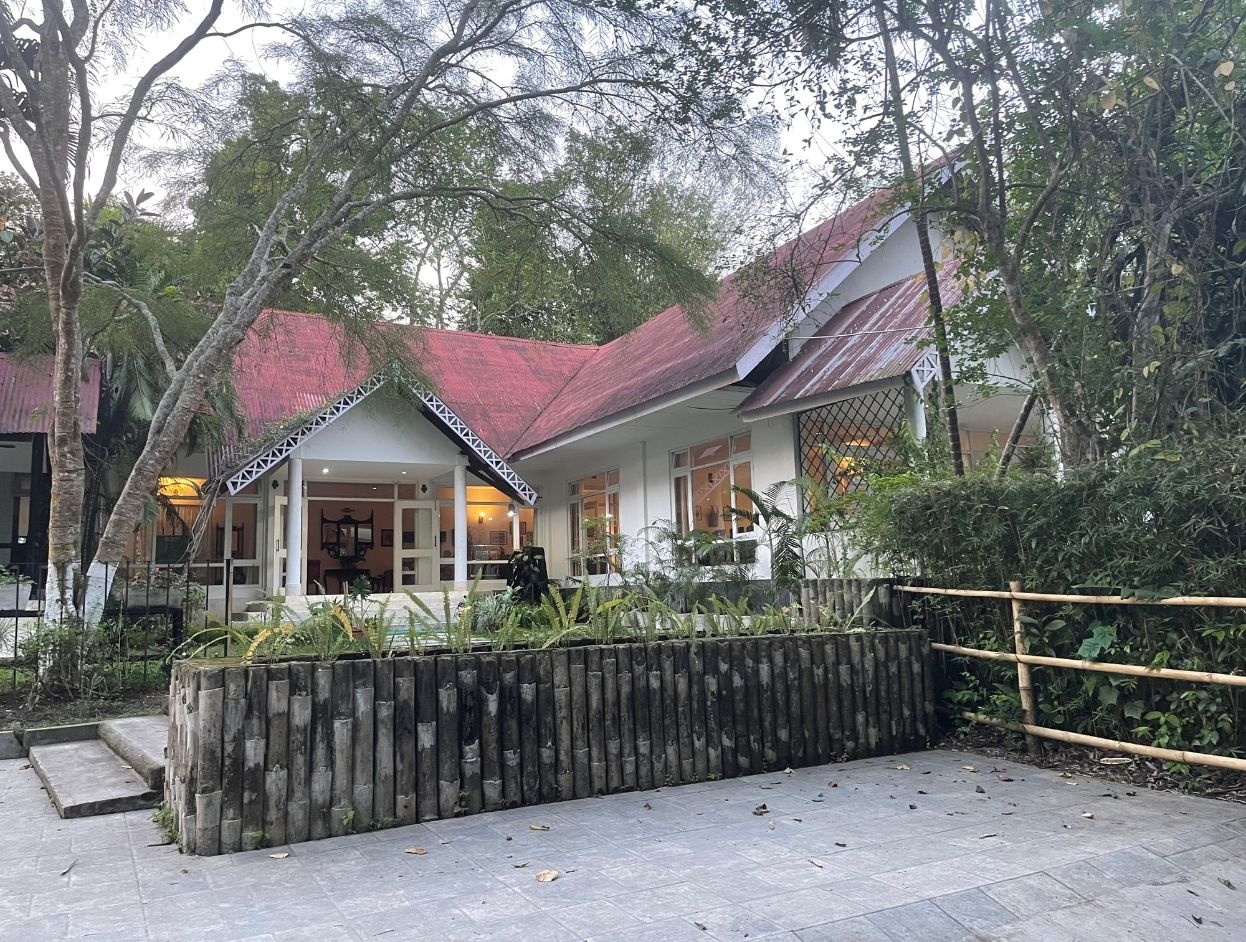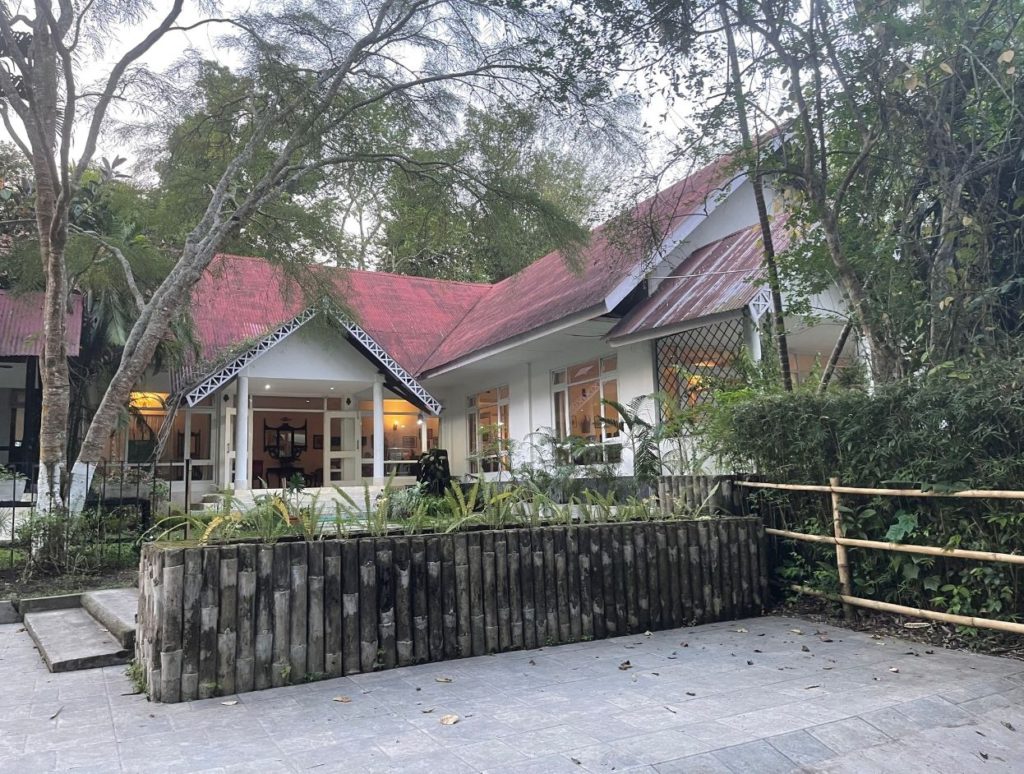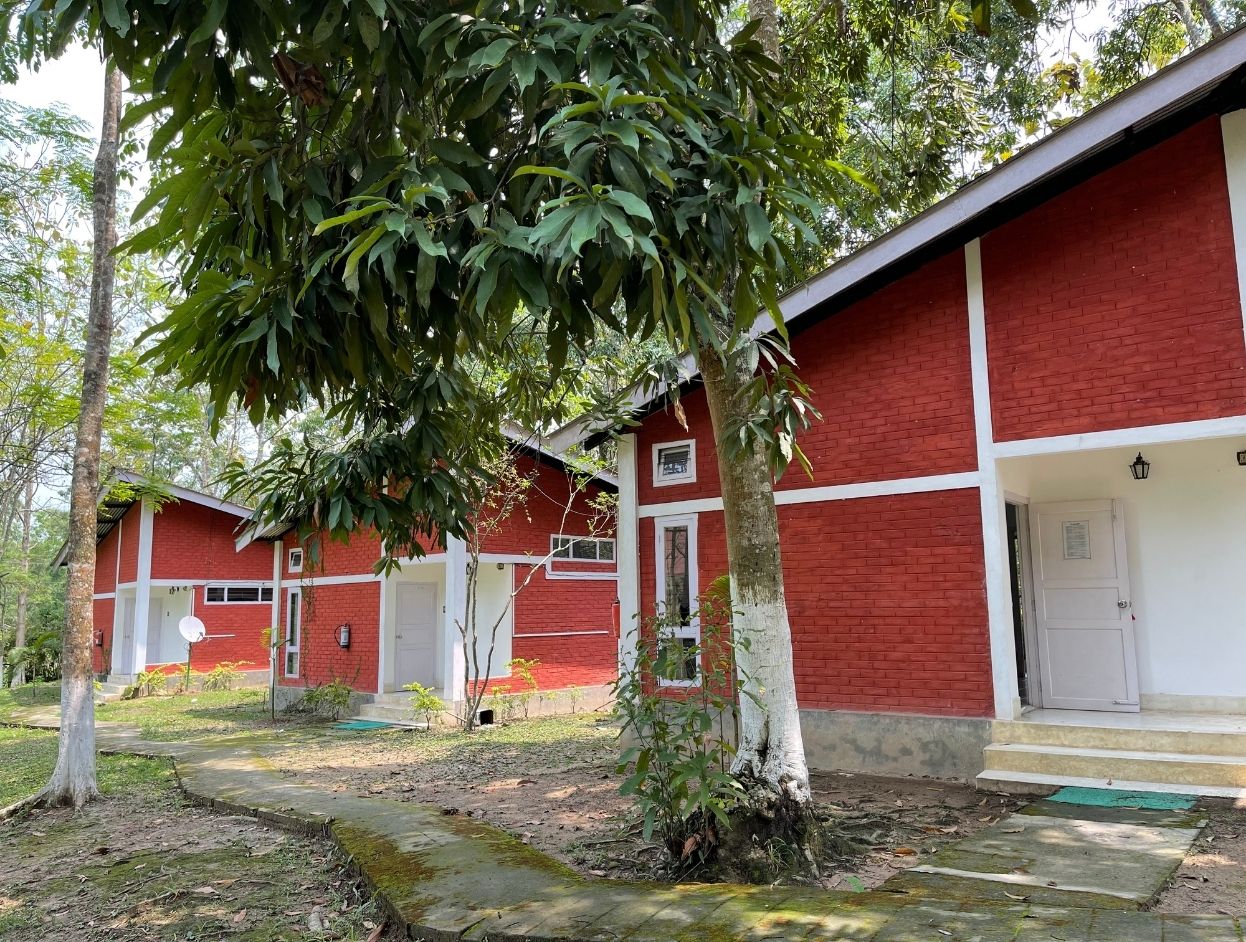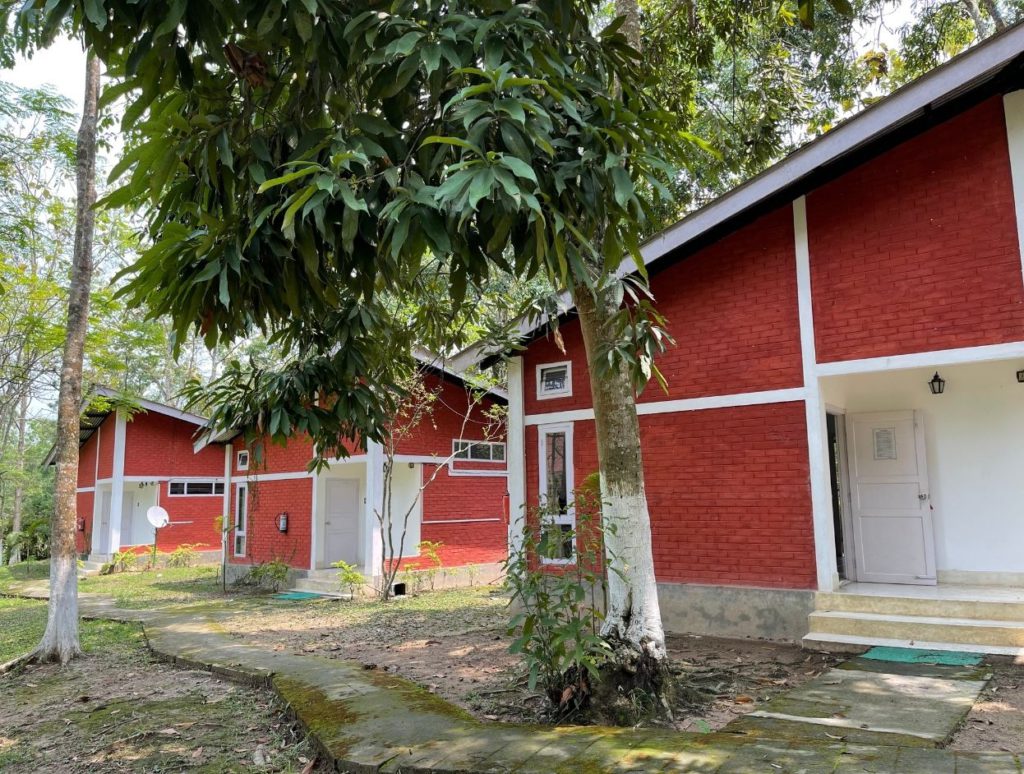 Jeep Safari Inside Kaziranga National Park
Now comes the fun part! This is probably the most exciting part of visiting Kaziranga National Park. Even if you haven't planned for it yet, you should not miss it. You can book a jeep safari right here (google maps location) or you can ask your hotel owner/cab driver to get it booked for you.
On the day of your safari, the jeep and your guide will pick you up from your hotel itself and you can enjoy a ride watching some of these beautiful giant rhinoceros in their natural habitat.
There are four areas inside the National Park. Each area has a slightly different terrain. Some animals may also prefer one area to another. If you have any preference, you can book your safari for that particular range. Or you can ask your guide who may choose one over the other based on the tourist crowd and how acquainted he is with that area.
Jeep safaris are available twice a day for 1.5-2 hours each. If you can, take the morning one, unless it's raining or it's too cold. The weather is usually nice in the morning and you will also be spot some birds as well. You can find more details below
| Park Ranges | Safari Routes | Length (km) | Ride times | Price (excluding Jeep) |
| --- | --- | --- | --- | --- |
| Burapahar Range, Ghorakati | Ghorakati-Potahibeel-Diffalu-Tunikatiand back with designated stop at Tunikati Tower. | 17km | 7.30 - 9.30 am and 2.00 - 3.30 pm | ₹3200 |
| Eastern Range, Agaratoli | Agoratoli-Soholabeel-Rangamatia-Maklung-Turturani-Dhuba & back to Agaratoli to stop at Sohola Tower. | 22km | 7.30 - 9.30 am and 2.00 - 3.30 pm | ₹2700 |
| Kaziranga Range, Kohora | Mihimukh-Kathpora-Daflang-Diffalu river bank-Monabeel-Kerasing and back with designated stop at Kathpora Tower, Daflang Tower and Kerasing Tower. | 28km | 7.30 - 9.30 am and 2.00 - 3.30 pm | ₹2200 |
| Western Range, Bagori | Bagori-Dongabeel-Rowmari-Rajapukhuri-Mona Beeland back to Donga Tower. | 26km | 7.30 - 9.30 am and 2.00 - 3.30 pm | ₹2300 |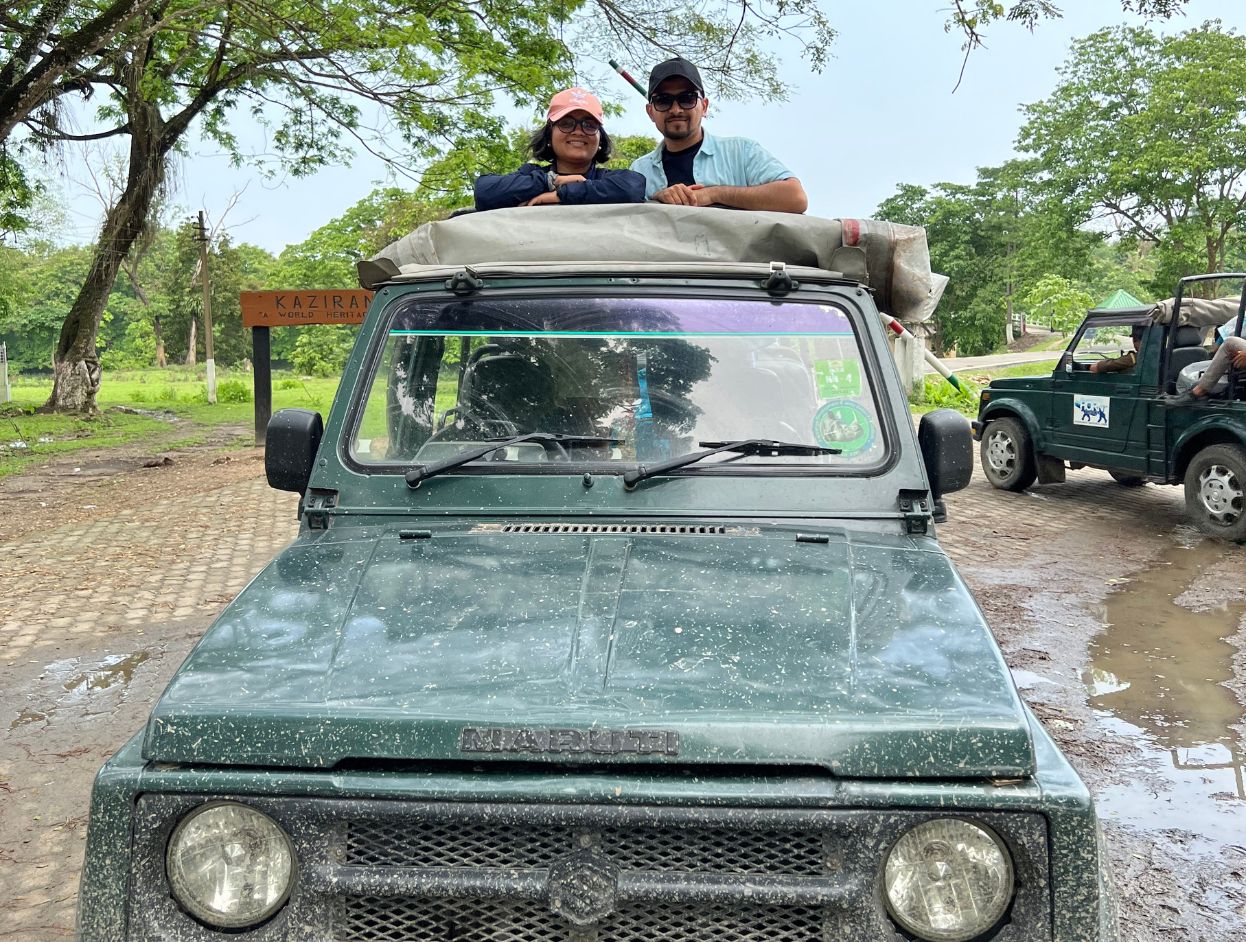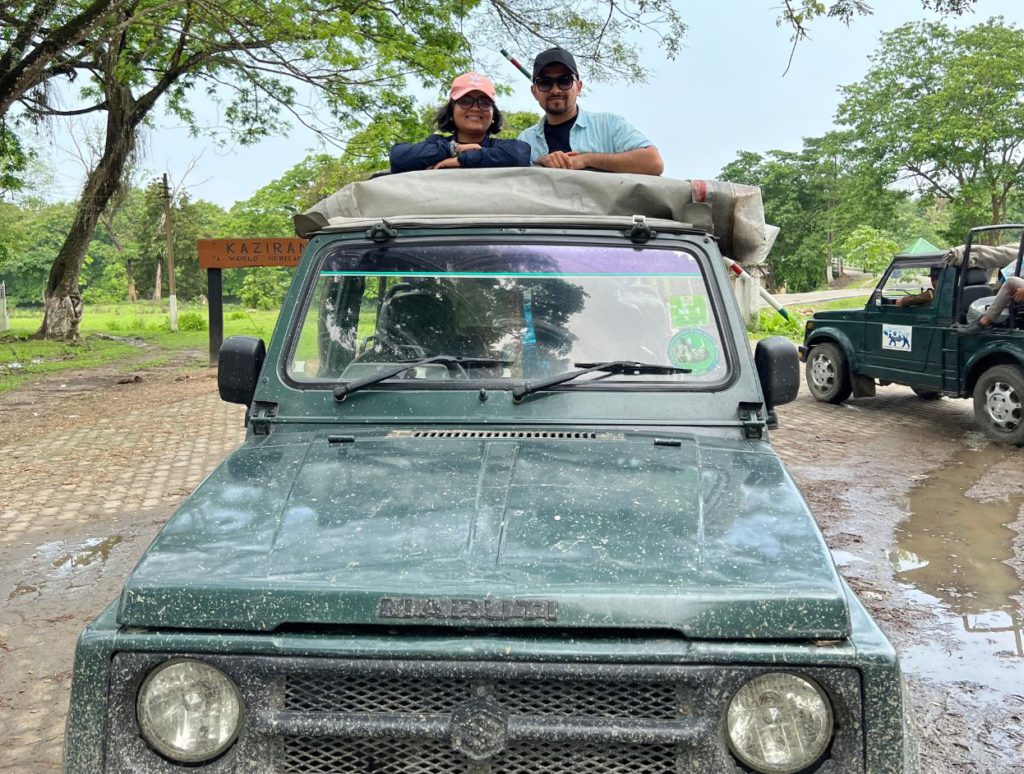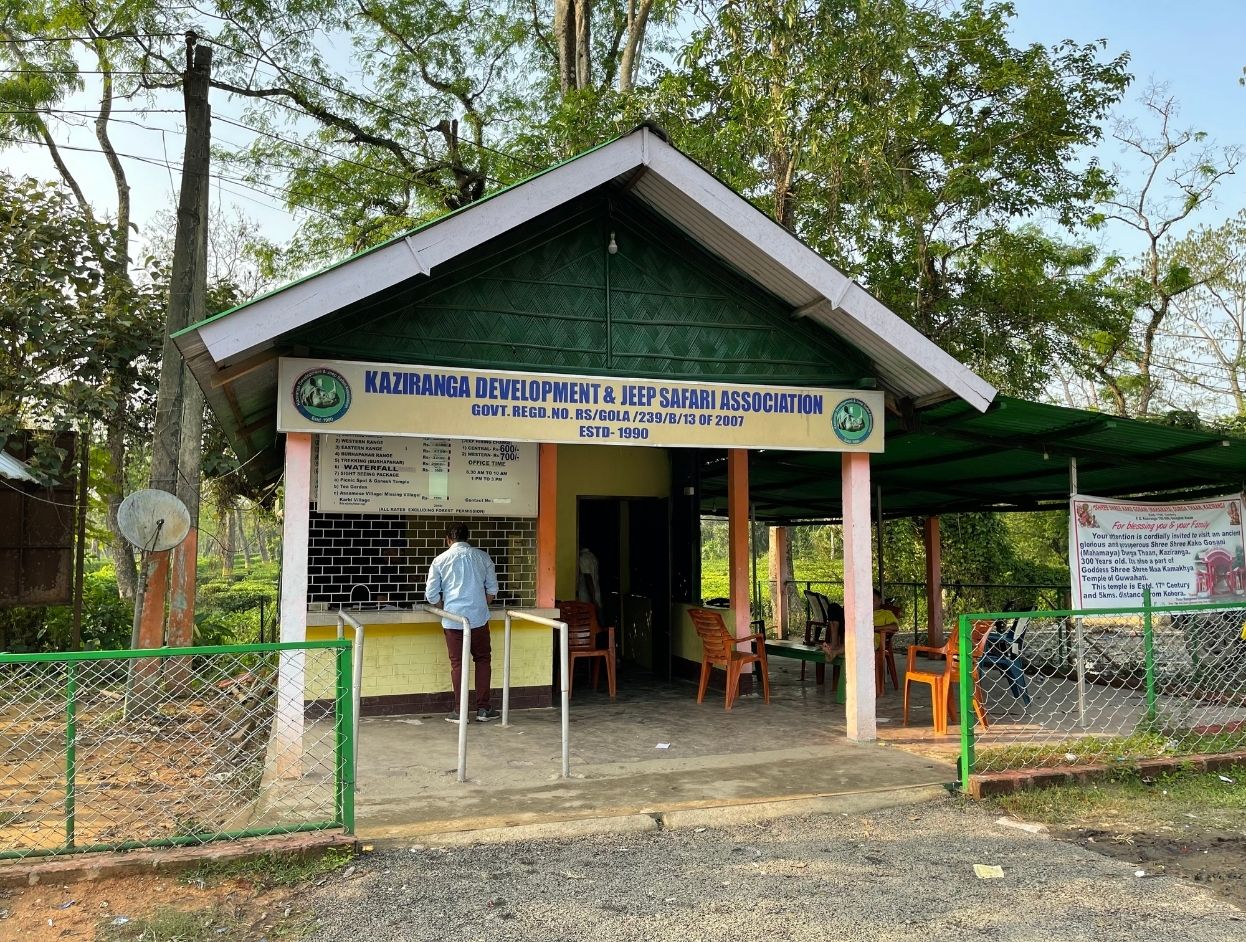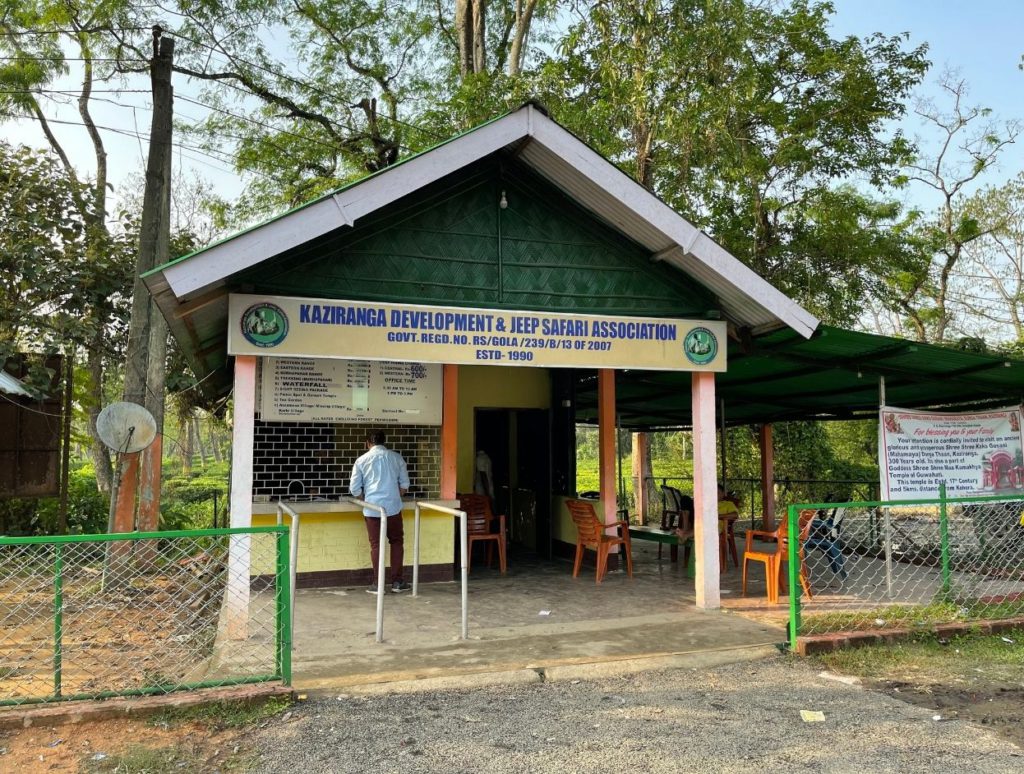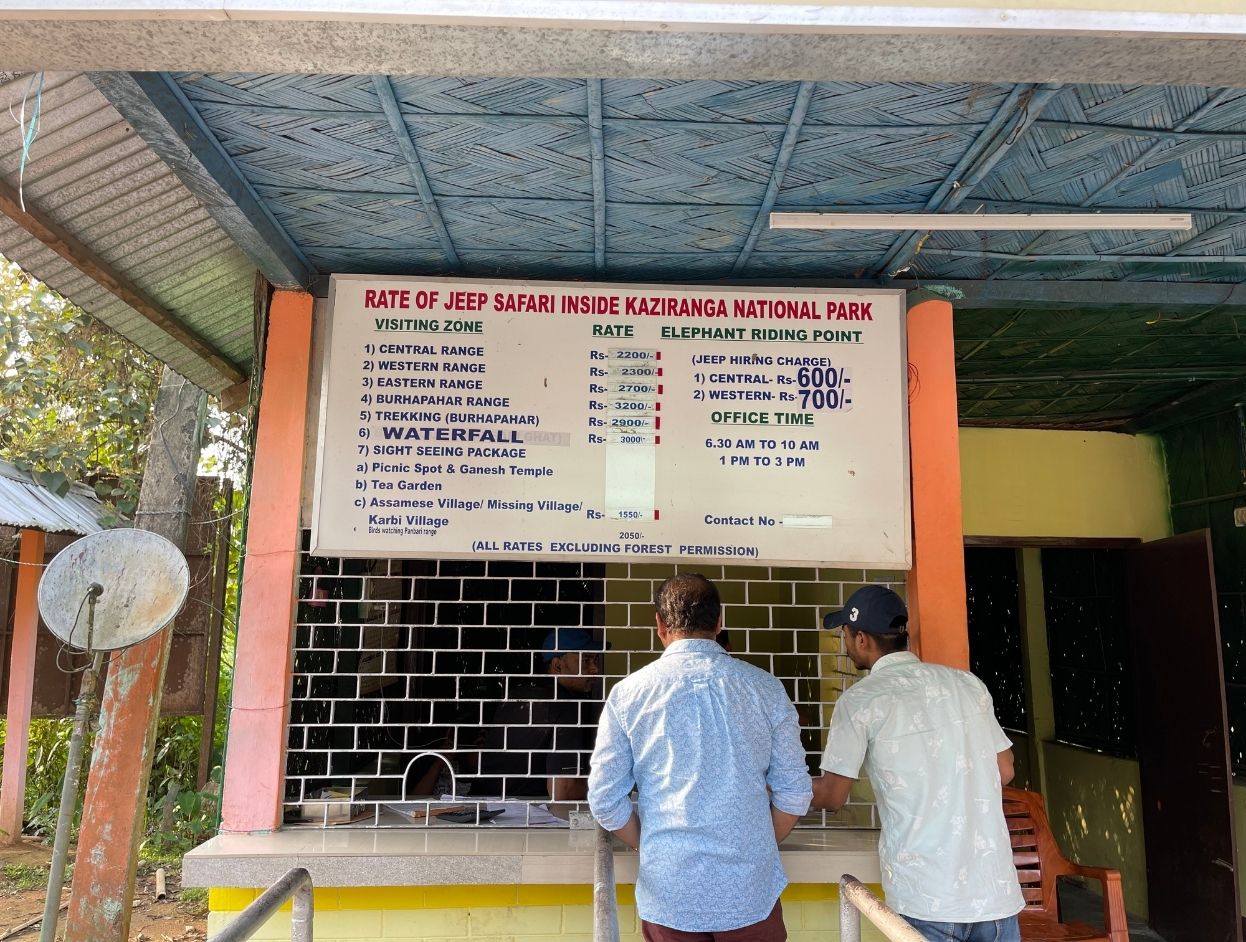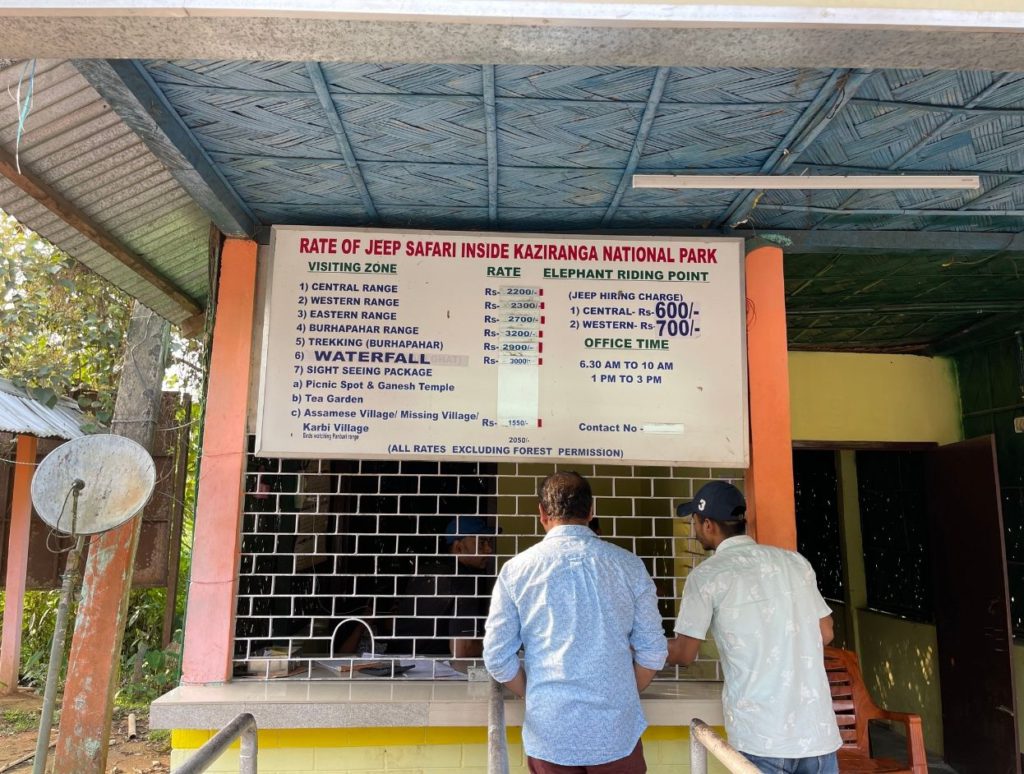 Now you need to start for the jeep safari a little earlier than your given time since you may need to wait a bit in line to enter the forest premise. No food, water or polybags are allowed. The weather was clear for the most part when we visited and were able to spot quite a lot of rhinos on our trail.
The cutest part is when they sink themselves totally inside the water and only their ears pop out of the water on top.
We were also able to spot some deer, water buffaloes, elephants, canes and a few more birds. Our guide had binoculars that we could borrow. Overall, I think it was a fantastic experience. Our guide dropped us right back at our hotel.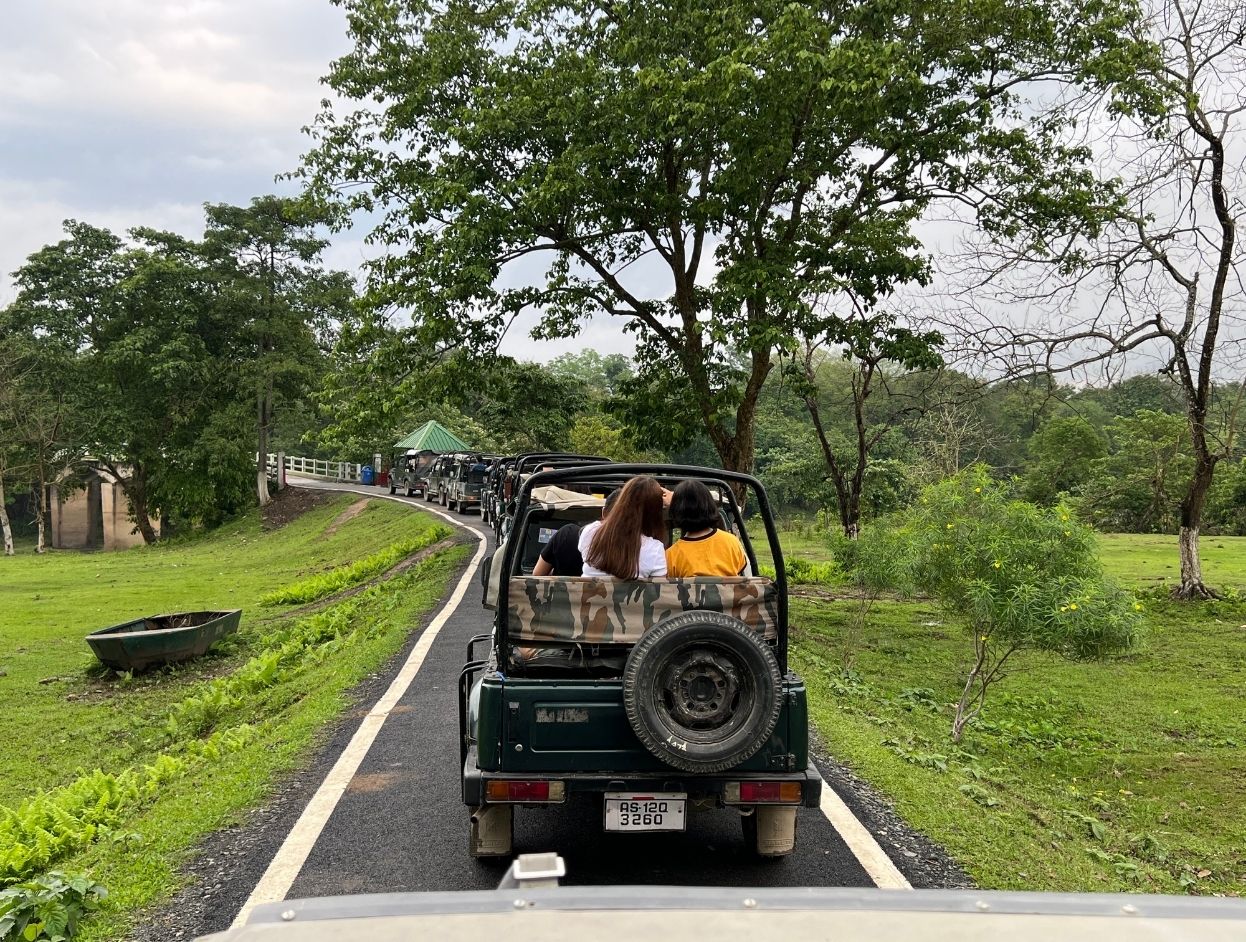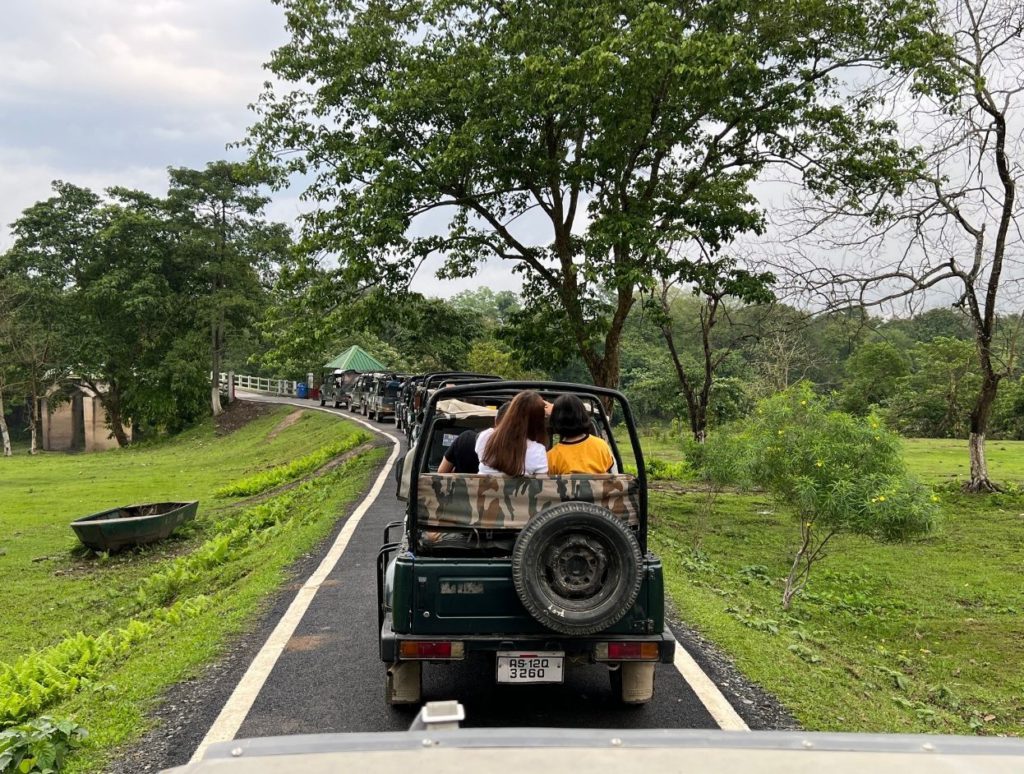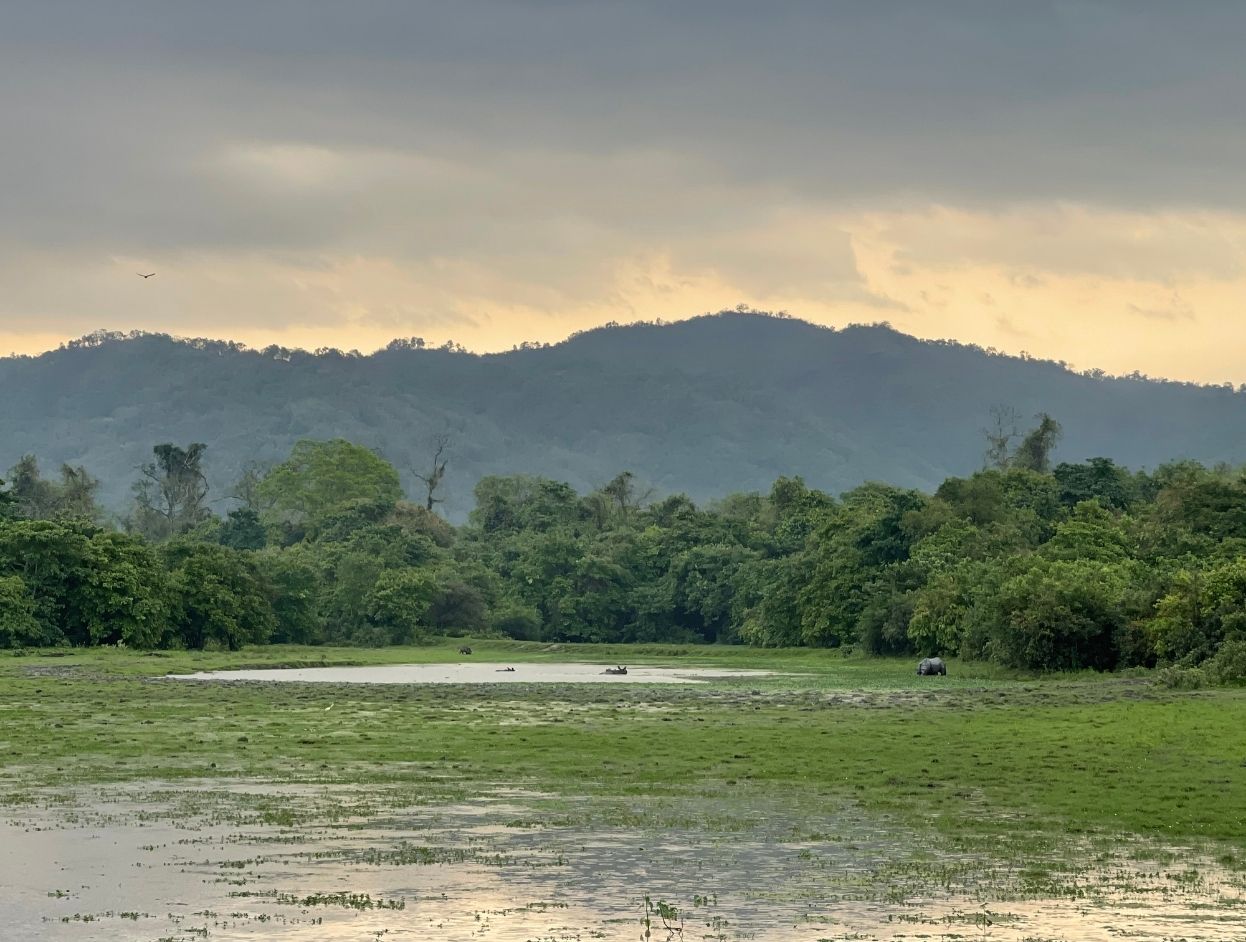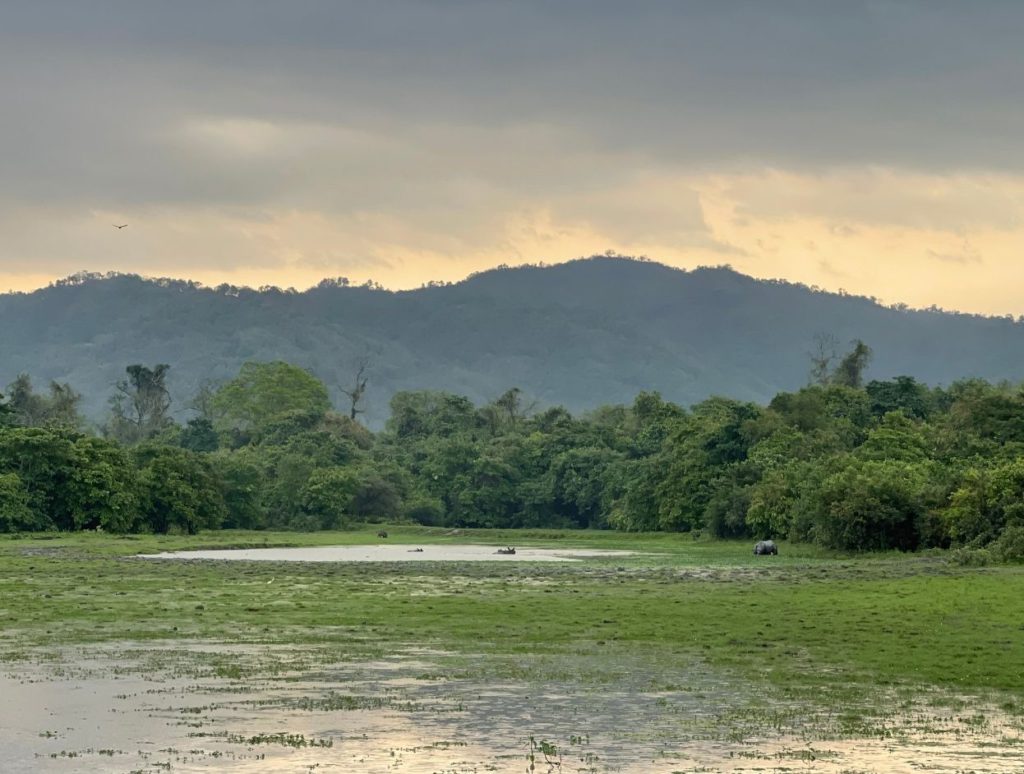 Things to do inside Kaziranga National Park
1. Trekking inside Kaziranga National Park
Usually not an extremely popular activity, tourists can also opt to trek inside the National Park. There are two trails that you can take – Panbari Reserve and Kukurkata Reserve Forests. Both of them will need you to hire a guide and get permission from the forest authorities which will be taken care of at the time of booking.
Trekking is a great way to explore if you want to get in the middle of the action or are looking to birdwatch. You can also catch glimpses of rhinoceros and elephants at both of these reserve forests. The peak at Kukurkata Hills also gives a lovely panoramic view of the floodplains of this region.
| Ranges | Routes Information | Distance | Price |
| --- | --- | --- | --- |
| Burapahar Range(Ghorakati) | Kukurakata Reserve Forest: Natundanga through Kukurakata Reserve Forest up to Baneswar Temple and back. | 11km | ₹2900 |
| Bokakhat Beat(Bokakhat) | Panbari Reserve Forest: Modarjuri Camp-Pipe line-Panbari forest & back to Modarjuri Camp. | 5km | ₹2050 |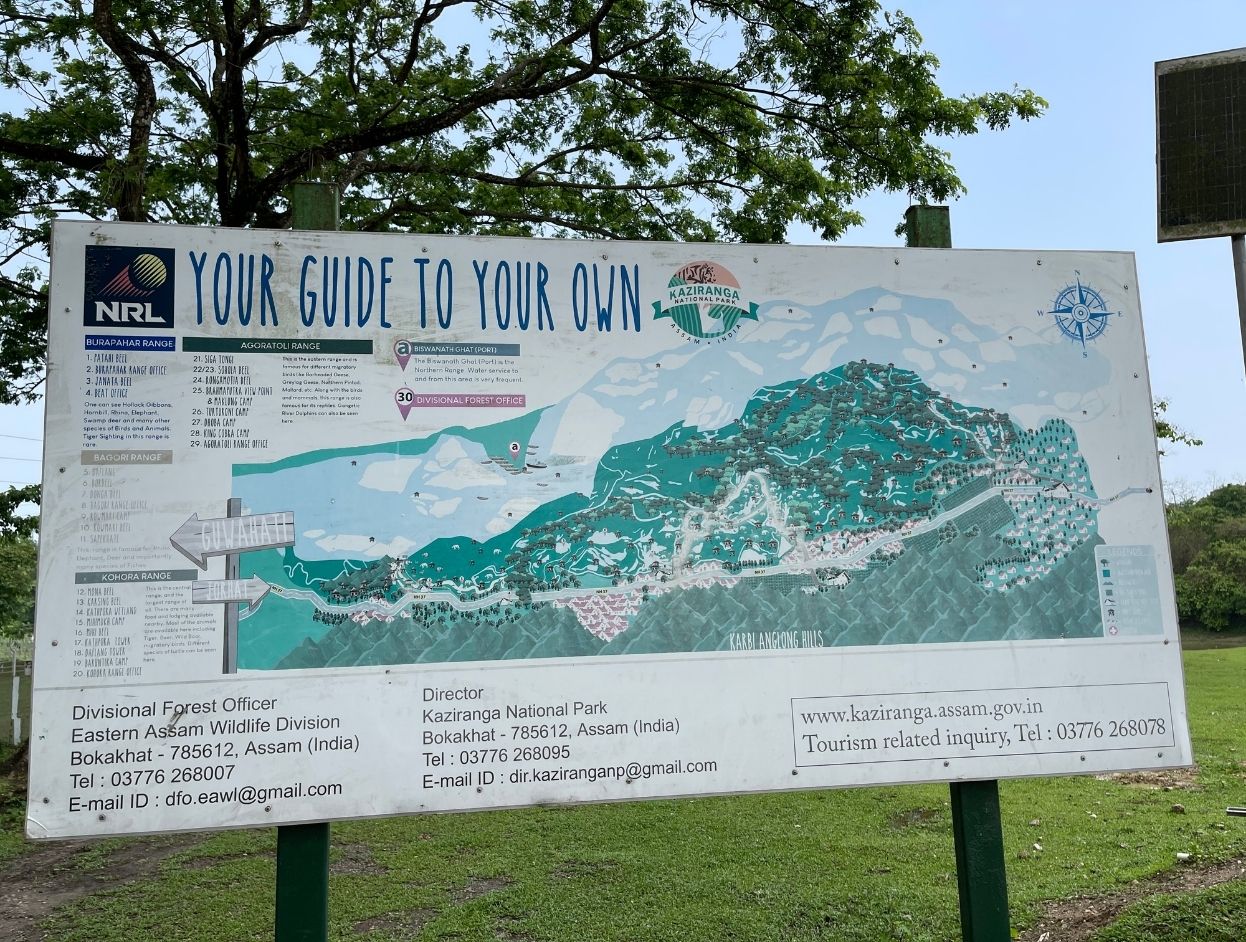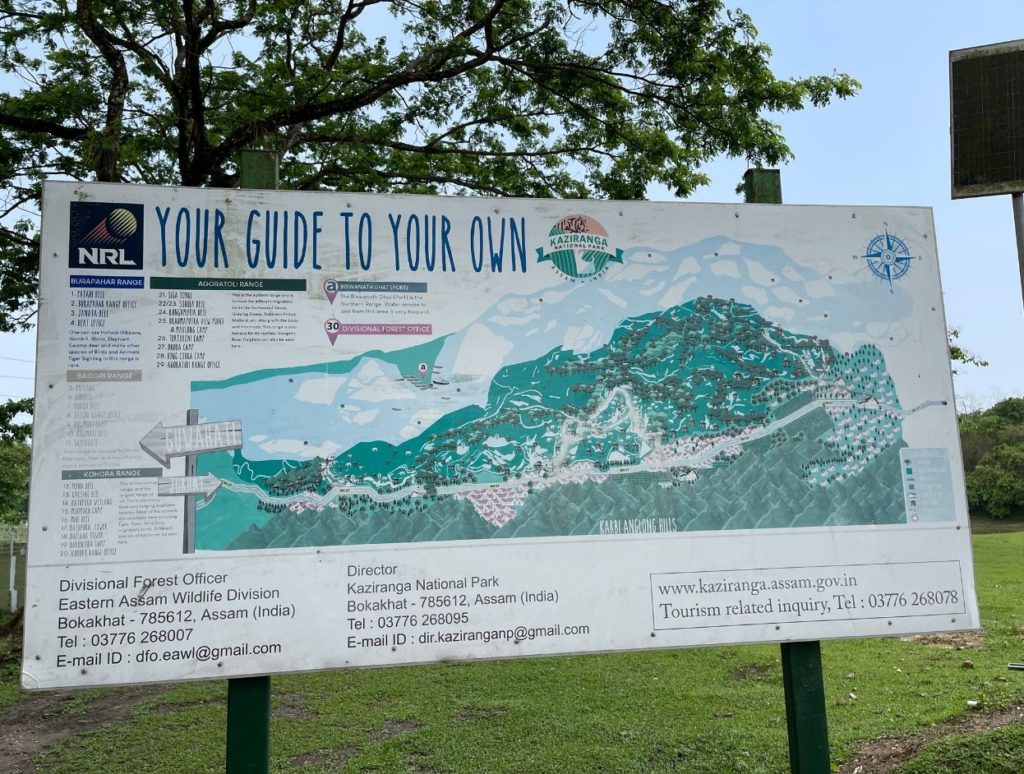 2. Visit the Kaziranga National Orchid Park
I had no idea that orchids are so close to Assamese people. You can find orchids in people's homes, in their gardens, in parks and in several arboretums in the state. This one is even special. The Orchid Park inside Kaziranga showcases hundreds of varieties of orchids. You can see them in so many colours, patterns, shapes and types. The orchids are in full bloom during April.
Apart from orchids, the park also has many other sections that showcase the life of Assamese people. You can see photos from the past, their everyday items, kitchenware, tools, and souvenirs with guides happy to explain their significance. If you can, make sure you spend some time here. This was a highlight.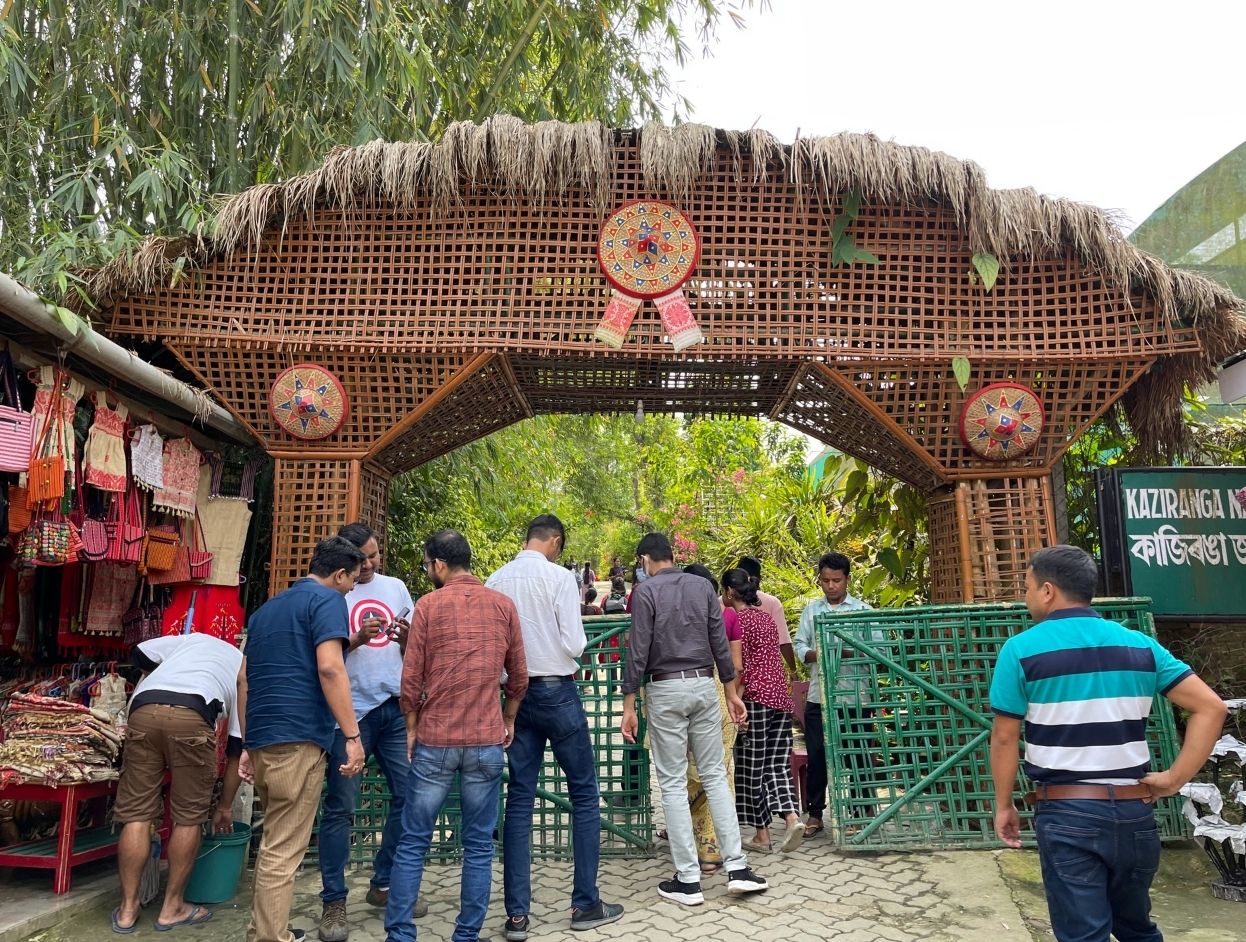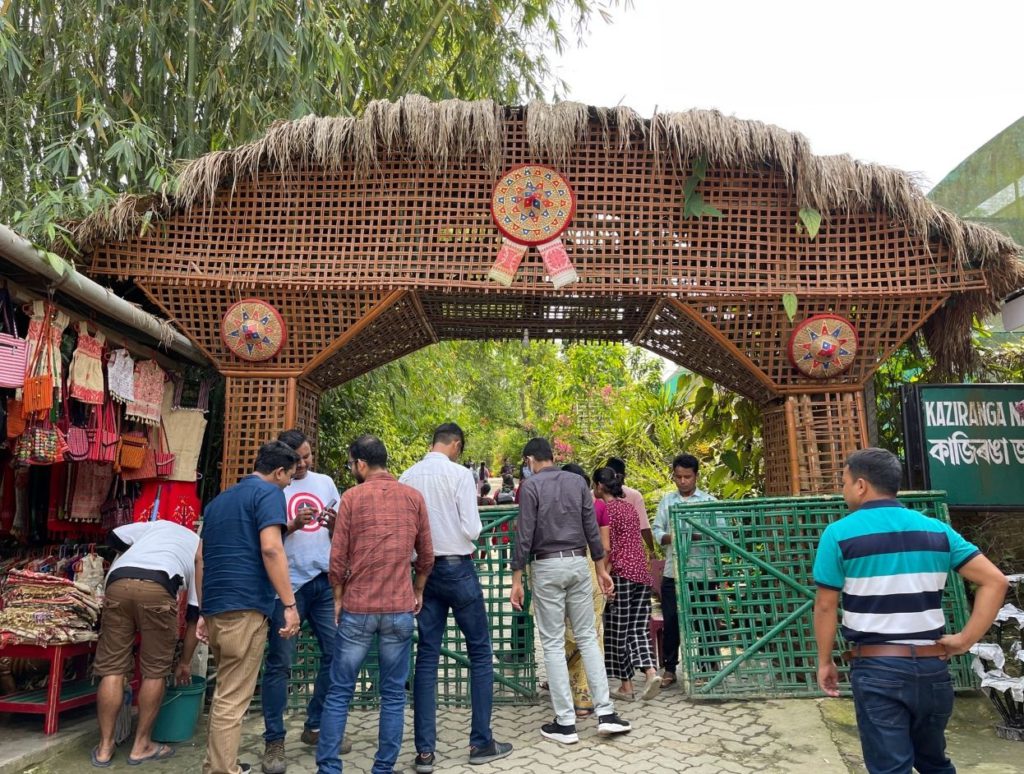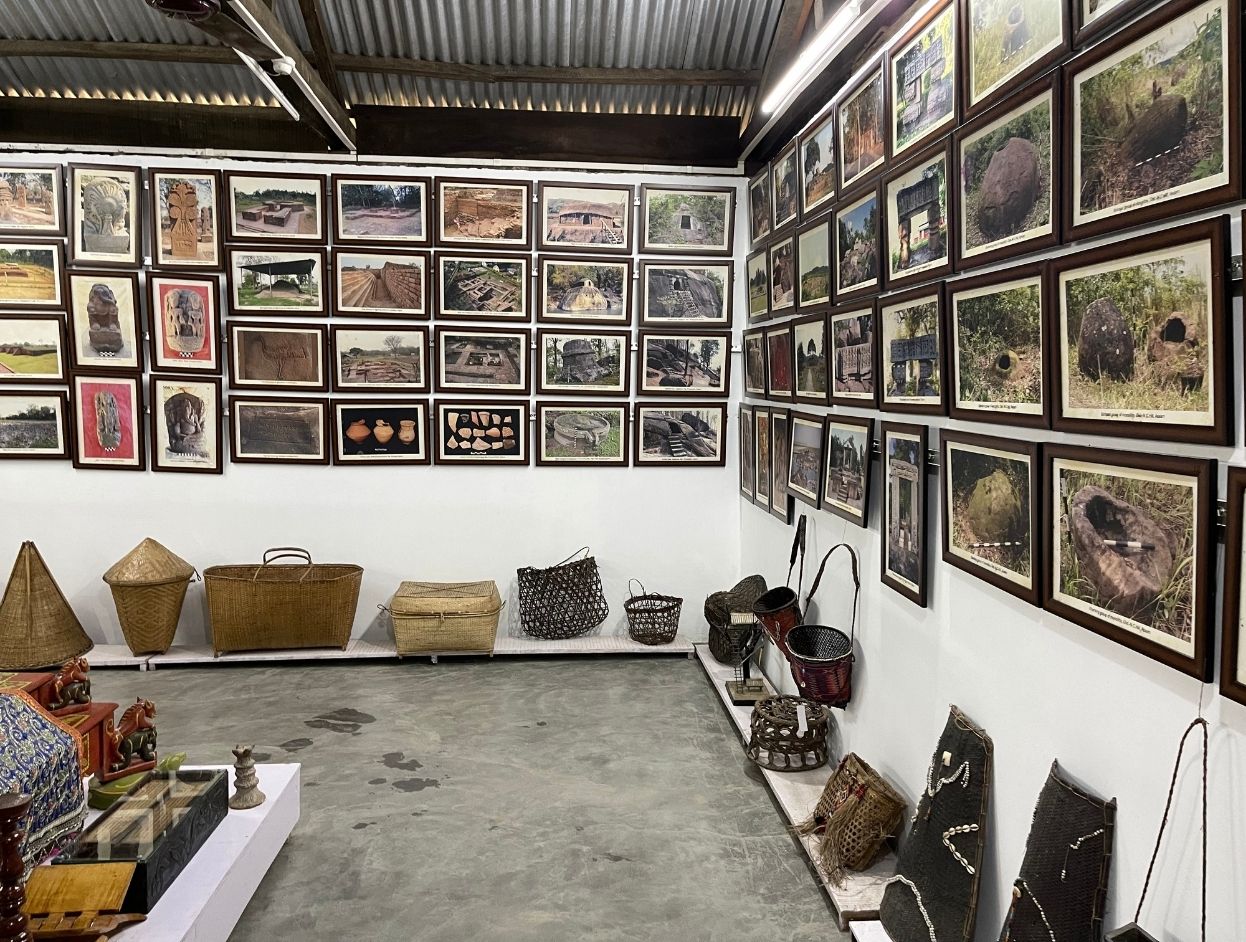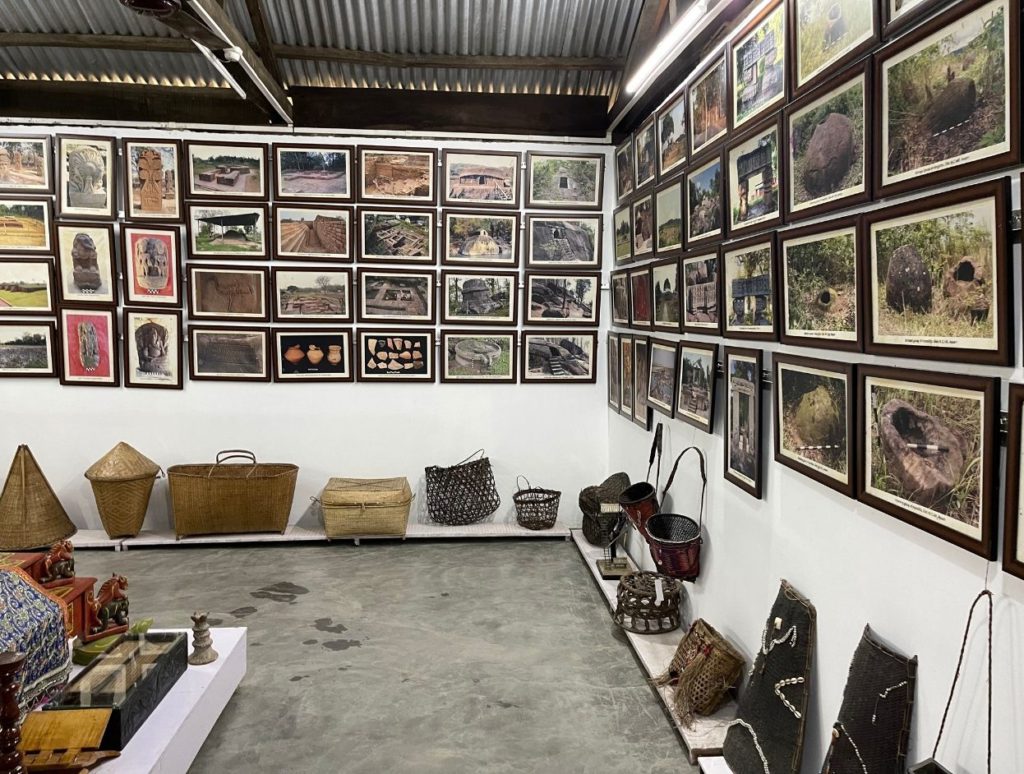 3. Stop at a tea garden
If you are an Indian, you know Assamese tea is priceless. Something we only see on top of the labels of the readymade stuff we buy. But try it out firsthand. I had only seen tea gardens at places of much higher altitudes like Munnar and Darjeeling. But I was surprised to see tea gardens almost everywhere inside the National Park.
Some of these are open to the public for a small fee or free. Click some stupid photos. You can also buy fresh or processed tea from their shops/counters right at the gate.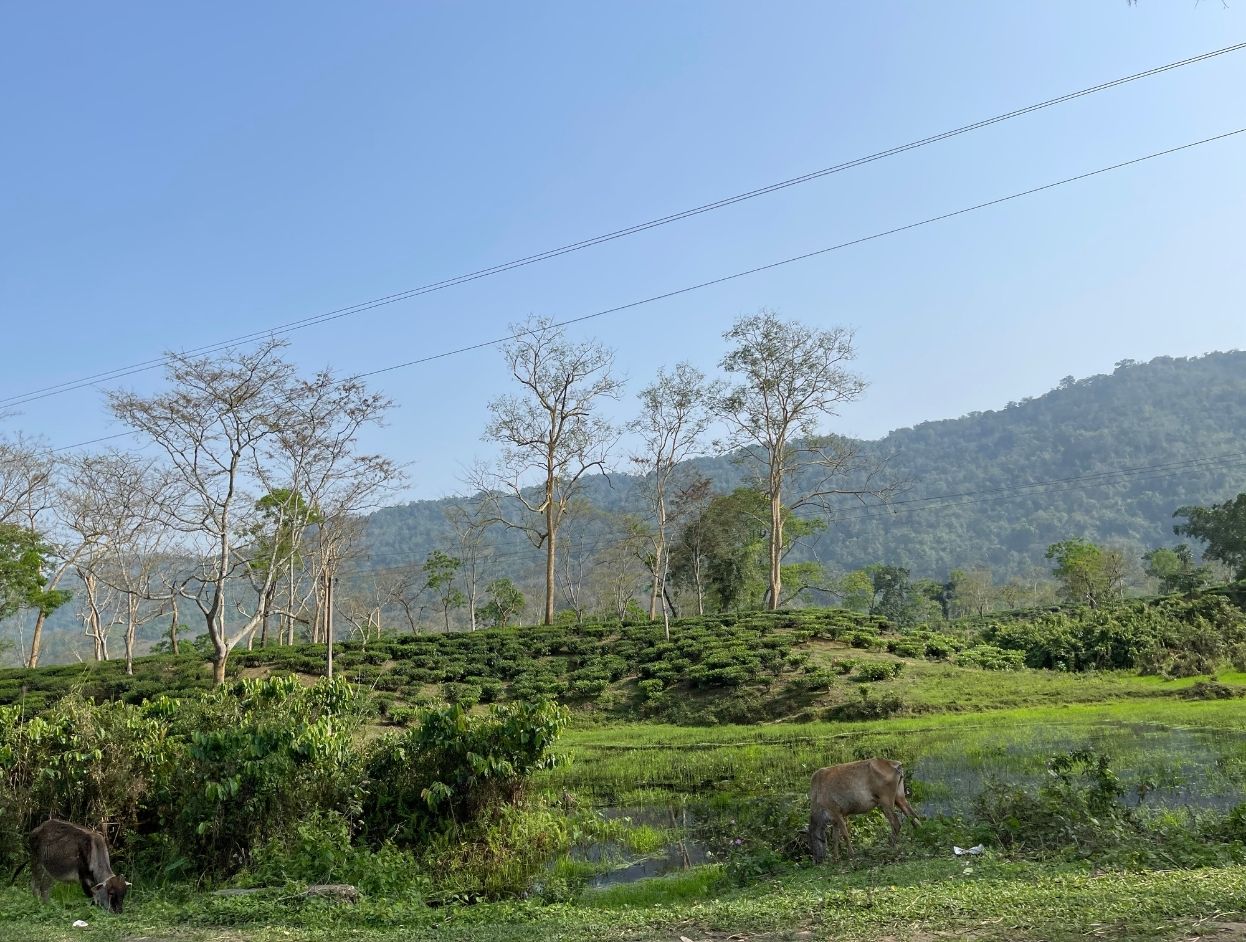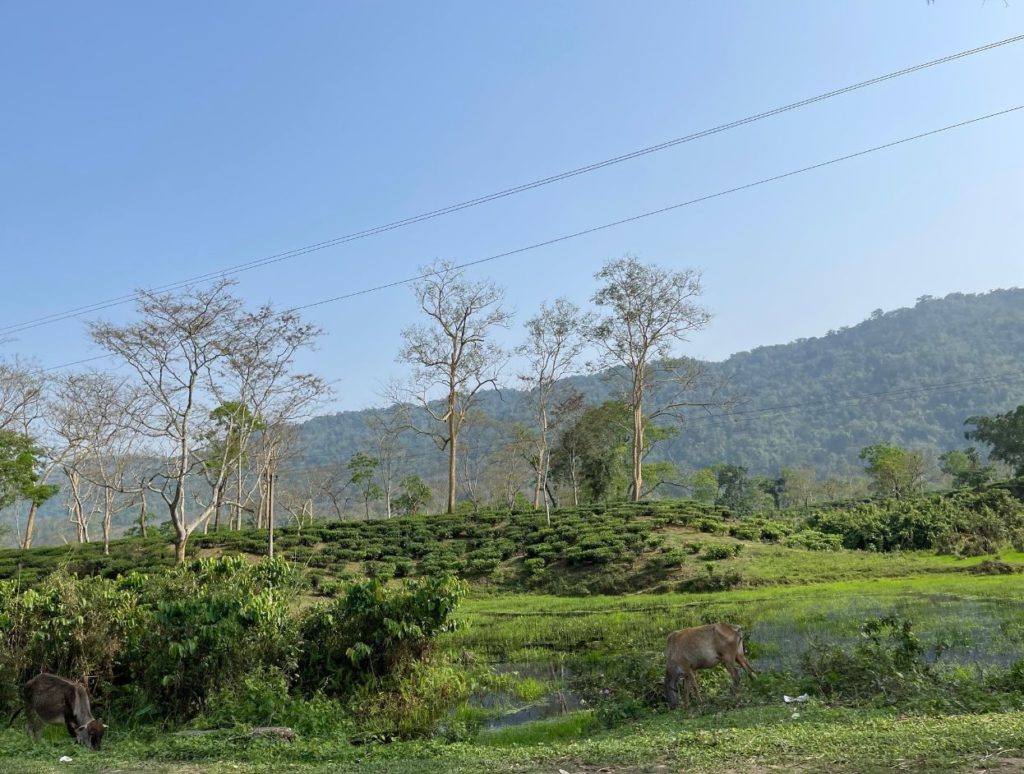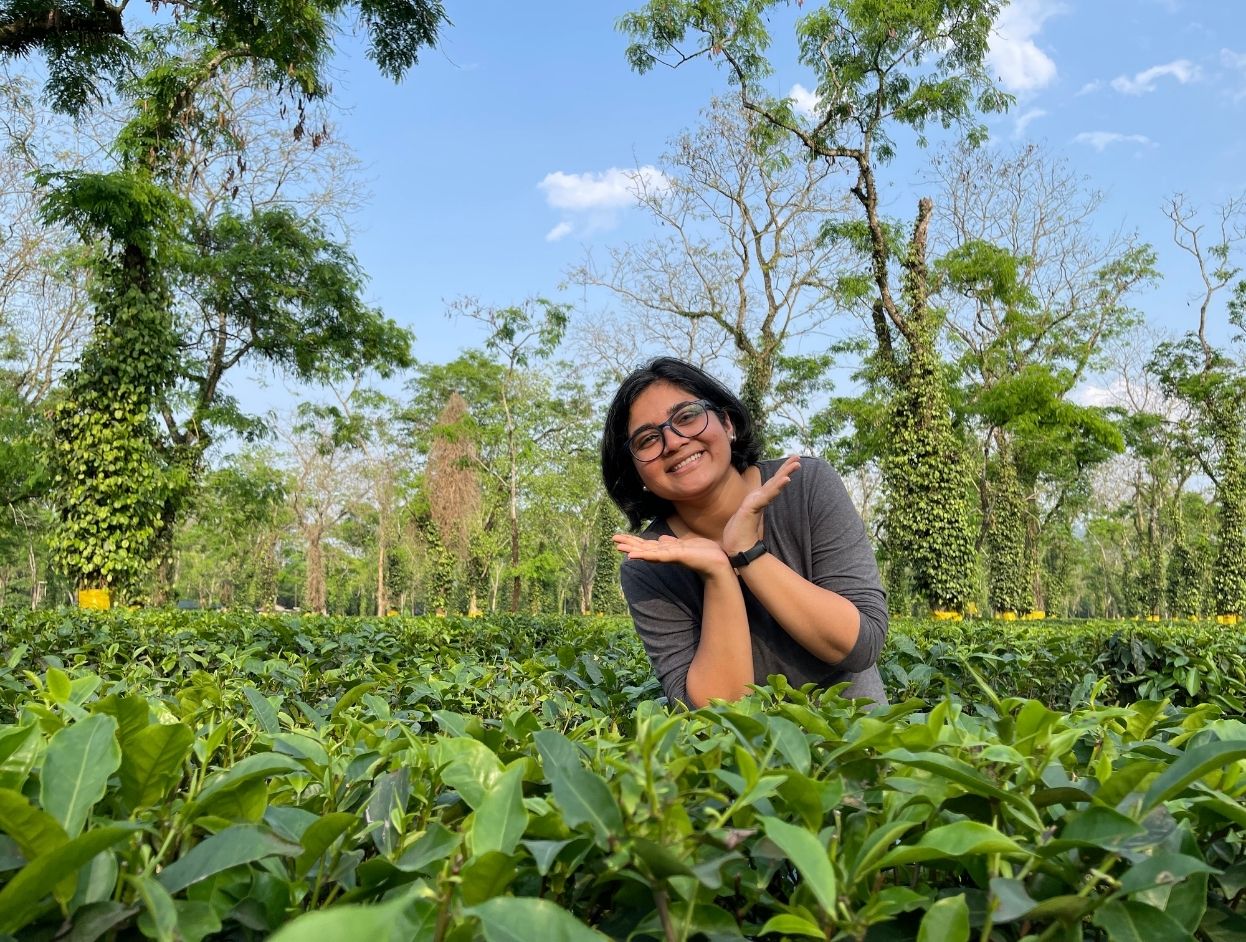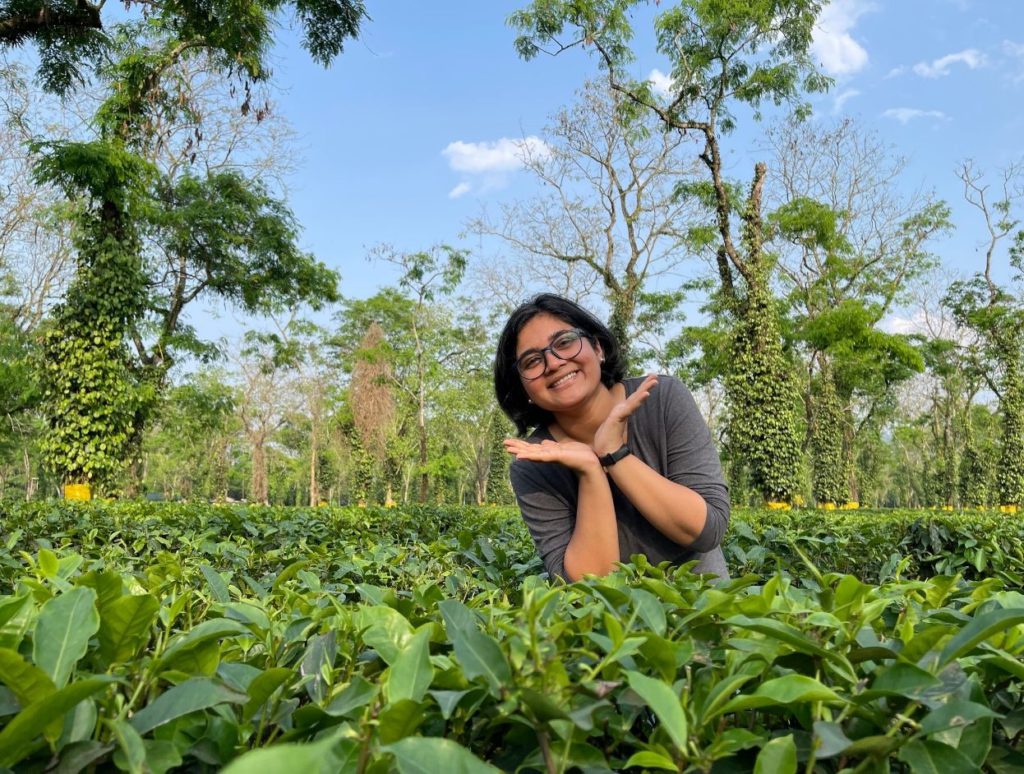 4. Kakochang Waterfall
Kakochang Waterfall is a lovely high-drop waterfall in the area that is slightly ahead of Kohora village. You can only access this place using a private vehicle that you can leave near the parking area. From there trek for a little while along with many smaller streams to reach the main waterfall.
The waterfall is gorgeous, especially during and after the rainy season. Assam government has recently built a walkway for tourists to go around easily and to avoid mishappenings and accidents from the past. The place gets crowded during the weekends and holidays. The first half of the day is a preferable time to visit.
5. Visit the Tribal Assamese Villages
If you have some time, venture out to the rural areas inside the National Park. In fact, you can do so just by taking some long walks around the place you stay in. We found some lovely views of the local lives, small shops selling local produce, a woman weaving and selling their traditional woven fabrics and even children dancing during Bihu.
Assam is rich in culture and heritage and you can see them as you pass by the homes. The people also seem very happy and satisfied with their lives here, even after facing constant natural calamities like flooding every year. Talk to them and get to know more about their culture.
Don't forget to get your hands on a traditional Assamese Thali!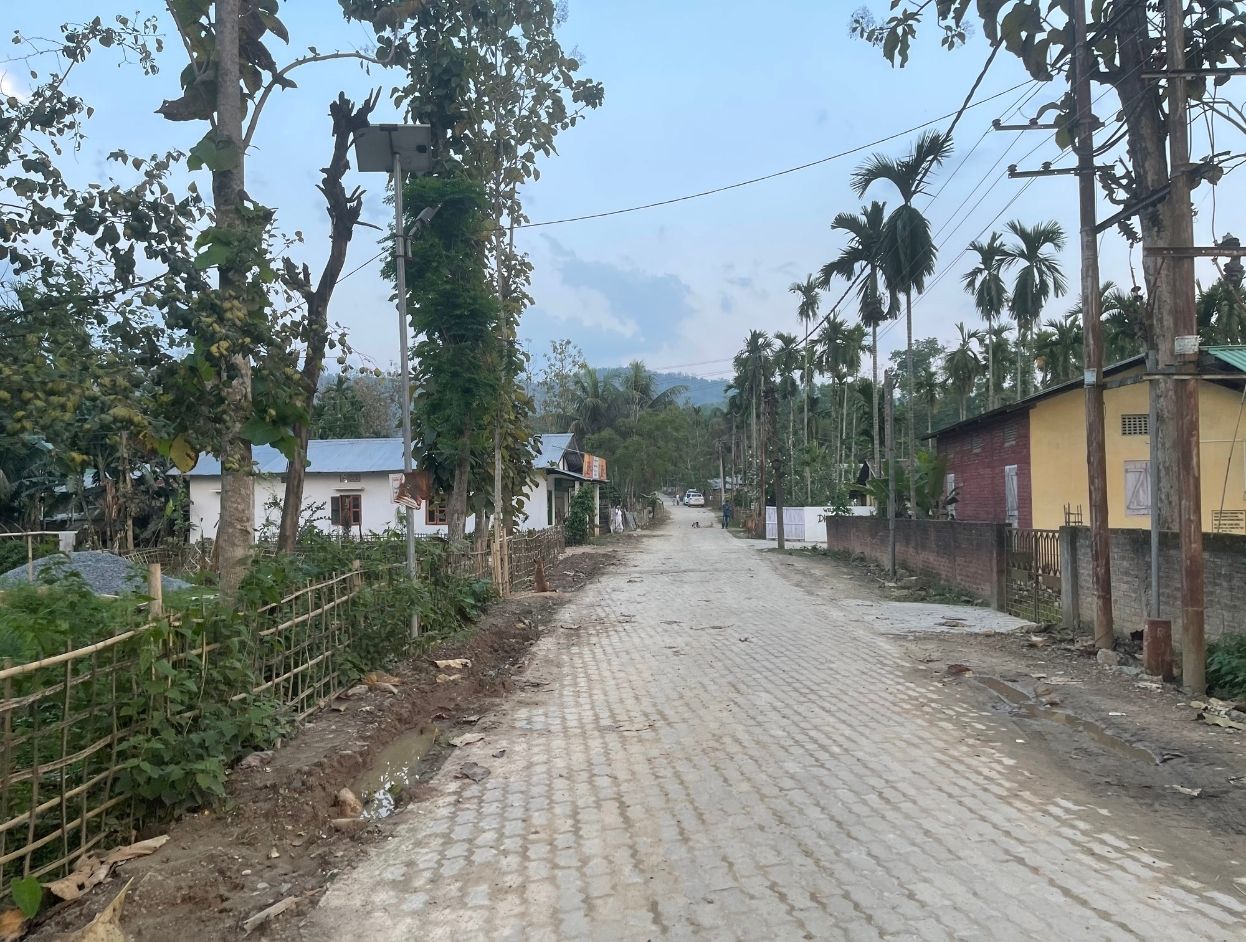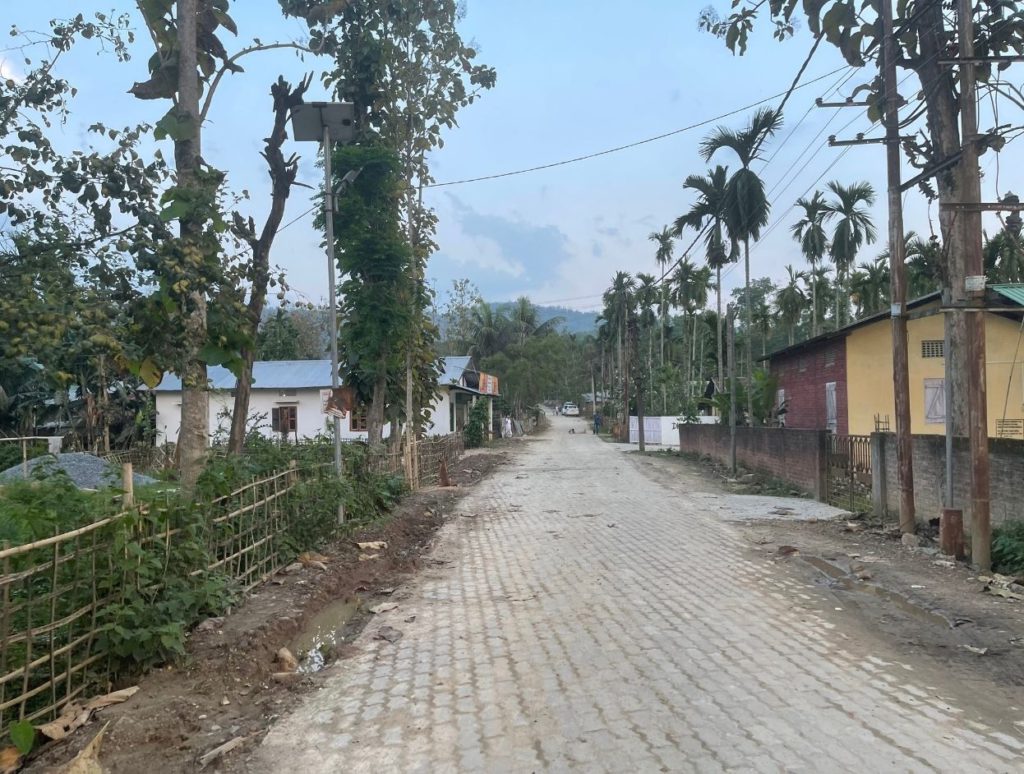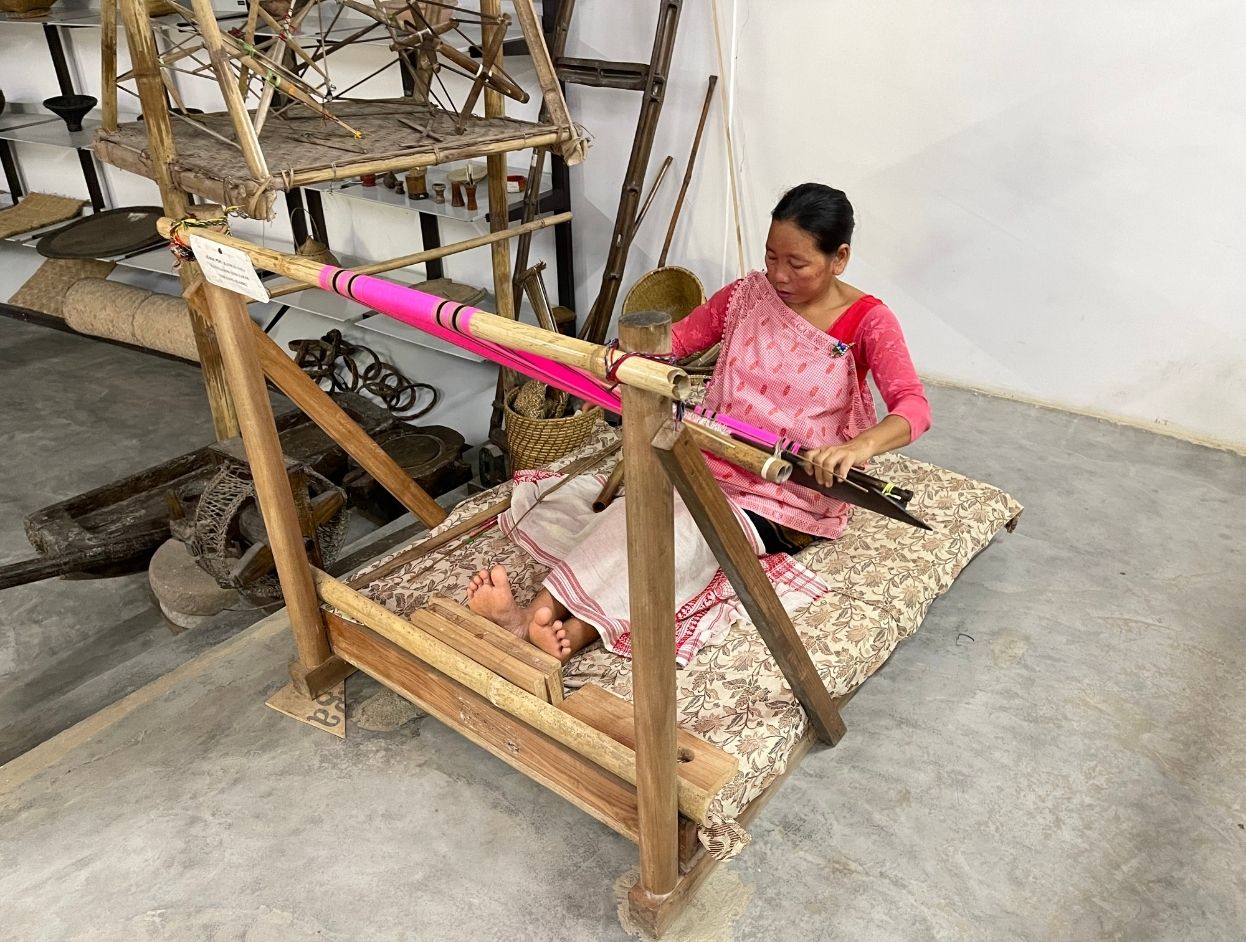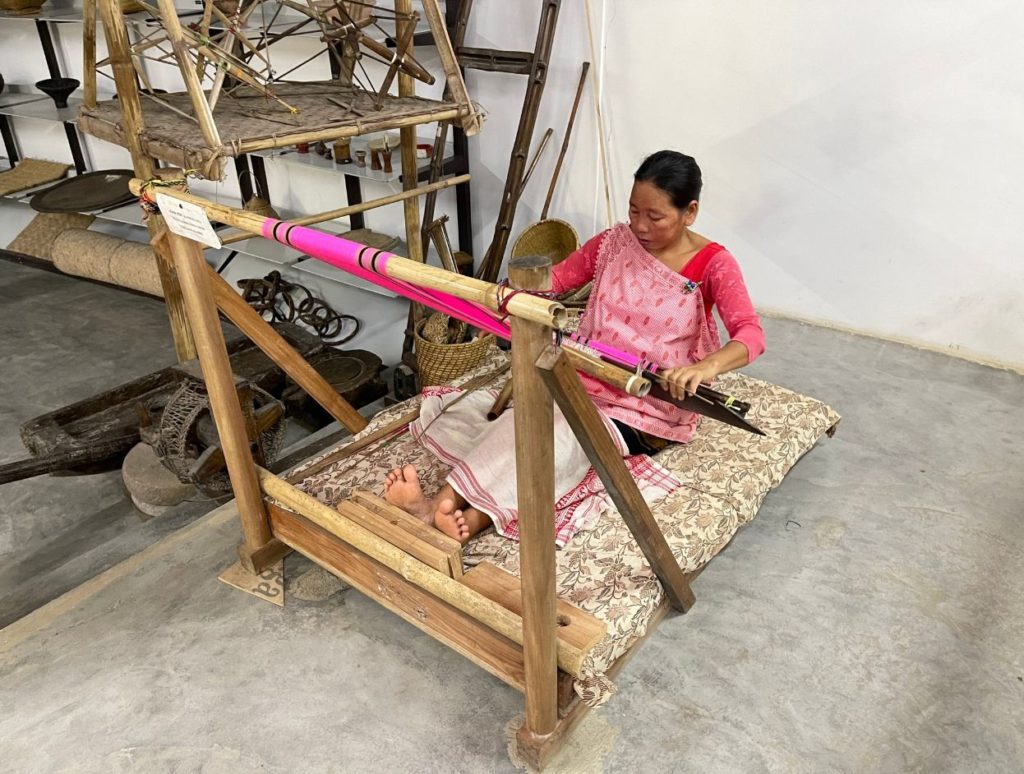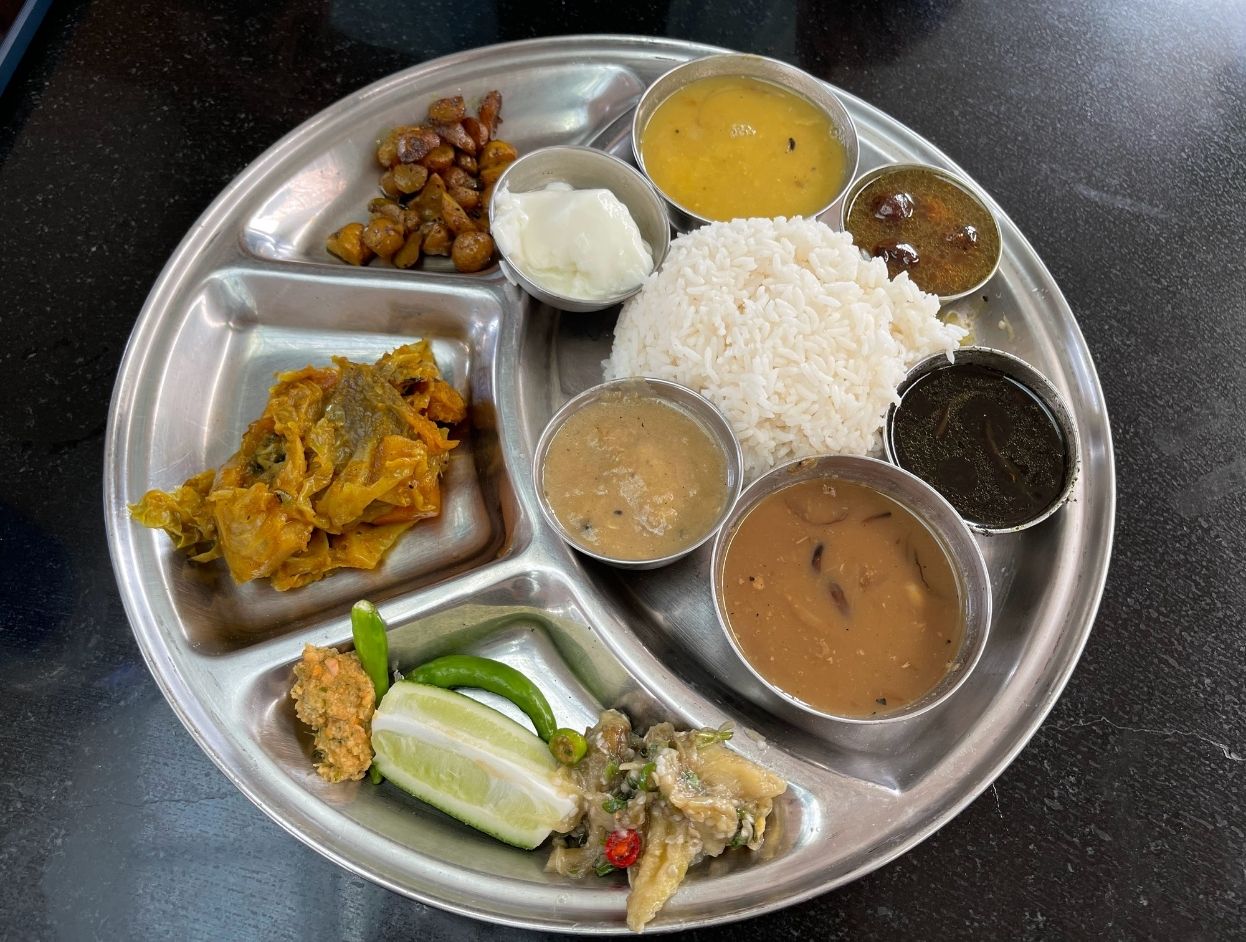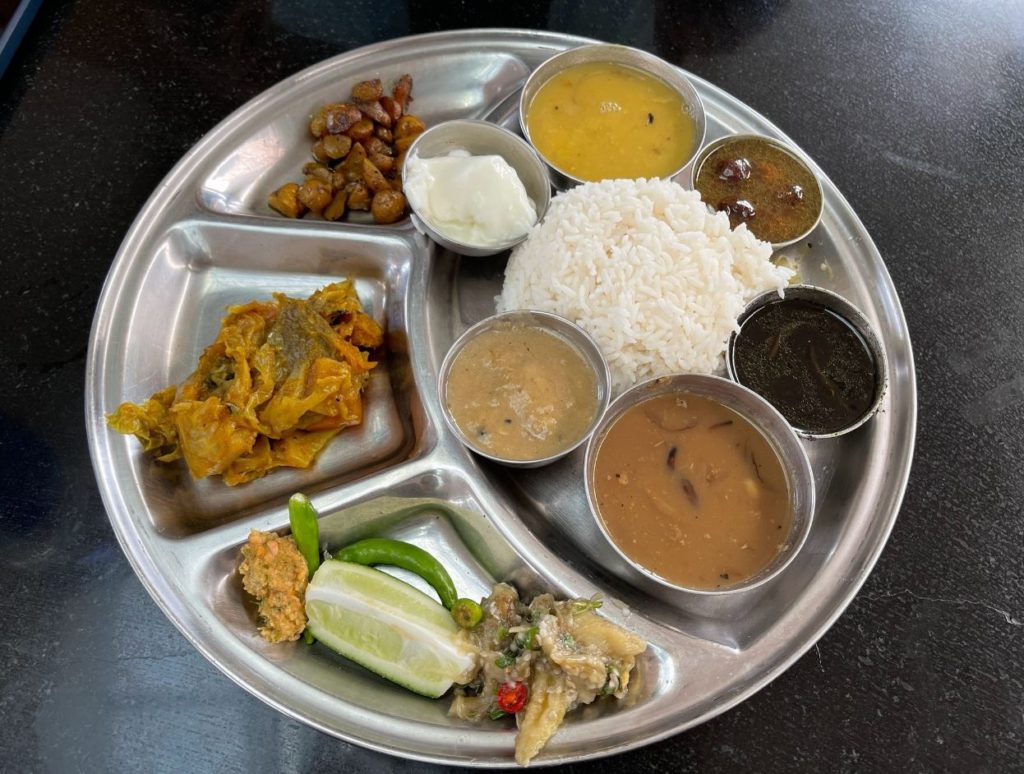 6. Watch a Traditional Dance and Music Show
Assam is also extremely popular for its traditional Dance 'Bihu'. The locals perform this art form usually during the Bohag Bihu festival (there are three different Bihu festivals in a year). 
The women wear their traditional beige saree called Mekhla Chador with a red blouse. Men compliment them with a beige shirt and white dhoti at the bottom. They also put on a gamcha on top of their head and a dhol to play the music they are going to dance to. Together they sing and dance to some of their traditional ancestral songs to celebrate the oncoming spring.
However, apart from Bihu, several tribal communities inside Assam have their own dance that is unique and very different from one another. Even if you are not able to catch one anywhere, you can get to see it at the National Orchid Park where a performance takes place every 20 minutes.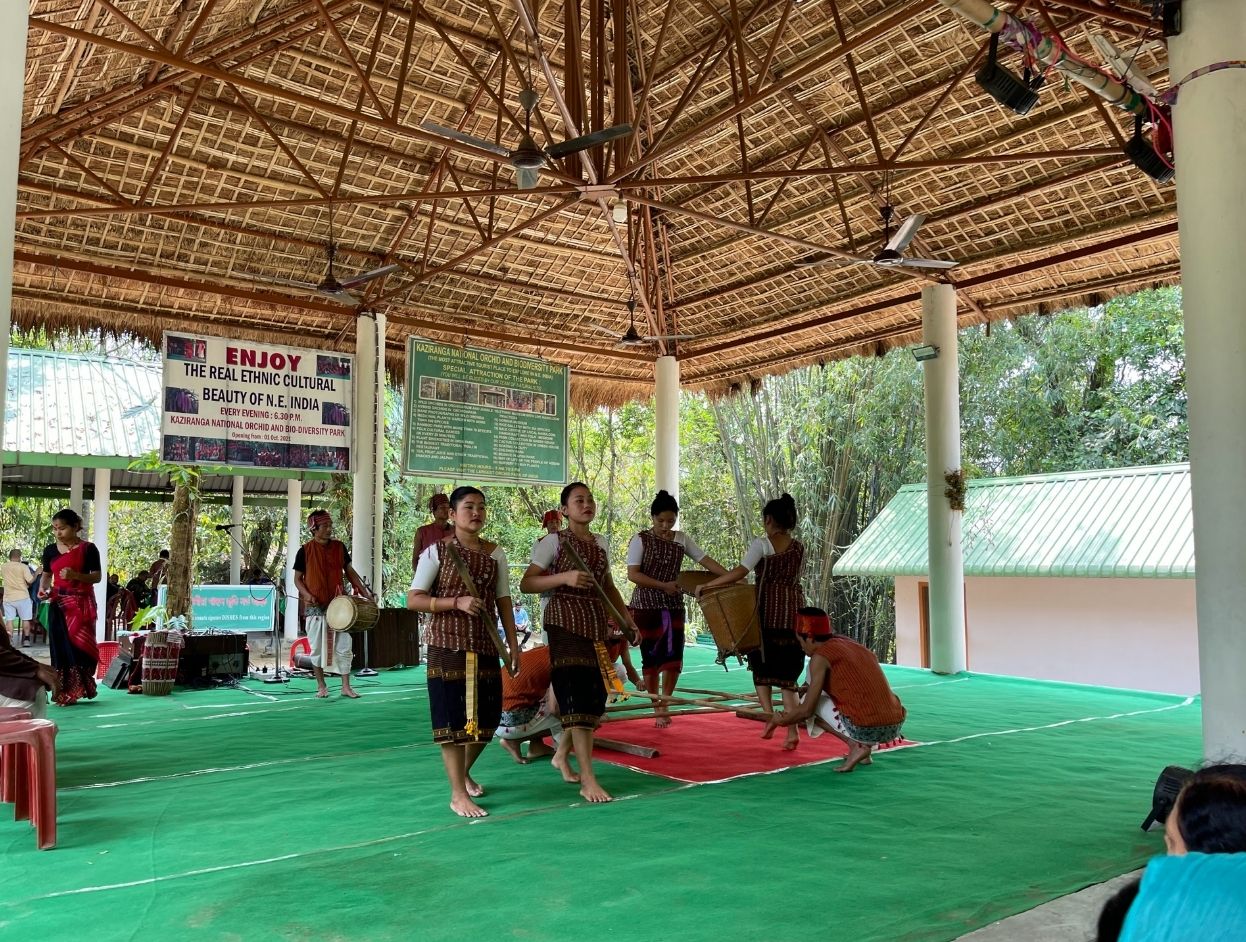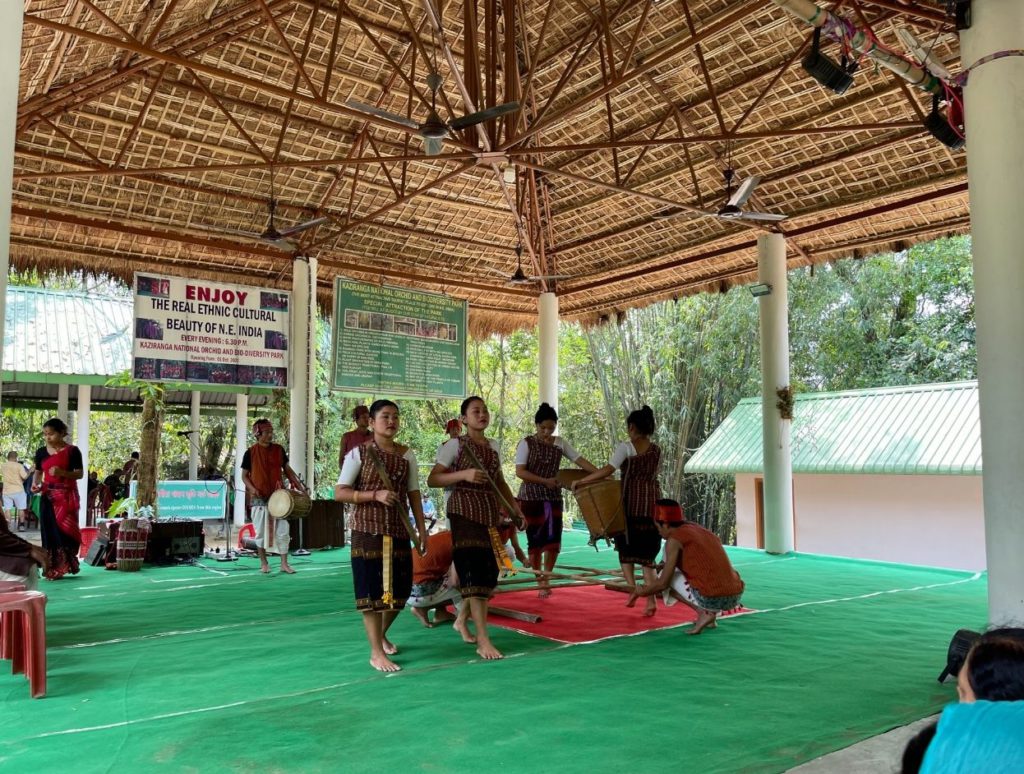 7. Spot the Gangetic Dolphins in the Brahmaputra River
There used to be a lot of dolphins in the northern rivers of India. Until we polluted them all. Anyway, I don't want to be grim about it. But if you are lucky you will be able to spot some dolphins in the Brahmaputra River by taking a ride.
To do this, you need to travel to Bhumuraguri located 65 kilometres from Kaziranga and 10km from Tezpur. Head to the ghats and find one of the motorized boats. These will take you ahead in the waters of the Brahmaputra river in search of dolphins. The best time to catch one is between 9 am – 11 am in the morning. Although the view in the evening around sunset is pretty great too.
Think About it
You could be wondering why I have not mentioned Elephant Safari in this article. And that was by choice. Elephant safaris are also available inside Kaziranga park and tourists use it sometimes just for the experience or to get closer to the wildlife.
Now, I don't claim that they are not treated well. During my time in Kaziranga, I am sure that the people love and take care of these animals with a lot of compassion. But I do not support animal tourism.
I think that the jeep safari is a fantastic experience and we do not need to ride the back of an elephant, many people at a time to enjoy our time there better. I can only urge you to avoid elephant safaris or any other kind of animal tourism. Only when the demand for this will decline, the activity will cease to exist as well.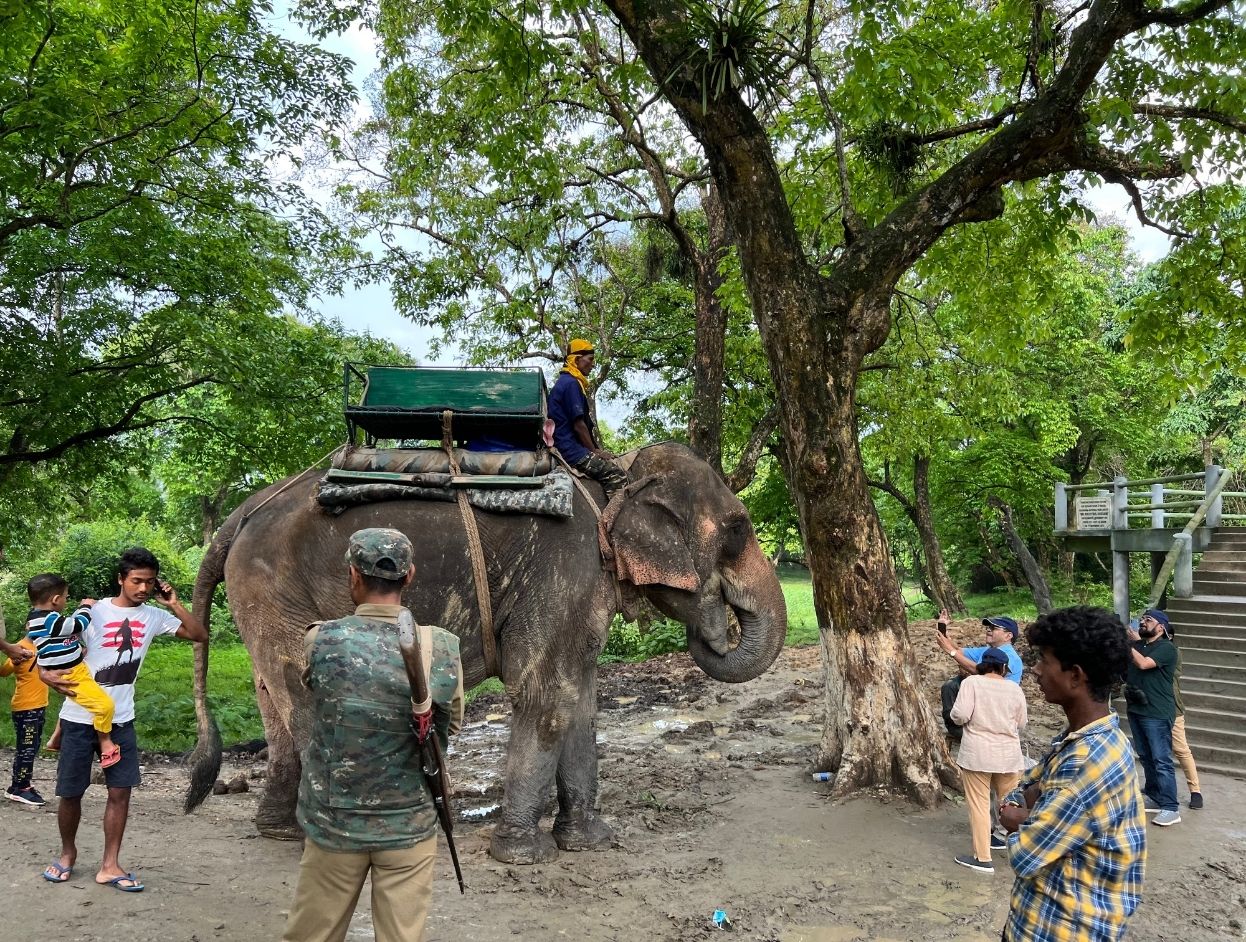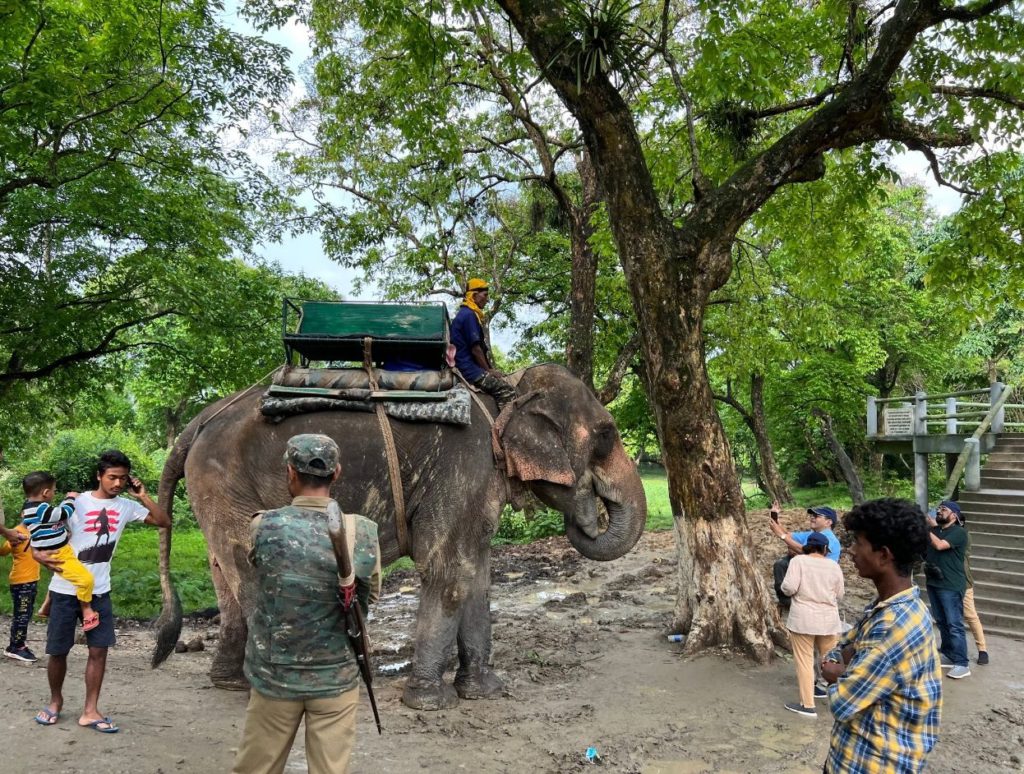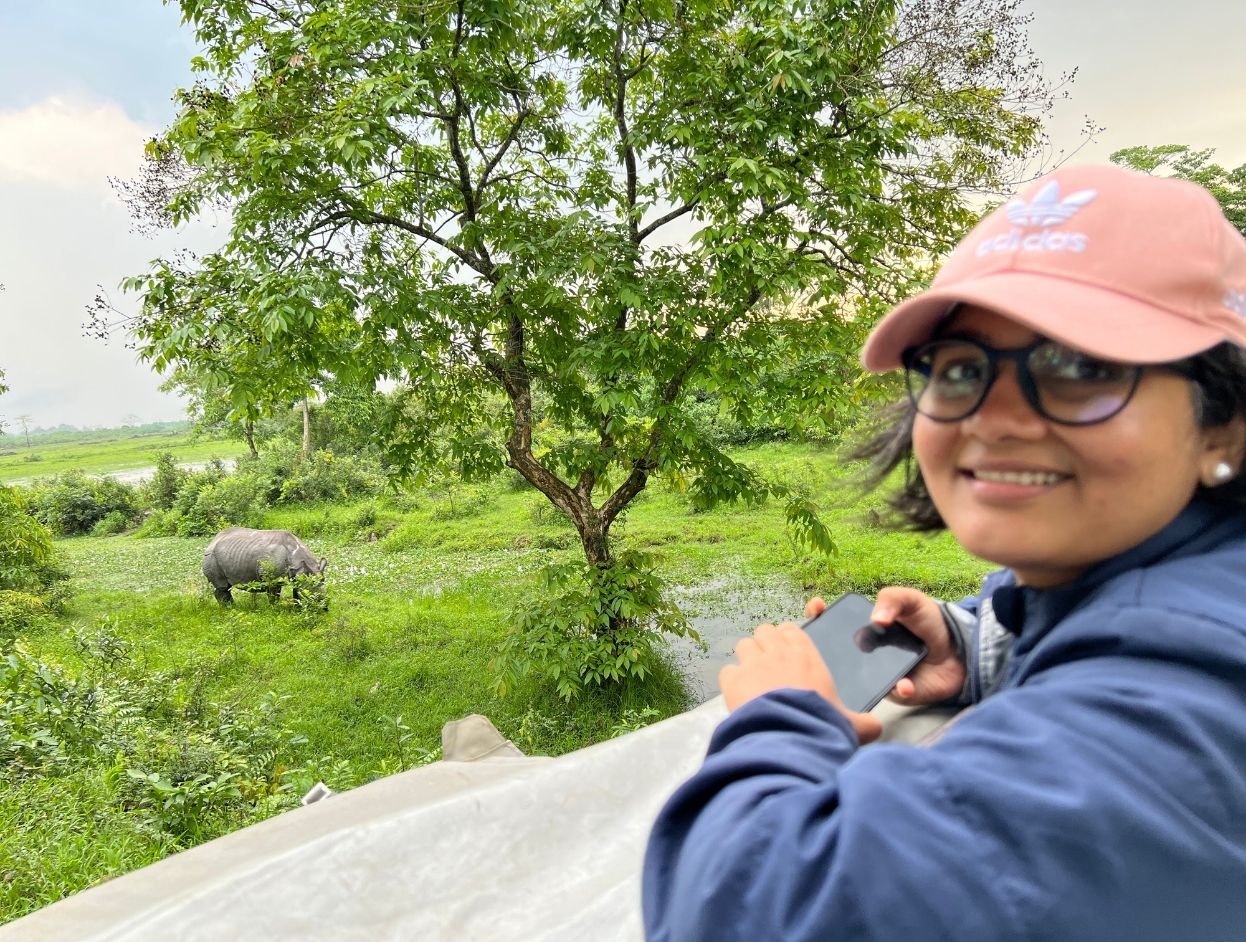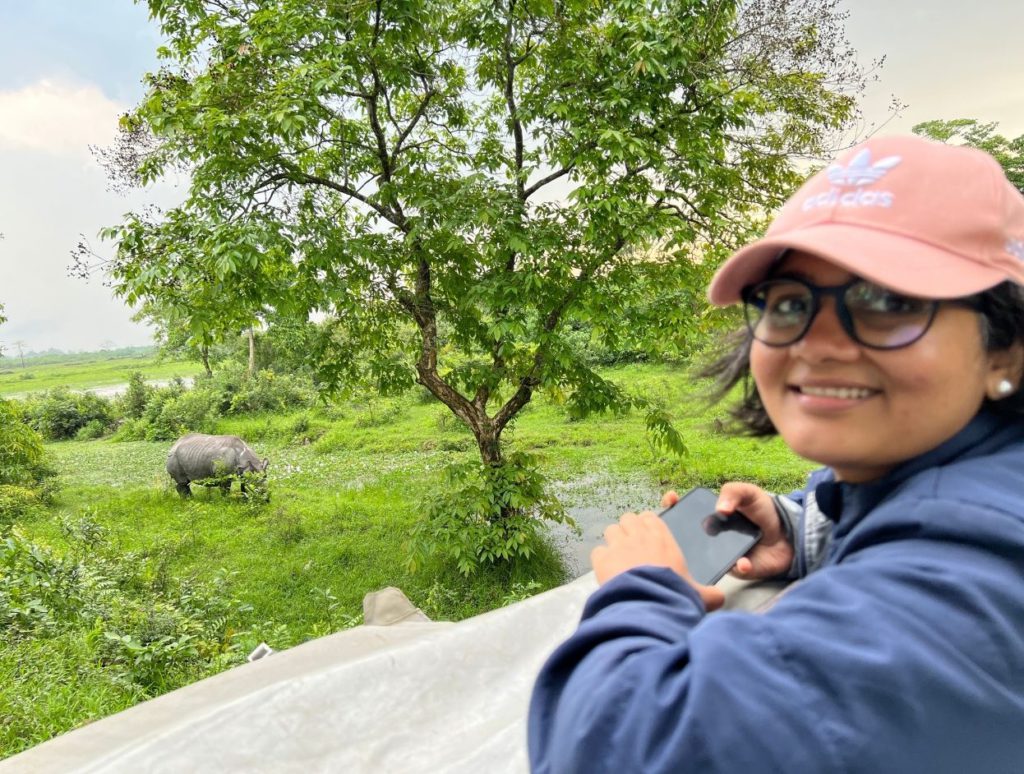 Related Articles