12 Mar

The Best Places to visit in Dirang, Arunachal Pradesh

Dirang is not a place people look forward to spending time in. While it is a lovely small town, it is usually thought more of as a stopover for an overnight stay on the way to Tawang. But there are quite a few places to visit in Dirang. Some of us choose to visit, and some don't.

I stopped at Dirang both while going towards Tawang and while returning too. Although I think Bomdila makes a better stop while returning back since you cover more distance. Anyway, I had a chance to explore a little more of Dirang town and I wanted to share that.

So here is more on Dirang along with some of the places you can visit in Dirang.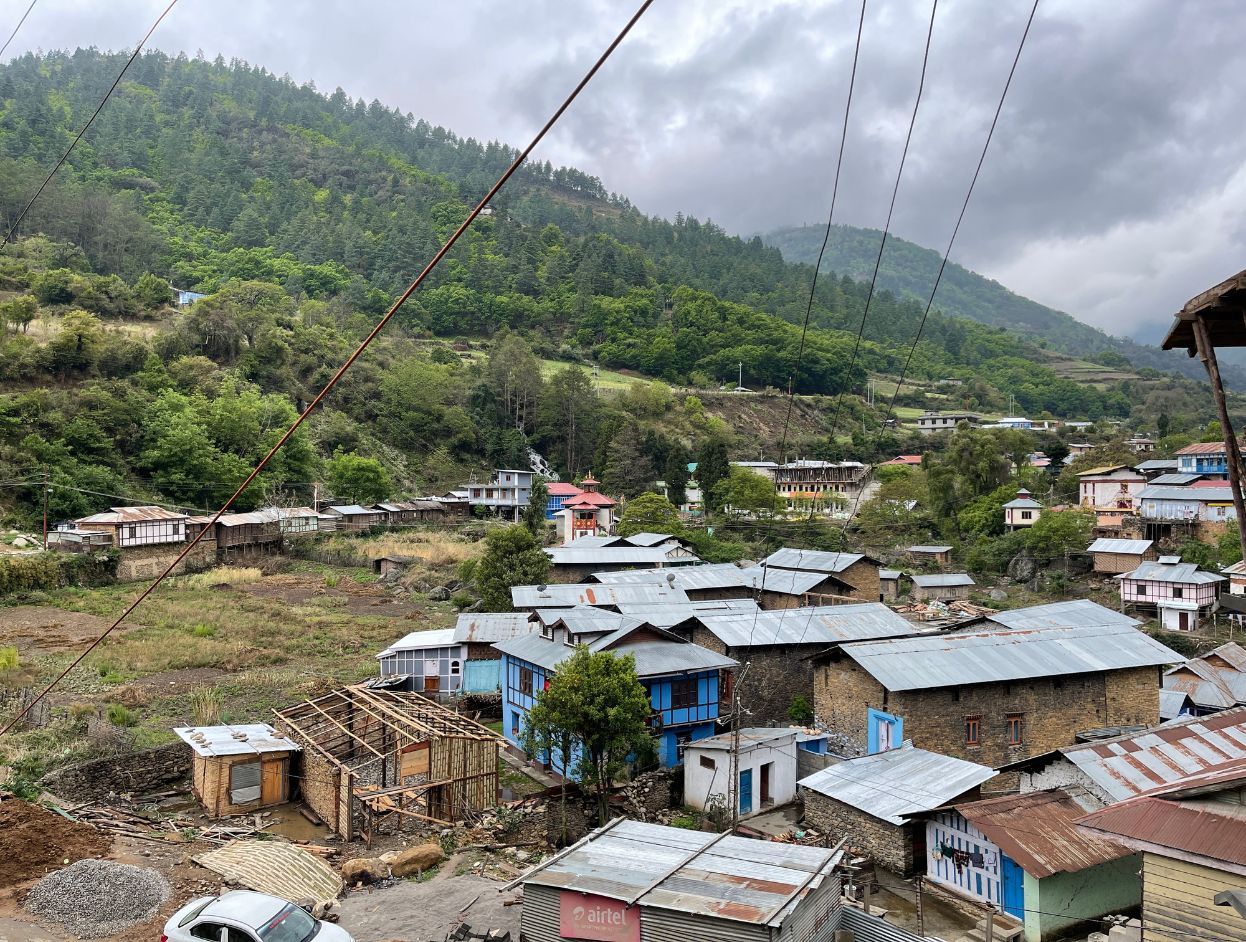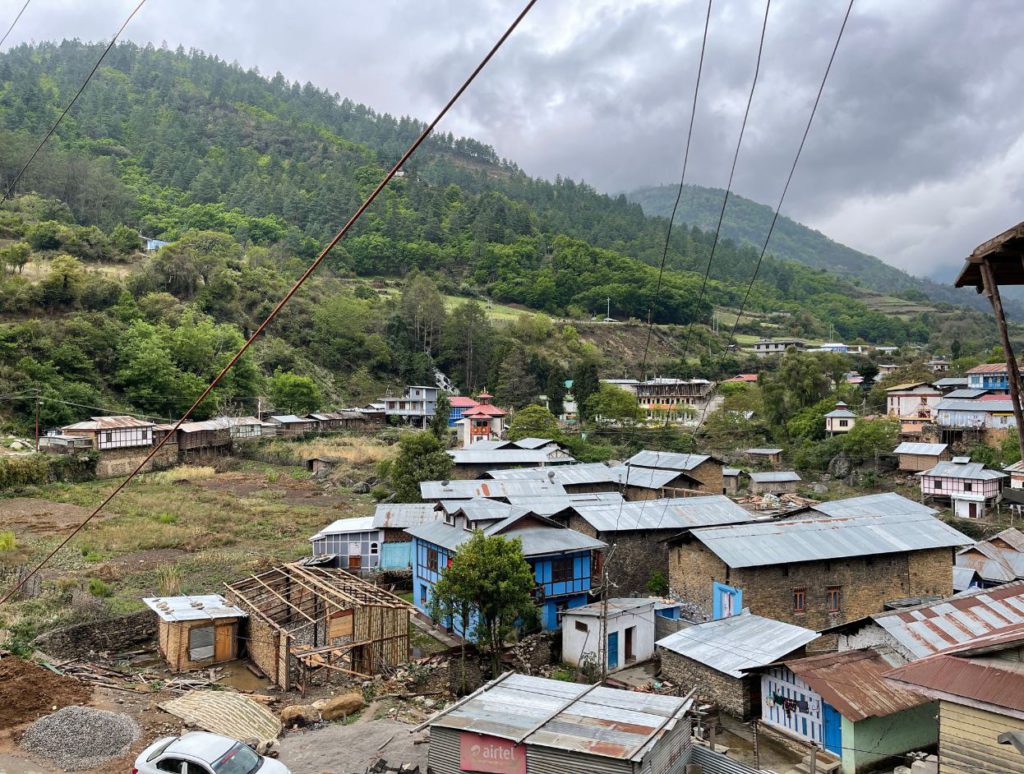 Why spend some time in Dirang
If you are in a hurry to reach Tawang, then maybe not. But if you plan to travel slowly and wish to explore more of the West Kamaeng region, you can make a longer stay in Dirang and head out to the town and some of the areas nearby.
For the ones who love the countryside, you can take day trips to Lubrang and Sangti village which are like 30 mins detours from Dirang. The valleys with views of lazy paddy fields, fruit orchards and some tributaries of the Dirang river make some of the most picturesque views on this route.
Apart from that, I found Dirang less touristy, more peaceful and worth spending more time in. Also, since it is at a lower altitude, you can still hike in the area without extreme discomfort and lack of oxygen.
Travelling to Tawang? Here is our detailed Itinerary on the route to Tawang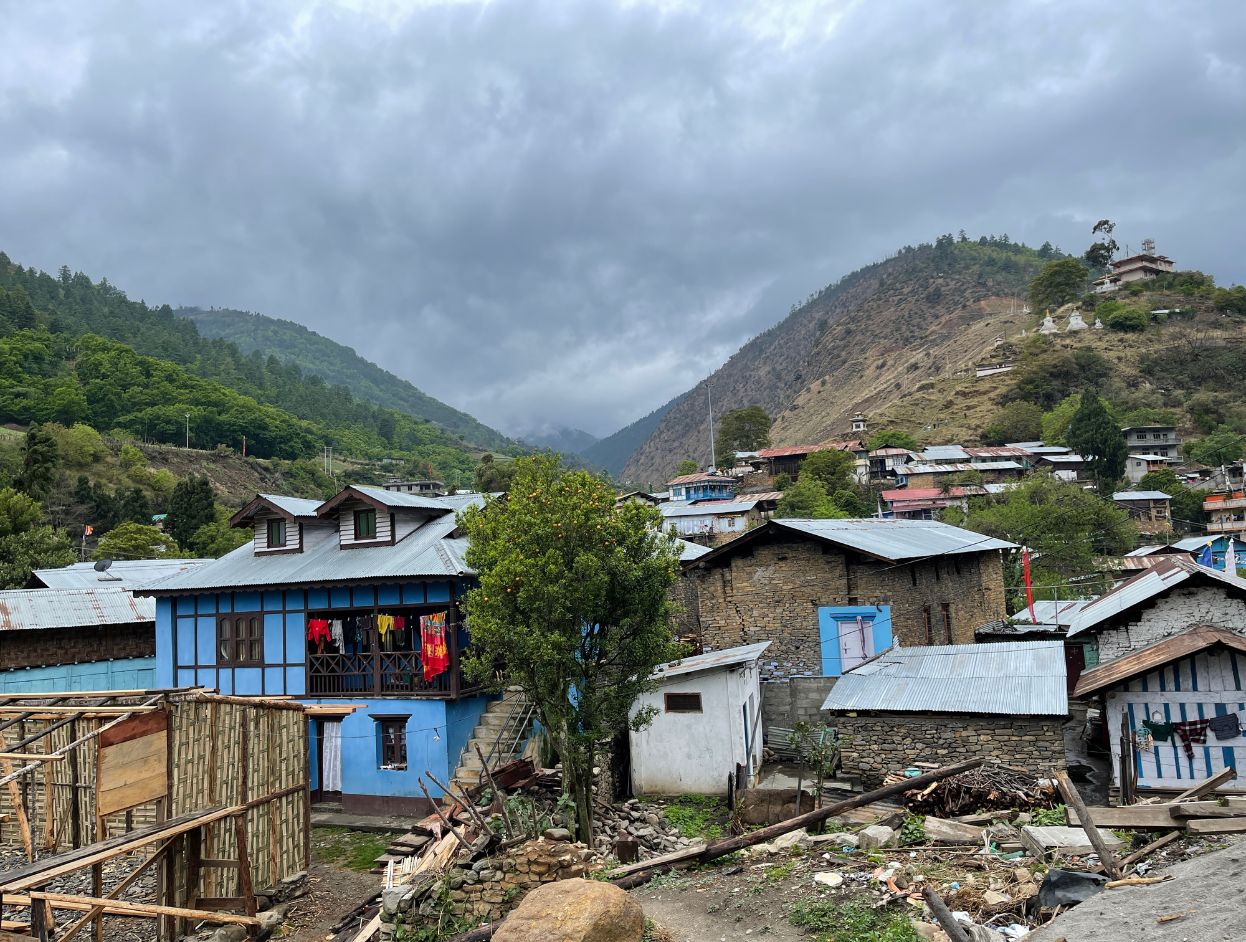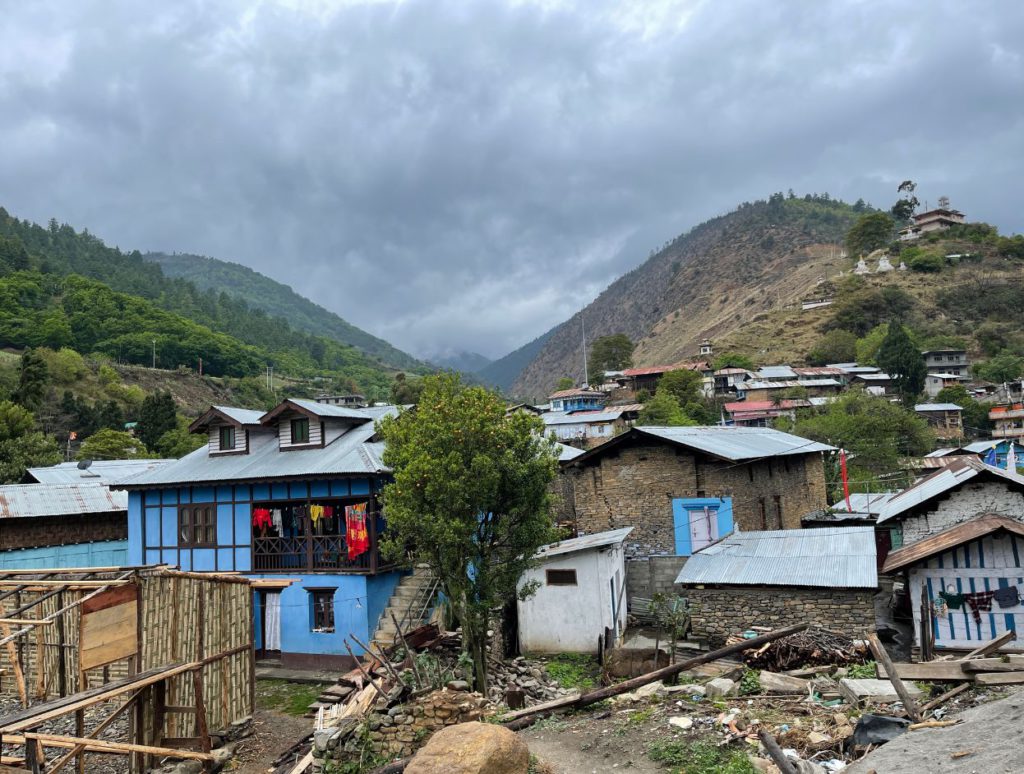 How to reach Dirang
Like most other places in this route in Arunachal, you can only reach Dirang by road. You can either take a taxi or private transportation from Guwahati or Tezpur or use public transportation.
Public transportation is not too frequent but it is still available. You can take a bus/shared sumo from Paltan Bazaar in Guwahati or from ASTC stand in Tezpur. The journey from Guwahati can take upto 10 hours and around 8 hours from Tezpur. This is also the most affordable way to travel.
If you are fond of riding, you can also explore a bike trip on this route. But there are definitely a lot of things to consider. Riding in a group with an experienced tour guide can make your journey way more comfortable.
Check out our blog article where I have shared much more details on how to reach Dirang on the way to Tawang.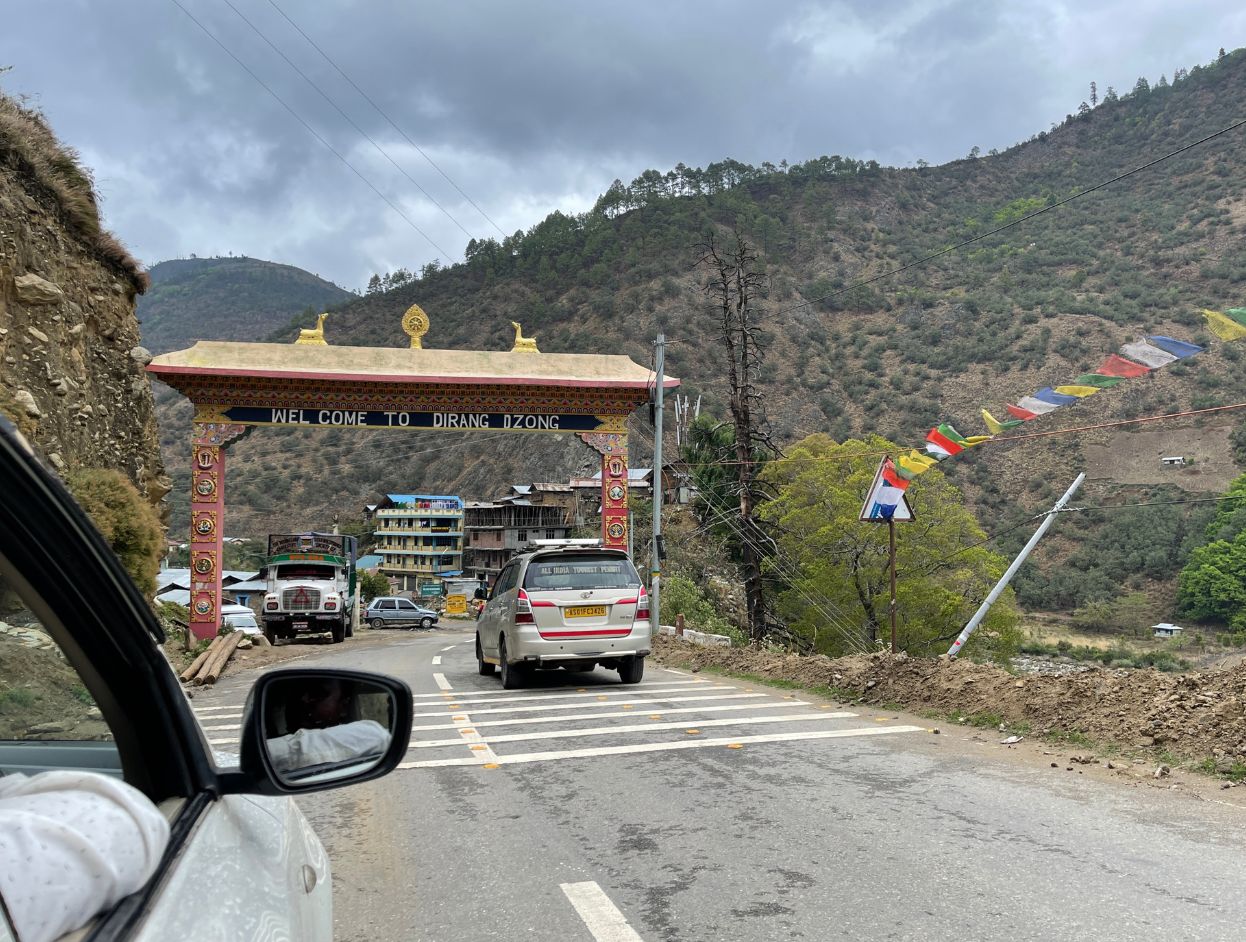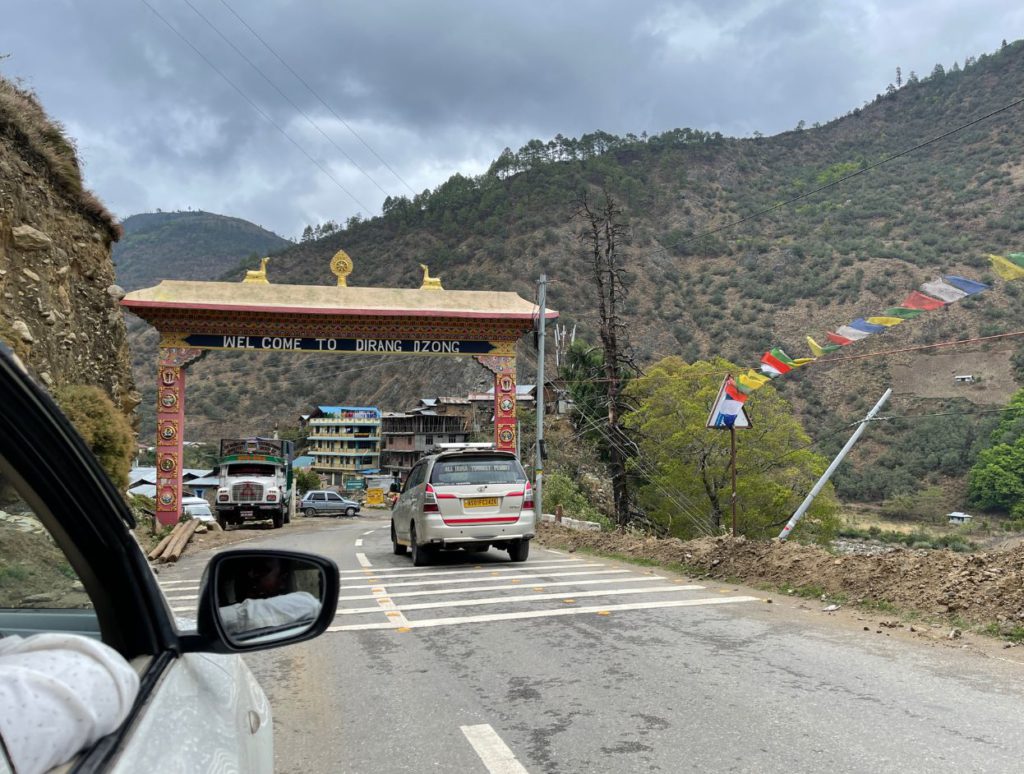 Where to Stay in Dirang
Dirang has several options for hotels. Some of them can be booked online, while others are available on the spot only. During the peak season, the hotels are easily sold out and are booked ahead by tour operators due to heavy tourist footfalls. So if you find the town booked online, don't rely on the chance to get a room on the spot.
We stayed in two separate hotels on our way to and back from Tawang – Hotel Pemaling and Wangdi Homestay (right next to the river). Both of them were the best we could find in town. And I think both of them were quite nice and comfortable.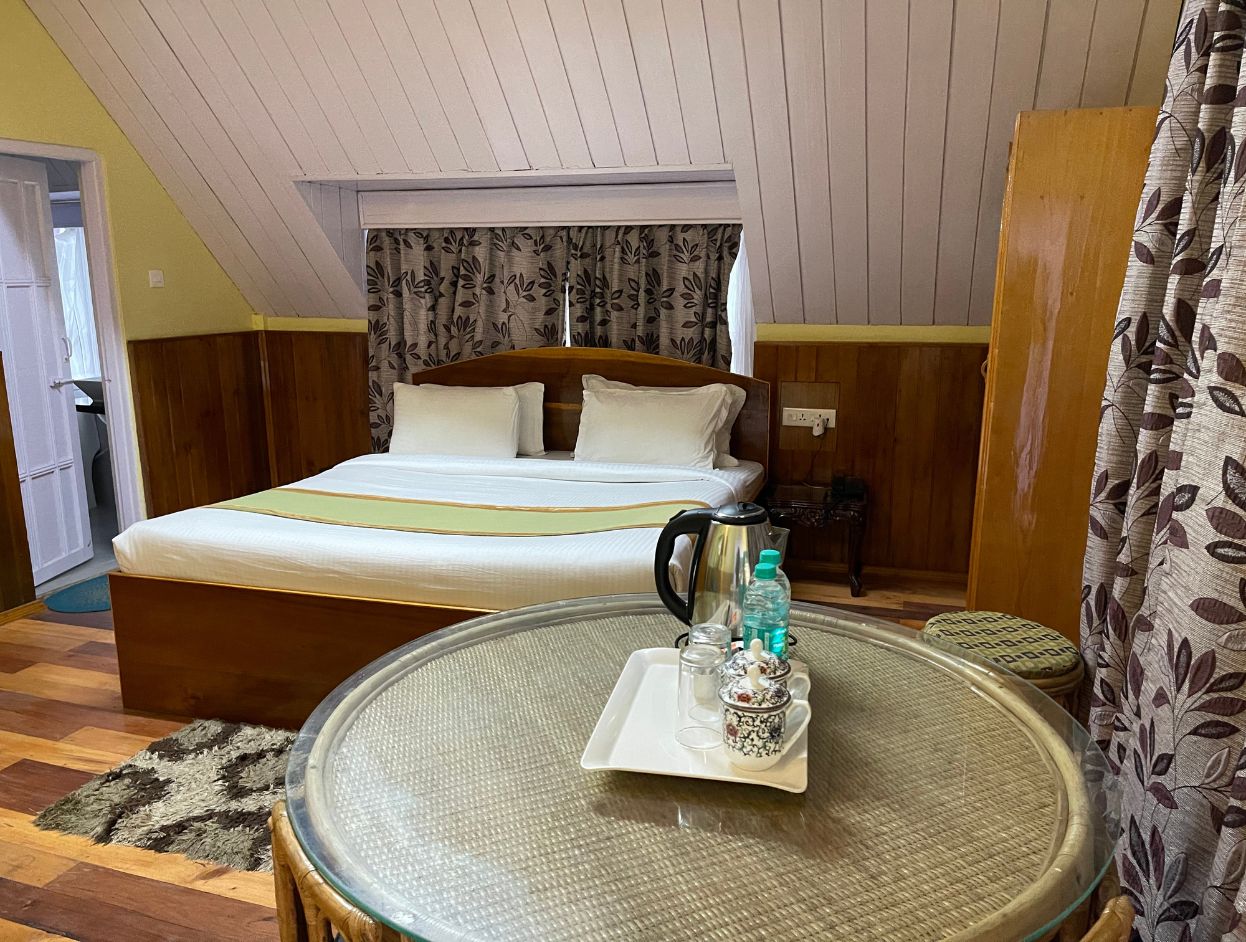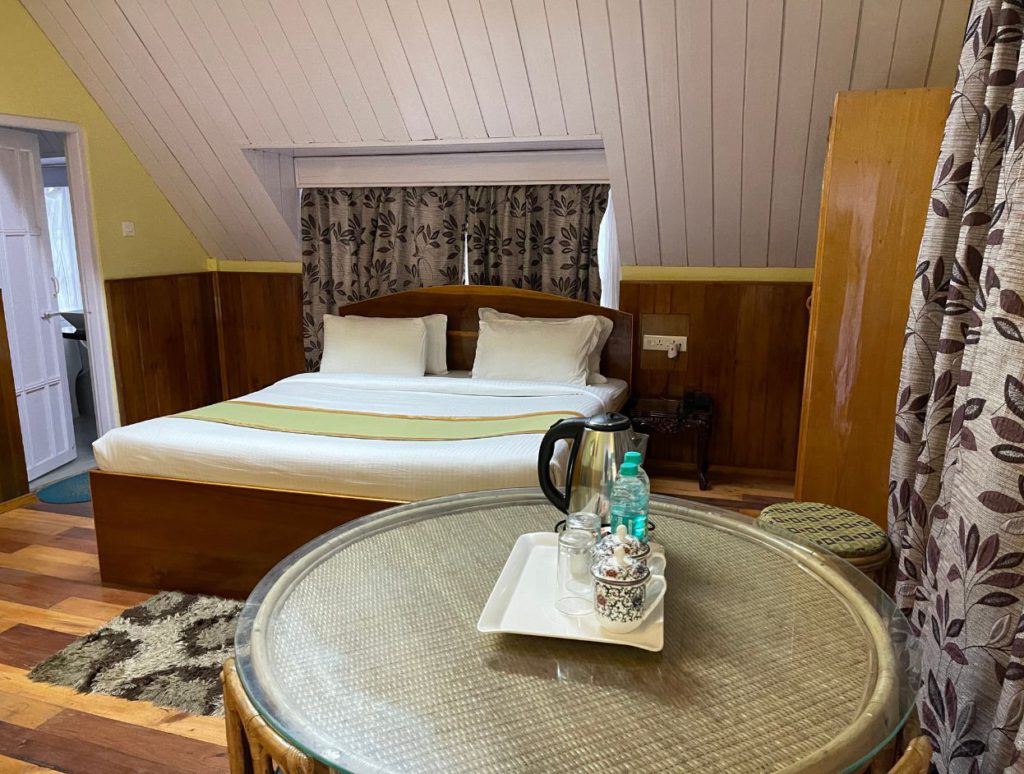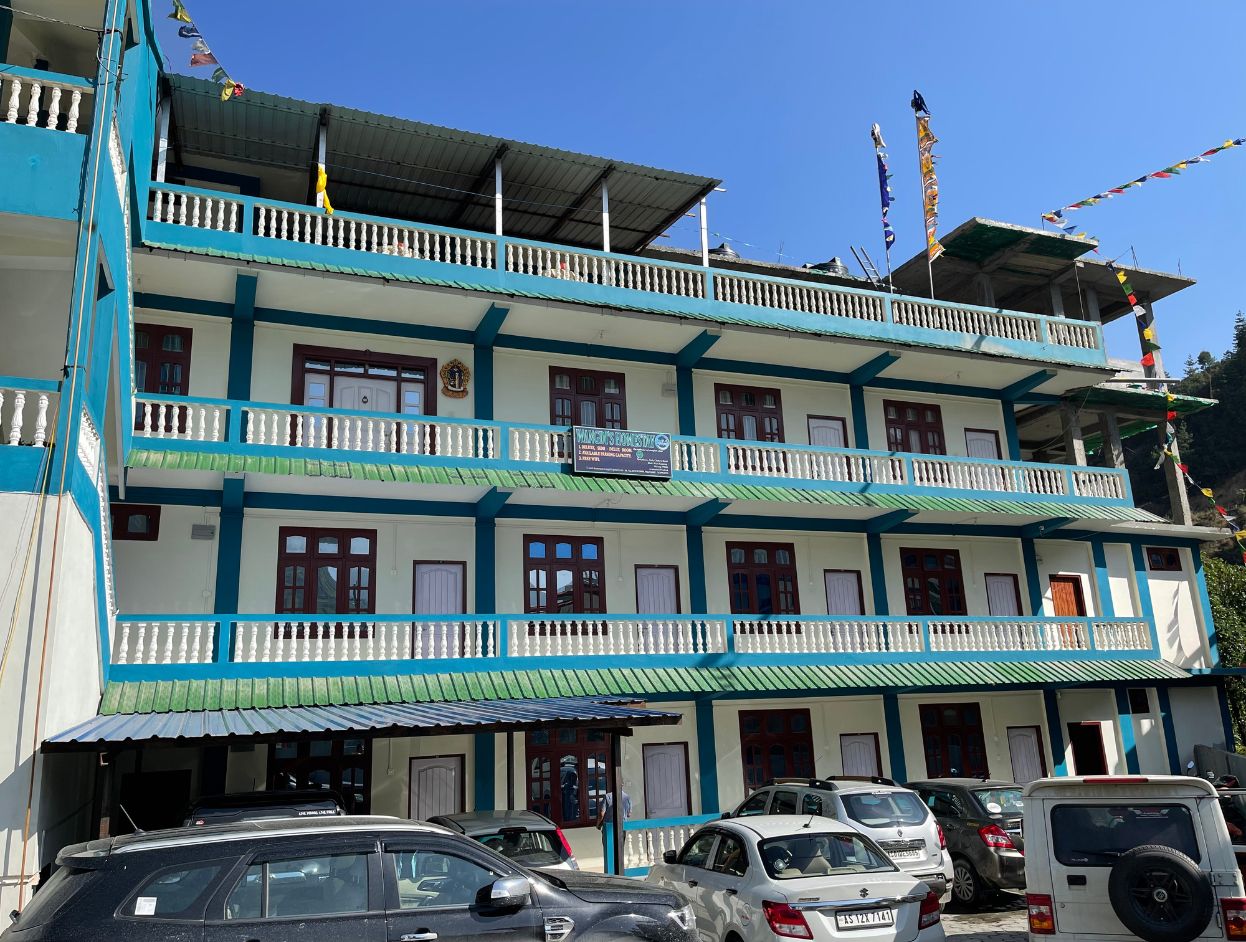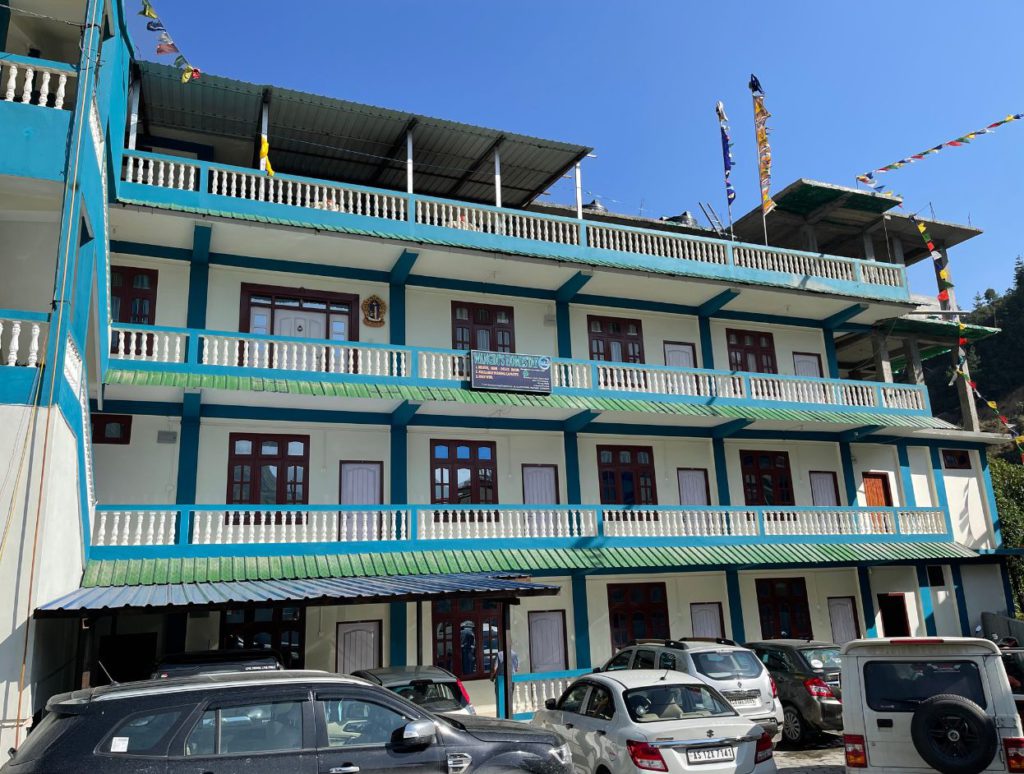 Here are other popular hotels/homestays that you can stay in Dirang:
If you want to experience something different, you can also board a room in Dirang Monastery. Apart from the lovely Tibetan architecture, the view of the town from the monastery is fantastic.
Things to do in Dirang
1. Thupsung Dhargye Monastery
Thupsung Dhargye Ling or Dirang Monastery is the new shining place in the town, a holy place founded by the 14th Dalai Lama himself, and today a major tourist attraction. He also named this place that  translates to "Place of Flourishing of the Buddha's Speech"
The foundation ceremony in 2017 was a large-scale event with several teaching sessions and people gathered from hundreds of miles around. It is also a learning institute for Tibetan Buddhism for monks and people in the area. 
The monastery is complete now and is built on high grounds at a place where you can see it from most of Dirang. On the other hand, you can also see most of Dirang from there too. The place itself is astounding. Built in the traditional Tibetan style, it sparkles in bright red and golden colours. 
There are large chortens outside the main buildings and the main hall is decorated with beautiful murals and these large cylindrical garments hanging from the ceiling (I think they are called the Chukhor). The prayer halls were quiet and I couldn't see any monks around. One strangely nice thing I find about Buddhist monasteries is they are usually unmanned and they trust the visitors to keep the decorum. 
You can easily spend an hour here. Wear some warm socks since you need to leave your shoes outside and the marble floors are freezing cold most of the time.
P.S. -> The monastery also has boarding facilities, so you can stay in the room here. The rooms are minimally furnished but you will find a cosy bed with blankets and good food on order.
Looking for more? Read up on the top places to visit in Tawang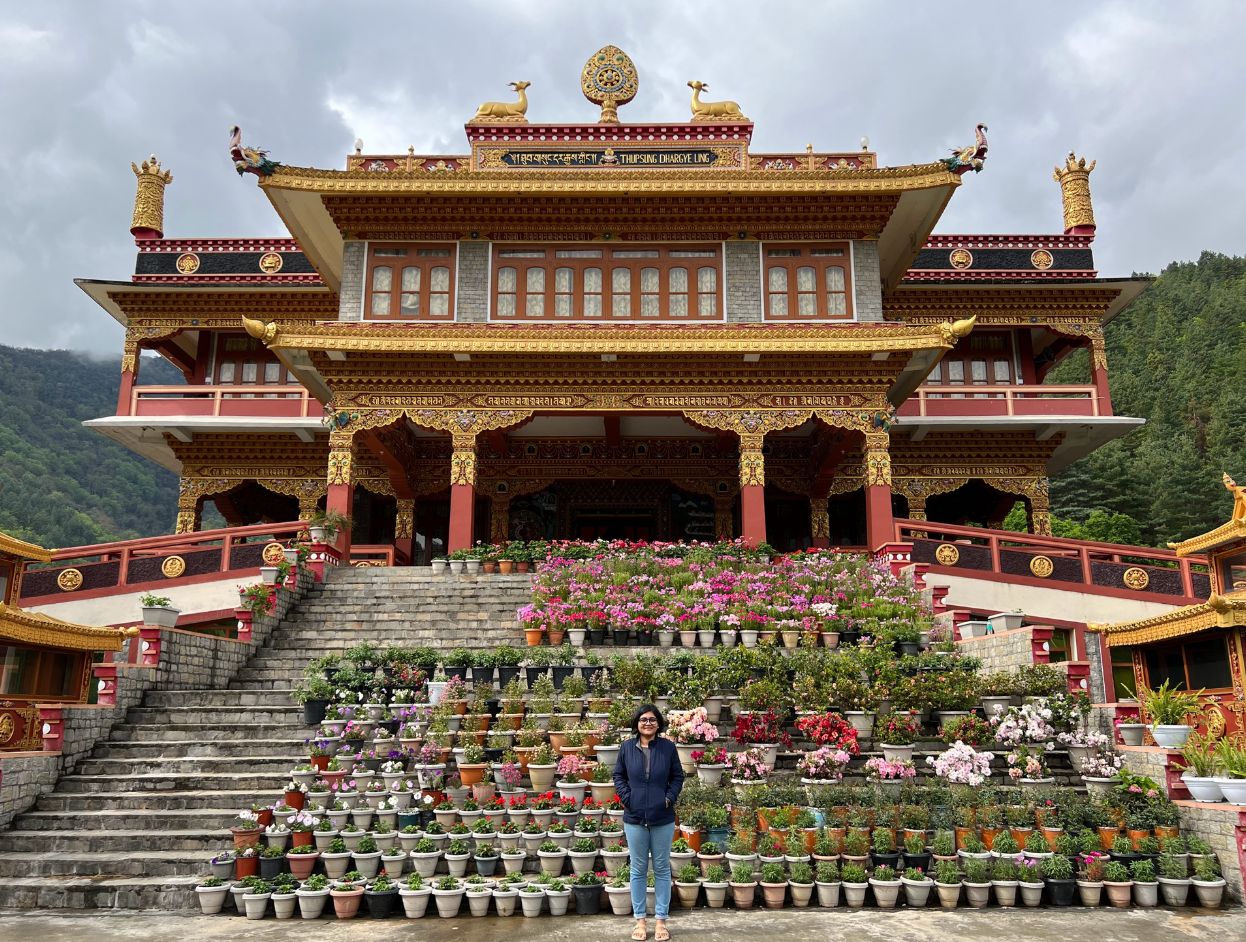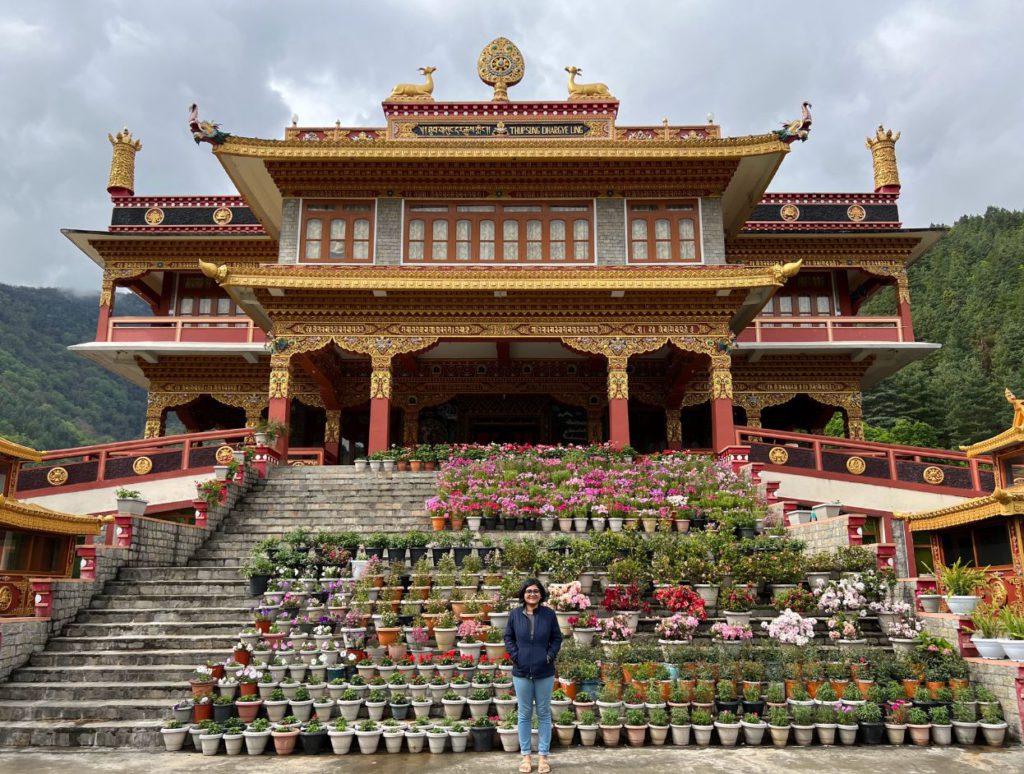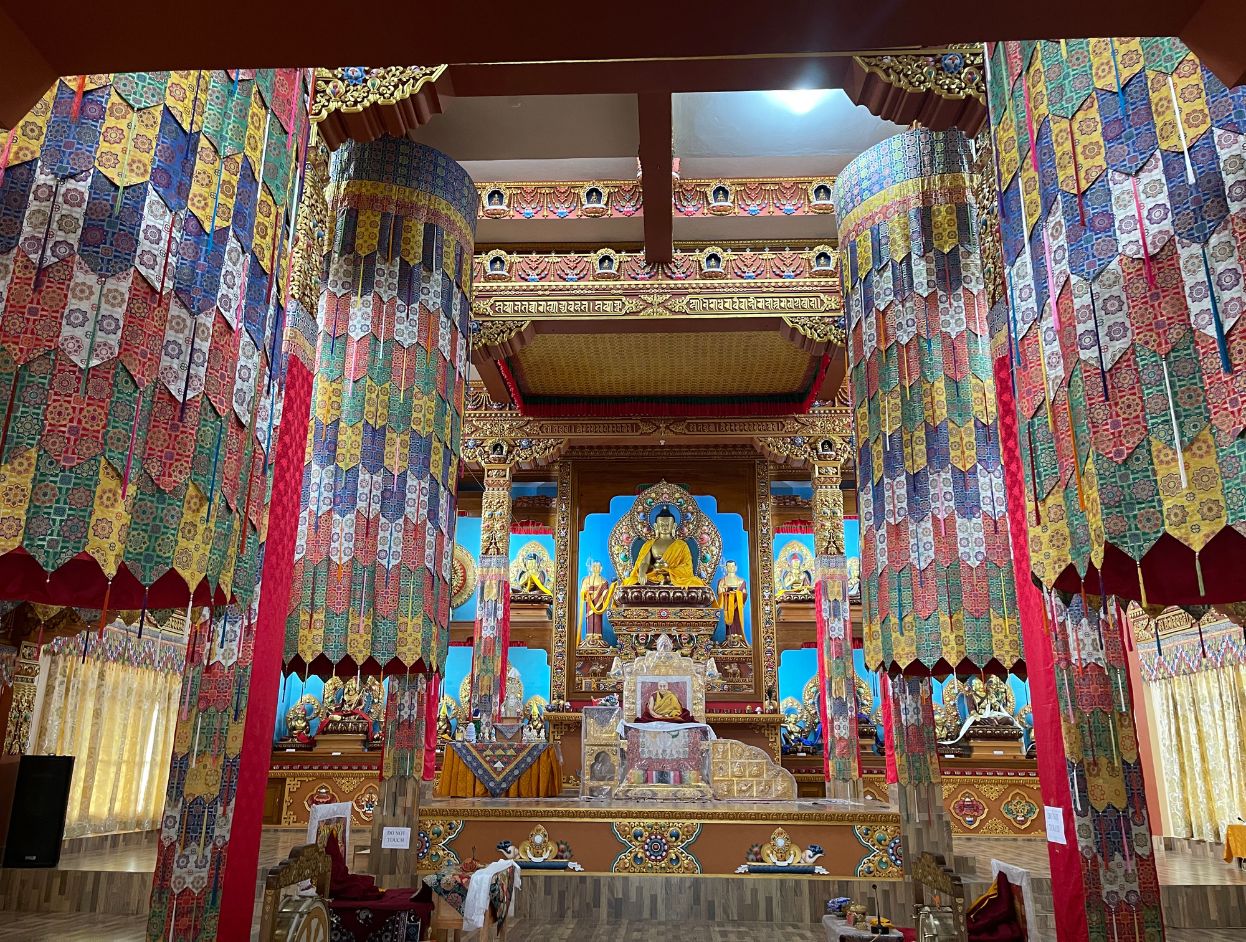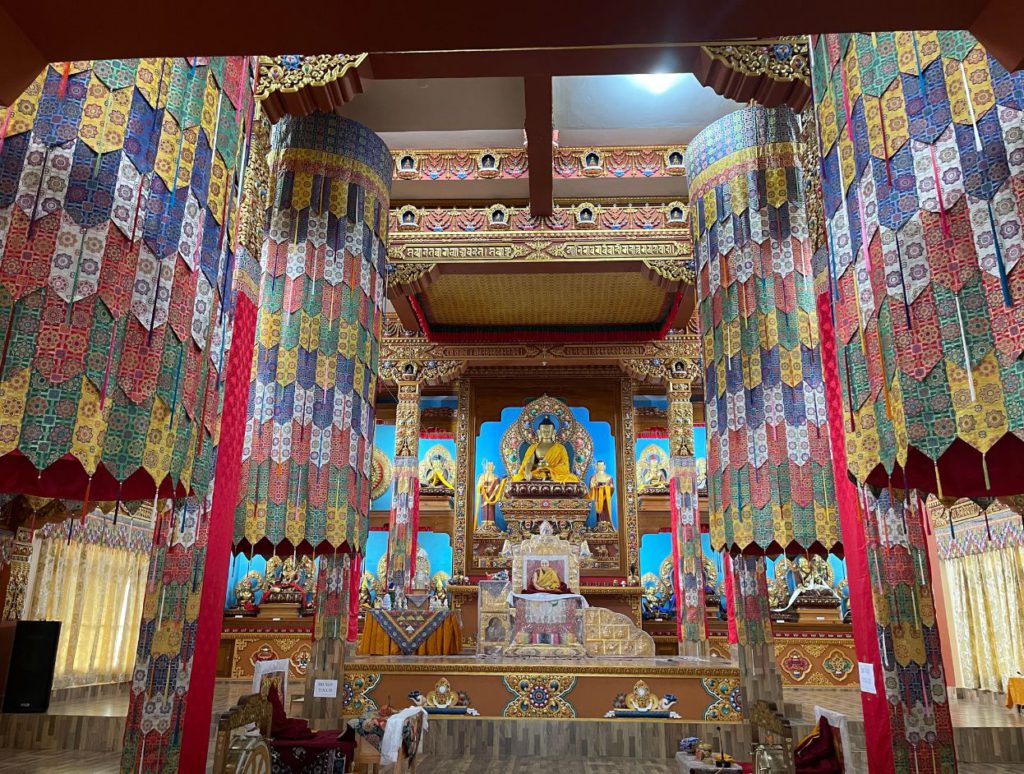 2. Kalachakra Gompa
A less visited but important Gompa is located down in the valley in the middle of Dirang town knowns as the Kalachakra Gompa. Kalachakra (The Wheel of Time) is a series of texts and teachings from Indian and Tibetan Buddhism with its own philosophy on worldly practices. 
I am assuming that this gompa was termed 'Kalachakra Gompa' after the 14th Dalai Lama initiated a Kalachakra ceremony here in Dirang in 1983. People say the gompa goes back 500 years. But if you know more, let us know in the comments.
It's a nice little place that was recently renovated with the money collected by the community and by their collective efforts. We asked the local monk if we can see its main hall after its closing hours in the evening and it was nice to let us in and take some photos. We also met a few locals hanging around the area and enjoying the evening.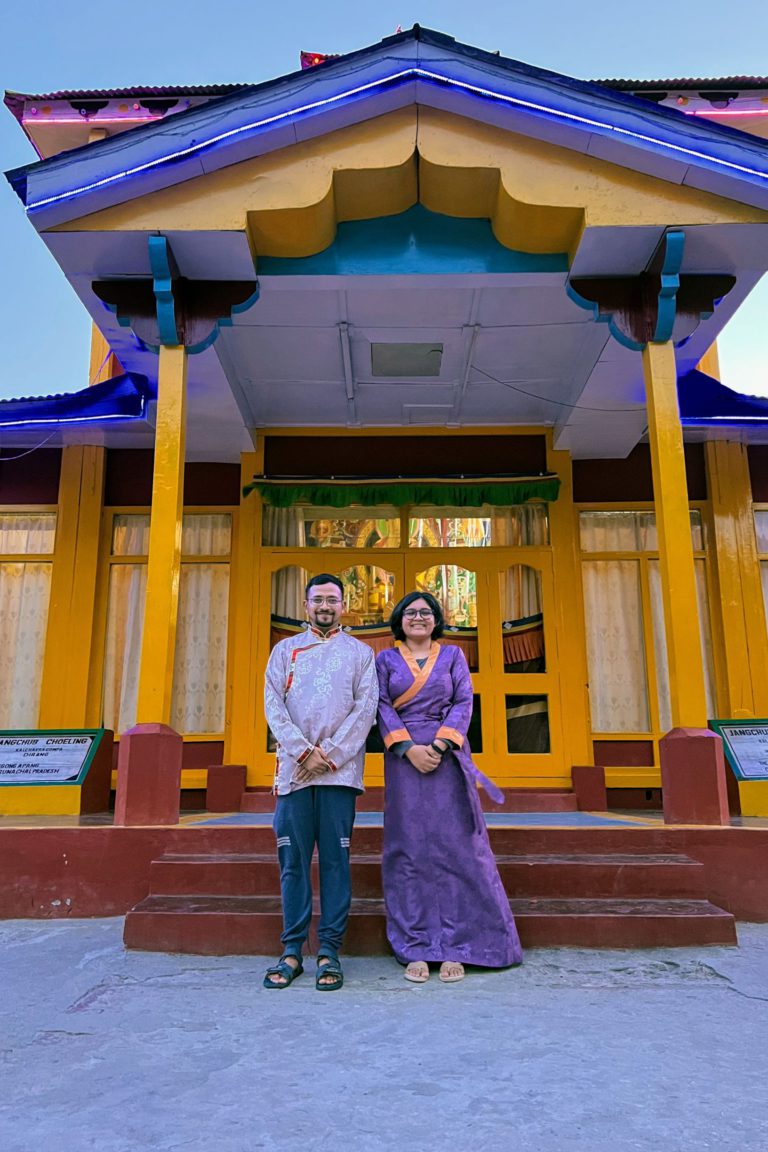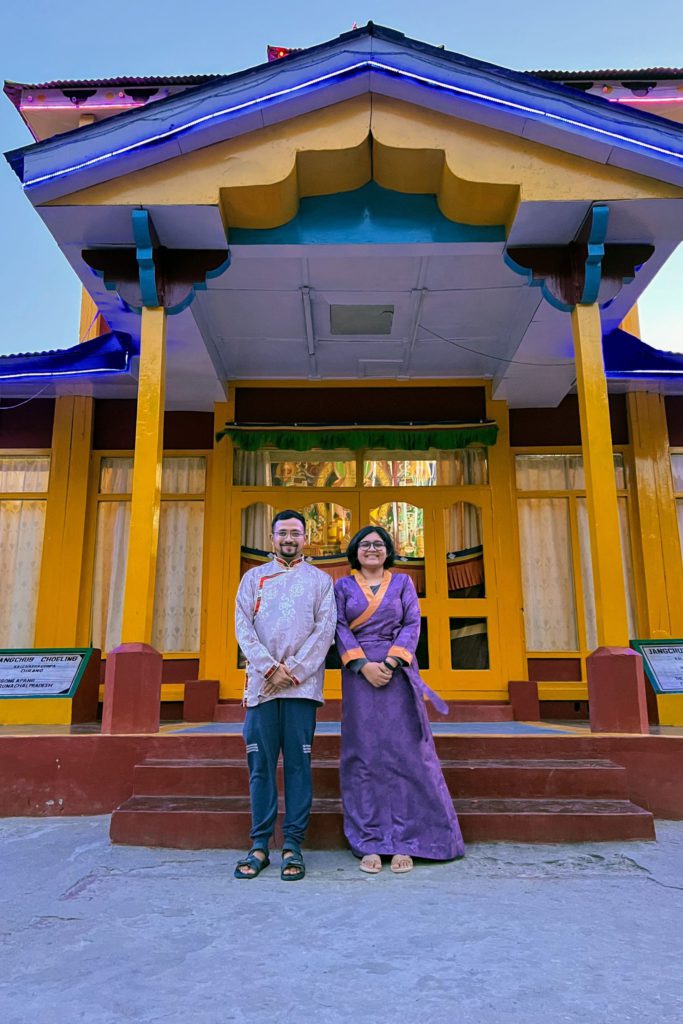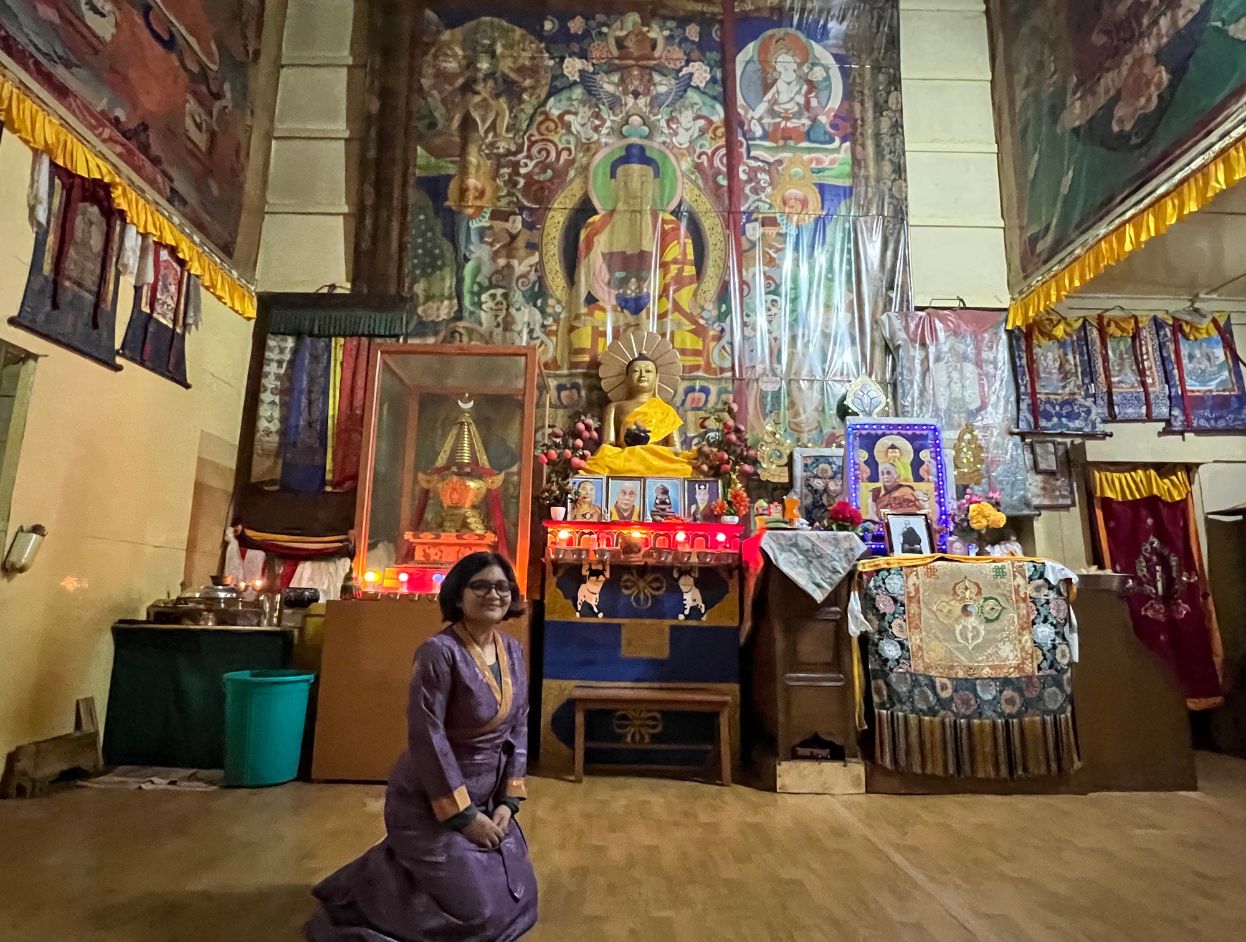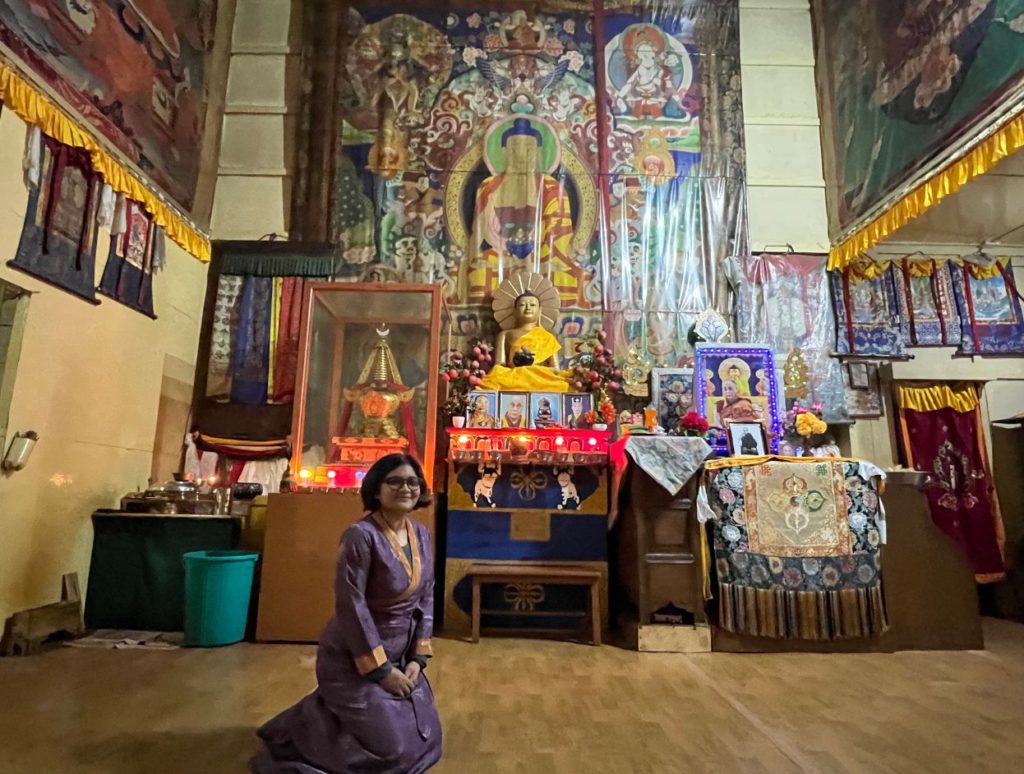 3. Dirang Dzong
If you are unaware of Dzongs, a Dzong (pronounced as Zong) is a structure that Tibetan rulers built in each district in the area they ruled that worked both as an administrative place and also had a religious sanctum. You will find Dzongs, large and small, across all of Bhutan, some parts of Arunachal, Sikkim, Tibet and the Leh area.
The Dzong in Dirang is around 400 years old. You cannot really spot it from the road and have to take this conspicuous staircase to reach it. And while you can still see the massive structure, a lot of it is crumbling inside. Luckily, the restoration work is in progress.
There are a few small prayer areas and people have settled in the area with their houses made in typical brick and wood style. We found some kids curious and running around. There is also a lovely view of the valley right behind it. 
It is an important landmark and is around 5 km from Dirang town. So you can walk to it if you are in the mood for a long walk and have a lot of time.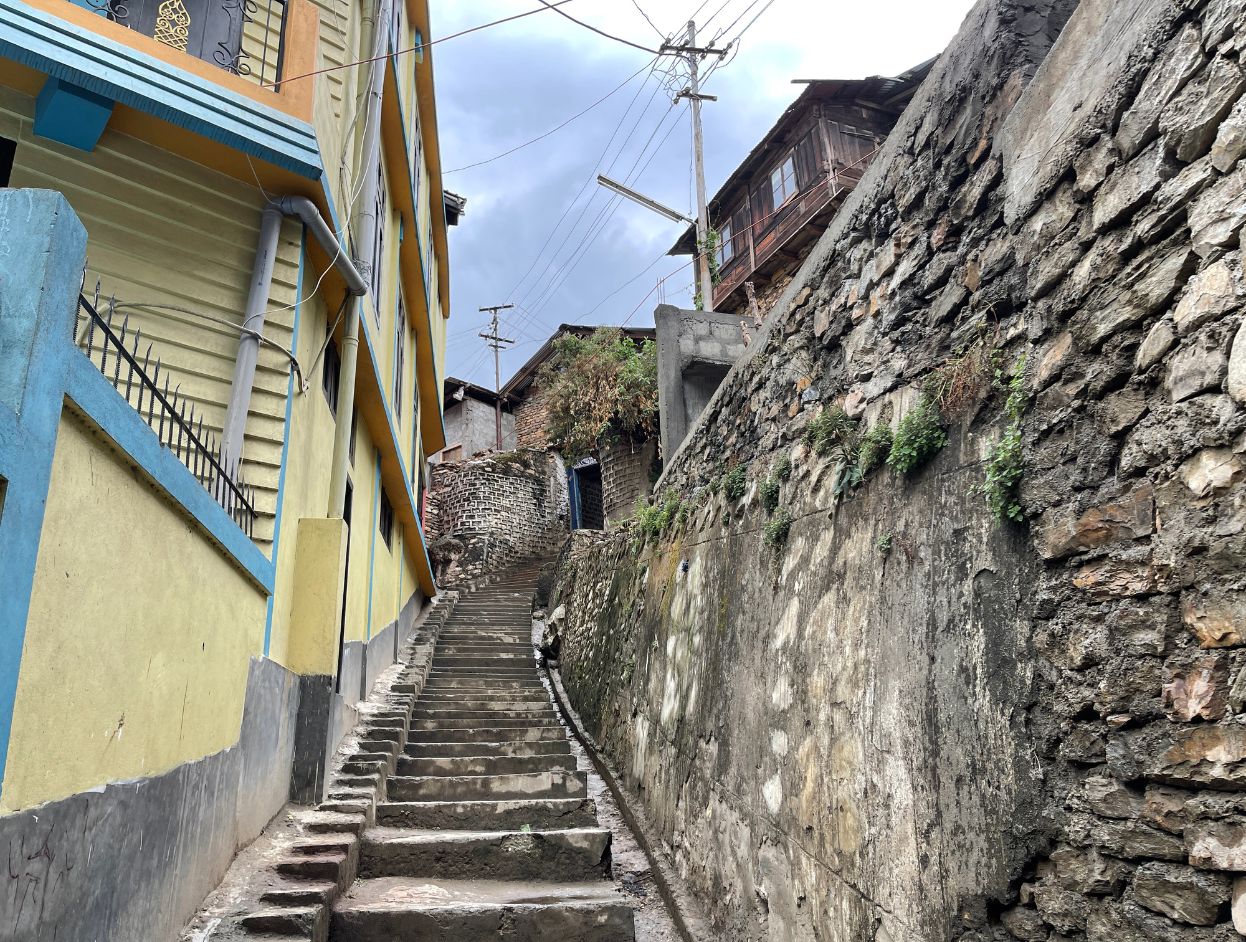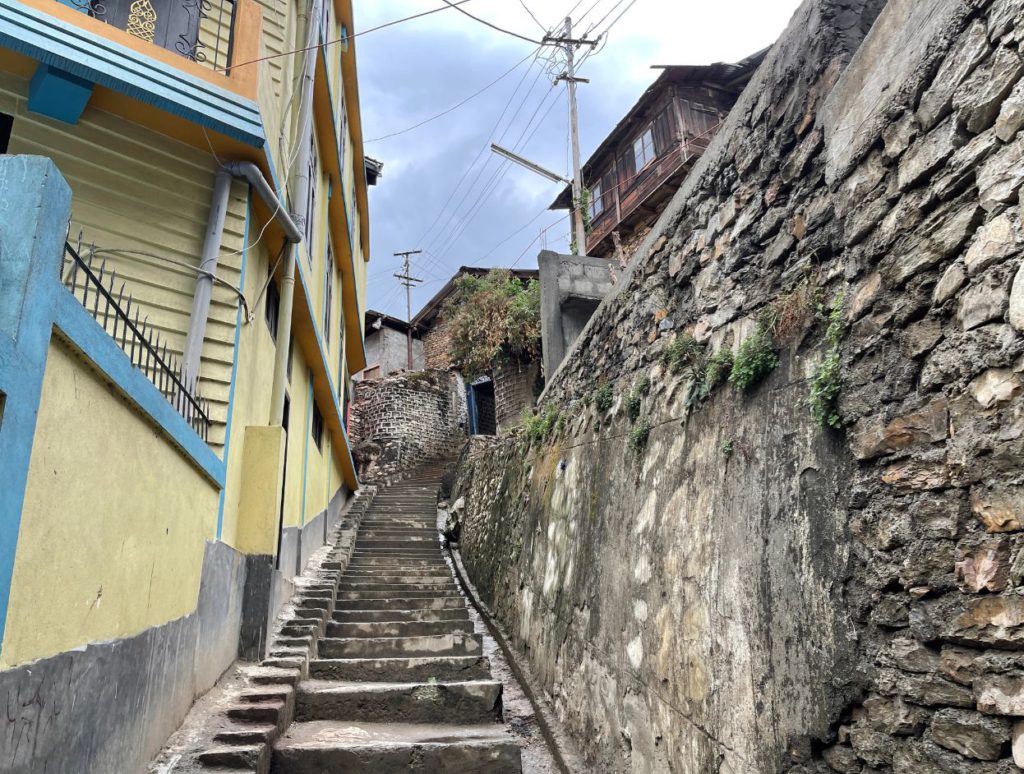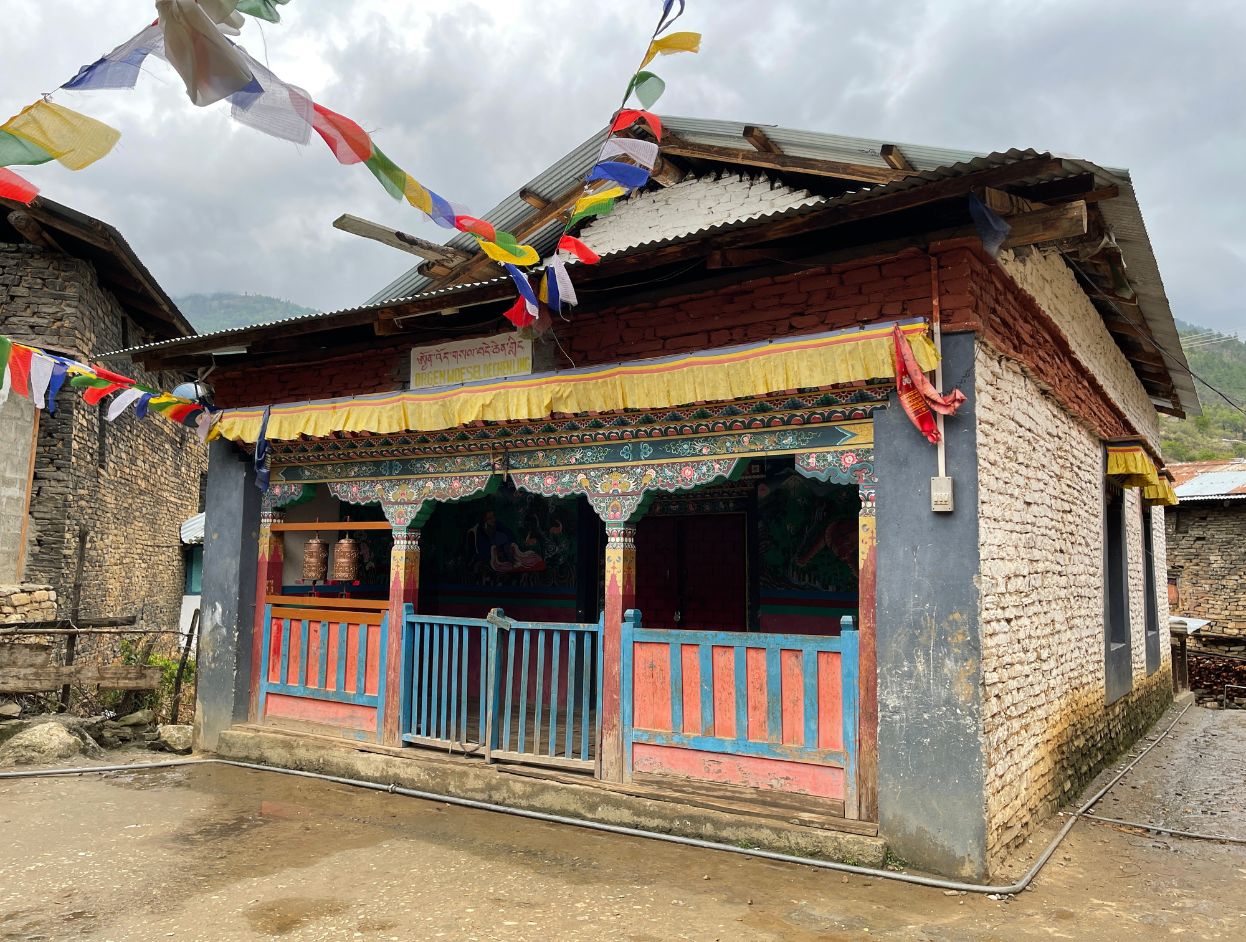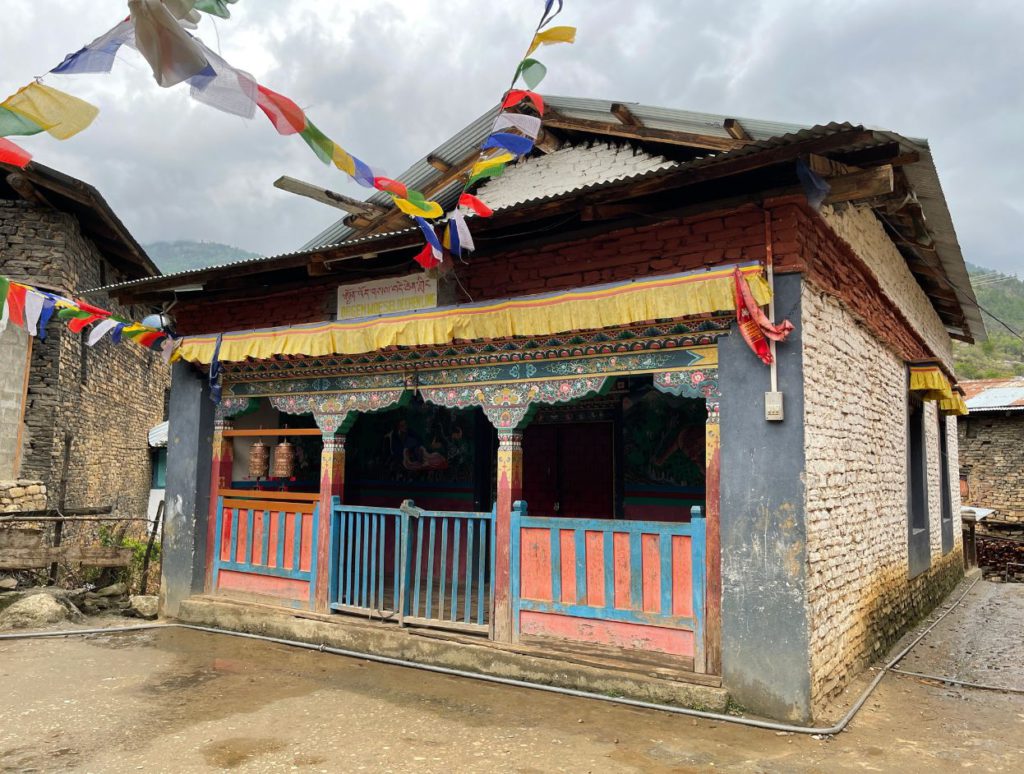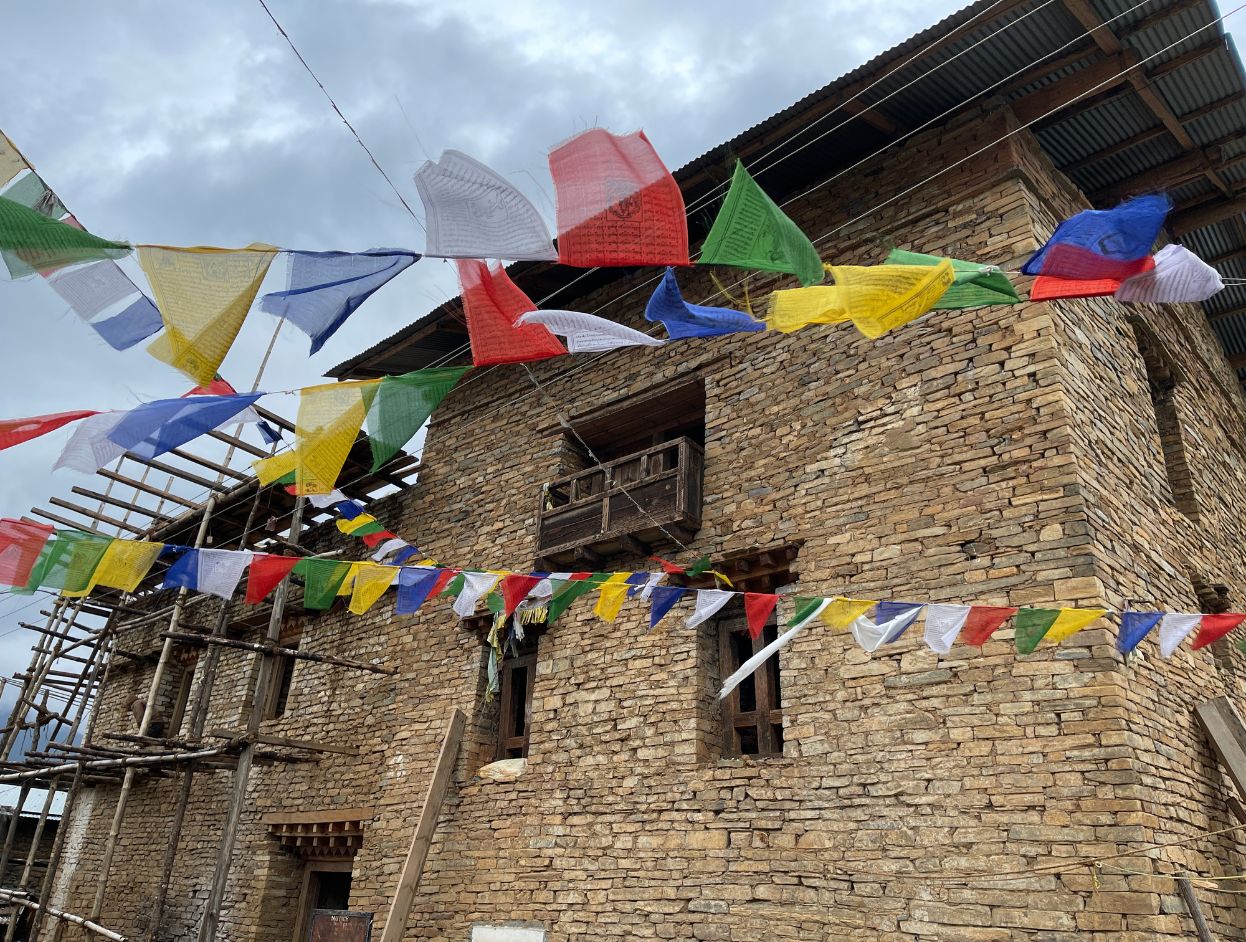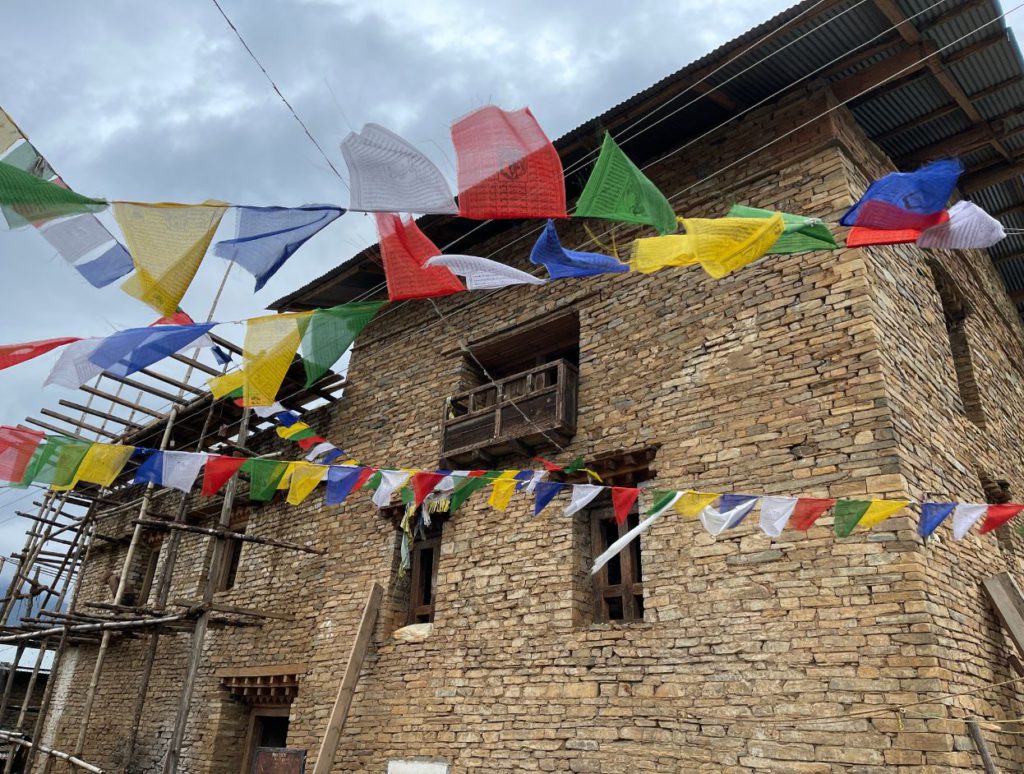 4. Dirang Hot Springs
Slightly north of the city, there are a couple of hot springs from Dirang on the way to Tawang. You can see the sign on the road and then need to climb down some steps to reach the hot springs that sit near the Dirang River.
There is two separate square container kind of structures painted in bright Tibetan colours. There are a few washrooms on the side to wash before and after you take a dip. The hot springs are communal and you may find a few people and kids enjoying themselves. People say that water has healing properties. The view of the river on the other side is pretty great too.
I found one hot spring filled with debris. Also, there were quite a few pieces of plastic waste lying in the area. So I think it may need additional care in terms of cleanliness. But again, things may change when you visit. I cannot say if you should carry your swimsuit.
There are no timings or charges to visit or even to use the hot springs.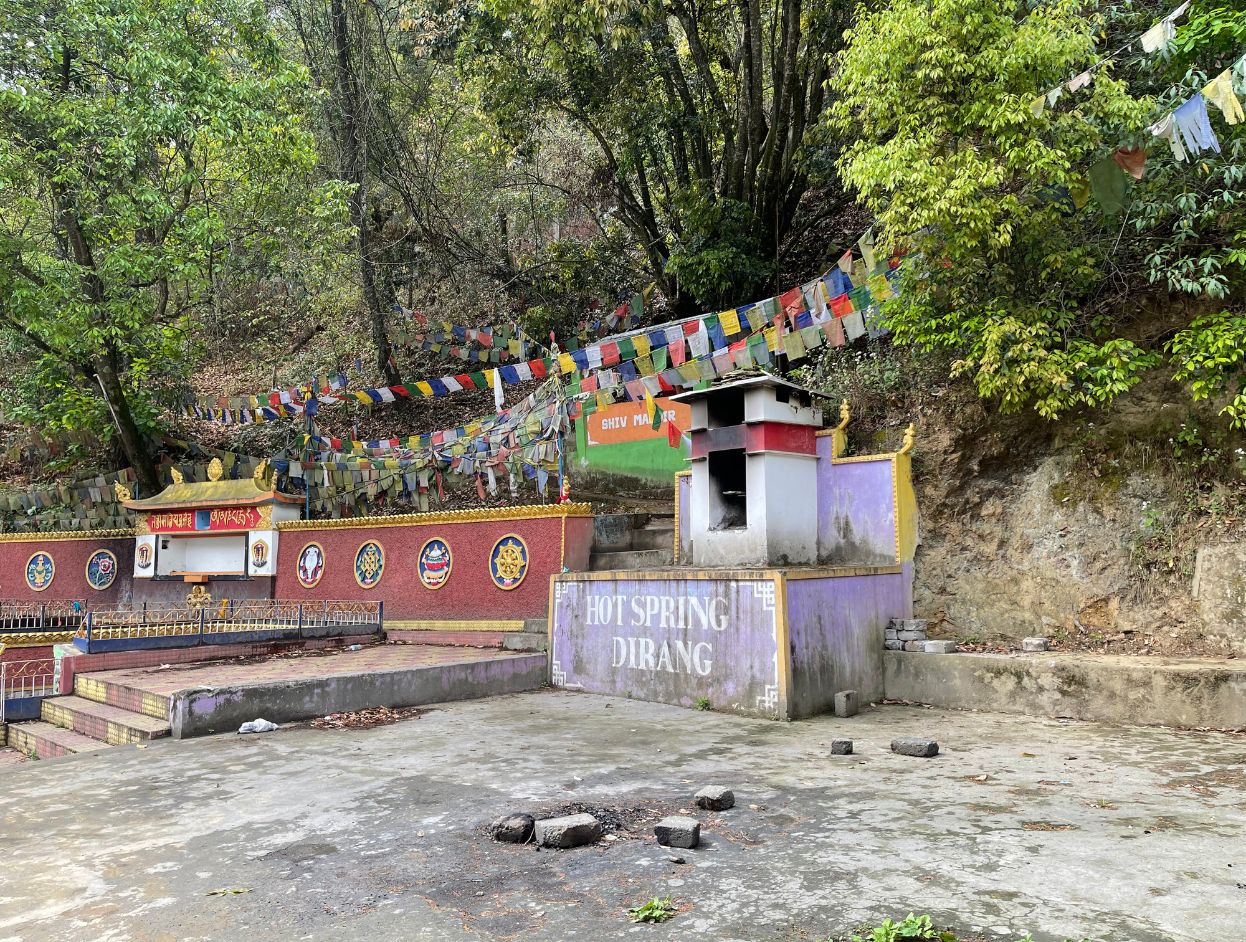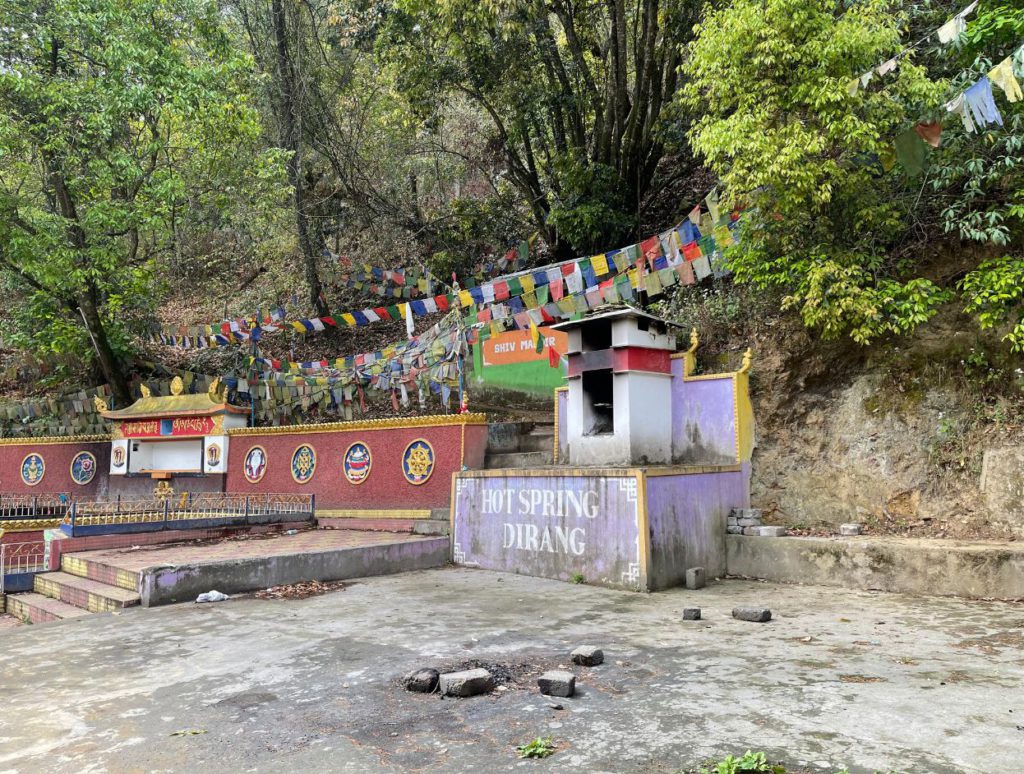 5. Dirang Chu River
I know it sounds kind of obvious, but you may not be able to visit or spend some time if you are staying at the place high up on the hillside. If you have some time go ahead and spend some time by the river. It is easily accessible but you will have to walk down to the town.
We stayed at Wandi Guesthouse and we could see the river right behind our home from the windows and the balcony. I think things could get pretty scary during the monsoons and stormy weather though.
Dirang River changes its name as it goes through different areas in Arunachal and as it pours into Kameng river down south. It is mostly fed by the snow and glaciers from the higher-altitude mountains inside Arunachal.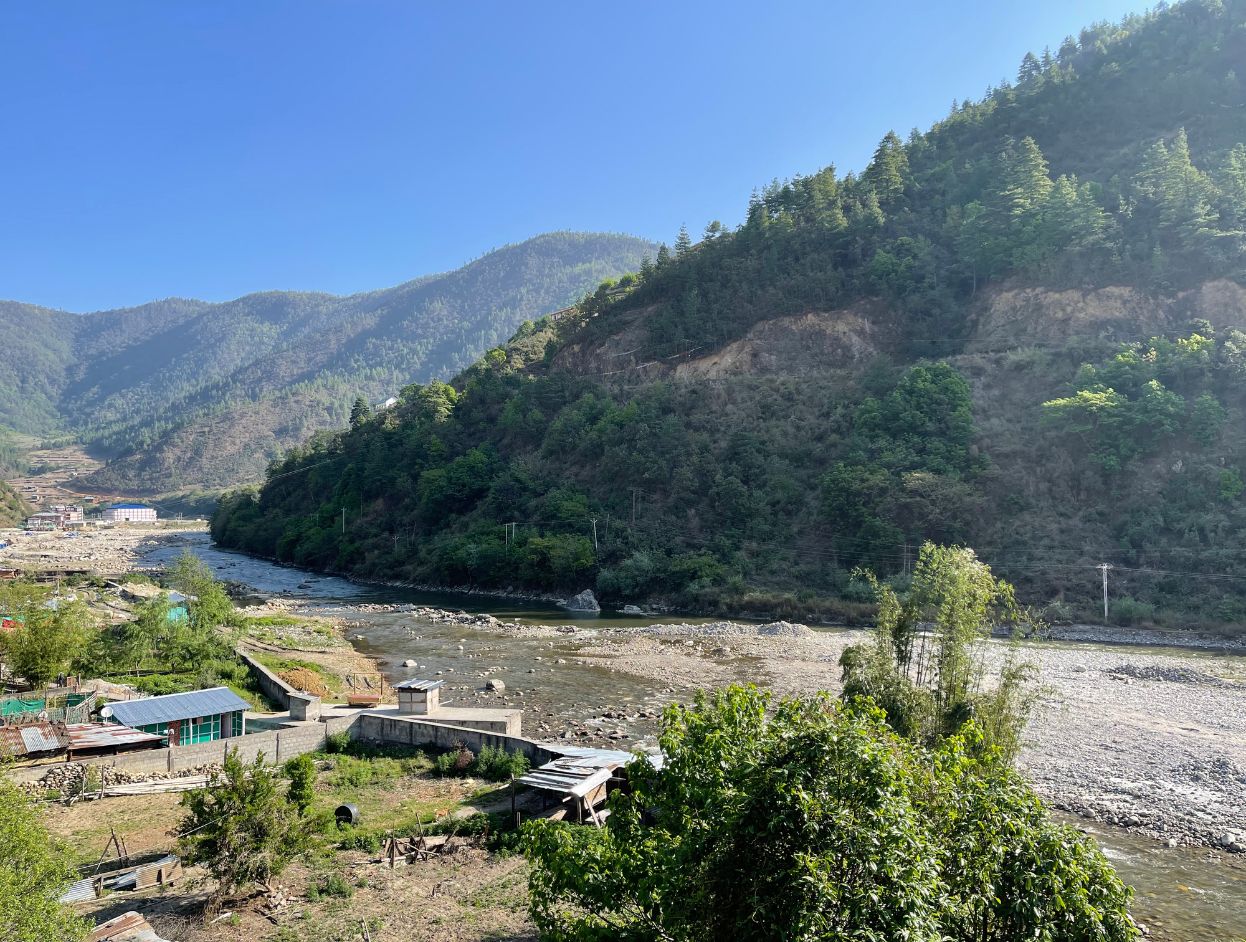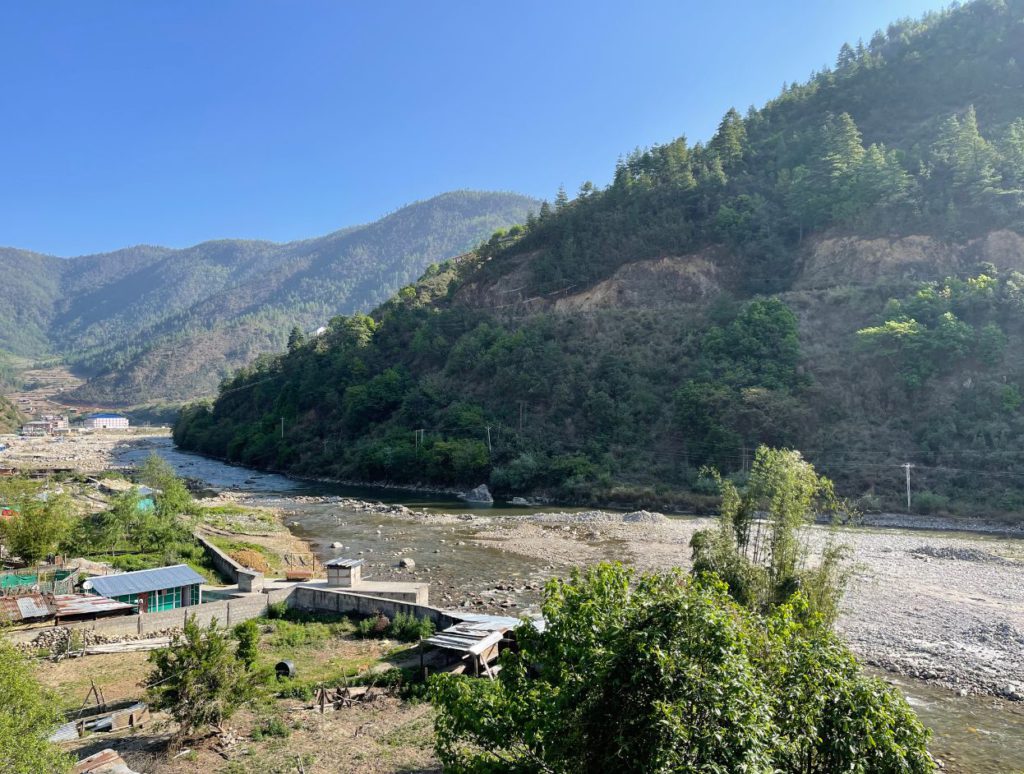 6. Sangti Valley
Sangti Valley was one of my favourite places not just in Dirang my on my whole Arunachal trip to Tawang. It is around 14 km from Dirang town and you will need a private vehicle (a car or motorbike to be specific) to reach here. Unless you want to hitchhike.
The valley is just gorgeous and you will see a large expanse of paddy fields with mountains in the background as you enter. We travelled all the way to an iron bridge on a stream that was quite far into the valley. You can just walk around and enjoy the freshness.
As we came back we stopped at a kiwi orchard right next to a homestay. The kiwis were already plucked but we could still spot some flower buds. If you wish, you can also stay at a homestay in this area. I bet it will be amazing.
There is also a sheep farm as you enter the valley on your left side. You can spot it with black-coloured huts but it may or may not be open at the time. Explore the place if it is open.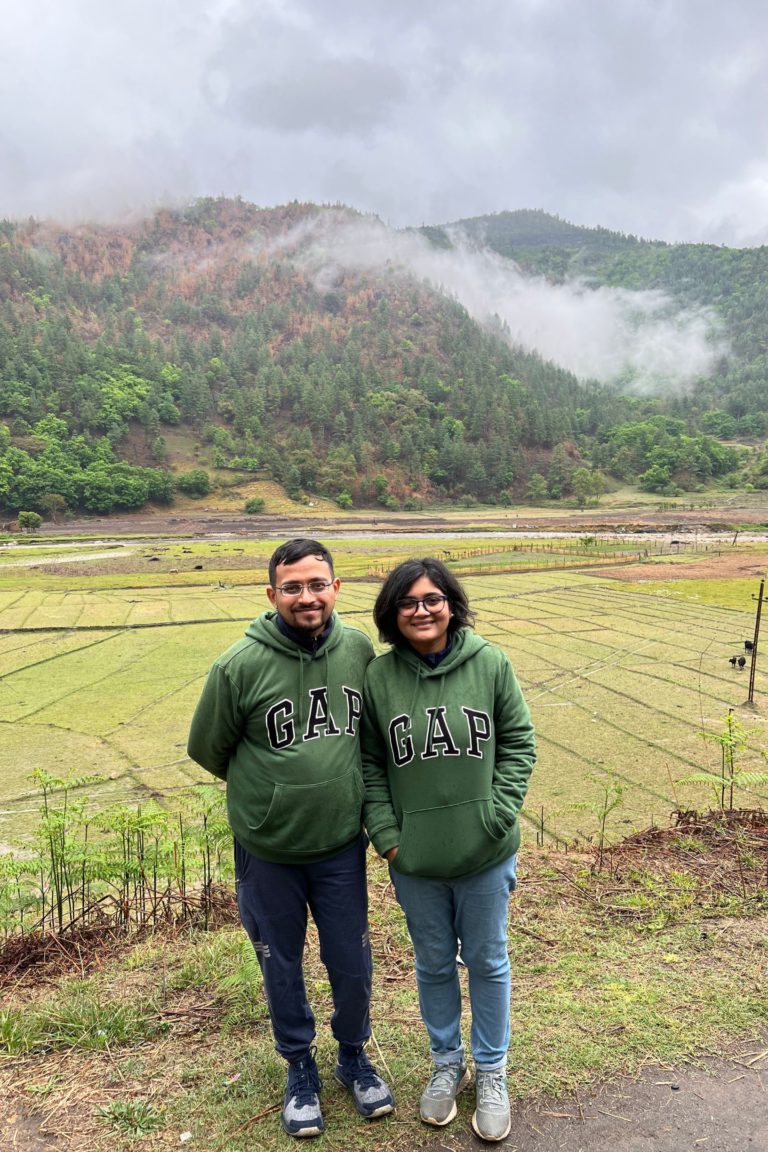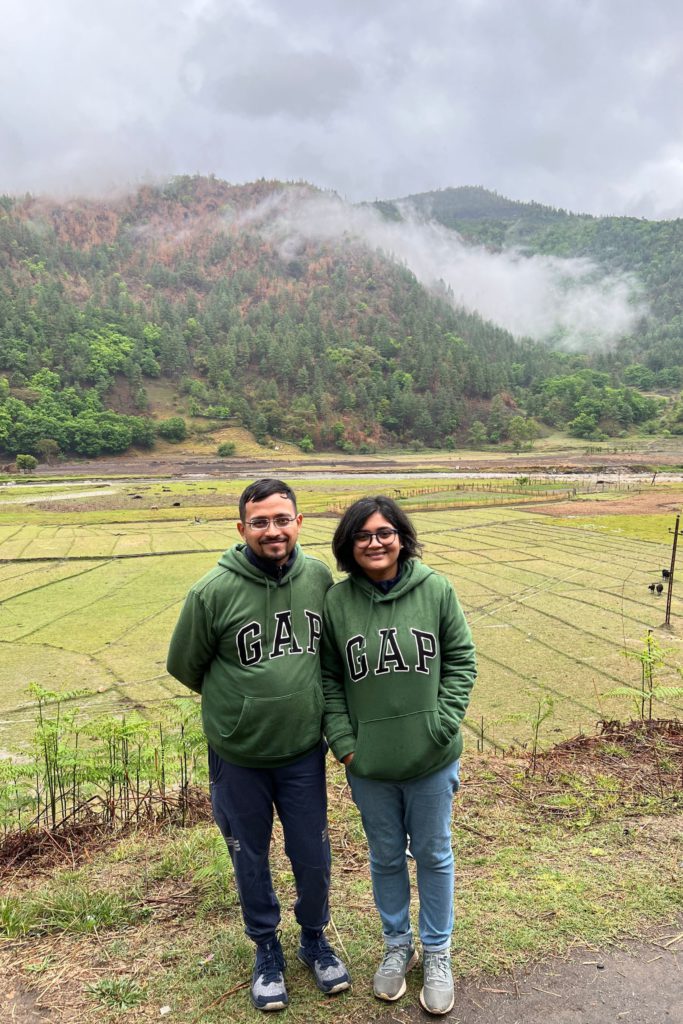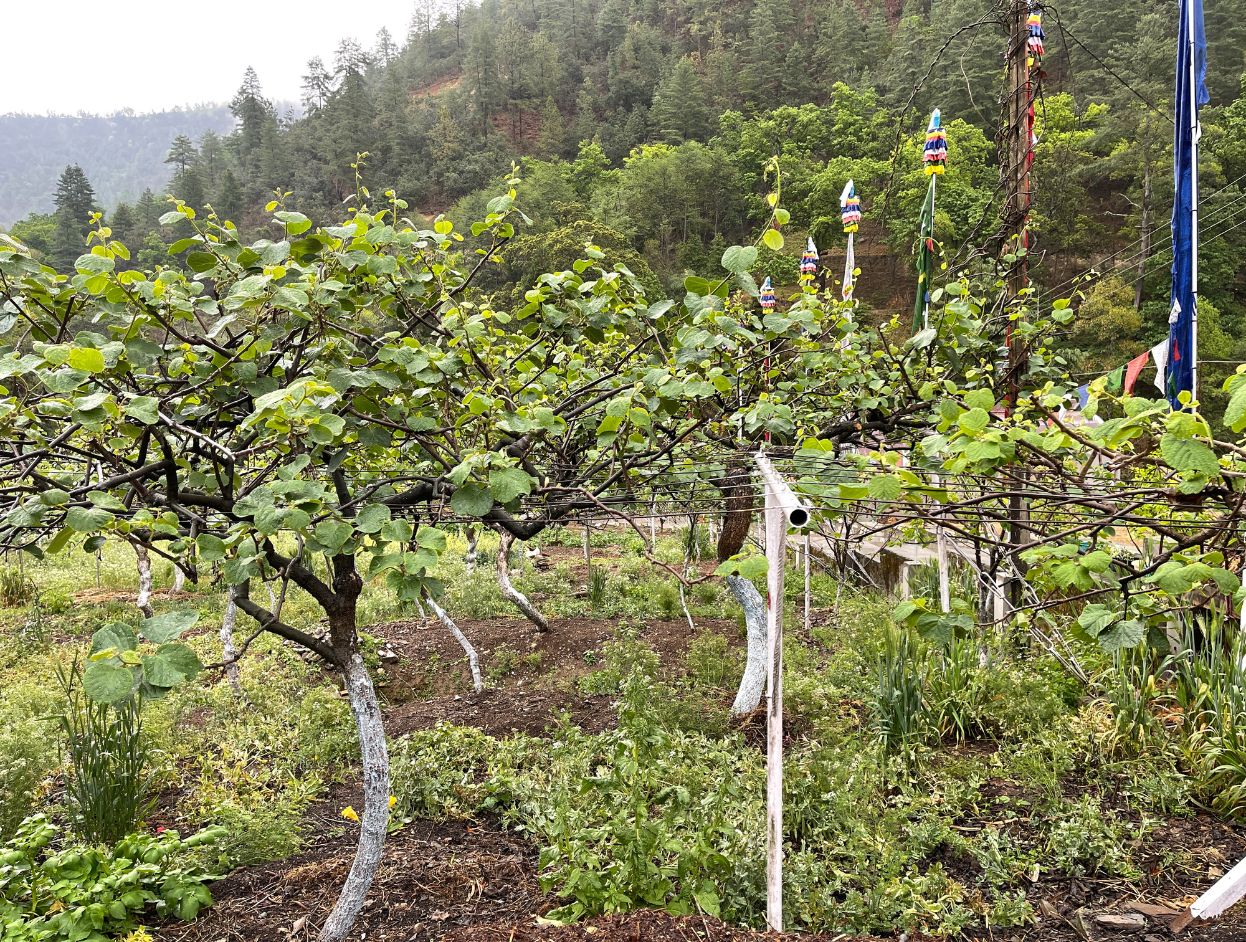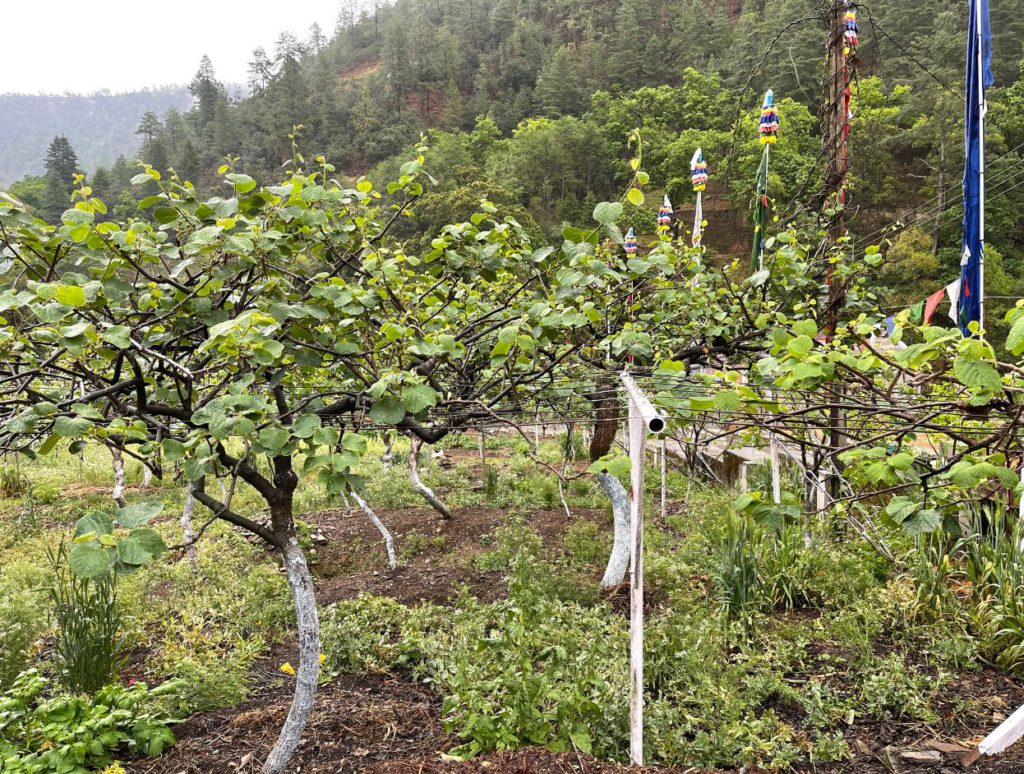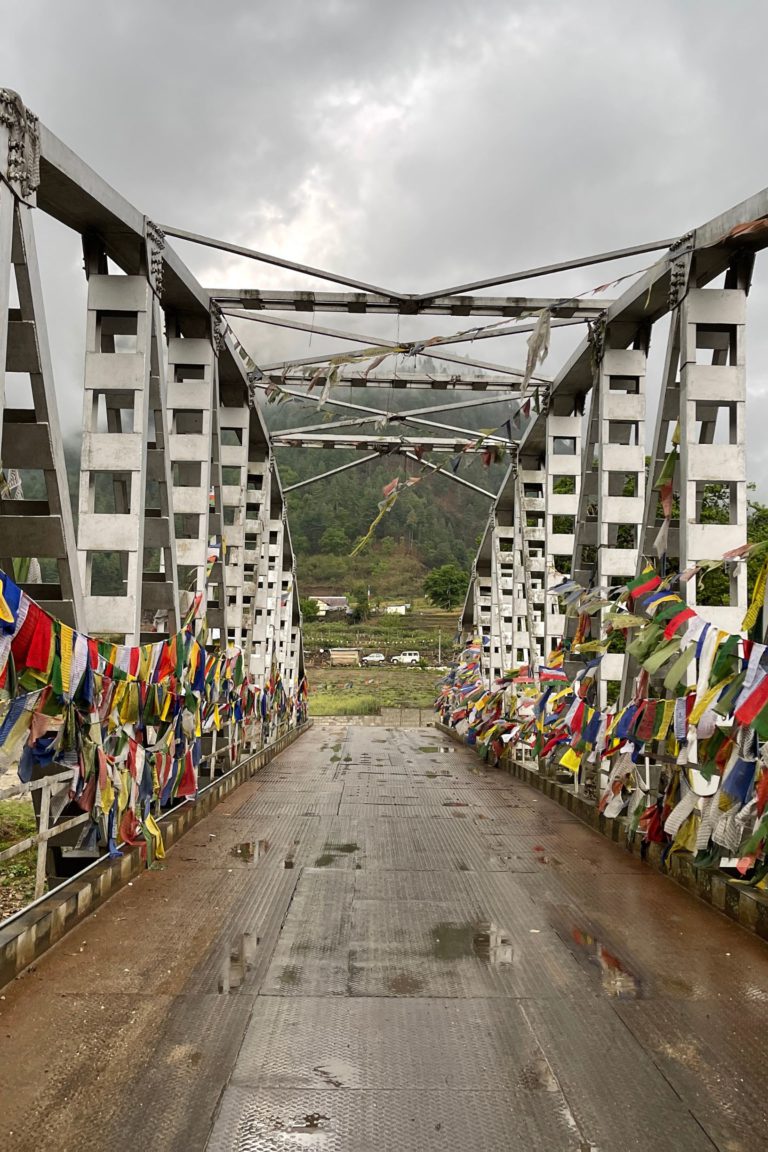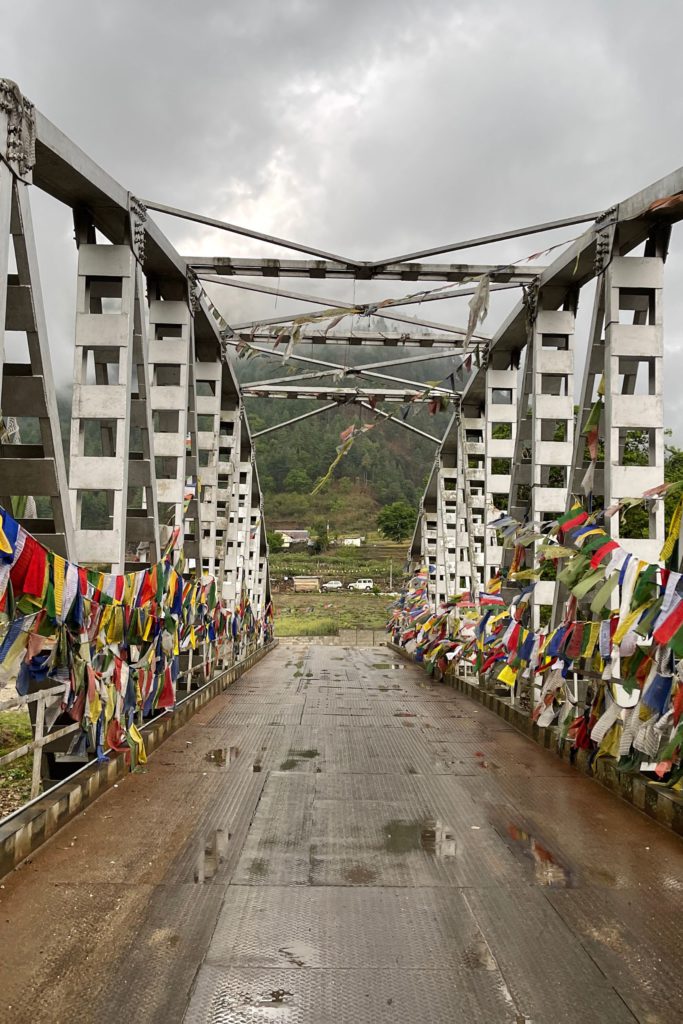 7. Lubrang
Lubrang is a small nomadic village around 30 km from Dirang that will take you to some of the most remote landscapes of Arunachal. It is where a group of people live who move to this village during the colder months and move to the highlands, near the Tibet border during the summer season.
The most common occupation of people here is yak rearing and you will find a herd of yaks grazing in the area. They are also the reason that people relocate terrains to give access to suitable weather conditions for yaks. Their owners milk these yaks, make cheese (called Churpa) and sell them in the market in exchange for other products or money.
The people are the most fun part of the journey. Ask around people in Dirang to get you a guide or a local in Lubrang who can take you around or tell you about their culture. The views of the way just add to the experience.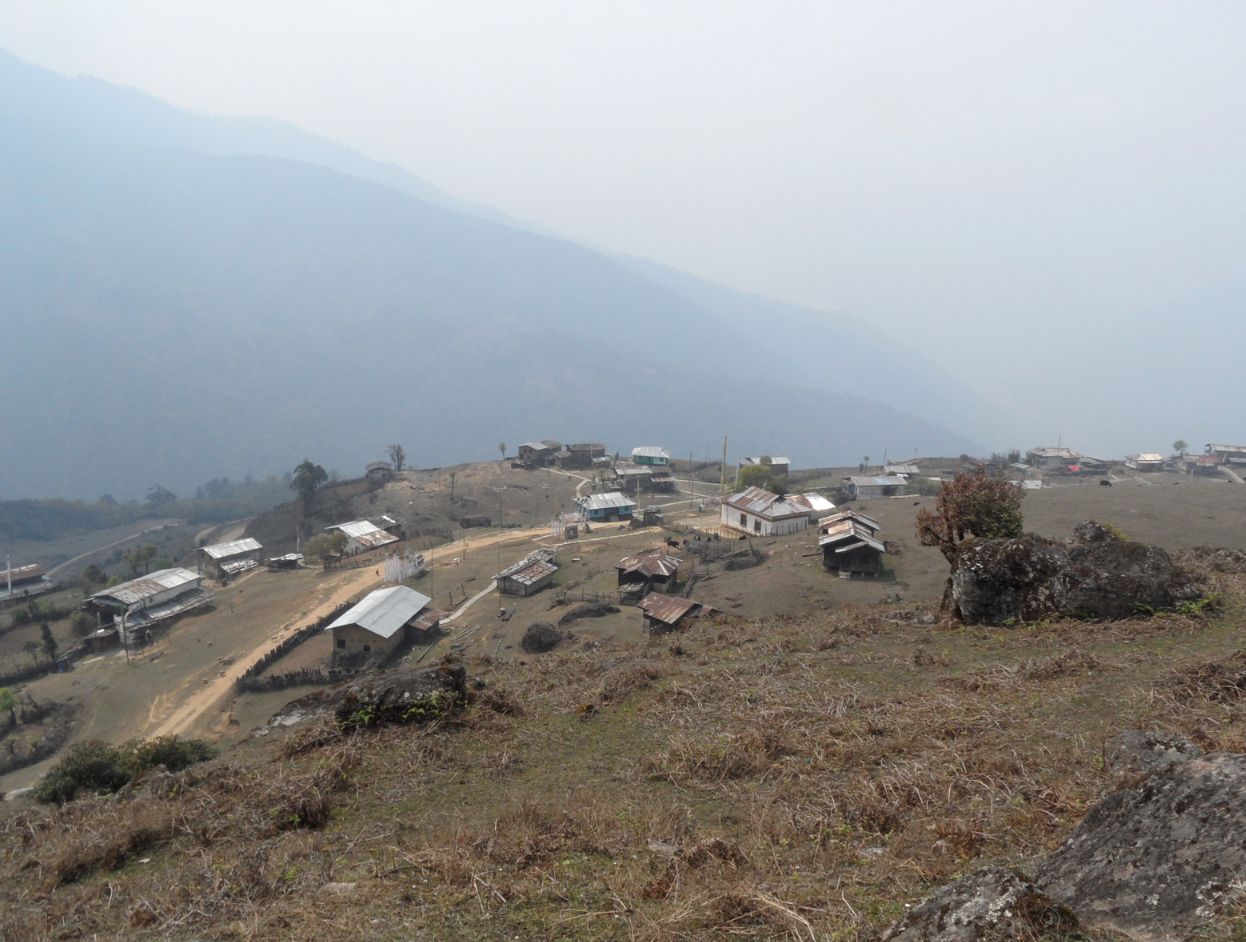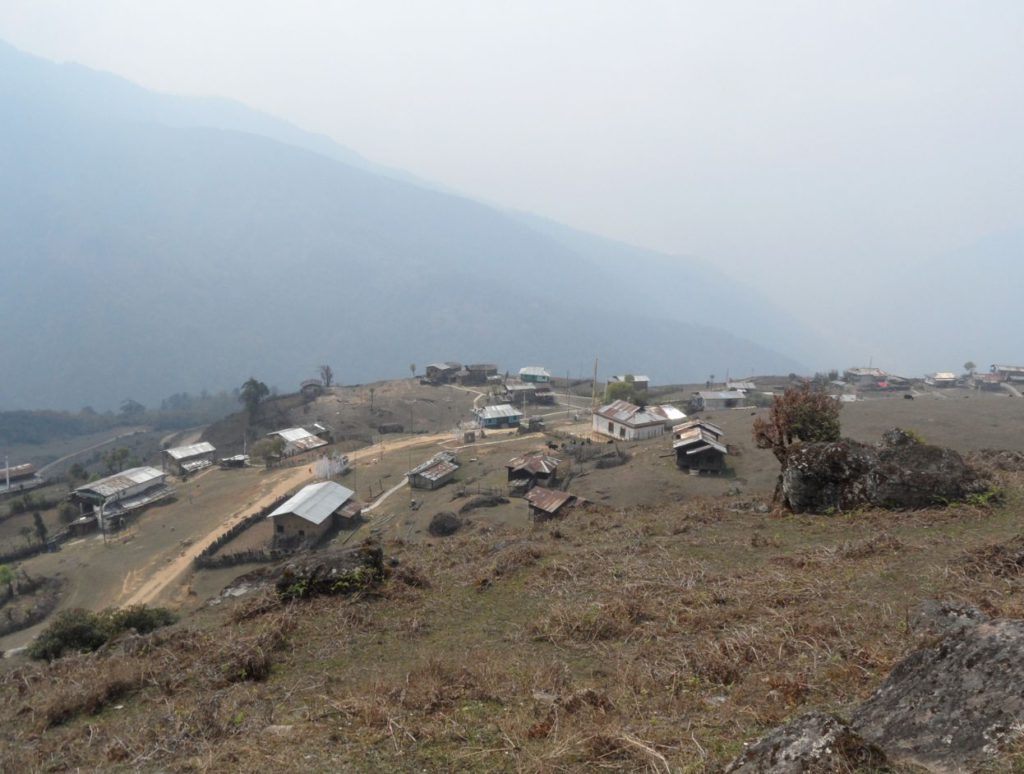 8. Mandala Top
Mandala top is another less-visited place near Dirang on the Tawang route. It is an open-air structure with 108 rectangular stupas inscribed with 'Om Mani Padme Hum' built around a central figure that is still in construction. 
The top view shows a near-circular pattern and the stupas are perfectly placed around the centre with a lot of prayer flags around them. Kind of reminds me of Dochula Pass.
It is also at a considerable height. Mandala Top is at around 7,600ft approximately 32 km from Dirang which takes a full one-hour drive. The ride will be pretty steep if you plan to ride on a motorbike.
You probably won't find many tourists here. Due to the height, the place gives spectacular views of the surroundings and maybe even Gorichen Mountain peak, the highest peak in Arunachal. There is also a lodge here in case you want to spend more time. 
Try to reach this place in the first half of the day since the weather is more probable to deteriorate by the second half. You may find snow here too. Pack some warm clothes since it is much colder than Dirang.
9. National Research Center on Yak
A unique place, National Research Center on Yak is what it says. It is a small centre and the first of its kind. The research centre focuses on the husbandry and rearing of yaks, a very important cattle here. In fact, the first test-tube yak baby was made in the laboratory here.
They aim to research cost-effective technology for the socio-economic upliftment of the highland farmers of this region. And you can find a lot of information on yak types, breeding and conservation. You can find a lot of products made of yak hair.
They also have their own farm at Nyikamadung. Therefore, you can find things like yak cheese called Churpa from there at a very reasonable price. Only cards are accepted for payment here.
10. Namshu Village
Another quaint village near Dirang lies 14km before you enter Dirang town. You can access the town from the road that leads to Dirang but then you have to walk down to go around the village. It is a sweet little place with views of paddy fields from several viewpoints.
There are two small monasteries that you can visit inside the village too – The Ritshow Gompa and the Trashi Rabten Gompa. The latter one is quite unique since it is two-storeyed and the main Buddha statue is so large that you can see only their feet from the ground floor and the face from the first floor.
Laze around the place, walk inside the village and drink some butter tea with the locals. Enjoy your day in peace here.
11. Thembang Village
This is another place that you can put on your list if you have more time in Dirang and wish to explore the rural highland culture. Thembang village has an ancient history. In fact, according to some prehistoric excavations here, people believe that the roots of this village date back to the 1st century.
But what you can actually see are the remnants of a dzong or a fortress kind of place with two entrances and boundaries around the village. This structure dates back to the 12th century AD. It is now a nominee of the UNESCO World Heritage Sites.
You can visit the small village and its inhabitants and also check out the monastery where a lot of ancient stone blocks and carvings have been preserved. The village is also the base camp for the treks starting with Gorichen Peak Trek and the Bailey Trail.
If you are travelling back from Dirang to Guwahati, you can also consider stopping at Kaziranga National Park for a couple of days and enjoy a jungle safari ride.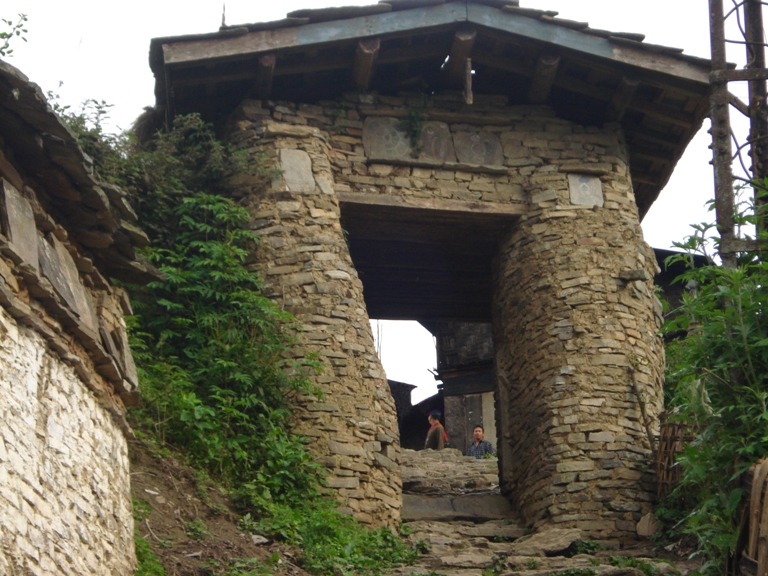 Related Articles