12 Mar

The Best Places to visit in Tawang, Arunachal Pradesh

I don't really know why you are thinking of travelling to Tawang. Maybe you heard things from someone else about the remote inhabitants of this area that was once a part of the mystical land of Tibet. But most people go after looking at the photo of this 400-year-old gorgeous monastery. Isn't this stunning? It almost looks like a town in itself!

Your trip will be rewarding, I promise. But I can also tell you that your trip won't be much about Tawang at all. You see, it is still fairly hard to reach (we are talking 2022). Arunachal still has no working airport and you will have to travel 2-3 days to travel to Tawang from the foothills in Assam and back.

This journey will be extremely exhausting, challenging and rewarding. And during your trip, you will see it all – snow-covered mountains, glacial lakes, furry yaks, valleys with miles of paddy fields, kiwi orchards, hundreds of grazing cows, soldiers, monks and so much more. But I am sure you will remember the journey to Tawang more than the destination itself.

We travelled 9 days on the Tawang route from Guwahati and back via Kaziranga National Park. And if this is what you are looking for check out our itinerary on the Tawang Route.

But let's talk about Tawang and what you will find there.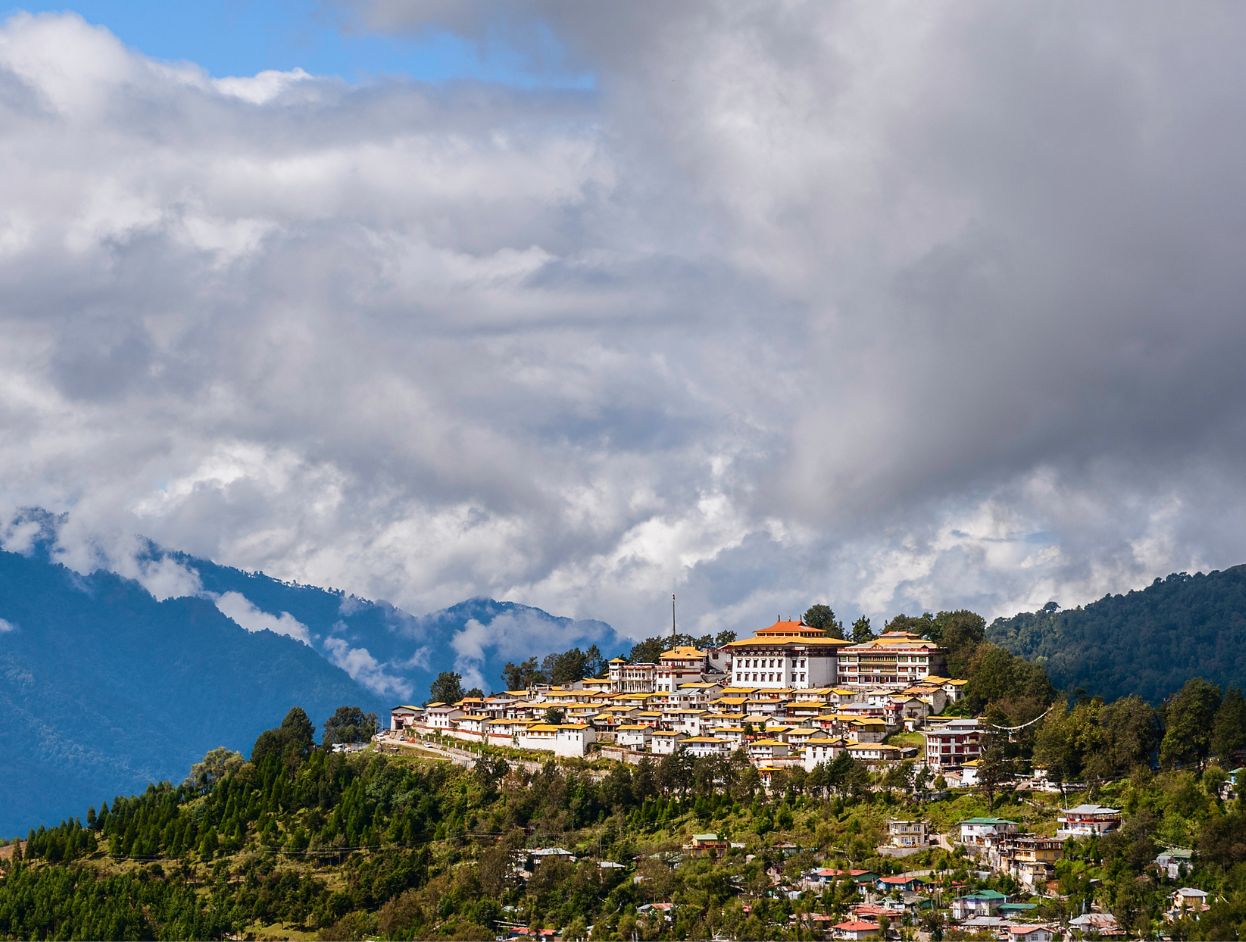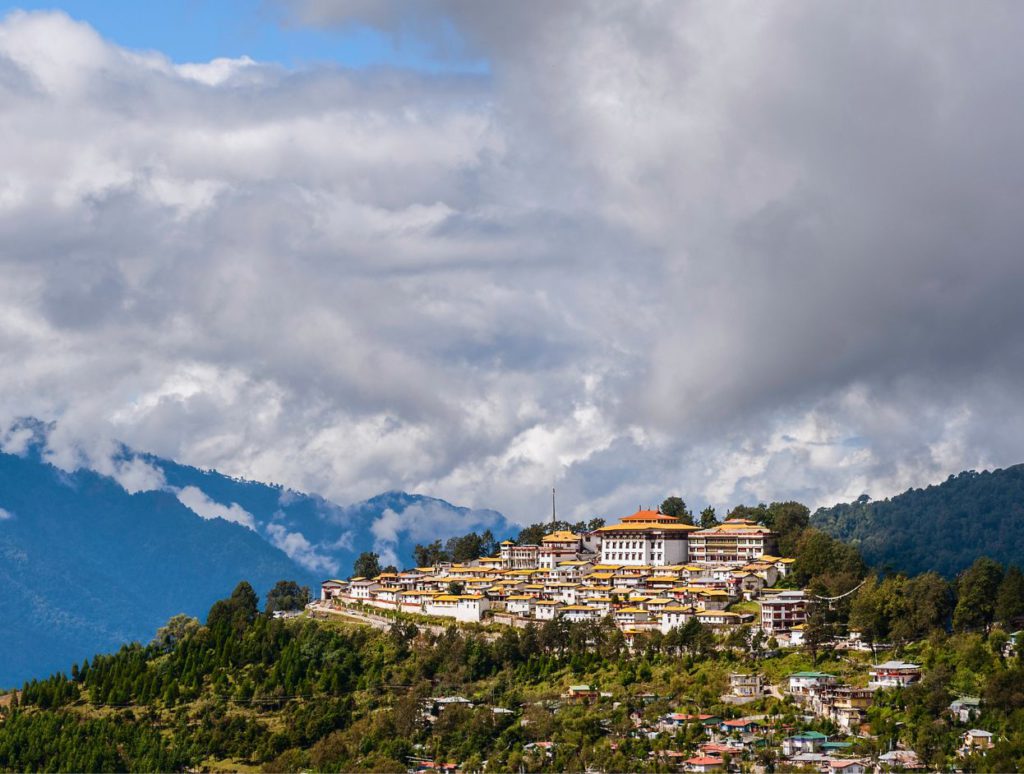 How to reach Tawang
As I mentioned above, there is no airport in Tawang as well as in Arunachal Pradesh, although one is in pipeline for Itanagar. Even then, it is a long way to Tawang. Given its mountainous terrain, there are no rail routes to it as well.
Therefore, the only way you can reach Tawang is by road. A usual route to Tawang starts from Guwahati – Tezpur – Bhalukpong – Bomdila – Dirang – Tawang. You can break down this journey into 2-3 legs so that you also get a feeling of the smaller towns in this area.
You can opt for a private vehicle or a taxi for the duration. This is what I took. And while it is perhaps the most comfortable, you definitely miss out on more local (and hard) experiences. It is also pretty expensive but will make sense if you are travelling in a group.
If you are travelling solo and prefer to backpack, you have a few options for public transportation. There is hardly any bus on this route but you will find plenty of shared sumo that start early in the day. It is also the most economical.
And lastly, if you wish to self-drive using your own vehicle or a motorbike, do this journey in a group. Several tour groups also organize biking trips. But be very careful since the mountainous terrain, the road conditions and the weather are all pretty unforgiving here.
Refer to my blog article if you wish to know about how to reach and go around Tawang in more detail.
Where to Stay in Tawang
There are quite a few options in Tawang ranging from economical to semi-luxurious. But there aren't any super-luxurious accommodations yet. If I have to be honest, I think you will still have to compromise on the amenities of a great hotel given the remote location of this town.
Most of the hotels are made of wood which means that they will somewhat protect you from the freezing cold. But there is no central heating, so it will get really cold during the winter. If you are visiting during the cold months ask for an electric blanket. 
Also, power blackouts are common during winter months which means a lack of electric heating and sometimes warm water. Just know that it is how it is and probably not even the hotel's fault.
Here are some of the top-rated hotels in Tawang:
We stayed at hotel Yangzom and I found it clean, big and pretty fantastic. The property is really nice and the people are hospitable. But it's located on the outskirts of Tawang town near Urgelling Monastery.
Hotel Tawang Heights is probably the best-rated hotel in town today. It can the most amenities and is located right in the middle of the town. But it books fast.
Seriously check out the ratings of other hotels before booking. You don't want to be stuck in the wrong place on a bad day.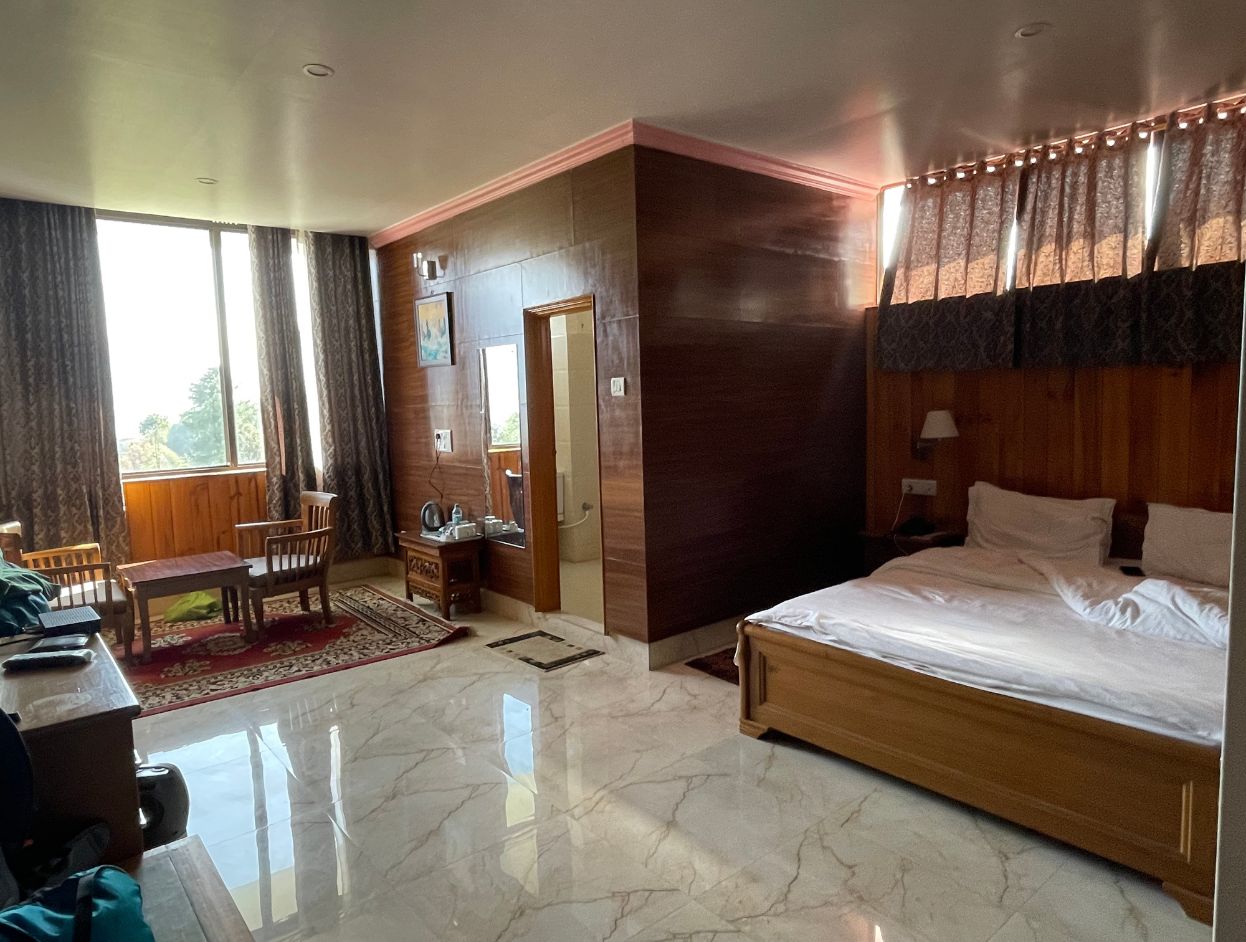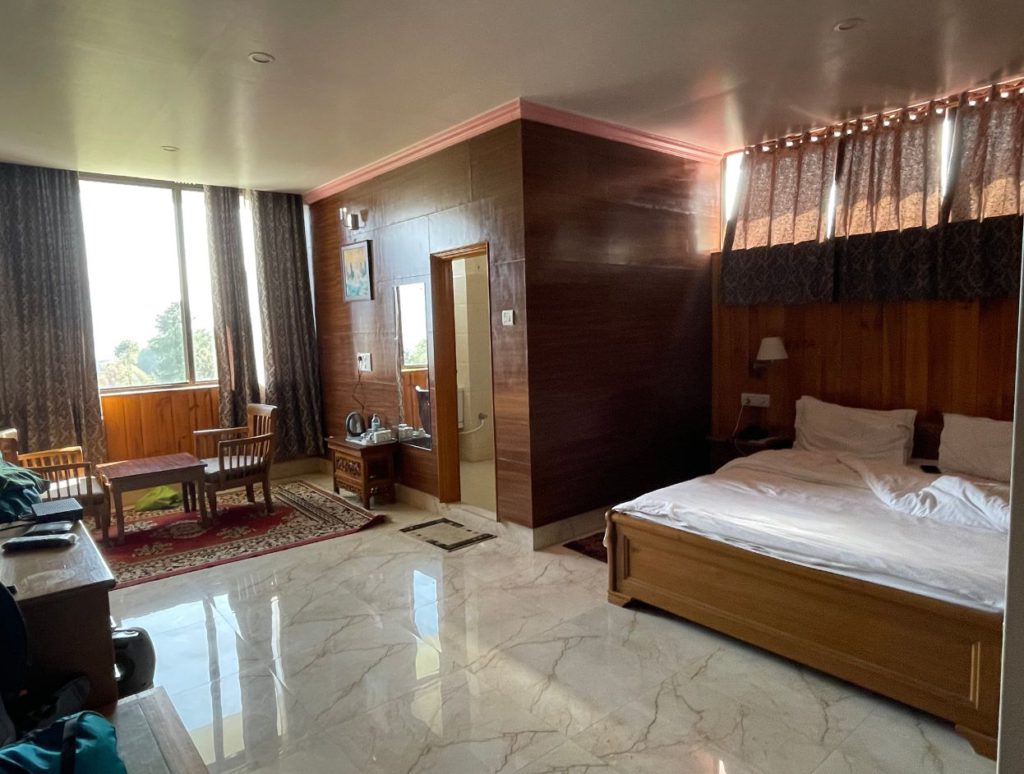 Best Time to Visit Tawang
Best Months (April, May, October): If you are looking for pleasant weather without much rainfall, the months of April, May and October are your best bet. The sky is clear on most days and the snow starts thawing around the end of April in the highlands where you will still find plenty of snow but clear roads. Tawang city is devoid of snow during this time But the weather still remains cold and you will need some warm clothing, especially at Bum La.
Winter Months (November – March): The winter months are cold and harsh in Tawang and nearby areas. Snowfalls can extend to Dirang sometimes. So prepare yourself with the warmest clothes you can find. The area is also windy so it's not just cold but the wind is chilly too.
Since there is snow on roads deal with, transportation gets costlier. You will also be able to do fewer activities. But if you love snow, who am I to stop you? In fact, November is the most touristy month of the year!
Monsoon (June – September): Although it rains in Tawang unexpectedly during most part of the year, it really pours down starting in May(end). This is definitely not a good time to visit. Landslides are common in the area. These can result in the blocking of important roads. As a result, you can be stuck in places for several hours at a time. The lovely valley views are also shrouded in thick mist.
Places to visit in Tawang
I am going to jot down the best places to visit in Tawang in the order of a typical visit. It doesn't really mean that one place is better than another on the list. Although Tawang Monastery will make it to the top.
Sela Pass and Sela Lake
Sela Pass is the gateway to Tawang District as you travel from the West Kameng area. It is a high-altitude pass and you can make it out looking at the traditional Tibetan bright-coloured gate. People stop in the area to take photos and sit down for a snack at some of the shacks nearby.
The pass sits at an altitude of 13,700ft (4170m) and is prone to heavy snowfall. During winters, the temperature can go down to -10°C. We found it covered in snow in April which made up for a feisty welcome. It is common to feel dizzy due to the lack of oxygen in the area. Do not exert yourself too much or run. The elderly should take special care.
Right after the pass is the gorgeous glacial Sela lake. We saw it both with and without snow and it makes a lovely background for some photos. You will have to climb down some steps to reach the lake. The place looks especially breathtaking covered in snow.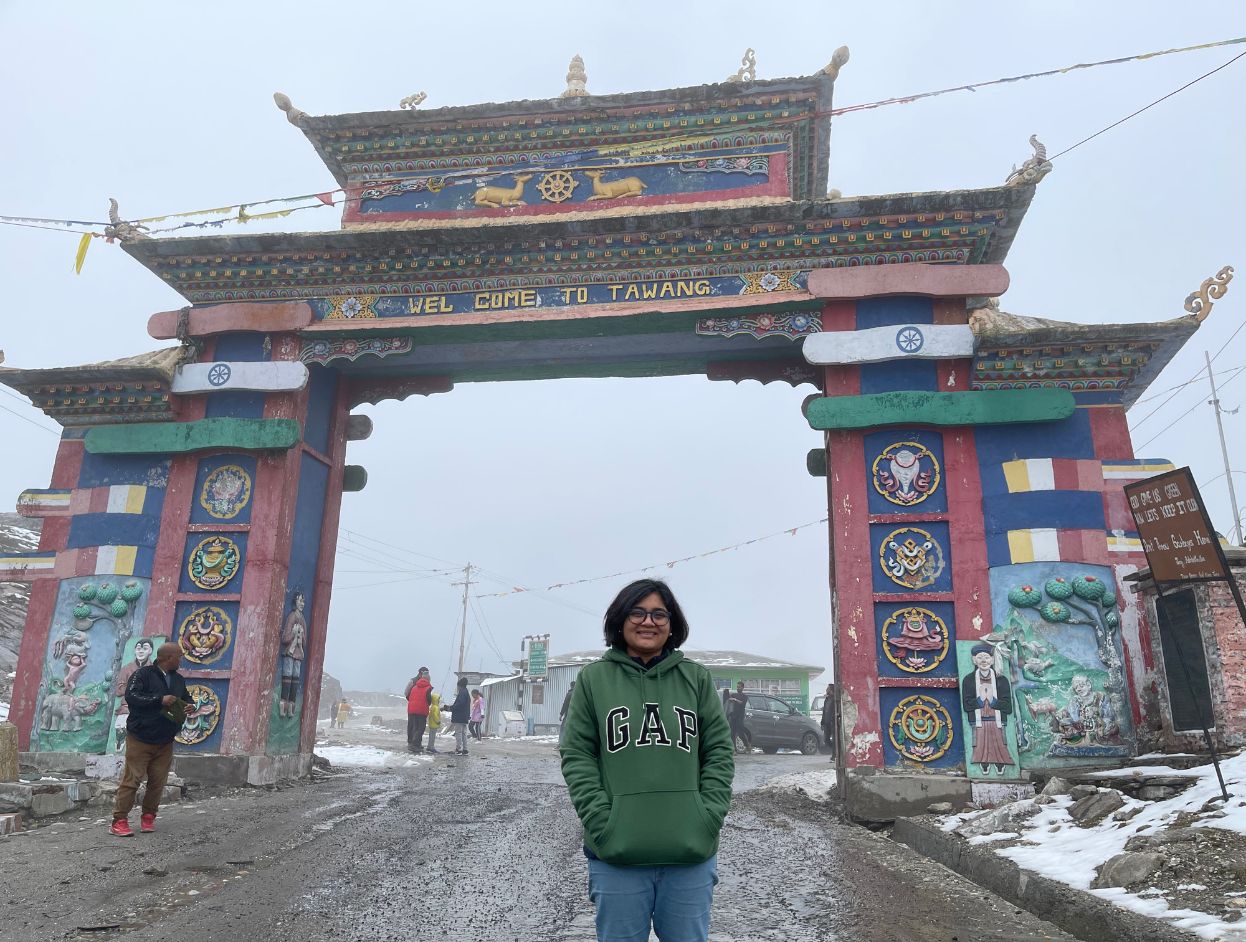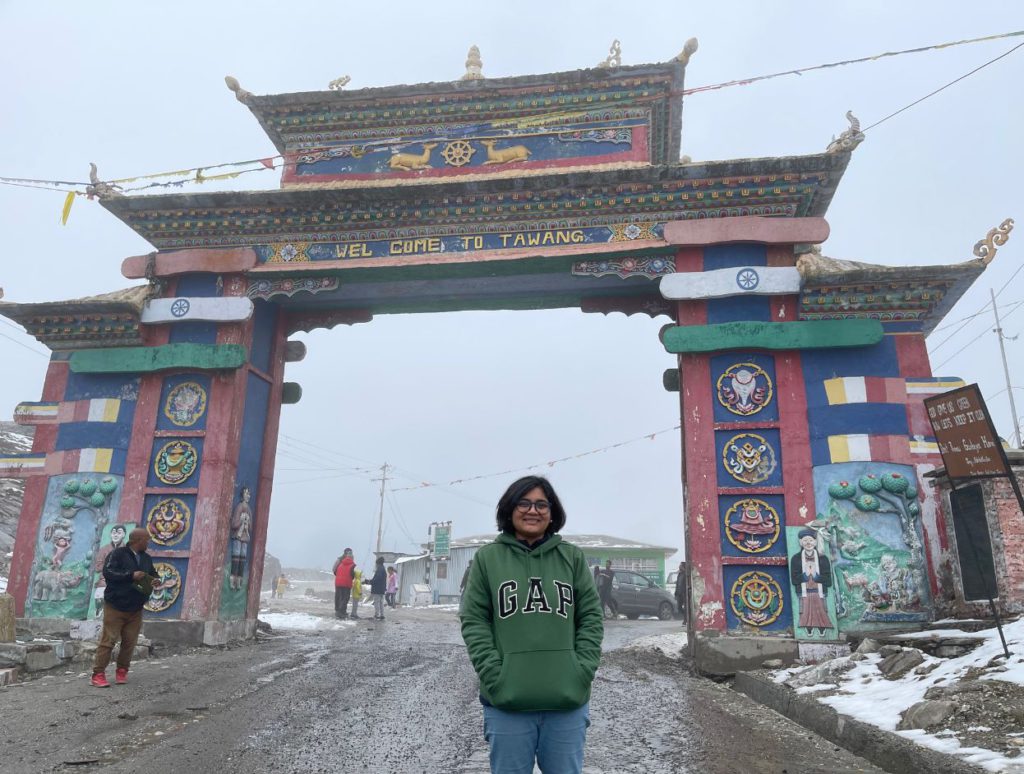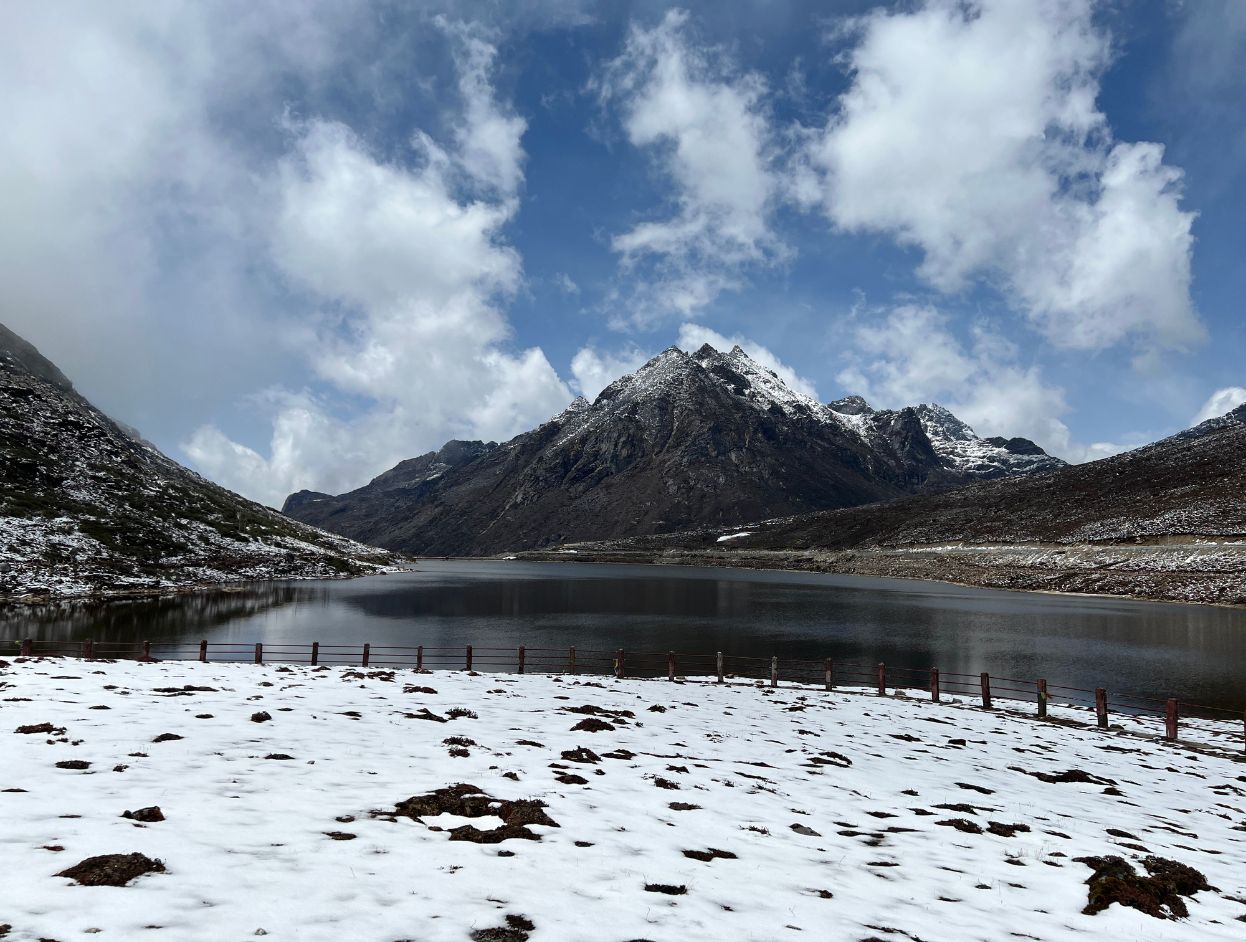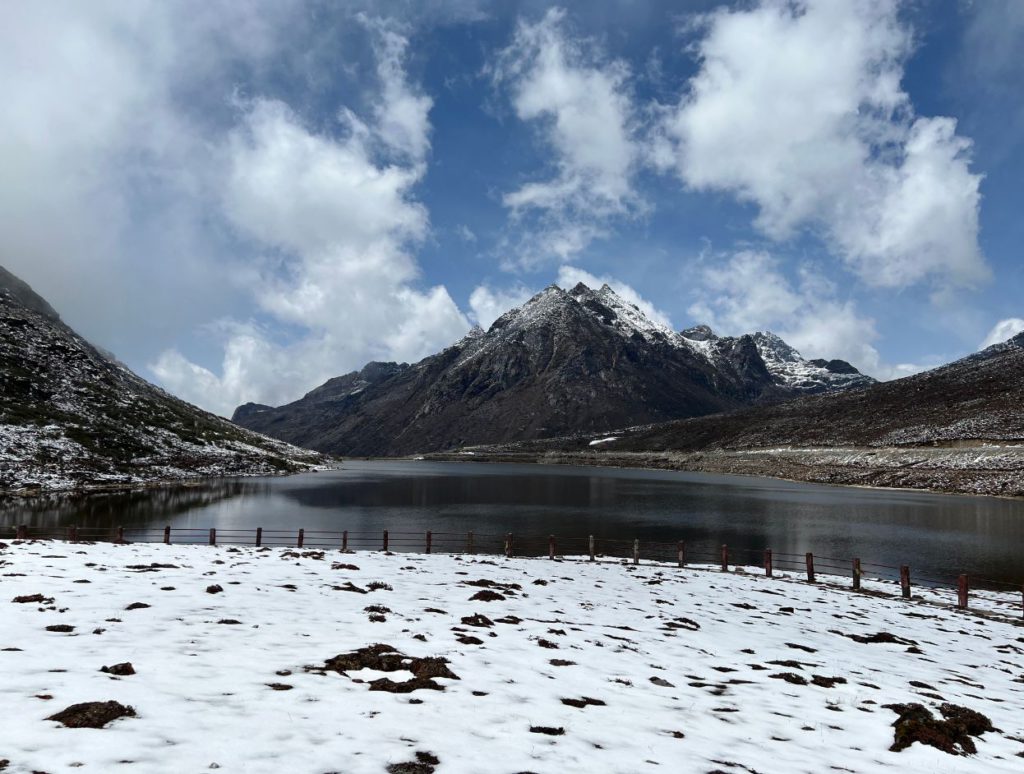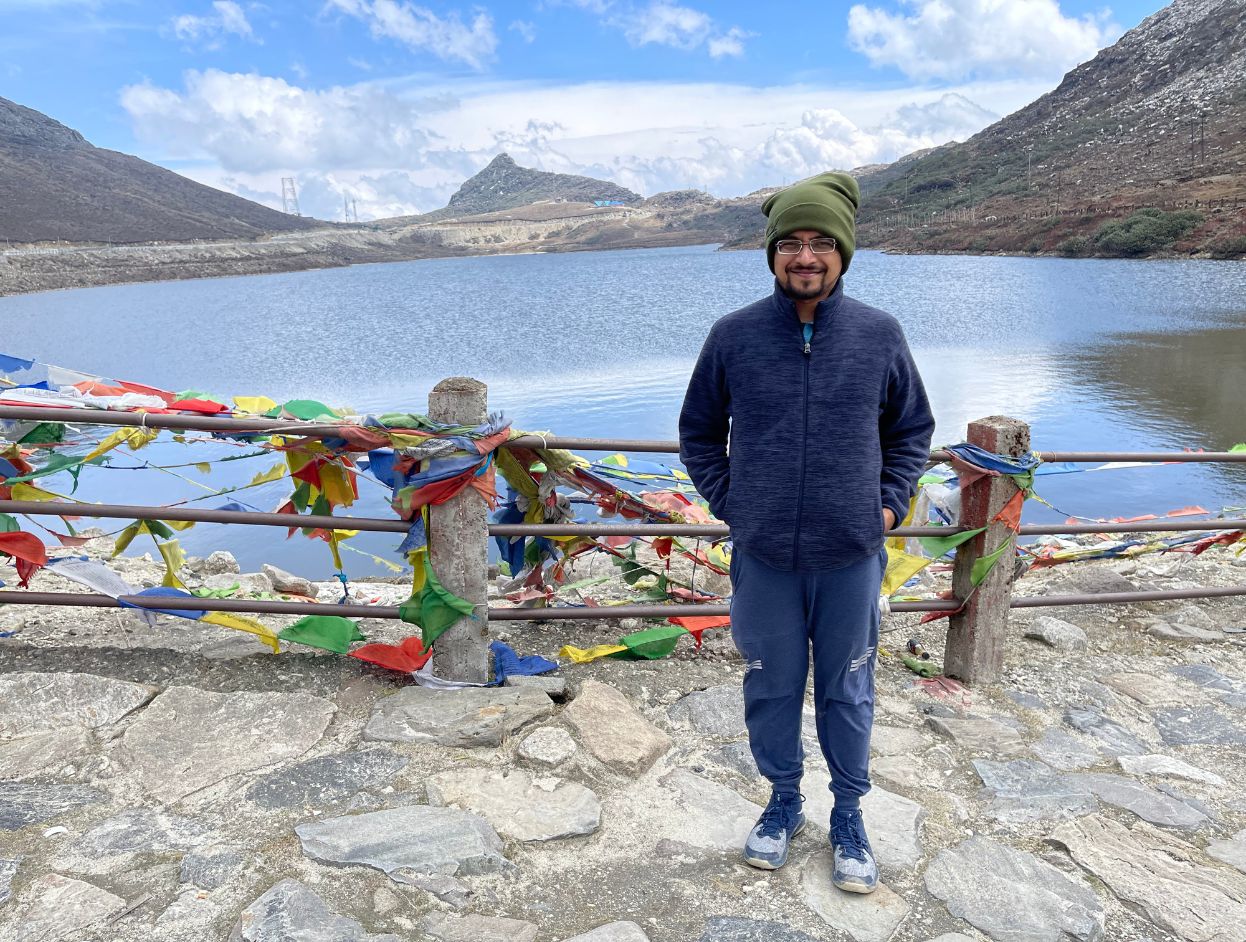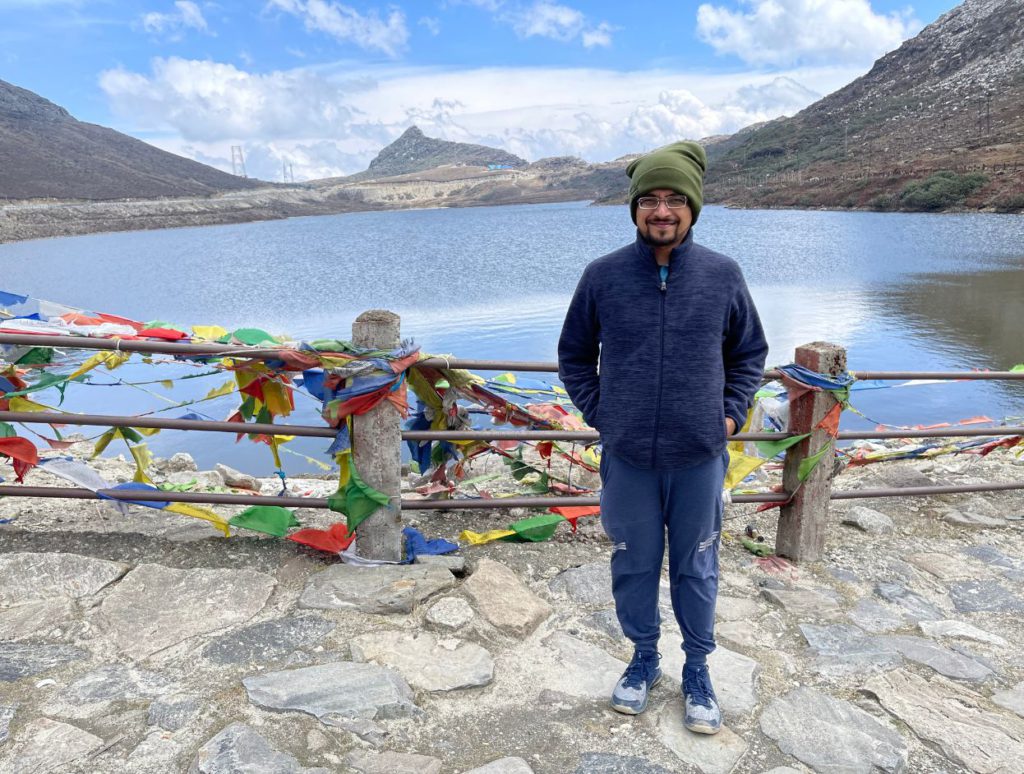 Jung or Nuranang Waterfalls
Jung or Nuranang Waterfalls is this gigantic waterfall with an astounding drop that you will find in the Jung Valley. It is after you cross the Sela Pass and before you enter the Tawang town area. You will have to take a little detour for this.
I don't think I need to describe a waterfall. I almost missed visiting this place but I am glad I didn't. It is easily accessible on foot after climbing down a few stairs. The water flow is strong and the size is jaw-dropping. On a clear day, it is easy to spot rainbows. A song from the movie Koyla was shot here.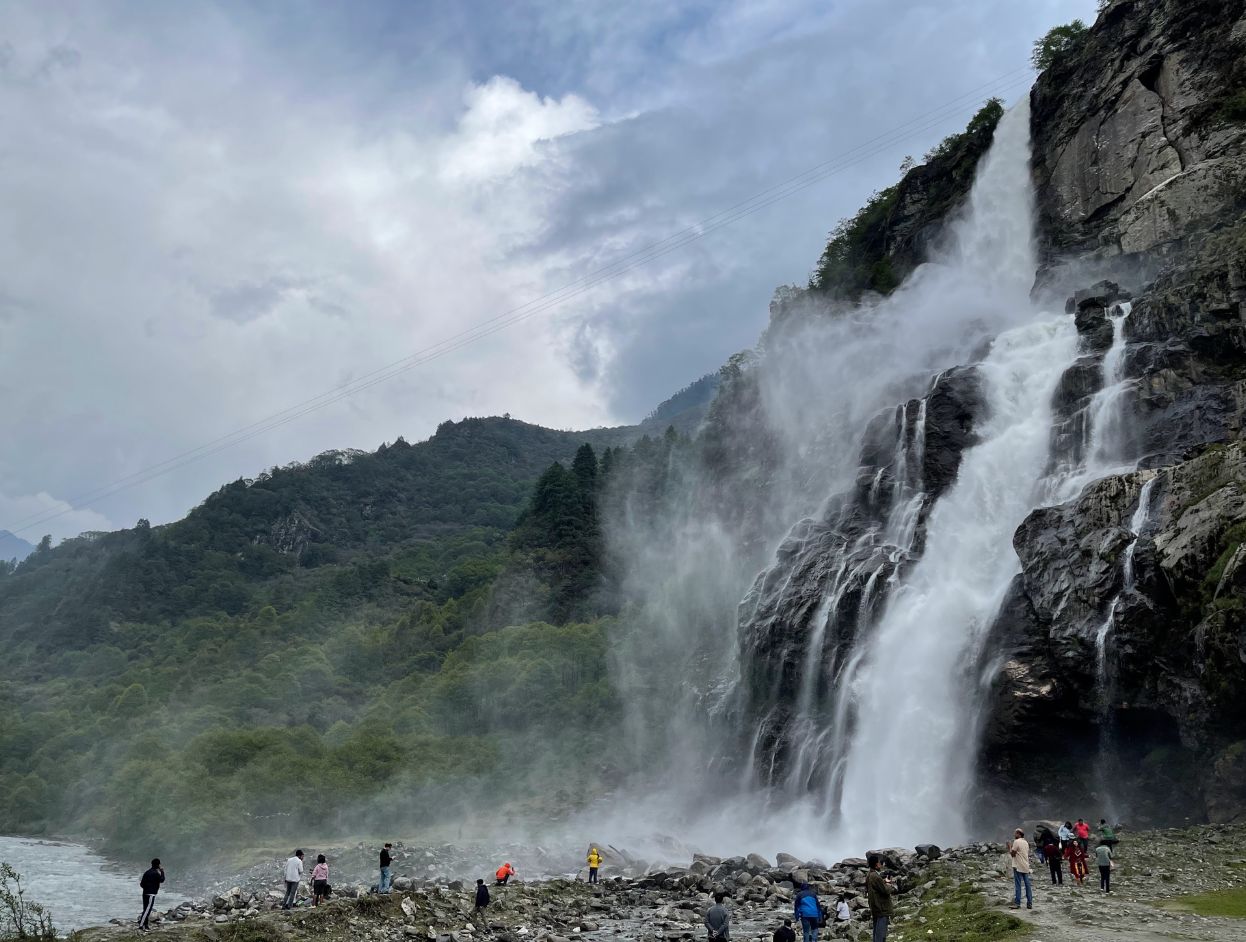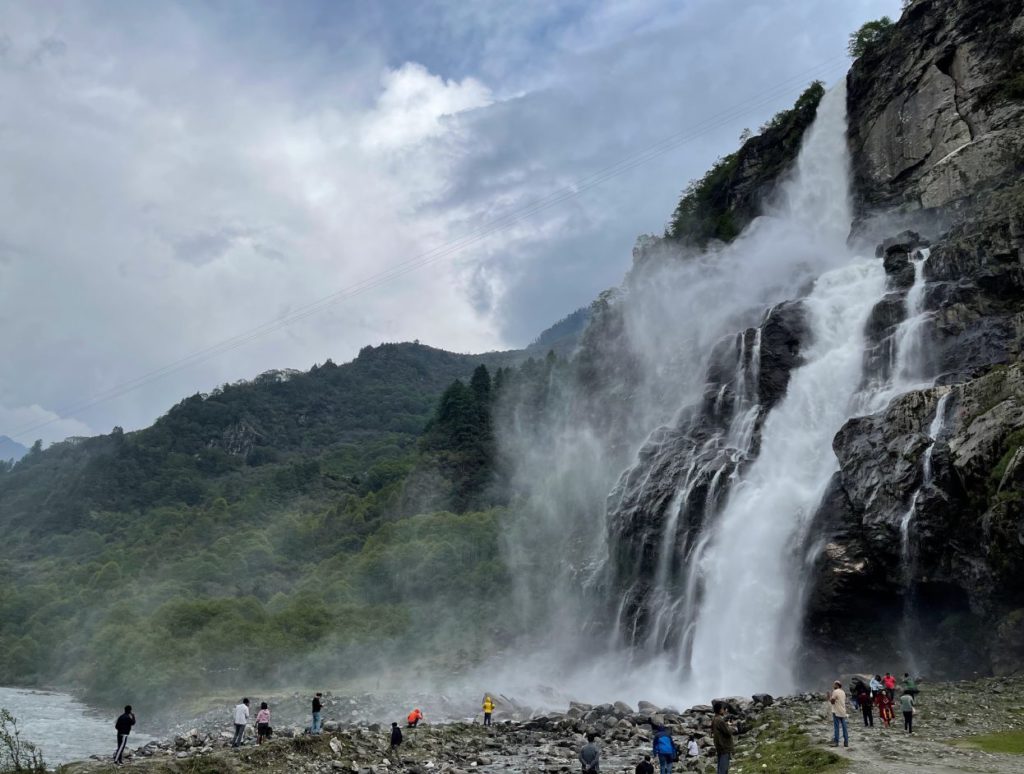 Tawang Monastery
Tawang Monastery is known in Tibetan as Gaden Namgyal Lhatse, which translates to "the divine paradise of complete victory." Okay, I took this from Wikipedia. But it does look both divine and like a paradise. It is the main attraction of Tawang and even of Arunachal Pradesh.
This is the second-largest Buddhist Monastery in the world (the first is the Potala Palace in Lhasa, Tibet). It can only wonder how the Tibetans constructed such a building high up in the Himalayas with very few resources like 400 years ago. The monastery was constructed at the wish of the 5th Dalai Lama. Shortly after, the 6th Dalai Lama was born in Tawang.
The overall monastery is 3 storeys high and consists of 65 buildings that include the main hall, smaller prayer halls, living quarters, a library, a museum and administrative areas. You can simply walk to the monastery if you are living nearby. Only some part of the monastery is open to tourists.
The main hall is huge and decorated with intricate murals and colourful Tibetan flags. Large chandelier-like structures of colourful clothes hang from the ceiling. You can go upto the second floor and see many more works of art inside the main hall.
Stop by and spend some time in the museum. The museum displays the objects from the everyday life of the Monpa people (people in the Tawang region) from their clothes, utensils, musical instruments, jewellery, photographs of important events and even some scriptures.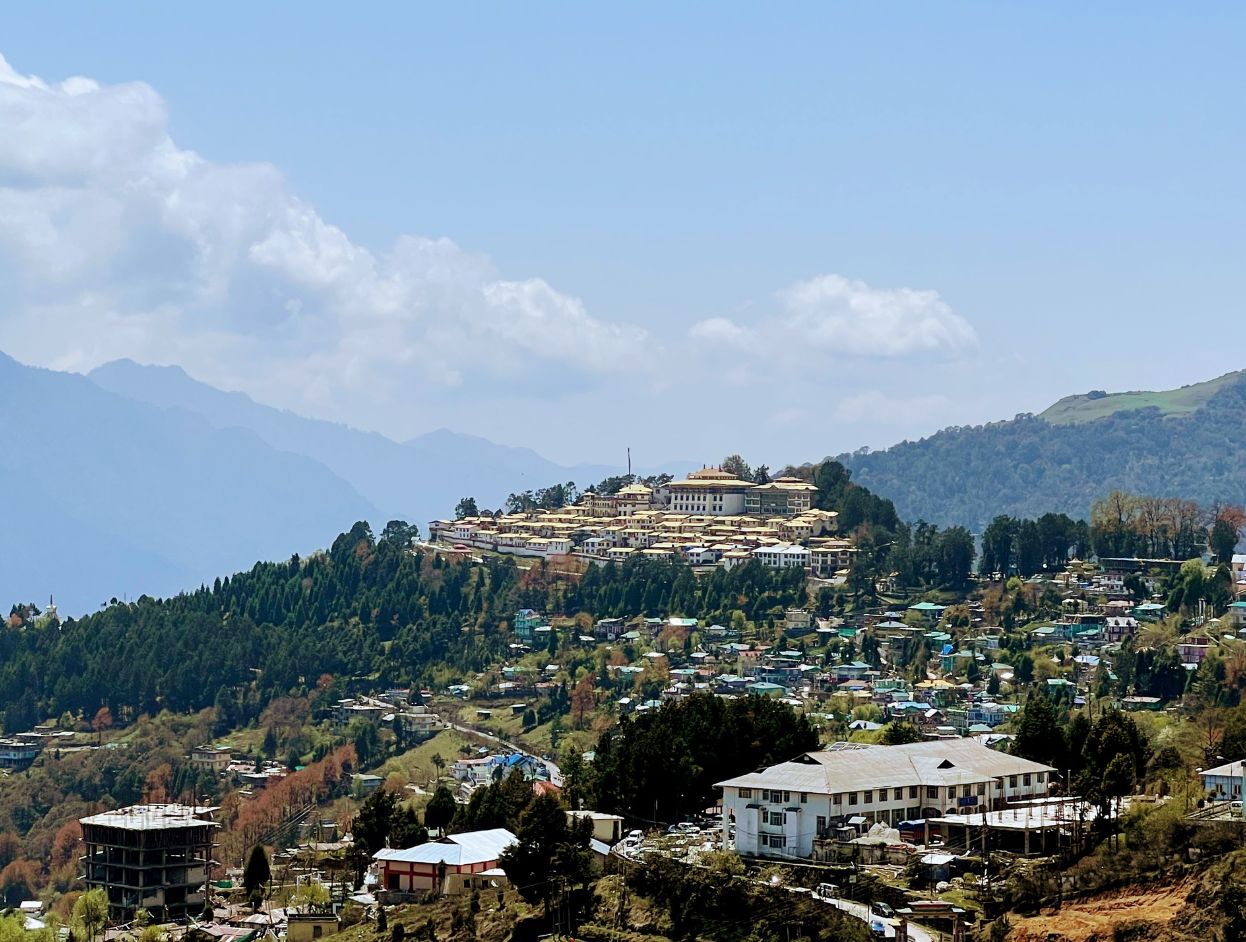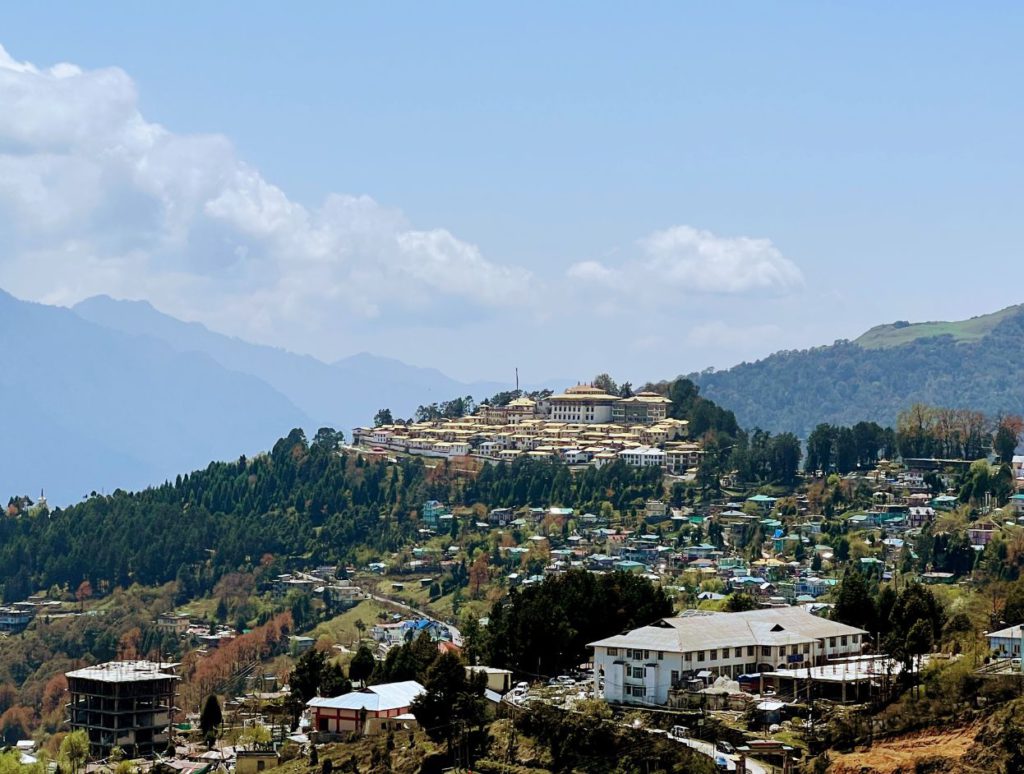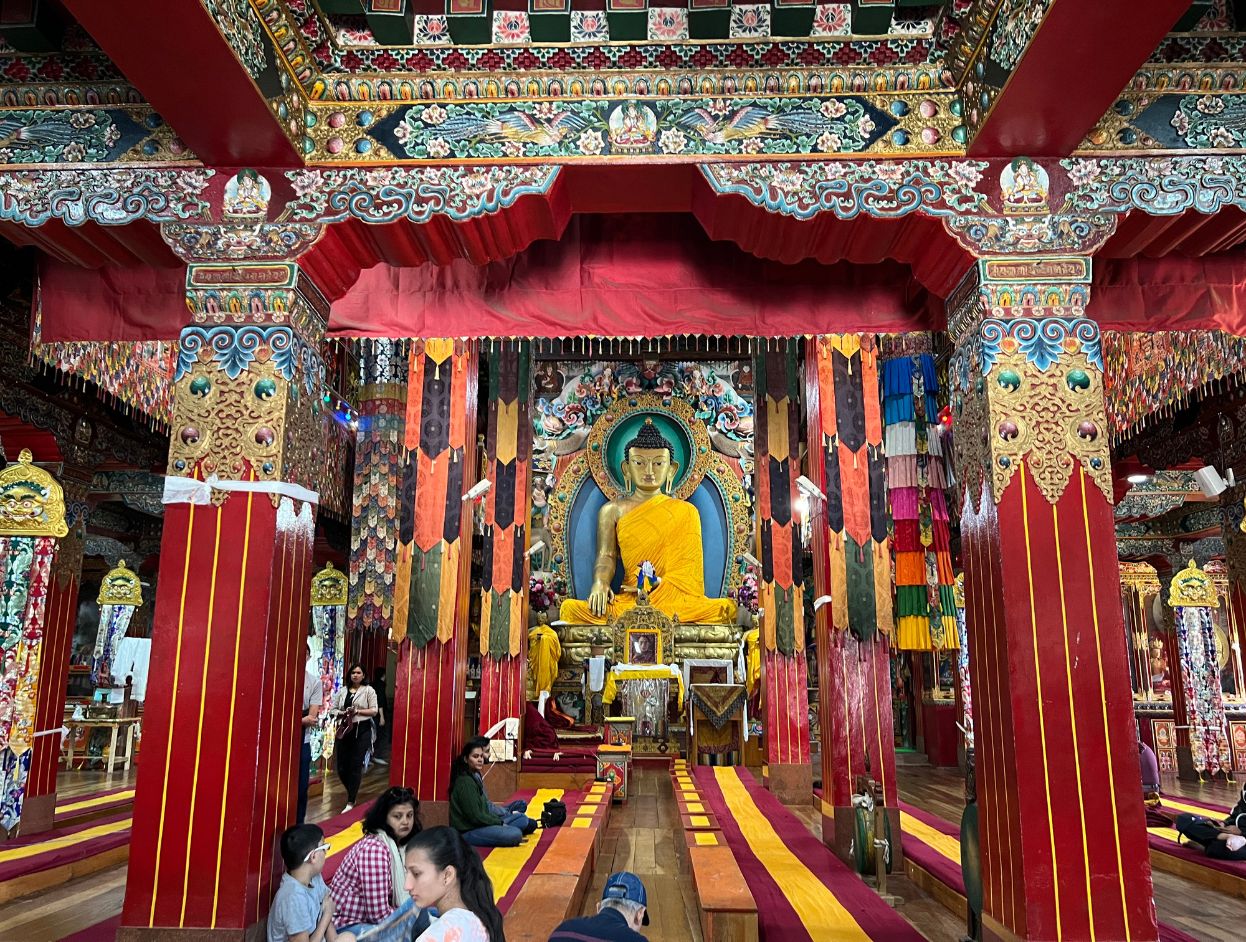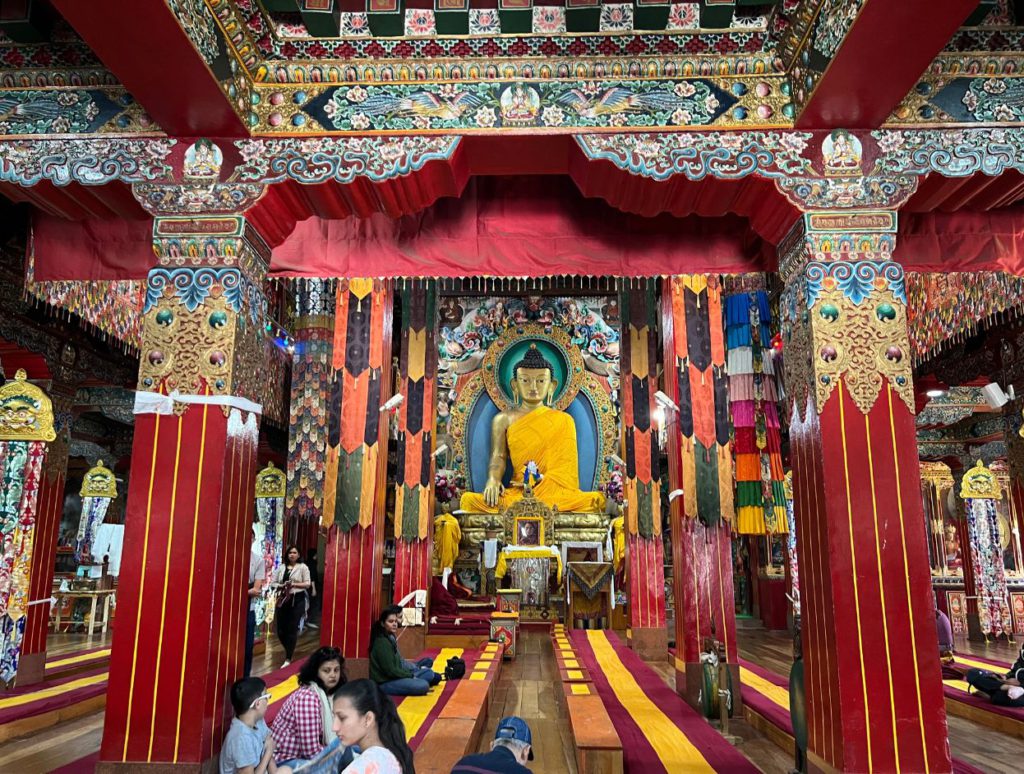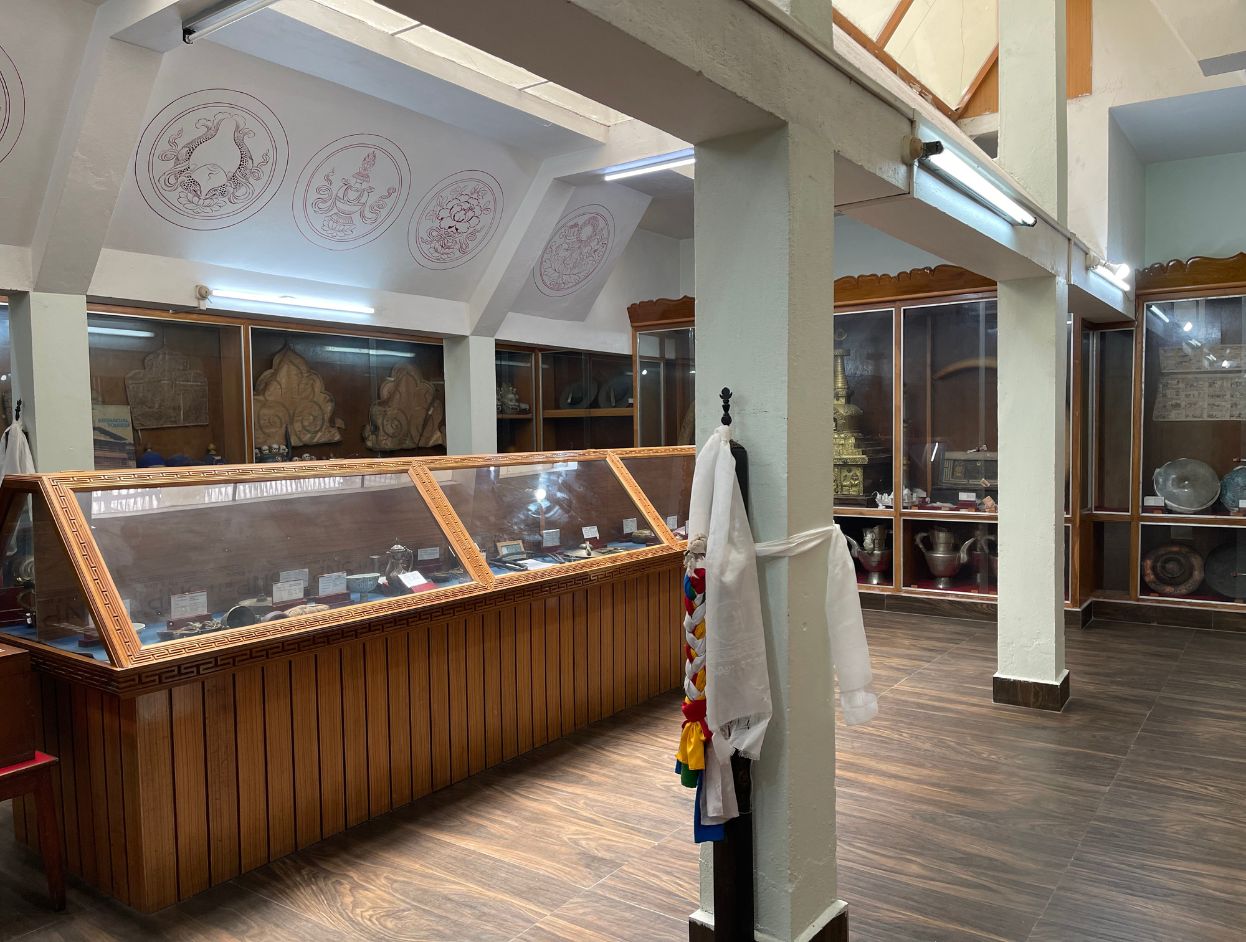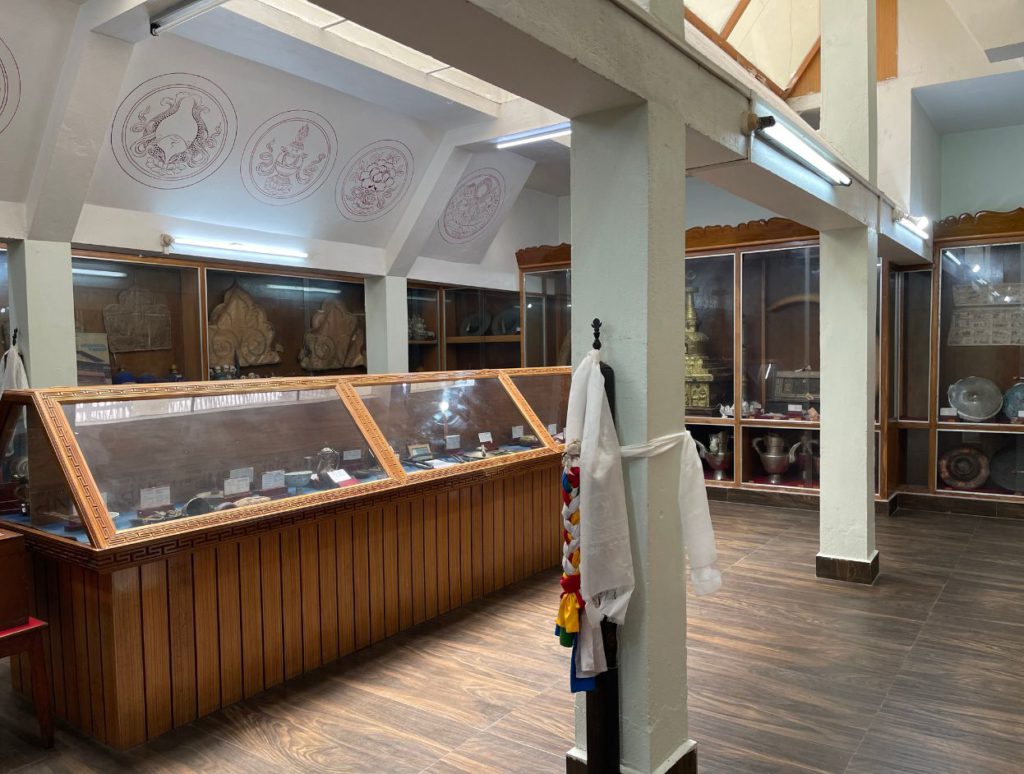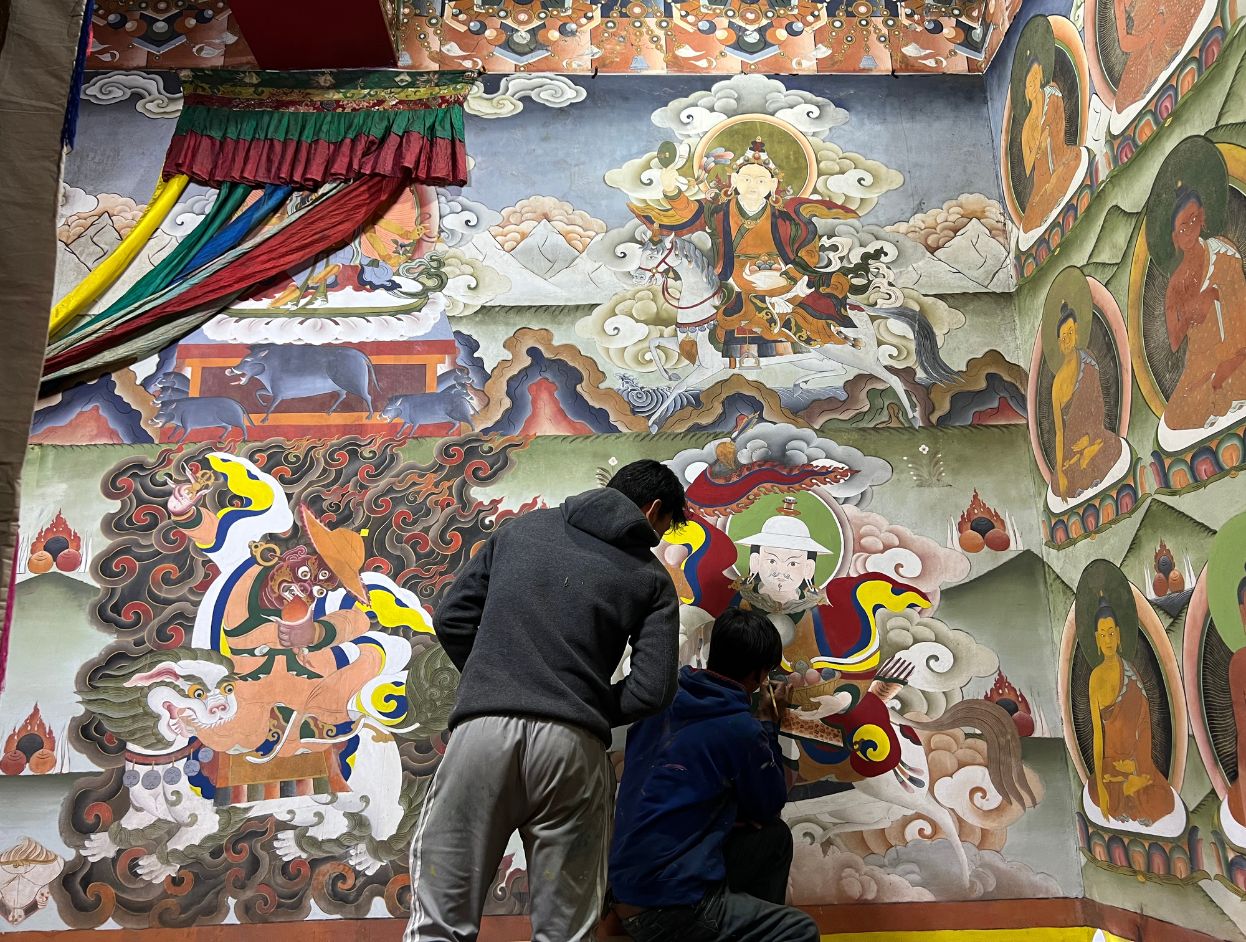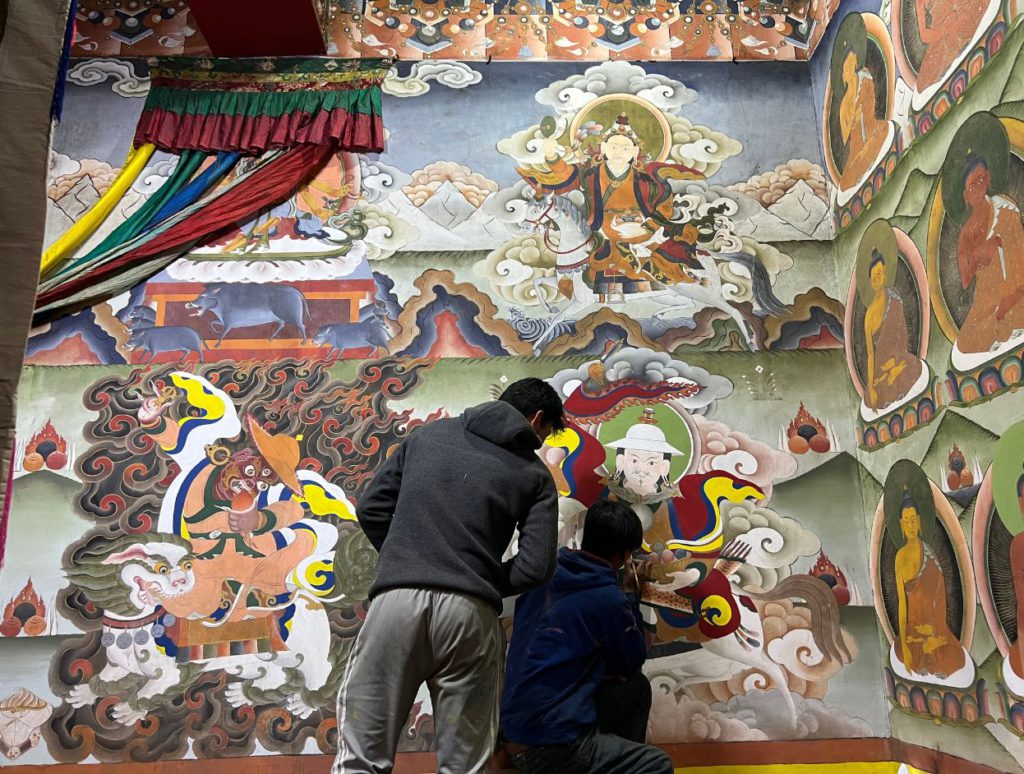 Urgelling Monastery
Urgelling Monastery isn't a grand one. But its significance is huge. The monastery's premise was the birthplace of Tsangyang Gyatso, the sixth Dalai Lama. Although it was built almost two centuries before that. The main monastery is just a small structure if you compare it to the grand halls of Tawang Monastery. People say that his mother's house was in the area too.
You need to purify yourself with holy water at the entrance of the main building. The premise has a tree that has a very interesting story. People say that the 6th Dalai Lama planted his walking stick there and said that he will visit Tawang again when the three trunks of this tree will grow identically. 
In 1959, people in the area saw the three branches were almost identical in size. But one of them broke as a result of a storm, an ominous sign. Soon after the same year, unrest broke out in Tibet and the fourteenth Dalai Lama made his way to Tawang as an exile. The prophecy came true.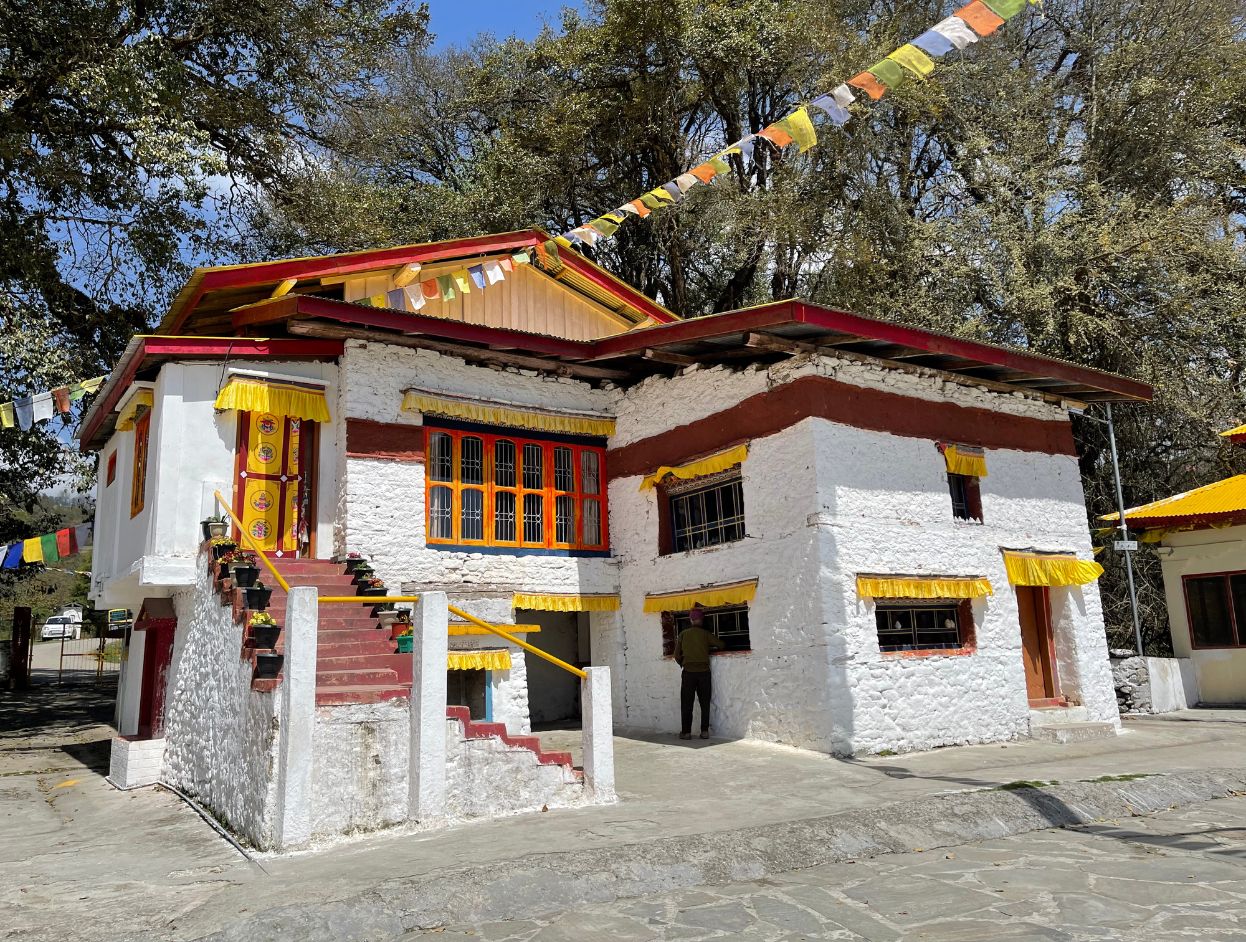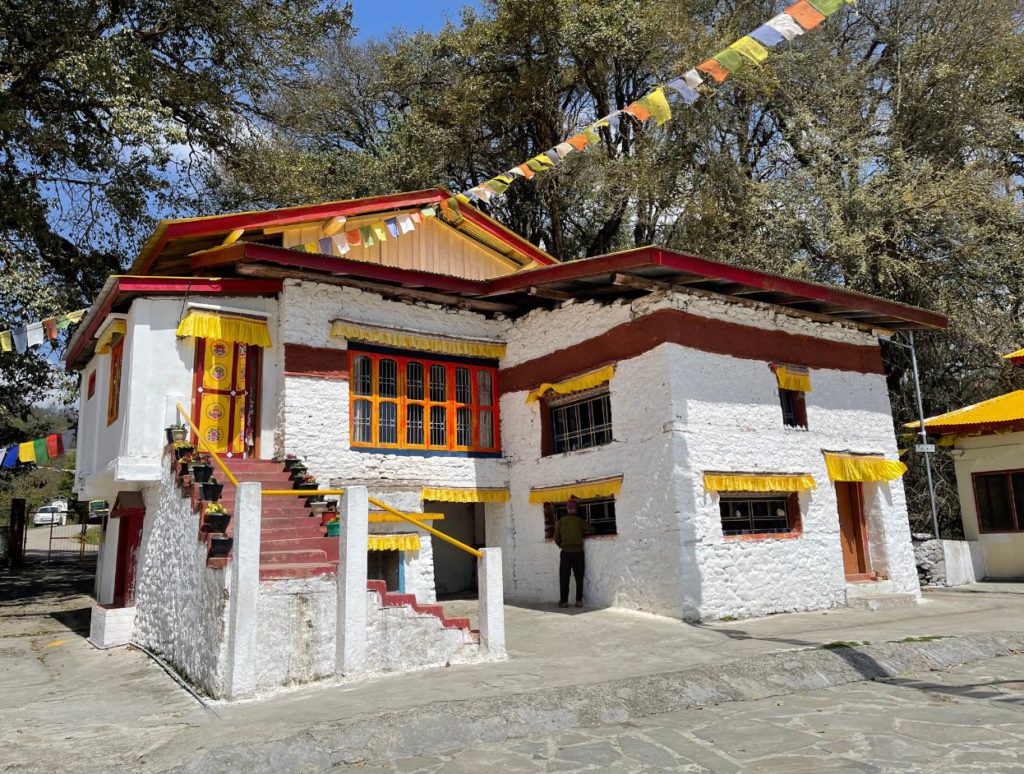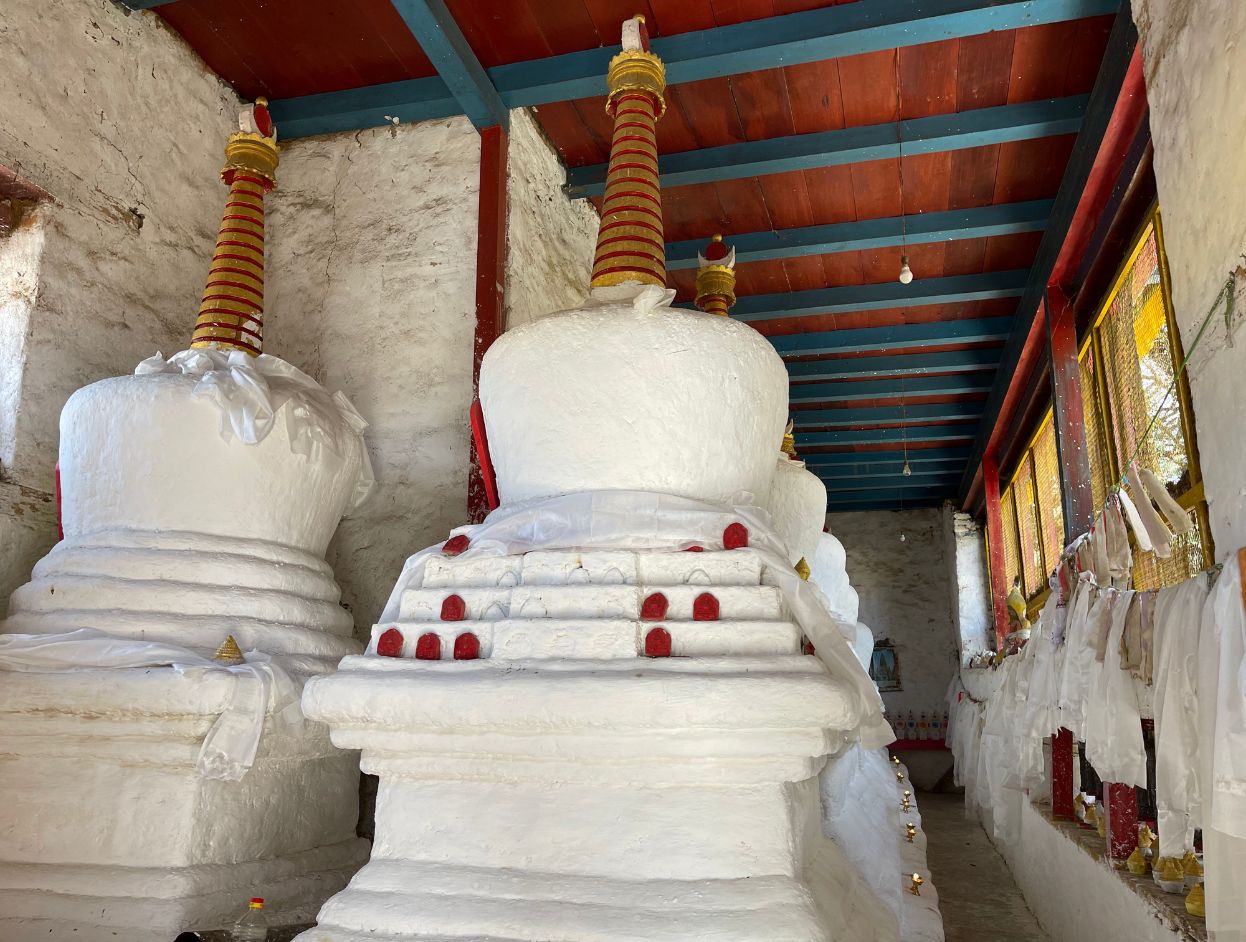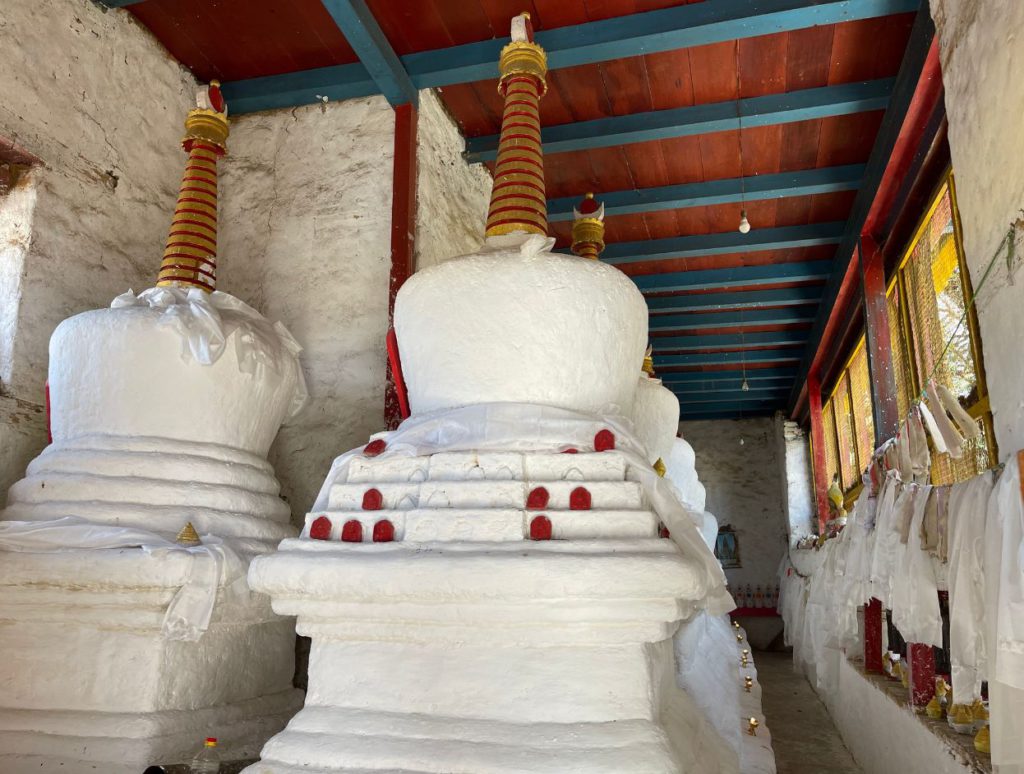 Giant Buddha
You can guess by the name that it is the statue of a Giant Buddha. The statue sits in the city at a slightly higher elevation and gives an aerial view of the city. Like many other Buddhist regions, this is a common sight to see a large buddha statue overlooking the residents of the city, protecting them from calamities.
There are also murals nearby that show the story of the life of buddha from his previous birth to his death. And then you can always click some photos in front 'I Love Tawang' thing. The place also gives a fantastic view of the monastery.
If you are not able to squeeze this place into your itinerary, you will find it on your way to Bum La Pass and you can make a stop then.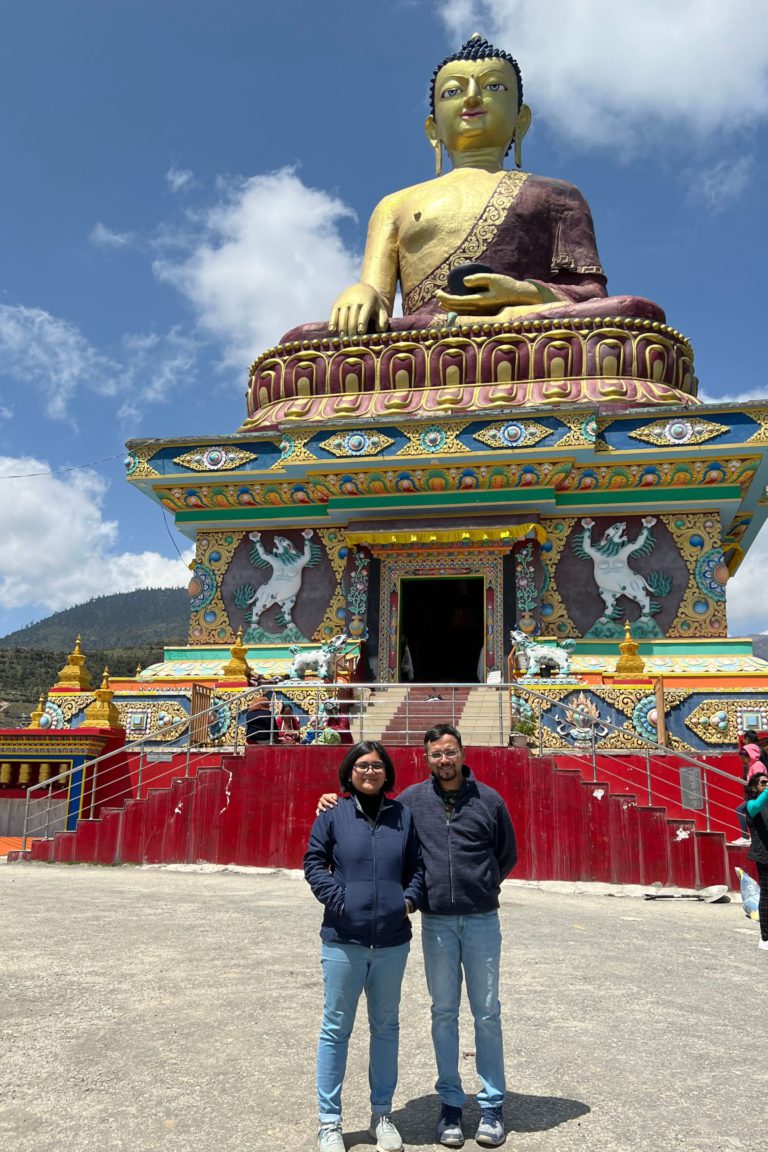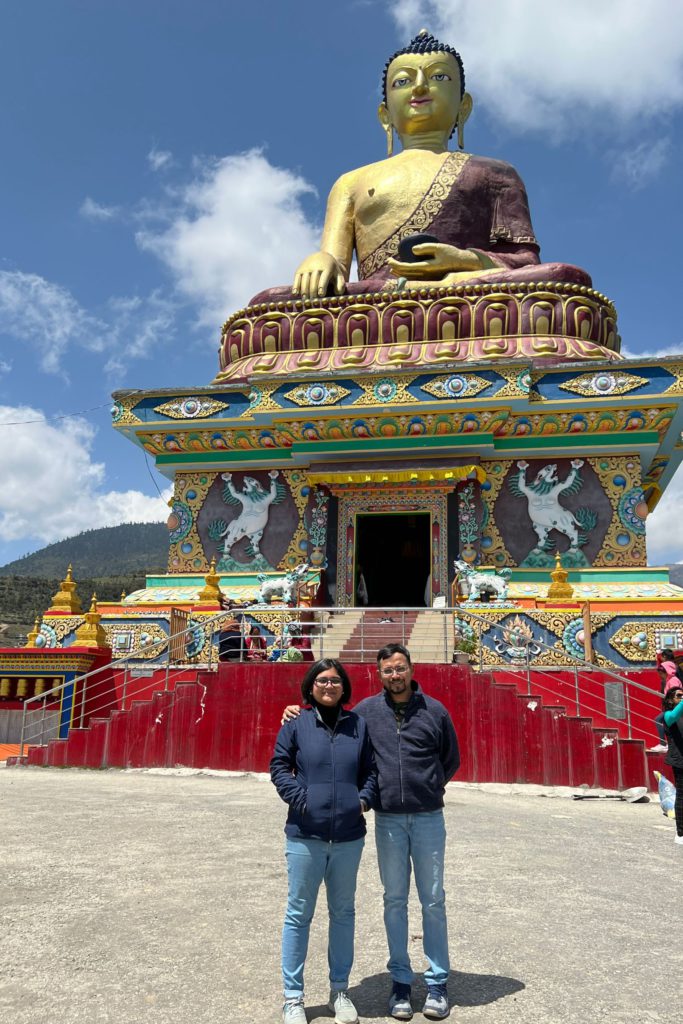 Cultural Center and Factory
If you wish to buy local souvenirs, check out the cultural centre in Tawang. The place is funded by the government. All the money from your purchase will go directly to the local people who make this stuff.
You will find handcrafted shawls, garments, Tibetan flags, carpets, mats, paintings, masks and a lot more. The prices are not very affordable but that's probably because the labour work is paid decent wages in the area (and that is how it should be).
And if you wish to see and experience first-hand how this stuff is made, you can also head over to the factory. There you can see the garments, masks and other souvenirs in the making. The people are very welcoming and charge no money for this. You can speak to them and learn more about their craft.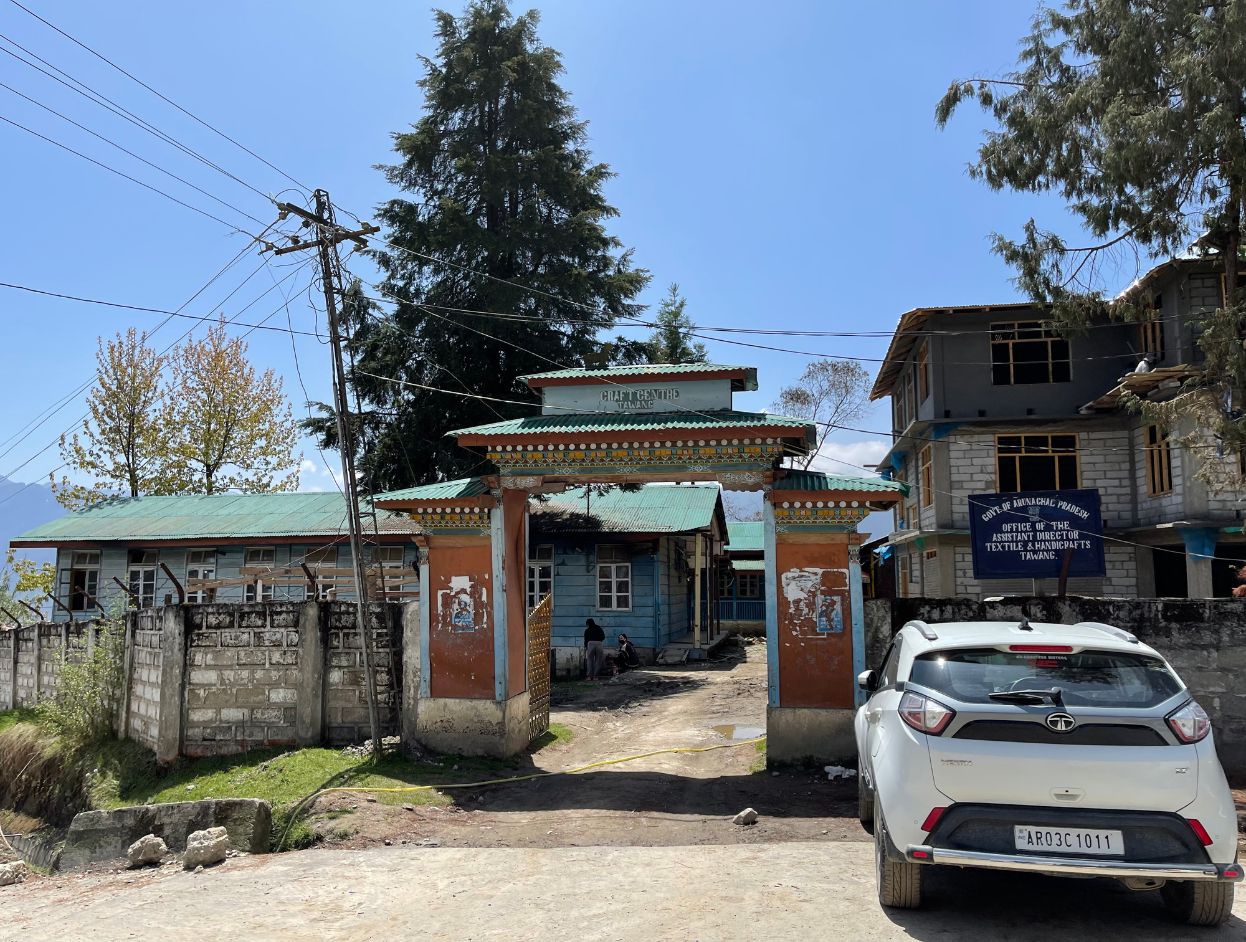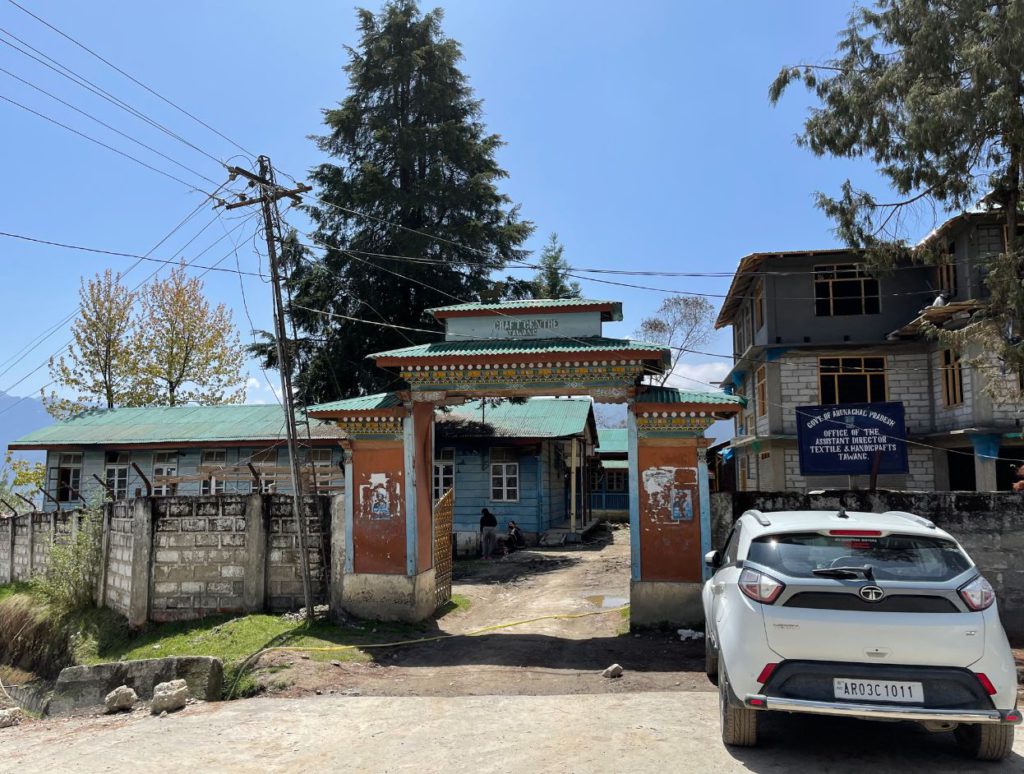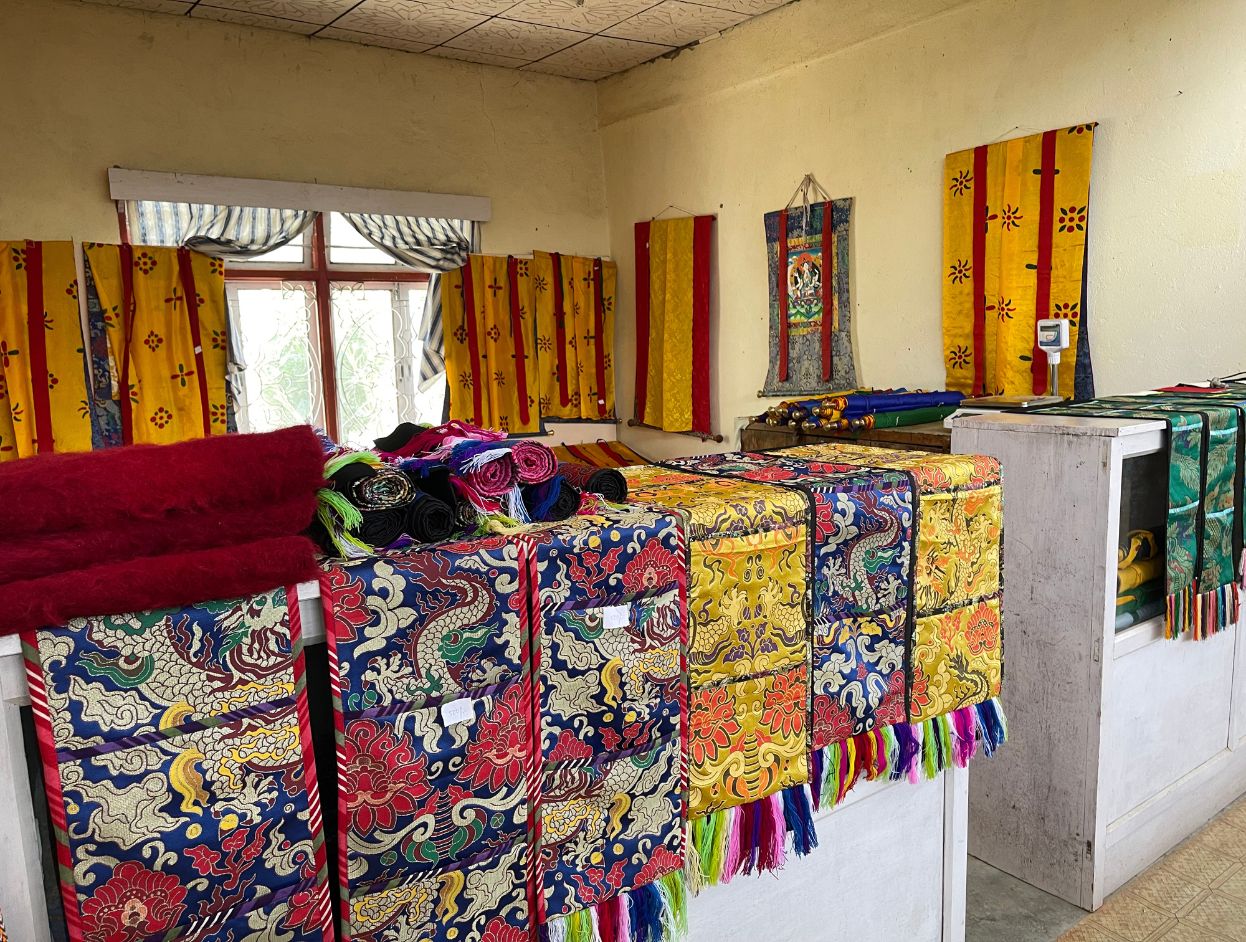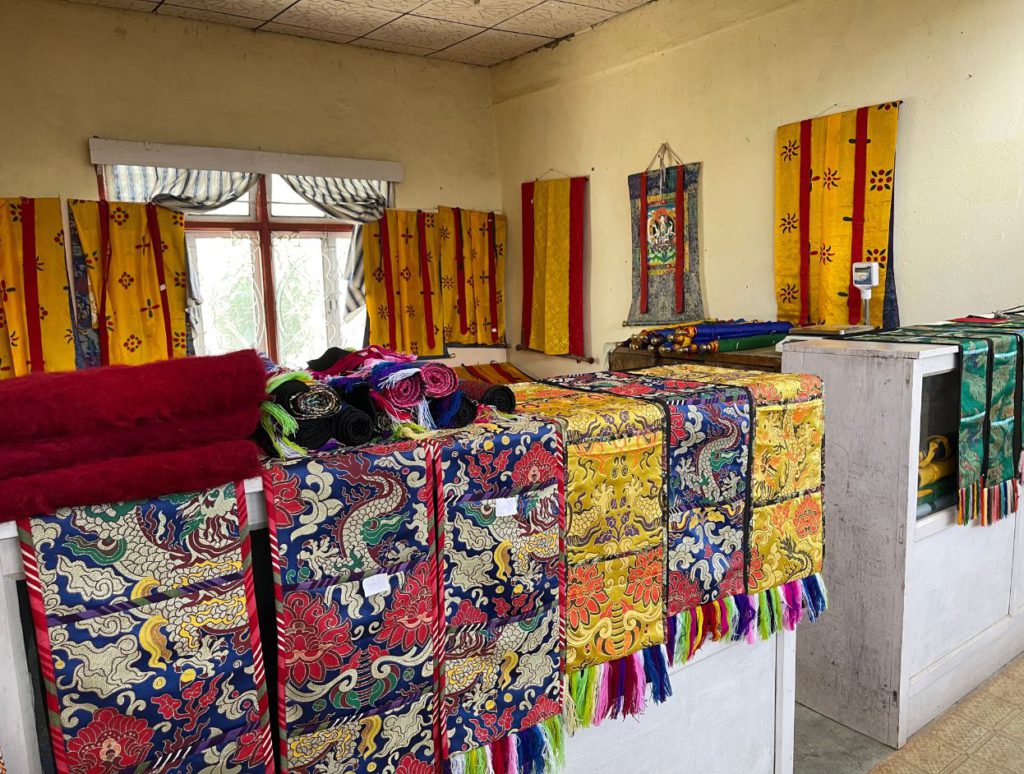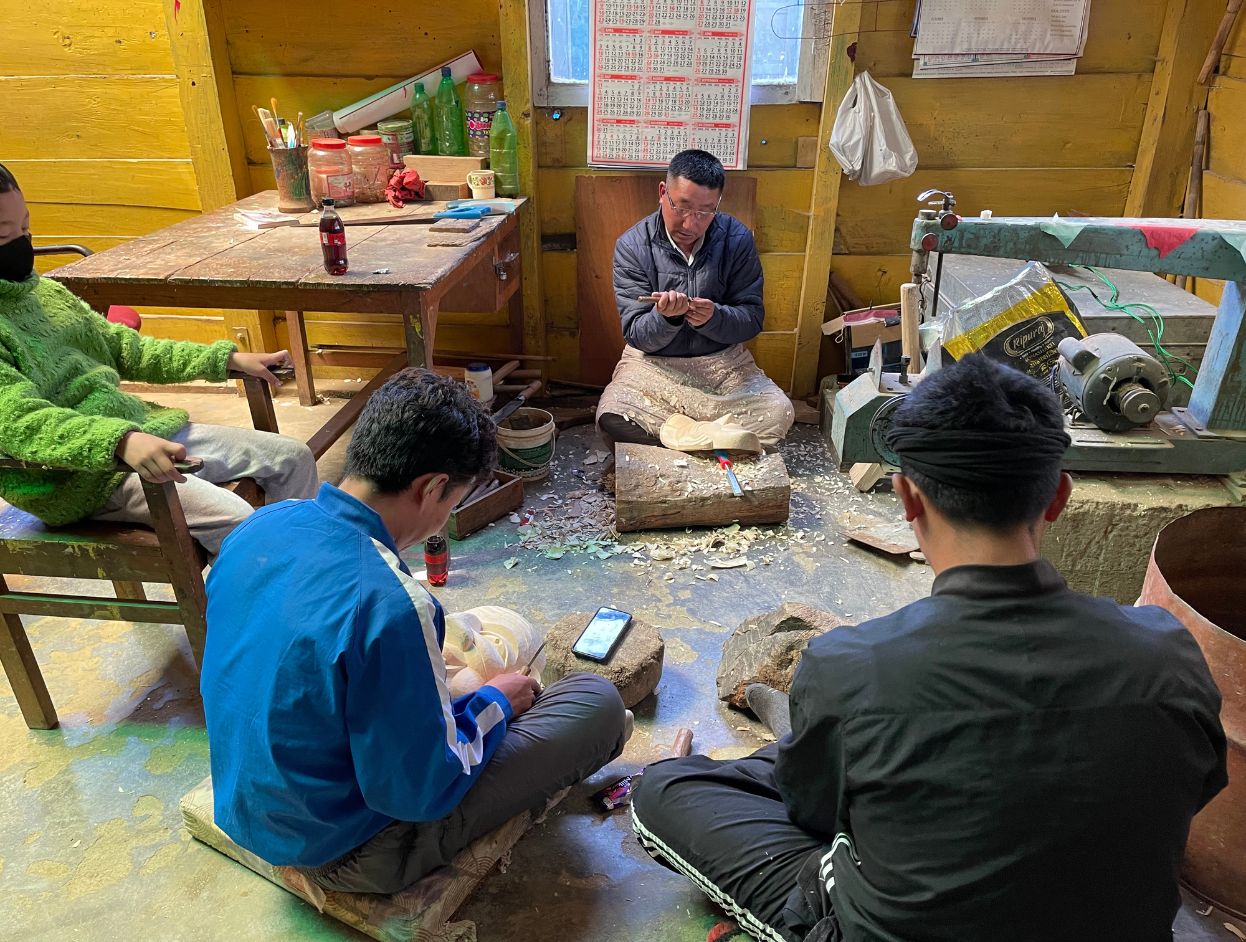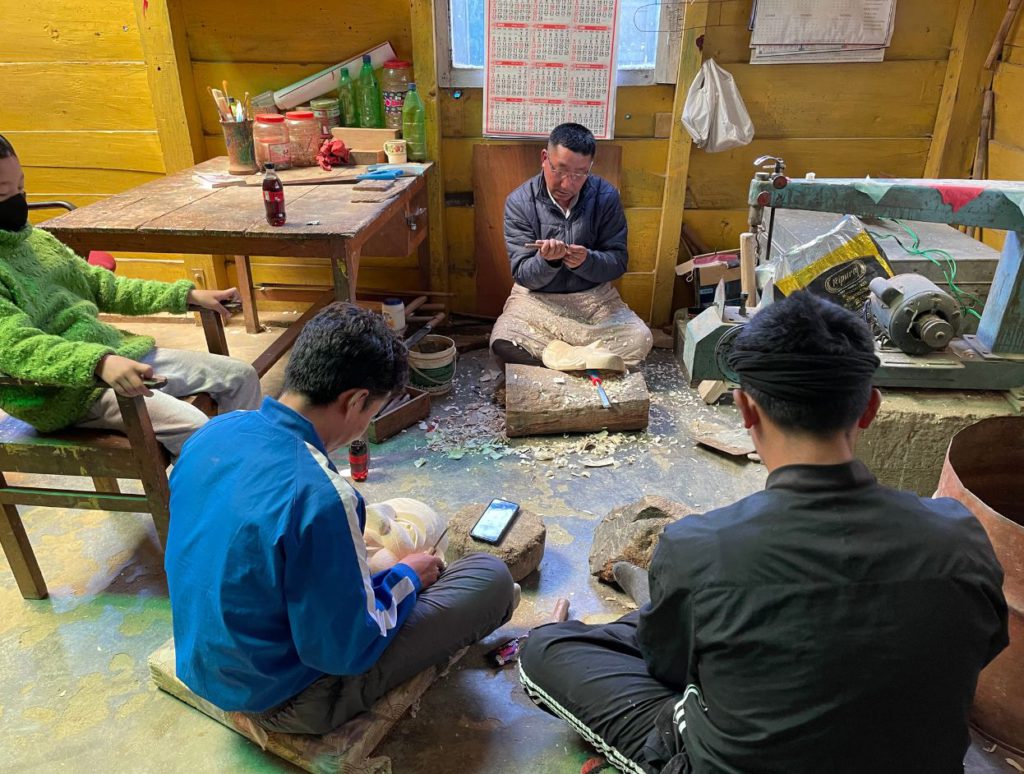 Tawang Markets
Tawang has three main markets – The Old Market, The New Market and Nehru Market. All three of them are located in close vicinity and you can walk through all of them on a lazy day. The Old market is the biggest of the three, although none of them is extremely huge.
You can head to the old market if you wish to buy or visit some local stores that sell souvenirs, handicrafts, garments, ceramics or local general goods. There are a few popular restaurants at each of these markets where to can find good food. The old market is closed on Tuesdays, the new market on Saturdays and the Nehru Market on Wednesdays.
Tawang War Memorial
The Tawang war memorial is built right on the outskirts of Tawang city. The war memorial was built in traditional Tibetan style with Monpa elements to commemorate the martyrs who sacrificed their lives in the Indo-China war of 1962. Many of the decorative elements in the memorial were donated by locals.
I hope it swells your heart with pride when you see the Indian National flag hoisted high along with the Indian army and the air force. We saw a gateway to the Korea regiment. Curious about the name, we asked someone. He told us that one of the regiments was sent to South Korea during the Korean war for peacekeeping, hence the name.
There is a small museum that houses the personal belongings of the deceased. Recently, an area has been built nearby that hosts a light show in the evening. The show starts at 6 pm and 7.30 pm but the tickets sell out soon during a busy season. So make sure you arrive early.
The laser show is an absolute beauty and it not just talks about the war and its martyrs in detail but also about Tawang, Arunachal and its beauty as well as its importance for India. You will enjoy it thoroughly.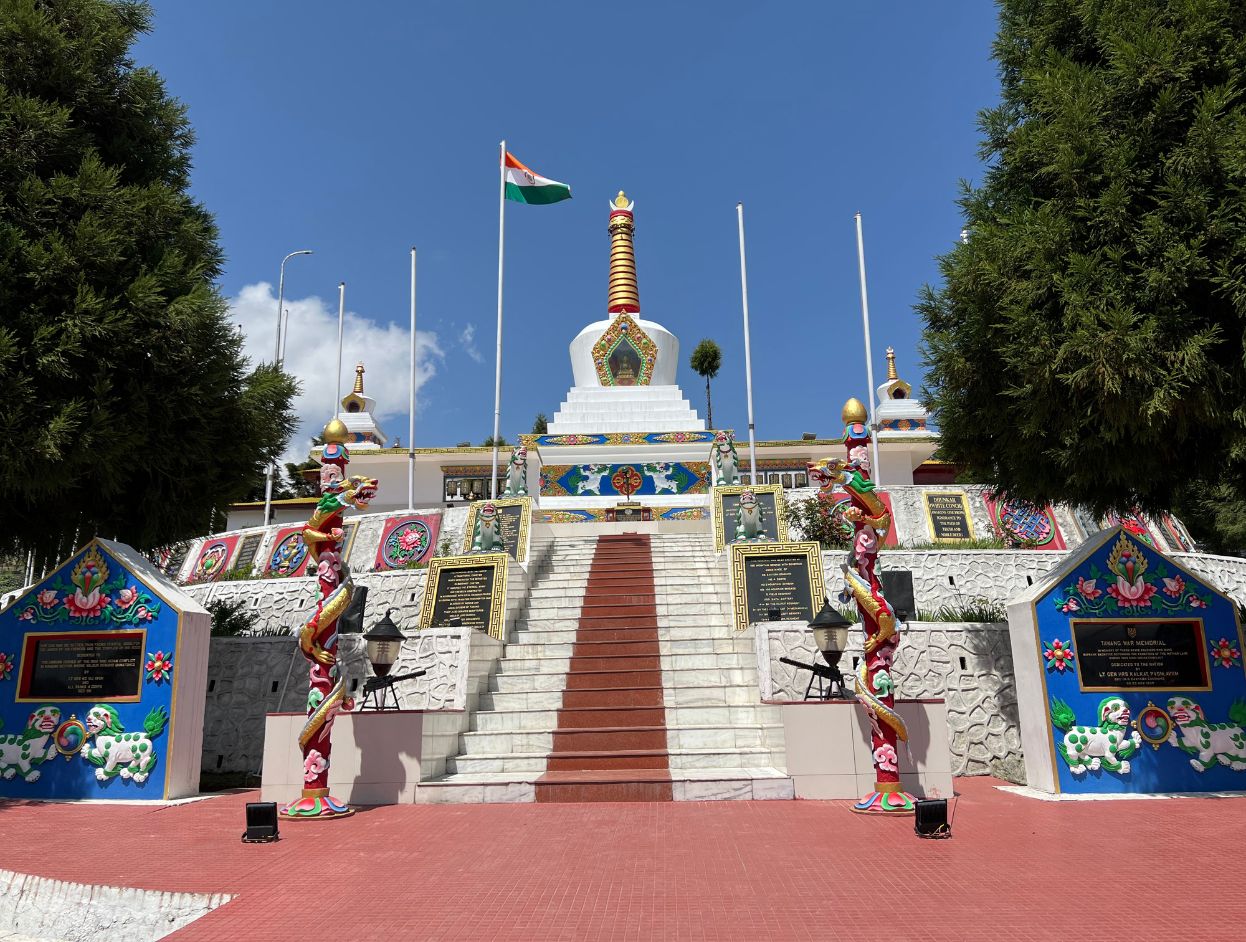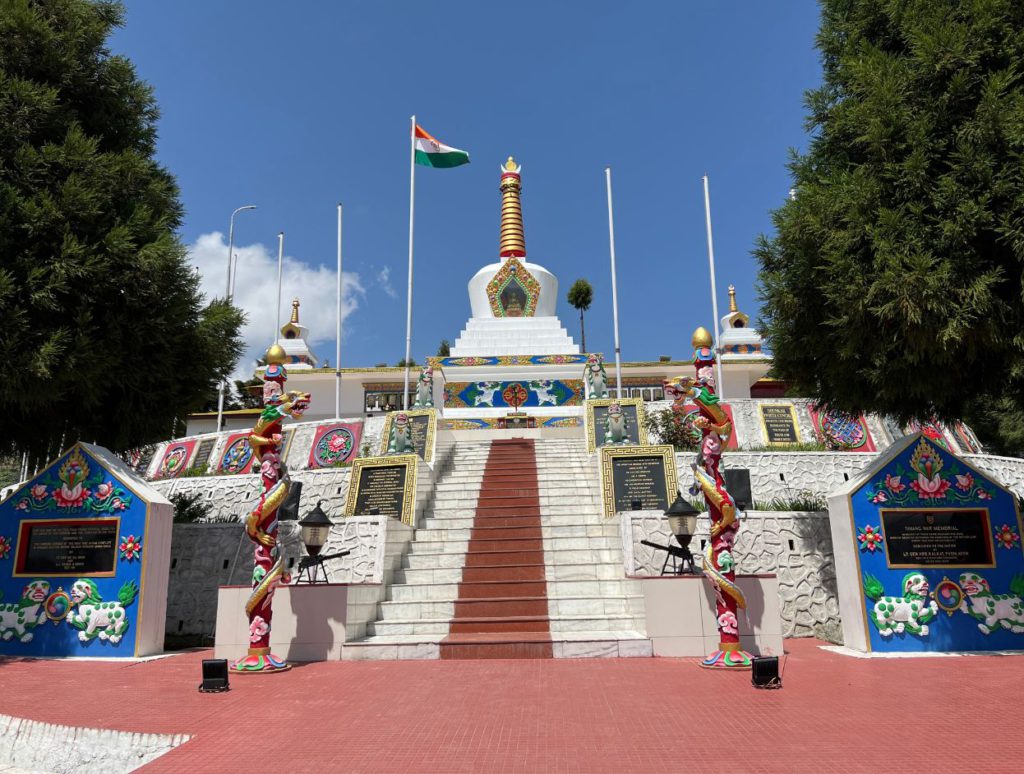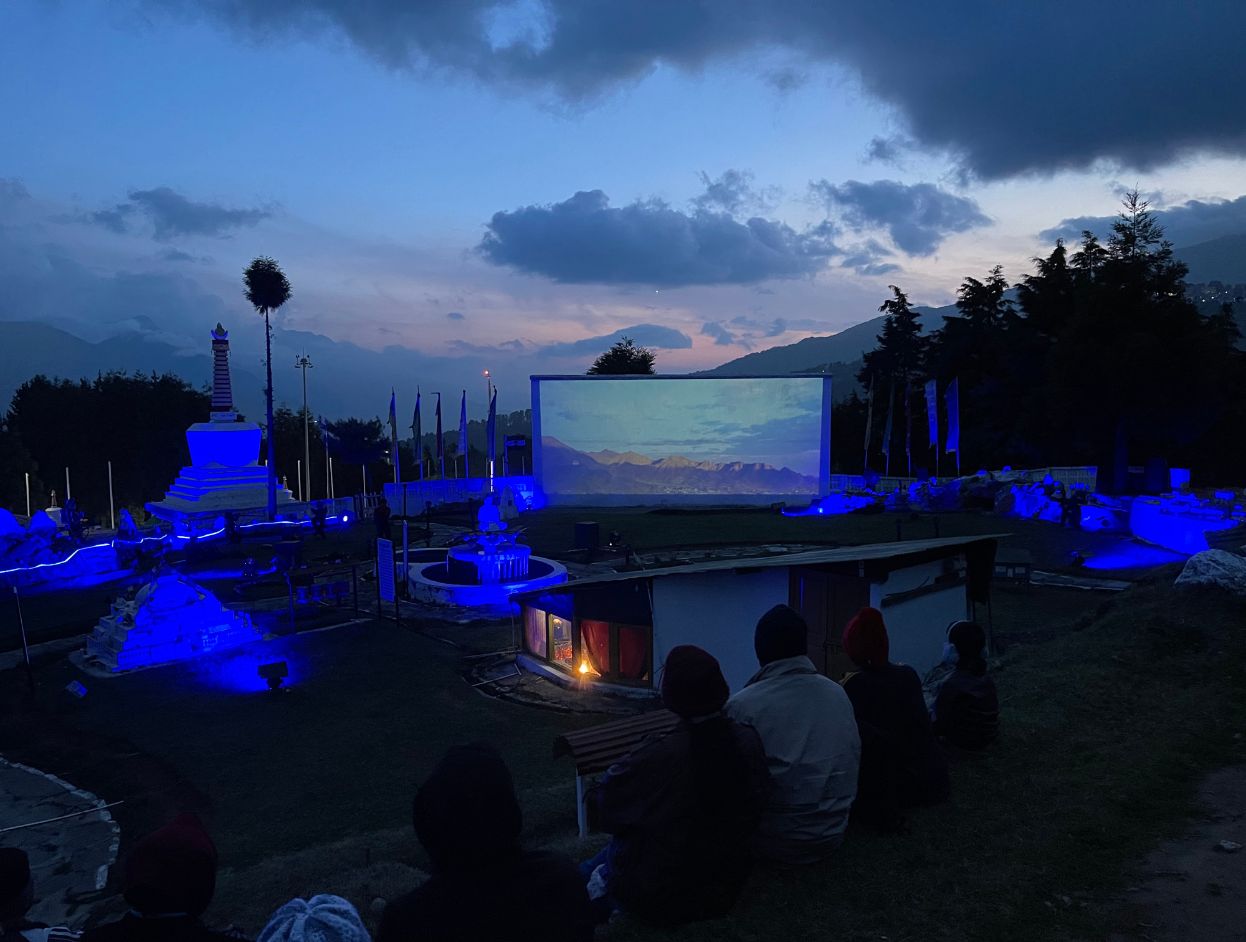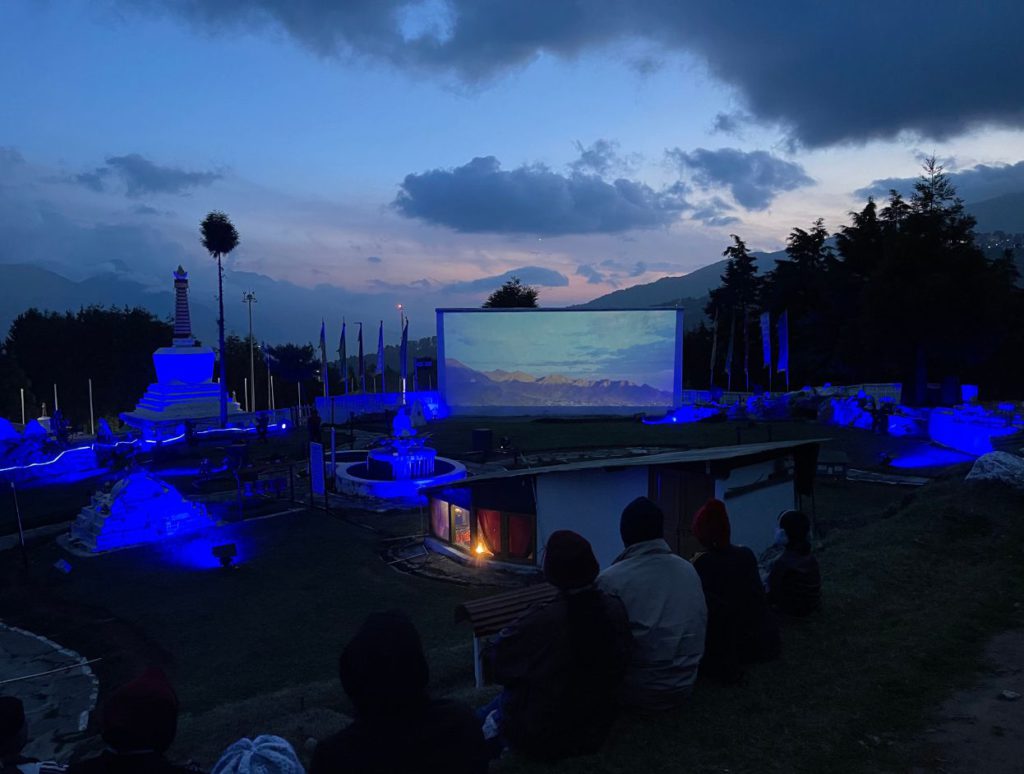 Dorjee Khandu Memorial Museum
This is a recent addition to the popular tourist spots in Tawang and I don't think you should miss it, even though you may not understand its importance at the first glance. The memorial and museum are dedicated to Dorjee Khandu, the beloved ex-Chief Minister of Arunachal Pradesh who died in a helicopter crash in 2011. He is also the father of the current chief minister, Pema Khandu.
The memorial is dedicated to him for his service to Arunachal Pradesh. He was popularly known as the People's Chief Minister and has contributed largely to the modernisation of this state. It was quite surprising to see this museum, so nicely built in modern architecture with even some light and sound effects.
The museum not just talks about the life of Dorjee Khandu but about the history of Tawang, the Monpa people, Arunachal Pradesh and its old and recent ties with Tibet. It is free to visit.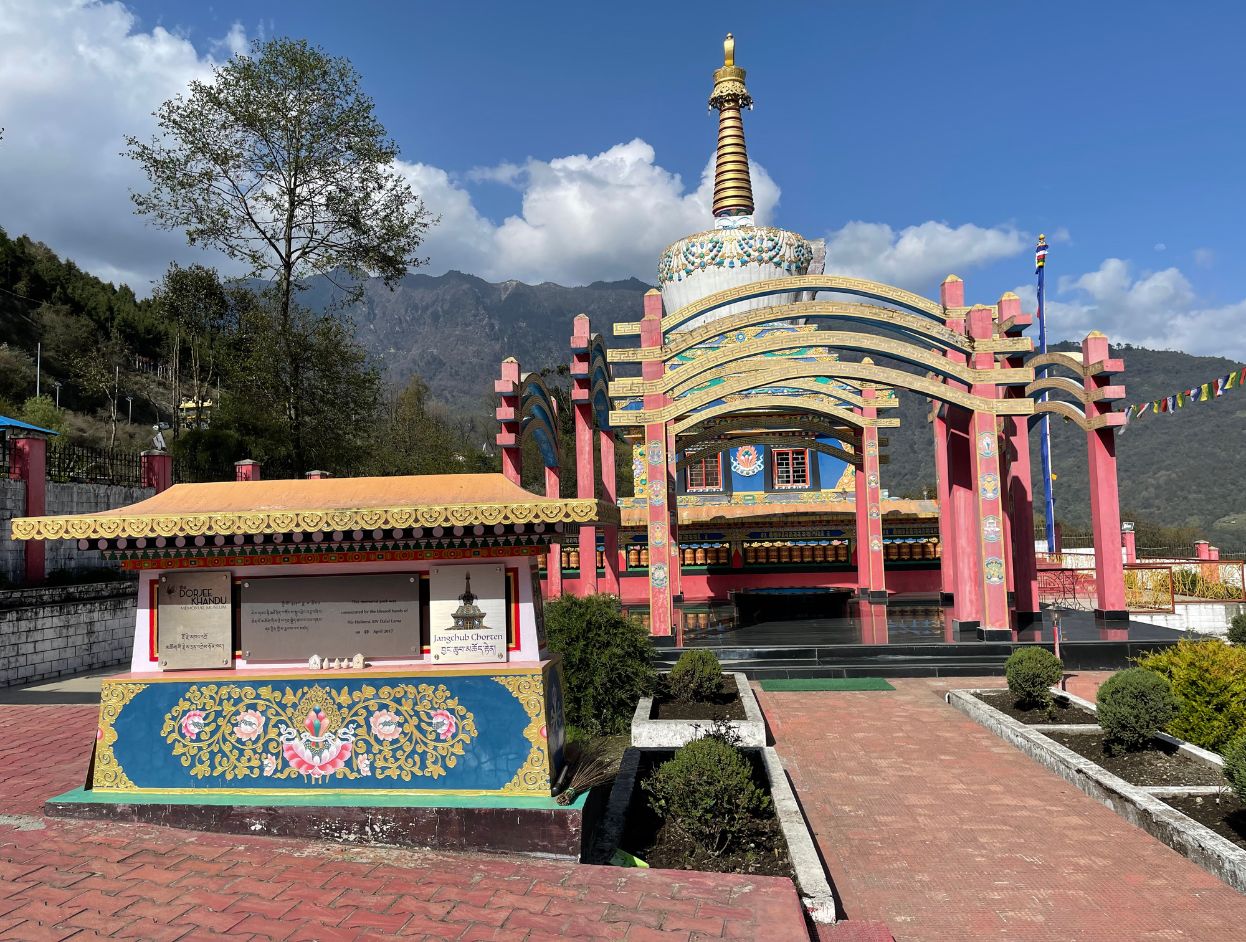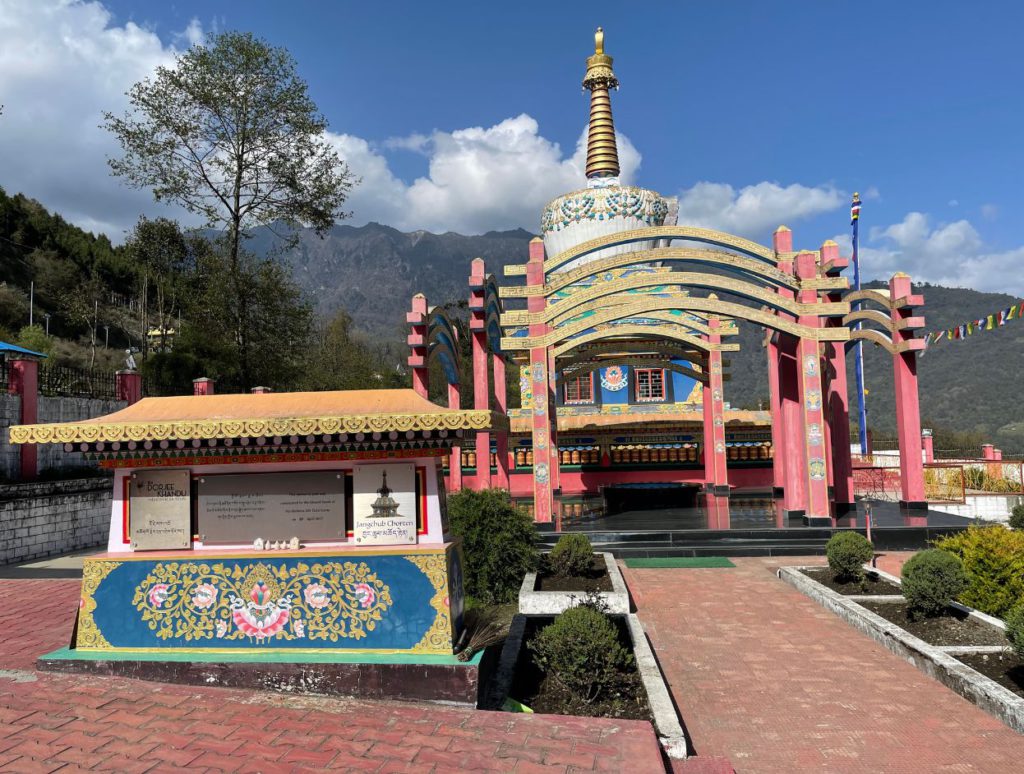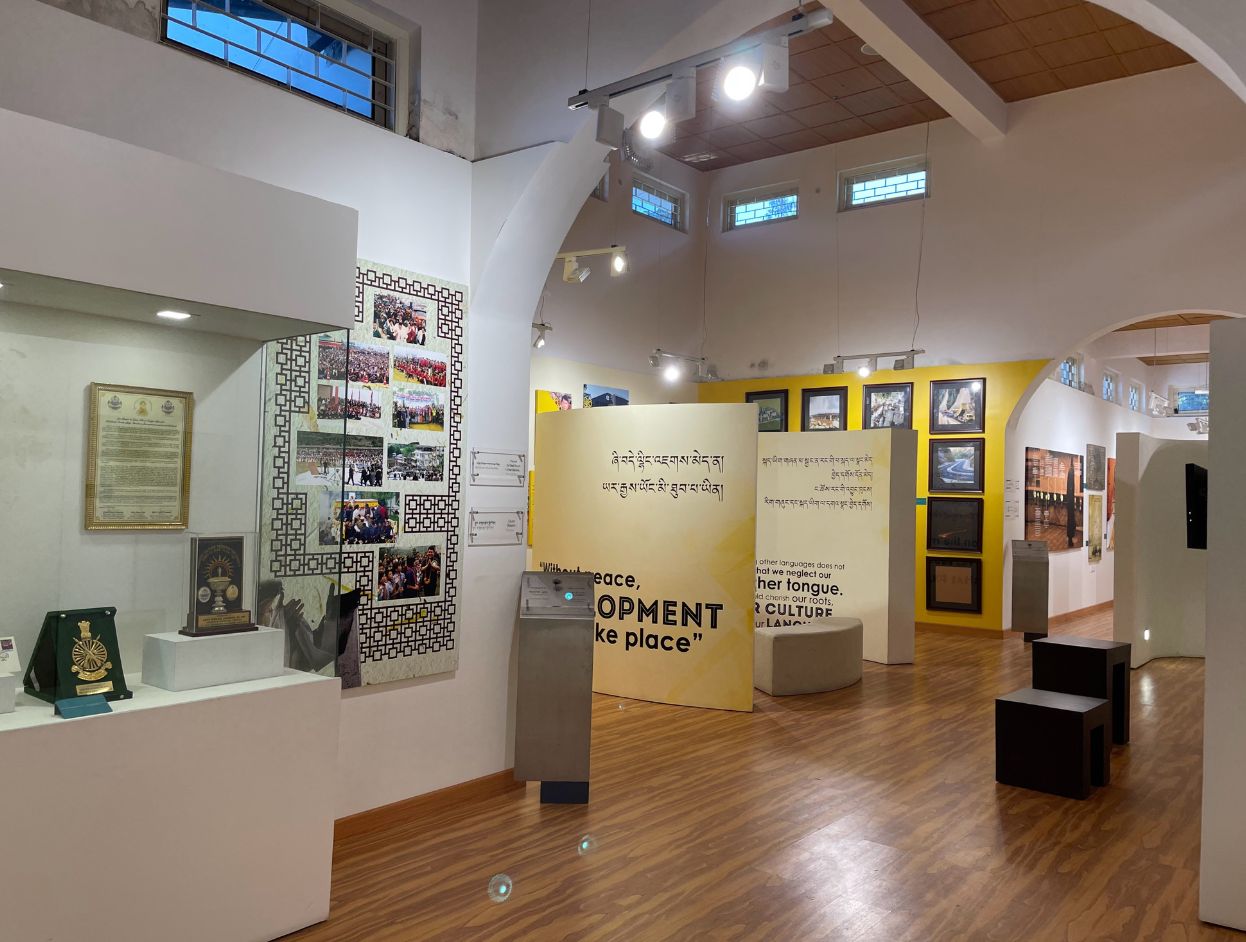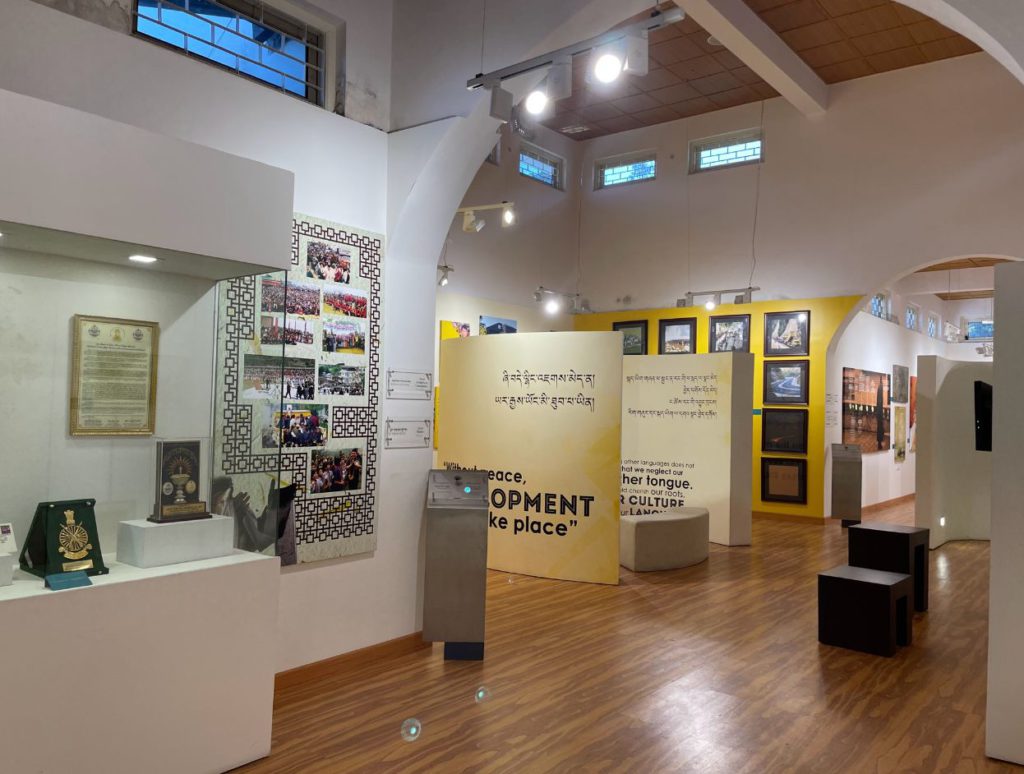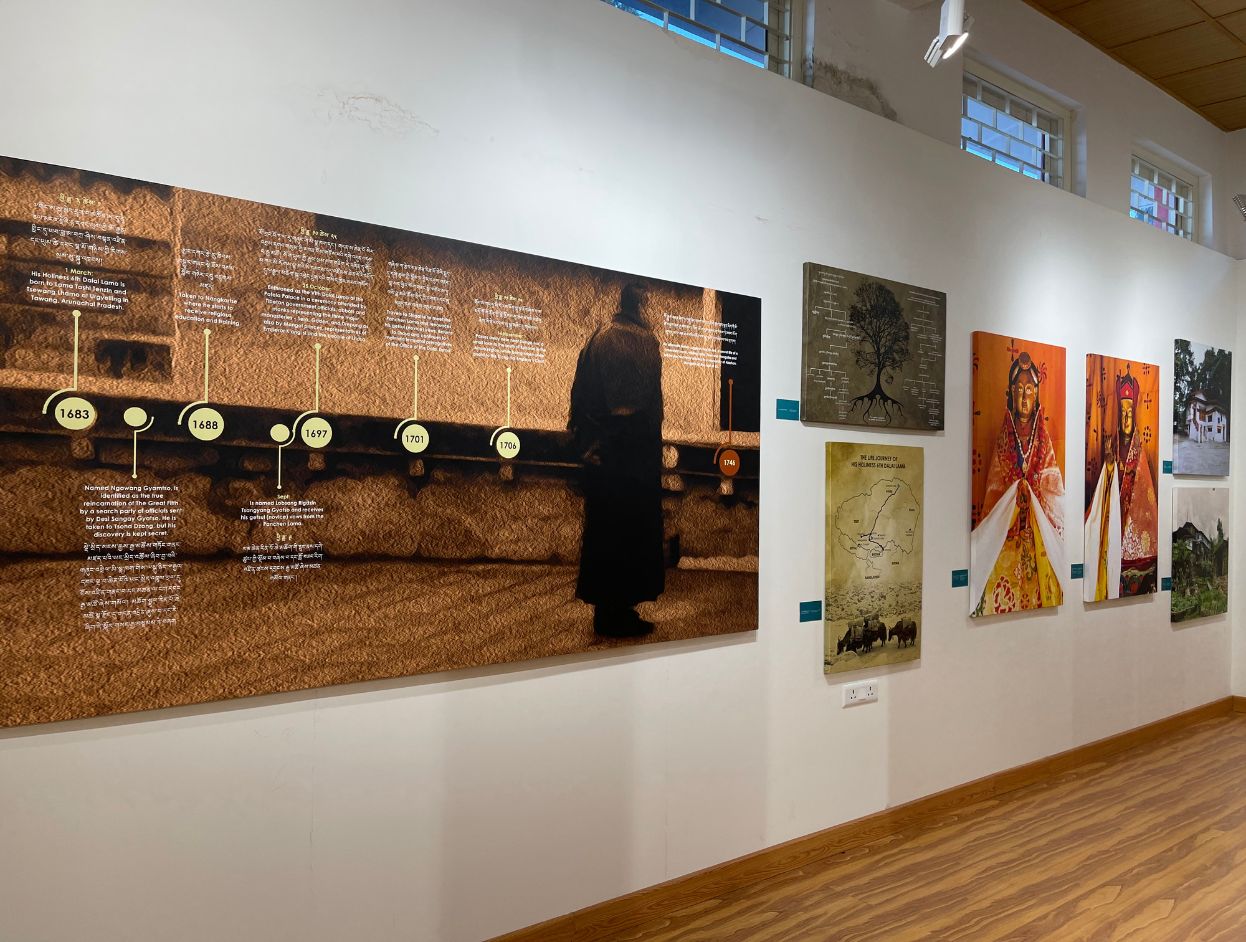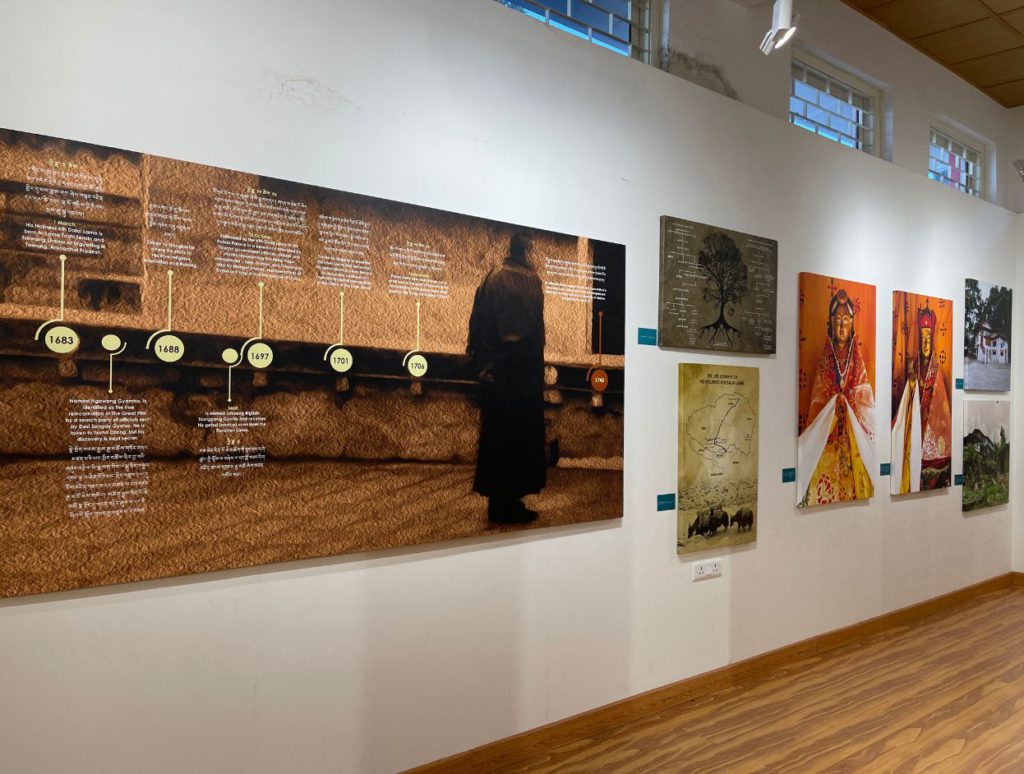 Bum La Pass
Bum La Pass is a highland pass at the India-China border north of Tawang that is of extreme strategic importance to India. The pass is at an elevation of 13,700ft (4,630m) and is heavily militarized. You can visit Bum La Pass as a part of a day excursion from Tawang using a local vehicle and a tour guide (costs ₹5000) who will also procure a special permit for you for the trip.
The day trip to Bum La includes several other scenic tourist spots (mentioned below). But try to get to Bum La as early in your day as possible. As you reach the camp, you will have to take a token for your visit onwards. It may take some time for your turn. Then a couple of soldiers will escort you towards the last few meters of the Macmohan Line so you can peer into China's territory.
There the soldiers tell you about the importance of Bum La Pass and about their life experiences. You can also ask some questions. No photographs are permitted. And I also request all tourists to not upload any photos of encampments, signs or sensitive information online in their blogs, vlogs or social media posts.
The pass remains closed during heavy winters and monsoons. But it is easily accessible during spring, summer and autumn. The view with snowfall is absolutely gorgeous. Make sure you have the warmest clothes you have with you. You can also find jackets and warmers in the army camps on your way.
Planning to visit Bum La? Read our detailed itinerary for a day trip to Bum La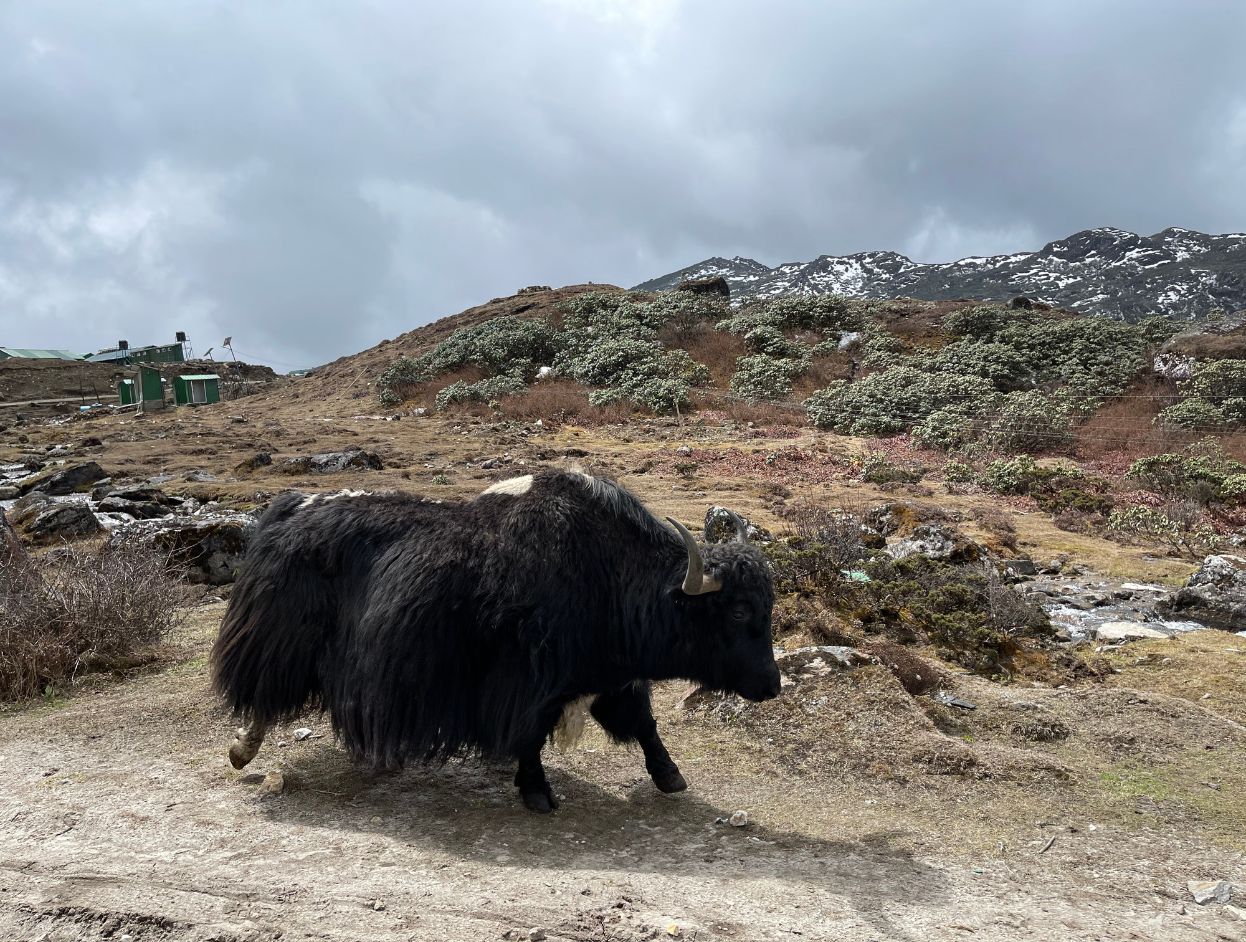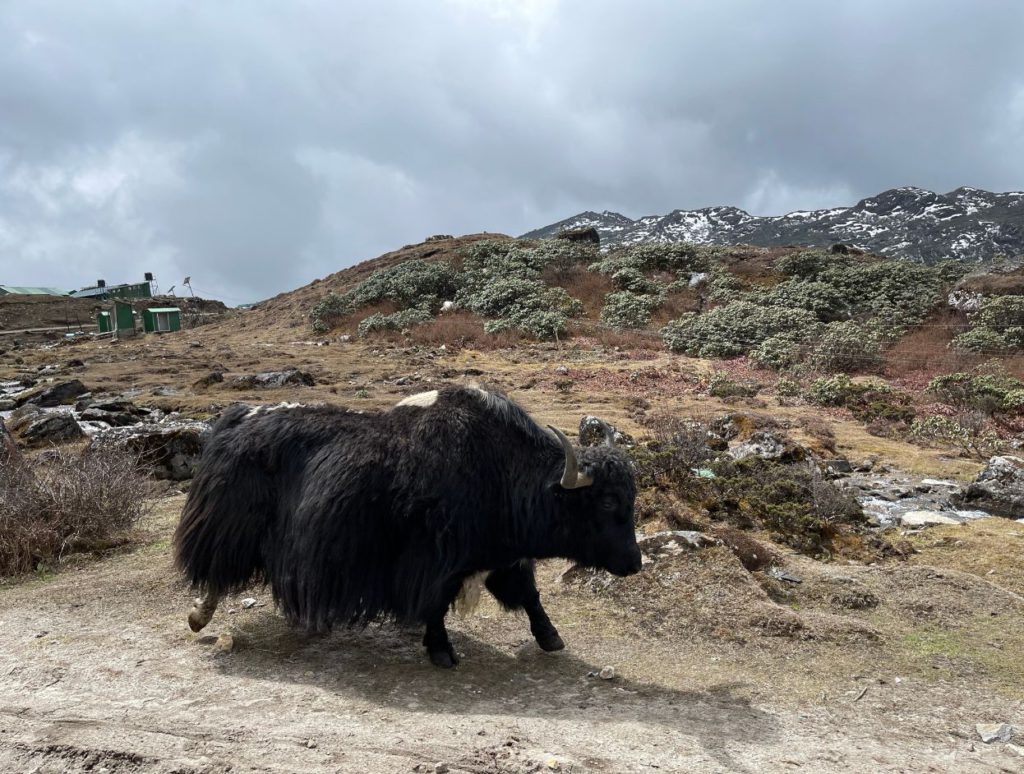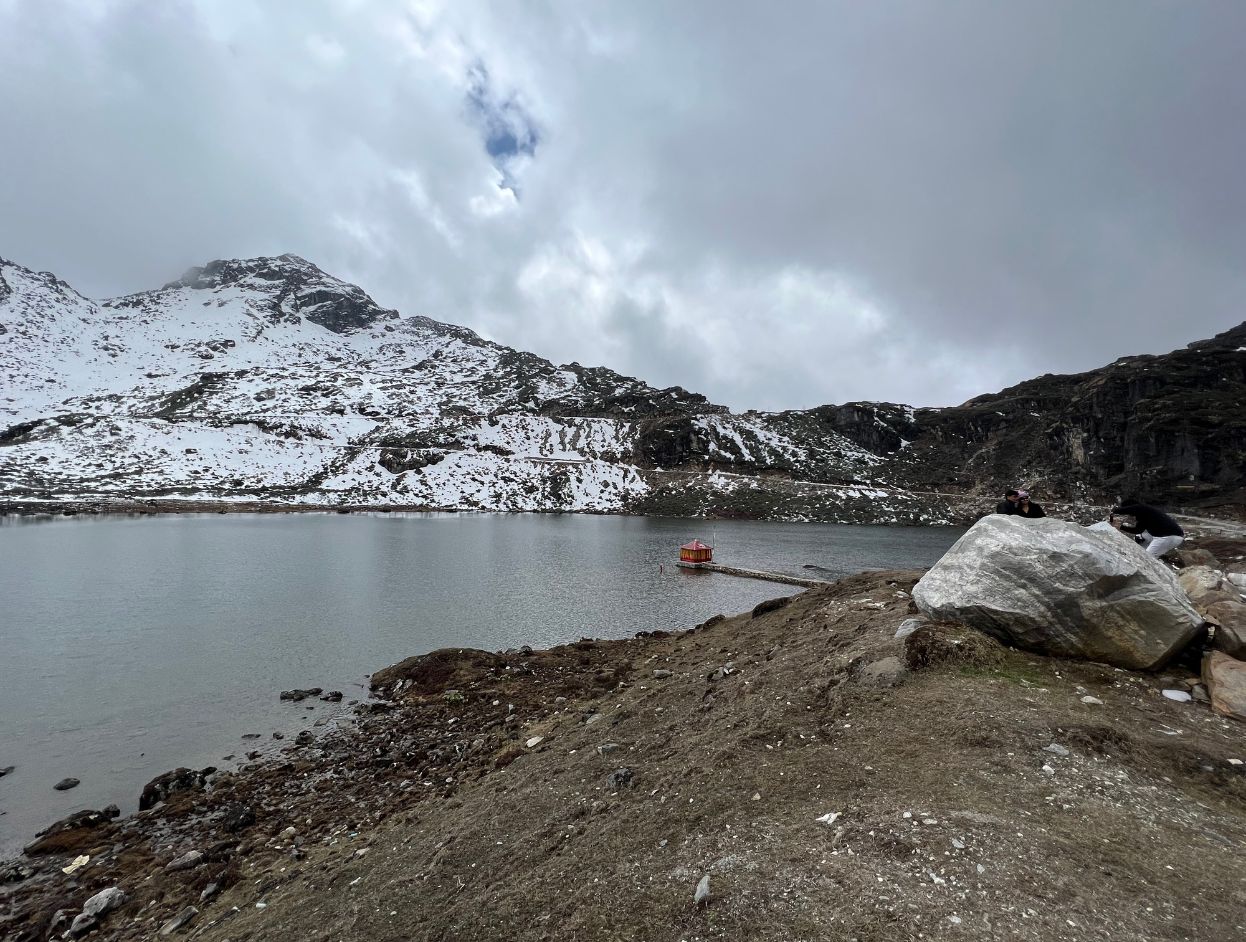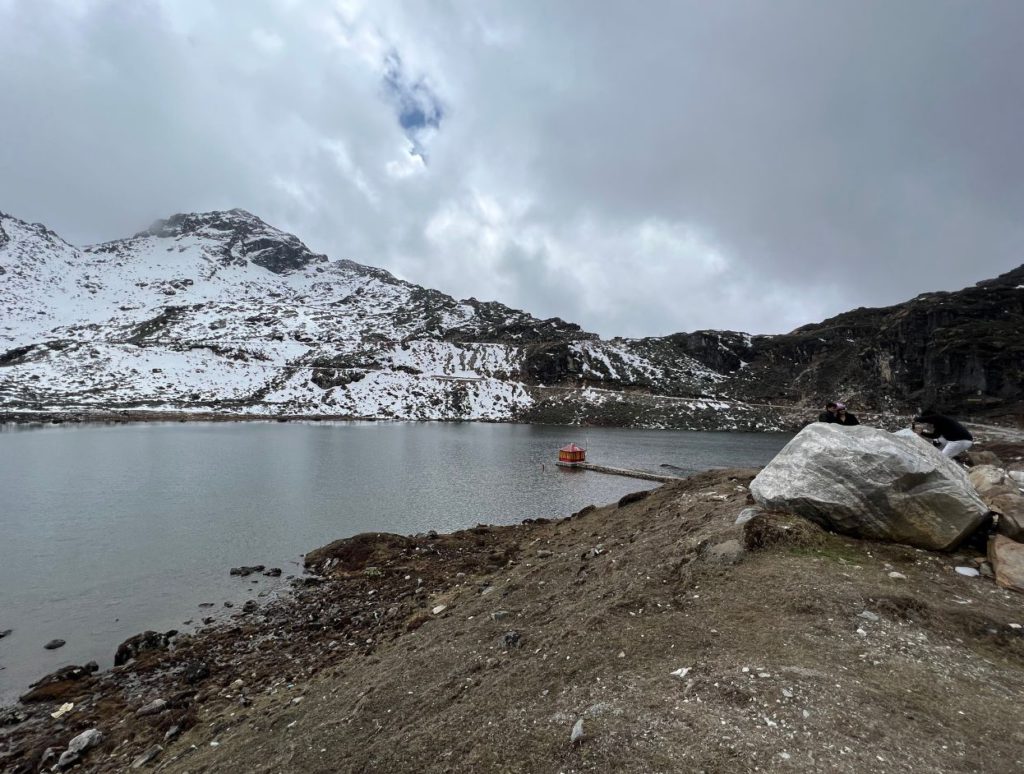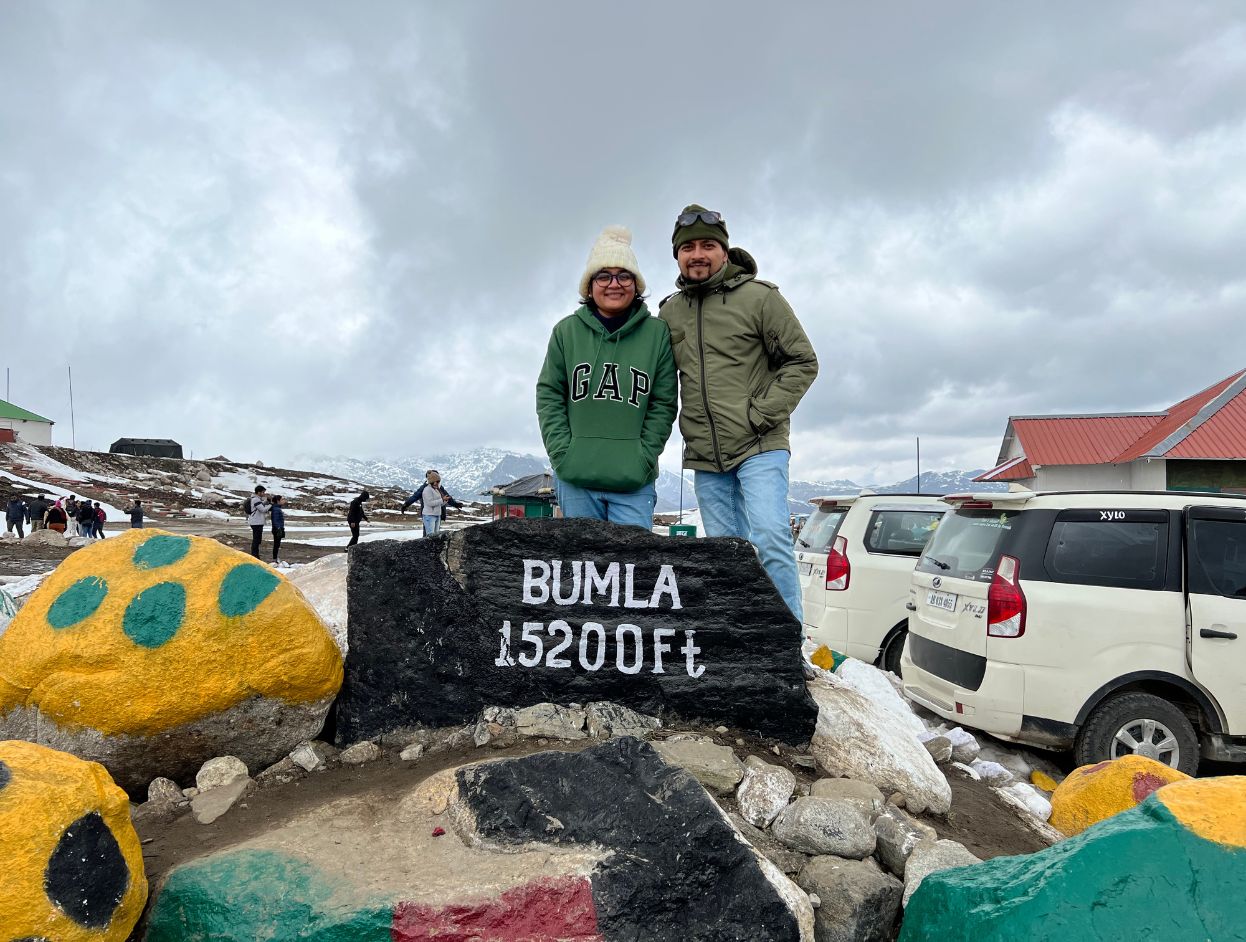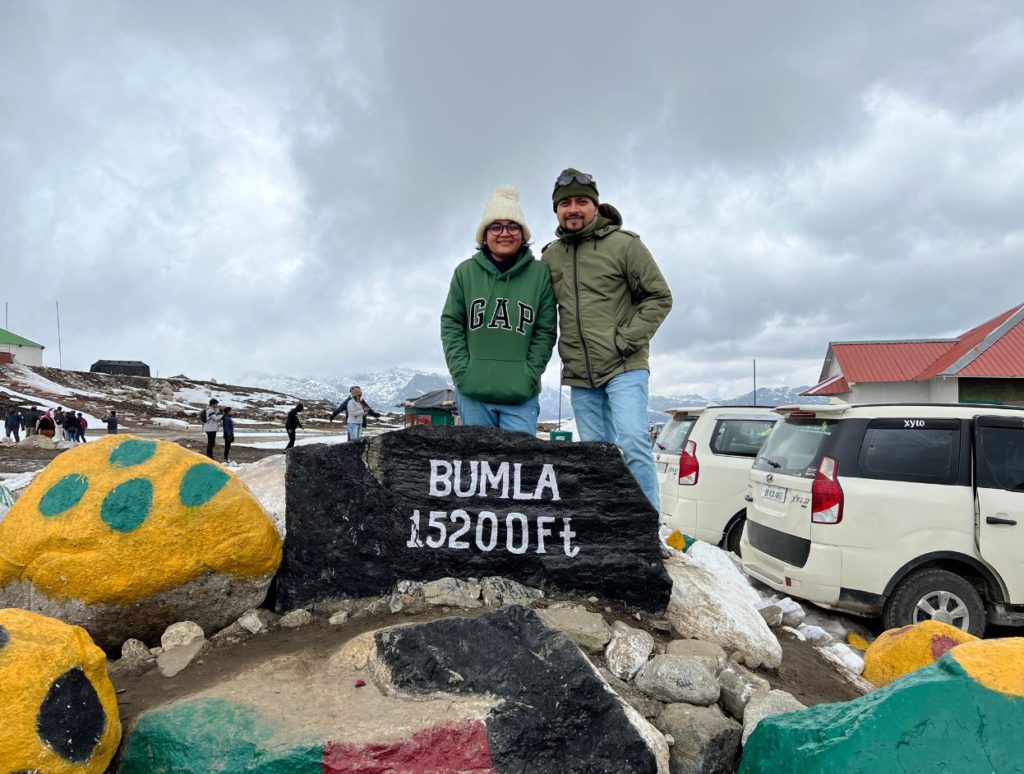 Sangetsar Tso or Madhuri Lake
Sangetsar Tso is better known as Madhuri Lake and it was all because she shot a song from the movie 'Koyla' here. The lake is even more distinguished due to the huge tree trunks coming out of the lake. It shows that the lake is not extremely deep. It was formed after an earthquake hit the region in the 1950s.
The lake will fall on your way to Bum La. There is a small cafe right nearby where you can get some food, tea, coffee and even some warm clothes. The lake has a pretty stunning view as you travel to and back via a high point.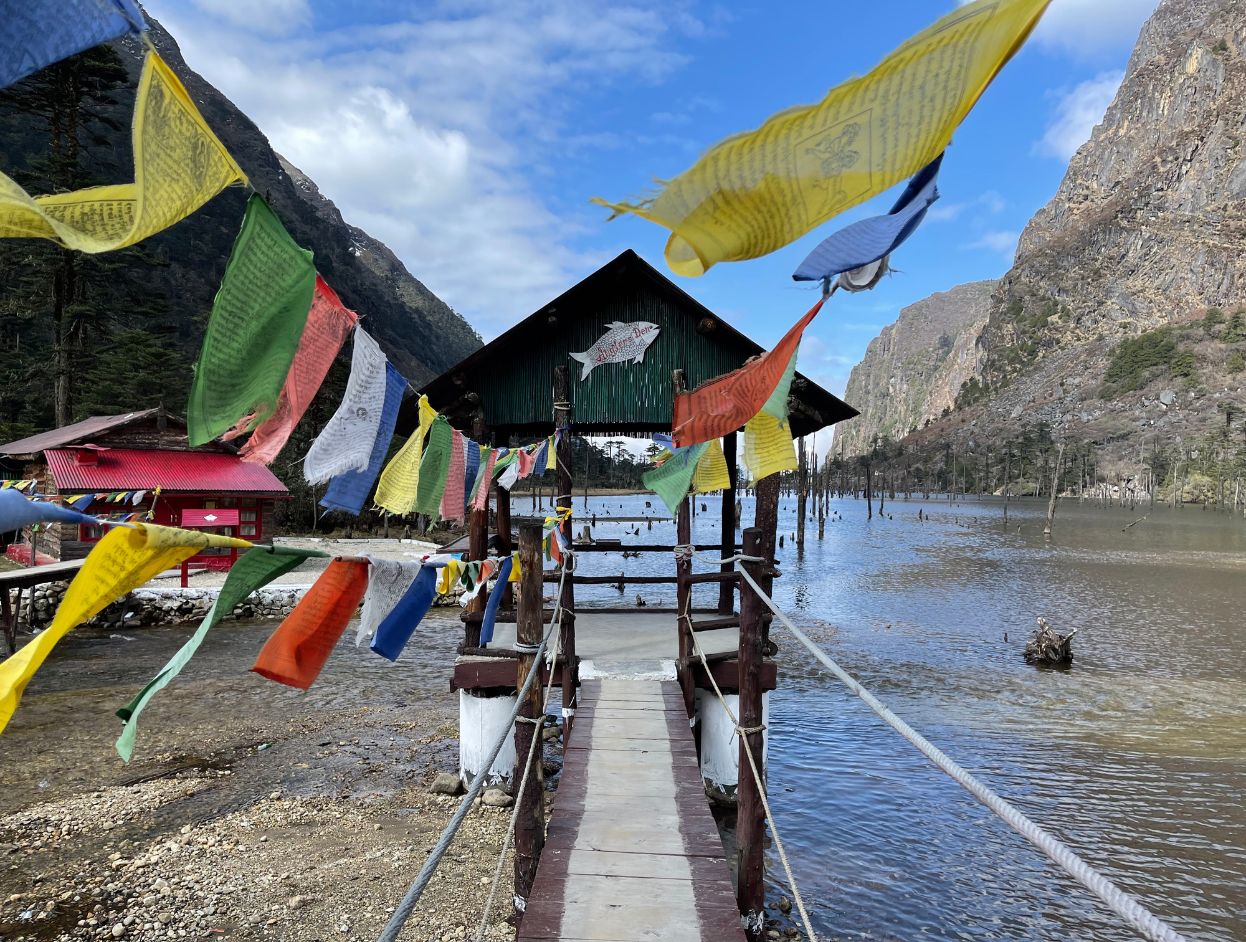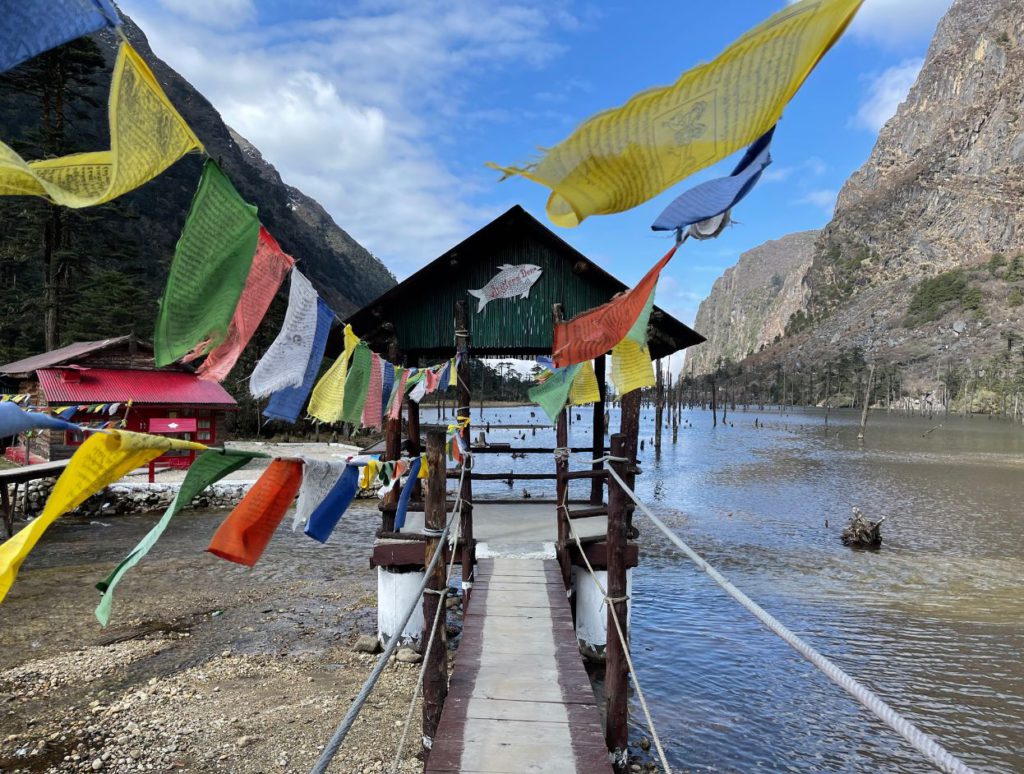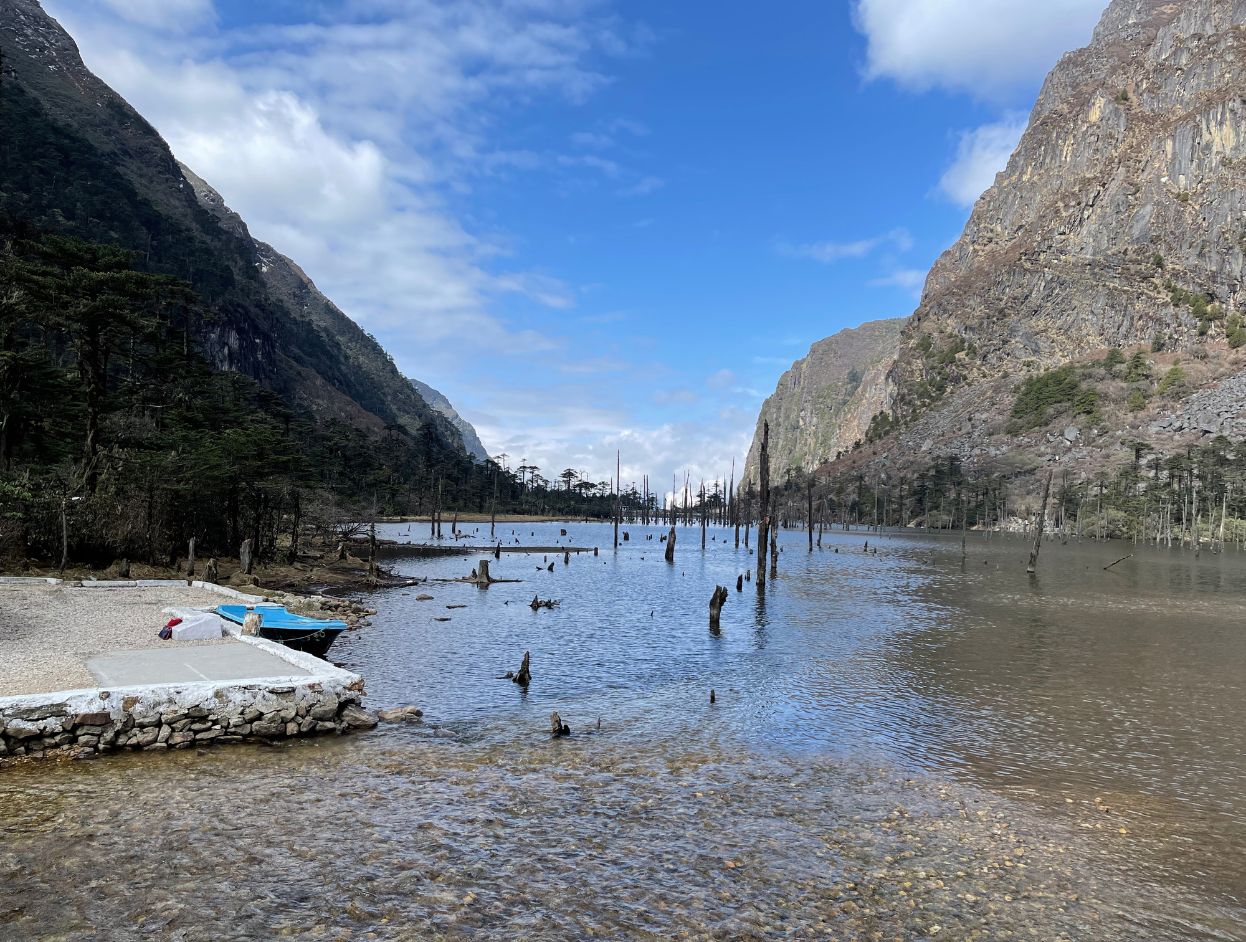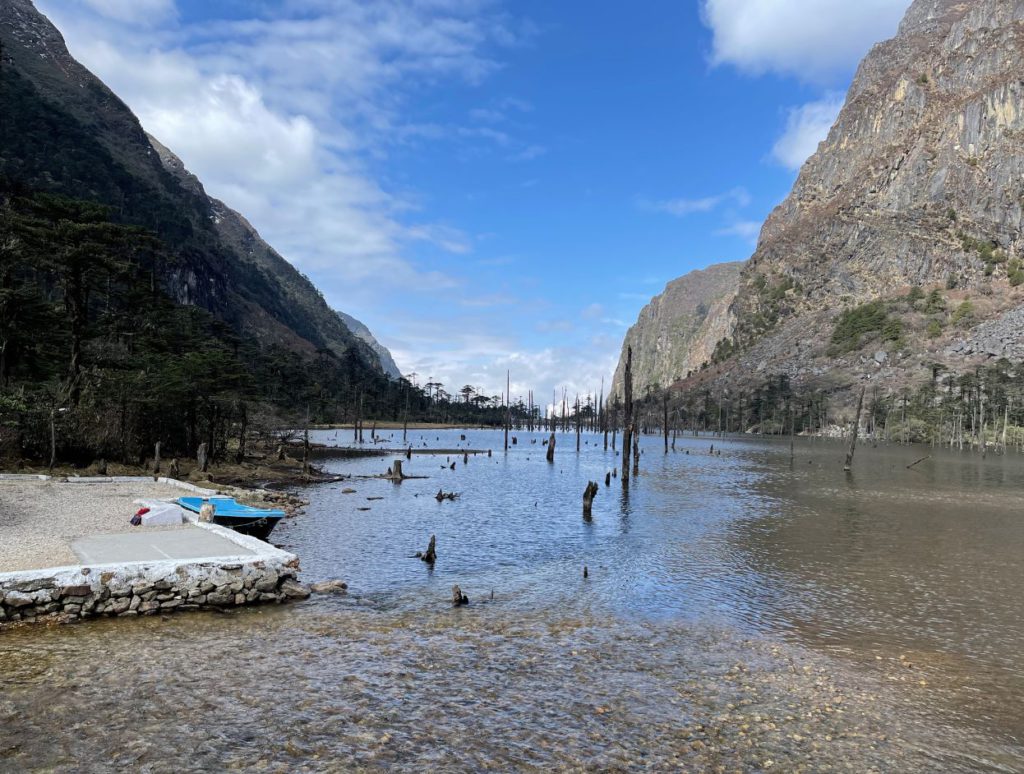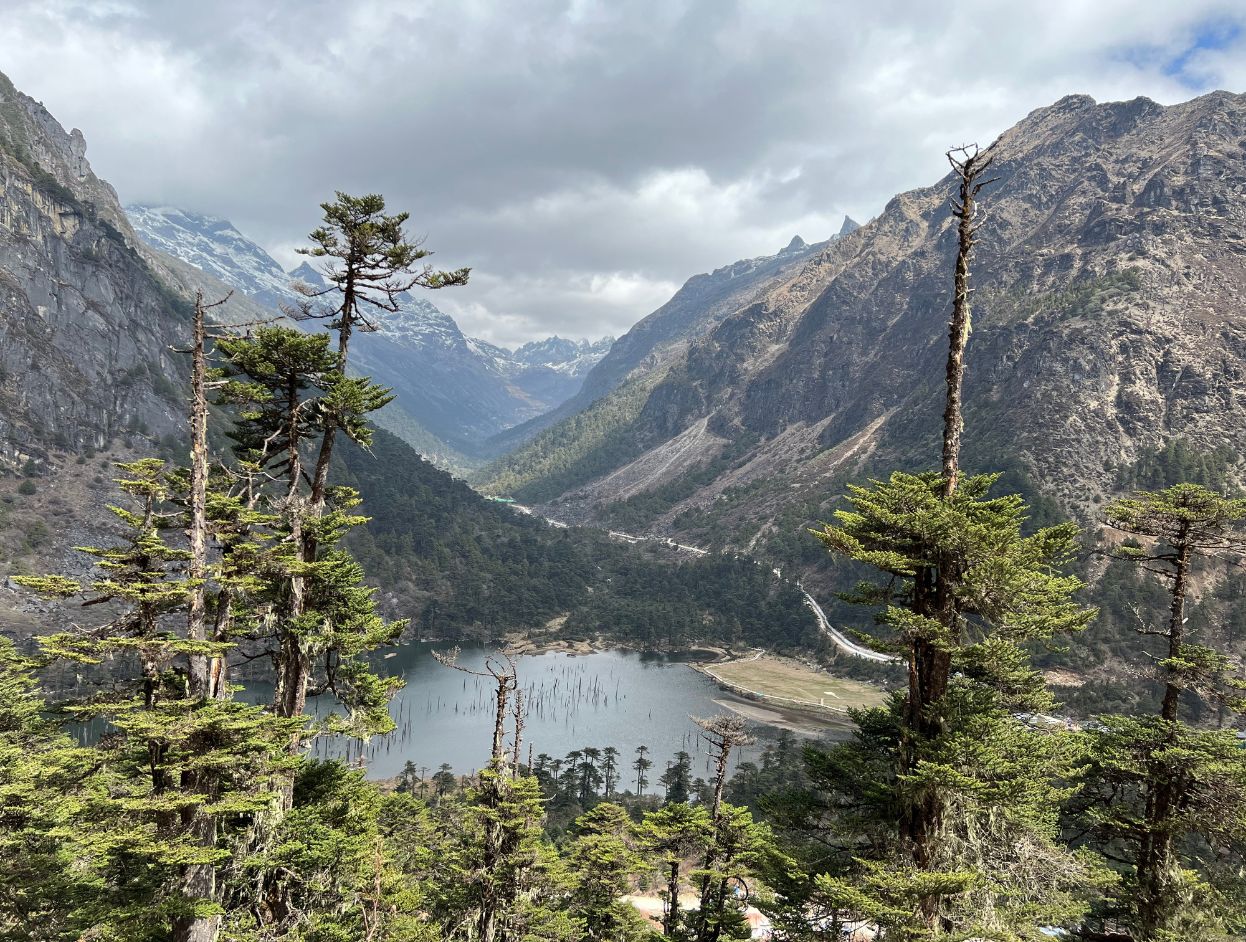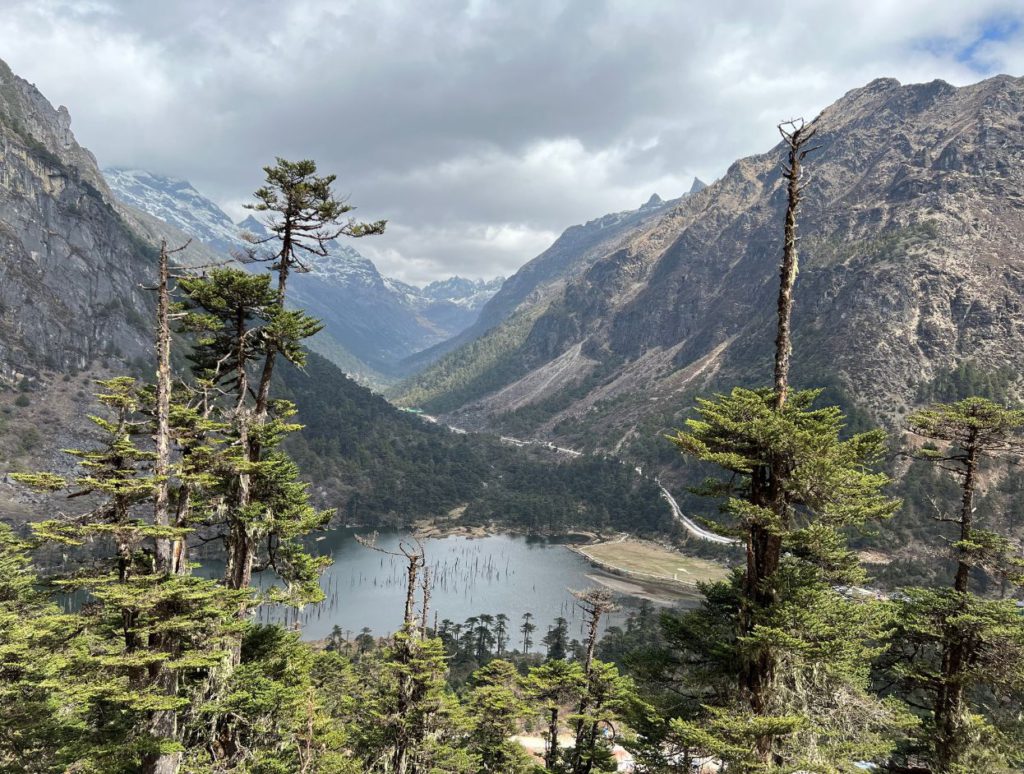 Nagula and Pangkang Teng Tso Lake
Both of these are high-altitude glacial lakes (Nagula is at 13,500ft) located on the way to Bum La. The water is clean, cold and clear and it often reflects the colours of the surrounding valleys. Both these lakes are covered in snow during heavy winters. 
However, you can spot rhododendrons and a few Himalayan flowers around them during the spring and autumn season. There isn't much to do there otherwise, but it makes an excellent place to make a stop for photos.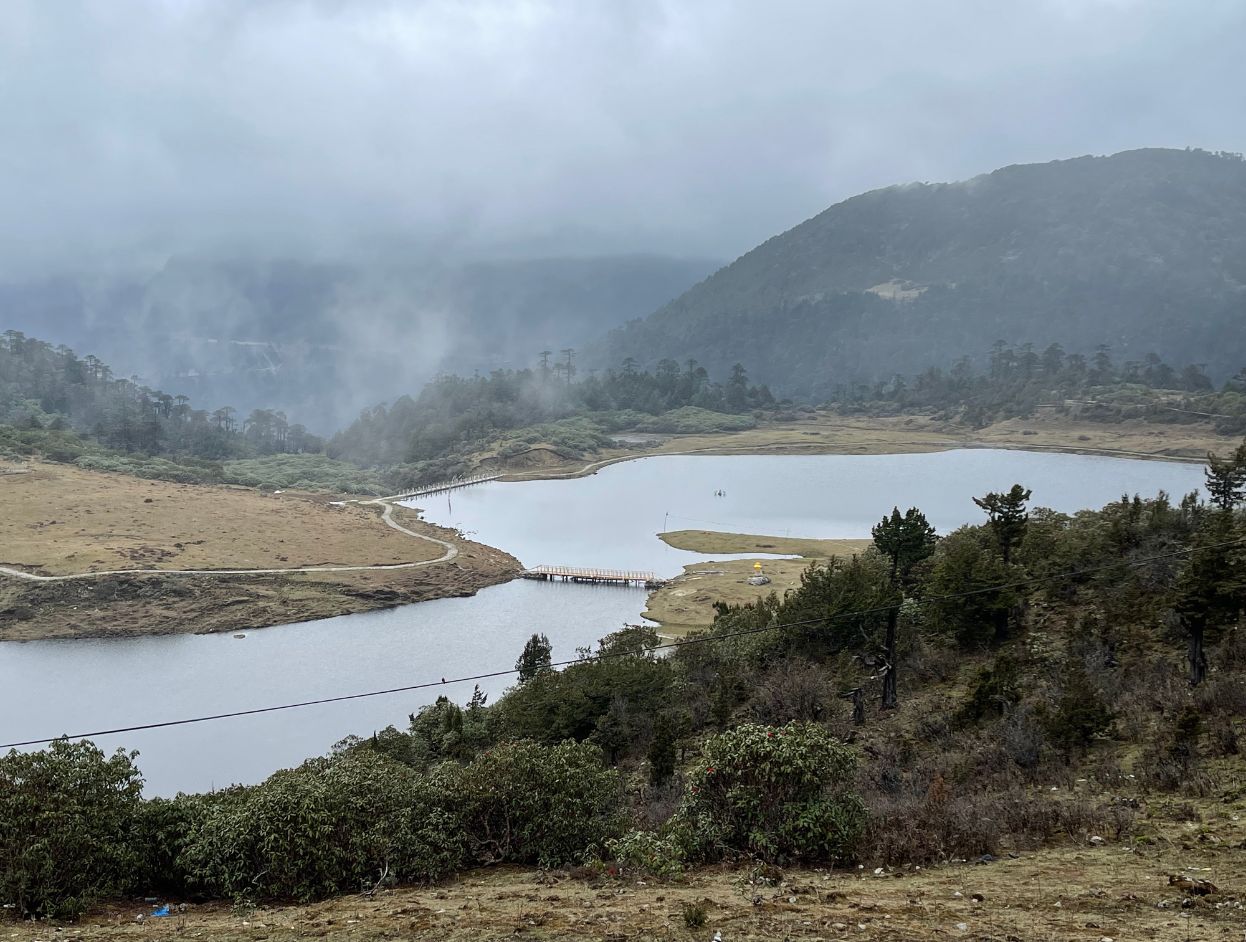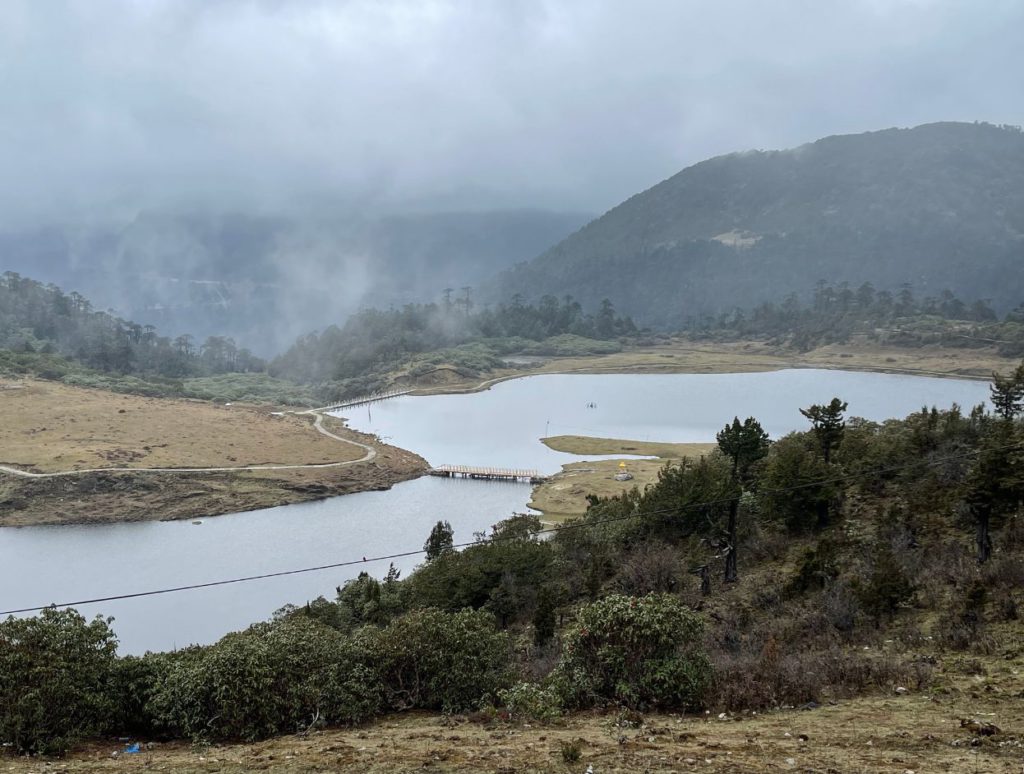 Related Articles