12 Mar

Day Trip to Bum La Pass from Tawang

Unless you are in Tawang during the winter and the snow or the bad weather would not let you through, do not miss a day trip to Bum La Pass from Tawang. It is an important highlight of the tourist who comes all the way to Tawang for sightseeing.

As much as I can gather, it is only in recent years that the trip to Bum La Pass became so accessible for tourists. My guide told me that it used to take them upto 3 days to reach Bum La Pass when they were younger. The terrain did look unwelcoming.

If you are looking for more information about a day trip on this route, you can keep reading.

You can also refer to our article if you wish to read about the Best places to visit in Tawang.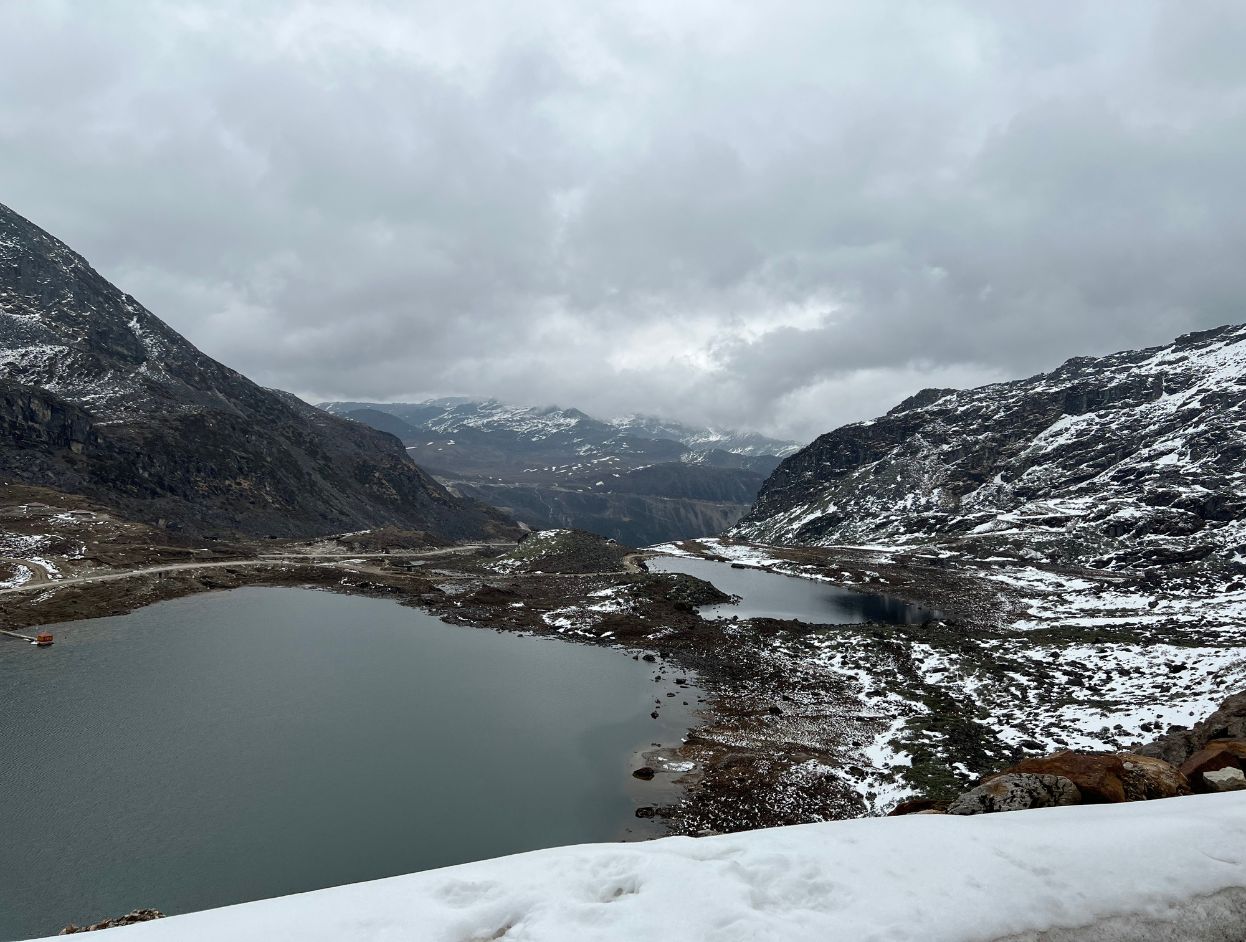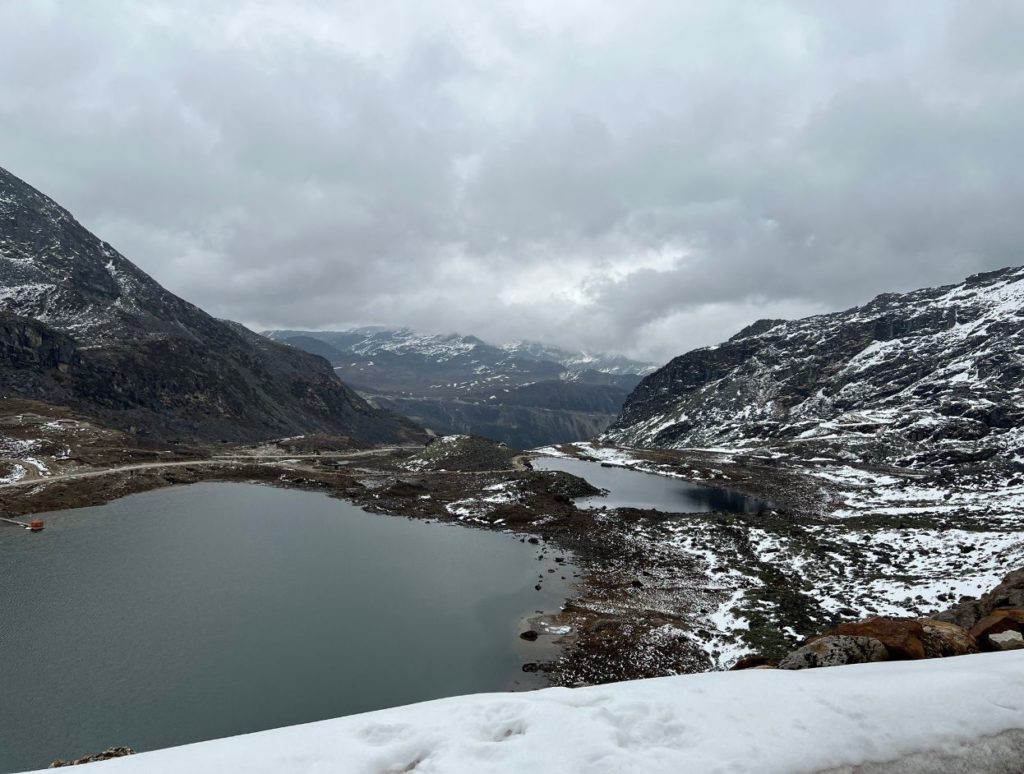 A Brief History of Bum La Pass
'La' means 'Pass' in Tibetan and is one of few the highland pass in the area that the Tibetan people have used to commute in the area for centuries. Much before when this area was a part of Tiben before it became a part of India.
Bum La Pass is located on the LAC (Line of actual control) that divides India from China. One of the fiercest battles took place during the Indo-China war in 1962. After that, the area was closed to people and opened for trade again in 2006.
In the last few years, permanent roads were constructed in the area for military use to better patrol the border area. Consequently, it also opened to tourism albeit with some restrictions.
Why Visit Bum La Pass
Bum La Pass is not open to civilians without a permit. You cannot just take a taxi, hitchhike or even trek in this part of the country for many reasons. But primarily because it is heavily militarized being a sensitive area after the Indo-China war. While clashes between the countries here have become rare in recent years, it is still heavily guarded.
Not only the place is extremely remote, but the area around is also very beautiful and scenic. During the months that it is open, you will pass by several glacial lakes on the way and may also find the whole mountain ranges covered with snow.
But the highlight for tourists is usually the few minutes at the border with Indian soldiers who share a bit about the past, their experiences and their life in this remote corner of the world. You can also ask them some non-sensitive questions that they are usually happy to answer.
Planning to visit Tawang? Here is our complete itinerary on Traveling to Tawang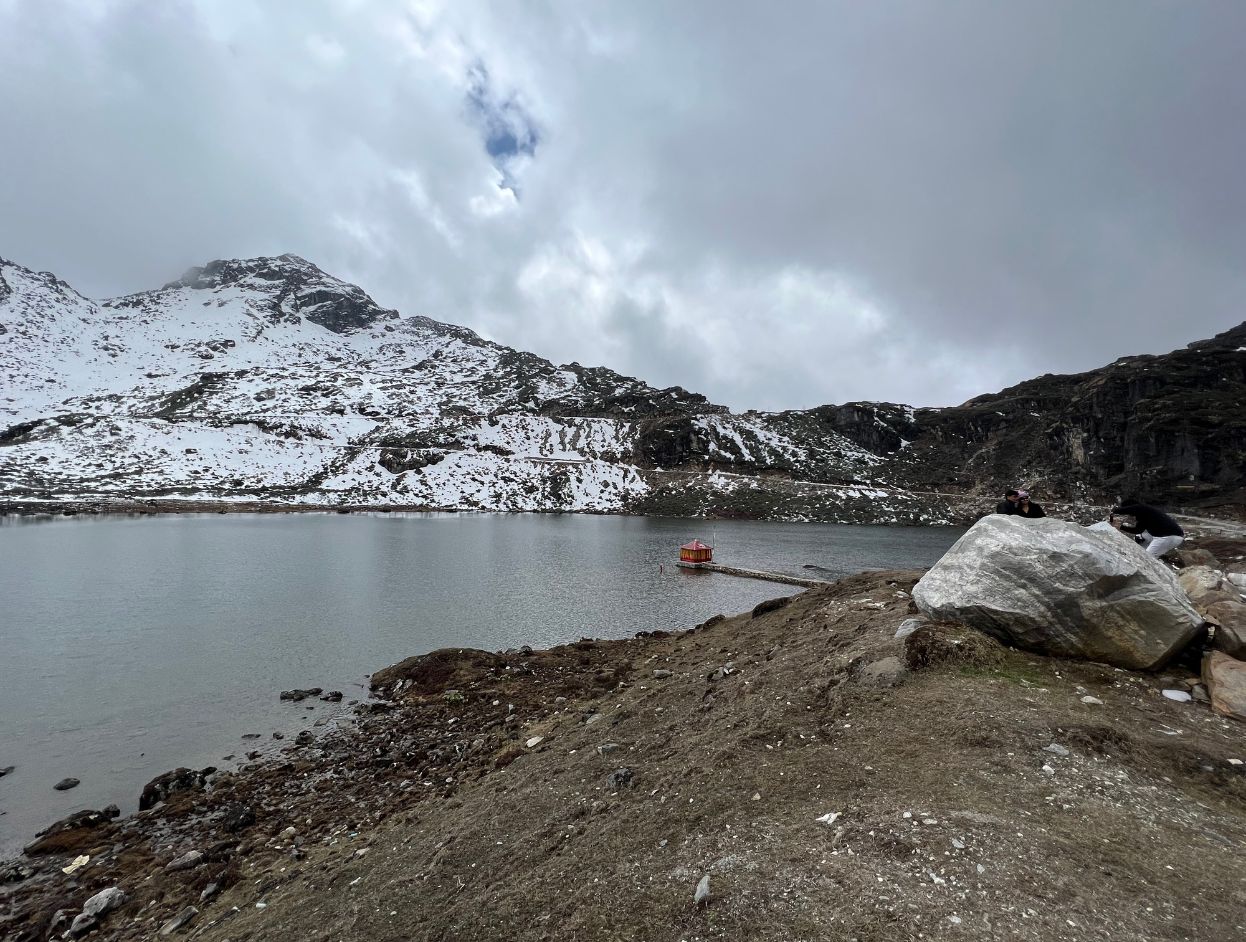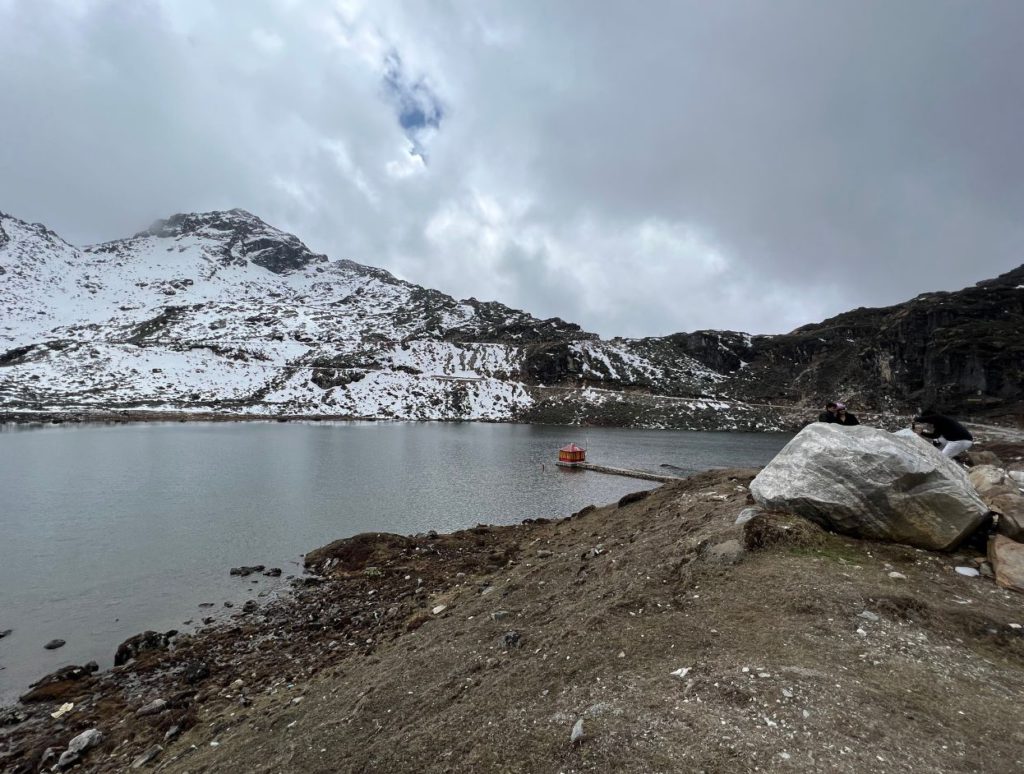 Best Time to Visit Bum La Pass
Well, this is misleading. The heading should be when is Bum La Pass open? To be honest there are no fixed dates for this. The permits are handed out by the Office of the Deputy Commissioner depending upon the weather and the security conditions. If any of it is compromised, you may not be able to get a permit to visit.
Usually, the roads to Bum La are open during the summer months. The weather is warmer from April to October with more chances of the route being open. Although several days in April – July see rainfall that can also result in landslides, therefore no one can guarantee a pass. 
The days from October to November are clear with less snowfall and no rain. So it could be more probable that you get a pass during this time. Again, it will totally depend upon the day of your travel.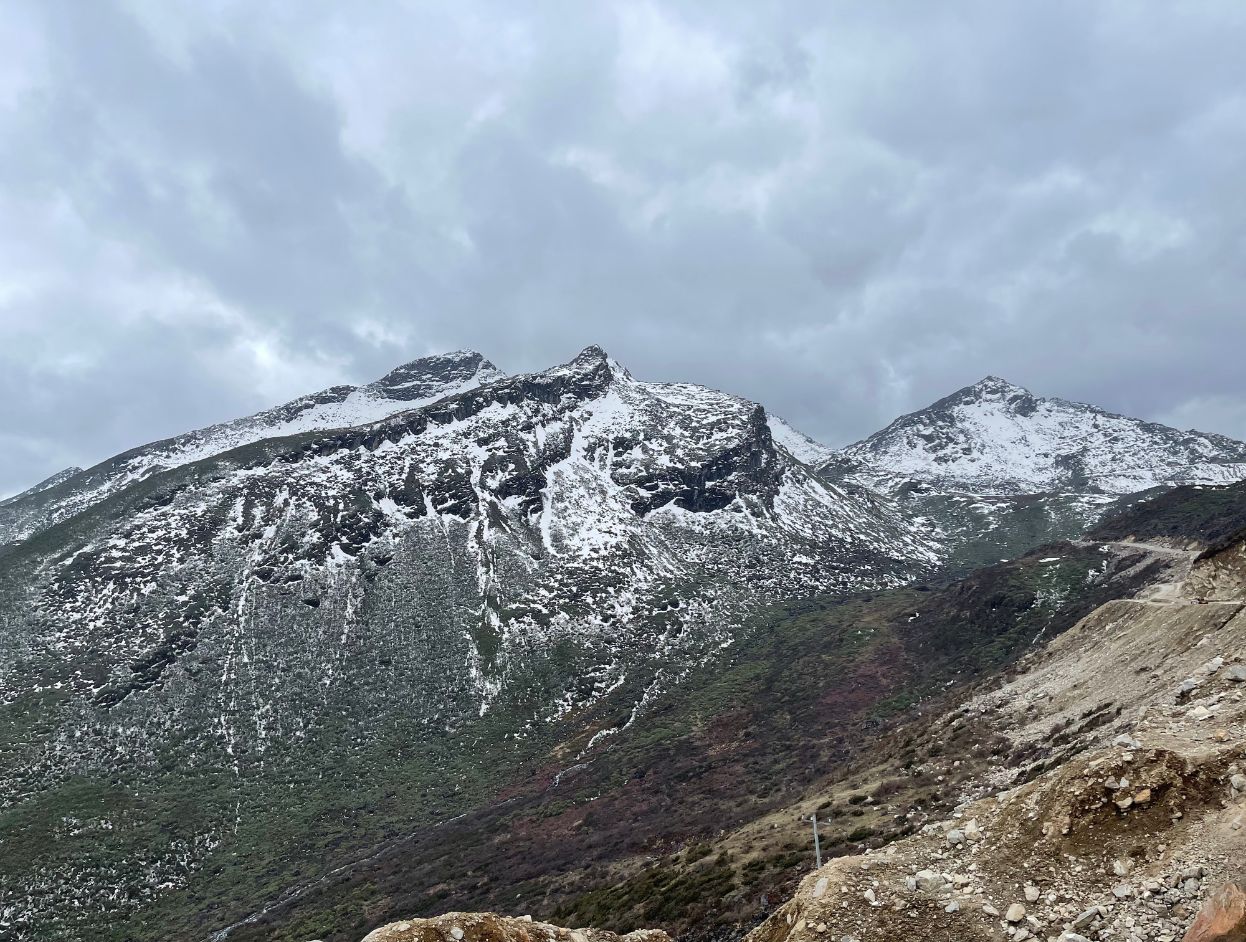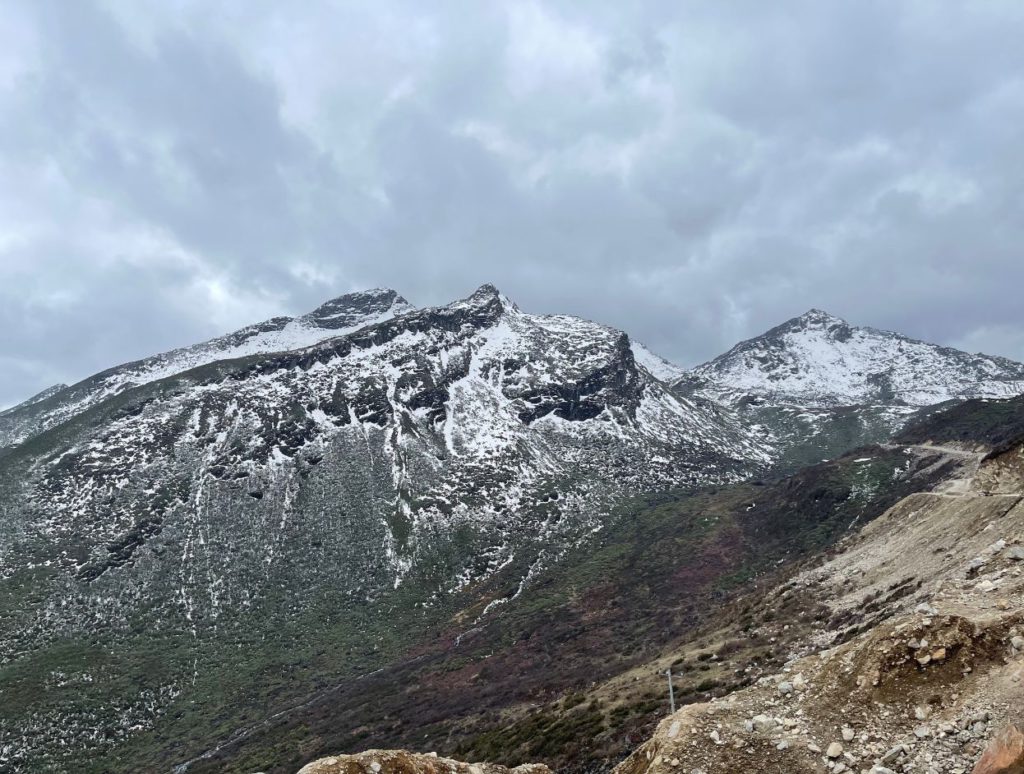 Transportation to Bum La Pass
This is easy to figure out since there is only one way that you can travel to Bum La Pass. You need to hire a registered local vehicle for your journey. There is no public transportation from here, and you can take your own personal vehicle. There are several military checkpoints on the way, so don't even try.
You can either book a full vehicle privately or you can share a vehicle with 3-4 other people. If you book a full vehicle, it will cost you between ₹5500-6000 (in 2022). If you are sharing with other people, it will cost you around ₹1500 for the ride. There is an additional charge of ₹100 per vehicle that goes towards the taxi union that goes towards the welfare of the workers.
To book a vehicle you can either speak to your tour guide or driver (if you are travelling with one) and they will probably book one for you. You can also speak to your hotel/homestay owner and they will book one on your behalf. Lastly, you can also book full or shared vehicles at the taxi stand or via one of the tour operator shops in the old market in Tawang.
You need to book a vehicle a day before since the driver/tour guide will need to get a permit on your behalf which may take some time. They will keep the permit with them for the travel. You can ask to check it out too. The vehicle will pick you up and drop you at your hotel.
Check out our article if you are looking for more information on How to visit Tawang.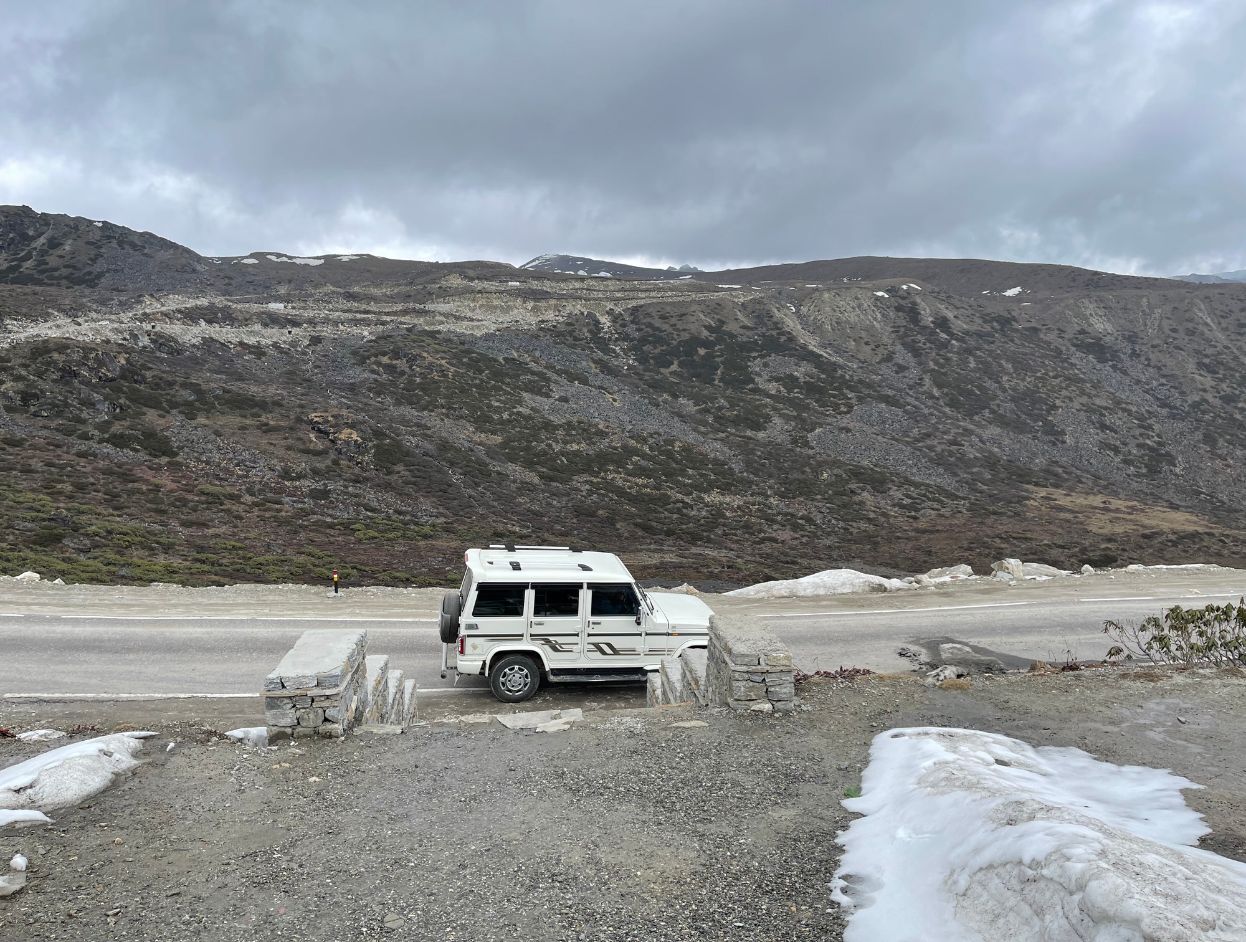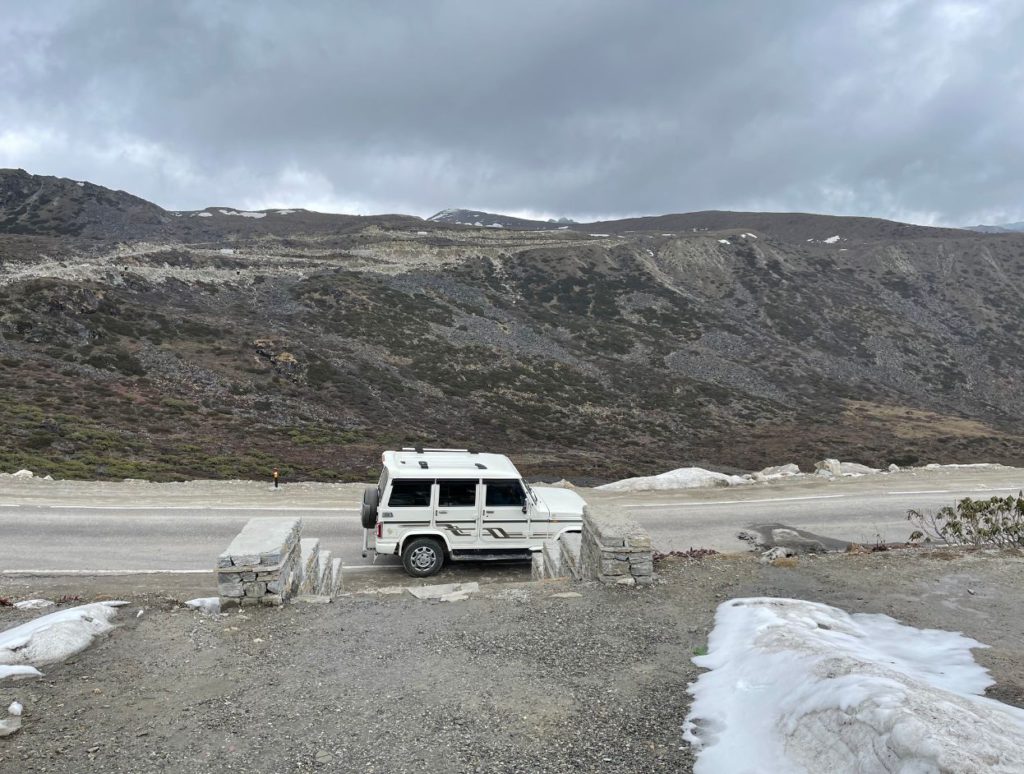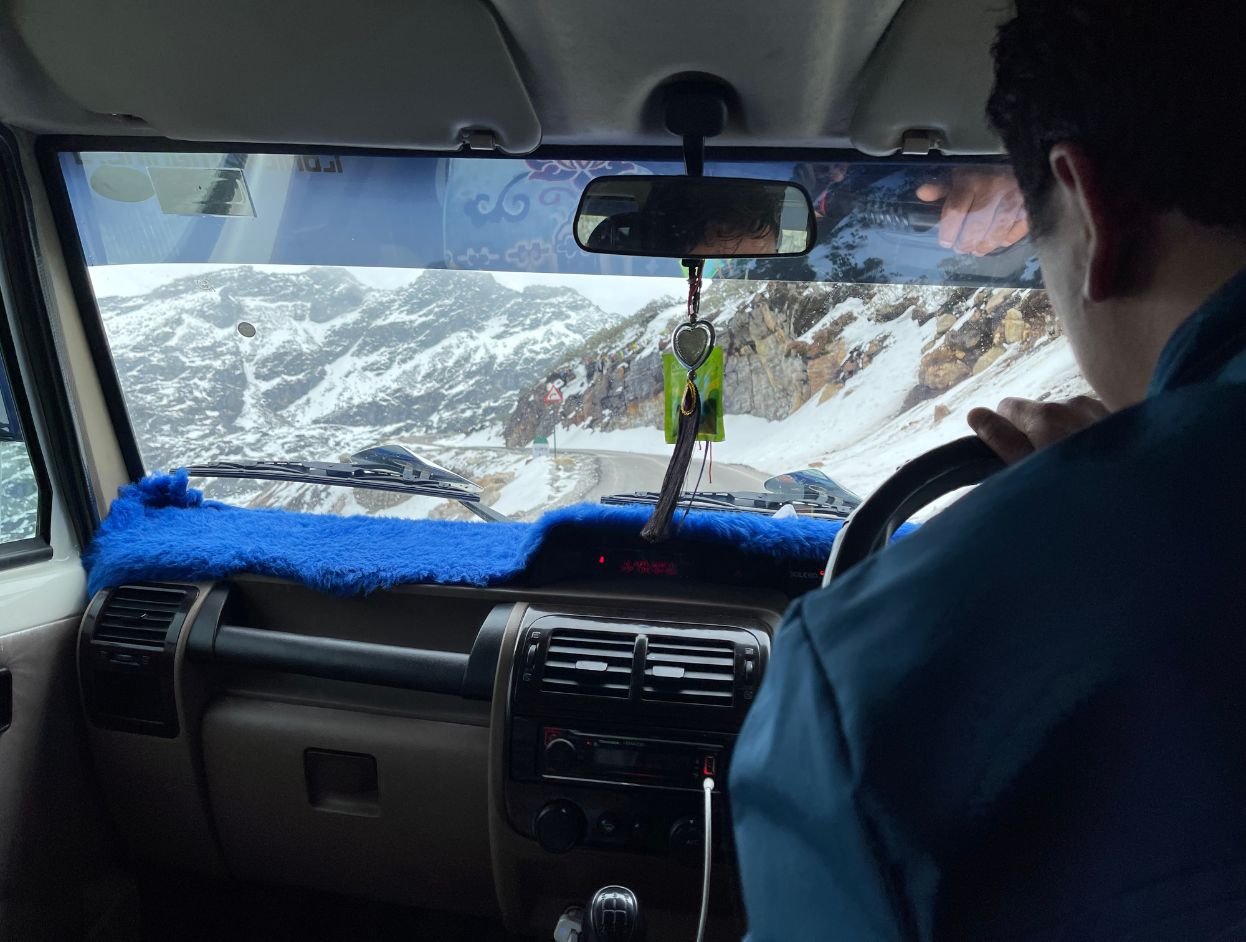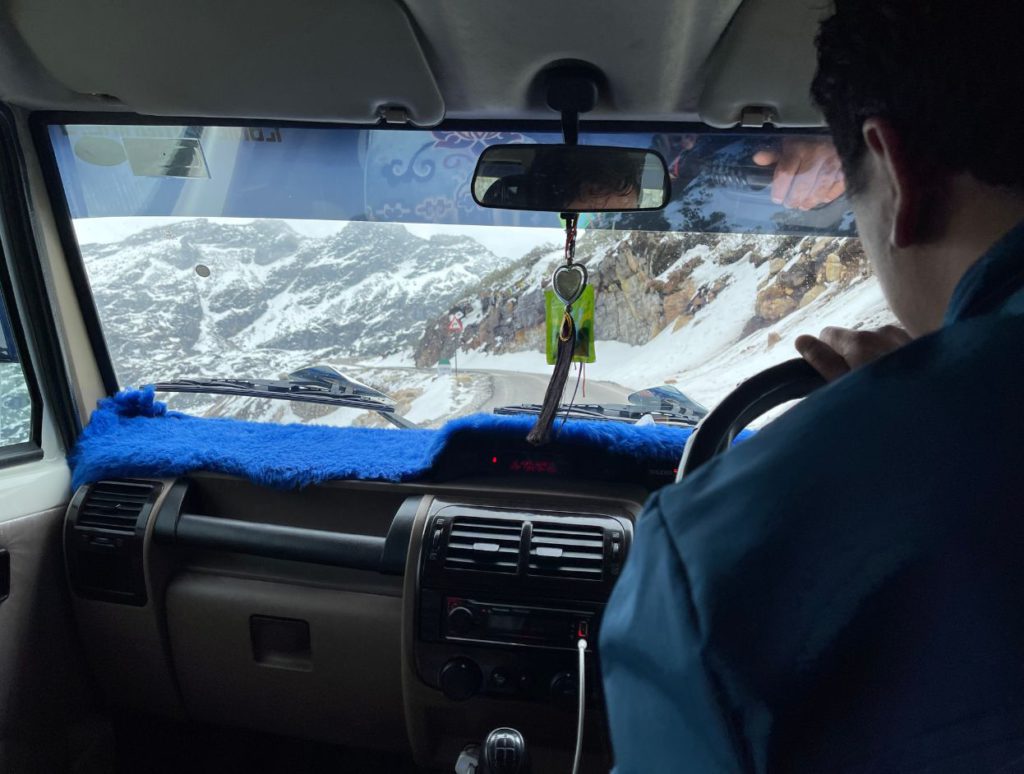 Pro Tip
The vehicles are permitted to cross over the first checkpoint right at 7.00 am in the morning. Make sure you start early as possible. The earlier you are, the more time you will be able to spend at Madhuri Lake (which is your first stop).
You need to reach Bum La Pass before midday (usually around 12 pm). Once you reach it, you are given a token number. Your turn to visit the last mile of the pass depends on the token number. It is advisable that you reach the pass as early as possible and take the earliest token number you can get. That way, you don't have to wait long hours in cold.
Places to visit on the way to Bum La Pass
Sangetsar or Madhuri Lake
Sangetsar Tso is better known as Madhuri Lake and it is a wonder of nature. You will stop at this lake before you head towards Bum La Pass. It is located at a height of 3,708 metres (12,165 ft) above sea level. You can feel the chill to your bones in the wind.
The lake was formed in the 1950s after the falling of rocks and boulders during a massive earthquake. It fed the crater-like structure with water that had quite a few trees standing there. Eventually, the lake filled up with water and the trees seem to pop out of the water creating very dramatic rare scenery.
The lake got its name Madhuri Lake after Madhuri Dixit shot a song here for the Koyla movie. There is a cafe run by the Indian army right next to it. The army also serves food and tea that you can buy and enjoy. We also caught up with a soldier and their army tales.
Try to finish your sightseeing as early as possible to start for Bum La Pass after this.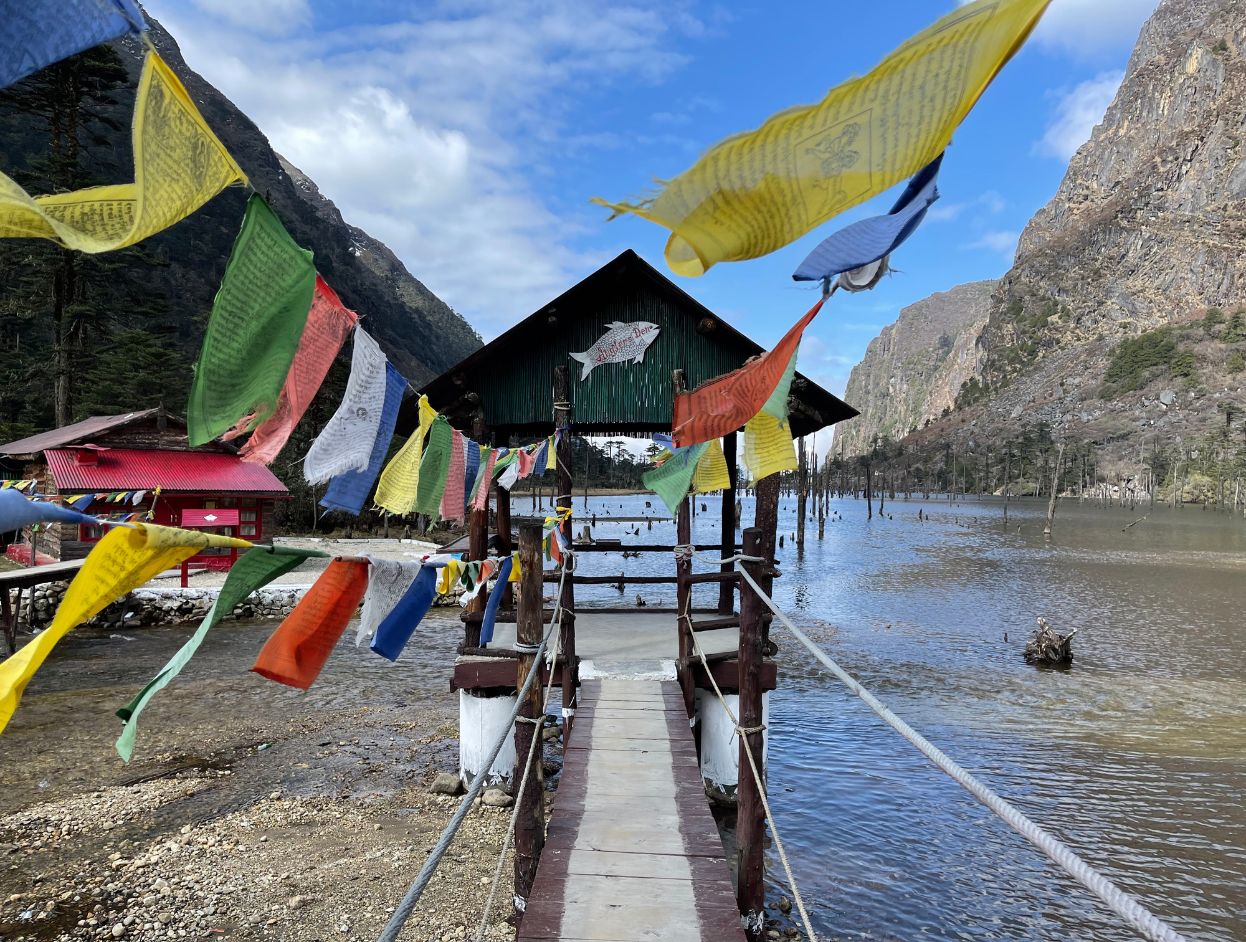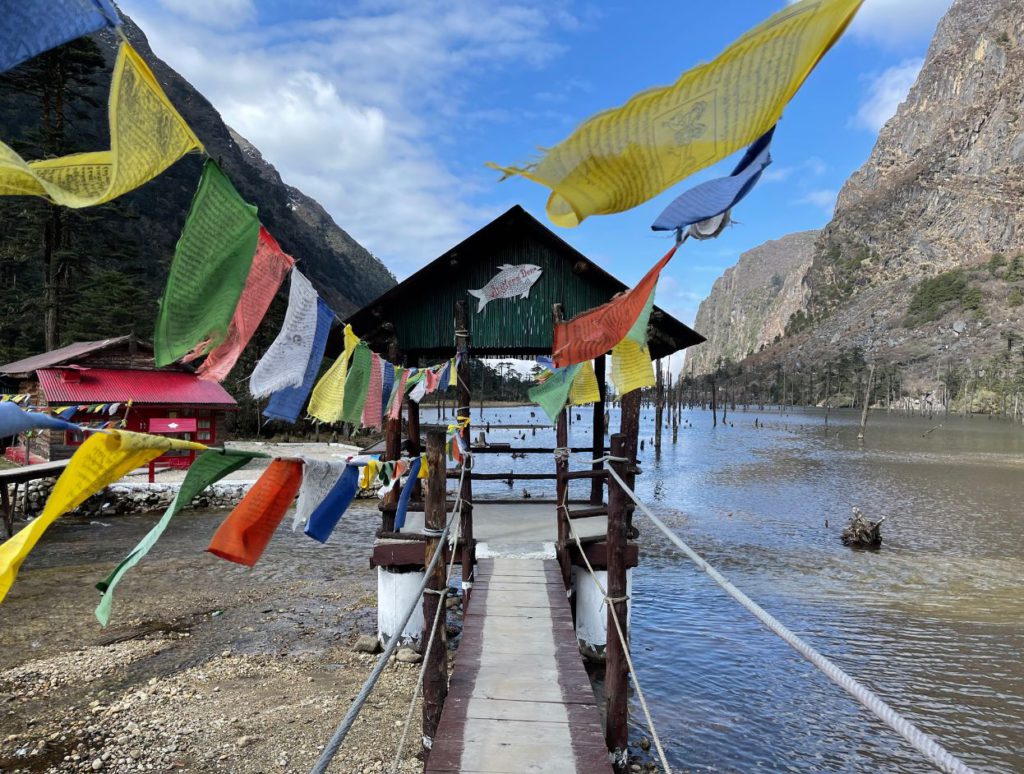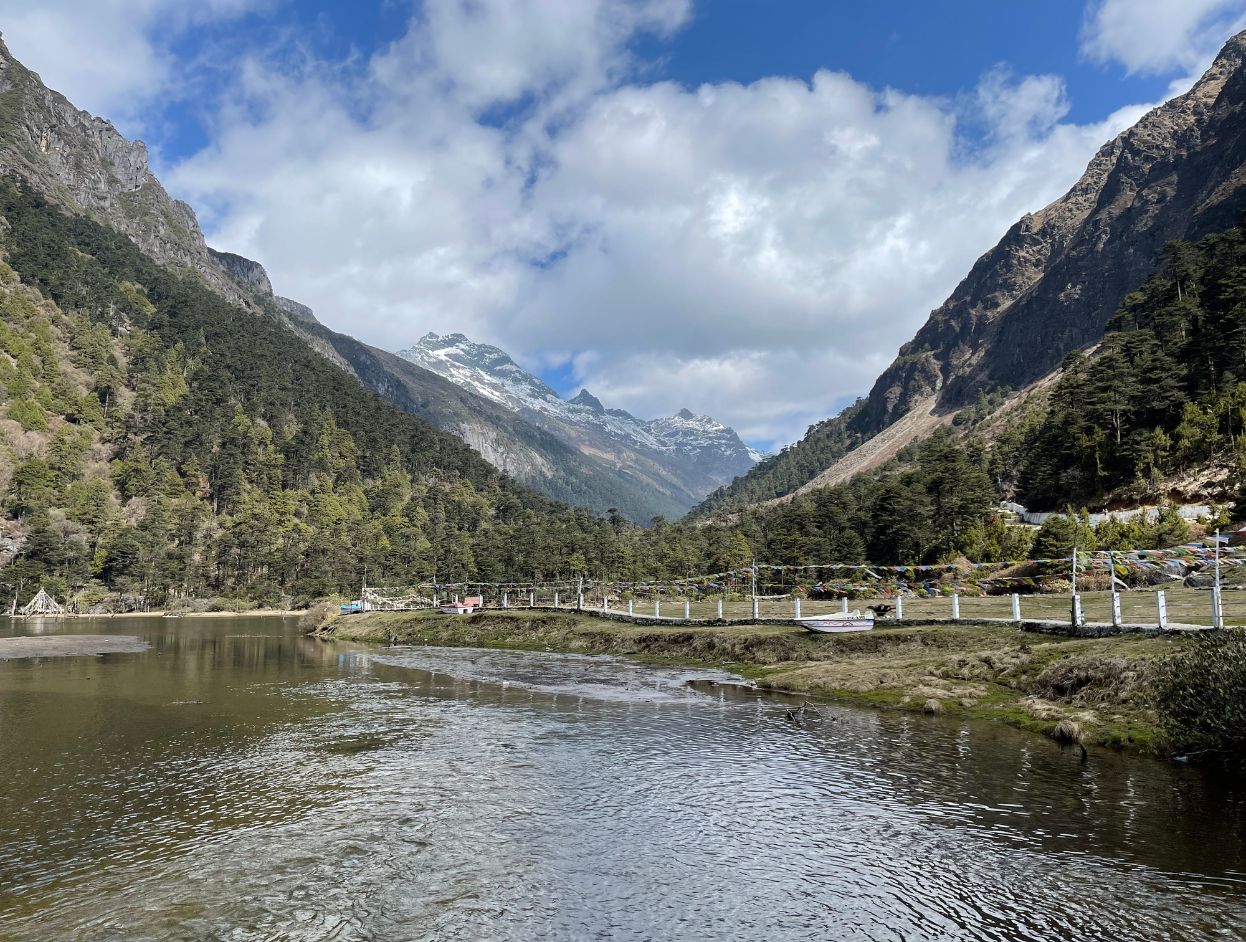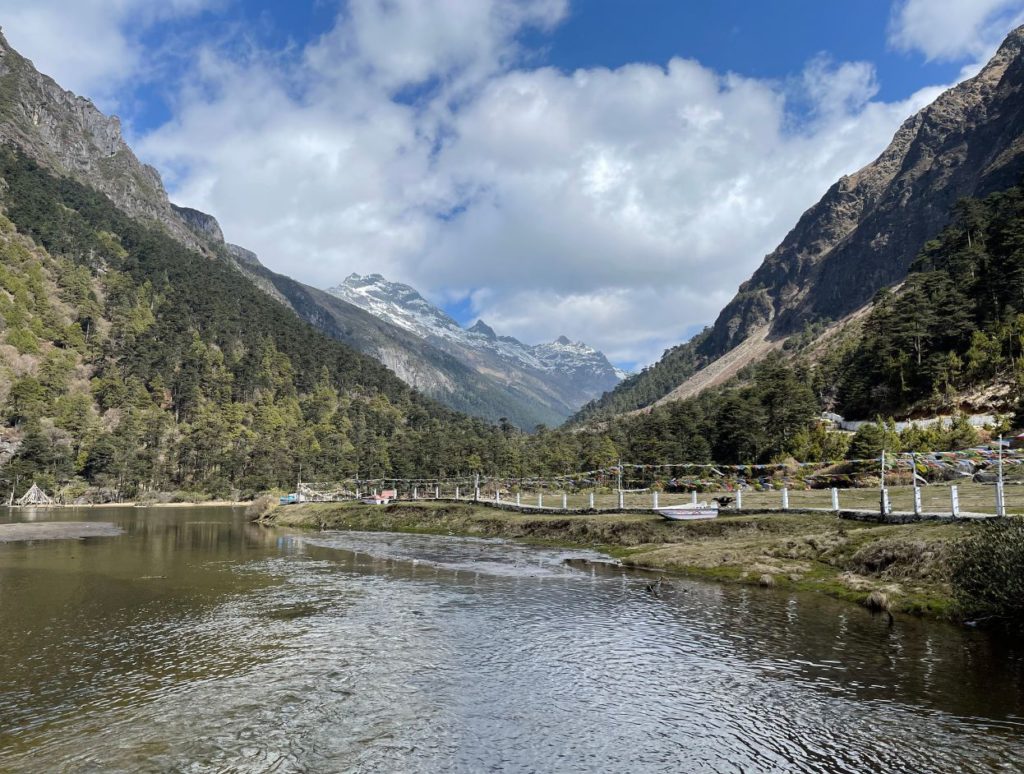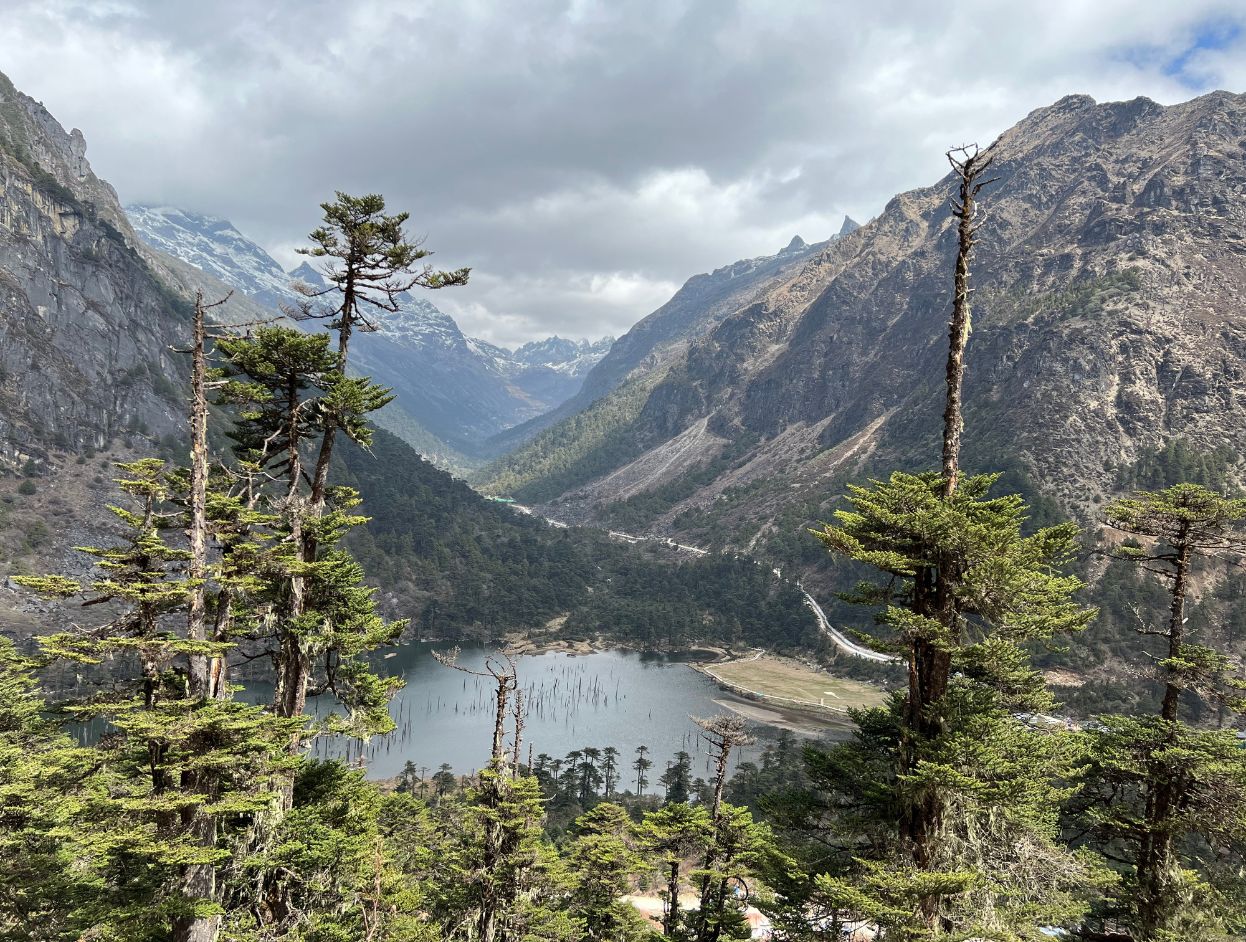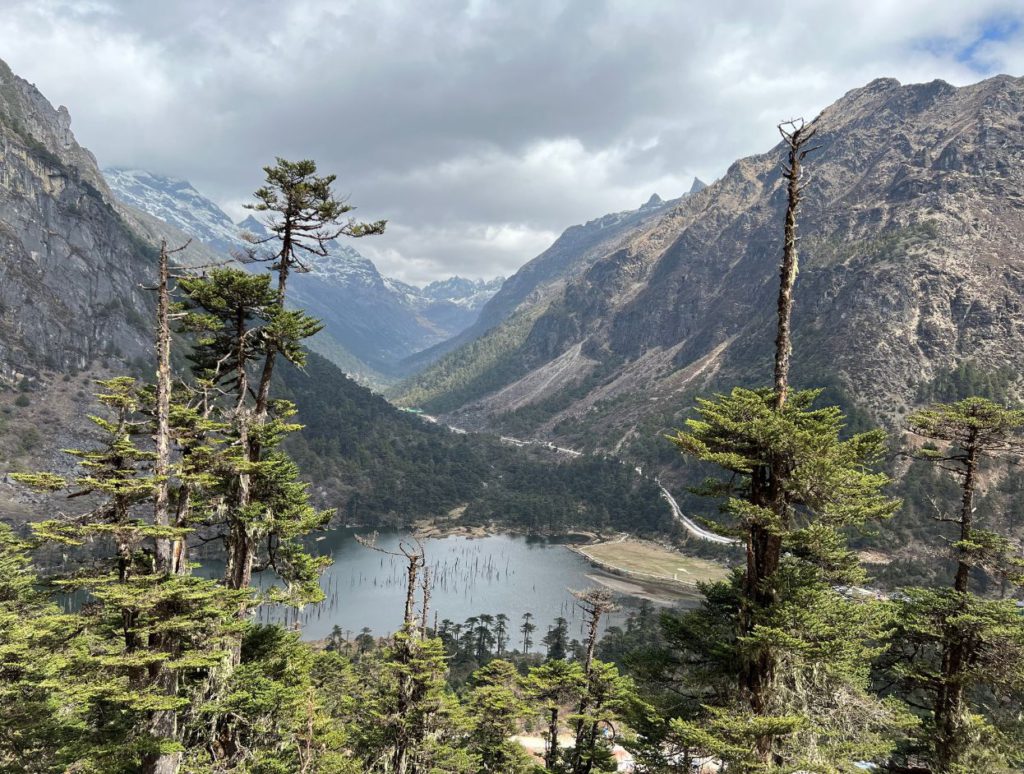 Nagula And Pangkang Teng Pso Lake
Both of these are high-altitude glacial lakes (Nagula is at 13,500ft) located on the way to Bum La. The water is clean, cold and clear and it often reflects the colours of the surrounding valleys. Both these lakes are covered in snow during heavy winters. 
However, you can spot rhododendrons and a few Himalayan flowers around them during the spring and autumn season. There isn't much to do there otherwise, but it makes an excellent place to make a stop for photos.
But, don't forget to meet the yaks. The further you go, the furrier they become!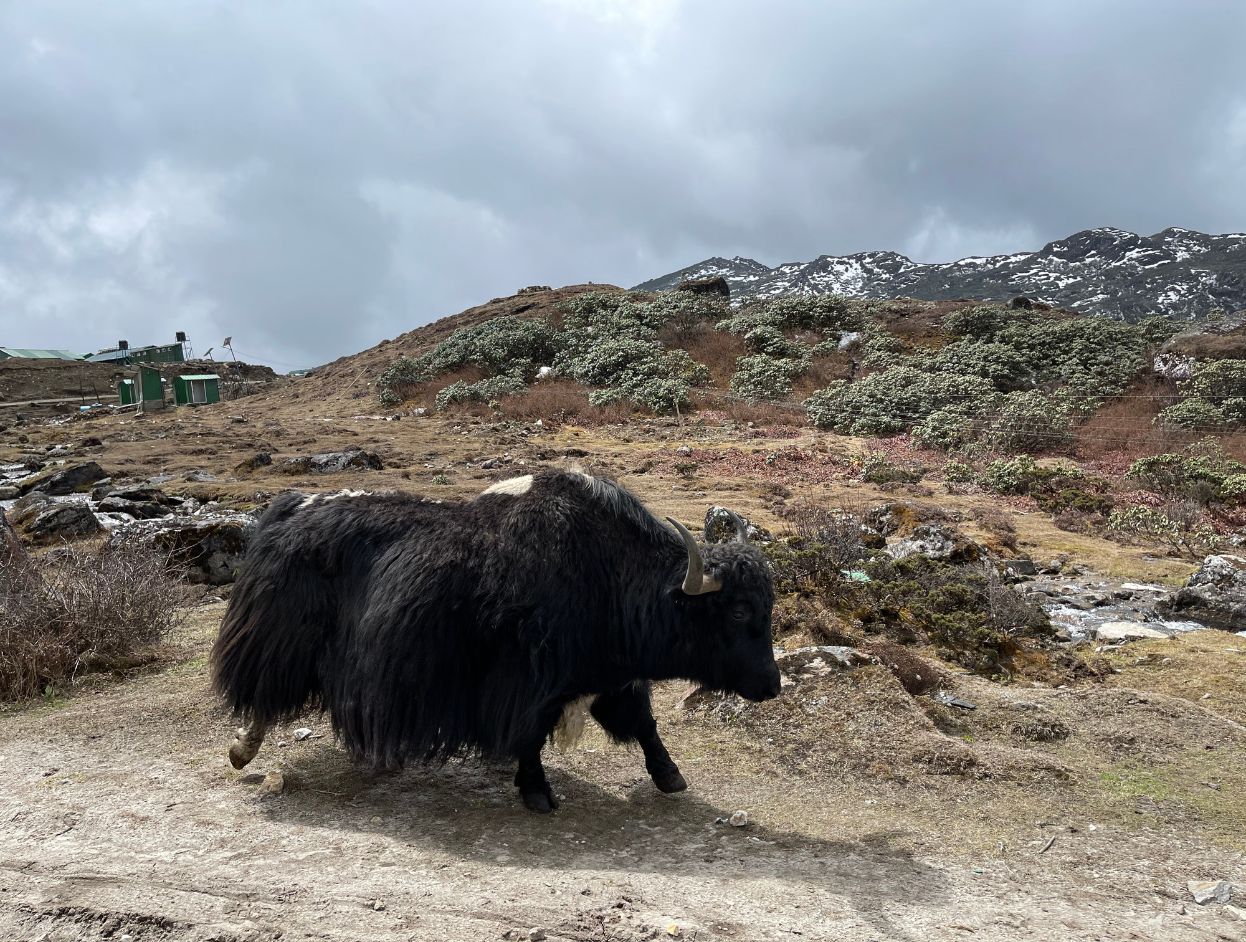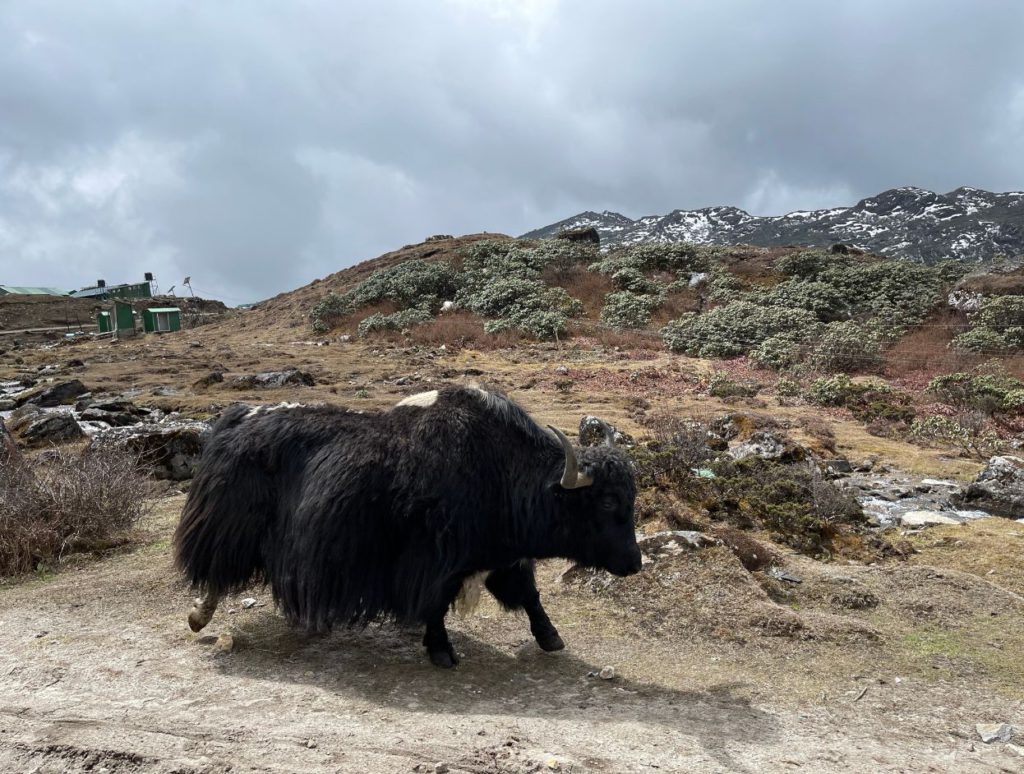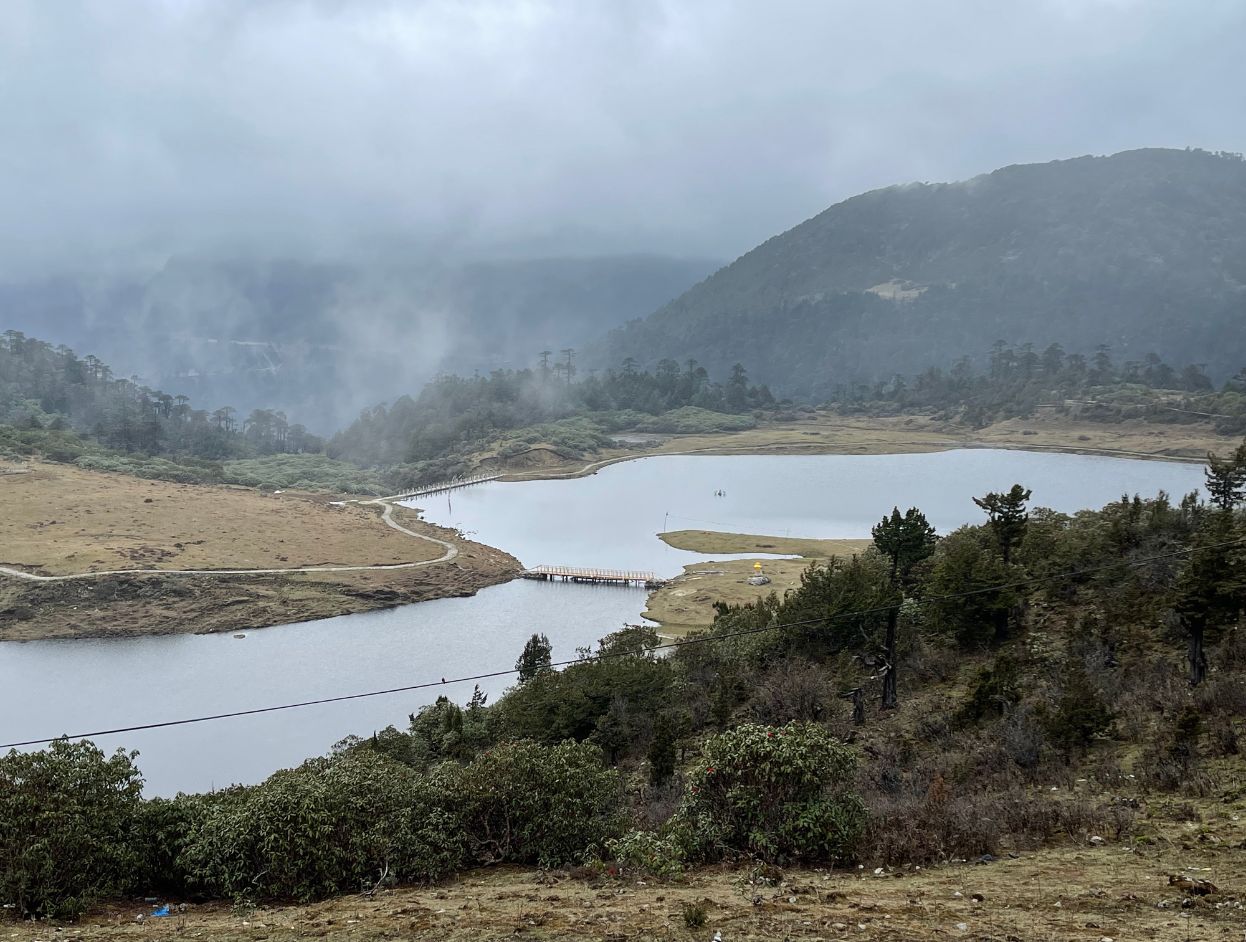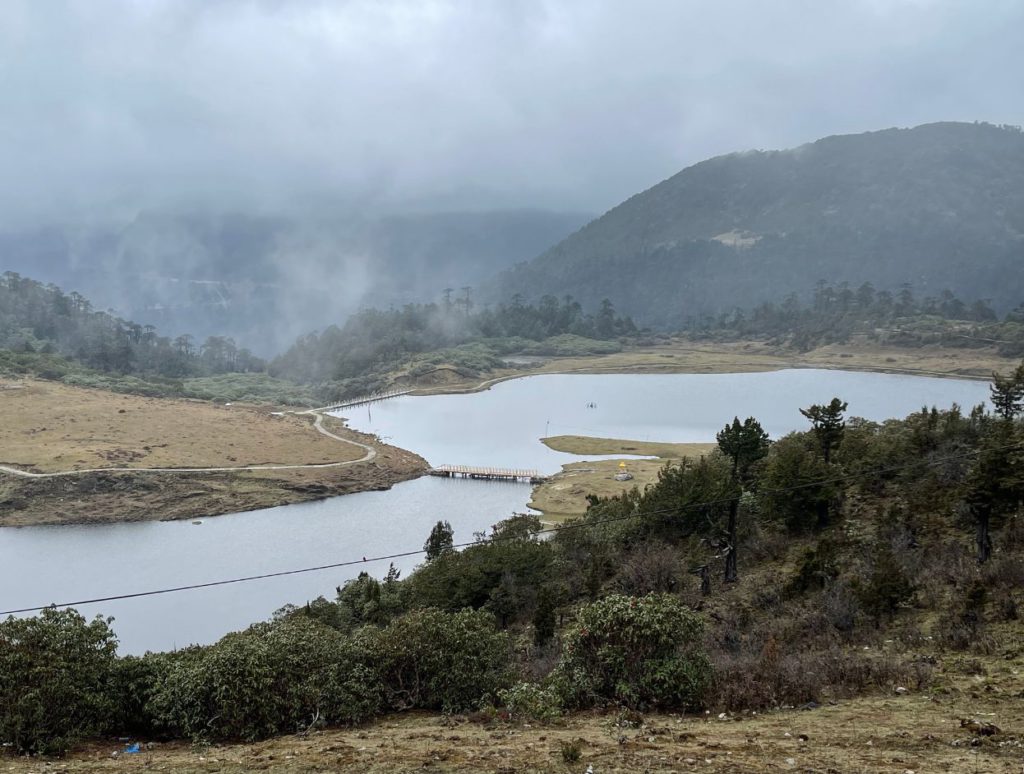 Gurudwara Teesri Udassi
An extremely holy place, Gurudrawa Teesri Udassi was established when Shri Guru Nanak Dev Ji Maharaj, First Sikh Guru ji came here with Bhai Bala Ji and Bhai Mardana Ji during His Third Udassi (Third Spiritual Awareness Traveling) around 500 years ago during his visit to Tibet.
Guru Nanak ji's teachings spread as far as China and inspired local Lamas in Tibet. The 21 Sikh regiment has the honour to maintain this Gurudwara Sahib serving hot tea, water, parshad and free langar for everyone who passes by.
Gurdwara Sahib's building is at a height of approximately 70 meters and takes about 20 minutes to climb. Due to the high altitude, you may feel weakness and dizziness. But for those who make the journey, people say that blessings and peace await at the top.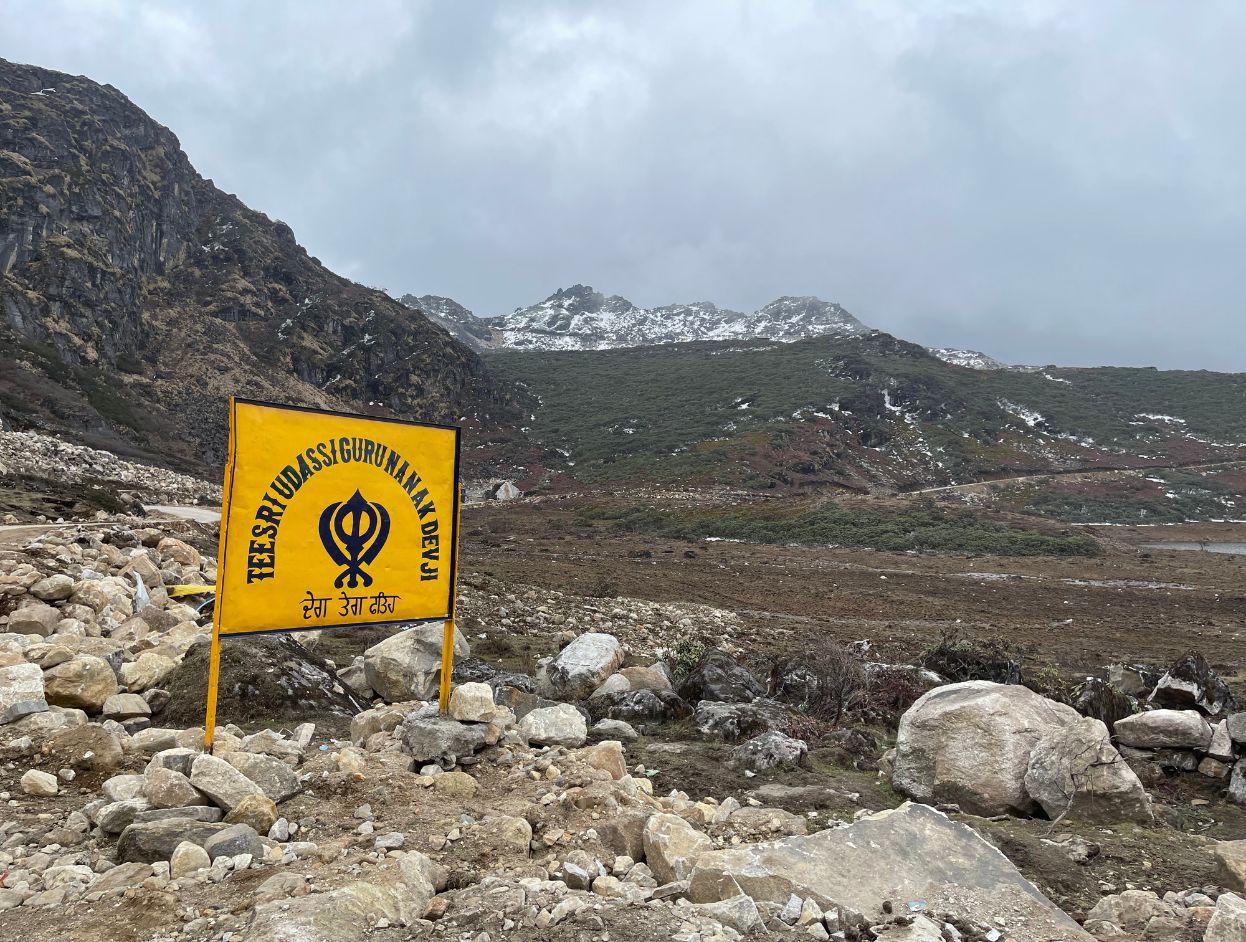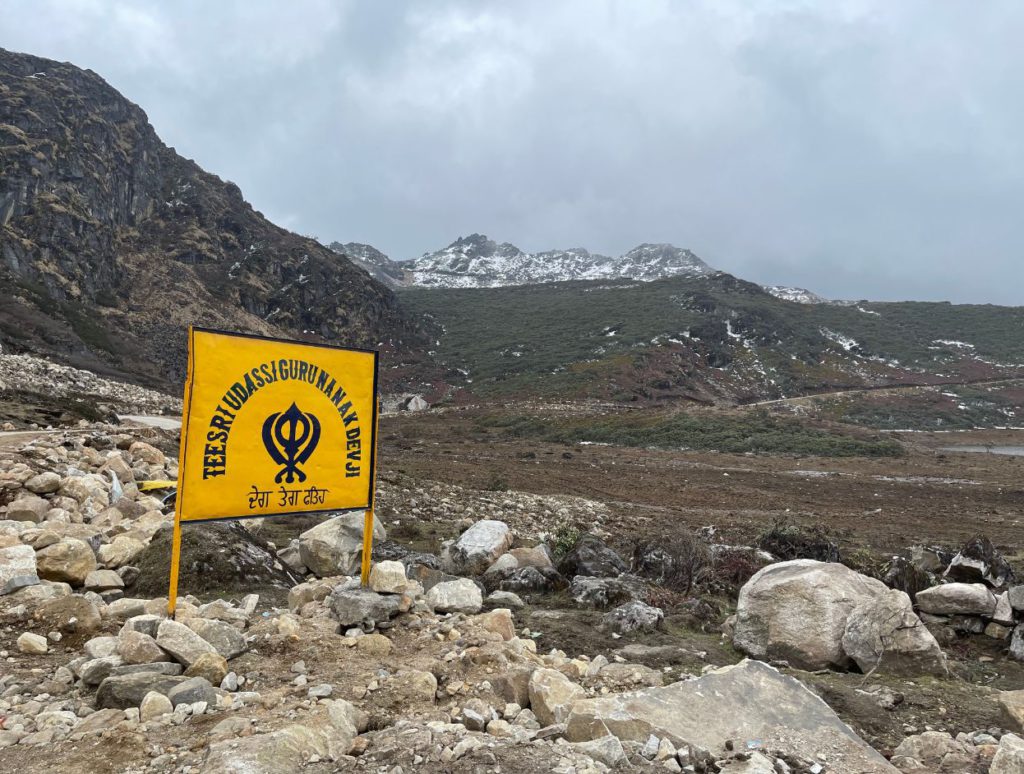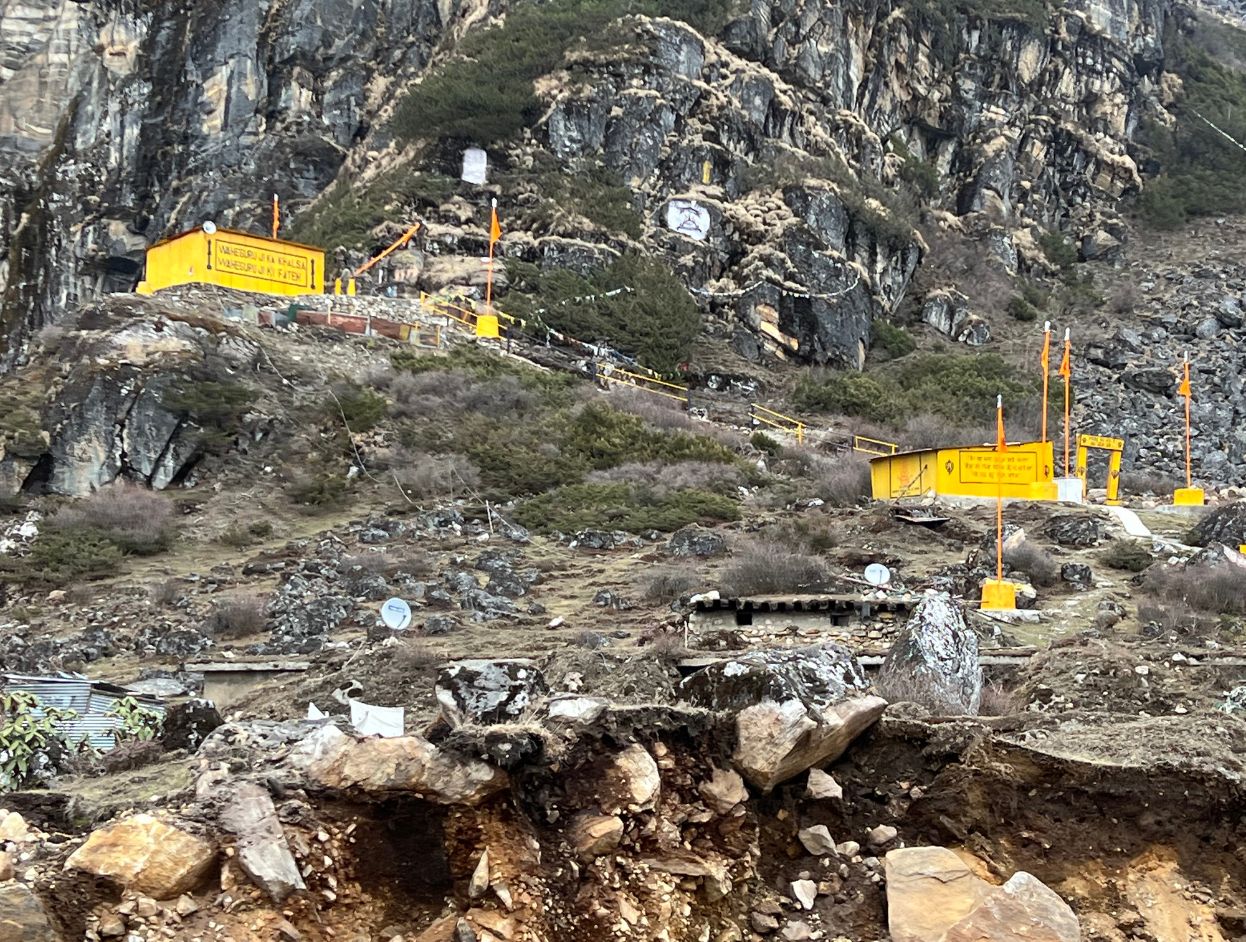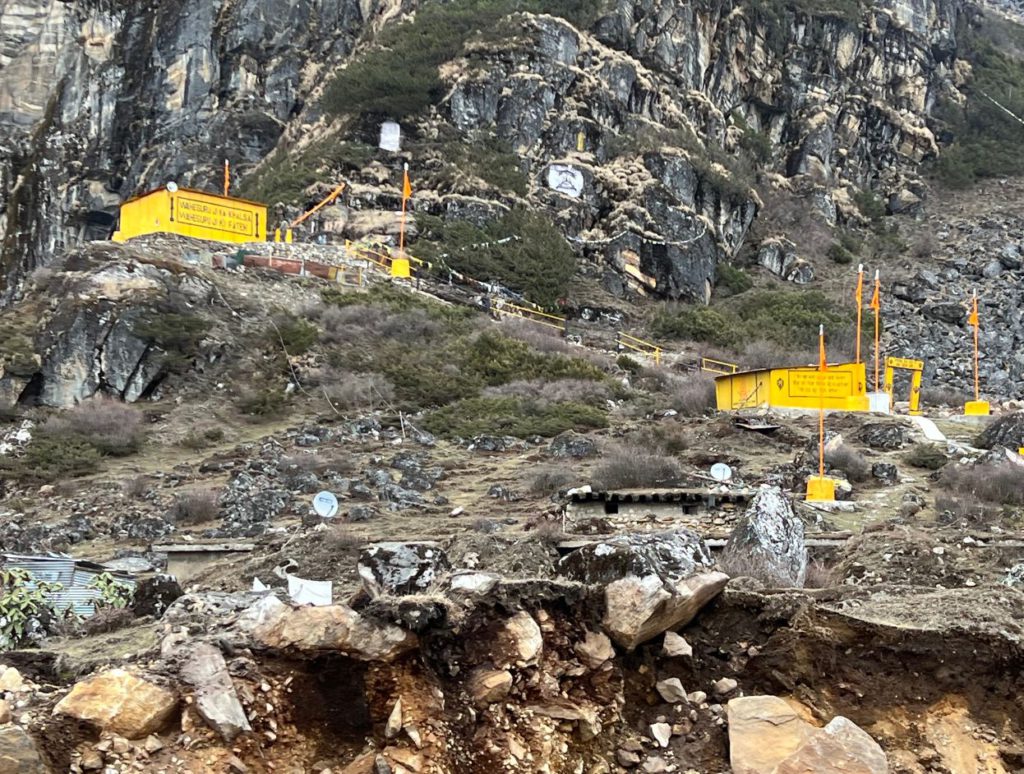 Bum La Pass
Now, for the most important part of your journey, let's talk about Bum La Pass. Once you are at the Bum La Pass parking, you don't have any climbing to do from here. All you need to do is get inside the post and get a token for your turn. By the time you wait, you can also buy some warm tea and snacks at the counter.
The army welcomes a bunch of tourists every 15-20 minutes to take them to the last point of the pass, show them around and interact about their experiences. Once you get your turn, you accompany a few soldiers and enjoy the conversation. 
The soldiers talk about the bloody war of 1962, the importance of the pass, the Border Personnel Meetings that take place often, the weather conditions and their usual days here.
You cannot take any photos. Try not to do that sneakily. Definitely don't post it online. This may compromise national security and you don't want to be a reason for it. You may also see some Chinese soldiers on the other side of the border.
Feel free to take photos in the tourist part of this place. Here are some of mine. 
Once you are done, you can leave for the way back. Other than that there is a small war memorial right before the pass that you can visit. There is nothing else to do here.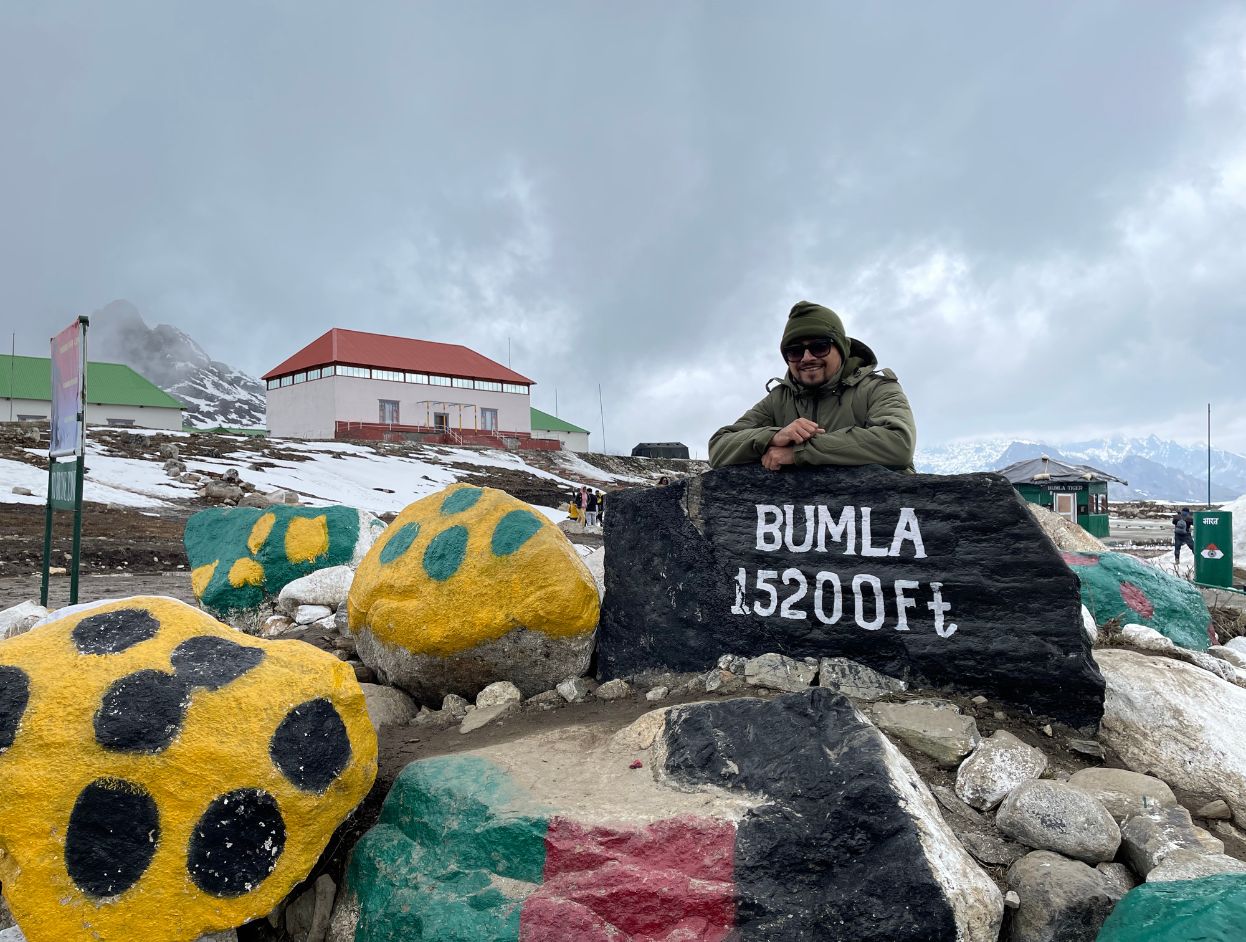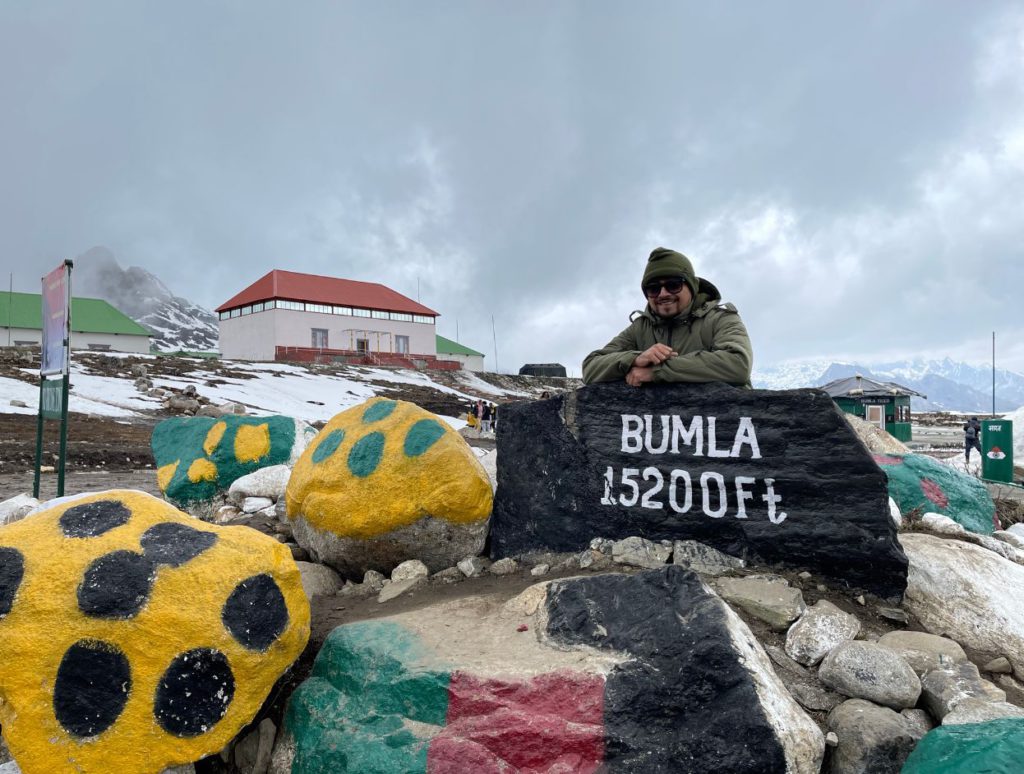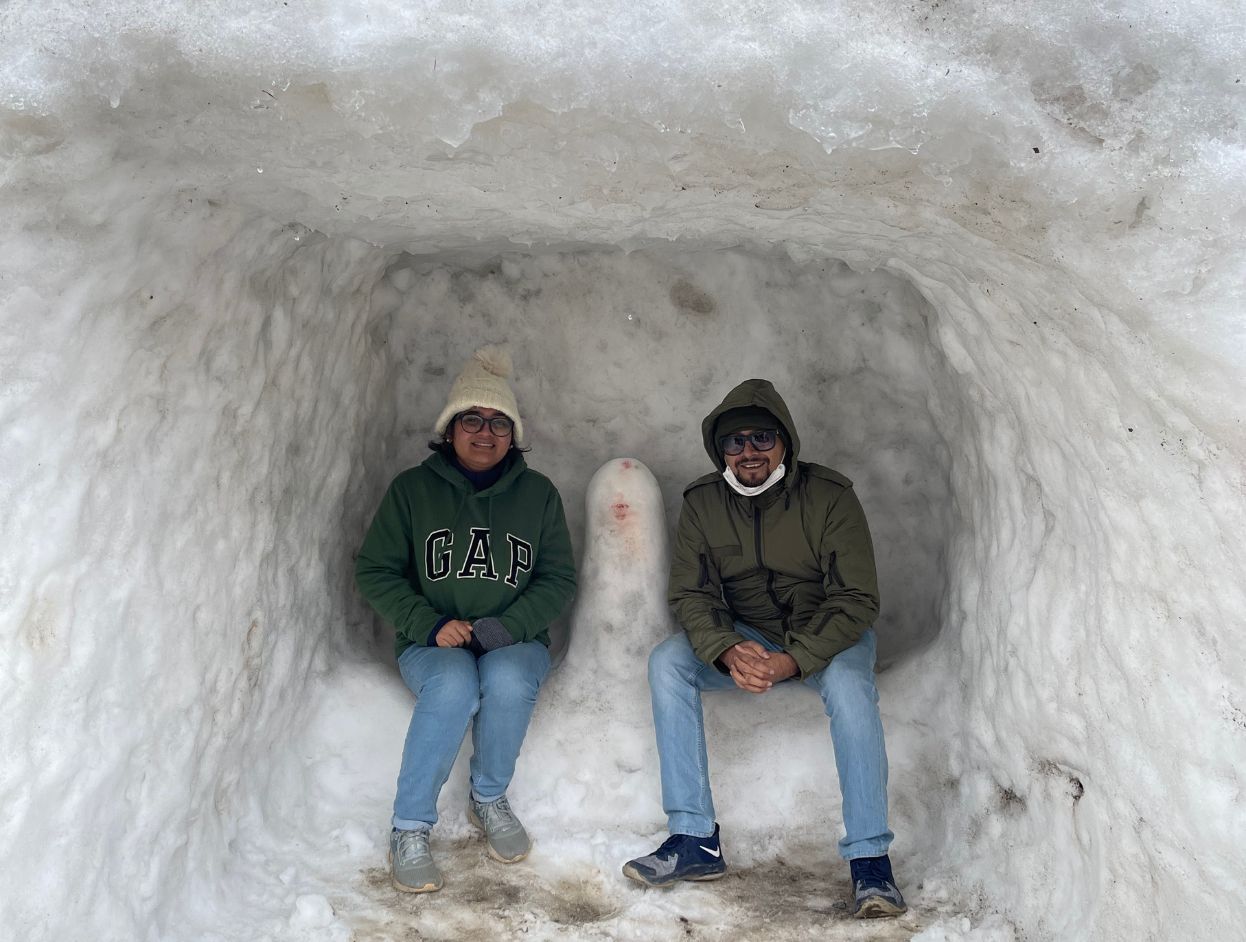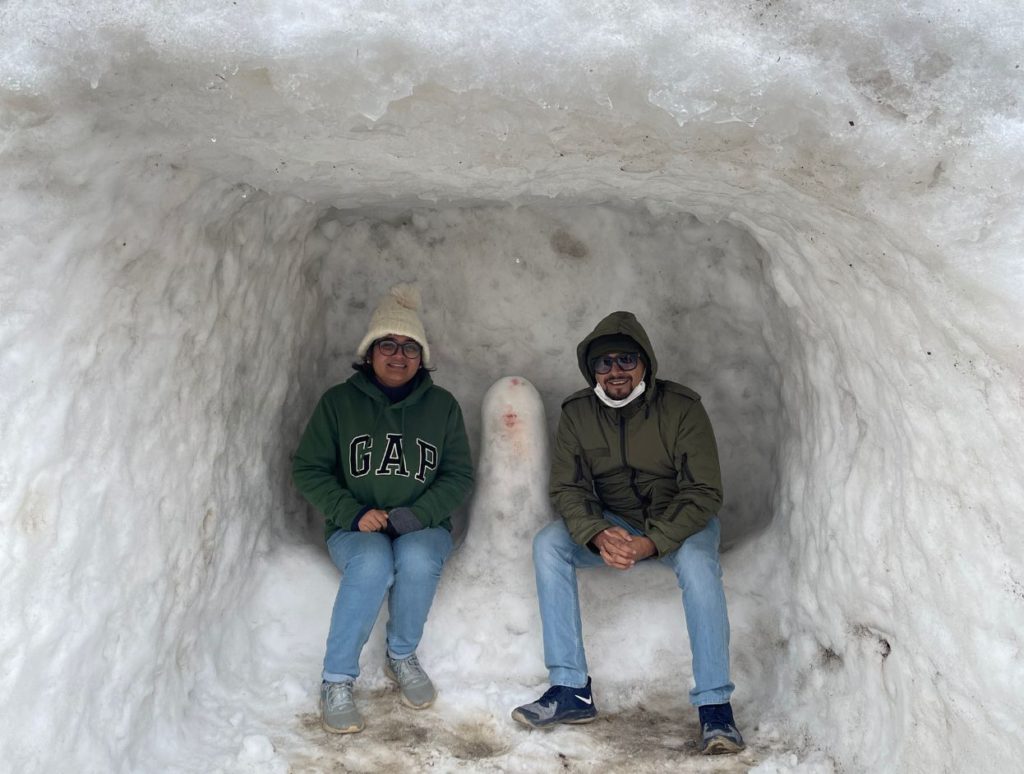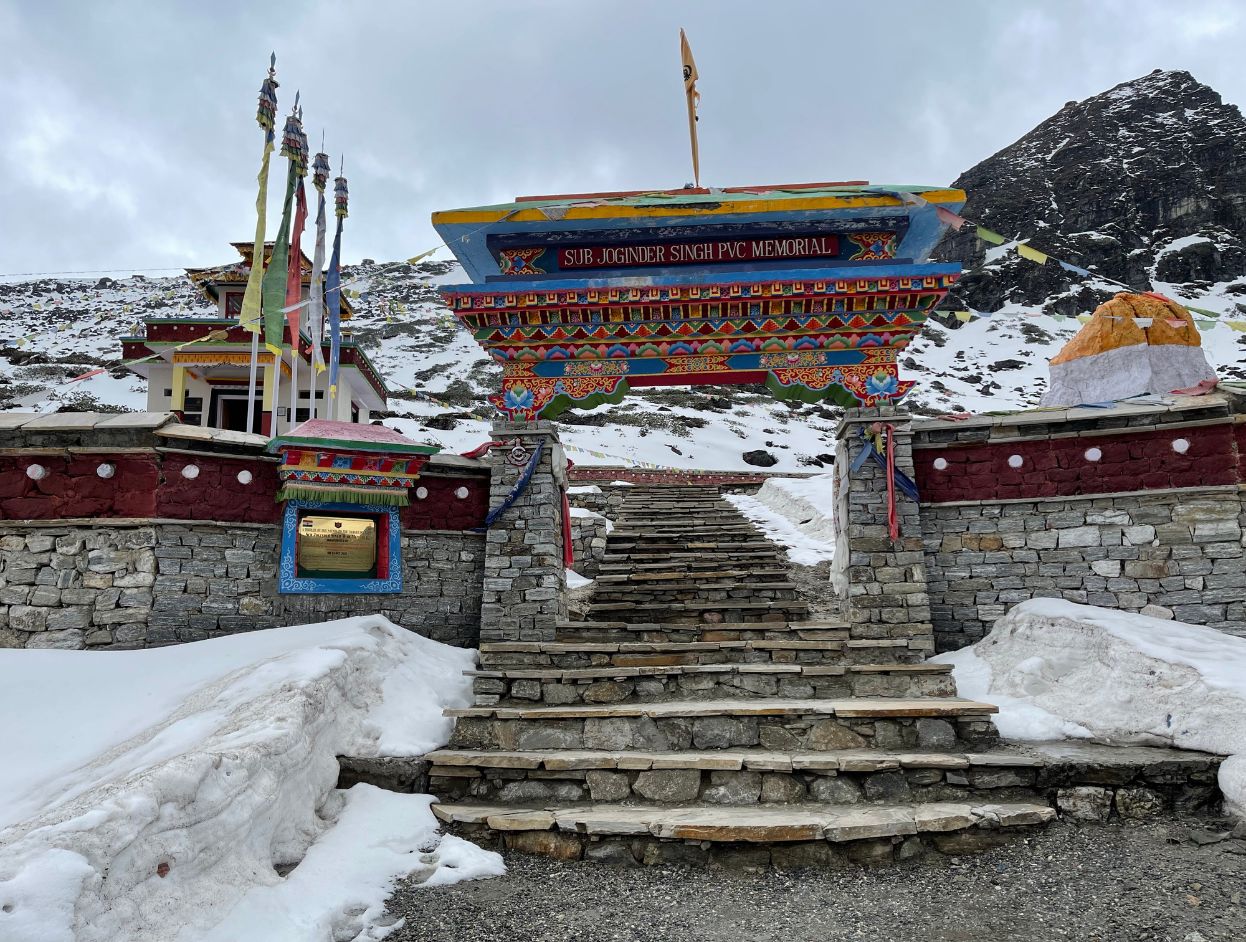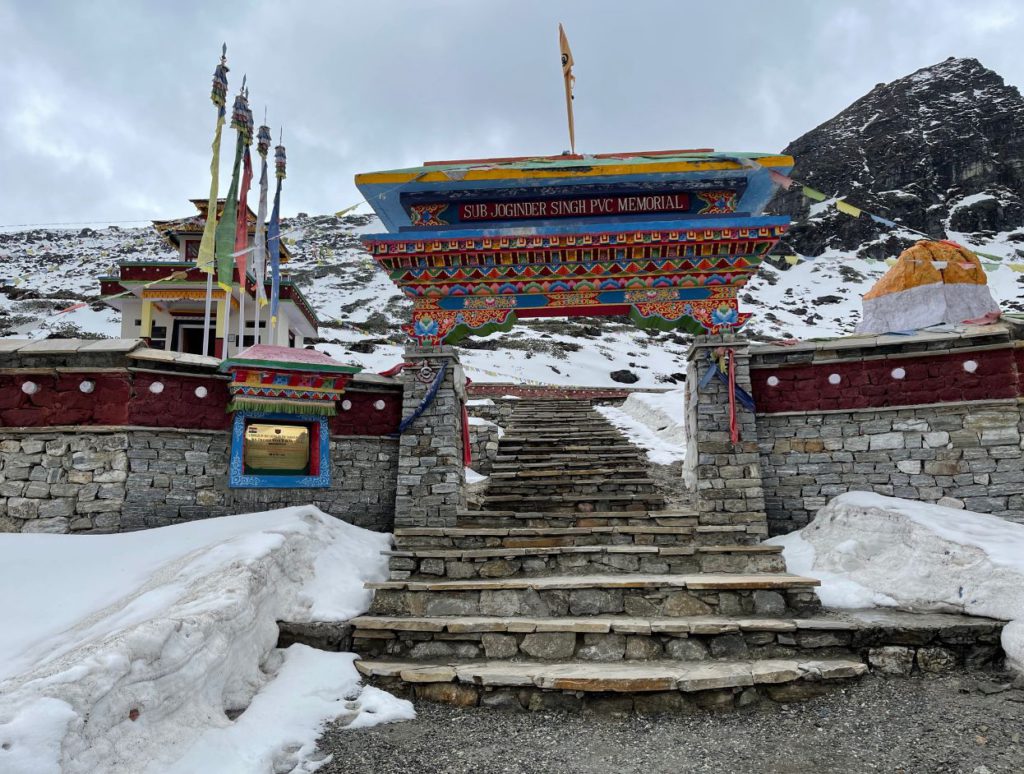 What to Wear to Bum La Pass
Don't be stupid like me and come unprepared. Get the warmest clothes you can find on the planet and wear them. I wore around 4 layers of clothes, a cap, 2 leggings, 2 socks, gloves and a scarf and I was still cold.
Get a really warm inner or thermals for both the top and bottom. If you have waterproof shoes, that will make a great choice since the ice can melt into your shoes. Keep an extra pair of dry socks if you can. Layer your clothes since you will start to feel warm as you will go back to Tawang.
In case of emergency, you can still find warm clothes, shoes and accessories at several army canteens on the top and on the way with reasonable rates. Sadly, I won't say they are too warm but it is at least something. If you need, you can also find some super-warm stuff (like yak wool) in Tawang markets.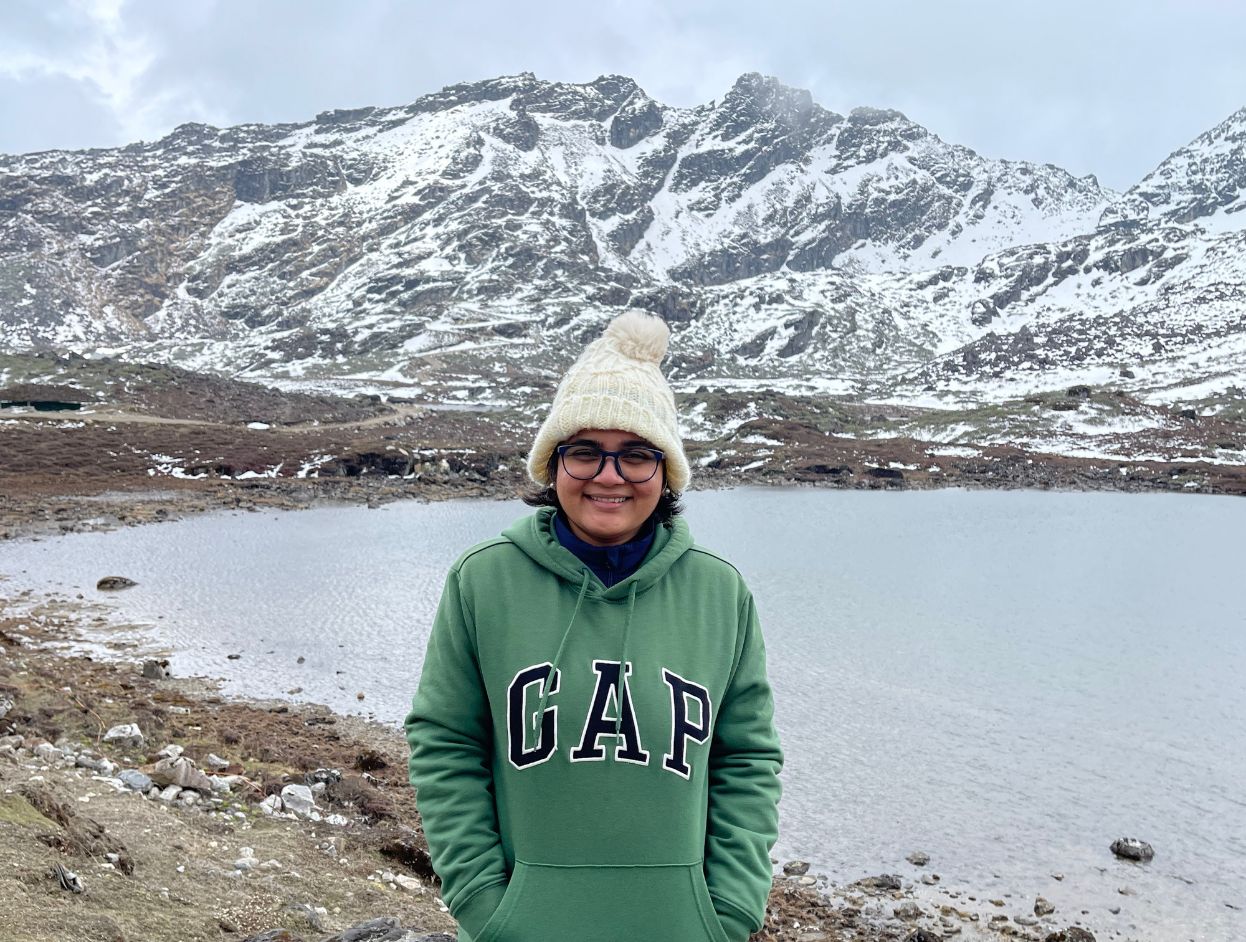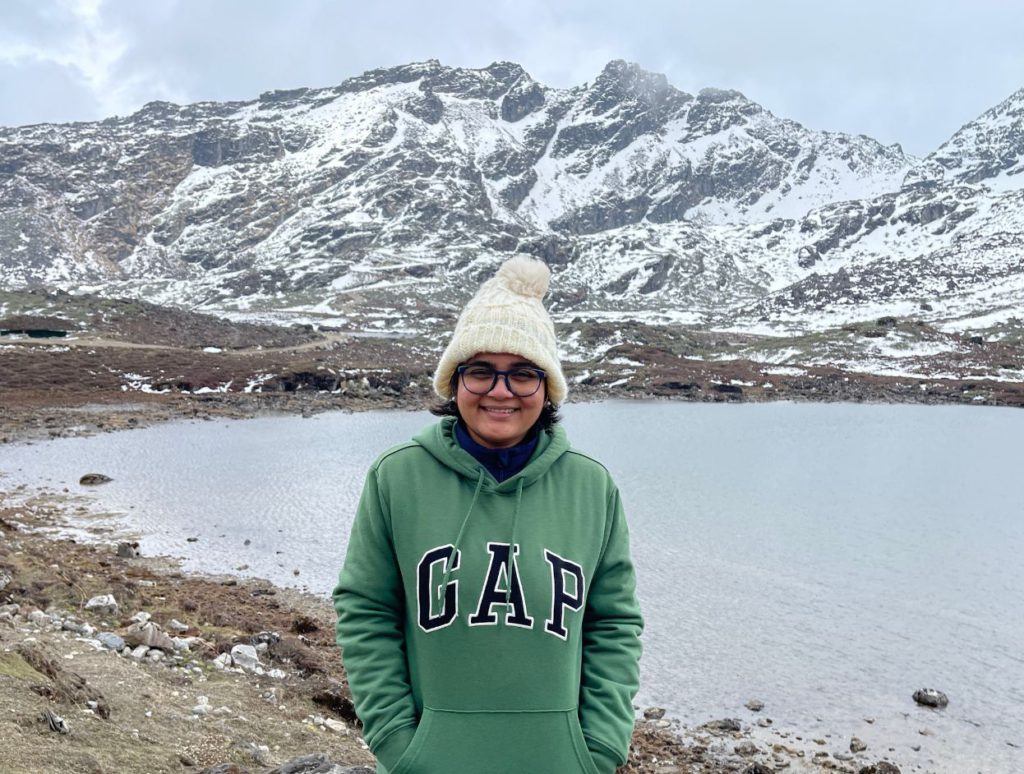 Related Articles