15 Mar

Food to eat in Arunachal Pradesh, India

I think you'd agree with me when I say that food is an important part of experiencing the culture of a place when you go travelling. Food tells us what grows in the area, and what people prefer depending on the climate of the place. If I have the time, sometimes I try cooking with locals. That is just plain fun!

But this is an article about food that you should try out when in Arunachal Pradesh in India. Technically, I am only talking about the food popularly eaten by the Monpa people in the west Kameng region. You may find a difference in cuisines and cooking styles as you go east of Arunachal.

Visiting Arunachal? Here is our itinerary for the Tawang Route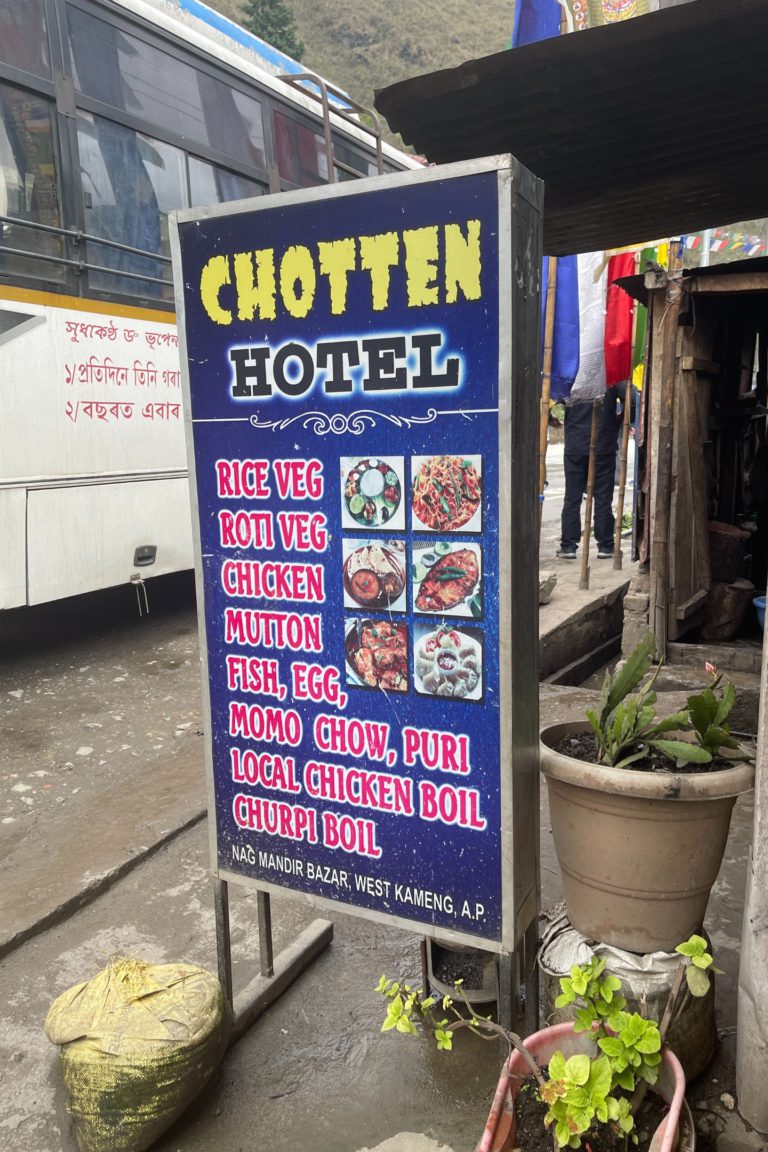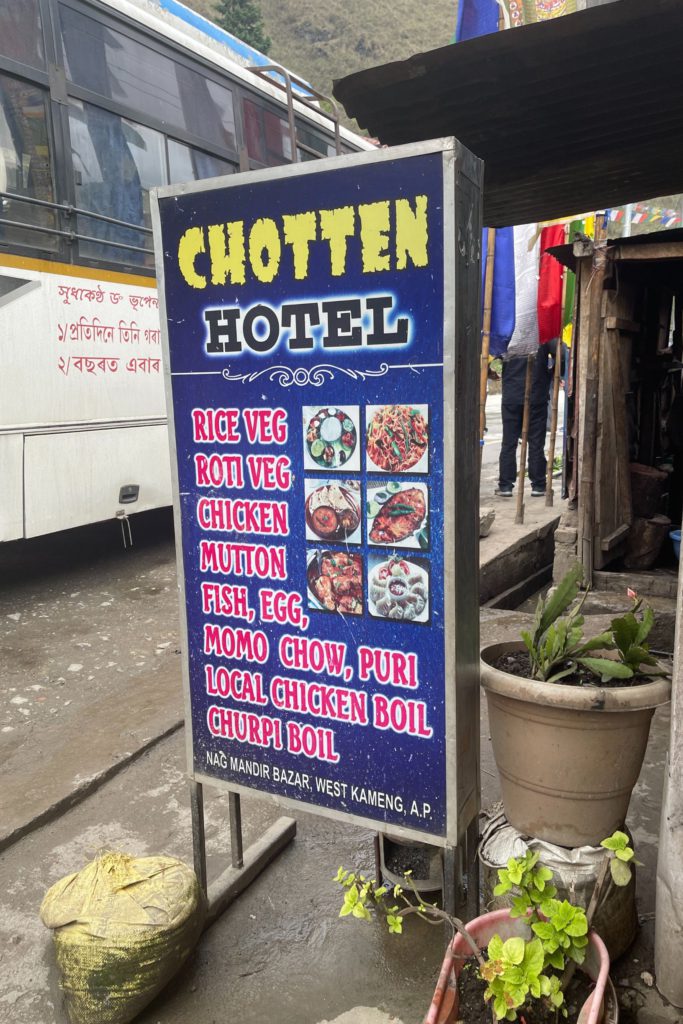 1. Butter Tea or Namkeen Chai
Butter tea is not just common in Arunachal but is also had in neighbouring Tibetan regions like Bhutan. In fact, Kashmir has its own version of salt tea called Noon Chai. Anyway, this tea is made using yak ghee (clarified butter). That is unique. People add salt to taste.
The tea is rich and warm and is especially nourishing during the winter times. The ghee fat keeps you warm. You can find it at all homes, restaurants and stalls selling tea and snacks. As much as I loved the tea, I also like the traditional cups they were served in. 
If you want to take this home, you can buy the dry version of Mongolian salt tea that people sell at stalls. Just add it to warm water and it will take you back to the highlands.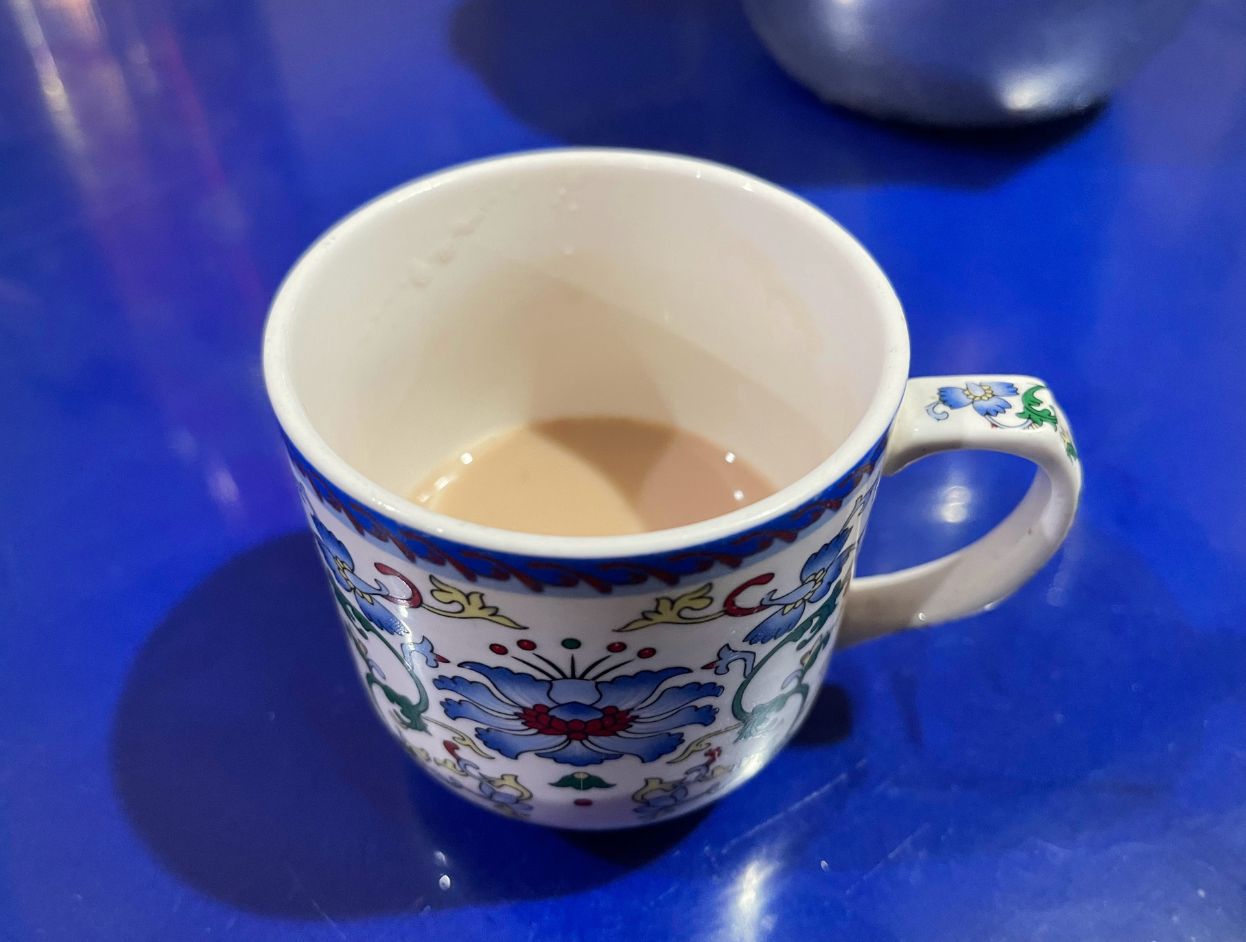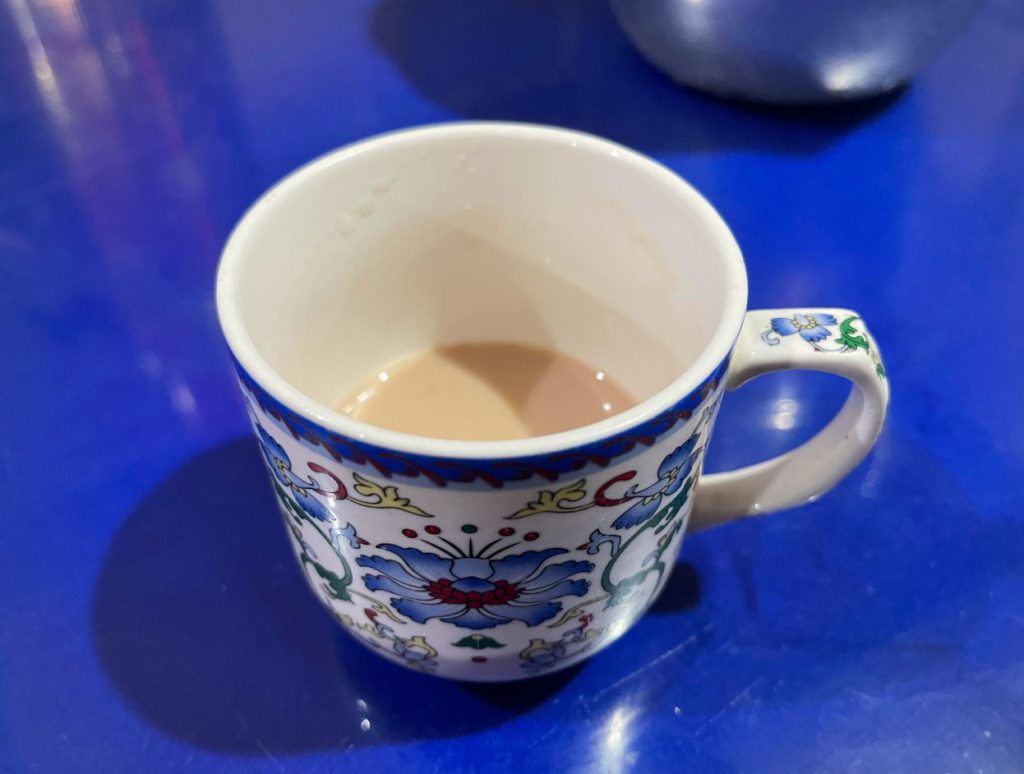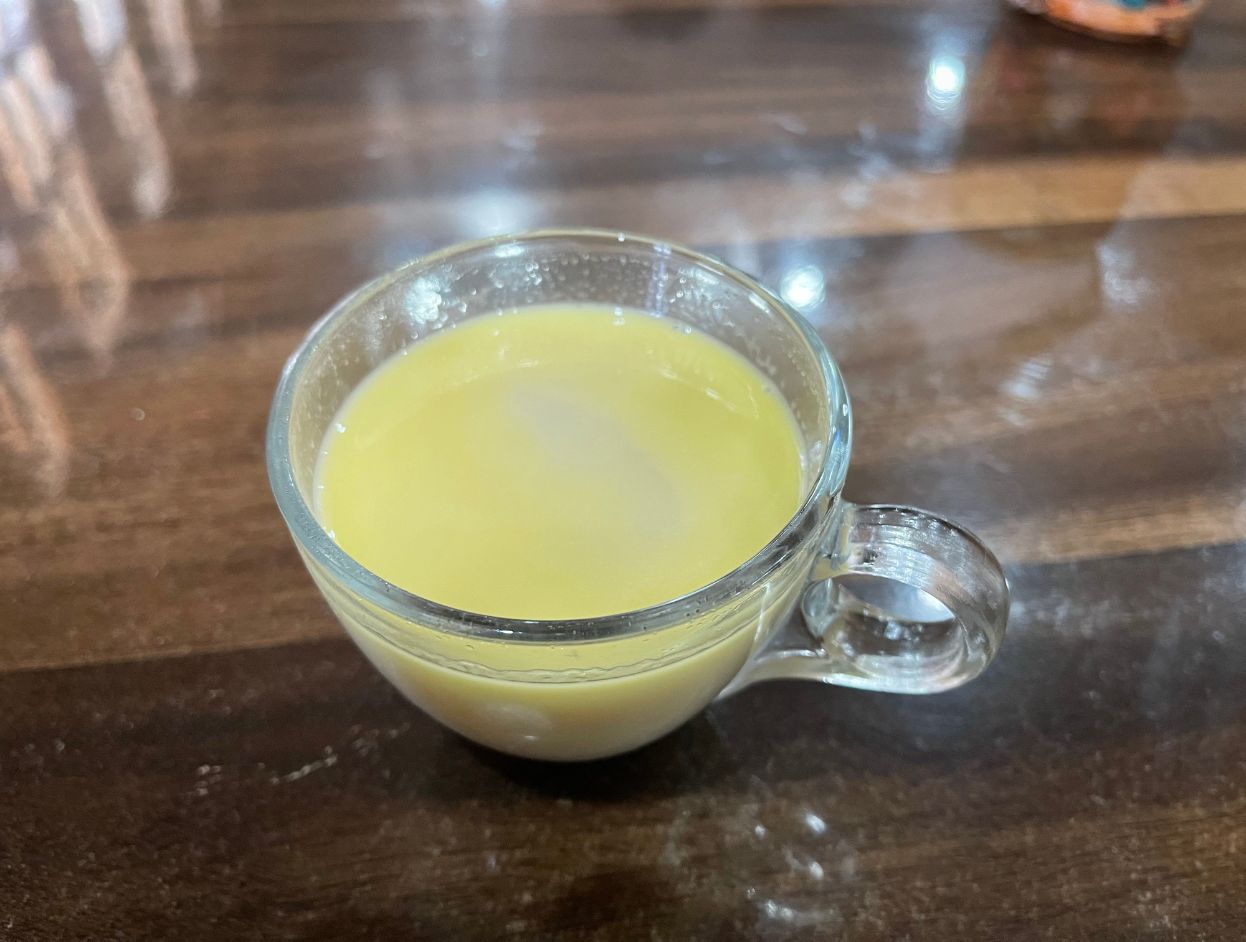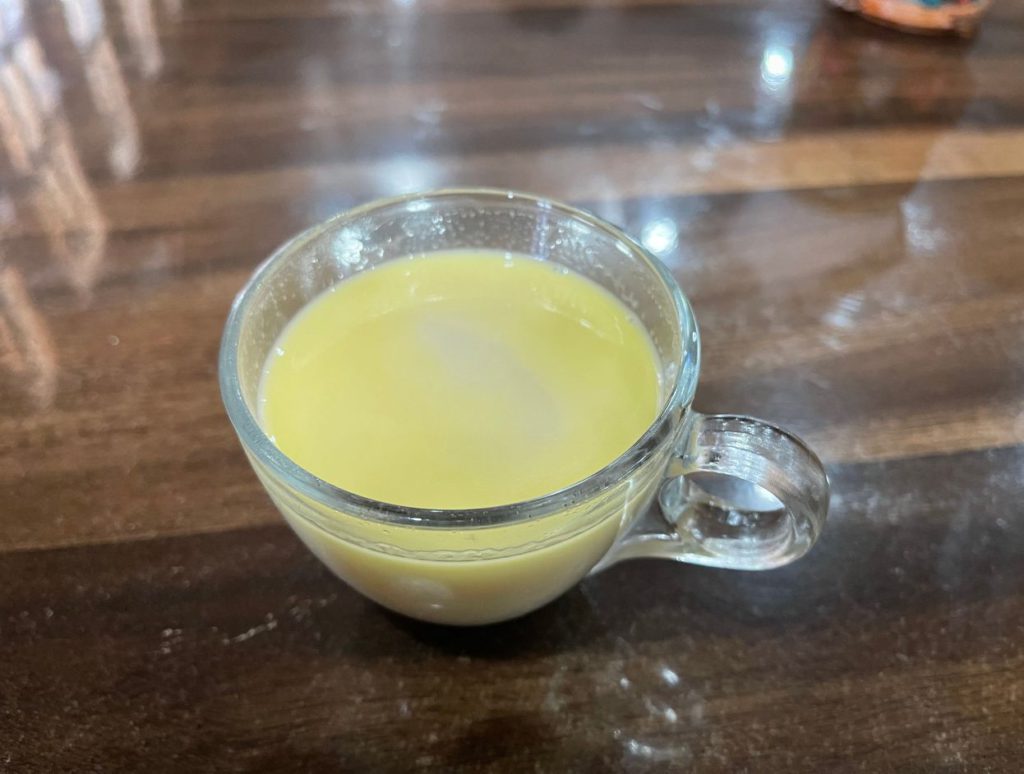 2. Momos
Of course, you cannot miss them. Since Indians love momos so much, you can find them in almost every city in the country. But this is their home, and you cannot miss the Tibetan momos for their style and simplicity.
Interestingly you can find them in many more forms. They come in both steamed and fried and sometimes in shapes and sizes you did not expect. You can find both vegetarian and non-vegetarian fillings in the area, but no potatoes.
I also tried these tea-momos that were just large momos with no filled knotted and then steamed. The flour used seemed different so the taste is not exactly the same as regular momos.
Pair it with Travel? Check out the top places to visit in Tawang, Arunachal Pradesh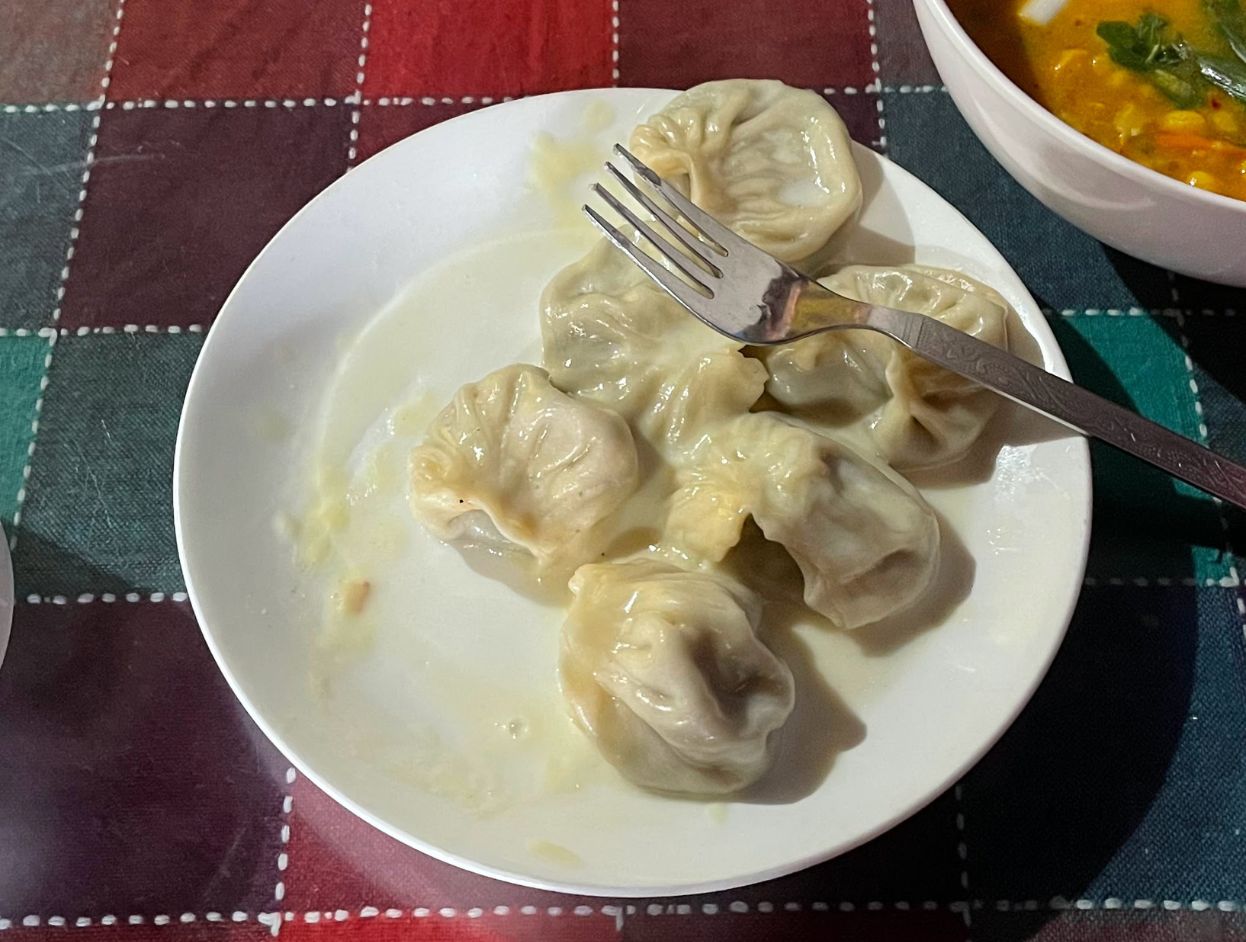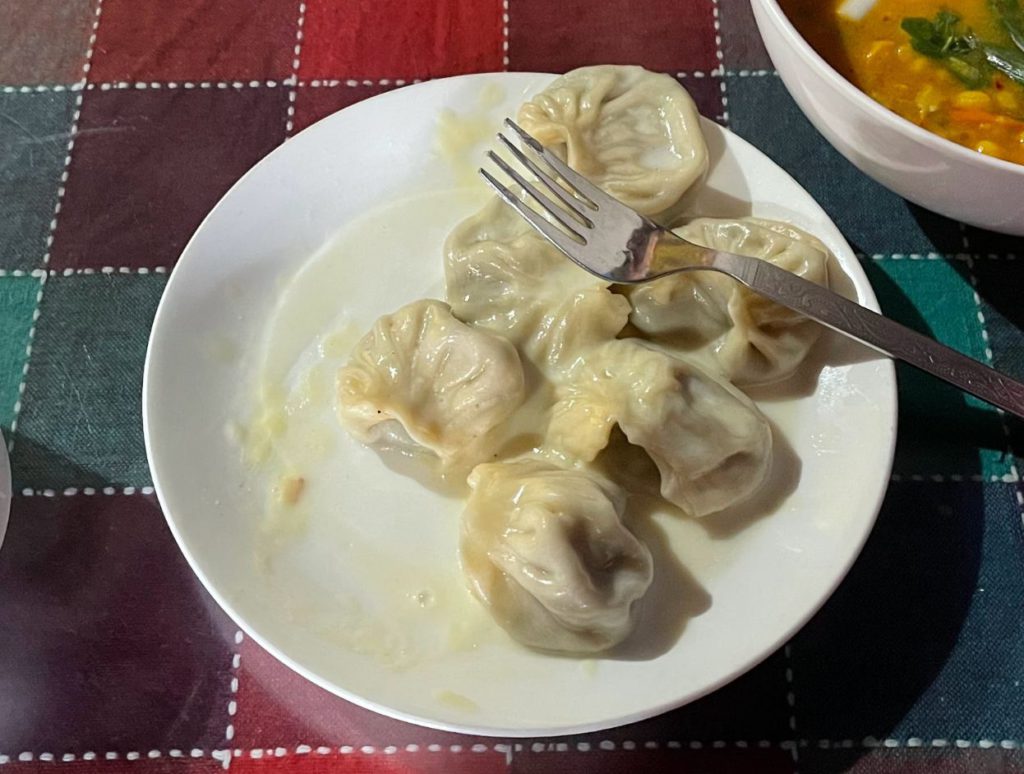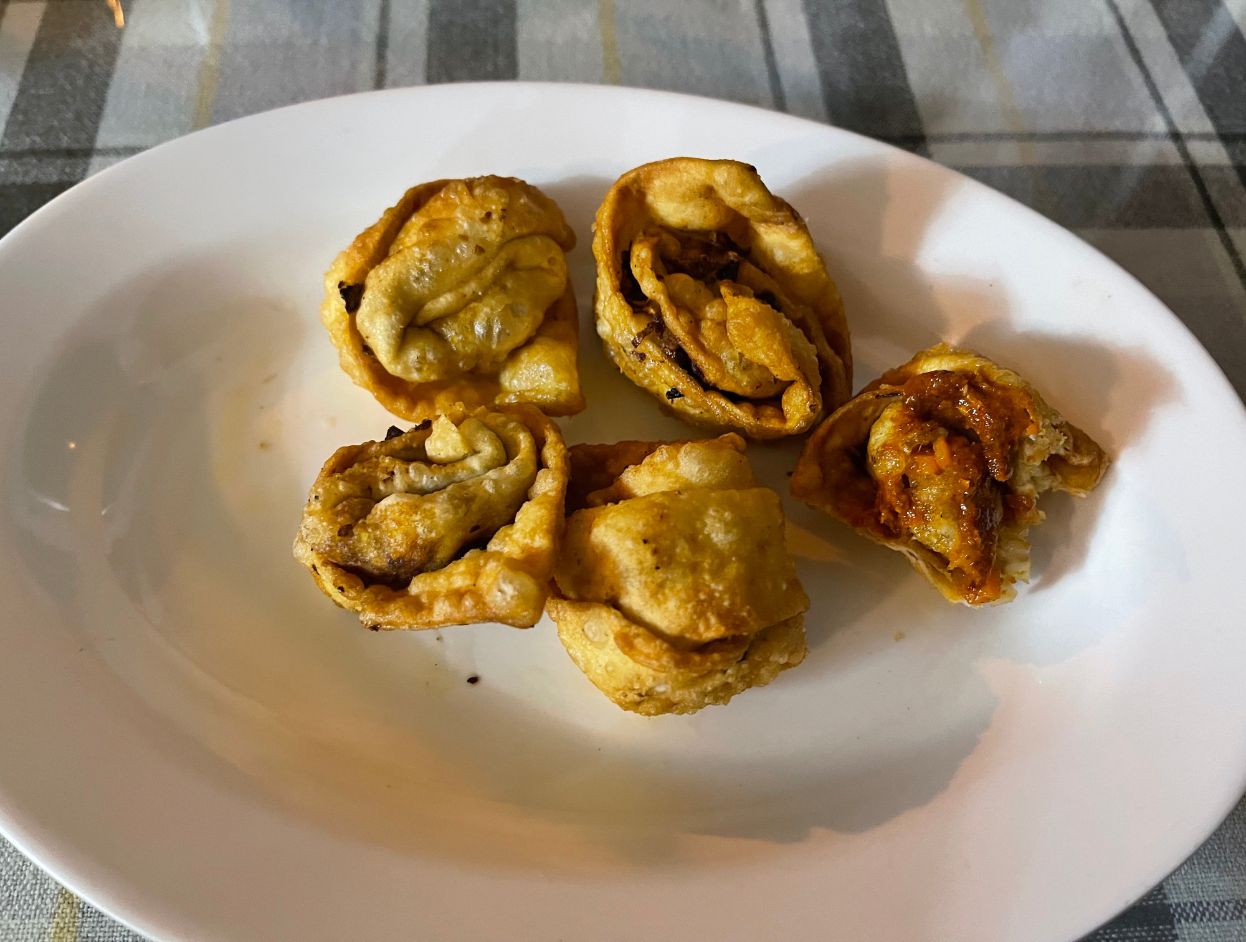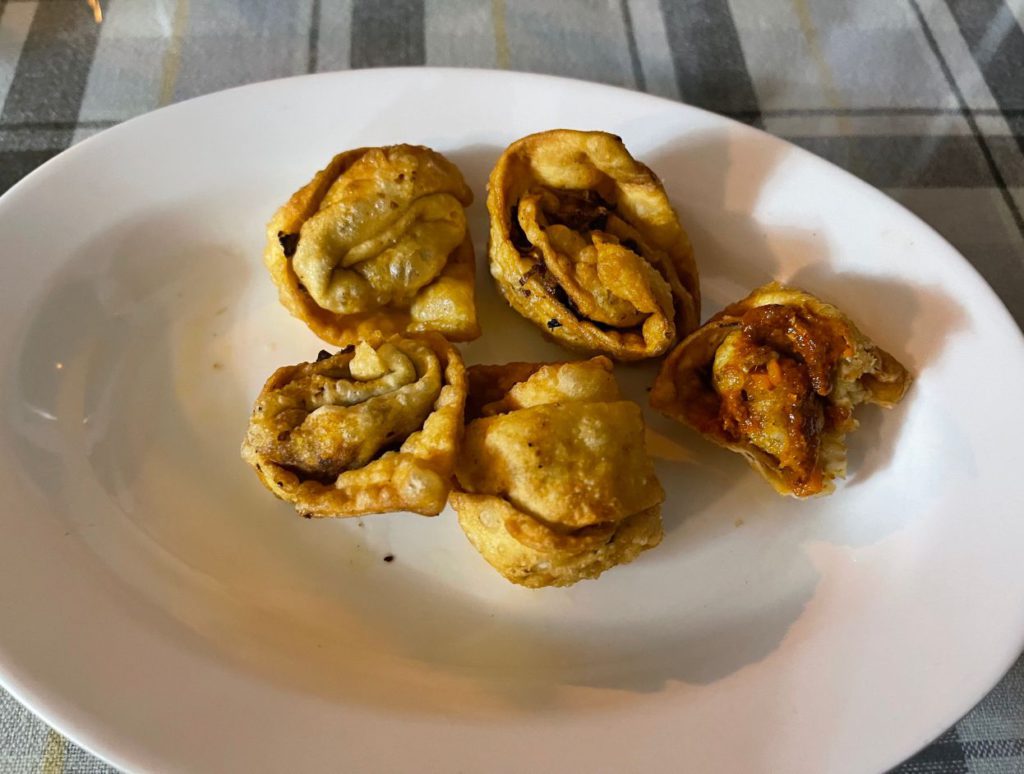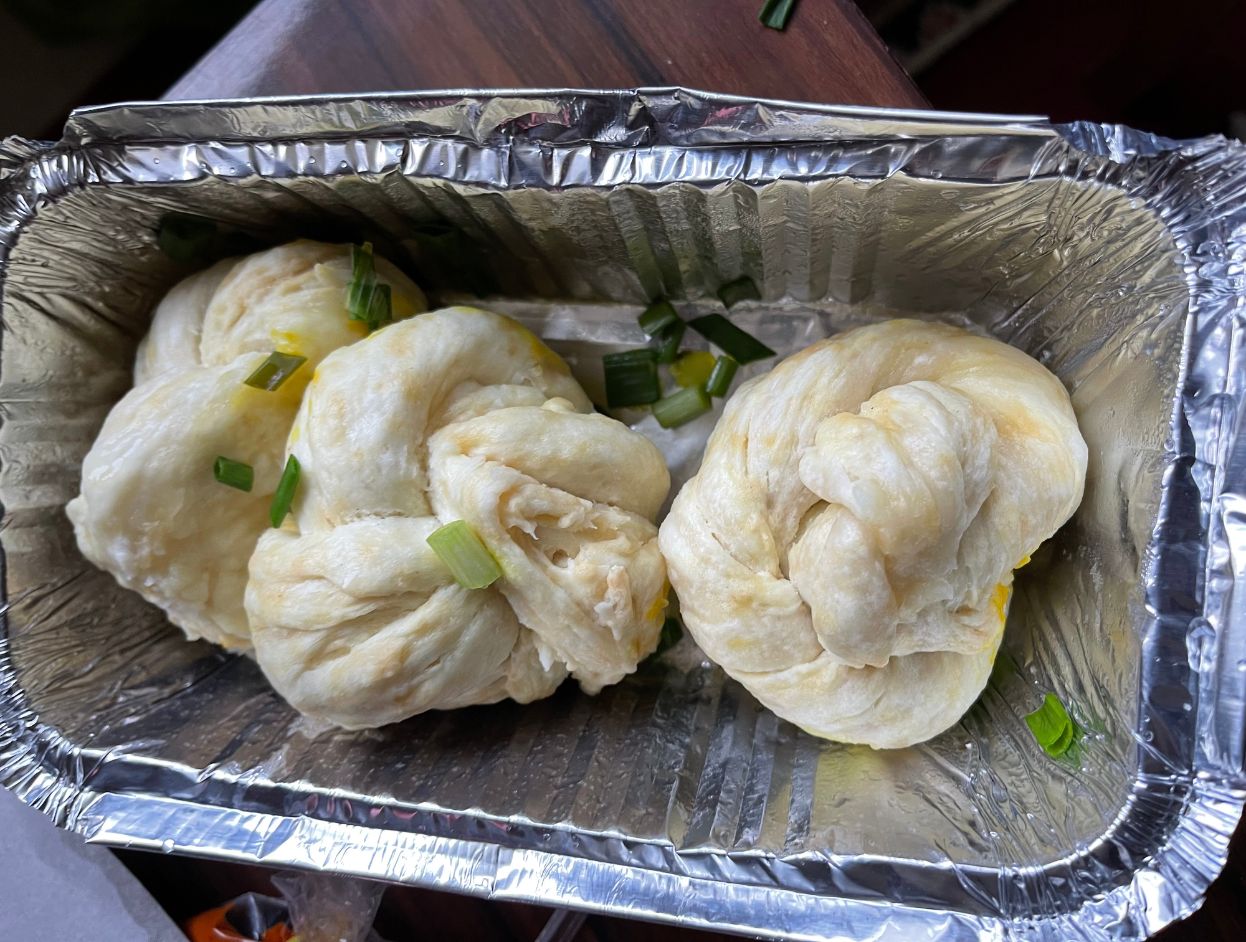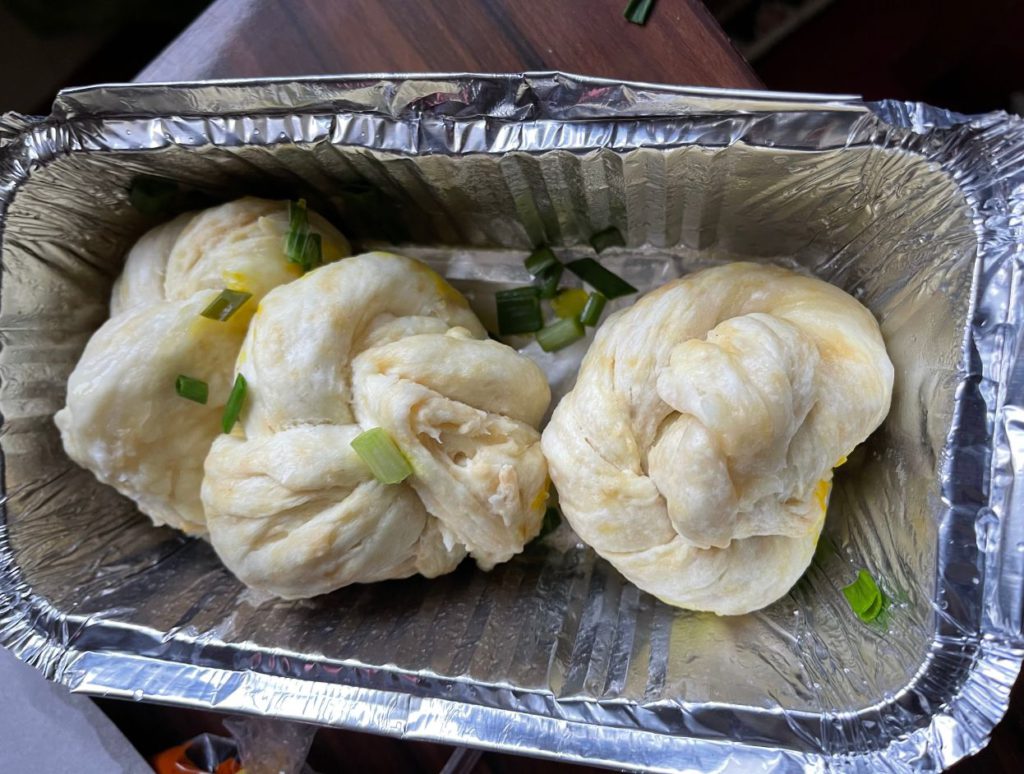 3. Thukpa
Thukpa is a lesser-known recipe although you can still find it in many Tibetan restaurants in the country. Thukpa is a slightly thick soup with a variety of vegetables of meat cooked in it.
There are quite a few varieties of Thukpa that usually differs in ingredients. You can choose from veg, chicken, paneer, mushroom, pork, Baa Sha (beef). Asum Thukpa is a slight variation of the regular thukpa made with a lot of corn and starch. I tried it and it was delicious.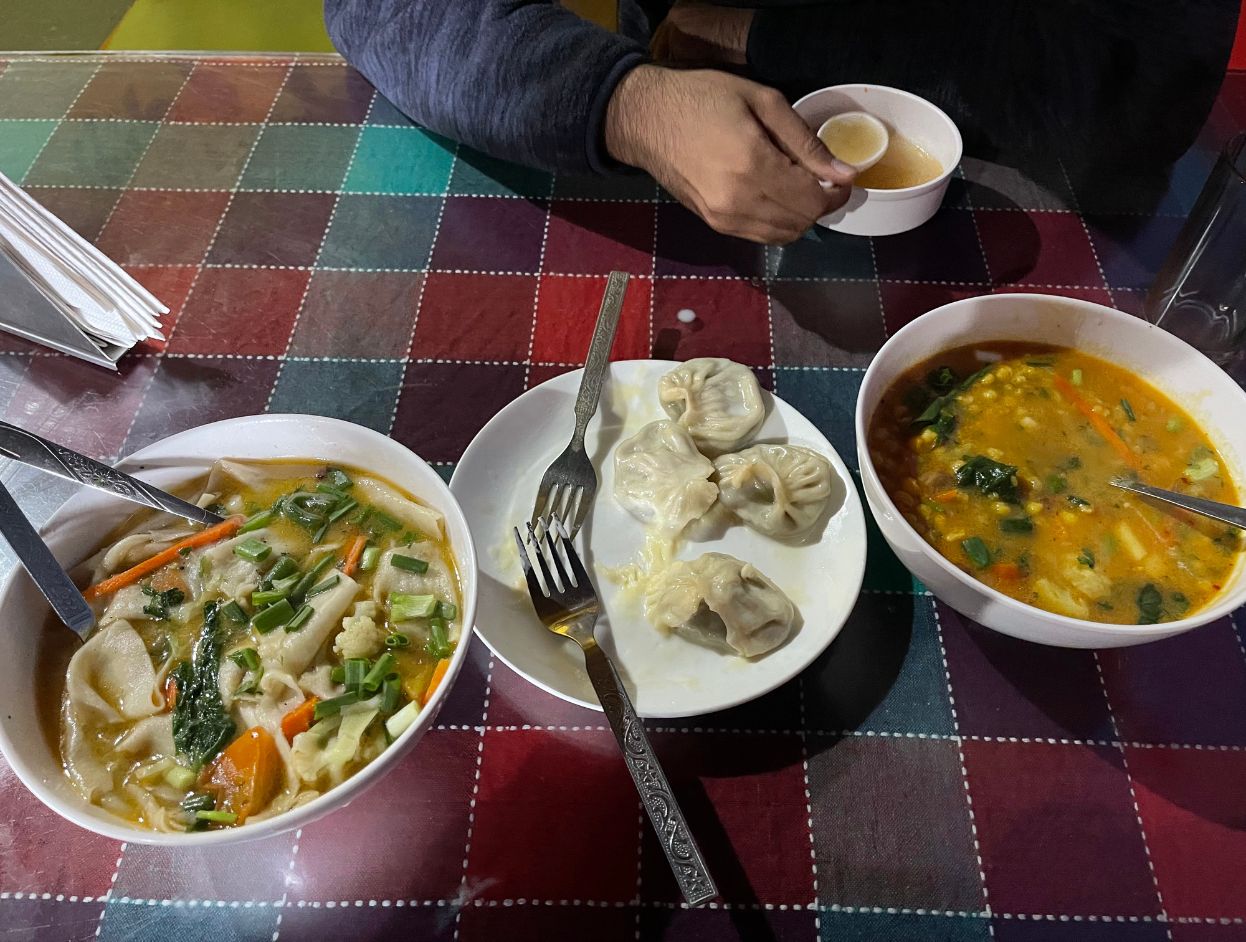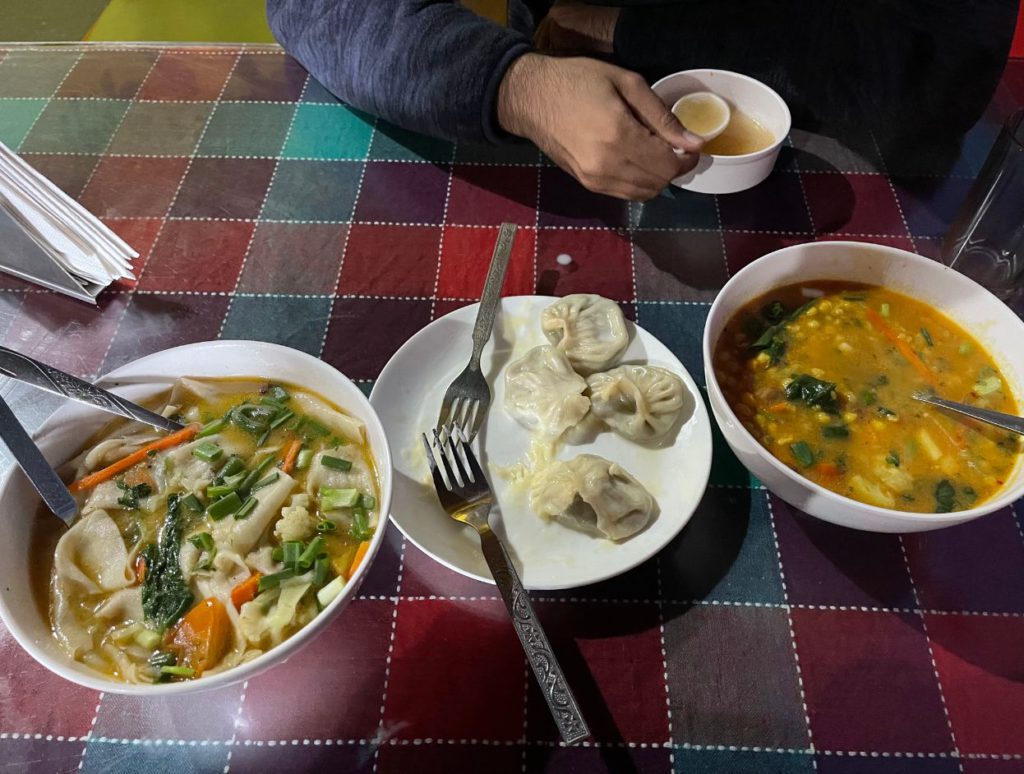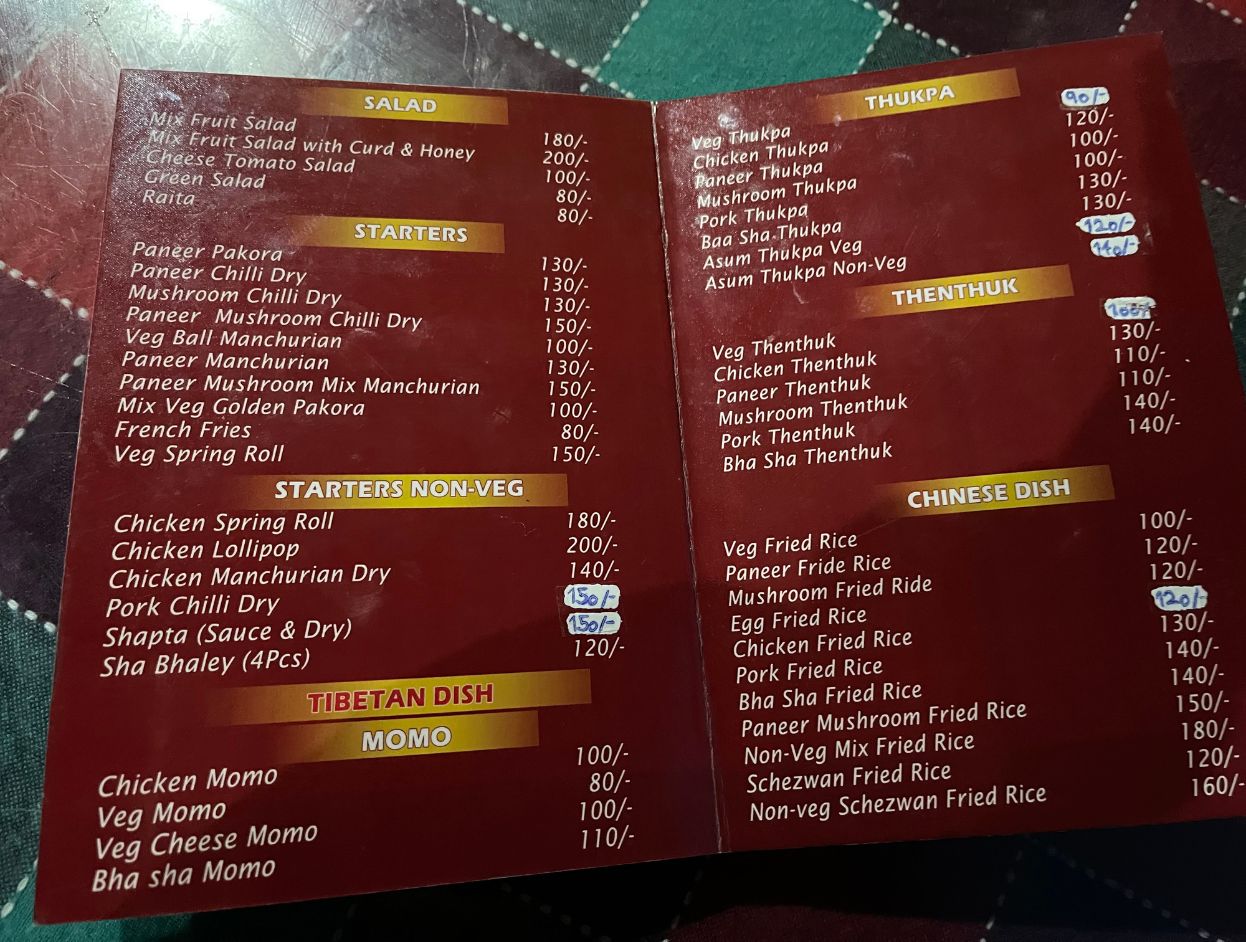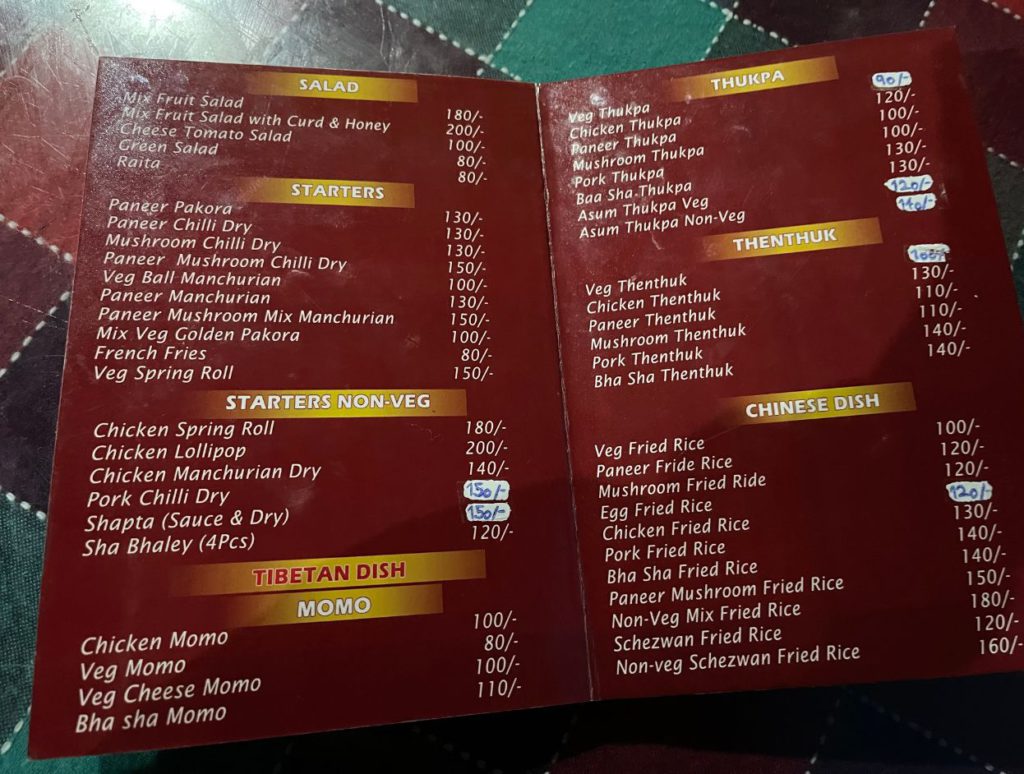 4. Thenthuk
Thenthuk is also a soup made with vegetable or meat broth. But along with the ingredients of herbs, vegetables or meat, the locals add handmade noodles. They usually use flat noodles that are much bigger in size and pale white in colour.
One strange ingredient that we found in thenthuk was the use of sichuan pepper. I have never had one before and found the taste and sensation of it alarming and so interesting. Your lips go numb. The locals call it Timur locally. This dish is also available widely in most restaurants.
5. Bamboo Shoot curry or soup
This is a soup or a curry with a twist. Again the basic preparation is quite simple like most Tibetan food. It is a water-based dish with herbs, vegetables and meat simmering left for some time. But then they also add bamboo shoots for a completely new flavour.
I have never had this and found the taste extremely strong and slightly uncomfortable. But it was new. I think the bamboo shoot was fermented as well. So some people may not like that. It is usually had with plain or red rice.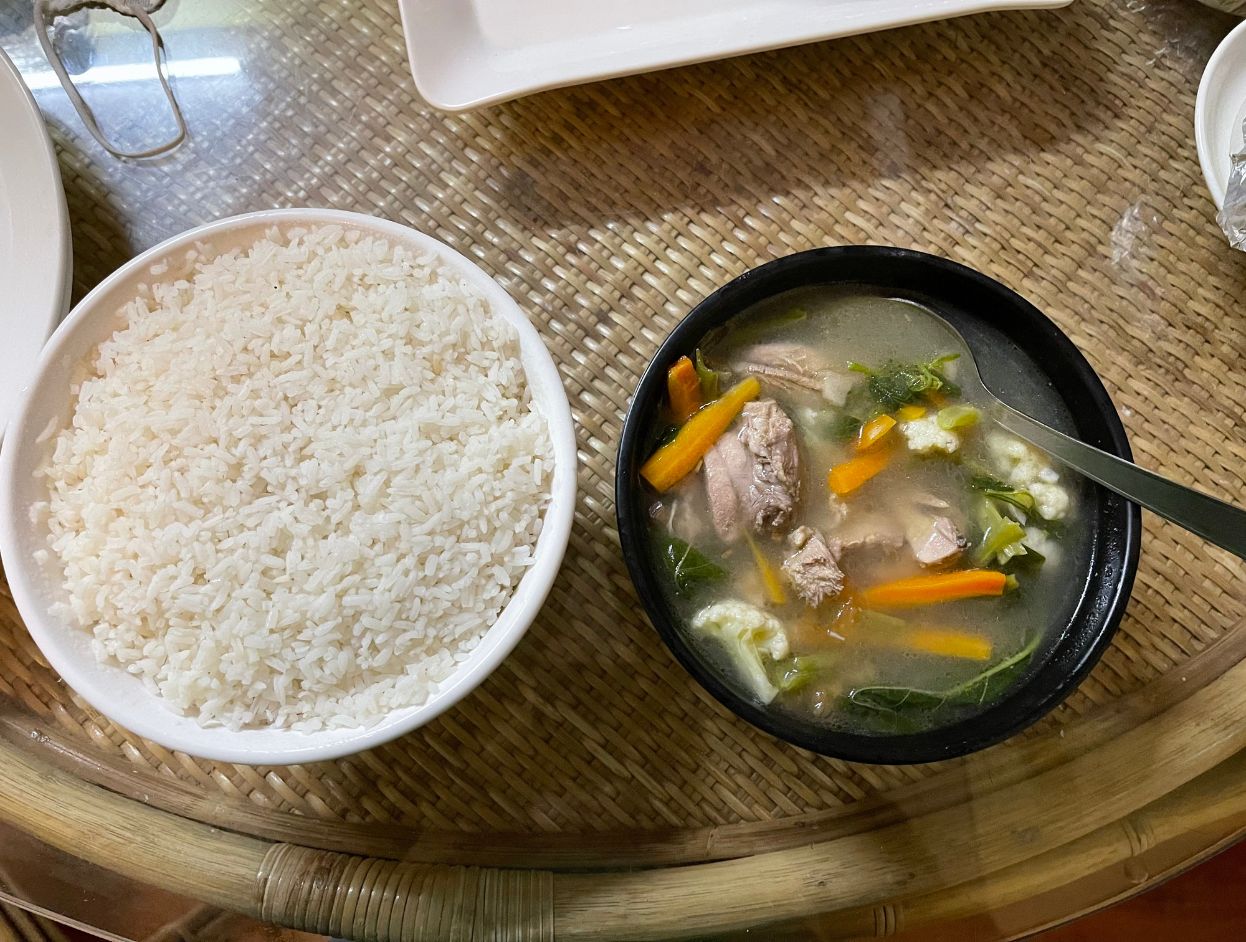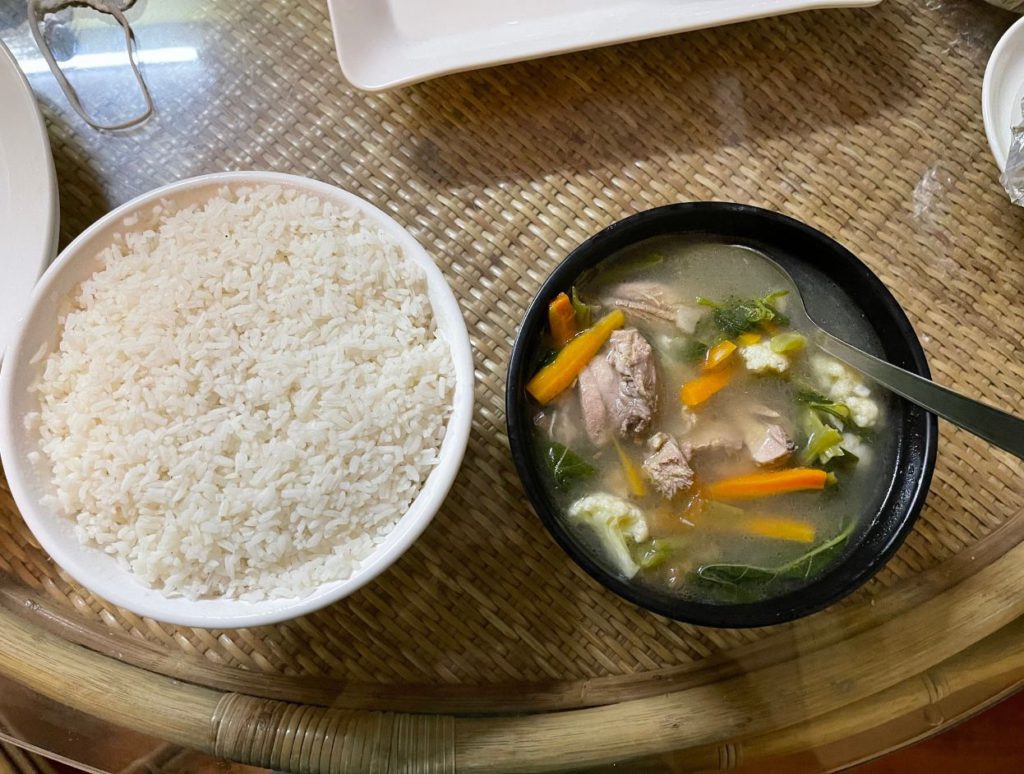 6. Churpa Curry
Churpa is the most popular and common staple in this region and even beyond Tibet. Basically, churpa is yak cheese. There are whole herder nomad villages in the area that raise and breed yaks. They milk the yaks, make the cheese out of them and sell them in the local markets. If you wish you can buy the cheese itself which has a very strong smell and taste.
But the locals usually use the cheese to make curries by diluting and simmering it in water with vegetables and meat. You can ask them to make a churpa curry with whatever ingredients you like. It has no spices, just a little salt and pepper (or maybe not even that). The locals eat it with plain or red rice.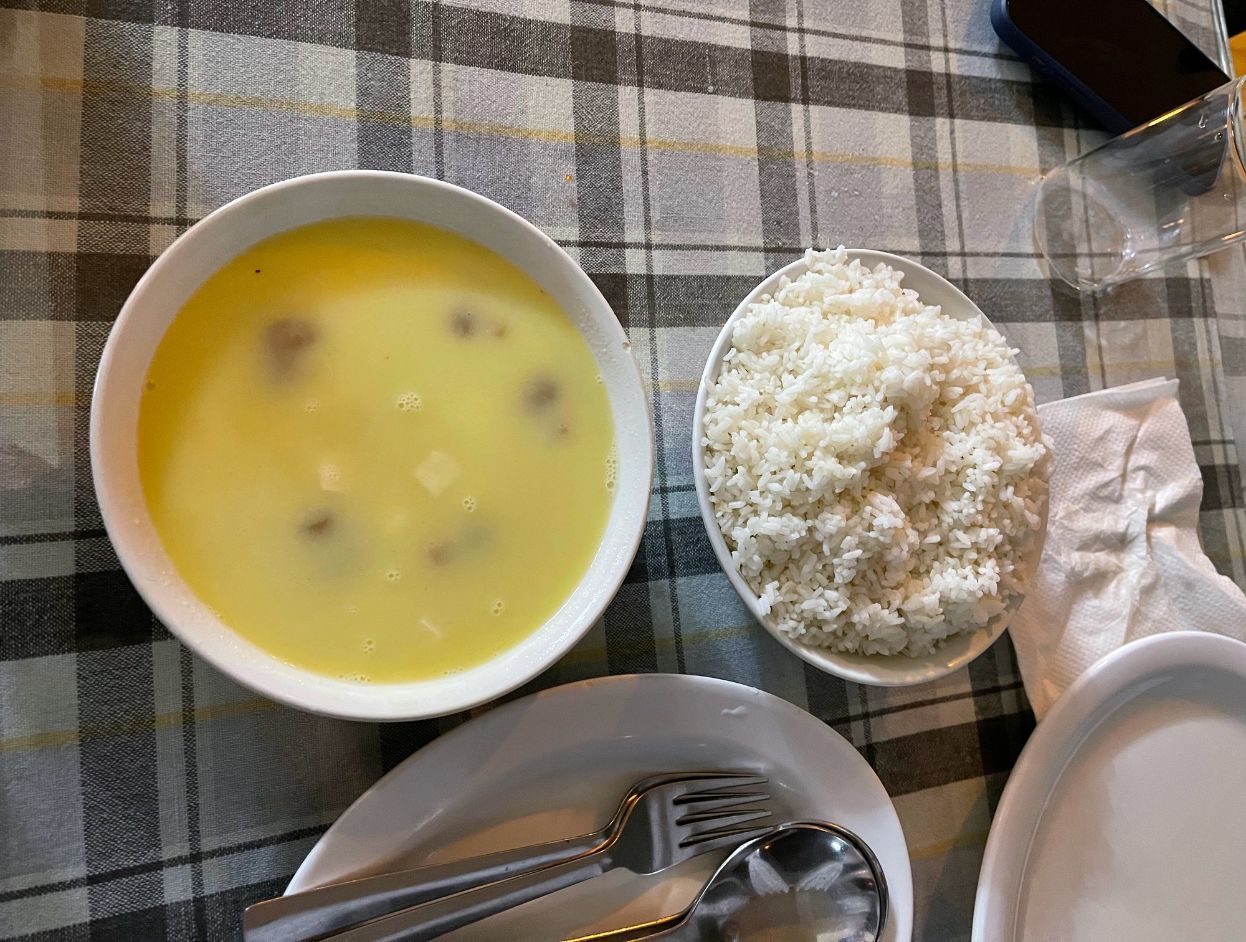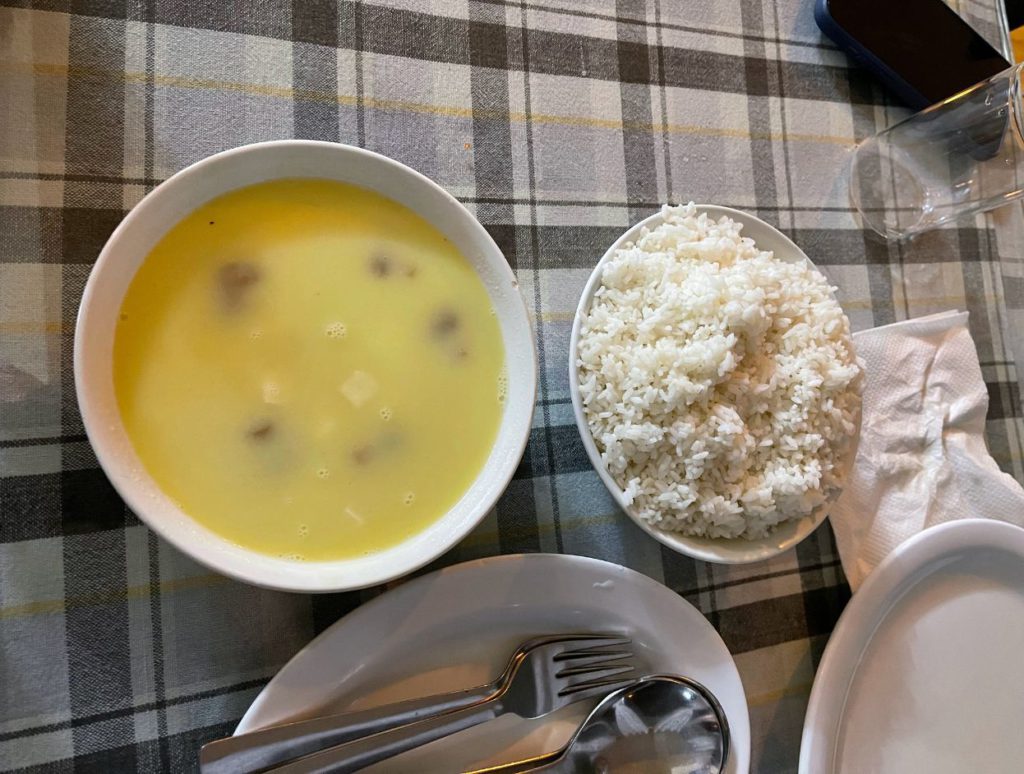 7. Phingsha
Phingsha has many versions as people from different regions make it differently. You can say a Phingsha is a milder curry made with vegetables or meat with some spice and glass noodles. The spices usually include Sichuan peppers, dried chillies, fresh chillies, ginger, garlic, turmeric and some salt.
The curry can differ in the spice levels, and ingredients and some even can look creamy. But glass noodles is the ingredient that makes this dish Phingsha.
8. Red Rice
Rice is a staple in Arunachal. People can eat rice three times a day if they have to. The usual type is white rice which complements all sorts of curries and soups. But red rice is specially grown in the valleys and adds a variety to their plates. To me, it tasted very similar to brown rice which has a bite with a husky flavour. I think it tasted best with a creamy churpa curry.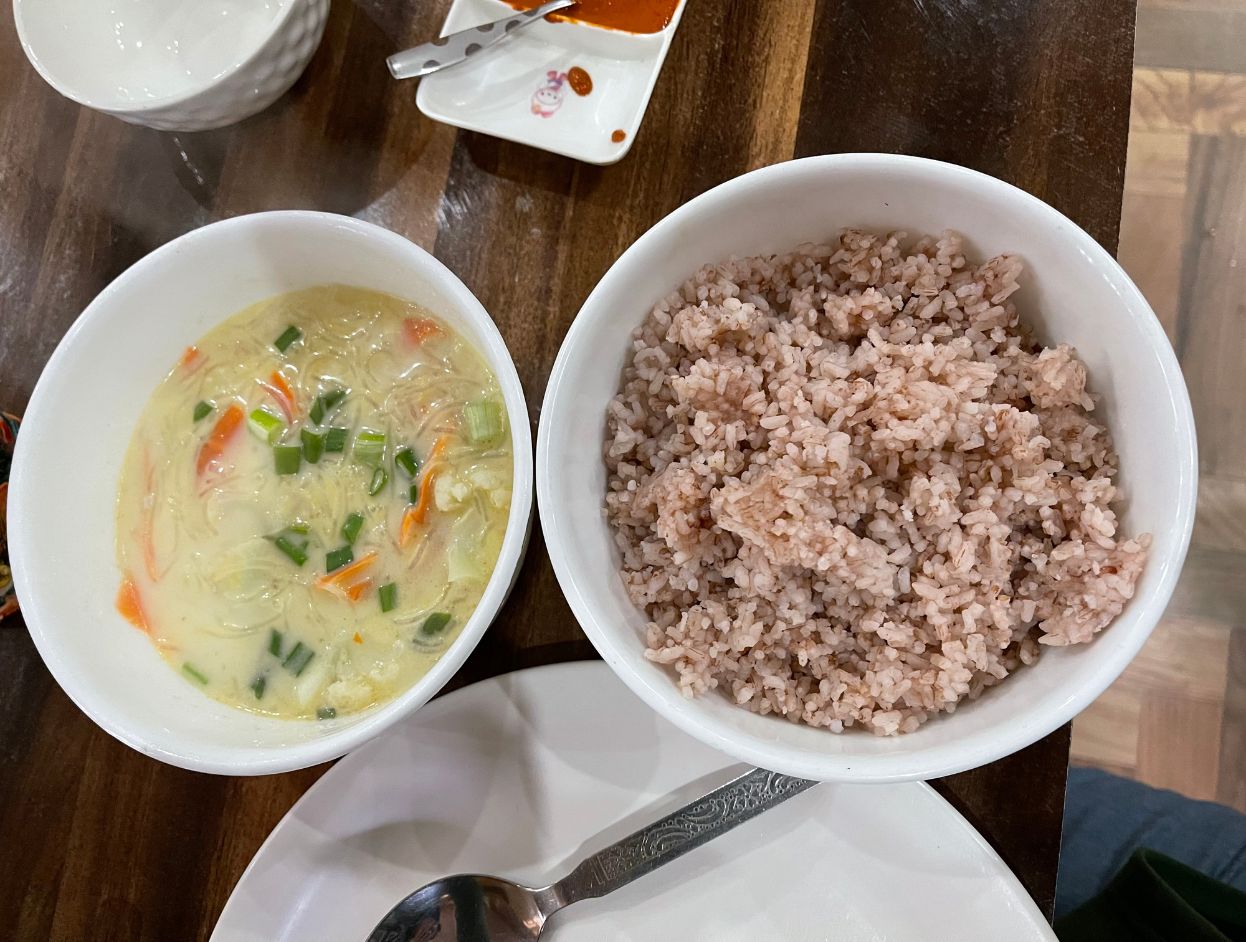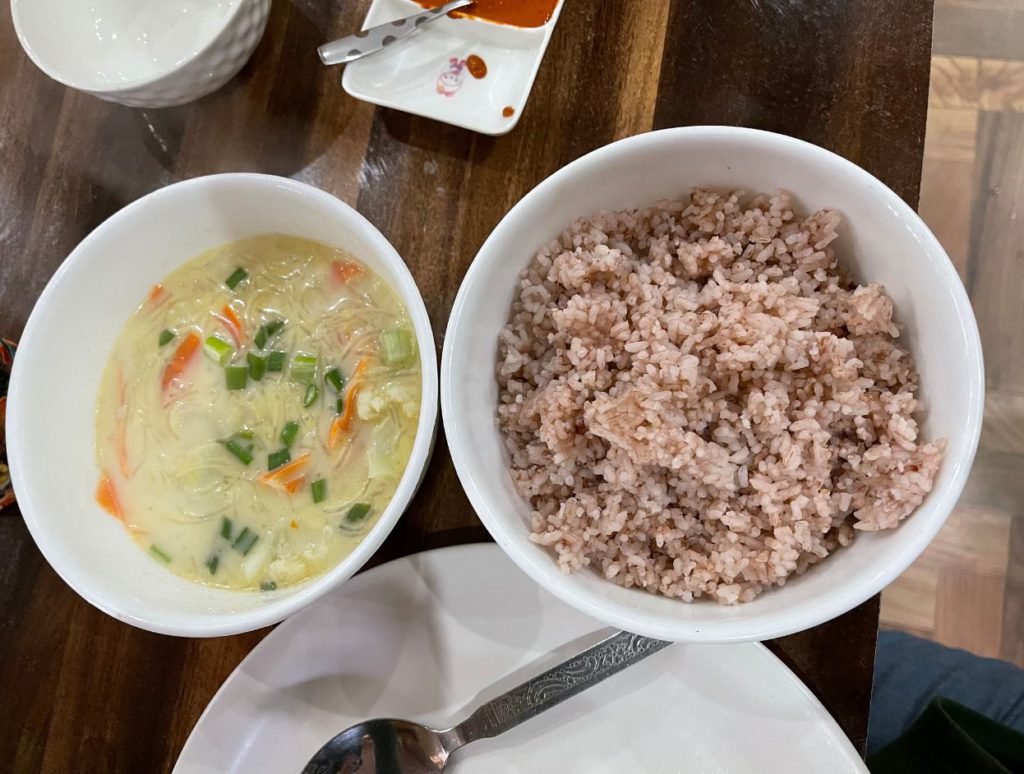 9. Shapta
Shapta is like a Tibetan cousin of manchurian but with other varieties of meat that are mostly pork and beef. It is a side dish that can be had as a starter, with rice or with dumplings. Shapta is made by stir-frying large onions, bell peppers, chillies, ginger, and garlic with a soy sauce base sauce. The ones topped with green onions are the best. 
I am not sure if there are any vegetarian versions of these but you can always check with the restaurant or your host.
10. Shabaley
Shabaley, Shyaphale or Shaphaley are the same dish but can be written differently in different areas of the Tibet region. It can be found as far as Nepal and China. Shabaley is a snack and street food that is a semi-circular dumpling filled with cabbage, vegetables or meat and then deep fried.
If you are Indian, it is like a salty gujiya. If you are from somewhere else, you can think it as a deep-fried pot sticker or puff pastry. Pair it with a hot spicy chutney or dip.
11. Apong
The Apong or Apo is a regional fermented rice beer that you will find commonly in Arunachal Pradesh and Assam. It is a part of every household and they share it usually with their meals with all family members. You may not find it in the alcohol shops for it is more traditional.
It is also pretty strong. So people serve it with concern to outsiders who are not used to such alcohol concentration. However, I think this is the only thing that can keep you warm in the unforgiving cold during the winters in this region. You can ask a local if you are staying at their home.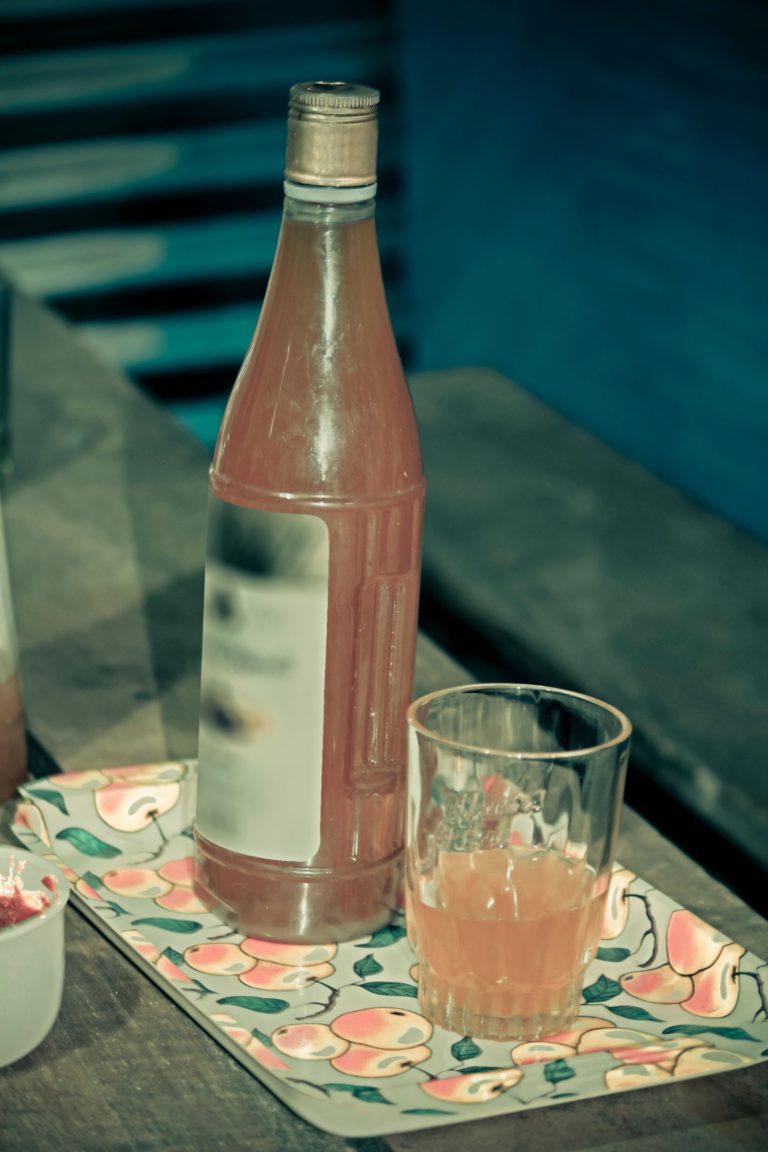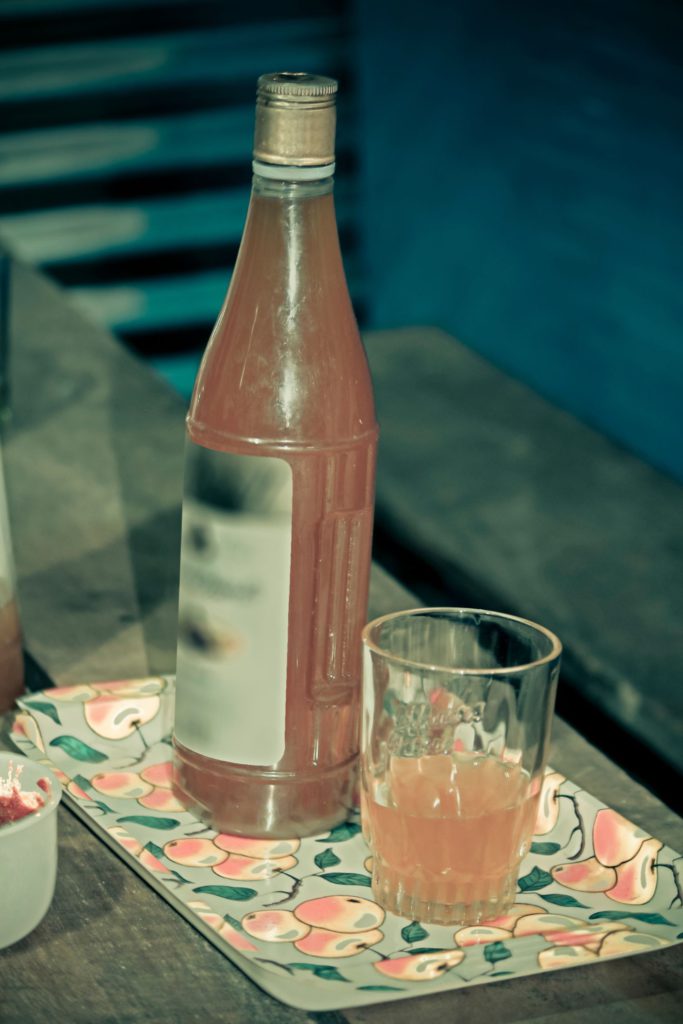 12. Kiwi Wine
Another unique product of Arunachal Pradesh is Kiwi wine. In fact, it is not just Kiwis but people also produce peach, lychee and apple wines in the area. Arunachal weather is great for the production of these fruits and you can find orchards around in the countryside.
Kiwi wines are especially popular near Dirang and Ziro. In fact, we found one in one of the small roadside stalls. It is strong and delicious. Do try one if you can get your hands on it. A bottle of kiwi wine cost us around ₹750-800.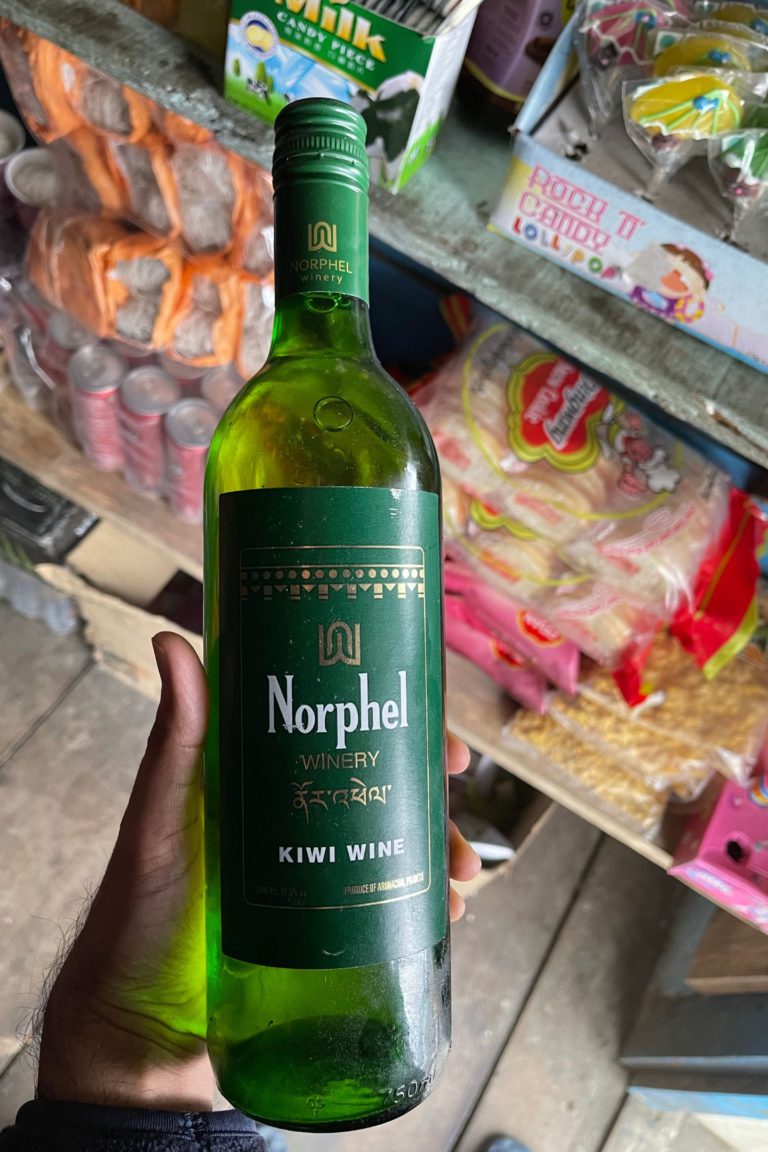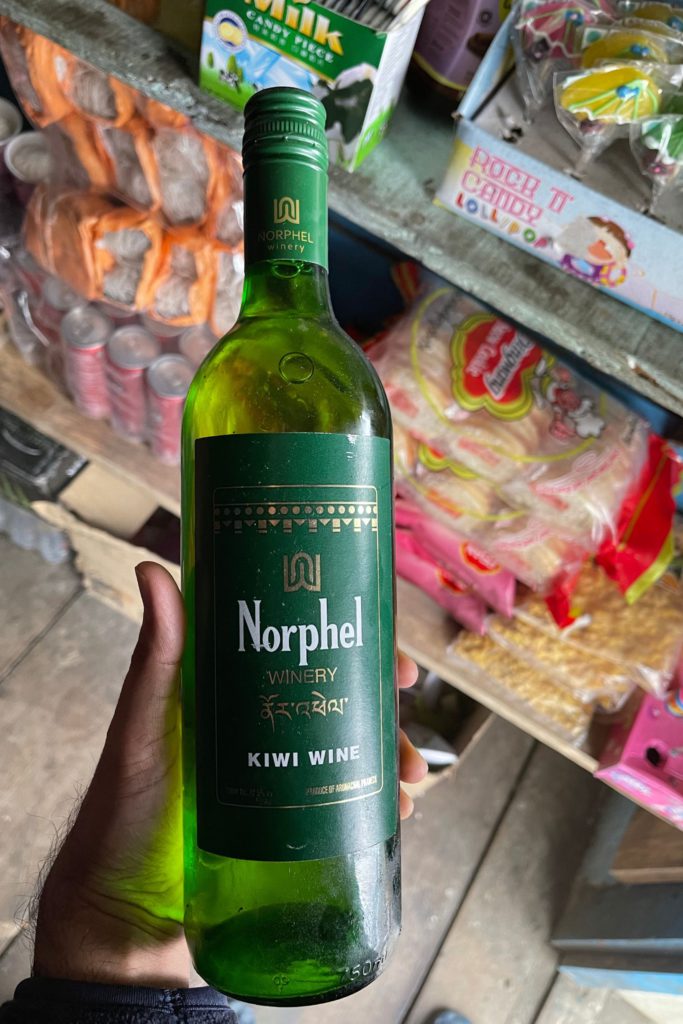 Related Articles