12 Mar

How to reach Tawang, Arunachal Pradesh

I see that you are looking to do something unusual. It is not that common for people to look to travel to someplace as remote as Arunachal. And to tell you honestly, it is pretty hard to reach. Just reaching Tawang takes 3 days and expect the same while returning back. But if you are sane enough, go ahead and take this trip. It's a whole other side of the Himalayas, literally!

Now there are so many places that you can travel inside Arunachal itself. I haven't been to those yet, but Tawang is the most popular route. The connectivity to Tawang and beyond has also increased considerably in the past. So you will find enough amenities on the way too.

But you will need a lot of information for this trip. And unfortunately, it's not talked about enough. So here is all you need to know to plan your travel to Tawang (route) inside Arunachal Pradesh.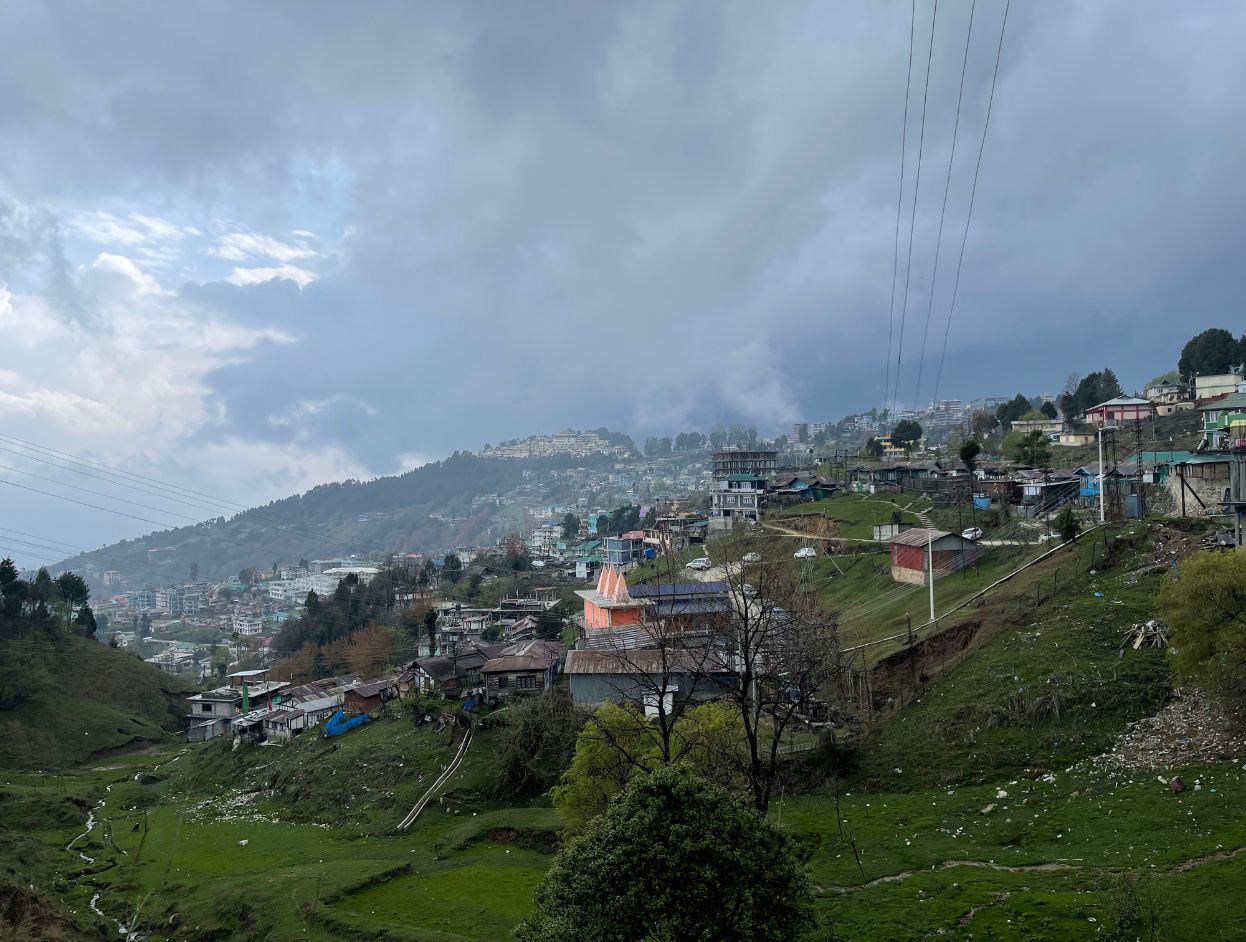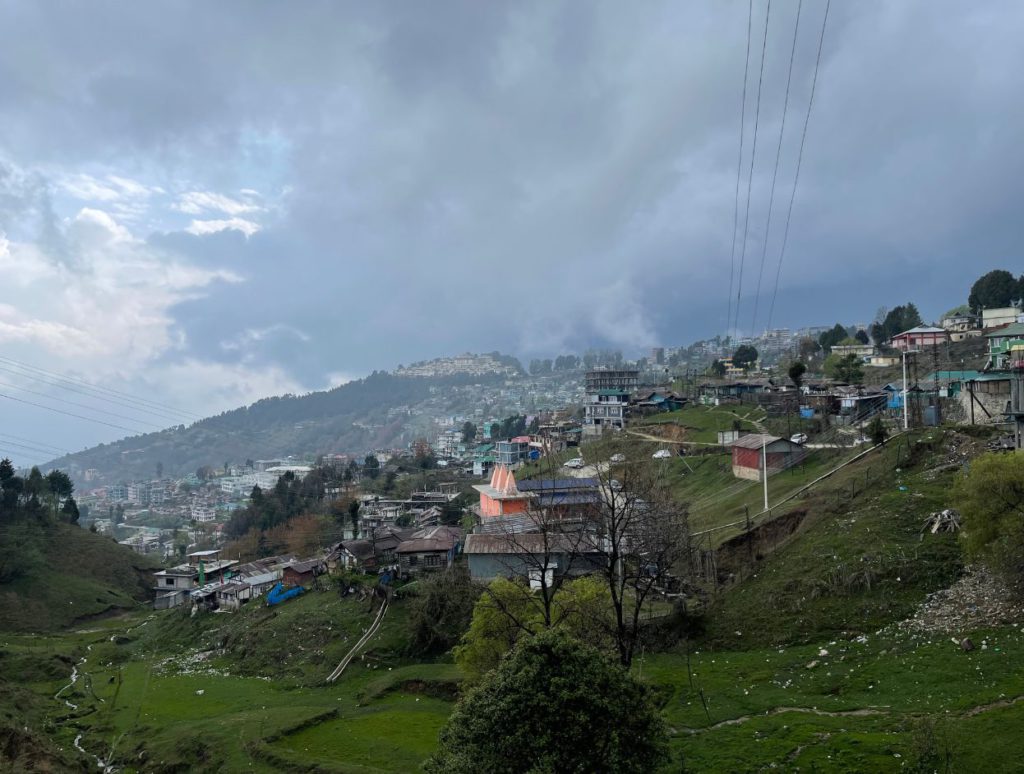 Popular Tawang Itinerary
Day 1: Guwahati – Tezpur – Nameri National Park (optional)
Day 2: Nameri National Park – Bhalukpong – Dirang
Day 3: Dirang – Tawang
Day 4: Tawang Sightseeing
Day 5: Tawang – Bum La Pass – Tawang
Day 6: Tawang – Bomdila
Day 7: Bomdila – Guwahati
If you wish to extend this trip you can branch out your plans from Bondila towards Itanagar, Ziro or even Kaziranga in Assam. But travel details for those routes are not in this article.
How to travel to Tawang Route
There are several ways to do this. But do not rely on public transport if you have a tight itinerary. Public transport is available, although much less frequent. But then be prepared for delays, inconsistent breaks and sudden changes of plans. This will work best if you are planning to travel slowly and are flexible with options.
Private Vehicle/Guided tour
This is what I took to Tawang. I rented a private car/taxi for the complete trip. A driver/guide picked us up at the airport and took us to all the tourist spots with a pre-defined itinerary all the way to Tawang and back till the time we left Guwahati Aiport.
Most tour packages also include booking your hotels. But if you want to select your hotels yourself, you can always choose to book a vehicle only. Our driver was seasoned in the tourism industry and he pretty much was our tour guide too. 
A day tour from Tawang to Bum La Pass (local sightseeing) will need you to hire another local taxi from Tawang with special permits. But apart from that your guided tour will take care of everything else.
The guided tour companies also take care of getting the Inner Line Permit (required for travel inside Arunachal) but you can do that on your own too.
You don't have to take a guided tour to Arunachal as a mandate. But Arunachal is another version of the remote. And unless you are a seasoned traveller with a lot of time in hand, you may find yourself exasperated by the lack of transportation options and bad road conditions.
The standard price of a private taxi on this route is between ₹4,000 – 6,000 per day depending upon the vehicle and the weather. The prices increase slightly during the winter months. This includes the fuel, parking and driver charges.
I booked my guided tour using a travel agency called Tusk Travel. While the prices were slightly on the higher side, I found the services very warm and welcoming. They accommodated our requests for a customized itinerary and changed hotels that we were not happy with during the tour. I will recommend them (this is not paid ad).
However, you can also find some great guided tour options online that cater to every budget. Check out these websites:
https://www.paradisenortheast.com/
https://www.tourmyindia.com/states/arunachalpradesh/
https://www.thrillophilia.com/places-to-visit-in-arunachal-pradesh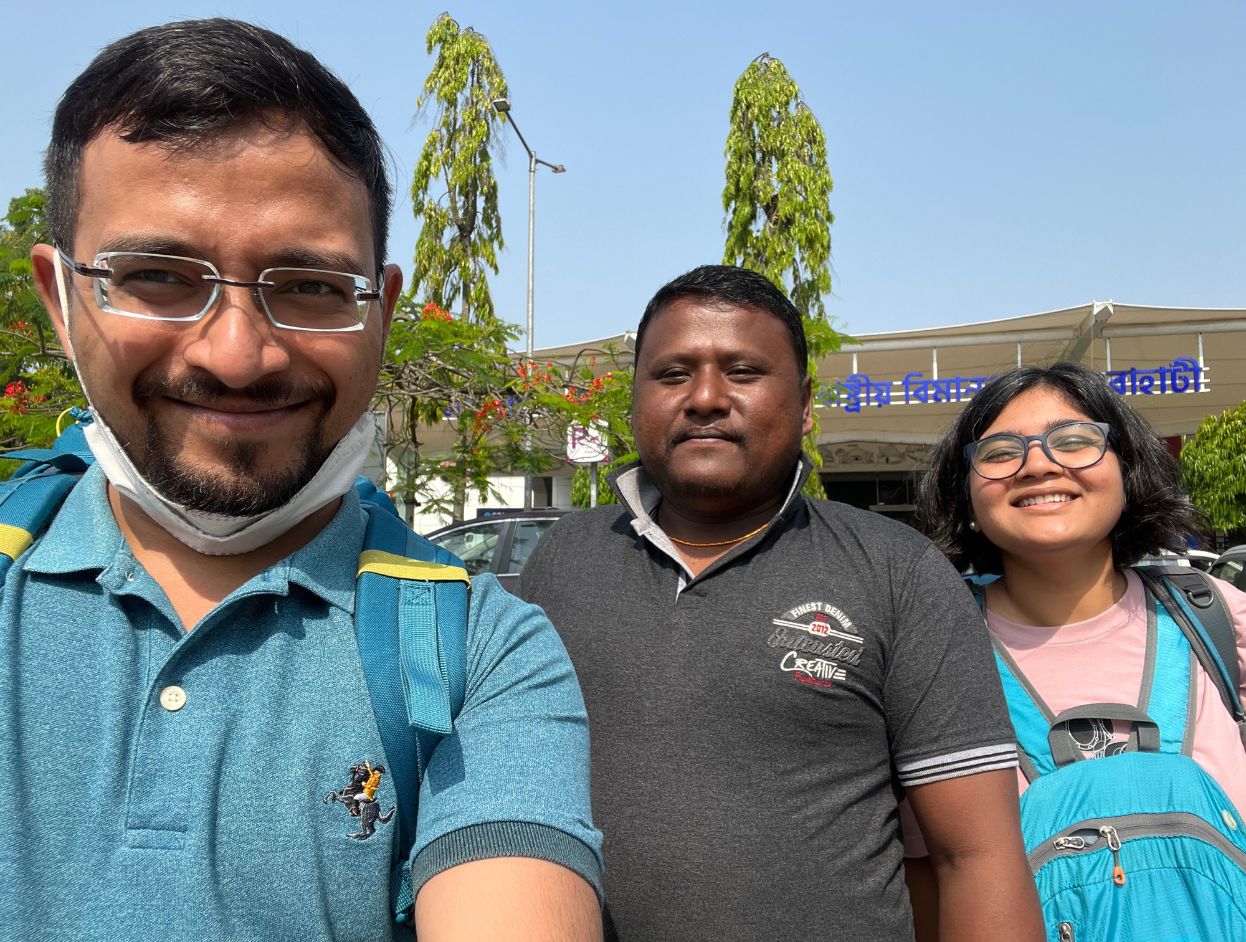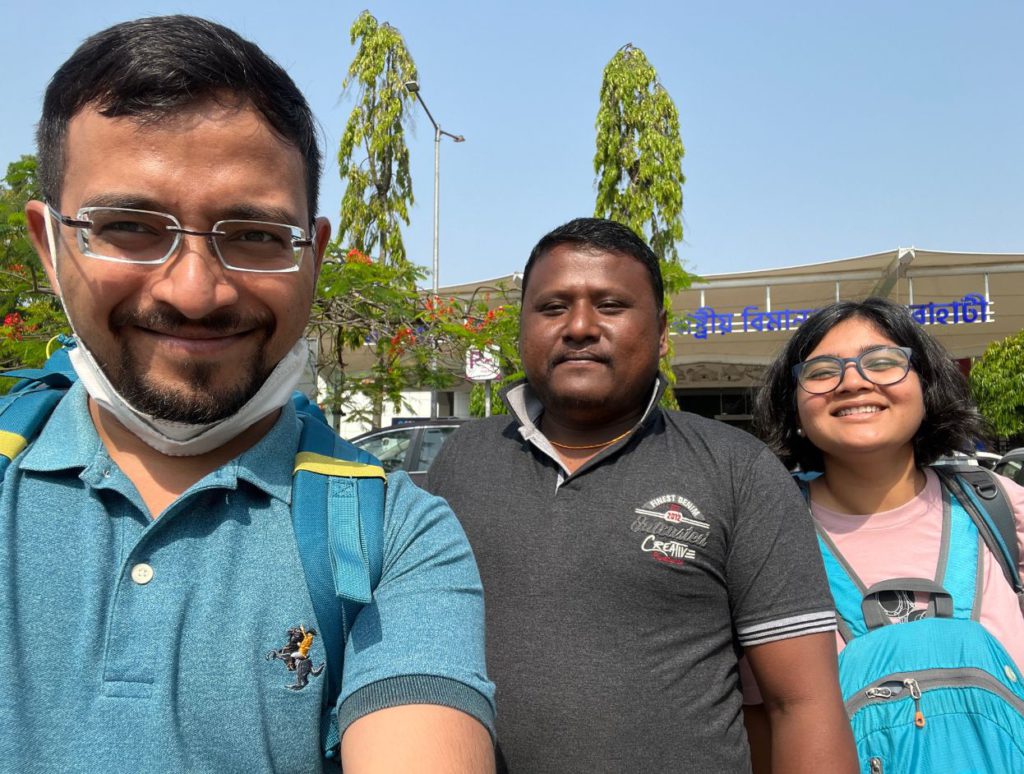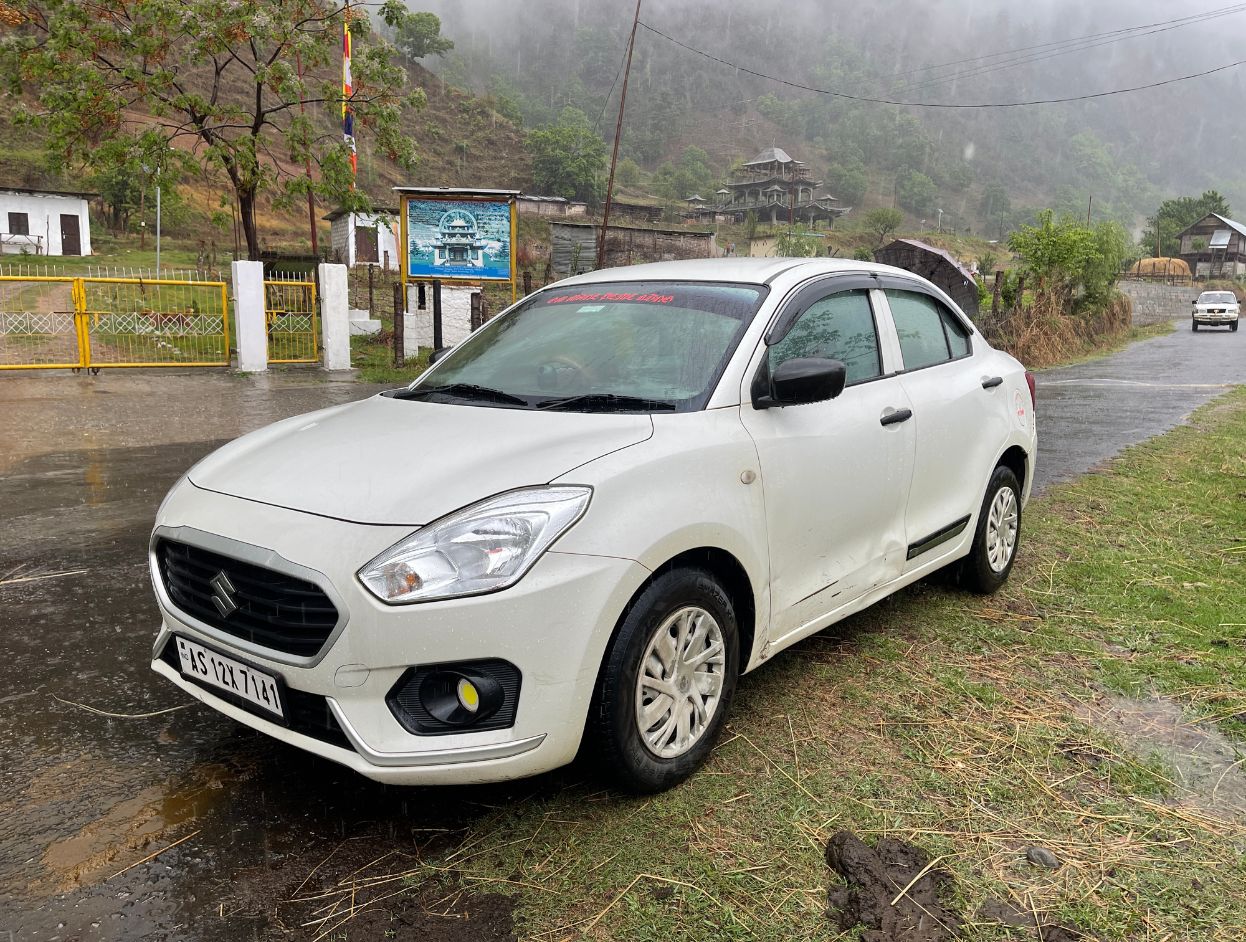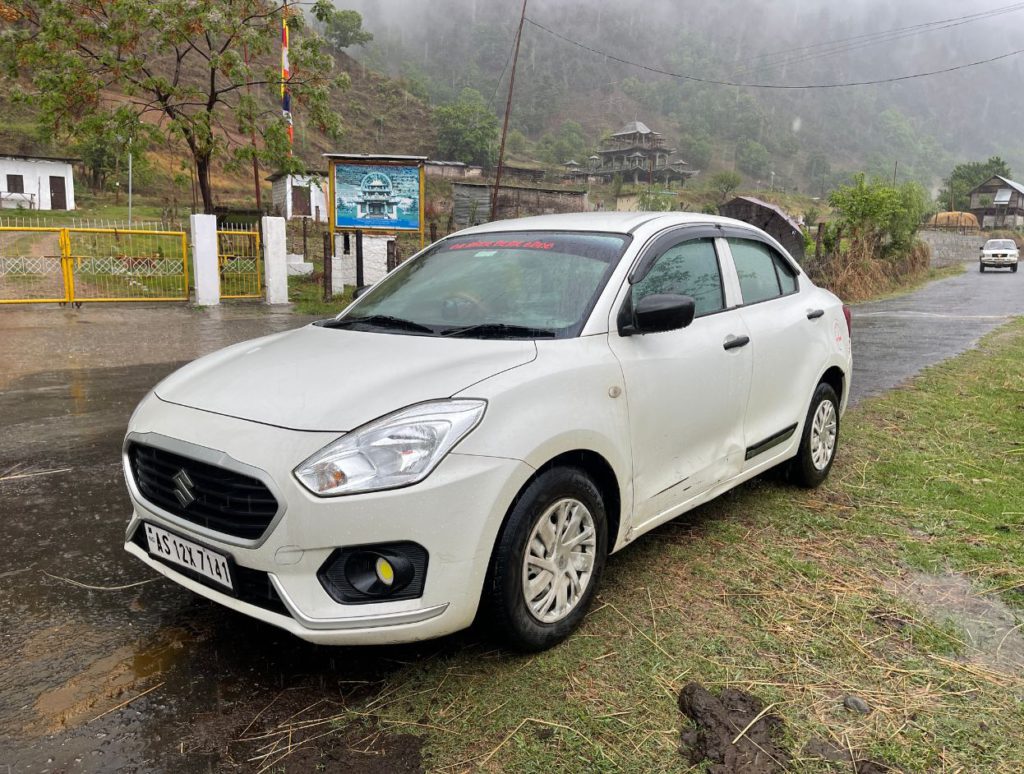 Private Transport / Motorbikes
Now I am far from an expert here. But you can still do the trip using your own vehicle or biking all the way to Tawang. It is actually fairly common to see motorcyclists doing this tour in a group. Needless to say, it is extremely demanding if you count on the uncertain weather and the road conditions.
If you are a seasoned rider and are already acquainted with Himalayan terrain and weather, then I cannot tell you much. Except for the fact that pack for sub-zero temperatures for your excursion to Bum La pass.
The population in Arunachal is way sparser than in other regions in India, so don't count on repair shops. Carry your backup gear. But I will strongly suggest that you do this trip in a group. Check this blog out for more details on it.
Check out these tour packages that offer bike trips in groups:
https://thedreamridersgroup.com/tawang-guwahati-10days-premium.php
https://redpandaadventures.com/?tour=enchanting-tawang-north-east-india
Self-drive car rentals are not so popular in Guwahati. So it can be hard for you to find one. Check this website out that claims to provide car rental for outstation locations:
If you decide to drive a car yourself, think several times before you claim yourself to be confident enough for these roads. The roads can look like these on Google Maps. 
And like these in real. I am not trying to dissuade you, but I don't like to lose my readers either 😛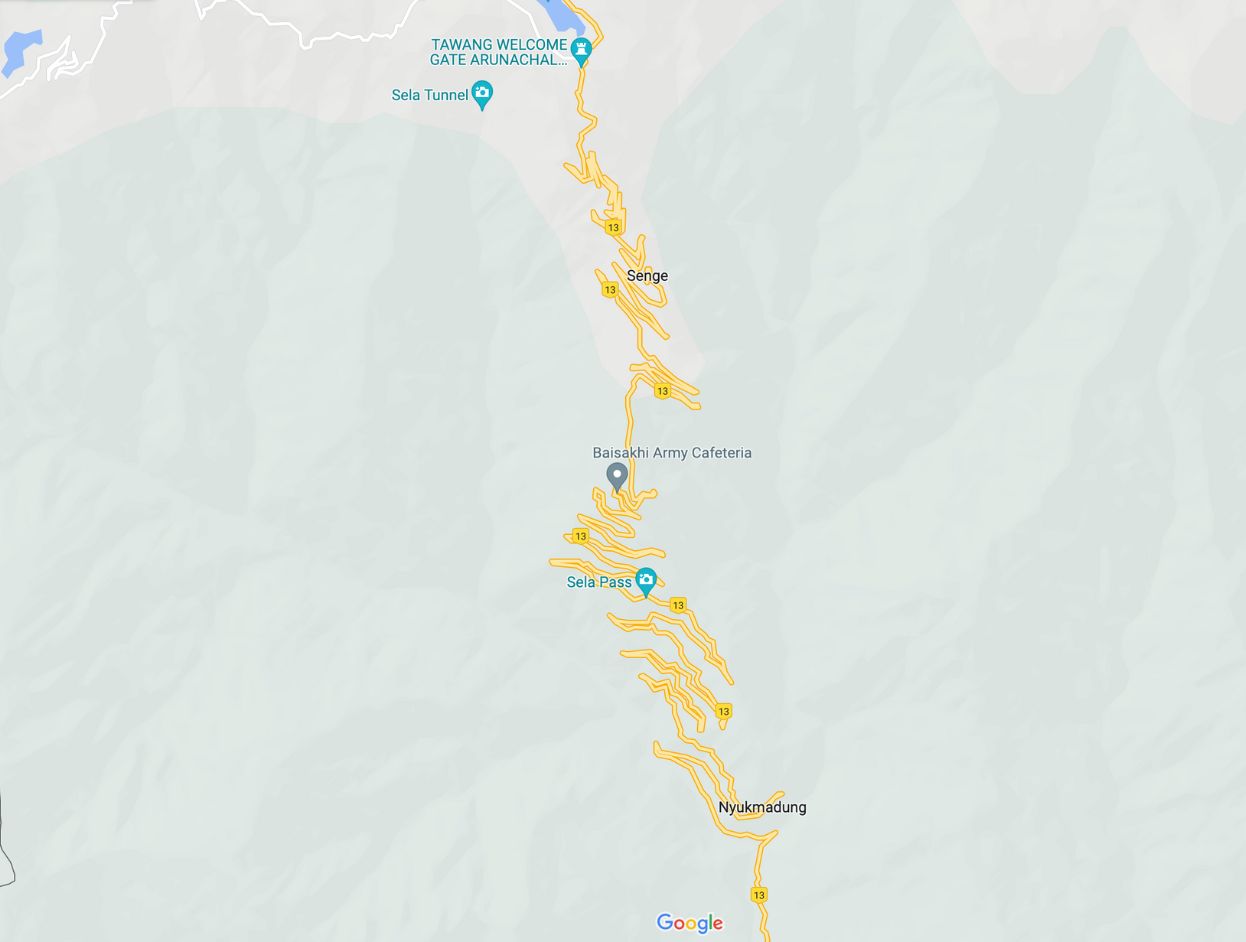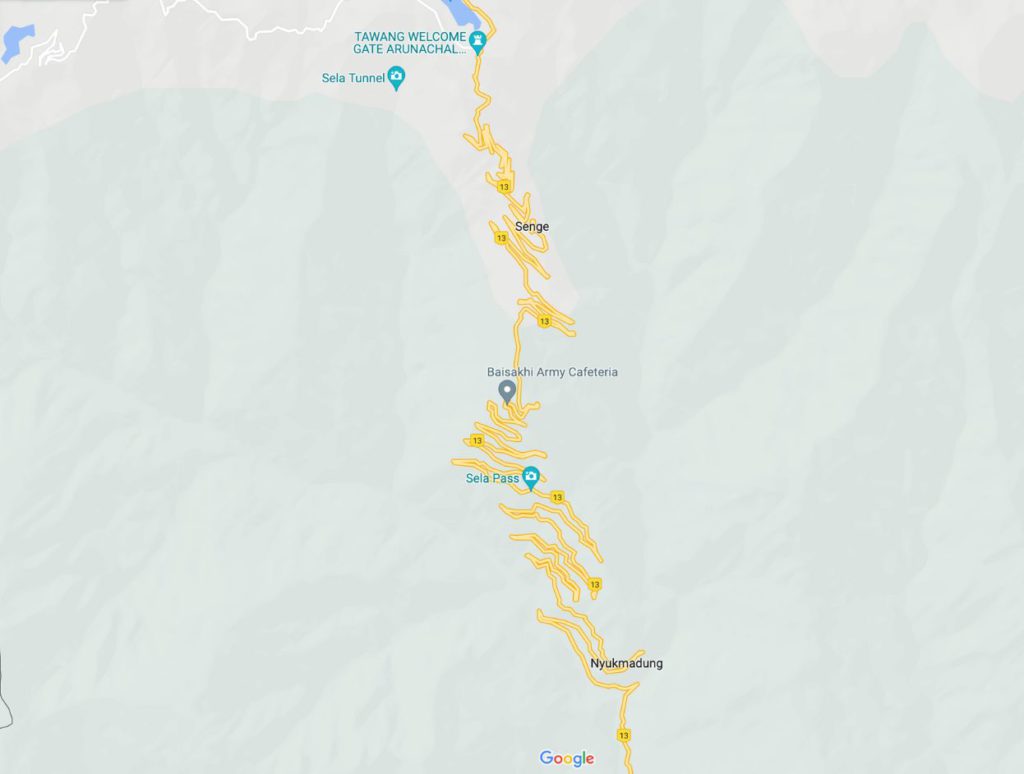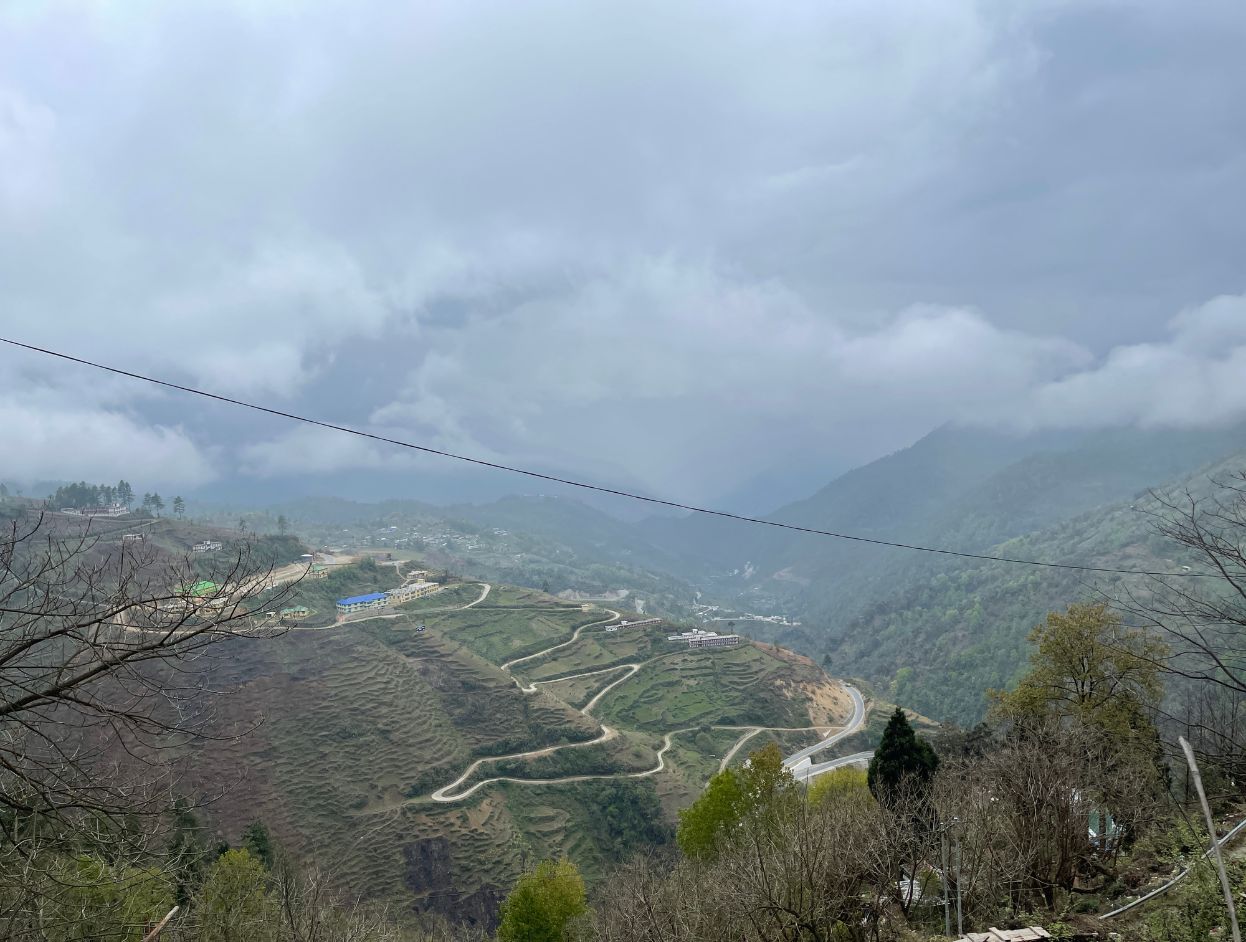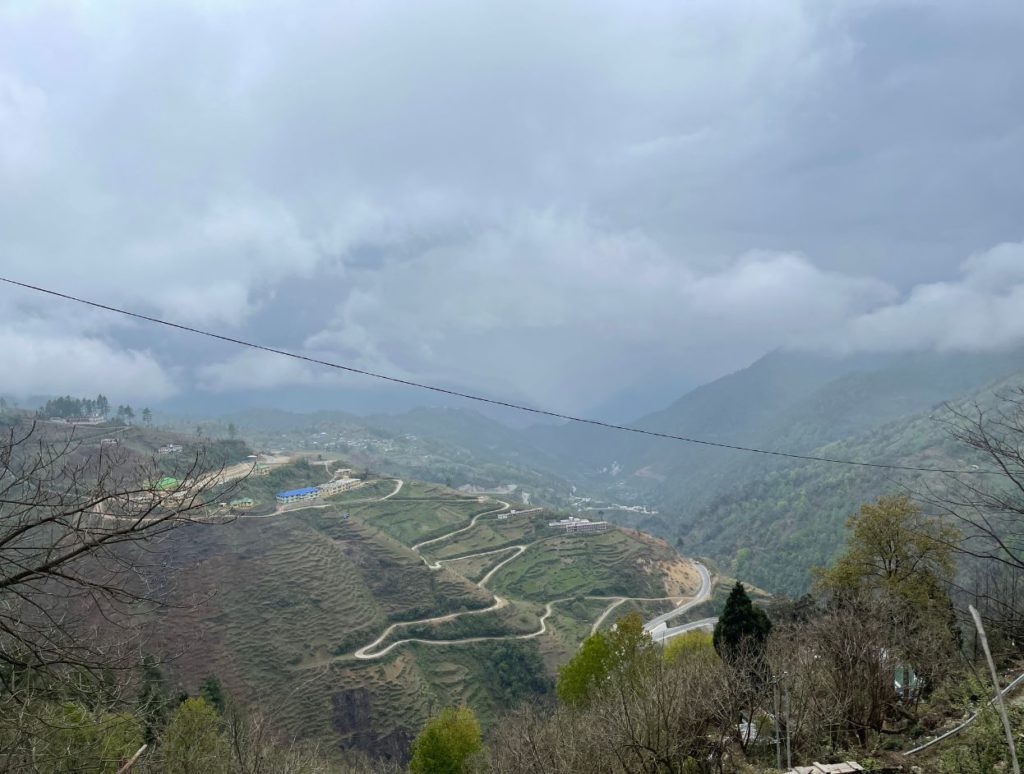 Public Transport
The third and last option is to do this on your own but using public transport inside Arunachal. It's not so bad, to be honest, but you must be patient.
You can break this journey down to many legs (as below) if you don't wish to sightsee places as you go. But it will mean that you will spend a few hours each day travelling
Note: – A lot of information below is based on research and can be circumstantial (it is 2022 now). Please call, check or confirm beforehand if the same services are available when you travel. 
Guwahati to Tezpur OR Guwahati to Bomdila OR Guwahati to Tawang– You can cover the distance between Guwahati to Tezpur by bus or a shared sumo. You can get an ASCT (Assam State Travel) bus from Paltan Bazar to Tezpur for ₹200 but you may have to wait a while for the next one. The journey takes around 5 hours.
If you are landing at Guwahati airport, you can also get a shared taxi to Tezpur directly at the airport parking. Or you can get a city bus to Paltan Bazaar from the airport. The ticket costs around ₹90 and takes 45 minutes for the city bus ride.
It is always better to pre-book your bus online. You can use redbus.com or any other aggregators online to book or check for a bus ticket. But most of them are not listed there.
For Bomdila, you will be able to find shared sumos from Paltan Bazar too but they leave at 5-6 am in the morning and get booked fast. So call or book them a day in advance at the ticket counter. The journey takes 15-16 hours of travel time and the fare is around ₹750/- per person. Make sure you have a hotel booked at Bomdila since it will be late by the time you reach and things close there soon.
In fact, there are occasional buses that go all the way from Guwahati to Tawang. But they run for almost 30 hours continuously and can be back-breaking. I suggest you break your journey for a bit of sightseeing. You can check these buses out near Paltan Bazaar too but I cannot guarantee that you will find an immediate one.
Tezpur to Bomdila/Dirang OR Tezpur to Tawang – There are buses from Tezpur to Bomdila/Dirang available at the ASCT Bus depot early in the morning and start at 5-6 am in the morning. The tickets are available at the ticket counter only. It would be best if you buy a ticket a day in advance.
If not, you can certainly find shared sumo to Bomdila/Dirang or at least to Bhaukpong. Bhalukpong is right at the entrance of Arunachal Pradesh and you will be able to find shared sumo to Bomdila/Dirang or even Tawang from there. However, again like all other routes, sumos start very early in the morning between 5-6 am. So make sure you enquire about your ride a day before. The fare is between ₹550-750 per person.
Shared sumos are also available from Tezpur directly to Tawang between 4 am to 8 am. They run from near the ASCT Bus stop and take between 15-16 hours to reach. The fare range between ₹1000-1100 per person. Make sure you have a hotel booked in Tawang since, by the time the sumos reach Tawang, most places are closed.
Bomdila/Dirang – Tawang – If you have broken your journey in legs, then this should be your last one. It is easy to get shared sumo from Bomdila/Dirang to Tawang. A bus starts from Bomdila at 5.30 am costs around ₹300 and takes 10 hours to reach.
On the other hand, shared sumo costs around ₹500 per person and takes around 8 hours to reach from Bomdila to Tawang. You can check for one with your hotel owner and maybe they will be able to directly pick you up from your hotel as well.
Dirang is nearer to Tawang and you will be able to cut 3 hours of the journey if you start from Dirang. However, there is no difference in the transportation cost. The same options run from Dirang too. Shared sumo from Bomdila to Dirang costs ₹150/- per person.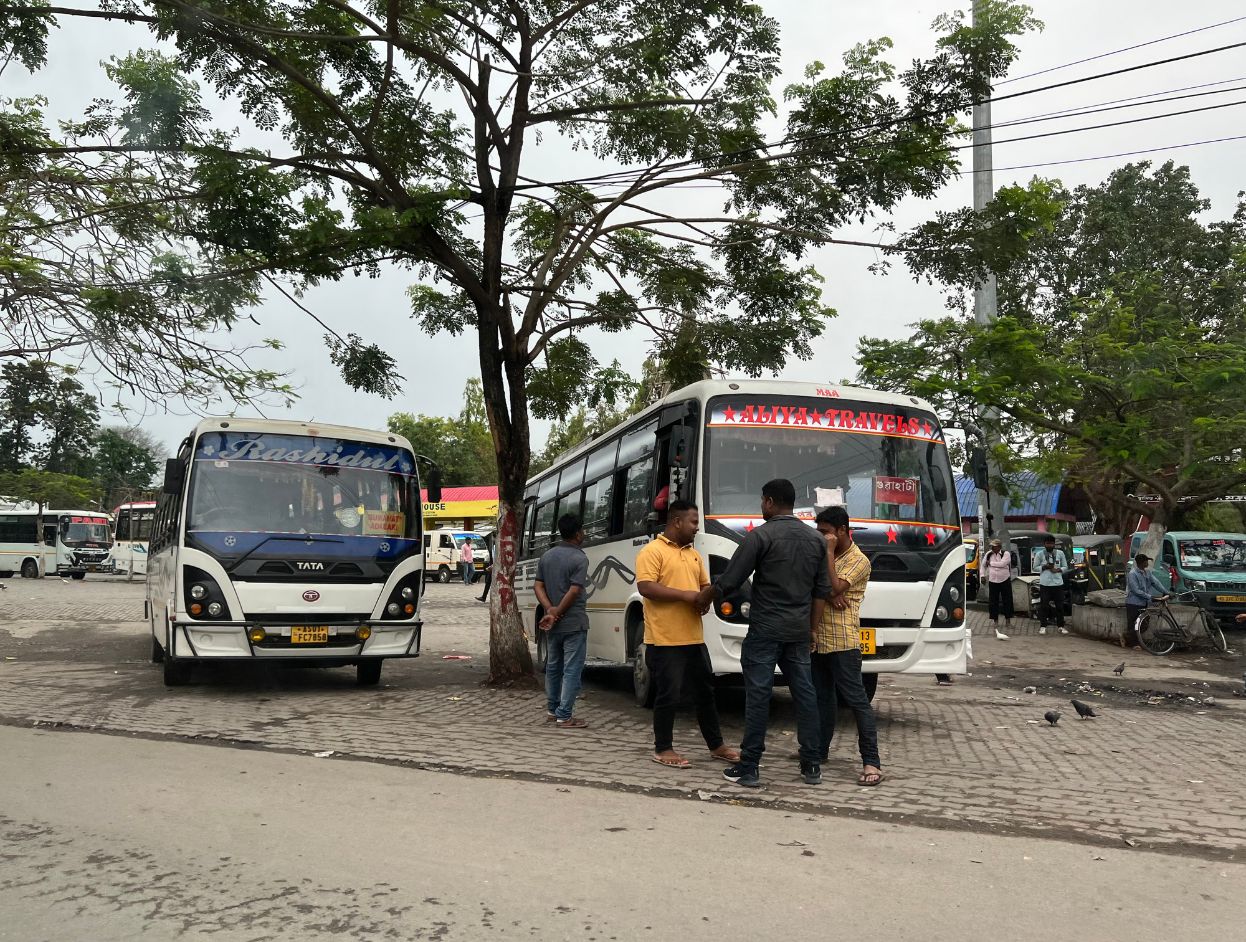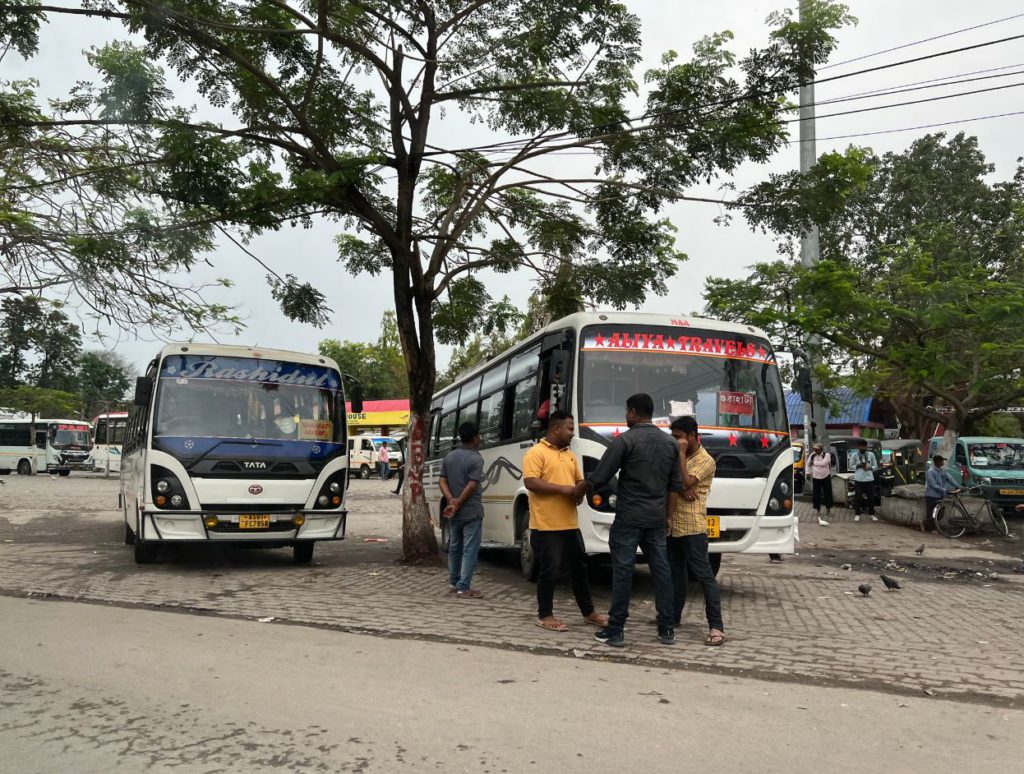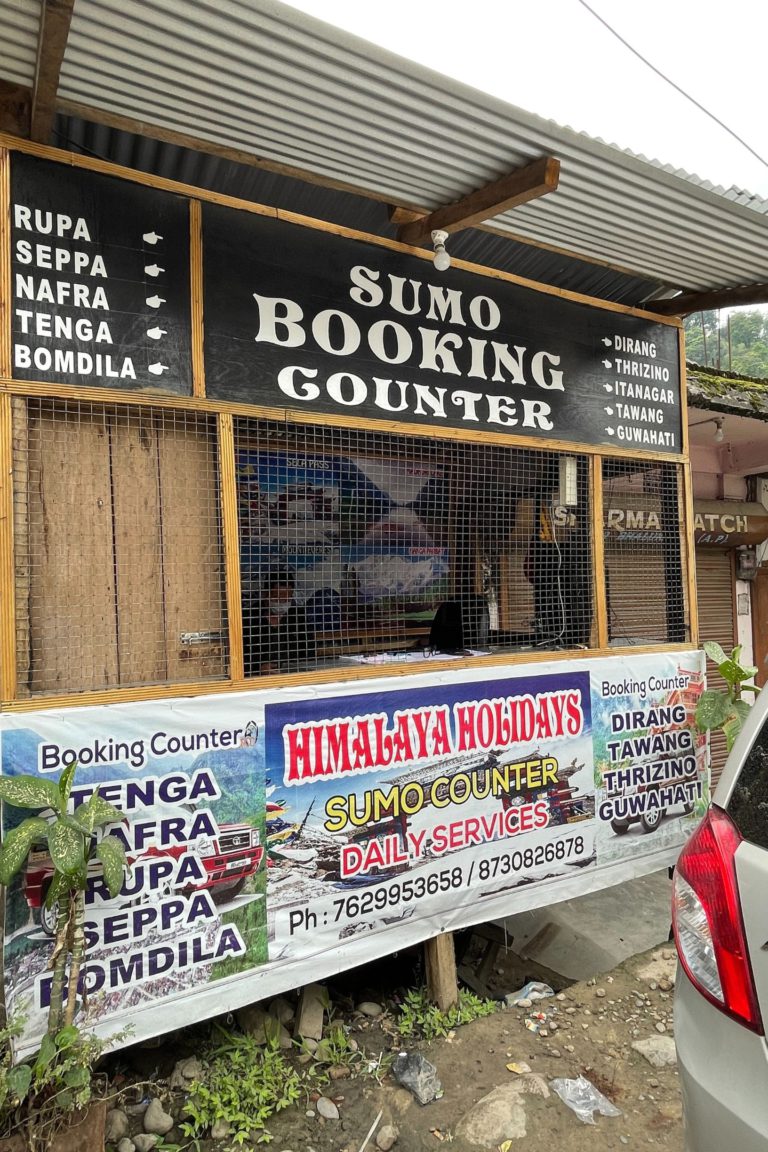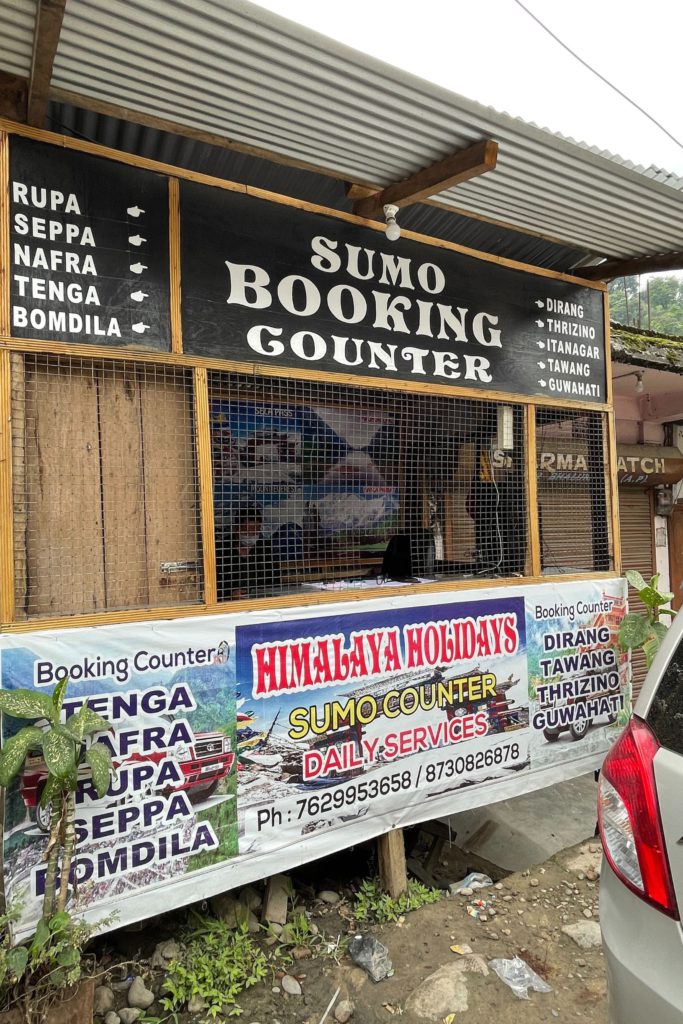 How to go around in Tawang
Tawang, a small town once has grown into a sprawling city of considerable size. I wouldn't say there are a lot of places to visit inside Tawang city. But the ones there are, you can even walk to some of them (can take a while) if you are living in the middle of the city. I am assuming that you have all the time in the world and you are looking to explore things slowly.
But there are quite a few places outside the city for which you will need local transportation. If you are already making this journey using a private car, then you will already cover these tourist attractions like Sela Pass, Jung Falls and Jaswant Garh war memorial on your way to Tawang.
If you are using public transport, then you may want to hire a local cab to spend time at these places. You can also find many tour operators inside the city (check out the taxi stand at old markets) that offer tour packages for Tawang sightseeing that you can enjoy alone or with other travellers.
Bum La Pass Excursion – Regardless of how you travel to Tawang, you will have to hire a separate cab in Tawang to take you to Bum La Pass. Neither your private taxi nor your private vehicle can make that journey due to military restrictions.
You will need to rent a local vehicle for this tour that will not only cover Bum La Pass but a few other tourist attractions like Sangetsar Lake (better known as Madhuri Lake) and a few more.
A private vehicle will cost you ₹5,000 for the trip and that will last for 5-6 hours. You can also get a shared vehicle for ₹1,500 that you will need to share with 4-5 other people. You can book this with any tour operator in the city or check with your hotel which will book a vehicle/seat on your behalf. However, do this at least a day before since the driver will need to get a permit made for you before you start.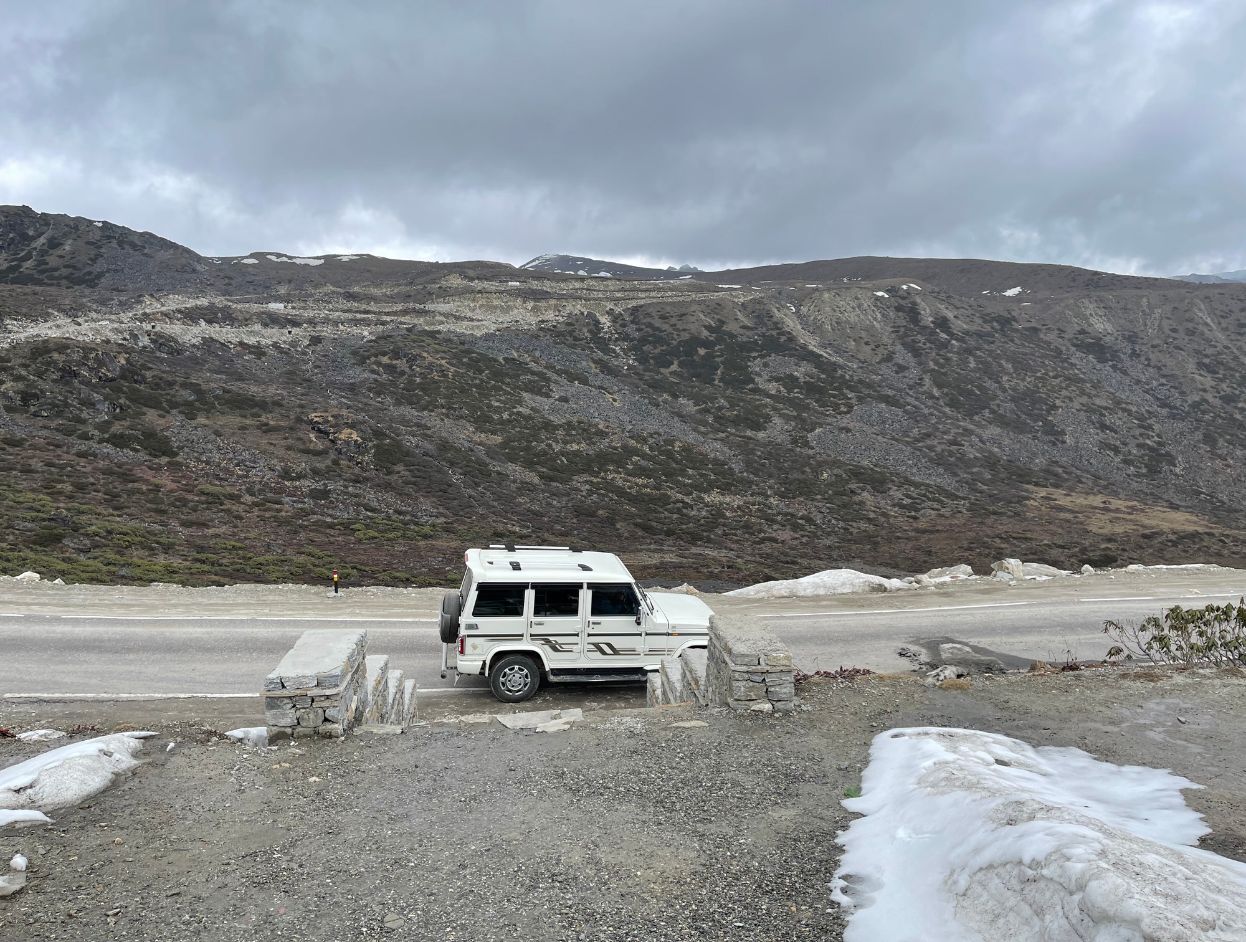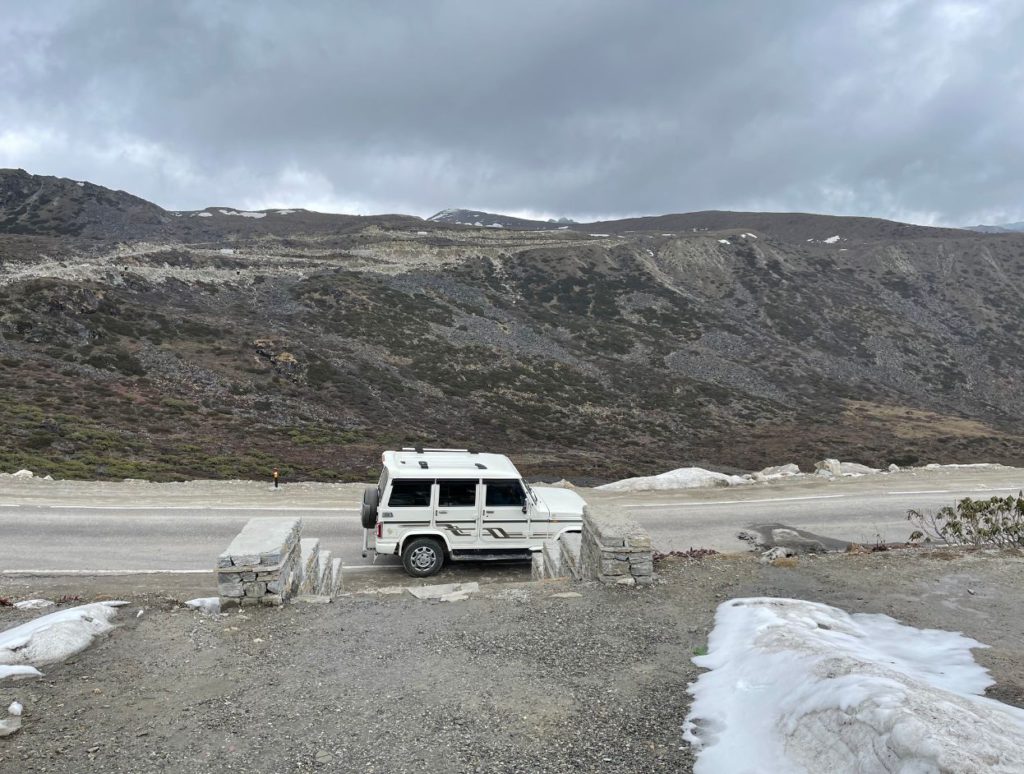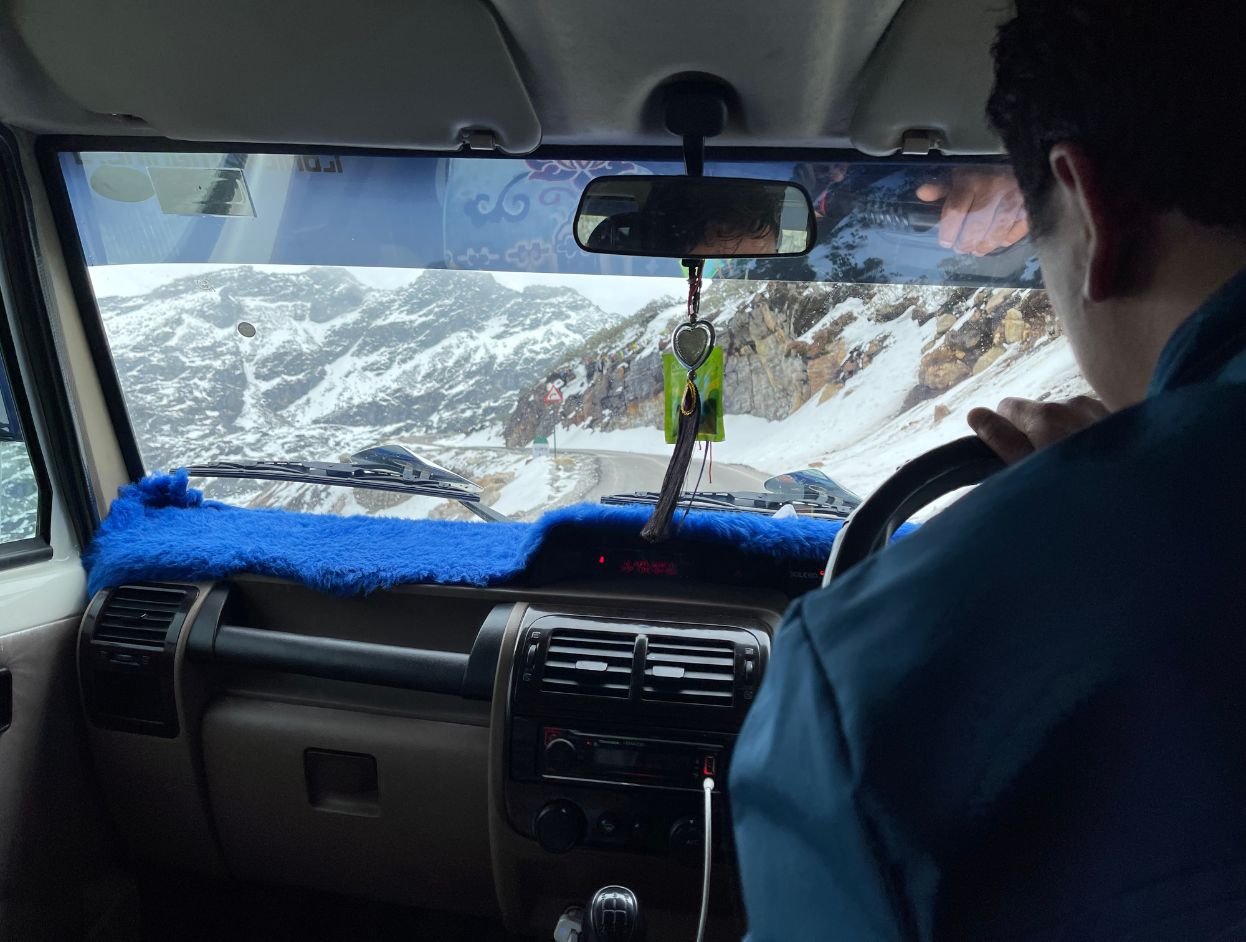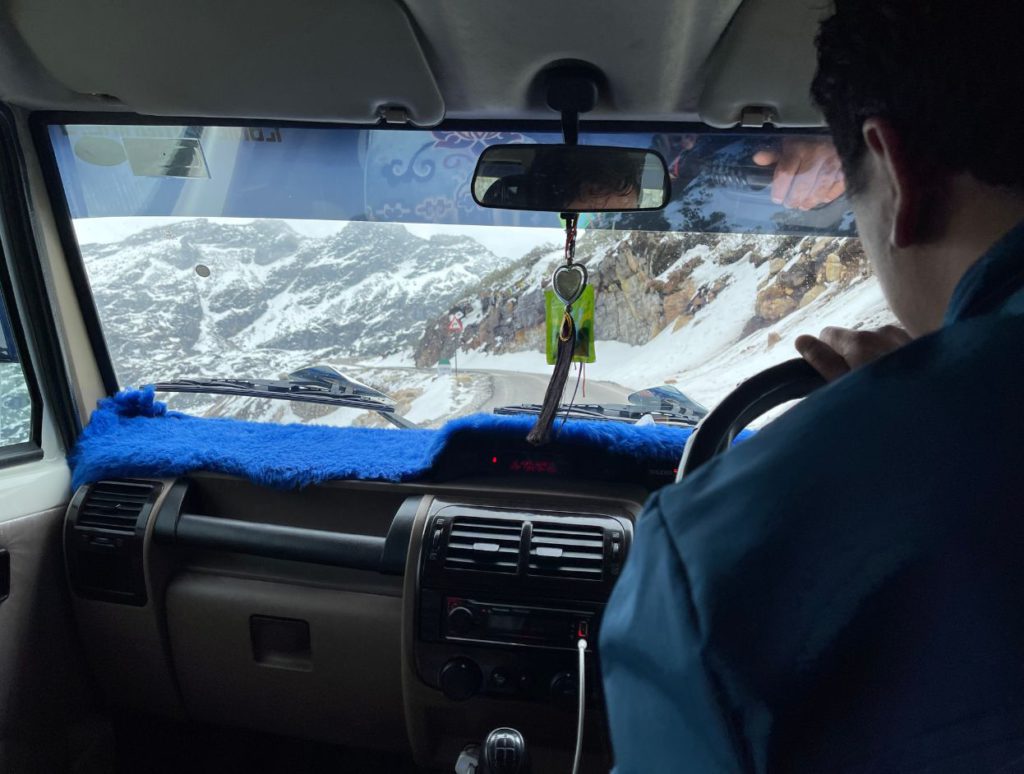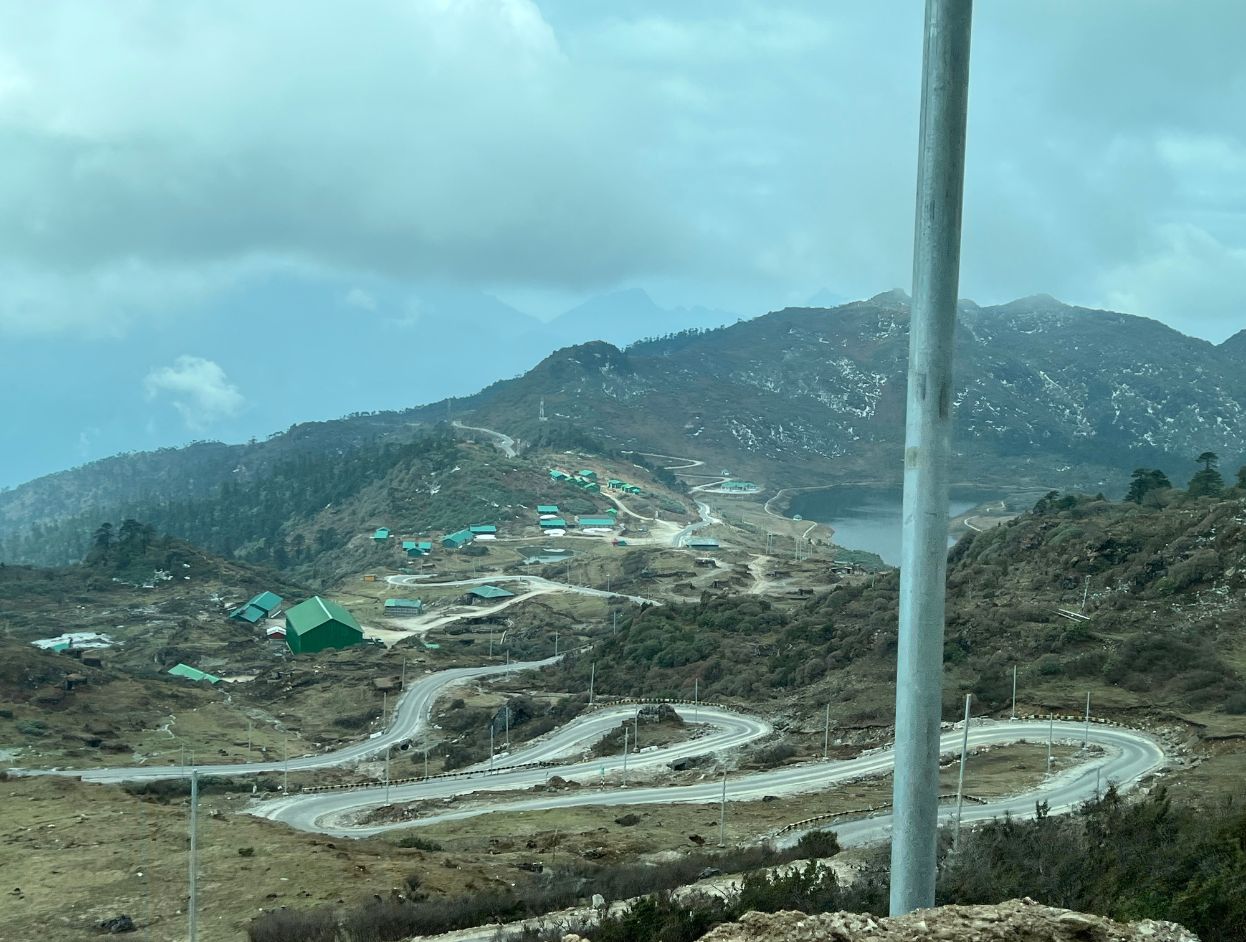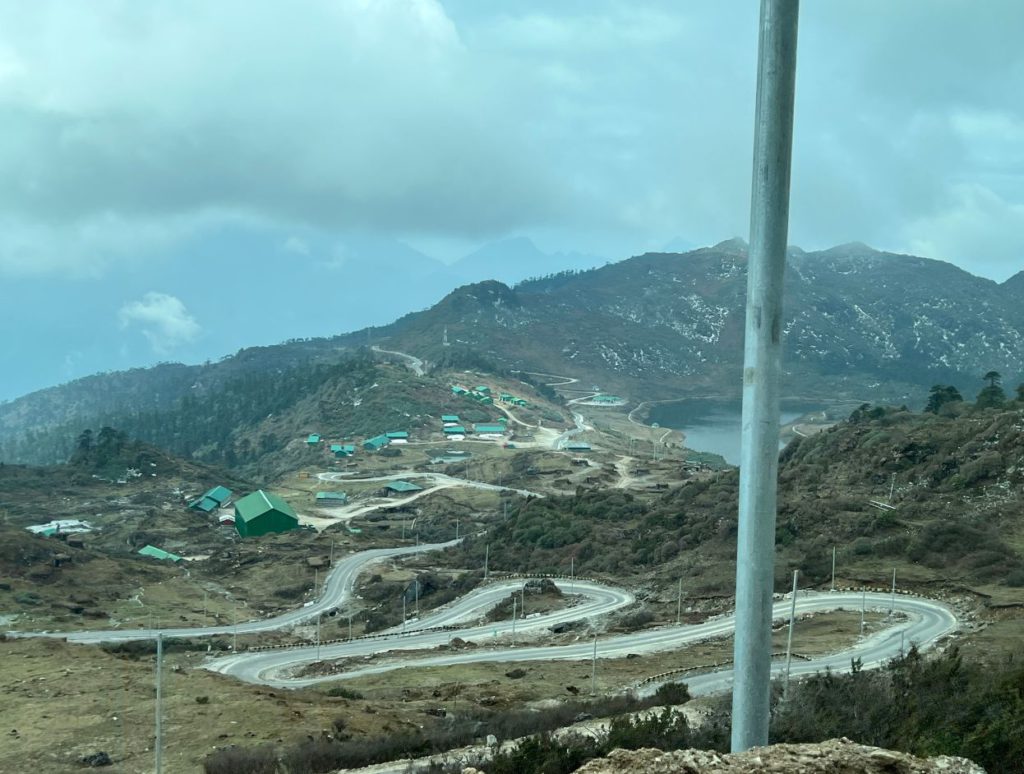 Permit Needed to visit Tawang
For Indian Citizens – All you need is an ILP or Inner Line Permit to travel inside any place in Arunachal Pradesh that you will need to mention while applying. The ILP is valid for 15 days and you can apply it both offline and online.
The cost to acquire an ILP is ₹100 per person if you opt for the regular process (which takes 1-2 working days). However, you can also apply for a tatkal ILP for ₹400 per person that you will get within hours of applying. You can apply it on their official website online.
You can also apply for it offline in New Delhi, Kolkata, Guwahati, Shillong, Tezpur, Dibrugarh, Lakhimpur and Jorhat at their respective offices in these locations. 
For Foreign Travelers: Foreign travellers must apply for PAP or Protected Area Permit before they can enter Arunachal Pradesh. Even so, if you are a solo traveller you can only visit the Tawang stretch, Itanagar and Ziro. To access other areas of Arunachal, you need to apply for a group permit with at least 4 members.
The permit is valid for upto 17 days and costs ₹3,500 per person (as of 2020). The permit can take upto 2 days to process. This cannot be done online and you will have to visit one of the designated offices to get this done. You can apply it yourself in one of the following offices:
1. Deputy Resident Commissioner Office of Arunachal Pradesh in Guwahati
2. Resident Commissioner Office of Arunachal Pradesh in New Delhi
3. Deputy Resident Commissioner Office of Arunachal Pradesh in Kolkata
You can also do this via an agency online but they will charge on top of this amount. You will need to fill out a form and give your passport and Indian visa for a copy.
I hope the information above helped you to travel on your trip. If there have been any recent changes, consider sharing those in the comments so that other people can benefit from the information.


Related Articles