17 Sep

The Best Things to do in Thimphu, Bhutan

Thimphu is one of my favorite cities that I have been to till now. It is nothing like you have ever seen. Except if you have been to Tibet. But the vibe of Thimphu is all smiles and so peaceful, pretty much incomparable to any other place in the world.

While Thimphu is the capital city of Bhutan, it is still comparatively a small place. More like a large town. The overall population is low and sometime you may walk a kilometer in some areas without even encountering a single soul.

On one hand, it may seem so traditional and full of its pronounced ethnicity. On the other hand, you will find some cute cafés with great hot chocolate, waffles, and amusing karaoke bars.

If you are here in Thimphu, make sure you scoop out a good amount of time from your Bhutan travel itinerary here. After all, reaching the last Shangri-la isn't that easy (move to the last section to know-how). So here is my list of the best things to do in Thimphu, Bhutan.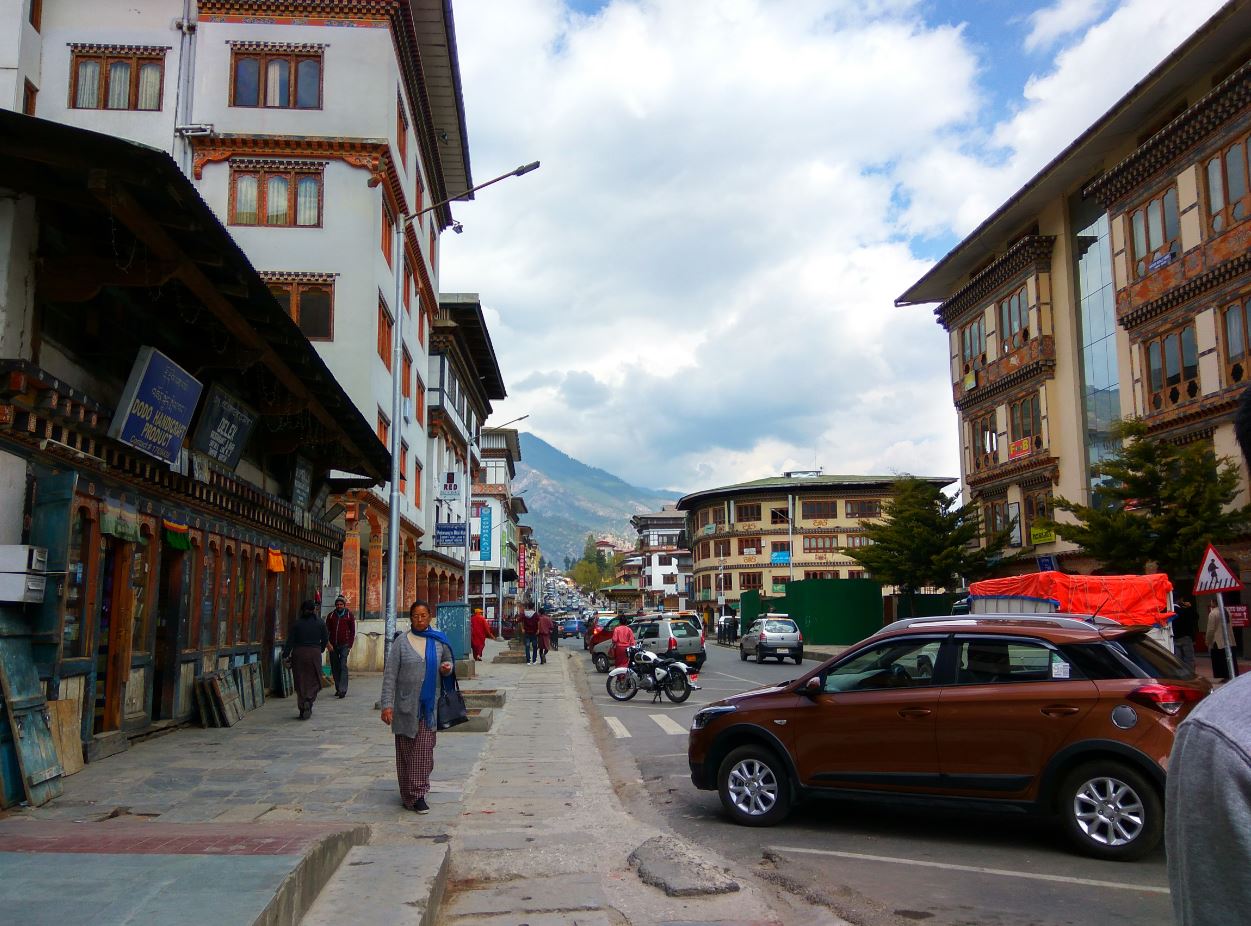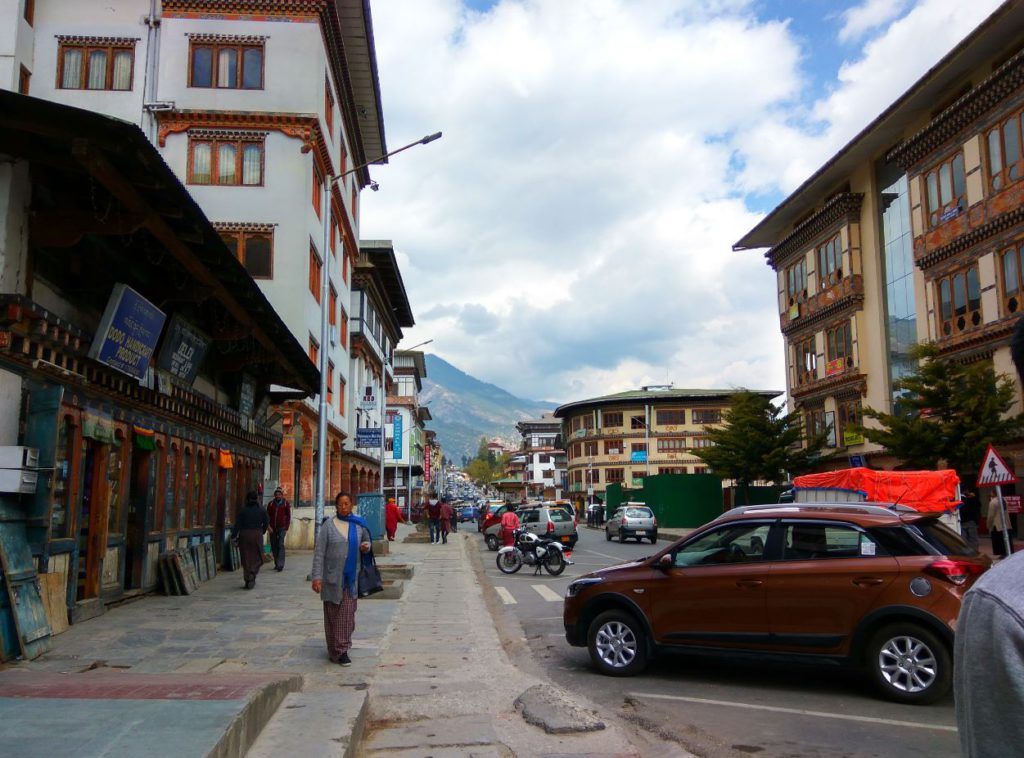 Best things to do in Thimphu
1. Tashichhoe Dzong
Dzongs are an important entity in Bhutan. They are split half and half as an administrative and religious center of each province. You can also think of them as medieval fortresses. These are massive structures built in traditional Tibetan style with high surroundings walls with rooms on the side and a massive courtyard in the middle.
The first structure of Tashichhoe Dzong dates back to 1216. Since then it has been destroyed many times in events of fire and earthquakes. Today it is also the seat of Druk Desi, the office of the head of Bhutan's government. The Dzong also houses the office of the king and several other ministries.
The vibrant Bhutanese festival of Tsechu also takes place in the Dzong's premises. The royal palace of the king is located only 4 km from the Dzong but is inaccessible to the public.
Do not miss this place if you are in Thimphu. It is as grand as it gets full of wall murals in vibrant colors and holy tales. A guide will accompany you to give the tour of the place in English.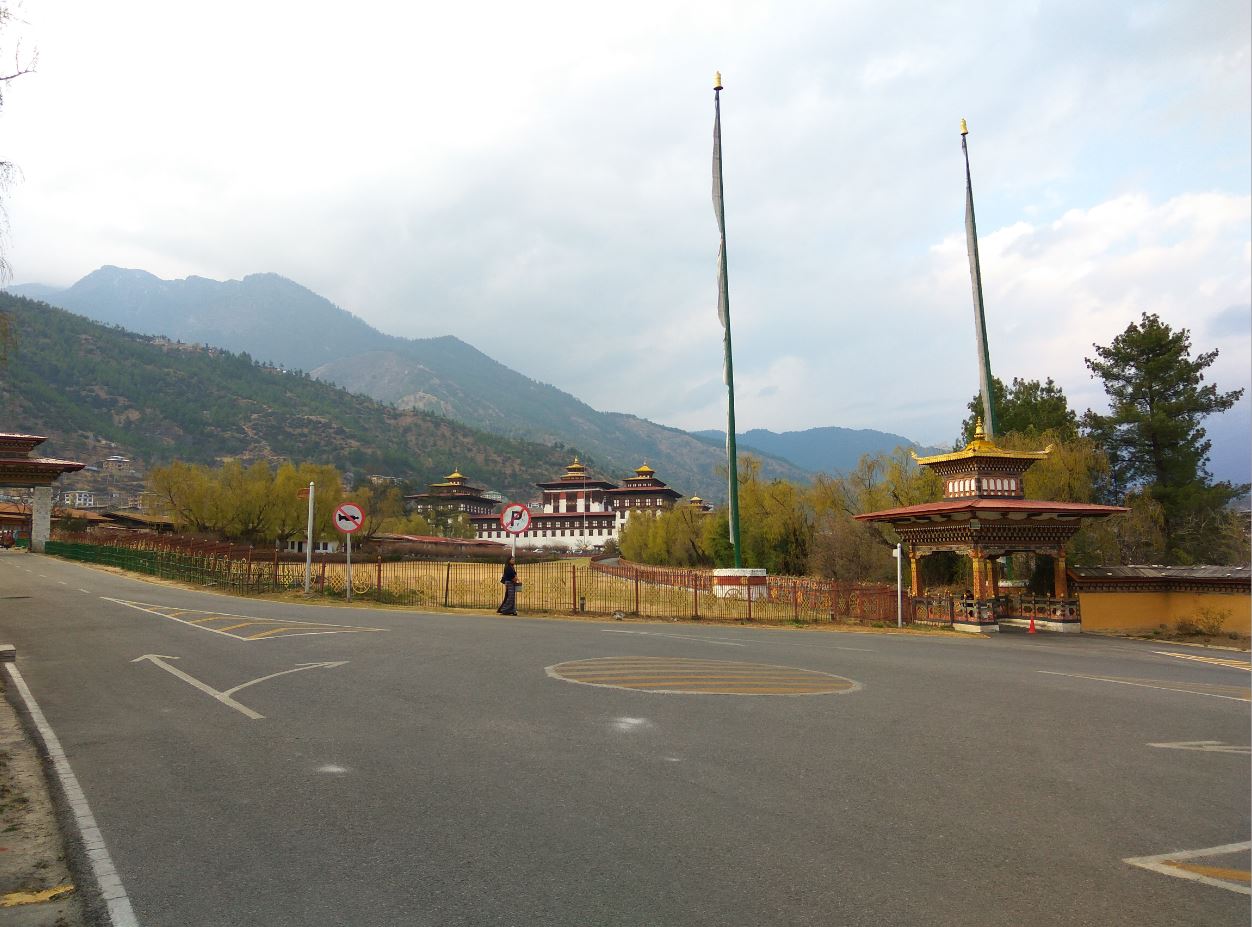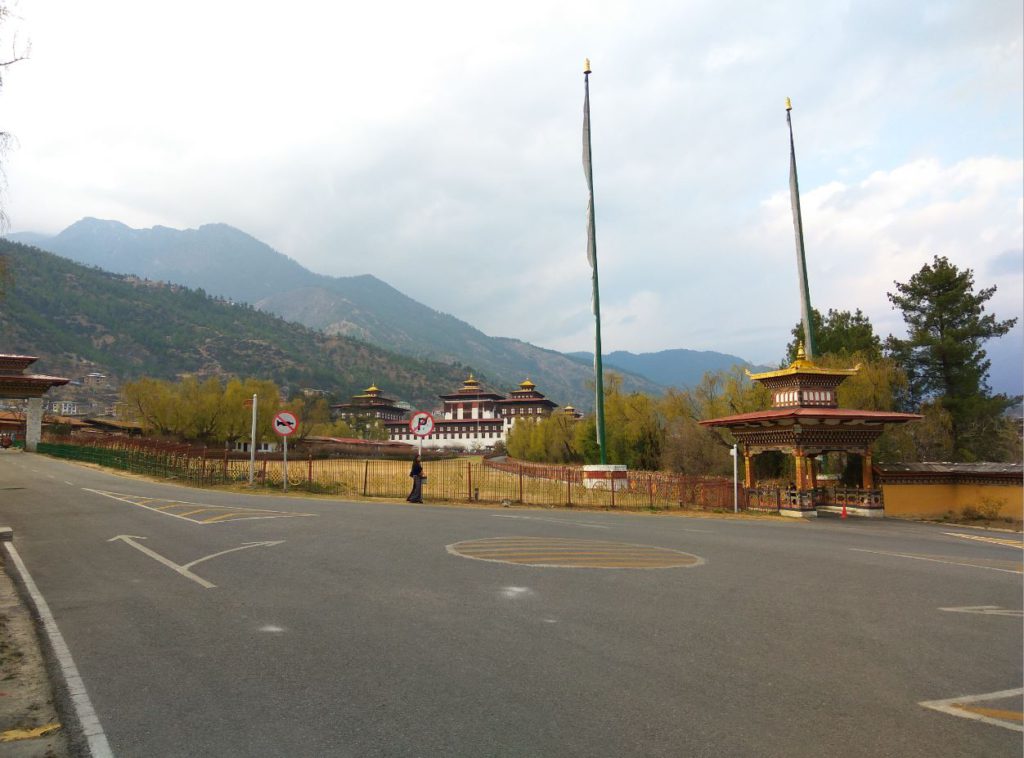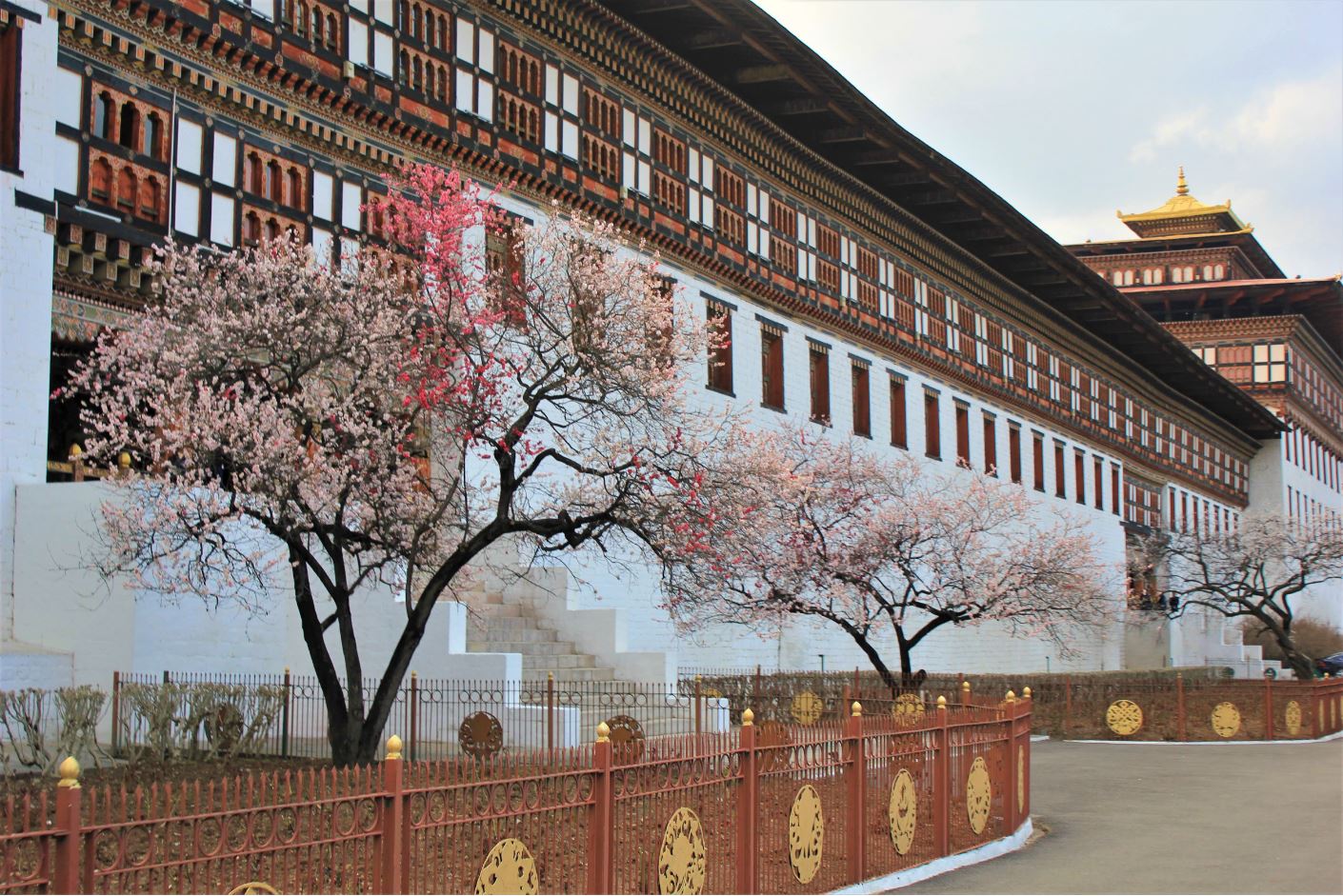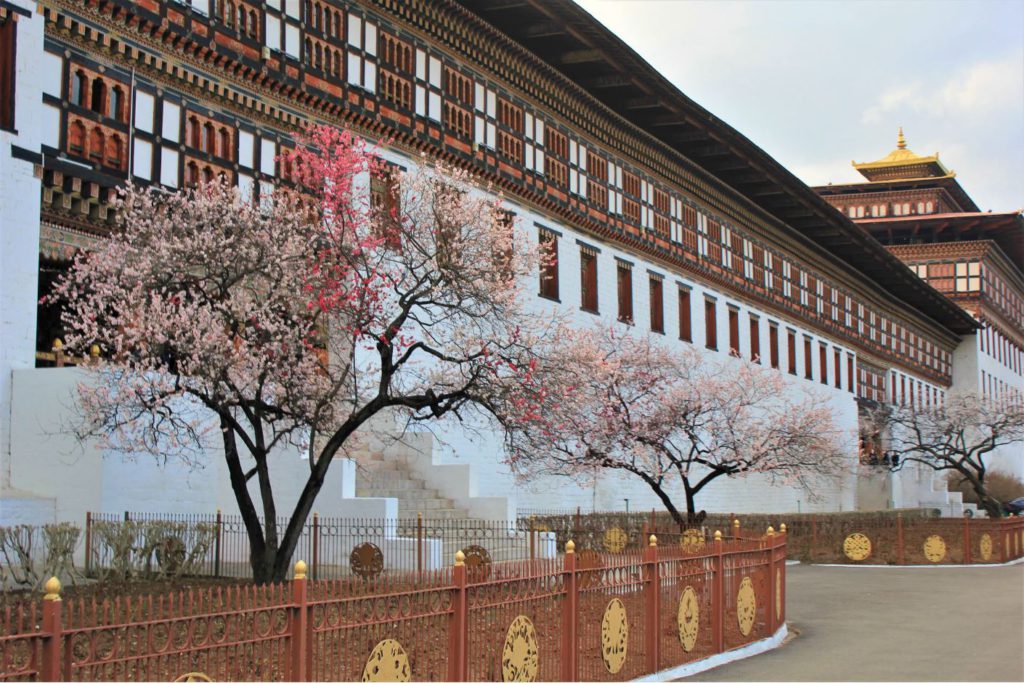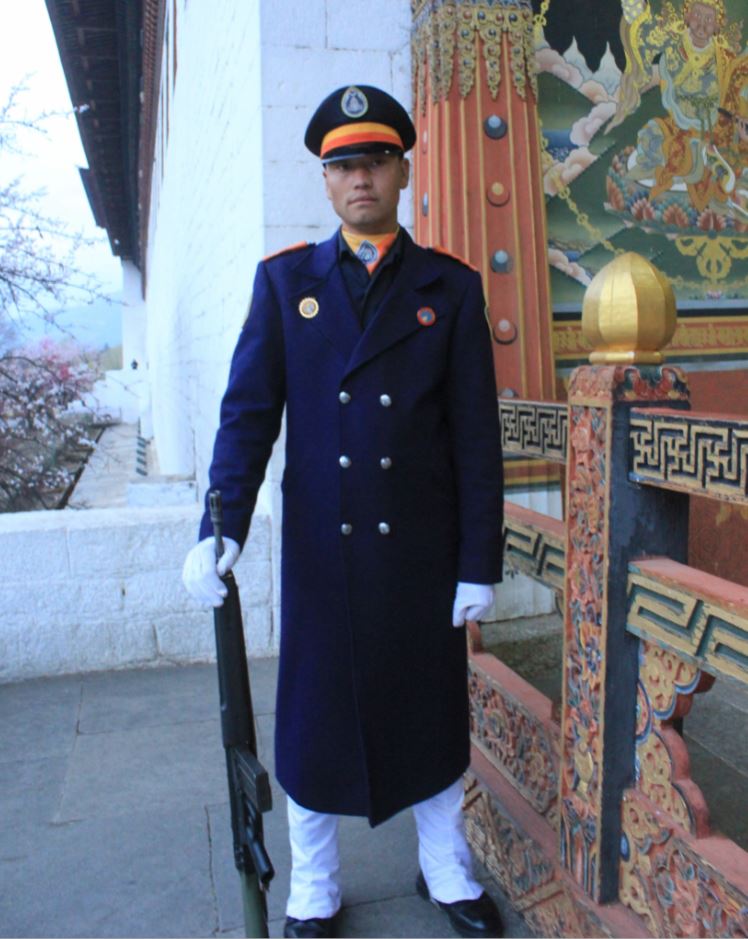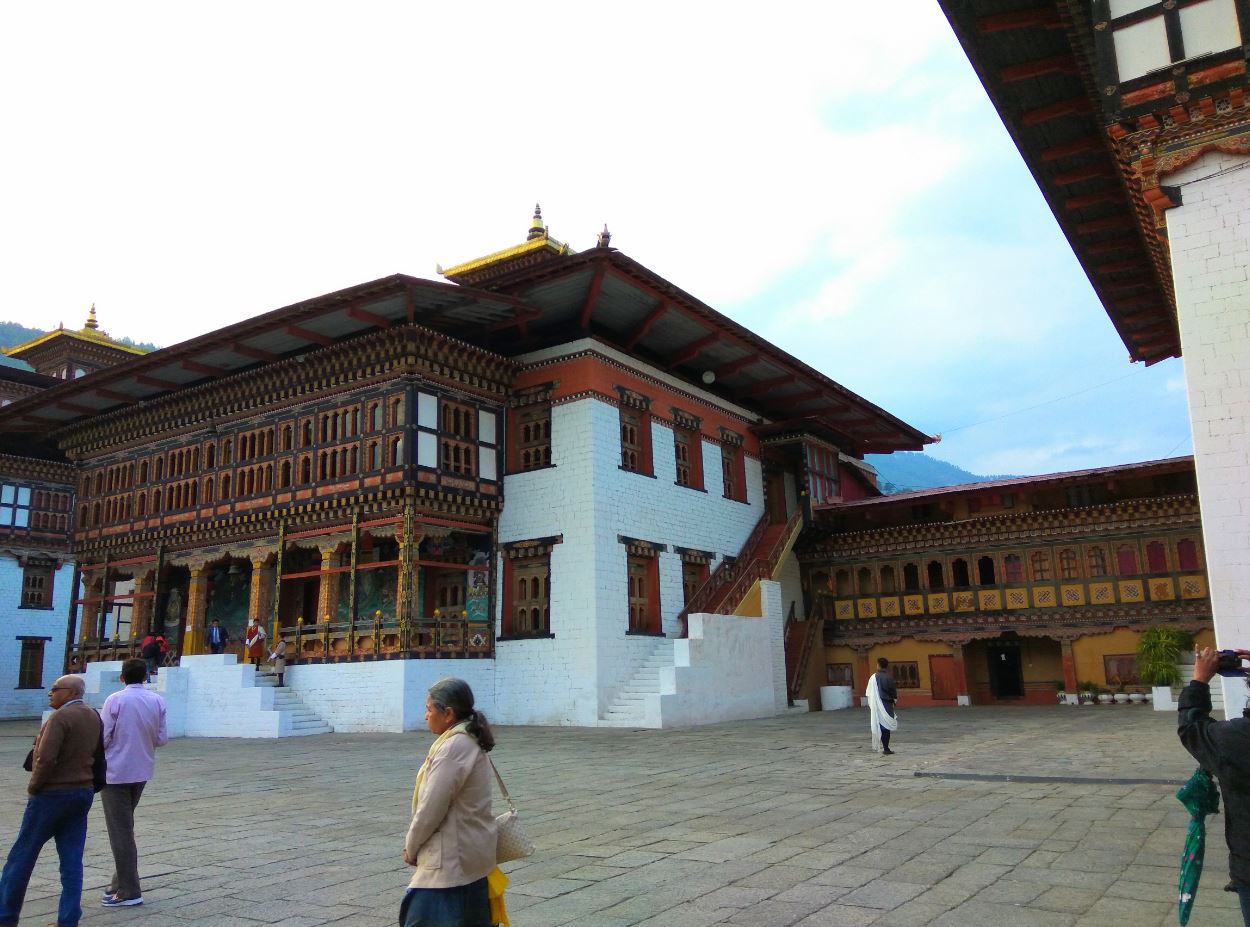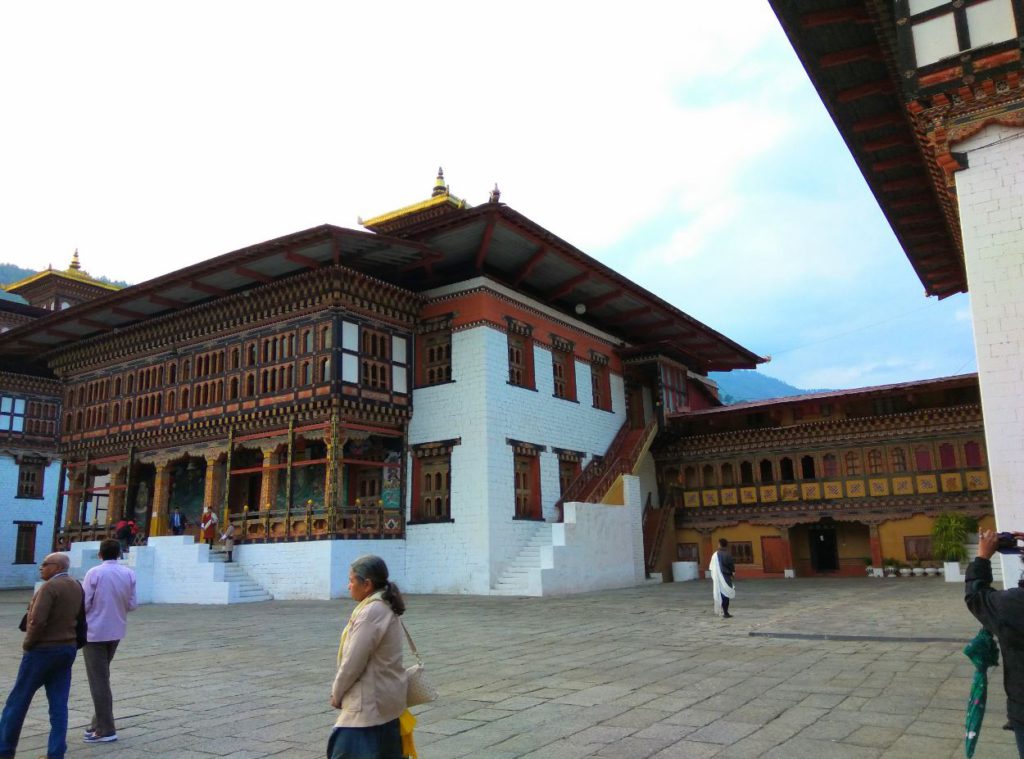 Tashichhoe Dzong Entry Fee: The entrance fee is 300 Nu per person. It includes a tour guide.
Tashichhoe Dzong Opening hours:
Monday to Friday: 9.00 am – 5.00 pm, 5.30 pm – 6.00 pm
Saturday: 9.00 am – 5.00 pm
Sunday: 9 am – 1 pm, 2pm – 4.30 pm
How to reach Tashichhoe Dzong: It is around 2km from Thimphu's city center. You can either take a cab or just walk the way through. If you are with a group tour, this place will be included in your itinerary.
2. Buddha Dordenma
Buddha Dordenma is one of the largest sitting statues of Buddha in the world. It is located on a cliff overlooking the surrounding valleys and is visible from most parts of Thimphu. The statue was built to commemorate the 60th birthday of the fourth King of Bhutan Jigme Singye Wangchuk.
The statue is particularly popular in Bhutan because of two reasons. The first one is due to its grandeur, its spectacular size with the whole statue built-in bronze and gilded in gold. The second one is because it fulfills an old prophecy. According to the prophecy, a large statue of Buddha would be built in the region to bestow blessing, peace, and happiness on the whole world.
Under the Buddha's seat is a large room. The room consists of 100,000 8-inch tall and 25,000 12-inch tall statues of Buddha in bronze, again gilded in gold. In the complex are huge statues from Buddhist mythology. And at the far corner is a viewpoint that offers spectacular views of Thimphu town.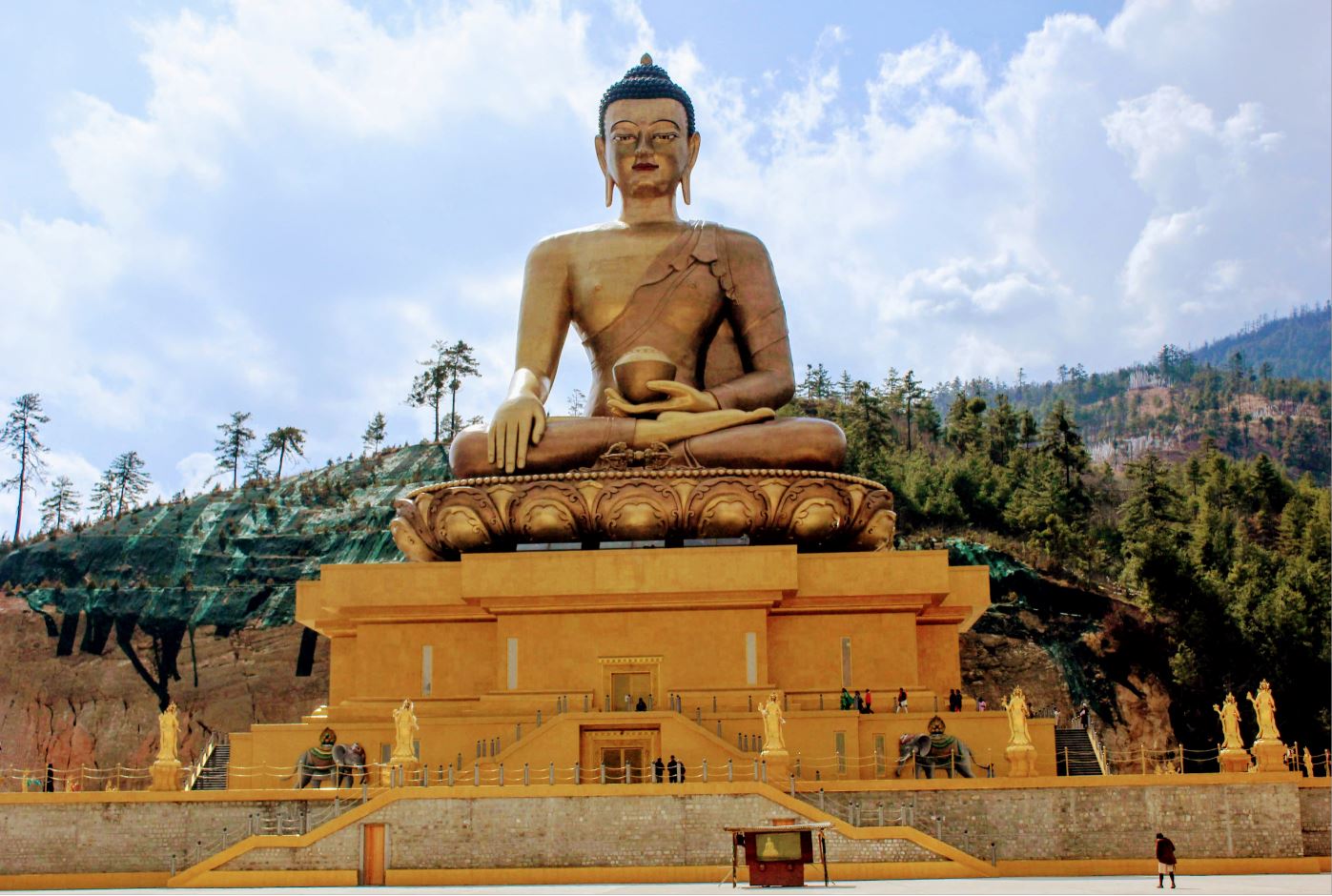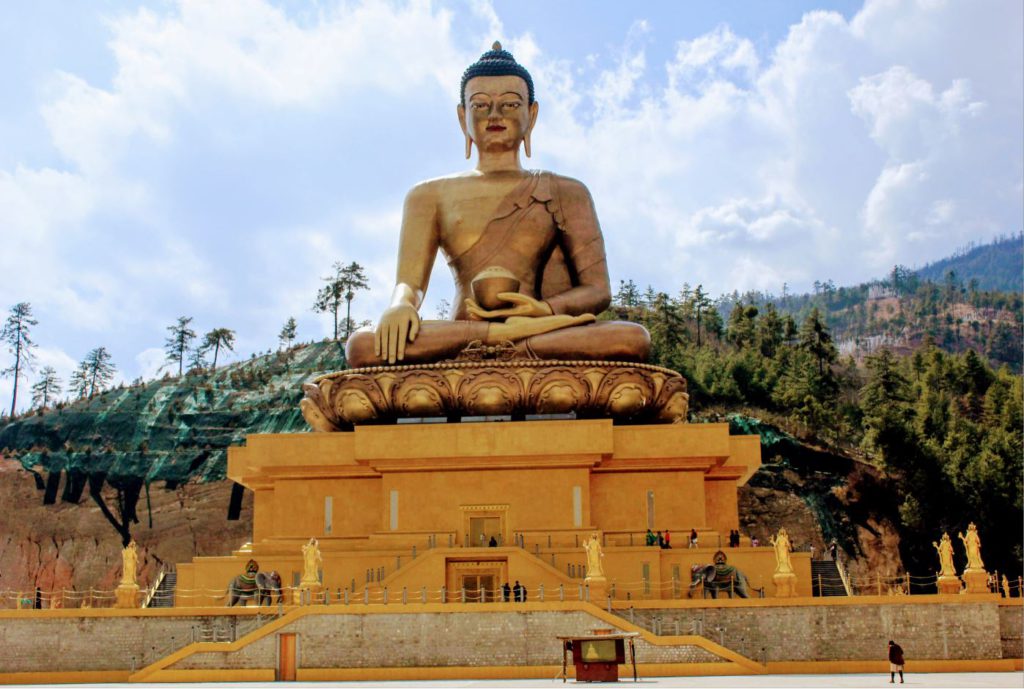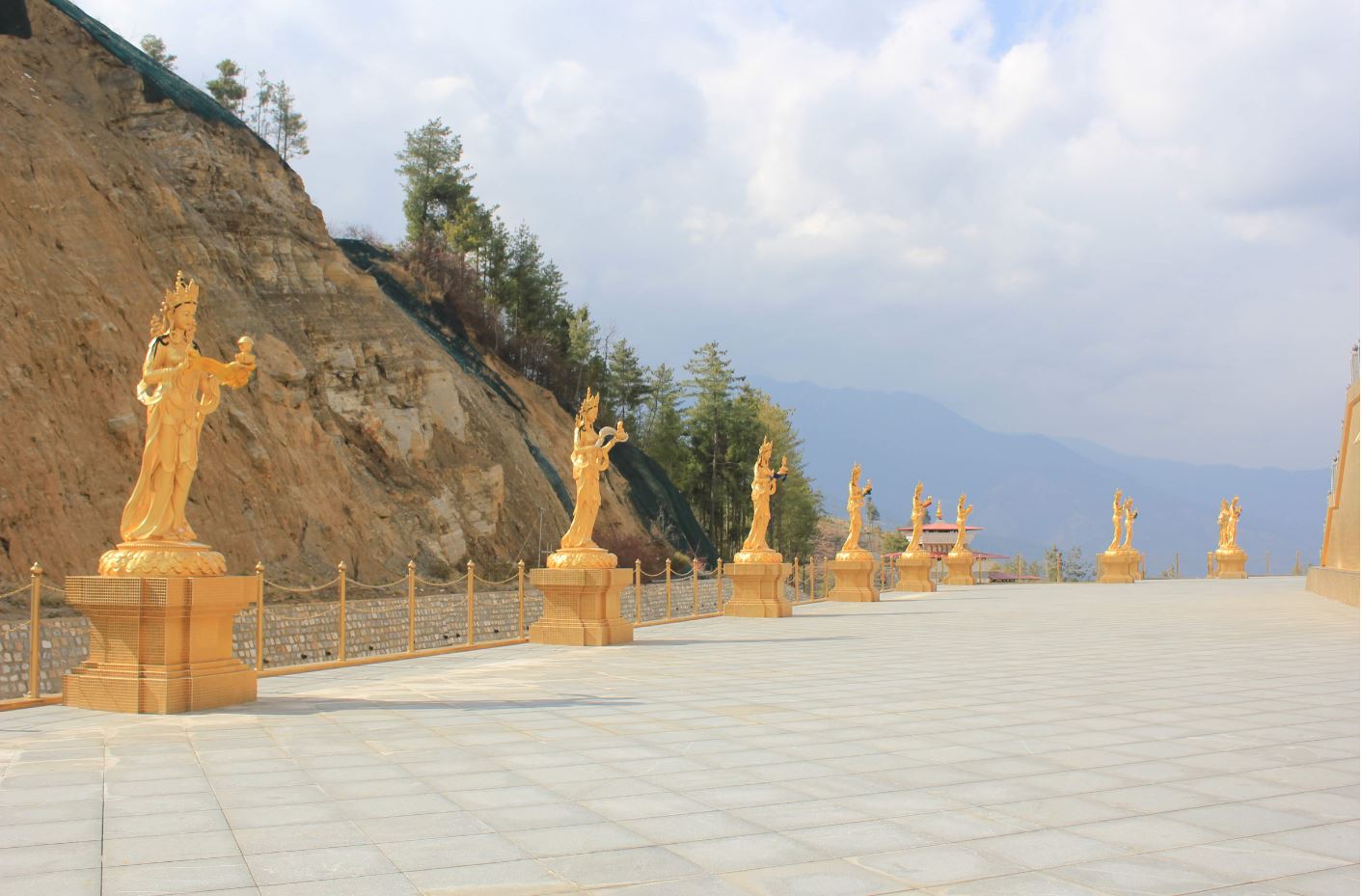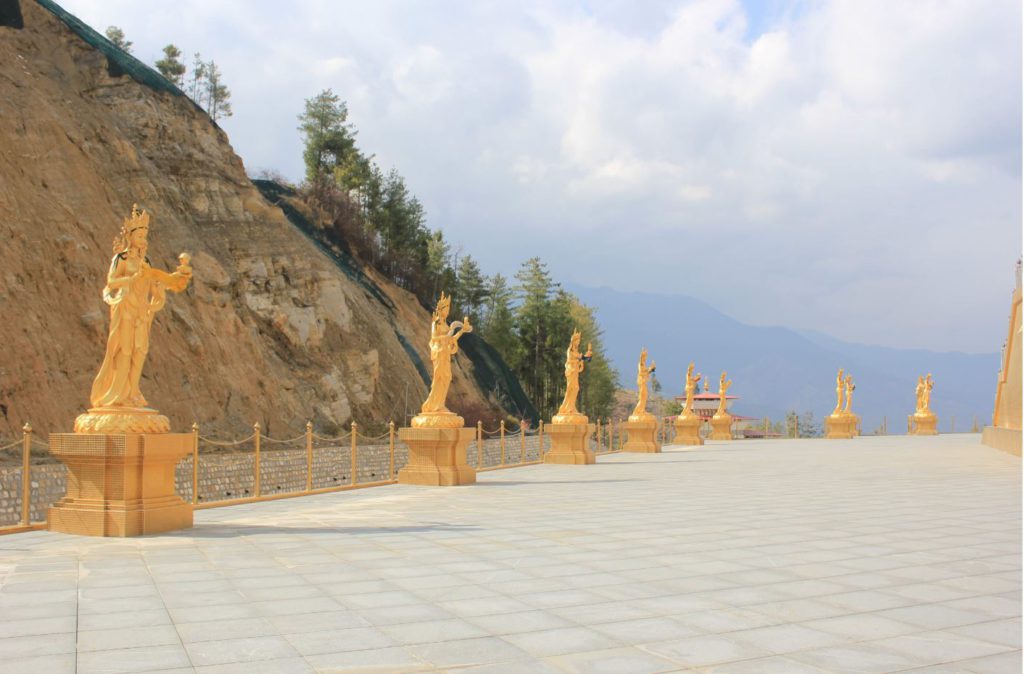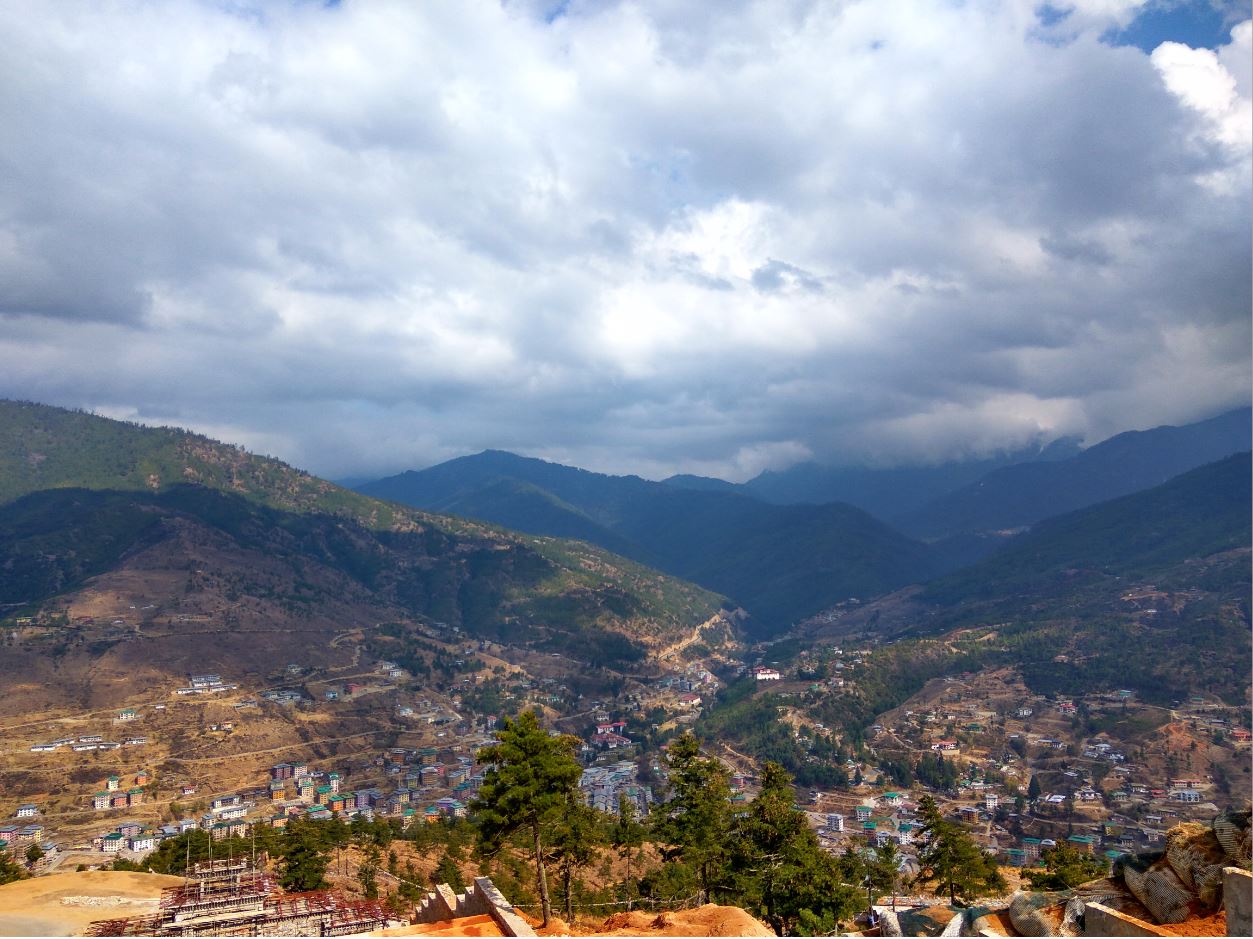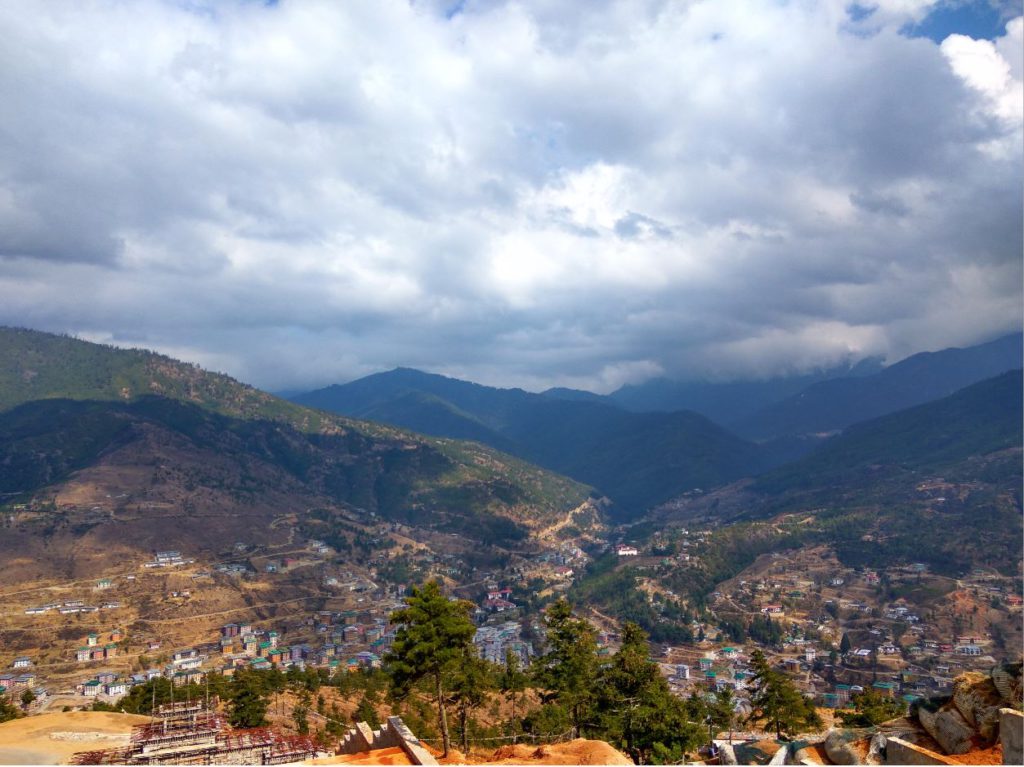 Buddha Dordenma Entry Fee: The place is free to enter.
Buddha Dordenma Opening hours: The place is open from 9 am to 5 pm every day of the week.
How to reach Buddha Dordenma: You can take a taxi from Thimphu town for a 6-km ride. It will cost you around 150 BTN for the ride. Make sure you negotiate beforehand. You can often find people cycling to the place. If you are on a group tour, this place will be included in your trip.

3. Folk Heritage Museum Kawajangsa
This is a sweet place that we found completely empty upon our visit. The museum is an old house in traditional Bhutanese style made completely out of wood that was converted for tourists. It just talks about the daily life of people in this country.
There are items, furniture, utensils, tools, and garments on display that people use every day. In the courtyard below is a traditional kitchen with metal pots and a clay oven. You can see charms that people use to protect their houses from evil spirits. However, for the most part it is basic but intriguing and to be honest, not that looked after.
On the other side of the premises is a small restaurant. This place serves traditional Bhutanese food in a similar setting. The place is exclusively for tourists. If you are there in the evening or on a group tour, you can catch some traditional dance performed by locals. It's wonderful!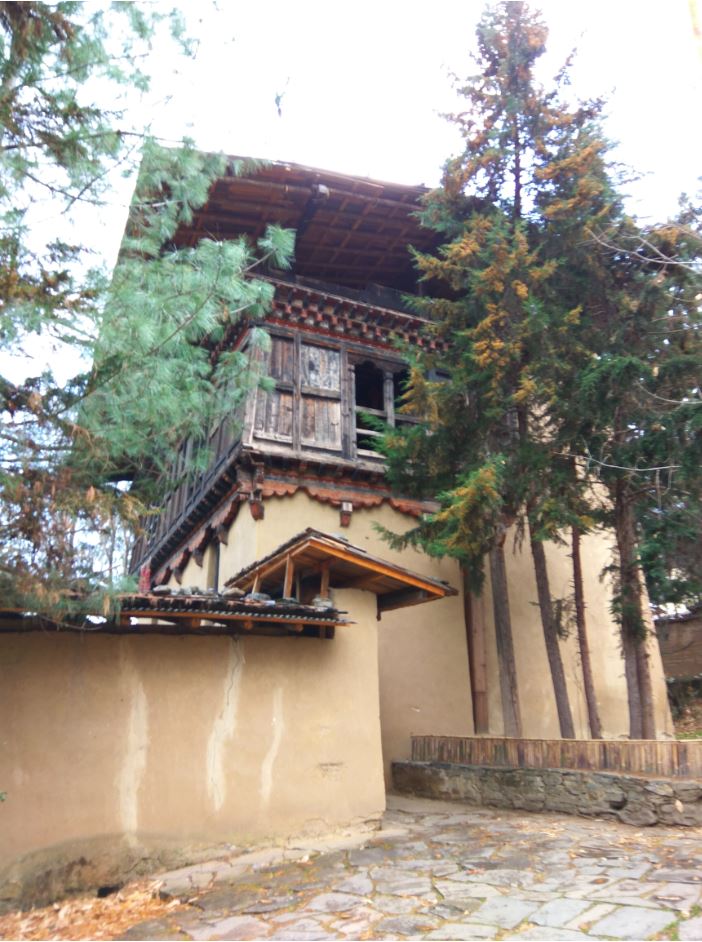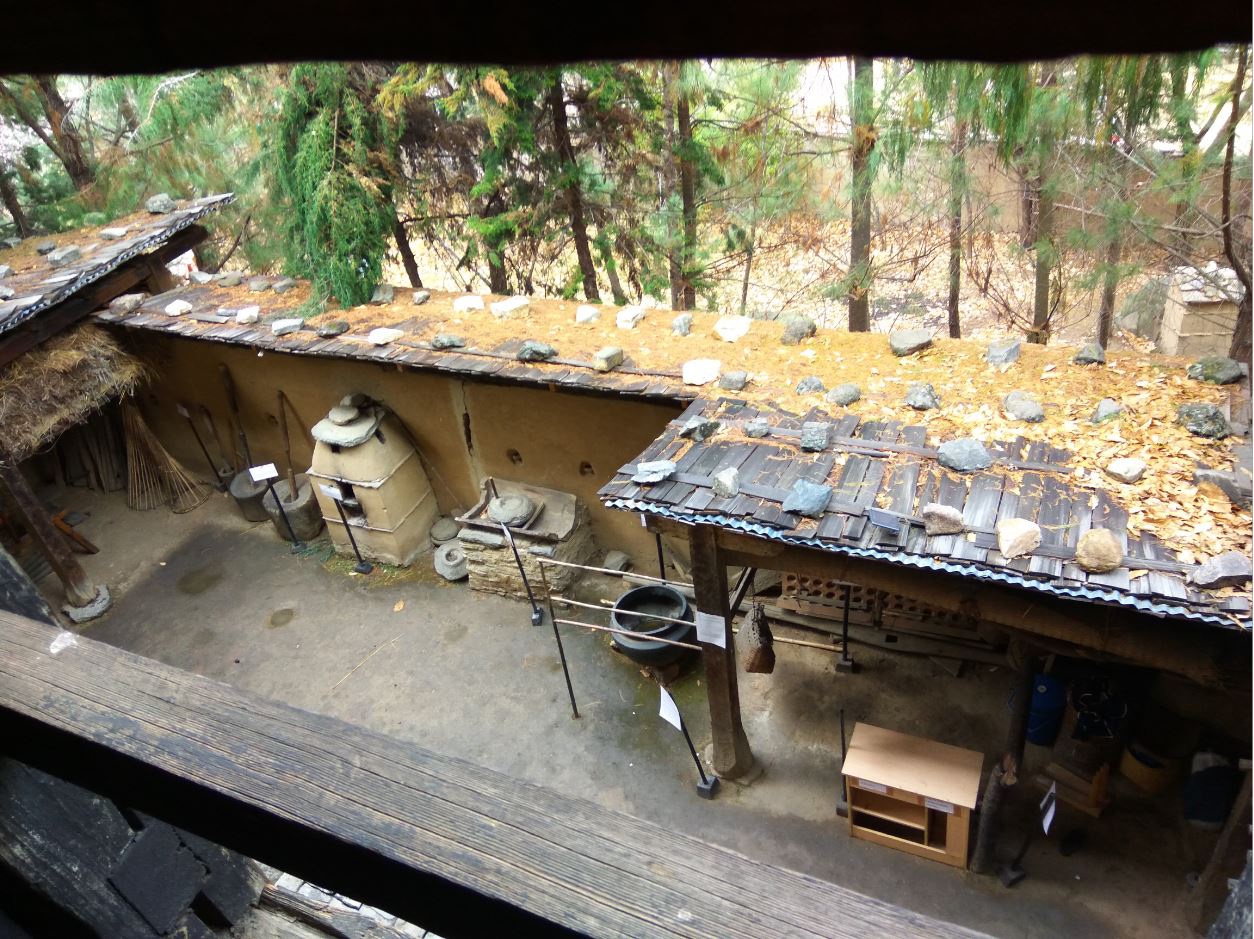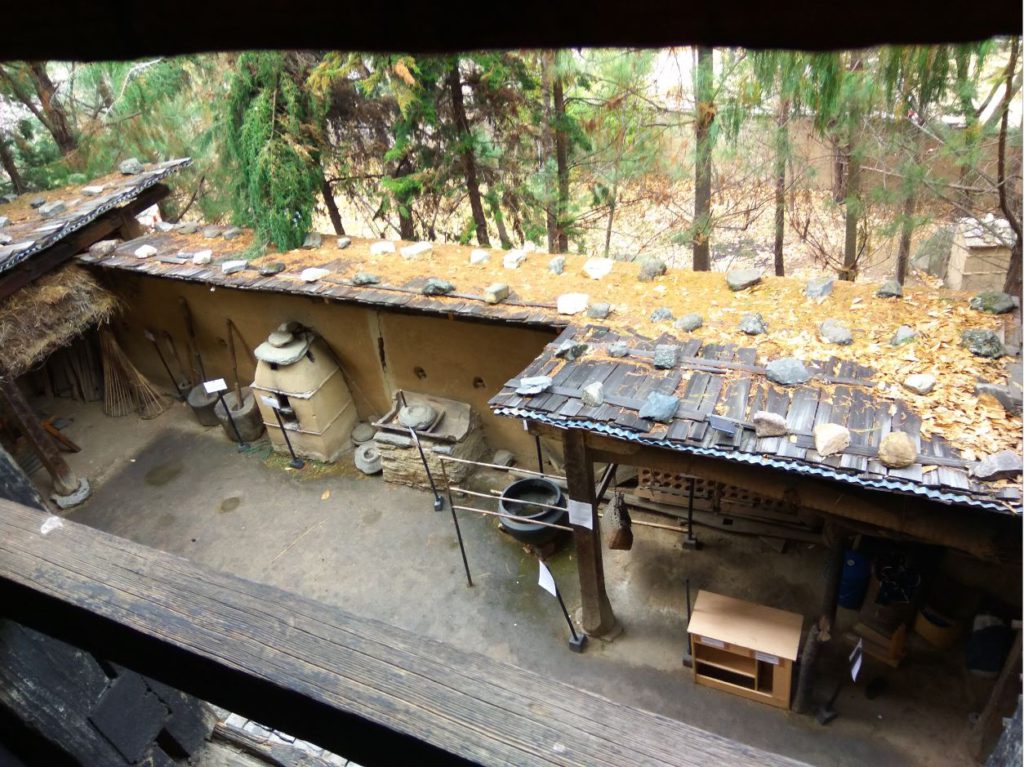 Thimphu Folk Heritage Museum Entrance Fee: 50 Nu for Indian travelers, 200 Nu for foreign travelers.
Thimphu Folk Heritage Museum Opening Hours:
Summers (April – October): Monday to Friday: 9.00 am – 5.00 pm; Saturday: 10.00 am – 5.00 pm
Winters (November – March): 9.00 am to 4.00 pm; Saturday: 10.00 am – 4.00 pm
Closed on Sundays
How to reach Thimphu Folk Heritage Museum: You can easily walk to the museum which is 1.5 km from the city center.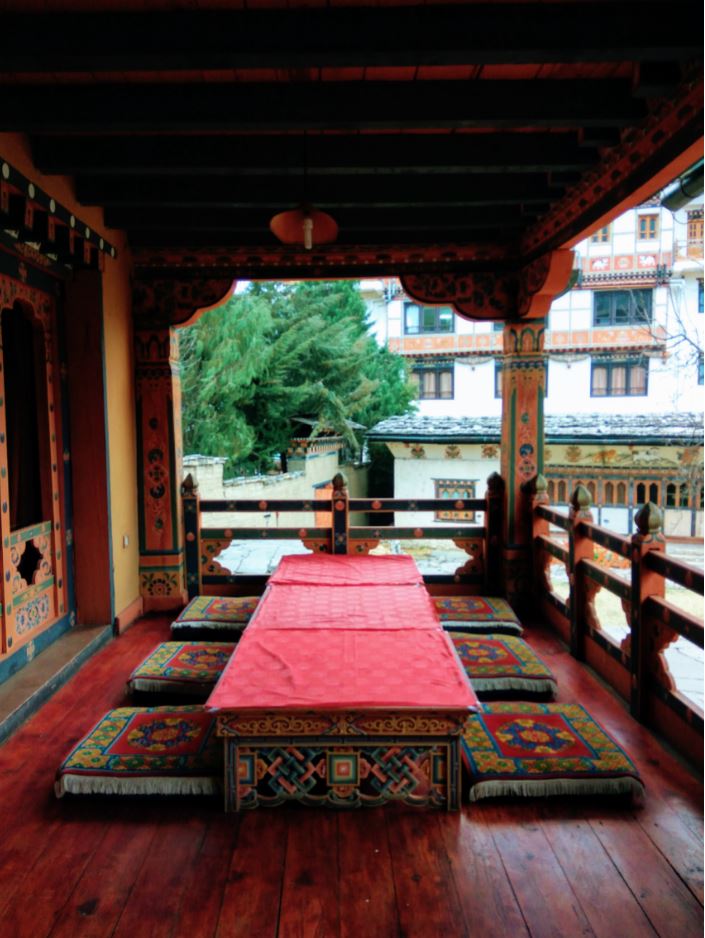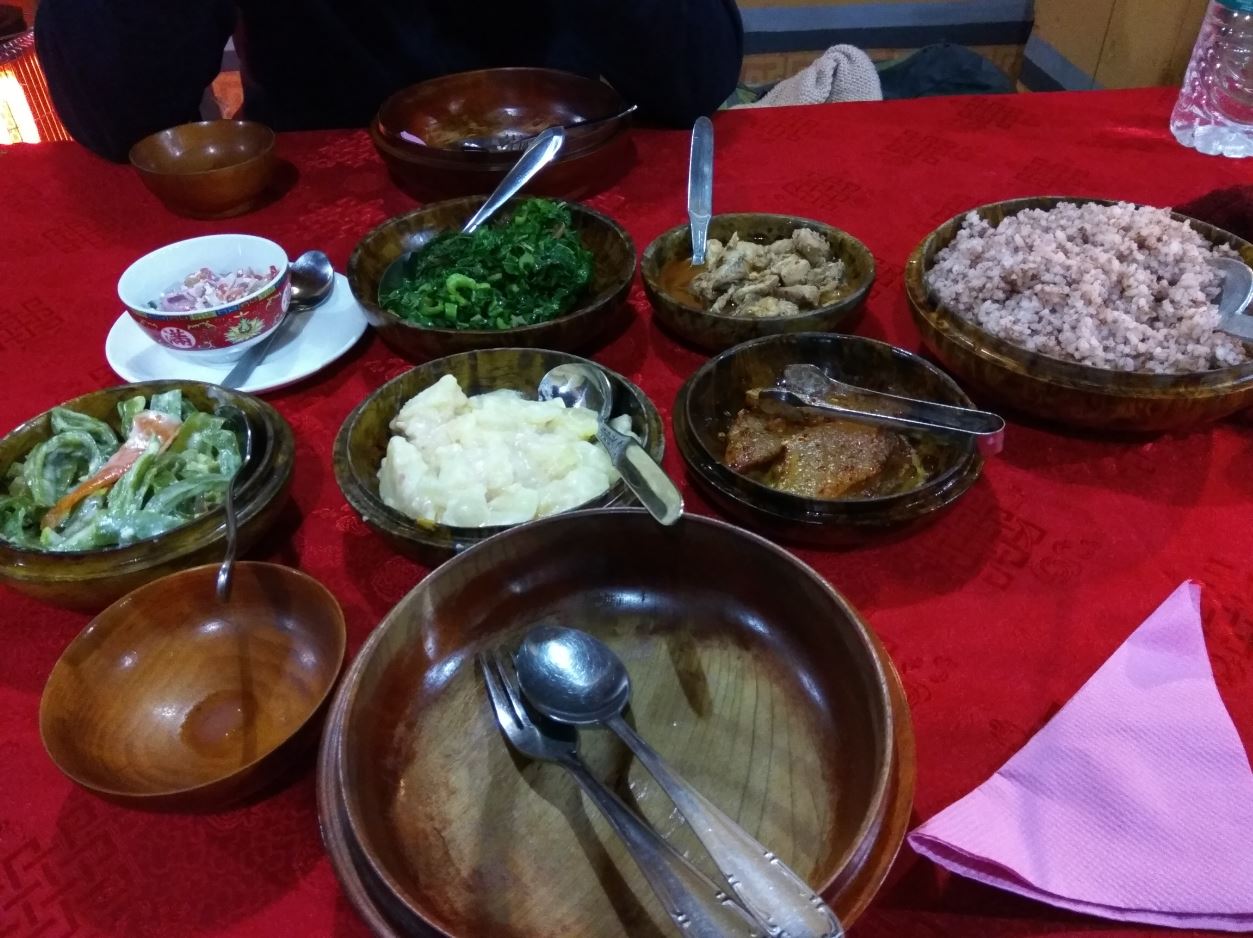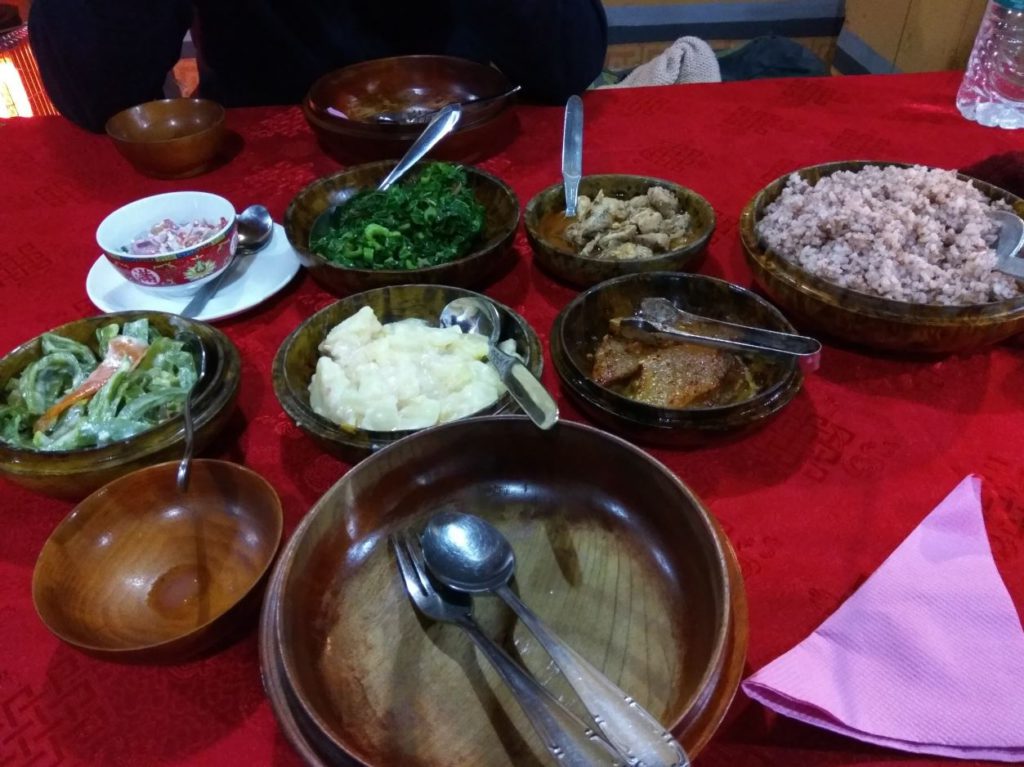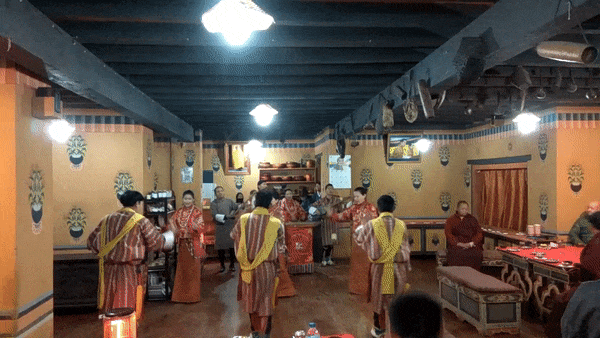 4. National Memorial Chorten
National Memorial Chorten is perhaps the most important religious landmark of Thimphu. Similar to its disposition, it is located in the center of Thimpu city.  It was built in the memory of the third King, Jigme Dorji Wangchuk in 1974. The late King wanted to build a representation of 'the mind of the Buddha'. After his death, the queen's mother took to complete the place.
The center point is a striking white stupa in the middle. You will see locals, mostly elderly going around the place with their palms on their heart's center. The ritual of turning the giant golden wheels while reciting prayers is a common sight with the hope of making merits on their faces.
Quite a number of events take place on the memorial grounds including school functions and religious events. It is at a walkable distance from inside the Thimphu city.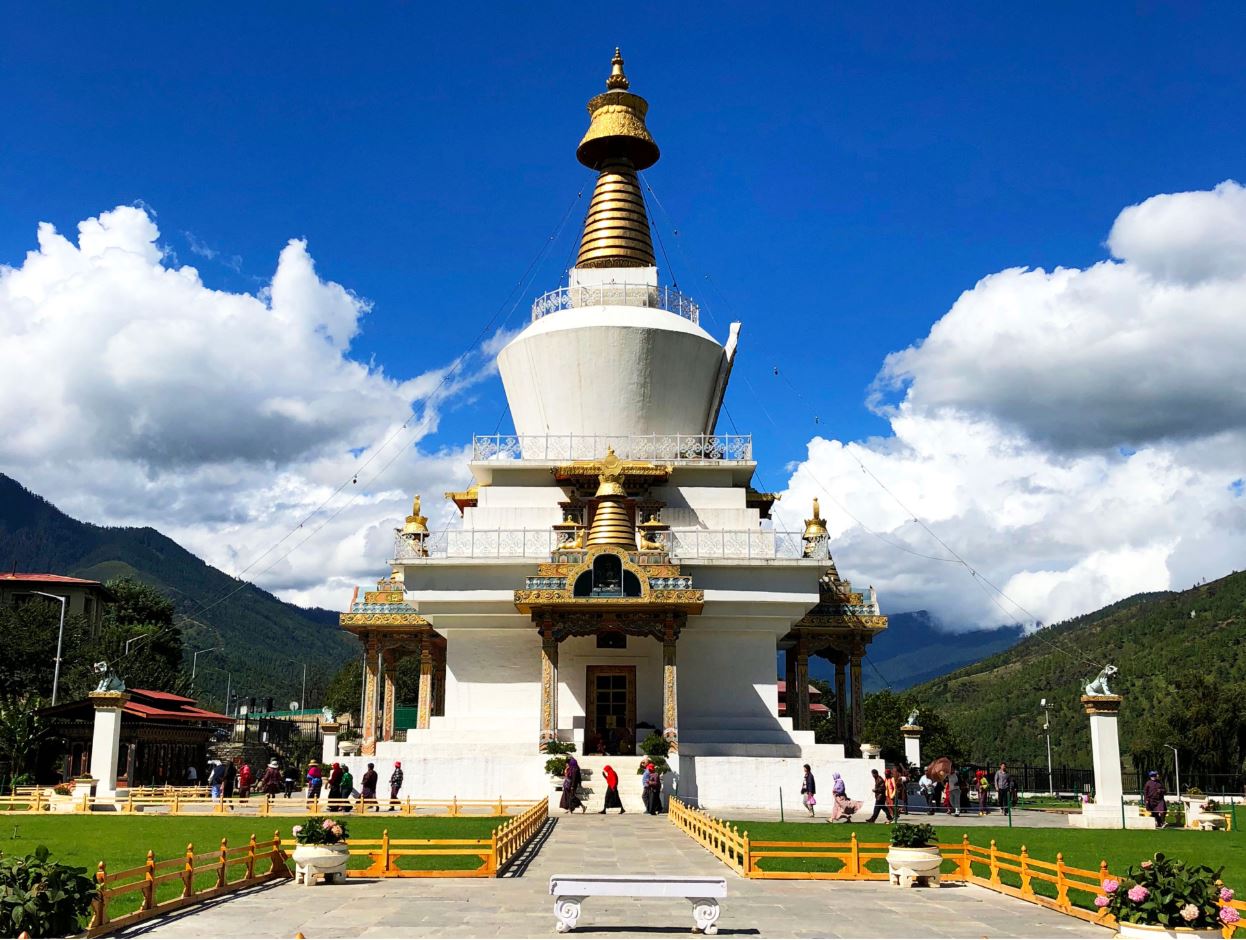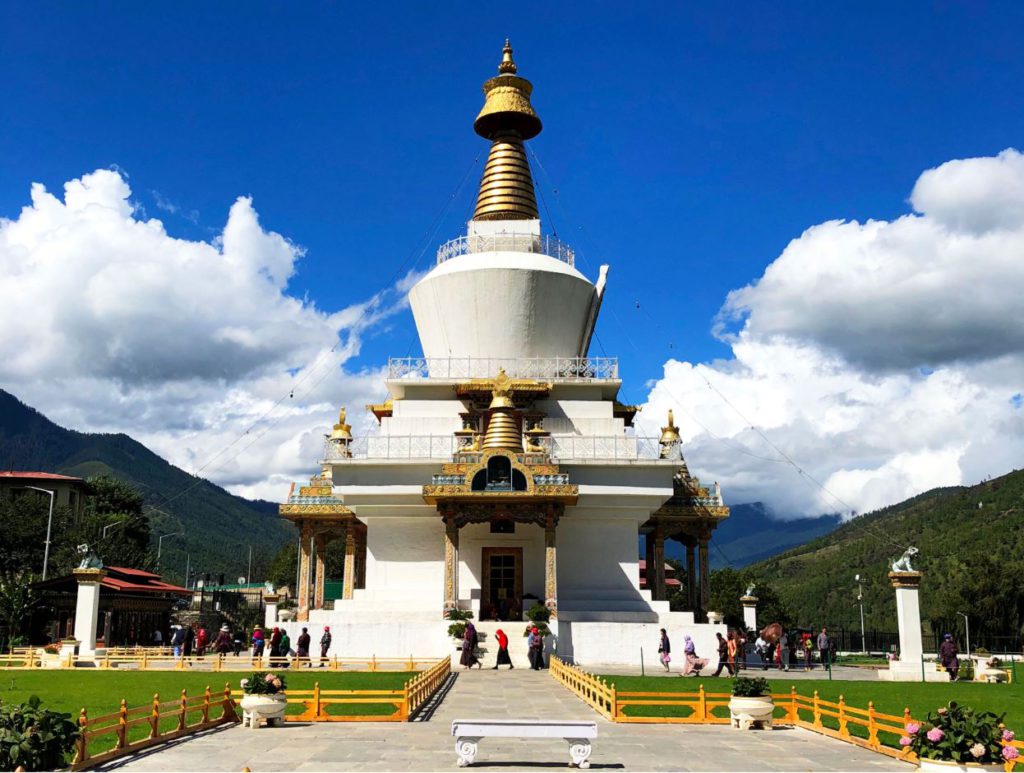 National Memorial Chorten timings: 9.00 am to 5.00 pm every day of the week
National Memorial Chorten Entrance Fee: 300Nu per person for all foreign travelers.
5. National Library
A library usually doesn't make it in most people's itineraries. But if you don't want to go for the books, go for the architecture. I, on the other hand, cannot get any more excited by the prospect of visiting a library.
As lovely as the building in the traditional Bhutanese style, the insides are peaceful and serene. You will find rows after rows of books and manuscripts that the government means to preserve. It is both a matter of shame (since I cannot read them) and pride that most of them are in the local language. Apart from the books, there are a few collectibles and miniatures placed inside glass boxes.
The place is free to enter for everyone. You need to keep quiet and be respectable when inside. It is at a walkable distance from the city center and located near Folk Heritage Museum Kawajangsa.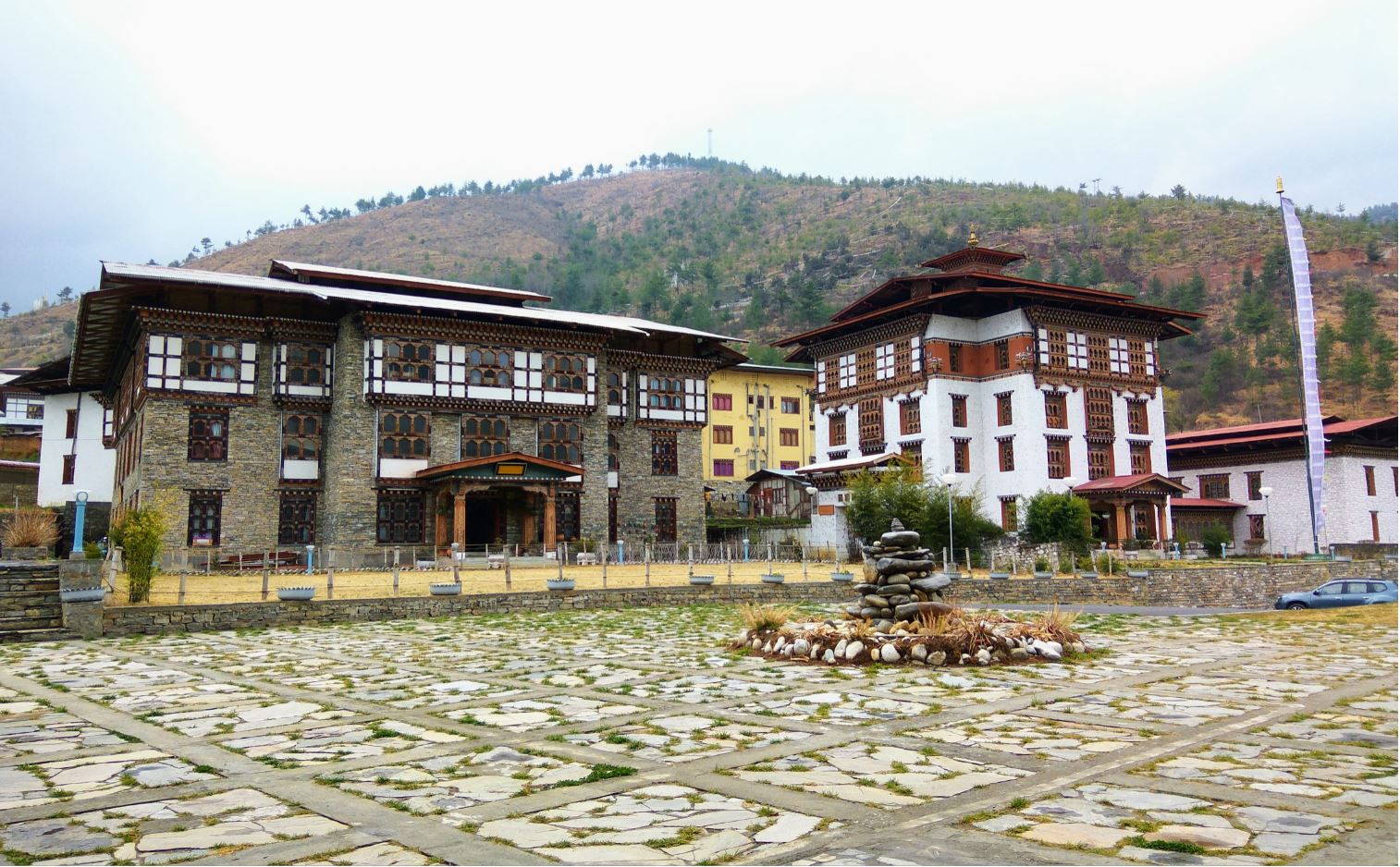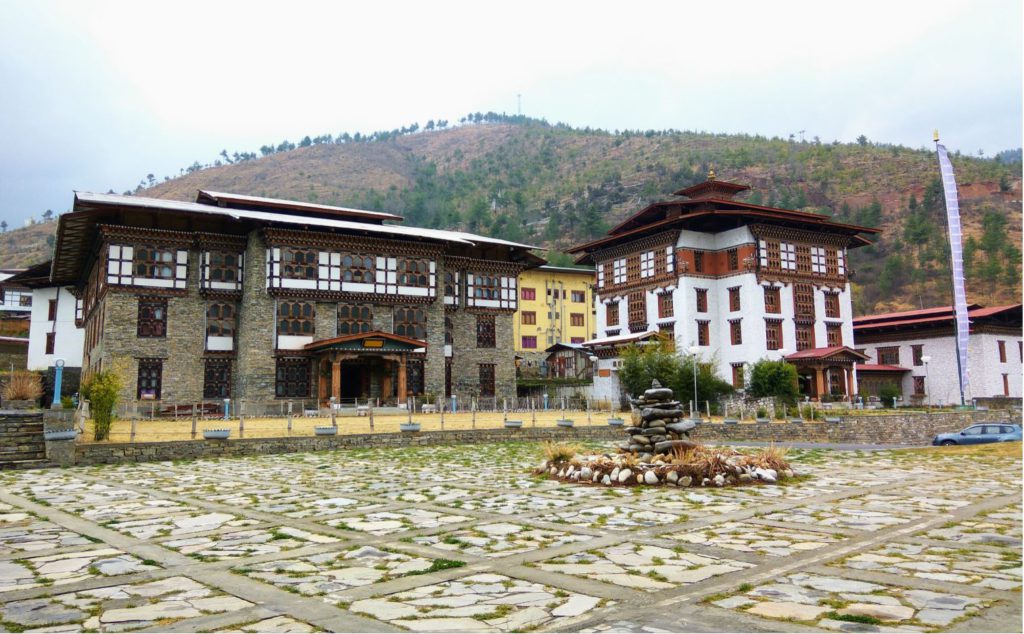 National Library timings: Open 9.00 am to 5.00 pm from Monday to Friday. Closed on Saturday-Sunday.
6. Thimphu Handicraft Market
If you are out and about in Thimphu, you probably will come across Thimphu Handicraft Market. It is ahead of Tashi Taj Hotel (the biggest in the town and easy to spot). I will not say it's a shopper's paradise, but it's still a great place to check out some local craft.
You can find products that range from native handicrafts to archery bows. There are yak fur bags, Bhutanese clothes in traditional patterns, utensils, candles, art pieces made out of ivory, horn goblets, amulets, charms, and a lot more.
Bargaining is acceptable but don't push it. Many shops have a fixed price. Some products come from Nepal as well. If you are worried about the authenticity, you can also head towards National Handicraft Emporium a little ahead.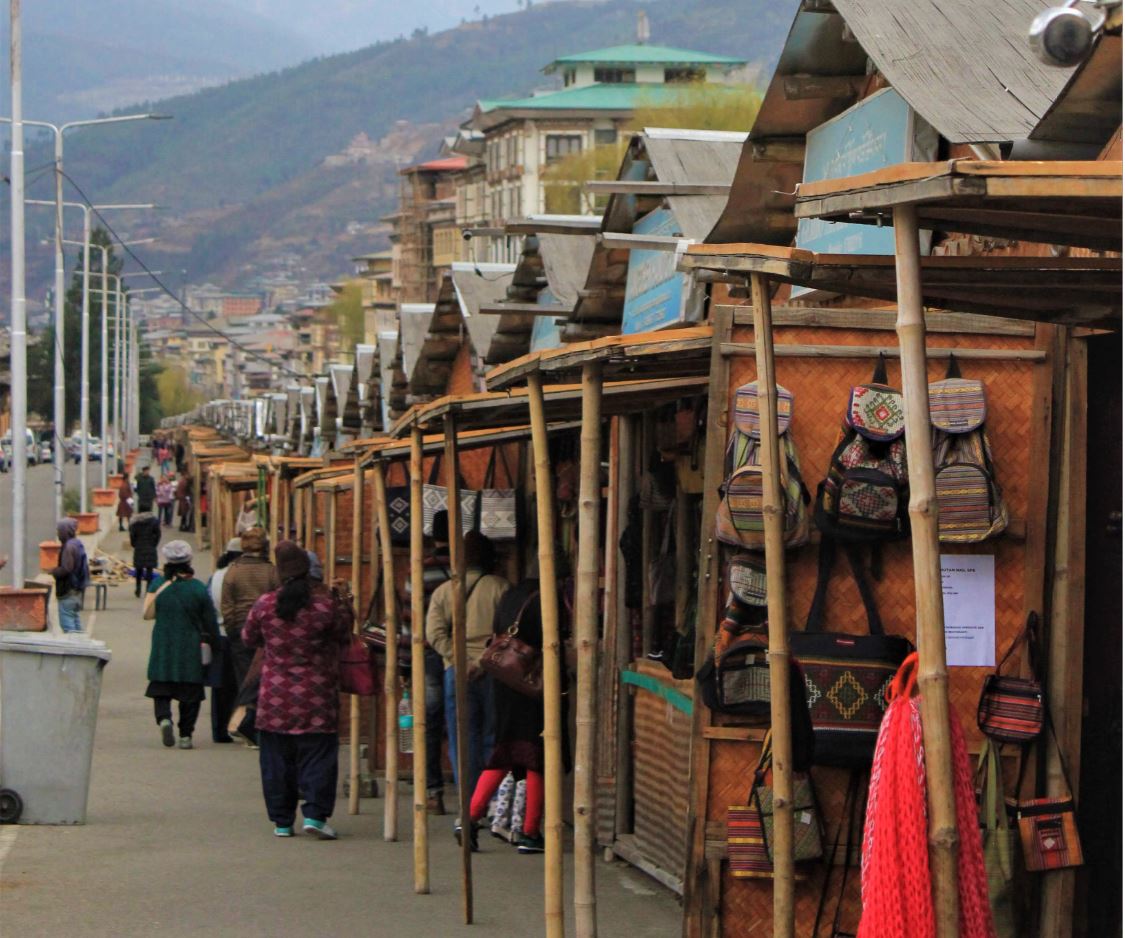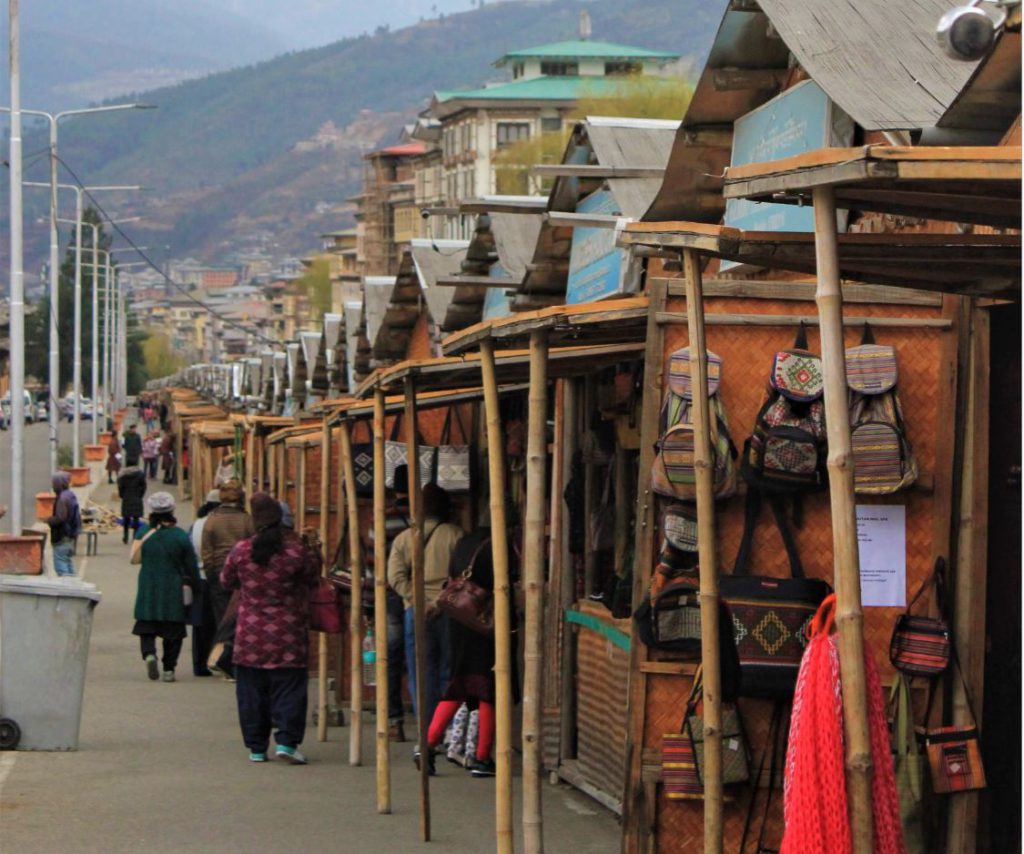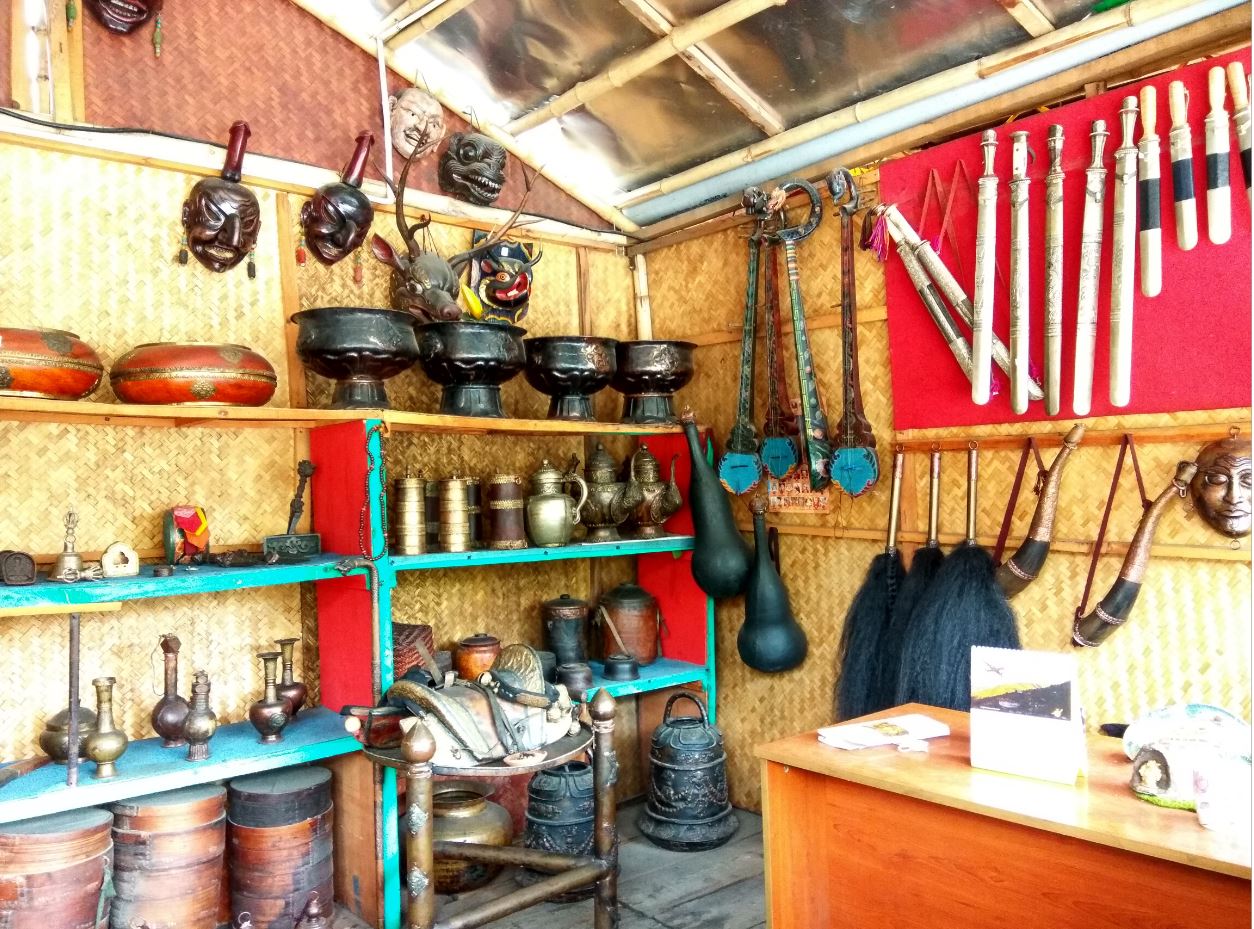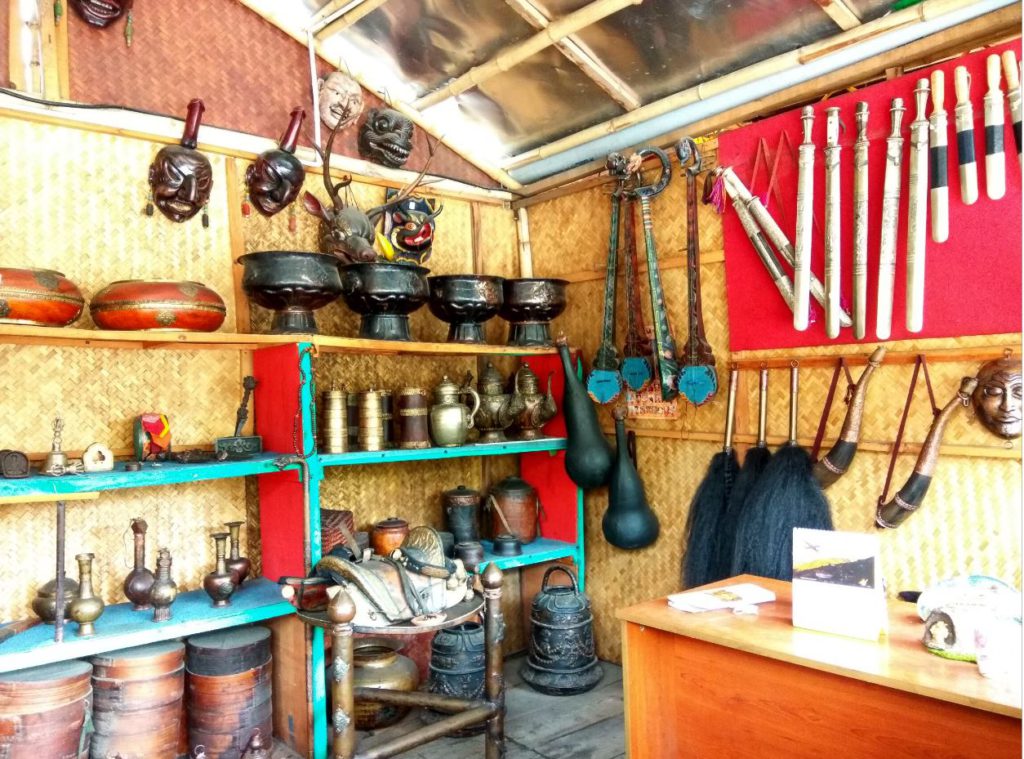 7. Jungshi Handmade Paper Factory
One of the unique products of Bhutan is its paper that the monks used to write prayer texts and manuscripts. Instead of the regular methods, it used the bark of Dekap and Daphne Tree to make the paper. This style of production was only native to Bhutan until the Ministry of Trade and Industry established the Jungshi factory to export handmade paper.
In the factory, you can get a glimpse of how the paper is made from to end. The end product is always unique and no two products are the same. You can even customize the paper by processing the paper with materials like fibers, flowers, and even chili for the print.
You can buy end products like greeting cards, lampshades, notebooks, paper bags or simply paper from the factory. It is just 1 km from Thimphu city center and you can reach the place on foot.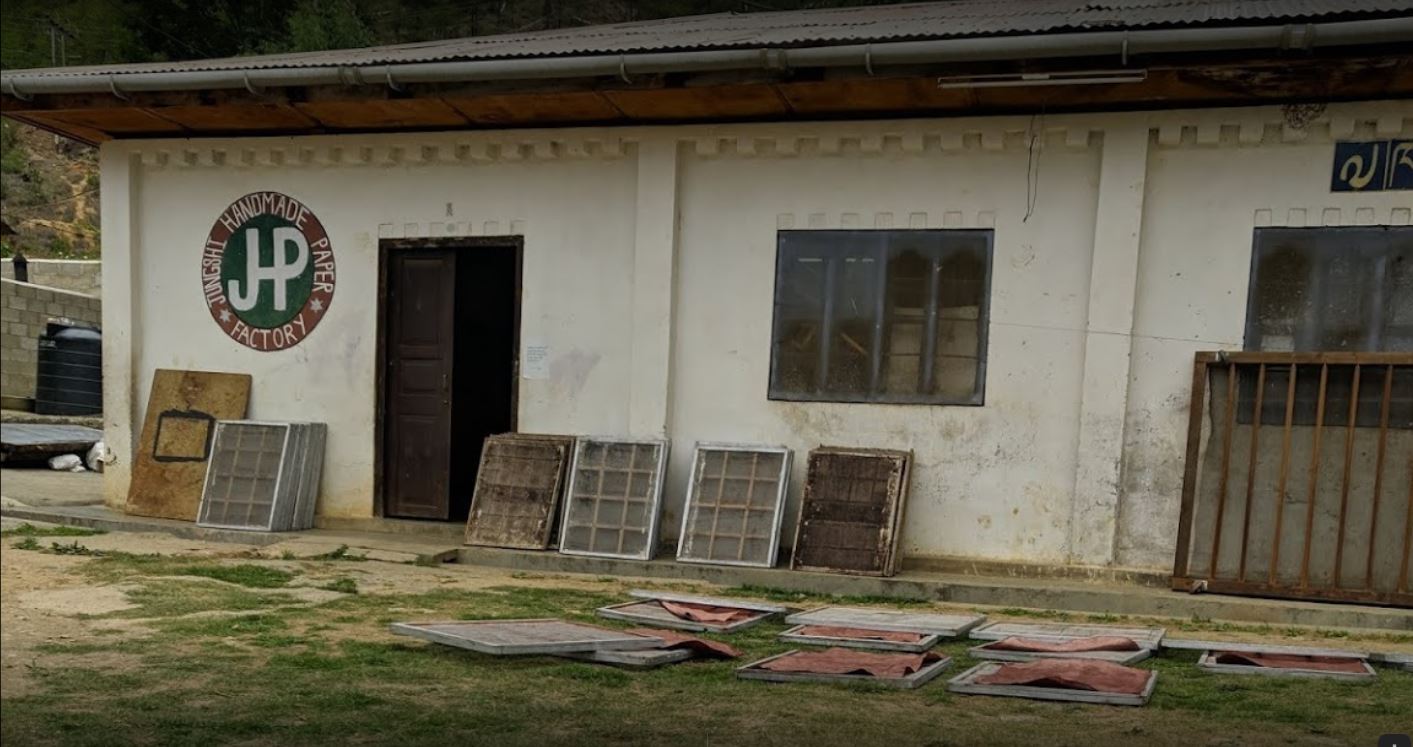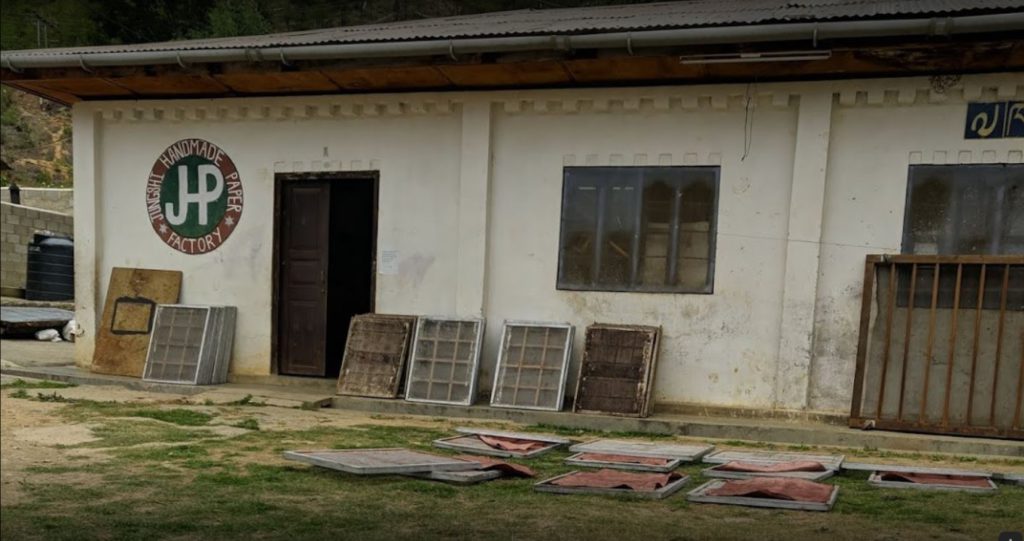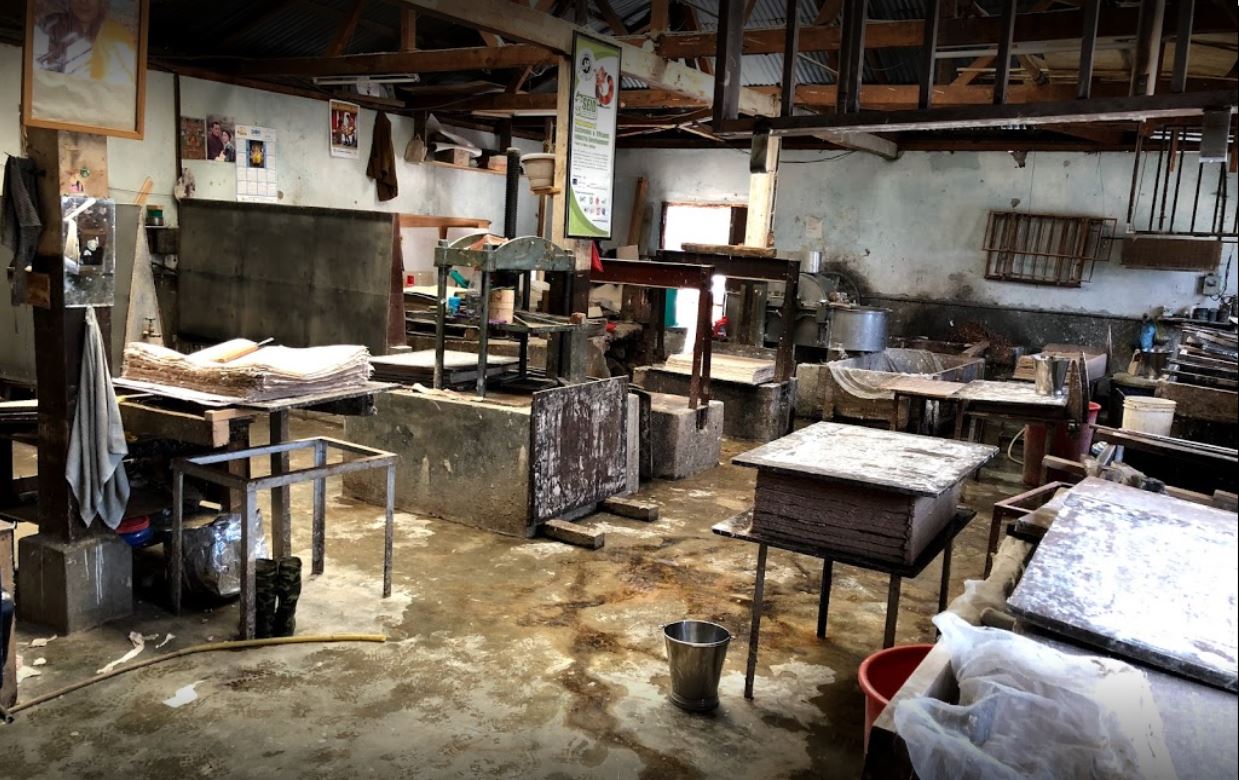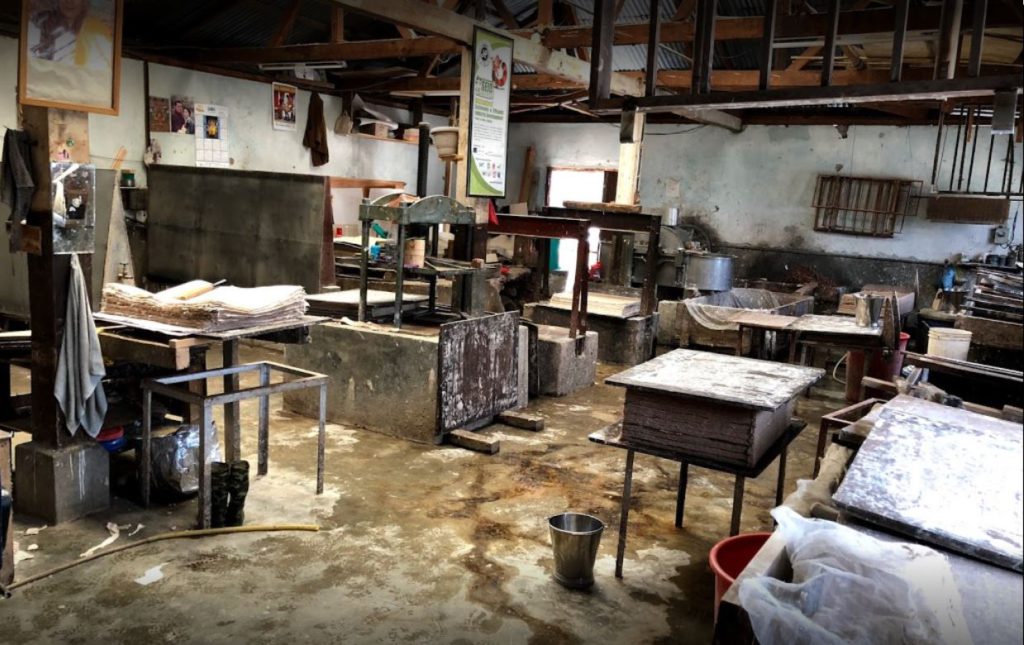 Jungshi Handmade Paper factory timings: 9.00 am to 5.00 pm from Monday to Saturday. Closed on Sunday.
8. Karaoke Bars
At times it may seem that there isn't much of nightlife in Thimphu. But that's not completely true. To know more, you need to go to a Karaoke bar. And there are like a lot of them in town.
Although the locals seem to love Karaoke, things still seem to be in control. So you won't ever see people drunk all over the floor. There are some places with live music that have different genres playing for every day of the week. Karaoke bars play all three – Bhutanese, Hindi (Bollywood), and English music.
Some of the best places to visit for a great nightlife experience are Mojo Park (tops the chart), Vivacity, Space 34, Club Ace, and Om Bar. Nightlife on weekends is especially busy and clubs can be closed during weekdays.
Sadly I forgot to take a photo at one…oops!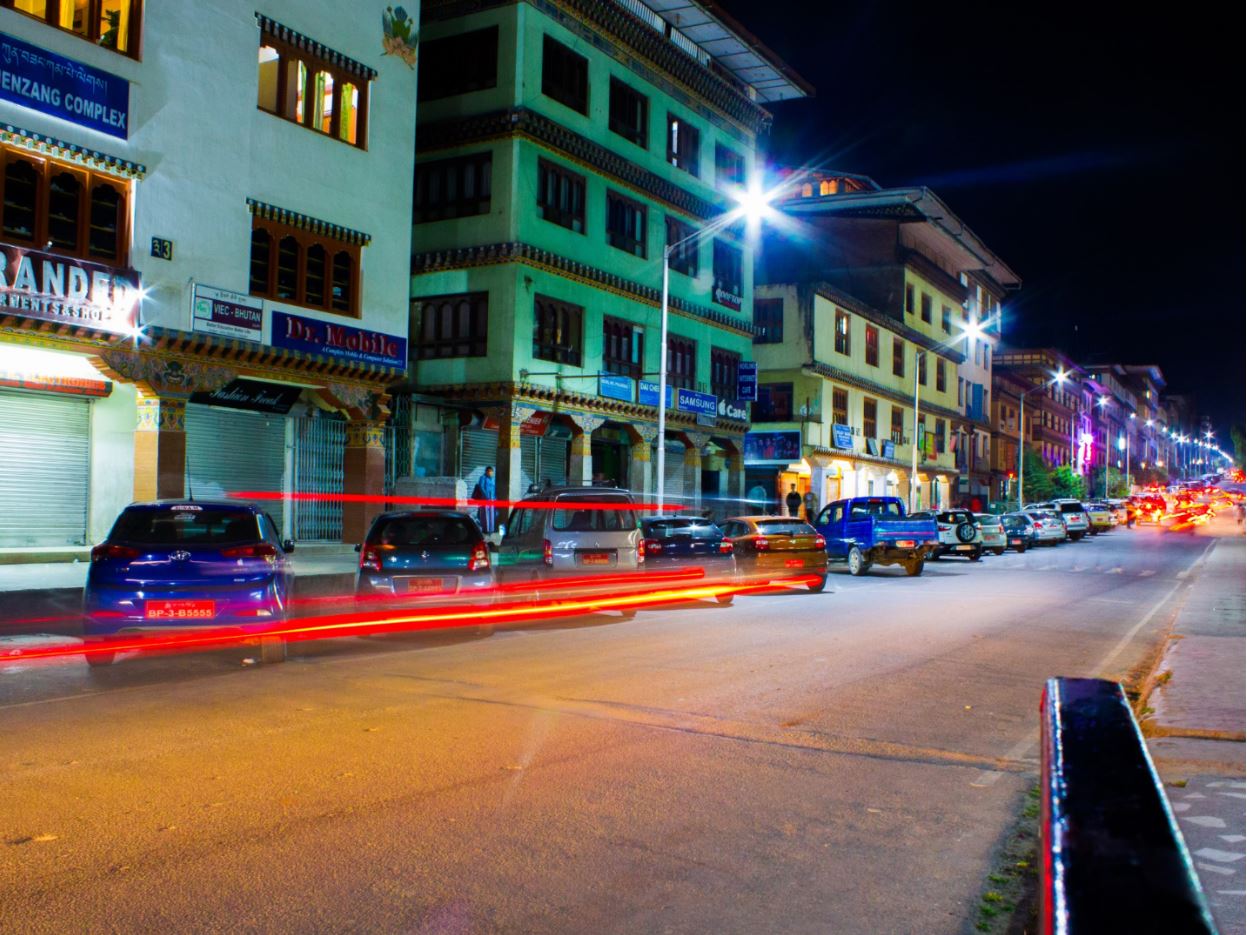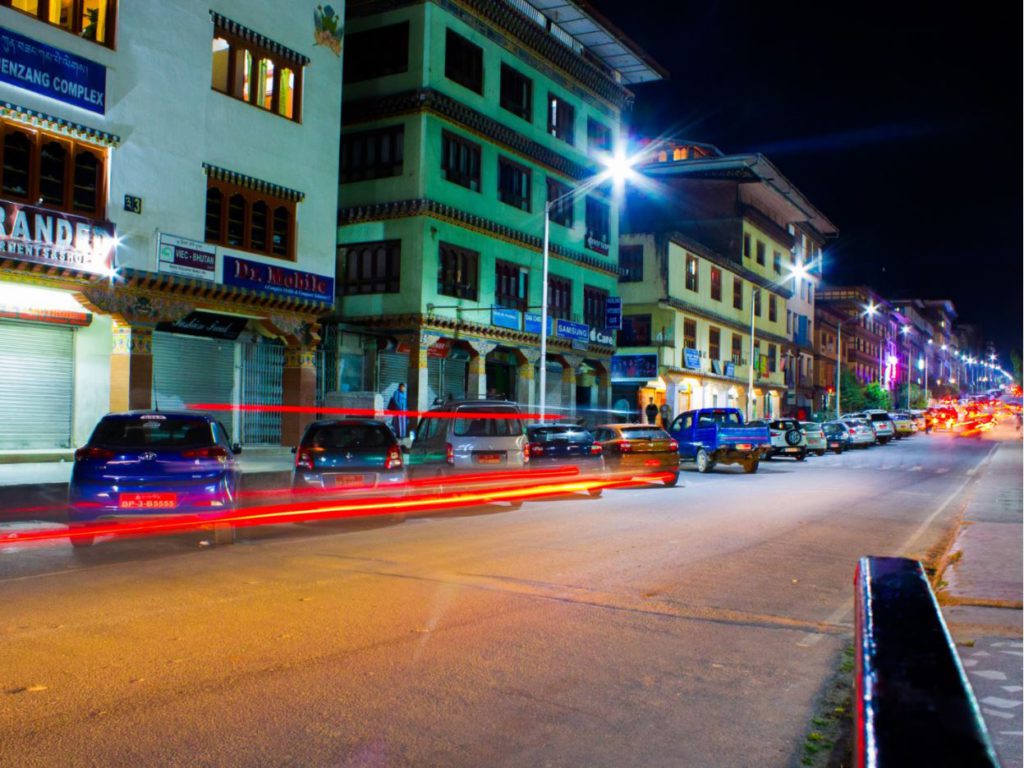 9. Semtokha Dzong
Dzongs in Bhutan have been there for a long time. Some of them are as old as the 12th century. However, most of them have been renovated several times. Semtokha Dzong is said to be the oldest dzong standing on its original structure that was used both as an administrative center and a Buddhist monastery.
Built in 1629 it was strategically built as more of a fortress to defend from the invaders from Tibet. It is placed on a prominent ridge on the Thimphu valley towards the road facing Dochula pass and eastern Bhutan.
The dzong spans over three floors but is comparatively smaller than other dzongs in Bhutan. You can visit the Dzong on your way to Punakha and is 7km outside Thimphu.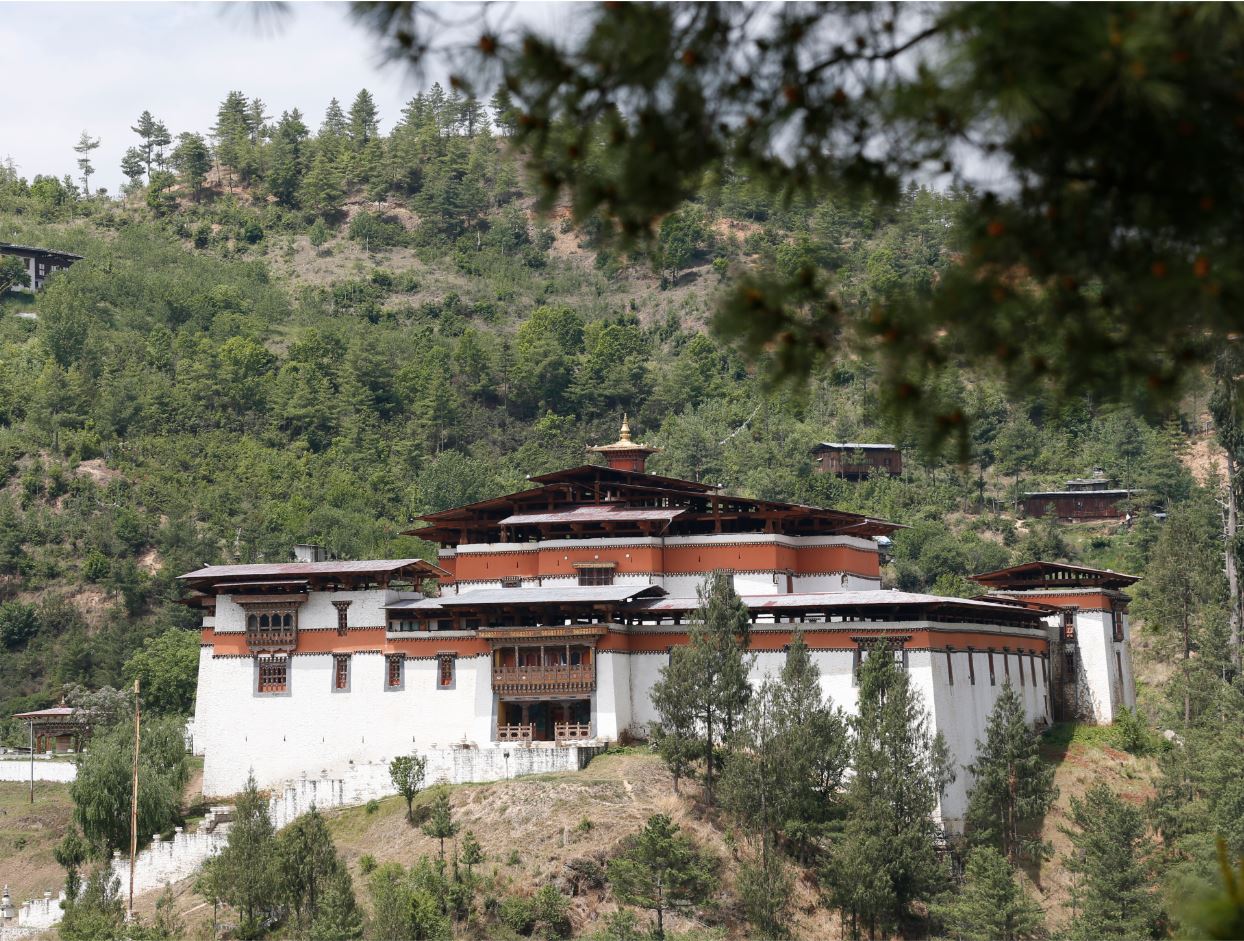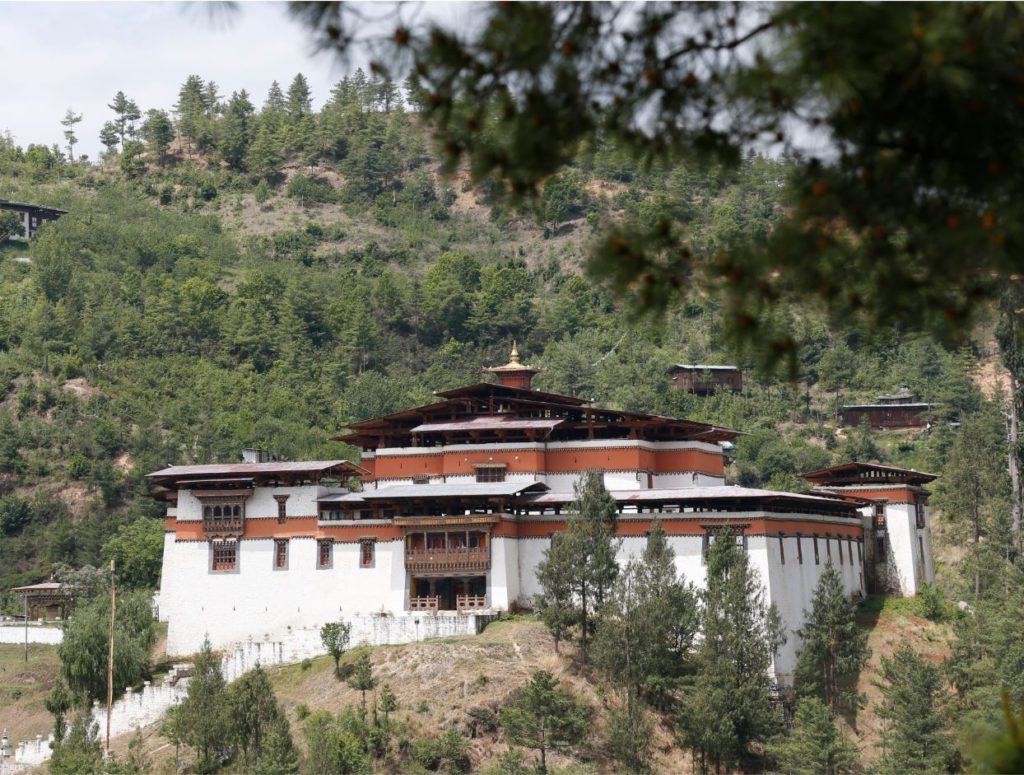 Simtokha Dzong Ticket price: 300Nu per person for foreign travelers.
Simtokha Dzong Opening hours: 9.00 am to 5.00 pm every day of the week
10. Motithang Takin Preserve
According to a local legend called 'The Divine Madman', a Takin was created by a tantric. The tantric was to perform a miracle in front of the cow. He ate a whole cow and a whole goat for lunch; he then fixed the bones of the head of the goat to the body of a cow and magically brought the animal to life.
Motithang Takin Preserve is a wildlife reserve area focused on protecting Takin, the national animal of Bhutan. Takin is only found in selected Himalayan regions. Originally this place was similar to a zoo. The authorities opened up the place after an ethical dilemma on keeping the animals in a closed enclosure.
Surprisingly, the Takin became accustomed to the space and did not wander far from the original location. Thus the preserve was formed. You can even feed the docile Takin out of your own hand.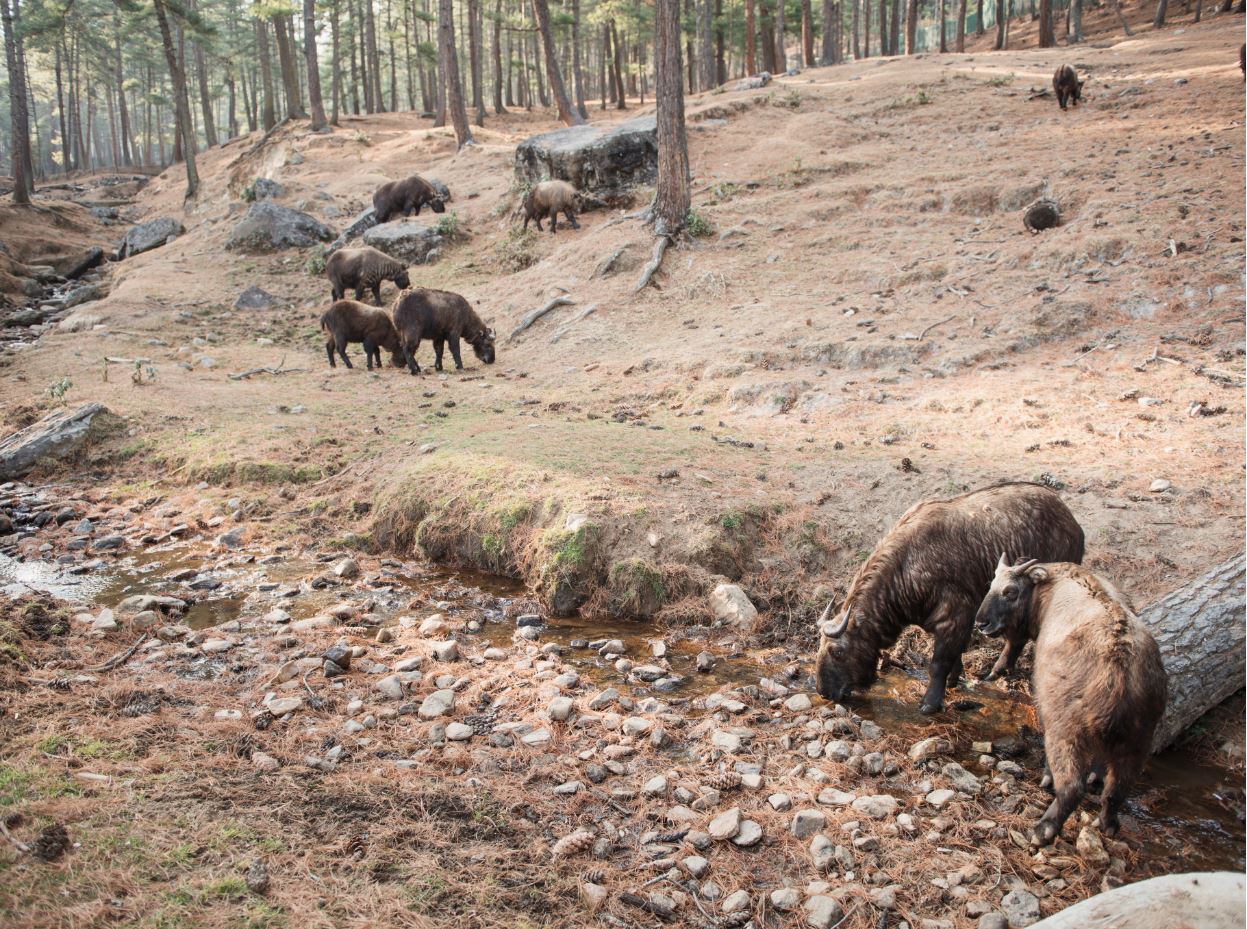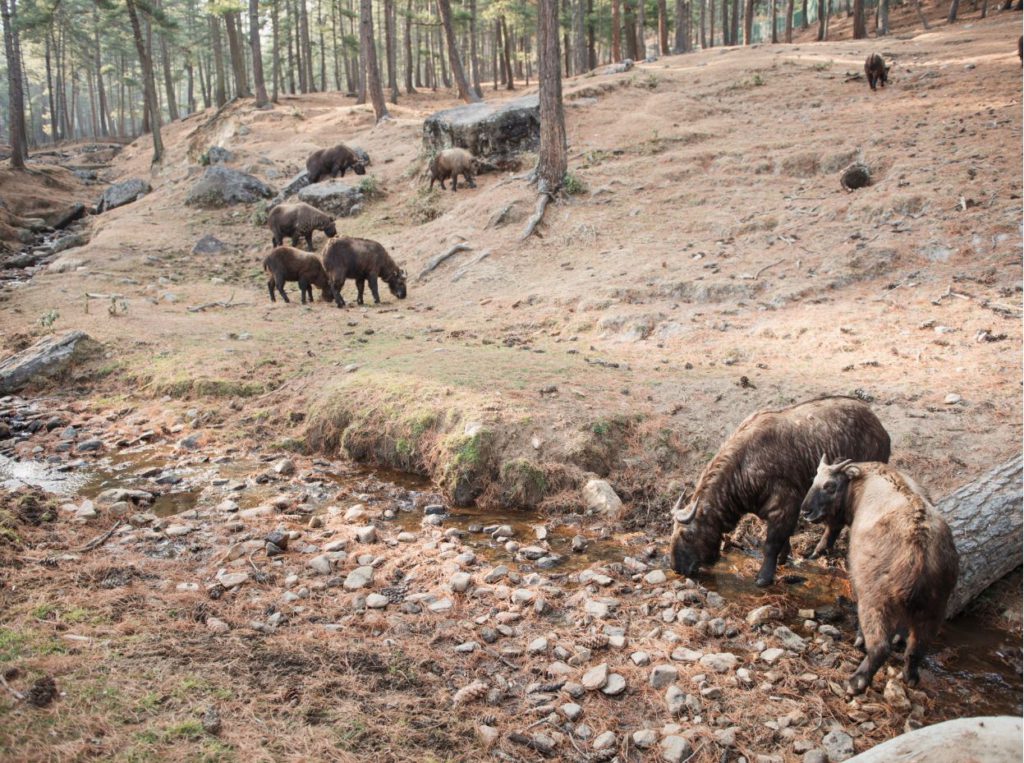 Motithang Takin Preserve Opening Hours: 9.00 am to 5.00 pm every day of the week
Motithang Takin Preserve Ticket Price: 300Nu per person.
How to reach Motithang Takin Preserve: You can take a cab for a distance of 6km from the city to the preserve. You can also hike to the place that takes about 40 minutes.
11. Royal Textile Academy of Bhutan
Weaving is an important part of the culture in Bhutan. It is usually taught both to boys and girls since they are young. Other than the cultural value in Bhutan, they also hold religious beliefs. People use different patterns to pay homage to spirits and induce effects to self. This place holds it all together, even for the Royal family.
The museum displays a stunning collection of patterns of Ghos (outfit worn by men) and Kiras (worn by women). There are even the clothes that former king and his four wives wore on their wedding day. You can browse through several patterns of Thagzo (weaving) and Tshemzo (embroidery) along with numerous books on them.
If interested, you can also take a class on weaving traditional patterns or just watch the weavers working on their looms. You can walk to the place on foot which is a little ahead of Thimphu Handicraft Market.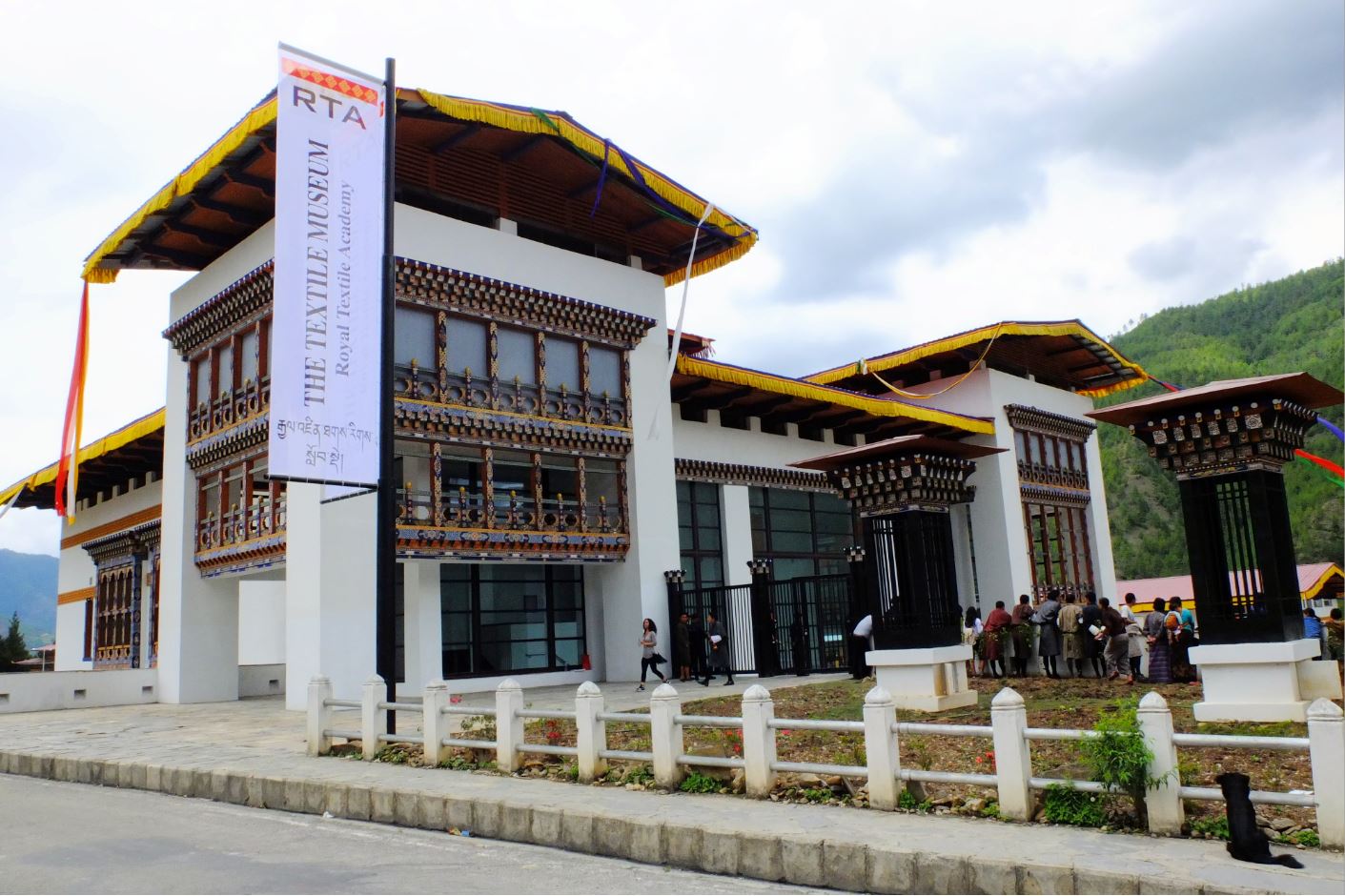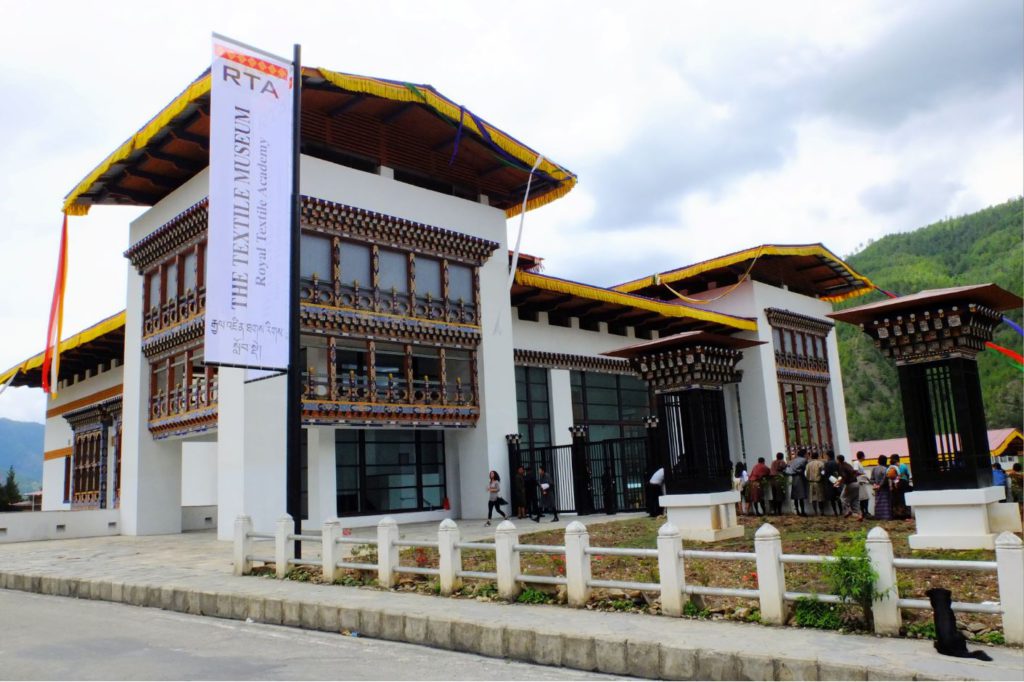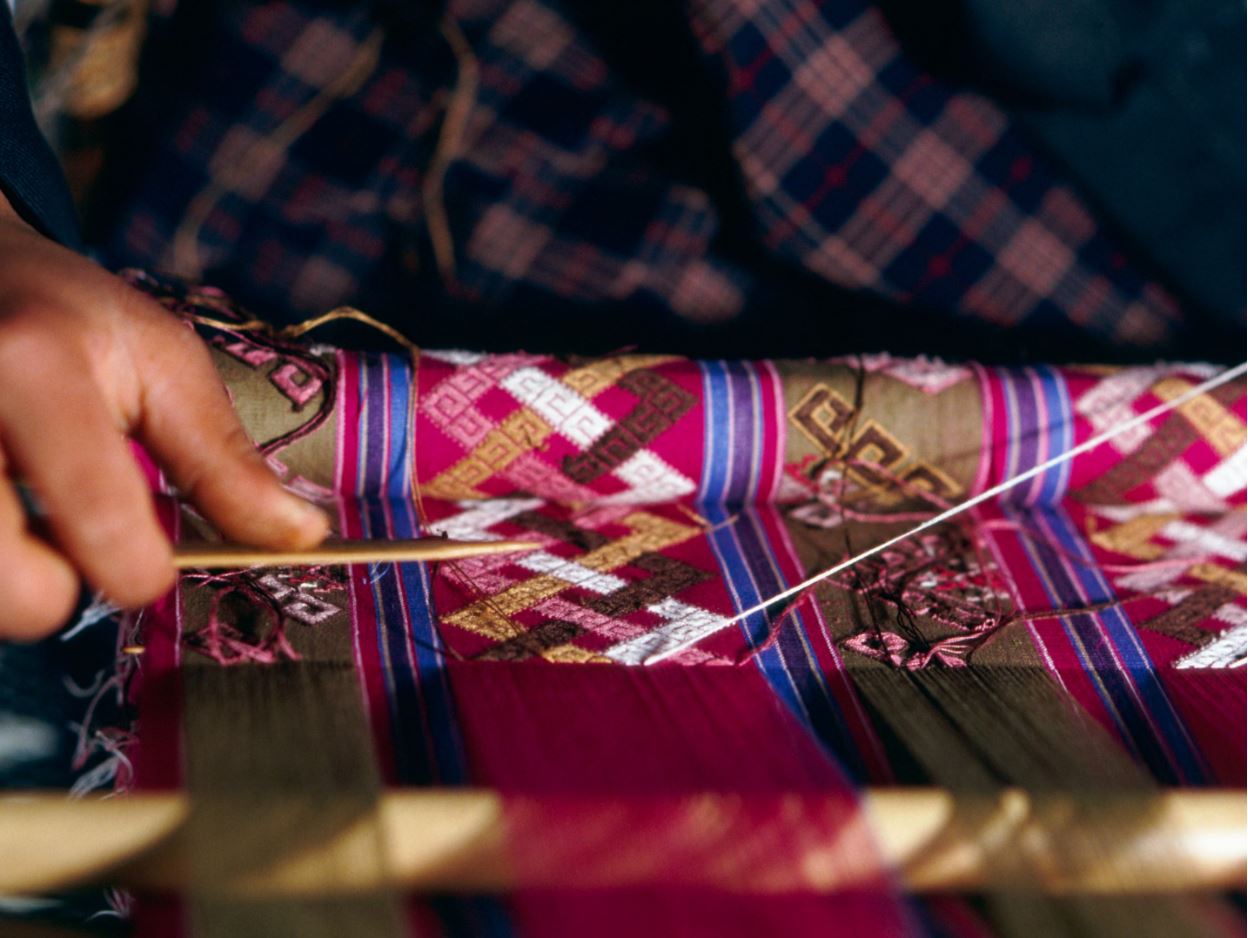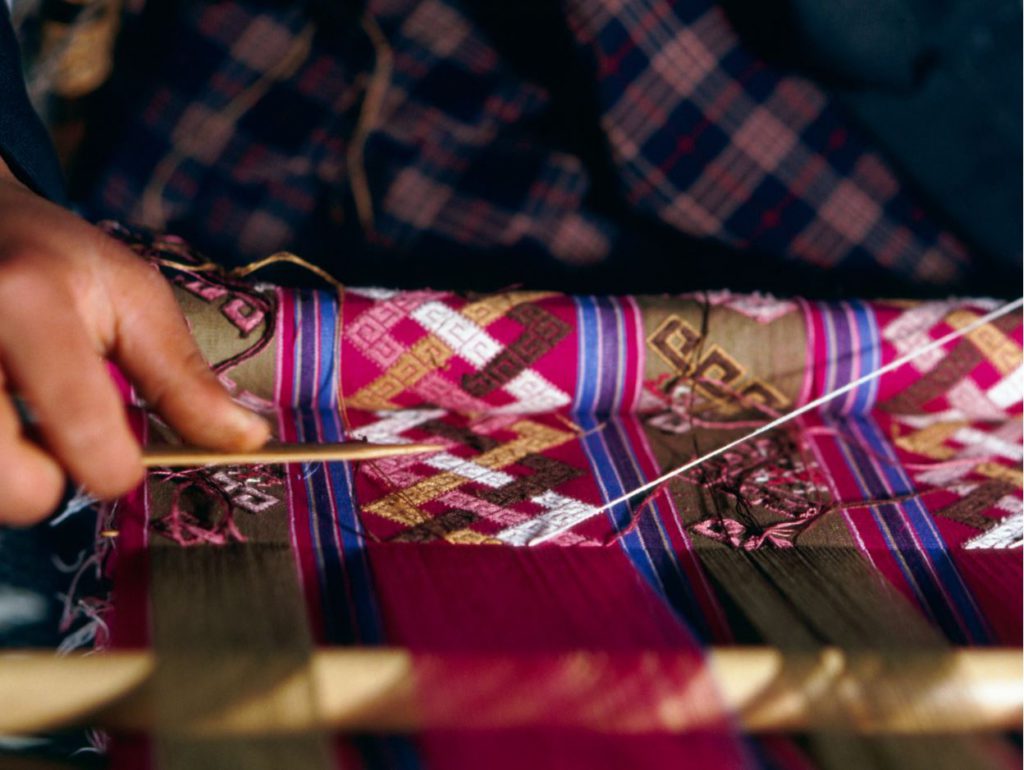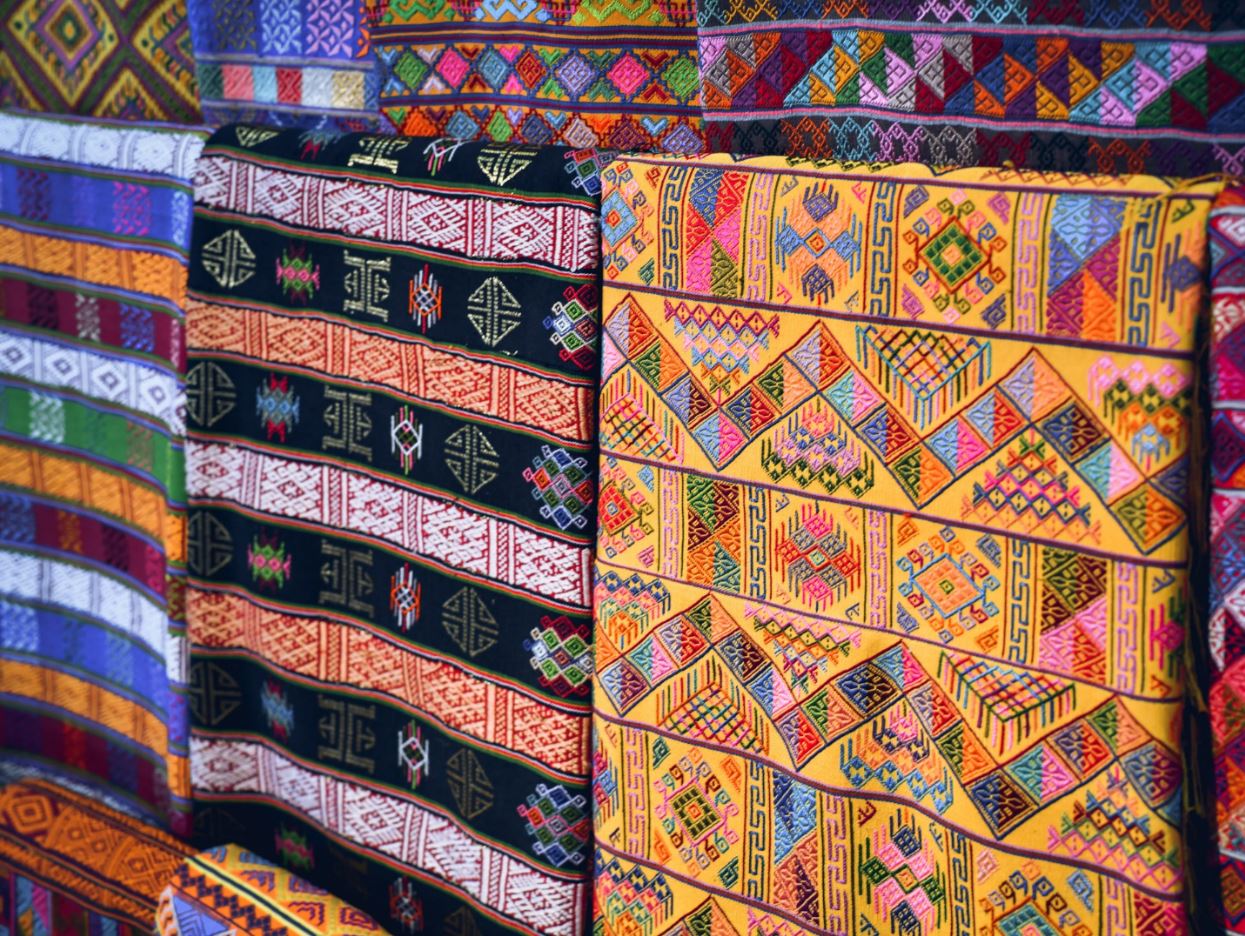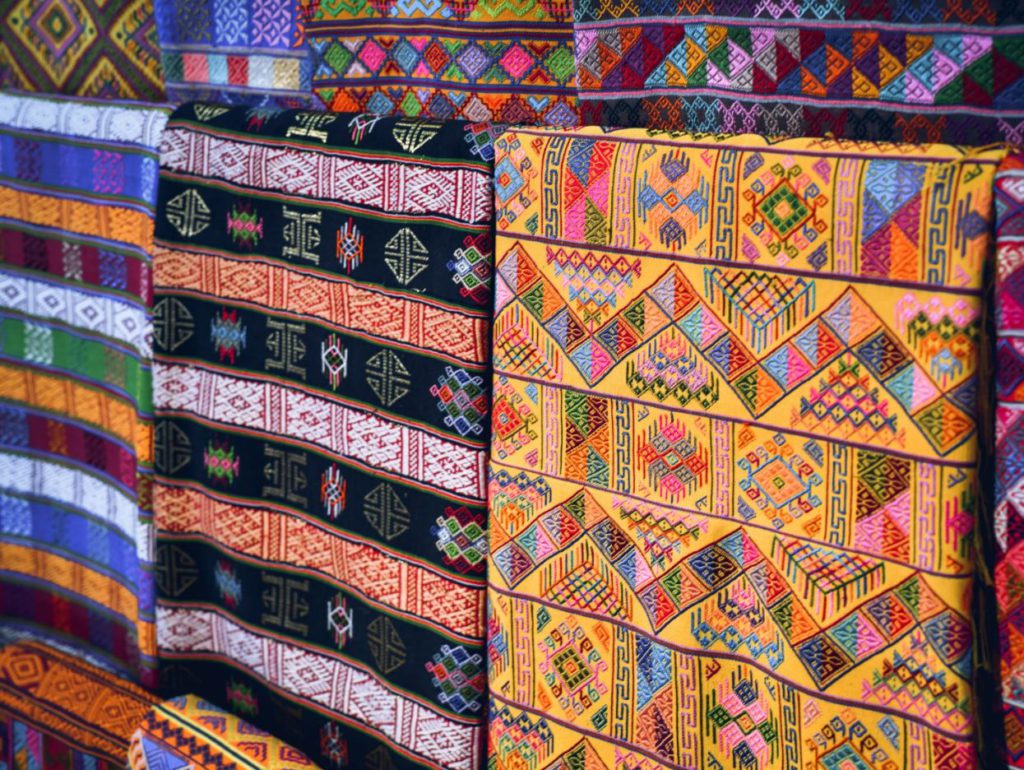 Royal Textile Academy Bhutan Timings: 9.00 am to 4.00 pm from Monday to Saturday. Closed on Sundays.
Royal Textile Academy Bhutan Ticket Price: 300 Nu per person
12. Clock Tower Square
If you are in the city, why not stop at a Bhutanese style clock tower on the way. The square where the clock tower is located is also a major meeting spot for most locals. The locals use it for public events, musical shows, trade fairs, and even movie award ceremonies. The clock tower, on the other hand, is quintessentially Bhutanese with wooden carving and bright colors.
If you are missing some western food, you can also find some in the café around the square. Catch up on some coffee and desserts while in the area. You will miss it if you going to travel outside Thimphu.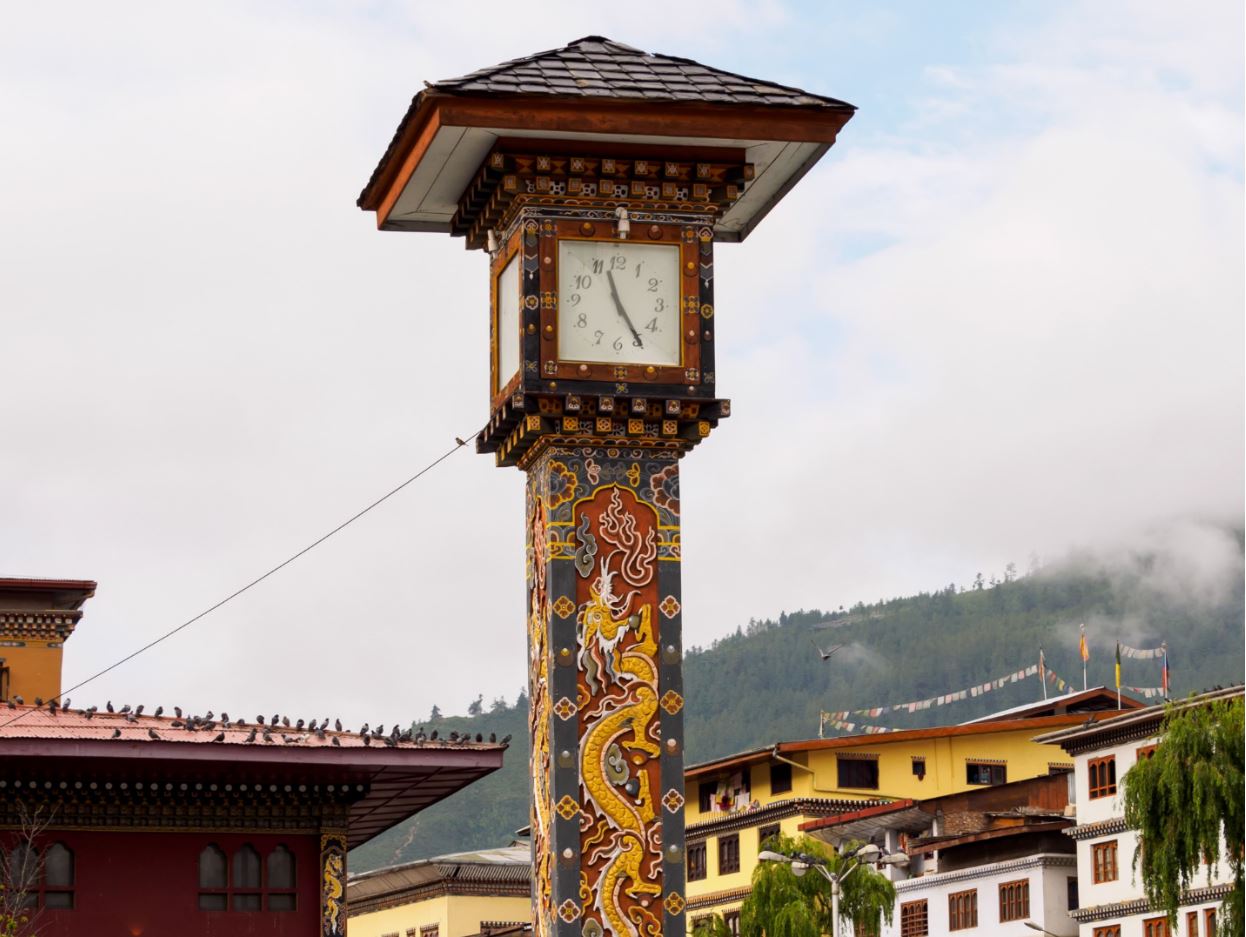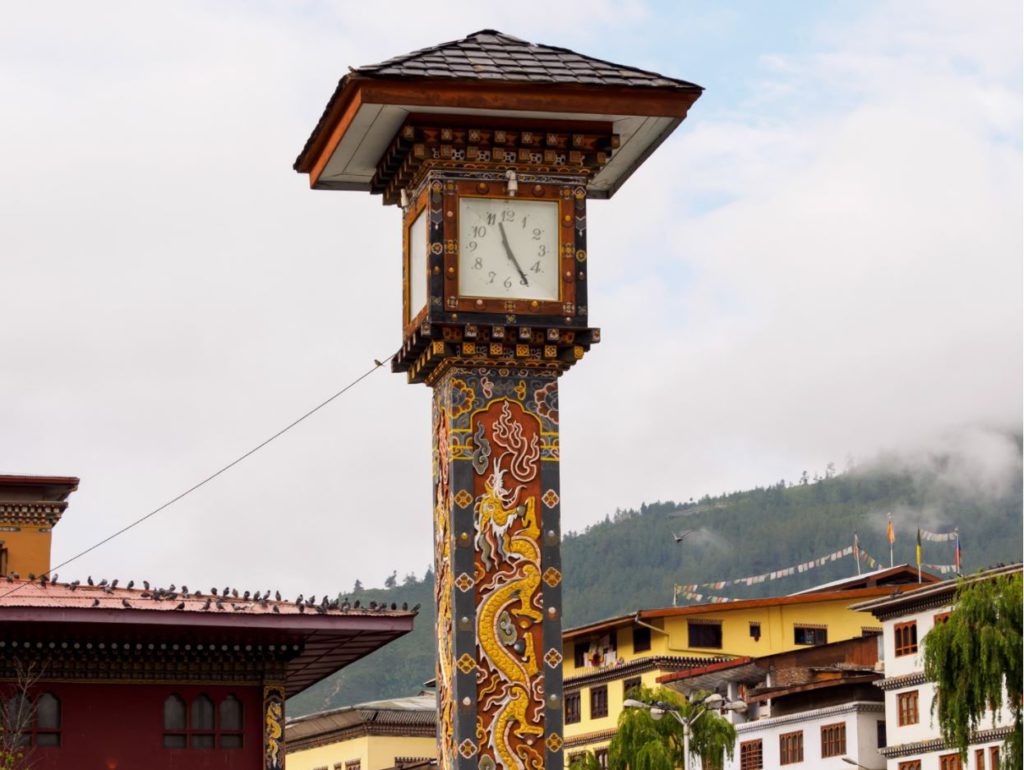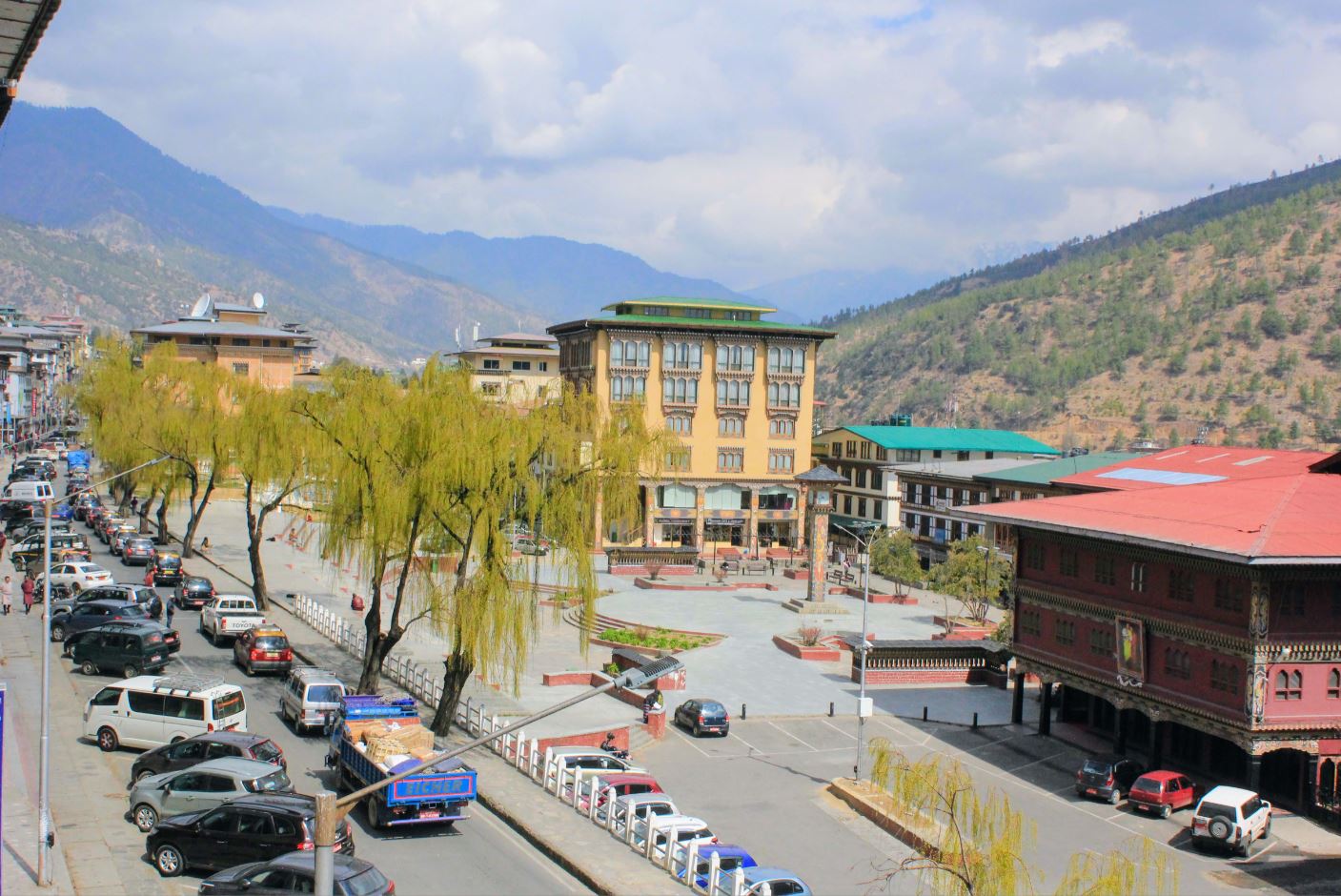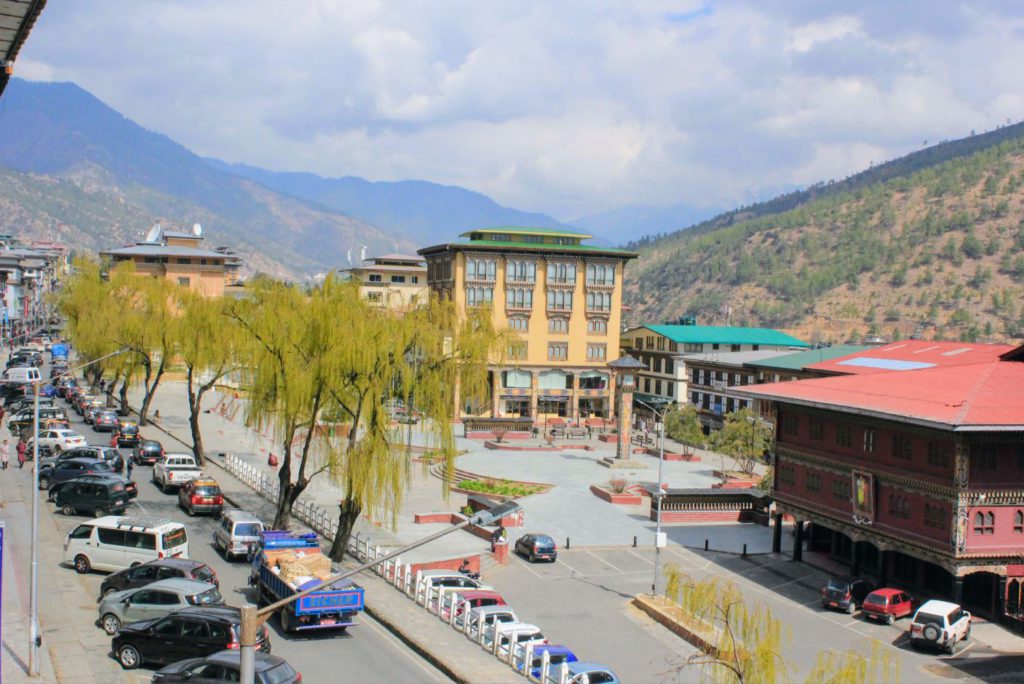 13. Dechen Phodrang Monastery
Dechen Phodrang Monastery, also called the Palace of Great Bliss is located higher up in the clouds. It makes you want to get out of the town. The monastery has around 450 students enrolled at a time. You can always find it bustling with activity with pupils covered in bright red robes wandering around.
The temple is particularly famous for the statue of Buddha Sakyamuni on the ground floor and the statue of Zhabdurung on its upper floor. The monastery is also home to paintings dating back to the 12th century restored by a special UNESCO project.
You can take a cab to the monastery that is 6 km outside Thimphu city. The place is free to enter without any time restrictions.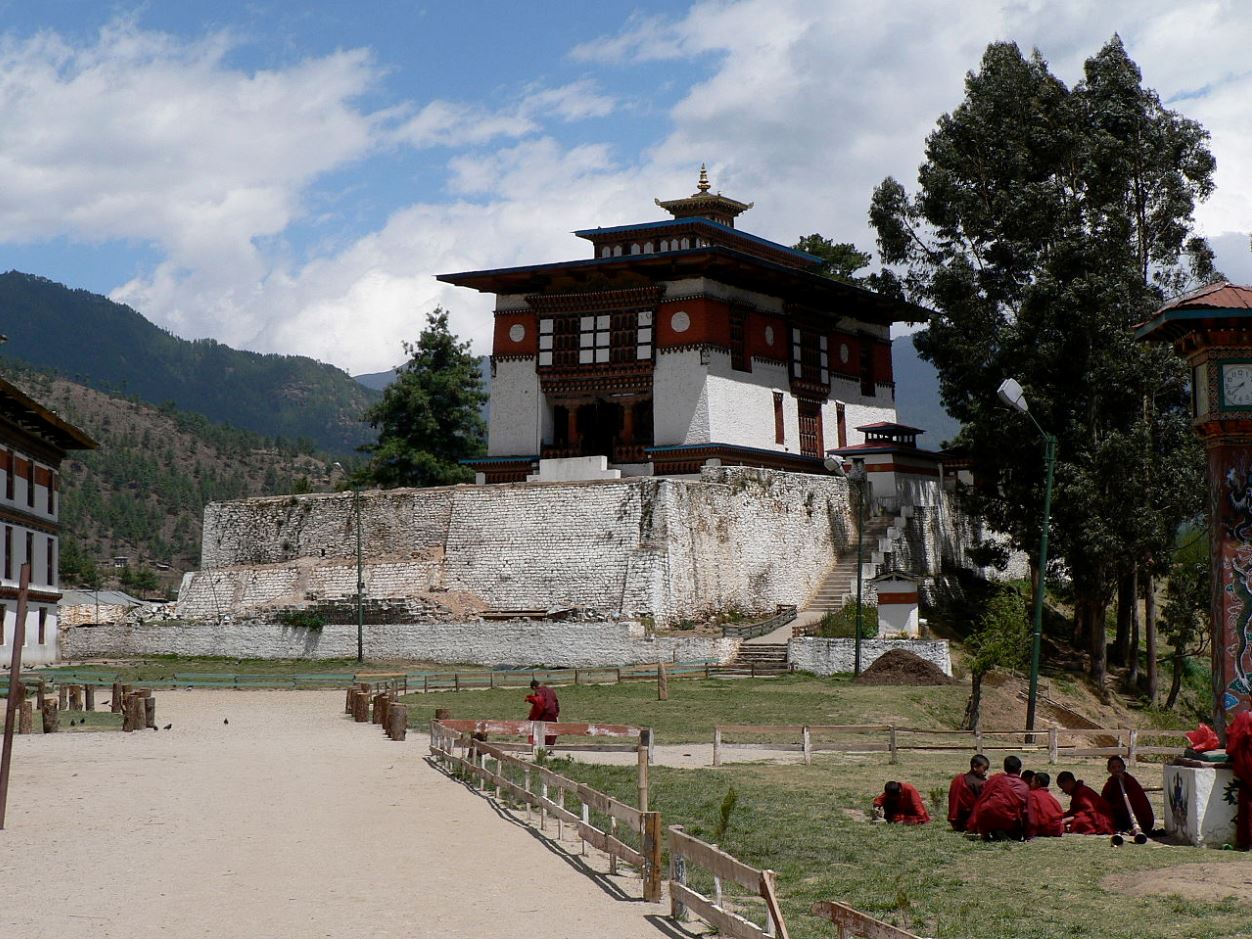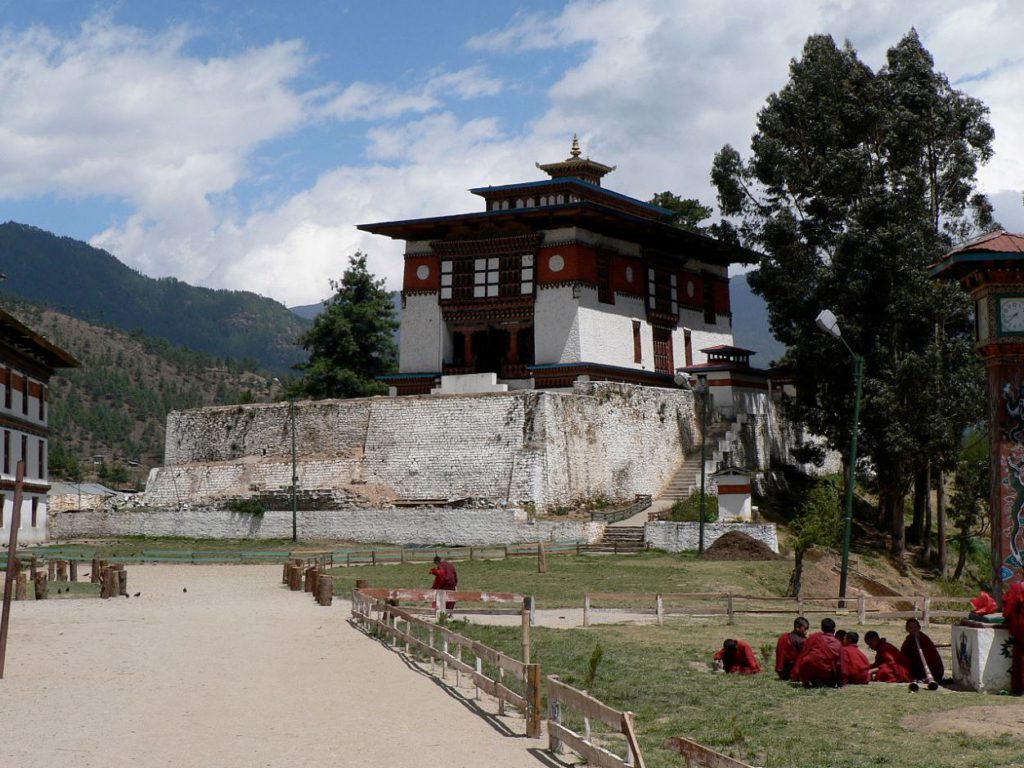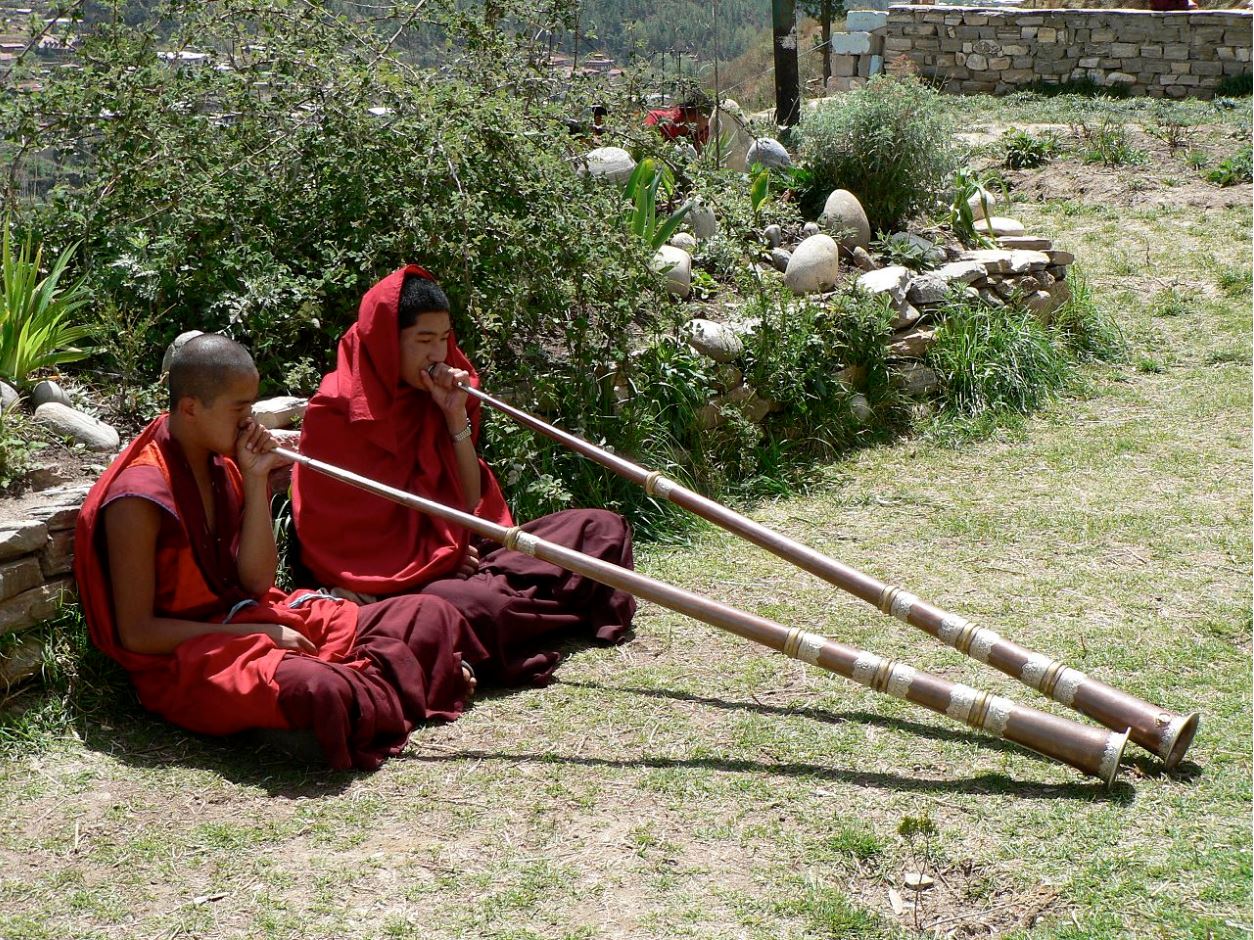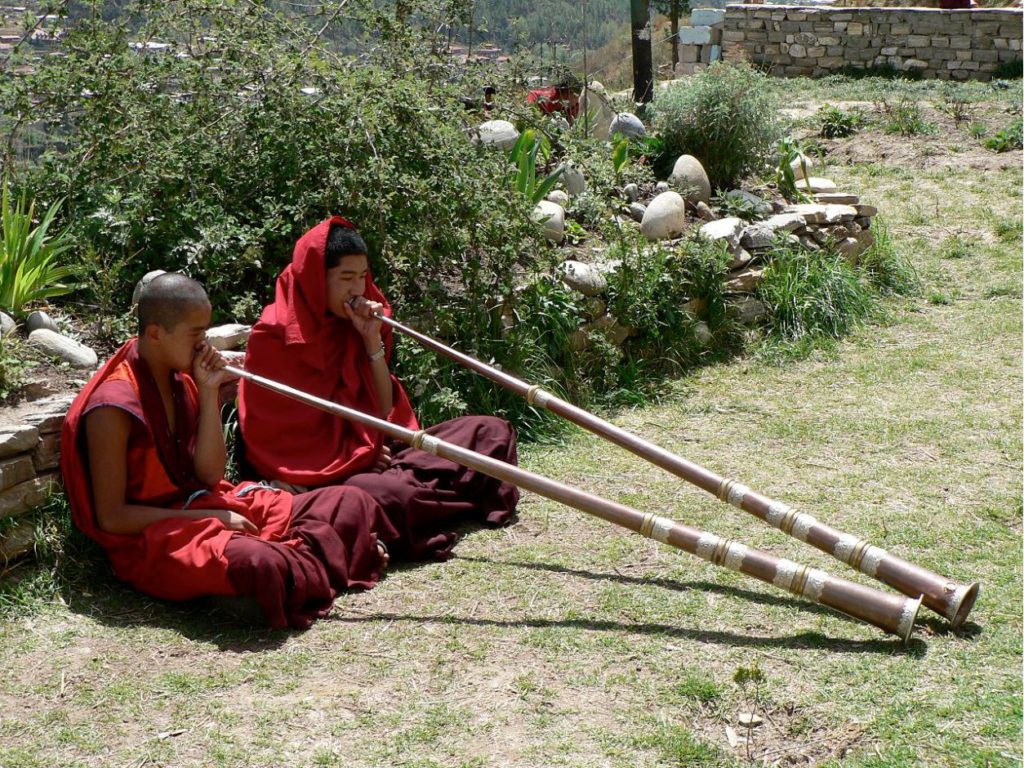 How to reach Thimphu
This really depends upon if you are taking a guided tour (read below) or not. In the first case, I am assuming that you are not.
Bus: If you are flying into Bhutan, you will land at Paro. You can take a bus from Paro to Thimphu which is frequent. However, the buses usually do not run after 4.00 pm so make sure before you know the schedule. The tickets are also limited and they do not allow overcrowding on the bus. So buy a ticket beforehand if you can.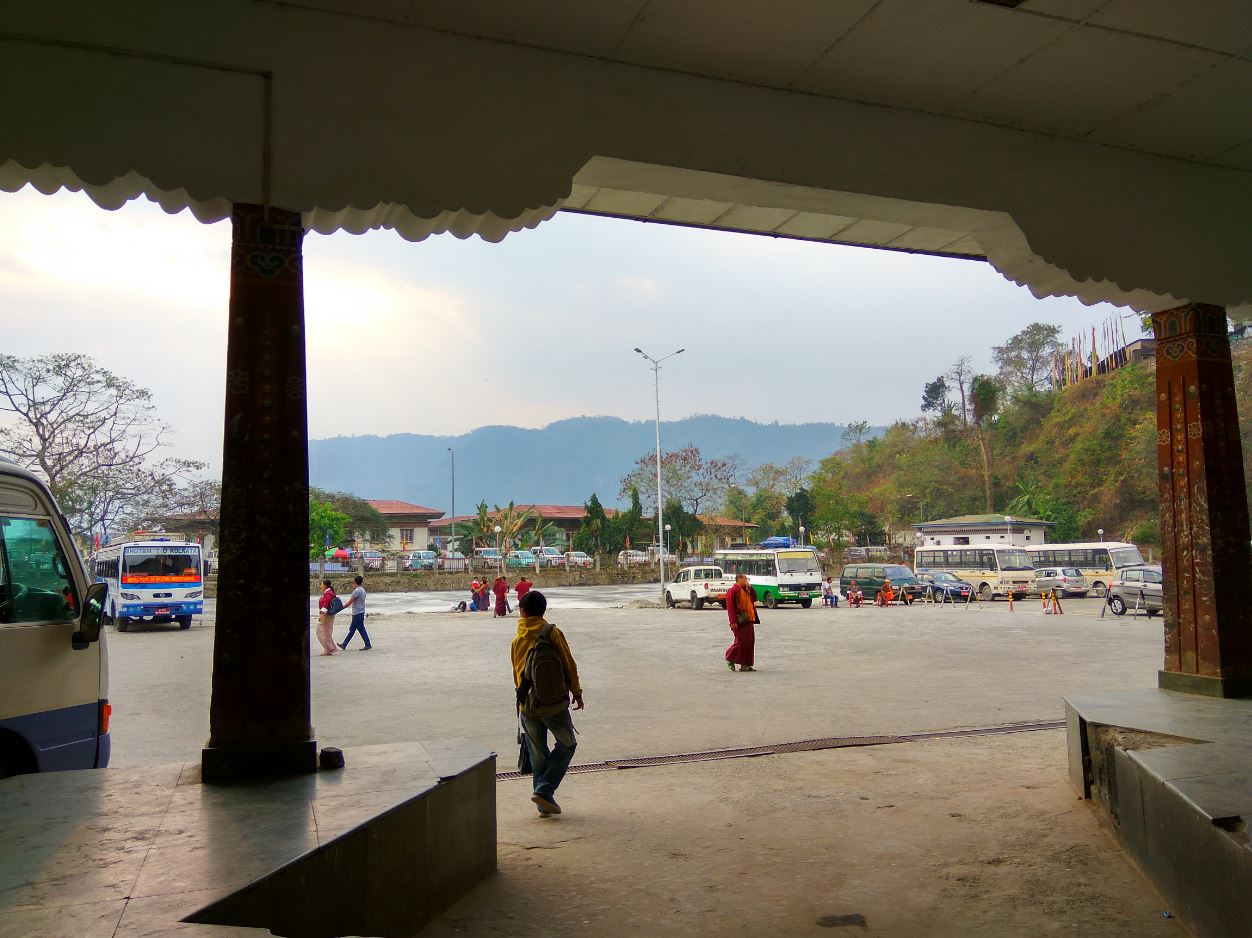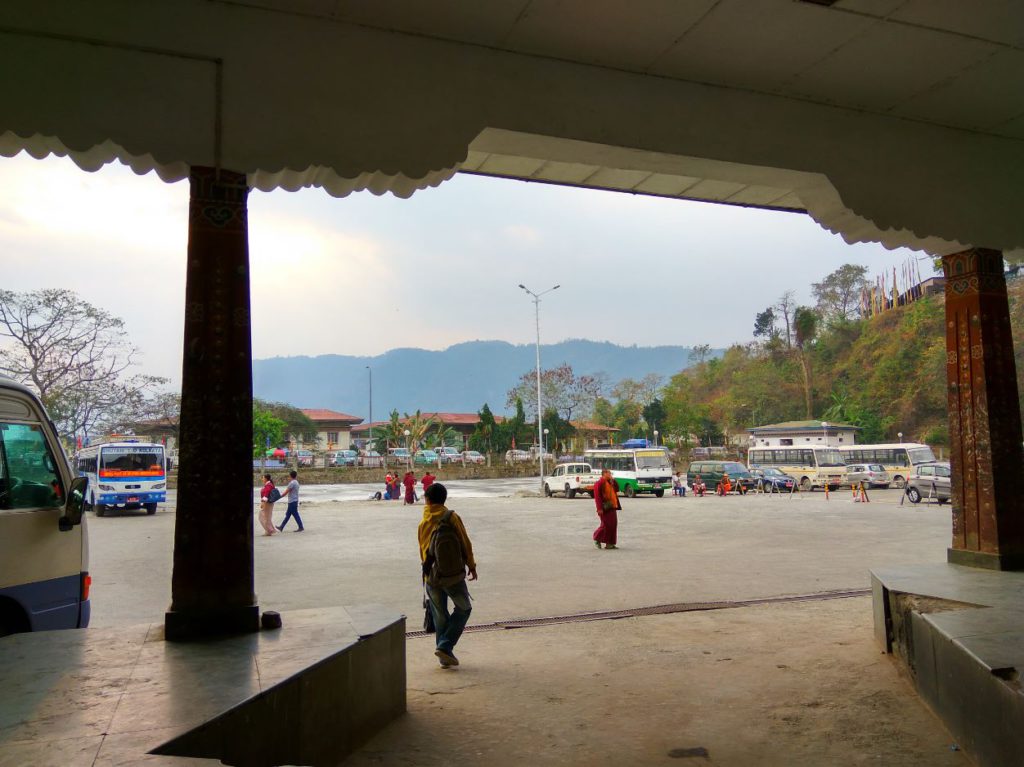 Cabs: You can also take a shared cab from Paro. Shared cabs are usually available near the bus stops and are affordable but pricier than the bus but fast.
If you are entering Bhutan by road you need to travel till Jaigon (a town on the border). Cross over to Phuentsholing on foot and head to get your travel permit towards the permit office. Again, the bus does not run after 4 pm. So make sure you are done with your travel permit before then to enter Bhutan. You can then take a bus at the bus stop to Thimphu that will cost a little less than 250 Nu per person.
Guided tour: In case you are looking for a guided tour, you can check out some of the popular pre-planned tours available online. You can always customize your itinerary according to your needs and interests.
4 Day All Inclusive Bhutan Tour
7 Day All Inclusive Himalayan Kingdom of Bhutan Tour
10-Day Discover the Happiness of Bhutan Private Tour
If you want something more particular, you can get in touch directly with agencies and discuss your requirements with them. Here are two I found out with great reviews:
Where to Stay in Thimphu
Thimphu is a small city and most of the hotels are located around the city centre only. Since Bhutan required all foreign travellers (except Indians) to book via a tour agency, your hotel will be included in it. In fact, there are only a handful of hotels that you can book online.
You can also choose to reach and look for a room the old-fashioned way but I will not recommend it. If you wish to book a hotel ahead, below are a few options.
Budget hotels: Ludrong Hotel, Yangki Guest House, Hotel Ugyen, Khamsum Inn
Luxury hotels: Terma Linca Resort and Spa, dusitD2 Yarkay Thimphu, Le Méridien Thimphu
Best time to visit Thimphu
Spring/Autumn (April/October): The months around spring and autumn are best to visit Bhutan since the temperature is pleasant and there aren't too many tourists in town. To be honest, there are never too many tourists. The valleys are filled with bright flowers and the air is fresh and clean. The rains have subsided in the later months and the skies remain clear.
Summer/Monsoon (May-August): Summer is not bad either. It can get a little hot on some days, so you may not be able to enjoy the best of what the valleys have to offer. The monsoon is a perilous time if you are planning to drive deep in the country. Frequent landslides may block off the roads to important highways.
Winters (November – March): Winters are rough and extremely chilly in the mountains. If you are not fond of them, avoid this time. Snowfalls can also block some important routes. On the other hand, if you love snow it can be a great time to visit. Make sure you pack well. There is no inbuilt room heating in Bhutan.
What to wear in Thimphu
Thimphu or Bhutan in this case is not a place to flaunt your curves. The country is deeply religious and the only time you will see some skin in Thimphu is at a few Karaoke bars (that too pretty limited).
Moreover, most of your itinerary will include visiting temples. You will have to follow some strict code of attire in there. Make sure you always cover your shoulders and knees. Do not wear clothes that are too body-hugging, see-through, ripped, or torn.
If you are visiting near the winter months, make sure you pack well. Like really well. The wind is chilly and the rooms tend to get extremely cold at night. Pack up some body-warmers for both upper and lower body. Do not forget the extras of caps, gloves, and scarves. You will really need them.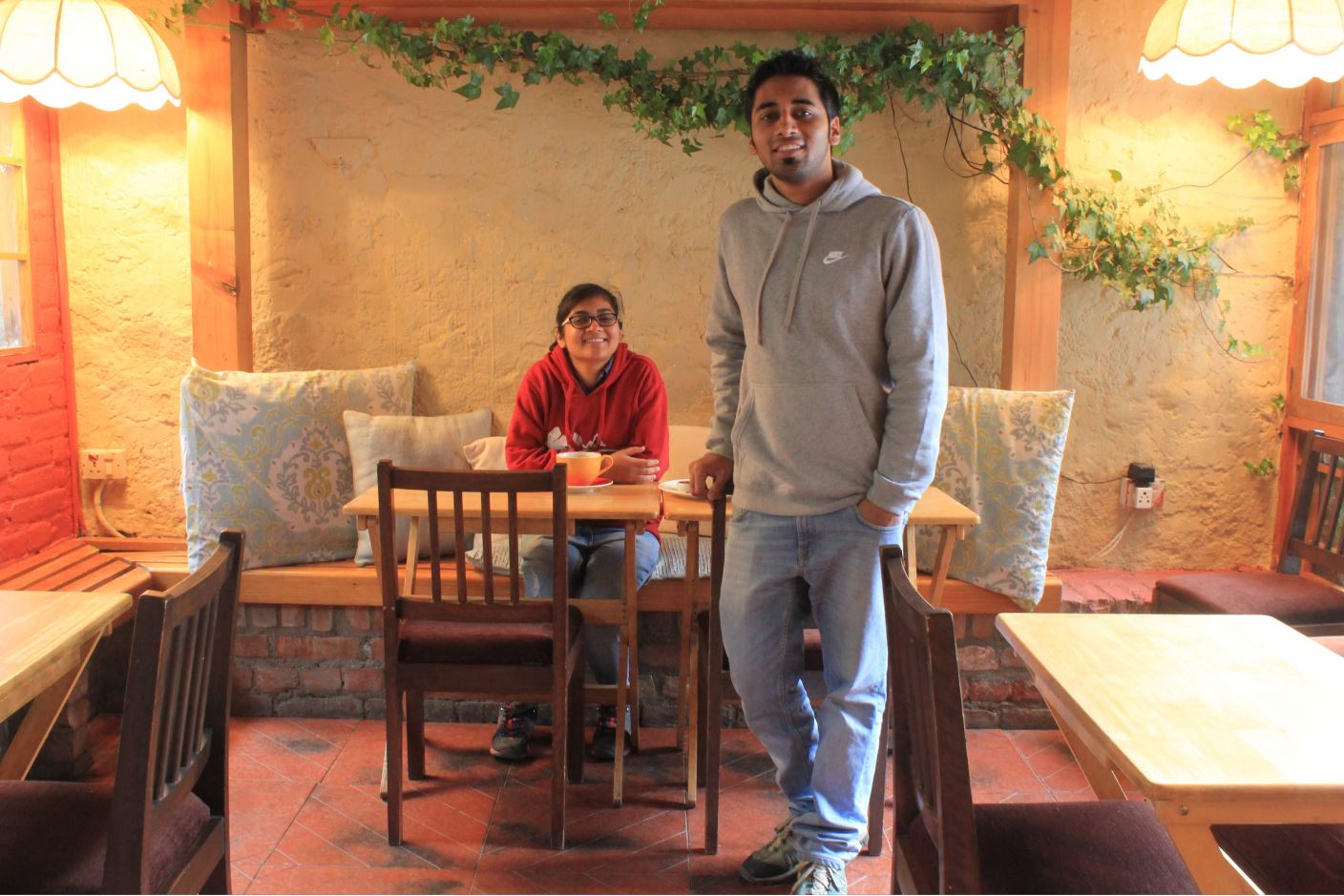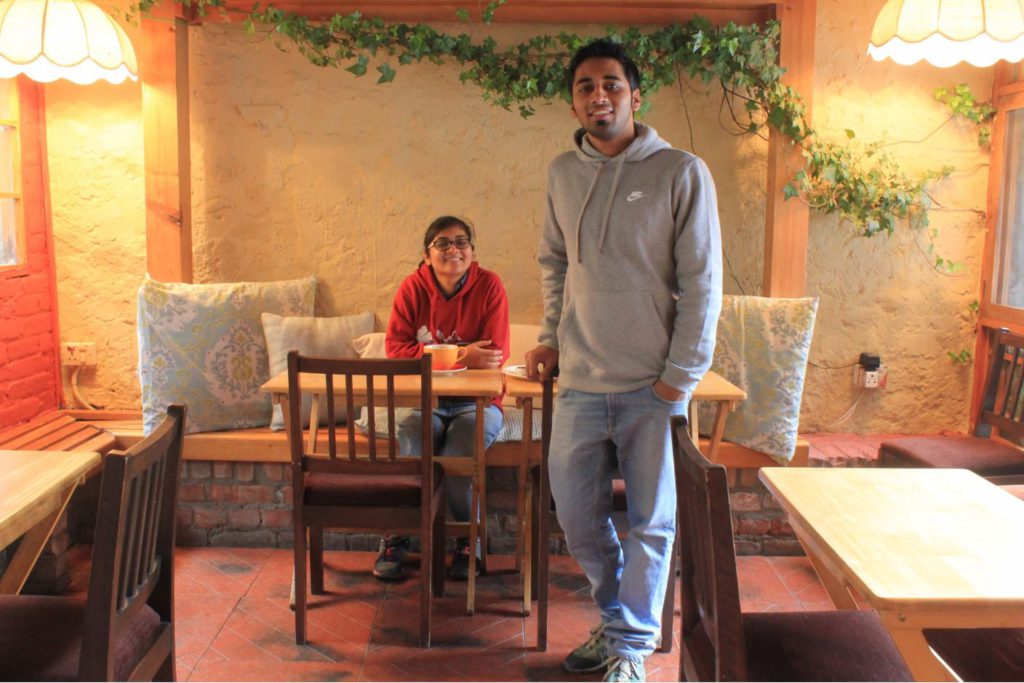 Save On Pinterest


Related Articles