17 Sep

Visiting Punakha Dzong and Valley, Bhutan

When it comes to traveling, Punakha is one of the top places to visit in Bhutan. After Thimphu and Paro, Punakha tops the chart. Mainly because of the iconic Punakha Dzong located on the banks on two beautiful converging rivers.

The Dzong is not only known for its size and architectural genius, it is also the venue for the most important ceremonies in the Kingdom of Bhutan. Punakha was also the capital city of Bhutan for around three centuries before Thimphu.

But apart from the Dzong, Punakha has a small-town charm that is quite different from what you see in Thimphu and Paro. It seems like everybody knows everyone else here. Tourists are rare and smiling kids greet you as you roam around their sleepy village.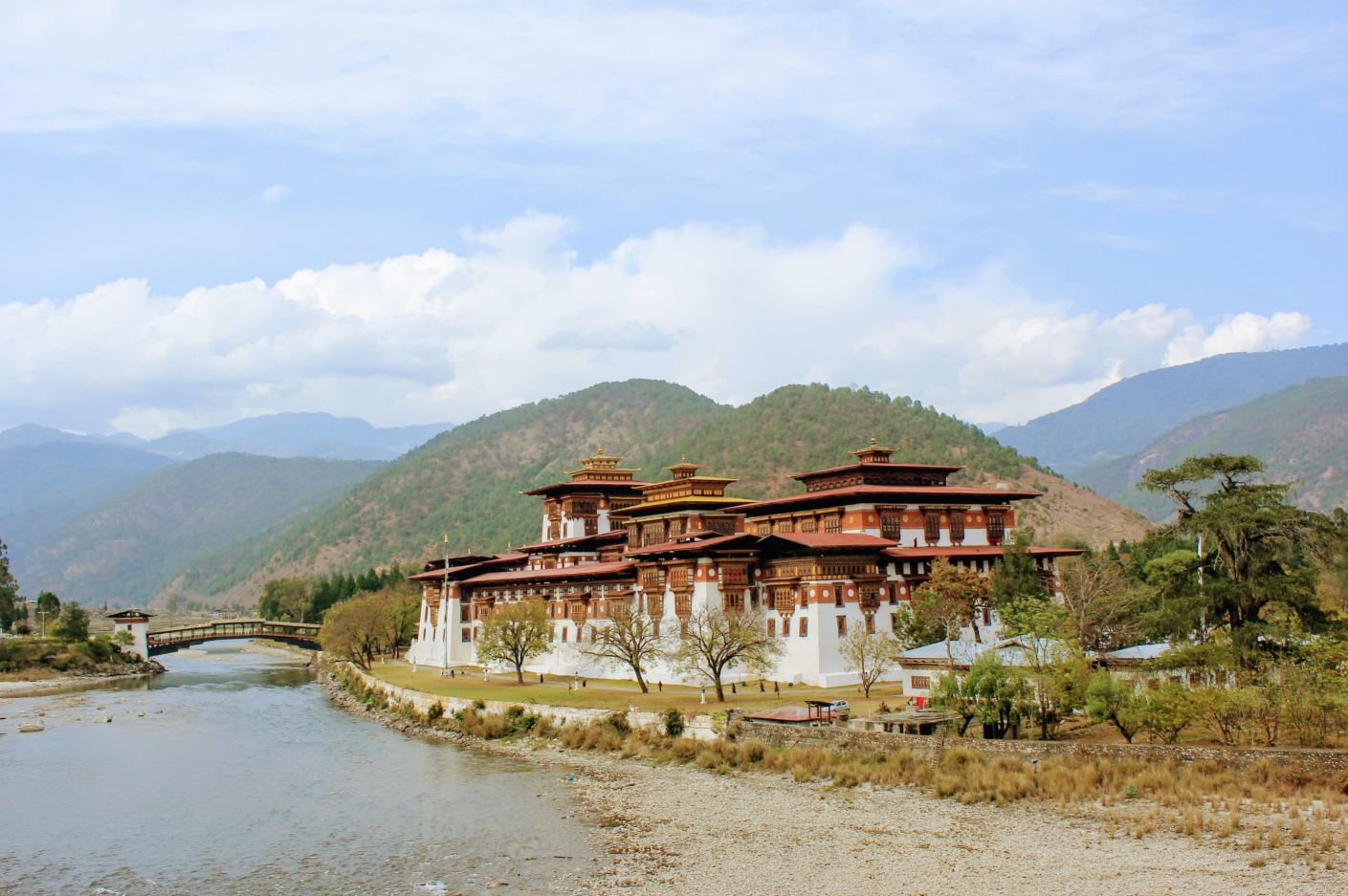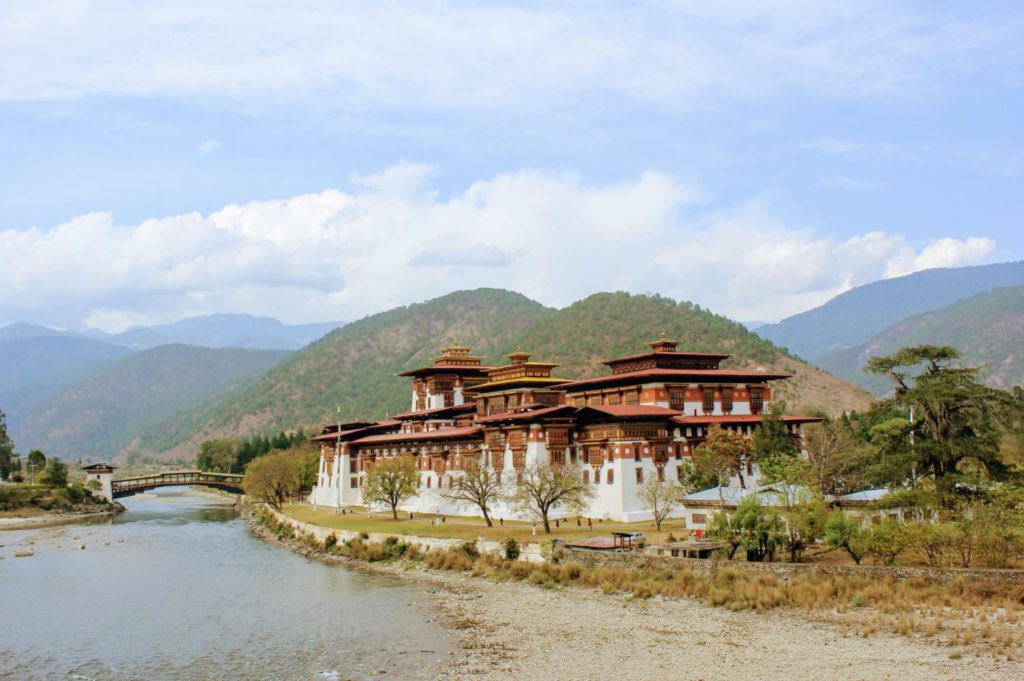 Where is Punakha?
Punakha is around 73 km north-east of Thimphu city. It takes around 2.5 hours to travel the way. The main village in the area is Kuruthang where you can stay during your visit. Punakha Dzong is 5km north of Kuruthang.
If you are not with a tour company, you will need a special permit to travel to Punakha. You can get the at the permit office in Thimphu.
How to reach Punakha
You can use one the two ways to reach Punakha from Thimphu or Paro:
Guided Tour: All international tourists (except Indians) need to enter Bhutan using a guided tour. This is compulsory and non-negotiable. The good part is you don't need to worry about anything from there. The agency takes care of your hotel stay, entrance fees, and all transfers along with providing you with a full-time guide. It may seem a bit pricey but it is extremely comfortable or as the reviews say.
Here are some great options for a guided tour:
4 Day All Inclusive Bhutan Tour
7 Day All Inclusive Himalayan Kingdom of Bhutan Tour
10-Day Discover the Happiness of Bhutan Private Tour
If you want something more particular, you can get in touch directly with agencies and discuss your requirements with them. Here are two I found out with great reviews:
Bus: Buses are easy to find from Paro and Thimphu at their respective bus stations. It is affordable and fairly comfortable. The downside is they are not too frequent. So you may not even find one after 4 pm in the afternoon. Make sure that you know that timetable ahead of time. Also, try to buy the ticket beforehand since the seats are limited and overcrowding is not allowed.
Shared Taxis: These are also quite affordable. A ride per person will cost you around 300 Nu. You will have to share the taxi with the locals which is also quite fun if you want to befriend some of them. You can find the taxis around the bus stations. They are usually calling out the destinations and are looking for passengers to fill up the seats.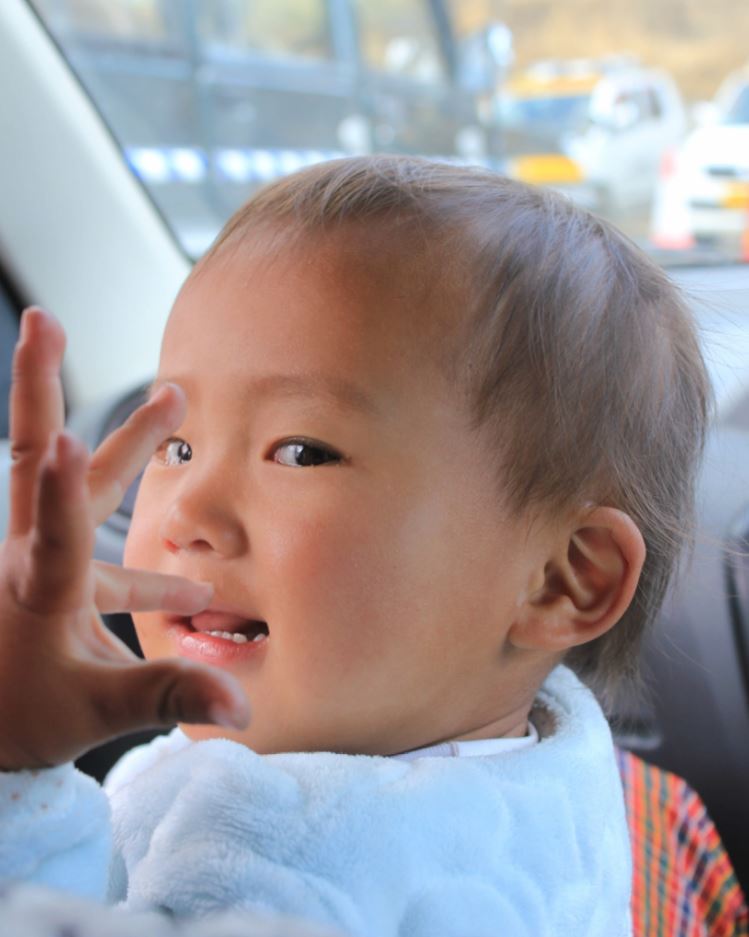 Private Taxis: If you are on a budget, a private taxi will seem far most costly. A one-way trip will be around 1200 Nu. However, if you want to book a cab for the whole day for sightseeing it will cost you between 3500-4000 Nu. Although it is the most comfortable way to travel.

Best time to visit Punakha
Punakha is located at an altitude of 1,200 meters that is far lower than its sister cities. Therefore, the town enjoys comparatively pleasant weather.
The best time to visit Punakha is between March to June when the temperature hovers between 14-20⁰C. The winters (November – February) in Bhutan are extreme and heavy snowfalls often block passages in the mountainous roads. Although the weather in Punakha does not dip beyond the freezing temperature.
Monsoons (July – September) are also not the best time to visit due to frequent landslides and uncertain weather.
If you want to dazzle yourself, you can plan your trip around the Punakha Tshechu or Punakha Festival in February or March every year. The locals dress up in vibrant costumes with quite a lot of singing and dancing on the premises of Punakha Dzong.
Check out this tour that takes you across Bhutan during the Royal Highlander Festival.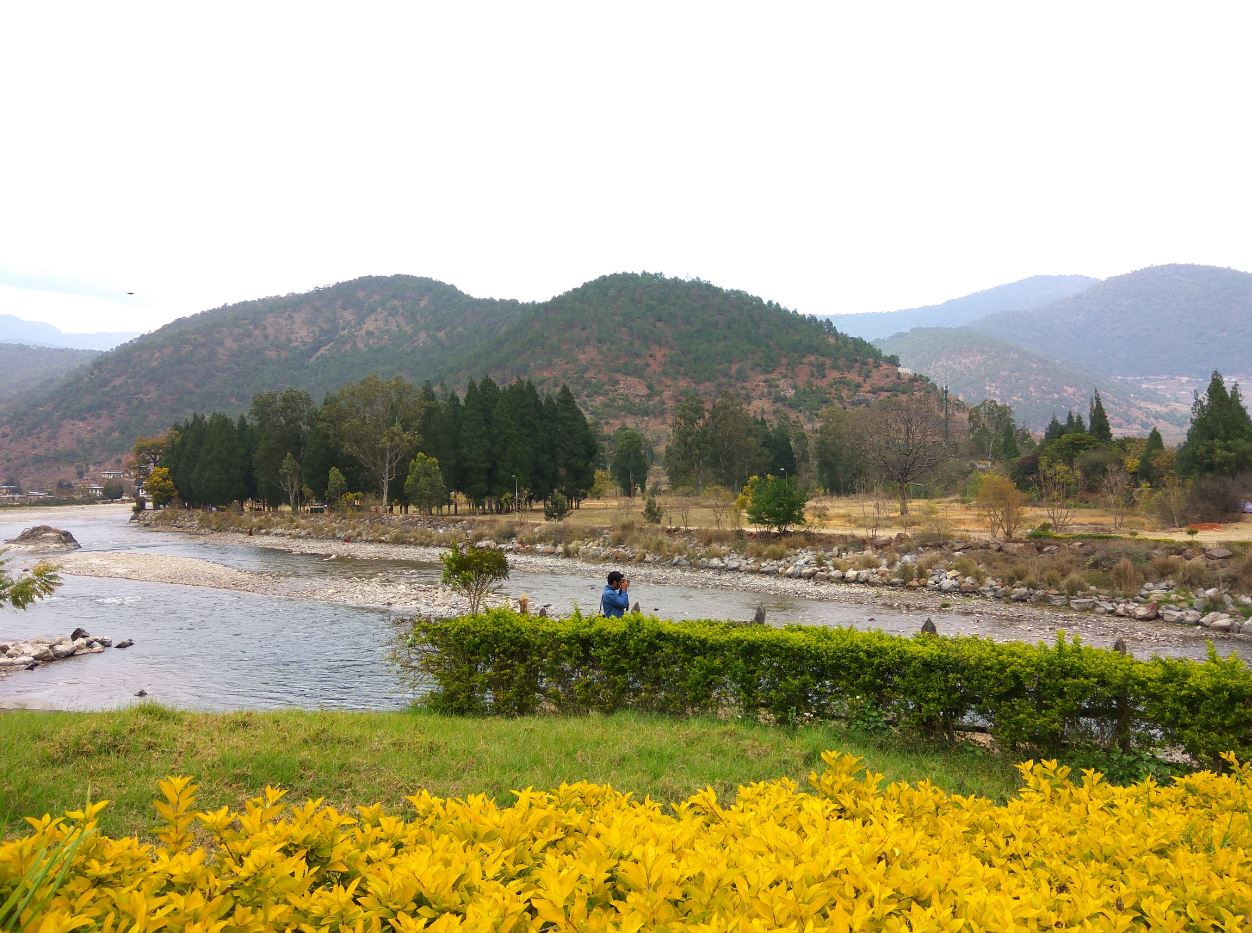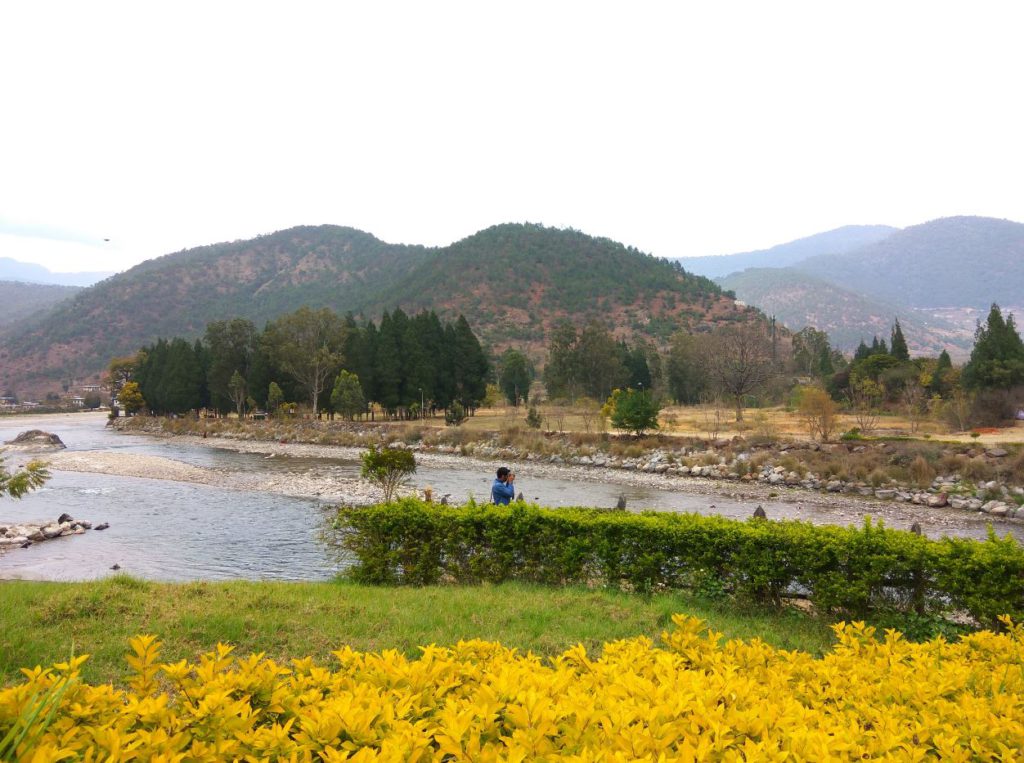 Visiting Punakha Valley
Dochula Pass
Regardless of a shared or a private taxi, you can ask your driver to stop at an important stop to Punakha. This is Dochula Pass that you will encounter on your way.
Dochula Pass is an important landmark on the road from Thimphu. It is market by 108 memorial stupas or chortens. It was built by the eldest queen mother. An important monastery stands by, built in the honor of the fourth king of Bhutan.
The pass is at an altitude of 3,100 meters. On the east, you can see majestic snow-covered mountains. These also have the highest peak of Bhutan that is considered too sacred to climb. Don't linger too long on a cold day. You may feel dizzy due to lack of oxygen.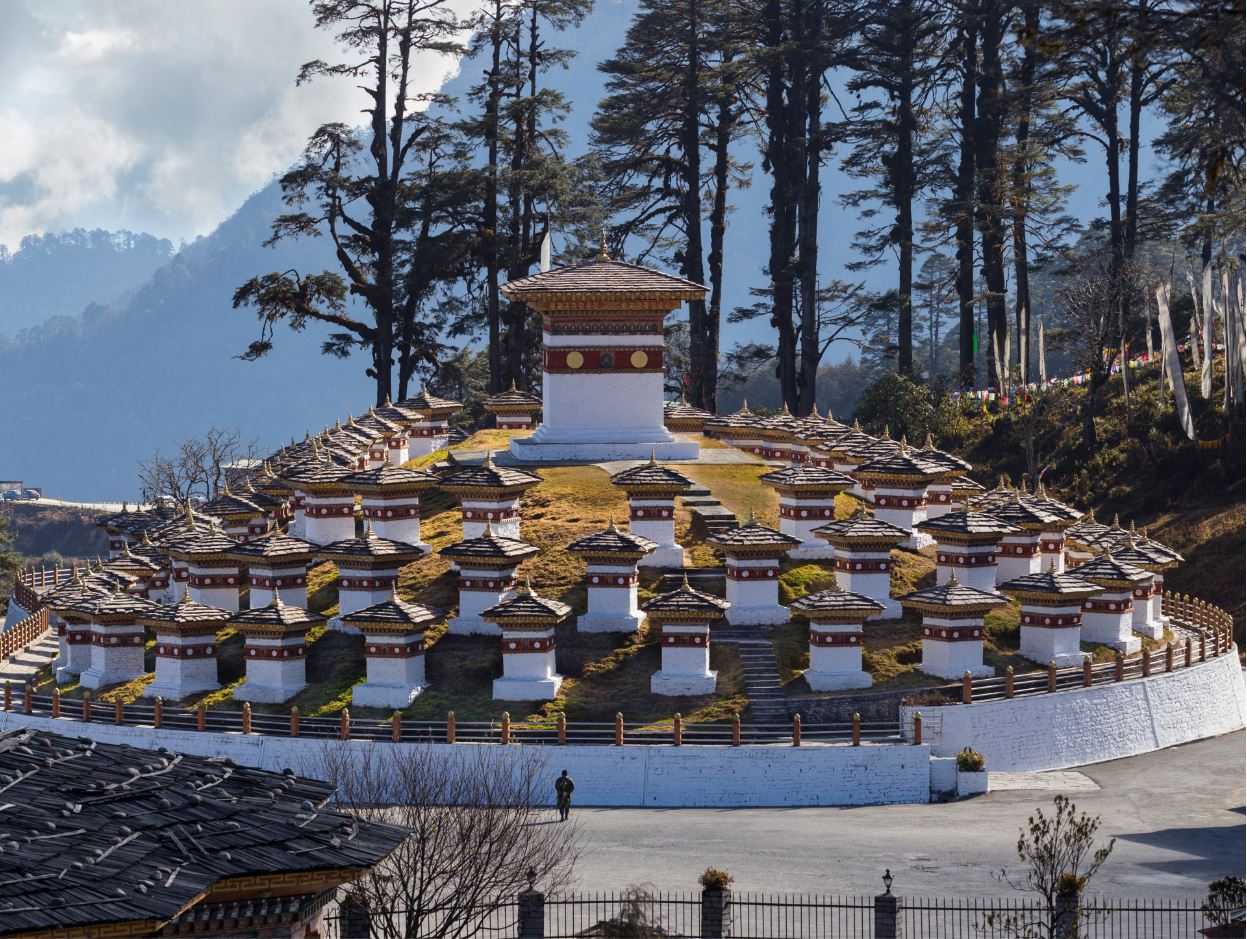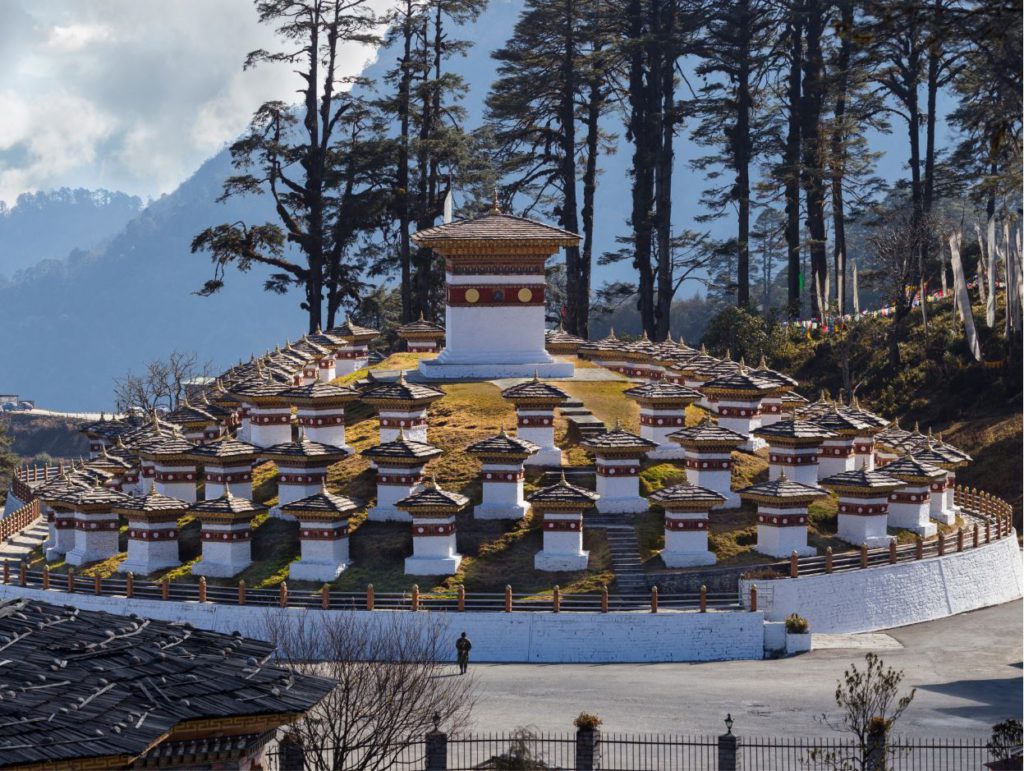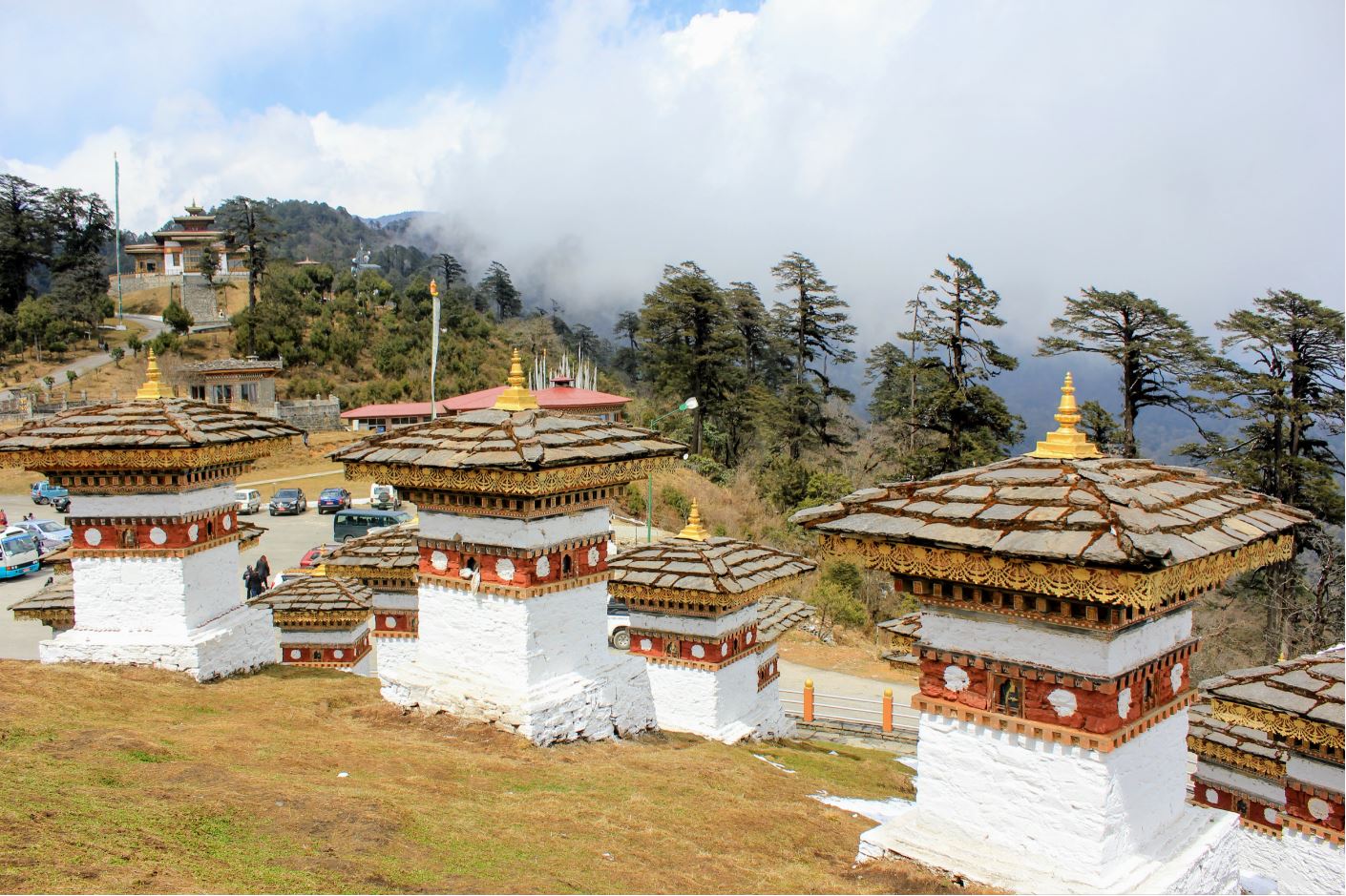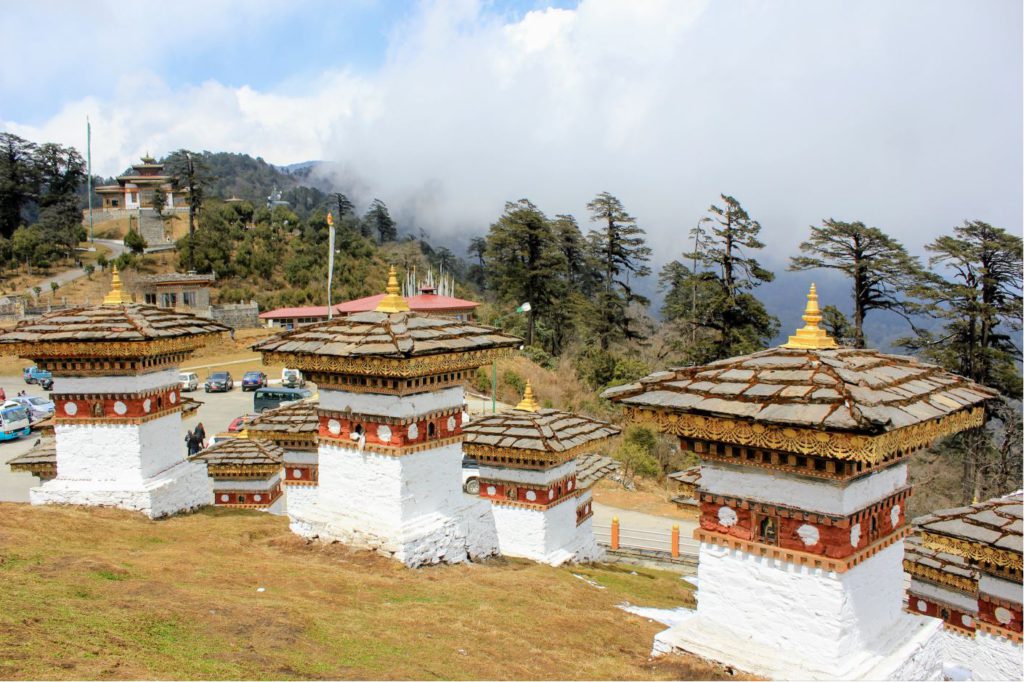 Punakha Village
Once you are in Punakha, try and take it slow. There aren't a lot of things to do in Punakha anyway and the air has a laid back quality that would want you to put brakes on the never-ending sightseeing.
Wander around the village and take some photos with the locals. They are sweet, sometimes curious but mostly welcoming of tourists. Some can speak English and even a little bit of Hindi.
If you are staying in Kuruthang village, you need to travel some more to reach Punakha Dzong. You can ask a taxi driver around for the ride. If you are feeling a bit adventurous, you can also hitch-hike your way. It is usually very safe in Bhutan. And if you want to really stretch your legs, walk the length of 5 km alongside a refreshing river that will lead you to the Dzong itself.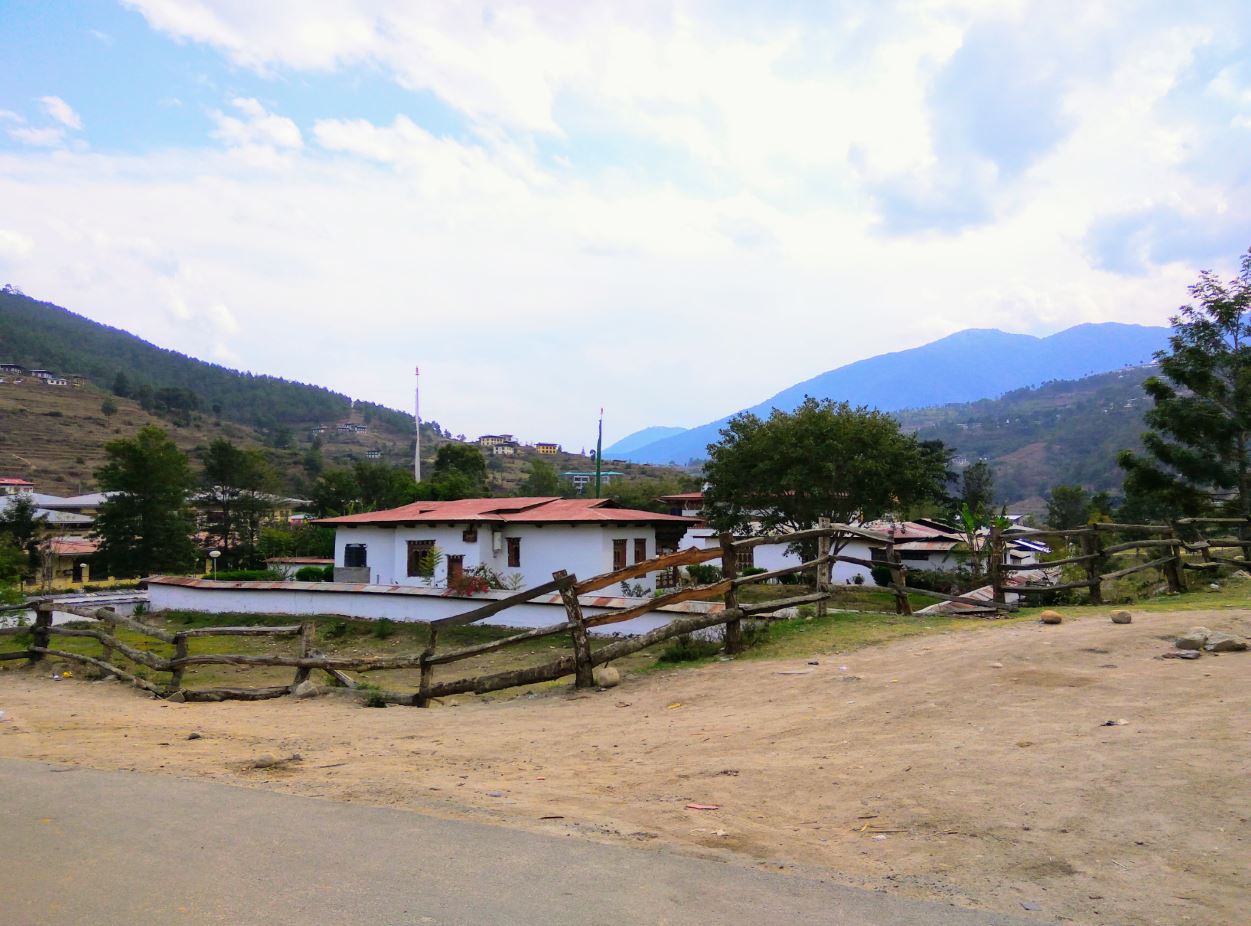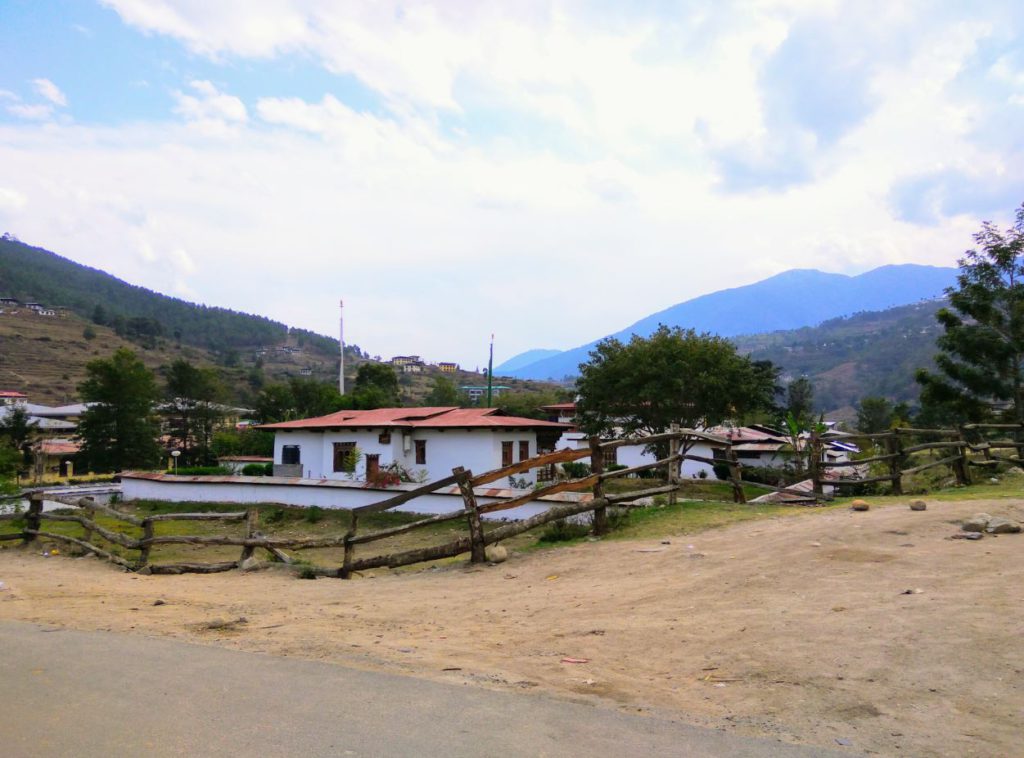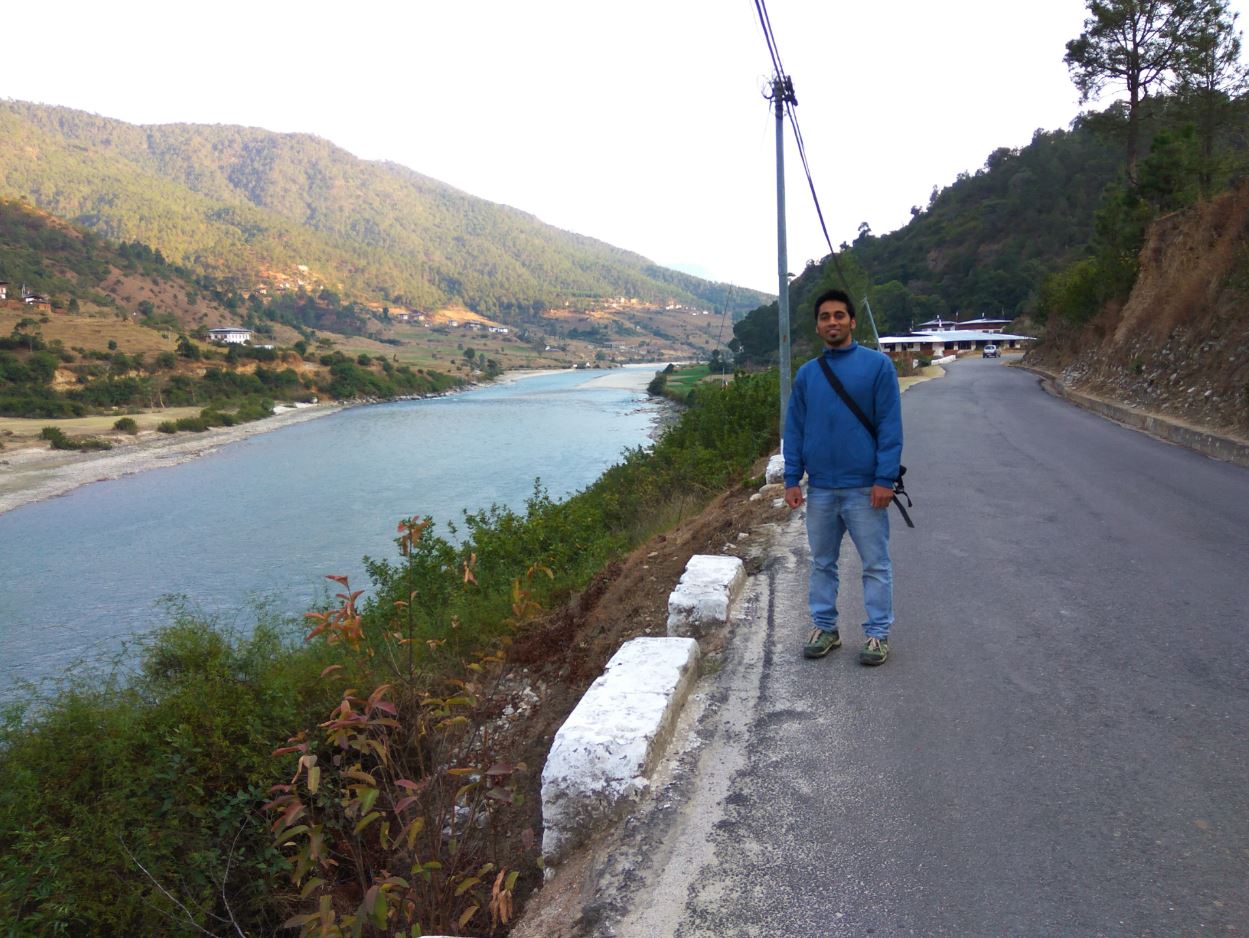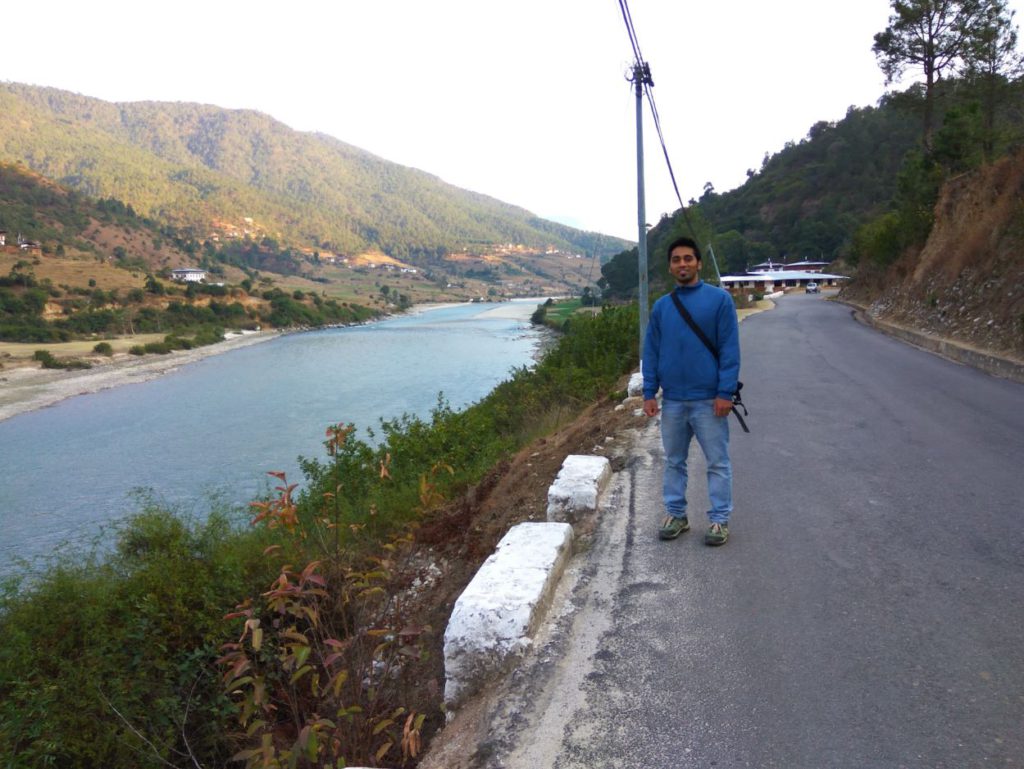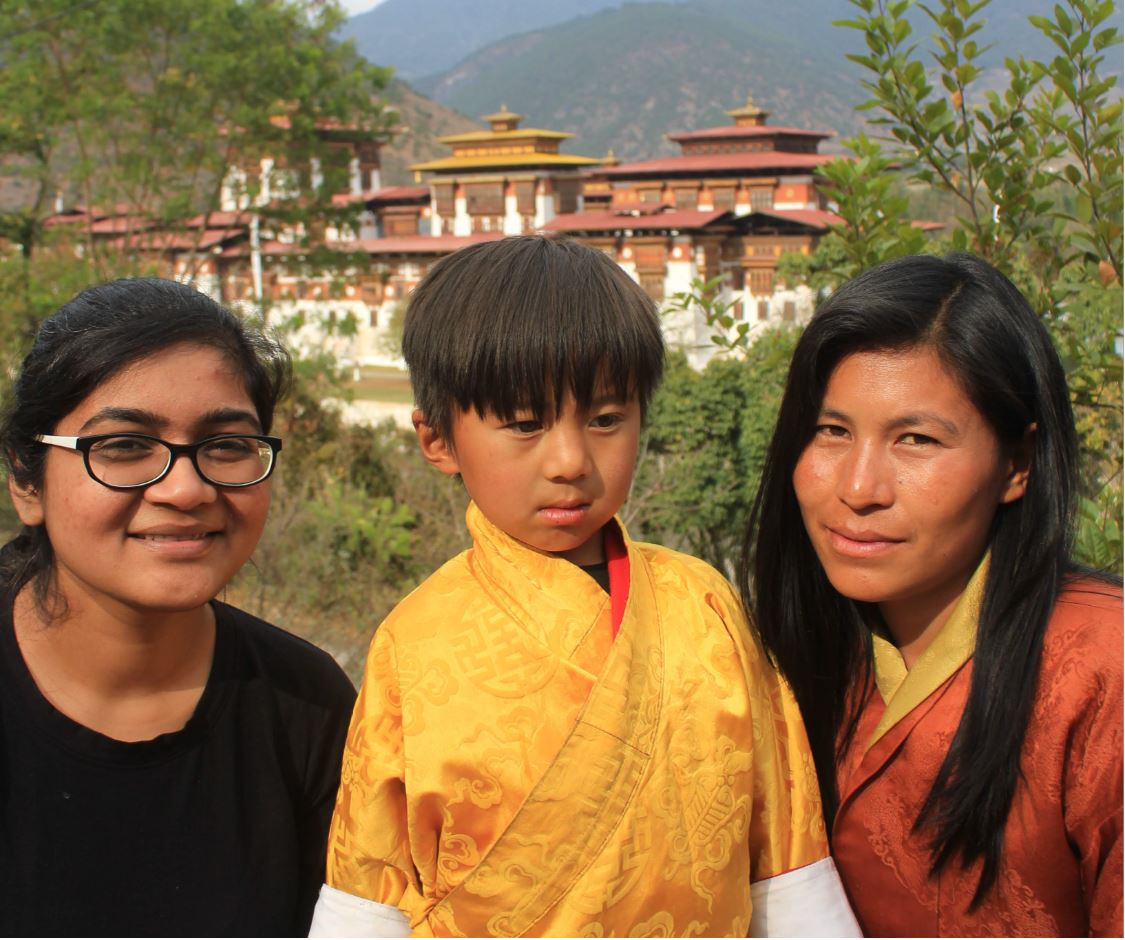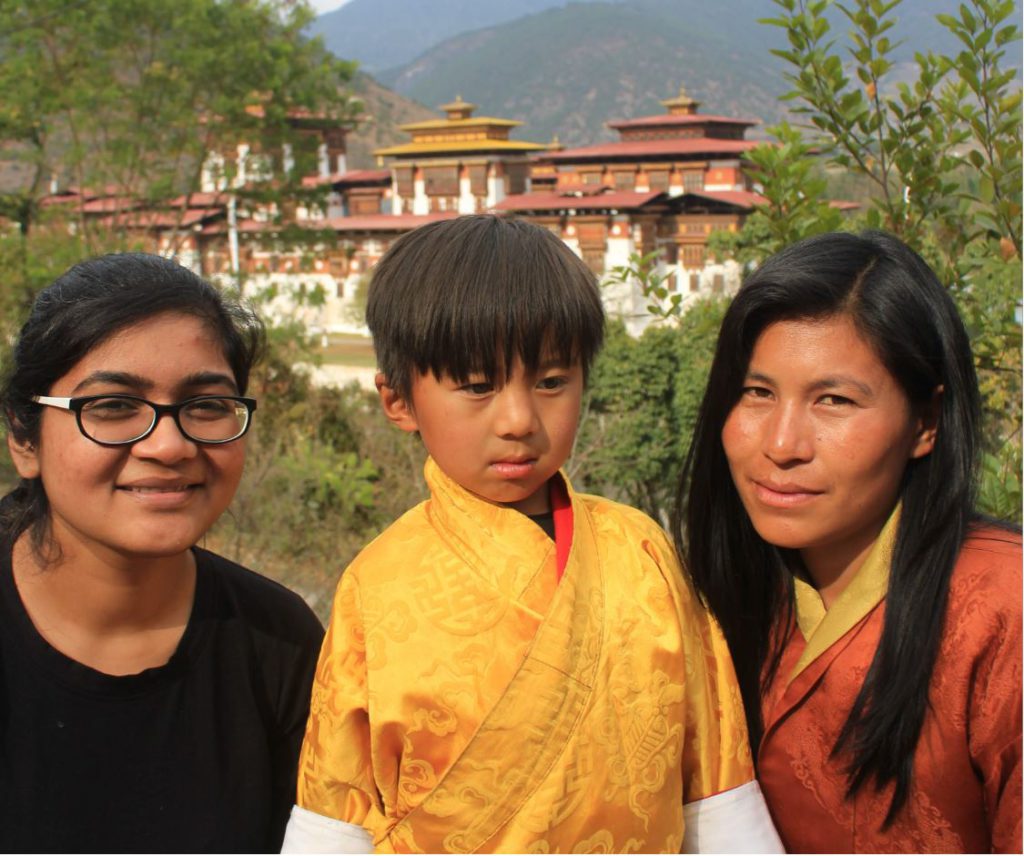 Punakha Dzong
If you aren't already aware, let me explain a Dzong to you. A Dzong is a traditional medieval fortress in Bhutan that is half administrative and half religious center. Each of the 20 districts has a dzong that oversees the administrative activities of the area.
Punakha was the capital of Bhutan until 1955 before moving to Thimphu. Therefore, this one has a special significance in the country. Punakha Dzong is the second oldest dzong in the country. It is also considered as the most beautiful dzong in Bhutan. It is also referred to as 'The Palace of Great Happiness'.
Apart from its sheer size, you can attribute its beauty to its location. The Dzong sits at the confluence of two rivers – Pho Chu and Mo Chu. It is also home to some of the most sacred relics of the country.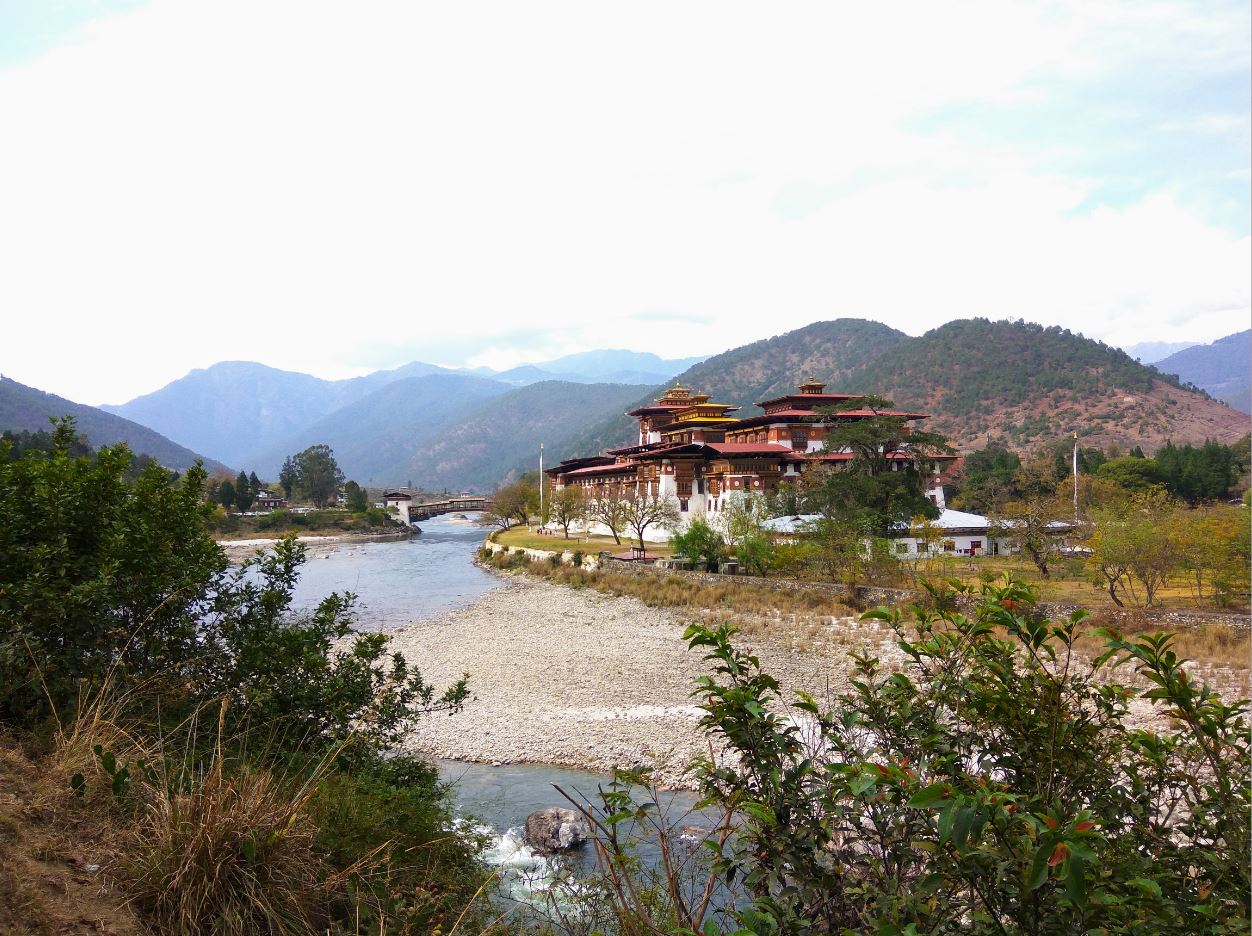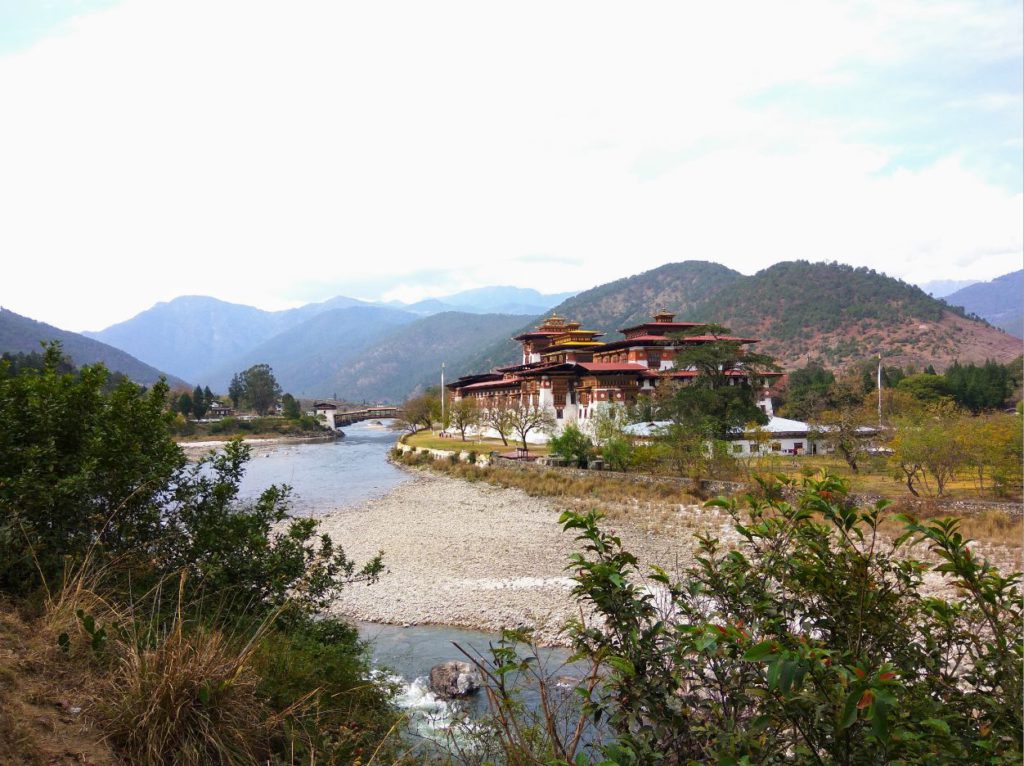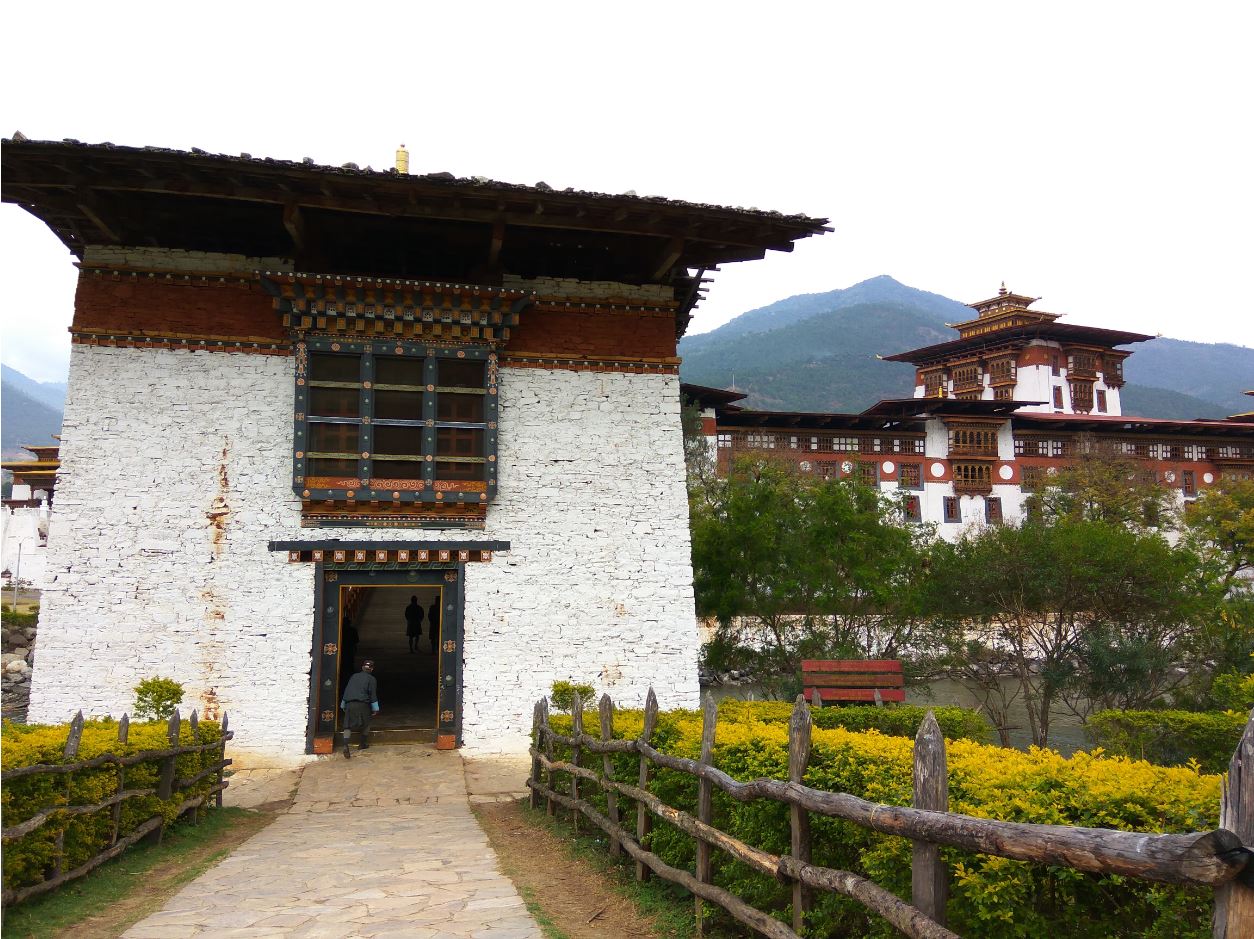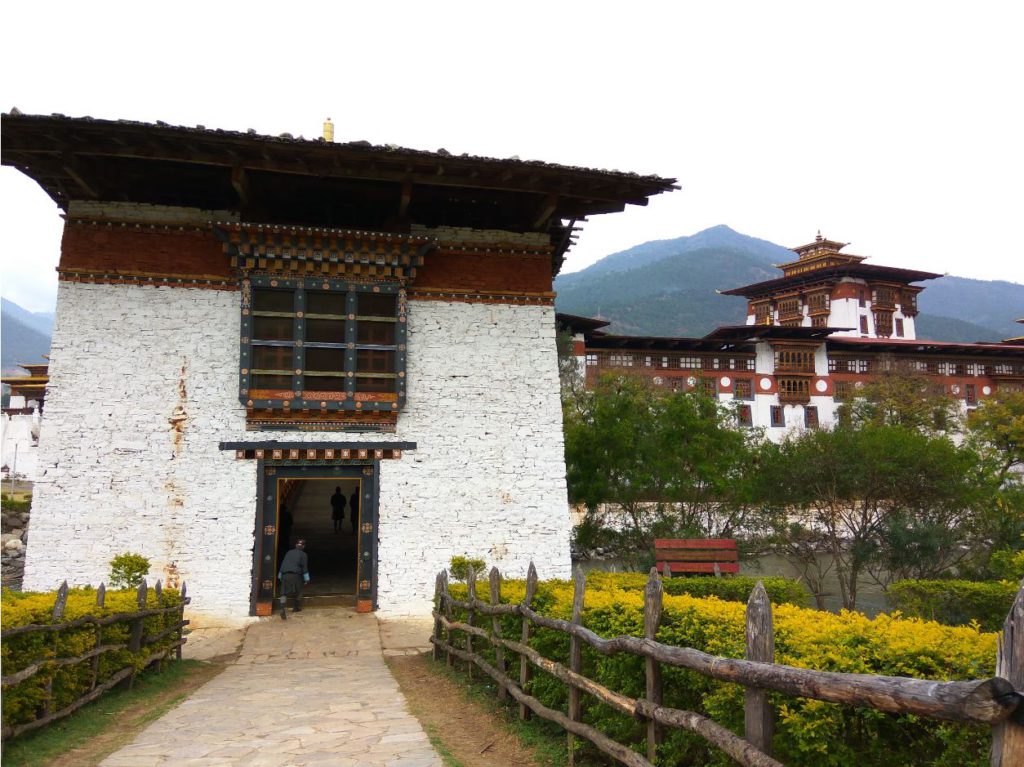 Another unique feature of Punakha Dzong is the wooden bridge that connects it to the other side. Most Dzongs have a unique and consistent style of architecture. The outer walls are white and thick that was used as a major defense system against the enemies.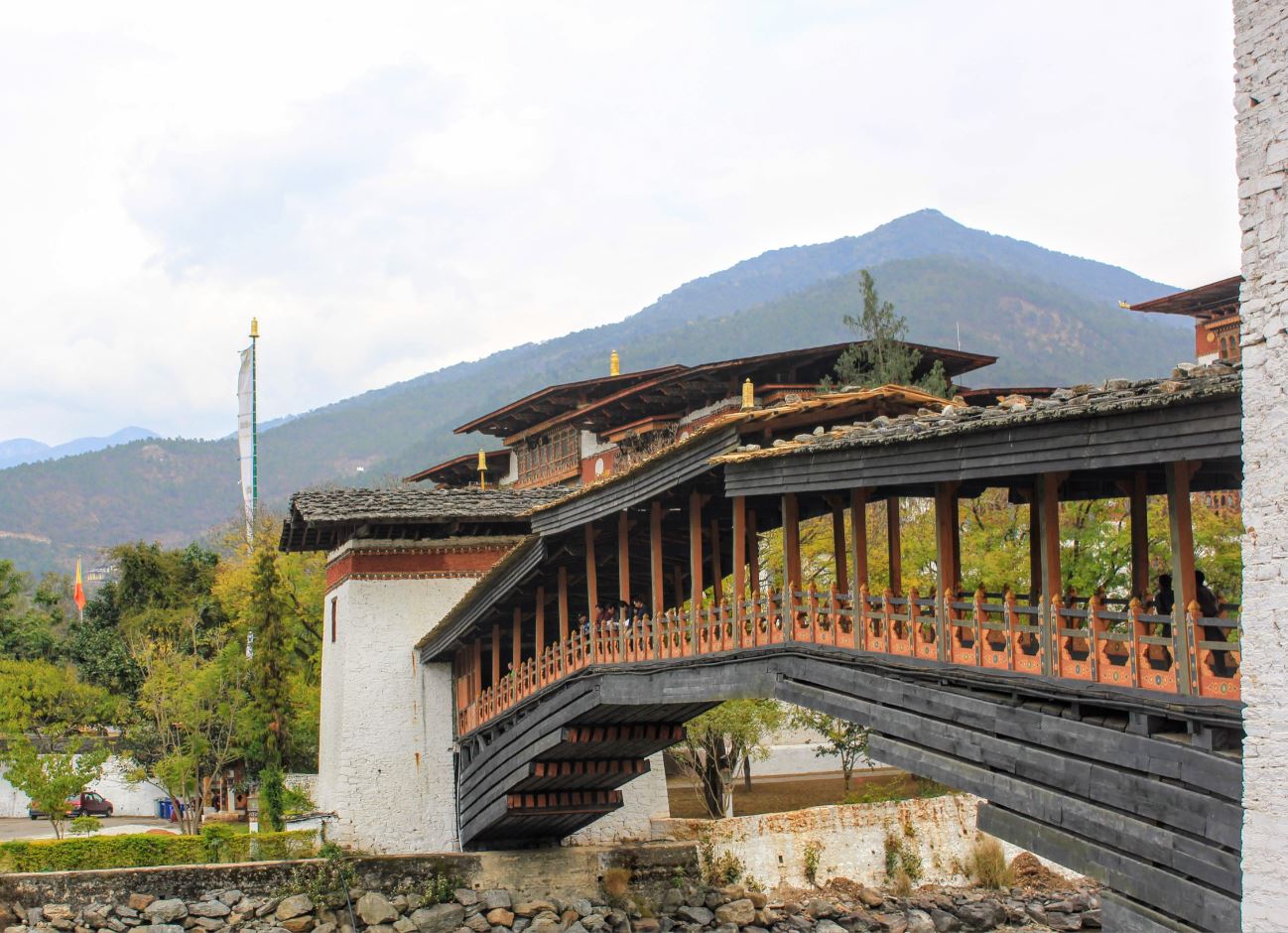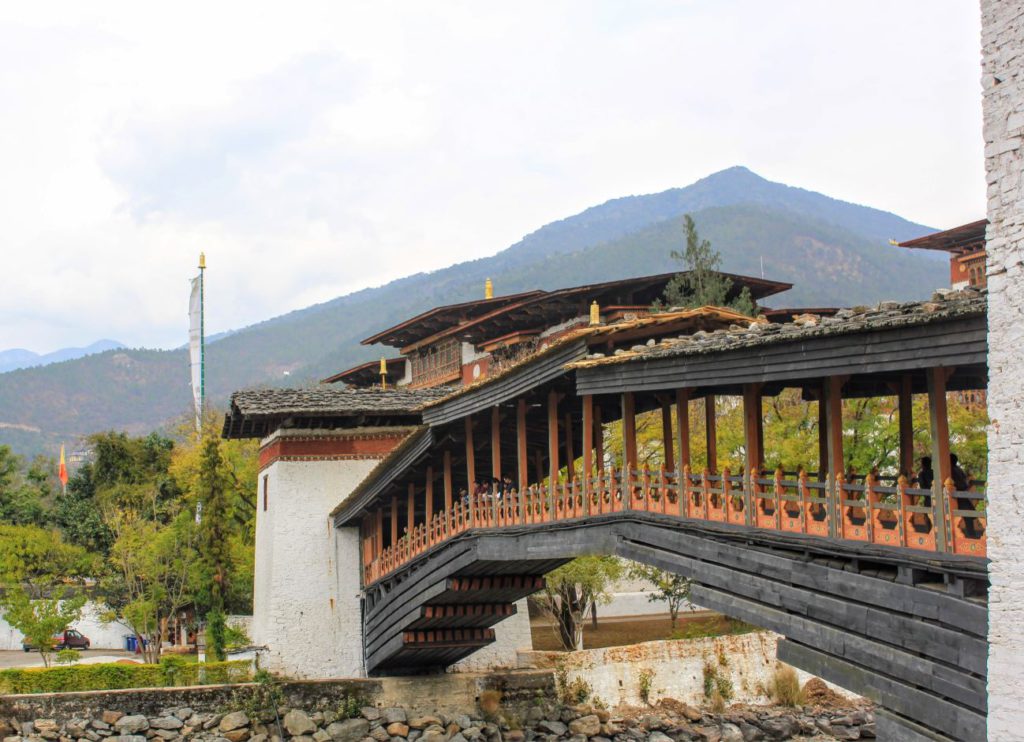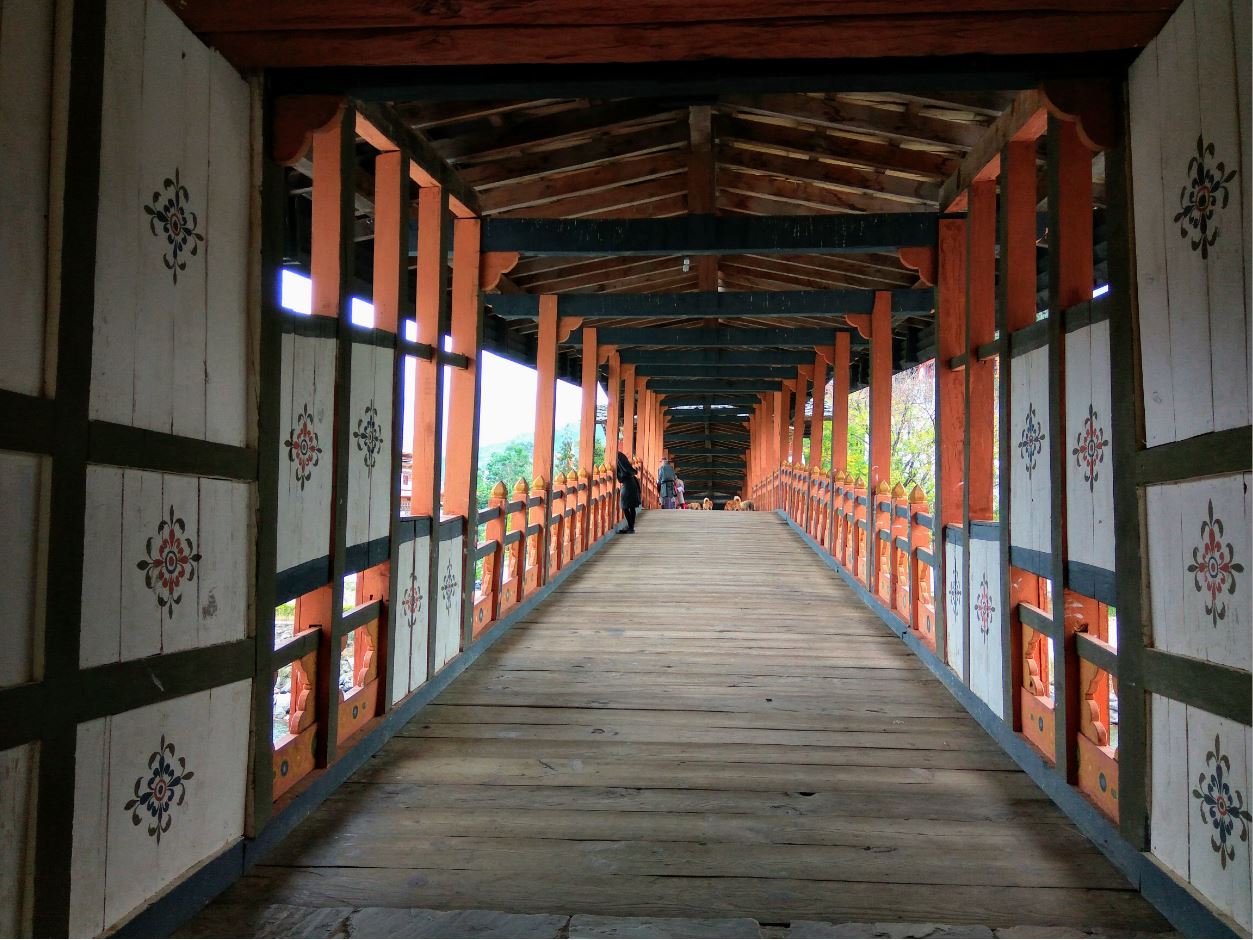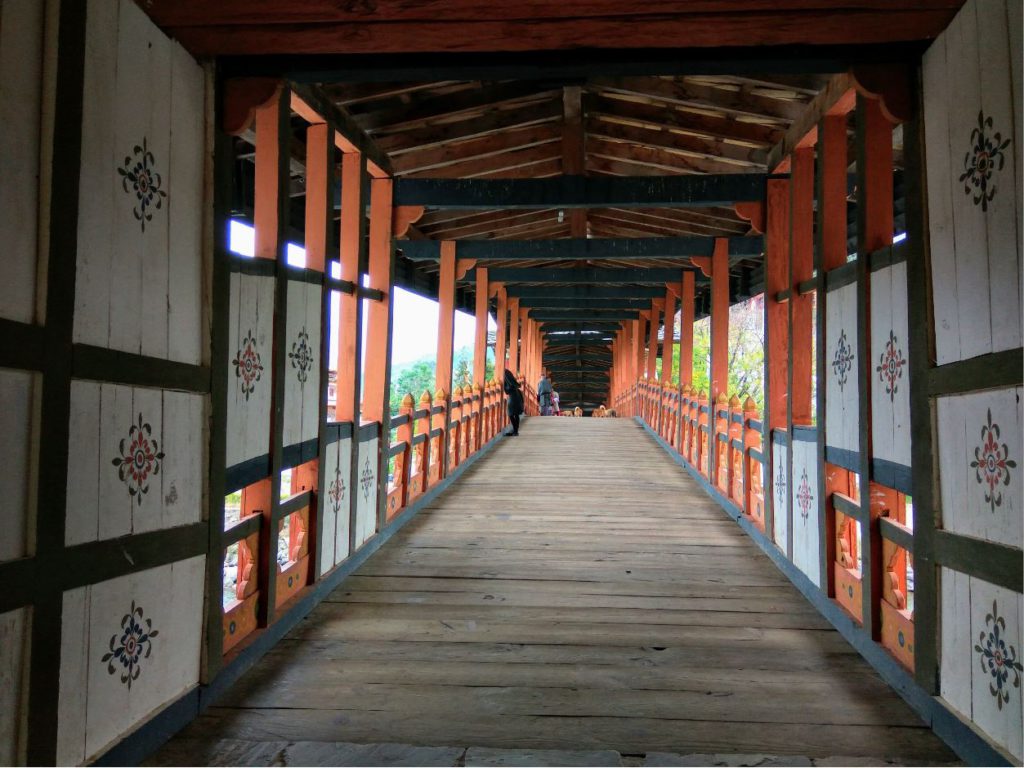 Inside the dzong, there are several sections. One section has rows of rooms on all sides with a large courtyard in the middle. The rooms could be used as offices for the administrative departments or living quarters for the monks.
Amongst them are large assembly and meditation halls. You can see monks going around their daily chores in bright maroon robes.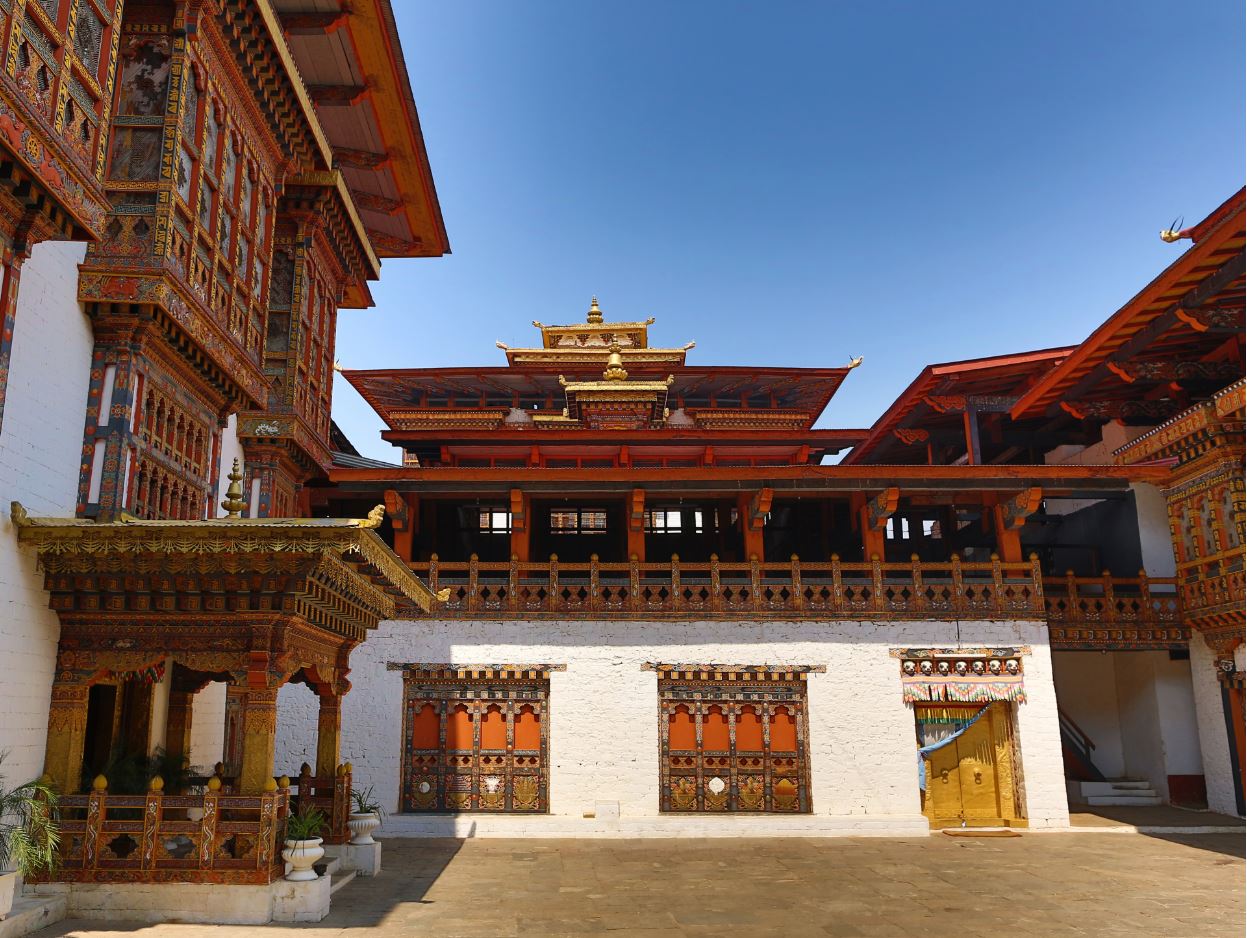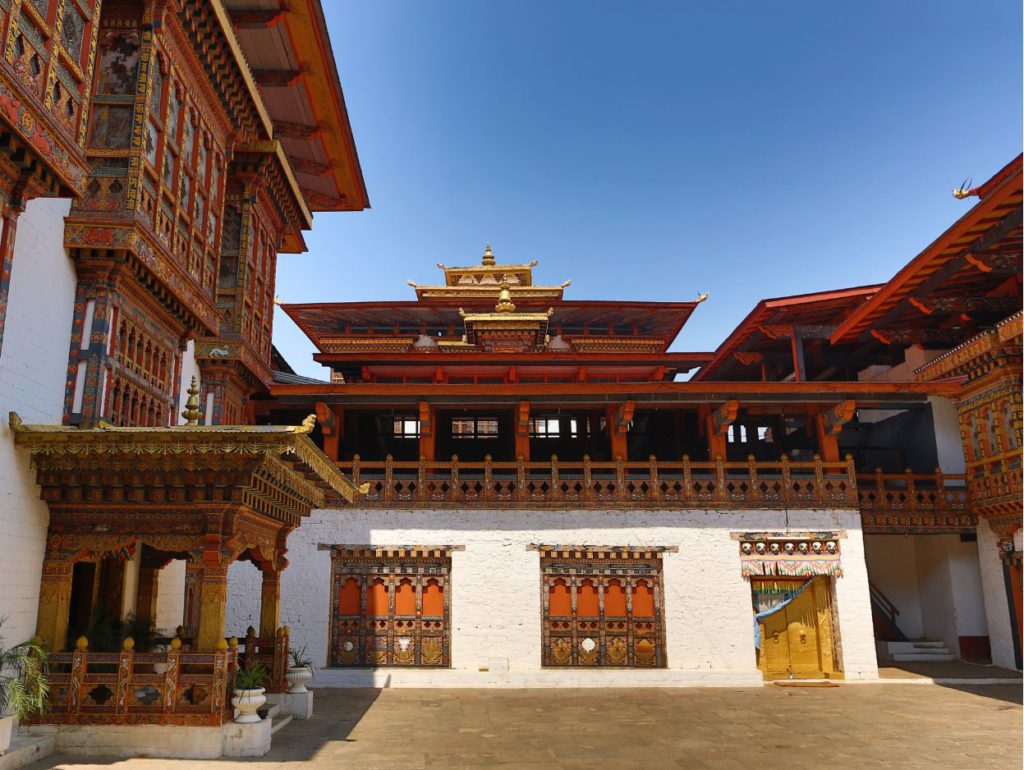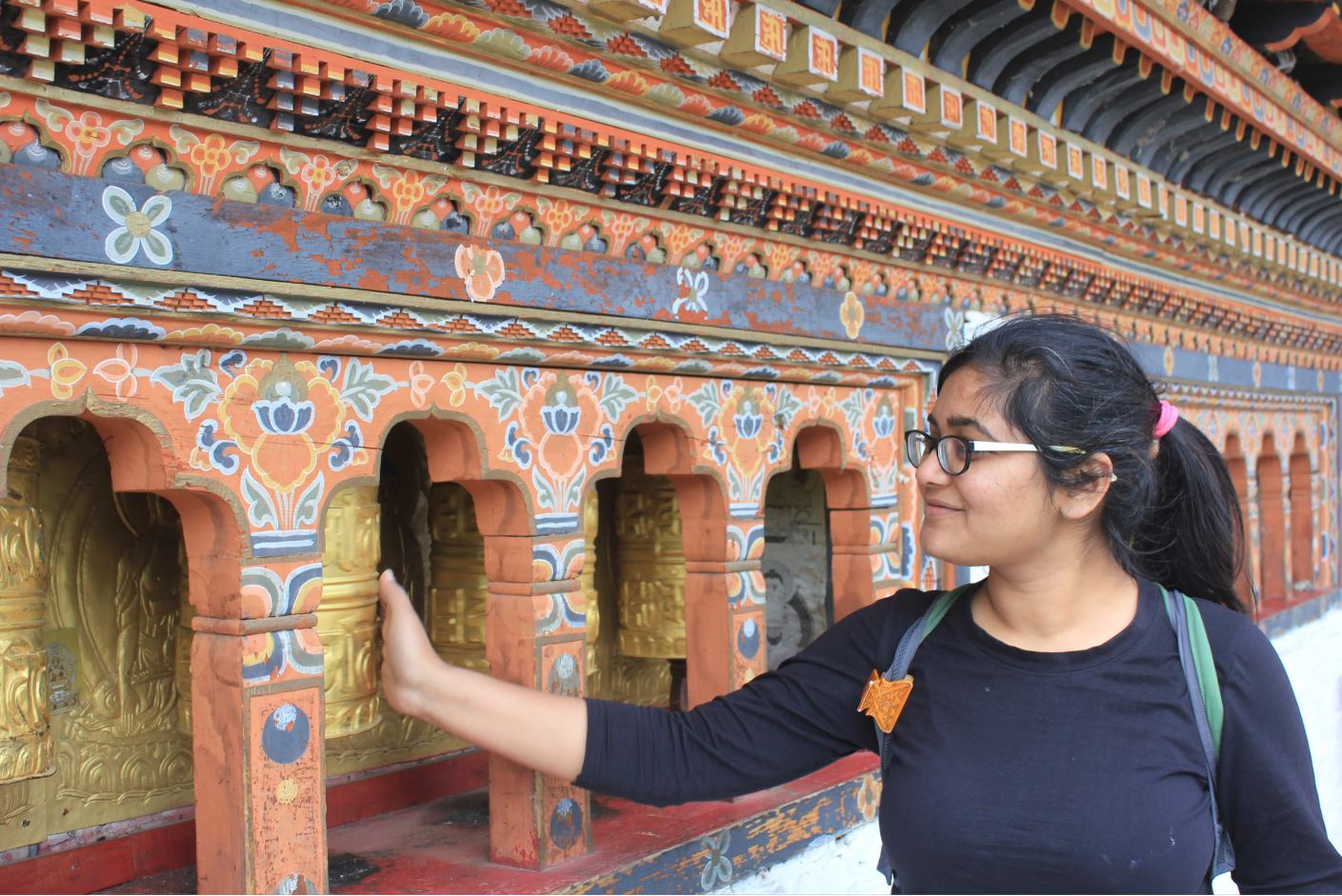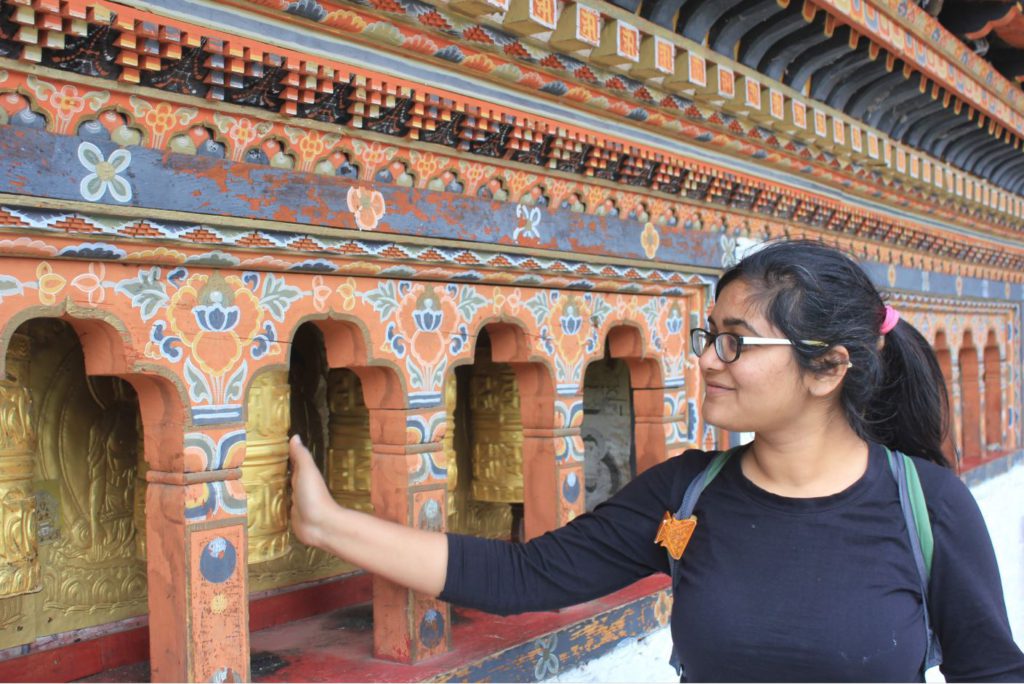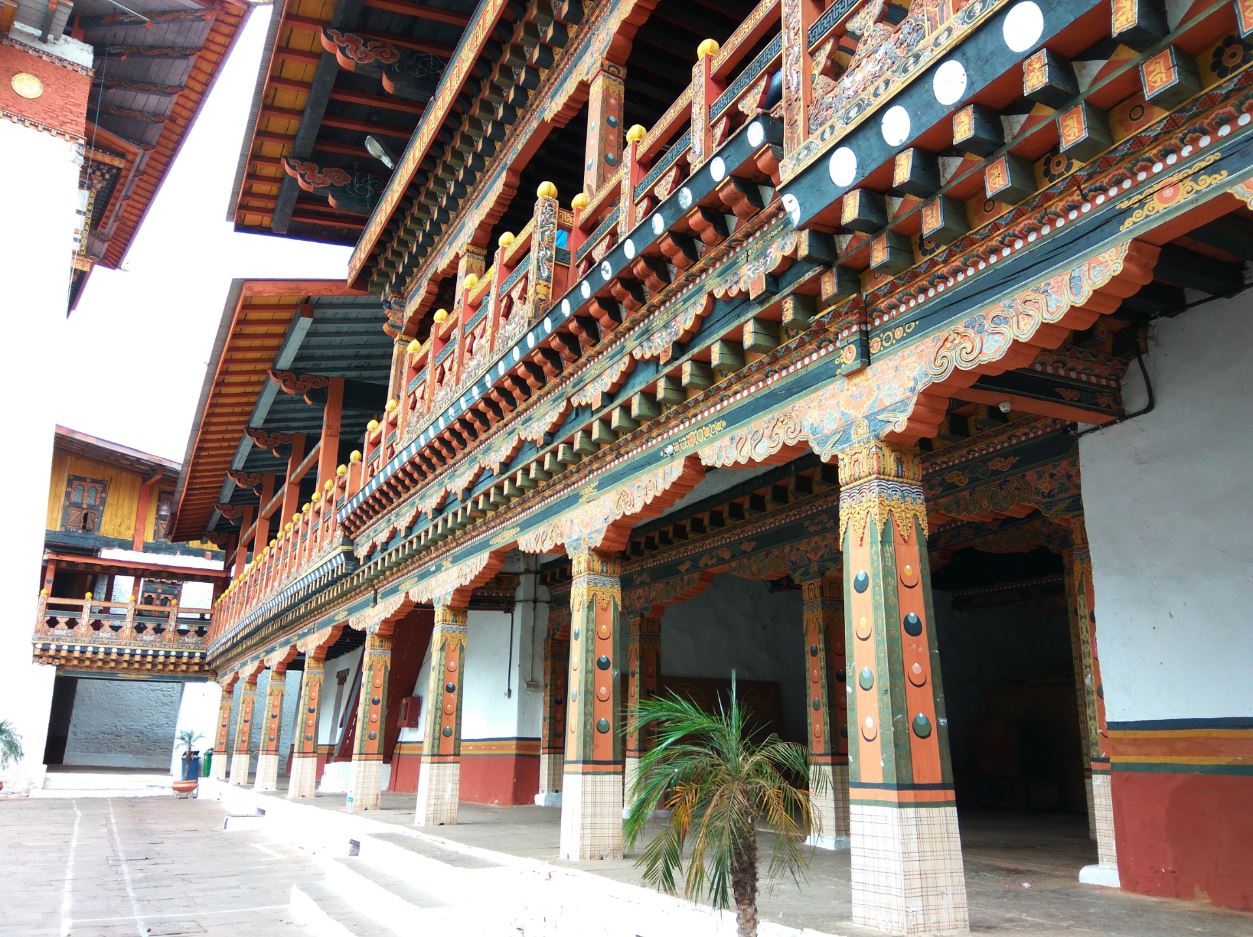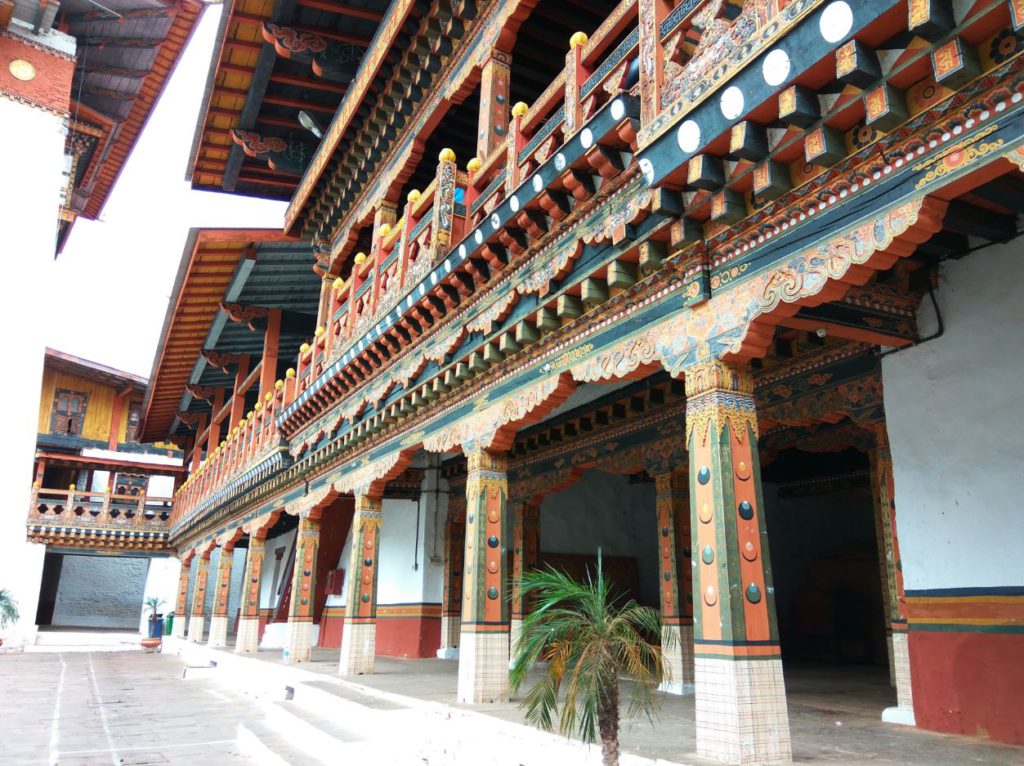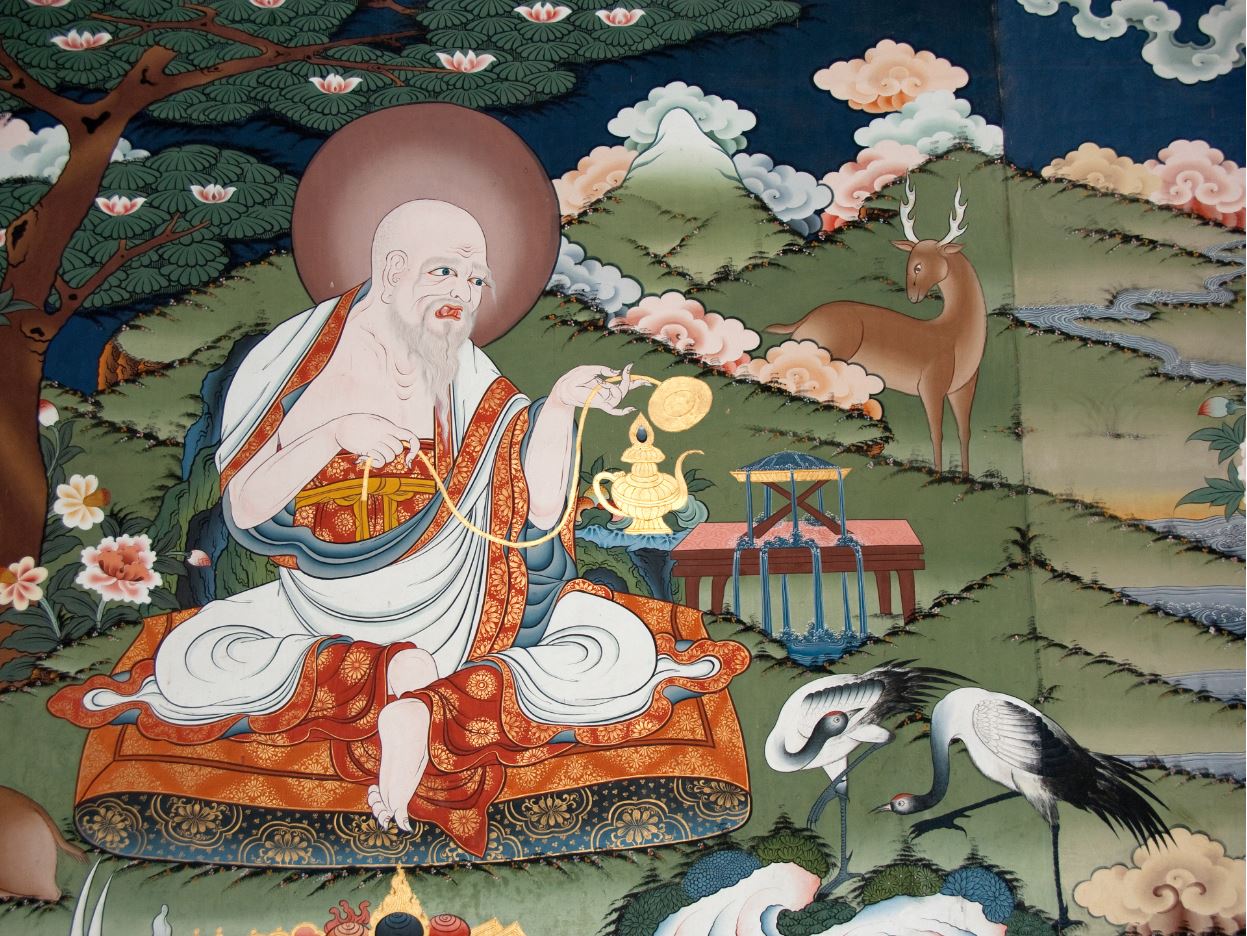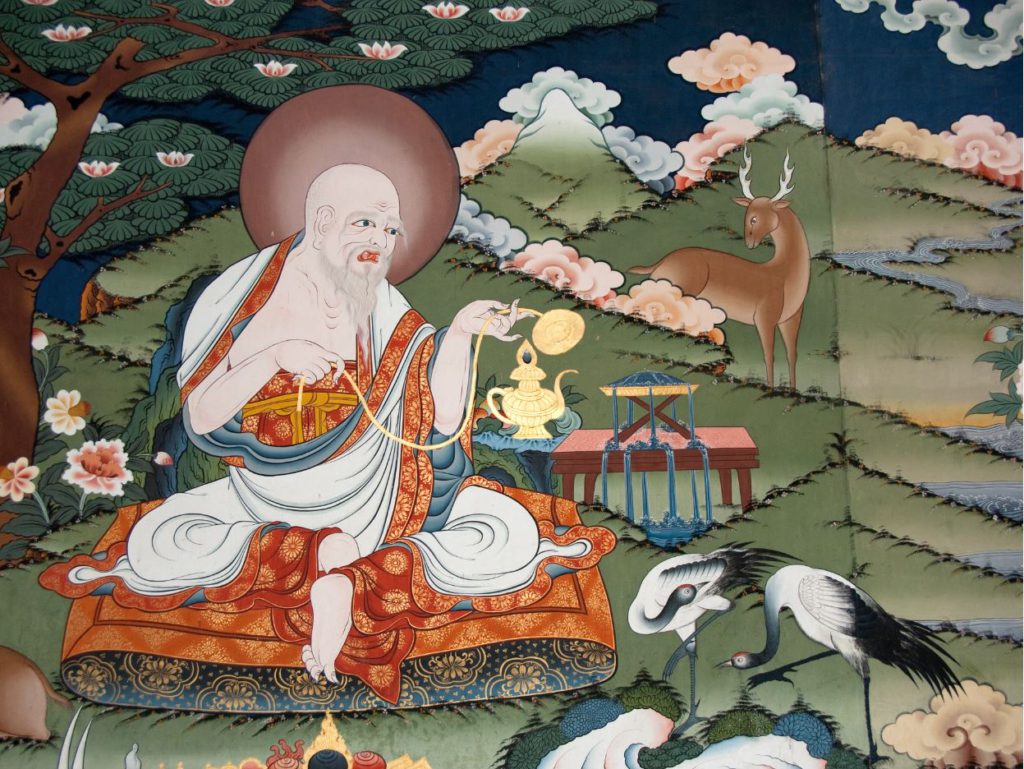 A tall white building of three levels is a holy shrine paired by an equally large golden bell. Everyone is welcome to visit the Dzong and the shrine. However, you are expected to behave respectfully.
Punakha Dzong is also so important since the coronation of all kings of Bhutan takes place here. In fact, the marriage ceremony of the fifth (and the present) King tool place here in 2011.
Since the Dzong is located at a precarious location, it is susceptible to flash floods that have occurred thrice in its lifetime. Constructions are going on for better infrastructure to prevent similar accidents in the future.
Oh, and it looks mind-blowing during the night.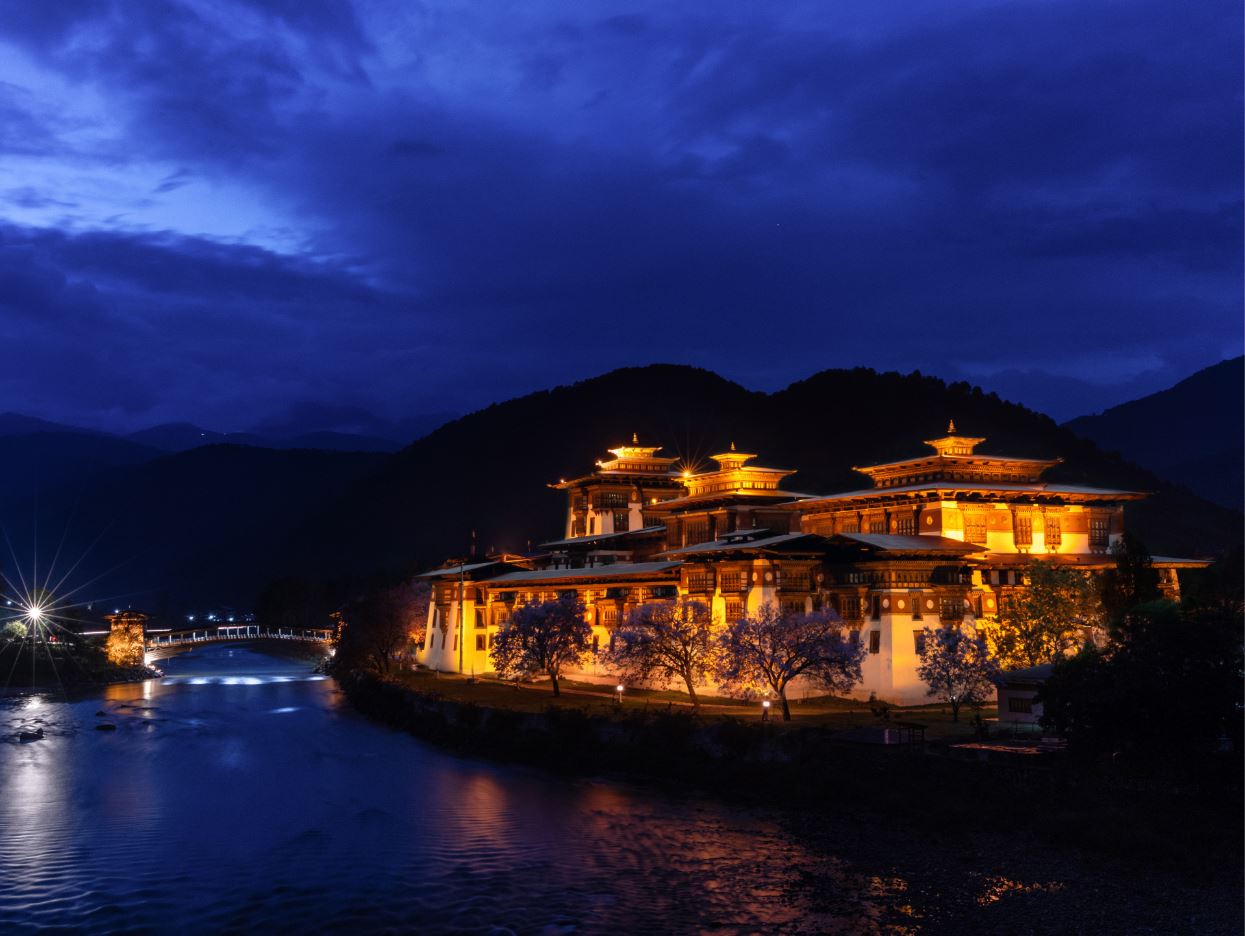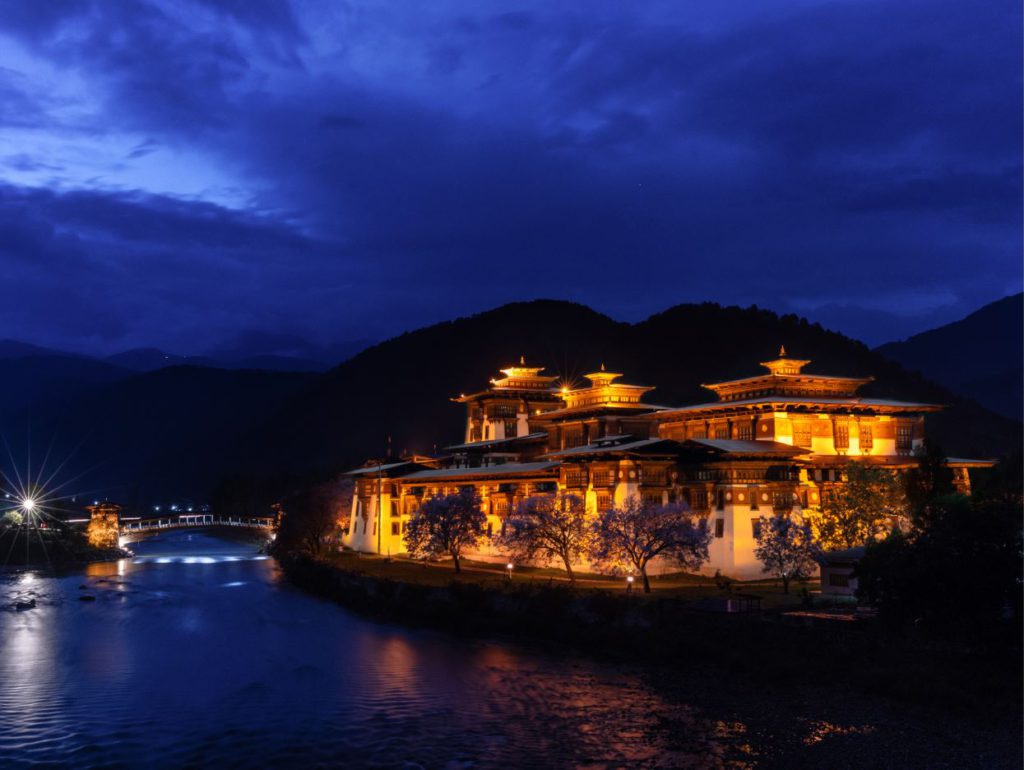 Punakha Dzong timings:
Monday – Friday: 9.00 am to 5.00 pm.
Saturday – 11.00 am to 1.00 pm & 2.00 pm to 4.00 pm
Sundays – Closed
Punakha Dzong ticket price: The dzong is free to enter for everyone.
Punakha Suspension bridge
Around 1.5km ahead of the Punakha Dzong is a suspension bridge guilty for some popular online photos that went viral. At feet in length, it is one of the longest suspension bridges in Bhutan.
I am not going to explain too much about it. It is just a suspension bridge covered in prayer flags that the locals use as a short cut to Punakha Dzong to cross the Mo Chu River. It is sure to give you the weeby-jeebies.
In case you are looking to go trekking in the nearby areas, you will have to cross over the bridge to the east side anyway.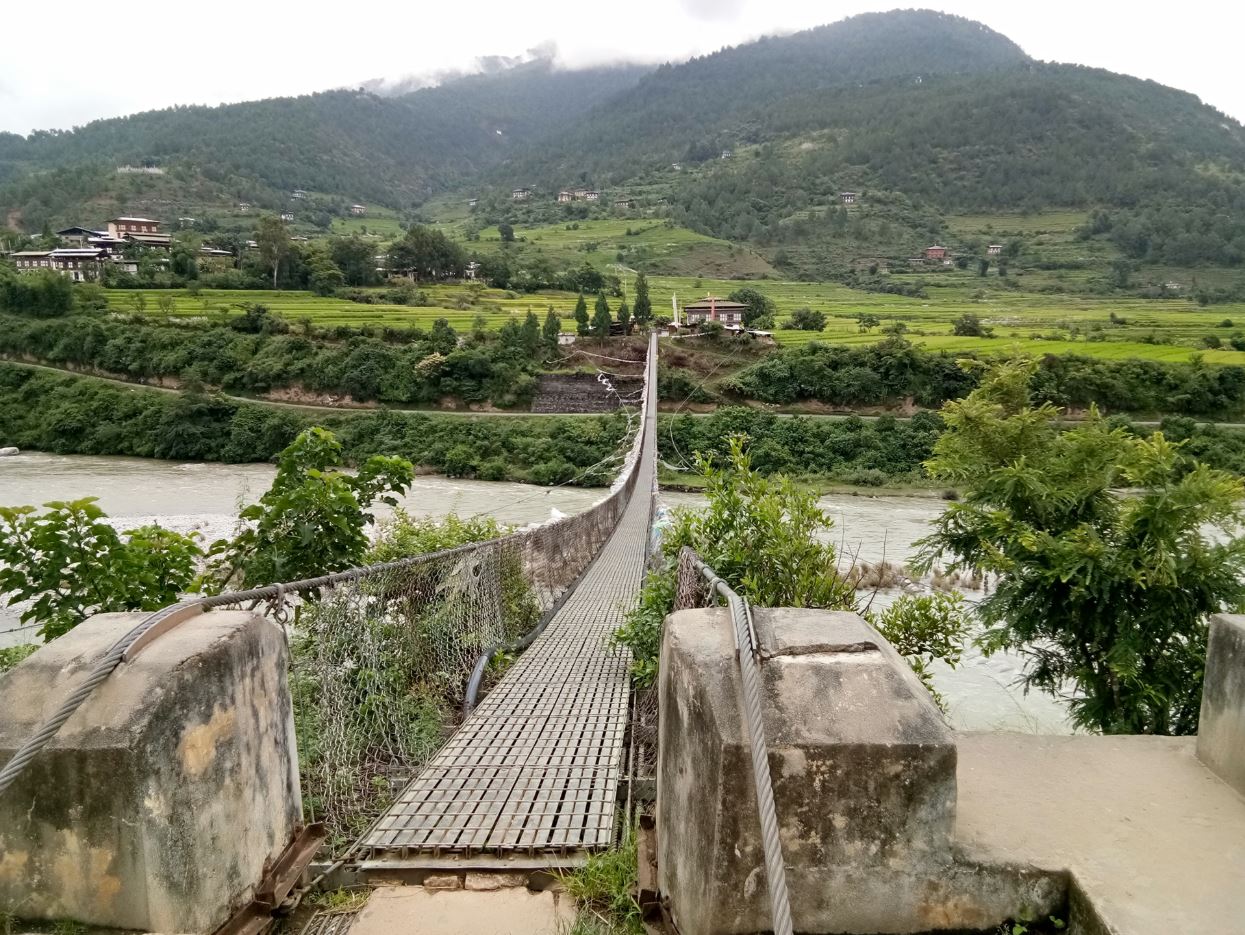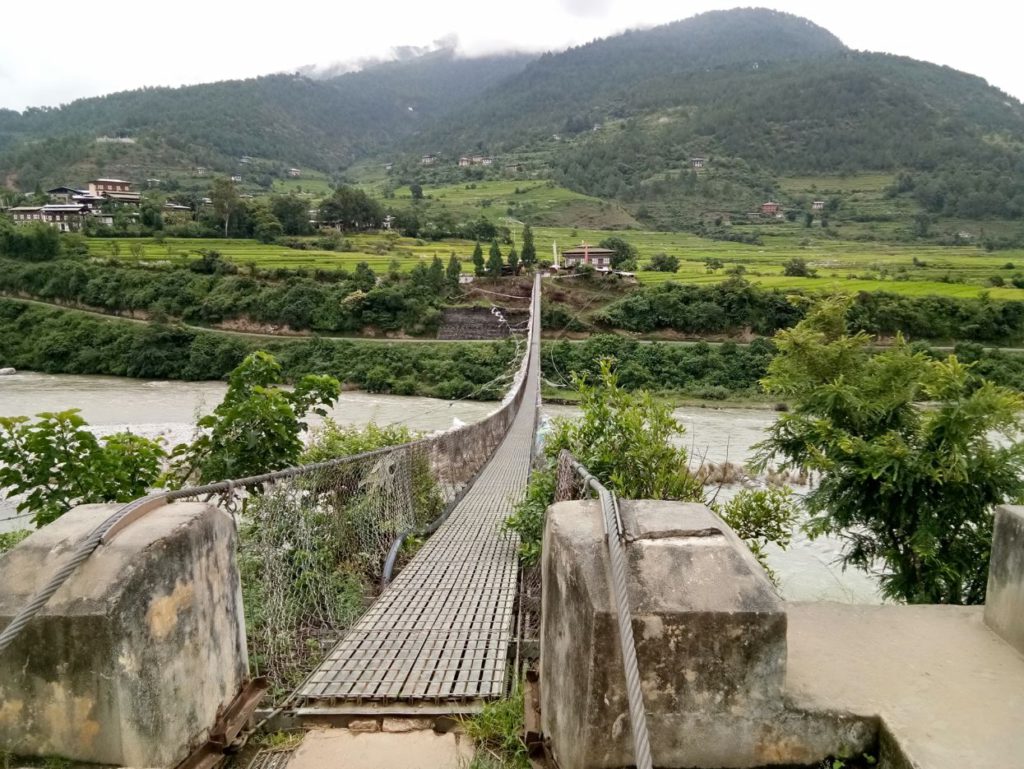 Hikes in Punakha
Here are some of the popular hikes that you take up in Punakha. Talk to your tour guide (better to be with one) to include these in your itinerary.
Chimi Lhakhang Temple – Chime Lhakhang Temple is popular as the temple for fertility amongst the locals. It is 3km south of Kuruthang village, an easy to hike and hour or so.
Khamsum Yuelley Namgyel Chorten – This is a 4-story marvelous temple on top of Yambesa Hill that the Queen Mother commissioned. The temple is 10 km north of Punakha Dzong. You can take a taxi to Mochu Rafting Point and then walk for 15-20 minutes in the middle of the rice fields to reach this place.
Dochu La to Thinleygang – Right near Dochula Pass you can do a one-way downhill 5-hour hike to Thinleygang village through a light forest with mountainous trees and blooming flowers. From the village, you can take a car again to your next destination.
Dochu La to Lungchuzekha Gompa – From the Dochua Pass, walk into the pink rhododendron forests for about an hour and a half. You will cross Lungchuzekha and Tashigang. Your final destination is Hongtsho village from where you can take your vehicle and move to the next destination.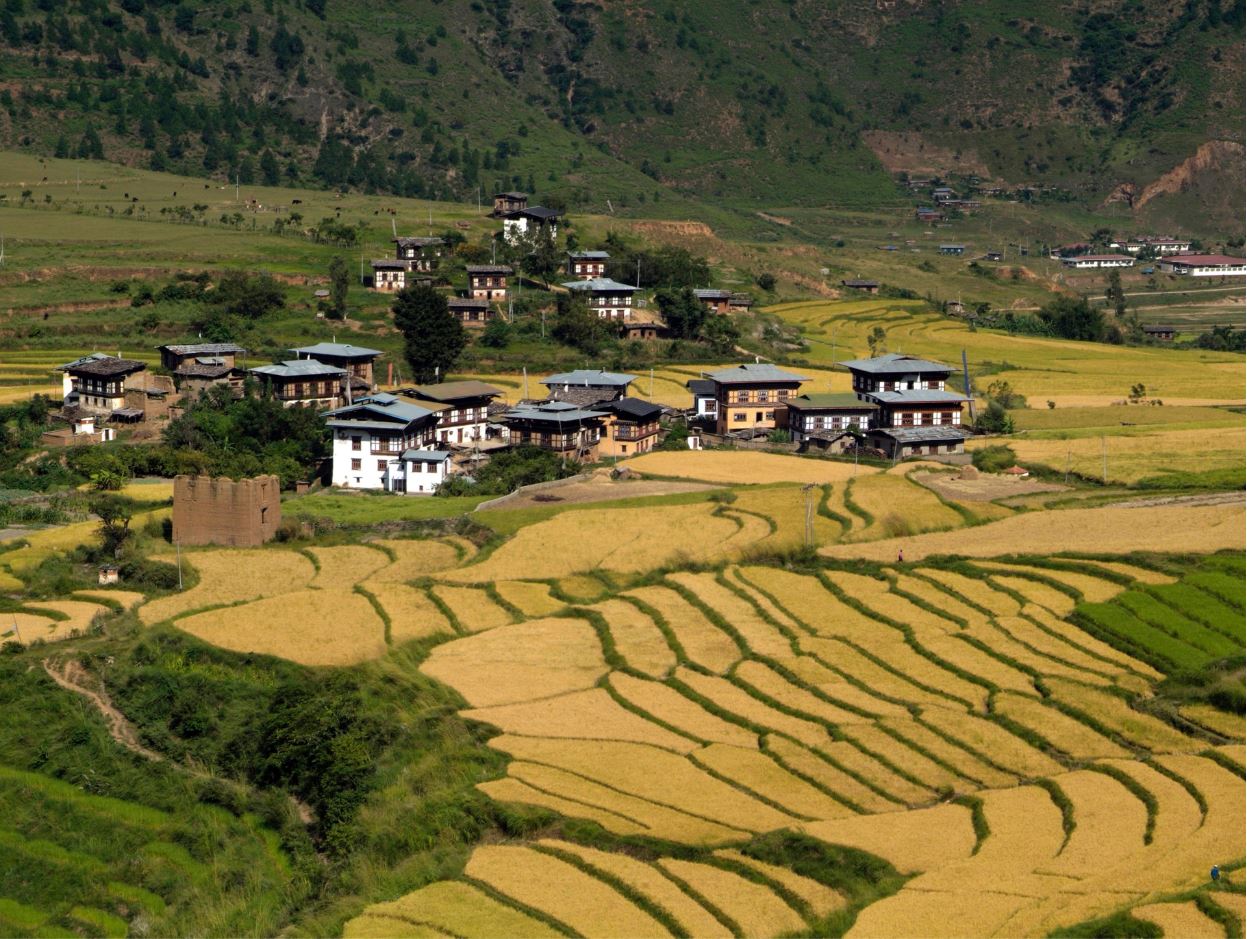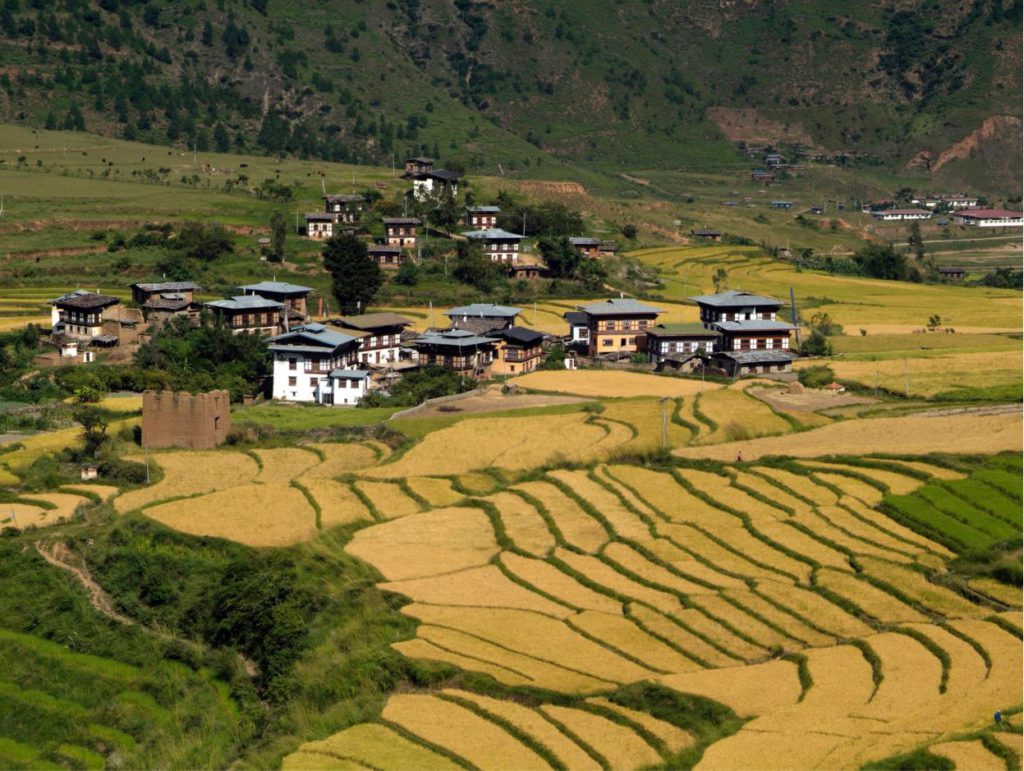 Where to Stay in Punakha
There are quite a few places to stay in Punakha. They can range from fairly modest at 600 Nu per night to extravagant 1,20,000 Nu per night. If you are not with a travel agency, a good place to stay in is Khuruthang village. You can get a lodge and a few restaurants in the area.
There are a few more resorts in the area around Punakha Dzong. Check them out on Google maps and use their listing to contact them. Try to book them ahead of time online or via phone for a smoother vacation.
Luckily, there are a few listings on Airbnb where you can find comfortable homestays with the locals. It is an even better way to explore the countryside. Make sure its not too far in the countryside if you don't have a mode of private transport.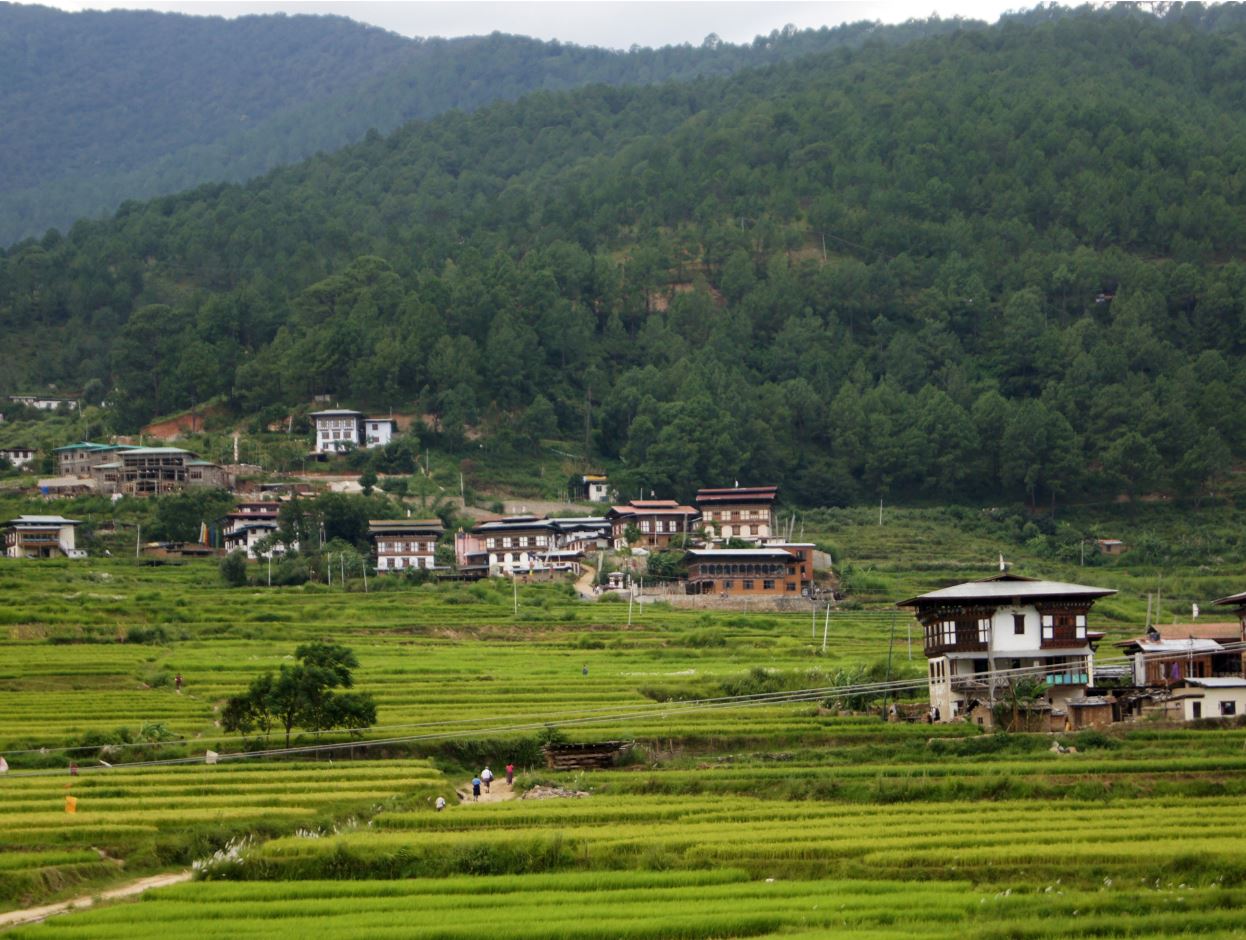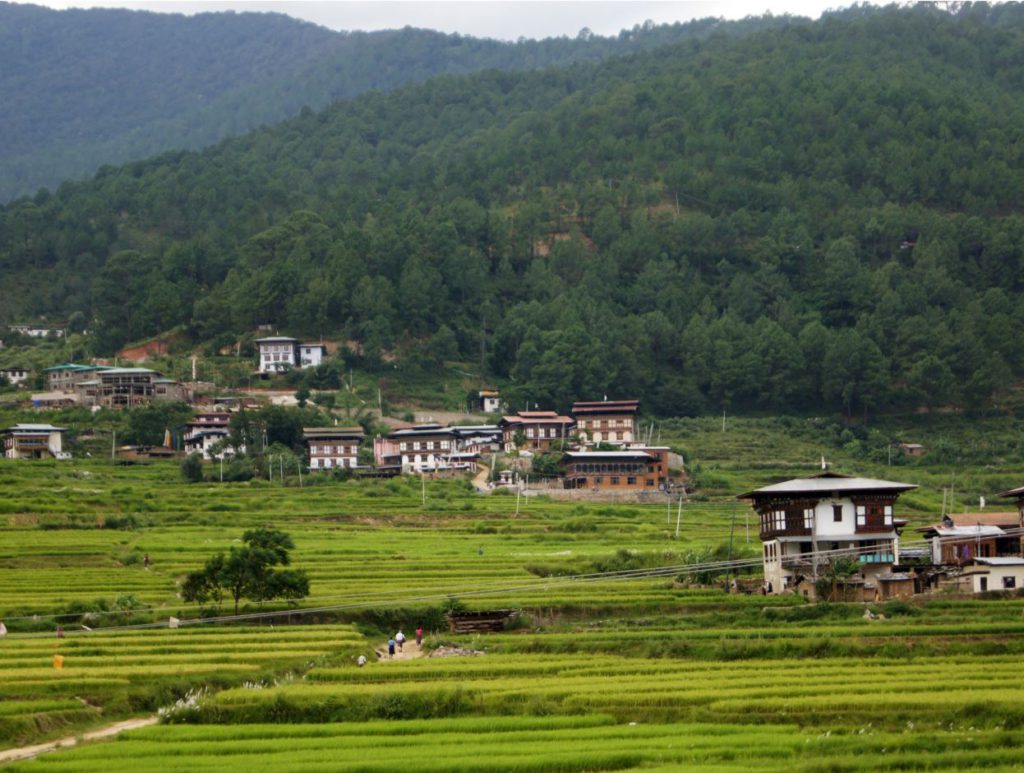 What not to do in Punakha
Punakha, like Bhutan, is a deeply religious place. So you may have to take extra care of what you do there. Do not wear sunglasses, hats, or caps when you enter a temple or monastery.
Do not wear clothes that end above your knees. Always cover your shoulders. Avoid ripped, gym or workout, torn or body-hugging clothes.
Do not take photos of monks without their permission. Do not become overfriendly with them or treat them like friends. Be quiet inside the monastery. Women should especially refrain from touching monks. It may result in disrespecting some sacred vows.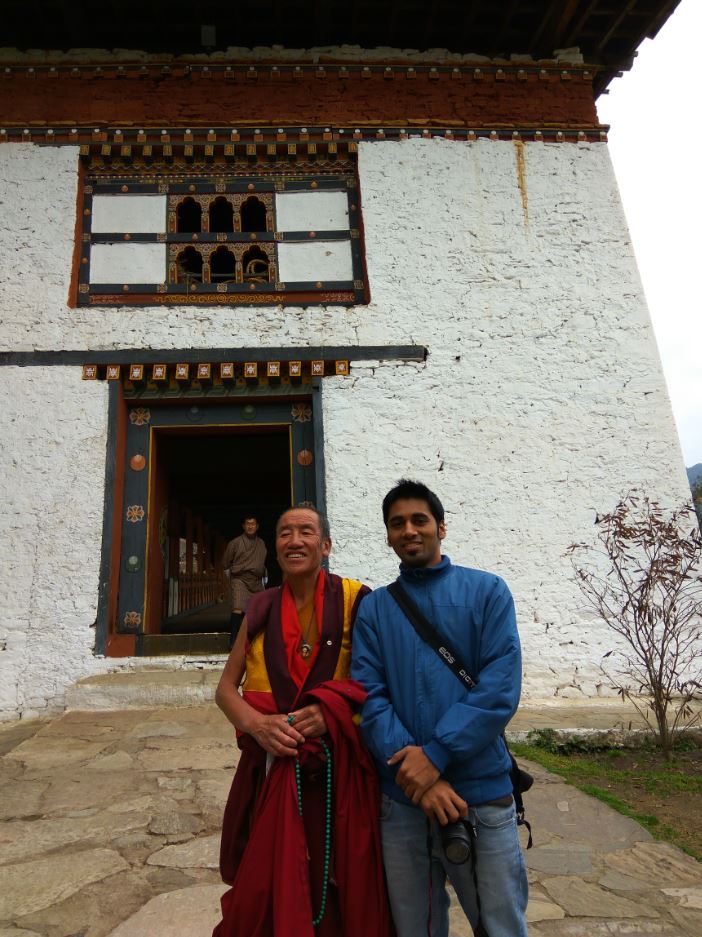 Save On Pinterest


Related Articles