18 Sep

Visiting Taktsang Monastery or Tiger's Nest, Bhutan

Paro's Taktsang Monastery is the face of modern Bhutan. It is the first thing that pops up on the internet when you look for the best places to see in Bhutan.

And rightly so! When I first saw its photo, I couldn't believe my eyes! How is it possible to make such a large monastery hanging right on a cliff?

Moreover, how difficult is it to get there? It does look like a lot of work.

Well, the good news is, it is pretty easy to reach especially if you are with a tour and in decent shape.

However, if you are on your own and want to do a DIY trek, here is everything you need to know about visiting Taktsang Monastery.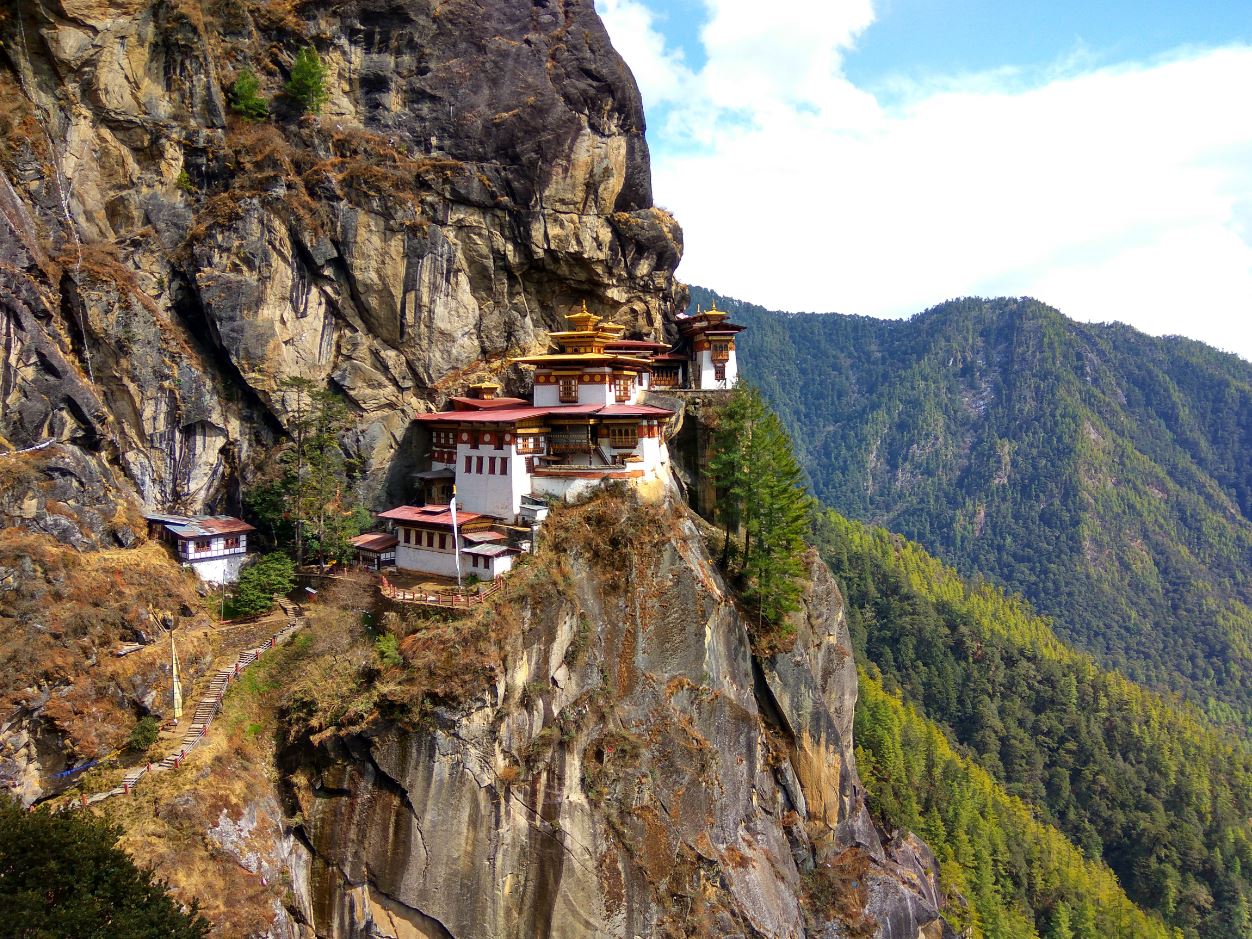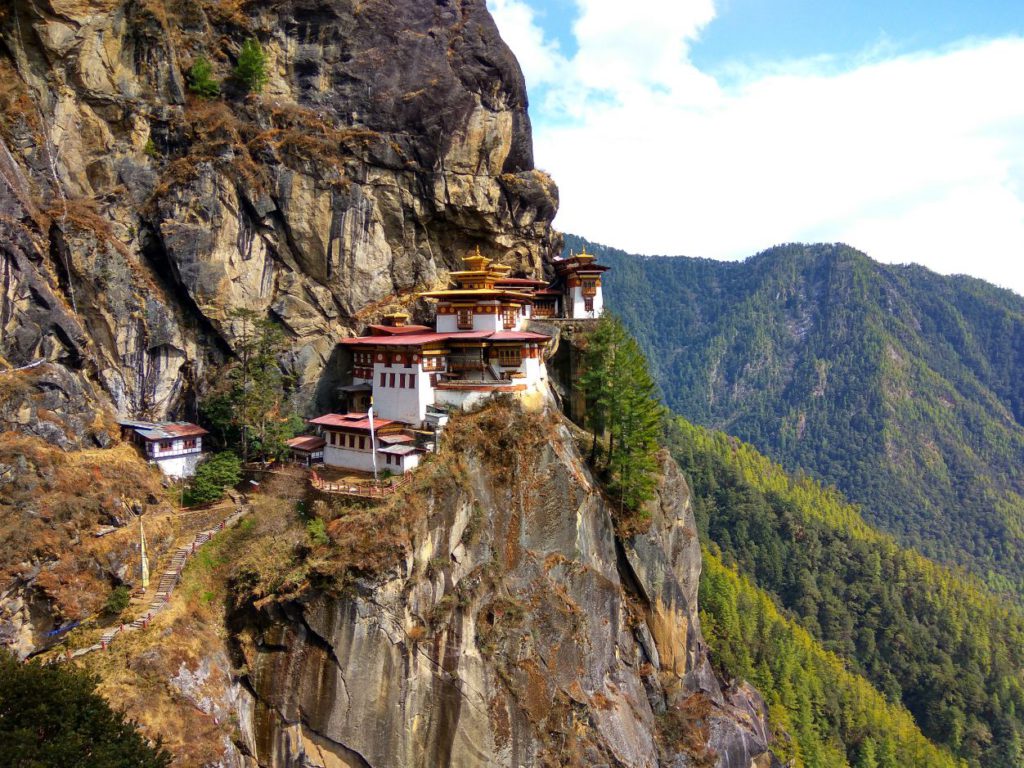 About Taktsang Monastery
Apart from its location on such a cool site on the edge of a cliff, the monastery is a very important sacred Buddhist site. The first structure of the monastery dates back to 1692.
The monastery was established by Guru Padmasambhava, and important leader and tutelary deity of the country also credited for the spread of Buddhism in the region. Padmasambhava is also the founder of the Nyingma tradition of Buddhism and is considered as the second Buddha of this era.
Yeshe Tsogyal, a Tibetan princess is another important character in this story. She is considered as the Mother of Tibetan Buddhism today and was the consort (partner) of Padmasambhava after studying under him as his disciple for several years. Legend has it that she could transform into a tigress as well.
According to the local legend, a demon took over the surrounding valley and was creating havoc through his activities. It is then that Guru Rinpoche (or Padmasambhava) came to this place to save the valley on the tigress' back from Singye Dzong. He meditated in the valley for four months that made the place holy and the demon disappeared.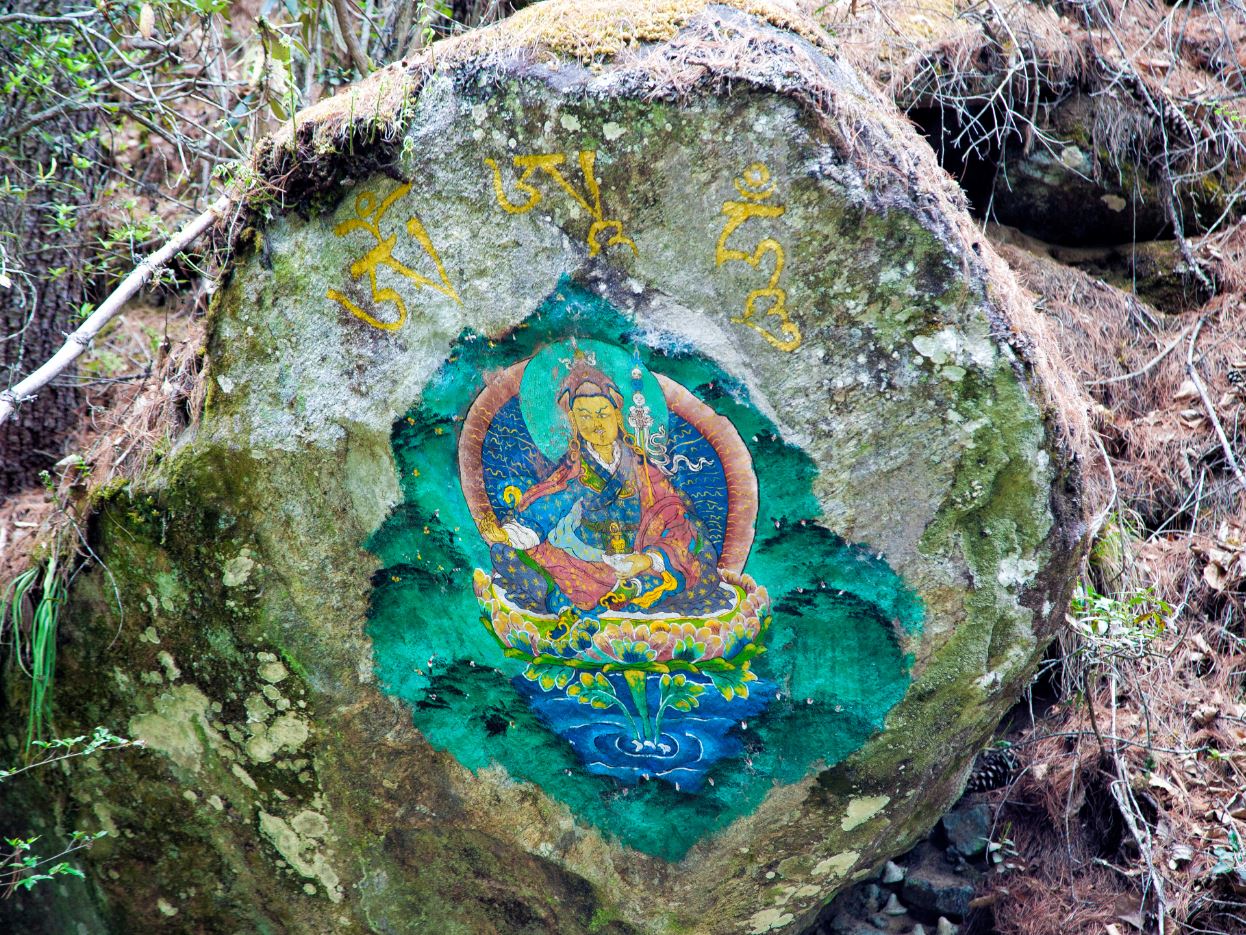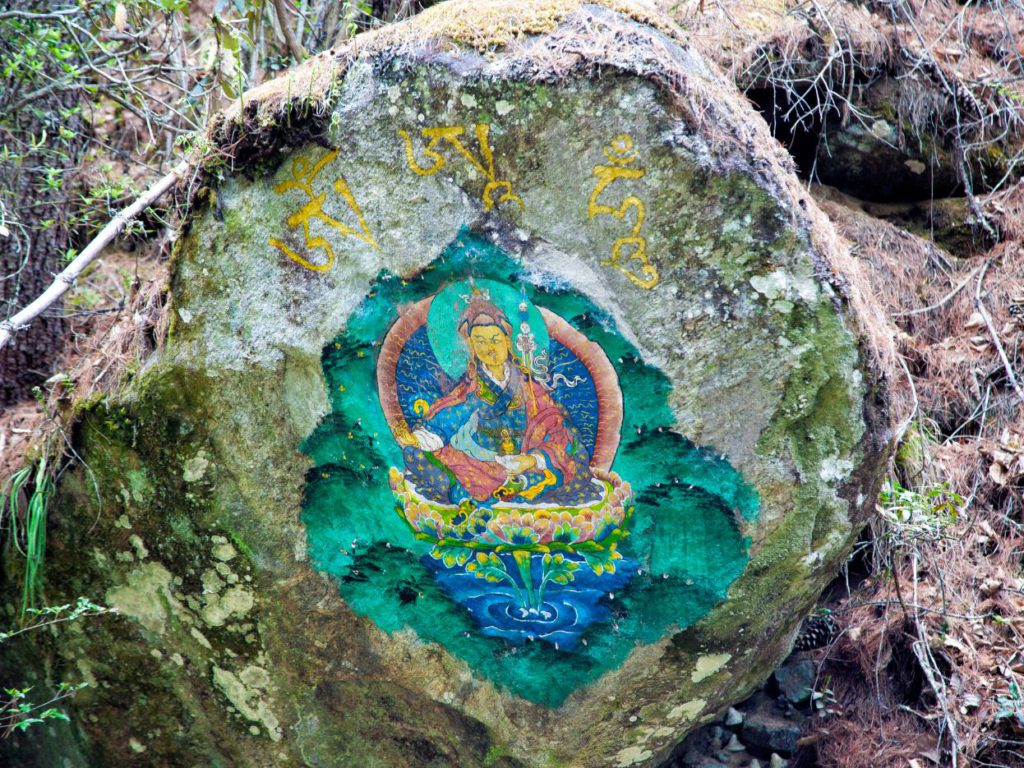 Where is it Taktsang Monastery located?
Tiger's Nest is located 10km north of Paro city. The monastery is at an altitude of 3,120 meters above sea level. However, it is only 900 meters above Paro valley. Although it may look like a lot at first, it is pretty doable.
How to reach Taktsang Monastery
If you look this up, everyone is telling you how to do the hike. But that's not what I mean. The question is how to reach the base of the Taksang Monastery from Paro city. Here are a few options.
Guided Tour: If you are a non-Bhutanese, non-Indian traveler, it is compulsory for you to take a guided tour. And all guided tours will have Taksang Monastery by default unless you specifically ask them not to add it to your itinerary. That solves your entire problem. They will pick you up from your hotel, drop you off at the base, wait for you there and then do the return journey.
In case you are looking for a guided tour, you can check out some of the popular pre-planned tours available online. You can always customize your itinerary according to your needs and interests.
4 Day All Inclusive Bhutan Tour
7 Day All Inclusive Himalayan Kingdom of Bhutan Tour
10-Day Discover the Happiness of Bhutan Private Tour
If you want something more particular, you can get in touch directly with agencies and discuss your requirements with them. Here are two I found out with great reviews:
But if you are on your own, you can also take a guided tour for the day. I am not sure if there are many available online, but if you ask around Paro (at your hotel or tour operator shops), you can find one. It will be convenient since there is no public transport to the base of the Taktsang Monastery.
Cab: You can take a private or even a shared taxi to the base. But you will have to haggle hard. They may quote between 300-400 Nu per person for a one-way trip. You can bring it down to 200 Nu in the end.
Important information is that it is a bit difficult to find a taxi from the base for a return journey. So you need to either ask the person to wait for the next 3 hours or take their number with a reassurance that they will come to pick you up after your descent. You don't want to get stuck there in the middle of nowhere in the evening.
Hitchhike: If you have done this before and are a little outside the main city, you can maybe hitchhike your way to the monastery base. You can definitely do this (which we did!) on our return journey. It was because we were stupid enough to not get a cab back from there and it was getting dark. The people are nice and decent and it is always an adventure to ride a tractor.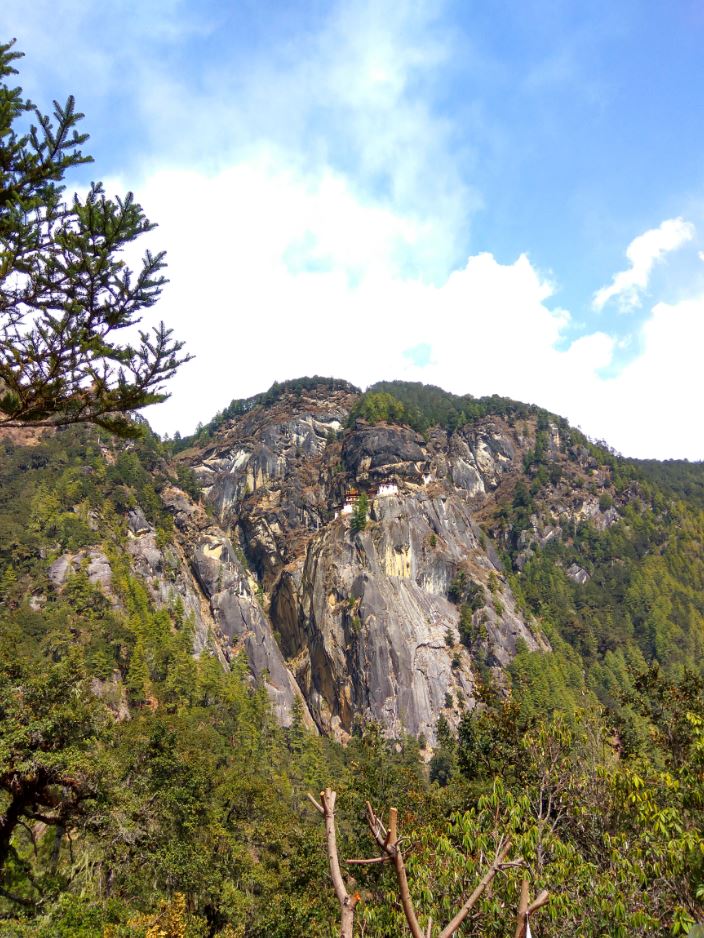 Best time to visit Taktsang Monastery
The best time to visit the Taktsang Monastery is both around autumn (September – November) and spring (March – April). The weather is usually clear and the path is easy to trek.
Summers can get too hot and scorching at times. The path to the monastery can become extremely treacherous and slippery during the monsoons (July – early September). On the other hand, winters (December – February) are cold in Bhutan and snowfall is common.  I will not suggest a visit then as well.
Make sure you are there early in the morning as soon as the trail opens. That way you can take your own sweet time with limited tourists around. The place can get a little crowded by mid-day, especially on the weekends. You will be back by afternoon within a span of 3-4 hours.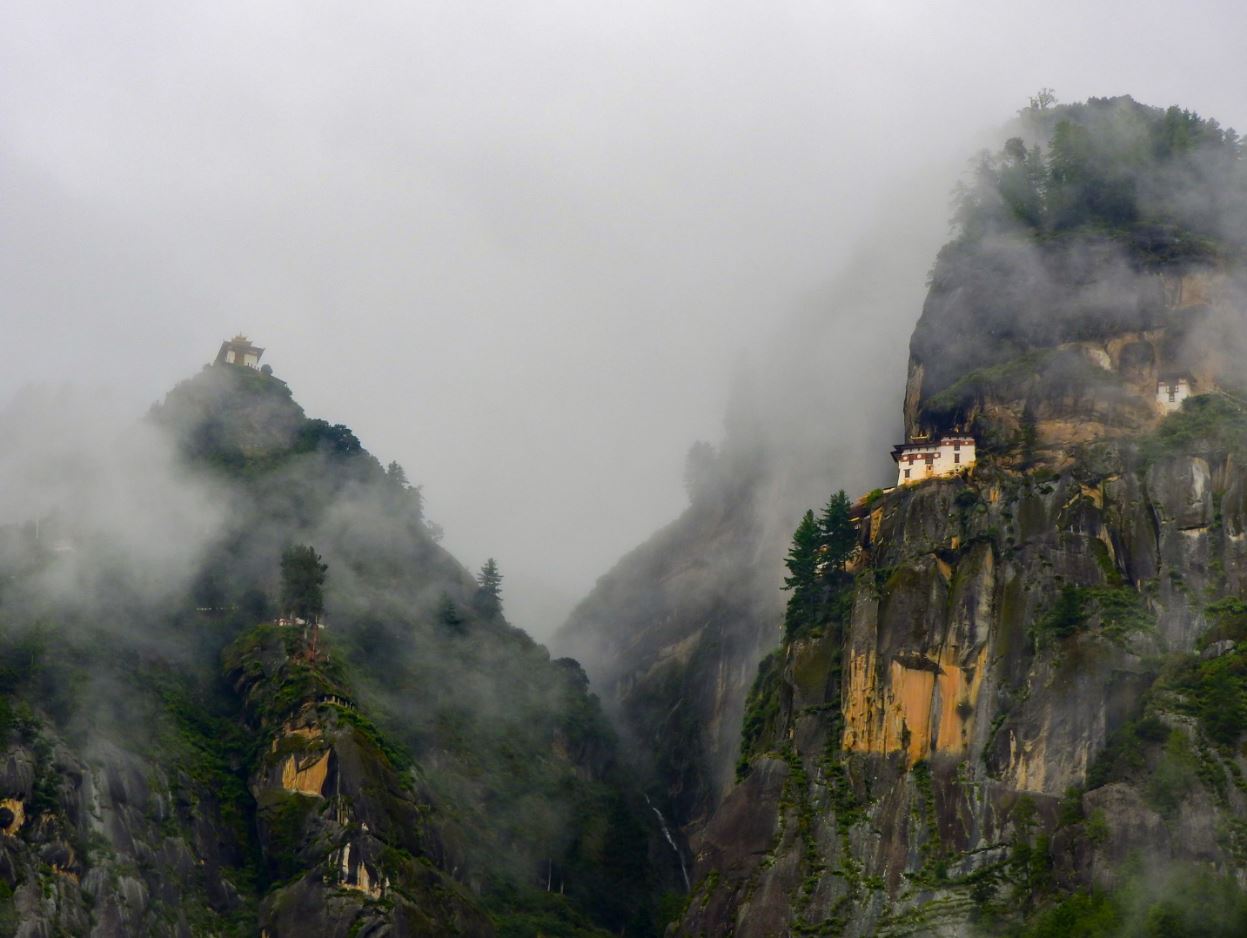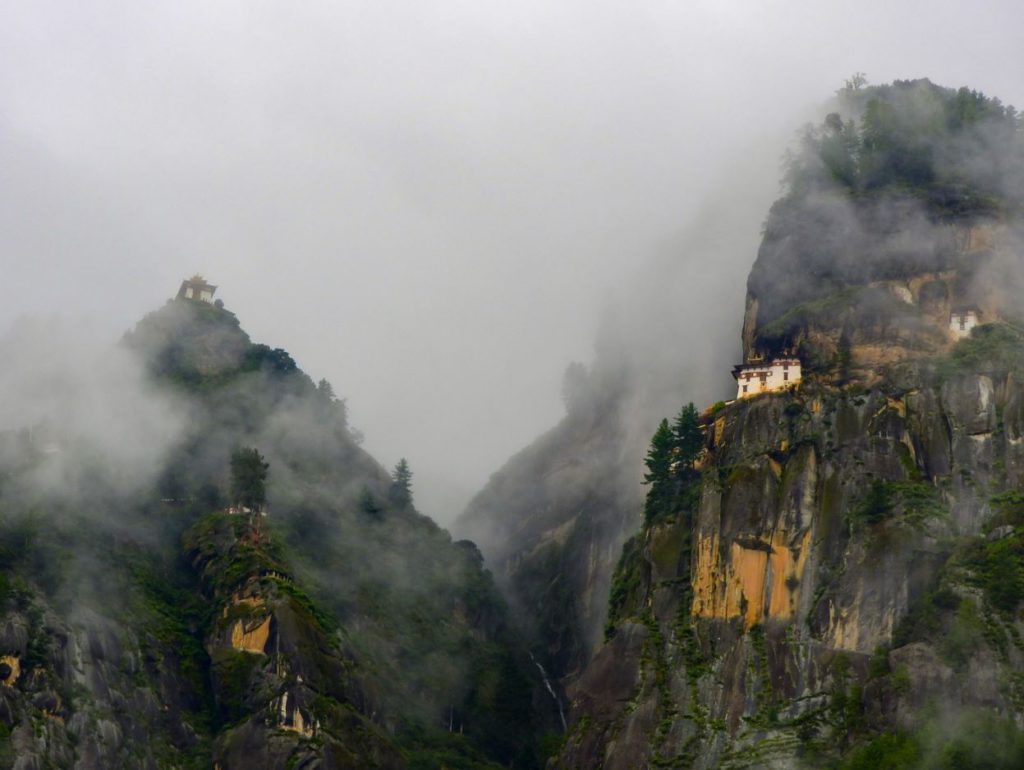 Taktsang Monastery details
Taktsang Monastery opening timings: The monastery is open from 8 am to 1 pm and from 2 pm to 6 pm. Note that this is the monastery timings. You can start your trek before the opening so that you reach there on time. Make sure you descend before dusk.
Taktsang Monastery ticket price: If you are with a guided tour, the ticket to Taktsang will be included in the package. You need to pay any extra charge there. The ticket price for all non-Bhutanese visitors (including Indians) is 500 Nu per person. You need to buy the tickets at the base. It is free for locals to enter.

Taktsang Monastery Trek
The first step when starting the trek is not to be intimidated by it. The climb looks incredible when you see from the foothills but it is it just steep and mildly difficult. We saw a lot of people somewhere in their 50s and 60s on their trek along with us.
However, if you have a serious injury, have difficulty climbing stairs or may suffer at high altitudes due to lack of oxygen, you may want to rethink it. There are horses available too for the journey. Although they do not cover the whole ascend and you will have to climb the last (and the toughest) part yourself.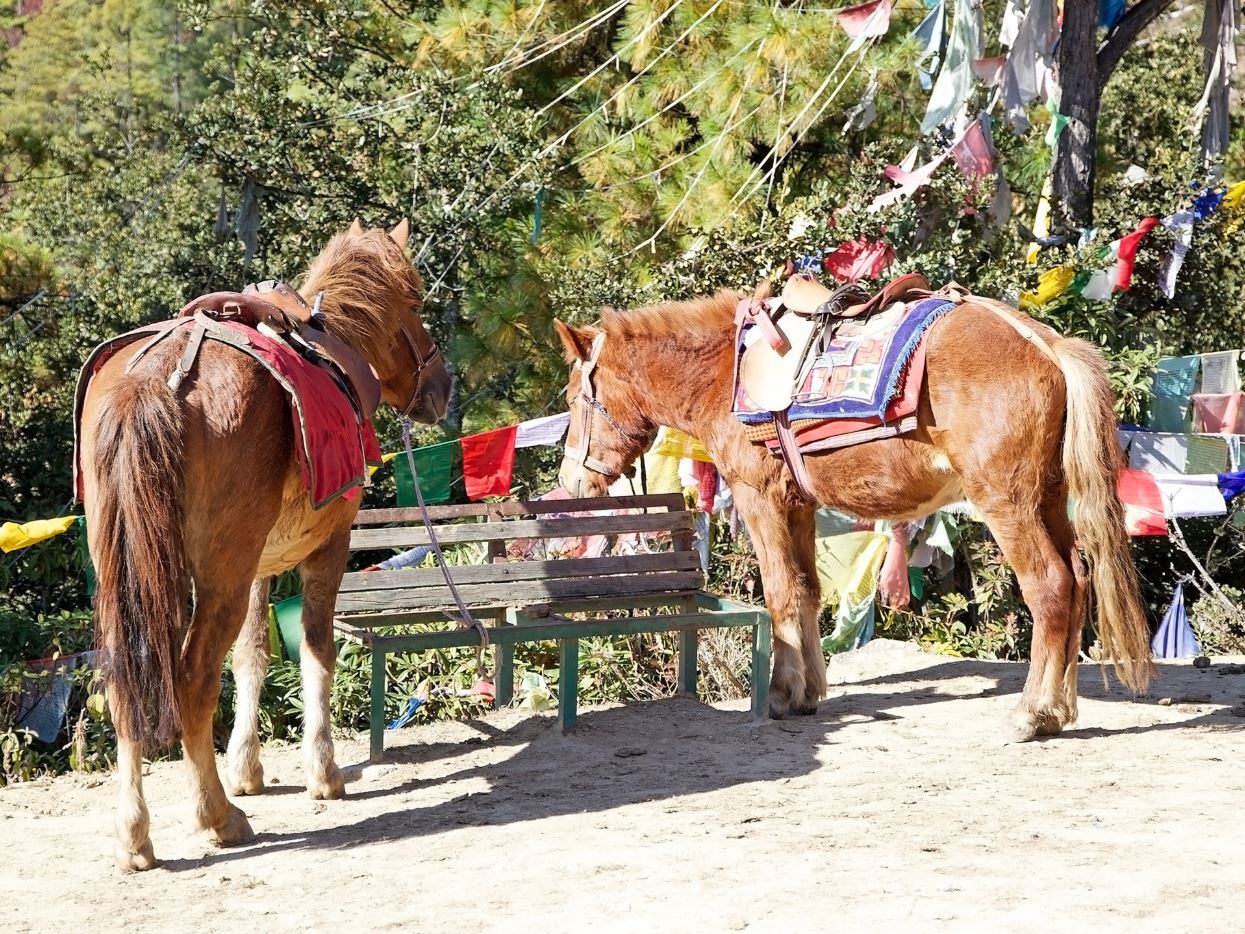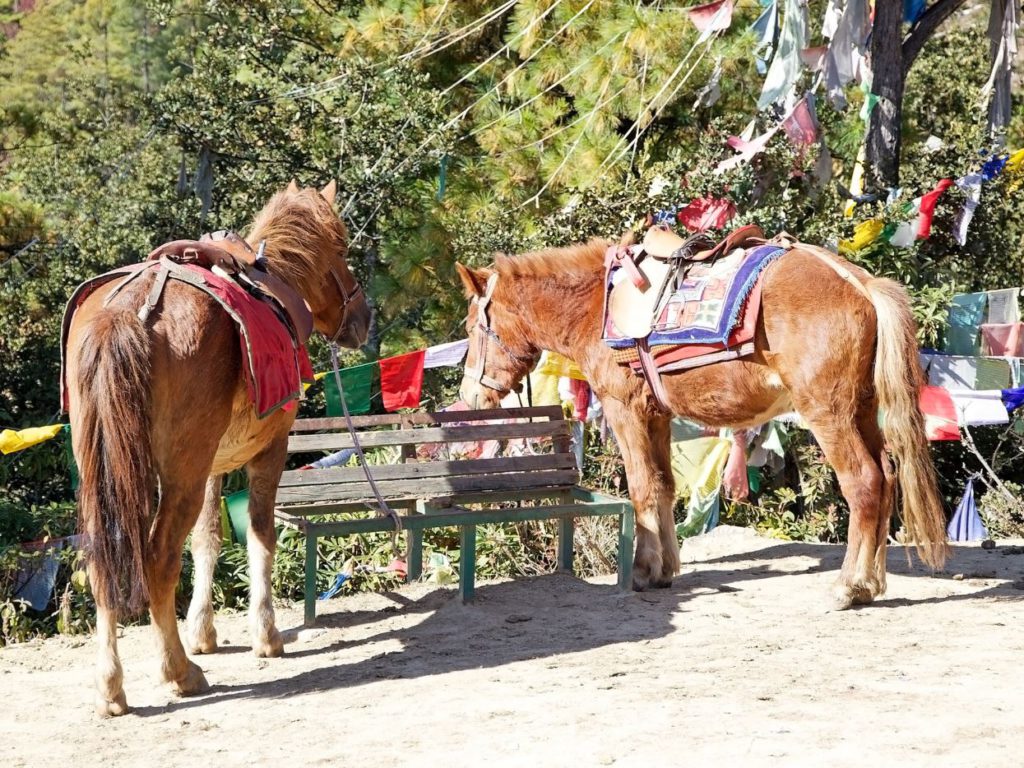 As soon as you get out of the parking lot, you will find a small market. This was built recently and has a good collection of souvenirs. There are miniature statues, wood carvings, charms, pendants, hair clips, fridge magnets, and a lot more. If you are going to buy presents and tokens, better do it here. Also, get a walking stick that you can return on your way down. It will be mean a ton on your journey.
The first part near the base is quite flat. You just walk over a little expanse of jungle and overgrown foliage to reach to the base of the trail. The chances of getting lost are slim. You can just follow the people or the signs in the area. At the end of this area is also a small structure, more like a shrine where you can halt for a while.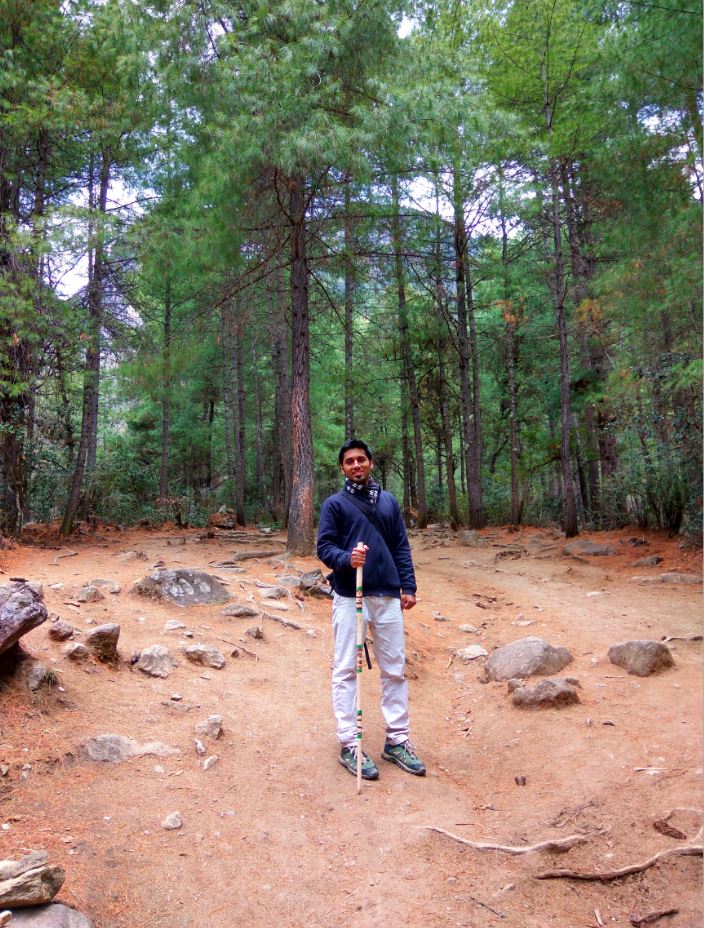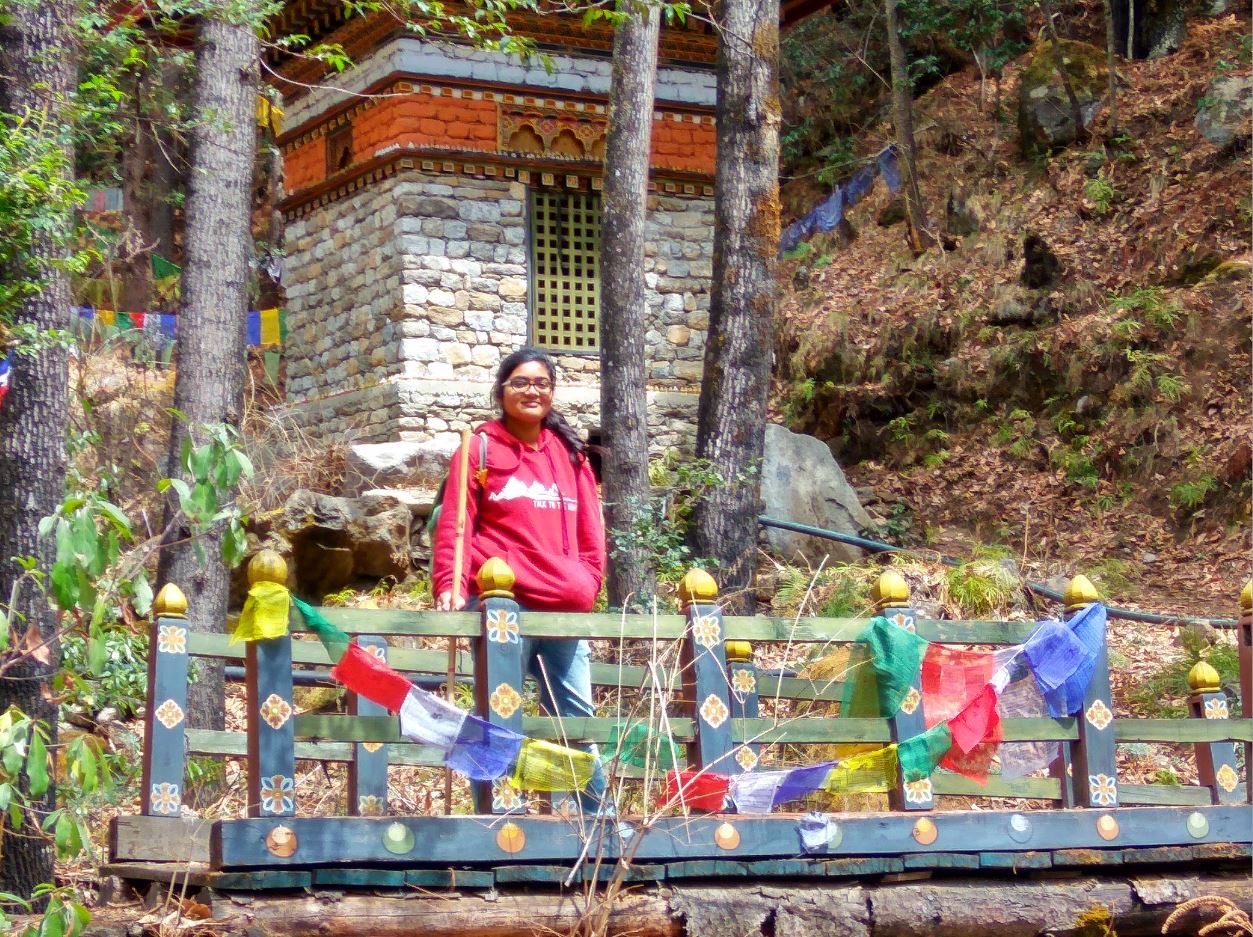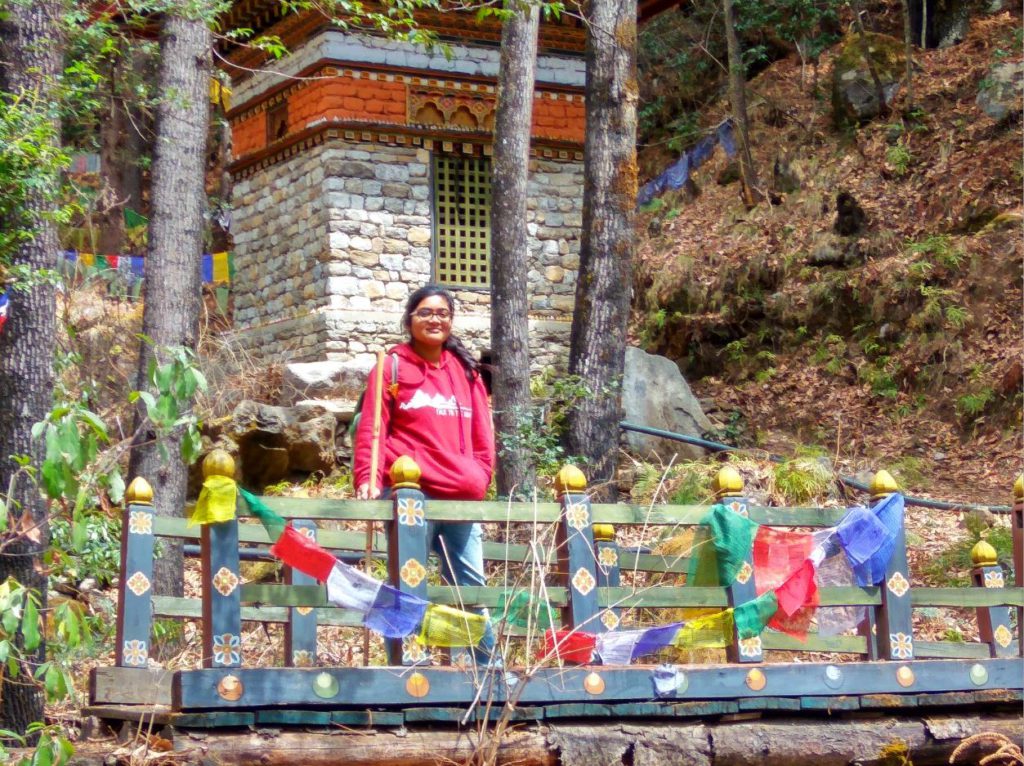 As you take on the main trail, you will start walking on a cleared dirt path. Although you will still have to climb odd formations at times. This part is not completely redone with concrete yet. Surprisingly, we witnessed a very light snowfall (in March) that stopped in a matter of minutes.
As you climb up the terrain, the landscapes will change and will get even more beautiful. We met quite a few locals and some furry cute doggies on our way up. Another small shrine with large yellow bells and prayer flags make a major stop in between.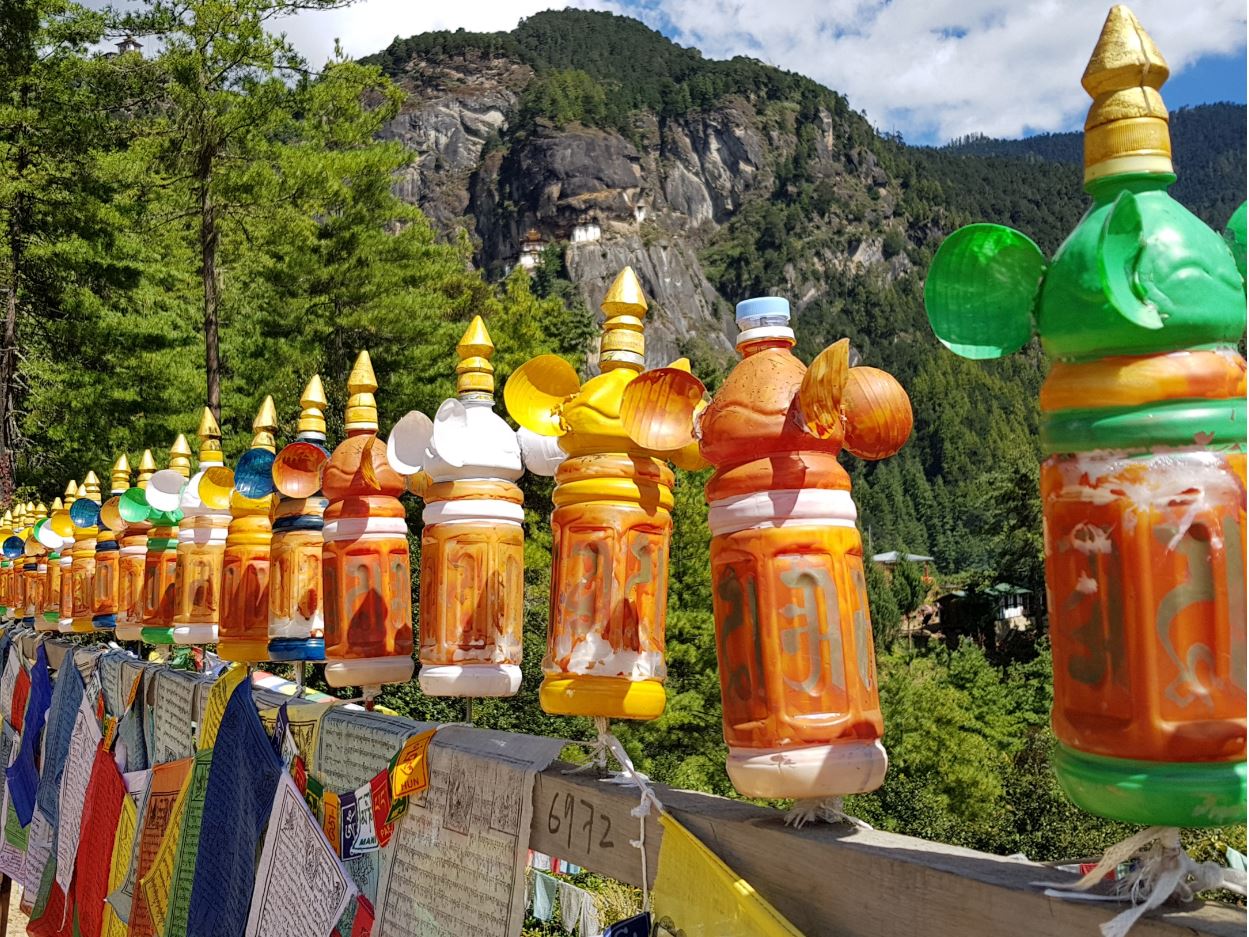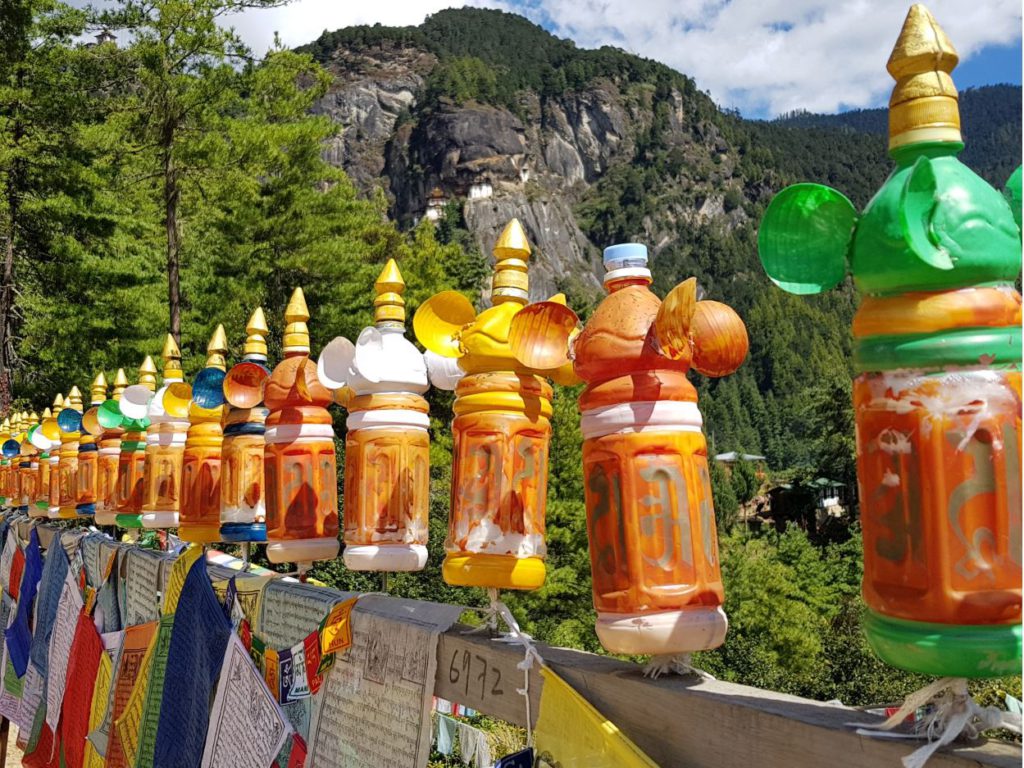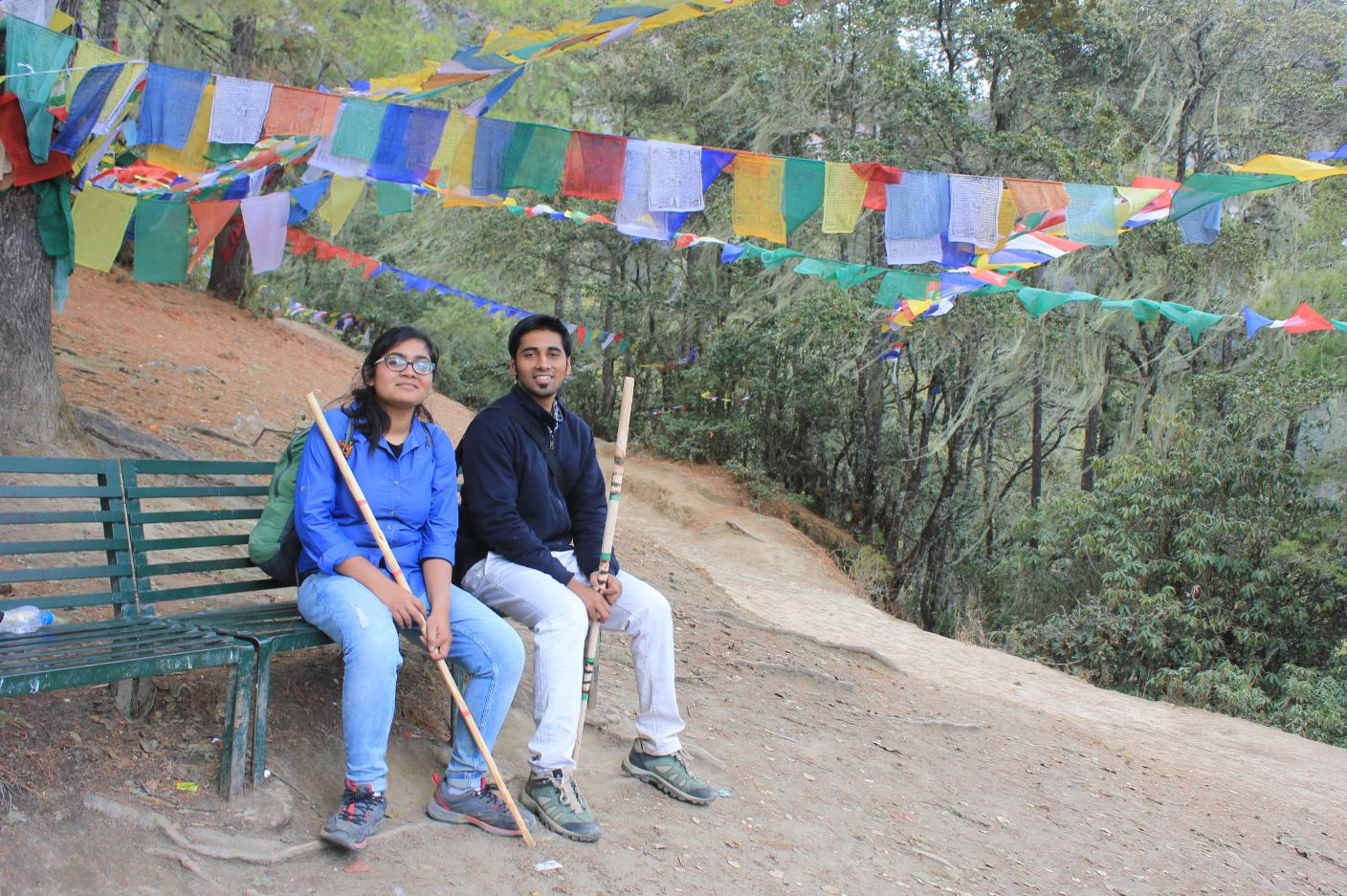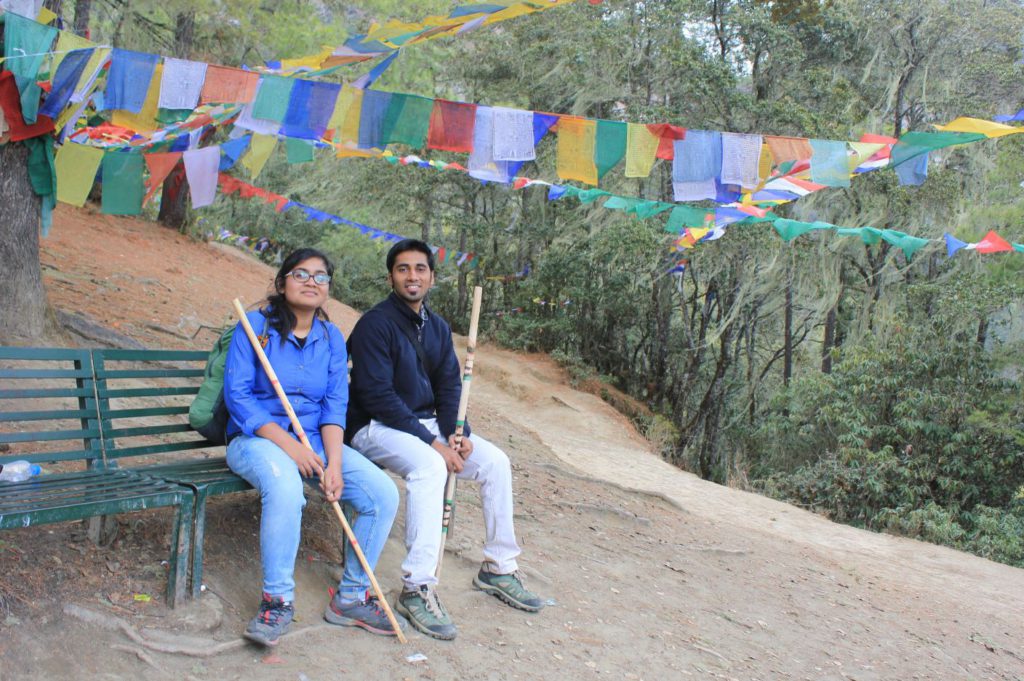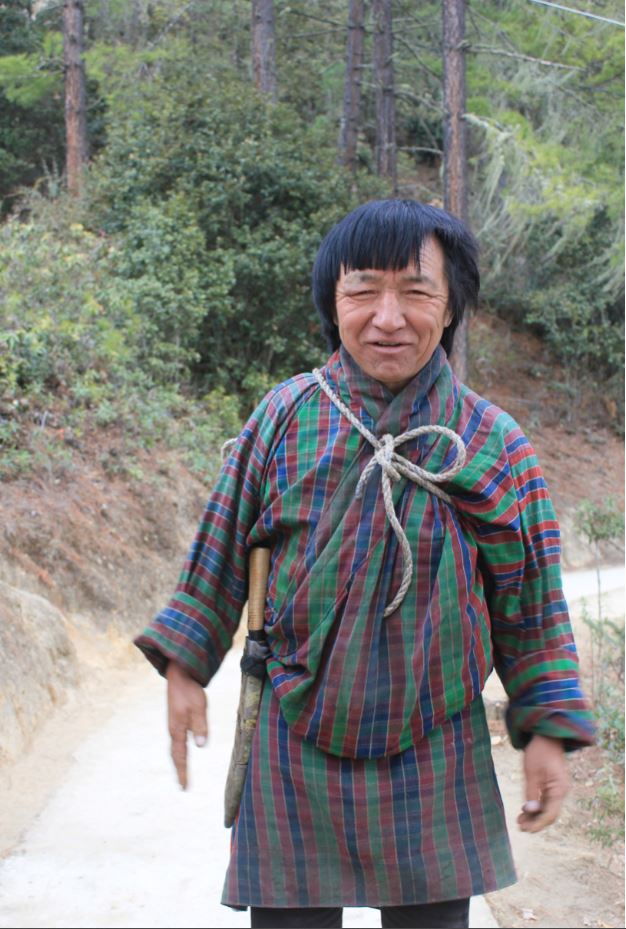 Just halfway is also a place where you buy some water and something to eat. Otherwise, there are no vendors in the area. Additionally, you better use the bathroom here (and buy something) since you may not be able to get one ahead. There is another bathroom at the base that you can use for 20 Nu.
The last leg is where you will need all your energy, willpower, and a warm sweater. You can see the monastery getting close with each step. Take frequent breaks but keep moving. And course, take a lot of photographs. Photos like these.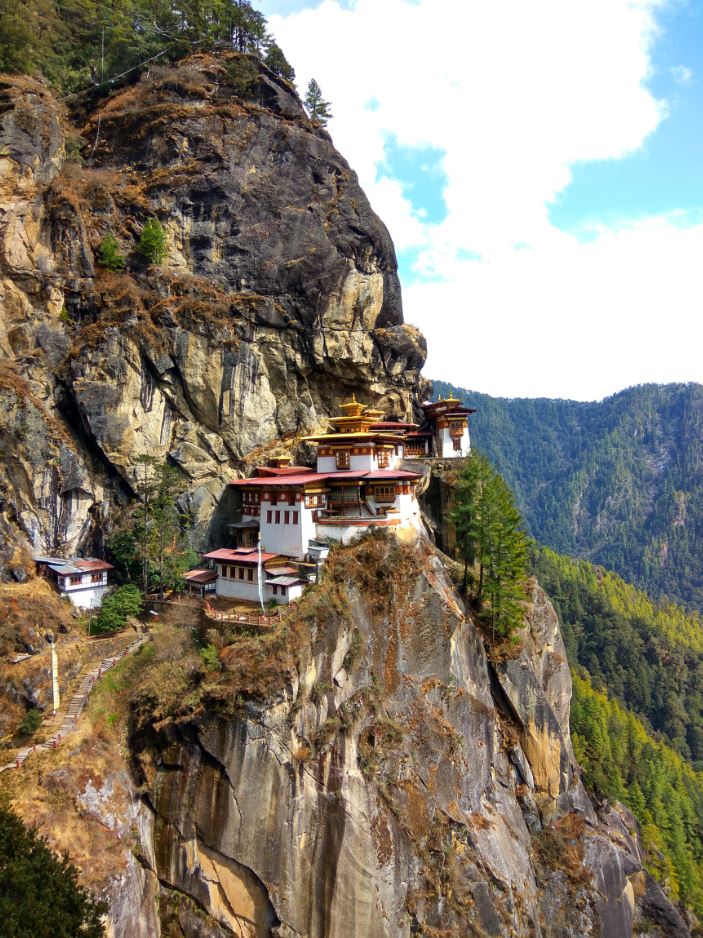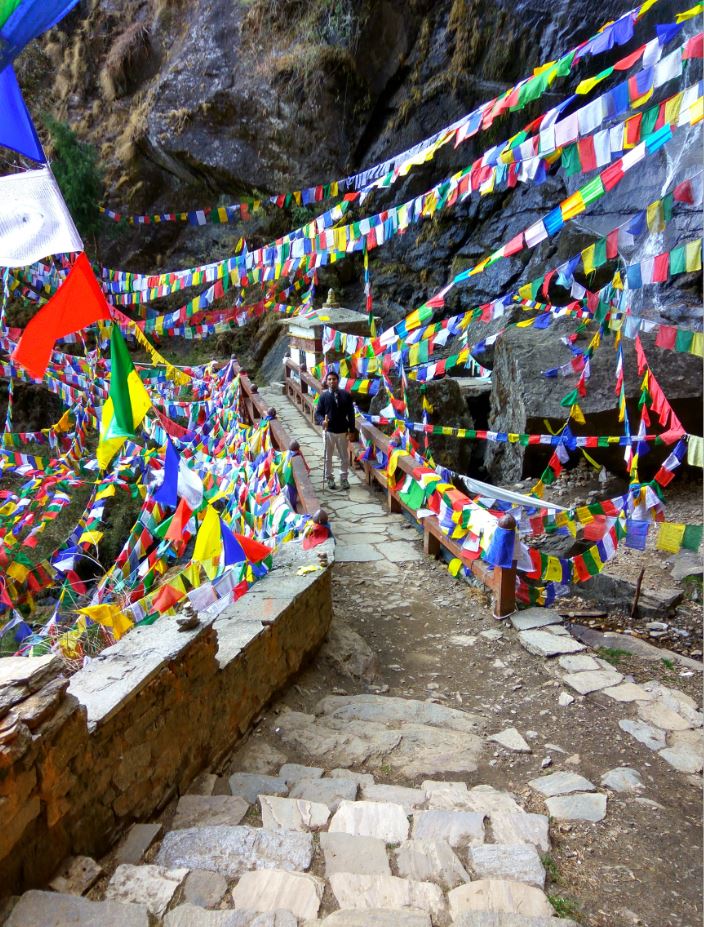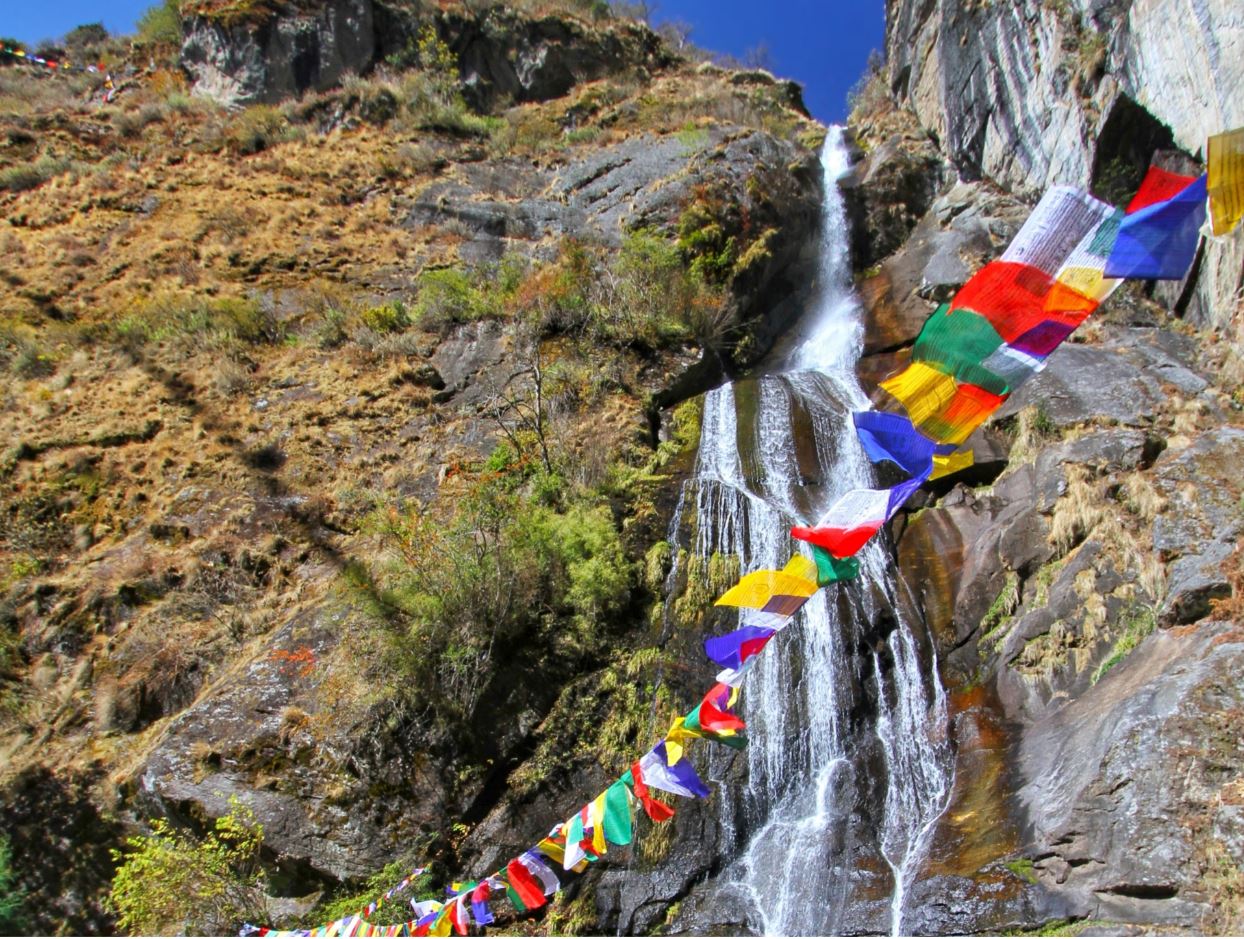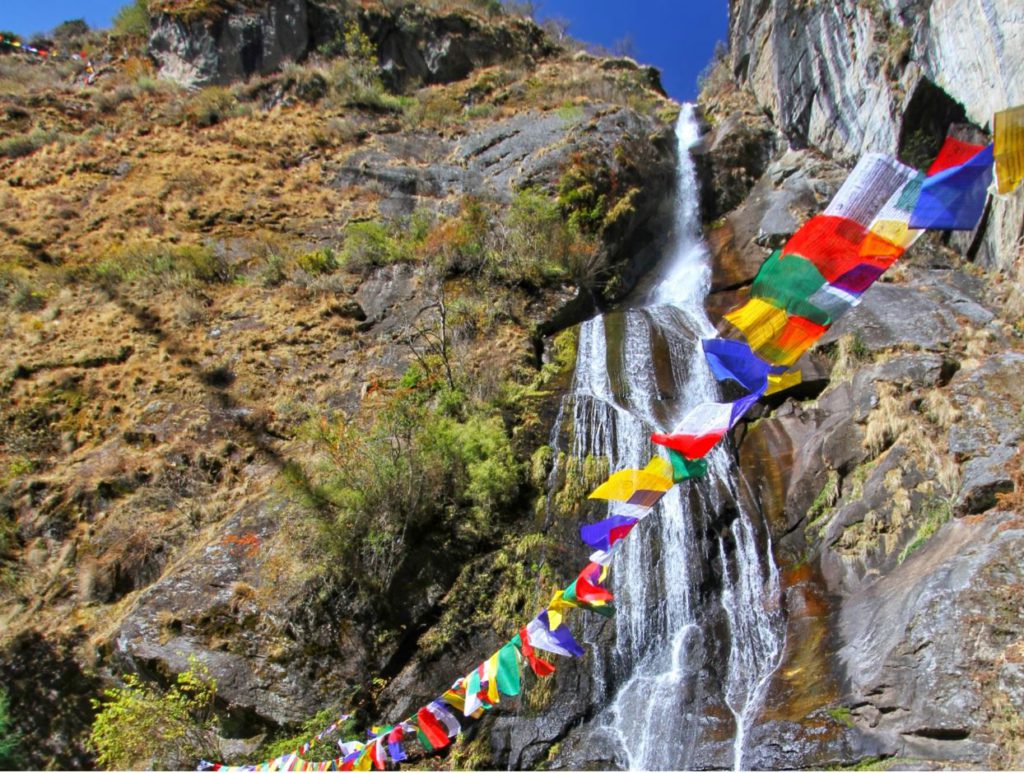 Visiting Taktsang Monastery
Now that you have reached Taktsang Monastery you can relax and take a break just outside. We found another big furry dog just outside the entrance.
A guide will greet you at the entrance who will also take you around the monastery. Unfortunately, you cannot take photos inside the monastery and you cannot find anything online as well.
Makes it a one-time-experience. Our guide told us about all the local folklores about the monastery. She took us to the main meditation halls and important points of interest. You will have to leave your shoes outside in most places and during the winter the floors become super-chilly.
The walls, like most Buddhist monasteries, are painted in bright colors with snippets from legends and tales. The tigress' liar is one of the most interesting points, one of the many caves in the monastery that you will visit. In the end you reach a viewpoint that gives a gorgeous aerial view of the whole Paro valley.
Descend is easy but if you are tired, make sure you are well-rested. A slip of ankle or shaky legs is dangerous on your way down.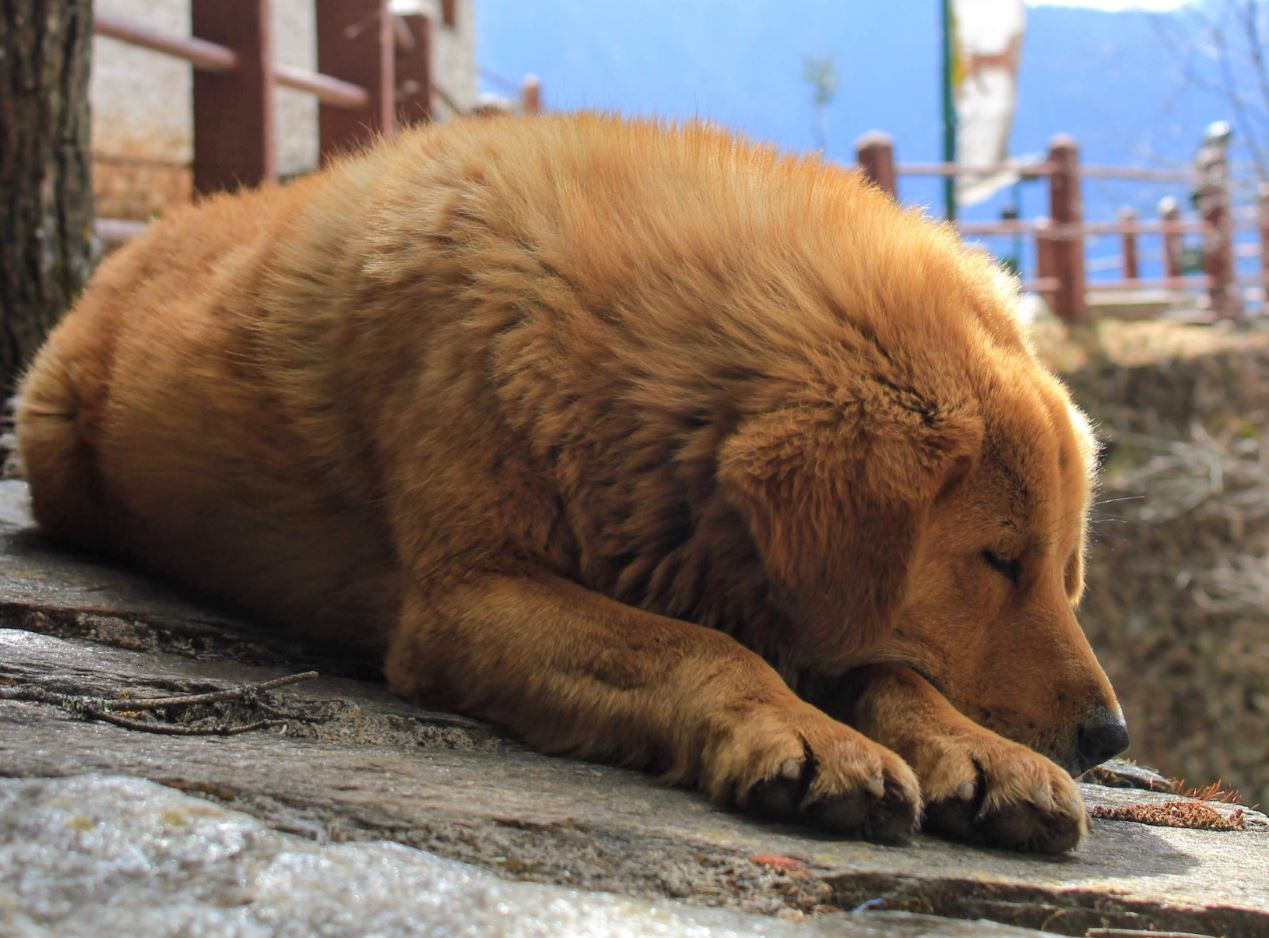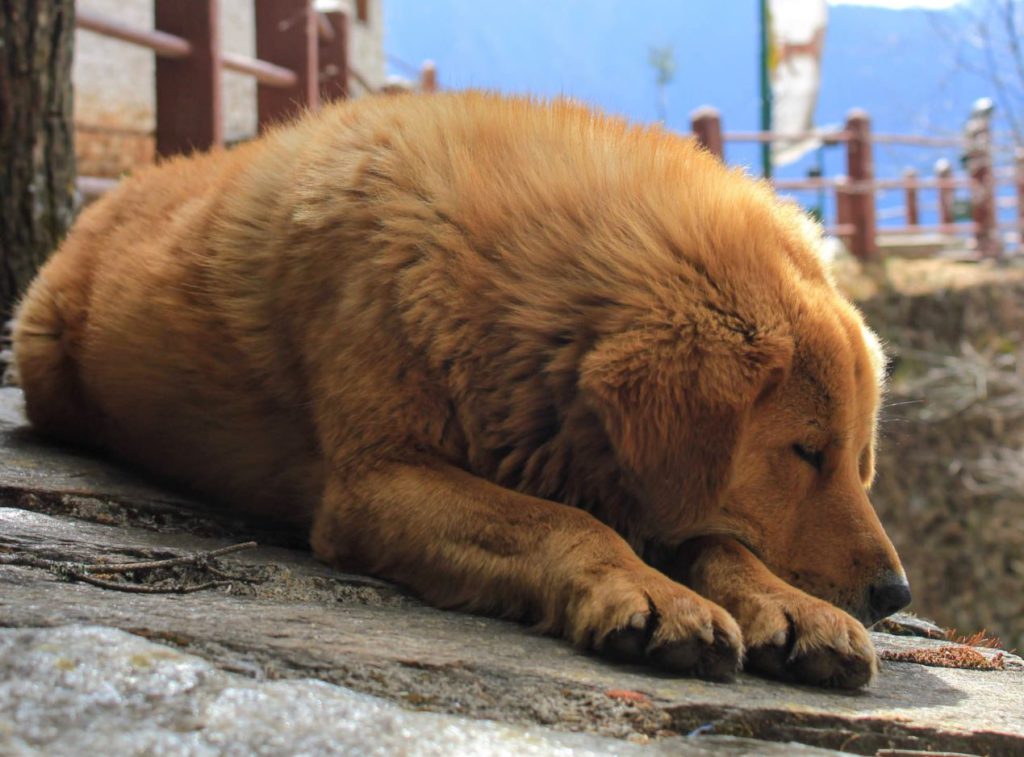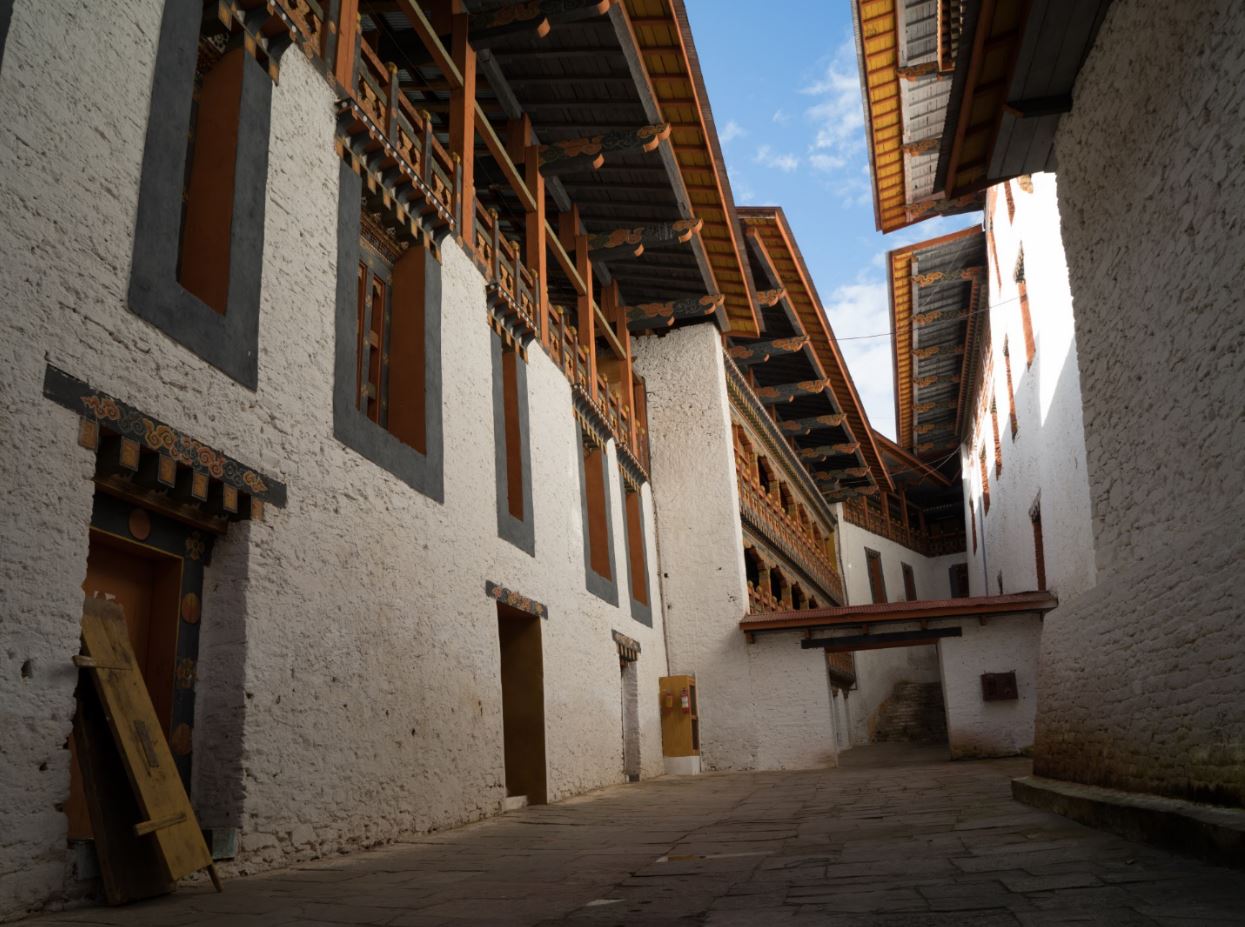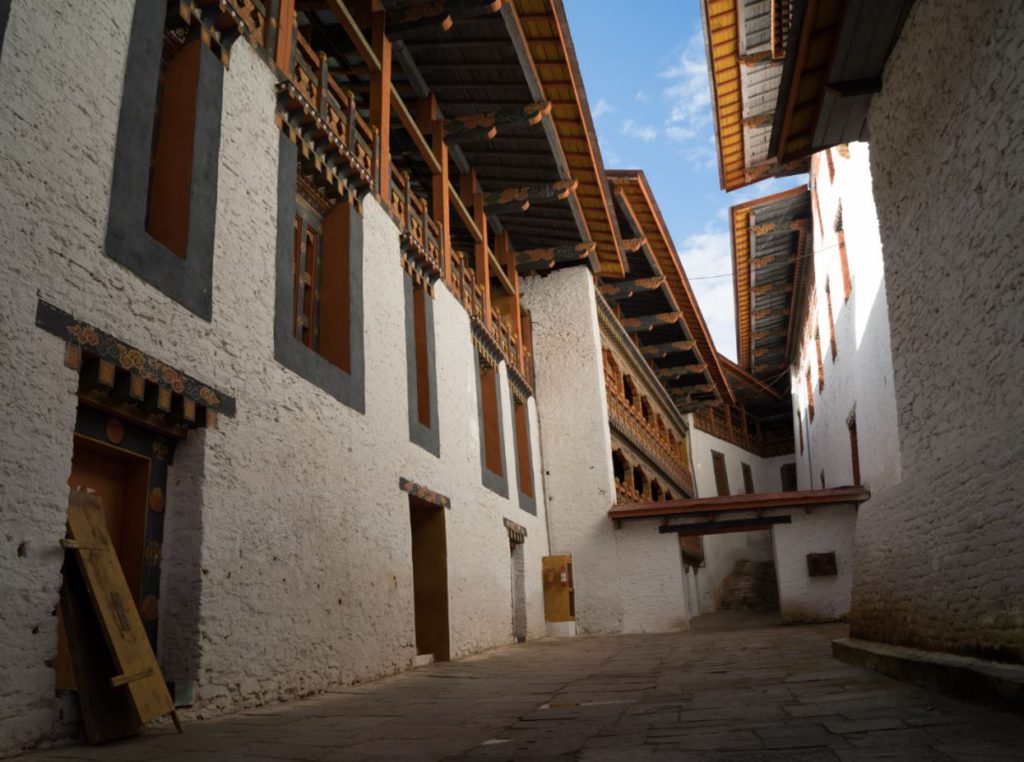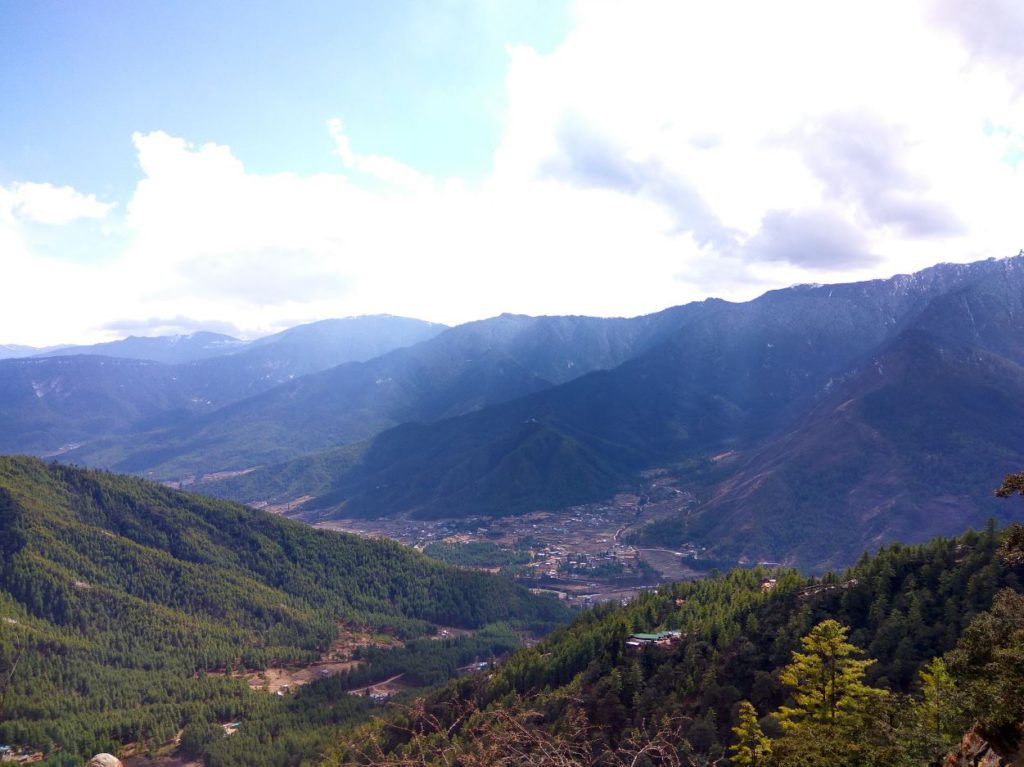 What to wear
Since your journey involves mainly trekking, you will need to layer your clothes. If you are not trekking during the winter season, wear a base layer (like a t-shirt of a day shirt). Pair it up with a fleece jacket or good thermal outerwear. You may want to take it off during mid-day but will definitely need it as you reach the top.
Apart from that, I will suggest that you keep another waterproof jacket or a windshield that you can wear in case it drizzles on the way or if you want to keep yourself extra warm.
If you are traveling during the winter, make sure you have got the good gear to keep you warm. Add a couple of body warmers for both bottom and top. Don't try to pull this off with a sweatshirt in the cold season.
Definitely wear shoes. I will not say that you specifically need trekking shoes. Any regular decent sports shoes will do. But don't wear sandals, slippers, flats, and definitely no heels.
Keep something to eat with yourself along with some water. You can hardly buy any food in the area except for the one shop mid-way. You may need an extra boost of energy with a quick light snack.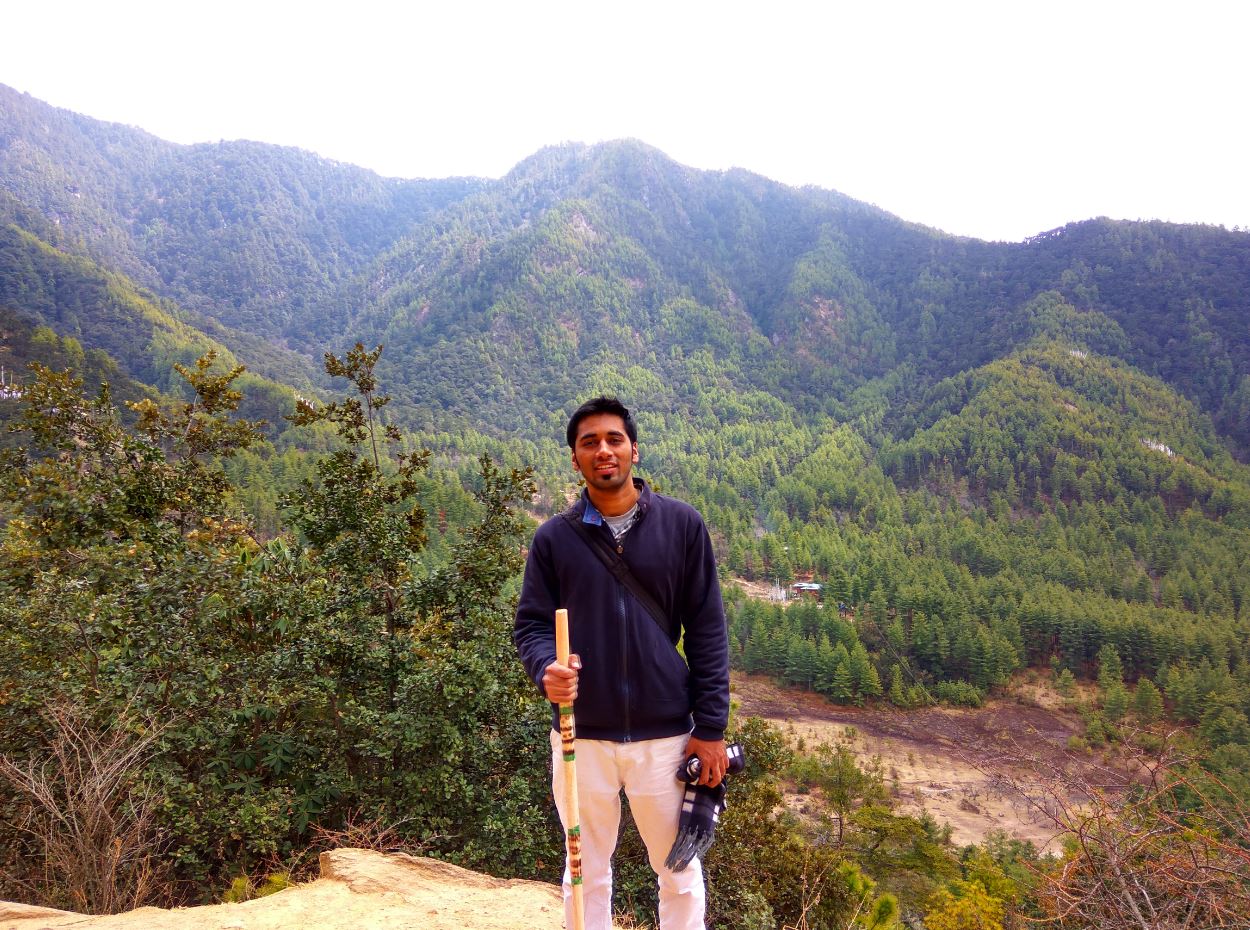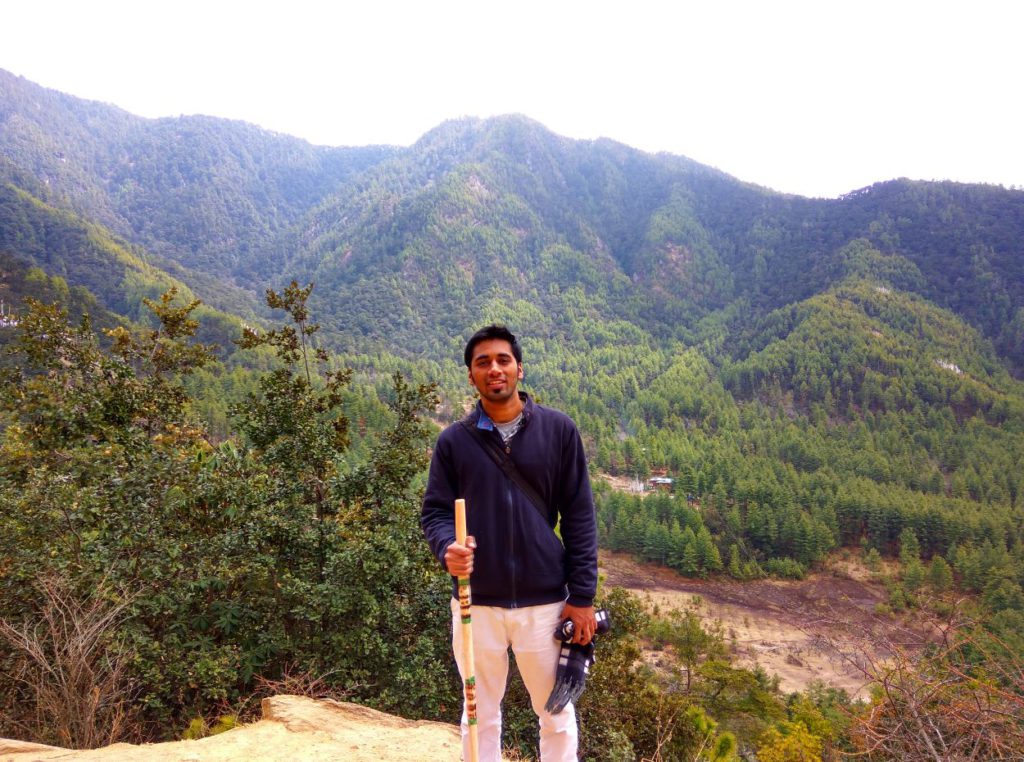 Save On Pinterest


Related Articles