18 Sep

How to Visit Phobjikha Valley, Bhutan

After Thimphu and Punakha, if you are willing to delve even deeper into the rural landscapes of Bhutan, you can head to the Phobjikha Valley.

Although it is a little hard to reach, it still is usually on people's list of the best places to visit in Bhutan. And while you can still find human beings in the above towns and cities, Phobjikha is more and less all countryside.

If you are looking for something more exciting than just sightseeing, there are several days' trek routes that start or end here. But of course, you will need a guide for that.

Let me give you some snippets on what to expect if you are traveling on your own to Phobjikha Valley in Bhutan.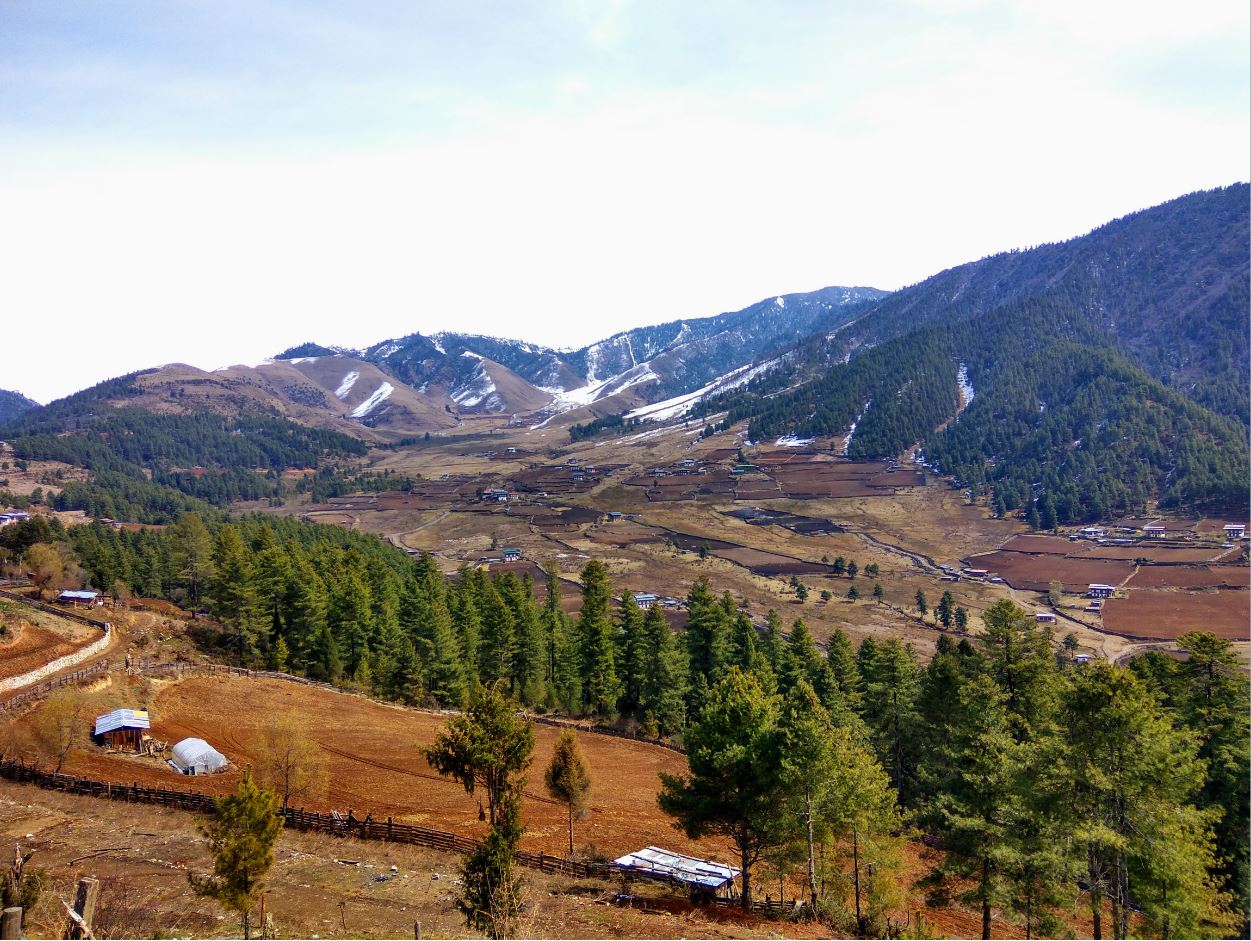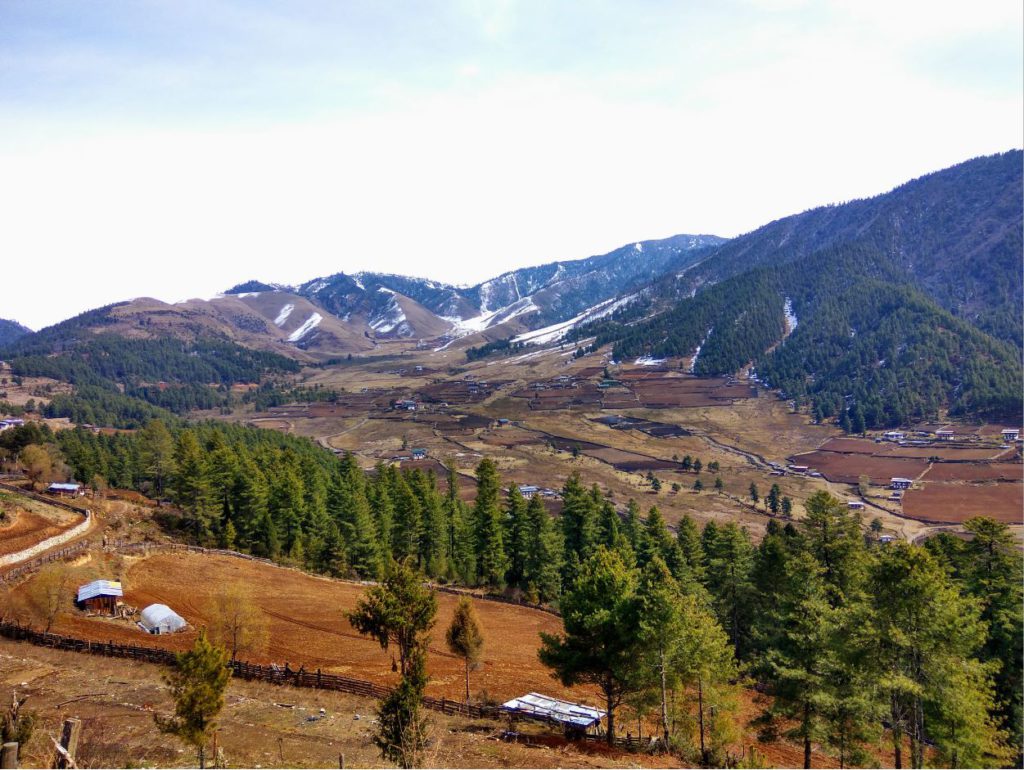 What is so special about Phobjikha Valley?
It is a U-shaped valley with mostly flat landscapes and vast areas dedicated to agriculture. A very popular monastery, the Gangteng Monastery is also located in Phobjikha.
Apart from the jaw-dropping scenic views, Phobjikha valley is popular for a special reason. It is where a large number of black-necked cranes migrate during the starting of the winter season from the highlands of Tibet for roosting.
But above all, it is worth visiting because of the gorgeous landscapes that you would encounter on your way here.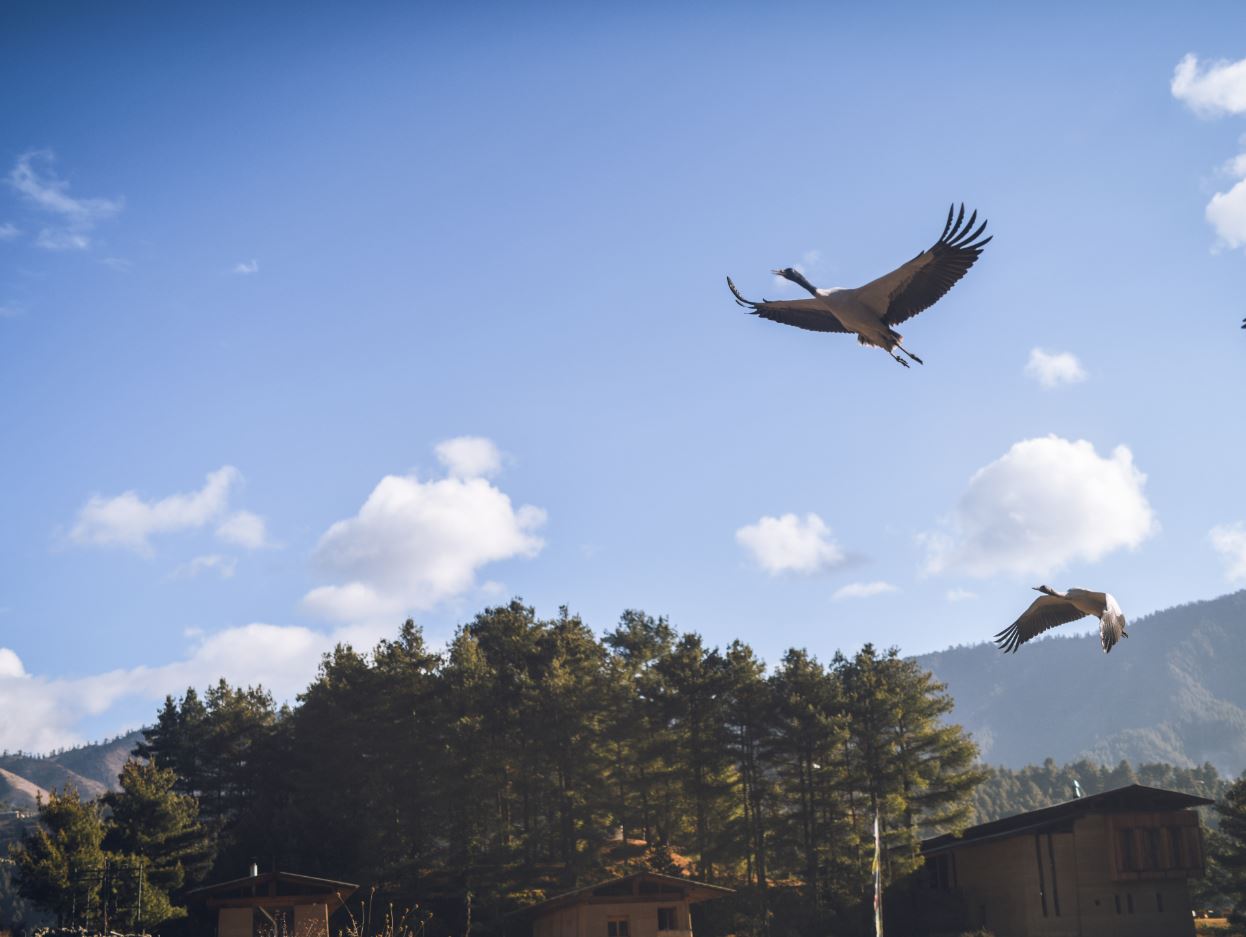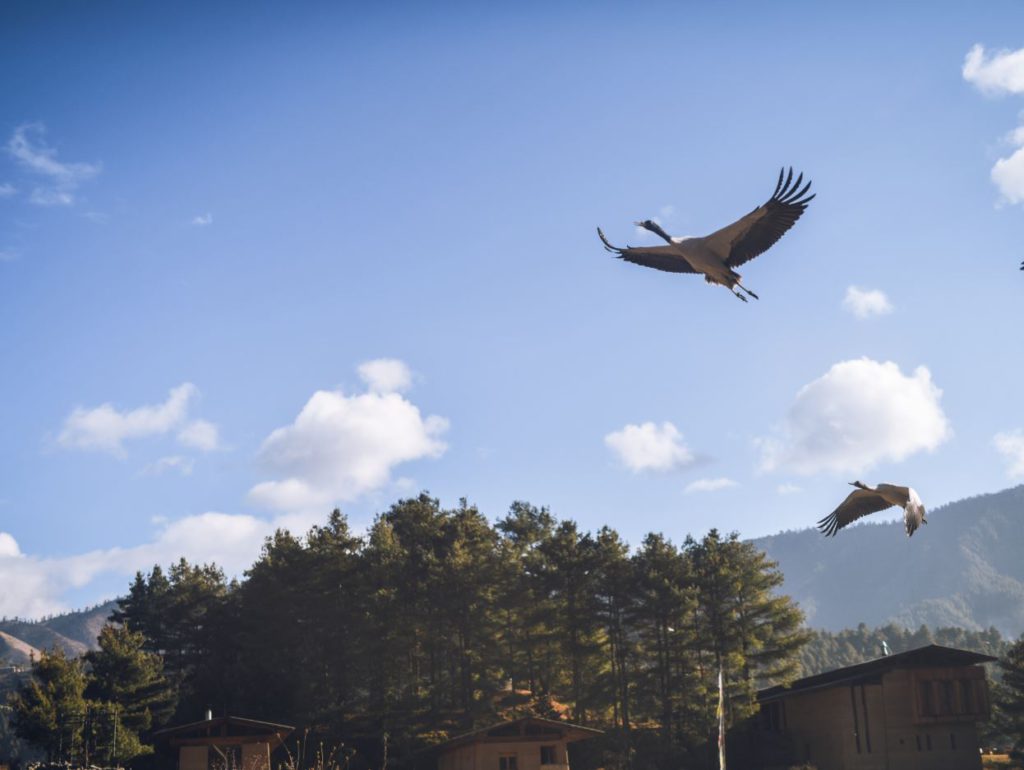 Where is Phobjikha Valley located?
Phobjikha Valley is located in central Bhutan. It is 140 km east of Thimphu and 80 km south east of Punakha. It is at an elevation of 3,000 meters, almost 2.5 times of Punakha. Due to its height and remote location, the valley is at times, inaccessible and closed to tourists.
How to reach Phobjikha Valley?
There is almost no public transport to Phobjikha Valley. You cannot find any bus that runs to this place either from Thimphu, Paro, or Punakha. Even shared cabs don't run to Phobjikha from the above places.
You can hire a private cab from any of the above places. A half-day fare will cost you around 2000 Nu, a full day will be between 3,500 – 4,000 Nu depending upon the distance you travel. This is a good option since you cannot find any local transport inside and around the valley. The drivers are nice, jolly, and usually also act as a tour guide.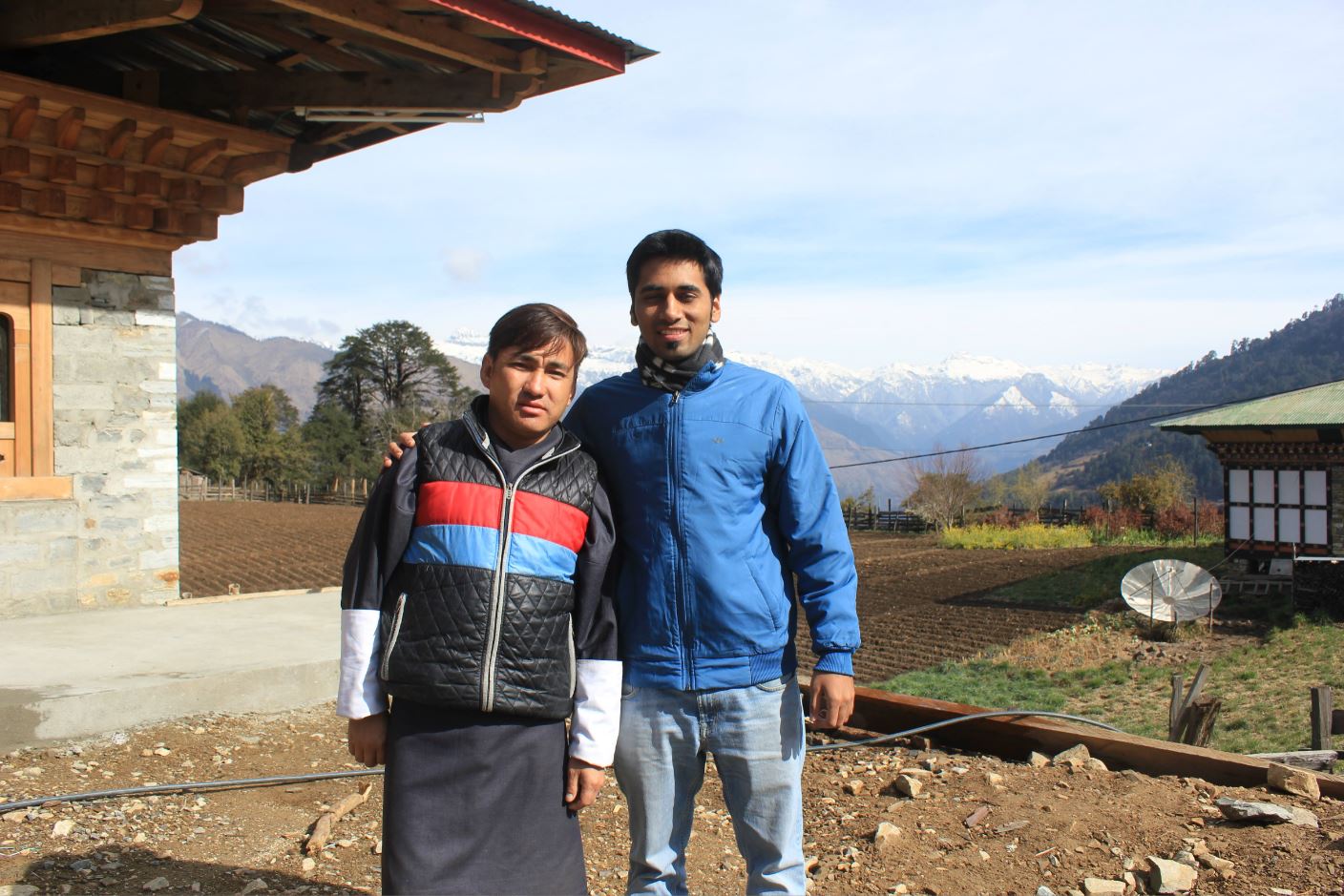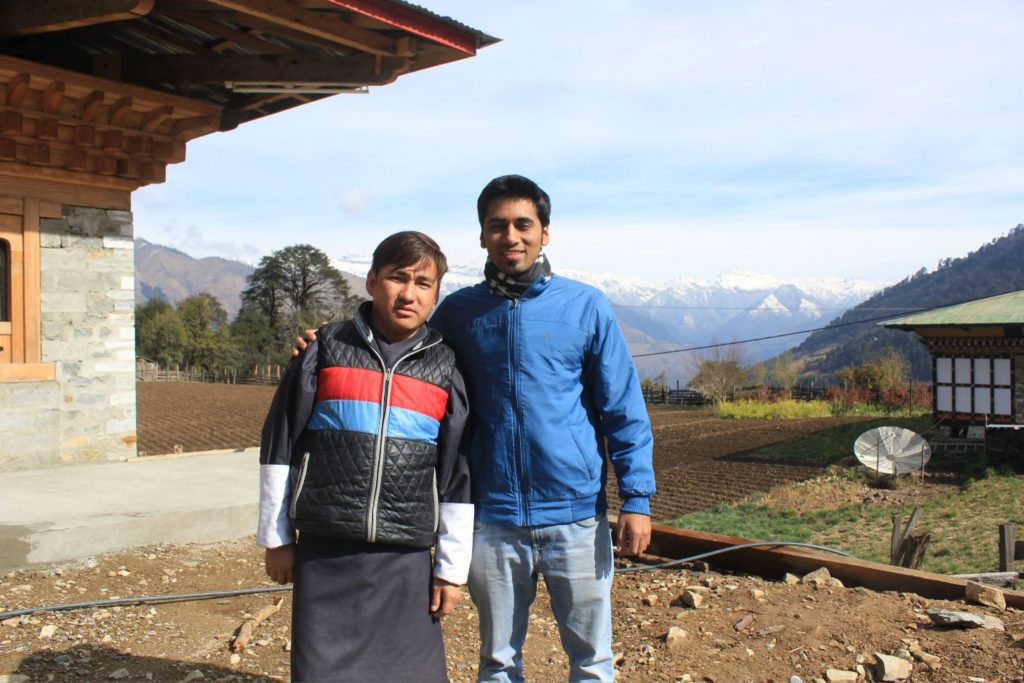 Shared cabs do run from Wangdue Phodrang, a small town 15 km south of Punakha. It will cost you 300 Nu per person in a shared cab. Make sure you either have a booked hotel or are aware of the schedule of cabs to travel back if you are traveling on the same day.
The road to Phobjikha is prone to landslides or blockage due to snowfall. So your trip will largely depend upon weather or circumstances.
As for us, we were able to stop at a few high points to witness some snowfall from the day before. That was also the first time I saw snow!
In case you are looking for a guided tour, you can check out some of the popular pre-planned tours available online. You can always customize your itinerary according to your needs and interests.
4 Day All Inclusive Bhutan Tour
7 Day All Inclusive Himalayan Kingdom of Bhutan Tour
10-Day Discover the Happiness of Bhutan Private Tour
If you want something more particular, you can get in touch directly with agencies and discuss your requirements with them. Here are two I found out with great reviews: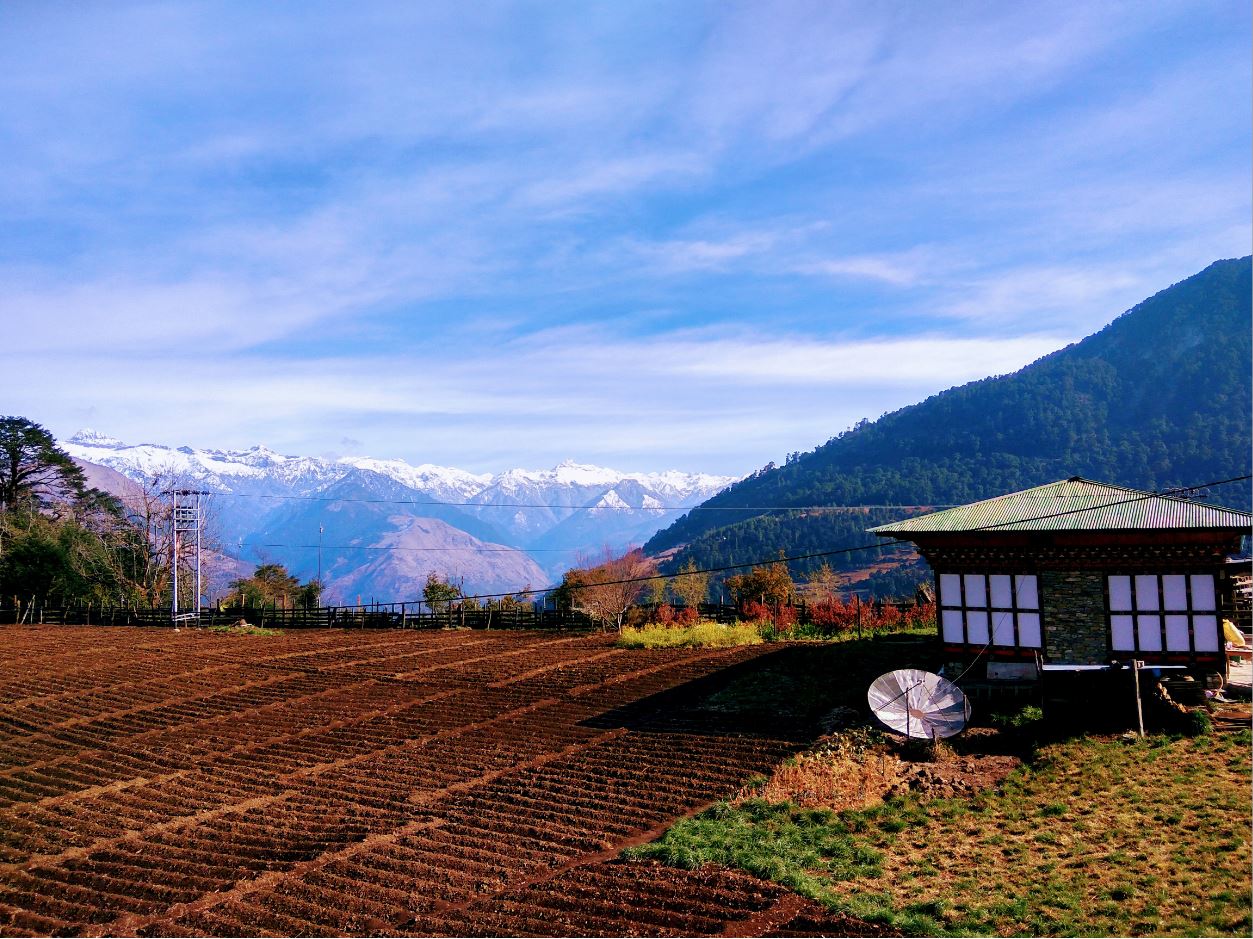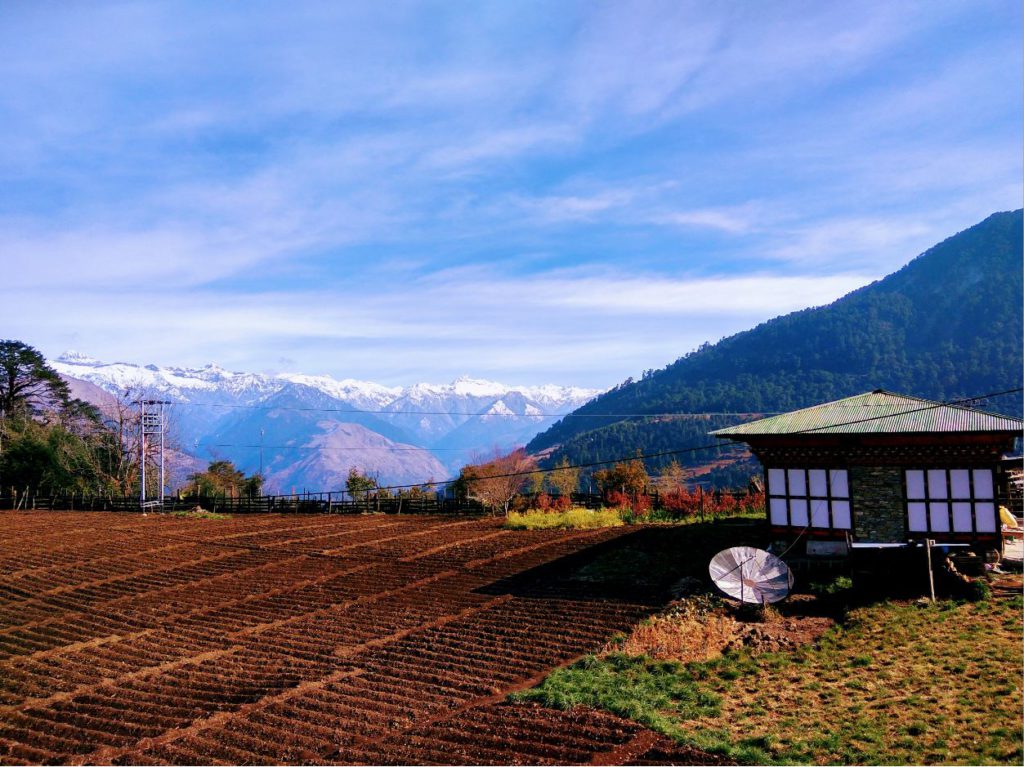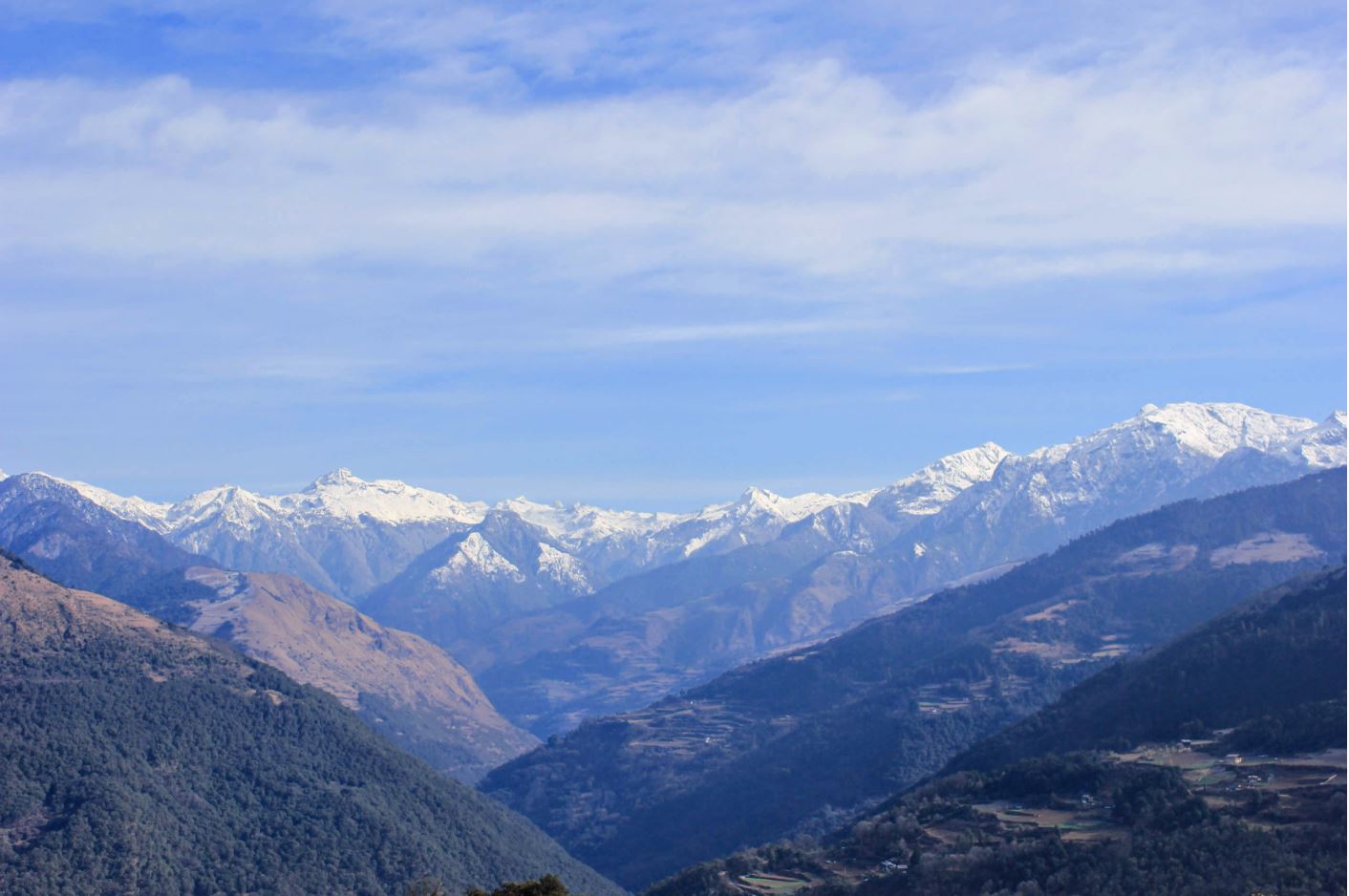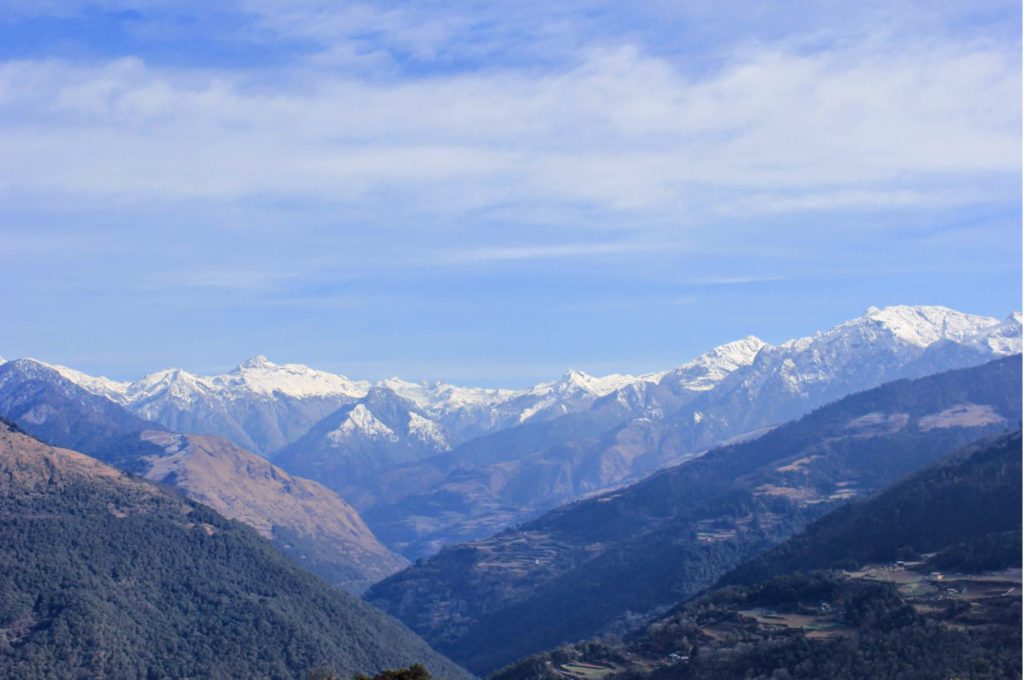 Best time to visit Phobjikha Valley
The best time to visit Phobjikha Valley is in late October when you can find the valley filled with back-necked cranes. They reside well into February before flying back. The birds circle the Gangtey Monastery three times while arriving before they settle down in the area and also while departing.
But you will be able to enjoy the best weather conditions during spring and early summer. The months of March and May see a pleasant temperature. The valley is devoid of snow and clear. You can even spot spaces full of flowers. However, snowfall is still common in March yet not too heavy.
Monsoons (July – September) and Winters (November – February) are very cold. Rainfall may result in frequent landslides and heavy snowfalls drag the temperature several degrees below the freezing point. Even most locals move to a warmer village with their cattle during winters. Therefore I will not recommend that you take a trip here in the extreme conditions.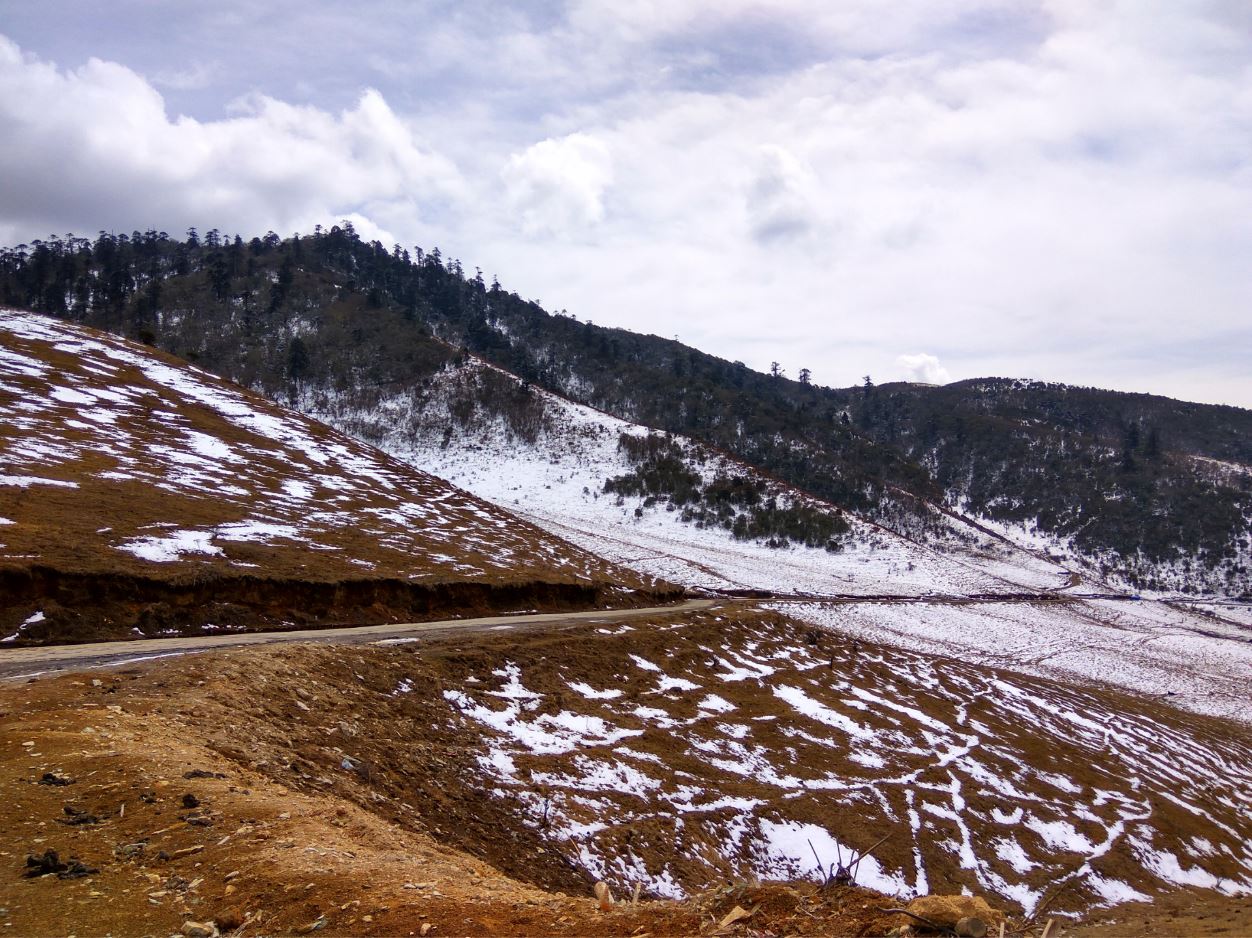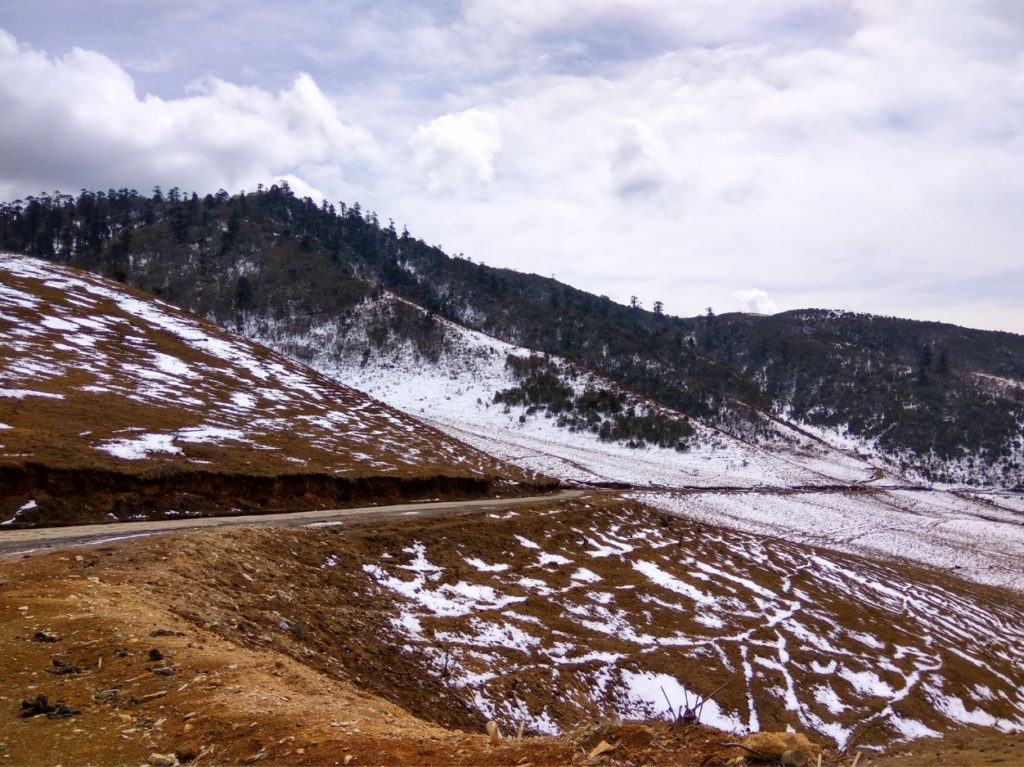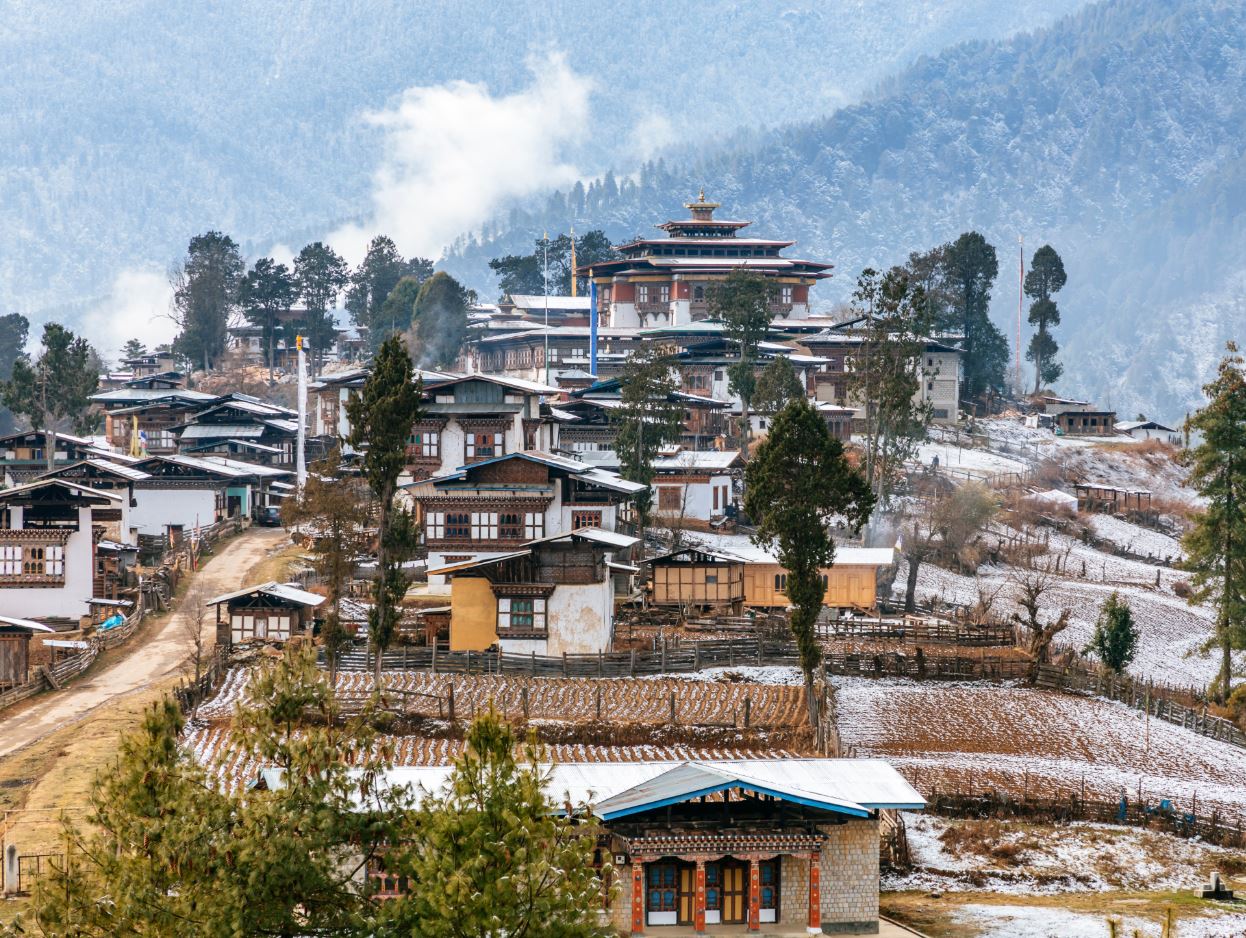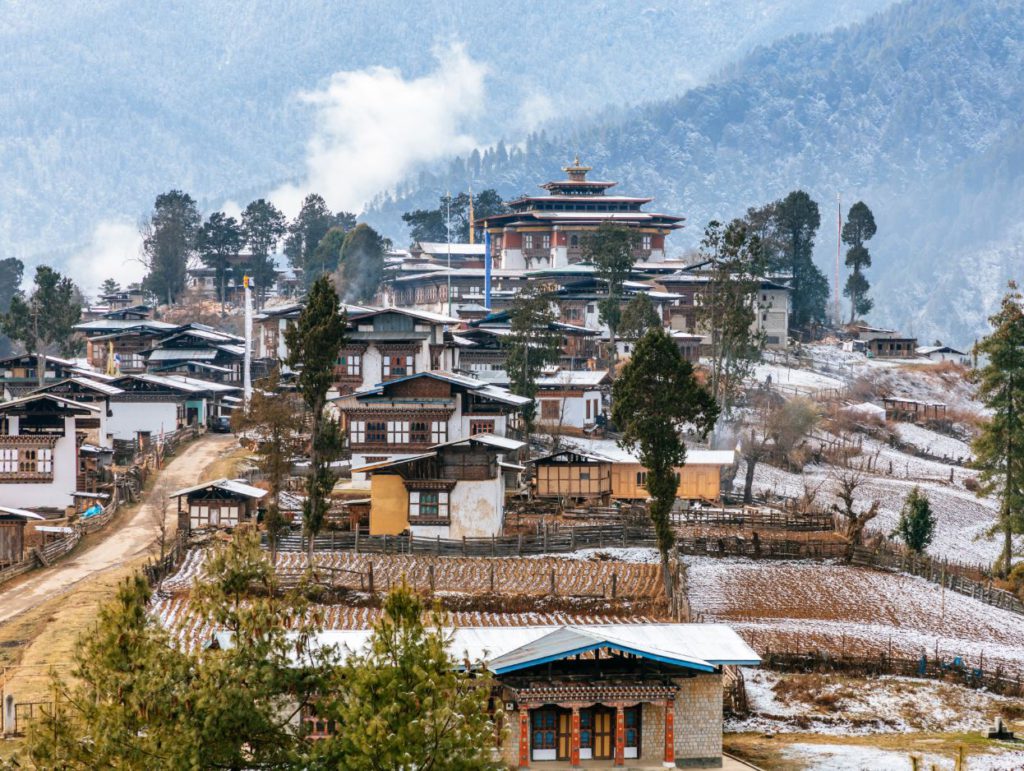 What to see in Phobjikha Valley
Phobjikha Valley
You will probably halt near the Gangtey monastery since it is the center of attraction of the valley. But just opposite to it is the wide valley sprawling for kilometers with spectacular views. We were there in March and we could still see some snow patches as it snowed the day before.
The valley is mostly flat and used as agricultural land. A house in the middle of a large farm repeated over several times sews together the whole picture. And of course, the prayer flags. They are everywhere.
On the west side are the Black mountain ranges, a part of the Himalayan ranges home to mostly yak-herders and nomads.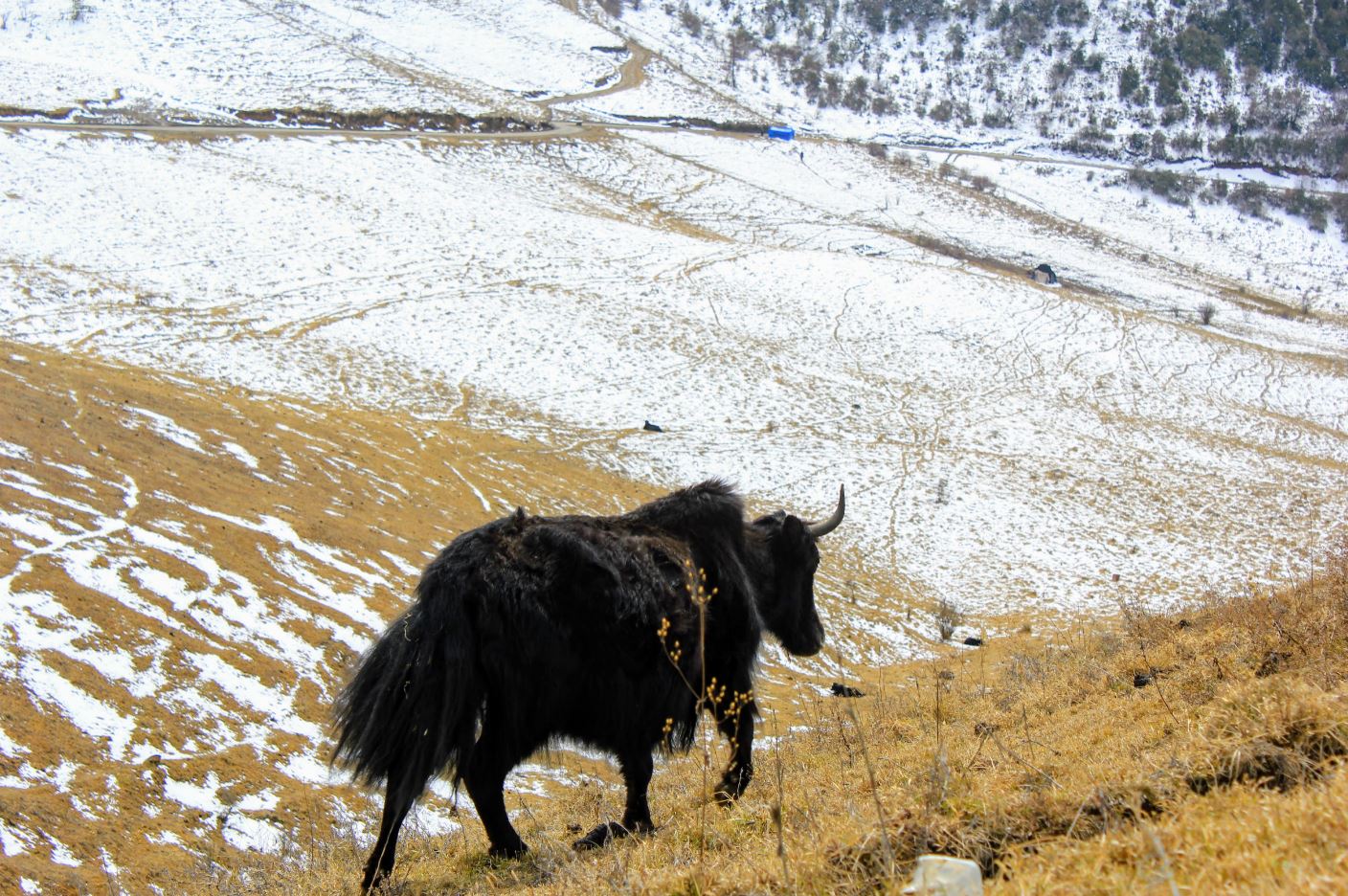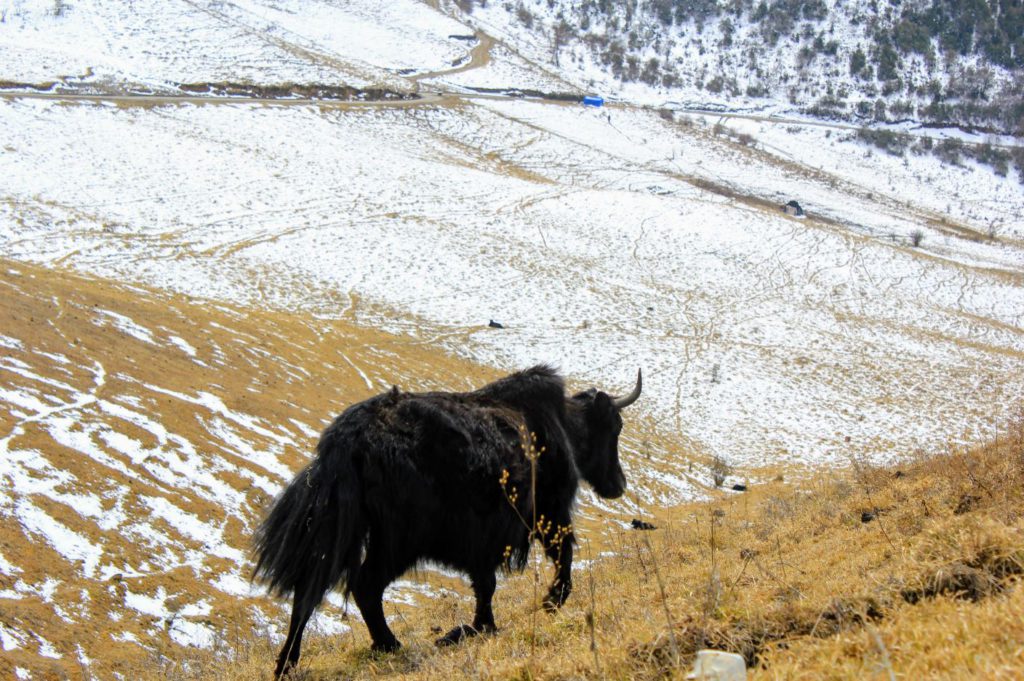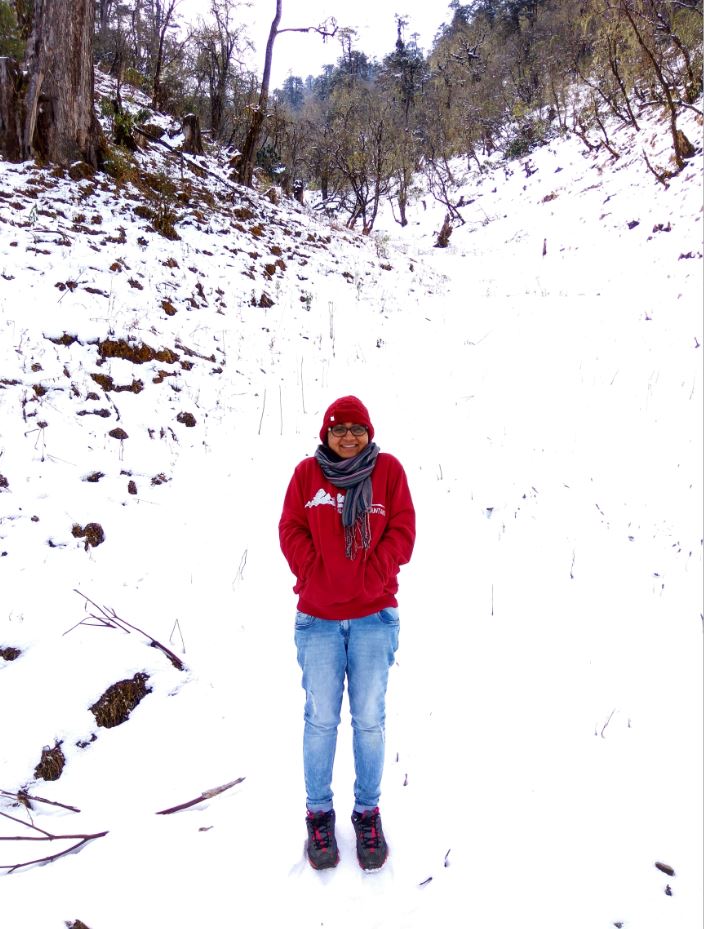 There are two main rivers that flow through the valley – Nakay Chuu and Gay Chuu. According to the local folklore, Nakay chuu represents a snake and Gay Chuu a boar. There was once a racing competition between the snake and the boar. If the snake wins the rice, people in the valley will grow rice. If the boar wins, they will not grow the rice. Eventually, the boar wins. Therefore the people here only grow potatoes and turnips.
Dirt lanes from the monastery lead up to a small village nearby. You can see people going about their daily lives, kids playing in the front yard, and occasionally staring curiously at you. The lanes have a few basic wooden homes with traditional architectural elements. An occasional car or vehicles ornament the settlements.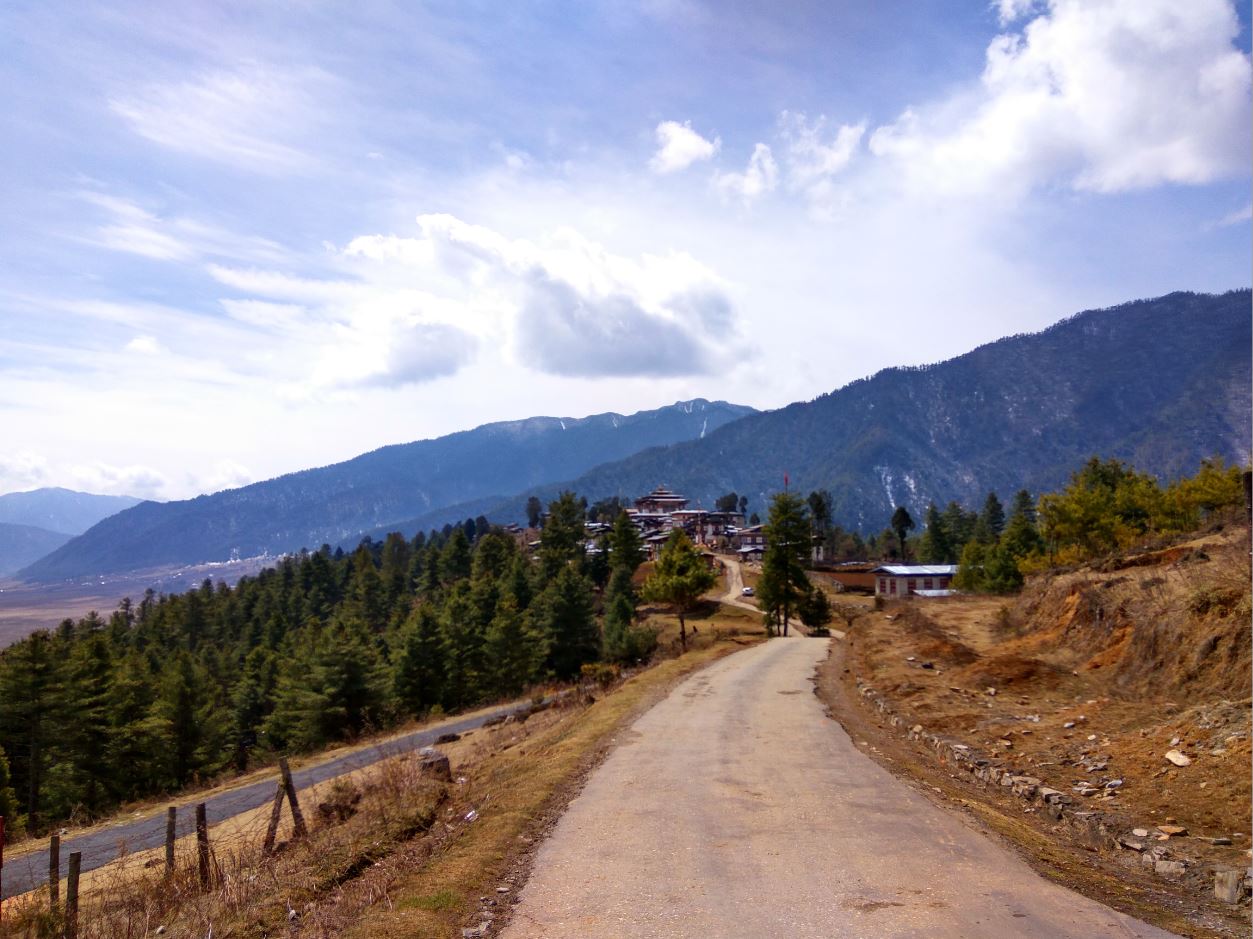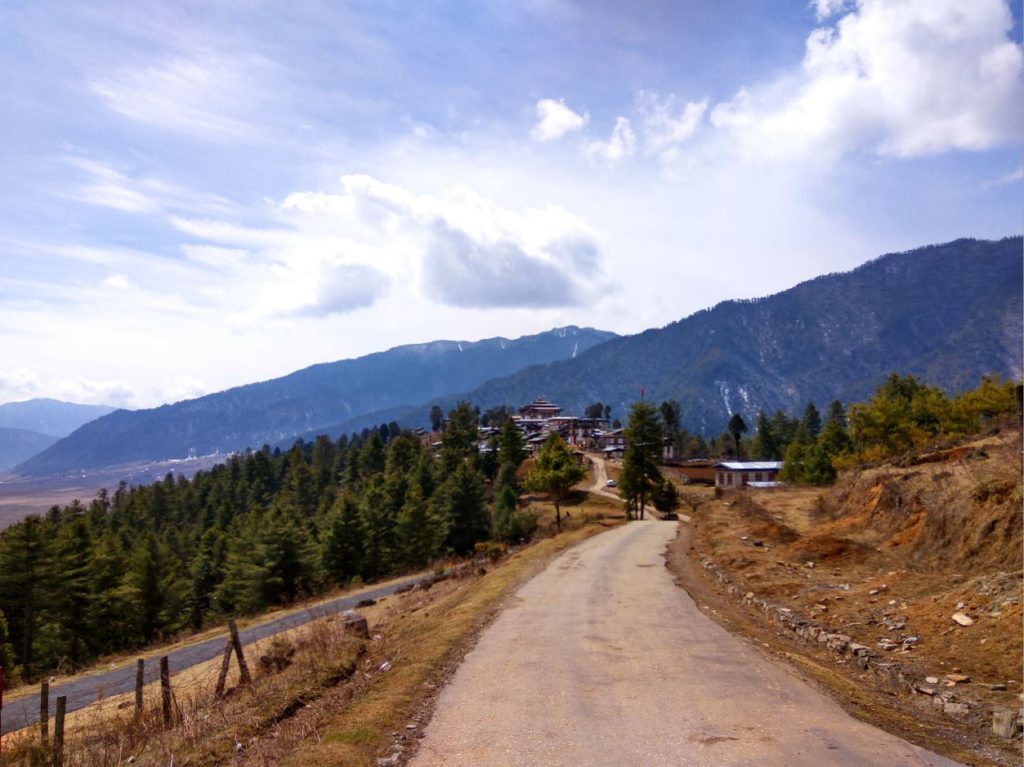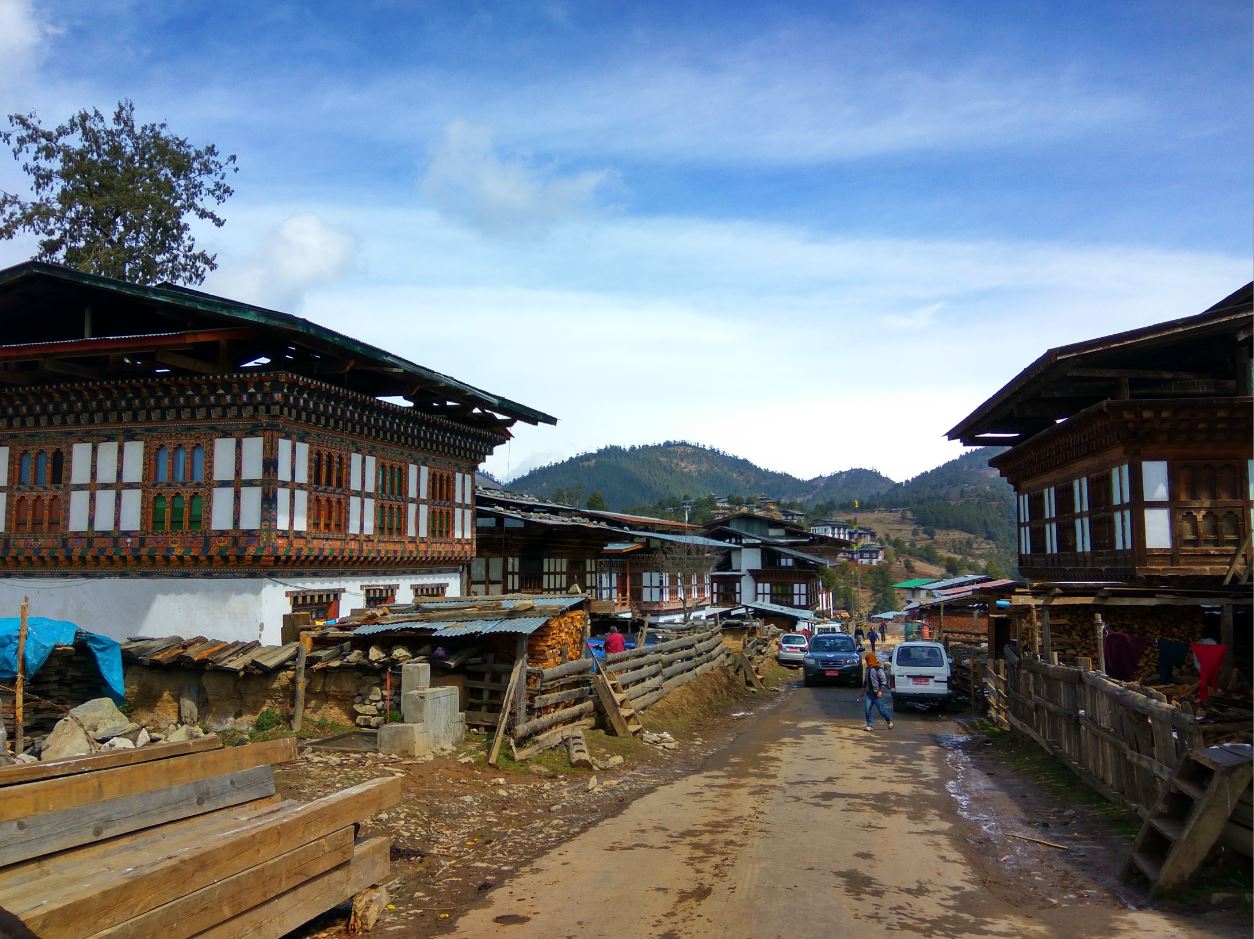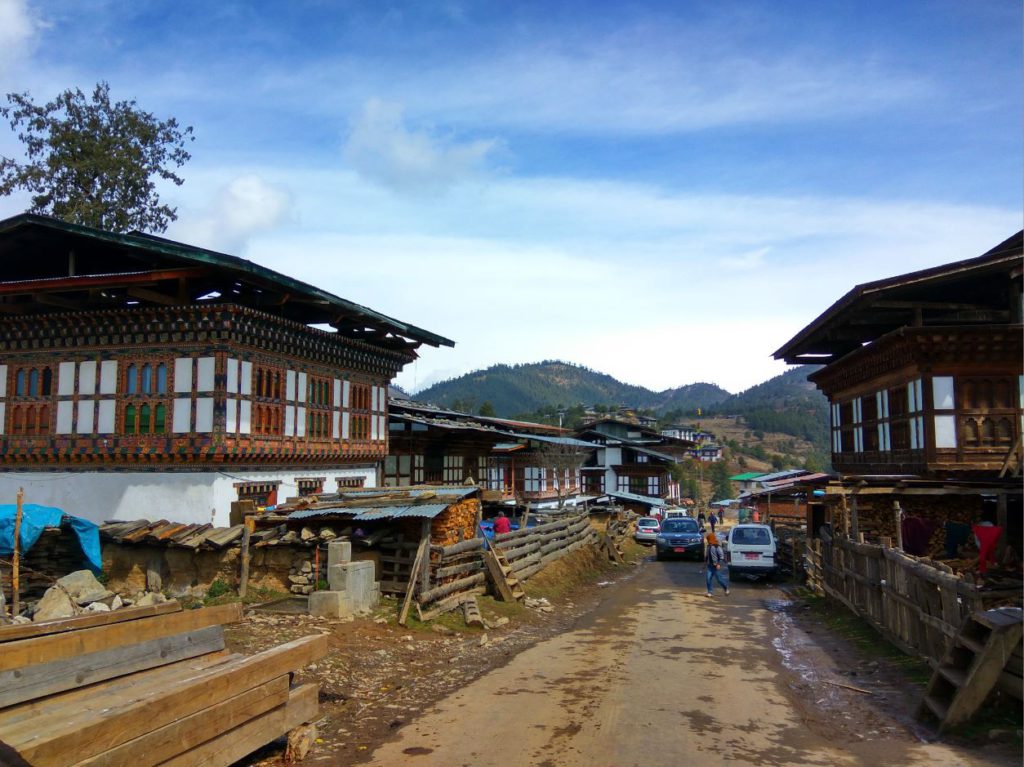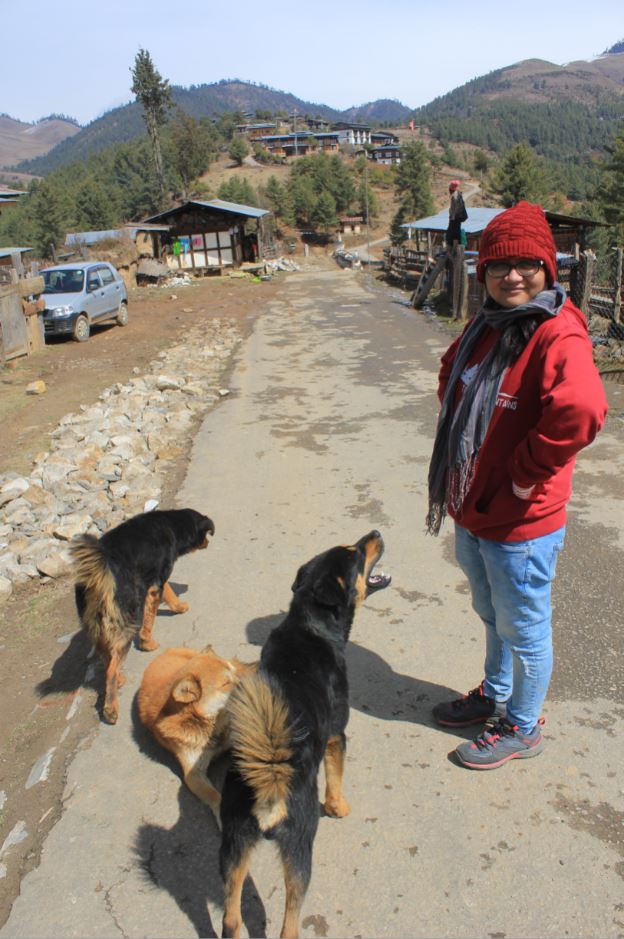 Gangtey Monastery
If you have been around Bhutan, you must have already been to several monasteries and possibly Dzongs. So by the time you are here, you know what they look like.
Gangtey Monastery is small compared to those in Thimphu and Paro. Therefore it feels more intimate. At times you'd feel like an intruder. But it is one of the best places for some photographs.
Established in the 17th century, the monastery is one of the oldest ones in Bhutan. It is a very important centre of the Nyingmapa school of Buddhism. Similar to most monasteries in Bhutan, this one is also built in the signature Tibetan style.
Originally the complete monastery was built by locals only. The material used, mostly wood was gathered from nearby forests. A renowned artist from Tibet led a team of artisans to contribute to various sections of the monastery. The monastery was heavily renovated for 8 years between 2000 and 2008.
As you enter the outer walls, you will reach the inner courtyard surrounded by rooms on all sides. The main shrine is in the middle of the courtyard. While the surrounding rooms are used as living quarters and meditation halls.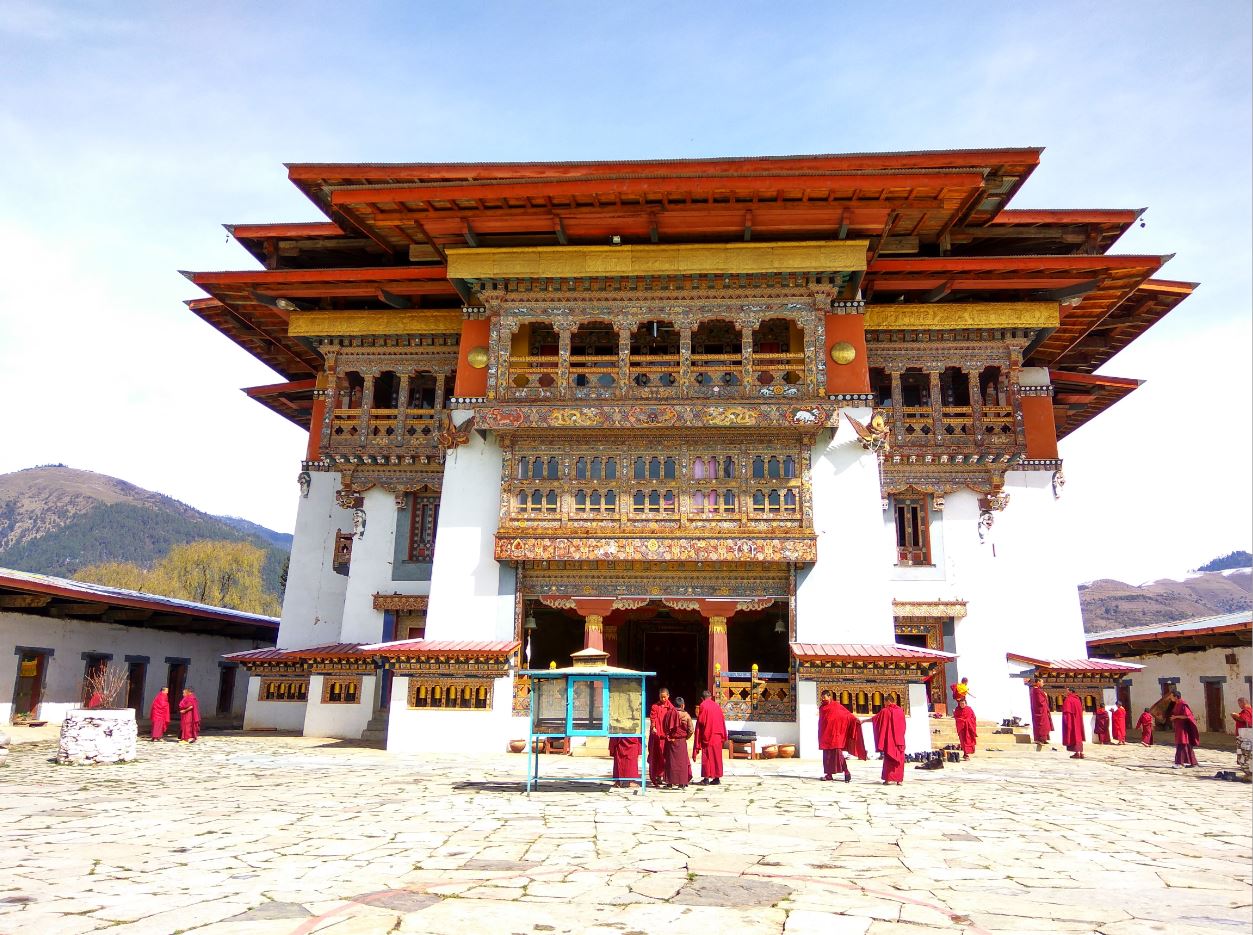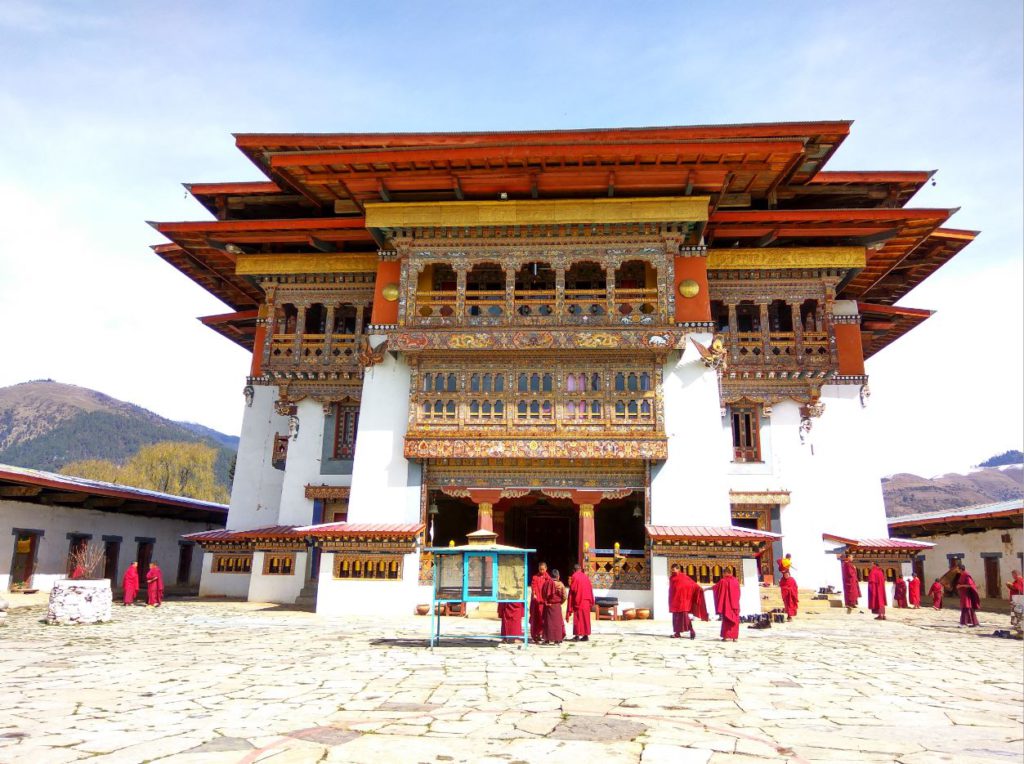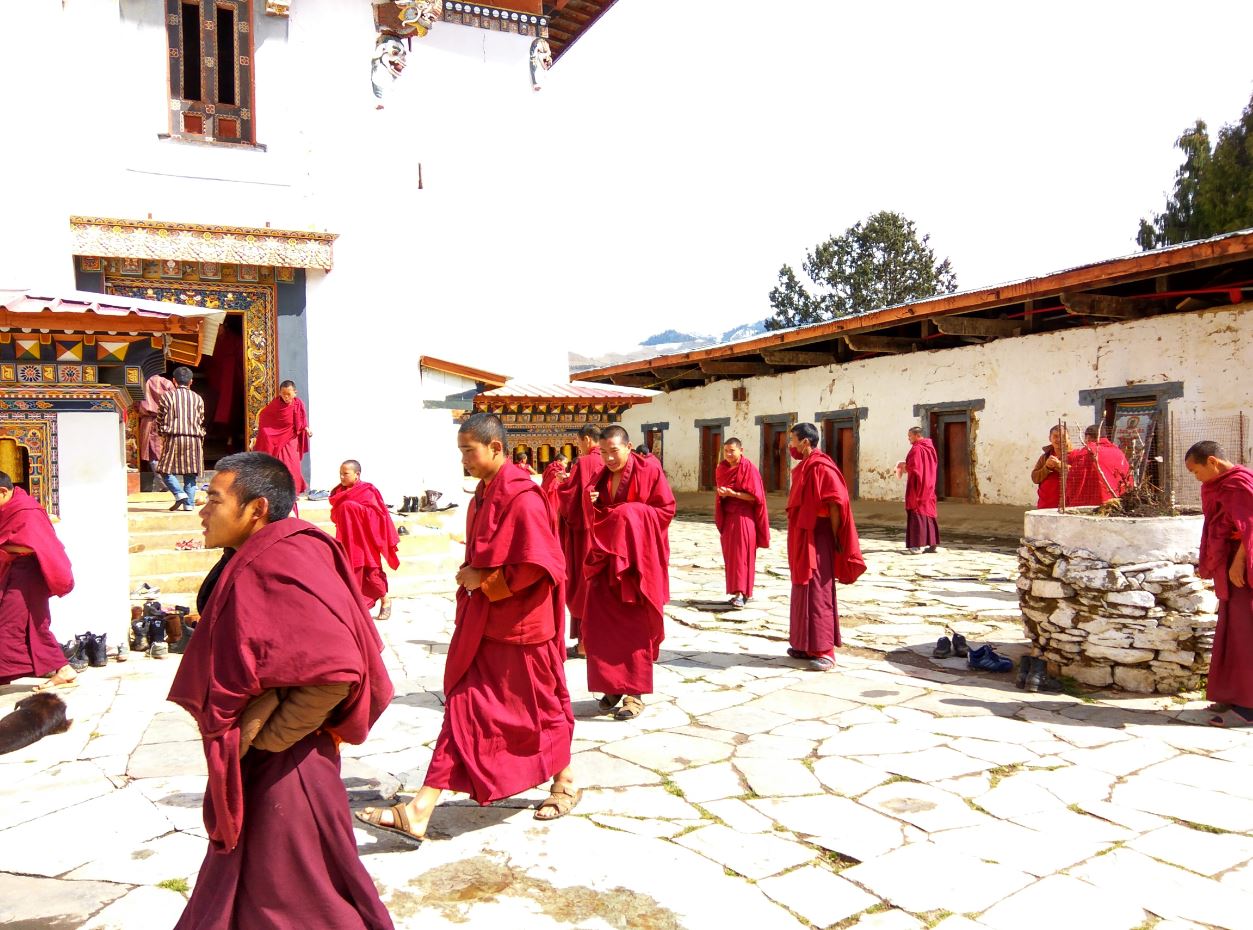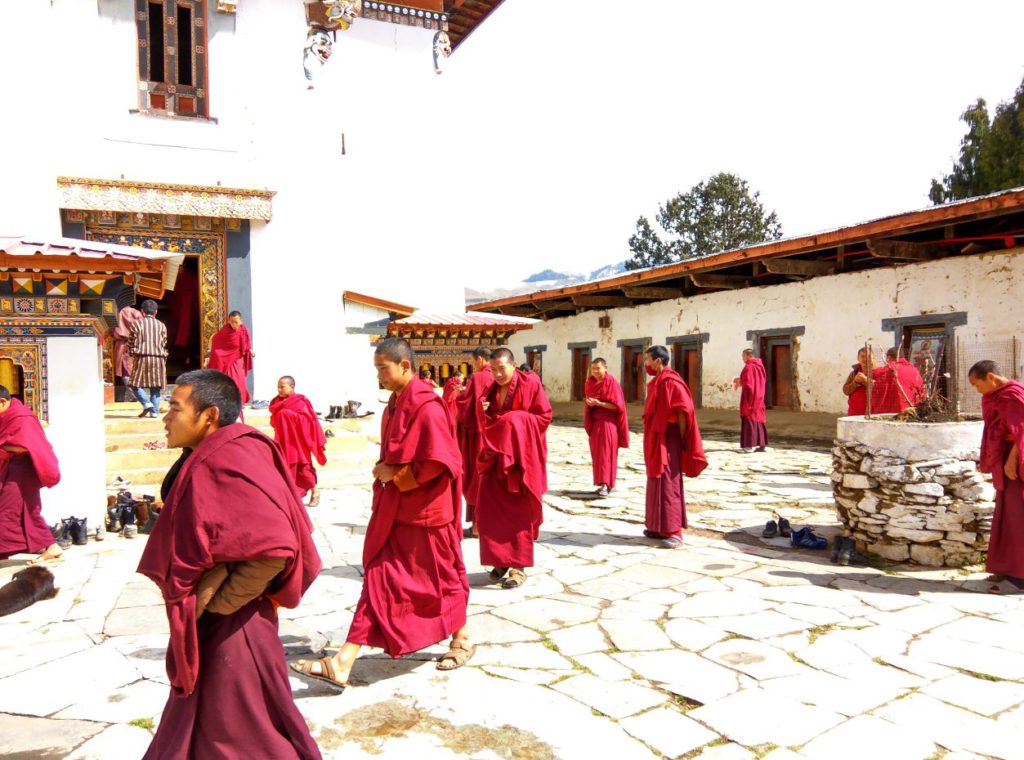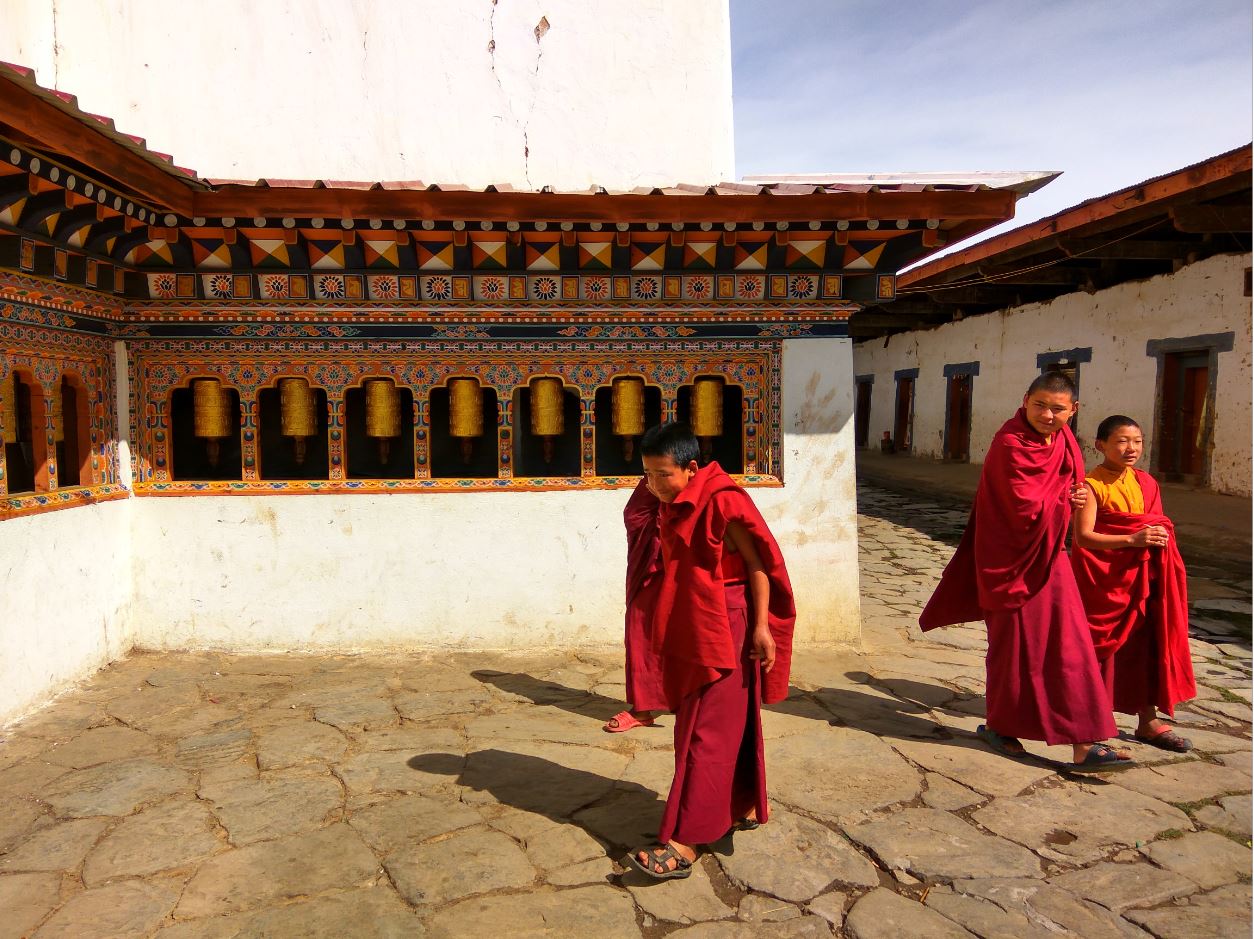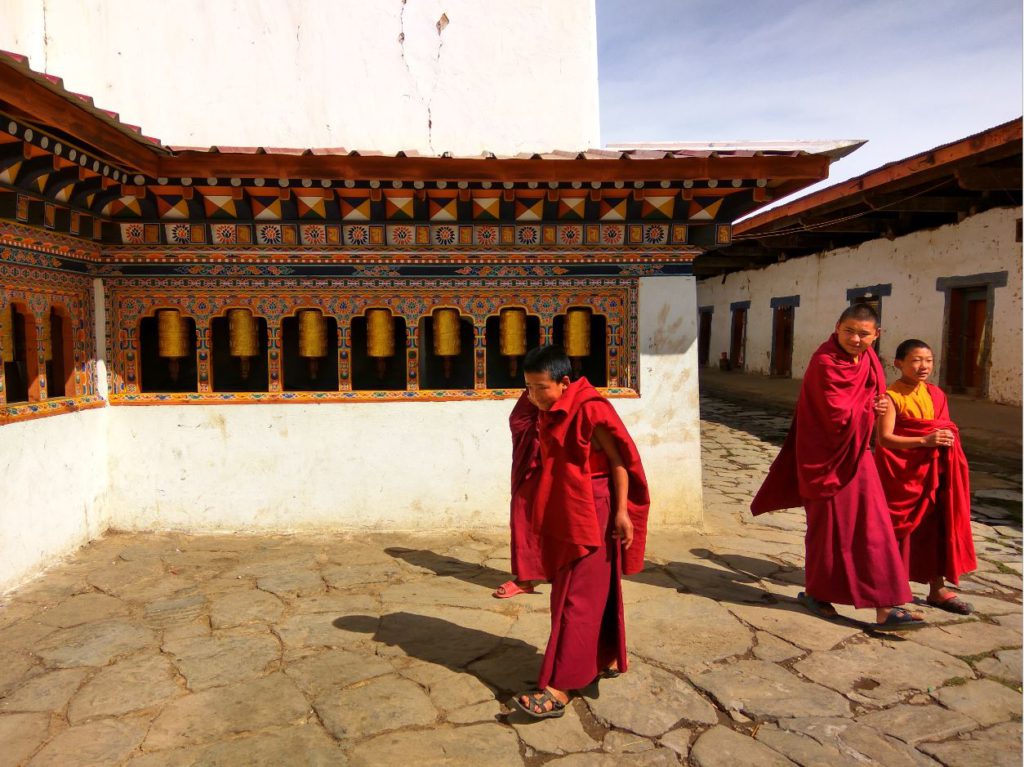 Black Necked Crane Information Centre
Chances are that you will not be able to see a black-necked crane when you are here. The weather is too cold in the winter when they are in the area. Even the monks move to another monastery to a warmer place.
Anyway, an interesting place is the black-necked crane information centre nearby that you can check out. The government built it for the purpose of gathering information and preservation of these exotic birds that are now endangered.
The centre shows a short film and talks about the birds' natural environment, migratory paths, breeding patterns, and habitat. There are even telescopes that enable the visitor to see up close what the birds are up to if you are here at the right time.
The locals even celebrate a crane festival in November as they arrive in large numbers in the valley. Sometimes the locals bring a crane here that is left behind due to an injury and take care of it. Karma, a female crane resides here now.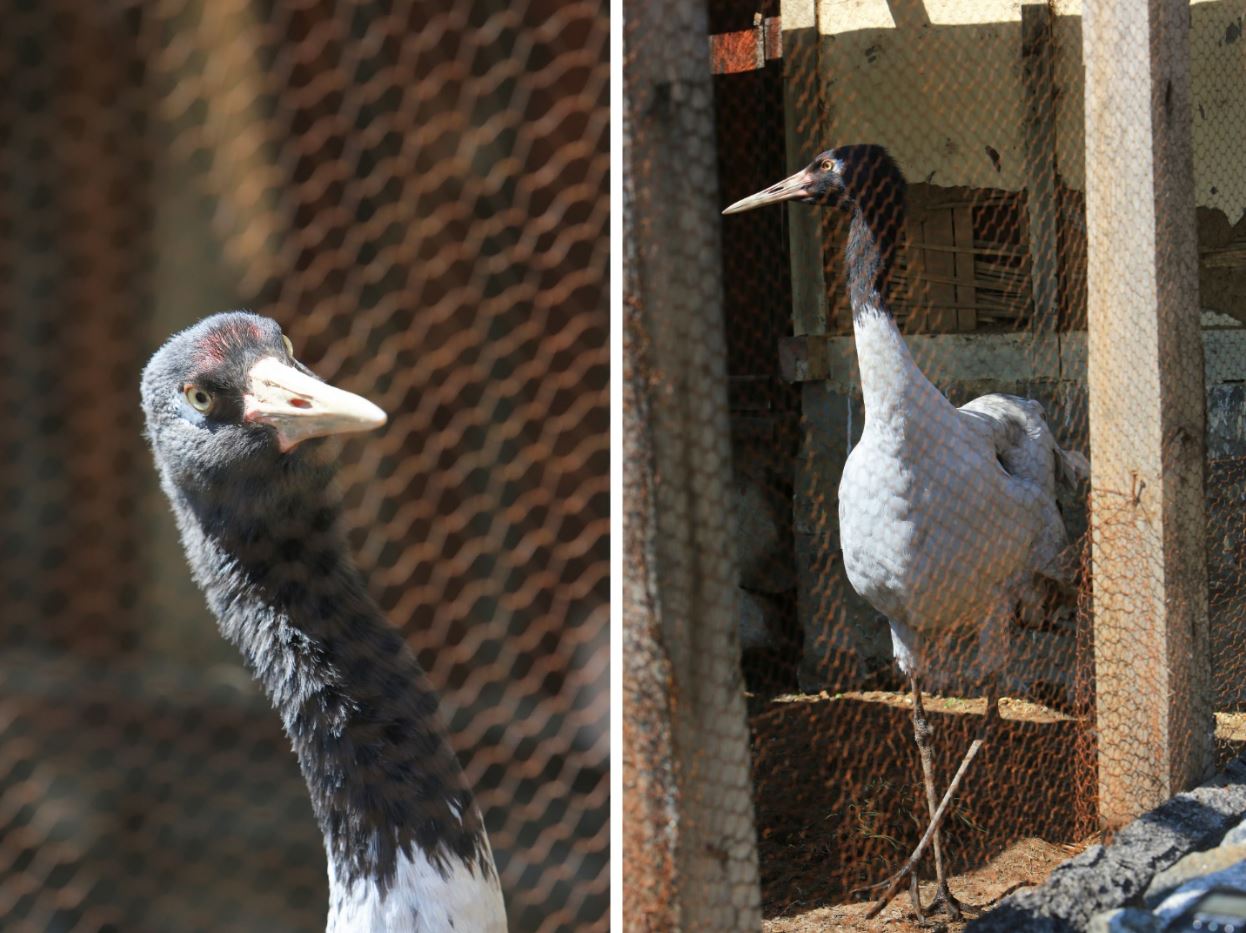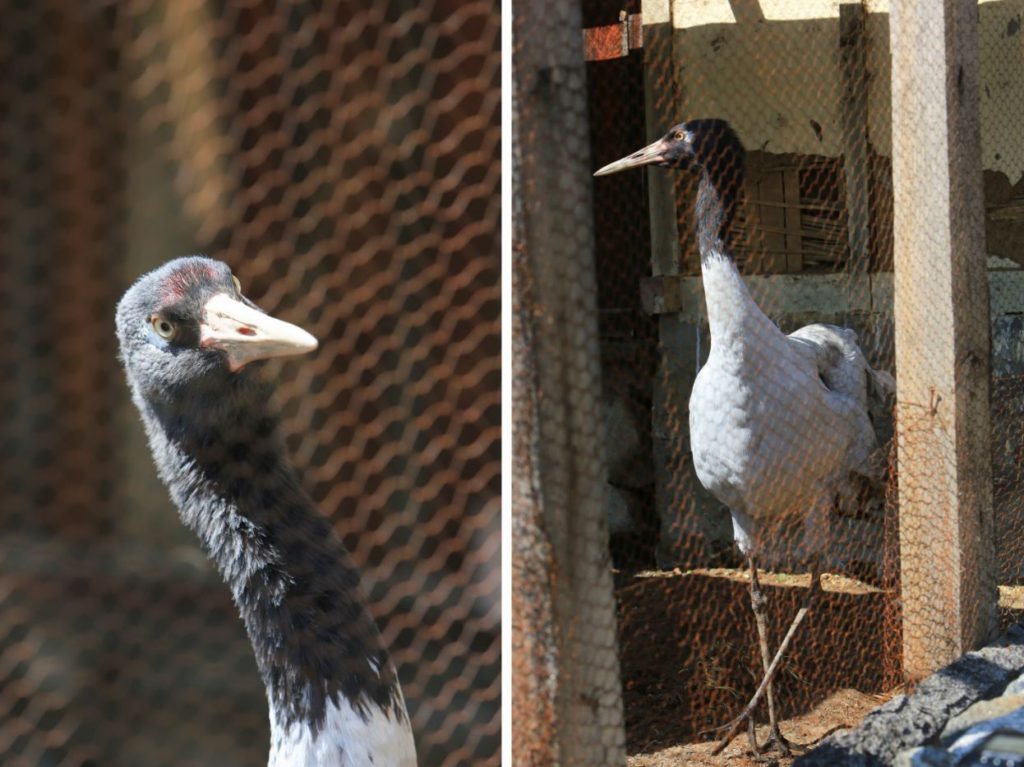 Phobjikha Trek
If you are in Phobjikha for just a short while you can perhaps head to Gangtey Nature trail. The trail leads to some old buildings and a couple of monasteries along with several spectacular views. It will take you between 2-3 hours to finish and is not too far from Gangtey Monastery.
But for someone looking for long treks, Phubja Valley trek offers a lovely trail for a period of 3 days. It starts from the Gangtey monastery towards the east, passes several villages, and terminates at Kilkhortang Lhakhang. You will, of course, need to hire a guide for the whole journey if you aren't already with one.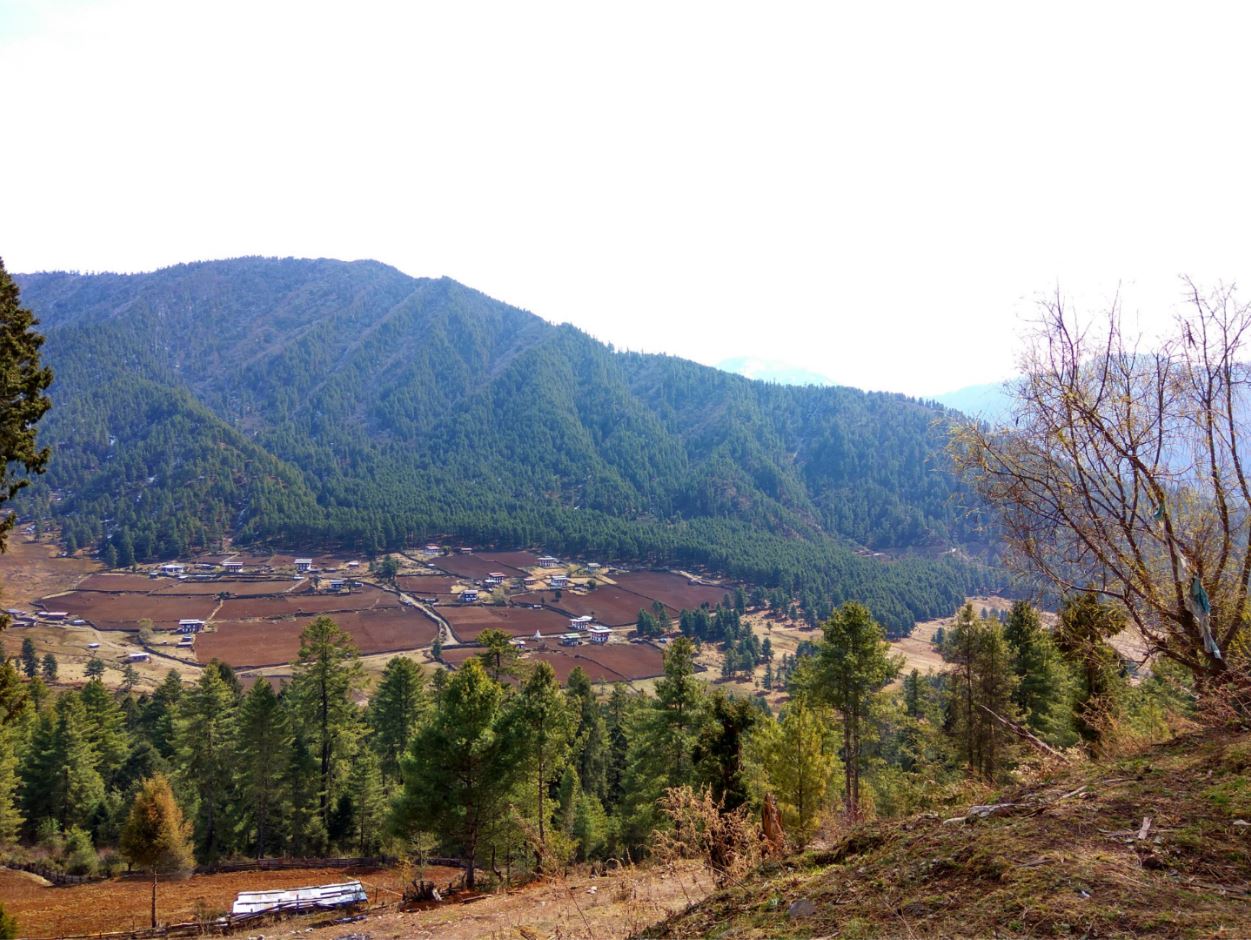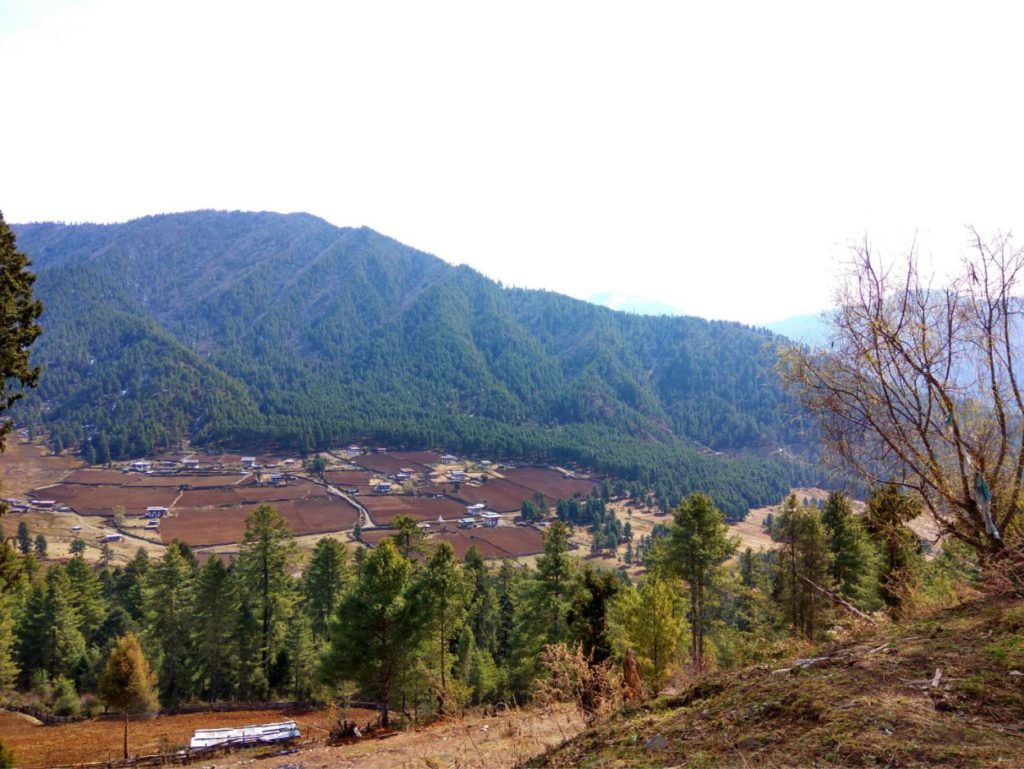 Where to Stay in Phobjikha Valley
Budget hotels are few in Phobjikha. So if you are planning to make a decision on the spot, I would not recommend it. You can find some hotel options online, especially on Google Maps. Book your stay ahead to avoid any surprises. Although very few people stay back and most tourists opt for a day tour to Phobjikha valley.
If you are travelling with an agency, they will probably book a homestay for you. This is a fantastic and affordable option that gives you a deep insight into the local's everyday life.
Surprisingly, Bhutan has a range of luxurious super-spendy resorts at most major tourist points in the country. If you are looking for luxury, boy you are up for a ride. Phobjikha too has a couple of 5-star hotels with state-of-the-art facilities with a traditional twist and needless to say great views.
To find budget hotels, you can head over to expedia.com. Although a lot of them are located in Wangdue Phodrang, so choose where do you want to stay.
You can also find a few options on Airbnb, although they are pretty scarce. They may also be seasonal since several locals move out of Phobjikha during winters.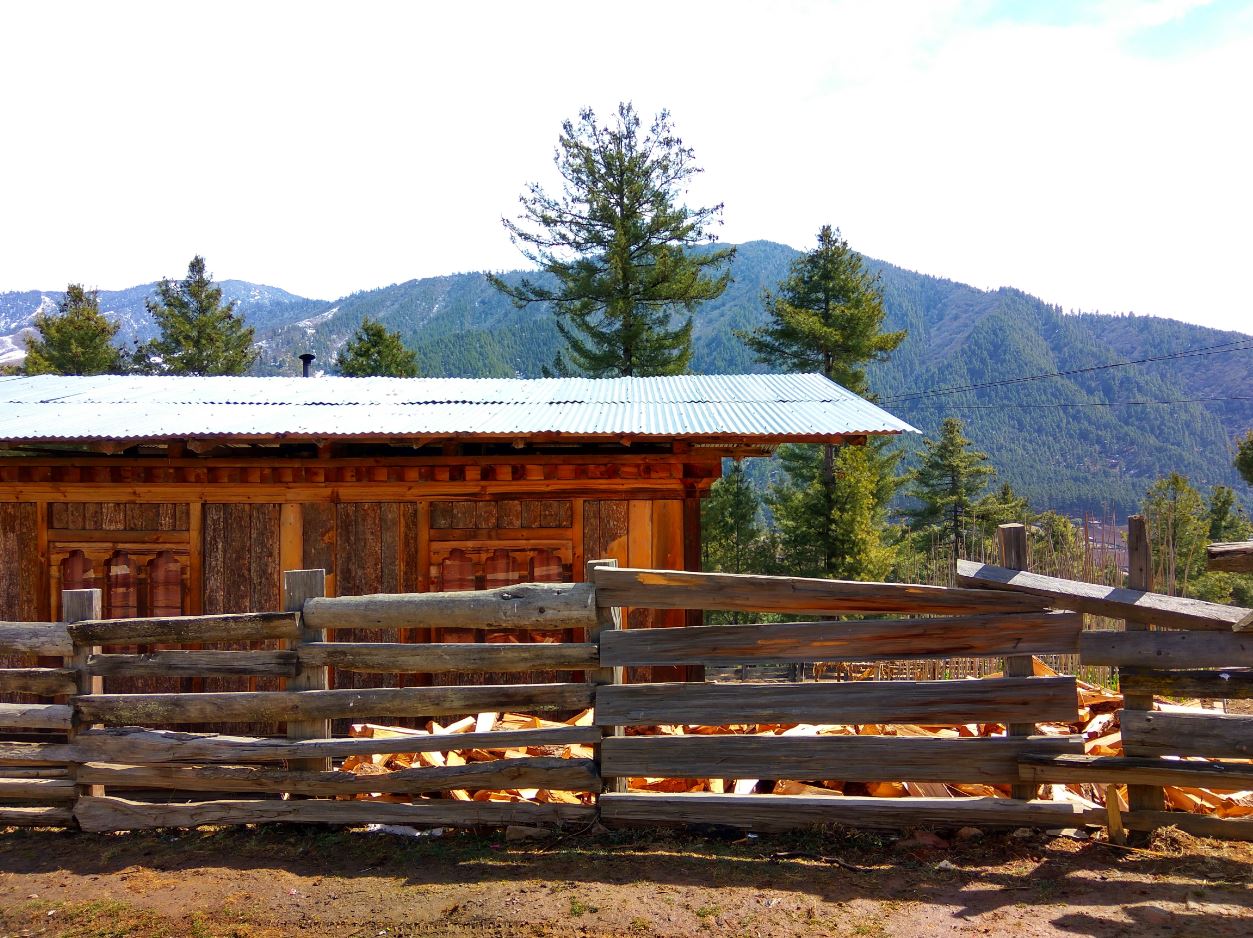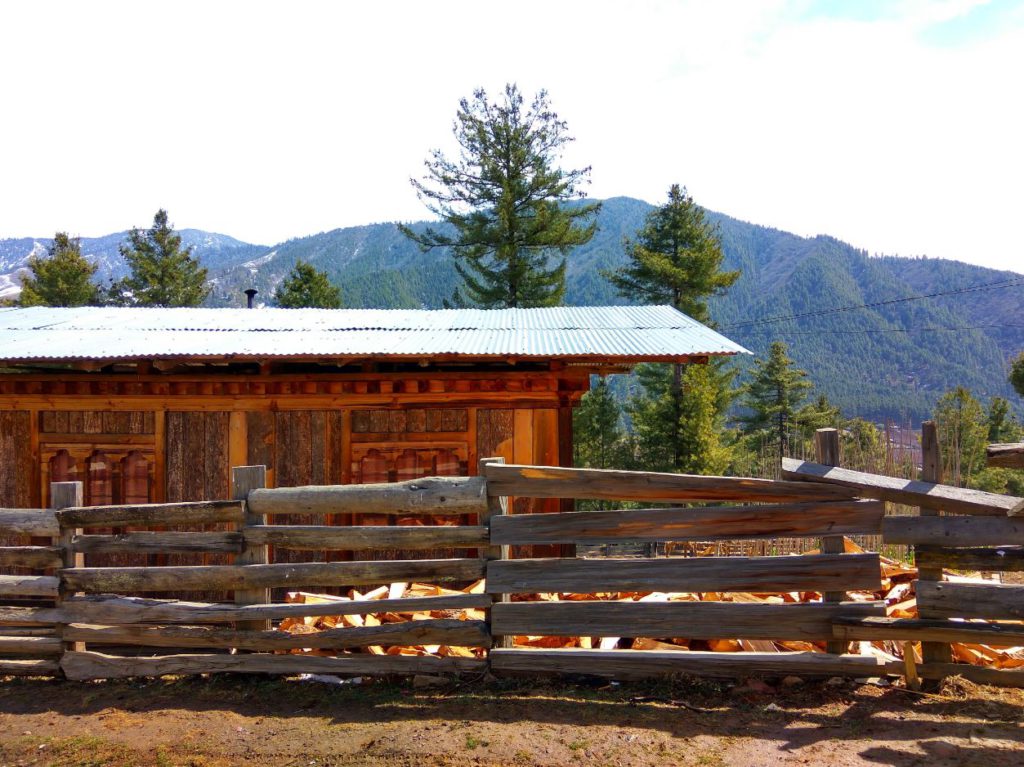 What to Pack
I guess I need not say again that Phobjikha can get cold. So regardless of you just visiting for a day or staying here, you need to pack heavy. If you are hiking then you will need layering during the summers. If you are just sightseeing, thick jackets with body warmers will do.
On top of that, make sure you have your scarfs, gloves, socks, and caps in place. On the wrong day, you want to have everything covered. The rooms in Phobjikha do not have room heating. Sometimes not even a fireplace. Unless you are staying at a luxury hotel. So evenings can get cold.
Make sure you have all your medications and hygiene products. You will not be able to find a pharmacy for miles here.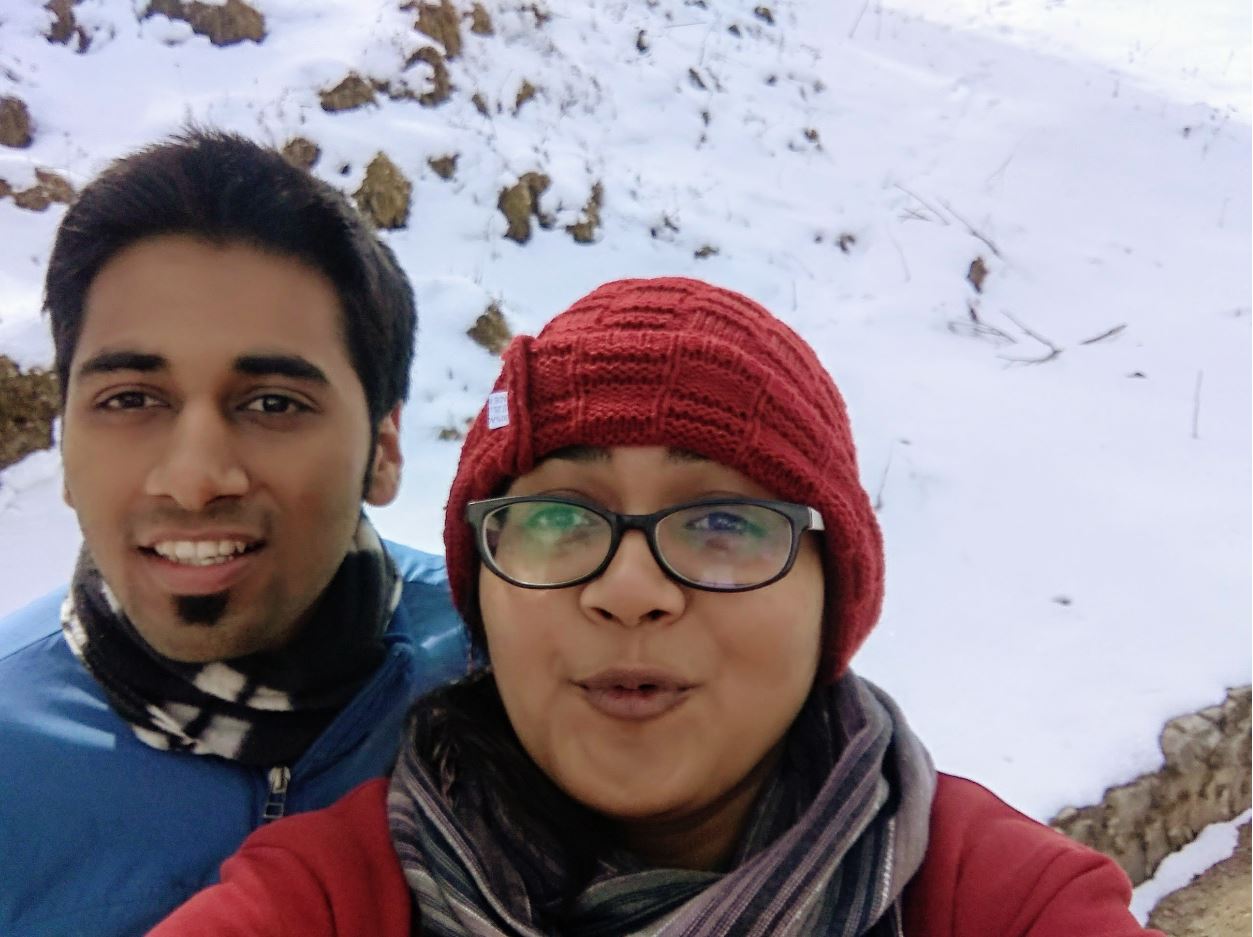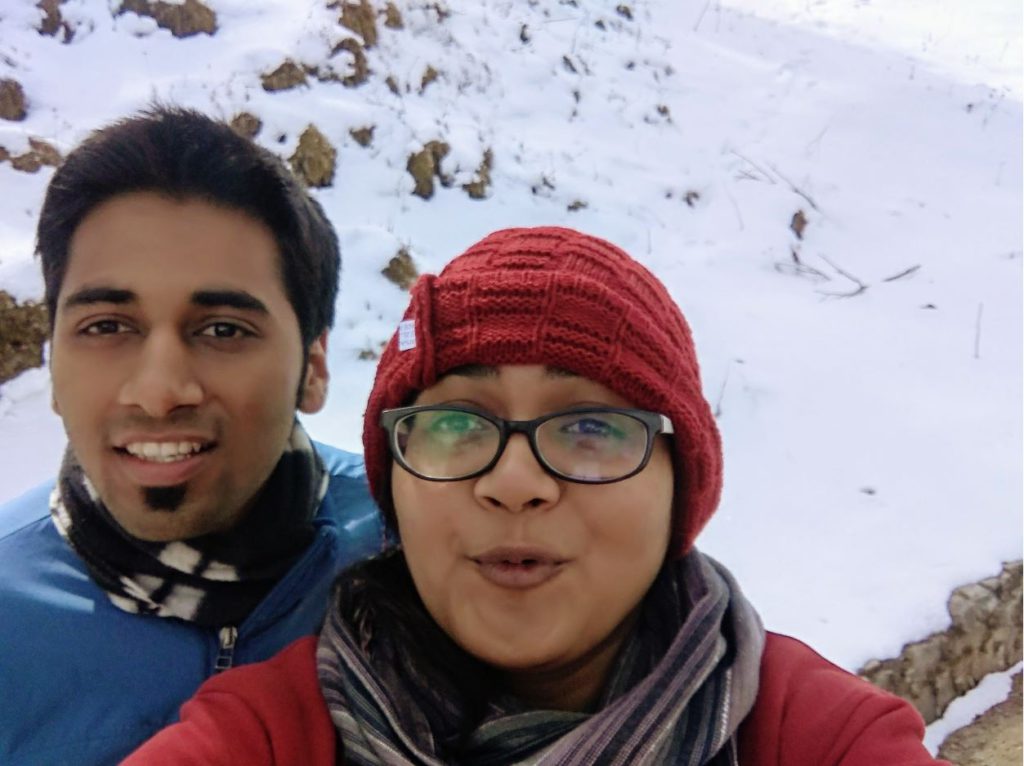 What not to do
Phobjikha is the smallest of the small towns if not just plain countryside. So life is slow, relaxed, and peaceful. Do not expect a lot if you are staying here. You may even struggle to find a grocery shop.
When visiting the monastery be respectful towards monks. Do not treat them as friends or take photographs without their permission. Women must keep their distance from the monks since in some cases it may affect their sacred vows. Do not talk or laugh loudly around the monastery.
If you have a difference of opinion when it comes to local beliefs, do not challenge it by objectivity. Smile, nod, and move on.
Other than that, have fun! The locals do not speak any English but they are curious to know the tourists.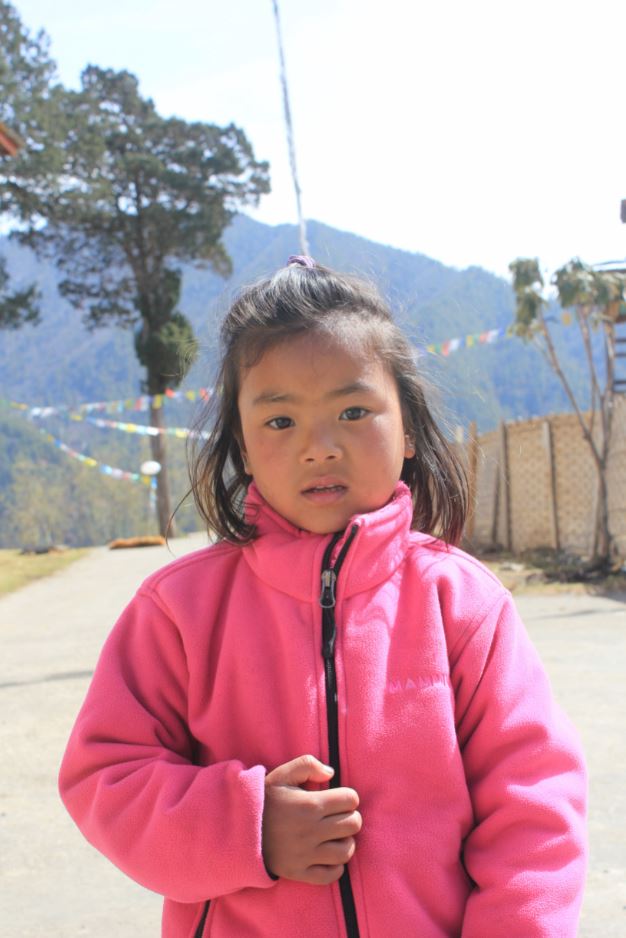 Save On Pinterest


Related Articles