08 Jun

Itinerary for a Day trip to Mysore from Bangalore

If you are living in Bangalore, it is kind of understood that a day trip to Mysore is usually on the cards on one the weekends.

But THAT weekend never seems to come.

Unless your parents or a friend visits you who is super-keen to see the Mysore Palace.

Out of the 10 years, I have lived in Bangalore, I didn't visit Mysore for the first 6.

I know that people expect Mysore to be full of grandeur and traditional insights. But honestly, some of the places are simply underwhelming. Especially, if you have already been around South India.

And if you look up Google, there are like a gazillion things to do in Mysore.

But I have to say, don't!

Spend your time in a few places and enjoy them better. Leave the others. Most of them are just ruins or have decayed due to neglect.

So here is what I will suggest if you have a weekend or a day trip to Mysore.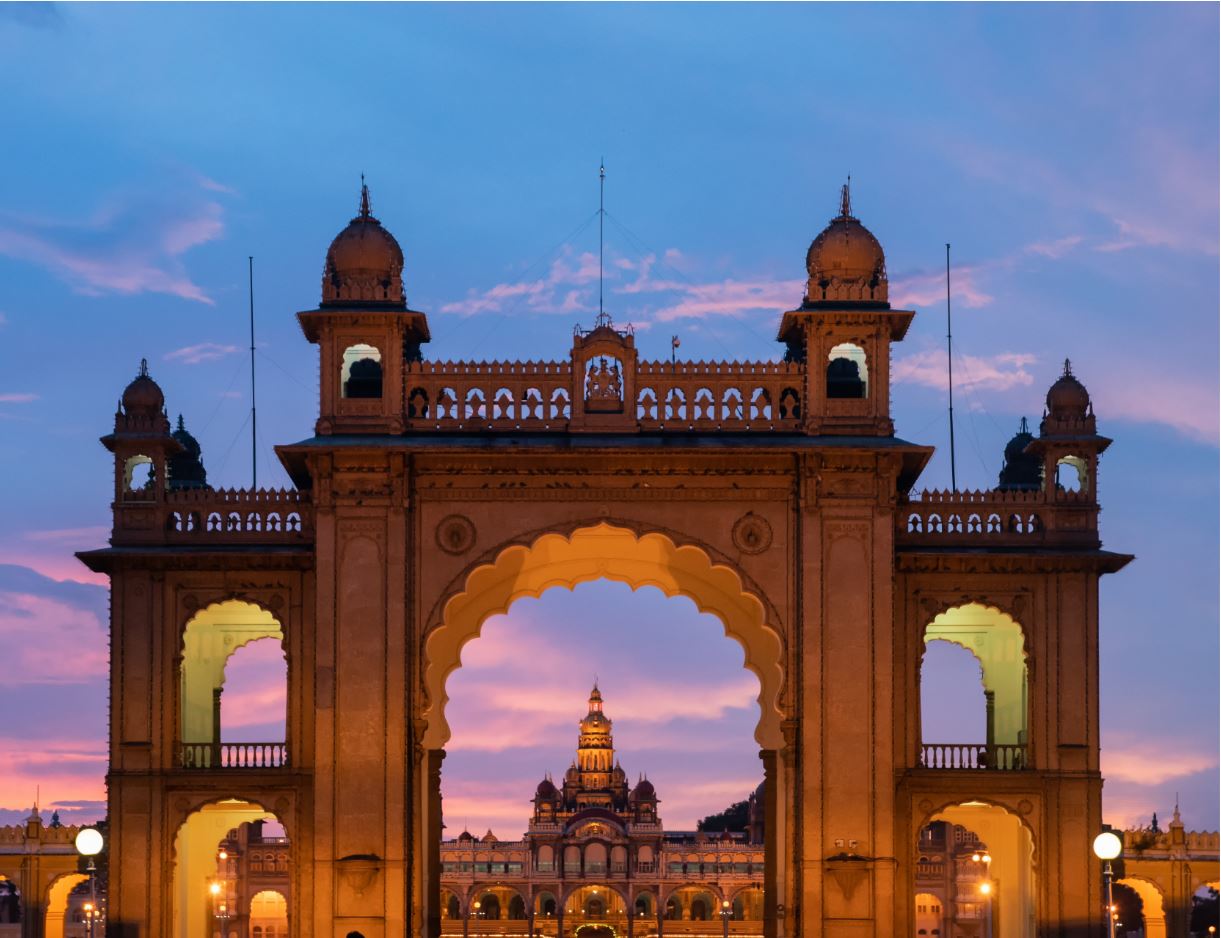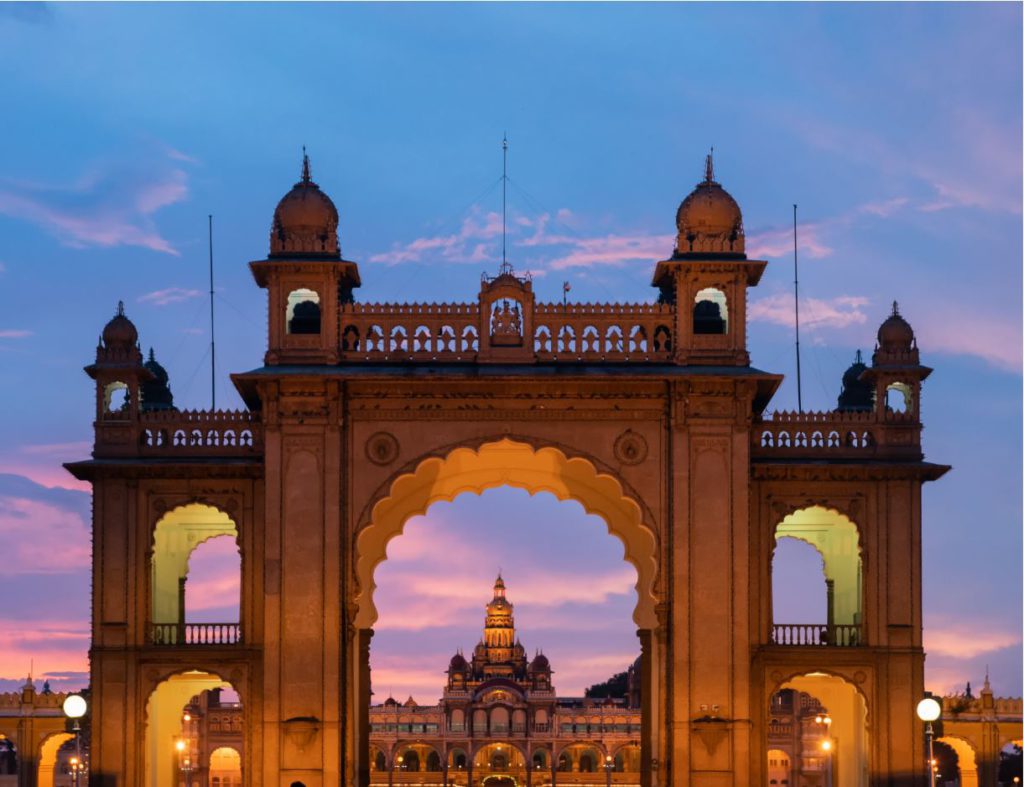 How to travel for Day trip to Mysore from Bangalore
Self-Drive: If you can drive and have a car, it is the best way to reach Mysore. Not only it is convenient, but the drive is also really nice with a smooth highway and scenic views. It takes about 3 hours to drive the way with a stop. If you are planning for a day trip to Mysore, it is best to leave as early as 6 am to be able to cover most tourist spots in a day. If you don't have a car but know how to drive, rent a zoomcar.
Taxi: Taxi offers the same convenience without the driving bit. You can easily customize your itinerary and is great for families. A full day trip to Mysore from Bangalore and back along with sightseeing will cost you around ₹4,000 for a day and upwards depending upon the car. You can book a taxi on Ola Outstation or local cab services like utaxi.in and savaari.com.
Day tours: If you are looking to save a lot of money, you can check out this option. The bus starts and drops off inside Bangalore city and takes you around all the major sightseeing spots in Mysore. The fare starts at ₹450 for a Non-AC/Non-Deluxe bus to ₹850 for an AC/Deluxe Bus and upwards. The package does not include food but there is a stop for it. You can book your tour at yatra.com or Ksrtc buses at travel2karnataka.com. I think it's a steal for budget travelers.
The downside is the service is average. And a large tour group sometimes becomes crowded. So if you are looking for a more personalized experience and are okay to shell out more money try to upgrade your package.
Book a tour in Mysore with a guide: Day Trip to Mysore from Bengaluru
Train: There are more than 20 trains from Bangalore to Mysore running frequently every day. You can catch one at your convenience starting at 5.30 am in the morning. The fare can range from ₹80 in a local train to ₹960 in the Executive class in Superfast train like Shatabdi Express. You can check out the availability at trainman.in and book your tickets irctc.com.
Bus: Frequent buses are available from Bangalore to Mysore and back from Kempegowda Bus stand in Bangalore. Buses run every hour. The comfort can range from Non-AC, Deluxe, AC, and Volvo with the corresponding prices. You can book tickets for private operating buses at redbus.in and abhibus.com.

Best time to visit Mysore?
Best Season: The months of July-January are best to visit Mysore. These include both winter and monsoon season. And rainfall brings in more relief than an inconvenience. However, it is best to carry an umbrella and some rain gear during your travel. Months from February to May gets extremely hot and dry. Traveling outdoors in the sun possess risk dehydration and heatwaves.
Best Day: Mysore is UNBELIEVABLY crowded during the weekend! I know that's your weekend off but someone needs to say that. So if you are planning to be in the Mysore city and visit the main attractions like Mysore Palace, expect it to be jam-packed. In fact, the best days to visit Mysore would be a working Tuesday or Wednesday. So just take a day off and you will get way more out of your one trip to Mysore.
Festival Time: You can only describe the Dasara or Dussehra festival in Mysore as 'larger than life'. People celebrate Dasara as a token of victory over evil when the Hindu Goddess Durga killed the demon Mahishasura. Dasara in Mysore is particularly important since Mysuru is the anglicized name of Mahishuru or Mahisha Asura.
The whole festival lasts 10 days with the last day being the 'finale'. The streets of Mysore dazzles up with millions of light bulbs. The locals take a huge procession through the main streets. The main attraction is the chariot of Goddess Chamundeshwari on a mantapa weighing 750 kg of gold. Elephants, camels, and horses in royal garb accompany them.
As lovely as it is, Mysore can get insanely crowded. So if you plan to stay in the city, either find a local friend or book your hotels way ahead of time. Also, find a sweet spot for you to watch the procession early in the evening
Traveling in Karnataka? Check out our Perfect Travel Guide To Visiting Madikeri, Coorg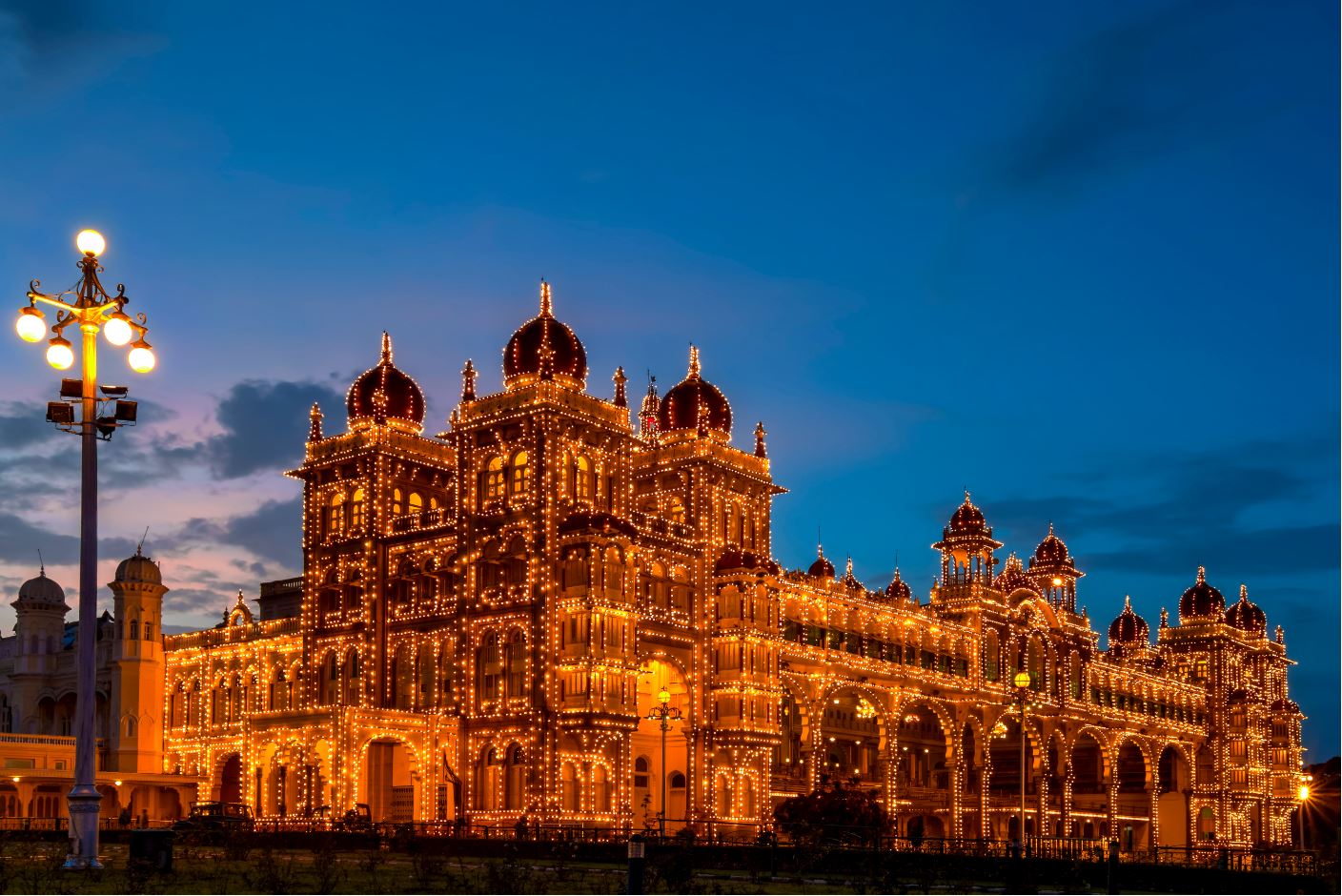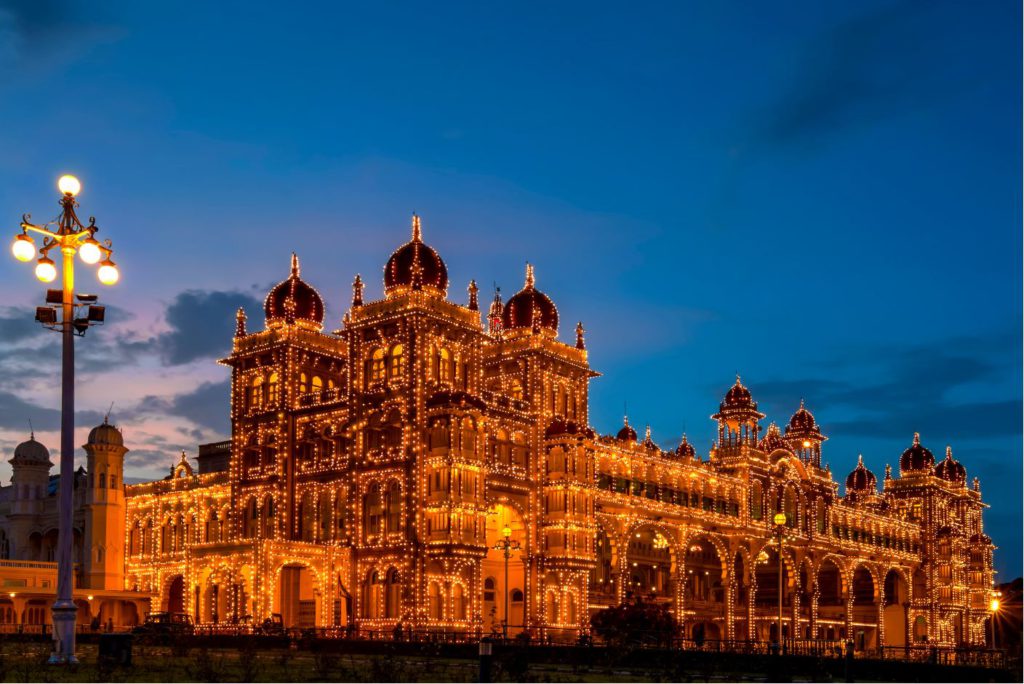 One Day trip to Mysore Itinerary
If I have to tell you, I would do only two places in Mysore – The Mysore Palace in the first half of the day and Vrindavan Gardens in the second.
It's not that other places are not nice, they are. And if you visiting for the first time, you should visit a lot more.
But if I do a day trip to Mysore again, I will probably spend more time there and skip all the other. Just about me.
Also, I am not going to add the Mysore Zoo because I don't support using animals for tourism. However, once upon a time I have been there too.
Here is my full list of places to see for a full one day trip to Mysore. I am adding a Google map too, to make it easier.
1. Srirangapatna
Srirangapatna is a small island outside Mysore in the middle of Cauvery River. You will find Srirangapatana 20 km before Mysore while traveling from Bangalore via Mysore Road.
Srirangapatana's construction started way back in the 15th century under the Vijayanagara Empire. The Mysore Kingdom later annexed the island and Tipu Sultan built a fortress and a summer palace here.
But the significance of this place is due to Tipu Sultan's mausoleum. It is where he himself along with his parents is buried. Tipu Sultan lost his life in the siege of Srirangapatana against the British army.
The Summer Palace or Daria Daulat of Tipu Sultan is far smaller than the main one at Mysore. Built entirely of teakwood, the palace reflects the traditional workmanship of Mysore wood carving. Unfortunately, it is not in the best of its condition.
The famous Fort of Srirangapatana is on the other side of the highway. The fort, although now in ruins had Jumma Masjid, Tipu's Palace, and subsequently the place where he was found dead, Sri Ranganatha Svami Temple, and a few important landmarks.
The Gumbaz is where Tipu Sultan along with Haider Ali, his father, and Fakr-Un-Nisa, his mother are buried. The Gubmbaz is made in Indo-Islamic style and is a short drive from the fort and palace. Lal Bagh encircles the Gumbaz that is full of plants brought back by Tipu Sultan from Persia, Turkey, Kabul, and Mauritius.
While there is a lot to do, you can swiftly cover up the place in an hour's time or less if you don't prefer to see all of it. Tour buses tend to cover only selected locations in this place in their single day tour packages. There is a ticket piece only to see the summer palace. Rest all are free to enter.
Timings of Srirangapatana (includes everything): 8.30 am to 5.30 pm
Ticket price of Tipu Sultan's Summer Palace: ₹15 per person for Indian, ₹200 for foreign nationals, additional ₹25 for camera and videography.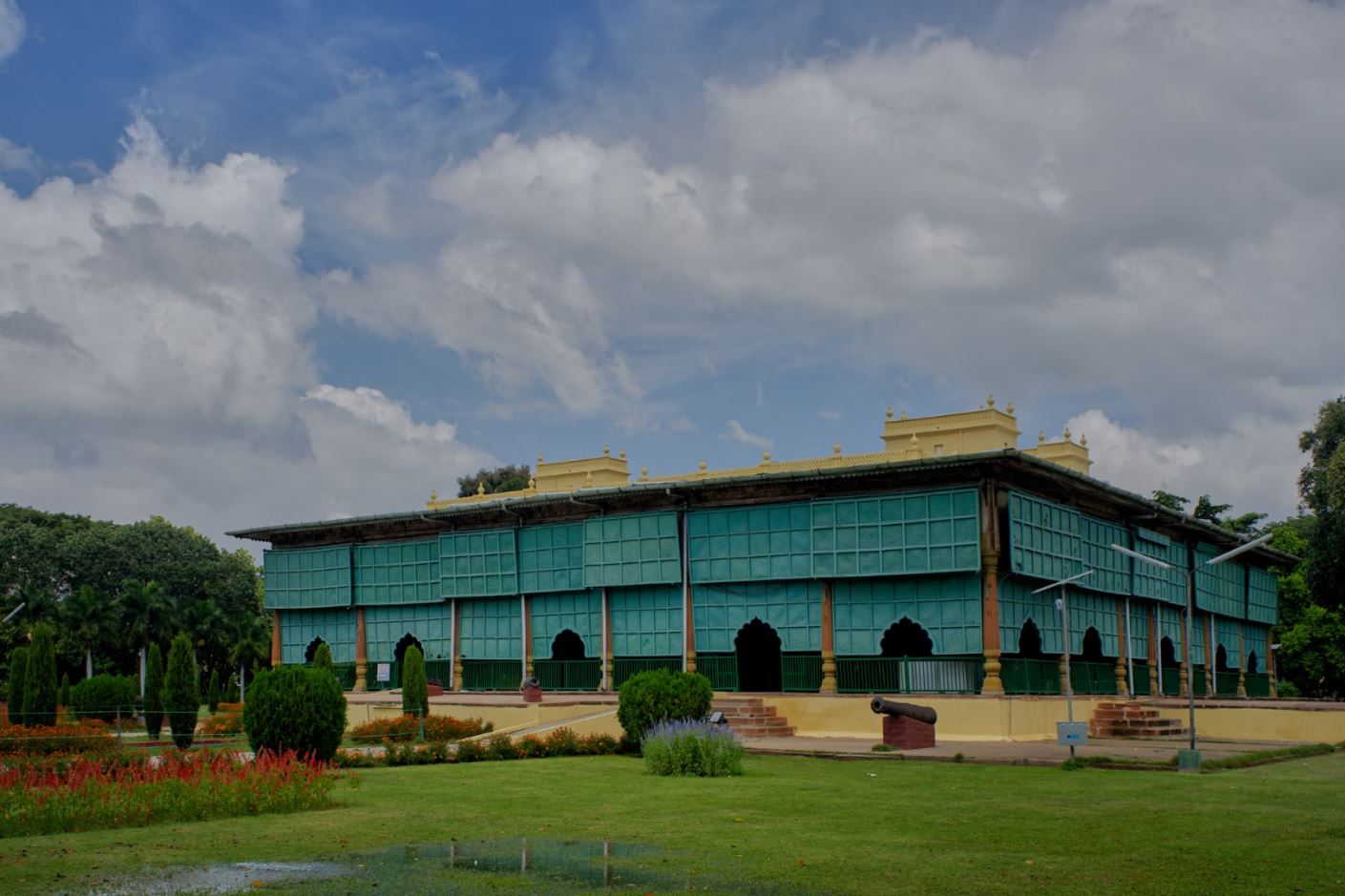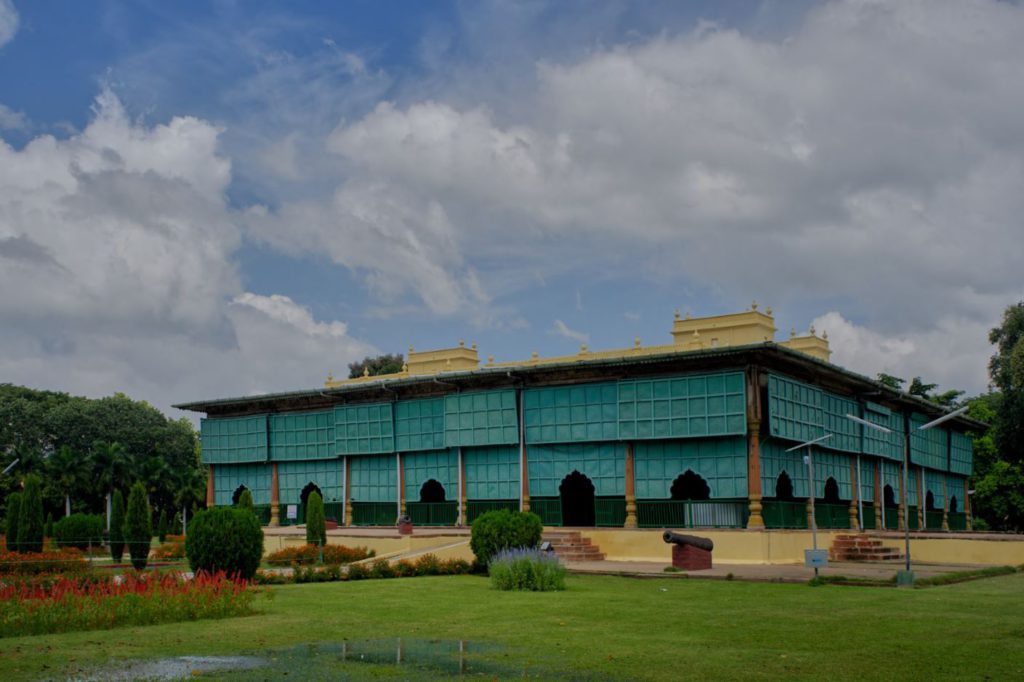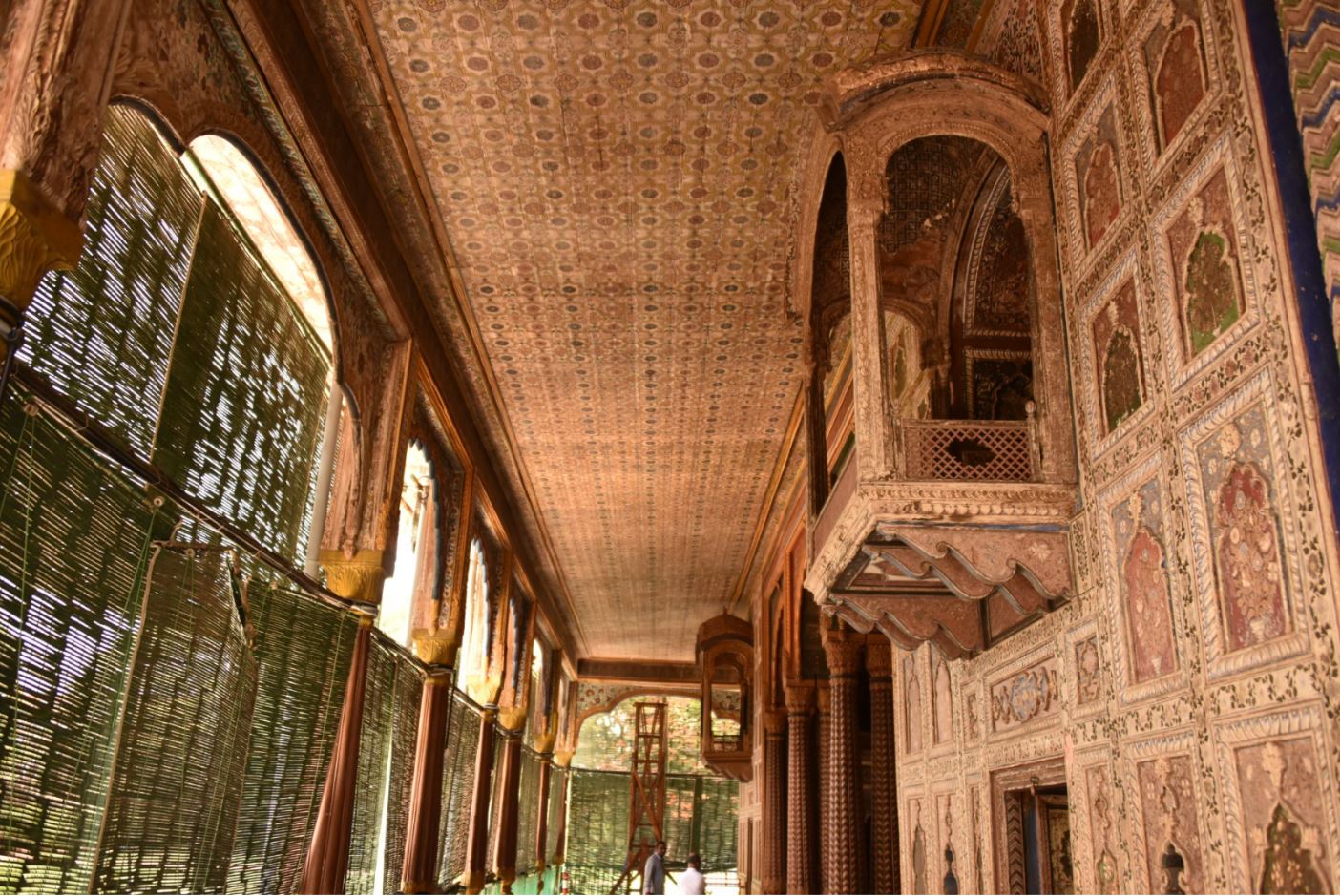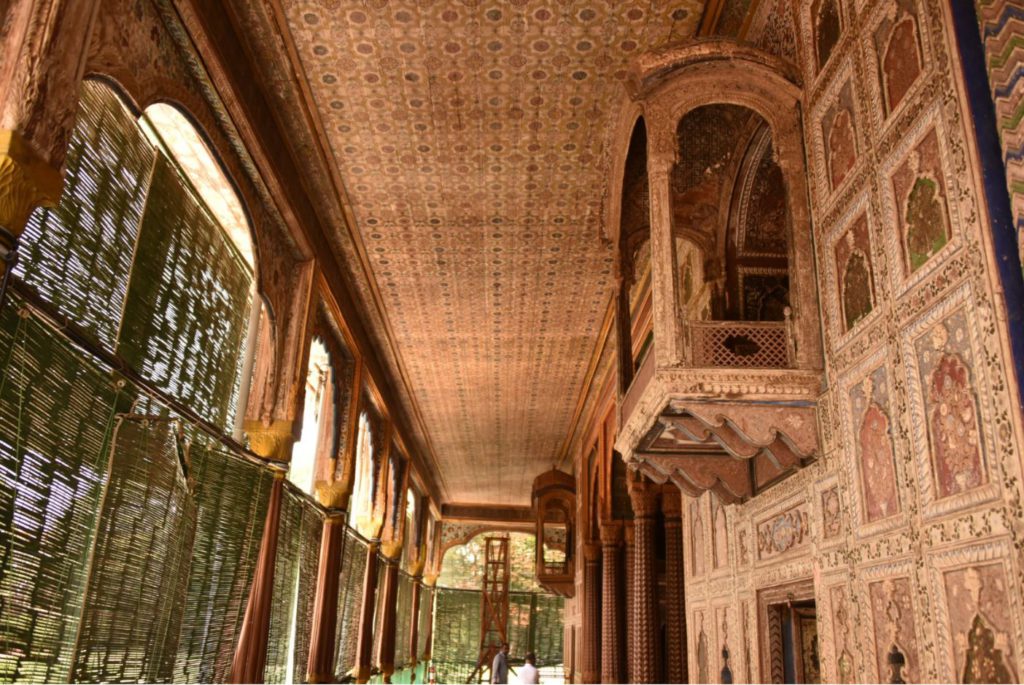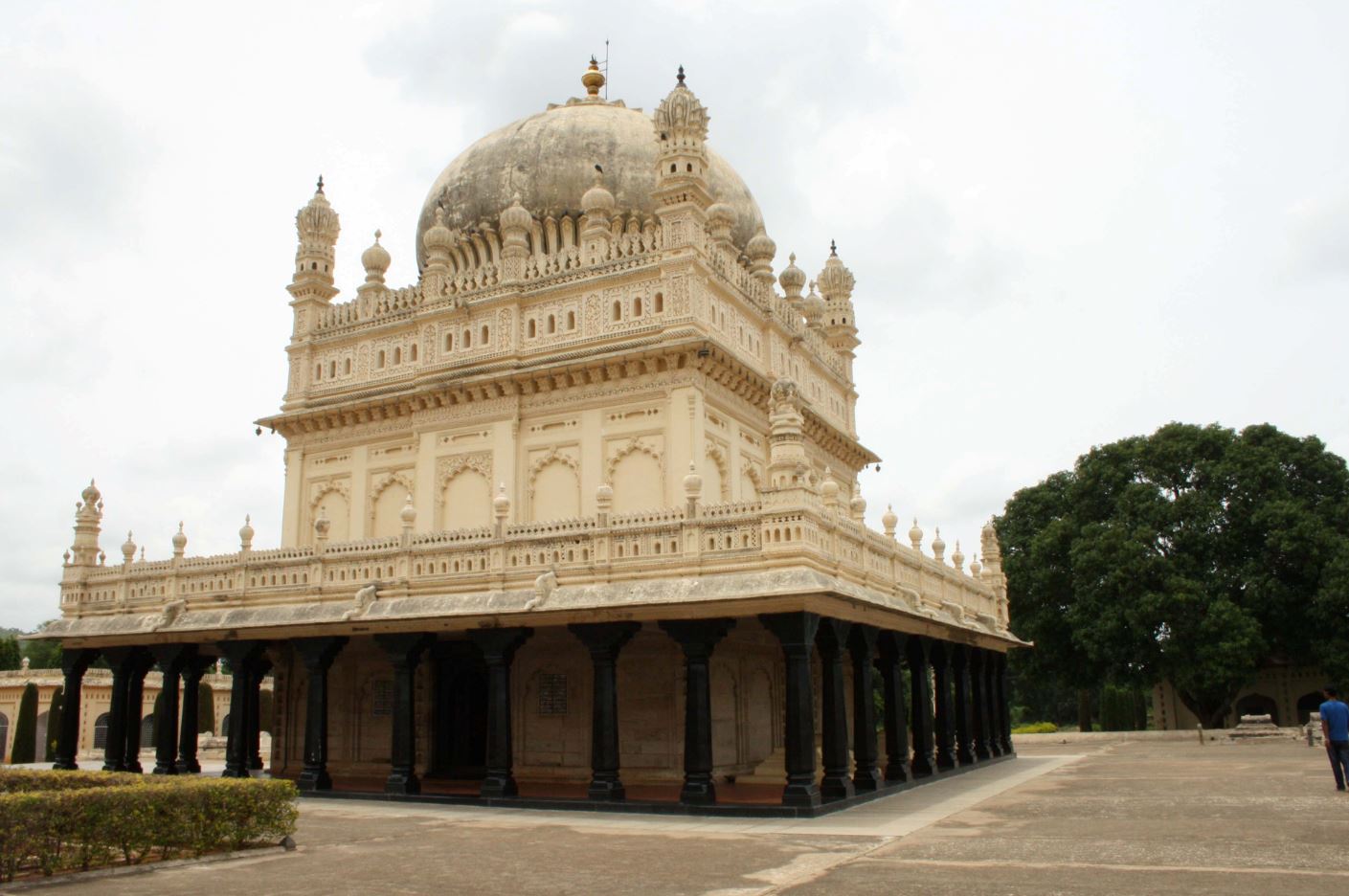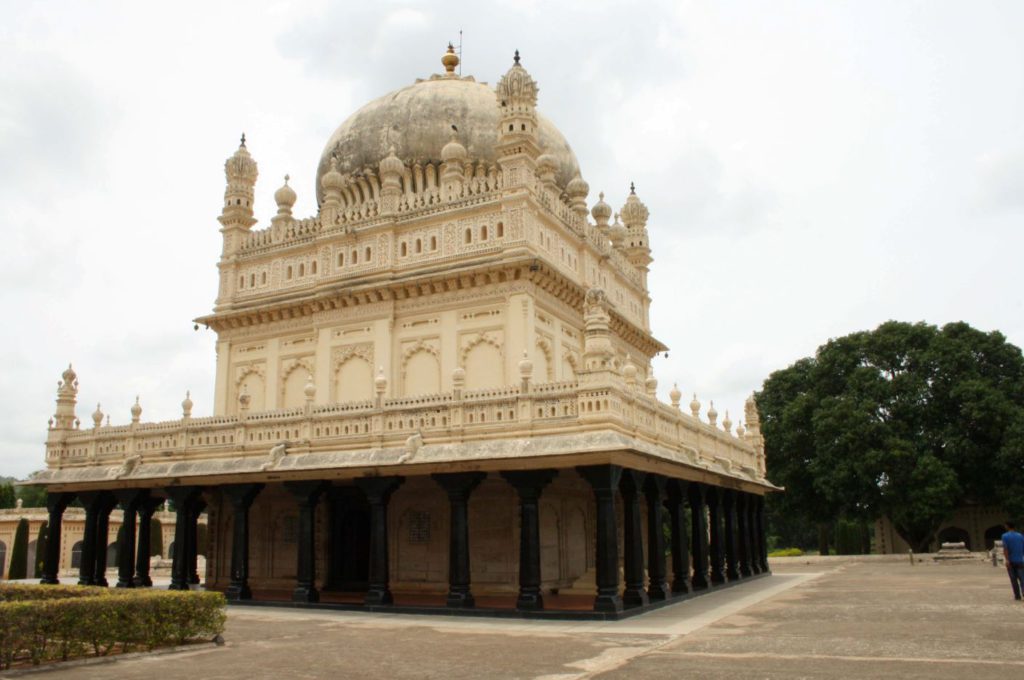 2. Mysore Palace
Mysore Palace is one of the most glamorous buildings in India, sometimes ranked second after the Taj Mahal. A lot of tourists travel far to visit the palace. Mysore Palace was the home of the Royal Family of Wadiyar Dynasty and the seat of the mighty Kingdom of Mysore.
The Palace is built in the Indo-Saracenic architectural style. It is prominent in the buildings built during the time of British India with a blend of characteristics from Mughals, Hindu, Rajput, and Gothic buildings.
The grandeur of the palace is mind-blowing. There are corridors after corridors, hundreds of arches, thousands of paintings, and artifacts from the royal household. There are rooms with heavy card wooden doors, European chandeliers, imported mosaic flooring, stained glass ceilings similar to gothic churches and pillars in vibrant colours.
The palace can easily take 2-3 hours to visit if you are with a guided tour or are using an audio guide. But if you really want to enjoy the place, reach as soon as it opens on a weekday. The palace can get very crowded on the weekends. If you are with a day tour bus, the halt will be shorter than you would like.
Mysore Palace is even more beautiful at night. The Palace is completely lit up at night and is a sight to see. There is a light show every day (except Sunday) from 7.00 pm to 7.40 pm in the evening. The Palace is decorated at its best during Darasa but is inaccessible for the 10-day period.
Mysore Palace timings: 10 am to 5.30 pm every day of the week
Mysore Palace ticket price: ₹40/20 for adults/children, ₹200 for foreign nationals. Additional ₹40/25 for Adults/Children and ₹200 for foreign nationals for the light show in the evening.
Interested in History? Also read more on Exploring The Temple Ruins Of Hampi, India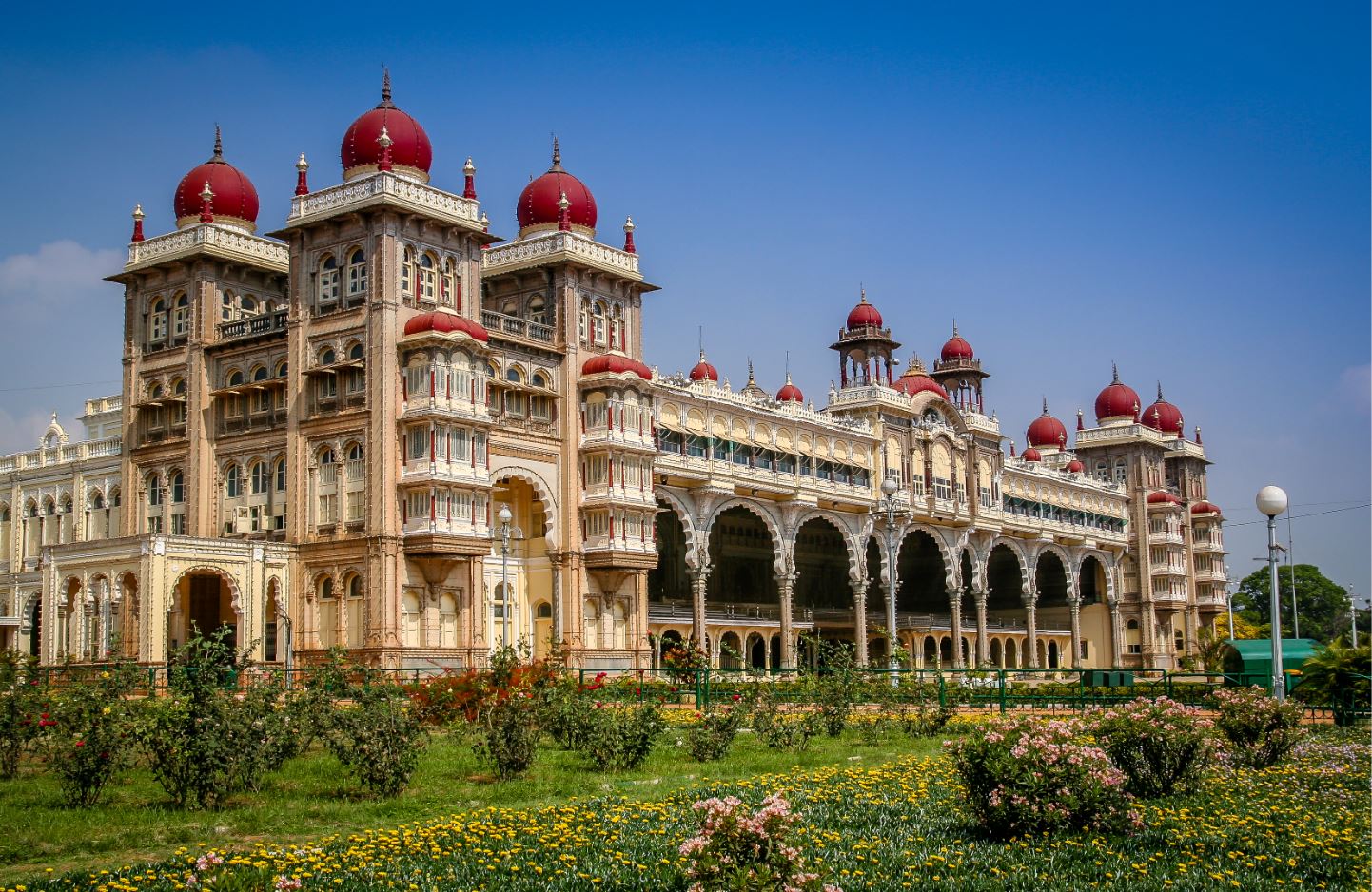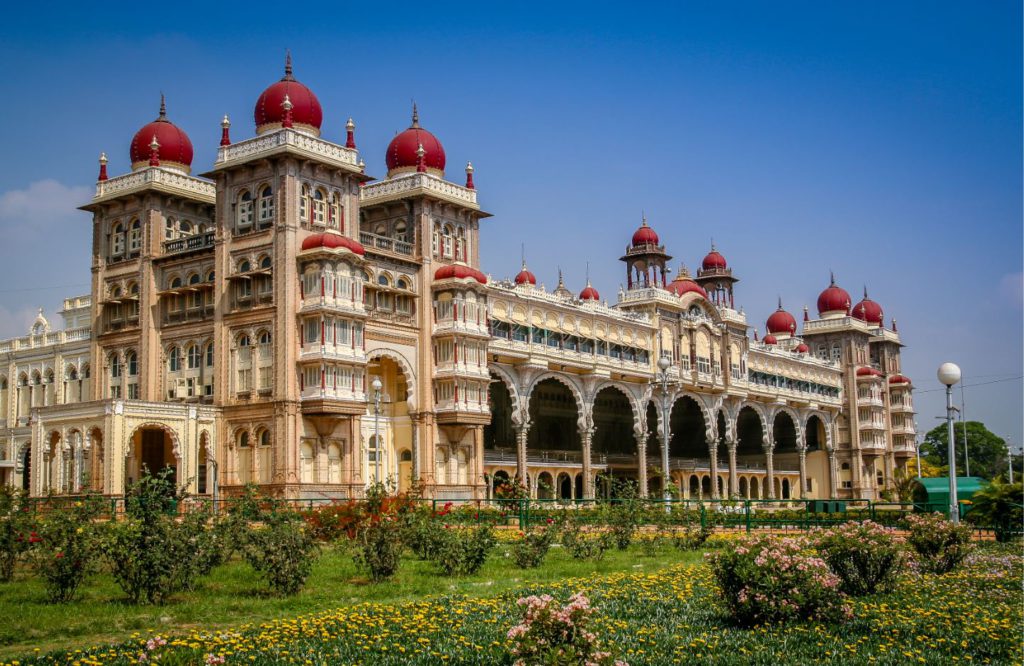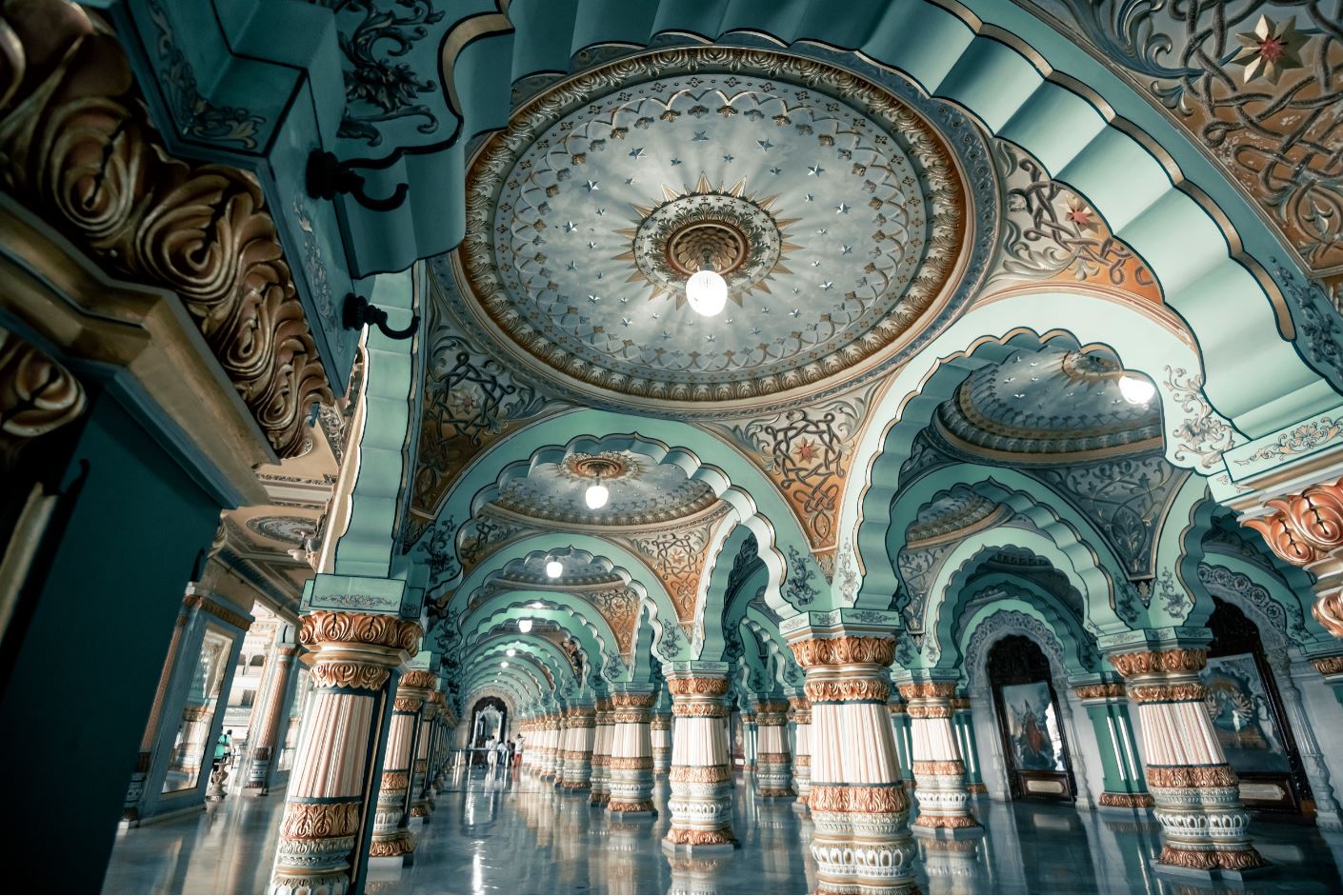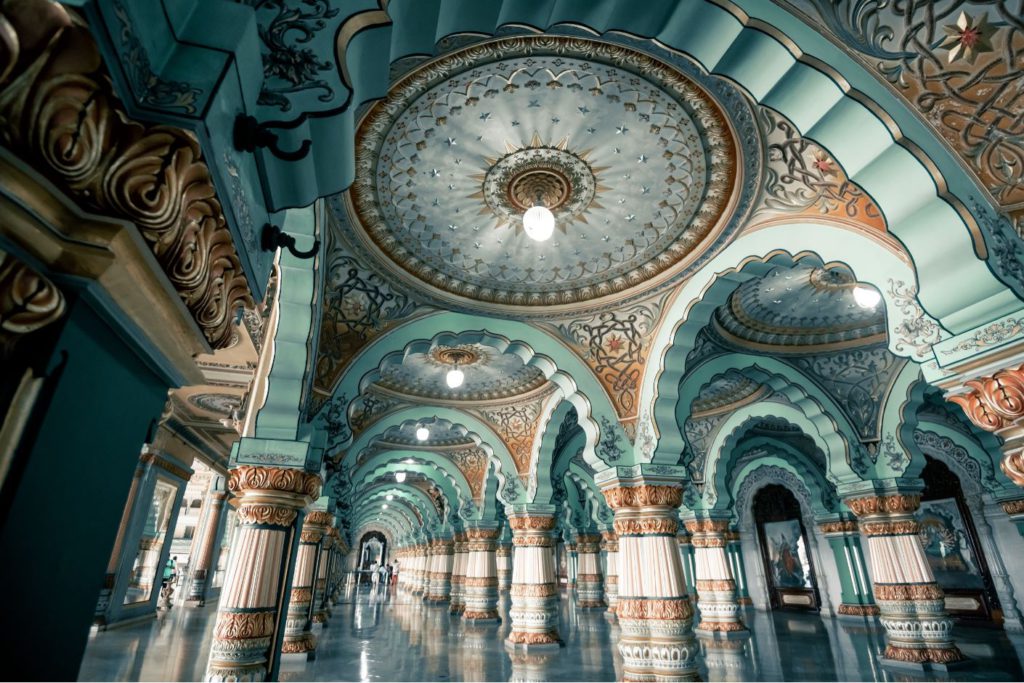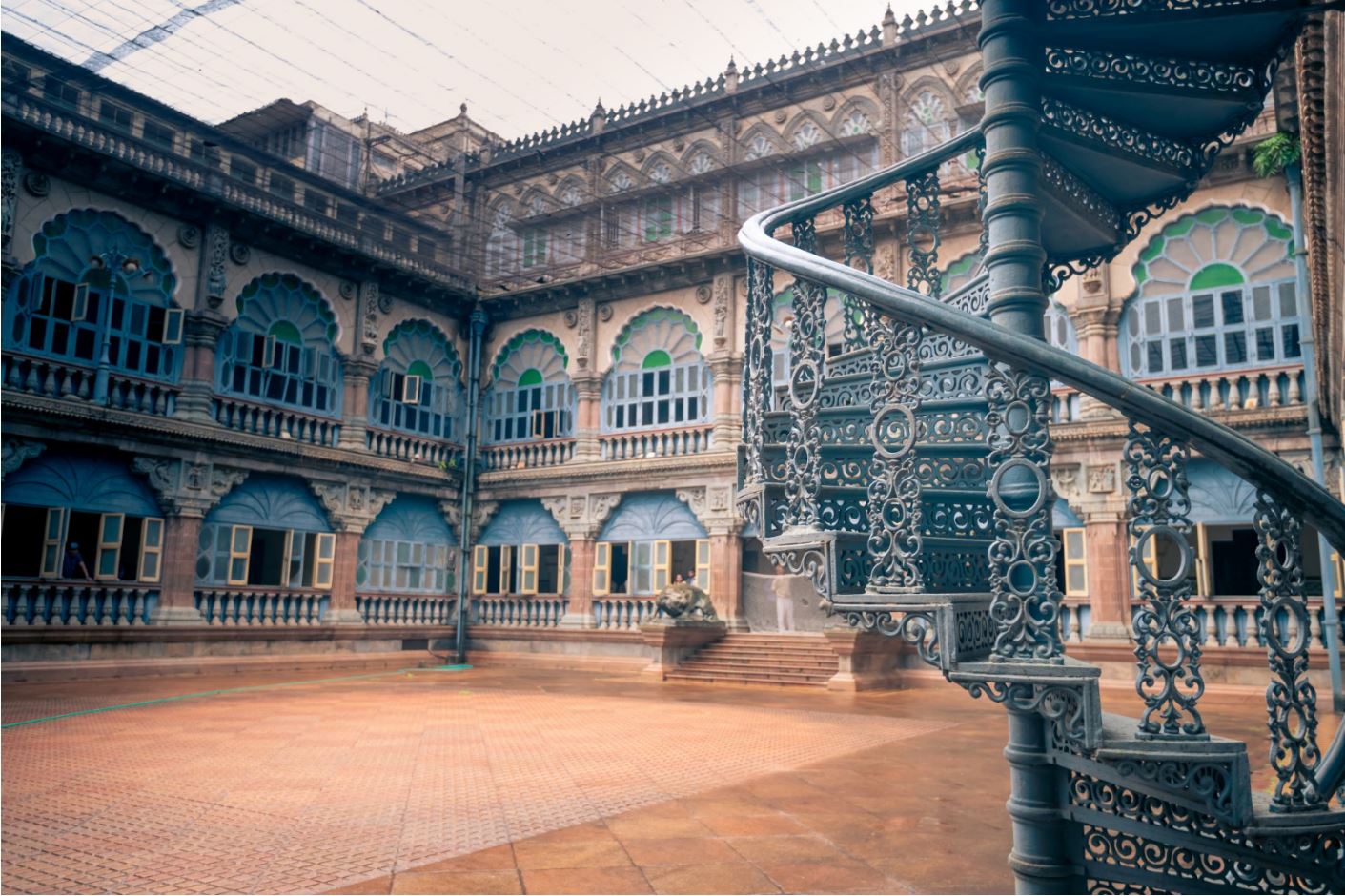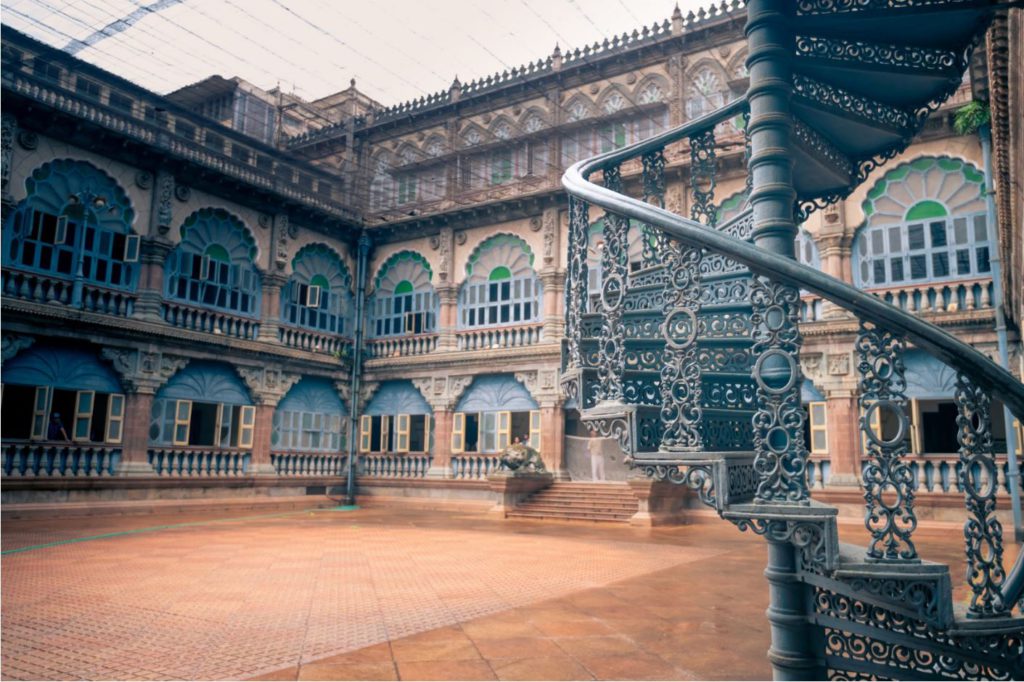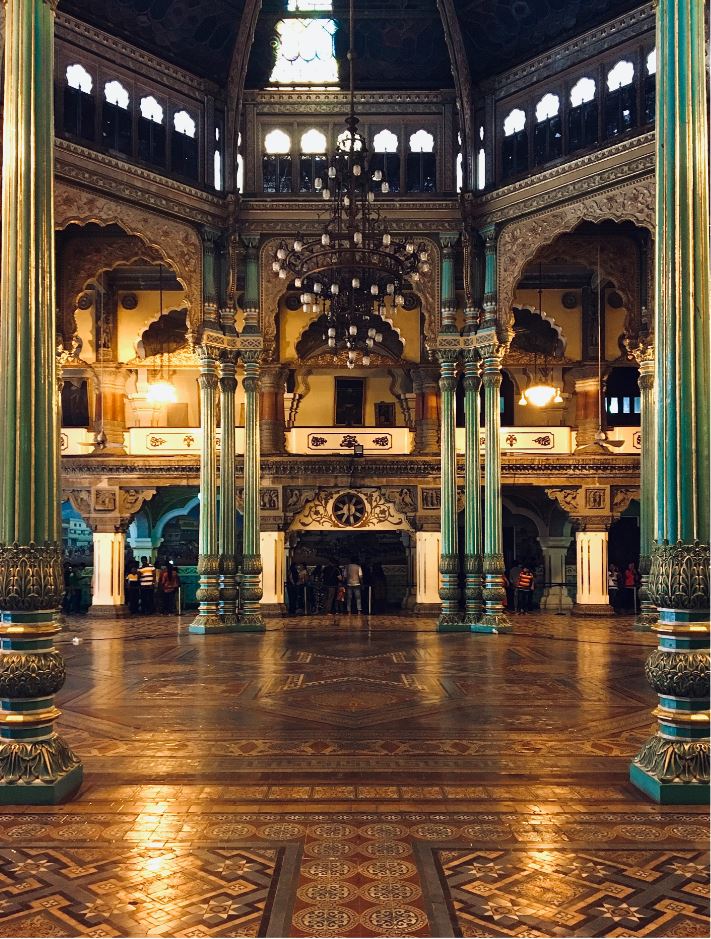 3. Philomena's Church
St. Philomena's Church is a Catholic church another important landmark in the town of Mysore. The church is built in the Neo-classical style and its architecture was inspired by the Cologne Cathedral in Germany. It is also considered as the second largest church in Asia.
The main feature of the Church is its architecture. The floor plan of the church resembles a cross. The cathedral has a crypt with the statue of St. Philomena, a martyr from the 4th century. The stained glass has scenes depicting the birth of Christ, the Last Supper, his crucifixion, resurrection, and ascension.
The church is free to visit. The church holds mass every day in the morning. Special masses are held on Sundays and festivals.
St. Philomena's Church timings: 5.00 am to 6.00 pm every day of the week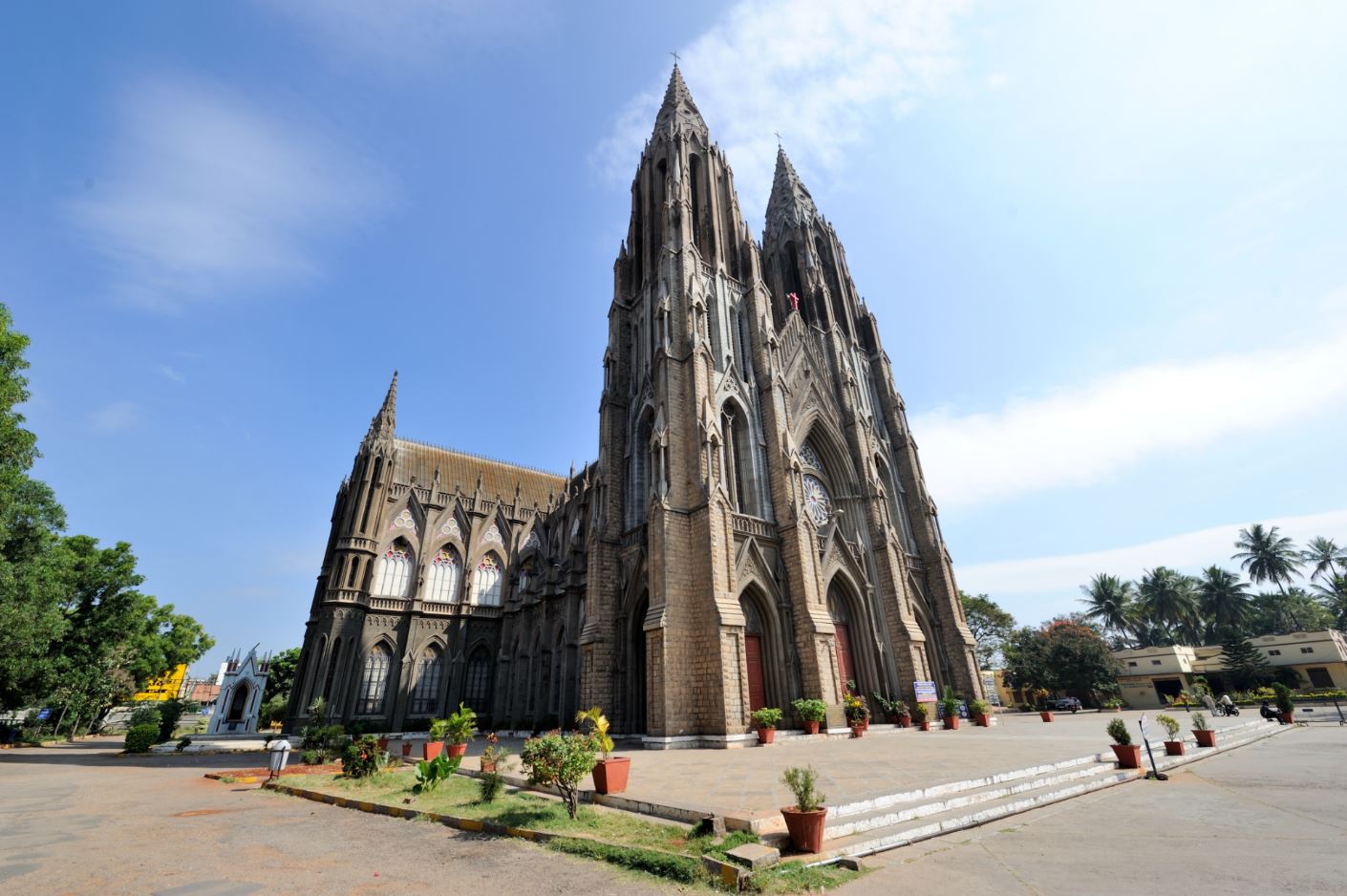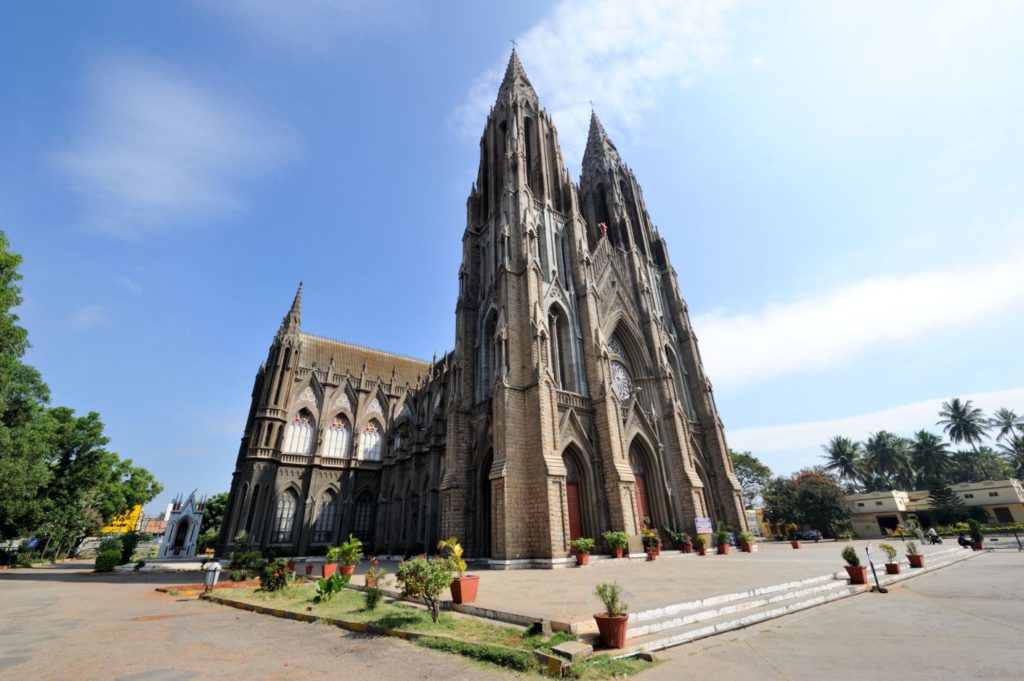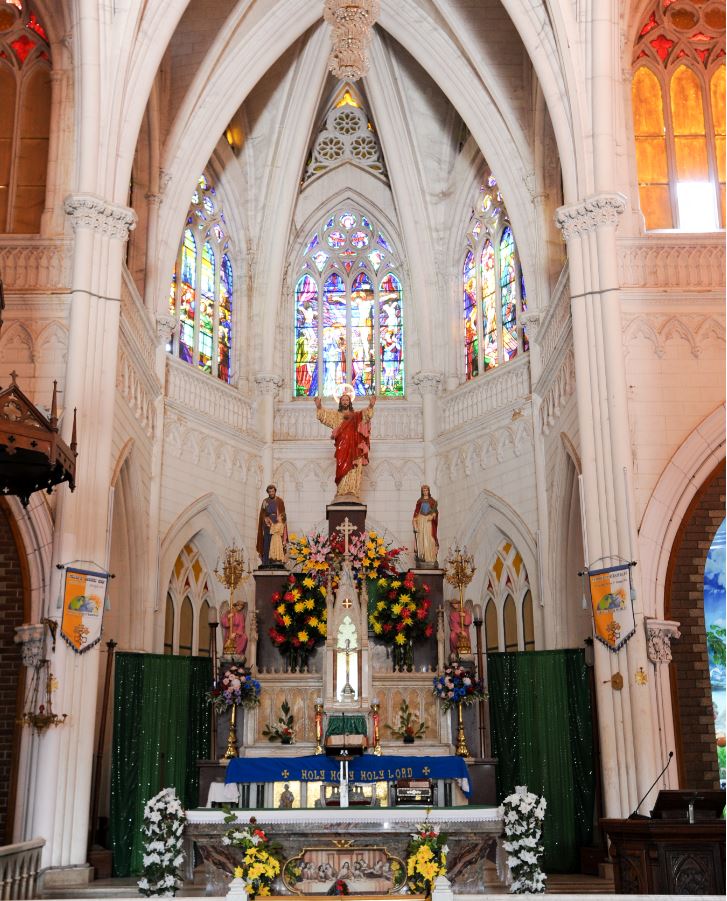 4. Devaraja Market
Devaraja Market is a wholesale market of Mysore that dates back centuries. It is a conglomeration of more than a thousand shops. The shops sell local produce like flowers, fruits, and vegetables, Kumkum, Mysore silk saree, sandalwood products, oils, and incense.
If you are a resident of Bangalore or even South India, you can probably skip this. You can catch a similar scene at the KR Market in Bangalore. But if you have travelled far to reach Mysore, you can make a stop here to catch up on daily life.
The market is not popular for souvenirs but if you do decide to buy something, bargaining is acceptable. There are a couple of sweet shops in the area famous for Mysore Pak which is a specialty of Mysore. (It is delicious too!)
Devaraja Market timings: 6.30 am to 9.30 pm every day of the week.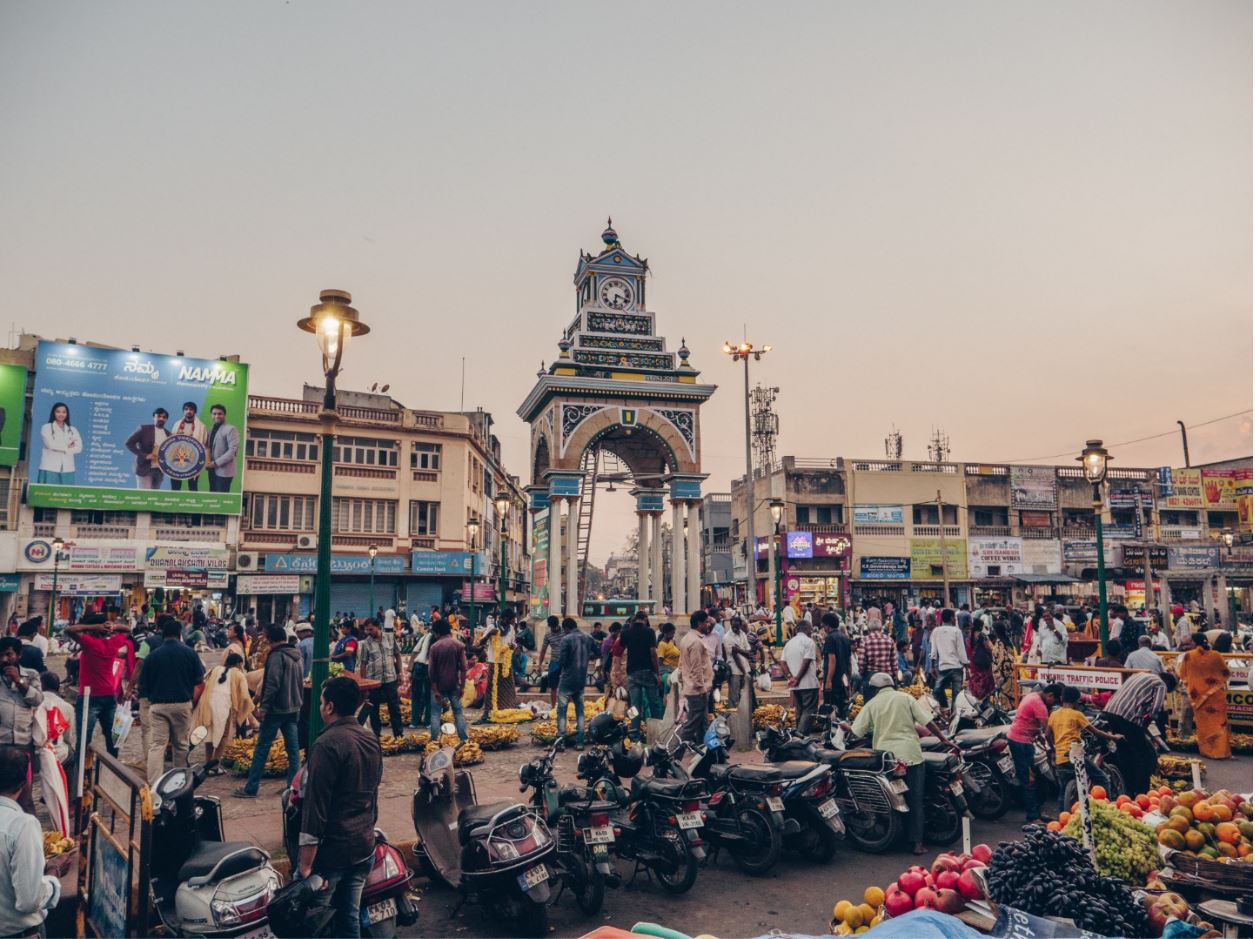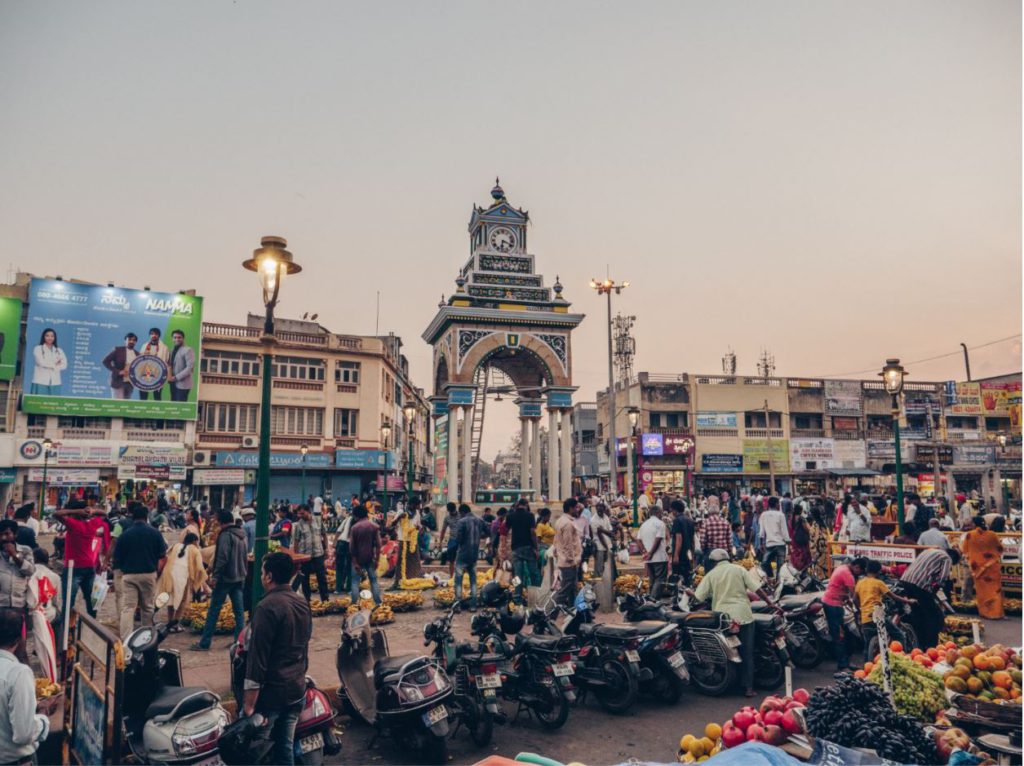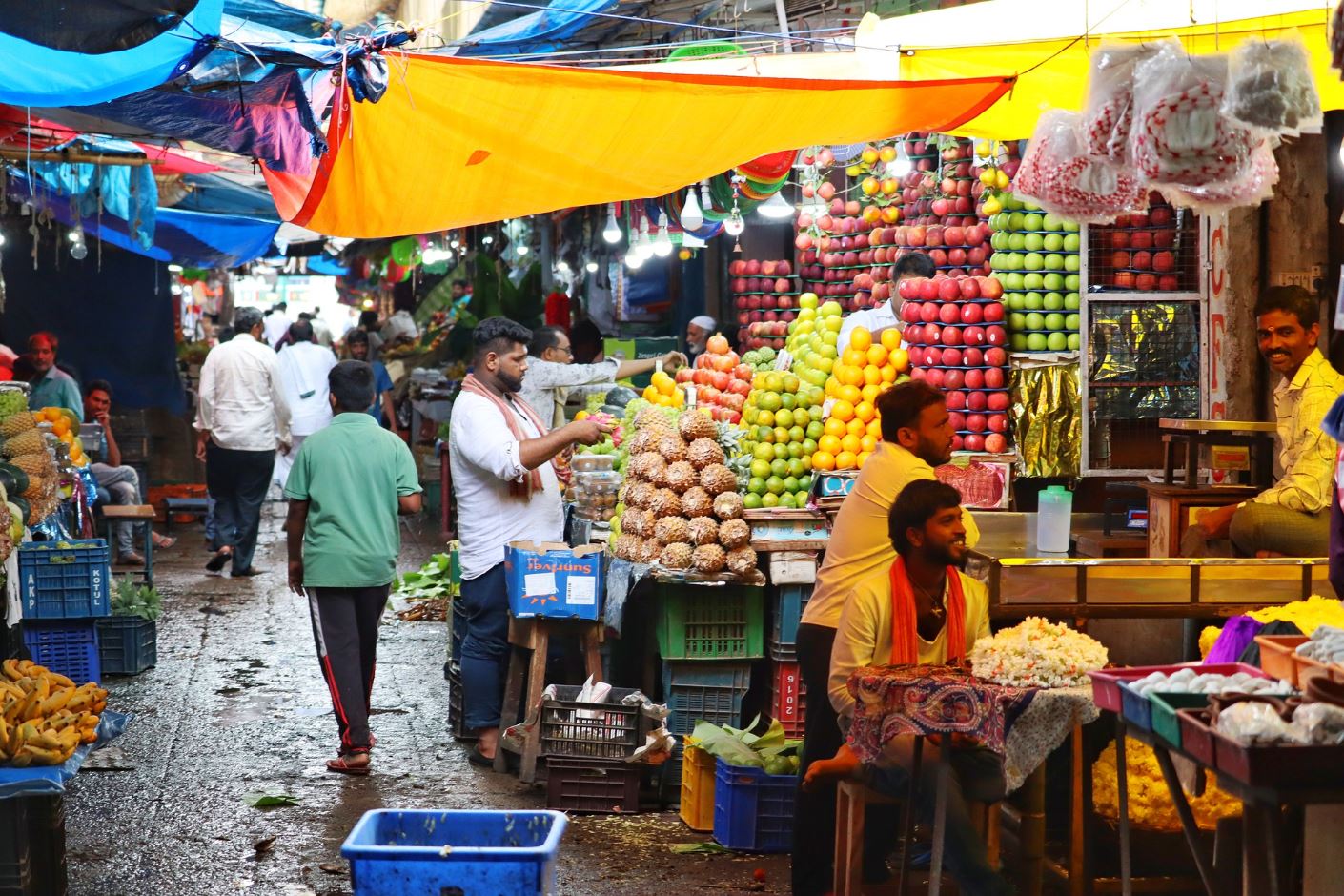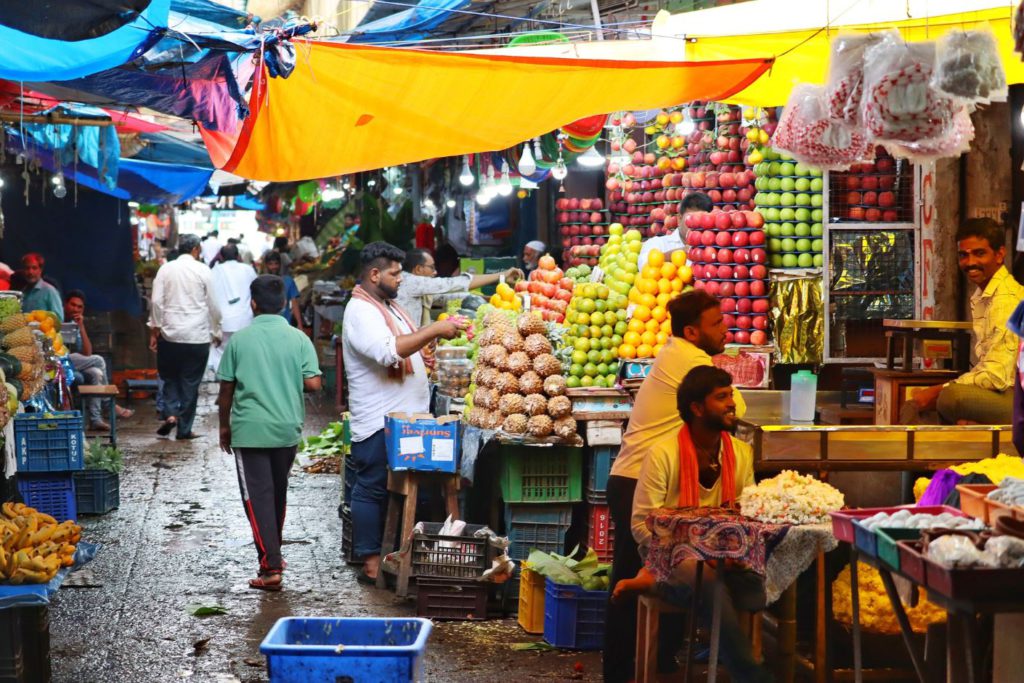 5. Mysore Sand Sculpture Museum
Now, I guess this place does not top most people's list of tourist attractions for their day trip to Mysore. But I think sand sculptures are a very cool thing to see.
There are 150 sand sculptures in the museum built under MN Gowri who is the only female sand sculptor of India. It took more than 100 trucks full of sand to build them. The sculptor has used only sand and water to make the sculptures with a minute amount of glue.
The sand sculptures depict the Goddess Chamundeshwari, Laughing Buddha, Zodiac wheel, snippets from Mahabharata, the Dasara Procession, marine life, and even Santa Claus. A 15-feet structure of Ganesha greets the visitors at the entrance.
Mysore Sand Sculpture Museum timings: 8.30 am to 6.30 pm every day of the week
Mysore Sand Sculpture Museum ticket price: ₹40 for Adults, ₹20 for Children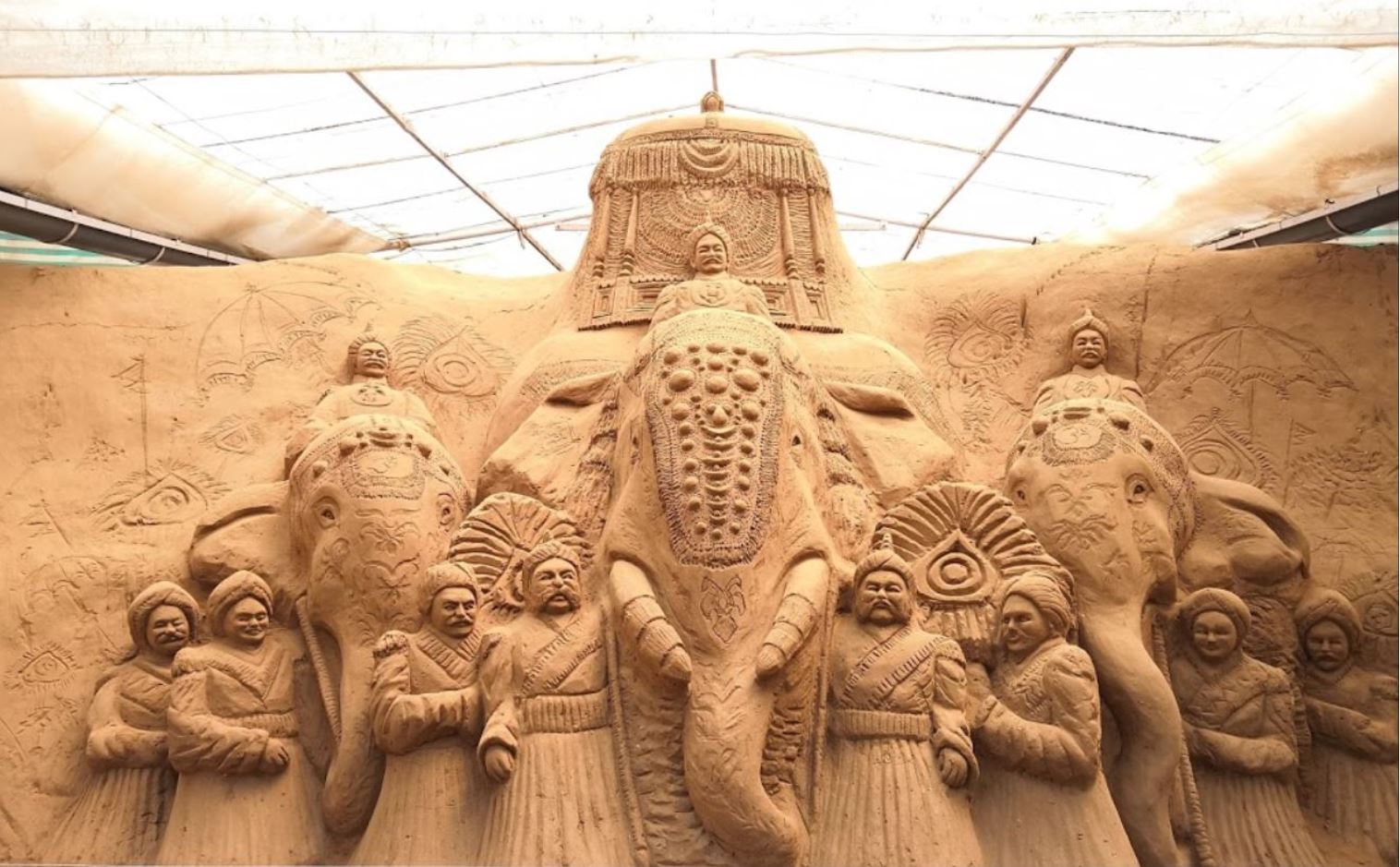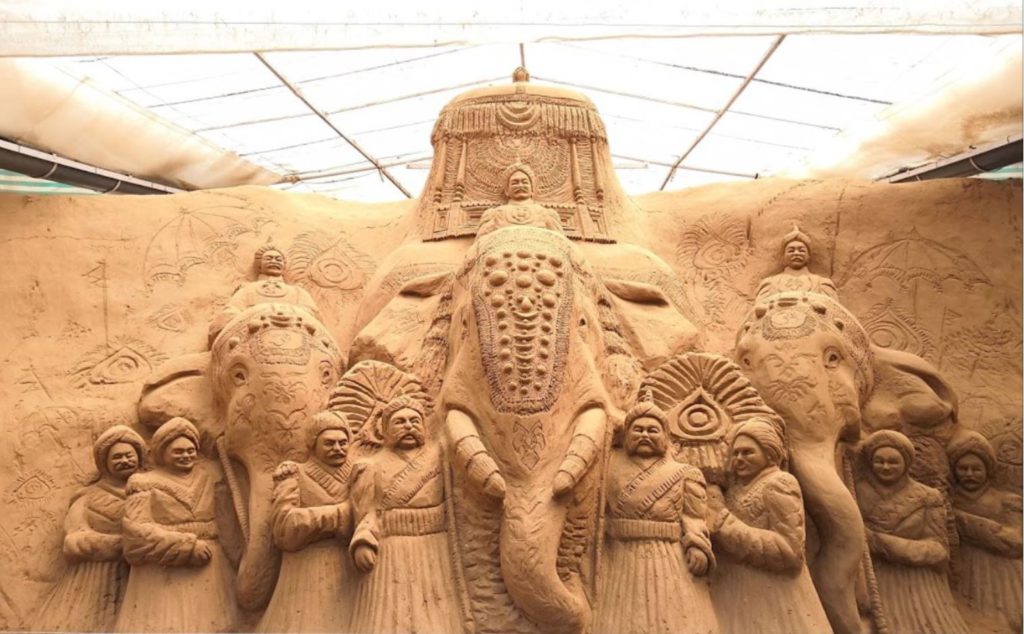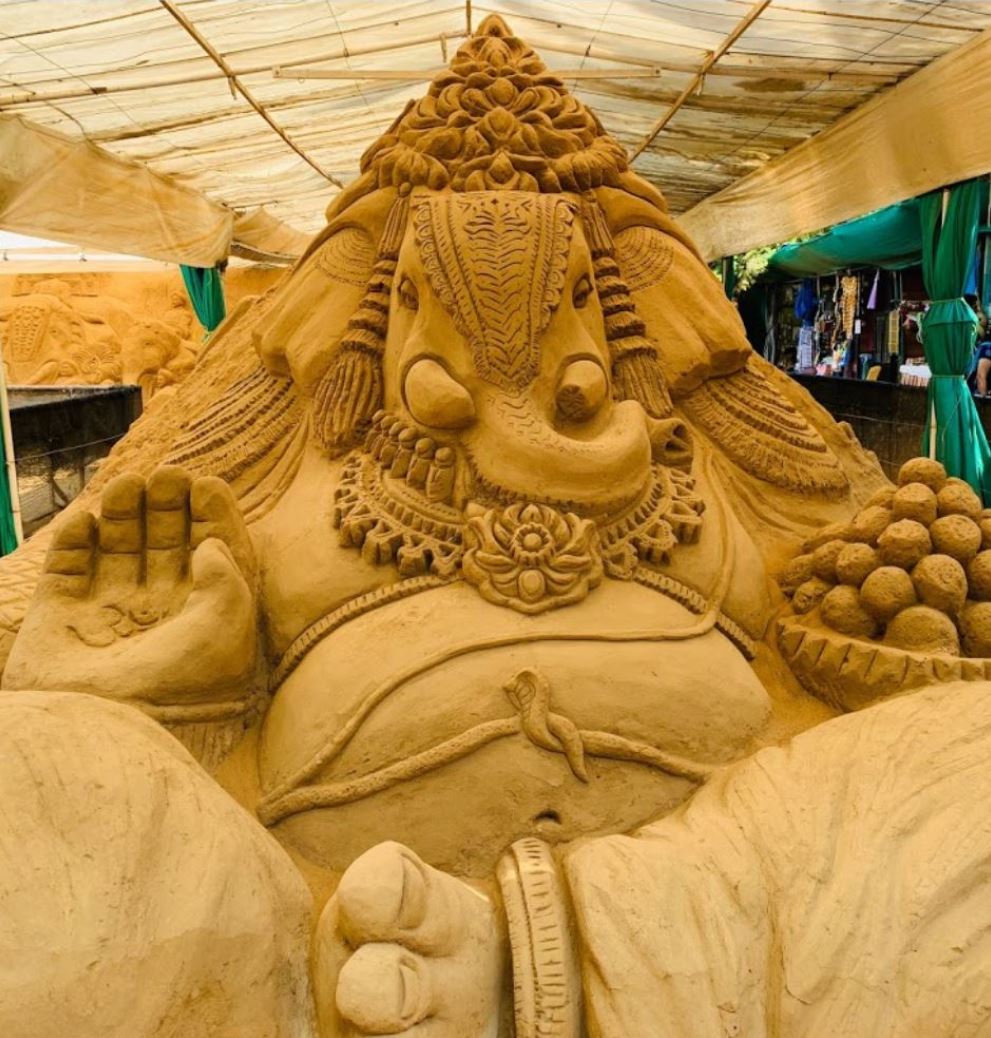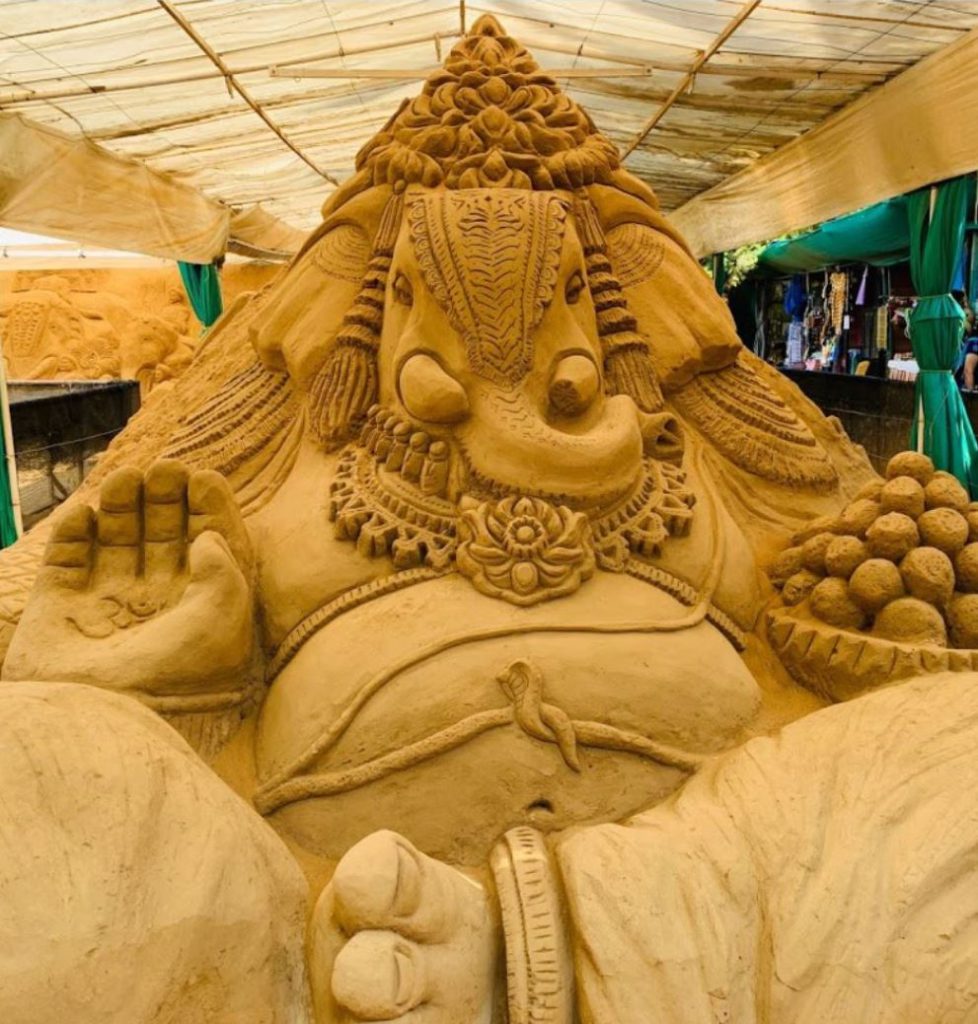 6. Chamundi Hills
Chamundi hill is one of the most important tourist attractions of Mysore. The locals consider the hill so sacred that the Royal family constructed the Mysore Palace to face it.
The main stop here is the Chamundeshwari temple. She is considered to be a form of Durga worshipped by the locals of Mysuru. A lot of pilgrims visit the temple from the surrounding area that sits on top of the main hills and can be reached by climbing 1,008 stone stairs.
A large structure of Mahishasur with a snake in one hand and a sword in the other welcomes you in the square near the temple. If local folklore does not interest you, you can visit this place for the astounding aerial view of the Mysore city. Mysore Palace and Karanji Lake are distinctly visible from there. Entry to the temple is free.
Chamundeshwari temple timings: 7.30 am to 2.00 pm, 3.30 pm to 6.00 pm, 7.30 pm to 9.00 pm.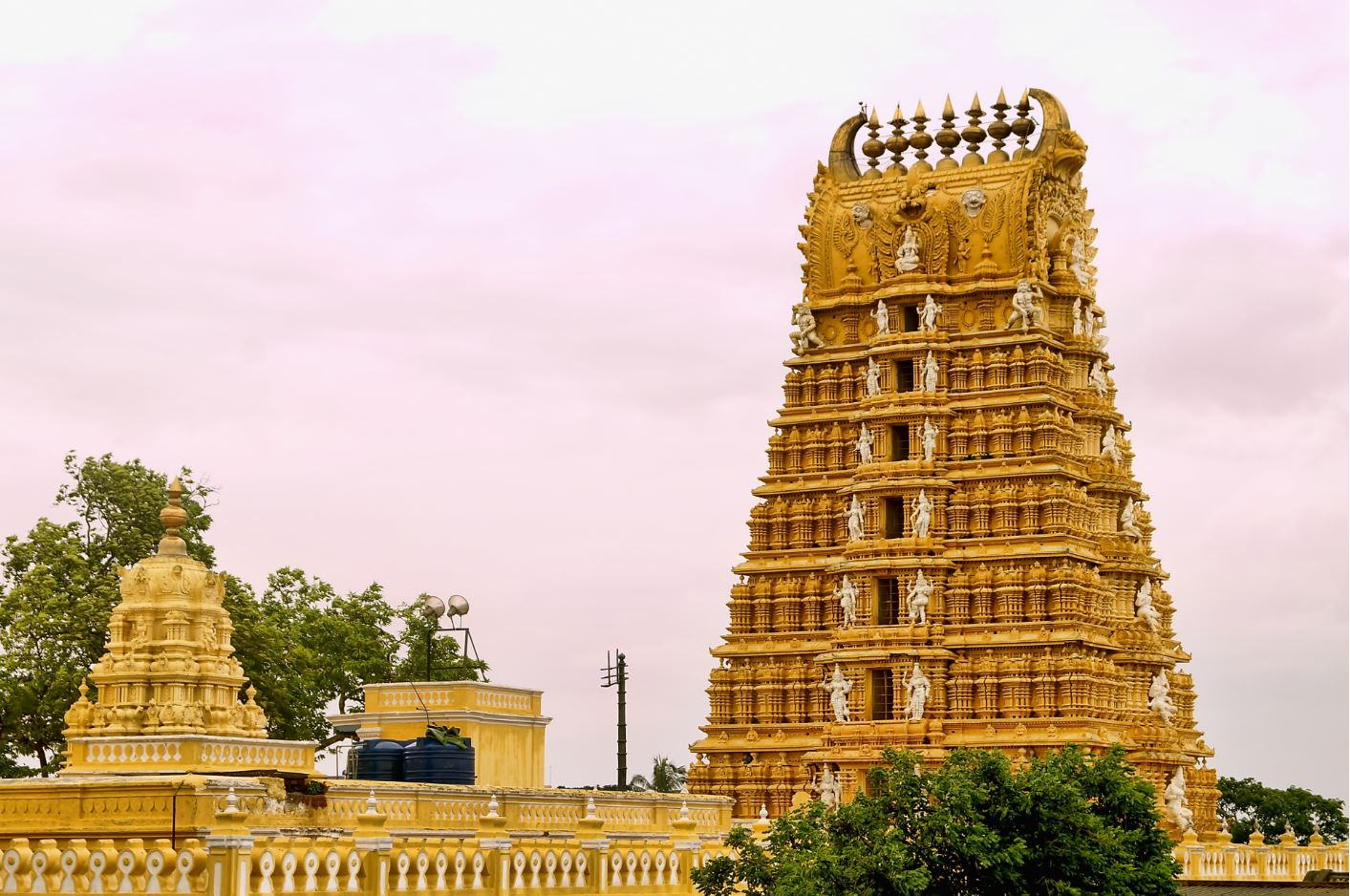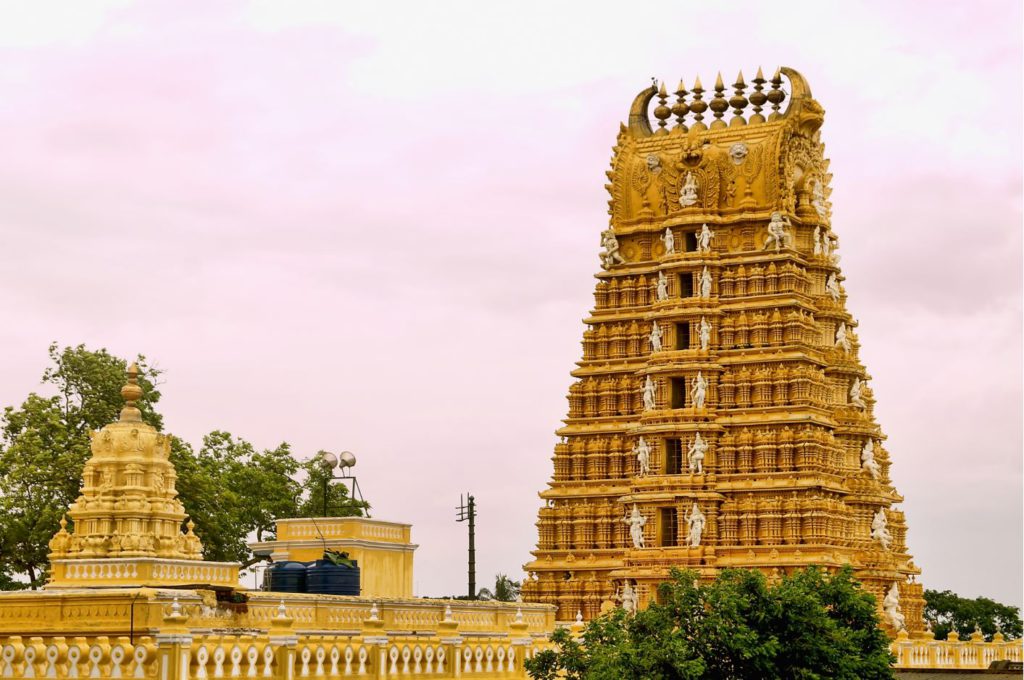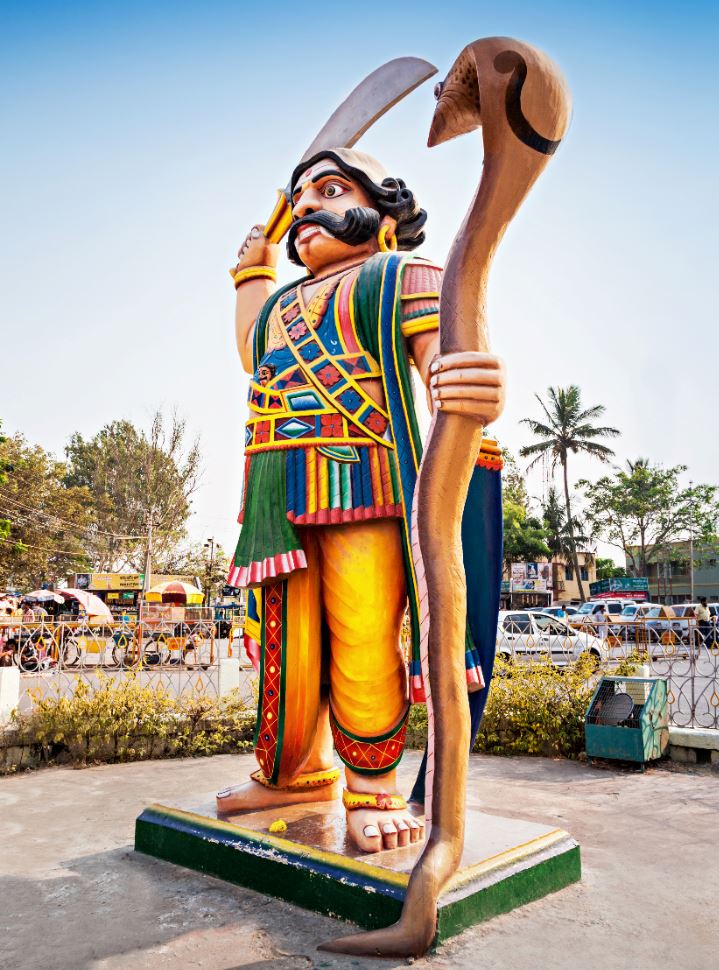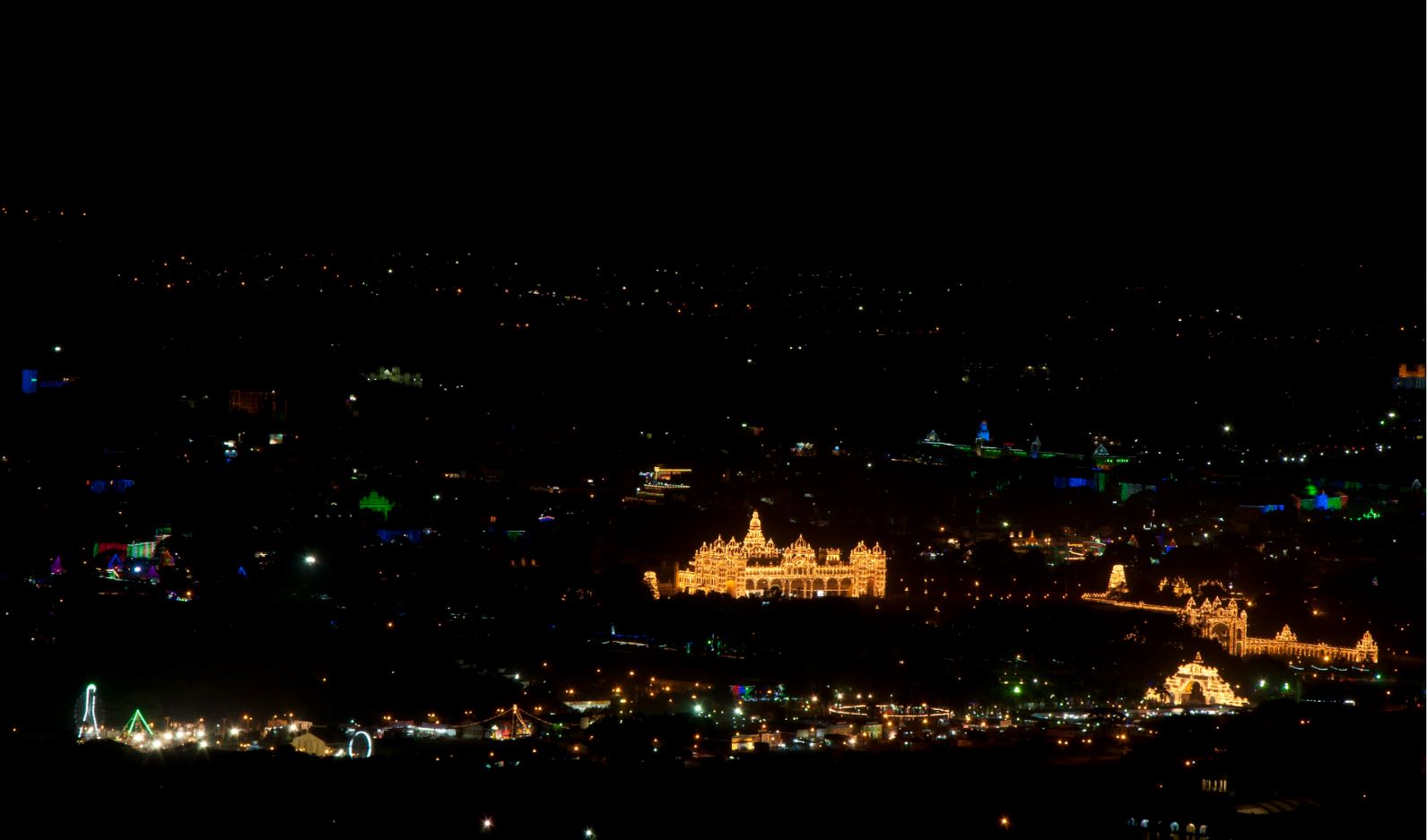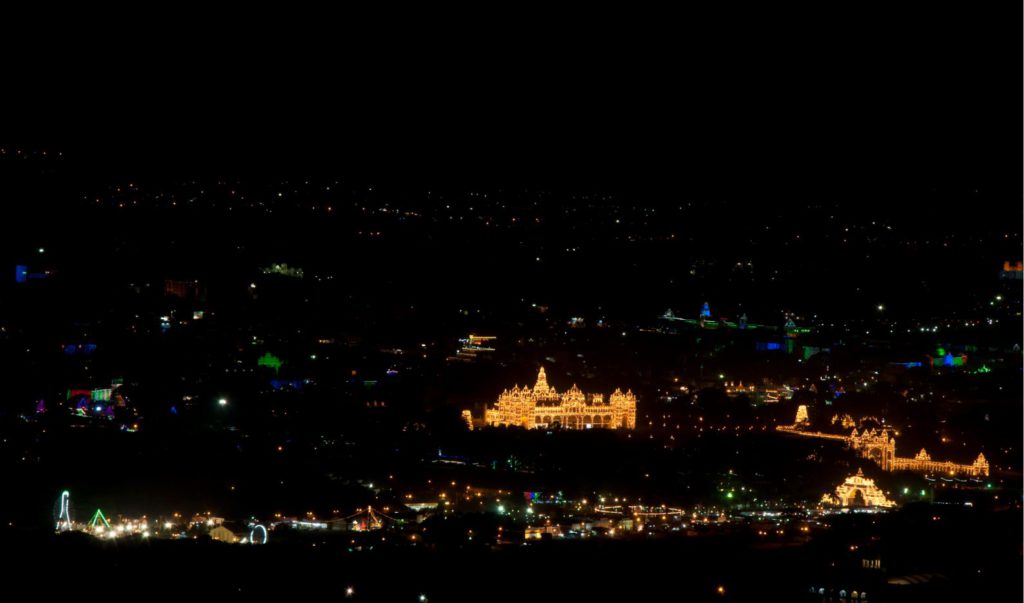 7. Brindavan Gardens
This is the other place other than Mysore Palace where I would have liked to spend more time in. The gardens are located 12 km west of Mysore city right at the foot of Krishnarajasagara Dam on the Cauvery River.
These terrace gardens were completed back in 1932 and cover over 60 acres of land. The gardens are well maintained. The grass always looks trimmed and freshly mowed. The flower beds are well taken care of. The topiaries are in perfect shapes and the gazebos look inviting.
Try to visit the gardens by the end of the day and catch the musical fountain. Apart from the show, the whole park along with the fountains light up at night between 7 pm to 8 pm with colorful lights. I think they looked gorgeous. But to remind you again, they can get really crowded on the weekends. You can have to shove and stomp a bit to get a place near the musical fountain.
Brindavan Gardens Timings: 6.00 am to 8.00 pm on weekdays; 6.00 am to 9.00 pm on weekends
Brindavan Gardens Musical fountain timings: 6.30 to 7.30 pm on weekdays; 6.30 pm to 8.30 pm on weekends.
Brindavan Gardens Ticket price: ₹15 per adult, ₹5 per child.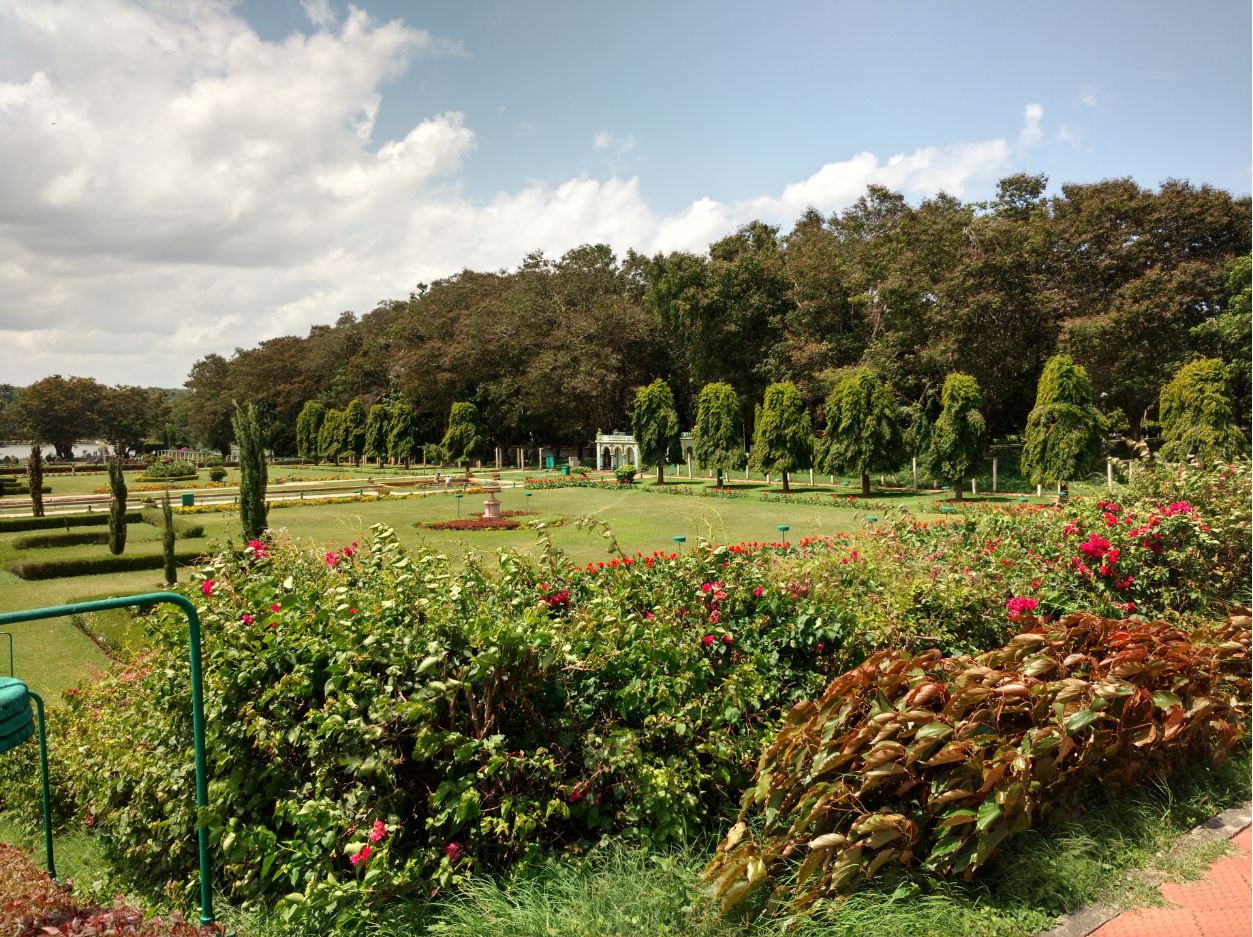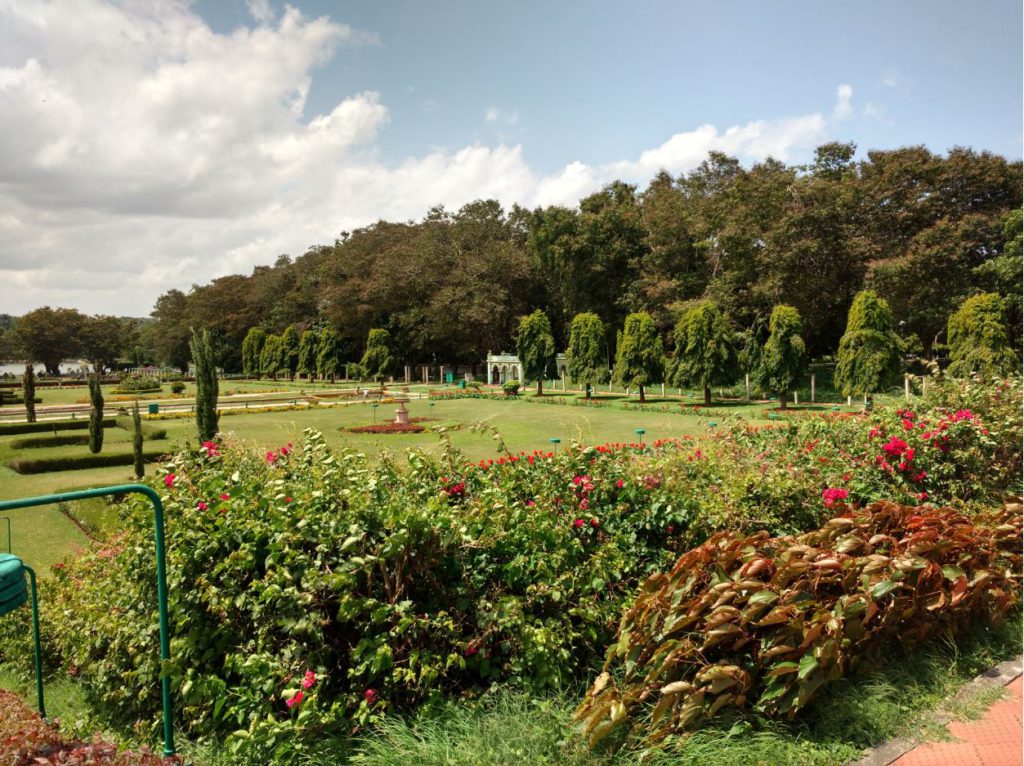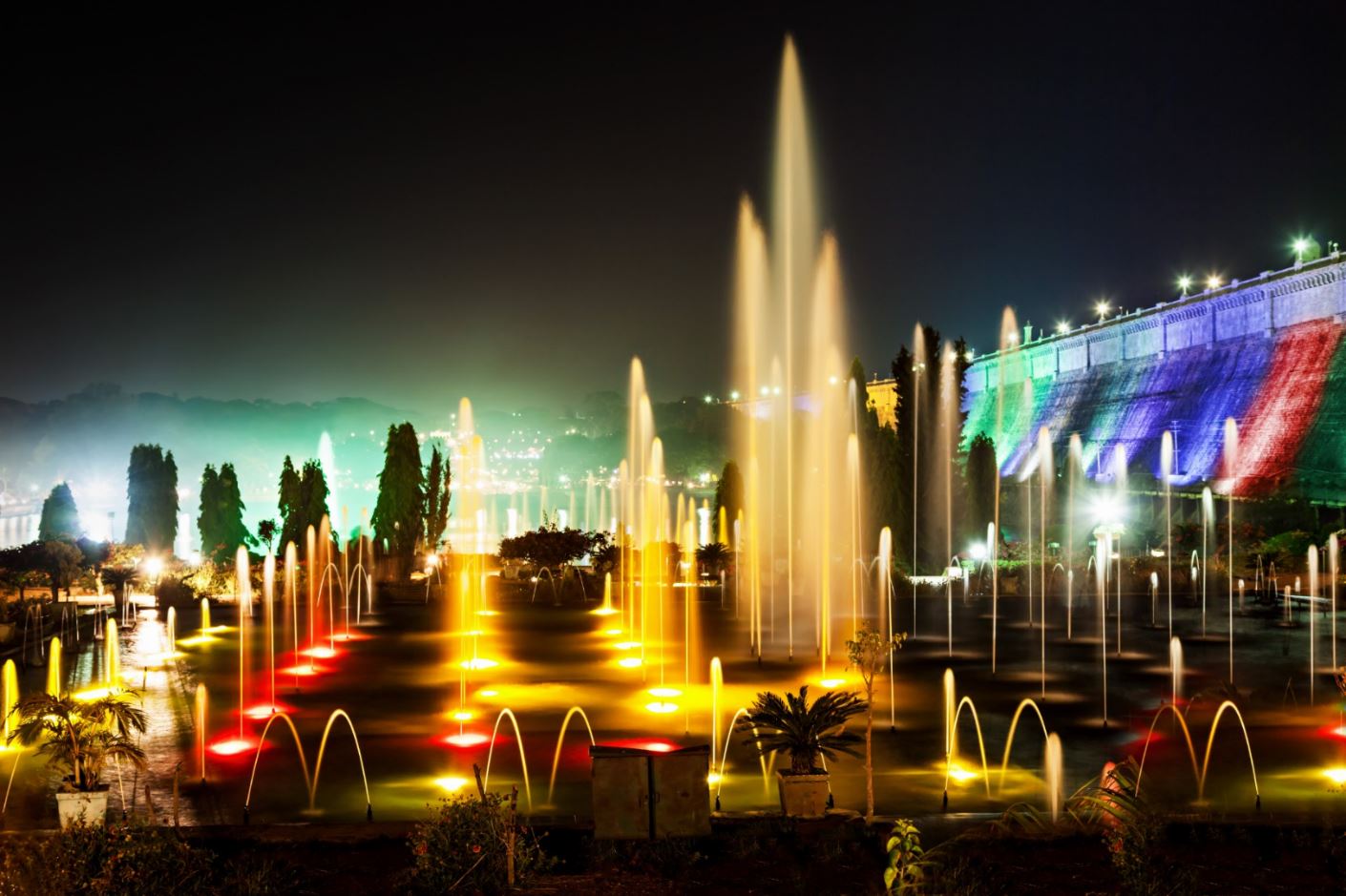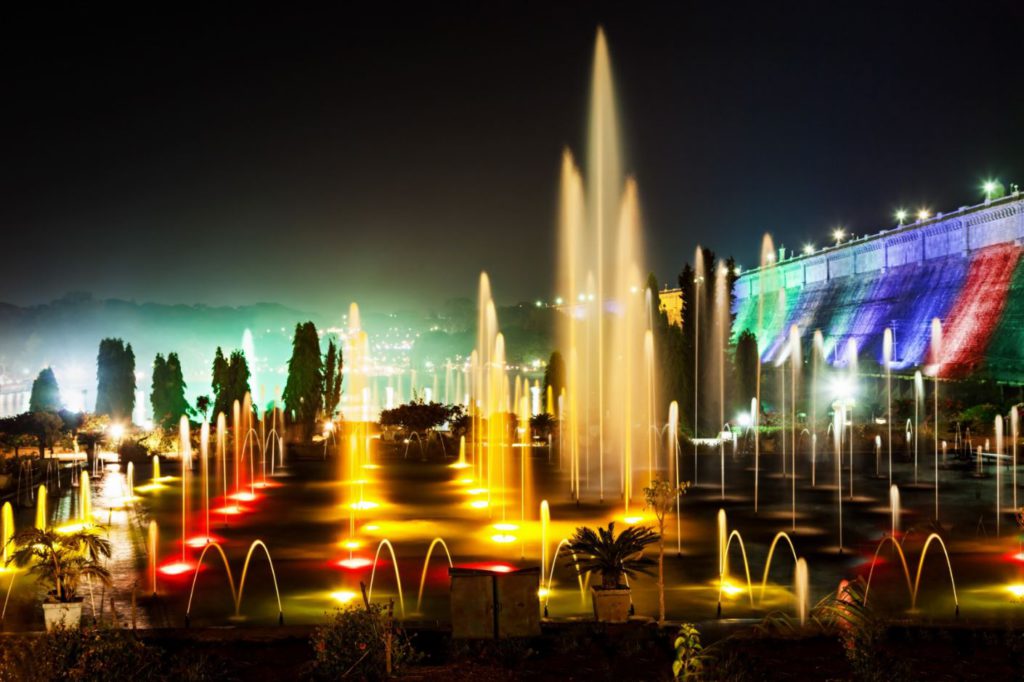 If you have more than a Day
Bandipur National Park
Karnataka has a very rich forest cover which, in turn, has vibrant wildlife. Bandipur National Park along with Nagarhole National Park, Mudumalai National Park, and Wayanad Wildlife Sanctuary makes Nilgiri Biosphere Reserve, the largest in South India.
Karnataka also has the second-highest number of tiger populations in India. Bandipur forests were where the King of Mysore went hunting. Other animals in the forests are Elephants, sloth bears, jackals, Indian rock pythons, four-horned antelopes, Chitals, and grey langurs.
While you can do a one day trip to Bandipur, a more enjoyable way to see the place is to stay at one of the jungle lodges inside the national park for the night. You can either use a personal vehicle to visit the national park, take a ride with the Park's minivan, or a personal jeep safari.
The National park is 73 south of Mysore and will take an additional 1.5 hours to travel.
Bandipur National Park timings: 6 am to 6 pm, open every day of the week
Bandipur National Park ticket price: ₹300 for Indians, ₹1,100 for foreign travelers. Additional ₹200 for videography.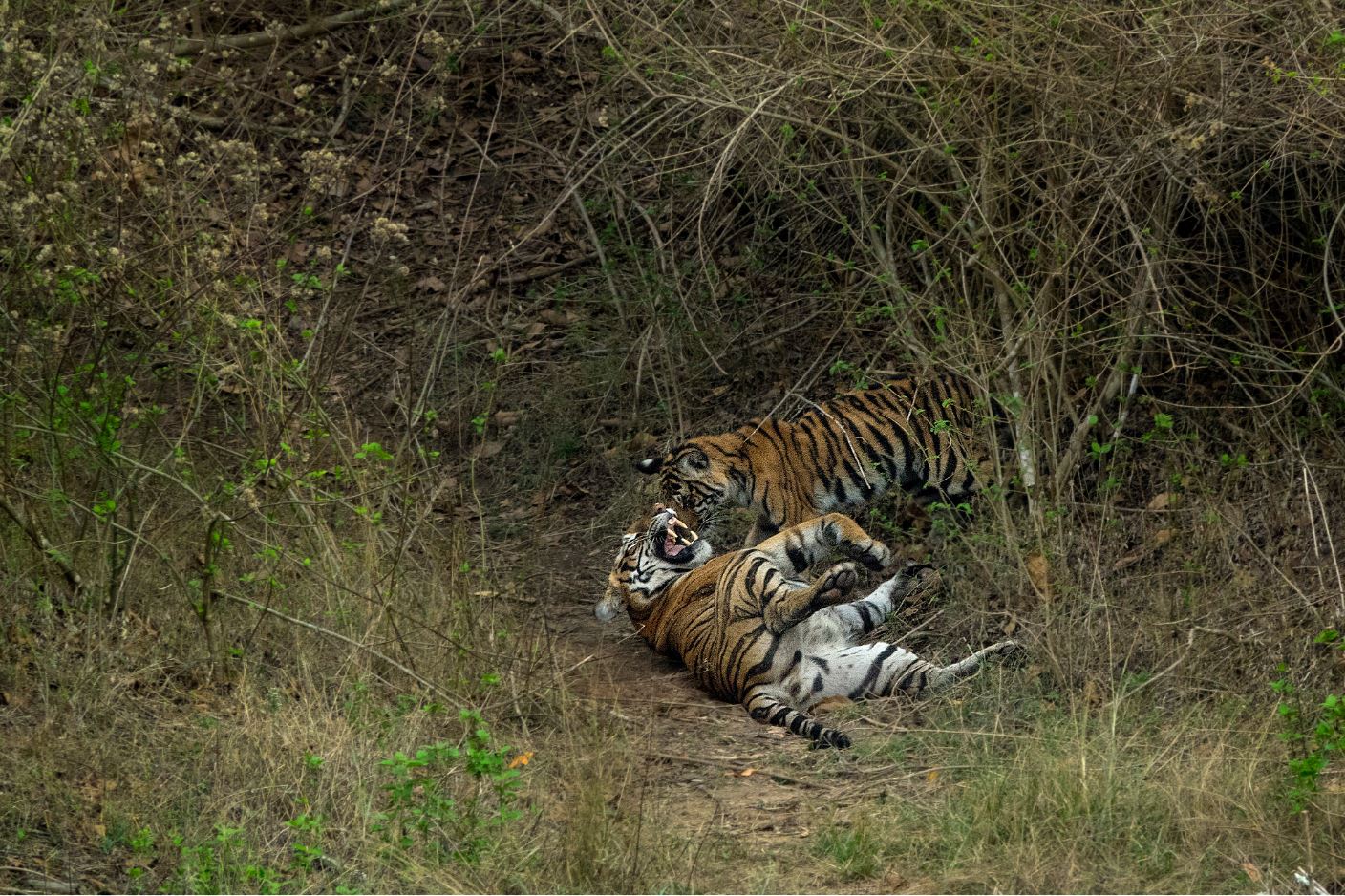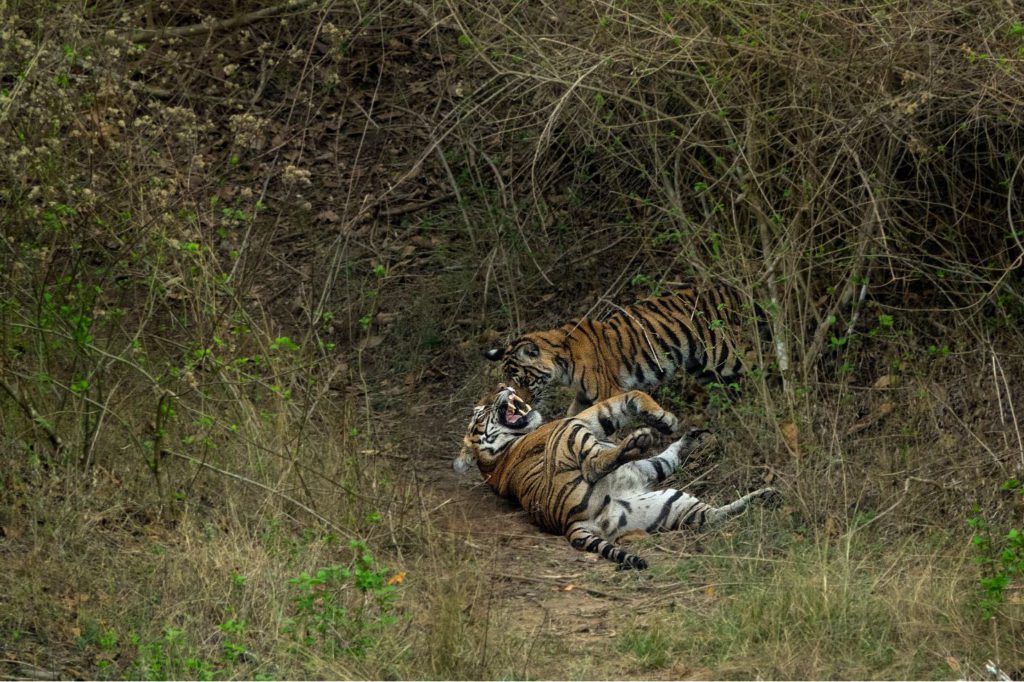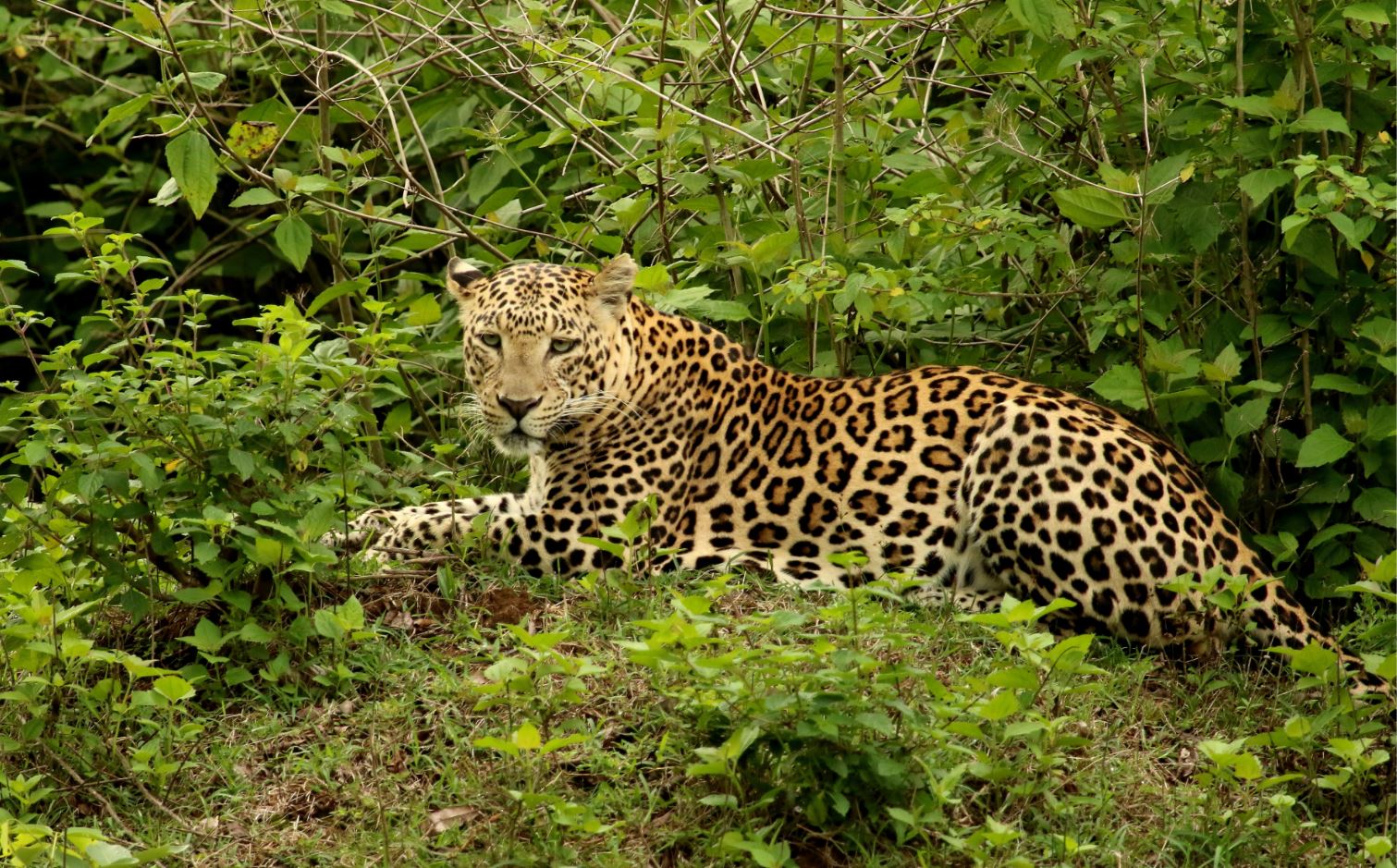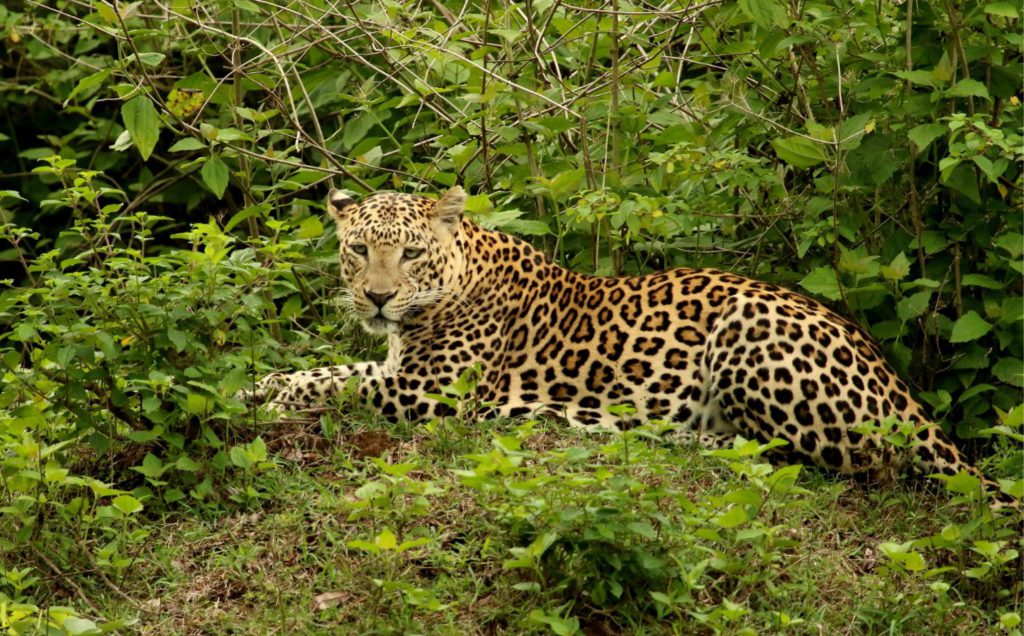 Ranganathittu Bird Sanctuary
Ranganathittu Bird Sanctuary is just 3 km from Srirangapatana and 16 km north of Mysore. This place attracts around 170 species of birds. The common ones are painted stork, Woolly-necked stork, stork-billed kingfisher, spot-billed pelican, and heron.
The best time to spot the birds is between November and March. The birds migrate all the way from Siberia and Latin America. The flock of birds is sometimes as large as 40,000 at a time.
The best way for the tourists to enjoy the place is to hire a boat, either private or shared. They take you around the islands that can let you watch the birds at a close range.
The downside is that a private boat costs as much as ₹3,000 for a 45-minute ride. However, a large group boat is ₹50/25 for Indian Adults/Children and ₹300 for foreign nationals for 15 minutes. There is an additional charge of ₹500 for a camera. The trade-off could be well worth it if you are a nature-lover.
Ranganathittu Bird Sanctuary timings: 9.00 am to 6.00 pm every day of the week
Ranganathittu Bird Sanctuary ticket price: ₹50/25 for Adults/Children; ₹300 for foreign tourists.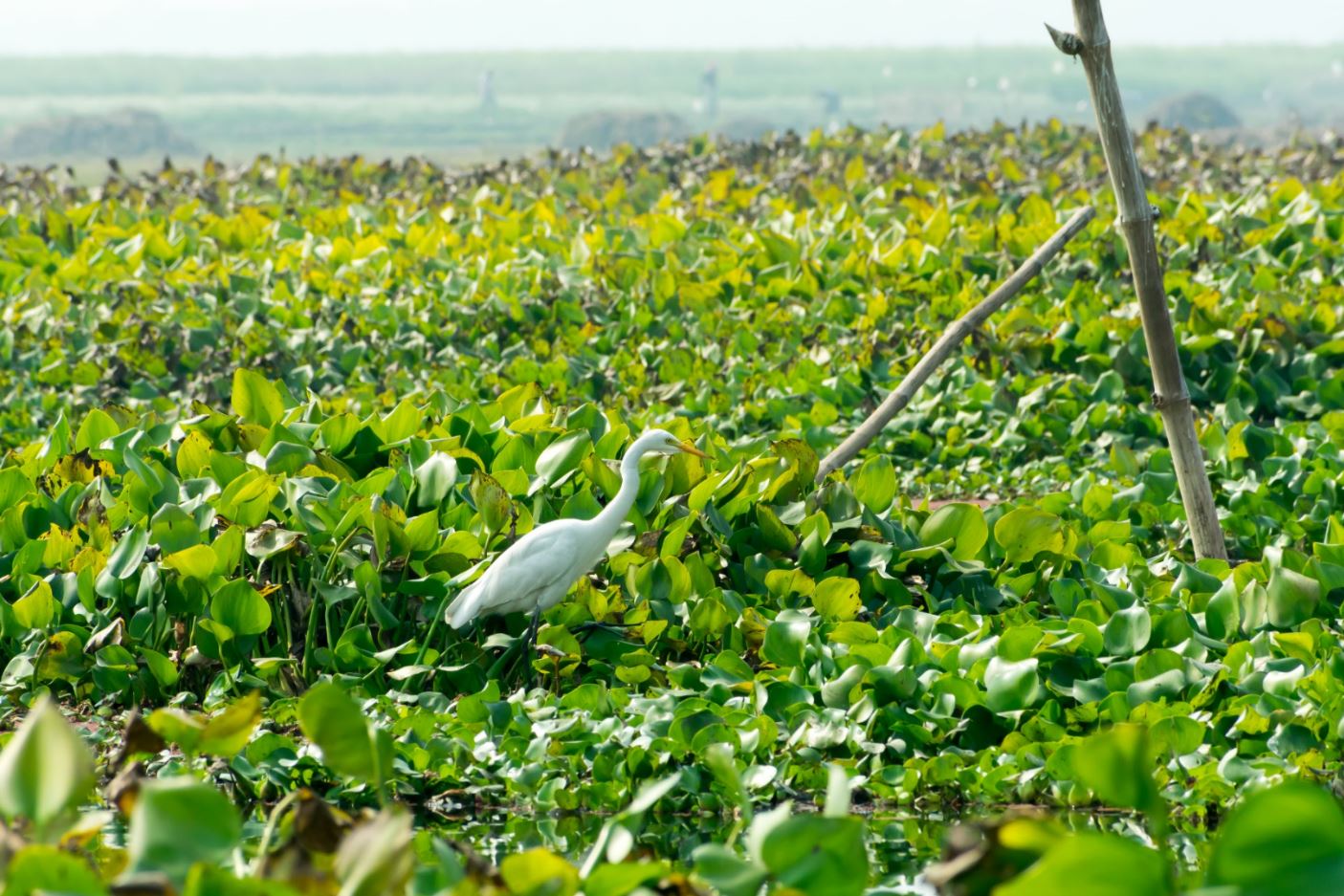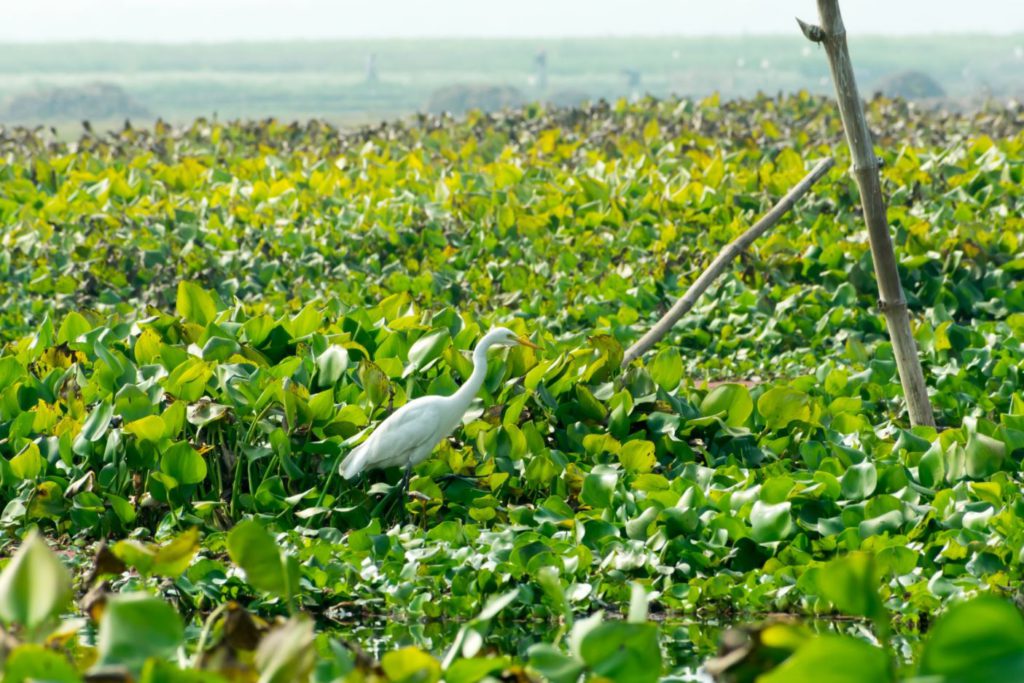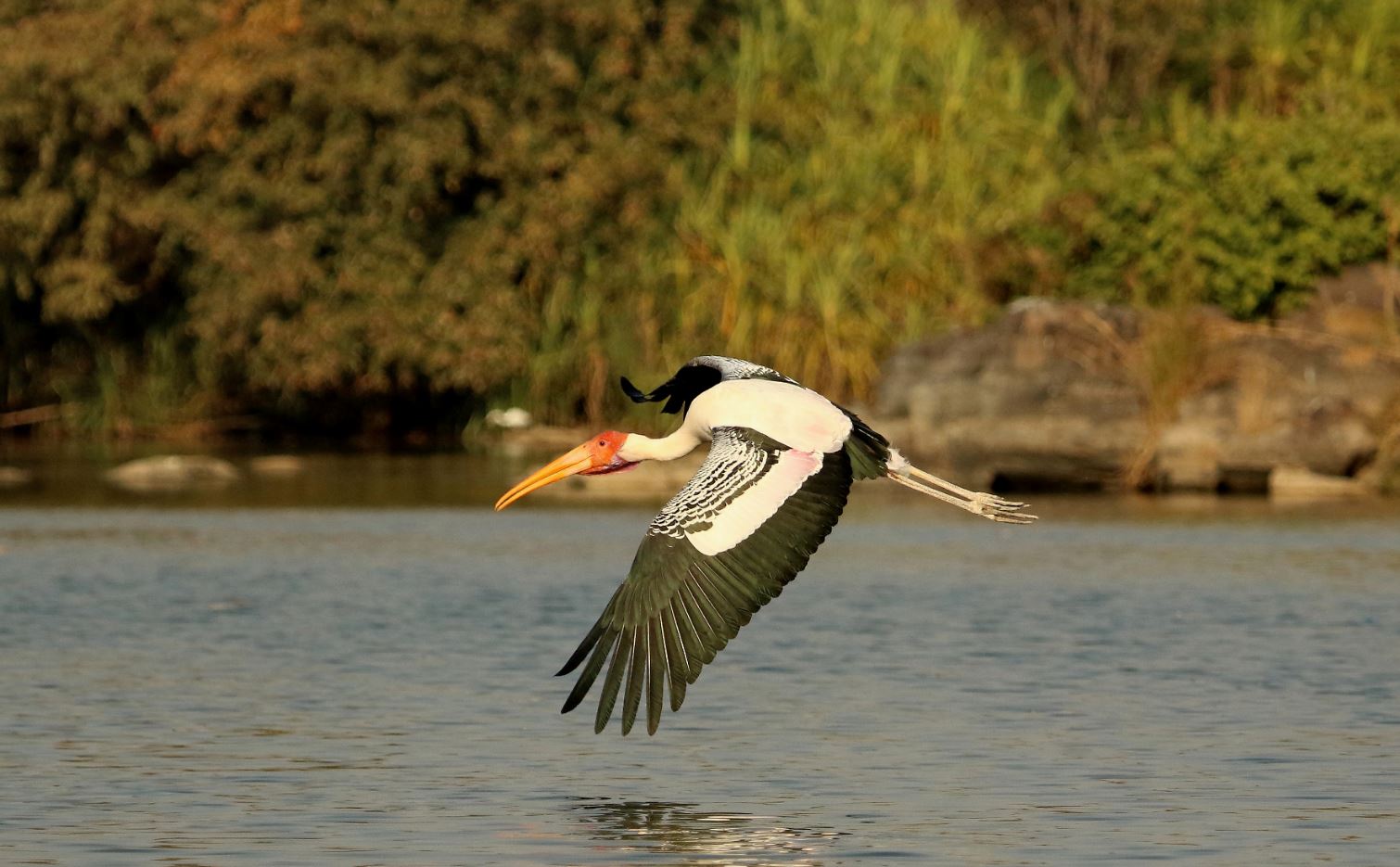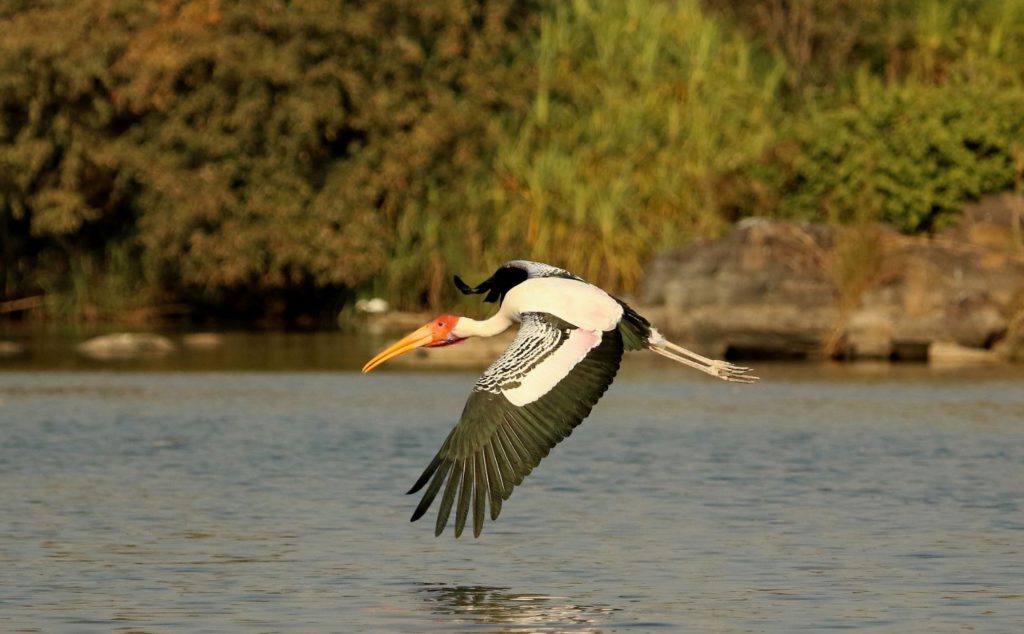 Shivanasamudram Waterfalls
Shivanasamudra Falls are one of the popular waterfalls for a day trip from Bangalore. Also called as Gaganachukki falls, these are located between Mysore and Bangalore. So you do not need to take a long deroute on your way. The ride is lush green, pleasant, and very enjoyable.
The waterfalls are on the river Cauvery near a hydro-electric power station. The river splits into many channels before the drop. Therefore, it creates a semi-circular large area with water falling off different streams.
The waterfalls are perennial and you can visit them throughout the year. However, the summer months can be disappointing. The monsoon sees the best of the falls with a large amount of water flowing. It can be dangerous to get into the water during heavy flow.
Buses are available to the town both from Bangalore and Mysore. Coracles are available near the waterfalls for a ride. I think it's a lovely experience if you haven't been to one before. If you want to read more check out this blogpost by wellplannedrtip.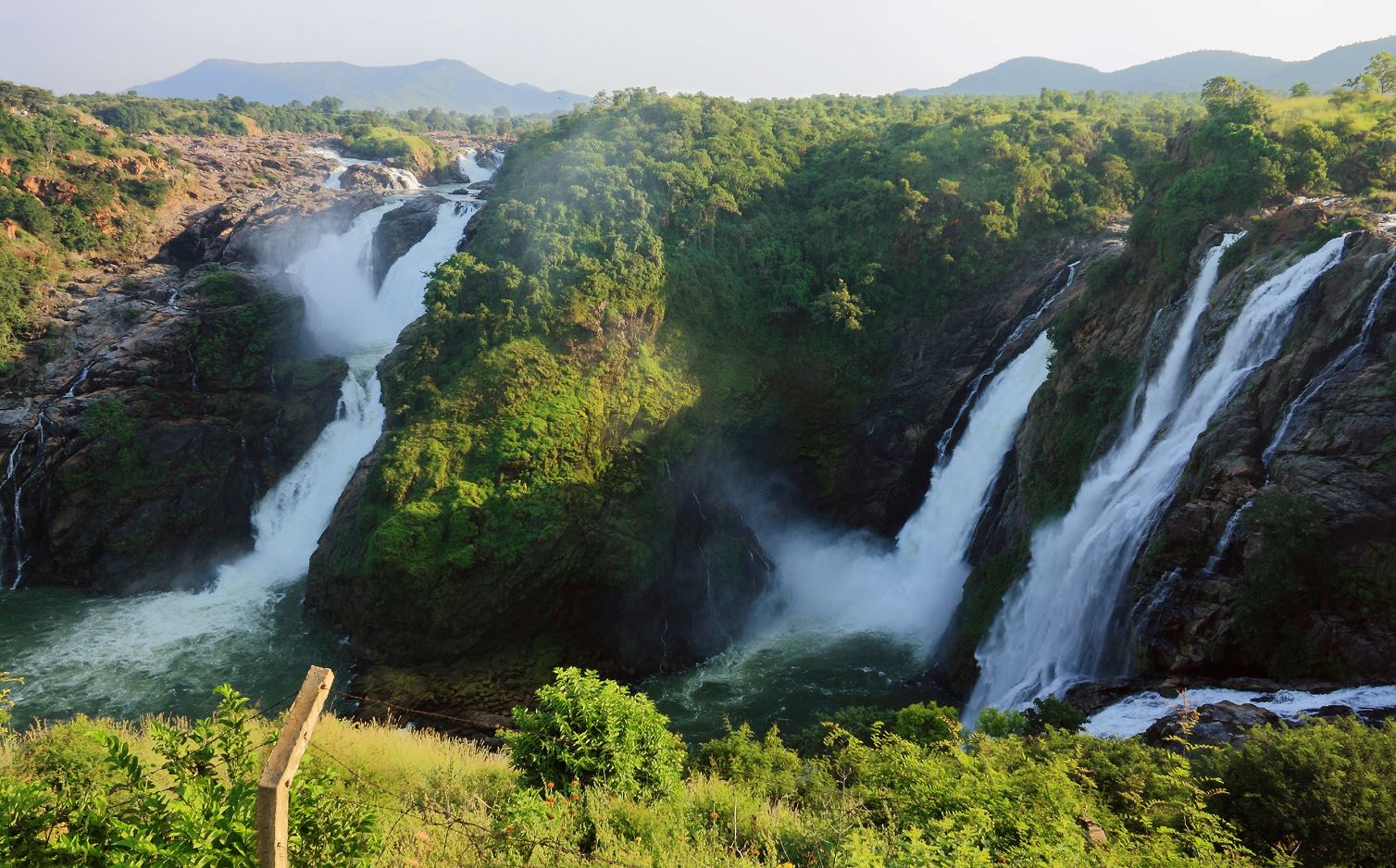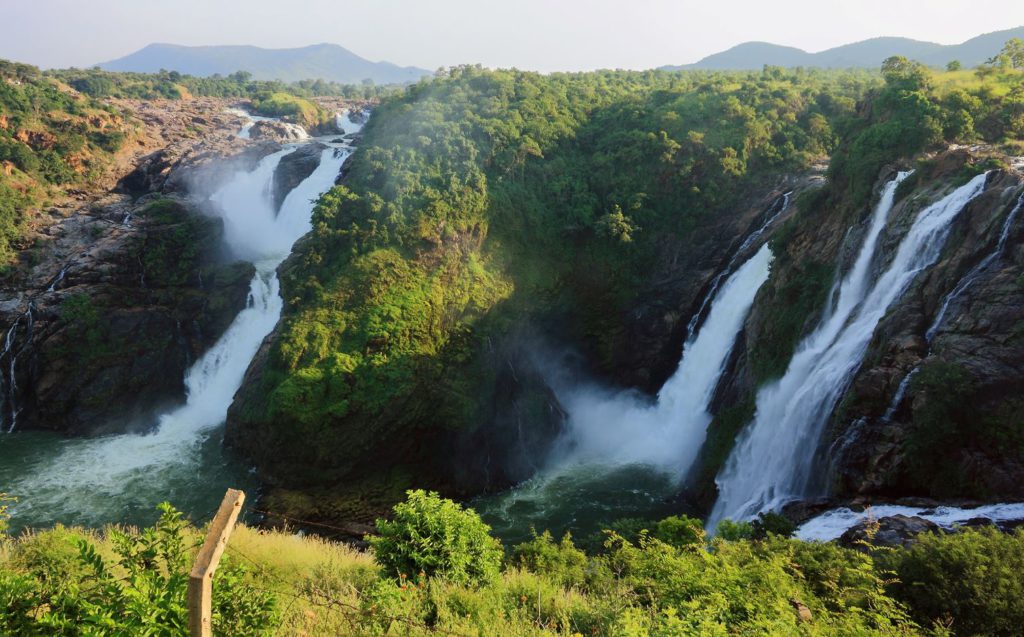 Save On Pinterest


Related Articles