21 May

Exploring the Temple Ruins of Hampi, India

If you are backpacking in India, Hampi will pop up again and again. If you look it up online, all you will find are photographs to temples and ruins. Gorgeous ruins, but still.

I mean, yeah I love history and stuff but how much of ruins can you see?

And why are people so excited about the place?

It turned out that there a completely different world on the other side of the river that crosses the town.

One that has men with dreadlocks, tattoo parlors, thatched cafes with mats and smoothies that turn into beer gardens at night, and of course some casual smoking by the riverside.

This is the reason Hampi is loved by backpackers. But it is even better that still a lot of people don't know about the place.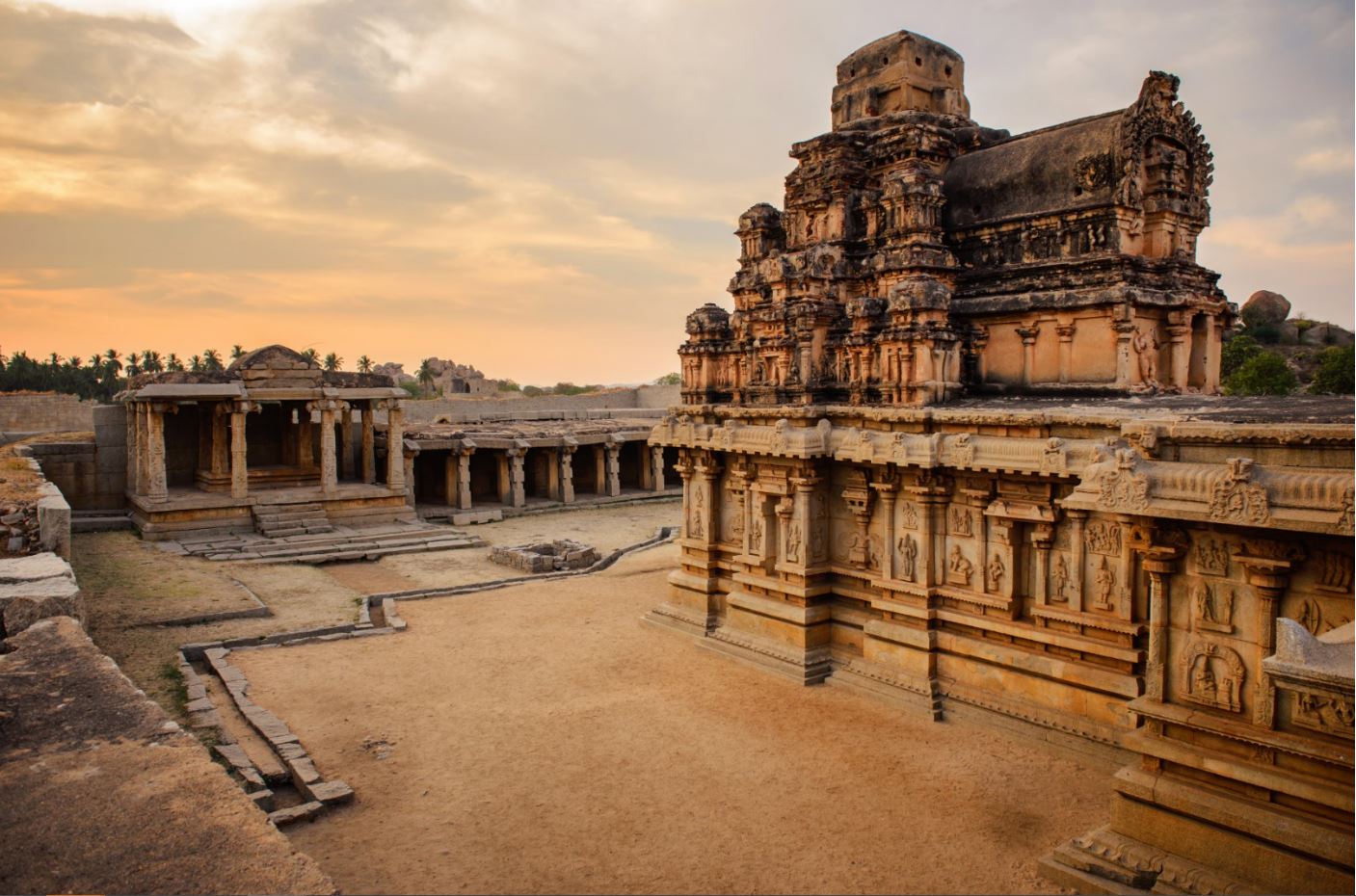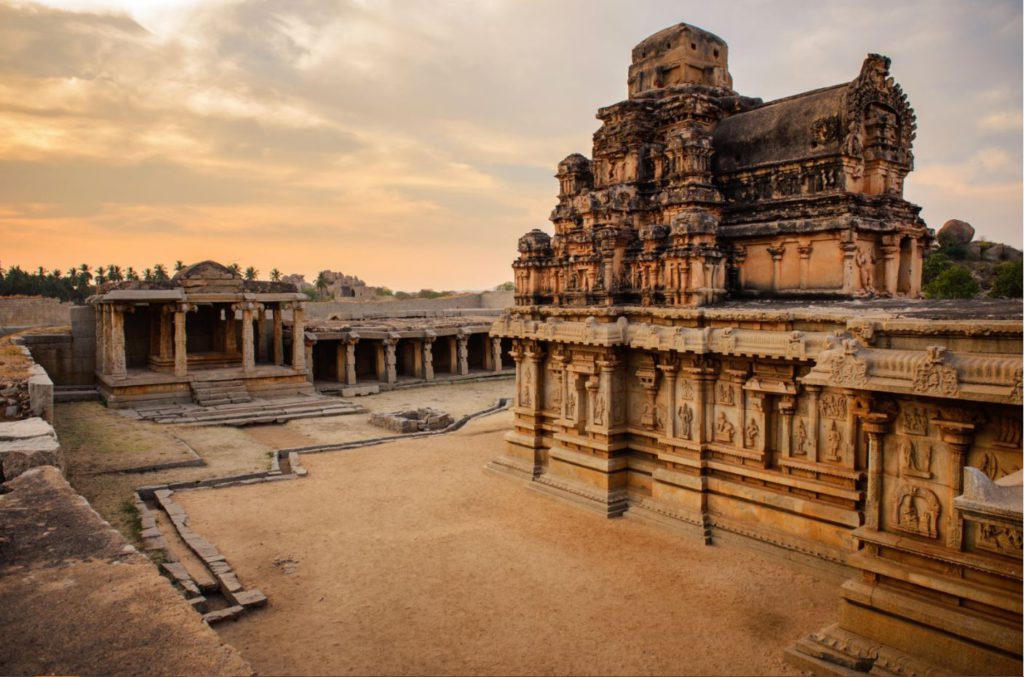 Hampi History
Hampi was a glorious city. In fact, some scriptures of travelers say that it was the second largest city of the east just after Beijing.
Hampi was the capital of the Vijayanagara Empire that ruled a large part of South India in the 14th century. Some of the artifacts in the city date back to the 3rd century. The city was prosperous in its architectural brilliance, a pilgrimage for the locals, and attracted traders from as far as Persia and Europe trading in cotton and spices.
Hampi reached the peak of its glory in the early 16th century. But in 1565, Hampi and Vijayanagara Empire were attacked by five neighboring Deccan Sultanates. They pillaged the markets and left a ghost of the city with ruined temples and lost glory.
Centuries later, Hampi was rediscovered in 1800. Today, it is a UNESCO World Heritage Site. Sometimes even referred to as The Angkor Wat of India. The ruins of Hampi cover an area of 41.5 square kilometers and have approximately 16,000 sites and monuments.
Enjoy History? Read more of the Grandeur of Mysore Palace with a day itinerary to Mysore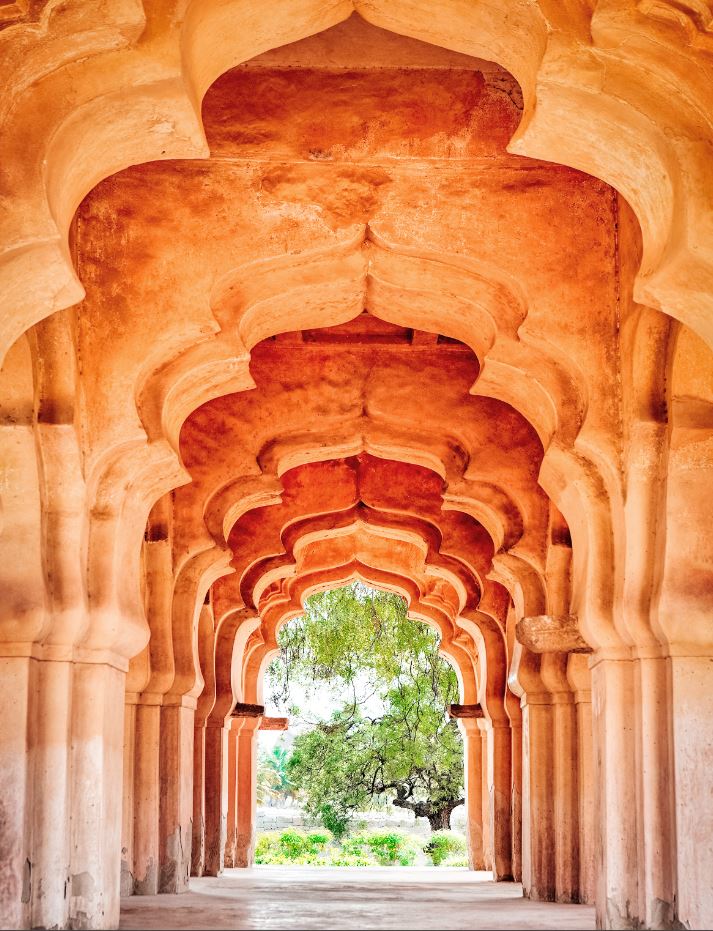 Where is Hampi Located?
Hampi is located in Central East Karnataka near the border of Andhra Pradesh. It is 345 km from Bangalore by road, 371 km from Hyderabad, and around 325 km from Goa. It makes Hampi a center point of all these cities. Hampi is easily accessible from most of the nearby cities by road.
Traveling in Karnataka? Also read about our Perfect Travel Guide to Coorg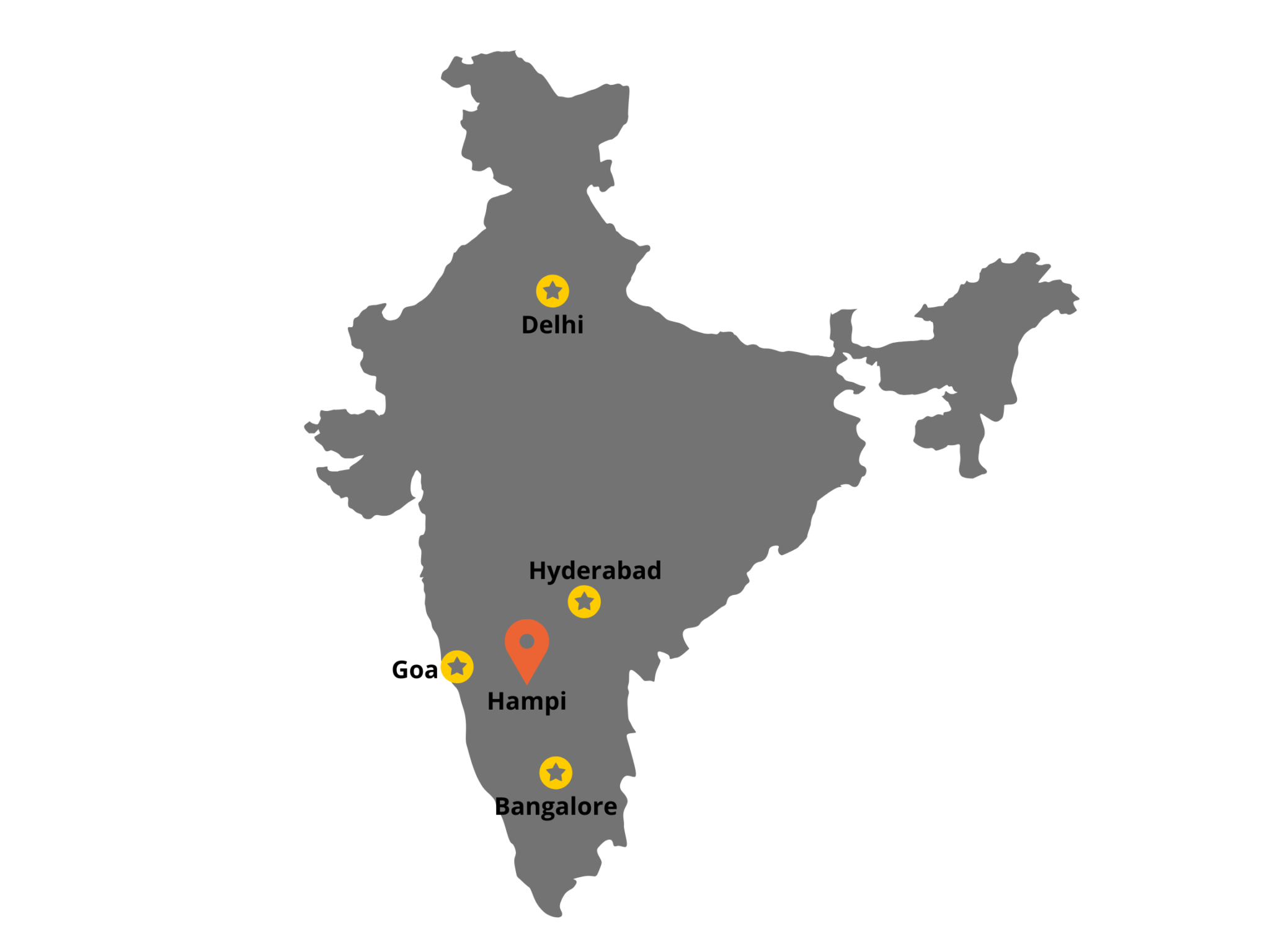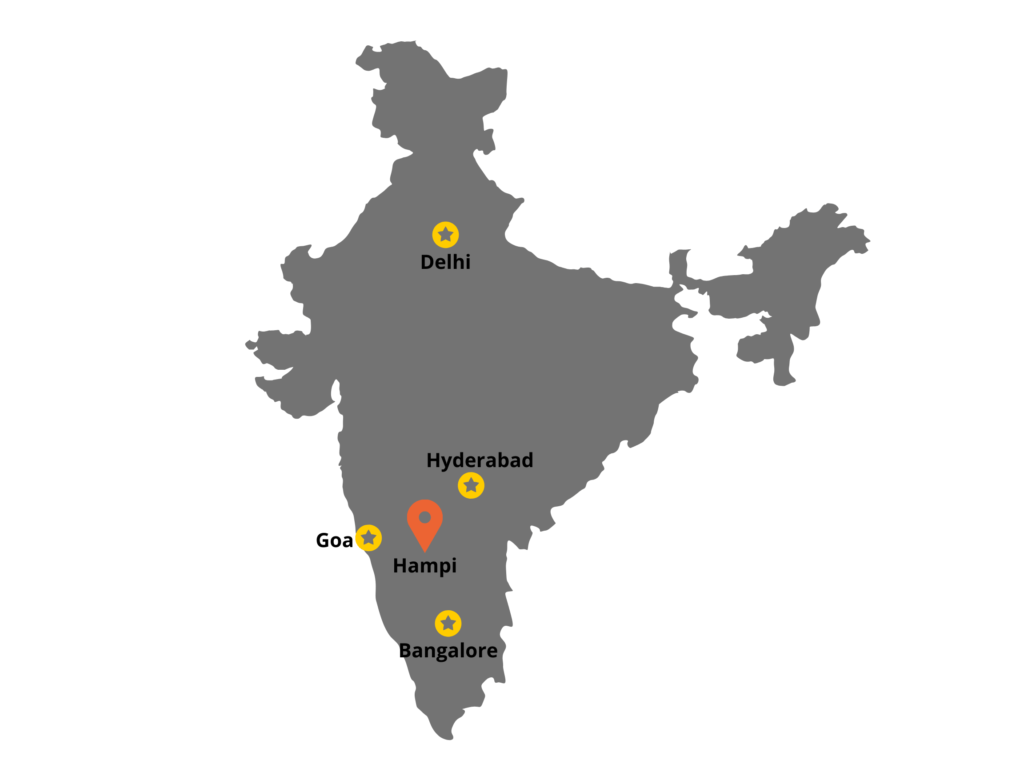 How to reach Hampi
There are very few ways of conveyance that directly go to Hampi. In most cases, you will need to make a stop at Hospet (13 km from Hampi) and switch to a bus or an auto-rickshaw (costs ₹200) from there. You can use the following options for travel:
Bus: Buses are affordable and the best way to travel from nearby cities to Hampi. You can take an overnight sleeper bus from Bangalore, Chennai, Hyderabad, or many other cities. Buses are available with varying degrees of comfort. They stop at some point in the journey for toilets and refreshments.
In most cases, they are safe to travel, even alone. Weekends see a sudden rush in the crowd. It is therefore advisable to book your tickets at least a week in advance. You can book your tickets at redbus.in or abhibus.com. Some buses go till Hospet and you will have to change to another one from there.
Train: While there is no direct train to Hampi, you can take a train to Hospet. From there you can take an auto-rickshaw, a taxi or a bus to Hampi. The frequency of bus decreases after 7 pm and if you need to cross the Tungabhadra river for accommodation, it is better to arrive during the day time.
Trains are comfortable if you choose a 2nd or a 3rd AC compartment. However, leaving your luggage without vigilance is not wise. You can book your tickets on irctc.com or trainman.in. It is also the cheapest way to travel.
Flight: There are no direct flights to Hampi to Hospet. The closest airport to Hampi is Bellary which is 60 km away. Hubli is another airport 143 km away that has more frequent connecting flights compared to other towns.
From the airport, it is best to take a direct cab to Hampi that you can find outside the airport that costs around ₹3000 for the trip. If you have more time, take a train to Hospet from Hubli city and then a bus.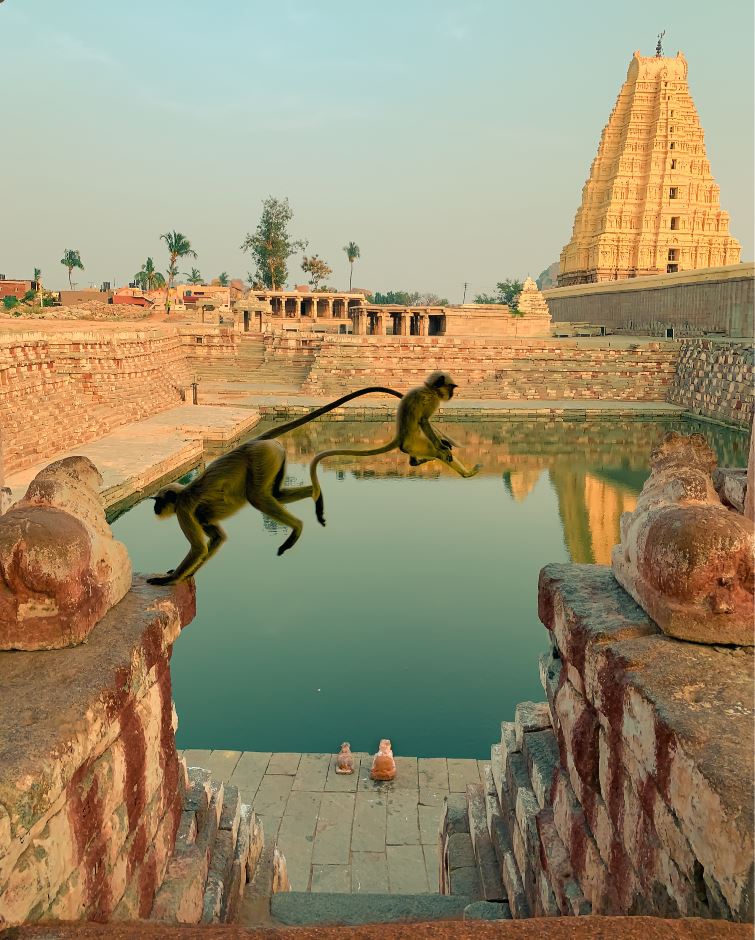 How to move around in Hampi
There are two parts to Hampi which are divided by the Tungabhadra River – the ruins on one side and the settlement on the other side. When you arrive by bus, you will be on the ruins side. The best accommodation options are available on the other side of the river that you will have to cross by boats or coracles.
You can take vehicles across the river on the coracles but it is not worth the trouble. Use two different vehicles to travel around both areas and here is how.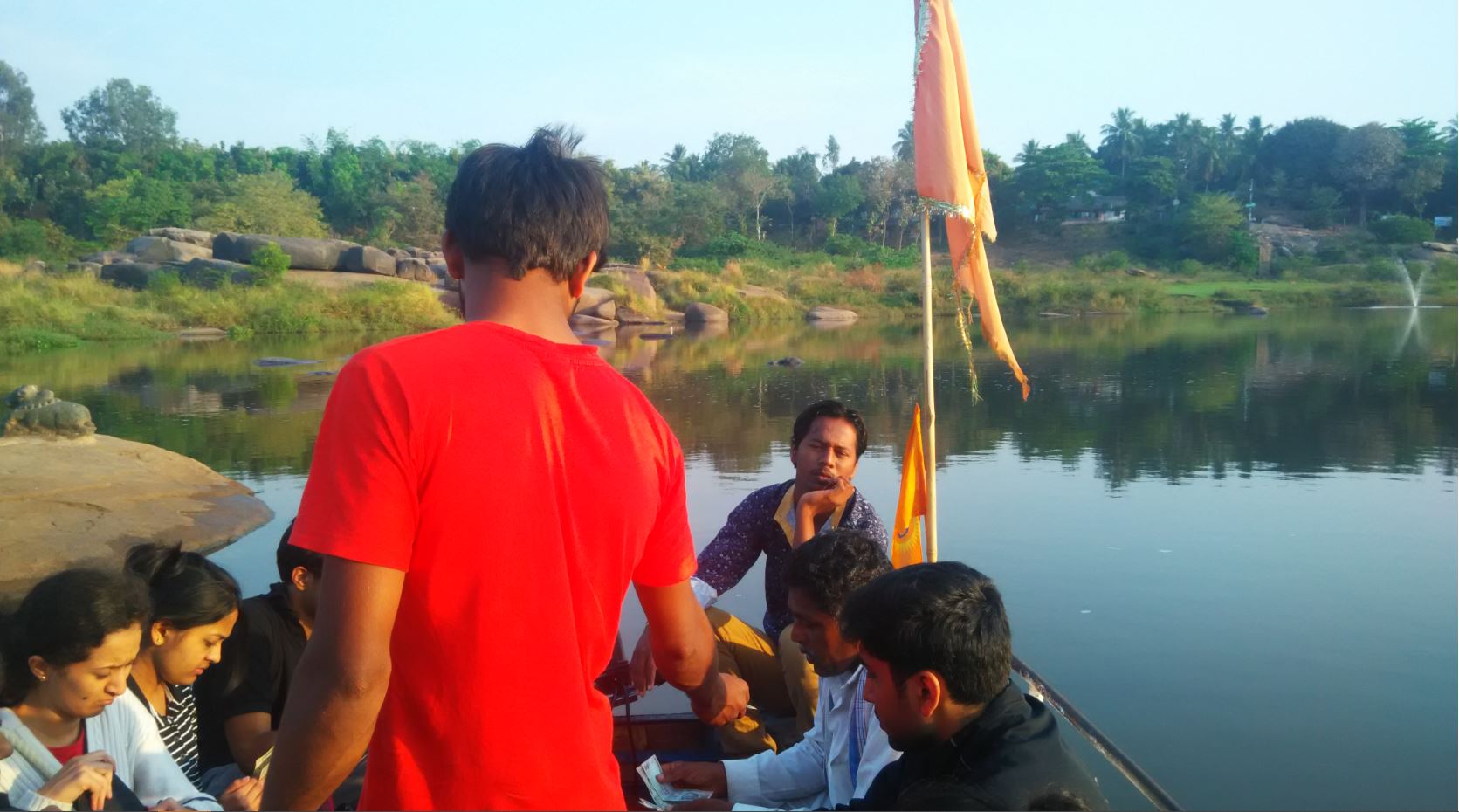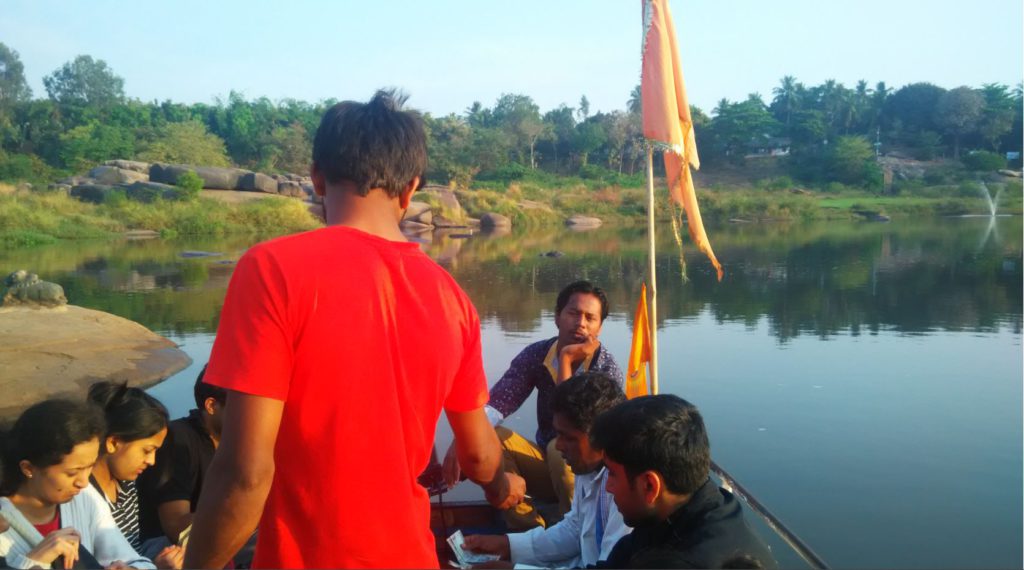 Auto-rickshaw: Use auto-rickshaw for explore the ruins of Hampi on the ruin side of the city. You can find the auto-rickshaw around the bus station or near the Virupaksha Temple. A full day ride will cost you between ₹600-800 for a full rickshaw. The rickshaw drivers often act as a guide for you and can give basic information.
The upside is that they take you to the best places and you don't have to worry about directions. You can customize your itinerary; tell them where to go if you have something specific in mind. Most of the drivers can communicate in Basic English, so you don't have to worry about language barriers.
Note that it can get hot during the mid-day in Hampi. Like sweaty scorching hot! So it is always a good idea to get some cover.
Book a Tour Online: Hampi Half-Day Tour by Tuk Tuk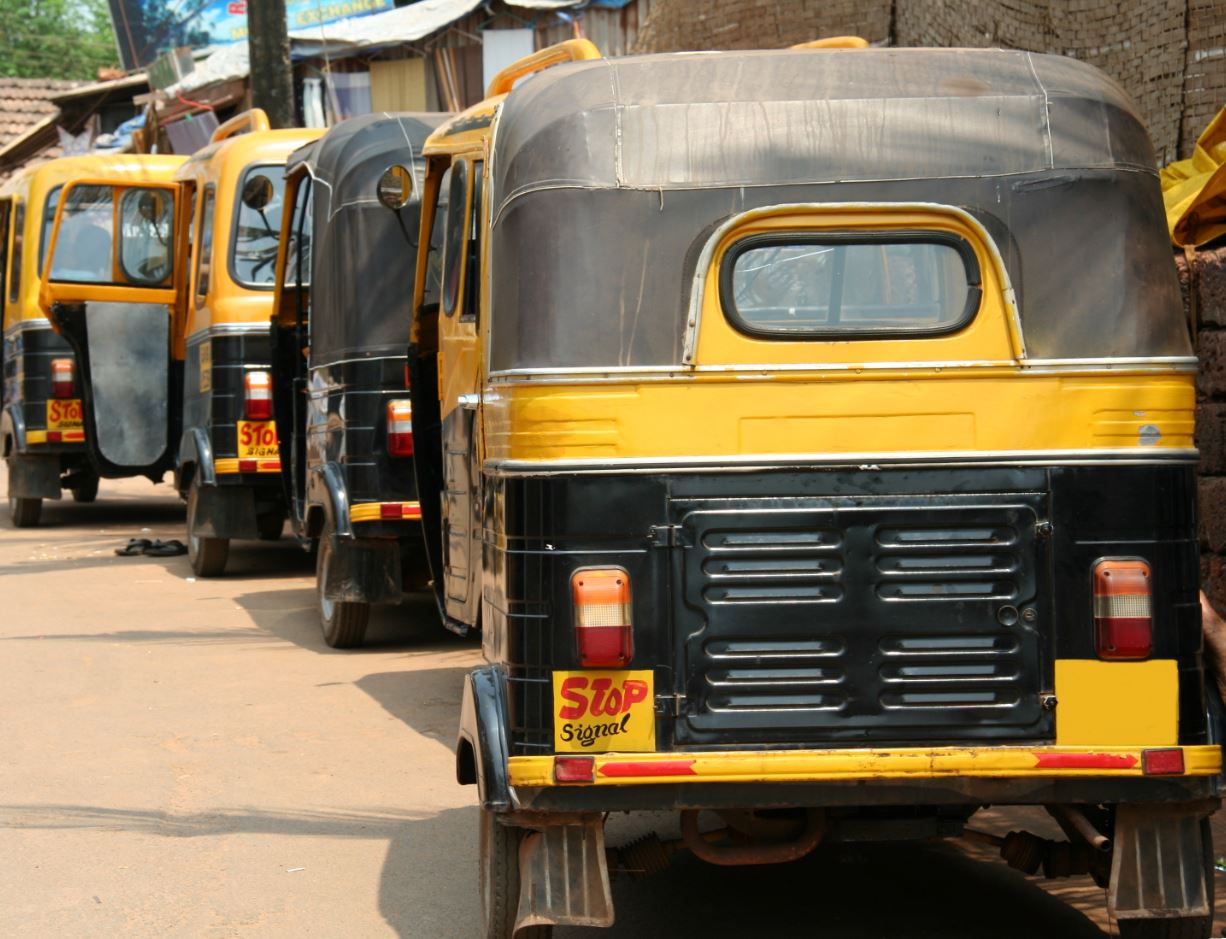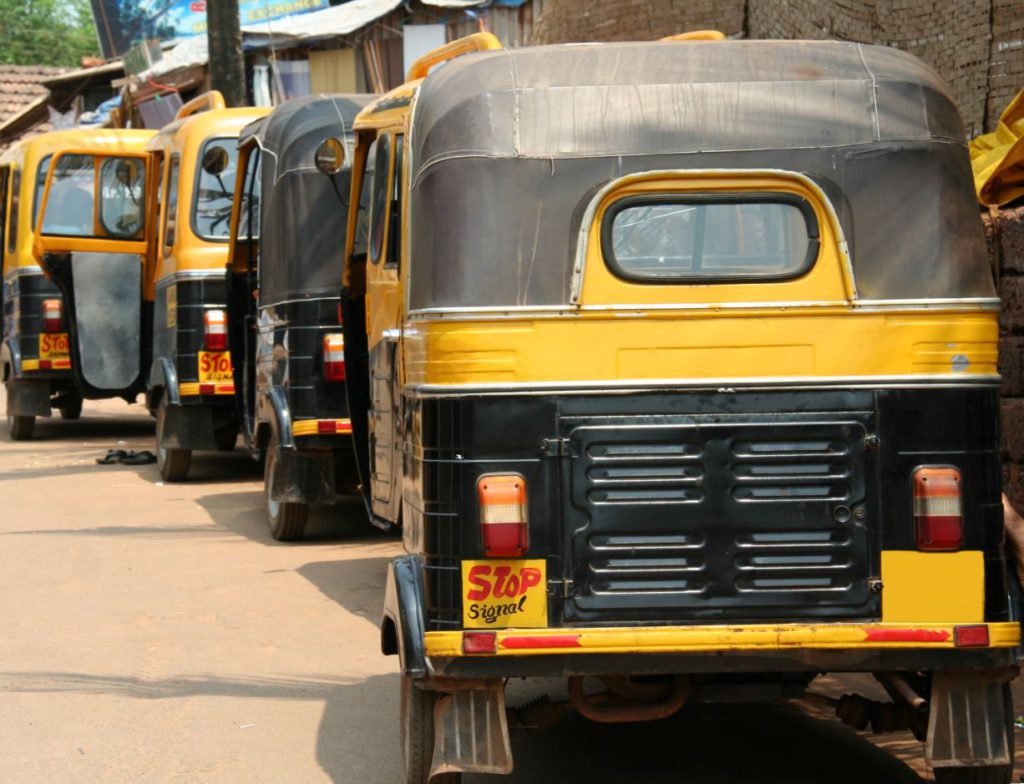 Scooter: Rent a scooter on the other side of the town where you take your accommodation. Surprisingly, there are still a lot of things to do there. But most of the points of attractions are quite far from each other and you need to ride for a while to reach them.
You don't even need a license to hire a scooter. But you should understand that driving in India is well… different from driving in other parts of the world. You can rent a scooter (of 100-150cc) at one of the rental shops in the town or you can ask your hotel manager to arrange one for you.
A scooter costs ₹400 for a day with some fuel. Keep additional fuel just in case since finding a fuel station is a bit of trouble. A bottle of petrol costs ₹100 for a liter.
Bicycle: It is not uncommon to hire a bicycle as well. A ride across the paddy farms and through the sandy boulder rocks would be a sweet experience but only in the cooler hours of the day. A bicycle will cost you ₹100 a day at the rental shops.
Book a Bicycle tour Online: Hampi Half Day Bicycle Tour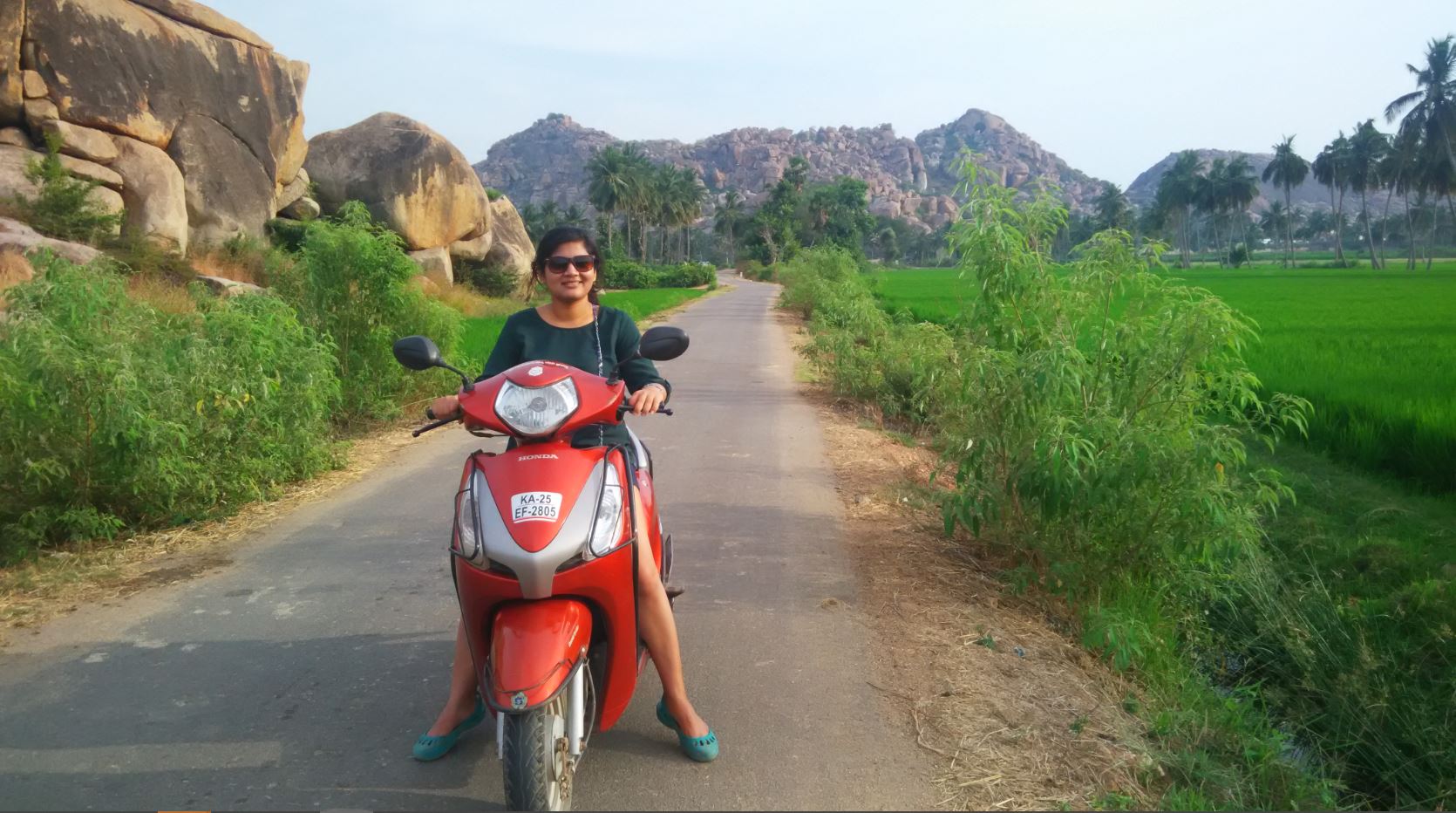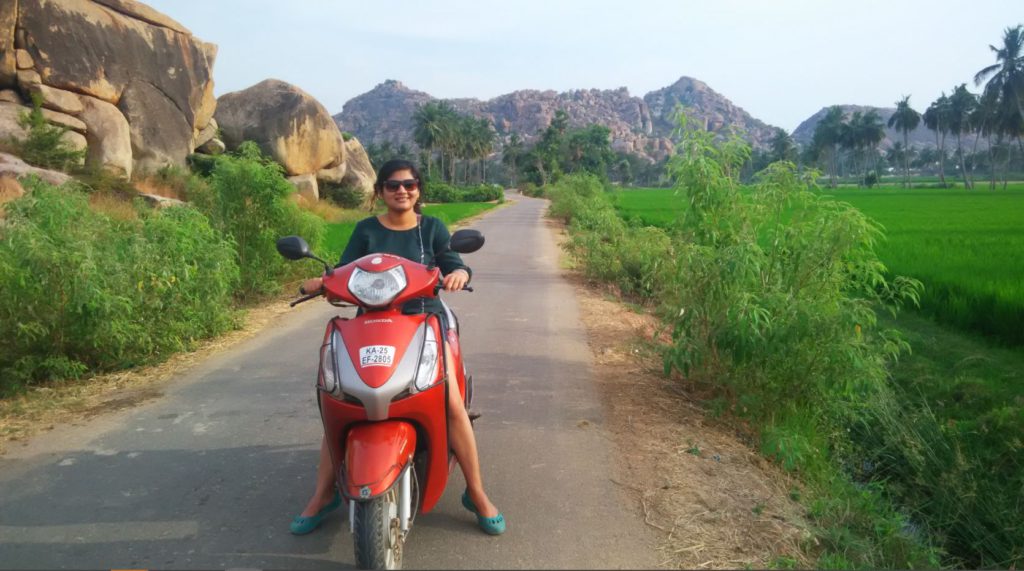 What to do in Hampi
Hampi temple ruins
Hampi ruins are the center point of the glamour of the town. And they are rather glorious considering they were built before the 14th century. Apart from a characteristic architectural style, a common element of sand-colored granite binds everything together. And since the boulders and hills around Hampi town carry the same texture, I guess you know where the buildings come from.
There are around 85 sites inside the Hampi ruin complex that is worth visiting. You may not be able to do it in a single day. In fact, for someone who really wants to delve deep in the ruins, it may take up to 3 days to see everything.
Book a Private tour Online: Hampi Heritage Private Half Day Tour
I am adding a map with marked locations if you are looking to do a DIY trip. I think these places are the best of the ruins and must not be missed.
The whole city is divided into three parts: The sacred center, the royal center, and the urban core. The sacred center is where most of the temples are located that even date way back from the 14th century. The royal center has the ruins from the royal palace, queen's bath, and household. The urban core has public baths, water tanks, mandapas, and markets.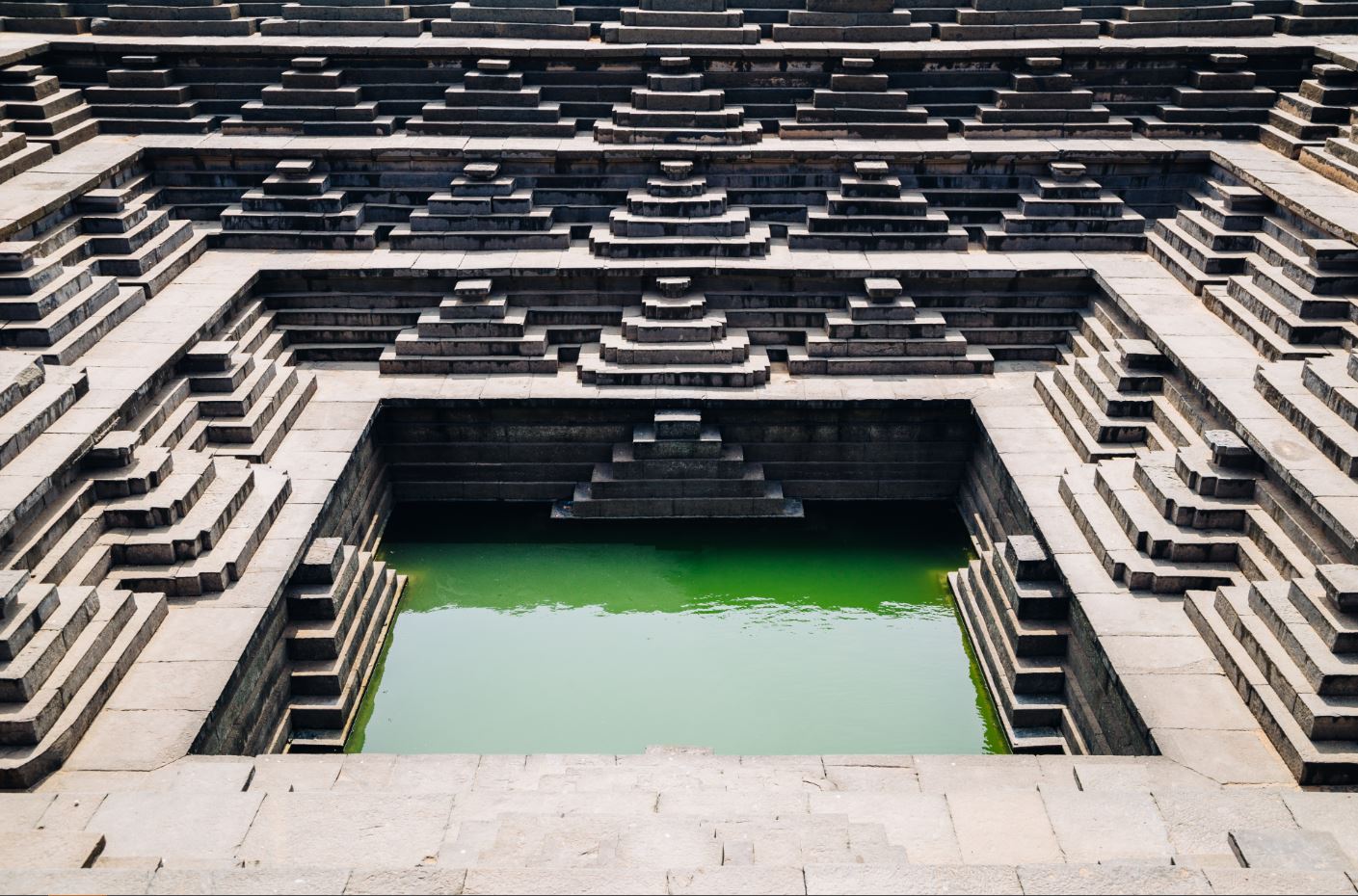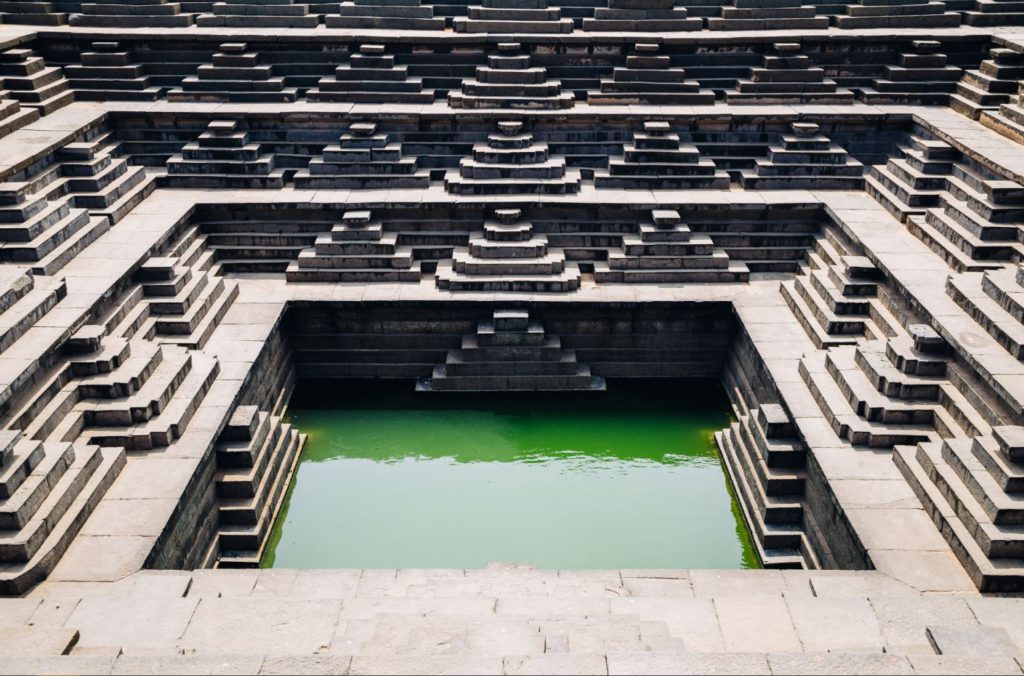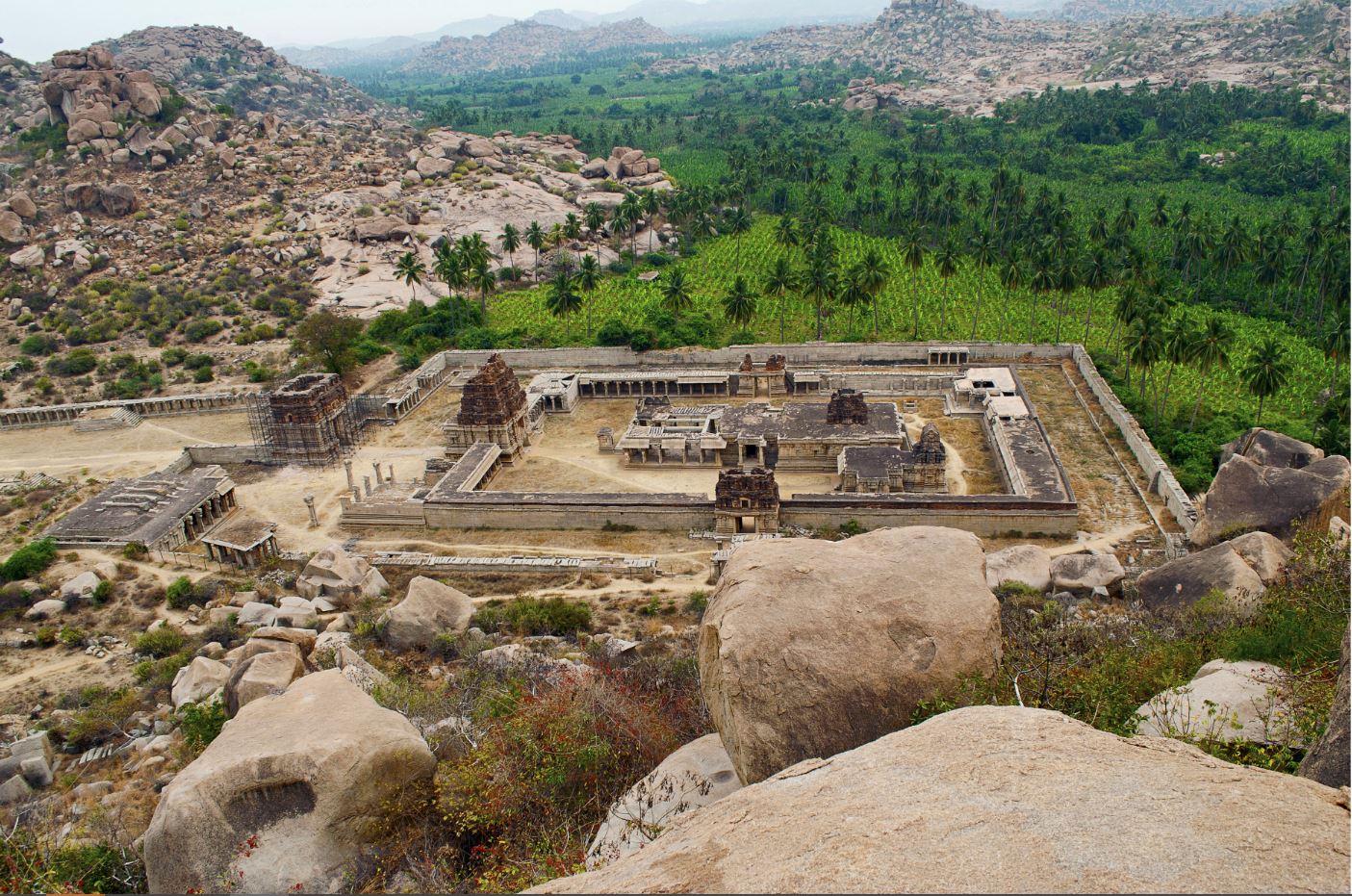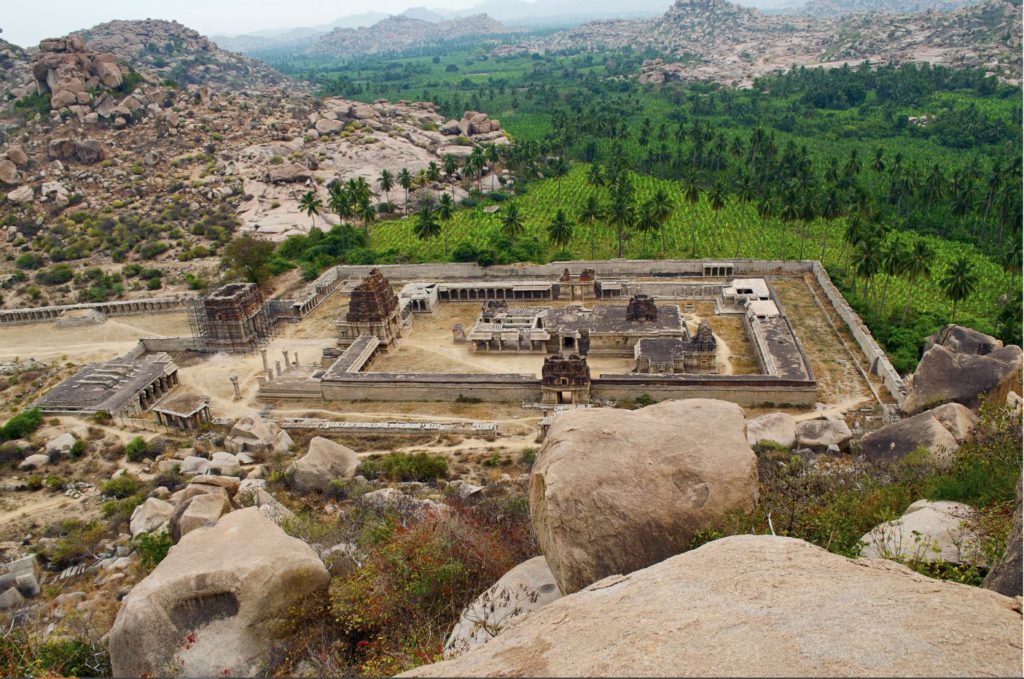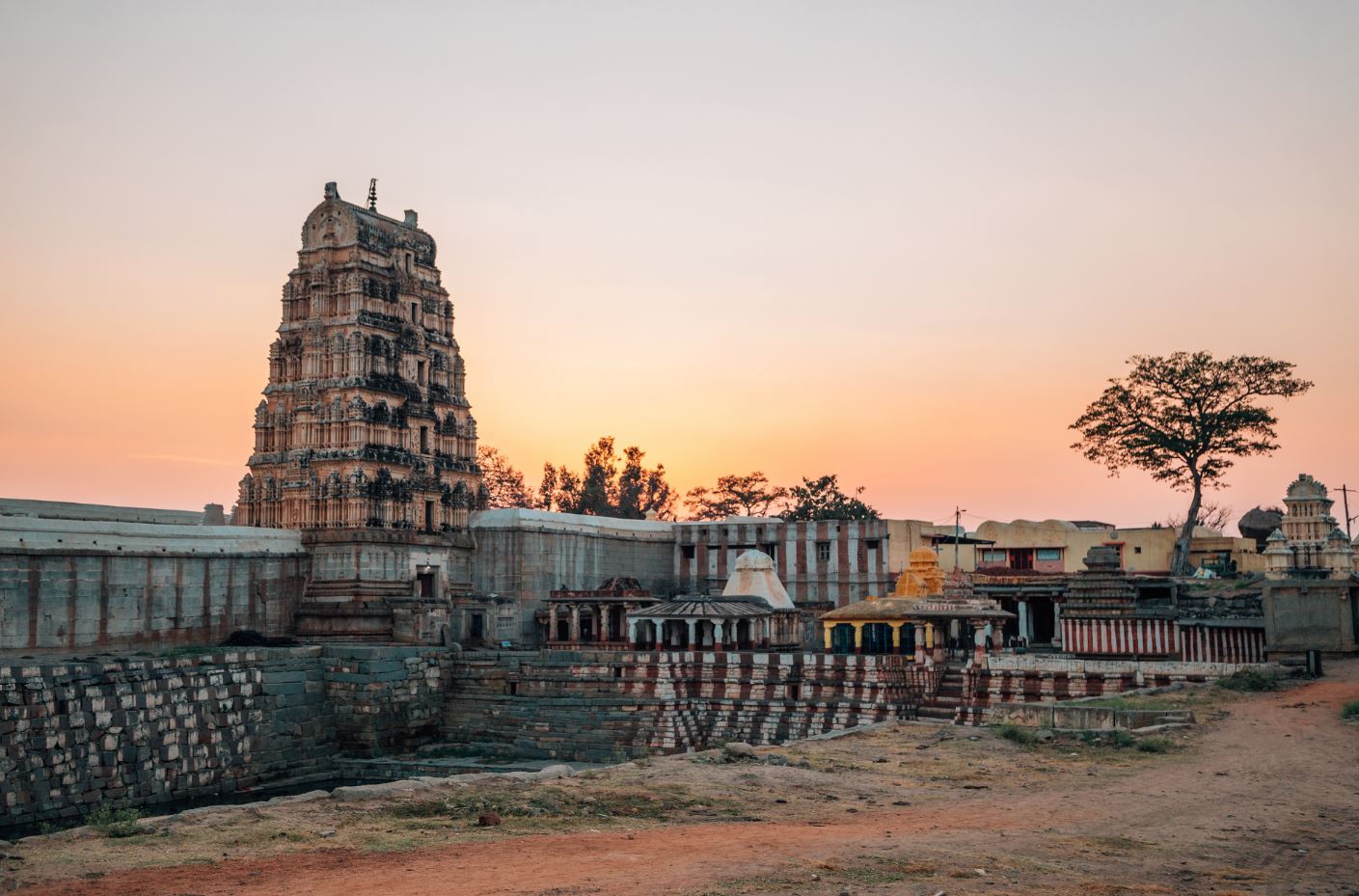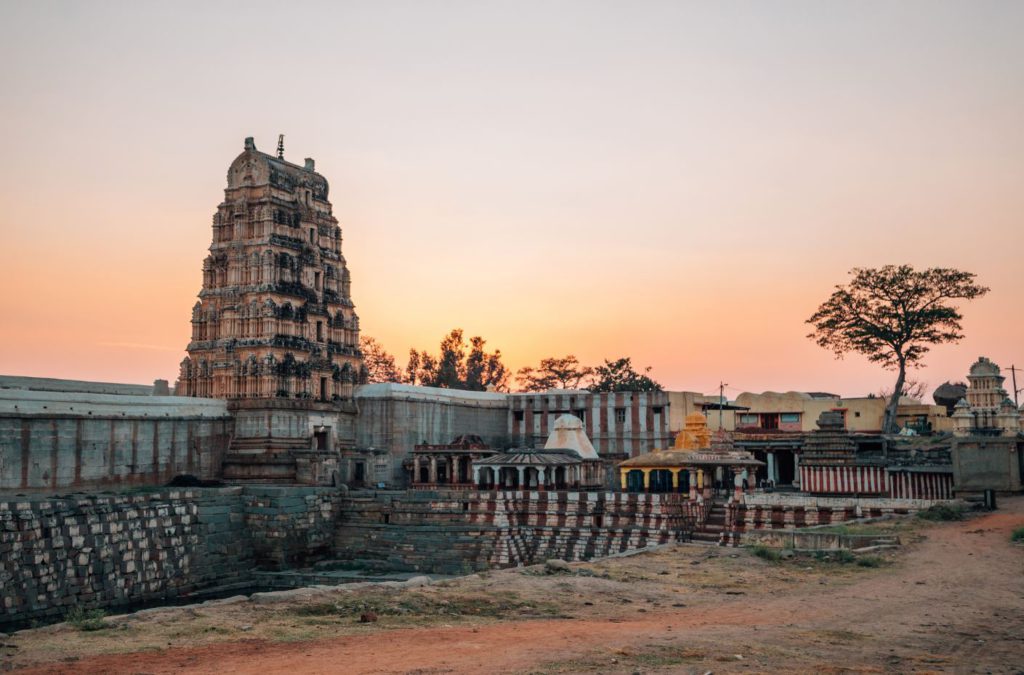 The Sacred Center
The most important temple structure in the town is the Virupaksha Temple, right next to the Tungabhadra river where you will cross over to the other side. The temple itself has a huge and gorgeous entrance in Dravidian style with elaborate sculptures of deities. Make sure you cover yourself on shoulders and till knees before you enter.
There are many more temples around this area with a similar architectural style. The peripheral is a lobby curtailed by a series of pillars. Then there is the inner sanctum that will contain a statue of a deity from the Hindu mythology. Shoes and cameras are usually not permitted inside.
Now, you may or may not understand the significance of some of these places. I feel it is always better to get a guide at historical locations or it may leave you with the feeling of 'meh…'.
The Vitthala temple complex is one of the largest in the area that spreads over 3 km. The architecture can be described as the most sophisticated in the town. The garuda shrine in the shape of a chariot in the middle of the courtyard is perhaps one of the most photographed elements.
This is one of the few complexes that charge tourists for entrance. Indian tourist needs to pay ₹40 and foreign tourists ₹500 per person to enter.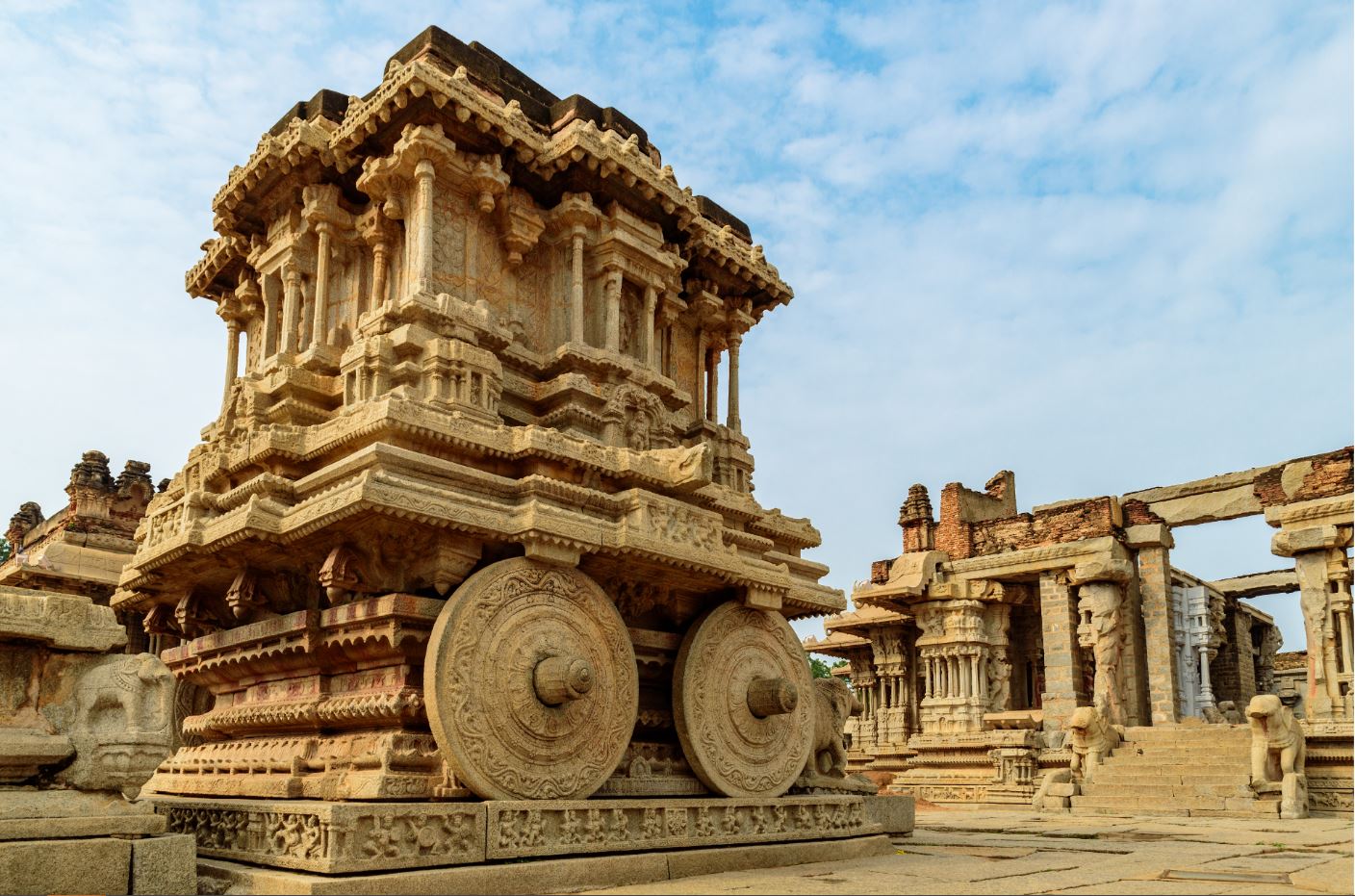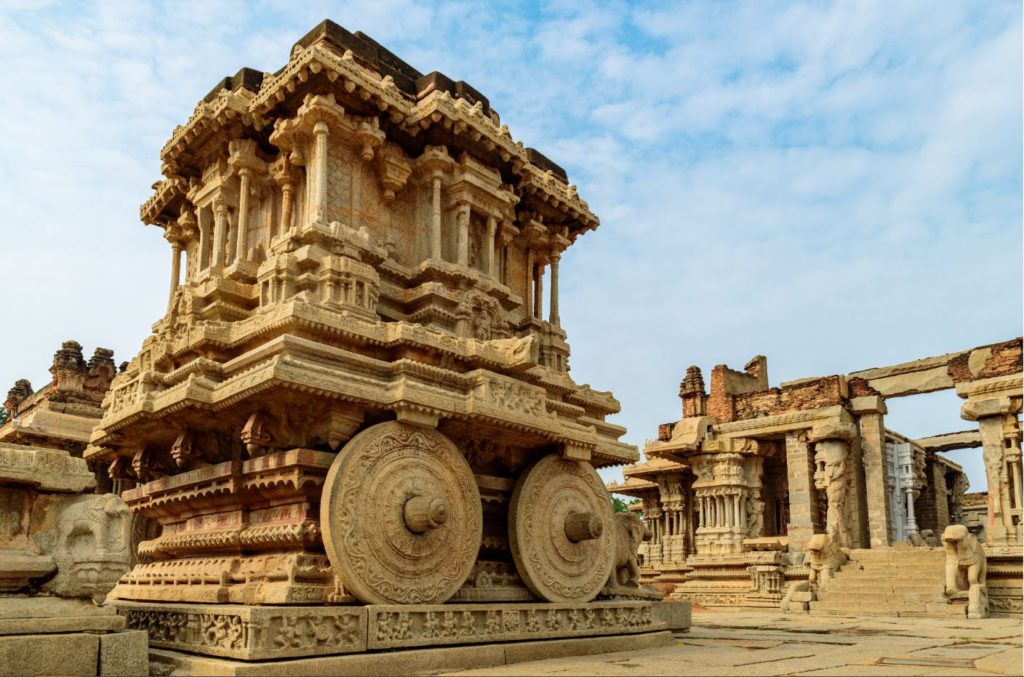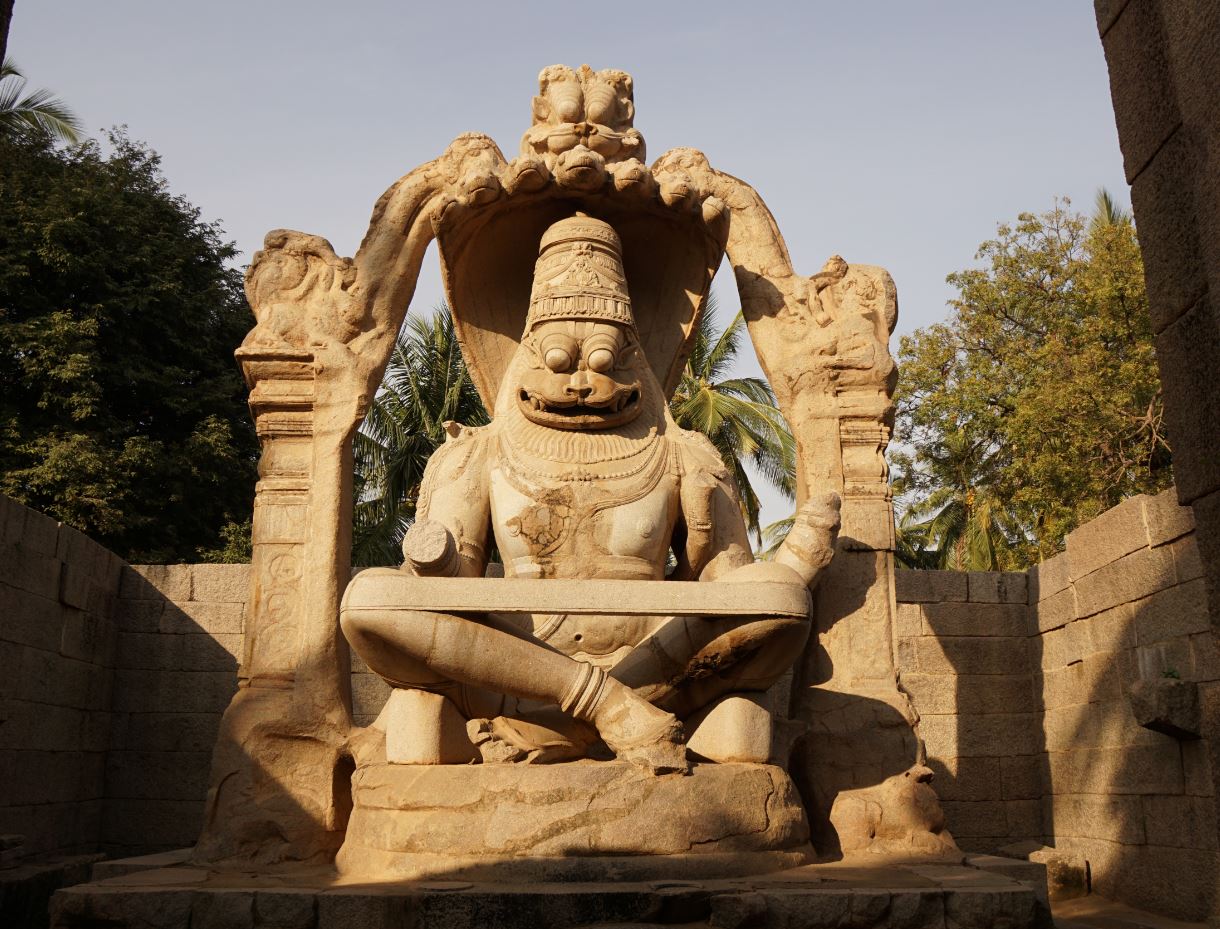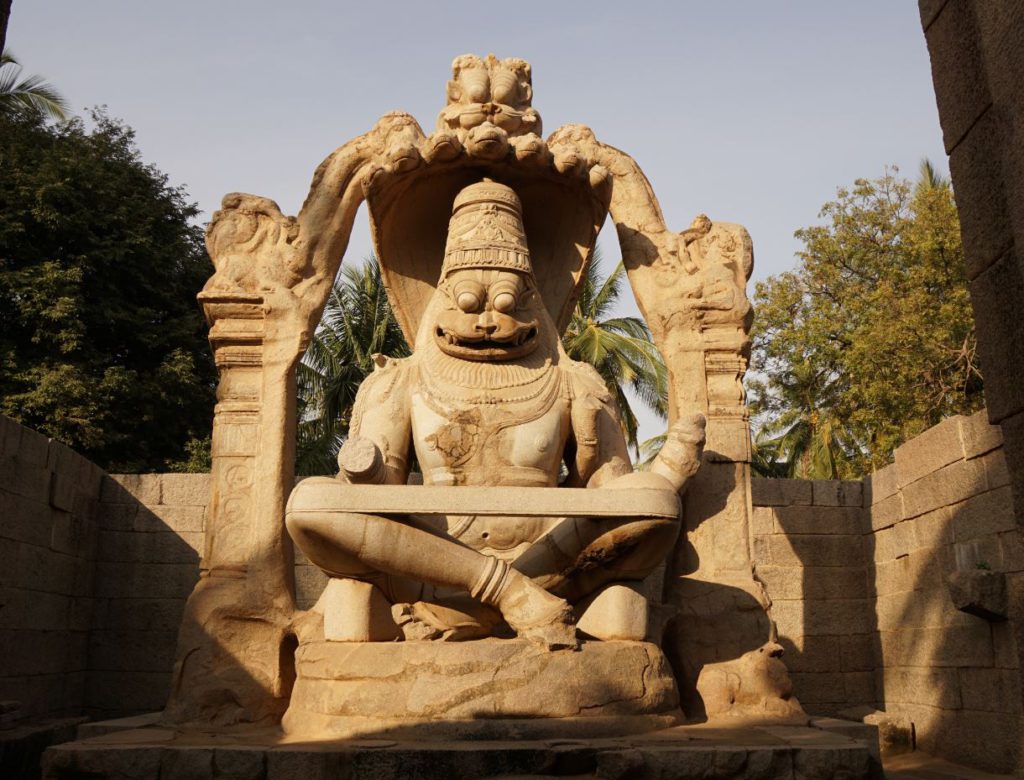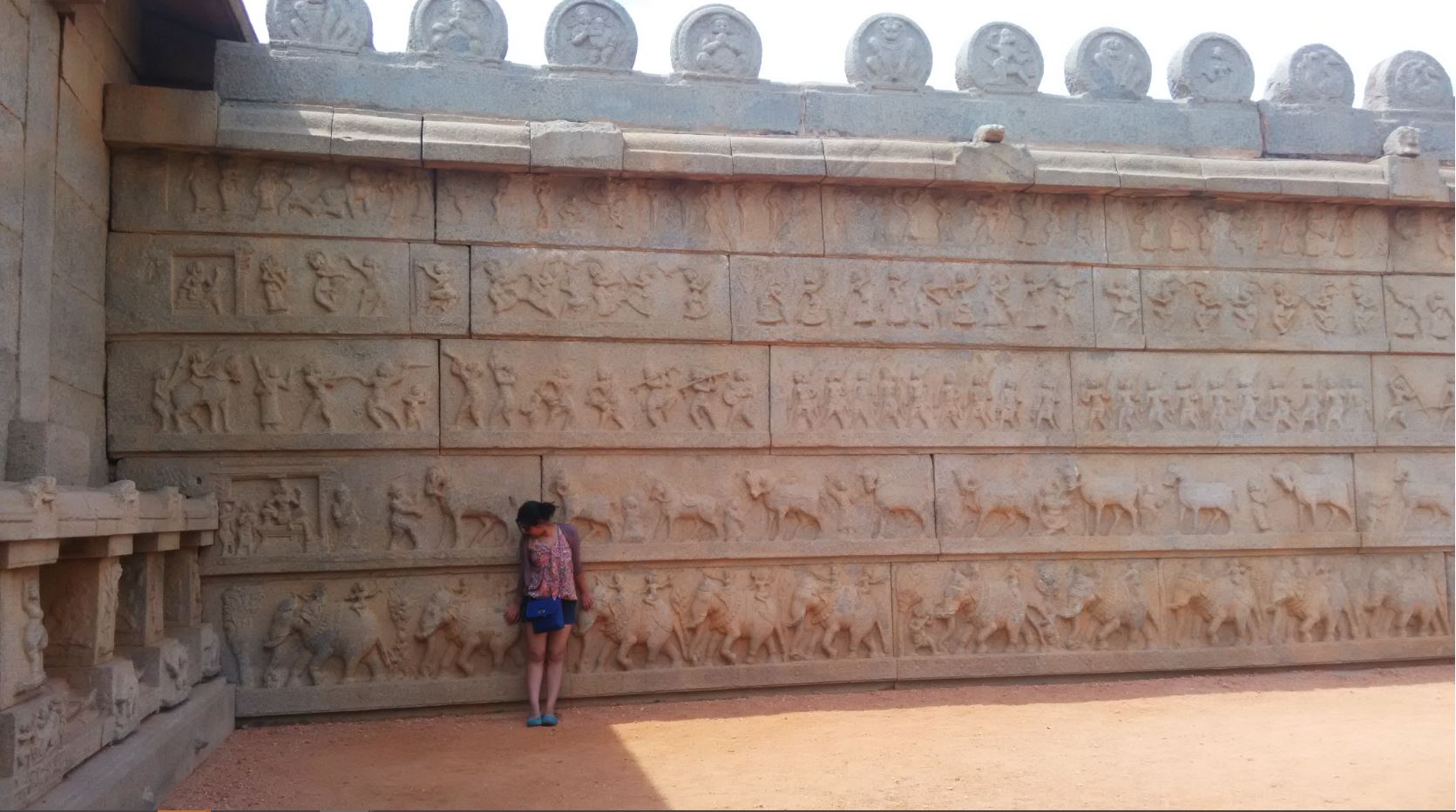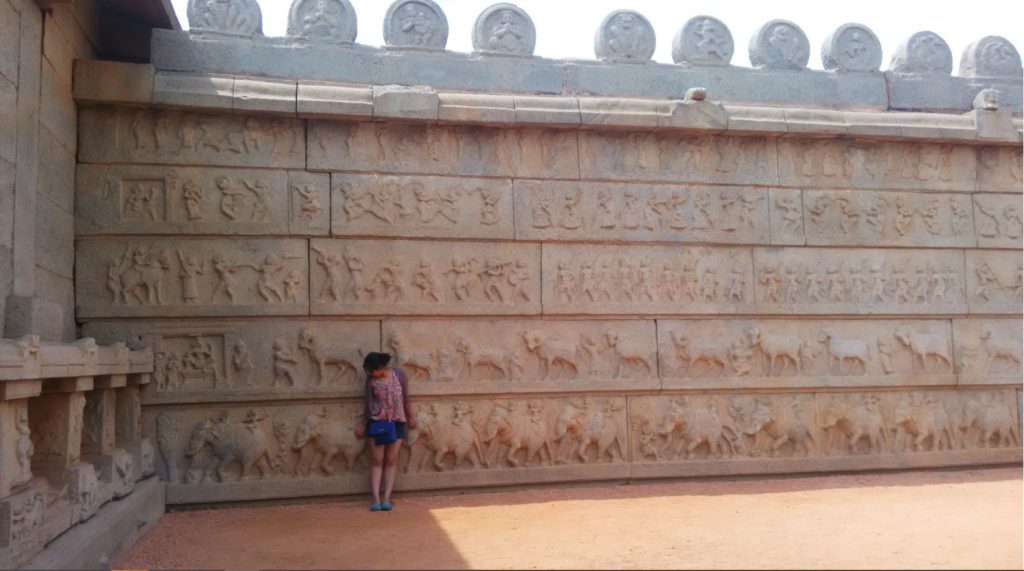 The Royal Center
But my favorite part was the royal center. The Queen's bath luckily was almost intact. Your guide may take you through a story of how queen with her maidens prepared for the bath. The elephant's stable are unbelievably large and so lovely. Like elephants lived in better homes than humans! There there is the lotus mahal, made in the feminine and fluid shapes of a flower.
The public baths were another place with start precision in geometric architecture. There are huge walls that talk about the Dasara and Holi procession in the city and an underground temple half-submerged in water.
The archaeological museum ended the trip for us with a detailed description of everything we just saw. Did you know that women did not wear garments to cover up their upper half of the body? It made me feel, how much society has changed. What was once normal is now associated with shame. I guess I will never be able to explain all of it. Better see it for yourself.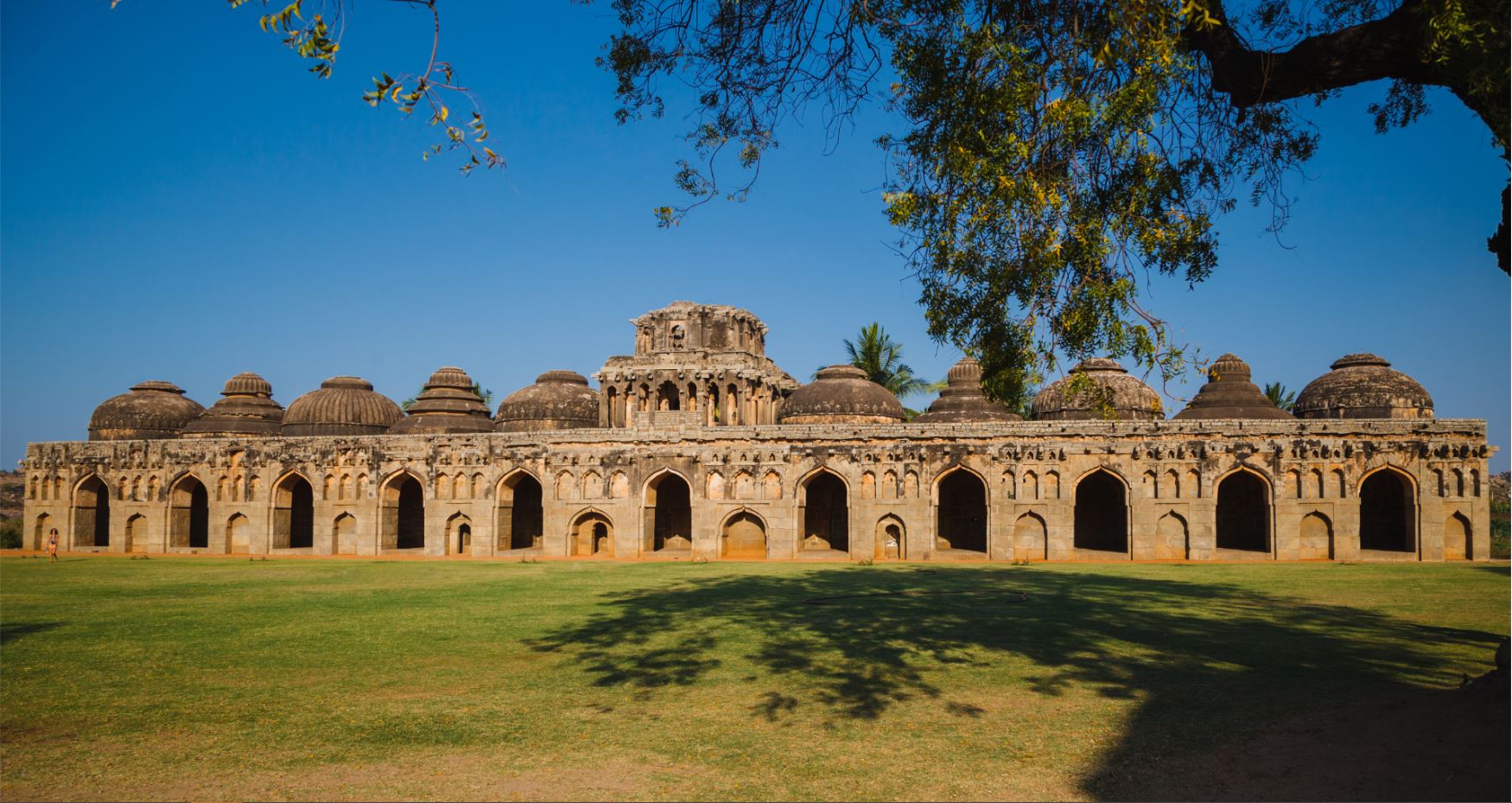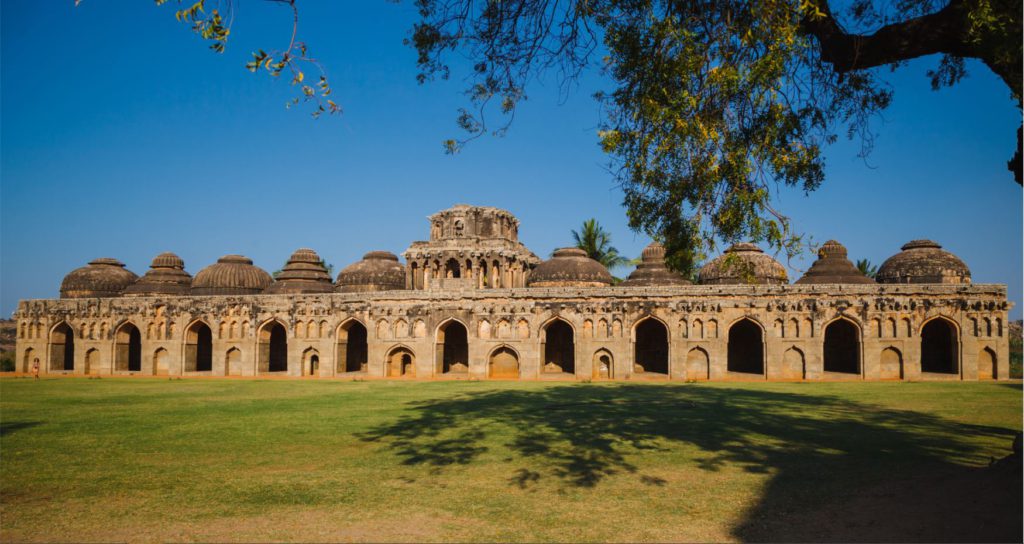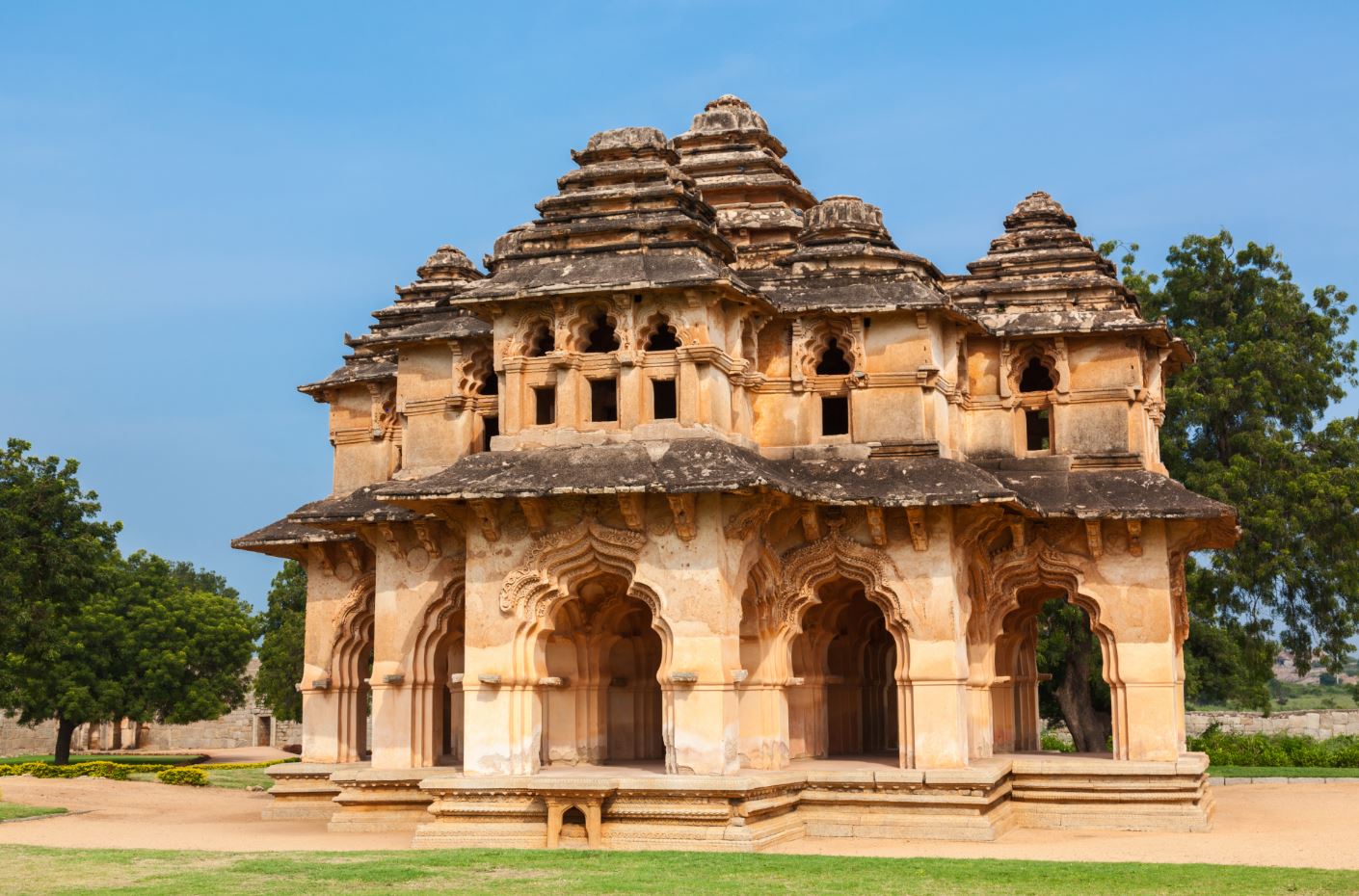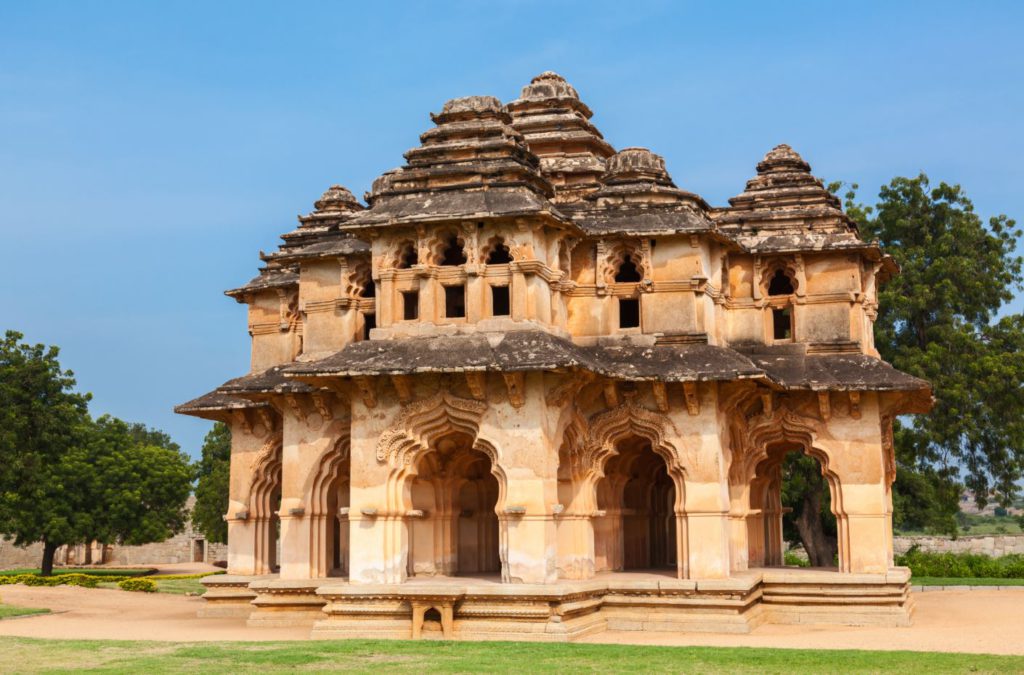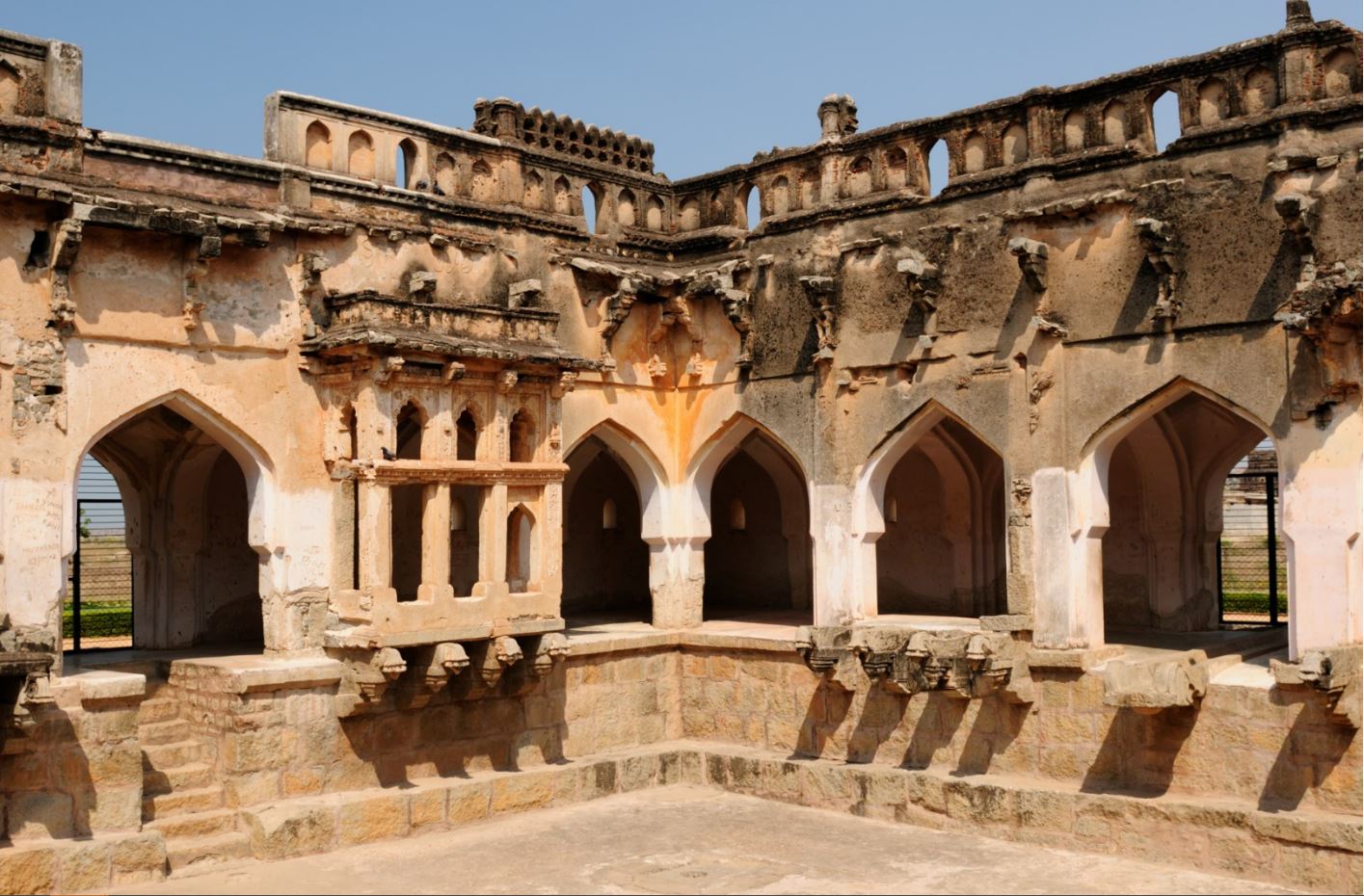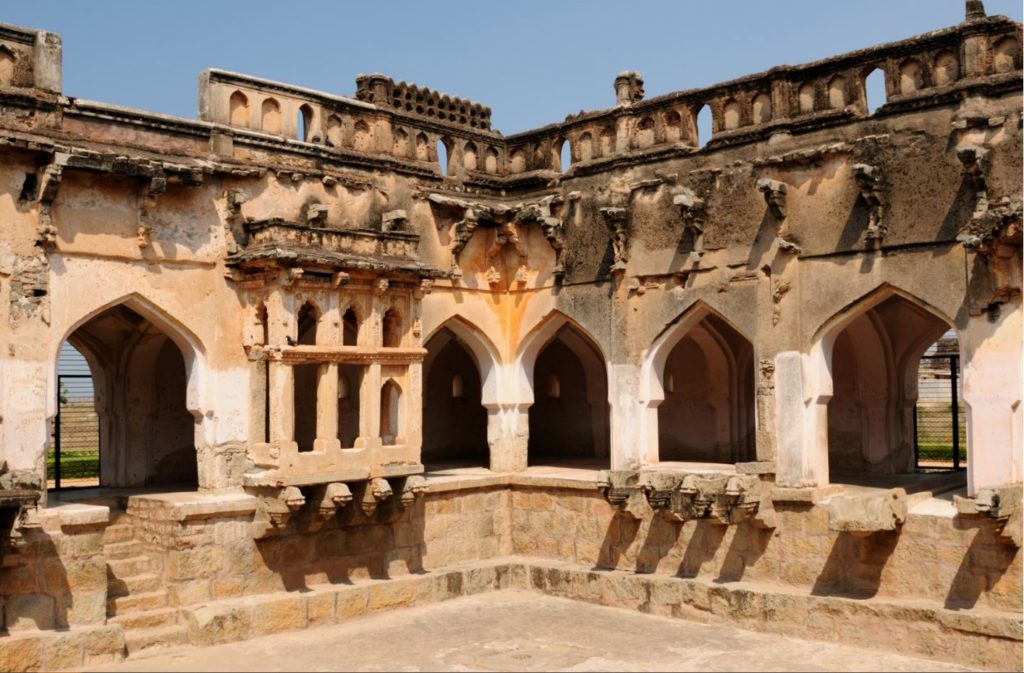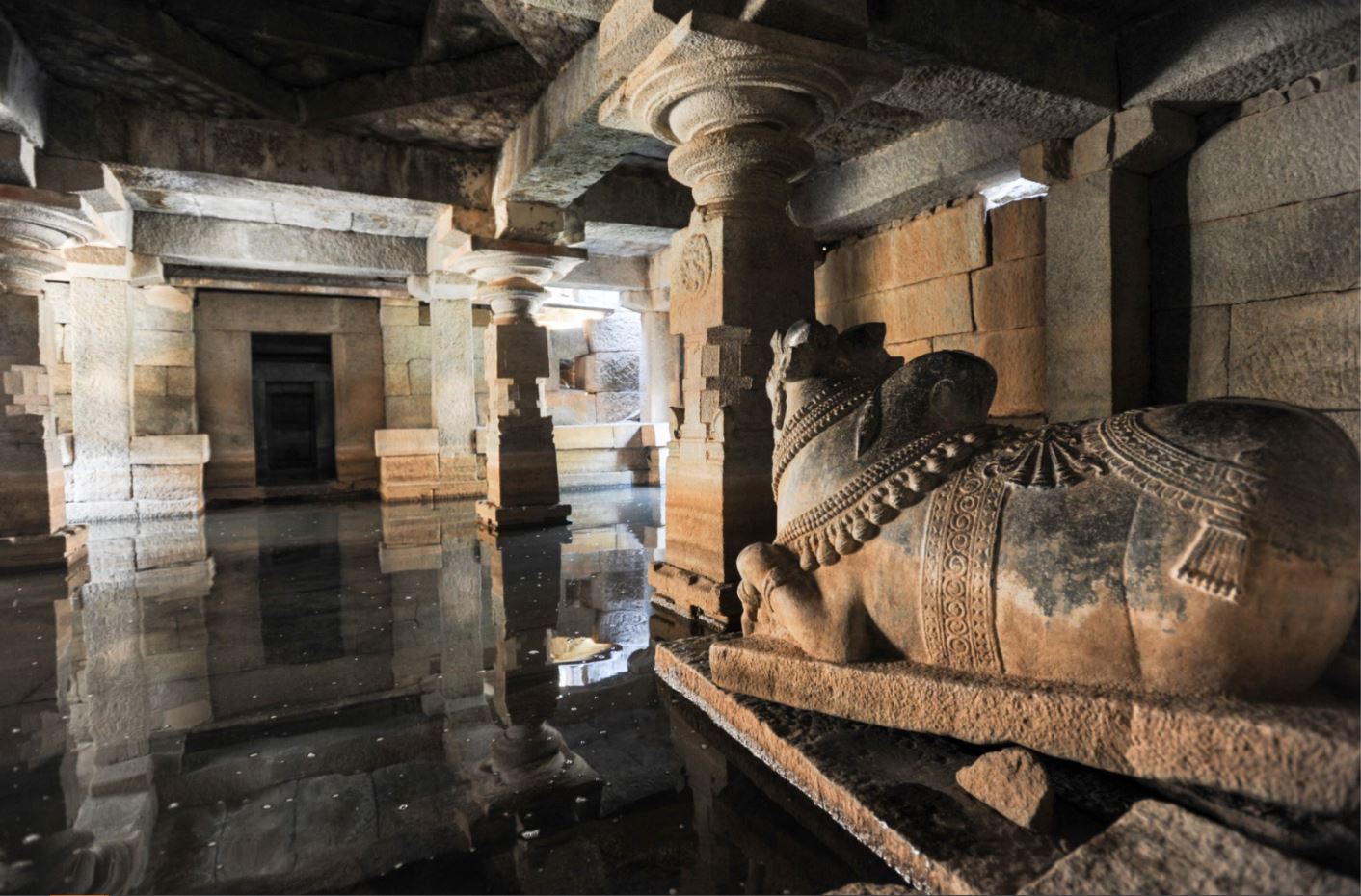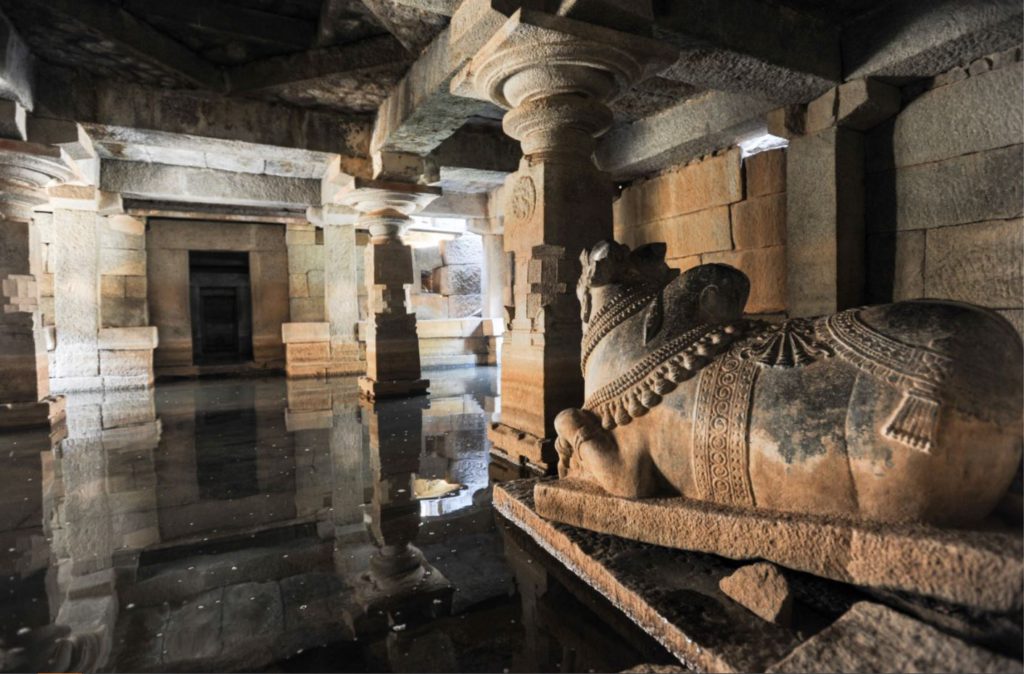 The Hippie Culture
As you cross over to the other side of Hampi, it is like walking into a different dimension. And things get even better at night.
Some of the shacks and restaurants organize 'themed' evenings. That may include theme-based cuisine or live music. Screening of movies on the projector for the public is also a common feature at many hostels or restaurants. Anyone can join. And mind you, the movies are a great pick.
The food is probably the best of the lot. Most of the restaurants have customized their menu to suit the western tourists. You can easily find American, European, and Israeli food at most restaurants. It may not be authentic, but it sure is affordable.
Rows of shops also line the street selling handicrafts, garments in ethnic Indians prints, paintings, tattoo parlors, and tobacco shops selling 'everything you want'. The only place I can compare Hampi in South India is Gokarna and maybe a bit of Varkala with the hippie culture.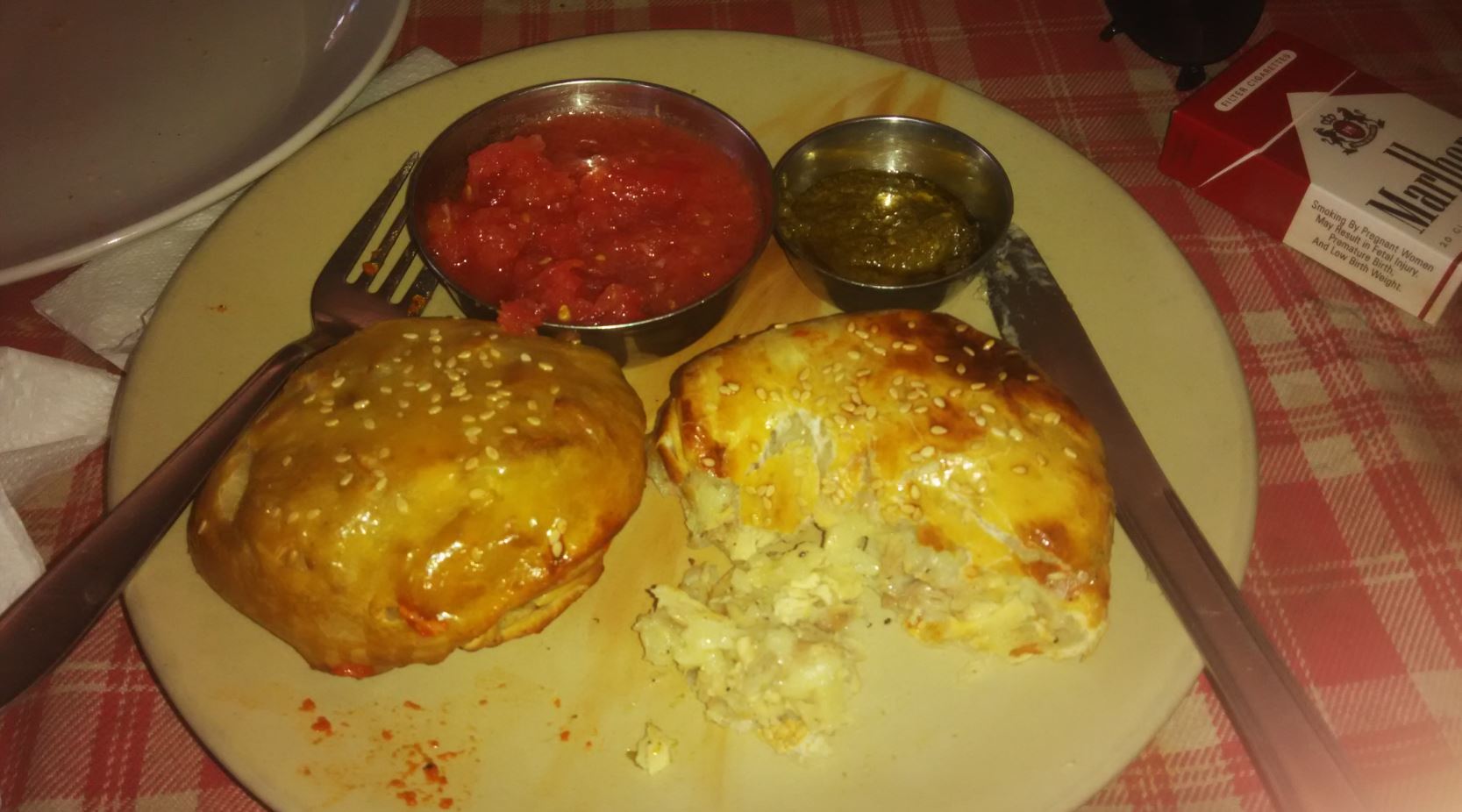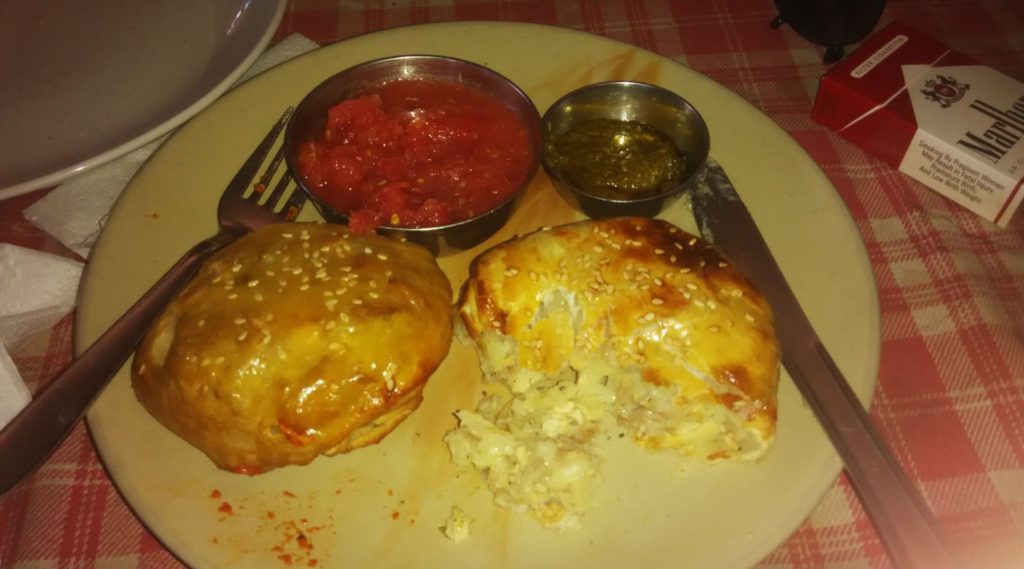 Other places to see
Apart from the ruins, there are a few other places in Hampi worth seeing as well. If you are living on the other side of the river, just rent a scooter and hop on for a ride.
One of the best places to watch a sunset in Hampi is Anjaneya Hill. Folklore claims this place to be the birthplace of Hanuman, an important character in Ramayana. A small temple at the top commemorates the belief.
The cache is that it is quite a climb to reach the top and take about 45 minutes for the journey. The view of the surrounding paddy fields is gratifying in the end.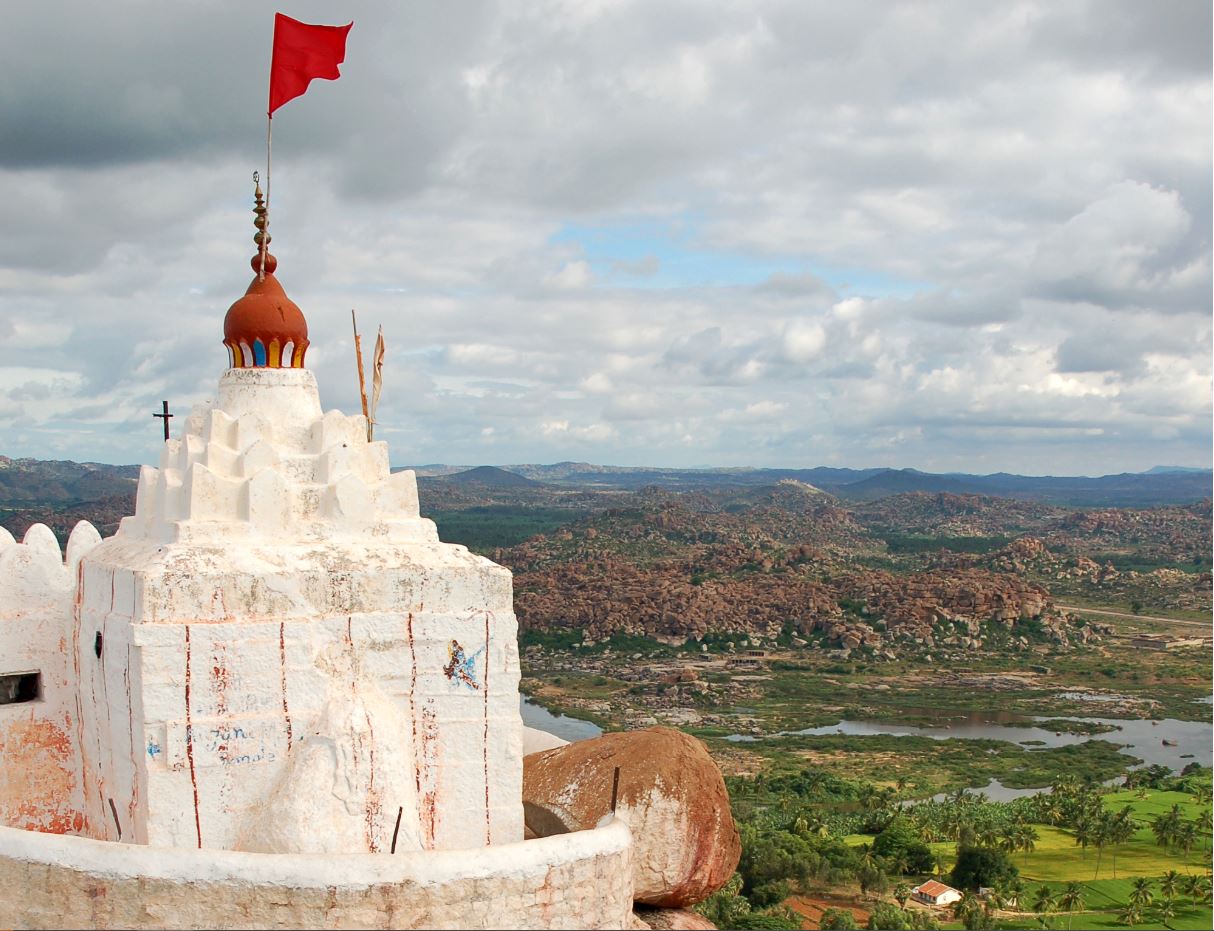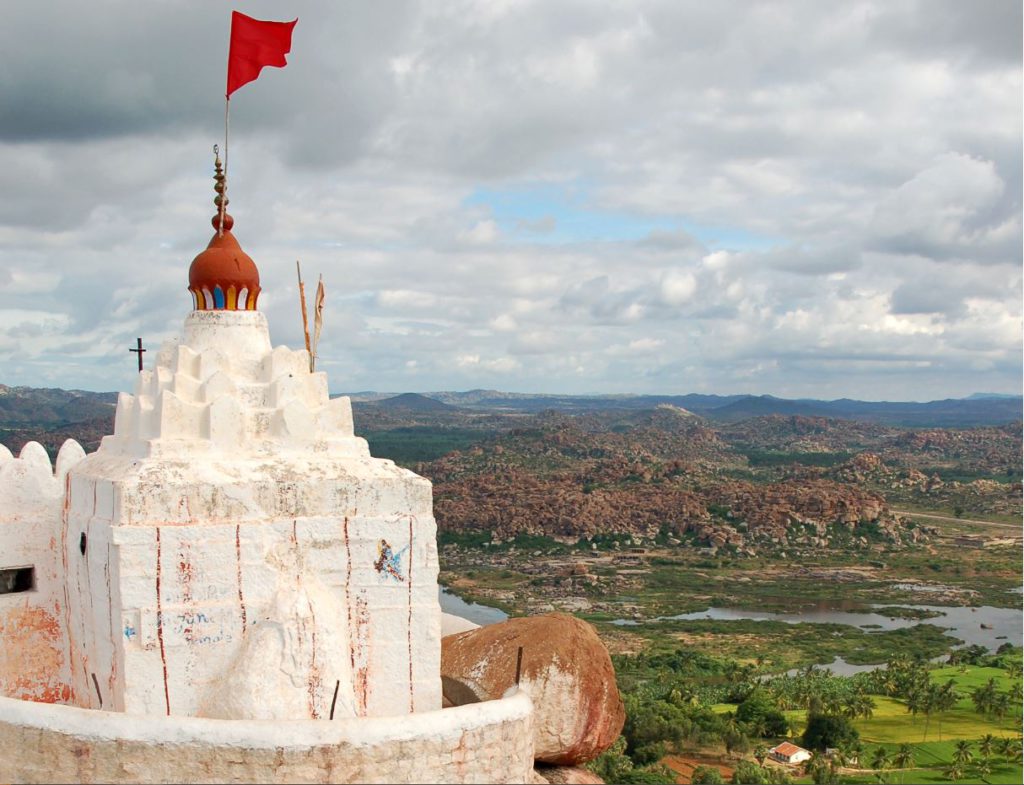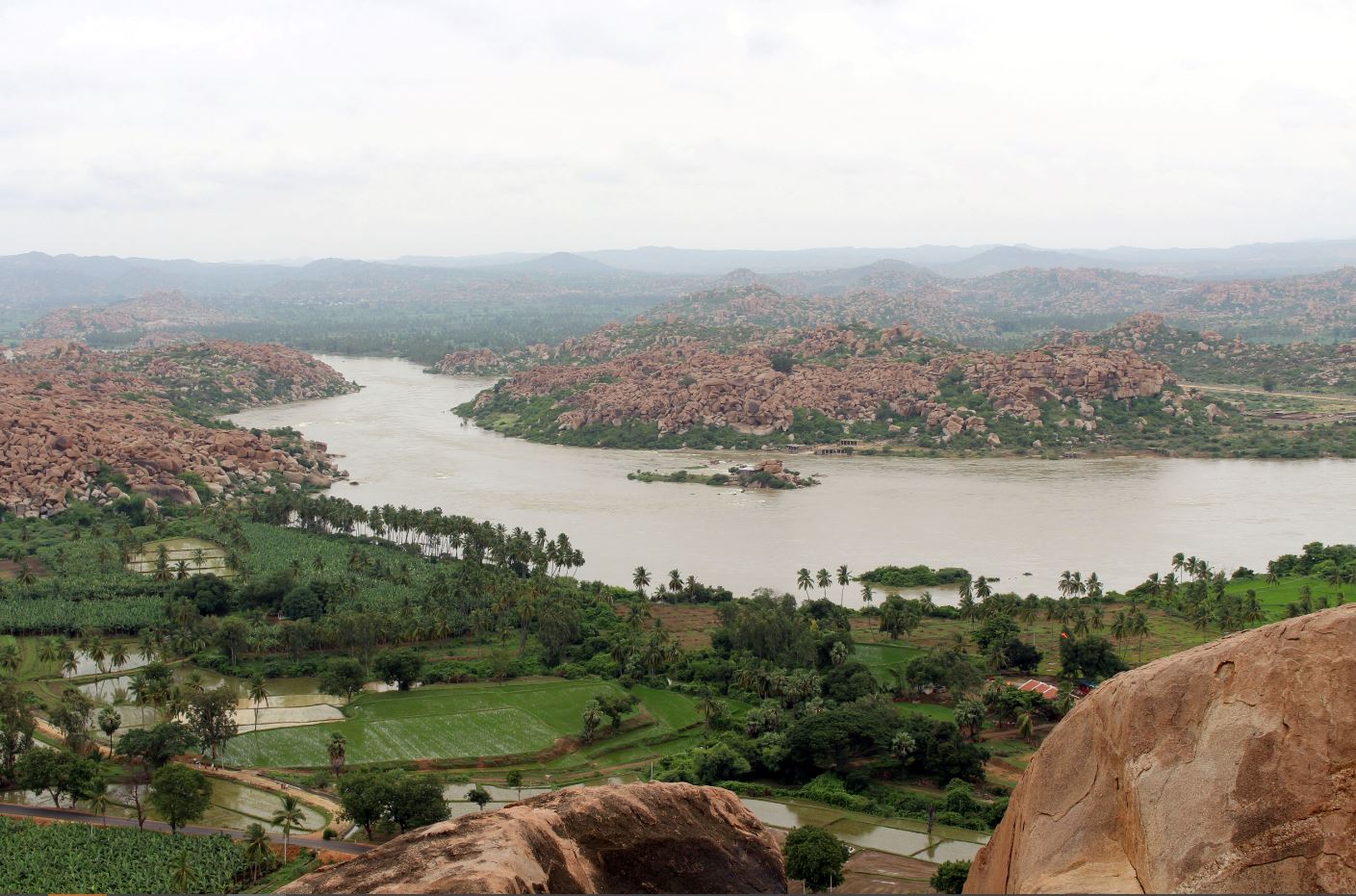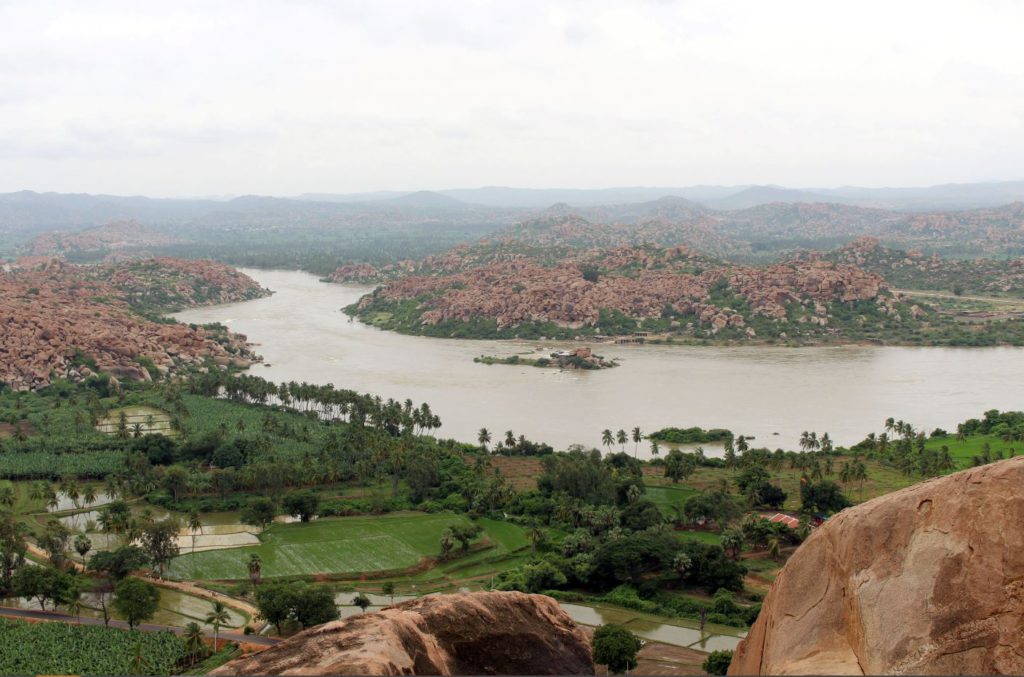 Anegondi is a small village near Hampi that is home to the remnants of the imperial palace Gagan Mahal. The palace was home to the royal family ruling the Vijayanagara Empire from the 16th century. A pool and a smart drainage system demonstrate the genius of the age which was made in a way to keep the palace cool during the summer months.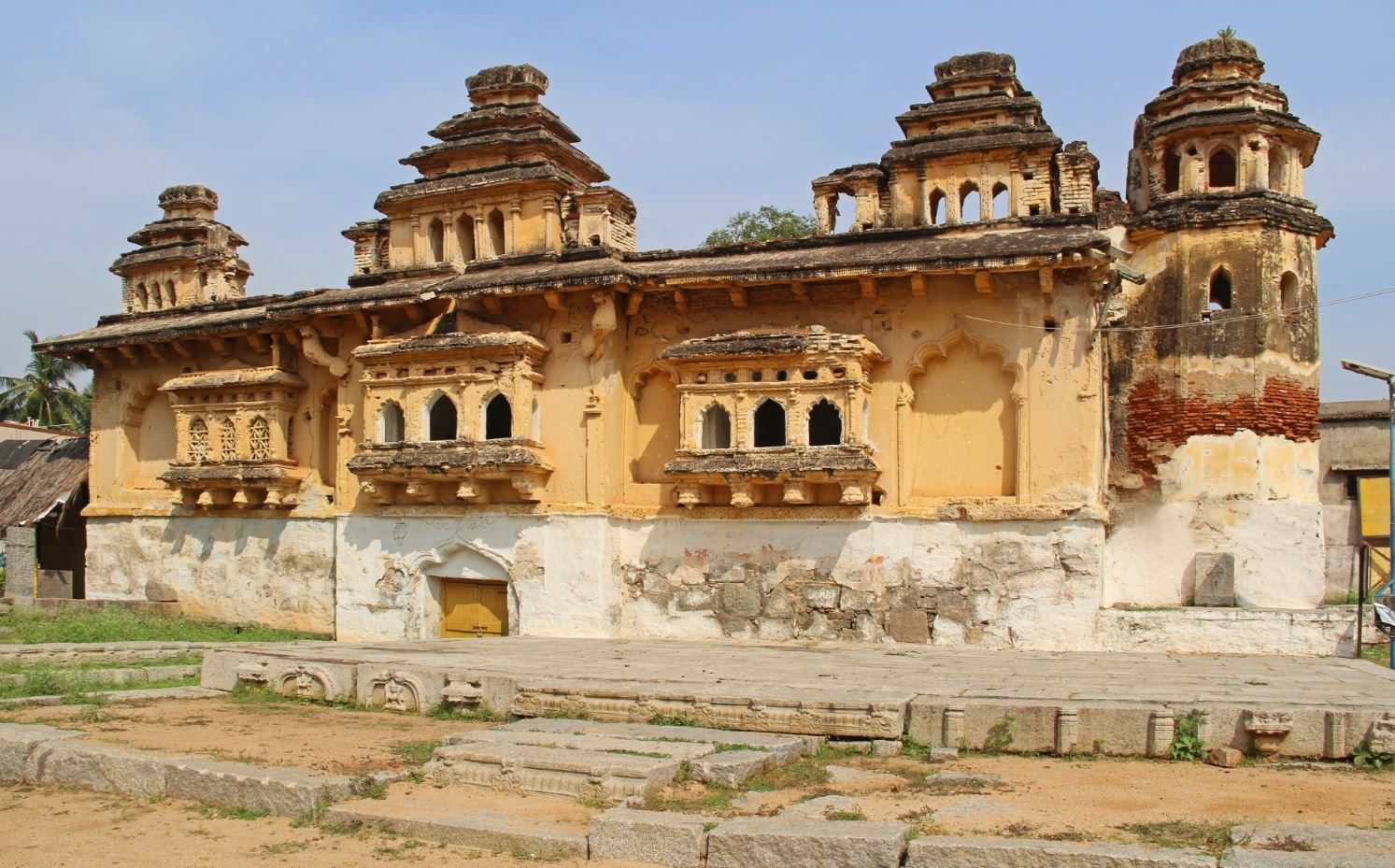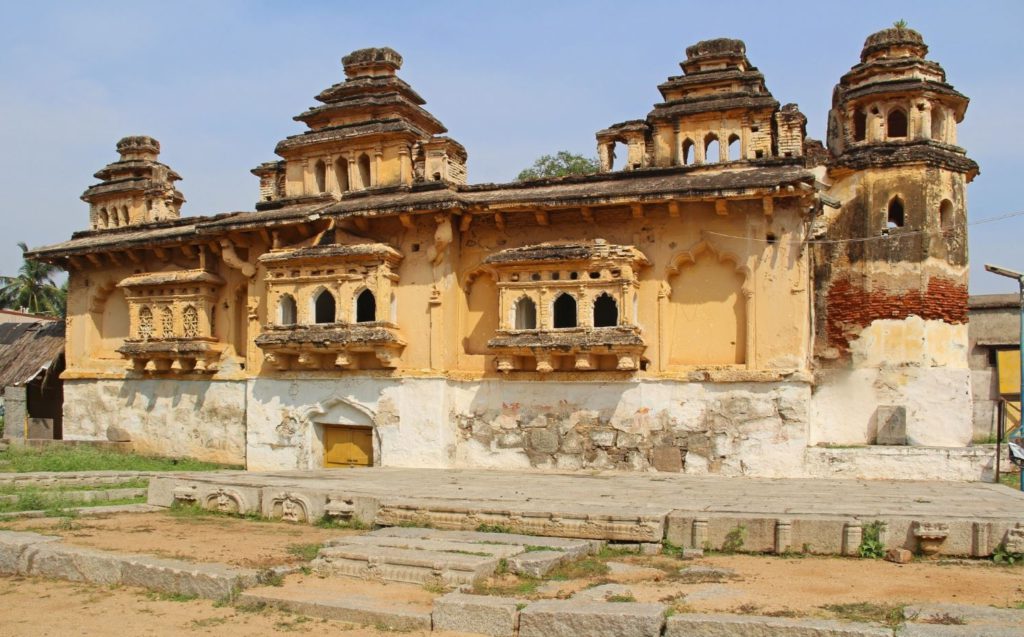 A short drive straight on the roads will lead you to a huge water body called the Sanapur lake. Now there isn't much to do in it, but it is still a great place to enjoy a cool evening with the sunset.
If you are up for a bit of traveling, take out an evening from your schedule and head out to Tungabhadra Dam. The dam is around 18 km from Hampi by the road that you can cover on a scooter as well. You can enjoy a lighting show in the evening hours after sunset from 7.15 pm to 8.30 pm. Make sure you are equipped to drive back at night.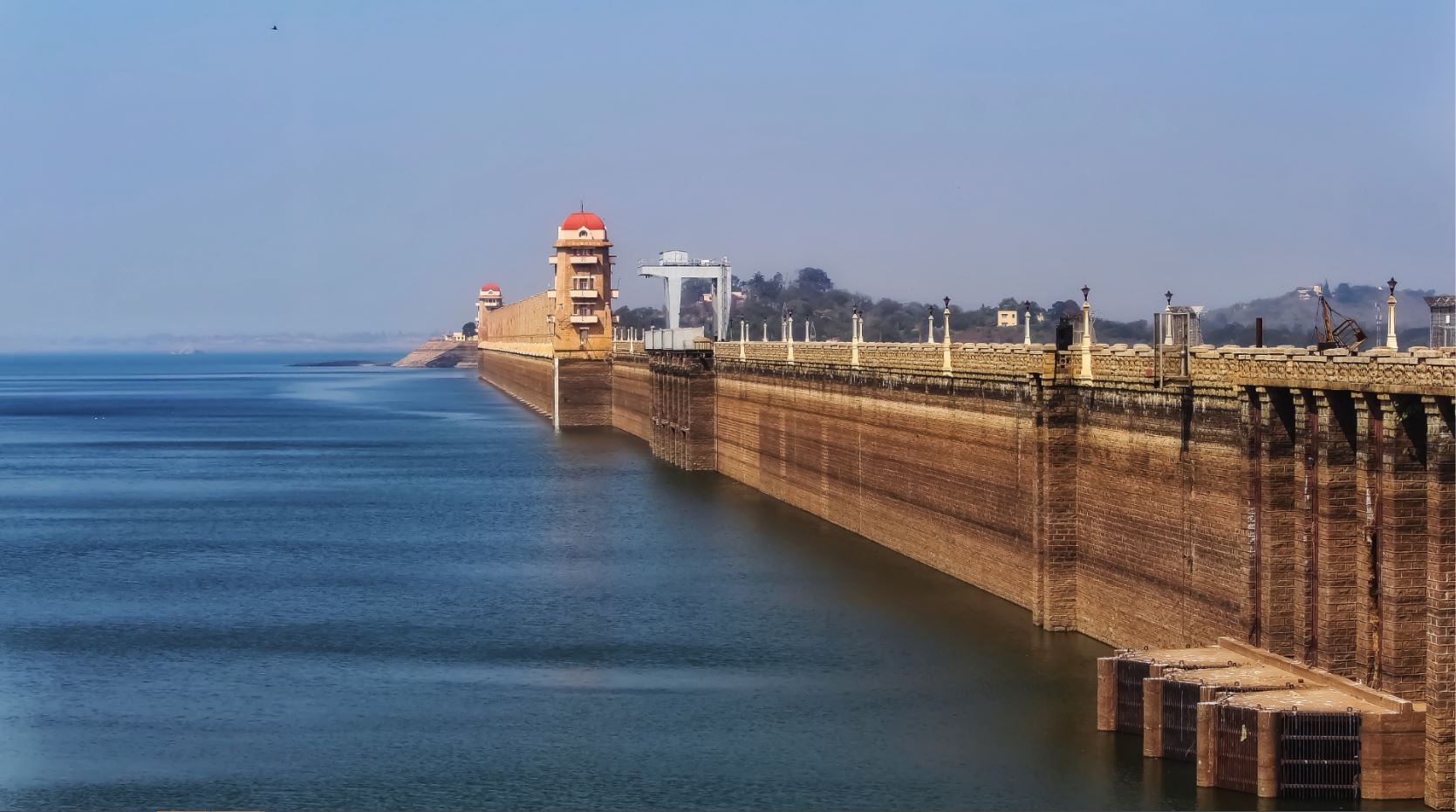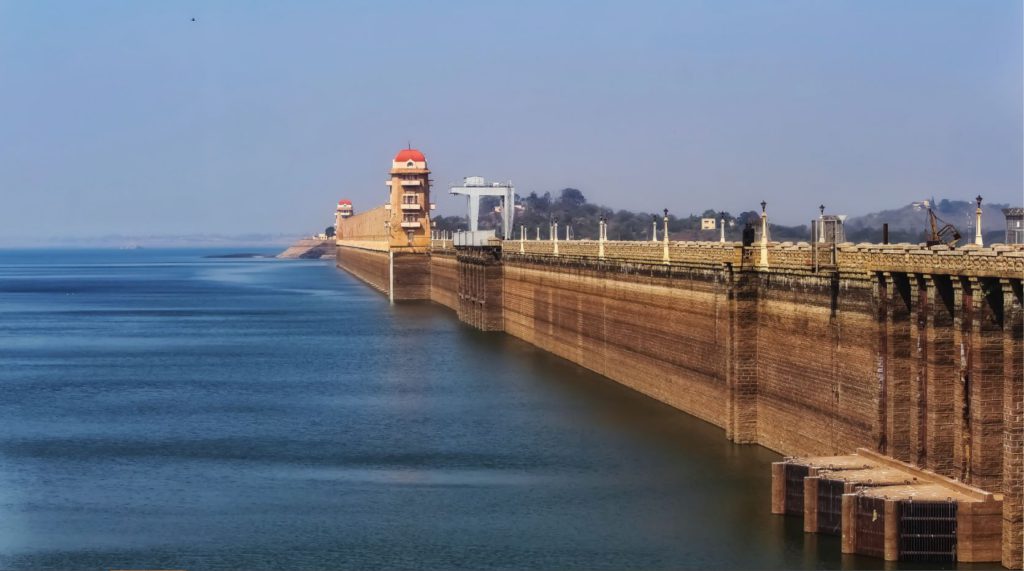 Best time to visit Hampi
Best time – Winter (November – February): Winters in Hampi and surrounding areas are pleasant. Some days can get cold, but the day time usually sees cool wind and a clear sky. The average temperature hovers around 25°C. Rainfall is almost absent.
It is the best time to visit Hampi and is also the peak time with most tourists. I don't think that the crowd should be a problem till the time you book your tickets and accommodation in advance.
Good time – Monsoon (June – October): Monsoons also make up for an okay time to visit Hampi. The rainfall is fairly inconsistent and never heavy. But there is definitely a rise in humidity which can get uncomfortable on your day out in the ruins. All-in-all if you may have to make a few compromises but it is still worth a visit.
Bad time – Summer (March-May): Hampi is scorching hot in summers. The heat can get overwhelming at times with the mercury shooting up to 40°C on some days. Heatwaves are also common. I will not advise you to take a trip in this heat. However, if you happen to be there during the summers, keep indoors during mid-day and go out only in the evenings.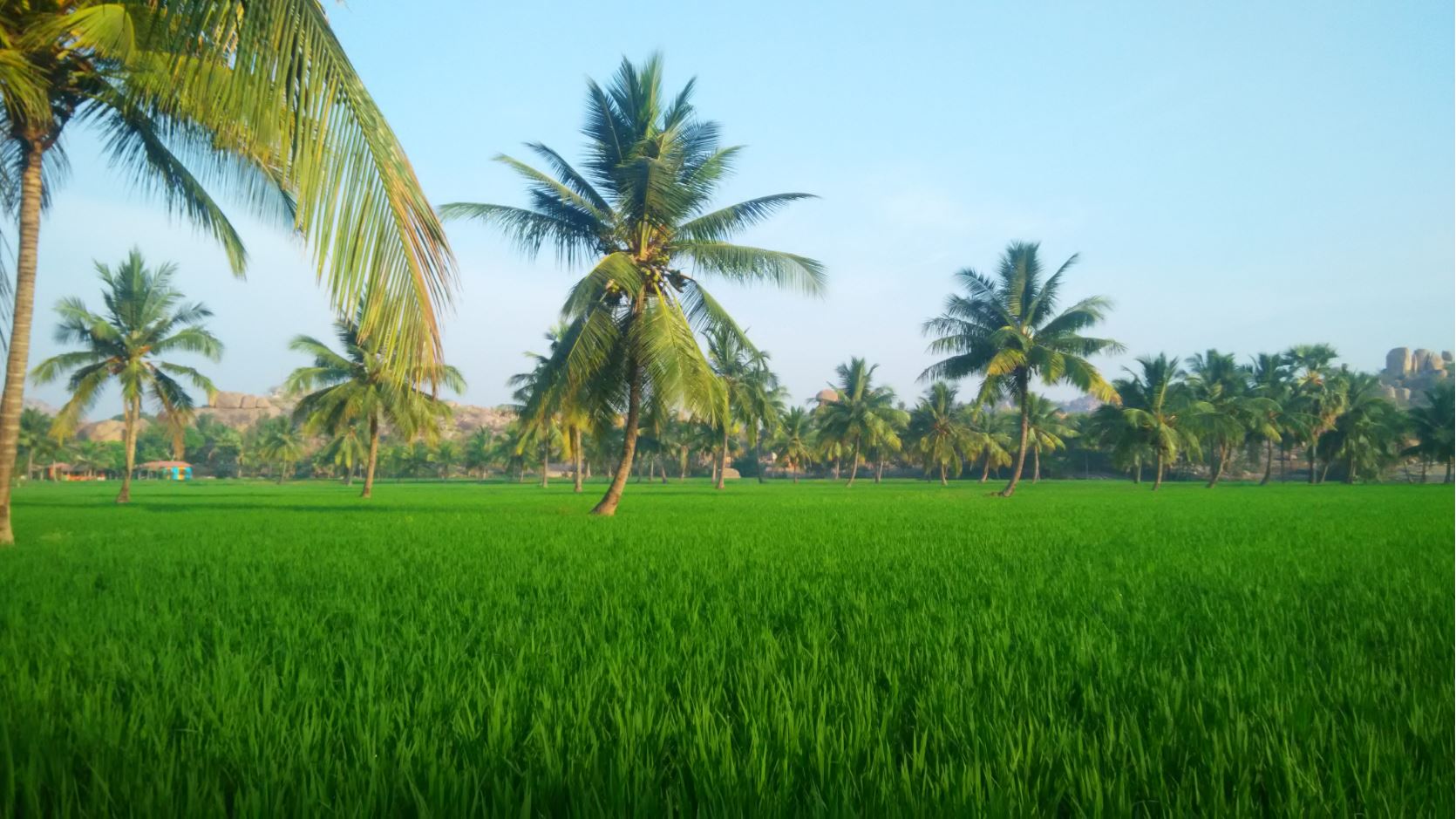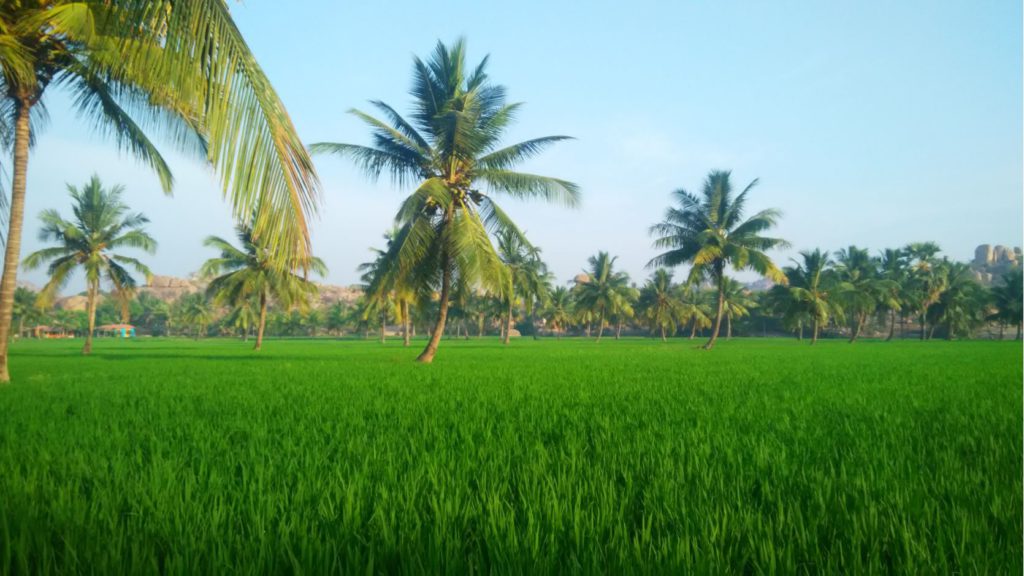 Where to Stay in Hampi
As I have mentioned earlier, the best places to stay in Hampi is located on the other side of the river Tungabhadra if you are a backpacker. You can choose from basic shacks that cost from ₹500 a night to ₹1,500 a night. If you can, get a room facing the river view. An evening on the hammocks overlooking the still river is something you must not miss.
If you are planning your trip during the peak season or the weekend, make sure you book your accommodation in advance.
I usually book my stay using agoda.com since they give deep discounts. But you can also book via websites like booking.com, makemytrip.com or yatra.com. Lately, Airbnb also has quite a few options with better facilities at competitive prices.
If you are looking for hotels in the range of affordable-luxury, you can easily get one at around ₹4,000 a night or more. However, most of them are located on the ruins side of the town. They definitely have better amenities and are better equipped for families.
Here are some luxury options that you may like: Clarks INN Hampi, Heritage Resort Hampii, Hyatt Place Hampi, Evolve Back Hampi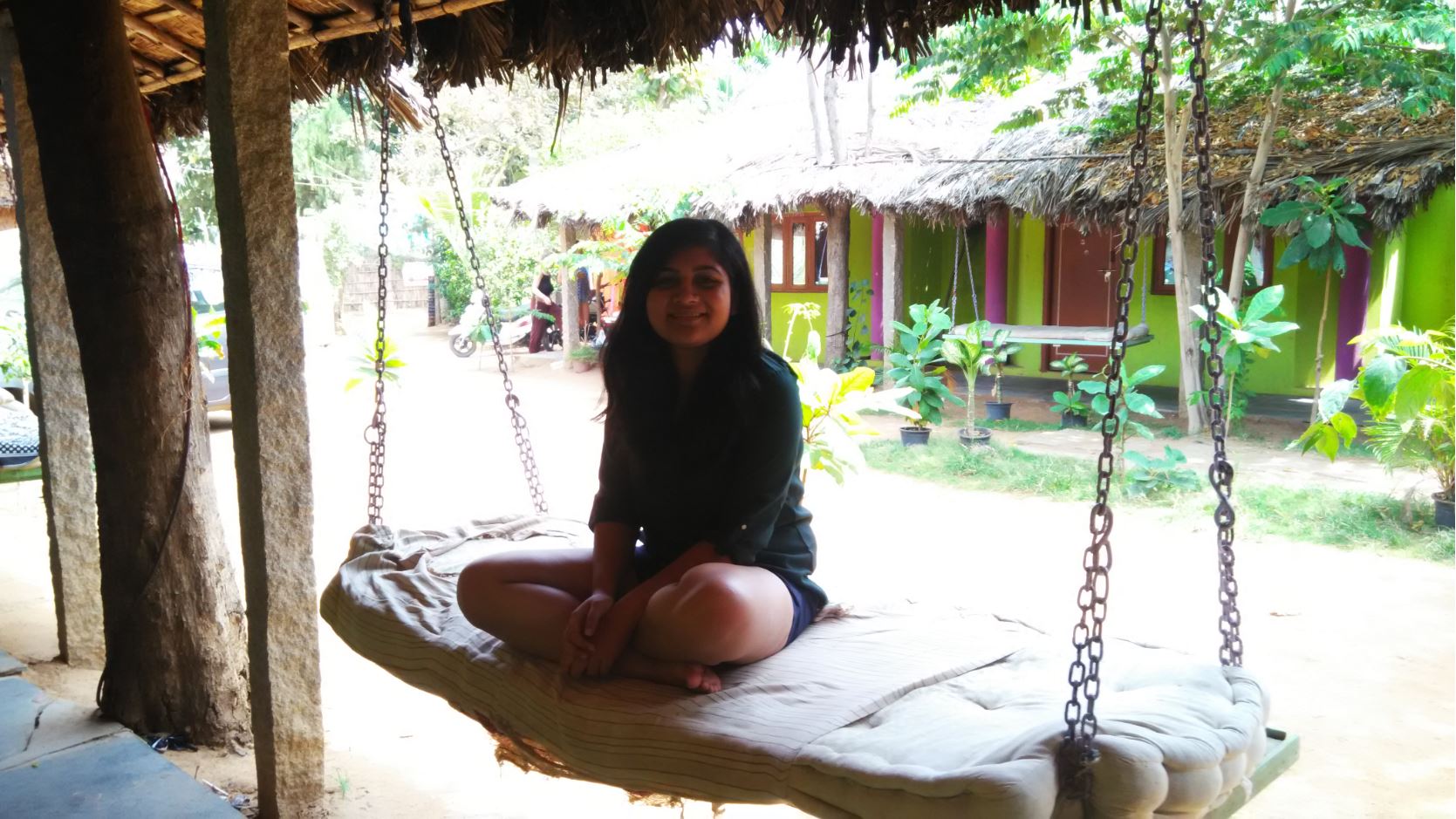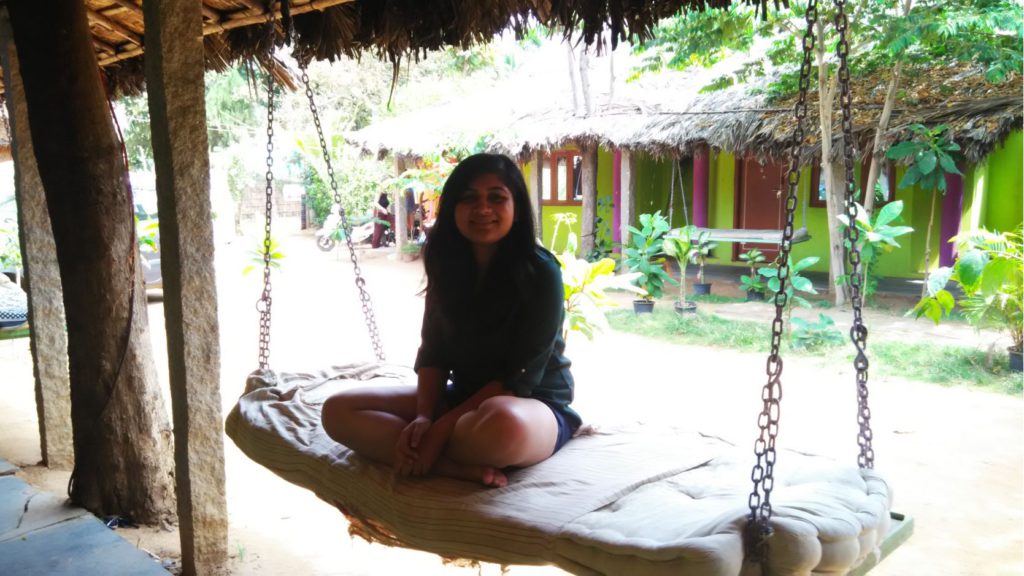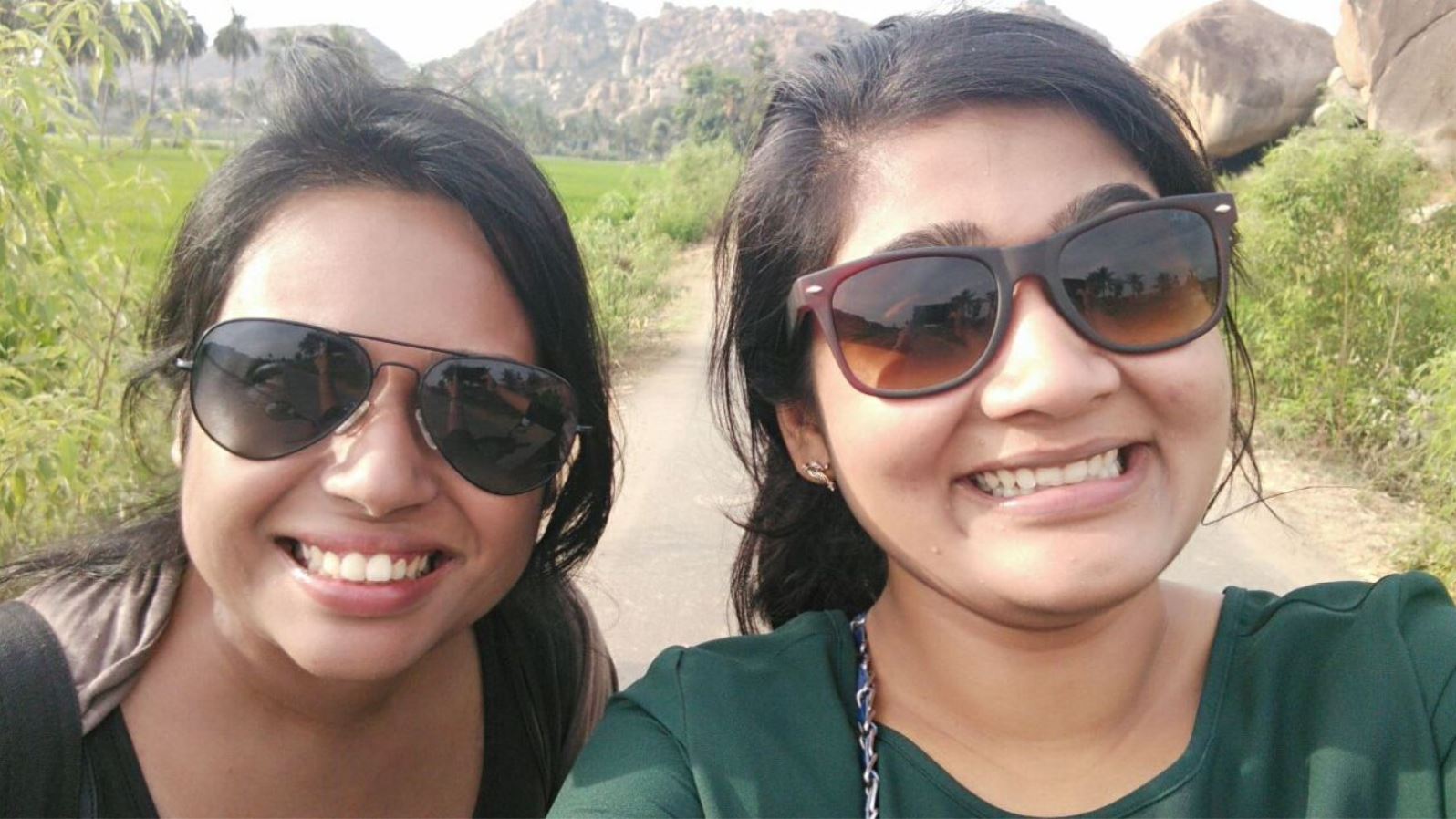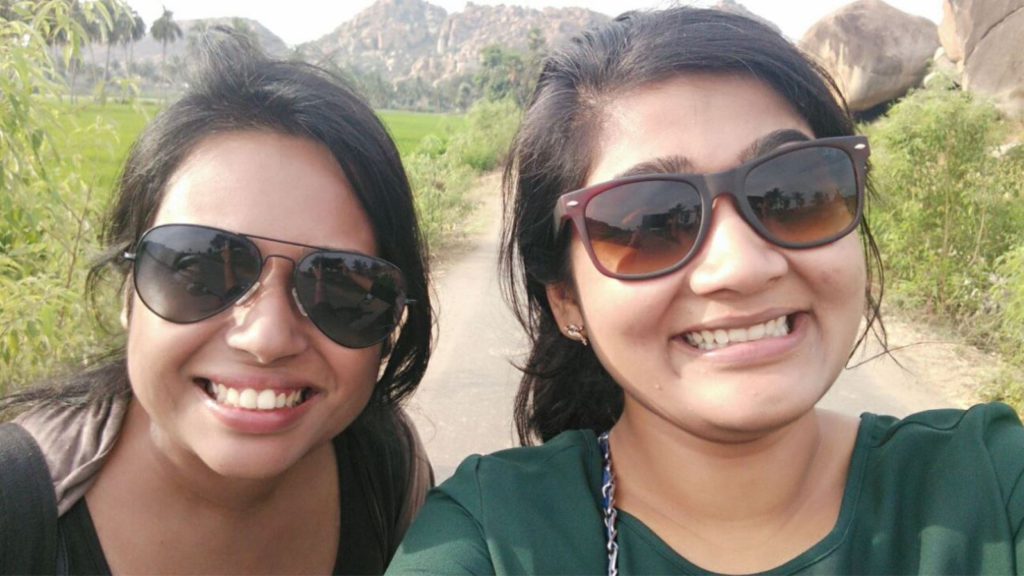 Save On Pinterest


Related Articles