02 Feb

Best things to do in Bijapur (Vijayapura), India

My friends looked at me weird, pitiful eyes when I told them I will travel to Bijapur to see the city. To be honest, the plan was to go to Hampi for the weekend and add a few days for Badami and Bijapur since they are on the same route north.

But this isn't a popular road-trip route. I mean, most people won't even go to business trip here. So my friends may have thought that I have lost taste. But I wanted to see Gol Gumbaz. I had read about it in my history books, and I wanted to feel it.

I knew I may not come this far again by myself so I overplanned my trip and I have to admit it came with some surprises. Most of it came with the gorgeous buildings in the city that nobody knows about.

If you are in the area and a history and art enthusiast, make the effort to visit Bijapur. It is an old city with several heritage sites (sadly the maintenance is poor). And the people are so warm and welcoming.

Let's get on with it. Here is everything you need to know to plan a trip to Bijapur.

But before that, we need to understand what makes Bijapur important in history.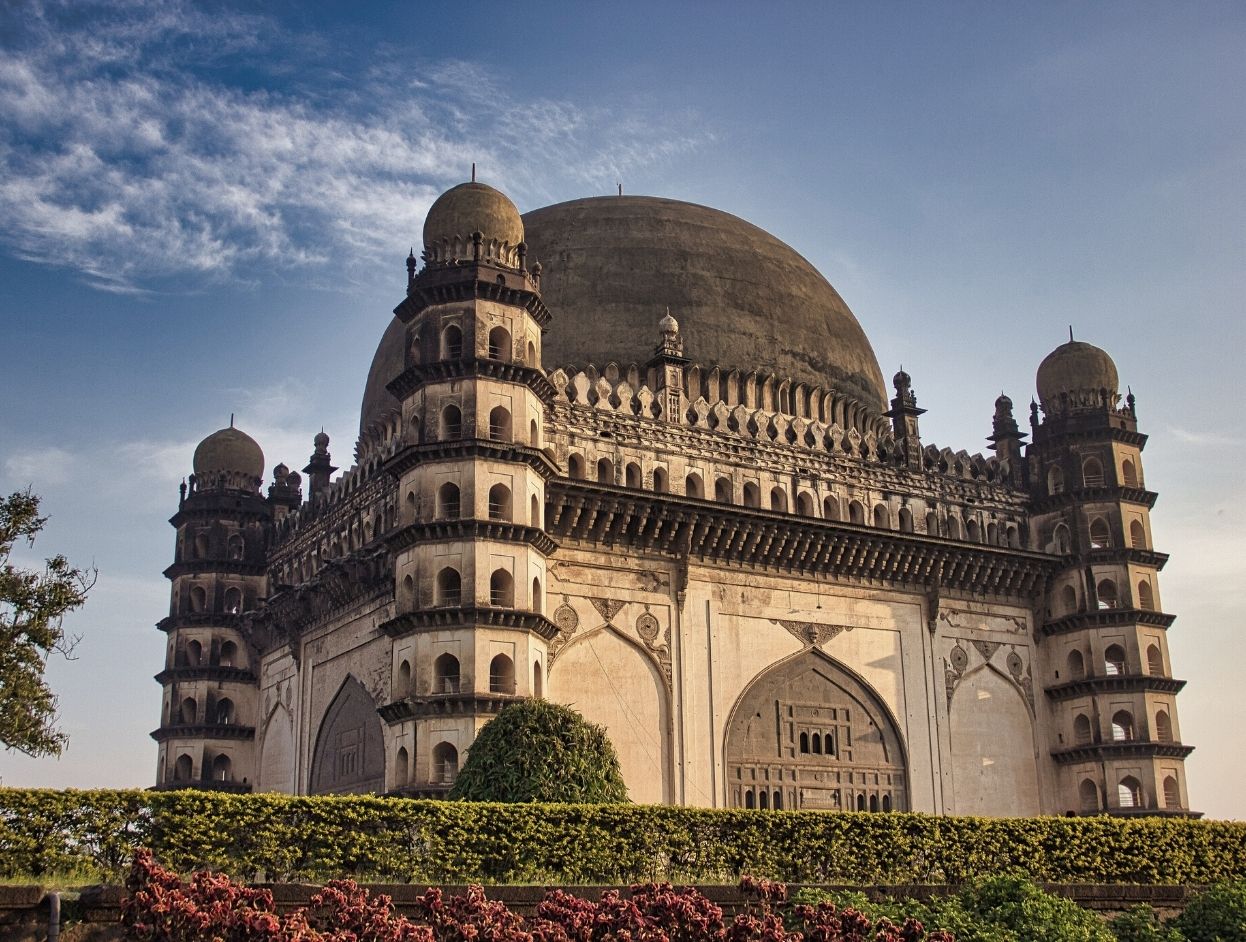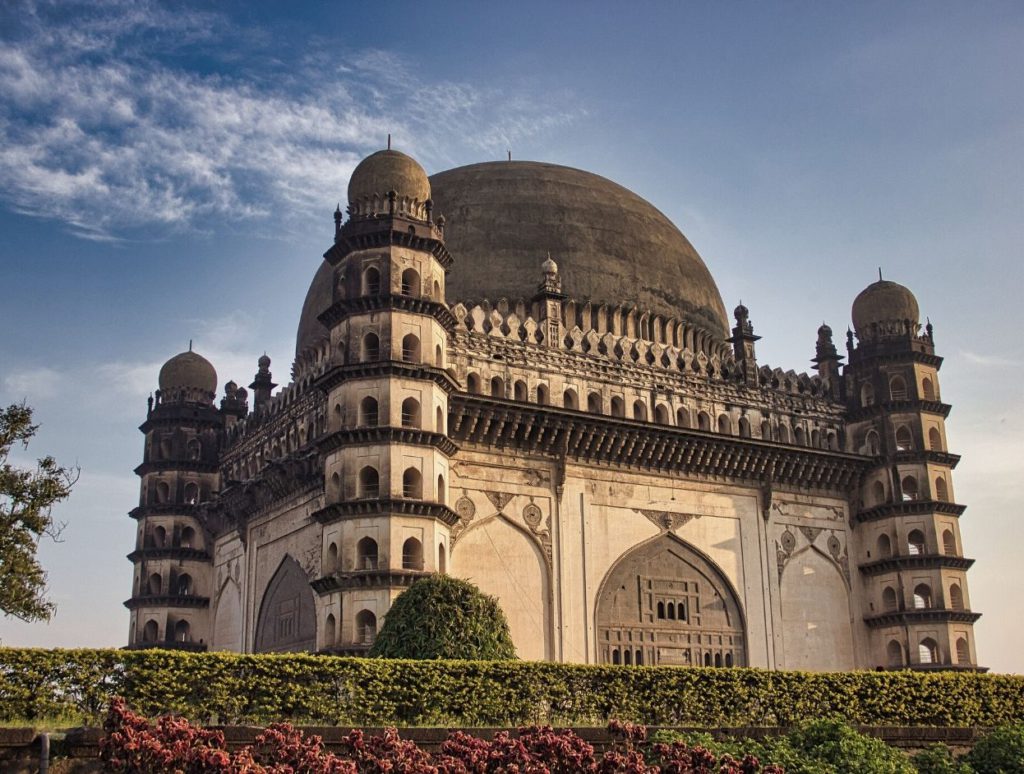 A brief History of Bijapur
The first civilization in Bijapur dates back to the 6th century. From the 6th to the 14th century Chalukyas, Hoysalas and the Yadavas ruled Bijapur or Vijayapura  that were all Hindu rulers. You cannot find any significant remains from that period.
In the 14th century, Bijapur came under the Sultanate of Delhi and later under Bahamani Sultanate. It disintegrated into five states called the Deccan Sultanates. Bijapur prospered to its zenith during this time. The rulers under the Adil Shah dynasty built grand forts, beautiful domes, palaces and were great connoisseurs of art, music and poetry.
Aurangzeb invaded Bijapur and it passed on to the Nizams of Hyderabad, to Marathas and the came under the British rule leading to modern present-day India. Nothing significant happened in Bijapur during these times and its past glory gradually went into oblivion.
Painting of all the sultans of Bijapur on the left and a portrait of Adil Shah on the right side
Where is Bijapur Located?
Bijapur is located in north Karnataka almost bordering Maharashtra. It is 530 km from Bangalore, 550 km from Mumbai and 384 km from Hyderabad.
The city is located in the area of the Vijayanagar Empire and you can make the trip to Hampi, Bijapur and other UNESCO World Heritage sites at Patadakkal and Aihole with a few hours' road journey.
How to reach Bijapur?
There is currently no airport at Bijapur. The closest airport is in Belgaum which is 158 km away and you can take a cab from the airport (costs around ₹3,000). Railways and roadways connect Bijapur extensively with nearby cities. Here is how to reach Bijapur.
Train to Bijapur
There are a couple of trains every day to Bijapur from Bangalore, Mumbai, Pune, Hyderabad and other major cities. You can also find regular local trains from Badami every day that take around 2.5 hours.
The station code for Bijapur is BJP which is located in the centre of the city. You can easily find local affordable transport just outside the station. You can check the tickets to Bijapur from your city on trainman.in and book them on the official Indian railways website.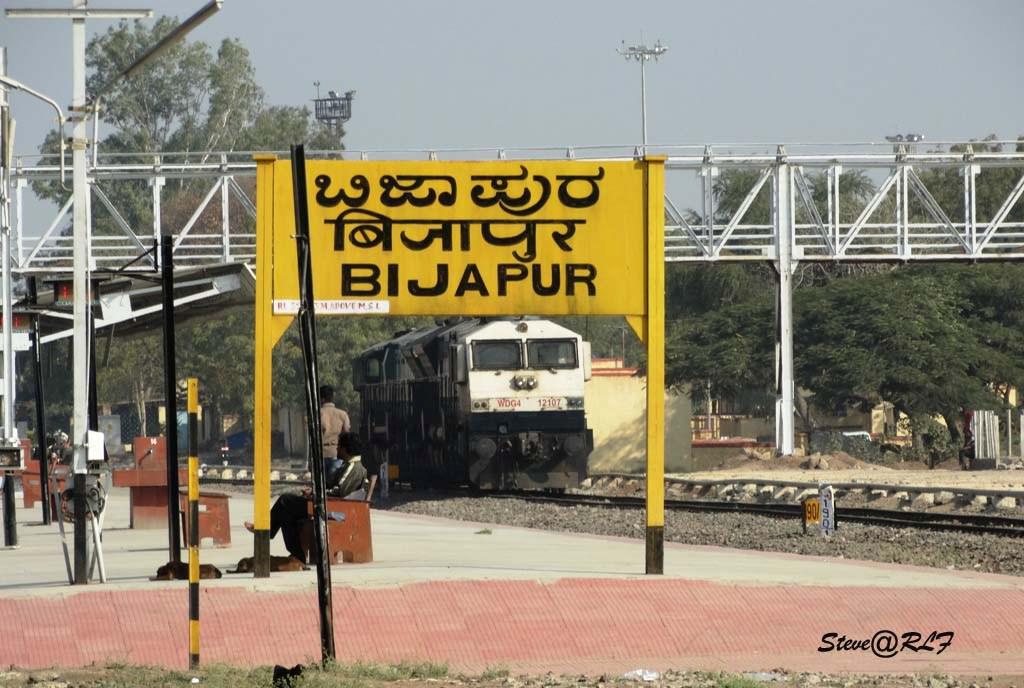 Bus to Bijapur
All types of buses run to Bijapur from all major cities in Karnataka and a few in Maharashtra. You can take an overnight bus from Bangalore or Mumbai and arrive in Bijapur the next day. Or you can take an early morning bus from Hyderabad that will take around 6.5 hours.
Regular local buses run from Badami to Bijapur which takes around 4 hours and even Hospet (Hampi). You can directly board one at the bus station and buy the ticket on the spot. For a longer journey book your bus tickets at redbus.in.
Taxi to Bijapur
If you are with family or in a group at Hampi or Badami, you can also get a day or two-day cab to and back from Bijapur. A basic 4-seater taxi from Badami will cost you around ₹3,200 for a one-way trip and ₹6,400 for a round trip (for two days).
The same will cost you starting ₹5,200 for a one-way trip from Hampi to Bijapur and the double back (for two days). Taking a cab from Bangalore or Mumbai can be too much since the journey is long. Consider taking a sleeper coach (in train or bus). You can book a taxi on online portals like clearcarrental.com or savaari.com.

How to go around in Bijapur?
Bijapur is a rather decent sized town and you will need transport to move around. If you are not taking a cab or a private vehicle to Bijapur, you still make use of the options available there. I suggest you don't try taking the buses inside the city since there aren't many; the routes are confusing and overcrowding is common.
Auto-rickshaws or tuk tuks in Bijapur
Auto-rickshaws are easily available inside the city. You can find one in every corner of the road. There are some public autos that run on set routes (like buses). You can spot them calling the destination. But they are extremely overcrowded.
Hire a personal auto-rickshaw instead if you aren't used to a city like this. The rickshaws usually run by the meter. But the driver sees a tourist,  sometimes they may say that the meter broke to give a quote of their choice. If it isn't exorbitant, hop on but make sure you fix a price beforehand. You can book one for the whole day too that includes showing around 6-7 sites at ₹300.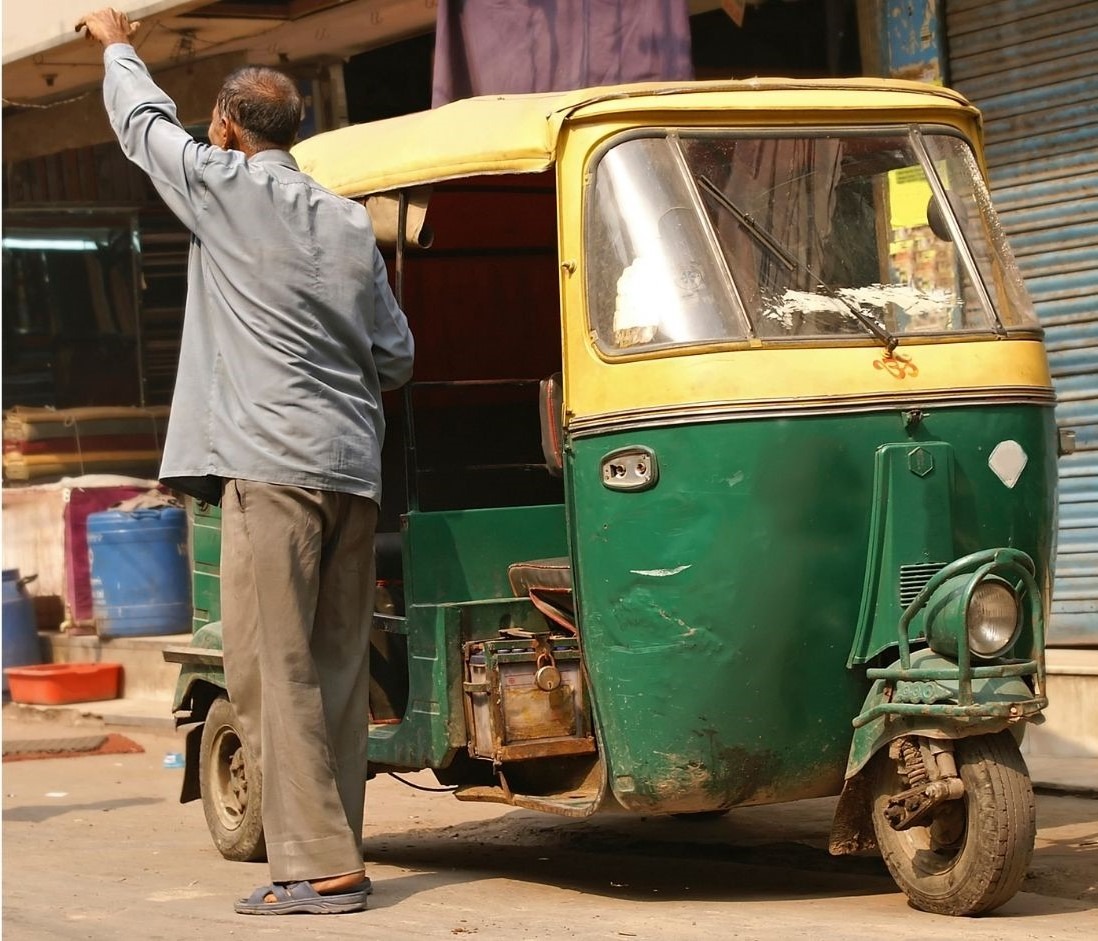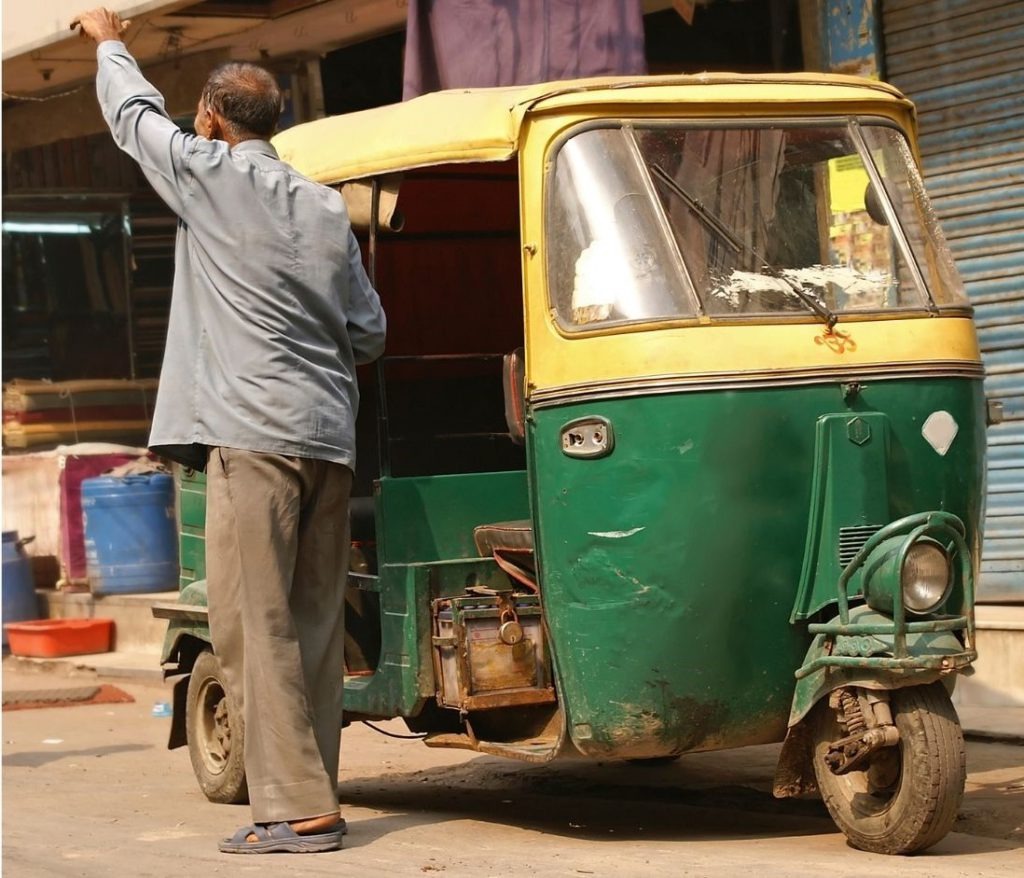 Paddle rickshaws in Bijapur
Typical to India's two-tier cities, these are simple carriages attached to a bicycle paddled by men. The old rickshaws usually require labour. But motor-driven e-rickshaws are slowly replacing them.
Again, you will have to tell them your destination and they will quote you a price. If that seems okay (use maps to check the distance), hop on. They are usually pretty affordable and I wouldn't mind handing a generous tip afterwards for the manual drivers.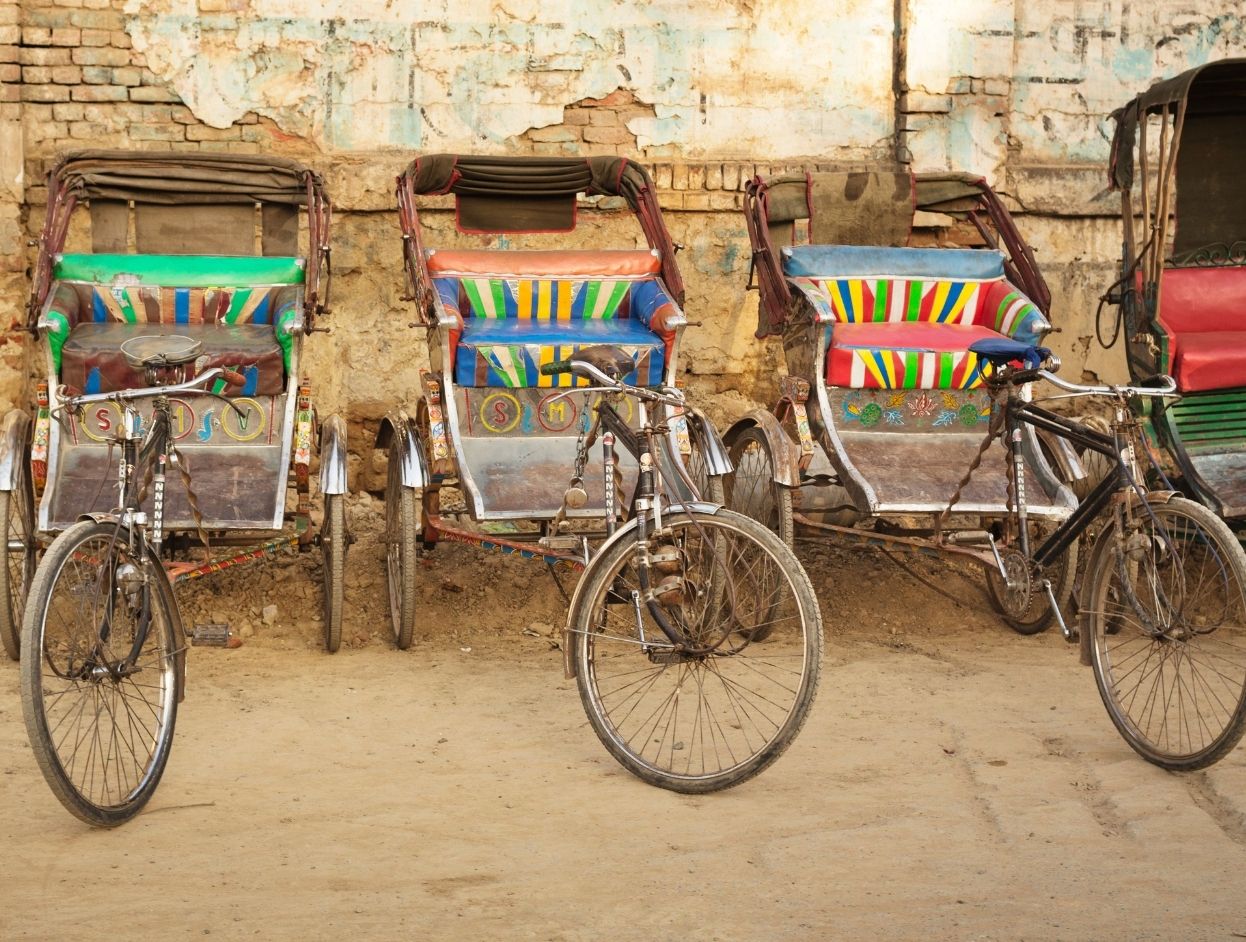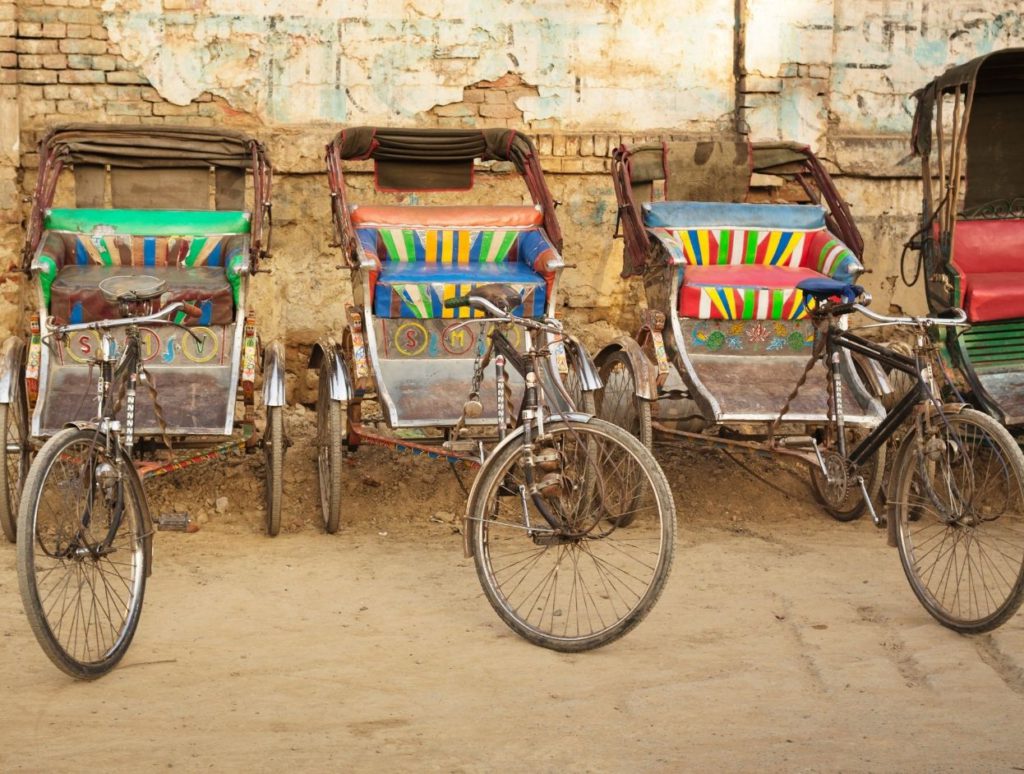 Tonga or Horse carriages in Bijapur
Now you won't find this in most cities. Horse carriages are common in Bijapur and I hopped on one for the experience. Apart from the horse-poo stink (which is bearable), I think it was so much fun. Go through the same drill of fixing the price and negotiation. It is a fun way to see the city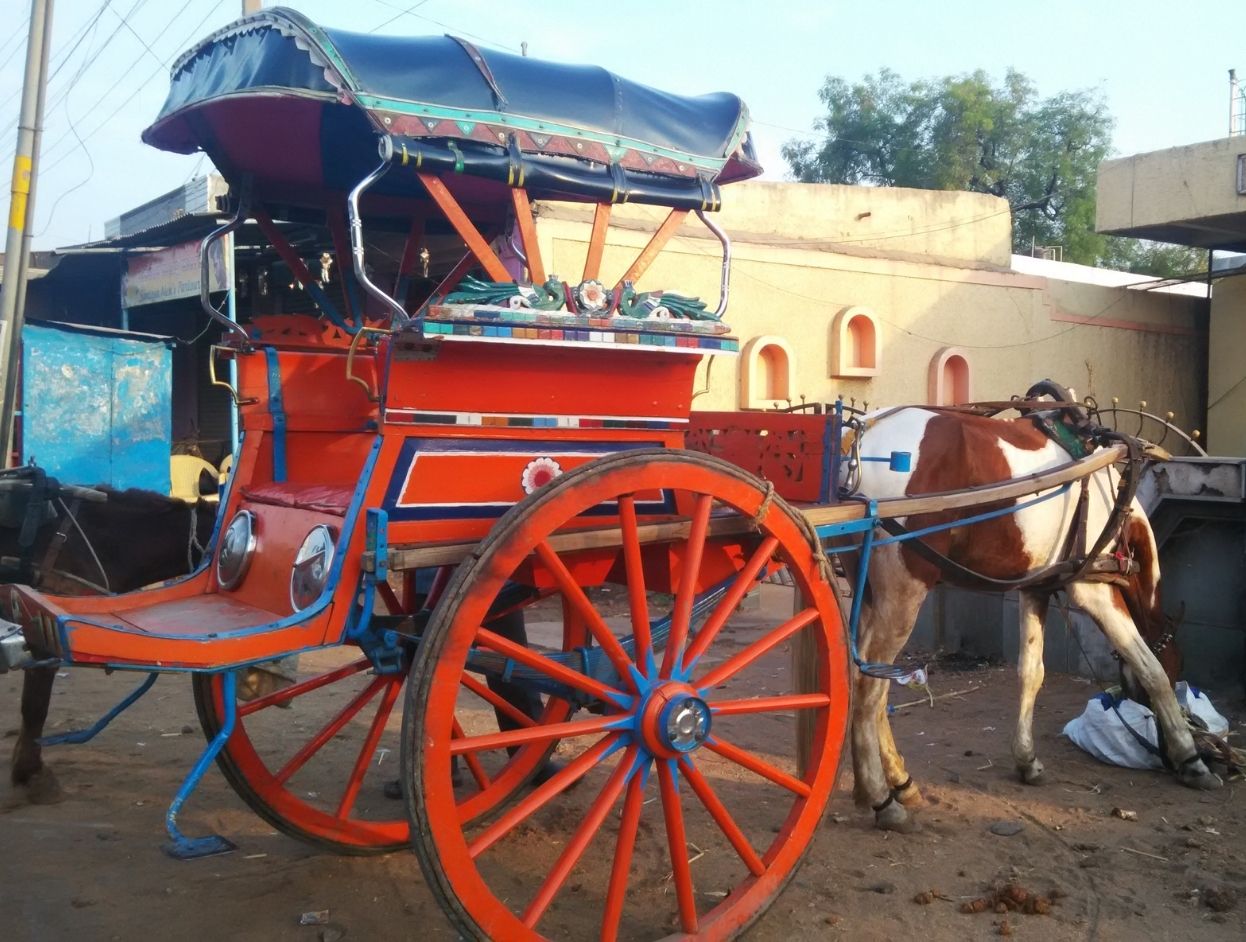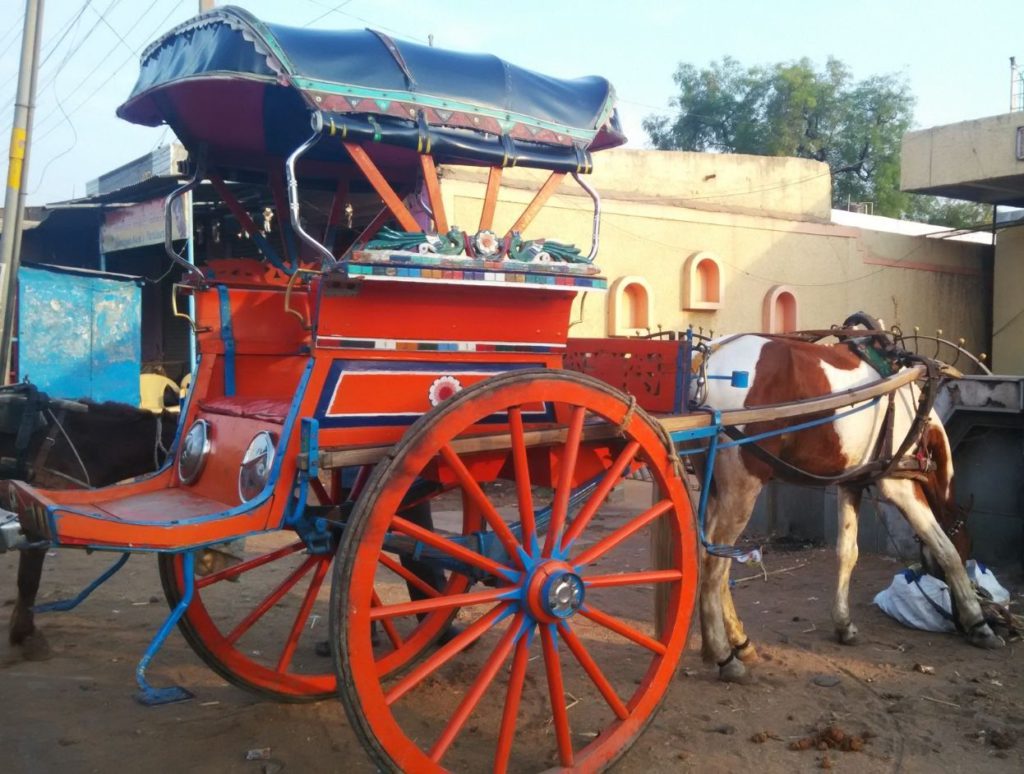 Places to see in Bijapur
The city of Bijapur is more or less located where once the fort of Bijapur stood. The fort was built on a citadel with an outer moat as protection from invaders. Most of the ruins of palaces like Anand Mahal, Mehtar Mahal, Barah Kaman and old mosques were a part of the fort inside the citadel.
However, today you will find a bustling city will ruin sprinkled across the town. Take special notes of the gates like Shahapur gate as they used to be the entry point to the fort.
Gol Gumbaz
'Where is the largest dome in India?' – This is a common question in most GK exams. The answer is, of course, Gol Gumbaz which translates to 'the circular dome'. But doesn't it make you curious? Just one question and one building could make Bijapur a tourist attraction.
Gol Gumbaz is an important part of the local tourism in Bijapur too. You can find locals with large family groups visiting the monument and later relaxing on the ground with neatly trimmed gardens. The tomb of Muhammad Adil Shah lies on the inside.
The building itself is quite simple if you compare it to other archaeological gems in the country. The square walls with conical arches support a large visible dome on the top. The four arches (that you can climb) on the sides makes the distinction of Indo-Islamic school of architecture. A very unique feature is that the tomb echoes even the smallest sounds echo up to 12 times. Try clapping softly.
It is a shame where domes of similar size from the Pantheon in Rome to Santa Maria del Fiore in Florence attracts so much attention while Gol Gumbaz still sits rather neglected.
Gol Gumbaz ticket price: ₹25 for Gol Gumbaz for Indian citizens, ₹300 for foreign travellers. Free for kids less than 15 years of age. Additional ₹25 for a museum in the premises showcasing Chinese parchment, carpets and antiques.
Gol Gumbaz timings: Open from 9.00 am to 6.00 pm every day of the week. Last entry at 5.40 pm.
How to reach Gol Gumbaz: Gol Gumbaz is located right opposite to the Vijaypura Railway station and you can even walk to it.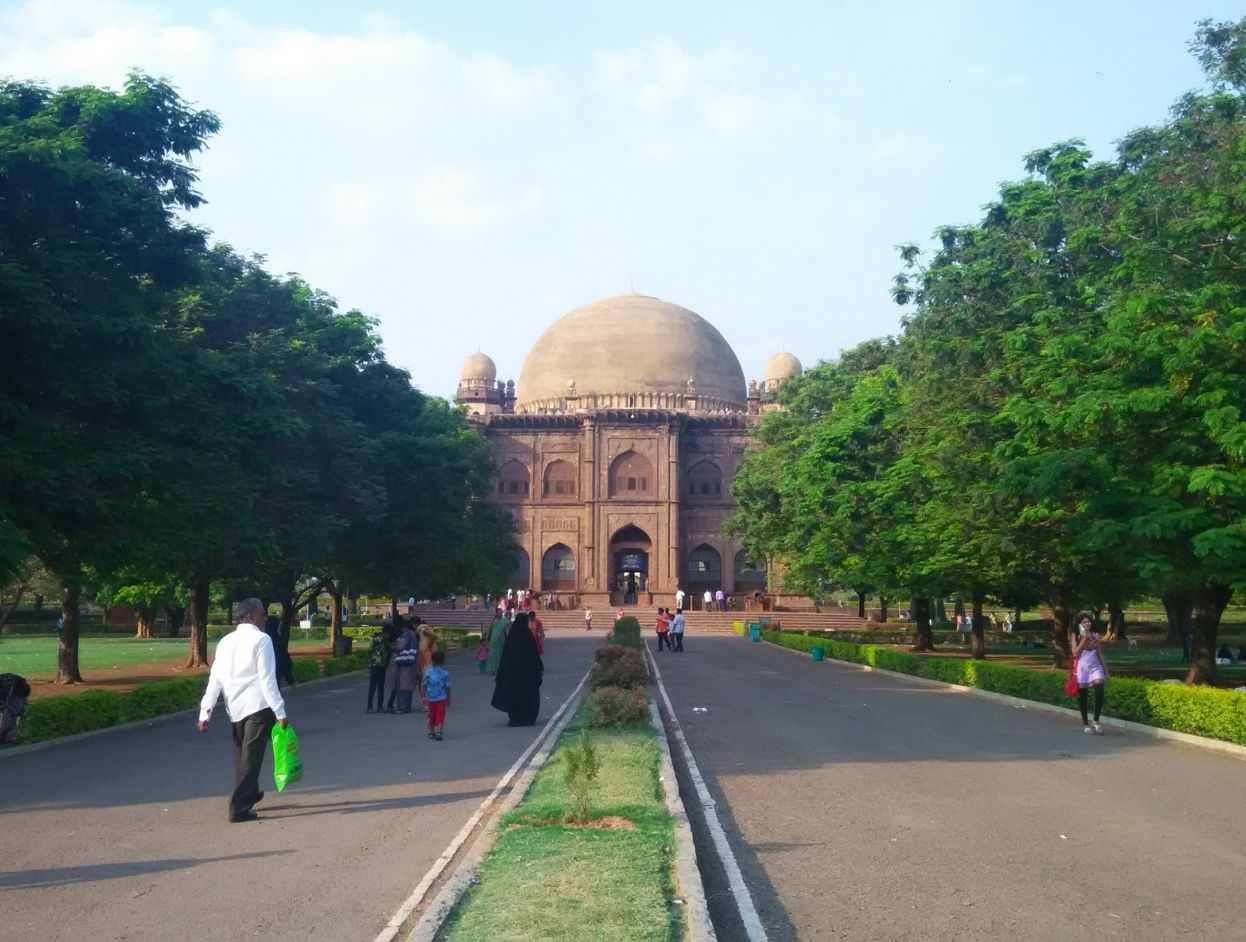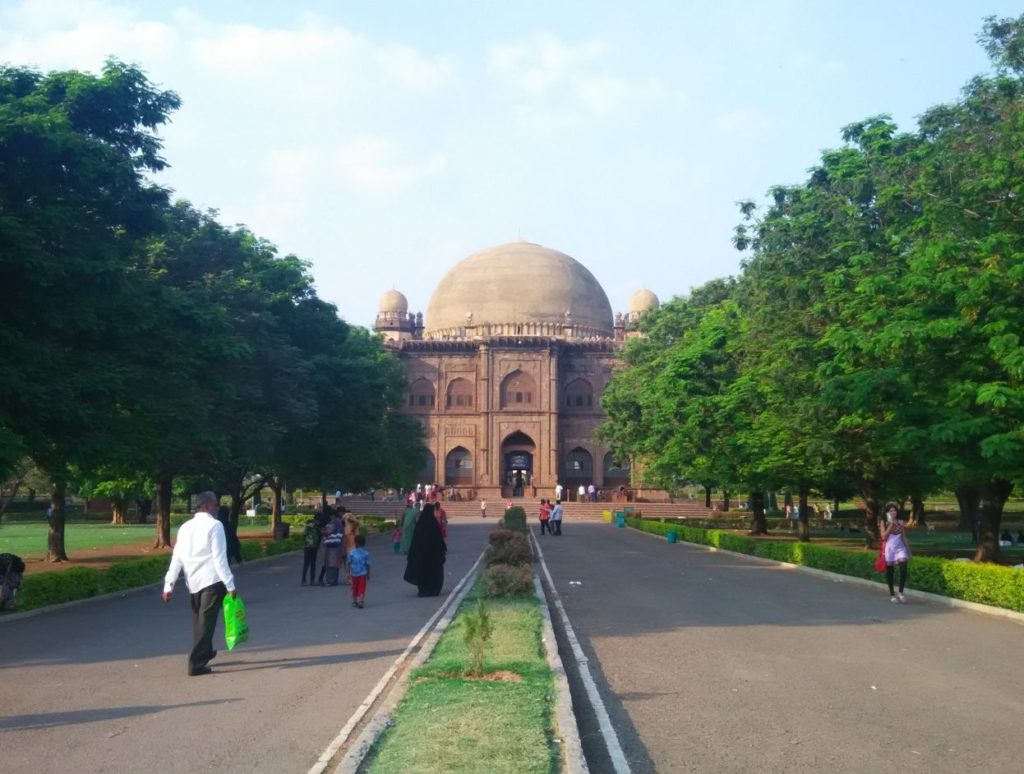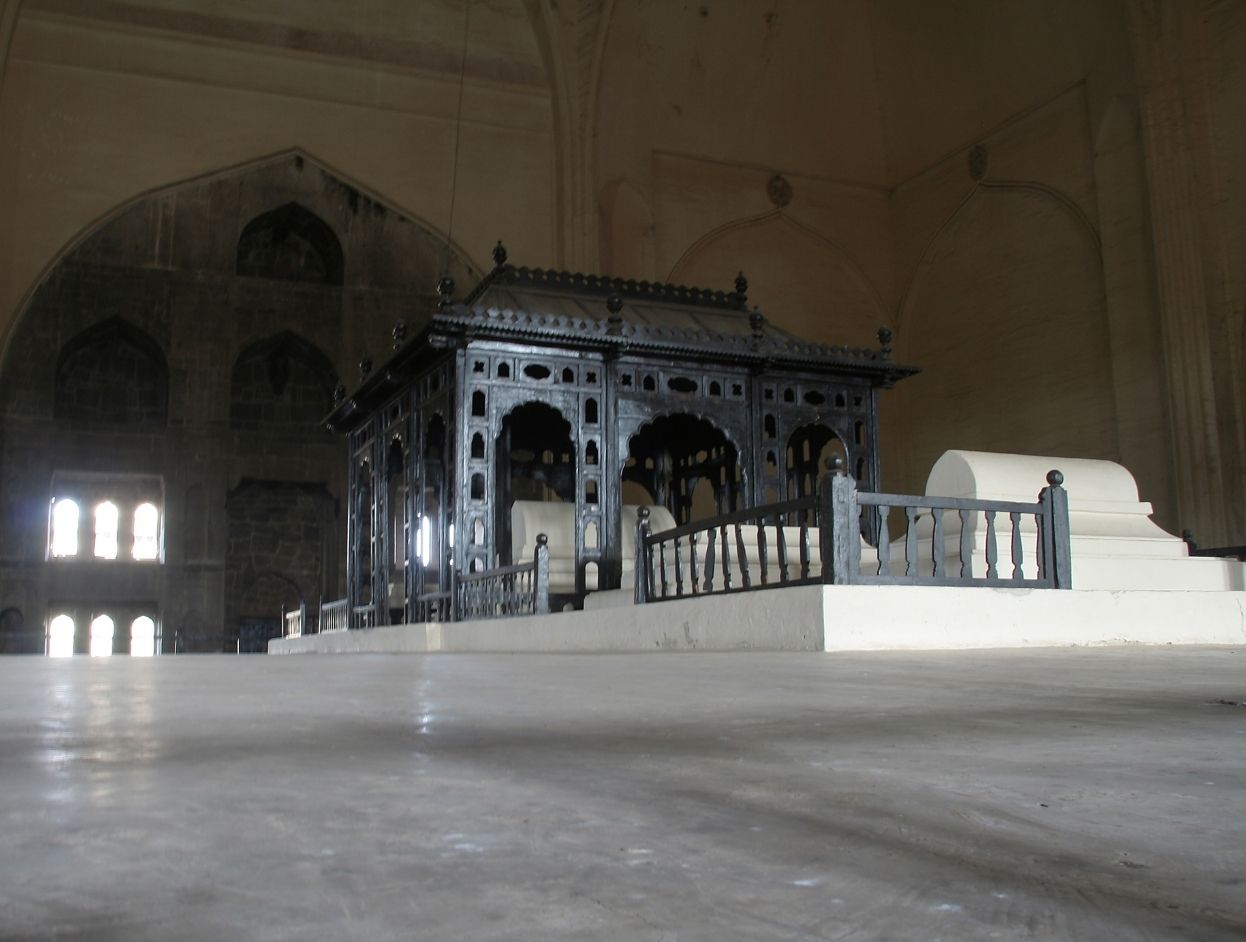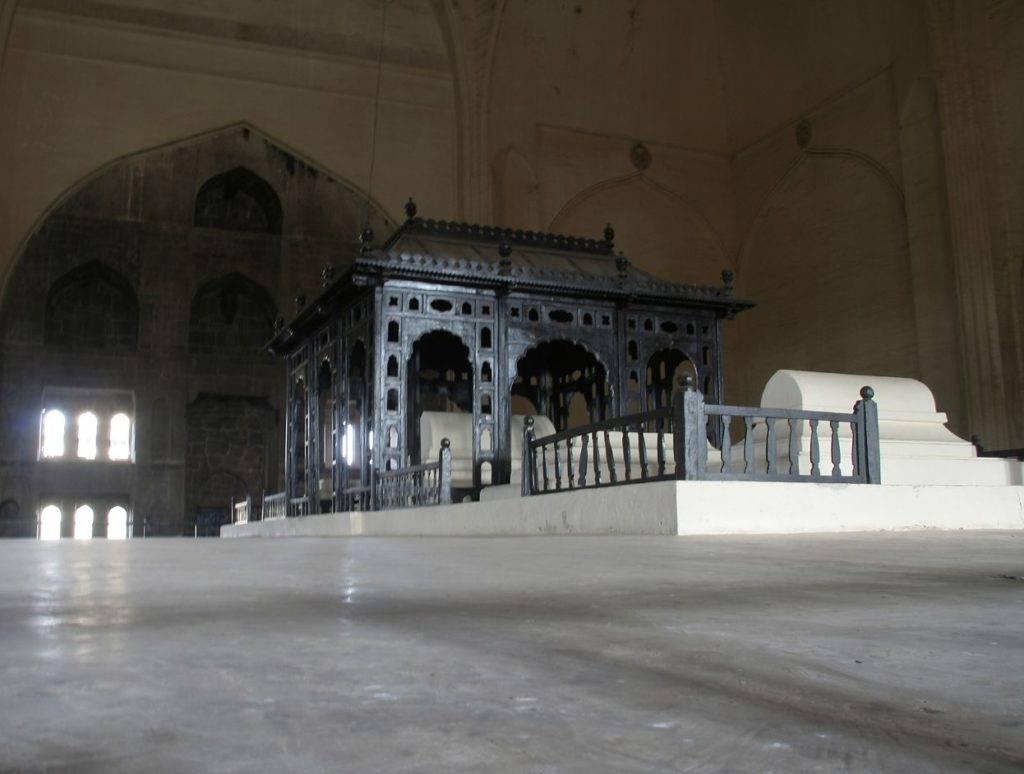 Ibrahim Roza
Built in the 17th century, Ibrahim Roza is a set of two buildings facing each other as the mausoleum of Ibrahim Adil Shah II and his queen Taj Sultana on one side and a mosque on the other. A Persian architect designed the mausoleum who is also buried here. Persian elements of design are also evident in the building with calligraphy and motifs on the doors and pillars. Don't miss this place.
Neatly trimmed gardens surround the main building with conical topiaries alongside the main pathway. The best time to visit this place is in the evening hours after the heat has subsided. You will need to remove your shoes at the entrance and the floor is burning hot during noon.
Ibrahim Roza ticket price: The entrance fee is ₹25 for Indian nationals. You need to pay Additional ₹25 per camera you take and ₹10 for each pair of shoes to keep (you need to remove them).
Ibrahim Roza timings: The place is open from 6.00 am to 6.00 pm every day of the week.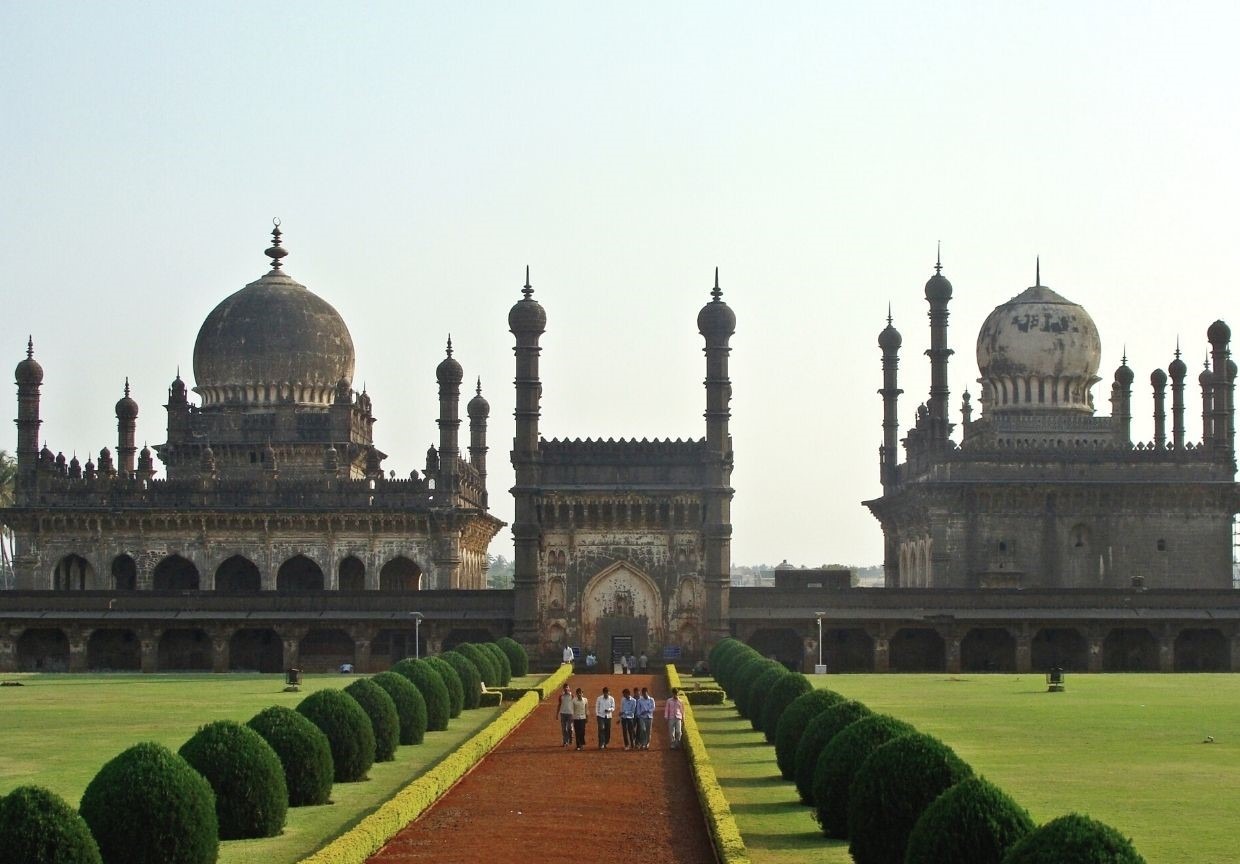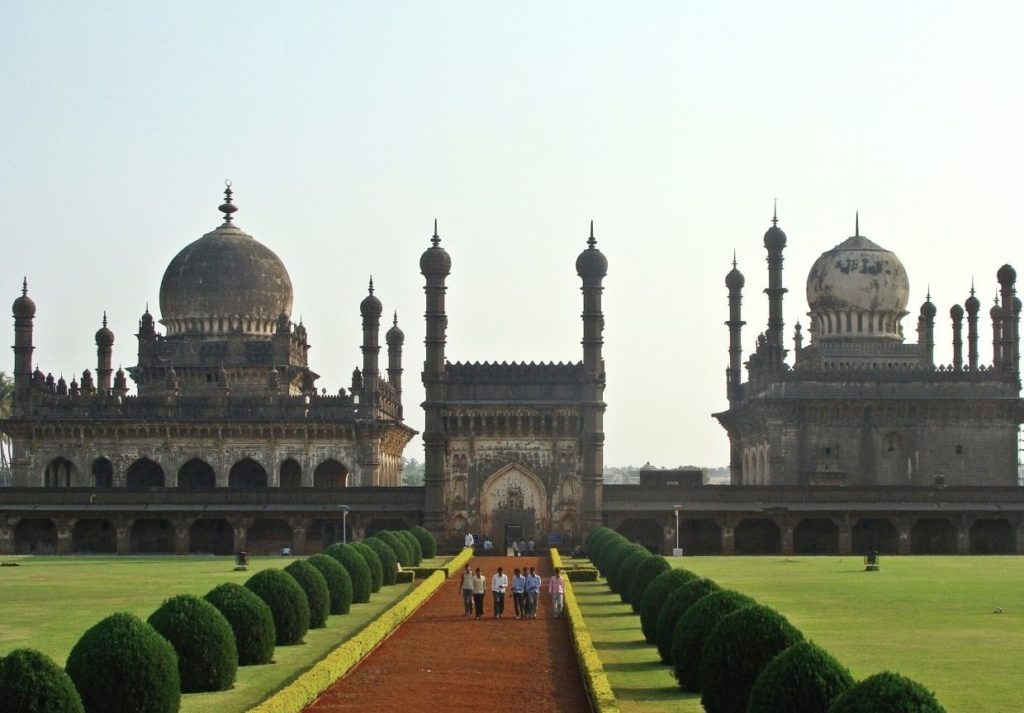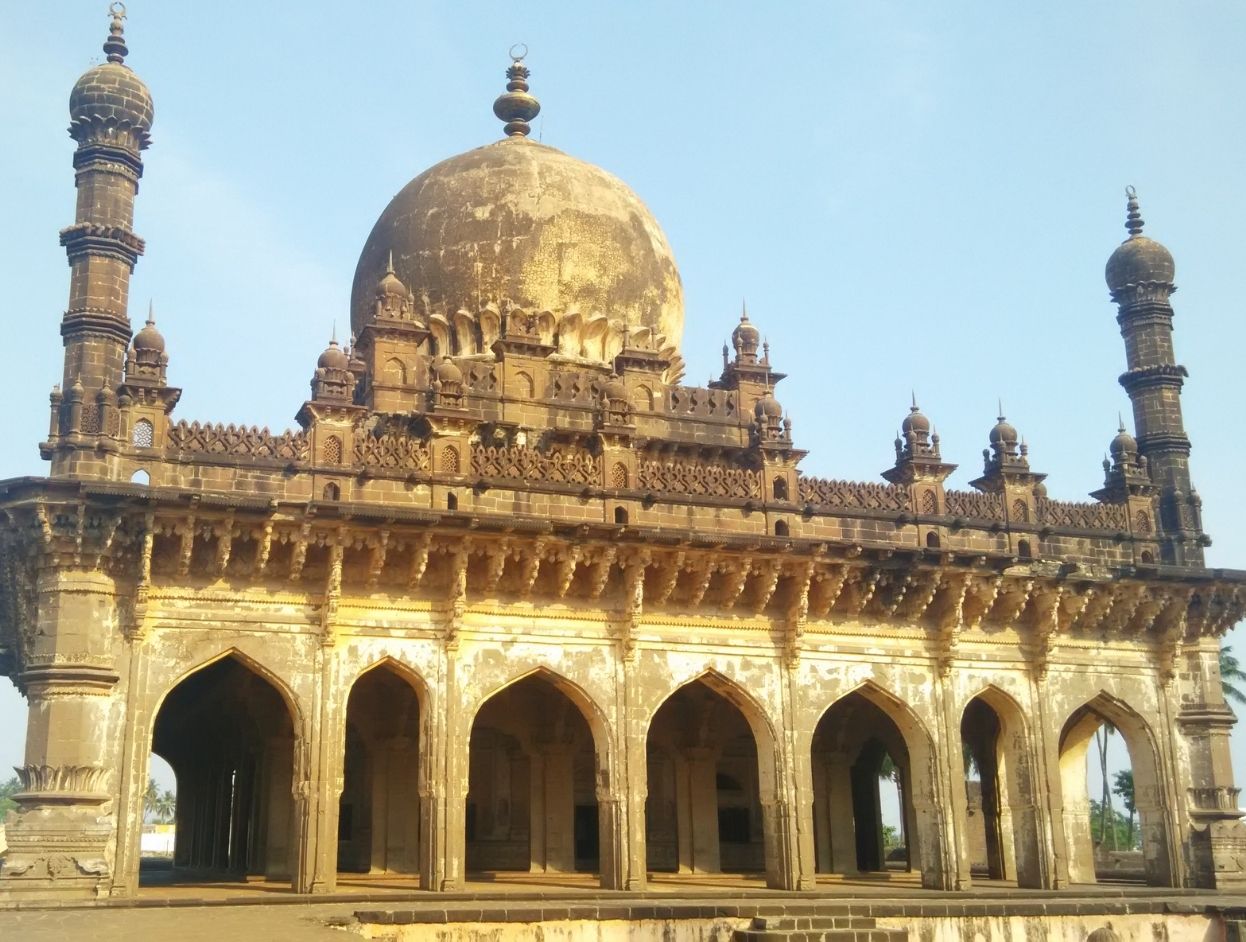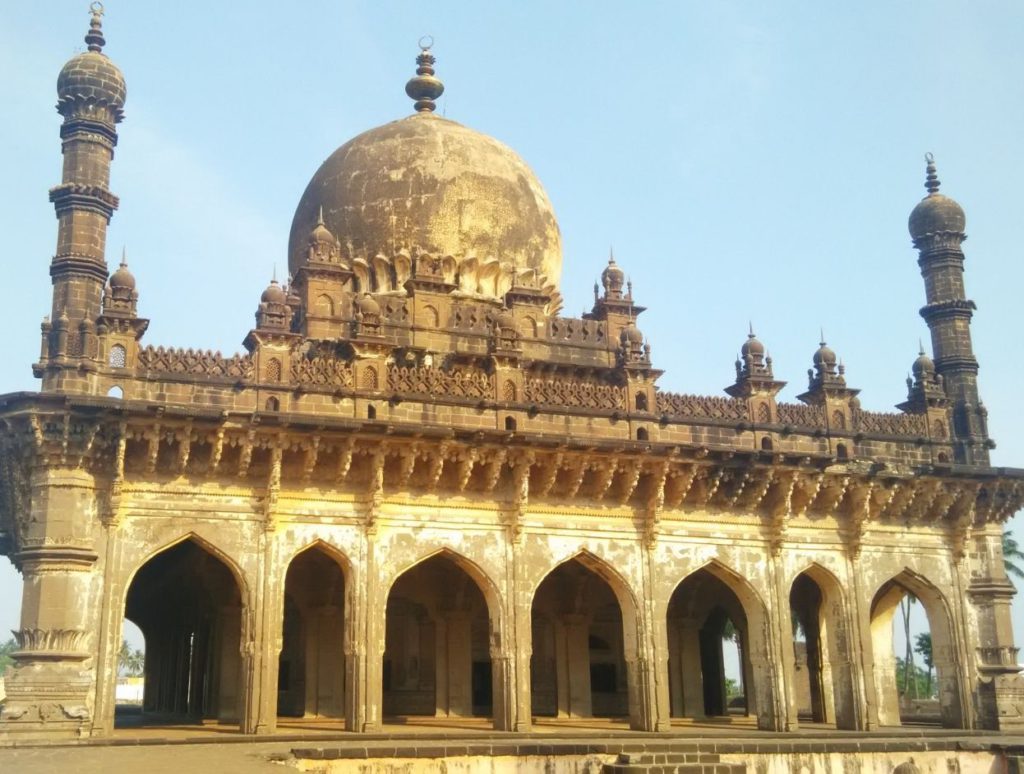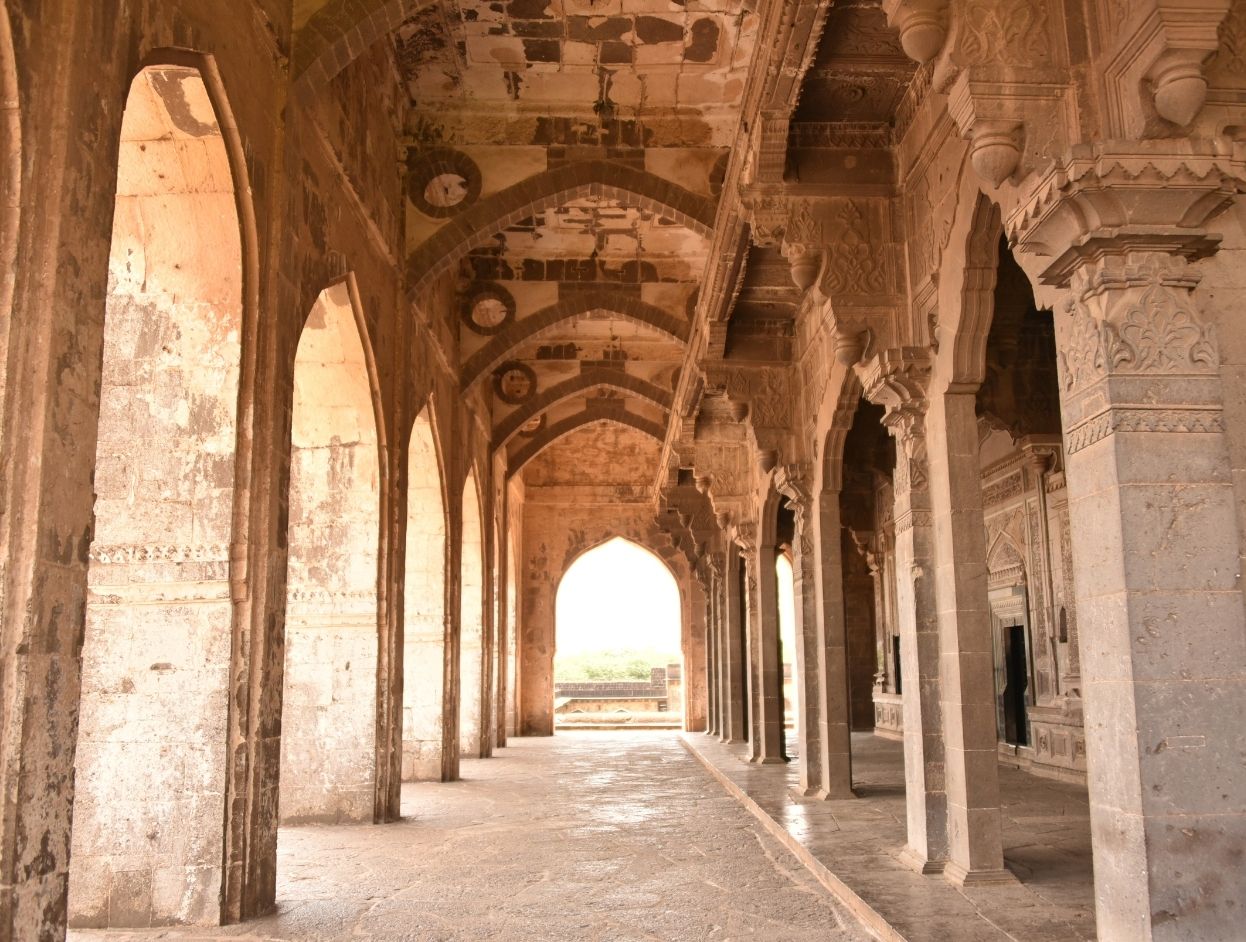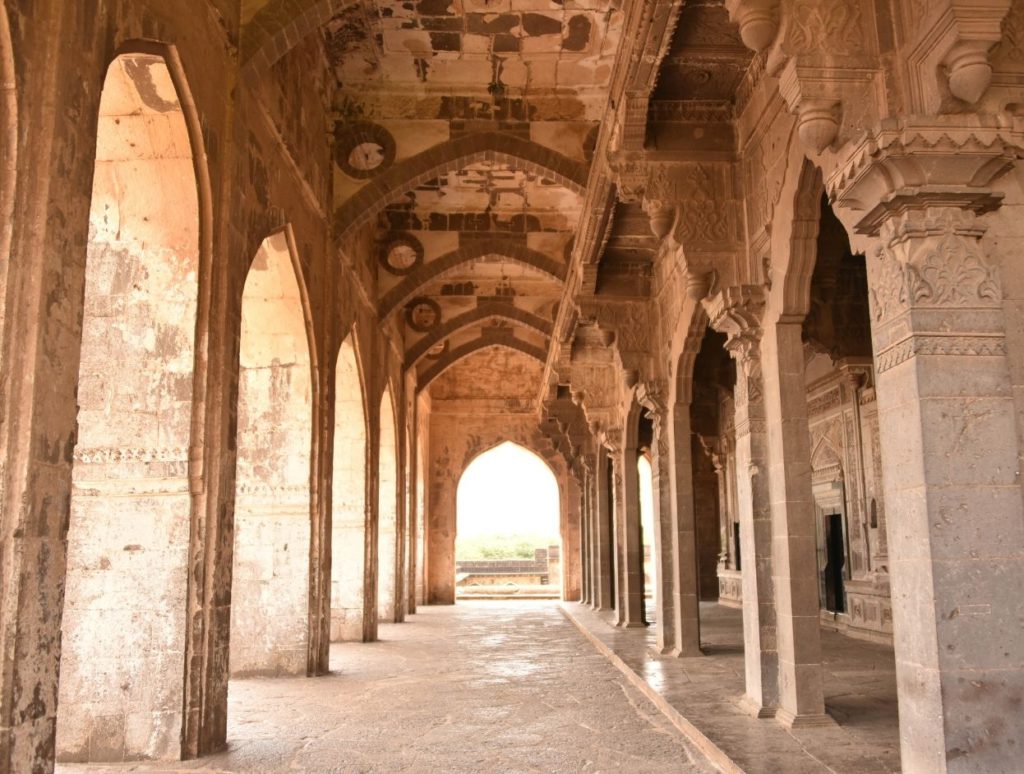 Jamia Masjid
The Jamia Masjid (or the Jumma Mosque) is probably the largest mosque in Deccan India. It was built in the 16th century. Now visiting the mosque is up to your personal beliefs, but if you don't mind, make a visit. It is one of the few mosques open for tourists and they really welcome people from all religions.
Located in the middle of the bustling town, your rickshaw driver will have to specifically tell you when you have arrived or you just wouldn't know. The mosque is huge with the prayer halls, decorated doors in gold paint and Persian calligraphy. There is a courtyard too will gardens, fountains and a small reservoir.
The people at the mosque (I am not sure if that was the priest) really took the time to show me around and tell me some interesting facts. Mind you, I was on a solo trip. I would still go back in a heartbeat. It is free for everyone to enter but you must dress conservatively. Women should especially cover their head with a scarf.
It can host the largest number of people for prayers. I don't remember the number (online sources vary from 2.5k to 18k).
Jamia Masjid timings: There is no official time to visit. But you can head at any time in the day except for Friday which is the prayer day for Muslims or any day of celebration.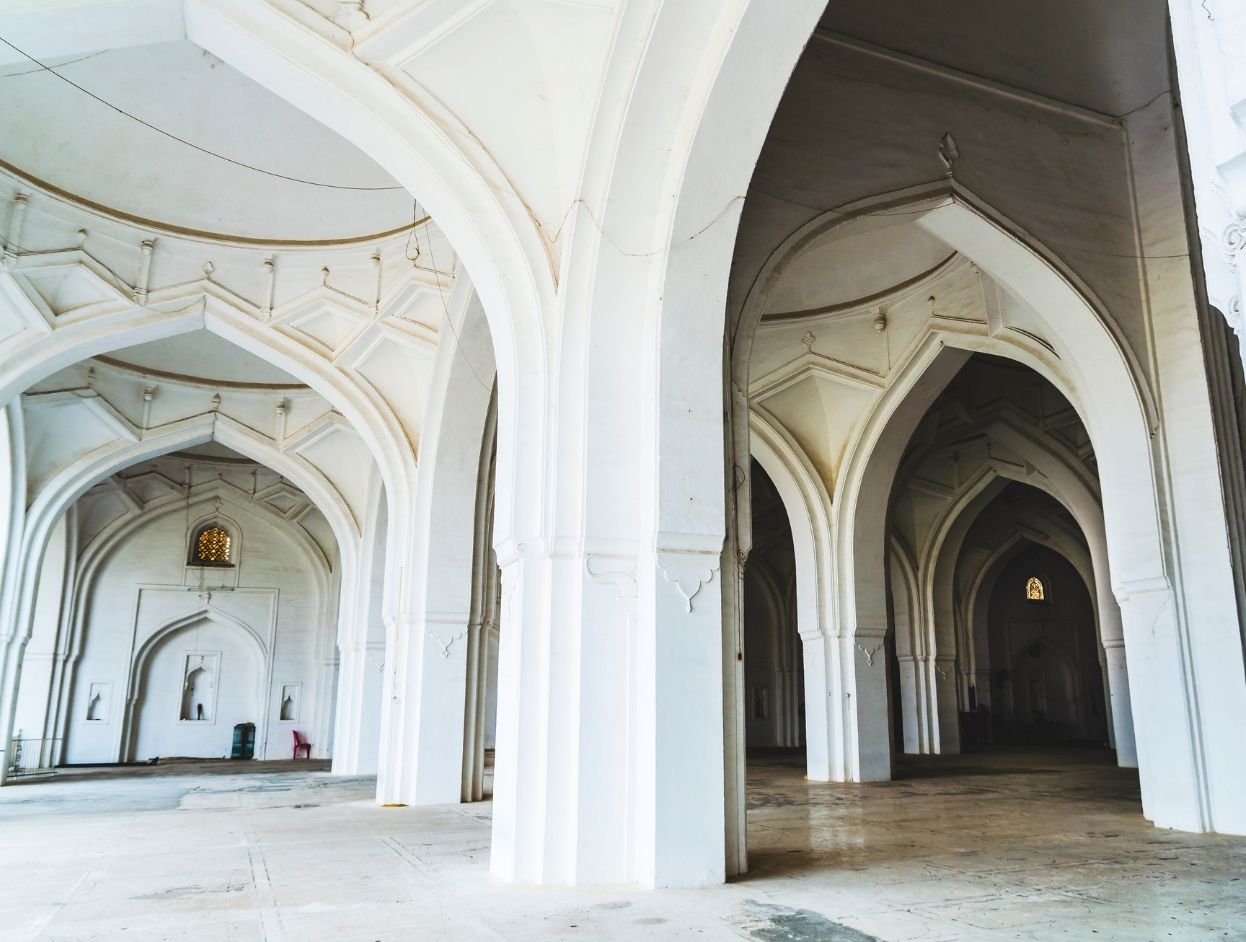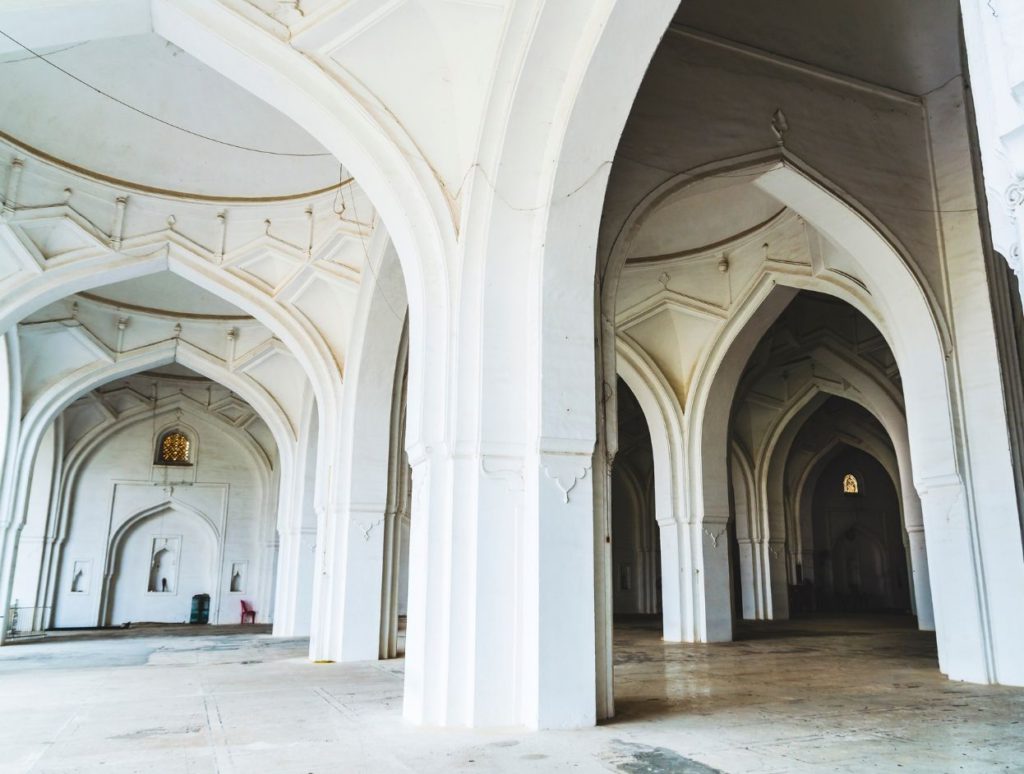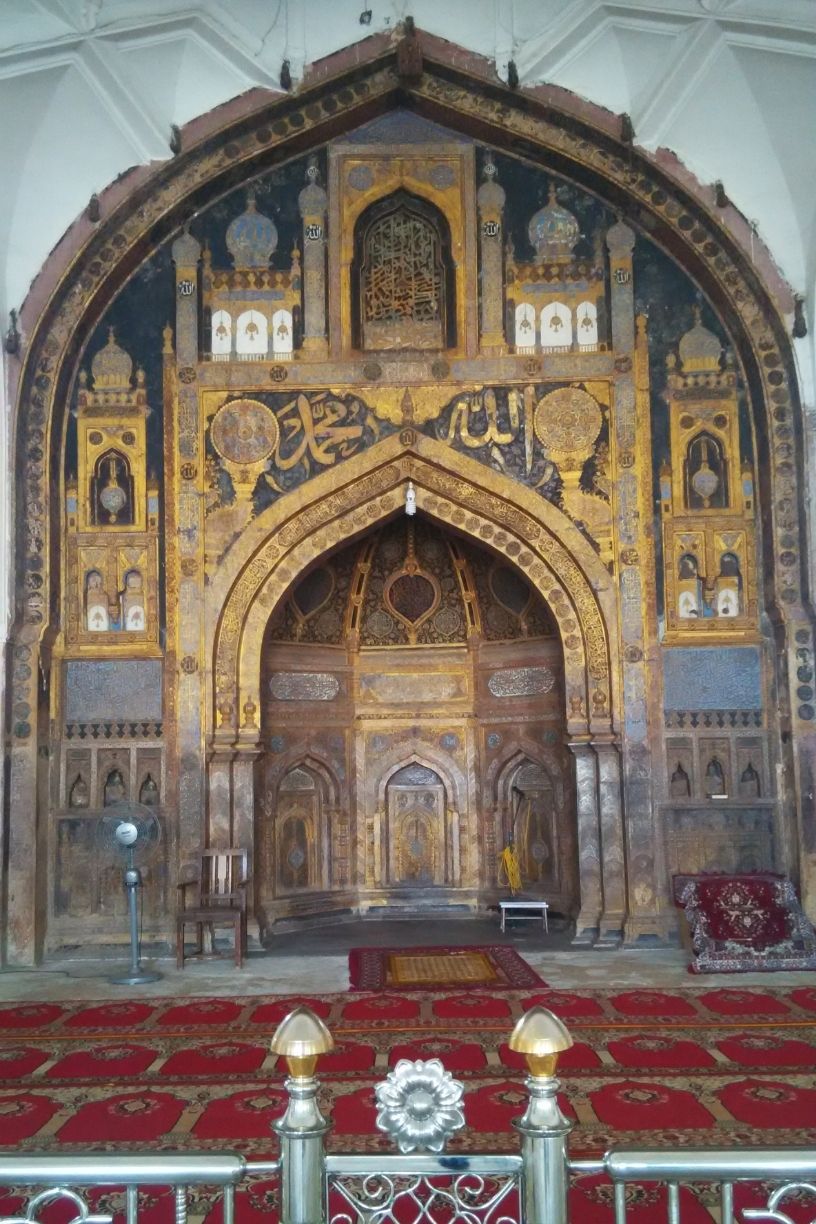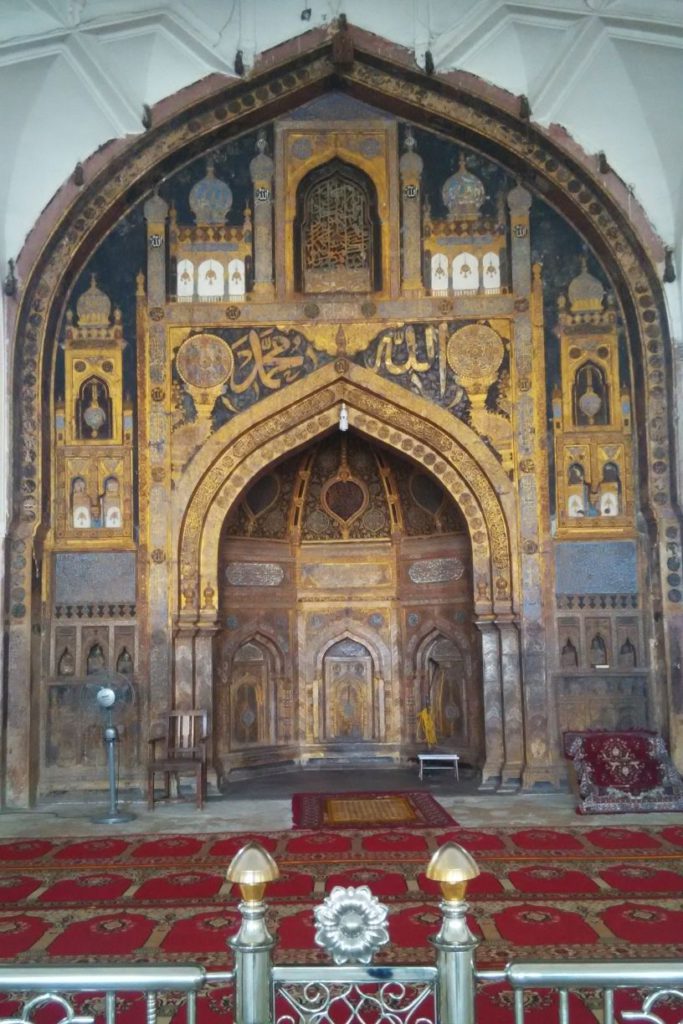 Barah Kaman
Barah Khaman is the unfinished mausoleum of Ali Adil Shah II. The name comes from 12 arches that stand vertically as well as horizontally to make the base of the structure. You can see the remains of the abandoned building today. People have made assumptions from historical data that the building was supposed to surpass Gol Gumbaz.
No one really knows why they abandoned the construction. Now, it does not carry a wow factor, they are only ruins, but if you have time, you can make a stop. Neat gardens surround the ruins. It is free to enter.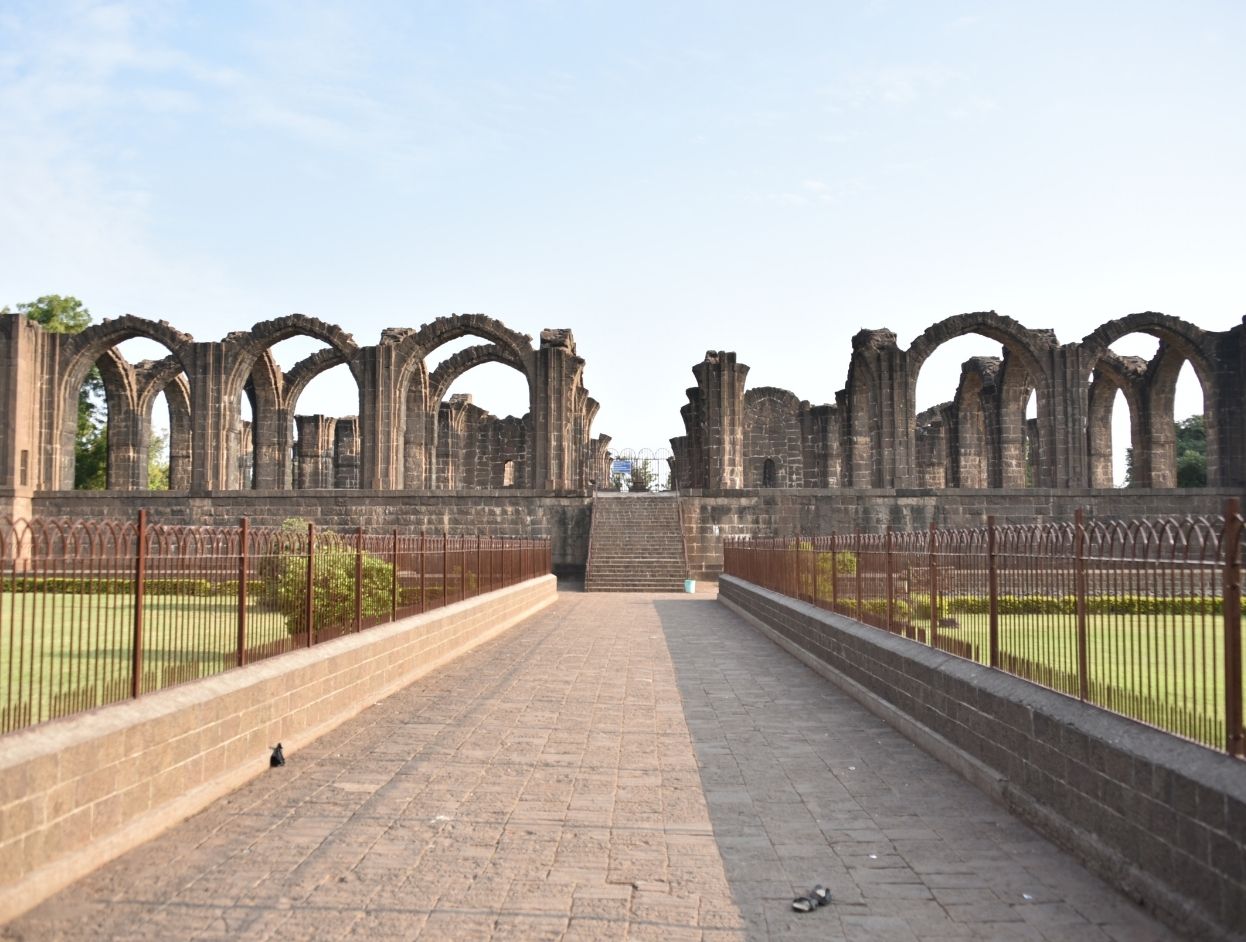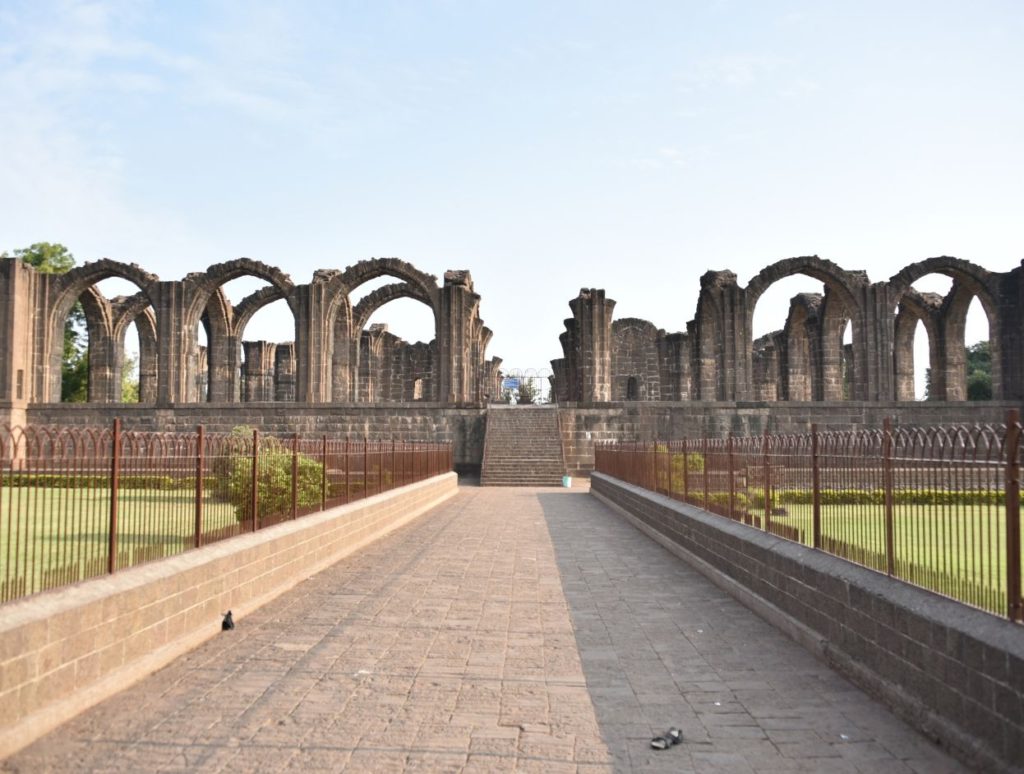 Malik-e-maidan and Upli Burz
Malik-e-maidan is a large (like really large) canon. Its origin is rumoured to be in Ahmednagar and was captured as a war trophy. The gun is so heavy (around 55 tonnes) that it took 400 oxen, 10 elephants and hundreds of soldiers to transport.
According to the legend, its explosion was so loud that the person who sets it alight had to jump into a nearby pool of water in order to save himself from deafening. As for the appearance, it has calligraphic decorations and a lion with an elephant inside its jaws near the mouth. The gun is always cool to touch even during super-hot summers.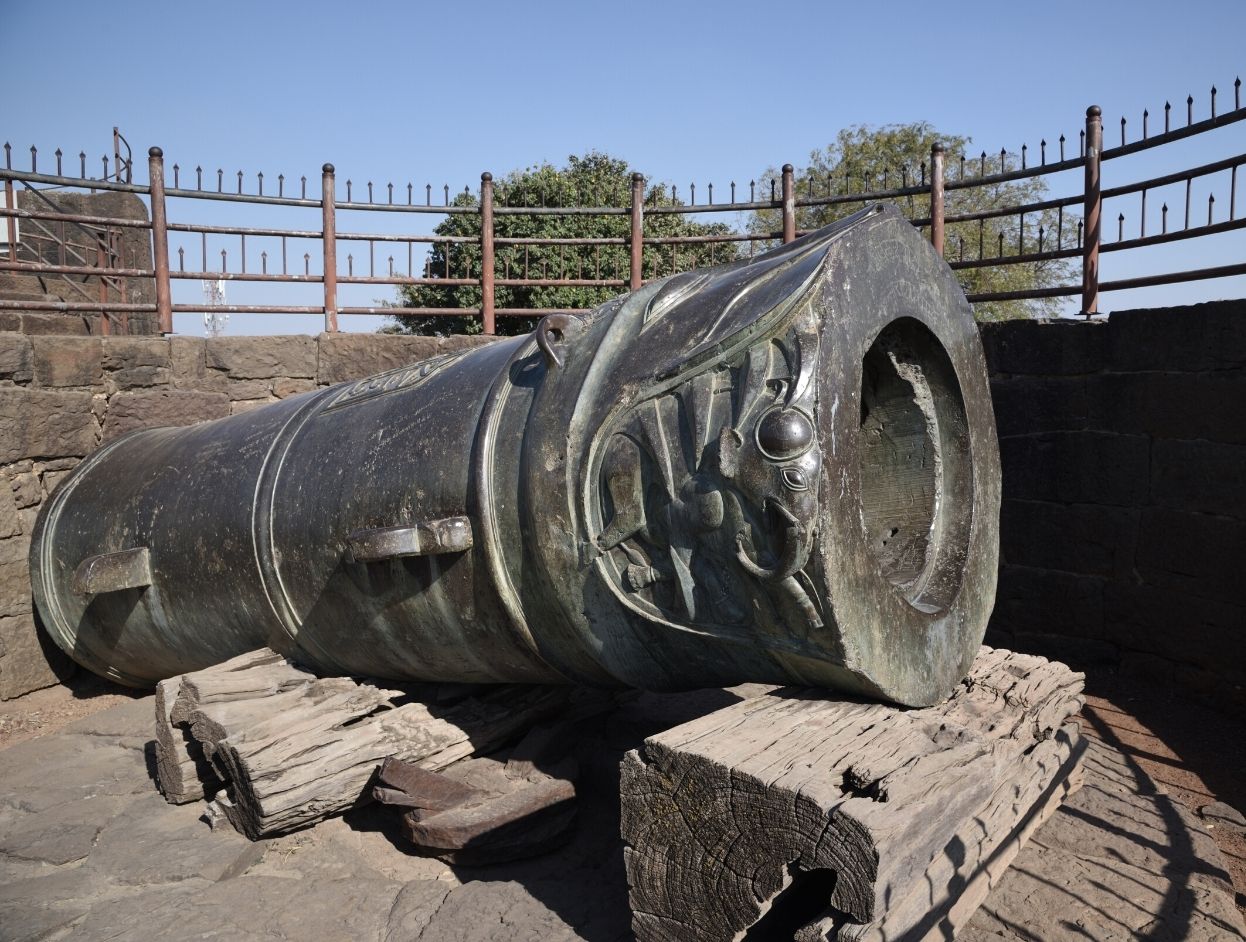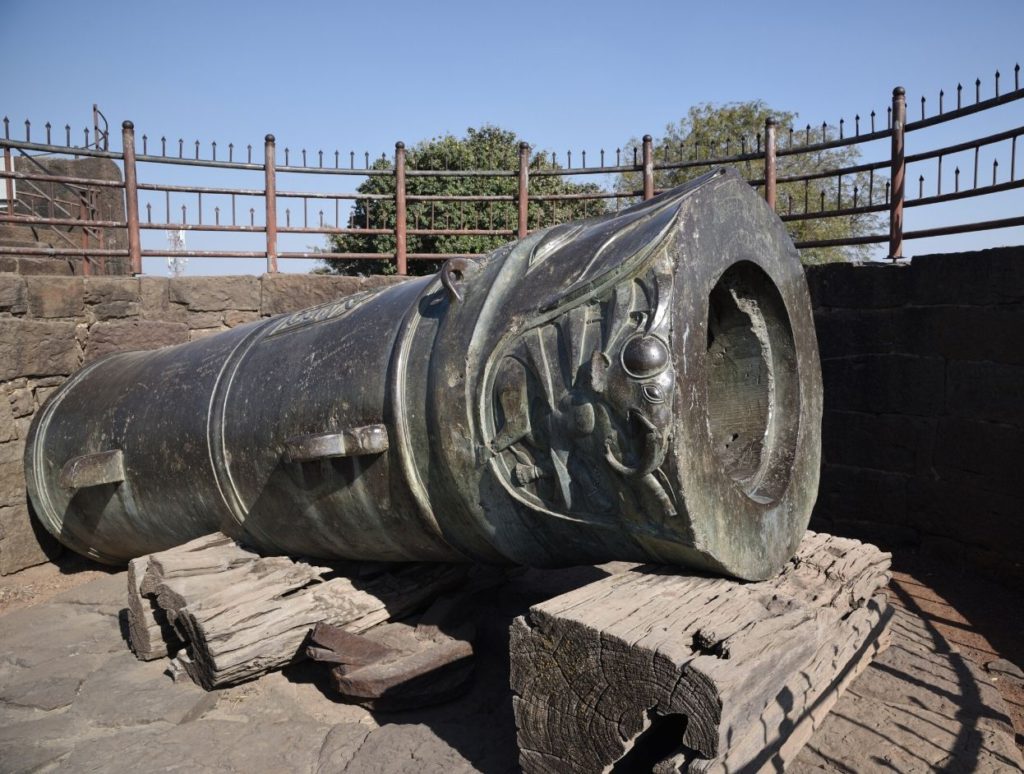 Just near to Malik-e-maidan is a stone tower with circular steps reaching to its rooftop. Another canon sits at the top that was used as a defence mechanism against enemies. It used to be a defensive tower used for fortification in the 16th century. You can still see some scattered remains of the surrounding walls. The top gives a decent view of the city, especially during sunset.
Both these places are free to visit. Guides are not available in the area neither is any solid information, so read up before you go.
Mehtar Mahal
Mehtar Mahal is a rather small three-storeyed palace. A lovely piece of architecture but sadly ignored with no maintenance. It was built by a sweeper in 1620 when Ibrahim AdilShah paid him a large sum of money of 1500 gold coins towards his leprosy as kindness. Mehtar Mahal literally translates to 'the palace of sweeper'.
The small palace is built in Indo-Saracenic style of architecture best seen in buildings built by the Mughals. The place has beautiful floral inscriptures, a balcony in front as seen in royal palaces and small minarets on either side. A mosque is right behind the palace. The place is free to visit.
Mehtar Mahal timings: The place is open from 8.00 am to 6.00 pm every day of the week.
Shivagiri temple
The 85-feet tall sculpture is slowly gathering popularity as a small pilgrimage with the neighbouring Hindu population. The statue is one of the largest in India. It was built by sculptors from Shimoga. The temple premise is located 3 km from Bijapur.
The place is clean with a small park and smaller sculptures of Hindu gods like Radha Krishna, Nandi (shiva's escort) and even Buddha in the premise. A good place to relax after the chaos and a busy day sightseeing in Bijapur.
Shivagiri temple ticket price: ₹15 per person.
Shivagiri temple timings: 6.00 am to 8.00 pm every day of the week.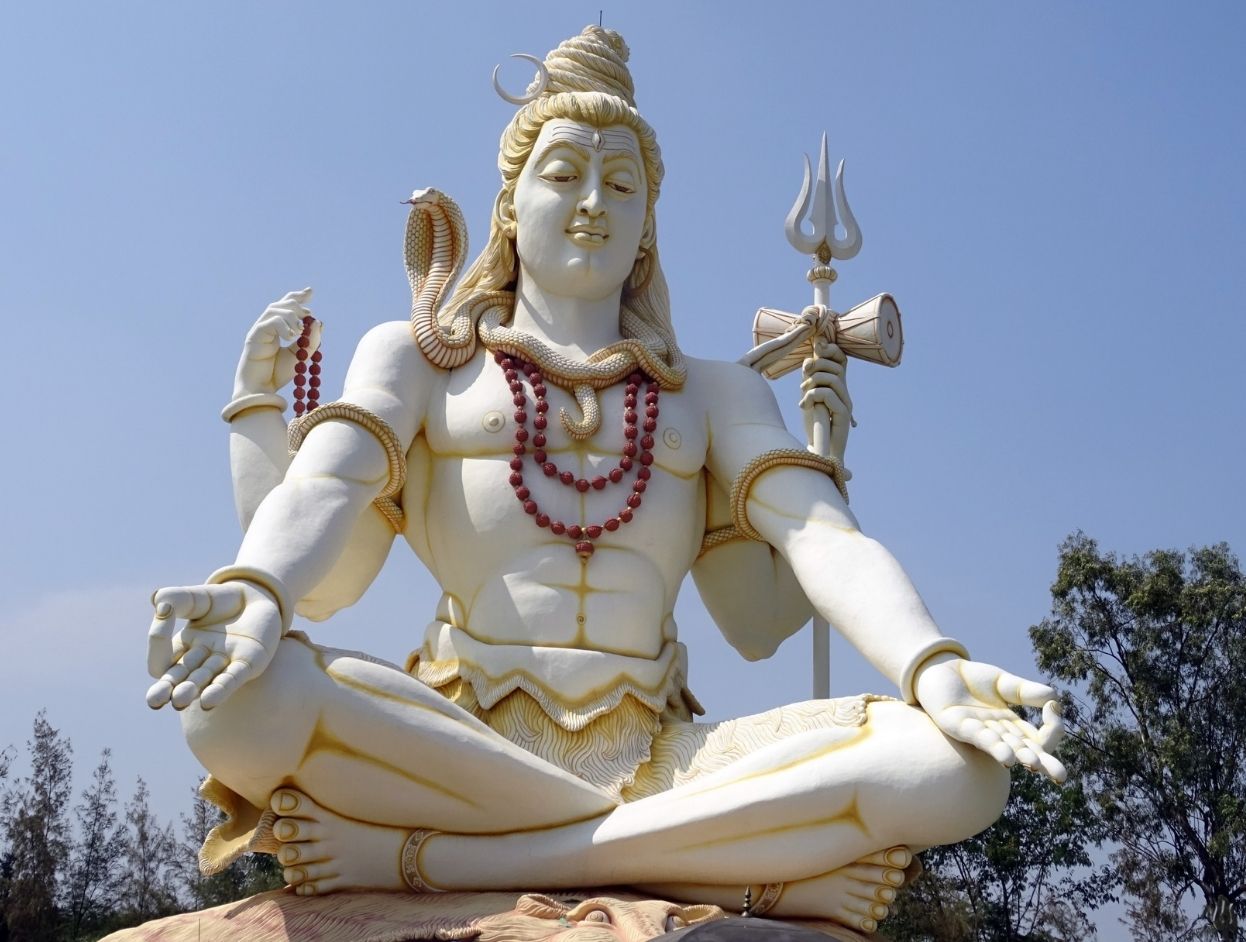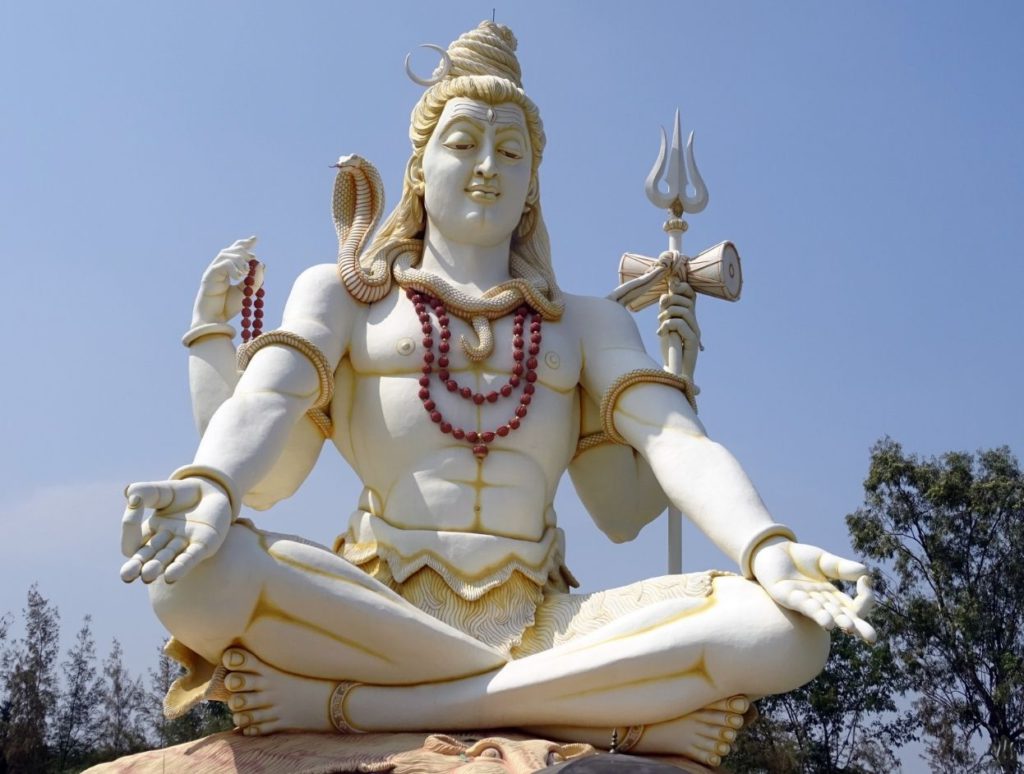 Other places to visit in Bijapur
Gagan Mahal: Gagan Mahal used to be the royal residency of the kings of the Sultanate with the main durbar or the royal court. The palace was built in Persian style with stone walls and wooden roofs. However, today only the ruins of stone walls remain. The scale of the building still remains impressive. The grounds are open from 8 am to 5 pm with a small entrance fee.
Afzal Khan's Cenotaph: The ruins of an important burial place stands in the middle of nowhere. While the building is still impressive even without much care, the place is far from Bijapur. Make the journey only if you have exhausted your list of things to do in Bijapur.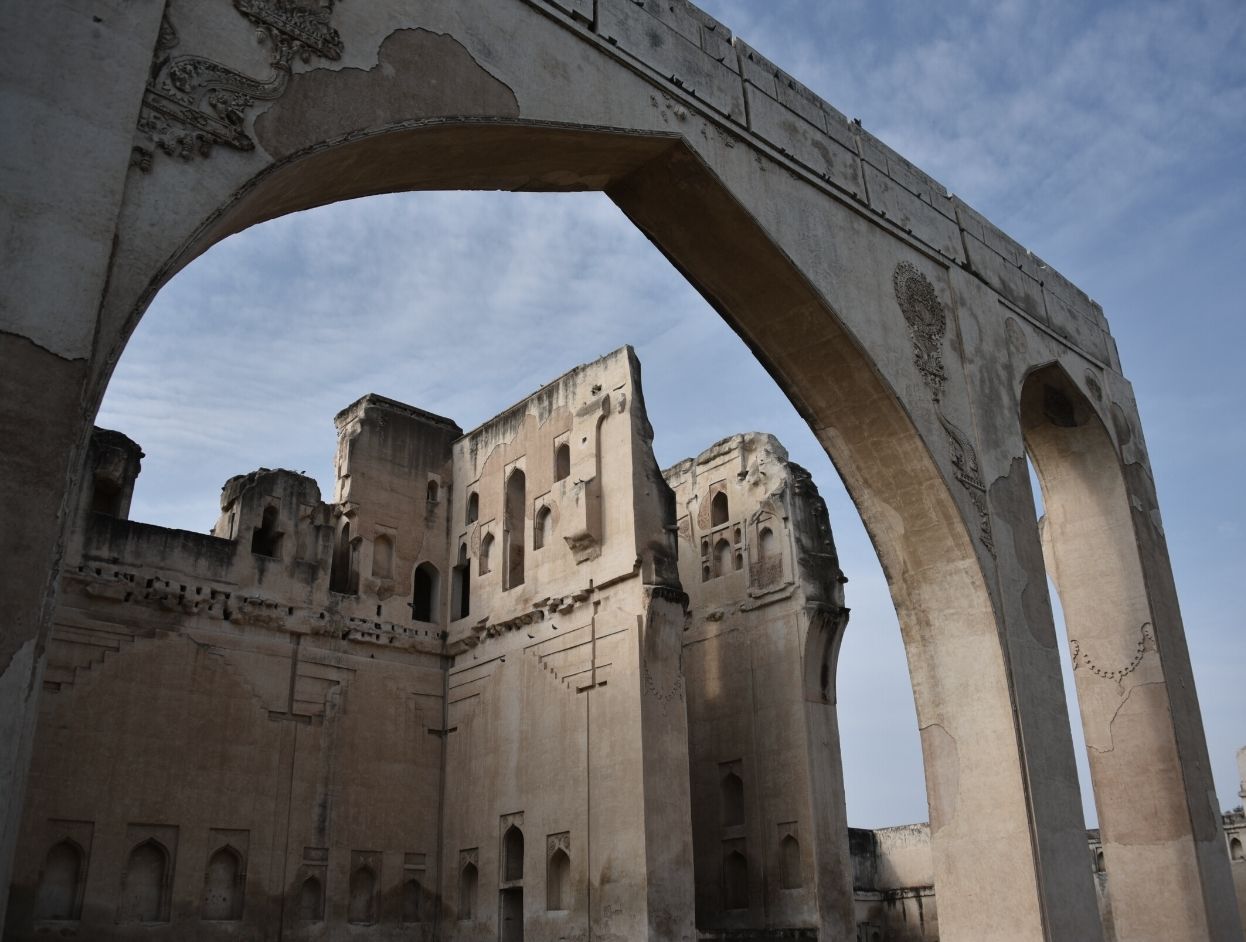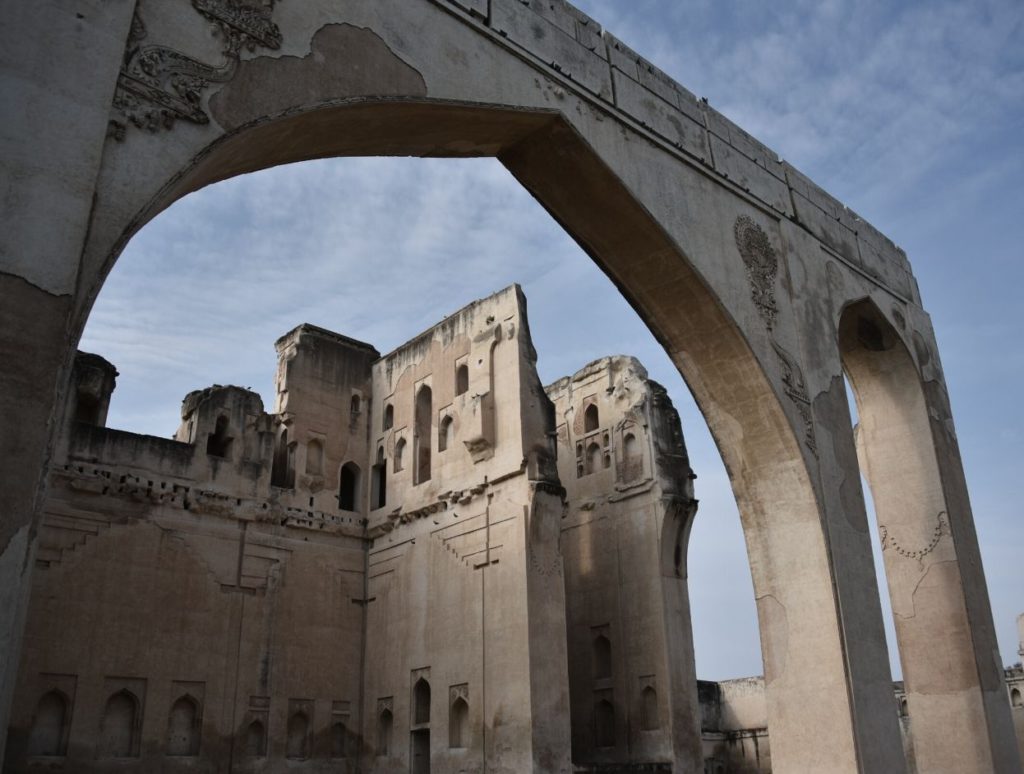 Where to Stay in Bijapur?
While there aren't a large pool of properties available in Bijapur to stay, you can still find a hotel to your requirement but most of them are on the pricier side. A day's rent can start from ₹2,000 and more for a mid-range hotel.
If you are looking for a budget hotel, I suggest you find one on the spot but check the room thoroughly for stuff like cameras if you are a female traveller or have one in company. You can find some rare listings on Airbnb as well.
Mid-range hotels: KSTDC Hotel Mayura Adilshahi, Kyriad Hotel, Hotel Madhuvan International
Luxury hotels: The Fern Residency Vijayapura, Hotel Le Grande
Best time to visit Bijapur
Winter (October – February): This is the best time to visit Bijapur. The sky is clear with almost no rainfall. The temperature hovers from 21-25°C with a pleasant evening. It usually never gets too cold in Bijapur. The humidity is also at its lowest.
Monsoons (July – September): I personally love monsoons. And it never rains the whole day in Bijapur. So you can still plan your visit during this time. Although rains may disrupt some activities, you can still plan around it. The humidity in the air increases. Do not mind the mud.
Summers (March – June): Summers are harsh and arid in this region. North Karnataka is also prone to water shortages. Heatwaves are also common in the area and the temperature sometimes crosses 40°C. I will not recommend travelling during this time. But if you do, hire an AC cab and go out during the evenings only.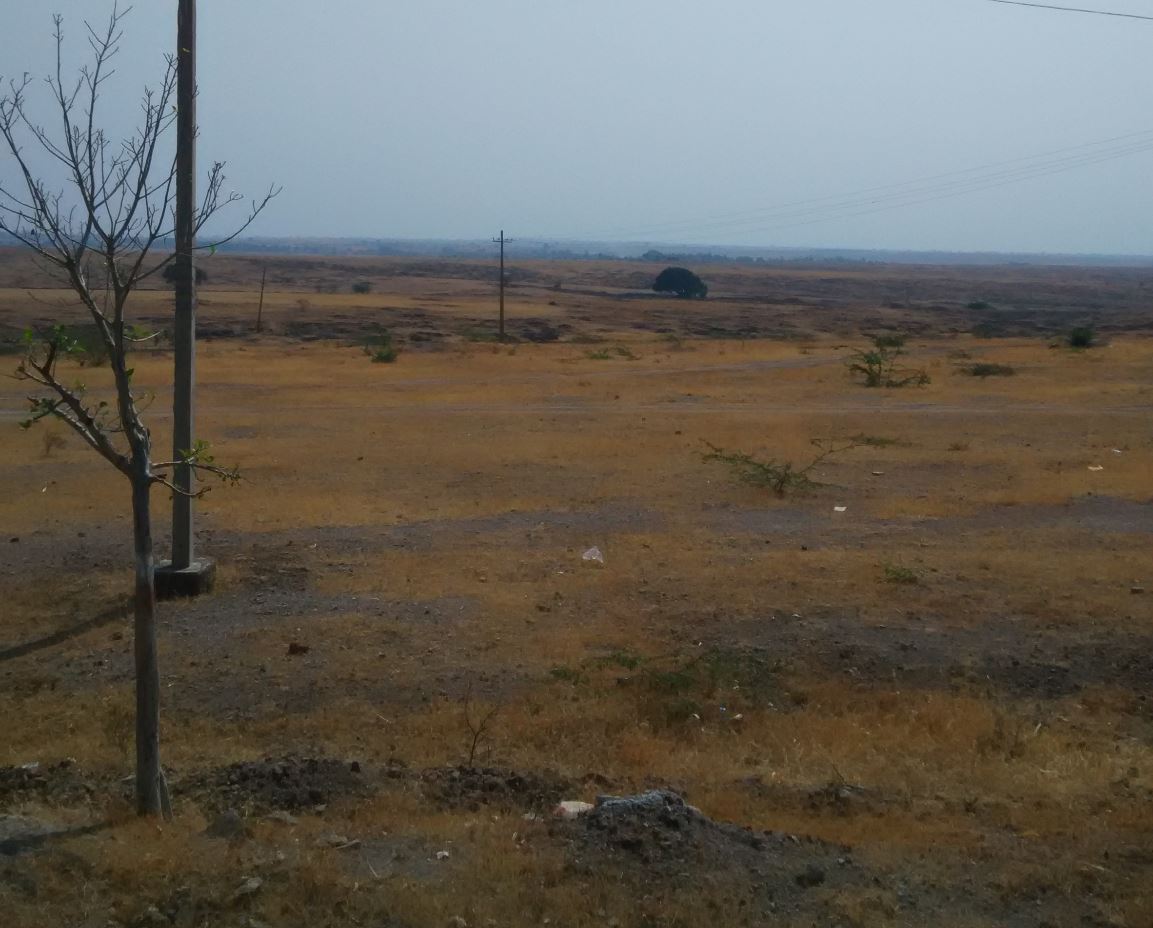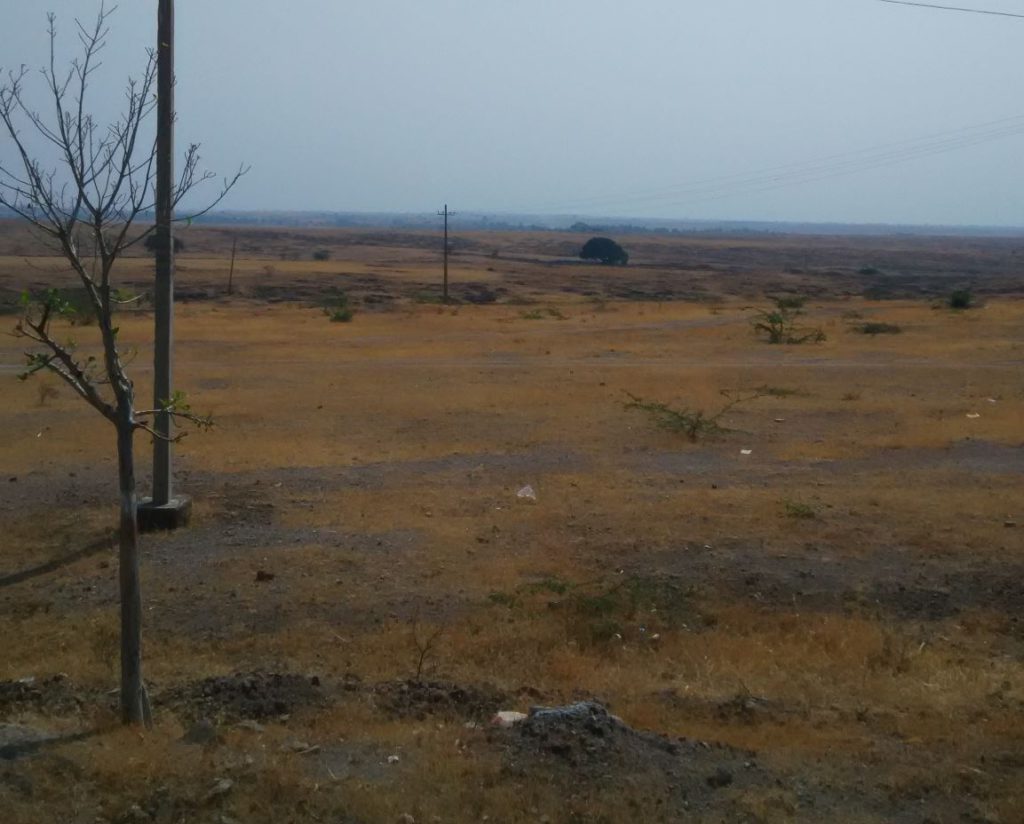 What to wear in Bijapur
Bijapur is a rather conservative town with a large Muslim population. While you are not expected to completely cover yourself in local garbs, I will suggest go for modest clothing. Men should wear full pants and t-shirts with sleeves. Avoid shorts or sleeveless tees.
For women, it is okay to wear full denim (not ripped) with a modest loose top showing no cleave. Although you may feel even more comfortable if you wear salwar kameez that goes very well with the town culturally. Keep a scarf with you to cover your head when needed (handkerchiefs for men).
You can also carry thick socks for the times you need to go barefoot near mausoleums so that a hot floor does not burn you.
My Grievances with Bijapur
While I personally make a point to not comment on things that I cannot do much about, it is disheartening to see the state of the monuments in Bijapur. Most of the places are not looked after and sometimes people like ticket collectors give you old tickets to pocket the money from the revenue (They are probably paid meagrely).
You may find the city dirty as well and spot garbage or sewage water near important historical sights. I am still unsure if we as tourists can do much about it. Although, make sure that you pay the tickets using online apps so that the money directly goes to the responsible organisation. Handing out tips where it's due will also help the local economy.
Save On Pinterest


Related Articles