20 Nov

All about Badami Cave Temples, Karnataka, India

If you are already visiting Hampi and loved the sandstone ruins, I suggest you take some time and explore a bit more nearby. A little north of Hampi is the small town of Badami famous for the ancient Badami Cave temples.

Badami was once the capital of the glorious Chalukya Empire between 6th and 12th century AD. The Dynasty at its peak ruled large parts of central and southern India. Their reign ranged from present-day southern Gujarat to the northern border of Kerala and all the way to Bay of Bengal in the East.

The town is something like an extension to the sandstone boulder landscapes of Hampi. The caves temples of Badami being the centre of attraction that pulls tourists around the area.

In fact, the towns of Paddakal and Aihole all a few kilometres apart from each other calls for a visit for the history buffs and architecture enthusiast and has been recognised as a UNESCO World Heritage Site.

I visited this place solo and with mixed emotions, here are my experiences and all you need to know about visiting Badami Cave temples.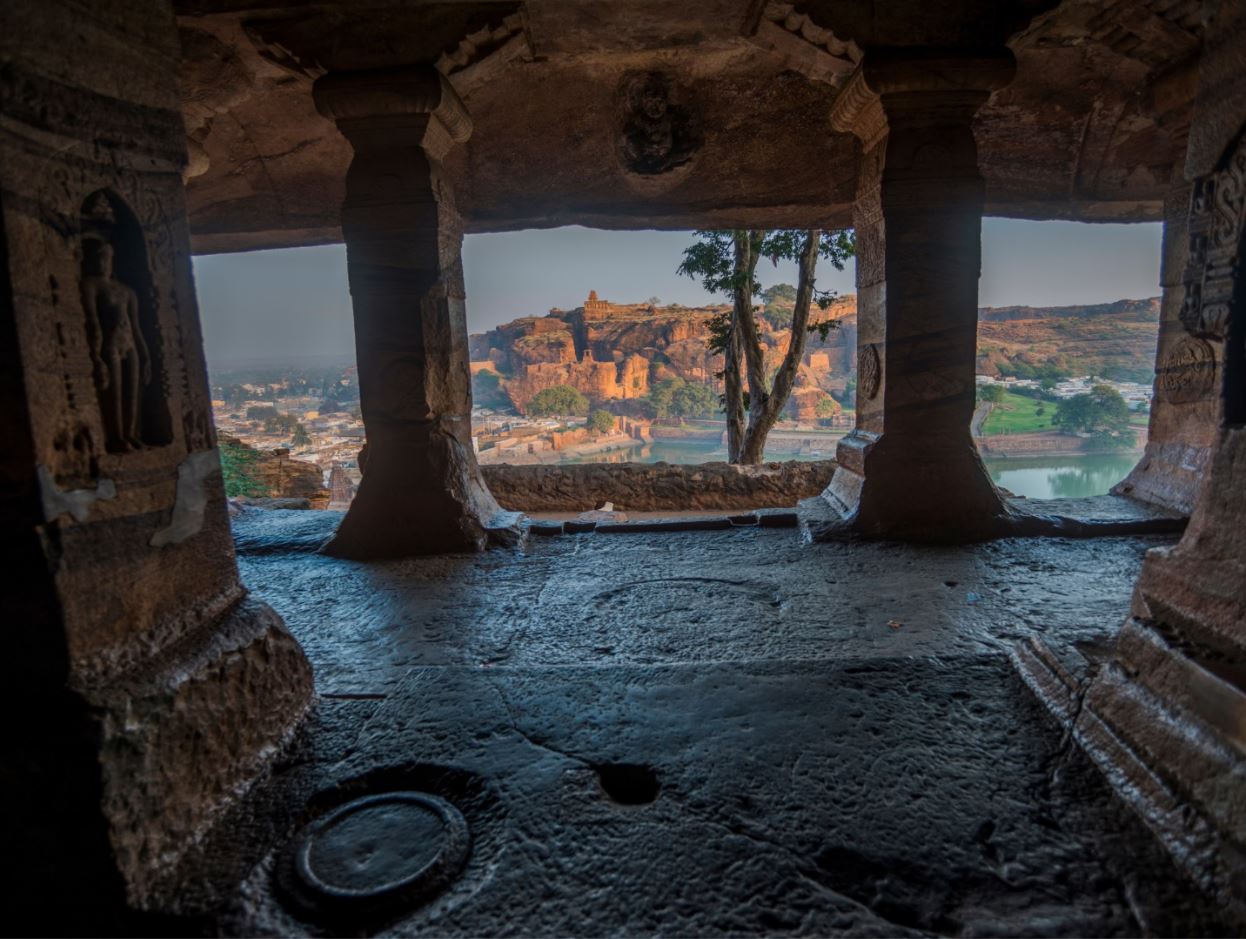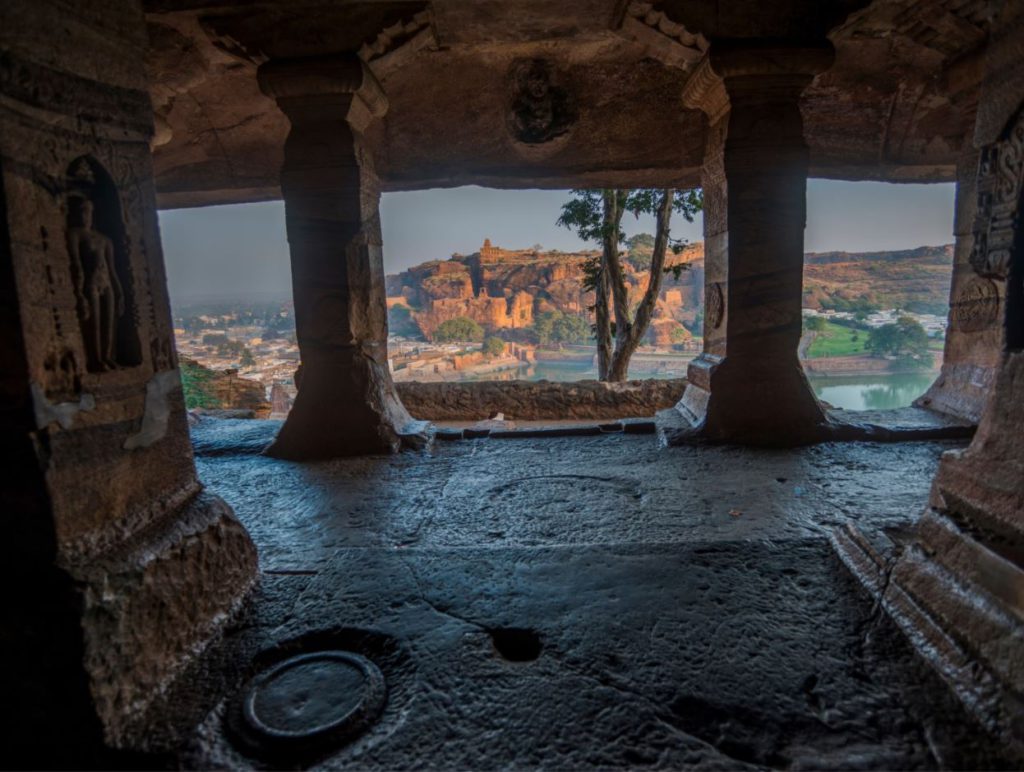 Where is Badami?
Badami is located in north Karnataka, 141 km North-West of Hampi town. Hampi, Badami with Hubli with making a triangle with Badami at its head located east of Goa. It is 514 km from Bangalore city. The terrain, similar to north Karnataka is dry with sandstone hills breaking the landscapes.
How to reach Badami
You can use one of the following means to reach Badami:
Train: Badami has a small train station just 5km outside the city. If you cannot find a direct train, you can also take a local train from some of the closer towns like Hubli, Gadag, Bagalkote, Bijapur and Solapur. There are a few trains run directly from Bangalore's Yeshwantpur Station. Check the train schedules from Bangalore here. A few trains run from Mumbai as well. Check out the train schedules from Mumbai here.
From the train station, you can either take an auto-rickshaw (I will suggest this) or wait for a bus that runs to the city (dirt cheap). Book your train using the official website or via makemytrip.com or yatra.com.
Bus: There are direct overnight buses available from Bangalore every day. But there are none from Mumbai. Balagot is another city nearby with better connectivity. However, if you are planning to visit the nearby cities since Badami in itself is not too popular, you can head to Hospet (near Hampi) and then get a local bus to Badami. Book your bus tickets at redbus.in or makemytrip.com
There are frequent local buses from nearby towns like Hospet, Gadag, Hubli, Belgaum and Vijaypura (Bijapur). Expect the buses to be non-air conditioned and rickety. But you will pay peanuts for them.
Flight: There is no airport in Badami, Hampi or in the nearby areas that cater to frequent commercial flights. There is a domestic airport in both the cities of Hubli and Belgaum that are 2.5 and 3.5 hours away by drive respectively. You can take a cab from the airport that should cost you between INR 2,000 – 3,000.

Best time to visit Badami
Your time of visit will be important in Badami. You will enjoy the place on the right day or you may find yourself cursing the heat on the bad ones. Here is the best time to visit (in order):
Winters (November – mid-February): Winters in central India are pleasant and hardly ever gets too cold. This makes the best time to visit the region. The temperature hovers between 18-20°C during the day and dips a little more at night. The days are clear and you can hardly expect any rain. A sweatshirt will usually be able to keep you warm.
Monsoons (July – September): I don't know about you but I love monsoons in India. I think it is also a pretty great time to visit. Rain brings great relief to the region after a scorching summer. The downside is, it can get really humid and of course muddy. So if you are travelling then, make sure you have decent rain gear and sandals that will dry off quickly.
Summers (February-end – June): To be blunt, do not travel during this time. The summers are brutal. Temperatures are sometimes above 40°C and heat waves are common. Needless to say, it can even get fatal. On top of that, the dry sandstone terrain reflects even more heat than usual.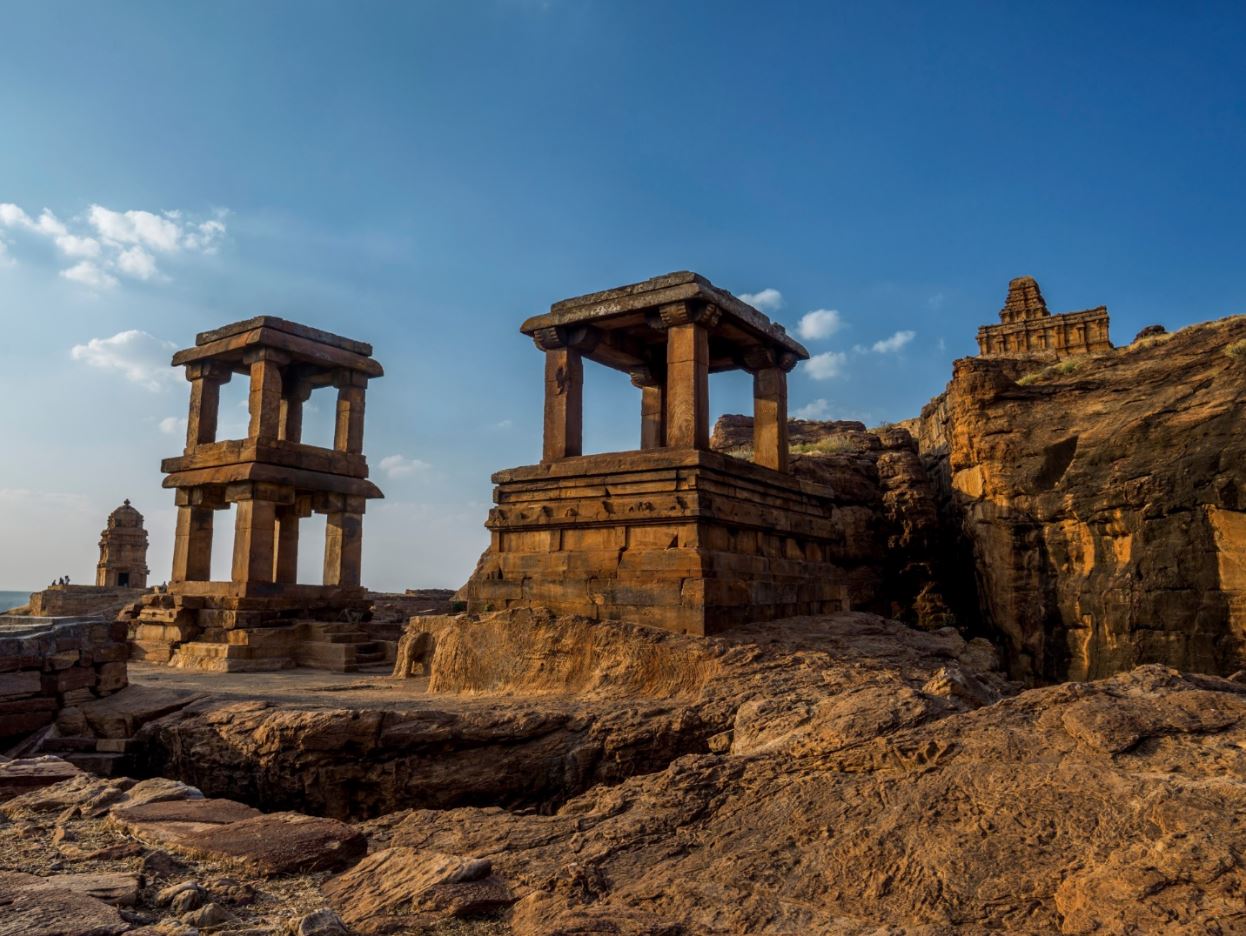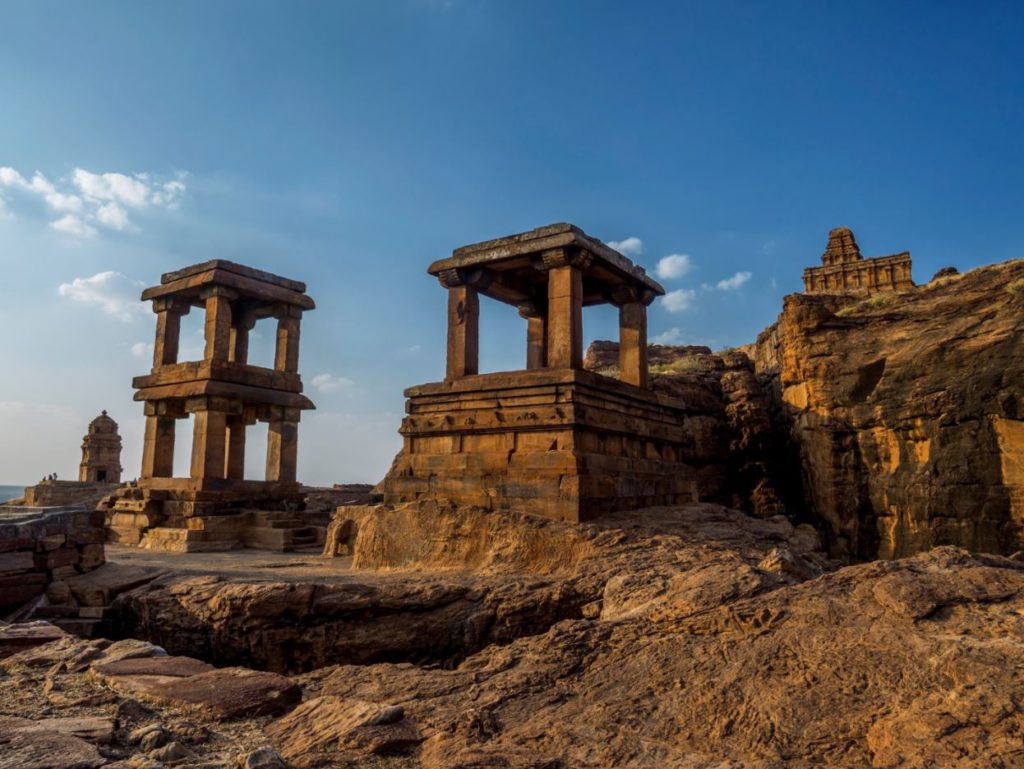 How to go around in Badami
Since there are a few historical sites in Badami, you will need a vehicle to go around the place. Do not count on public transport in the town.
Taxi: If you are a group or a family and looking to travel more comfortable in Badami and to other historical places like Padakkal and Aihole, I will definitely suggest booking a cab. It will take around 5-6 hours to cover all of Badami Cave temples.
A full-day taxi will start around INR 1,600 and upwards depending upon the vehicle. You can book one online on clearcarrental.com or look for one in the parking area at the bus station.
Auto-rickshaw: If you are travelling solo, a couple, on a budget or just want a more local experience, look for an auto-rickshaw driver. You can hire one for a few hours at the bus or train station. Apart from driving, they will be happy to be your tour guide too.  An auto-rickshaw will cost you around INR 300 for 3-4 hours and more for a full-day tour.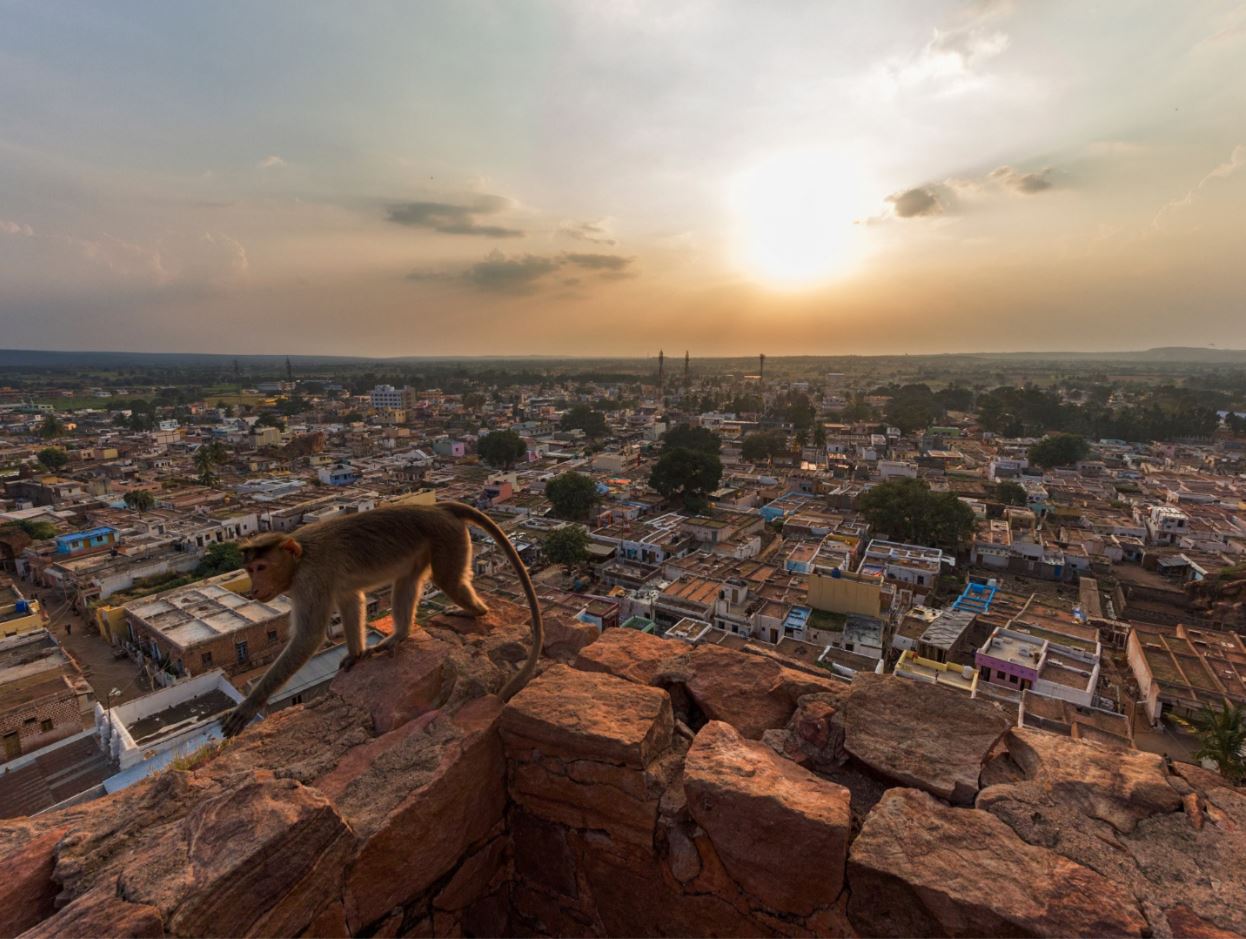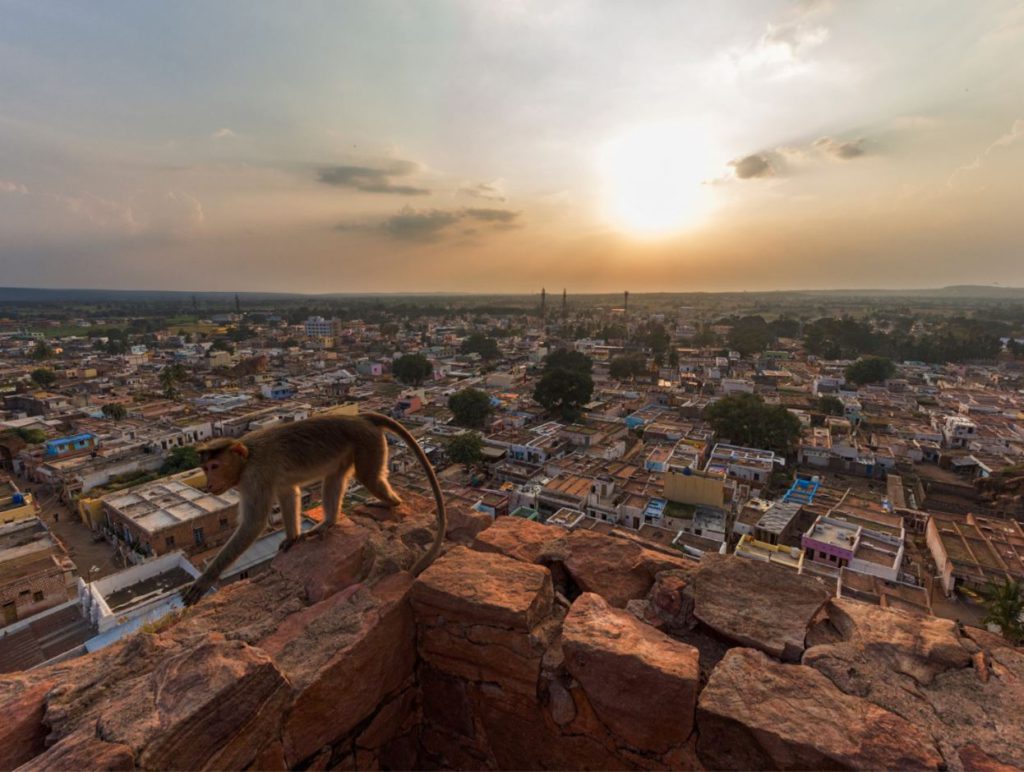 What to see in Badami
Badami Cave Temple
These are a complex of Hindu and Jain temples in Badami. There are a set of four temples named as Cave 1, 2, 3 and 4.
The cave temples of Badami along with Padakkal and Aihole make a strong candidate for the title of a UNESCO World Heritage Site. In fact, some of these are already acknowledged as them. These temples are the oldest Hindu cave temples found in the region dating back to the 6th and the 7th century, far ahead of others that will be built in time.
All the cave temples in Badami are cut out of soft sandstone. Each cave follows a story pattern and figurines have a theme. For example, the first three caves depict the Hindu gods of Shiva and Vishnu where the fourth cave has features from Jain icons. Additionally, the first two caves are done in the Deccan style of art while the third cave is a complex fusion of North Negara and southern Dravidian styles.
You don't need to go too deep in history if you aren't an enthusiast. Refer to this article if you want to know more. Other than that, I have to admit that the caves aren't too maintained. I found stench in some areas quite unbearable. But bear with it.
Badami Cave temples timings: There aren't any official timing to visit the caves but they are usually open from dawn to dusk. It will take you 2-3 hours to explore all of them.
Badami Cave temples ticket price: INR 10 for Indian National, INR 100 for foreign tourists.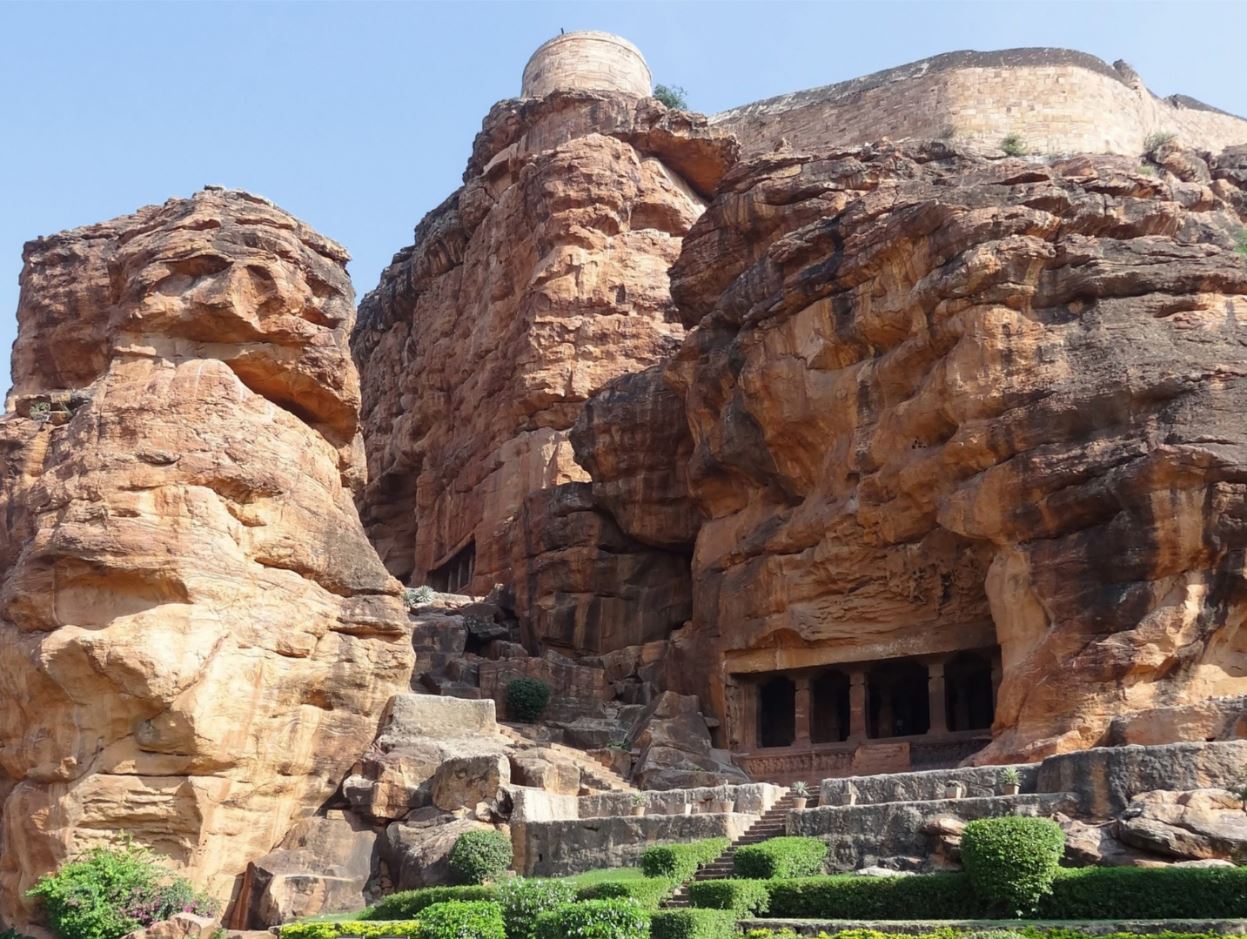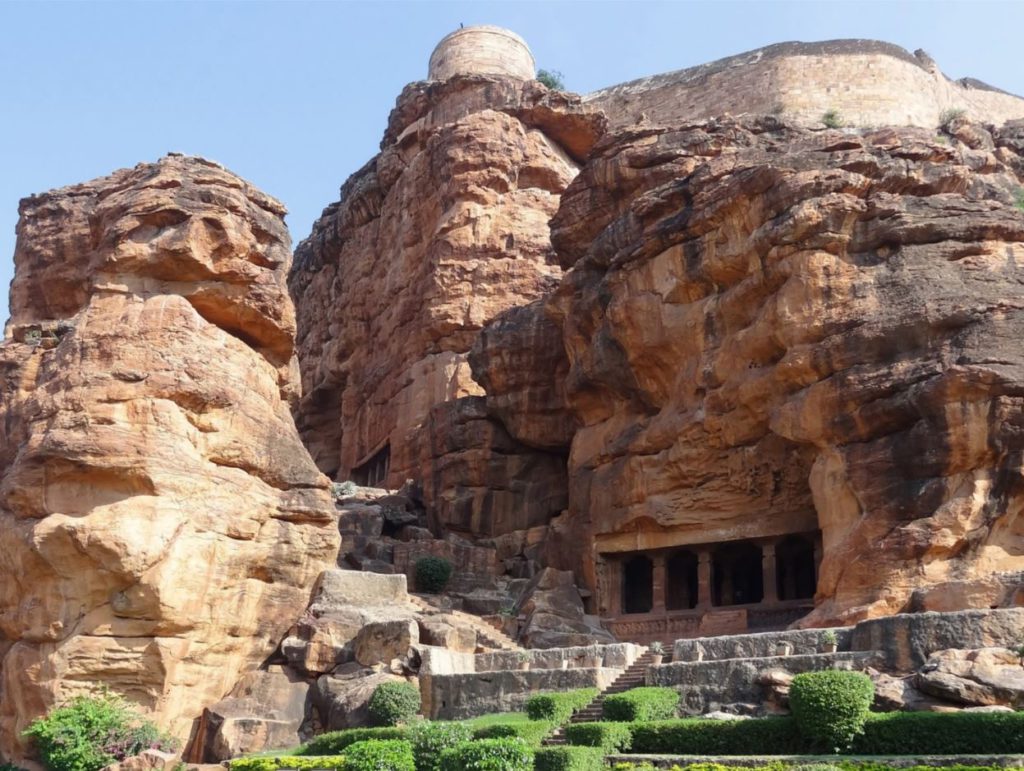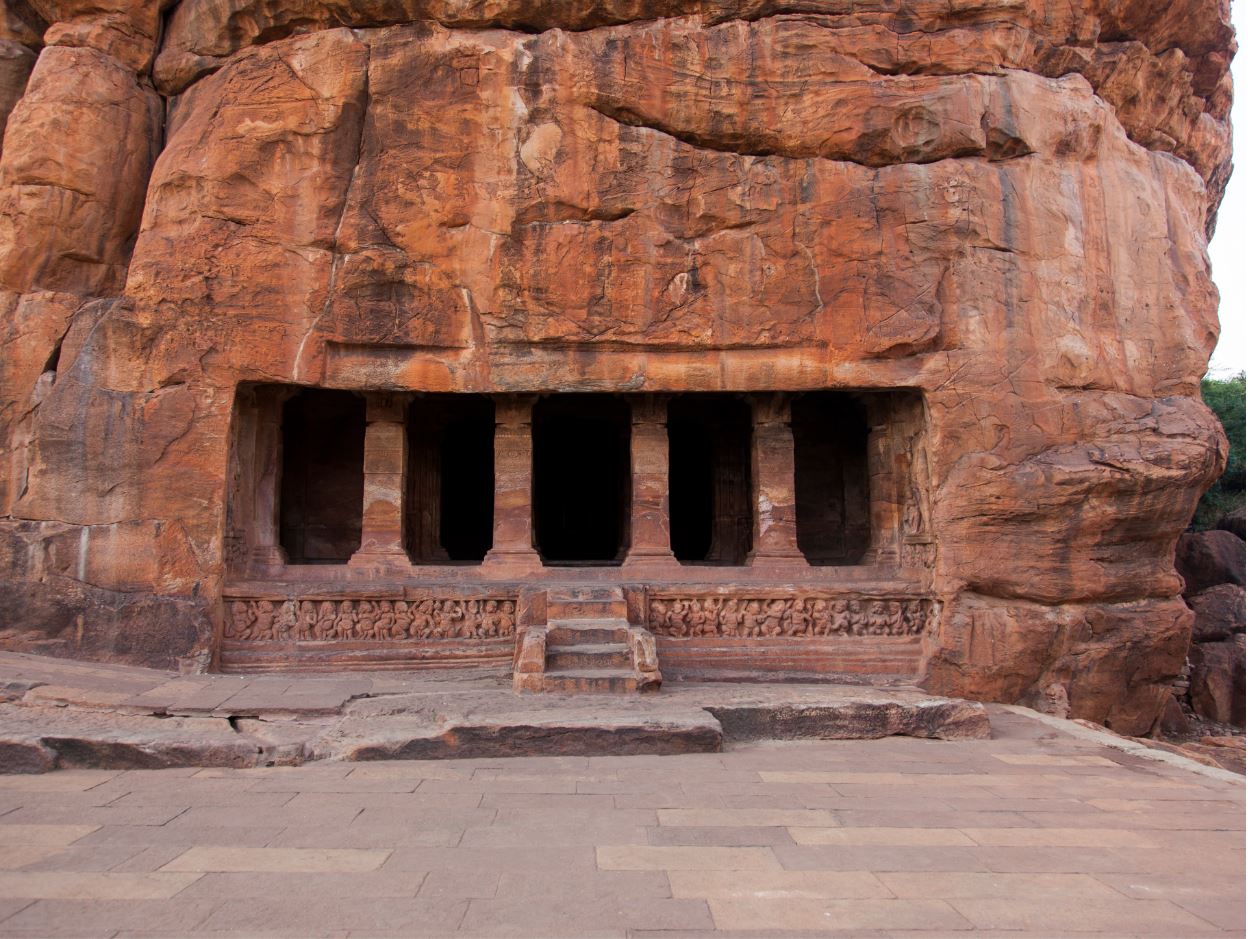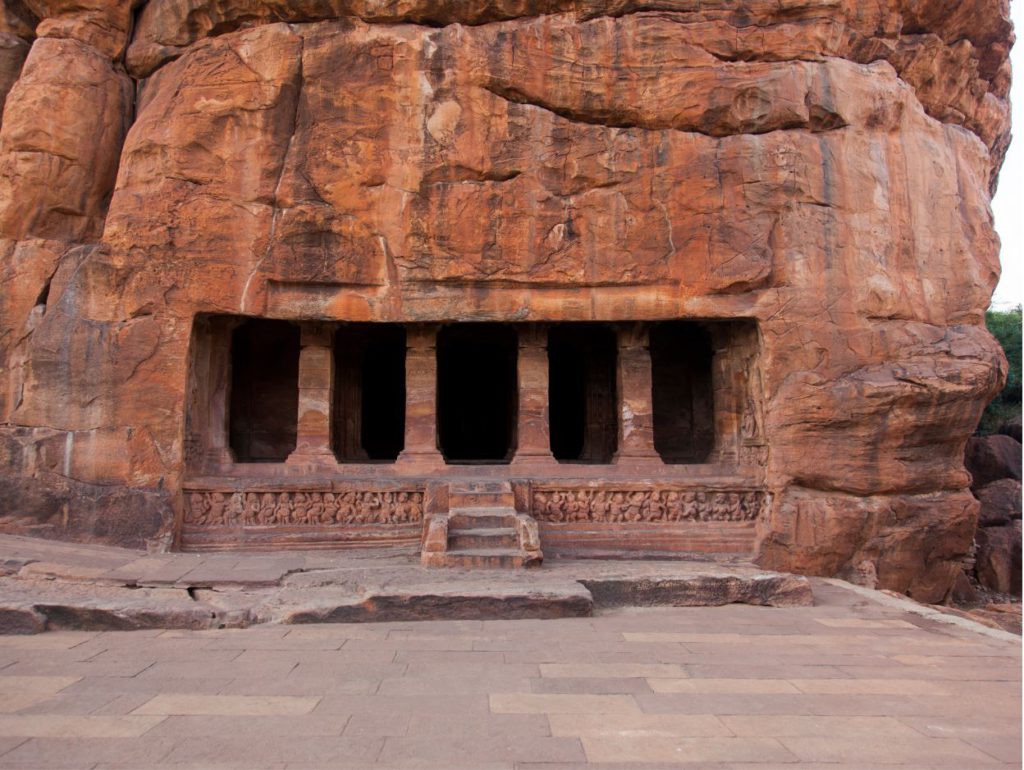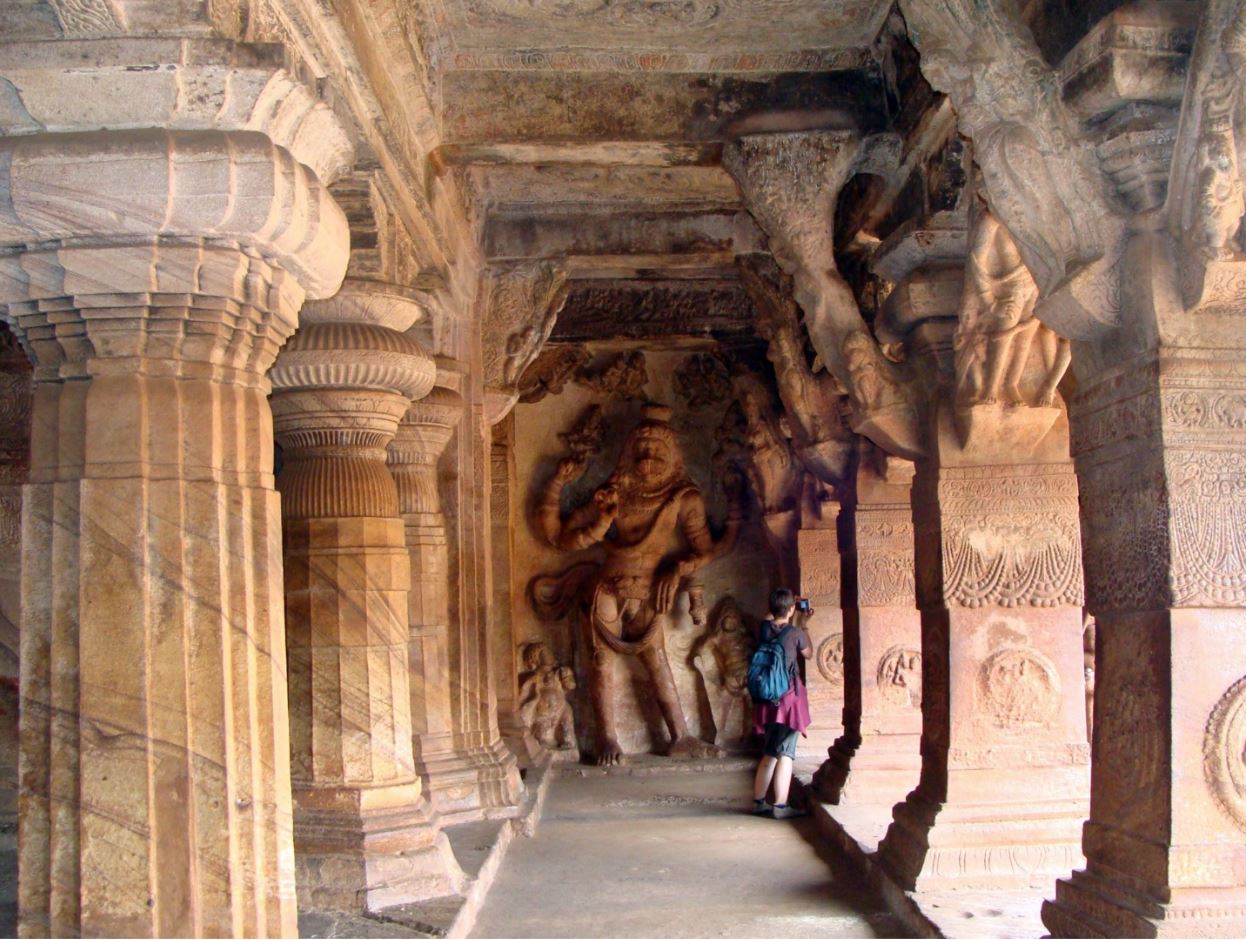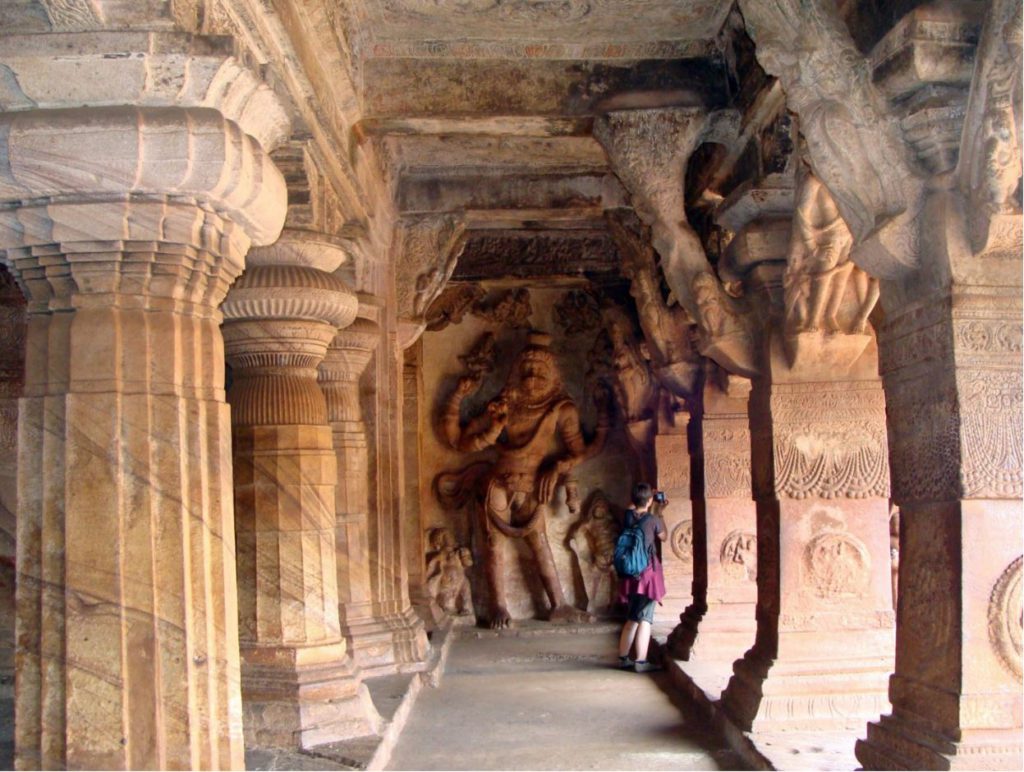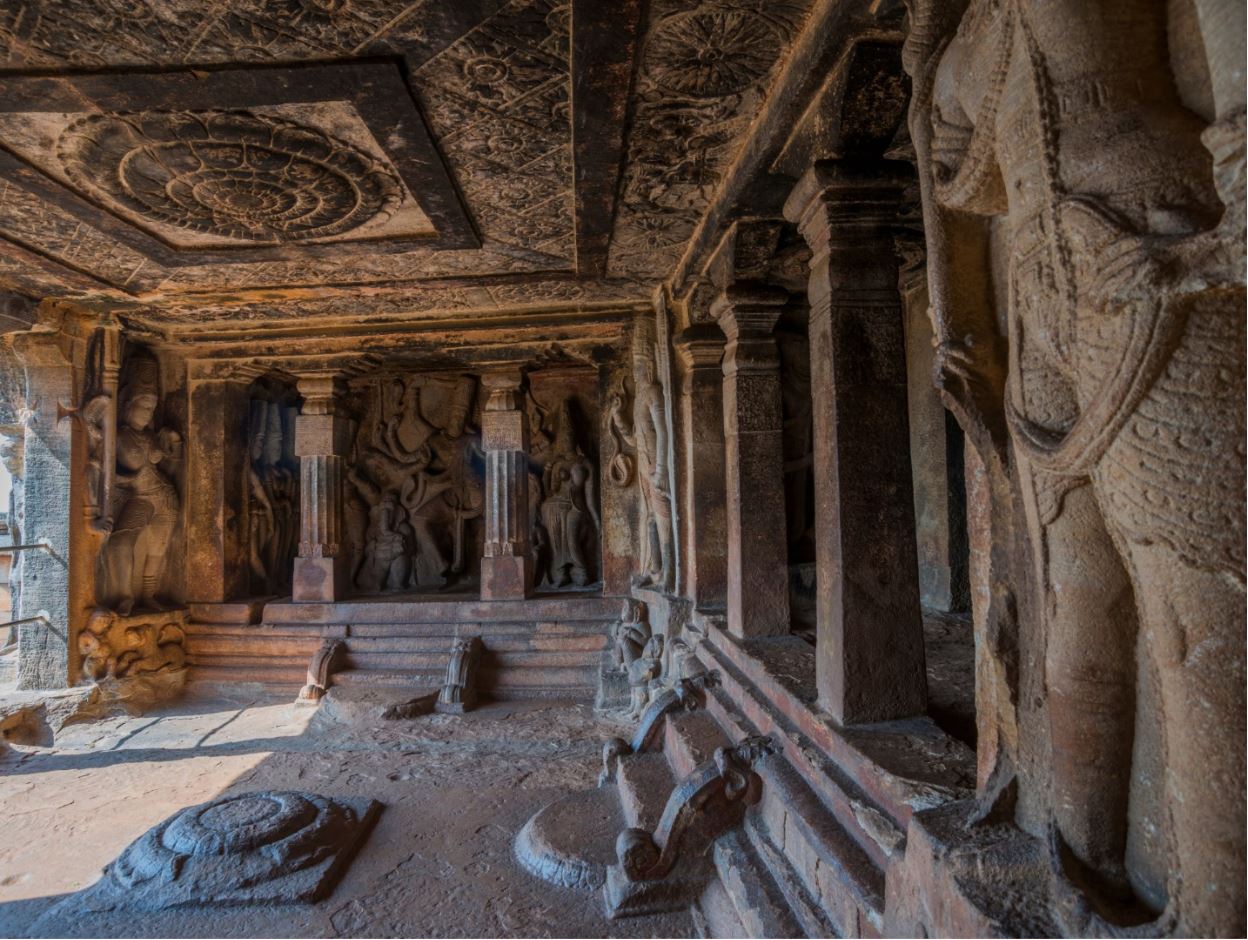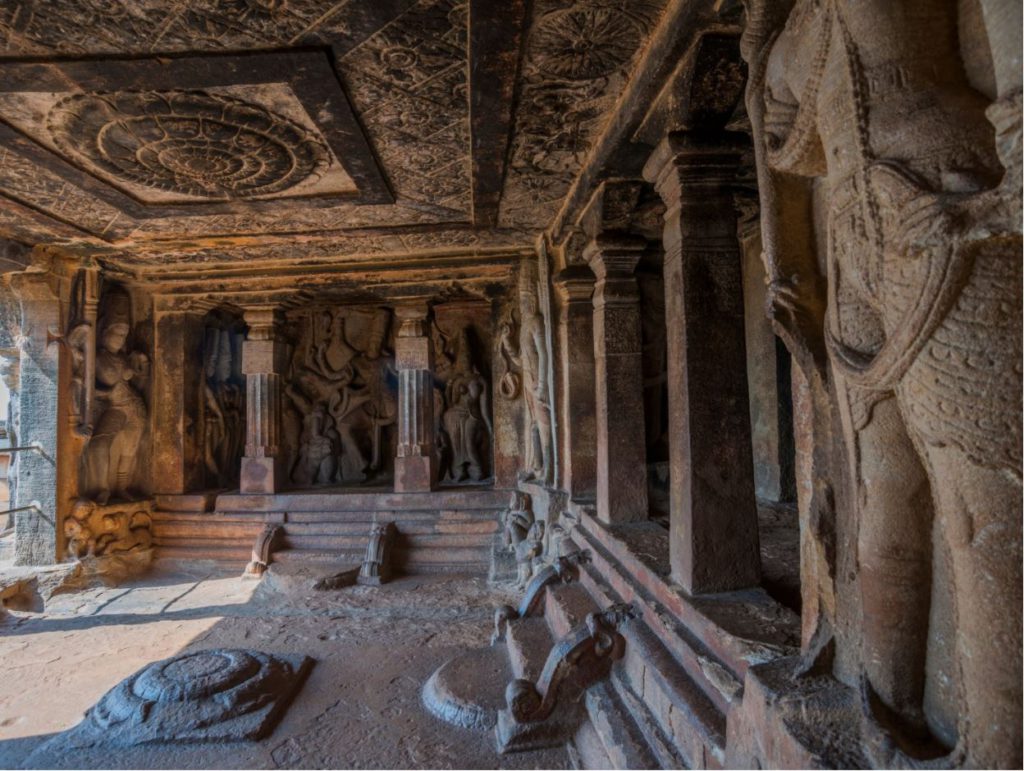 Agasthya Lake
This is a pretty decent size lake right near the temple complex. Located in the middle of mud-coloured sandstones, the lakes feels like a sigh of freshness, especially around the summer months.
The evidence of the presence of the lake goes back to the 5th century AD. Although it was believed that the lake had both therapeutic and cleansing properties where one can get rid of all their sins by taking a dip. The lake is fed by two small waterfalls in the area.
There are two important temples around the perimeter of the lake that are worth visiting. The water in the lake is not too clean and you can often find people throwing trash or washing clothes in it. The water level rises and goes down with the weather.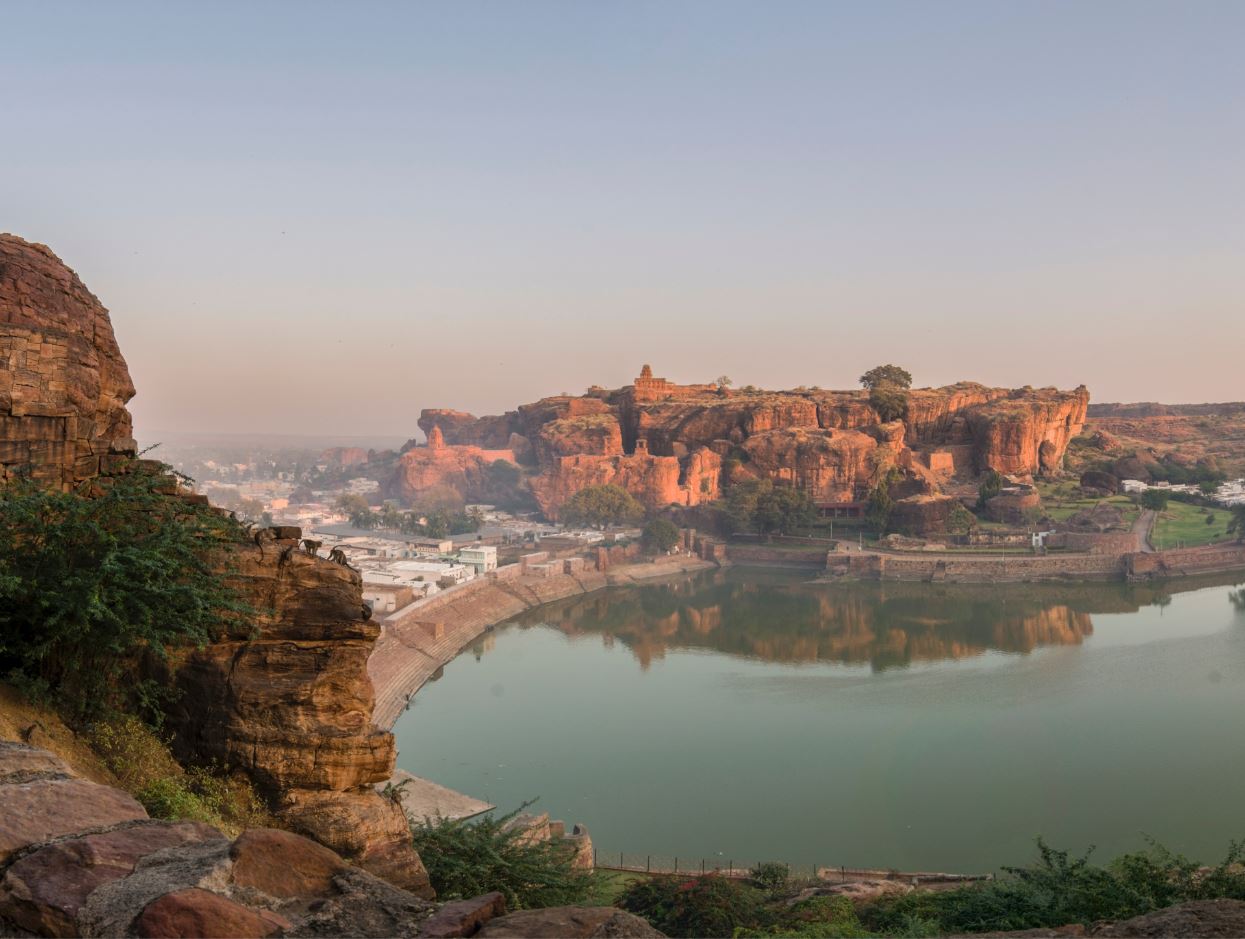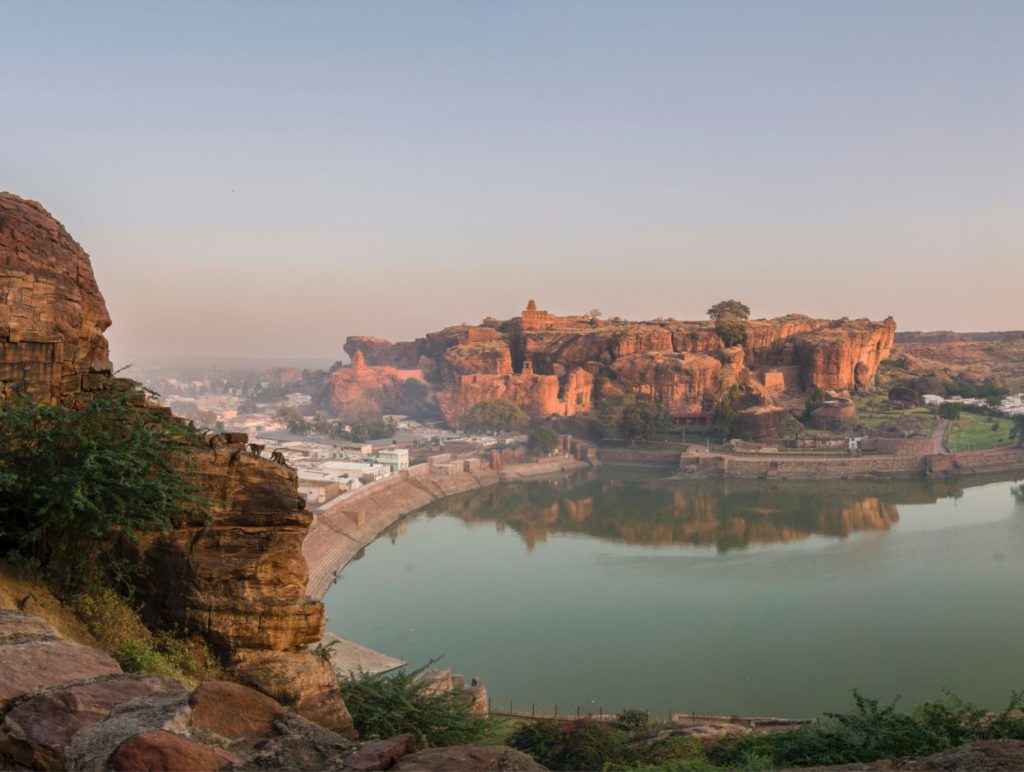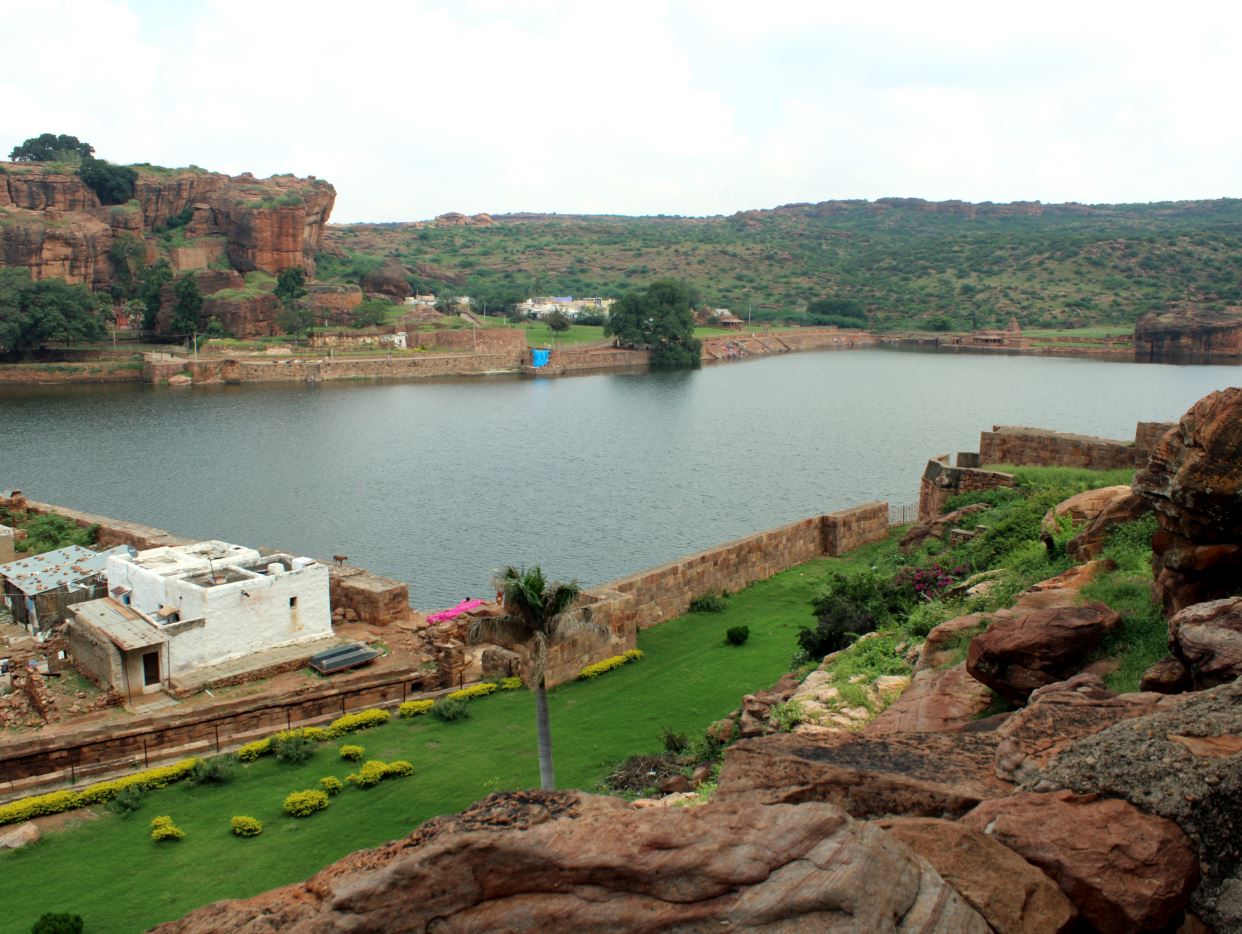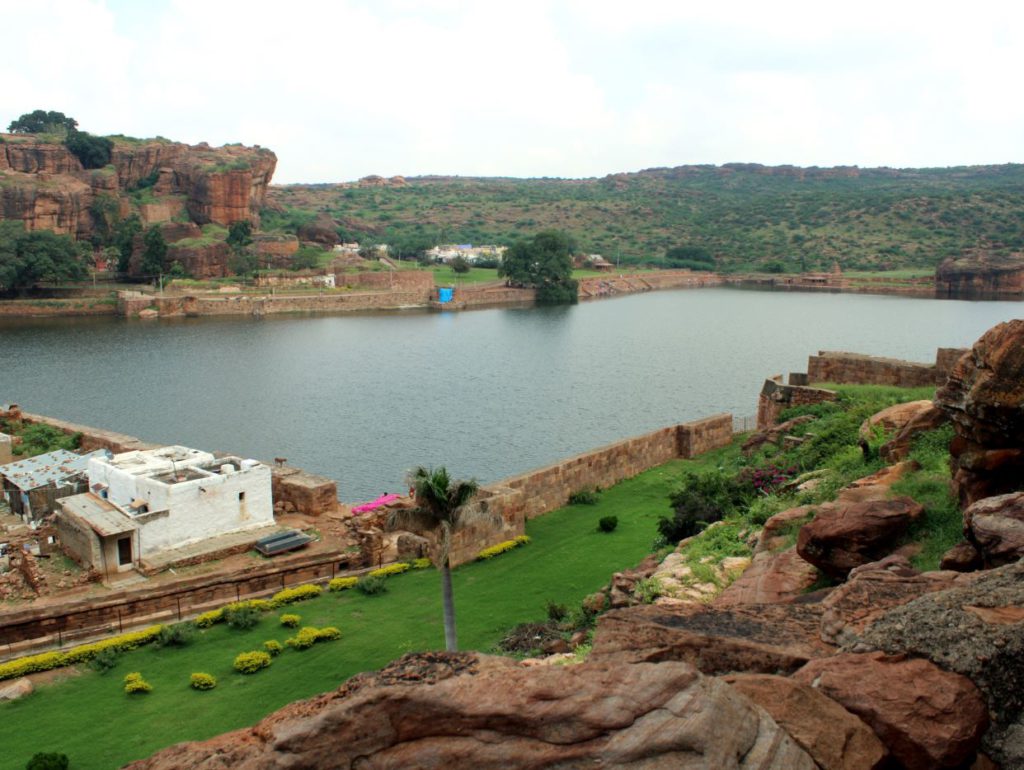 Bhutanatha Temple
These are a set of two temples located around the Agasthya Lake dedicated to lord Bhutanatha or Shiva. One of the temples makes a picturesque view as its located right next to the lake, or you can say on top of it.
Both temples are built in sandstone in traditional Dravidian style evident in the spire with some important details borrowed from architectural style from north Indian. A crocodile and a tortoise guard the gate depicting both Ganga and Yamuna.
These temples are well worth visiting especially since they are in close vicinity to the cave temples.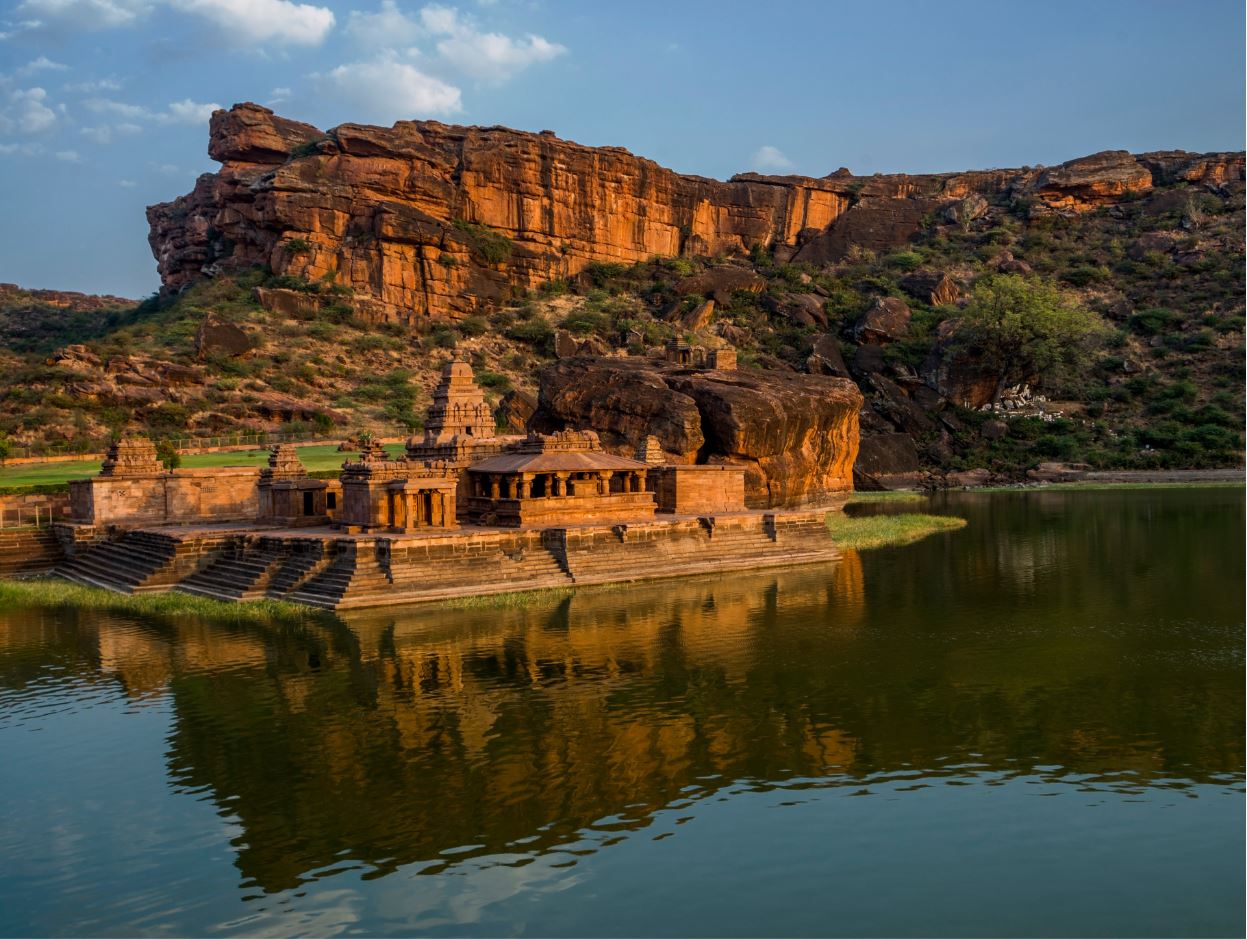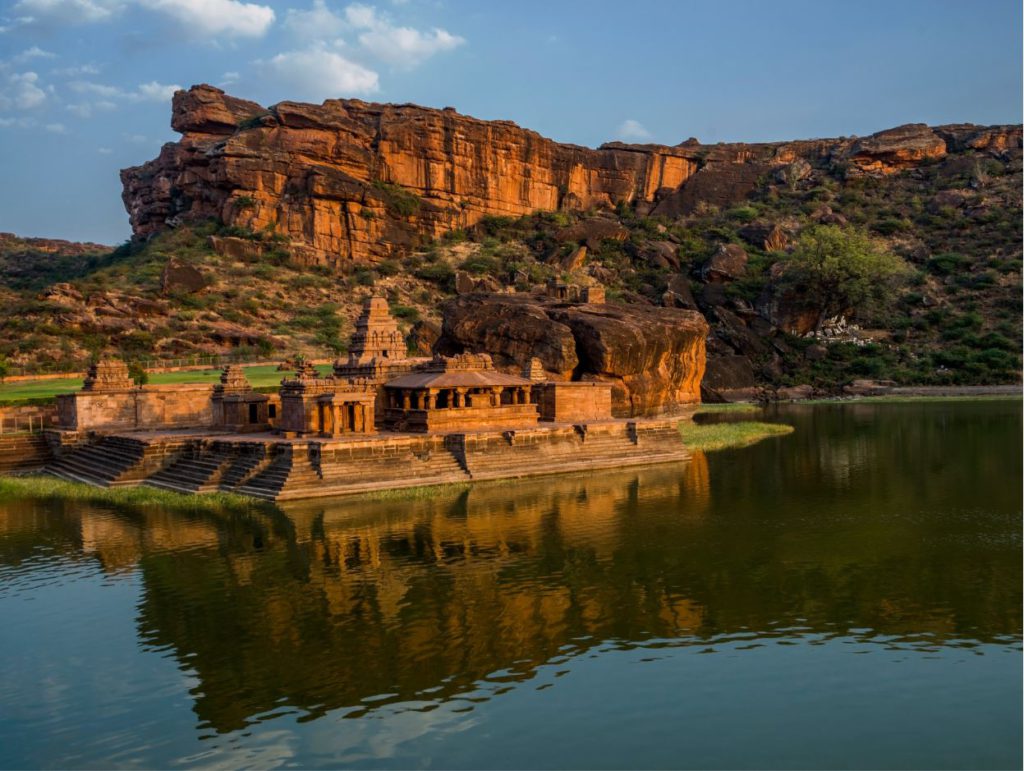 Shri Banashankari Shakti Peetham
This is another one in the series of temples in Badami that you can put on your list. However, this one is at the south end of the town. The temple is built in the same style in sandstone but dedicated to the local goddess Banashankari.
The temple is especially popular in the north and central Karnataka and even Maharashtra for two local festivals called Banashankari Jatre and Rath Yatra. The Banashankari Jatre is a religious and cultural fair with celebrations extending several days. People not only come to pay respects to the goddess but also enjoy the pomp and show in the town.
On the other hand, the Rath yatra takes place in January where the goddess Parvati is taken on a chariot in a procession witnessed by thousands of people. You can even find the chariot near the temple if you are lucky. These chariots have intricately carved Hindu gods and goddess on them. Specially trained men pull them during the festivities.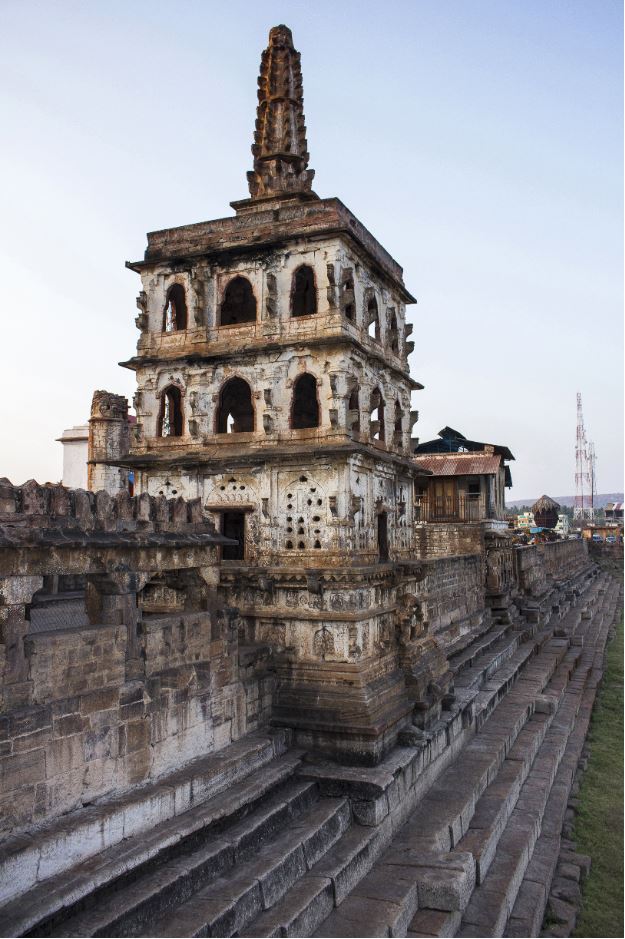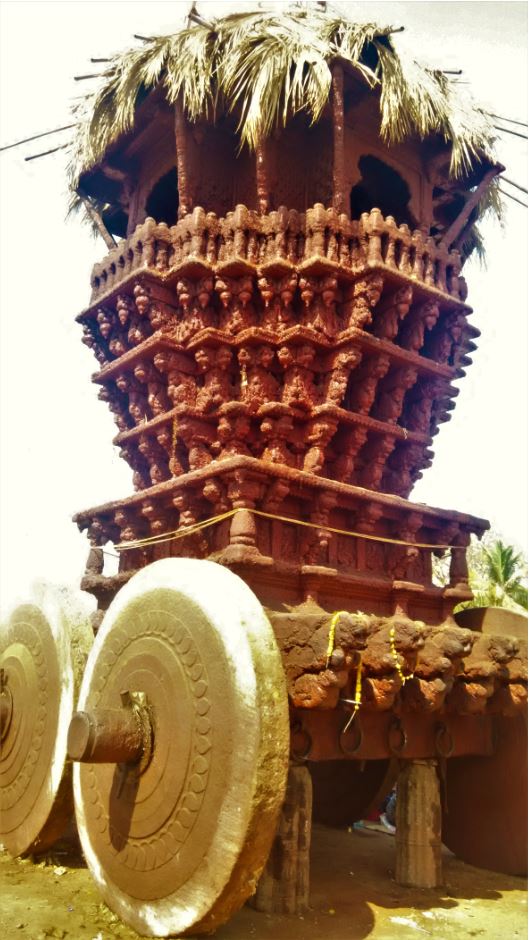 Chikka Mahakuteshwara temple
On the east end and a few kilometres outside Badami is another temple sharing the same style of architecture in the area. Built by the Chalukya rulers, the temple is dedicated to Lord Shiva and boasts the stronghold of the dynasty. There are also remaining inscriptions of Chalukya's conquests and military prowess inside the temple premises.
In fact, there are more than a dozen temples in the area. A water tank called Vishnu Pushkarini is popular with locals for swimming. It is fed by natural spring that the locals believe have the holy power of washing away your sins.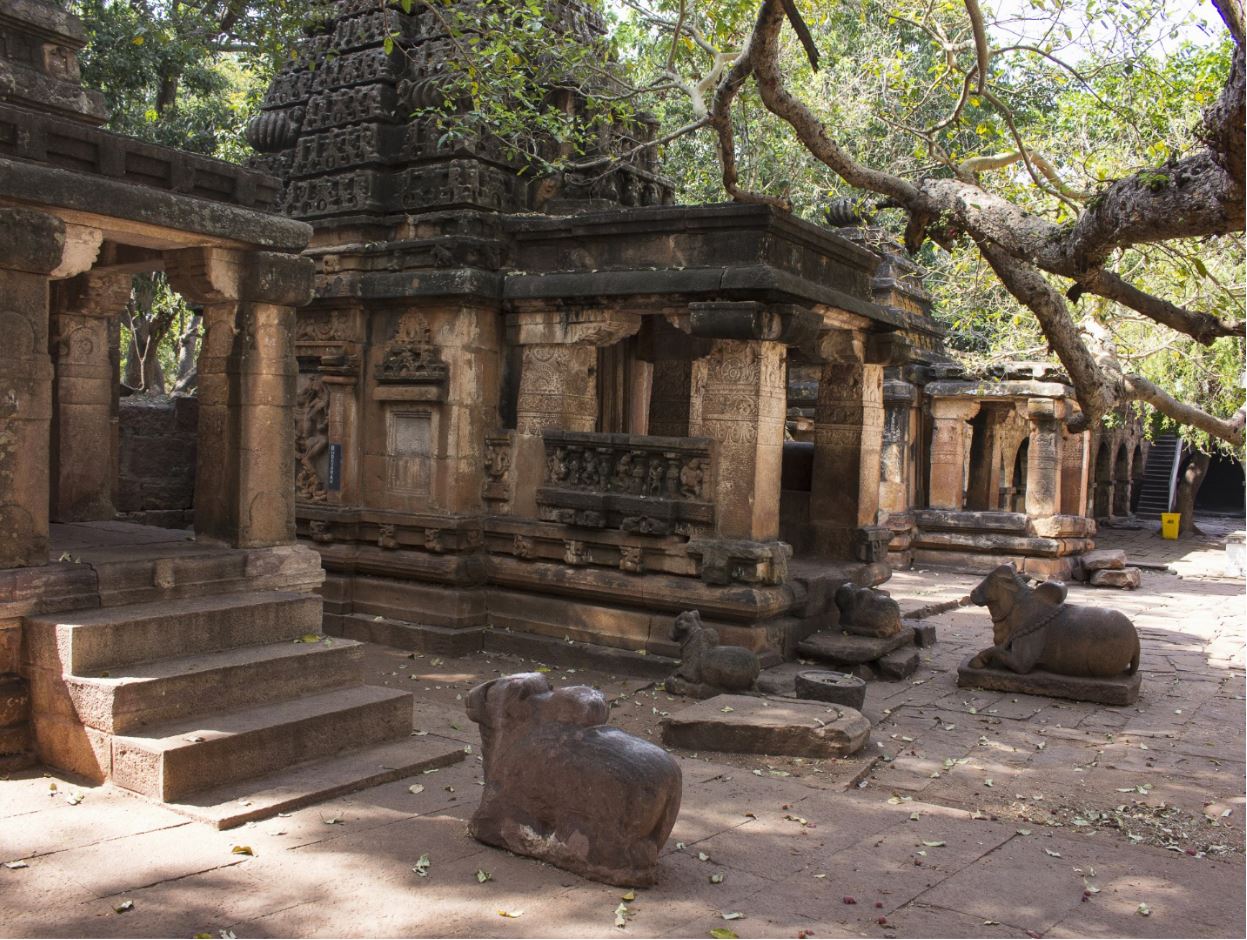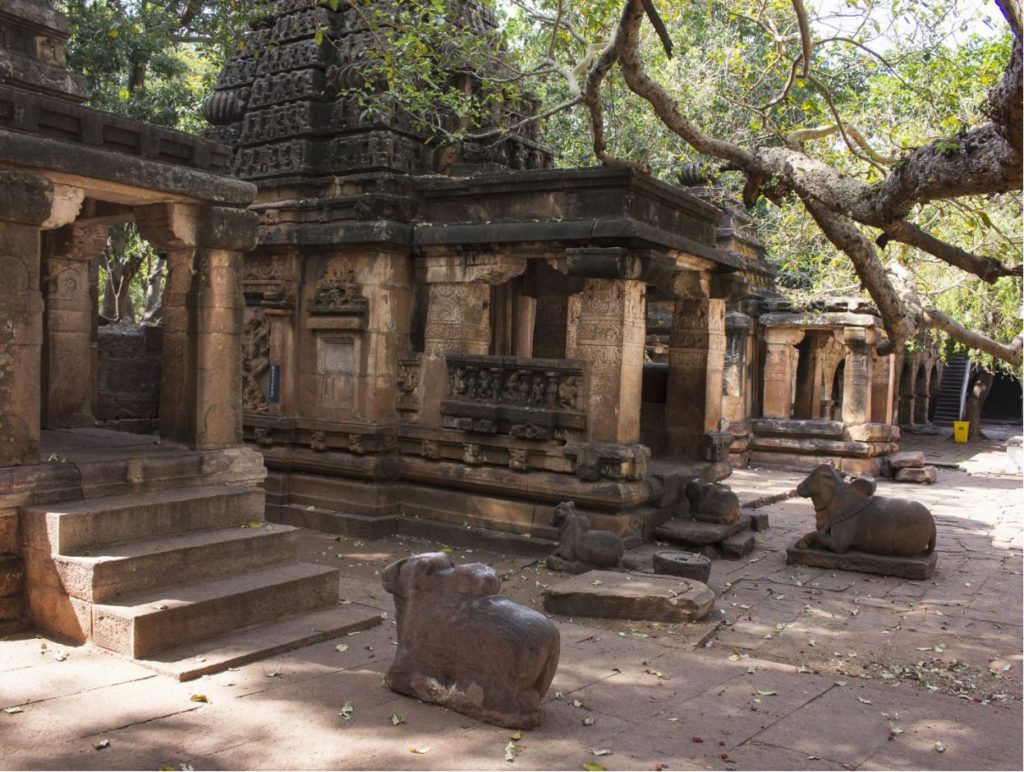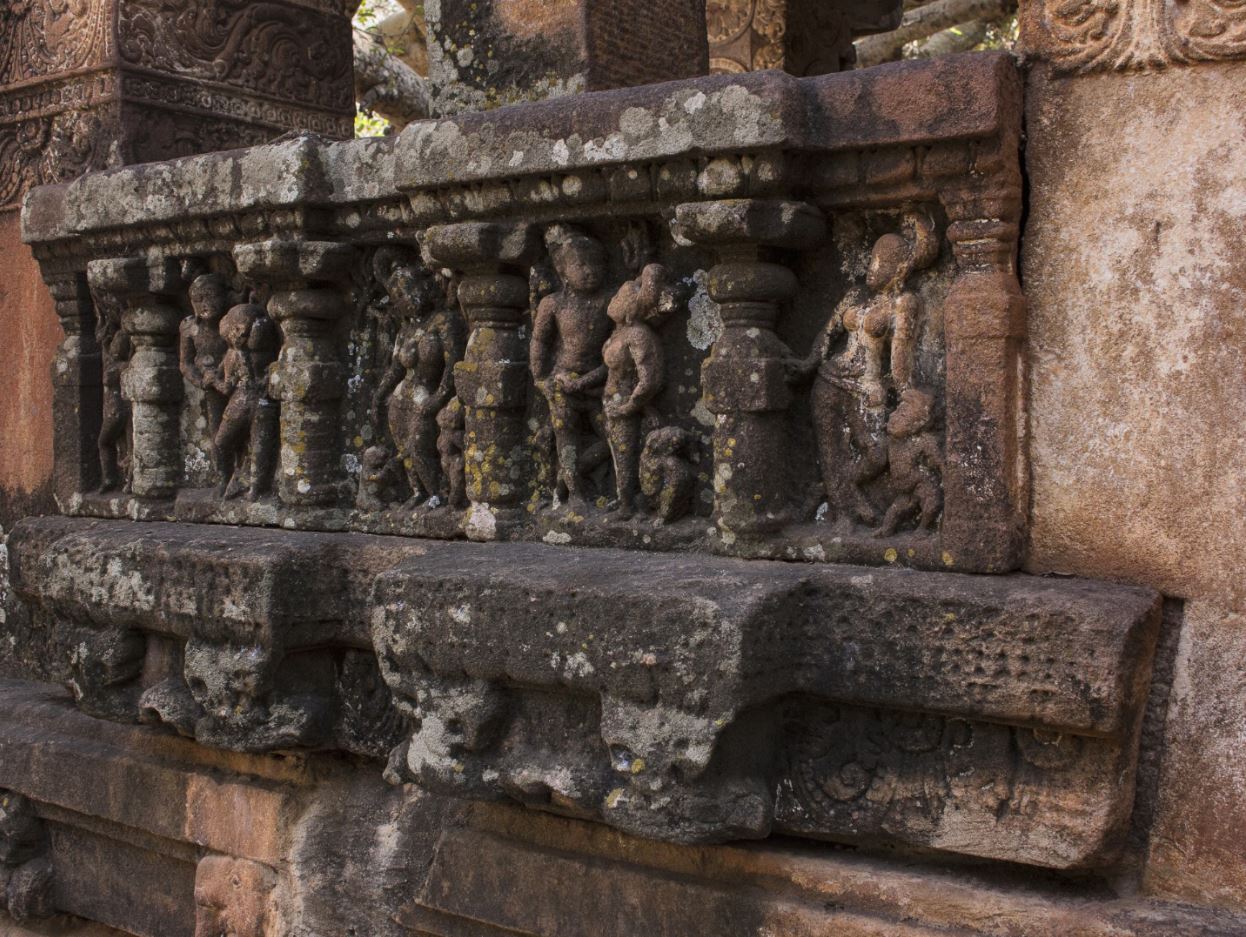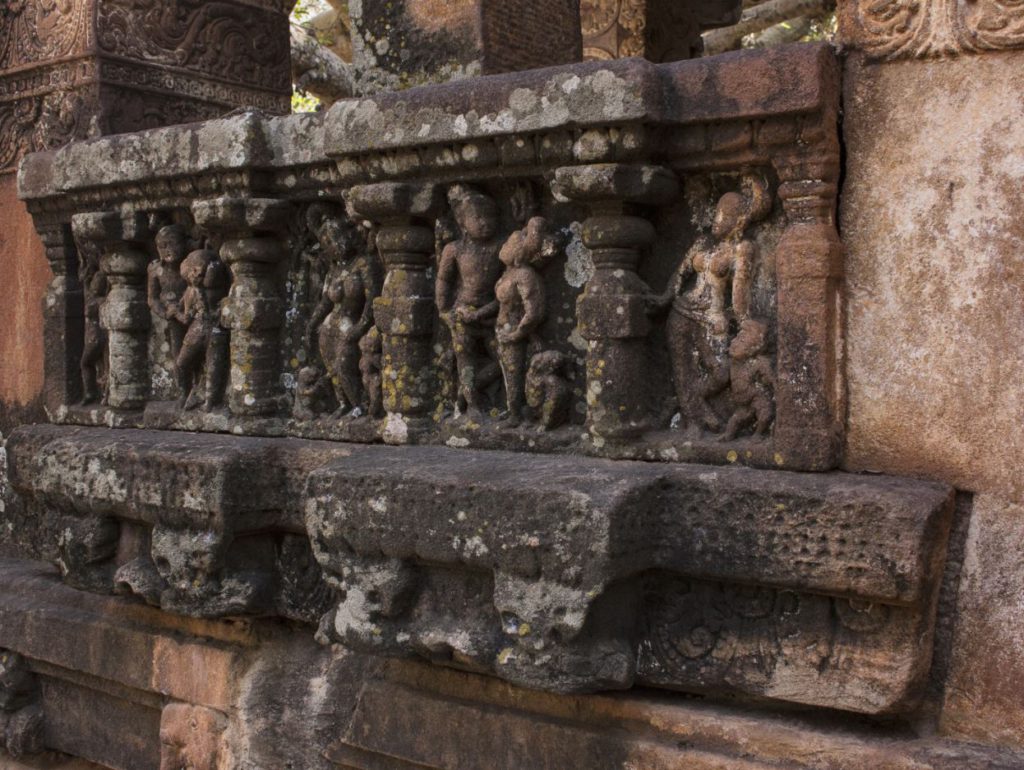 Akka-Thangi Falls
This may come as a much-needed change after a long round of temple visits. These falls are located right behind the cave temples and you can even see them from a distance. These are the first drop of waterfalls of the Sharavathi River after it originates.
These falls also feed the popular Agasthya Lake so you can assume the importance of their significance. If you are here around the dry season, you probably won't find much and the water trail may just go down to a tiny stream. The falls come alive after a good rainfall and are much pleasant to visit after the monsoons.
Badami Fort
While the fort is not only a ghost of the grand structure it was before, people still make the effort to visit the fort for the view. Badami was the capital of the prosperous Chalukya Empire for almost two centuries. However, over the years, people have plundered the fort and looted it several times leaving only a stone structure in place.
You can still see the remnants of the structures of granaries, temples, underground chambers and defence systems like fortified walls, watchtowers. There is even a canyon that the locals believe was placed by Tipu Sultan.
The fort is popular for its location that is above a cliff that not only gave it a strategic advantage but gives an aerial view of Badami city and the cave temples nearby.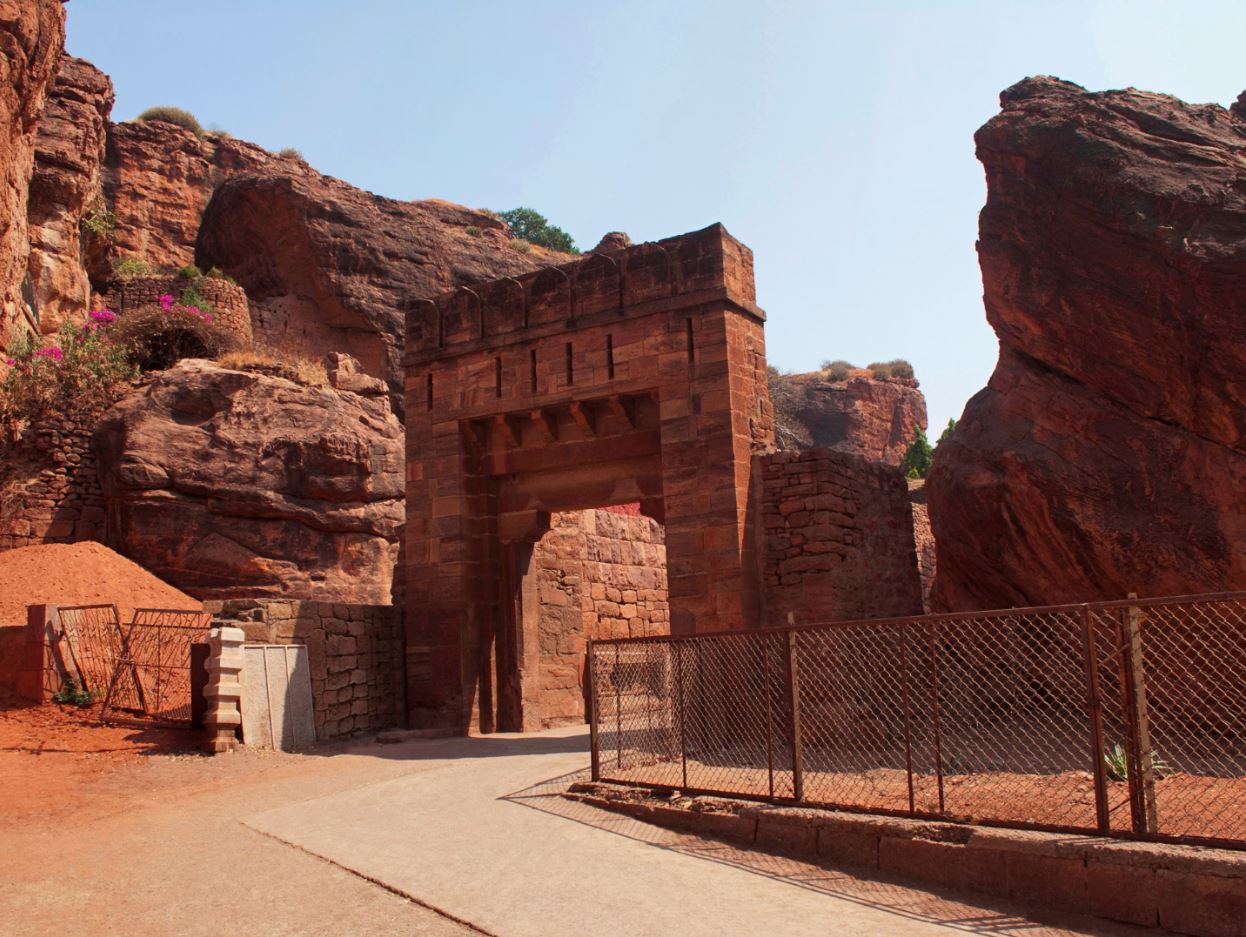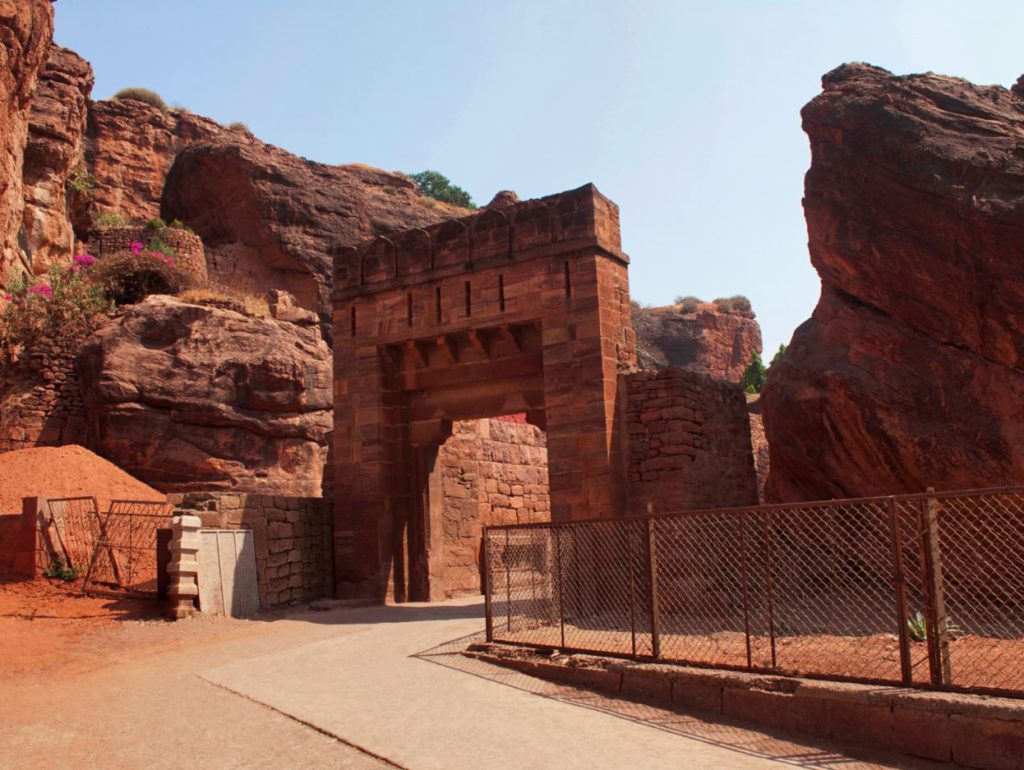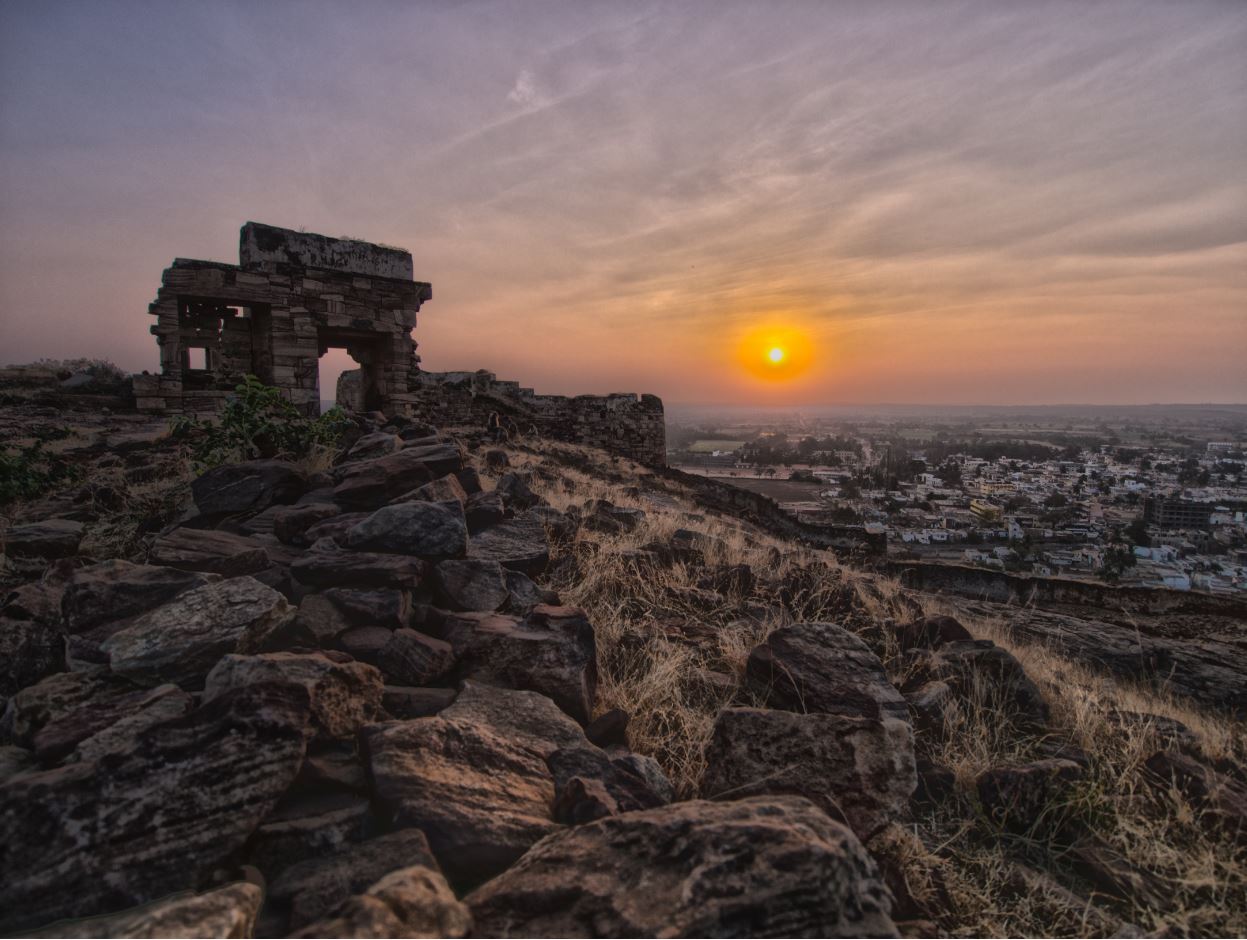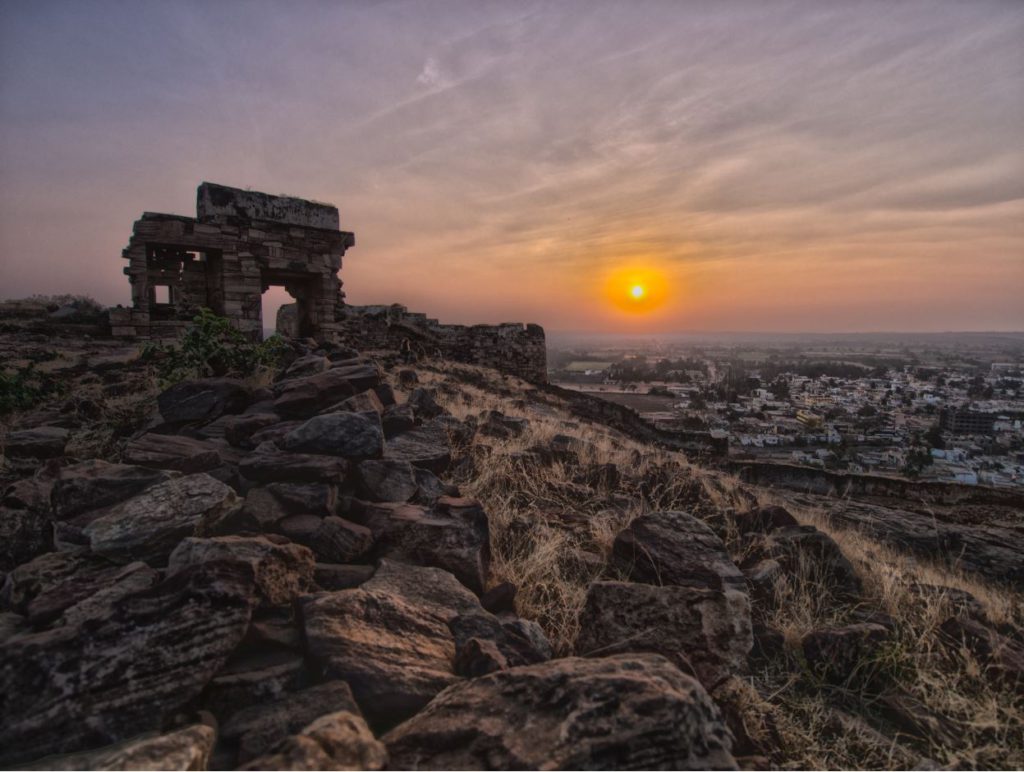 Other Places near Badami
If you have come this far, I will also suggest you go further deep into the other remaining jewels of the Chalukya period. These are not more than just a couple of hours drive from Badami and you can even do a day trip.
Pattadakal
Similar to Badami, at some point of time under the Chalukya rulers, Pattadakal reached the zenith of its glory. The rulers of the Chaukya dynasty were aiming to experiment with architecture to leave behind a rich long legacy and Pattadakal became their ground.
You will find several temples in Pattadakal rich in Deccan architectural style built in the same red sandstone. These sites are all under the Archaeological Survey of India and hold extreme significance in the history of India.
Most of the temples in Pattadakal are dedicated to Shiva and Vishnu along with Jain and a few Buddhist structures too.
Patadakkal is just 22 km from Badami that will take you around 45 minutes to reach by car or private vehicle. Public buses also run to Patadakkal that you can enquire about at Badami Bus station. I will not suggest staying in the area since there aren't any hotels or guesthouses.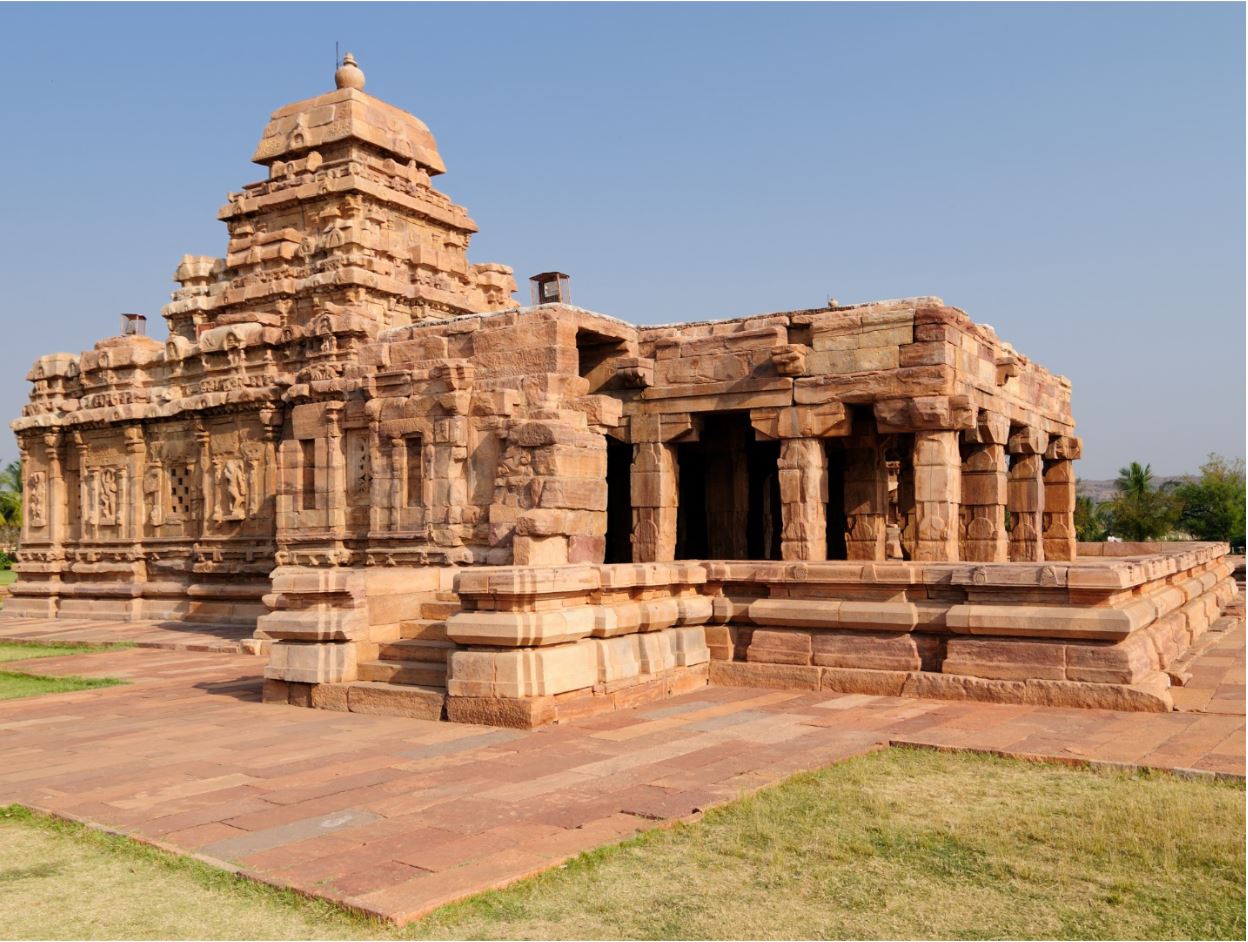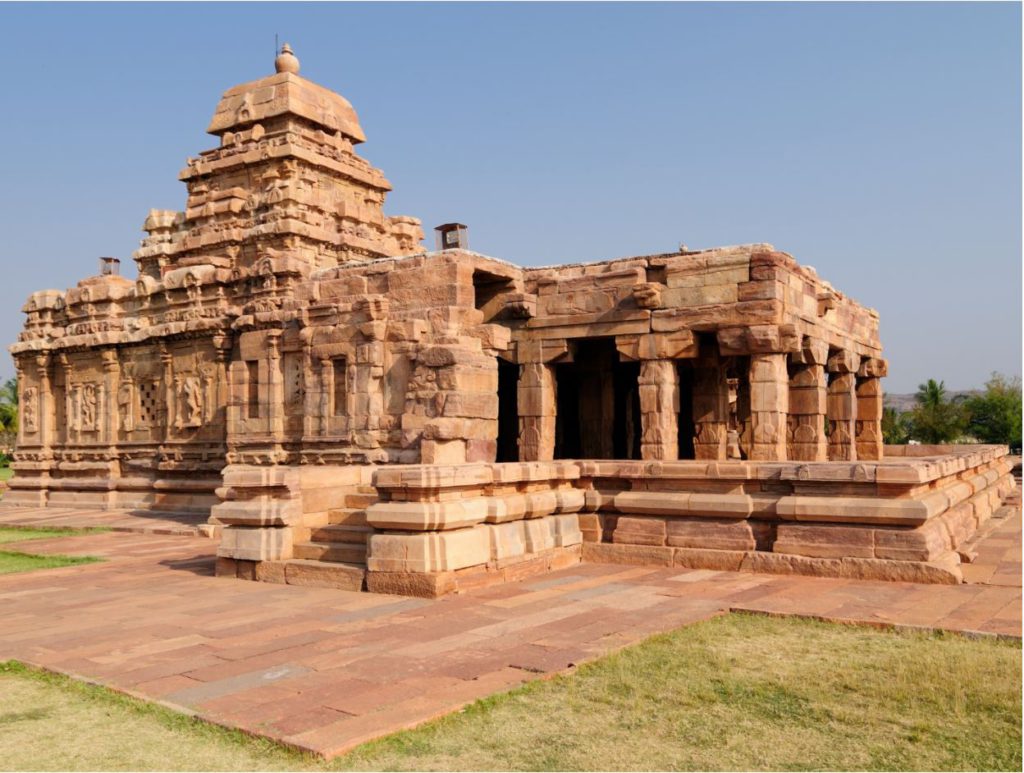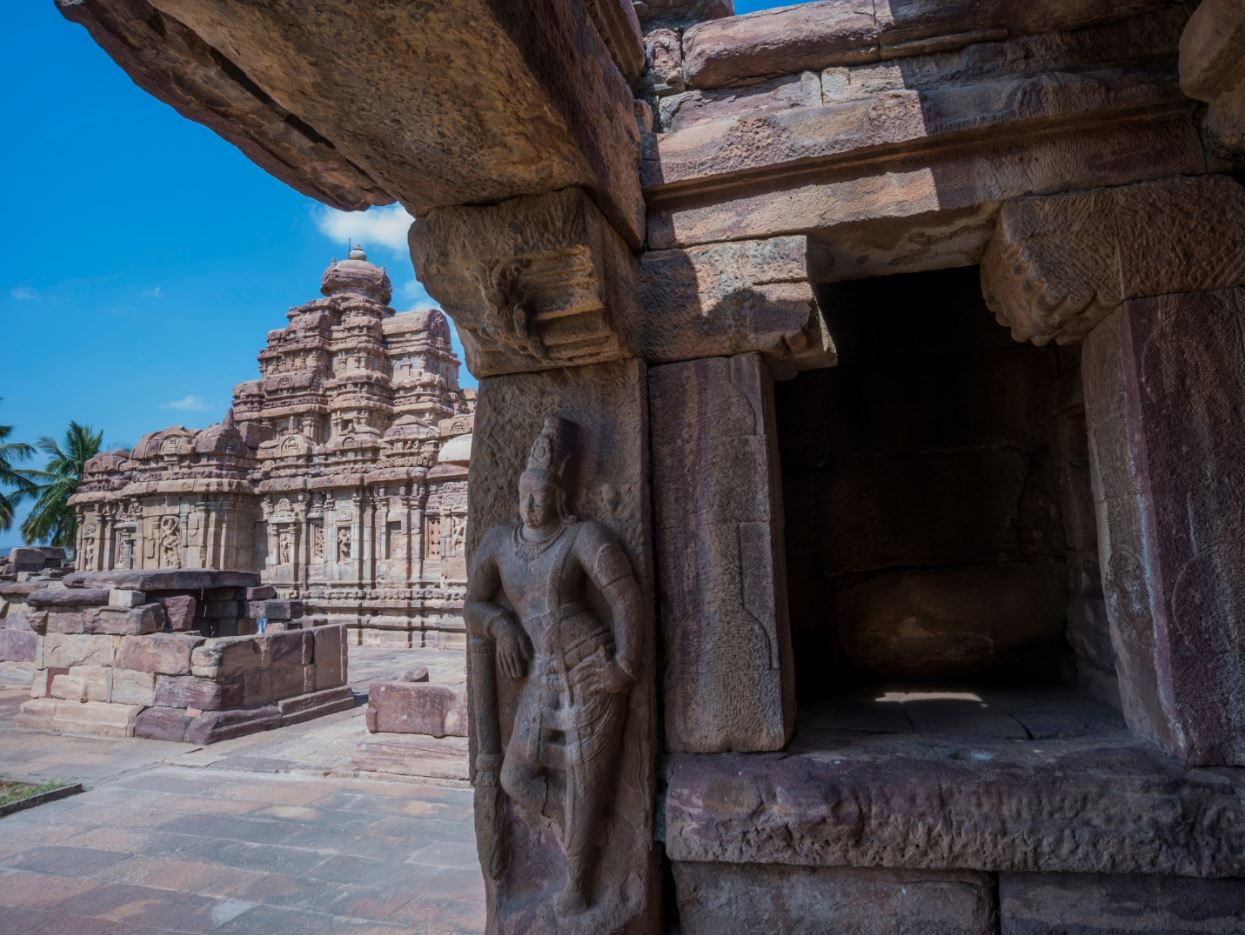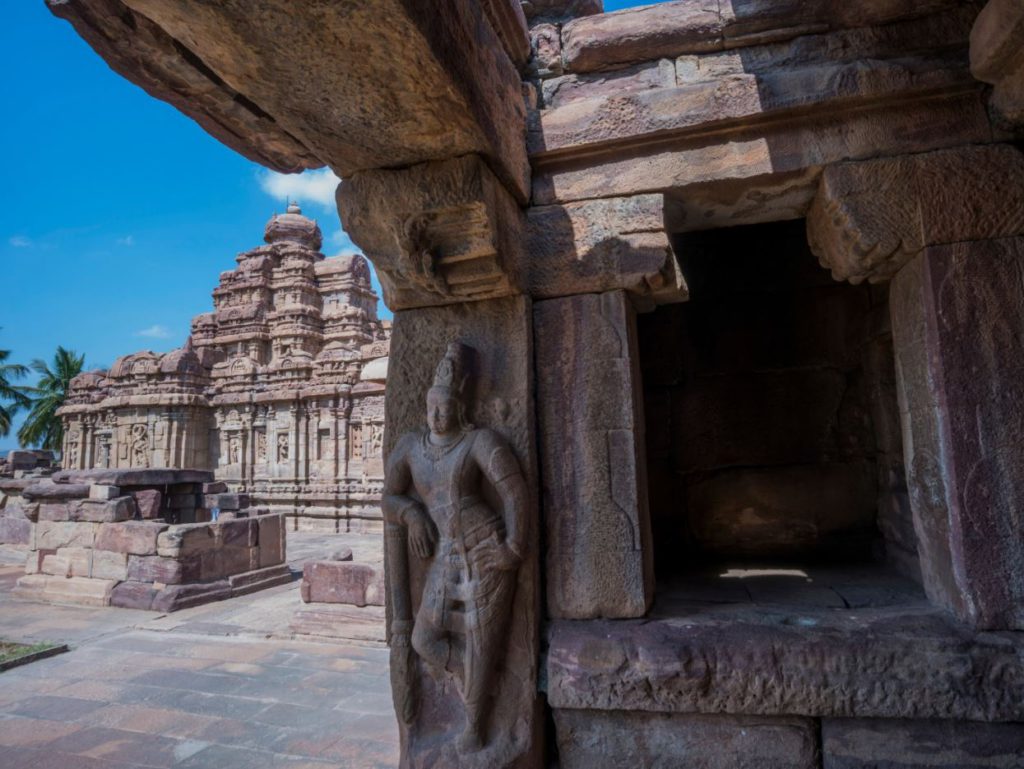 Aihole
A little further to Patadakkal is Aihole. Aihole or Aryapura is another important historic site. The place is home to over 120 Hindu, Jain and Buddhist religious temples. These range from rock-cut standalone structures to rock caves similar to Badami. The temples in Aihole along with Patadakkal are a part of the UNESCO World Heritage Site.
Aihole is 48 km (an hour) from Badami and 13km (20 minutes) from Patadakkal. You can take a private tour, vehicle or taxi to visit Aihole. There are public buses that run from Badami to Aihole as well. Similar to Patadakkal, there are no hotels or homestays in Aihole.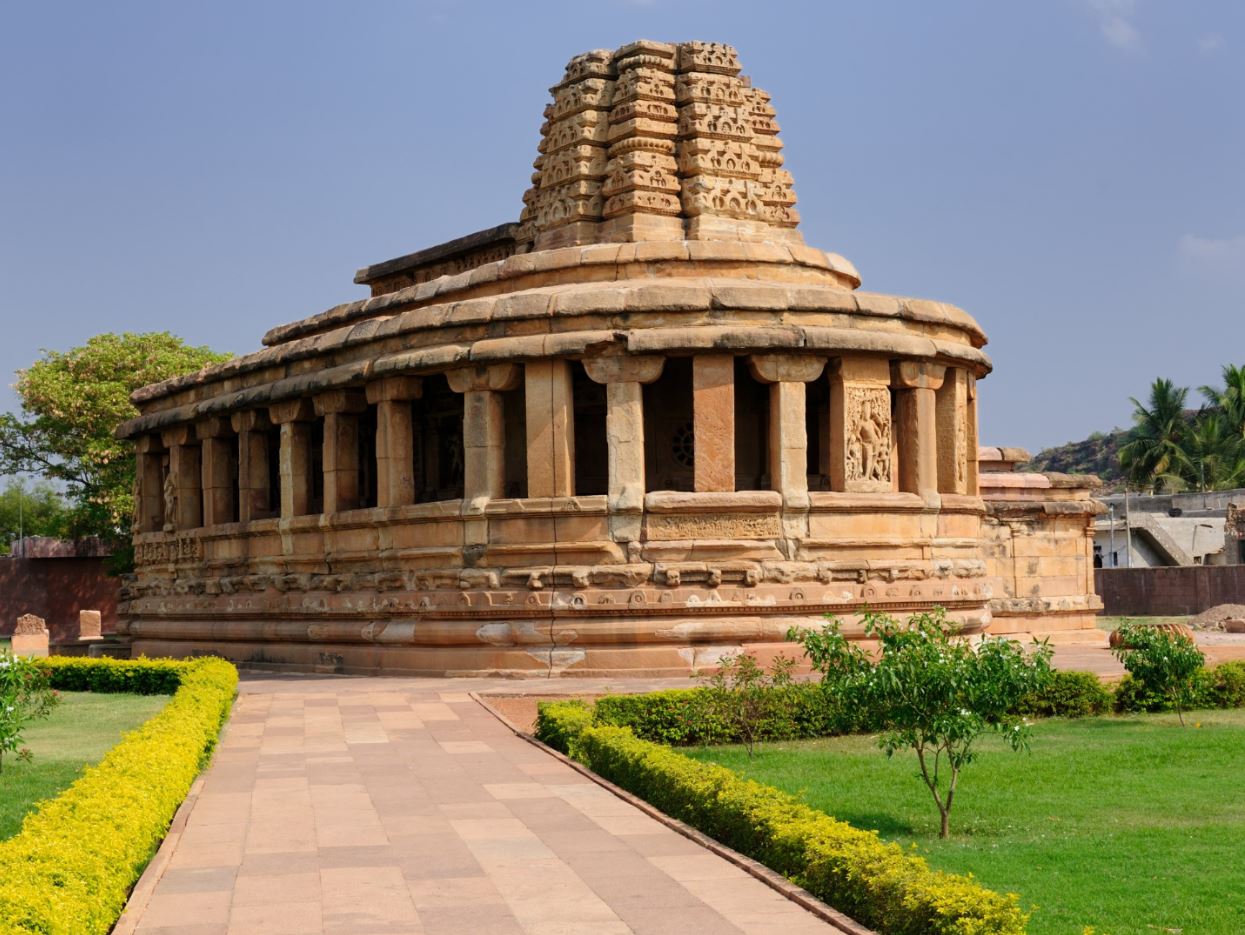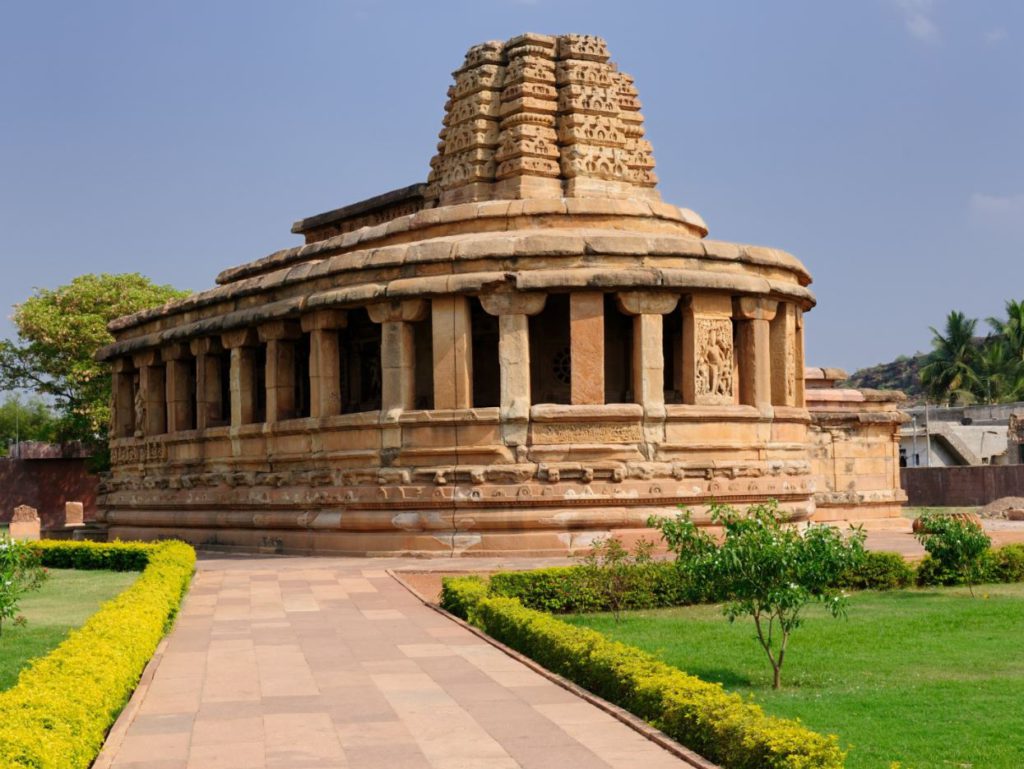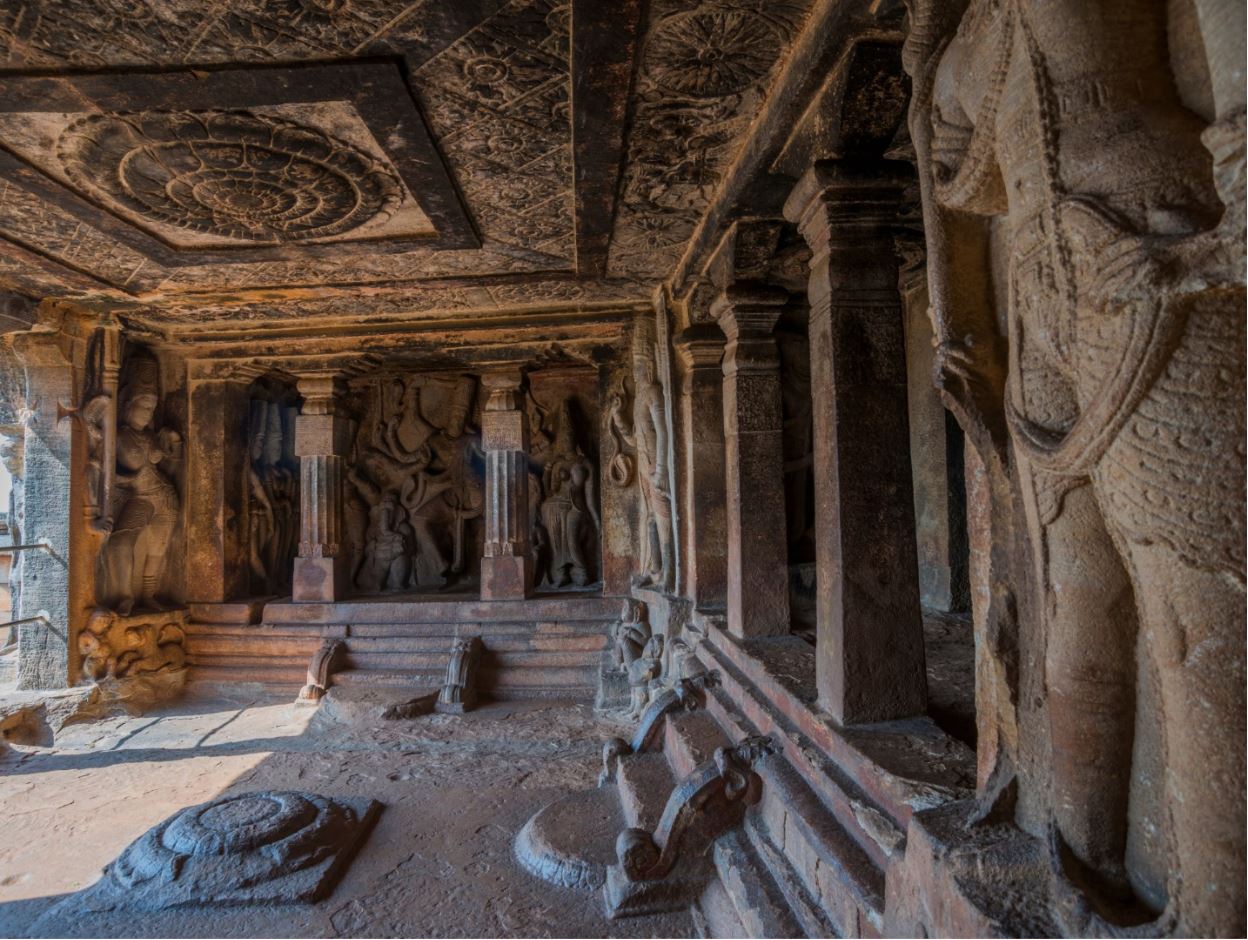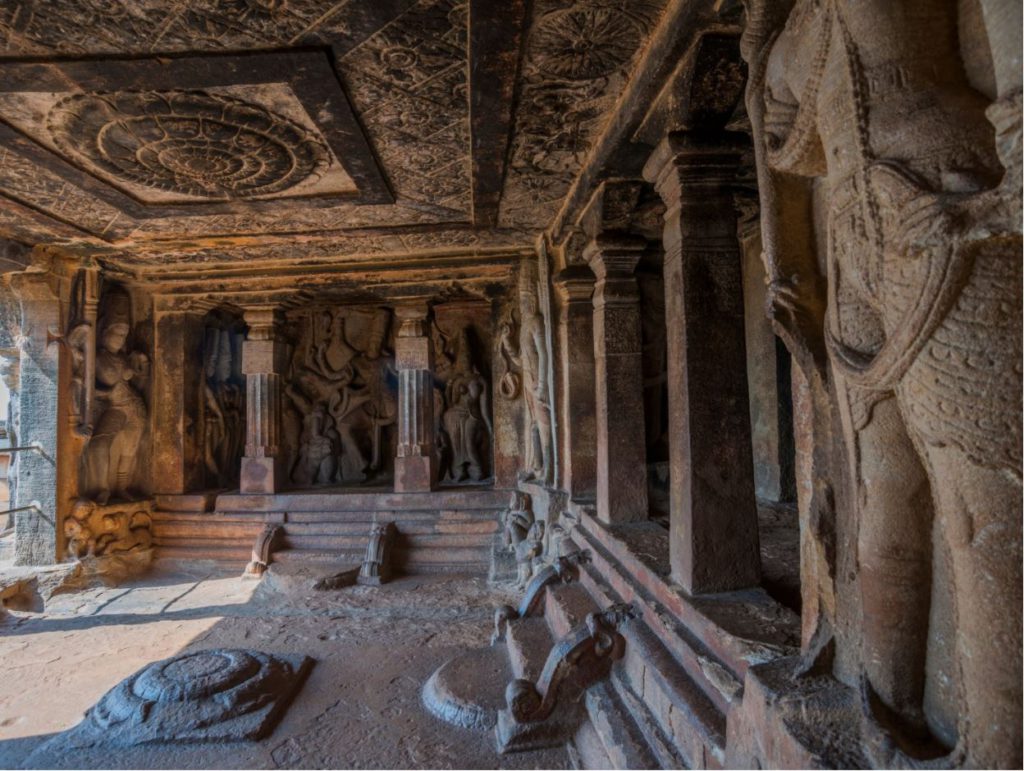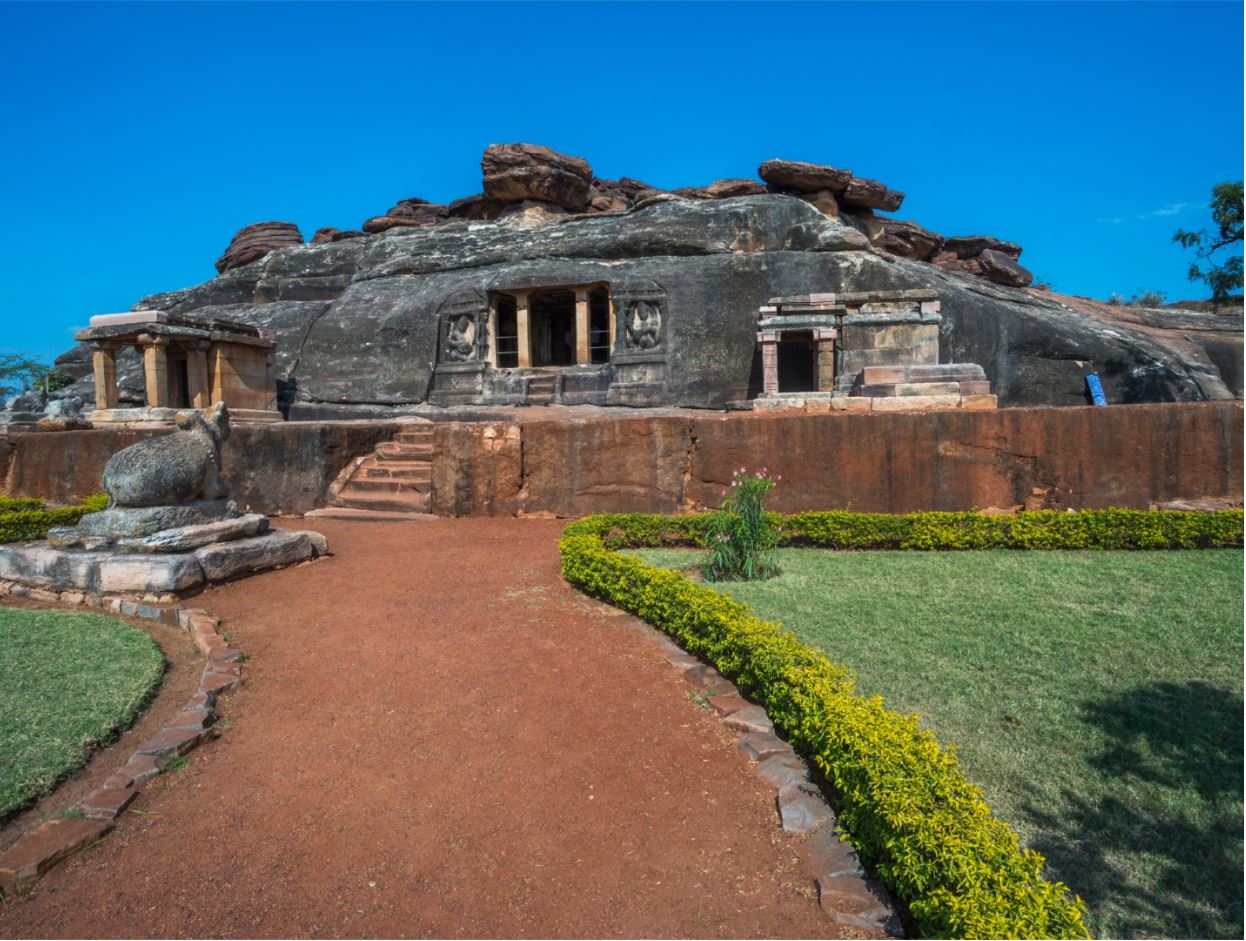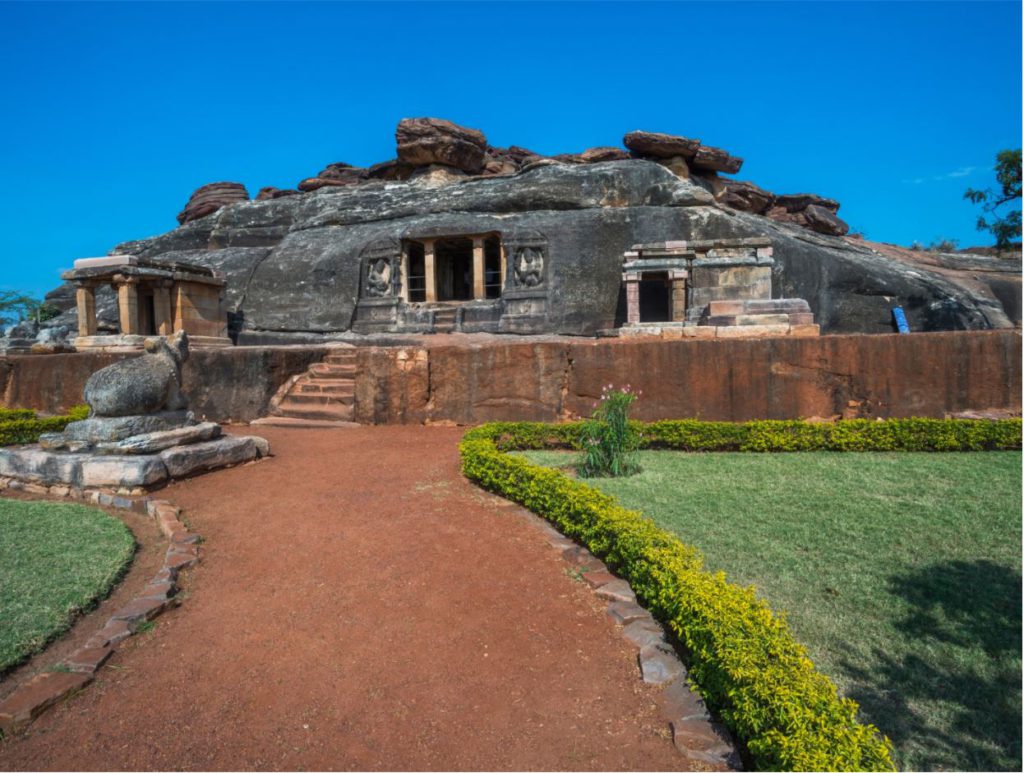 Where to Stay in Badami
To be honest, there aren't a lot of hotels to choose in Badami. One way is to reach on the spot and look for hotels if you have the time and energy. But I will suggest booking ahead.
If you are travelling using public transport, make sure you are staying somewhere near the Bus stand. If you have a private vehicle, you will have more options to choose from. There are a few boutique hotels with a lovely view of the countryside. Here are a few suggestions I found.
Budget hotel: Hotel Rajsangam International
Mid-Range / Boutique: Clarks Inn Badami, KSTDC Hotel Mayura Krishna Almatti
Luxury: Agastya Villa by Vista Rooms
Save On Pinterest


Related Articles