30 May

The Best Places to Visit in Kodaikanal, India

I have visited Kodaikanal twice, one in 2010 and again in 2016. To be honest, the town is pretty much the same, but my experience was something like from two different dimensions.

On one side, it was a family trip in the summers. And like most hill stations, Kodaikanal sees an insane number of tourists in the summer months. You will have to fight your way to the perfect spot at the foothills of the waterfalls and wait in long lines for a boating trip in the lake.

We even had to knock many hotels before we go one that had some space (online booking wasn't very popular then).

I liked the other time better. But to enjoy it, one must get out of the main town. That's where all the beauty of the surrounding hills lies. In the unkempt hiking trails that lead up to a shivering sunrise, rickety bus rides to nearby villages, eating a sandwich next to a gurgling wild water stream and abandoned huts on top of hills.

There are both ways to do it honestly, but it would be best to get a bit of both. Also, for the record, Kodaikanal is often referred to as 'Kodai' by locals and backpackers that are common in search of some trippy stuff (Scroll down to Mannavanur section for more).

Love the Kodai vibe? Also check out our Complete Guide to Munnar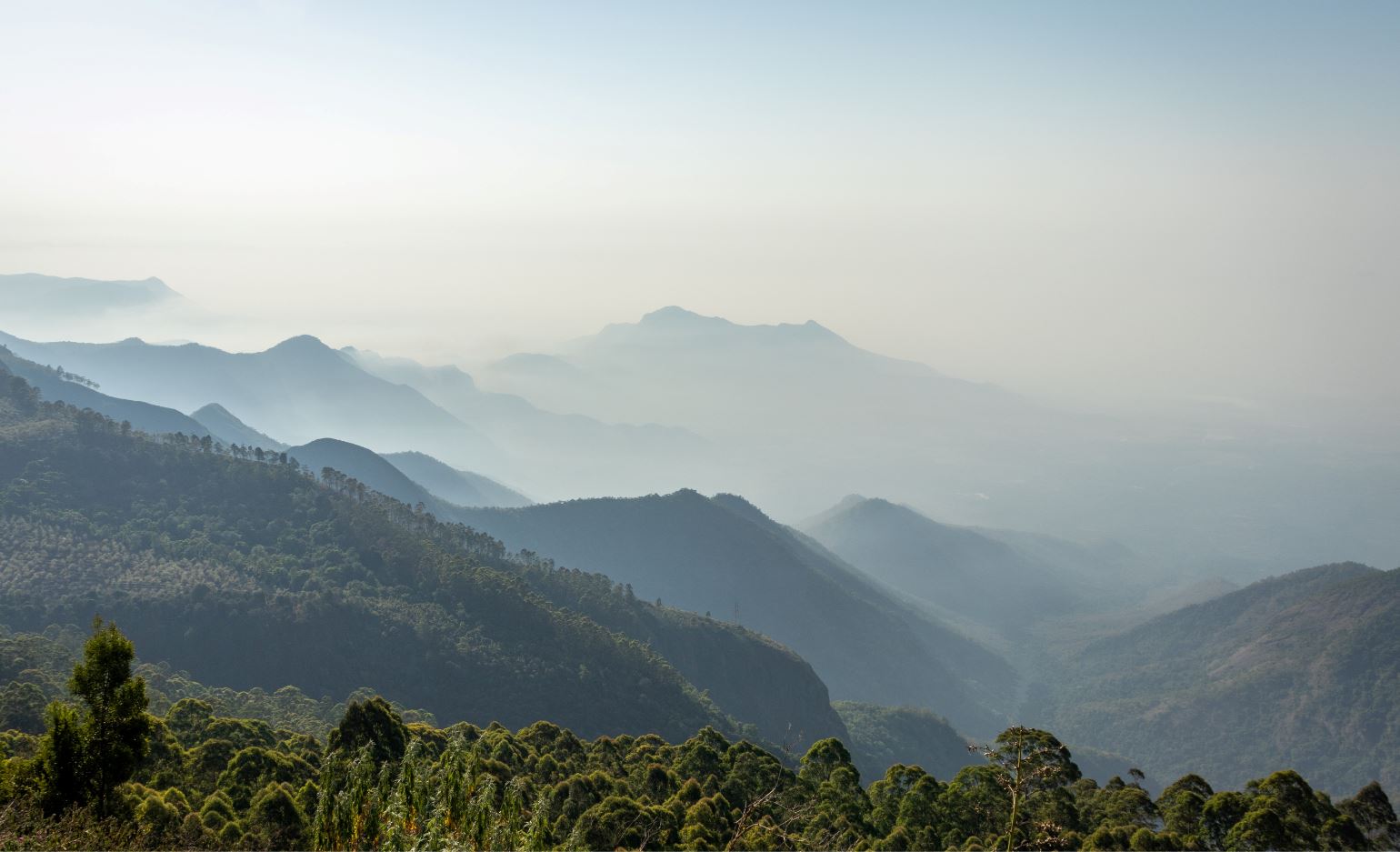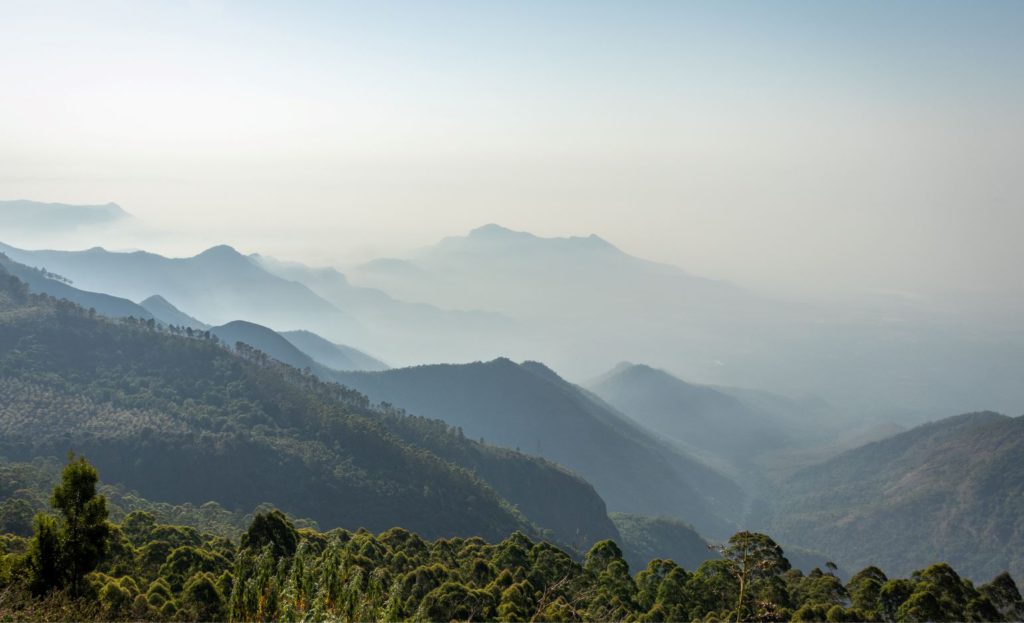 Kodaikanal History
Kodaikanal, before the 19th century, was only inhabited by the local Palaiyar tribe. In the mid 19th century, American missionaries and British aristocrats took over to make a retreat to escape the unbearable heat of the plains in the summer months.
The collector of Madurai built a small bungalow on Davadanapatti in Kodaikanal. In 1863, he created a man-made lake, today is known as the Kodai Lake across 60 acres of land. The locals stocked fish and boat in the lake and formed a boat club.
Since then human settlements have grown considerably with many churches sprouting up in the town. Its popularity continued till-date with mostly local Indian travelers who visit Kodaikanal as a family retreat during summers. Although with a rise of backpacking culture, you will be able to spot some in the off-beat locations around the town.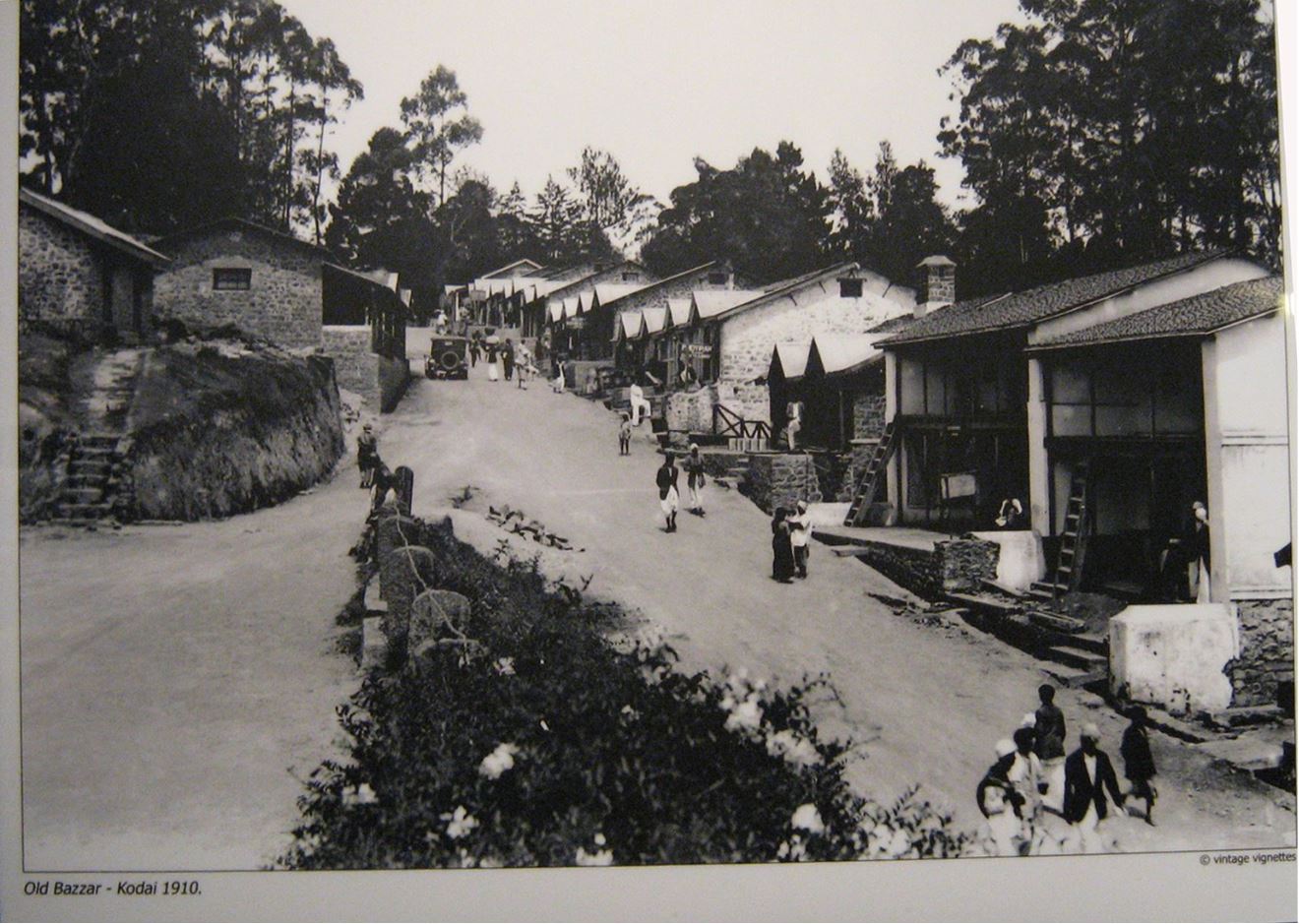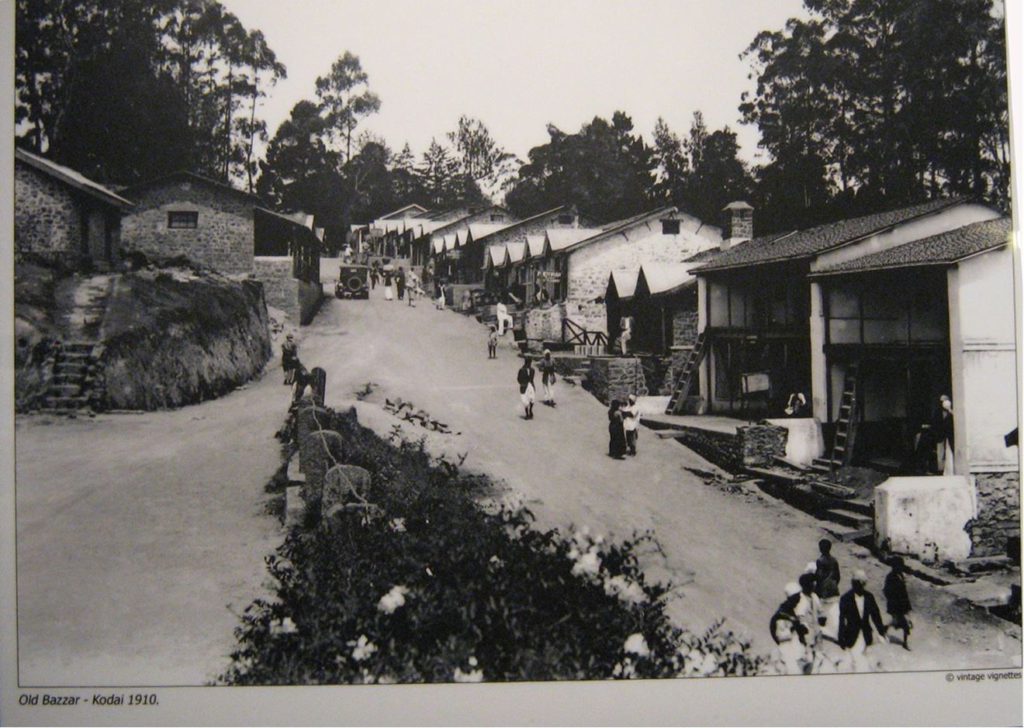 Where is Kodaikanal
Kodaikanal is located near the Tami Nadu-Kerela border near Madurai. It is 530 km from Chennai, 466 km from Bangalore, 301 km from Kochi by road. Kodaikanal is 2,133 meters of 6,998 feet above the sea level, even higher than Srinagar.
Traveling in South India? Read more on Kerela's Best Kept Secret, Varkala
Best time to visit Kodaikanal
There is never a bad time to visit Kodaikanal. The weather is pleasant all year round but your experience may differ by the number of tourist crowds.
Best time – Winter Months (October to March) – This is the best time to visit Kodaikanal. The weather is cool, dropping between 8-10°C during the night and hover pleasantly around 15°C in the afternoon. Skies are clear and rainfalls are rare. Kodaikanal almost never receives any snowfall. Do not forget to get extra warm clothes for the trip.
Summer season – April to June – Summer is also a good time to visit Kodaikanal where the temperature ranges between 20-30°C in a day. Mid-day can be hot at times. However, this is also the time that the hill-station receives a large number of tourist crowds.
With children in their summer vacation, local families around Tamil Nadu rush to this place. Therefore you will find most tourist spots packed, hotels full, and a surge in the price of most facilities. Move to offbeat destinations outside the city in this case.
Monsoon season – July to October – This, according to me, is the second-best time to visit. Kodaikanal, with its lake and surrounding forests, comes alive due to the rains. The rains are not extremely heavy but occasional in a day which gives you some time to travel around. Entry to some forest areas could be restricted but the waterfalls are certainly a sight to see.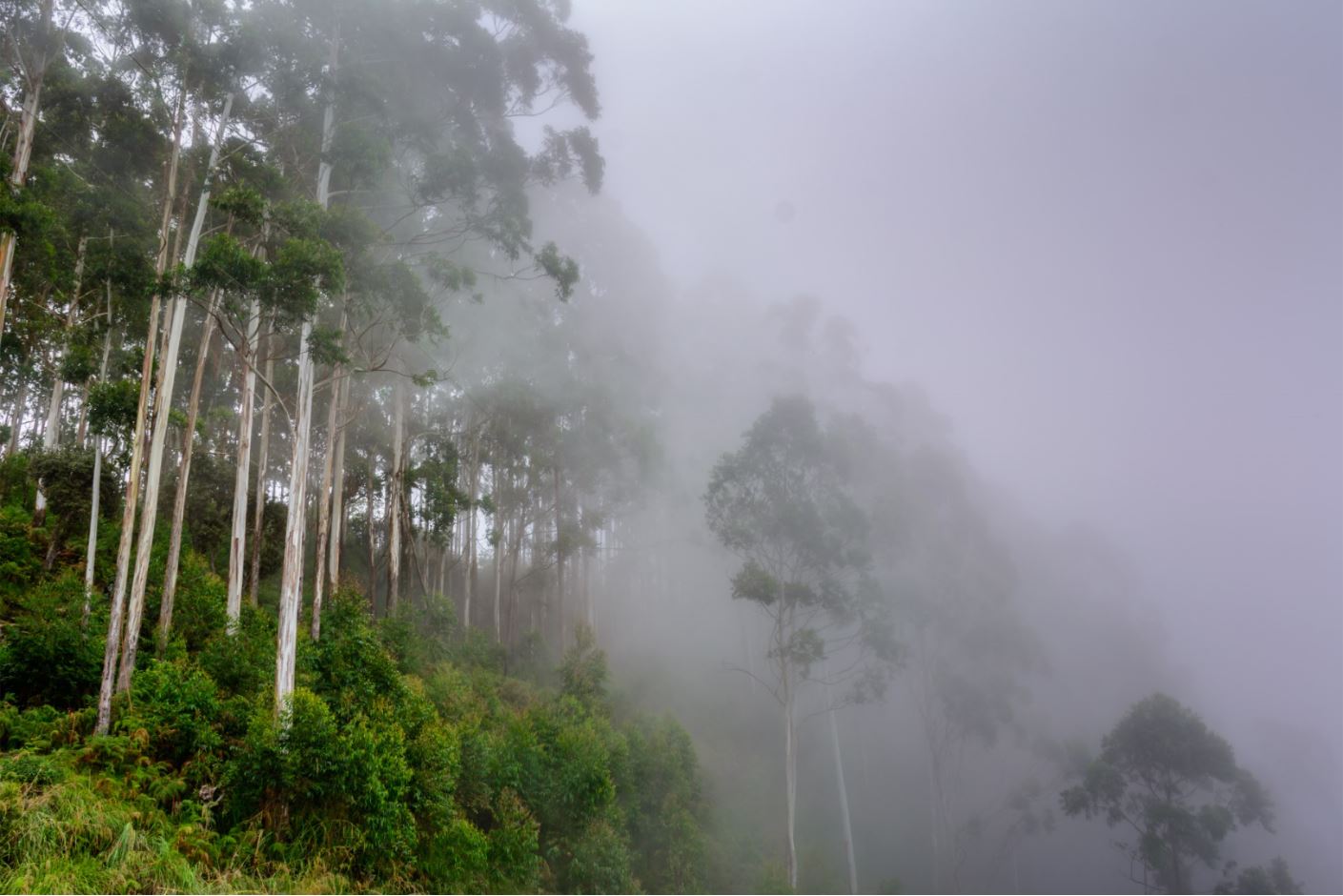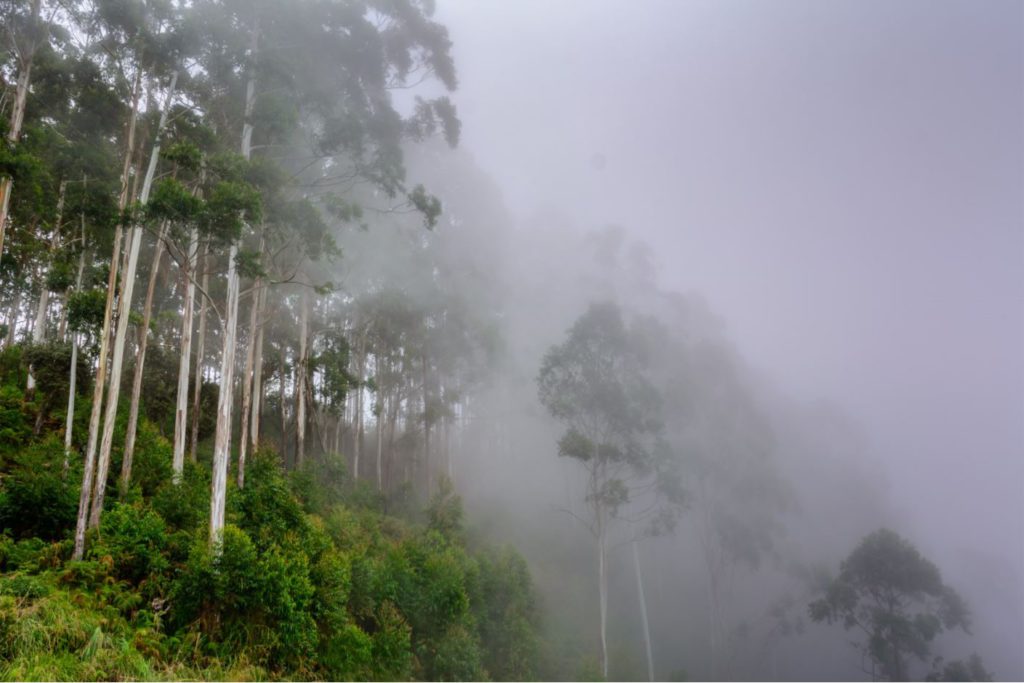 How to reach Kodaikanal
Roadways are the only option of transportation that connects Kodaikanal directly to the nearby cities. But if you are travel long distance, you can also break your journey into two parts. Here are options using public transport.
Bus: Buses are a great way to travel in South India. There are overnight sleeper buses that run from Bangalore, Chennai, Kochi, Coimbatore, Madurai, and many more nearby cities. These are run both by private and government operators. The buses are usually safe, even for solo women travelers and stop in middle at a restaurant with toilets. You can book a bus from redbus.in or abhibus.com.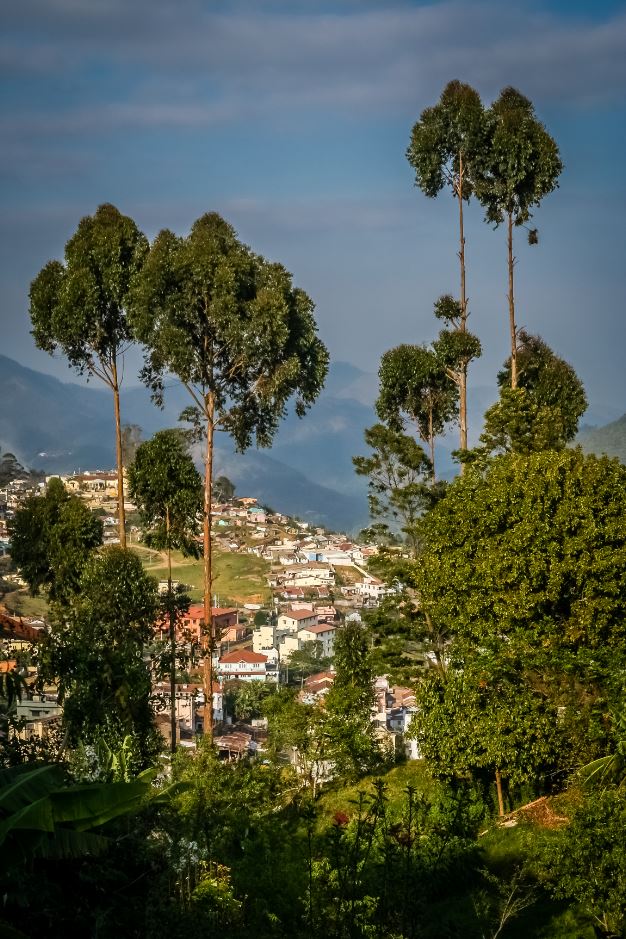 Railway: Kodaikanal Road of KQN (Station Code) is the nearest railway station to Kodaikanal at a distance of 95km. There are regular trains from Chennai and Madurai that runs till the station.
From there you need to switch to a taxi that is readily available outside the railway station that costs between ₹1600-2200 depending upon the vehicle. Uber or Ola are not available. Check out the local cab company Kodaicabs.com for booking a cab beforehand.
Flight: The nearest airport from Kodaikanal is Madurai which is 120 km away. Coimbatore airport is at a distance of 150 km and Trichy airport is around 200 km by road. You can take a bus from any of the corresponding bus stations in the city to Kodaikanal or a cab directly from the airport.

How to get around in Kodaikanal
To be honest there aren't a lot of options for public transport to travel inside Kodaikanal. There are no buses that run inside the city. Here are a few that you can use.
Walk: If you stay on the east side of Kodai Lake, many sightseeing options are accessible on foot. Not only the view of Kodai Lake is lovely, most restaurants and local markets are also nearby to enjoy till late at night.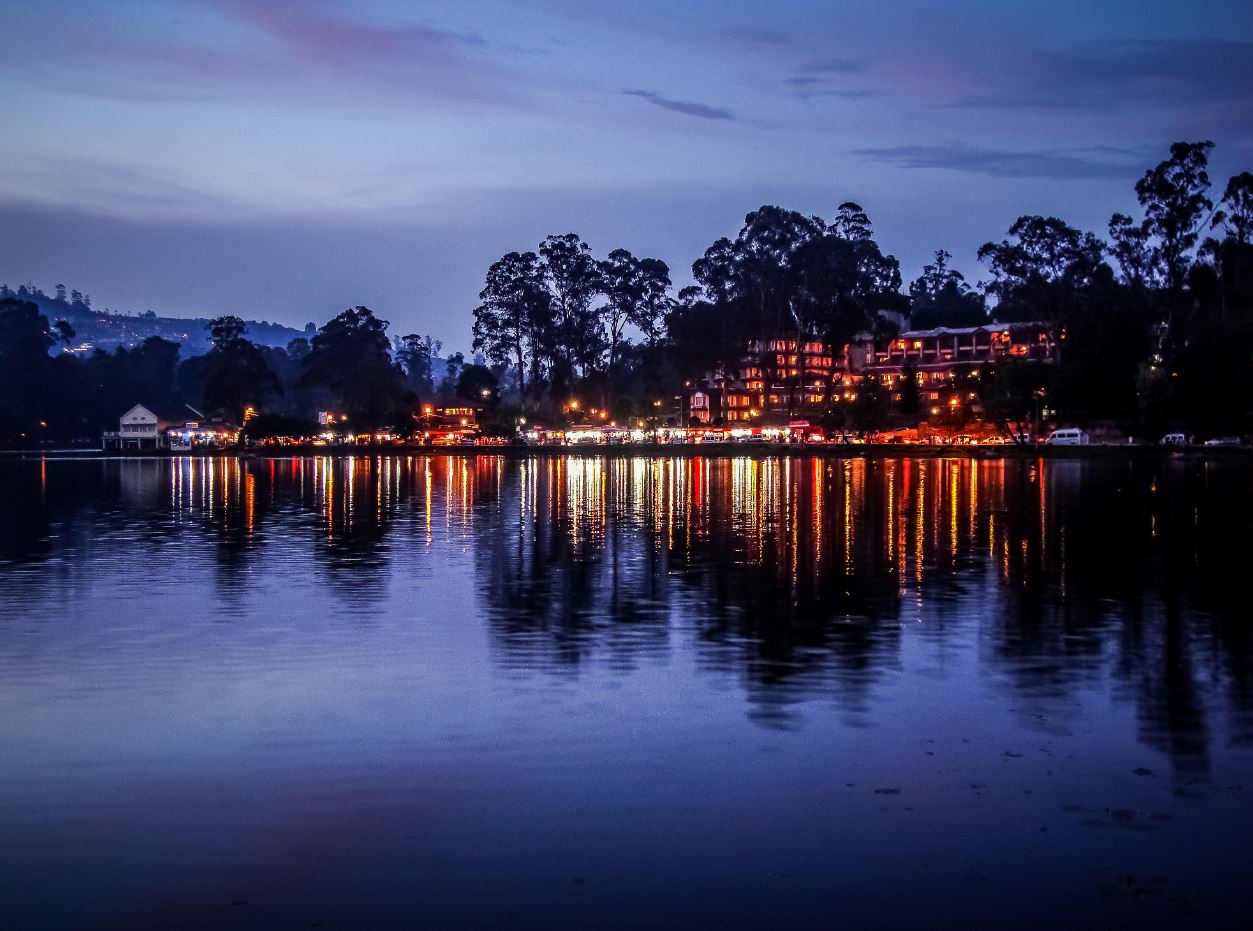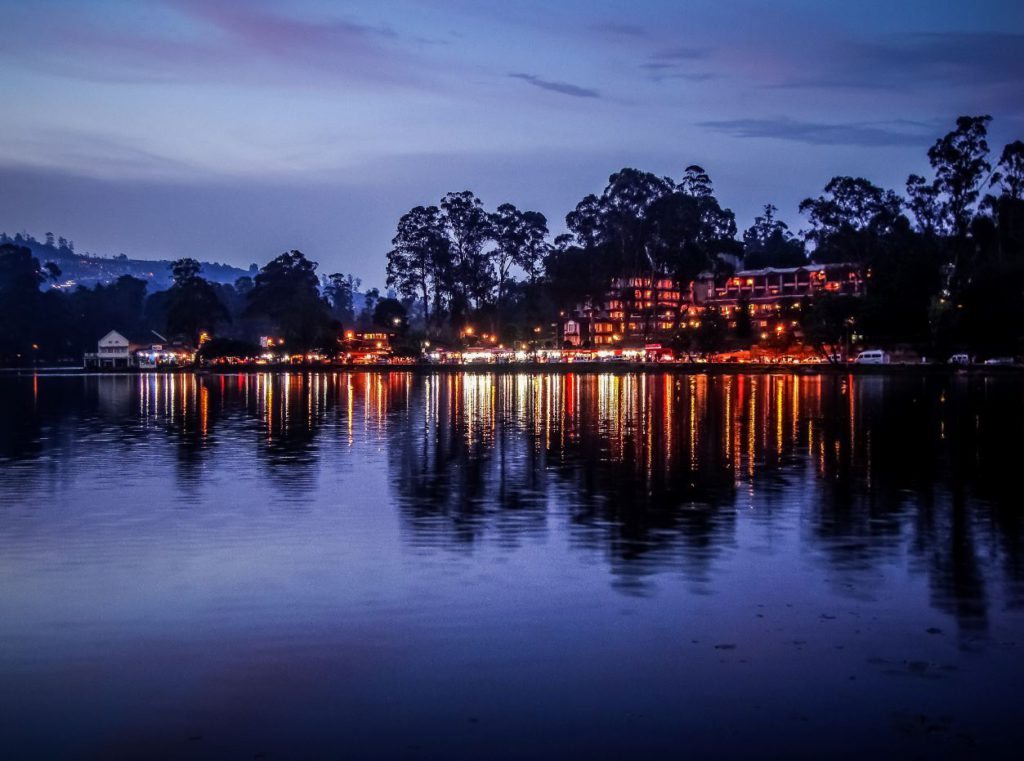 Bicycle: Again, if you are around the lake, you can also look at hiring bicycles. There are a few bicycle rental shops in the town or you can also contact your hotel staff to find one out. A day's rent will cost you between ₹350-400 per day for a regular non-gear bike. Riding a bike is only convenient inside the city and you must resort to other options for far-away sightseeing attractions.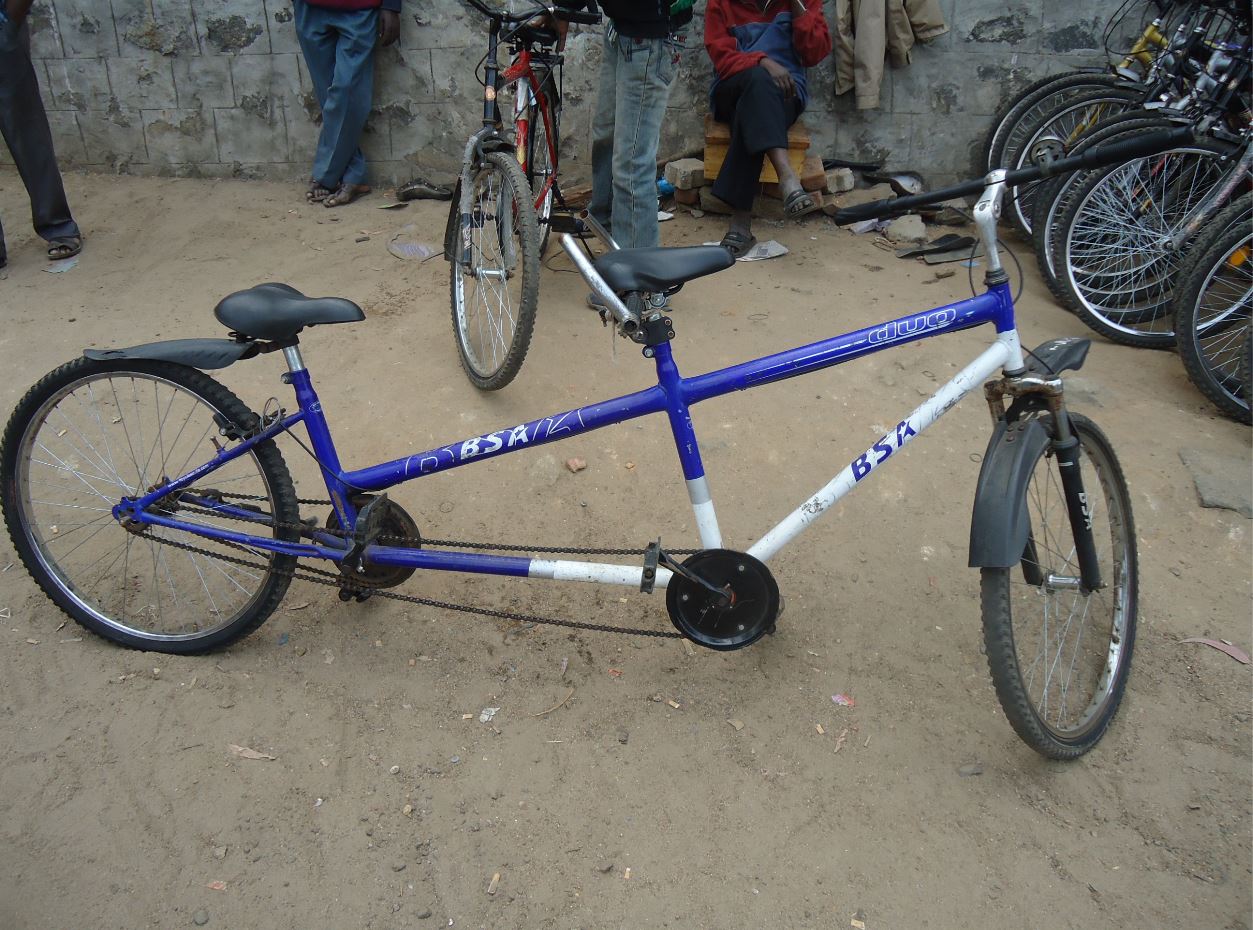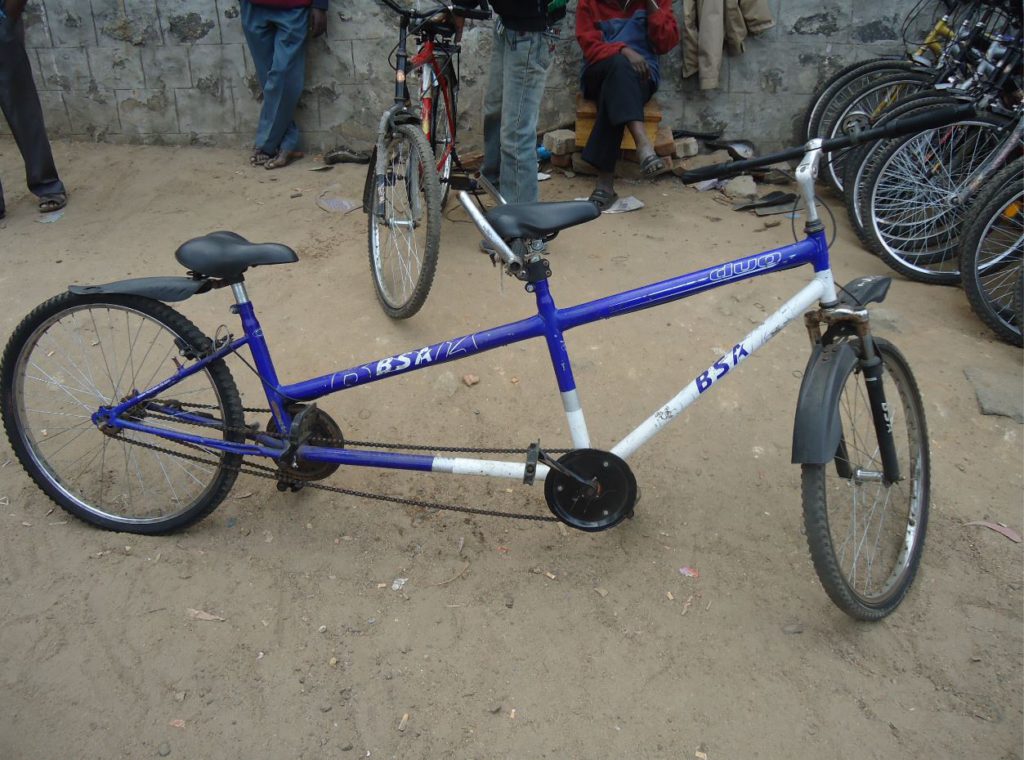 Cab: You will need to take a cab to go around most of the places in Kodaikanal. Local tour operators run the cabs. Uber, Ola, and app-based cabs are not available. A day cab will cost you between ₹1600-2000 or more depending upon the cab. You can book one at kodaimakemycabs.com.
Auto-rickshaws don't run inside Kodaikanal. One way cabs are also available that charge for a trip (starting ₹60-80) or an hourly rate (₹300 for 2 hours to ₹700 for 5 hours). Bargaining is expected.
Top Things to do in Kodaikanal
1. Kodaikanal Lake
Kodaikanal Lake is a star-shaped man-made lake in the middle of Kodaikanal city that steals most of the attention. The lake was built in 1863, by the collector of Madurai and thus started a settlement in the area.
The lake is popular with tourists for boating and a track around it allows cyclists to enjoy with a ride. Boat pageants and flower show make news amongst the tourist during summer. Mist often shrouds the lake during the rainy and winter season. A boat ride in the summer could be crowded and a task, but take that ride during the winter season.
Most of the popular hotels and upscale restaurants are located around the lake. It can also be termed as the economic center of Kodaikanal city.
Boating timings on the lake: 9 am to 5.30 pm from Monday to Saturday. Closed on Sundays.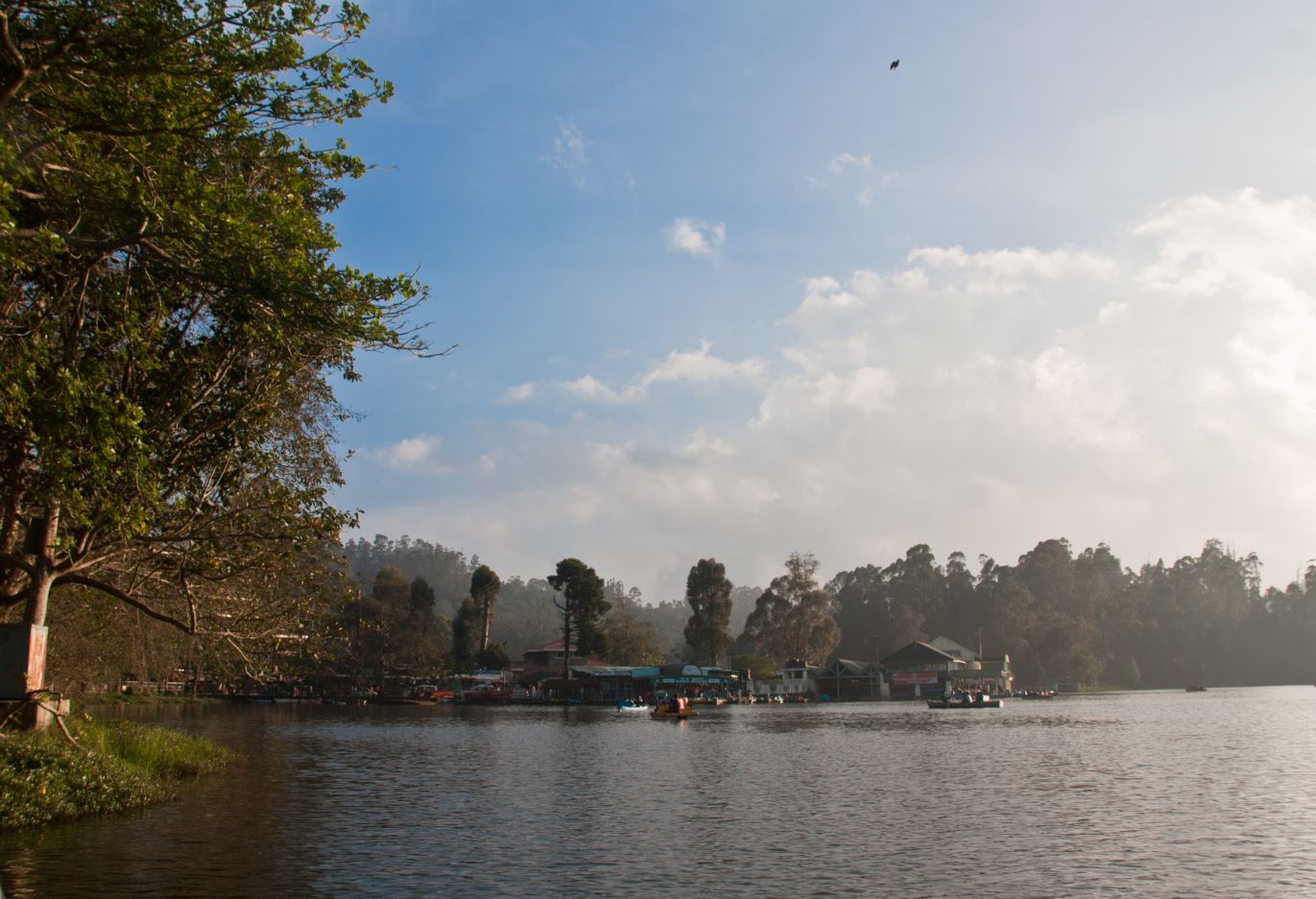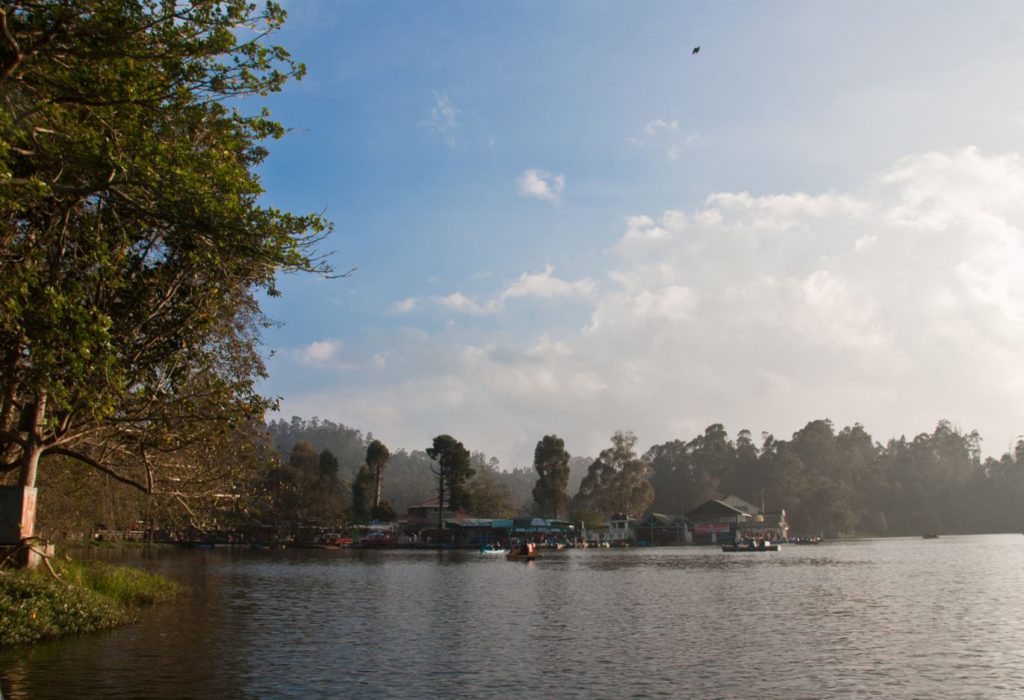 2. Coaker's Walk
Coaker's walk is a narrow pedestrian plaza that starts next to the Kodai lake. It gives a tour with lovely aerial views of the valleys around Kodaikanal. One the other side of the deep valleys are occasional vendors selling handicrafts and souvenirs. It is at a walking distance from Kodai Lake.
Coaker's walk was built by Lt.Coaker in 1872 and is a 1 km in walkable length. On a clear day, one can see as far as Dolphin's nose and even some parts of Madurai city. You can also catch a phenomenon of brocken spectre on some days.
To catch a clear view, walk the path before 2 pm and if you want to catch a sea of clouds, visit after 3 pm. At the end of the walk is an observatory with a telescope that gives a chance for even breathtaking close up views. You can also hire a bicycle or ride a horse for the length that you can hire at the entrance.
Coaker's walk ticket price: ₹10 as entrance fee per person, ₹30 for a camera and additional ₹20 for an observatory.
Coaker's walk timings: 7 am to 7 pm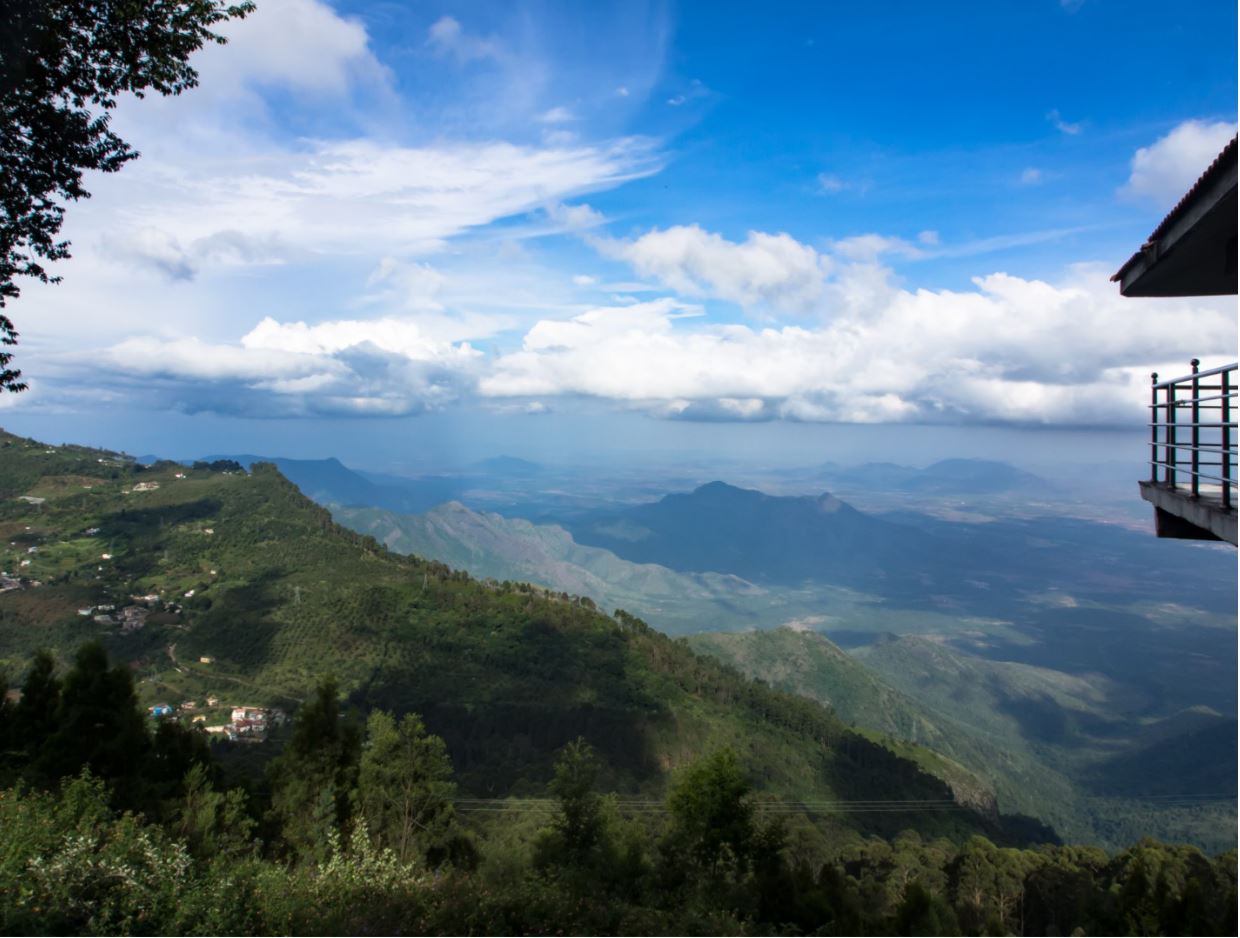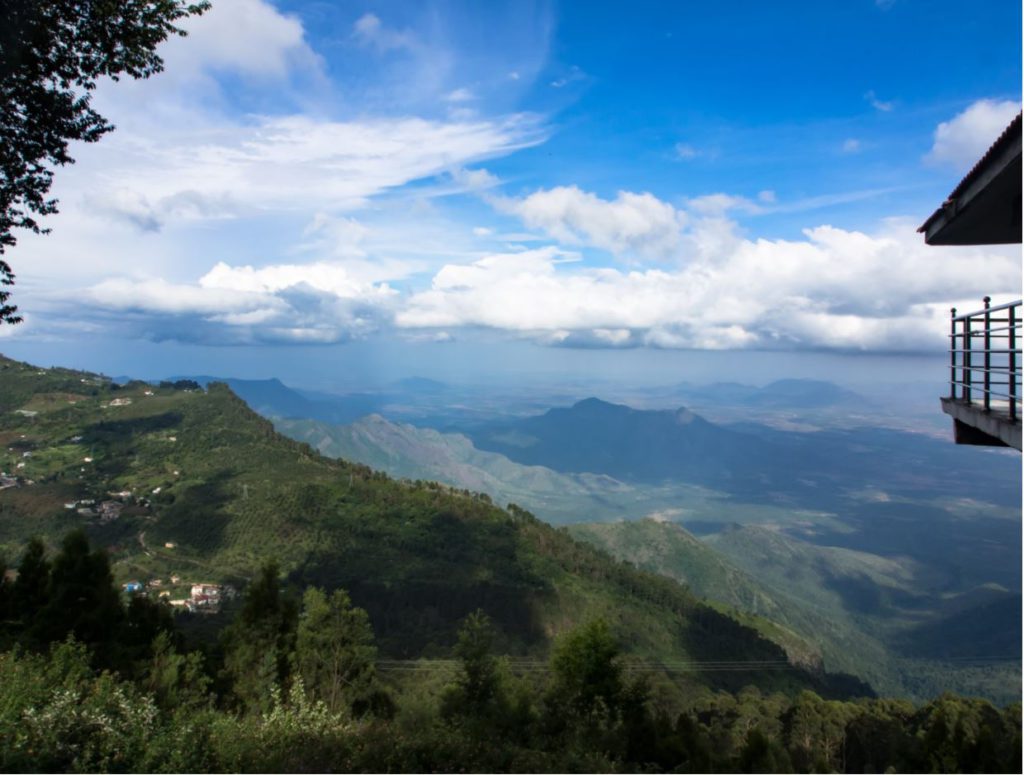 3. Byrant Park
Like most of the other hill-stations, Kodaikanal also hosts a flower garden and a horticulture space. For daily tourists, Bryant Park is a space for a nice evening walk, a place for kids to enjoy and relax after a long day of sightseeing. It is at a distance of 500 meters from Kodai Lake.
Bryant Park was put into its current state by a British Army Officer, Glenn Bryant in 1980. The park hosts a horticulture show every year in May and a vegetable show. From bright colorful exotic flowers, there are a variety of desert cactus and ferns displayed inside the glasshouse.
Byrant Park ticket price: ₹30 for an adult, ₹15 for a child, and an additional ₹50 for a camera.
Byrant Park timings: 9 am to 4 pm every day of the week.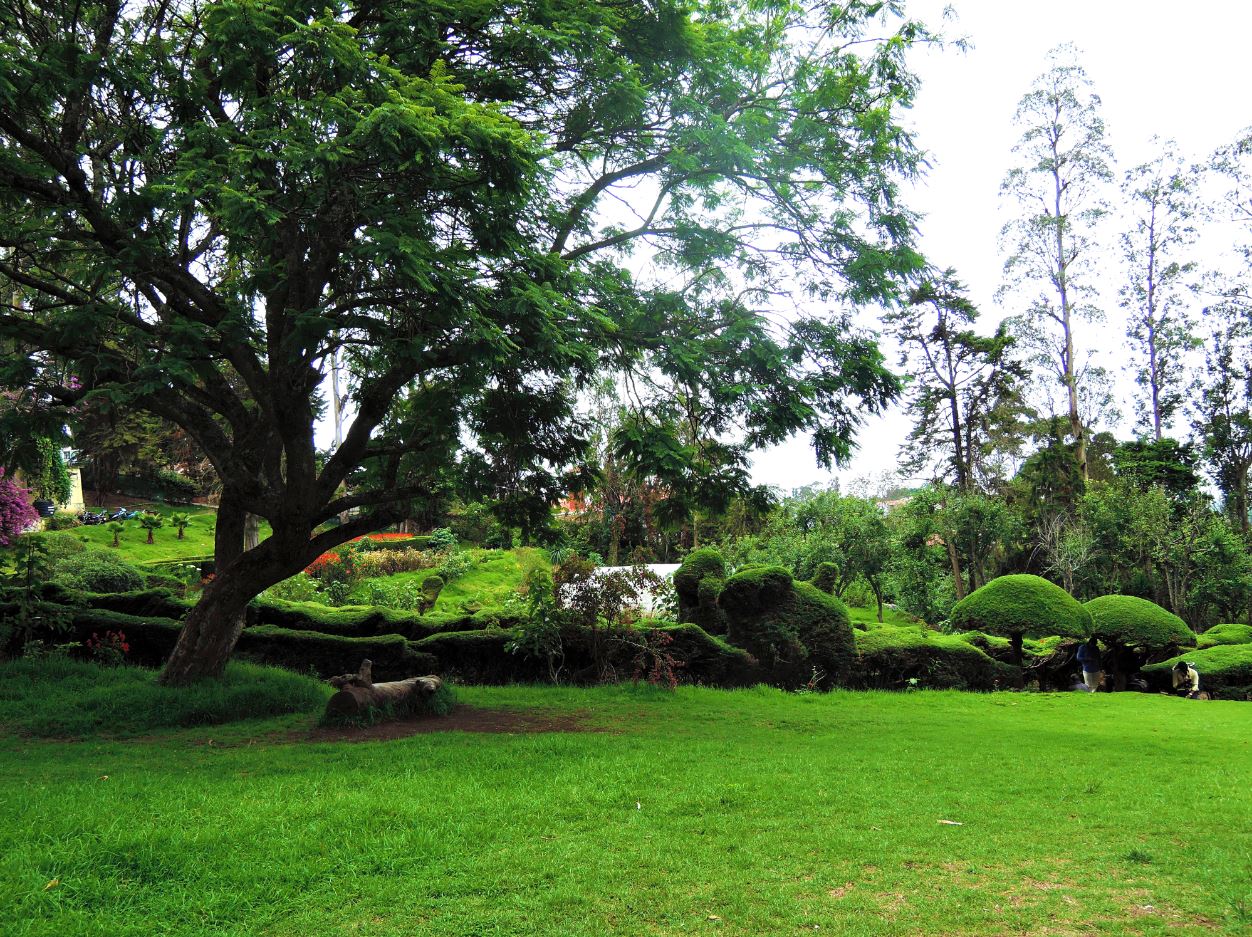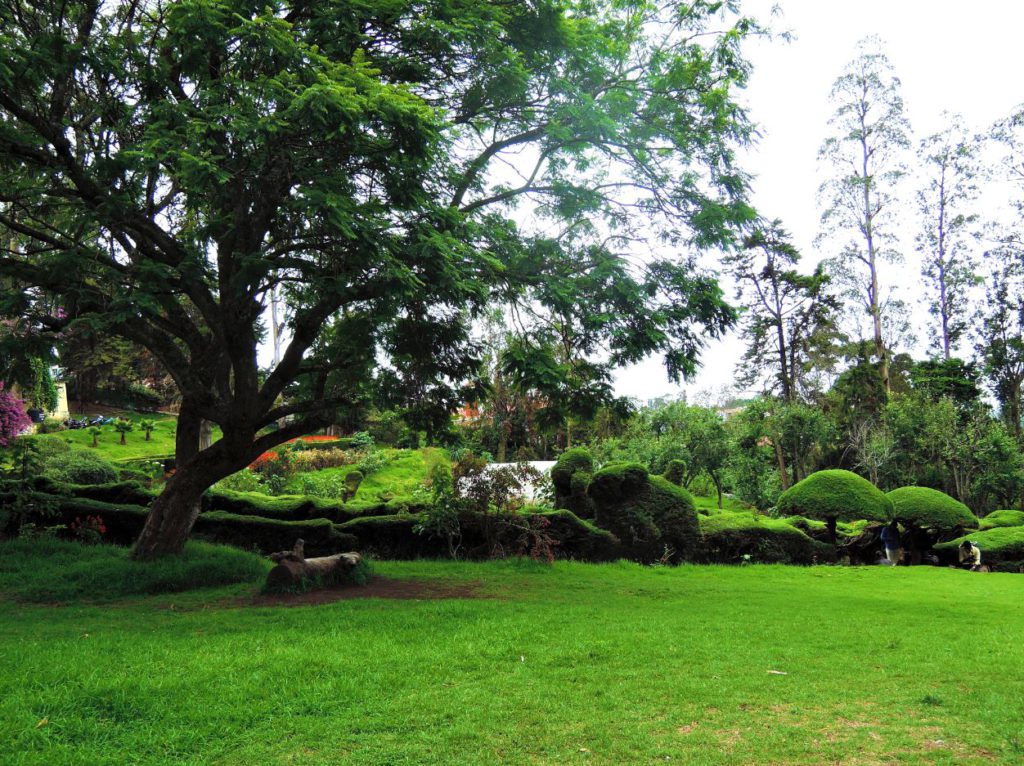 4. Kodai Viewpoints
Now again, like most of the other Indian hill-stations, there are loads of viewpoints in Kodaikanal. Some of them are just, you know, a point with a view. Some of them are even funny that points to a certain rock shaped like an animal. I will leave the assessment to you.
The most popular views in and around Kodaikanal cities are Dolphin's nose Viewpoint (with a rocked shaped like a Dolphin's nose), Suicide Point (the name comes from a tragic tale), Echo Point (You can hear your voice echo).
Other popular ones are Pillar Rocks Viewpoint, Upper Lake View Point (Gives an aerial view of Kodai Lake), Green Valley Point, Moir Point, and Silent Valley View.
You must visit at least a few for the view are truly sensational, especially in the early morning and evening hours. Unfortunately, you cannot access most points on your own and you will need a cab to reach. Hire a cab or an hourly or a day rate and convey your wish to visit some viewpoints, he will take care of the rest.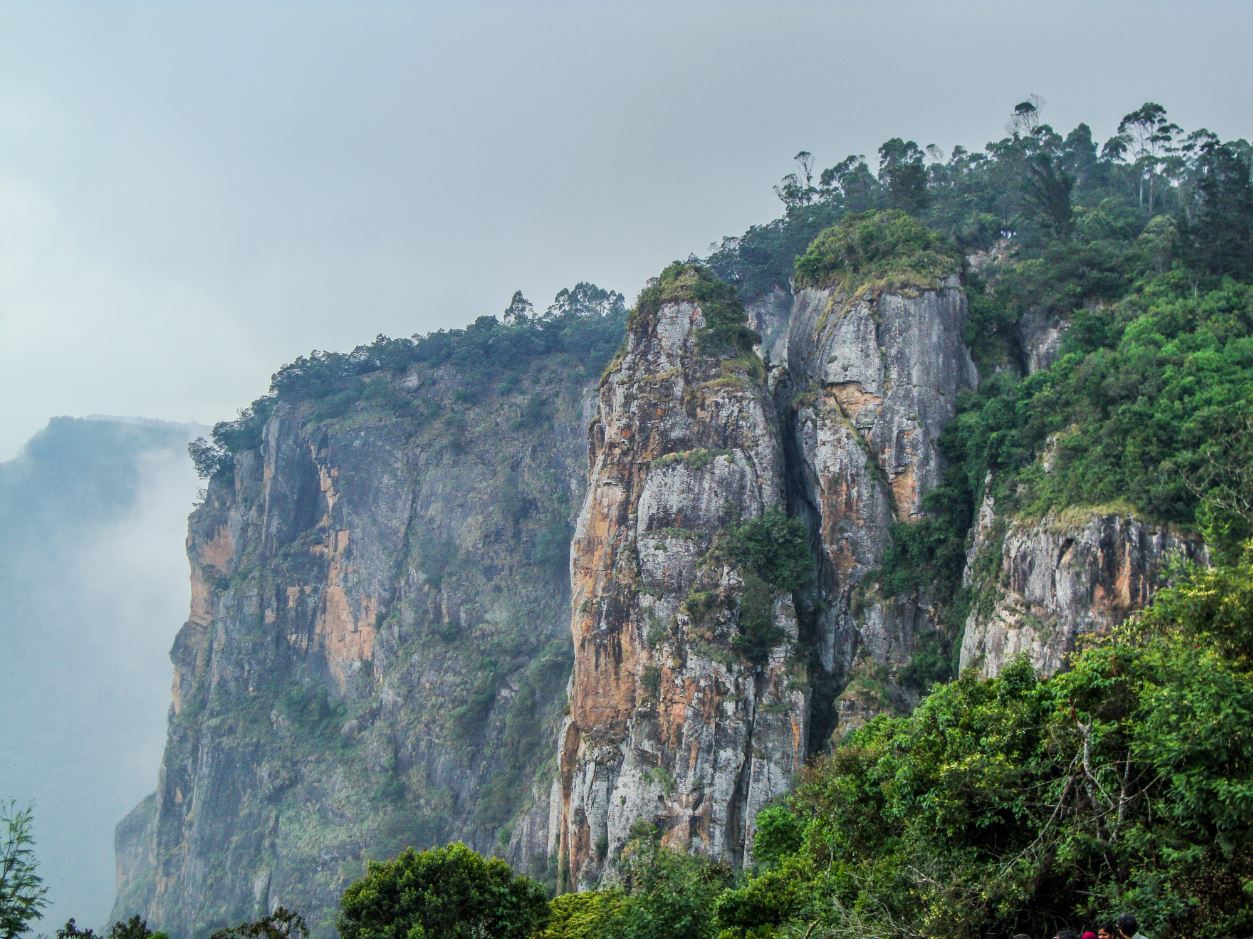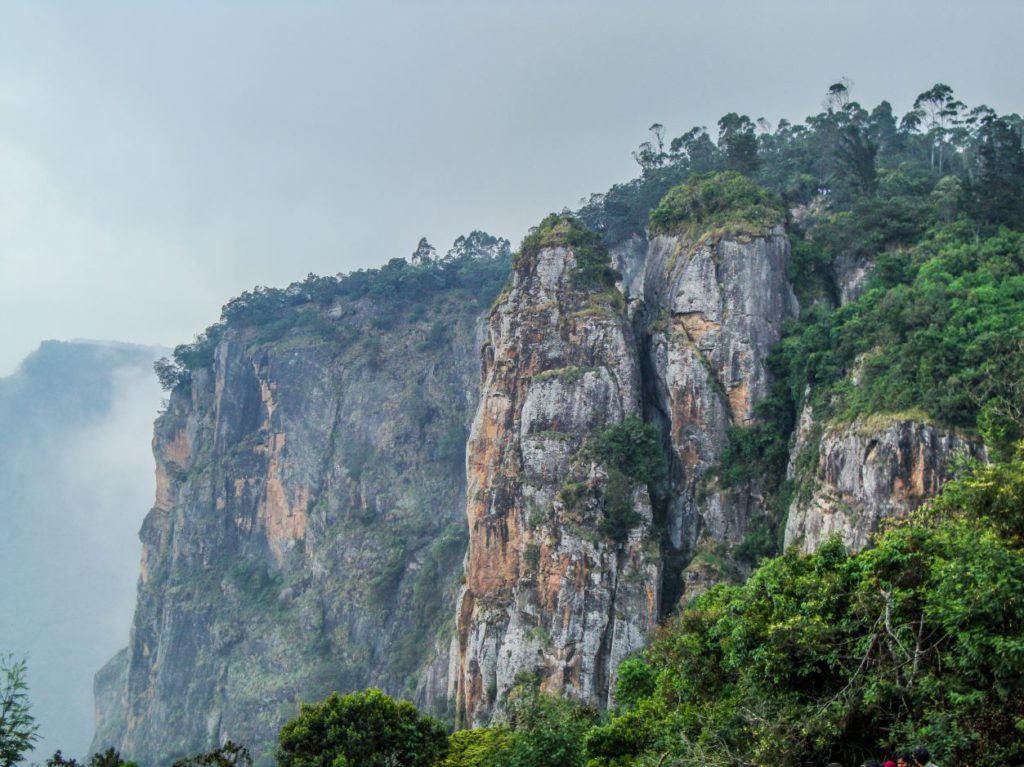 5. Kodai Waterfalls
I will be lying if I have to say Kodaikanal has waterfalls that are out-of-the-world. And their beauty and glamour can swing either way in each direction depending upon the season. If you are visiting in and after the monsoon season, they should be on top of your list.
On the other hand, if you are there during the summer, you can skip some since then there isn't much water and the tourist crowd is heavy.
The best of the lot are Silver Cascade Falls, Bear Shola Falls, Vattakanal Waterfalls, Fairy Falls and Liril Falls. Again, all the waterfalls are located outside the immediate city and you will need a cab or a private vehicle to reach them.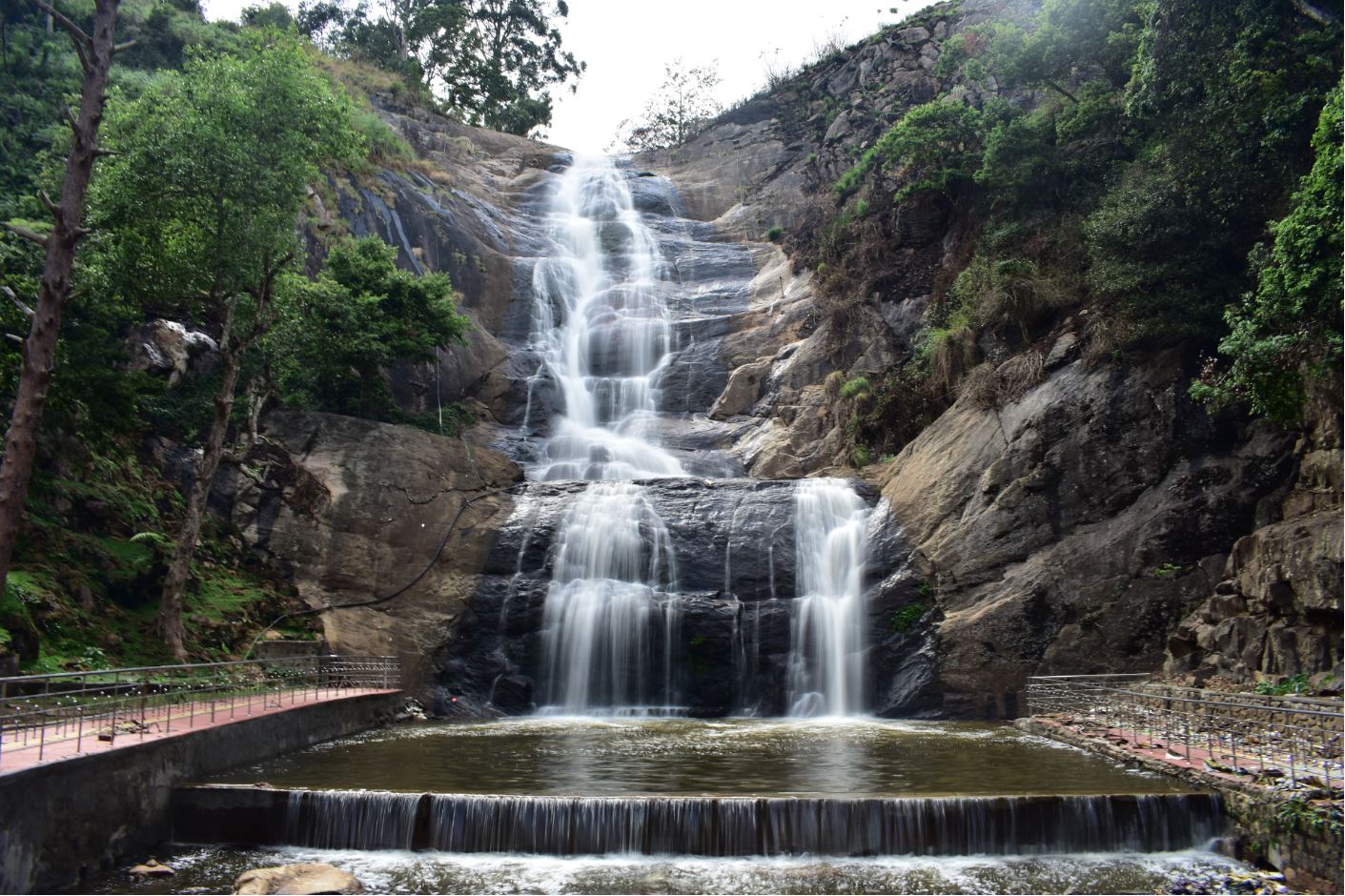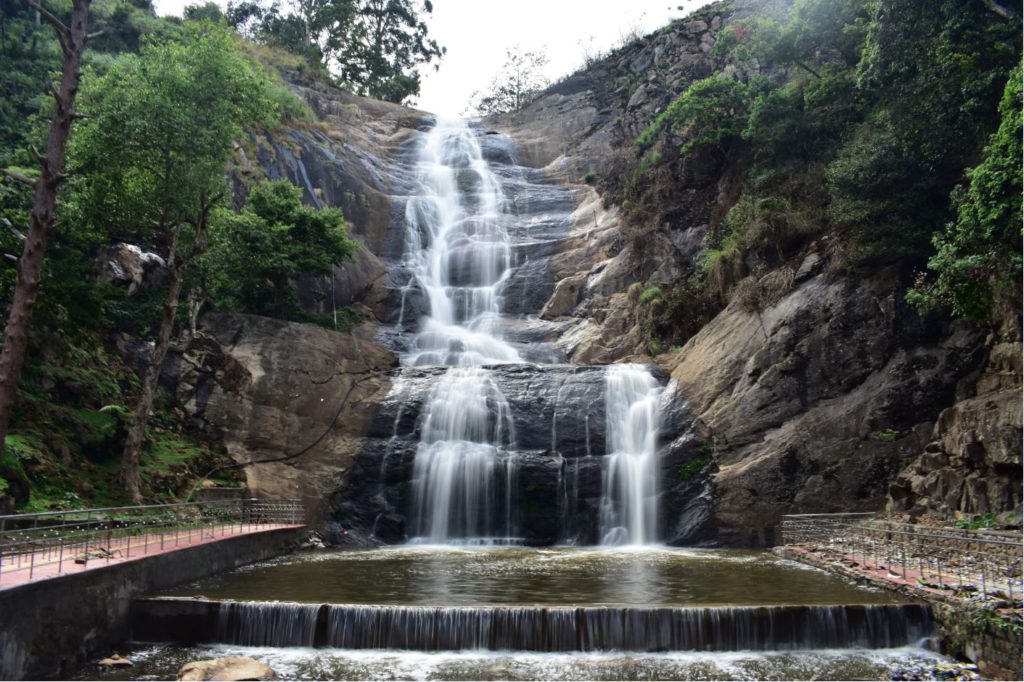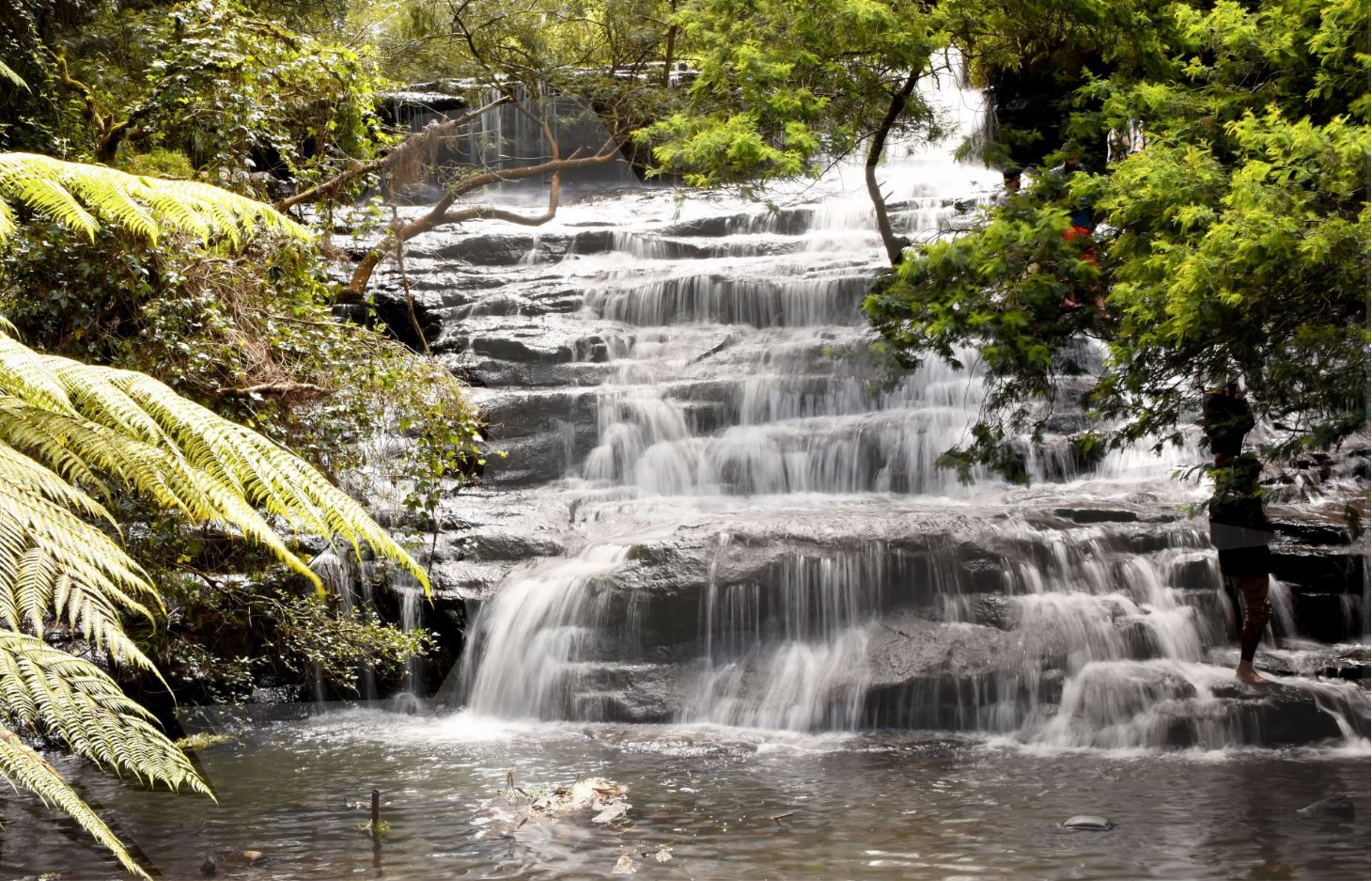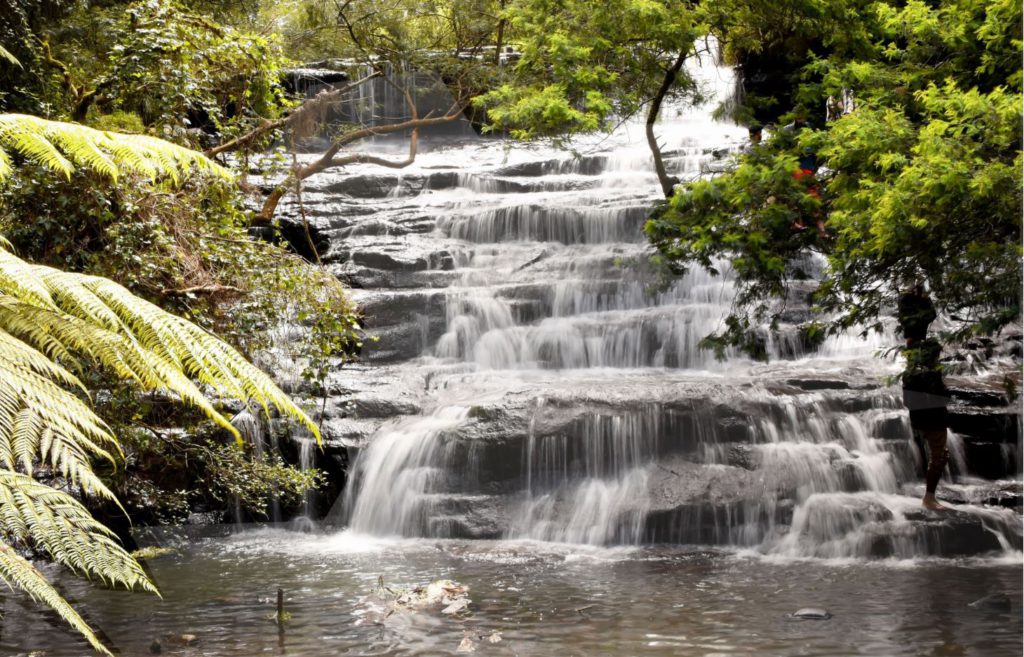 6. Kurinji Andavar Temple
Kurinji Andavar Temple is an important religious site among Tamils. The temple is dedicated to Sri Kurinji Easware or 'Lord Murugan'. However, in north India, he is called Kartikeyan, the son of Shiva and Parvati.
The temple was constructed by a Lady of European descent in 1936 who adopted Hinduism. The temple hosts a summer festival every year in May and thousands of devotees flock as pilgrims. Since the temple is located on a hill, it also gives great views of the surrounding valleys and Kodai Lake which is at a distance of 4 km from the temple.
Its name also implies a flower 'Kurinji'. You can find only in this area till Munnar and blooms only once every 12 years. They bloomed last in July 2018.
Kurinji Andavar Temple timings: 7 am to 7 pm every day of the week.
7. Kodai Pine Forest
A little outside Kodai city, you will find an eerie forest with rows of pine trees. Of course, it is way more fun for the urban dwellers that the locals. But it is a popular tourist spot and worth a stop. The pine forest was planted by Mr.Byrant (of the Byrant Park) a century ago, the fruits of which you are able to witness today.
The downside is, the forest receives a lot of tourists. Litter is a common problem that the local monkeys pick up often. If you are lucky, you may be able to spot a deer on a nilgai on a stroll. The forests are always open to tourists and you don't need to pay anything to visit.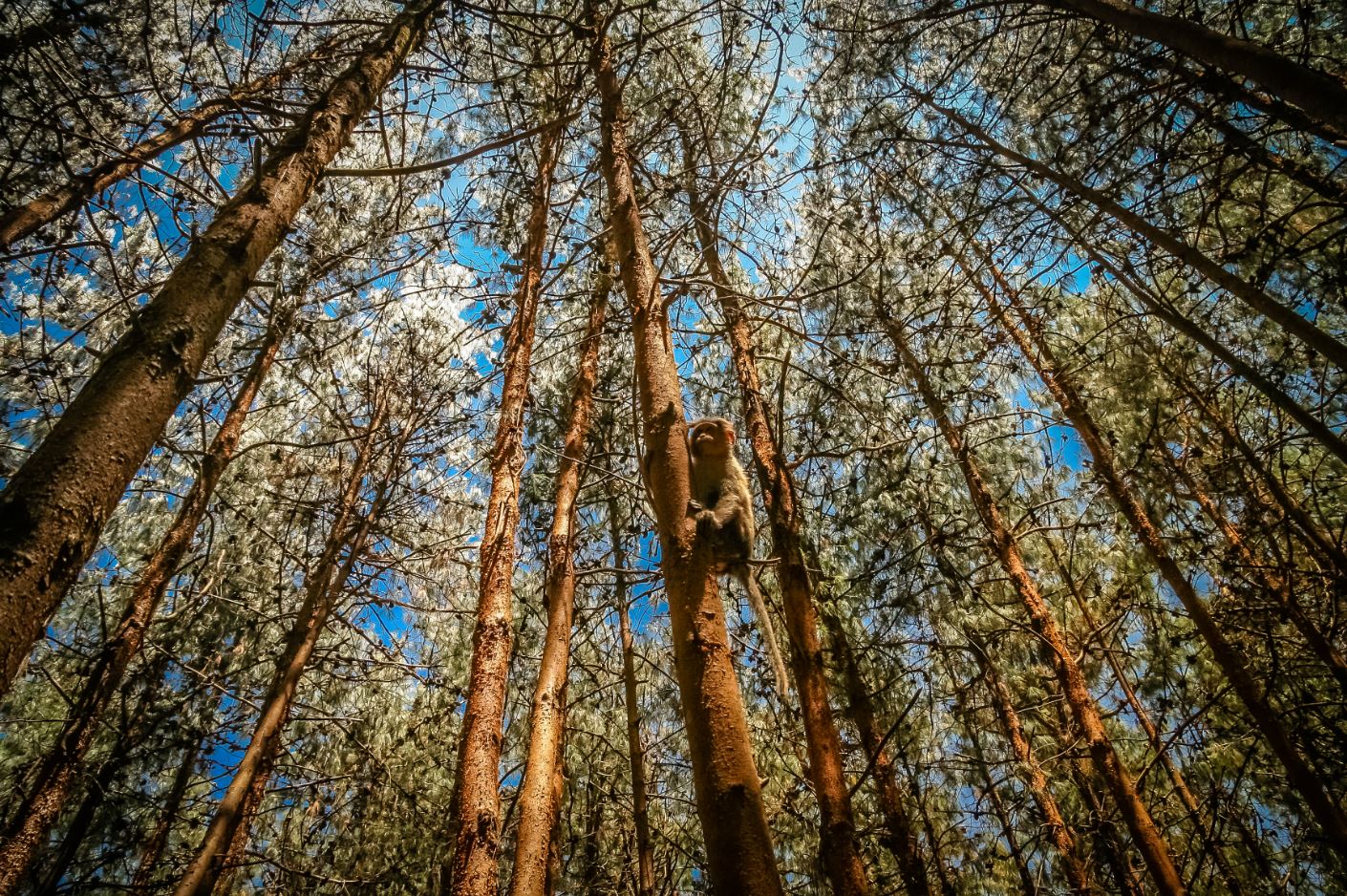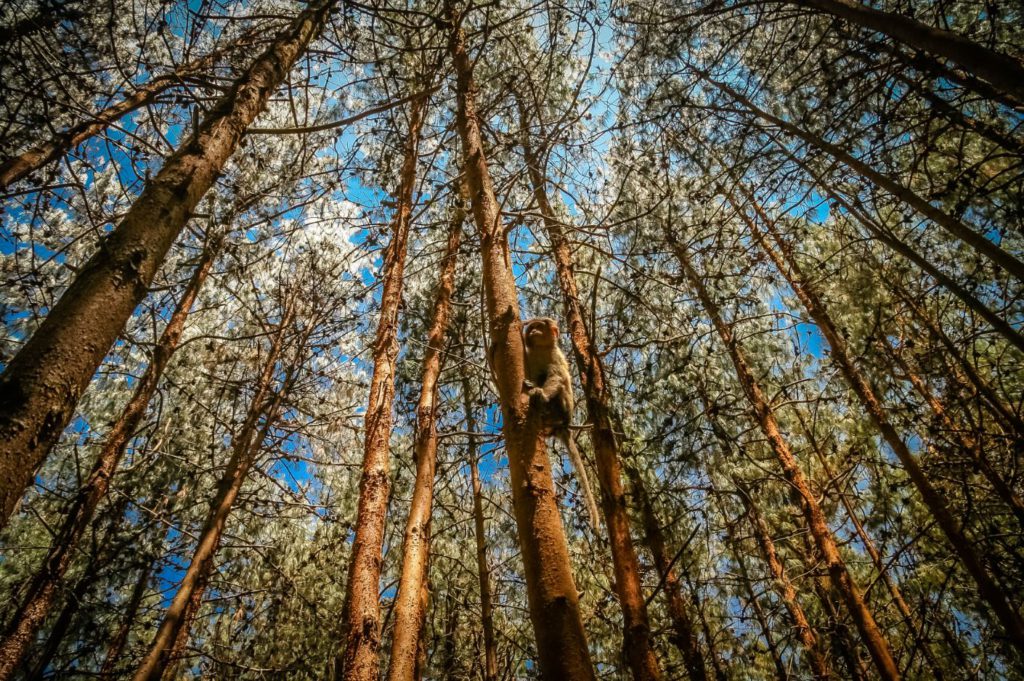 8. Guna Caves
Guna Caves, a startling rock formation got its name from the Tamil Movie named Gunaa. It was earlier called 'Devil's Kitchen'. The caves are infested with bats.
Fortunately or not, the caves now are inaccessible to tourists. You can only enjoy the exteriors at the moment. The cave formation is a difficult trail to take. It has resulted in the death of 12 individuals in the past. Due to this, most parts are now closed to tourists.
The caves are located in the middle of a forest. They were mostly untouched till some time back. The place is free to visit with no timings; however, it is best to leave before dark.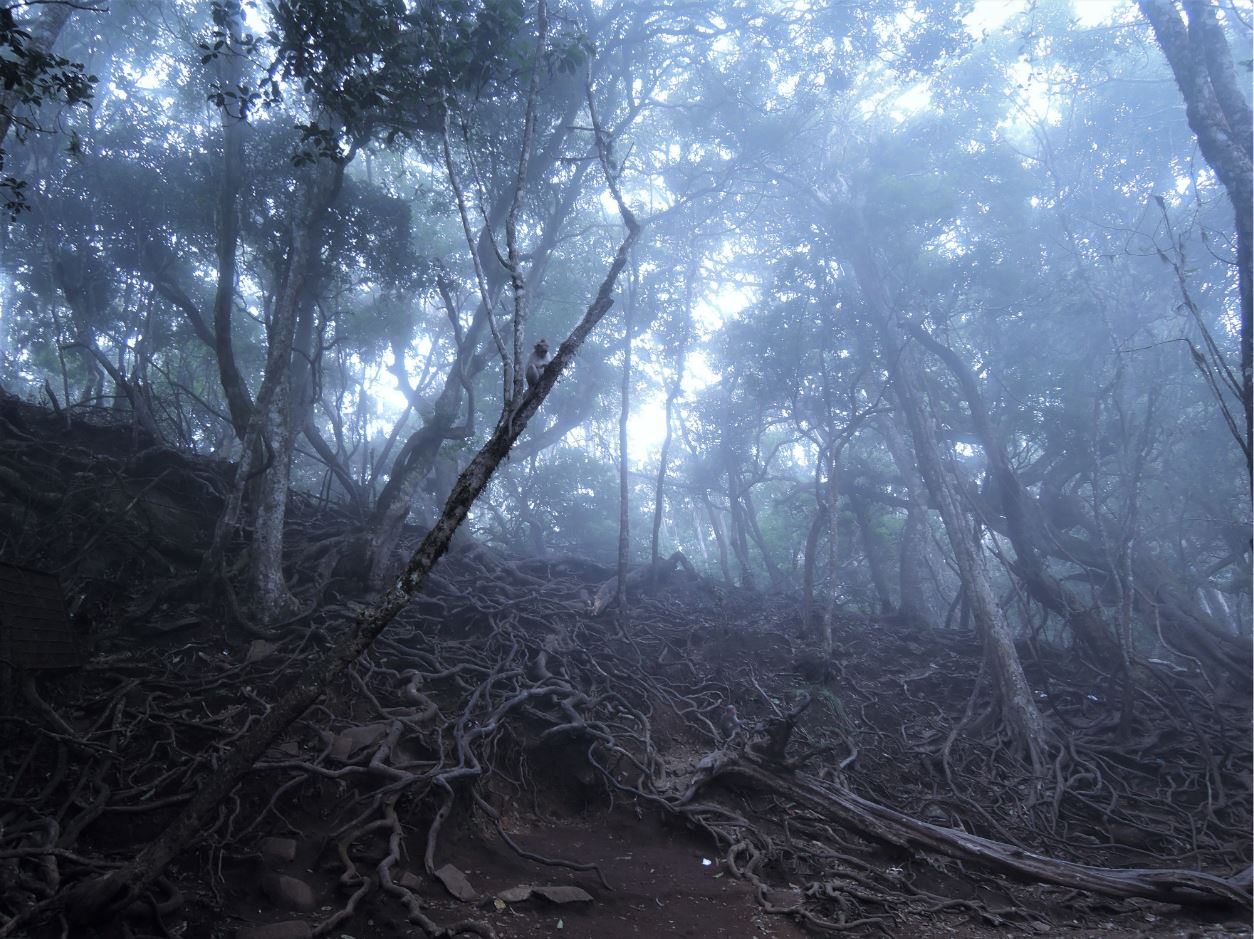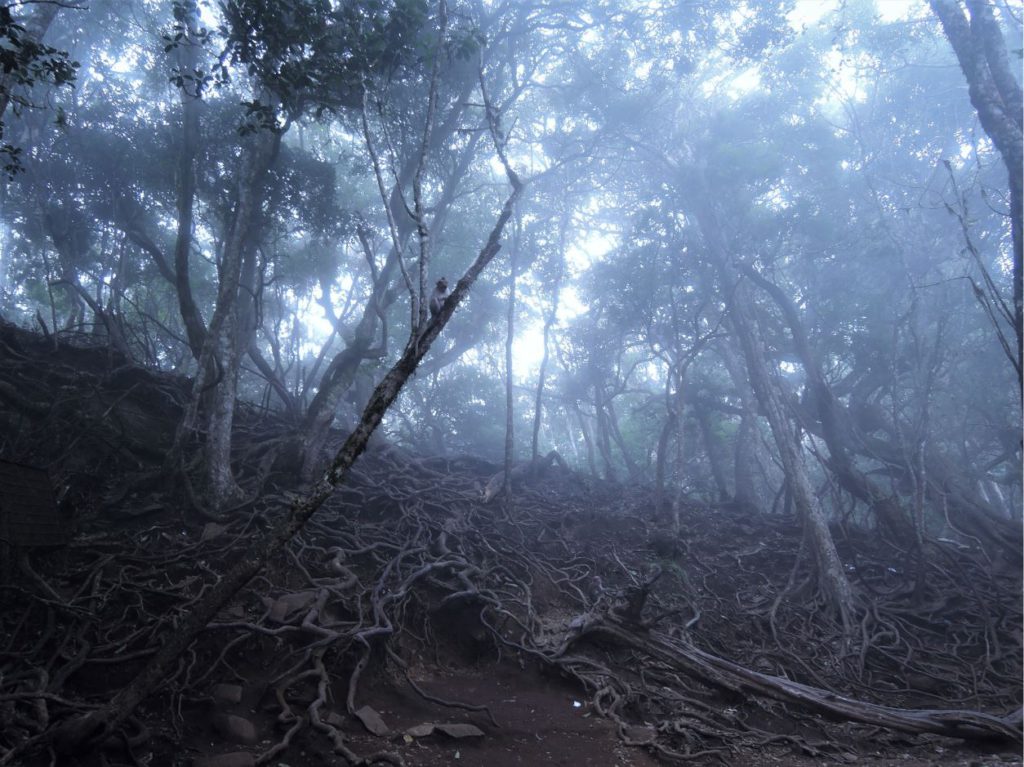 9. Berijam Lake
Berijam Lake is a reservoir around 22 km outside Kodaikanal. The reservoir shares its water with the nearby village, is of excellent quality, and a lot of medicinal flora and fauna grow in the area.
Boating and water activities are prohibited in the lake. But a stroll around the lake along with bird watching and nature photography draws enthusiasts to it. The good thing is not a lot of tourists go there and you will find it relatively empty. But that's because you need a permit from the forest department to go there.
Berijam Lake timings: 9 am to 3 pm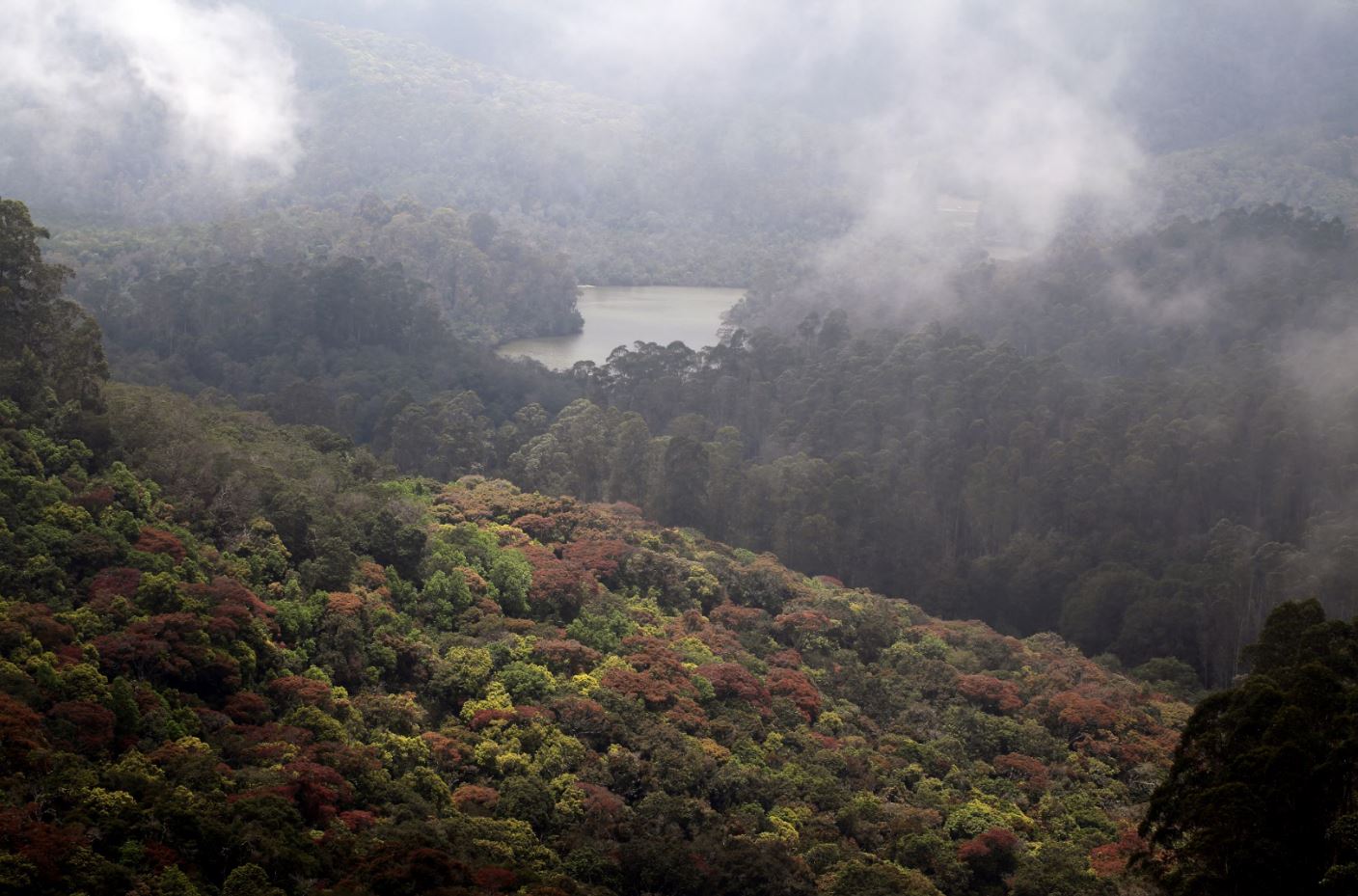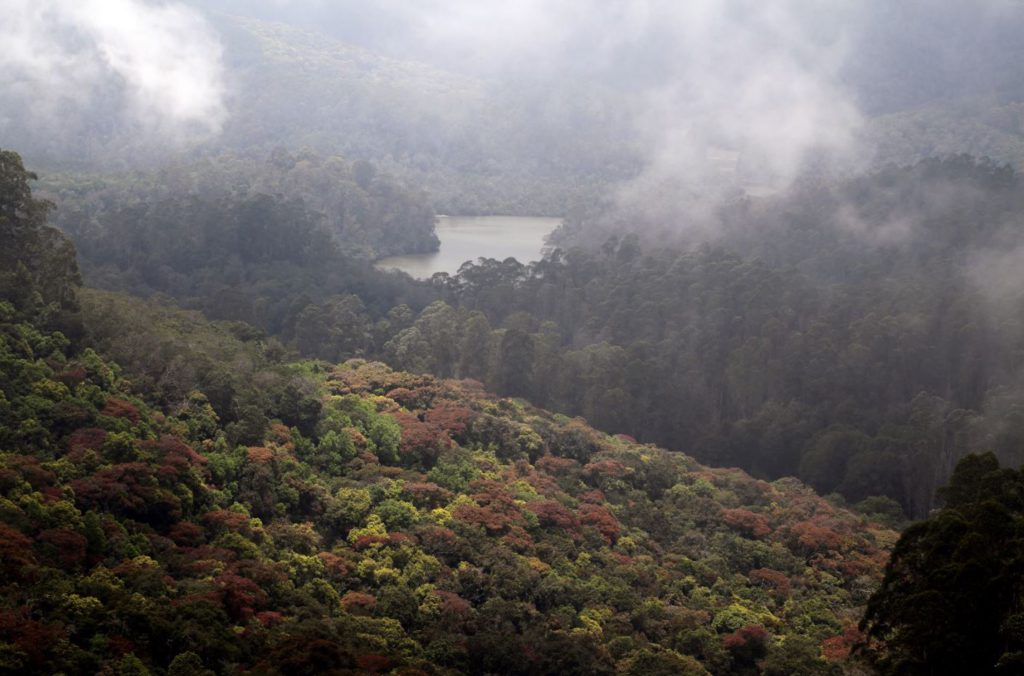 Places to see near Kodaikanal
Vattakanal
A seven Kilometer uphill drive passing through Dolphin's nose and Vattakanal waterfall lead to the small town of Vattakanal. The locals call it 'Little Israel' because of the number of Israelis who live here for long periods of time.
But otherwise, unlike Kodaikanal Vattakanal is devoid of tourist attractions. And visitors come only to enjoy the crisp weather and a fireplace in the winter months. Exotic flowers and thick forests with many hiking trails and affordable prices have made Vattakanal very attractive to backpackers and slow travelers.
You can take a bus or a cab from Kodaikanal that will cost you between ₹50 to ₹200 for a ride. Edwin's Guesthouse and Altaf's Café that serves traditional Israeli food are some of the popular hangouts places in Vattakanal.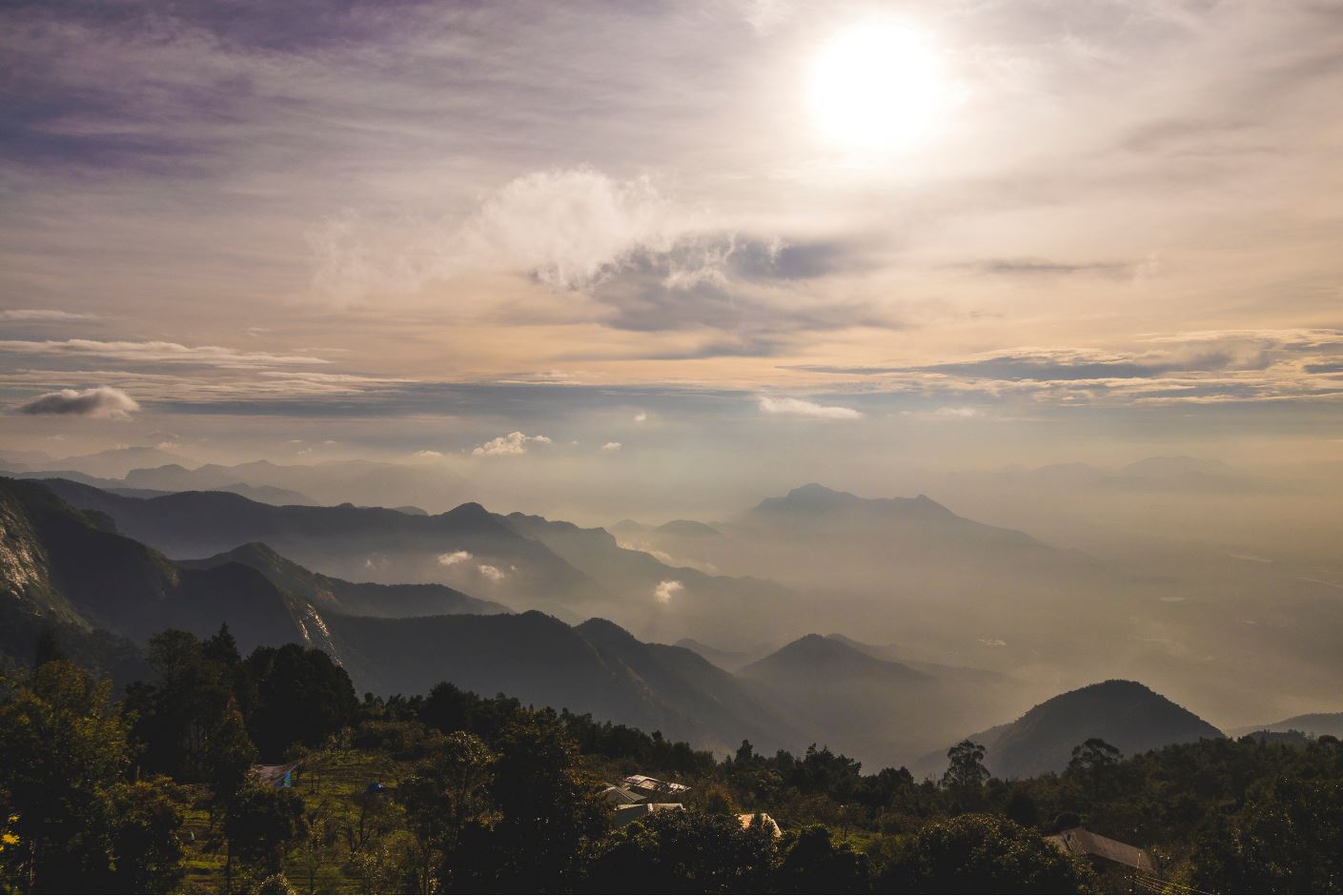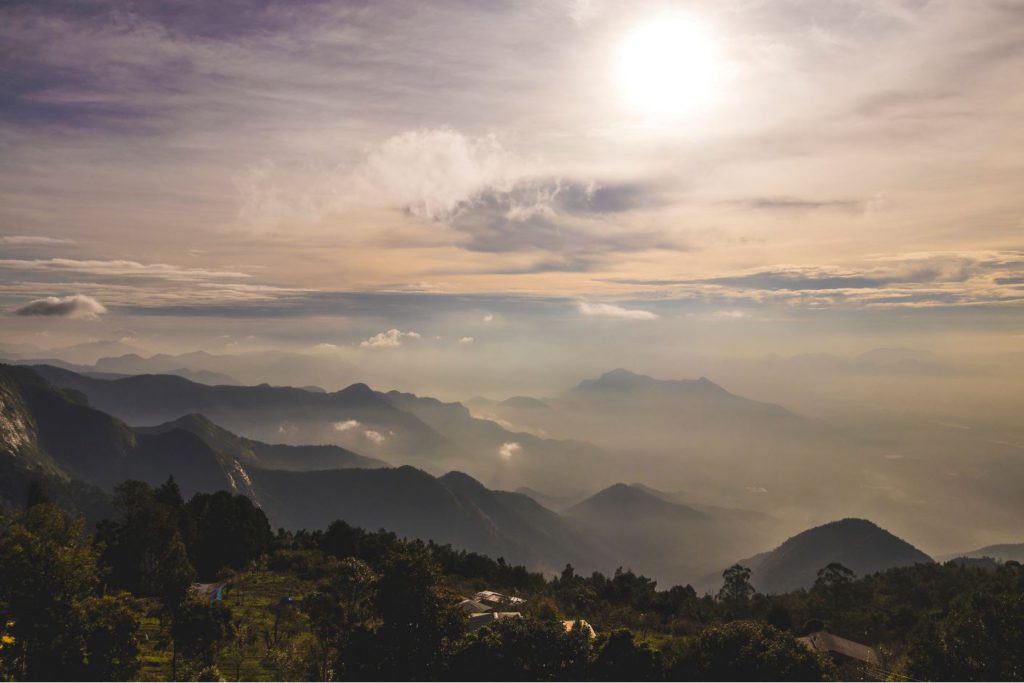 Poombarai Village
Poombarai is a mountainous village near Kodaikanal that you will see on your way to Mannavanur. During the ride, you will be able to see the village from up in an aerial view and the cluster resembles a small European town with an orange-coloured thatched roof.
Again, Poombarai does not have much to do in terms of tourist attractions. The village is most popular for Kuzhanthai Velappar Temple which dates back 3000 years. A Tamil man built the idol of Lord Murugan out of 9 alloys. The tale says that he claimed to have travelled all the way to China and had discovered the elixir of life.
There aren't any commercial properties or resorts in the village but you can have a day trip to the place. The locals grow a special variety of garlic and butter fruit in the nearby areas of the village. One can take a bus from Kodaikanal for the journey.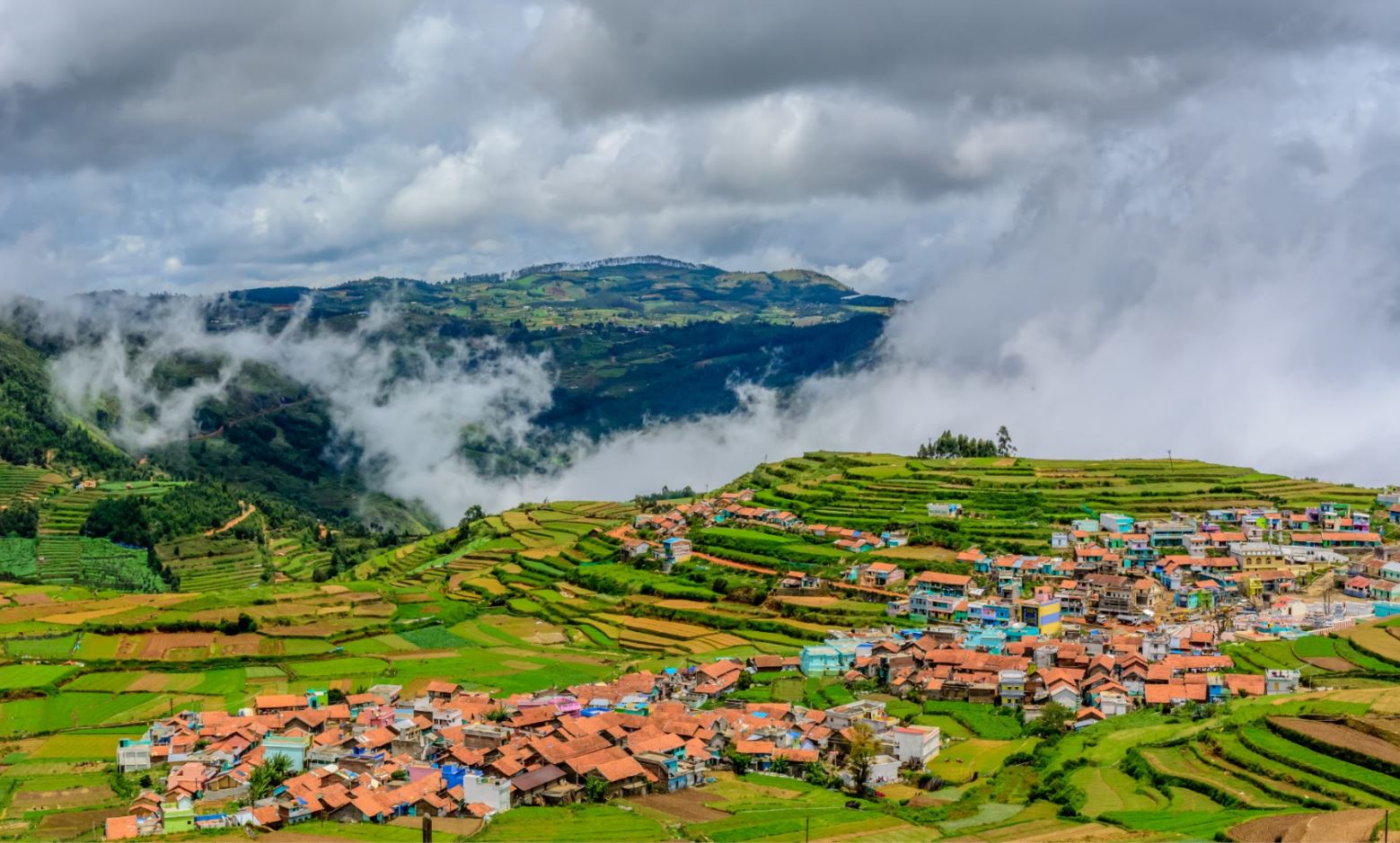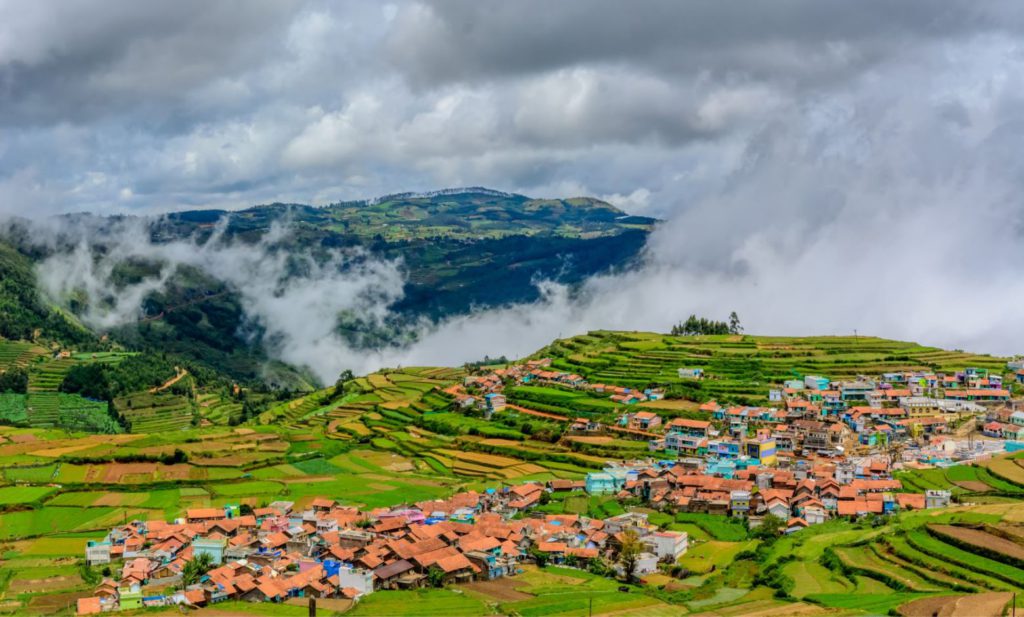 Mannavanur Village
So we did some digging around in Kodaikanal and some locals suggested heading over to Mannavanur village if you want to catch some 'shrooms' or magic mushrooms. So that's what we did. In fact, the village is located right next to dense forests where shrooms grow naturally.
You need to take a bus to Mannavanur village and get down at your destination. Most of the time, you will find people around or some may even come to you naturally asking if you are looking for something. If not, go ahead and ask a few locals. You will get what you want.
Mushrooms are sold by the dozens and prices can vary between ₹600-1000 a dozen. However, to find the best of the lot, check after the rainy season in the months of July and September. Also, people can rip you off by giving fake stuff and you wouldn't know. The best way to eat them is after soaking it in honey.
Apart from that, Mannavanur has a gorgeous lake. You can easily find it. There are quite a few locals but hardly any tourists. You can easily spend a day lazing around the creek or surrounding hills. Plus , there is a small restaurant and a restroom for all your needs.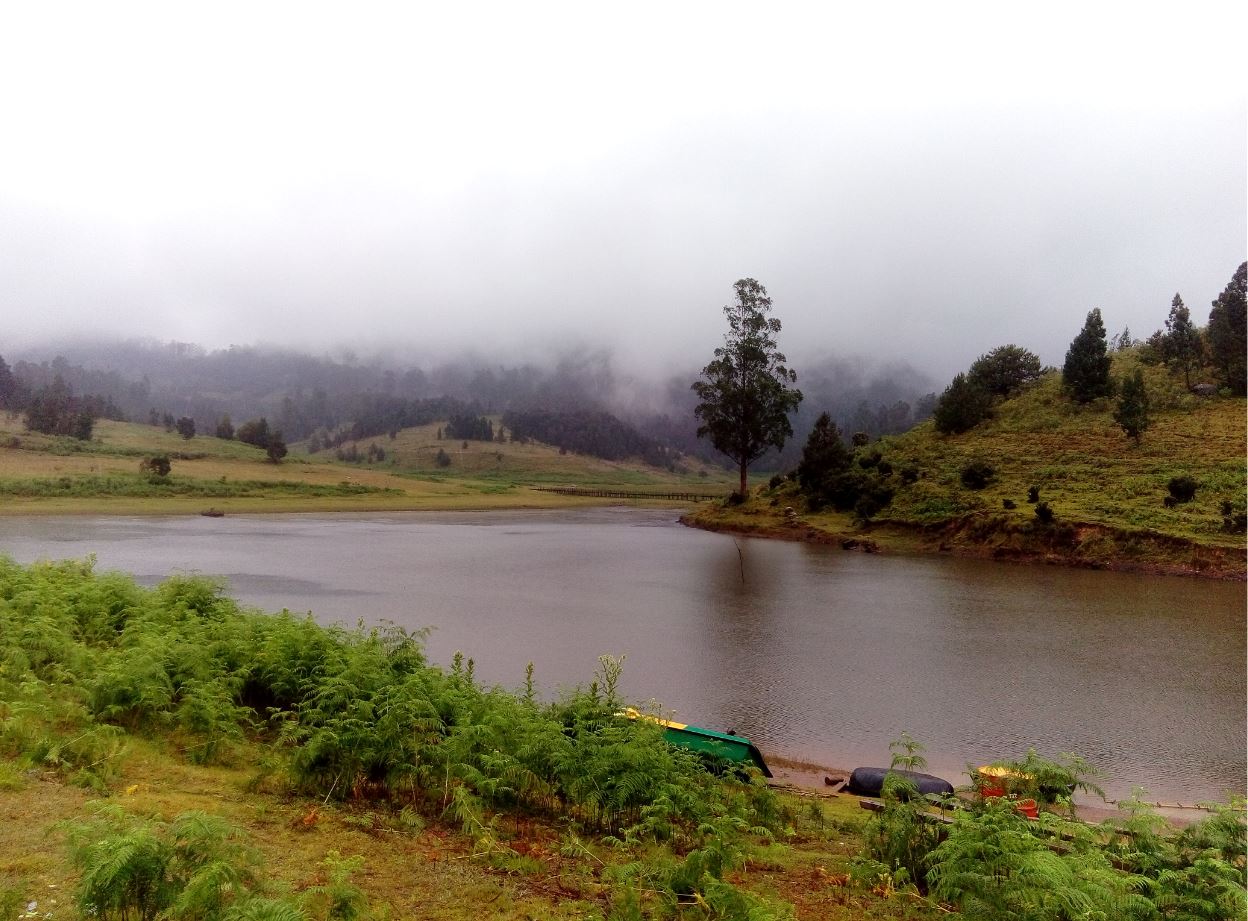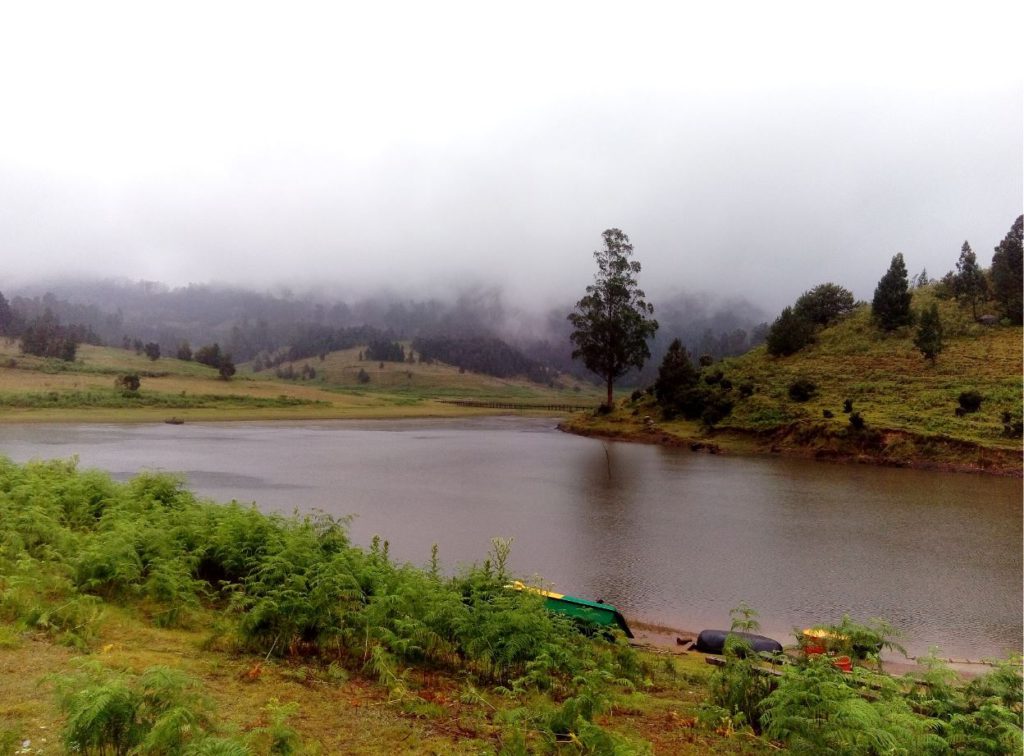 Where to Stay in Kodaikanal
The popular spot to say inside the Kodaikanal city is near Kodai Lake on the east side. The hotel range from budget, mid-luxury, and luxury hotels suitable for families. There are a lot of options to eat, the night bazaar is at a walking distance, and transportations is easily available.
If you want to stay out of crowded areas, a lot of homestays are available on the outskirts of the town. They usually do have a great view of the surrounding valley and have a restaurant for food. But you must have a private vehicle to move around.
I personally use agoda.com since they give fantastic discounts, especially on budget hotels. But you can also use booking.com, makemytrip.com or yatra.com to book a hotel in Kodaikanal. Here are a few stay options in Kodaikanal that you may like:
Hostels: Zostel Kodaikanal, Trippr Kodaikanal Backpacker Hostel, DOSTel Vattakanal
Hotel Resorts: Kodai Resort Hotel, Sterling Kodai Valley, Zacs Valley Resort
Luxury Cabins/Resort: Double Room at Kodai Hills, The Tamara Kodai
Farmstay
One of the most popular retreats in Kodaikanal is Karuna Farms. It is a place in the middle of valleys with many small cottages and an open farm. Its popularity has grown as more and more backpackers flock to the place with affordable accommodation in dorms, sustainable and basic life, fellow backpackers, and lovely hiking trails.
You can either cook food in your room or eat at the commonplace. There is also a yoga session every morning. The place is usually booked, so book one far ahead in time at karunadham.org.in.
Save On Pinterest


Related Articles