24 Feb

Things to do in Vientiane, Laos

You may say that Vientiane is just a small town if you compare it to the global metropolis with glassy high-rise buildings and busy streets. It is not half wrong. But I travelled the other way into Vientiane, from Luang Prabang to Vang Vieng. Suddenly Vientiane seemed so big and busy to me.

But it definitely cannot compare to other mammoth Southeast Asian cities like Ho Chi Minh or Jakarta. But it still has its cultural identity intact where you will often pass by bright important temples and significant colonial-style buildings as you rush around to sightsee.

I did not stay long in Vientiane. And a lot of tourists sometimes decide to skip the sightseeing and travel directly to Vang Vieng or Luang Prabang. But if you wish to explore the city, here are the best things to see in Vientiane and a bit more.

If you are planning to travel to Laos, check out our itinerary to Laos from 5 days to 4 weeks.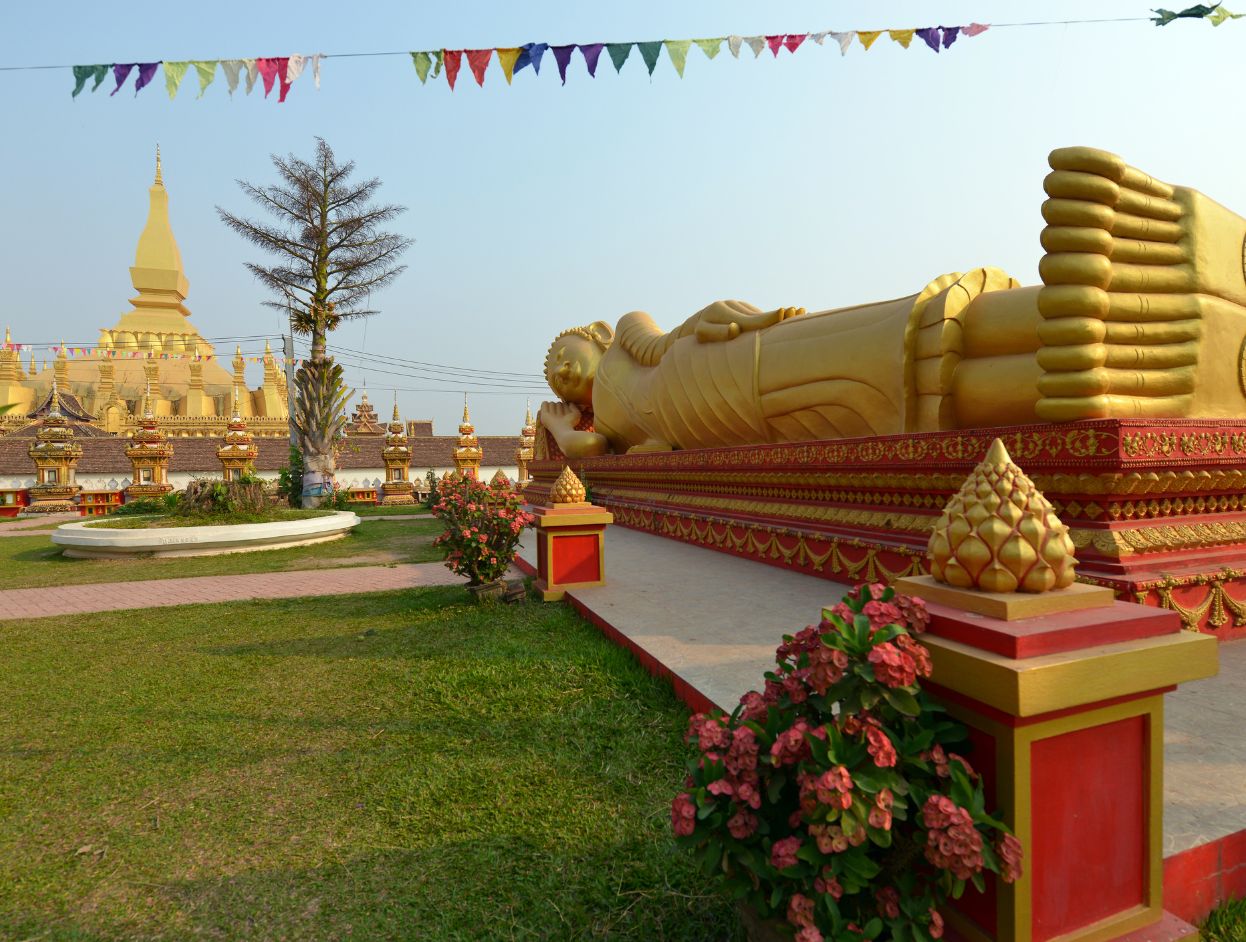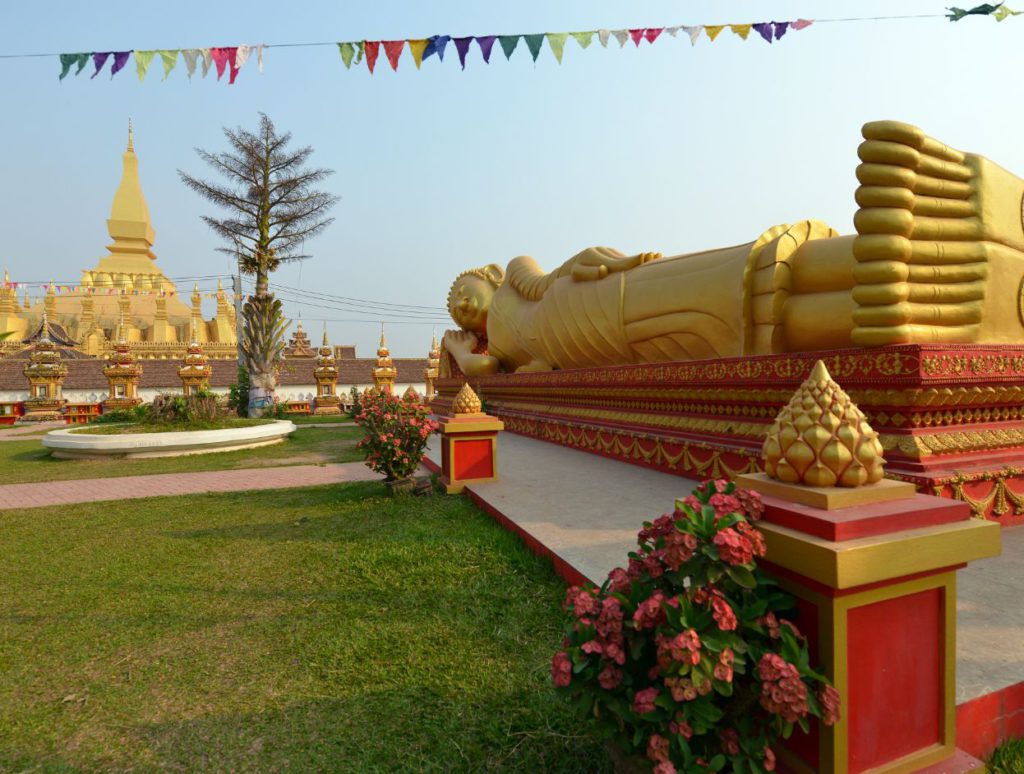 Brief History of Vientiane
The Mon people have been in the area since the 6th century. But according to a local myth, Prince Thattaradtha founded a city on the western banks of the Mekong river. The city grew into Udon Thani today. But one day, a seven-headed naga told him to set up another city on the other side of the river. And that is how Vientiane came to be.
On the other hand, the general perception is that it was one of the city or vassal states of the Khmer empire. In 1707, it became the independent Kingdom of Vientiane. But Phraya Chakri conquered it as part of Siam (present Thailand). The siamese almost burned the city to the ground and looted it after an unsuccessful Lao rebellion again the Siam empire.
Laos passed to the French in 1893. After the Japanese captivated Laos shortly during WWII, Vientiane became the capital of independent Laos in 1953. Vientiane was extremely unstable during the civil war that followed. It ended when the communist party of Pathet Lao took over the government and renamed the country the Lao People's Democratic Republic.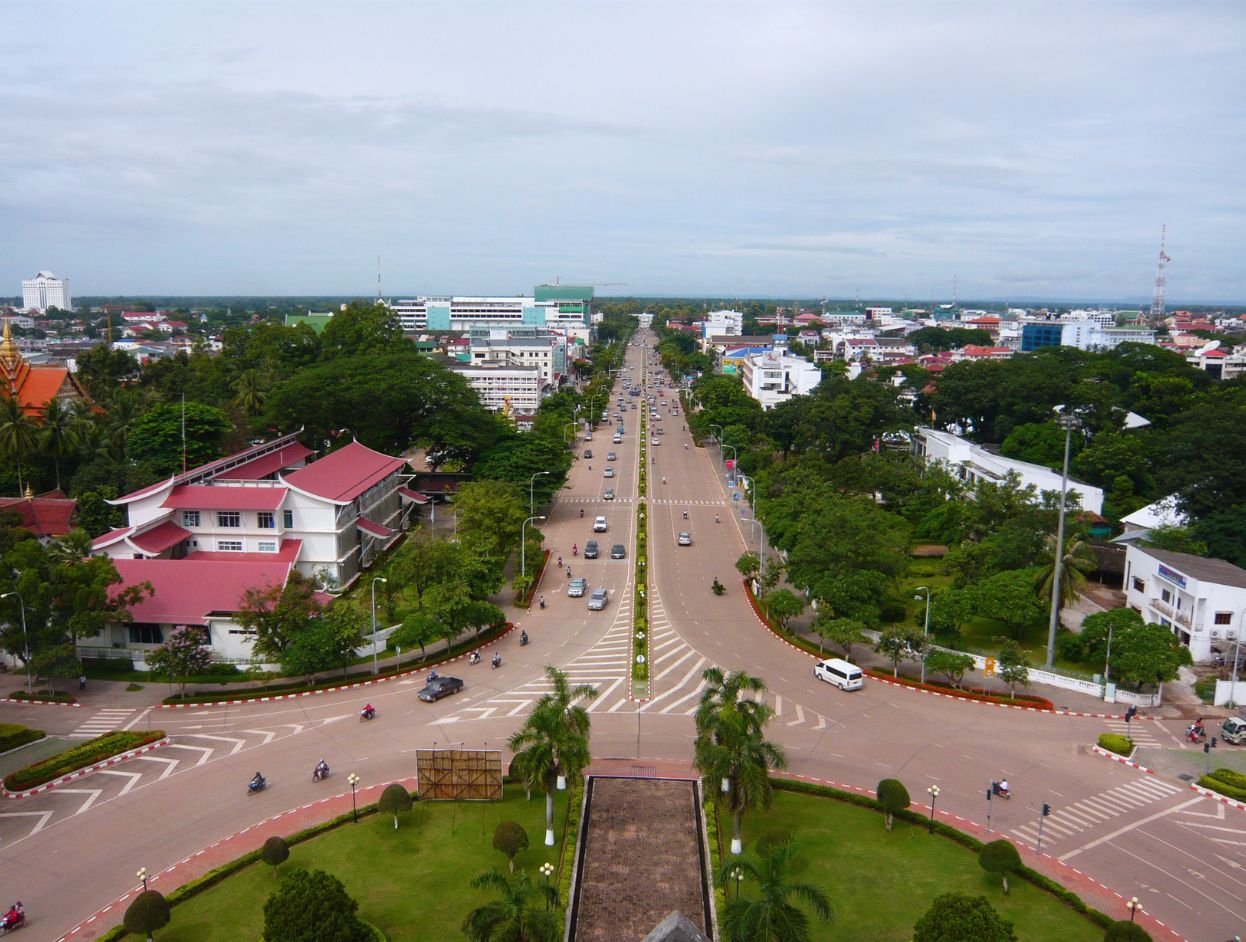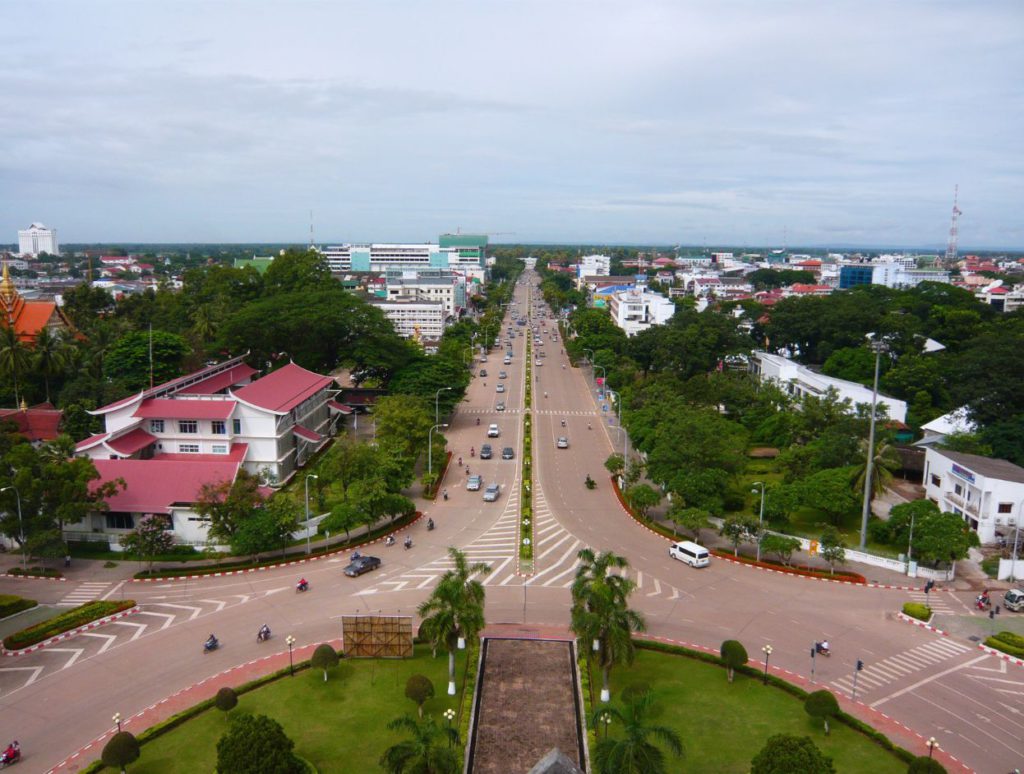 How to reach Vientiane
Flight (inside Laos and internationally)
Vientiane has a fully functional airport (Wattay International Airport) that has connecting flights inside Laos as well as from international destinations. It has more frequent flights from Thai cities like Bangkok, Chiang Mai etc. But there are also flights from other southeast Asian cities like Hanoi, Phnom Penh and Kuala Lumpur.
You may not be able to find a direct flight from other international locations. In that case, you can always take one via one of these cities in southeast Asia.
The airport is just 6km from the city centre. You can take a taxi from the airport's parking area which costs around 60,000Kip (around 4 USD). You can take a tuk-tuk from (outside) the airport which costs around 40,000Kip. An airport shuttle also runs to and from the city which costs 15,000Kip for the journey. You can get the map and stops right outside the airport or here.
As for the domestic routes, you can get a flight to Luang Prabang and Pakse from Vientiane as well. It is operated by domestic airlines. It is not very frequent, but you should get at least one flight a day.
If you are looking for more information, you can also check out our article on How to travel inside Laos.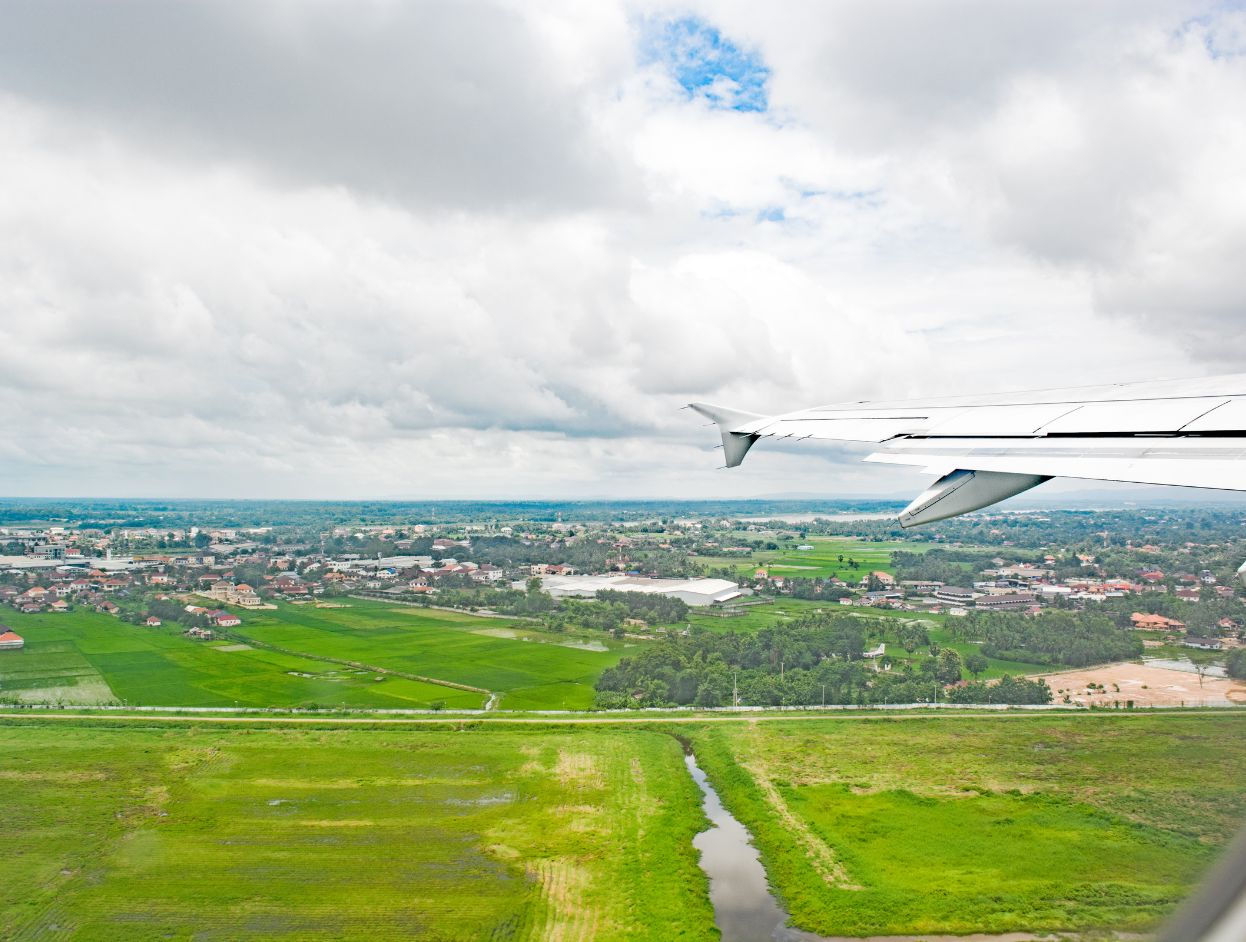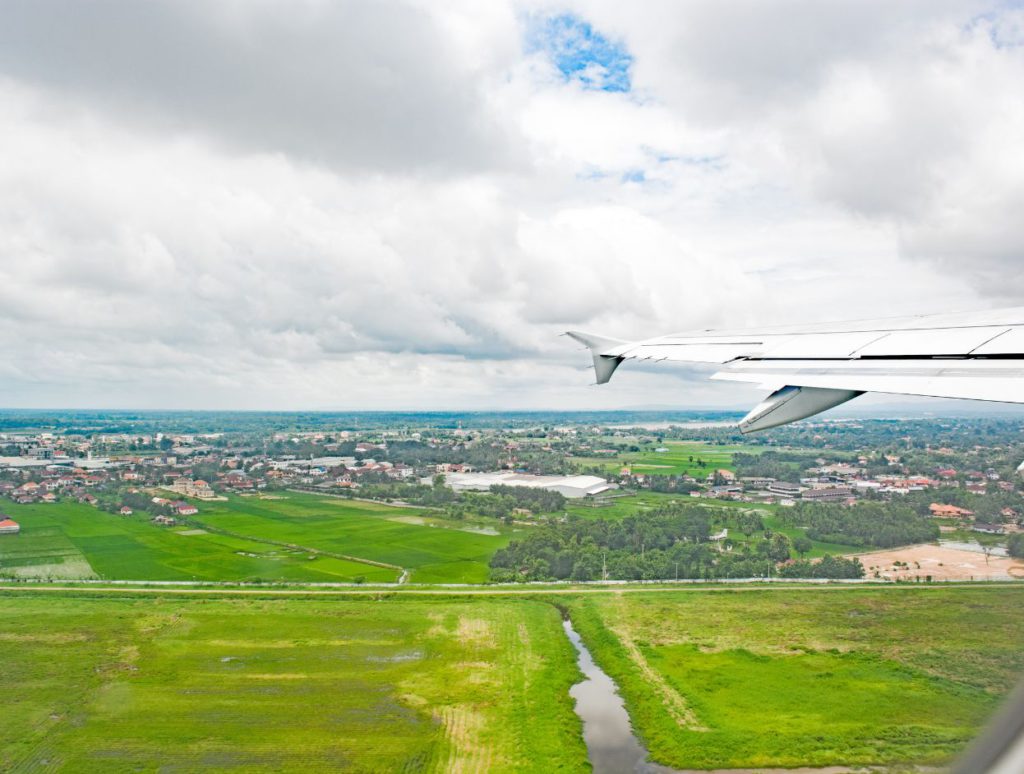 Bus (inside Laos and from Thailand)
You can take a bus not just inside Laos but also from neighbouring countries. But since Vientiane is located right at the Lao-Thai border, I will only talk about how to get a bus from Thailand.
You can get a bus from Bangkok, Chiang Mai, Udon Thani and Nong Khai (the last Thai province bordering Laos on this route). Buses from Udon Thai and Nong Khai are quite frequent and you can catch one every other hour at least, if not earlier. Travel to the respective city's bus station for more information.
You can also take buses from Luang Prabang, Vang Vieng and even Pakse from their respective bus stations. The buses are not frequent though. You can only find the schedules at the bus stations. It is definitely the most affordable option. But I can tell you that the facilities aren't great and expect a bumpy ride. Definitely carry some food and water.
To travel from Vientiane, head to Central Bus Station in Vientiane and get a ticket and bus schedule at the ticket counter. You can also get a bus from the same counter to Luang Prabang, Pakse and other areas in Laos.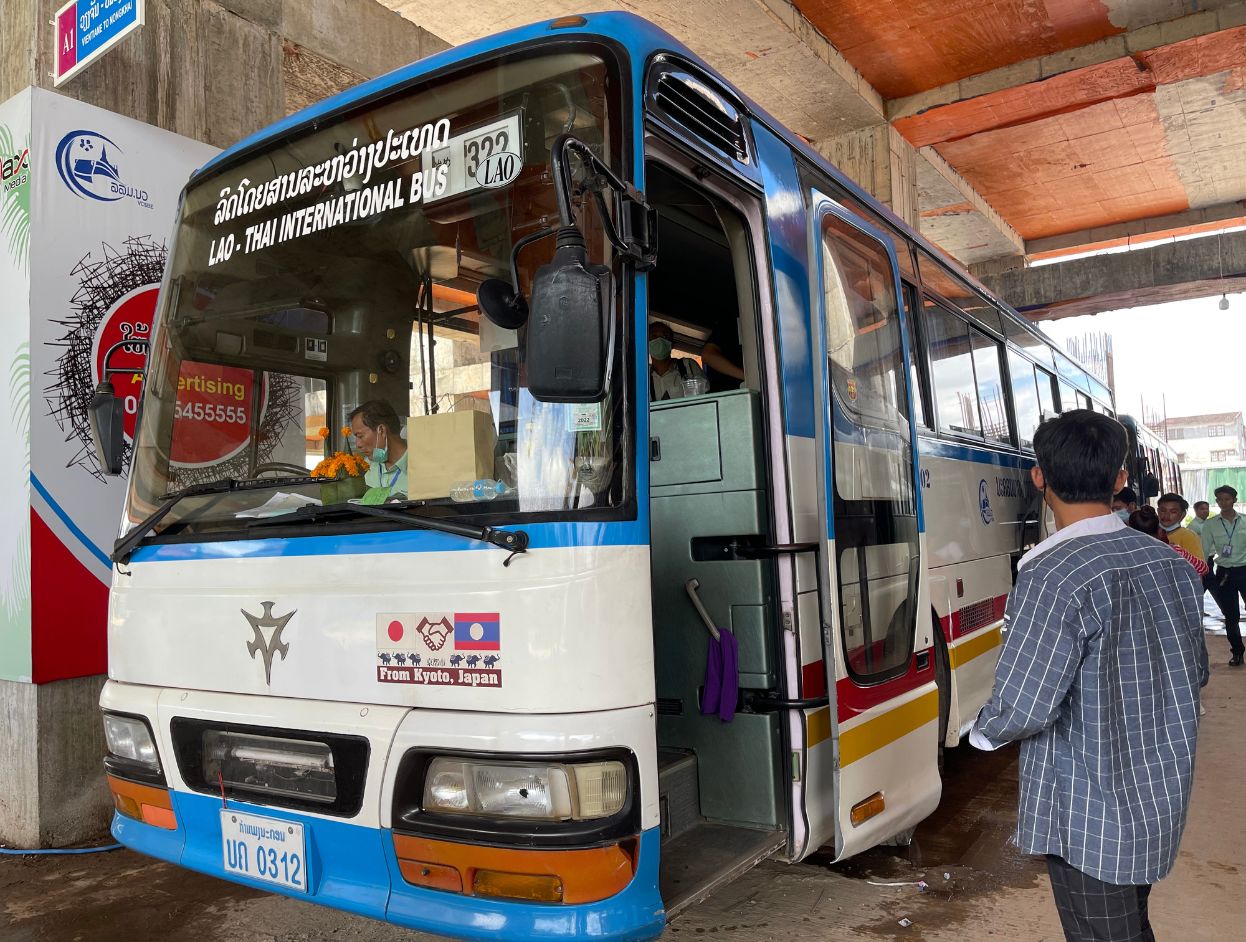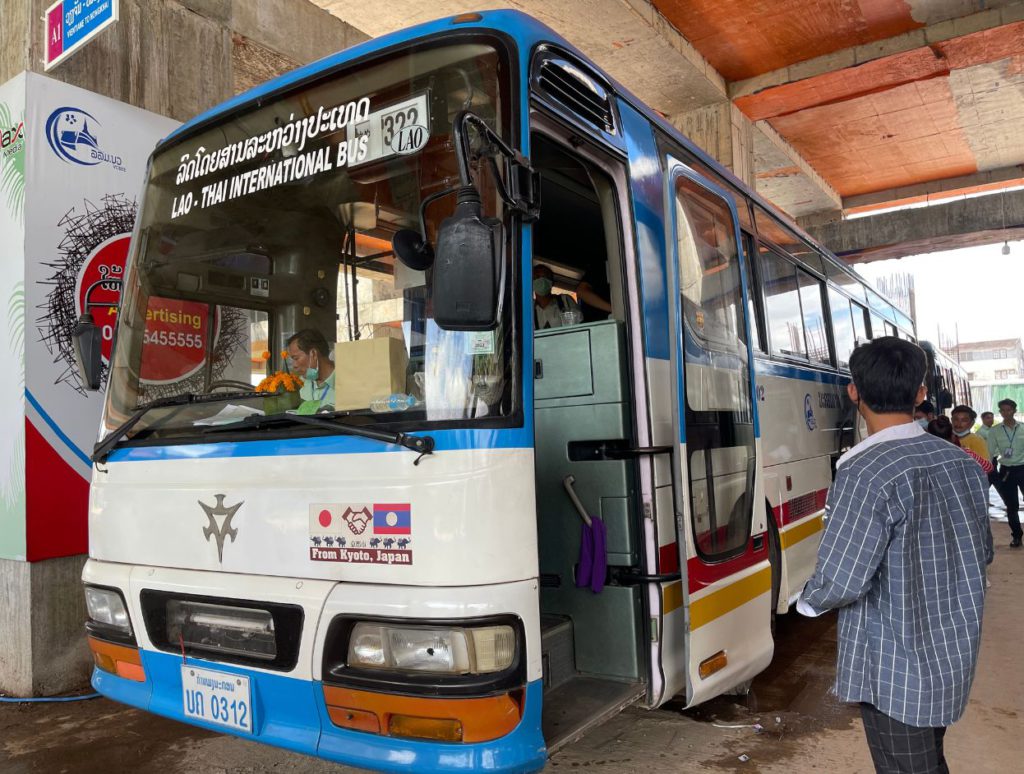 Minivan (inside Laos)
You can travel from Luang Prabang, Vang Vieng and other areas nearby using a minivan. The recent highway from Vang Vieng to Vientiane cuts the journey to only 2 hours. They are usually jam-packed so can get stuffy in there.
You can book a minivan from the station in these towns directly but you will have to come all the way to do that. You can also book one using a tour agent or your hotel. They will charge a decent commission over the ticket price but saves you the hassle. The minivan can also pick you up directly from your hotel.
To travel from Vientiane, head to any of these stations – Northern Bus Terminal, Southern Bus Terminal and Khua Din Bus Terminal (Central Bus Station). While the central and southern bus terminal has minivans and buses going to Thailand, south Laos and Vietnam, the northern Bus terminal has minivans/bus travelling to northern Laos, China and also Vietnam.
It costs 40,000Kip to reach the city by tuk-tuk from the stations.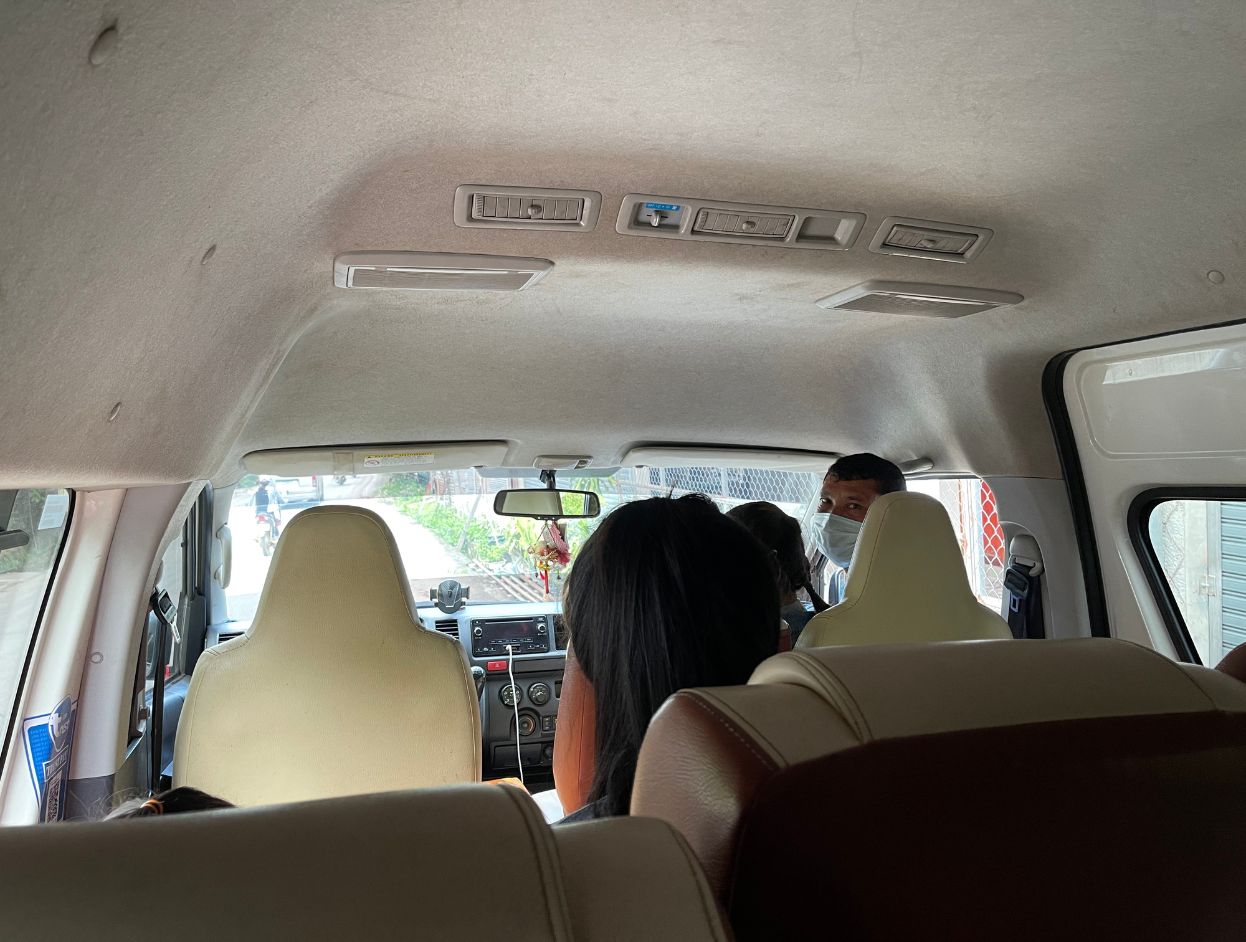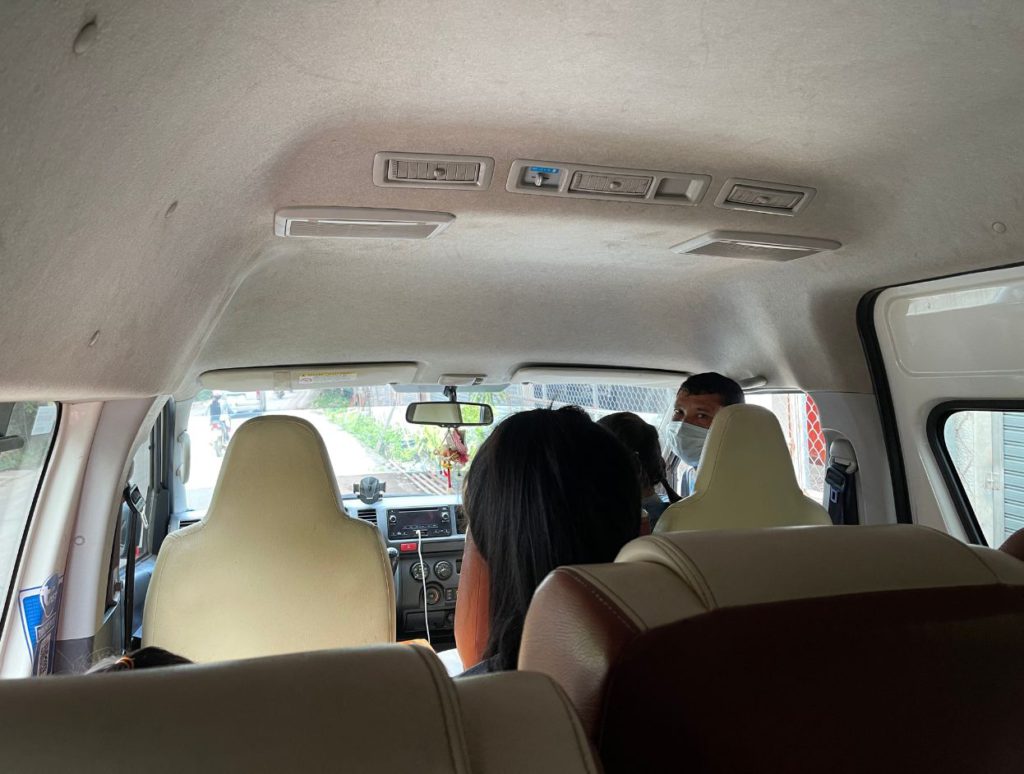 High-speed Railway
If you aren't aware already, Laos recently got its high-speed railway, thanks to Chinese sponsorship. The railway line starts all the way from Kunming and enters Laos from the north. It runs connecting Luang Prabang, Vang Vieng and Vientiane. The high-speed railway has reduced travel time a lot.
If you are travelling from Luang Prabang or Vang Vieng, you should try this. However, as of now (2022), ticket bookings are not available online. Also, I found that the schedules are also very different from what is available online. To book a ticket you have to go all the way to the station which is located really far outside the city.
In this case, try and get a travel agent in town to book a ticket for you. Sometimes hotels also offer the service. They will charge a decent commission. The tickets sell out very soon, especially during the weekend. So get your hands on the asap. The prices are not crazy expensive. Expect them to be around 1.5x-2x of the minivan prices.
Once you arrive in Vientiane, you can take a tuk-tuk or a taxi from the railway station. The station is located around 14km outside the city and can cost upto 330000Kip (or 22USD) to reach the city. You just may end up paying more for the taxi than for your ticket.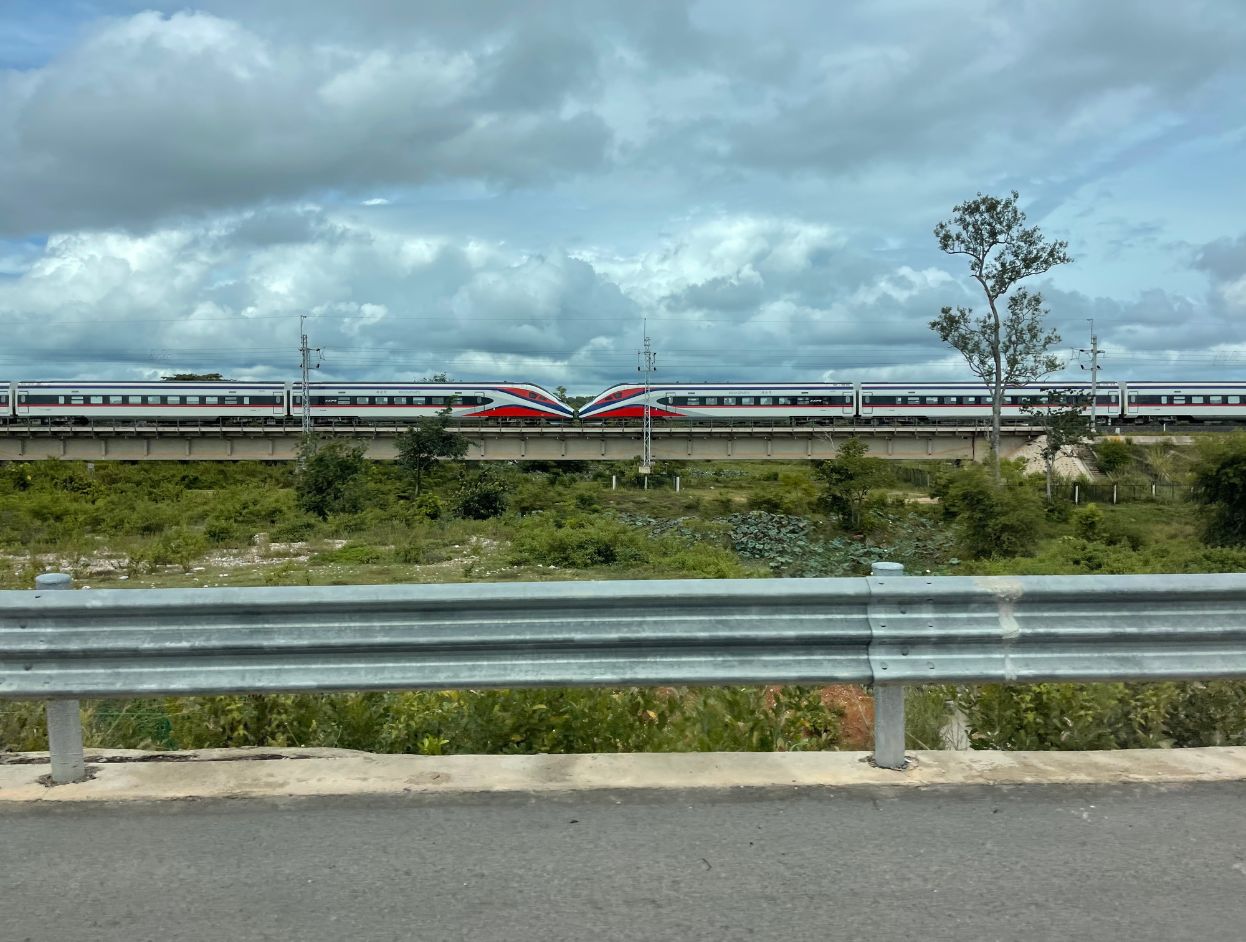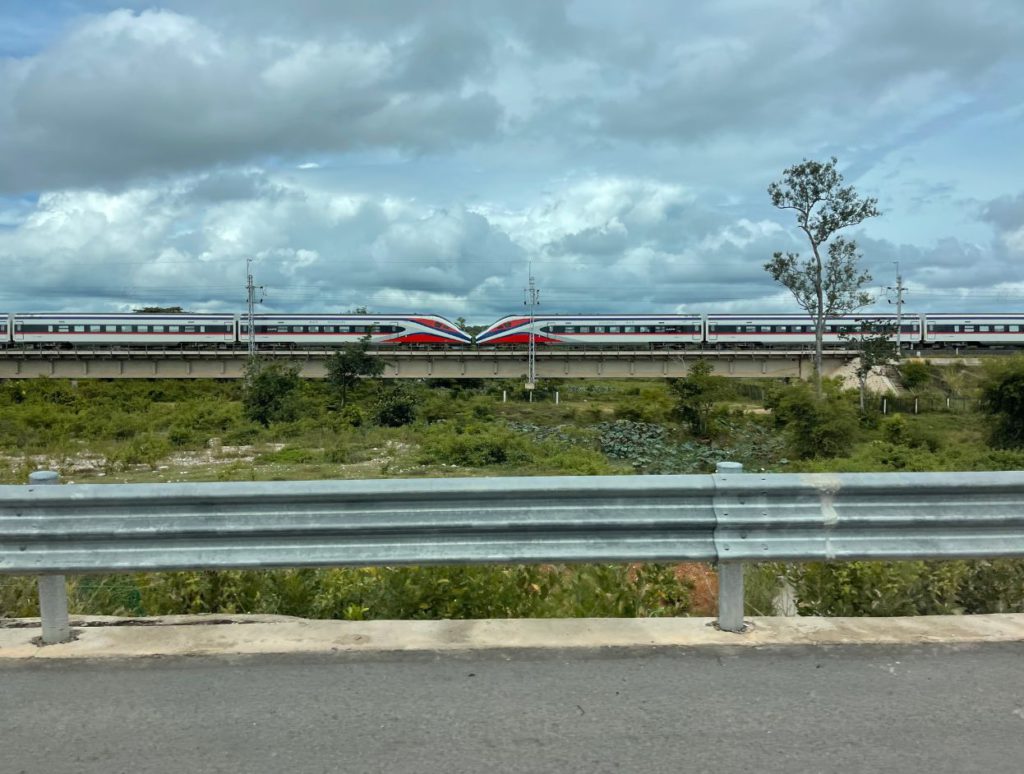 How to go around in Vientiane
Vientiane is a fairly big town or a small city. So you cannot walk to most places. Also, most of the tourist attractions are not that close to each other. So you will need some kind of transportation. It is very difficult to find motorcycle or bike rental shops in the city. But here is what you can take.
Taxi
Grab or Uber is currently not available in Laos and Vientiane. So you will have to take one physically. A few taxis move around the cities in yellow colour or with a 'taxi' sign on top. You wave your hand to stop one and get in after negotiating a price. DO NOT SIT BEFORE GETTING A PRICE. Or you can get the shock of your life.
The taxi rates as of 2022 start from 25,000Kip as the minimum charge for 2km and then around 23,000Kip per kilometre onwards. If you wish to travel to several tourist spots on the same day, check a cab company online or your hotel for fixed rates.
Bus
Vientiane has a decent bus system. And they cover almost all the important tourist attractions in the city. It is also probably the most affordable way to travel inside the city. But you should have some time on your hand to wait for the buses.
You can travel to tourist attractions like Chao Anouvong Park, Hophakaew Museum, Wat Sisaket, Talat Sao, Patuxay Monument, and Pha That Luang via city bus. Another line travel all the way to Buddha Park (Wat Xieng Khouane Luang) outside the city. Even if you are unaware of the bus stop, you can always catch one near the Central Bus station.
Check out this article that explains the city bus routes in detail. Or you can download the map here.
Tuk Tuk
A tuk-tuk looks slightly different in every country in Southeast Asia. In Laos it looks like this:
These run around the city in abundance and are very convenient to move around. Just wave your hand and one will stop for you. The downside is there is no regularised meter. So you will have to tell a location verbally and ask for a price. 
If you look like an obvious tourist, they will probably quote a really high price and most of the time you cannot tell what a good price should be. It should ideally be less than what taxis charge per kilometre. Agree on what you feel is agreeable and hop on.
If you want to sightsee several attractions, it is better to negotiate with just one. Ask them for a price for 5-6 tourist attractions, and maybe list them down (show photos). They will take you around and wait for you at each place till you are back to start the next one.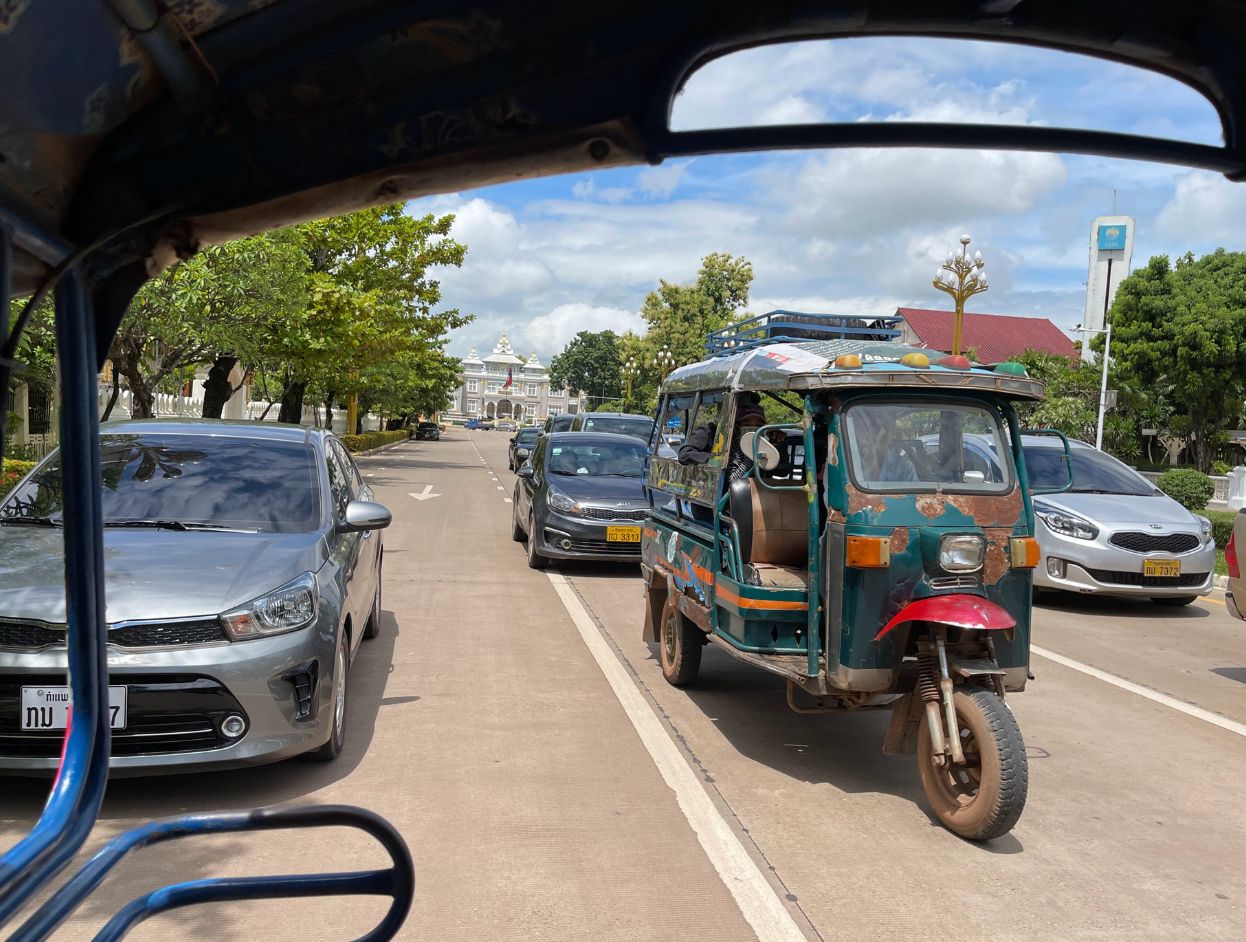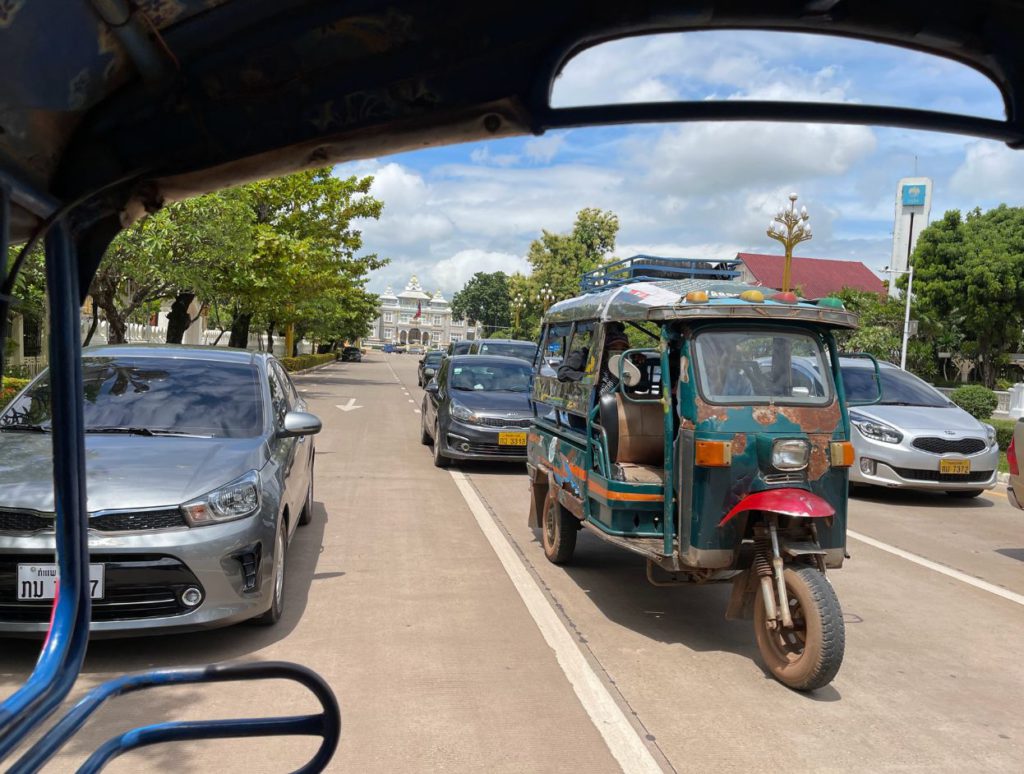 Where to stay in Vientiane
Things to do in Vientiane
1. Pha That Luang
Pha That Luang is considered the most important National Monument of Laos and is also the national symbol. People believe that the main stupa has been around since the 3rd century. The Indian missionaries established it when they came to spread Buddhism in the area carrying the relic of Buddha's collarbone.
The stupa was reconstructed several times. It was majorly rebuilt in the 13th century as a Khmer temple. The Siamese army heavily damaged and abandoned it in 1828. But it was reconstructed as it is today in the 1930s.
The structure is in a typical Lao style with the main stupa in the centre and shaded galleries on all sides. While the stupa is golden in colour with paint, the top spire is actually real gold. The gallery around it showcases artefacts and paintings of the Lao past. You need to pay 30,000Kip per person to enter.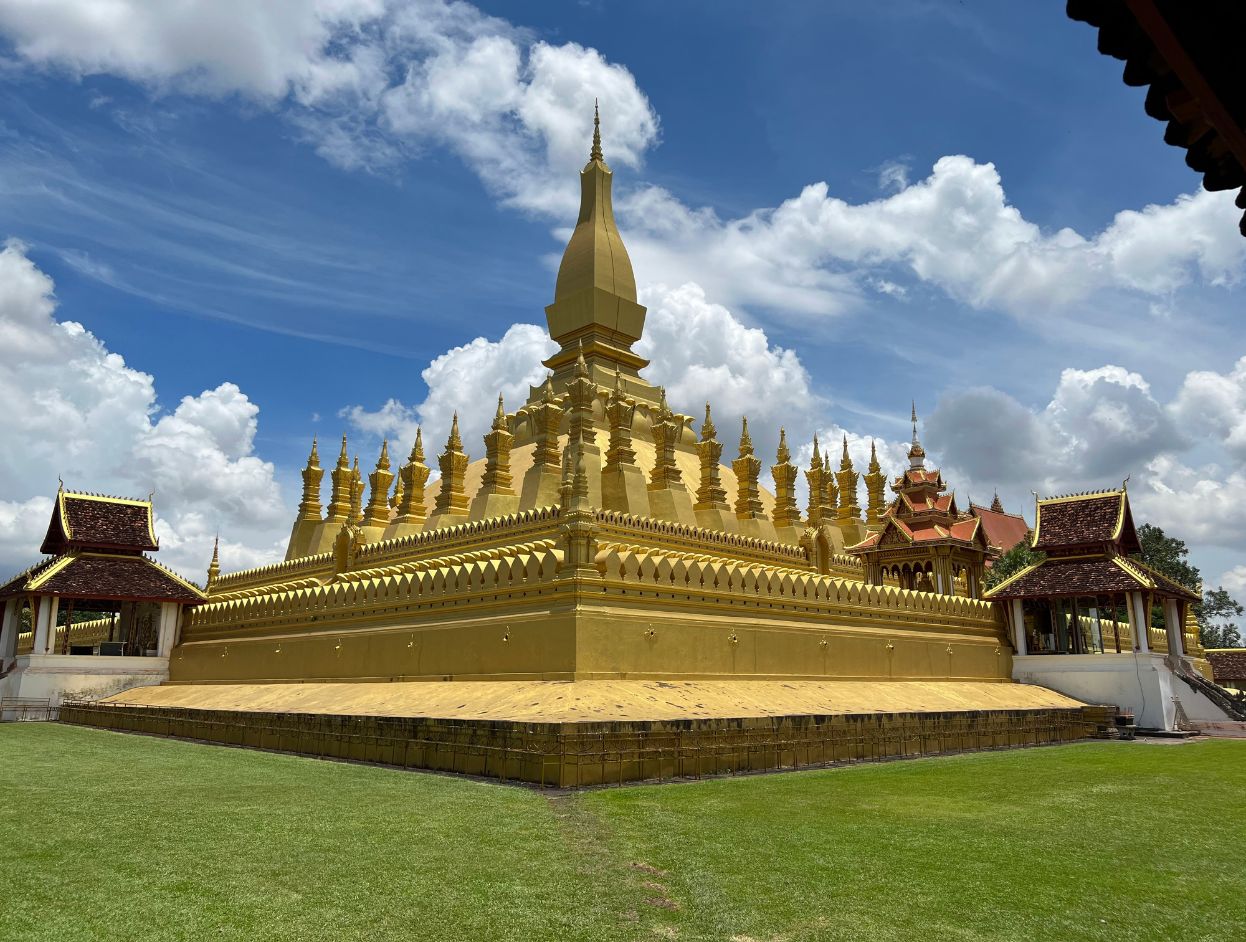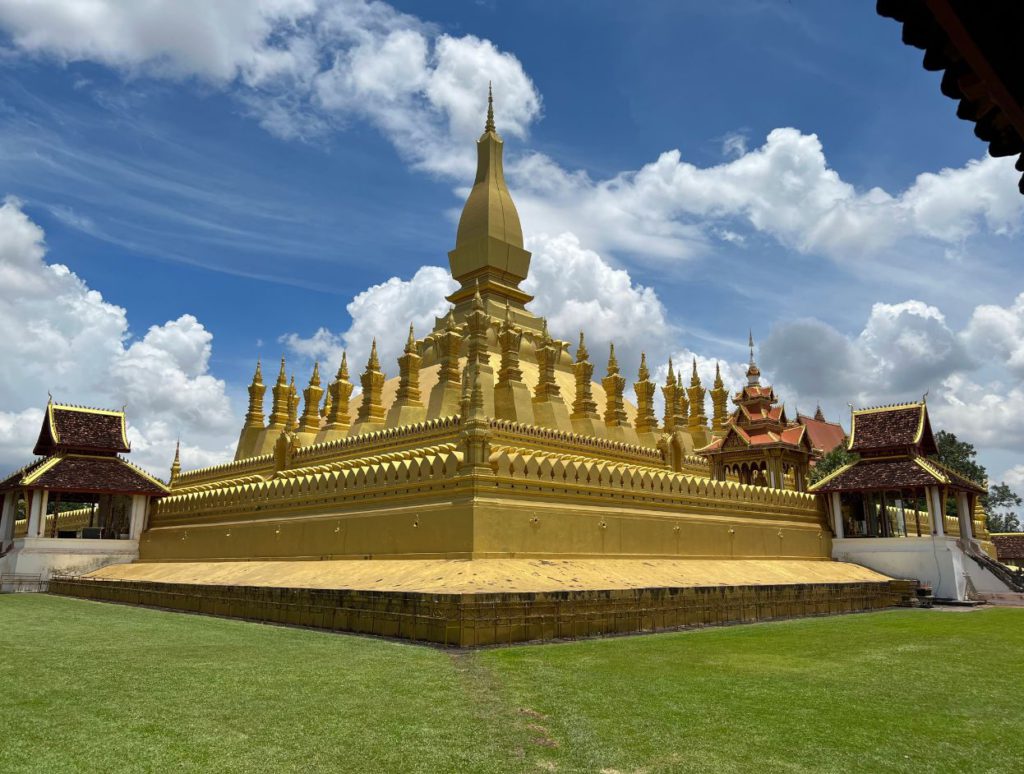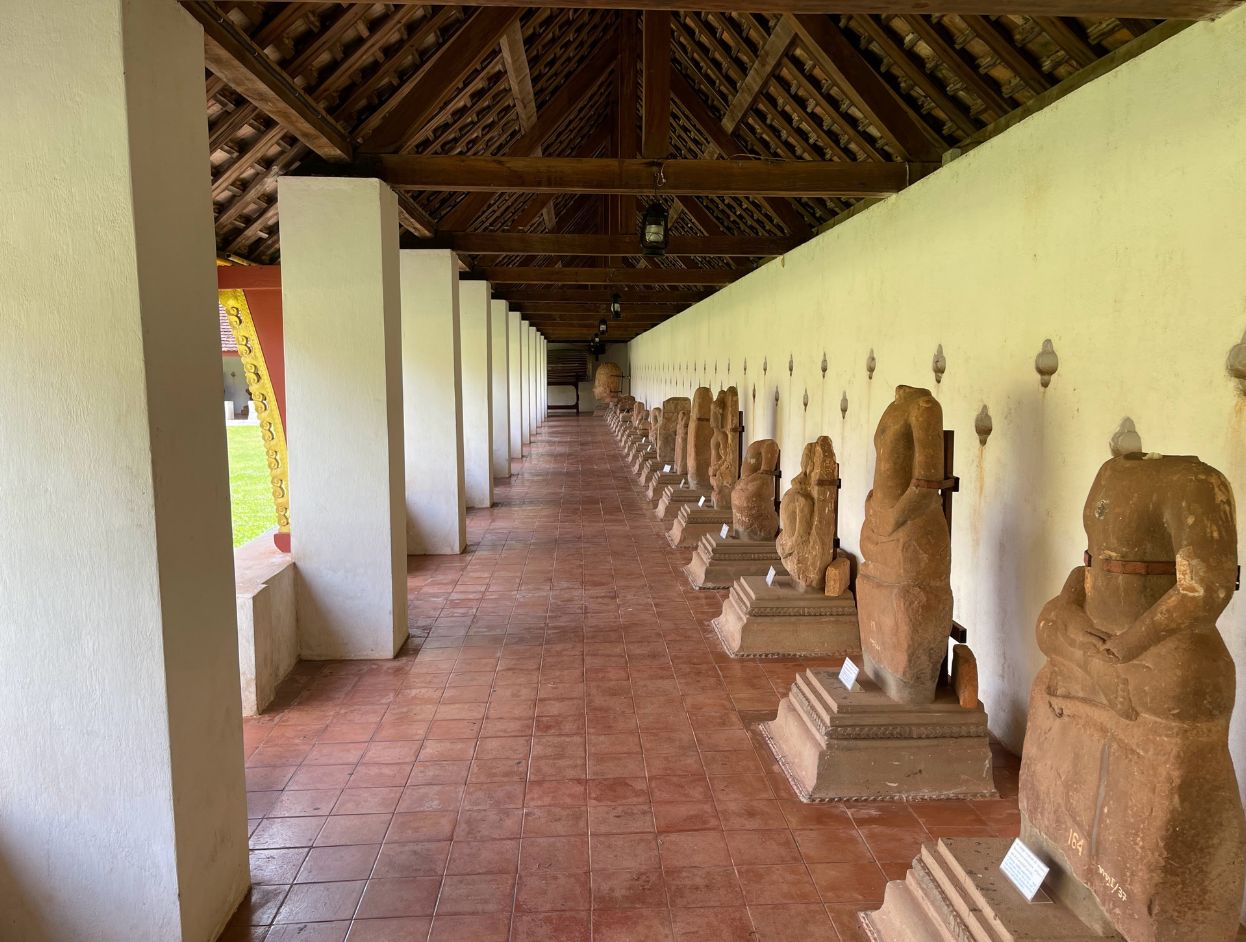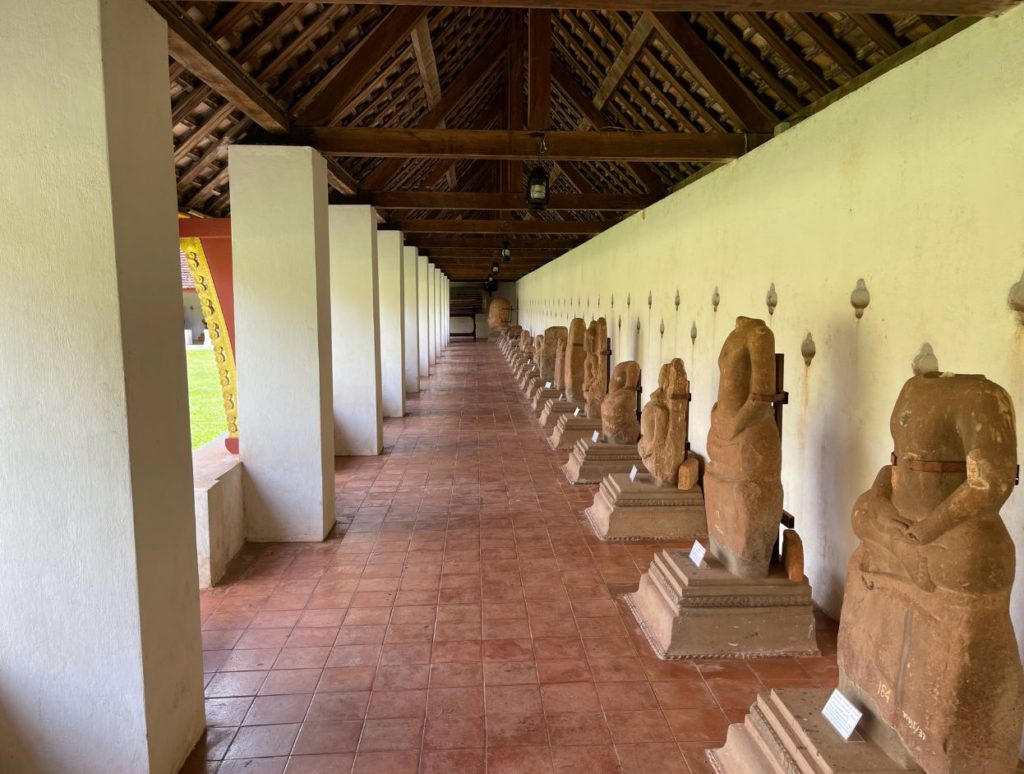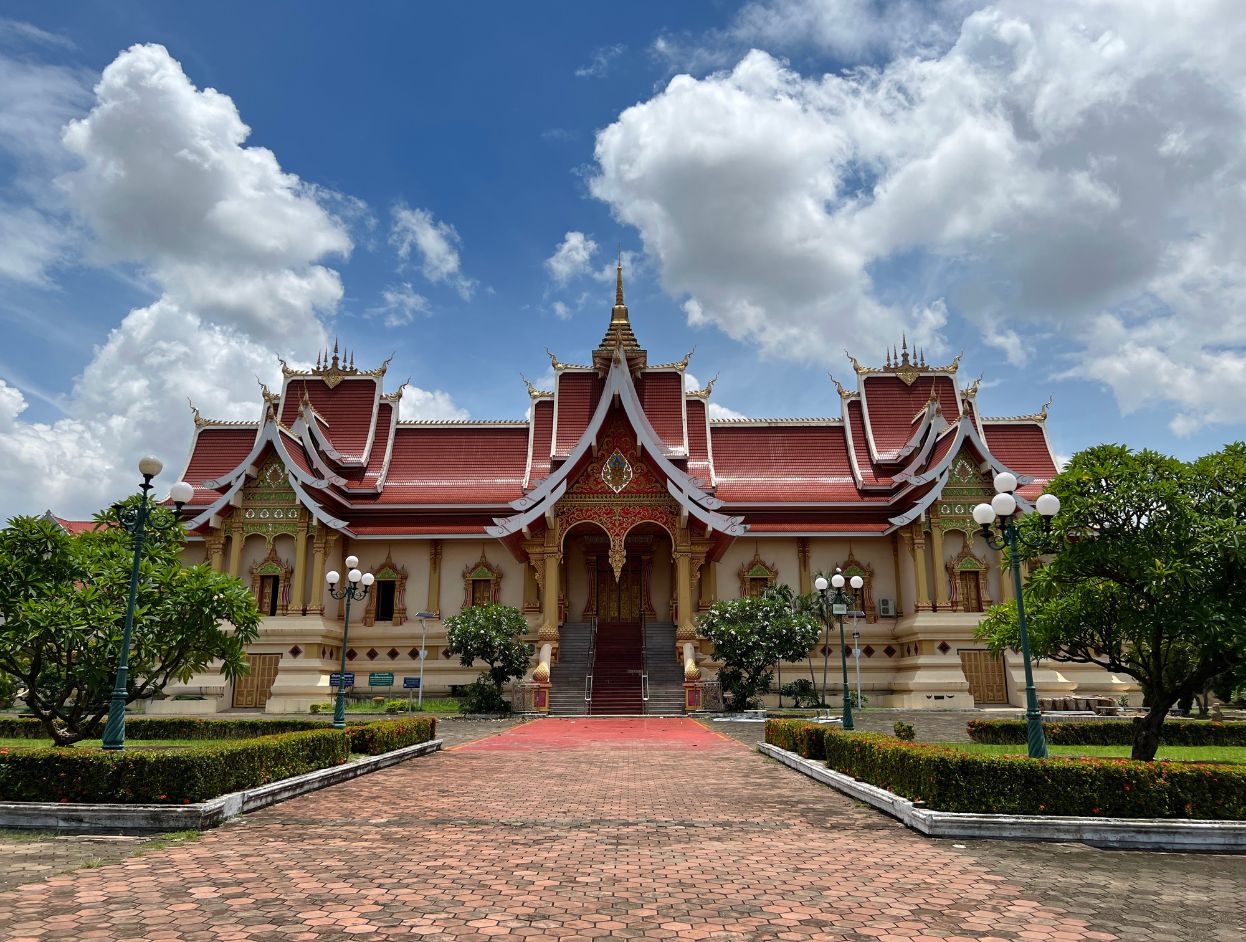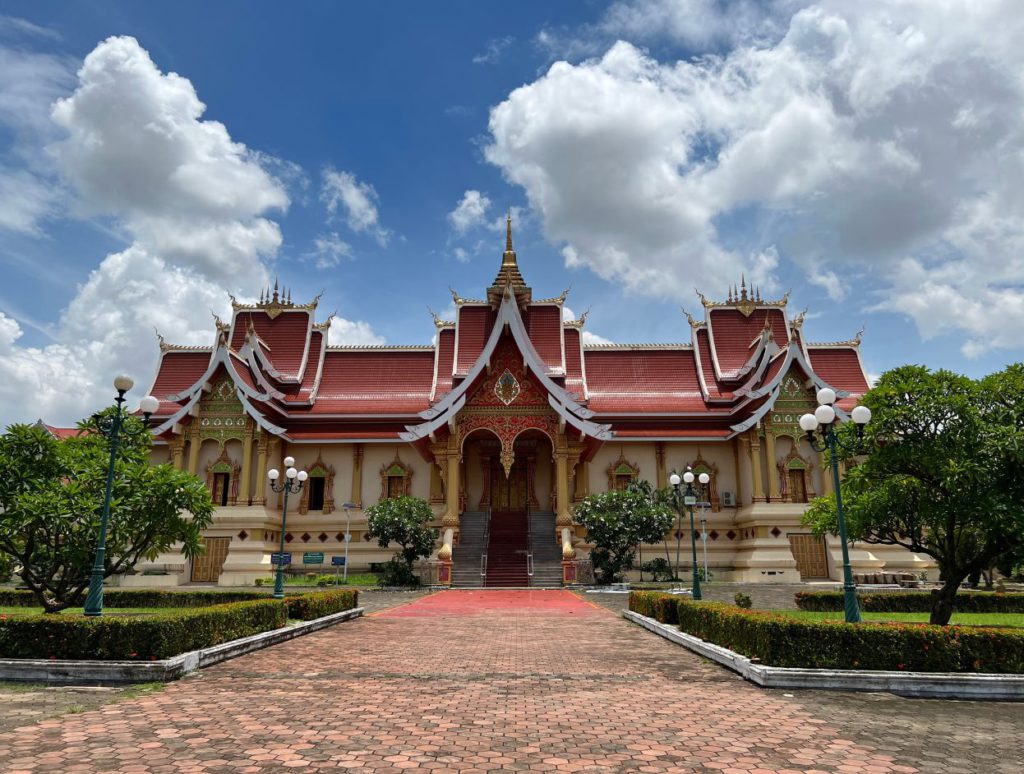 2. Patuxay Monument
Patuxay (pronounced Pah-tu-sai) Monument is a war monument in the centre of Vientiane city. It was built between 1957-1968 and dedicated to the people who fought to liberate Laos against French rule. The monument was built during a politically turbulent time in Laos shortly after Pathet Lao overthrew the monarchy and established itself as a Socialist republic.
A fun fact is that it was built using American funds and cement that was meant for an airport instead. Therefore it is also called a 'vertical runway'. The monument is in the traditional Lao style with 5 conical stupas on top. There are also a lot of sculptures from Lao and Hindu mythology on it.
The park is free to enter. It looks really beautiful at night with a running fountain and the lights on. You can also go to the top of the monument using a staircase of 7 floors and see an aerial view of the surrounding city and the Mekong river.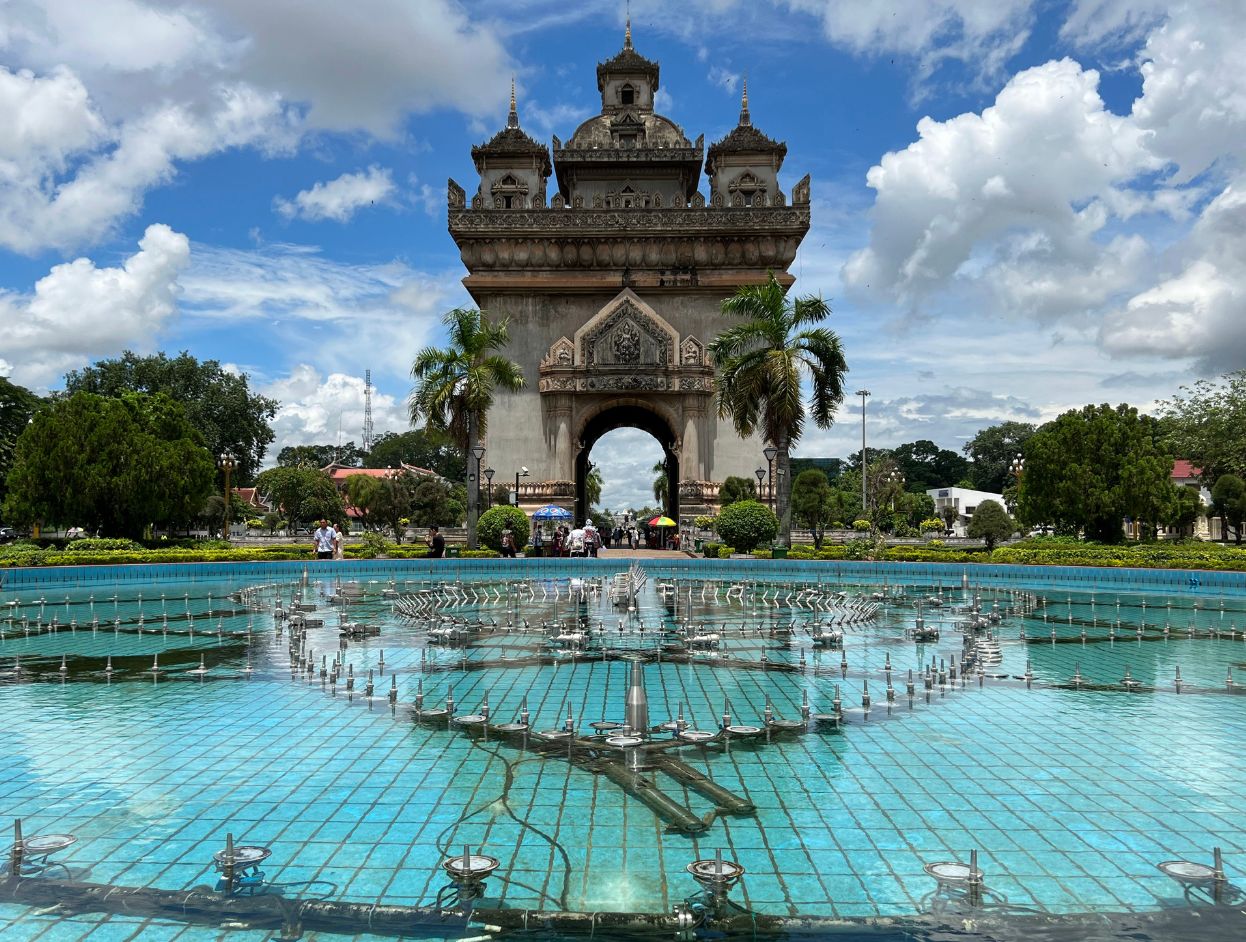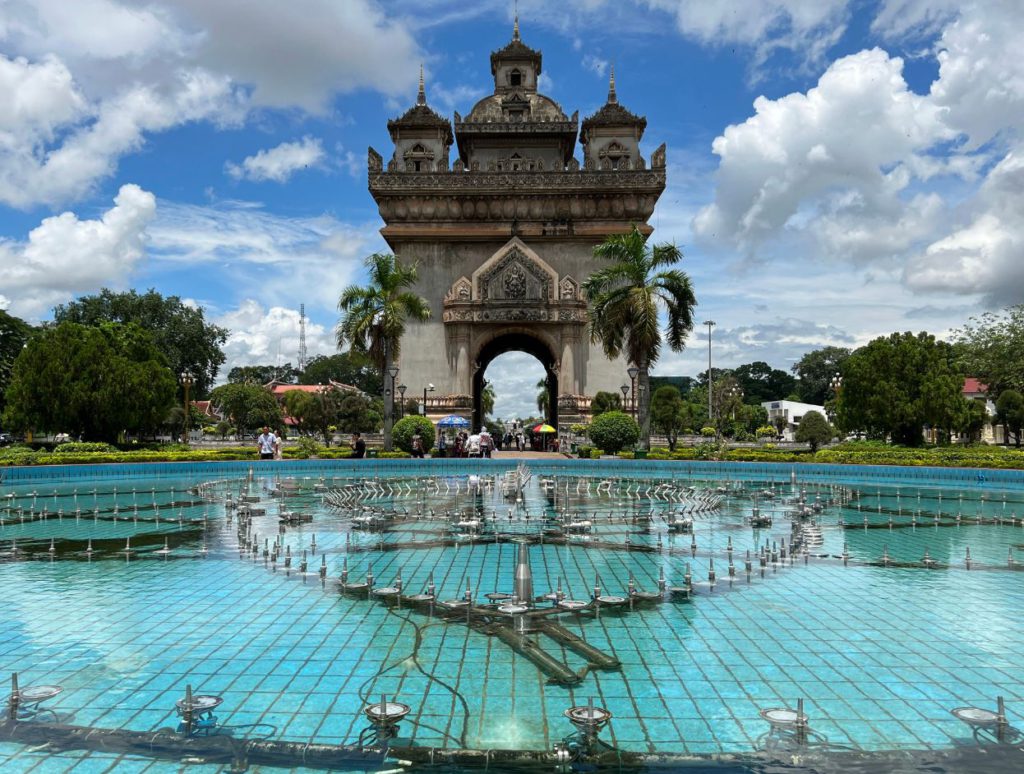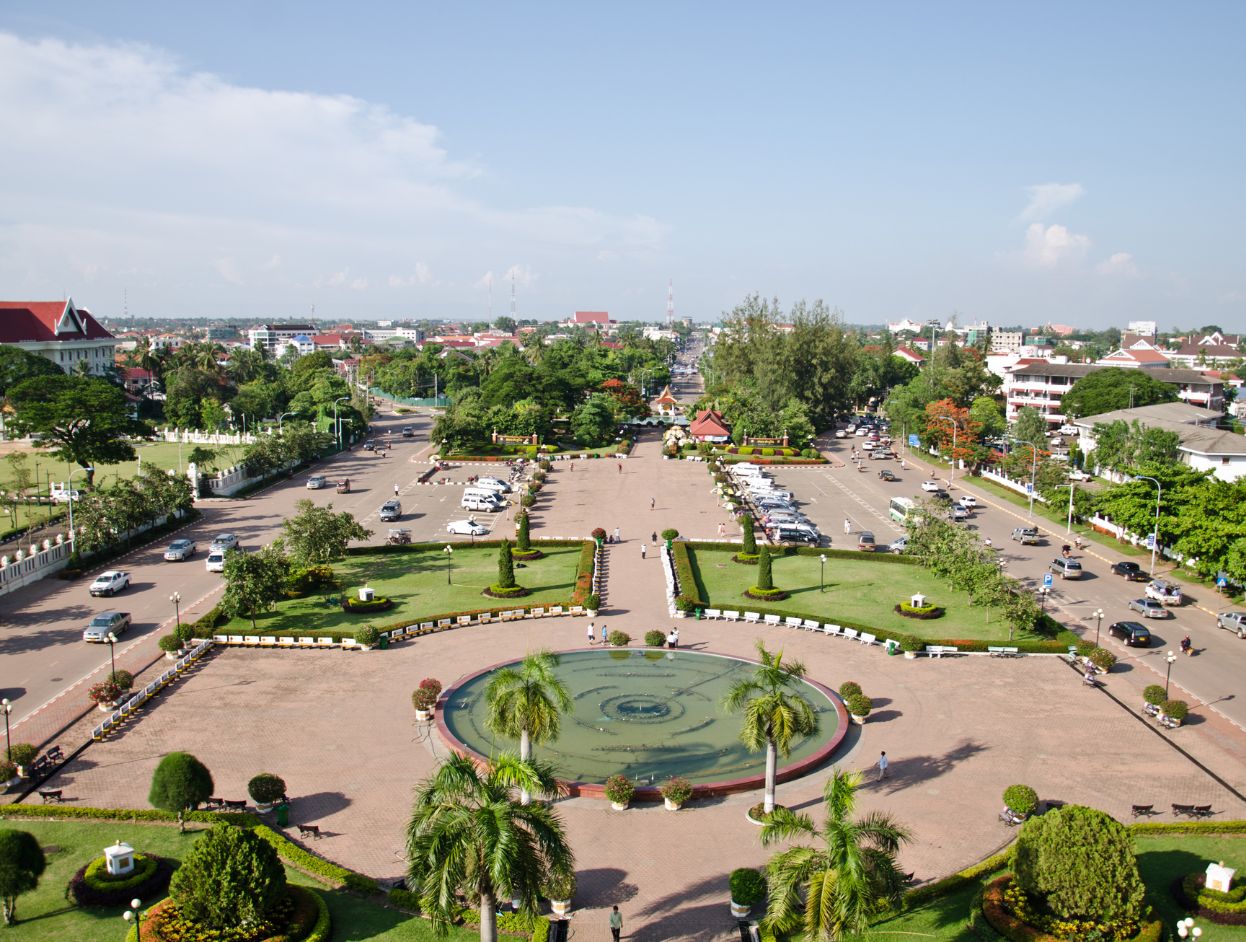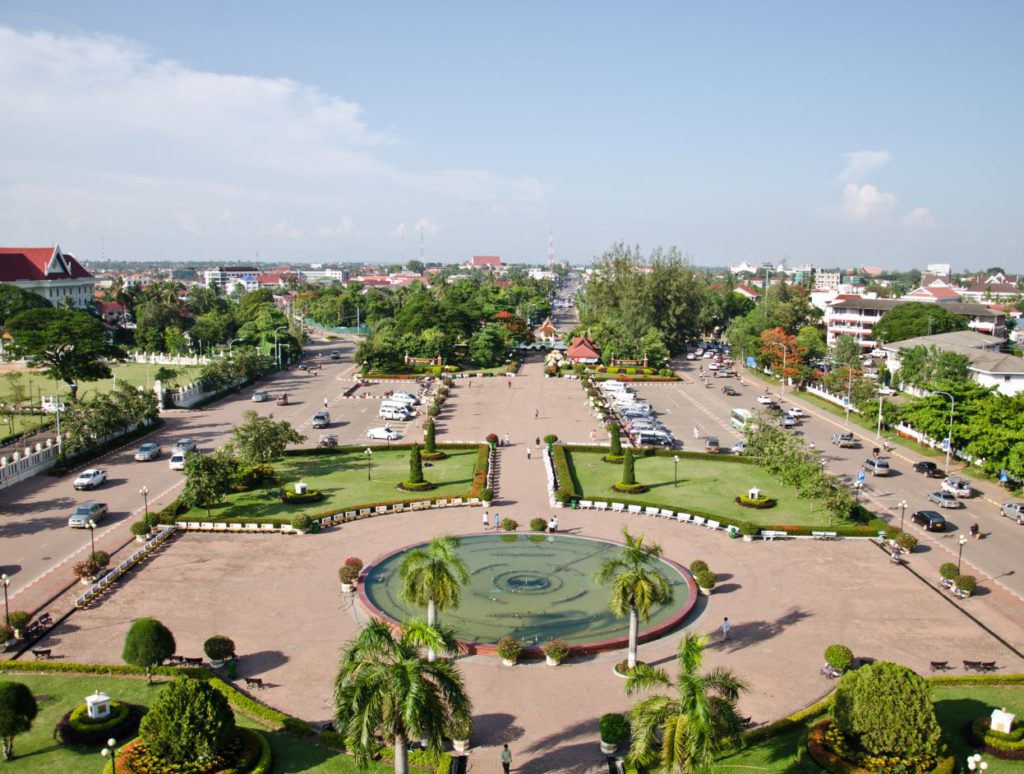 3. Buddha Park (Wat Xieng Khouane Luang)
This is one of the most beloved and visited places in Vientiane. It is 25 km outside the city at the Lao-Thai border next to the Mekong river. The name Xieng Khuan translates to 'Soul City' and is home to 200 sculptures inspired by Buddhism and Hinduism.
Even though the park and sculptures look really old and ancient, they are really not.  It was Bunleua Sulilat, a spiritual cult leader and a sculpture artist who built these in 1958. The park has some bizarre sculptures representing humans, gods, demons and animals.
You can spend around 2 hours in the park where you can find something to eat as well. Days can get hot, so early morning or late evening is a great time to be here. The tickets cost 15,000Kip per person.
The artist fled Laos after the communist government came to power. He moved to Thailand, where he built a similar park, Sala Keoku in Nong Khai, right opposite the Mekong river.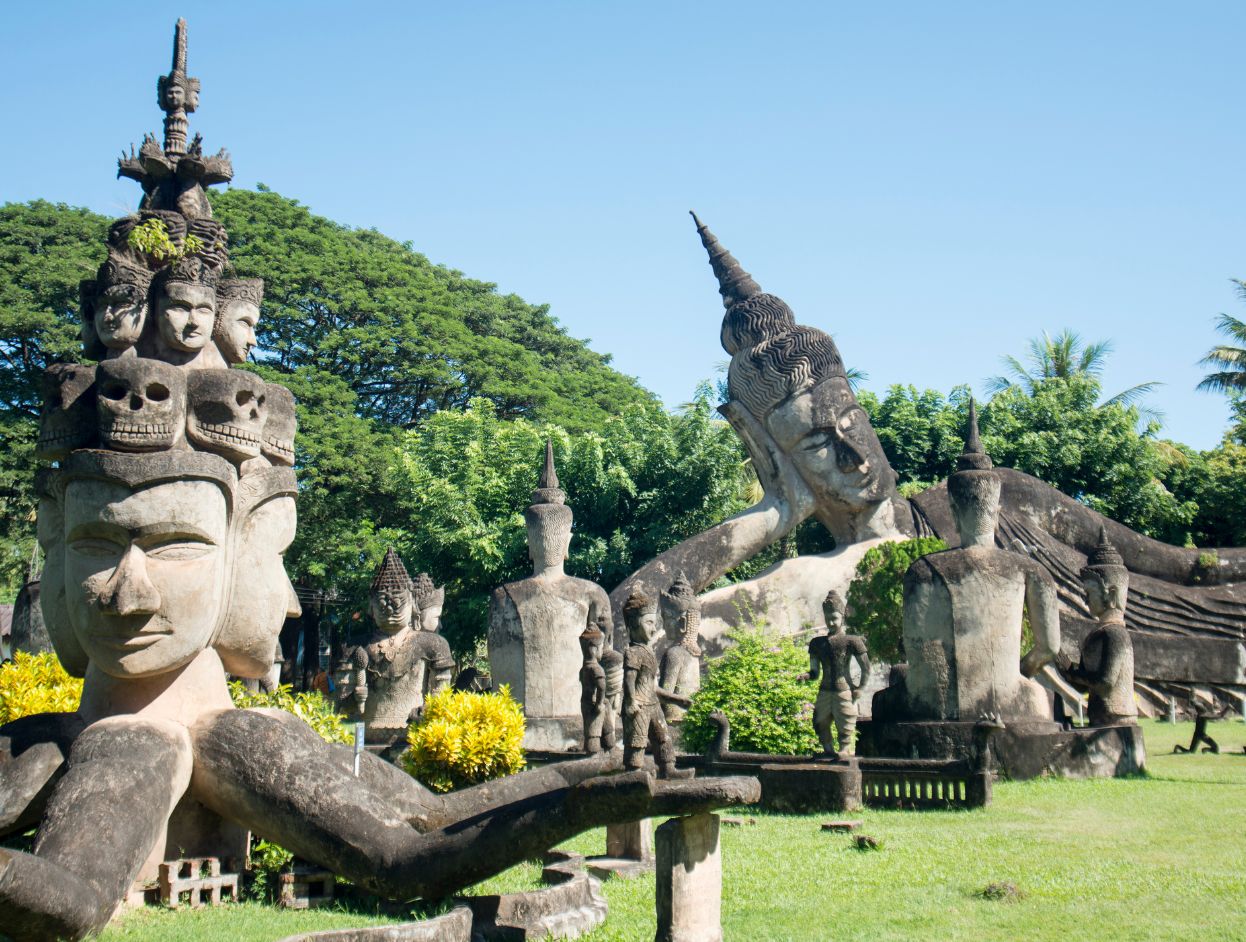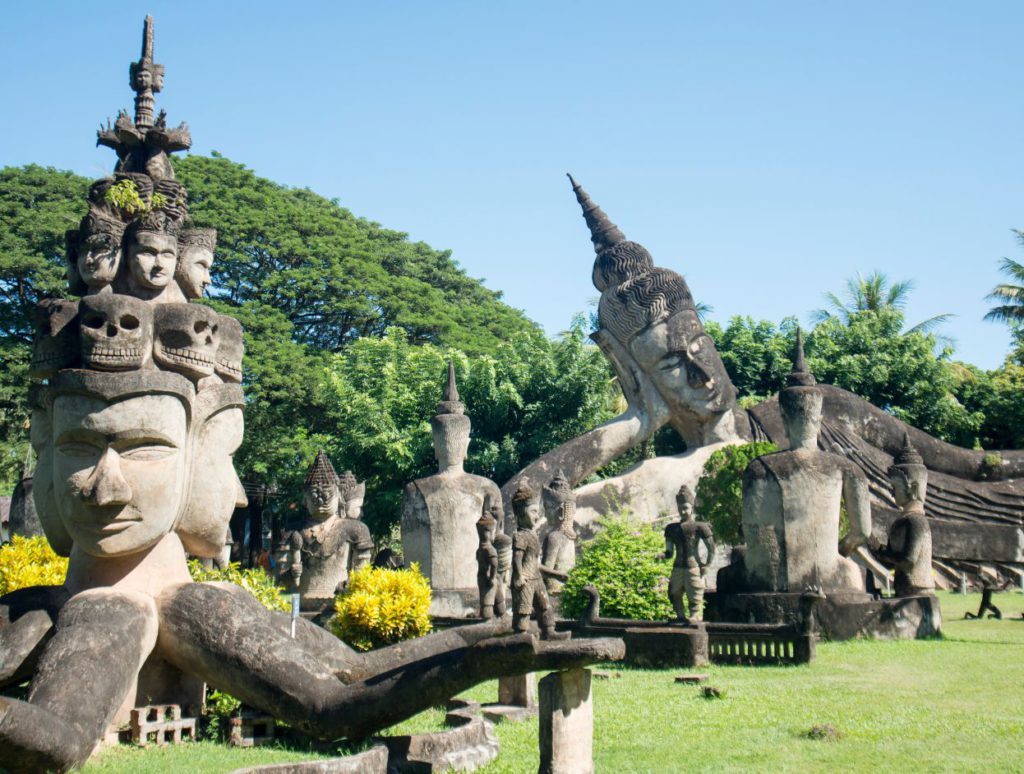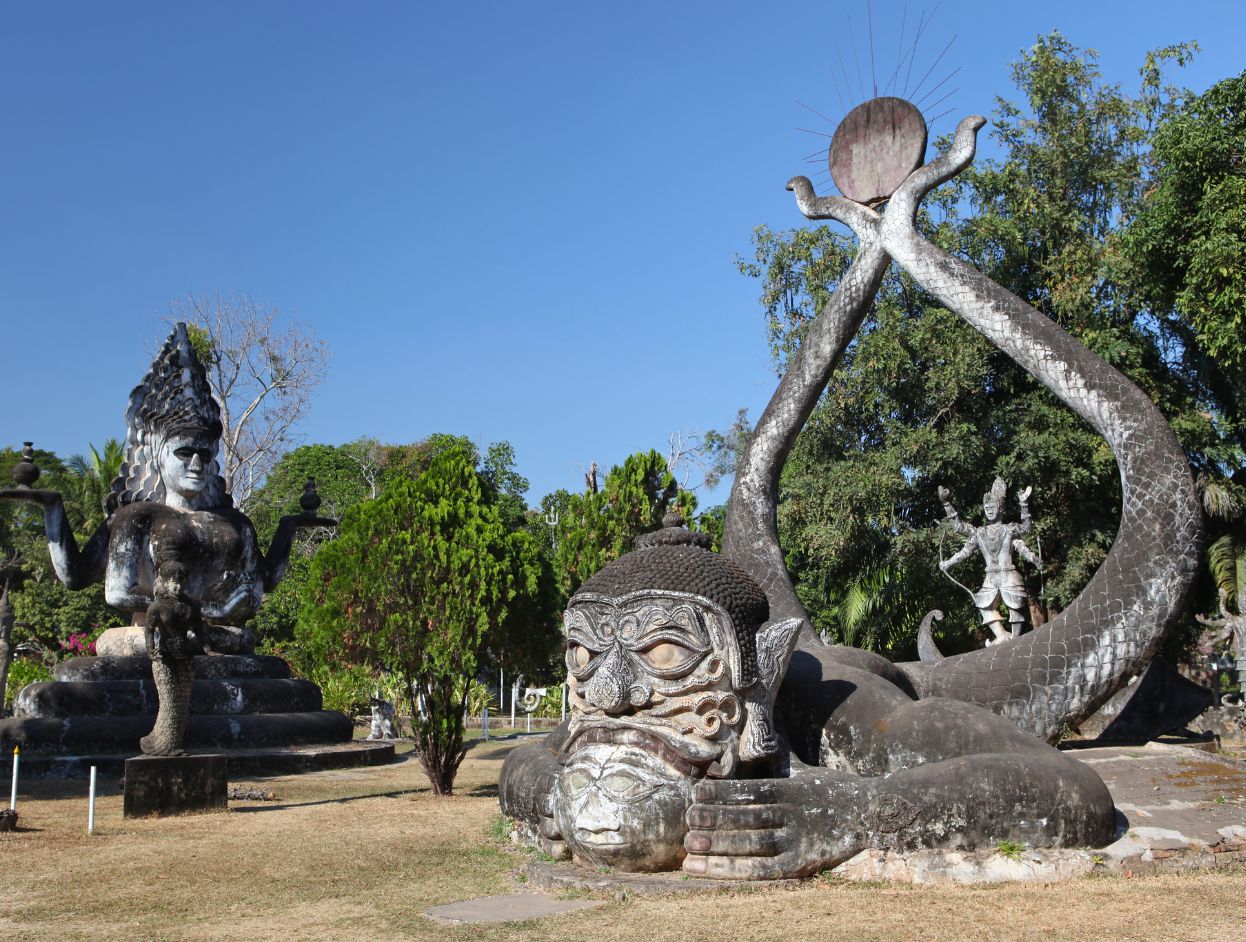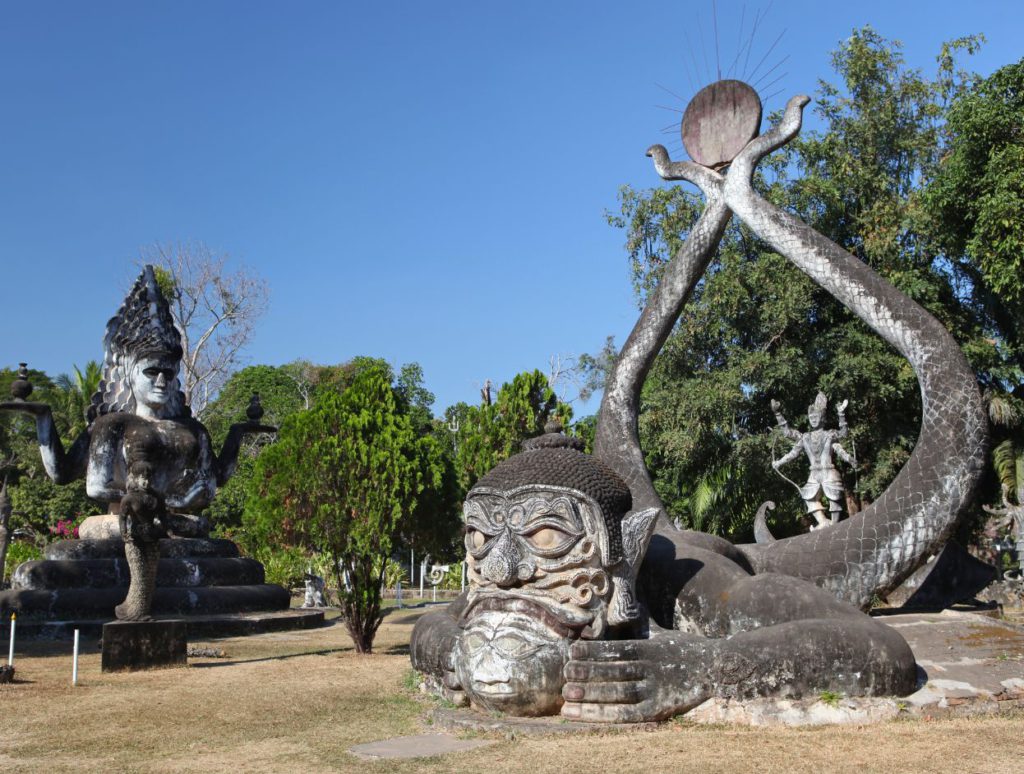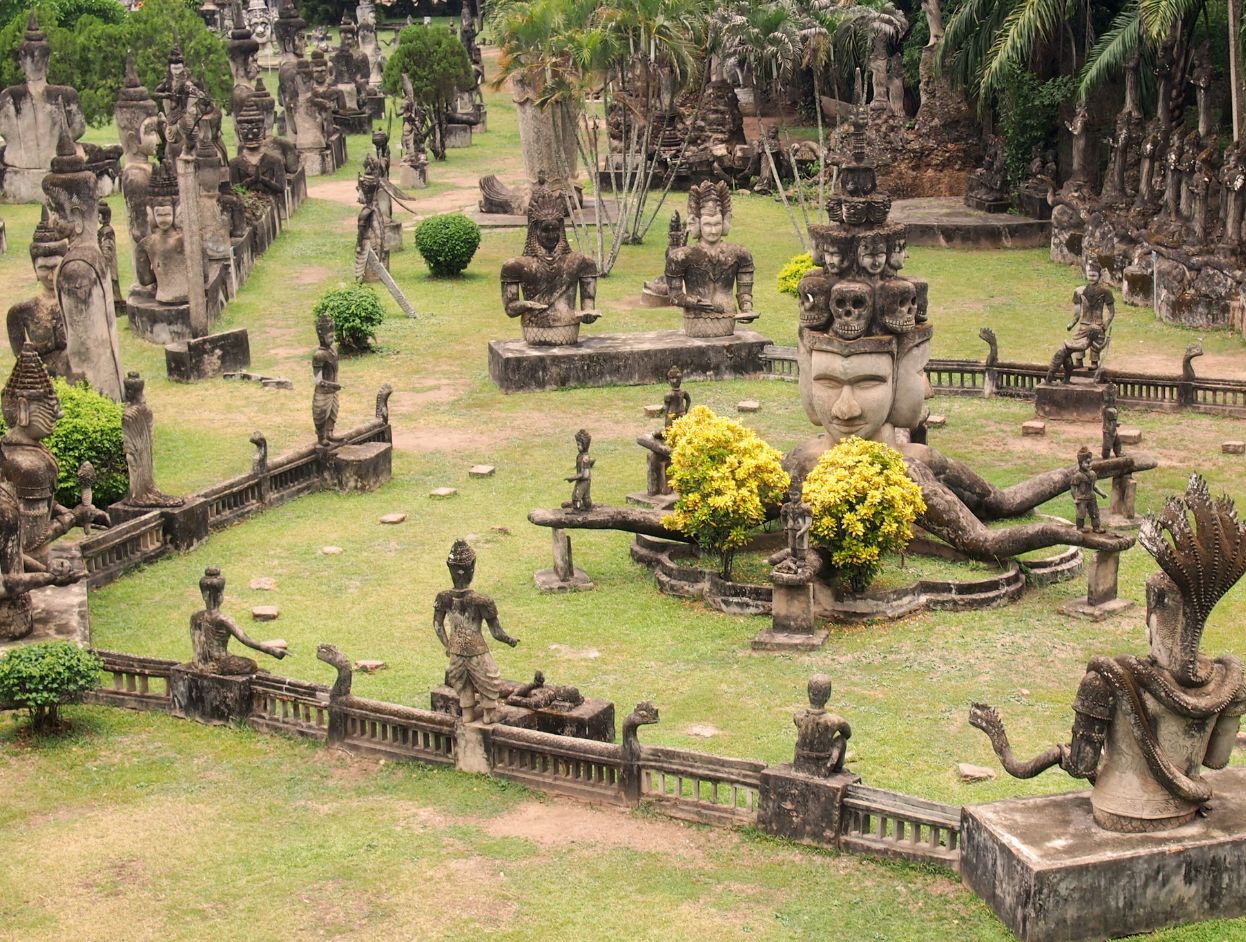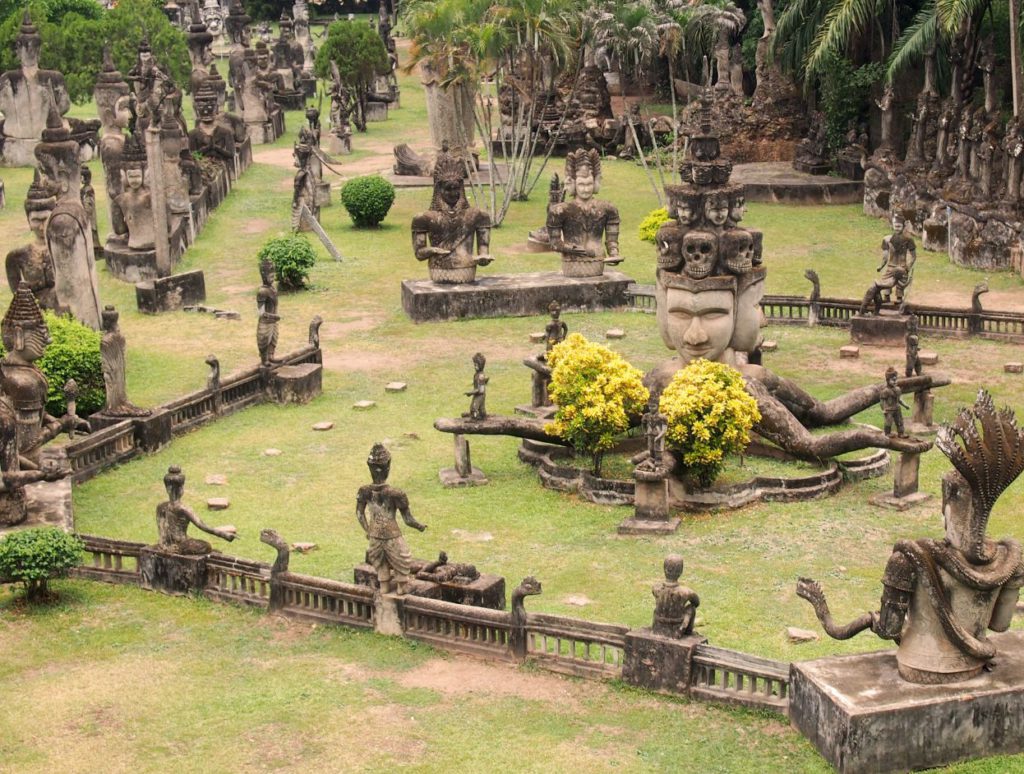 4. Wat Sisaket
Wat Sisaket and Museum is the oldest temple structure standing in Vietnam. King Anouvong, the last king of the Lao Langxang kingdom commissioned it. Interestingly, the temple looks more in the Siamese style with a five-tired roof. Perhaps this was the reason that the Siamese army spared destruction when they invaded and destroyed the city of Vientiane in 1828.
Today, Wat Sisikat looks ancient. It is located opposite the Hophakaew museum. You can find a lot of buddha sculptures and artefacts in the area. Many of these got damaged during the attack and were restored later. You need to pay 15,000Kip to enter. Make sure you cover your shoulders and knees as a sign of respect.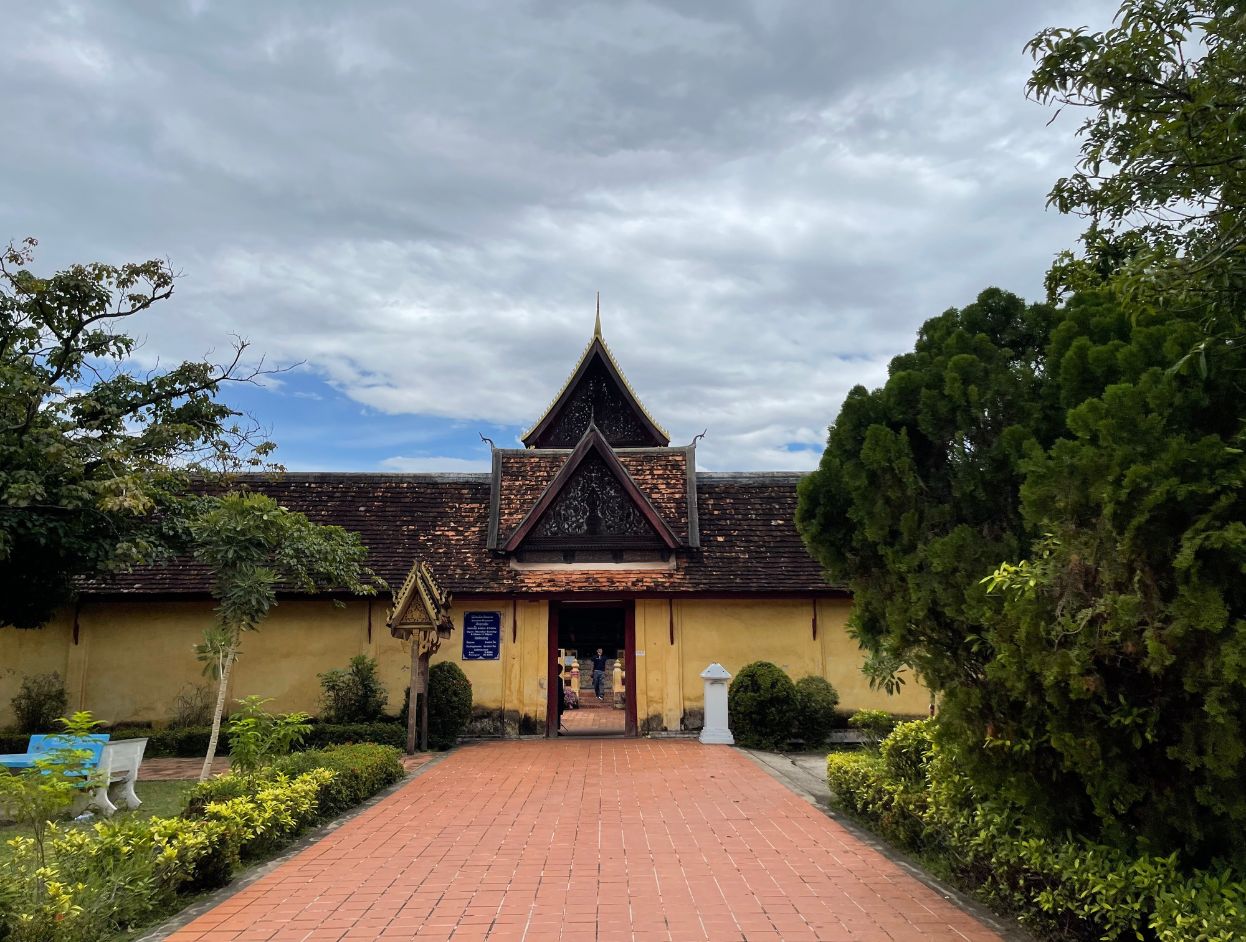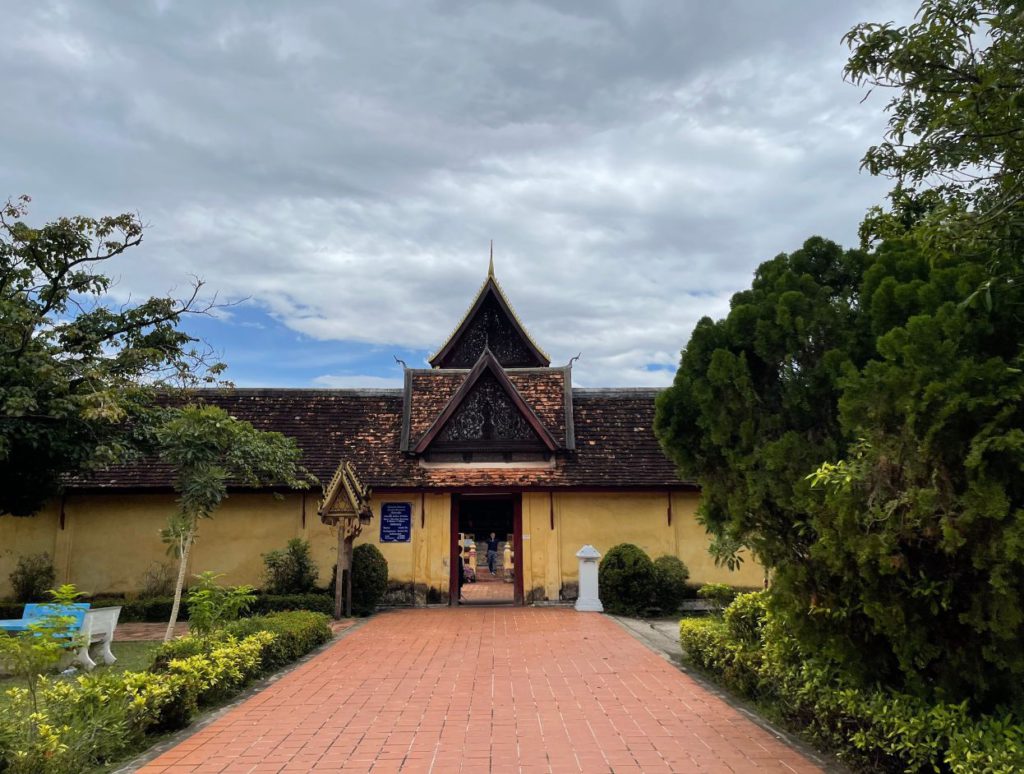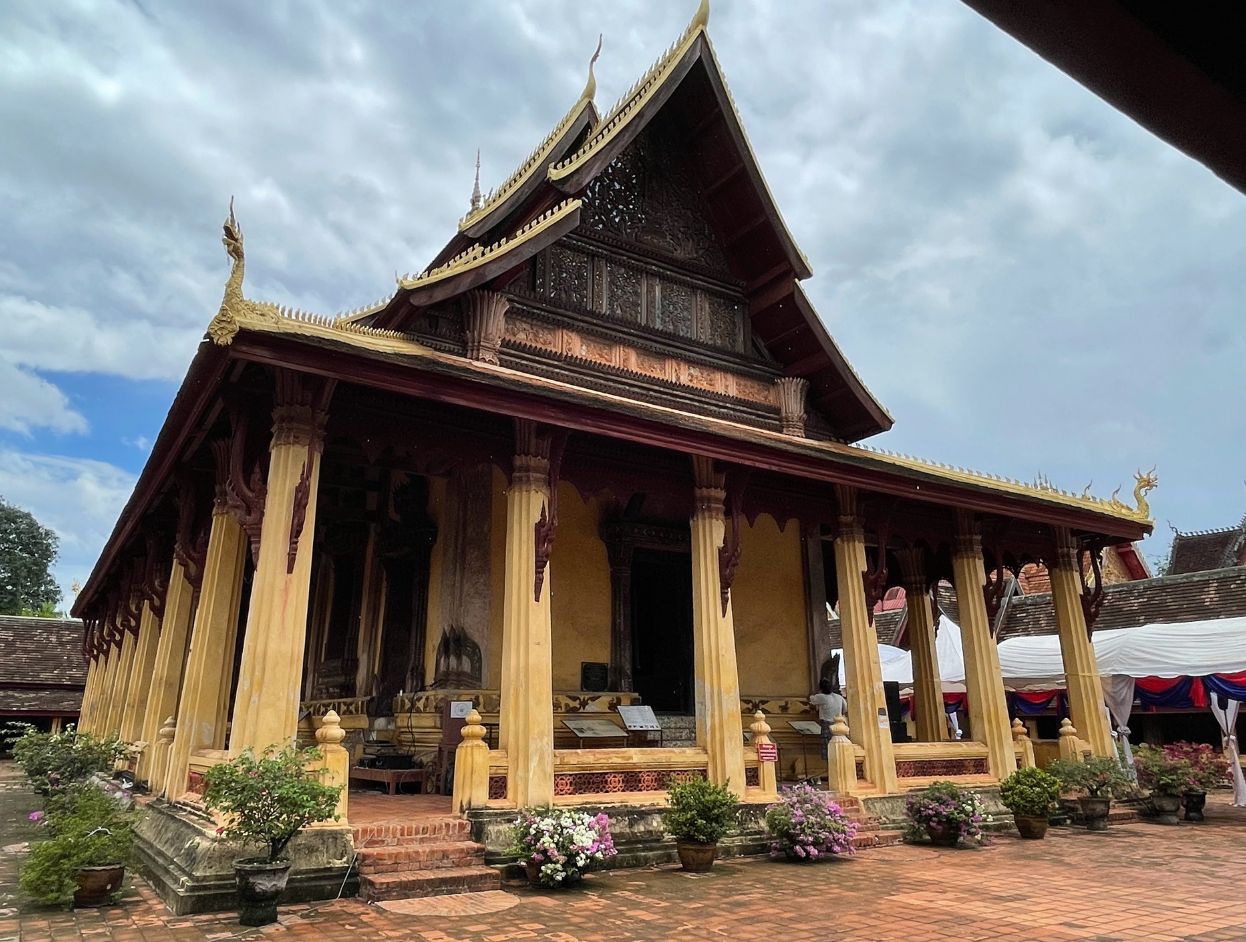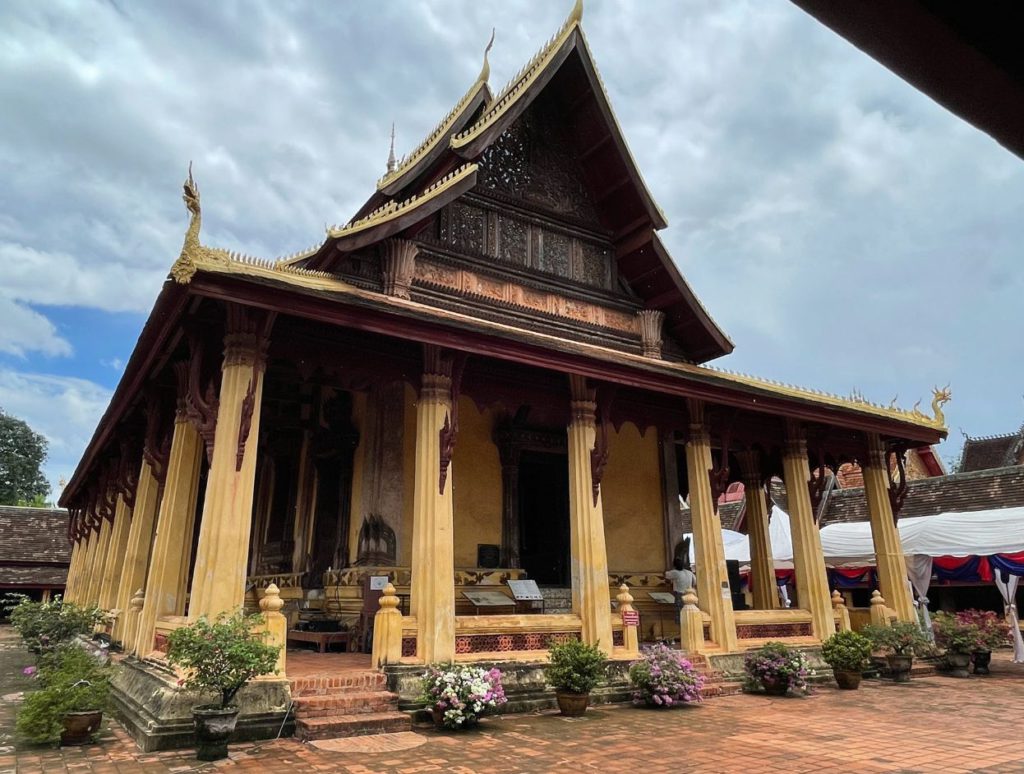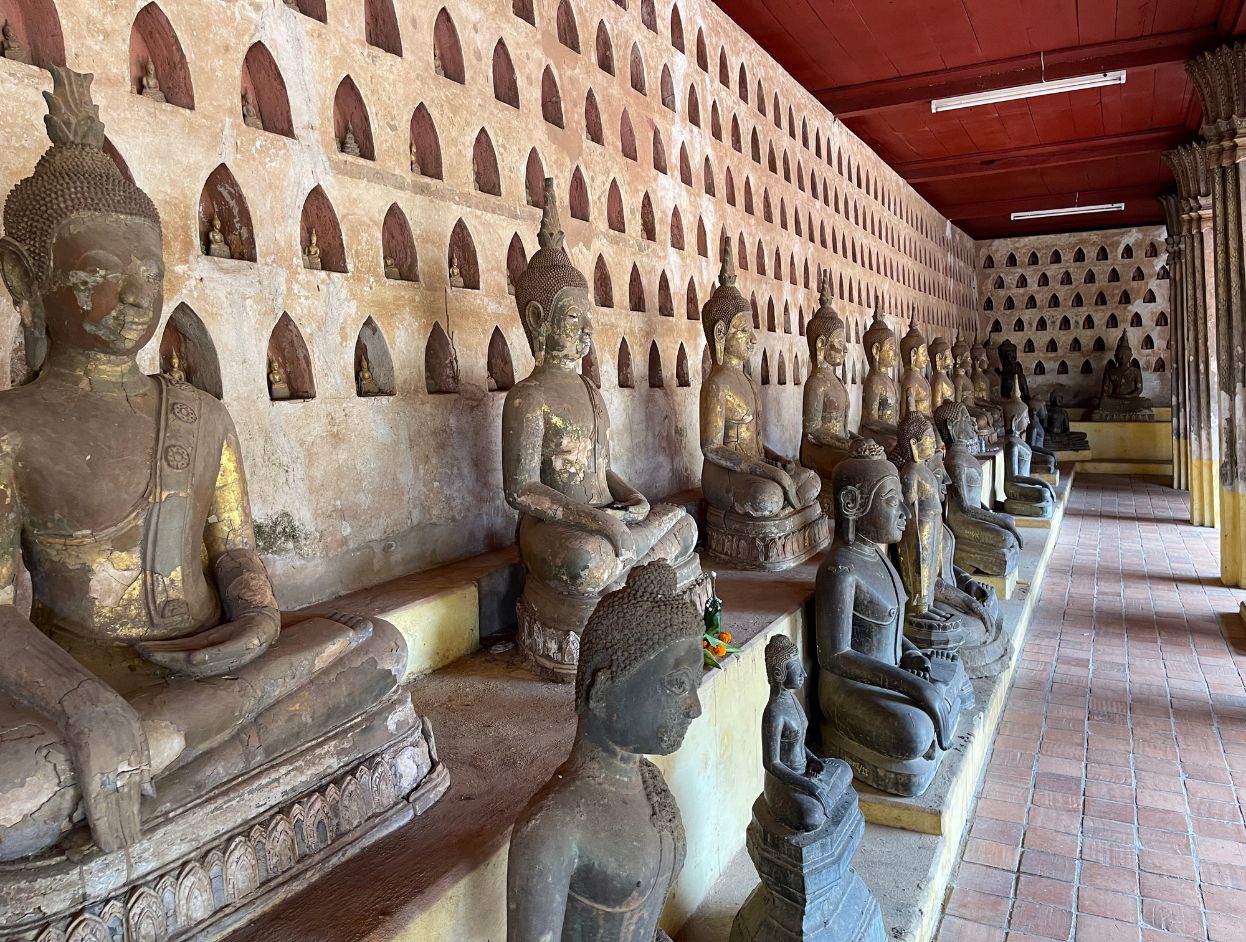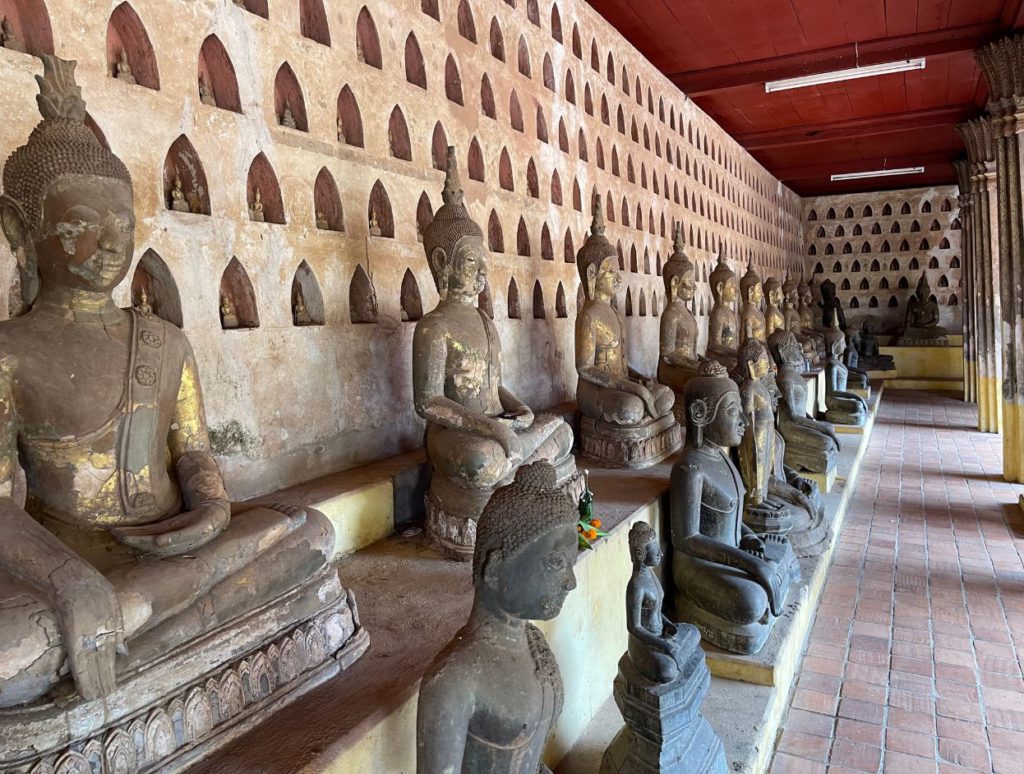 5. Hophakaew Museum
Hophakaew Museum is located right next to the presidential palace. And just like its location, the place is very important in Lao history. The temple's original structure was built back in the 16th century when the capital was first moved to Vientiane from Luang Prabang.
The temple was built for the statue of the Emerald Buddha and it stayed for 200 years. It was where the king prayed. The statue of emerald buddha was taken by the Siamese king who conquered Vientiane and destroyed the temple. The statue of emerald buddha is the palladium of Thailand today and is a very important relic in this part of the world.
The temple itself was rebuilt again in 1816 and destroyed again by the siamese army in 1828. It was the french who restored the temple between 1936-42 and then it was eventually converted into a museum. You can see a lot of artefacts and various buddha statues from all over southeast Asia inside the museum. Although the collection is not too extensive. You need to pay 15,000Kip to enter.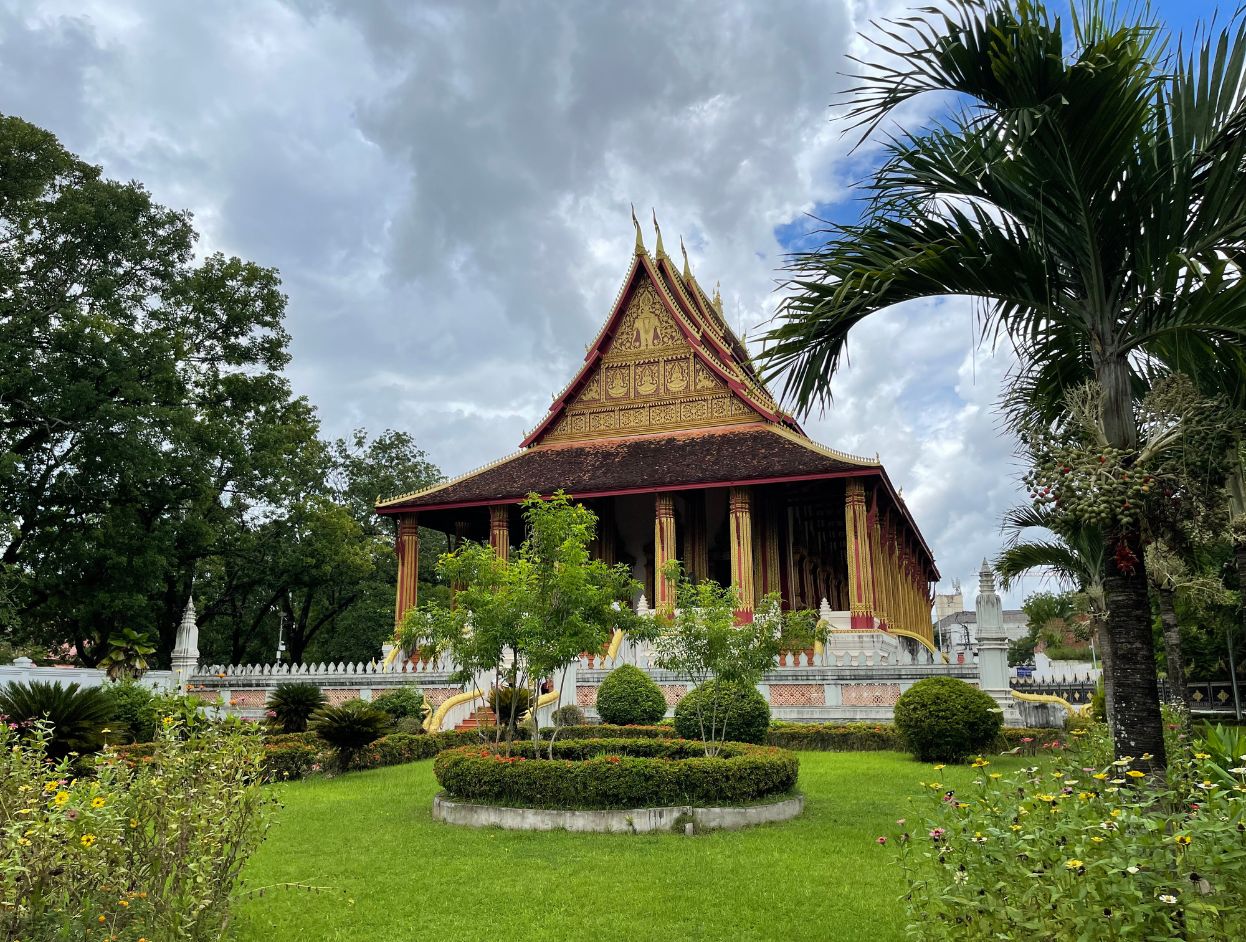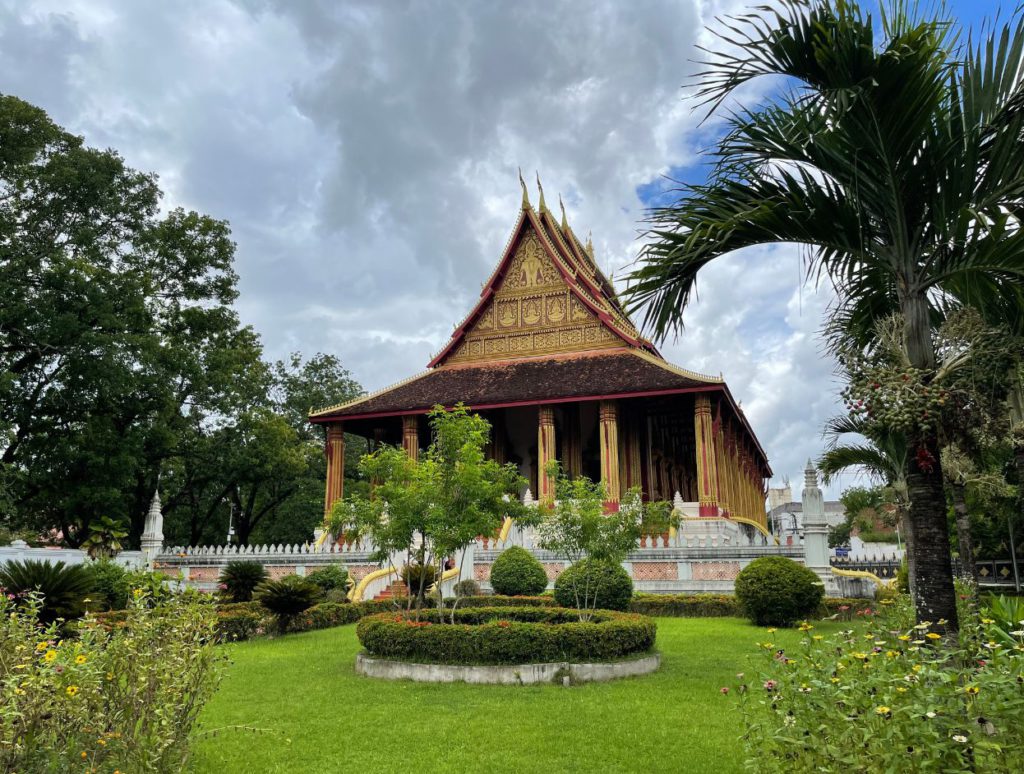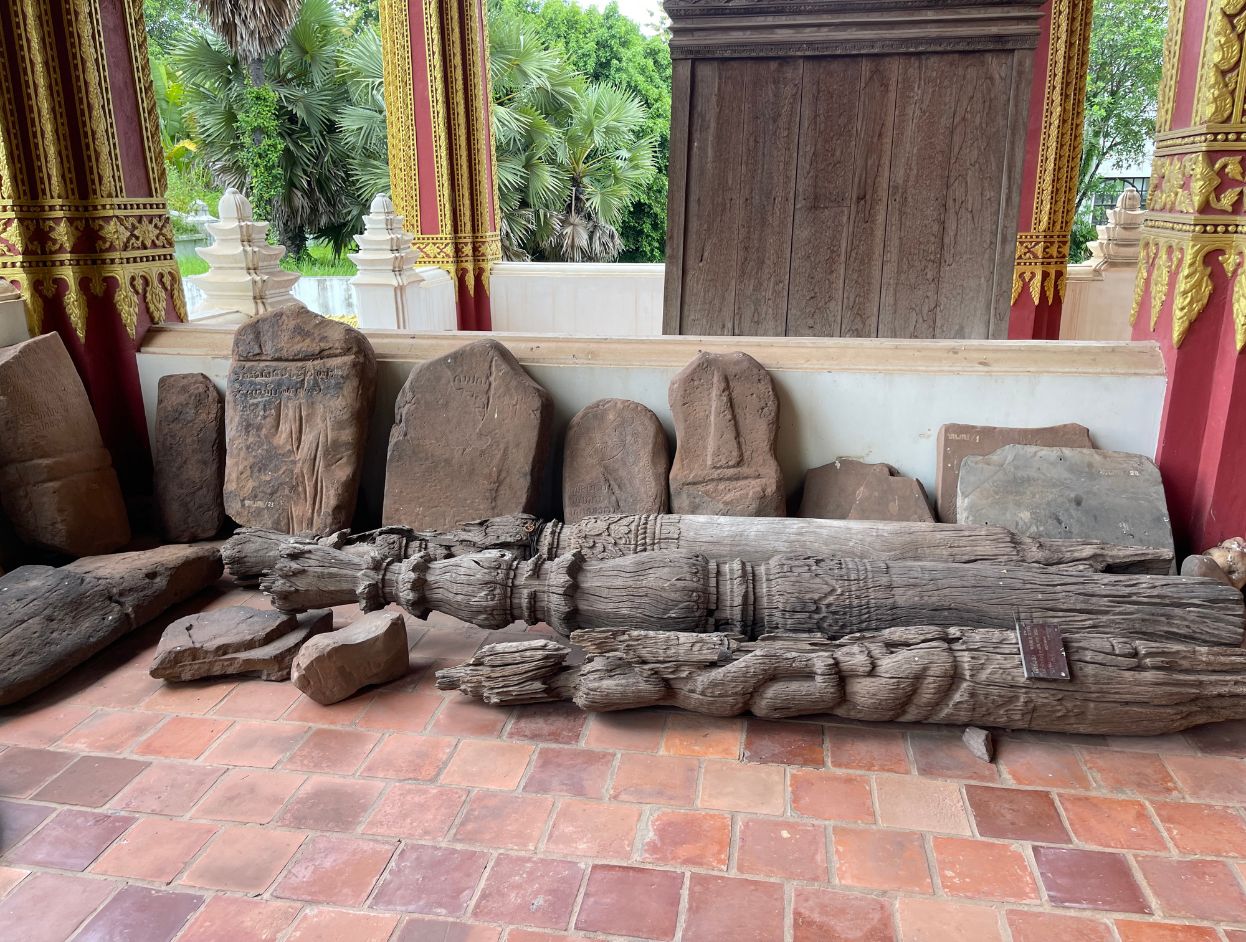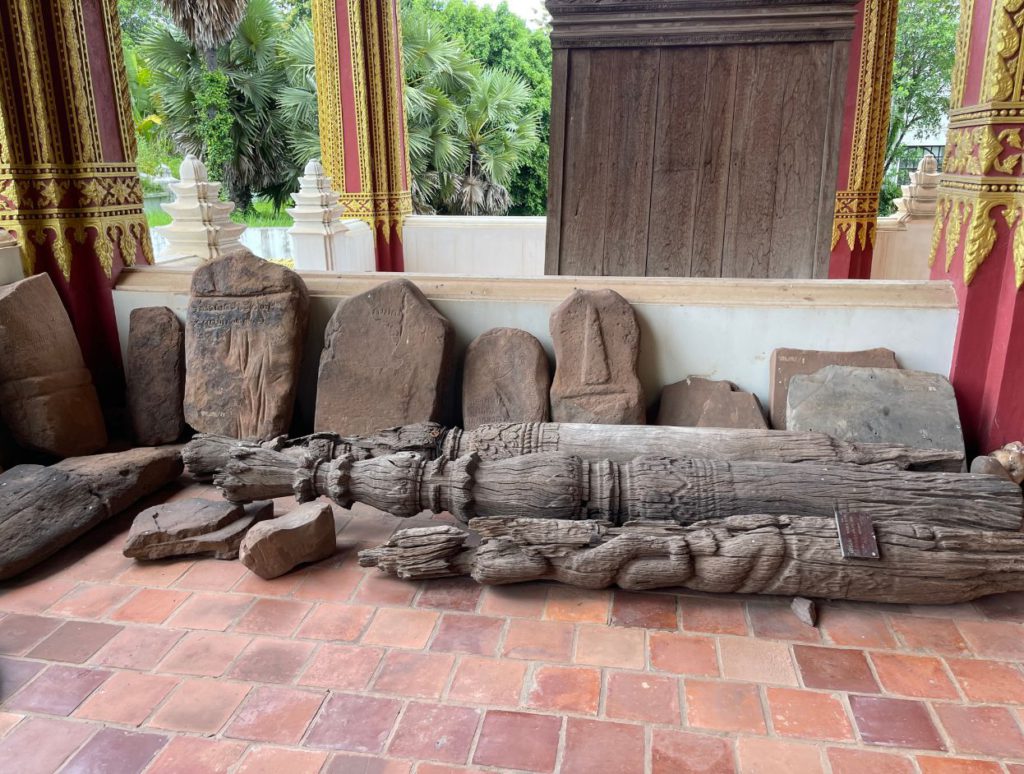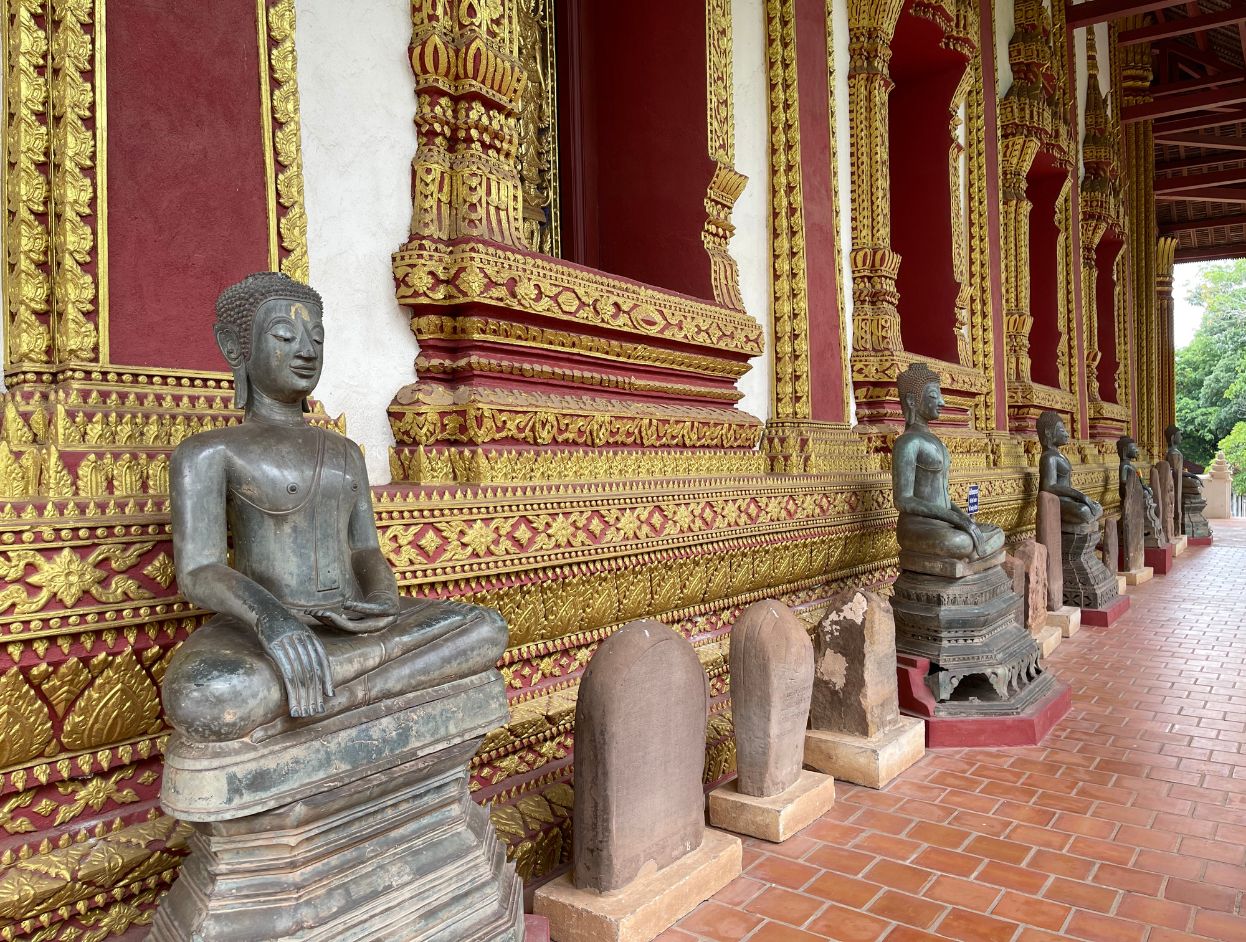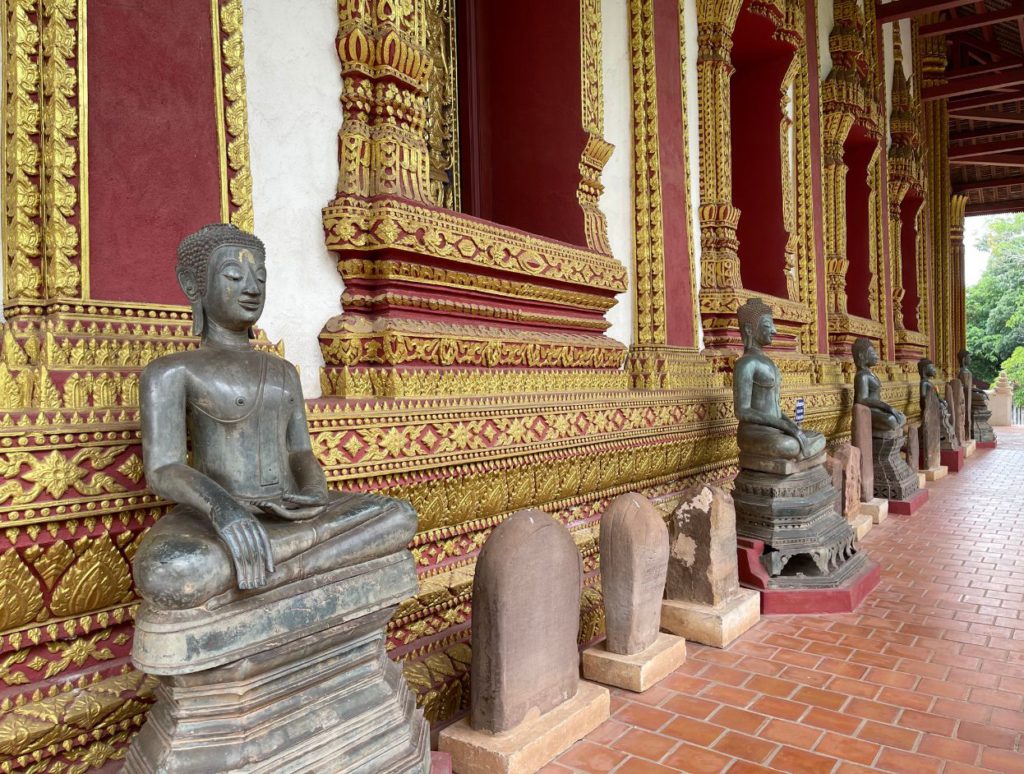 6. Talat Sao
Located right in the middle of the city and next to the bus station, Talat Sao is a fantastic stop to shop. It is a plaza kind of structure with many levels. Each floor has a number of local shops selling every unique item. You can get your hands on souvenirs, religious items, local produce, textiles, jewellery, garments and some strange stuff you never knew existed.
Just outside the plaza, you can also find some food stalls so you can finish up with that. Usually, the place is fair with price, but they probably will increase it as soon as the vendor sense that you are a tourist. So don't shy away from bargaining hard.
Right behind the main building is also a morning market. If you haven't explored it in other towns, a morning market is fantastic to see local produce and also grabbing some local snacks and food for breakfast.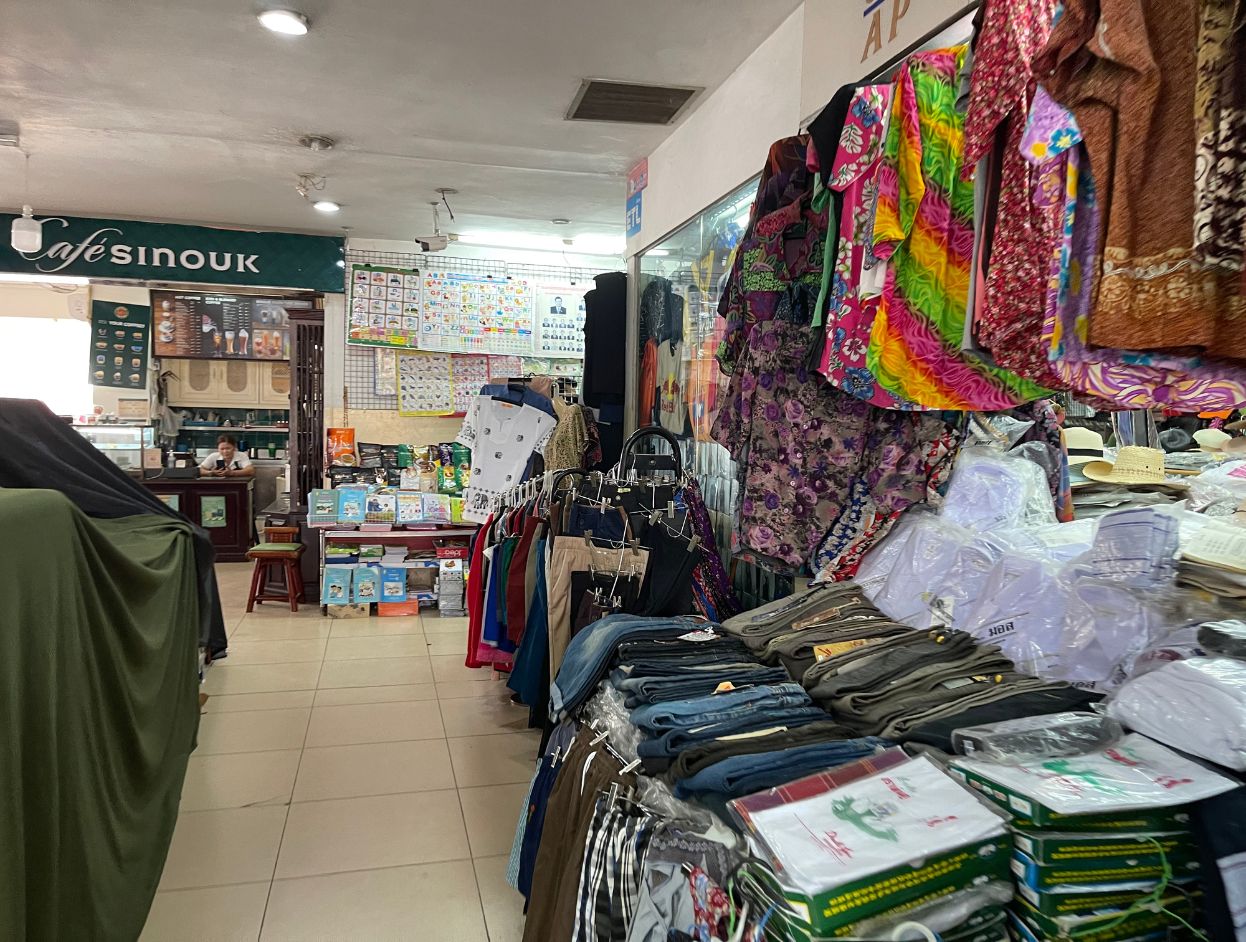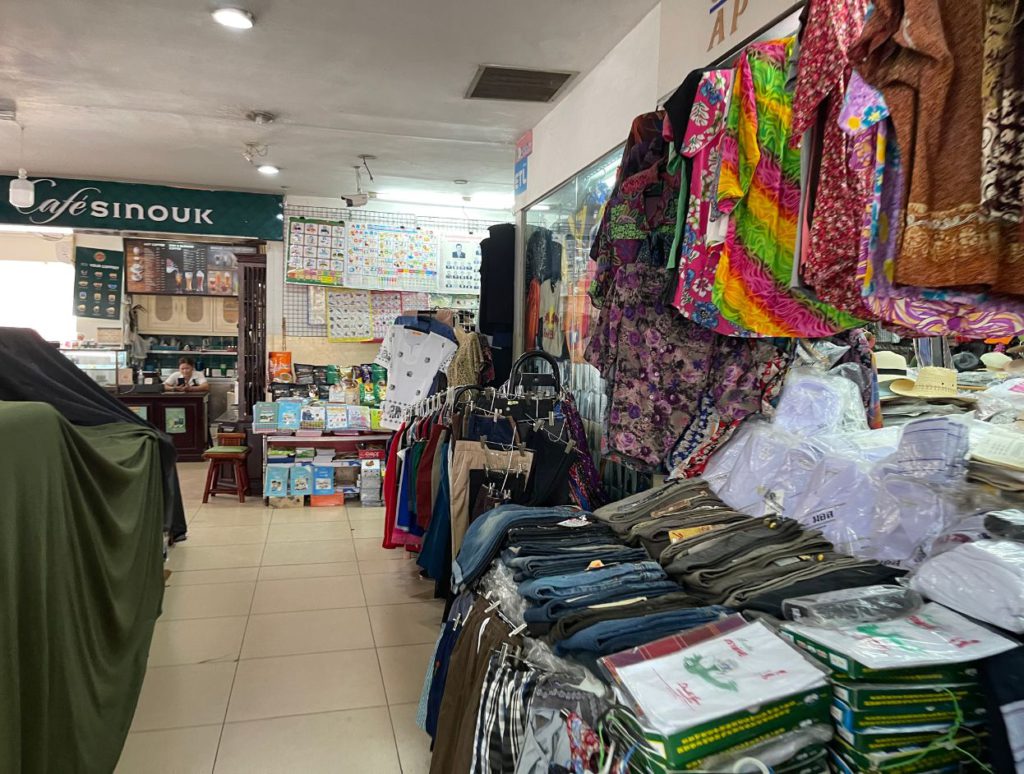 7. COPE Visitor Centre
The COPE Visitor Centre is a permanent exhibition area and a part of a bigger complex with other medical facilities. The COPE centre aims at educating people about the effects of war in Laos. During the Vietnam war, Laos was heavily bombed. More than 580,000 bombing missions were conducted over Lao. That is one bombing mission every 8 minutes, 24 hours a day for 9 years!
The military dropped more than 270 million bombies over Laos. Upto 30% of them failed to detonate. Approximately 80 million bombies still remain in Laos. Even today, the UXO still contaminate around 25% of Lao villages. Around 20,000 people lost their lives or were injured after the war until 2011. Even today, several casualties take place every year.
Many victims come from underprivileged households. They cannot afford treatment for a fatal injury or rehabilitation after a lost limb or leg. COPE trains local staff in the manufacture of prosthetics, orthotics and rehabilitation services. They also raise funds for the ones who cannot afford treatment. You can also donate them directly or by buying any of the products sold by them.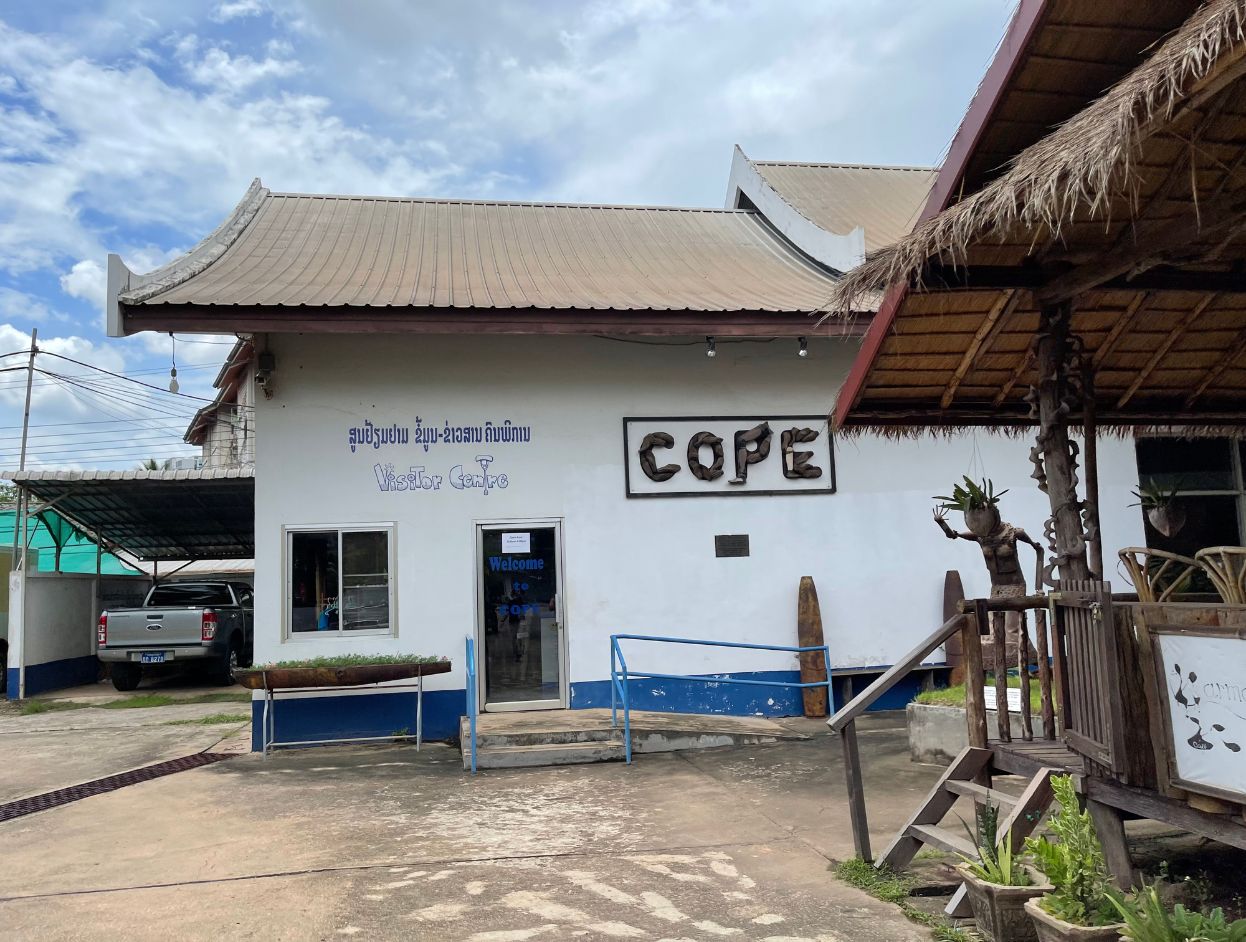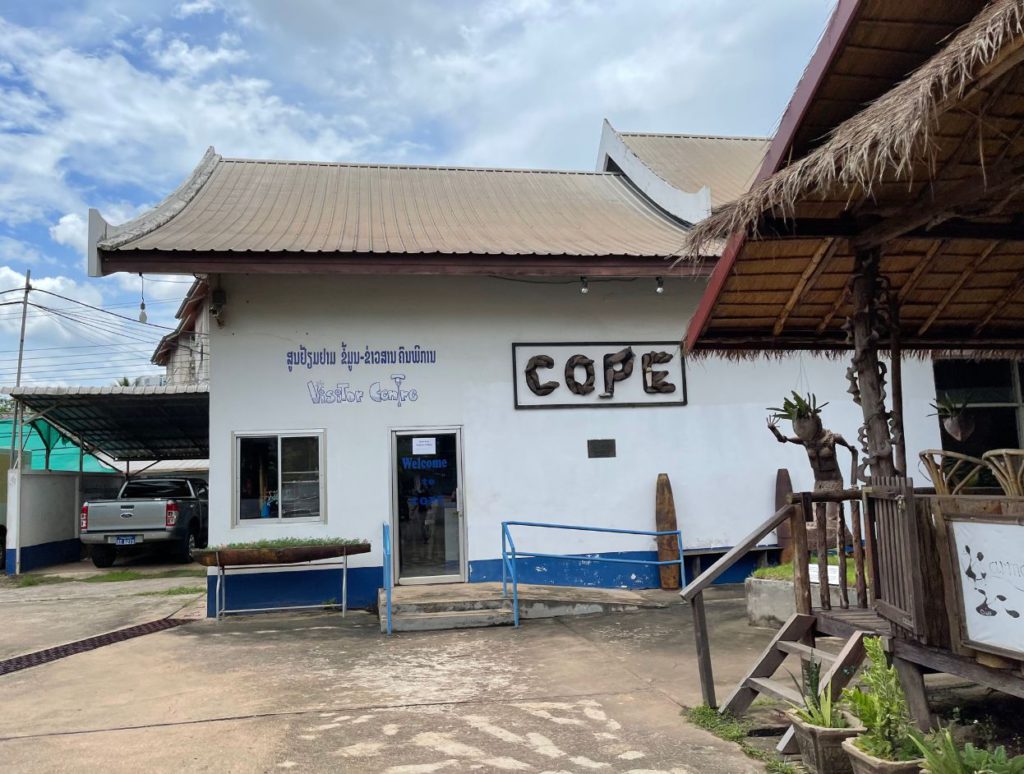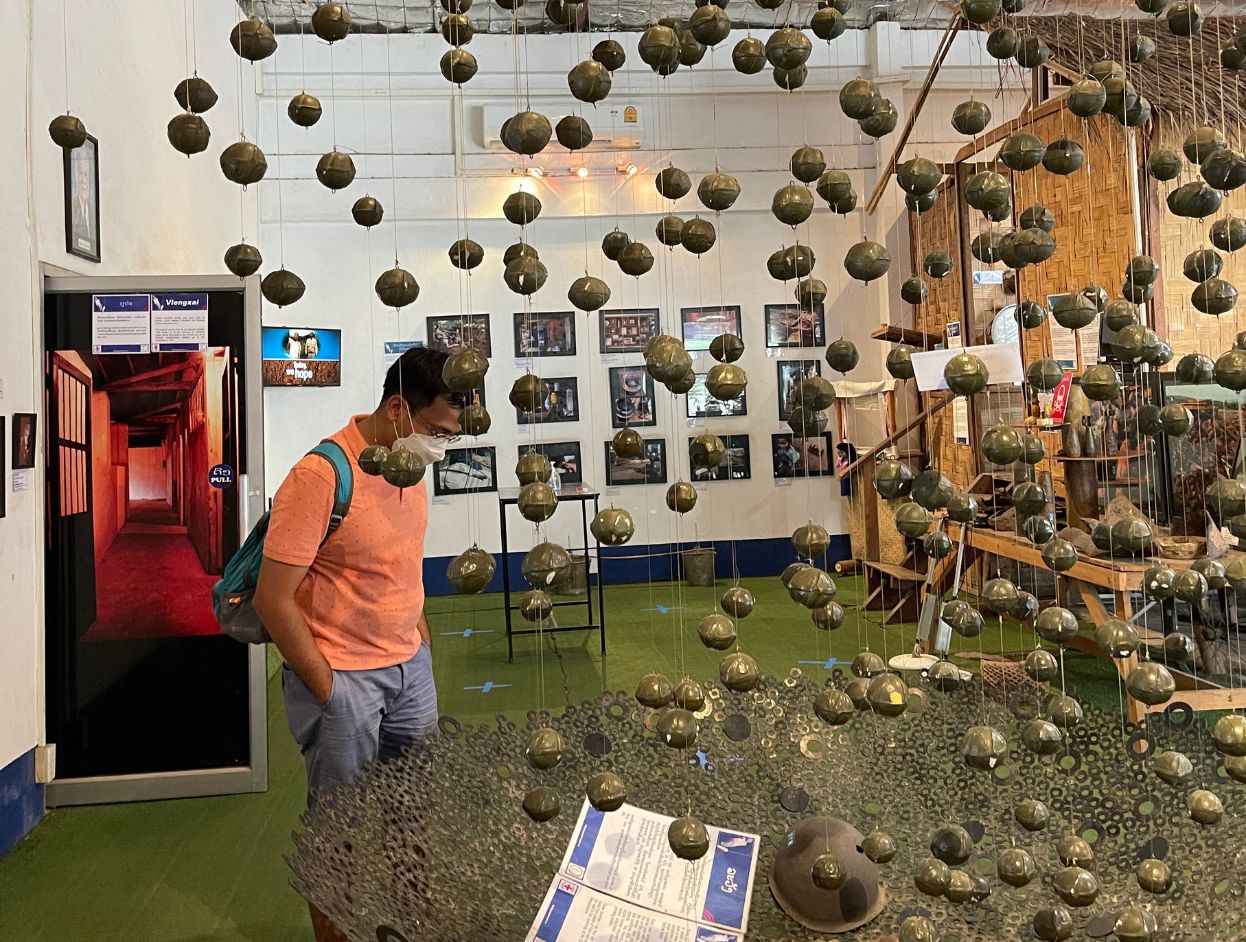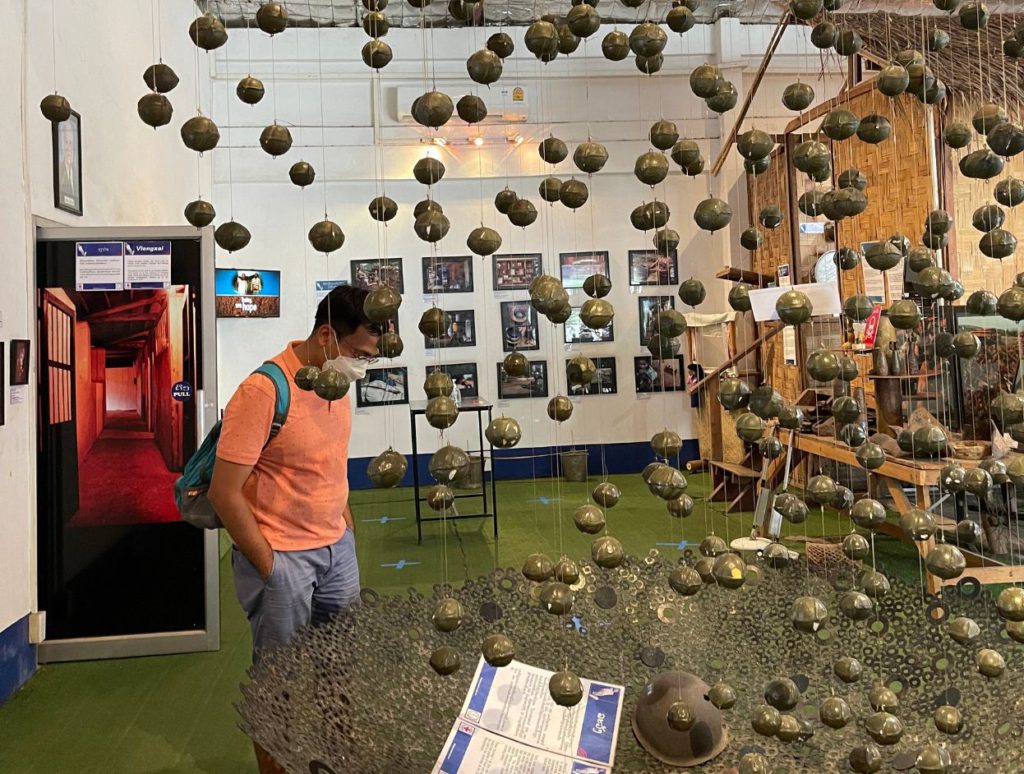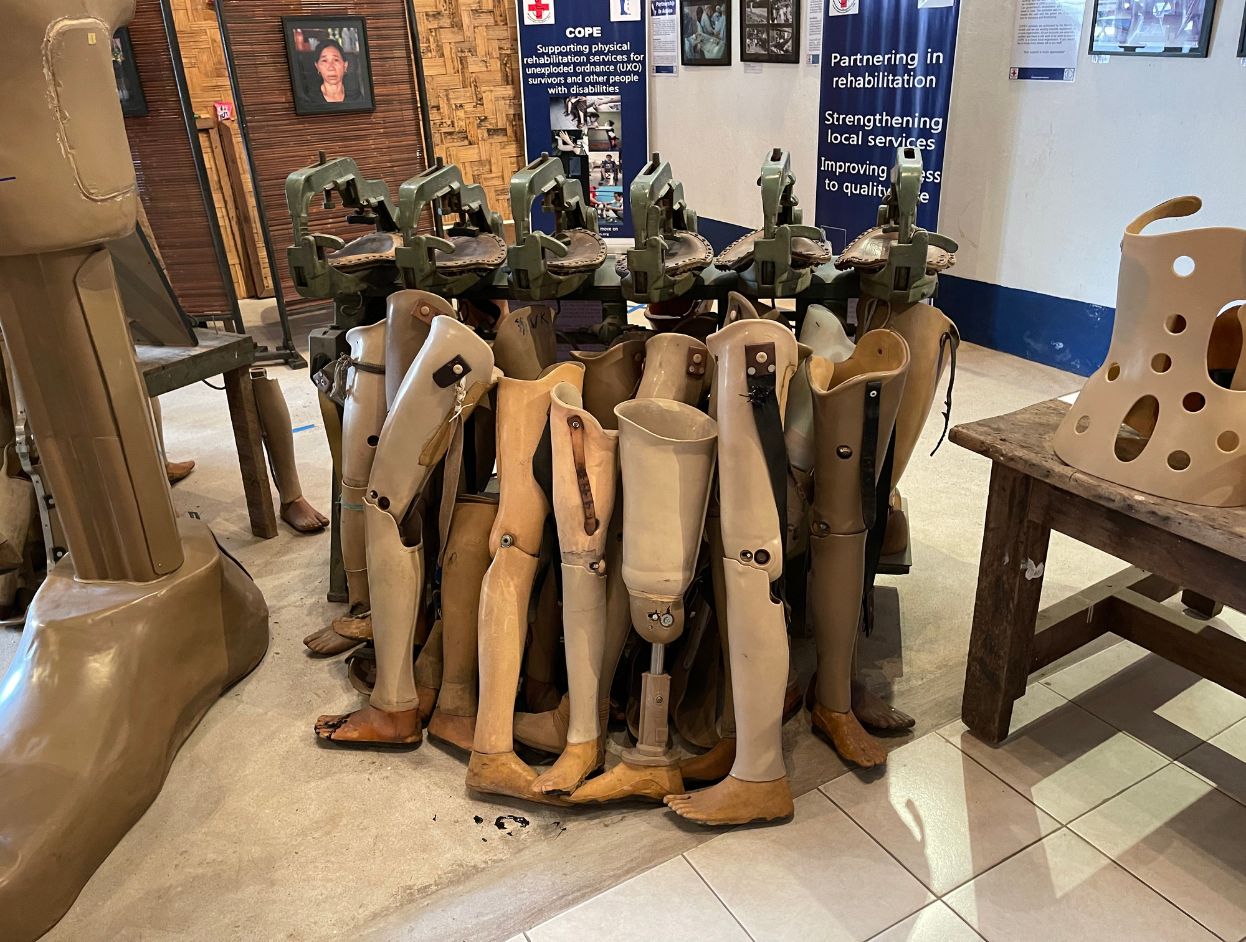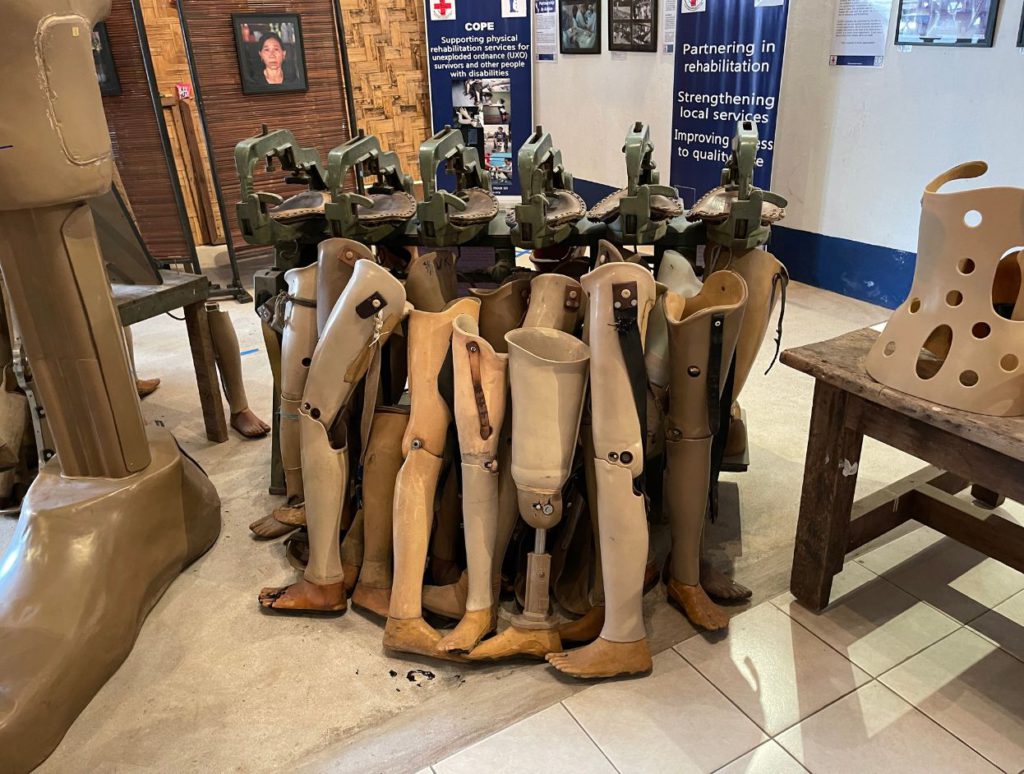 8. Chao Anouvong Park & Night Market
Chao Anouvong Park is another important landmark located in the centre of the city. The location is great since it's located right next to the Mekong river and has a fantastic scenic view. The main feature of the park is the statue of King Anouvong built in his honour.
During the day, the park is a sprawling green area where people come and enjoy the space. You can walk or go for a run or enjoy any sports in the area. In the evening hours, the area transforms into a busy night market with stalls selling clothes, souvenirs, everyday items and most importantly – food. It is a great place to hang out and a relaxed time both during the day and at night.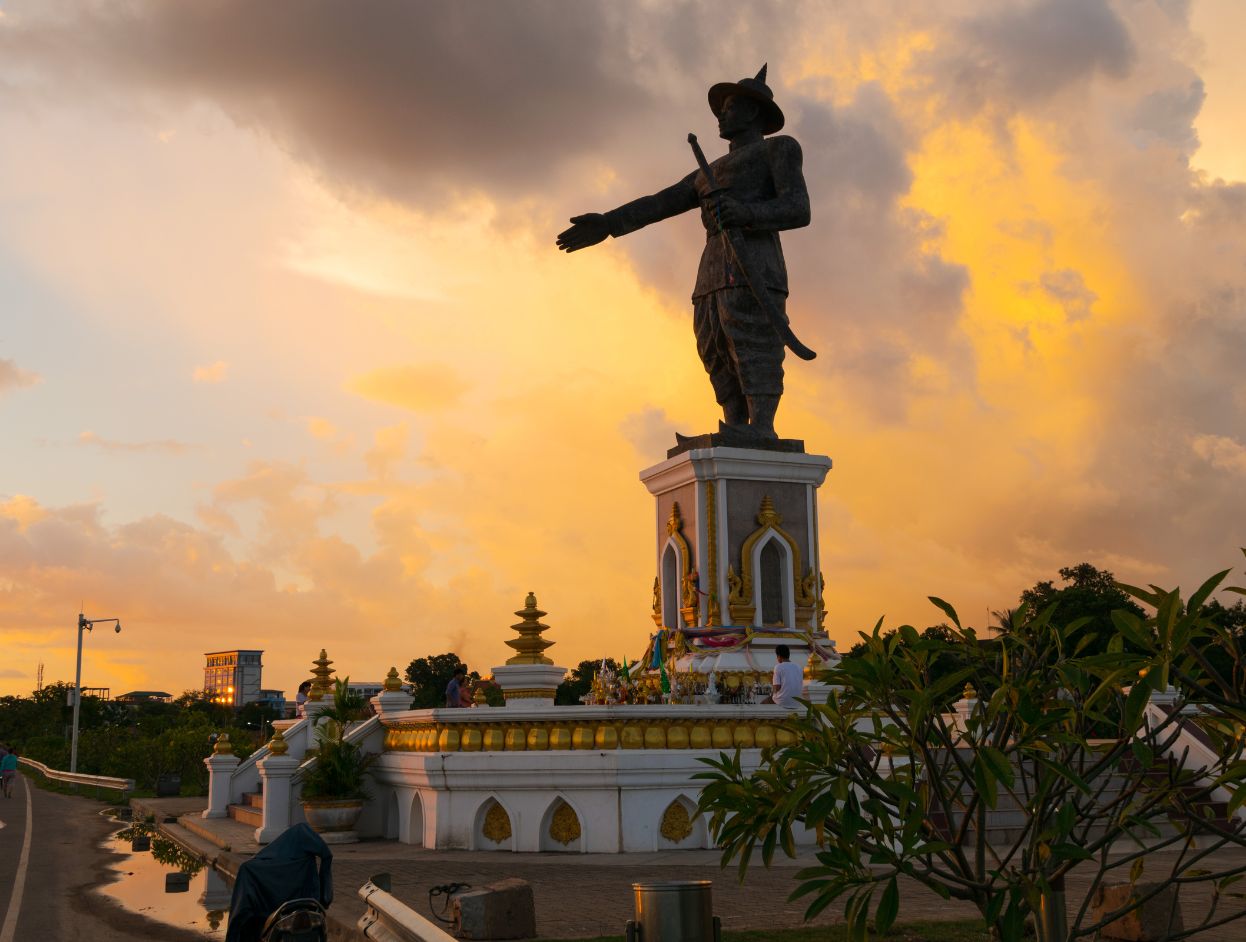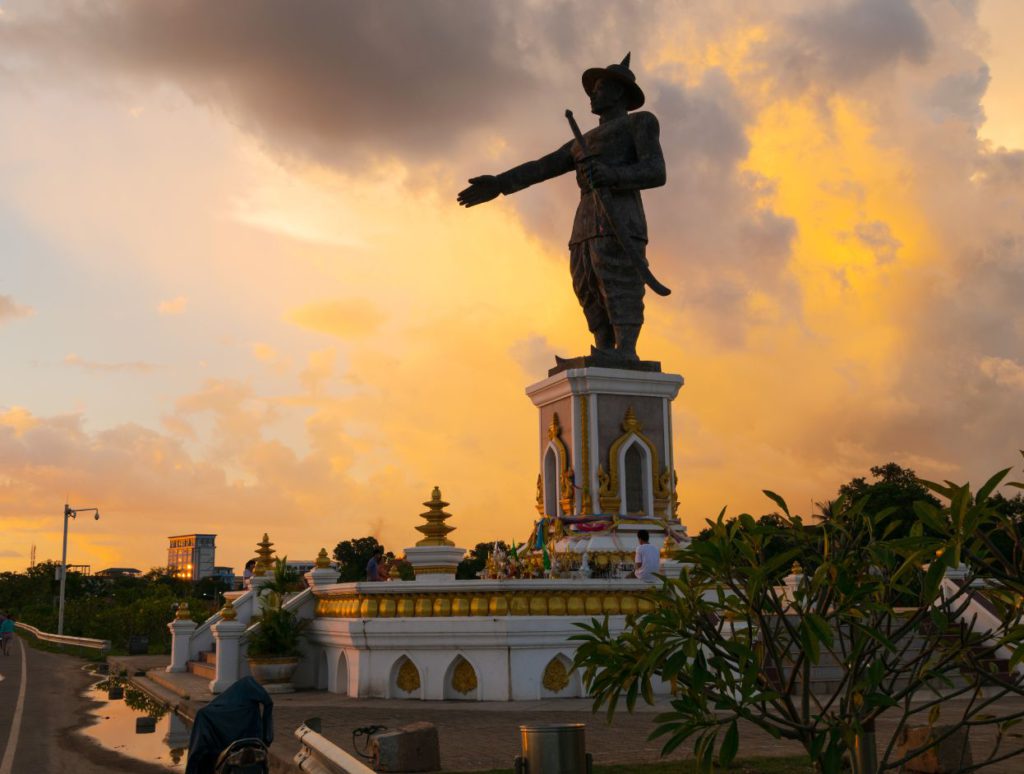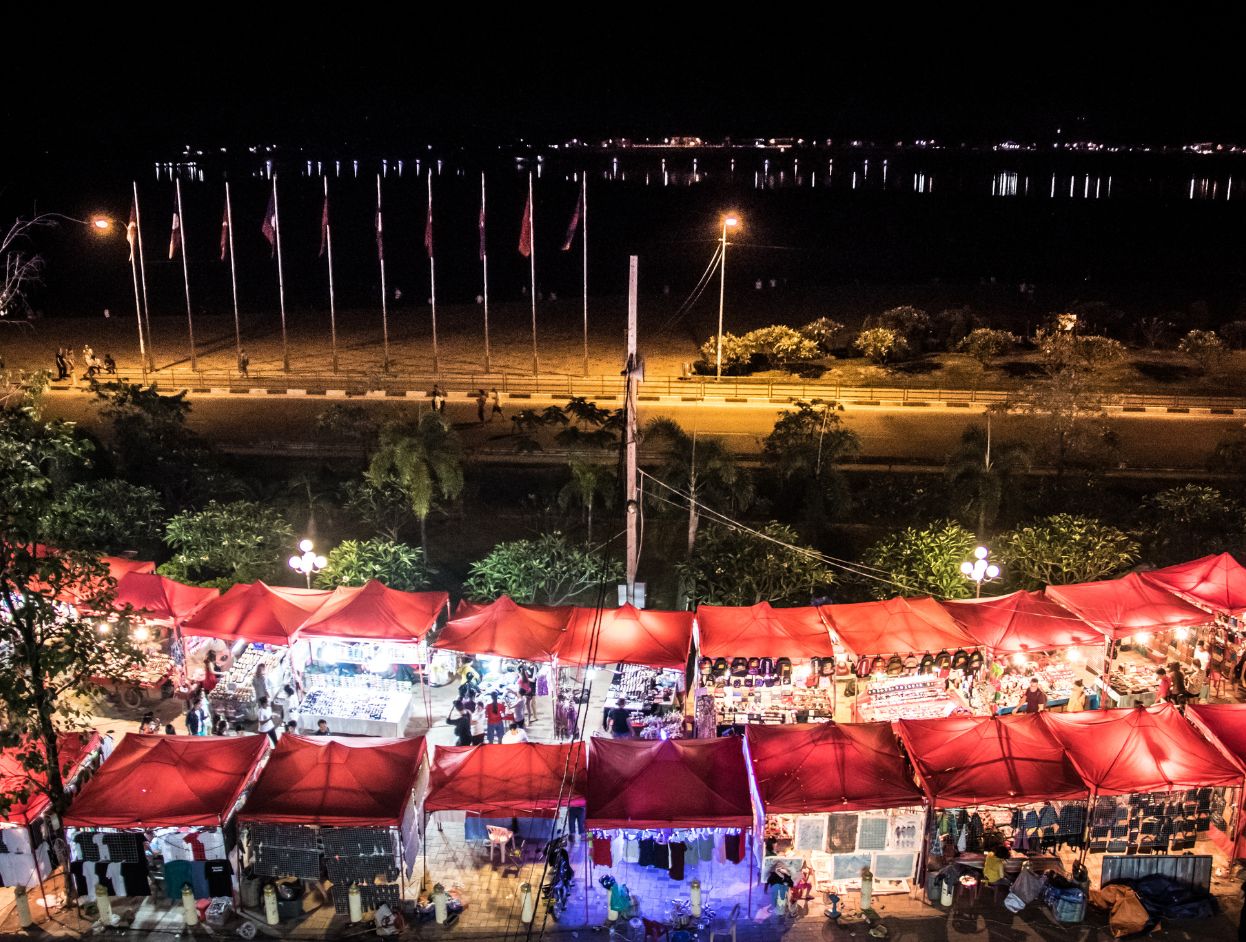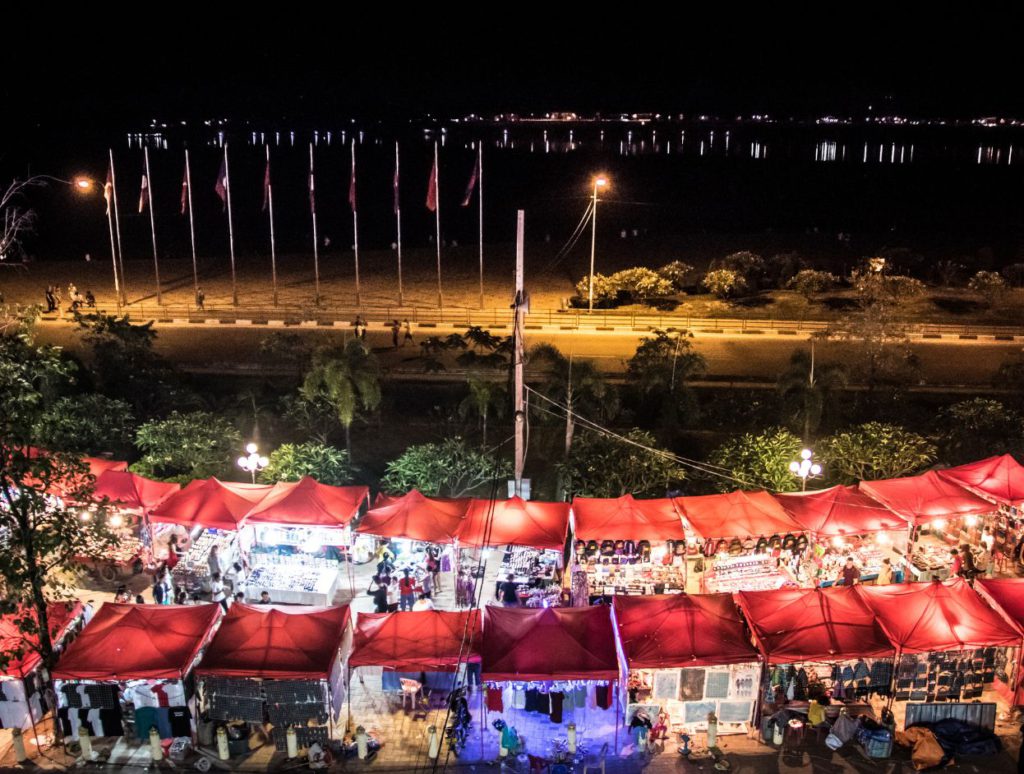 9. Wat Si Muang
Wat Si Muang is also a popular temple, although not as popular as the other two (on top). The temple is located slightly ahead of the city centre area. You can take a tuk-tuk here if you wish to include the place on your list.
The temple was quite crowded. The place seems to be very popular with the locals. According to the local legend, the temple is dedicated to a lady named Si Muang. In 1563, when the temple was under construction, a pregnant lady sacrificed herself to appease angry spirits. She threw herself into a large hole where the main pillar of the building will go in. And the pillar crushed her as it was lowered.
The temple attracts special attention during the That Luang festival every October. People also consider it as the guardian of the city.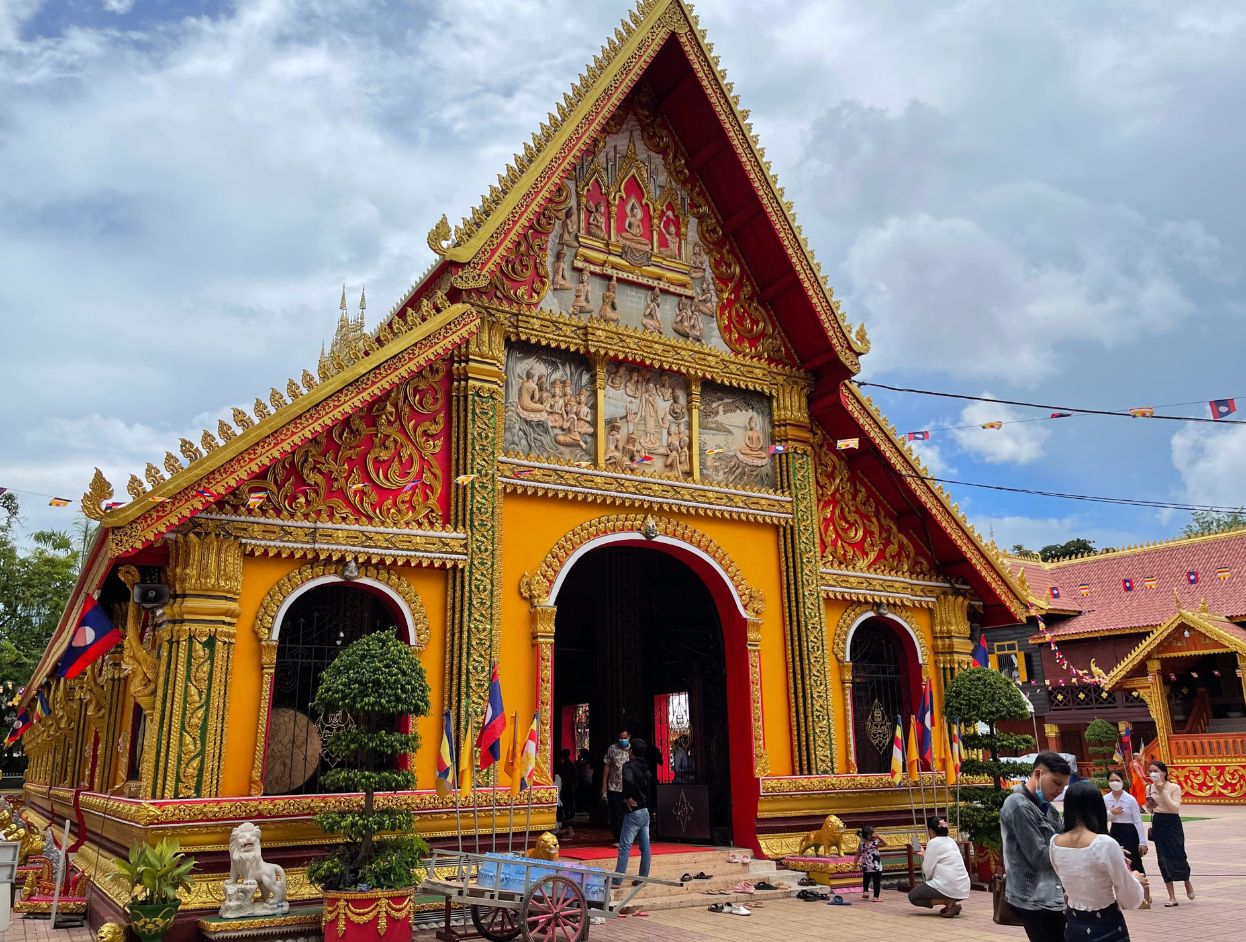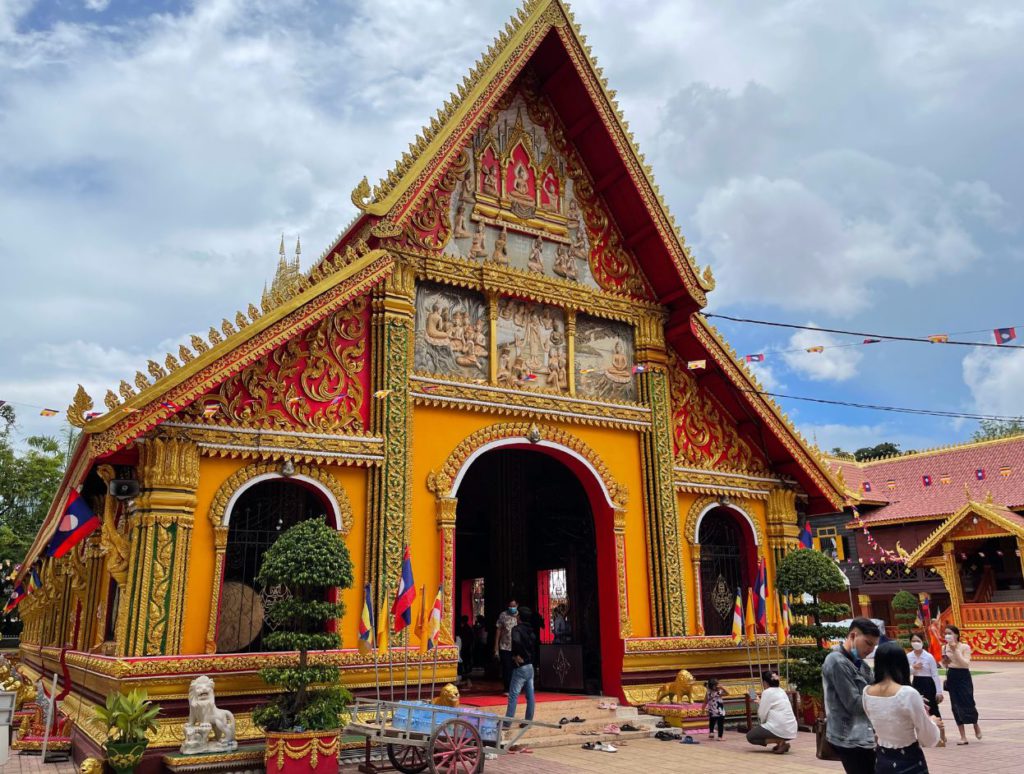 10. Lao Textile Museum
This is a wonderful place in Vientiane to experience that talks about traditional Lao textile crafts. You will have to travel quite a bit (around 6km) to reach here. But once here, you will find a beautiful traditional Lao style built out of teakwood in the middle of a freshly trimmed garden.
A few local women run the place who would be happy to take in visitors and take them around. They will give you a tour of the place and share the intricate techniques of Lao weaving and patterns. You can see a wide range of traditional patterns along with the dyeing technique. If you are lucky, you may even witness indigo dyeing.
After the tour, you get a cup of blue pea tea and a chance to relax for as long as you want. Sure it is a little far, but it may be one of the most authentic experiences in the city.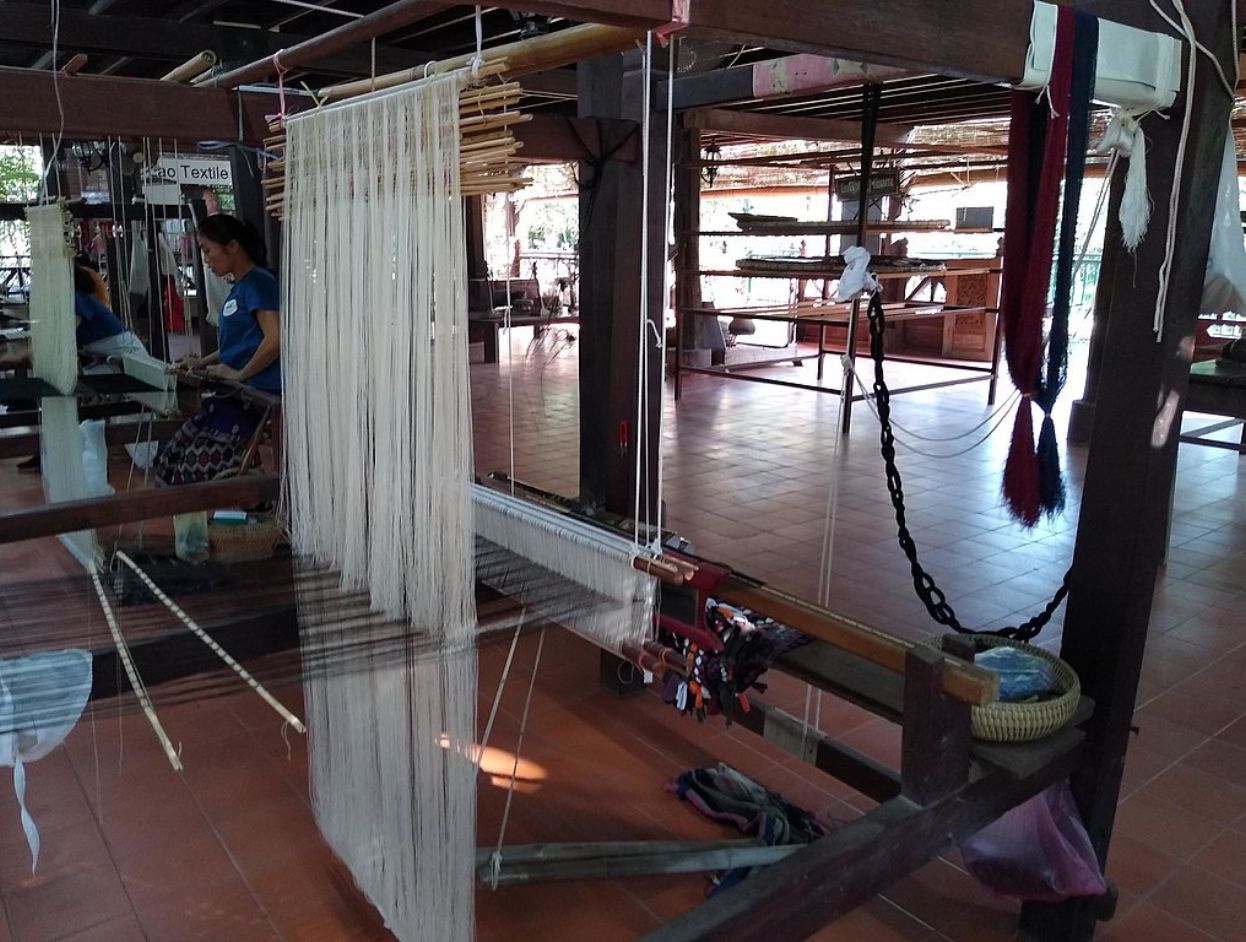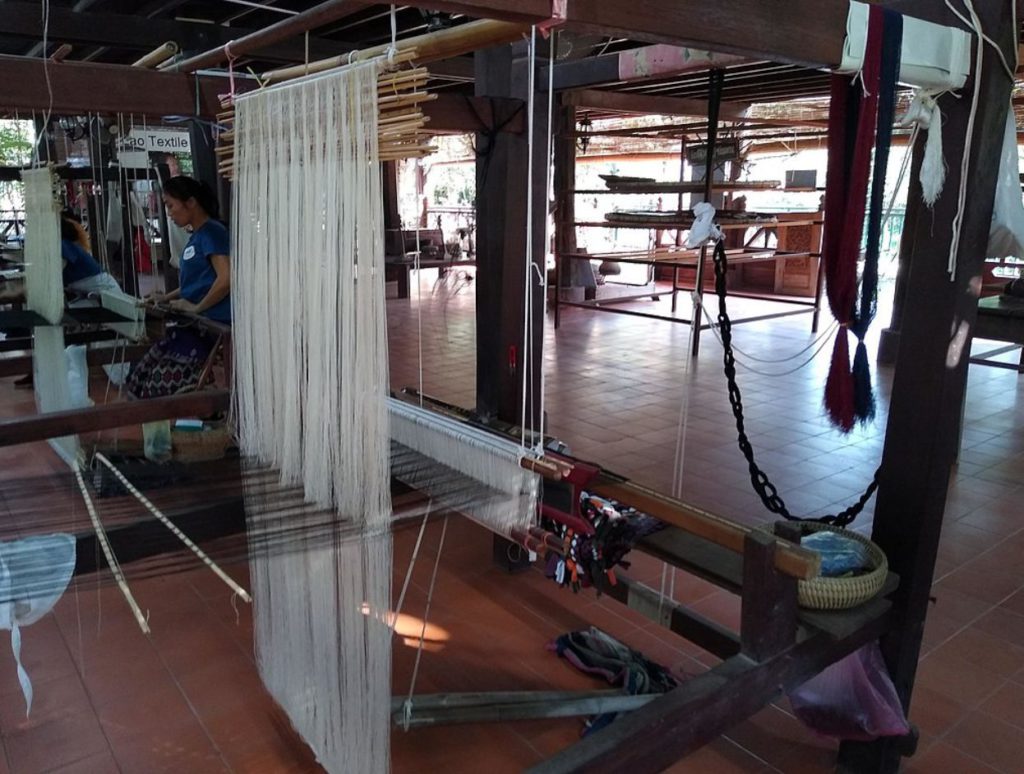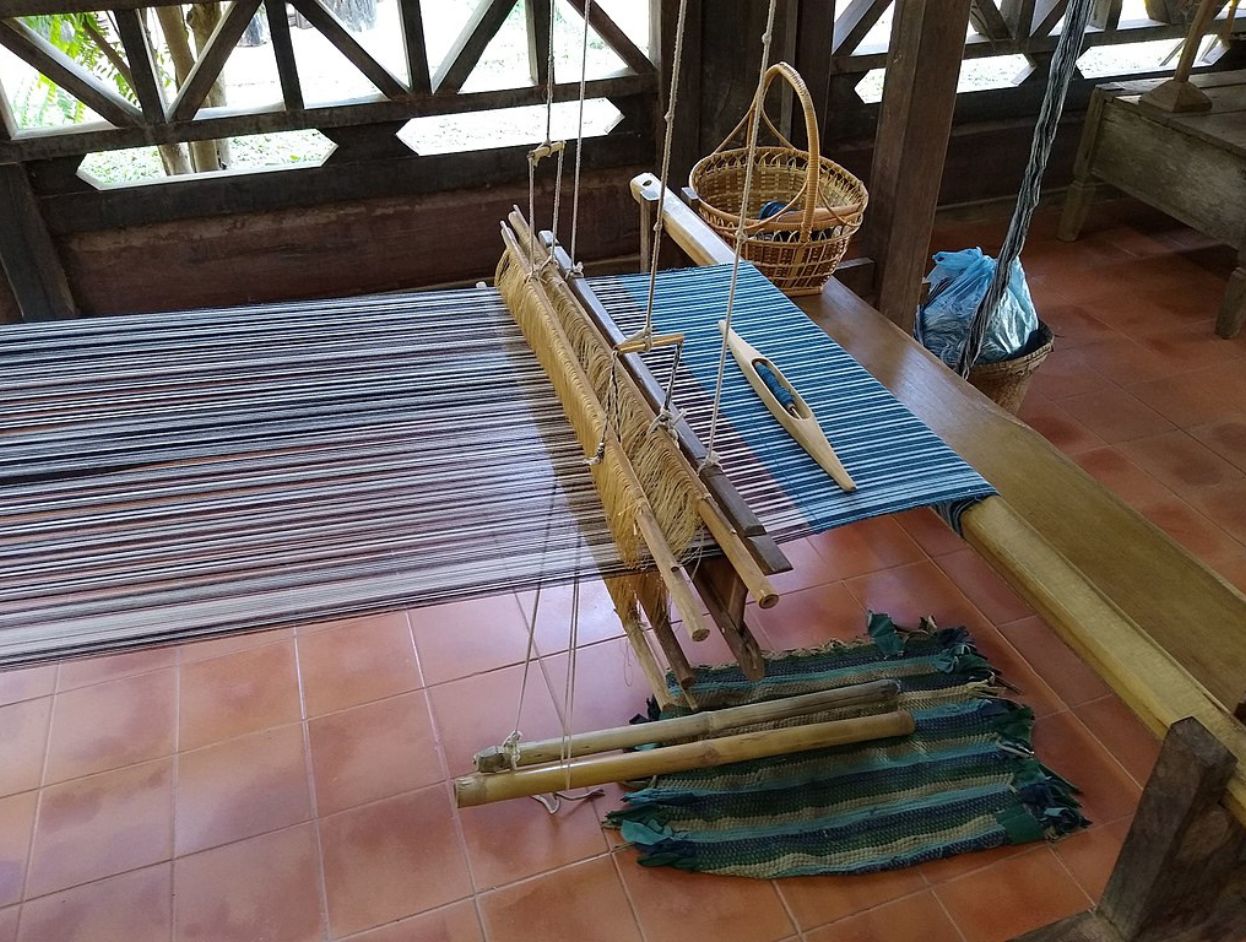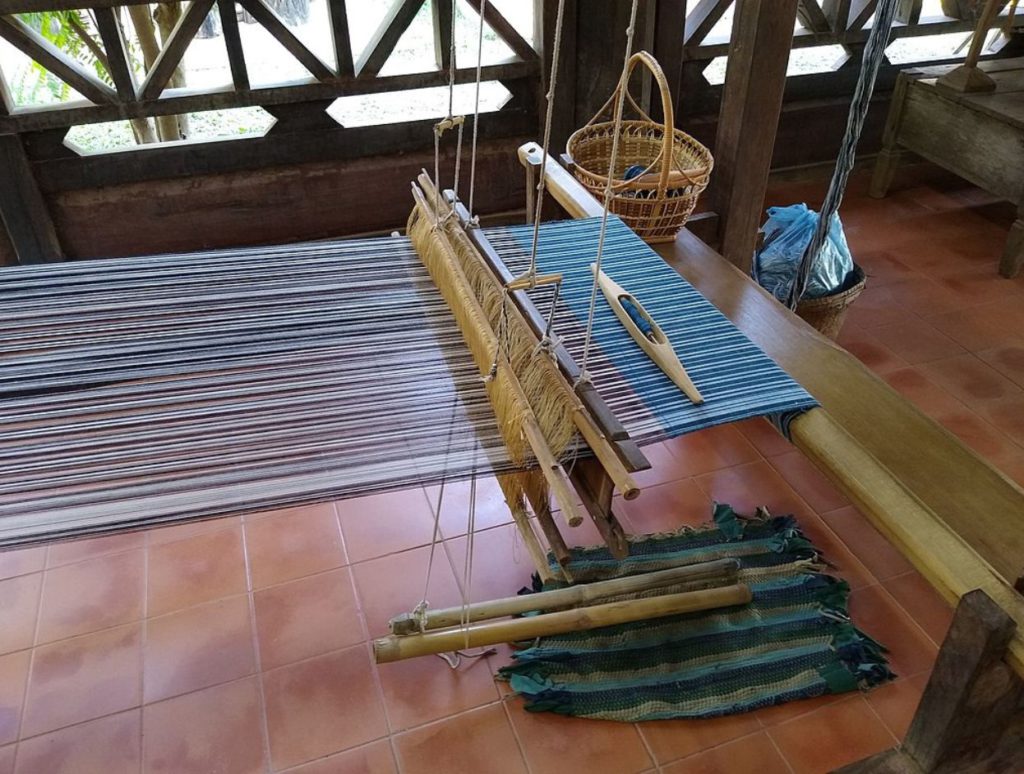 Best time to visit Vientiane
The best time to visit Vientiane is the winter months (from November – February). The temperature in November, January and February hovers between 20-25°C and drops a few more degrees in December.
The monsoon months (June – September) are also great I feel. But unlike the countryside which turns beautiful green during the rains, Vientiane is just wet. It usually never rains the whole day, so you can always travel around it. It does get very hot and humid on clear sunny days during the monsoon.
The summer months (March-May) are very hot and scorching. Avoid travelling during this time. But if you do, try to stay indoors during the days and travel early morning or in the evening. Heat waves are also common. Keep yourself hydrated.


Related Articles