24 Feb

Best things to do in Luang Prabang, Laos

Luang Prabang is a gorgeous city. And while you can say this about quite a few cities in Southeast Asia, I think Luang Prabang has a certain class that I think is quite incomparable. Maybe it has to do something with being ruled by the French.

I was smitten by the beautiful blend of the traditional Laotian style of life, architecture and culture with French elegance. It is unique to see the traditional teakwood houses furnished with European sofas and chandeliers. Some buildings even have French names to date.

However, I also love the fact that it is a small open town with so much greenery, and space and lacks high-rise buildings. In fact, you can walk most of the town on foot. Get the best views by climbing up a hill in the centre of the city and hopping on a boat on the Mekong.

If you are thinking of visiting Luang Prabang here is all you need to know. But if you are in Laos, you may also want to check out our Laos travel itinerary ranging from 5 days to 4 weeks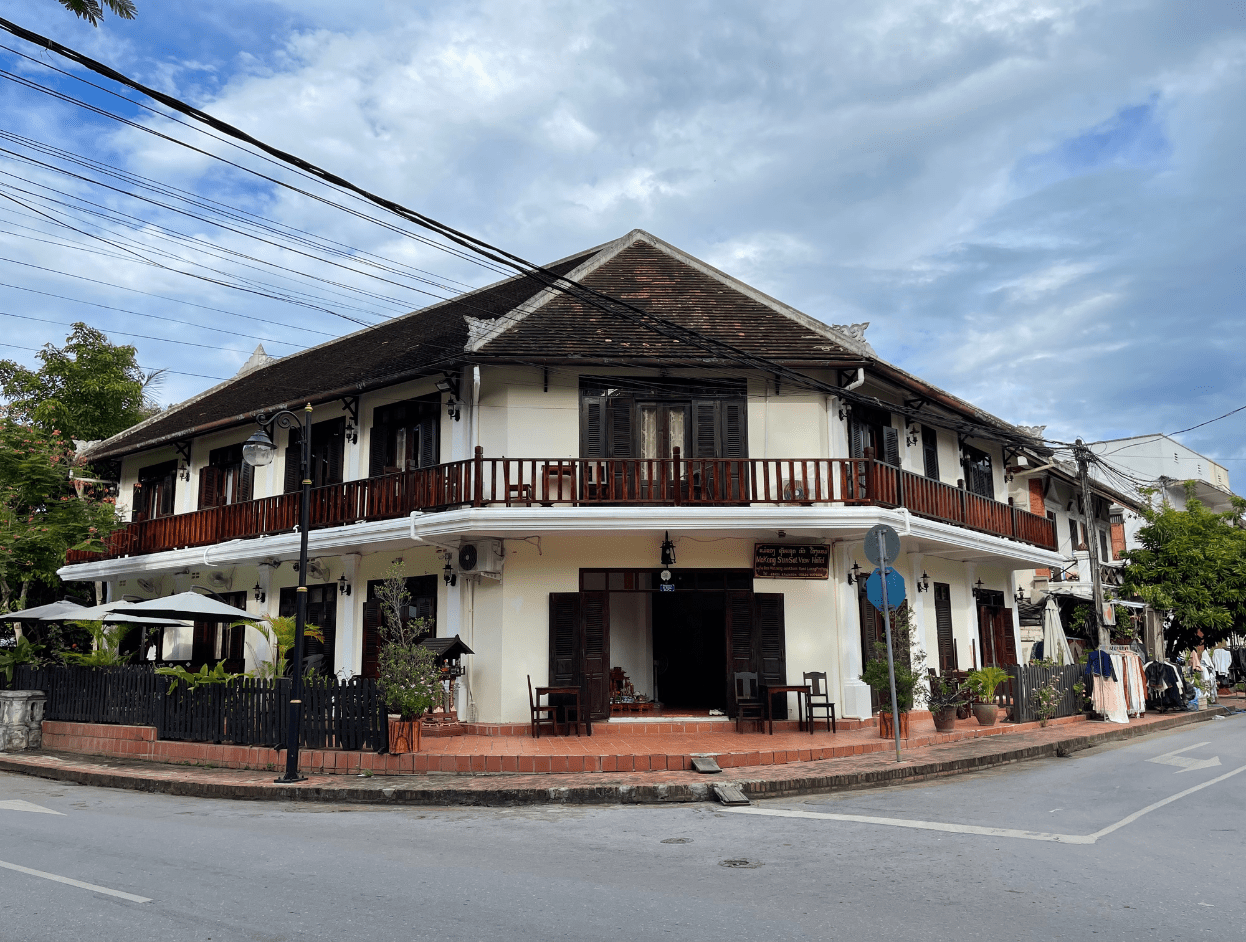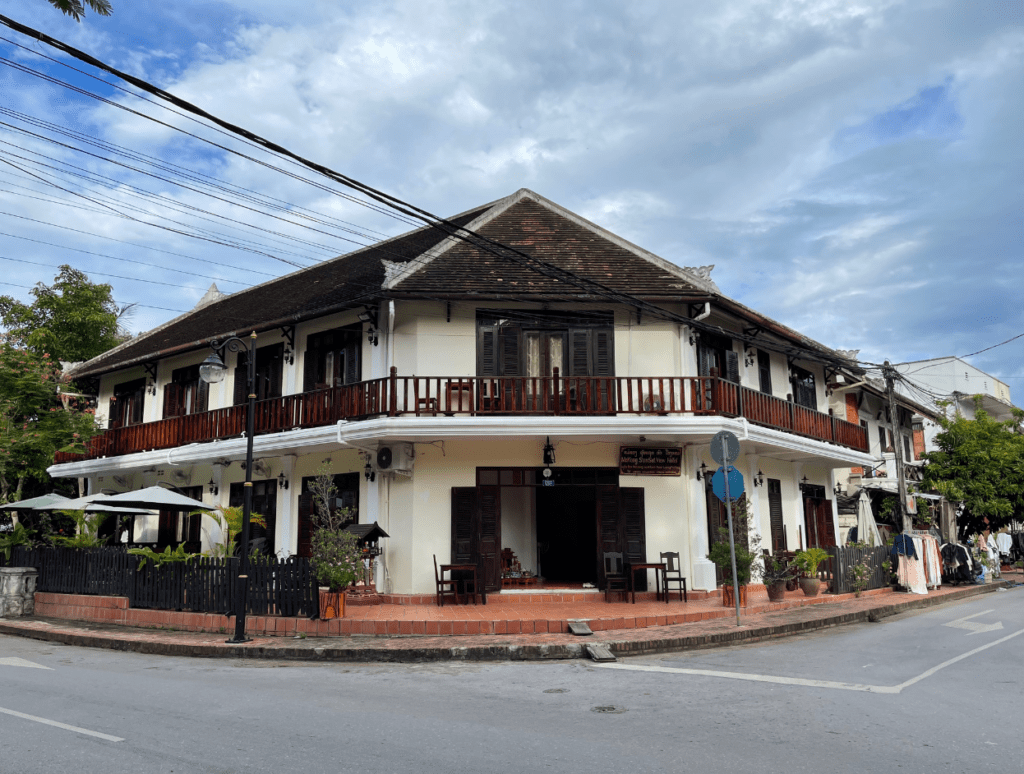 Brief History of Luang Prabang
The history of Luang Prabang dates back to the 6th century. There were several city-states in the northern Laos area that were culturally similar. They were loosely bound politically and religiously when missionaries from Sri Lanka introduced Theravada Buddism in the region.
From the 12th to the 18th century dynastic struggles followed but Luang Prabang remained the capital under the Khmer (the builders of Angkor Wat) sovereignty. The capital was moved to Vientiane in 1560. 
Laos was annexed by the french in the 18th century where Luang Prabang was still the royal residence as well as the royal capital. During world war II, the town was occupied by forces of several countries.
Although in the end, it was declared independent. It remained the royal capital till 1975 until the communist powers from northern Vietnam captured the country and dissolved the monarchy.
Today, Laos is a socialist state, openly endorsing communism. The country is open to foreign tourists and very safe with happy citizens mostly residing in rural communities.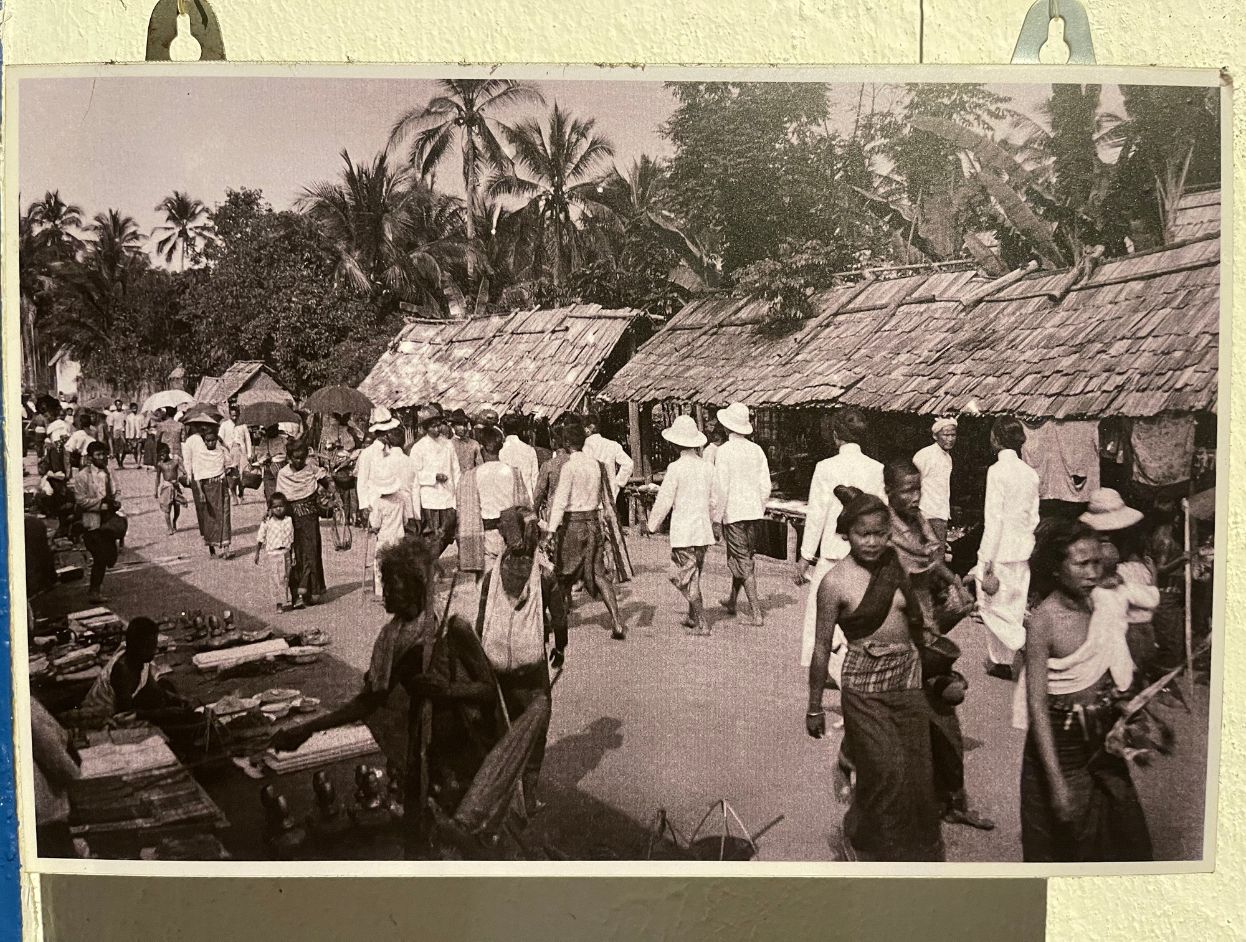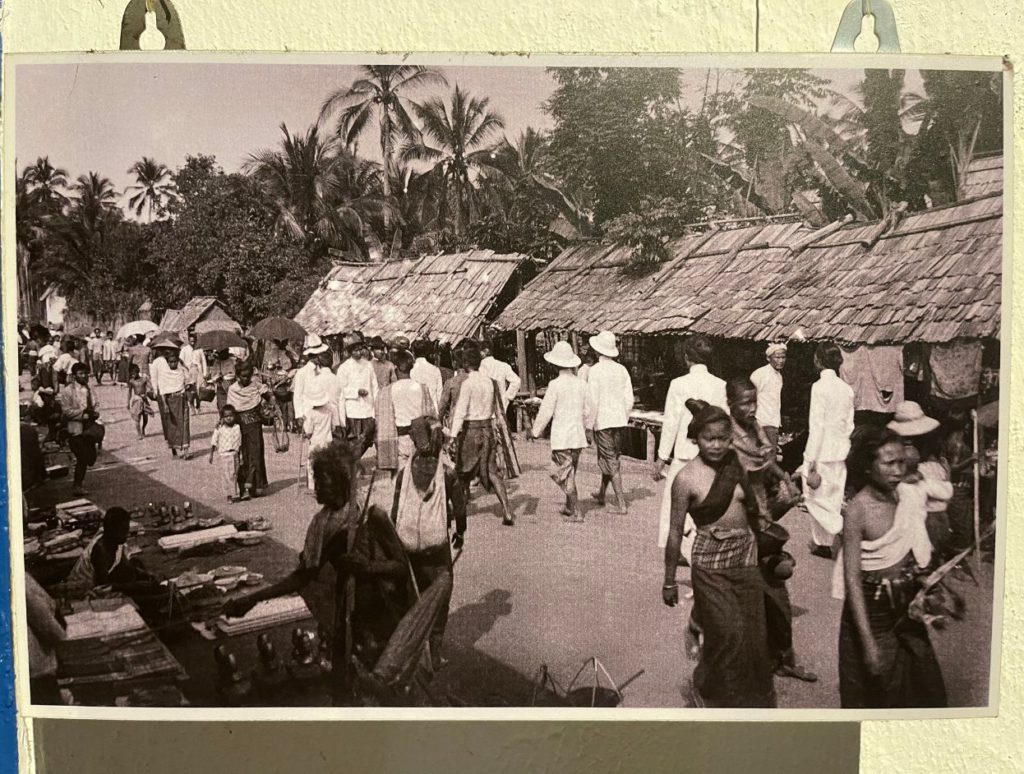 How to reach Luang Prabang
Airways
If you are travelling from abroad, taking a flight to Luang Prabang is a very convenient option. However, you may not able to find a direct flight to Luang Prabang. Instead, you can make a stop at one of the many cities in southeast Asia (like Bangkok, Chiang Mai or Hanoi) and fly from there.
The airport is just around 4km from the city centre. Even if you are staying in the outskirts it won't take you more than 15 mins to make the journey. Shared cabs and private taxis are available at the airport with fixed prices (ranging between USD 3-7). You will have to pay in kip which is the local currency and you can find ATM right outside the airport.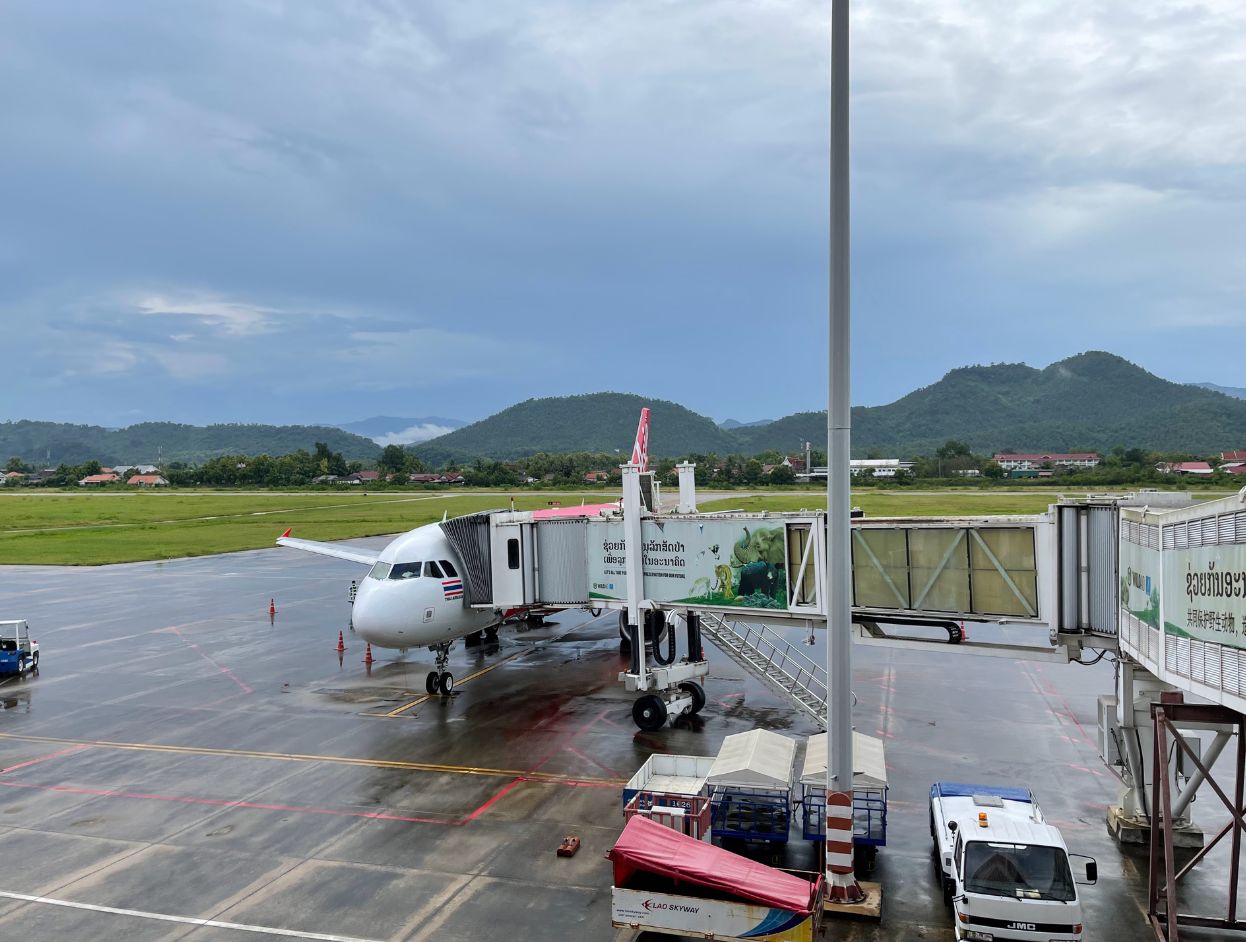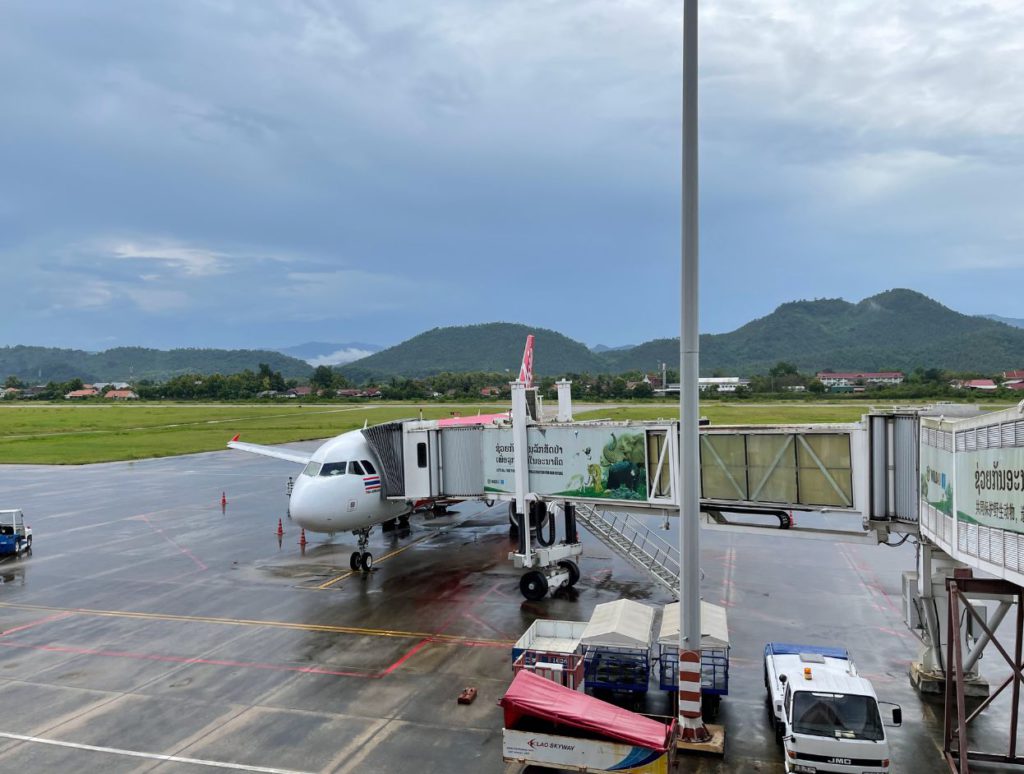 Bus/Minivan
If you are travelling by land, you can look at a bus or minivan. Although minivans are a more convenient option since they are way more frequent and faster than buses. Plus they can pick you up from your hotel. Getting a minivan is more or less guaranteed. But they are definitely more congested.
Buses leave Vientiane or Vang Vieng at fixed times. You can find the time at the bus station at Vang Vieng or Vientiane. Bus availability tends to change depending on the demand since very few Lao people travel the route. Make sure you check the schedule a day before. The tickets get sold out during the weekends very fast.
To book a minivan, you can head to the minivan station/stop in that city. These can be public stops or are sometimes privately owned by a company. Soutchai is a travel agency operating several runs on the Vientiane-Vang Vieng-Luang Prabang route. Look for their offices.
An easier way to book these is to check with your hotel which can make a booking on your behalf. There are several local tour operators too in each city who can book a seat for you. They usually charge a nominal amount (like 20,000kip) on top of the ticket price. Check with at least 2-3 operators to bargain a good deal.
If you are looking for more information on this, check out our blog on How to travel inside Laos.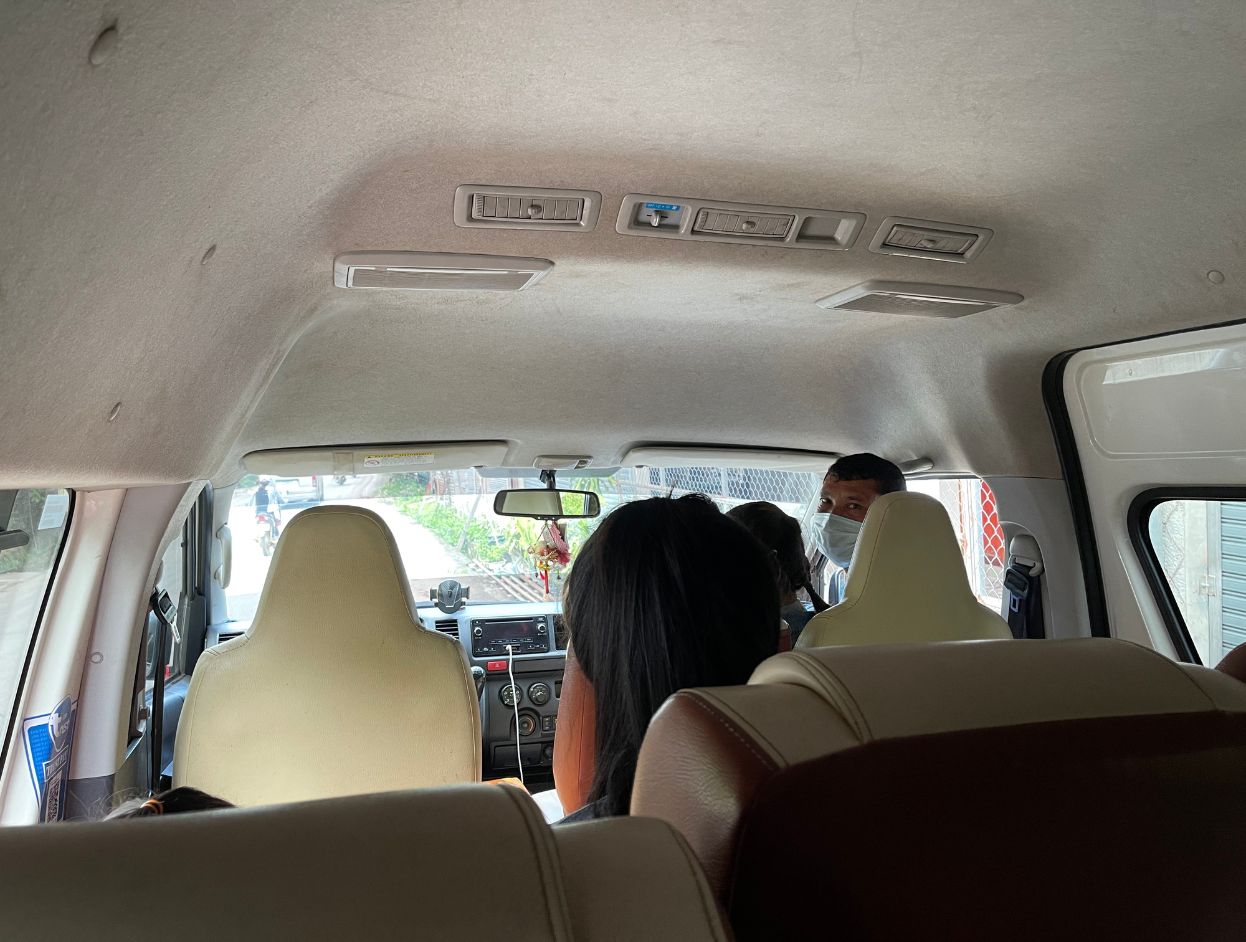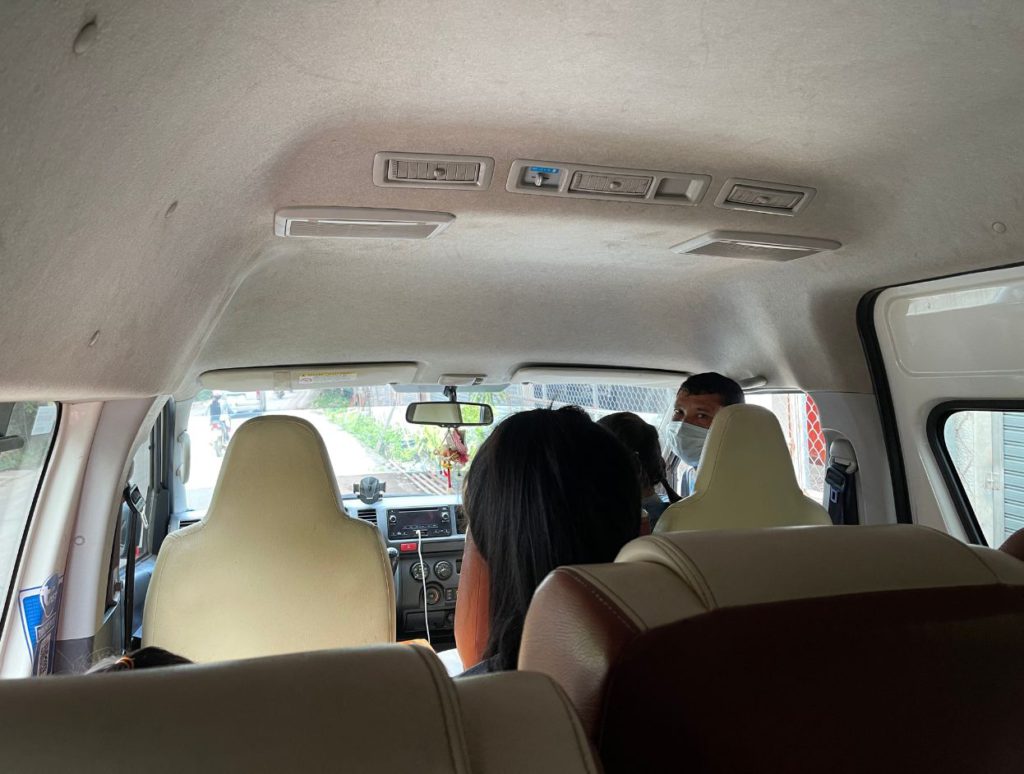 Hi-Speed Train
This must be a shocker for a lot of people. But dig deeper and you will find a multi-million dollar investment project from China that runs all the way from Kunming to Vientiane. The high-speed railway is a state-of-the-art facility that has brought a lot of respite to tourists in Laos.
While the tickets for the railways are not extremely pricey, there are a few downsides. Most of the railway stations are located way outside the city. The one in Luang Prabang is located 15 km away. But there is usually some sort of transportation available like tuk tuk or songthaew in the city and at the station. 
Another major downside is that you cannot book the tickets online yet (it's 2022). You have to go through a rather painful process to get a ticket. You either need to go all the way to the railway station or get one via an agent(choose this way).
Also, it is really hard to get a ticket. The demand during the weekends skyrockets. So you have more chances to get a ticket during the weekdays. 
Nevertheless, the travel time between Vang Vieng and Vientiane by road is really long and can take as long as 6 hours. The high-speed railway cuts it to 2 hours. So this is a much better option. Try and get your hands on the ticket a couple of days in advance.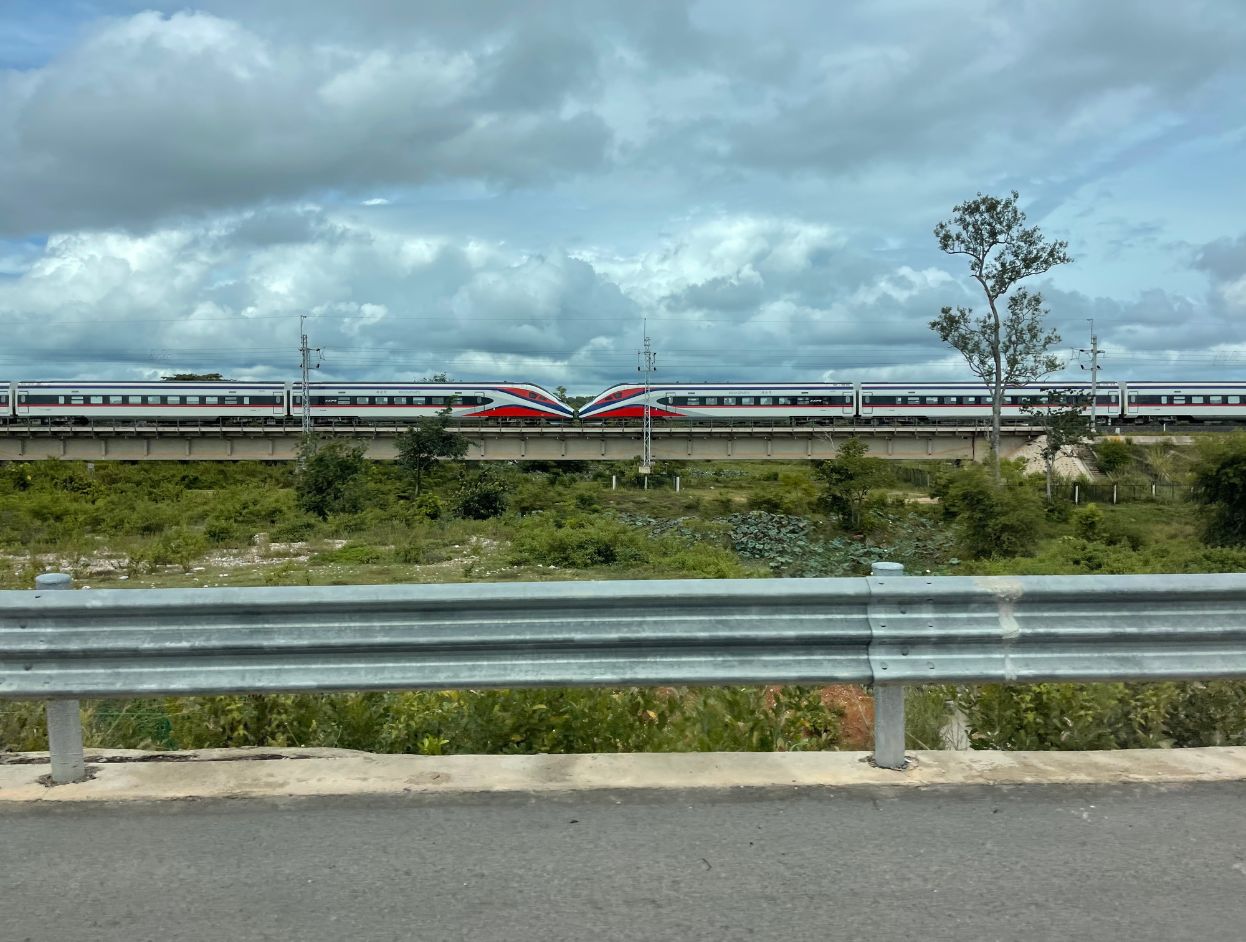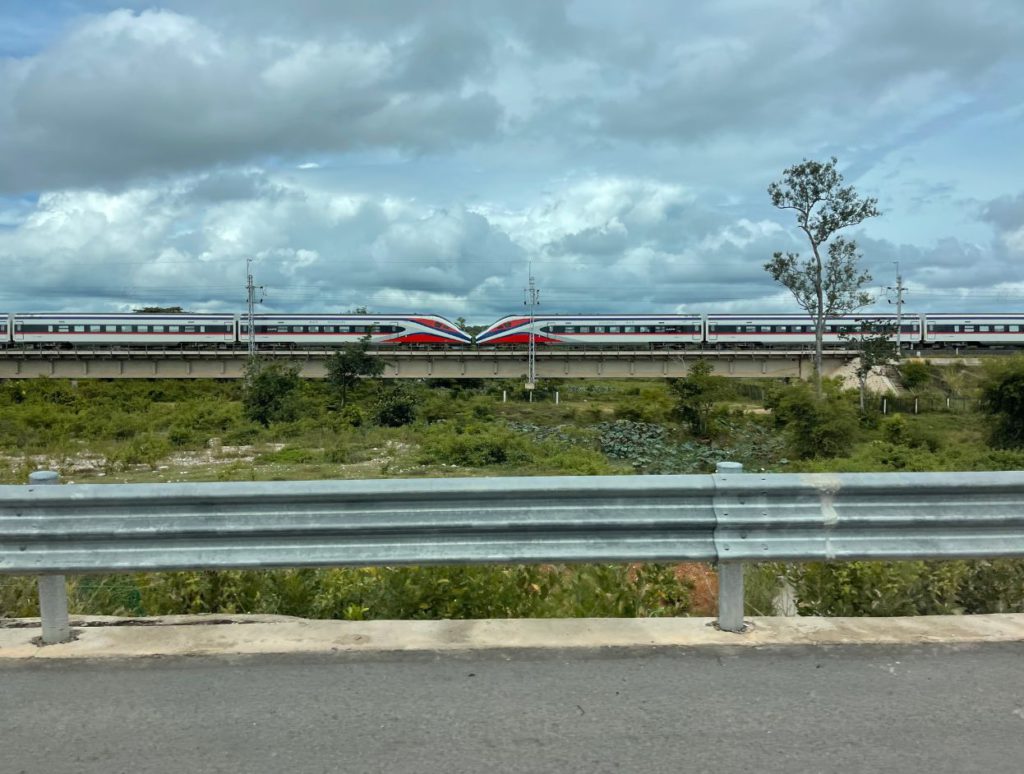 Slow Boat
The slow boat is a wonderful, scenic way of travelling through most of rural Laos to reach Luang Prabang by Thailand on a boat. Since the journey can take between 2-3 days, it is usually preferred by slow travellers. You can opt from a basic boat that has only seating to the most luxurious houseboats. The basic ones stop at a village on the way for a night's stay at a hotel.
To take the boat, you need to travel all the way to Chiang Rai. From Chiang Rai, you can take a local bus to Chiang Khong that will drop you in the city. From there take a tuk-tuk to cross the border at Thai-Lao friendship bridge no. 4 and cross immigration to Huay Xi province. And from there you can take your boat to Luang Prabang.
You should definitely book your boat ahead of time. While some tour operators in Chiang Rai can do this for you, you can also book one online. Worst case, you head up to Huay Xi and get a hotel guy to book one for you the next day, but you may have to spend the day there.  
The cheapest one costs USD 25 (that includes the night's stay) and increases depending upon what kind of facilities you want. It is definitely an experience of a lifetime. You need to get your own food.
More information
You can also check out our article on How to reach Luang Prabang specifically from Vang Vieng, Vientiane and other places. But I have already shared the most important information here.
How to go around Luang Prabang
Now that you have all the options to reach Luang Prabang, let's see how to get around inside the city.
Explore on foot
I think it's a fantastic way to explore Luang Prabang. The main part of the town is small enough that you can cover it on foot at leisure. This would cover the markets, the restaurants, heritage homes or museums, Phousi hill, most of the famous temples and a few more. 
So even if you don't decide to get a vehicle, it should be fine. But in that case, staying in the middle of the city will benefit you more.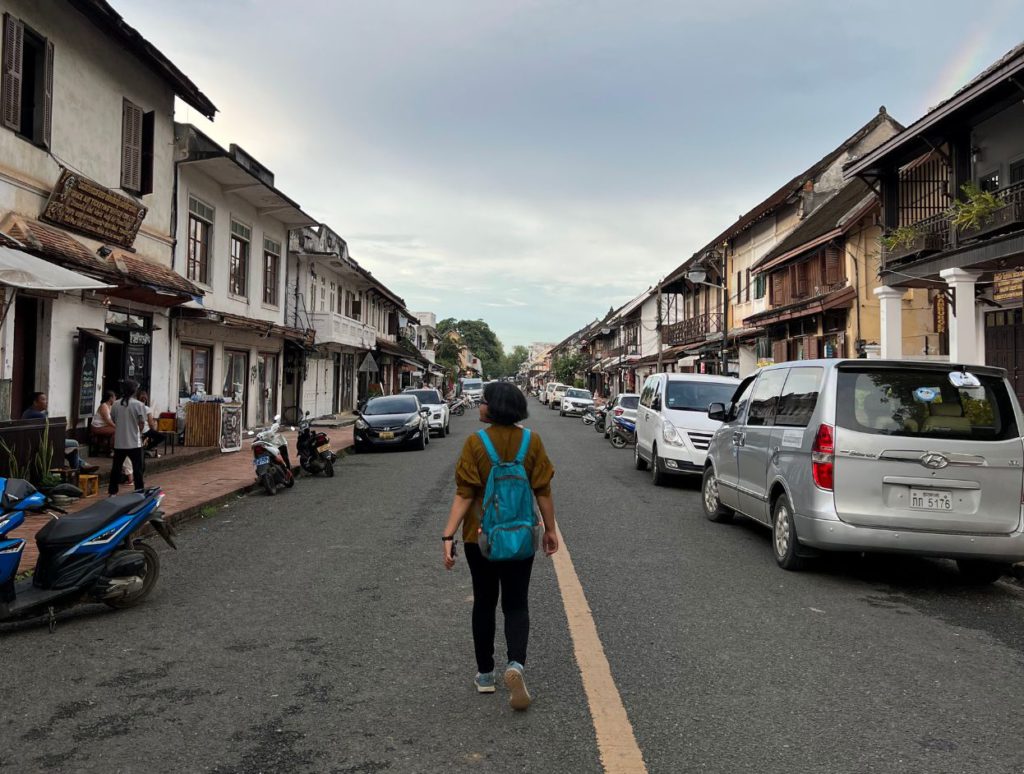 Scooter or bicycle
If you want more movement, you can always look to rent a bicycle or a scooter inside the town. You can cover a larger part of the town with a bicycle. Maybe a few kilometres around it. But to go to places like the Kuang Si waterfalls, you will still need a scooter or public transportation.
Scooter is also available inside the town.  While there are a few rental shops in the area, the ones on google maps seemed to close down during the pandemic. The easiest way to get both a bicycle and a scooter is to ask your hotel for one. They will either lend you theirs or connect you with someone who will.
A day's rent for a scooter is around 100,000Kip excluding the fuel. The fuel station is just a few kilometres west of the town. You will also get helmets with the scooter although don't expect too much out of them.
A lot of roads inside the city are designated one way, and even more, are converted at night as other roads are occupied by the night market. Although if you drive the other way carefully, nobody really minds.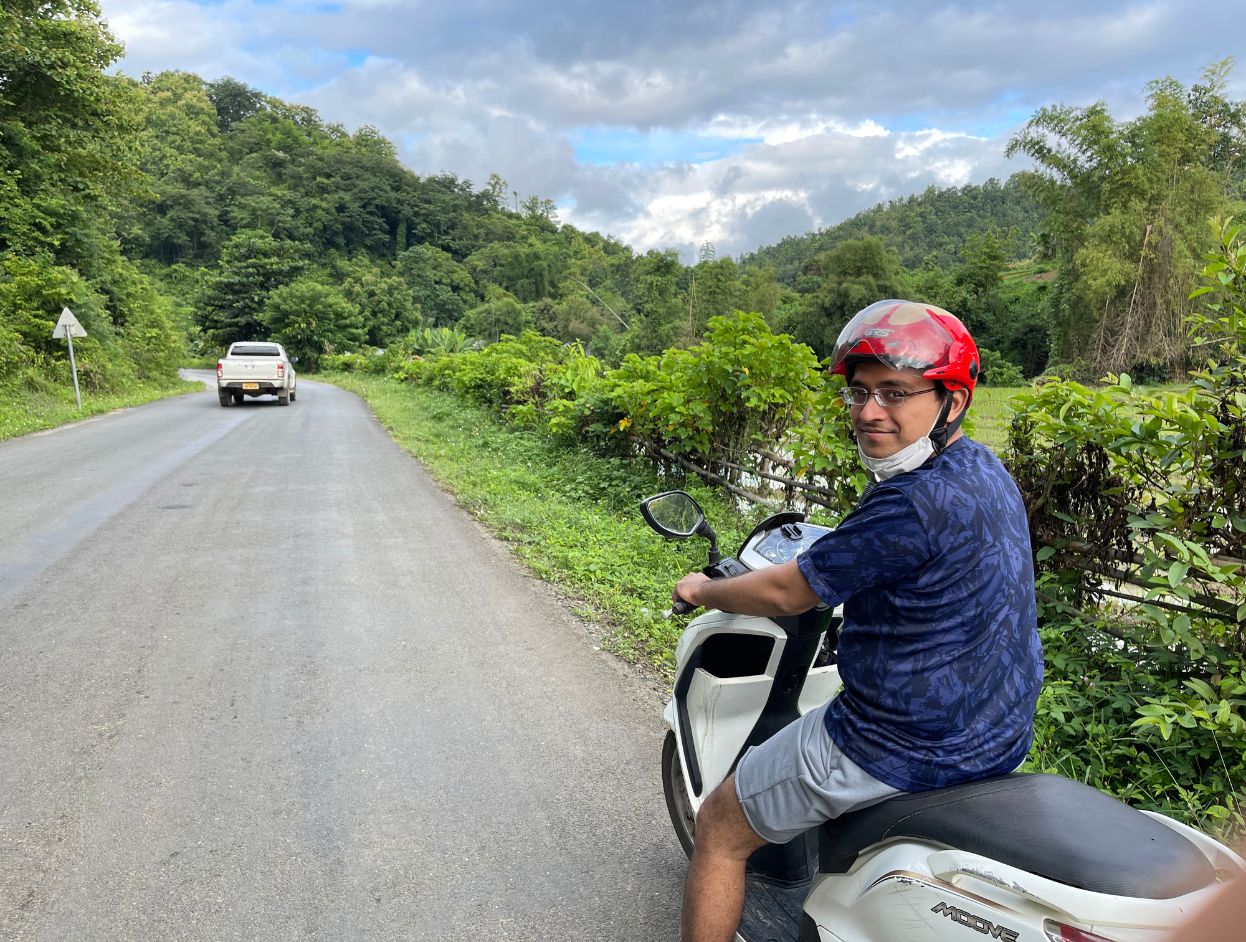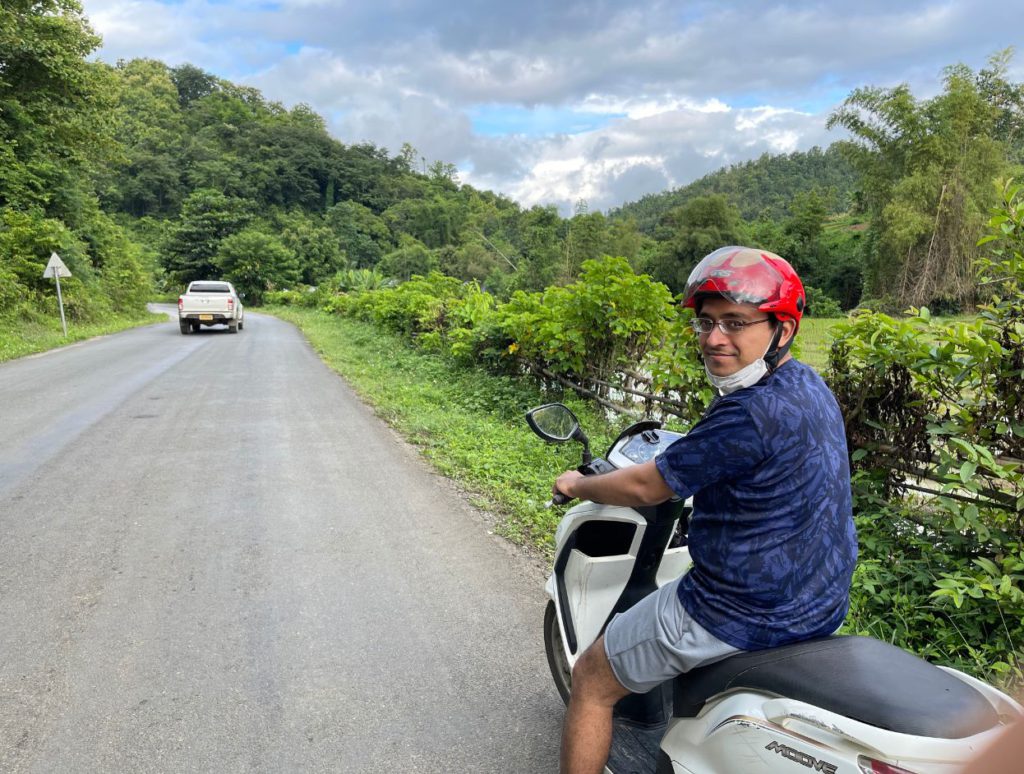 Tuk Tuk or Songthaew
To travel to some places outside the town like famous waterfalls (Kuang Si, Tad Thong, Tad Sae) or Pak Ou caves, you can take a private tuk-tuk or a songthaew from Luang Prabang. You will find these parked in the centre of the city, somewhere near the Royal Palace.
A songthaew to Kuang Si waterfall or Pak Ou Caves charges 400,000kip for a return journey to either one of these places. The songthaew charges 600,000kip if you want to do both of these places in one day and will probably take the full day. 
You can also take a songthaew to the railway station or bus station by taking their phone number in advance and booking them.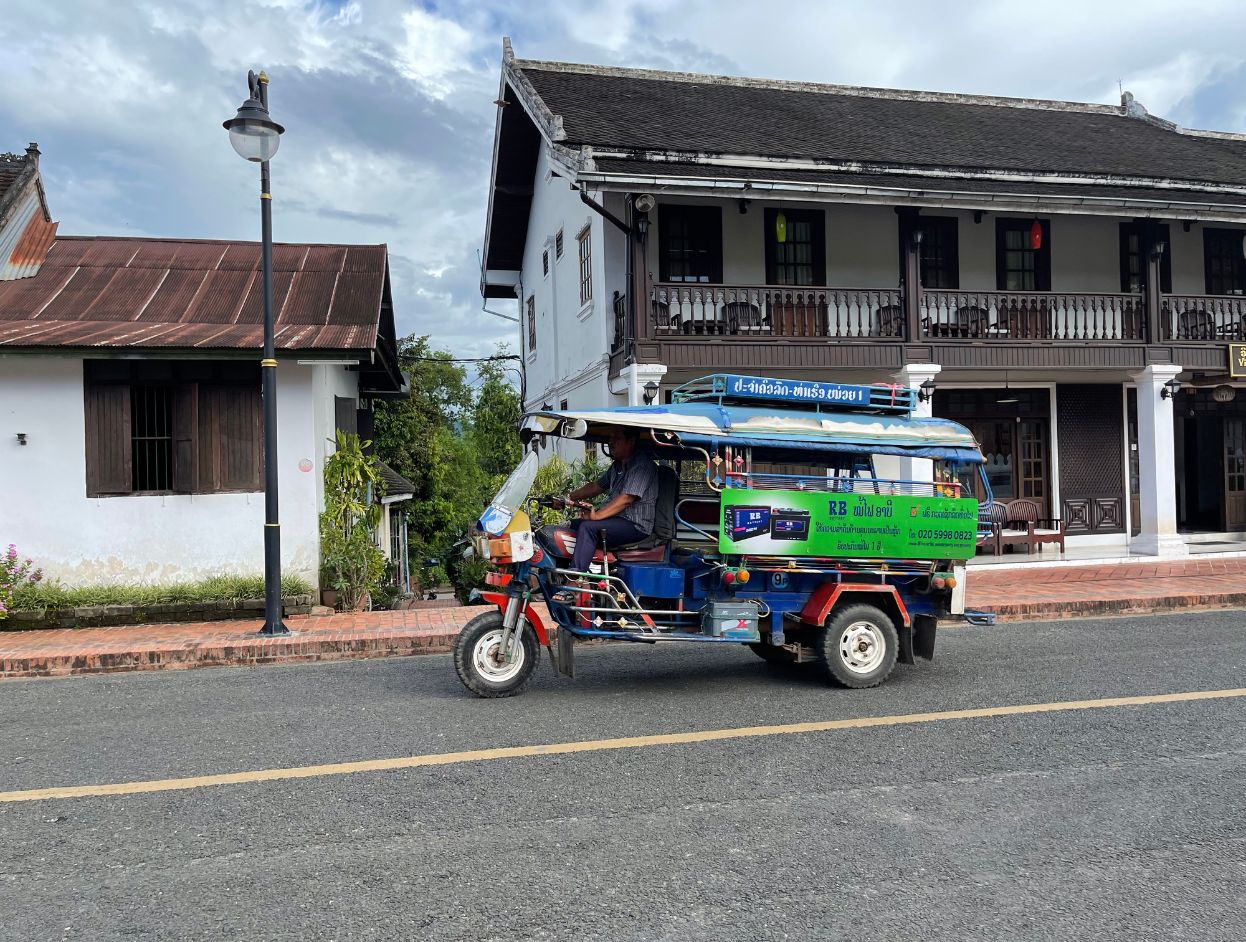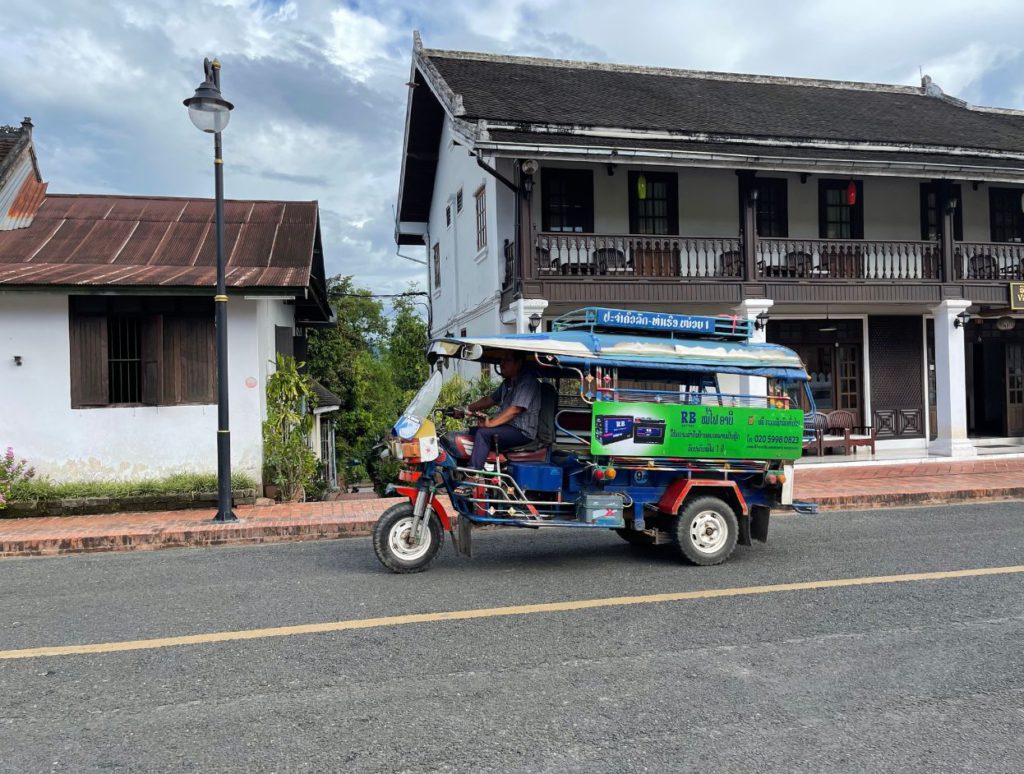 Where to Stay in Luang Prabang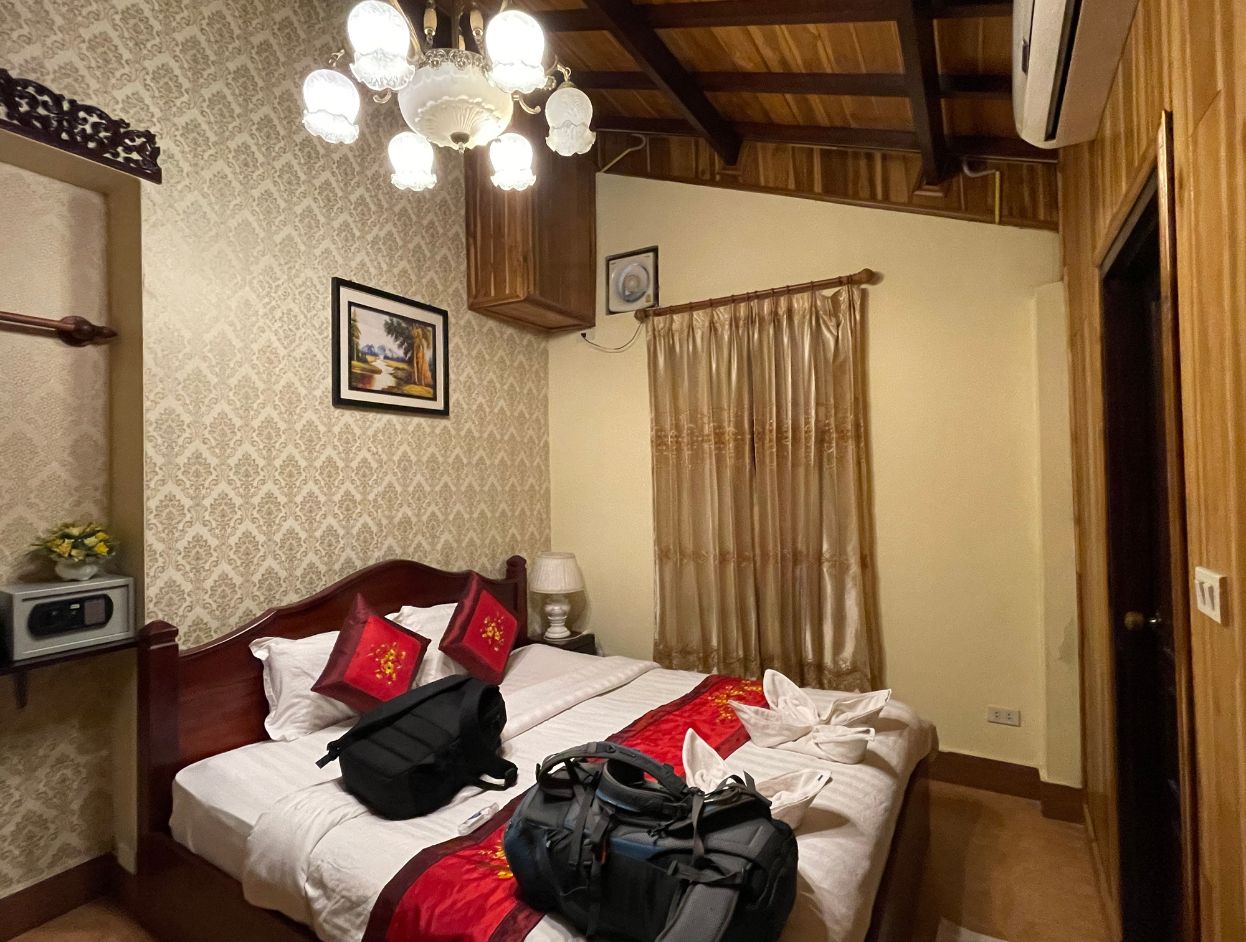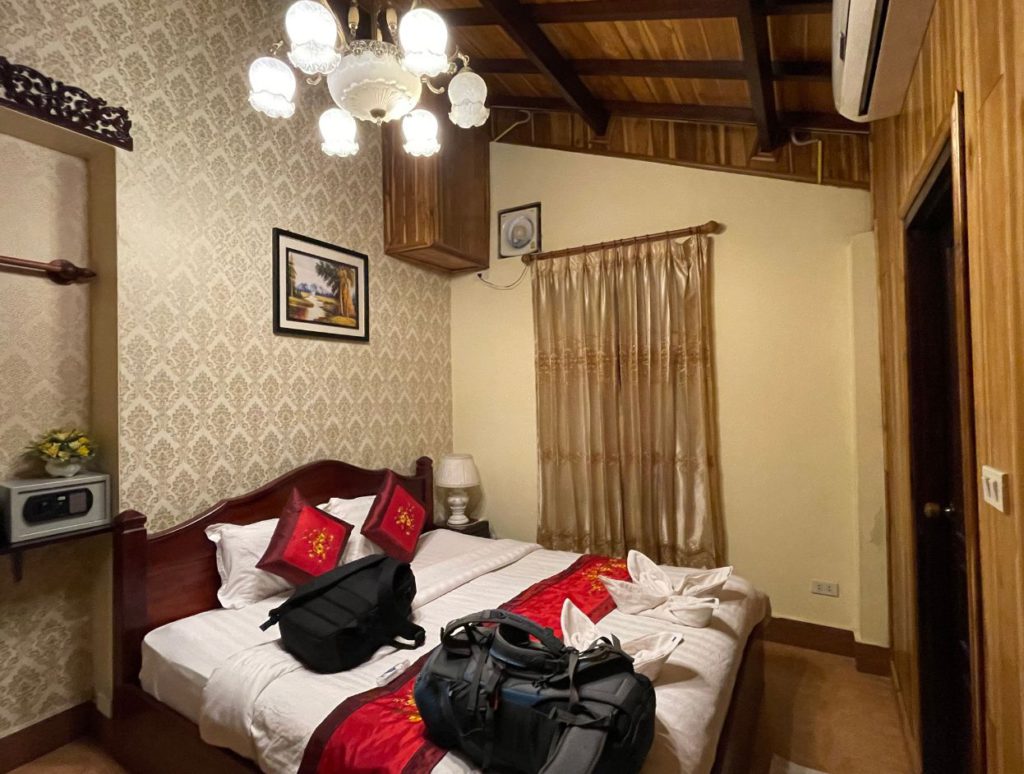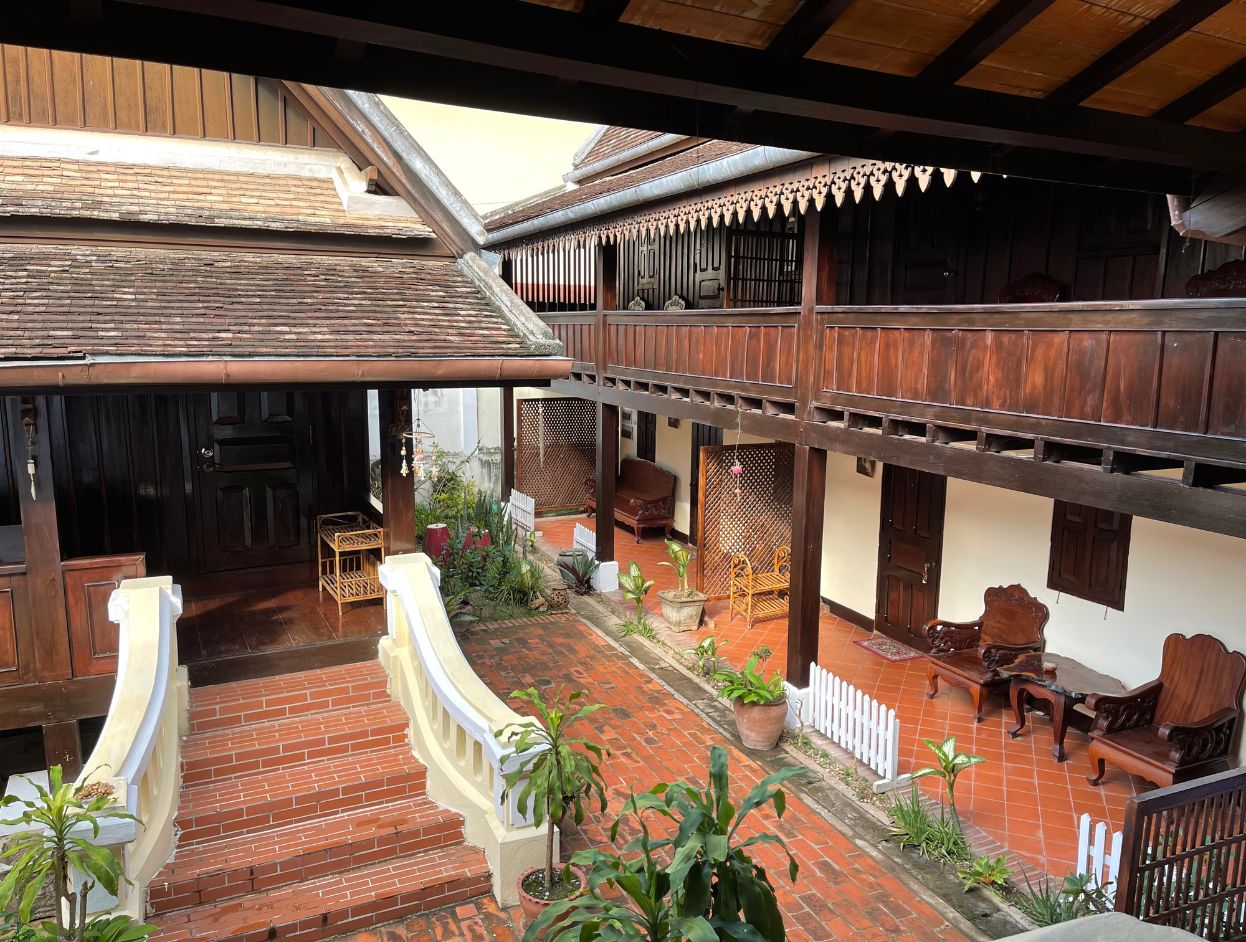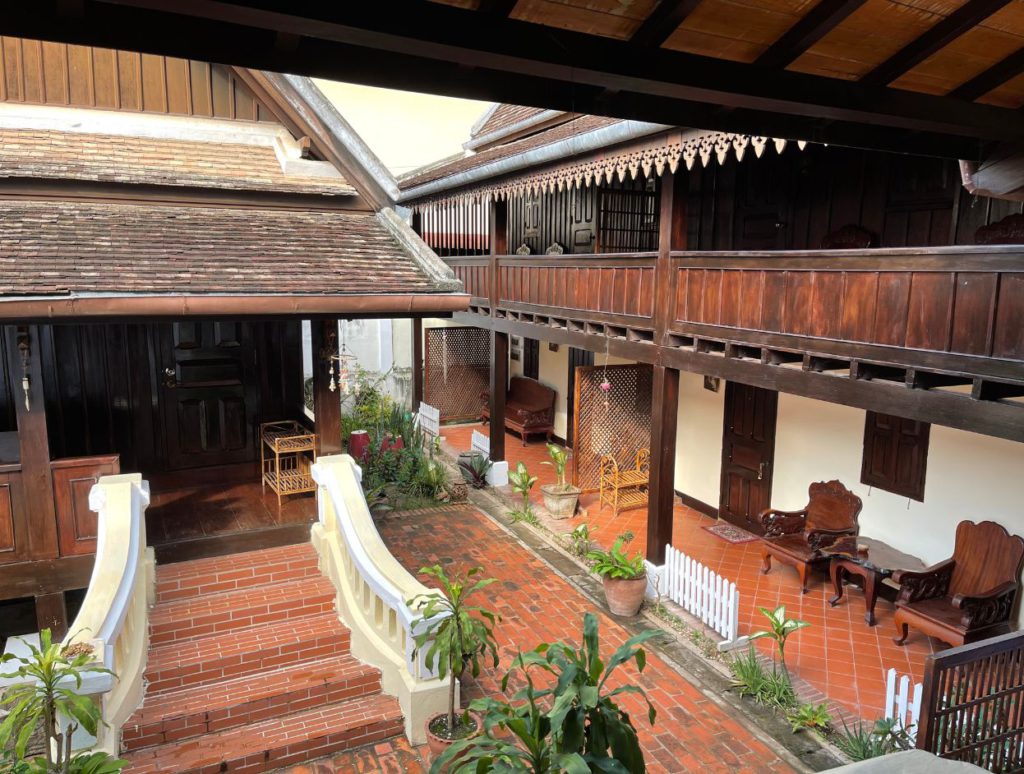 Things to do in Luang Prabang
Phousi Hill
It is just strange to see a hill located right in the middle of Luang Prabang town. Or maybe the town sprung up around it. I don't know. But right opposite the Royal Palace, you can find the stairway to Phousi Hill. Or you can just follow the people in the area, around 5 pm in the evening. Everyone is heading there.
The legend of Phousi Hill goes back all the way to Ramakein (or Ramayana). People believe that it was Hanuman who placed this hill here from Ceylon (present-day Sri Lanka). Why? I wasn't able to find that out. But it is extremely sacred to the Lao people.
The hill is at a height of 100m and the climb takes around 15 minutes. It gets exhausting in the middle, but nothing too difficult. The view from the top is fabulous. You get a 360-degree view of the complete town all the way to the other side of the Mekong river. 
The evening is the best time to go and it is one of the best places to see the sunset in the cool hours. While you can find the place a little crowded, it is just fun to watch the local people enjoying the evening.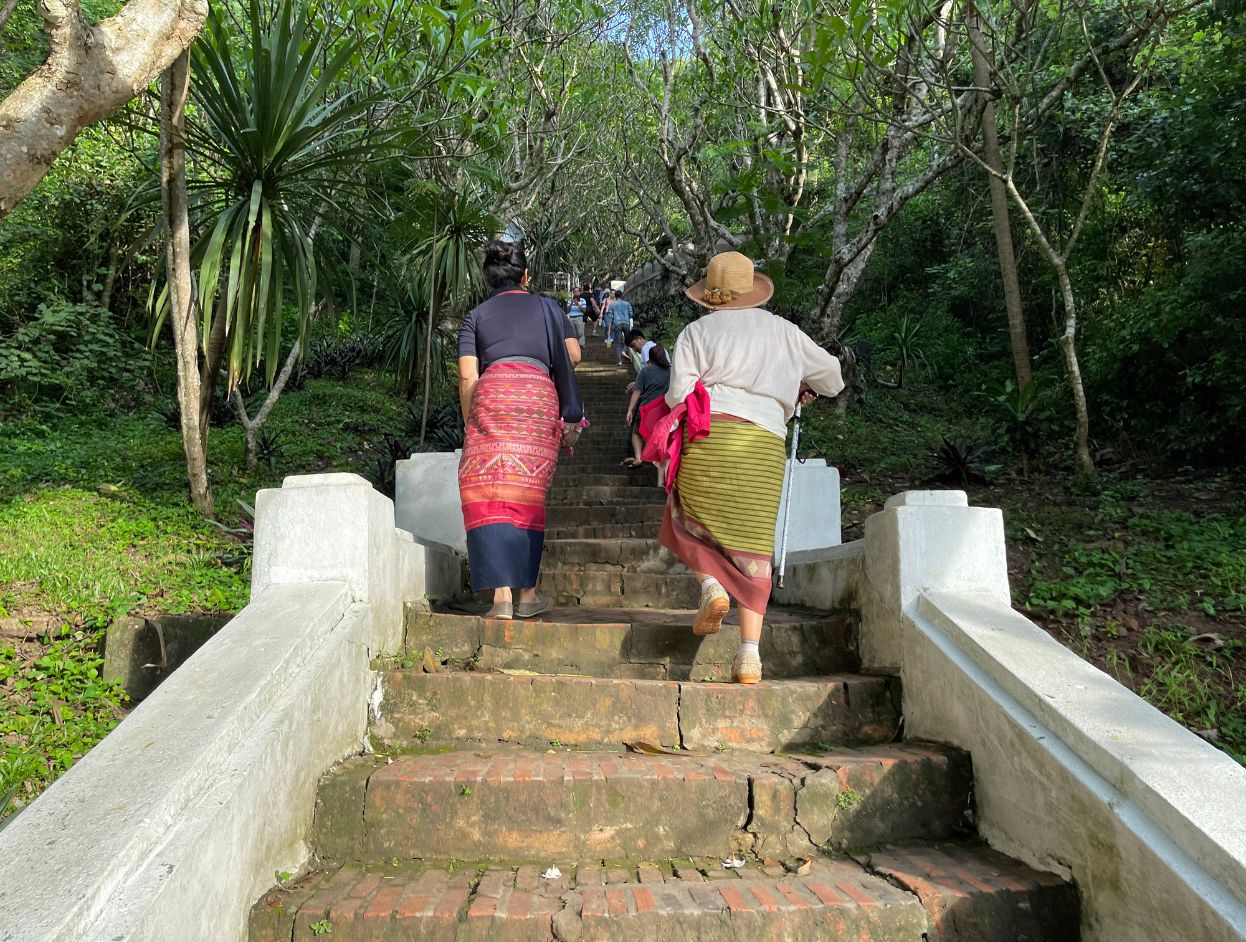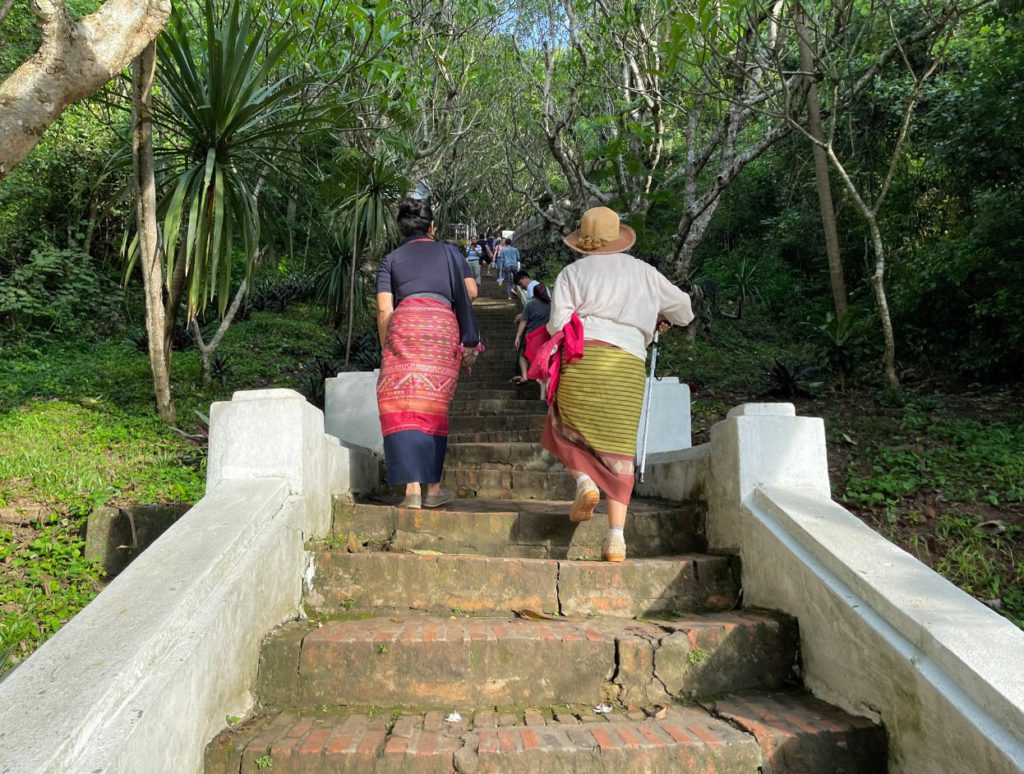 Royal Palace
I have to say, it is not how it sounds like. The royal palace is located in the centre of the city but is much smaller than the likes of the Royal Palaces in Thailand or even Cambodia. It is now called the National Museum. Nevertheless, it has important artefacts from Lao history and you will like it if you are interested in history and culture.
The building itself has influences from french architecture. You will find artefacts and items from the royal family mostly in the form of furniture, regalia, religious objects and diplomatic gifts. There is a small car collection from the previous king as well. 
The theatre here also hosts some cultural activities from time to time. If you can attend any featuring the traditional Lao dance and the khon performance, I think it would really make your visit worthwhile.
The palace has a very strict dress code. You must cover your shoulders and legs before entering. You can always rent a Lao dress just outside the premises. No bags are allowed inside, instead, you can keep that in a locker. You cannot take any photographs inside as well.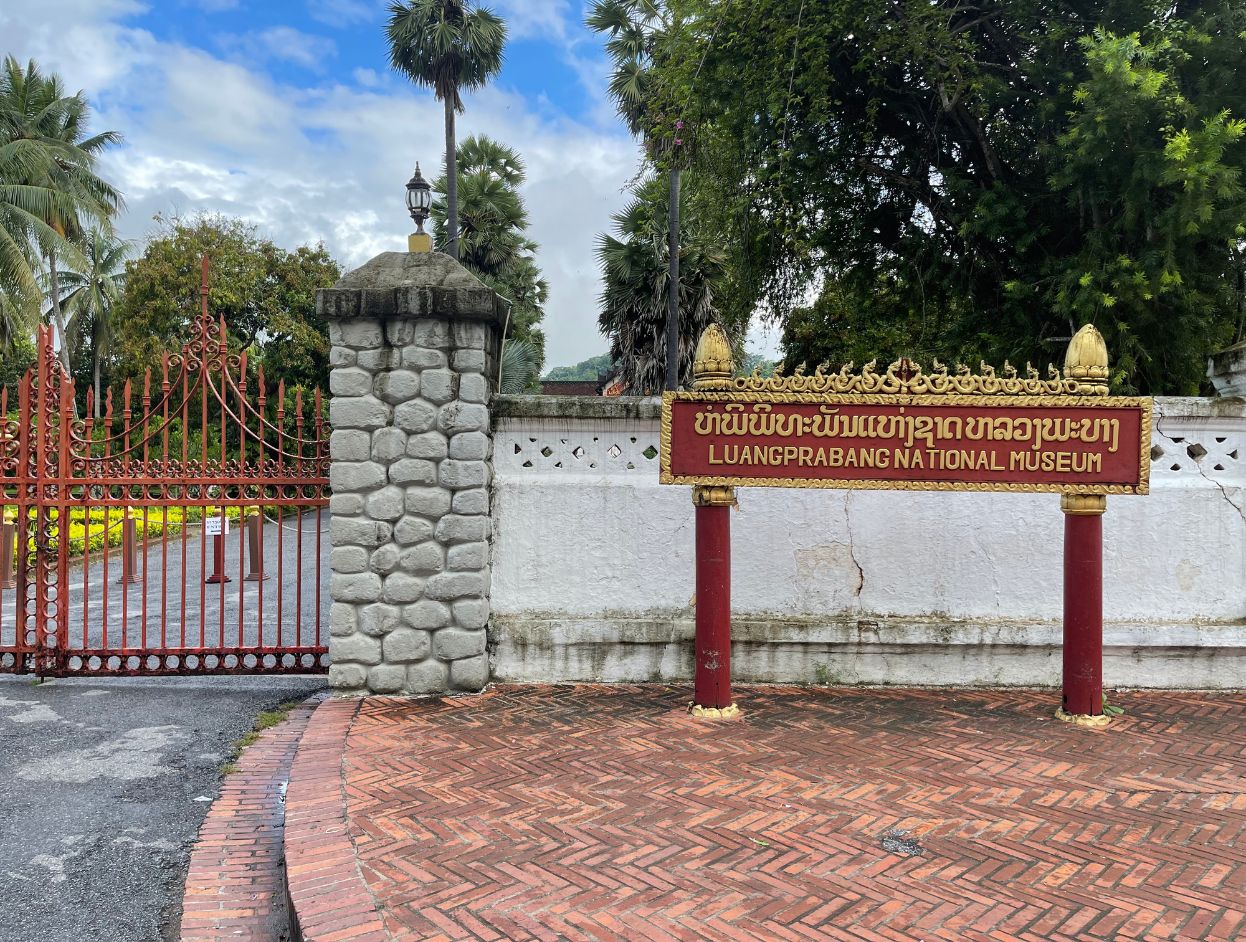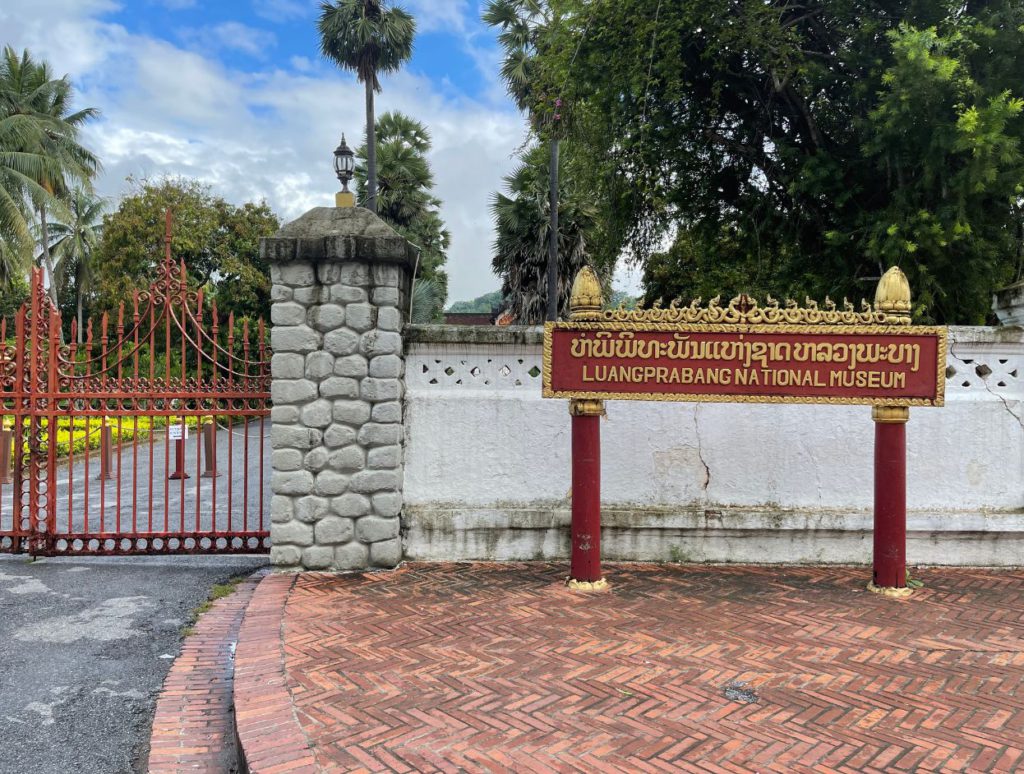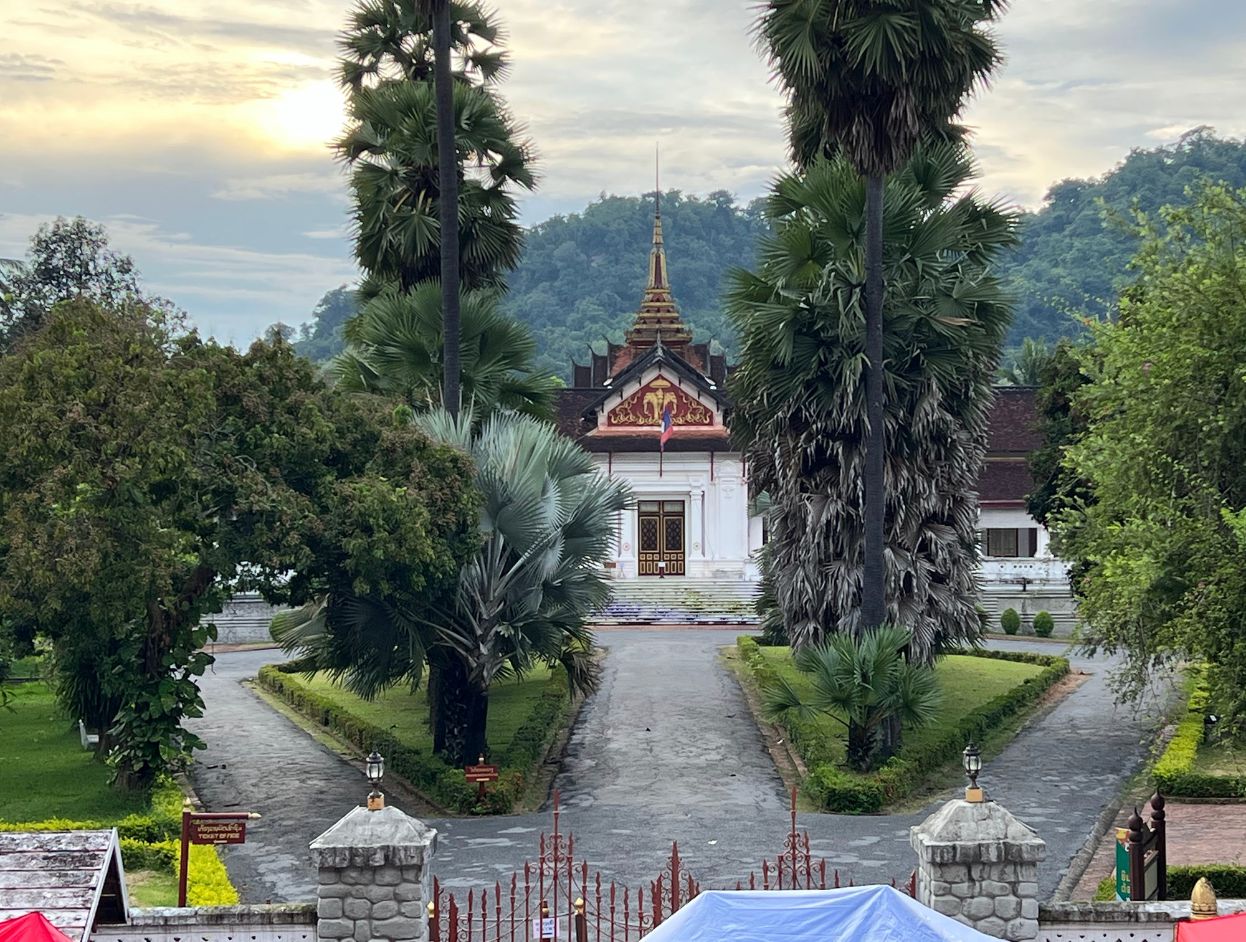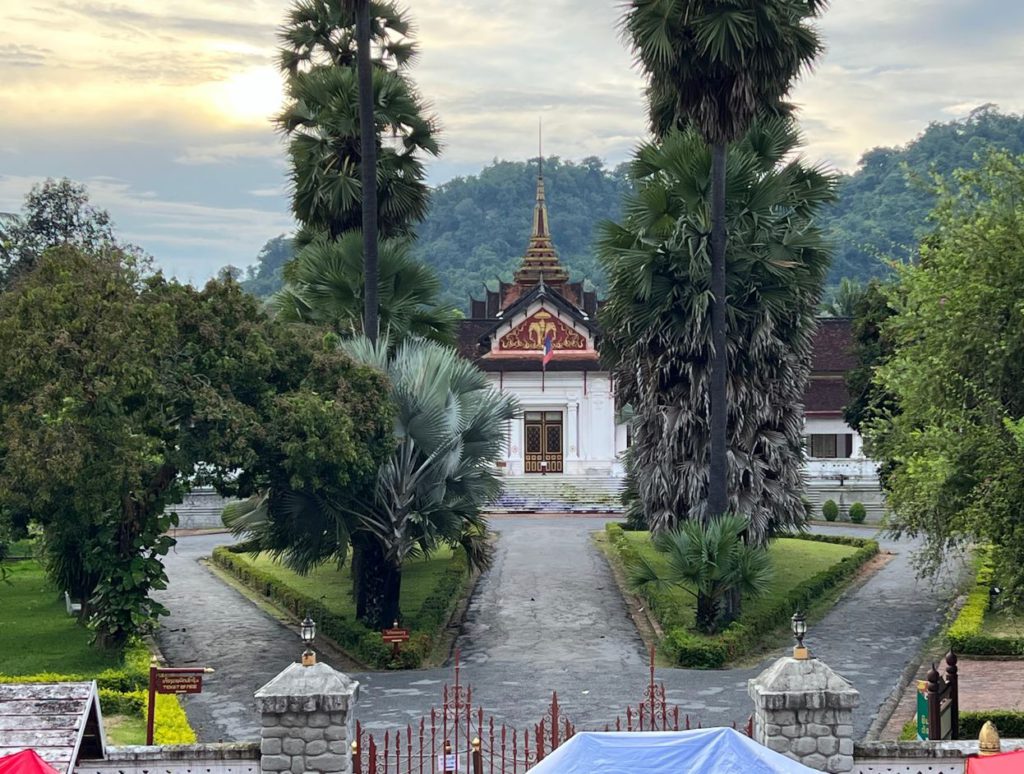 Temples of Luang Prabang
Temples are an important part of the identity of the Lao nation. In the evening, you will find a lot of locals wandering and paying respect inside the temples. The architectural style is very similar to that of northern Thailand. You must visit a few, even if it's just to admire the building. Here are a few important ones in Luang Prabang.
Haw Pha Bang
Haw Pha Bang temple lies inside the royal palace premise. It is home to the palladium of Laos (a sacred artefact on which the safety of a nation depends) which is a statue of a standing Buddha with palms upwards.
As per the folklore, the statue originates from Sri Lanka between the 1st and 9th centuries. However, the features of the buddha resemble those from the Khmer empire much later.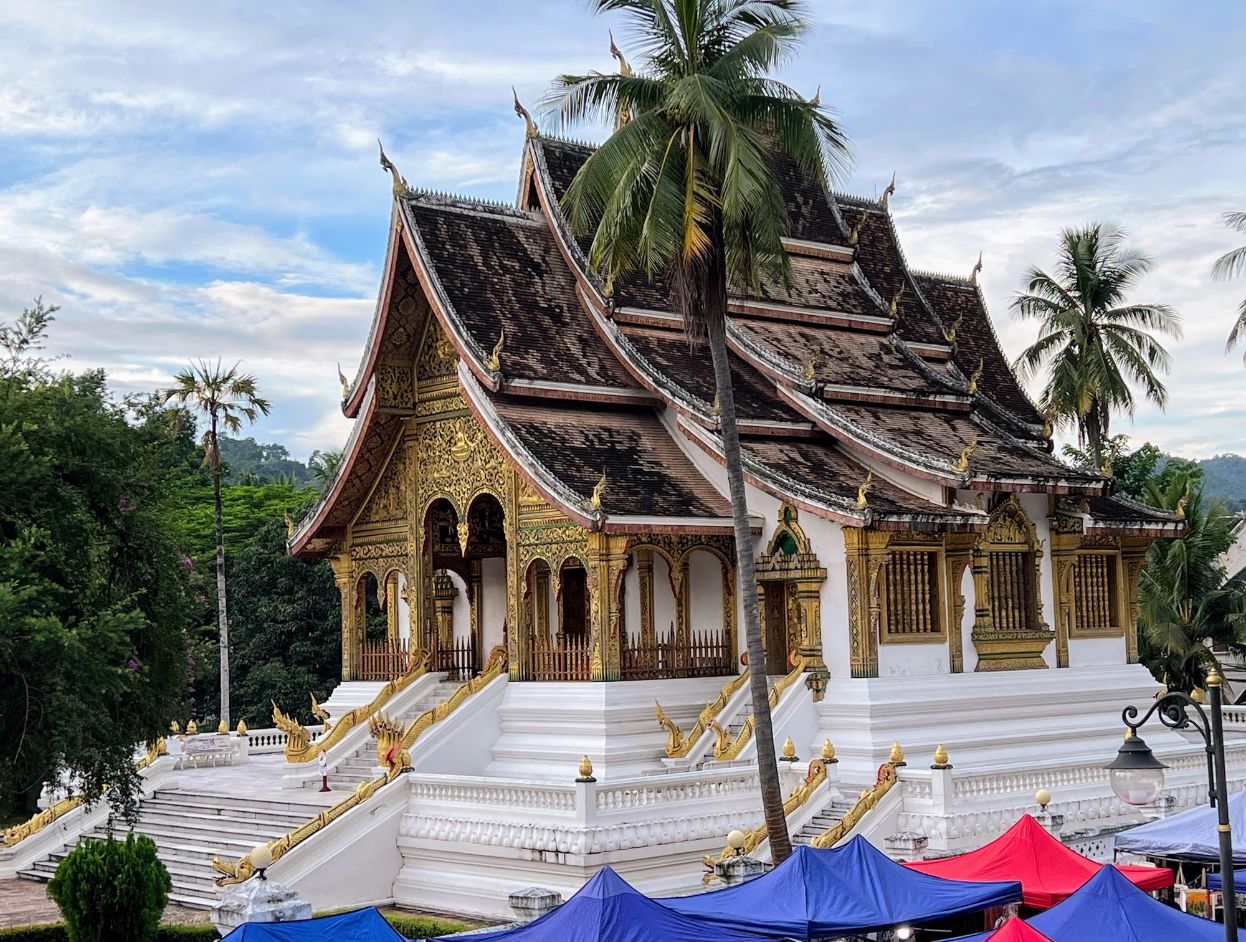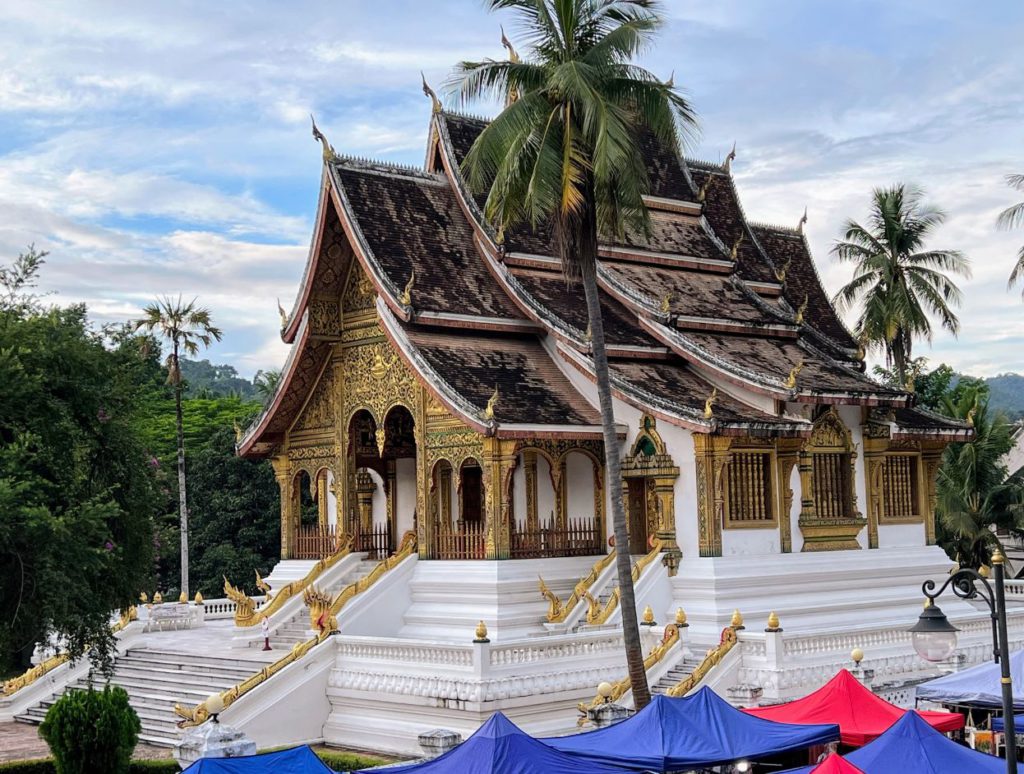 Wat Xiengthong
Wat Xieng Tong was built in the 16th century. It was a royal temple, extremely important to the royal family. It is where the kings were crowned, monks worship, a home for important Buddhist relics, a space for religious festivals and important events, and a library of ancient scriptures. Even today you can find royal artefacts inside one of the buildings.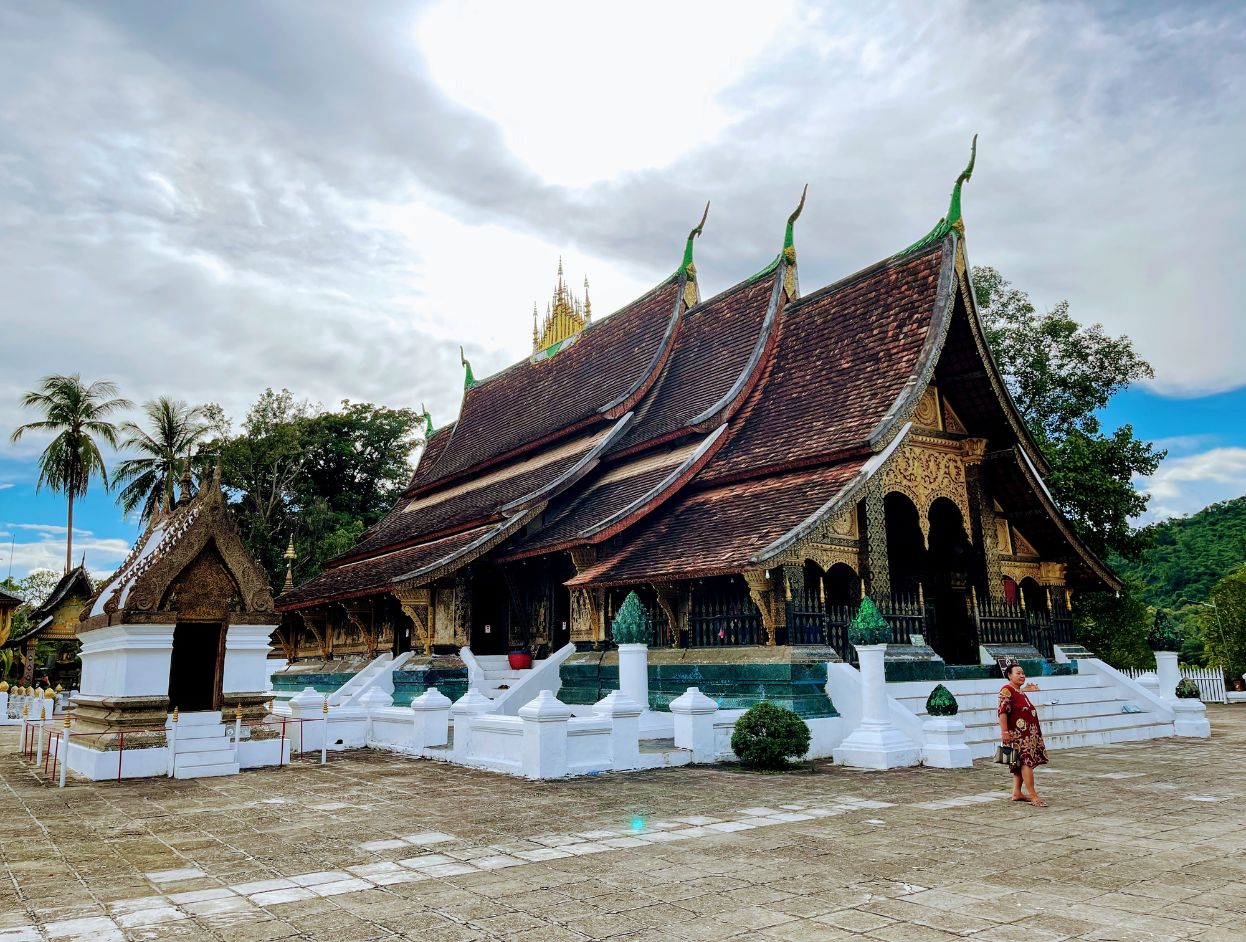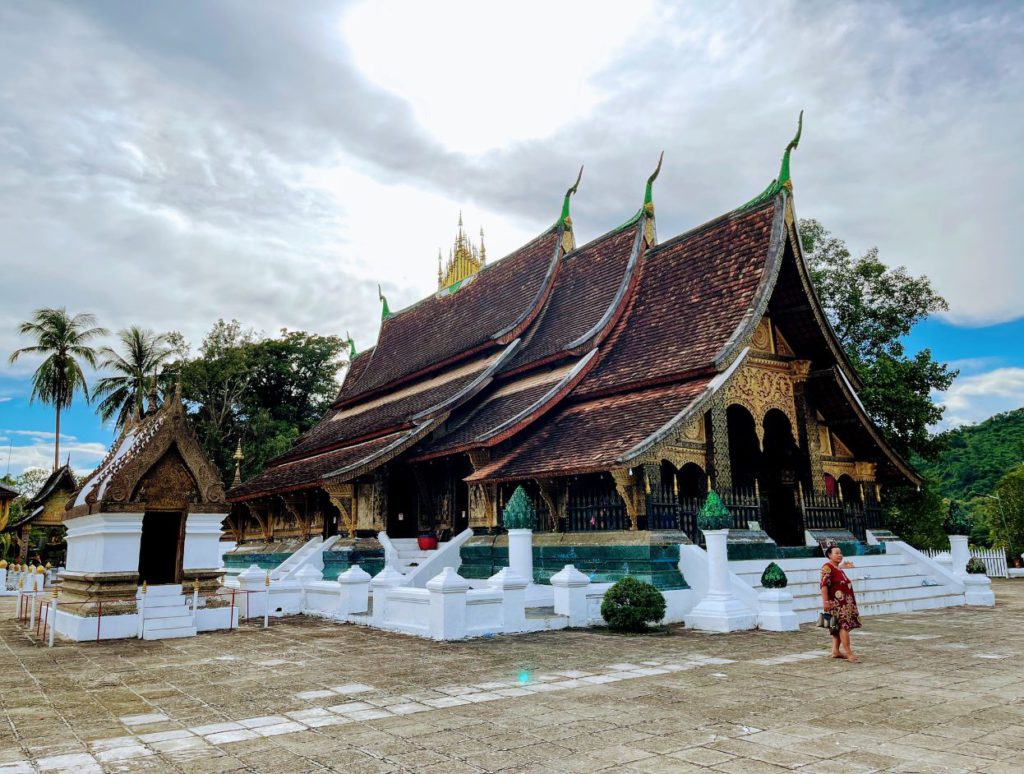 Wat May Souvannapoumaram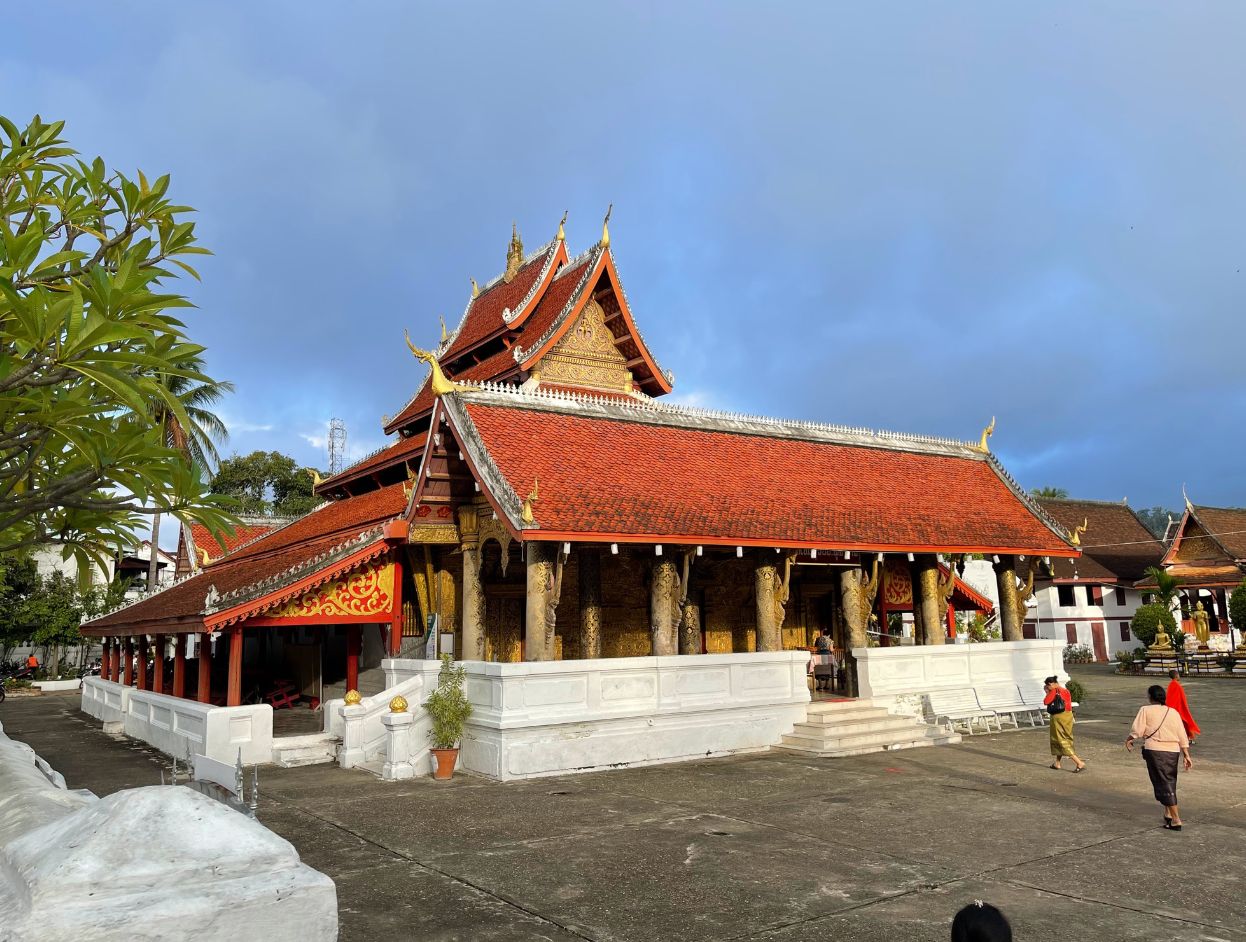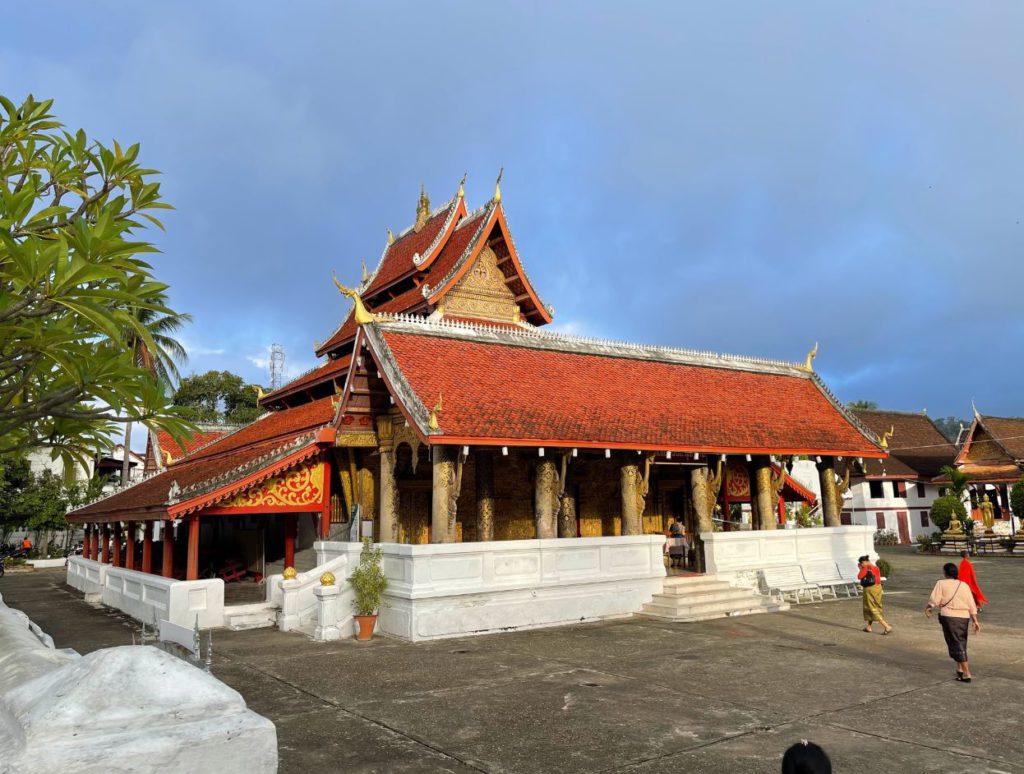 Wat Manorom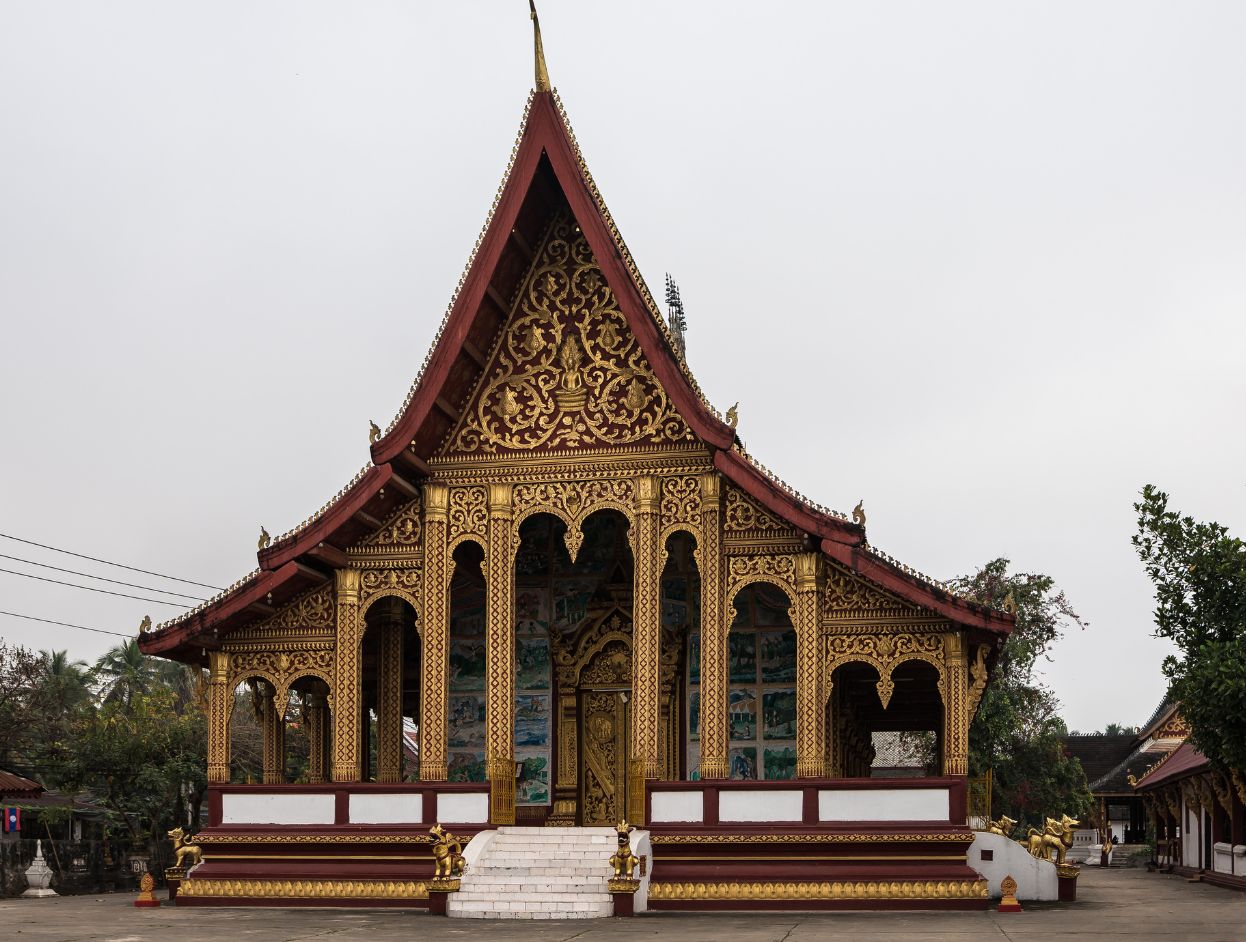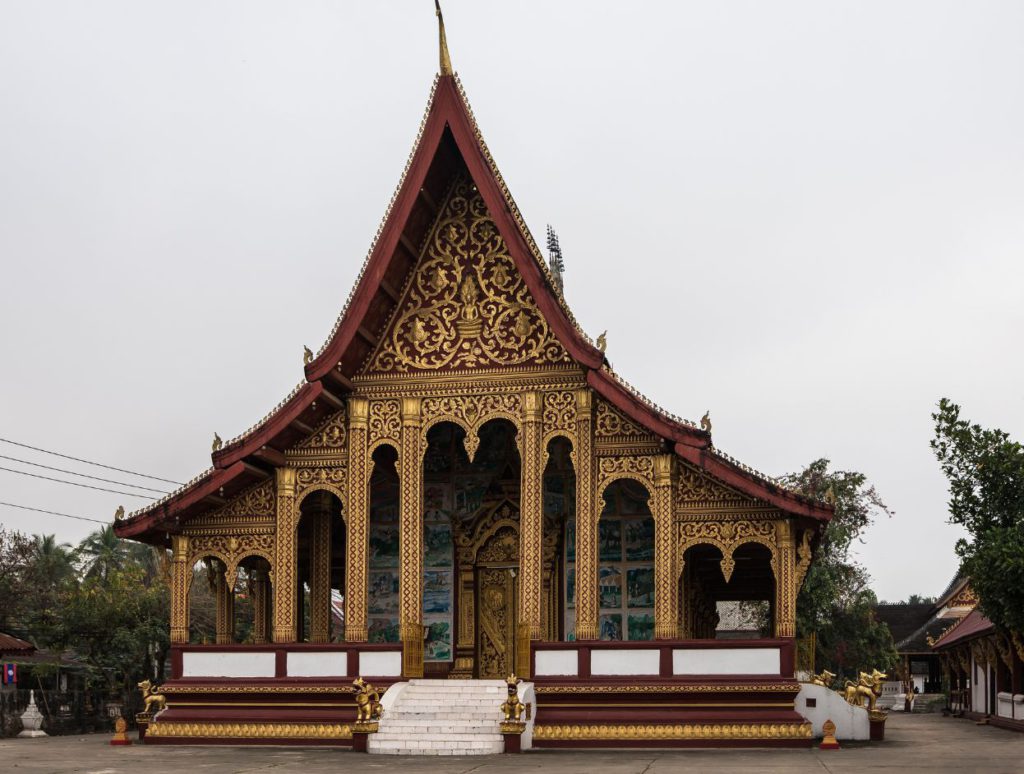 Night Market and Morning Market
Luang Prabang has a fantastic night market that starts near the royal palace and ends all the way to the end of the road near the night market main complex. You will find everything from clothes, souvenirs, small furnishings, homeware, woodware, toys, fresh food, snacks and a lot more. It is a fantastic place if you want to buy some souvenirs for yourself or your family.
As you walk down the road, you will reach the endpoint which is a huge open-air complex with food stalls. There are live performances with people singing on the stage in the middle. It is absolutely fun to watch. On either side are food stalls serving local Lao or sometimes east fusion food.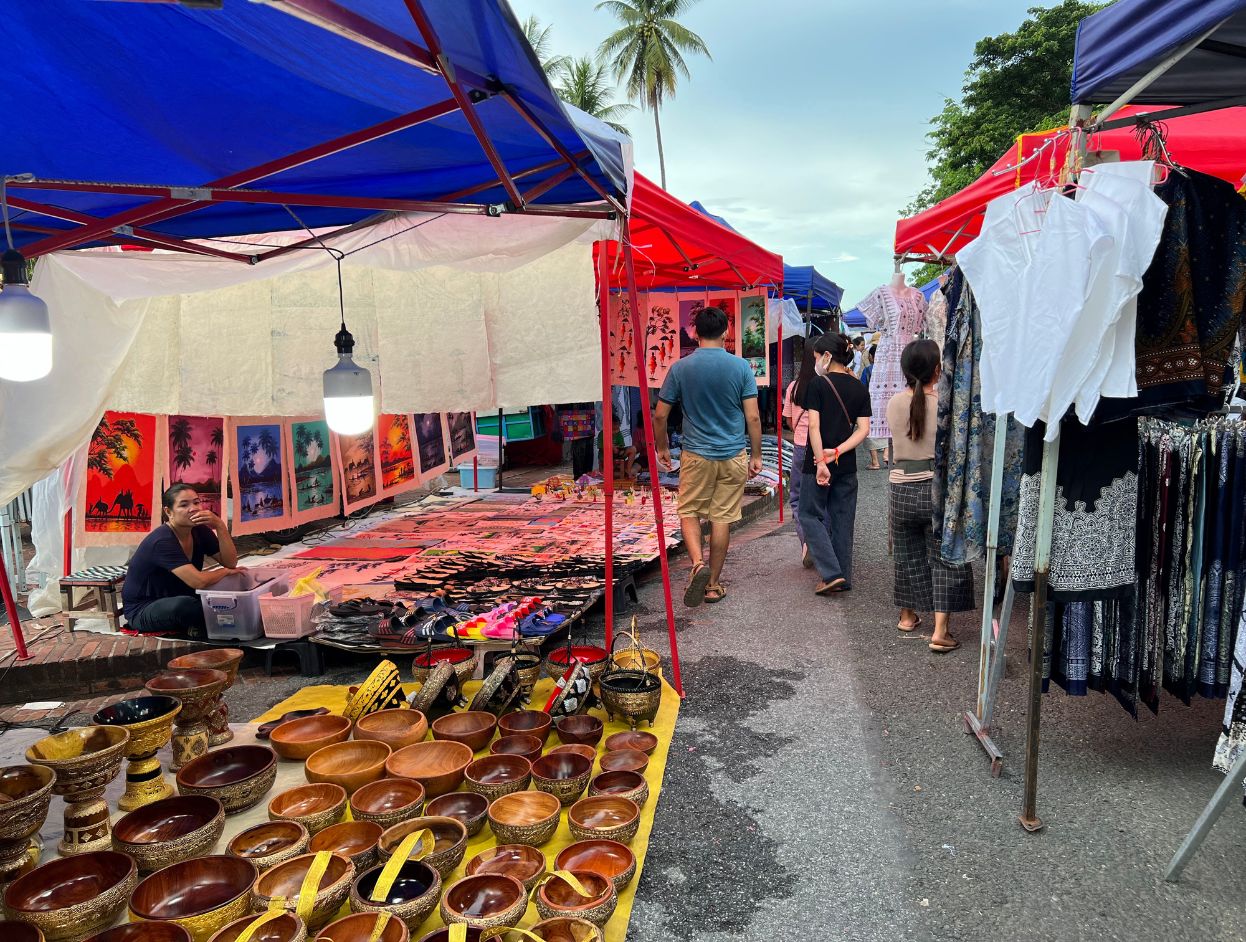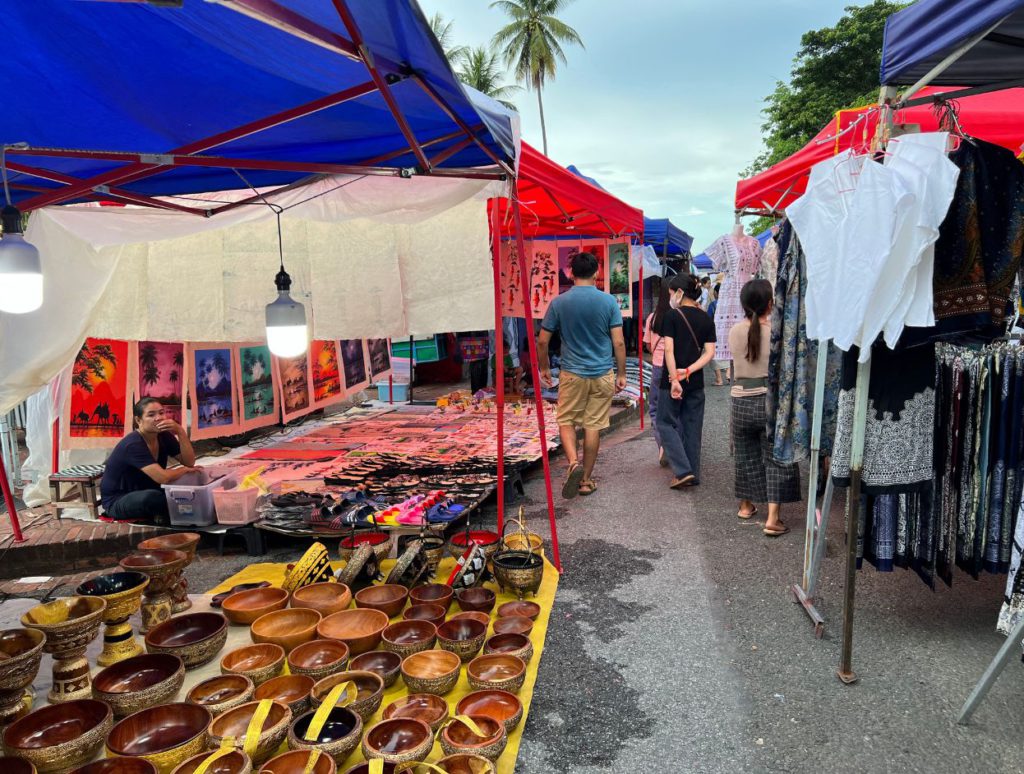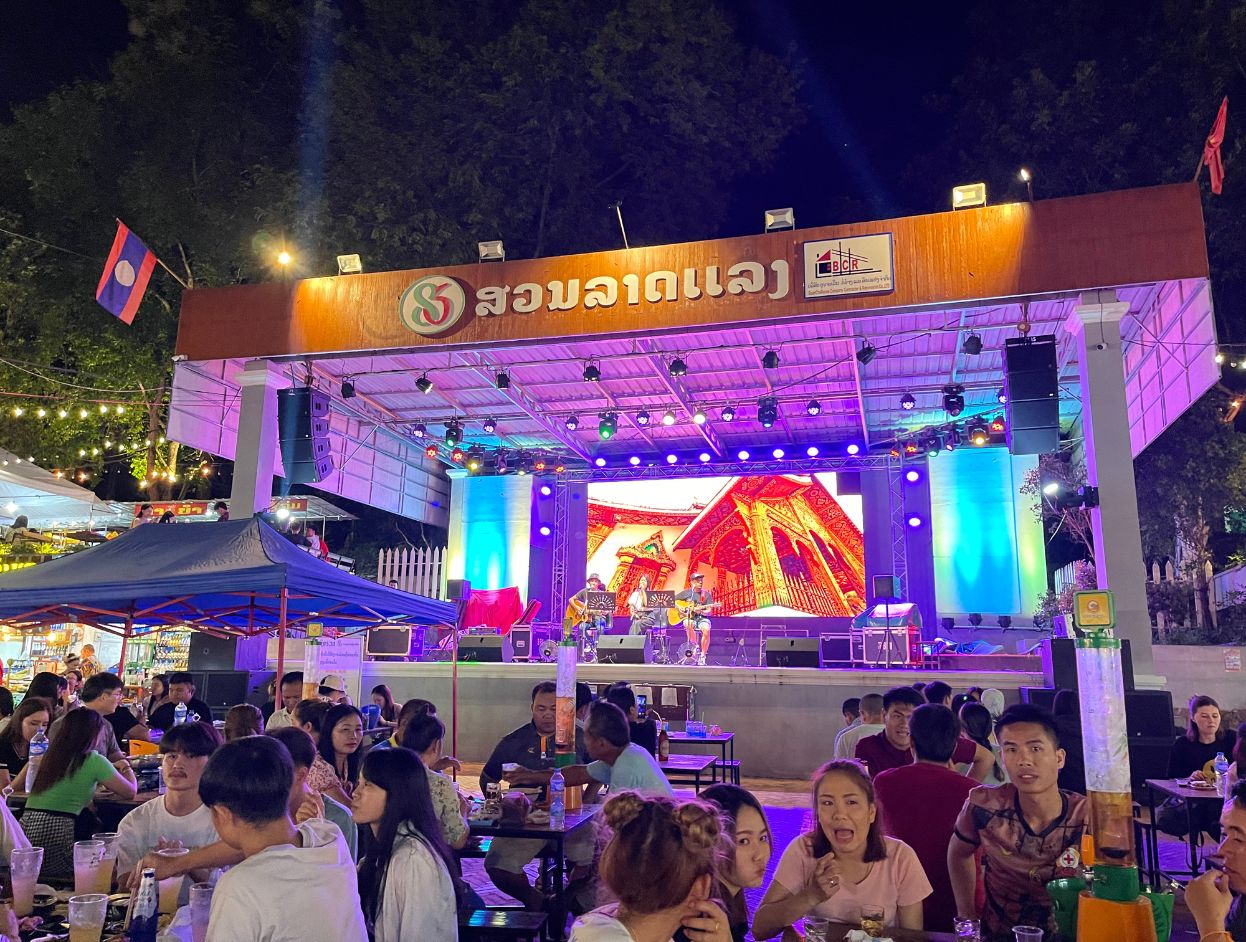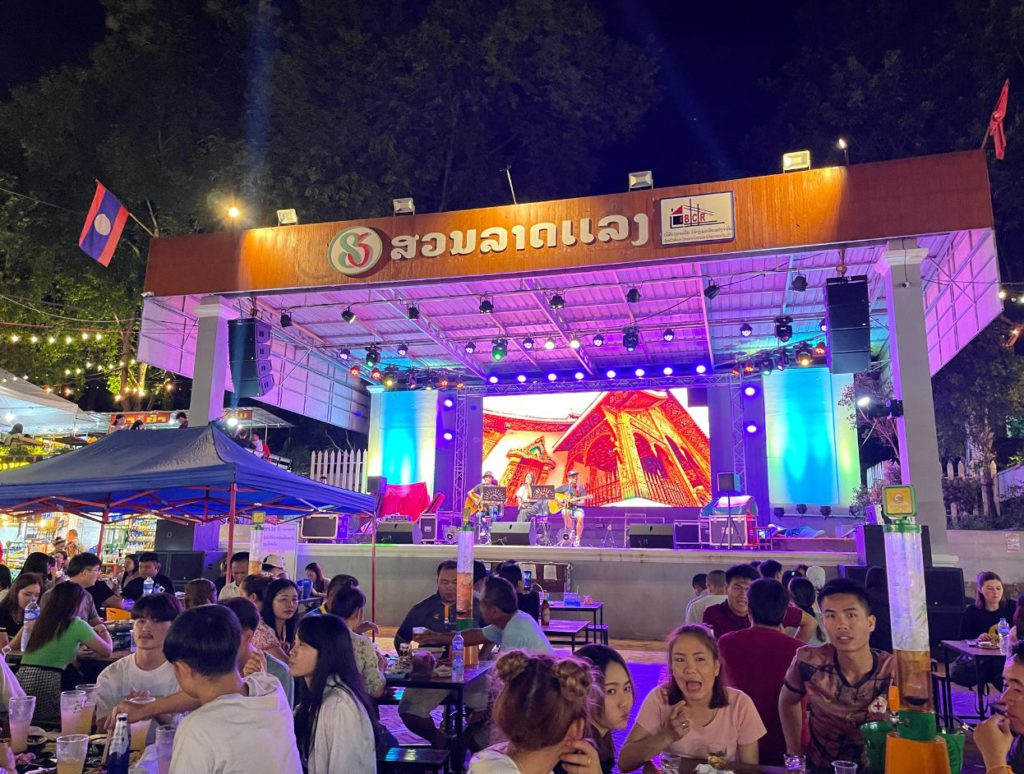 On the other hand, the morning market is amazing too. It is a couple of streets from the Royal Palace. You will spot the bustling market from a distance. The market starts with food stalls. You will find fresh fruits, vegetables, tubers, herbs, spices and snacks all over the place.
It seems that everyone from the town is here shopping for their day's groceries. It is a fantastic way to get to know the local produce.
As you walk inside, the lanes are connected at the back with permanent shops selling home goods, clothes and garments as well. The market is up by 5 am in the morning and is bustling till 10 am. It is a great morning walk. You cannot take a vehicle inside. So walking is the best way.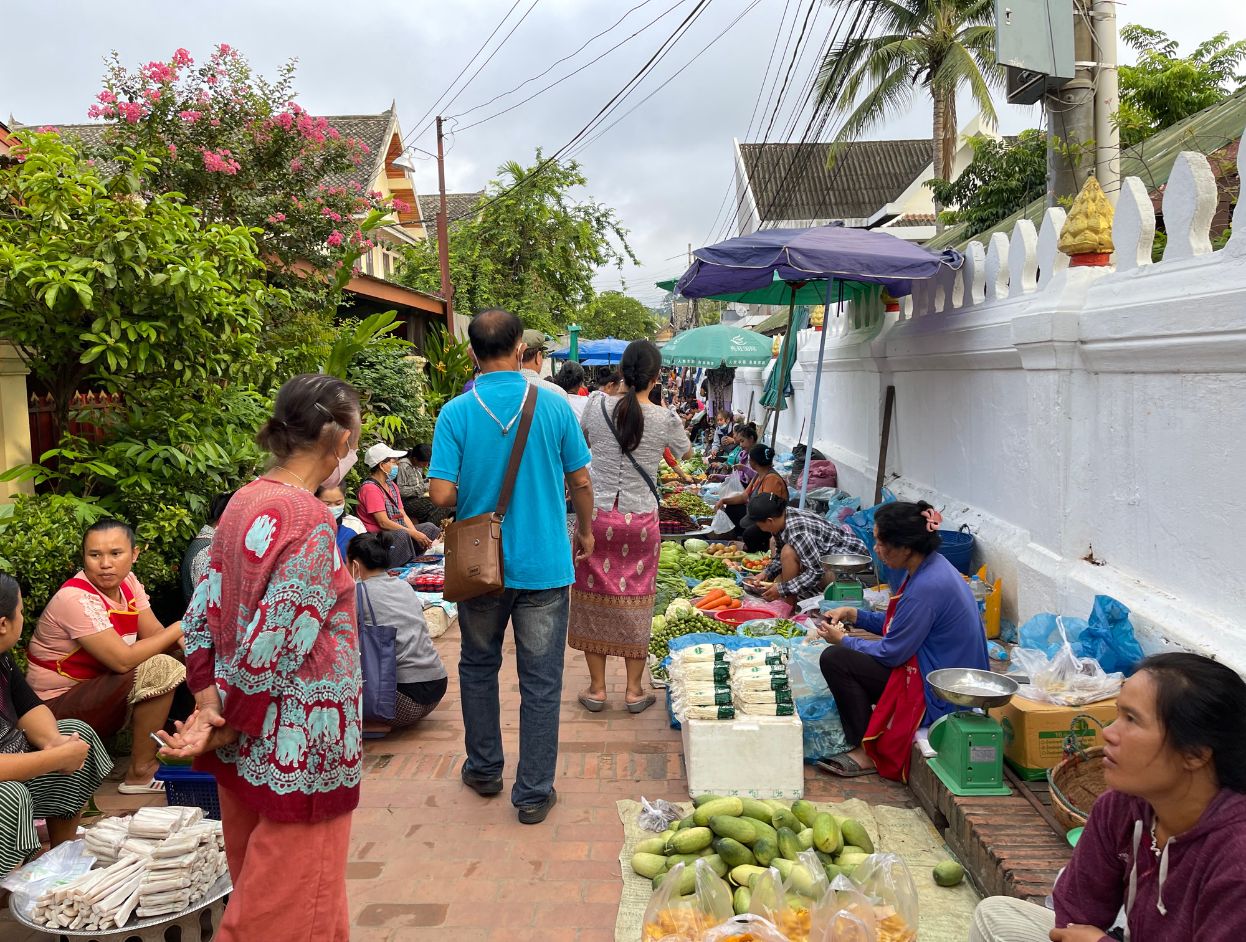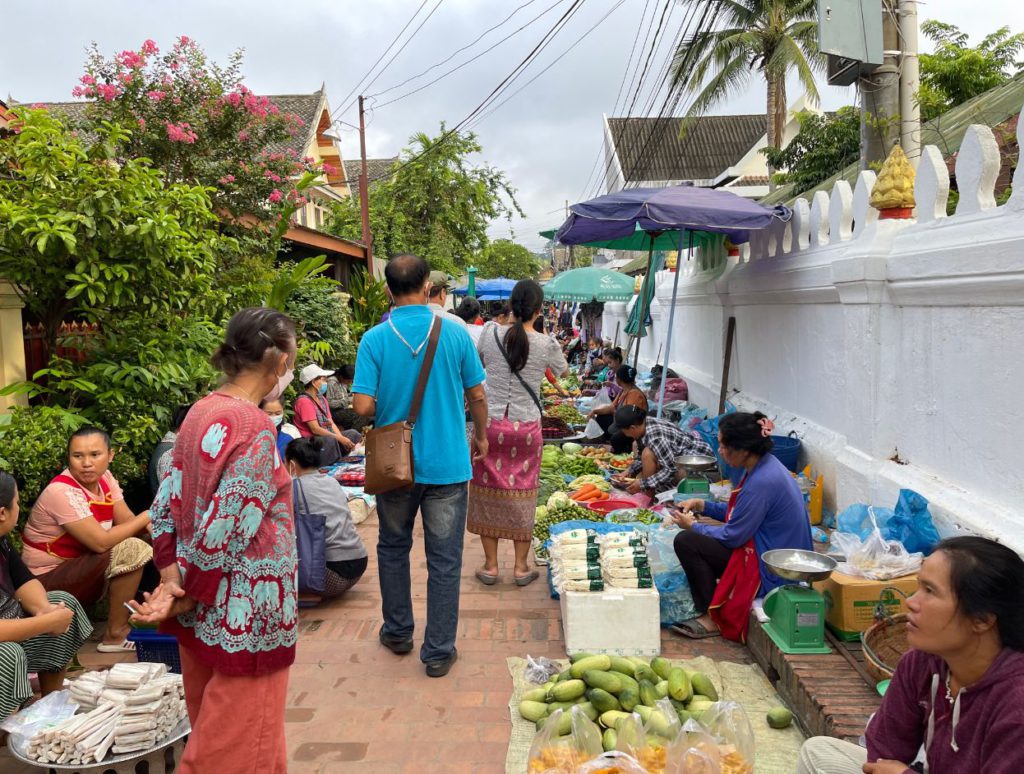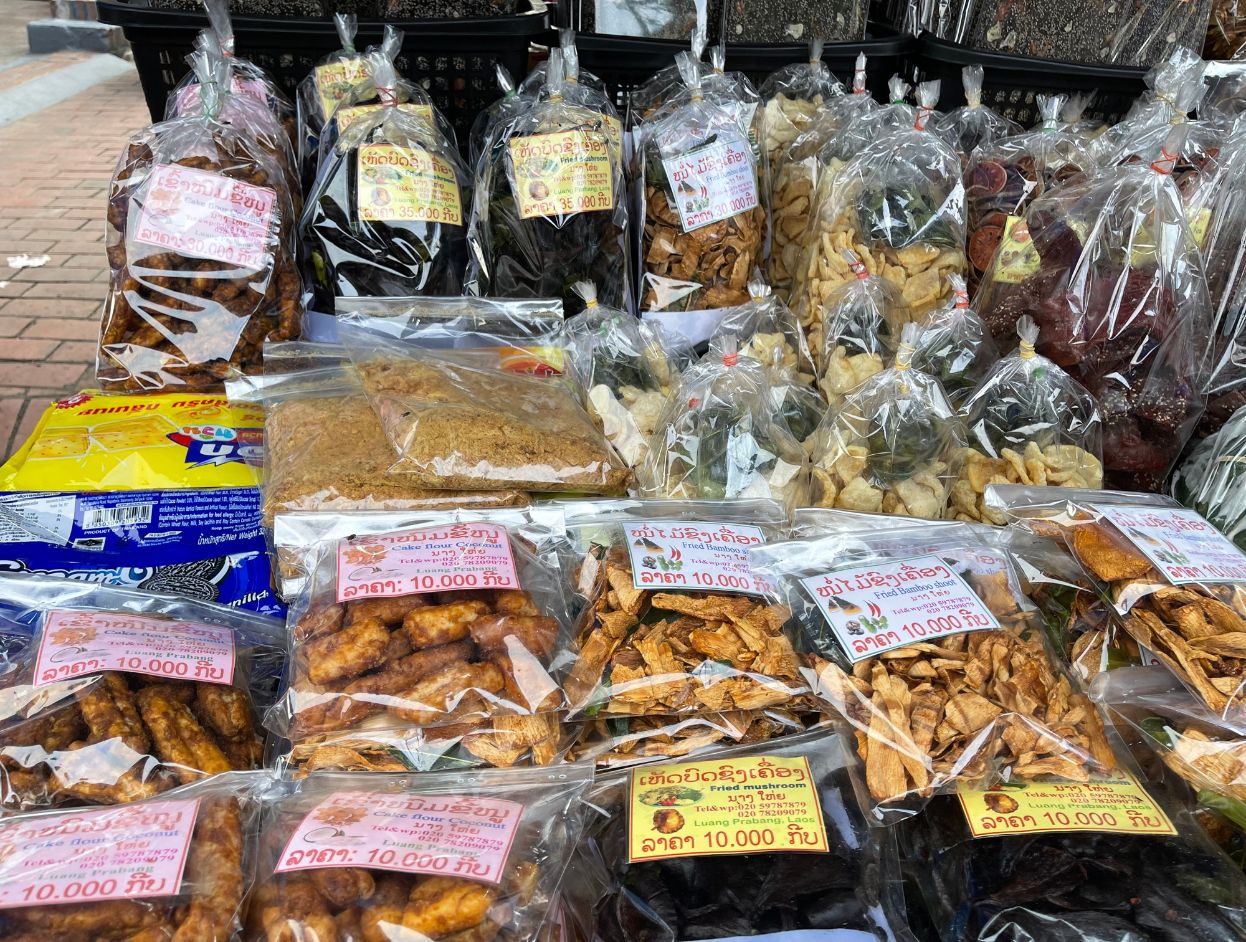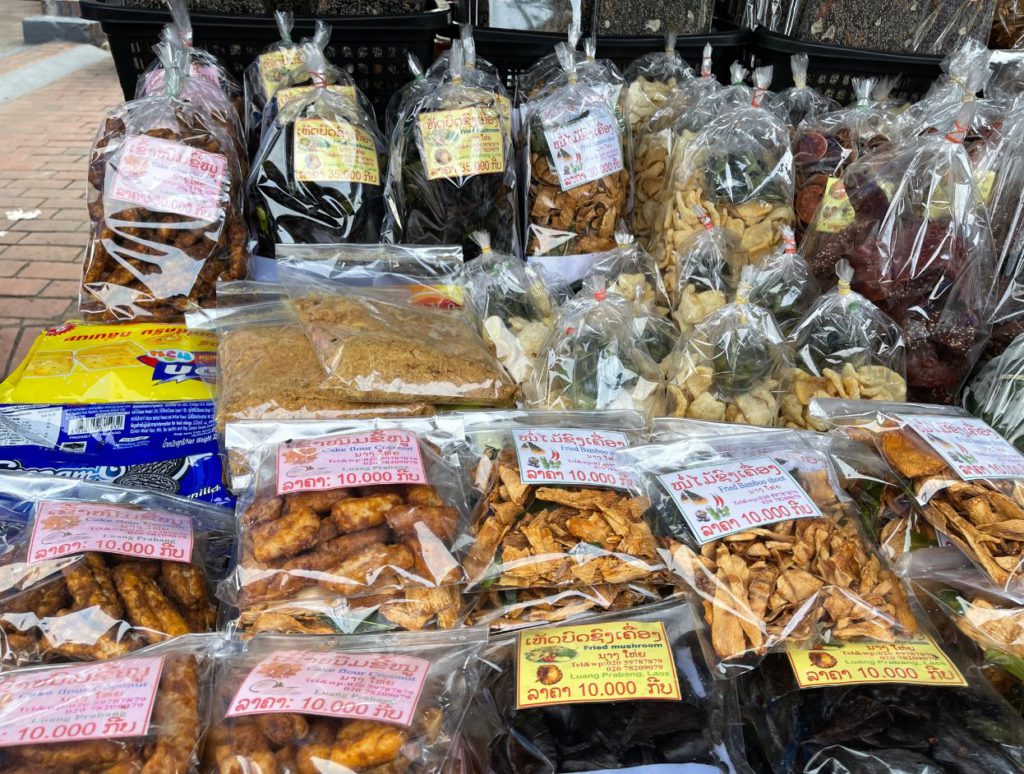 Kuang Si Waterfall & Bear Rescue Center
Kuang Si Waterfall is the most beautiful waterfall I have seen in my life. It used to be the Erawan Waterfalls in central Thailand. But with similar vibes, it is bigger and simply more gorgeous.
Kuang Si Waterfalls are located quite far in the countryside. You need to ride around 30km southwest of Luang Prabang. You can either do this journey using a private vehicle like a taxi or ride a scooter. A shared songthaew is also available from the centre of the city and costs 400,000 for a return trip.
The waterfalls have several levels and as you walk up the hiking trail, you will find one after the other. You need to walk around 10 minutes to get to the main falls. The water is clear with a bed of turquoise blue making it extremely scenic.
Here is our detailed blog on visiting Kuang Si Waterfall from Luang Prabang and all you need to know.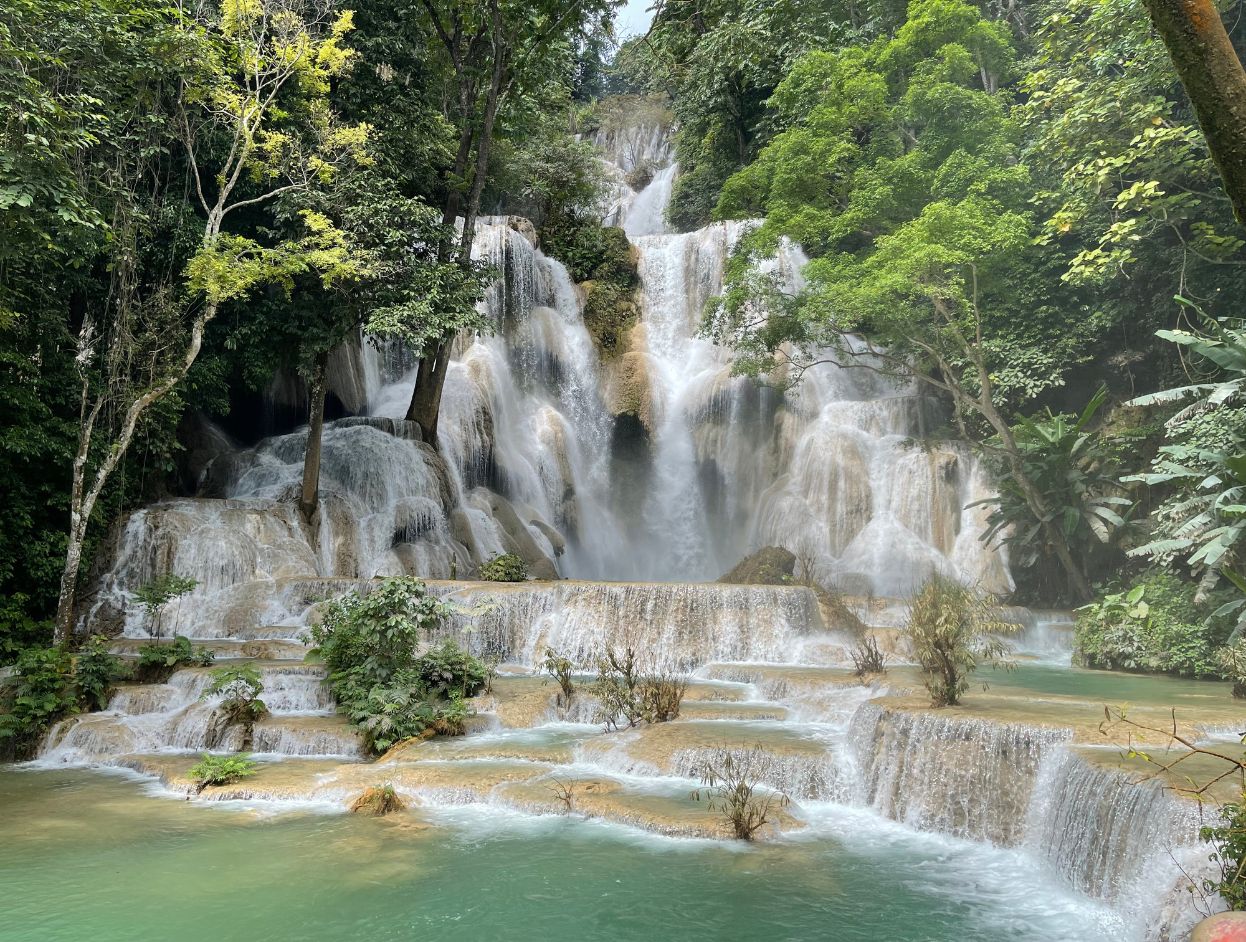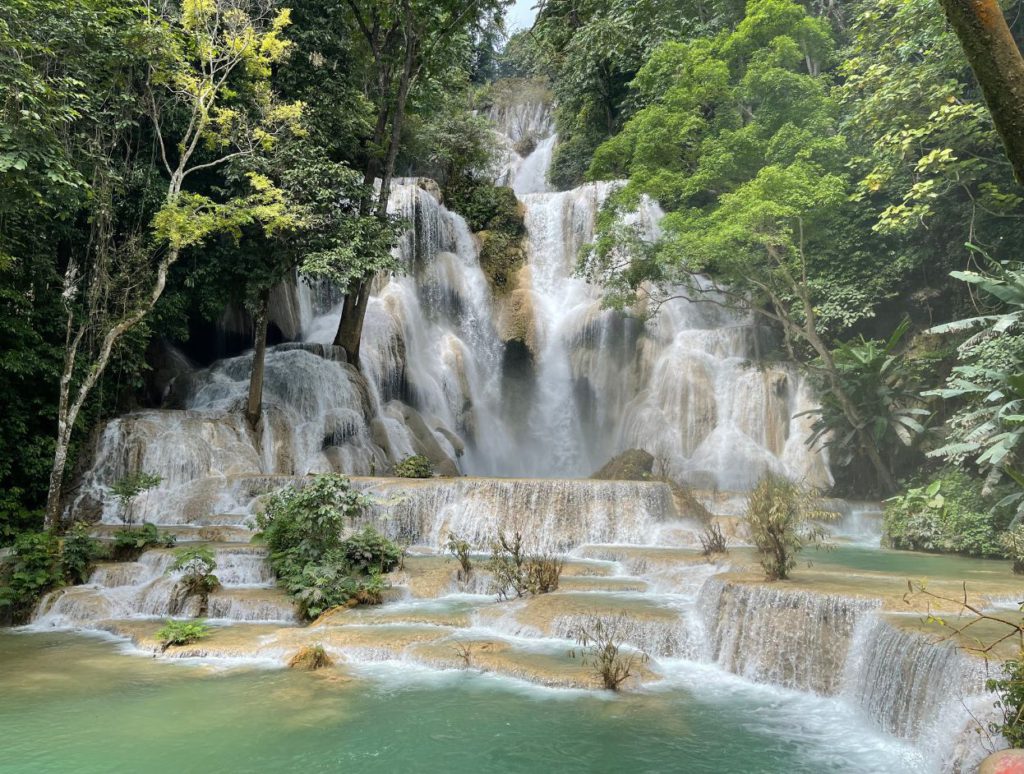 There is another area near the waterfall which is a bear rescue centre. These black furry bears have been rescued from poachers and are thriving and well taken care of here. The entry for both is 20,000kip paid at the entrance.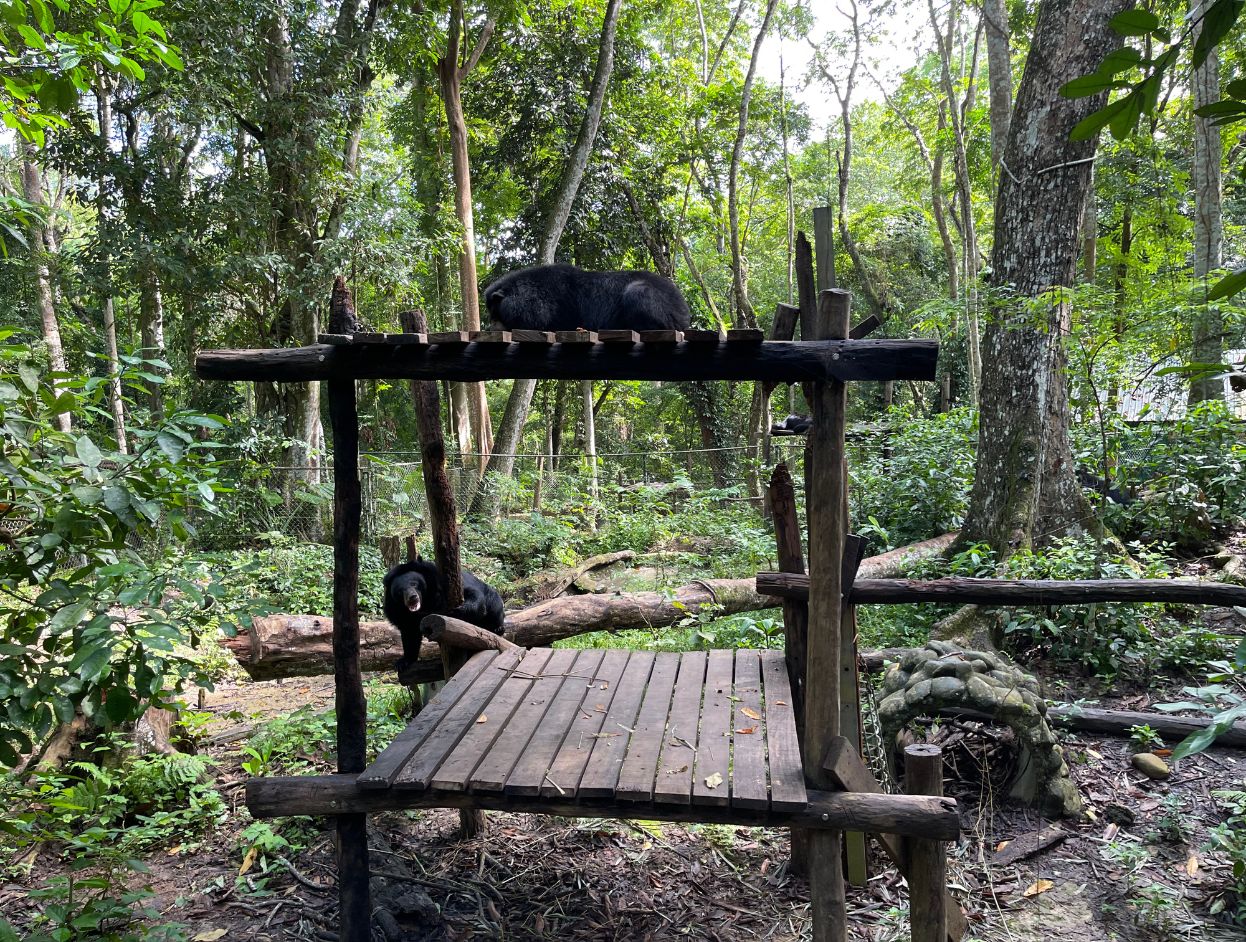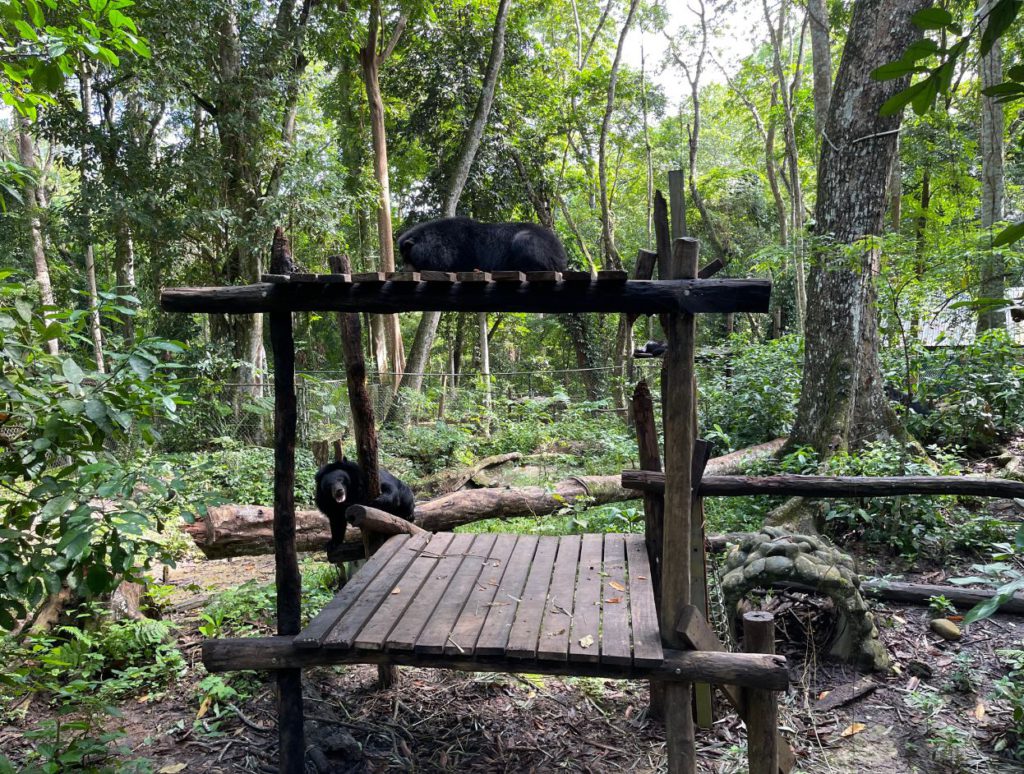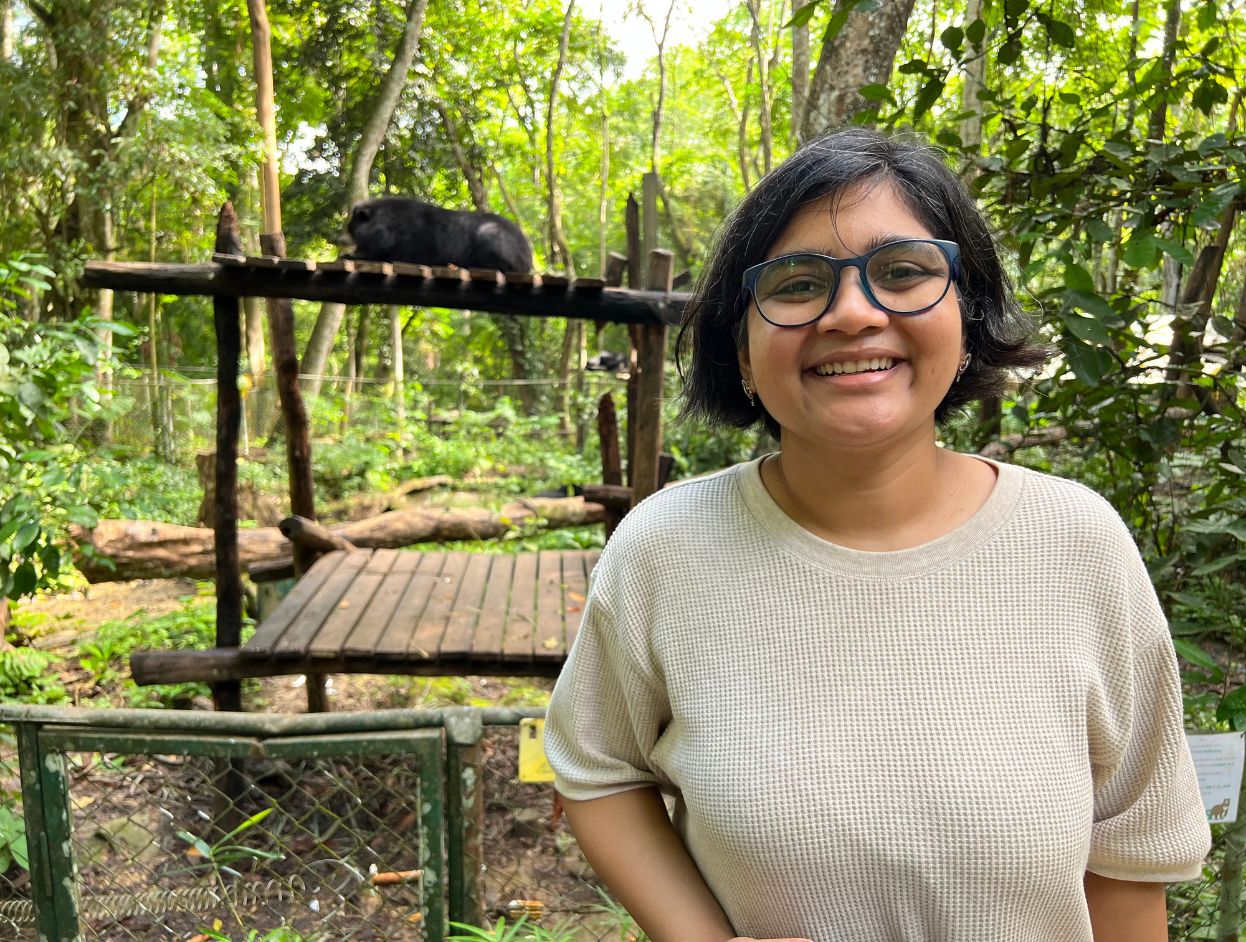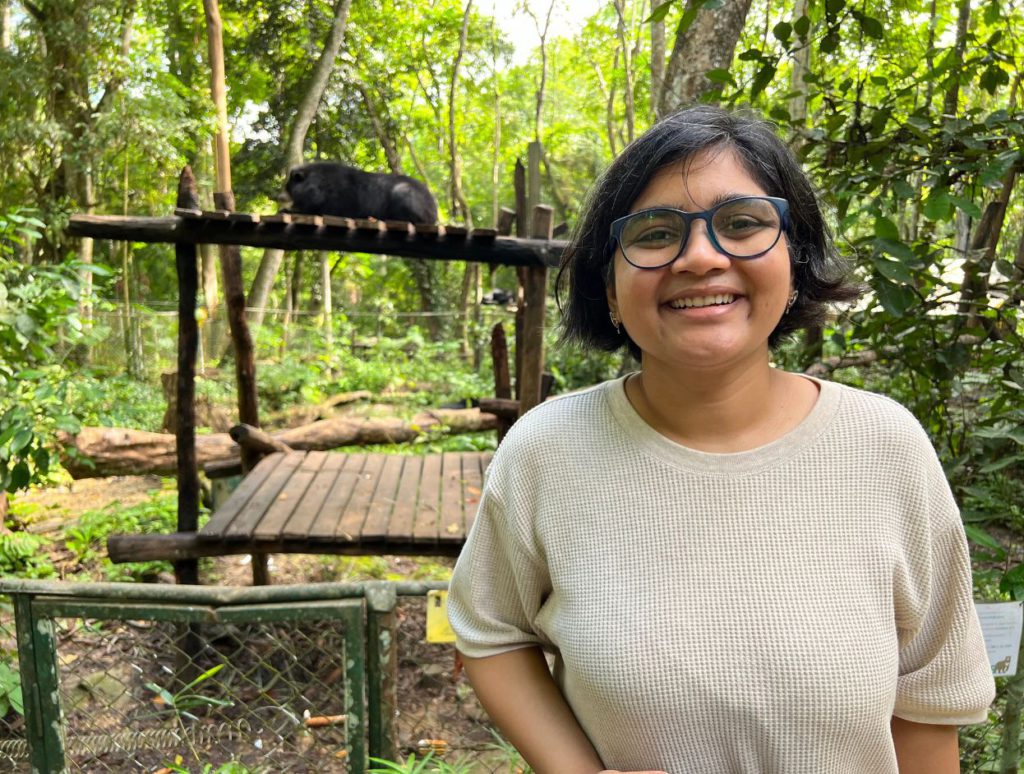 Mekong River Cruise
Mekong is an important part of not just Luang Prabang but also Laos. Not only it is absolutely gorgeous to see the muddy river move between the forests, but it is also very important for the people. Even in Luang Prabang, you can find people fishing their daily catch in the river.
But if you have the opportunity, I would suggest you take a slow river cruise here. Unlike most cruises that seem to be loud and focused on a young crowd, I found this one to be chill and laidback. It was a perfect way to enjoy the view.
However, I don't think there are a lot of facilities on board. There is hardly any food and the drinks tasted pretty cheap. If you can ignore that and focus on the views, I can guarantee you have a much better time.
You can find river cruises on the lane at the bank of the Mekong river from Wat Xiengthong to The Royal Palace. Just stop at one and get a ticket. The cruise usually starts at 5.00 pm and goes on for 2 hours.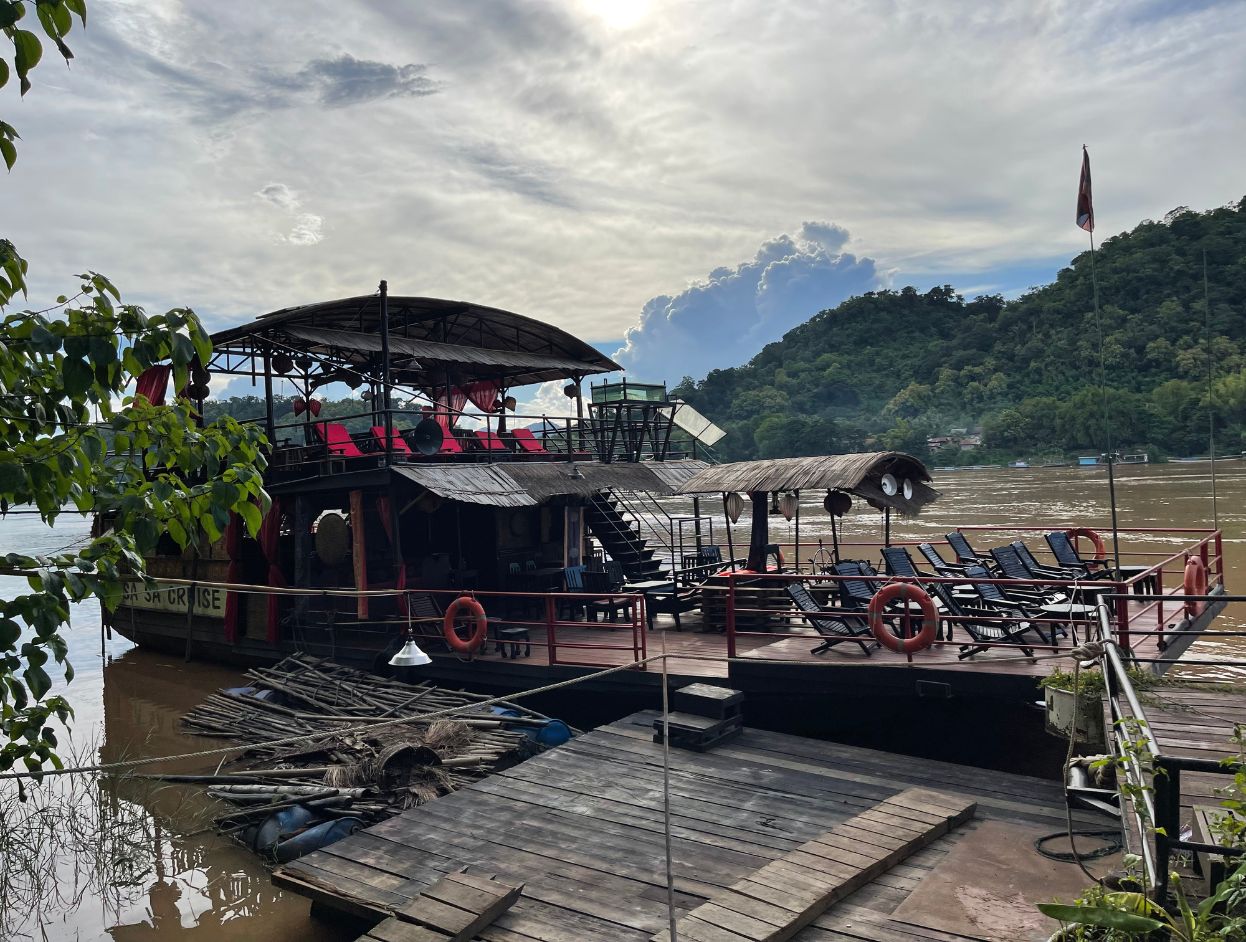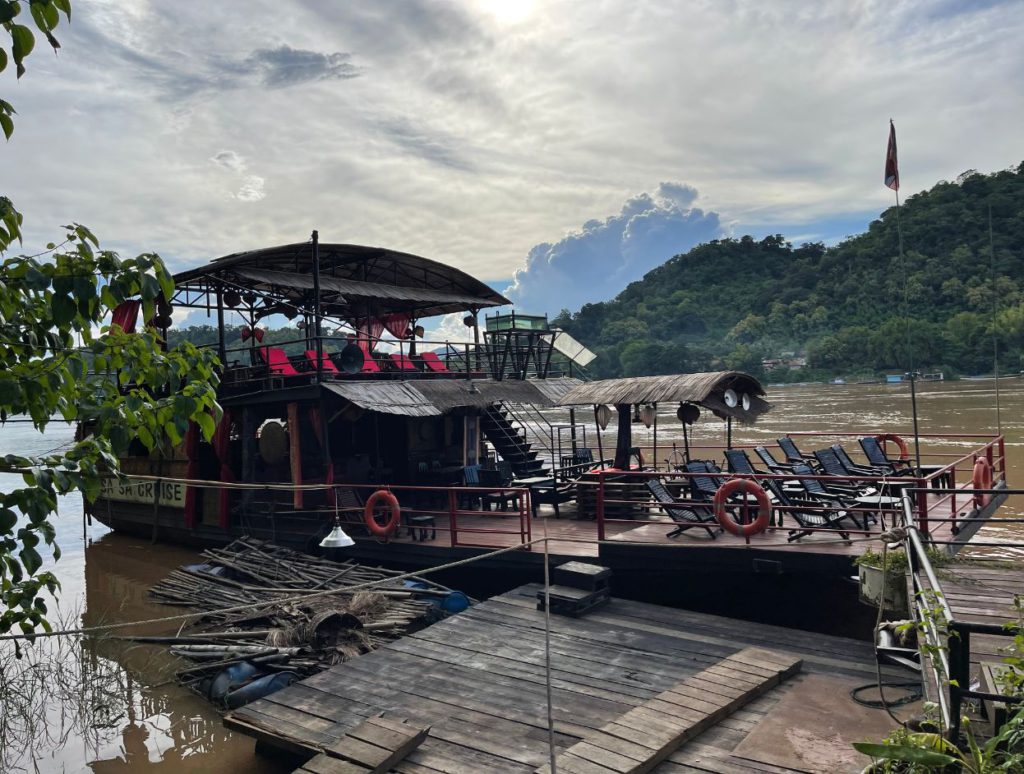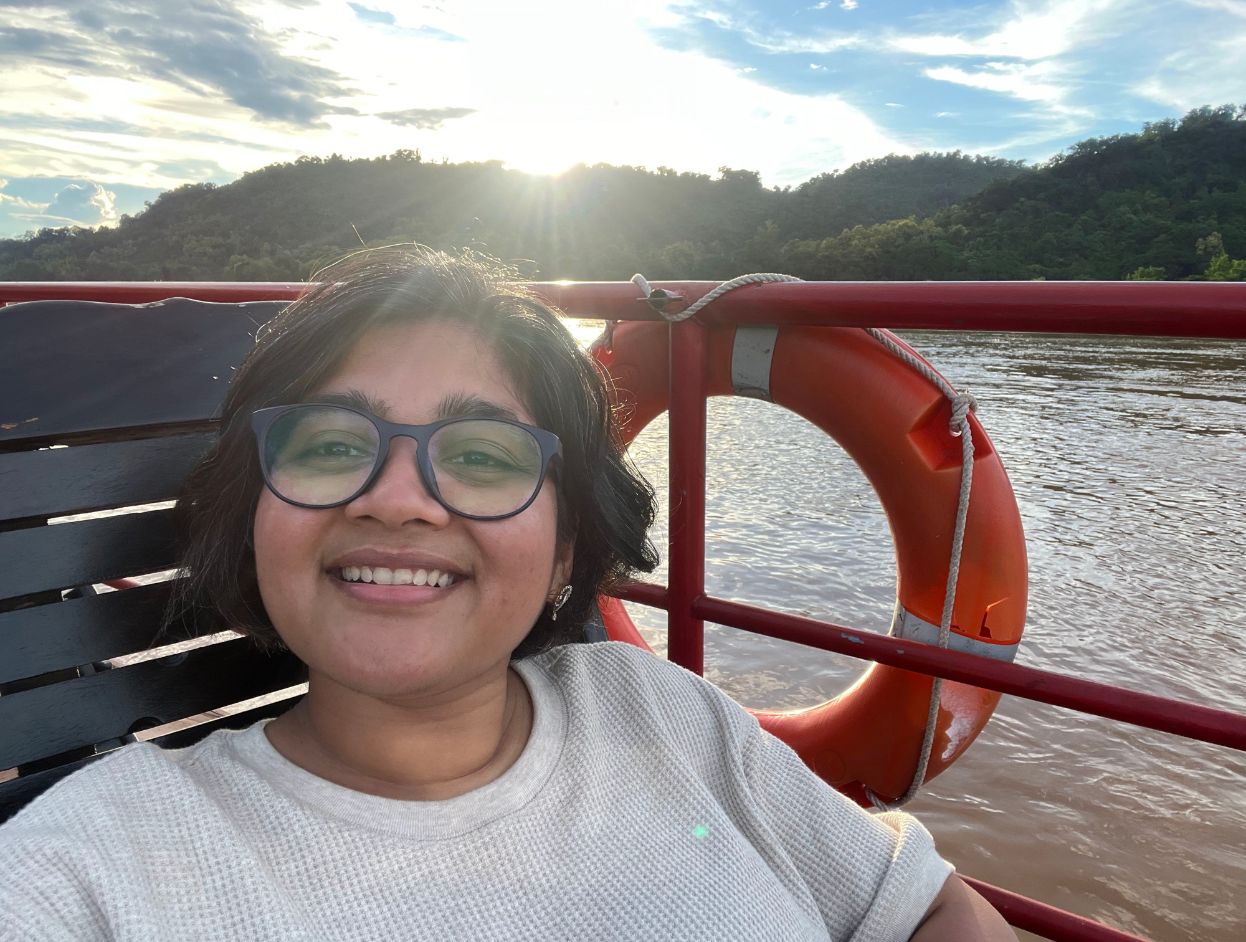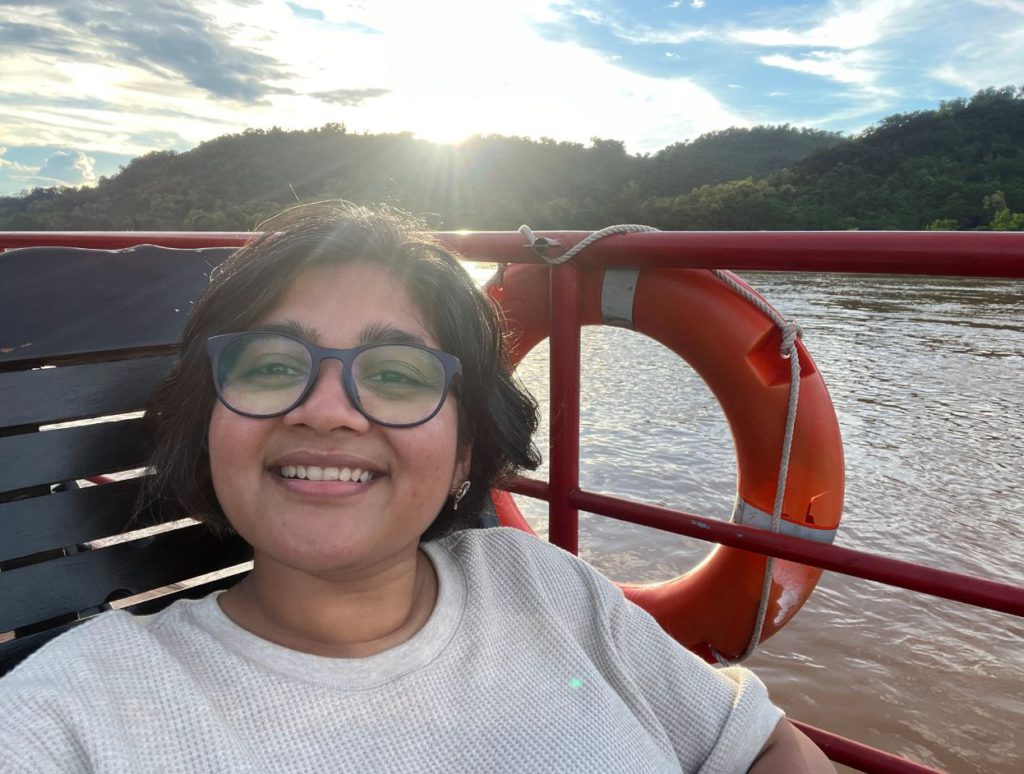 Pak Ou Caves
Pak Ou is a set of two caves located around 25km upstream of the Mekong River from Luang Prabang. It is located on the other side of the river, so you will definitely have to cross the river to reach it.
You can reach the place both by boat and by tuk-tuk. But even if you travel by tuk-tuk (costs 400,000kip for the return journey), you will have to eventually take a boat anyway. So a boat makes a better option. Tour operators often club the day trip to Kuang Si Waterfalls and Pak Ou caves costing 600,000kip and taking up most of the day.
Pak Ou caves are popular for having 4,000 statues of Buddha inside them. While the caves in themselves are not too impressive, the buddha statues are a sight to behold. It is a good trip to take if you have excessive time in Luang Prabang and have covered most of the other activities. They charge 20,000 kip to enter the caves. The boat ride is definitely enjoyable though.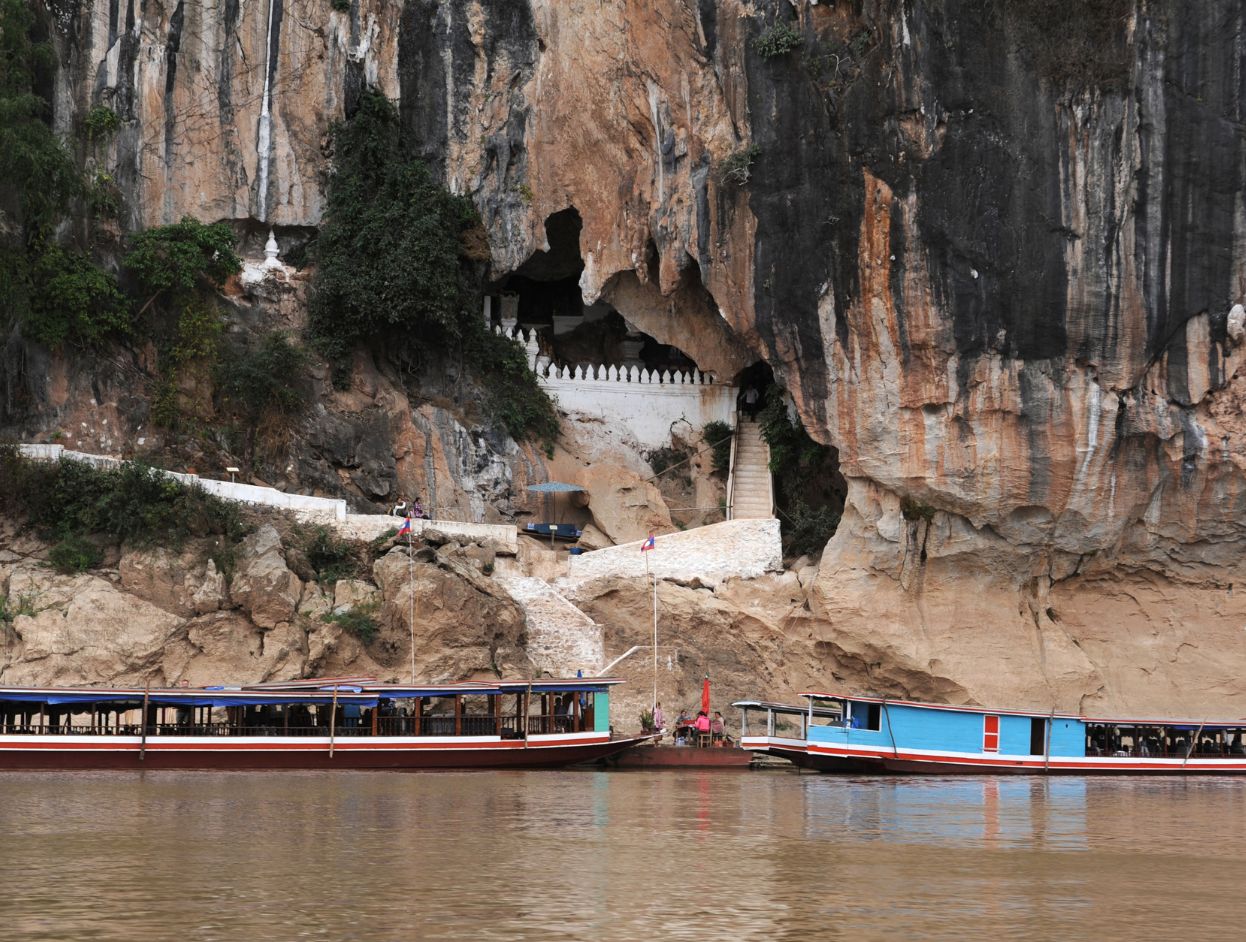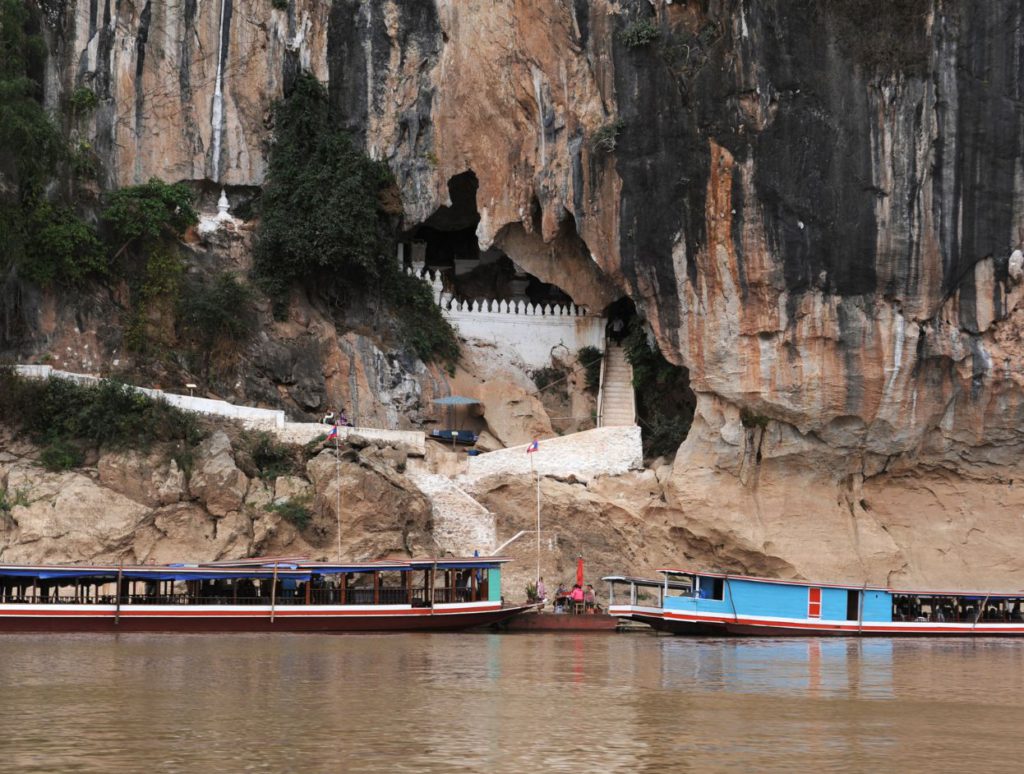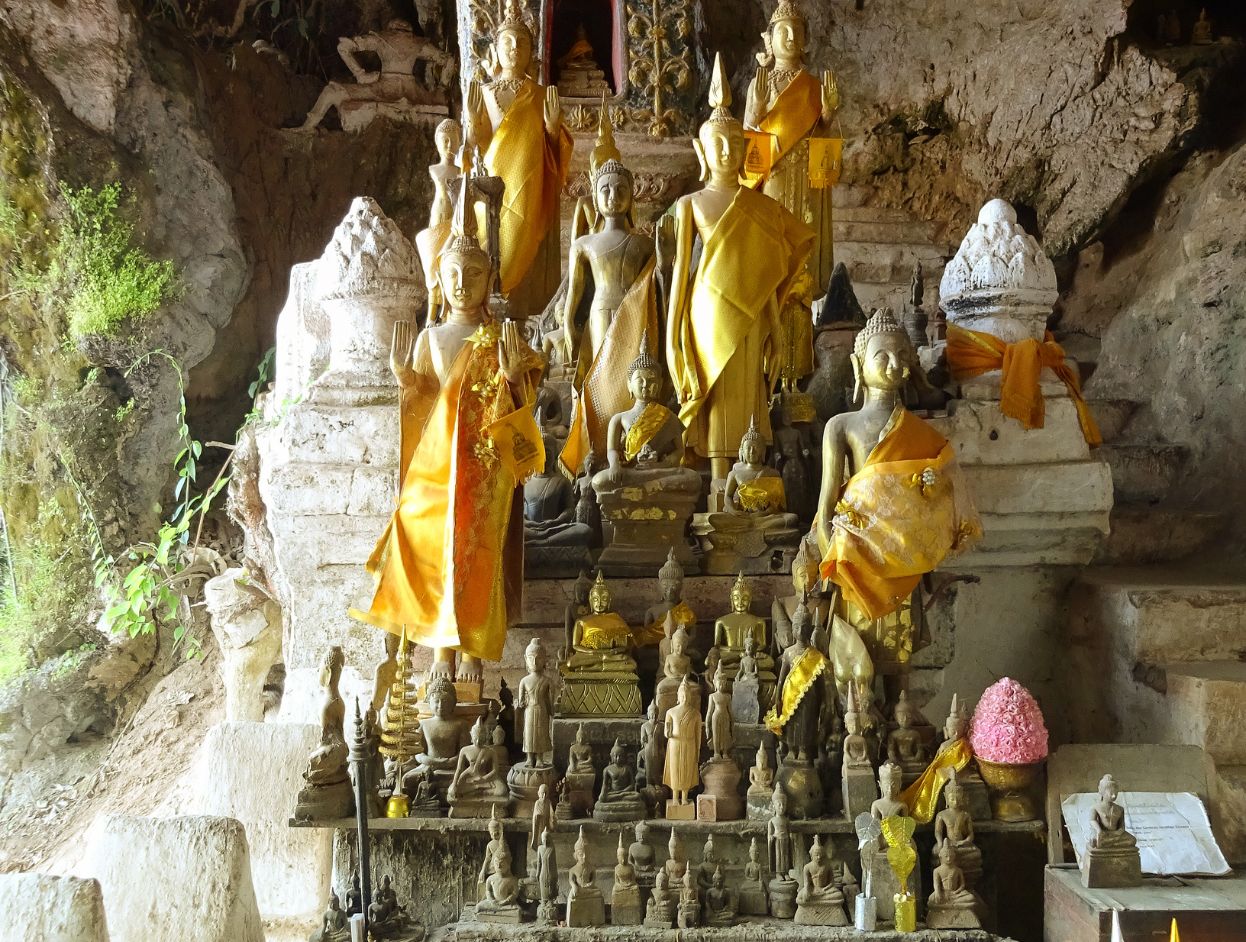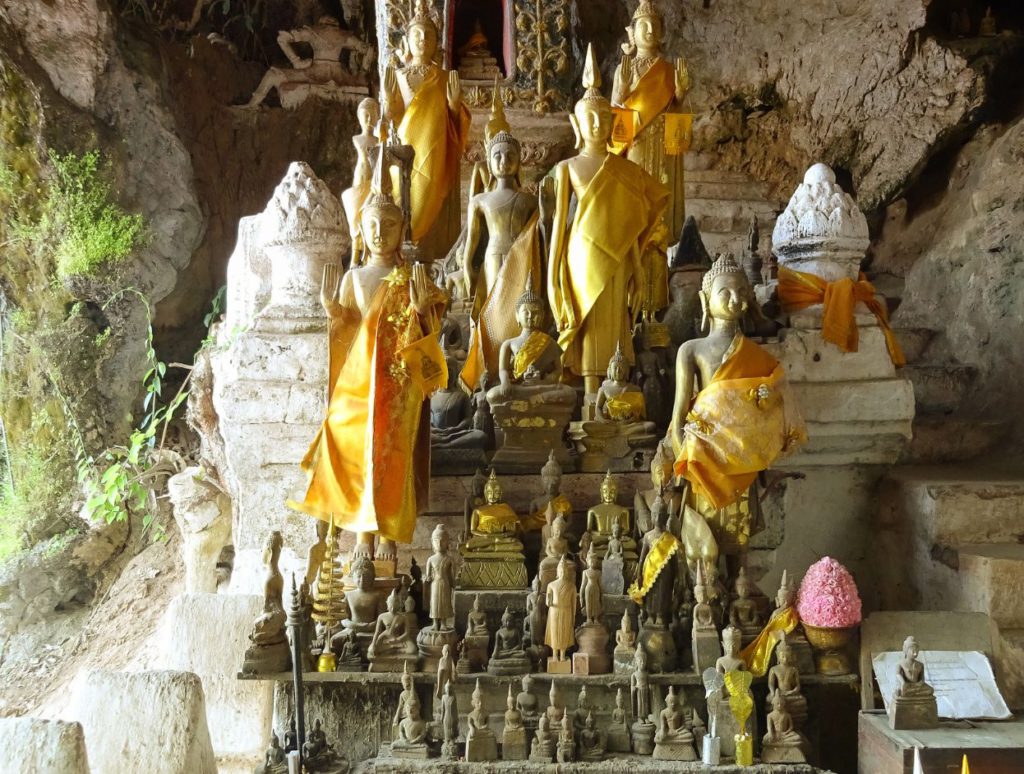 Heuan Chan Heritage House
Heuan Chan is a traditional old Lao house that has been transformed into a heritage place and a museum. The place is still pretty much a simple house, so you can go around and explore what a Lao house looks like. As you enter the main area, you will find several rooms, each talking about a different aspect of Lao life.
You can find cooking pots and cutlery in the kitchen, everyday garments on mannequins in the main hall and musical instruments in another room. There is also information on the different tribal groups residing inside Laos, its history and political past.
Occasionally some events take place here. There are paper-making classes, cooking classes and some other events but it's not available every day. However, you can dress up in local Lao clothes and take some fun photographs here! Here is a couple recreating a love scene from 100 years ago. Cute!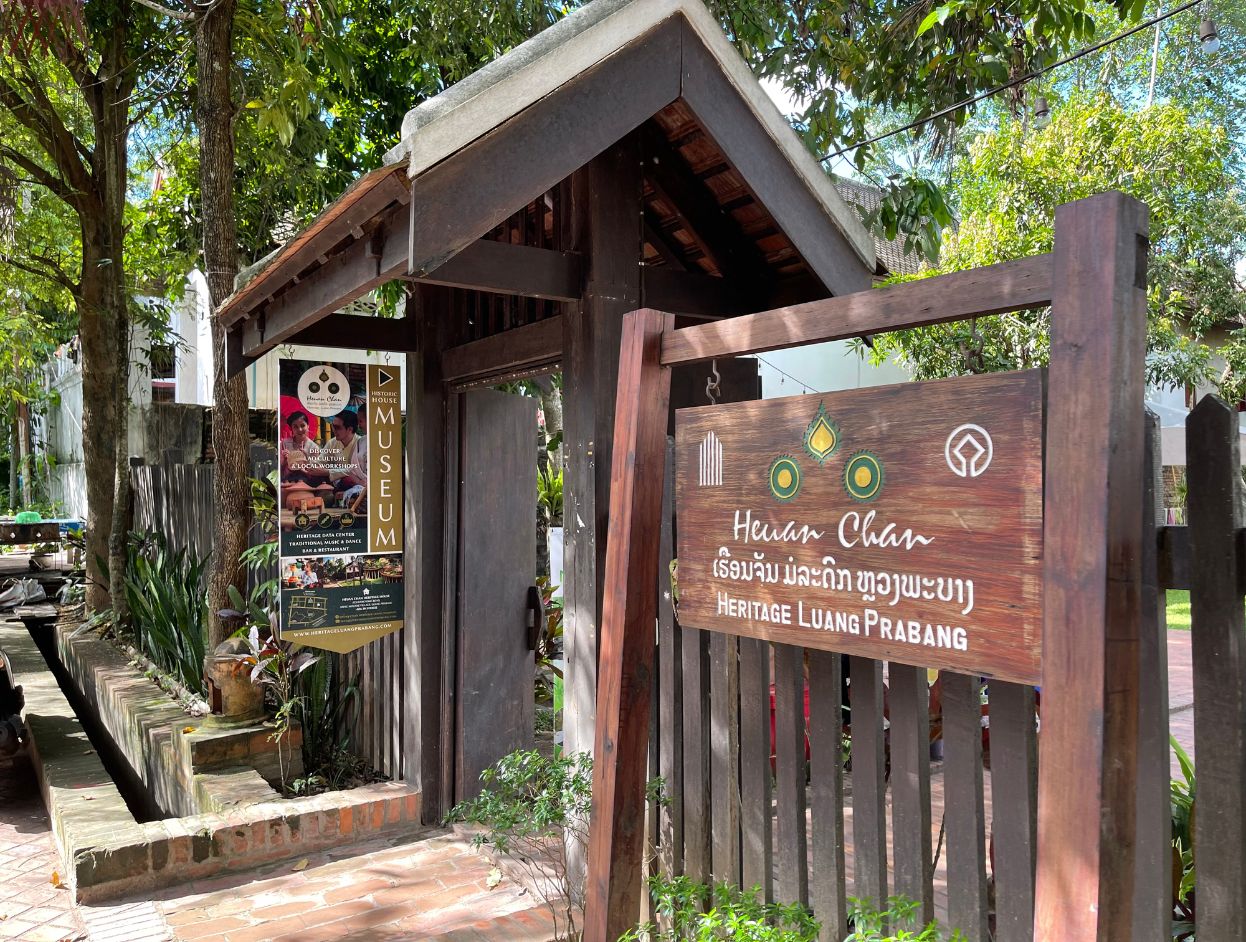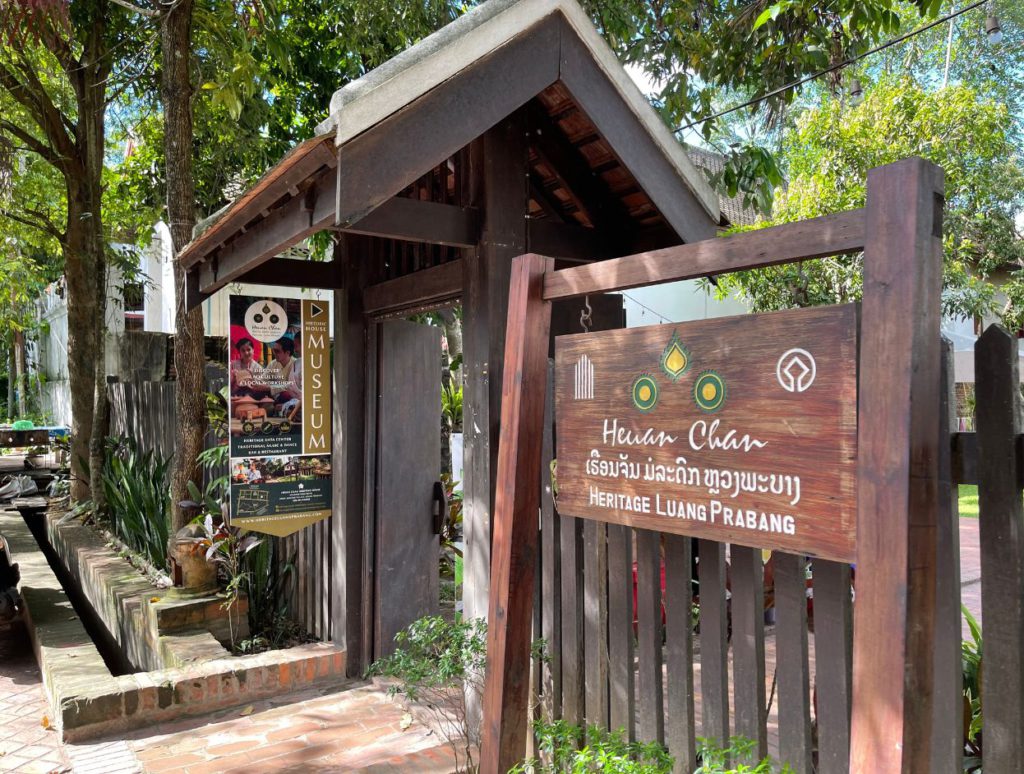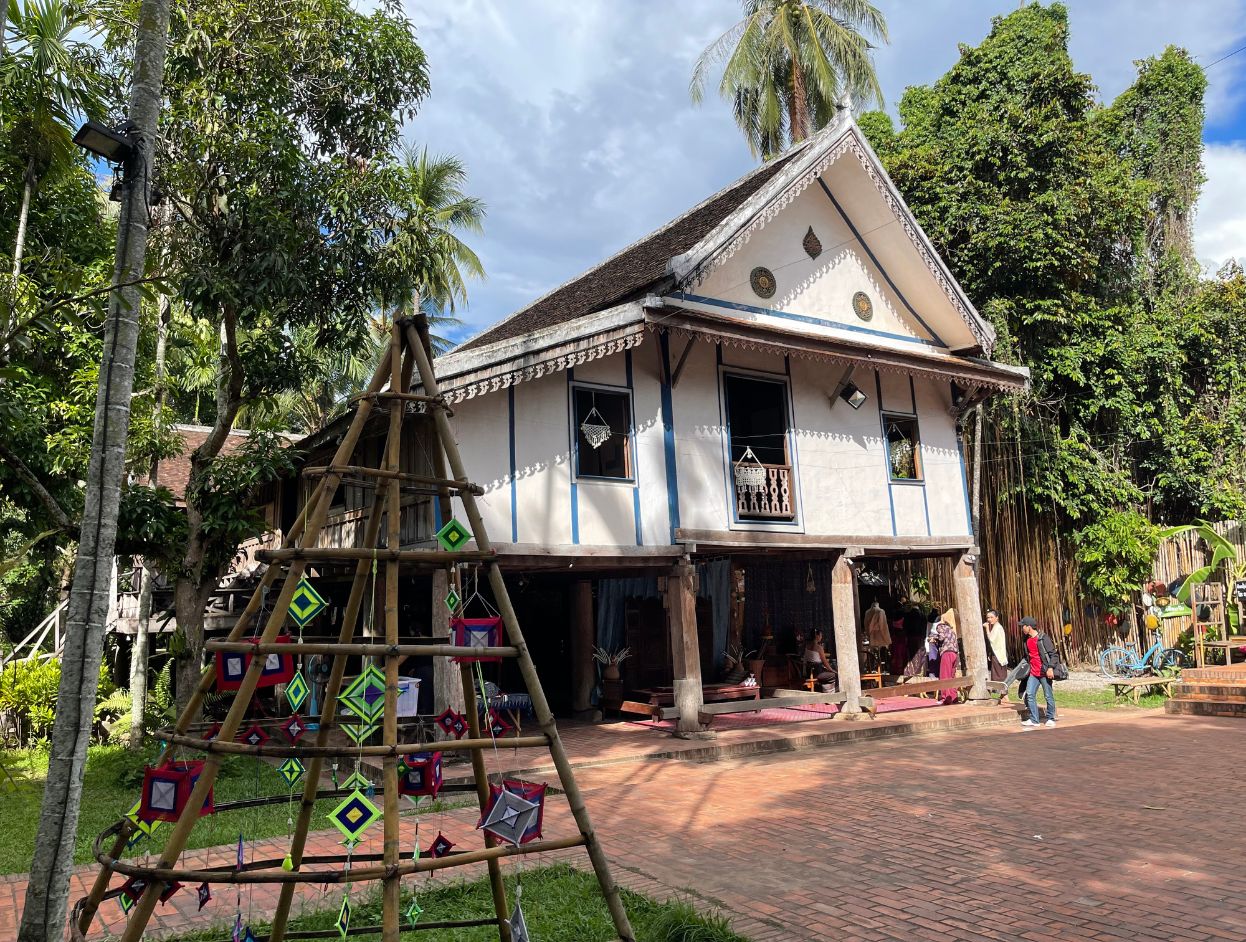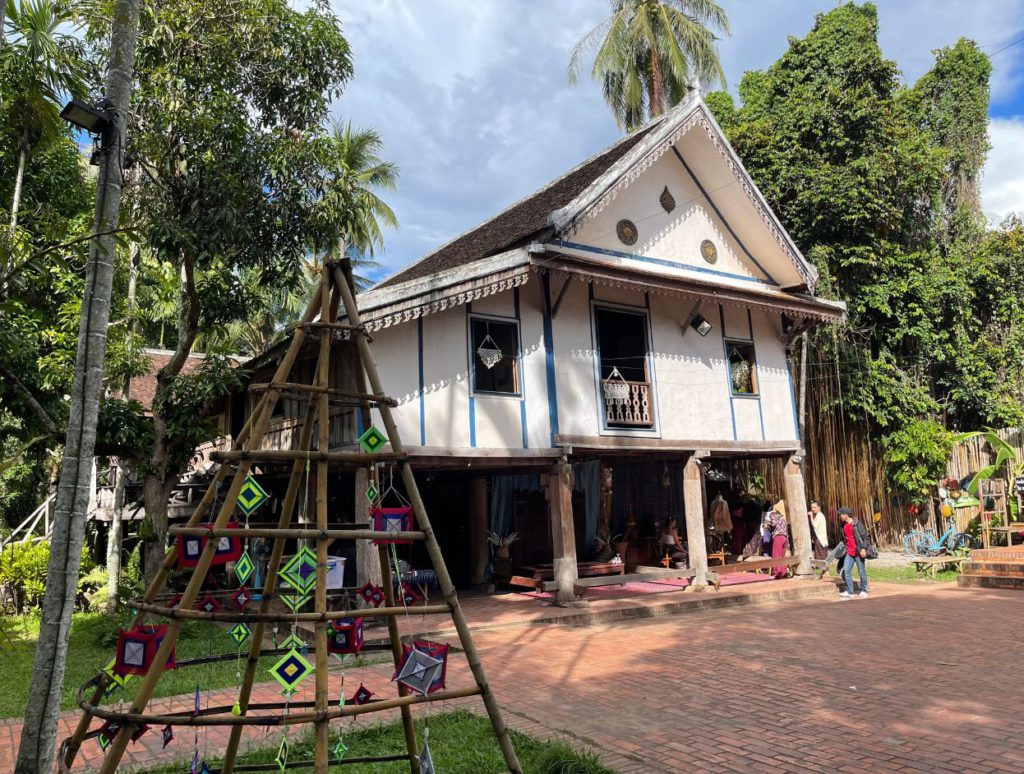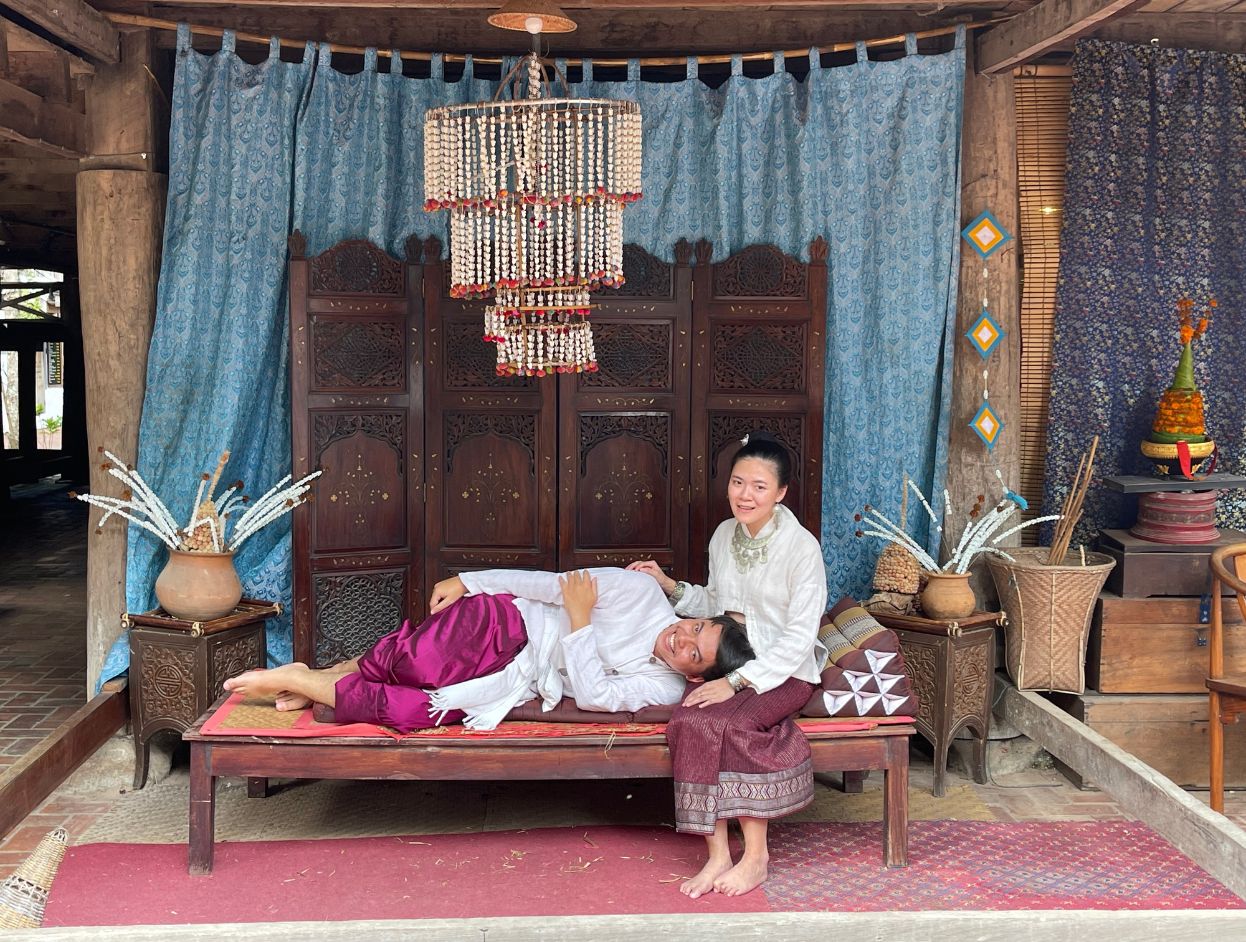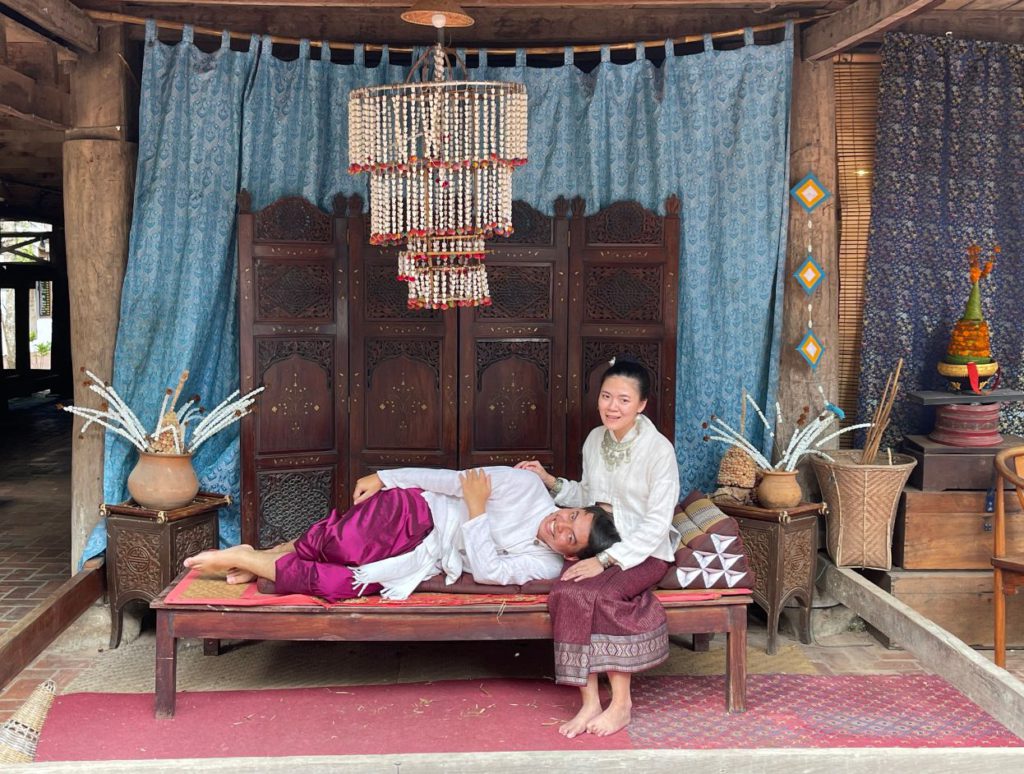 UXO Lao Visitor Center
Similar to the COPE centre in Vientiane, the LXO Lao Visitor centre focuses on creating awareness about the effects of war in Laos. During the Vietnam War, Laos was heavily bombed. A lot of these bombs did not explode. Around 8 million dormant bombs are still lying around a large part of the Lao countryside and explode occasionally when someone crosses their path.
Even today, around 20,000 people are killed or injured annually due to bomb explosions. You can find out more about this with a 10-minute video at the centre. They also share ways you can help out the ones who cannot afford treatment and recovery through donations.
If you can, donate. Their suffering is the outcome of an event that the country was never voluntarily a part of 40 years ago.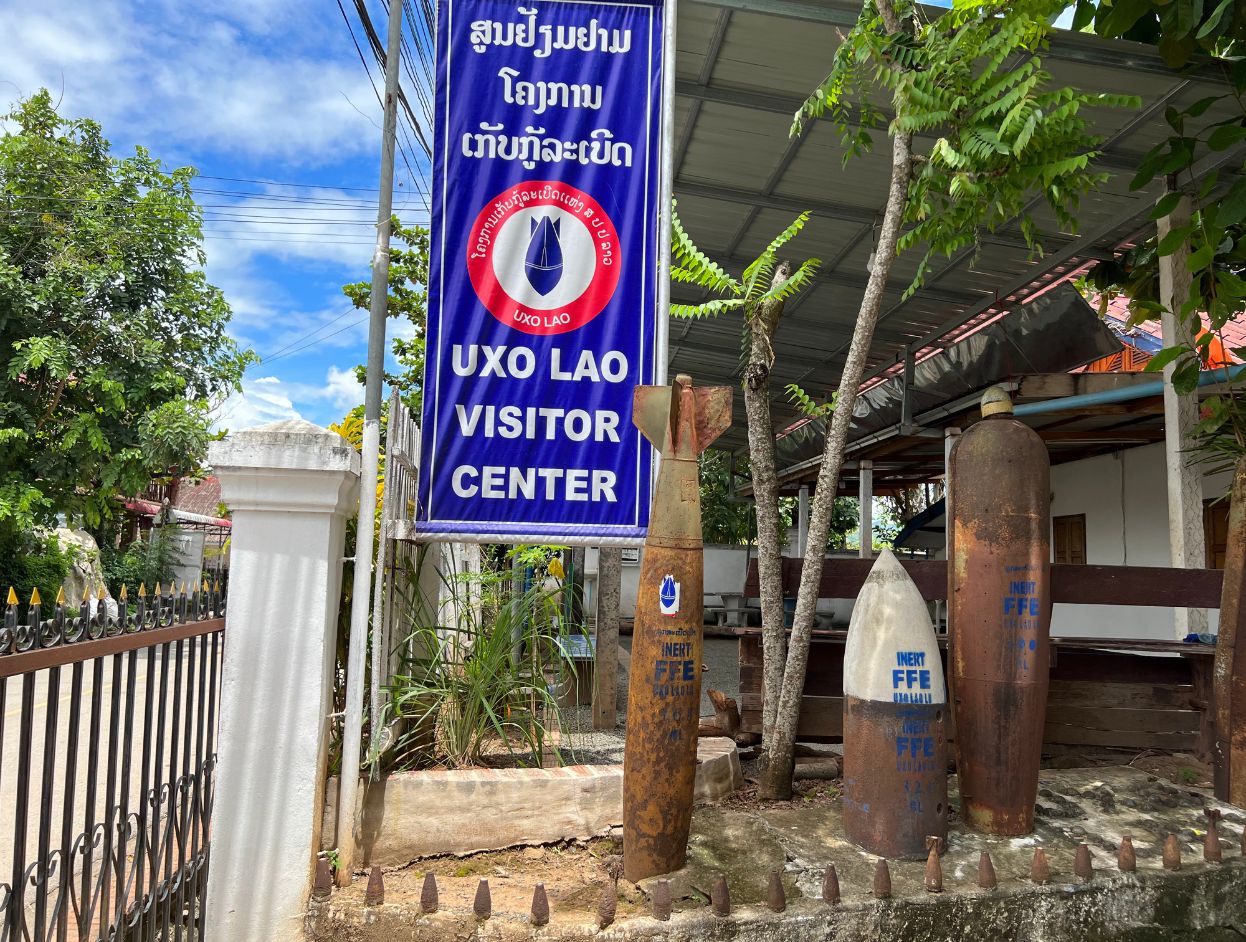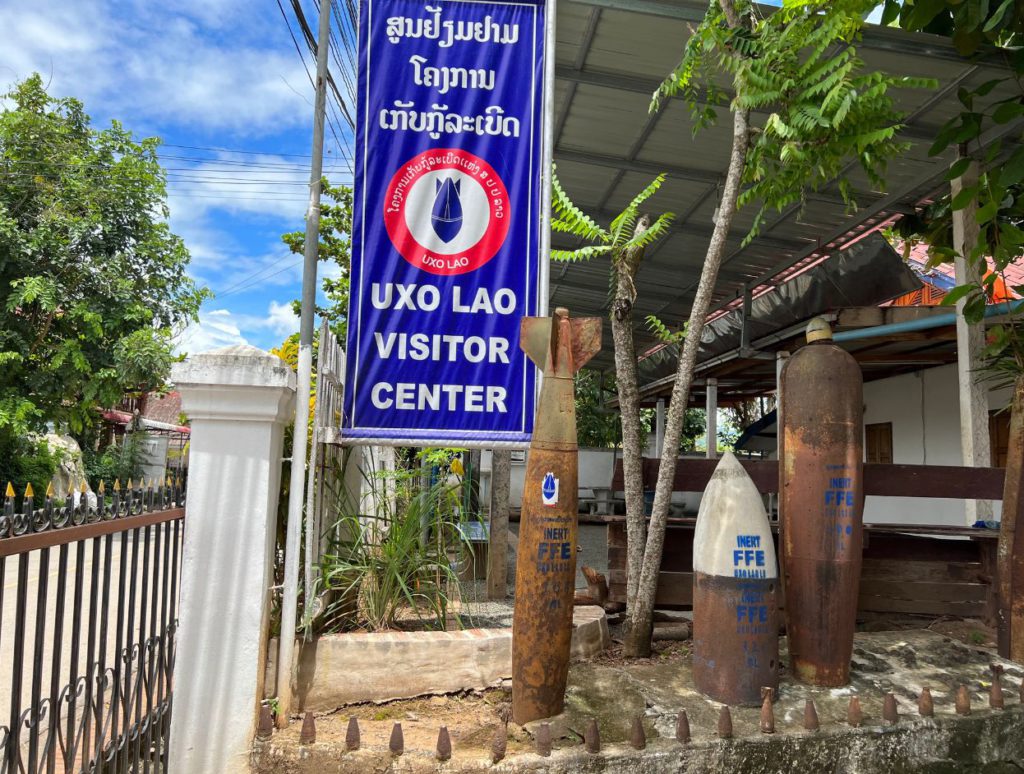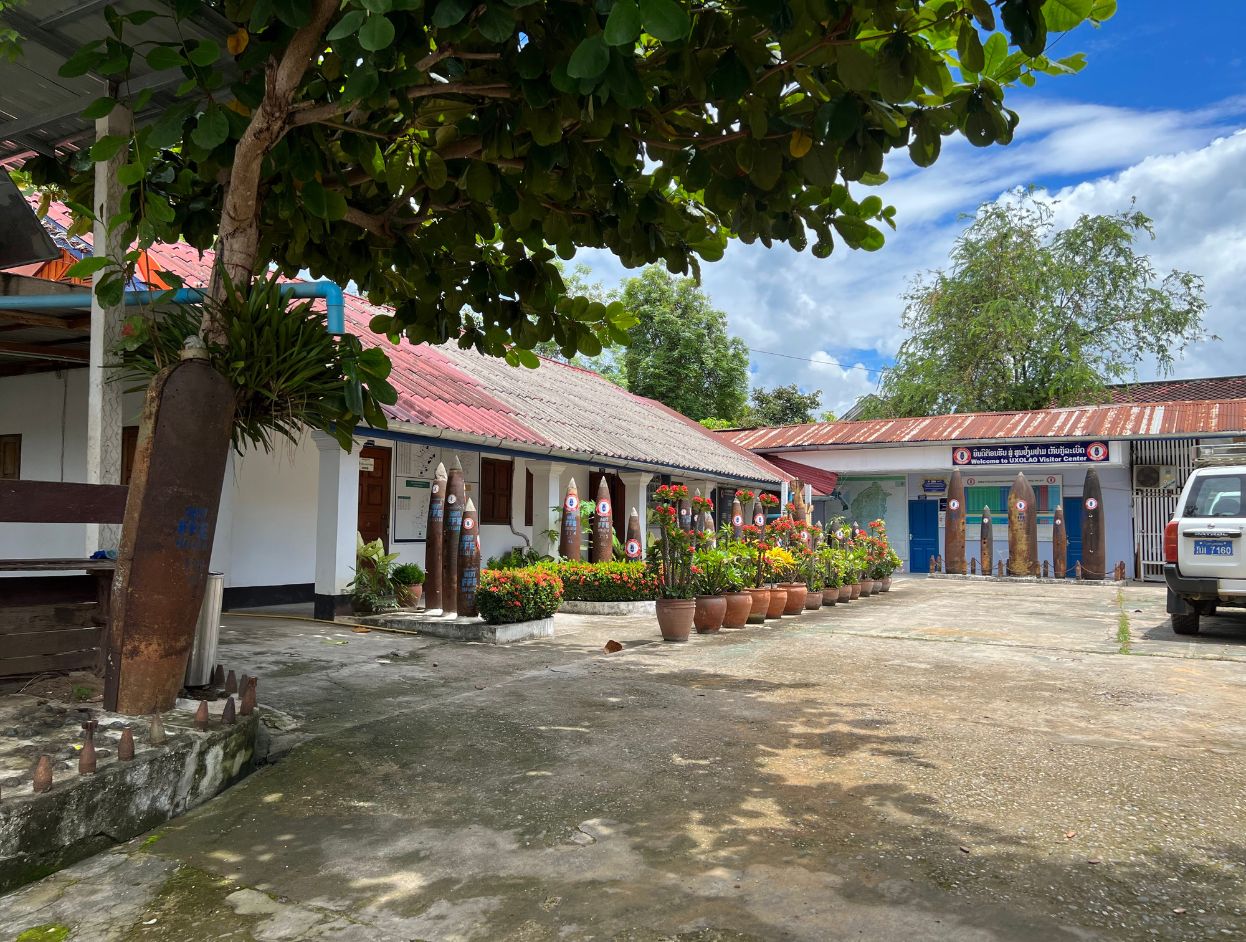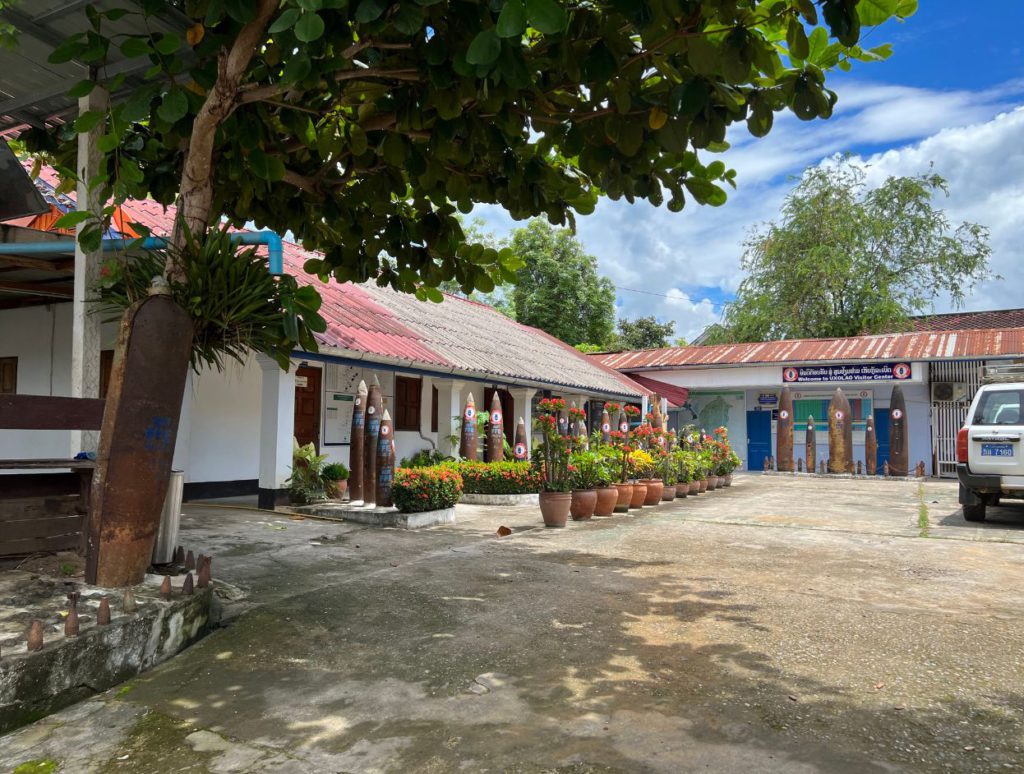 Alms Giving Ceremony
Okay, this is not a place but rather an experience. And while you can also see this ceremony in Thailand, Cambodia and other parts of Southeast Asia, it is a very natural local experience in Luang Prabang.
To start with, it already feels like you are back a few decades in time. And you can feel the excitement of people early in the morning scrambling for their places before the monks arrive.
The ceremony is called 'dat bat' where monks from the local monastery covered in orange robes with their metal bowls slung over their shoulders make a round to collect alms. You see, monks are not allowed to cook and they depend on the alms for food, money and many other daily necessities.
In return, the people earn merit for good karma as the monks bless the people. To me, it seemed a very important part of society and people consider it both a privilege and their duty to give alms. You can also participate. Just ask your host/hotel owner what to get for alms, buy it at the morning market and sit down to follow others.
I think the locals as well as the monks know that tourists really enjoy this kind of experience and they are happy to welcome people to participate.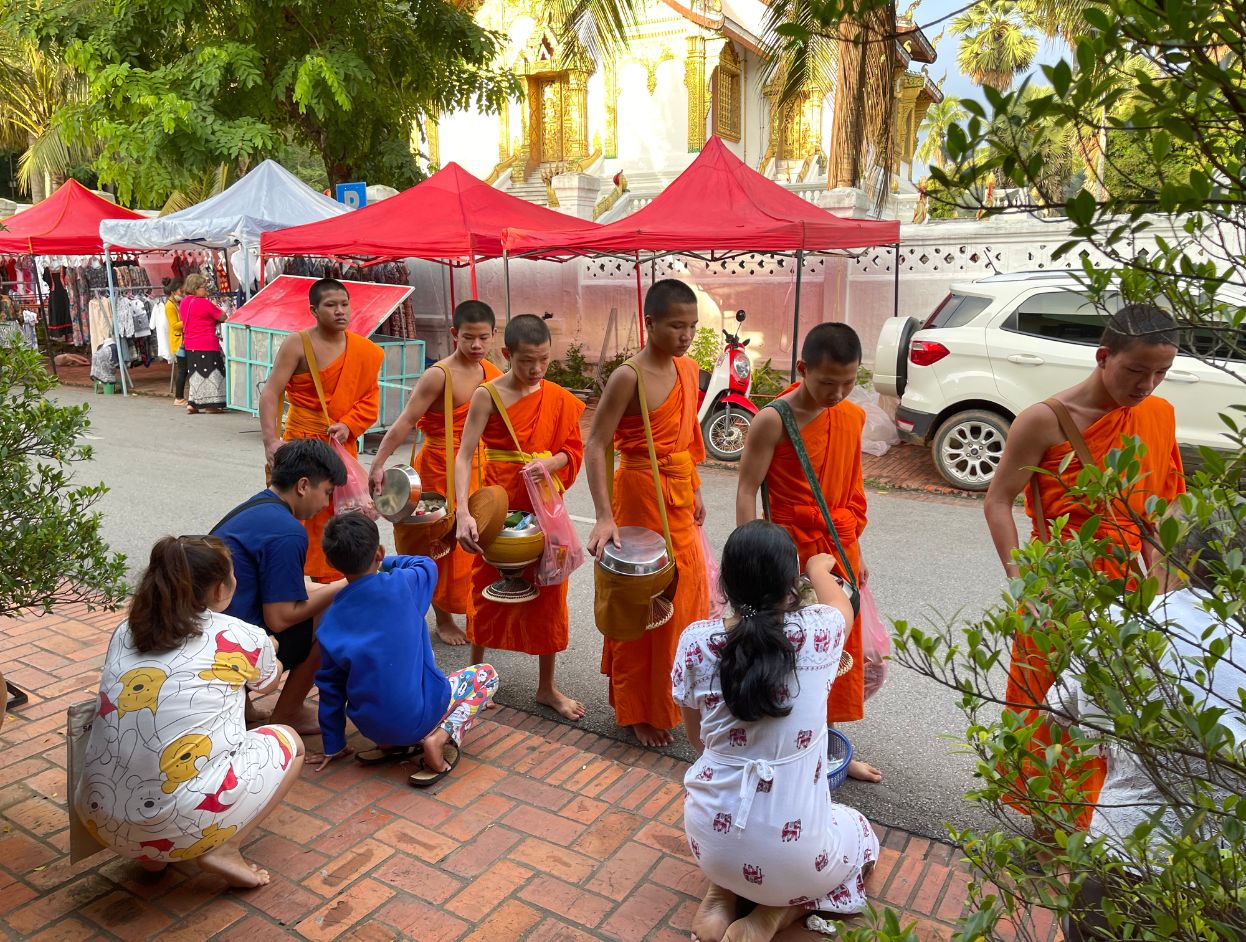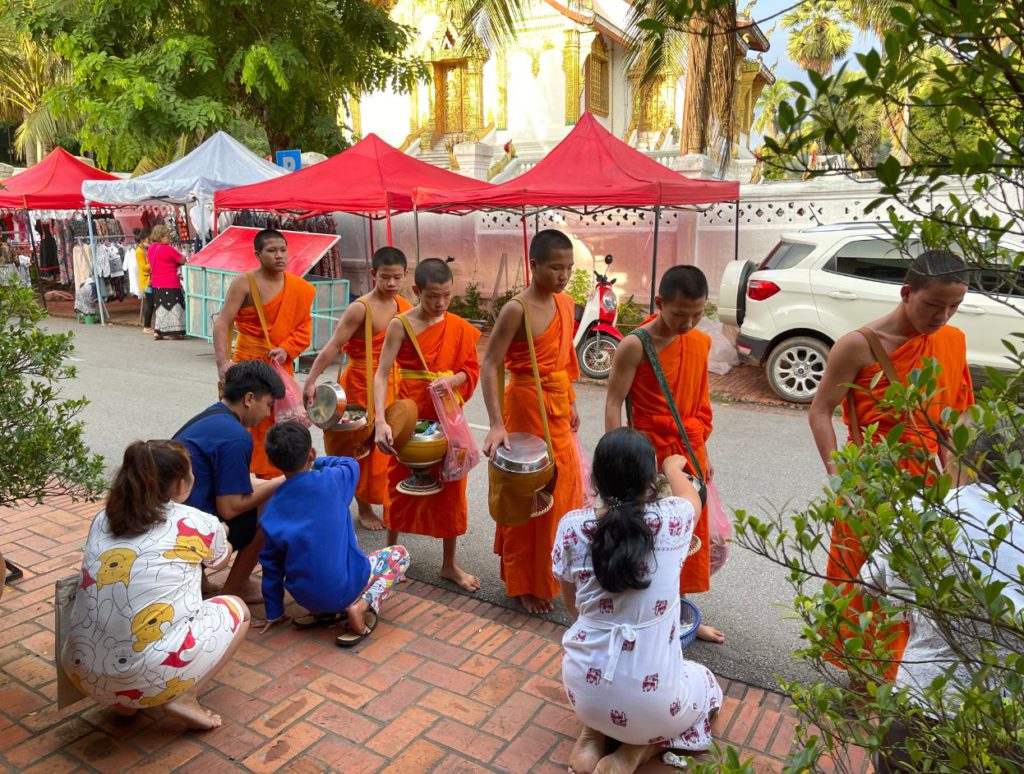 Best time to visit Luang Prabang
Best time - Winter (November - early February)
The winter months are the best time to visit Luang Prabang. The days are usually cool but the nights can get even colder. The temperature in November, January and February hovers between 20-25°C. 
It drops further in December ranging from 14-20°C that are comfortable and the wind is really pleasant. The skies are clear and the chances of rain are low. I would say October isn't really bad as well since the temperature is still not too high and rainfall is usually low.
Great time - Monsoon (June - September)
I think the monsoon is a fantastic time to visit most of the places in southeast Asia. A lot of people won't agree, but I love the rain. The good thing is that it usually never rains the whole day so you can still go out and explore. But you should give a margin of time to be flexible.
Laos, with dense forests and a huge Mekong river, was lush green and live with activity. It is also the low season, so you can get decent rates on hotels and flights. The downside is that the humidity gets very high. If the sun is strong on a day, you will want air conditioning. If you can do it, go ahead. I loved it here in July.
Bad time - Summer (March-May)
Summers are quite hot in Laos. When the dry spell is long, forest fires also become a threat. The temperature starts rising in late February and is there till the monsoon arrives. The temperature hovers between 20-35°C. Travelling outdoors will be difficult and tiring unless you love the sun. 
If you do decide to be here in summer, make sure you are well hydrated. Keep indoors during the afternoon and take advantage of early morning and cooler evening hours to enjoy the outdoors.


Related Articles