24 Feb

Hot Air Ballooning in Vang Vieng, Laos

I loved hot air ballooning in Vang Vieng, far more than any other activity. Of course, it has to do with the mindblowing views of Vang Vieng. But even if I don't consider that, I personally prefer these gentle, slow, chill activities. At least compared to the adrenaline-rushed adventure ones. After all, the bear genes show.

But you will need some time in your schedule for this. Take out half a day for the experience and pair it will a slow beautiful day. Make the most of it.

And if you are looking to visit Vang Vieng, do check out our article on top things to do in Vang Vieng, Laos.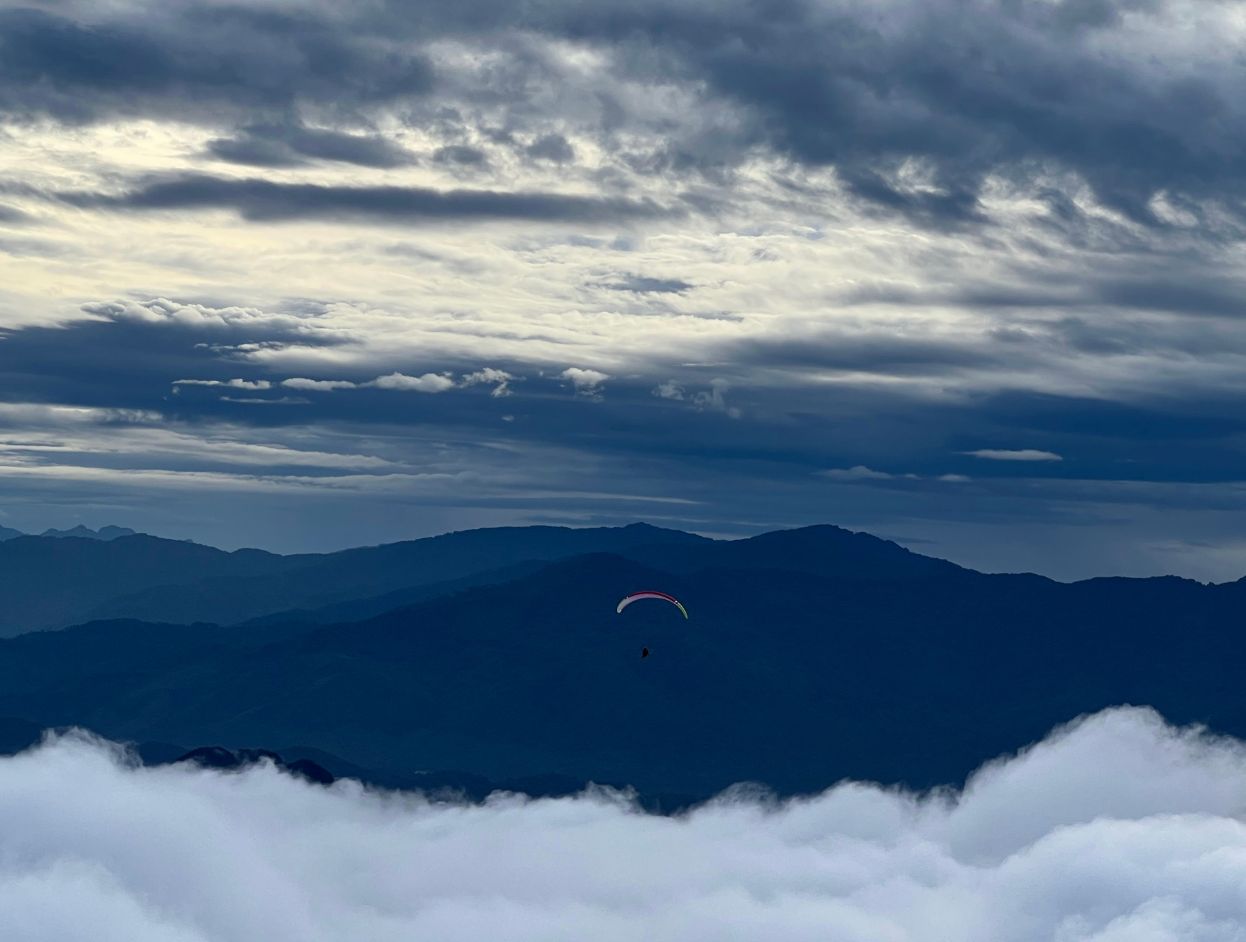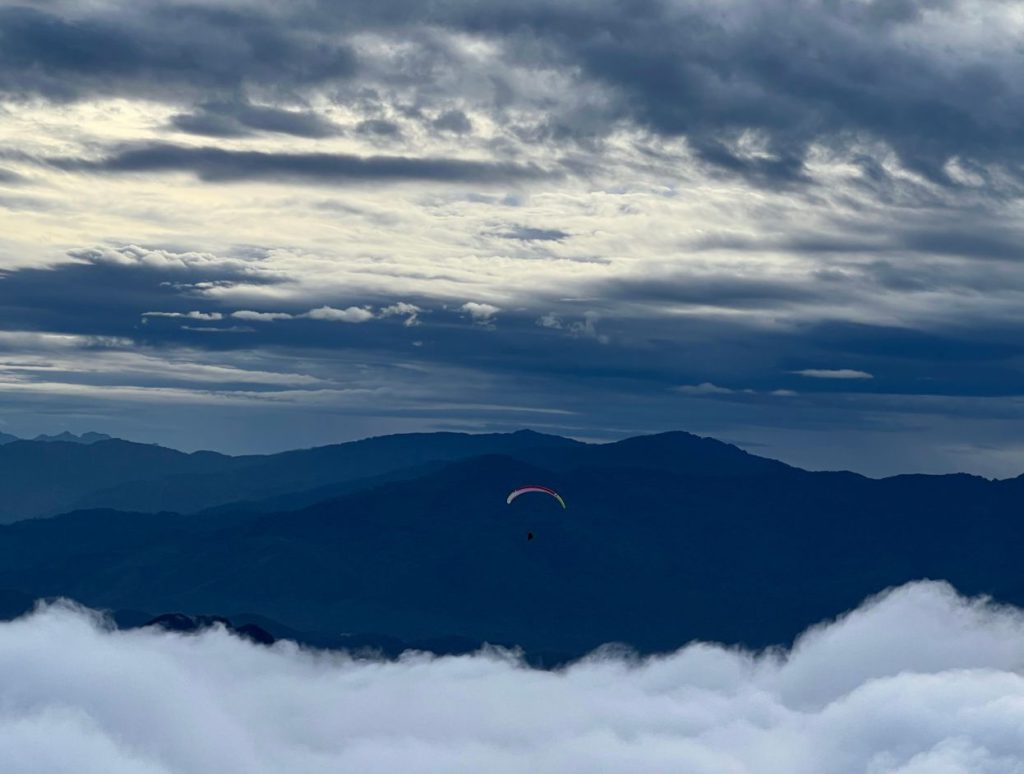 Why experience the hot air balloon in Vang Vieng
If you are in Vang Vieng and a hot air balloon is on your list of things to do in life, you can give it a shot here. Vang Vieng is one of the most beautiful places I have seen in my life. The dense multilayered karst mountains in the background and water-filled lime-green paddy fields below is a treat to the eyes.
To add icing to the cake, hot air ballooning in Vang Vieng is considered one of the most affordable rates in the world. But with fantastic services. I will recommend it!
Travelling inside Laos? Check out our Laos travel itinerary from 5 days to 4 weeks
Who offers hot air ballooning in Vang Vieng?
There are two private companies that offer hot air balloon activity in Vang Vieng. You can find their advertisements in the offices of several tour operators in Vang Vieng.
The two companies operate in different parts of Vang Vieng. The companies are – Balloon over Vang Vieng (old and original) and Above Laos (operating since 2019). Balloon over Vang Vieng is towards the town with all the hotels and restaurants. But a little far away in the countryside. Above Laos is on the other side of the river and quite deep into the countryside.
I personally took the experience with Above Laos. While both companies have had great reviews in terms of flight experience and safety, there are some small additional perks with Above Laos. Those come with some additional cost. So Keep reading.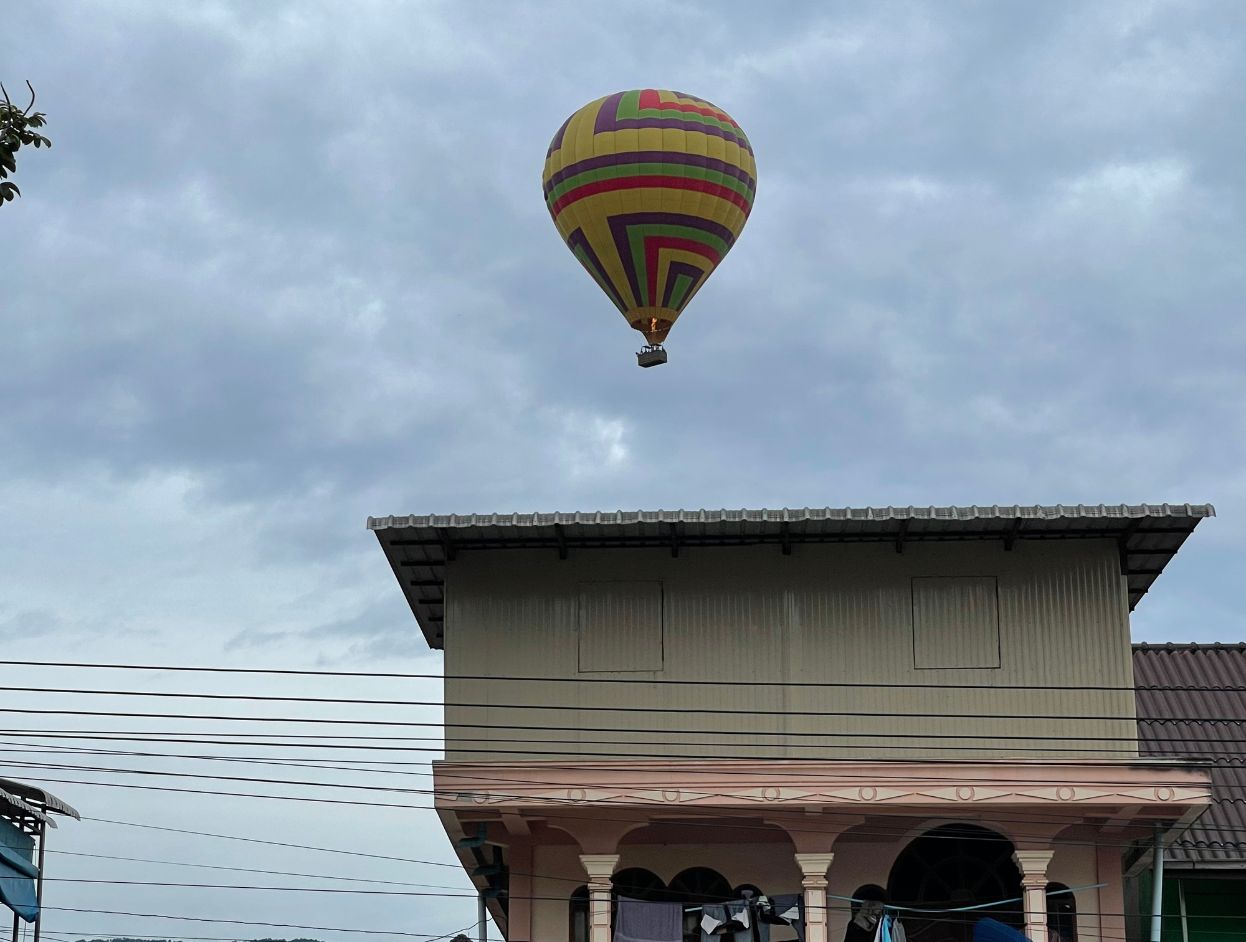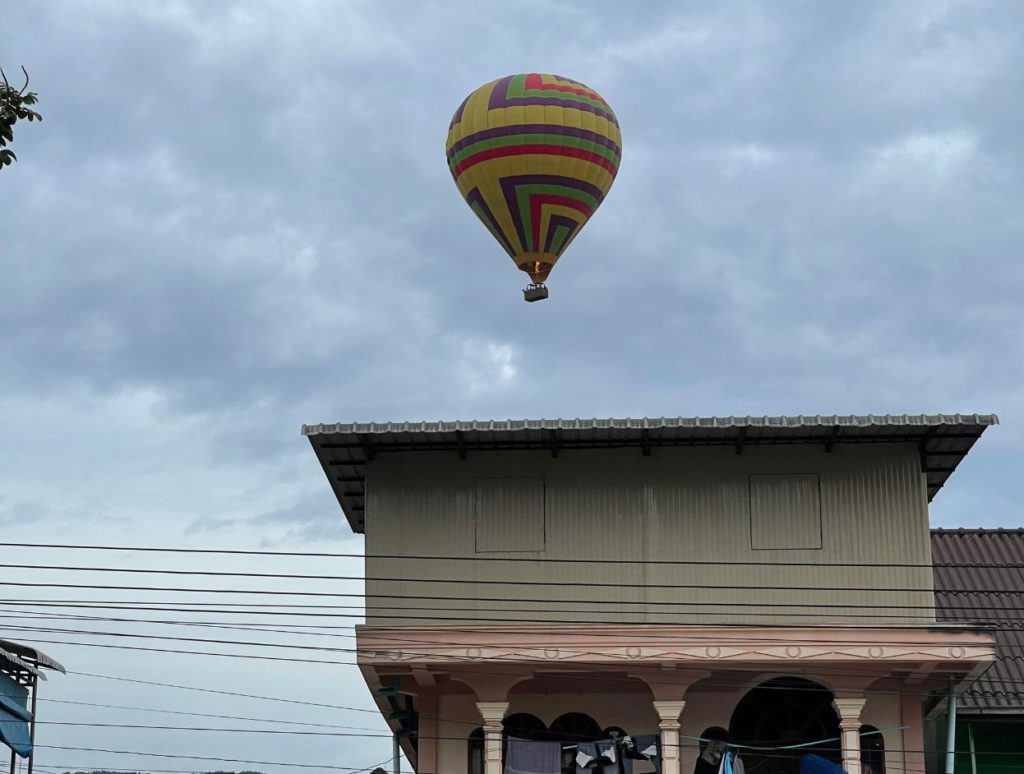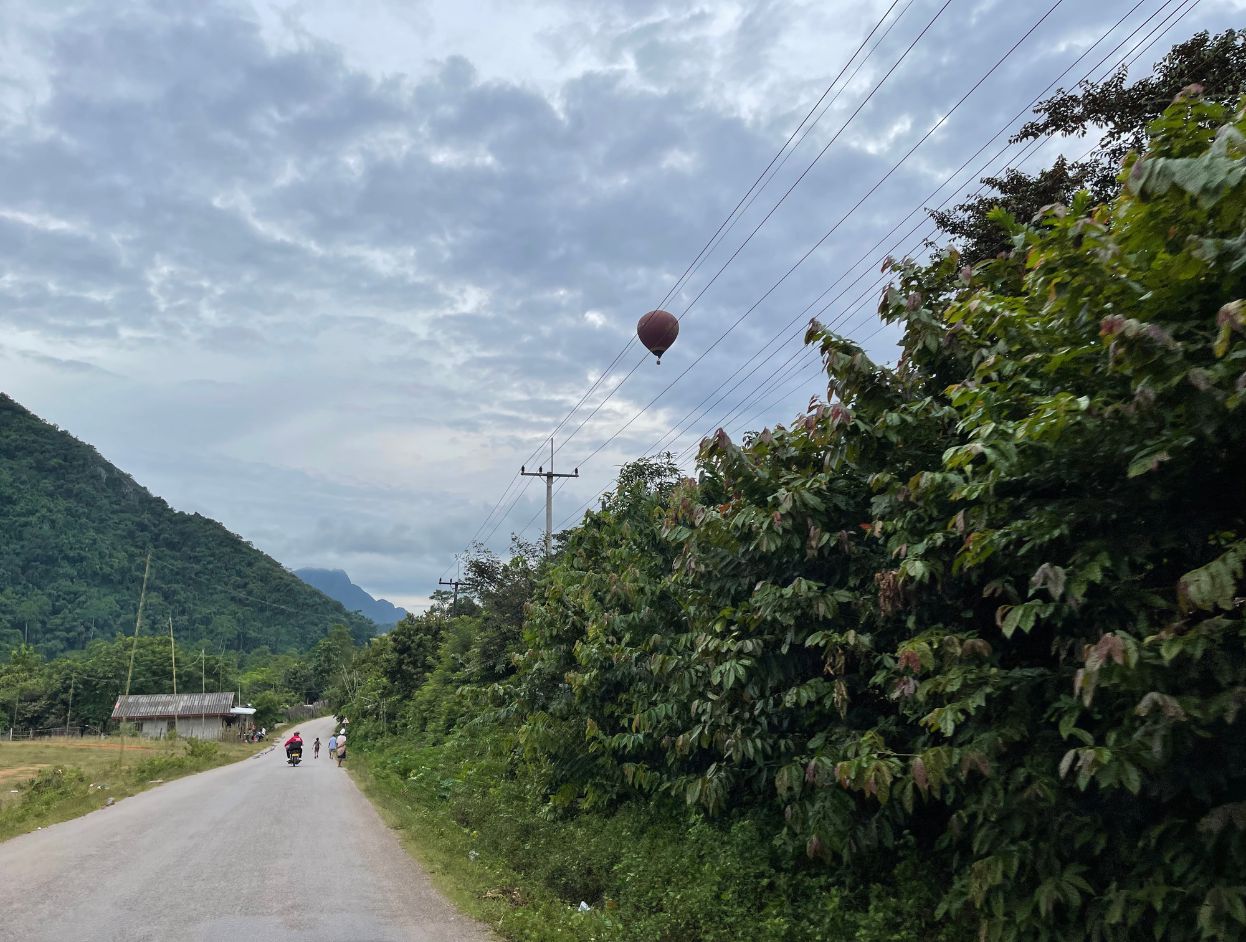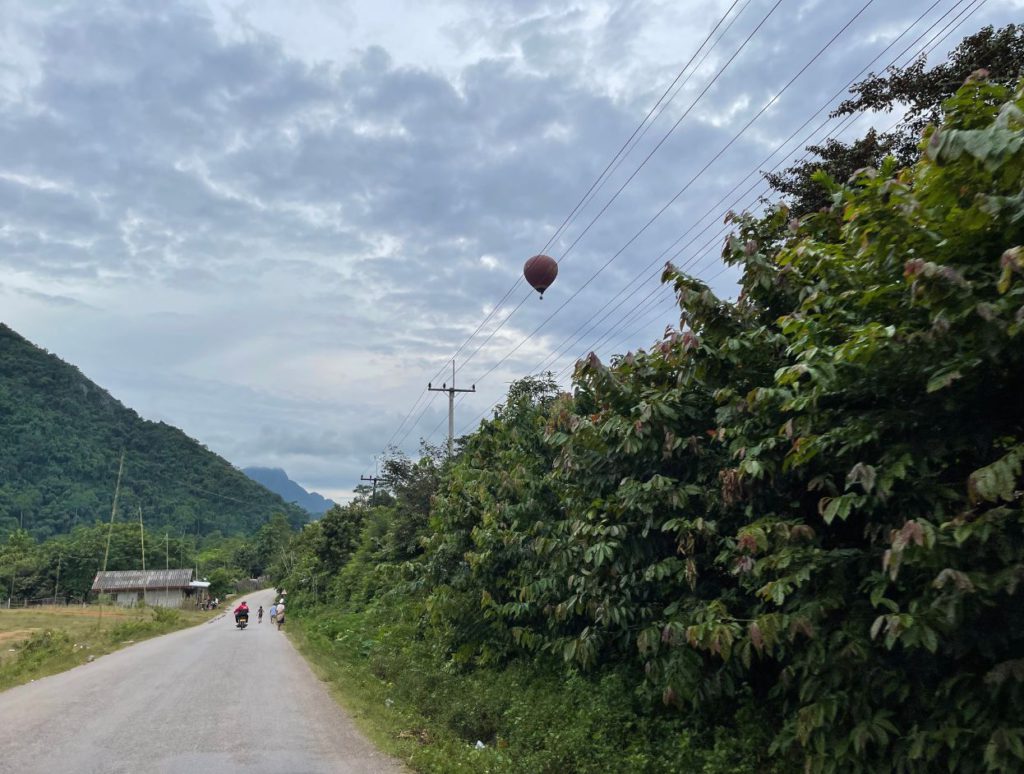 How to book
If you are staying in town, the easiest way to book is to head over to any of the tour operator shops. They sell all kinds of activities and transportation in Vang Vieng and most of them can book this for you. Depending upon your flying date and time preference, you can select the option they have available.
The cost of the experience varies for the two operators. The Ride with Balloon over Vang Vieng costs between 80-90 USD depending upon any discounts they are running. This includes the pickup, dropoff from your hotel and the overall flight experience.
The cost with Above Laos is USD 120 (and they usually don't run discounts). This comes with pick-up and drop-off costs like the other one. But they also have refreshments before and after the flight with a glass of champagne. Additionally, there is also a certificate that you can take as a souvenir.
If you are booking via an agent, they may charge a tad bit extra for their commission. So you can also head over to their office. The office for Balloon over Vang Vieng is right in the town so it's pretty easy to reach. On the other hand, you can drive a bit to reach Above Laos office and take off area in the countryside.
Good news though! They both have their website now. So you can either book the experience online or WhatsApp them and they block the activity for you. I am not sure if you are supposed to pay upfront.
Website for Above Laos: http://abovelaos.com/en/
Website for Balloon over Vang Vieng: https://balloon-vangvieng.business.site/
They usually run 2-3 flights every day – morning, afternoon (sometimes) and evening. Needless to say, the early morning or the sunrise flight and the evening or sunset flight are probably the best to experience. 
The activities can be closed due to bad weather conditions, rain or on super windy days. So good luck to you!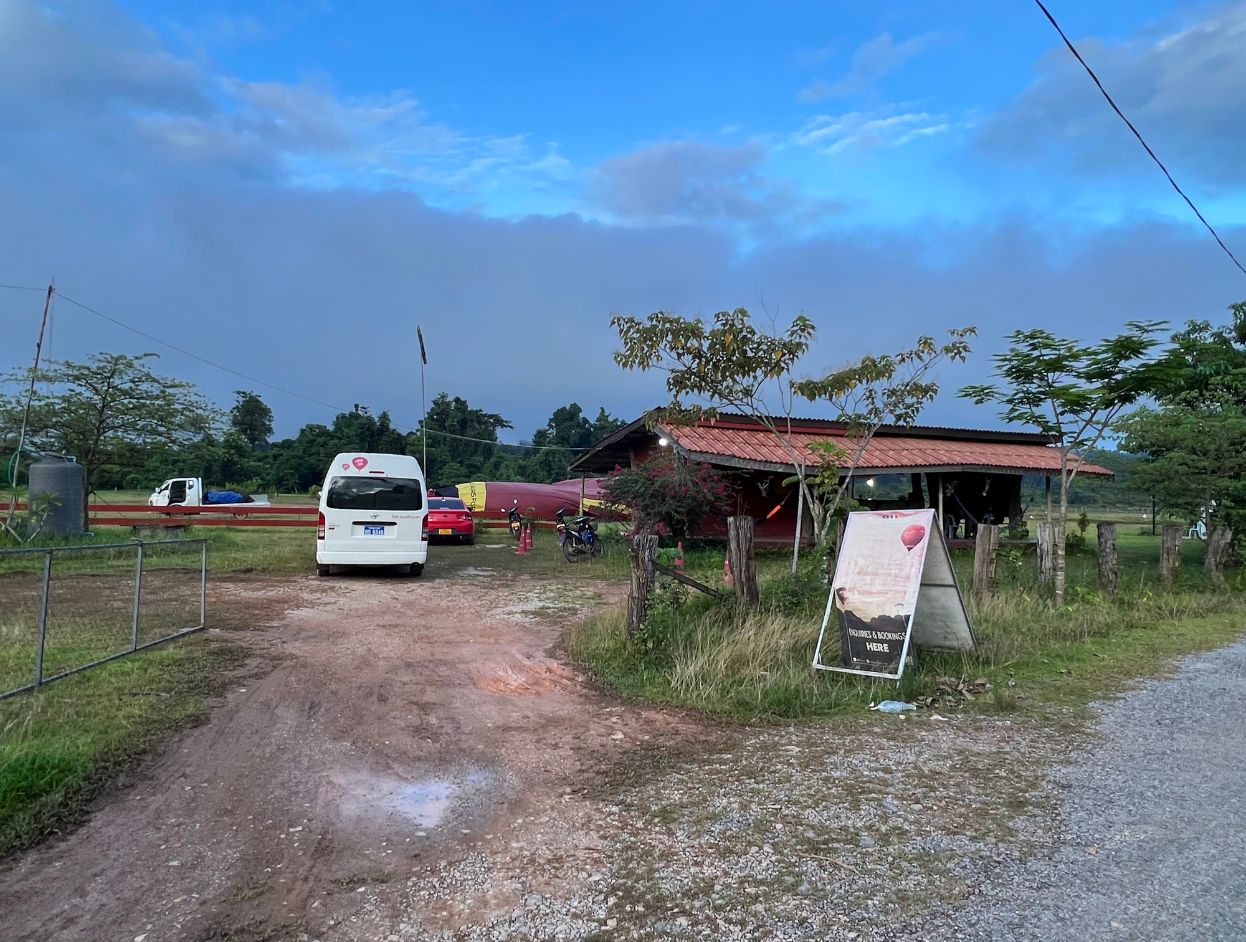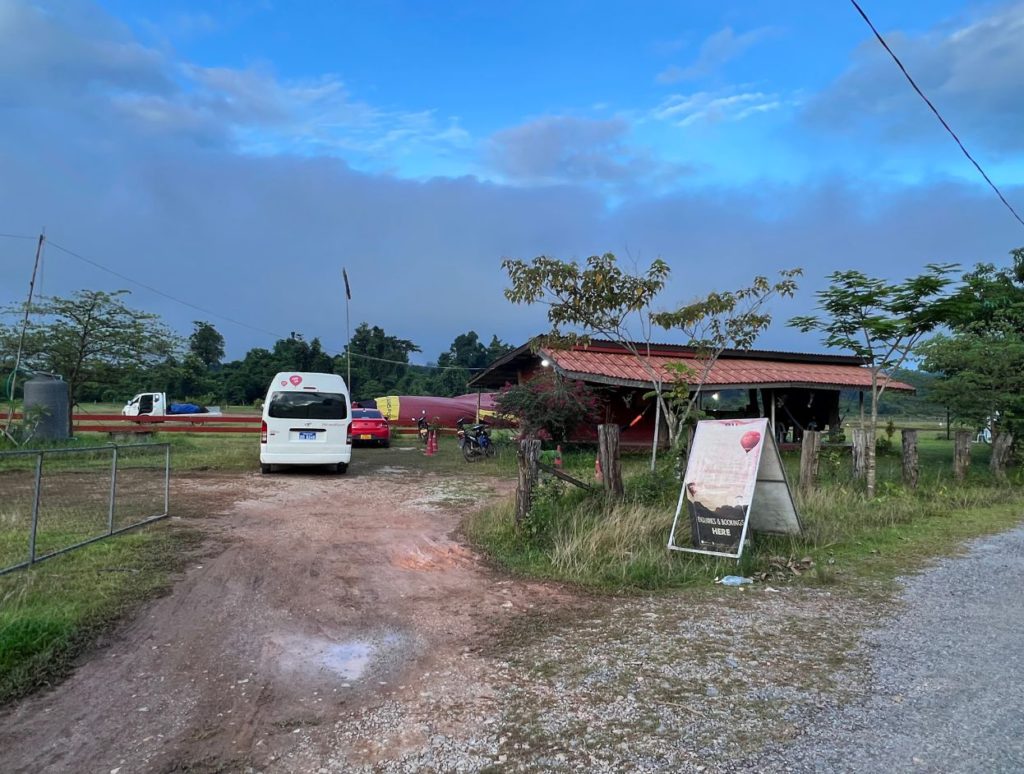 Our experience
I booked my experience with Above Laos, so I am going to talk about that. But apart from the pre and post-flight experiences, there may not be a lot of difference between both operators.
Pick up and preparation
Our pick-up van was at our hotel right on the minute at 5.45 am to pick us up. We were able to coordinate with the driver on the phone. After they picked up another family and a couple after us, they drove us to the countryside where both their office and take-off location are.
The take off area is just a large empty space of land. A rock nearby will tell you how to read the weather for the day. Luckily, the weather was fantastic for us. There were clouds and a little wind but it just added to the experience.
Our team served us tea or coffee in the morning as per our preference and we were at liberty to go around and check out the area while they were preparing the balloon for the flight. You can see them working pumping the air right in front of you. I have to say, it is a lot of work and effort. It is also a good time if you want to chat and know the people in the group you will be taking a flight with. Just adds to the good time.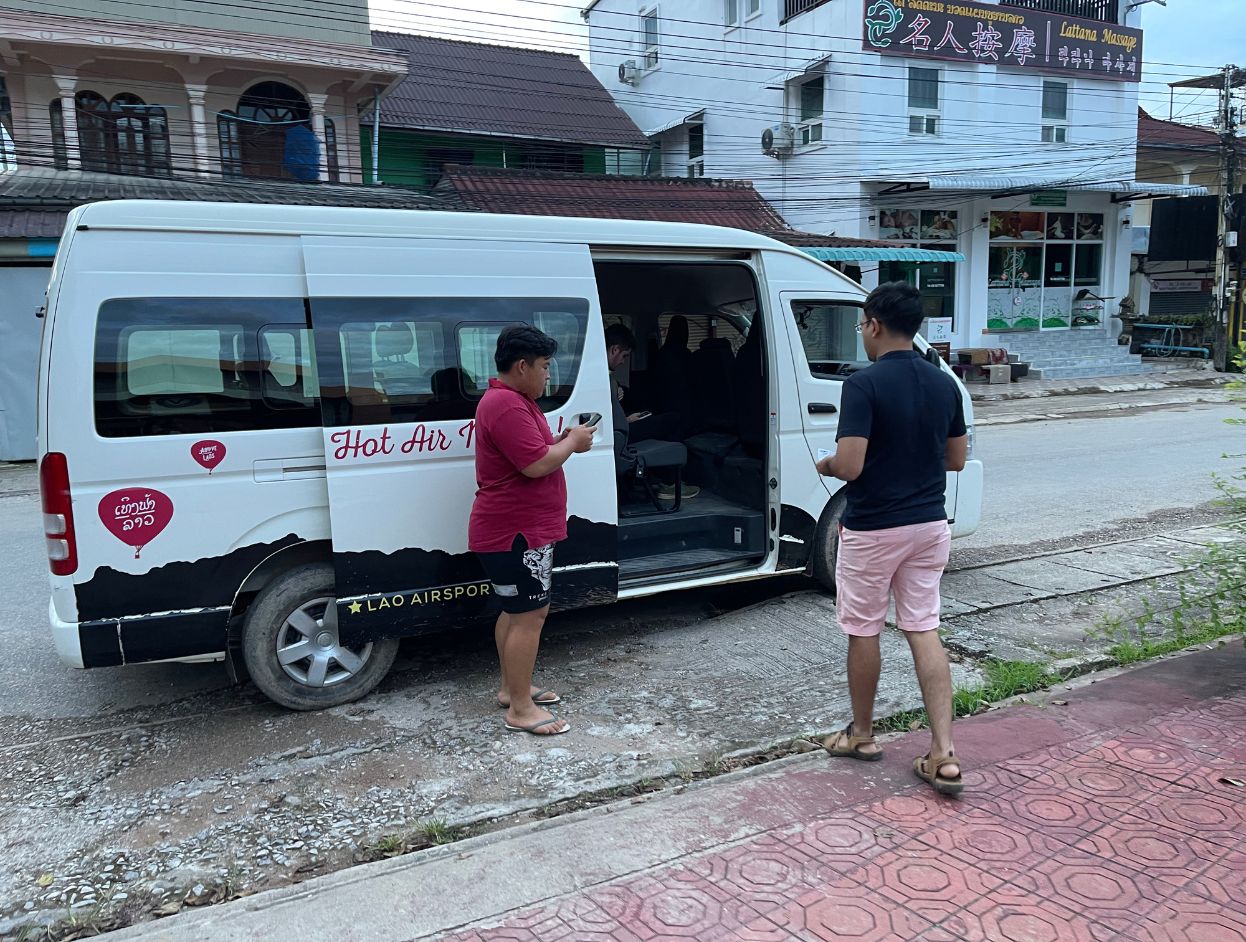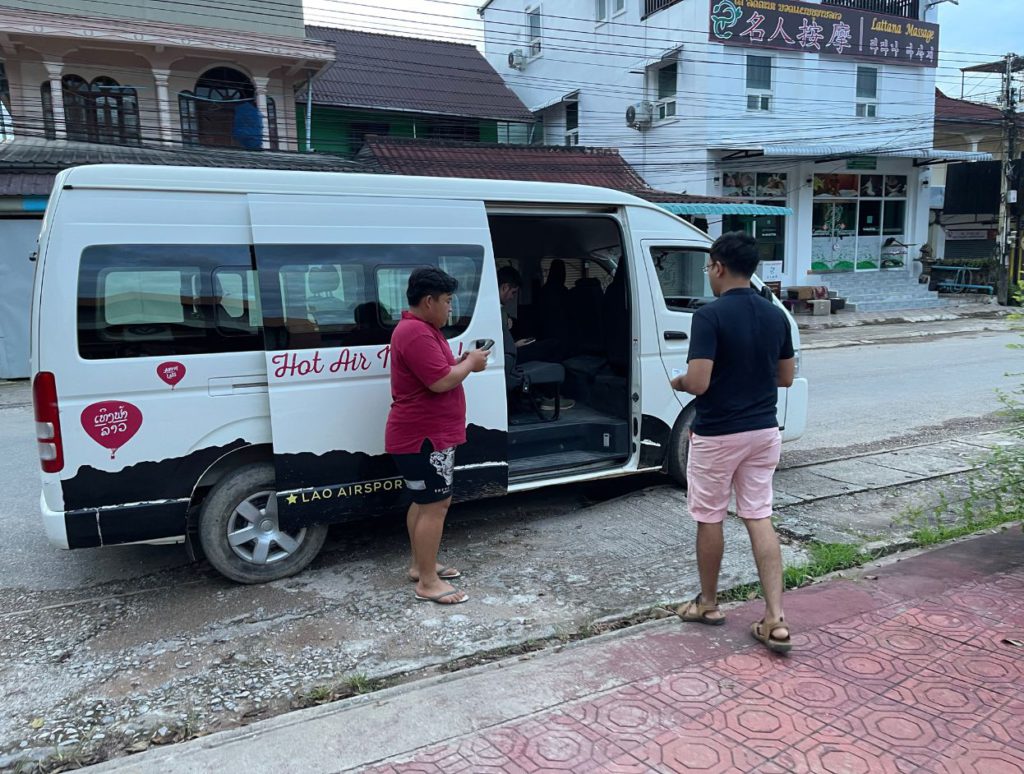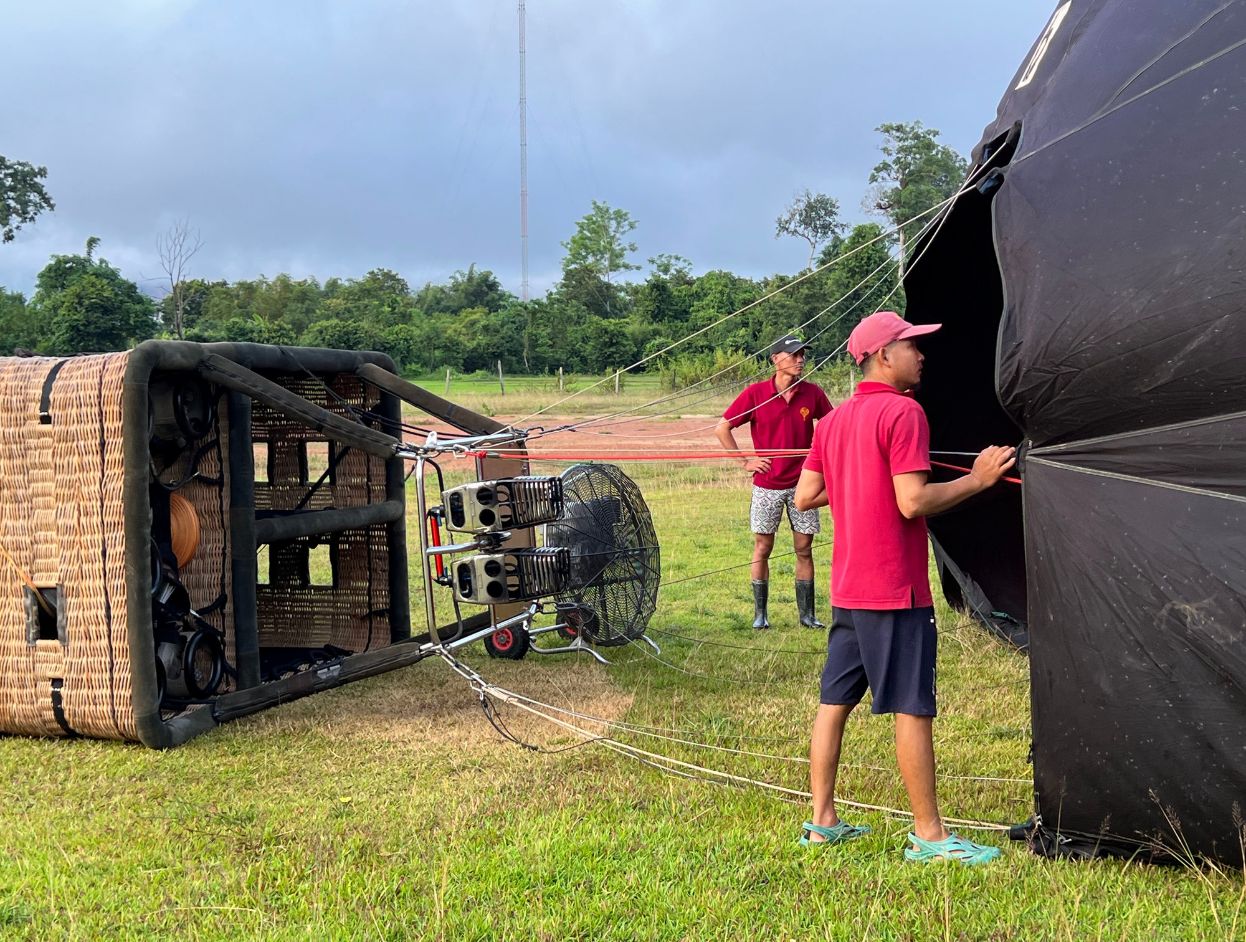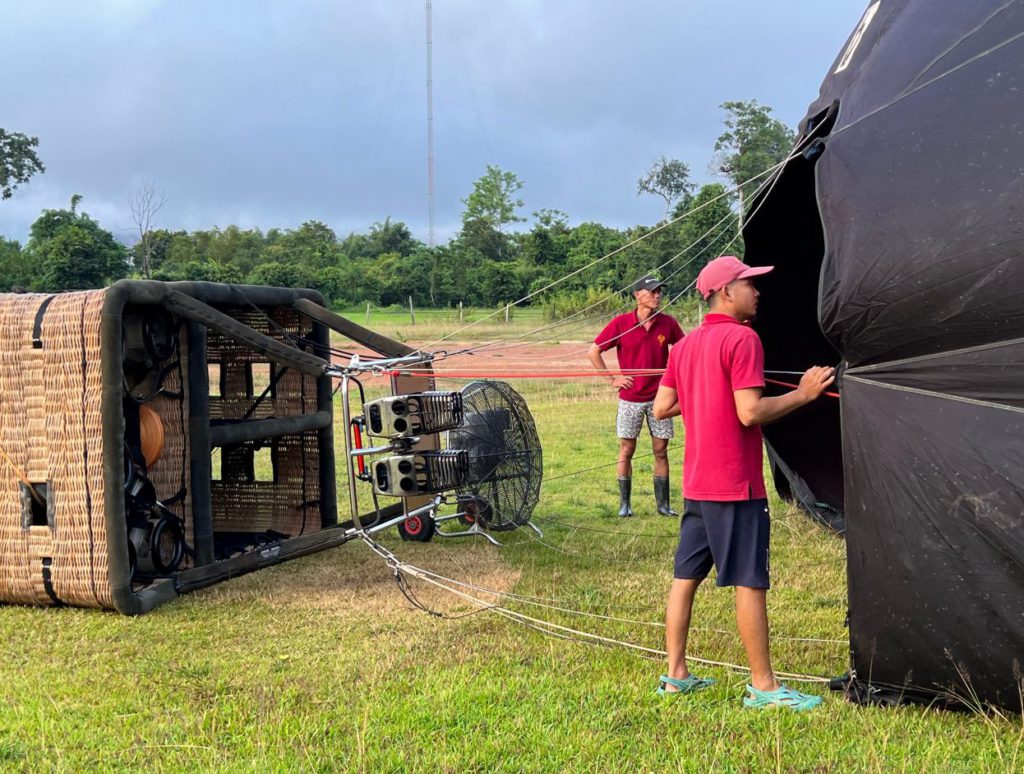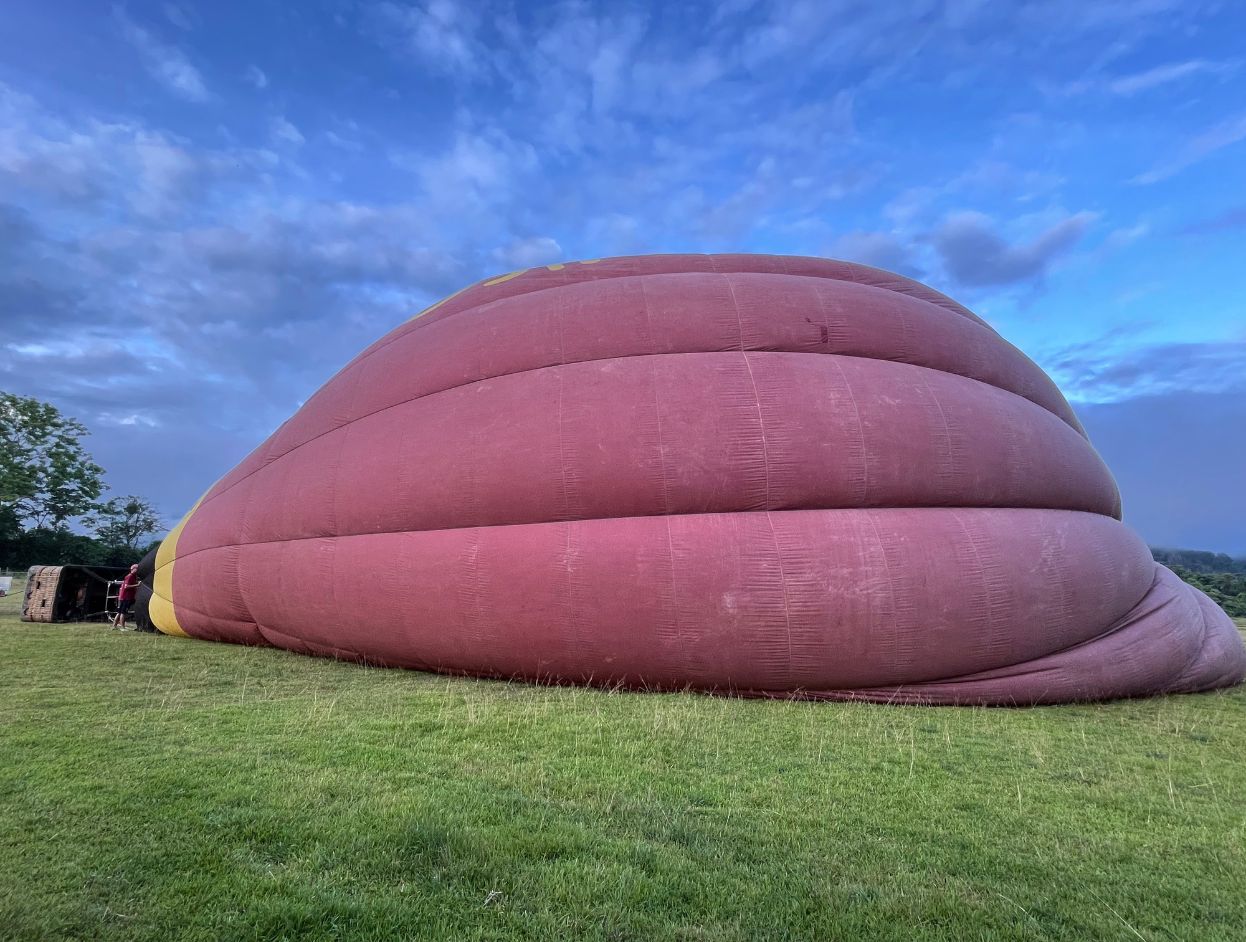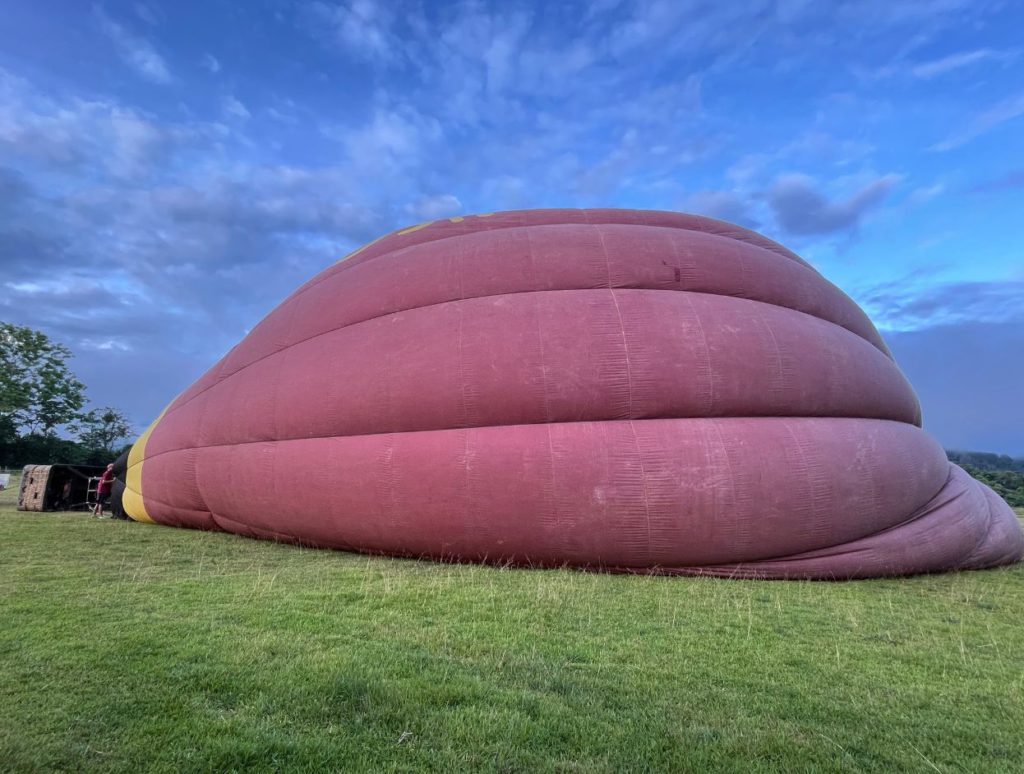 Hot air balloon experience in Vang Vieng
Once our balloon was ready, our pilot and crew helped us board. You need to climb inside the basket where you stand for the time of your flight. It may look a bit scary, standing inside a basket hung below a giant balloon to go hanging in the air. But the flight itself was super chill.
Our instructor and pilot seemed very experienced and he gave us safety instructions before we started. You don't have to worry much but only keep some pointers in mind while landing. Also, do not let your hands loose outside the basket or drop your belongings because then it's just gone for good.
Our flight started accelerating at a very slow pace and the views just kept getting better. After around 10 minutes, we hit the clouds and in a few minutes, we were well above them. The dense green mountains, tiny Lao houses with bright red rooftops and the paddy fields in front of them filled with water and reflecting off the sky are something I thought only existed in pictures.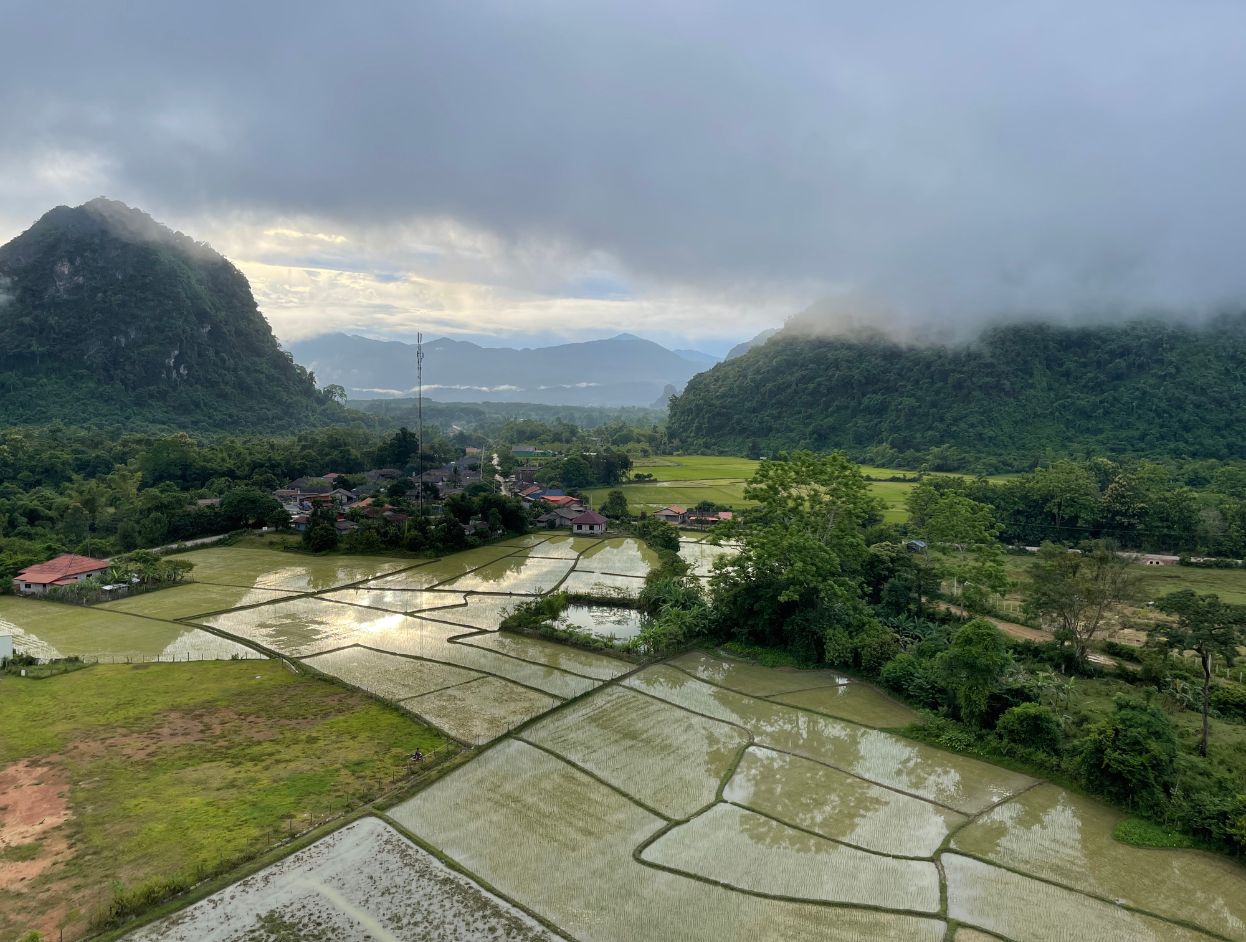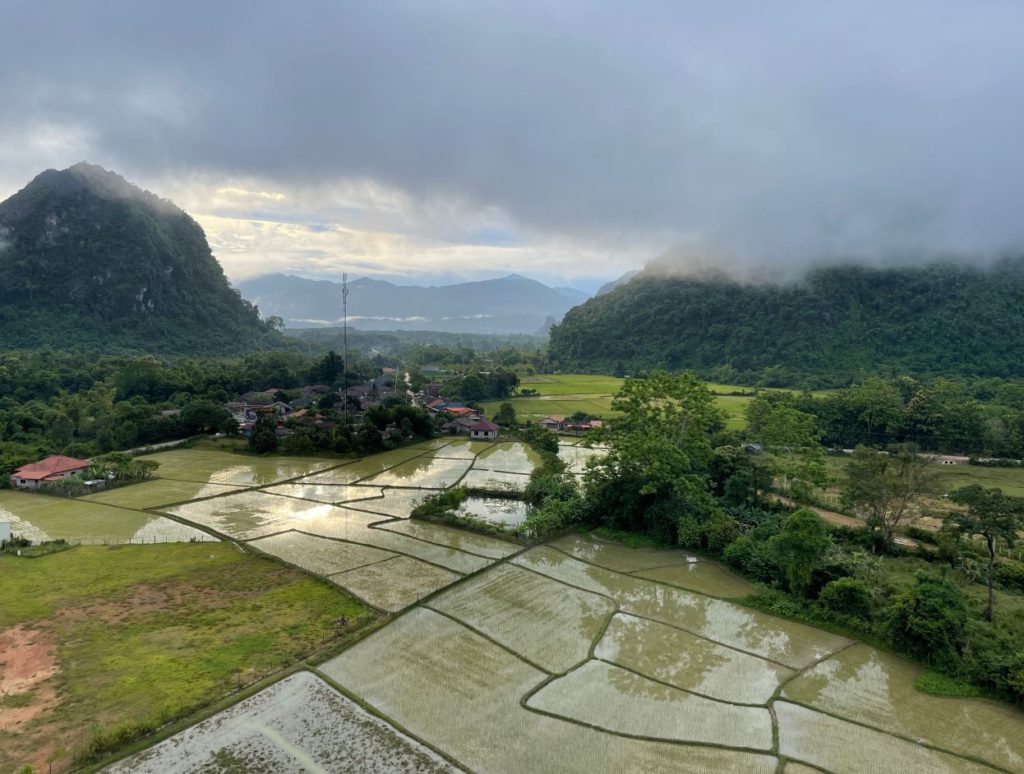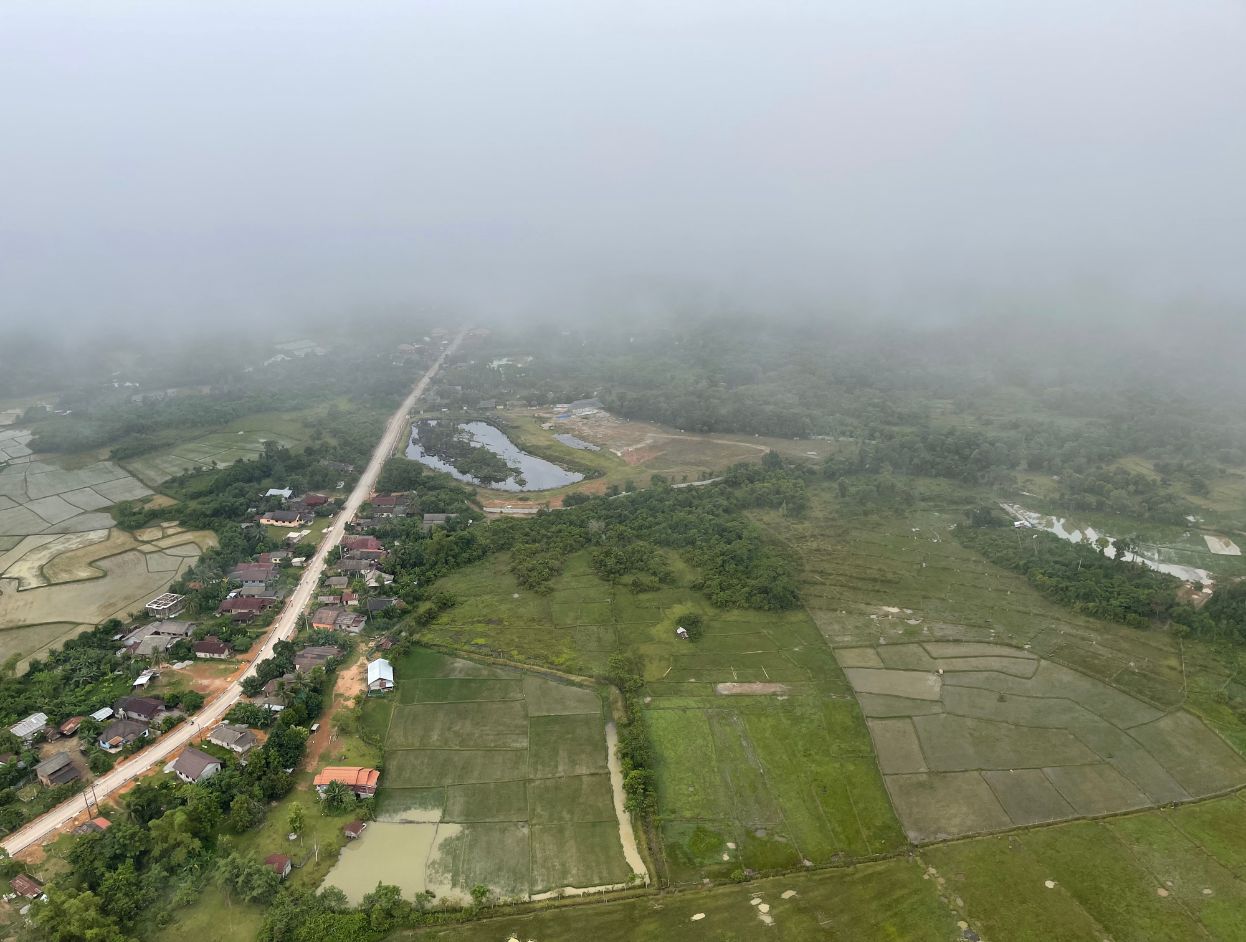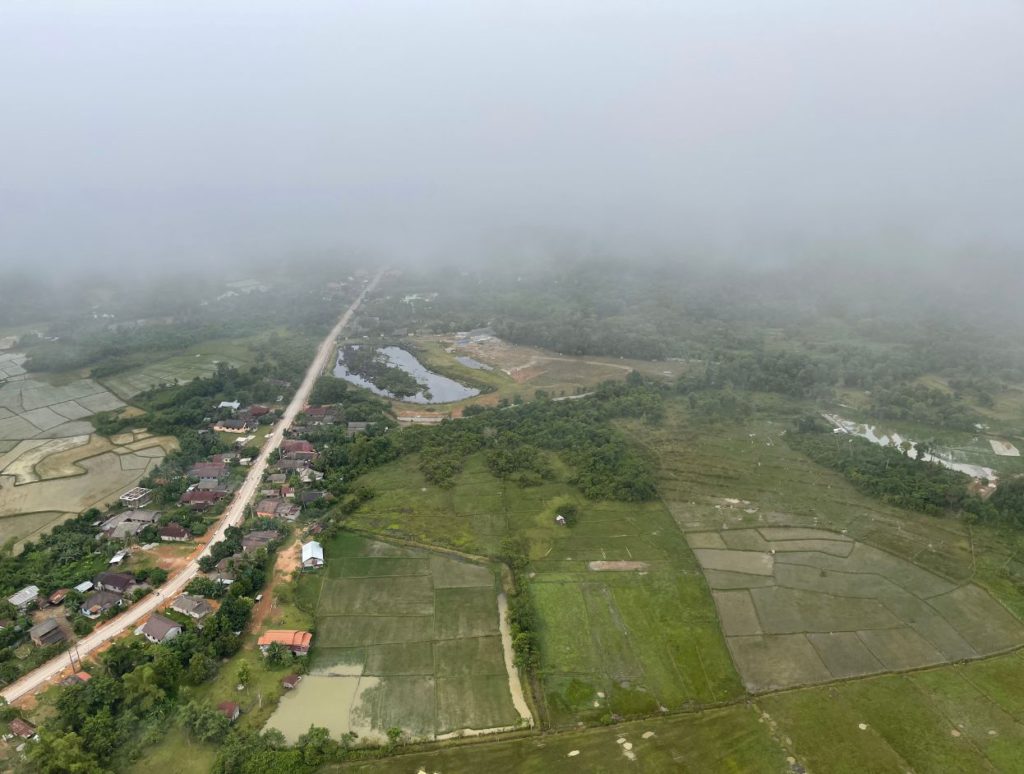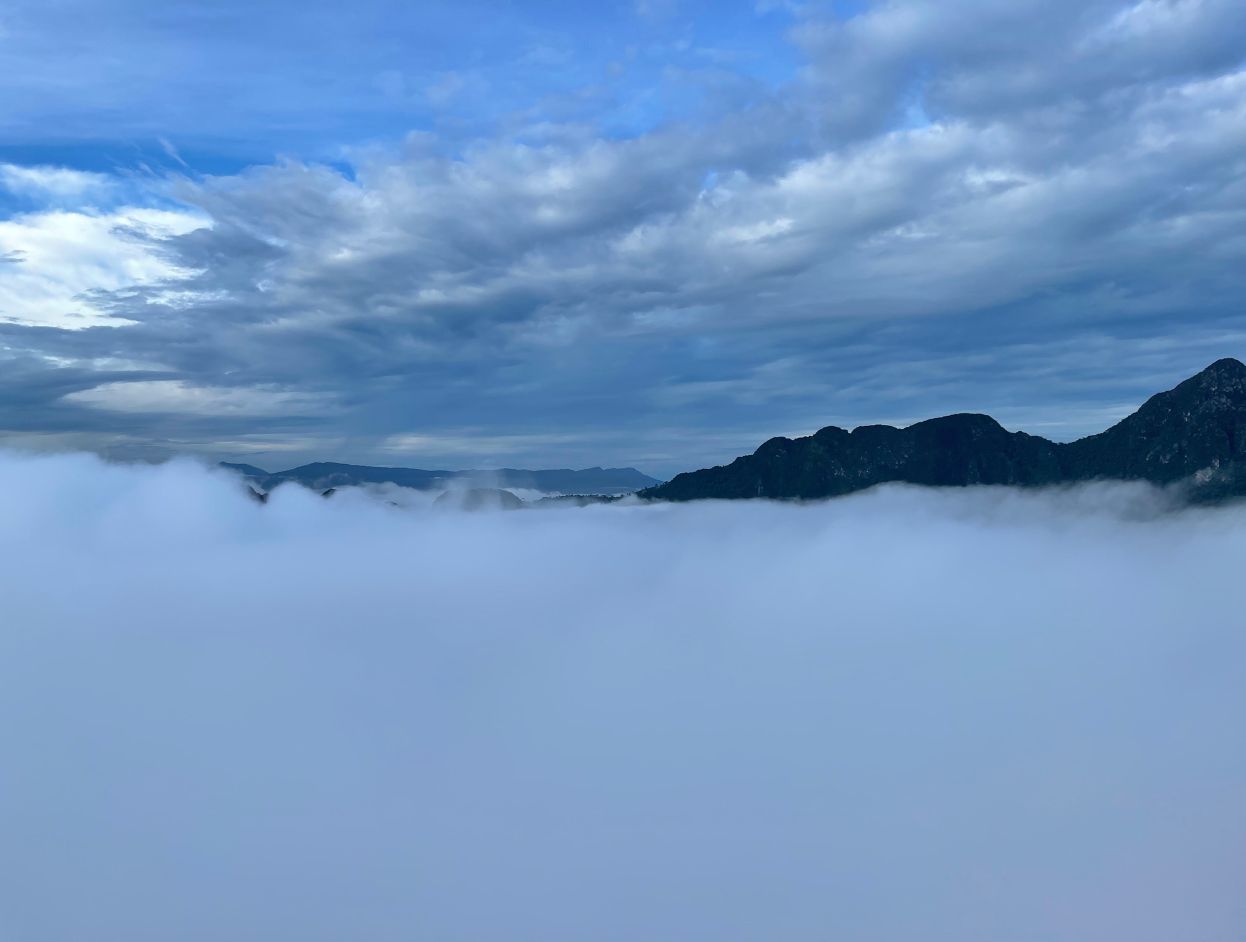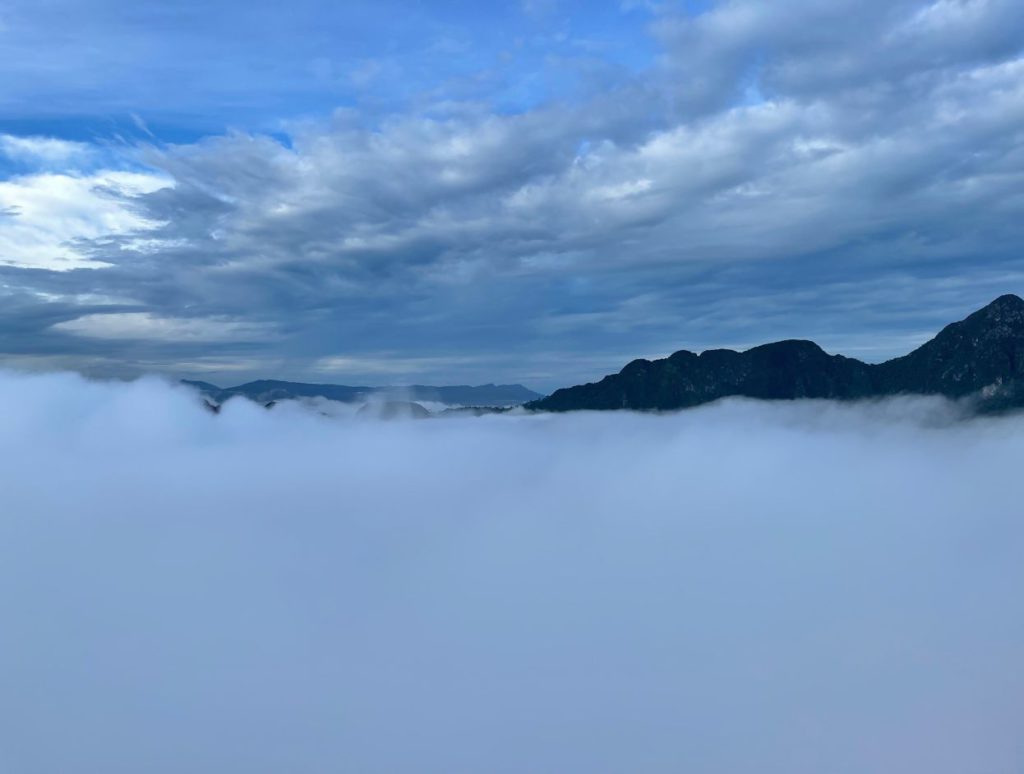 Then the photo sessions began. And I thought we clicked an insane amount of them. But now, I would not mind having a lot more. We also saw one of the Above Laos team members paragliding who zoom past us over the clouds. It was mindblowing!
And then we were just hanging in the air, enjoying the view for the rest of the time it lasted. Until it was time to land. Landing can be a bit bumpy since a lot of times it is out of our control where we land (balloons follow the winds). But our pilot and their crew were experienced to navigate us out of other people's farms into a dry patch of land. We landed and walked a bit to our minivan while the crew packed up the balloon.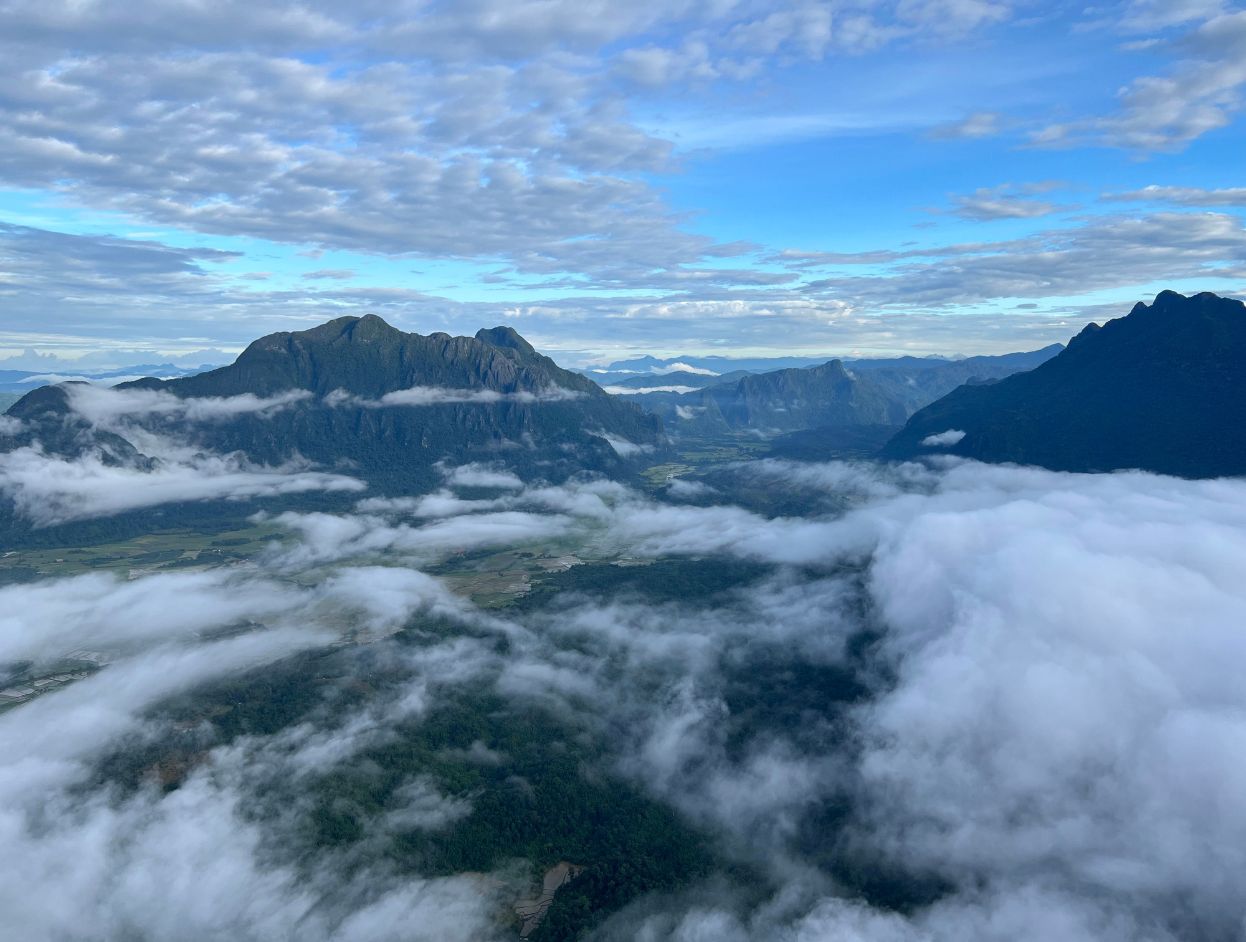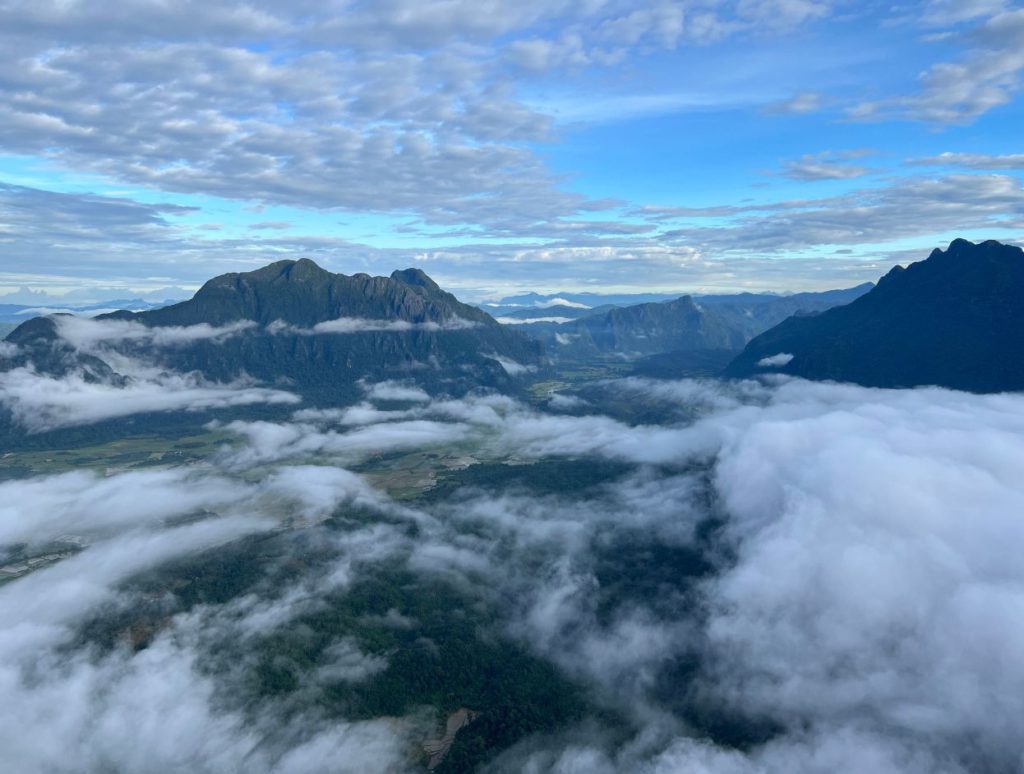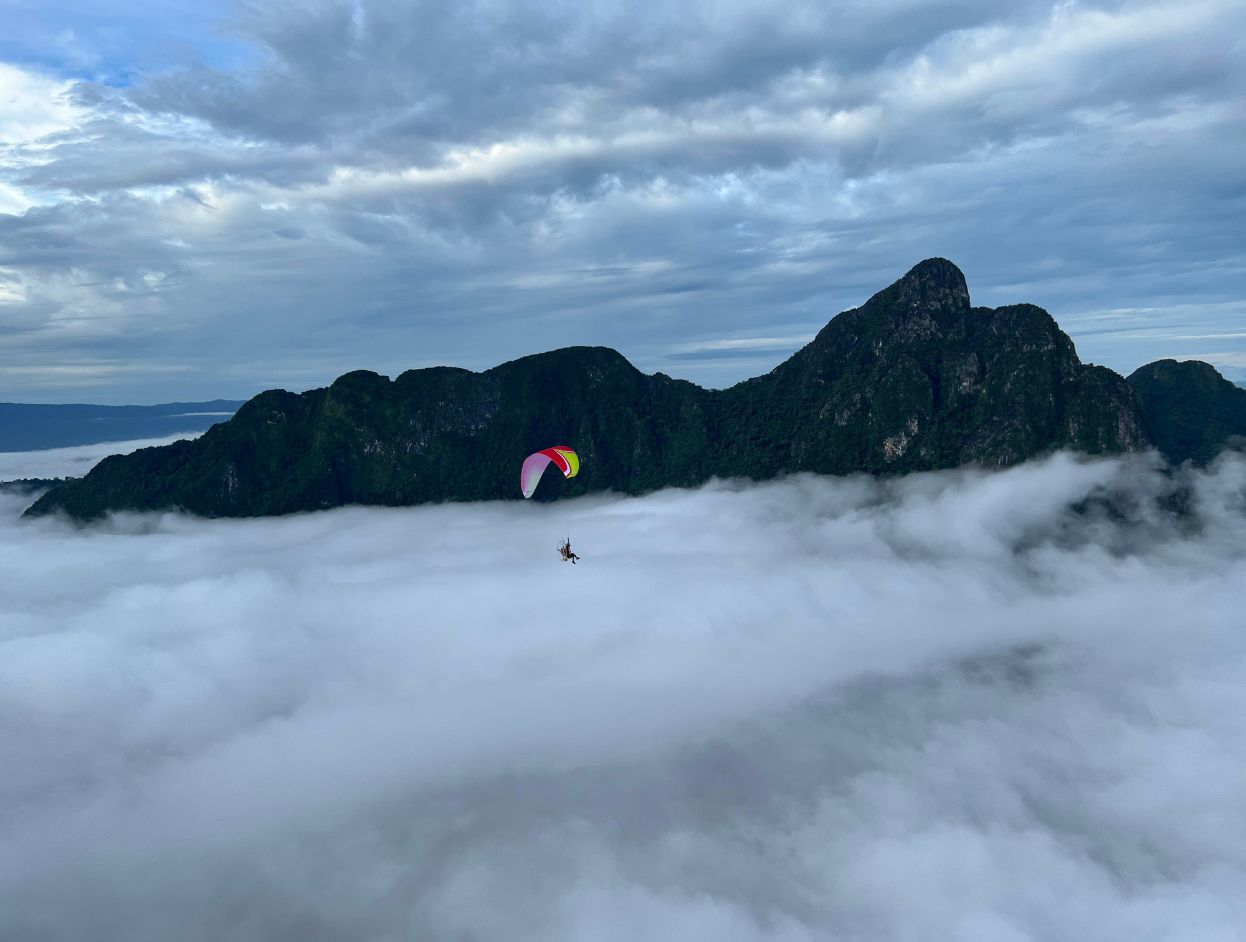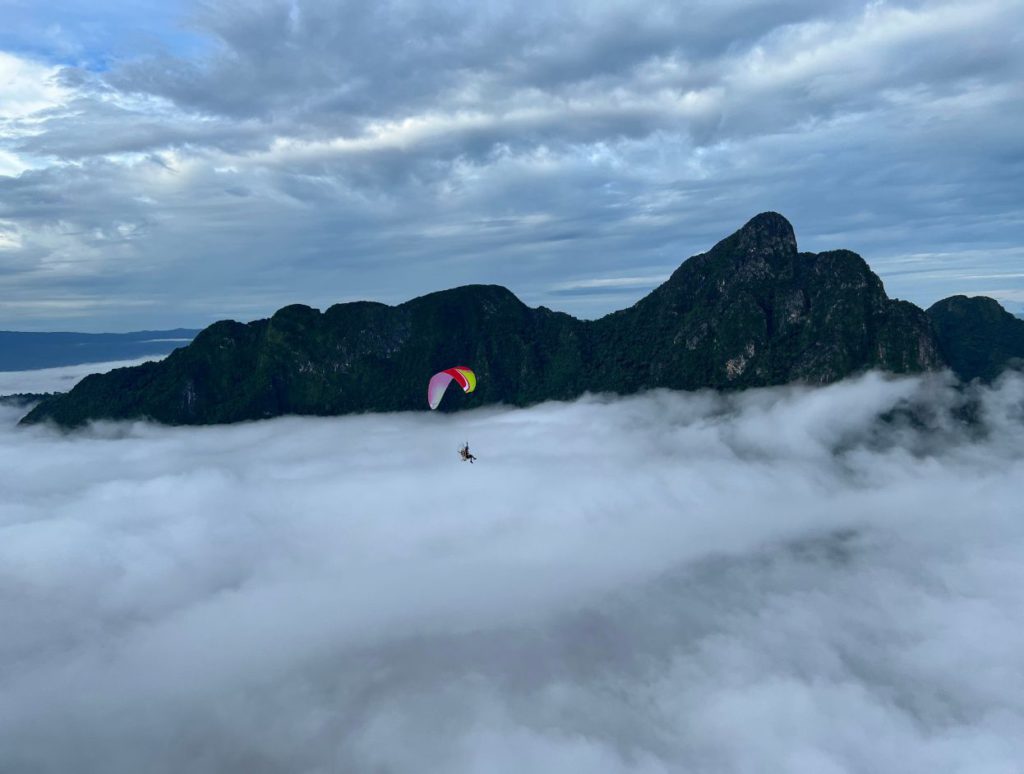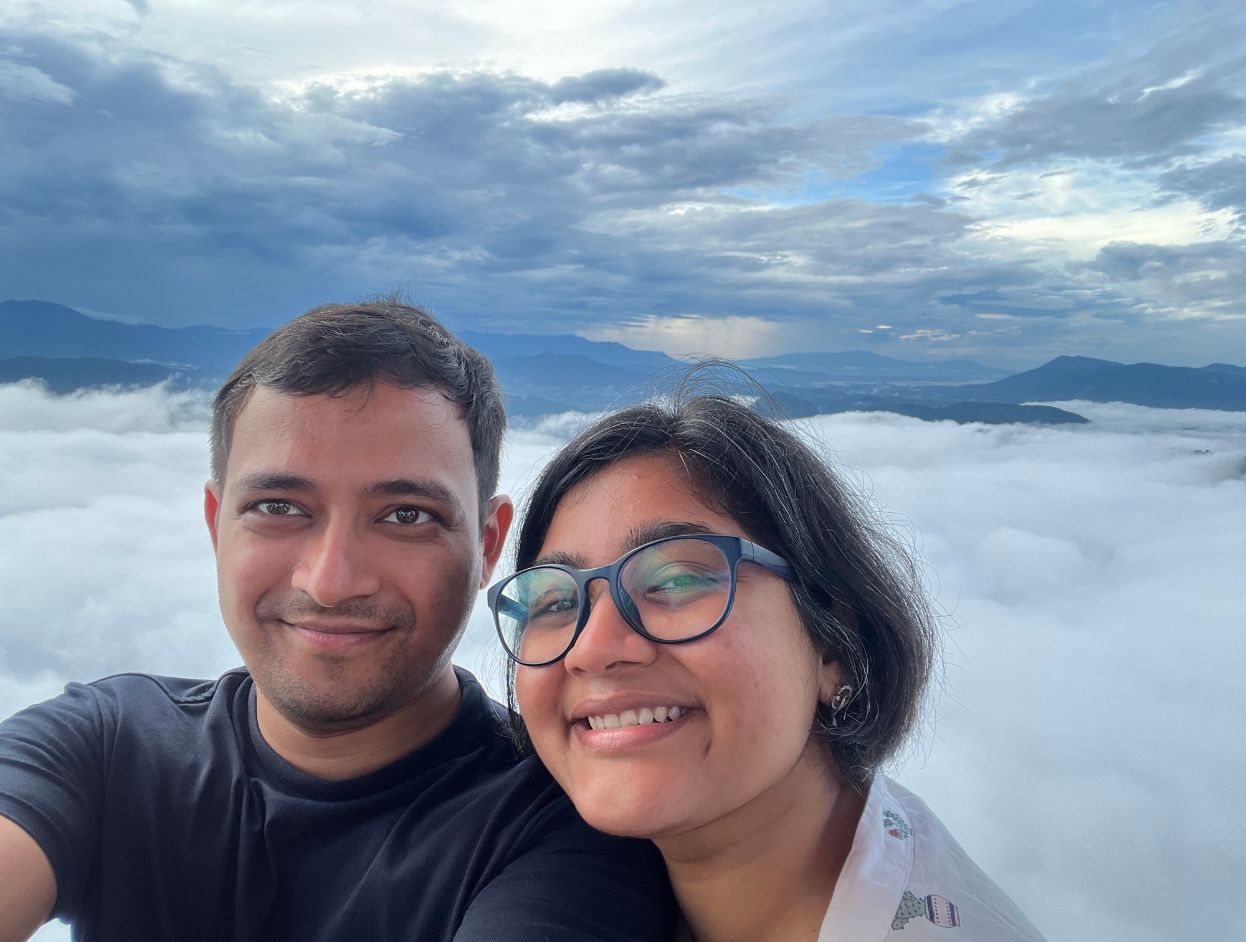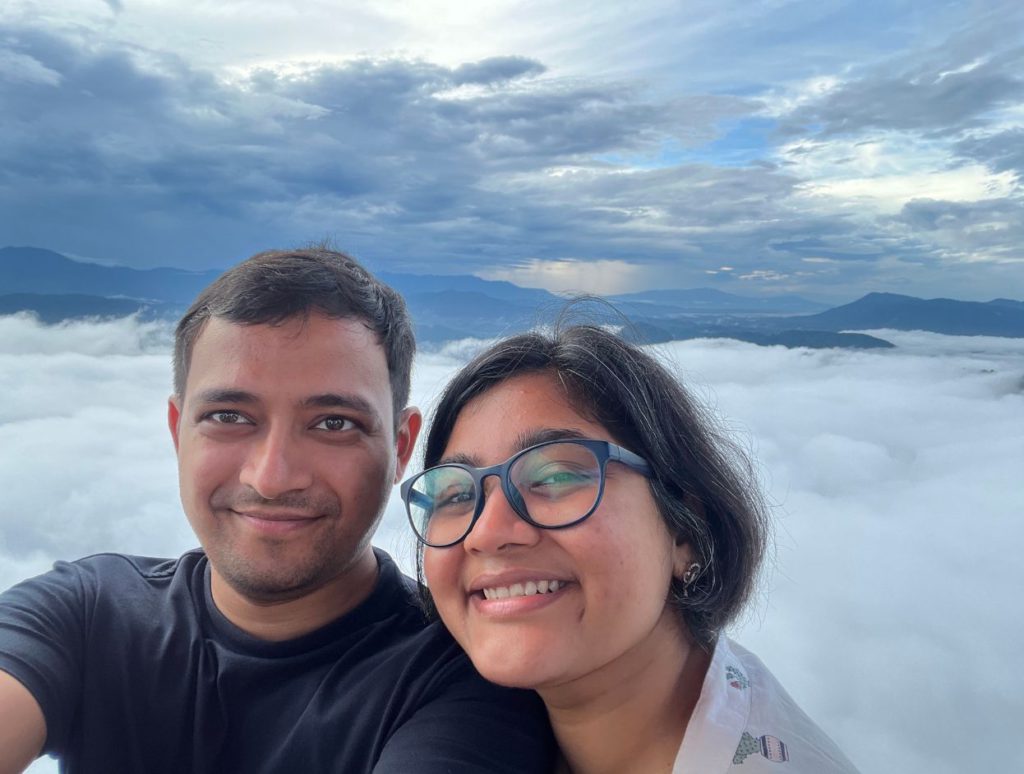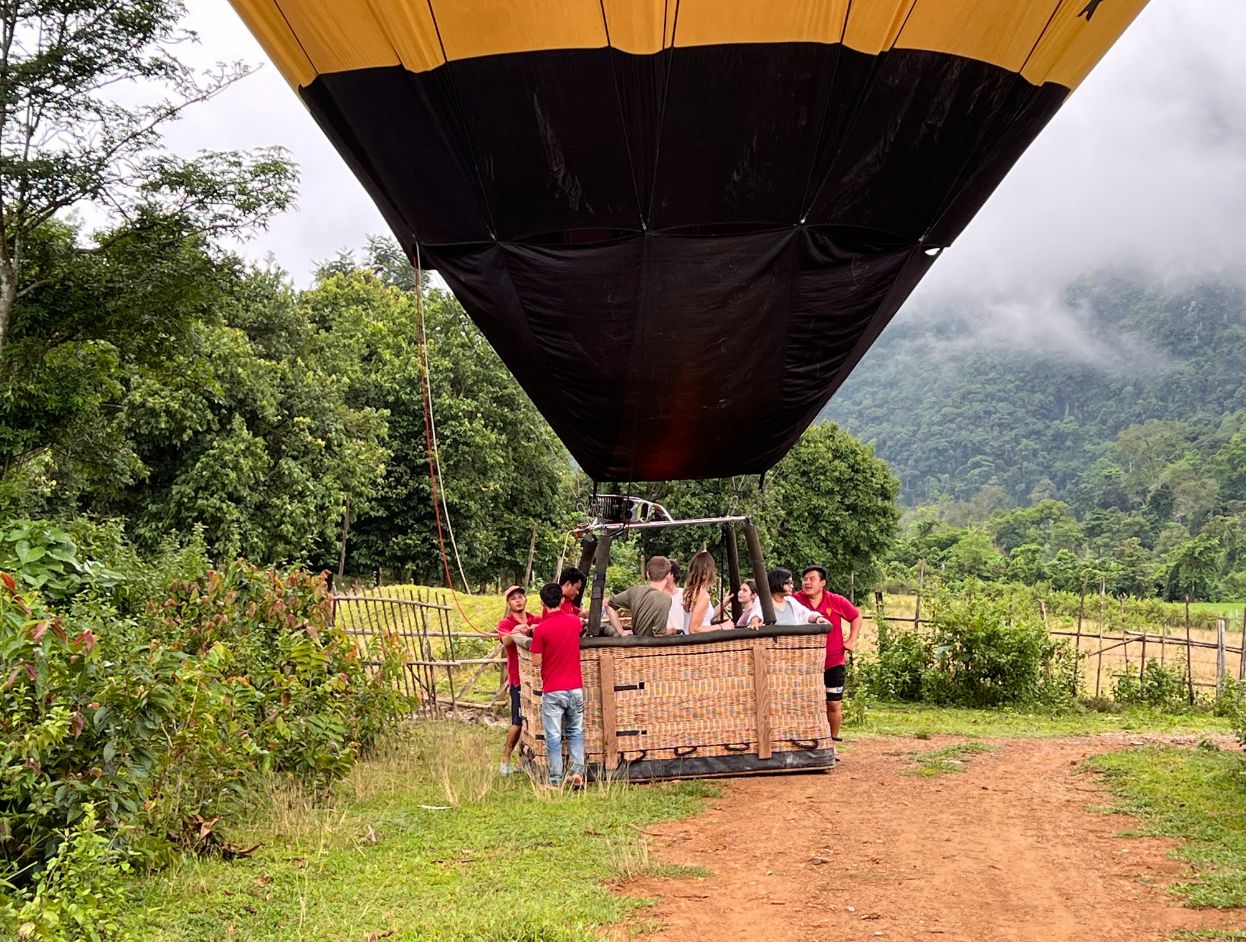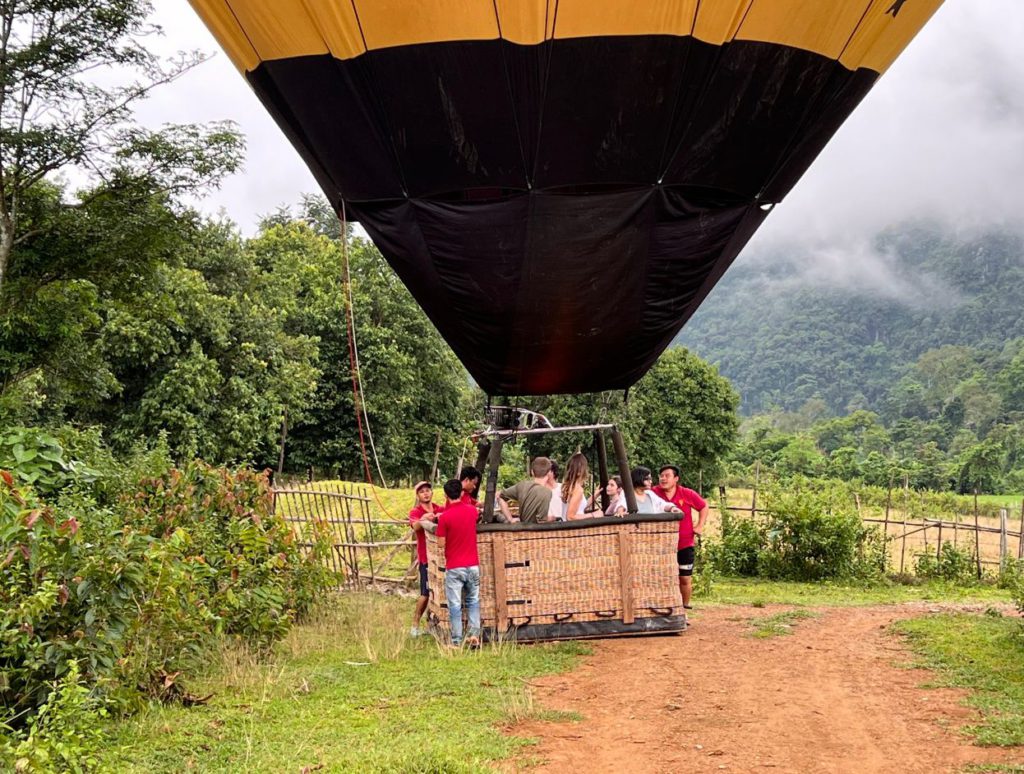 After the activity
But it does not end here. They took us back to the base where we had refreshments and a mini breakfast with tea, coffee and fresh fruits. As advertised, we opened a bottle of champagne (pretty fancy I think) and passed it on early in the morning to enjoy. Who can say no to that?
We also chatted for a while with our crew members who shared their experiences in Laos, about their passion for this activity and how covid affected them. And finally, they gave us certificates that we could take back as souvenirs. Cute stuff!
It was time to head back. Their minivan dropped us all in sequence to our hotels and we were probably back 9.15 am in our rooms, just in time for a second breakfast 😛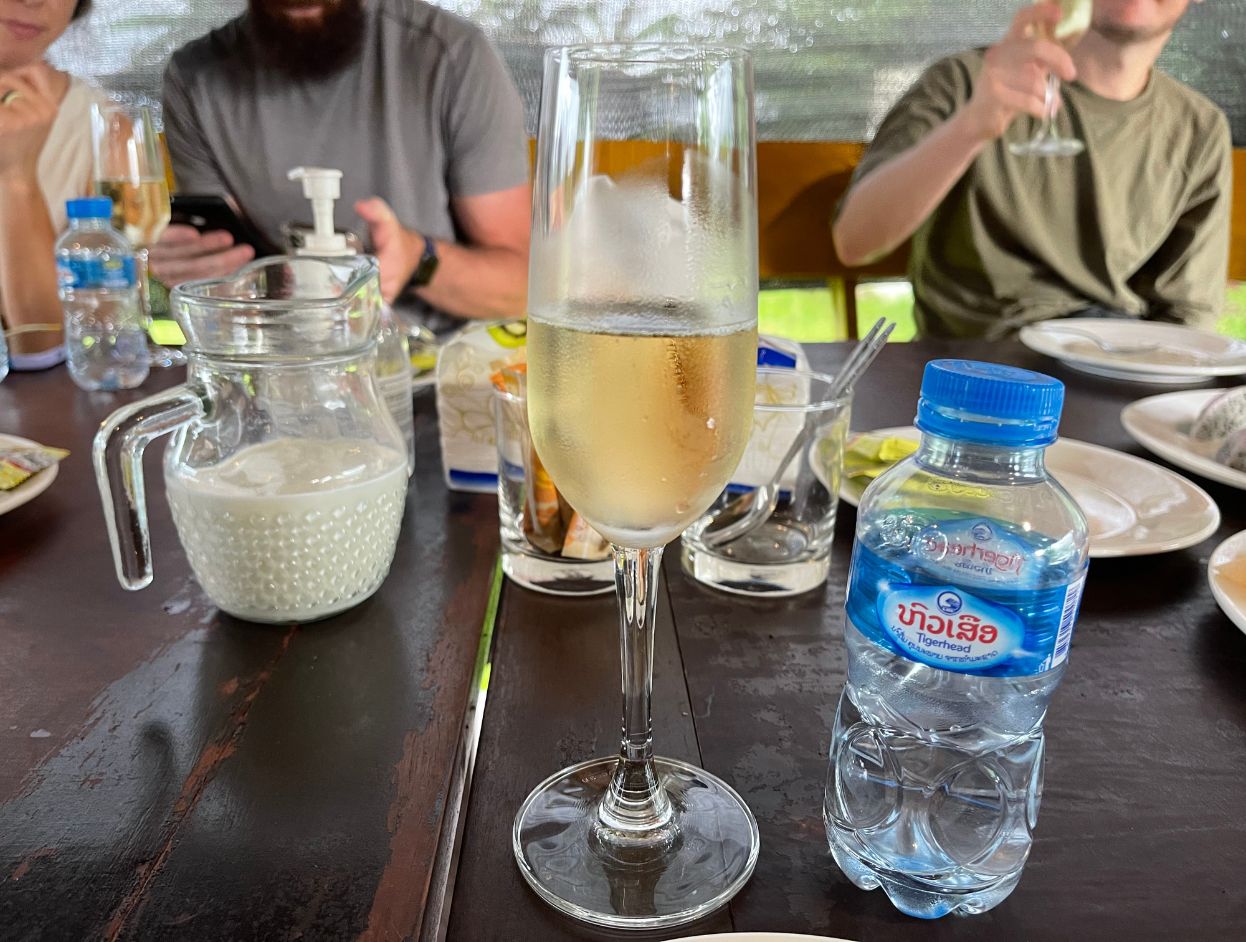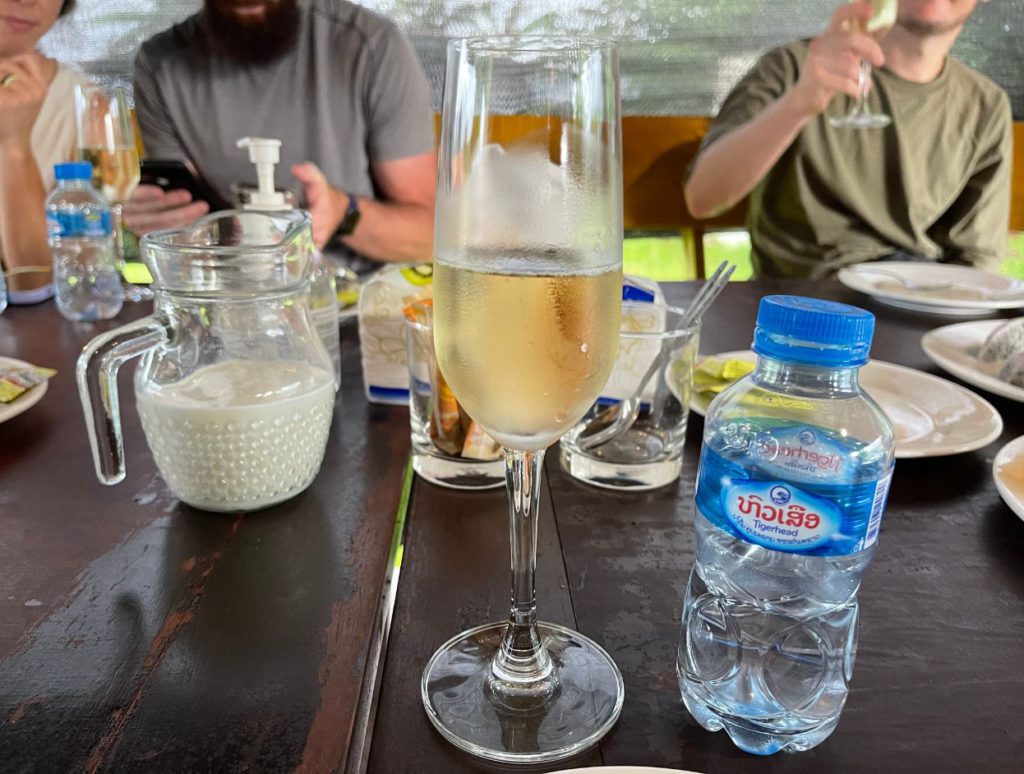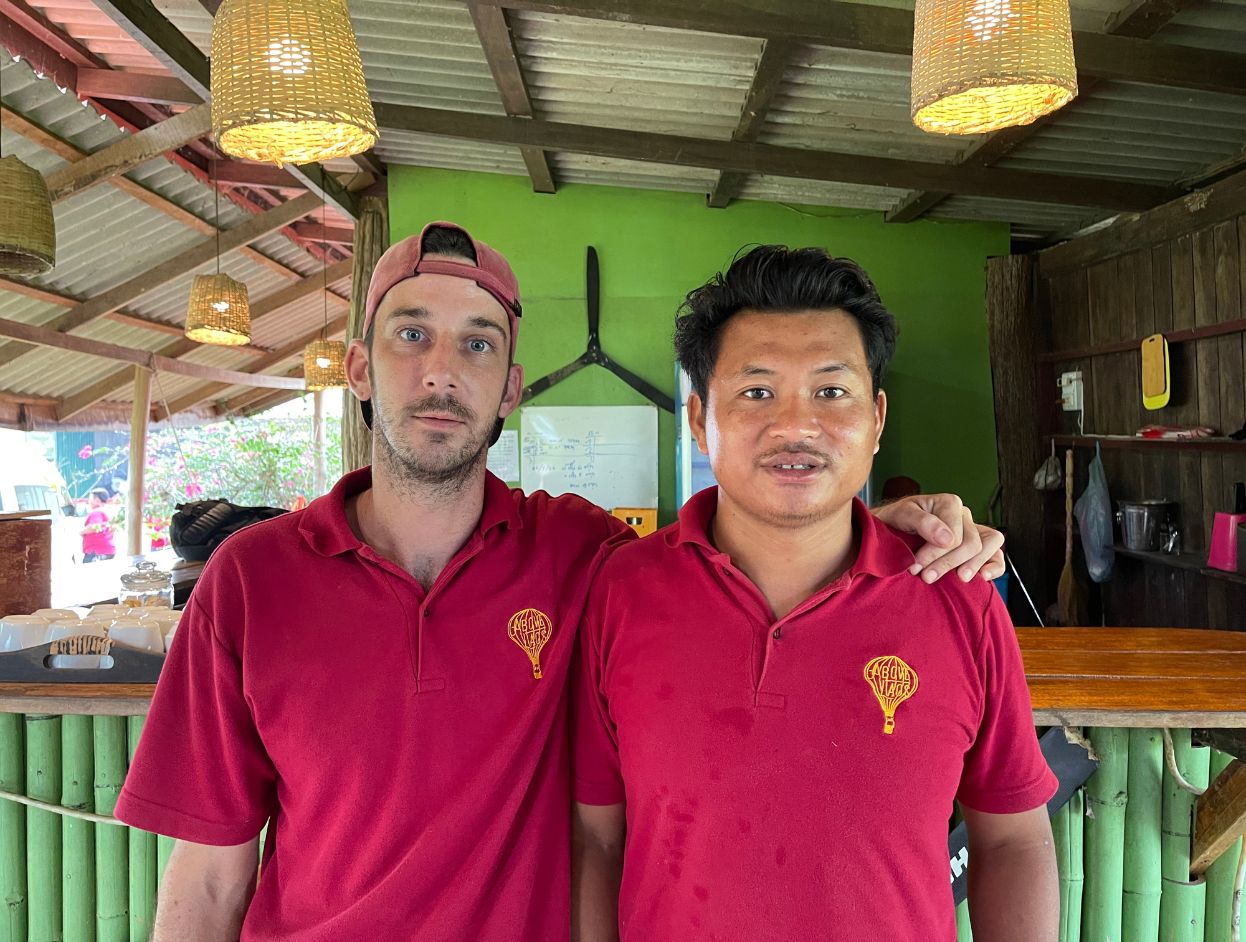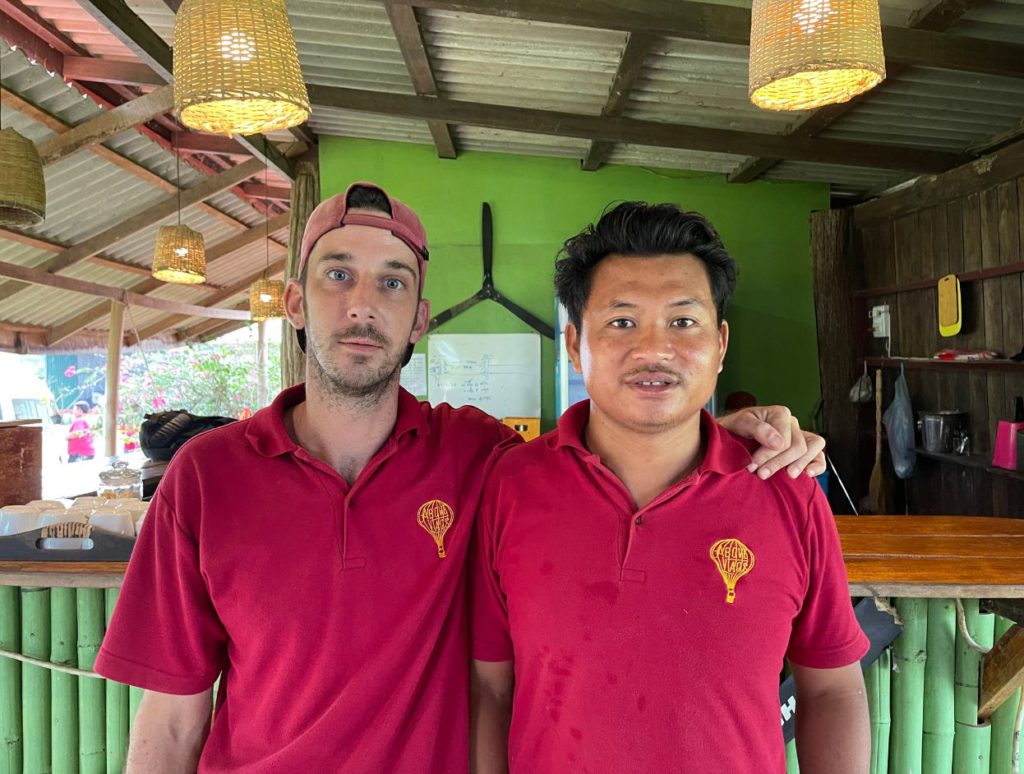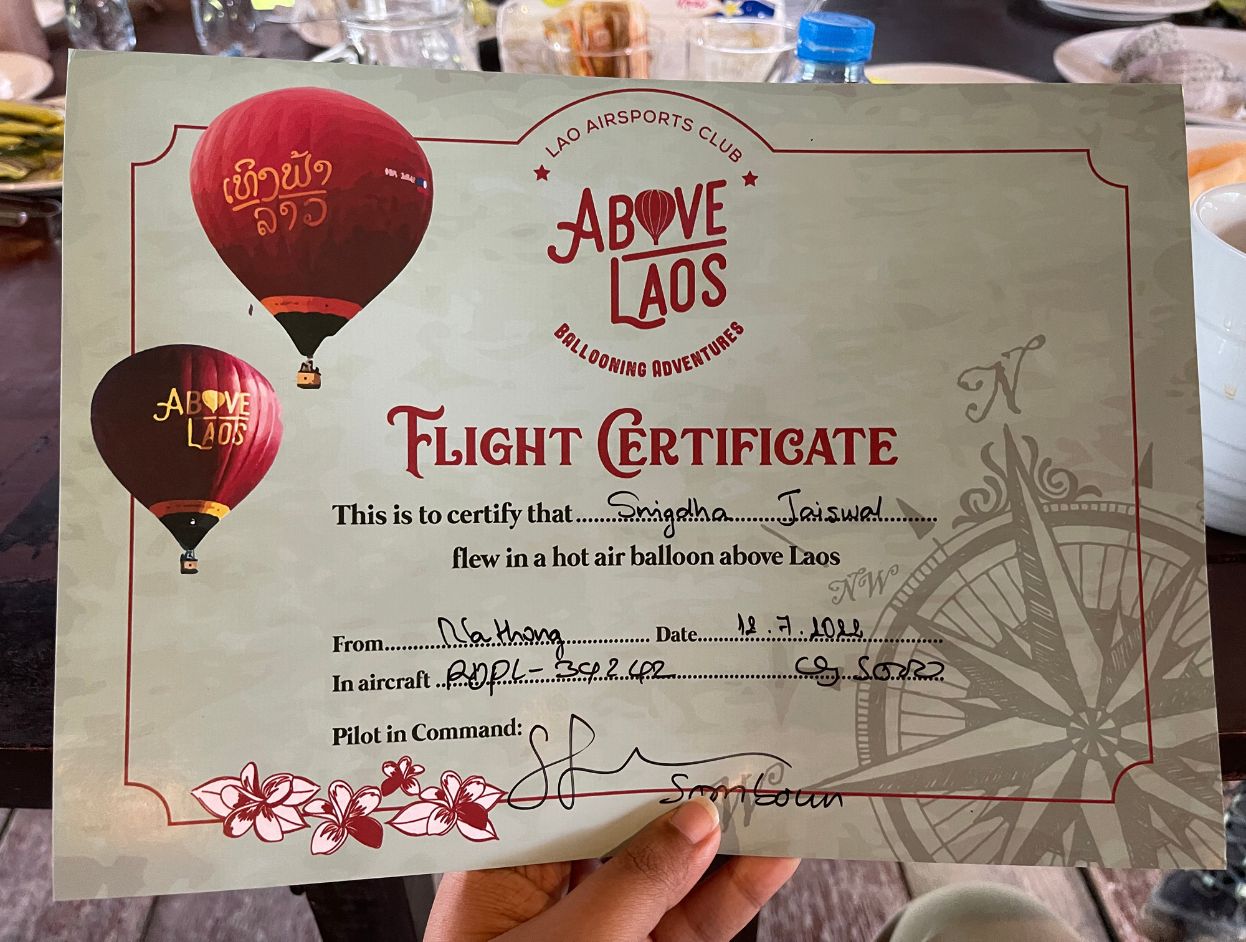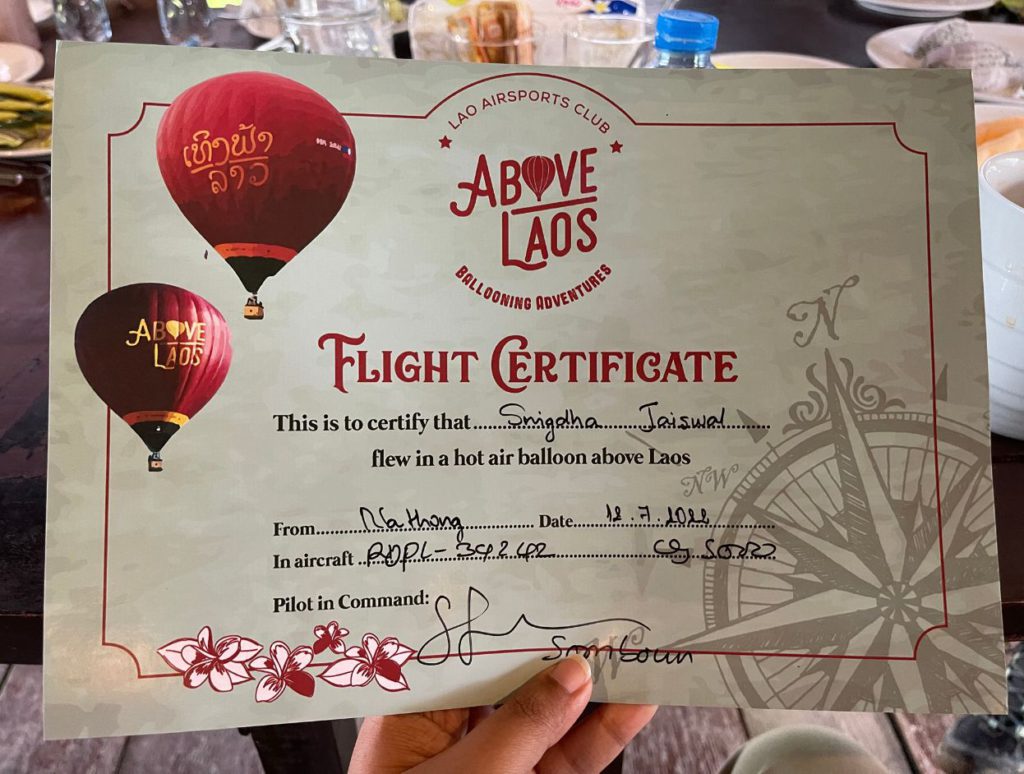 Best time to do this
I visited Laos and did this in mid-July and honestly, I don't think the weather could get any better that day. But maybe not on other days.
The best time in general to visit Laos and for activities is between November and January since the weather is cool and the sky is clear of uncertain rain. But the days start getting clear as early as October most of the time.
If you like rain, I think the monsoon or the wet season is lovely to see Vang Vieng in blooming green. The clouds add to the scenery. But it may not be the case on most days. If it's raining or the weather is uncertain, the activity can be cancelled altogether. So you are driven by luck then.
However, always choose the sunrise or the sunset experience. The timing of the views are lovely and well worth the dime spent.
What to take for the activity
It may seem that you need a sweater or a jacket when you are up above the clouds but you actually don't. The temperature does not change at all during the flight and since it is Laos, the temperature was neither too hot, nor too cold for me. So you don't need to carry any additional clothes. You won't be allowed to take much stuff off the flight anyway.
Wear cool comfortable clothes. You won't get wet, you may get a little hot at times since gas is used for the flame to blow the hot air balloon that is a little above your head. Make sure you wear flats or shoes for the time, heels will be more discomfort and of very little value.
Other than that, enjoy your read. It will, and I guarantee you, be one of the best experiences of your life!


Related Articles