24 Feb

Visiting the Kuang Si Waterfalls, Luang Prabang, Laos

Kuang Si Waterfalls in Laos is definitely the most beautiful waterfall I have ever seen in my life. I had said this for Erawan Waterfalls in Thailand and they were absolutely gorgeous. But once I set my eyes on these, It blew me away. If you have seen both, let me know which one you think is more beautiful.

Kuang Si Waterfalls, like many others in this area, is a set of cascades with falls one after another. But there is the biggest one in between and that is probably the one worth visiting. 

It is a bit of work to travel all the way from Luang Prabang to visit these falls. But I encourage you to make that effort. It is well worth it! Especially if you are looking to click some drop-dead gorgeous pictures.

If you are in Luang Prabang, check out our article on top things to do in Luang Prabang, Laos.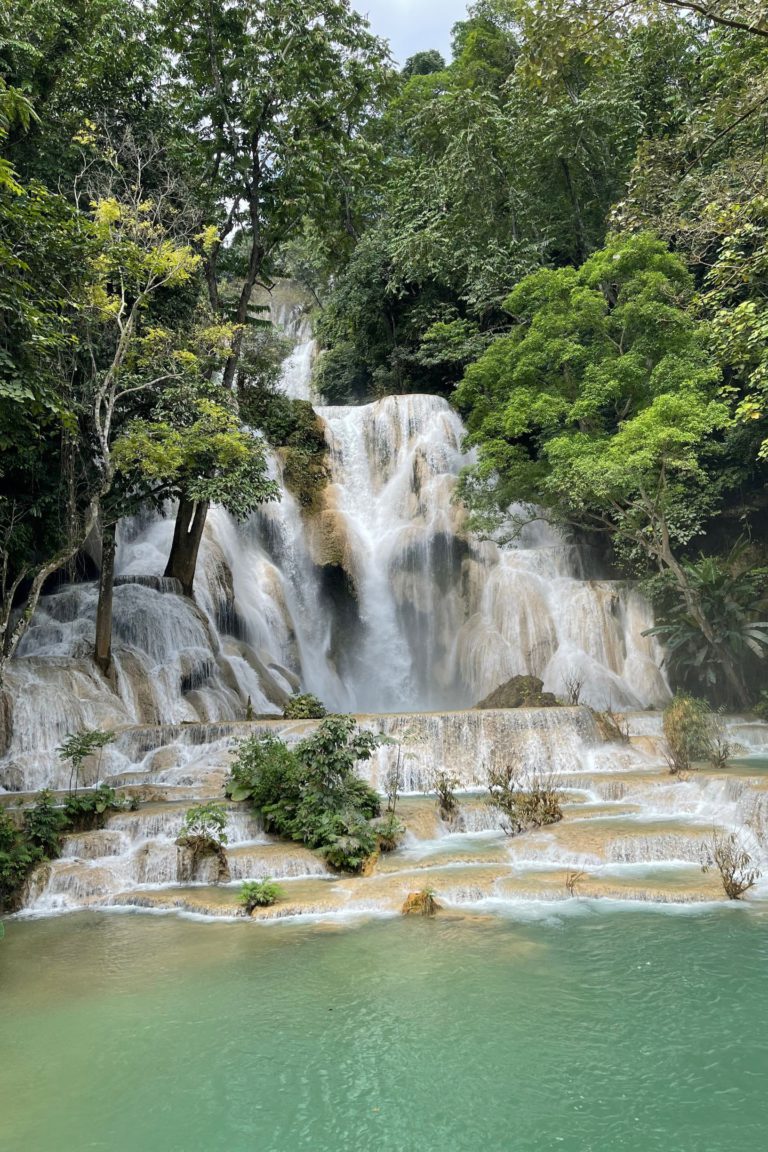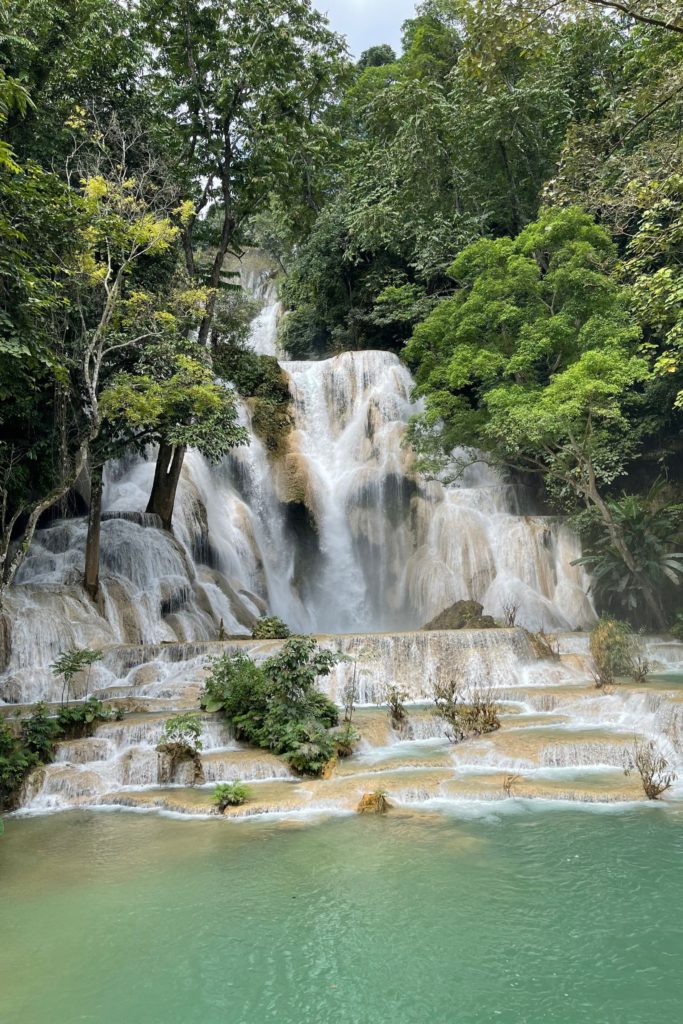 Where is Kuang Si Waterfalls Location
Kuang Si Waterfalls is located near the city of Luang Prabang in Laos. It is located around 30km southwest of the city and you will need a vehicle to reach the place.
The area around Kuang Si Waterfall is well-developed as a tourist attraction. So you will know once you are there. You need to go for a trek or a hike to reach the waterfalls. Nevertheless, it is best to visit early in the morning to beat the tourist crowd.
How to reach Kuang Si Waterfalls
There are several ways to reach Kuang Si waterfalls but you will need a vehicle for all of them. Here is how.
Motorbike
If you have been in or travelling in Southeast Asia for some time, you know this. Renting a motorbike is both convenient and affordable. You can easily get a bike at a bike rental shop in Luang Prabang. Or you can check with your hotel owner to get one. A day's rental cost is usually 100,000Kip. You may have to hand over your passport as a guarantee. Also, make sure to choose good and usable helmets for your ride.
It is about an hour's drive from Luang Prabang to Kuang Si Waterfall. Try to leave as early in the morning as possible, especially if you want the place to yourself. Although it is never too crowded honestly. The roads are mostly in good condition but the ride can get bumpy at times.
Travelling inside Laos? Finding information could be difficult. Check out our blog on how to travel inside Laos for all you need to know.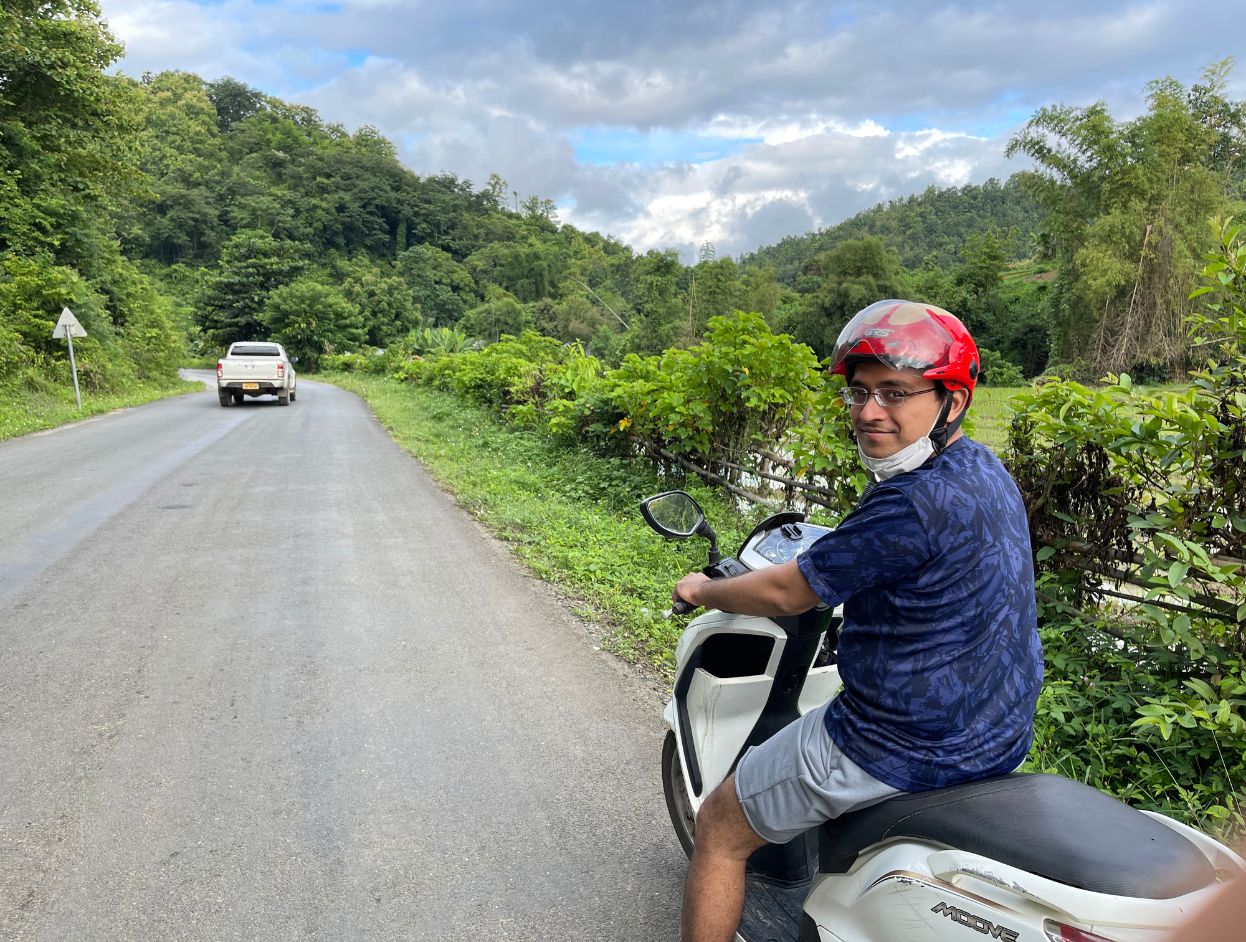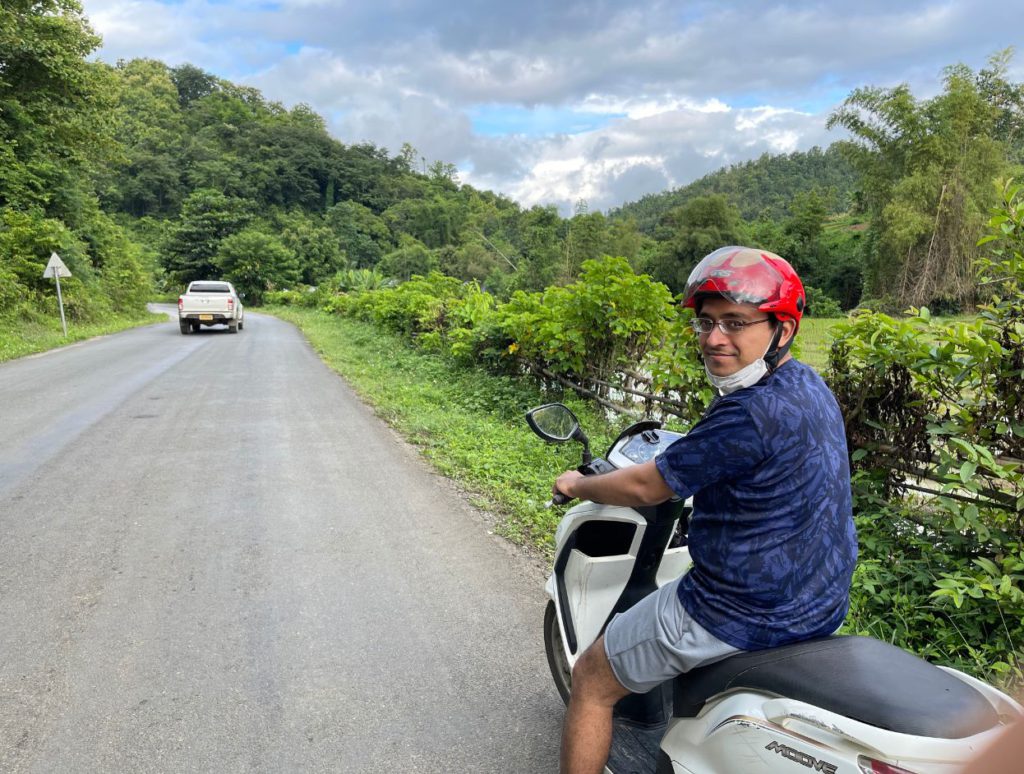 Tuk Tuk or Songthaew
If you are not keen on renting a motorbike or driving out all the way, you can choose to do so with a local songthaew or tuk-tuk. If you don't know yet, songthaew is an open minibus in Laos that take up several passengers and drop them at their needed destination. While tuk-tuks are more private and can be hired just for you or your group.
You can get both a tuk-tuk or songthaew in Luang Prabang near the Grand Palace area. All you need to do is to head to the Grand Palace, right at the foothills of Phousi hills and look around for one. Songthaews offer to take you to Kuang Si Waterfalls for half a day, wait for you and bring you back – all for 400,000Kip.
You can bargain, of course. If you wish to include Pak Ou caves with this trip, the whole thing will cost you 600,000Kip. If you are unsure of getting a songthaew, you can also book one online from one of the aggregators. The above prices are for private tuk-tuks or songthaews. 
Kuang Si Waterfall Shared Minibus Ticket (Round Trip)
Luang Prabang: Pak Ou Caves and Kuang Si Waterfalls Cruise
If there are more travellers that they are looking to pick up, the cost of your round trip will go down drastically between 80,000 – 100,000Kip per person.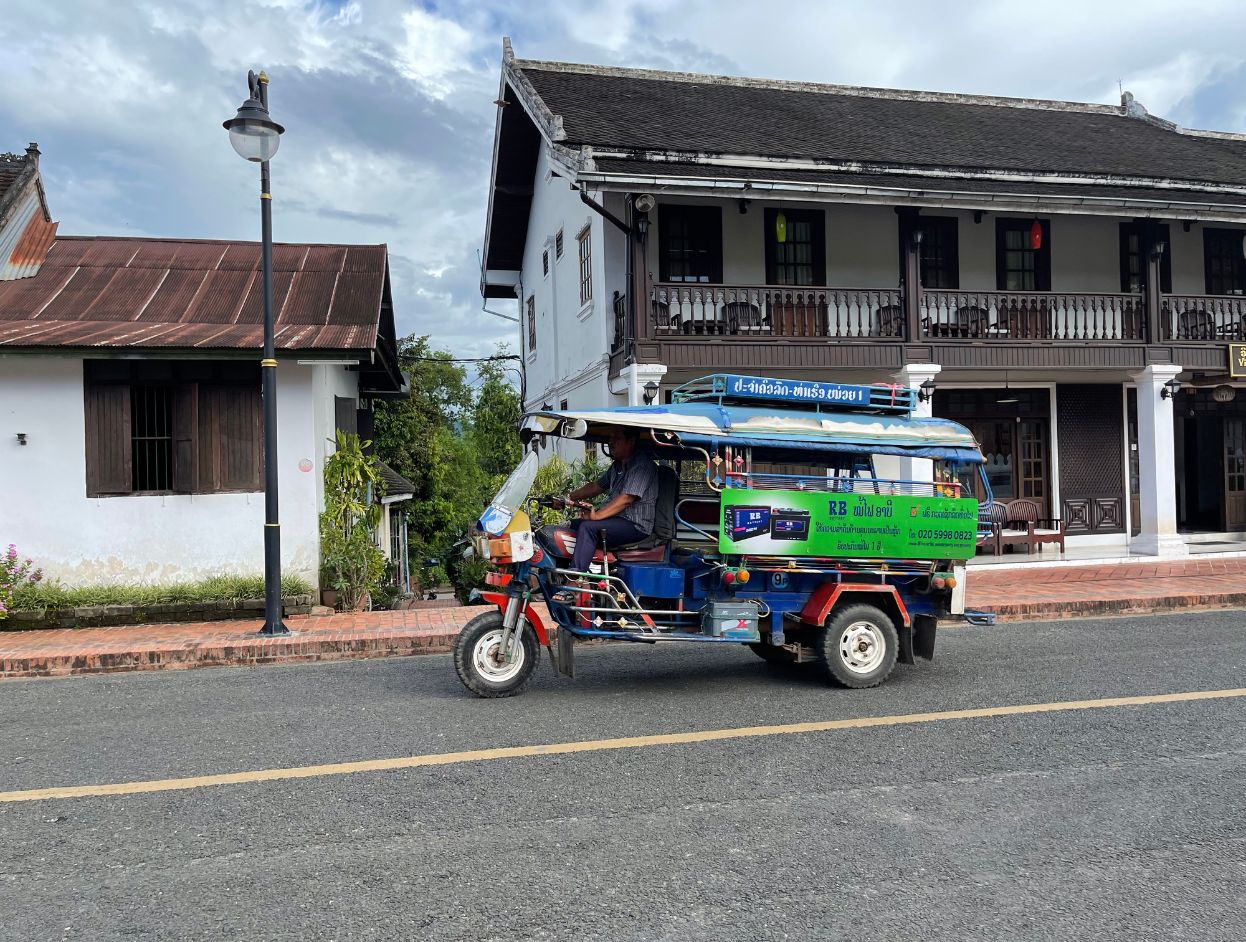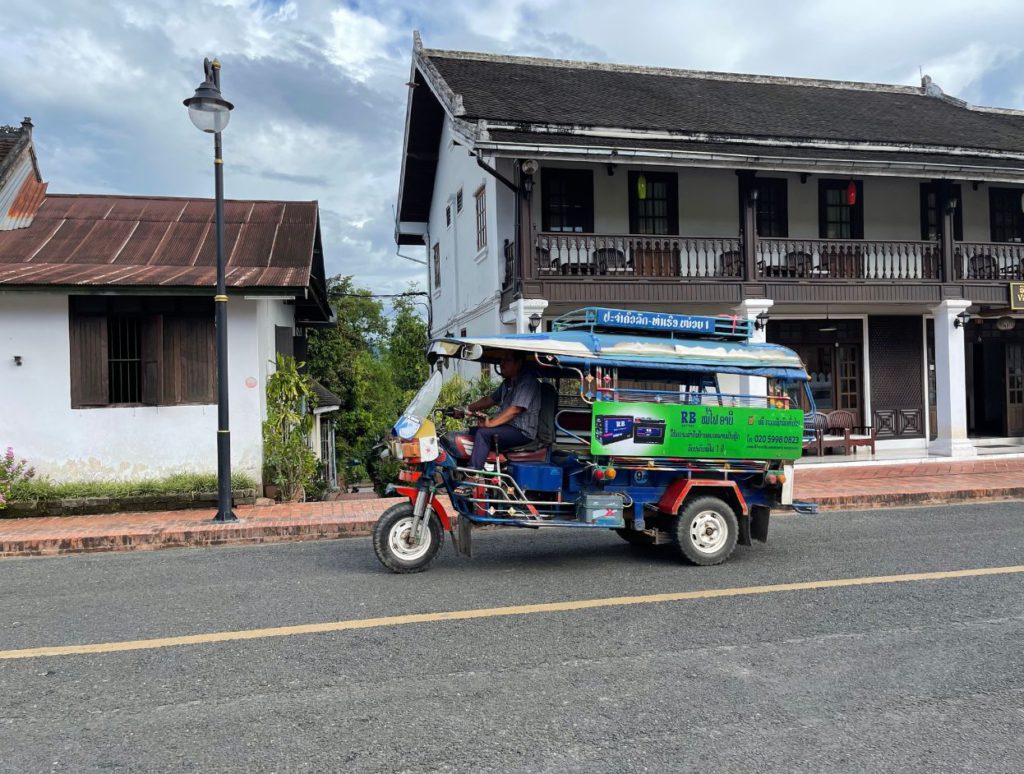 Day Tour
By Taxi
If you are looking for comfort, with a family including kids or just in a bigger group, it is wise to just book a private taxi or a minivan. It will pick you up from your hotel and drop you off directly at the waterfall and you can ask them to stop at a couple of places on the way. You can always add the tour to Pak ou caves, but you will have to do a short boat ride to reach the caves.
The taxi costs 250,000kip for half a day tour for 4 people. The prices will differ depending on the vehicle you need. You can check the availability with your hotel owner or manager and they should be able to fix you up with a driver. Or you can always go out to the main market and check with one of the tour agencies for a private tour group.
By Boat
I would have really loved this experience. Maybe I would go the next time. You can also reach Kuang Si waterfalls by boat but you will need to take a tuk-tuk for the last leg. The Mekong river runs pretty close to the waterfalls but you still need to cover around 4-5kms after you disembark from to boat to the waterfalls.
It is easy to do it on a tour since they take care of everything. Check one from a local company. But if you want to DYI, you can probably go to one of the piers in Luang Prabang and tell them that you want to Kuang Si waterfall. I cannot guarantee that you will get a tuk-tuk at the destination pier, but if you are feeling adventurous then why not. You can make the last leg as a hike (do this only if you are super fit).
Kuang Si Waterfalls Ticket Prices
The ticket price for foreign tourists is 25,000 kip per person. You can buy the ticket at the counter there. Keep your tickets with you since there are a few different sections you would want to visit in there.
The ticket includes a short ride in a golf cart that takes you close to the waterfall. It also includes the entrance to the Bear rescue centre and butterfly park. Make sure you visit them if you have time. You may need to pay some nominal charges for parking.
Do not buy the tickets online or at any other place other than the main counter (unless it is included in your tour).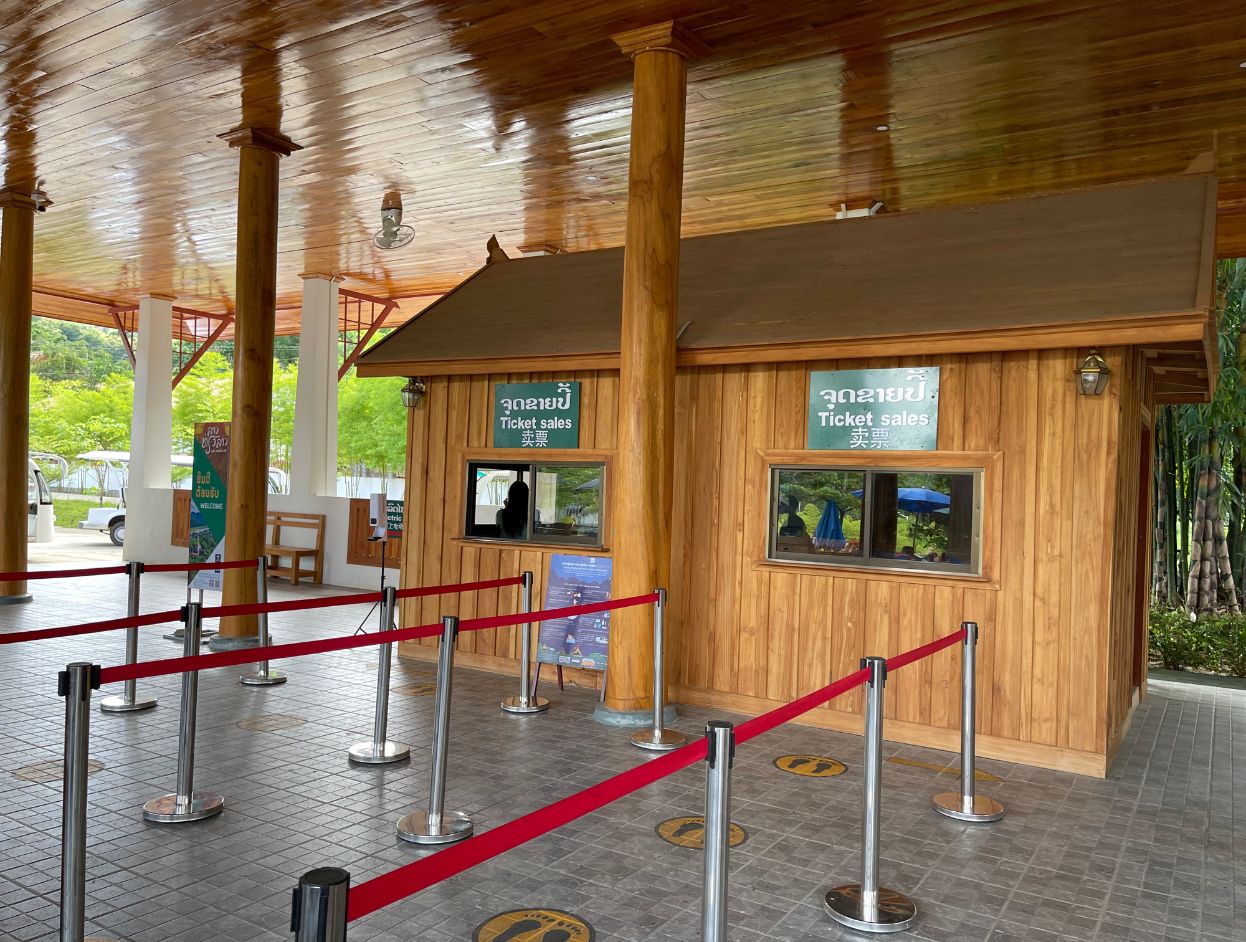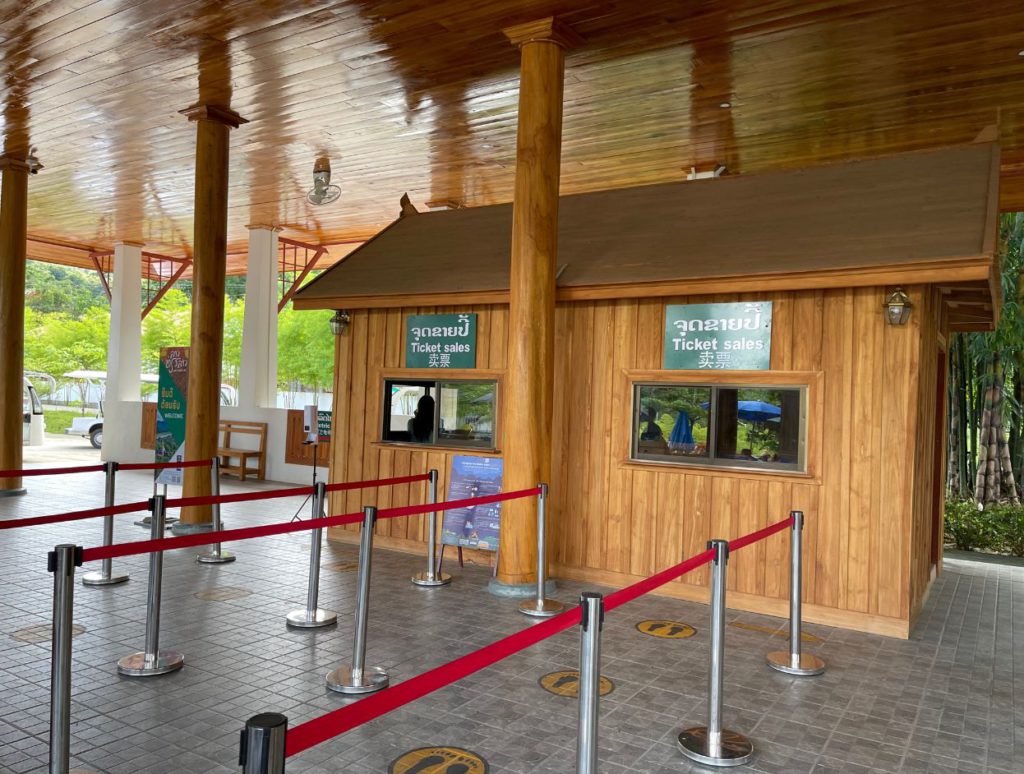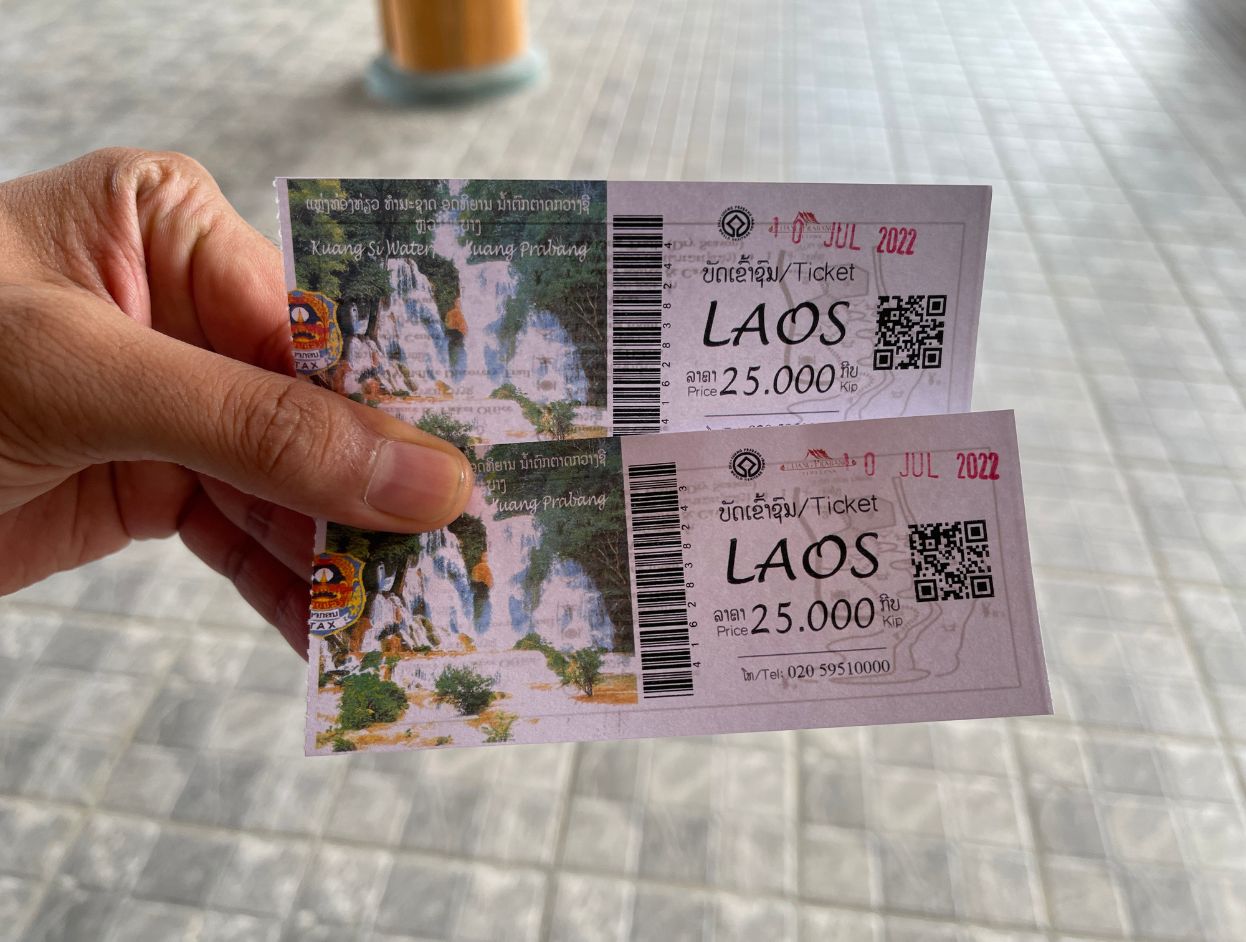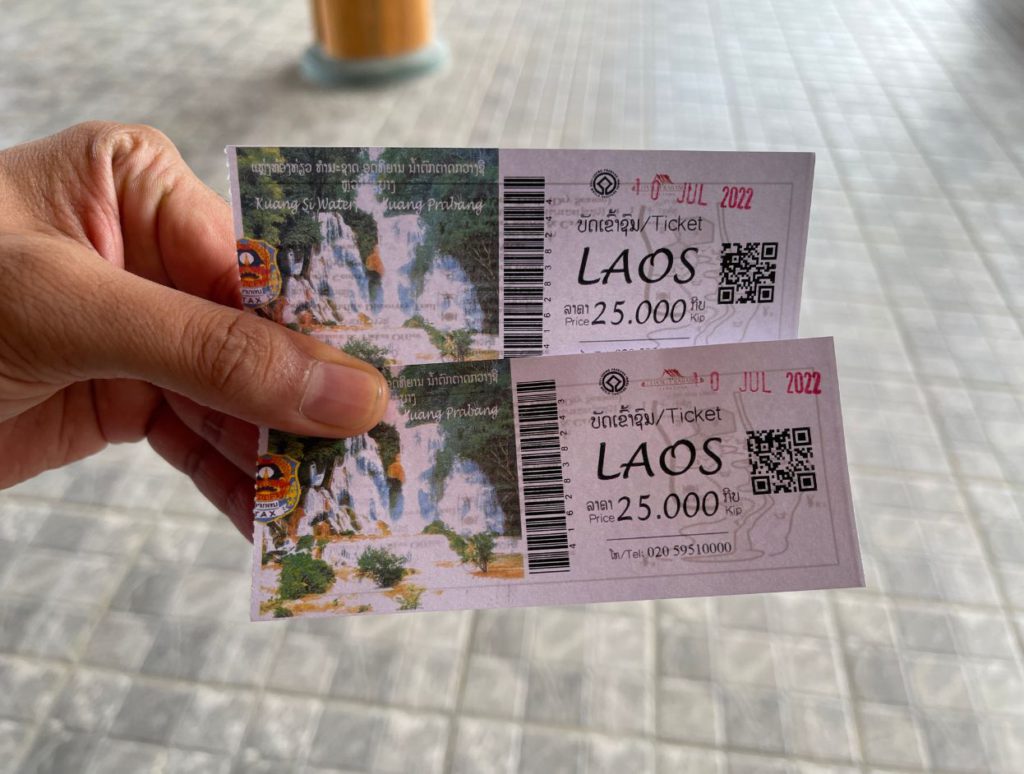 Kuang Si Waterfalls Timings
You can visit Kuang Si Waterfalls from 8 am to 5 pm every day of the week except on Tuesday when the falls open at 9 am.
However, the best time to visit the place is early in the morning to get the place all to yourself. Midday can get a little crowded, especially during the weekends.
The best season to visit is during the rainfalls (July – September) and during the winter months (October – January) when the waterfall is full of flowing water and in its full glory.
Visiting Kuang Si Waterfalls
Drive to the waterfalls
We started for Kuang Si Waterfalls in the morning at 8 am after breakfast and I think it's a fantastic time to go. The ride is lovely and the view of the countryside is just gorgeous. The road is a little bumpy at times but mostly it was good.
We rented a motorbike for the journey. A basic one will do since the terrain is just flat. You can always stop for some fruit or coffee on the way, but like most of Laos, there aren't many inhabitants in the countryside.
It can get hot during mid-day so try to use the cool hours of the day to cover some distance. Once we arrived, parked our vehicle and bought the tickets, we were chauffeured from the base to the main falls in a golf cart. Takes like 8-10 mins and is quite fun. From there you can start a short hike to the falls.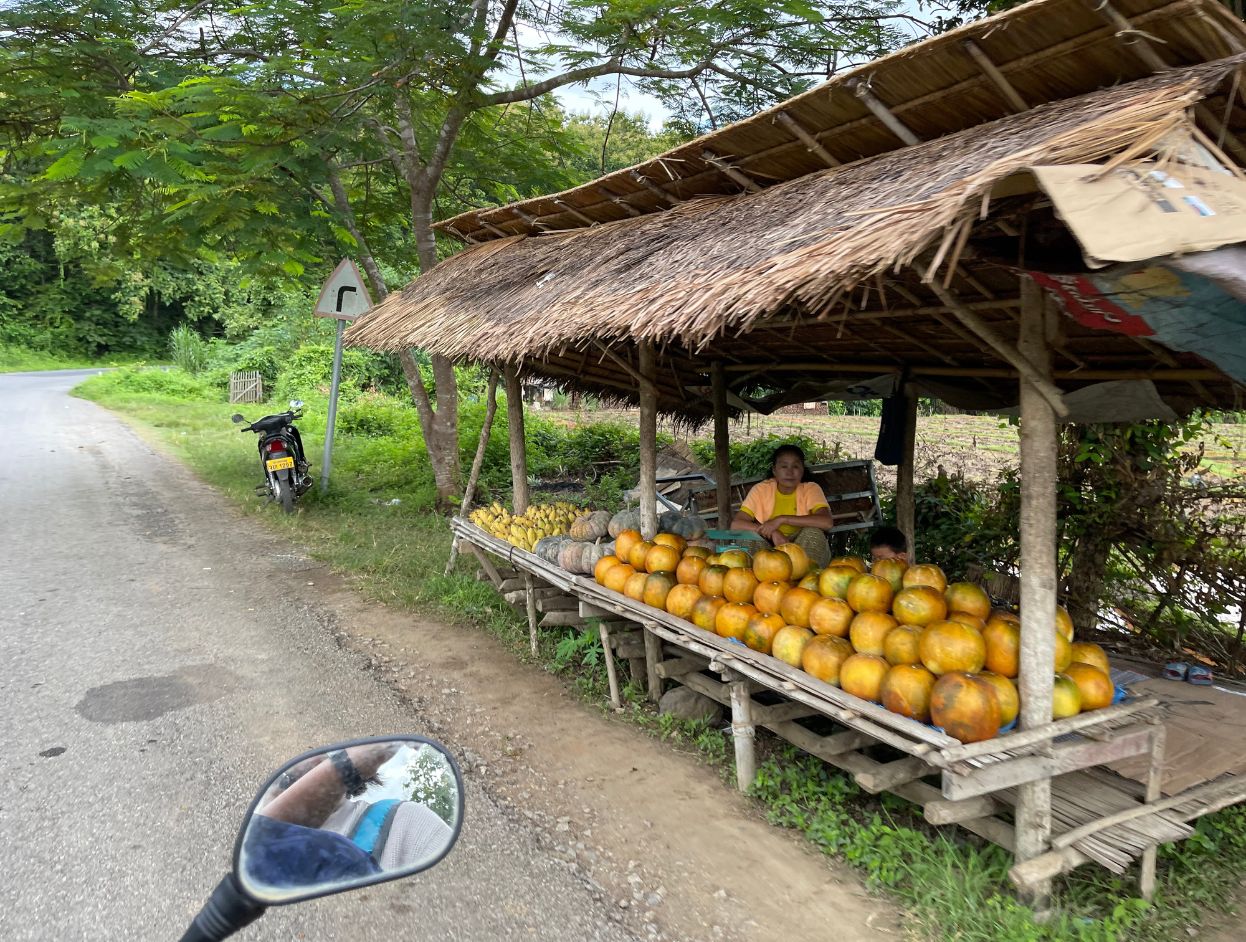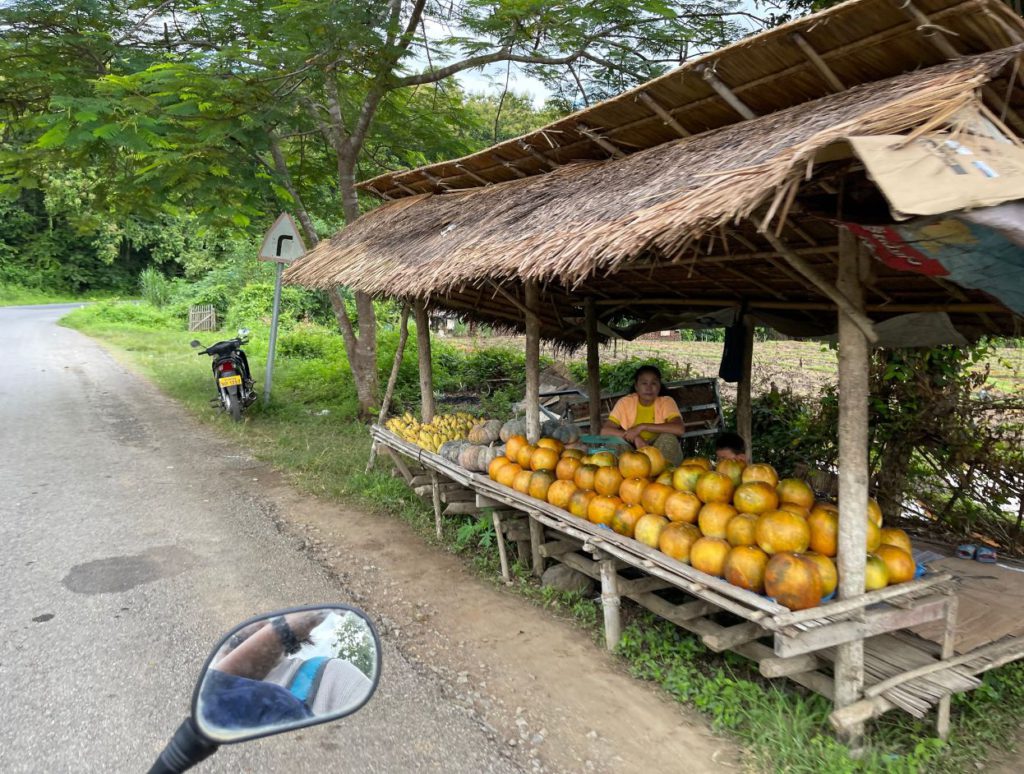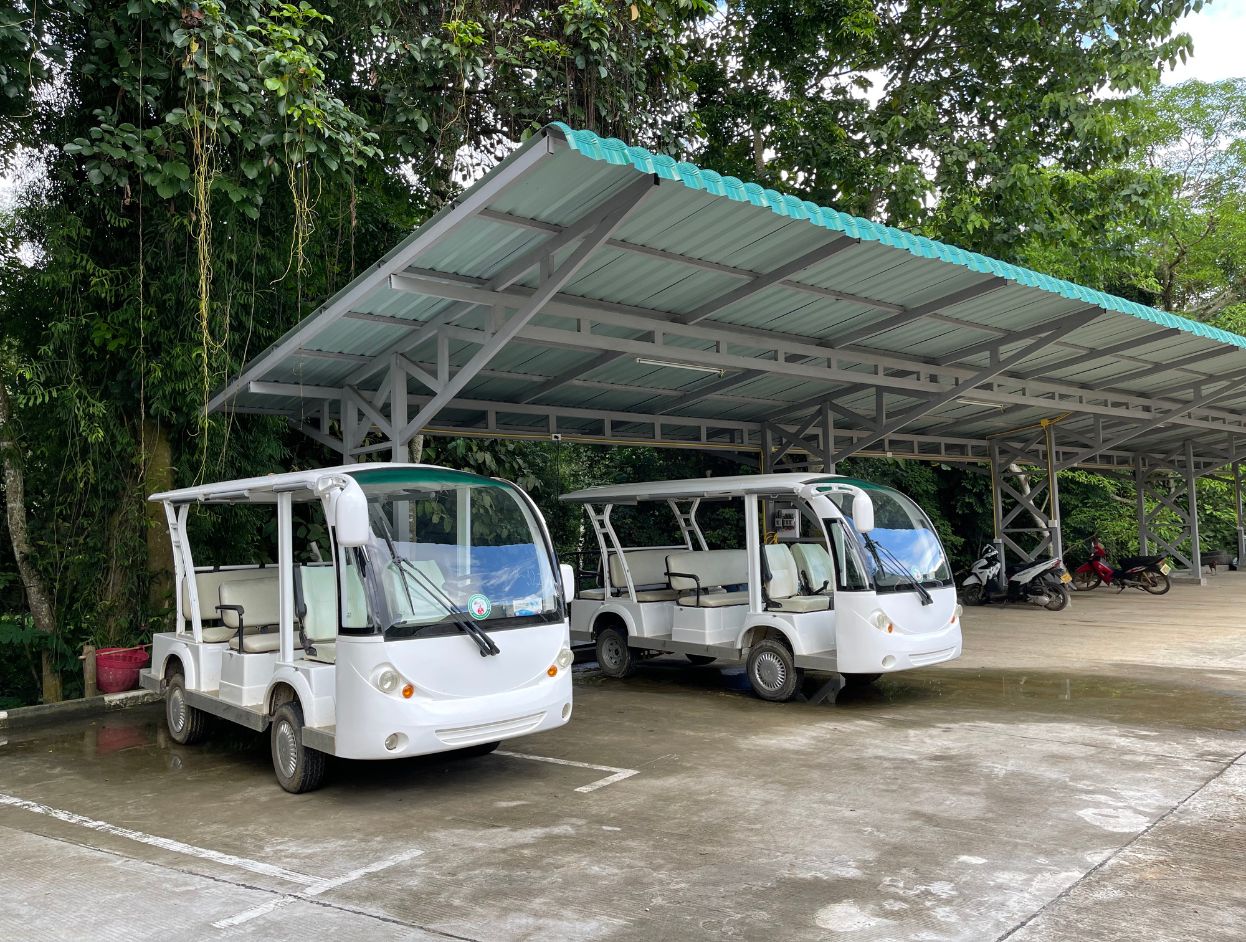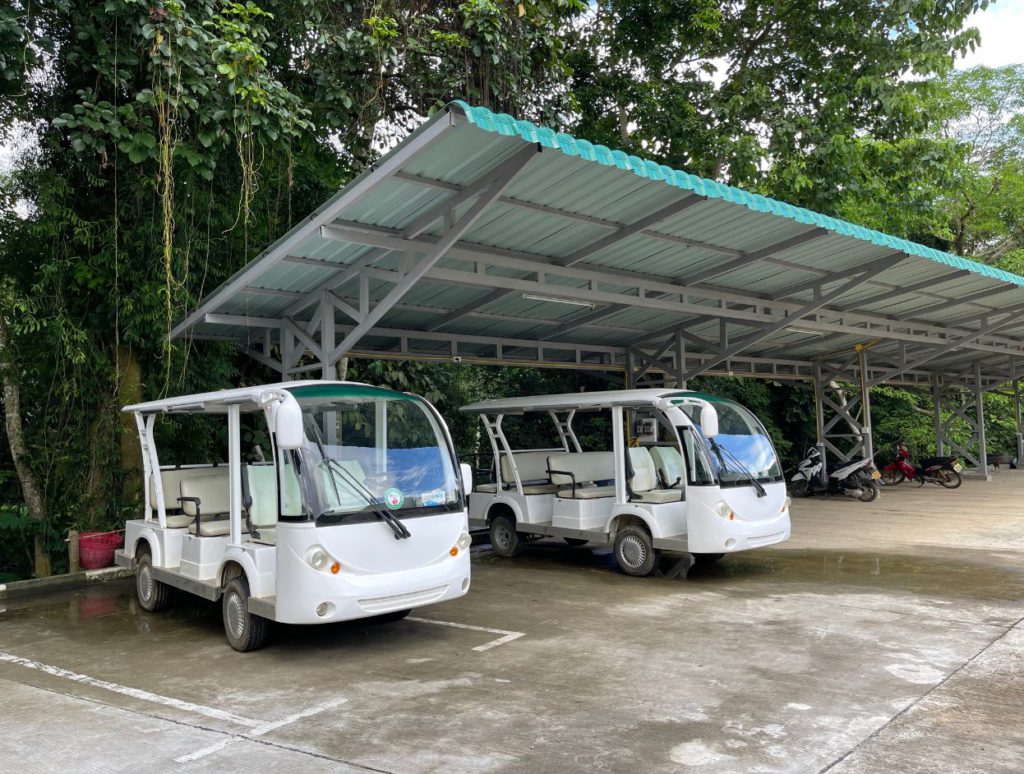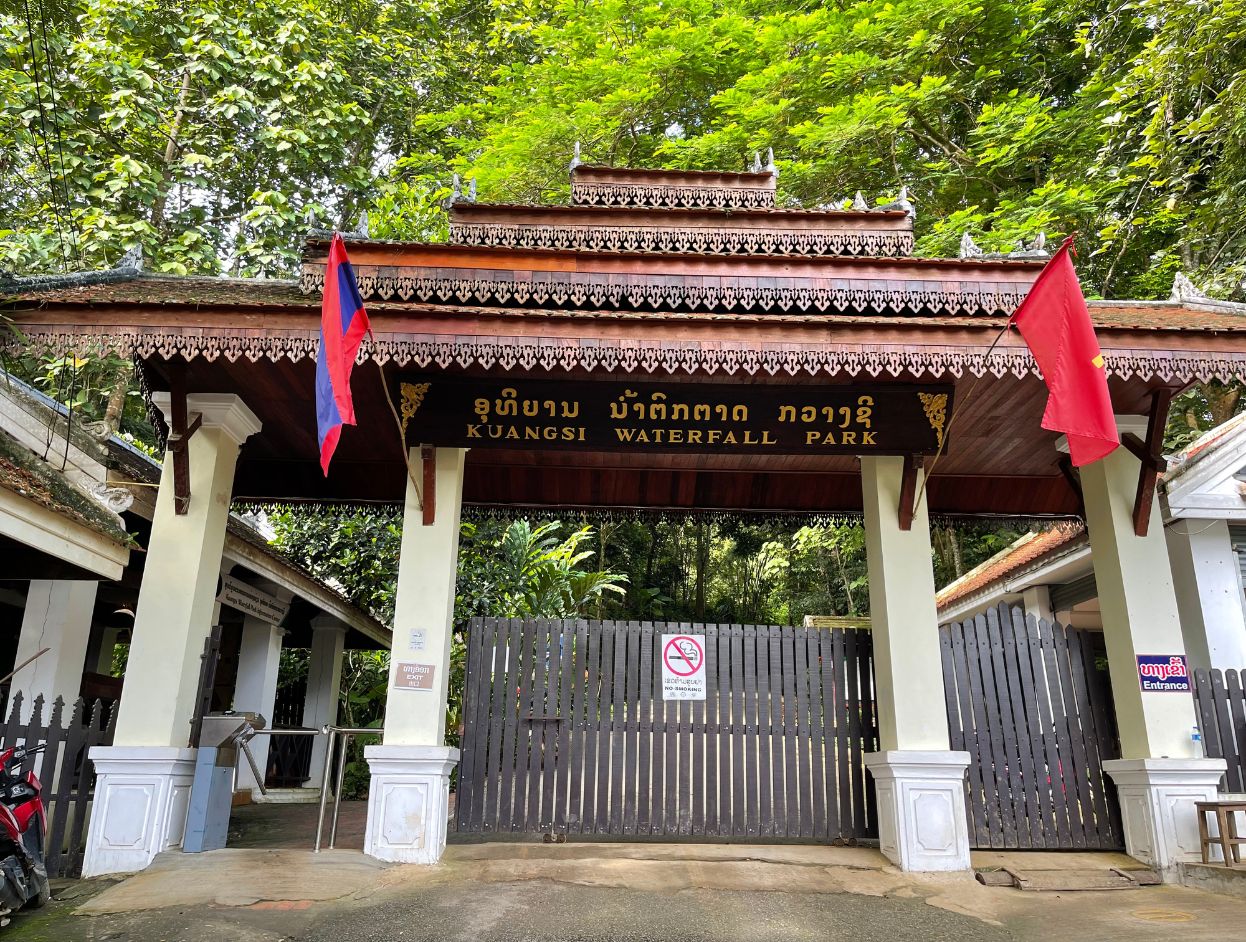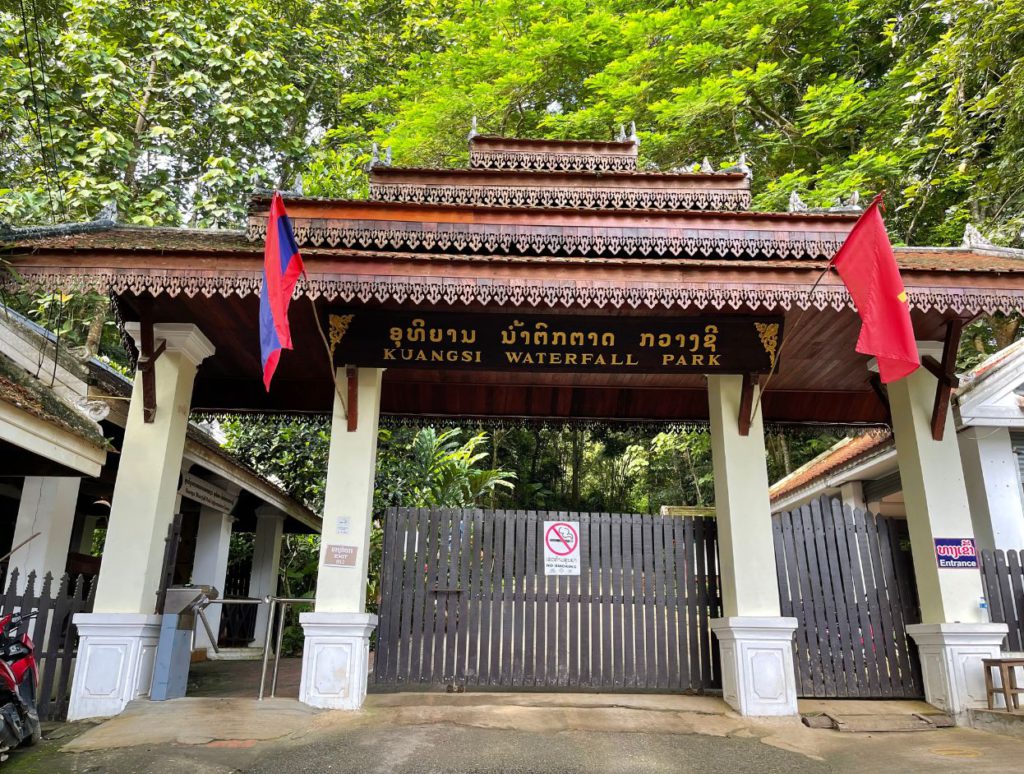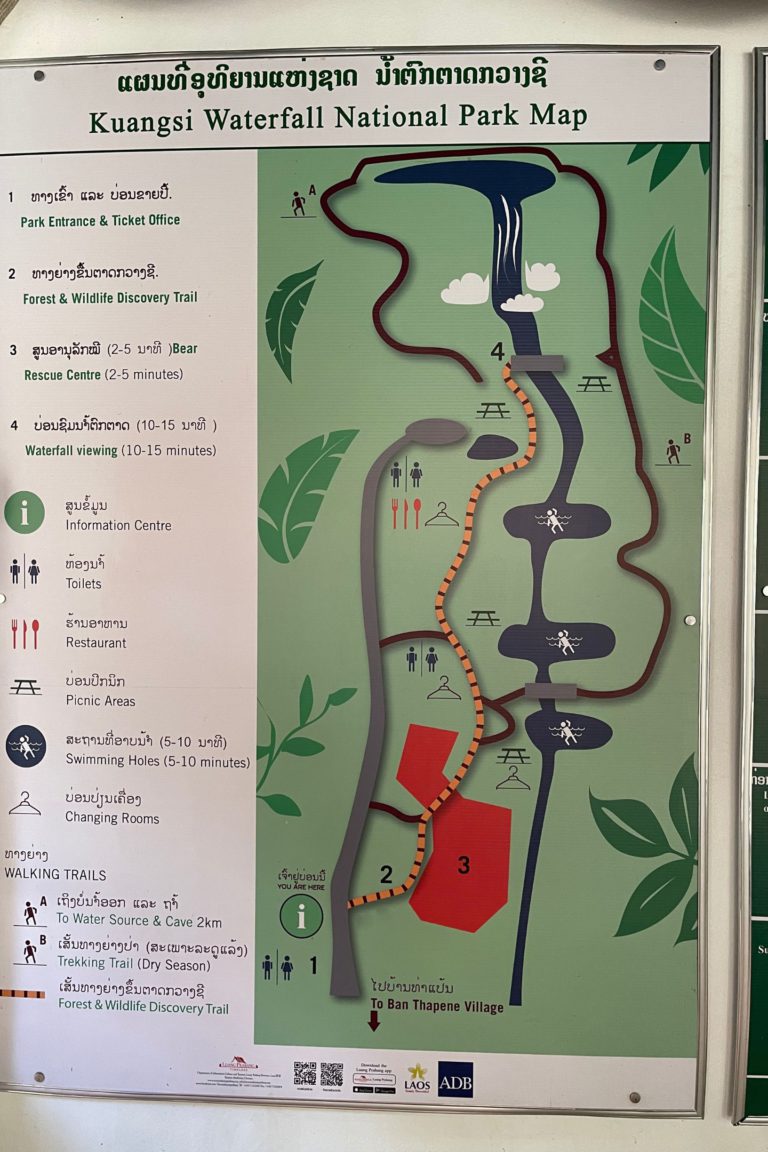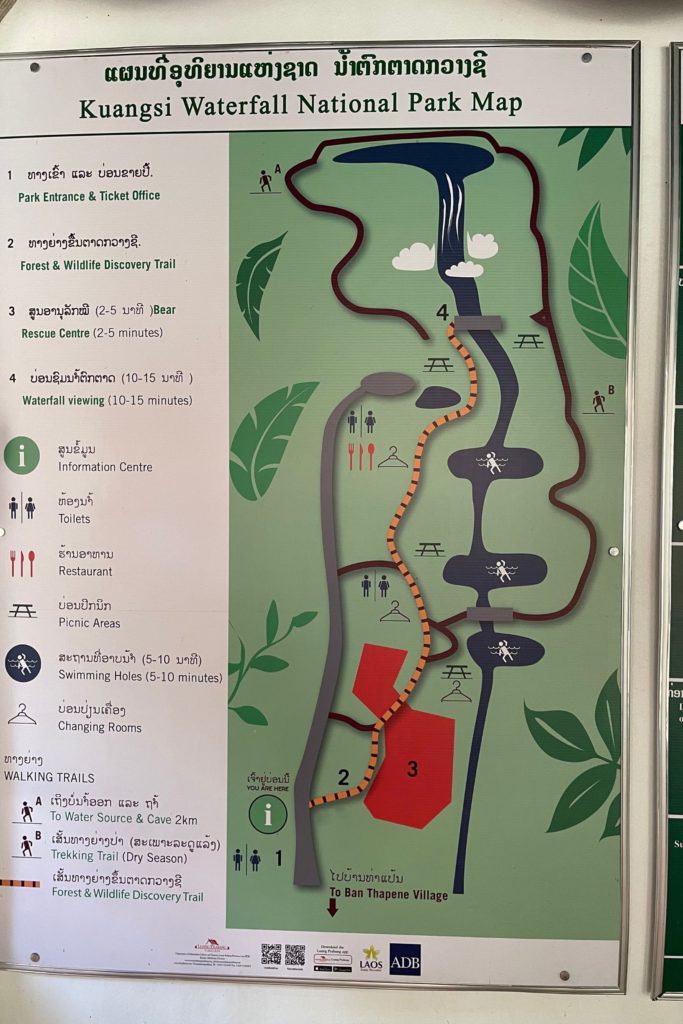 Bear Rescue Center
Inside Kuang Si waterfall you have a lovely example of animal tourism that protects animals rather than harming them. It is a protected area that is home to rescued black Asiatic bears from poachers and traffickers. In some of the visuals and photos, you can see the state in which they were found, skinny and plagued with malnutrition vs the big cuddly furry animals they have become after care.
You can see watch the bears themselves in the open space where some of them are playing on the bamboo structures built for them and most of them are simply napping. The place also has information about each bear – their name and their personality types with what they like to do along with their favourite food. It is so cute!
The place is inside the complex you so don't need to walk far from there to go to the waterfalls.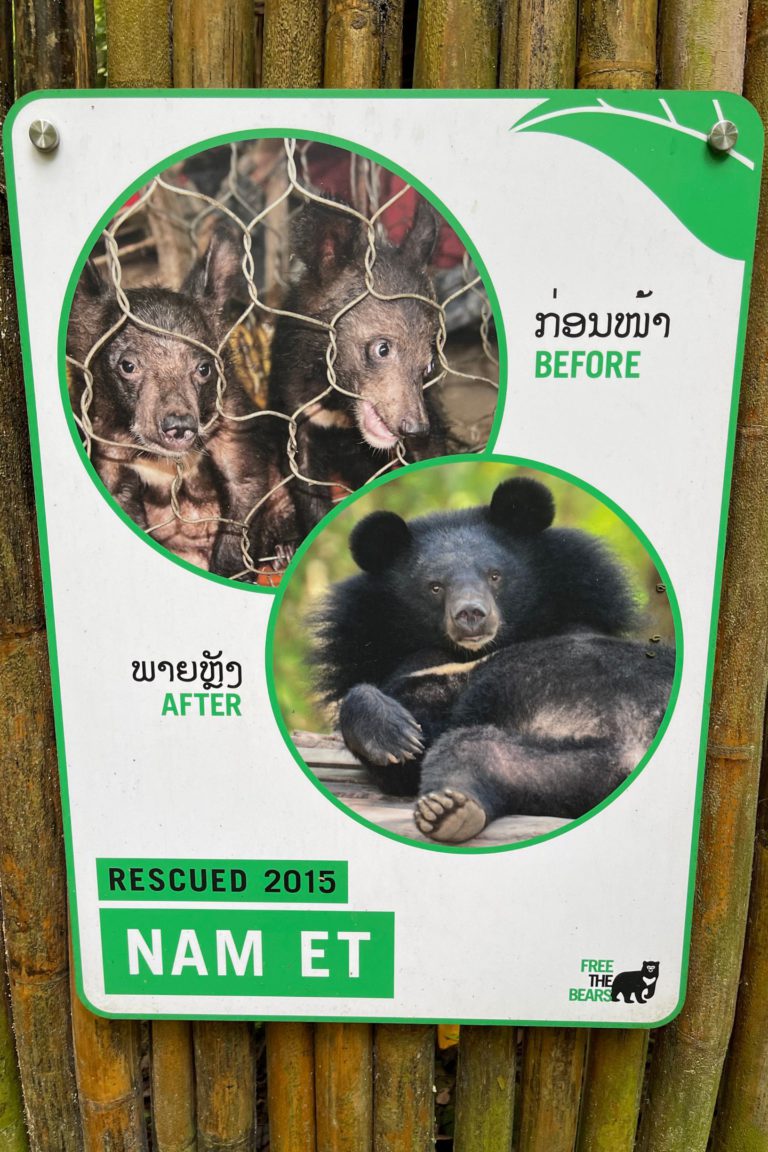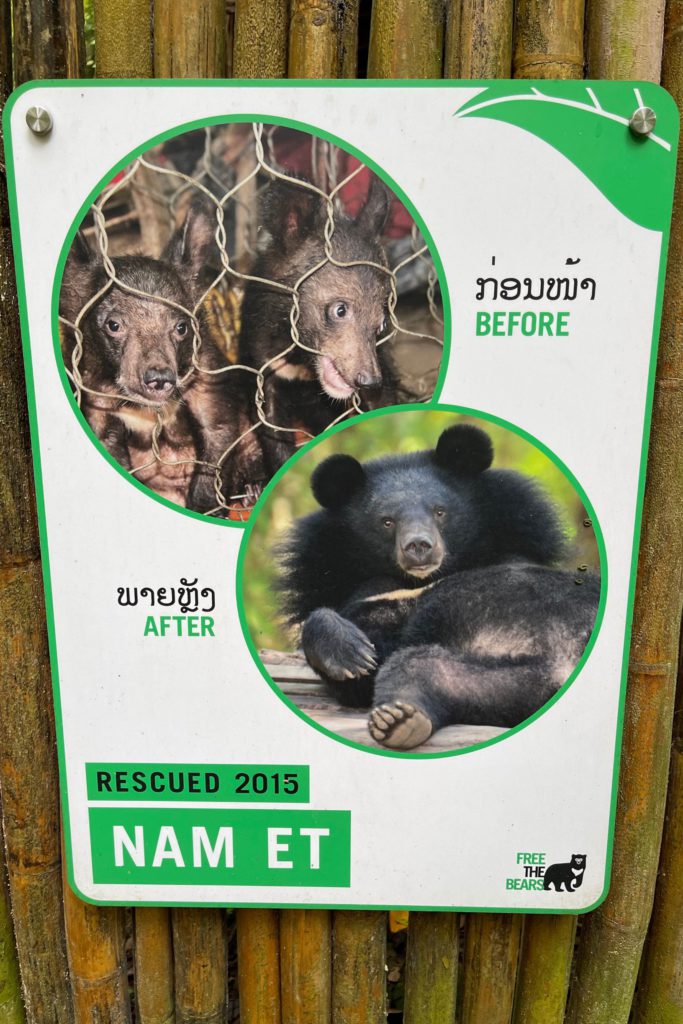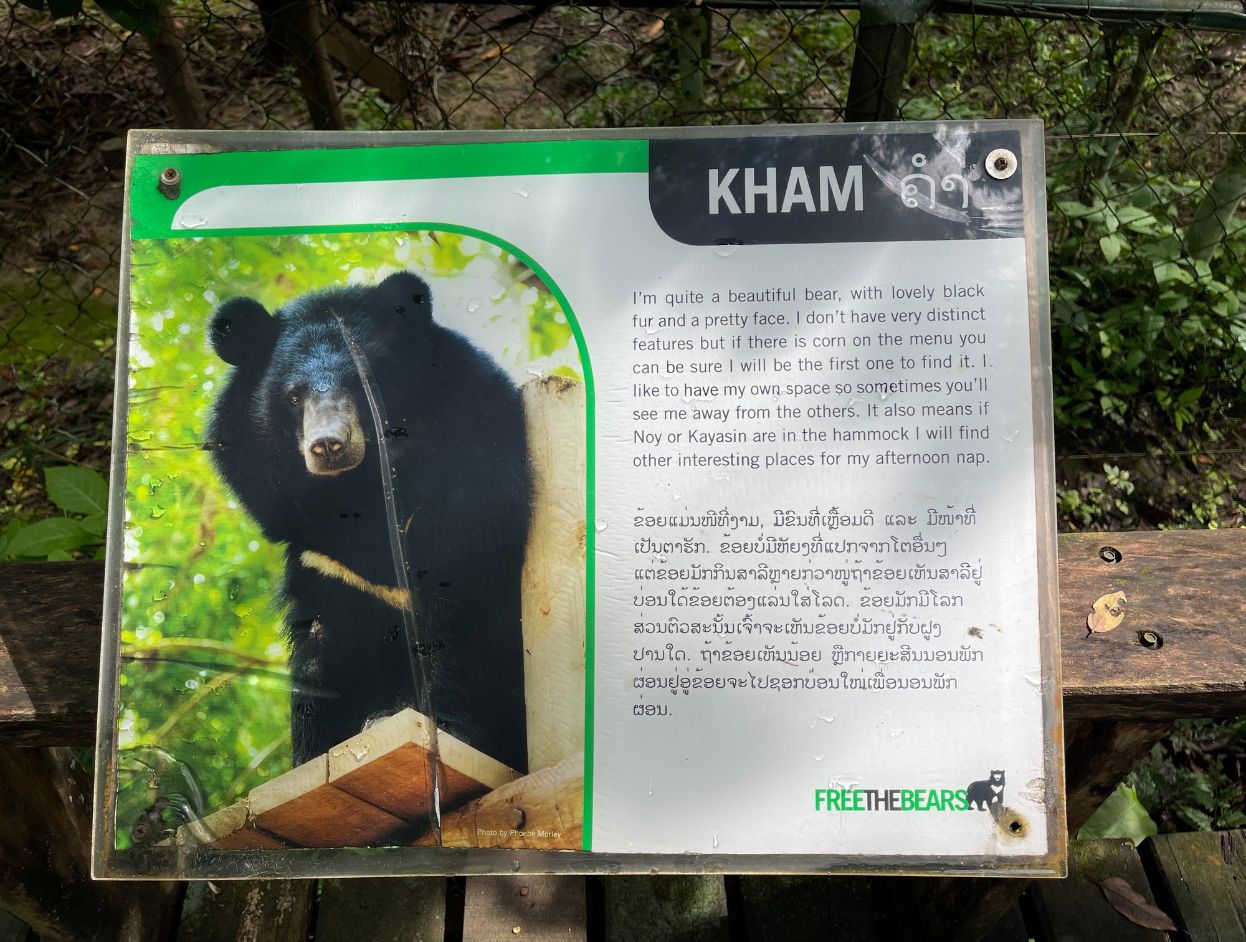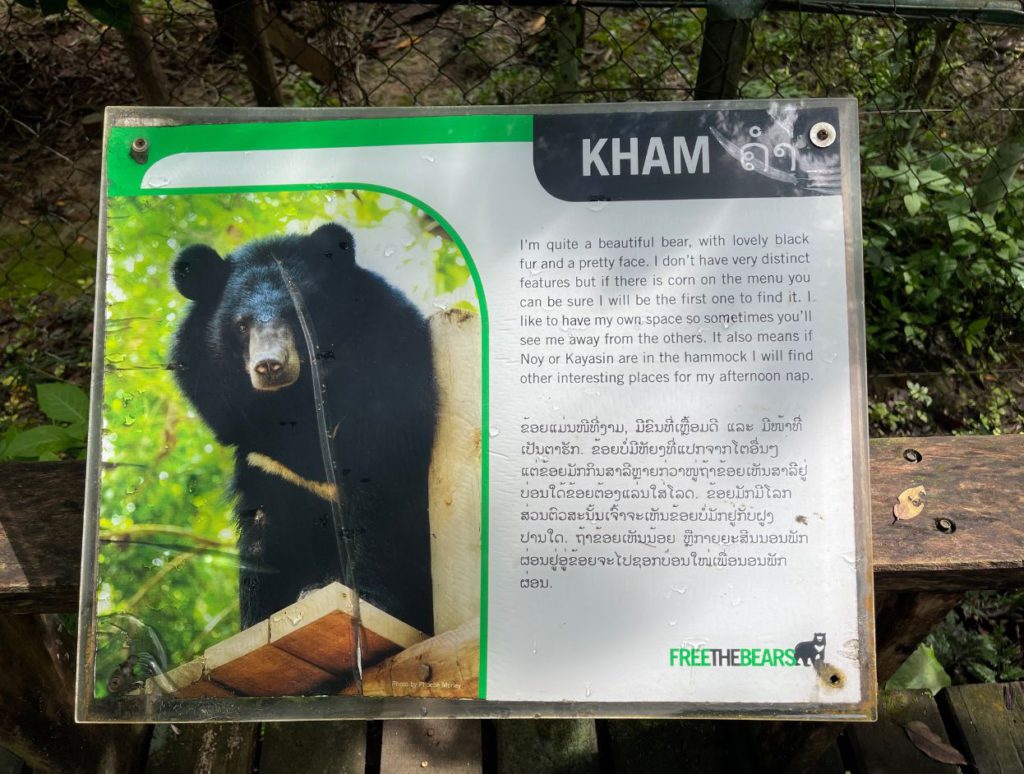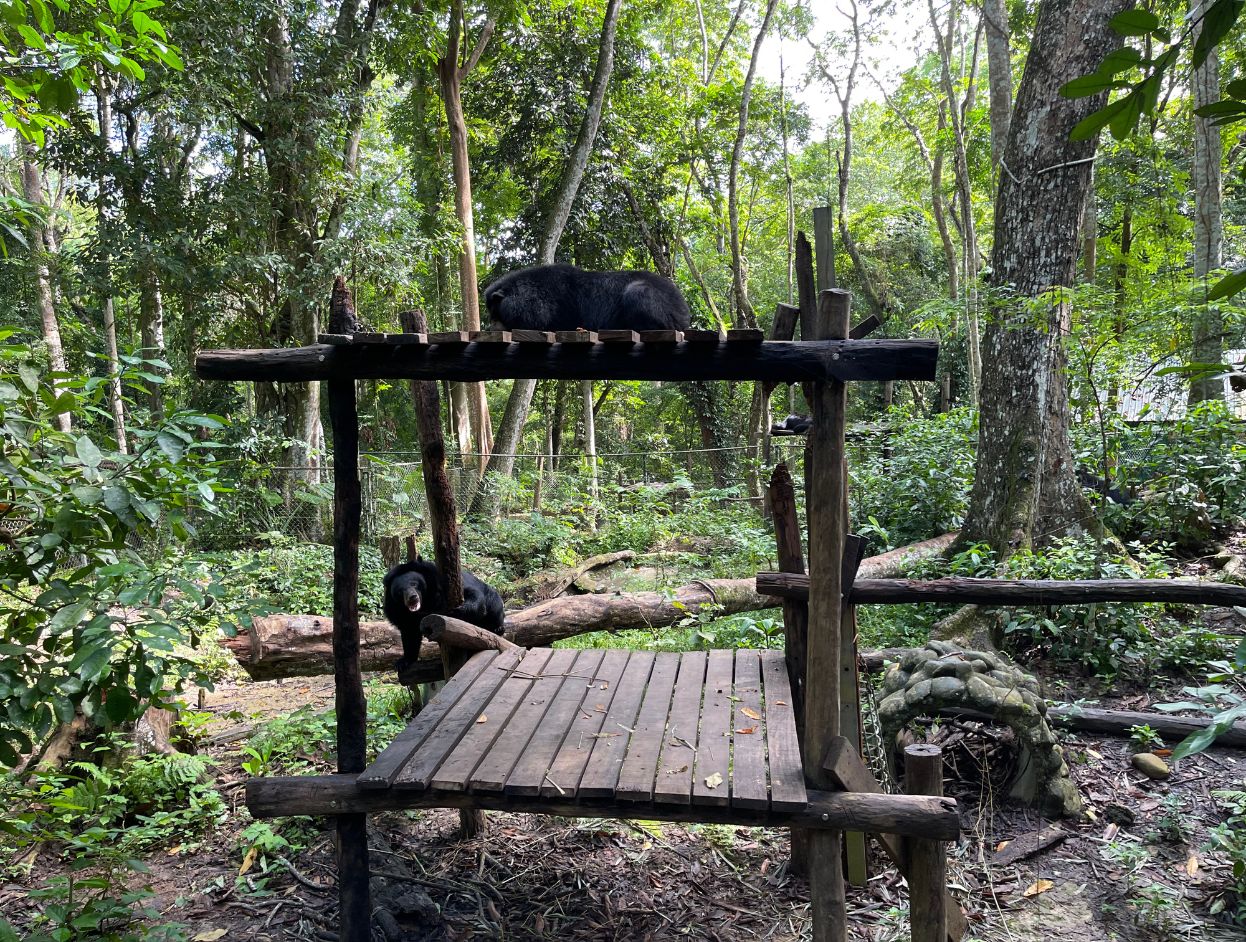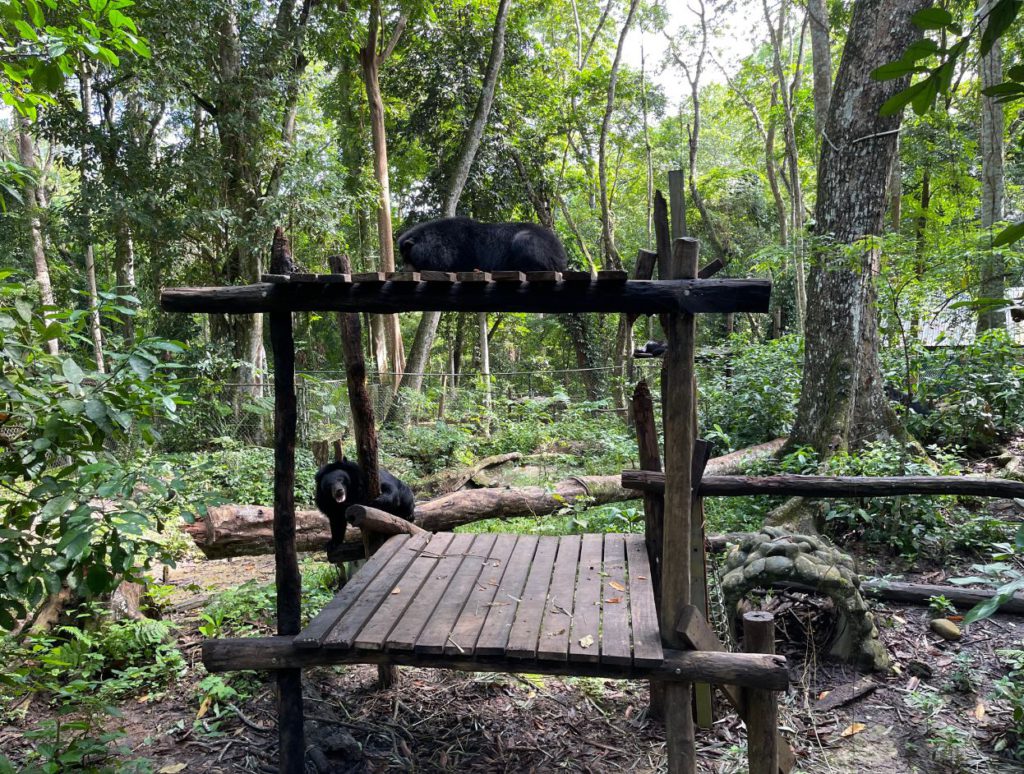 Kuang Si Waterfalls
Kuang si waterfalls have several levels. You will probably see the ones at the lower levels first, which is great. Because the show just gets better! The water is so gorgeous and green and it creates a white misty froth as it hits the light rock beneath it.
Just follow the trail around the waterfall till the time you come across the main waterfall which is this
There are several photo spots in the area to get some lovely instagrammable photos. We went during the rainy season which means that the foliage and the water flow were at their peak beauty.
Planning a Trip? Here is our itinerary for Laos from 5 days to 4 weeks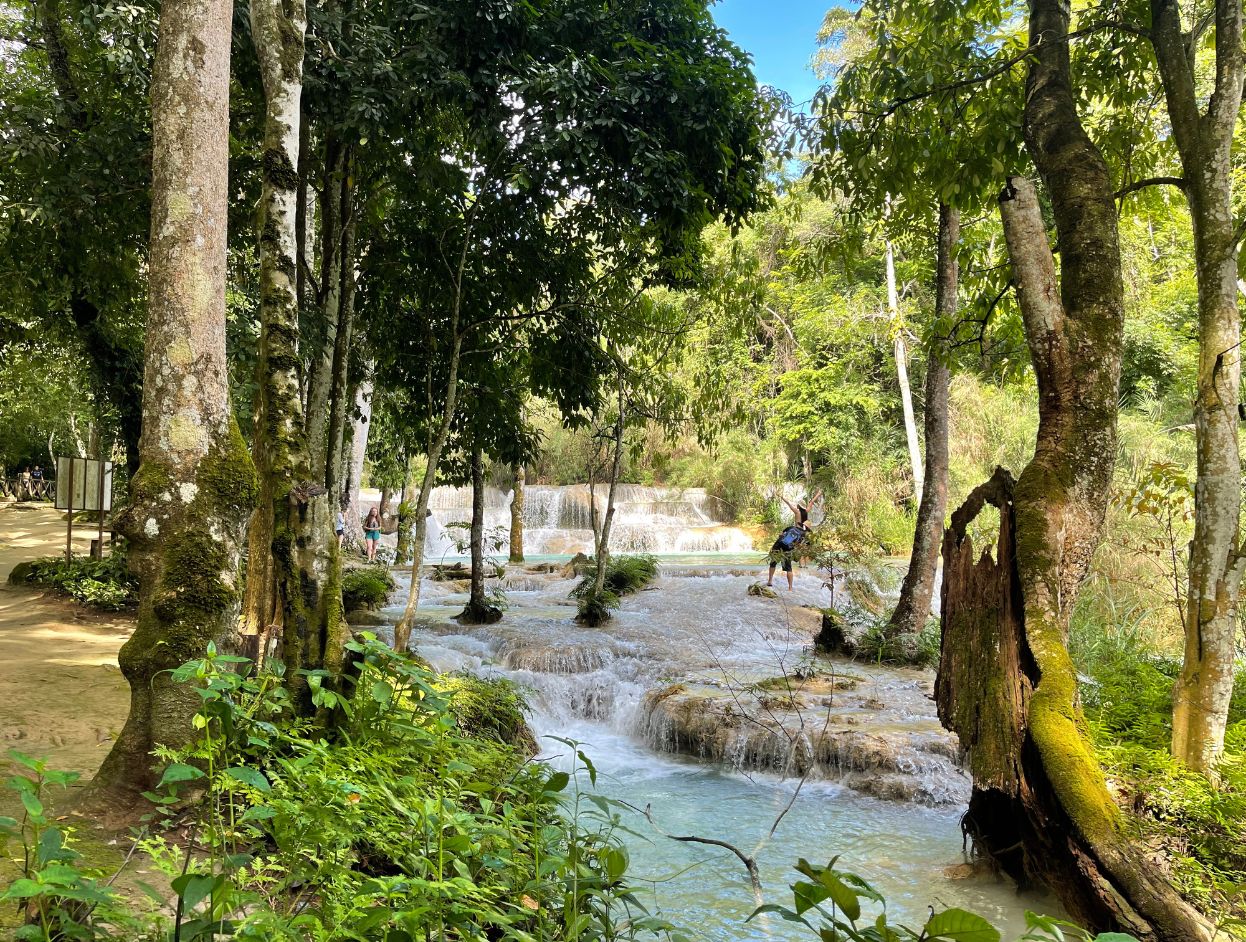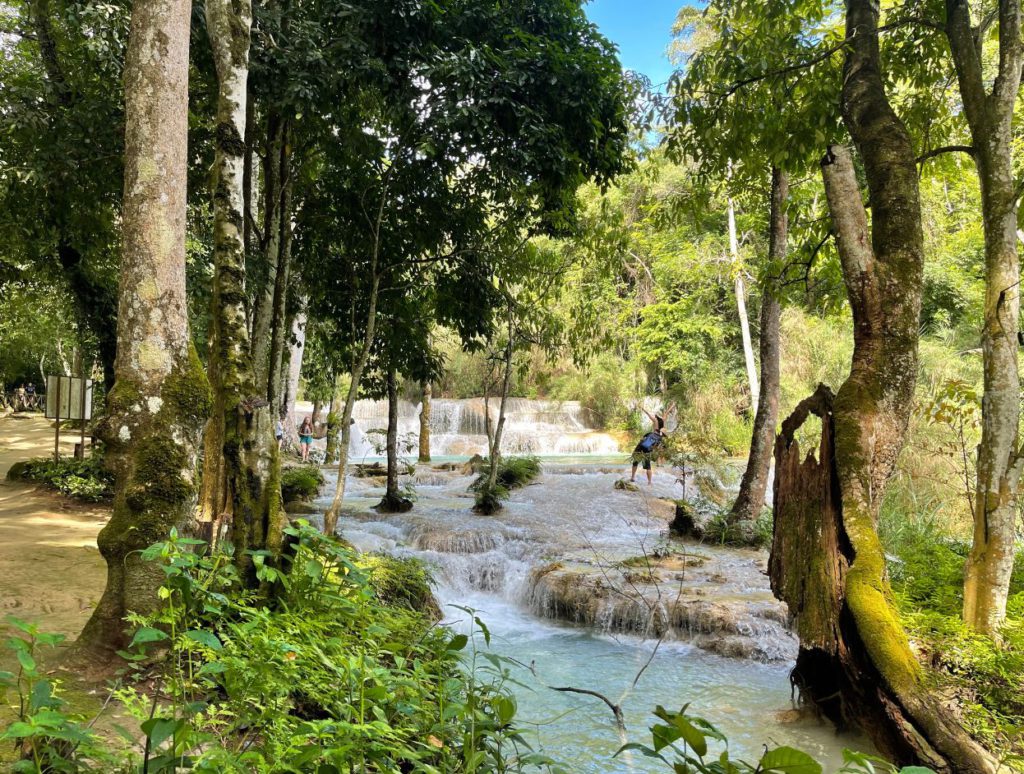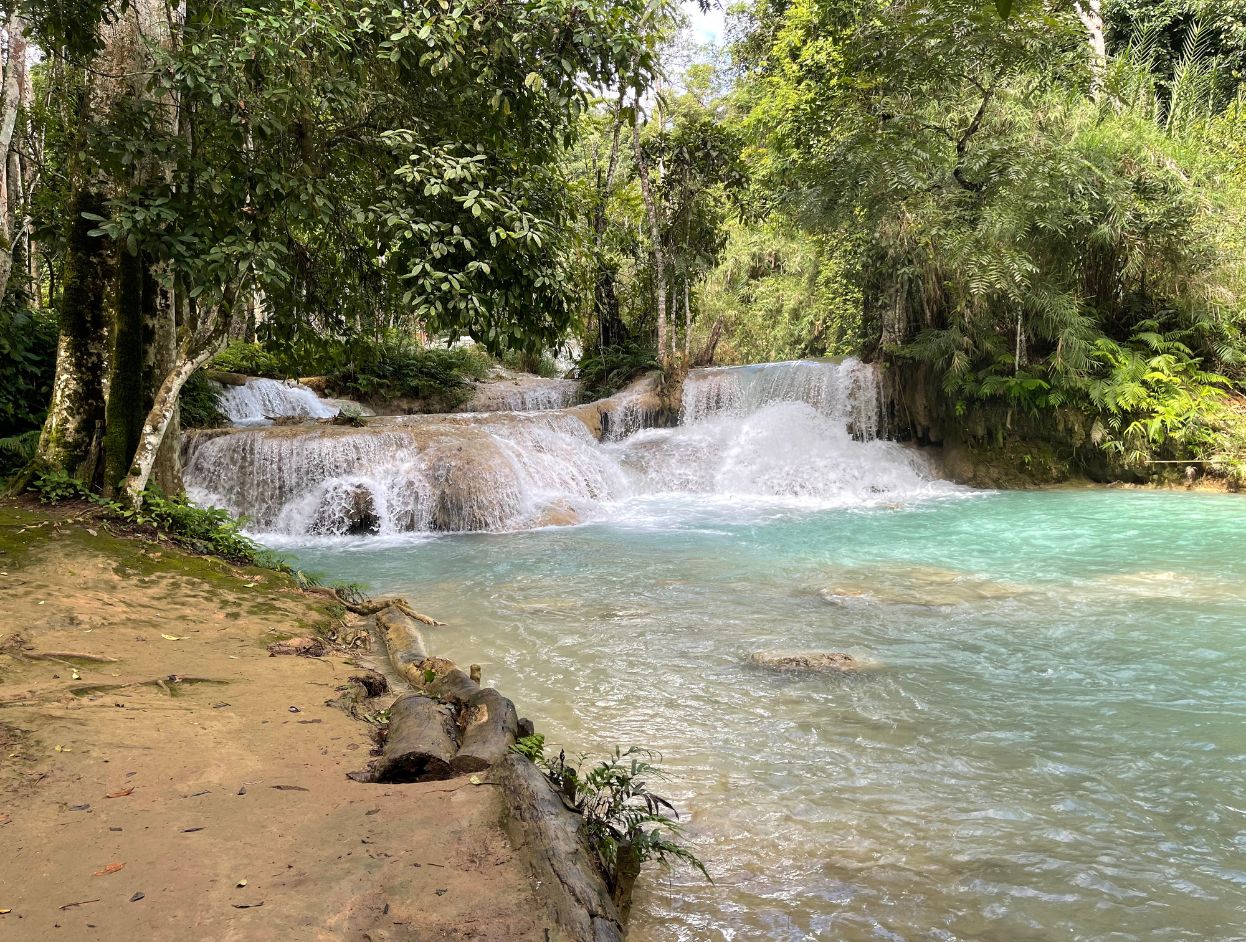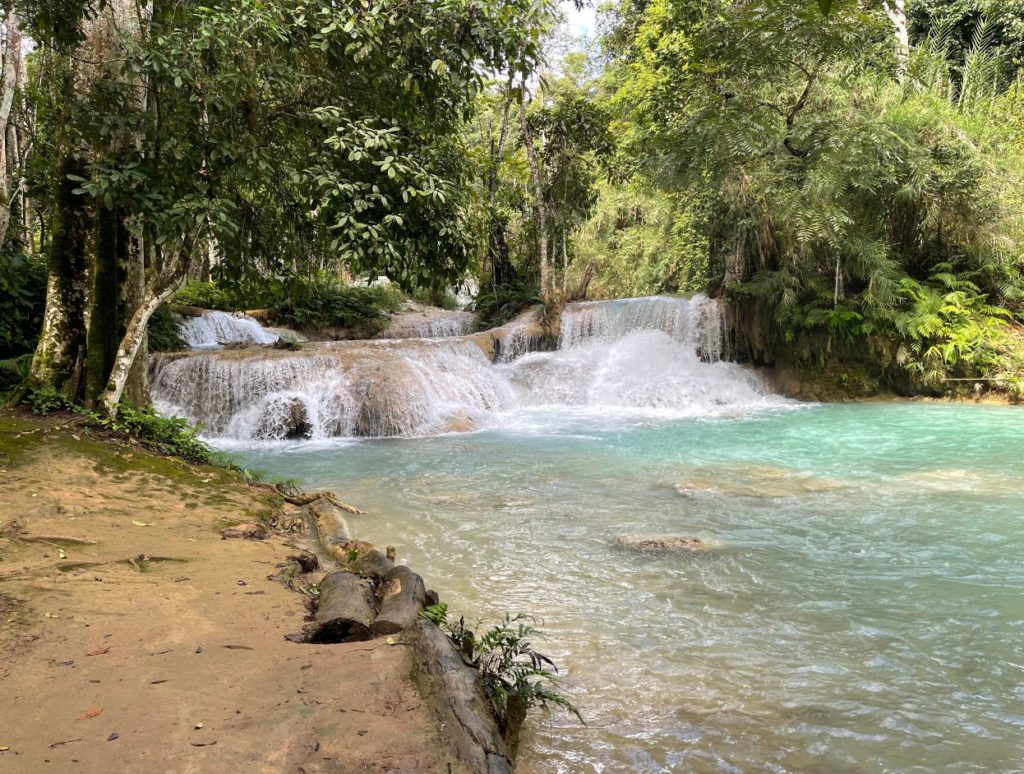 It is also possible to swim in the waterfall at the lower levels. So you can take your bathing suit. There are also changing rooms nearby that have basic facilities to change. It is not allowed to swim on the upper levels. 
Do NOT dive or jump into the pools unknowingly since it has a hard rocky surface that is shallow at several places. There are signs on the pools where jumping is not allowed and for good reason. You do not want to be injured since there is hardly any support staff. Neither there is a hospital for miles around. So you are on your own to take care of.
There are several trails branching off near the falls for a hike or trekking. But since it was the rainy season, most of them were closed off. I am sure you can access them in other seasons. In fact, there are stairs that lead you to the top of the waterfall.
Anyway, I hope you have a good time because I still dream about this place. And Laos in general.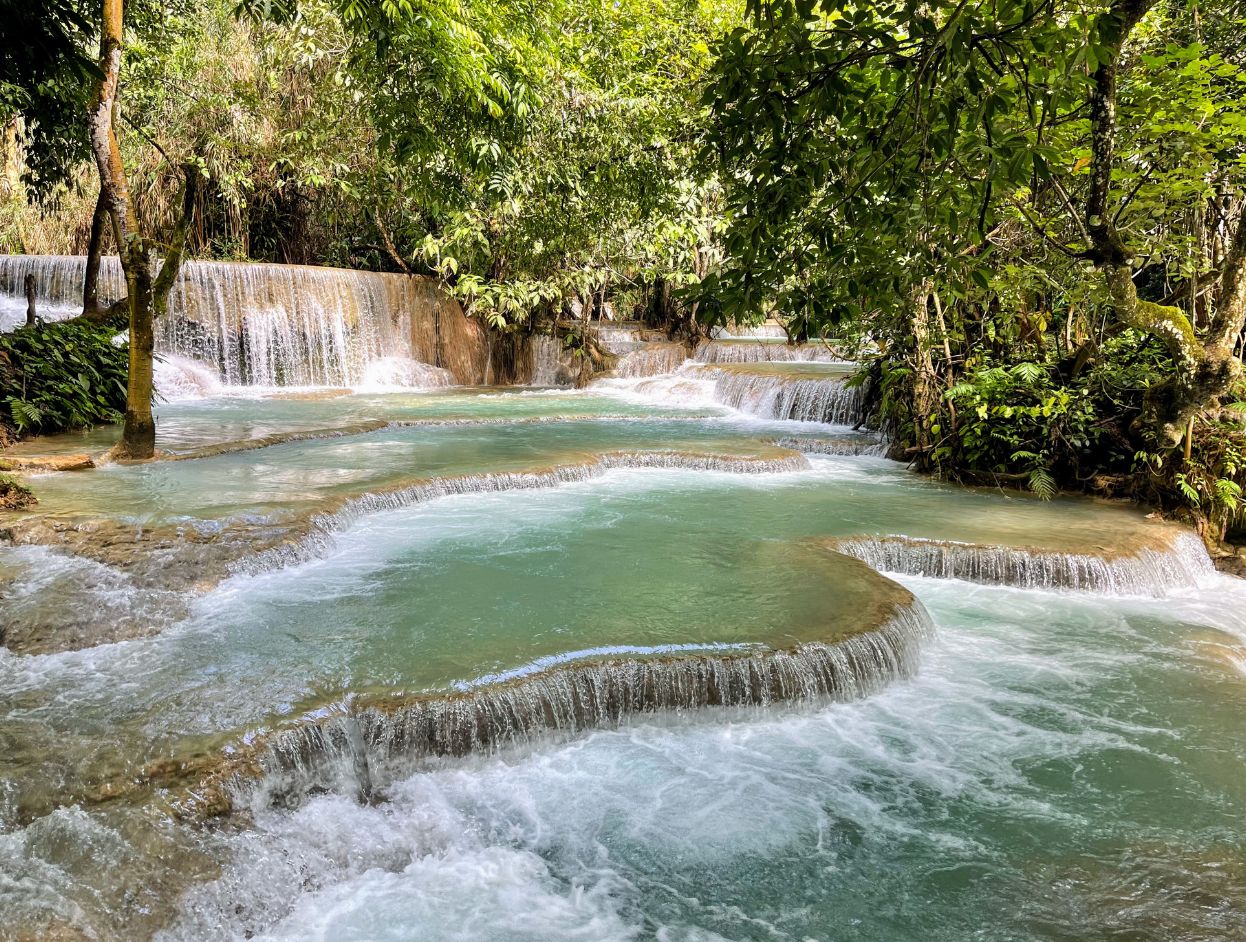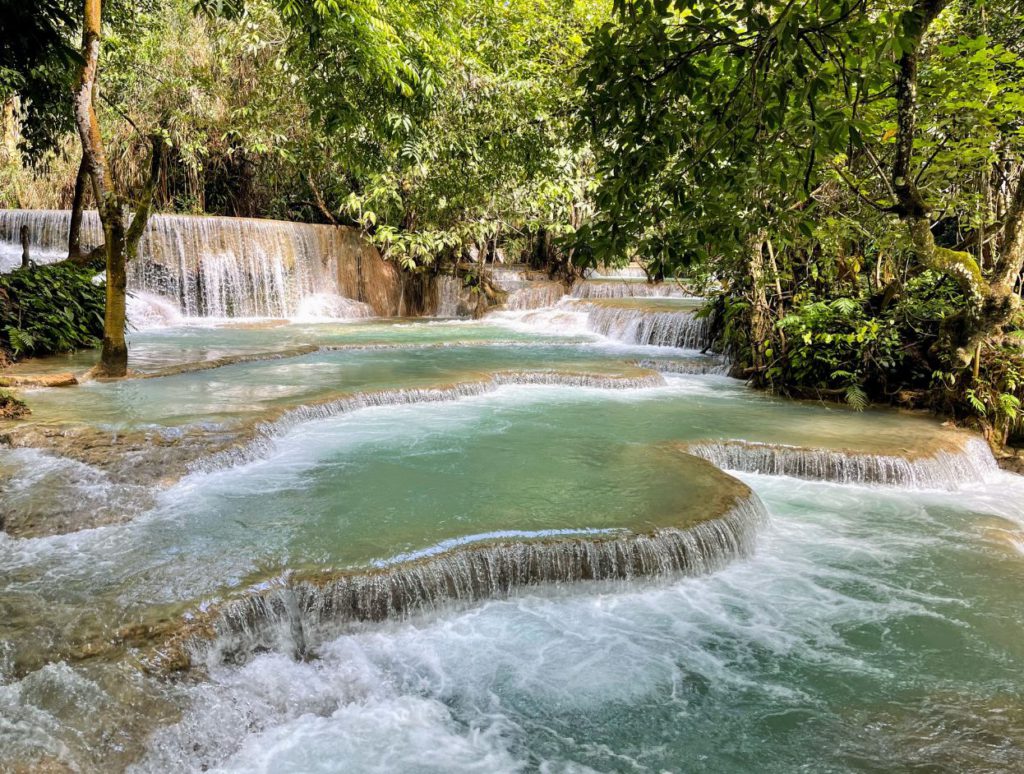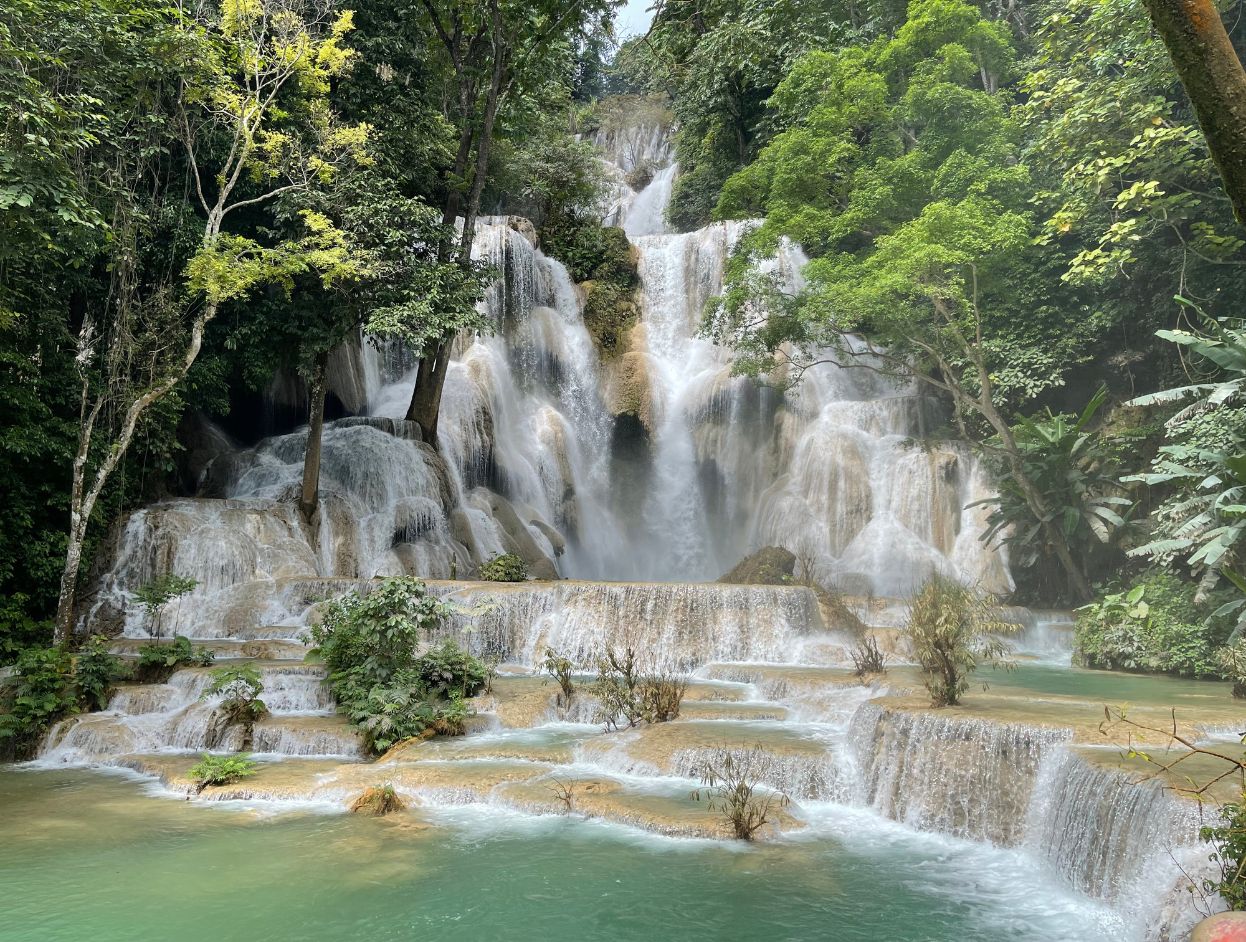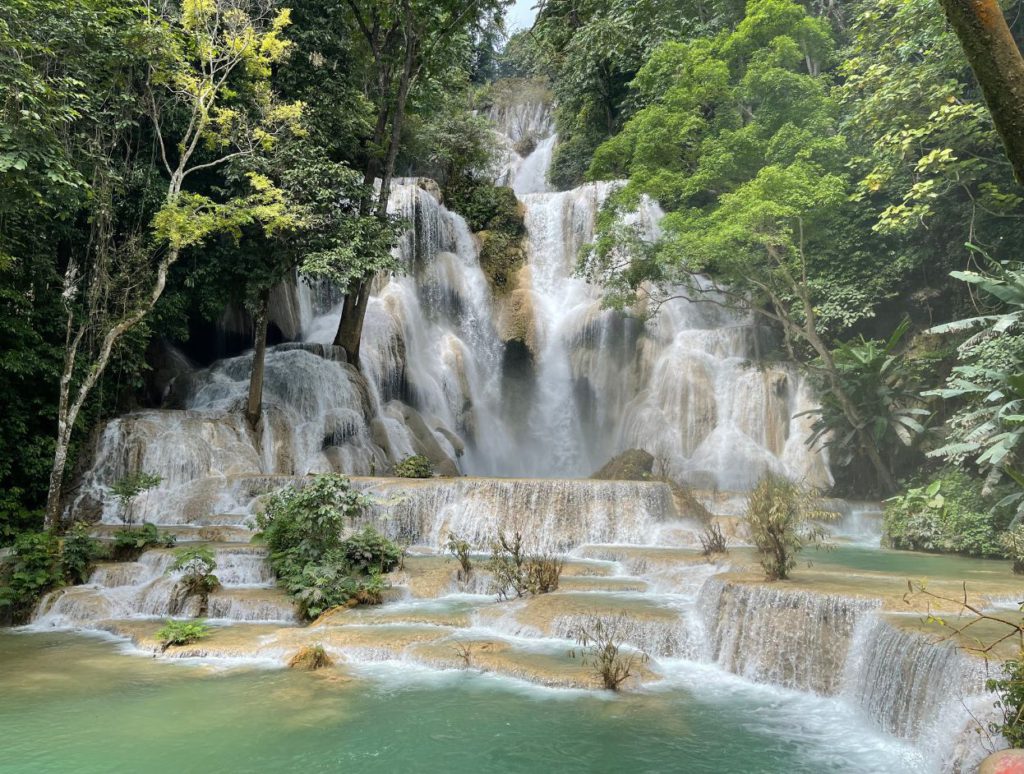 Where to Stop while on your way back
If you have some time on your hands, then you can either go to Pak Ou caves or you can stop at a couple of places while returning back to Luang Prabang.
You can stop at Laos Buffalo Dairy and check out some local sweet cows! This dairy not just produces milk but also dairy products and desserts like fresh ice cream. The reviews are great and they do care a lot for their animals. It was closed when we went. But if you find it open, I hope you like it.
A little ahead we stopped at a coffee farm. In bold big letters, it says 'Luang Prabang Civet Coffee' at the entrance (here is the location). And if you don't know, the civet or kopi luwak coffee is one of the most expensive coffees made from the coffee beans picked poop of the civet cat after they eat, digest, ferment and poop it out. I am not sure why it is so popular, but we did meet a sweet civet cat and got a tour of a coffee farm. If you enjoy coffee, Lao coffee is popular for its uniqueness.
And that's all for Kuang Si Waterfalls! No potatoes for you.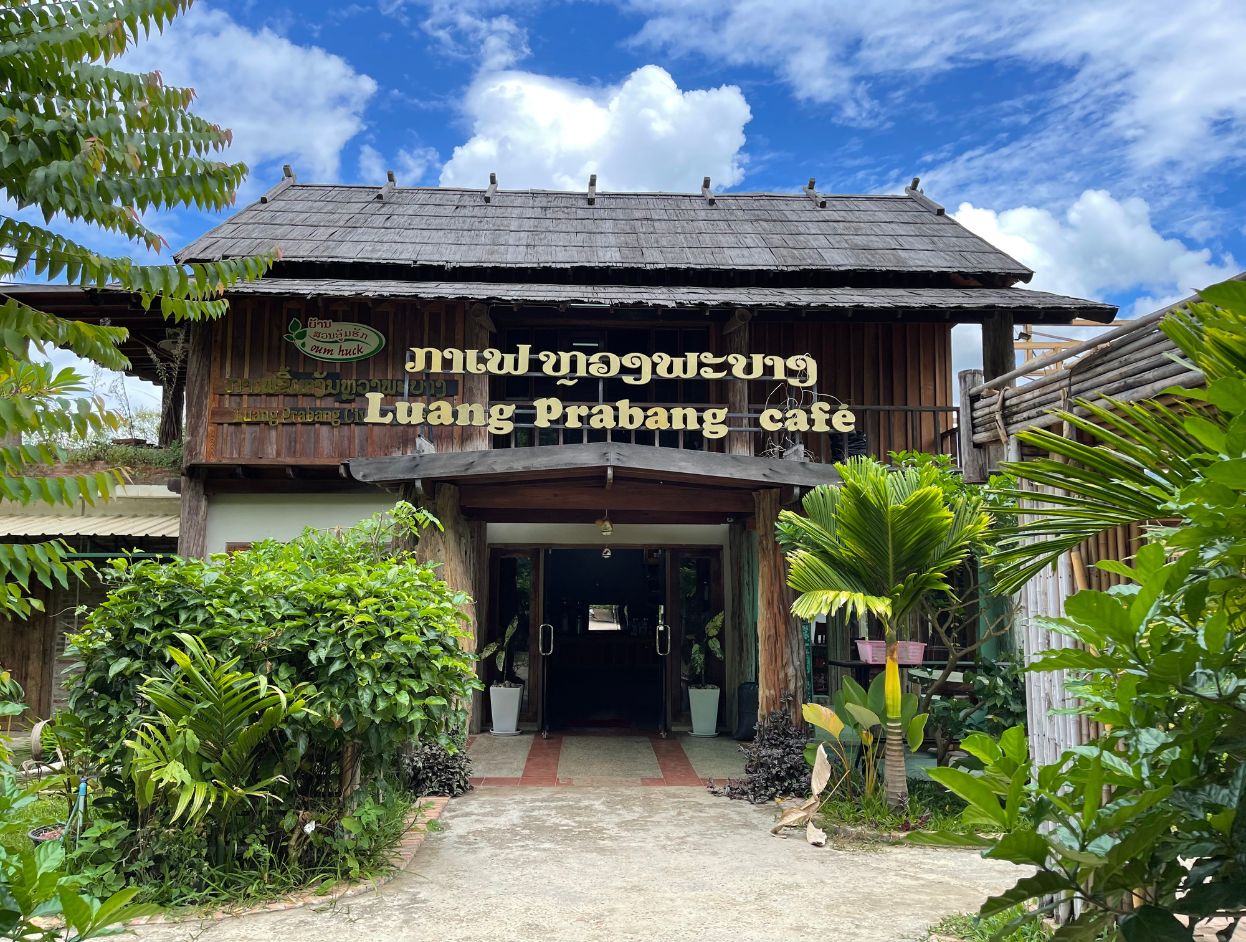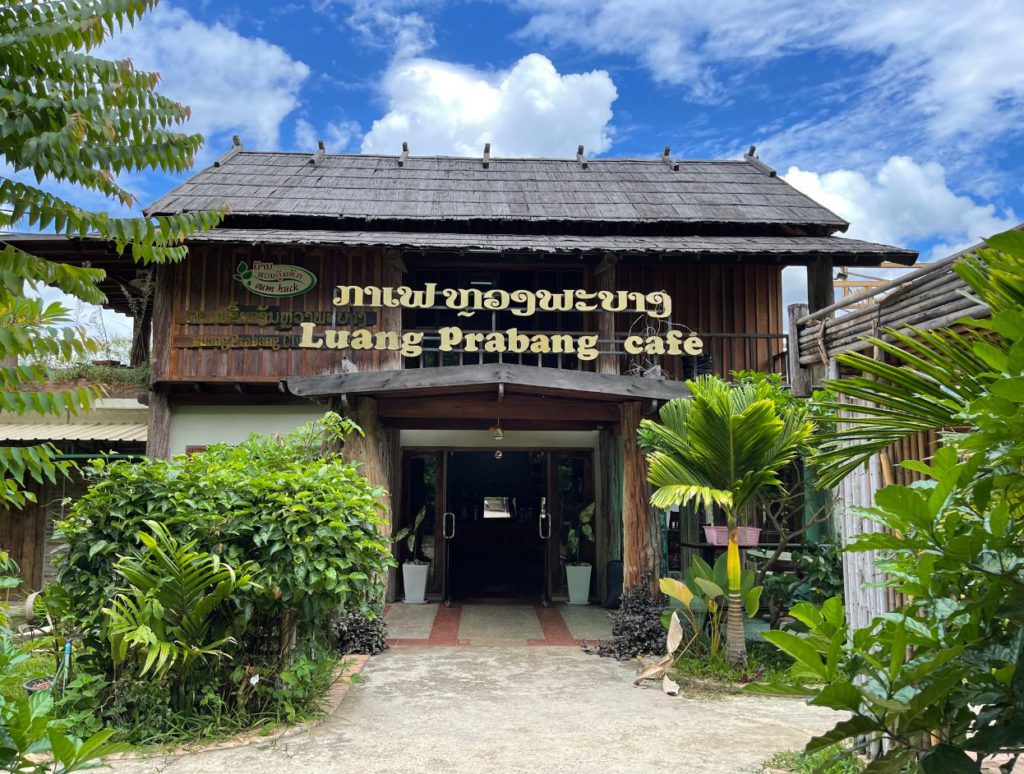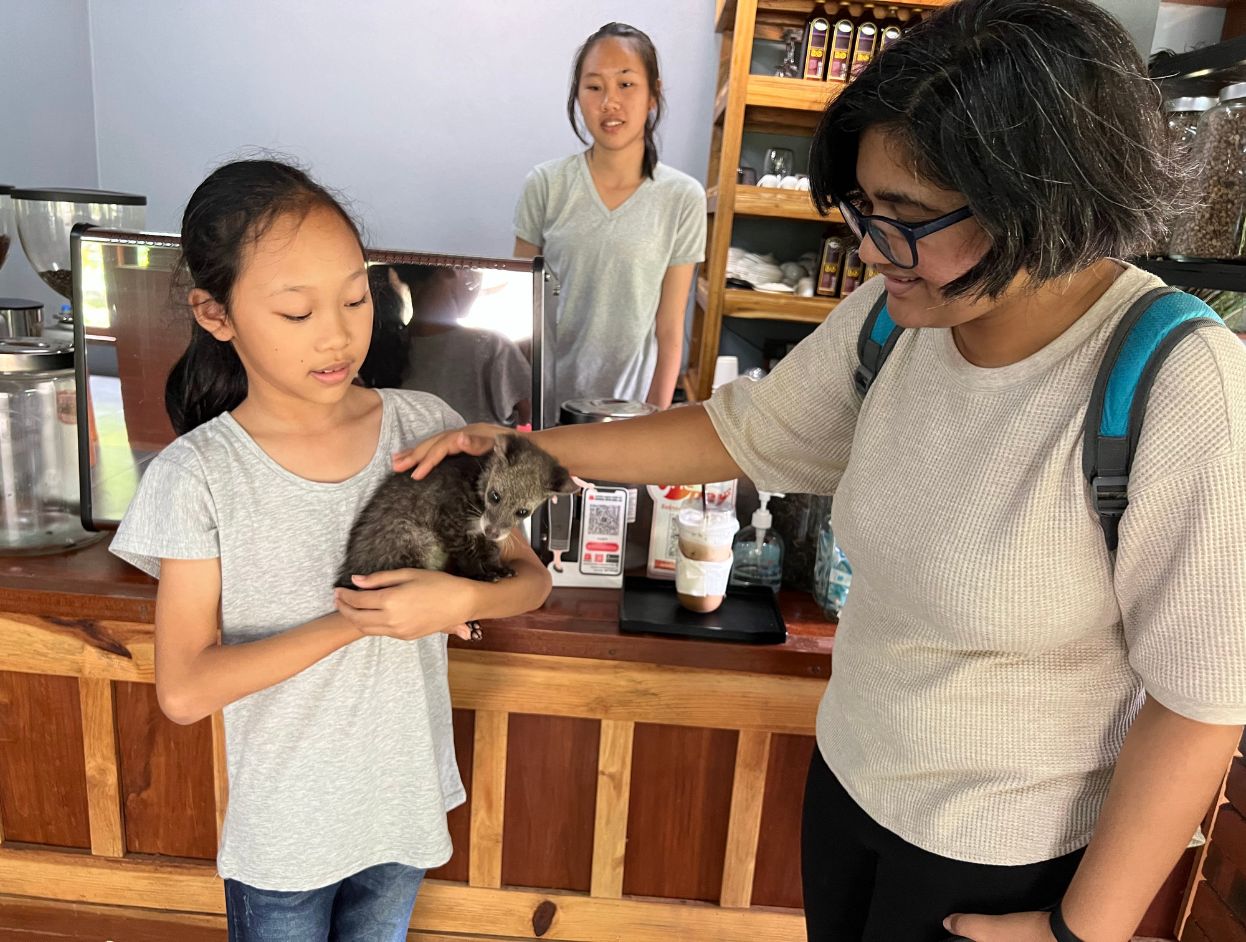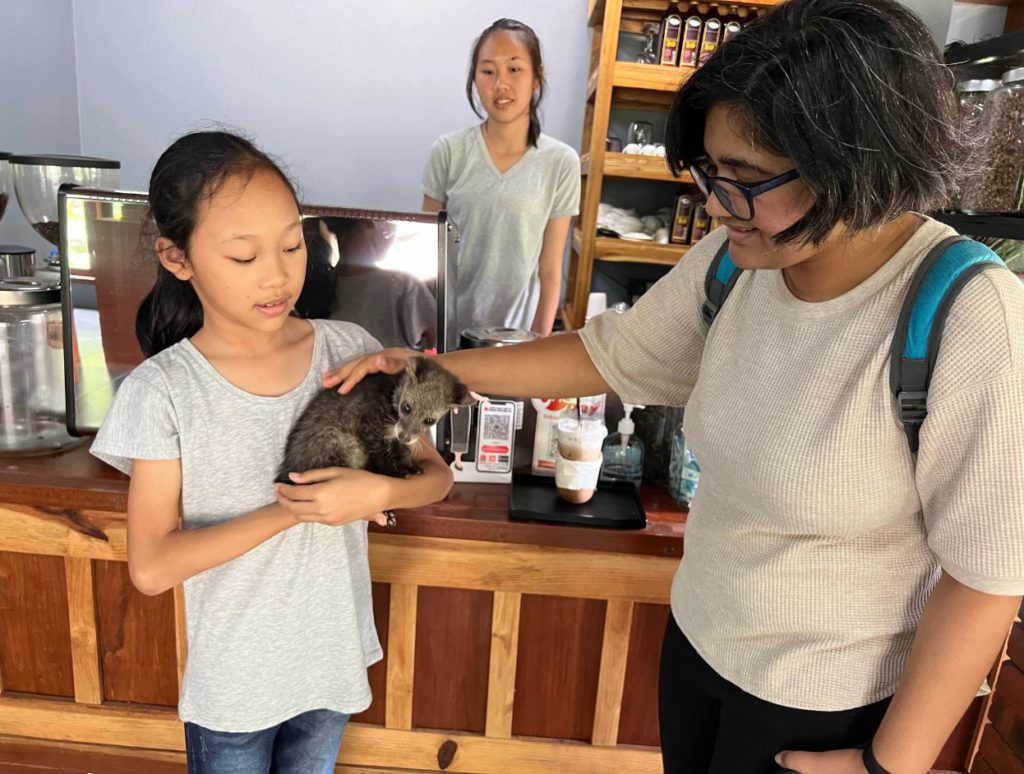 Related Articles