01 May

Visiting Taling Chan Floating Market in Bangkok

Taling Chan is a popular floating market near Bangkok. And is great since, unlike Damnoen Saduak, you don't really have to travel a lot out of Bangkok to reach this place.

It is not hard to reach, feels like the countryside already. This place also gives a glimpse into old Bangkok's canal system. It is an ecosystem that looks like another world compared to the bustling city right across the river.

I visited Taling Chan on a hot spring day in March. It was just after Thailand opened its door to tourists after being closed for almost 2 years during the pandemic. So my version could be much different than what you see. I would still encourage you to make a visit, it was a fun day out.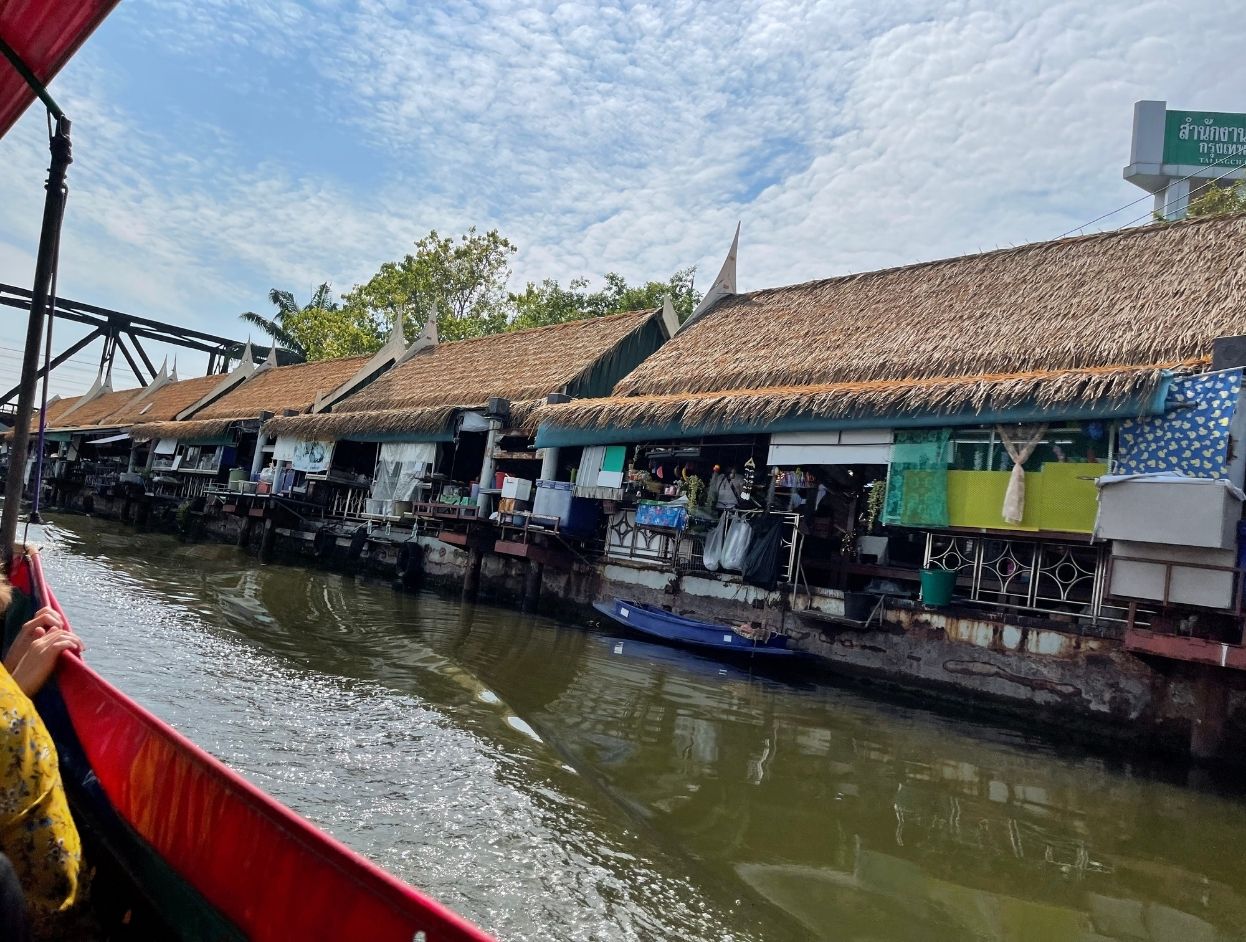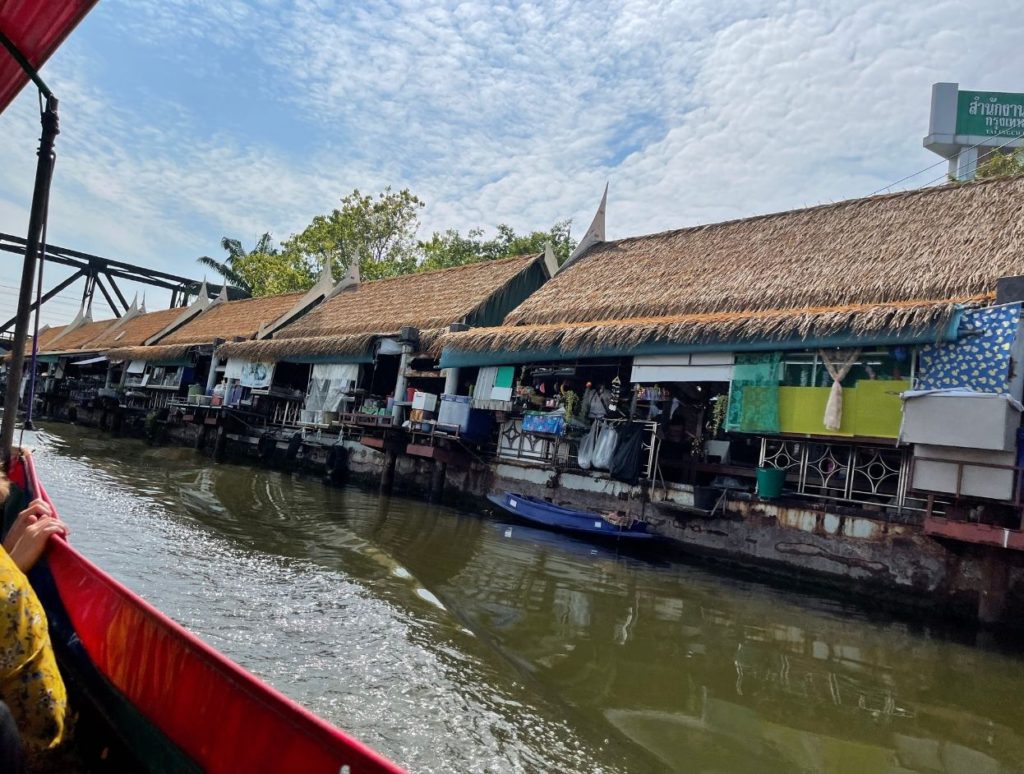 Where is Taling Chan Floating Market
Taling Chan is on the other side of the Chao Phraya River than Bangkok after Thonburi, the old capital of Thailand. This area in Bangkok is known for its last century charm. You will find rows of traditional houses and Thai people still embracing a more traditional way of life. It still falls under the Bangkok area, built on the Chak Phra canal.
Address: 333 Chak Phra Rd, Khlong Chak Phra, Taling Chan, Bangkok 10170
How to reach Taling Chan Floating Market
Taxi: If you are residing in Bangkok city, you can also take a taxi to Taling Chan Floating Market. On a regular day, the ride should cost you between THB 150-200 from most parts inside Bangkok and is comfortable. If you want to take a prepaid ride, you can also check out Grab taxi or the Bolt app.
Metro: There is no metro station very close to the floating market, but you can still go to one and take a tuk-tuk/bike ride from there. You can get down at Bang Khun Non MRT Station on the dark blue line. From there you and take a vehicle (motorbike or taxi) for the last 4 km. 
Another way is to take the new SRT line from Bang Sue to Bang Bamru Station. From there take a vehicle for the last 5km (since Taling Chan station will be farther by road).
Bus: There are a few buses that run directly to the floating market (like bus no. 79). But you may want to check out if you have something direct and more convenient from your place. You can check out the moovit app to see if there are any buses from your location.
Best time to visit Taling Chan Floating Market
While there is plenty of shade and covering around the market, it can still get hot on a hot summer day. While the cooler winter months (November – January) are better to travel inside Thailand, if you are visiting during other months, try and reach a little earlier in the day. You will be able to catch the best of it between 9 am – 12 pm.  
You can still find some activities later in the day, but usually, vendors start packing up after lunchtime, so you may miss some buzz.
What to do in Taling Chan Floating Market
I don't know if you know this – that not a lot of floating markets are actually floating. Sure, you can still find some people on boats selling stuff. But these days, you will mostly find a full-fledged roaring market on land right next to it, while canals and waterways remain fairly empty.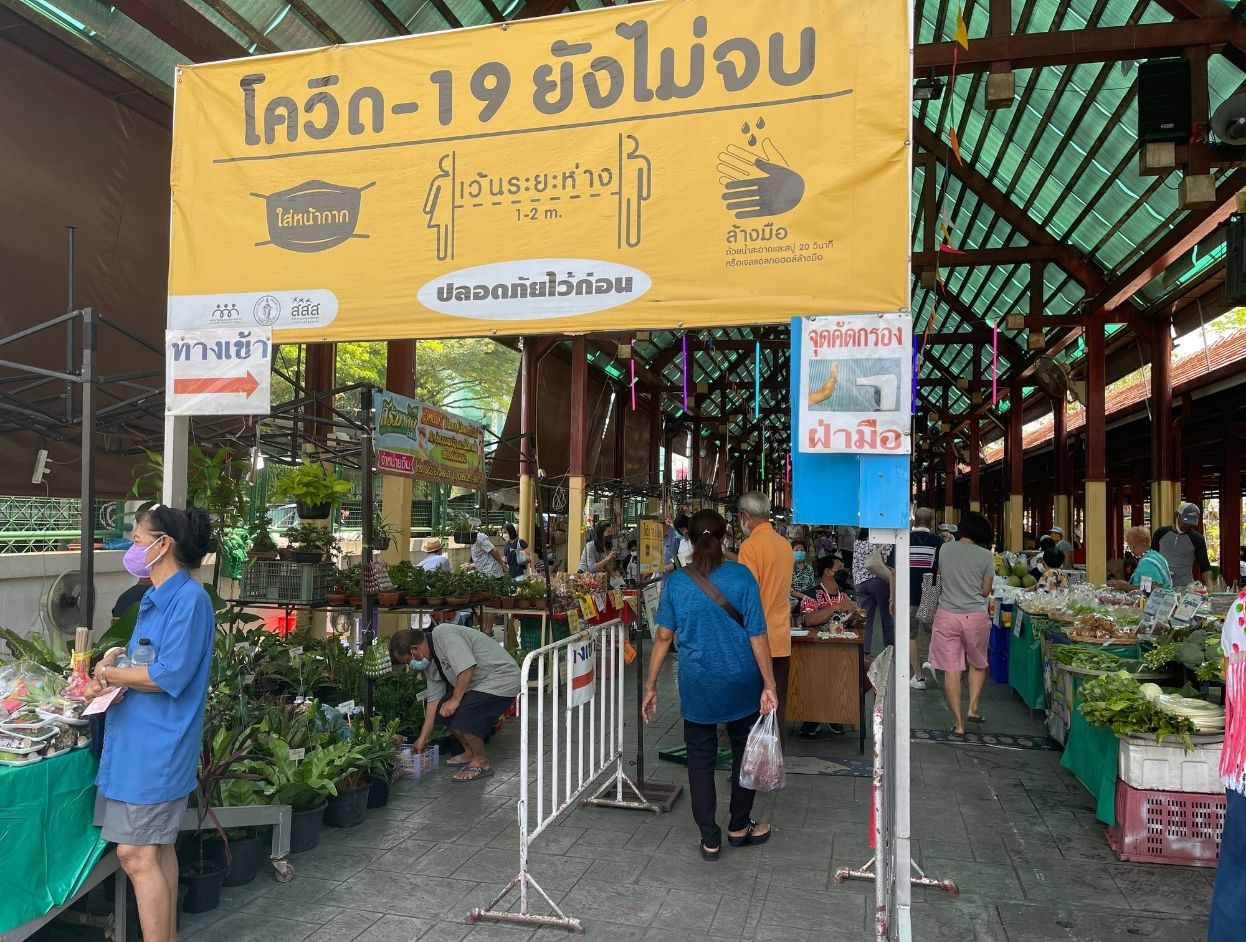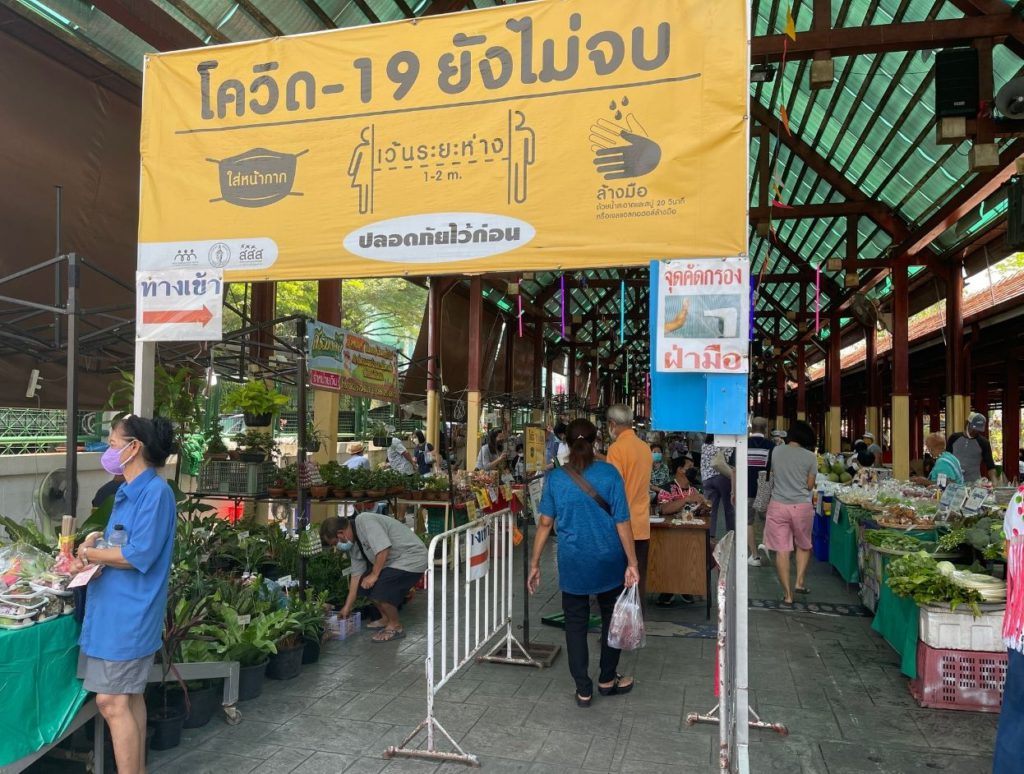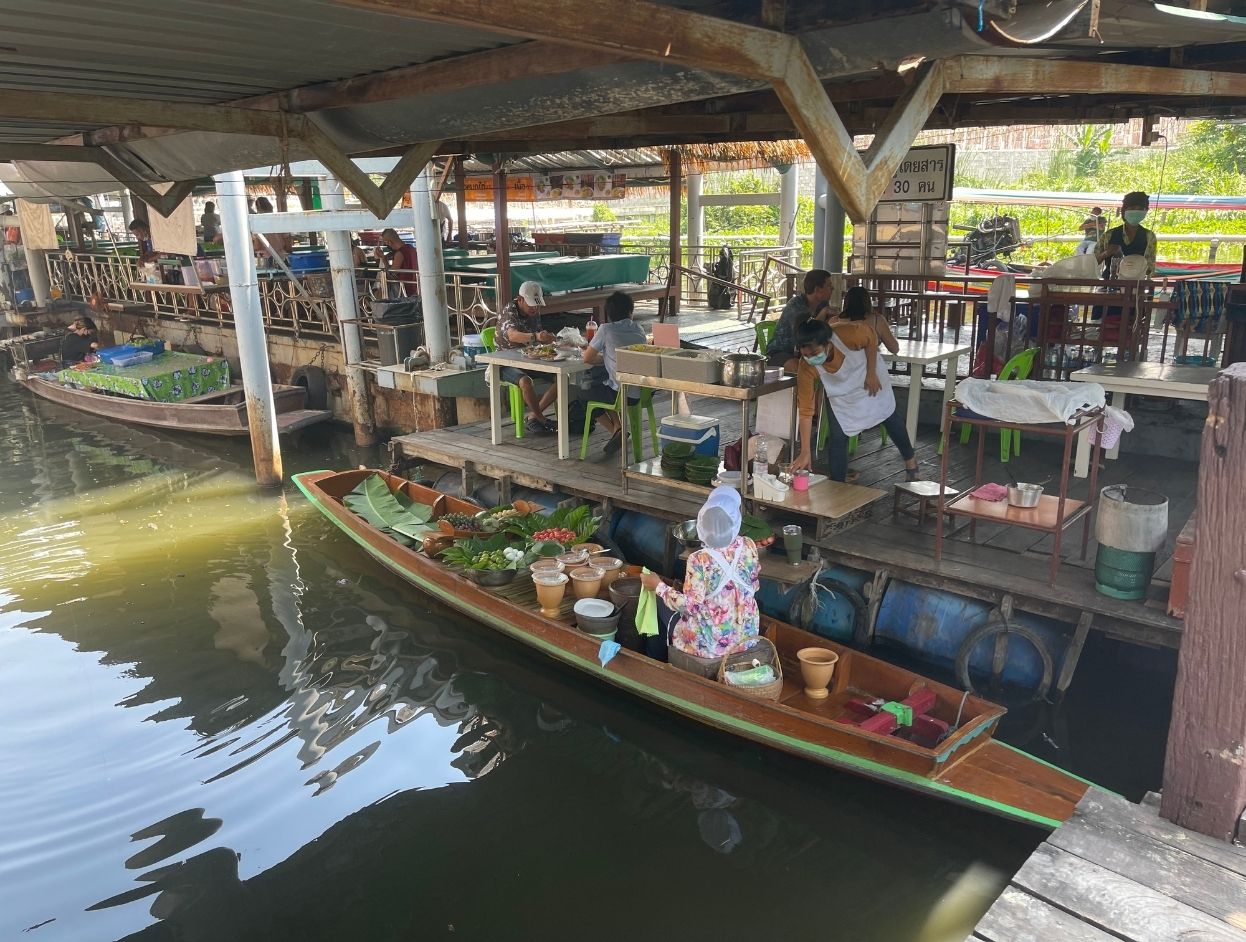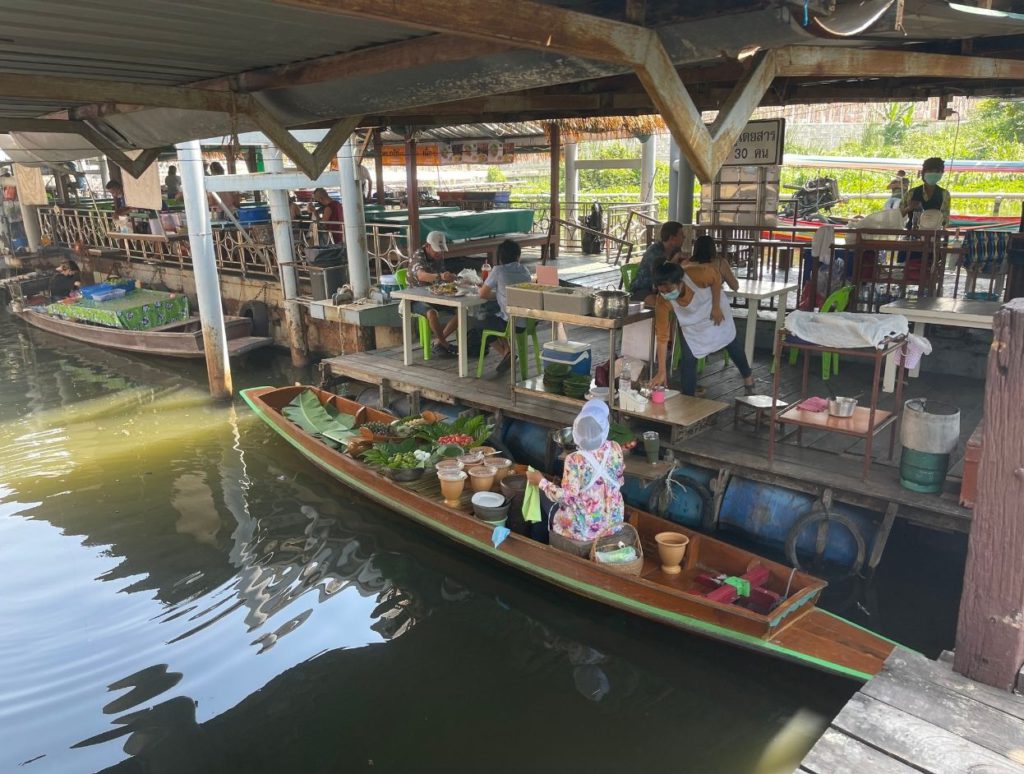 And that was the disappointing feeling I got when I reached here. While the main market is great and you can find a good selection of food options as soon as you enter, there aren't many floating boats. Although, I think things could be different when it's not pandemic.
Anyway, you can still eat a lot. So, unless you are vegetarian or vegan, skip your meal and eat here. Unfortunately, there aren't a lot of meat-free savouries here, but you will still find a lot of desserts for everyone.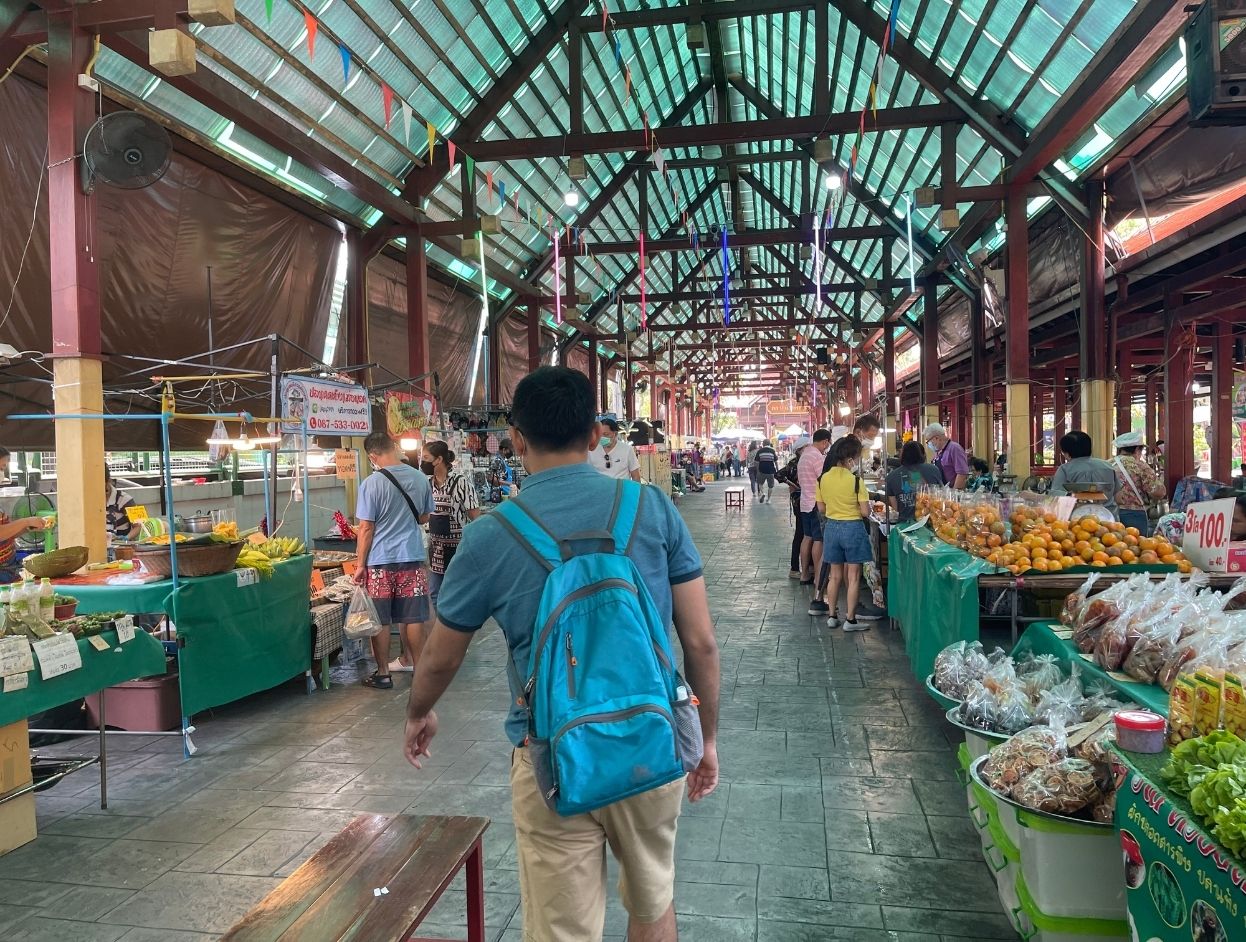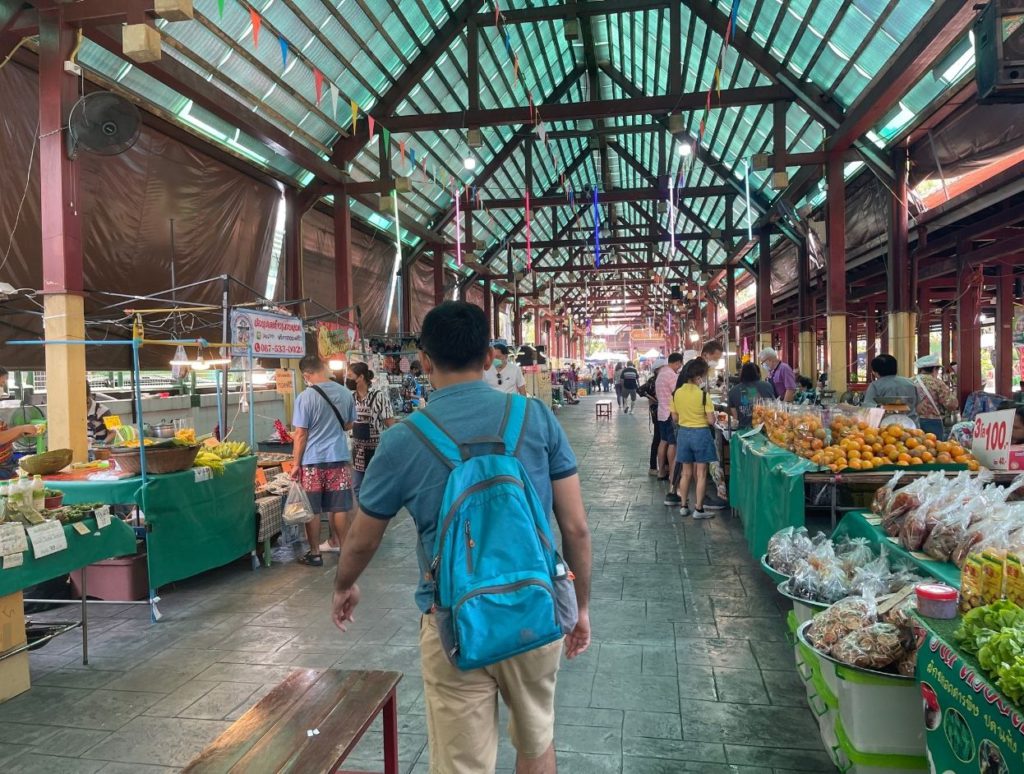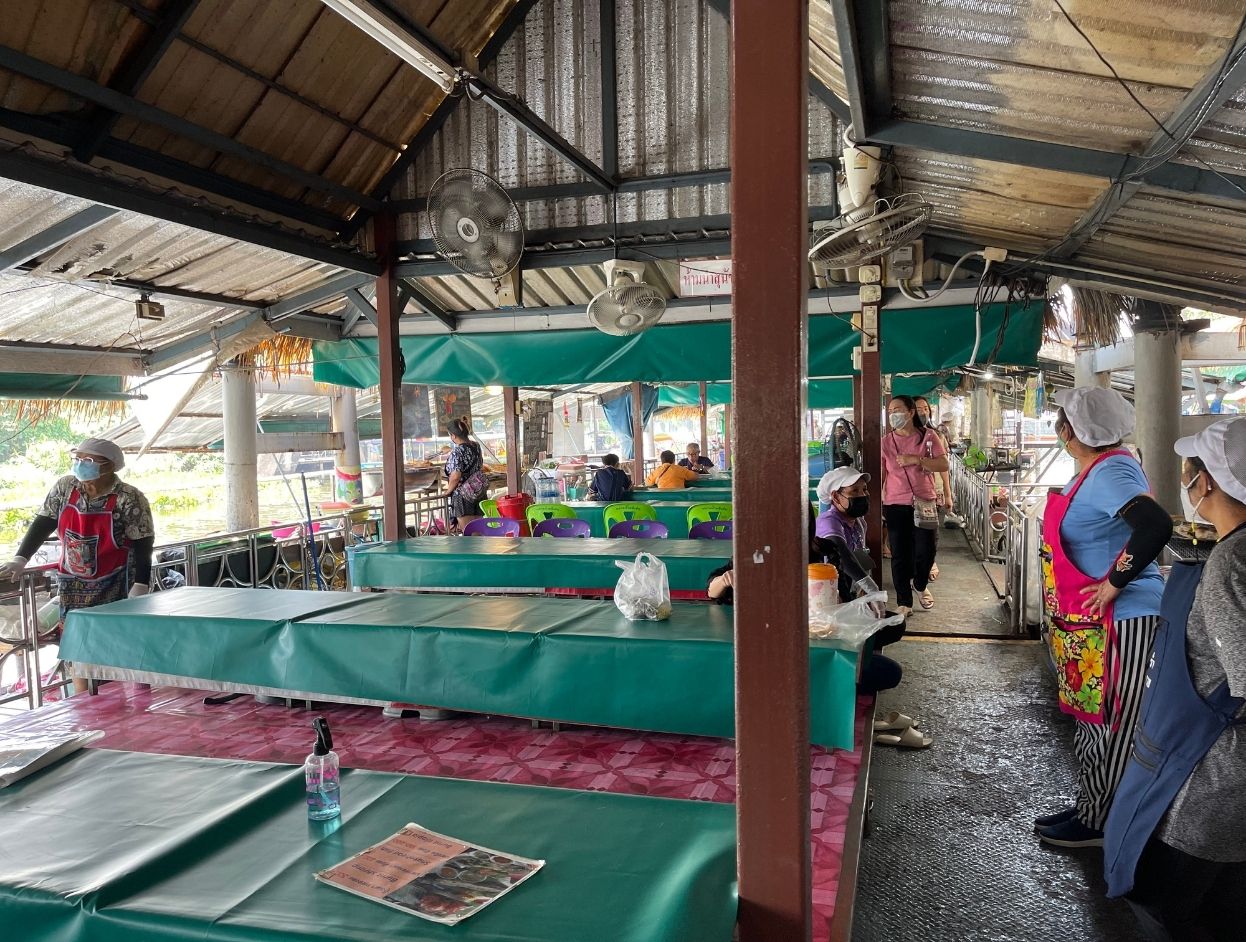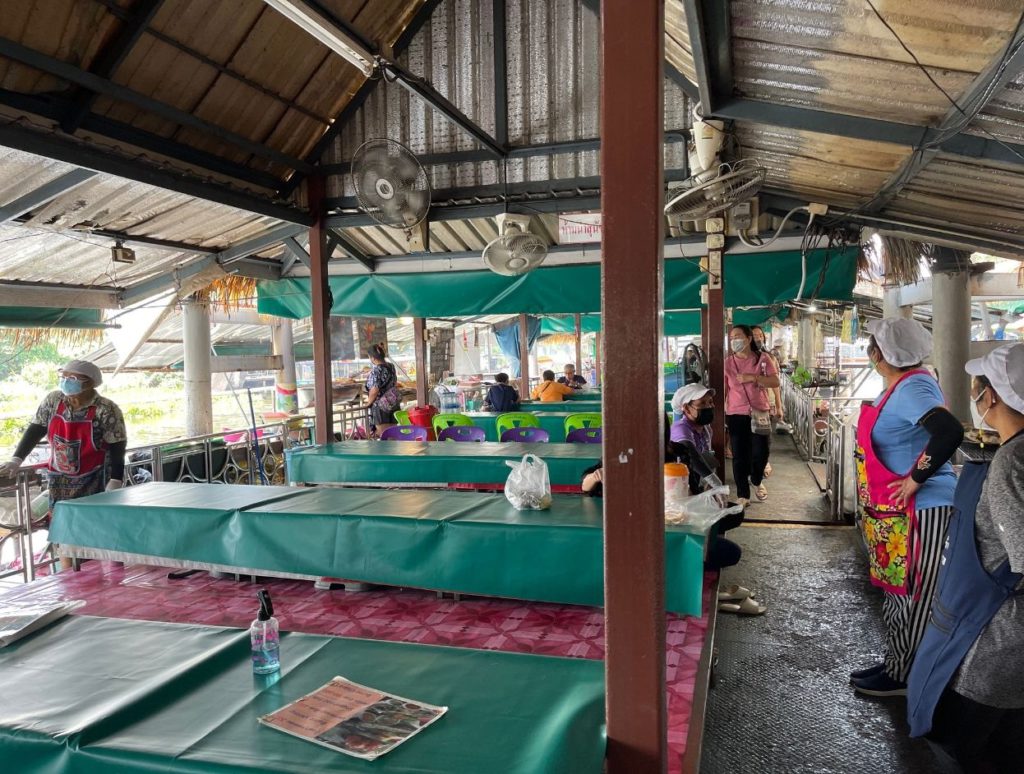 I was surprised to see rows of potted plants and small nurseries at the start of the market. And they sell super affordable plants. So if you enjoy gardening or are looking to add some indoor decor, you should bring your bags to the shop.
Now, I know I sounded pessimistic but all is not lost. The best part of my visit was the boat ride. In fact, I have been trying to find a boat ride in Thonburi on one of these long colourful long-tail boats but I couldn't find one. You can buy the boat ticket at the counter after the food market ends on the right side.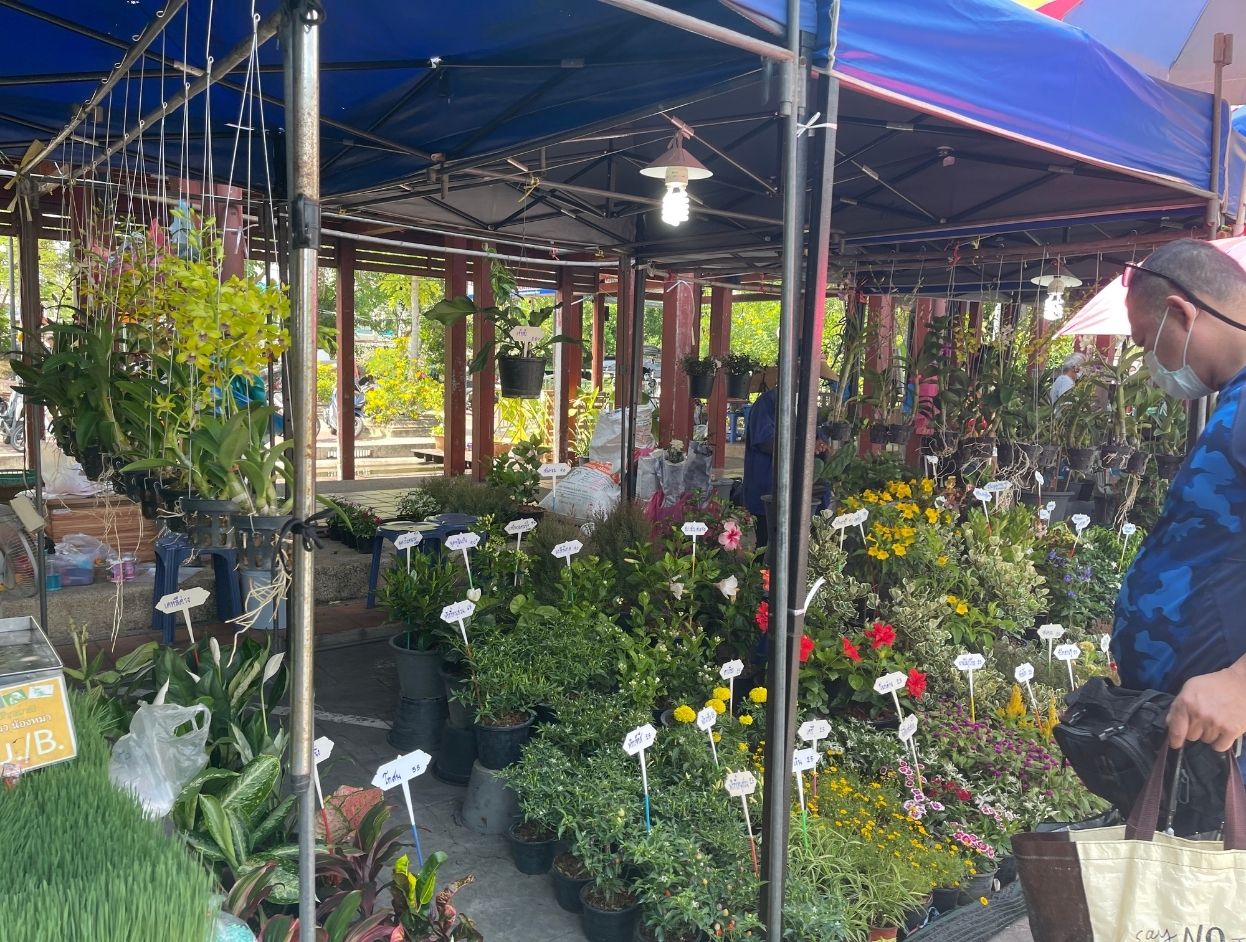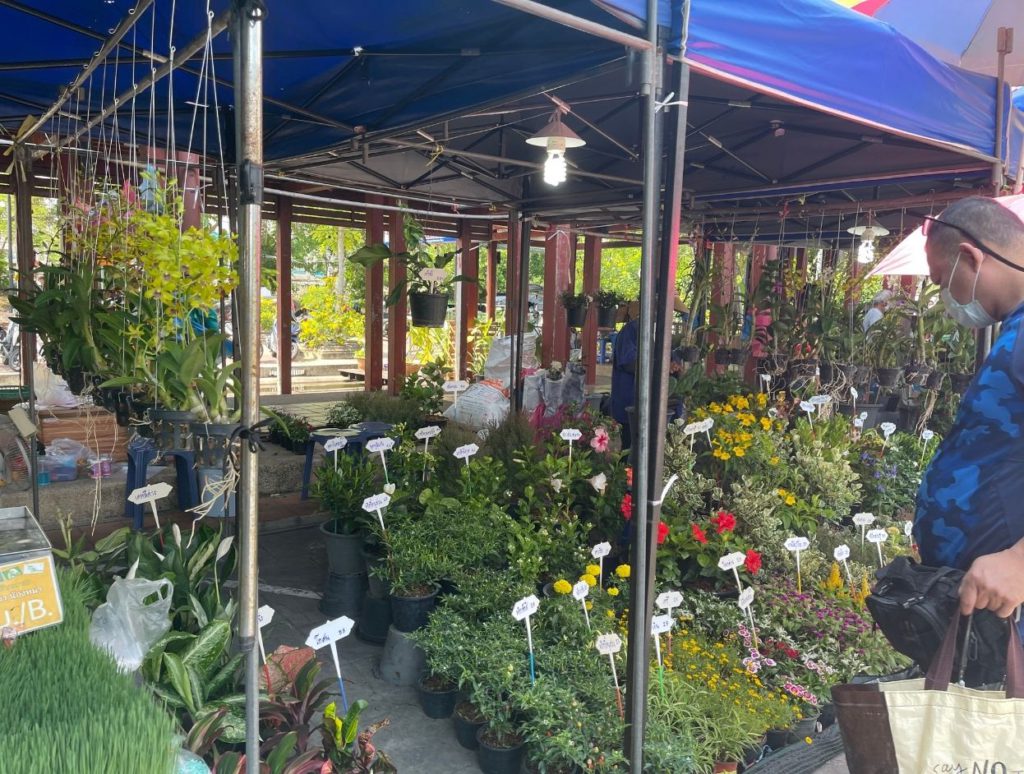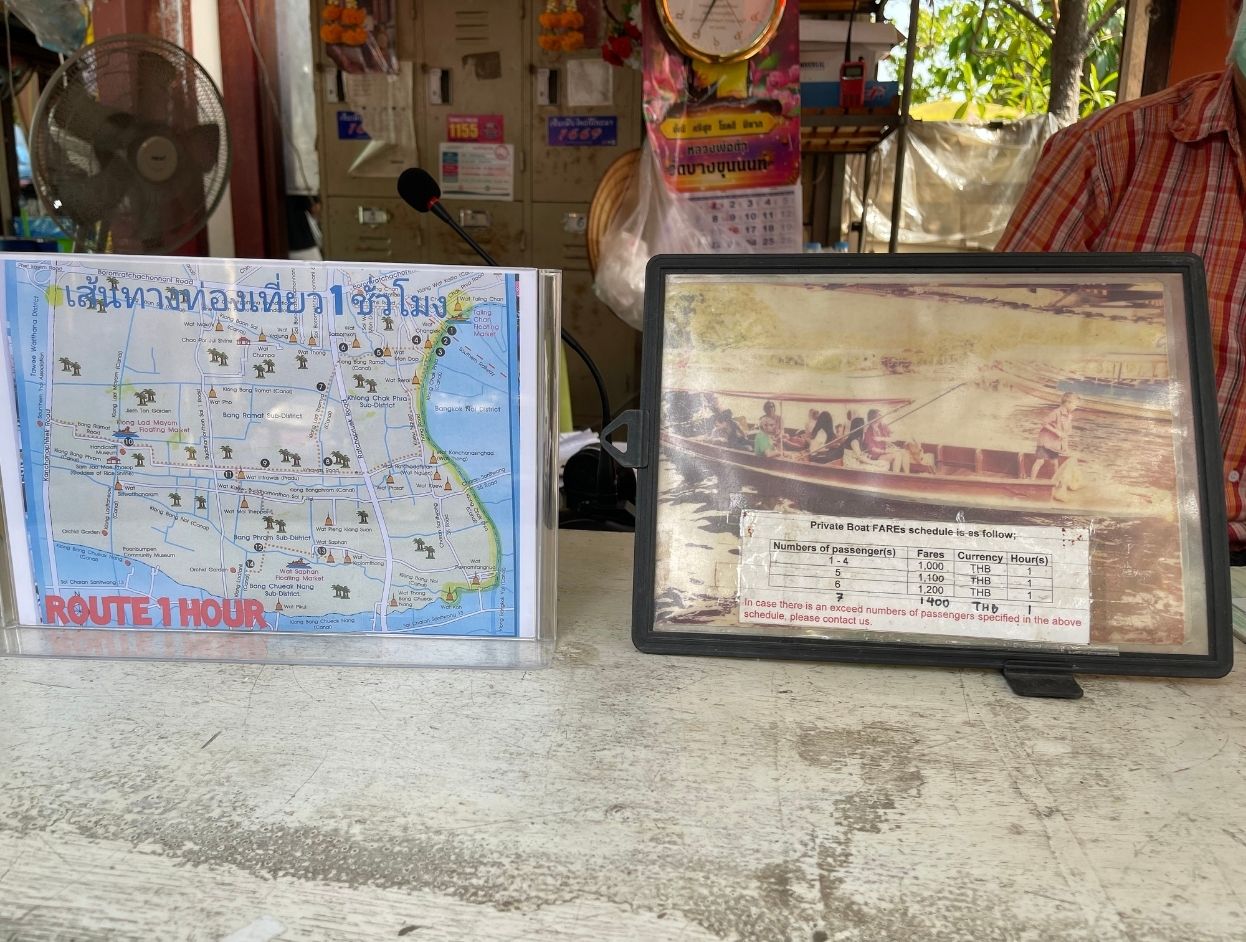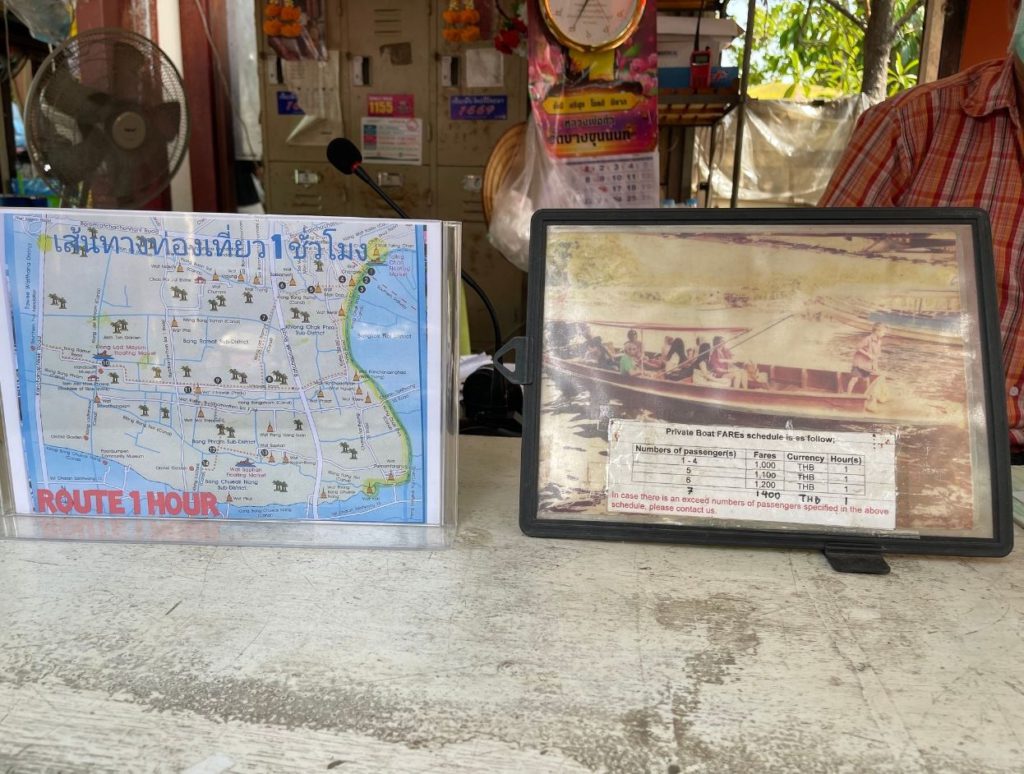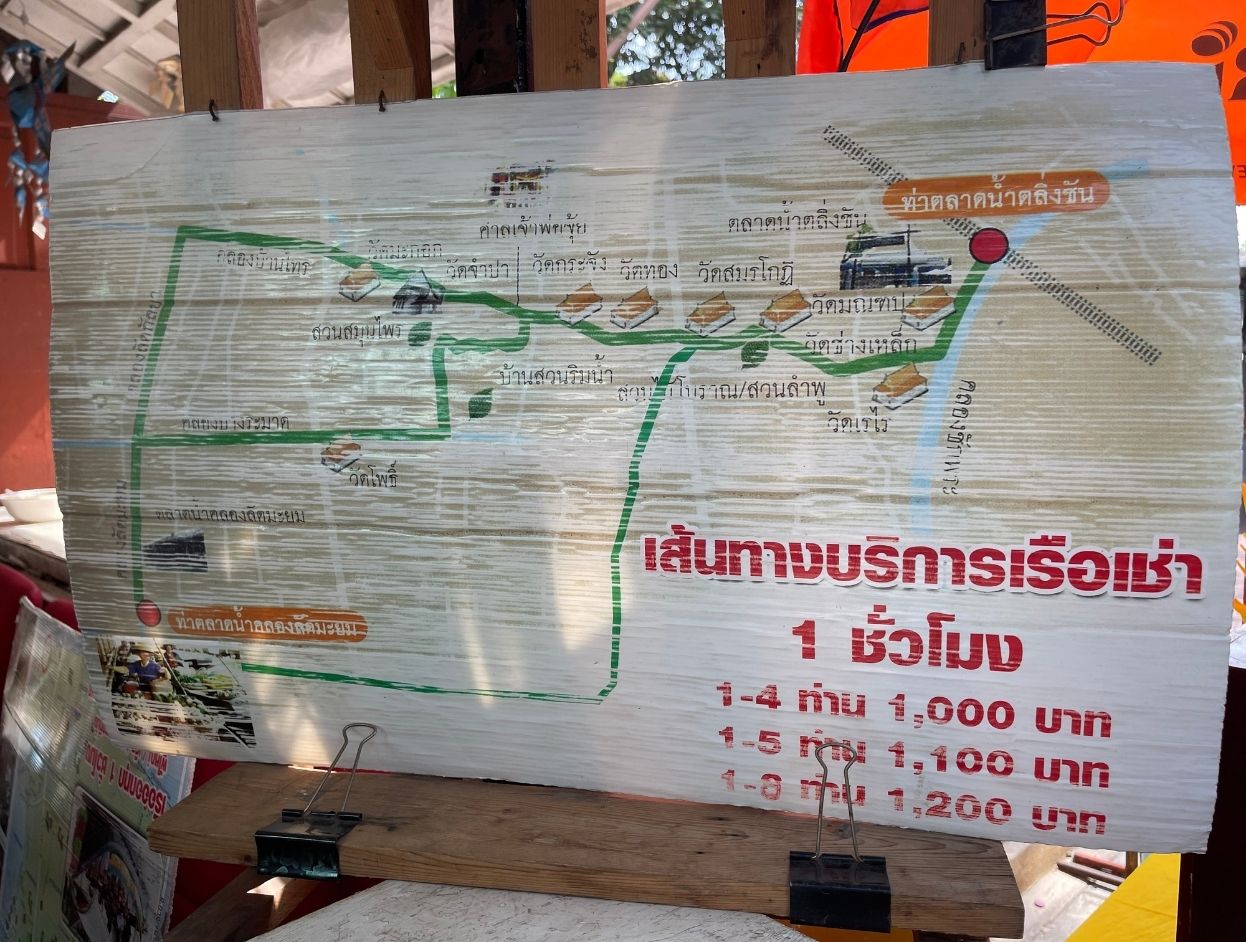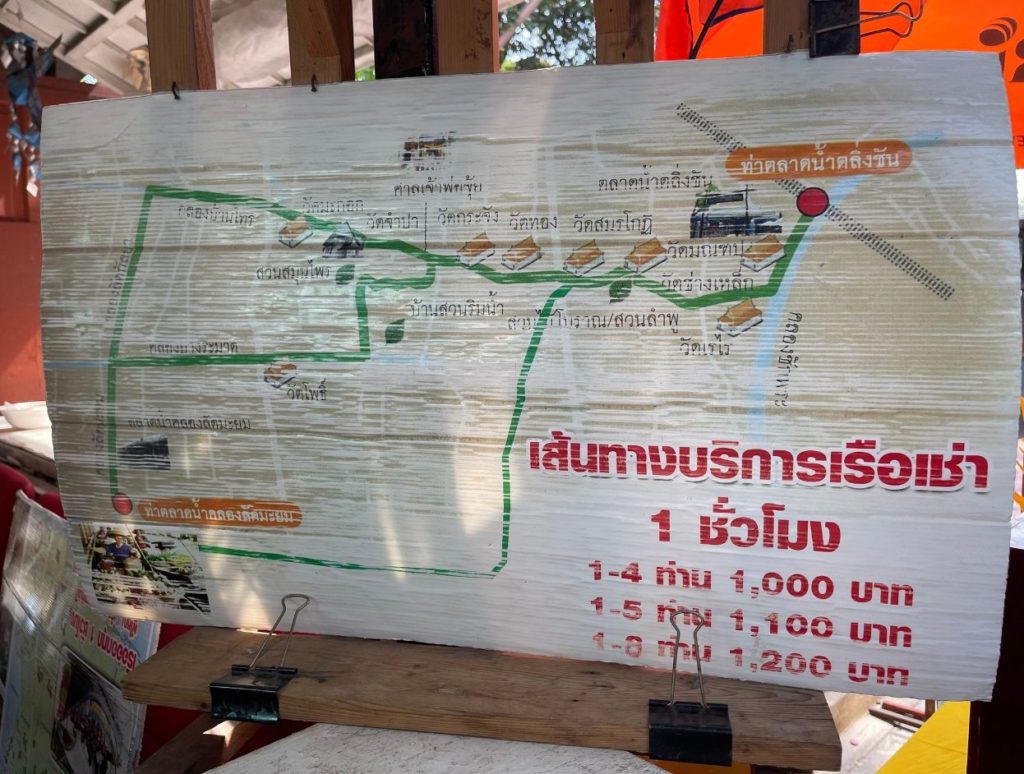 You can either take a group tour for THB 79 per person that lasts one hour or you can take a private boat for THB 1000 for up to 4 people (add THB 100 for each extra person after 4) that lasts a little more than an hour.
The boat takes you around the Thonburi canal while a lady at the back throws in some funny English words. The ride isn't that long, to be honest. It goes all the way up to Wat Ko and stops there for 20 minutes.
On the way, the boat stops to feed fish and you can buy bread for feed on the way.
From there you just return back. But the wind was pleasant on a sunny day and I had a lot of fun. I also think that unless you are in a group, go for the group tour.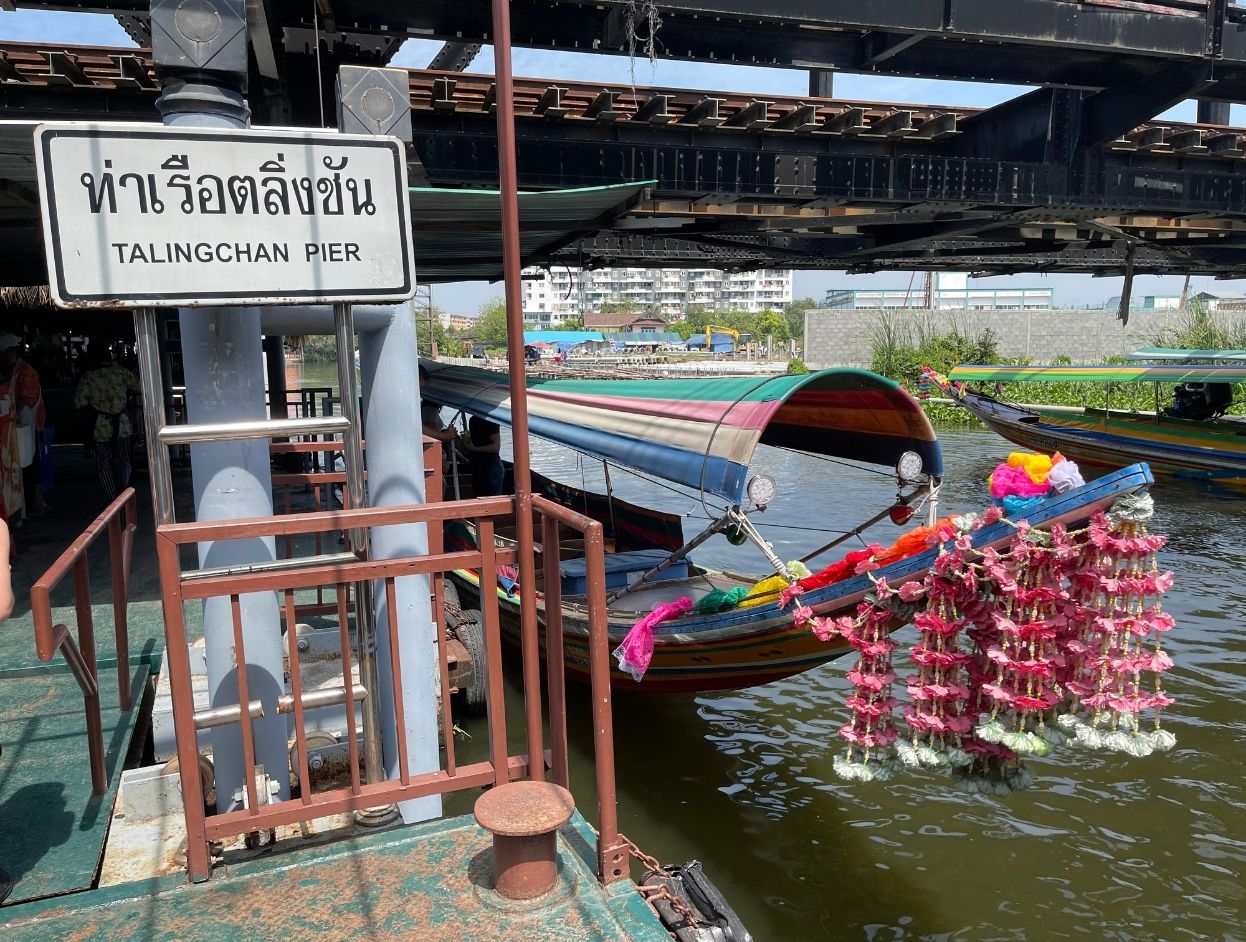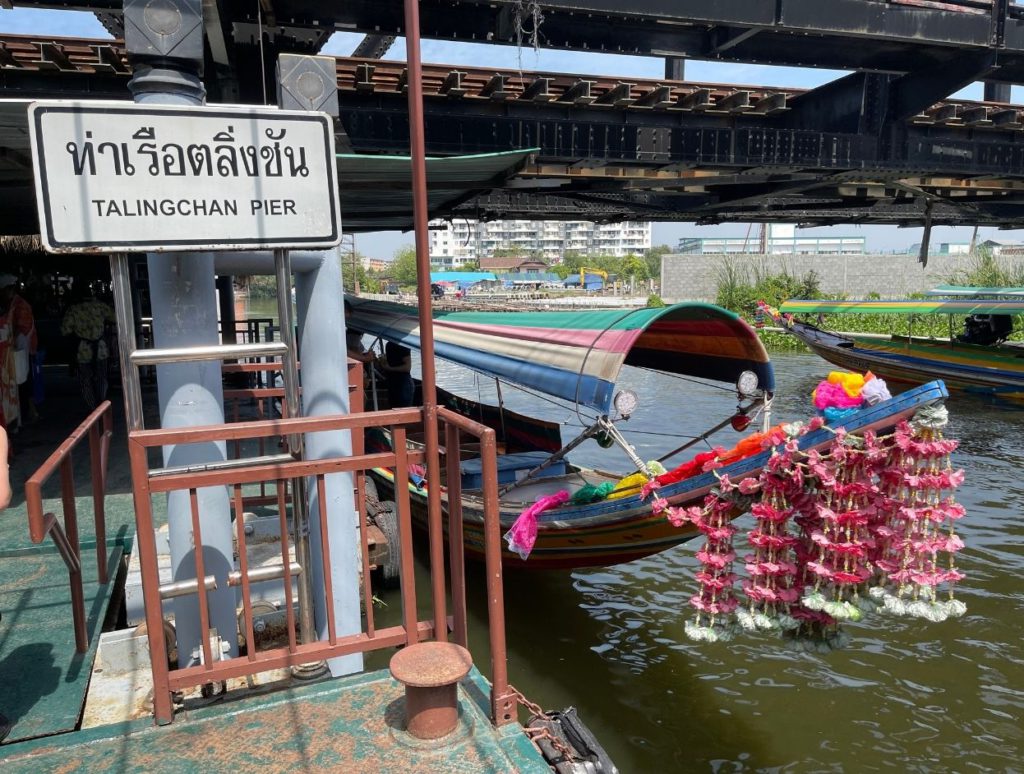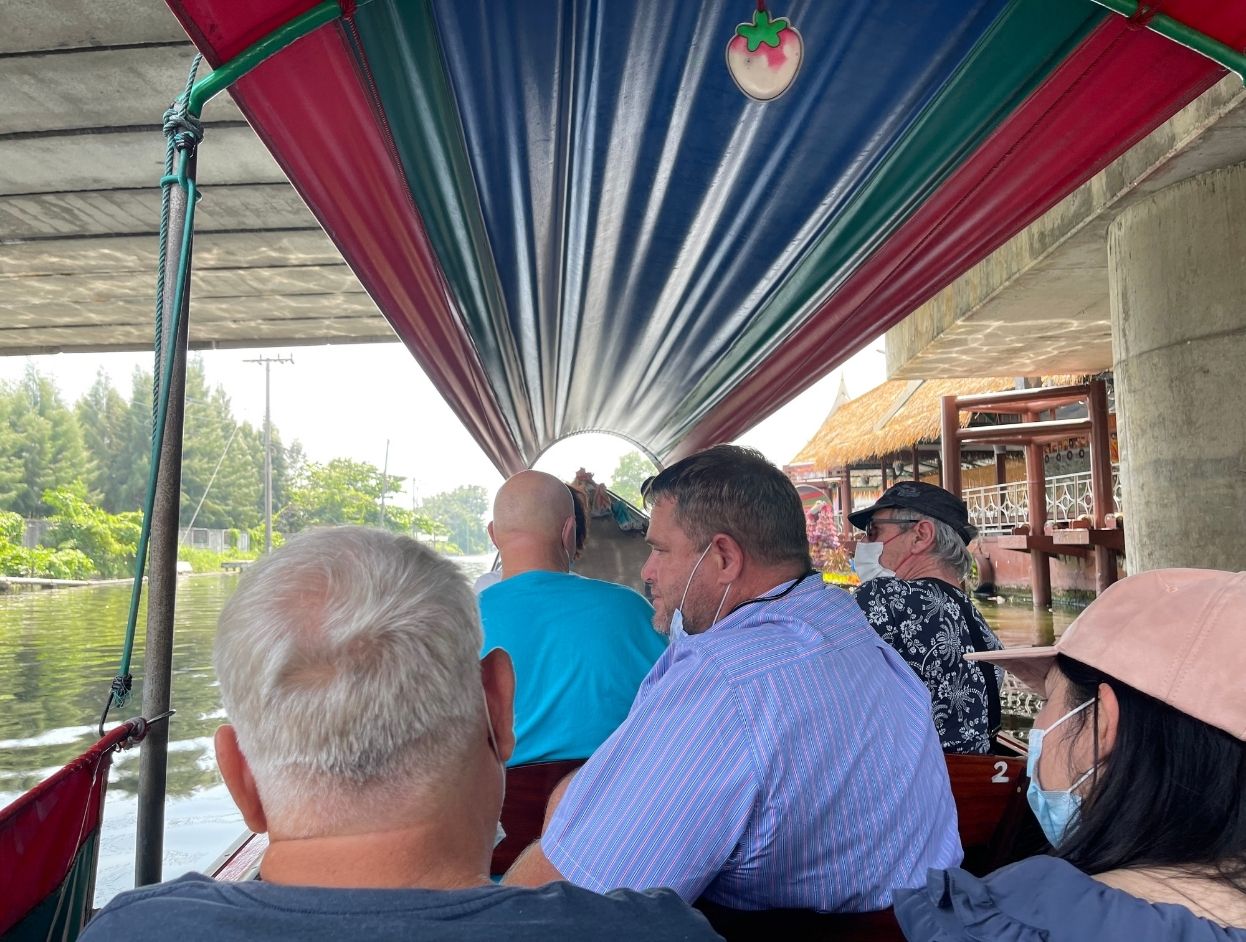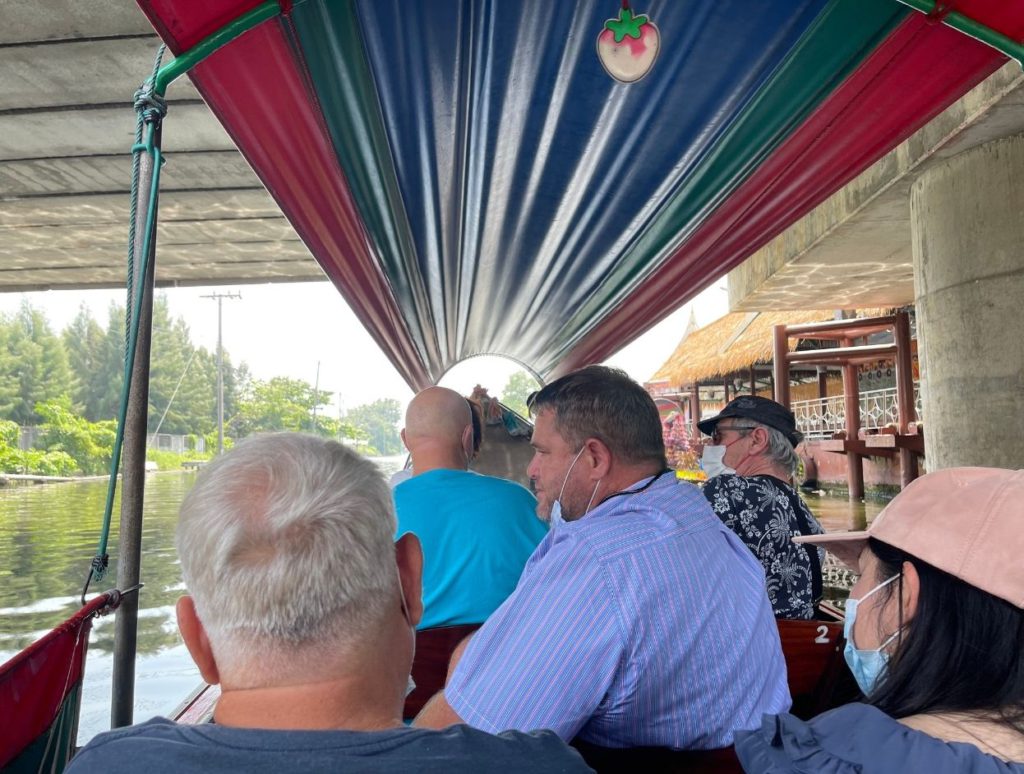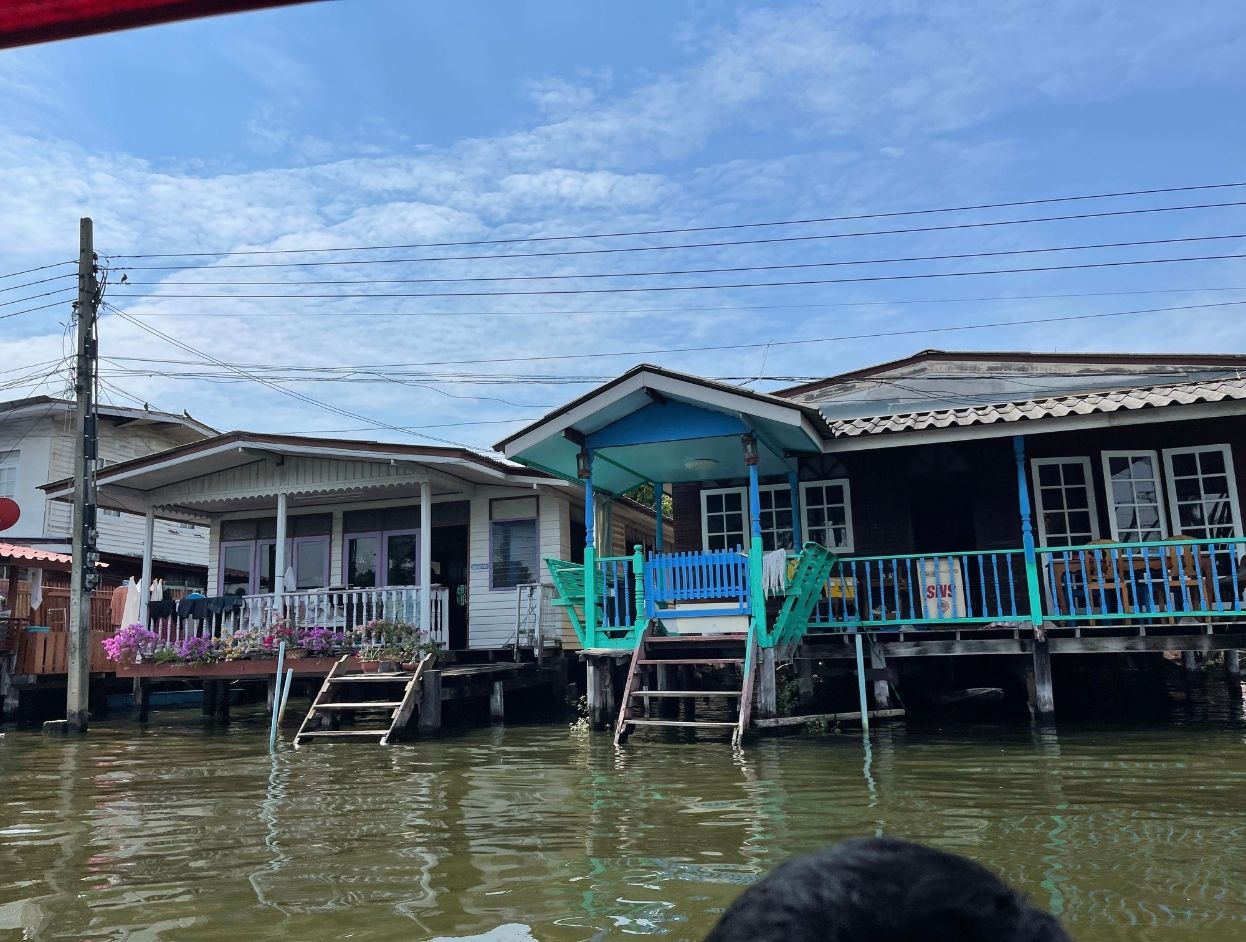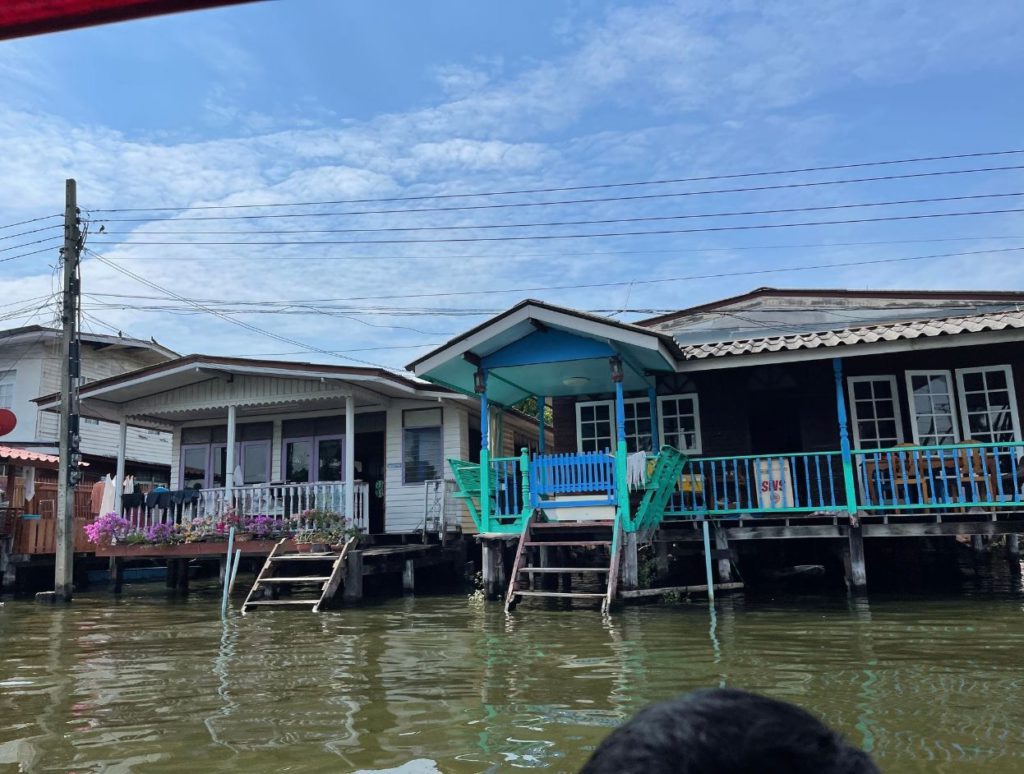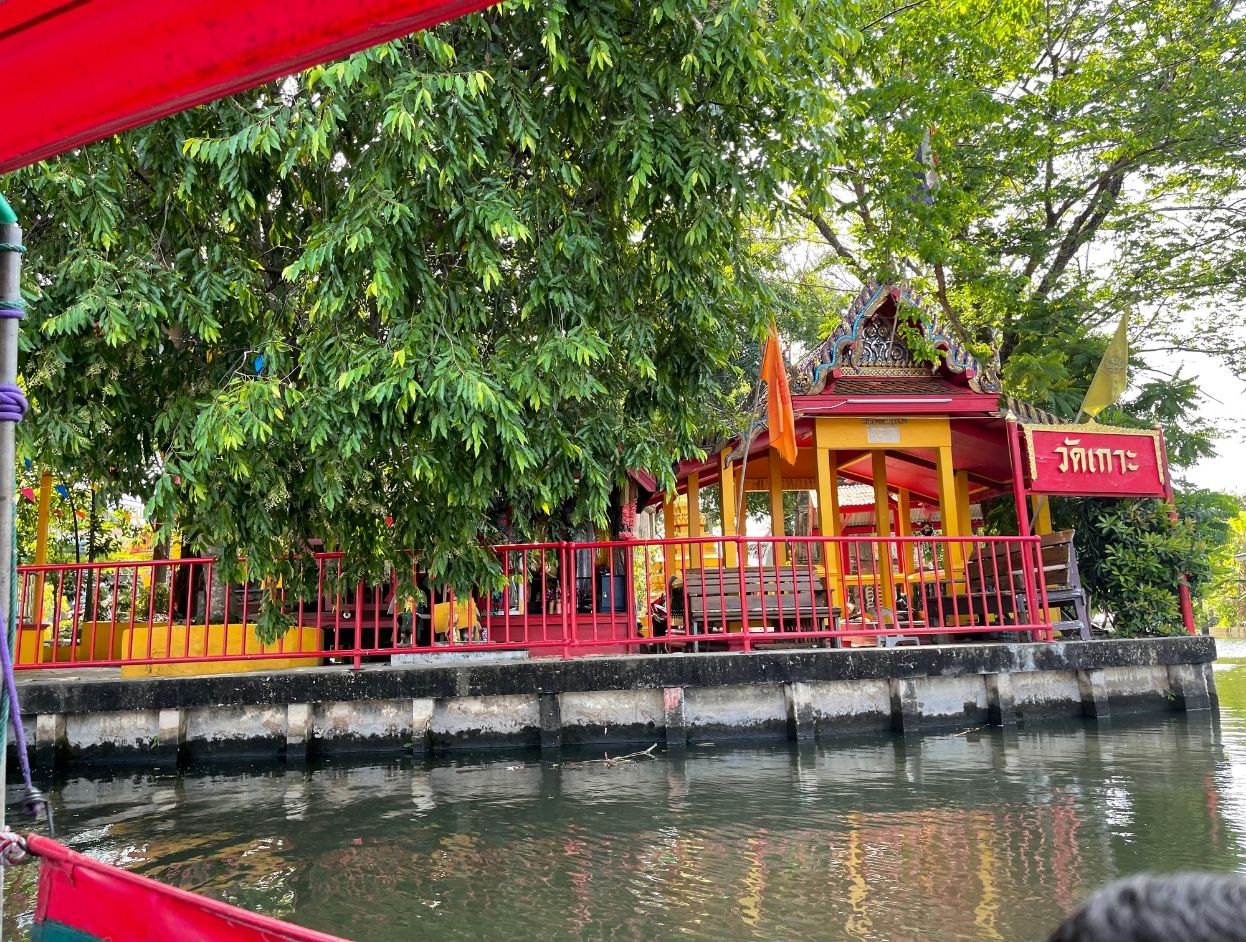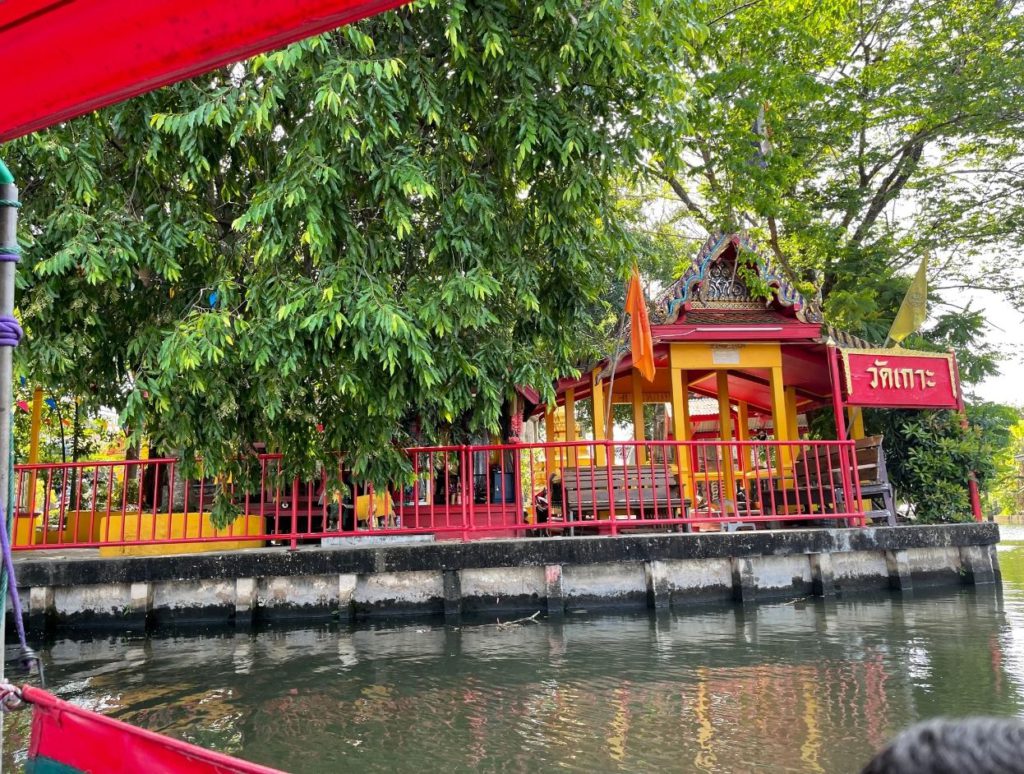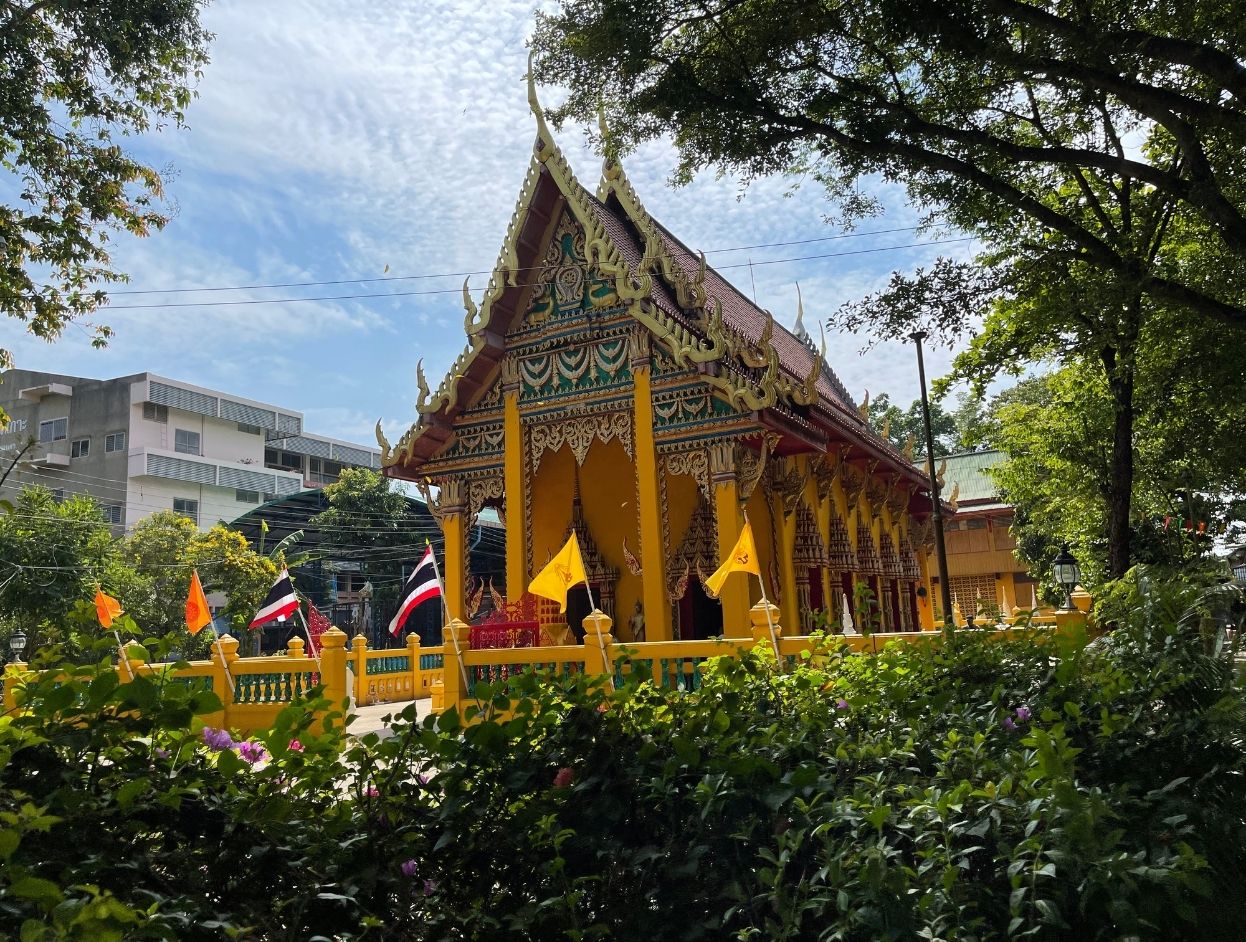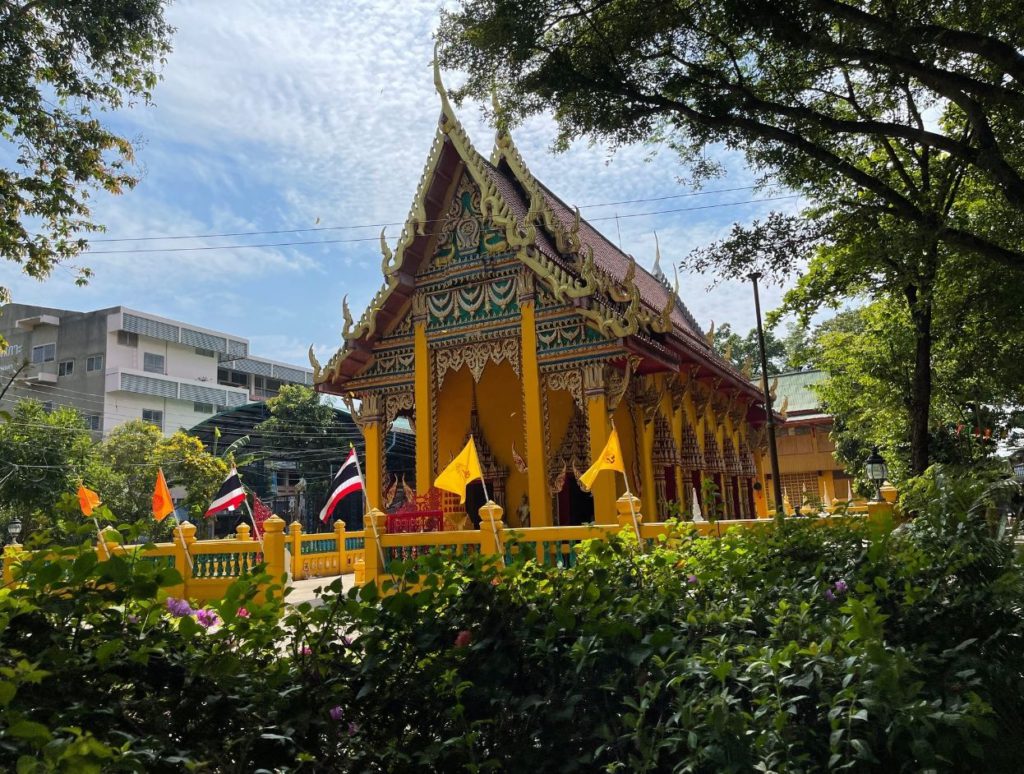 If you want to sit down and have a proper meal, you can walk over to the section floating on the canals. It has a basic seating arrangement and people selling food on both sides. Pick whatever you like and sit down to hog.
Other floating markets near Bangkok
This area around Thonburi has a lot of floating and general markets. A lot of them are community markets around a temple, something like a weekend farmer's market. I think that things may look lazier without the tourists, but if you want to explore the area you can stop at a few markets yourself. Check out some below:
Pak Khlong Talat Mai Flower Market
Khlong Lat Mayom Floating Market
If you are willing to travel out a bit of Bangkok, you can check these out:
Places to visit near Taling Chan
Chang Chui: This is an upscale fancy market around 5km from Taling Chan. The highlight of the market is an old aircraft that sits in the middle of the market and is a fine dining restaurant in itself.
The other restaurants in the markets also have some kind of speciality menu and counter selling cute popular stuff. The area is popular with young Thais. But I will suggest you head over to this place during the evening hours only since the place is almost vacant during the day.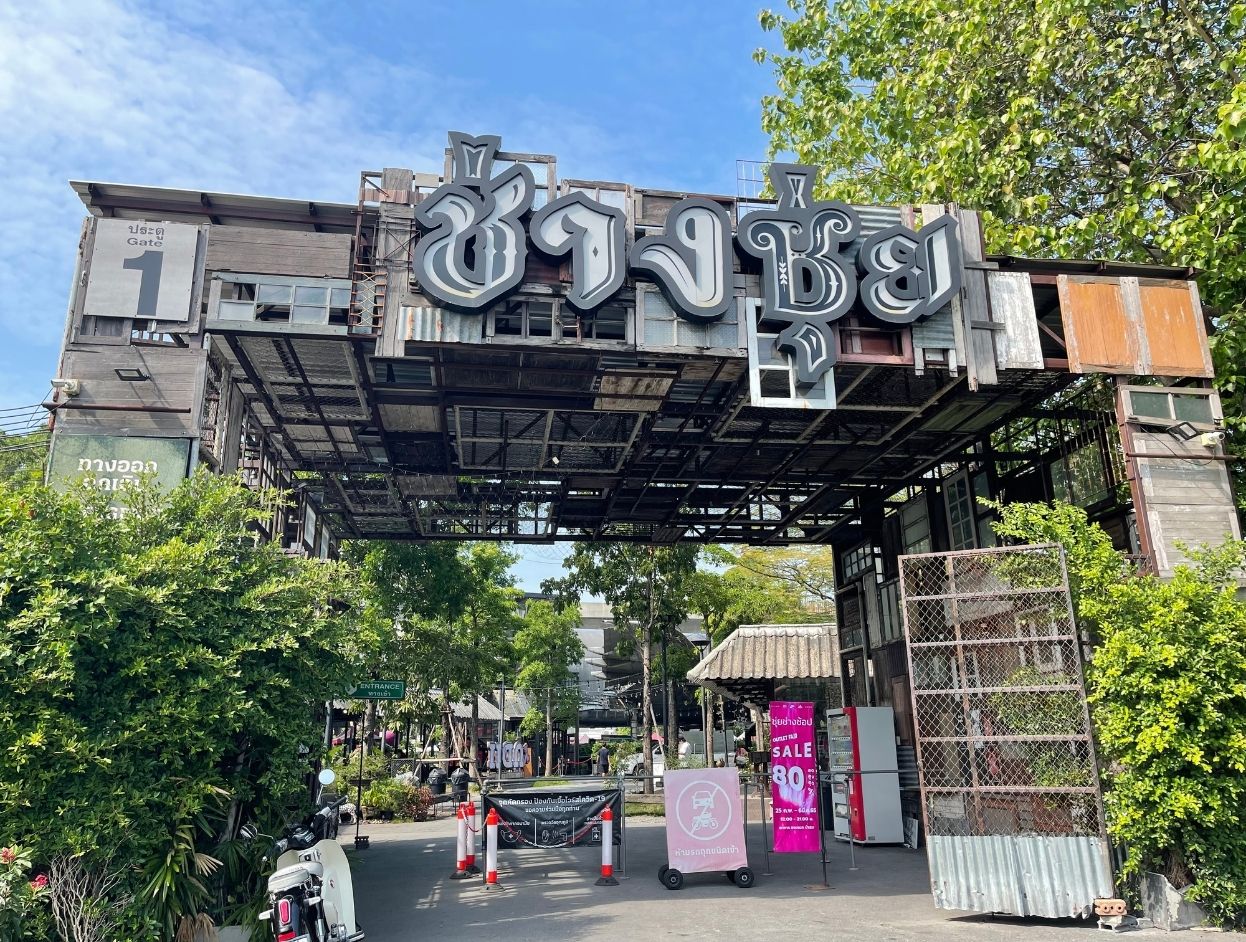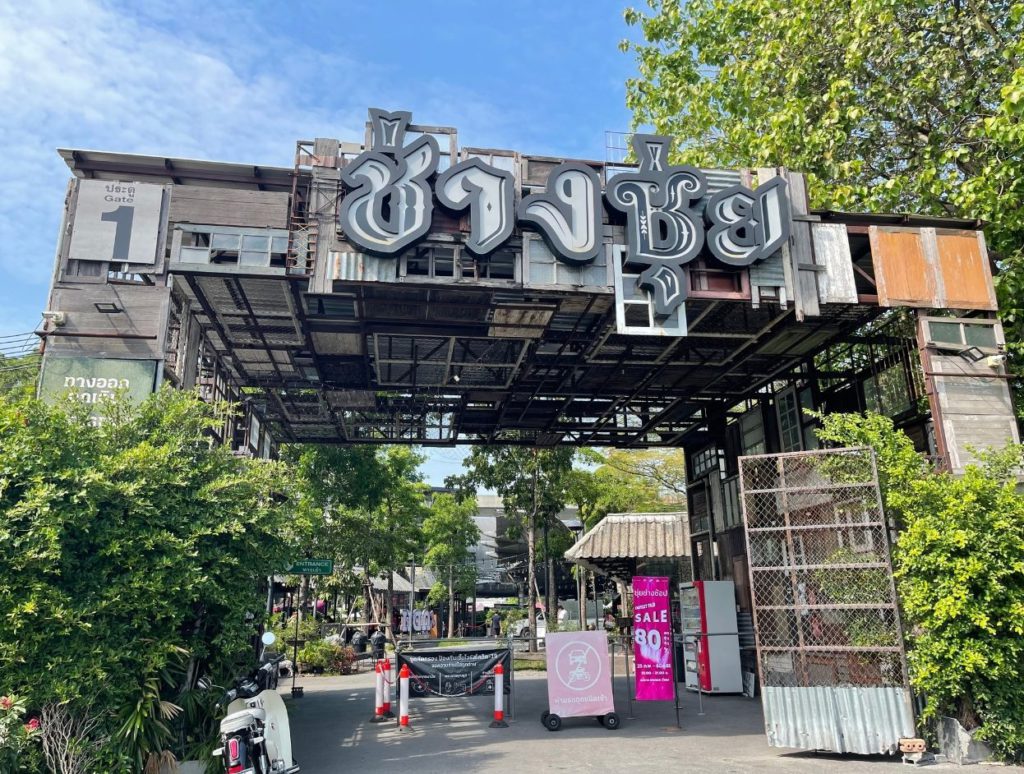 Artists Home (Baan Sillapin): I think the private boat tours include this place and are a bit ahead in our canal route from the Taling Chan market. This place is an old traditional Thai style teakwood home converted into a gallery.
There are some artworks for display and sometimes artists work as you can watch them in action. Occasionally workshops are also held where you can participate. A basic coffee shop with a river view is a relaxing place to snack.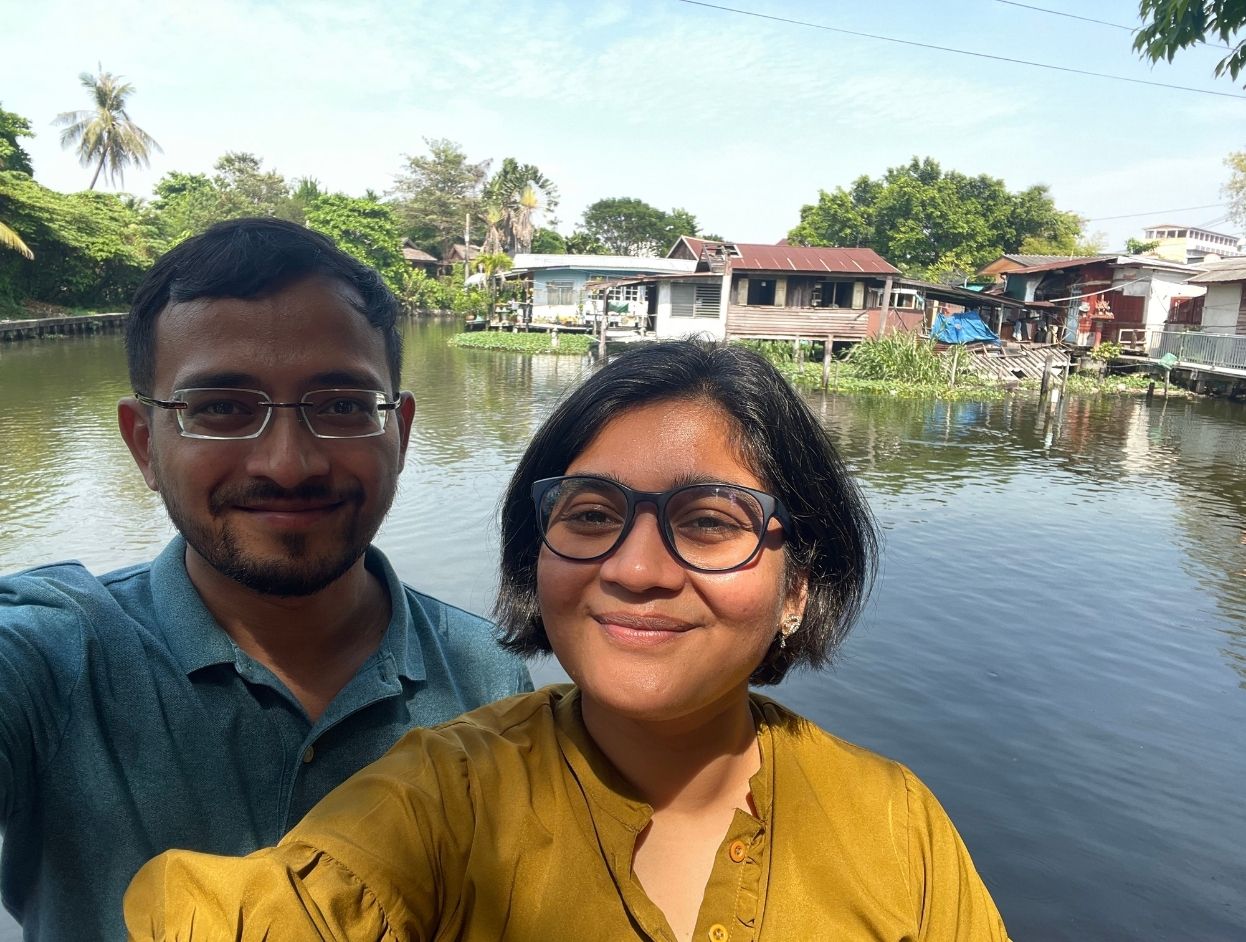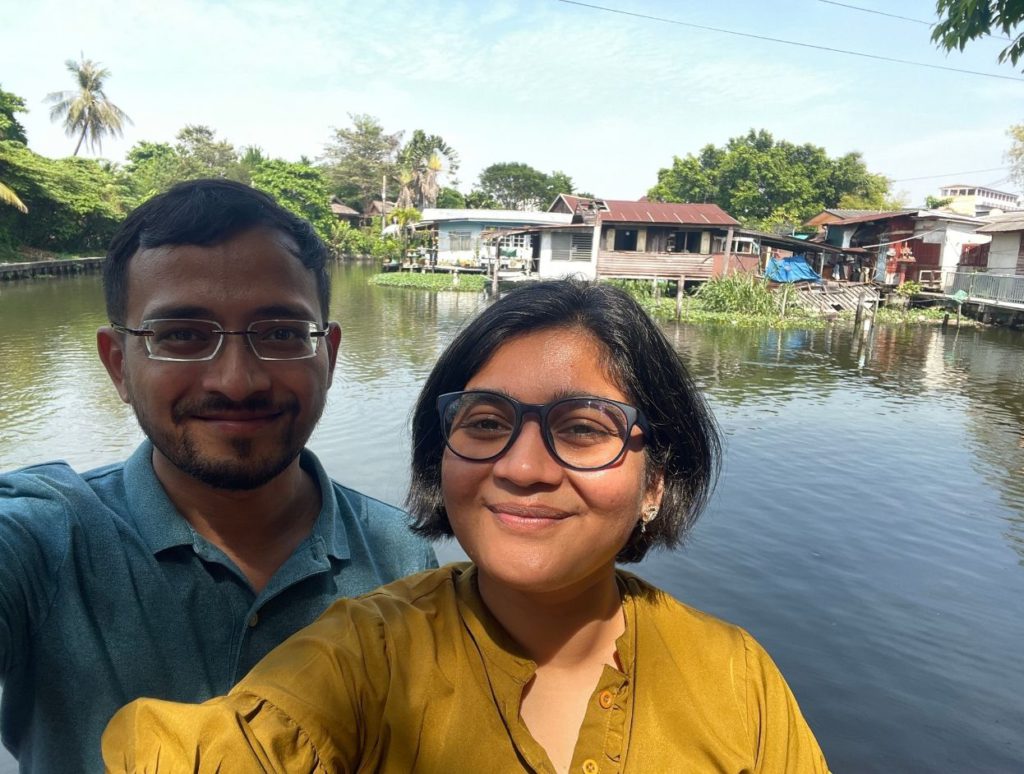 Related Articles