19 Feb

Stay at a Floating Raft Hotel on river Kwai, Thailand

I was looking for a unique experience in Thailand. And while there are a lot of things to do in Bangkok, I still wanted to get out of the city for the weekend. It was while surfing online that I saw this photo. I knew I needed to visit this floating raft hotel.

Now you may have heard of visiting floating villages but have you ever lived on them? It is strange! The whole hotel shakes up when a boat passes by as it creates waves on the water. On top of that, there is no electricity! So you see, you will want to know more about this journey before you decide.

I think it was worth it. But make sure the weather is pleasant to enjoy it even more. Anyway, here is an account of my stay at a floating raft hotel in Sai Yok National Park, Thailand.

Oh, by the way, this is not a sponsored post.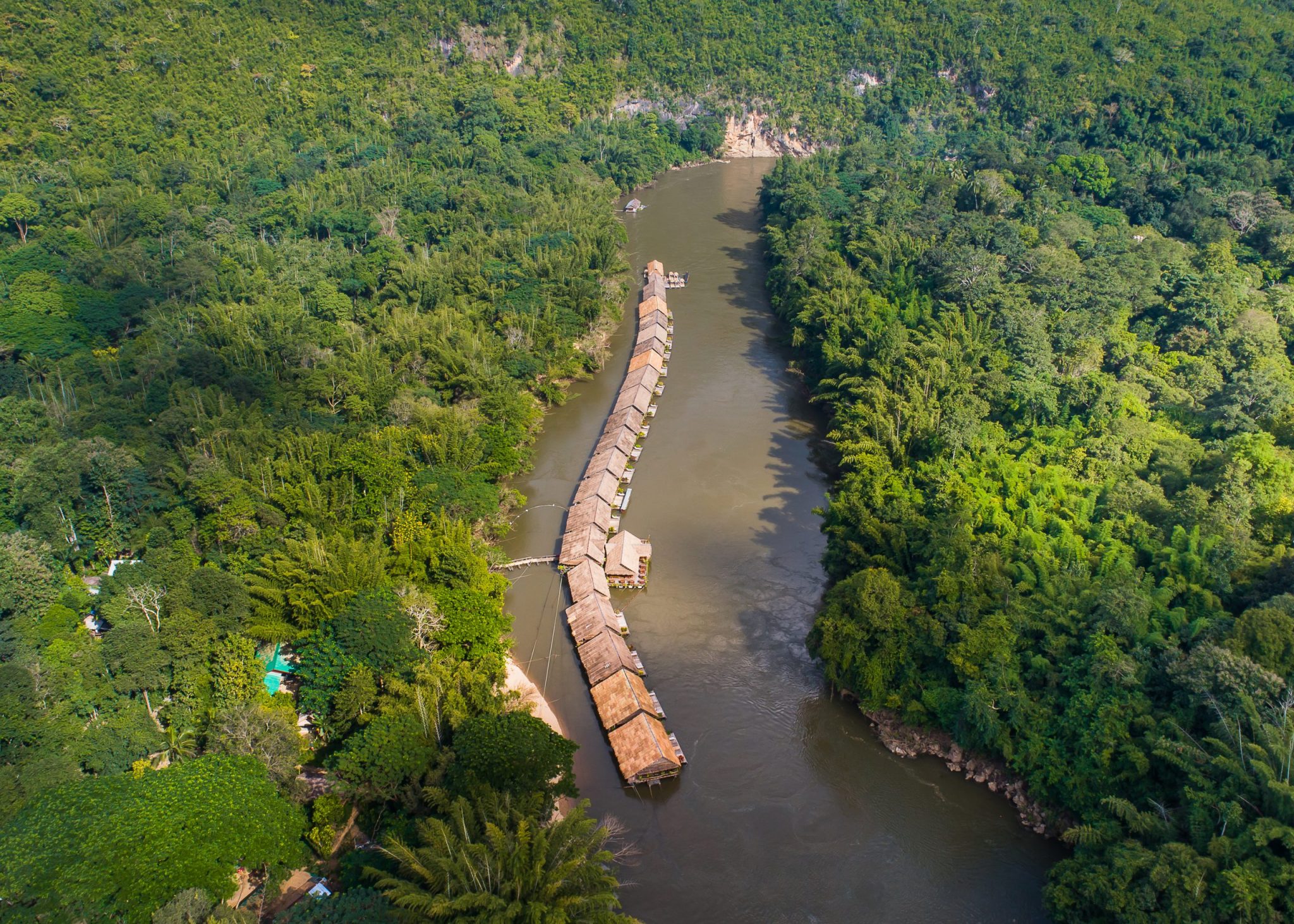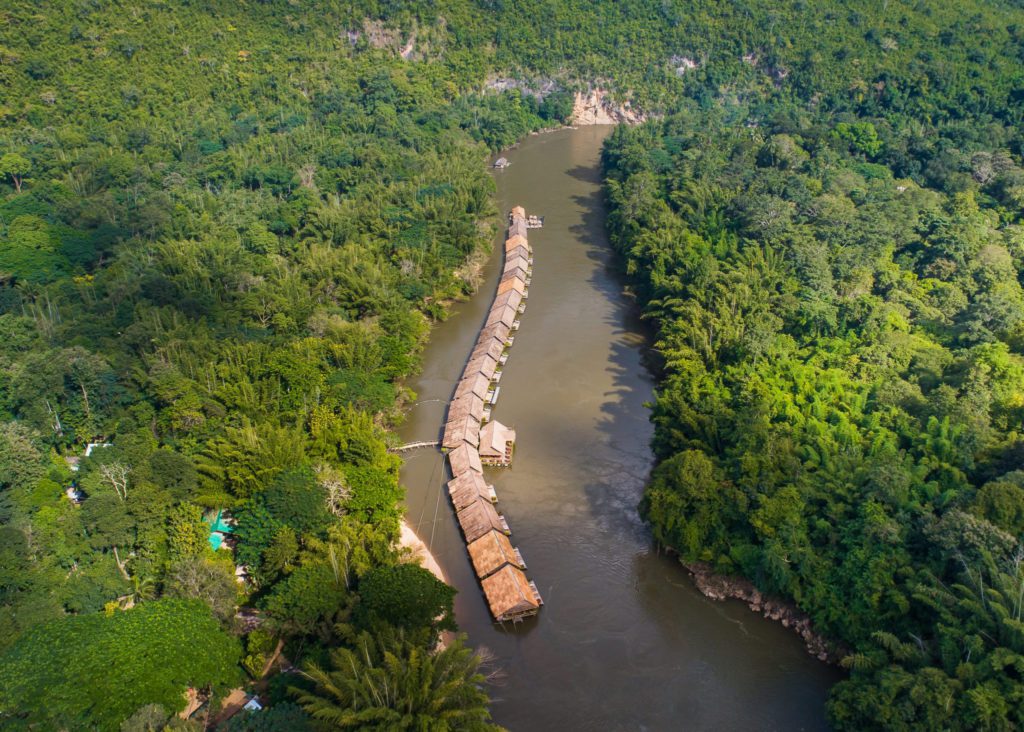 Where is this located?
To be honest, there are a lot of floating-style hotels across Thailand. They are built on large dams, on rivers and even on the ocean. They range from the hostel and sharing to budget and definitely luxurious.
But this particular hotel (or range of hotels) lies on the River Kwai Noi ahead of Kanchanaburi inside Sai Yok National Park. It is technically inside the national park but is located much before the visitor's centre. I stayed at River Kwai Jungle Resorts and I am mostly going to talk about it.
In fact, floating hotels start all the way from Kanchanaburi to lake Vajiralangkorn, the river's origin point. While I will give you all options to explore, this is the one I booked and what I will be talking about.
Love the jungles? Also read about visiting Erawan waterfalls and National Park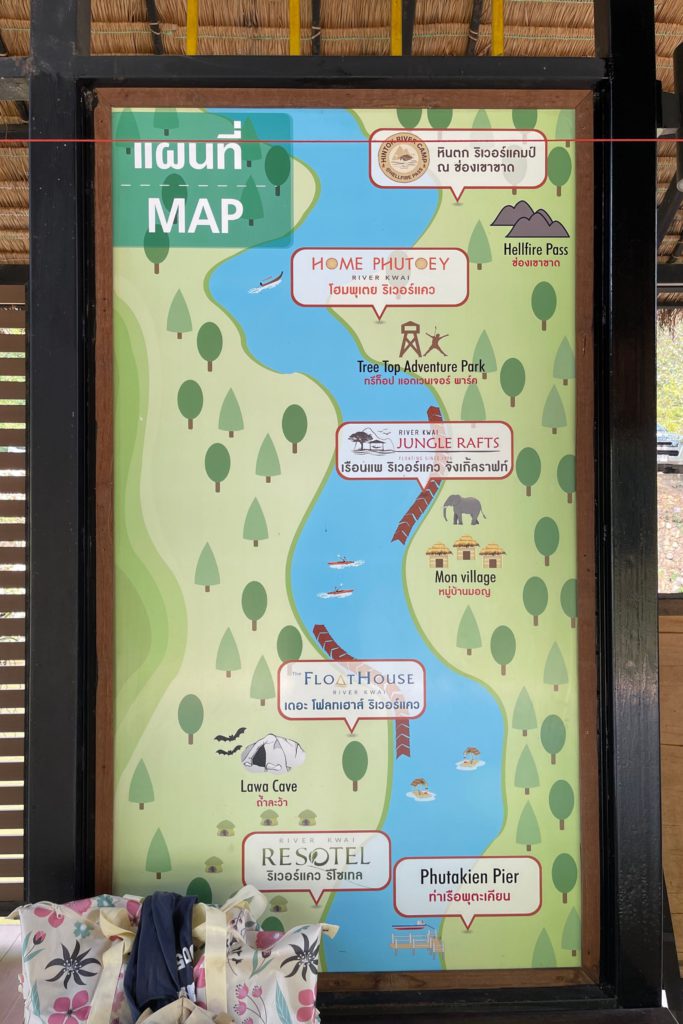 Booking a floating Raft Hotel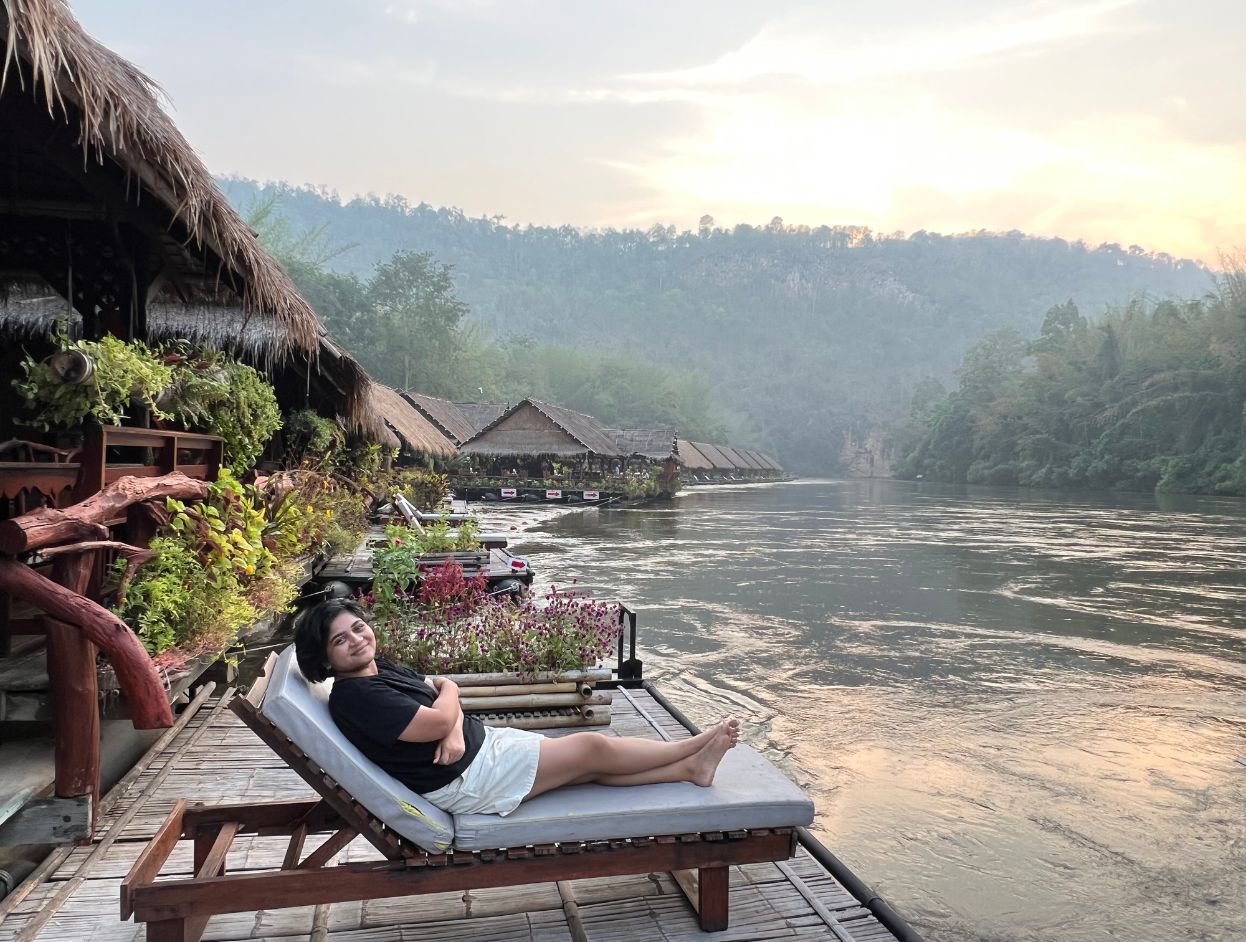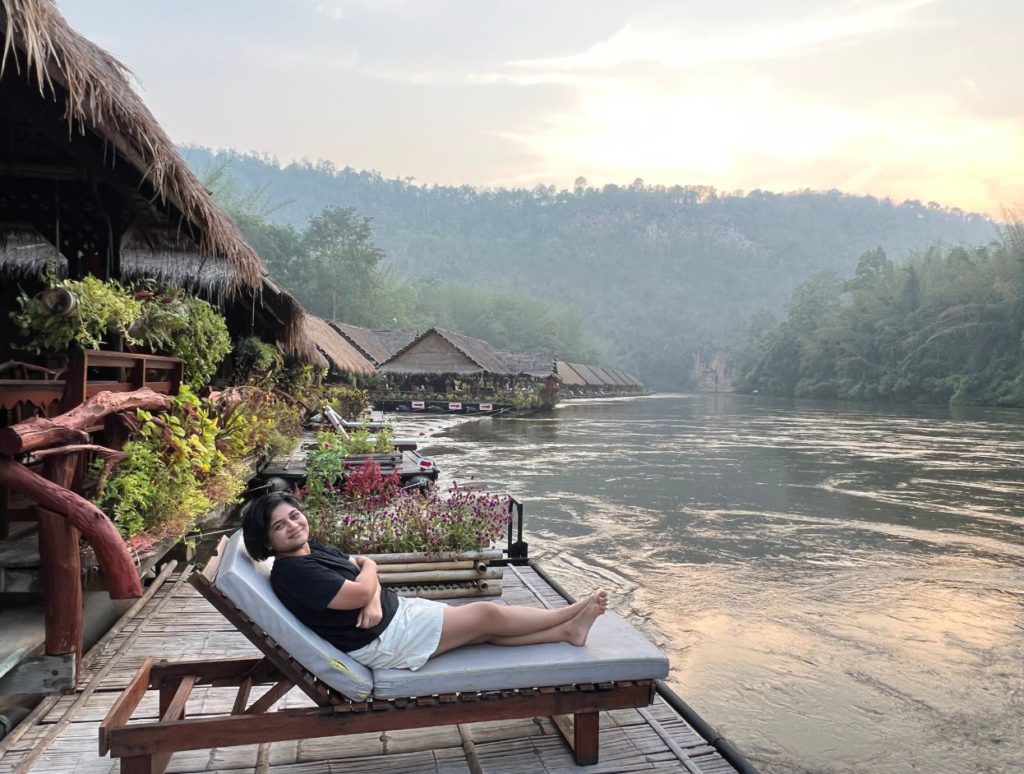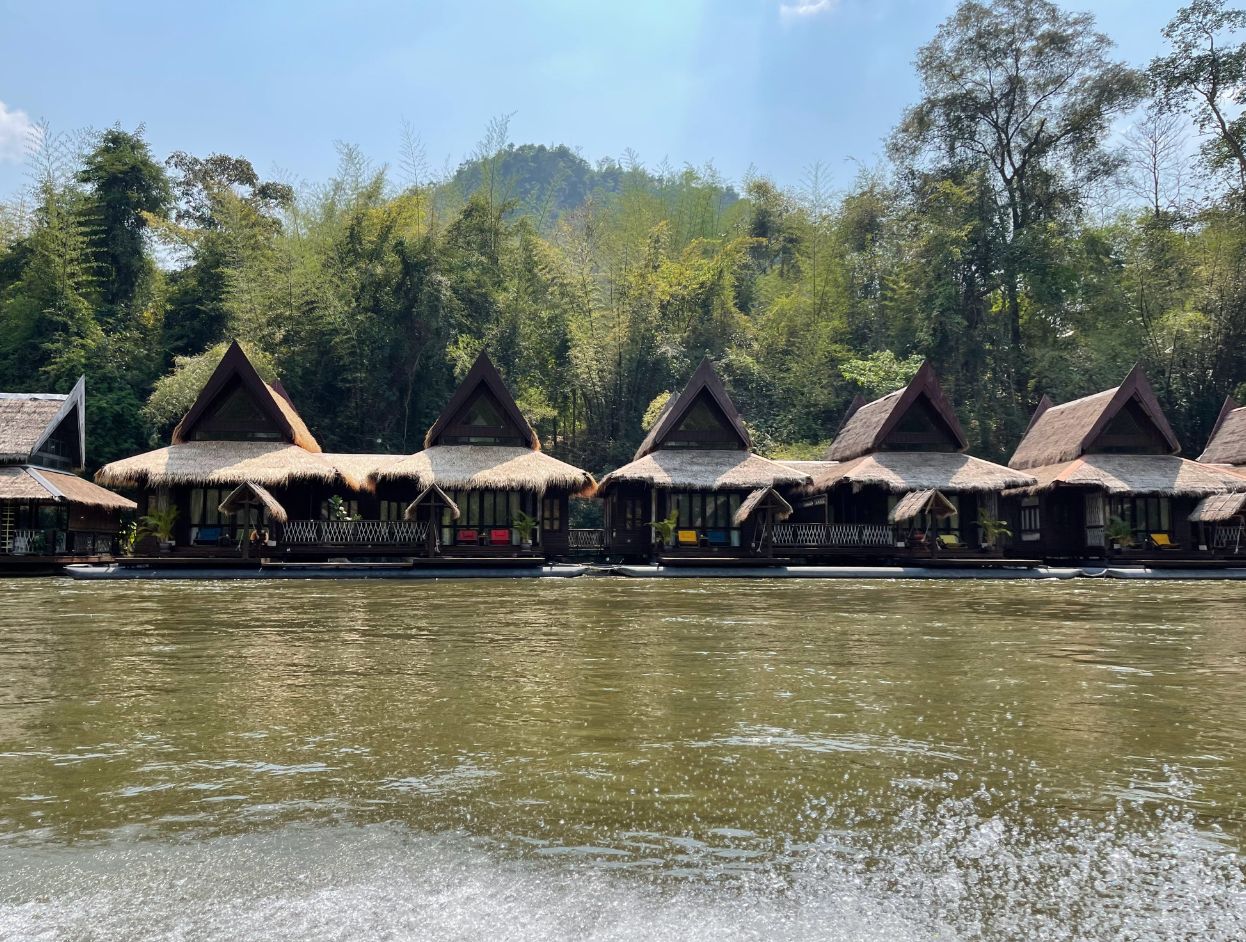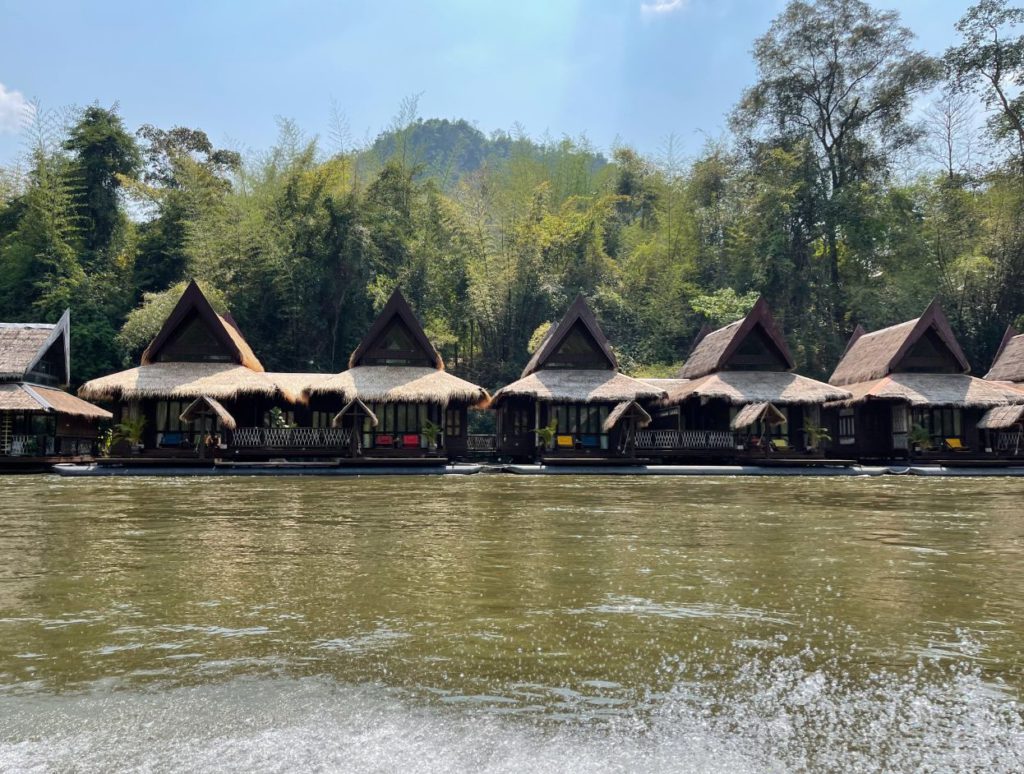 How to Reach There
To reach this particular floating raft hotel inside Sai Yok National Park you first need to reach the Phutakien Pier. From there you will need to hop on to a boat (complimentary by the hotel) that will take you to the hotel. There are no roads connecting to the hotel.
By Train
You can either choose to travel to Kanchanaburi (in case you want to stop there) and then take another train further. Or you can take a train directly from Thonburi Railway Station all the way to Nam Tok railway station in Sai Yok National Park.
There are two trains on the route that runs in the morning and afternoon. The morning train starts at 7.50 am from Thonburi and reaches Nam Tok at 12.35 pm. The afternoon train starts at 01.55 pm and reaches at 06.30 pm. Both also stop at Kanchanaburi on the way approx 1 hour before reaching Nam Tok.
Similarly, for the return journey train runs twice a day. The morning train starts at 5.20 am from Nam Tok and reaches Thonburi at 10.35 am. The afternoon train starts at 12.55 pm and reaches Bangkok at 05.40 pm.
The train on this route does not have a first and second-class coach. You can buy the ticket for the third class for THB 100.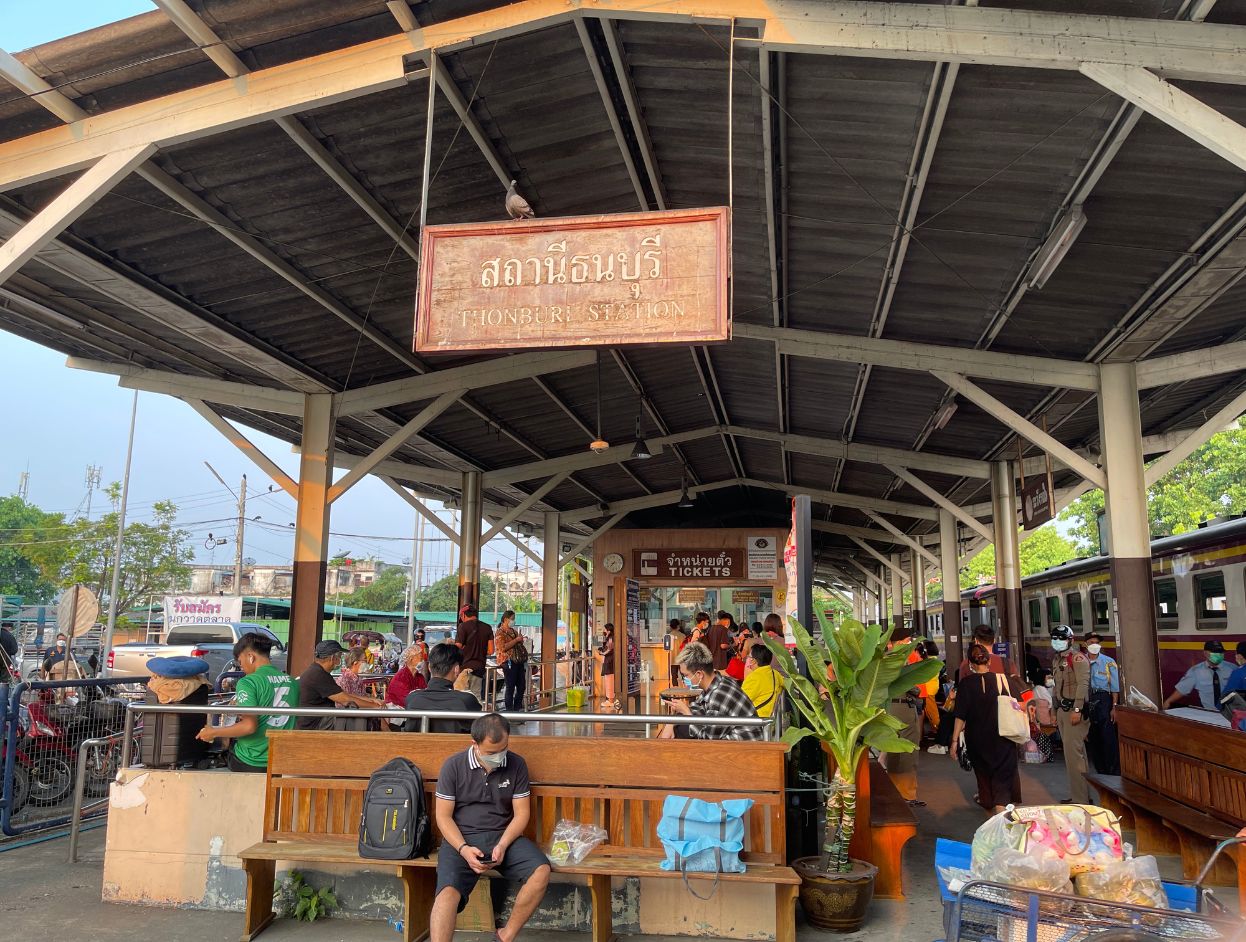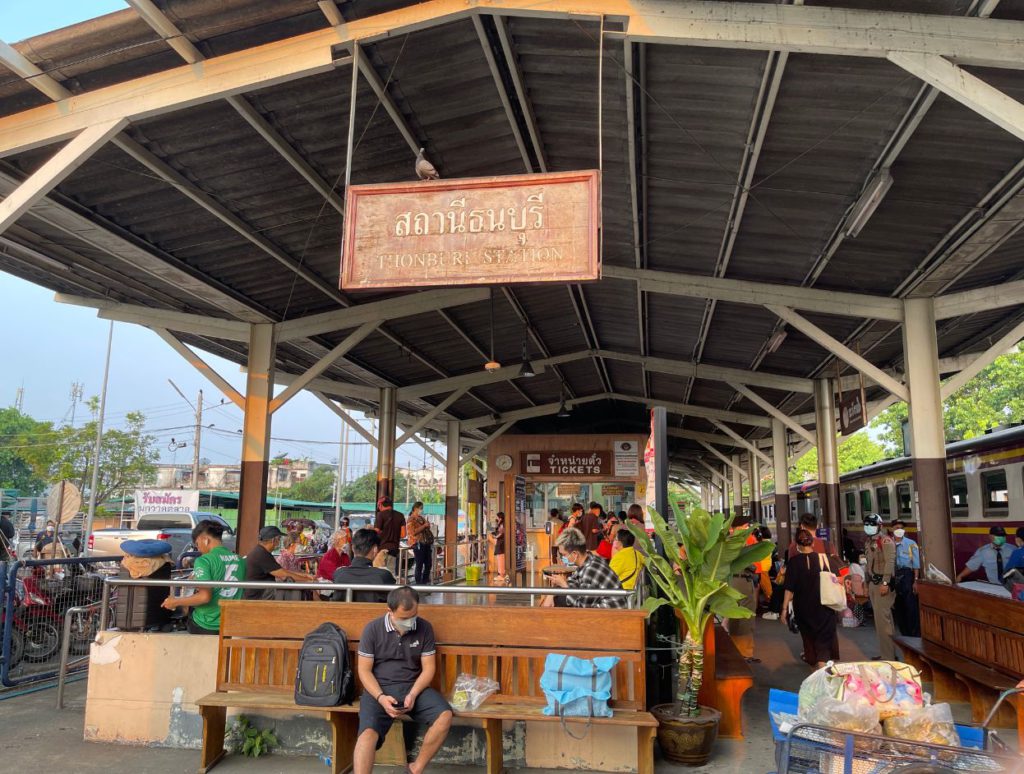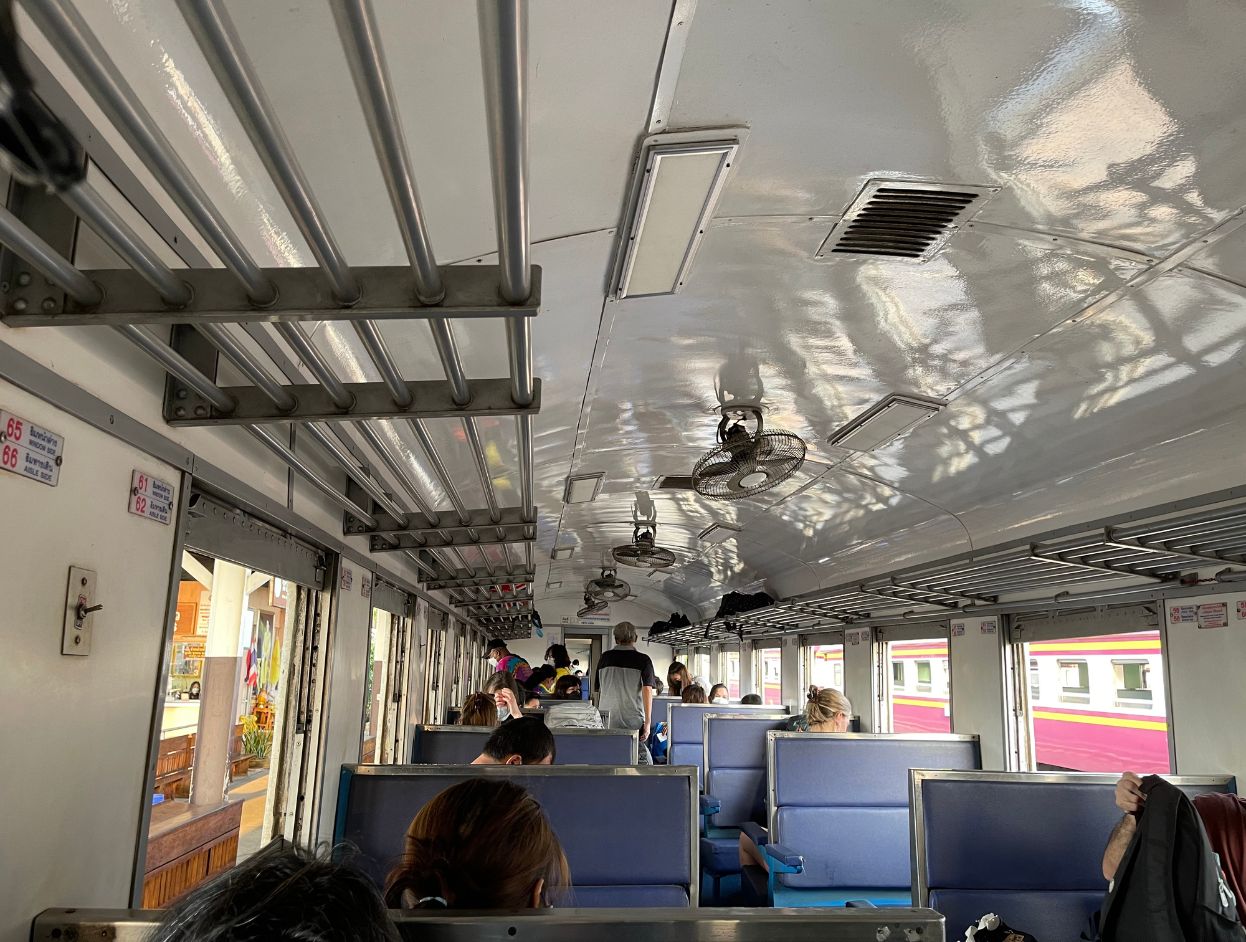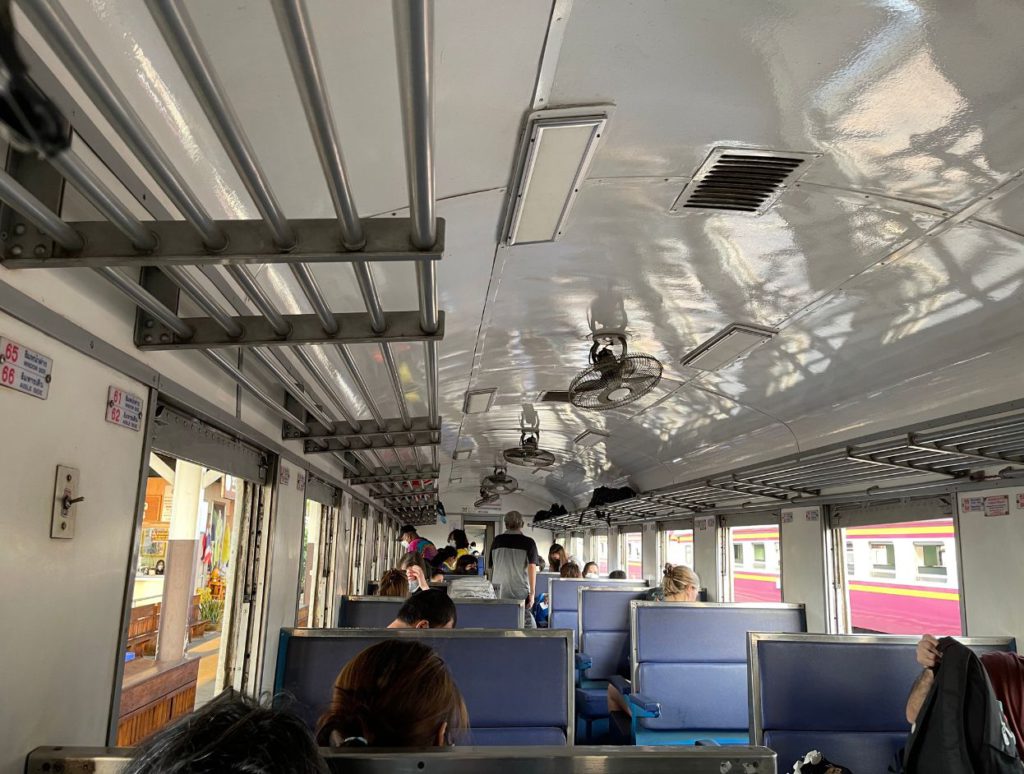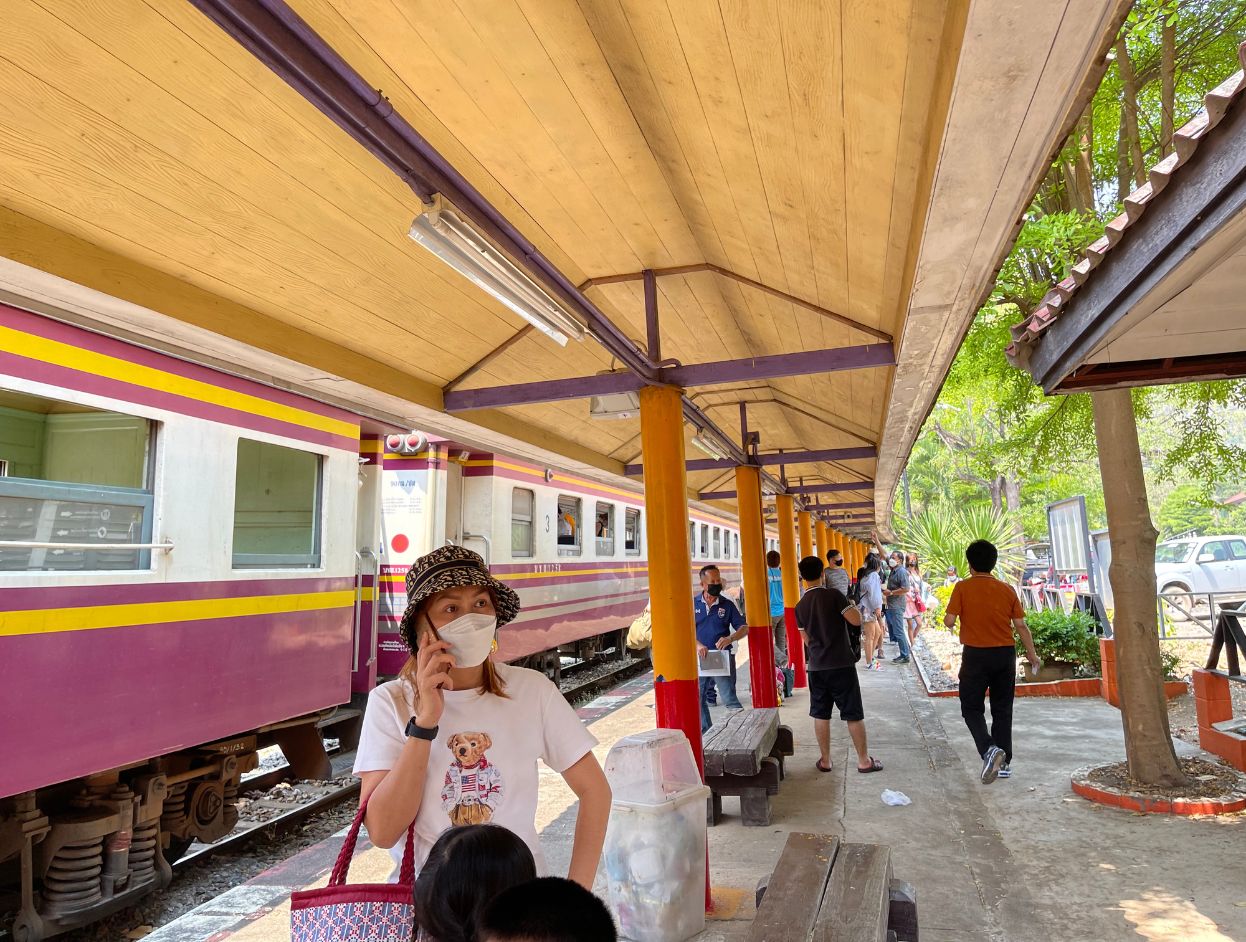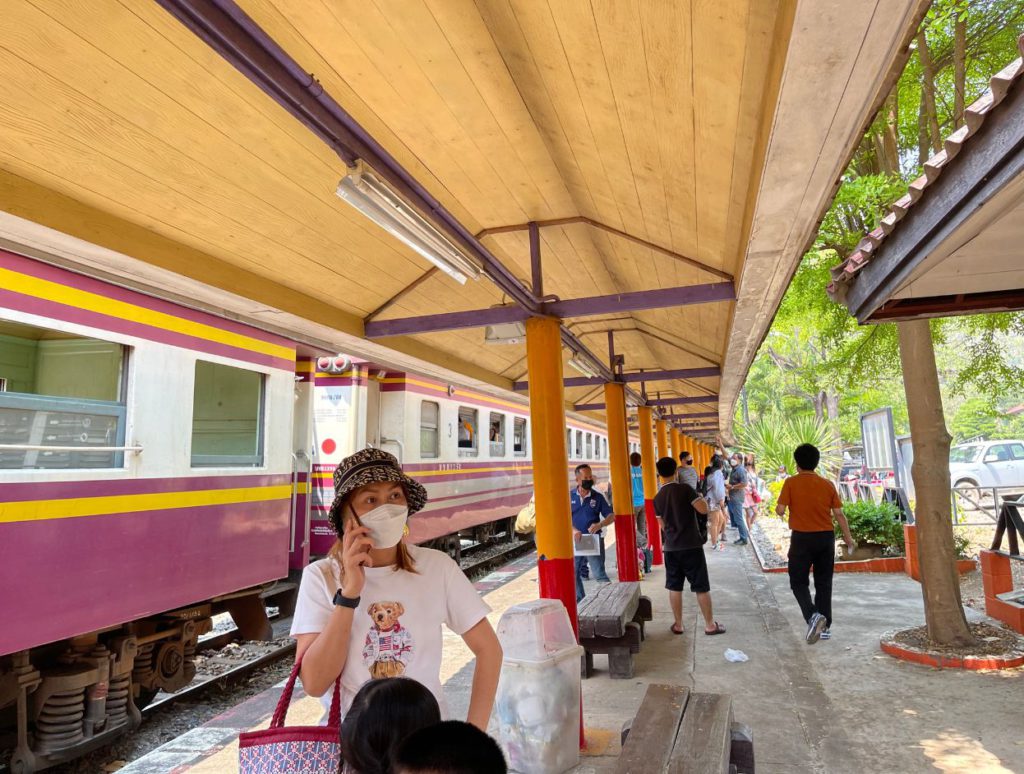 To reach Thonburi Railway Station, you can take the MRT to Bang Khun Non station on the blue line which is around 10 minutes from the railway station. 
Once you reach Nam Tok Station, you can take a songthaew that stands right outside the station to Phutakien pier. The charges per person start from THB 150 for a shared transfer and THB 600-700 for a private transfer.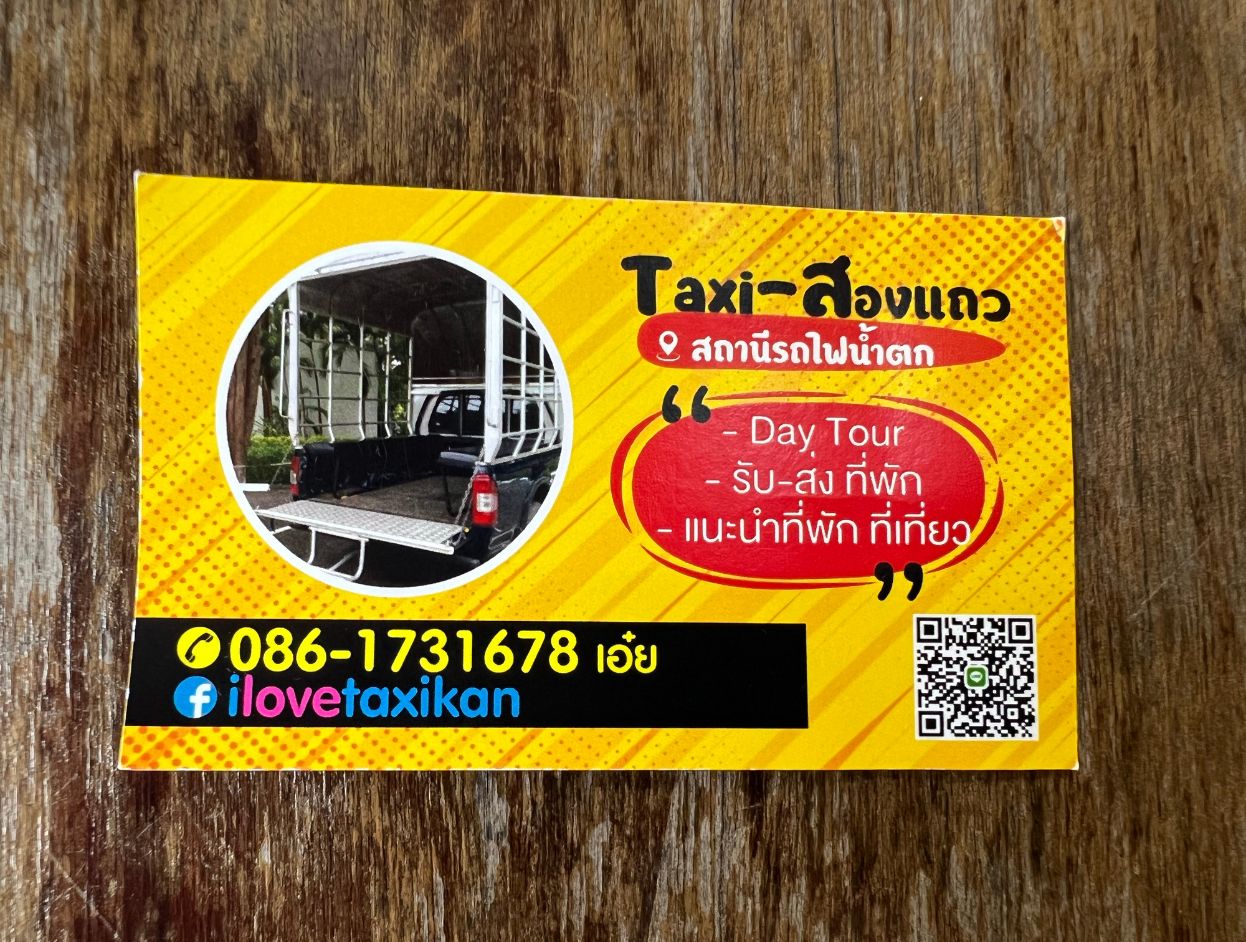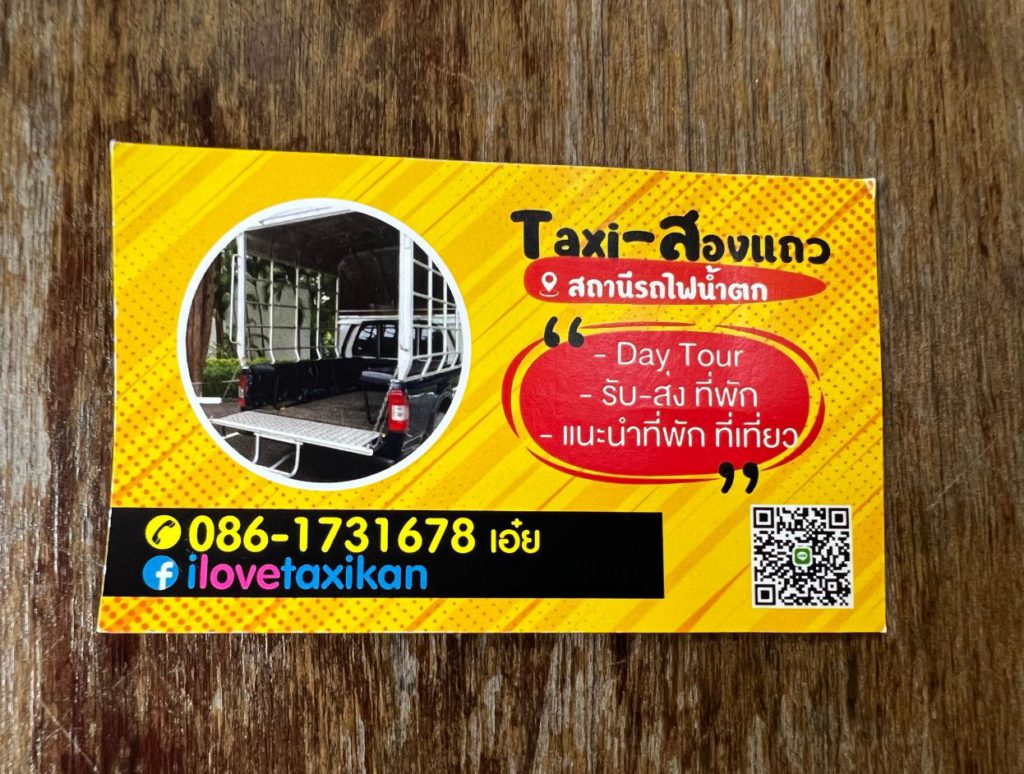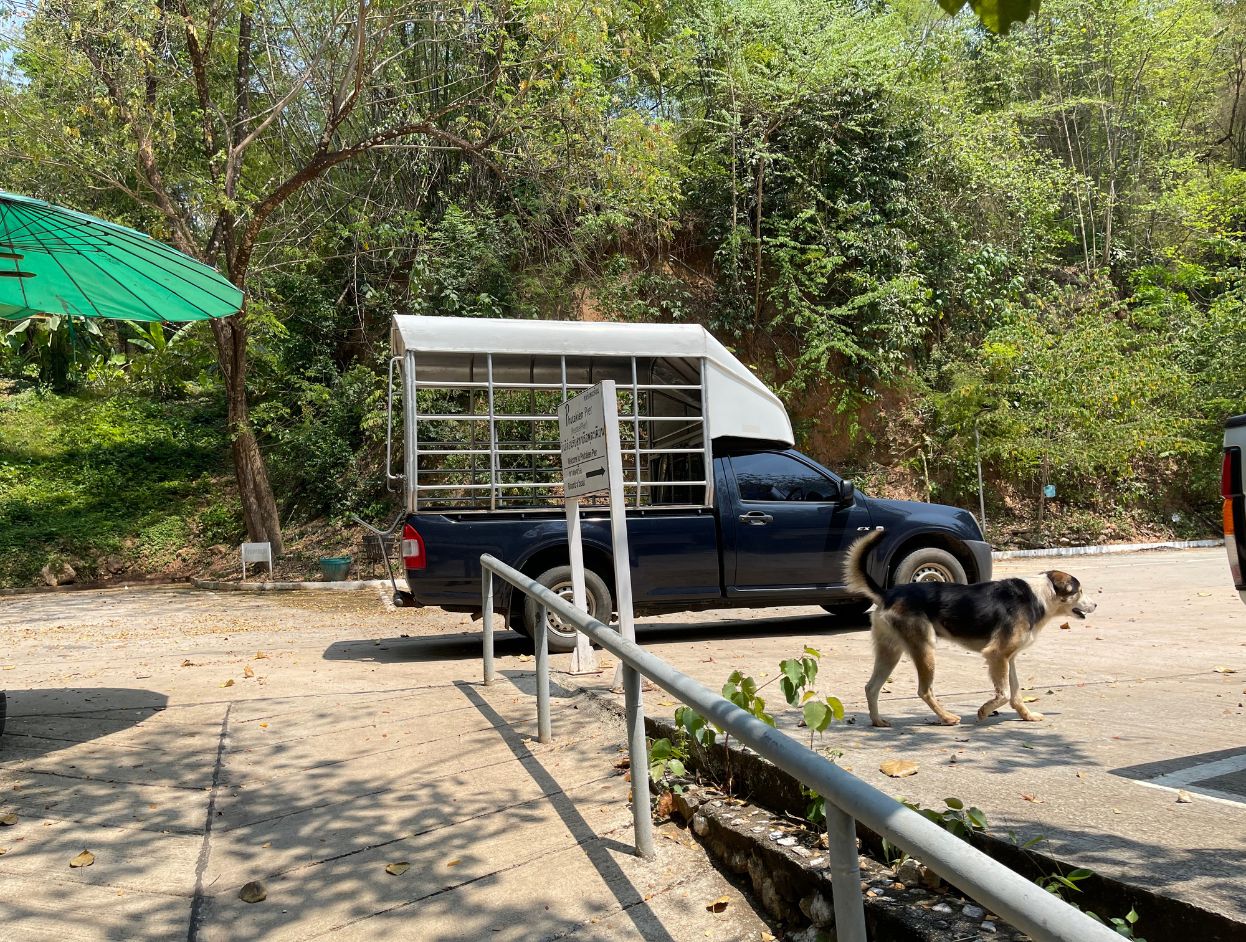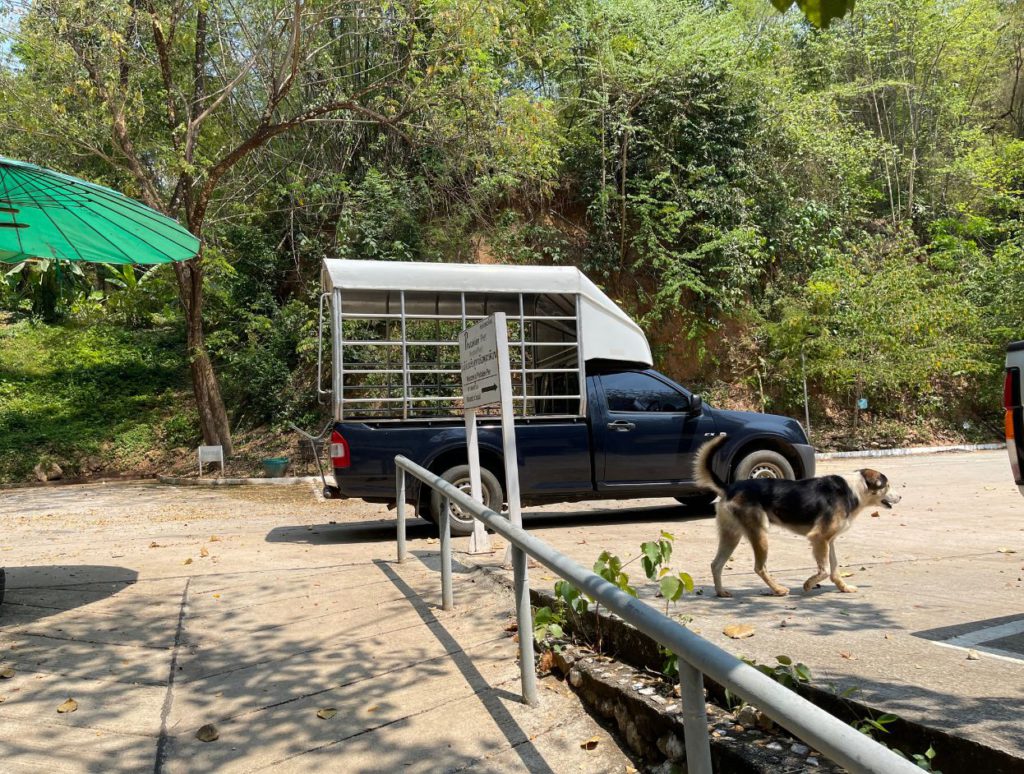 By Bus/Minivan
There is no direct bus/minivan to Sai Yok National Park. However, there are regular buses/minivans that run between Bangkok and Kanchanaburi. You can board one from Mo Chit Bus station or Mo Chit Van station. 
The journey takes around 3 hours although minivans tend to be faster. The ticket prices range between THB 150 – 320 depending upon the type of bus. 
If you wish to continue by bus, you can board another bus from the Kanchanaburi bus stop to Sangklaburi and get down at Nam Tok railway station. Again take the truck/songthaew outside the station to Phutakien pier. Do take the driver's number for your return journey.
You can also choose to take a private vehicle/taxi from Kanchanaburi all the way to Sai Yok National Park or Phutkien Pier. For a one-way drop, the taxi will cost between THB 900-1500 depending upon the passengers and your negotiations.
Another option is to take the same train (as above) from Kanchanaburi to Nam Tok but takes note of the timings. No other local trains run on this route.
Looking for a weekend trip from Bangkok? Read up on traveling to Koh Samet, Thailand
Hotel Transfers
If you have booked a jungle raft hotel, you can check with them for their own taxi facilities. The hotels usually provide both private and shared transfers. 
A private taxi would cost you around THB 4,500 from Bangkok downtown and THB 4,800 from Bangkok airport. A shared taxi will cost you THB 900 one way and THB 1700 both ways.
Check out your hotel's website or call them for more information. Here is the website for River Kwai Jungle Resort Hotel.
But in all scenarios, you will have to travel to Phutakien pier to reach the hotel. The hotel has free transfers and they will have your name on the list for the day you are arriving. You may have to wait a bit before the next boat leaves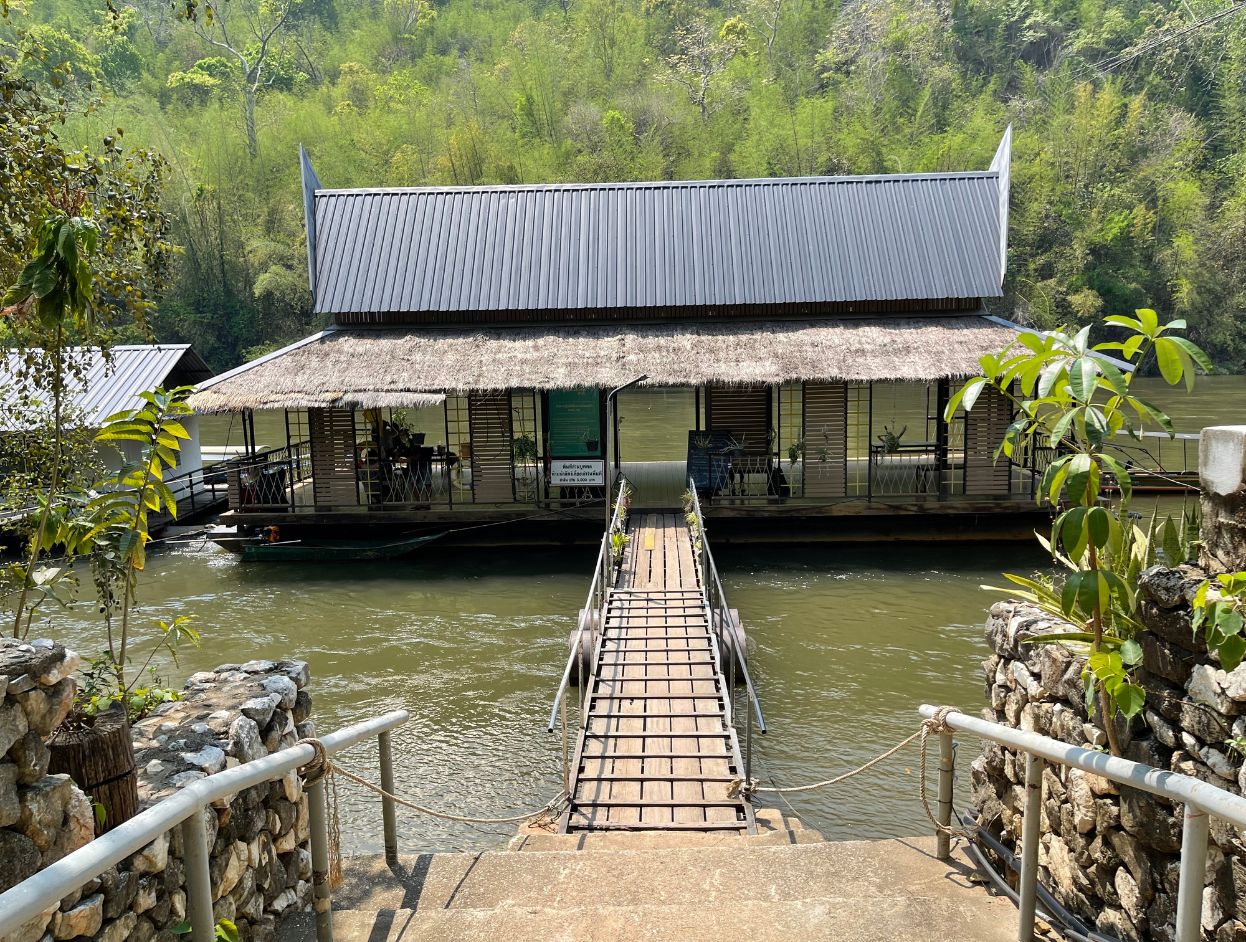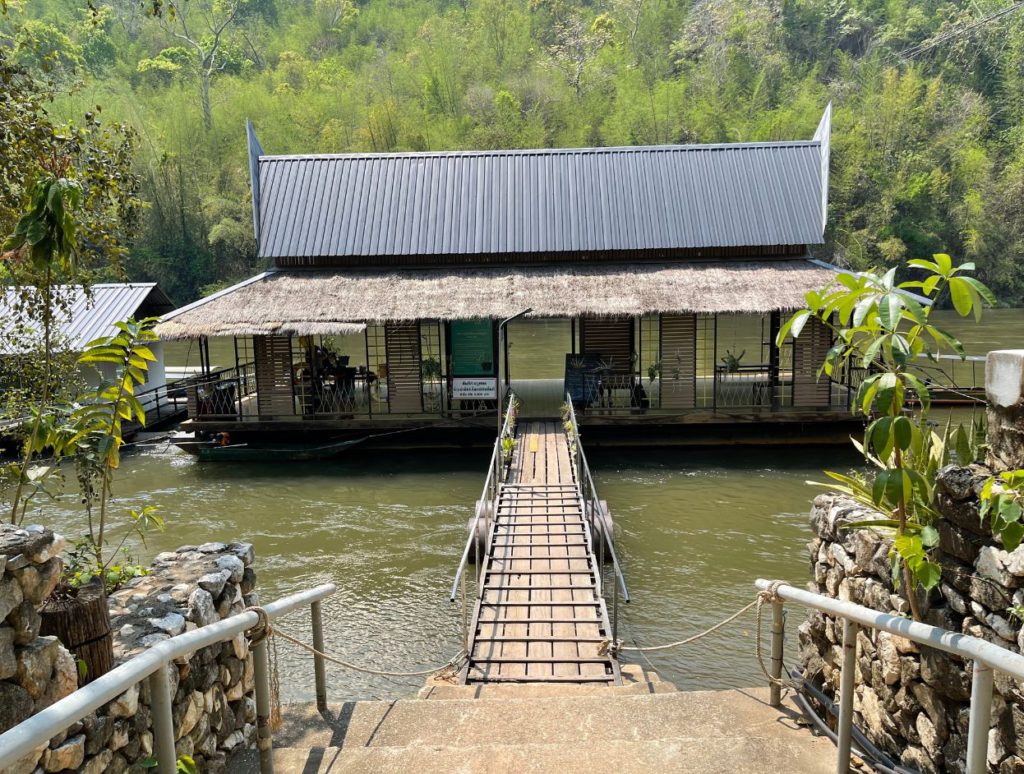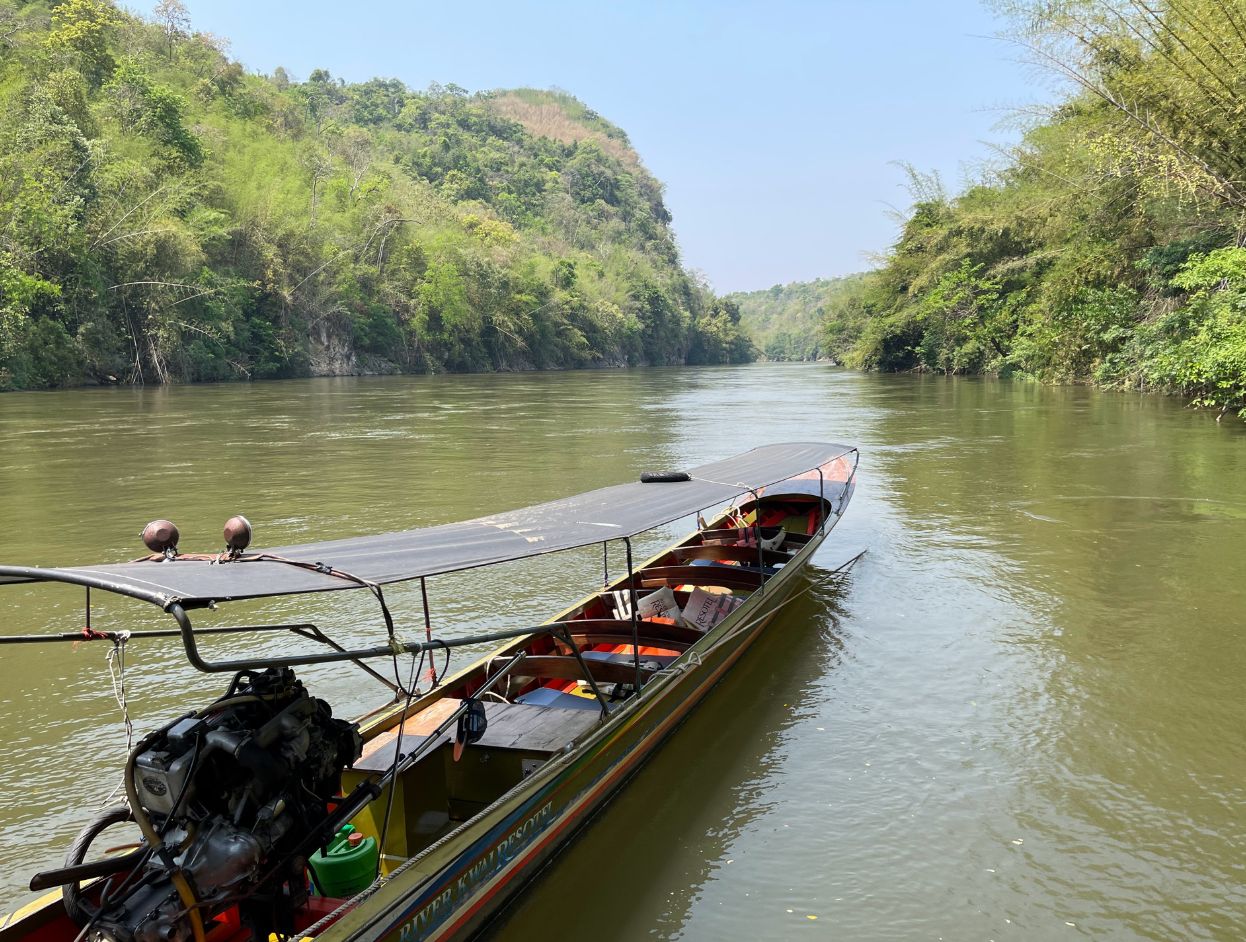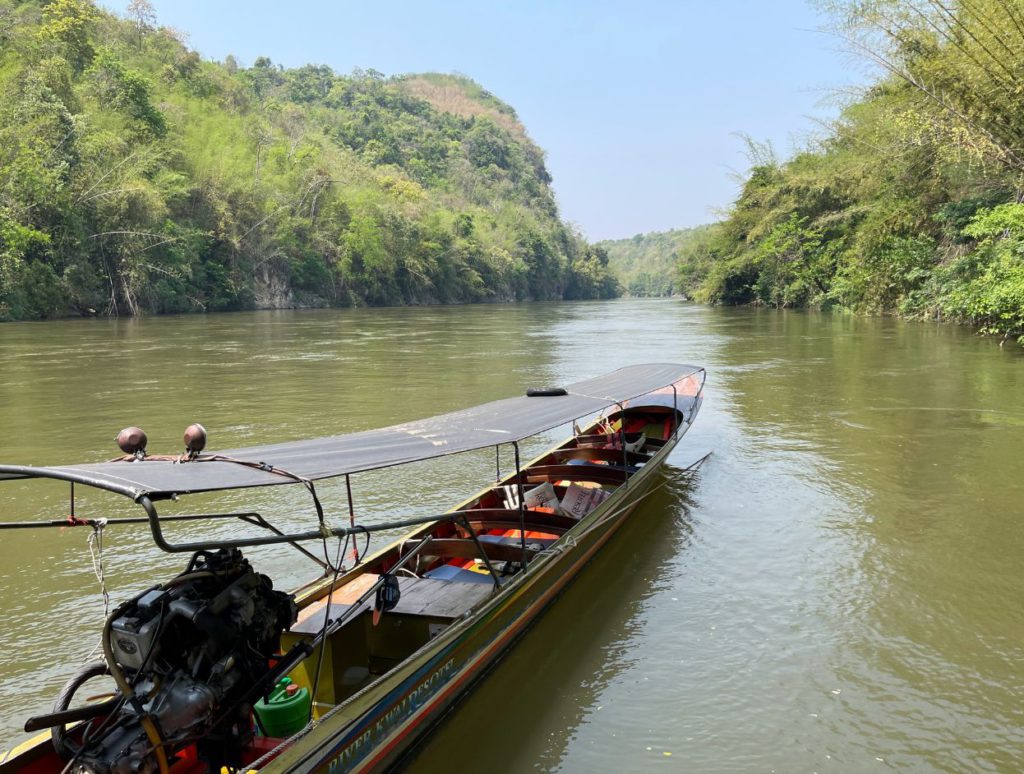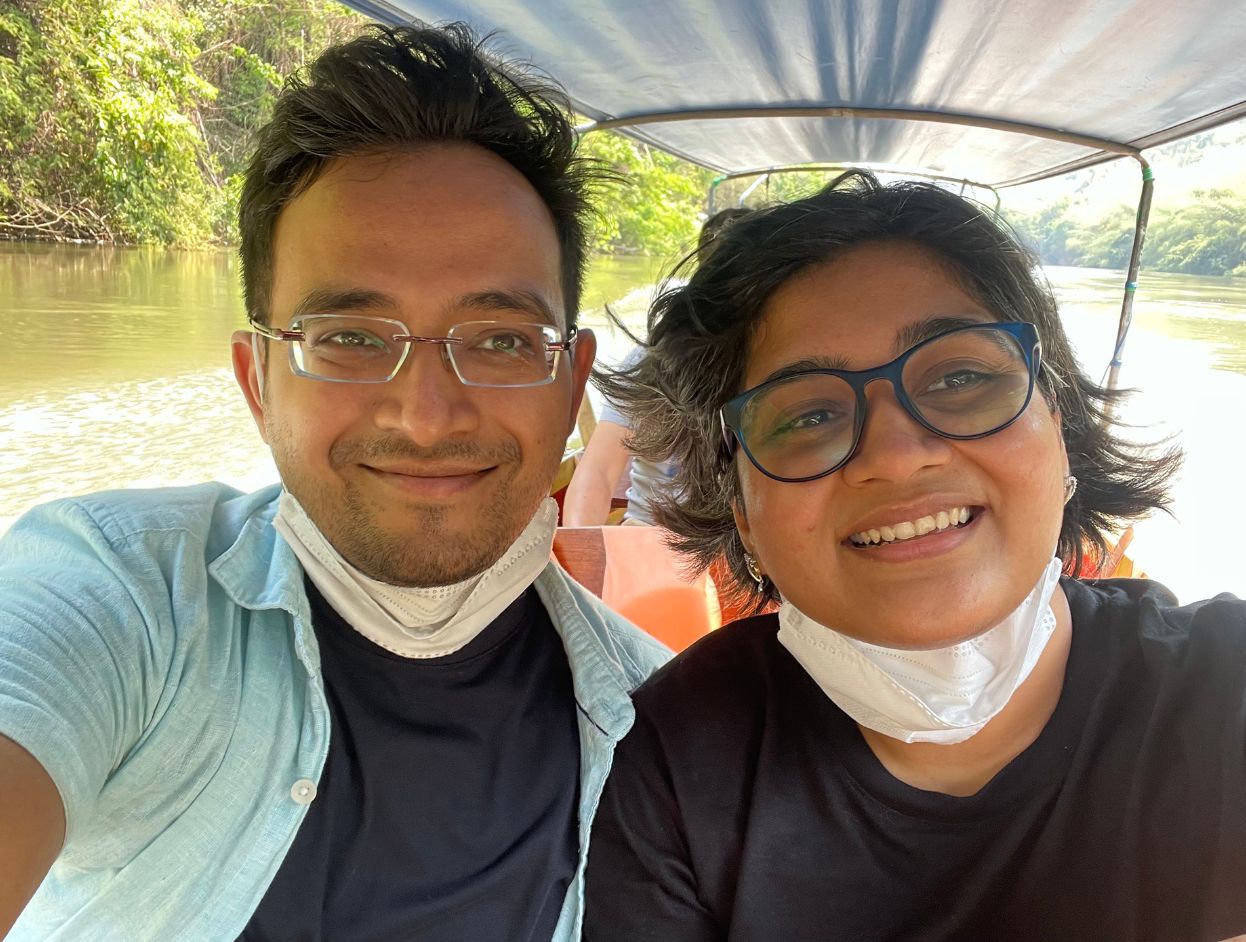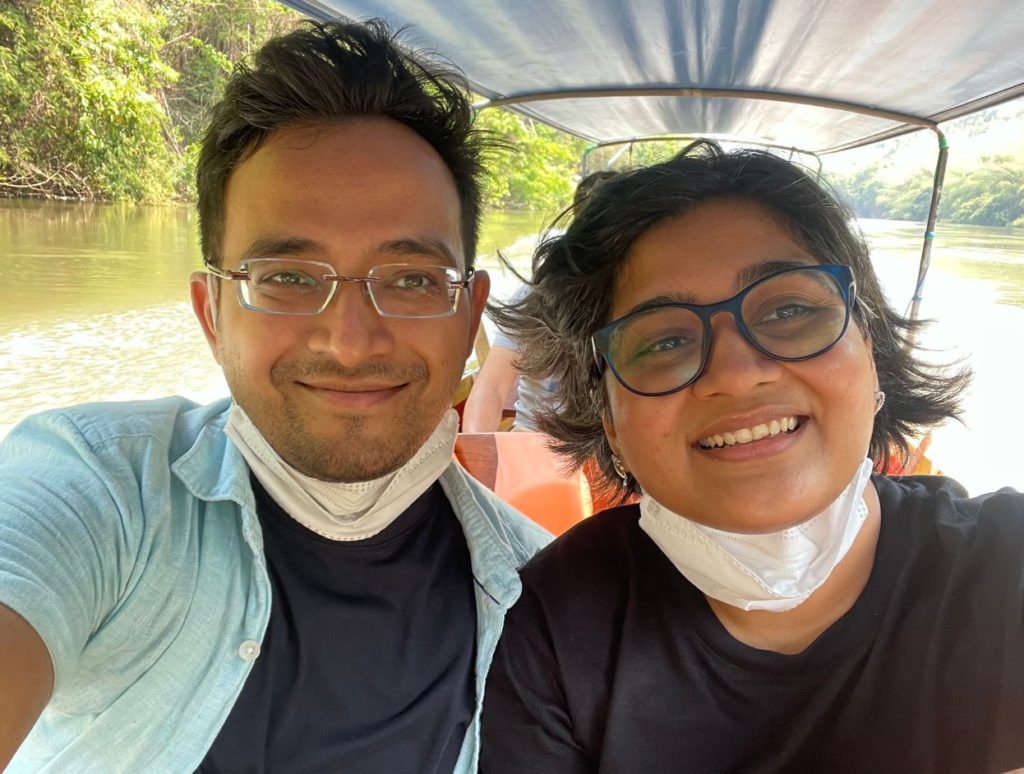 How to go Around
If your hotel is a raft hotel, the accessibility could be very low. But it totally depends upon the place you book. My hotel was completely inaccessible by road and could only be reached using a long tail boat that is available at request at the hotel.
So if you wish to go around, you need to book a private boat that will either take your around on the River Kwai Noi, or will drop you at the pier from where you are free to board a vehicle of your choice.
Moving around from the hotels could be difficult, so make sure you do not have to do that out of necessity and carry everything your need with you for your trip.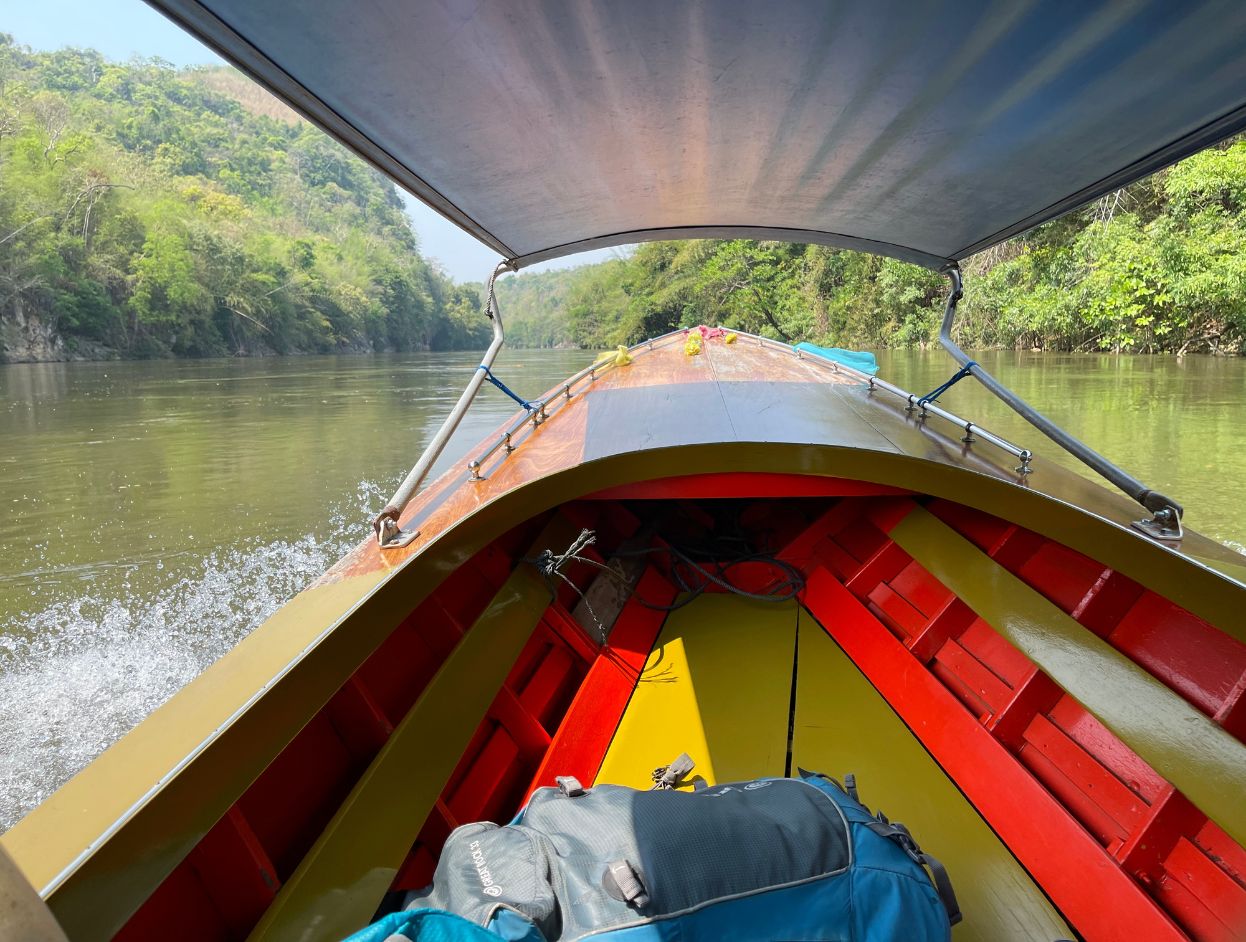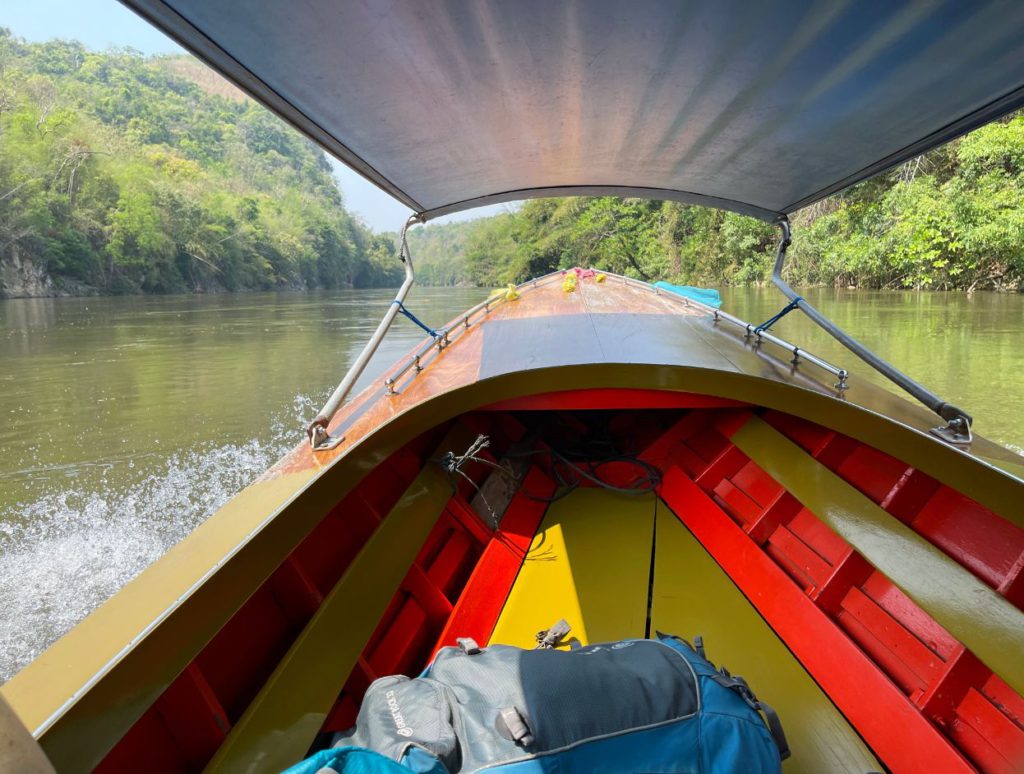 What to do there
Since you are pretty much stuck in the middle of the jungle and cannot move around, you would want a few options for activities that can be enjoyed there. Our hotel had options for the following. And I am sure most hotels have similar or some unique activities as well.
Apart from these, you can always do a combined tour of touristy places in Kanchanaburi and Sai Yok National Park.
River Jumping
As the name suggests, this is literally jumping in the river. A lot of floating hotels offer this activity and anyone can do it. But first of all, you need to put on a good life jacket. Then all you do is jump in the water at one end of the hotel and the river will take you to the other end. The hotel is placed in a way that you will end up near the other end regardless. You climb up the staircase and are ready for another one.
It is open to everyone, even if you cannot swim. But I definitely think that if you cannot swim, do not have water confidence or you think you will panic, then just enjoy by the shore. Do not try this during the wet season or monsoons when the river current is stronger than recommended. It is free for everyone to enjoy.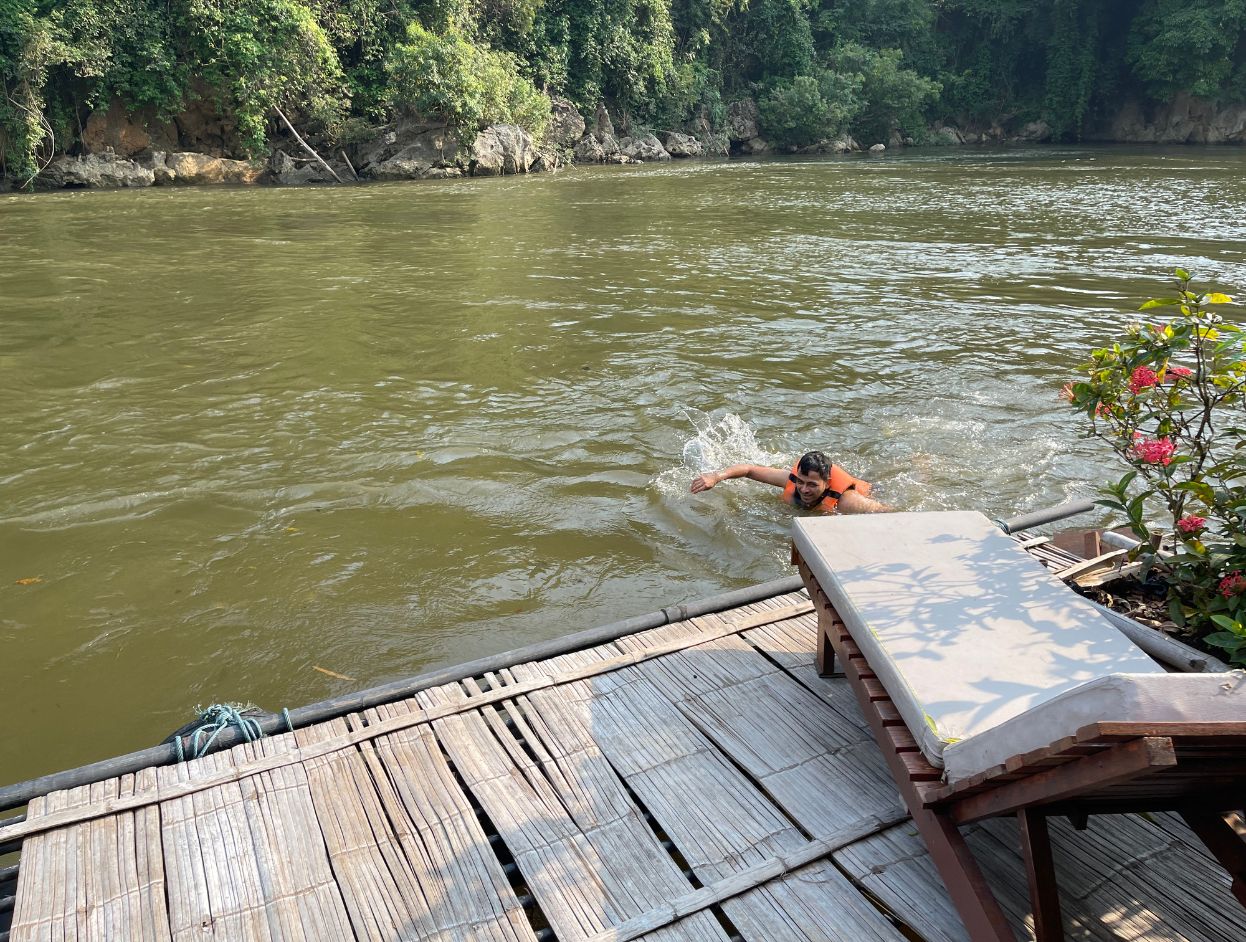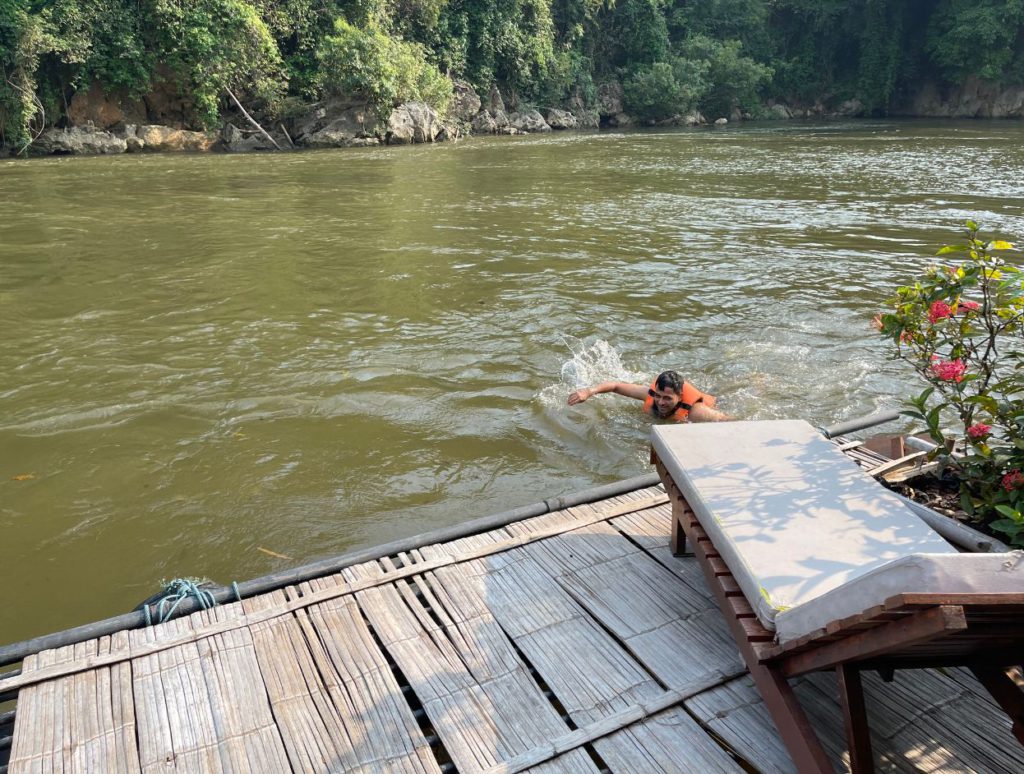 Rafting and Boating
Although you will travel your fair share of distance while travelling from the Phutakien pier to the hotel, you can do more. The hotel has the option to rent a long-tail boat and build a custom itinerary for the places you want to visit. You can go all the way up to Sai Yok National Park's visitor centre and the waterfalls around it. Or you can visit some of the popular caves on the other side.
Bamboo rafts are a more leisure and romantic activity. Couples and families will enjoy it thoroughly. Hiring a Boat will cost you THB 1200 per hour (max 10 people on a boat) which is enough for you to enjoy the scenic view in the area.
A raft will cost THB 1500 per hour (for a max of 5 people) for 50 minutes. There will be someone navigating your boat, so all you need to do is relax.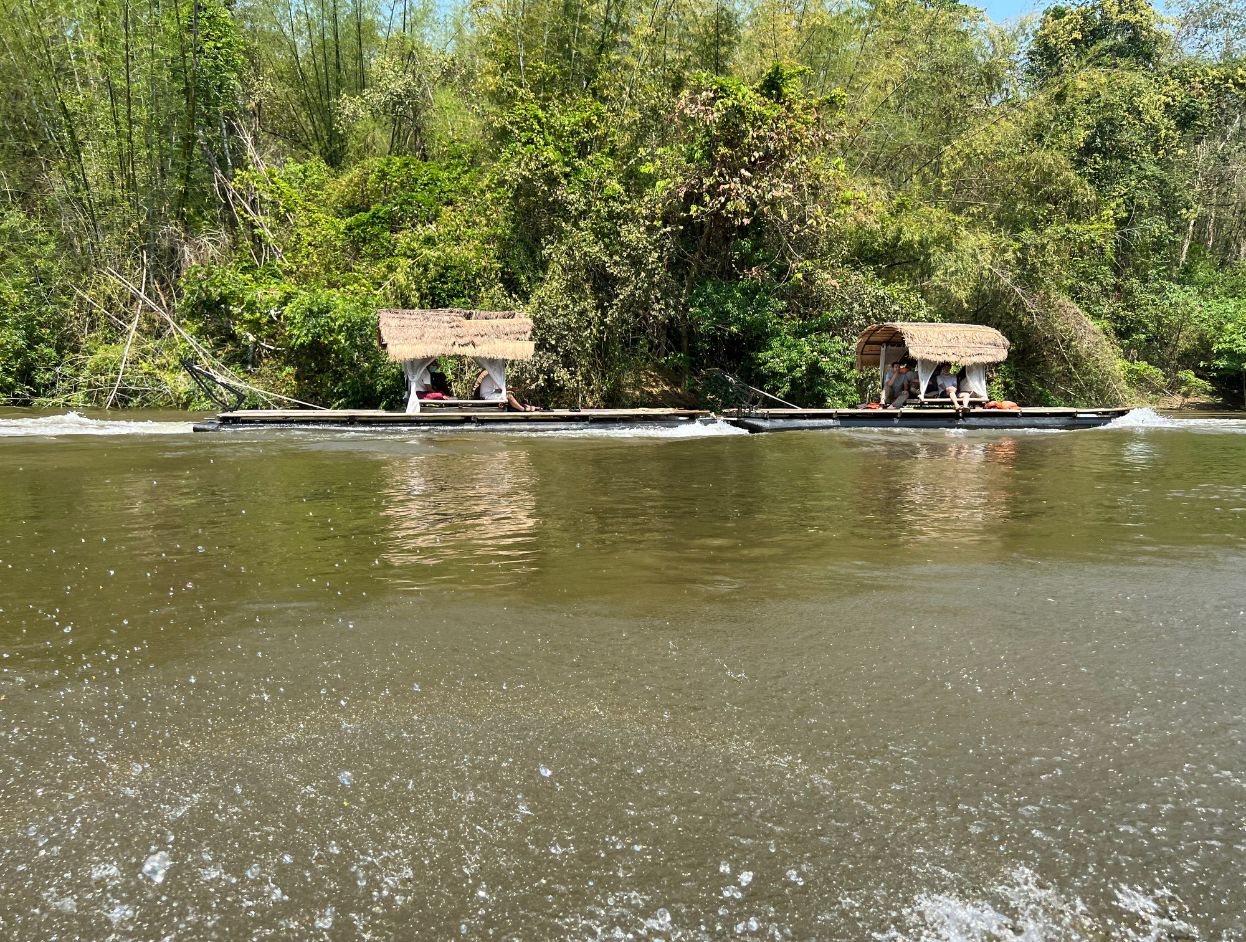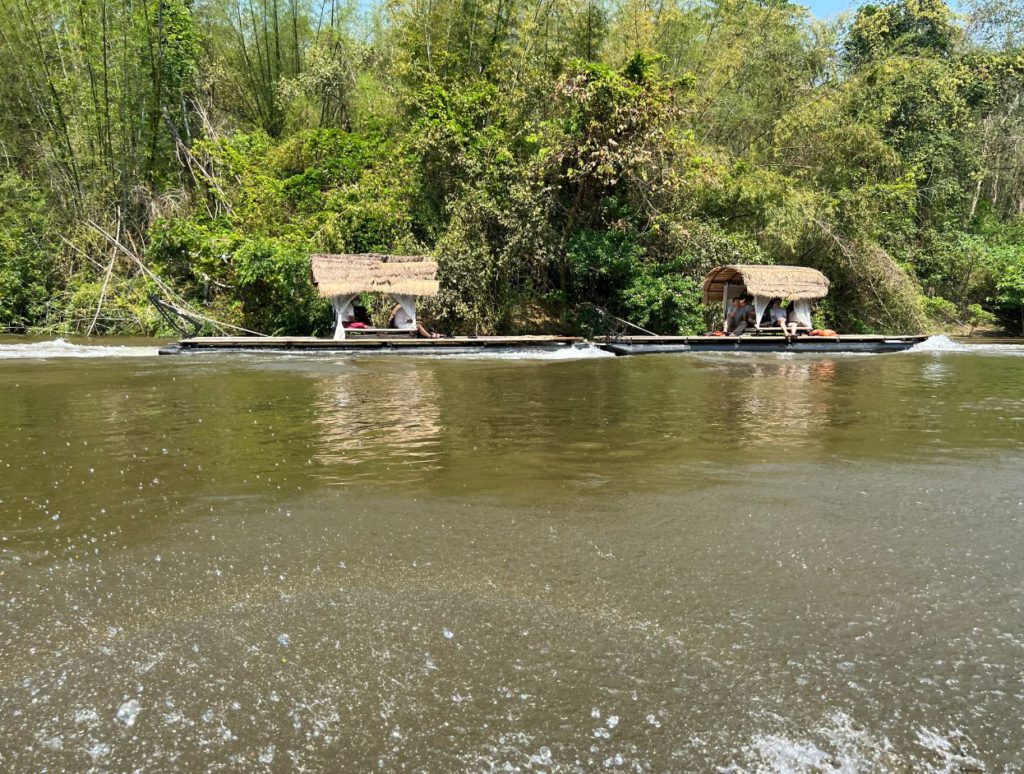 Enjoy Canoeing & SUP
Canoes and Paddleboards are also available at the hotel, free of charge. You may need to inform the staff that you wish to do this and maybe put on a life jacket just for safety.
All the equipment is available at one end of the hotel and you can pick and choose your gear yourself. Early morning and evening is a great time for water activities. Again, avoid this during the monsoon season.
Visit Mon Village
Our place was mostly run by the Mon people that belong to the Mon tribe community residing in west Thailand, Myanmar and North-east India. Mon people have their own unique culture and they are happy to give out a sample of their hospitality.
Apart from being very polite, they are open to tourists visiting their village. You just need to cross the bridge that connects the hotel with the mainland and walk around. The hotel has a map that you can use to navigate.
We came across some homes without many people (I think most of them were working at the hotel), a temple, a small shop selling traditional garments, a school closed for the day and an elephant sanctuary without the elephant (We saw him in the afternoon by the river though). 
There is also a jungle trail that is mostly vacant that leads you to a viewpoint uphill of the river and nearby areas.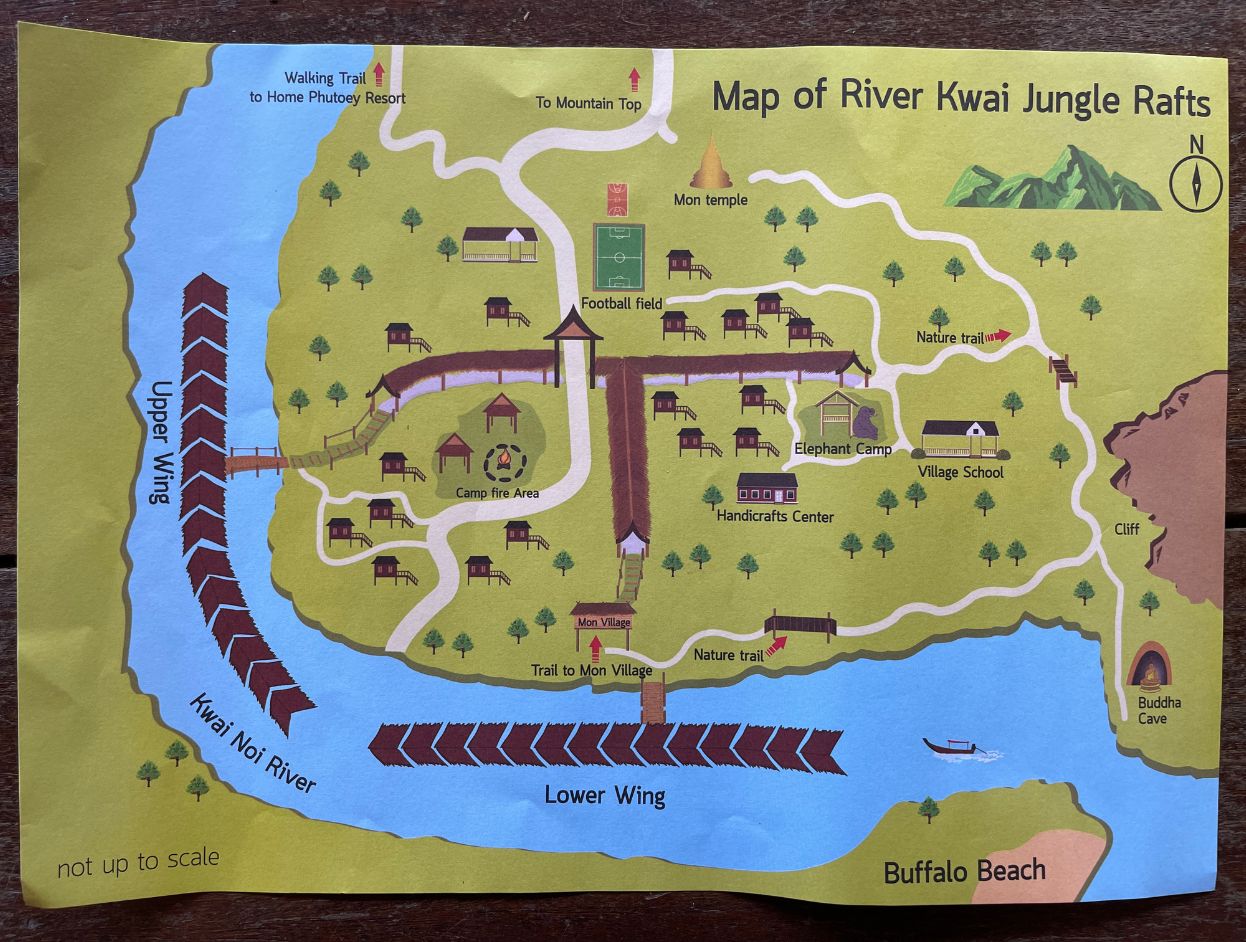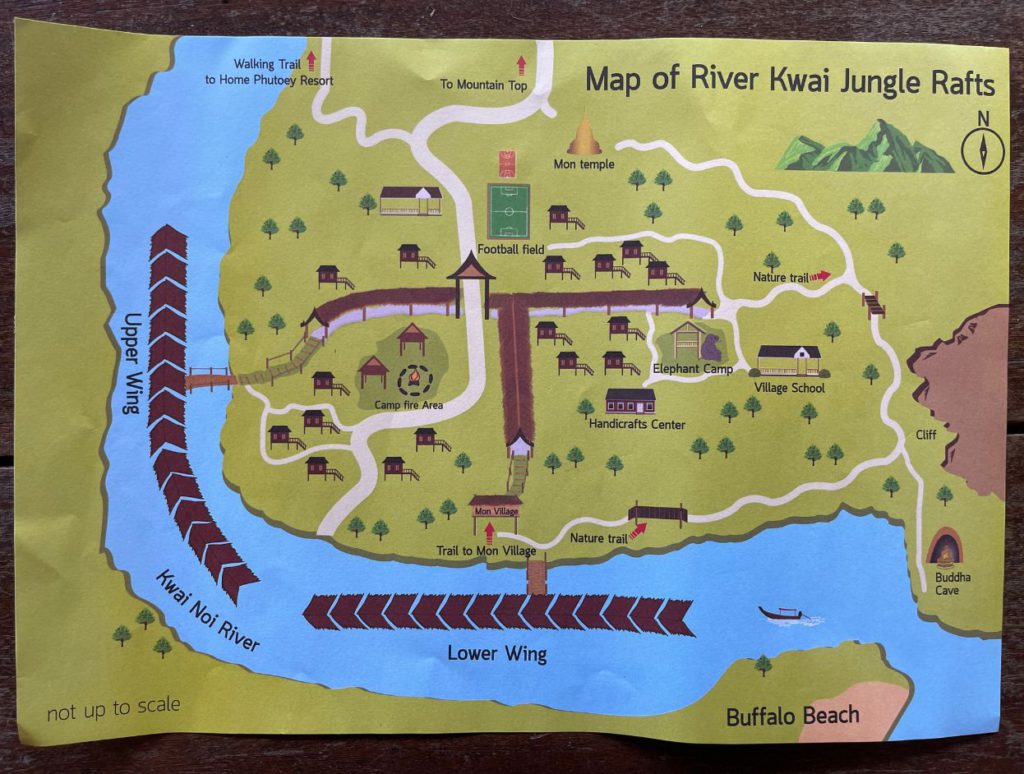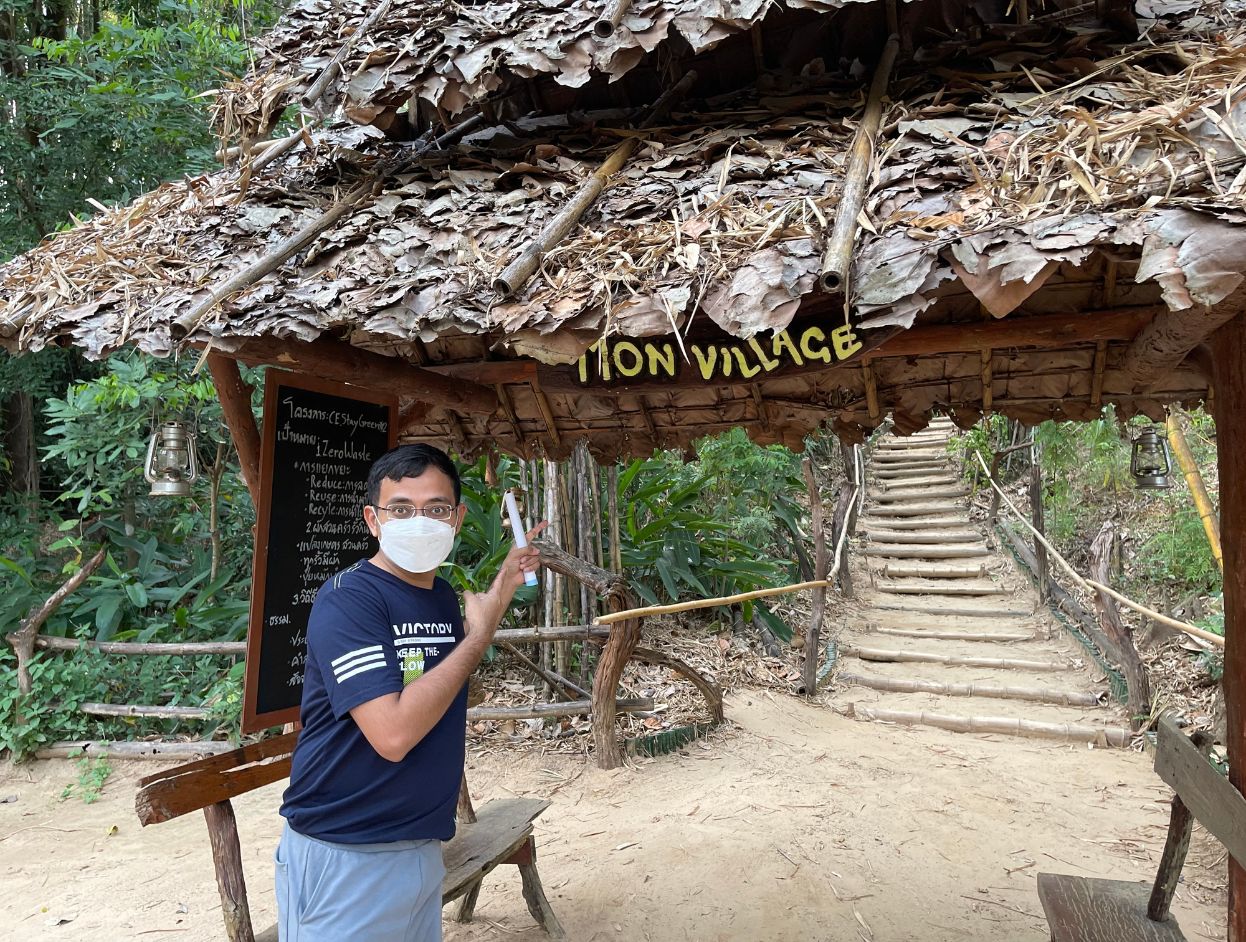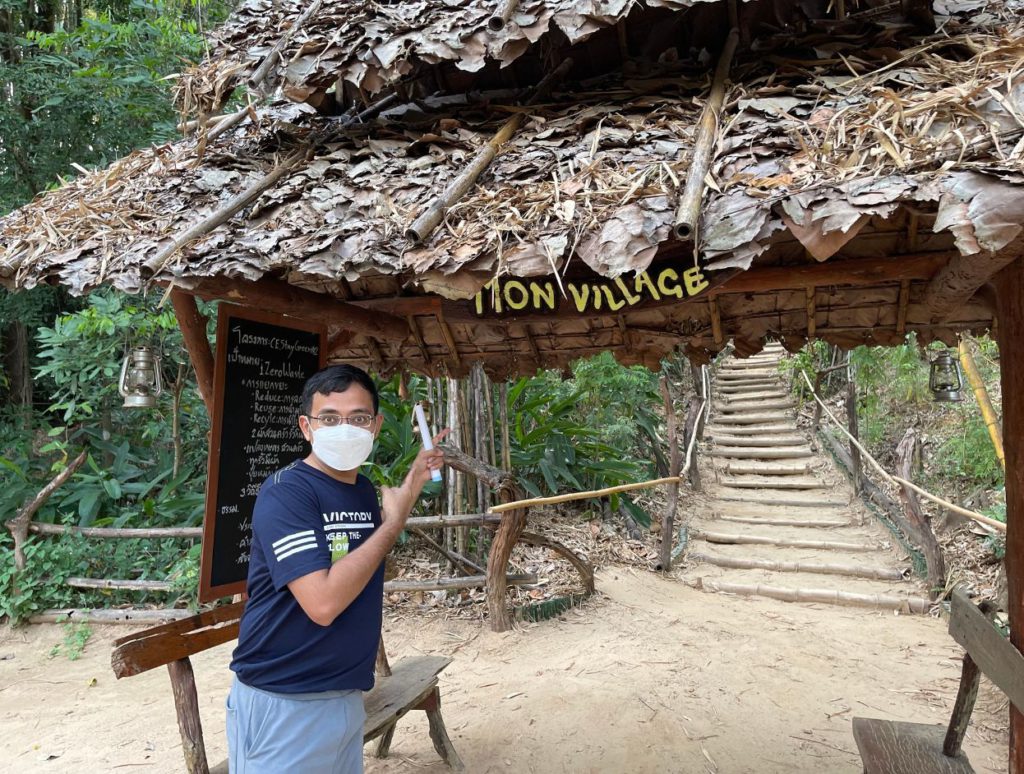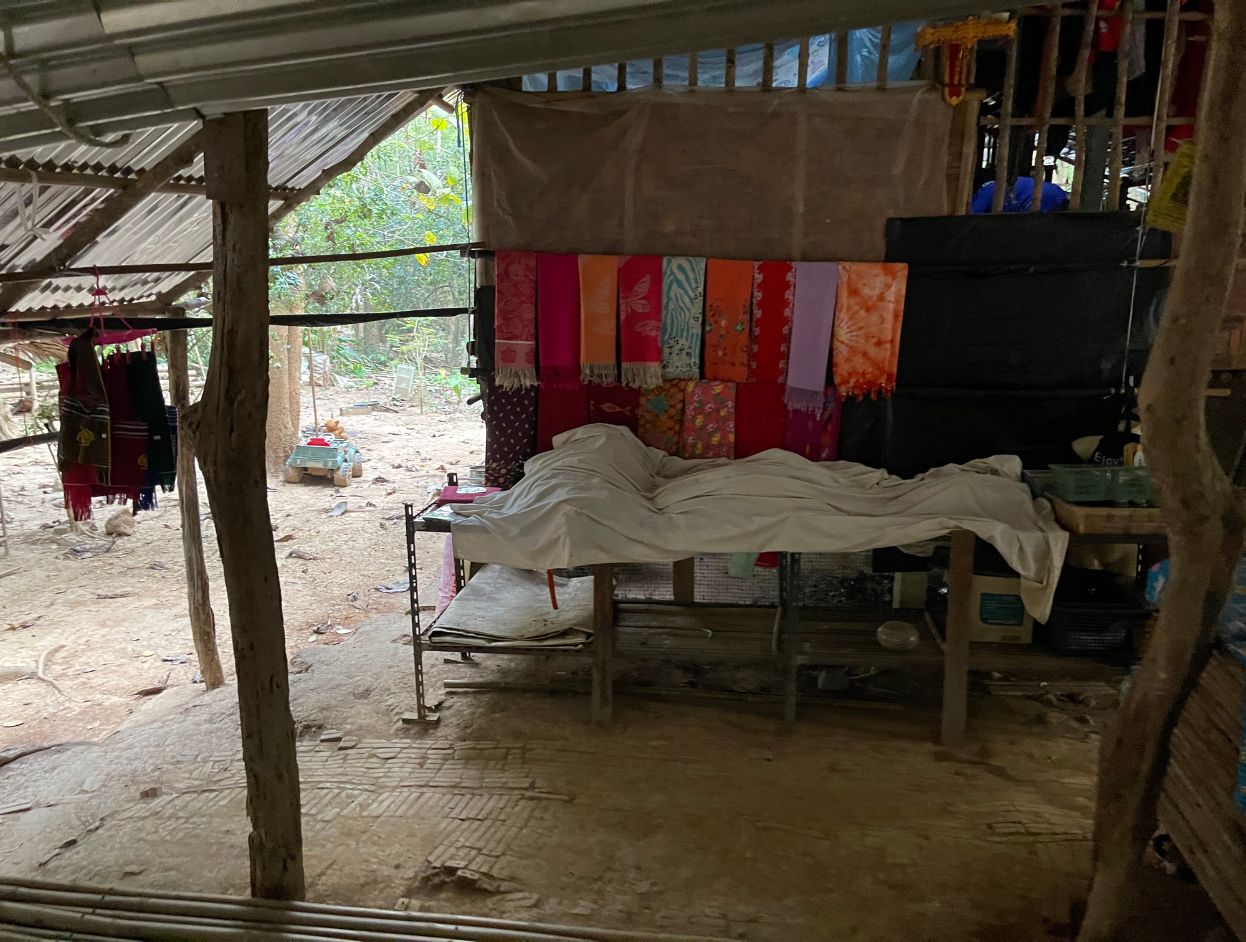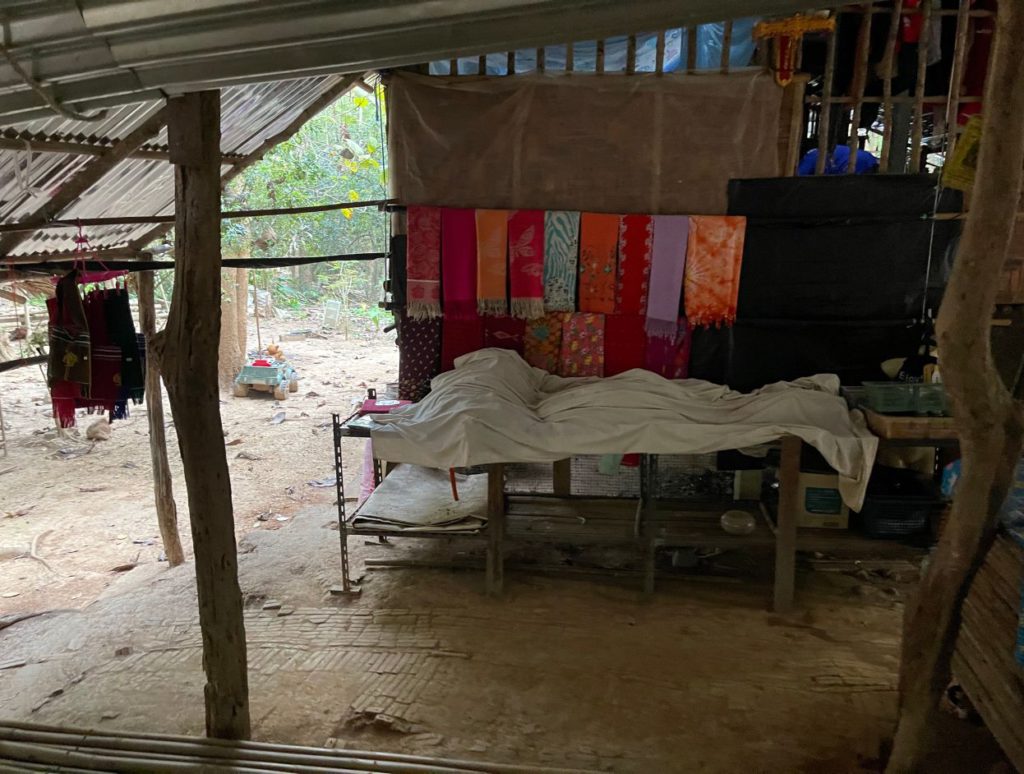 Watch a Traditional Mon Dance Show
Do not miss this. Every weekend, the hotel hosts a dance show put up by the mon people. You need to buy the tickets at the reception counter (they will remind you of the show). This takes place in a small floating theatre at the end of the hotel at 8.15 pm. The dance takes place on the stage while others play a live orchestra below the stage.
There are 6 chapters in the dance sequence which goes on as – Introduction, Kids Dance, Flirting Dance, Candlelight dance, Water Festival Dance and Farewell Dance. Each chapter has a story and significance.
The dance is done under a master that has lived and performed for several years in Myanmar. It is a rare thing to see. So make you take out time for this. You will certainly enjoy this.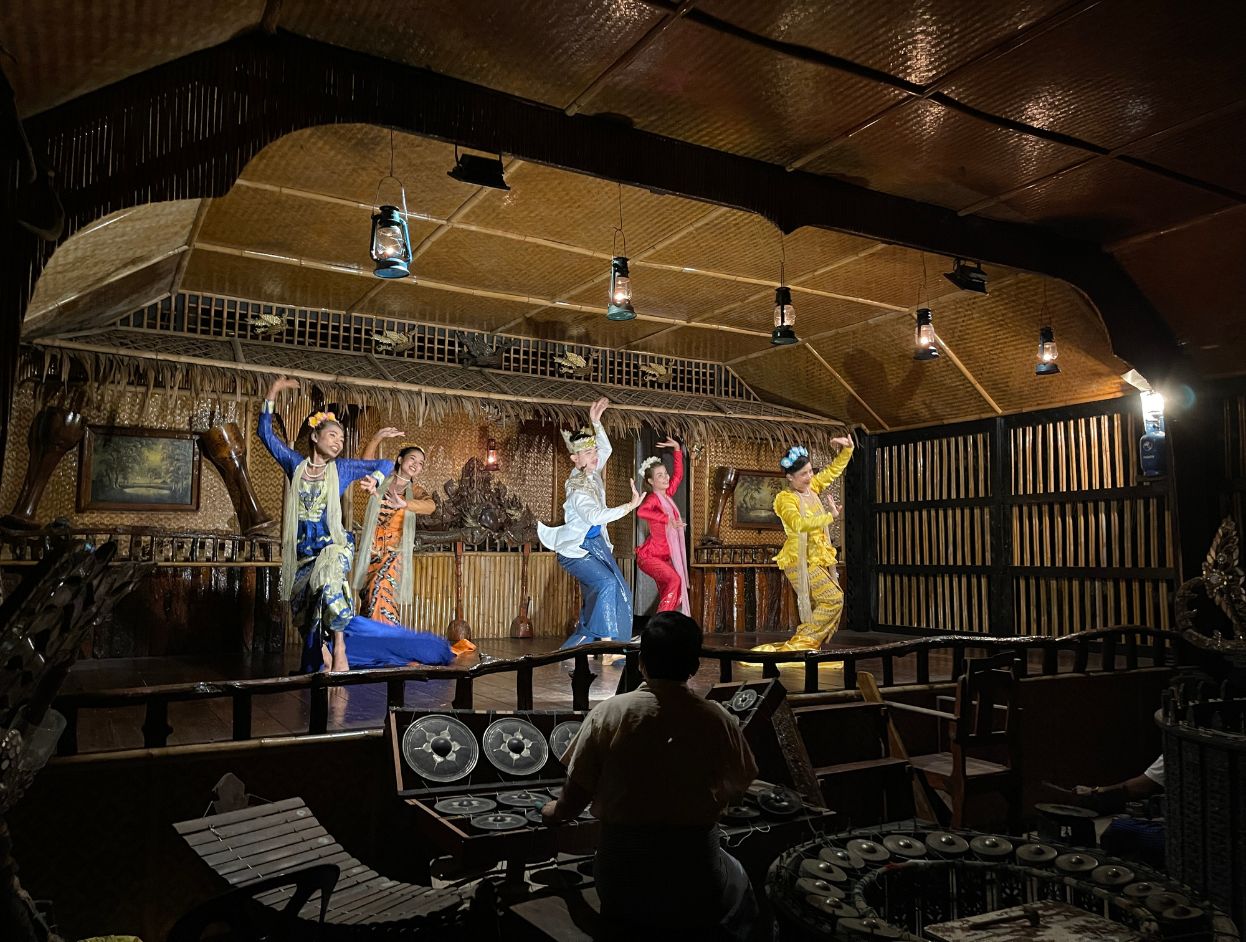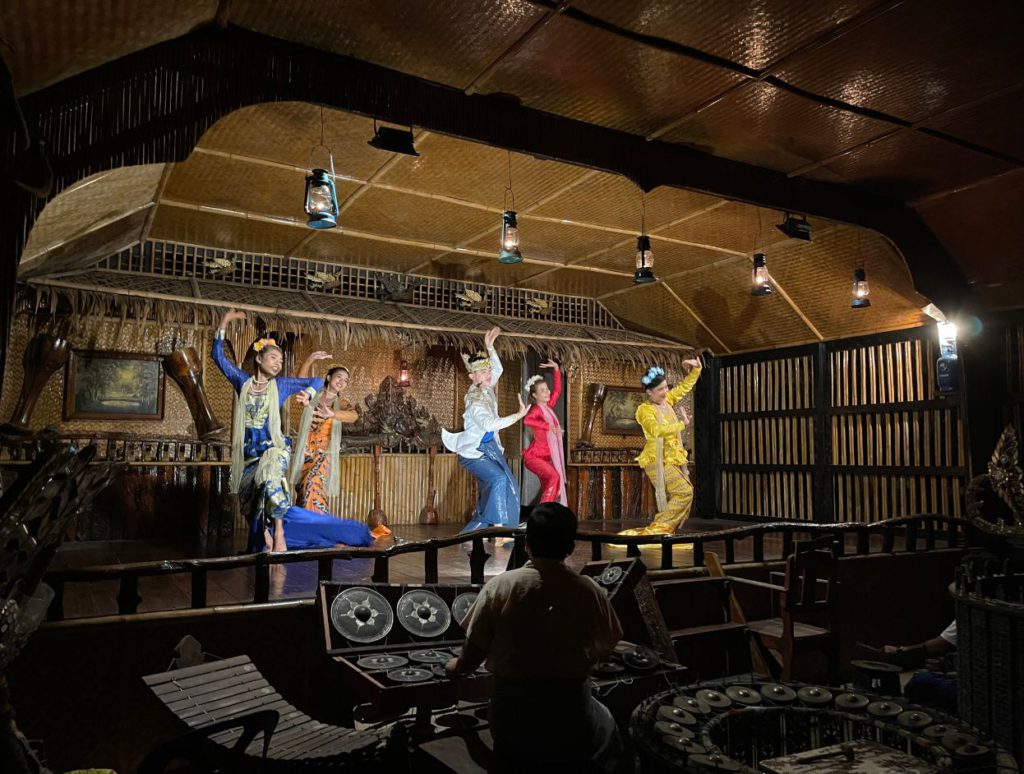 Feed an Elephant
The Mon people in the nearby village have a pet elephant. It shows up from time to time on the river bank. You can also visit it while walking in Mon village. But it definitely shows up every morning near the hotel to be fed.
The hotel staff collect food and vegetable peels and leftovers from their kitchens for the elephant. You can see them carrying a big basket of watermelon shells and pineapple peel for the elephant's breakfast. Anyone can feed the elephant. It is free of cost.
All you need to do is show up near the river bank at around 7.30 in the morning.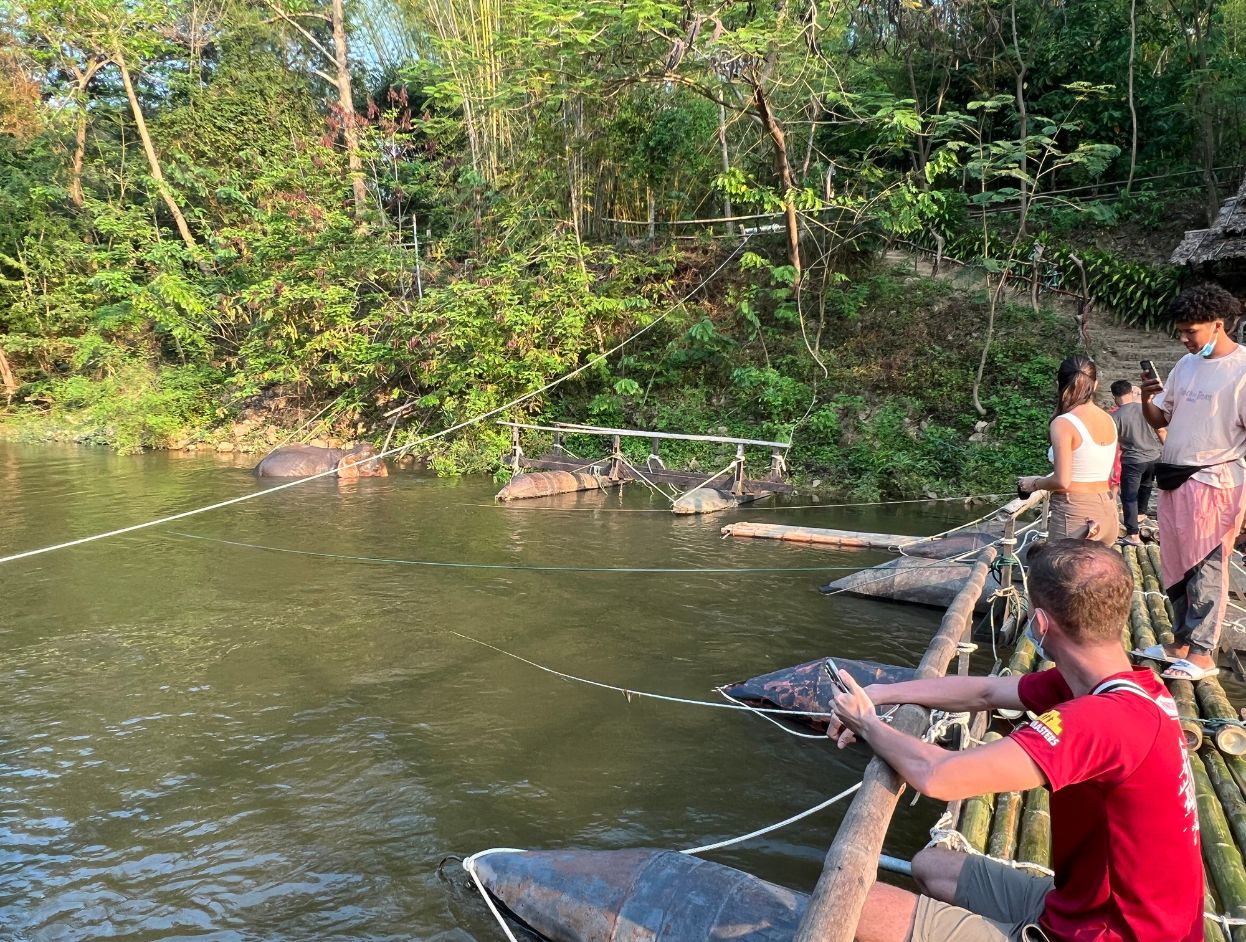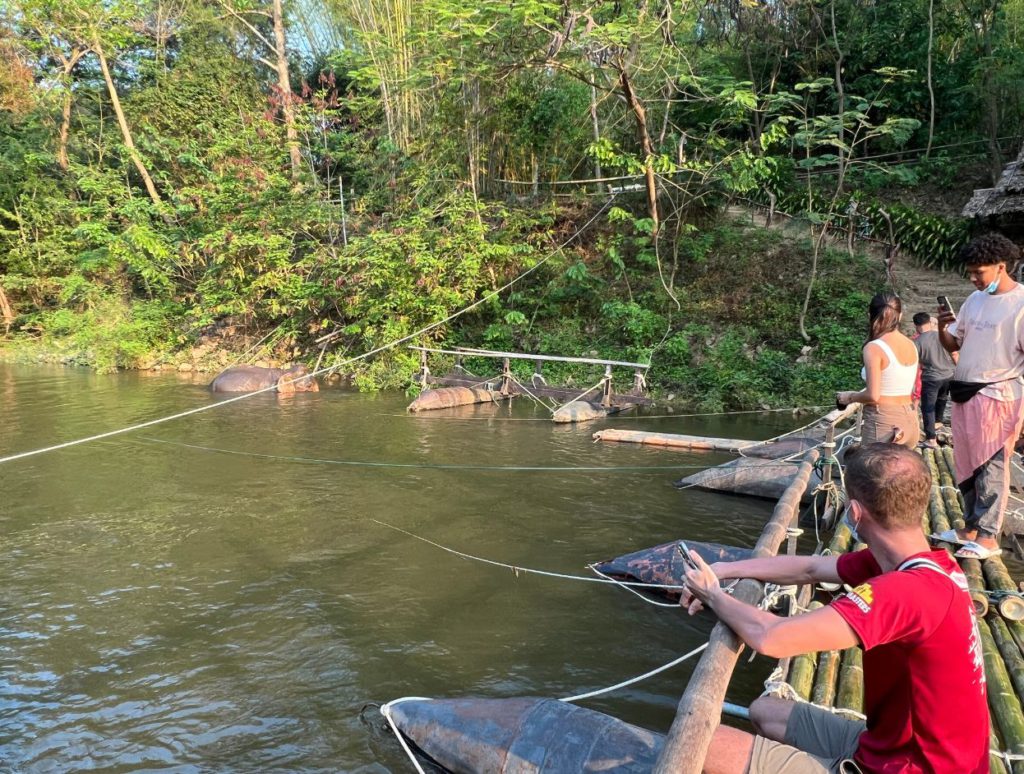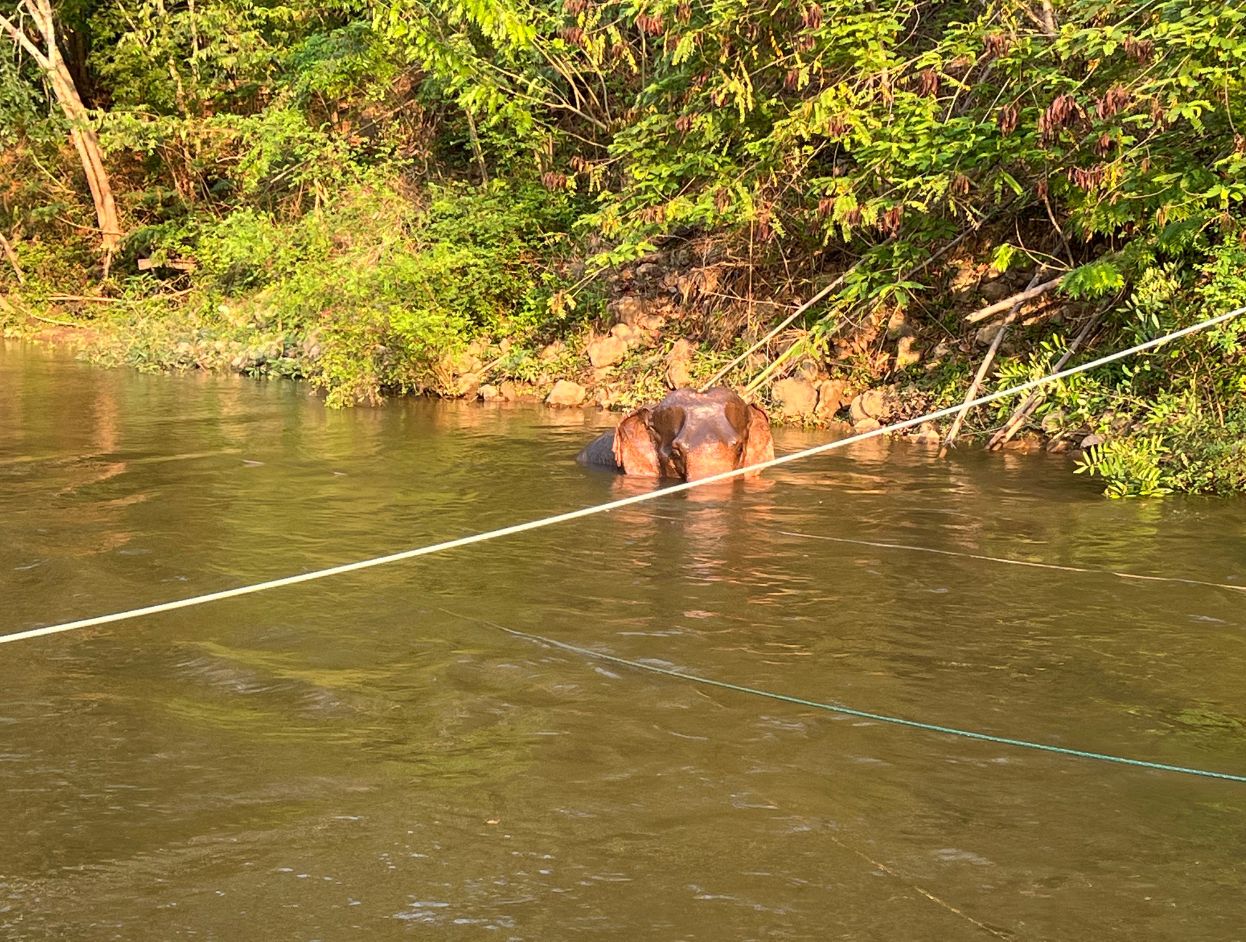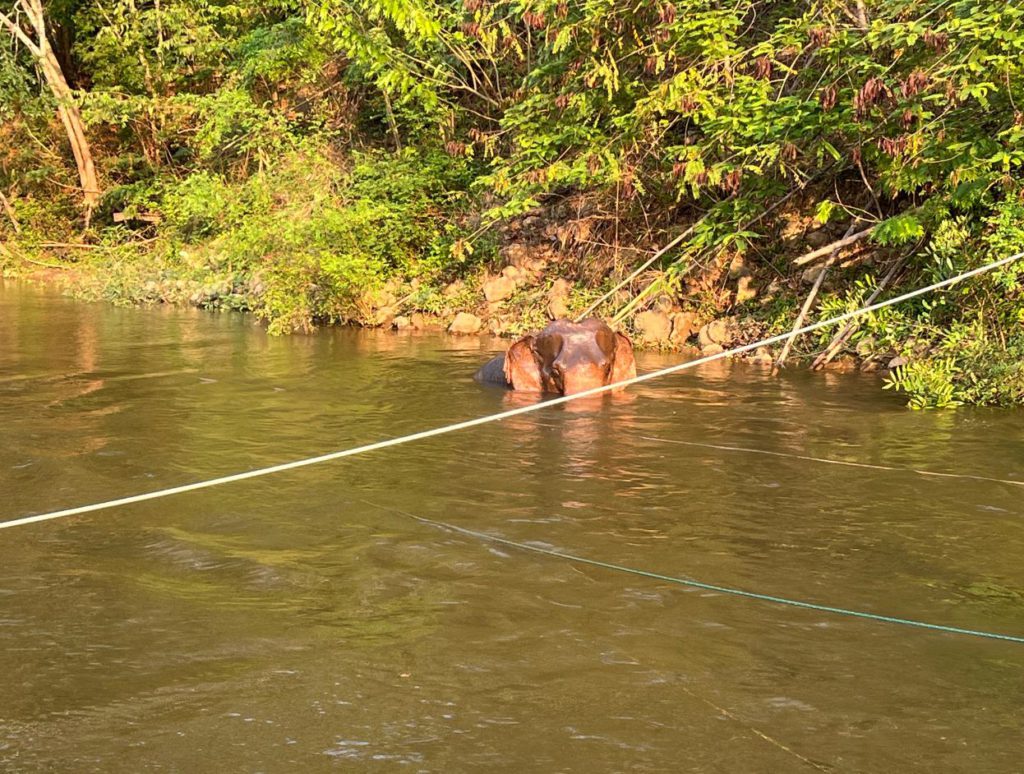 Get a Traditional Thai Massage
Since it's Thailand, you cannot leave this out. As you wander the lobby, you can find the area where you can get a traditional Thai massage with local herbs, oils and perfumes. You can even buy these products at the hotel.
But to get a massage under a thatched roof with the cool wind passing by done by some very hospitable polite people is an experience. An afternoon is a great time for it.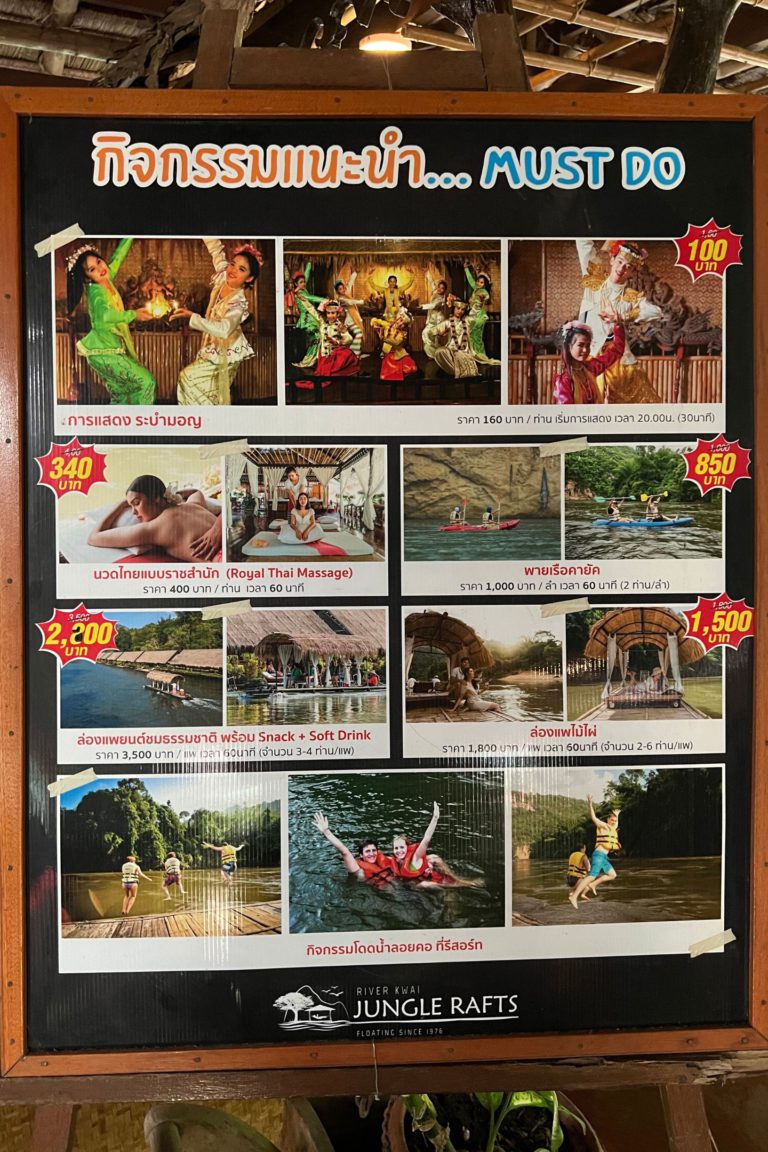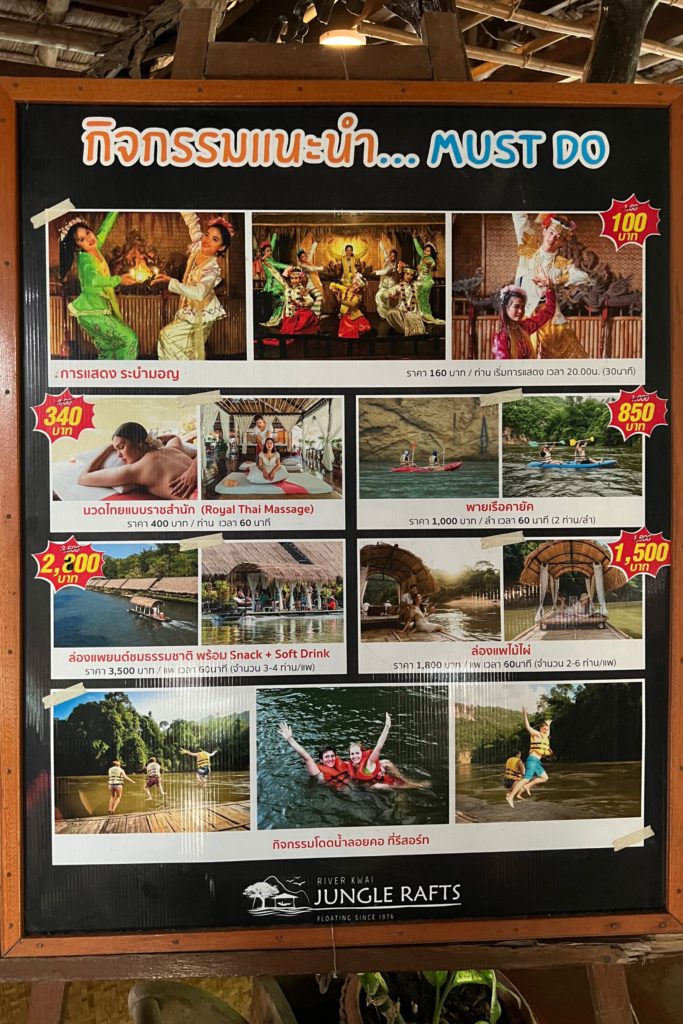 Amenities (Important!)
Now it completely depends upon the hotel you book but if you have booked the Jungle Rafts on River Kwai, you need to know a few things about the amenities.
First of all, there is no electricity in this place. It means that whatever little is there is powered by a generator. But do not expect it. The hotel is lit with oil lamps all over the place which makes it look so beautiful and strange at the same time.
It also means that there is no fan and no air-conditioning. This can be brutal on very hot days. On other days, it shouldn't matter much since it's definitely a bit cooler on the water.
You need to carry power banks to charge your phone. On that note, there are no mobile signals also. Needless to say, there is no wifi or internet service.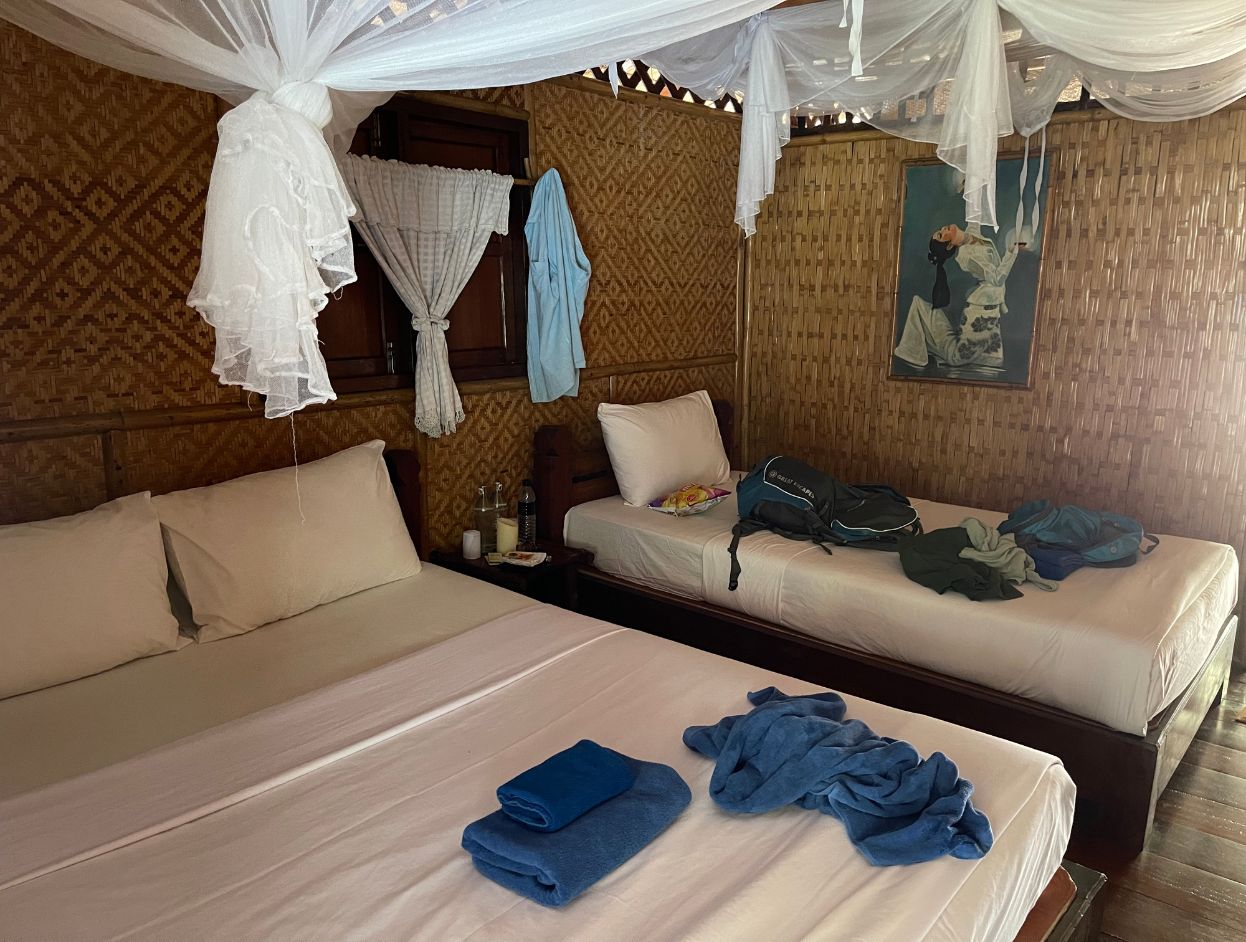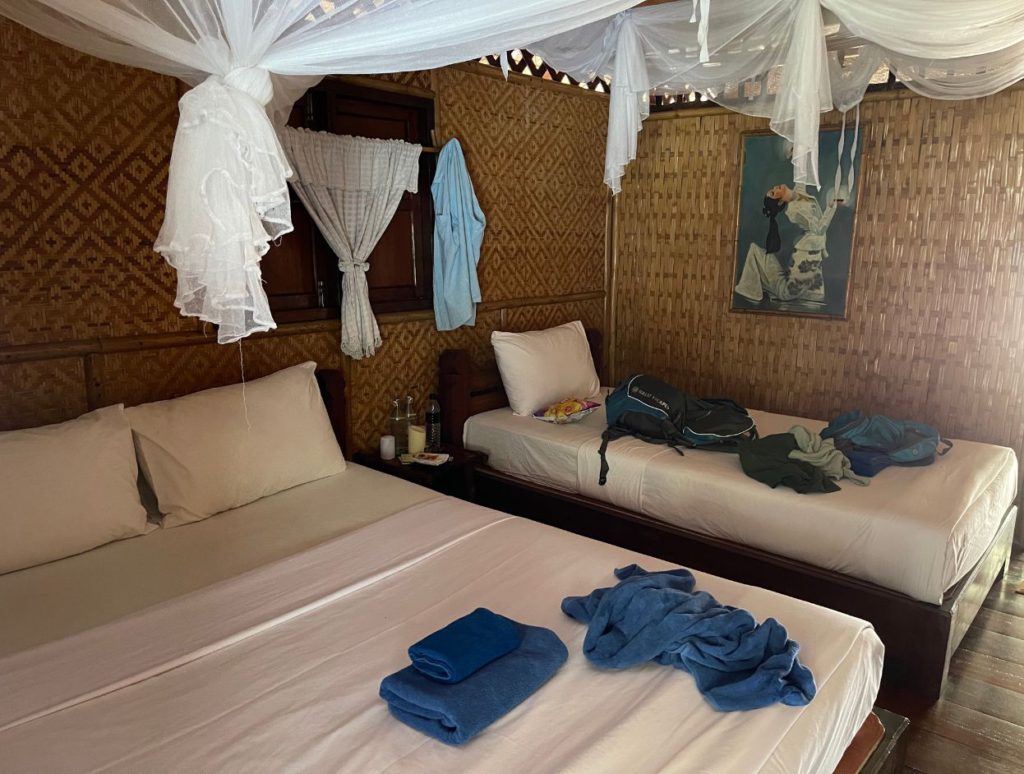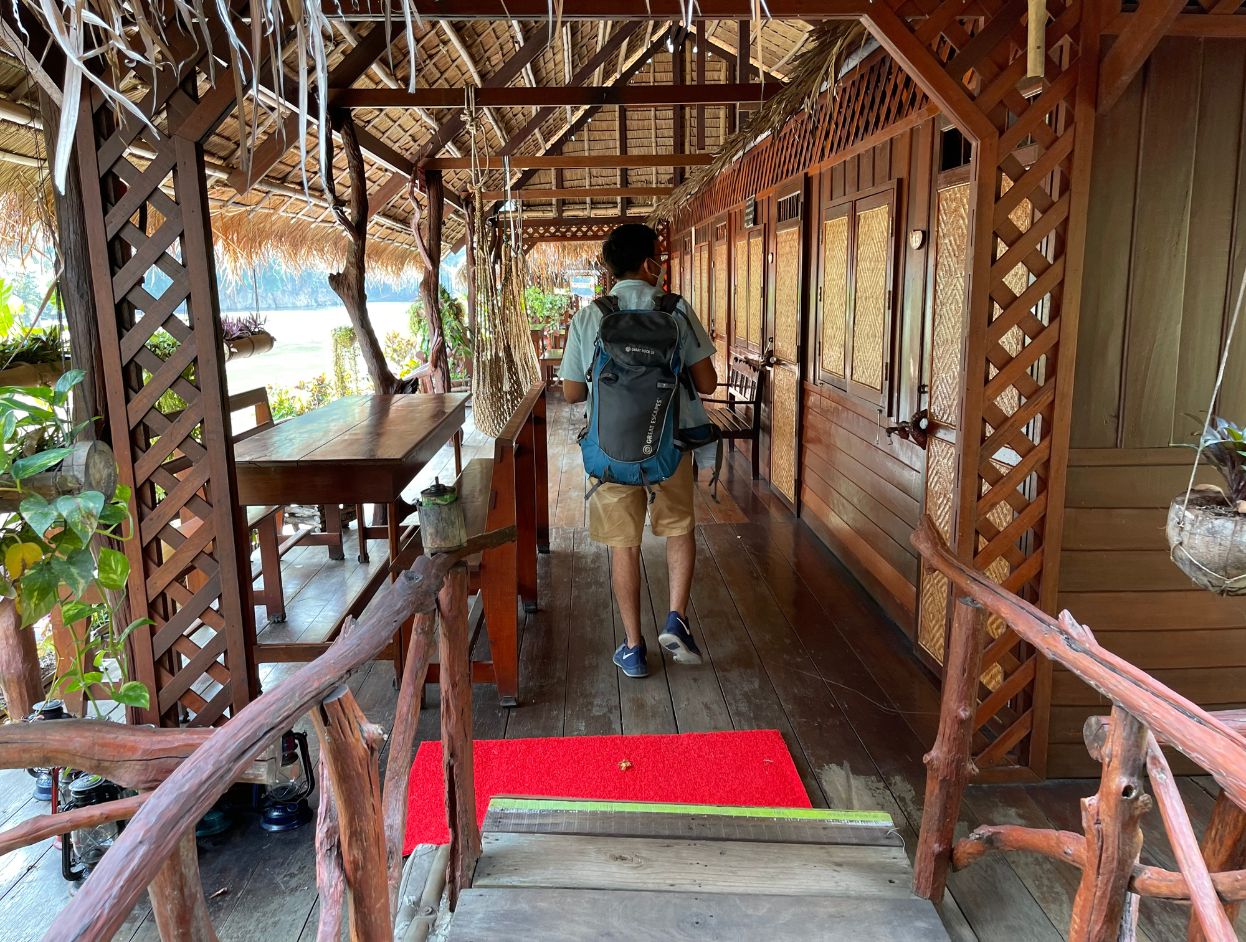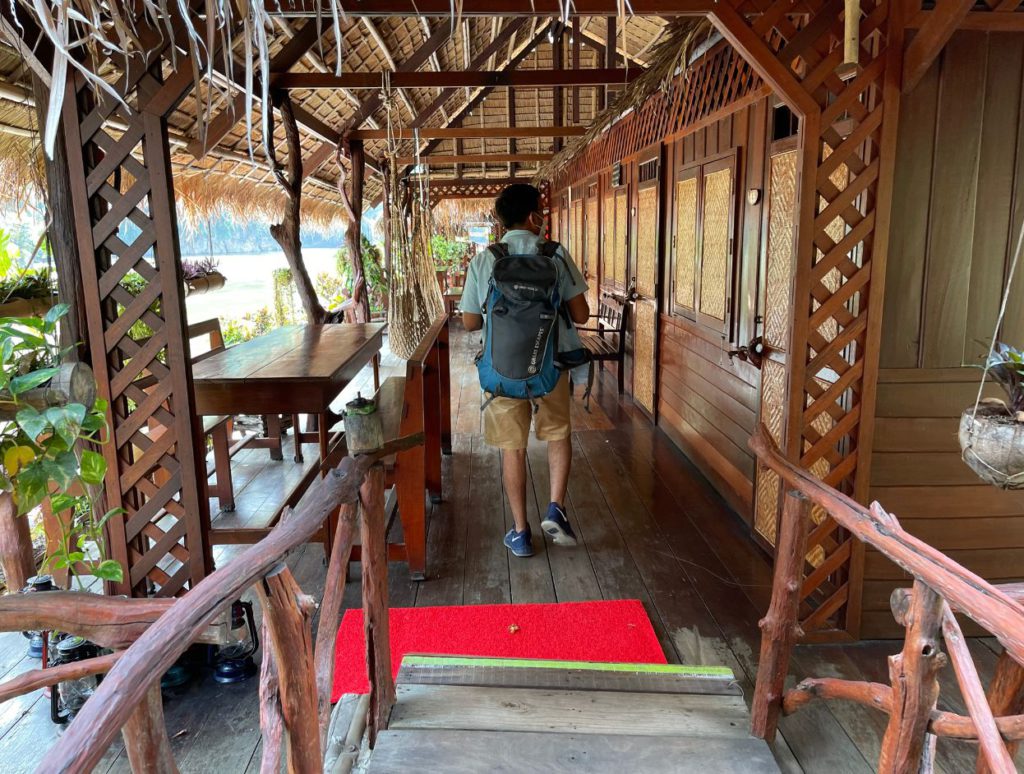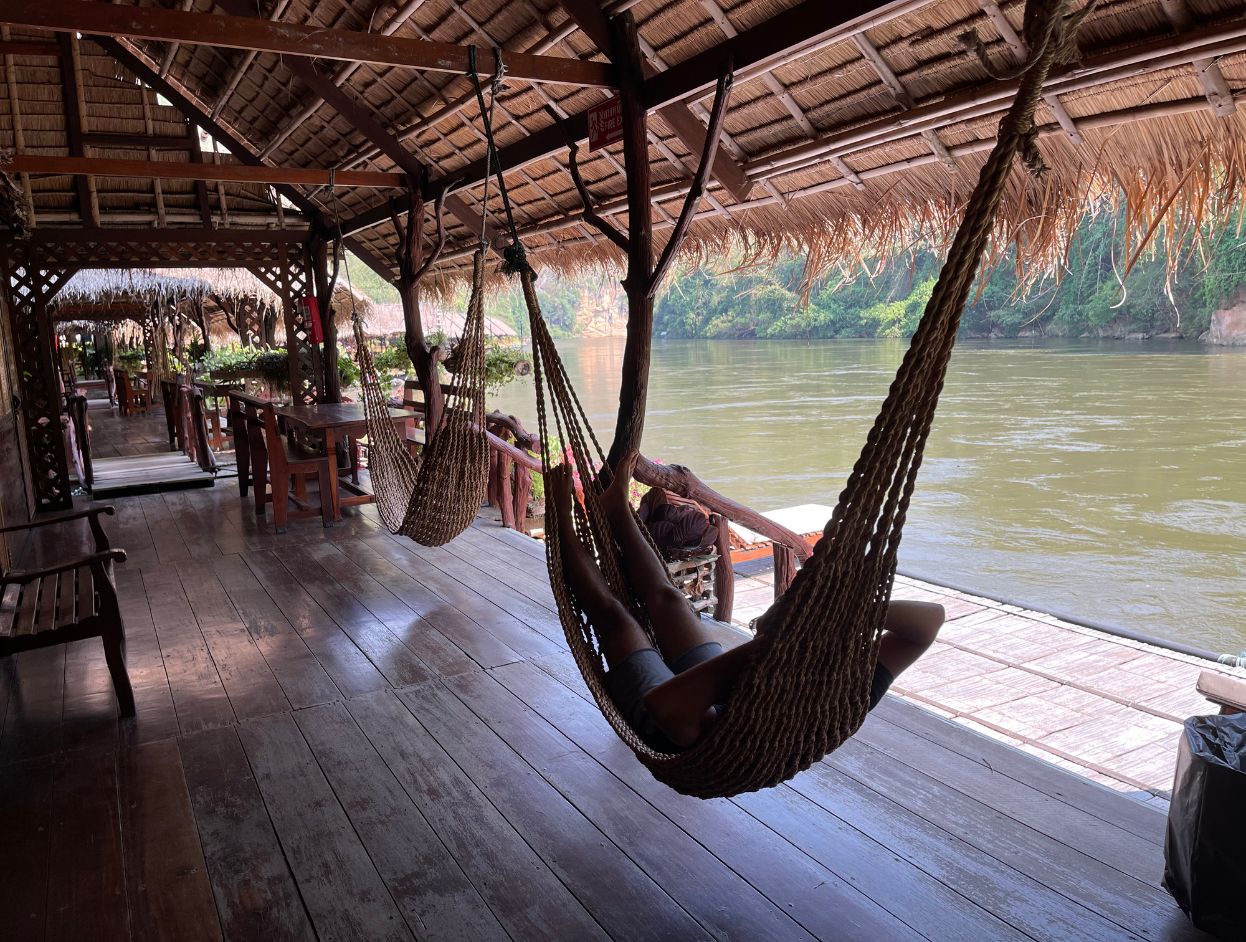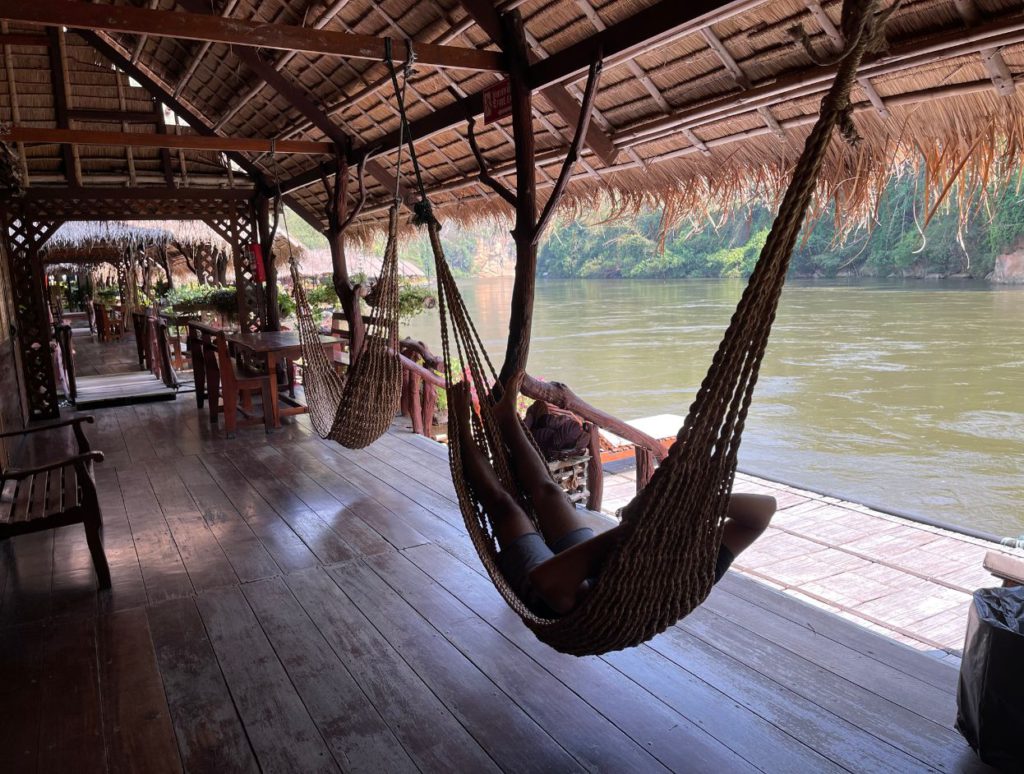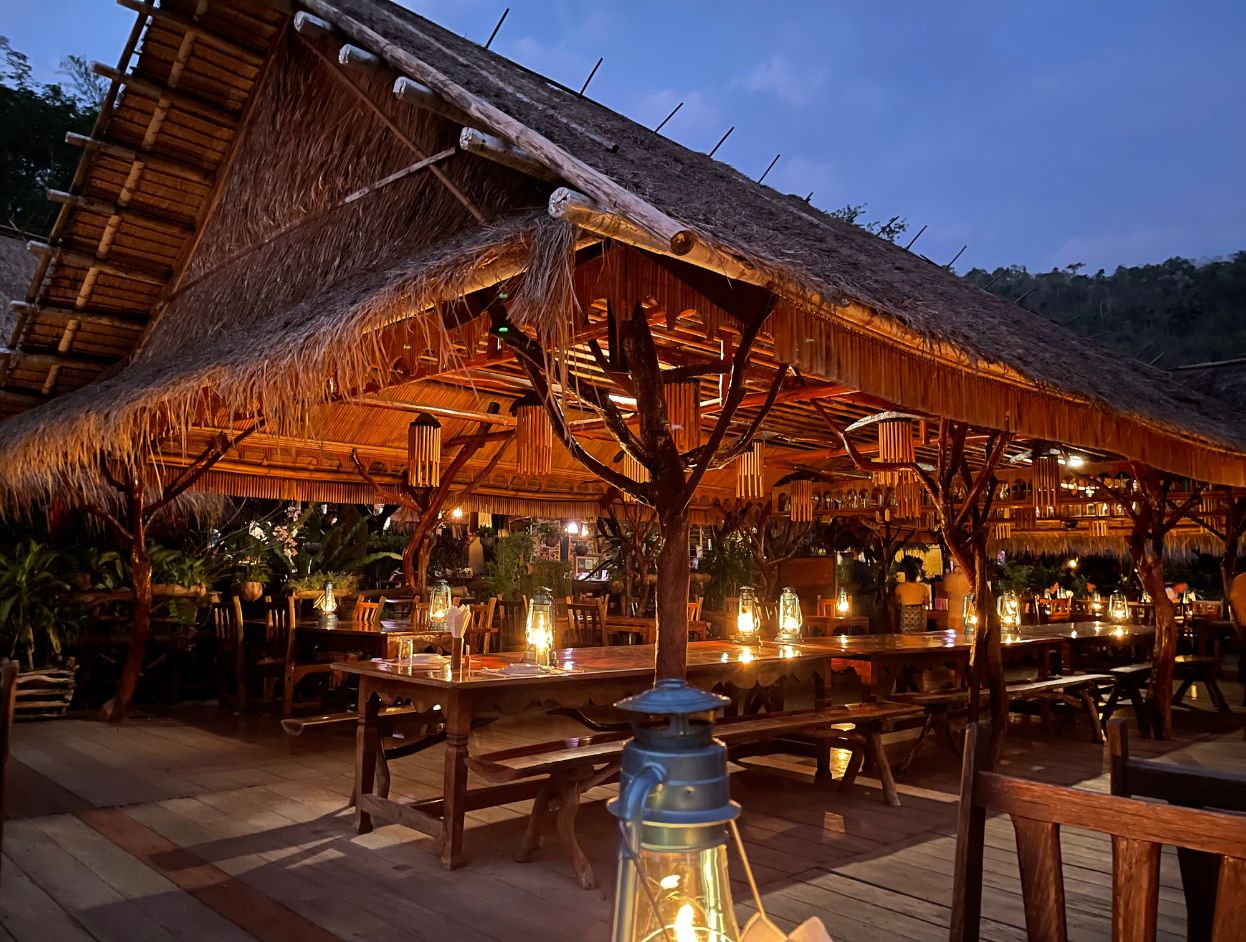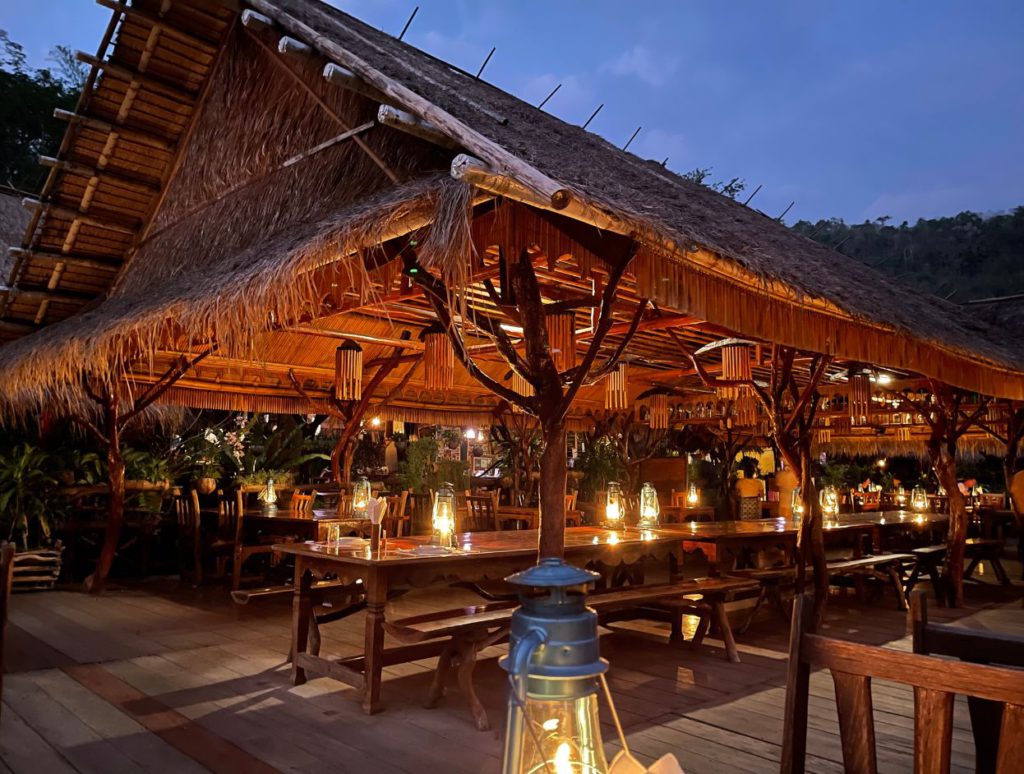 There is running water that you can access in your private washroom attached to each room. The only food place available is the hotel restaurant that serves local Thai dishes. The good thing is they really customize the food according to your needs. So you can get vegan or vegetarian food on demand too. That too in many varieties.
There are no shops to buy any commodities from. So carry everything you could need with you, especially medications and some cash.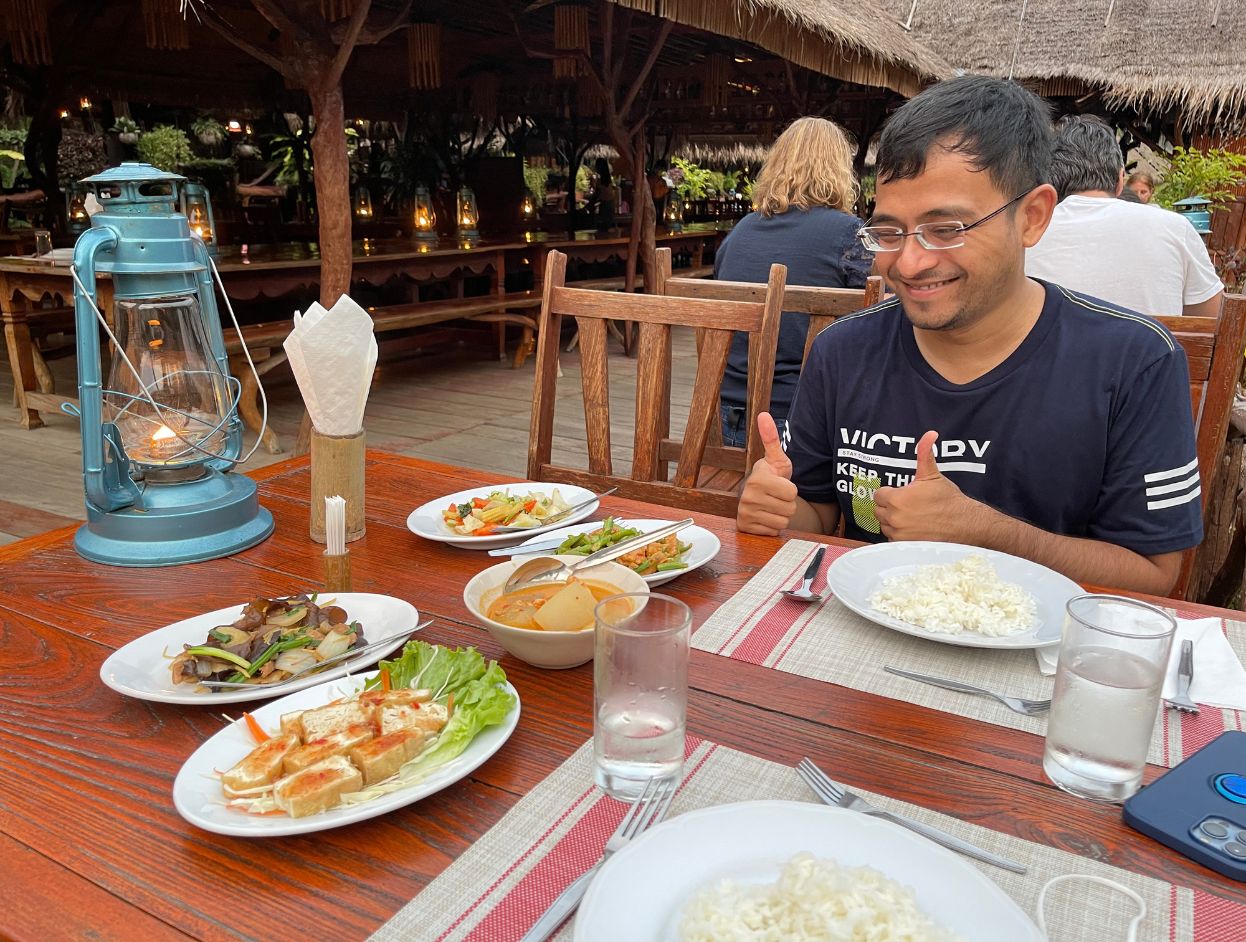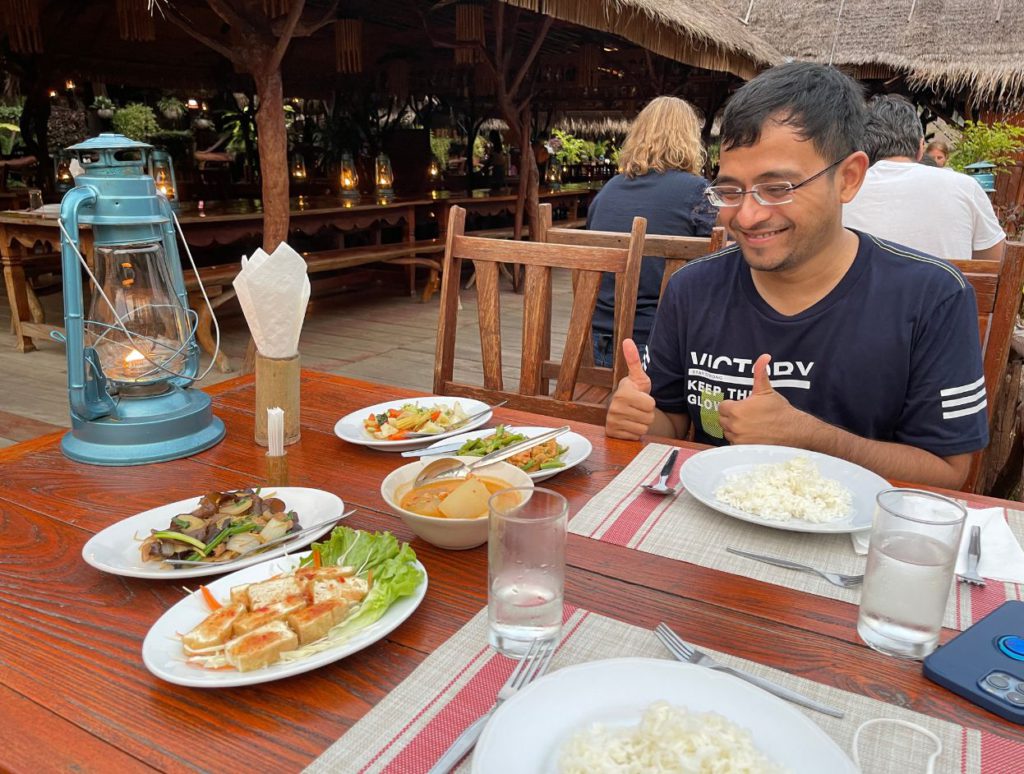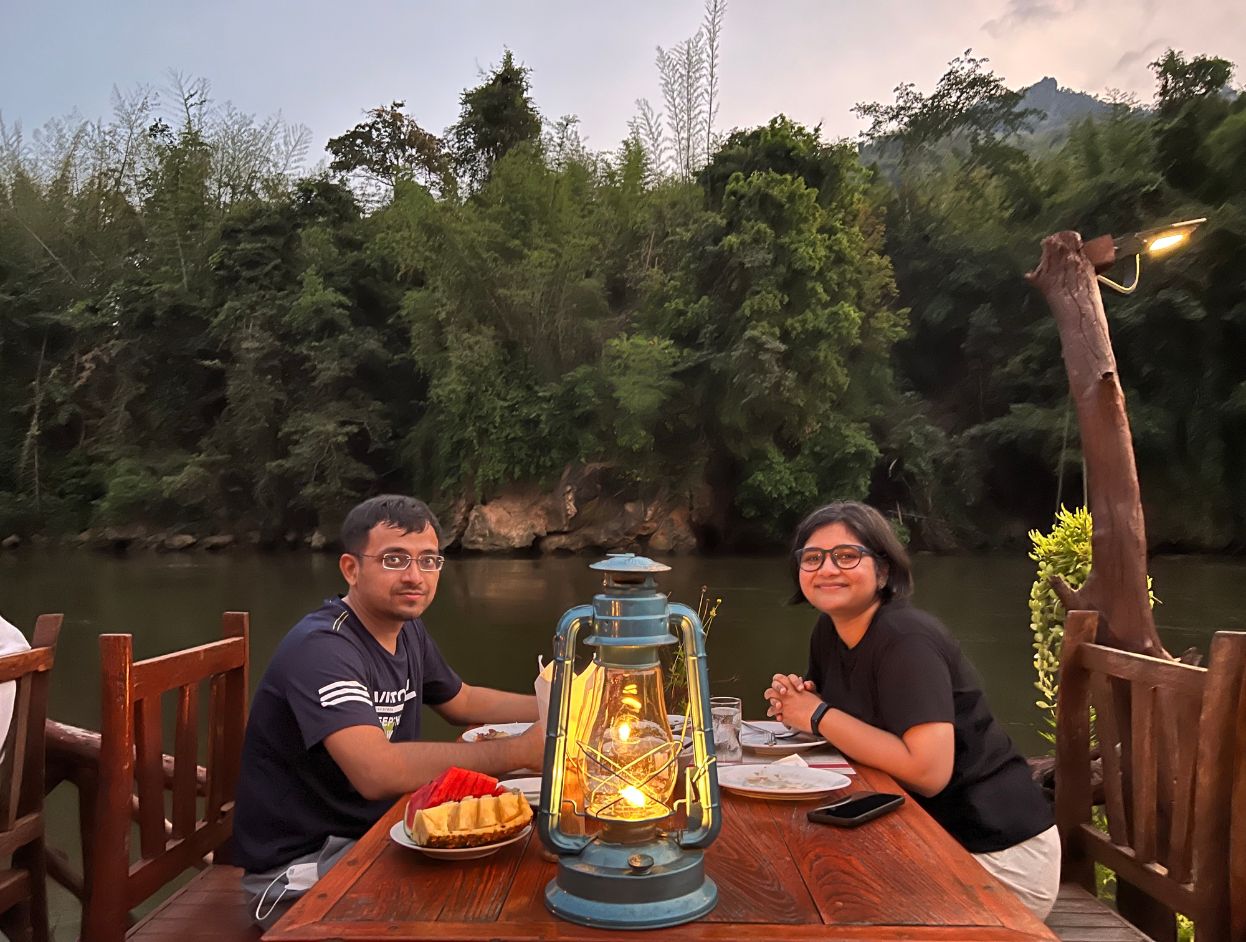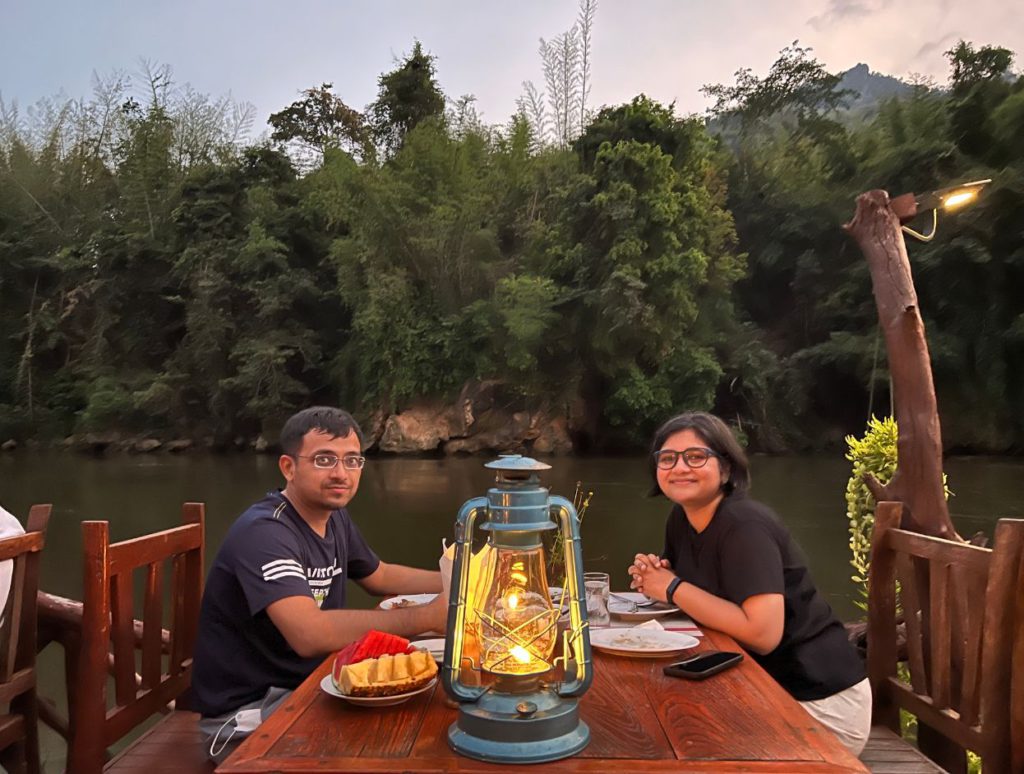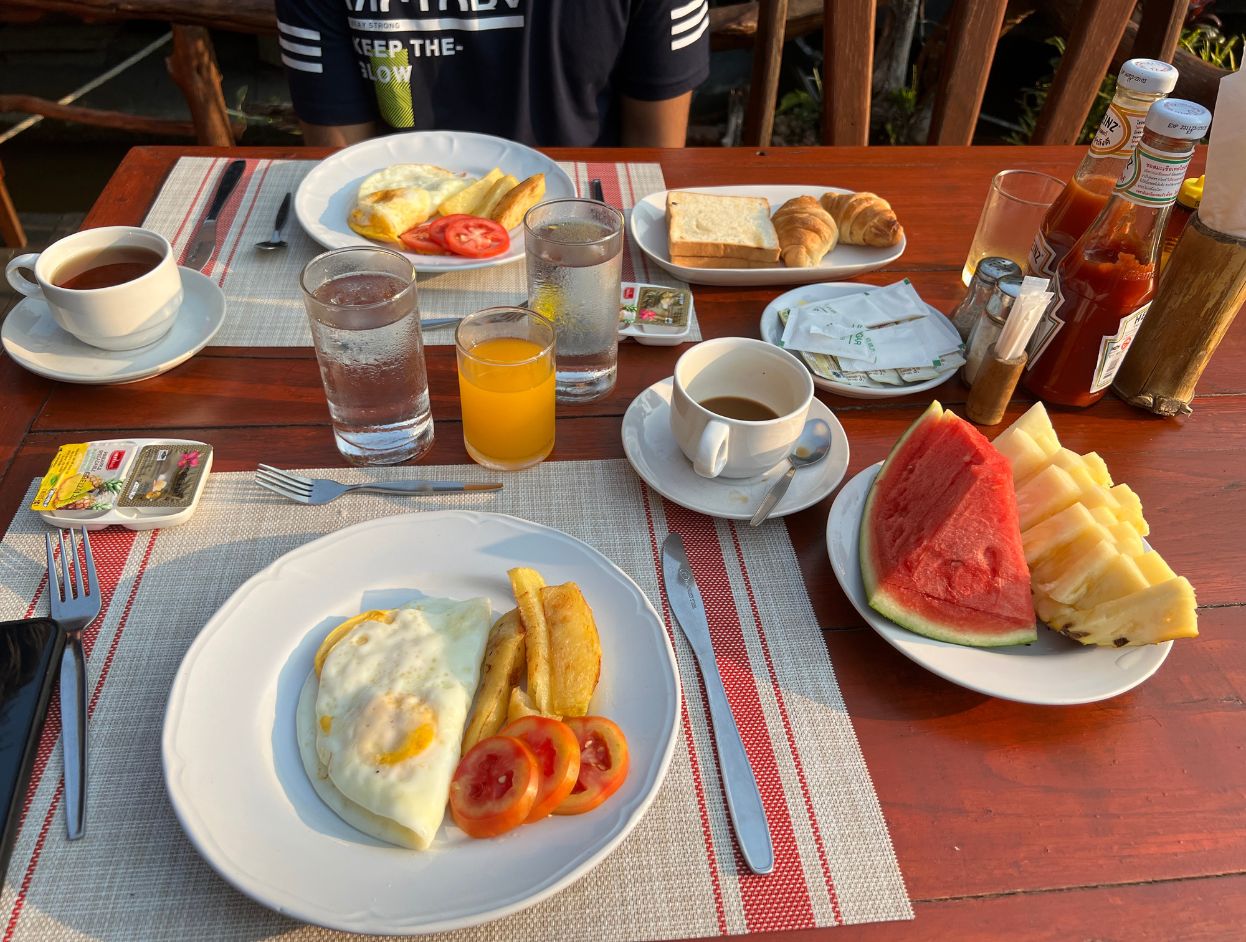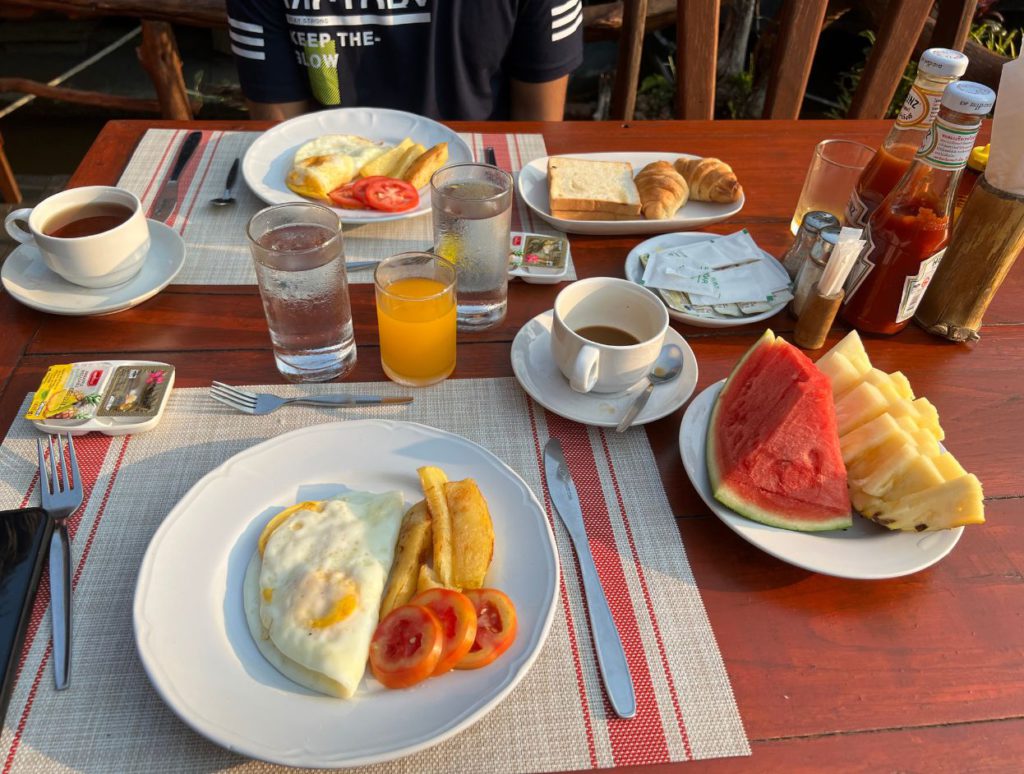 Best time to visit
The best time to visit floating hotels in Sai Yok National Park is during the winter months between November and January. The skies are clear and devoid of any rainfall. The weather is cool and the temperature is slightly on the colder side. Since you are staying on the water, you may even want to keep a light jacket for the night. The mist in the morning is lovely.
I wouldn't really mind monsoons too but since the hotel roof is thatched and floating, the constant downpour can move the structure continuously. It could be especially hard to sleep on. You won't be able to enjoy the water activities as well. But I can guarantee that the view will be especially beautiful and refreshing.
Summers are just a bad time to visit. Since the journey consists of many parts and if you are taking public transport, the heat can exhaust you even before you reach. On top of that lack of amenities like a fan and AC can get you really uncomfortable. So unless you have to, avoid this time.


Related Articles