22 Jan

Places to Visit in Anuradhapura, Ancient city of Sri Lanka

The city of Anuradhapura is a skeleton of Sri Lanka's prosperous past under the Sinhalese Empire. Not many make the trip to this city. A mix of history and religion, you must have some interest in either to take up the journey. And it will reward you with an open-air museum of ruins and stupas.

I will go ahead and call it the 'city of stupas'. There are just so many of them. And while I couldn't appreciate its significance, I can well see the devotion in the stance of people covered in white robes circling the dome even under the scorching sun.

I, on the other hand, enjoyed the ruins and remnants of the history taking shelter in the cooler museums and wandering occasionally to see the sandstone structures obviously made by royalty. It reminded me of Hampi and the Vijayanagara Empire in India and of Sukhothai and Ayutthaya in Thailand. Maybe they are related, or not.

If you decide to travel to Anuradhapura, you have much to know. Here is everything I feel you need to know to visit Anuradhapura in Sri Lanka.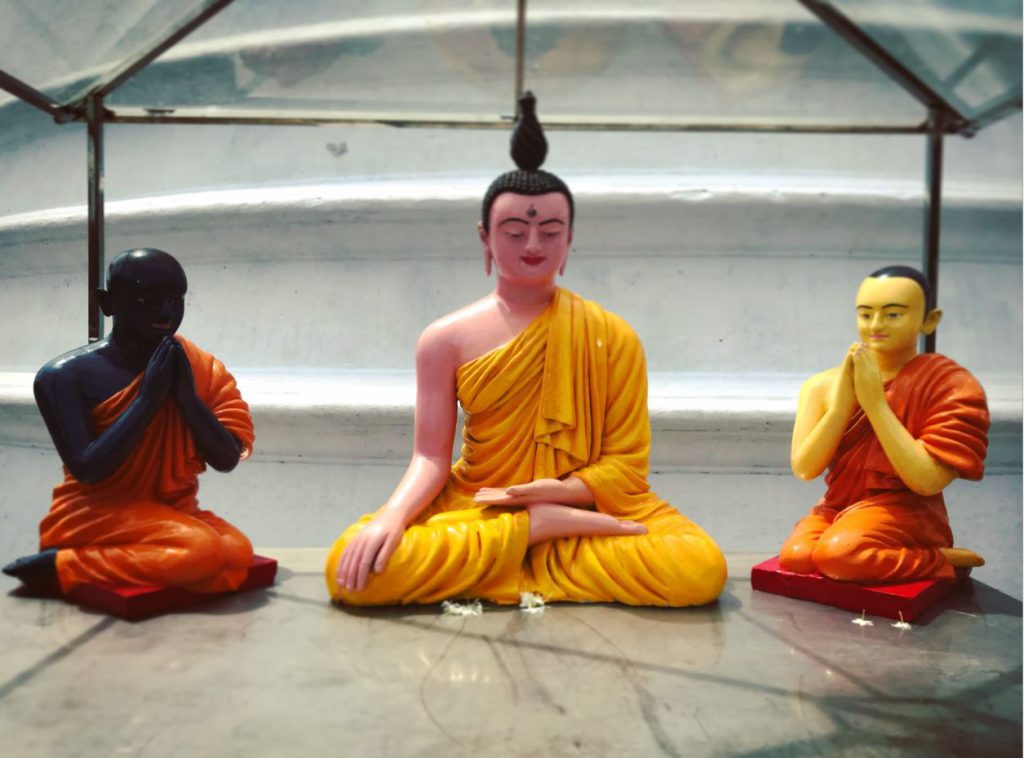 Why is Anuradhapura important?
Anuradhapura is an extremely important city in Sri Lanka. Sri Lanka, being a devoutly Buddhist nation finds its religious centre here. It was the centre of Theravada Buddhism for several centuries that is home to important Buddhist relics and Maha Bodhi Tree.
The city was an ancient capital of Sri Lanka and most of the structures still remain well-preserved, especially from the time of the Sinhalese Empire. Today, city of Anuradhapura has been given the status of a UNESCO World Heritage Site along with the neighbouring Sigiriya Lion Rock and the caves of Dambulla.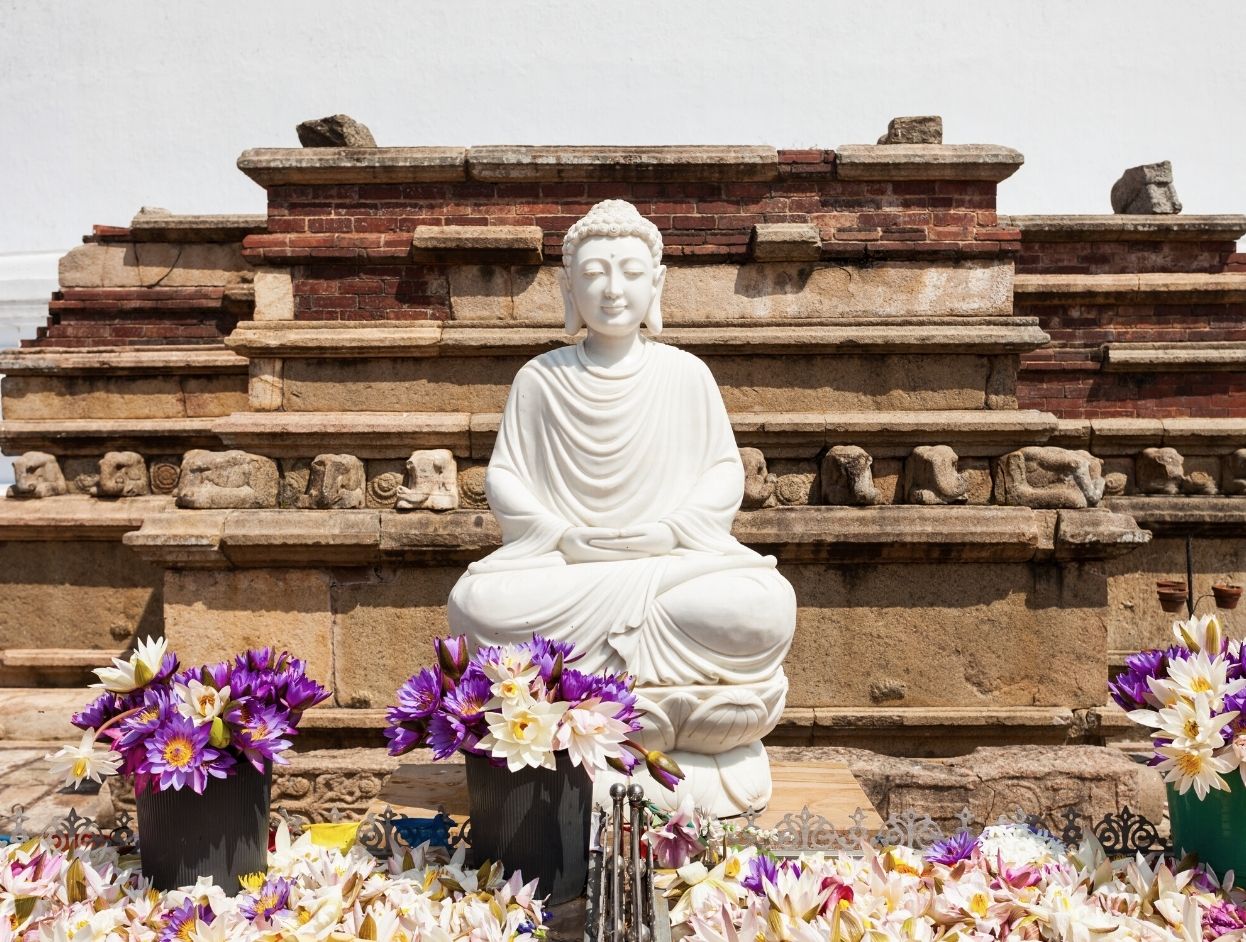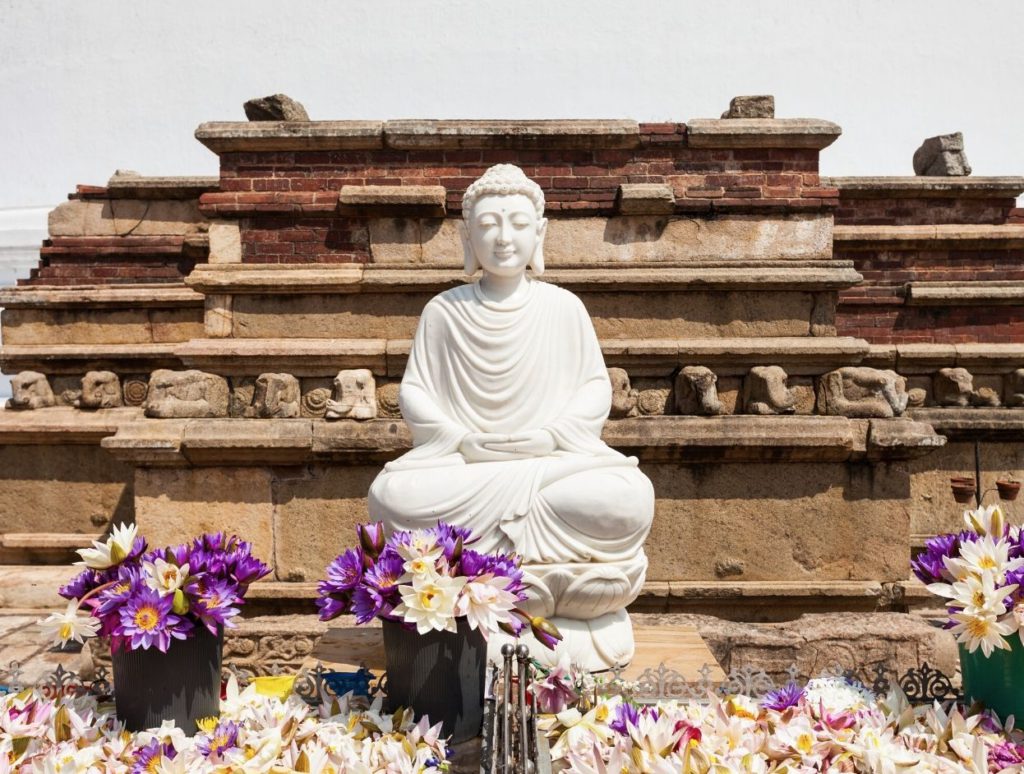 Where is Anuradhapura Located?
The city lies at the heart of Sri Lanka as the capital of Anuradhapura district and central Sri Lanka. Anuradhapura is 202 km northeast of Colombo (5 hours), 136 km north of Kandy (4 hours) and 78 km northwest of Sigiriya Lion Rock (1.5 hours). Unlike Nuwara Eliya or Kandy, Anuradhapura is not on an altitude and is fairly flat.
How to reach Anuradhapura
I am assuming you are looking for public transport. You can always rent a car or a bike in Colombo and drive around to drop back. However, don't do this without a valid international driver's license. Police often check for license and papers and you may not be able to get out of it with a bribe sometimes.
Flight to Anuradhapura
Anuradhapura has a domestic airport but flights to the city (and in inside Sri Lanka) are sparse. Sometimes flights do run from Colombo but are infrequent. Sri Lanka is fairly small in size and roadways and railways will fare better than flights. The airport is 7 km from the city centre.
Bus to Anuradhapura
The city has decent connectivity by road to all major cities in Sir Lanka including Colombo, Kandy and Sigiriya. If you are coming from Colombo, you can hail a bus from the Colombo Bus station that takes 5-6 hours for the journey. Similarly, you can get a bus from Kandy's Good Shed Bus Station to Anuradhapura that takes around 5 hours.
There are no direct buses to or from Sigiriya. Instead, you can travel till Dambulla or Habarana via tuk-tuk (costs LKR 300 on way) and then take a local bus from there. You can also book private buses ahead of time online on 12go.asia and busseat.lk.
Train to Anuradhapura
Trains are a fantastic way to go around Sri Lanka if you don't mind the hassle. There are a couple of trains that go every day from Colombo to Anuradhapura. Check out the timetable and ticket price here.
No direct train goes from Kandy to Anuradhapura. Instead, you will either have to break the journey at Polgahawela. If you are travelling as a tourist, make a detour to Dambulla and Sigiriya on the way instead.
It is probably the cheapest way to travel. The trains are usually pretty crowded, especially in the 3rd class section. Try and buy the tickets for the 2nd or the 1st class section. You can buy the tickets at the station. Booking one ahead is not required.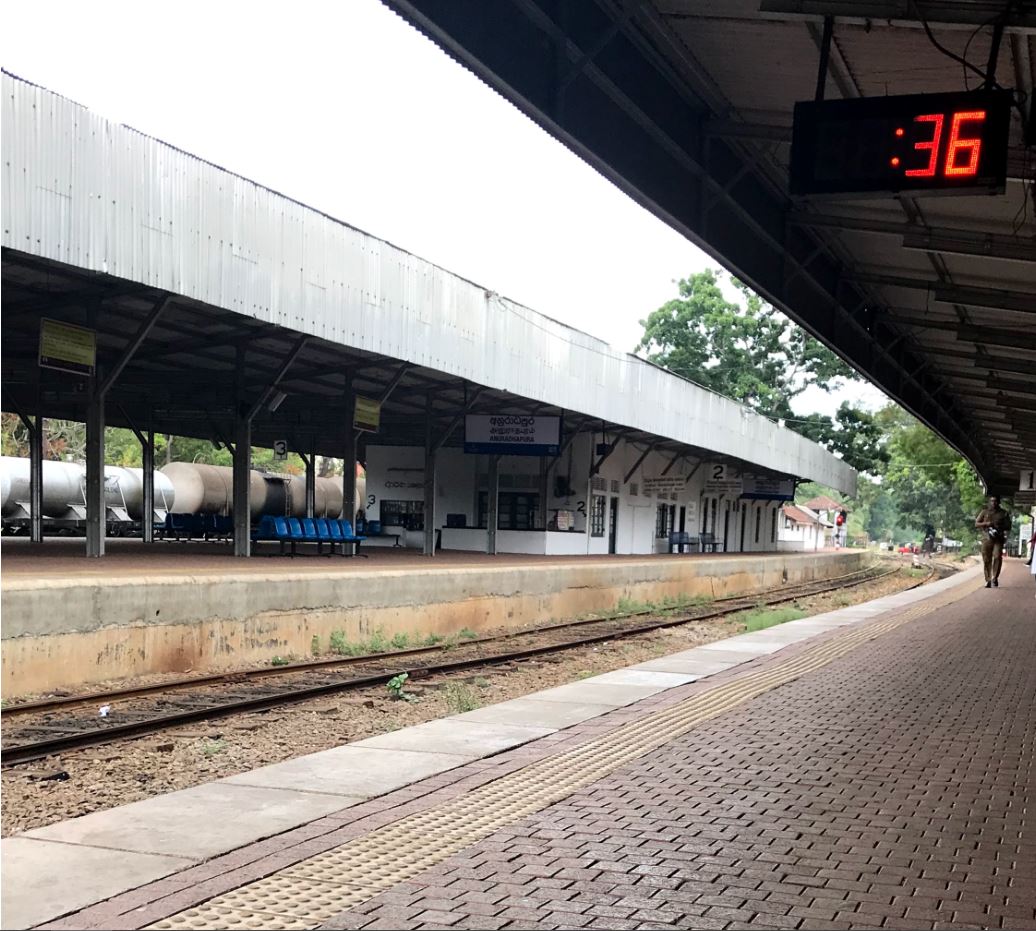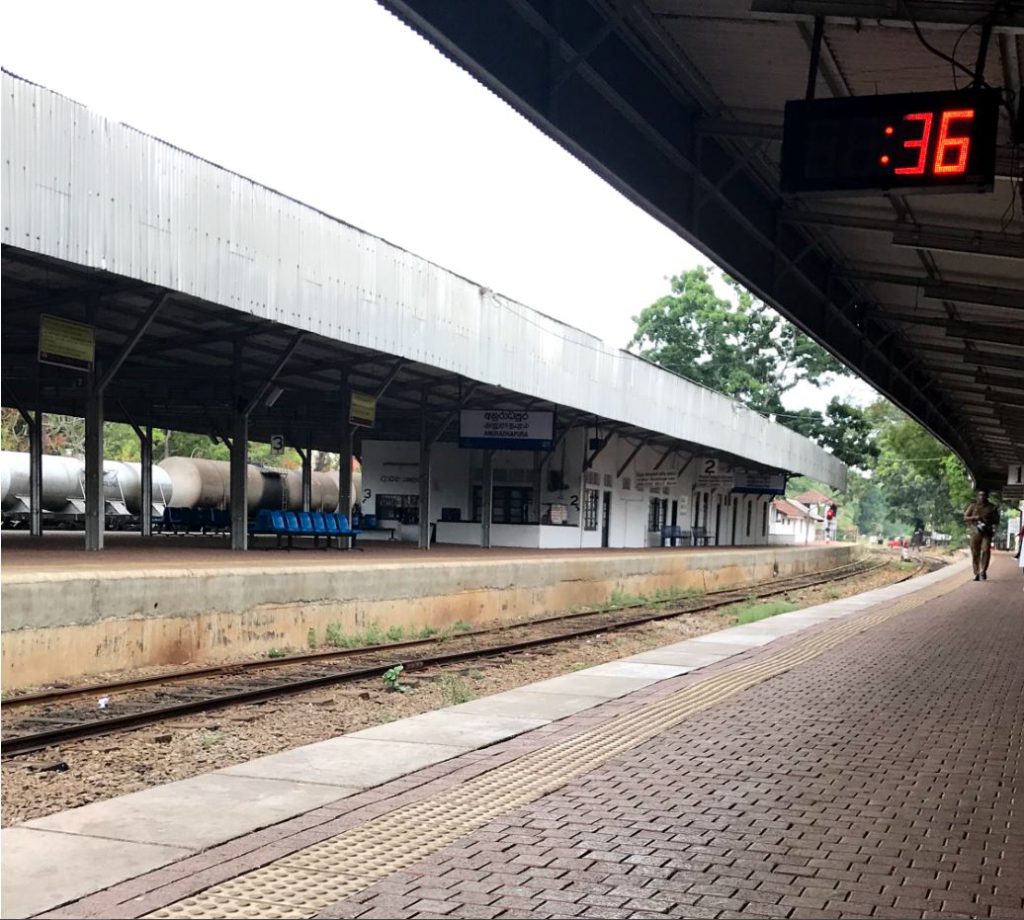 Cab to Anuradhapura
A cab is a fairly comfortable way to travel inside Sri Lanka for a group or a family. A basic 4-seater will cost from LKR 14,000 from Colombo to Anuradhapura. An eight-seater would be around LKR 25,000 for the same route.
We took a full day cab from Kandy to Sigiriya, Dambulla for a day trip that dropped us at Anuradhapura at night. The driver charged us LKR 7,000 (but that was a steal since he was going the same way). It would cost you at least LKR 10-12,000 for the trip.
You can ask your hotel owner to help book you a cab. Uber is also available to several cities. Pickme is a local app for ride-booking in Sri Lanka. They also have fixed packages that you can check online. Otherwise, you can always book the old way. Call or visit a website. Ceylontaxi.lk and srilankaderana.com are two such local services.

How to go around Anuradhapura
You will need a vehicle if you are planning to go around Anuradhapura to explore the ruins and temples in peace. While some places are near to each other in clusters, some are a kilometre or two apart. The heat in the area can also make walking uncomfortable.
Daytour in Anuradhapura
There are just too many things to do and places to see inside the old town. Taking a tour will make your life super easy. They know all the places worth visiting and since the place has so much history guides are eminent here.
There are few day tours that start from the city and covers Anuradhapura only. Check out bluelankatours and viator.com for a detailed itinerary or to book online.
Several day tours start from Colombo, Kandy and Dambulla and cover the city in the day to drop you back. Some even cover both Anuradhapura and Sigiriya in a day. I think that's pretty doable too. But for so many places in a day, a guided tour works best. Check out these one day tours to the city.
Dambulla to Anuradhapura: Sacred City of Anuradhapura one-day Private Day Tour
Colombo to Anuradhapura: Day Trip to UNESCO City Anuradhapura
Kandy to Anuradhapura: Sacred Day Trip to Anuradhapura with a Local
Private cab in Anuradhapura
If you are in a large group or want some relief from the hot sun, a private cab (with AC) would be best. You can ask your hotel for a cab. Uber and Pickme (local taxi aggregator) app may have some options too. However, it is best to book online for competitive prices. You can give them your preferred places to visit or ask them for an itinerary.
A full day cab will start from LKR 3000 and above depending upon the vehicle. AC charges may not be included. Check out taxisrilanka or Royal Cabs Anuradhapura for local cabs.
Tuk Tuk in Anuradhapura
Tuk-tuks are far cheaper to rent in Anuradhapura and are easily available. Most of the drivers can speak some English and are usually happy to act as a guide too. A tuk-tuk around the old city will cover almost all ruins and the important places in 3-4 hours that cost LKR 1200 –  1500 after negotiation.
You can find a tuk-tuk near the bus or railway station or ask for them at your hotel desk too. A ride on a tuk-tuk can get extremely uncomfortable during hot summer days so do this sightseeing either in the early morning or evening hours.
Bicycles in Anuradhapura
Bicycles are also available near the ancient ruins and several tourists opt to explore the ruins on their own pace. You can rent one at any guesthouse or hotel for LKR 400-500 a day. However, avoid riding a bicycle during the noon hours and stay dehydrated at other times. Sri Lanka can get both hot and humid and heat waves are common during summers.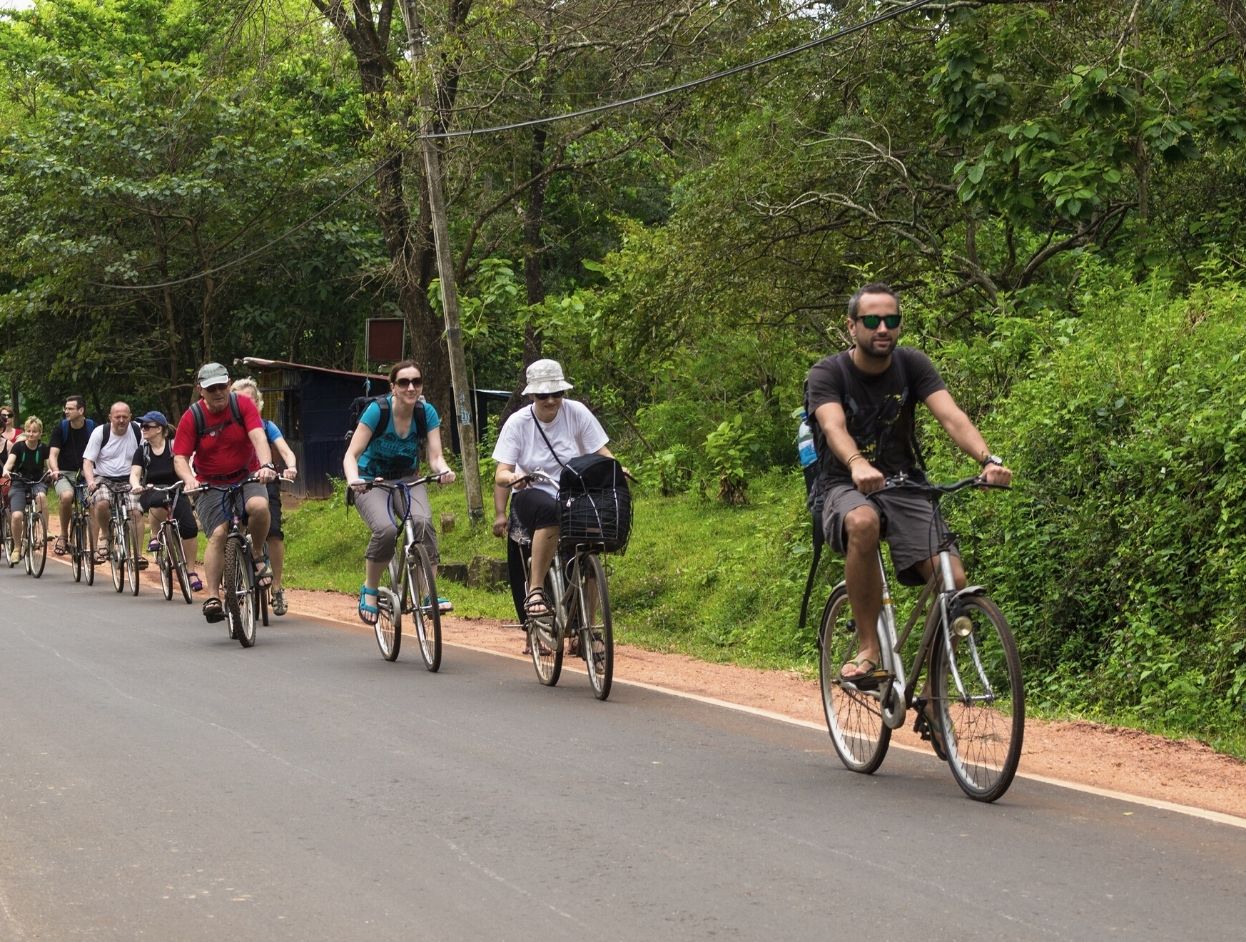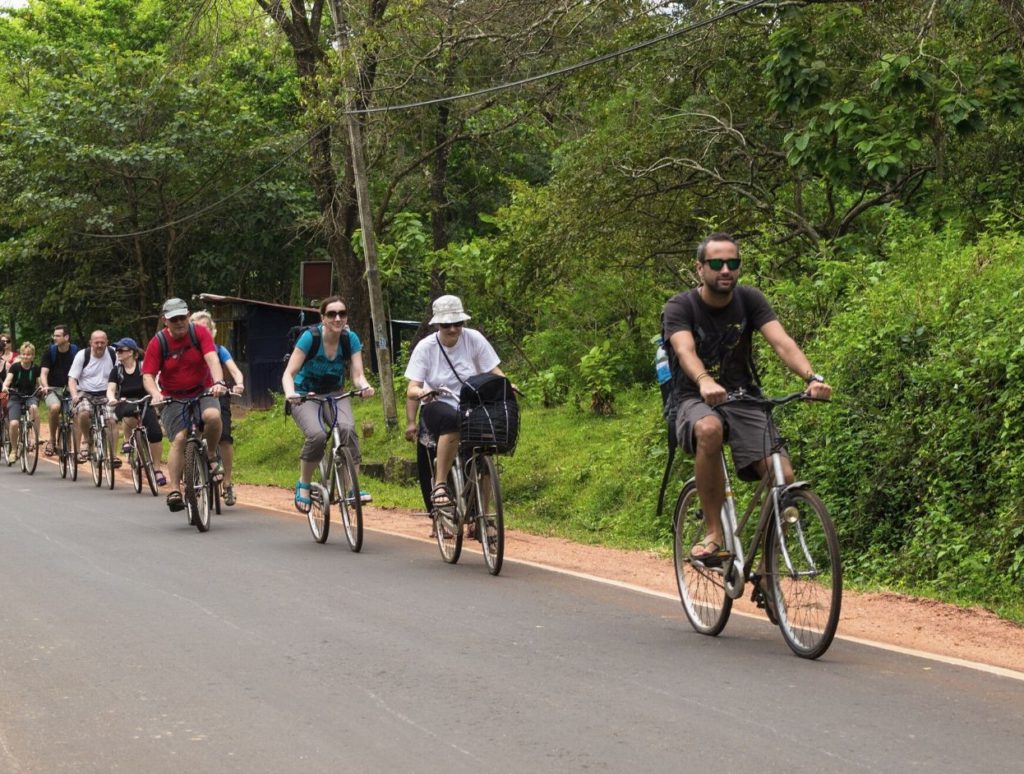 Where to Stay in Anuradhapura
Tickets and Timings to Anuradhapura Ancient city
The official timings of Anuradhapura Ancient city are from 7 am to 5.30 pm. I will suggest you start as soon as it opens so that you are back once the sun hits overhead. The heat prevails till late afternoon around 4.00 pm.
Ticket prices: USD 25 or LKR 4550 for Adults and USD 12.5 or LKR 2275 for children between 6-12 years. Entry is free for kids below 6 years. Keep your ticket with you at all times since guards may check it at certain checkpoints.
Two places – Isurumuniya Rajamaha Viharaya and the Bodhi tree are not included in the ticket and you will have to buy them at their entrance gate. It costs LKR 200 for each ticket. You may also have to pay for the parking charges of your personal vehicle.
Where to Buy: Buy the official tickets at Anuradhapura Archaeological museum that should also be your first stop. Do not give the money to a tuk-tuk driver since they sometimes pocket the money and try to show you around without it (and hope to not get caught). Don't try this either. The money goes towards maintaining the sites.
You can also buy it online but since there are no special discounts on the online purchase I won't advise it.
Places to see in Anuradhapura
Now there are a lot of places to see in the ancient part of Anuradhapura. A history enthusiast can explore the area for several days and still find more.
However, a regular tourist may not be able to appreciate the religious and historical importance of the place since there are just too many of them. I will suggest a few places that will be of more interest to curate your own day-itinerary.
Archaeological & Folk Museum
The archaeological museum of Anuradhapura is home to some of the oldest artefacts from ancient Sri Lanka and early Sinhalese Empire in the area. This is also where you buy the tickets to the ancient city of Anuradhapura. Therefore, the museum both educates the tourist and preserves and maintains the remains found in the ruins.
The museum also called as 'Puravidu Bhavana' preserves the remnants of Buddha sculptures, coins, jewellery, pottery, metal utensils, garments, gems and everything that you can imagine a medieval civilisation produces. Take in as much information as you can since you won't find much while wandering in the ruins.
The Folk museum which just nearby offers a glimpse into the daily life of the locals from the recent past. You will find the equipment that fishermen use to catch fish, the simple tools used for cooking, pottery, carpentry, cultivation and conflicts. This is more practical with less text and more samples and images. I think most tourists will enjoy this more.
If you are visiting Anuradhapura, I am assuming you have some interest in history. Both these places do well to present you with as much information as one can gather here, that too in English.
Ruwanwelisaya
Apart from being an extremely holy site, Ruwanwelisaya is also considered a marvel of architecture. The stupa is 103 m tall (Statue of Liberty is 93m) and 290m in circumference. The stupa contains a number of holy relics inside.
The structure of initial stupa dates back to 140 BC built by a Sri Lankan king who amassed power after he defeated a Chola King (Chola Empire was a powerful dynasty in southern India).
Since then several kings had built upon it although in recent centuries it almost crumbled. It was in 1902 that The Ruwanveli Seya Restoration Society started raising funds and restored it over a period of four decades to its present glory.
Most of the other stupas are brown and made of brick. So Ruwanwelisaya definitely stands out. On top of that, there is a continuous crowd of devotees walking towards and around the stupa that will instantly make you feel its importance. You will have to take your shoes off to reach the main pedestal and it can get really hot during noon.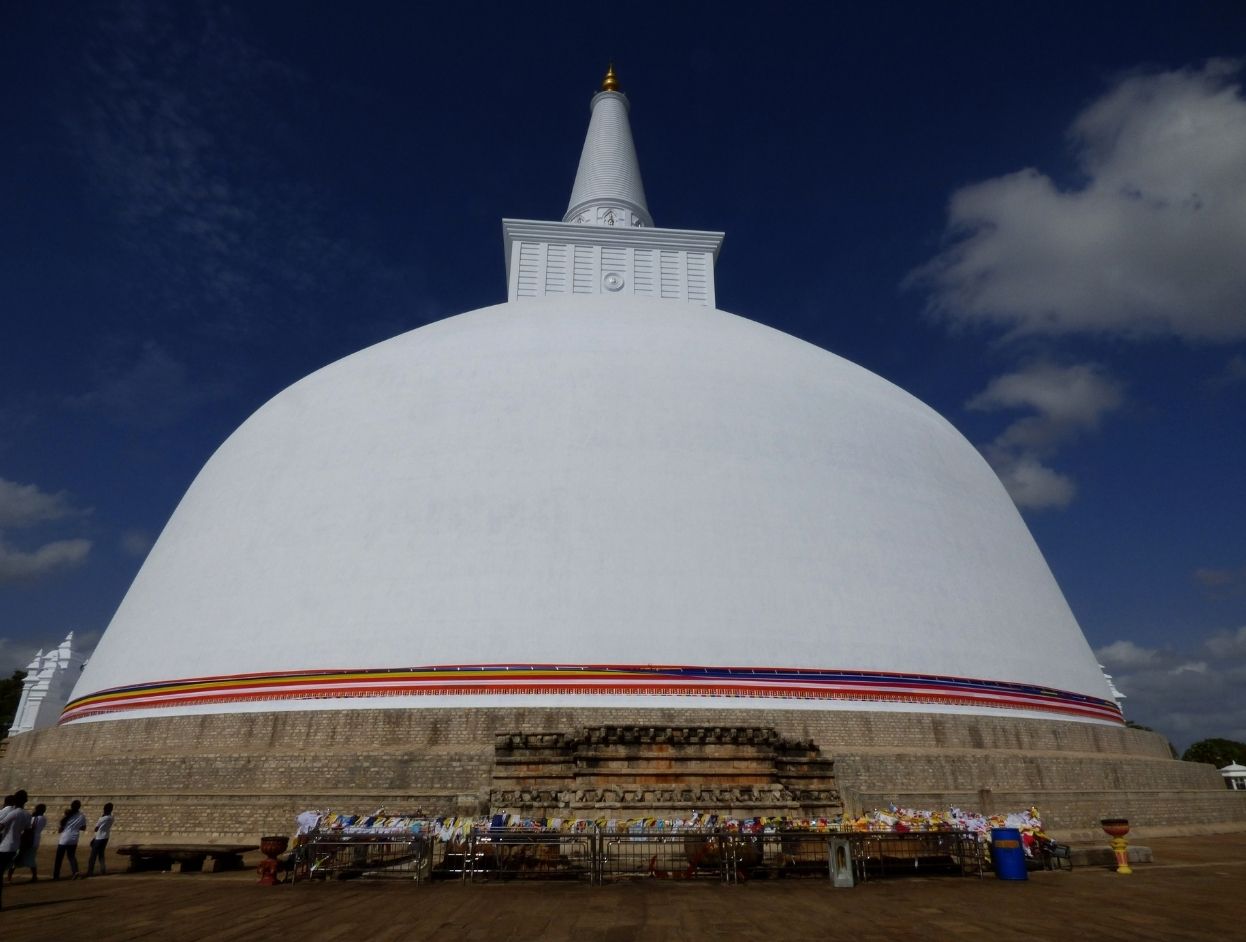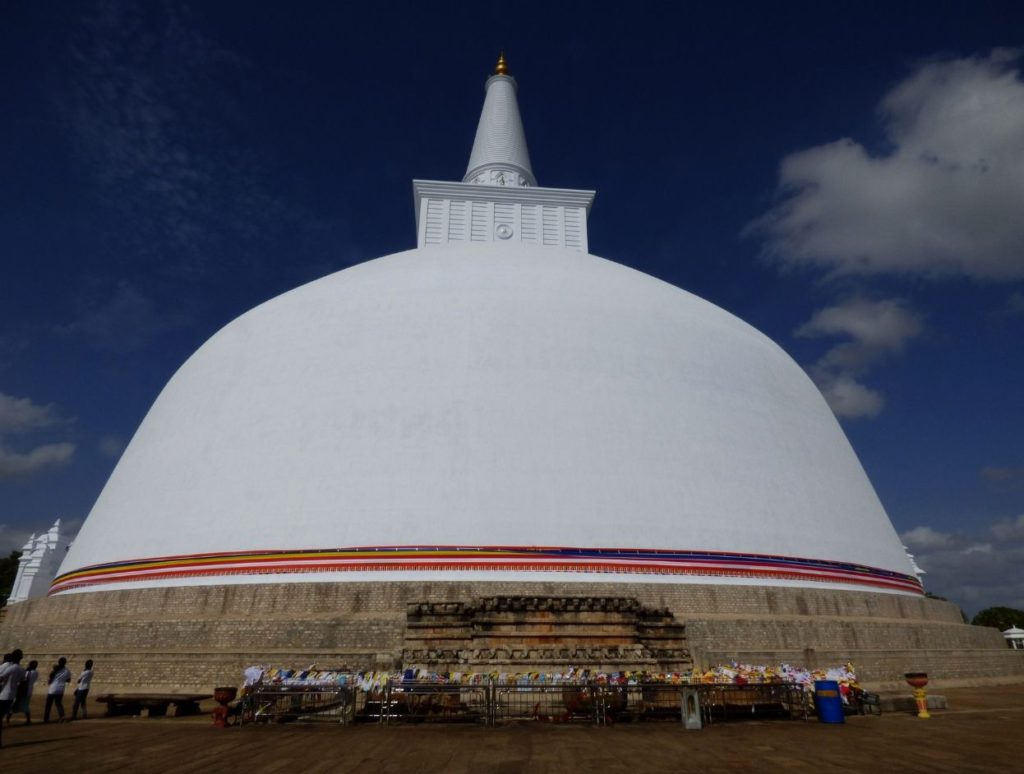 Important Stupas
Now there are several other stupas in Anuradhapura. And while they are certainly grand in size and structure, a non-Buddhist tourist may not be able to appreciate them. We personally visited two more and asked our driver to skip the other stupas and head to the ruins. Here are some other important ones.
Abhayagiri Stupa: This is the second-largest stupa in Sri Lanka at a height of 75m and dates back to 1st century BC. According to a Chinese traveller from the 5th century AD, the stupa was 122m tall (2.5 times of Colosseum) studded with gold, silver and a huge ruby on top.
There was also a 20 ft tall Buddha statue made out of jade here. It was only in the 1990s that local monks were able to fully restore the stupa due to lack of funds.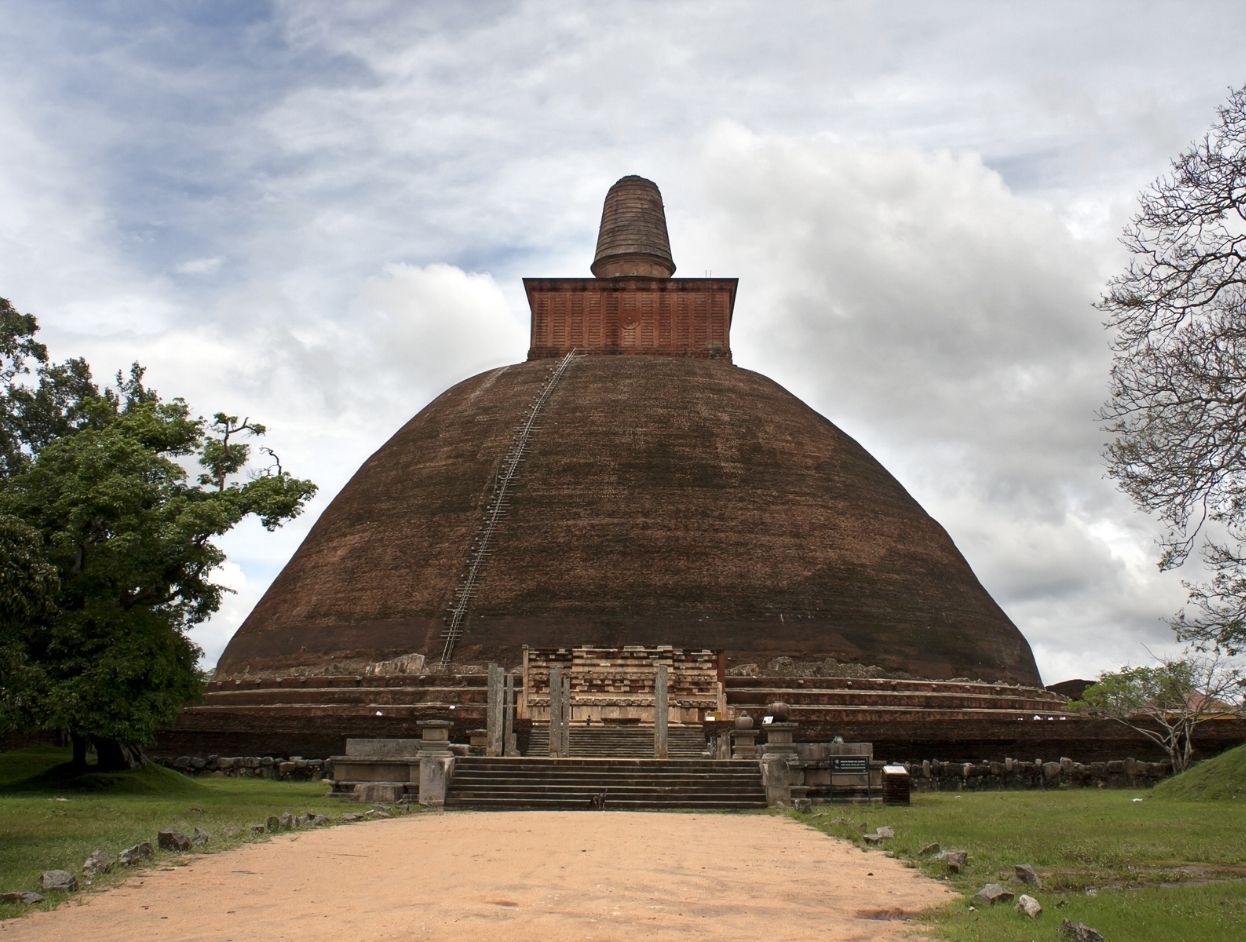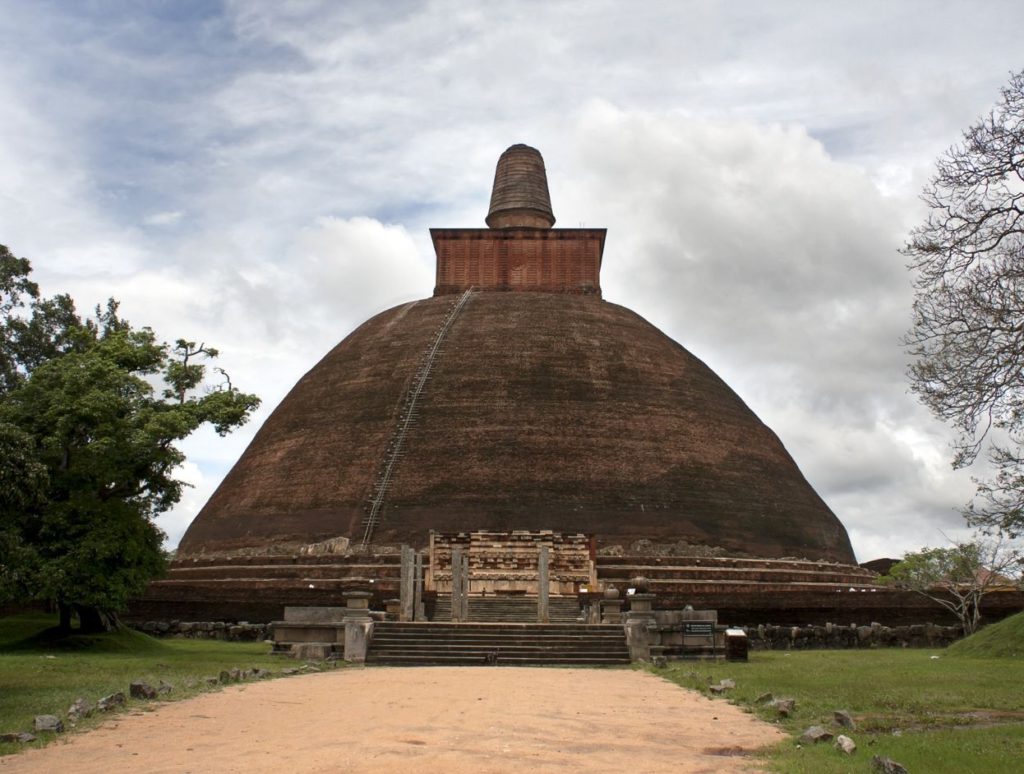 Jethawana Stupa: This stupa was built in the late 3rd century AD. People believe that the construction was done over the enclosure of a great Buddhist Monk. During recent excavations, archaeologists found a brick wall with ash and charcoal where they believe the great monk rests. The stupa stands 71m in height and the restoration work is still pretty much in progress.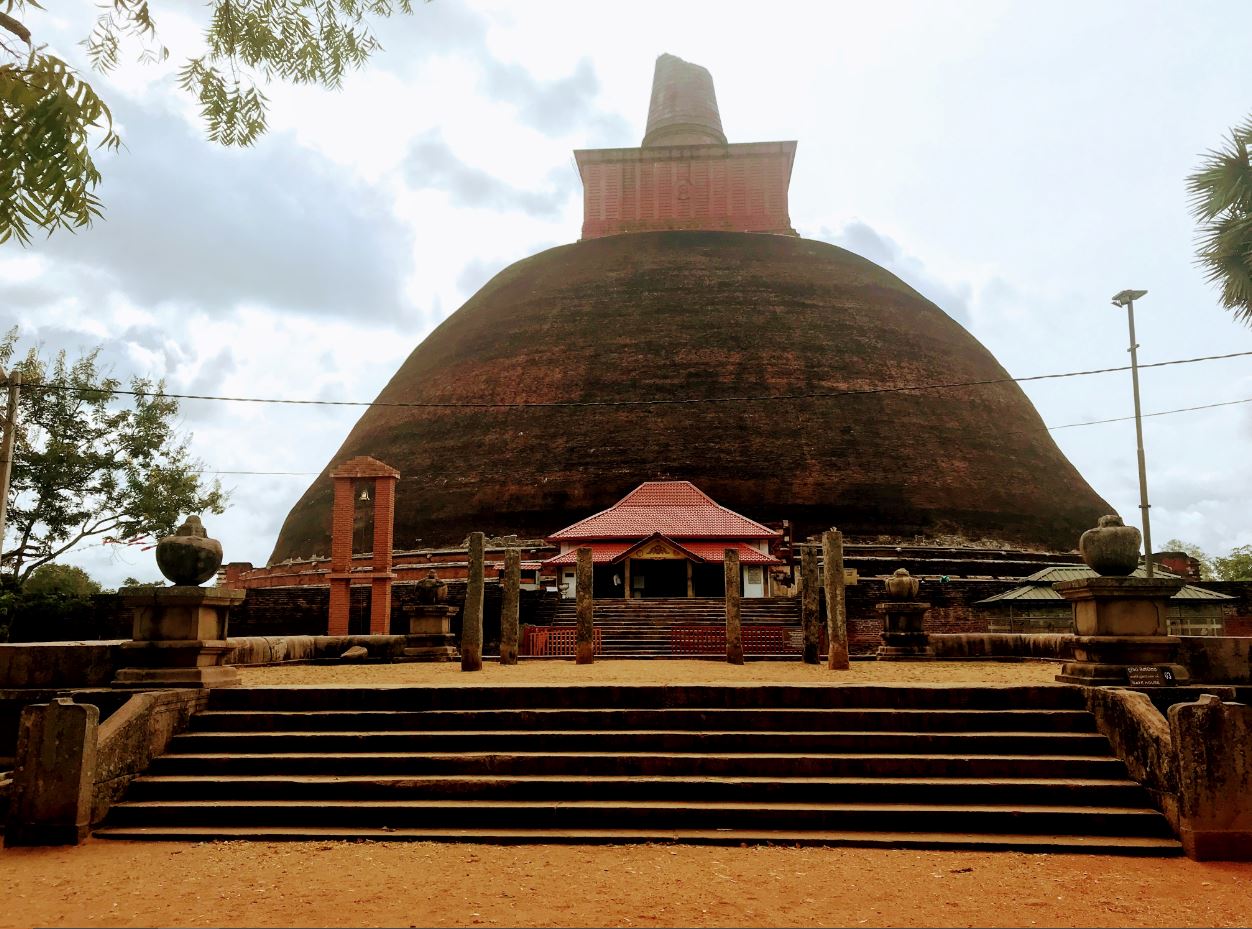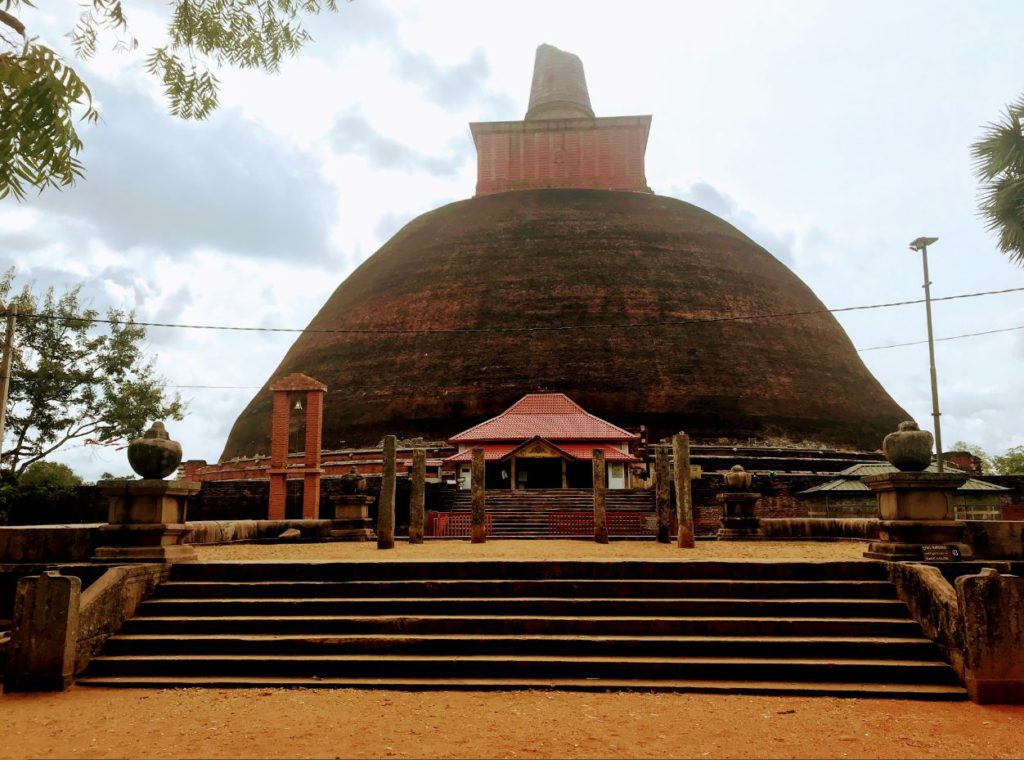 Thuparama Seya: The Thupamaraya is the oldest Buddhist temple in Anuradhapura and consequently Sri Lanka after the introduction of religion on the island. Its constructions date back to 247 BC and are believed to house the right collar bone, a relic of Buddha himself.
The stupa is in relatively good condition although the clash between dynasties has plundered much of the gold and silver decorations from it.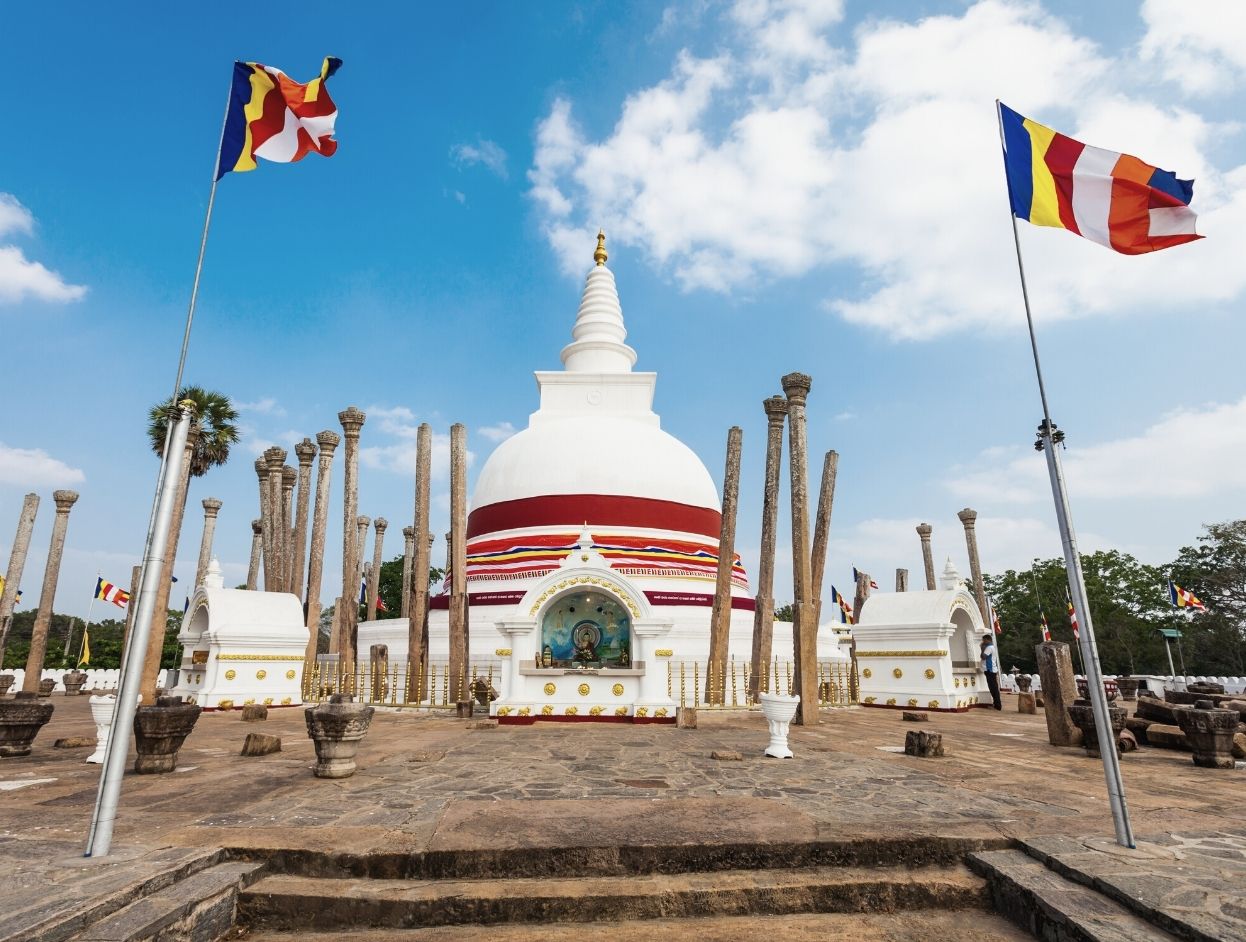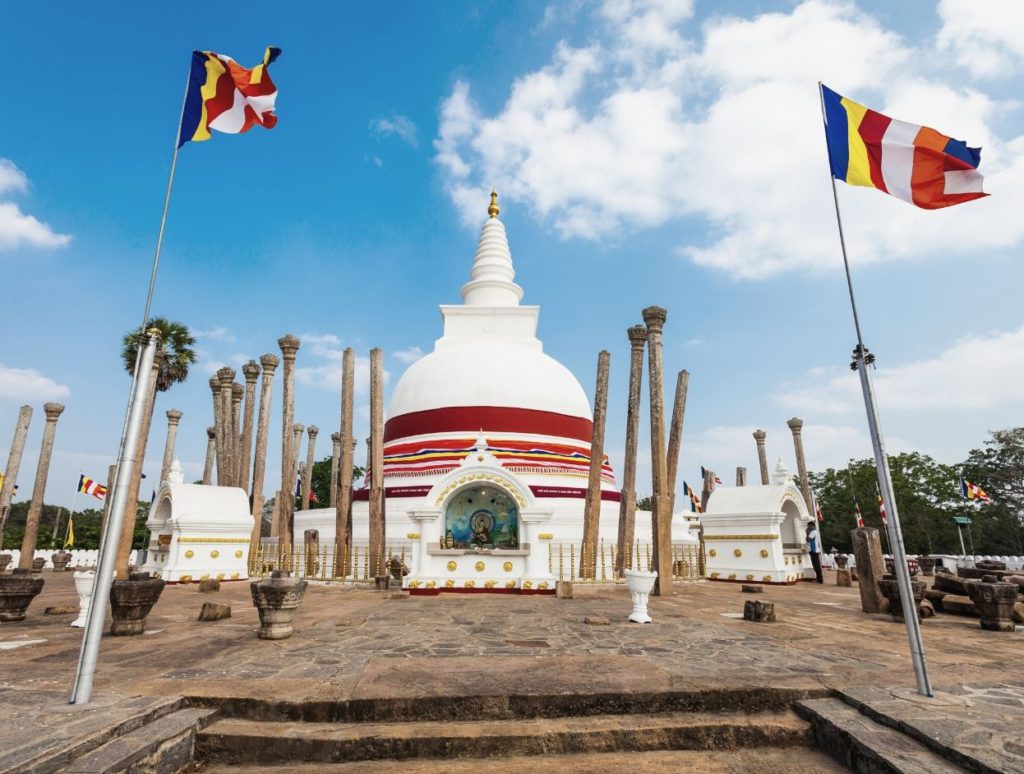 Maha Bodi Tree
You can probably make this out by its name. This is the most sacred tree in Sri Lanka and a large of the Buddhist world. Its plantation goes back to 288 BC when princess Sangmitta, the daughter of King Asoka brought a branch from the original Bodhi tree (where Buddha achieved enlightenment) and planted it here. It is the oldest known tree planted by a human.
Today, the grounds remain dear to Sri Lanka where they have constructed fences and planted trees around it to protect it from storms, humans and animals.
Perhaps you and I may not be able to appreciate its magnitude and significance, but looking at devotees walking around it talking in low voices and bowed heads gives an idea of the importance it holds in their lives.
Just opposite to the Maha Bodhi tree, you will find the ruins of Lohamahapaya or The Brazen Palace, a notable historical building.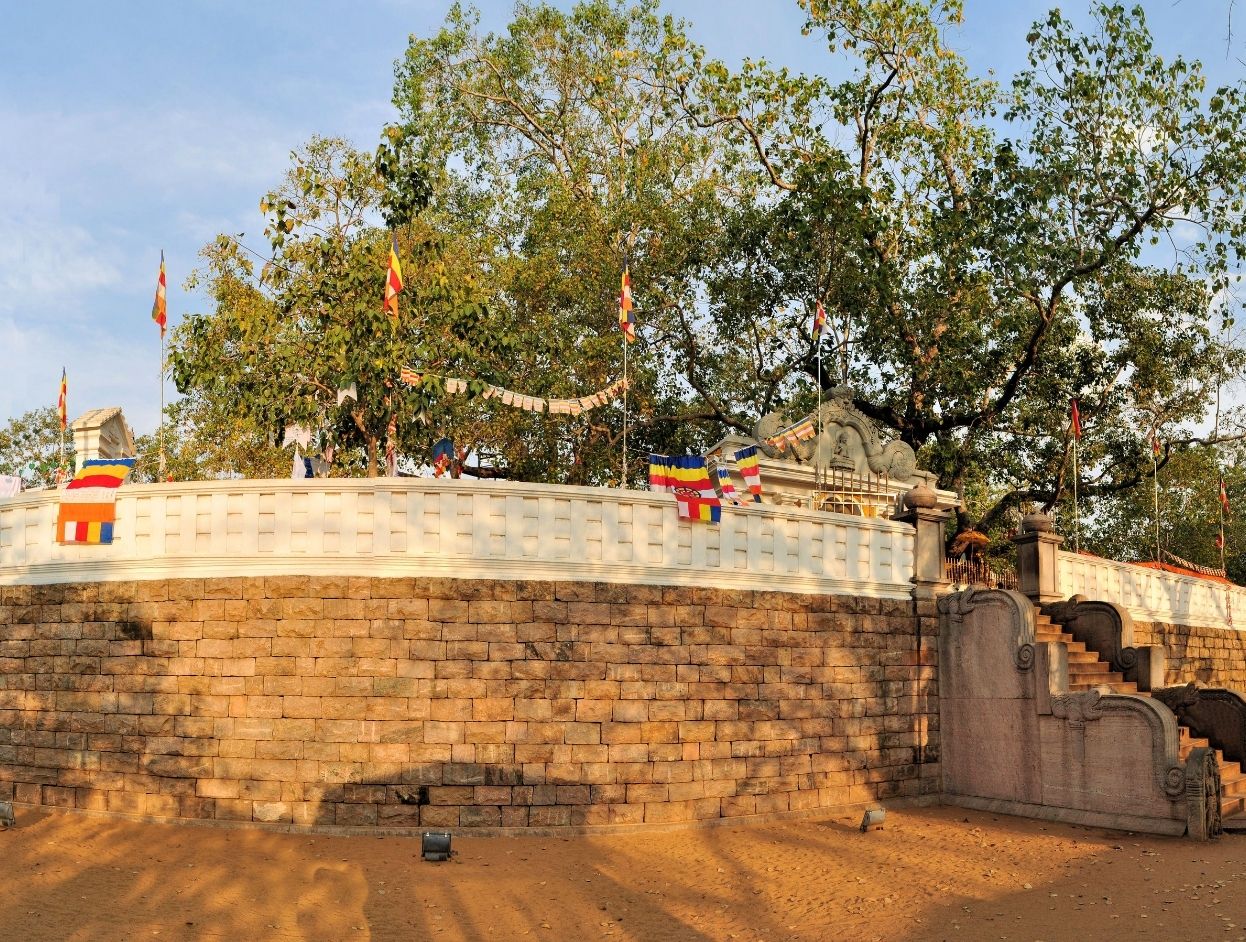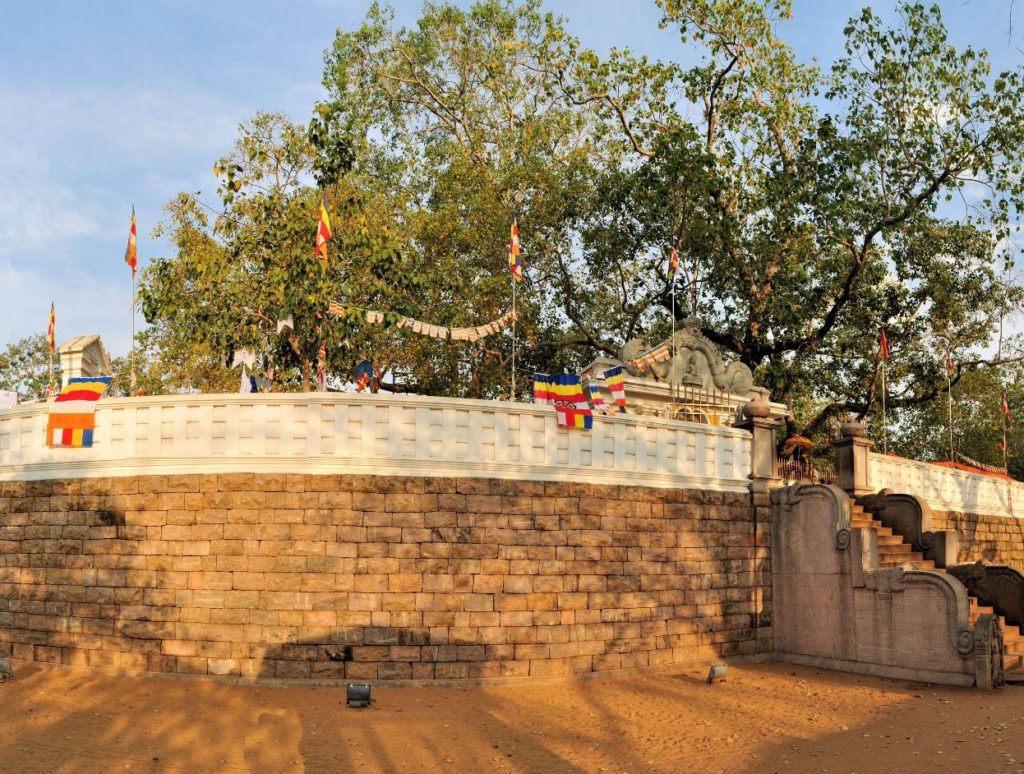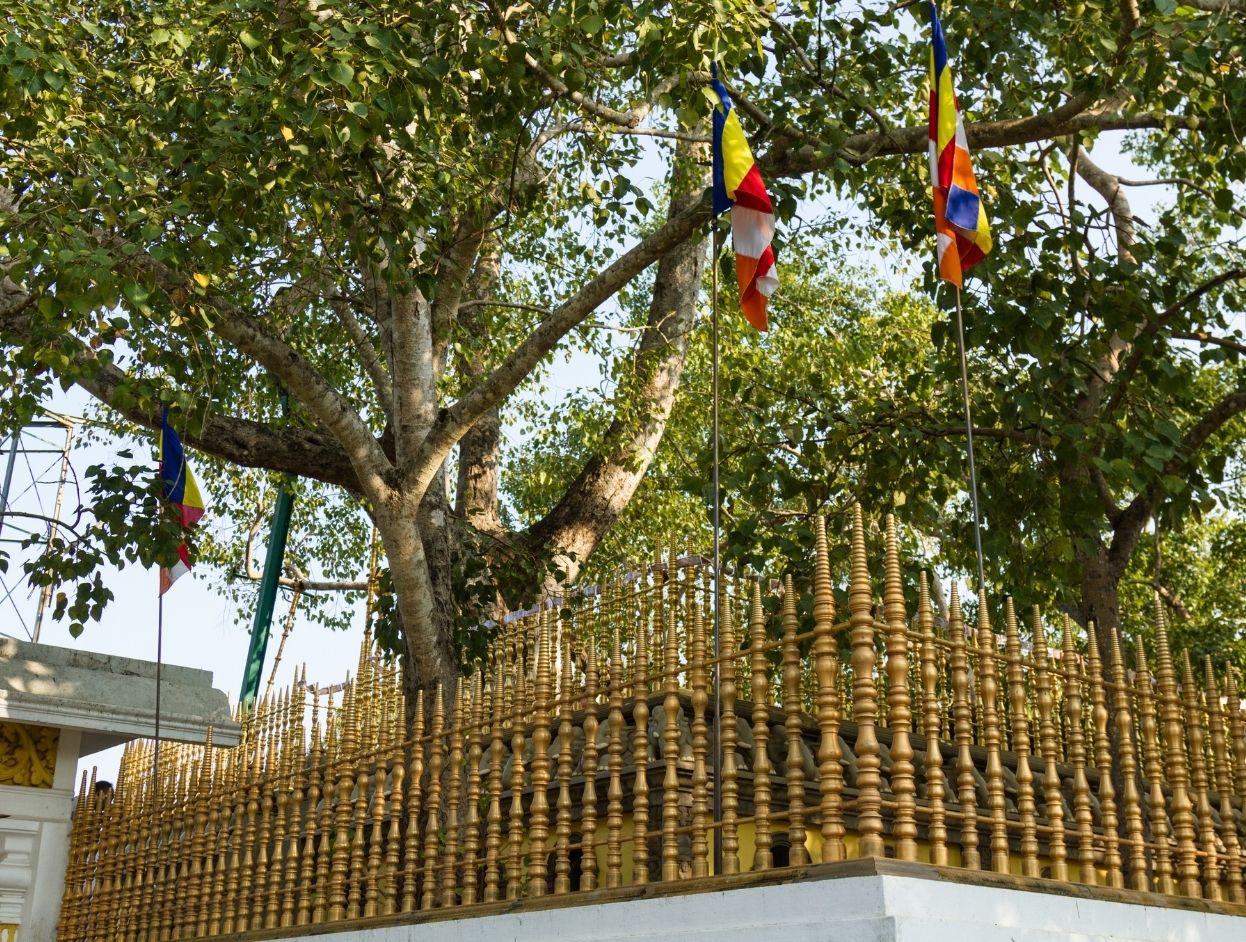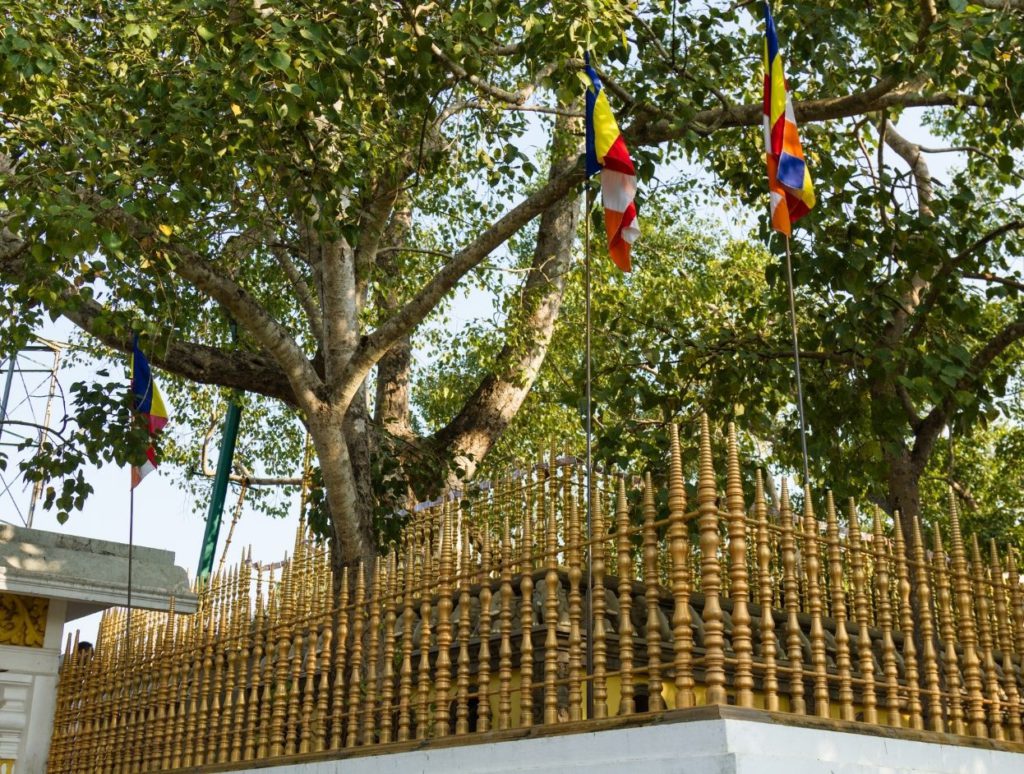 Isurumuniya Rajamaha Viharaya
Isurumuniya is another ancient temple that dates back to 307 BC built by the King who ruled this area. It is where the mythical Pulasthi Rishi (a sage) lived. Some text also claims this to be the birthplace of Ravana, the arch-enemy of King Rama from the legend of Ramayana. However, the true location still remains debatable (India claims one).
Today, the temple is mostly popular for the stone carvings casually called 'the lovers'. People have made several interpretations where some assumed that the lovers depict a prince and his consort while others say it is Shiva and Parvati. There are few more carvings of bathing elephants and Parjanya, the god of rain.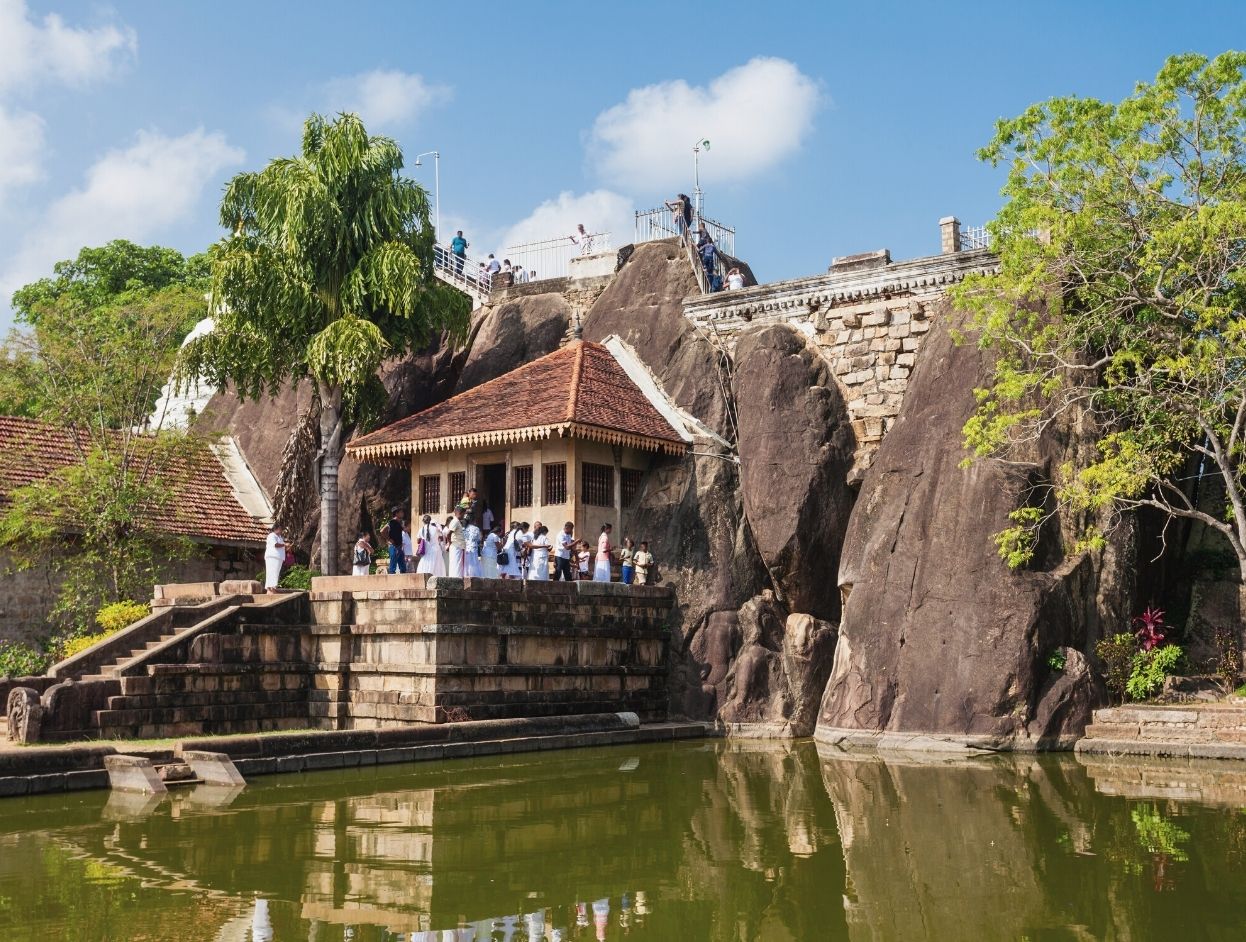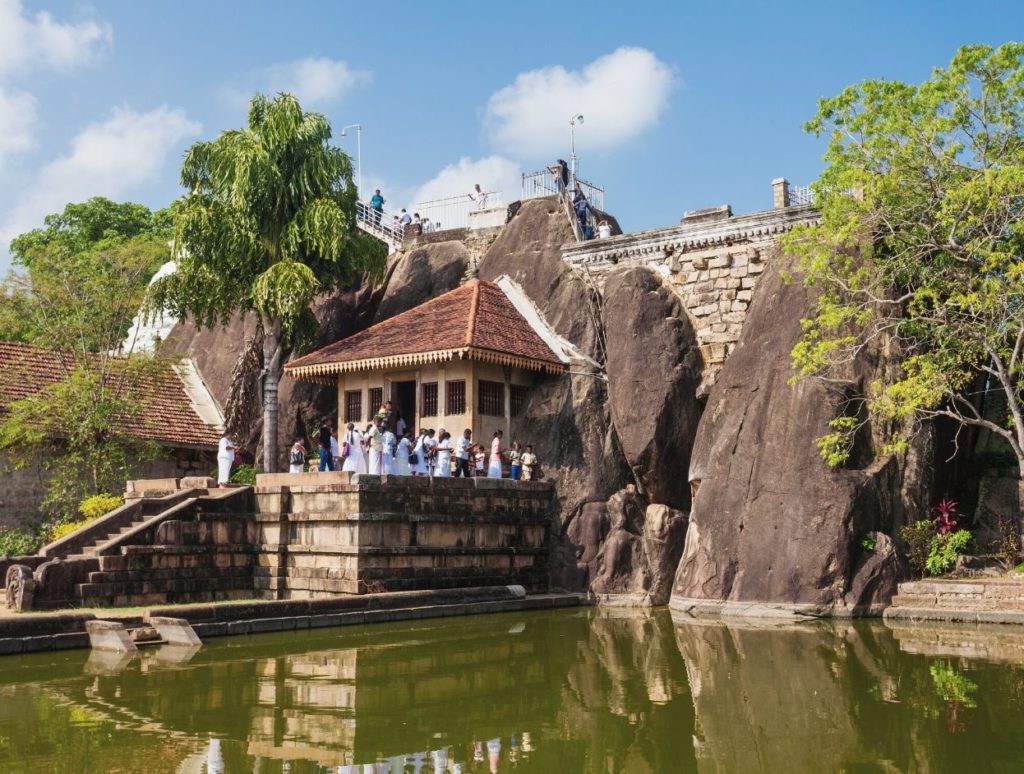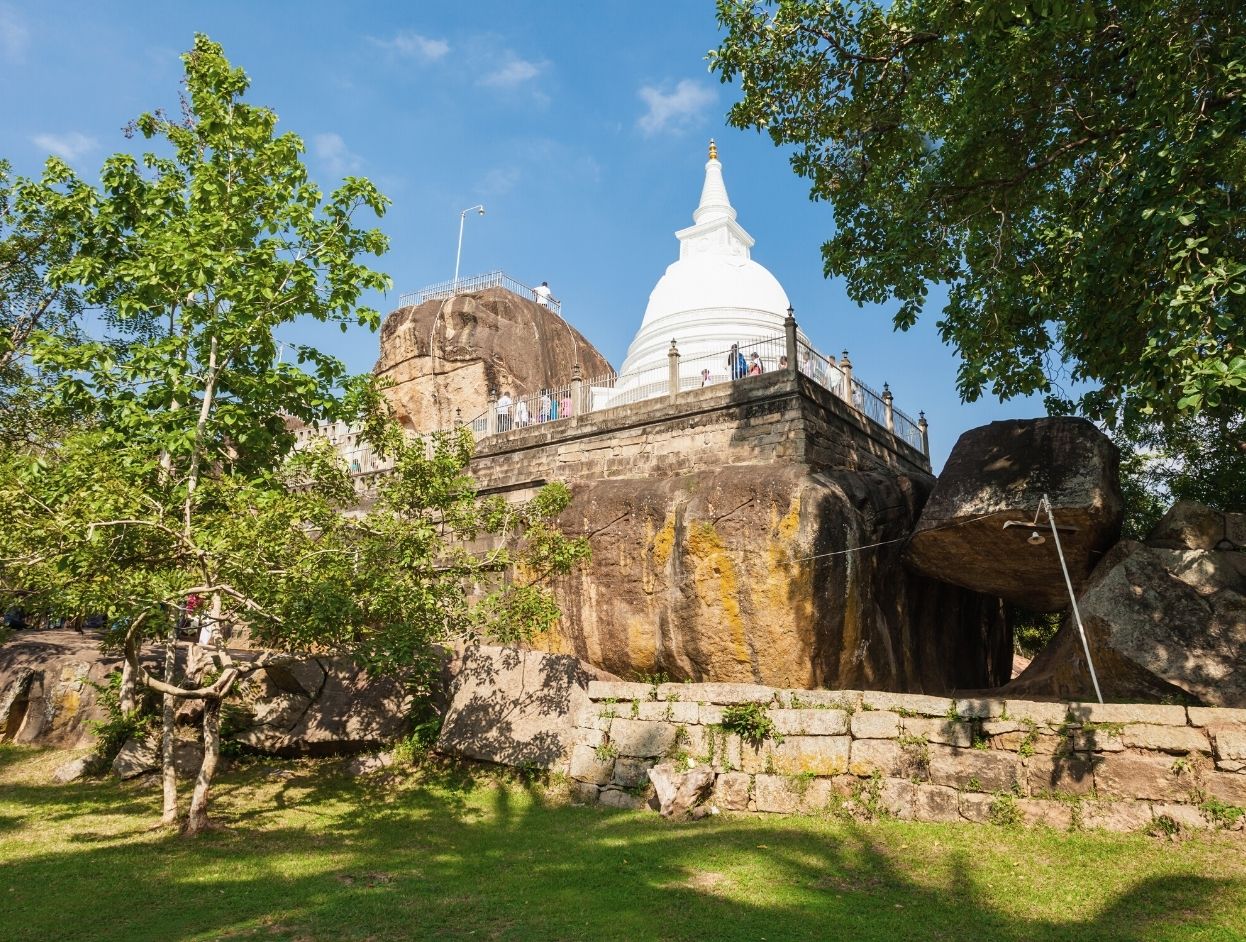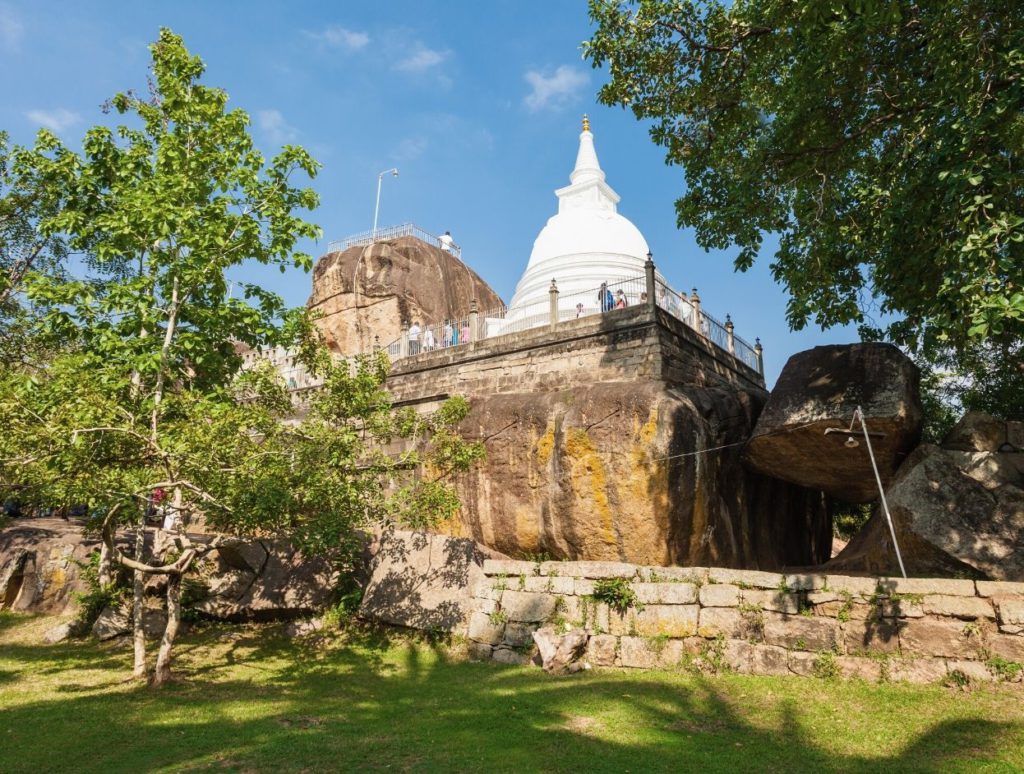 Buddha Samadhi Statue
The statue of Buddha is made of stone and seated in Samadhi, in a position in which Buddha attained his first enlightenment. The statue sits in the middle of ancient grounds with remnants of buildings dating back to 4th-6th AD similar to the age of the statue of the Buddha.
According to texts, people believe that it is one of the four Buddha statues located at four corners of a sacred Bodhi tree in the middle. Most of the place has been destroyed now. The Samadhi Buddha statue was discovered in 1886 and its restoration is pretty recent.
You need to leave your slippers outside the premise and walk in quietly in the area. Don't do tourist poses to take a photo or turn your back to the Buddha.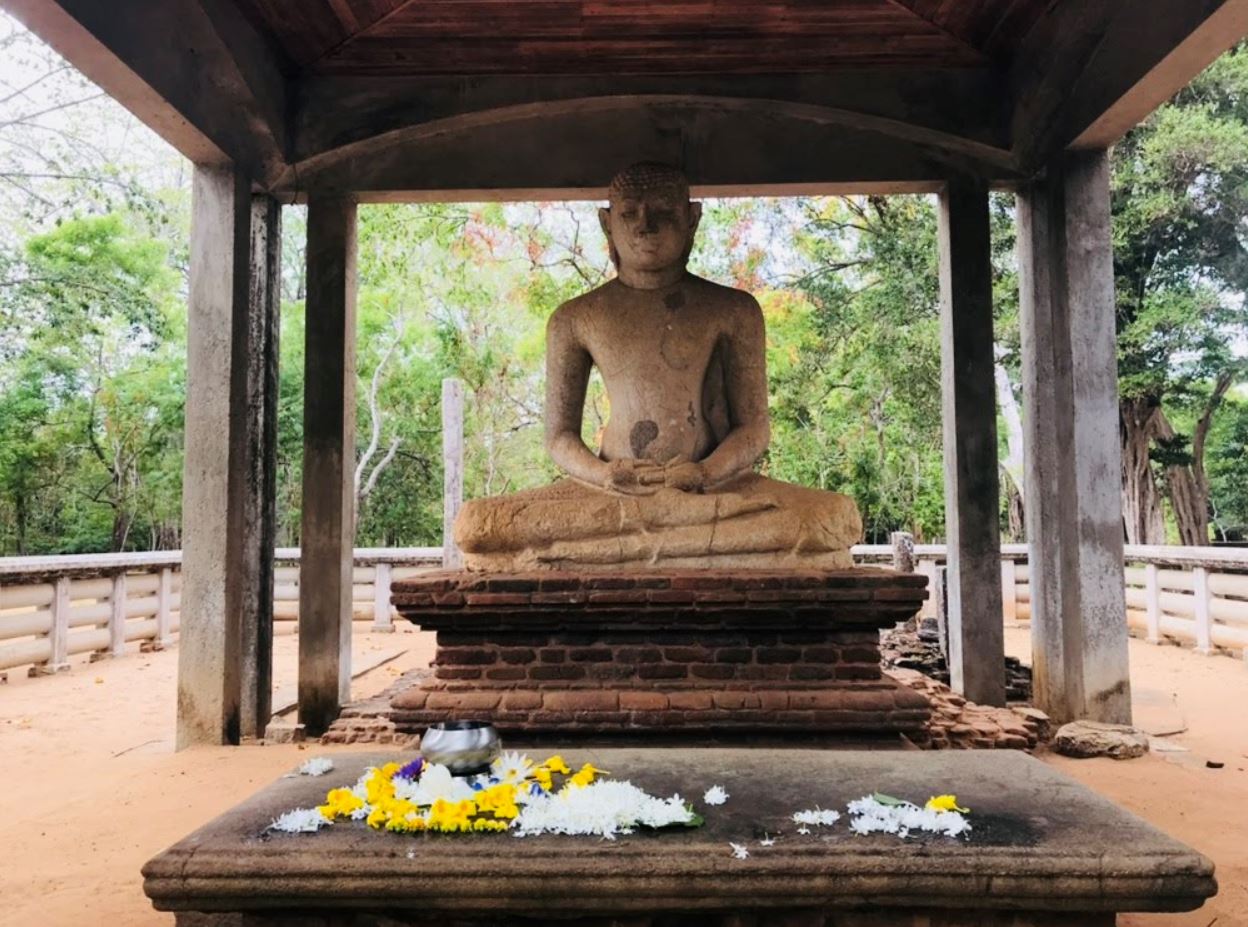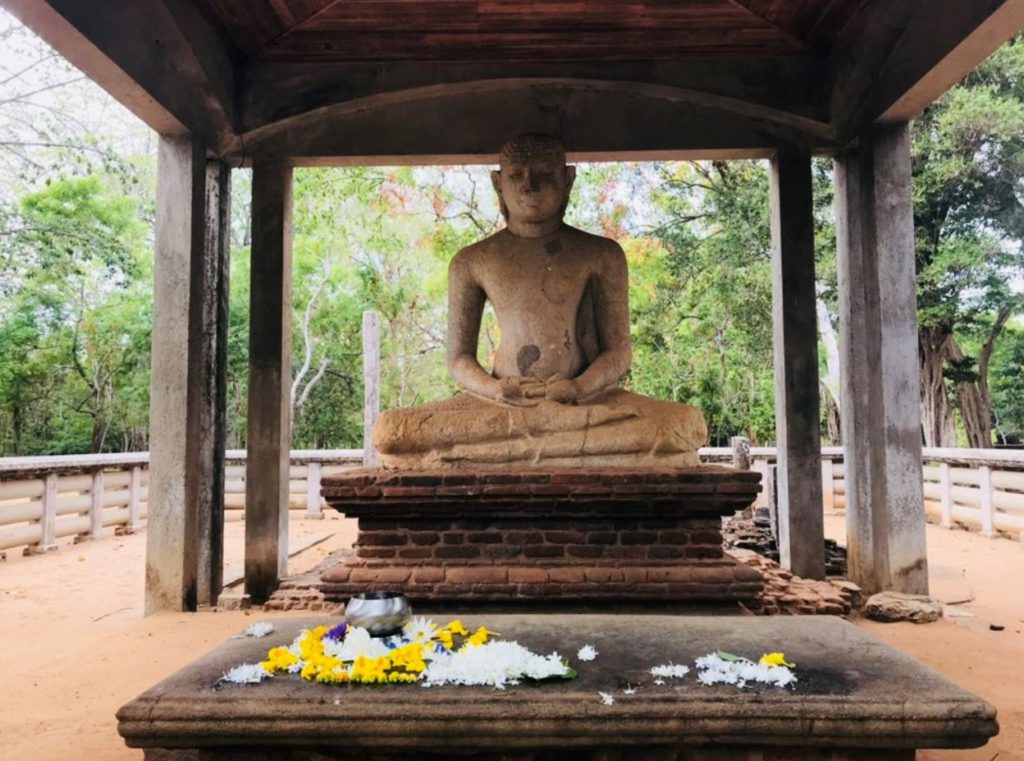 Moonstone & Ruins
Moonstone is an architectural feature that you may find at the bottom-most step of the buildings leading to a temple or a Buddhist worship hall. These could be in the shape of a square, a dome or a semi-circle like this one. The inside of it starts with a half-lotus with parallel semi-circles and a series of animals on the outer band.
In fact, even today you will find women in Sri Lanka making similar drawings at the entrance of their homes using chalk and powder. It is deeply associated with cultural identity and brings look luck to the family.
There are several other ruins in the area. However, the moonstone will probably stick with you due to its profound features. Also, it is pretty much the only feature intact amongst the fallen buildings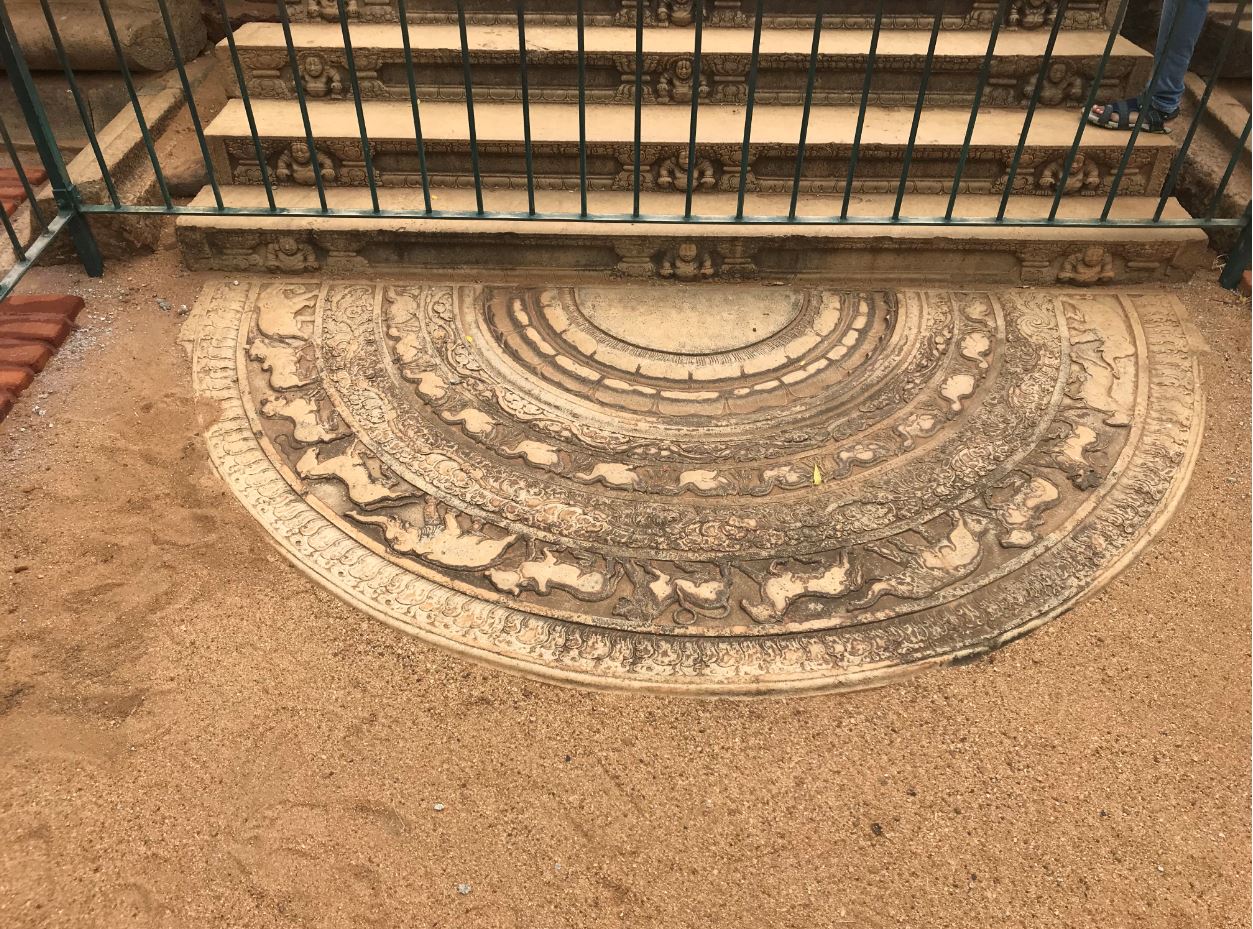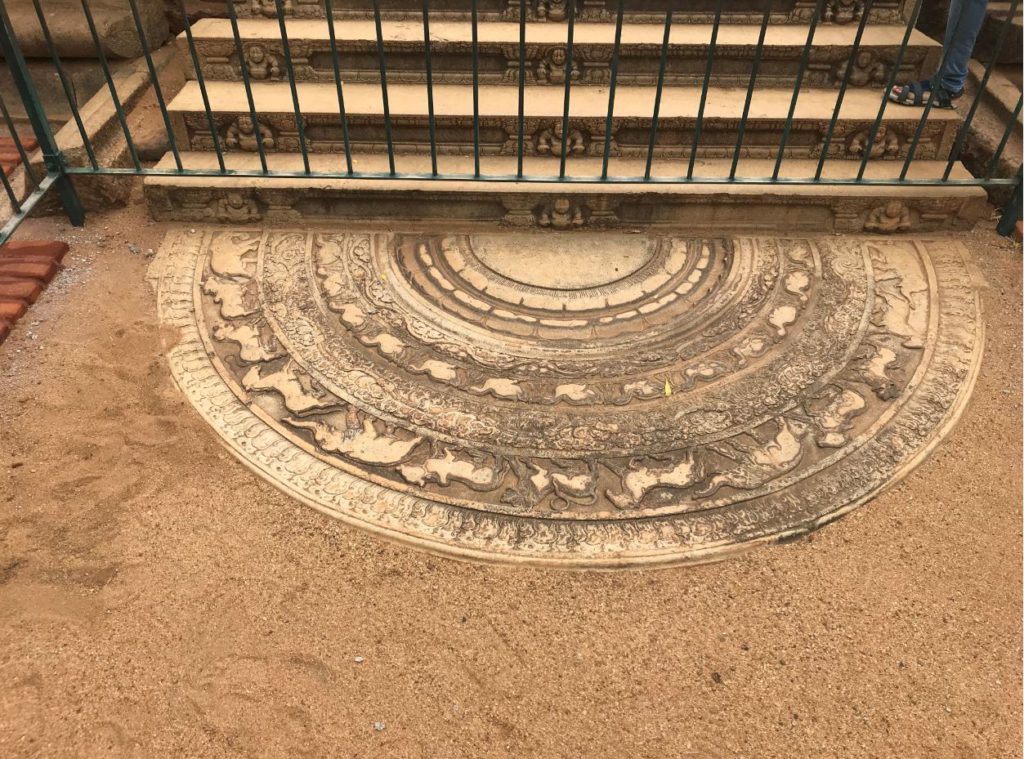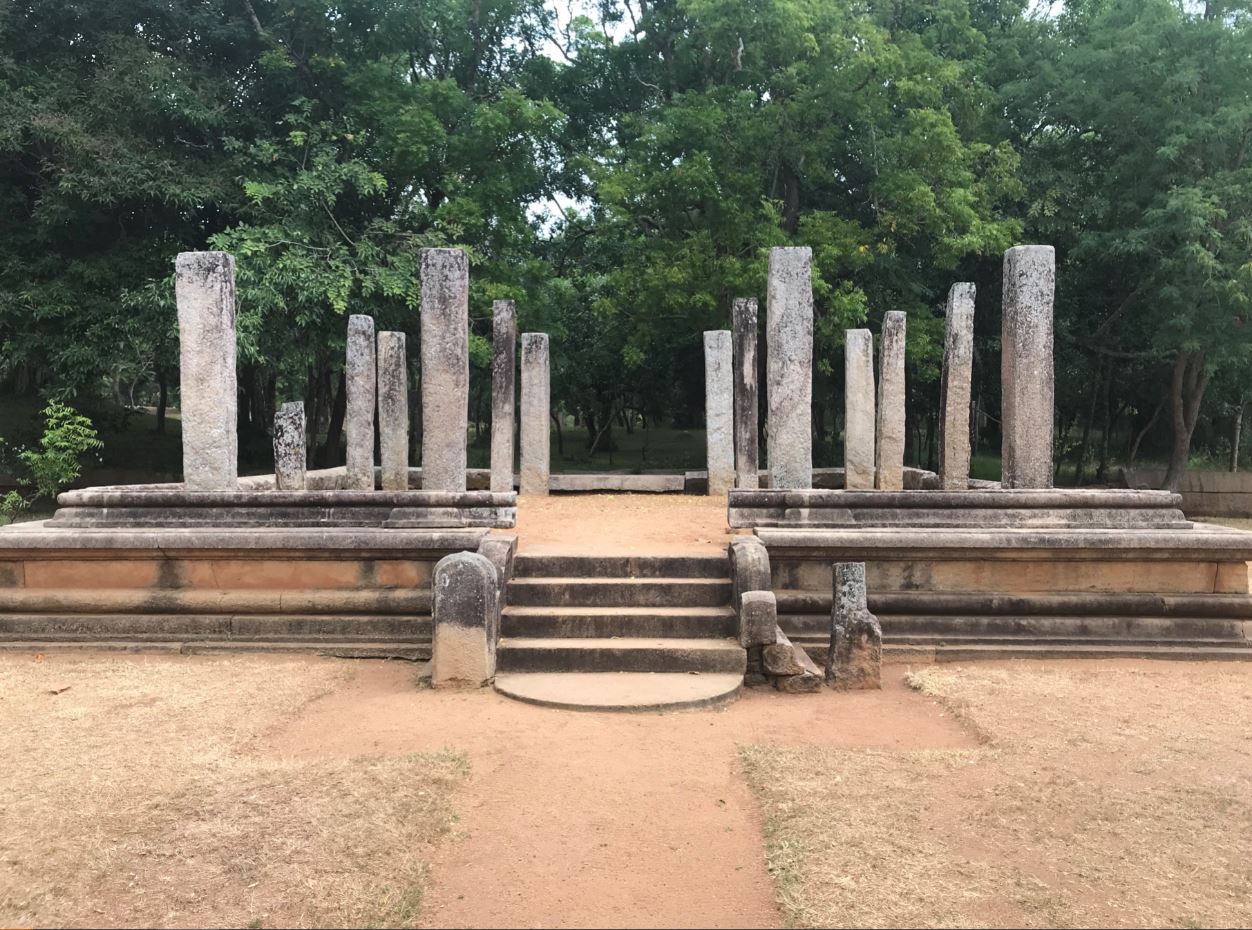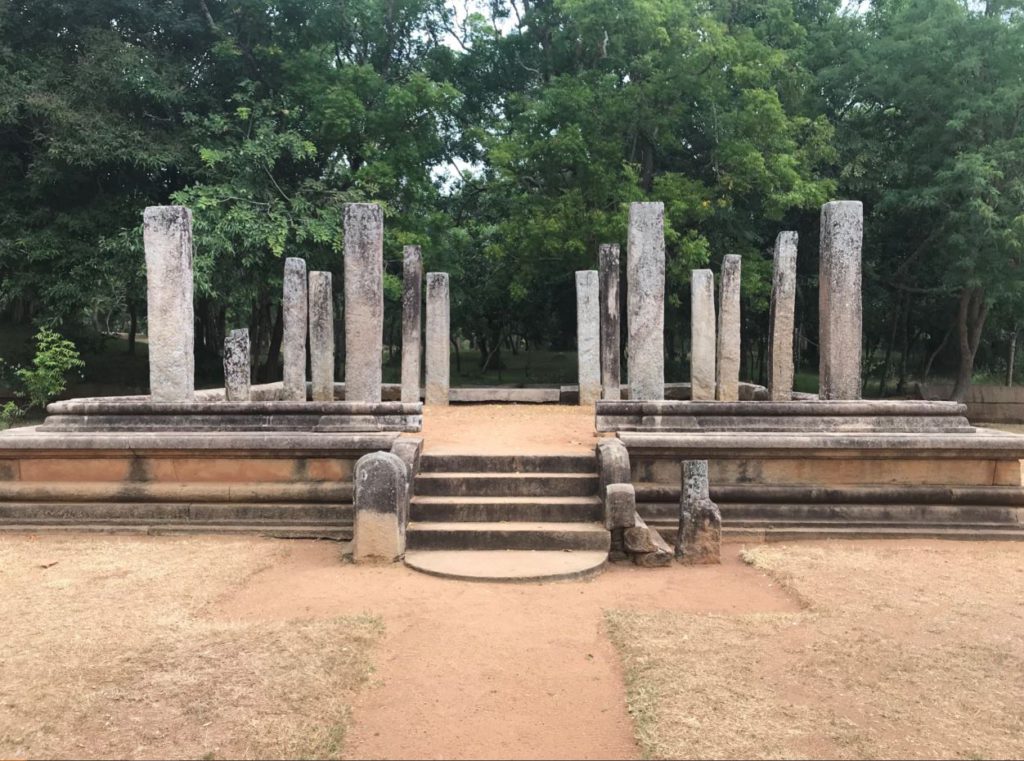 Elephant Pond & Public Baths
Public baths were an important part of any ancient city. Since plumbing did not go to every house like modern-day, people used to gather in public areas to clean themselves. Men and women had separate areas for bathing.
The design of baths resembles in almost all the ruins of ancient civilisations. There is a water-filled shallow trench in the middle with steps leading to it. A bigger bath of an area of 2 acres makes for the elephant ponds where these massive creatures used to take bath and probably chill out. There isn't much to do but it is worth a quick stop. If you are here in the evening, it will be a good place to stop in the cool hours.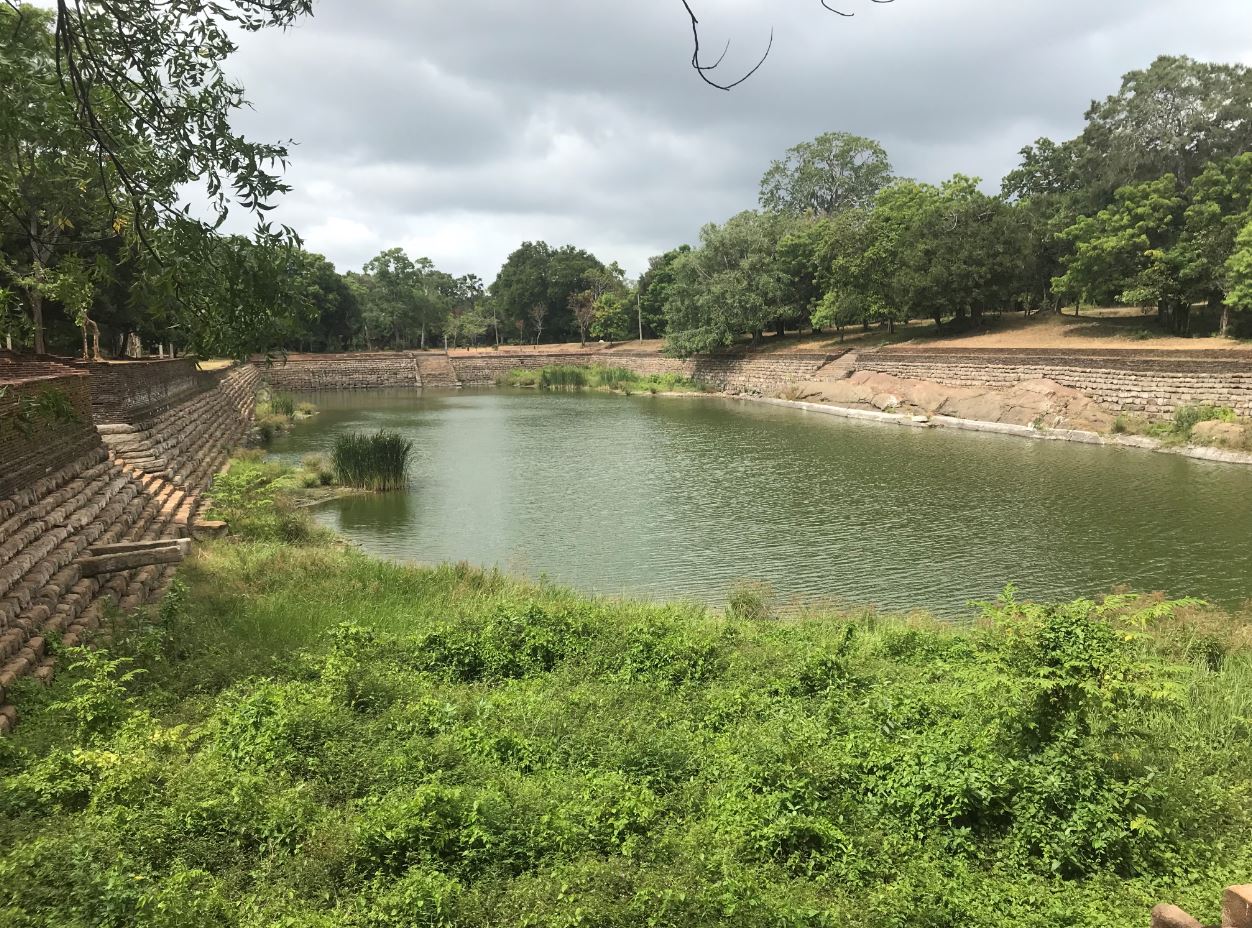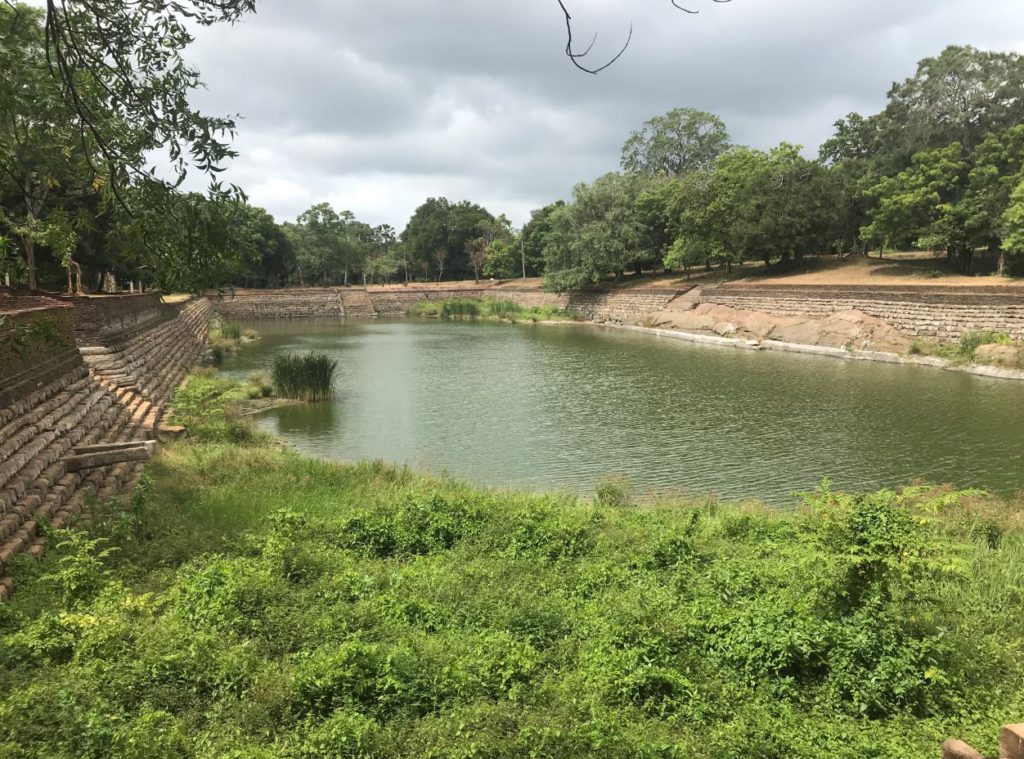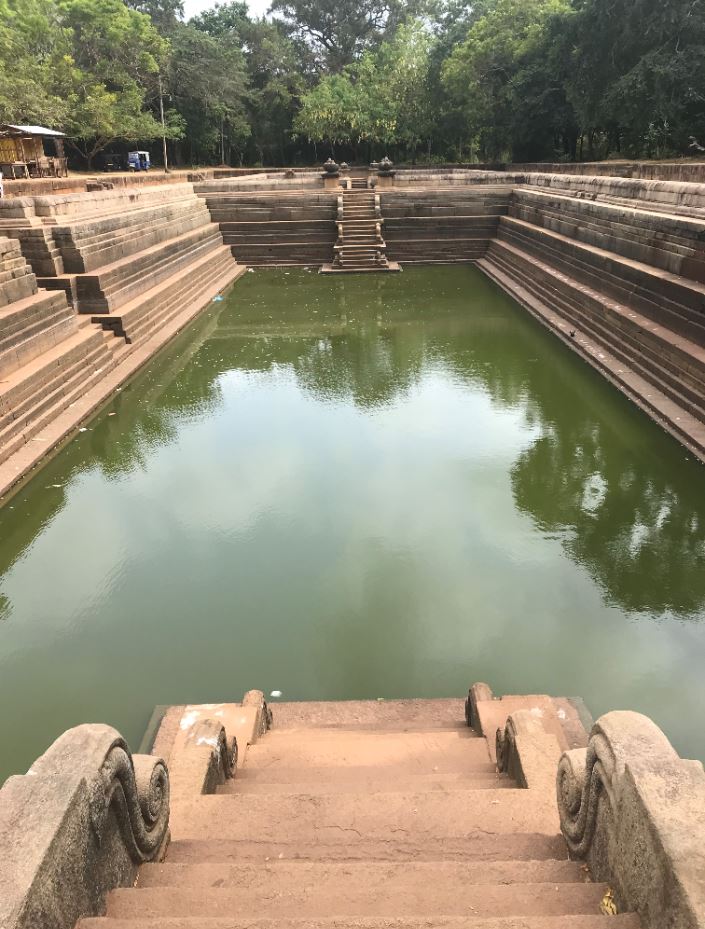 Nellikulama Temple
The temple is located just 5 miles from the ancient city into the wilderness and hence is a relaxing stop to make after a bombardment of historic facts. The temple does not hold any religious or historic significance. But the large temple premises of around 10 acres is where 500 statues of monks in bright orange robes line up.
The statues signify these Buddhist monks following the Buddha (in body or spirit) travelling across towns to spread the teachings of Buddha. In time they added several other similar instances with sculptures depicting the life story of Buddha inside the premises. The temple is free to enter (but appreciate a donation).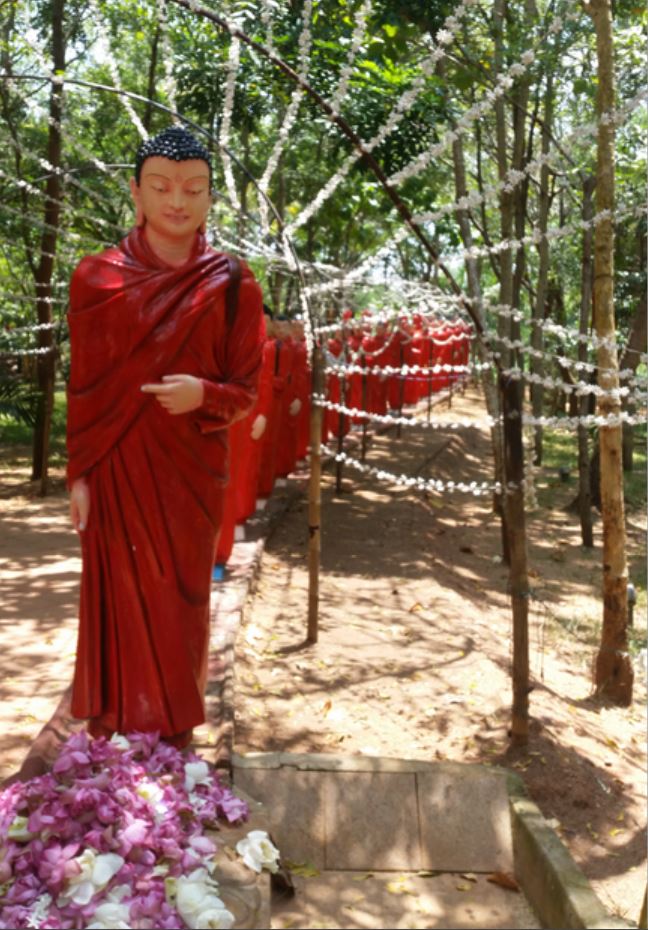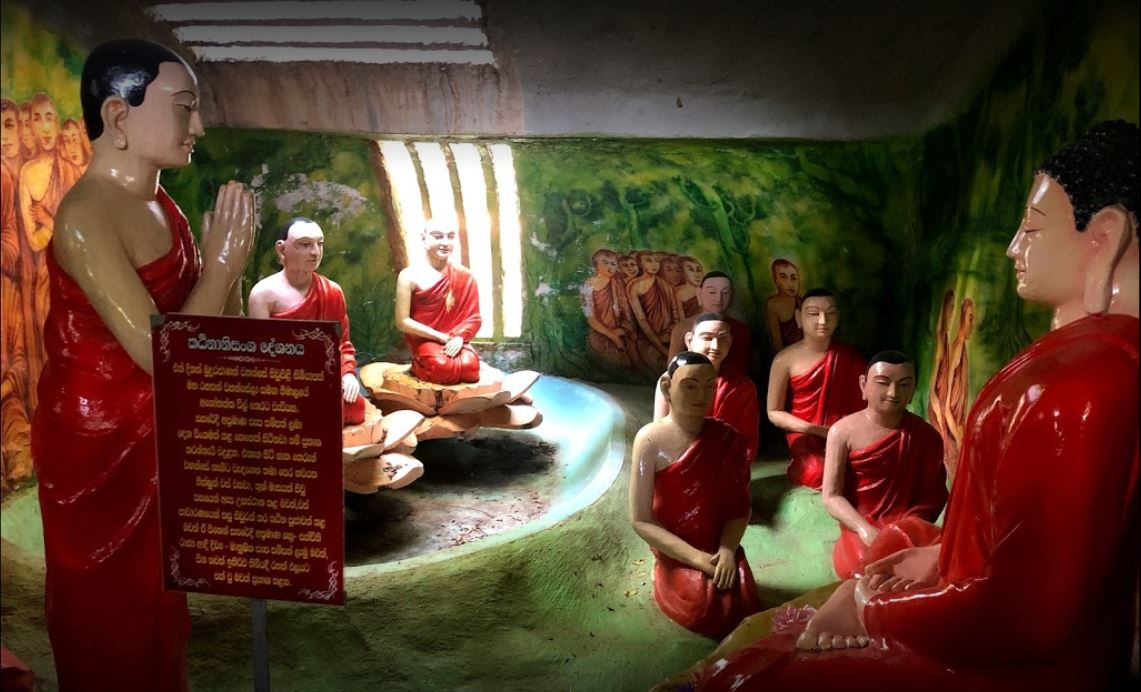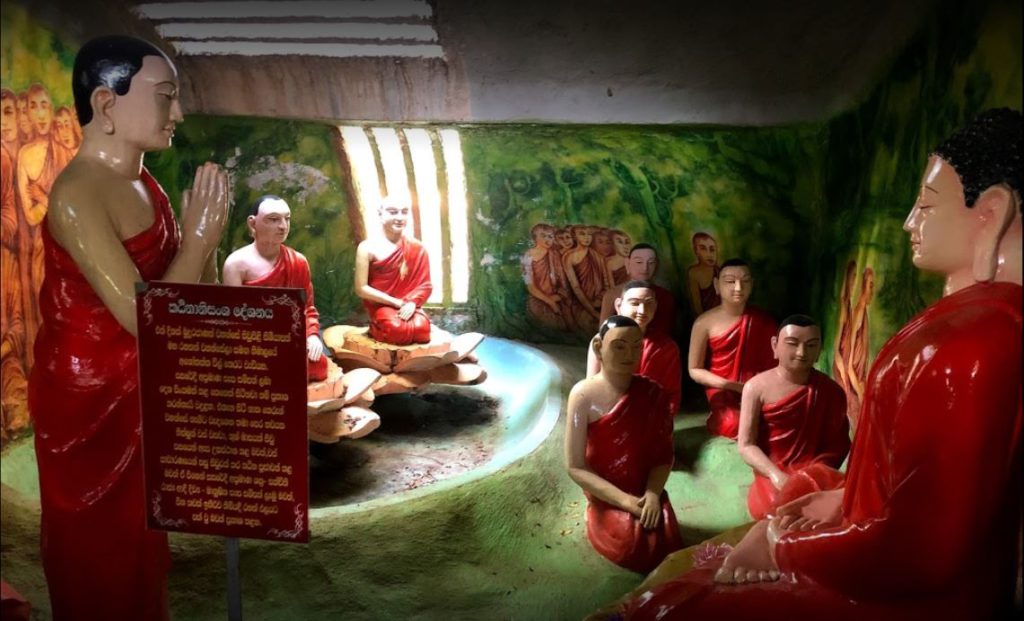 Places visit near Anuradhapura
Sigiriya Lion Rock
Sigiriya is an extremely important and historically significant fortress of the early Sinhalese Empire. But the awe-inspiring part is that it was built on top of a huge monolithic rock that pops out of a flat terrain from nowhere.
Most of the building has now been destroyed but you can still see some remains of a fort on top of the rock that requires around an hour to climb.
The word 'lion rock' comes from the gateway to the main entrance that was built in the shape of a lion, an important animal to Sri Lanka. The lower half of the rock is still present. The gardens still run with the ancient plumbing system and a large swimming pool on the top show the architectural genius of the time.
Sigiriya is a couple of hours from Anuradhapura. No direct buses run to Sigiriya. You can opt for a private vehicle, a day tour or take a tuk-tuk from Dambulla.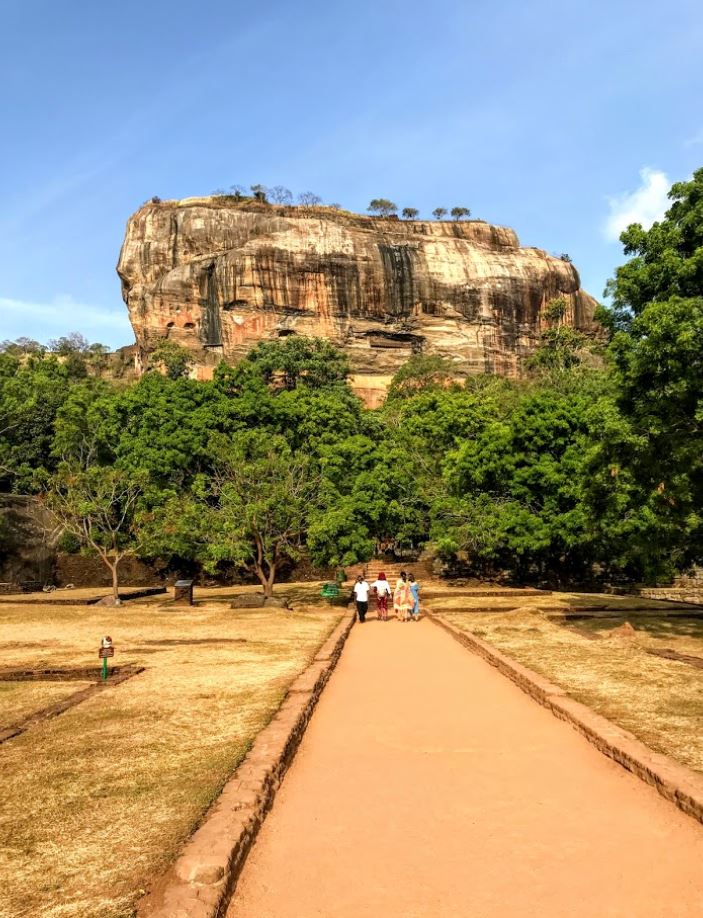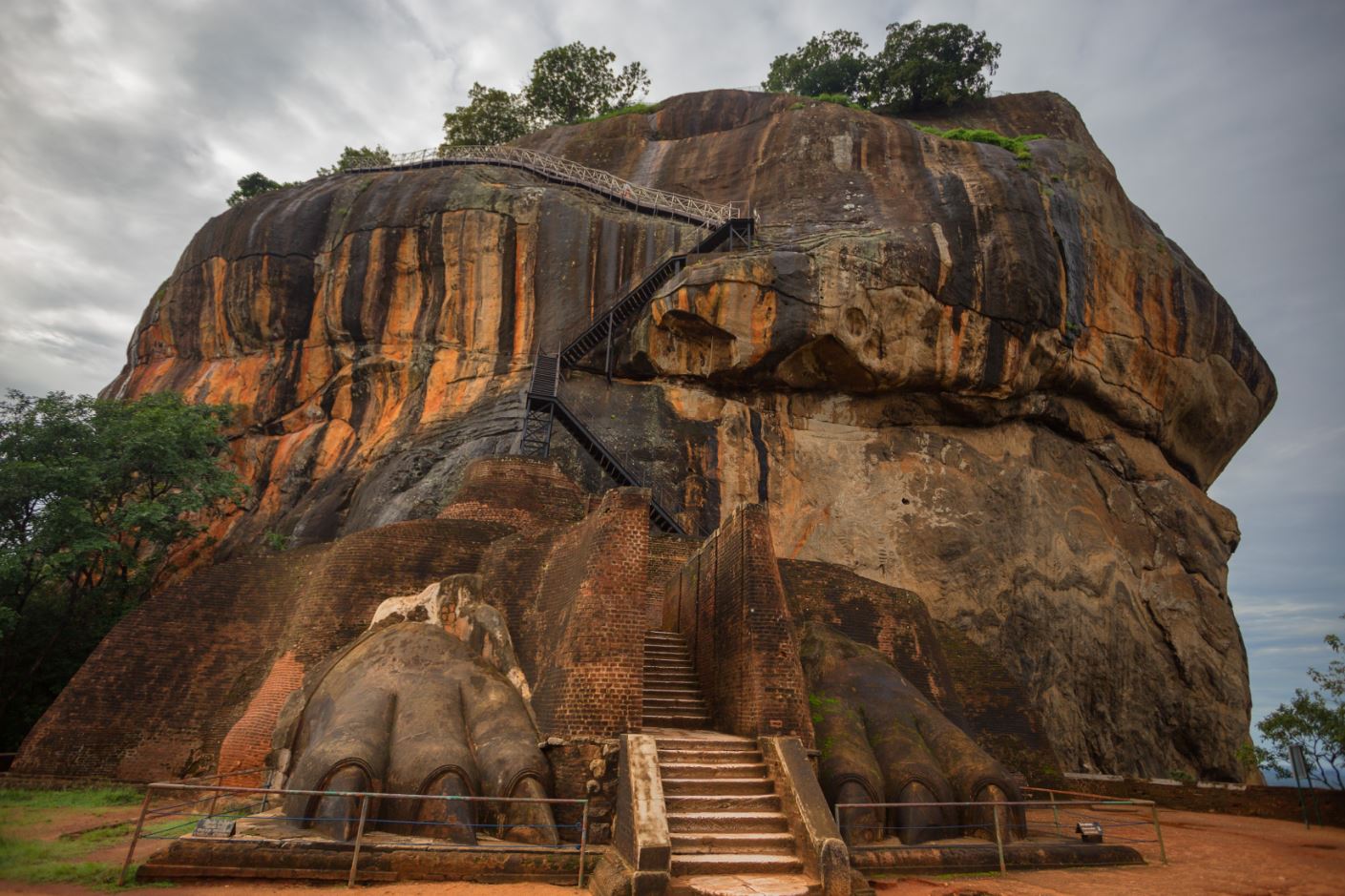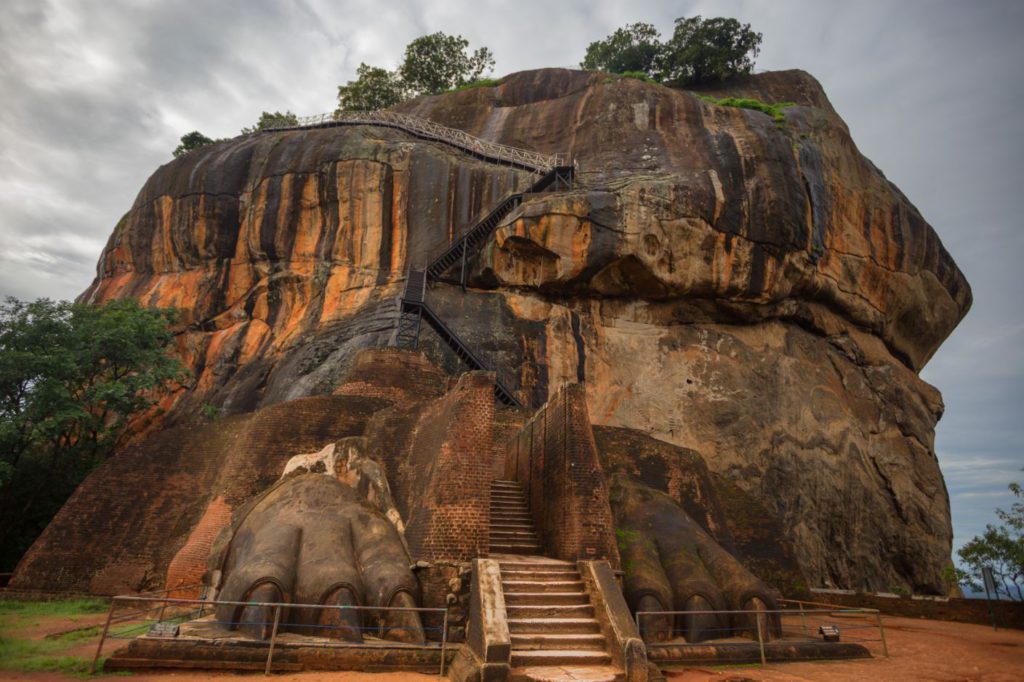 Dambulla Caves
These are a set of five caves dating back to first century BC. The King Valagamba of Sri Lanka was exiled from his empire for 14 years and the monks residing in the caves gave him a safe sanctuary for the time.
While there are 80 caves in the area, 5 of them are important and popular with tourists. You can see a large number of detailed sculptures of statues of Buddha in various forms and even of some Hindu deities.
Planning a trip? Read more about travelling to Sigiriya and Dambulla on our blog here.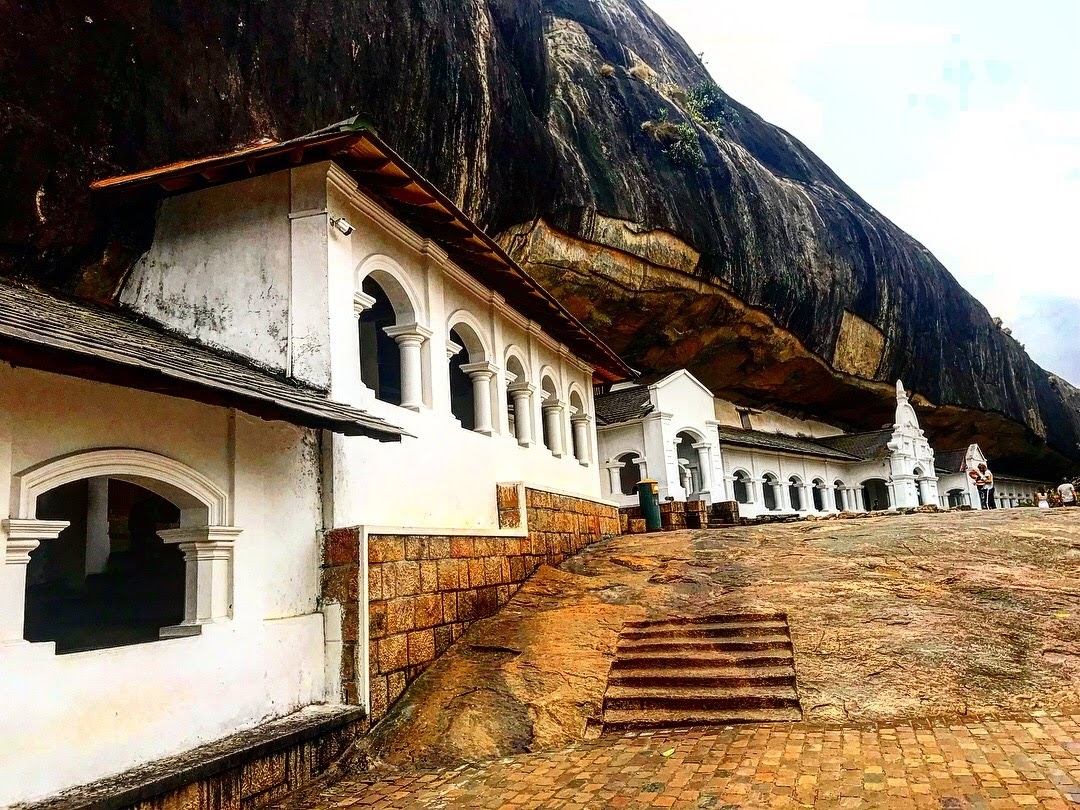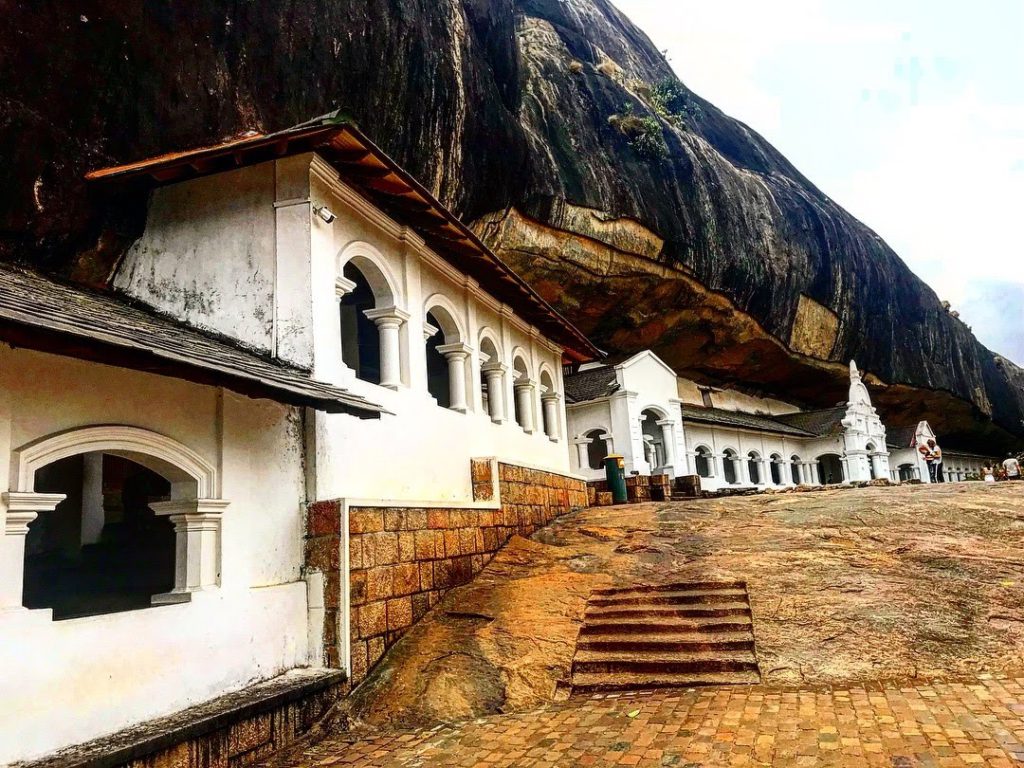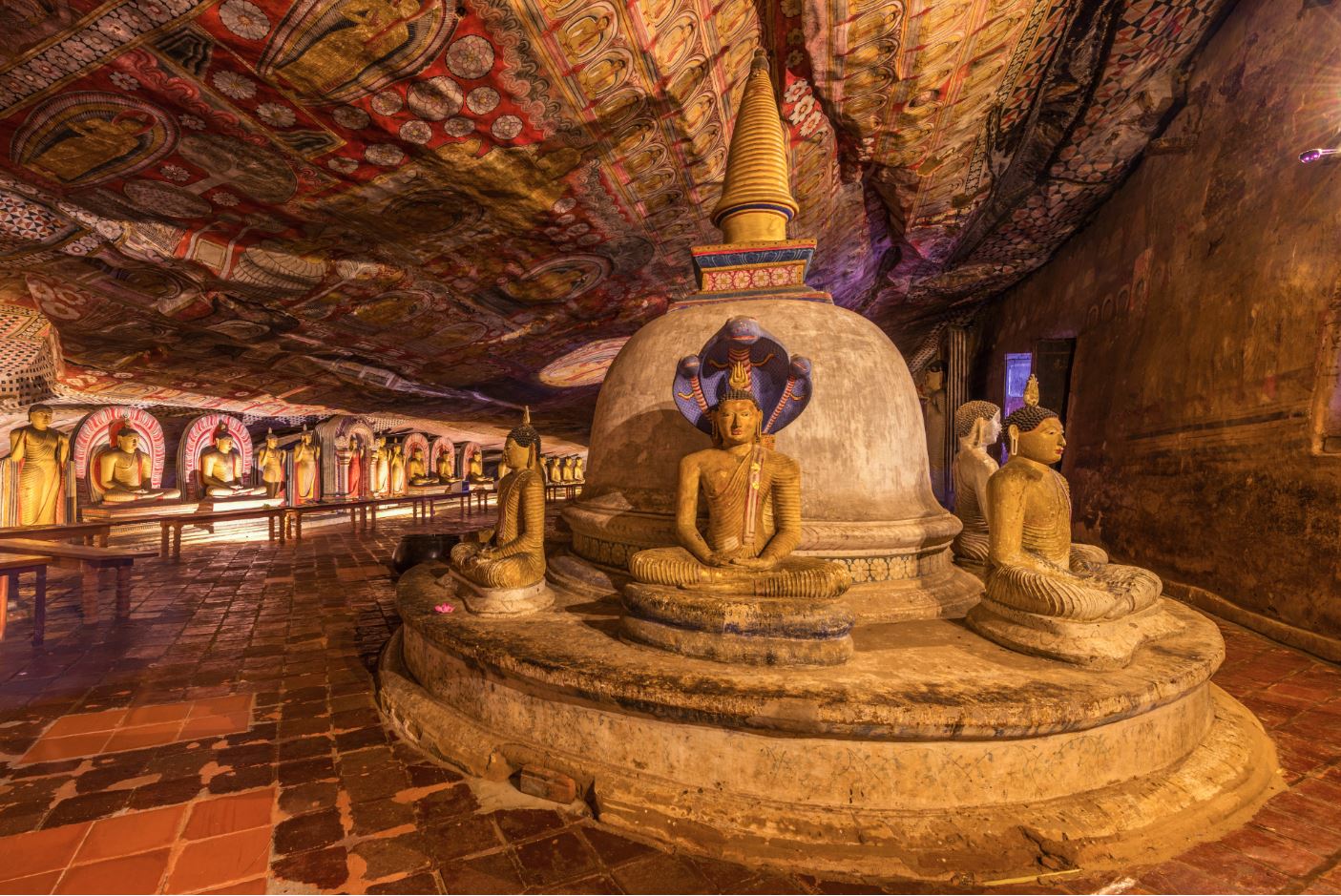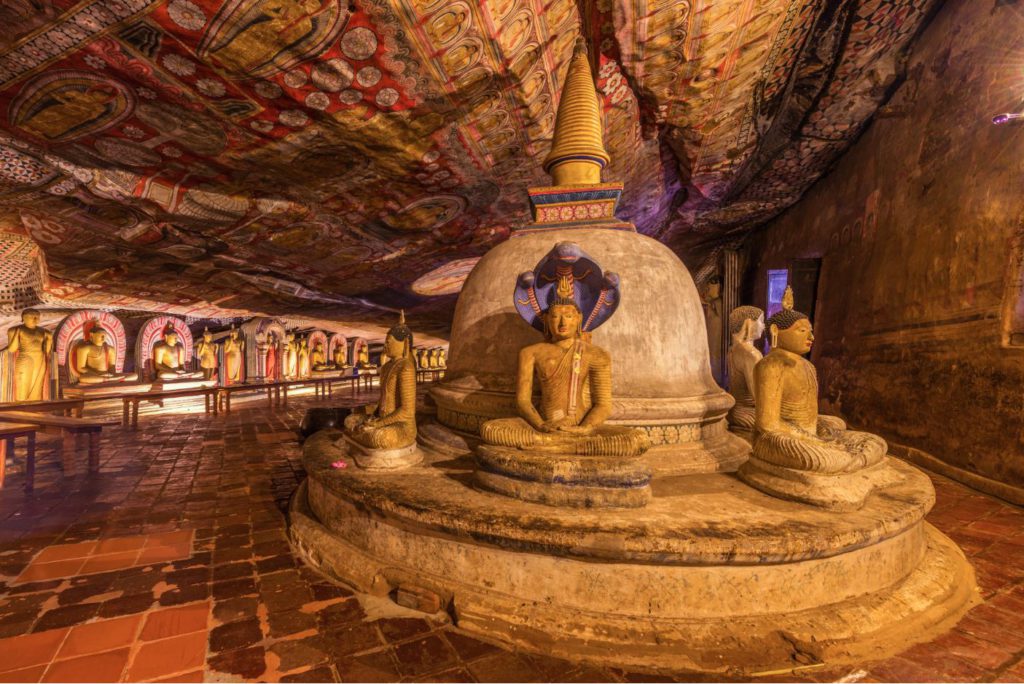 Mihintale
Mihintale is a sacred spot located 17 km east of the ancient city of Anuradhapura. The main attraction of Mihintale is the 'mountain of Mahinda' that includes three hills. It is popular both with tourists and pilgrims alike.
The mountain is especially popular during the festival of Poson Poya, that associates with the day of birth of Buddhism. On this day, a lot of locals make the journey to the top of the hill dressed in white clothes to pay their respect. A huge white coloured statue of Buddha completes the picture.
Other popular places to visit in the area are Naga Pokunda, Sela Cetiya and a few more stupas, the alms hall (ancient ruins) and Kaludiya Pokuna featuring a garden and a pond.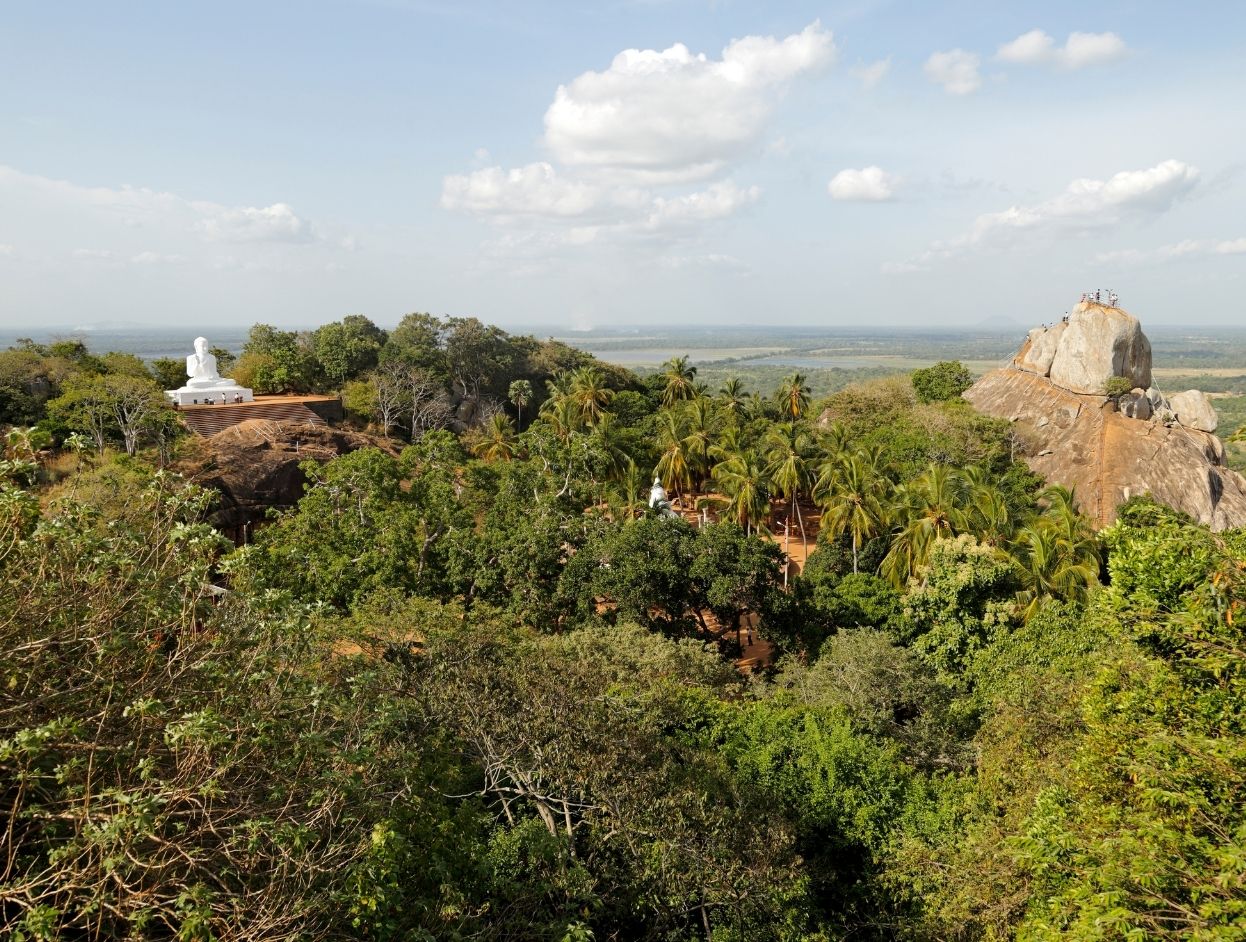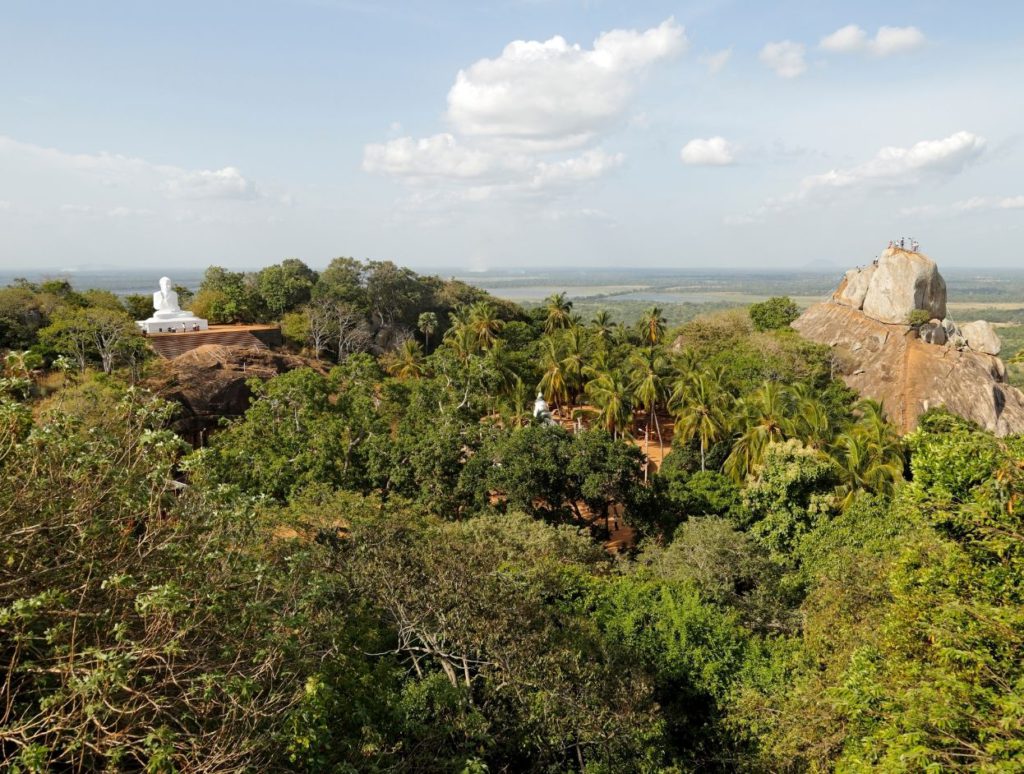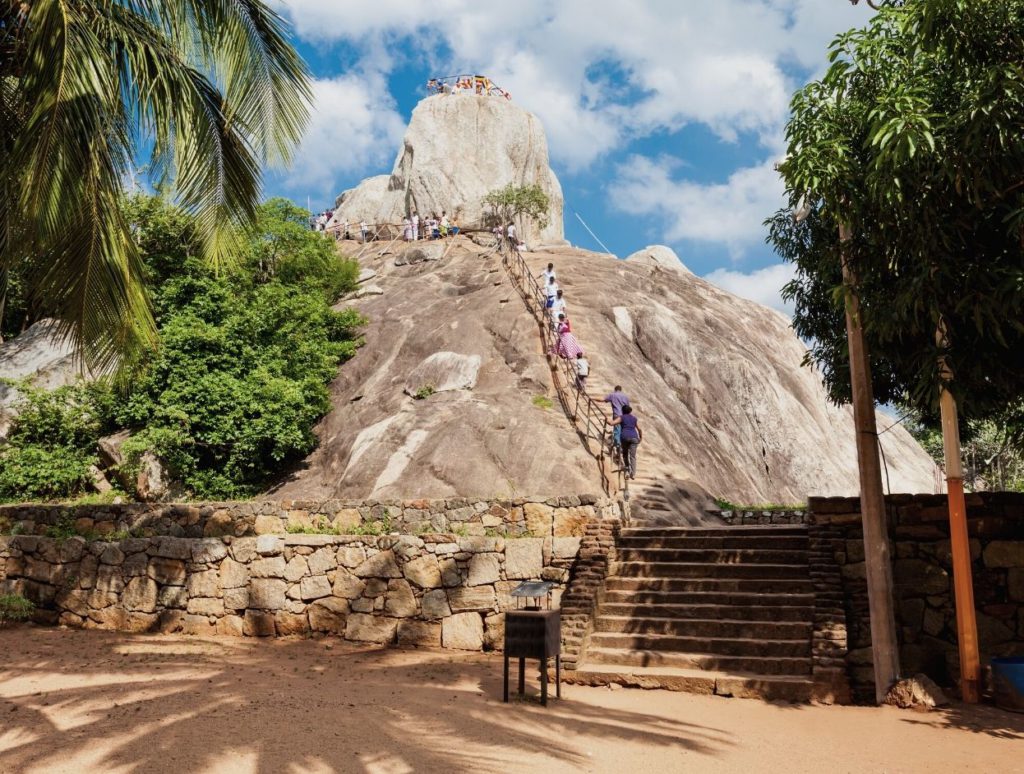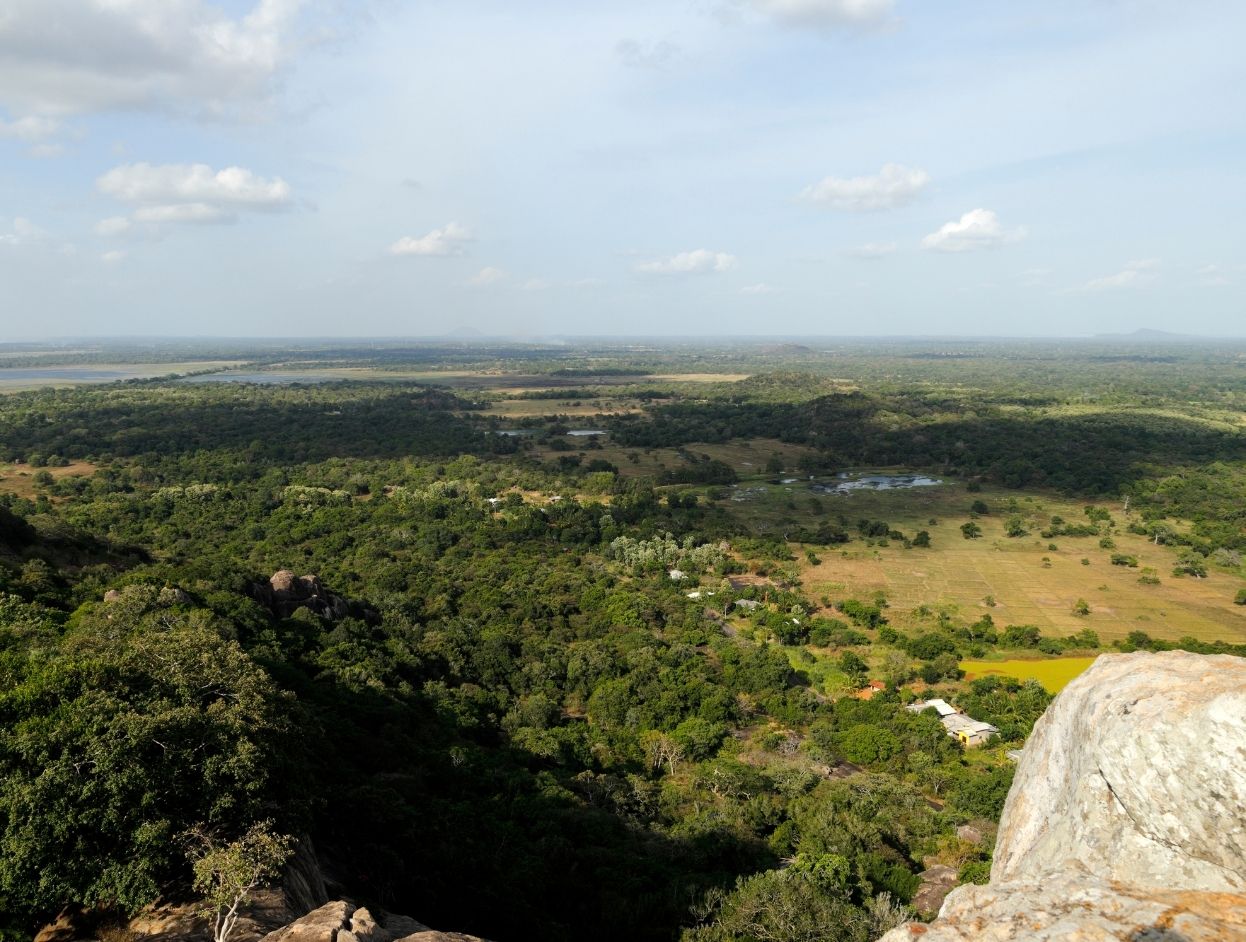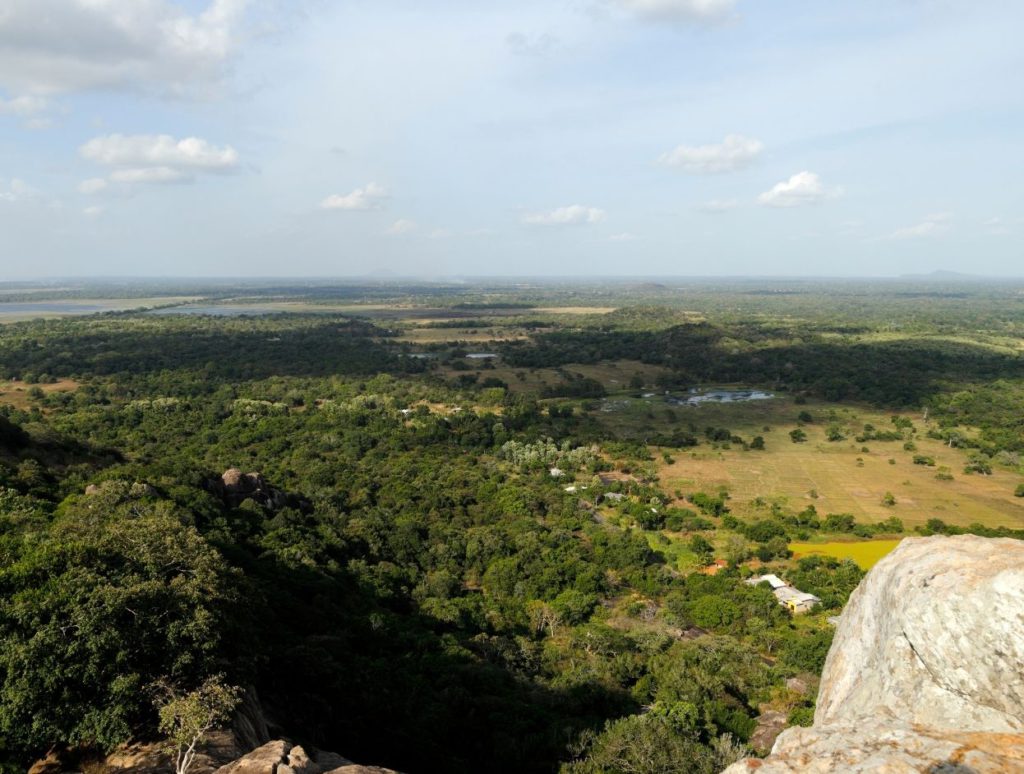 Best time to visit Anuradhapura
The absolute best times to visit Anuradhapura are the months of January, July, August and September. Now they are hot too sharing a tropical climate. The temperature in other summer months like March-May are hot with temperature way above 30°C. Occasional showers take place in October and November while December is extremely humid.
Now it doesn't mean that all the other times are bad. But yes, hot and humid are two things that you will have to deal with at any point in time with varying degrees.
What to wear in Anuradhapura
You don't need to go completely local and adorn similar dresses. However, you need to be careful to dress more modestly in the area. Anuradhapura is more of a religious destination than a tourist one.
Cover your shoulder and knees while entering any religious premises. Wearing white clothes will bring you even closer to the local customs but its not required.
If you decide to wear a dress, just go for longer ones. You can carry a scarf to cover your shoulders. Men should wear longer shorts that come up to your knees. Do not remove your t-shirts even if you are sweltering inside. Go for loose cotton clothes to aid you in the heat and humidity.
Keep an umbrella with you and apply lots of sunscreen. Also, carry thick socks since you will have to walk on the hot floor around the stupas where you are not allowed to wear shoes. Wear sandals that are easier to wear and remove since you will have to do that repeatedly.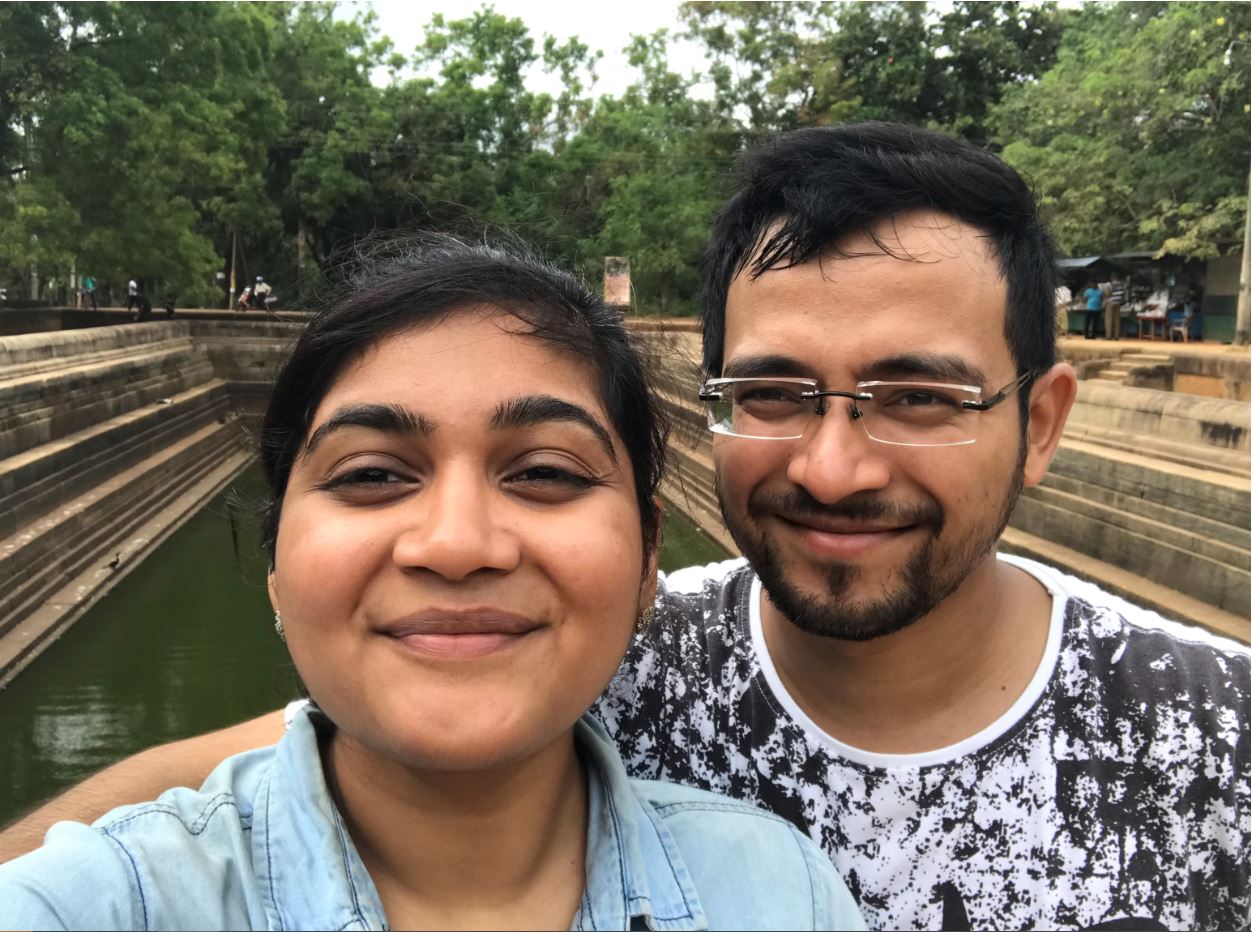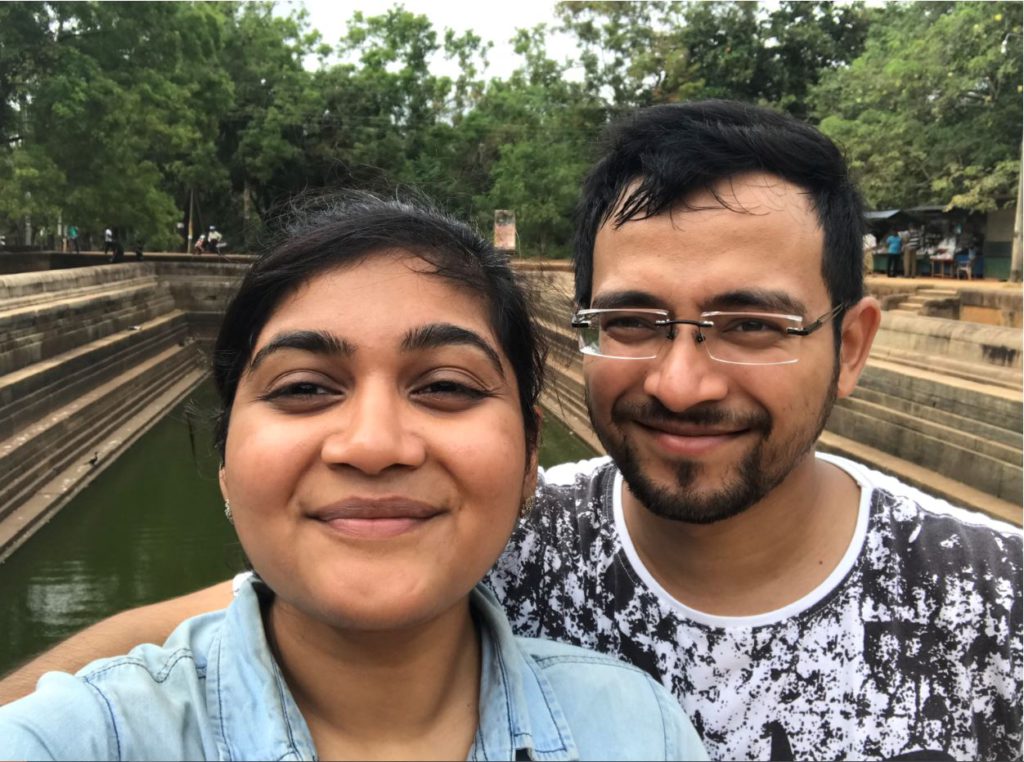 Related Articles


Related Articles