20 Feb

The Best things to do in Galle, Sri Lanka

Galle is pronounced as 'Gall' like 'Ball'. And if you are a cricket fan you may know this from the famous cricket stadium located here in Sri Lanka. I had never heard of it. But it had reviews for being a very nice tourist destination. So I put it on my Sri Lanka travel itinerary. And it did not disappoint me.

If you want to talk about cultural coalescence you may expect more Indianness in Sri Lanka. Or even English here since this was one of their crown colonies, but Dutch?

Here is a fun fact! Sri Lanka was colonised thrice in its lifetime. First the Portuguese gave the name 'Ceilao'. Then the Dutch. And finally, the Englishmen changed the name to 'Ceylon'. After this, they gained their independence in 1948 and became Sri Lanka. But Galle became the place where the Dutch landed and made it their port.

It is the Galle fort built in the colonial Dutch style of architecture with the essence of Sri Lanka that draws a lot of tourists. If you are planning your trip to Sri Lanka, I suggest you should definitely include Galle. It is pretty easy to reach too.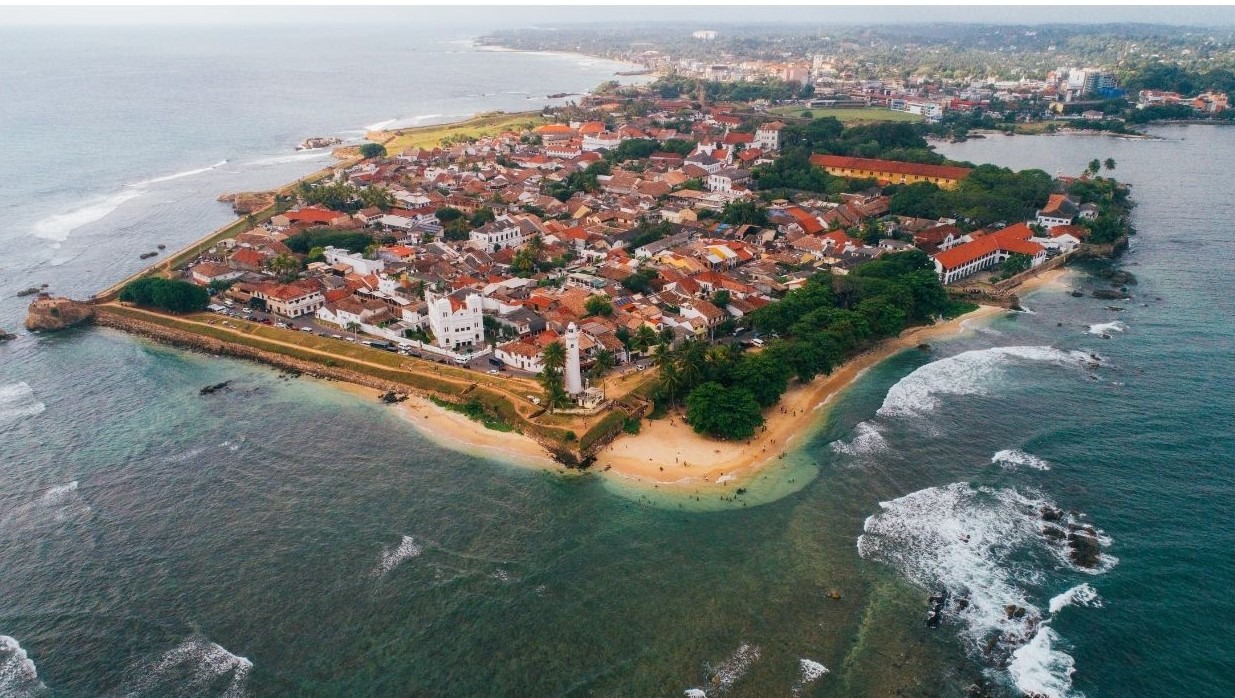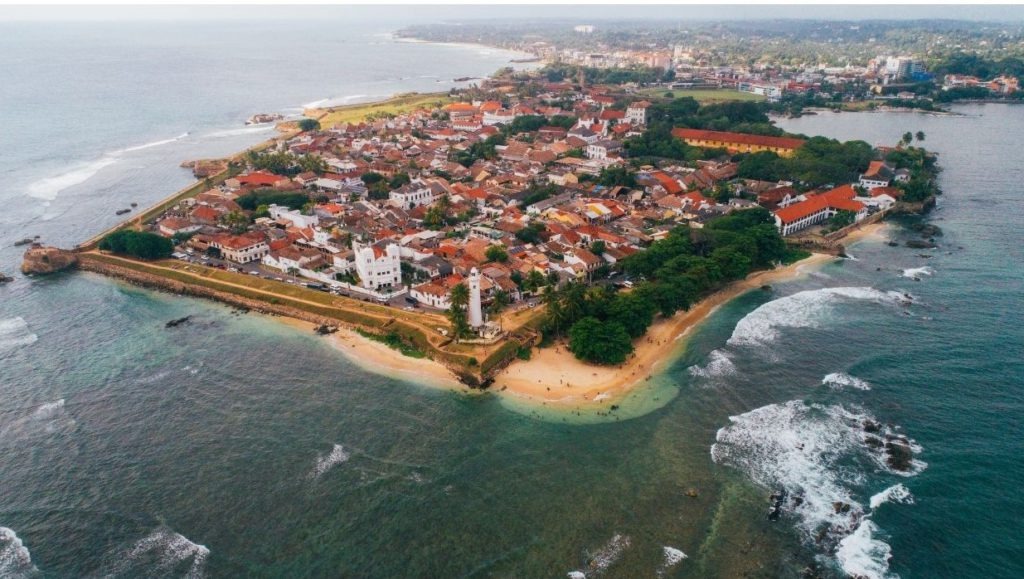 Where is Galle located?
Galle is a beach town located at the southwesternmost tip of Sri Lanka (and the Indian subcontinent). It is 145 km from Colombo and takes a little more than 2 hours to reach.
Galle is also close to most of the popular beaches of Sri Lanka like Hikkaduwa, Unawatuna, Weligama and Mirissa. Some of them are popular for activities like whale watching and surfing.
In Sri Lanka? Add Nuwara Eliya to your travel list with details on our blog
How to reach Galle?
There is no airport at Galle so you will have to either take the road or the train to reach Galle. Here are some options.
Train to Galle
The train connectivity in Sri Lanka is fantastic. However, if you haven't travelled across South Asia before, you may find it chaotic. You can catch a day train from Colombo Fort Station to Galle. Head over to the official Sri Lankan railways website or seat61.com to check out the daily schedules.
The Colombo-Galle line is also called 'The Coast Line'. The ride is very scenic with an accompanying sea view on one side.
The 2nd and 3rd class tickets are available at the stations till the departure time. There is no limit on issuing the number of tickets. It usually leads to crowded carriages. Prefer 2nd over 3rd if you can. The tickets are usually extremely affordable.
The first-class tickets are more expensive but you get a guaranteed seat. You can also book them ahead of time (up to 30 days) although they run out very soon. You can book the tickets on portals like 12go.asia and tourmastertravelservice.com.
Galle railway station is right opposite Galle Fort and you can walk to it. If you are staying somewhere other than Galle Fort, you can get a tuk-tuk right outside the station. Do negotiate and agree on a price before getting on.

Bus to Galle
You can get a regular bus from Colombo Central Bus Station (government bus) or Bastian Mawana Bus Station right opposite it for better private buses. The ticket would start from Rs. 170 but you will have to deal with the crowd.
Also, it would take a bit of time to get outside the city. This will increase the travel time to 2.5 hours. Deluxe and AC buses are also available and I suggest taking that for more comfort.
The Colombo to Galle expressway is well maintained which makes the journey smoother and quicker. You can catch an express bus from Colombo at Mukumbura Bus Stand. A bus departs every 20 minutes and the ticket costs around Rs.420 per person. It cuts short the journey to 1.5 hours.
The Mukumbura bus stand is around 30 minutes from the city centre. You can take a tuk-tuk or an Uber inside the city which will cost more than Rs.600.
Again the bus stand is near the railway station as well as Galle fort. So you can simply walk up to it if you are living there.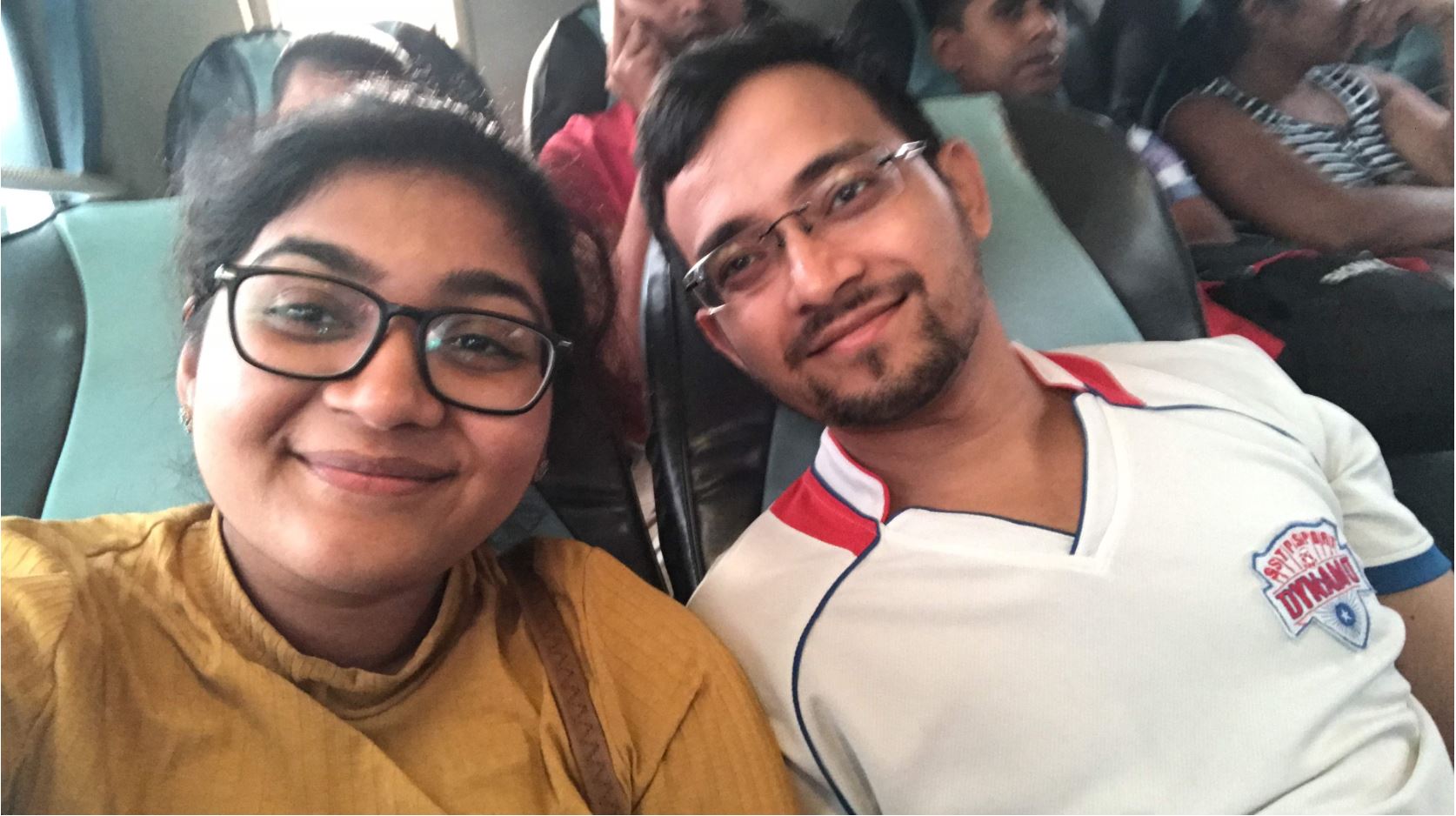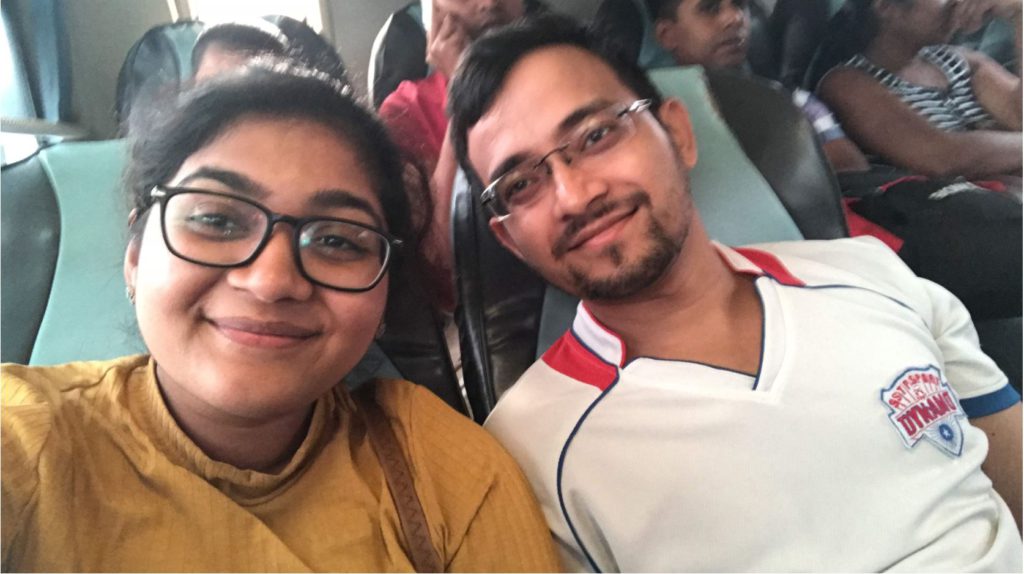 Taxi to Galle
The taxi fare from Colombo to Galle starts at around Rs.9000 for a one-way trip in a 4-wheeler. You can either take the Galle road (with a scenic view of the sea on one side) but the travel time is up to 3 hours and the fare is on the higher side.
Otherwise, you can take the Colombo-Galle expressway. There is an additional toll cost of Rs.400. You can book an outstation cab using Uber from Colombo. Although you may not get one back from Galle. You can also book with some private local companies online like taxisrilanka and lotuscabs.lk.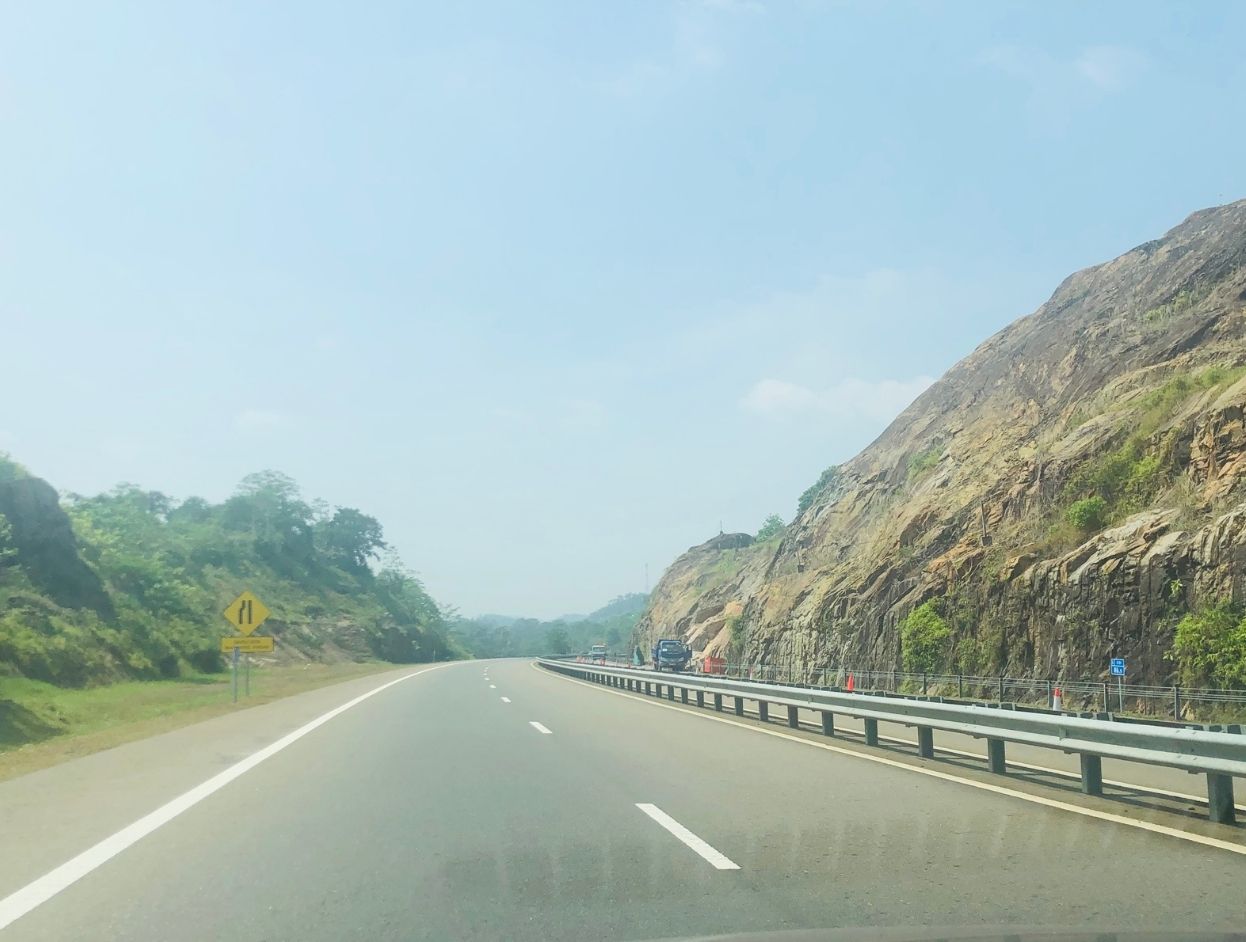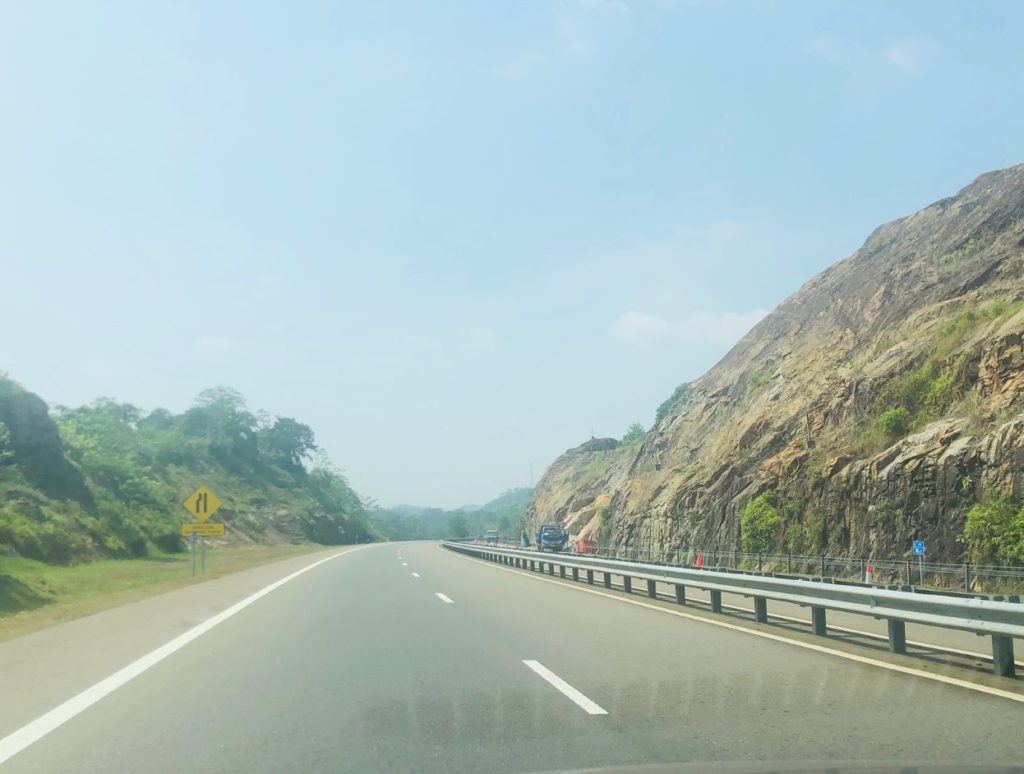 How to go around in Galle
Exploring Galle on foot
If you are living in Galle fort then you can explore most of the area on foot only. You can even go out of the premises and visit a couple of beaches nearby. Galle Fort has fantastic restaurants, museums and beachside views that can fill up a whole day. You will need a vehicle to go to the nearby beaches or to the main town but for the most part, you can even do without one.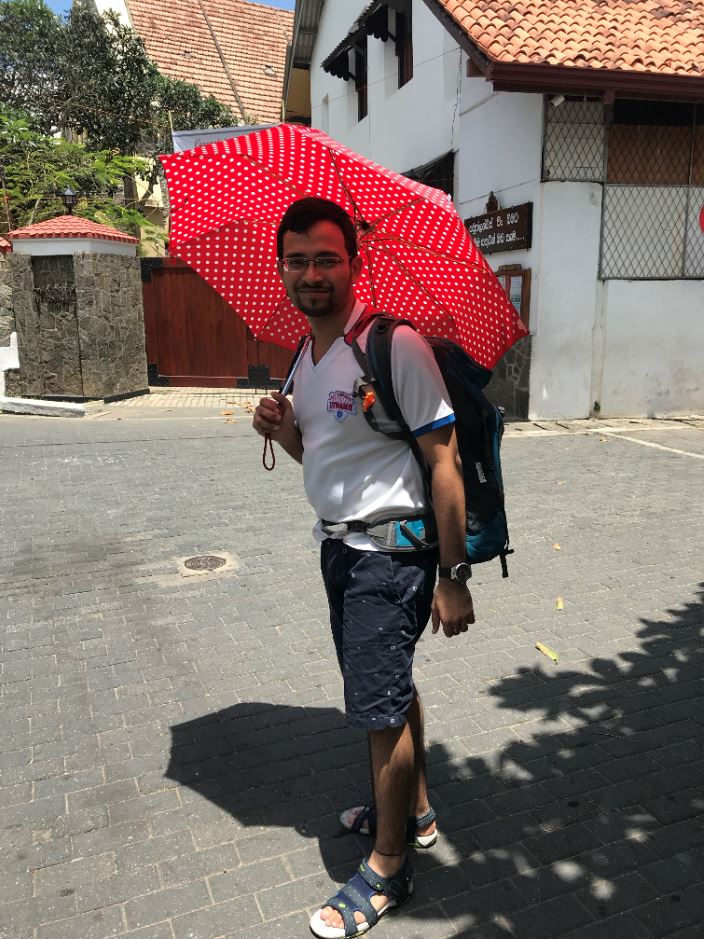 Tuk-tuk in Galle
If you are looking to go to the neighbouring beaches or other towns like Mirissa or Unawatuna, you can take a tuk-tuk. Tuk-tuks are usually not available inside the Galle Fort. But you can just walk to its main gate or to the railway station nearby and hail a tuk-tuk.
Make sure you negotiate a price before getting on. The fair practice for the drivers is to charge by the meter. However, sometimes they don't use it or they say it's not working. Also, keep online maps handy in case they are taking you on a ride using a much longer route.
Two-wheeler in Galle
While I think it is the best option to go around long distance in Galle, it could be difficult to find one inside Galle fort. You can cover the surrounding beaches using a two-wheeler. The roads are scanty and the ride is great with a smell of sea salt in the air.
I suggest you check with your hotel owner for they rent scooter informally to tourists. However, I will not suggest driving without a driver's license valid in Sri Lanka. Police officials line up near the fort area and can ask you for documents. Even handing out some extra cash may or may not work. If you do, make sure you don't take a wrong turn.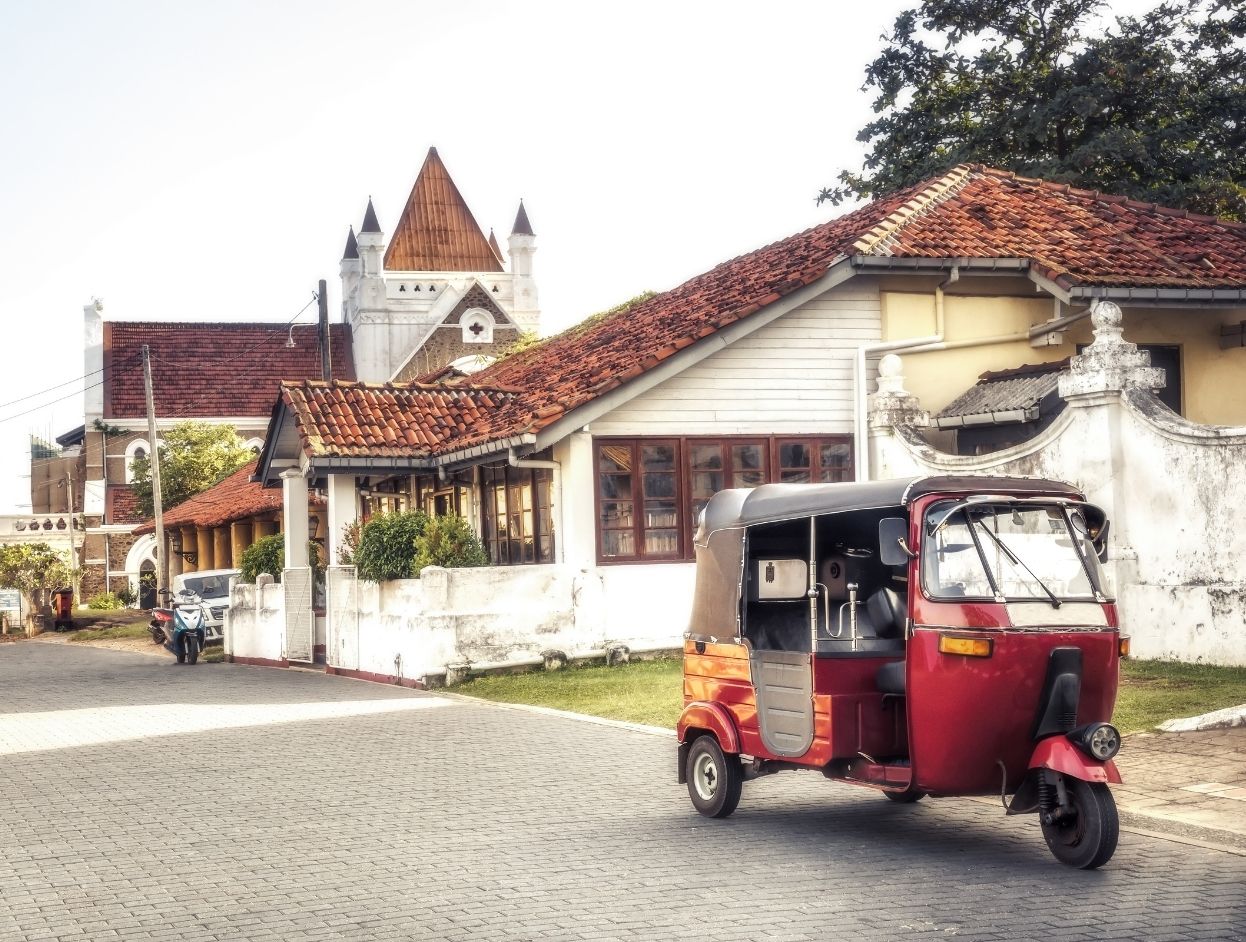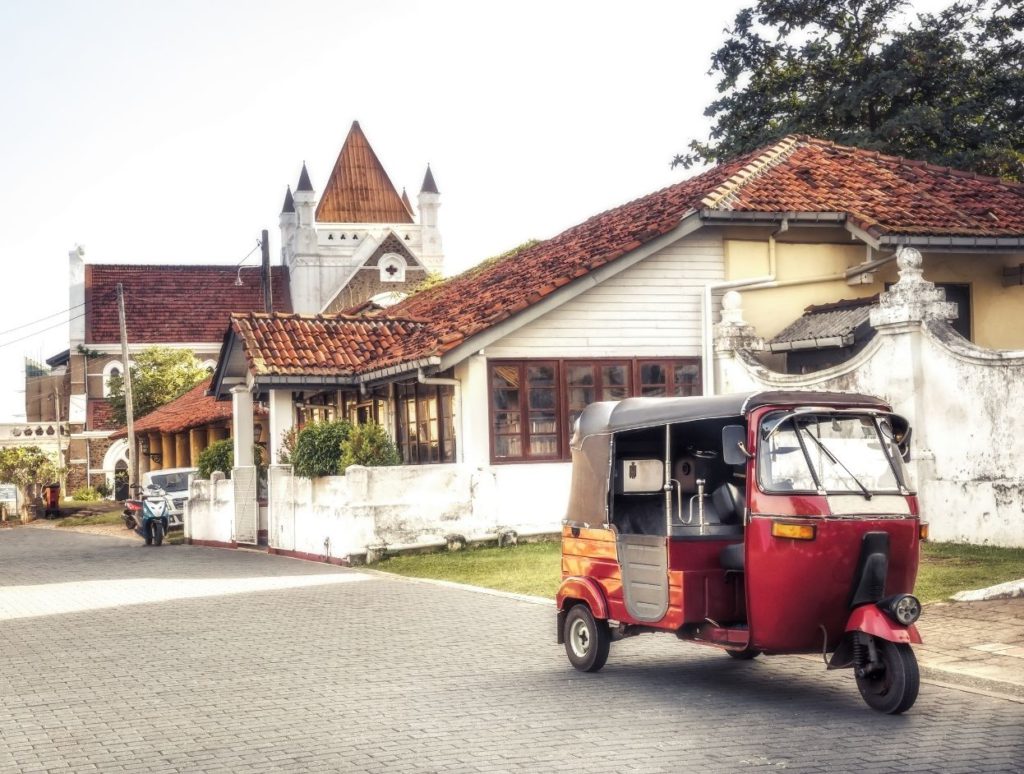 Staying in Galle
I will definitely suggest living inside the Galle Fort area. The hotels inside Galle fort can range from budget hotels to luxury heritage buildings built in the colonial Dutch style.
We stayed at Rampart View Guesthouse, a budget hotel at the tip of Galle. The beauty of it is I could see the sunrise and sunset both from the rooftop of my hotel. So technically you are at the tip of the Indian subcontinent. Pair it with the famous 'Ceylon tea' and it becomes one of the loveliest evenings of a lifetime.
Other than that, beachside hotels in Unawatuna, Hikkaduwa and Mirissa are also great options. You would love them if you want to be more connected to the outdoors.
Here are some options that you may like
Budget: Fort Sapphire, The Entrance Galle Fort, Secret Palace Guest House, Fort Inn Guest House
Luxury/Heritage Hotels: The Bartizan Galle Fort, Le Grand Galle by Asia Leisure, 20 Middle Street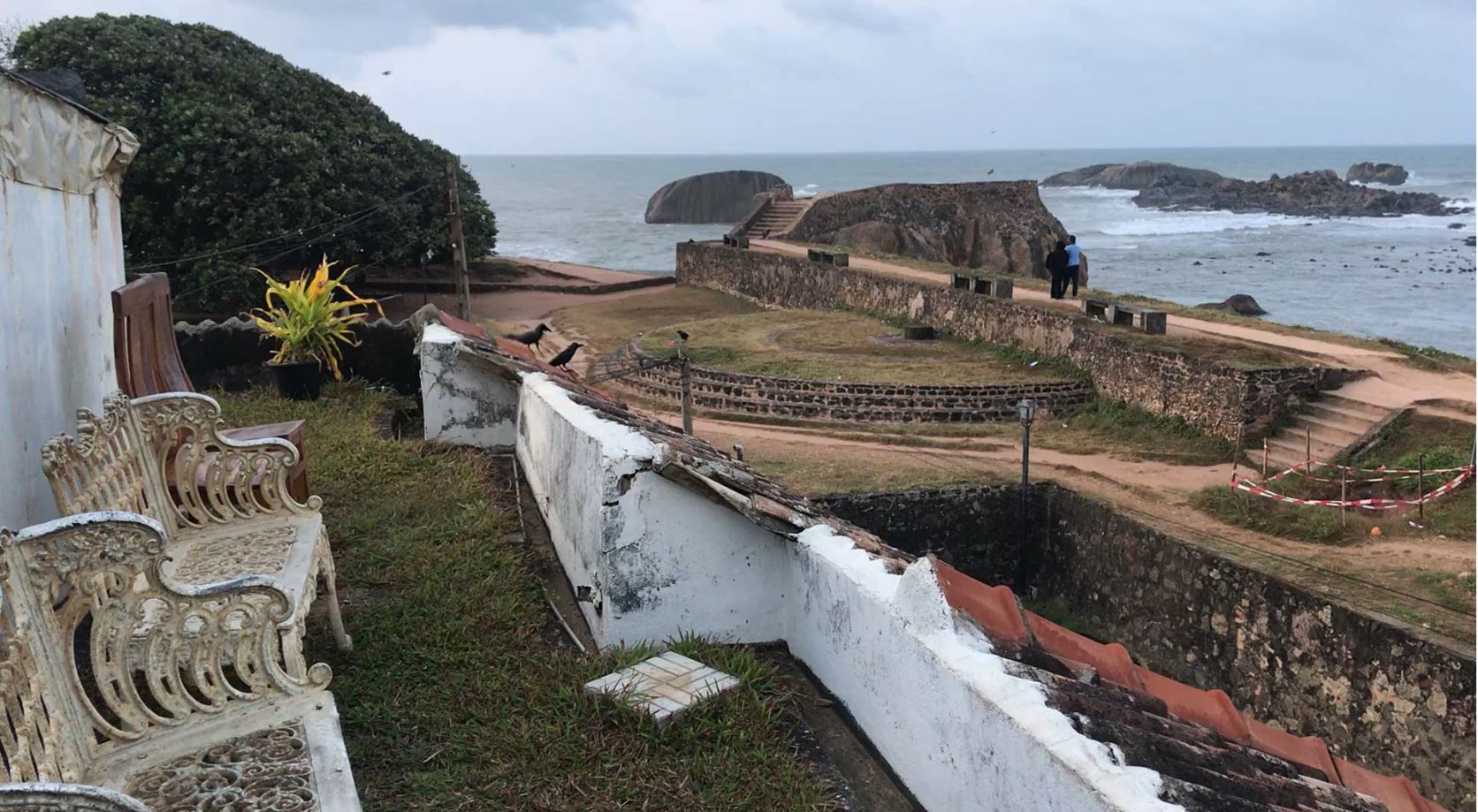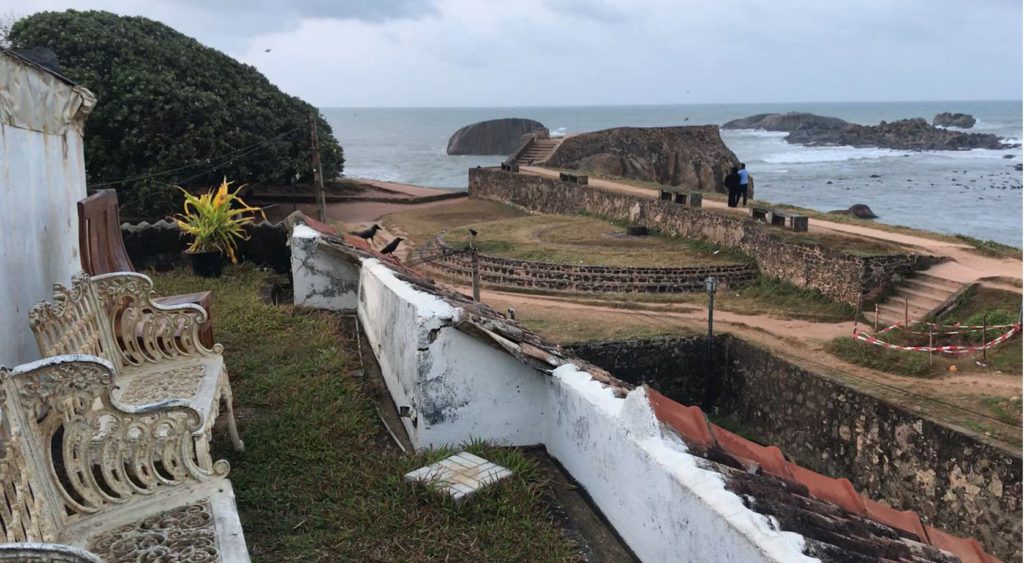 Best time to visit Galle
The best time to visit Galle is between December to April. The skies are clear and there is relatively low rainfall. Although December is the busiest month of the year. It is when the large tourist crowd swarm in. The temperature is moderate throughout the year ranging from 23°C to 31°C in the summer months.
If you enjoy the rain, I think the monsoons also make a great time to visit Galle. The landscapes are greener and tourists fewer.
On most days, it does not rain the whole day and you will have plenty of time for sightseeing in comfort. The downside is that the beaches can be closed for surfing and other water sports. We visited in August and the weather was great with no rainfall.
The summer months of May and June are the hottest in Galle. If you decide on your trip then, stay indoors during the day and go out during the cooler hours.
About Galle Fort
Galle fort is the most popular tourist attraction in the town. It's not just a usual fort; it's a town inside the fort. It is also a UNESCO World Heritage site. There are residences, shops, restaurants, hotels and many other buildings inside.
Small clean roads connect the neatly placed buildings. Decorated with huge semi-circular wooden front doors, the buildings acted as administrative offices for the Dutch once upon a time who ruled the place.
Most place resonates with Dutch colonial architecture. Buildings still retain their triangular roofs and thatched rooftops of a traditional European look. Do not forget the balcony of wrought iron rails and elongated vertical windows with a semi-circular top on both sides.
The streets are cobbled stone accompanied by colonial-styled lamp-posts on both sides. The whole town is painted mostly white of faded pastel colours accentuated by rich dark furniture and woodwork.
While there are a lot of things to do inside the fort itself, you can also spend a good amount of time exploring the architecture. It is a haven for photographers.
How about Sri Lanka's native history? Check out the top places to see in Anuradhapura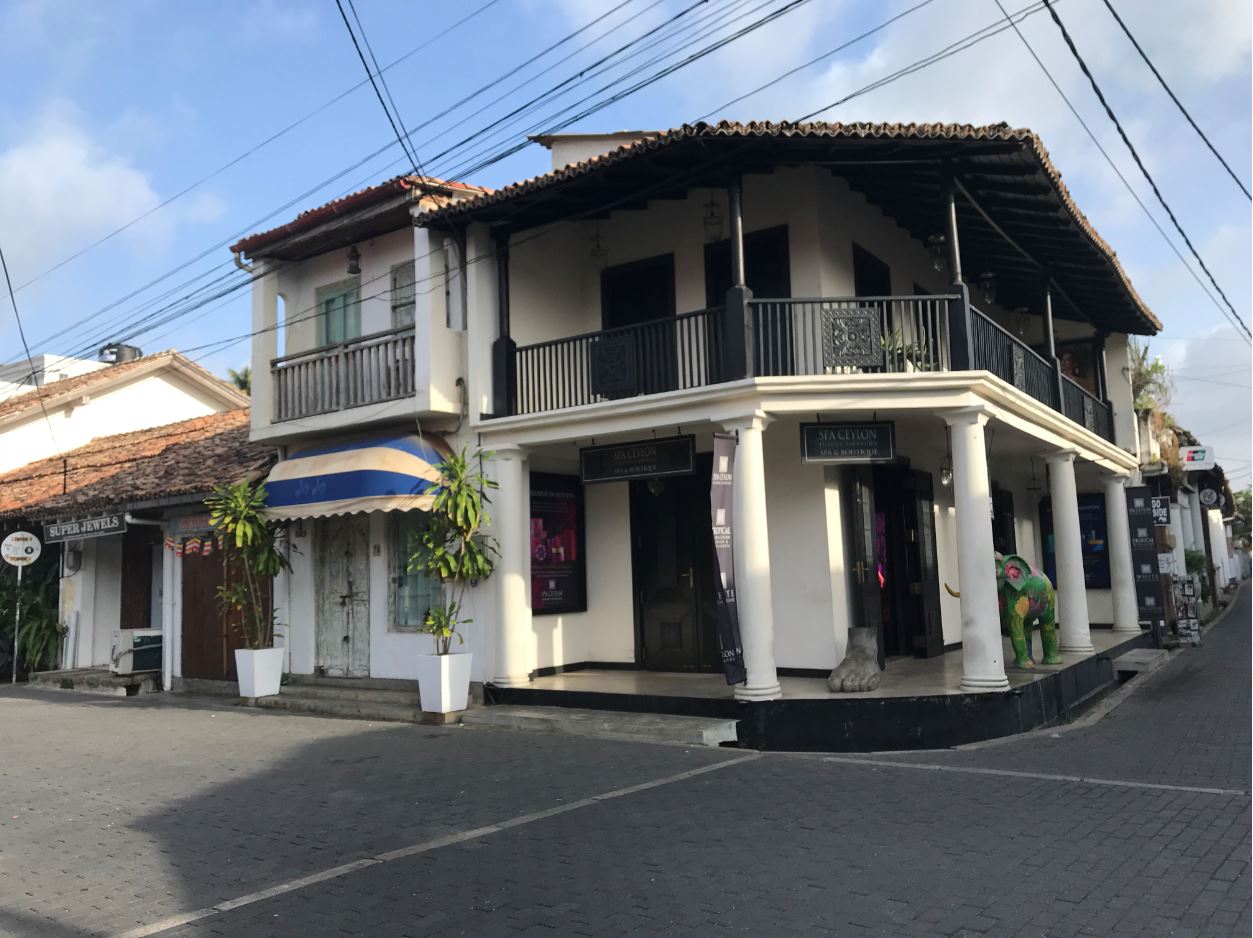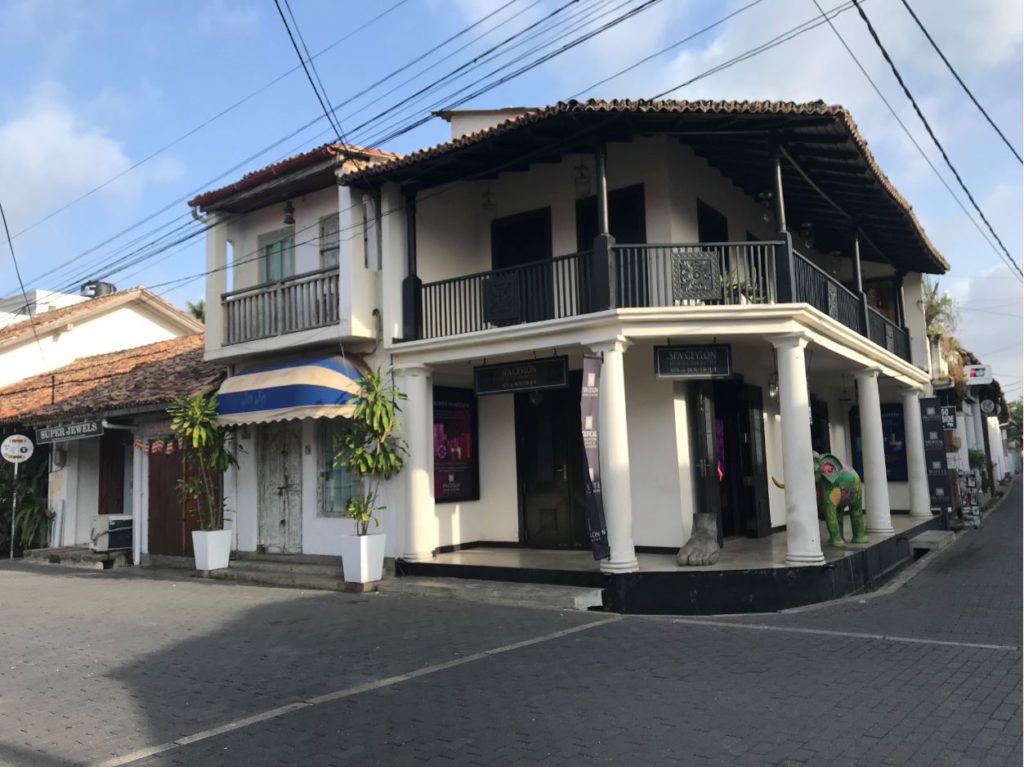 What to do in Galle
Galle Lighthouse
The Galle lighthouse also called Pointe de Galle Light is the oldest light station in the country and is still operational. While it may look pretty tall in photos it is surprisingly not. But it is gorgeously painted in crisp white colour.
The original structure of the lighthouse dates back to 1848 originally built by the British. It burnt down in time. Another structure was built on the grounds of the old one in 1939 that you see today. The lighthouse gives a full view of Galle harbour. Sadly regular tourists are not allowed to climb on top.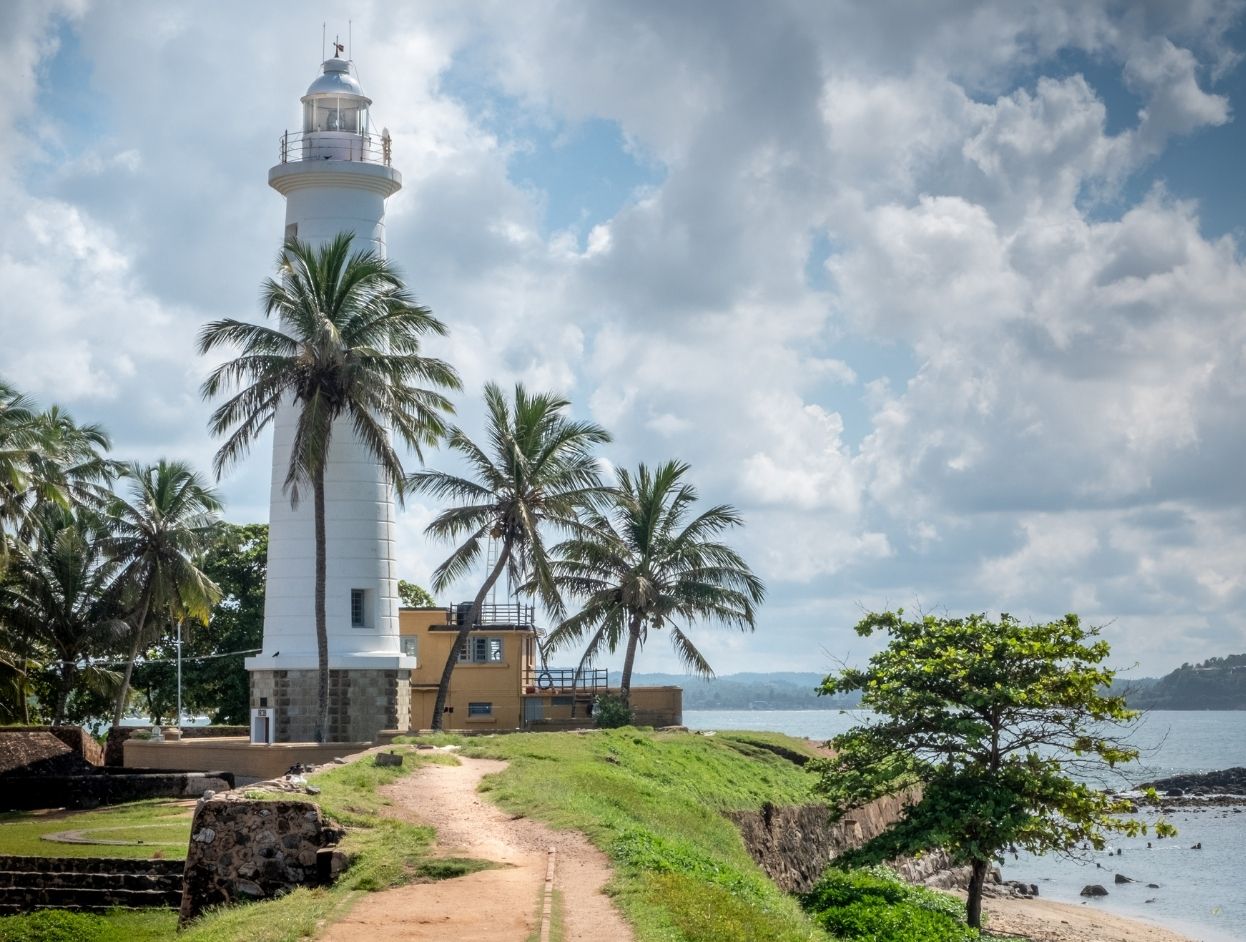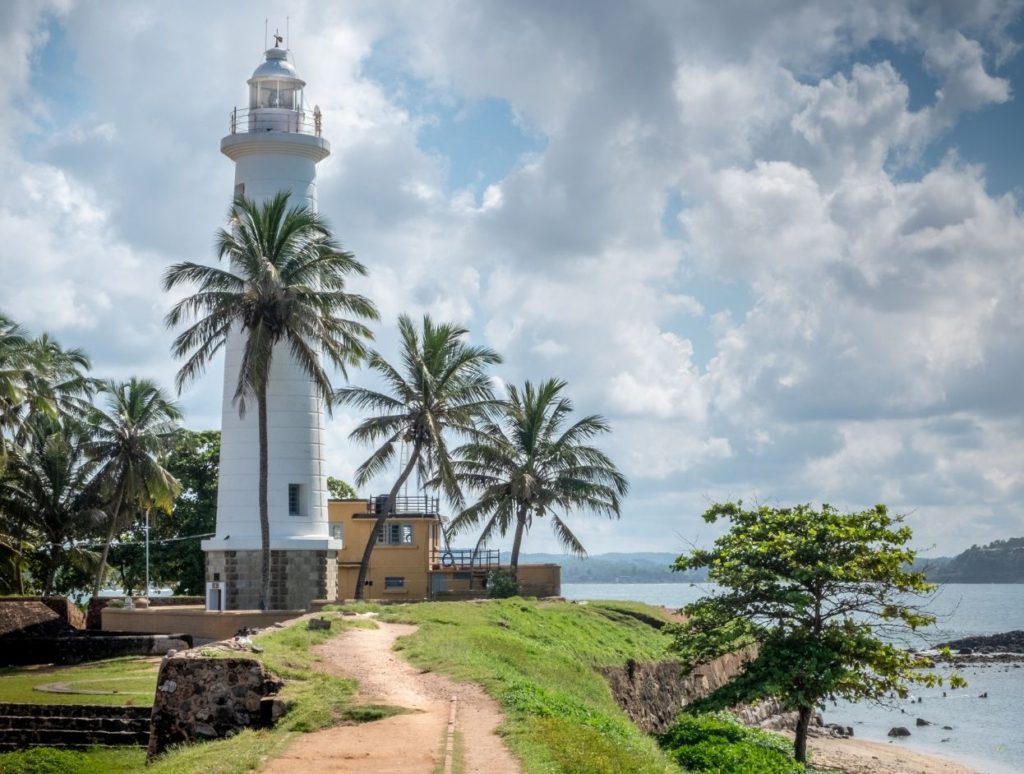 Museums on Galle History
Galle National Museum
The building that houses the museum dates back to 1656 when the museum was officially inaugurated in 1986. It used to be storage for weapons for the colonial Dutch. Most of the galleries have artefacts from the colonial Dutch and British eras and a whole room is dedicated to Sri Lanka – China trade relations.
There is also a display of products from rural industries like ebony wood and ivory carvings, turtle shell jewellery, masks, paintings, lace artworks etc. Try to visit during cooler hours since there is no AC.
The ticket price is Rs.10 for locals and Rs.300 for foreign tourists. Open from 9 m to 5 pm from Tuesday to Saturday. Closed on Sunday and Monday.
Interested in History? Check out our article on visiting Sigiriya Lion Rock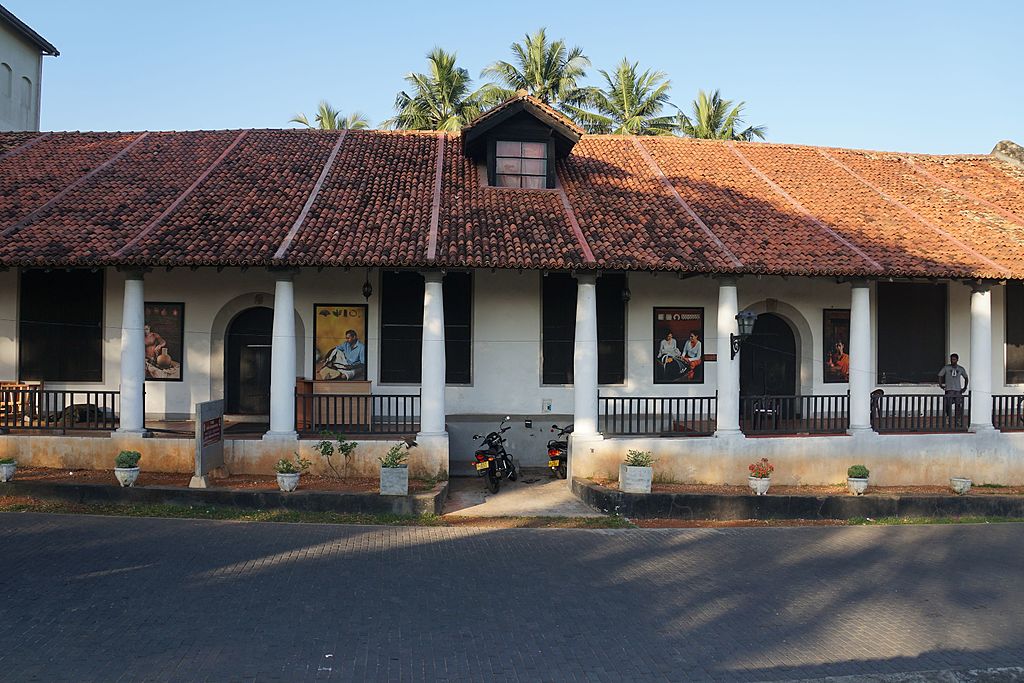 National Maritime Museum Galle
The building of the museum goes back to 1668 when the Dutch initially built it as a warehouse but its purpose varied over time. In 1992 the Sri Lankan government first opened the museum displaying collections from seafaring, maritime trade and ocean life. Galle being an important maritime port and a coastal trade town was abundant in this.
Most of the initial collection was destroyed in the 2004 Tsunami where the sea took around 80% of the artefact with it. After that, it has been repopulated and renovated in time with the help of the Royal Government of Netherlands and opened again in 2008.
Ticket price is Rs.10 for locals and Rs.300 for foreign tourists. Open from 9 m to 5 pm from Tuesday to Saturday. Closed on Sunday and Monday.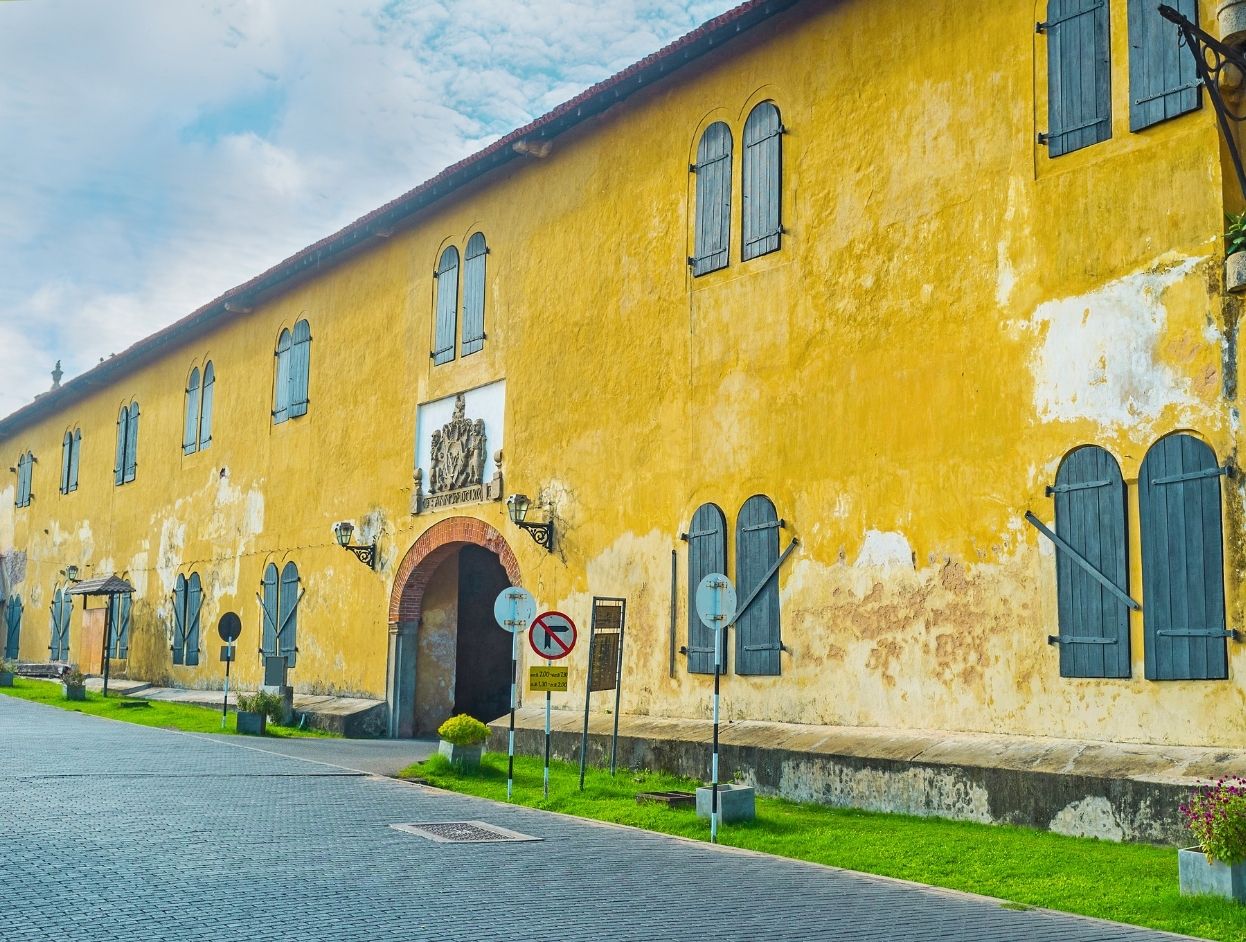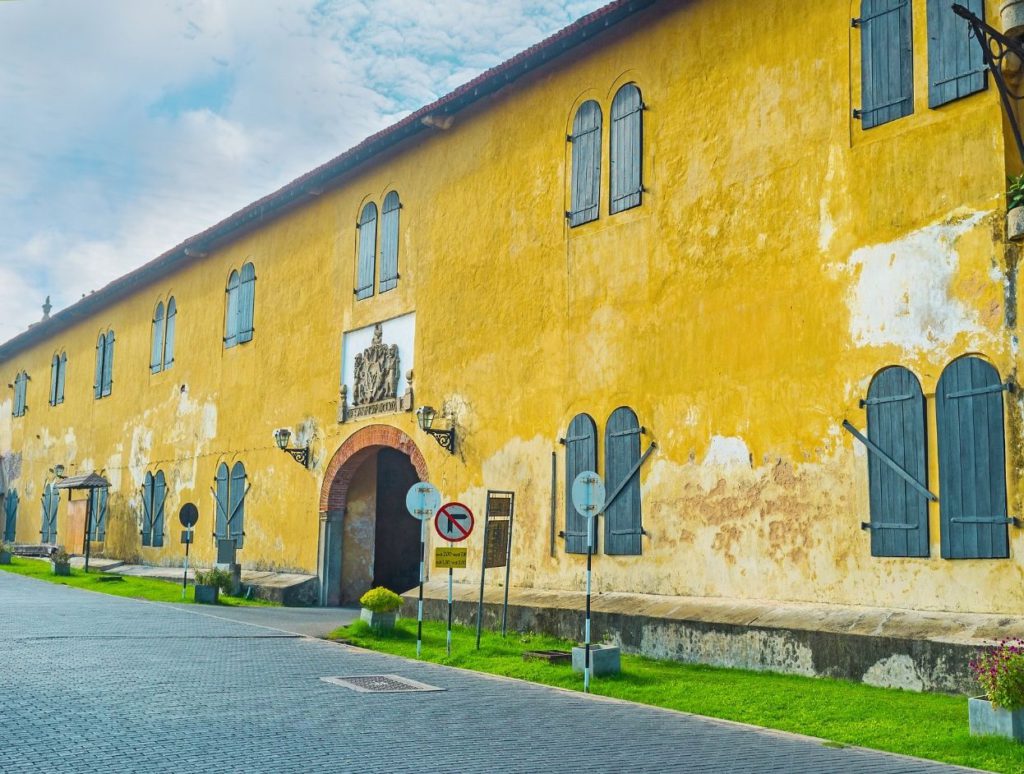 Historical Mansion Museum
This is a private collection of Abdul Gaffar, a local gem merchant with daily products and household items going back a couple of centuries. You will things like old china pots, medical supplies, typewriters, clothes, cameras, furniture, clocks etc. It is an eclectic mix of mundane life from Sri Lanka's colonial past.
The museum is open from 9 am to 6 pm every day of the week. The place is free for everyone to enter. There is a jewellery and gemstone shop on one side run by the family that owns the museum. You can expect a subtle sales pitch during the visit.
Explore SuperCool Cafés
Most of the buildings inside Galle Fort have been converted into shops, restaurants and even boutiques with a lot of vibrant colours, lush interiors and chic décor. And most of them are jaw-dropping gorgeous!
The interiors of these cafes and hotels are still Dutch with accents of colours and sometimes a mix of modern furnishings. Sit down for a meal of seafood if you have the taste for it. There are very few places here that serve authentic Sri Lankan food. It's mostly American and European inside the fort.
In the evening you can also head for gelato in town. I have to say it is a bit overpriced, but how often do you get a decent gelato in South Asia?
Here are some of the popular places to eat inside Galle fort.
Amangalla |Upscale Hotel with a European restaurant
Poonie's Kitchen | A Popular Breakfast Place
A Minute by Tuk Tuk | Contemporary Sri Lankan cuisine with a great sea view
The Blockhouse | Popular for Kottu and a view of the Bay at the sunset
Pedlar's Inn Café | European Food with great décor
Isle of Gelato | As the name suggest go for the Gelato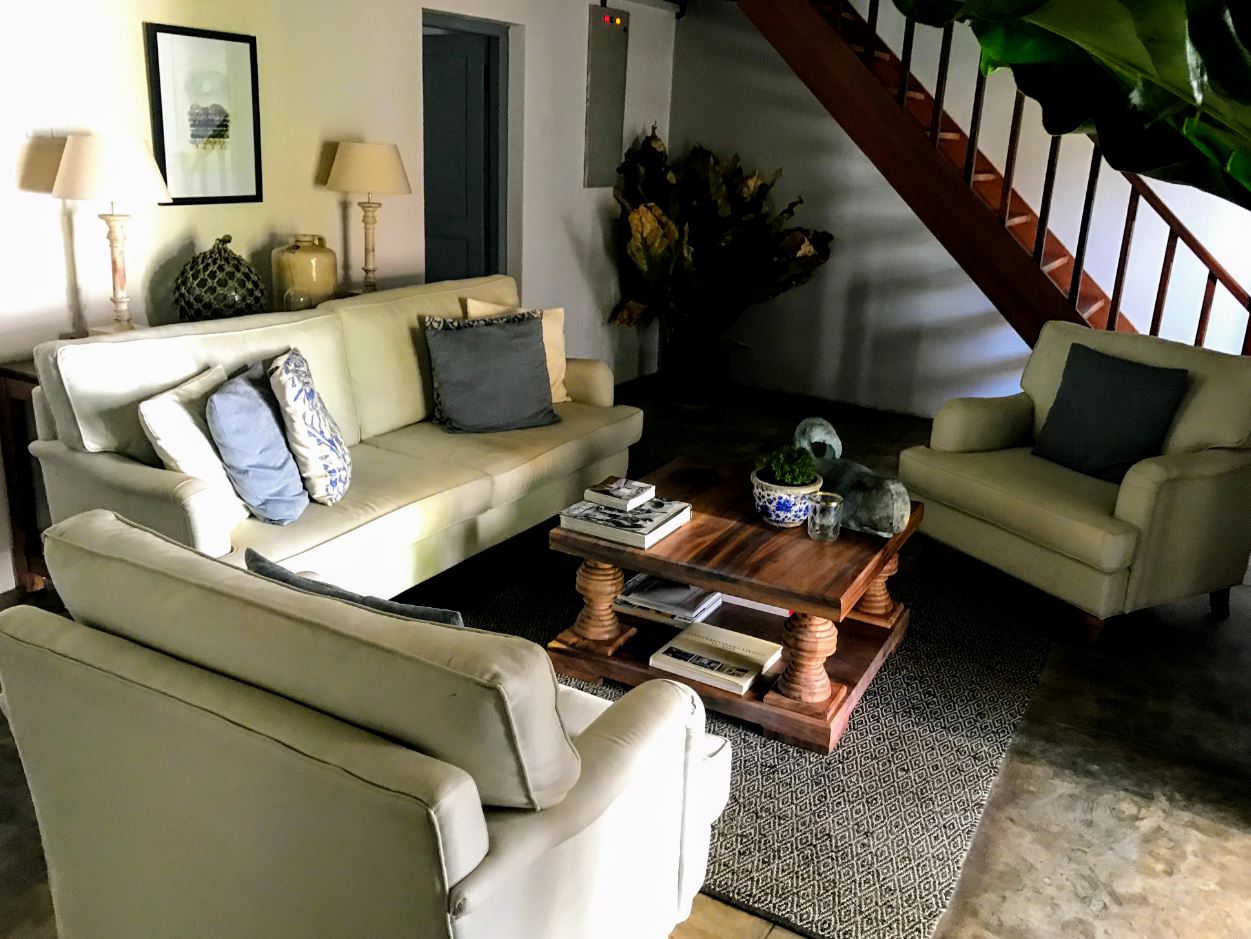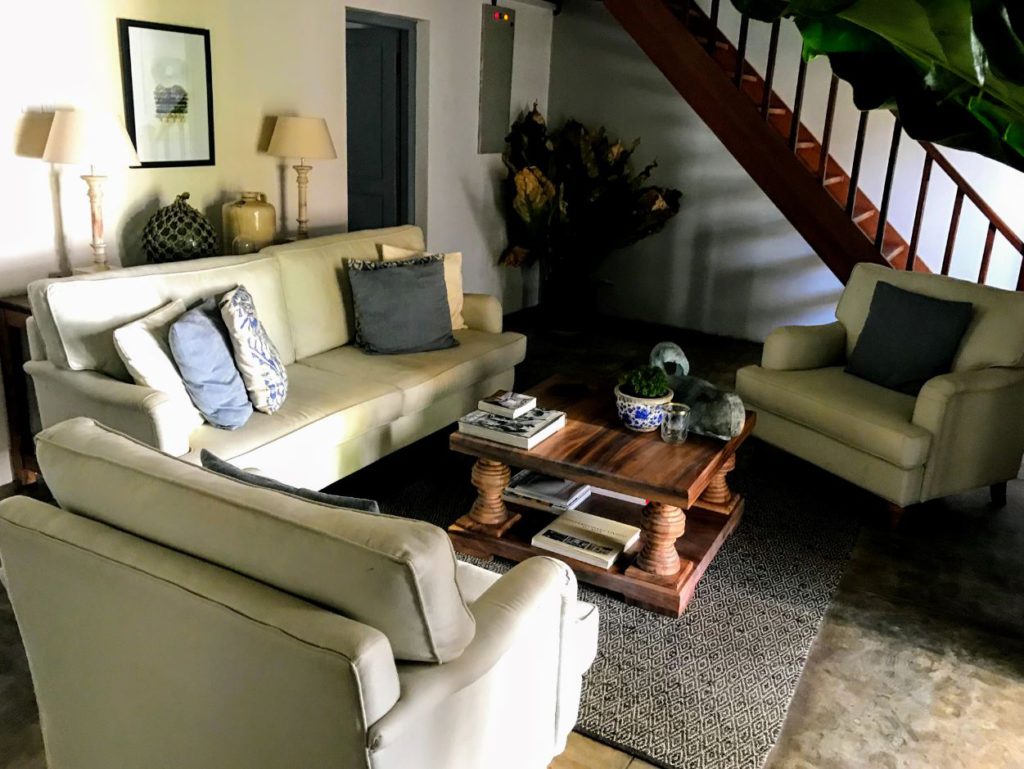 Window shop semi-precious stones
You will also find a lot of jewellery shops in the fort. It really got me perplexed at first. Later that night we met a stranger, a local businessman. Over a meal, he shared the history of Galle from his childhood which was more than half a decade ago.
He told us how the buildings were adopted by the Dutch government to preserve, the tsunami that affected thousands of people in Galle. And then he spoke about his trade and the love for his craft, precious stones.
He also invited us to his place to have a look at his collection of Sapphires, tops, amethysts and more, and if we liked something we could buy. So you can several other similar shops. This also gave Sri Lanka its name 'ratnadweep' or the island of gemstones.
See the sunset and sunrise on the Flag Rock Bastion
This is the outer fort wall along the seashore at the southern end of the Galle fort. I am sure you will walk across it to go to the lighthouse. But the places become extremely popular during early morning and evening hours. You can see both sunrise and sunset from here which is a very rare experience.
We took it to the rooftop of the hotel right at the tip and paired it with some Ceylon tea. That were memories of a lifetime. The walls are even good for a walk after a meal at night.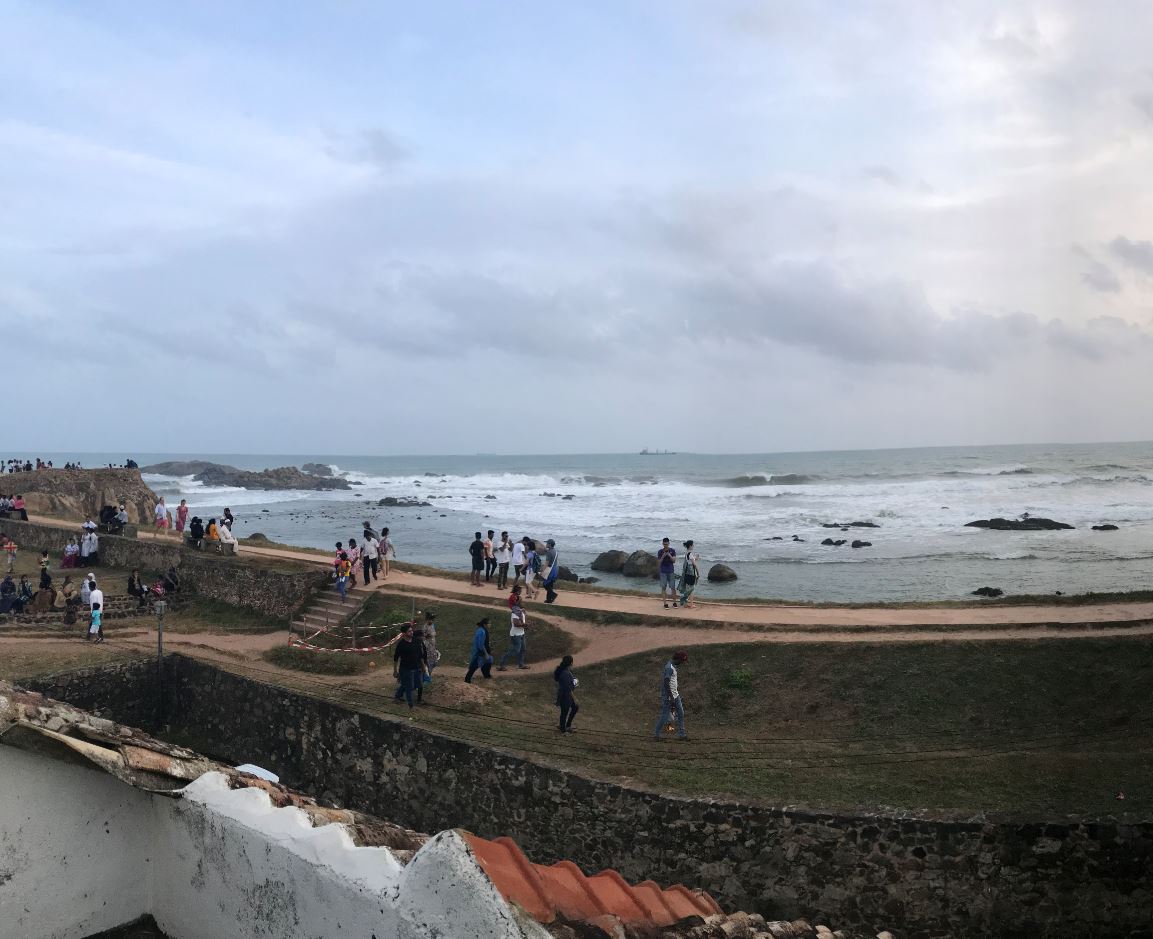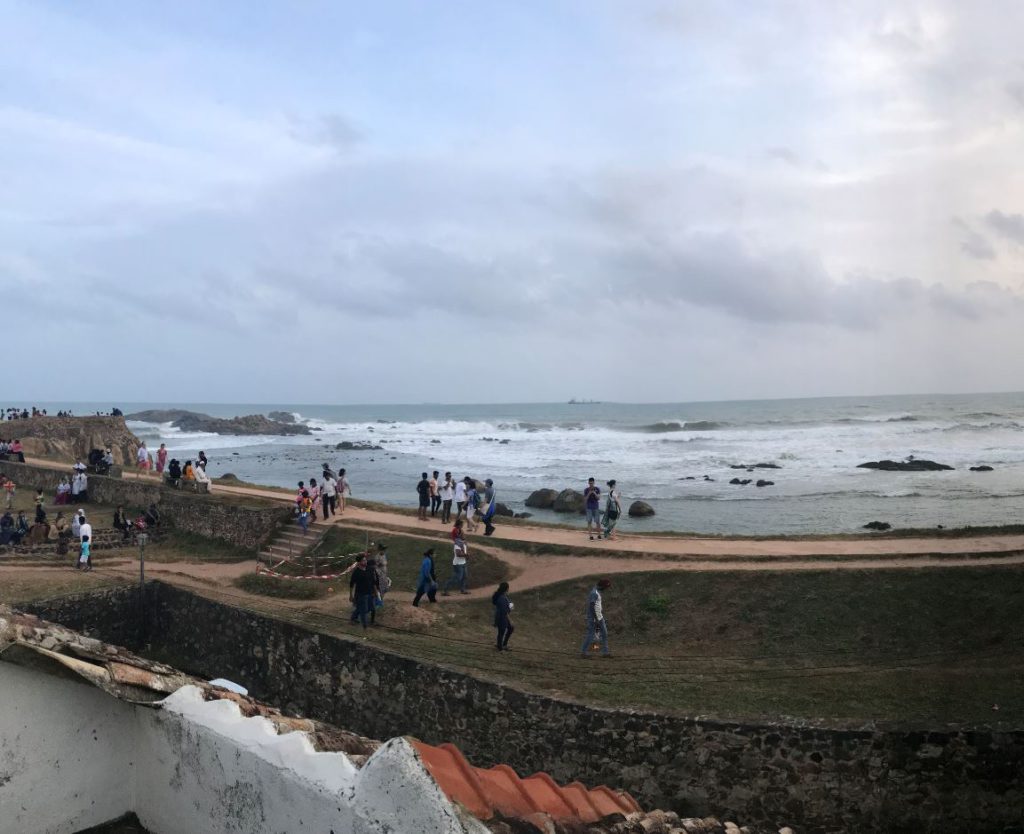 Visit a Sea Turtle Hatchery
Mahamodara Sea Turtle Hatchery Centre is a turtle conservation centre just 3 km away on the west coast. This ethical sanctuary focuses on the conservation of several types of turtles native to the area.
A lot of injured turtles from the surrounding areas are also brought over here and nursed till the time they are healthy enough to go back. A small family takes care of this. As you enter a lady, the owner will personally give you a tour of the place. Do not touch the turtles without their permission since they sometimes bite.
The entry fee is Rs.200 for adults and Rs.100 for children which go towards their efforts. You can also donate over it or sponsor to feed them since that's always a challenge for the family.
Other Popular Places in Galle
Galle cricket Stadium
Meeran Mosque
Galle Fort Clock tower
All Saints Church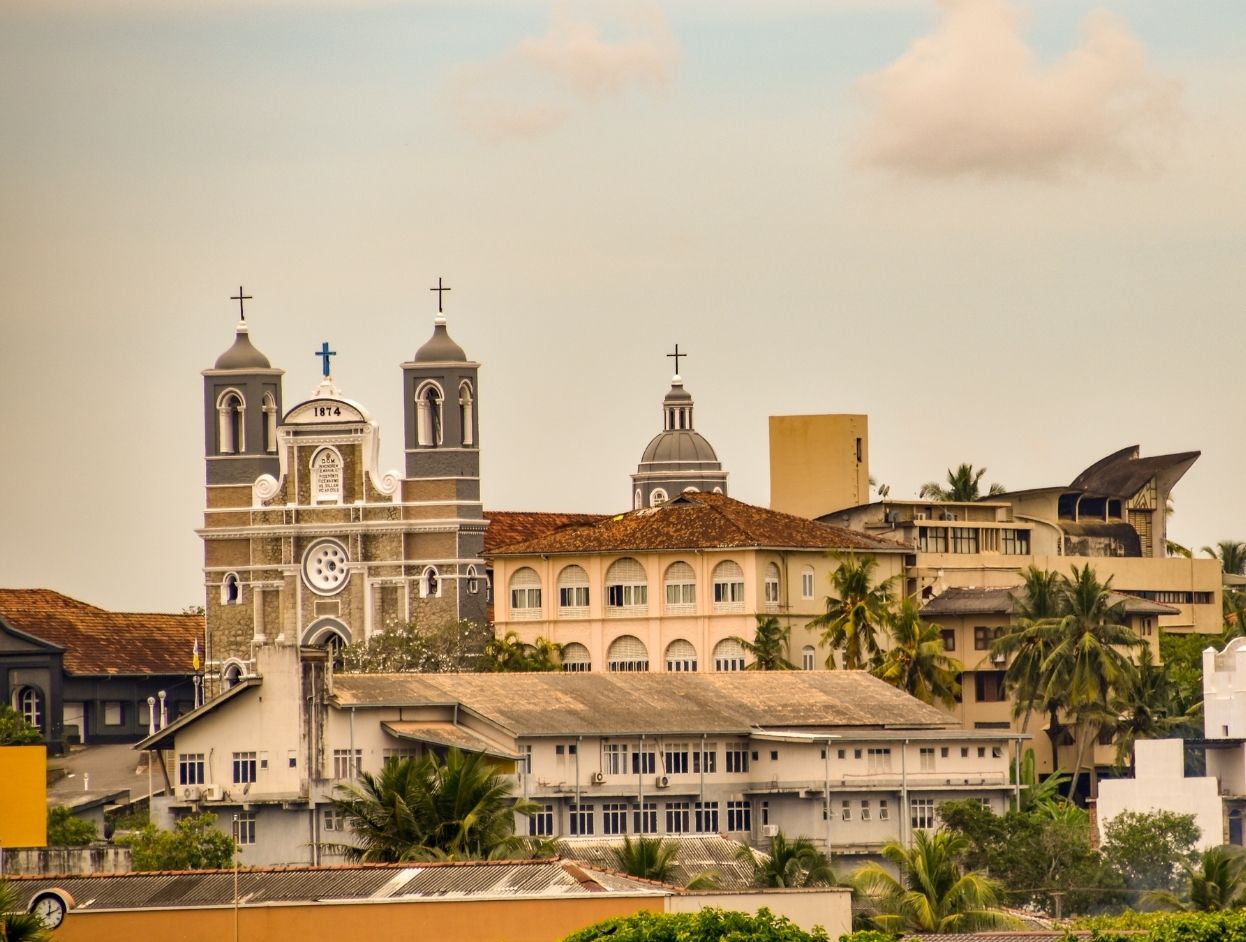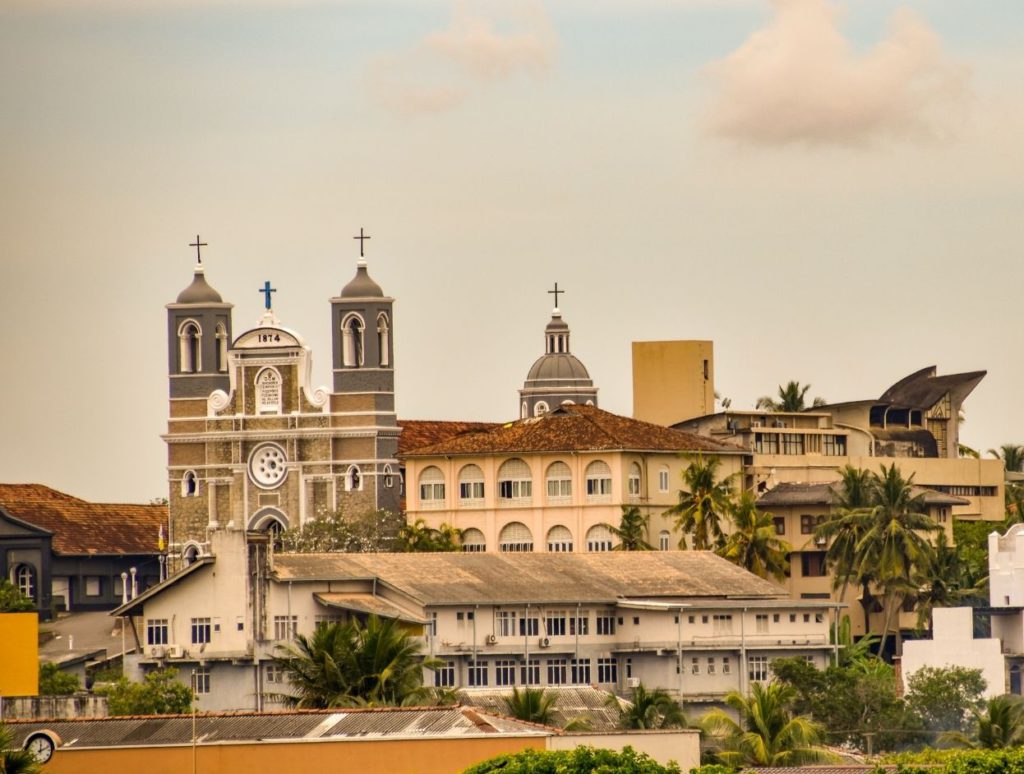 Places to visit near Galle
Galle fort does not have a beach of its own. So you will have to travel or drive down to a beach nearby. You can always stay a night near them. Beaches in Sri Lanka are rather conservative and most of them don't allow tourists to wear a bikini. You can, of course, use your regular clothes like the locals do or go for a well-clad swimsuit. Weigh your surroundings and then decide.
Hikkaduwa Beach
Approximately 19 km from Galle fort towards its west coast Hikkaduwa has become the eye-candy for foreign tourists. The place offers clean beaches with coral colonies that make it a great point for snorkelling. It is also a popular place for surfing.
Numerous restaurants and resorts line the beaches with outdoor seating and cheap hotel rooms. If you have come to Sri Lanka in the search of great beaches, you would probably want to live here instead of Galle. Hikkaduwa also has a decent population of sea turtles but tourists in the recent past seem to haunt them disrupting the ecosystem.
Make sure you do not harm or entertain with sea life and practice sustainable tourism. You can also find abandoned equipment of stilt fishing that the locals used to fish earlier that now tourists enjoy to take photos on.
From Galle the drive to Hikkaduwa Beach is of 20-30 minutes. You can take a two-wheeler, a tuk tuk or hail a moving bus on the highway. If you are coming from Colombo, you can get down at Hikkaduwa Railway station or disembark from the bus before it reaches Galle.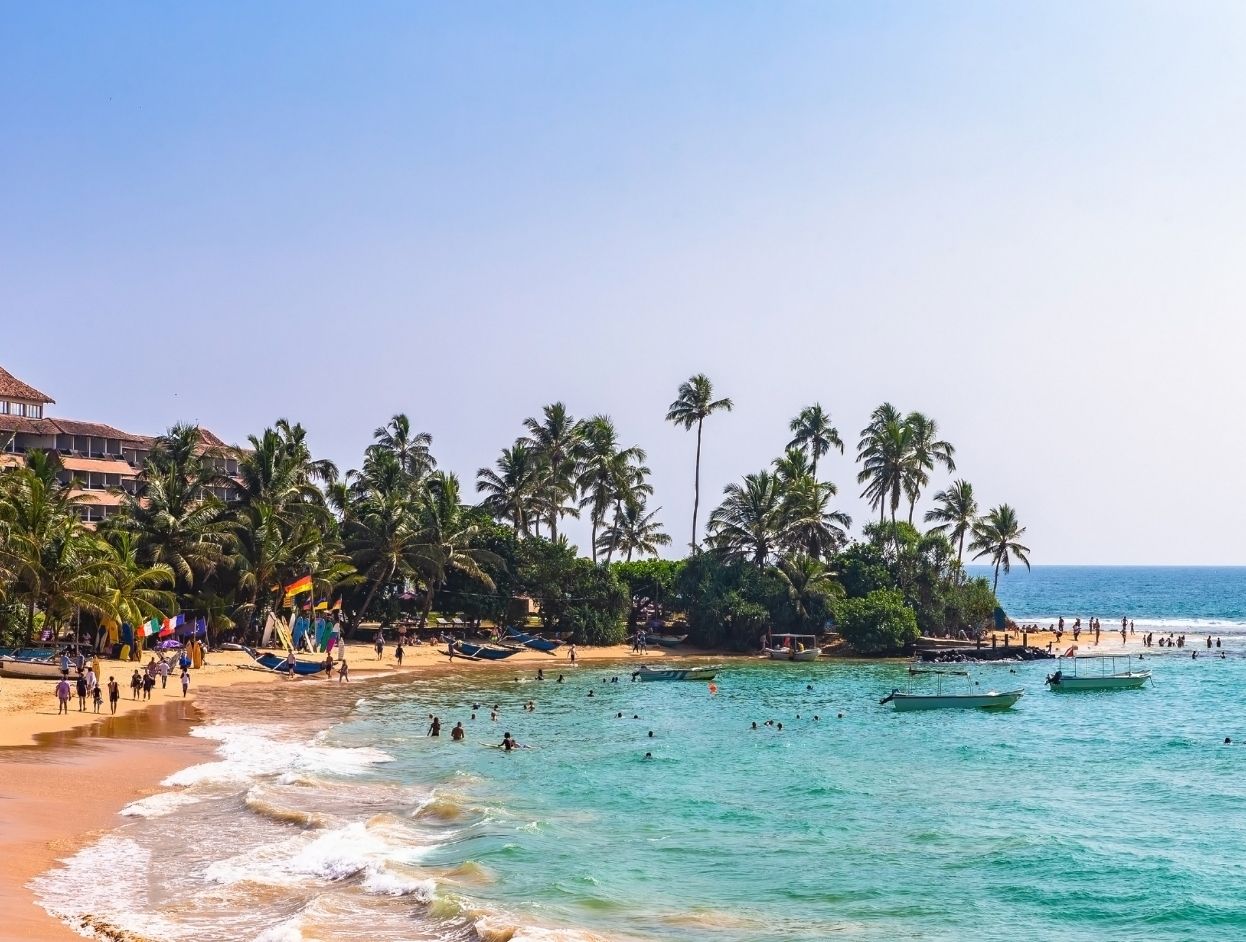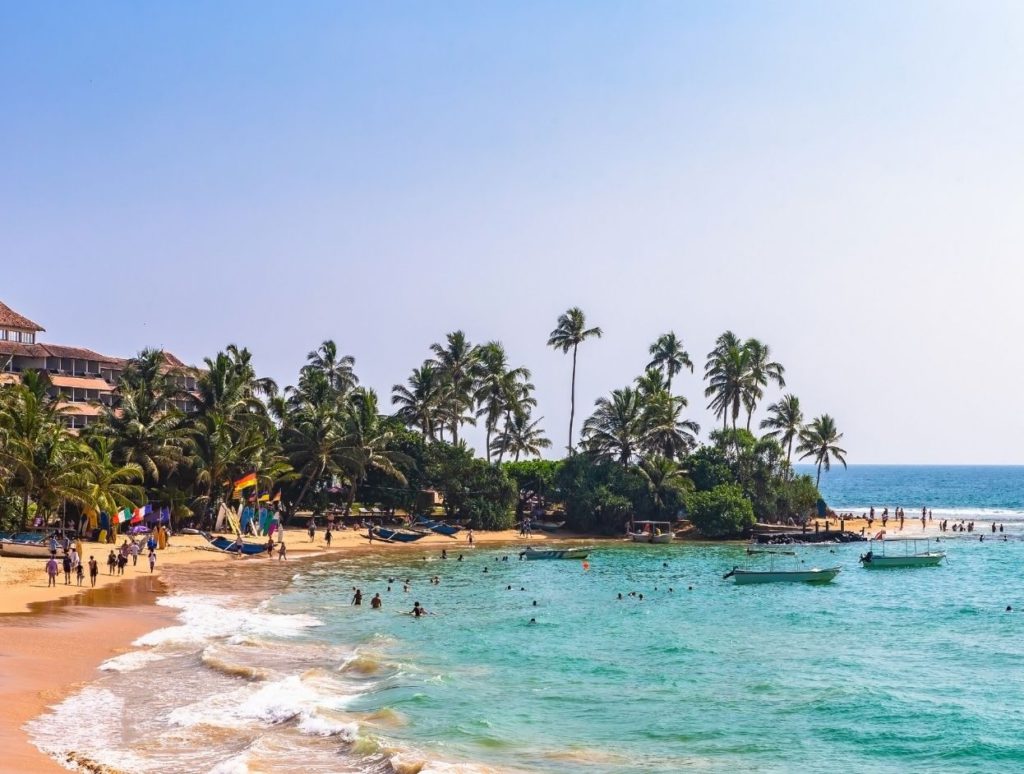 Unawantuna Beach
While Unawantuna is usually not on the top of a tourist's list of the best beaches of Sri Lanka, you can still make a stop and spend a few hours here. The beach is mostly popular with the local crowd. Several shacks line the beach where you can get a quick bite and a drink.
The beach area is home to the endangered species of purple-faced langur. While some locals do believe and aid in preservation, mass tourism still damages the efforts. There is also a statue of Buddha and a temple at one end of the beach. You won't miss much if you skip the place though. You can make a stop at the Japanese Peace Pagoda on your way.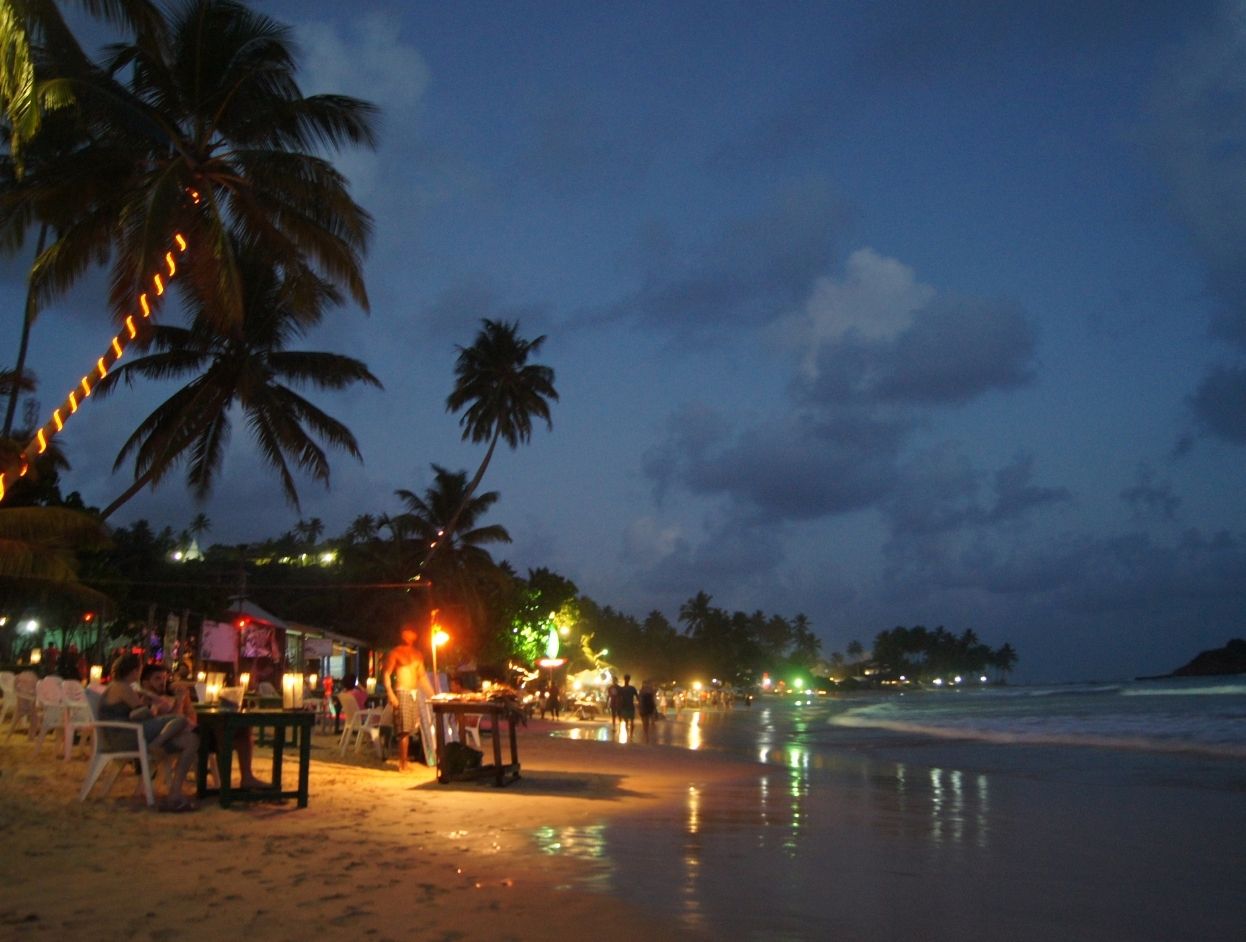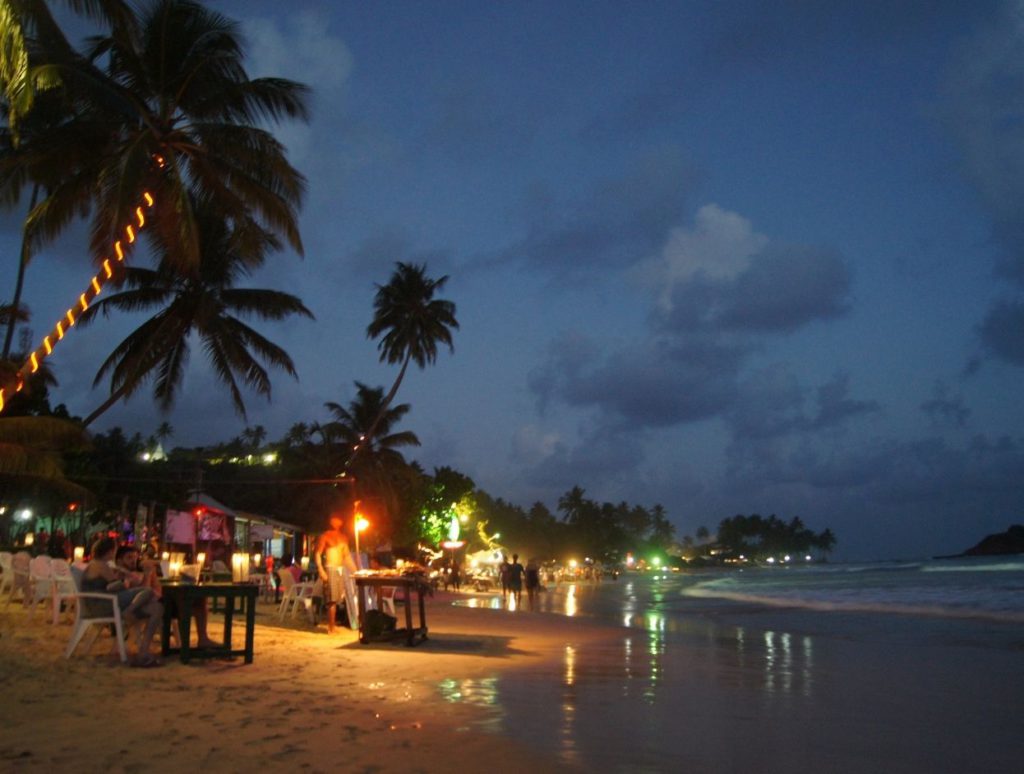 Koggala Beach
Koggala Beach is not a popular tourist spot since not a lot of them know about it. Cleaner and sparser, it is one of the best beaches that you will find in the area. The beach has a few hotels and restaurants for food and stay but isn't overpopulated.
Koggala Beach is also full of sea life. It is a great spot for surfing, snorkelling, windsurfing and kitesurfing. You can also locate a point of stilt fishing nearby. There is also a lagoon where kids can swim without strong waves.
You can plan a whole day trip to Koggala beach. Other places worth visiting in the area are Koggala Lake (right opposite to the lake), Martin Wickramasinghe House & Folk Museum and Handunugoda Tea Estate known for luxury tea products.
It is 14 km from Galle fort and you can either take the road (bus or scooter) or a train to Habaraduwa Railway station.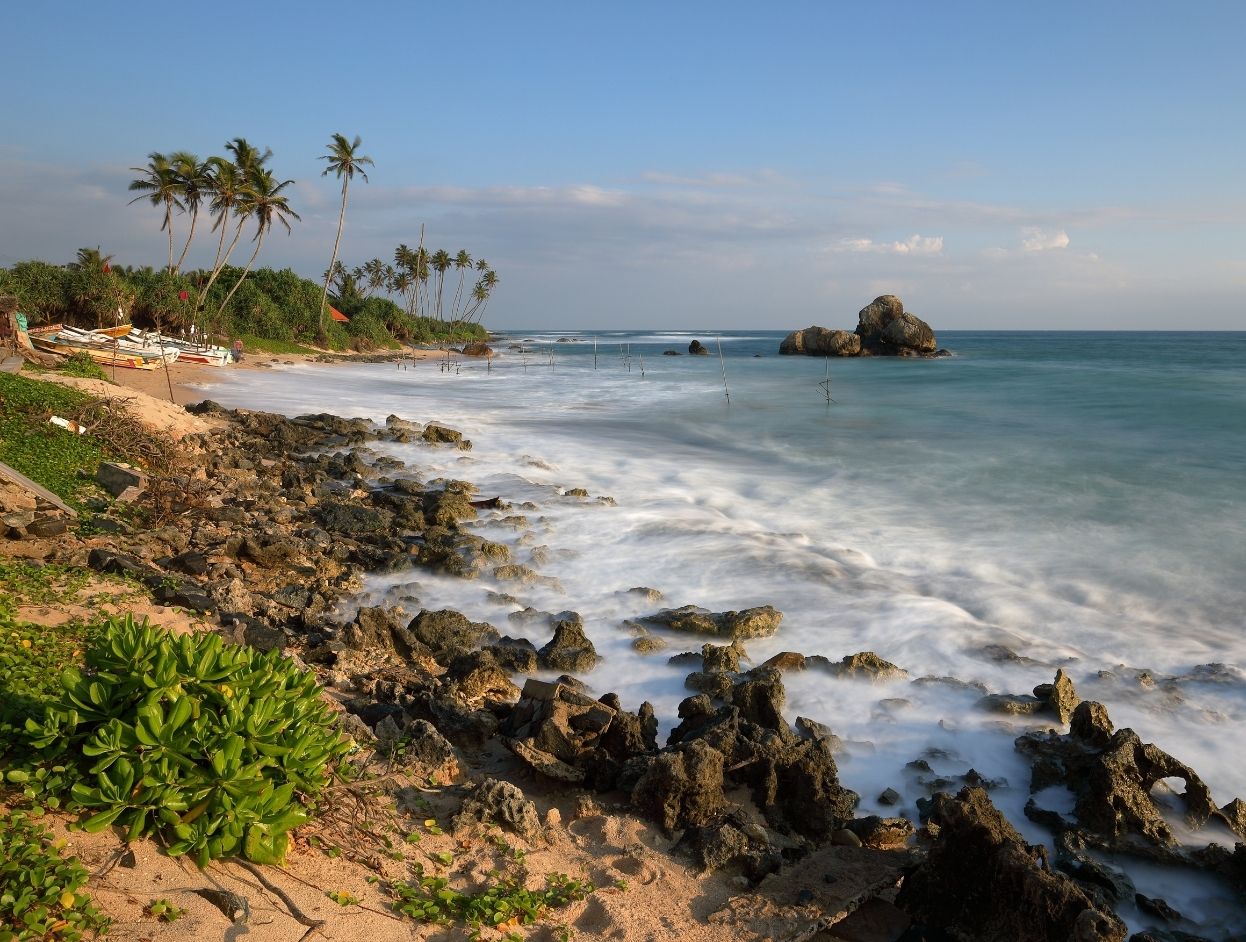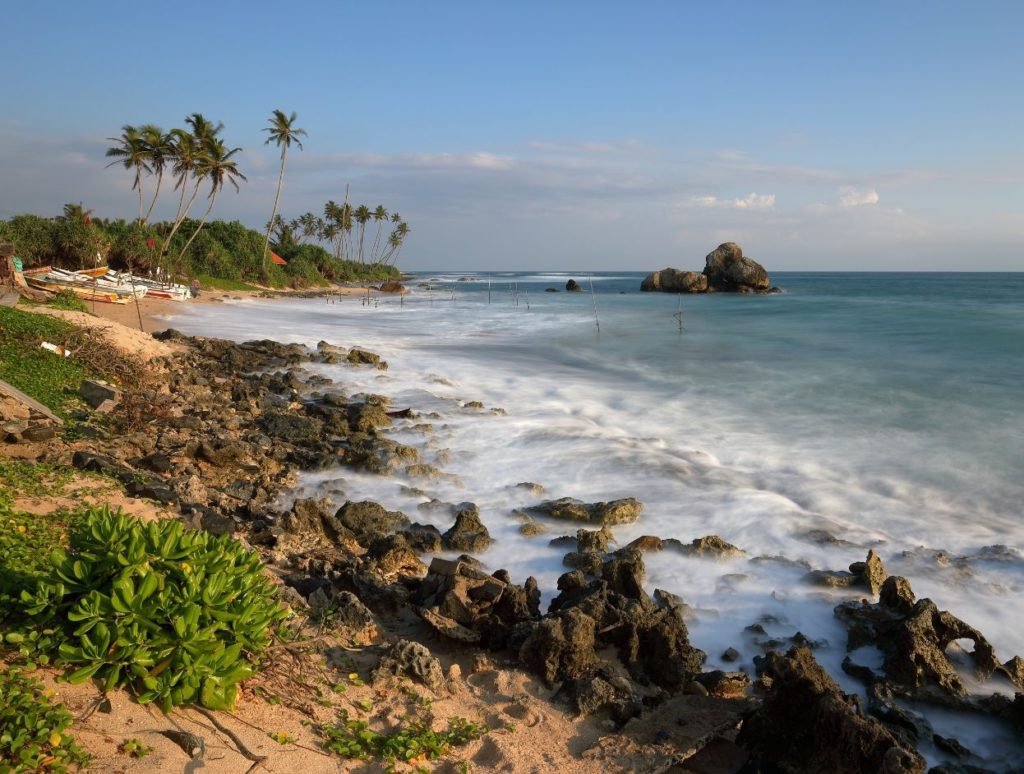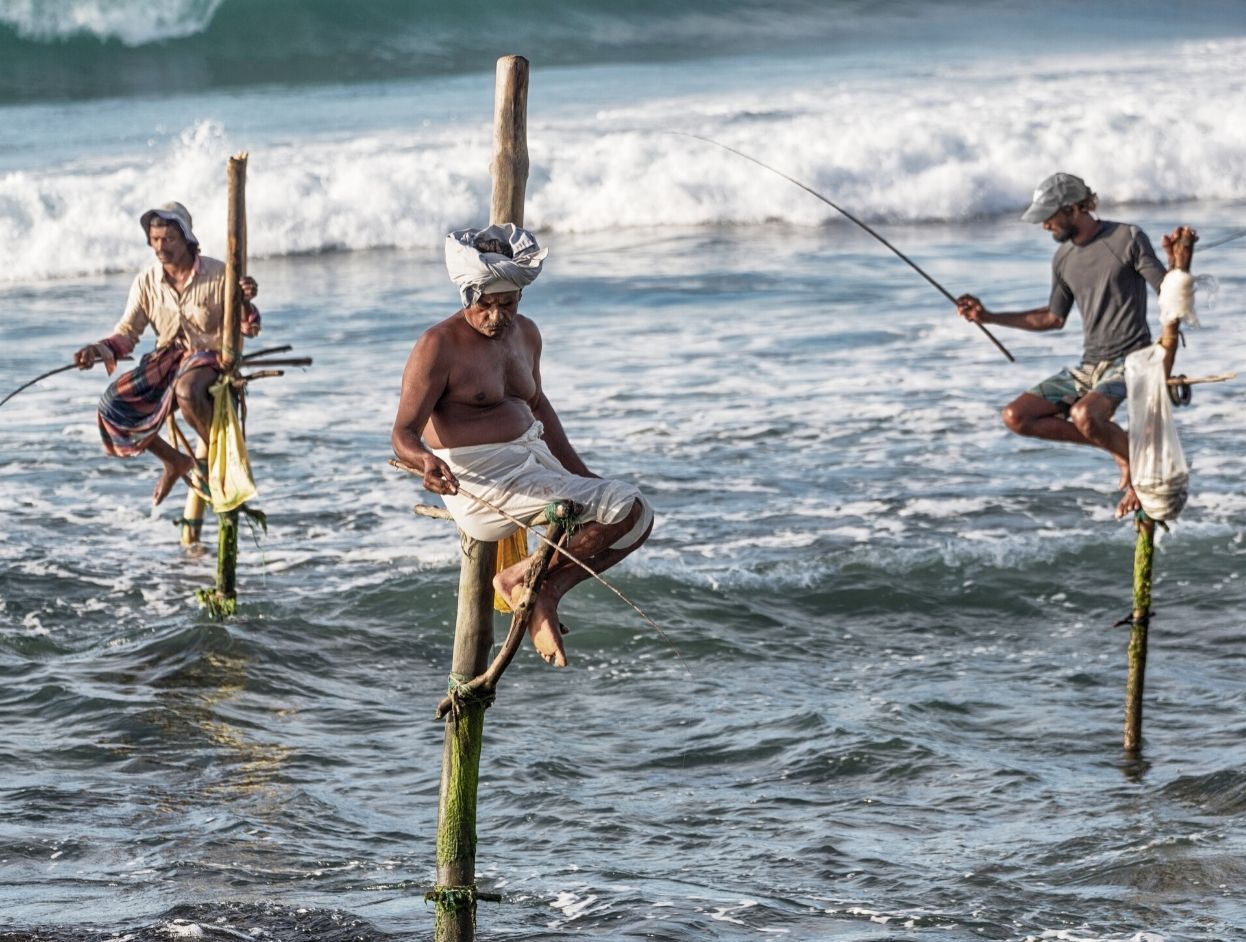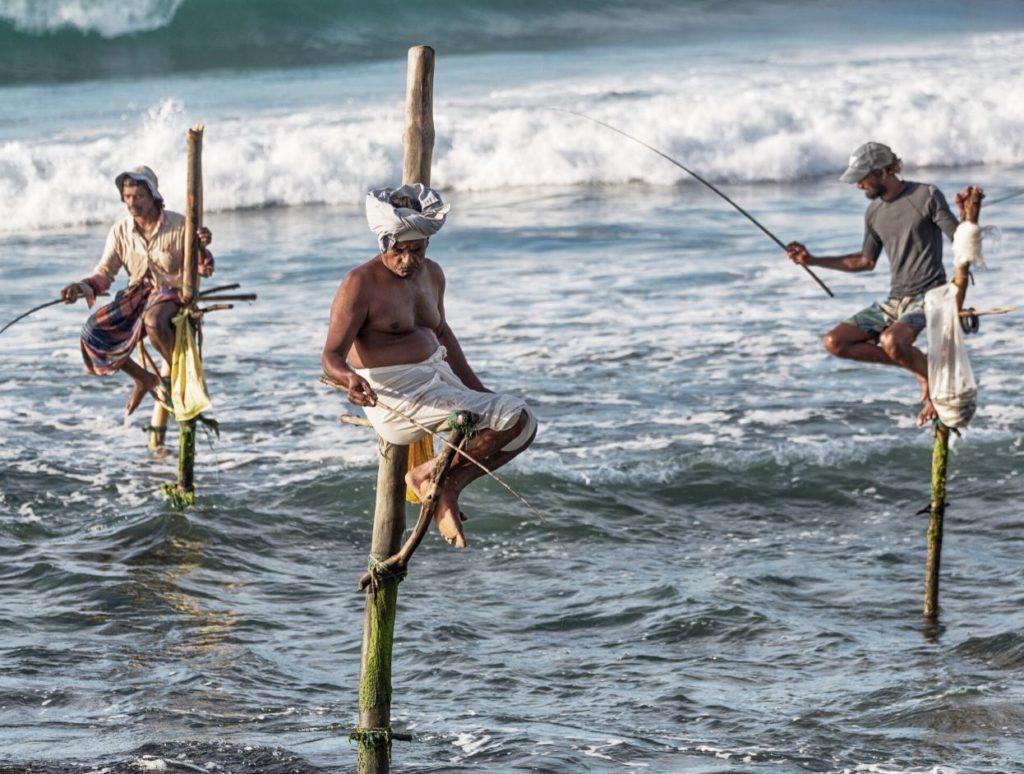 Weligama & Mirissa
Both Weligama and Mirissa are small towns endowed with beautiful beaches located 30km and 36 km from Galle Fort respectively. Both the towns depend upon fishing and tourism. The towns have a select few boutique hotels for tourists to stay. While you can do a day trip to this place, consider staying a night too.
The beach at Weligama is ideal for new surfers and for learning and a school is present nearby. The coast of Weligama and Mirissa is popular with whale watching and spotting dolphins. You will have to make some serious arrangements though and it is fairly seasonal. Head to one of the several agencies for whale watching present around the beach.
You can also add a tour to a nearby cinnamon plantation while here. Both Weligama and Mirissa have a railway station in their name connecting to the coastline.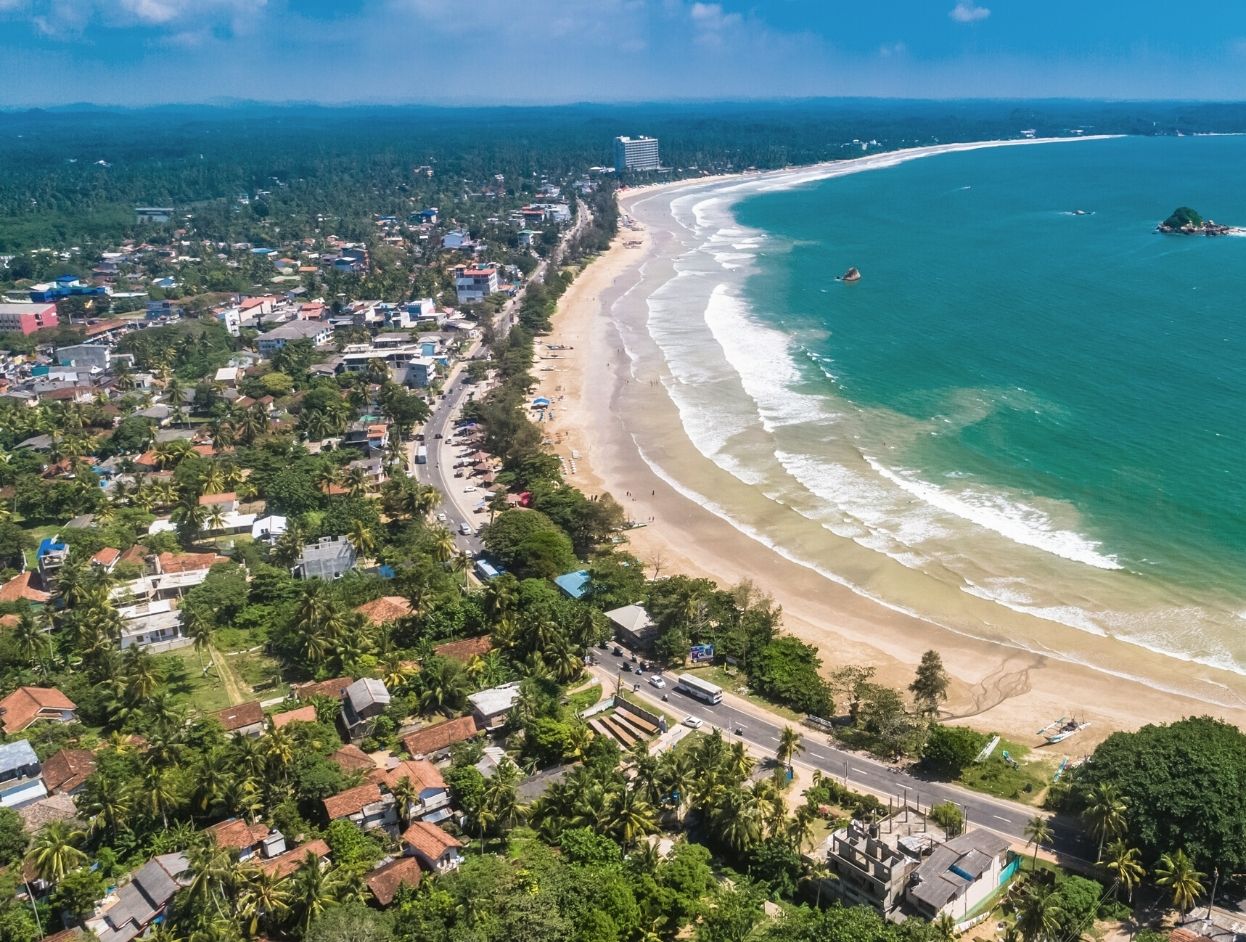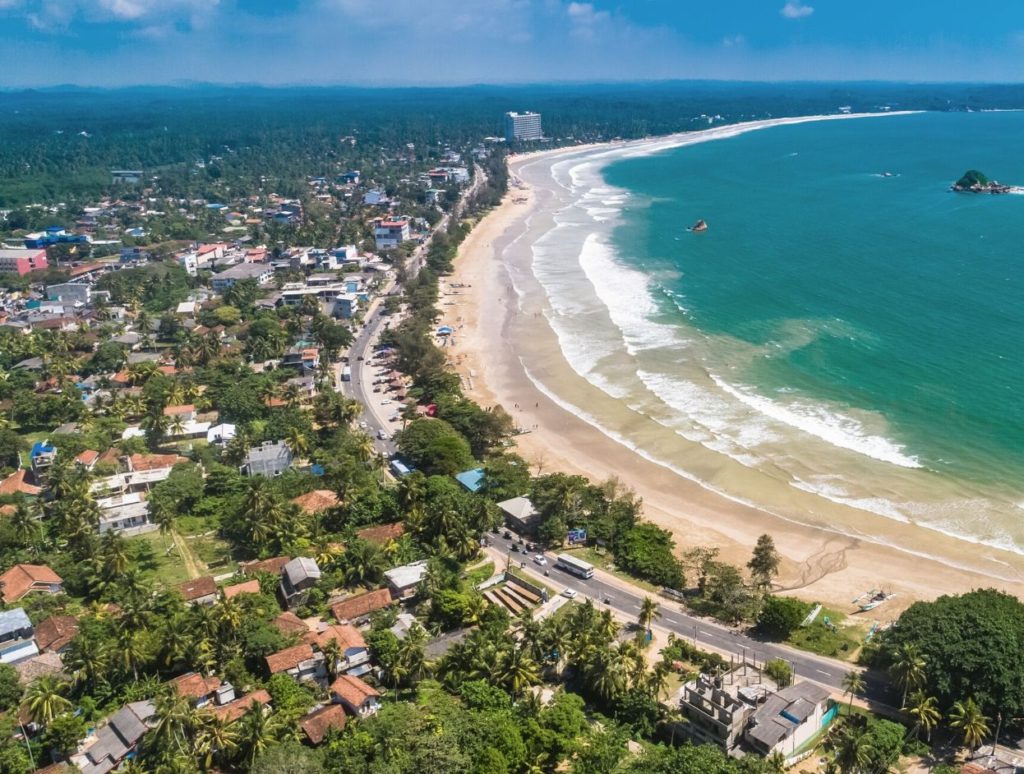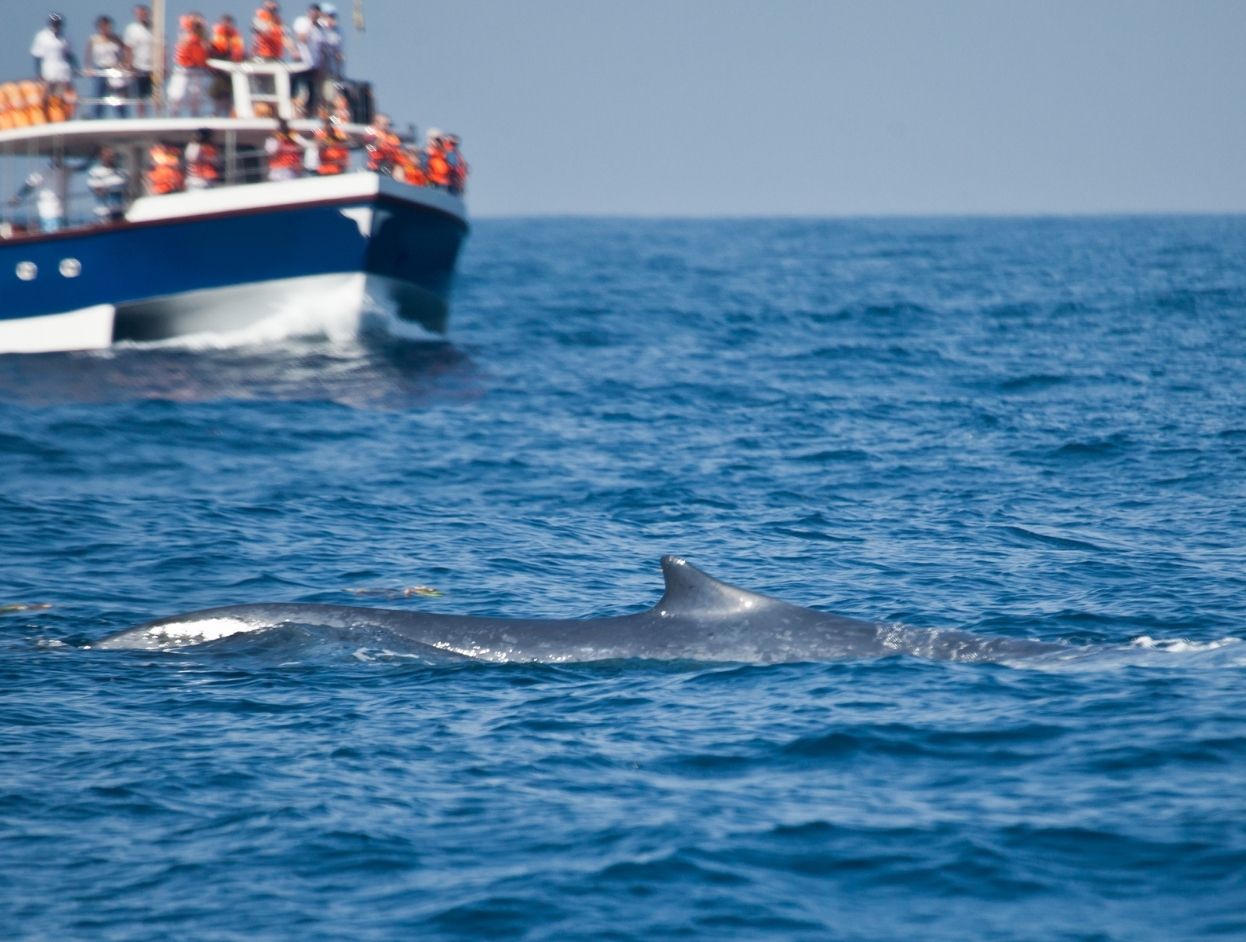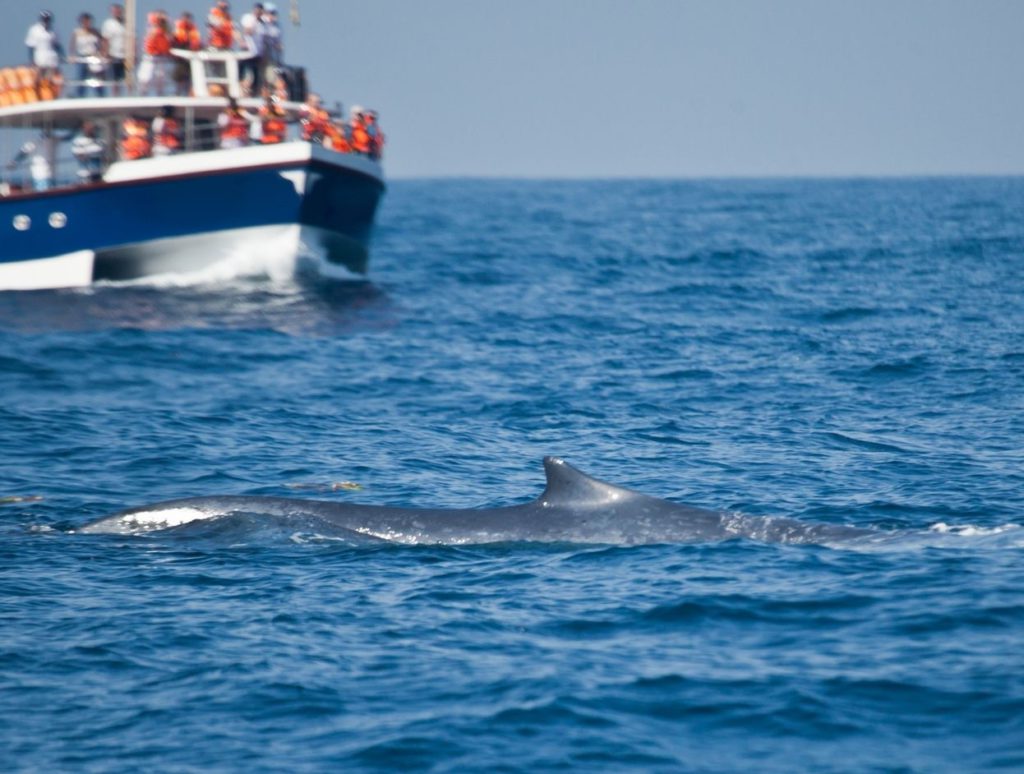 Save to Pinterest


Related Articles