11 Feb

Sri Lanka Travel Itinerary for 6 Days

When I decided to make my Sri Lanka backpacking itinerary I didn't know what to look forward to. I chose Sri Lanka because it was near, small, and cheap.

All I knew about Sri Lanka were the beaches, coconuts, Ravana (the villain of Ramayana), and their fierce and magnificent Cricket team. Its popularity is very recent, especially with foreign travelers. But you will not believe some places that exist there till the time you see it with your own eyes.

Go ahead and explore on your own with my Sri Lanka travel itinerary.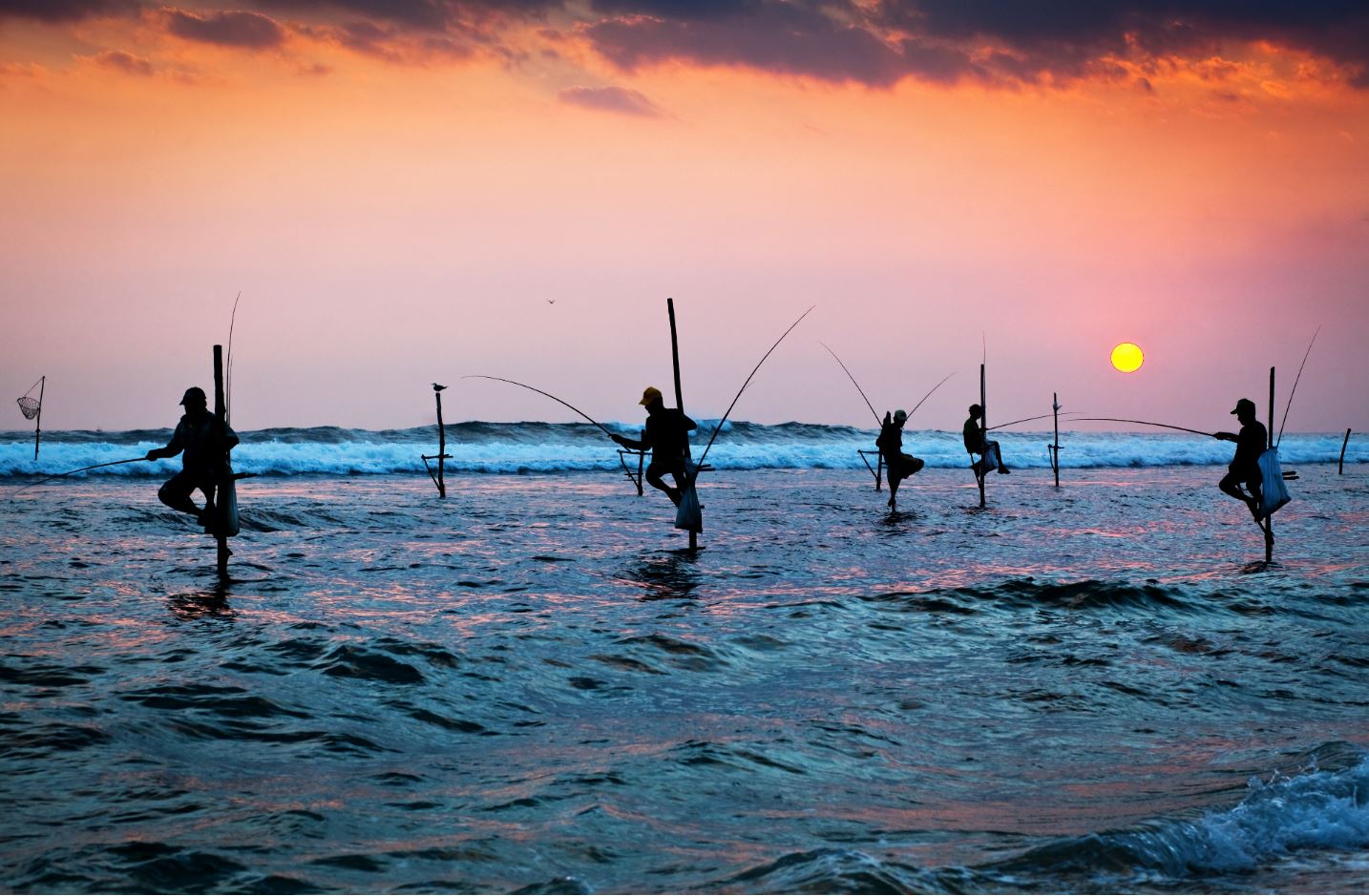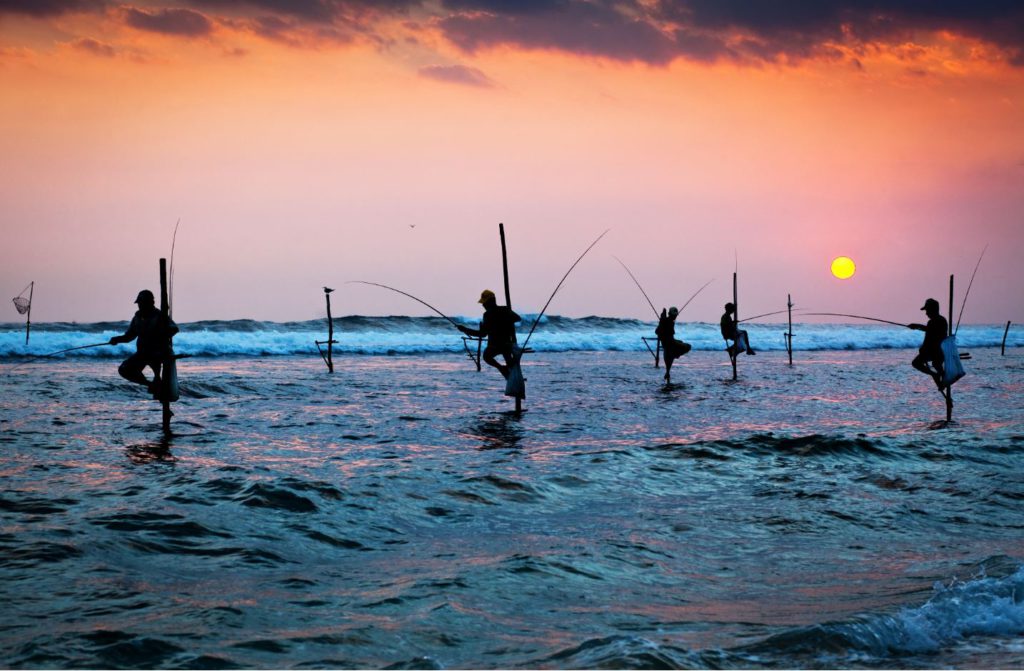 About Sri Lanka
Sri Lanka is about one-fourth of the United Kingdom in size and is located just south of India in the Indian Ocean slightly over the equator. It's hot and humid, with a dramatic climate difference in that small of a space.
For the record, the currency is Sri Lankan Rupees (LKR). The local languages that the locals speak are Sinhala, Tamil, and English. It makes communication here quite convenient.
There is no best time to backpack Sri Lanka since, between South-West and North-East coasts, one of it will be rainy and the other dry. However, I would suggest Oct – Feb season since it gets hot in the Indian sub-continent in the summers.
Sri Lanka Backpacking Itinerary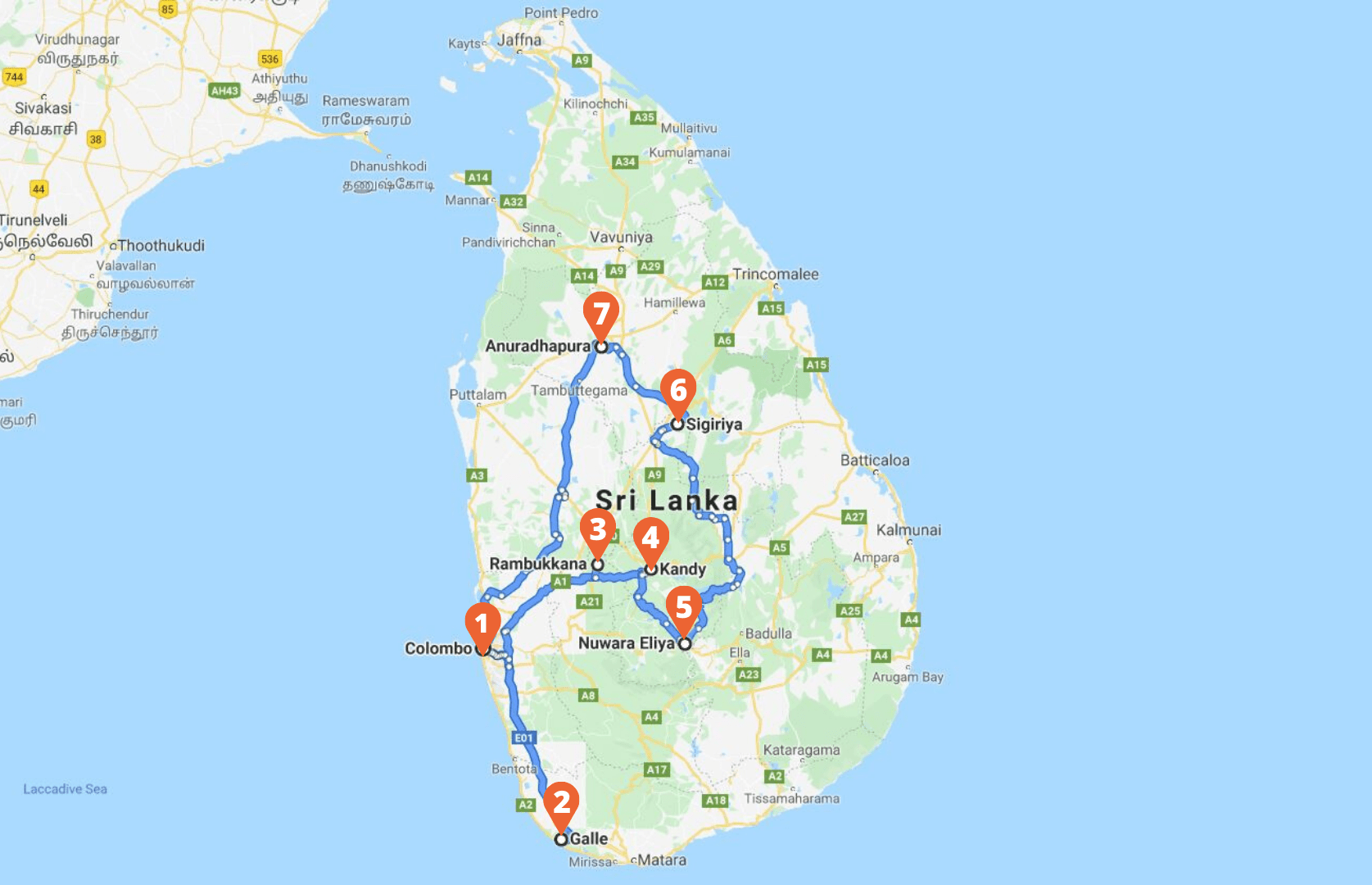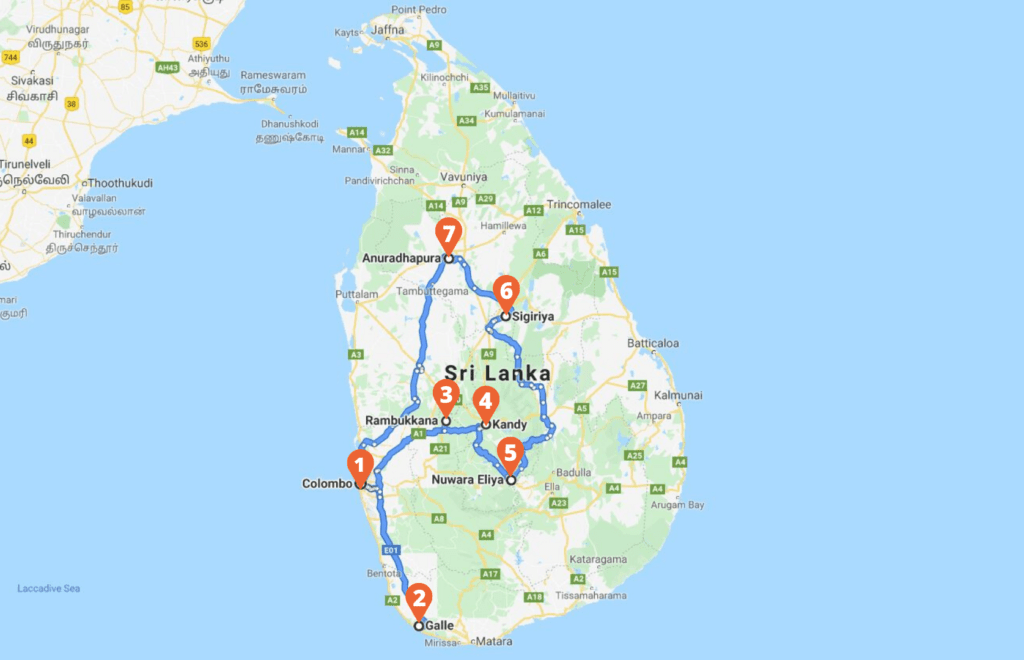 How To Reach Sri Lanka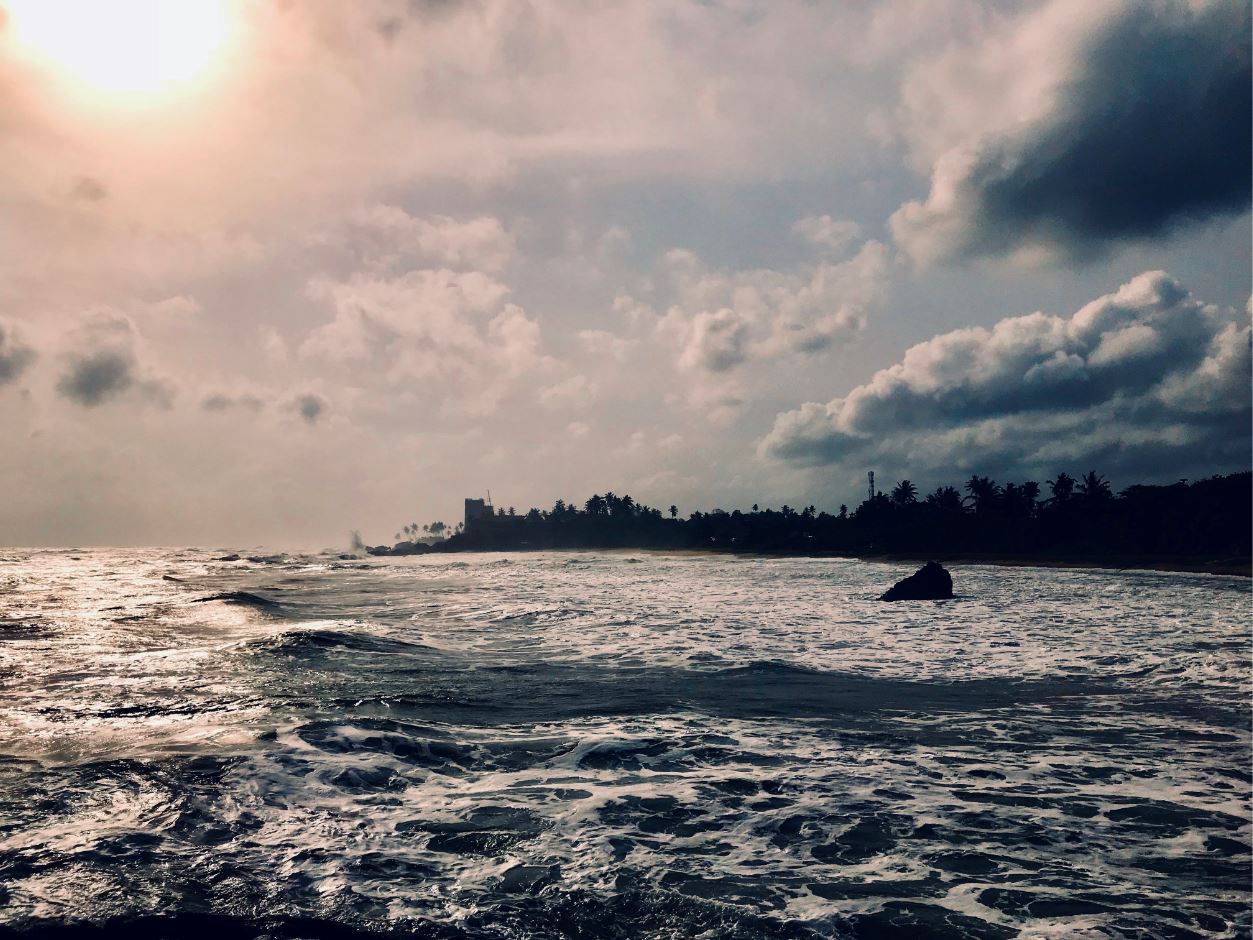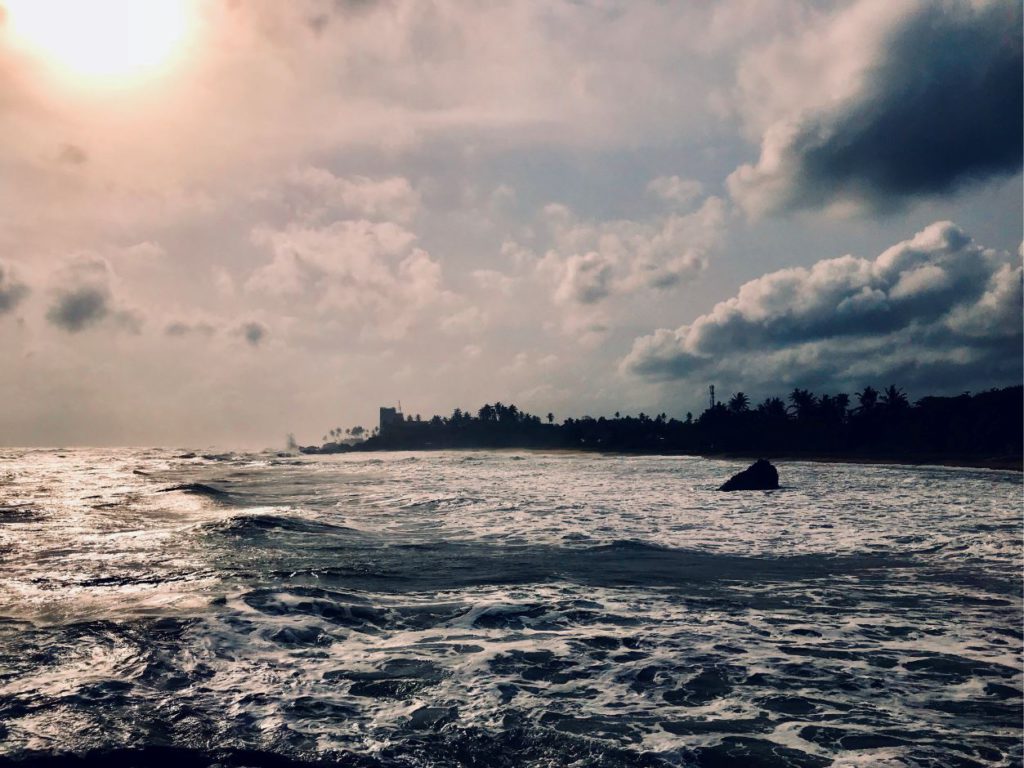 To reach Sri Lanka, you can take a flight to Colombo, which is the capital city, and travel through road and rail inside the island. The airport is average in the facility. There is also a left luggage counter at the airport if you want to leave your baggage in any case.
I would suggest not buying a sim card from inside the airport. You will get them at much cheaper rates outside. Uber is comfortably available in Colombo. The local taxi app is 'Pick me' which you can use in other parts of the country. But is not very reliable.
You can pre-book hotels or Airbnb in Sri Lanka. We found some lovely ones here.
I did not hang around much in Colombo. But you can visit the Gangaramaya Temple, National Museum of Colombo, The Independence Memorial Hall, and Beira Lake in the city.
You can also soak in some nightlife in Colombo with buildings in vintage English architecture. Some people also prefer to take a day trip from Colombo to all other places. Although I will suggest against it.

From Colombo, Galle is around 2 hours. You can take a train which runs along the coast with a great view. Or a bus which is very comfortable and is quicker.
The Bus and train station is walking distance from the Galle Fort. You can look at the train schedule from this site. One can buy tickets at the counter. You will get guaranteed seats for 1st class. For the 2nd and 3rd class, you will not.
On the other hand, you can take the bus to Galle from the Colombo Maradana bus stop which is a little far from central Colombo. It is a 2-hour journey by bus and very comfortable.
Galle is a small town on the southwest coast of Sri Lanka. The main attraction in Galle is the Galle fort. It practically has a town inside that is bustling with shops, restaurants, and hotels.
If you can, live here! I lived at a hotel at the farthest tip of the fort. The beauty of it is you can see both sunrise and sunset from it. Which means you are practically standing on the near most southern tip of the Indian sub-continent. This was my first highlight of Sri Lanka backpacking.
Stroll away your day in this town. Food may be pricier inside the fort but there are some gorgeous places to eat.
The Dutch made the fort in the 17th century and the Englishmen took it from them later. The buildings are still very well-preserved and very Dutch!
Additionally, a lot of places have added décor to add a modern touch to it. The result is fabulous.
Apart from the fort you can hire a two-wheeler and take a drive to the nearby beaches. The closest beaches are Hikkaduwa and Unawatuna. The drive is along the coast and is really fun.
We struck a conversation with a local and he told us all about the town's past from years back. It's always a great experience to talk to locals and maybe even share a meal.
Also, Sri Lanka is very rich in gemstones and exports world quality sapphires, topaz, and amethysts. If you want to understand the details of the craft, visit a local jewellery shop. They will explain to you more in detail.
Related article: The unseen attractions of Galle, Sri Lanka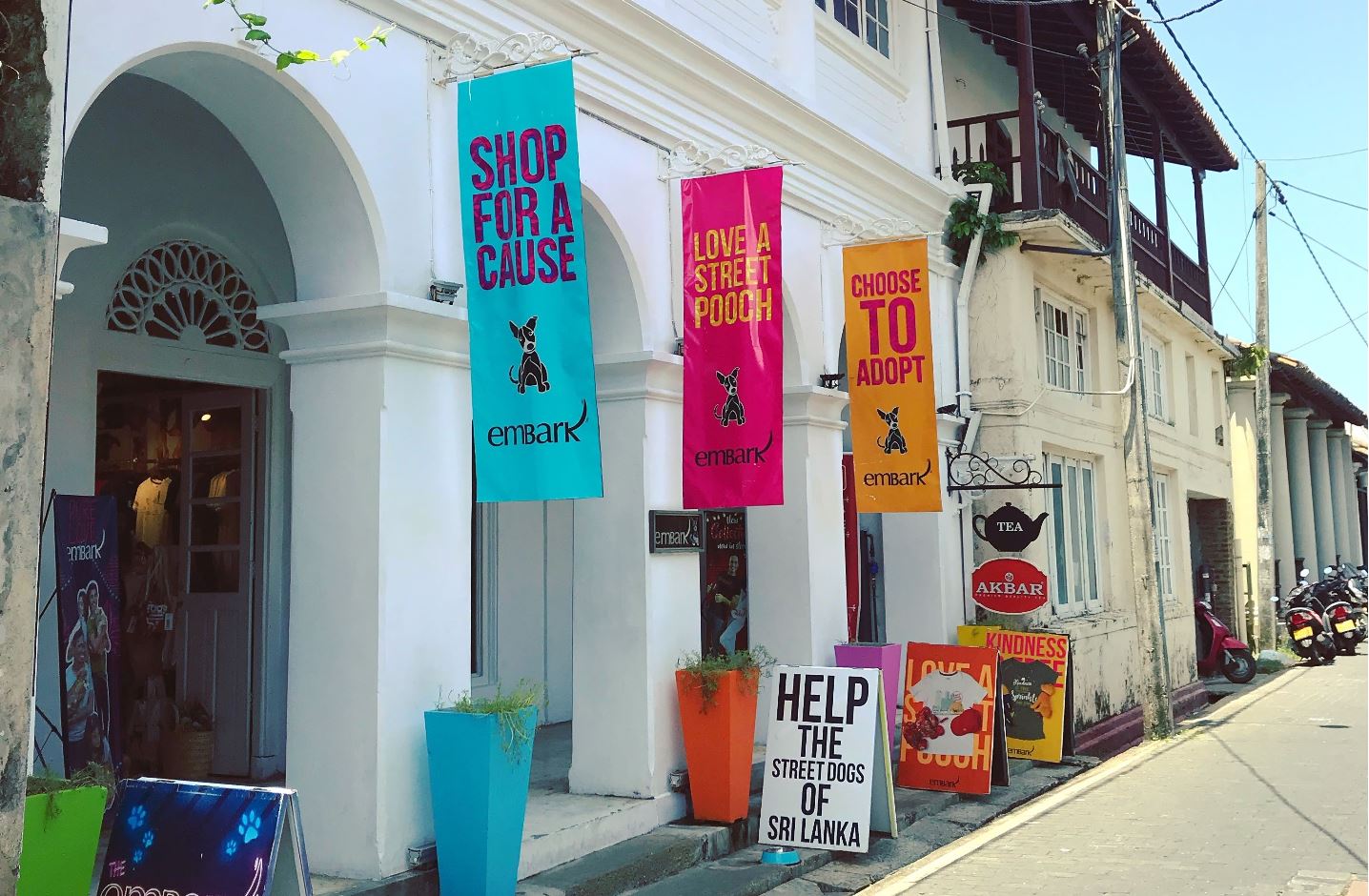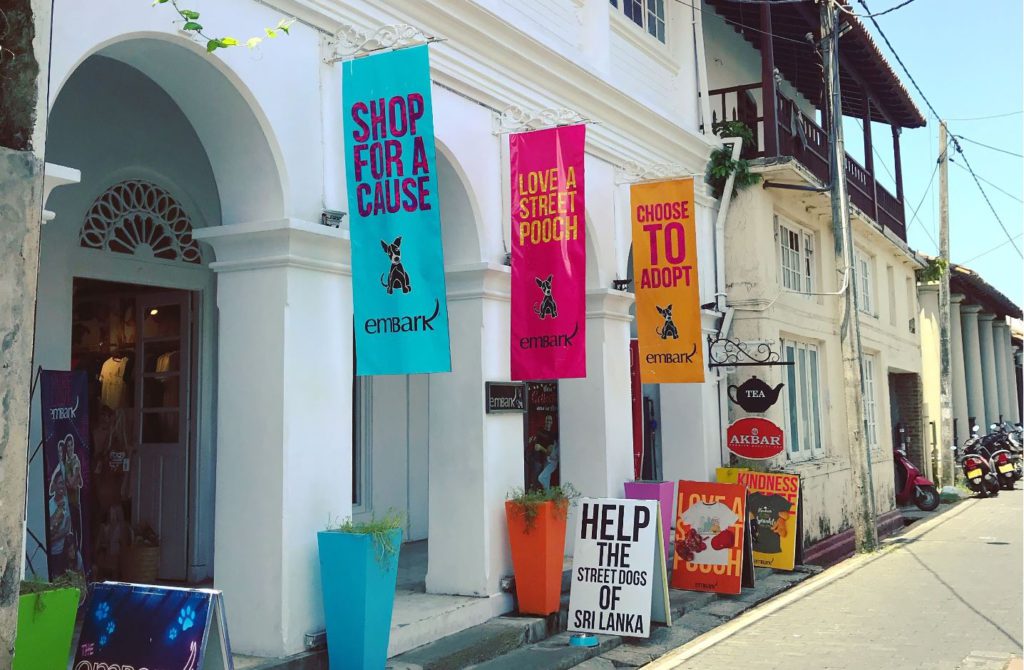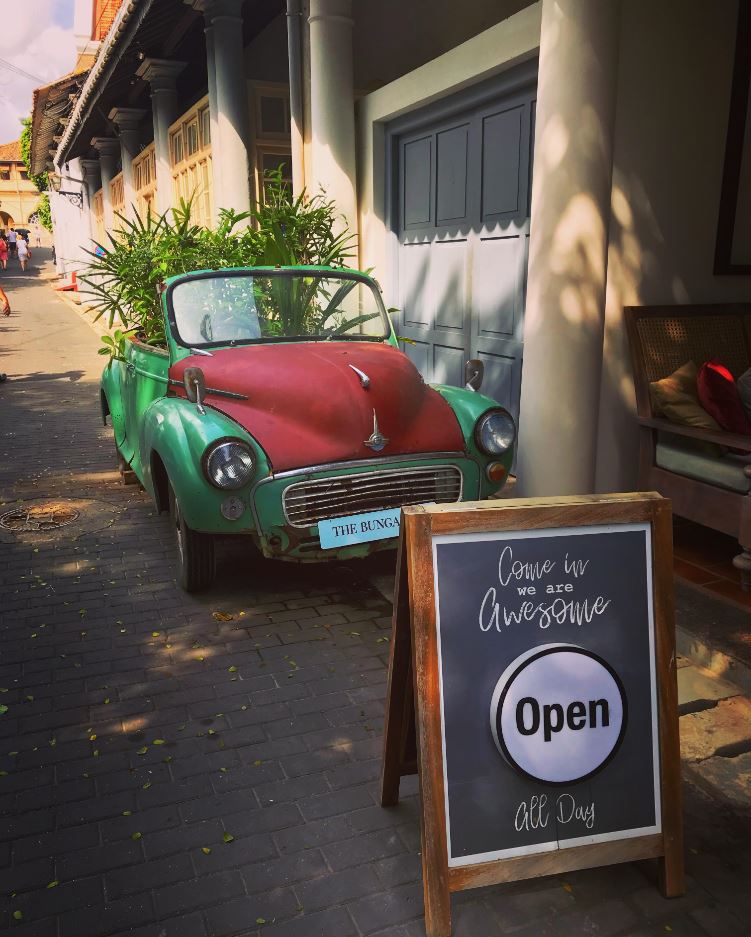 Mirissa And Weligama
Mirissa is a town near Galle popular for Whale and dolphin watching along with a few other rare species of water animal exotic to Sri Lanka. The season for whale watching is limited from October-May. You can check out the tickets here.
Apart from backpacking, Sri Lanka is a great destination for cheap water activities like snorkeling with sea turtle. You can go experience Scuba diving or a beginner's session in surfing at the Weligama beach next to Mirissa.
Sri Lanka is also known for its biodiversity when it comes to wildlife. In case you want to see elephants along with other animals in Sri Lanka you can take a jungle safari to Udawalawe National park or Yala National Park from Mirissa or Galle. Check on the best time to travel to any of these because rain may be a spoiler of day plans.
Pinnawala Elephant Orphanage
My next destination was the Pinnawala elephant orphanage. You can take a train from Colombo to Rambukkhana and then a tuk-tuk or an auto ride to the Orphanage.
Pinnawala has the largest herd of captive elephants in the world. These elephants were rescued from brutal treatment from human captivity or serious health issues. It was initially established to feed, nurse, and house young elephants abandoned by their mothers.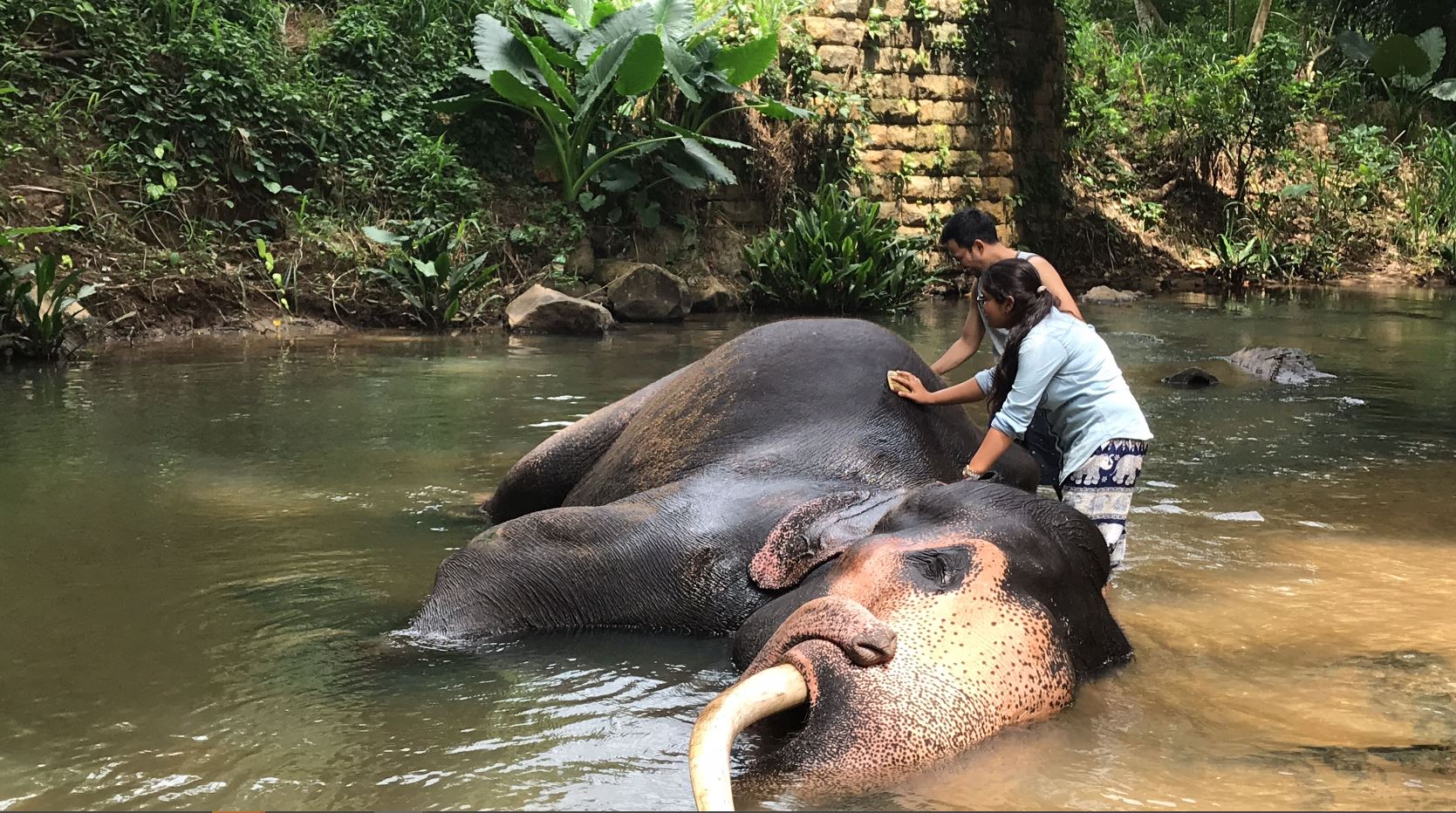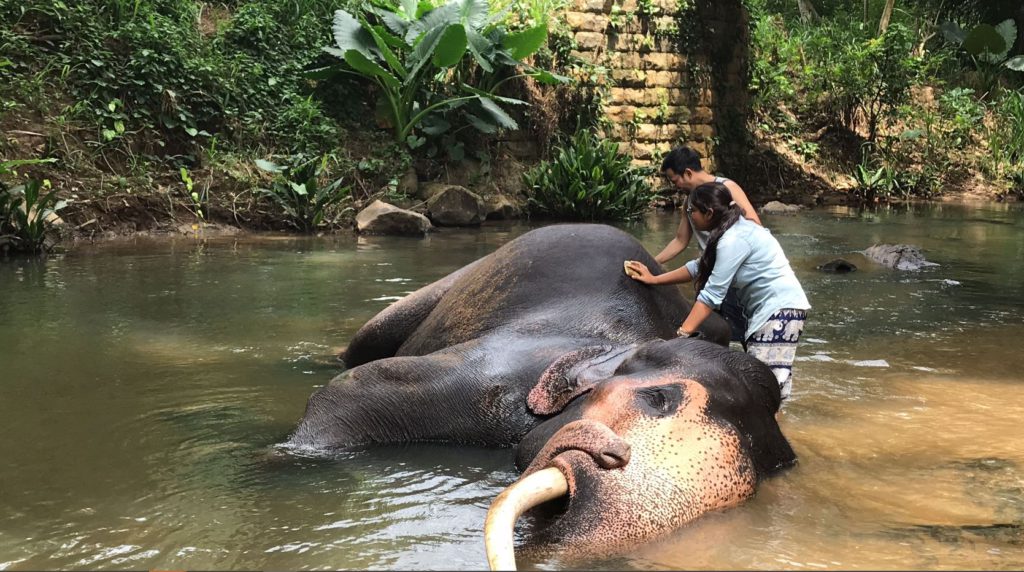 The entrance to the orphanage costs 2500LKR per person. They will let you ride the elephant for a short span of time if you like, let you feed them, and take photographs in the most touristy fashion.
A guide will take you through the history of the orphanage and explain the life cycle of elephants. The most fun experience is when they let you bathe them. You can totally scrub them off and they won't budge! Back from Rambukkhana, you can continue the journey to Kandy.
You can also choose to take a day trip to Pinnawala Elephant Orphanage from Kandy. It should ideally take half a day if you start early or book a tour package if you are concluding you Sri Lanka backpacking itinerary alone.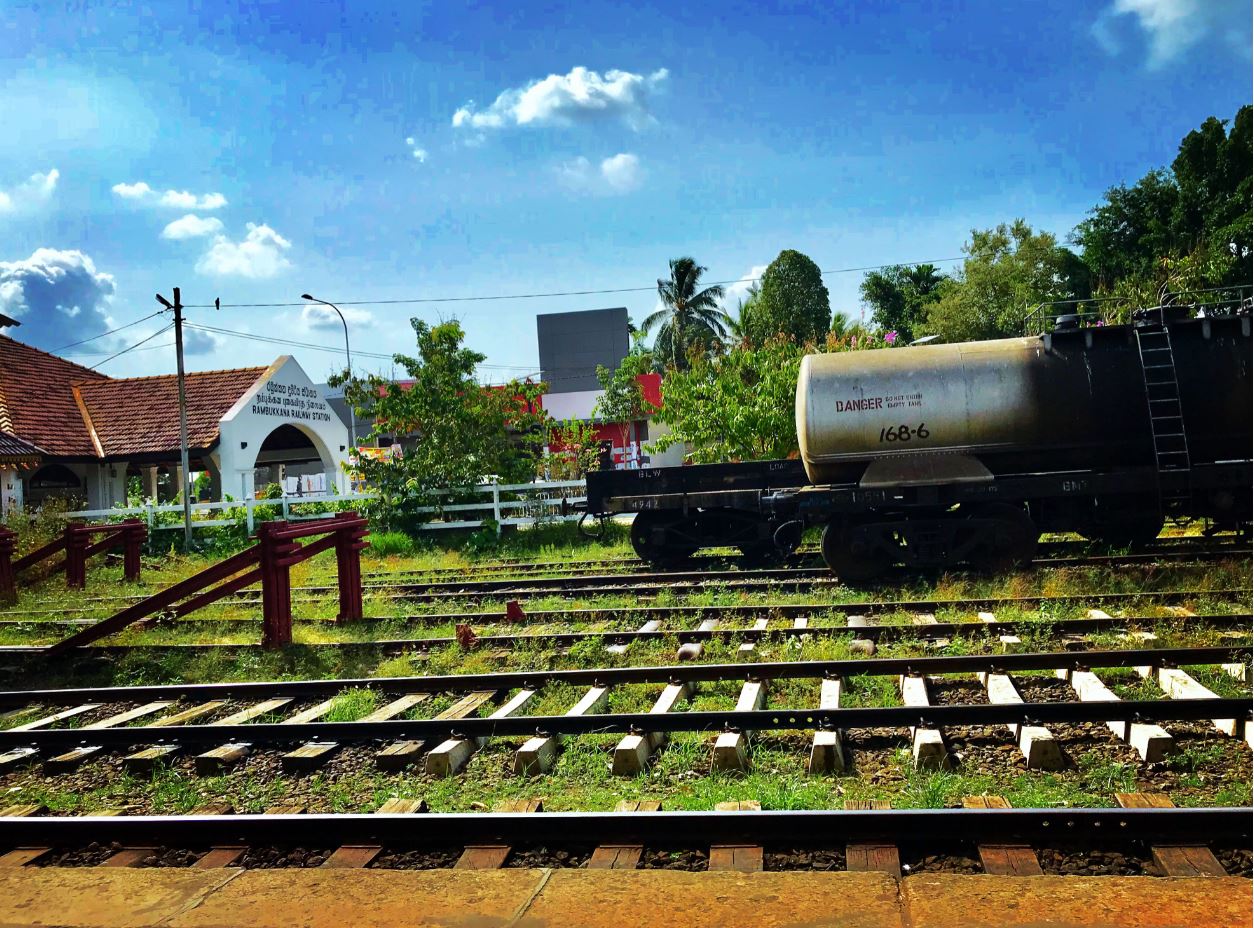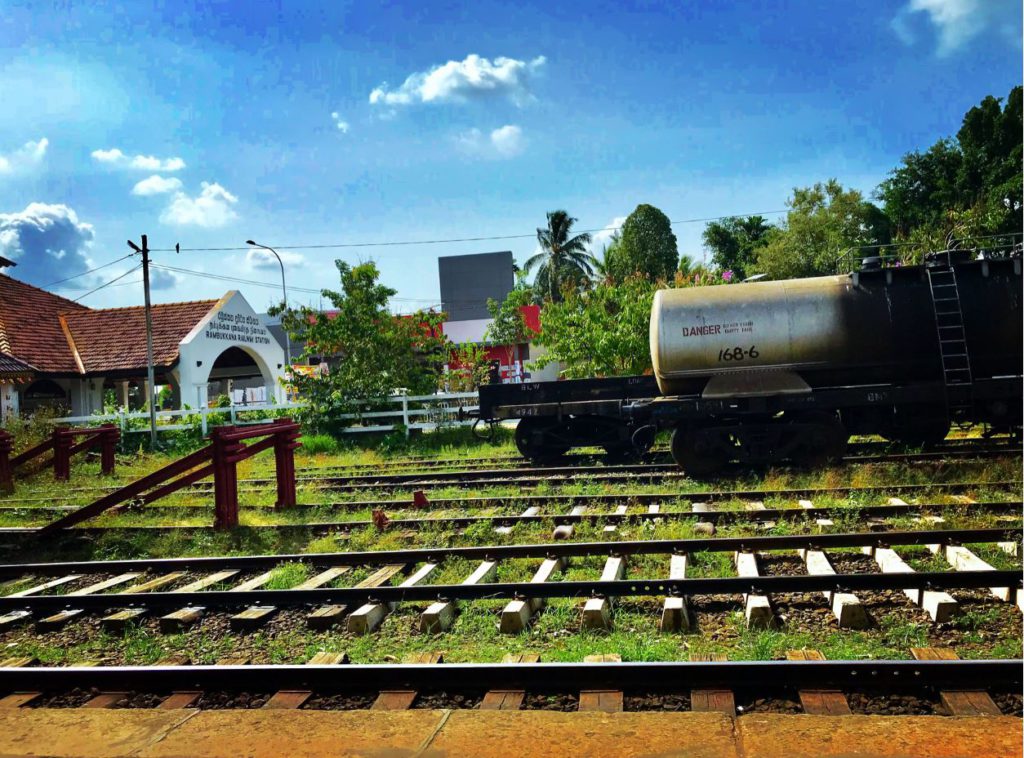 Kandy
It takes less than an hour from Rambukhana to Kandy. Kandy is one of the most important cities of Sri Lanka, located in the central province. It has been the capital of Sri Lanka before Colombo during the reign of local kings.
It's also the seat of the Temple of the tooth which is the relic of Buddha's tooth. It is one of the most sacred places in southeast Asia for Buddhists.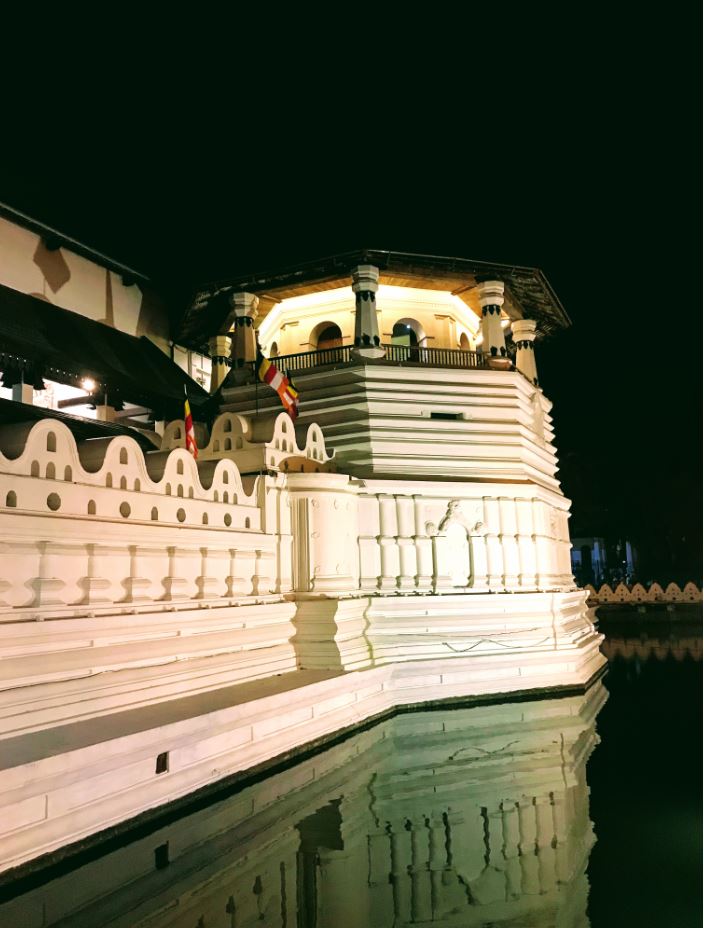 You can take a walk around the lake. The architecture in Kandy is again very Vintage and English. I thoroughly enjoy looking at buildings and have a habit of googling the history of the landmarks I visit. It gave me a sense of time travel.
If you get a chance, attend the cultural dance performances in the evening which starts at about 4 pm and is quite inexpensive. You can book these online here. Kandy is the gateway to central highlands, so you take a train or a bus to your next station. Ours was Nuwara Eliya.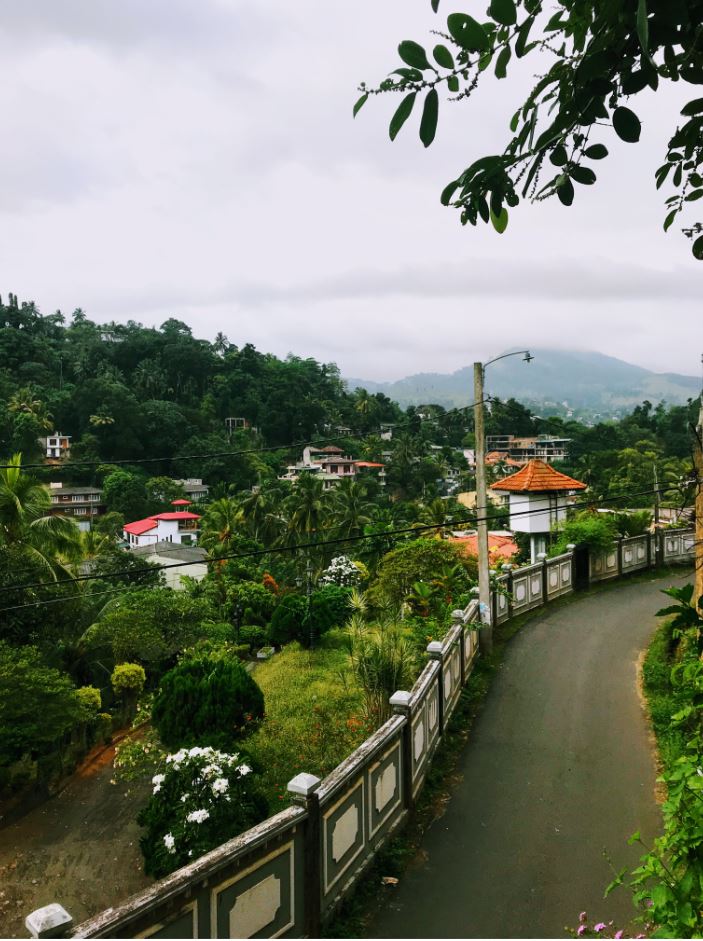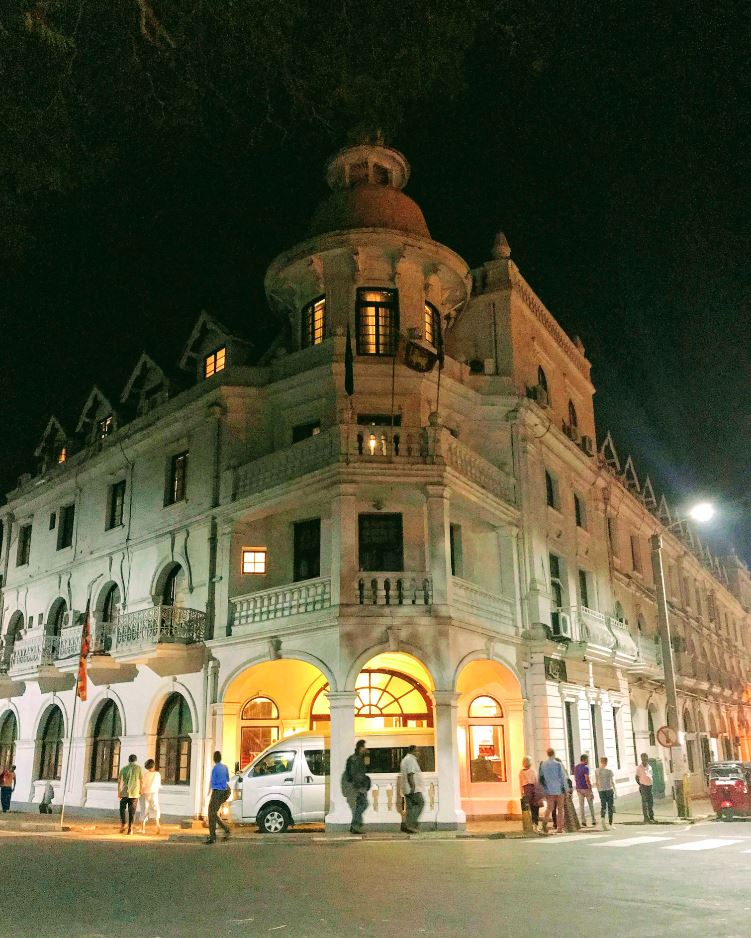 Nuwara Eliya
Nuwara Eliya is about 3 hours from Kandy. The train ride to Nuwara Eliya and then to Ella is the most scenic route in the whole of South Asia. Most of the infrastructure is survives of the British past.
Nuwara Eliya is where most of the tea gardens of Sri Lanka is located and is thus famous for 'Ceylon Tea', Ceylon being the archaic name for Sri Lanka. The climate is cool and gets chilly at night.
This was a popular stop for Englishmen while they rule, and the culture is still very prevalent in the county.
One of the coolest places to stay here is in an RV. You can book one online named as an outdoor caravan park, but you cannot drive it around but is located next to the lake. Quite amazing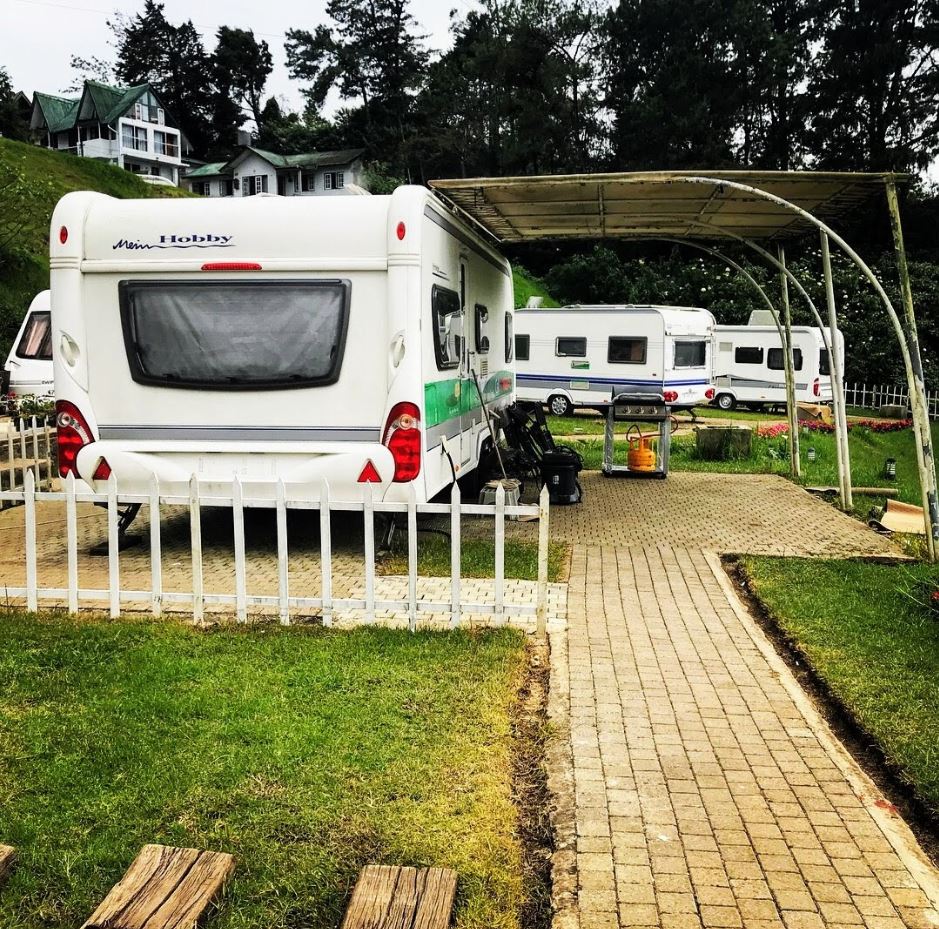 Head to Ashok Vatika at Sita Eliya if you are interested in Indian mythology. You will get to see where Sita was kept captive after Ravana kidnapped her. You can borrow or rent a two-wheeler and drive to the small village nearby.
Other places to see you be the racecourse, a botanical garden, and the beautiful Gregory lake. You can also take a hike to Lover's Leap waterfall and a stroll in Victoria Park. There is a lot to do there and the climate is very romantic.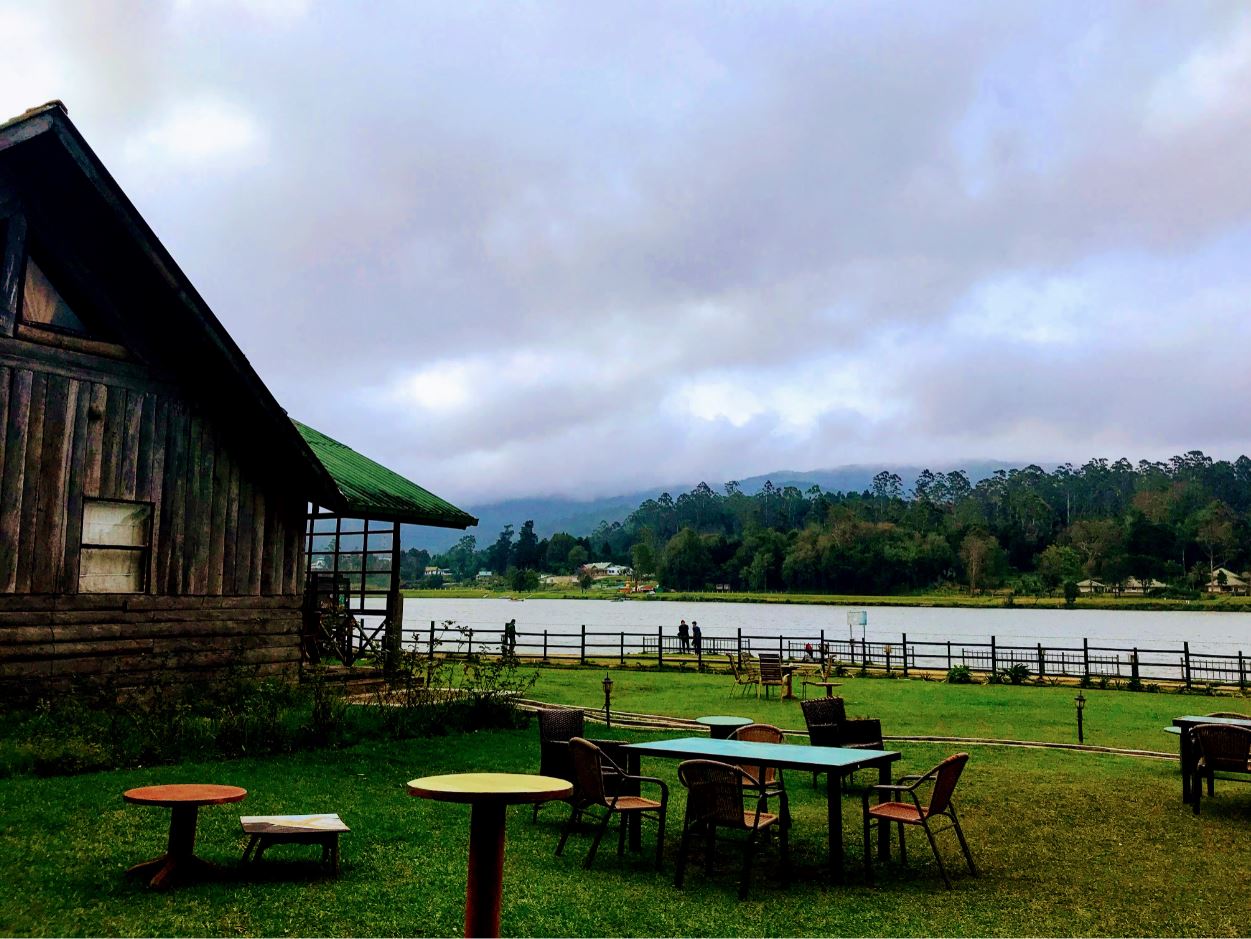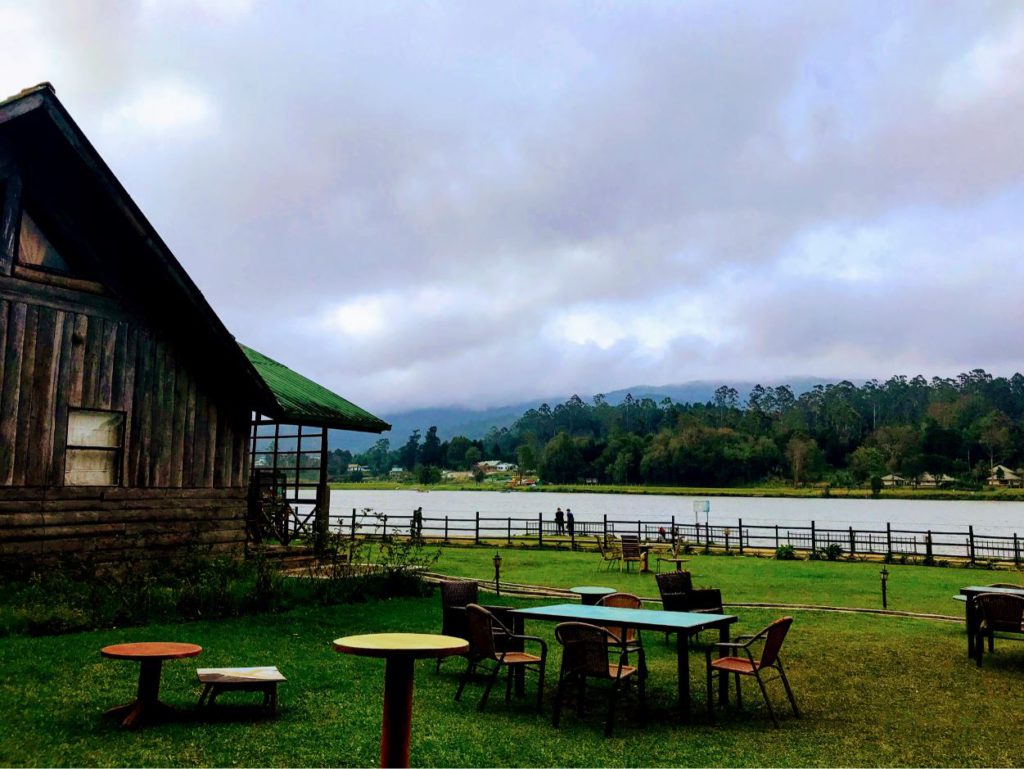 If you are a tea lover like me, take a tour of the tea factory which shows you the step-by-step process of the tea making process. Additionally, you can also taste and buy some at their store. The types of tea produced here include green tea, white tea, milk tea, Black flavored tea in blueberry, strawberry, cherry, pineapple and many more.
For Single backpackers to Sri Lanka, You can also opt to take a day tour to Nuwara Eliya from Kandy and is quite reasonable in price.
If you plan to stay longer take a train ride to Ella. The grand rustic old railways make it a memorable ride. It's one of the most popular places at higher altitude in Sri Lanka where you can enjoy some outdoor activities as well.
Related article: What to do in Nuwara Eliya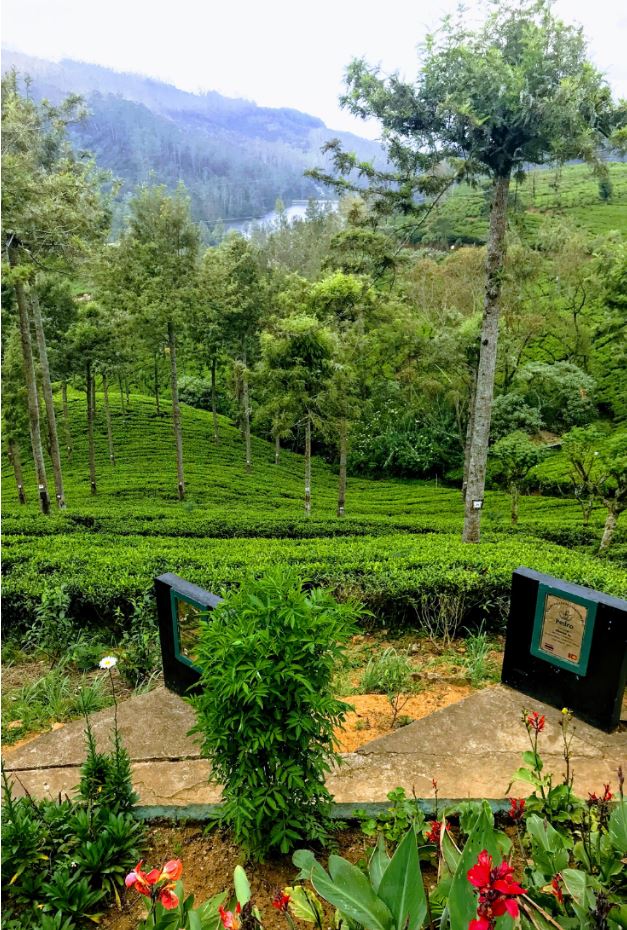 Dambulla & Sigiriya
Our next stop was Dambulla and Sigiriya. To reach them we need to come back to Kandy. The most popular place to visit in Dambulla is the cave temples. The entry charges are 1500LKR and you must take a private vehicle to reach the inside of the caves.
This area was inhabited from 1st century B.C long before the influence of Indian kings in Sri Lanka. The caves gave refuge to King Valagamba in his 14-year exile from the Anuradhapura Kingdom.
Buddhist monks meditating in the caves meditating at that point of time provided protection to the king from his enemies. When the king reclaimed the throne at Anuradhapura, he made the magnificent caves in gratitude to the monks!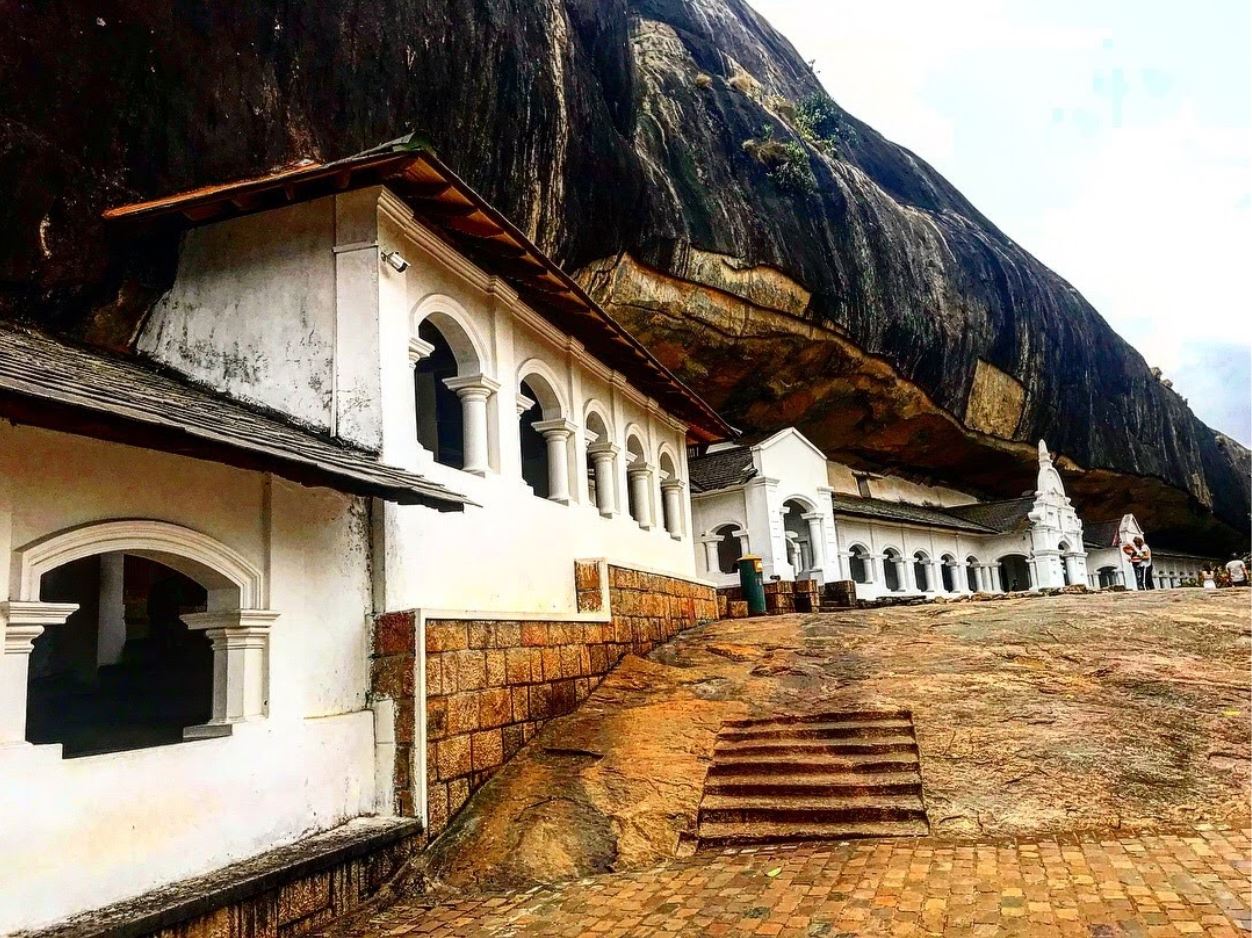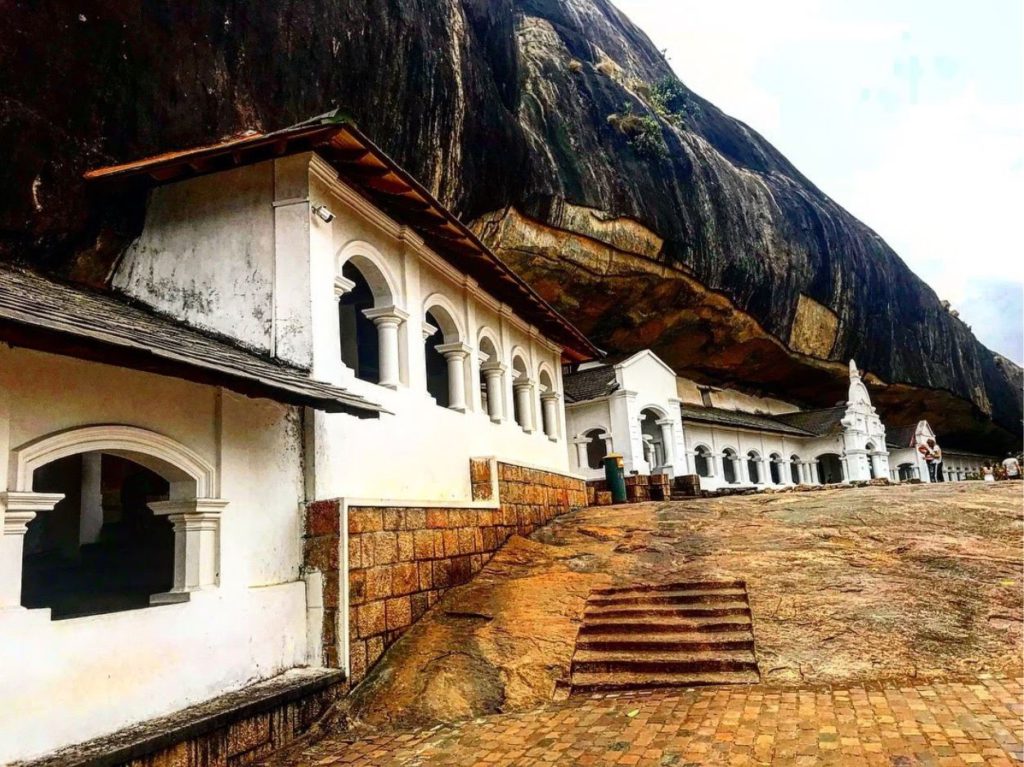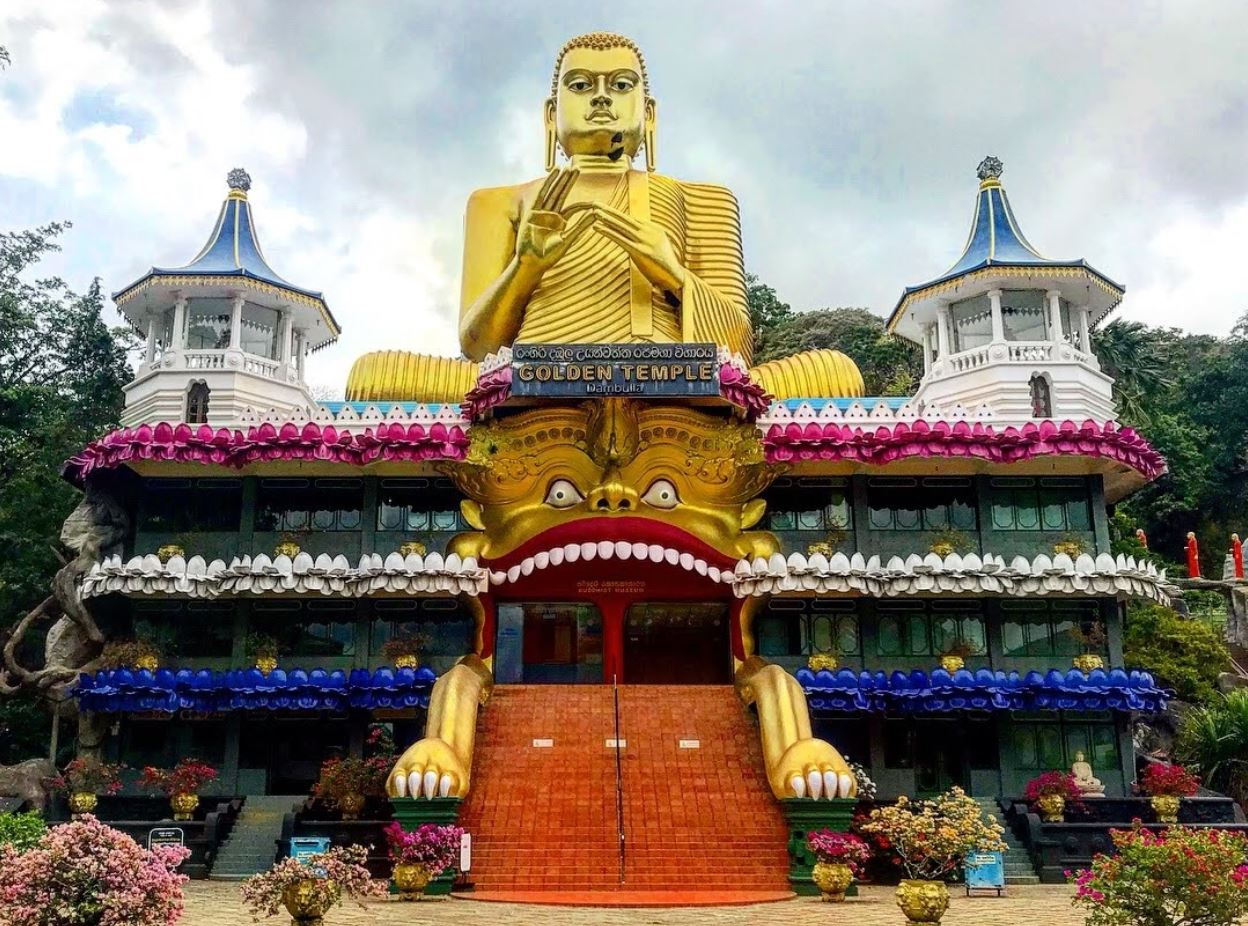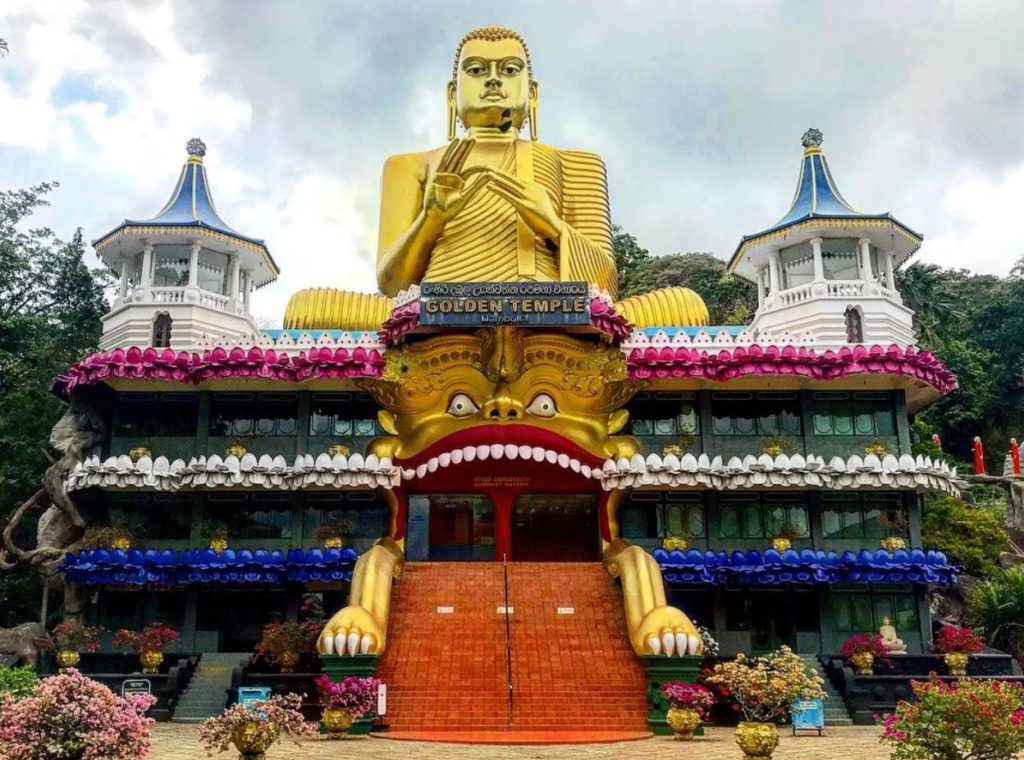 Sigiriya or Lion rock has a rich history. At first sight, it looks like a monolithic hill out of nowhere in the middle of a vast forest area. But there is so much more to it. Although, you must take a private vehicle to reach this place which is quite remote.
We took a cab from candy to Anuradhapura via Dambulla and Sigiriya in 7000LKR which was very convenient.
The entry charges to Sigiriya is $30 for foreign nationals and $15 for SAARC citizens. Apart from this, I would highly suggest you hire a guide for another 2000LKR. It's not mandatory but it's worth it.
They will bring the whole place to life telling you stories of the distant past and the architectural genius of this place which is not visible to common eyes.
If you are backpacking Sri Lanka on a budget, you can also do a day trip from Colombo you can either take a bus and a taxi to these places for or take a group tour which is also very reasonable for the comfort. The tickets are additional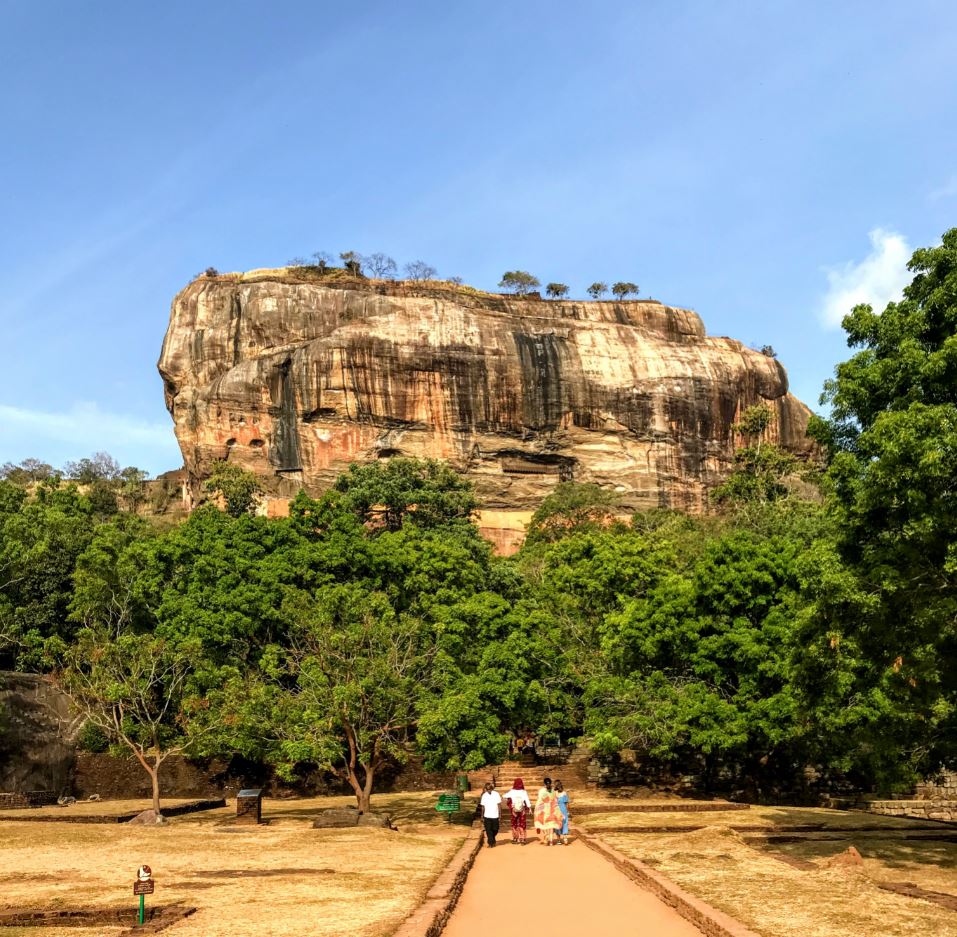 The climb to the rock is more than 1200 steps but the journey is the most fun part of it.
If you hire the guide, he will tell you about the secret defense mechanisms of the fortress, about the invisible fountain systems, about the king and his 200 wives and lovers, the nuances of the court system, the details of the palace built on top of the rock and a lot more.
You will come across a wall during your climb which was polished to such craftsmanship that it became a mirror. There are several murals as well. If you can plan it, reach just before sunset but check the closing time for entrance. It's a lovely view from there.
From Sigiriya, Anuradhapura is another hour's drive. This is a place that you may not find in most people's Sri Lanka backpacking itinerary.
However, If you are not very enthusiastic about history and culture perhaps you can skip this and head to a wildlife reserve for there are many in Sri Lanka.
Related article: What makes Sigiriya Lion Rock a UNESCO Heritage site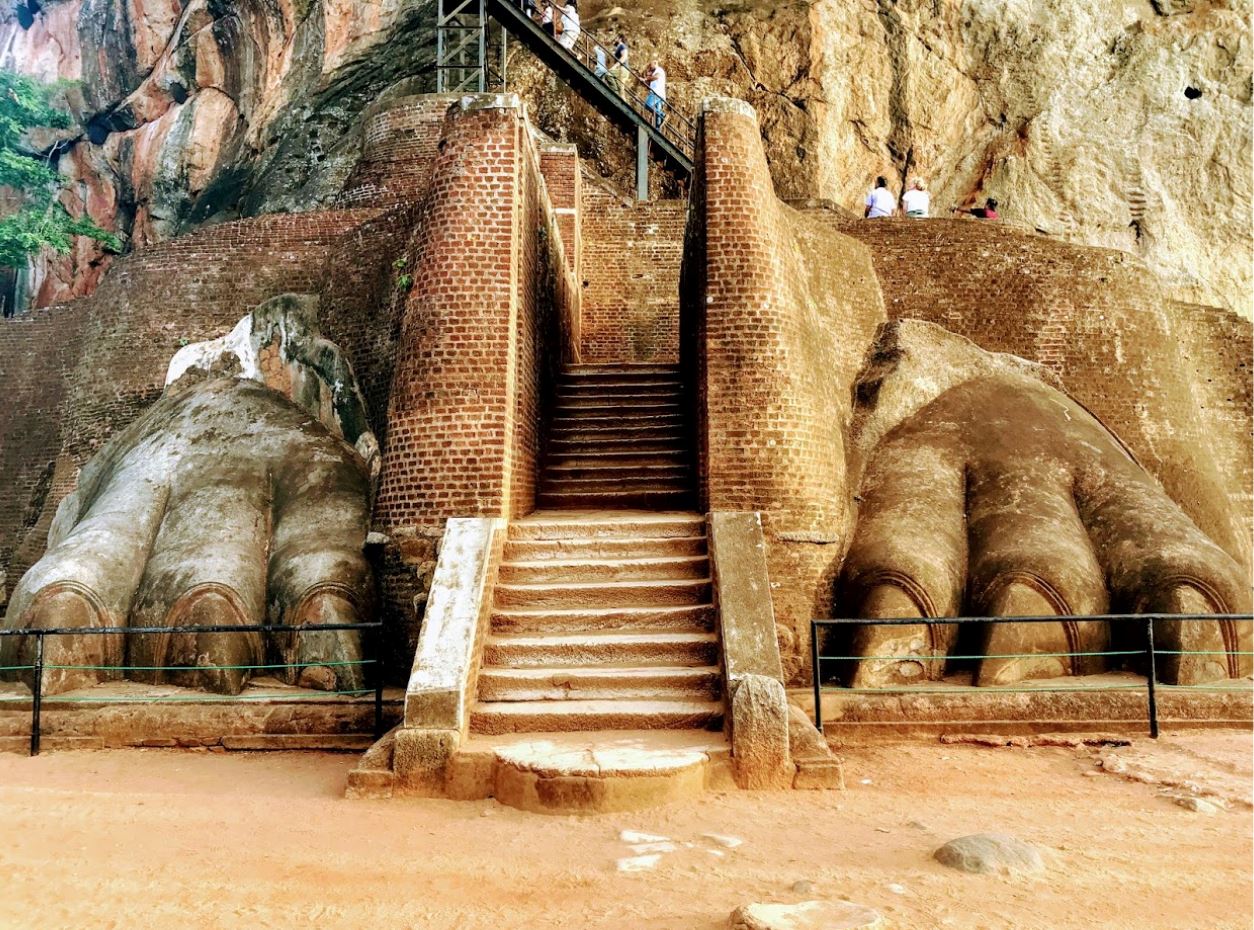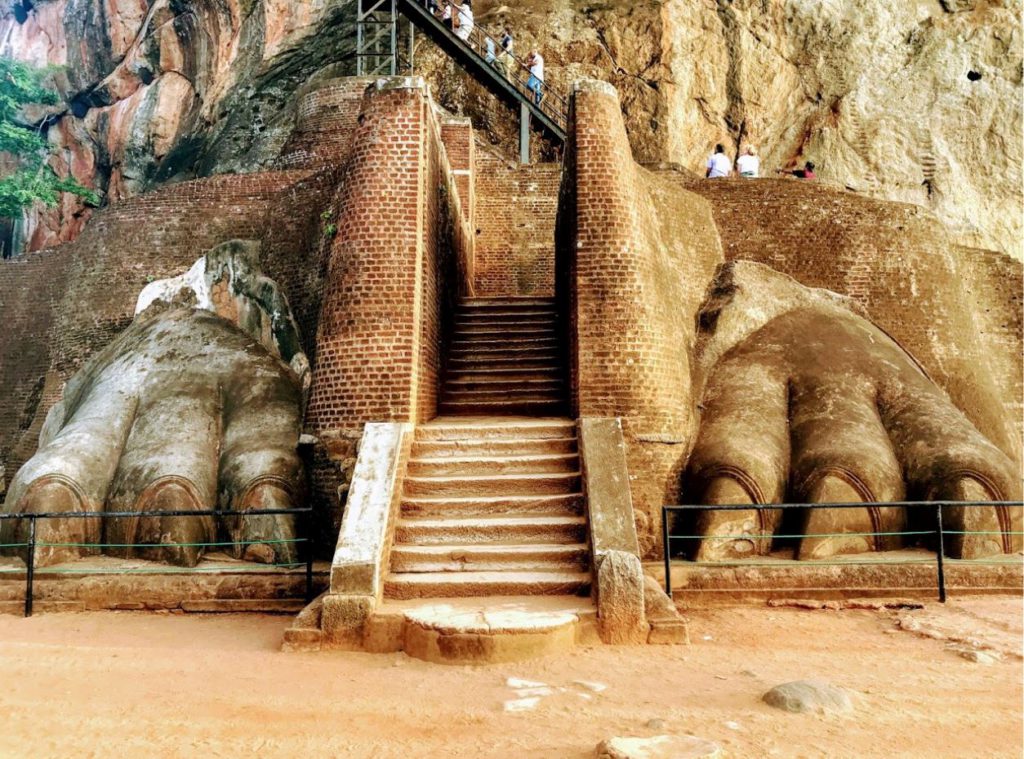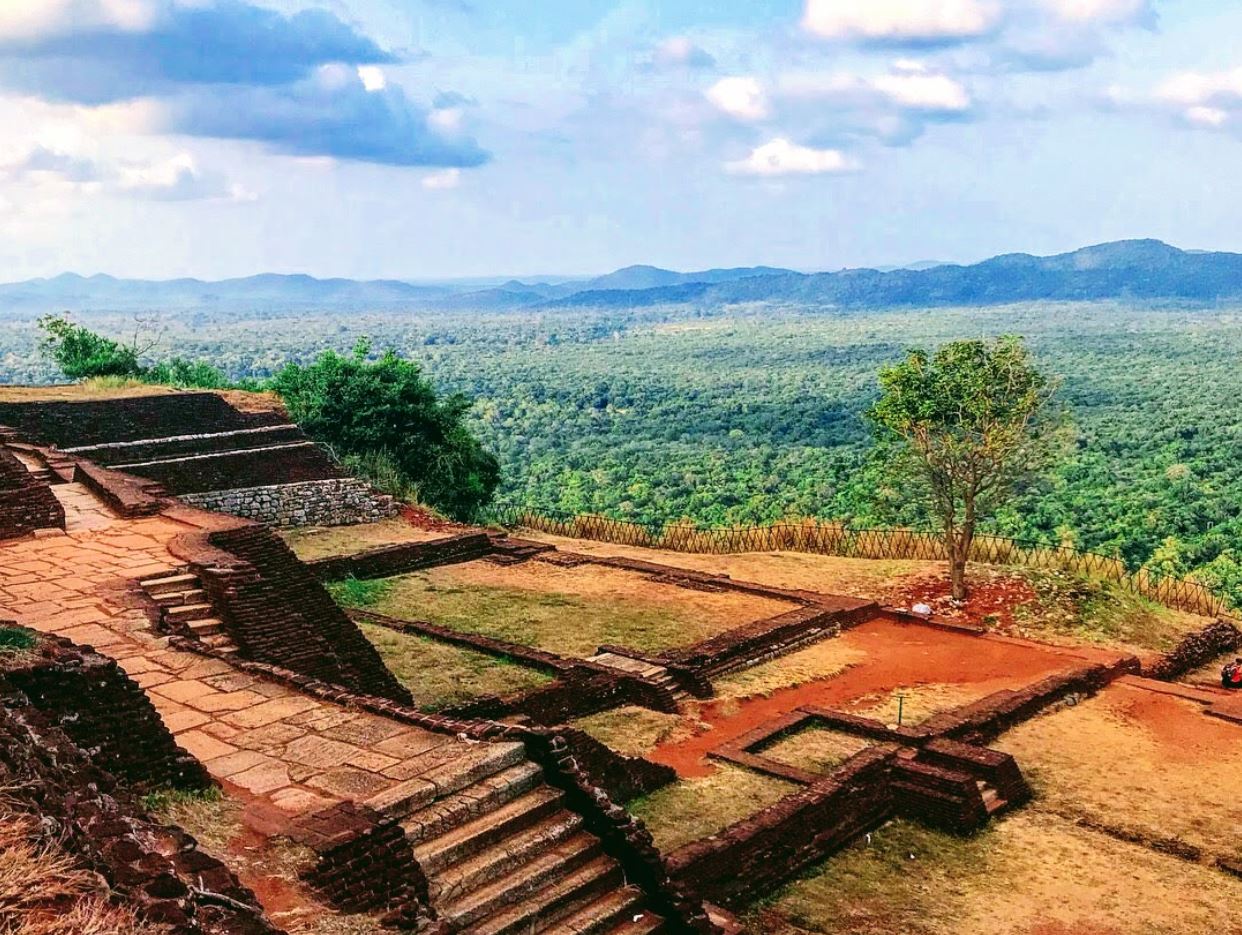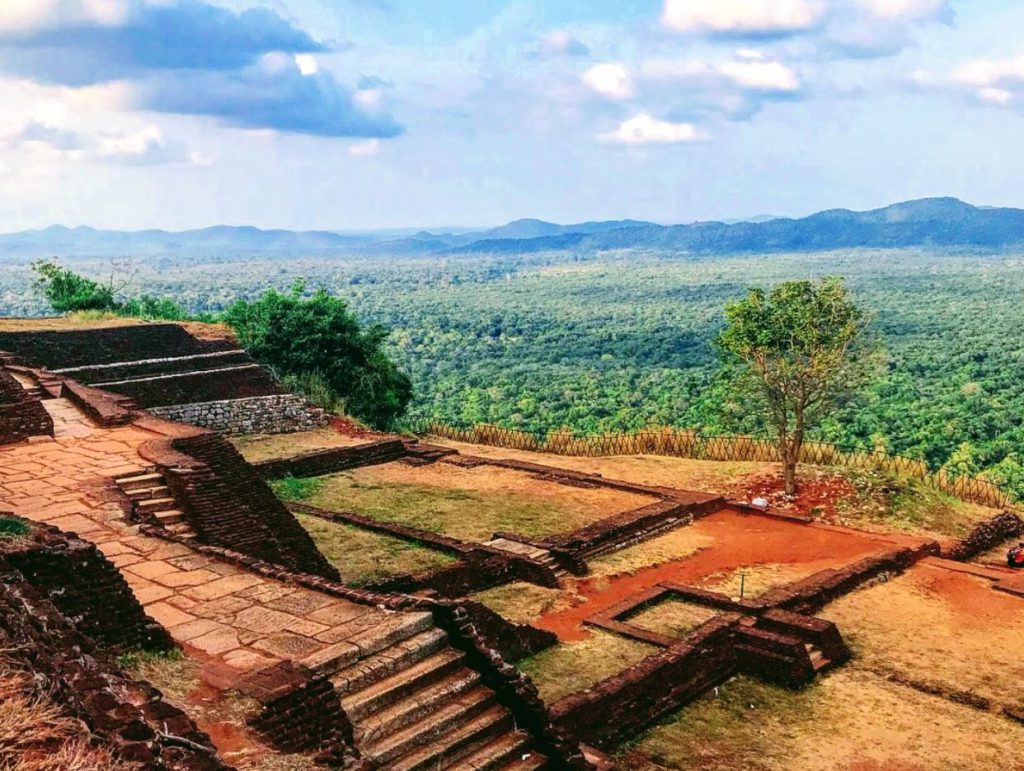 Anuradhapura
Anuradhapura the seat of the Sinhalese Kings of Sri Lanka and thus the capital who ruled for about 2300 years starting 543BCE. The city consisted of complex irrigation systems, monasteries, public baths, residential quarters, parks, hospitals, and Schools.
Only the ghost of the city's vibrant past is present. You will find many monasteries in the shape of huge stupas built around the city. Although, after a couple of them, all looked the same to me.
You can book a tuk-tuk or cab from your hotel for half a day and they can take you around the whole town which will really save up a lot of hassle.
The best time to see the outdoor places would be earlier in the morning or after 4 when the sun is not so scorching. You can visit the indoor museums during the afternoon time. We took the afternoon train back to Colombo.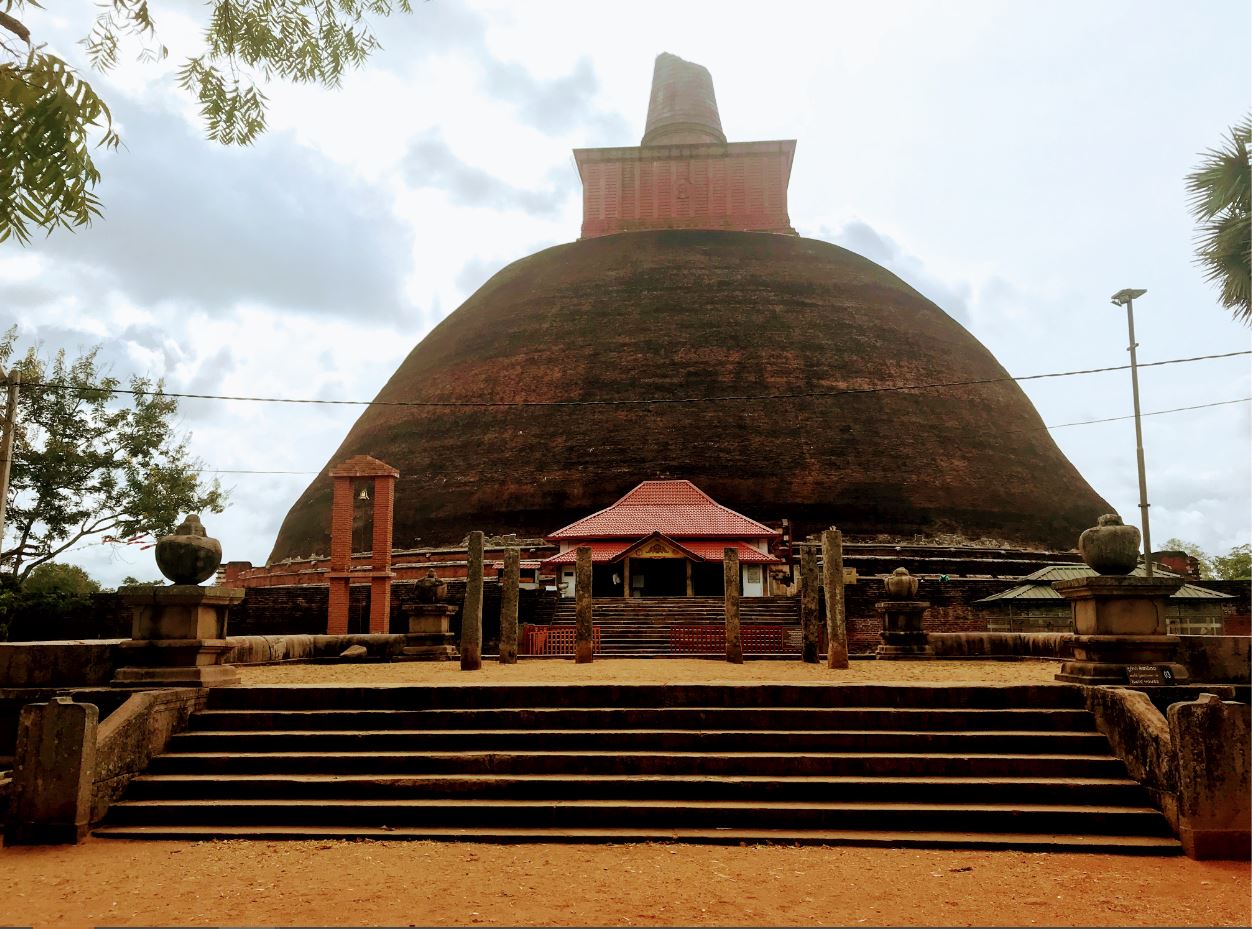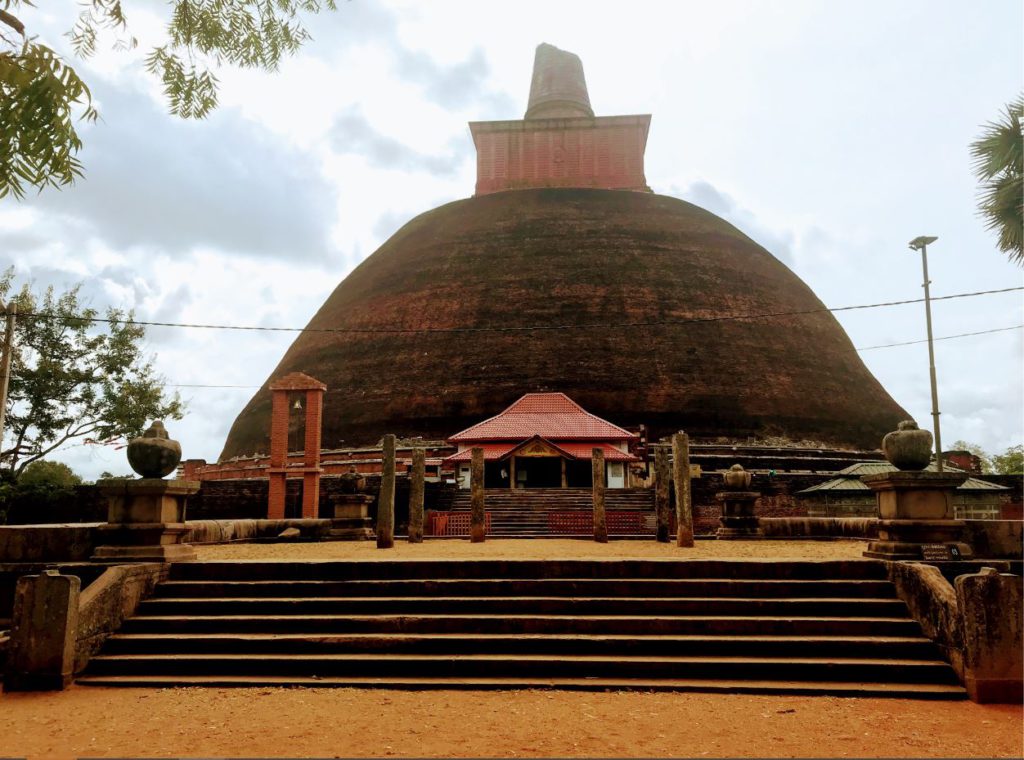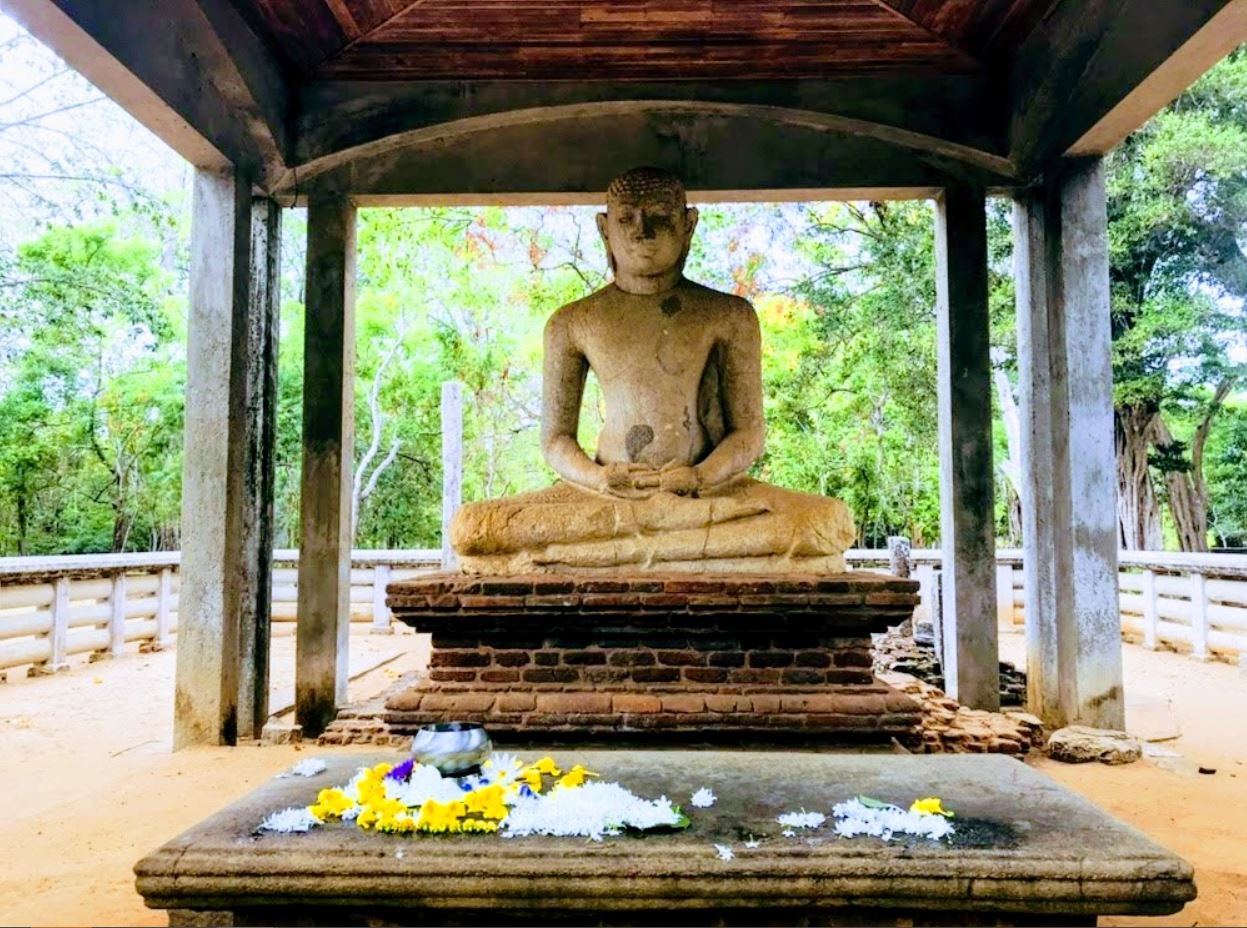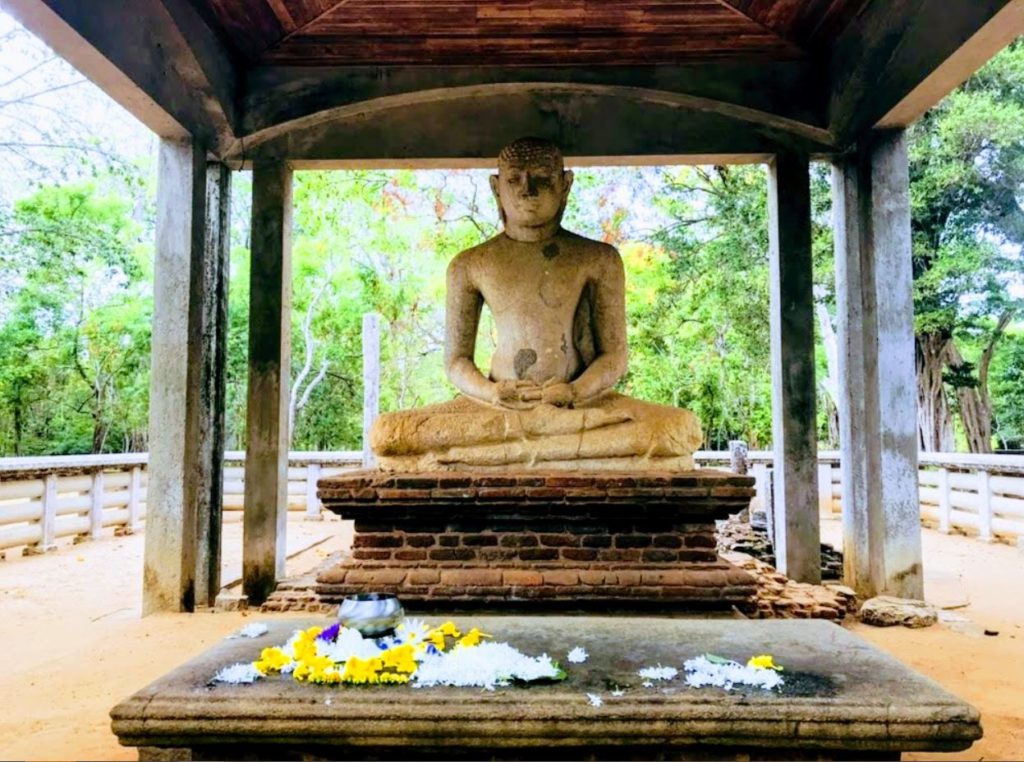 Food In Sri Lanka
Sri Lankan food is a little of the extreme version of South Indian food. Chicken and seafood are easily available throughout the country. Beef, pork, and lamb can also be found in many restaurants.
Stark spices are used to cook the gravy in a coconut base. These are paired with rice or kiribath, rice made in coconut milk.
Additionally, All food items are consumed with a popular dish called sambal which is grated coconut with onions and dry chili flakes. It adds a lot of flavor to the food. Parippu or dhal curry or semi-dry lentils are also a part of the traditional food plate.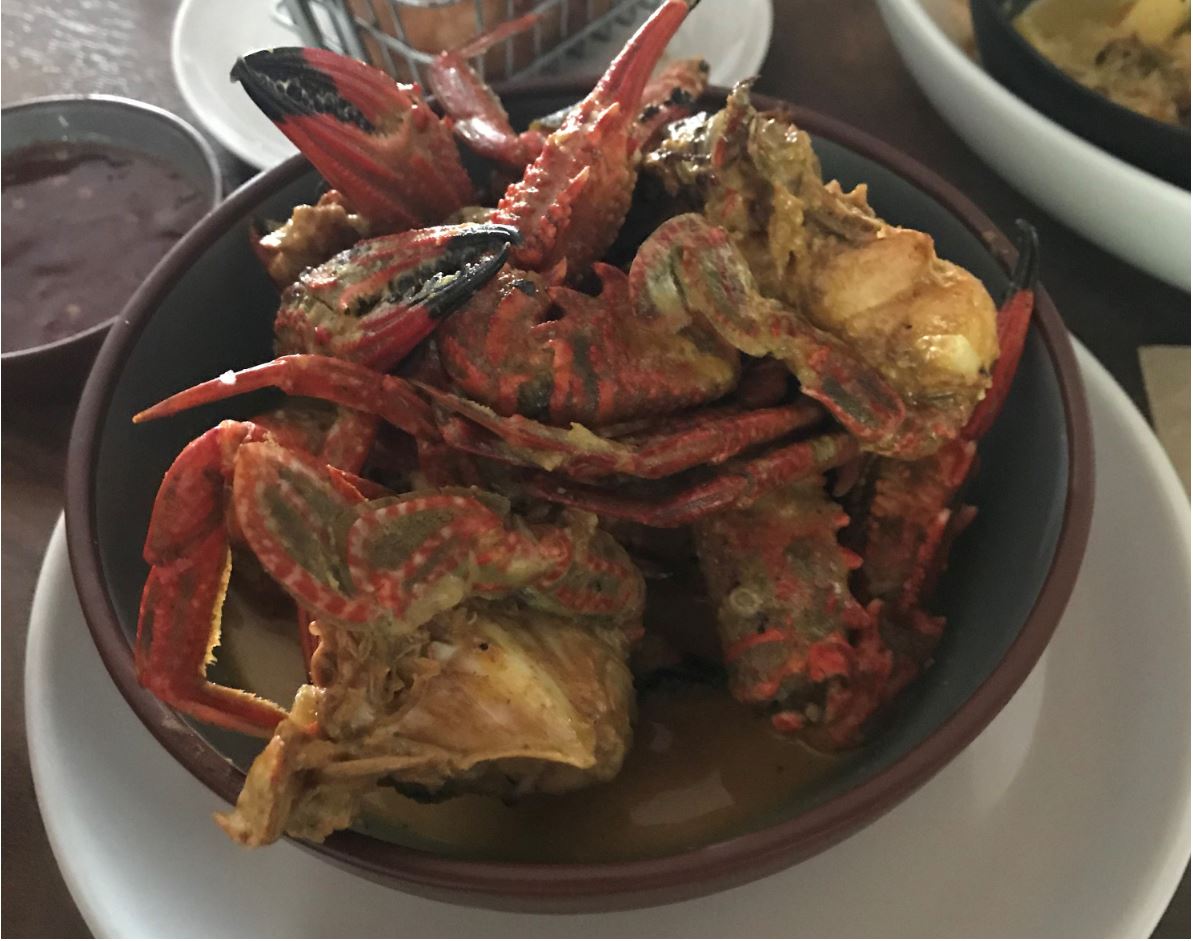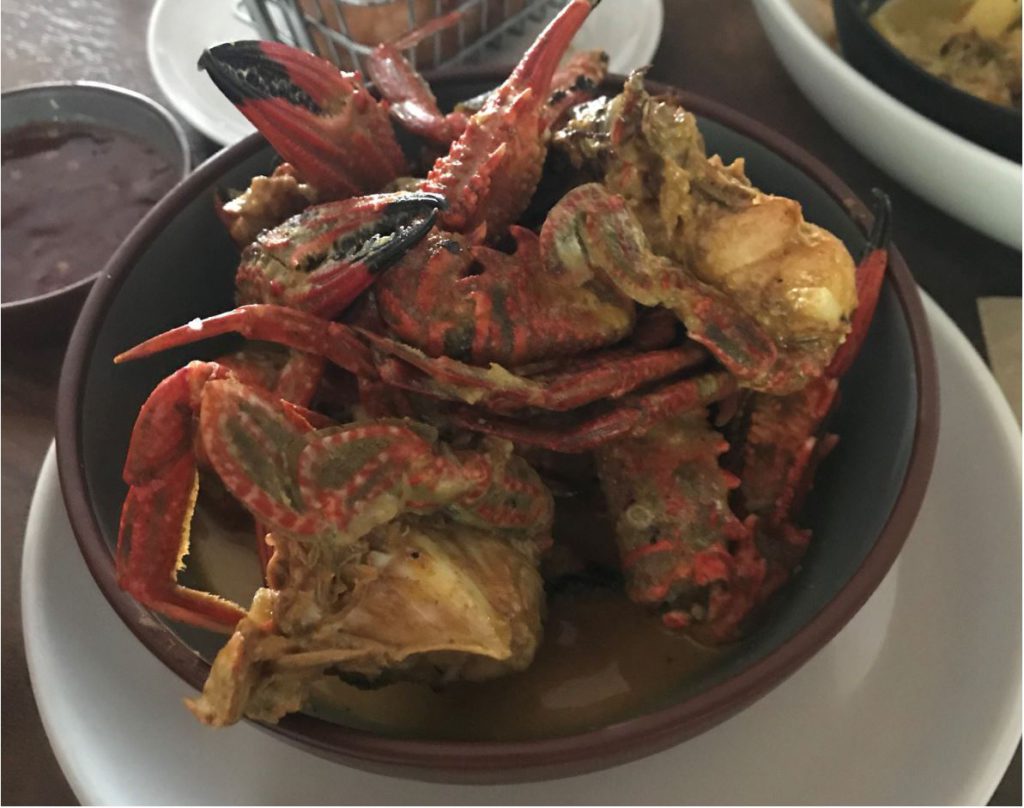 For breakfast, you can look forward to appam, dosa, idli or vada which are very close to South Indian cuisine.
Wood apple or elephant apple is a fruit very easily available here. You can find ready-made drinks made out of it in regular confectionery stores.
Alcohol is not very popular in the culture. Therefore, and you may find it restricted to a few restaurants or have to buy it from over-the-counter liquor shops.
Fun Facts About Sri Lanka
1. Sri Lanka has come out of a 25-year old civil war in 2009. The war left around 70,000-80,000 dead and there are still trials going on over crimes of war.
2. Sri Lanka was colonized thrice. First by the Portuguese who gave the name 'Ceilao', then by the Dutch, and finally by Englishmen who changed the name to 'Ceylon' post which they gained their independence in 1948 and became Sri Lanka.
3. The most widespread religion in Sri Lanka is Buddhism. You should be very careful around the Buddha statues. Facing the statue with your backs, taking selfies, or having a Buddha tattoo may get you from getting frown upon to even getting deported
4. Sri Lanka had the first elected female prime minister, Sirimavo Bandaranaike in the world in July 1960 who governed the country for three terms.
5. The oldest tree planted by humans is in Anuradhapura, Sri Lanka. It's a sacred fig tree as old as 2,300 years known as Sri Maha Bodhiya where its mother tree is said to be the Bodhi tree in Bodh Gaya where Lord Buddha achieved enlightenment while he was meditating.

Save to Pinterest


Related Articles